'Ok, so what if I do 90% of the prep work myself? Will that bring the cost down by much?'
It can't help to ask, right? Because as I start calling around for quotes on body and paint work for my new project car (full details coming soon…) I'm fast realising the cost of building a dream ride can quickly turn into a never-ending cycle of financial pain. It's something fellow Subaru fan Daiki Hiroshima knows all too well.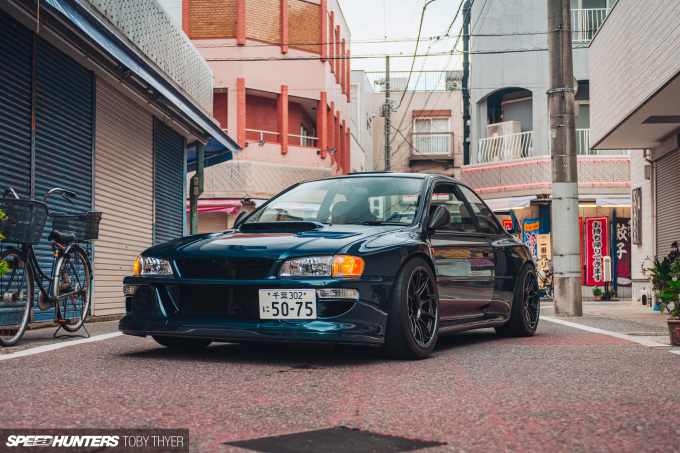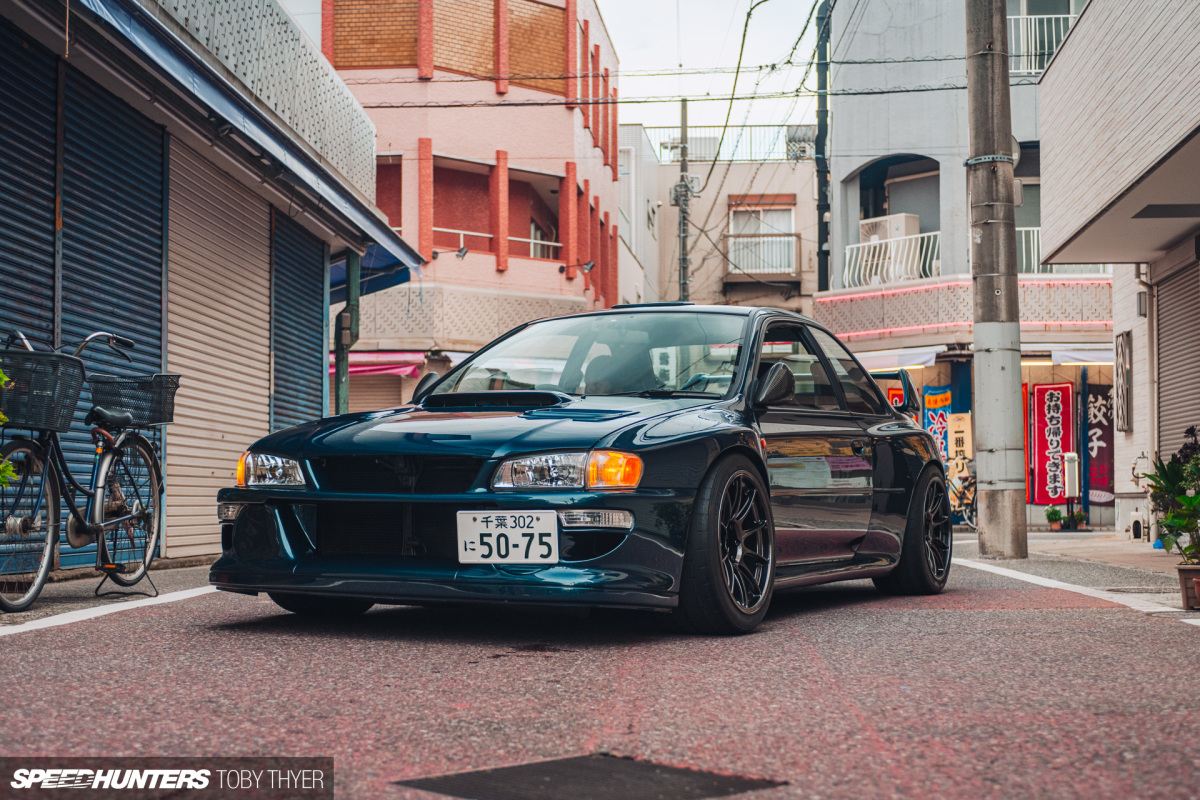 But just look at this thing. Isn't it glorious? The ridiculously wide stance and the green paint reflecting the world like some alien abyss is a winning combination. It's worth every penny saved by only showering on Sundays and knitting your own socks.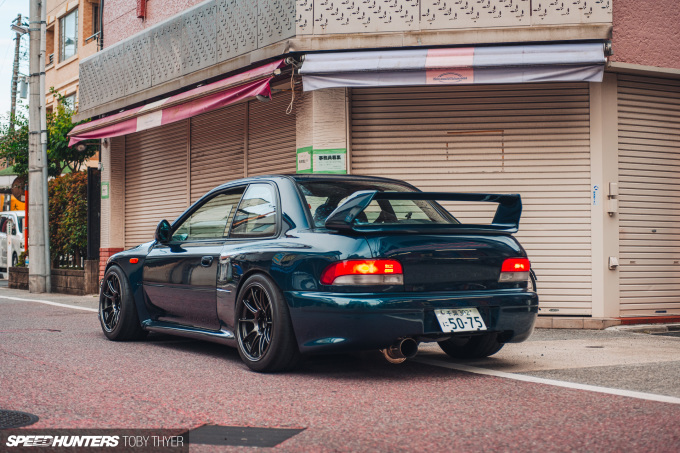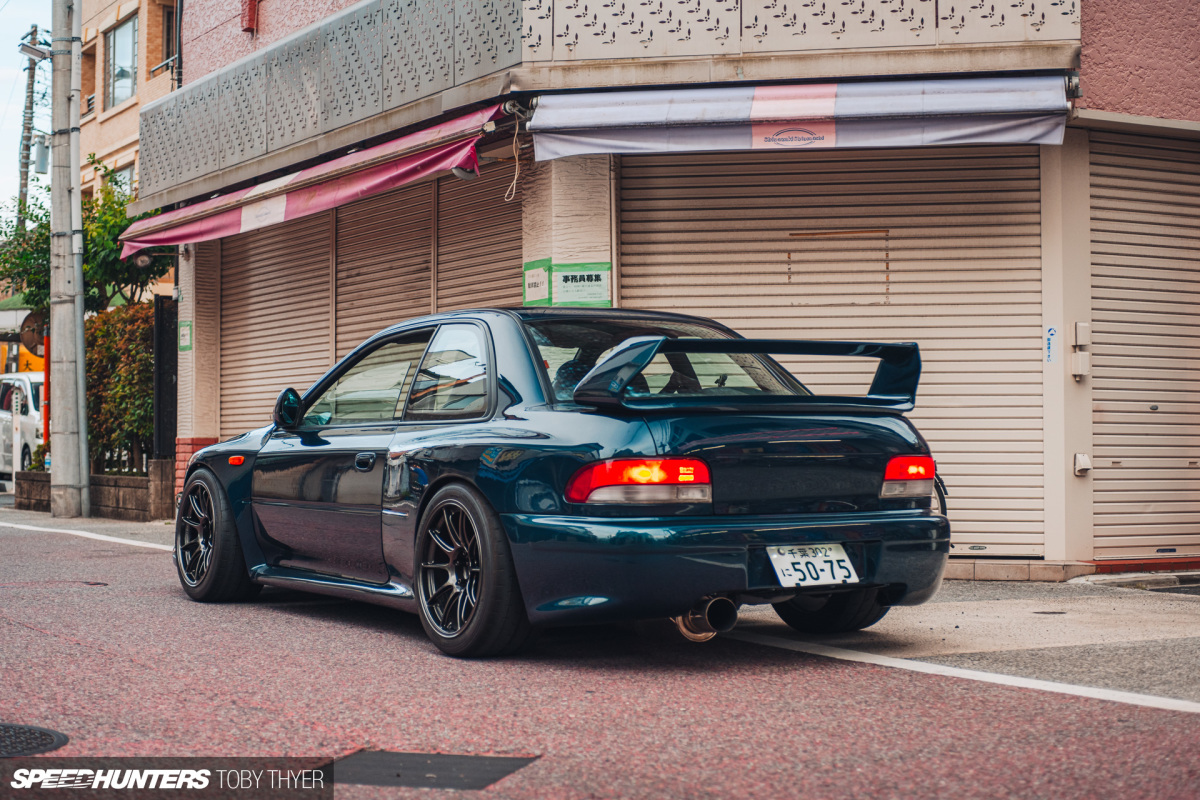 This 1999 Subaru Impreza has been Daiki-san's dream build for almost 10 years, not including all those years as a high school student following Subaru's climb to fame in the WRC during the mid-1990s The car started life as a Version 6 WRX STI Type R Limited, and remained in mostly stock condition for Daiki-san's first nine years of ownership.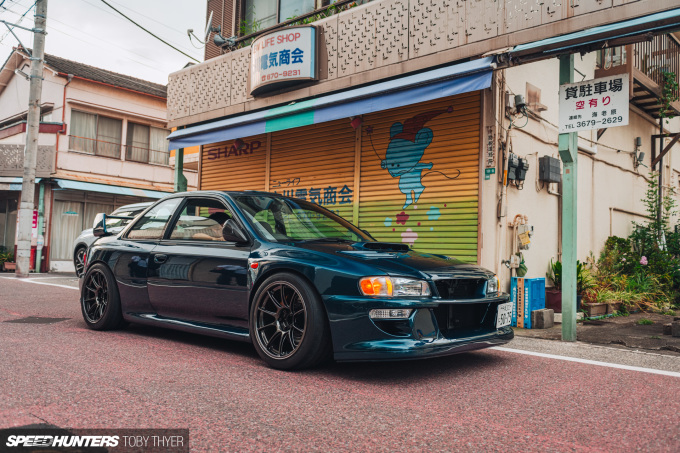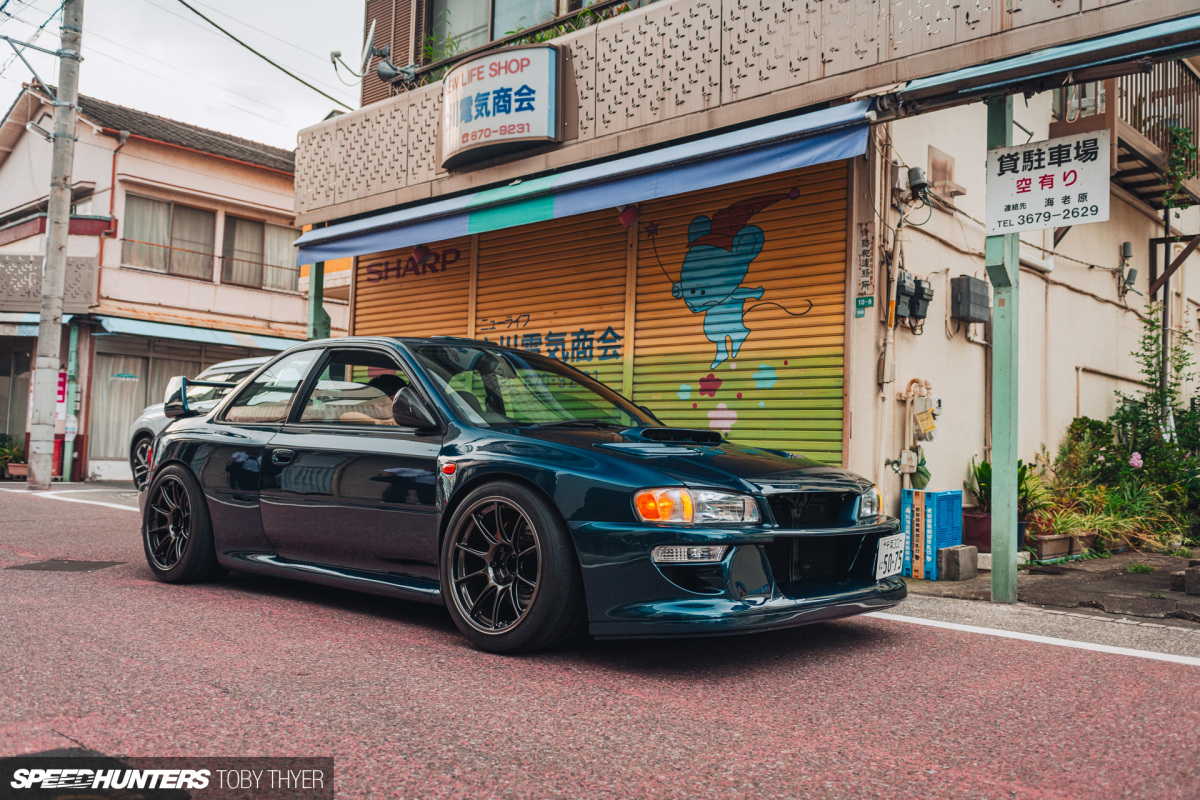 Seeing various WRC replicas at events in Japan and being a rally fan, the choice to go wide was an easy one for Daiki-san. But an STI 22B-style kit wouldn't cut it; only the ultra-wide, open wheel arch WRC-style kit would do. As a start point, at least.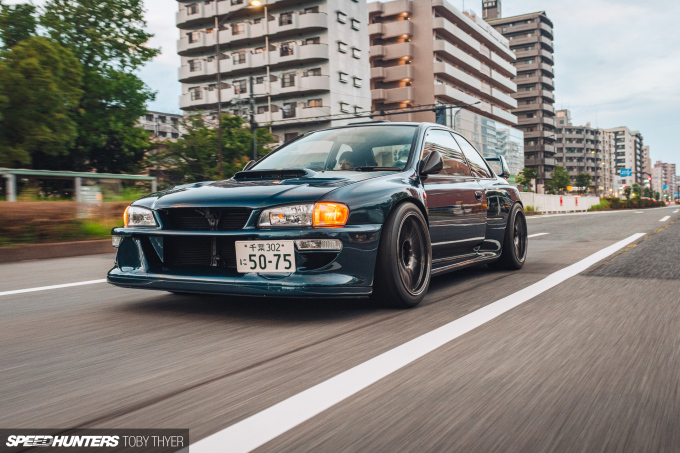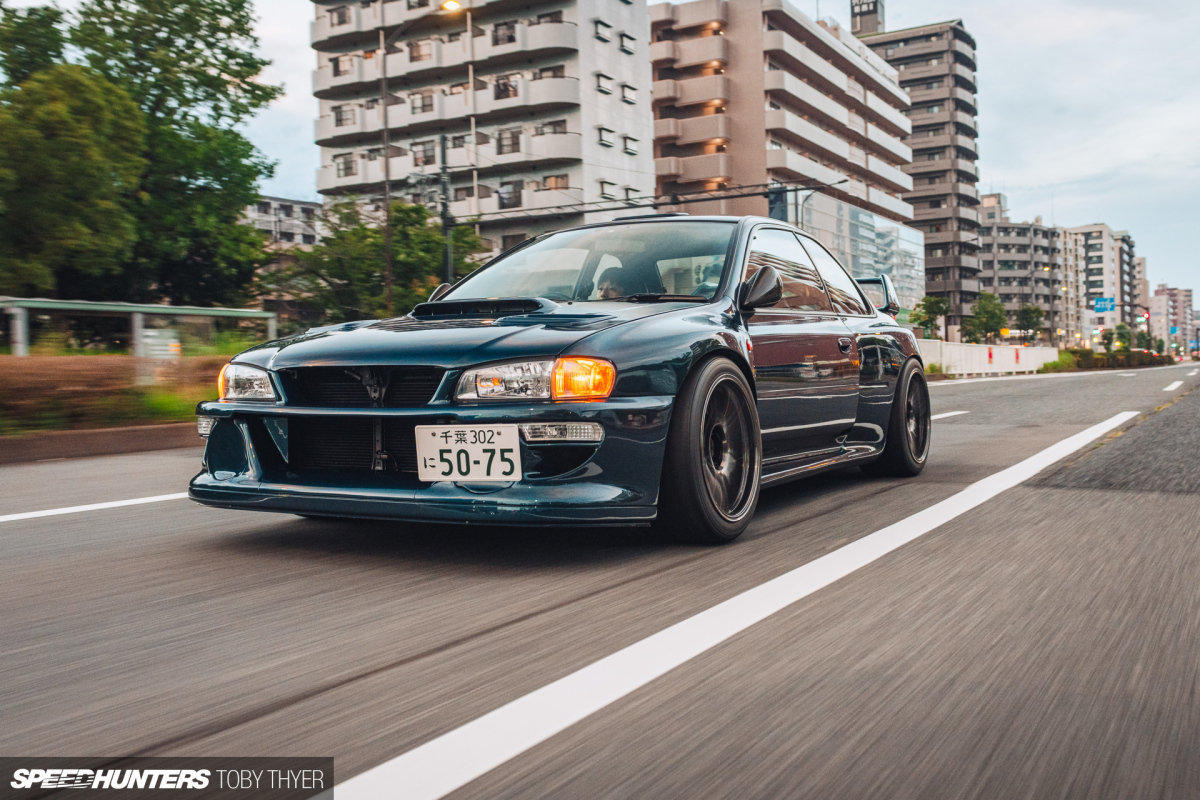 Taking inspiration from the recently-released Prodrive P25 restomod, Daiki-san knew he wanted to create something unique. A rally car for the road was part of the aesthetic brief, and I'm sure the Japanese word for 'classy' was thrown around too.
The P25 has set the benchmark for what is possible in terms of refinement for a car which came from the factory about as polished as a Neanderthal in a tuxedo. While Daiki-san hasn't quite gone to the full extent of the P25's luxurious trim, there are some tasteful upgrades to elevate the Impreza's rather basic interior, including a pair of leather Recaro SP-JC seats, a Nardi Deep Corn 350mm steering wheel and a Porsche 964 rubber shift boot.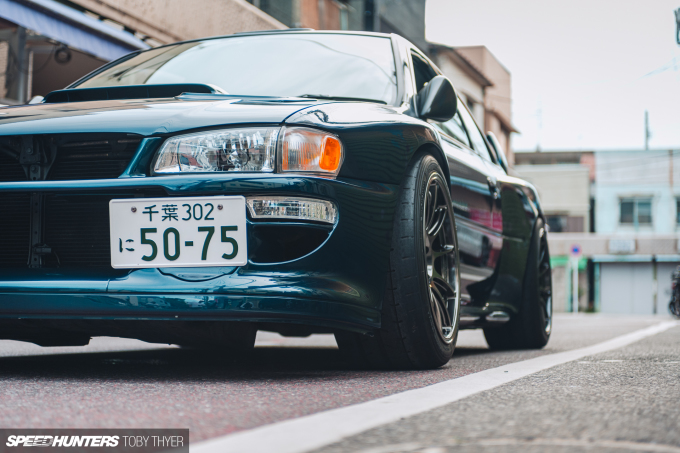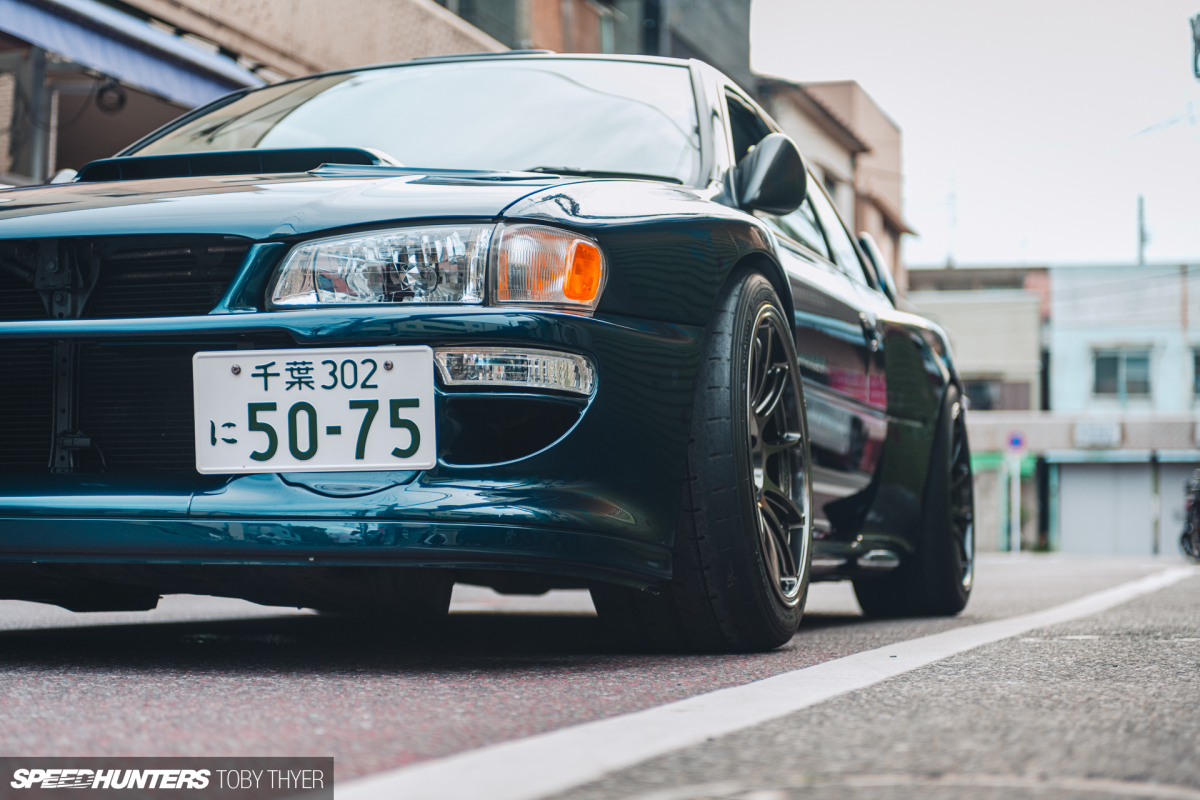 Both the 22B kit and WRC kit are wide, but with 18×10.5-inch +20 WedsSports TC105X wheels to contain, that width would need a little massaging. When I say 'massaging', I mean slicing open and adding an extra 30mm to the already +40mm wide-body kit that Daiki-san sourced from Antonenko555.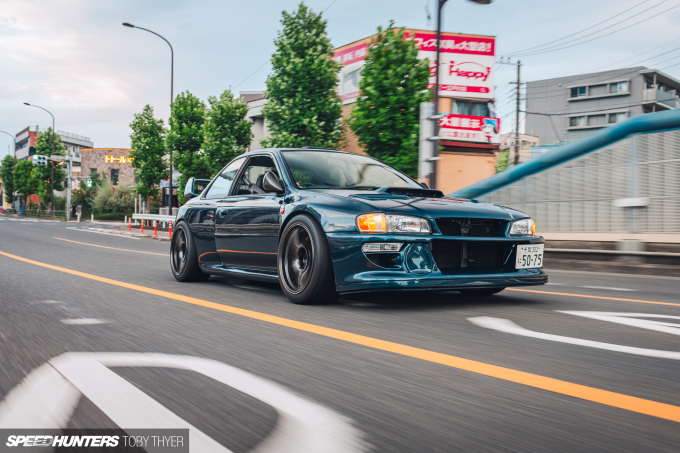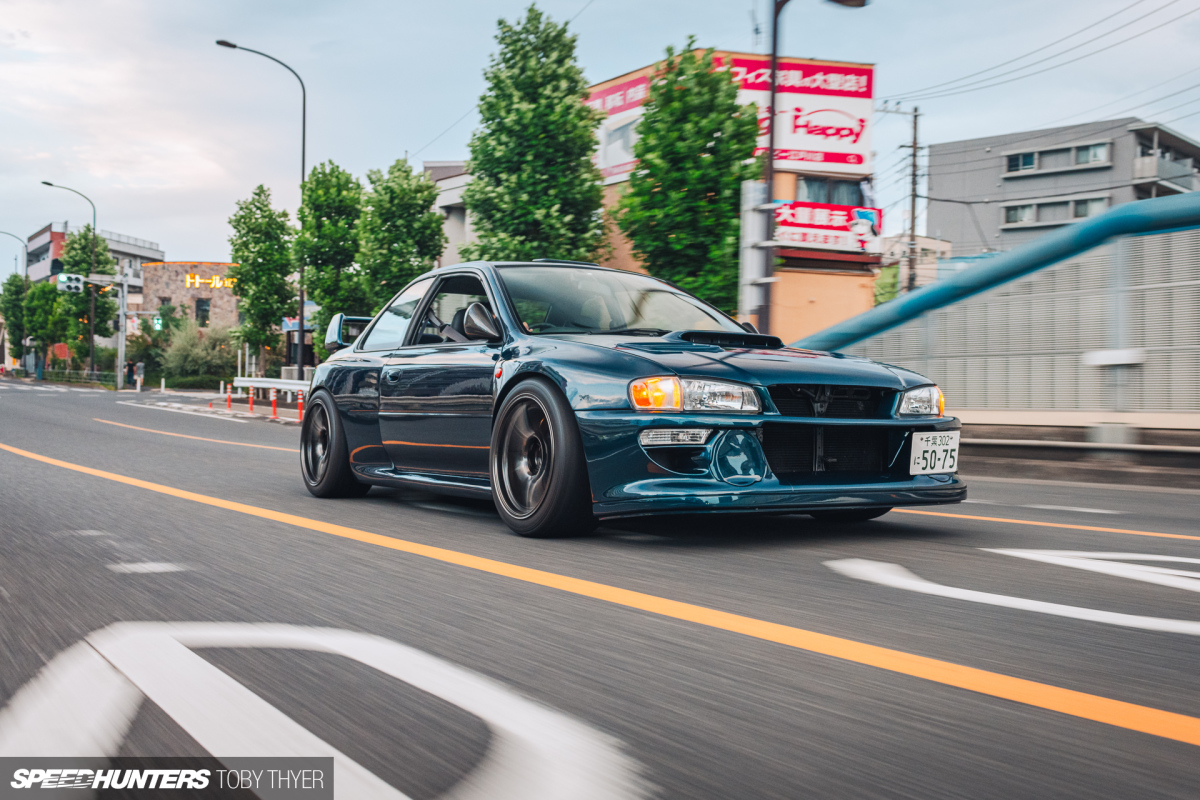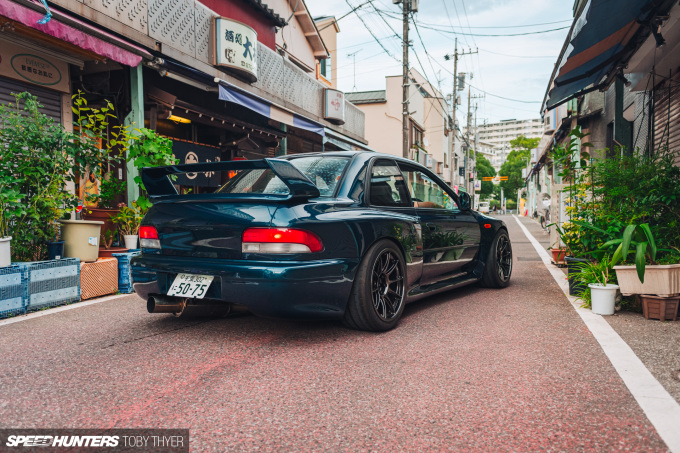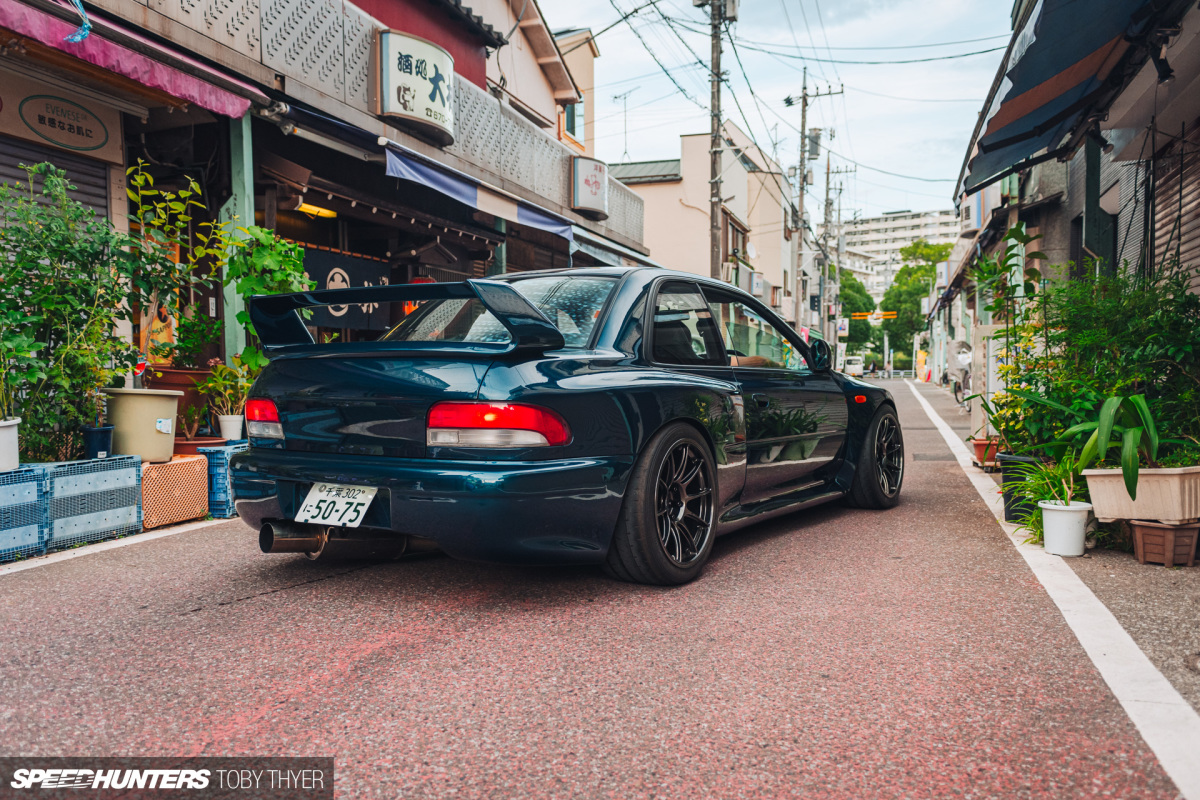 The rear bumper was cut in half and rejoined down the middle to achieve the correct width. The wheels sit snuggly, and are paired with some late-model STI Brembo brakes – 6-pot and 2-pot, front and rear respectively. Yokohama Advan A052 265/35R18 tyres get that famous AWD grip to the ground nicely.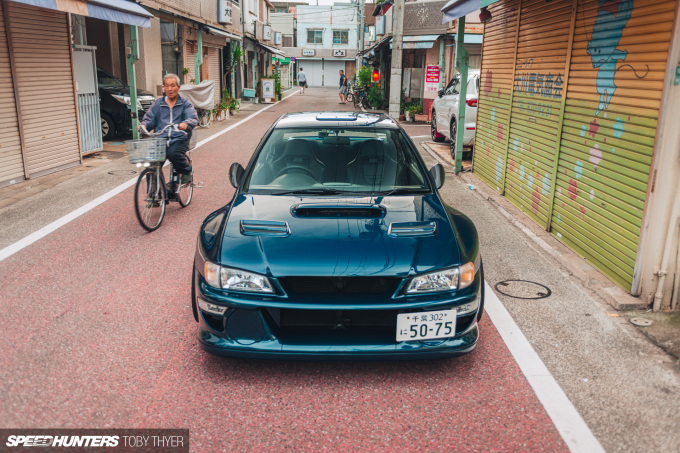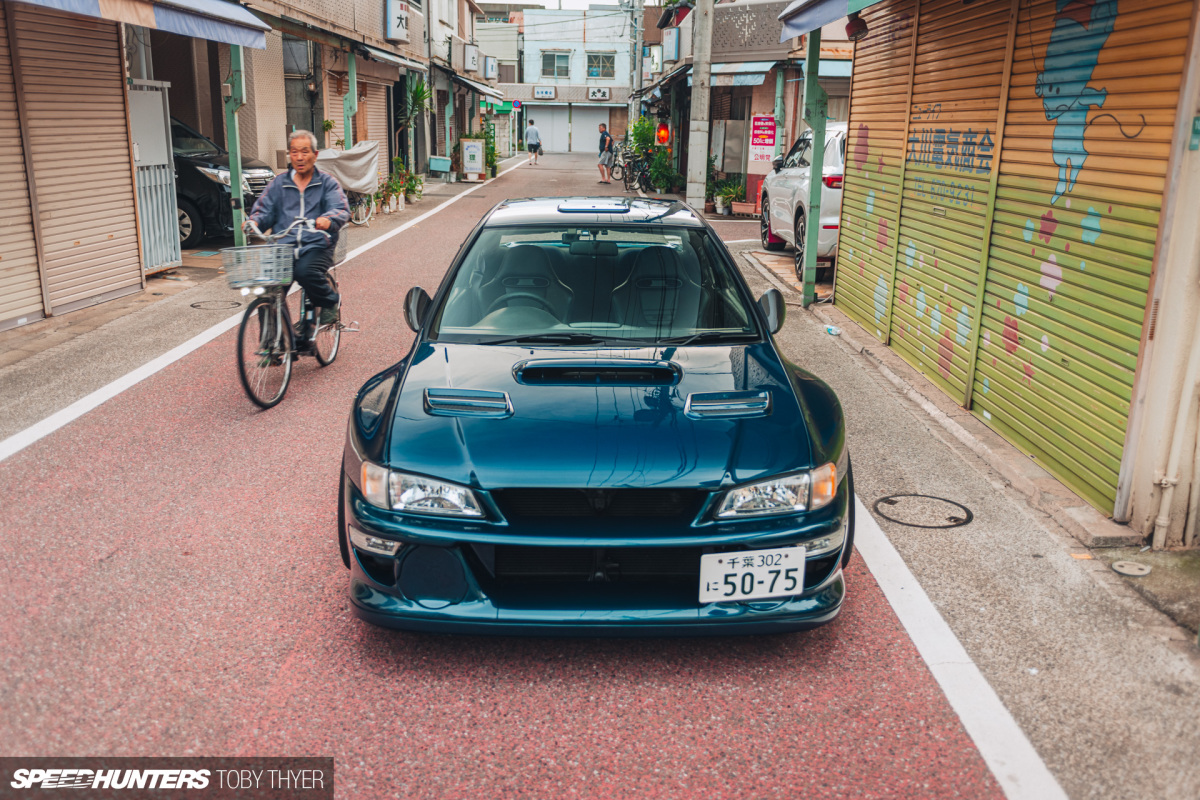 To complete the WRC look, a one-off front bumper, carbon fibre side rally mirrors and a 98WRC-style rear wing have also been fitted.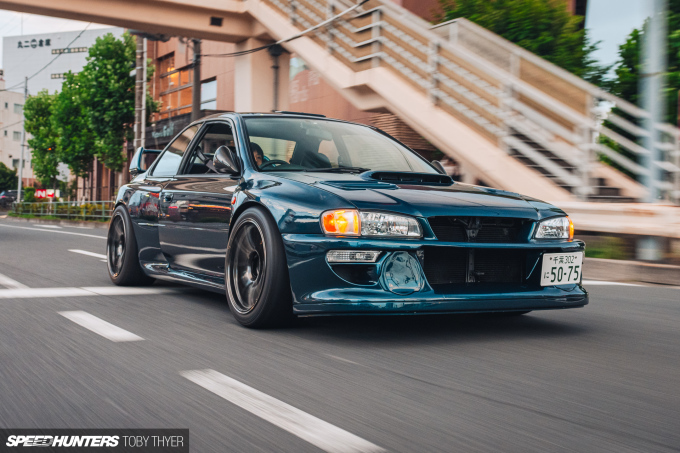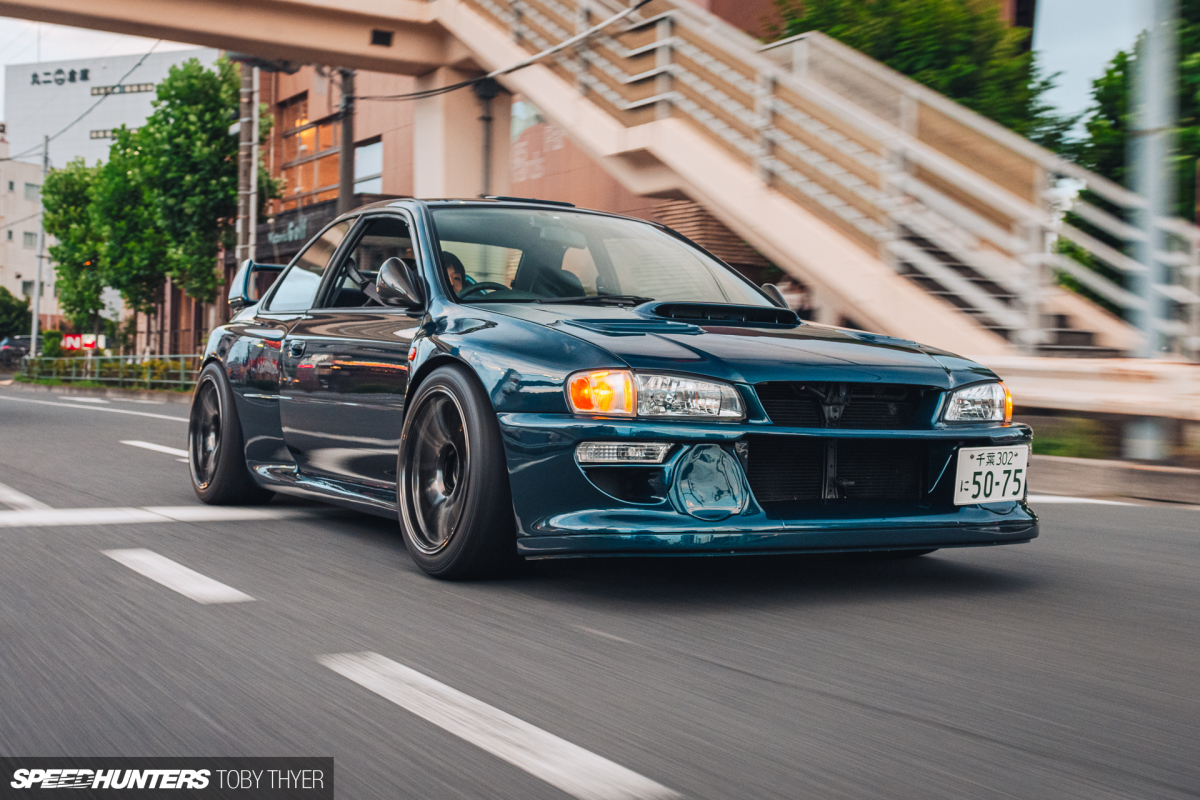 Once the bodywork was sufficiently wide, it was time to lay down some paint. The gorgeous Amazon Green Metallic is a classic 964-era Porsche colour, and it's refreshing to see an Impreza not in the classic shade of blue.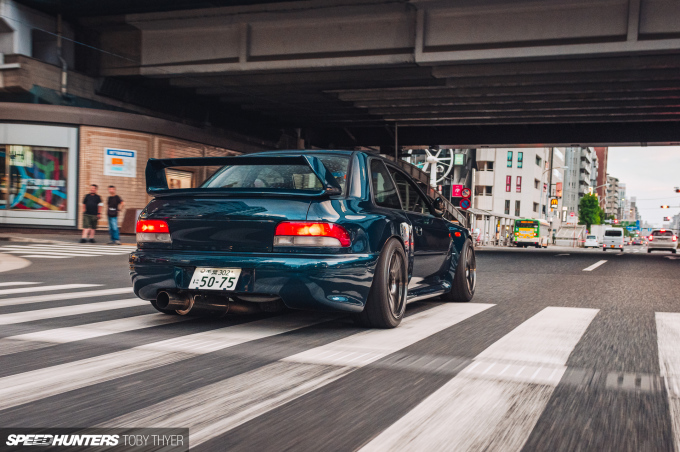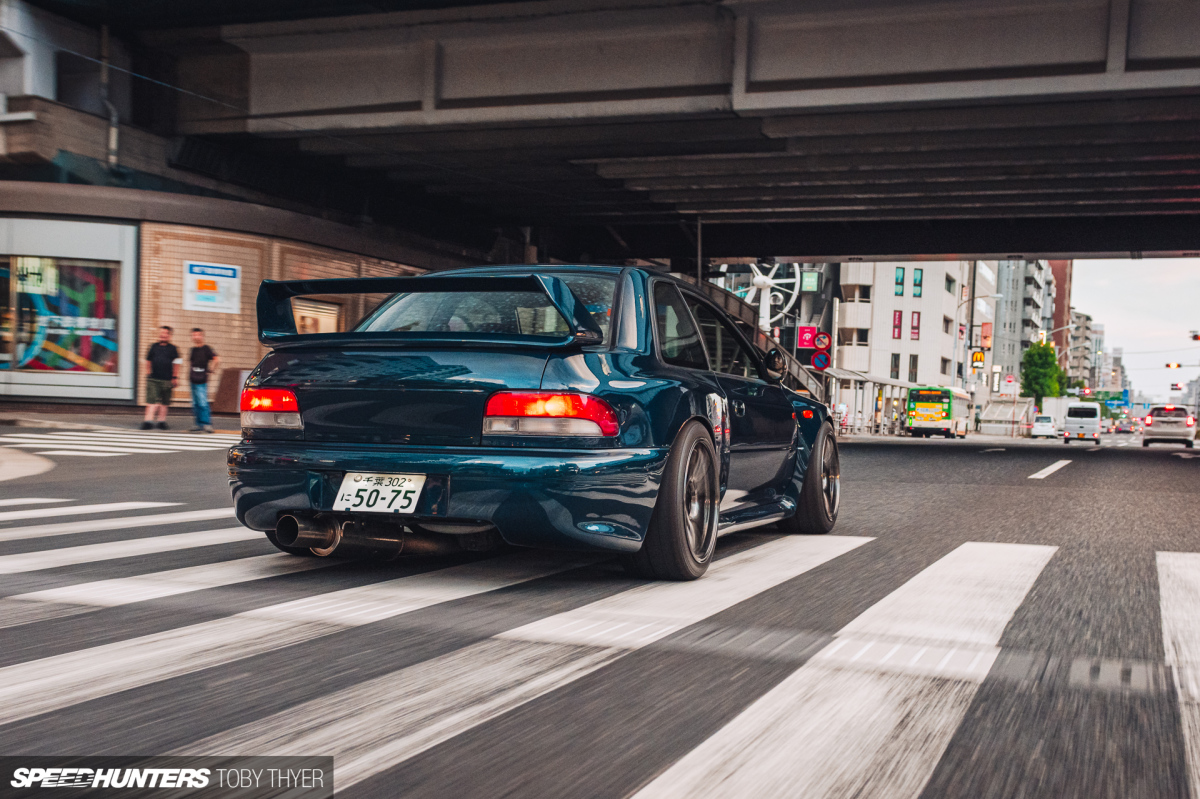 Some may disagree with that statement, but I'm sure we can all agree that the body work looks phenomenal. And so it should – it cost a pretty penny. Not to mention the many hours of labour that went into widening the kit and getting an OEM+ fit and finish on the rest of the panels.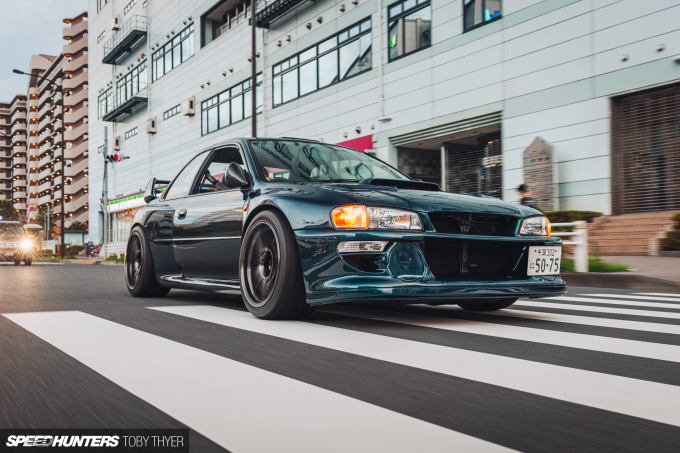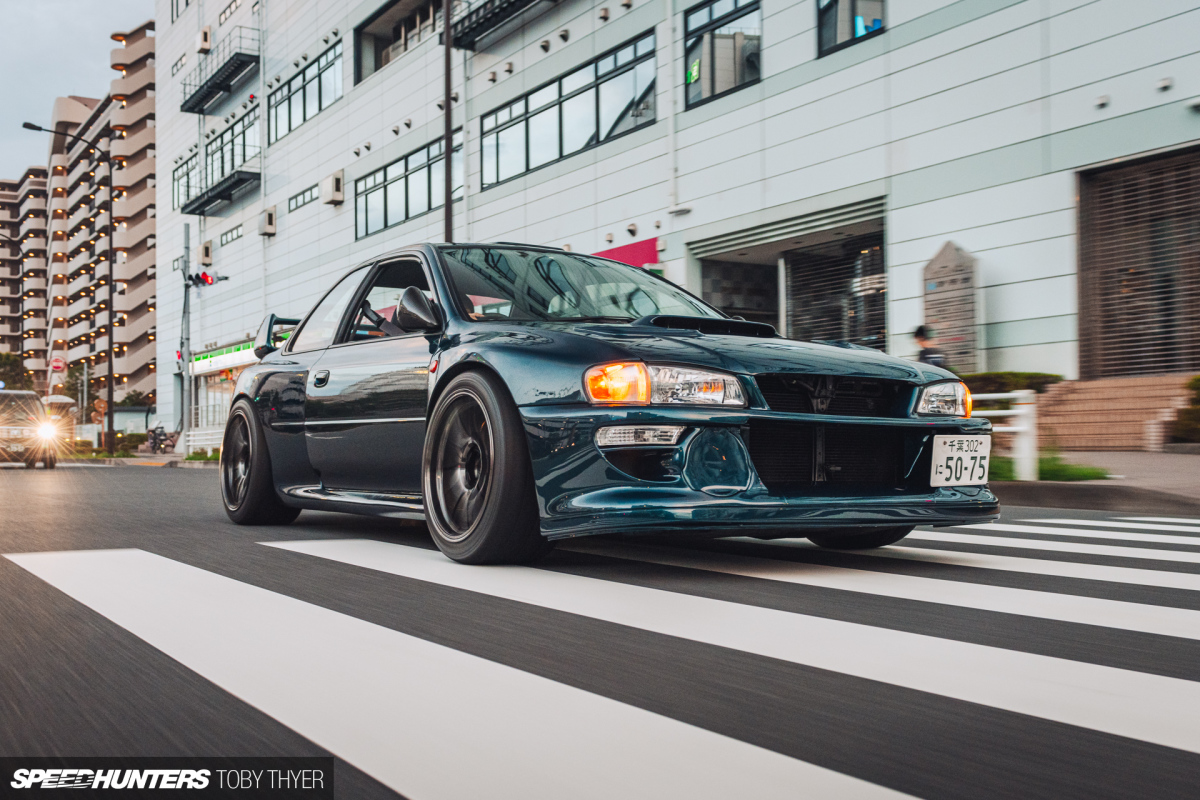 The next step is to get the power train to match the looks. Because the reality is, everyday folk like you, Daiki-san and I, don't have unlimited resources to build a complete project car in one sitting. For some, getting the mechanical side of a build might be more of a priority; for others it might be the interior. For Daiki-san, the exterior was the most important part, so that's what he concentrated onZ first.
Let's call this round one. I can't wait for round two…
Toby Thyer
Instagram _tobinsta_
tobythyer.co.uk