What would the perfect Skyline GT-R restomod look like? If you're like me, you'd have pondered this over and over in your mind for years on end. If you own one yourself, then you might've even had a good crack at executing your vision. Dreams are often just that though – dreams – and prohibitive costs can often put a pretty quick end to an awesome idea. But what if there weren't any limits or restraints to consider – how would you approach it then?
The guys from Built By Legends have attempted to answer this question with the project you see here. It's a car that took a couple of years from concept to actual finished product, and one that I was given first dibs on checking out and driving.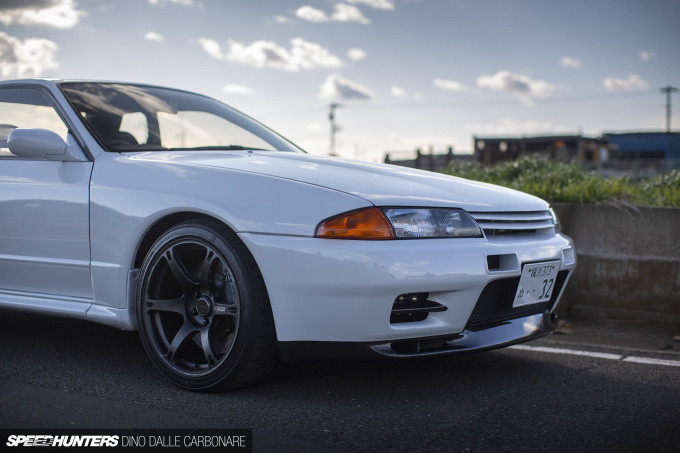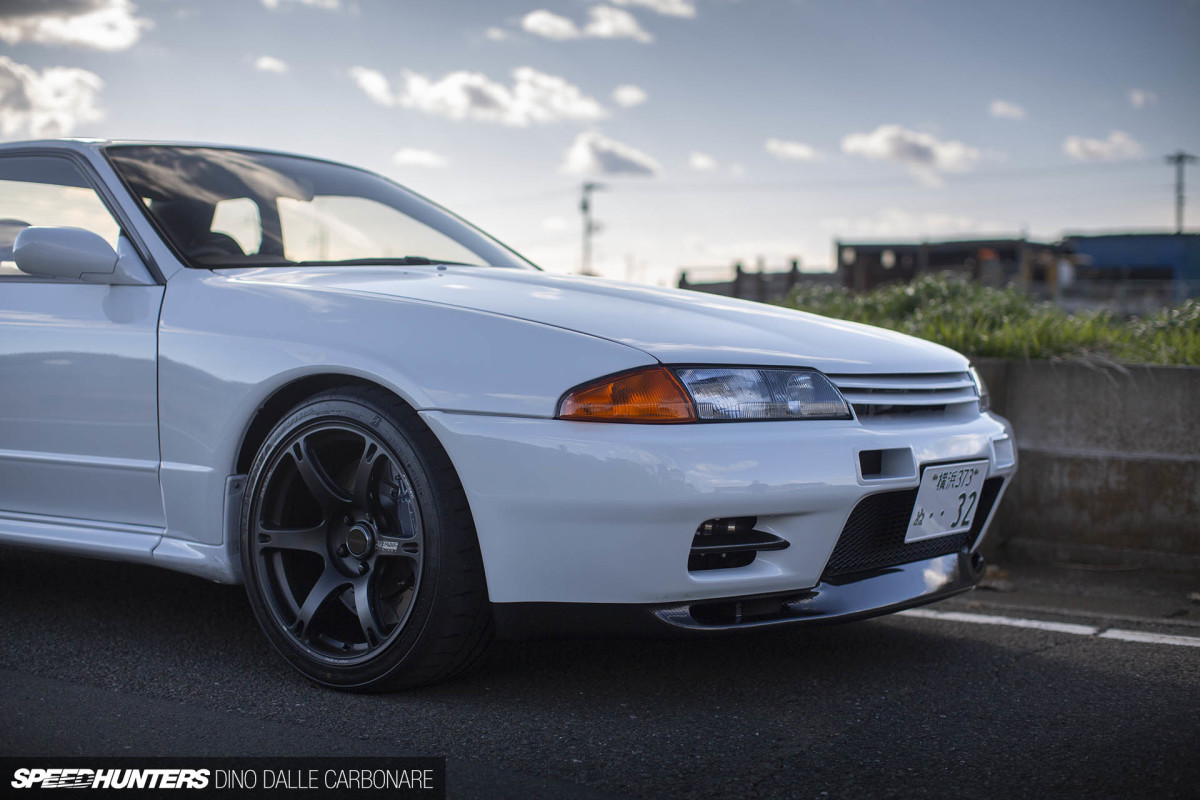 But first off, who is Built By Legends? The short answer is a team of car enthusiasts that run a video production outfit. Even if you don't know the name, you'll definitely recognise them as the guys behind the English versions of Best Motoring and Hot Version. Over the years they've worked closely with true legends in the JDM world, and strong relationships have been formed.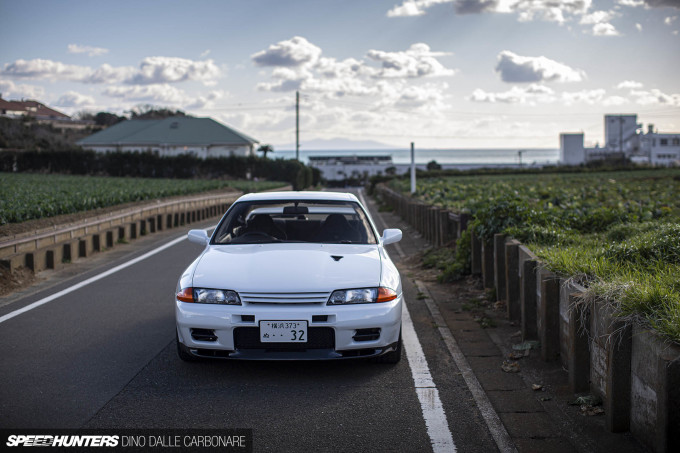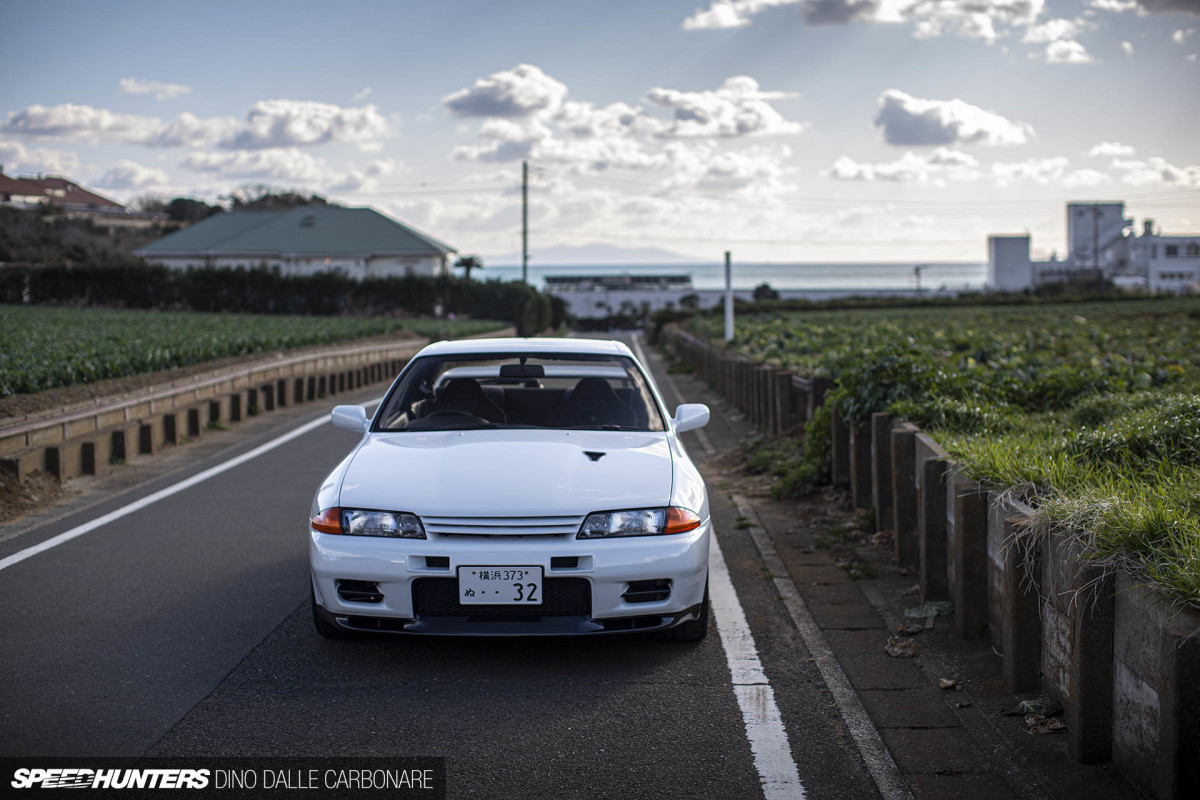 From bringing the Western world Japanese automotive culture through video content, they are now doing the same with cars. Their approach is beautifully summed up in the name they have chosen for this venture; the cars we love and lust over, taken to the highest levels of perfection by the legends that we all know and respect. That's Built By Legends.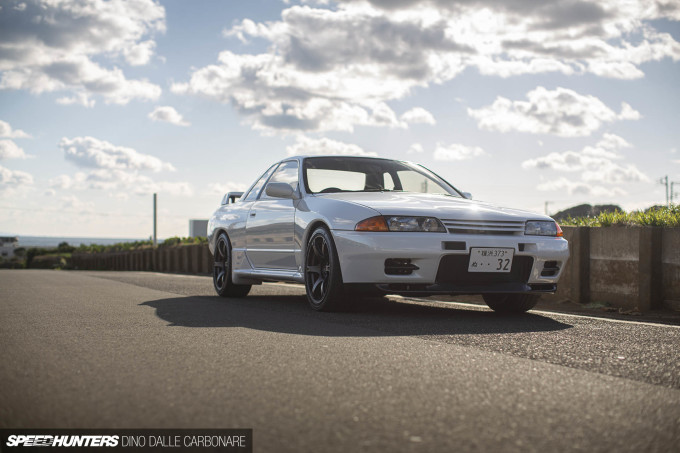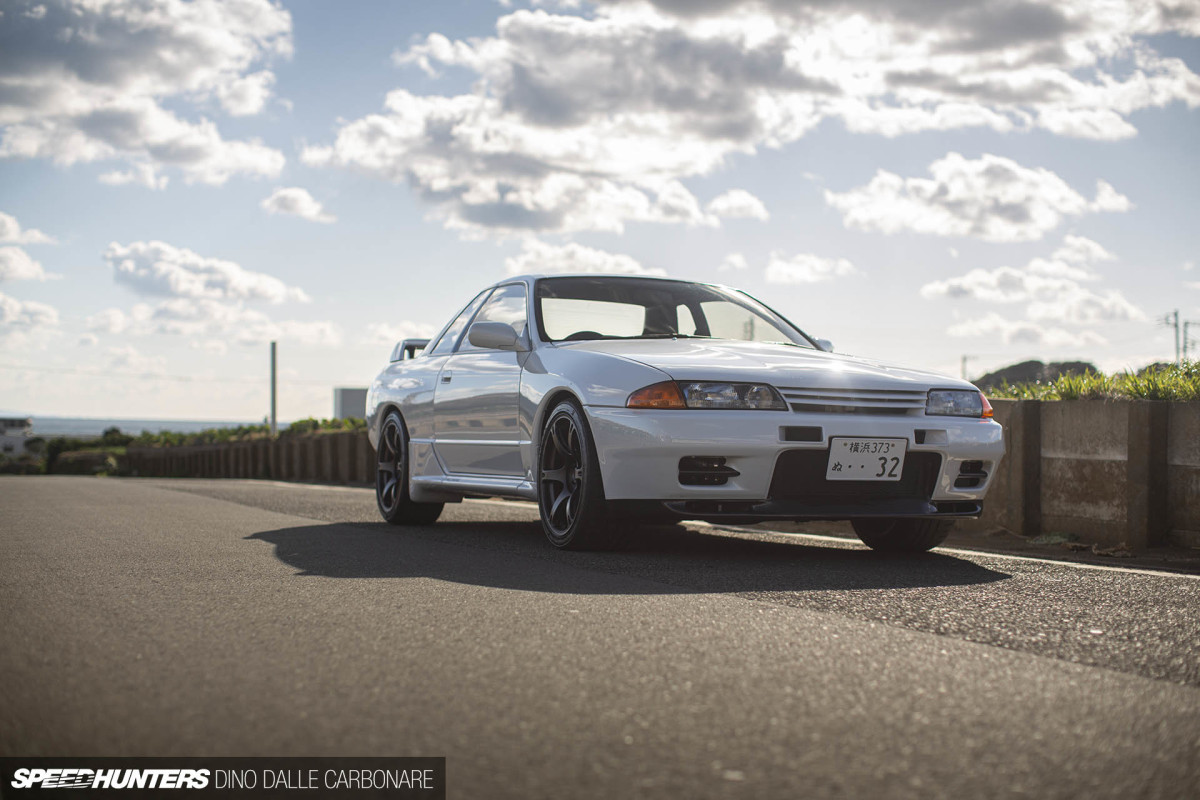 To fully understand the thinking behind this first GT-R build, I met up with Katsu and Masa from Built By Legends on a sunny afternoon down at the Mine's HQ just outside of Yokosuka.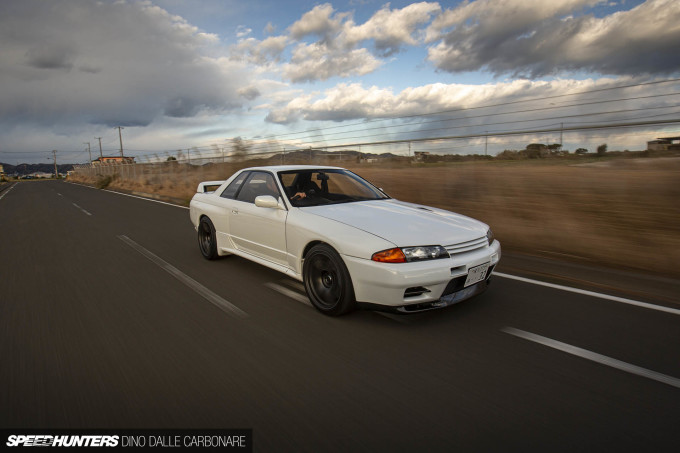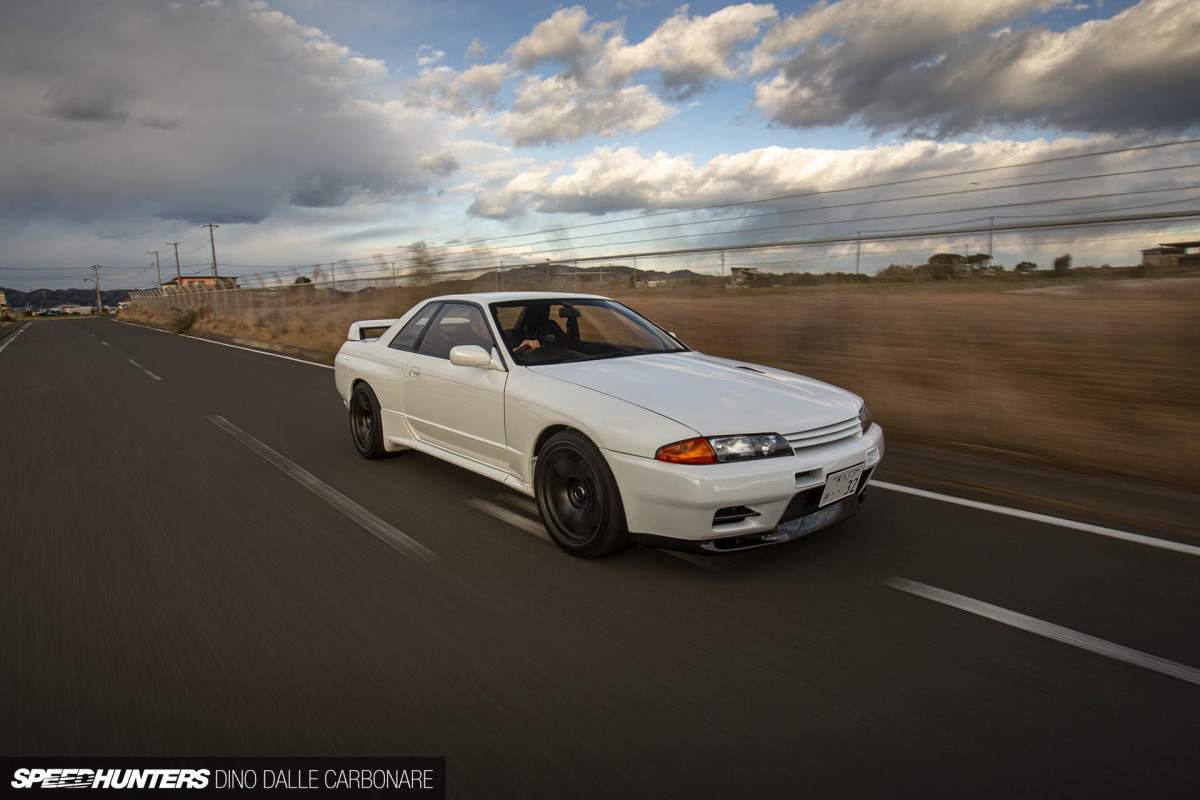 First on the agenda was to take the Skyline out for a drive. I'd be able to familiarize myself with it, and also find a decent location for the shoot.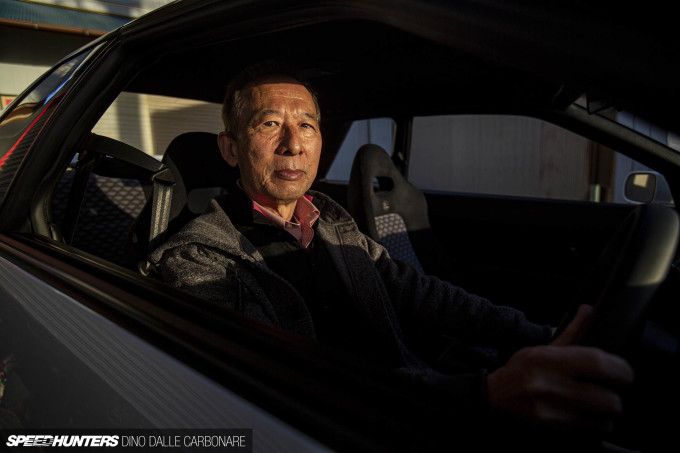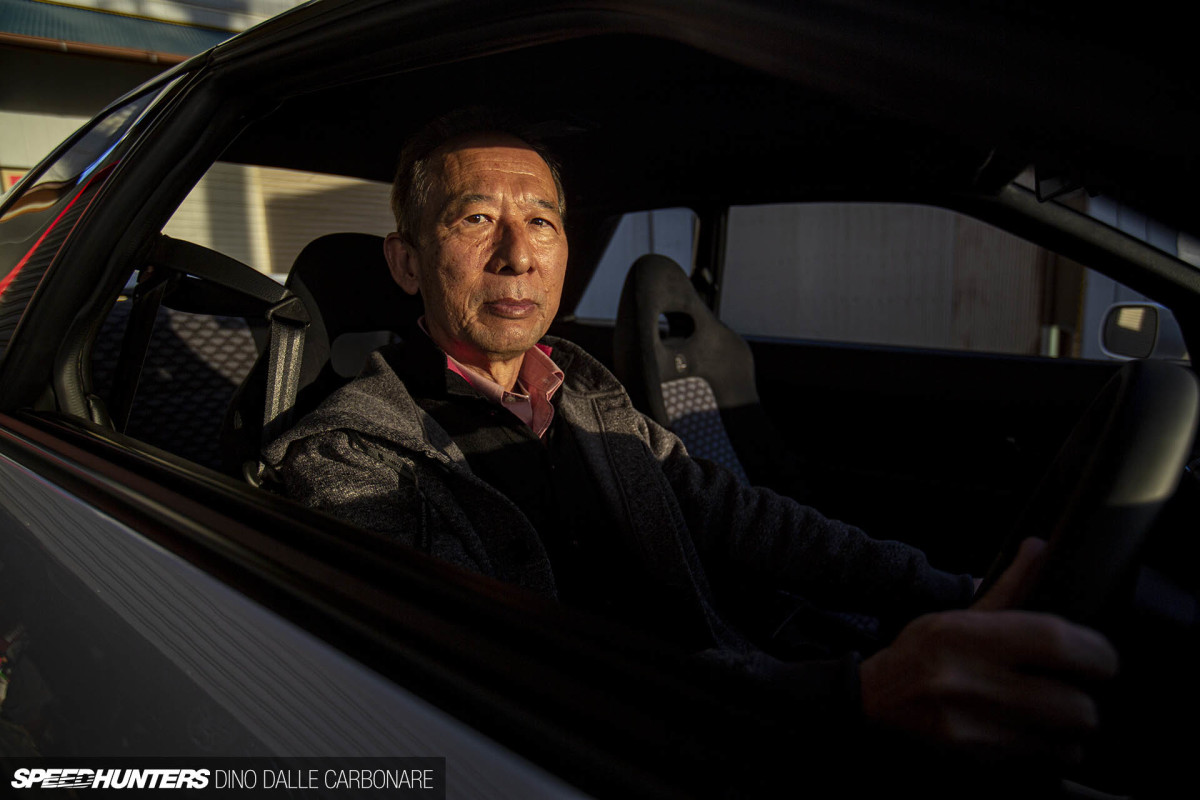 We'd then spend some time delving into the details back at the workshop with Niikura-san, the president of Mine's and one of the JDM legends involved in the project.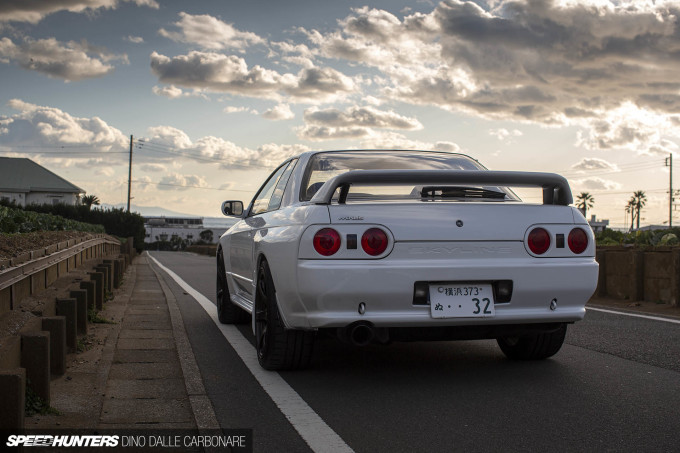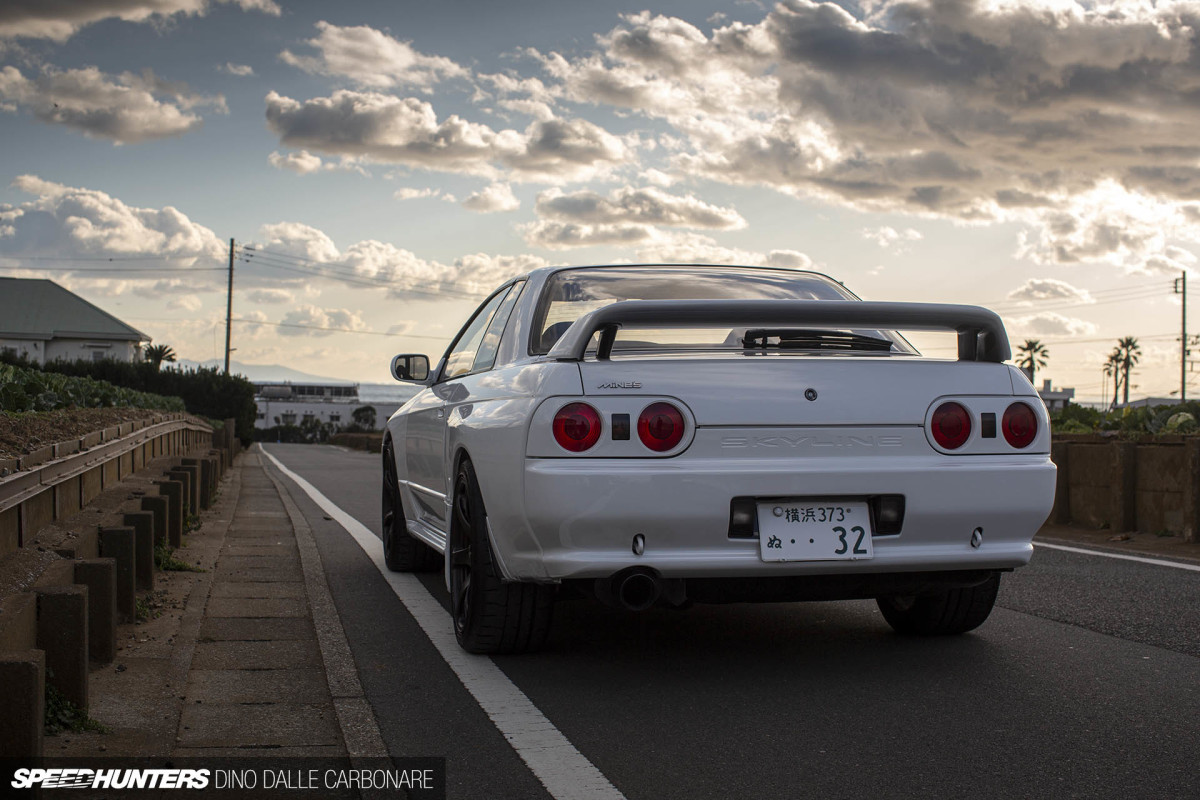 Aside from shooting the car, my biggest task for the day was to make sense of it all, which of course meant nerding out over all the details. And trust me, there are a ton of those.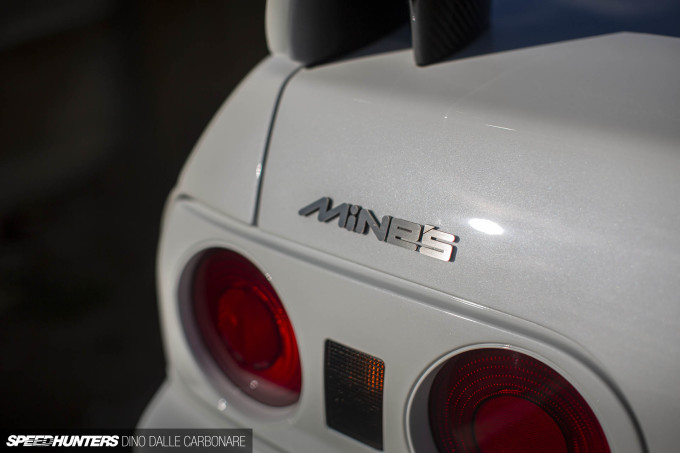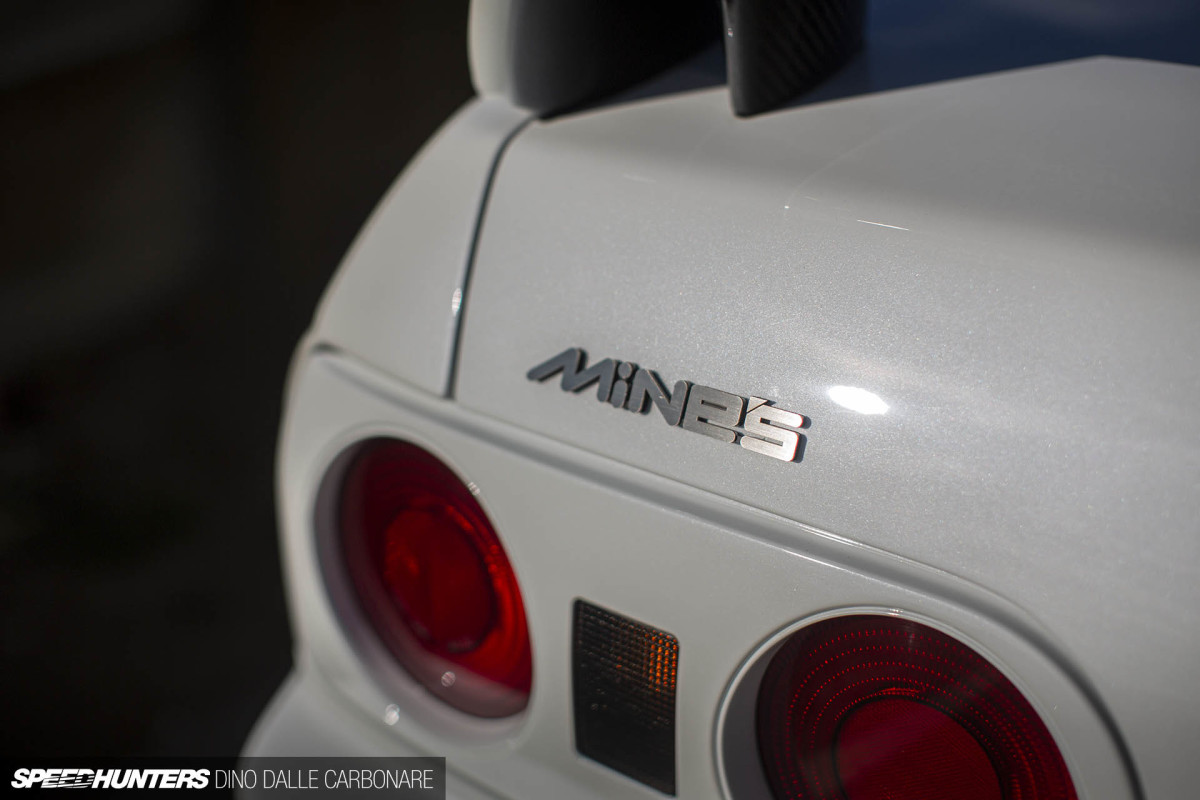 The Skyline's exterior is finished in a custom color named Shiranami White Pearl Metallic.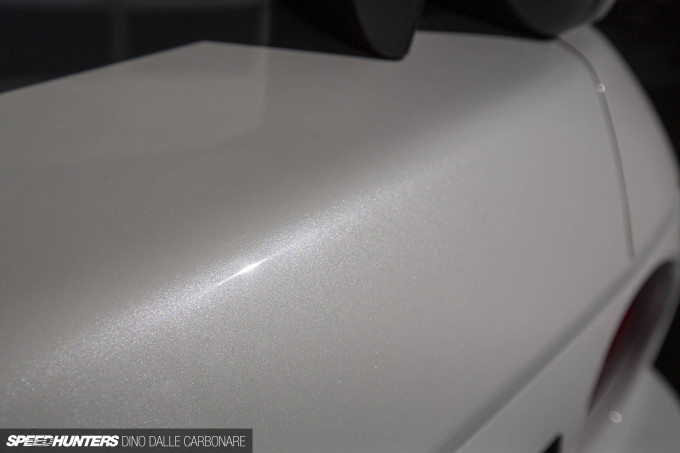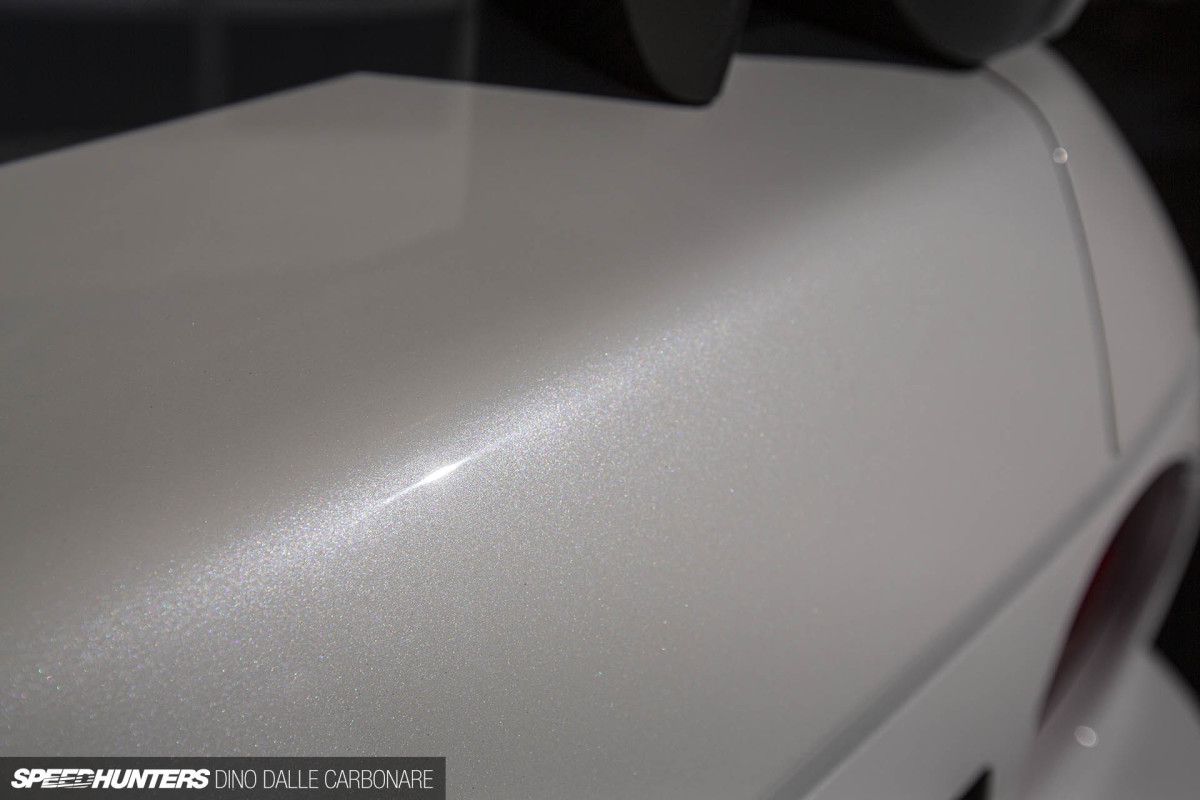 'Shiranami' means white wave in Japanese and the pearlescent hue has two drops of blue in it to achieve just the right shade. The inspiration was white-wash waves from the Pacific Ocean hitting Japan's shoreline…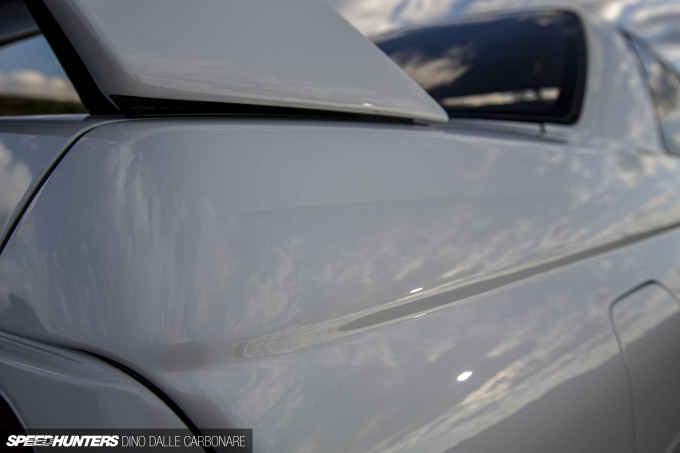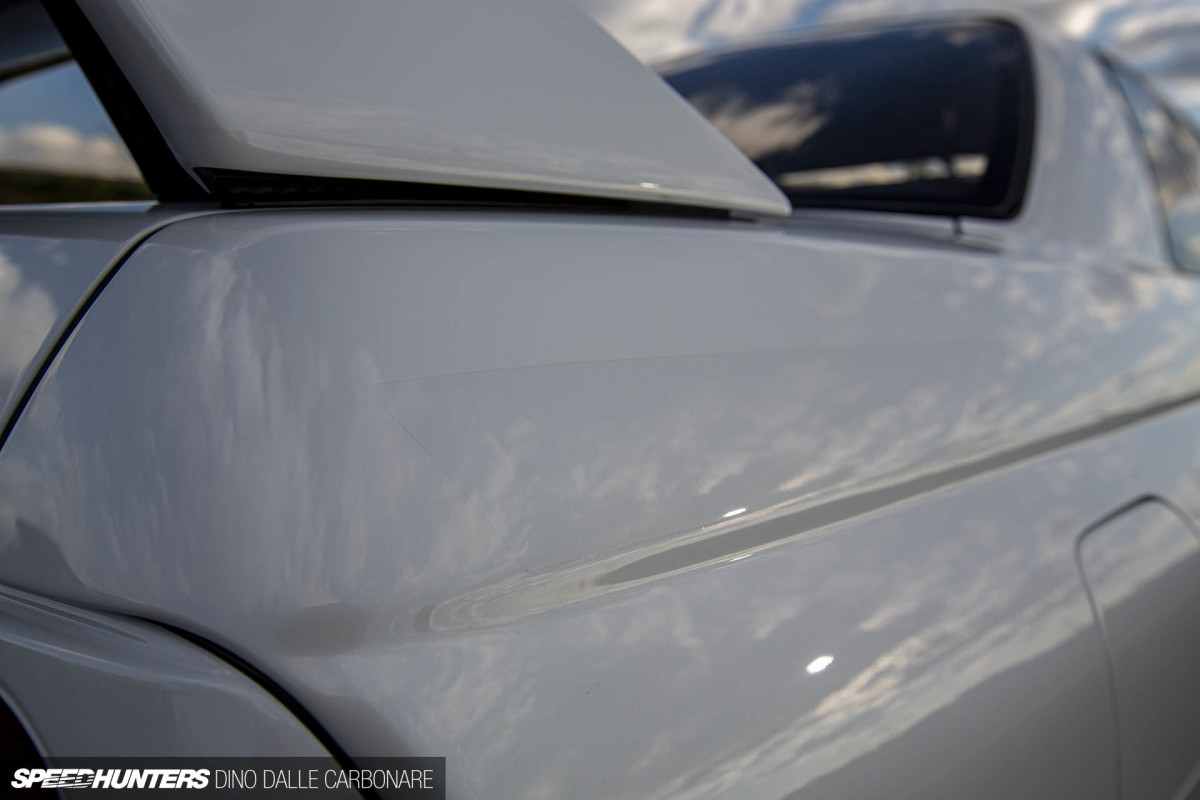 As you'll see, this is one of many Japanese touches and easter eggs throughout the car. The one most people won't even notice at first – despite it being right in front of their eyes – is the painted racing stripes that run along the car's sides. These are done in darker white and mimic the stripes that Mine's demo cars have always proudly worn.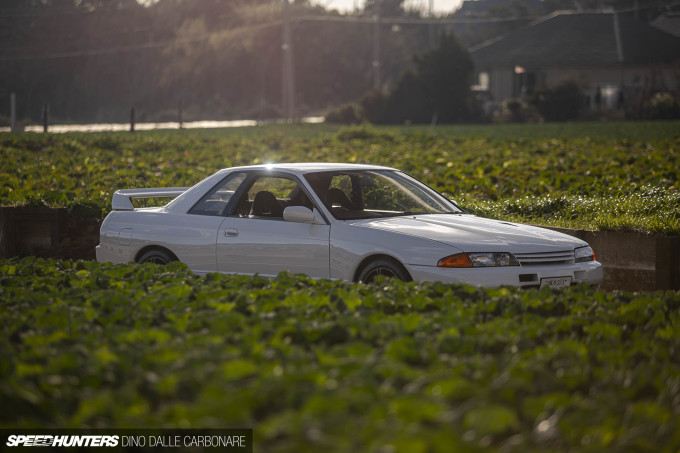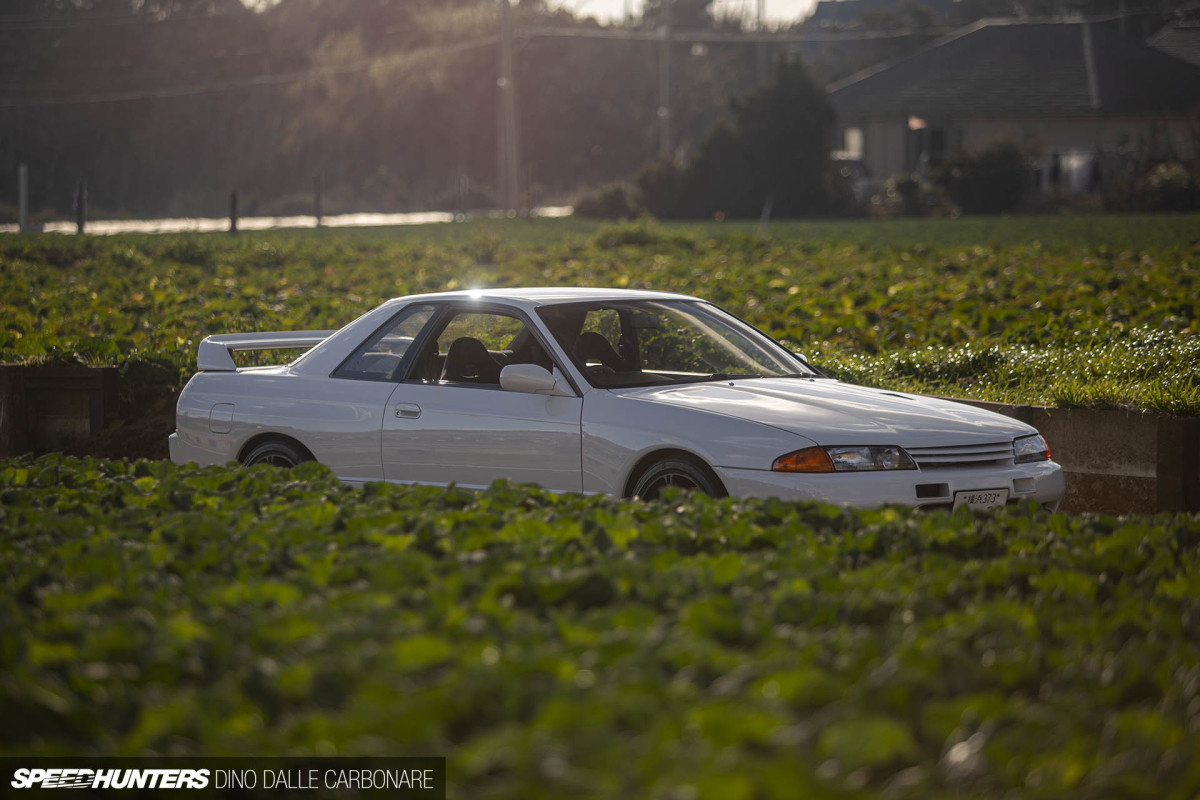 But this is all on the surface, and to get to this level of minimalist perfection in the first place, the car spent months at one of the most respected GT-R body specialists in the country: Garage Yoshida. This Nara-based bodyshop was recently entrusted to restore Mine's own R34 demo car, so that should be all you need to know about their quality of work.
At Garage Yoshida the donor BNR32 was stripped all the way down to bare metal and put on a chassis jig to realign everything to the tightest of tolerances. It was then spot and seam-welded before being meticulously painted alongside a bunch of carbon fiber exterior parts custom-made by Benetec in Shizuoka. In total, five layers of paint were laid down.
Benetec is a composite specialist that supplies various industries and the quality of their dry carbon is second to none. So while the NACA-duct equipped hood, front bumper and fenders were painted, the underside of the rear spoiler was given a paint fade to show off the perfectly aligned carbon weave.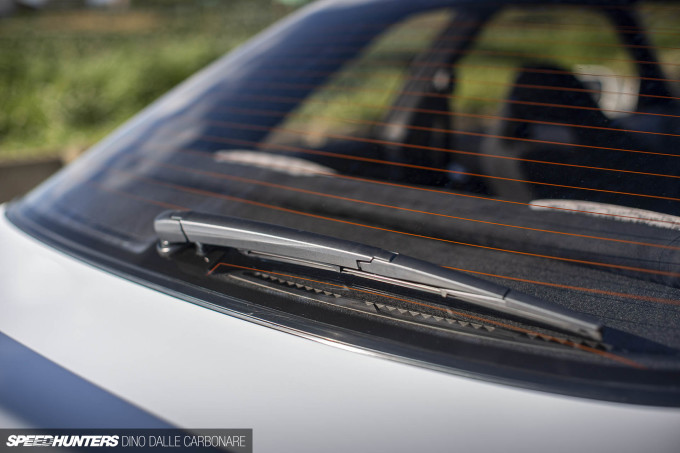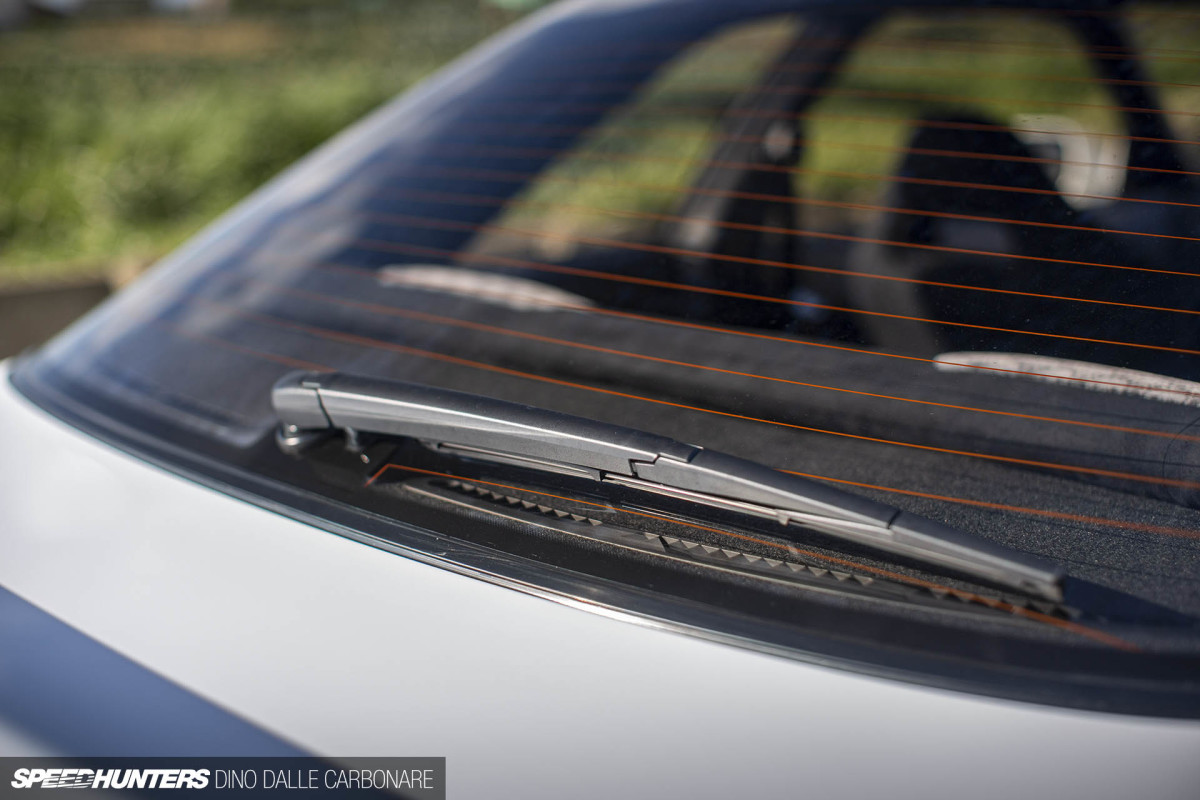 The geeky touches continue with a Nissan Serena rear wiper blade, which looks more modern than the stock item and is able to lift and tilt back to facilitate glass cleaning. It might seem simple, but to get this to work on an R32 it was necessary to fit the R34 wiper motor and assembly. I'm definitely stealing this idea, thanks Katsu and Masa… The front wipers have also been upgraded with modern NWB items.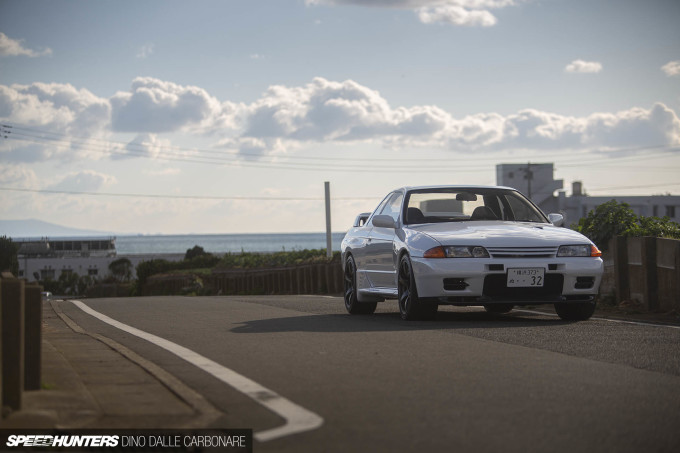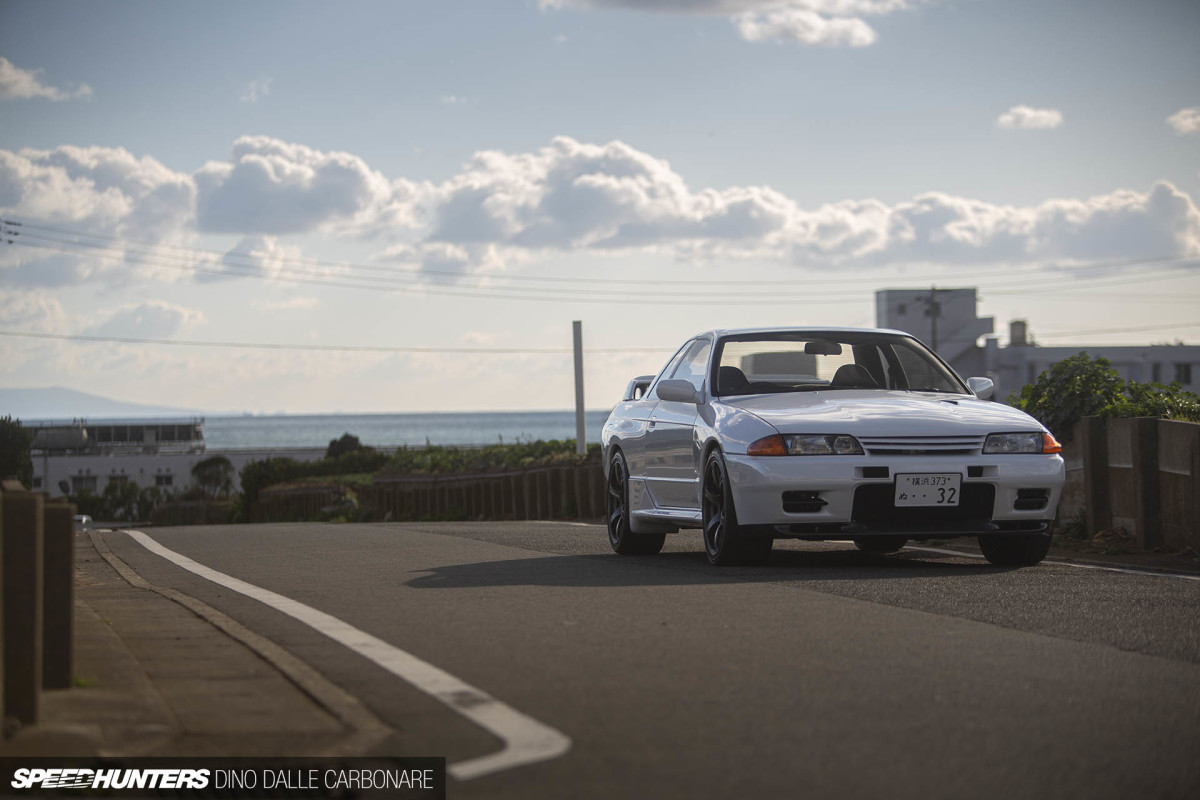 At the reassembly phase, only factory-fresh new parts were used throughout, the goal being to offer what is in essence an OEM++ car to customers. Why the double plus? Call it a reflection of the quality that's been achieved, the performance hike we will get to in a second, coupled with a level of attention to detail that only true GT-R otaku will get.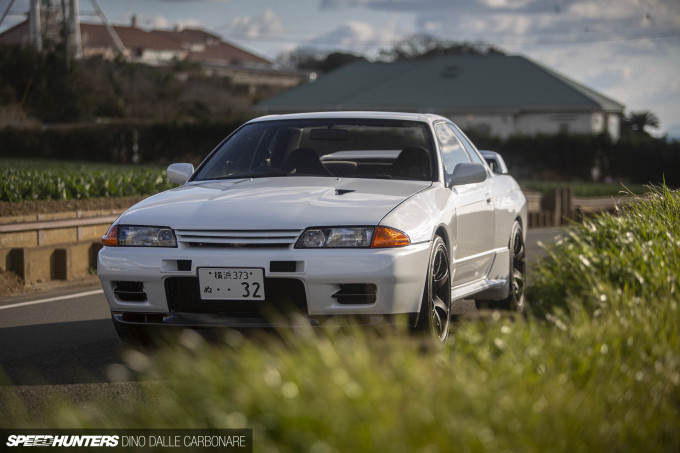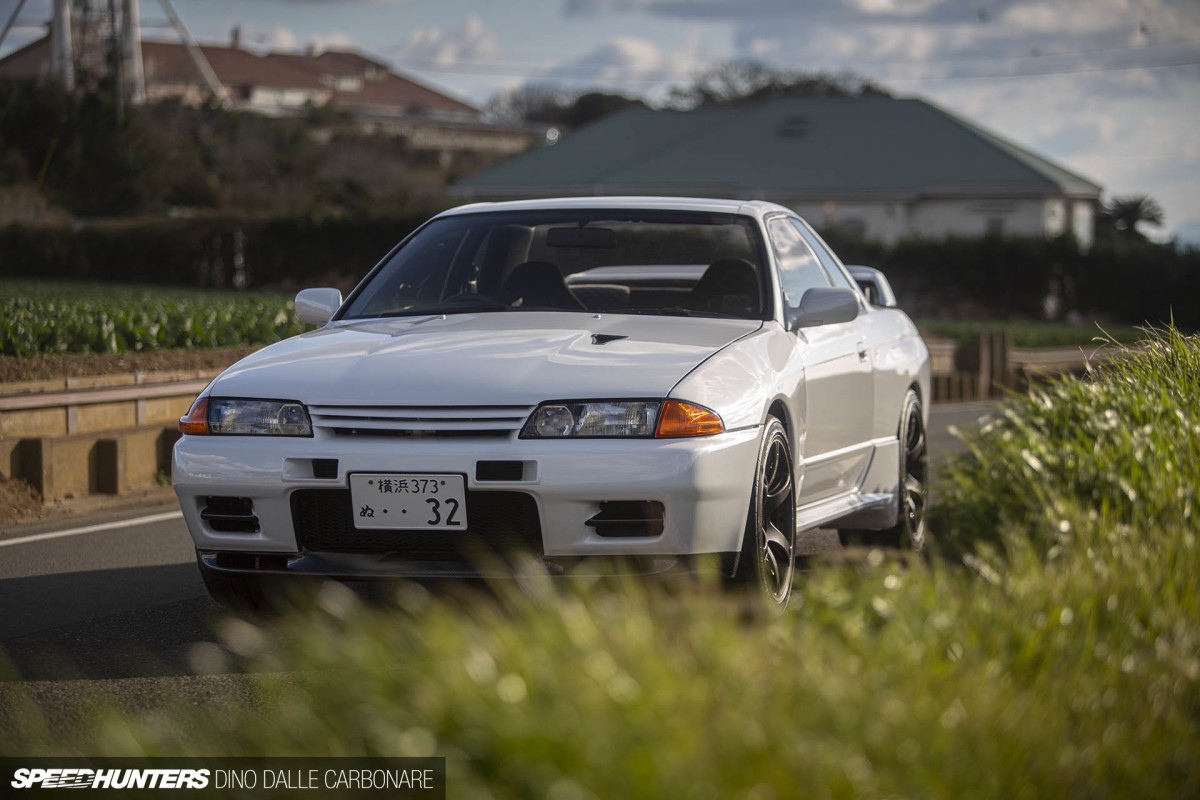 Obviously all of this comes at a price, and the complete cost of the Built By Legends R32 GT-R – including the base car – is US$380,000. As a bespoke car-building service, the cost can be higher depending on spec.
Geeking Out Over The Interior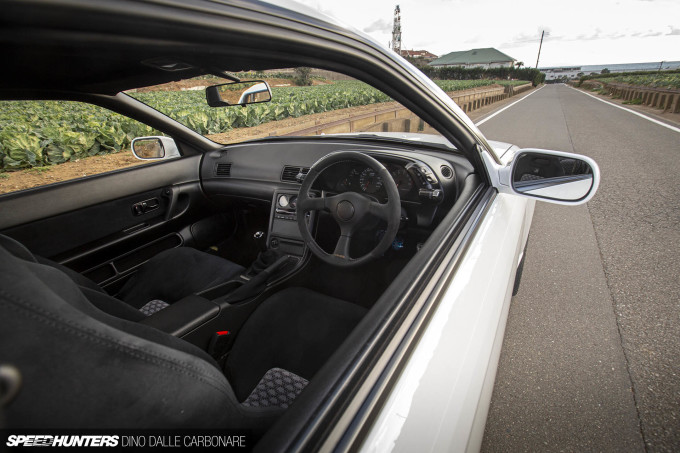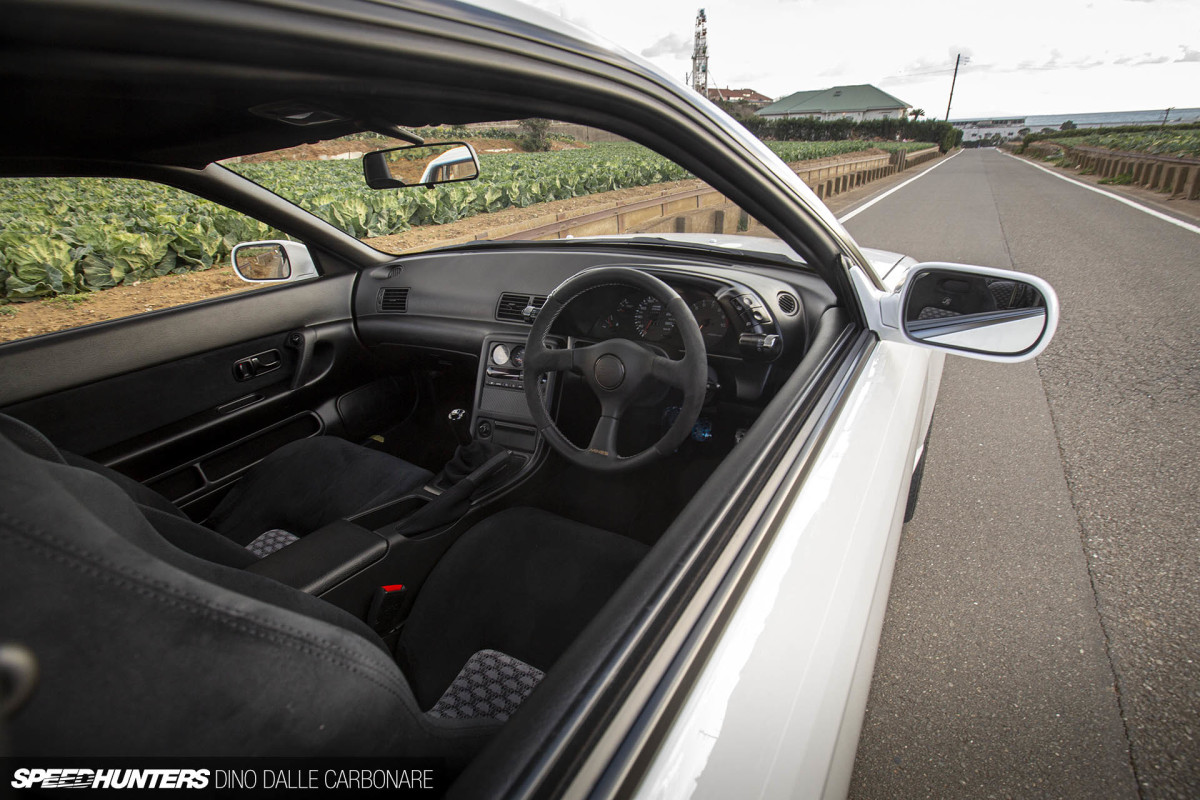 Nowhere does the 'factory fresh' feel hit you more than inside. Close your eyes and you'd be forgiven for thinking you're sitting in a new car.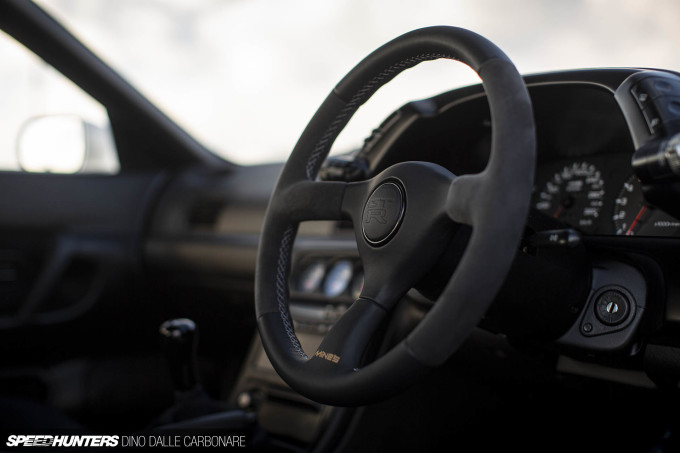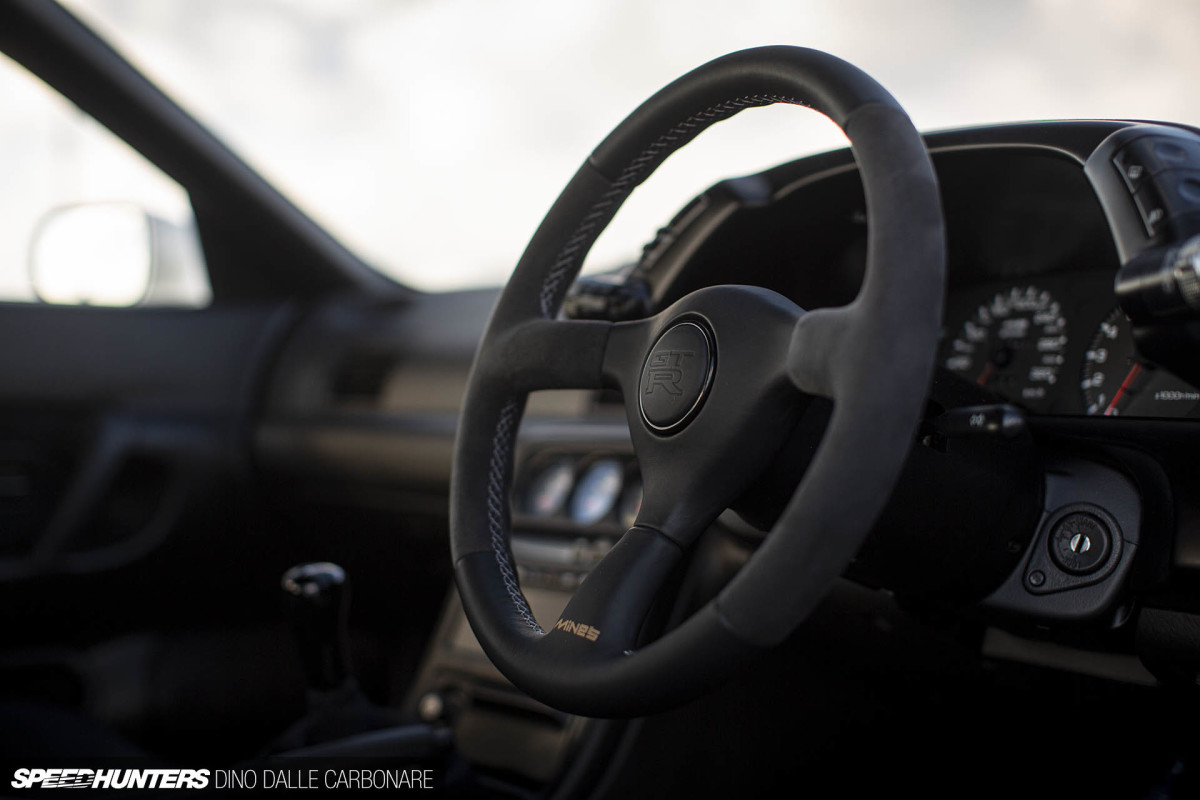 The steering wheel for example is built around the OEM item, but Mine's have finished it off with a smaller diameter yet thicker and more modern-feeling rim and a mix of nappa leather and Alcantara. The embossed GT-R logo on the horn button is a really nice touch.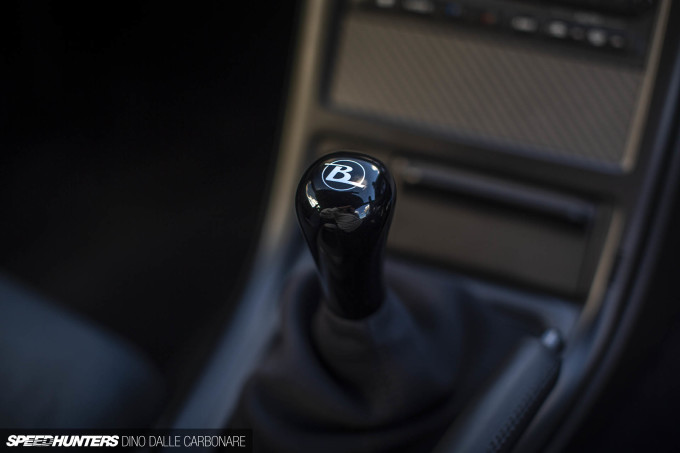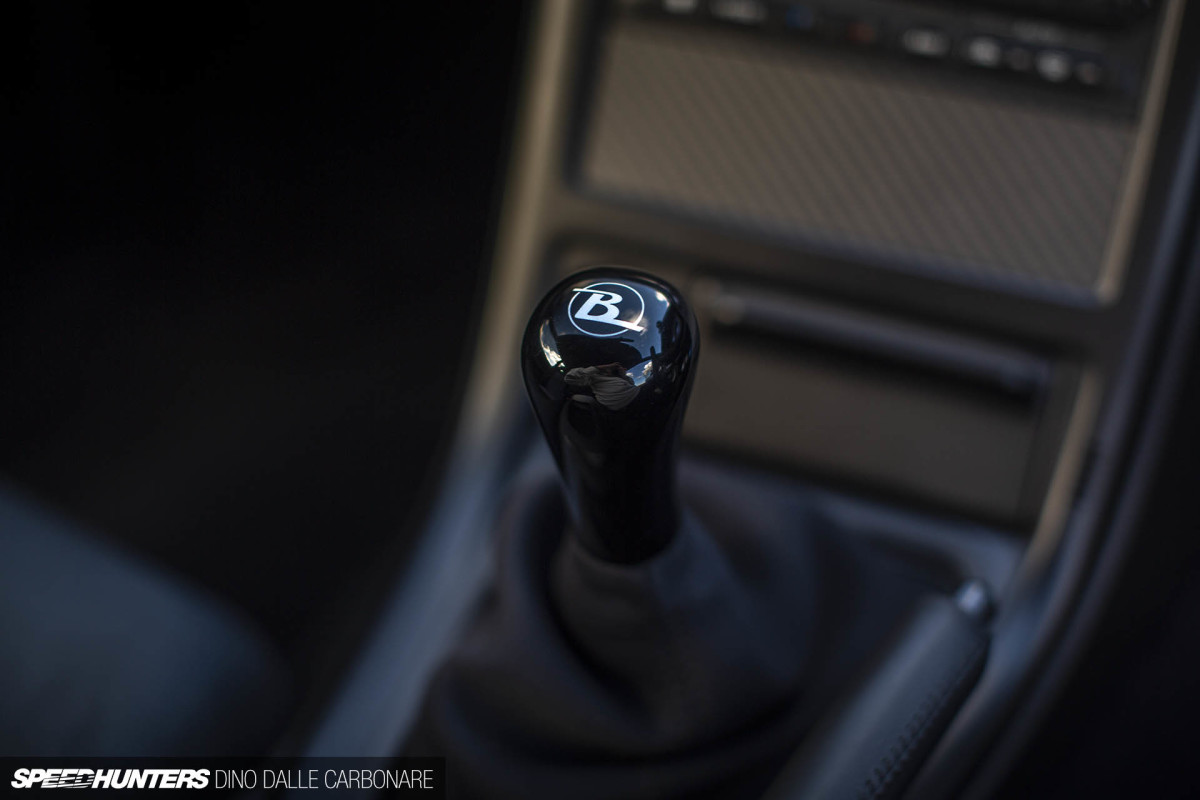 Yoshi of Design Build Studio was tasked with selecting many of the interior elements, including the materials and colors used. He also designed the shifter, which is perfectly weighted and ergonomically shaped to feel comfortable in your hand. Such is the level of detail that the shifter boot fabric only has a single stitch so as not to obstruct and interfere with the feel of shifts.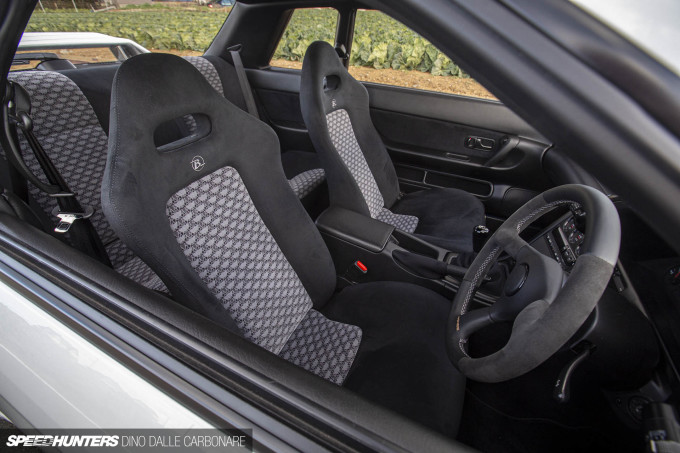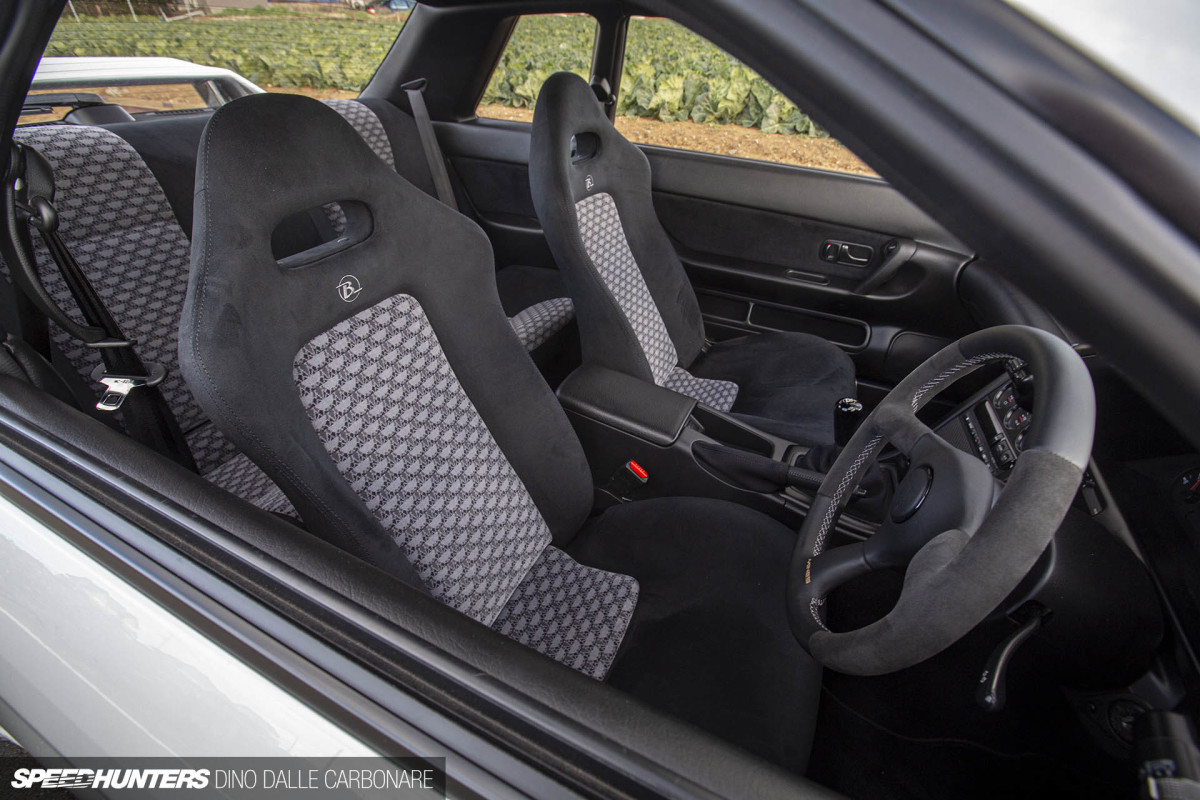 Yoshi designed the custom Mt. Fuji pattern on the seats, and Taenaka Pile out of Wakayama brought it to life. Taenaka Pile were responsible for the fabrics in the first-gen Lexus LS as well as the Honda Legend and other JDM cars right up to the mid-1990s when manufacturers began sourcing cheaper materials for their interiors. Today, they also produce seat fabric for the Shinkansen, which is beyond cool.
The actual upholstering, which also added black Alcantara for the outside sections of the seats, was handled by Saito Kougyo, a company known in GT-R circles for trimming the interiors in Nismo Omori Factory cars.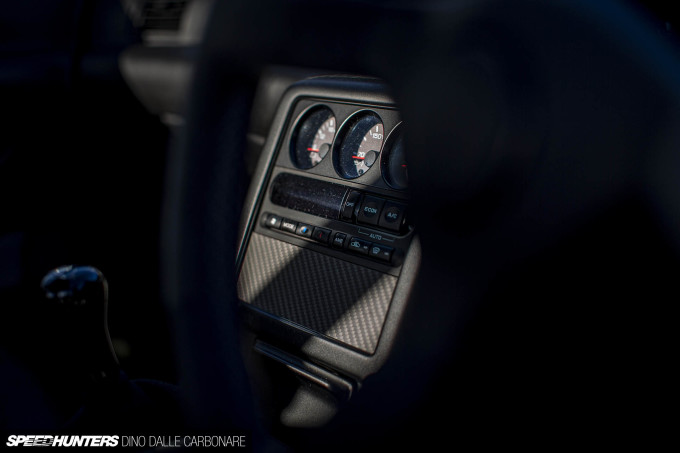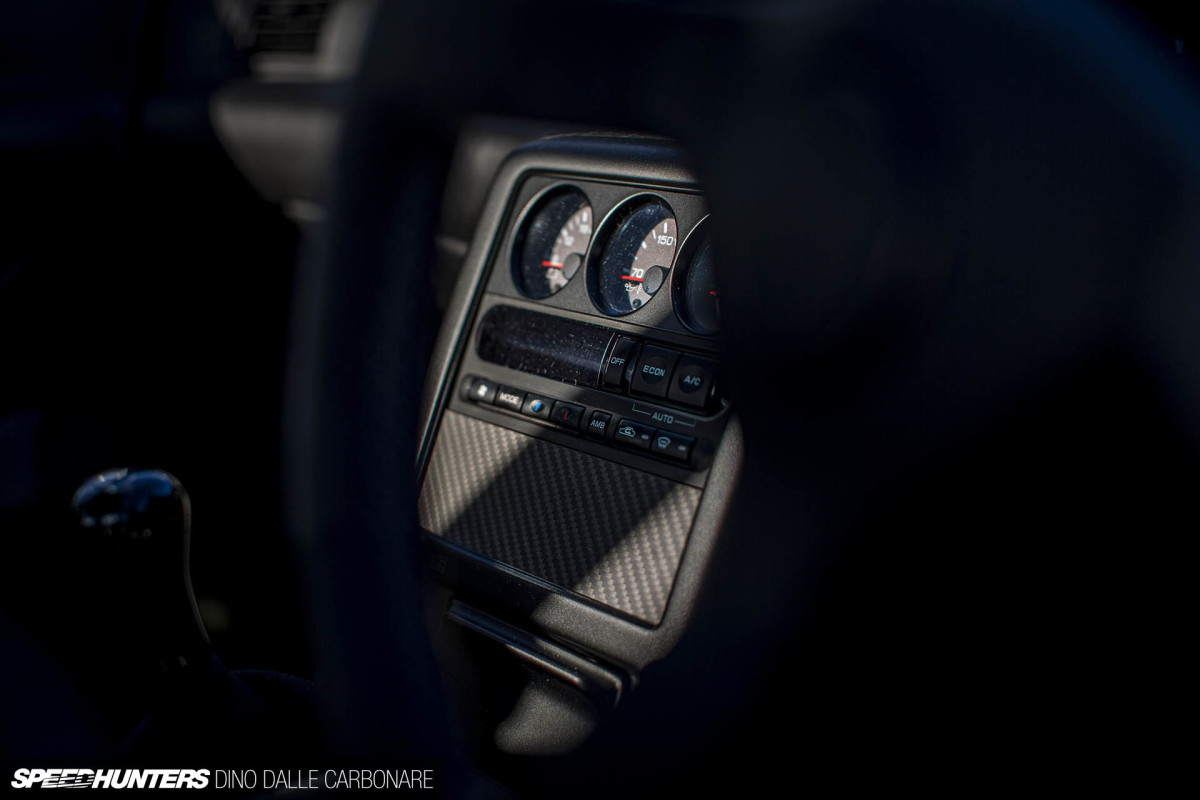 Along with a new dashboard, a Muse Concept Design x Mine's OEM-like center console surround has been fitted. In this car, Mine's have blocked off the single DIN space with a sheet of carbon fiber, but customers will be able to add a headunit here if they so desire.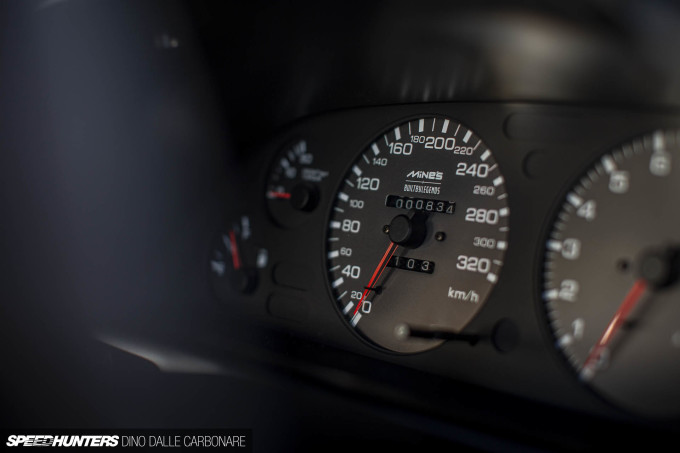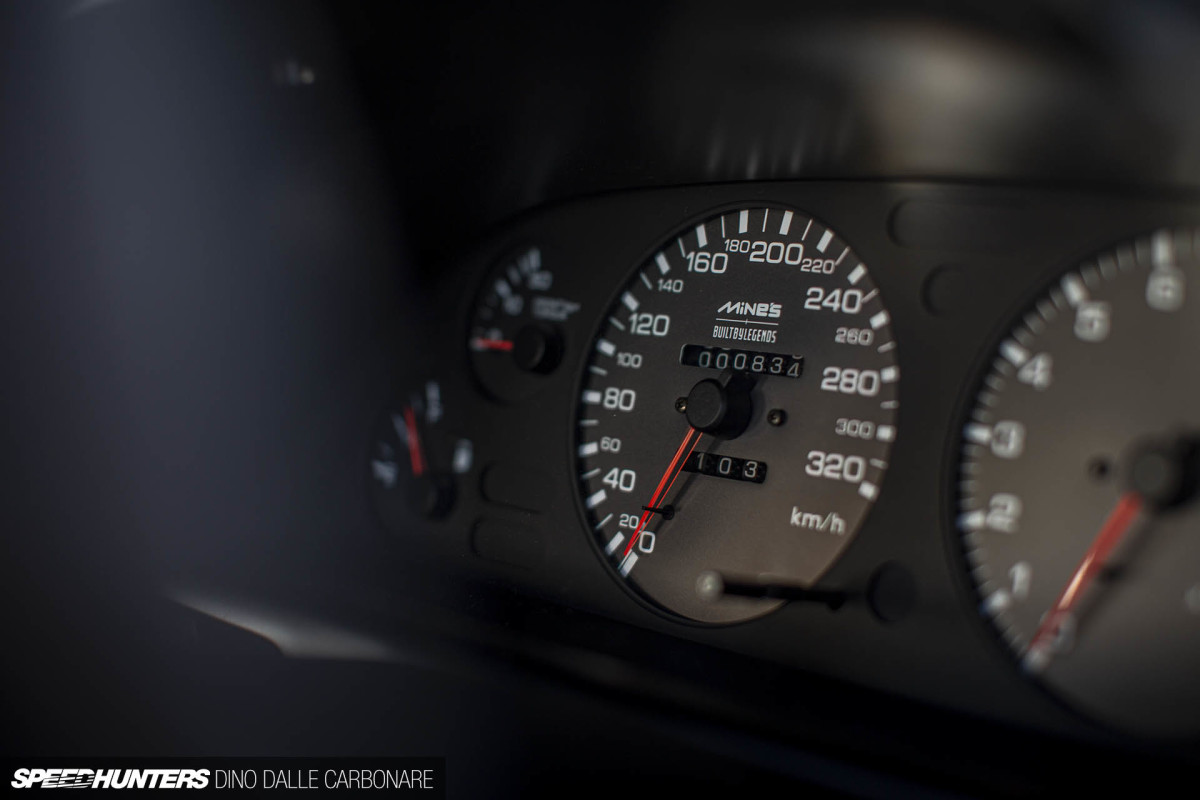 I felt very lucky to be able to drive this car pretty much as soon as it was completed. The odometer on the special 320km/h Mine's speedometer read just over 800km.
By far one of my favorite touches has to be the black chrome finish applied to the wiper and light switches on each side of the instrument binnacle, as well as the interior door handles. It's such a nice detail that really elevates the interior, and the smooth paint finish feels really nice to the touch.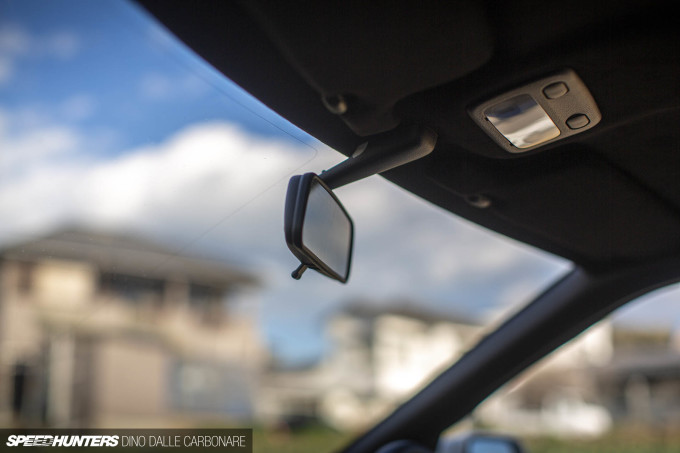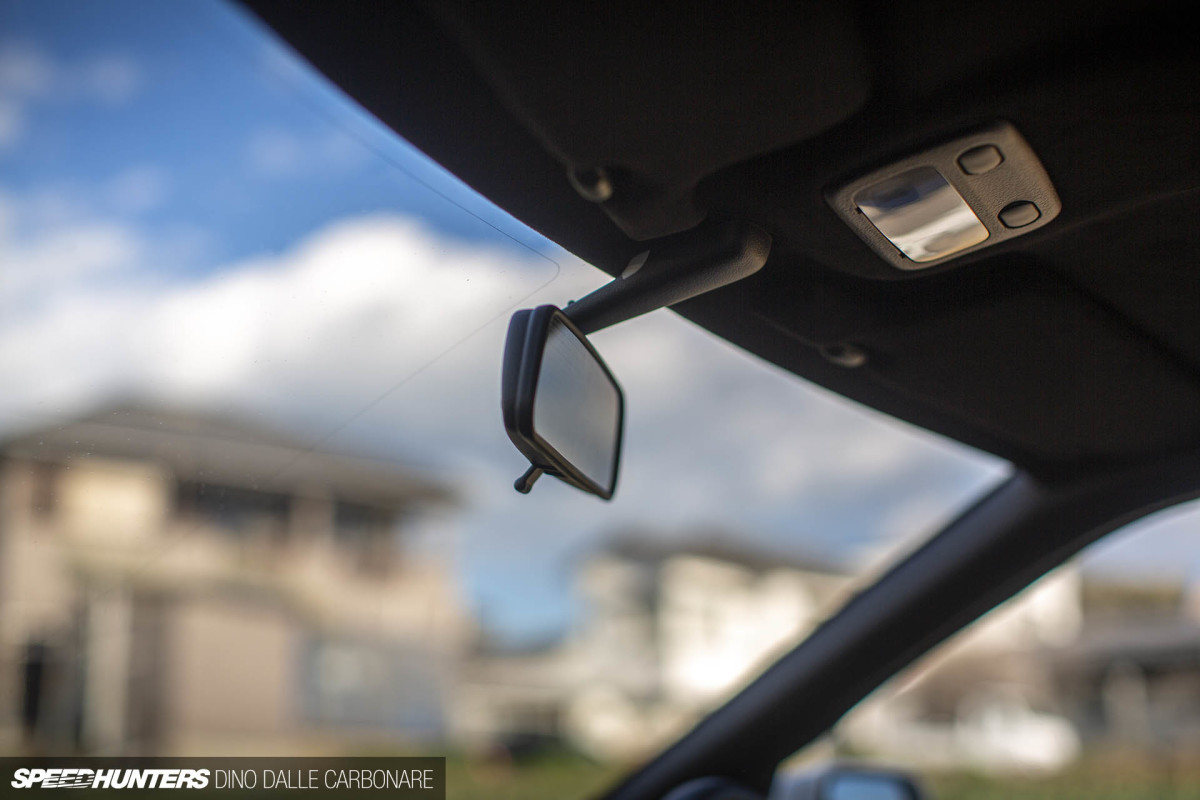 The BNR34 GT-R mirror was one of the first things I spotted.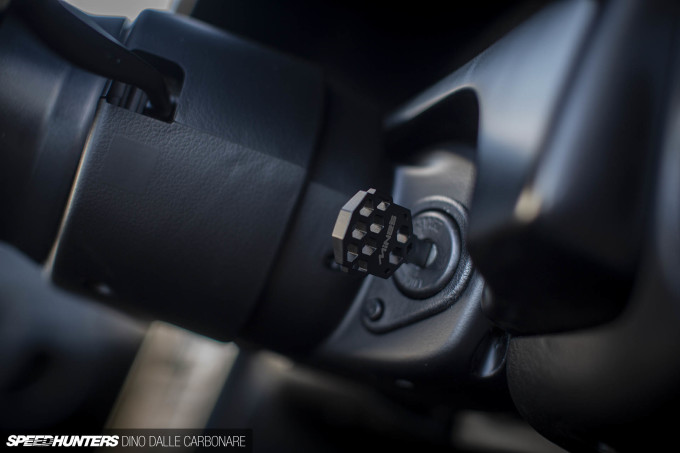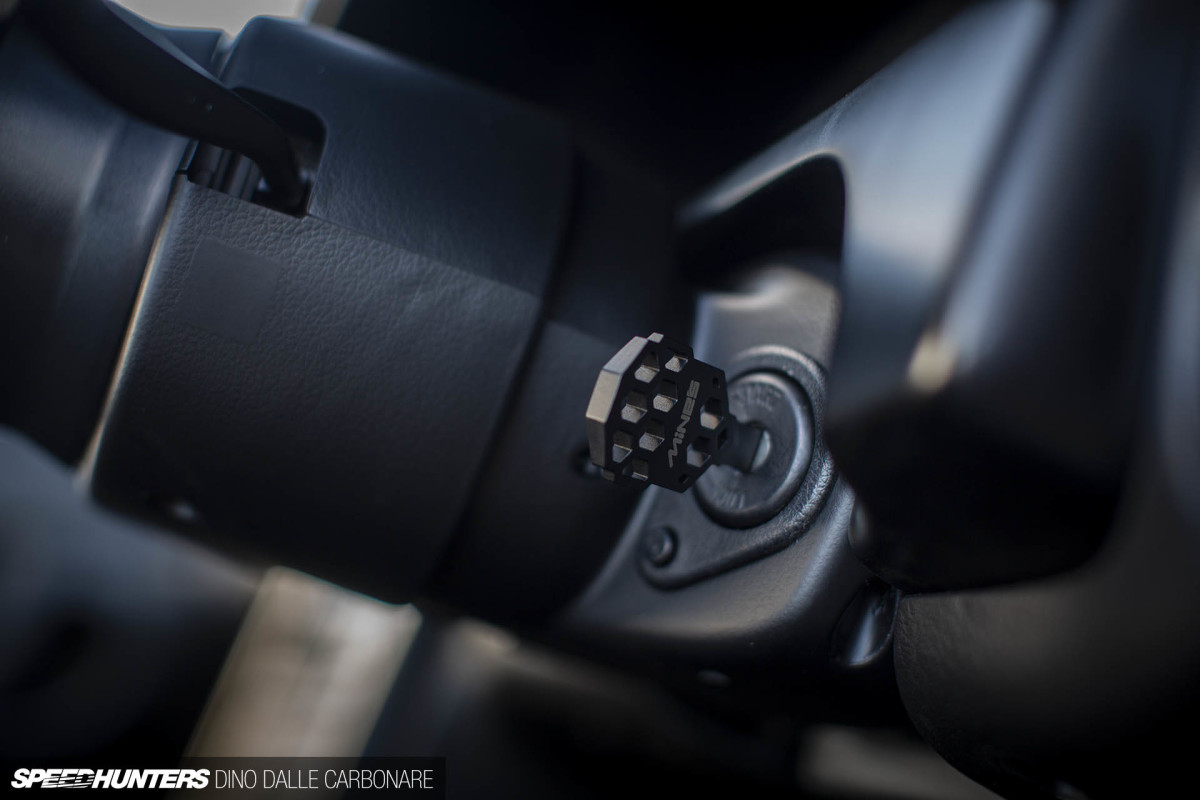 That Mt. Fuji theme from the seat fabric is carried through to the black-anodized, billet aluminum key that all buyers of a Built By Legends BNR32 will receive.
I could spend a lot of time going over all the details in the cabin. Like how that under the one-off deep-pile carpets (and under the headliner) are a series of sound deadening mats that help keep intrusive vibrations muffled while also offering heat insulation. And how the speakers on the carpeted rear parcel shelf have been fitted underneath so that they are not visible through the rear glass.
The Mine's-Built Heart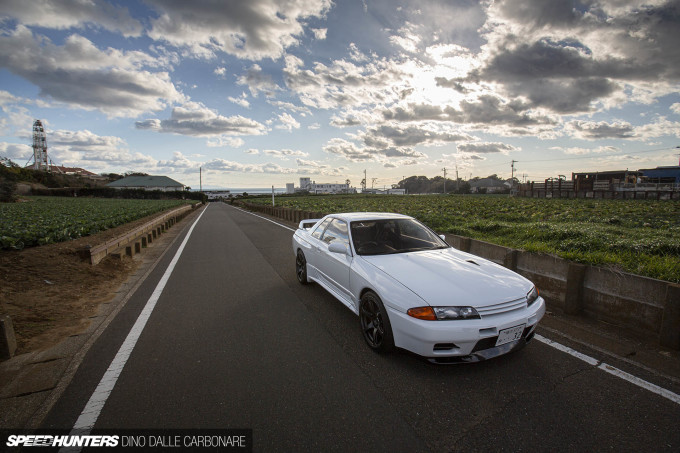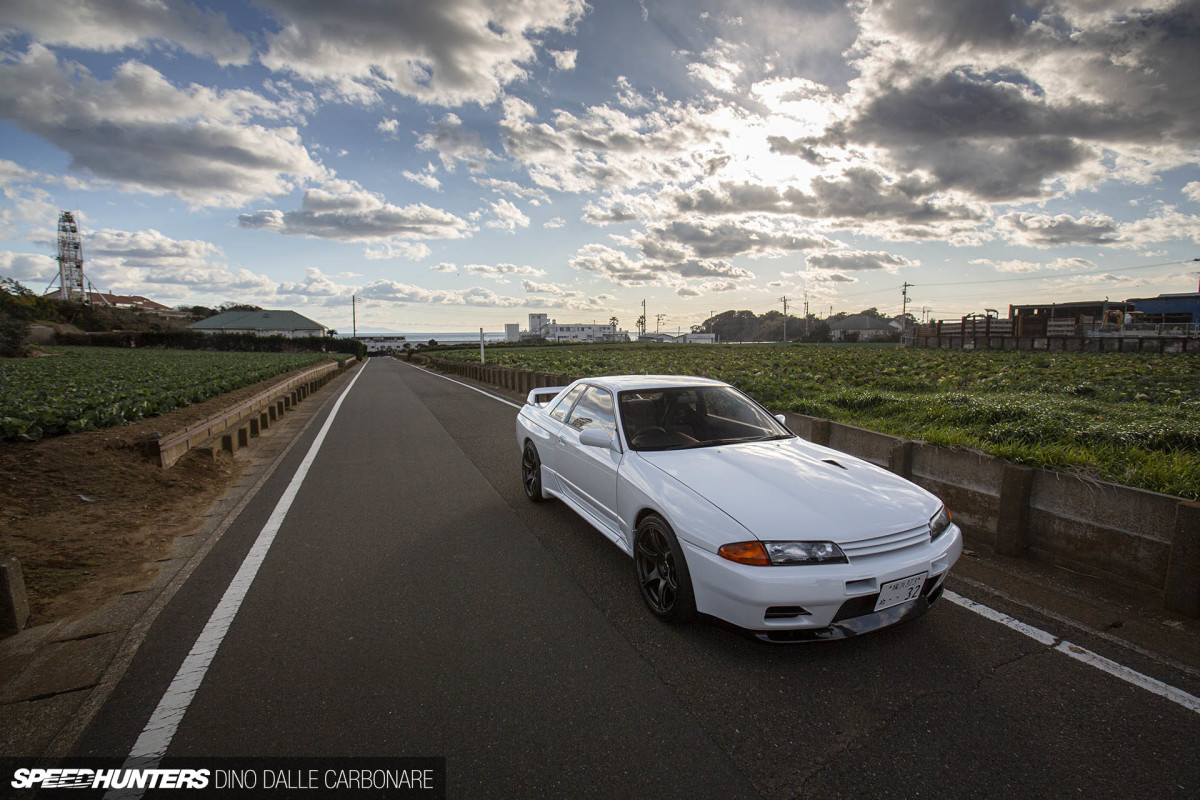 By now I'm sure you must be quite curious as to what's been done with the engine side of things…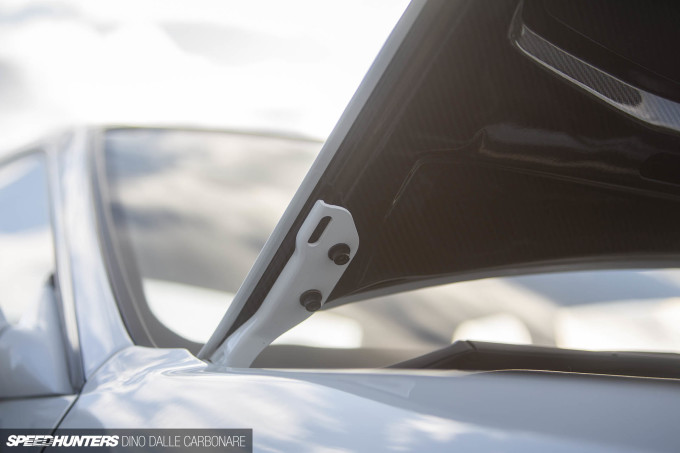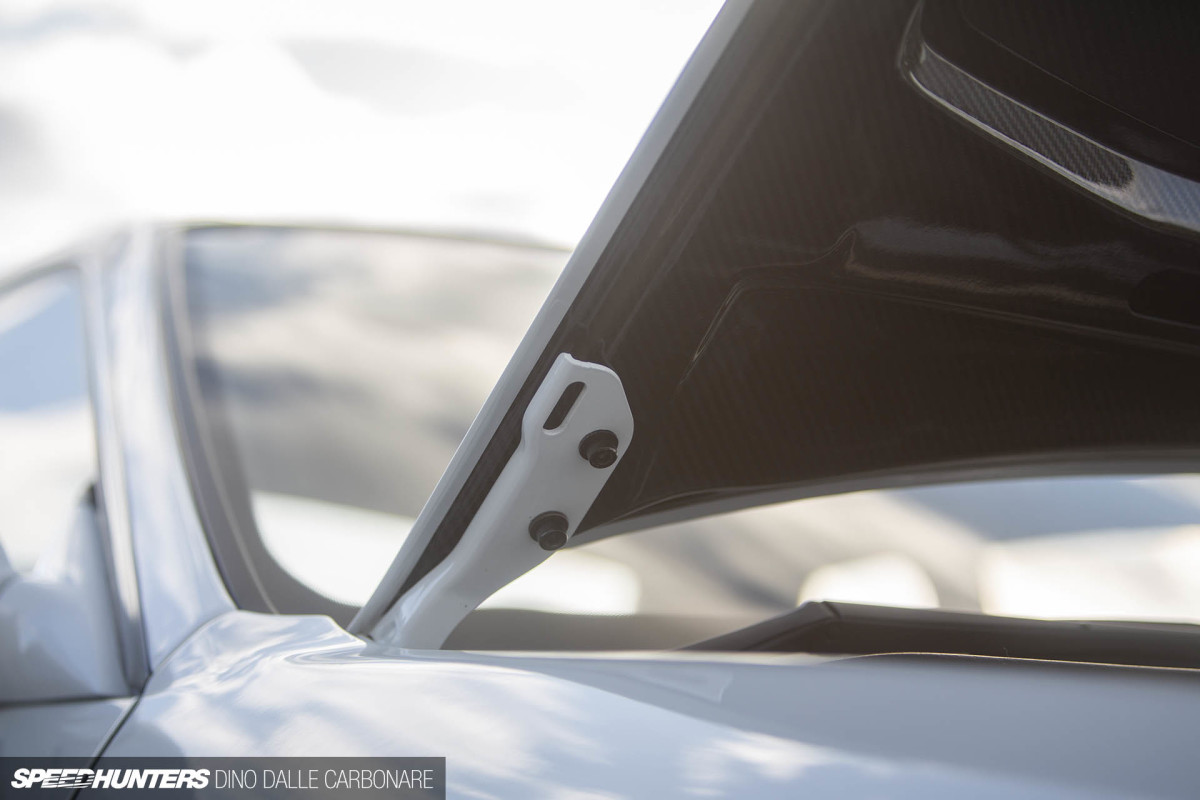 Lifting up the beautifully constructed carbon fiber bonnet reveals all.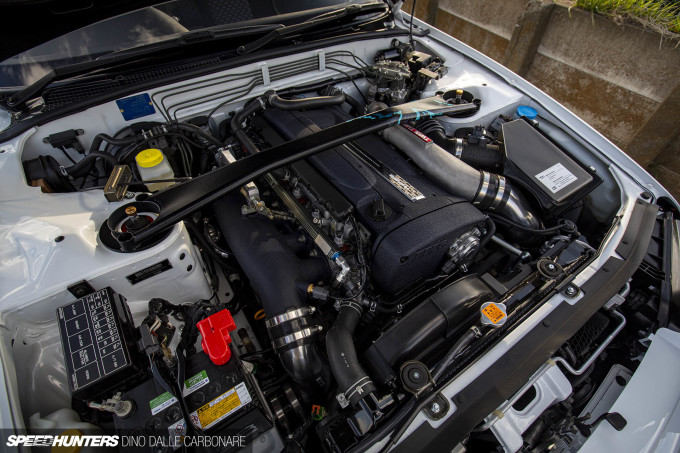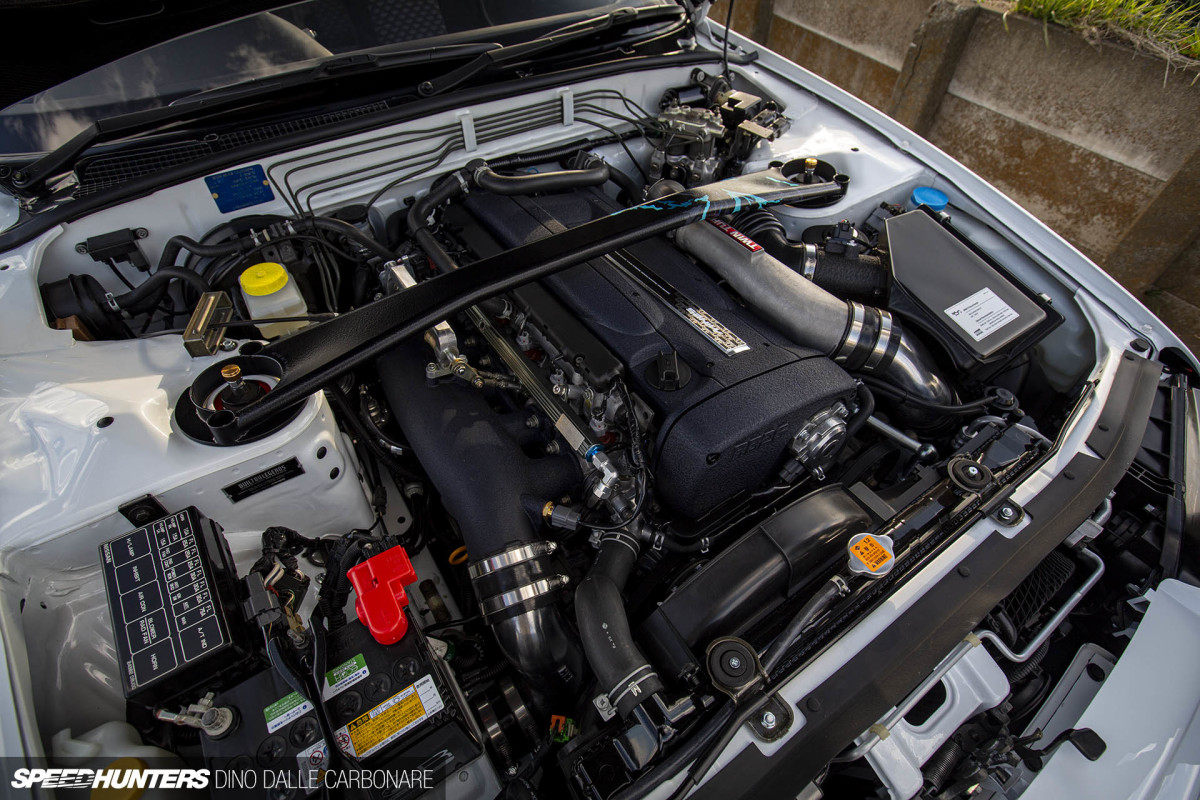 Mine's' master engine builder, Nakayama-san, put together the 2.8L RB around a Nismo Heritage block. In the truest execution of the Mine's philosophy, it's been engineered with balance in mind. So with the use of some GCG GT2860R turbos running at 1.2bar (17.64psi), forged internals, bespoke head work and valve gear prep, there's 500hp on tap, which thanks to the increased capacity comes with a very nice spread of torque and the signature response of a complete Mine's engine.
In all honestly, that 500hp figure seems quite conservative, but then again, Mine's has always preferred to keep things understated.
Before I talk you through how it all feels, let's check some of the details.
On the crackle-finish Mine's cam covers is a special engine plaque that repeats the Mt. Fuji design in the cabin. Even the profile of the billet aluminum plaque has been given a conical cut to hint at the cone-like shape of Japan's famous dormant volcano. This was made as a bespoke piece by Kusuka Engineering, who are well known for their 1/6th scale engine models.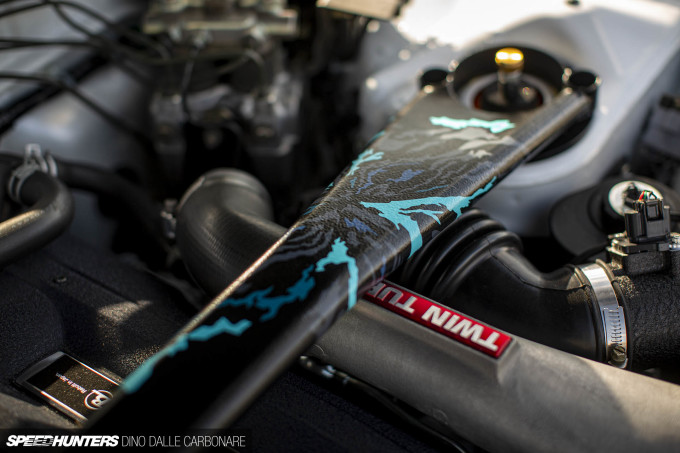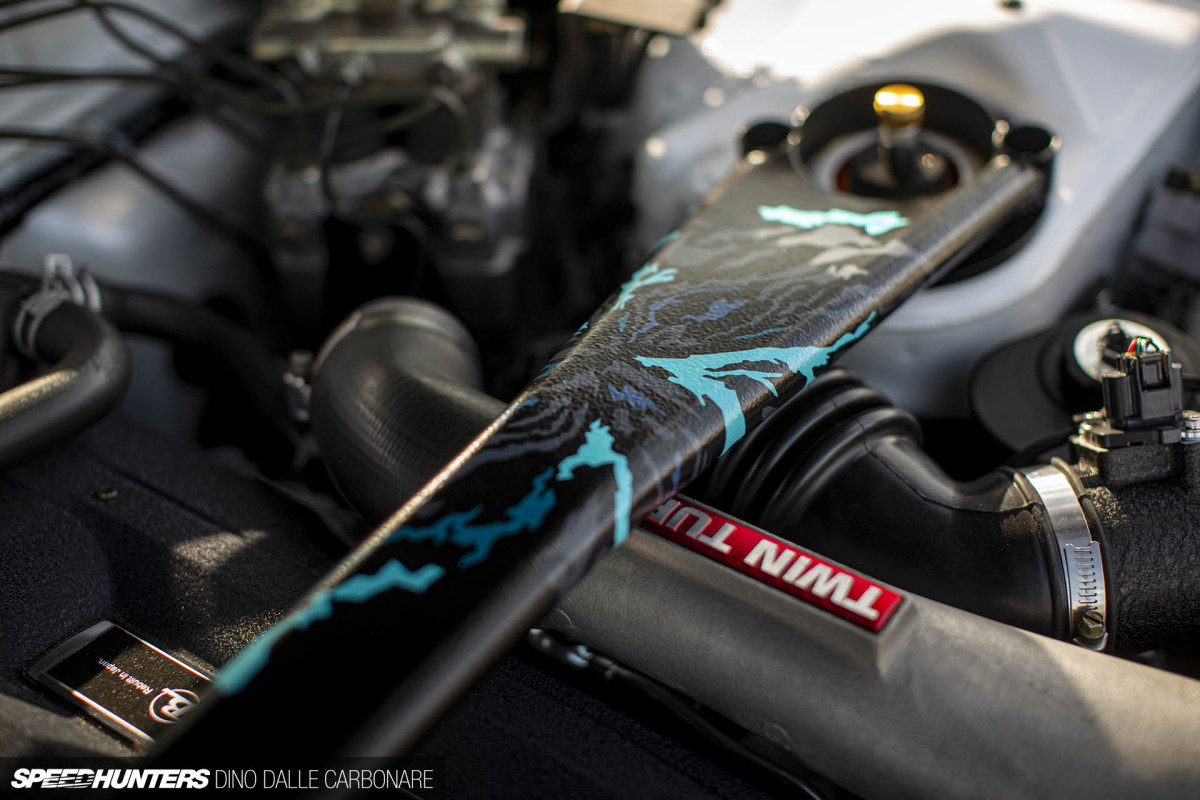 The Mine's titanium strut brace was powder-coated black before a topographical map of Mt. Fuji in Built By Legends colors was painted on. It's a superb touch.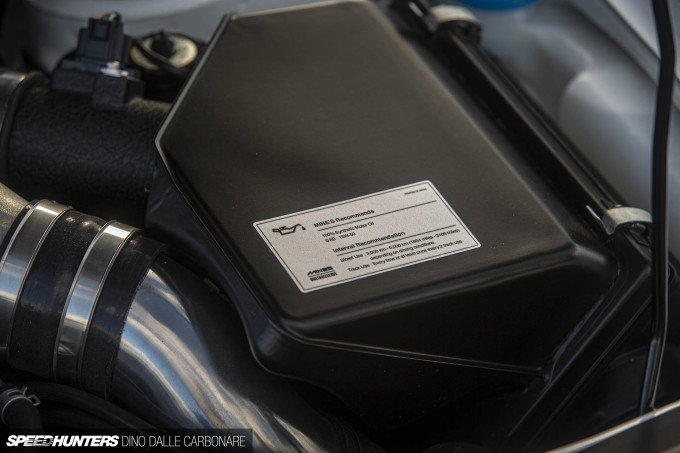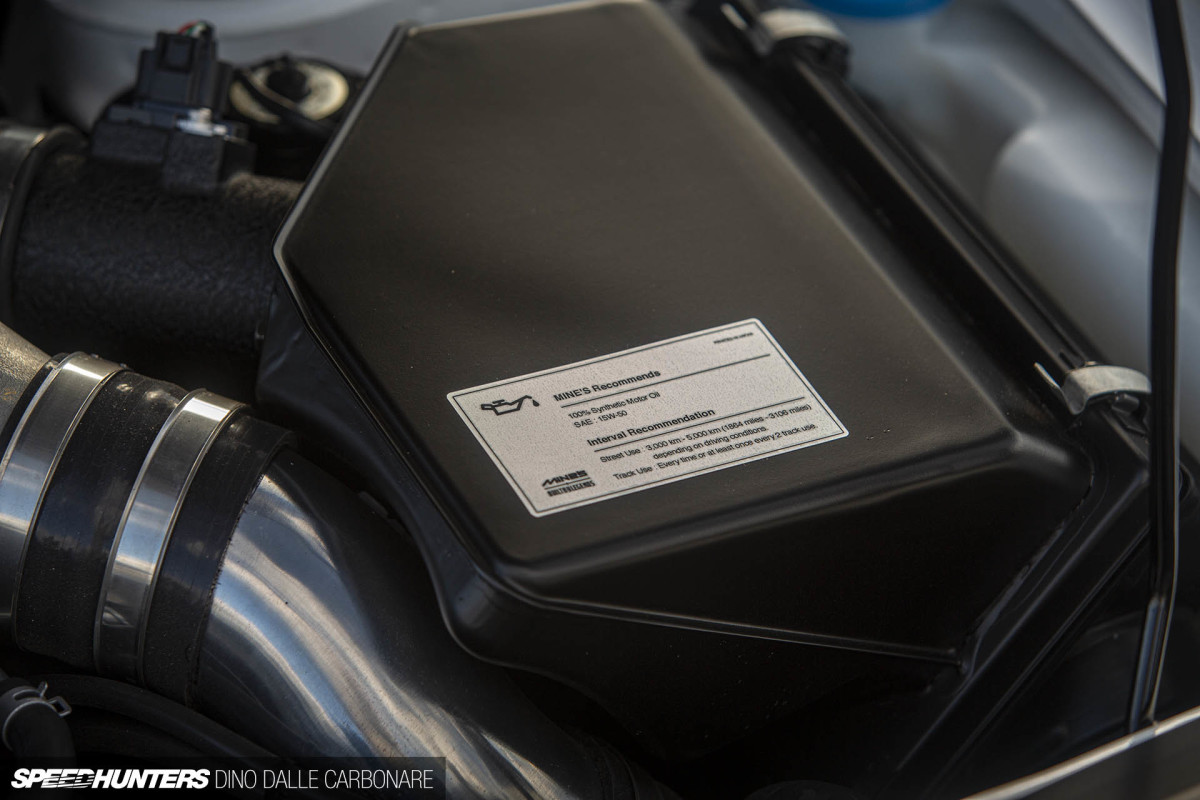 They even went so far as to design their own maintenance instructions on a factory-like metallic sticker placed exactly where the OEM one was on the factory air box.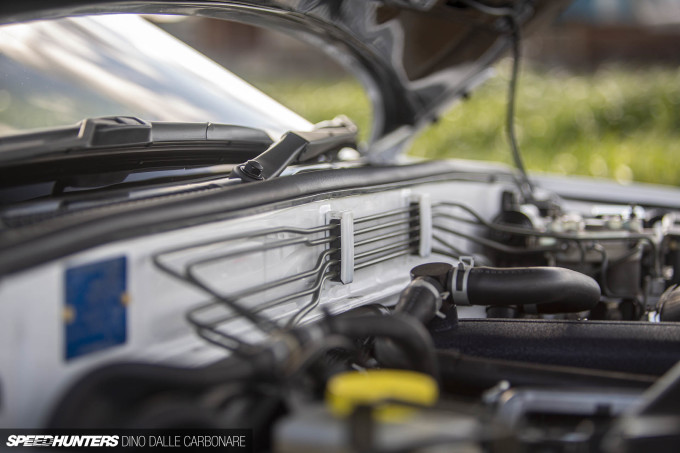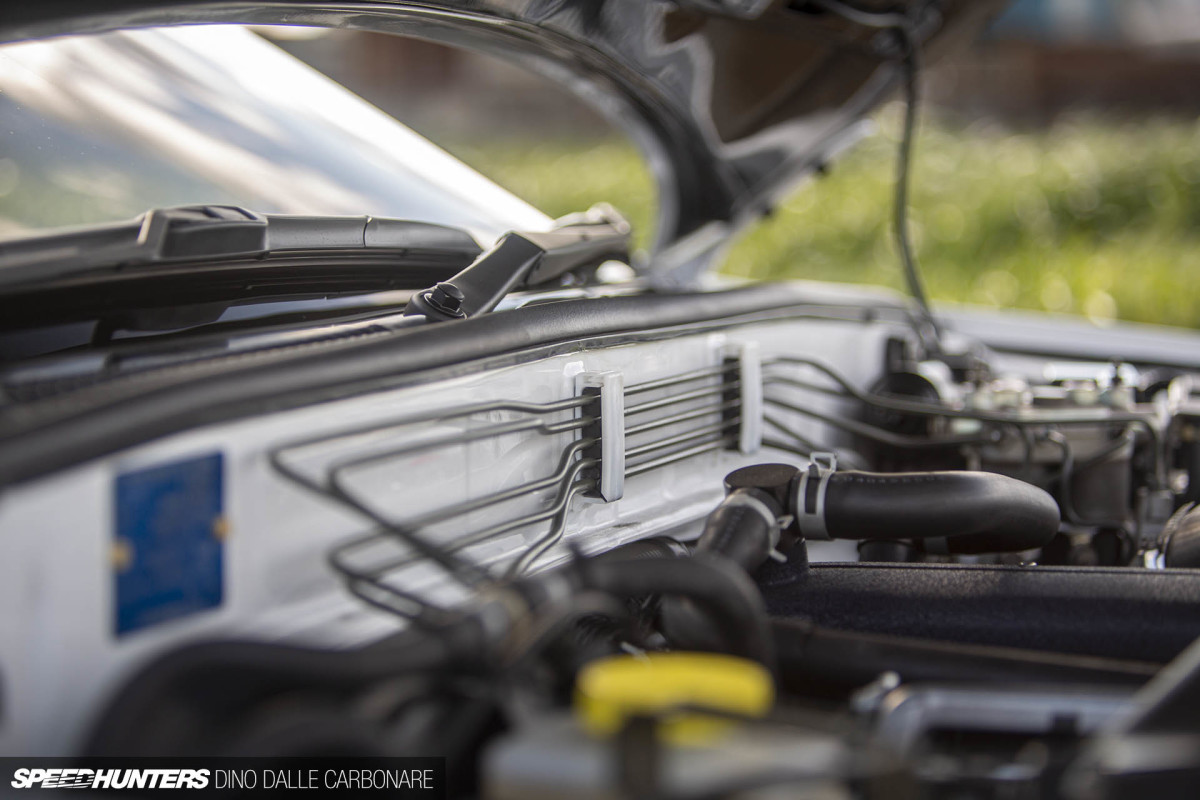 The telltale signs of a ground-up build are everywhere you look around the engine bay.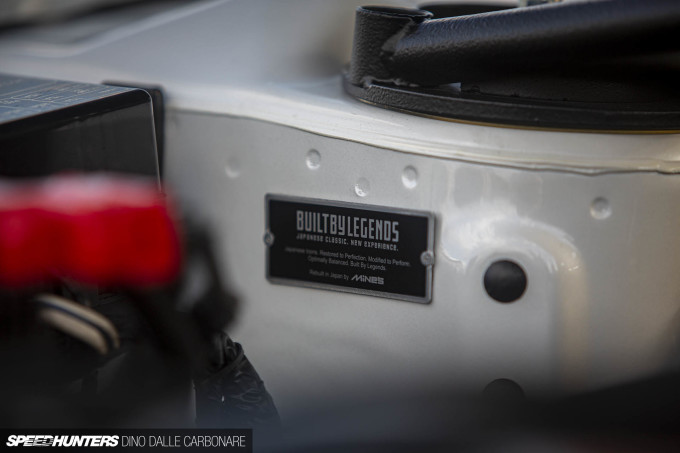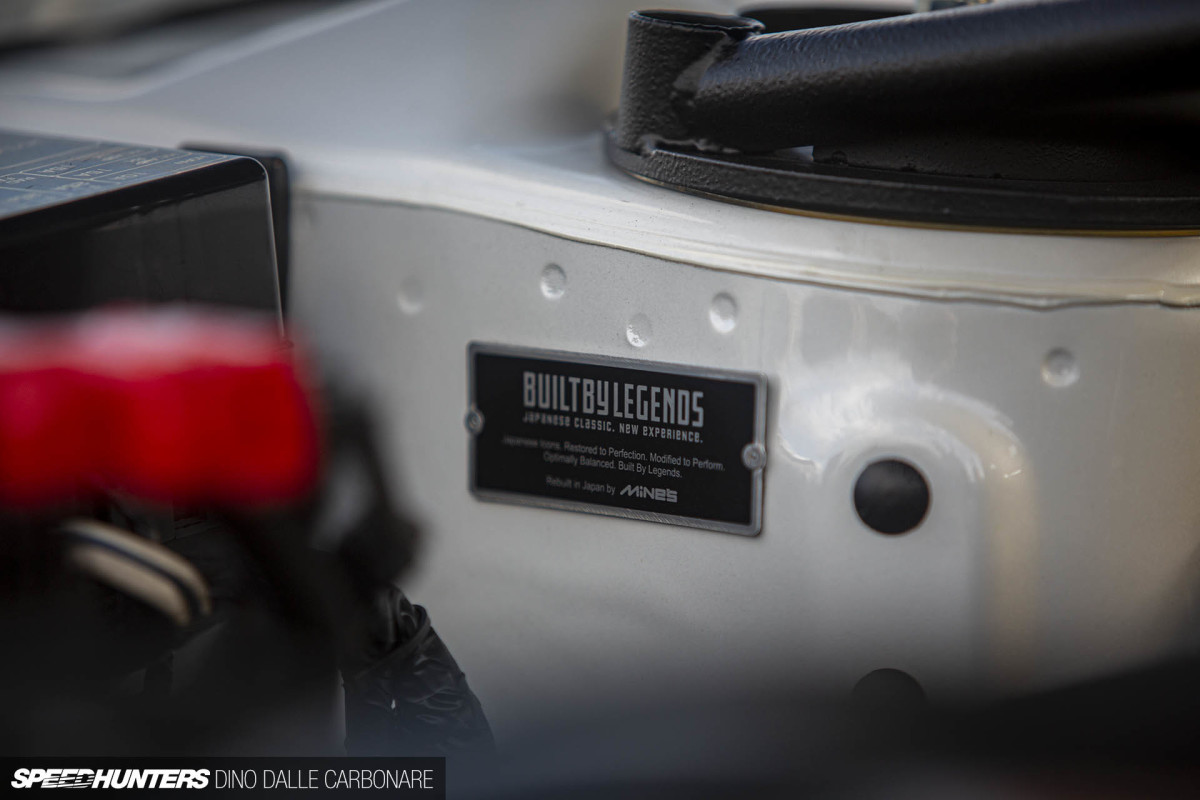 Each car comes with its own certification plate in the engine bay too.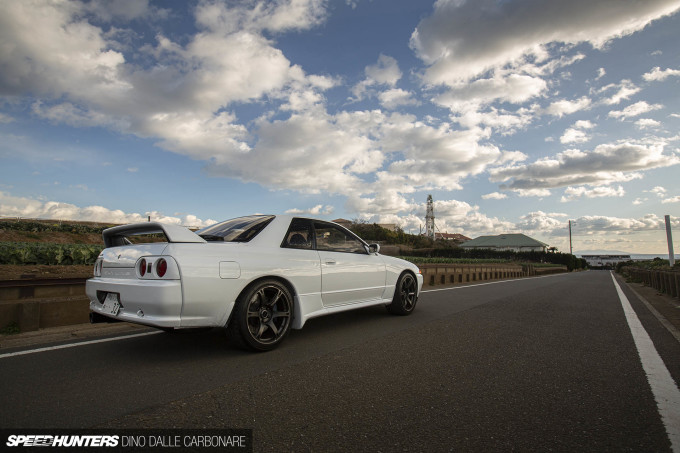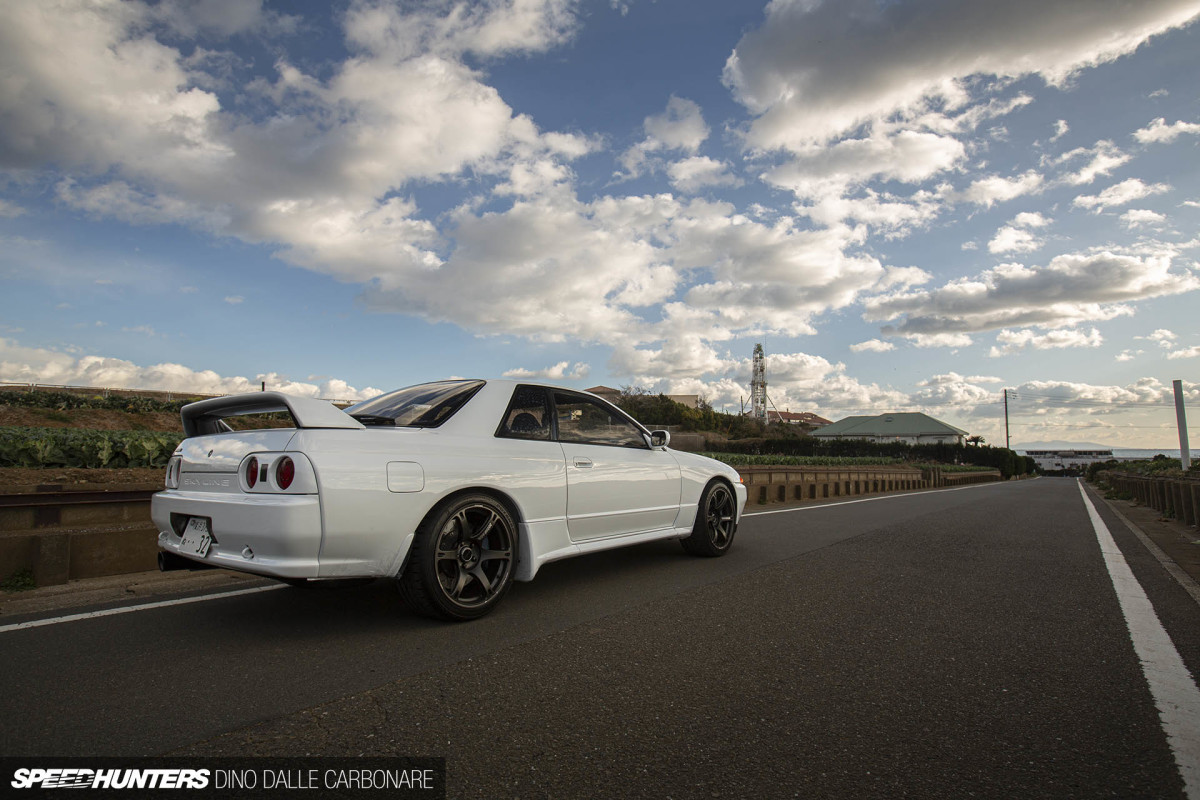 The fact that they have chosen not to mess with the BNR32's clean lines in any way is something I'm glad to see.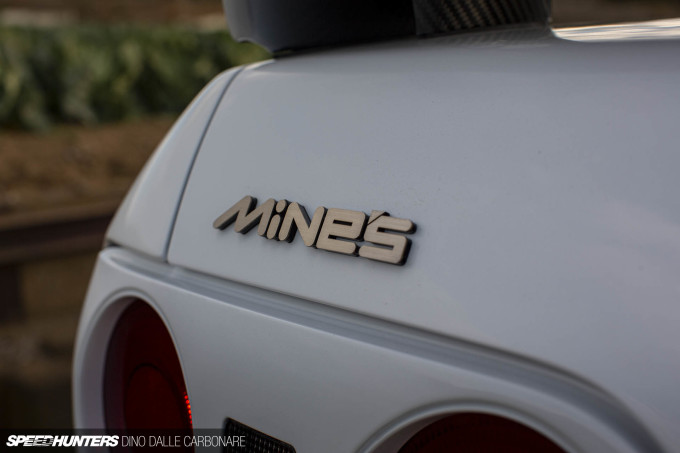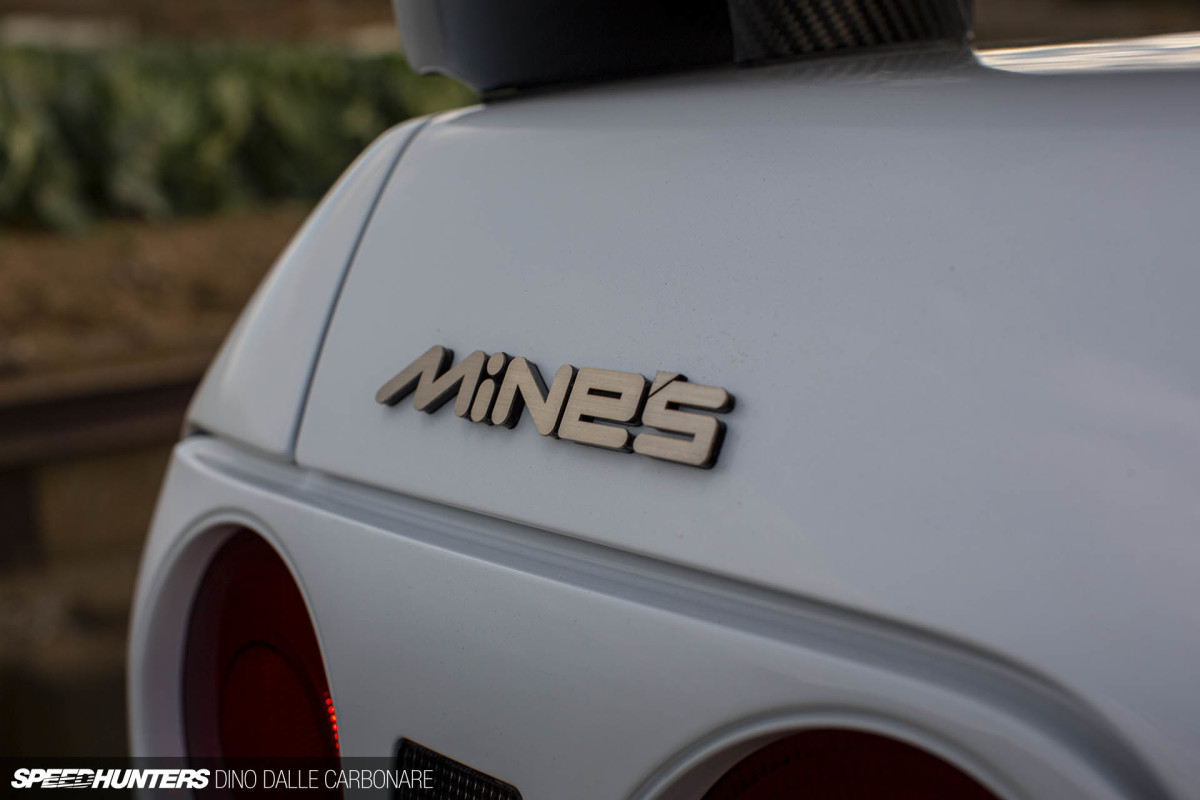 This is a very well thought-out creation, right down to the brushed stainless steel Mine's badge on the rear, which is exactly the same size as the OEM Nissan emblem it replaces.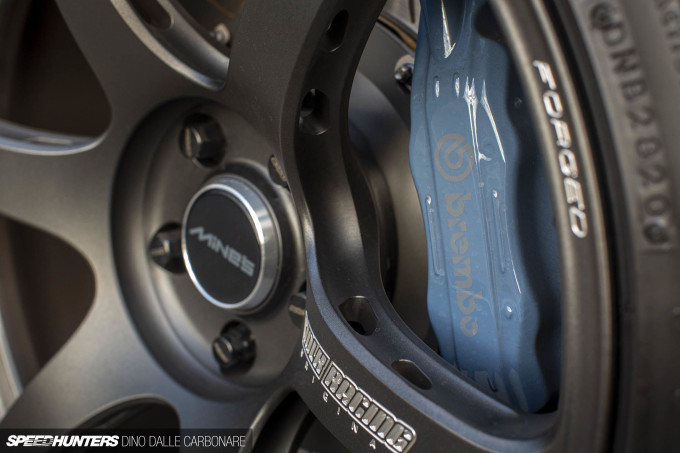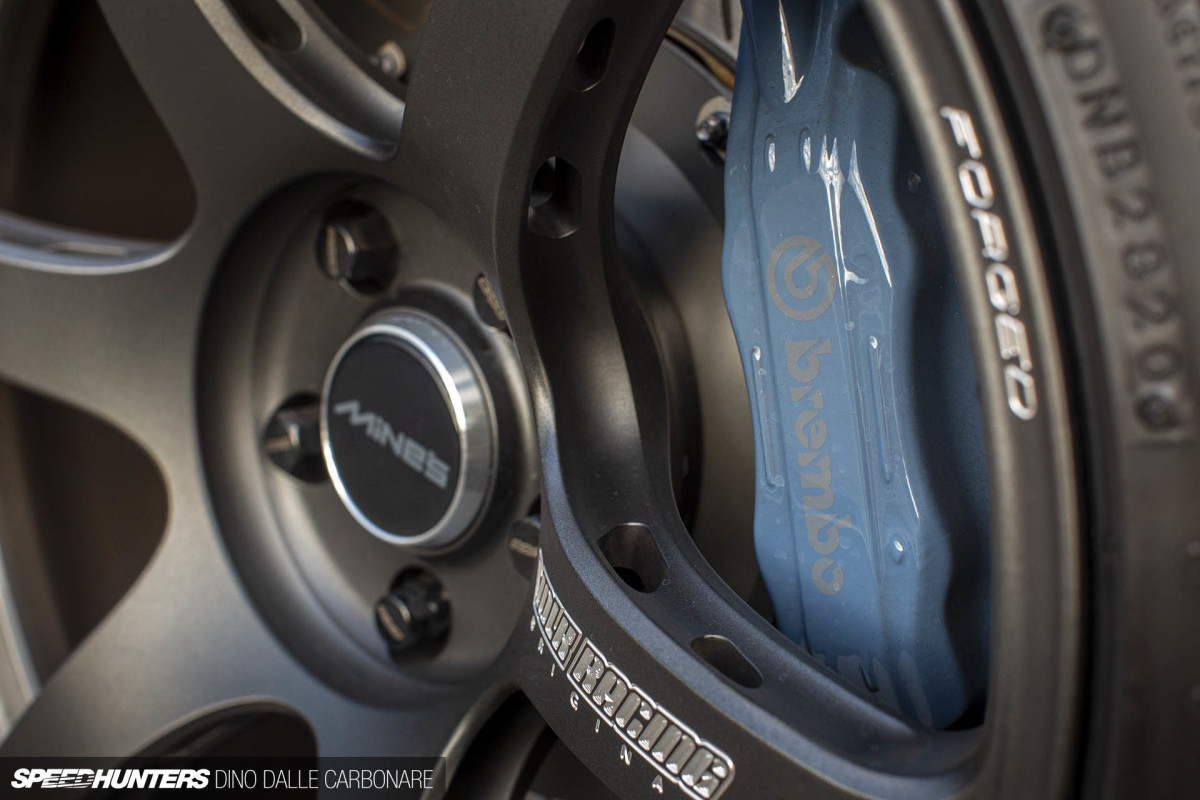 Customers can choose from a variety of wheels for the car, but this demo machine runs RAYS Volk Racing TE037s. They're a good fit being a more rigid and natural evolution of the original TEs, in the same way that this R32 tries to be the best version of a Skyline GT-R that it can be.
The Brembo F50 calipers and F360 rears are mated to RDD slotted rotors perfectly matched to the performance and weight of the car, which in case you are wondering comes in at 1,357kg (2,991lb), 122kg less than a stock BNR32. The caliper color is matched to the Mine's engine cam covers, or at least it will be once a few heat cycles darken the paint.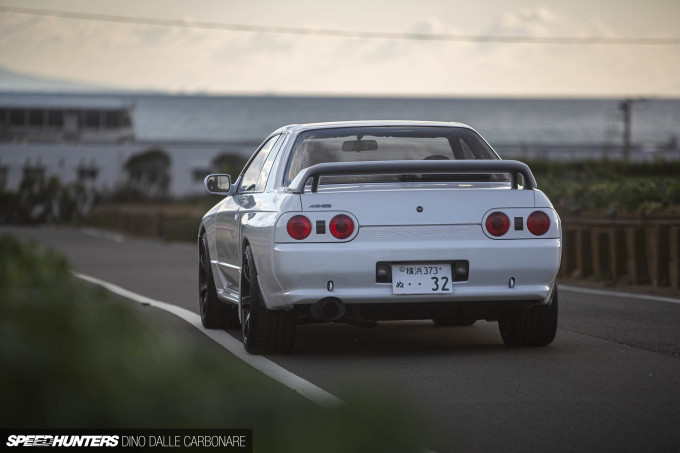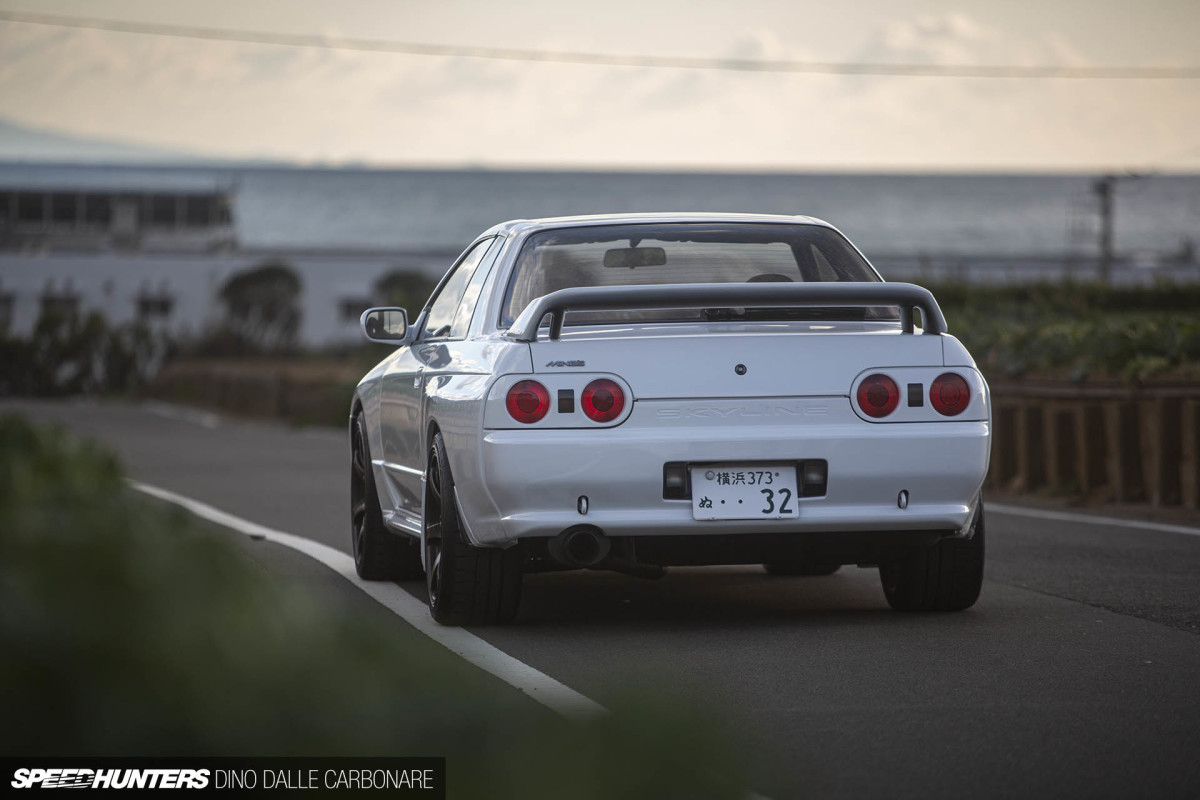 We'll take a closer look at things like the Mine's exhaust once the car is back on the lift in the workshop.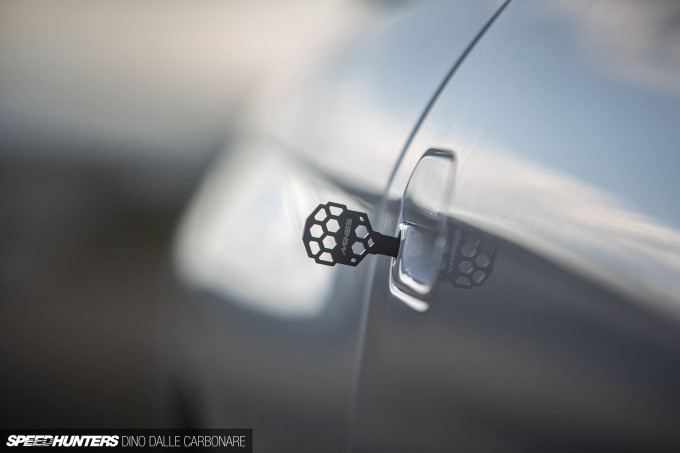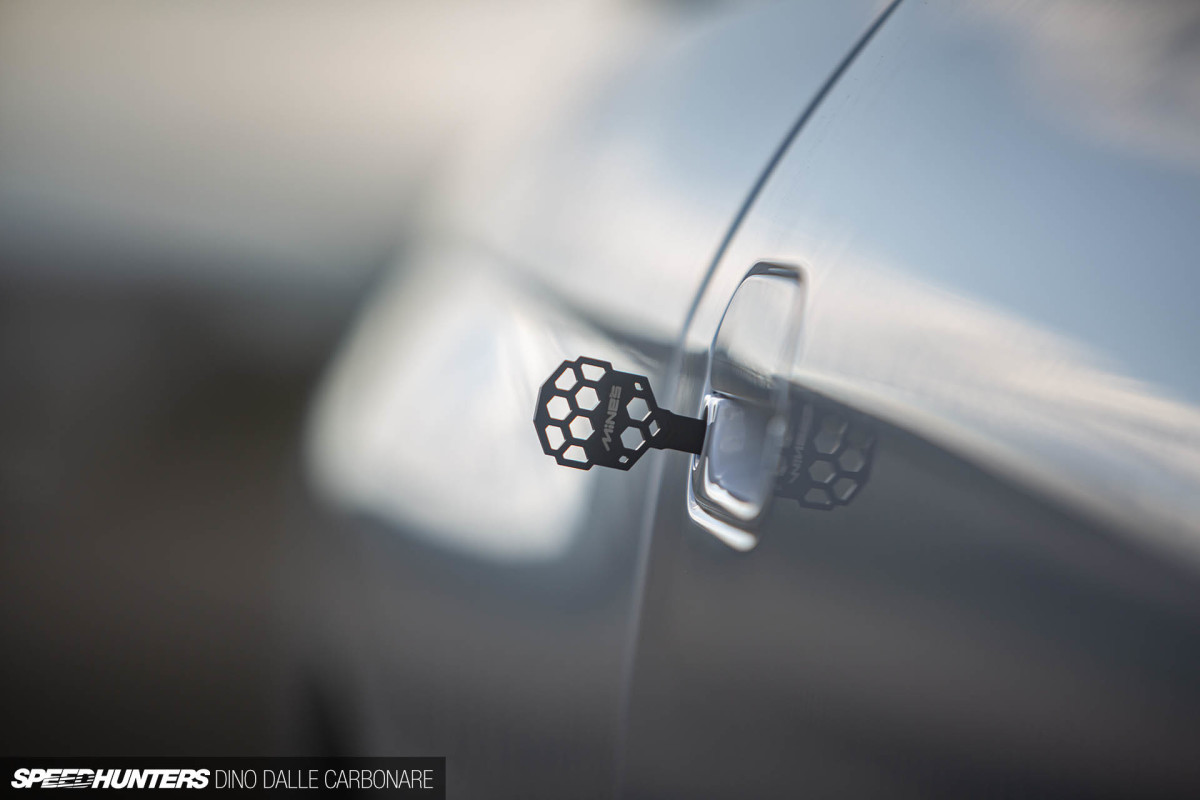 Now it was time for me to grab the billet key and take the car out for another drive.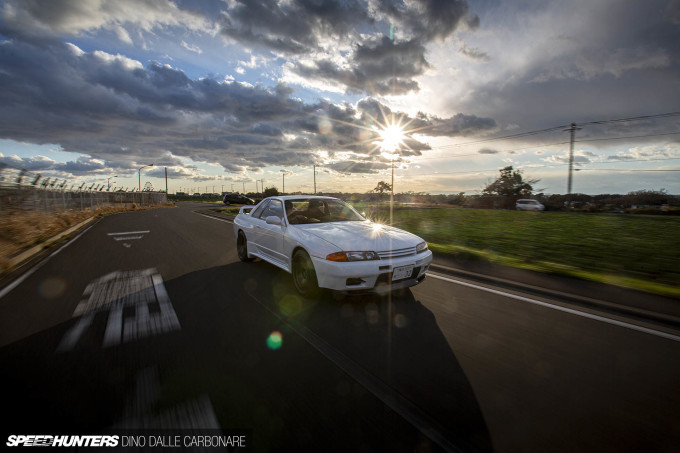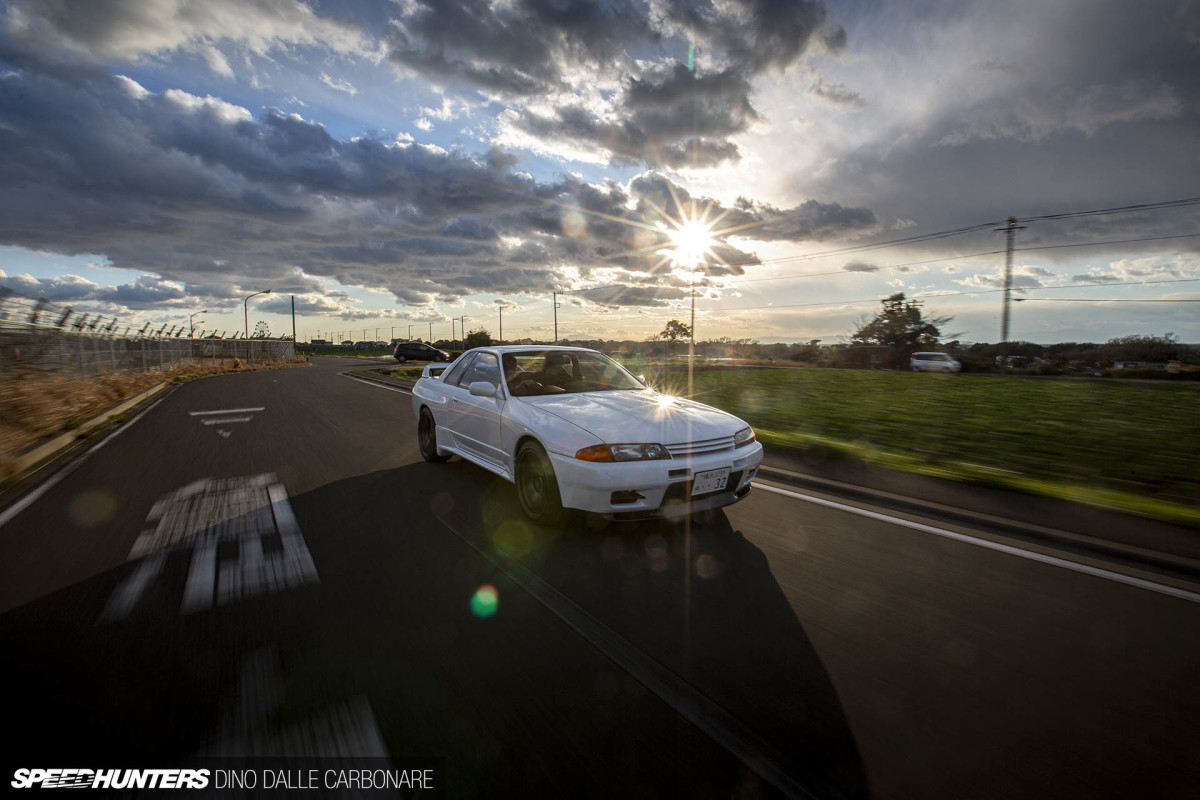 I've driven my fair share of BNR32s in the past, but no car has ever felt so tight and as rigid as this one. The communication through the steering wheel is something you only get when a chassis has been refreshed and dotted with supple new bushes all round; it makes such a difference and elevates the feel of a car so much.
The Öhlins dampers give a nice mix of firmness and compliance, more geared toward fast road driving than relaxed cruising – as you would imagine – and that's precisely how a car with these sort of capabilities should feel. You know that if you lean on it, it will take all you dish out and all the engine can muster.
And there is a lot it can do; it hits you with a creamy low-RPM burble and as it sends copious torque through the driveline. It's an RB so it still likes to be revved and it pulls relentlessly at anywhere above 4,500rpm. It's explosive but controlled and smooth, as you would expect from one of Niikura-san's engines. It is everything you would want in a GT-R, a well-rounded mature take on one of the best cars to ever come out of Japan. It's not crazy in today's wild world of performance cars, but it hits a sweet spot.
Back At Mine's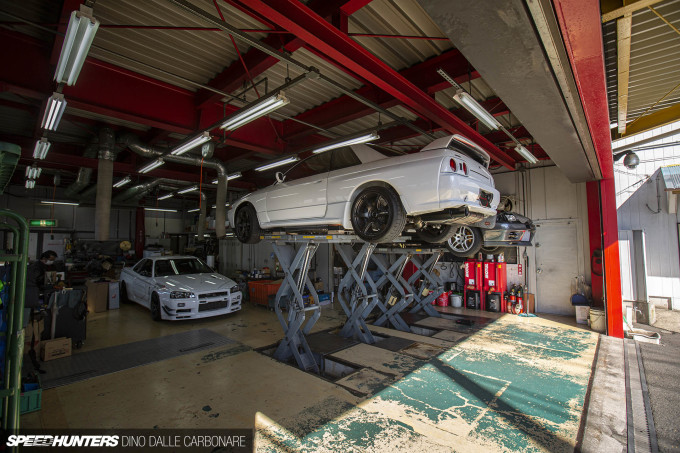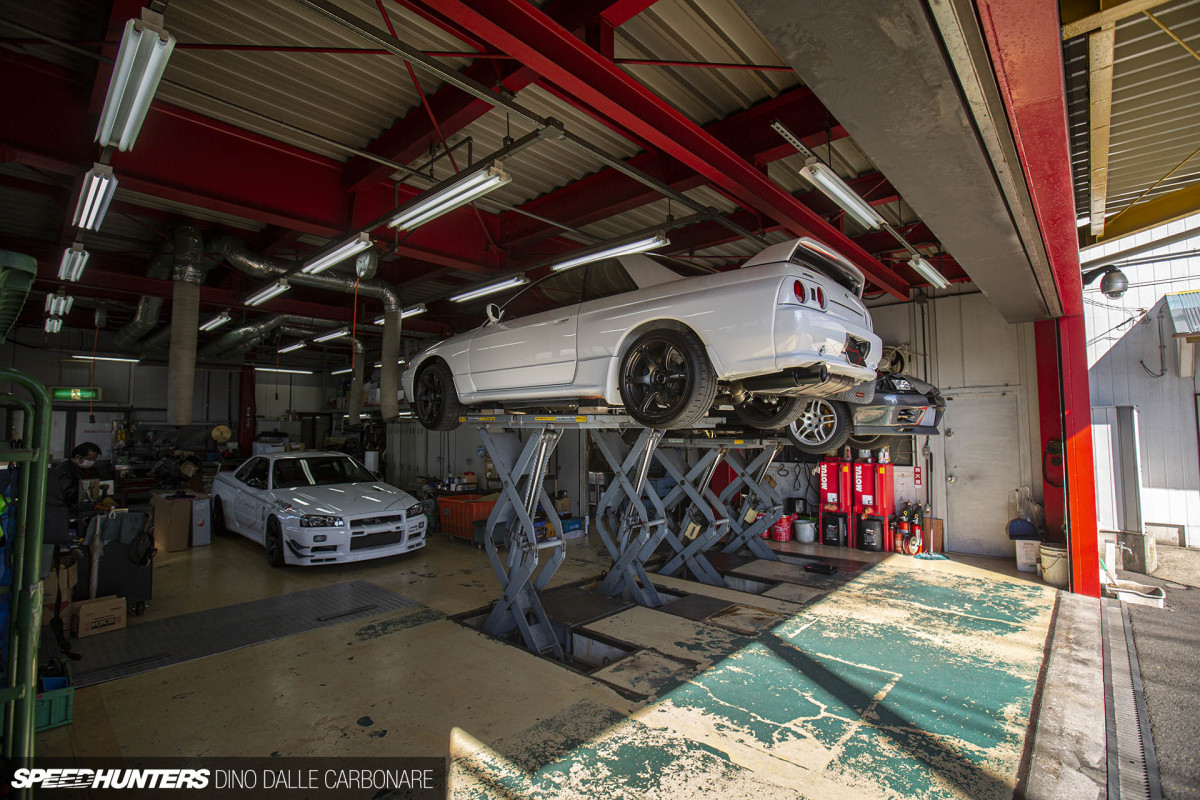 I had been waiting to drive this car ever since Katsu and Masa told me about what they were doing more than a year prior. They were men of their word, allowing me to have the first look too, so I must thank them for that.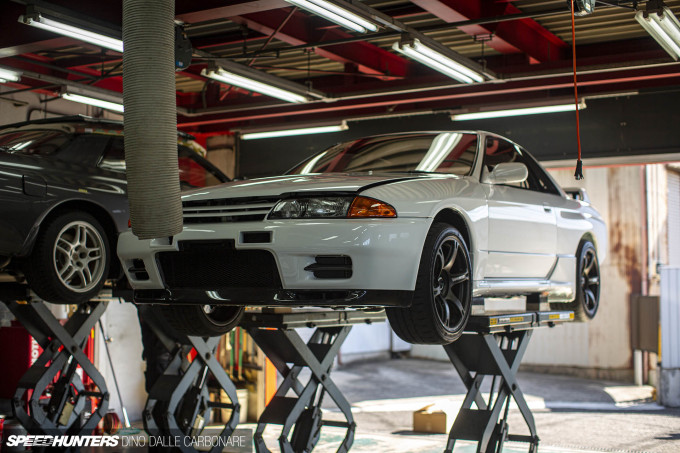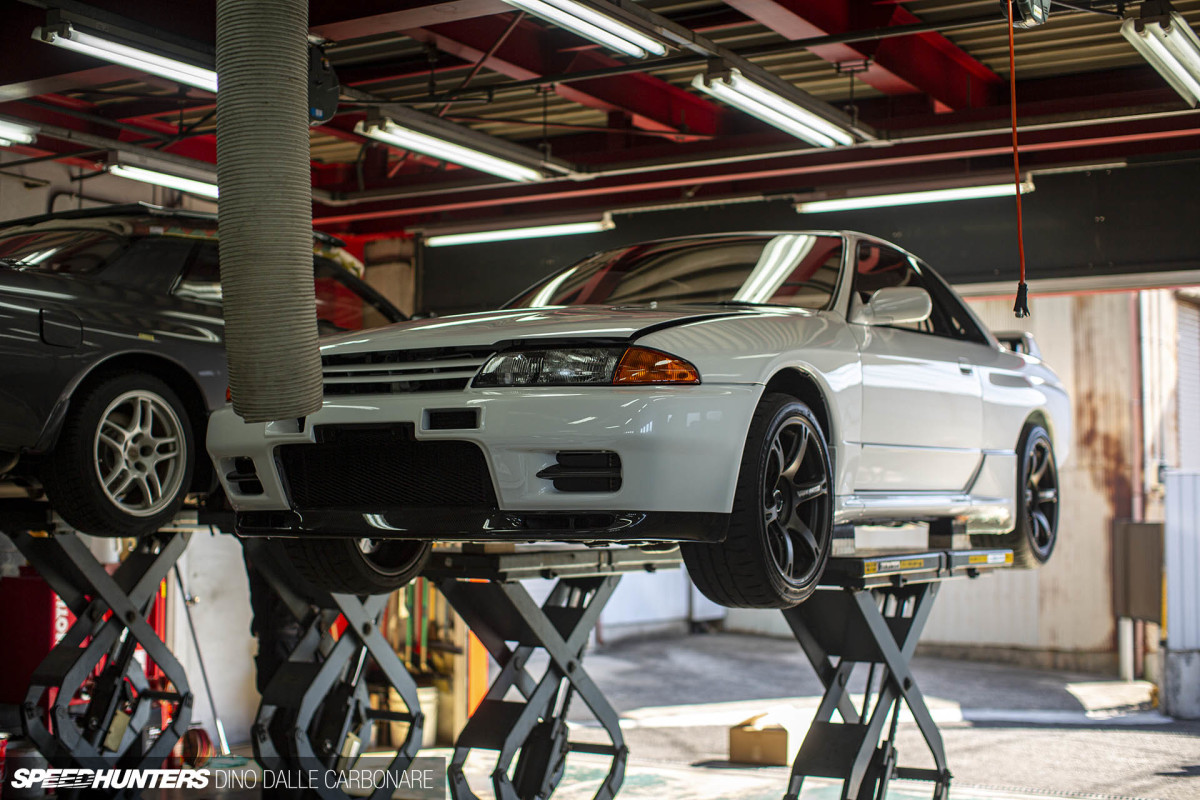 Nakayama put the car on one of the lifts and I geeked out some more.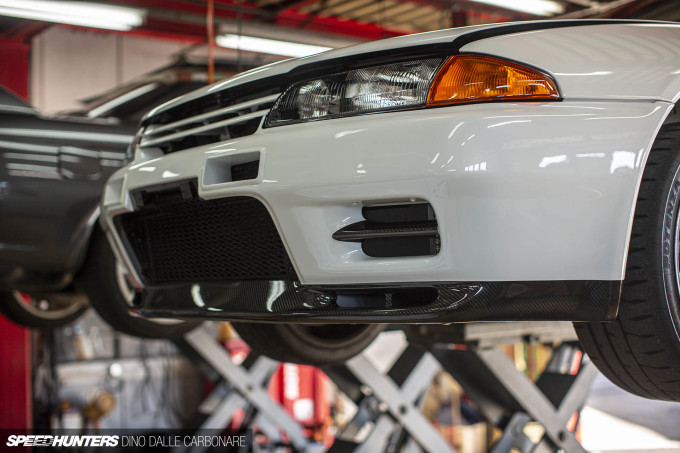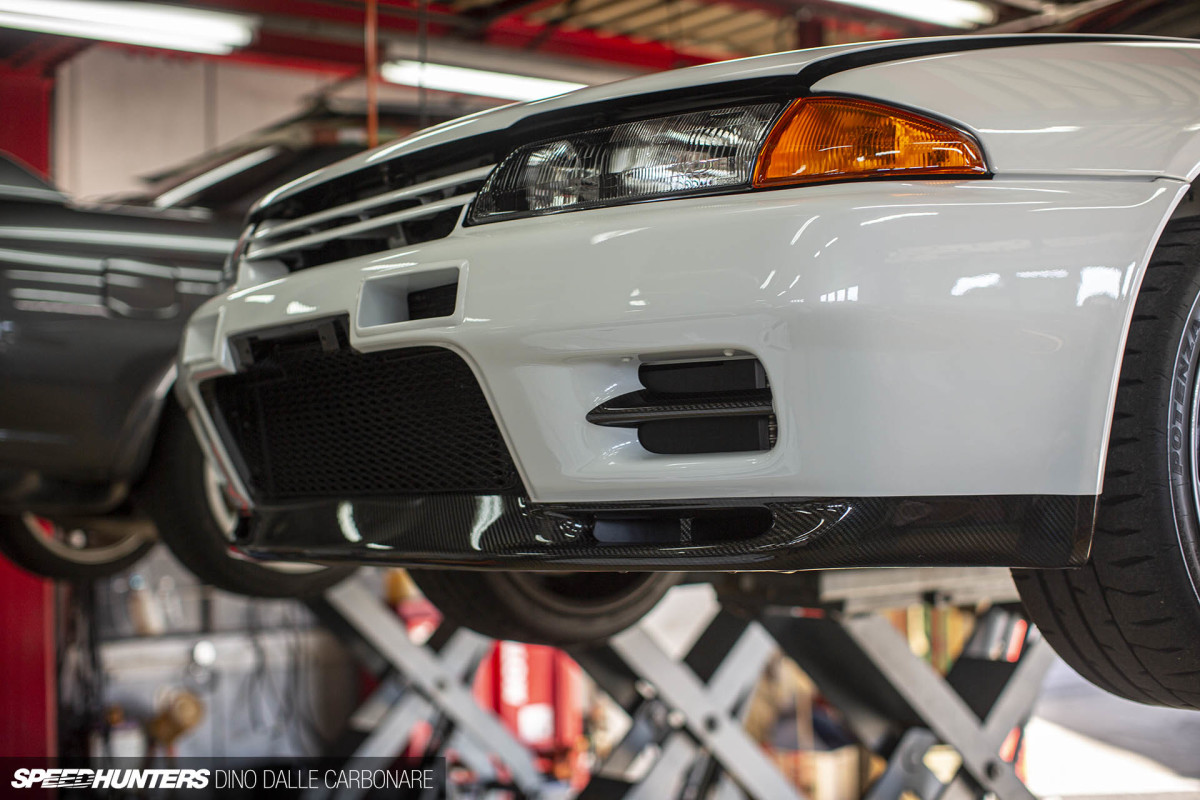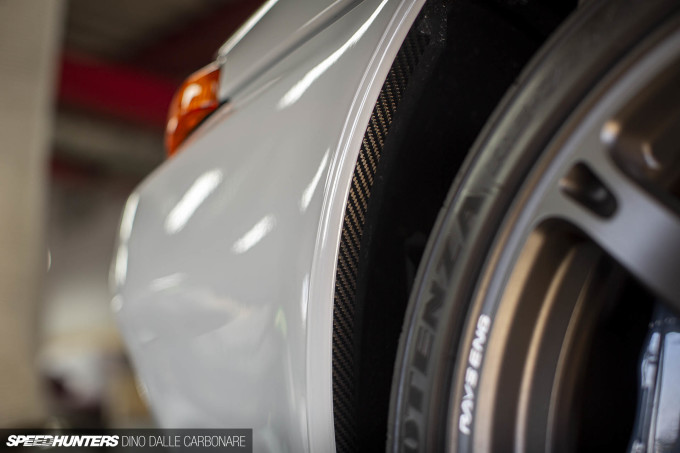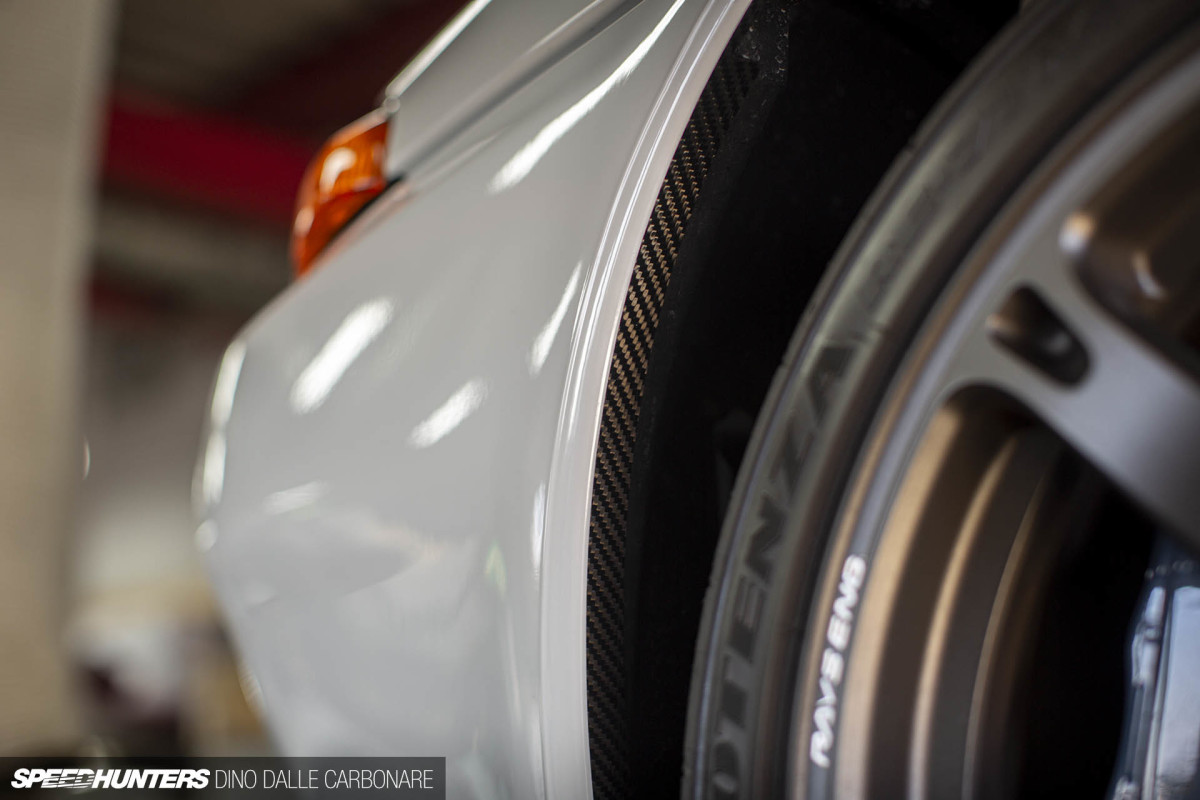 I haven't even touched on it yet, but that carbon fiber front bumper is actually one piece with the lower lip spoiler, something that on a stock car is a separate piece of ABS plastic that bolts on. Here, it's simply been left unpainted and that luscious carbon weave is visible under the layers of clear. The same intricate painting has been done around the air dam, number plate mount and the start of the wheel arch. Even the grille is a custom piece.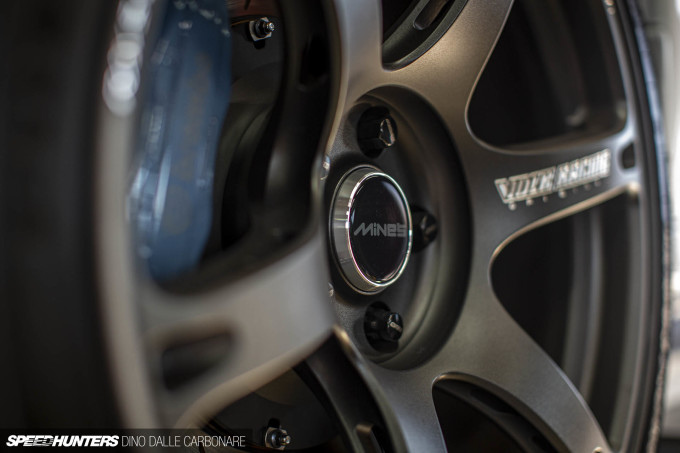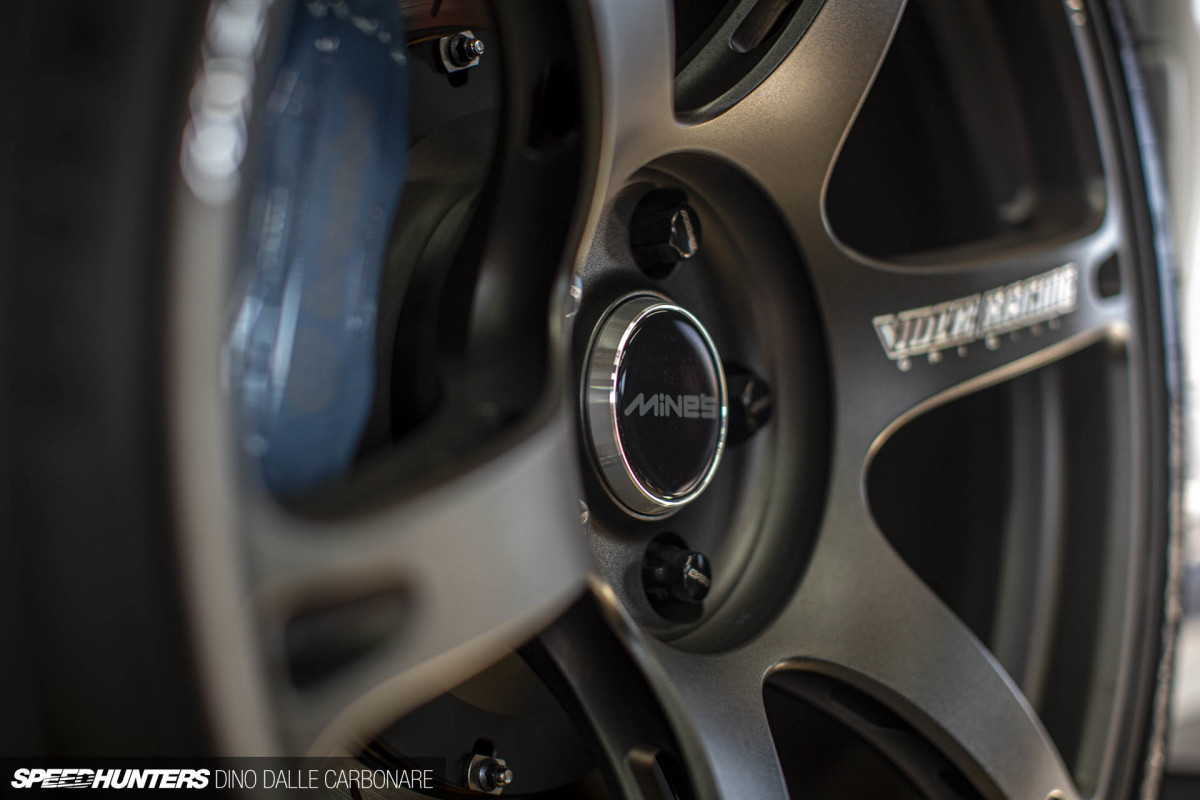 Here's a look at the Brembo F50 calipers, and you can see how they are bolted onto billet and anodized caliper mounts from RDD, the same outfit that did the 2-piece slotted rotors.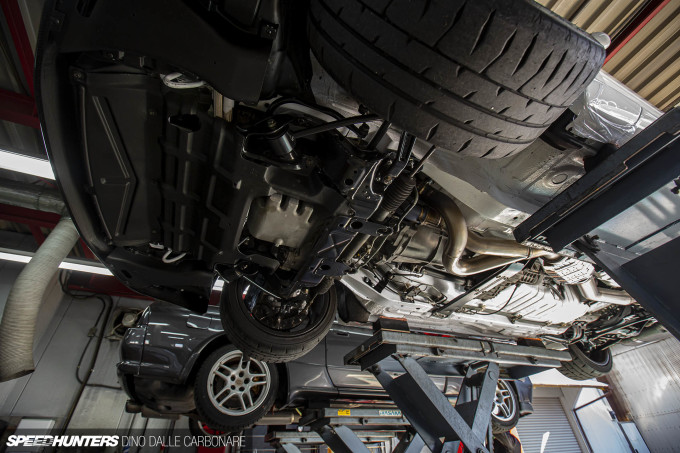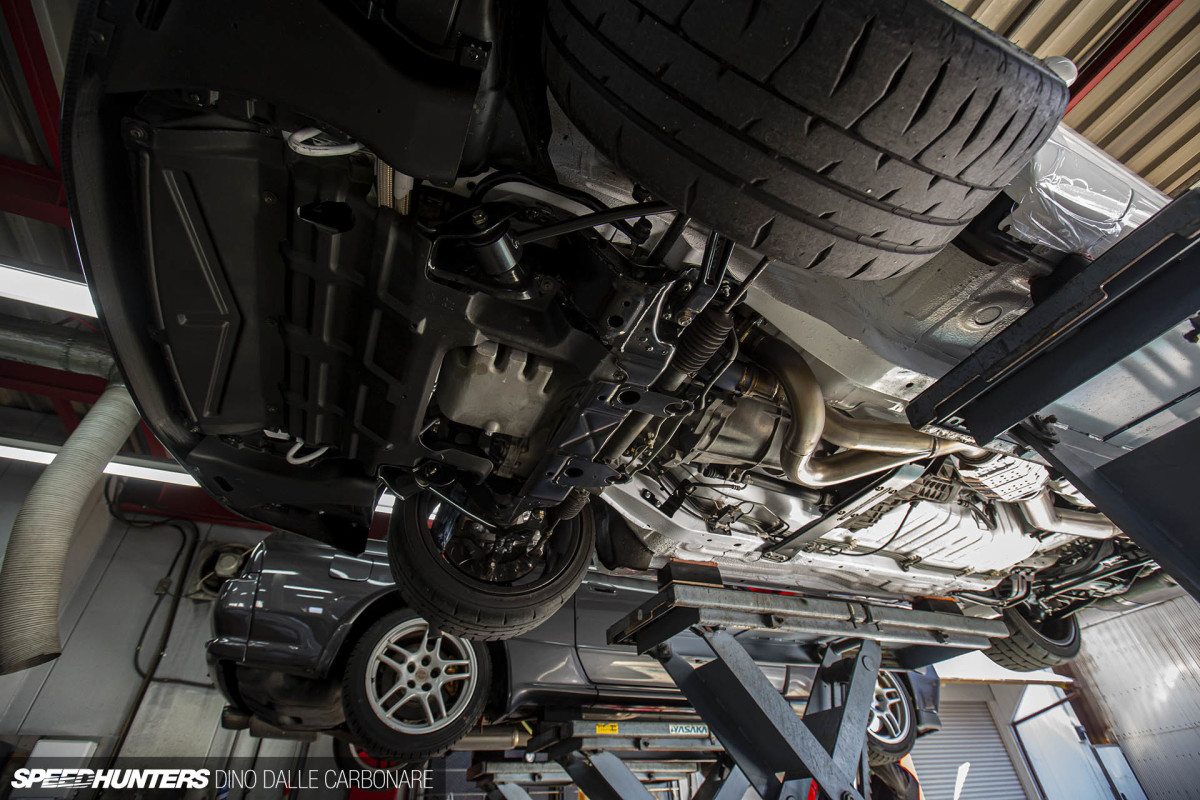 What wasn't sand-blasted and powder-coated was replaced and then mated to fresh bushes. They've even gone so far as to protect the steering links and lower hub bushings from the heat of the rotors.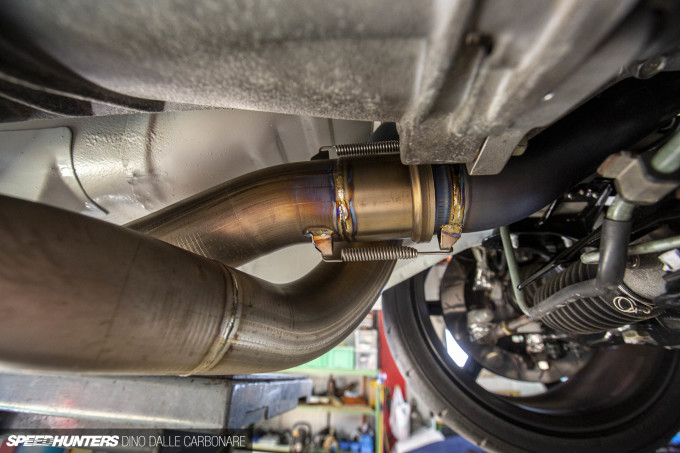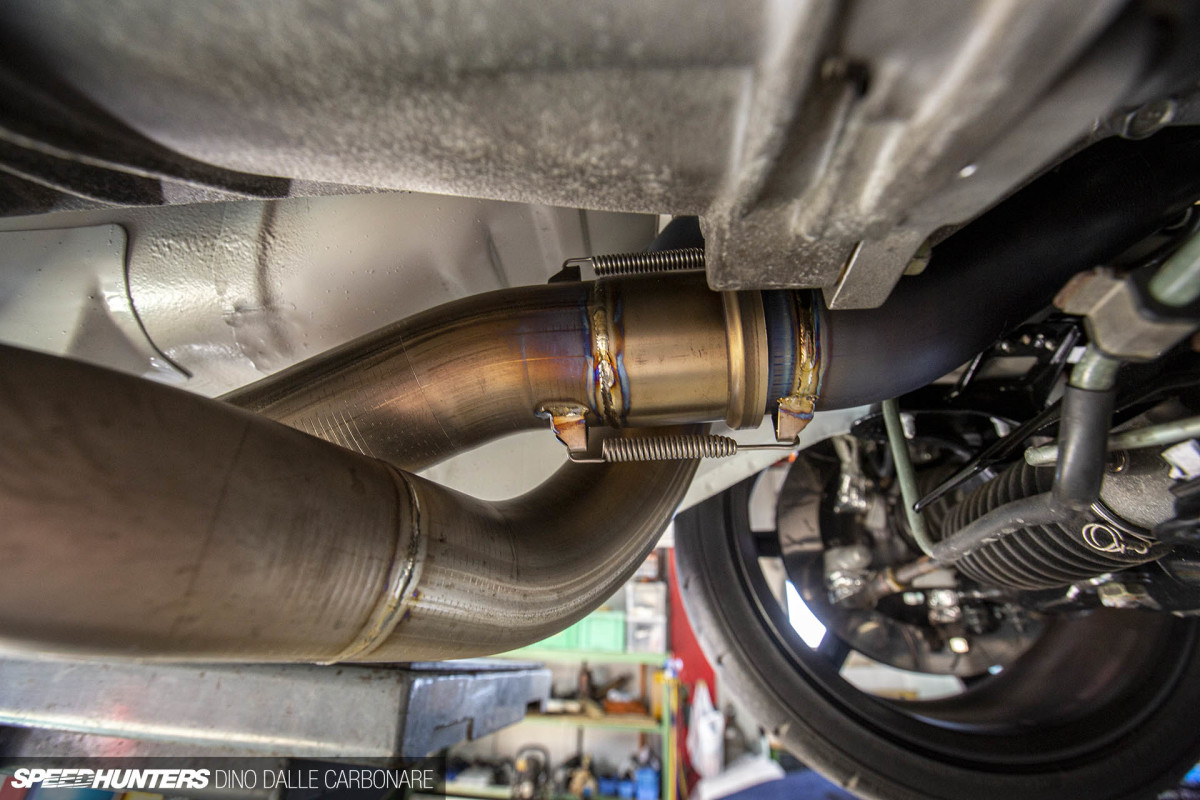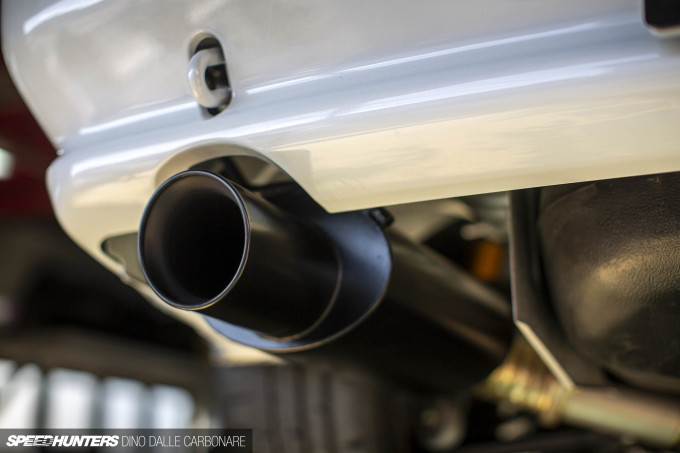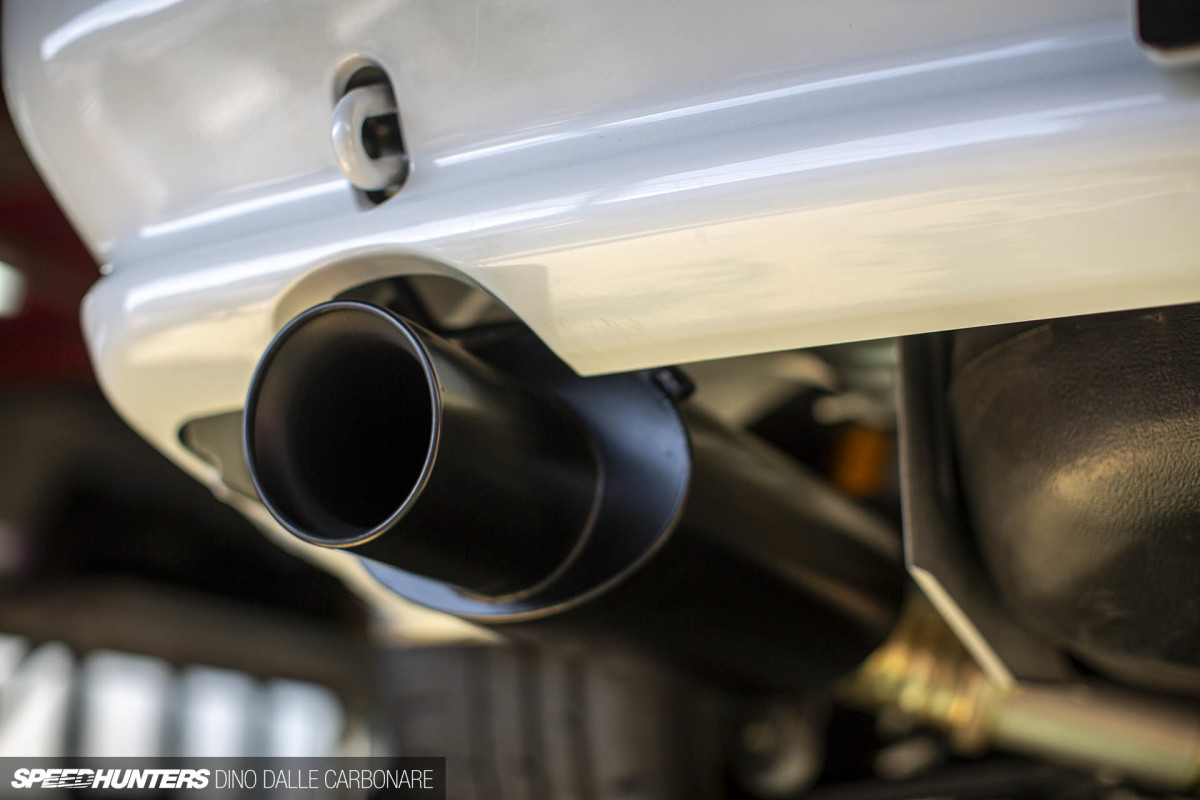 The full titanium exhaust sings like a race bike as the revs rise, and reminds me of when my R34 used to run the same system. For this car, however, the rear silencer and tip have been coated in a black finish. Remember, the goal is to go for an OEM ++ look, so there is a need to stay a little conservative with the details.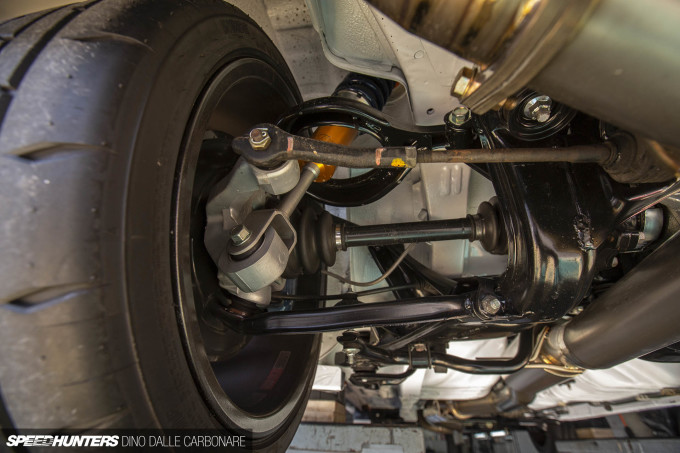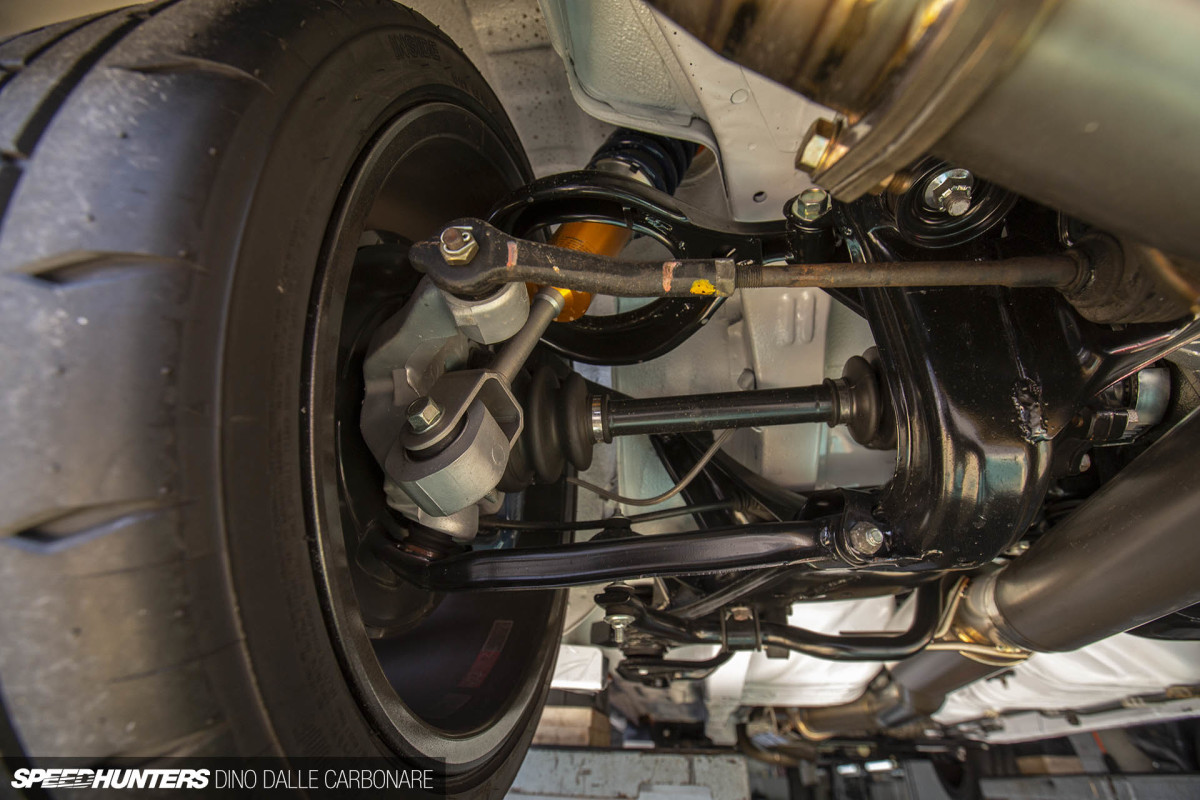 Check out how clean the rear hubs are, not to mention the arms. A good deal of the weight-saving has come from removal of the HICAS system, which was done so for the purity of handling.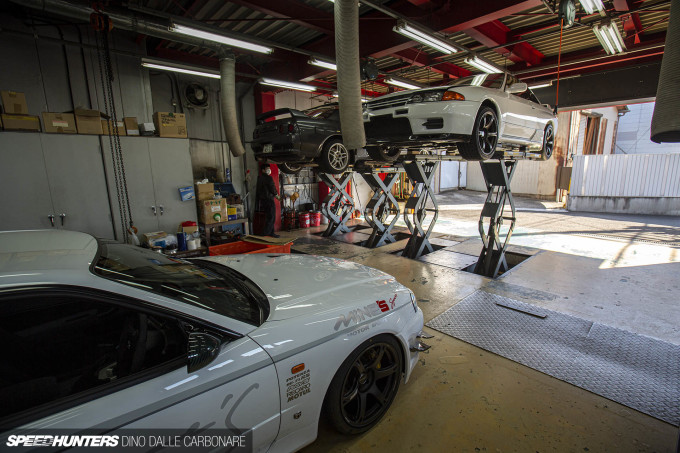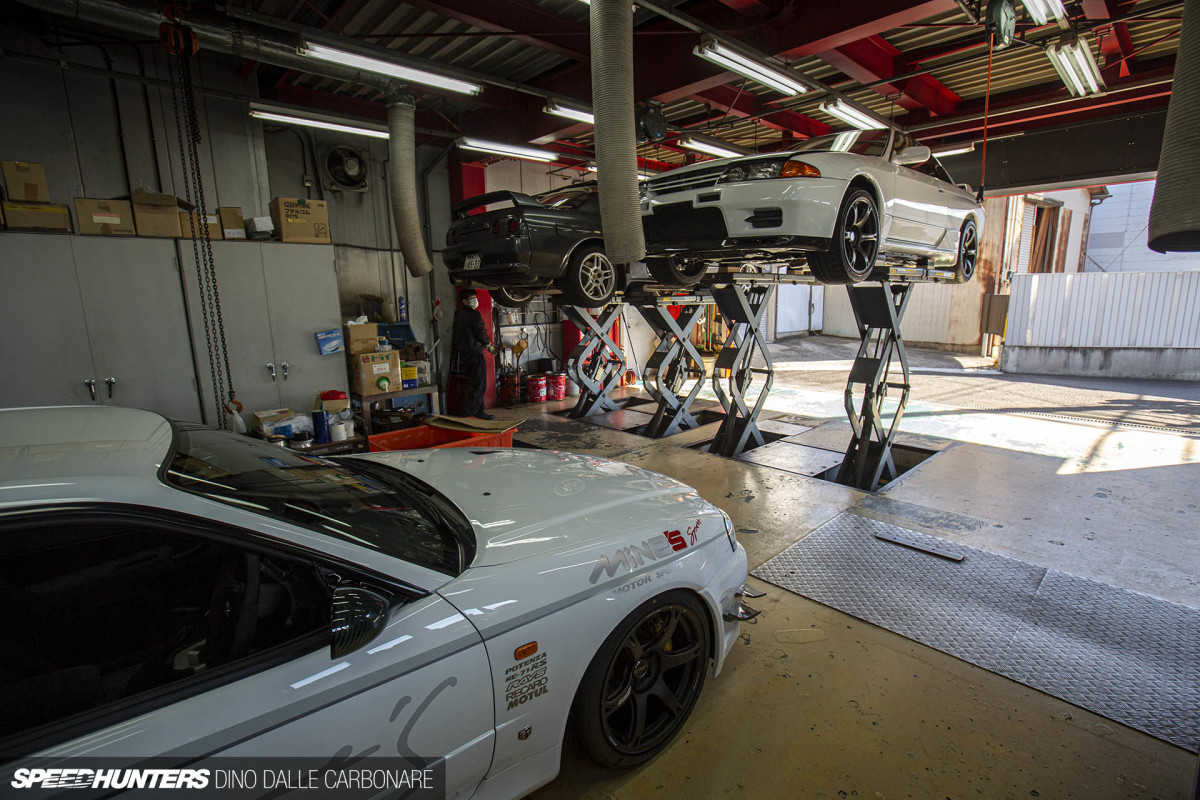 Built By Legends will offer this car as a base package, to which customers can add whatever request they may have. In a world where GT-R prices have gone through the roof and where Nissan sells an Italdesign limited edition R35 GT-R for a sweet $1,000,0000, the sticker price of $380,000 seems justified.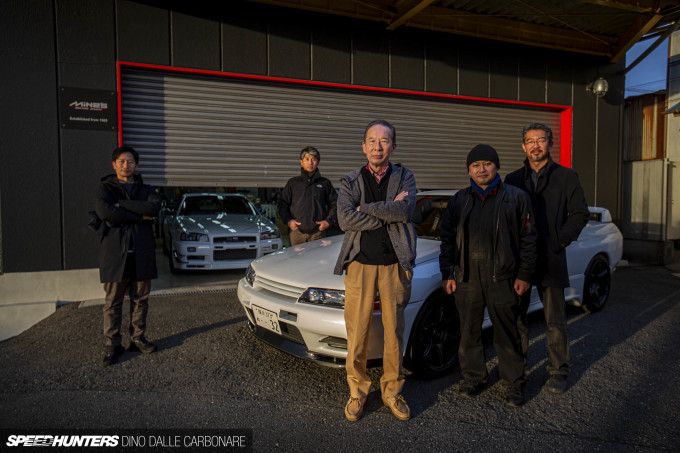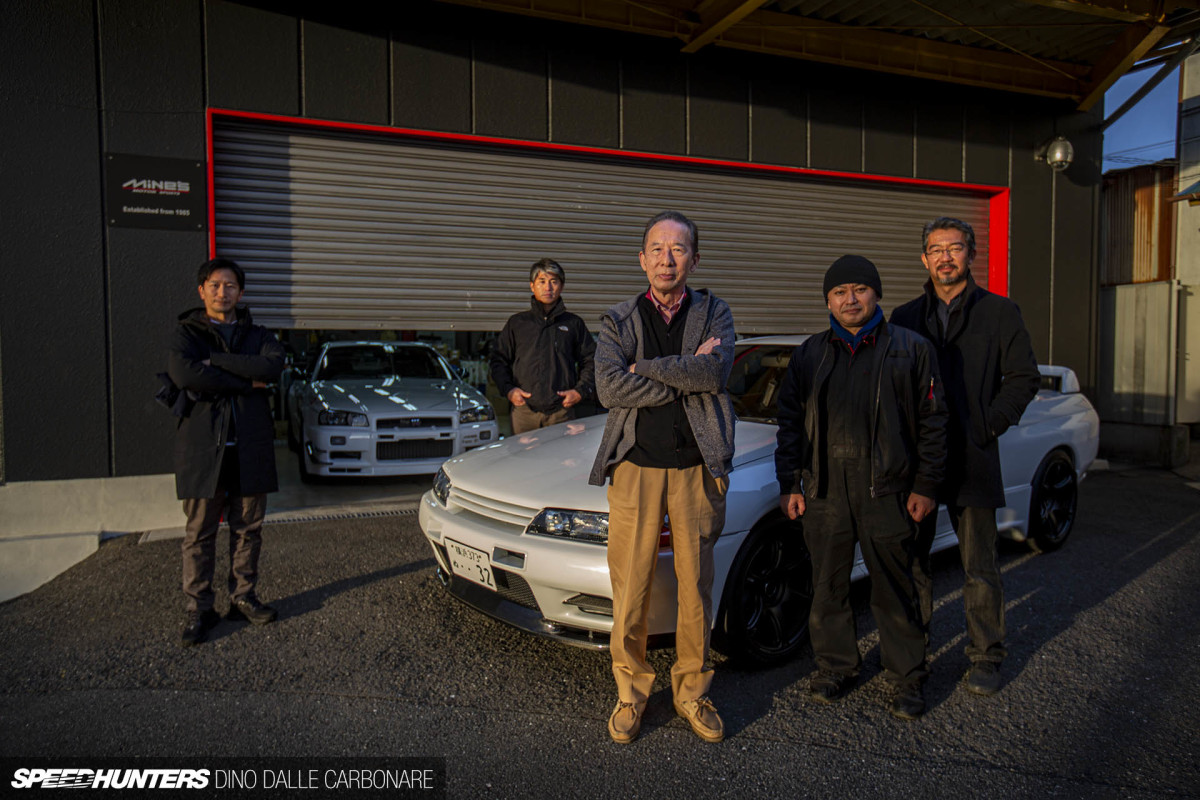 What you get is a brand new 30-year-old car, perfected and brought into the new millennium by the men you see here. These are the sort of cars that I just have to applaud. These are the real legends.
Dino Dalle Carbonare
Instagram: dino_dalle_carbonare
dino@speedhunters.com
Built By Legends BNR32 Nissan Skyline GT-R
Engine: Mine's complete 2.8L engine, bored out Nismo Heritage engine block, weight-matched forged pistons (87mm), weight-matched H-section connecting rods, counter-weighted forged crankshaft (77.7mm stroke), 1.2mm metal headgasket, 8.7:1 compression ratio, 2,770cc capacity, reinforced metal bearings, N1 water pump, N1 oil pump, oil plan baffle plate, lapped valve seats, new oil seals, polished in/ex ports, 260-degree/9.15mm lift camshafts, GCG GT2860R-1 turbos, reinforced actuators, Mine's Super Outlet Pro II, Mine's titanium front pipes, HKS sports catalyst, Mines x BBL special titanium exhaust system, HKS R-Type intercooler, HKS intercooler hard pipes, Koyo Type-R radiator, HKS oil cooler, Mine's ECU, Sard R35 550/min injectors, Mine's fuel rail, R35 airflow meters, Tomei fuel pressure regulator, Nismo fuel pump, HKS EVC7 boost controller
Driveline: Nismo Copper Mix clutch
Suspension & Brakes: Öhlins DFV dampers, Hyperco springs 12kg front & 10kg rear, refreshed subframes, arms & links, new bushes all round, Brembo 4-pot F50 front calipers, Brembo F360 rear 4-pot calipers, Racing Disc Development brackets, 2-piece slotted rotors 355mm front & 343mm rear
Wheels & Tires: RAYS Volk Racing TE037 18×9.5-inch, Bridgestone RE-71RS 255/35R18
Exterior: BBL carbon fiber front bumper, BBL grille, BBL carbon hood with NACA duct, BBL carbon rear wing, Mines x BBL stainless steel badging, BBL Shiranami White Pearl Metallic, painted-on Mine's stripes
Interior: BBL Alcantara & bespoke Mt. Fuji moquette fabric upholstery, BBL x Daiko Rubber heat & sound absorbing sheets, BBL carpets, Mine's nappa leather & Alcantara steering wheel, BBL custom shift knob, BBL neoprene shift & side brake boots, Mine's nappa leather handbrake, black chrome door handles & lights/wiper switches, R34 interior mirror, R34 pedals, Alcantara headliner