The '90s
If someone were to tell me they were building a BMW M car with JDM inspiration five years ago, I would've removed them from my friend list.
Those words, in that order, were blasphemy, and may have possibly even offended me; I am a Gen-Y millennial after all. But luckily, over the course of the last few years, I've come across a few cross-platform inspired builds that were properly executed for the theme set in mind, which ultimately led to me becoming a little more optimistic of the given perspective.
Some of you may still be on the fence about this, and I can't blame you. But in all honesty, how many E36 M3s with LTW wings and Apex wheels can you see at a show without getting at least a little bit bored by?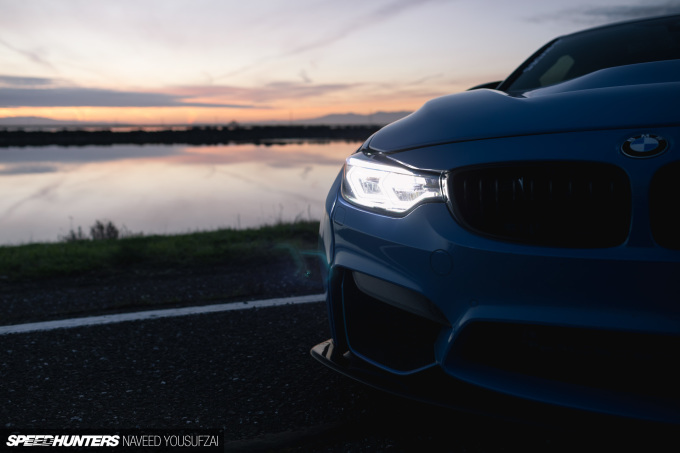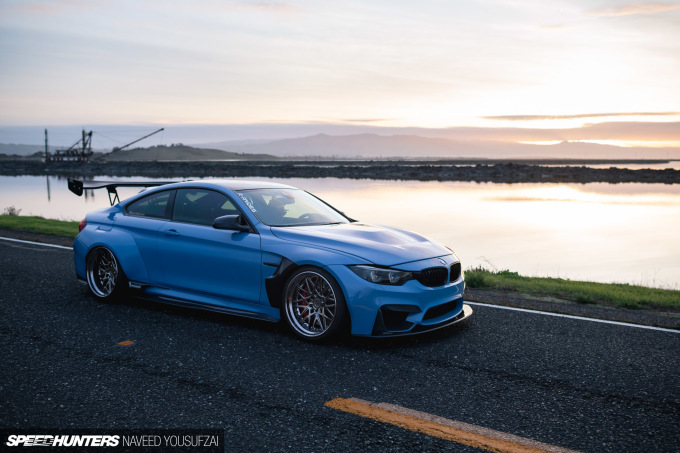 Depicting that last statement, Jesse Wang grew up in the mid-1990s with a heavy influence from the JDM scene. This was a time where print was all the rage, and the Japanese car culture followed with it. Most of the magazines he would read consisted of cars like Honda Civic hatchbacks, Nissan Silvias, Toyota Supras, and of course everything else in between. While indulging in the literature, Jesse and his friends would then page each other on their beepers, and sometimes even hop on AOL Instant Messenger, raging about the latest car feature or event.
So when the time came for Jesse to make his first new car purchase, the inspiration for the build would already be deeply rooted in his heart, despite starting with a platform from the complete opposite side of the spectrum.
Bimmerfest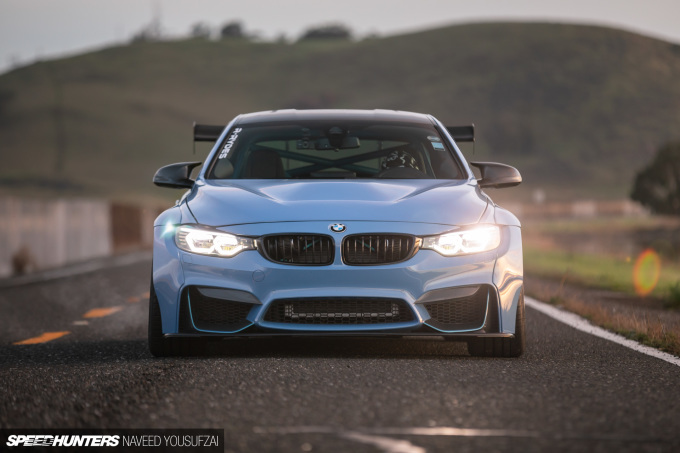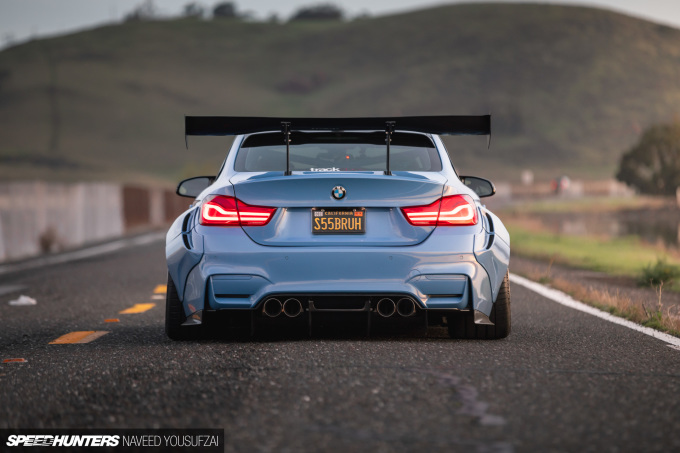 Although Jesse was very much into the import scene, the decision to go with a BMW came after many attendances at early Bimmerfest events during the mid-2000s. If you're unfamiliar with the event, Bimmerfest is one of the largest BMW gatherings hosted on the West Coast. It's been going on for many years, bringing people and builds from all over the country together for one common cause – the love of BMWs.
I used to frequent this event, but more so because of the 300-mile drive to Los Angeles. I have a strong feeling Jesse and I may have crossed paths earlier on in life at one of the caravans, but who really knows. Regardless, the event was always home to some of the most dynamic and diverse builds in the BMW community. I recall seeing cars like 1,000hp E36 M3s, 'BMW Individual' ordered M5s, and even bagged classic Bavarias.
The Build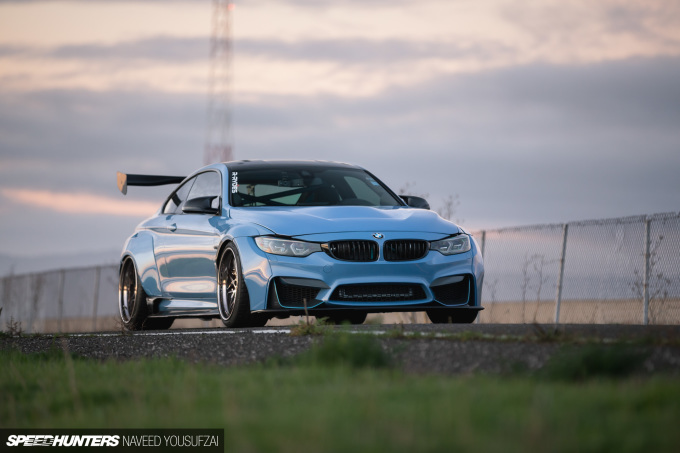 Jesse started with simple bolt-ons and suspension work on the M4, but he felt it wasn't reflective of the cars that he admired growing up. He knew his ultimate vision was to fuse the JDM inspiration he had in his youth with BMW race cars such as the E46 M3 GTR. And it wasn't so much about being the first person to come up with the theme either, but rather to ensure that he would be one of the few who did it right, in terms of both quality and style.
So let's take a dive into the details and see if Jesse was successful in his aspirations.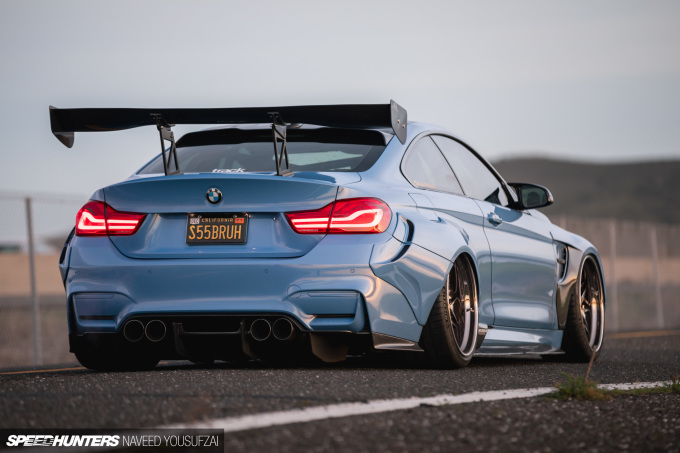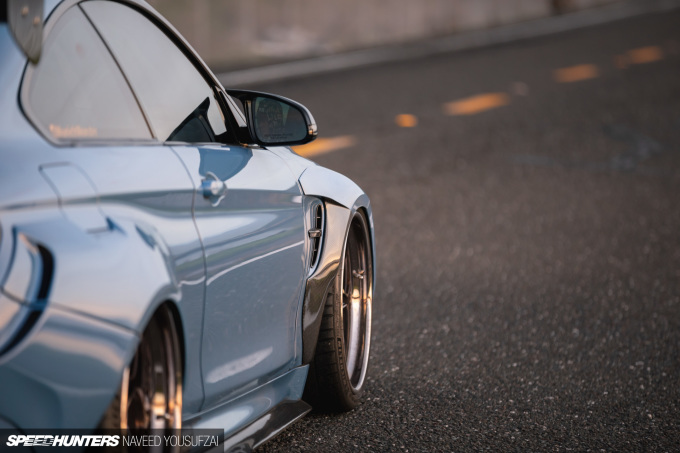 Jesse began networking within his group of friends and came across PSM Dynamic's carbon wide-body kit. It was the perfect blend of functionality and styling for the look he was aiming for: The kit was lightweight, fitment was precise, and it retained most of the factory body lines.
The carbon lip kit also flowed really well with all of the factory carbon bits, further enhancing the aggressive styling of the M4. In the JDM scene, building to an extraordinary extent was the general rule of thumb when thinking outside of the box, so this part was checked off the list.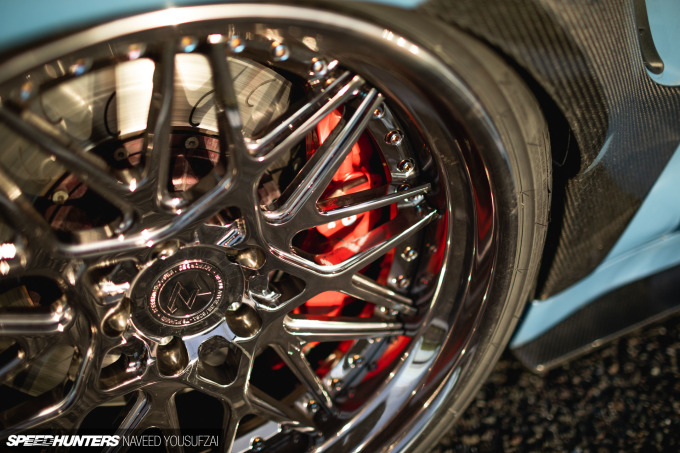 Wheels are a critical make-or-break aspect of any build, so to build on his theme Jesse reached out to MV Forged for a set of custom VLS wheels, built to 20×10.5-inch up front and 20×12.5-inch in the rear, making for precise fitment both when aired out, and at ride height. And you'll find a massive set of AP Racing 380mm brakes filling the inside of the beautiful mesh design.
Which brings me to the next aspect of the M4 – the suspension.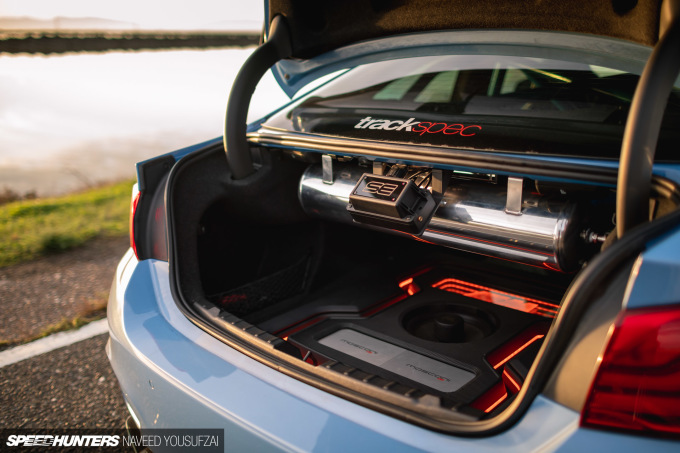 The world of JDM has been primarily influenced by low and aggressive stance since the early days of shakotan builds. It's probably one of the most controversial subjects amongst the realm of fitment and stance, as I'm sure most of you have seen the countless debates on the touchy subject in previous features. Regardless of that matter though, it is ultimately subjective, so neither your opinion, nor mine really matter to the owner of the vehicle.
On that note, Jesse knew he wanted to retain the functionality and performance of the M4, while still managing to implement that slammed hovercraft look. So it only made sense to go with an Air Lift Performance 3H setup, with a custom air tank in the trunk, right above the custom-designed audio setup. You won't find stretch and poke here, but instead, an elegant yet aggressive stance, that I think is just right.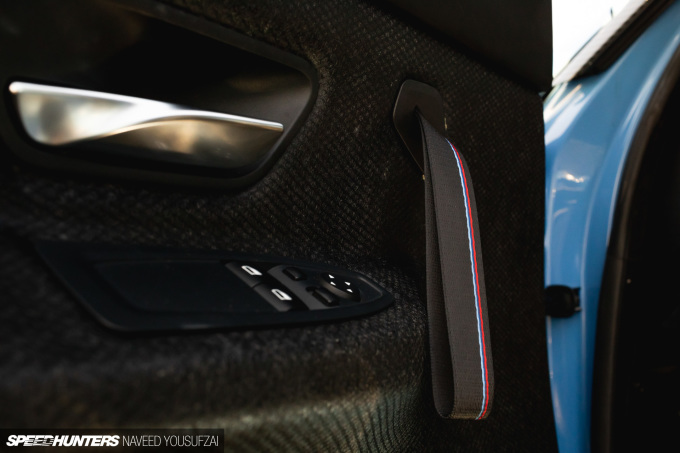 With the interior, Jesse diverted a bit from the JDM scene, as he felt the M Performance upgrade parts included from factory did the car plenty of justice. There are many carbon trim accents throughout the interior, and that's something that the JDM scene generally tries to replicate in many of their builds, generally replacing plastic pieces with carbon.
Jesse did however upgrade the seats to carbon-backed Recaro Sportster CSs, which are basically the same seats found in the M4 GTS, but without the $10,000 price tag markup for a mere M badge. M4 GTS door panels were later acquired to assimilate a bit more from the E46 M3 GTR, as they have factory door pulls similar to what you would see in the race car, or maybe even a GT3 Porsche.
The interior was then completed with the StudioRSR Tesseract roll cage, paint matched to the beautiful Yas Marina Blue paint found on the exterior of the car.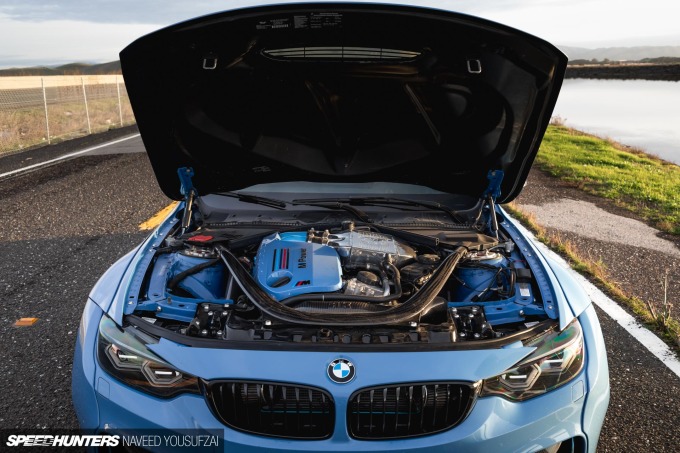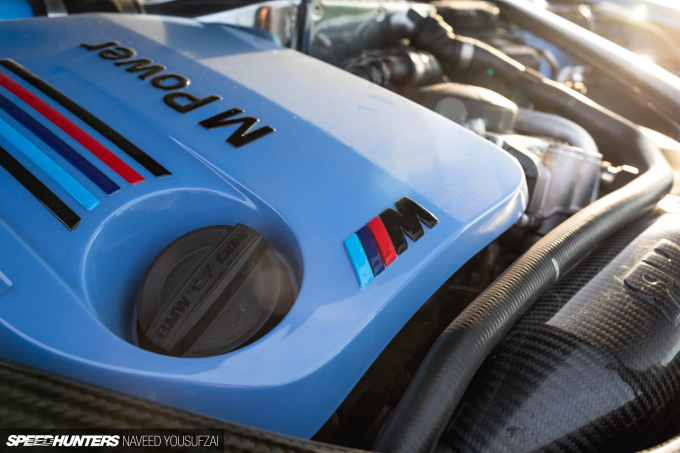 During the era where Jesse was reading through his magazines and drooling over hoodless Integras with chromed-out engines, making big power wasn't necessarily an easy task. Computer tuning was quite expensive, and even finding a tuner who knew what they were doing would be a mission on its own. Luckily for him, the M4 came factory with some rather impressive output numbers, but it wouldn't be a build without bringing that up just a tad bit more.
The factory turbos were replaced by the stage two kit offered from Pure Turbos, followed with support from RK Titanium charge pipes, RK Titanium front-mount intakes, a GTHaus Mesiterschaft GTC valved exhaust system, Active Autowerke cat-less downpipes, and a CSF heat exchanger, intercooler, and oil cooler.
A final tune by Cary Jordan brought this beast to a neck-snapping 625whp at low boost on ethanol.
Boxes Checked?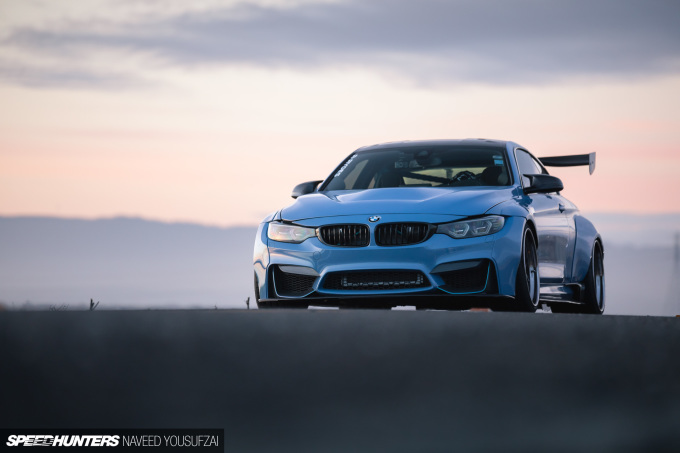 Right, so the JDM formula in mind was to be extraordinary, with proper execution and high quality. Did we check all of the above boxes? Or was it a shot taken in the dark, missing the bullseye by a few millimeters?
When I take into consideration the average or more common JDM-inspired builds I've seen, primarily on E36s and E46s, I'm going to have to say that Jesse knocked the ball out of the park with his vision.
Not only does this M4 stand out in the crowd, it does so with an eclectic presence, tying visual conceptions from both the European and Japanese world into one properly executed build.
It's fast, it looks good, it's low, it's got big wheels and a wide aggressive stance. And that's what the JDM car culture has been about for the last 20 years, if not more.
So in short, it's a big fat yes for me.
Less Separation Please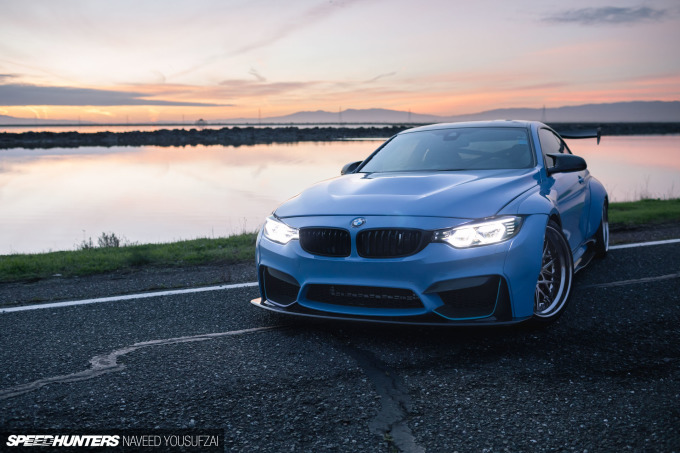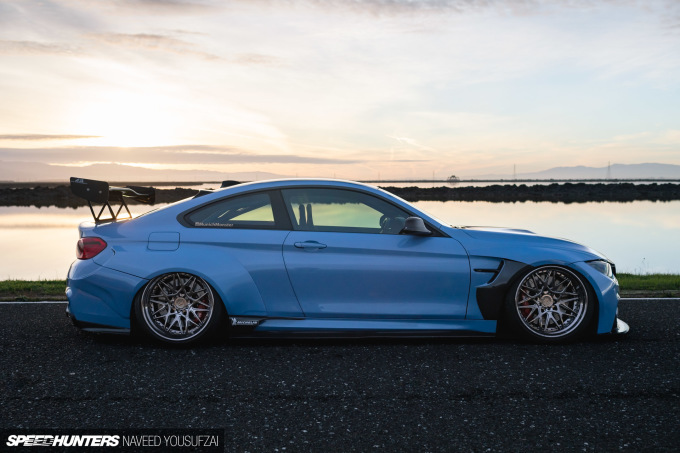 With his vision brought to reality, Jesse continues to enjoy the car for what it was built for. The early youth memories he once shared with his friends became his foundation for his build, and continue to inspire him till this day.
All the talk and excitement about the wild cars in the old magazines that once inspired him are what he aspires to do for the community now, whether it be at car shows, Sunday morning coffee meets, or even random spottings on the highway.
This build was Jesse's gateway into developing his presence in two separate worlds of the car community, which ultimately has led him to meeting some of the best people in both sides of the otherwise split industry.
So maybe there's more to it than just a car? I think Jesse may be on to something a bit deeper than just pissing off the purists here.
I'll leave that soak in.
Naveed Yousufzai 
Instagram: eatwithnaveed
Cutting Room Floor