The Goodguys Rod & Custom Association is a force to be reckoned with.
With their first event dating back to 1983 in Pleasanton, California – a small suburb an hour outside of San Francisco – founder Gary Meadors created a cult-like subculture within the world of American hot rodding. Goodguys' National Summer Series events take place at fairgrounds and speedways from one coast of the country to the other, consisting of car shows, drag races, and a new crowd favorite – autocross.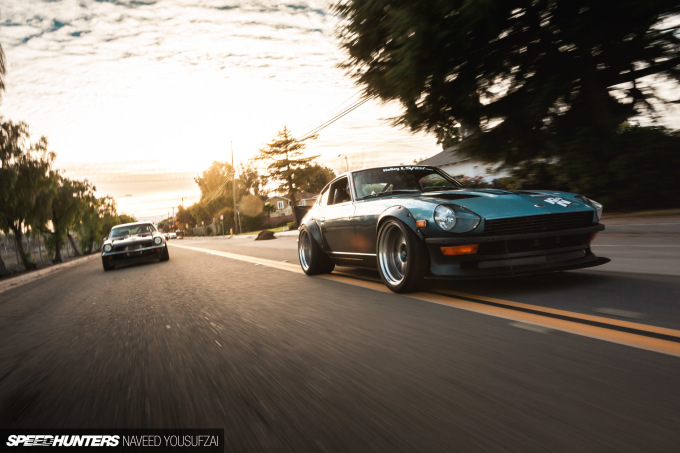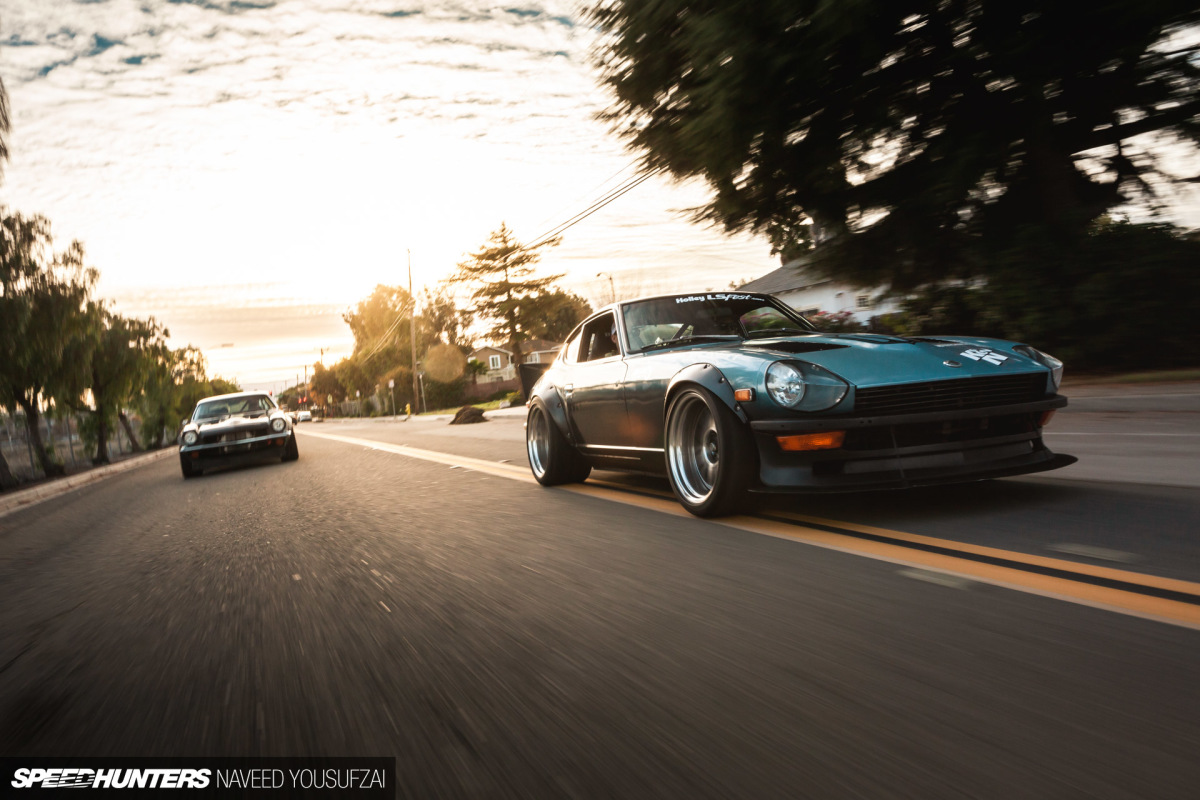 Traditionally, autocross has seemed to be overlooked by the world of American motorsports. There are some exceptions, of course, but in era most classic American muscle cars weren't engineered to take a turn at speed. It's quite unfortunate actually, because when I really think about it, it would've been epic to see something like a '57 Nomad or a '64 Impala gutted and caged with some insane tub work and squared wheels pulling in sub-1:50 lap times at Laguna Seca.
Regardless of that matter though, modern-age tooling and engineering can make pretty much anything handle well enough to dominate the course nowadays. Which is primarily the reason why David Carroll took the high road and built a 1973 Chevy Vega to compete in the Goodguys AutoCross series.
LS All The Things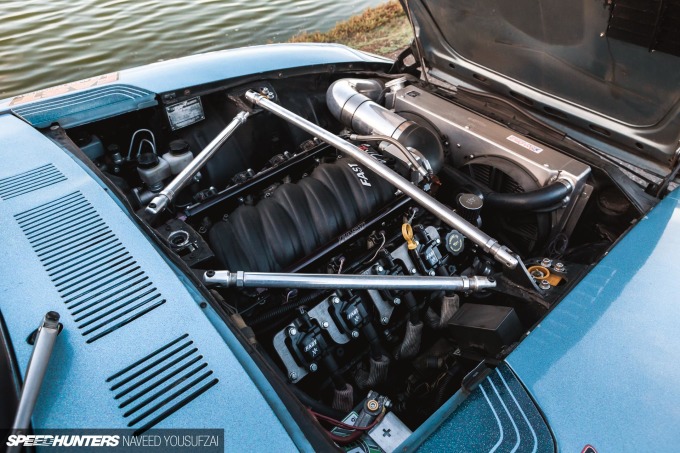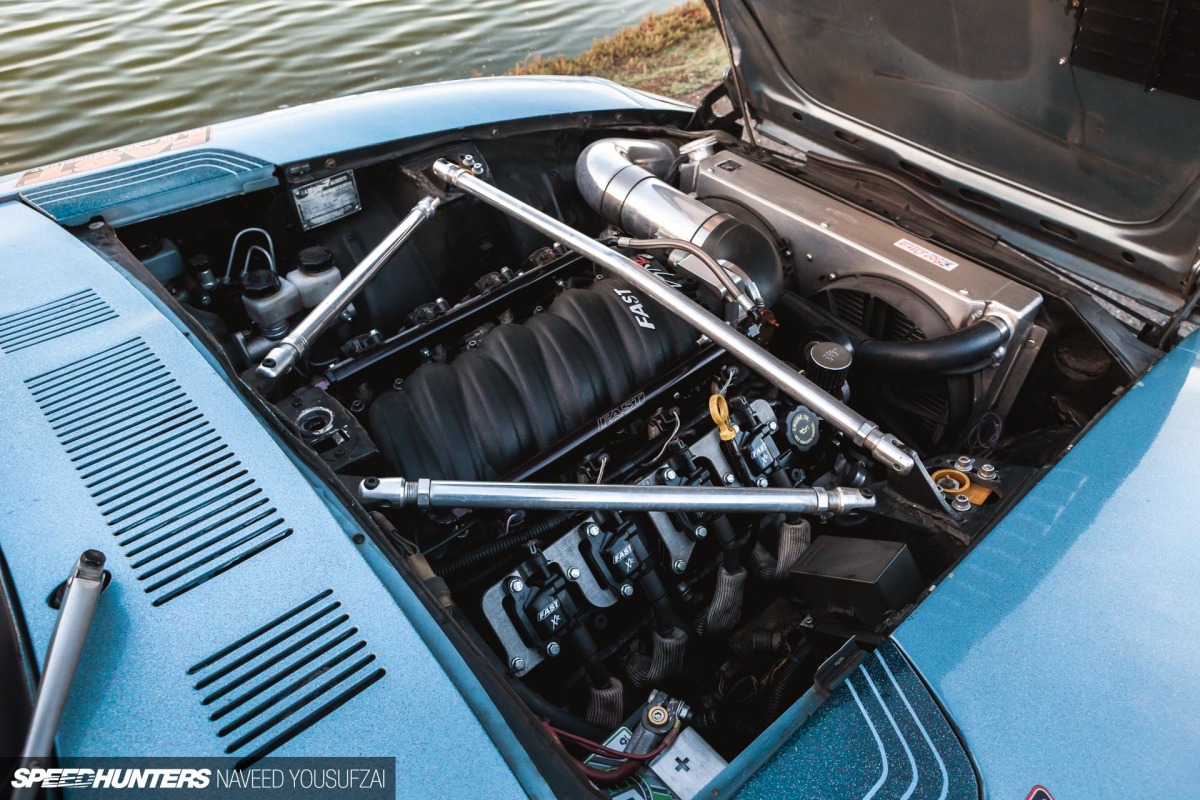 Before we dig deeper into the Vega, let's talk about David's Z. His initial goals were to step outside of the traditional cookie-cutter S30 builds we usually see, and that's obviously clear at first glance. It screams angry noises at a standstill, and if I saw it coming at me in my rear-view mirror, I'd probably move out of its way. The flares are wide, the wheels are massive, the wing is huge, the brakes are monstrous, and it's LS powered - everything about this car is extraordinary.
The '570Z' was purpose-built to portray American hot rod style touches on a Japanese icon, and it's set up for going fast. David often posts videos of him demolishing times at local autocross events on his Facebook timeline, and it's truly a glorious sight to see.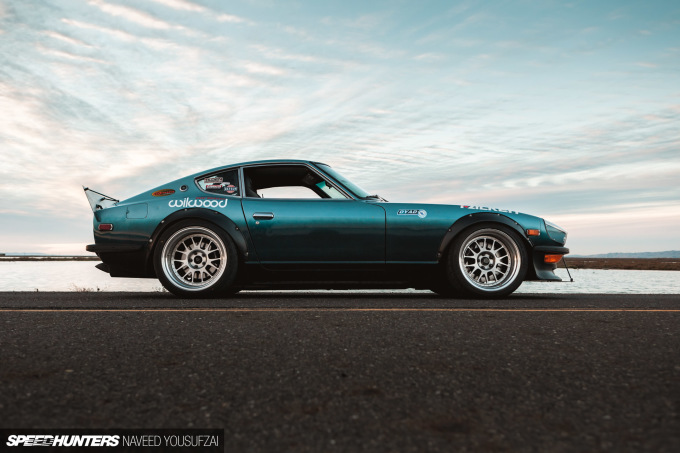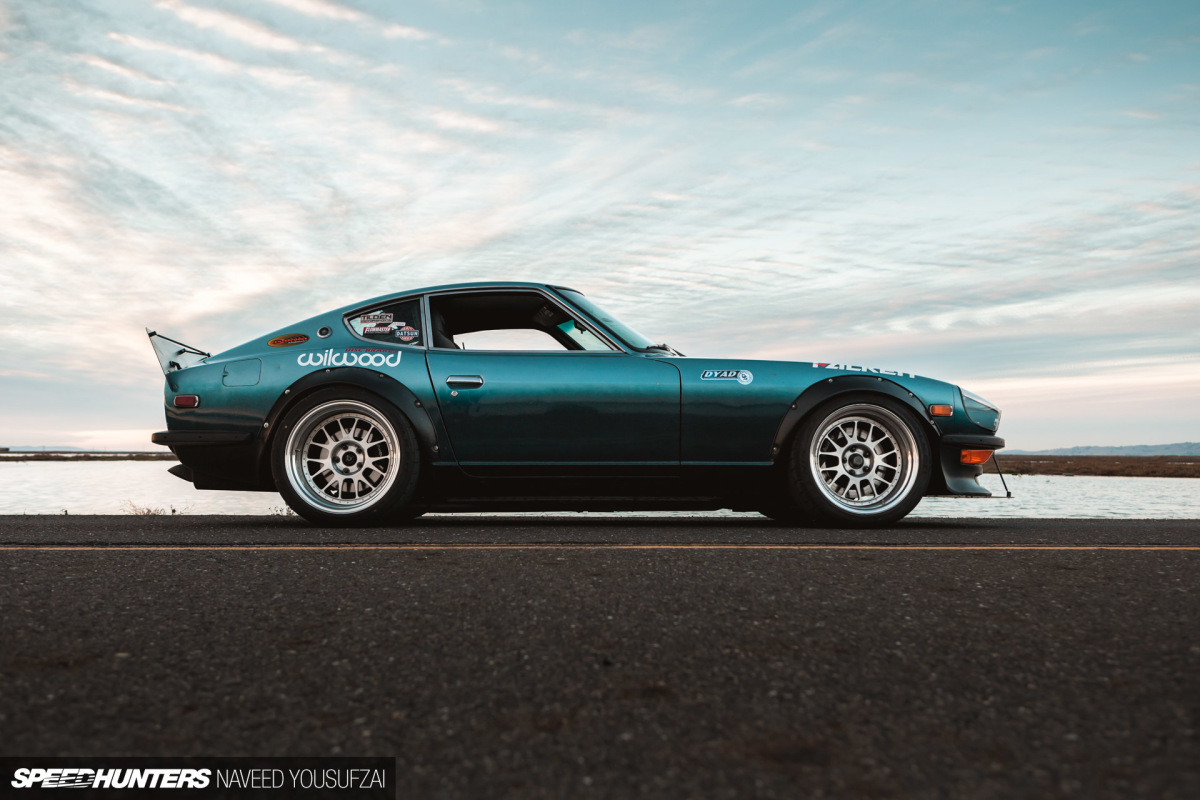 His problem was that the Goodguys AutoCross event wouldn't allow for a Japanese car to enter into the series. The rules were strict, and members of the class were even stricter, as they refused to accept the Z any time David attempted to enter it. They are an American hot rod enterprise, after all.
Despite knowing this, David still progressed with building the car to its completion, and as mentioned prior, he still manages to race it on other cone courses throughout the year. And after taking some time to ponder over what he could build next, he decided on the perfect match – a neglected American pony car with half the cylinders conventionally found in muscle cars of the era.
Failure Of The Vega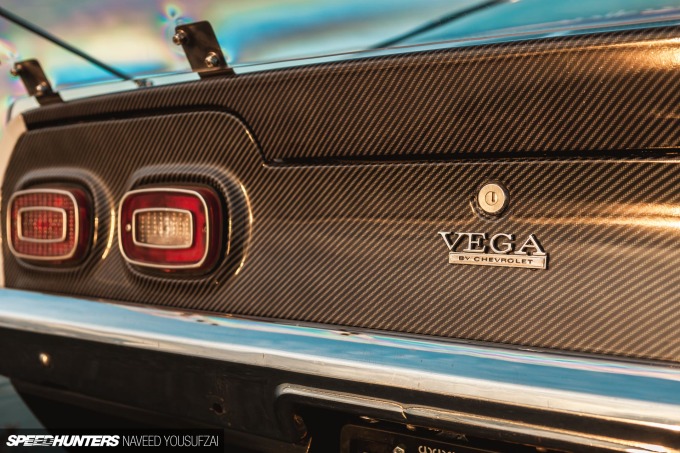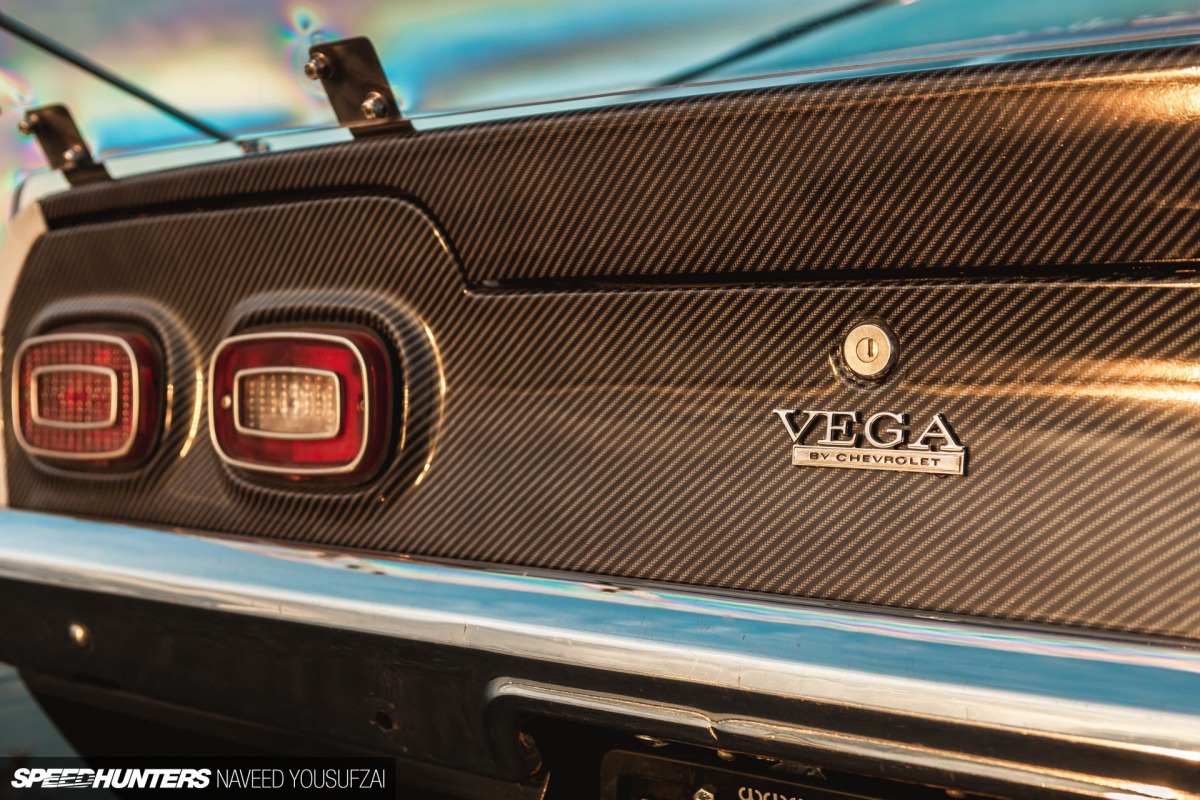 When the Chevy Vega was first introduced in 1970 it received a tremendous amount of praise from the consumers. It was compact, economical, good looking, and even performed well due to its lightweight design and aluminum engine block. But the praise was short lived, most notably due to serious engineering flaws of the SOHC inline-four power plant. They became notorious for oil consumption and engine cooling issues. Chevy tried to revive the Vega, re-engineering all of the common failure points in the motor, but failed to deliver, which ultimately led to tarnishing the reputation of General Motors as a whole.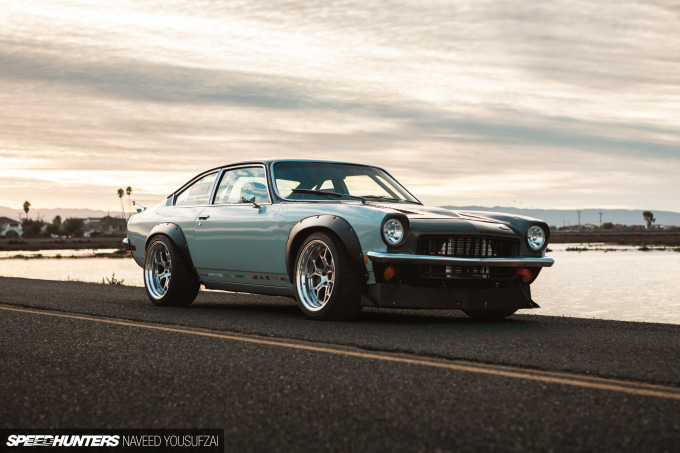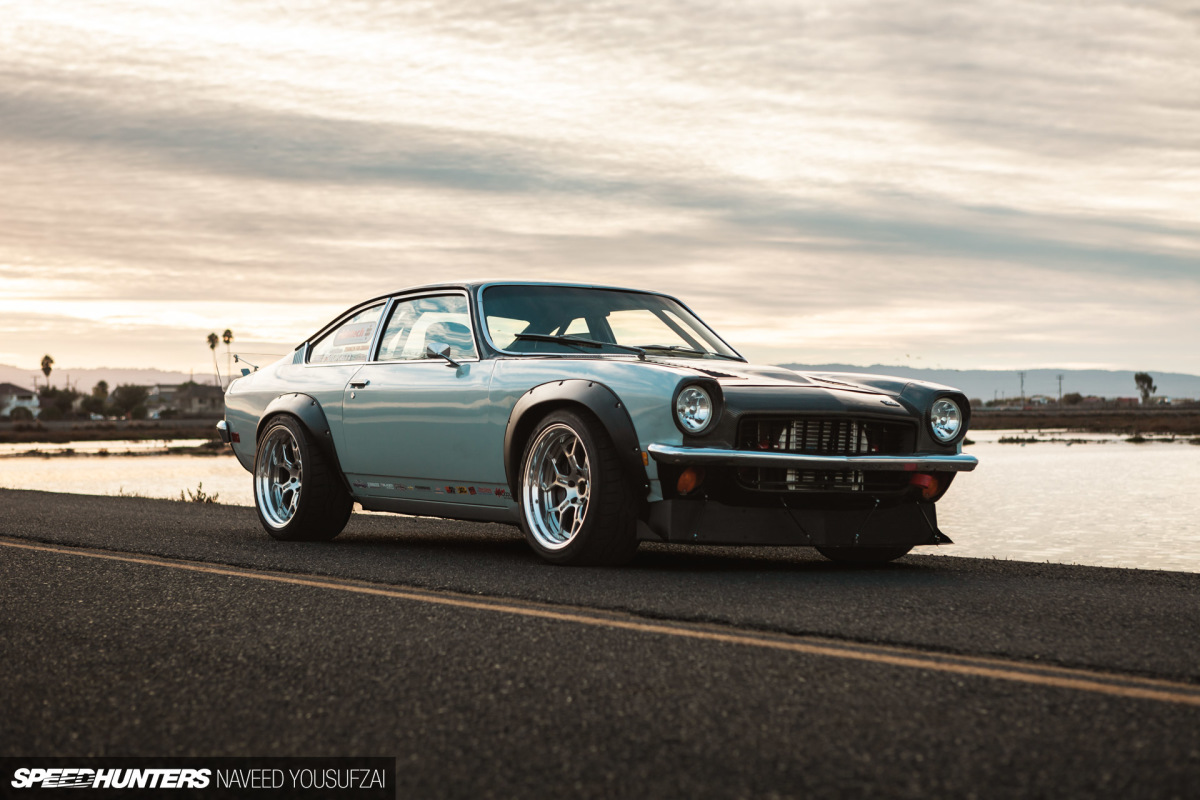 Because of this, enthusiasts of the hot rodding world almost always veered away from the Vega, as there simply was no support for the car. With a bad reputation comes diminishing sales, and with diminishing sales comes minuscule efforts in aftermarket support for replacement parts, let alone anything performance related. For instance, if you decided to build a '57 Bel Air, you could open up a Summit Racing catalog and create an entire car from it, with infinite choices in direction of its theme. But try that today for a Vega and you'll be stumped at being able to find something as simple as a specific weather seal.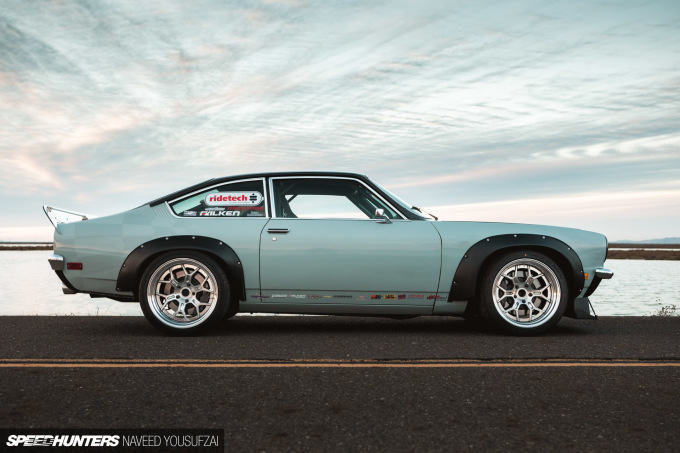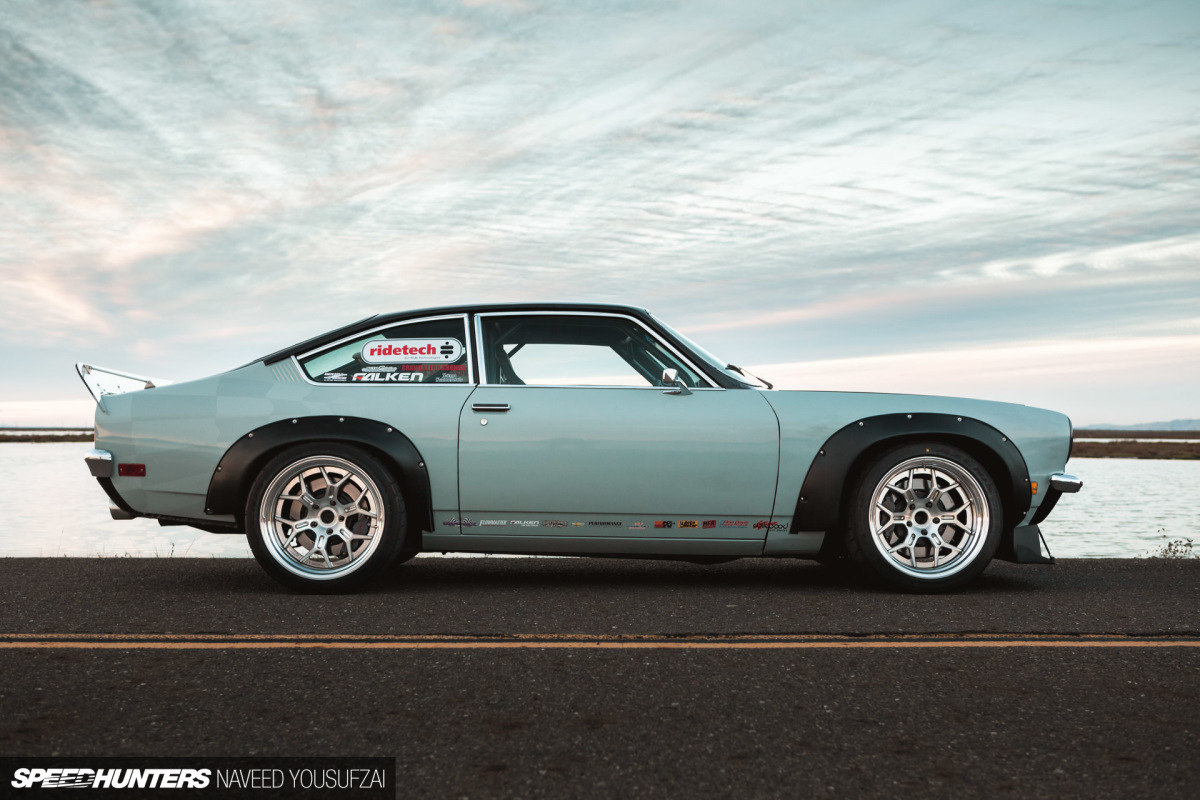 While that may be an automatic sign for most builders to just choose an alternative platform, David found the challenge to be encouraging. He mentioned he specifically wanted the platform to test his own skills at craftsmanship and engineering, while also being in love with the overall appearance and design of the Vega. It reminded him of his 570Z, and thus his custom build began.
The All-Custom Vega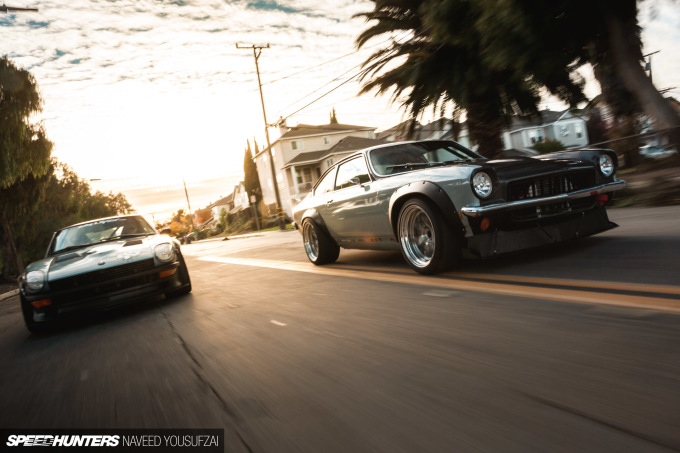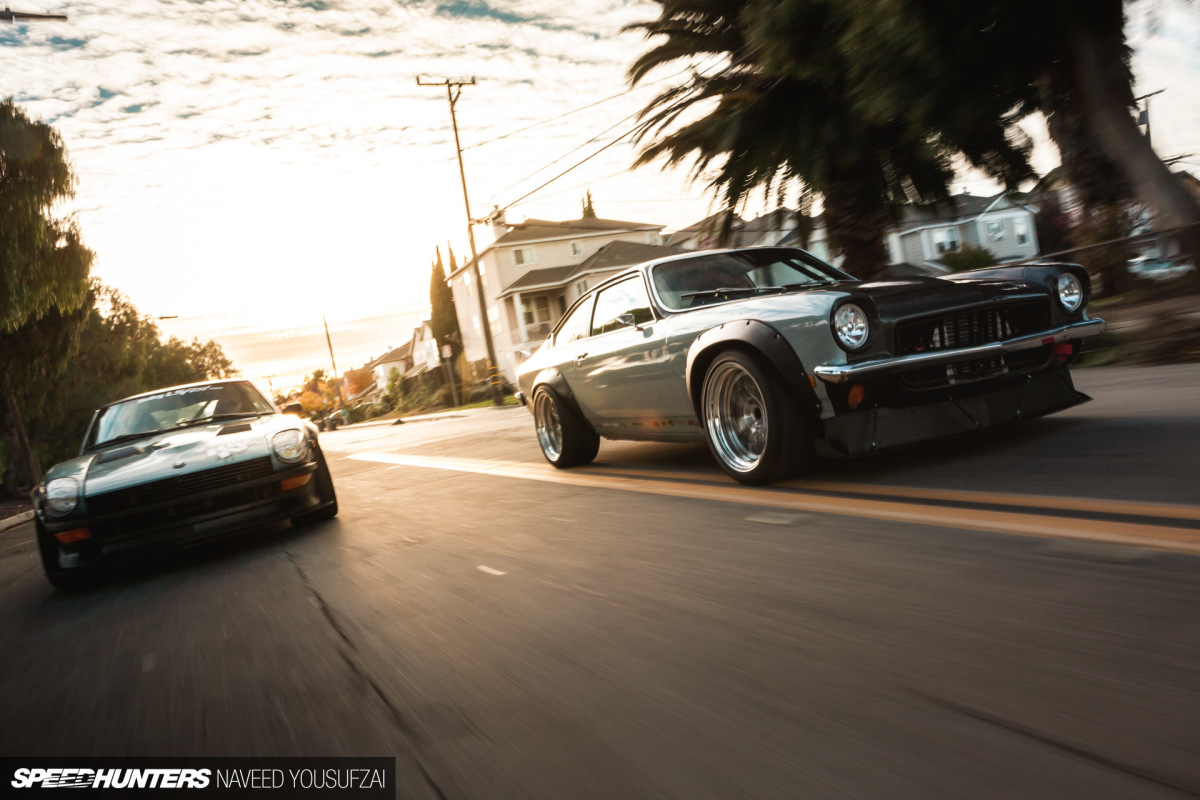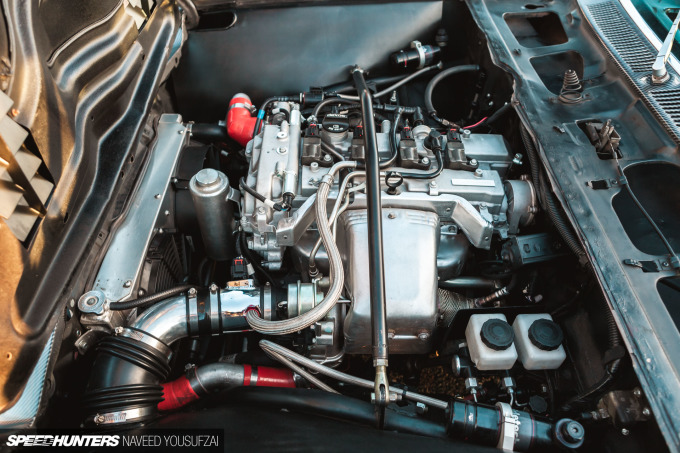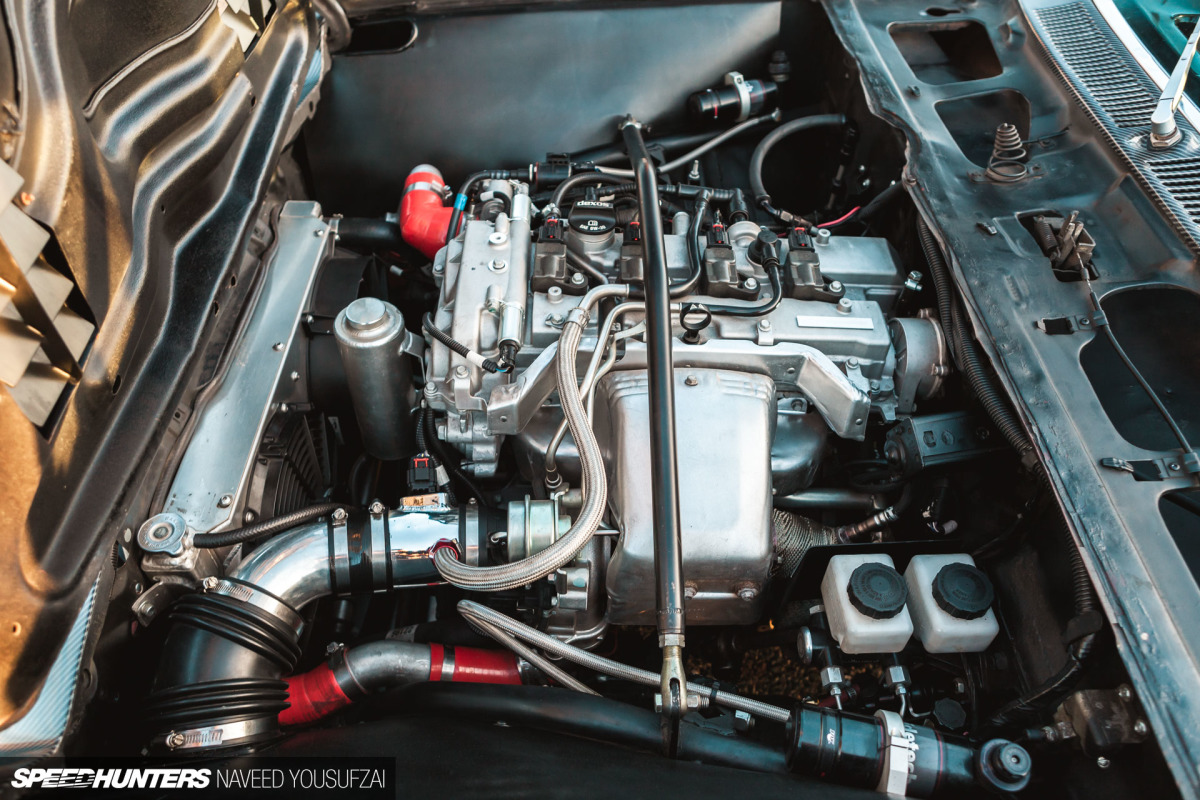 David purchased the Vega sight unseen, and had it shipped to his home in Morgan Hill, California. Immediately after it arrived in his driveway, he began researching and drafting up plans to build it up to proper cone-carving spec. Thoughts of potentially going tube chassis on the car crossed his mind at some point as well, but the decision to keep the chassis original prevailed, and I for one am happy it stayed this way.
I believe in retaining a factory chassis for a car of this caliber, not only because it pushes a builder's creativity, but also because it enhances a driver's skill level when pushing the car to its limits. There's a point in building race cars where I kind of see going tube chassis as cheating when comparing to other cars of its class. I'm not saying it would've actually been cheating, but being able to spank the hell out of the competition with an original frame holds more bragging rights in my book.
David spent several months sourcing custom parts for the car. The hardest part was suspension, and though he managed to find the control arms he needed, the rest of the components were custom built. From there, he sourced a crate engine from Chevrolet Performance, but of course it wasn't a direct fit either. They ended up cutting and moving back the firewall as well as the transmission tunnel to get weight centered in the car. The drivetrain, wheels, brakes, exhaust, fuelling, and so forth were again all custom made and tailored specifically to work with the Vega.
It's safe to say, they went to great lengths to get the car where it's at today.
What's To Come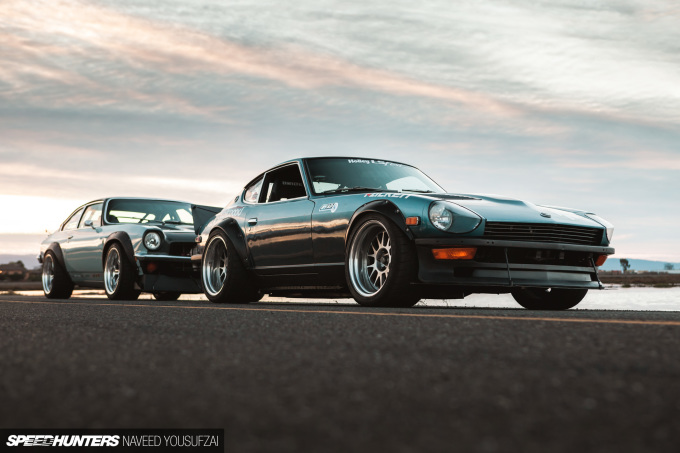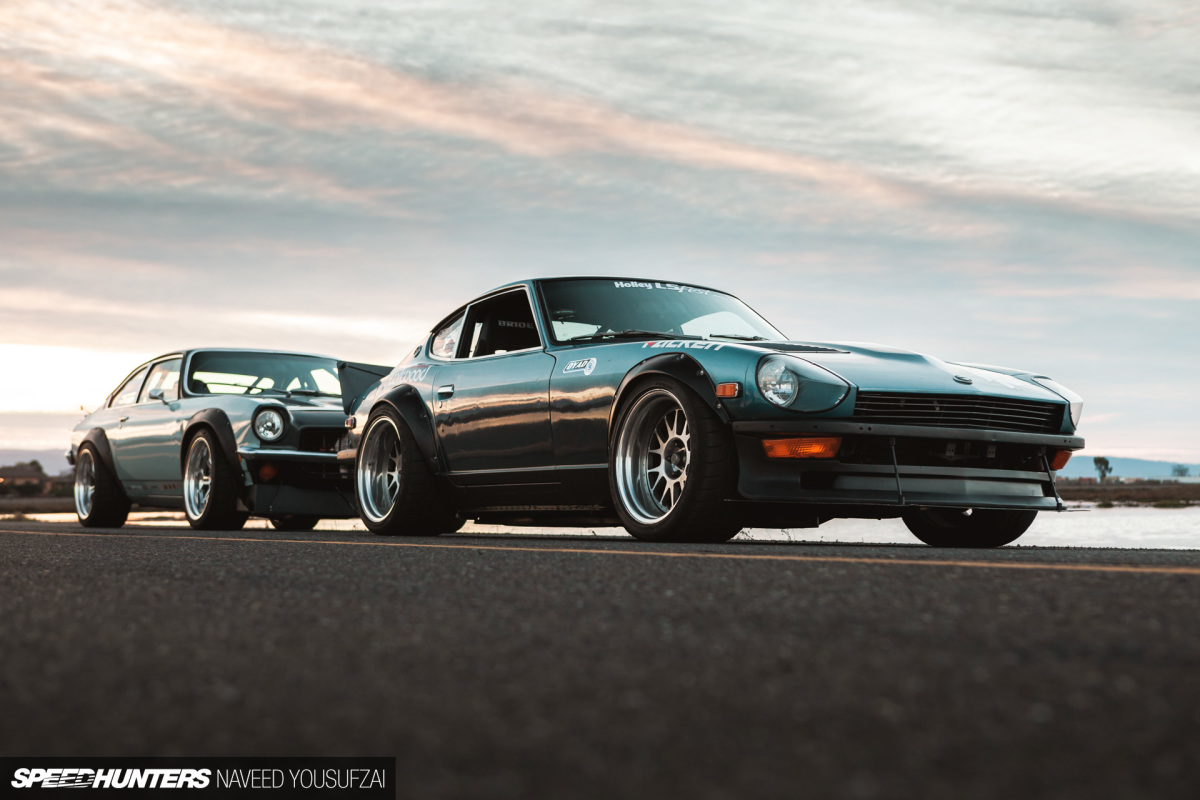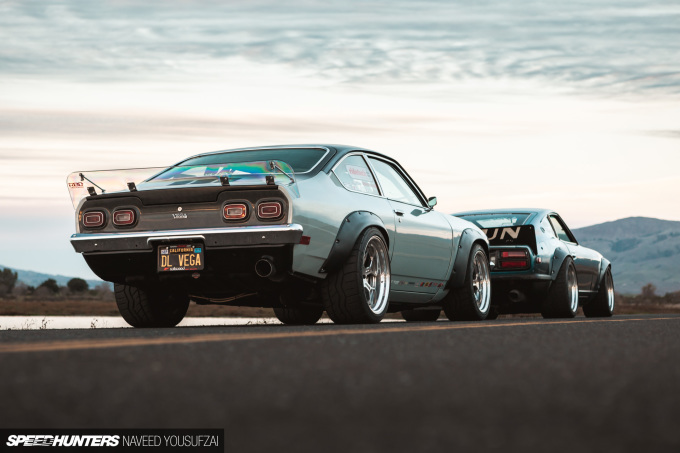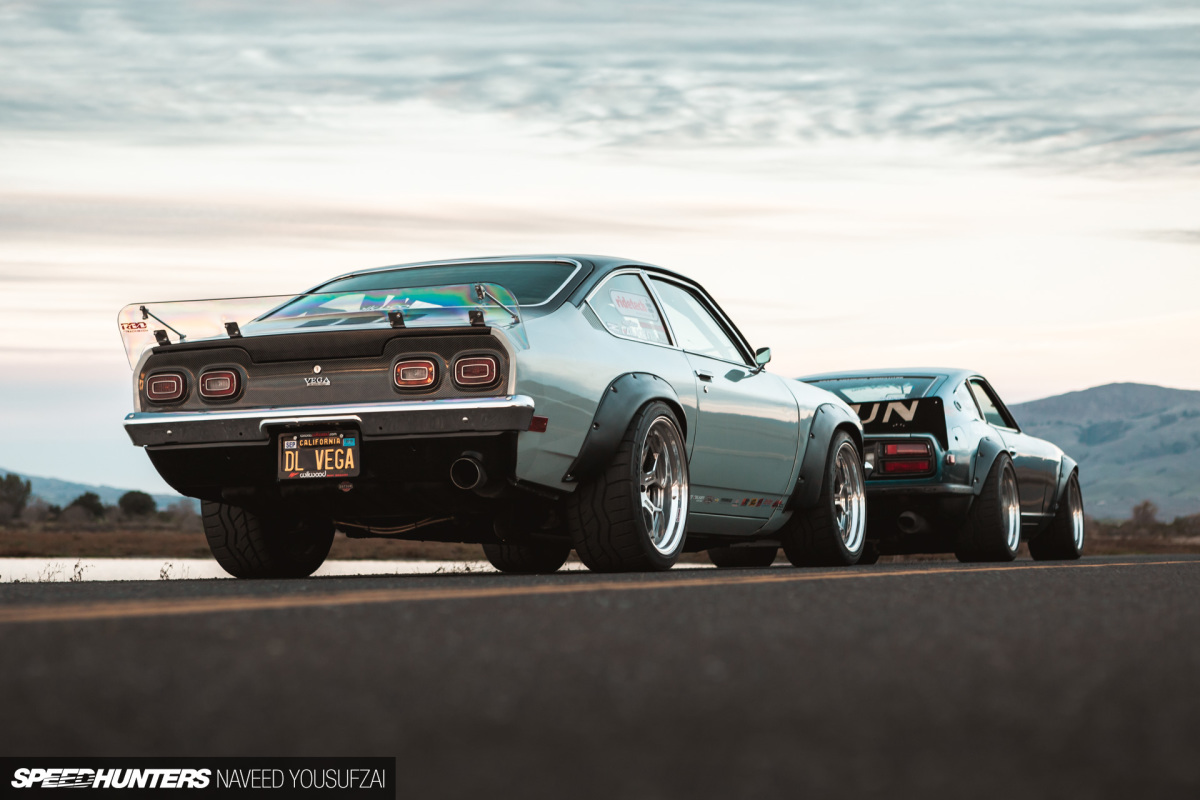 Now that the Vega is complete and ready for the autocross course, David's plans are to dominate the series. He's already been fortunate enough to get the car on the track to get some testing done, and even managed to take home third place in its class without being fully dialed in. With 2019 creeping up faster than ever, David aims to have everything perfected by the racing season, and hopefully taking home some first place trophies.
But that's not all of course.
Being the hot rodding man he is, David has recently picked up a 1963 Chevy Nova II wagon that he will be building alongside this car and the 570Z during the next year. He's already started restoring the bodywork, and it'll be packing some serious heat under the hood as well with Chevy Performance's new 'Connect and Cruise' LT1 package.
Once it's complete, I'll be following up with him to showcase his wife's new grocery and family hauler on the site, so stay tuned for that.
Naveed Yousufzai 
Instagram: eatwithnaveed
David Carroll's Datsun 570Z
Engine:
Tilden Motorsports LS3, FAST 102 intake/throttle body, FAST coil packs, Tilden Motorsports PRO Racing wires, K&N 4-inch intake tube, K&N air filter, Rock Valley Antique custom 15-gallon fuel tank, Sanderson headers, Quick Time Performance electric cutouts, custom King Muffler exhaust system
Driveline:
Chevrolet T56 transmission, Centerforce DYAD Dry System clutch, Southbay Driveline driveshaft, SNR200 Q45 VLSD, custom CV axles
Suspension/Steering/Brakes:
Koni Racing coilovers & Techno Toy Tuning camber kit (front), JRI custom coilovers & Techno Toy Tuning SNR200 kit (rear), Silvermine Motorsports electric steering rack, Apex Engineering steering arms, Wilwood 13-inch slotted rotors & Superlite calipers (front), Wilwood 12-inch slotted floating rotors & Dynalite calipers (rear)
Wheels/Tires:
Jongbloed 557 Series 3-piece race wheels, Falken Azenis RT615K+ 315/30R18 tires
Exterior:
240Z front & rear bumpers, 240Z grill, custom front aluminum splitter, custom rear aluminum spoiler, JPN Garage super flares
Interior:
Marcus Fry Racing Inc. roll bar, DJ Safety 5-point harness, Autometer Ultra-Lite II gauges, Bride seats
… and his Chevrolet Vega
Engine:
Chevrolet Performance LTG 2.0T crate engine, Vermont Tuning E85 FlexFuel package, custom tuned, custom Ron Davis Racing radiator, custom Ron Davis Racing intercooler, Spectre Performance air intake with carbon fiber C5 Corvette filter, Guy Smith custom lightweight aluminum inner fender intake ducts, custom 3-inch mandrel bent Flowmaster tubing & custom 3-inch down pipe, Flowmaster Pro Series muffler welded by John at A1 Muffler in Morgan Hill CA, Rick's Tanks '69 Camaro 17-gallon stamped gas tank, Camaro fuel pump, custom bent aluminum 3/8th" line front to back
Driveline:
Tremec TR3160 6-speed manual transmission, custom flange adapter by South Bay Driveline, custom transmission tunnel, GT500 Mustang all-aluminum driveshaft, GM 7.5 Monza Miller Built rear end (3.73 gears, full floater)
Suspension/Steering/Brakes:
Overkill Racing custom tubular front adjustable control arms (modified), Overkill Racing crossmember, Overkill Racing rear lower control arms, RideTech triple-adjustable coilovers with remote reservoirs, custom Church Boys Racing billet spindles with C5 hubs, Church Boys Racing first gen Nova manual steering rack, custom steering arms from Marcus Fry Racing, rear suspension torque arm modified to allow for adjustability, custom Panhard bar &mounts from Marcus Fry Racing, Wilwood 6-piston Superlite calipers & C5 13-inch slotted rotors (front), Wilwood 4-piston Superlite calipers & C5 13-inch rotors (rear), Wilwood brake/clutch master cylinder with remote reservoir
Wheels/Tires:
Jongbloed custom X6 Series 3-piece 18×10-inch +4 race wheels (custom design with owner Ryan), Falken Azenis 615K+ 275/35R18 tires
Interior:
Custom roll bar by Marcus Fry Racing, custom recessed dash panel with Autometer DashLink displayed on iPad, TMI racing seats, DJ Safety 5-point harnesses, original rear seats, AutoCustom carpeting, custom hidden battery compartment with dual 6volt Optima Red Top batteries, Hurst SS Camaro pistol grip shifter
Exterior:
Custom hand-made front aluminum splitter, VegaMods front valance, custom vinyl wrap over entire car (top is carbon fiber wrap, sides are Nardo grey with ghost checkered flag, done by Brian Jones with Grafikx), Holden Torana flares, Trackspec Motorsports IROC hood vents, custom rear poly spoiler by Rick Brunetti Racing
David's Thanks/Sponsors:
His wife and kids, Norcal Garage Team, Landon Kupfer, Hector Curiel, Matthew Anderson, Felipe Bellot, Justin Hall, Jose Bellot, K&N Filters, Spectre Performance, Tilden Motorsports, Pacific Fabrication, Wilwood Disc Brakes, Jongbloed Racing Wheels, Falken Tires, Marcus Fry Racing, Braille Battery, Autometer, Flowmaster, Hurst, Quick Time Performance, Centerforce Clutches, CompCams, DJ Safety, Ron Davis Radiators, XtremeKustom Details, Southbay Driveline, Trackspec Motorsports, King Muffler, Silvermine Motorsports
Gallery