Keeping It In The Family
One of my favorite things about the SEMA show each year is the continued development we see on chassis that have long been dead in terms of factory development.
For how much love the S2000 has in the hearts of enthusiasts today it's almost unimaginable that the car was discontinued after less than a decade. I'm sure the recession had something to do with it, as well as the fact that no one in America knows how to drive a stick shift anymore.
Coupled with the fact that the S2000 was more of a niche product than, say, a Civic, this meant that the relatively low volume meant a poor return on investing more to continue developing the car. With cheaper alternatives littering the market (I mean, even I own a '99 Miata, although more by necessity than choice) 2009 marked the last year of the S2000.
Fast forward to today and aftermarket support for the chassis has never been stronger. This year at SEMA we found a number of S2000s that required a closer look, so, here we go.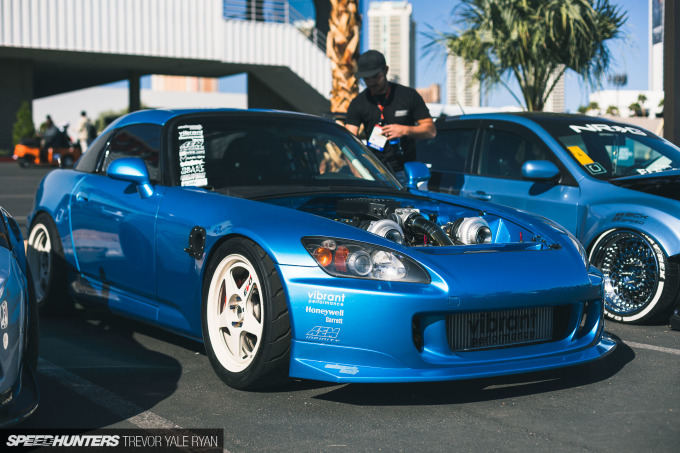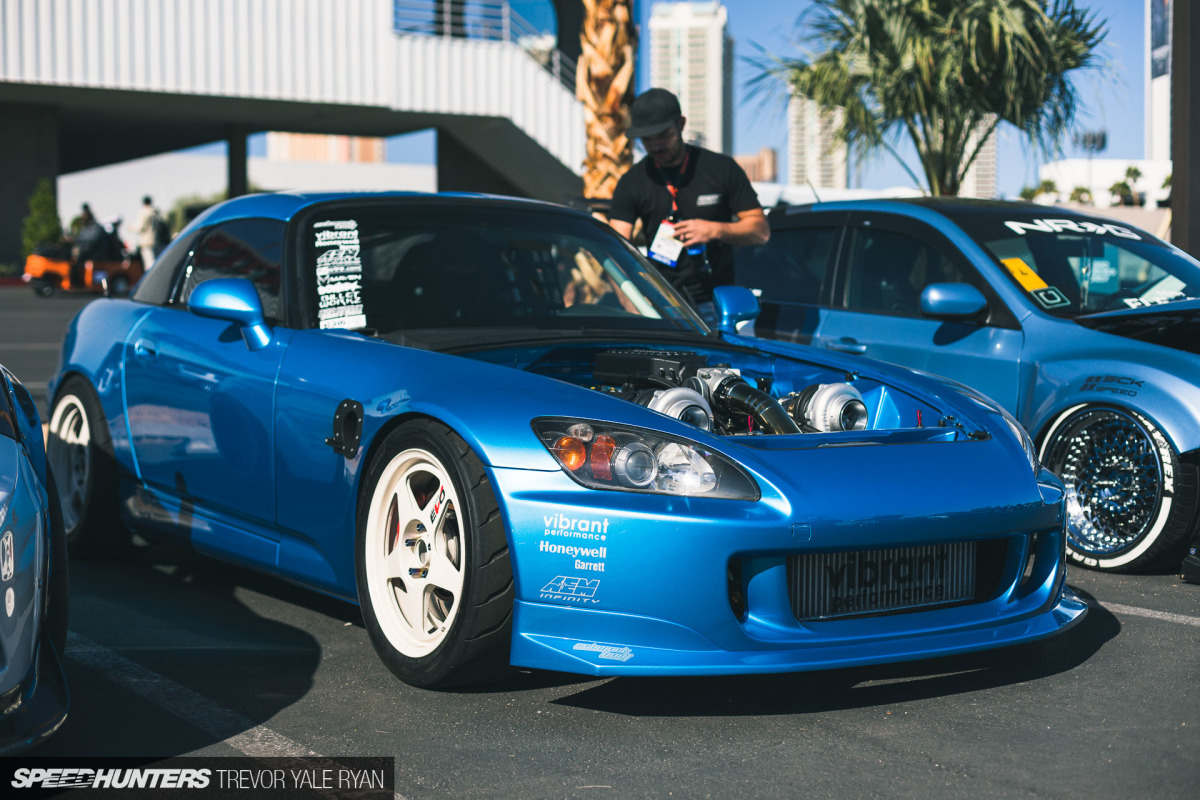 The first was a facelifted '06 that's had an additional nip and tuck thanks to an APR front lip, Mastergrade carbon trunk, and a hardtop to go between the two.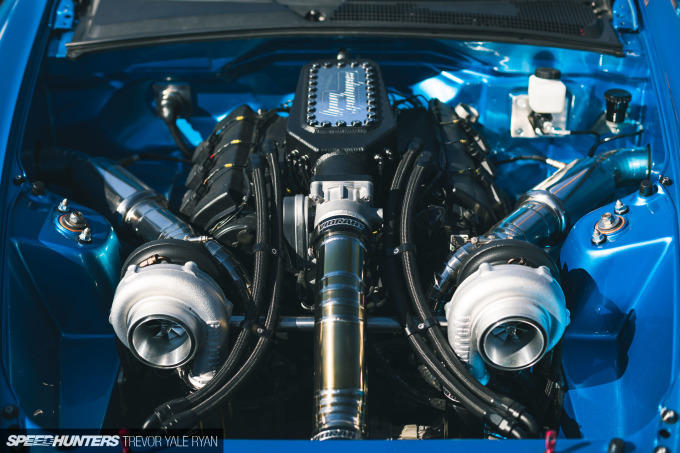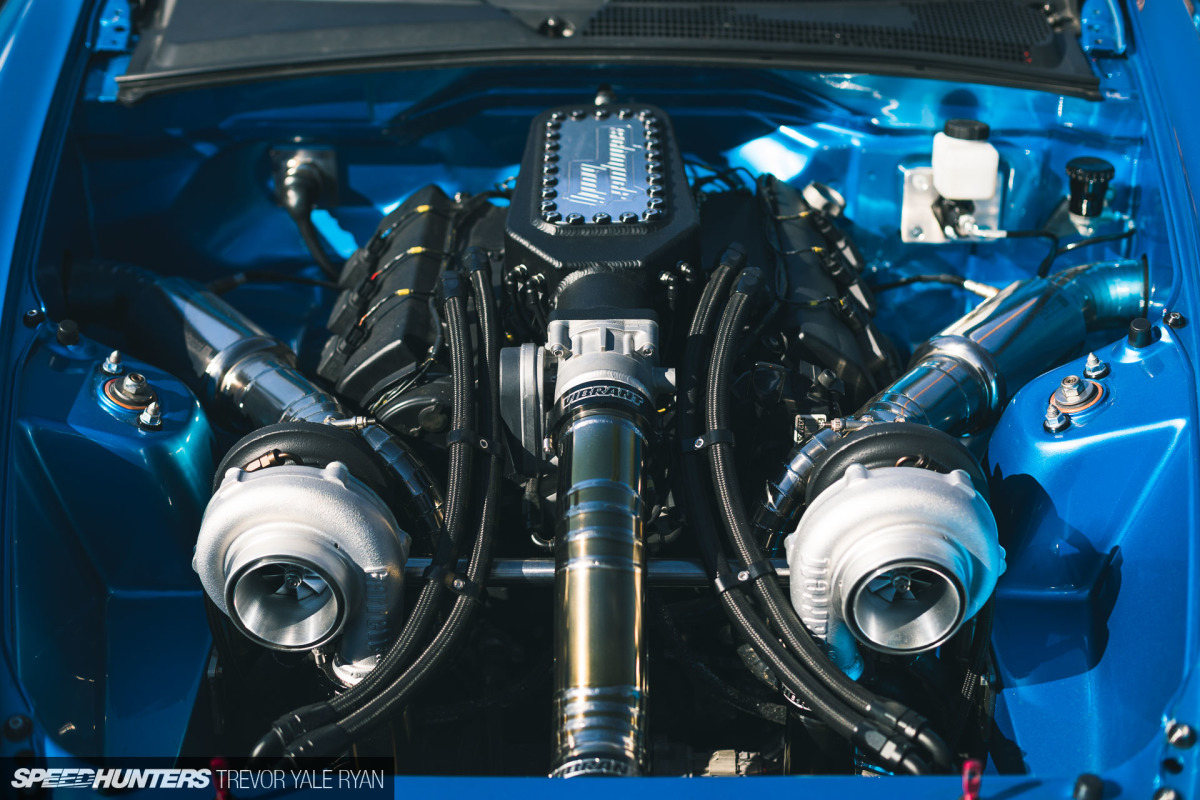 But that's obviously not really what caught my attention on this particular car. While it looked right at home in the narrow S2000 engine bay, the family-correct J32A2 is what would jump out at anyone.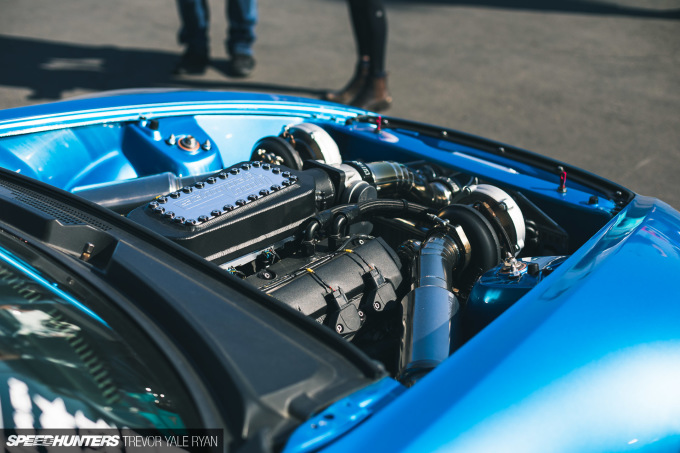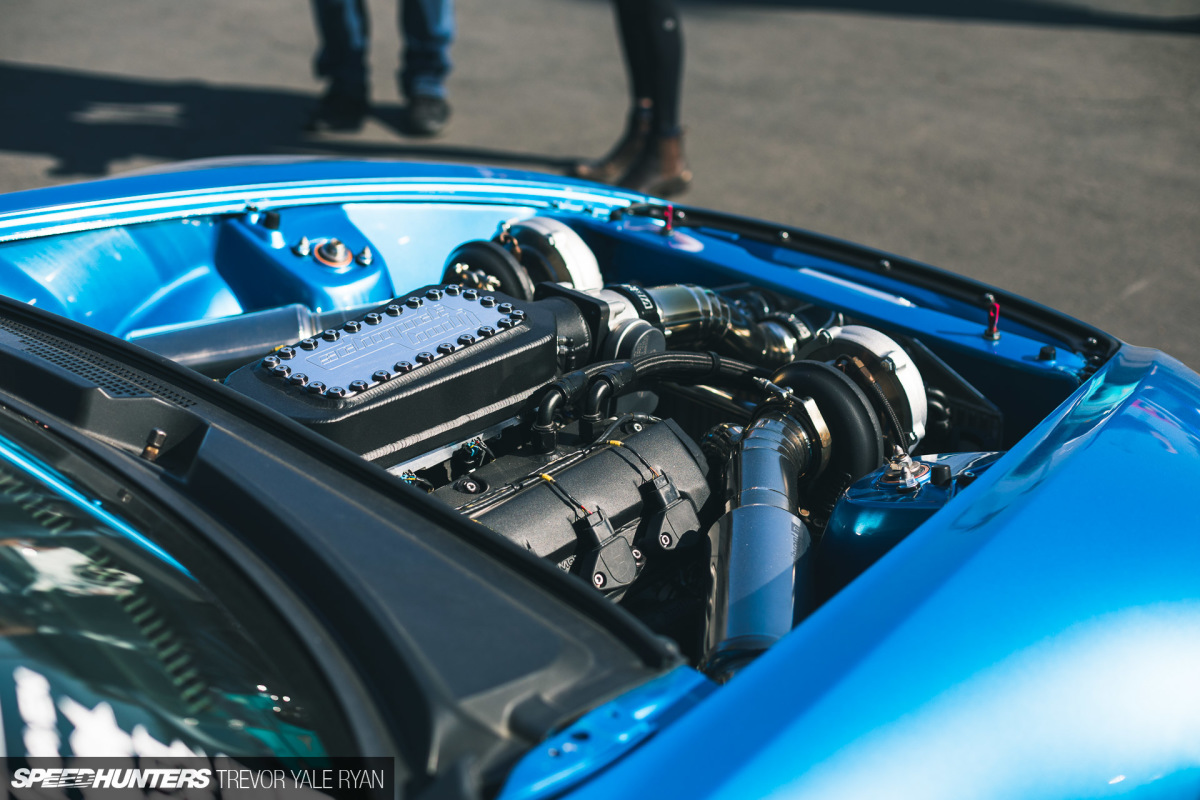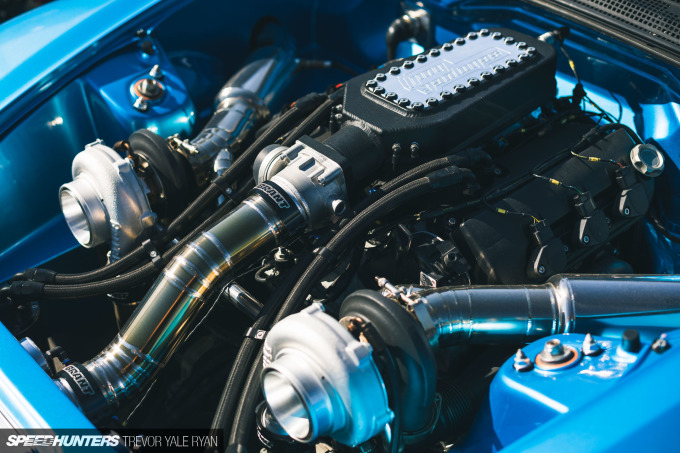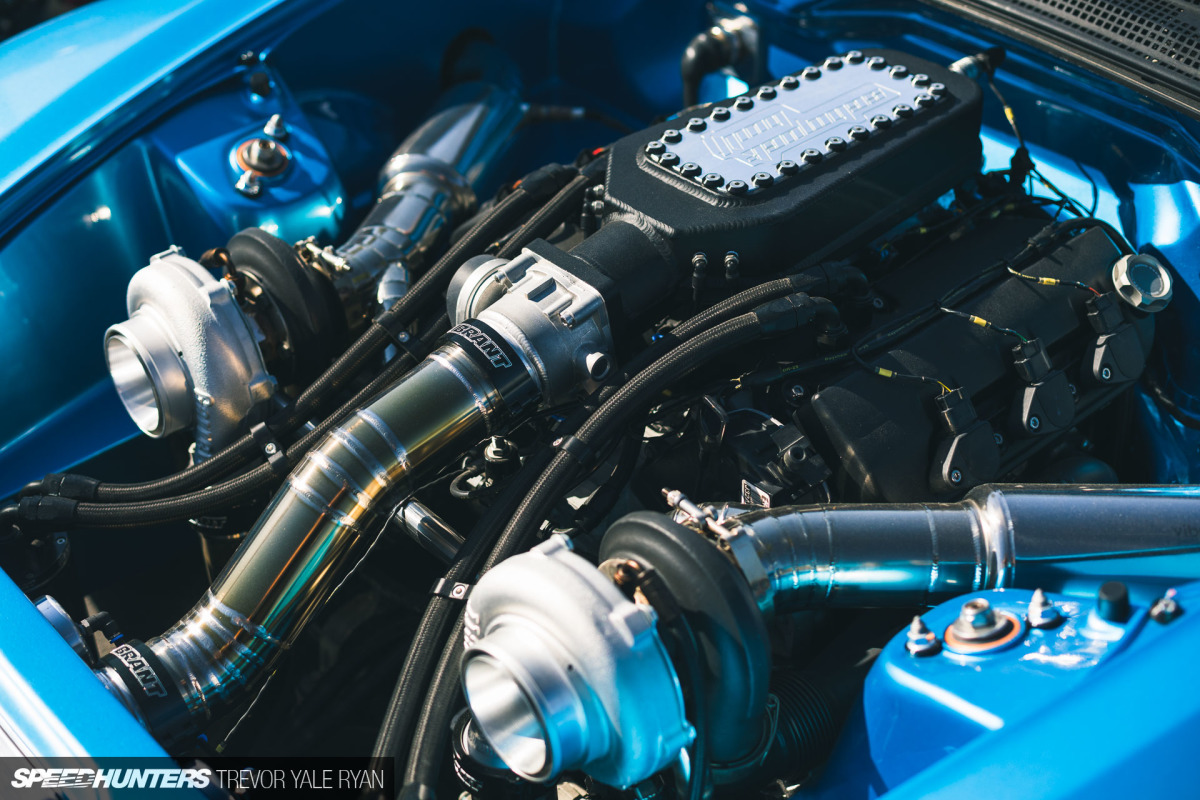 Owner/builder Jason Schmuck did an awesome job of packaging, and check out the twin fender-exit exhaust. Absolutely phenomenal.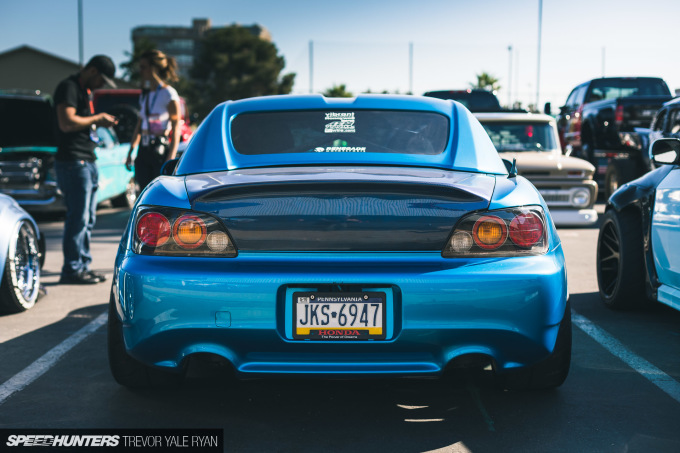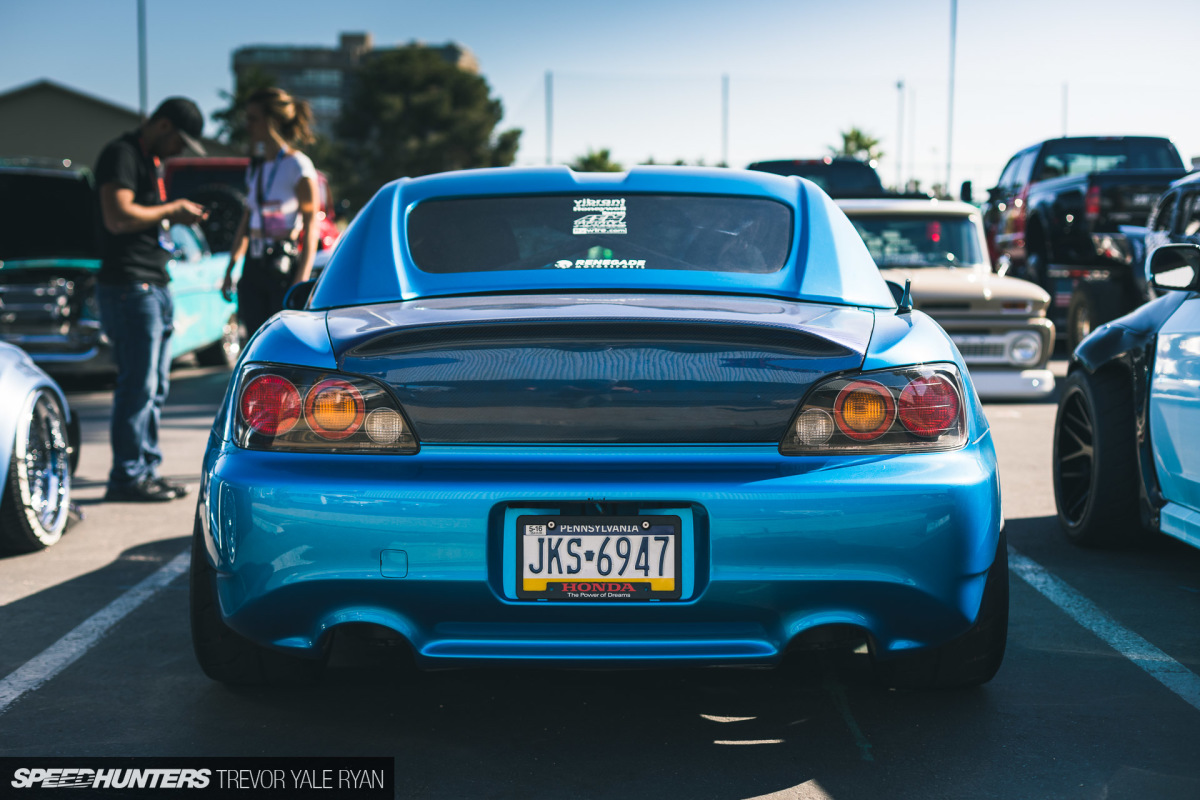 Good for nearly 500hp thanks to the Schmuck Built custom turbo kit pushing 7psi paired with an AEM Infinity 708 ECU the car has been upgraded with a Ford 8.8 IRS setup in the back.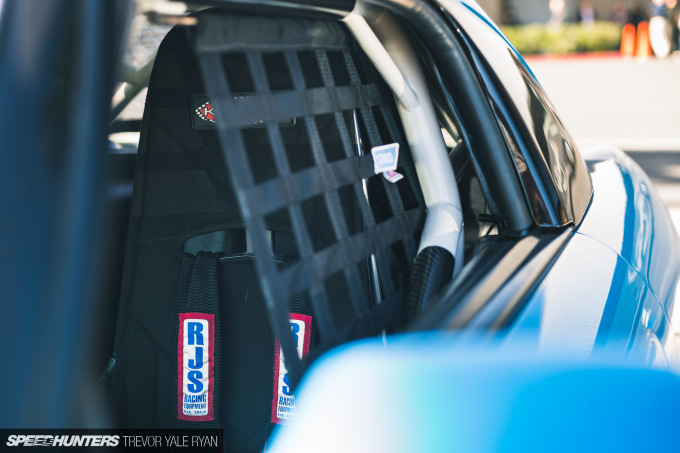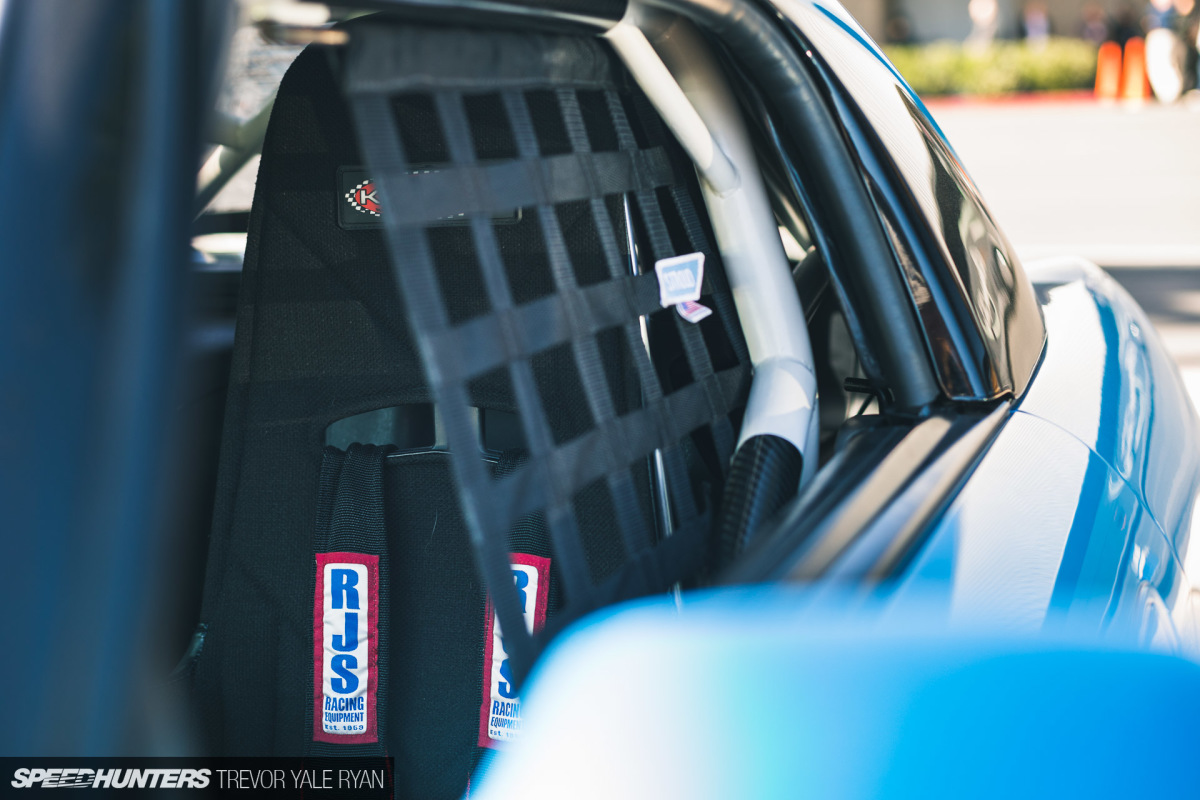 Matching the performance, the interior has seen some changes as well.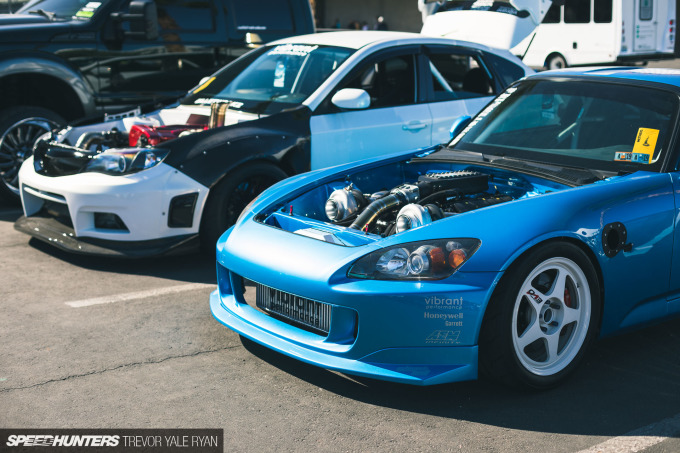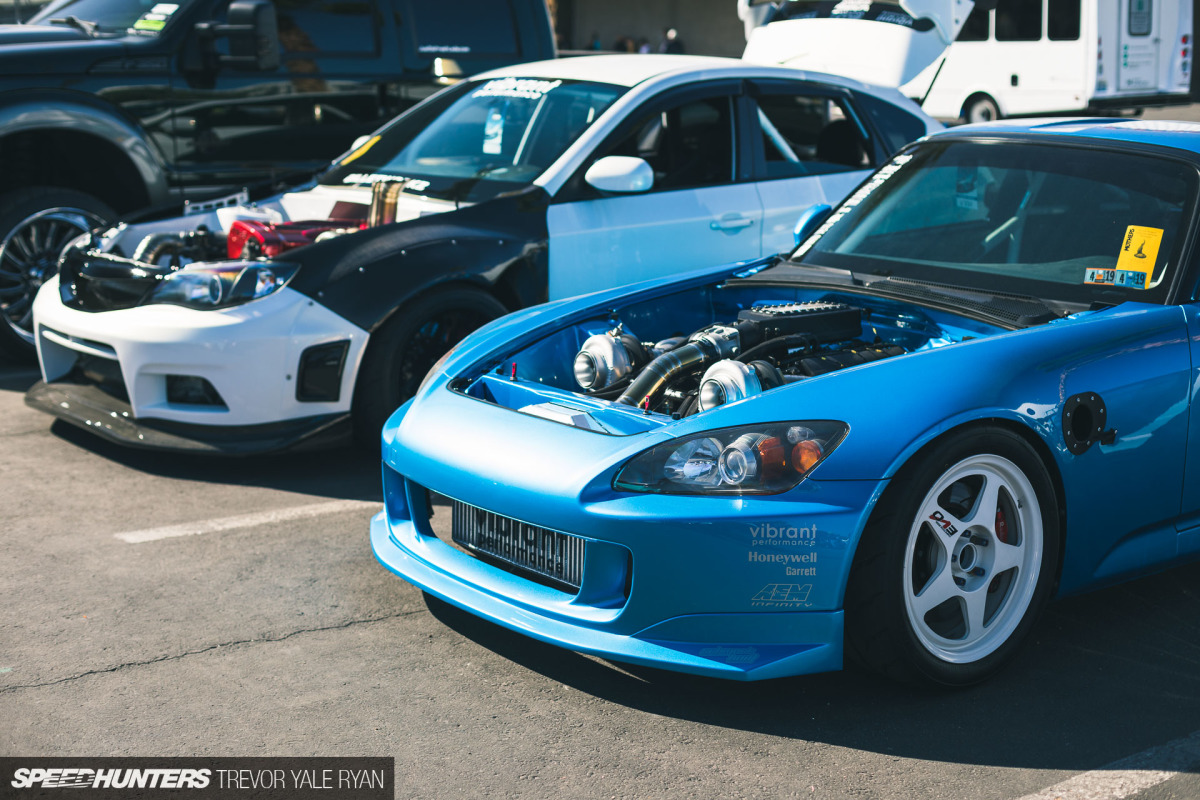 I learned that owner/builder Jason was also responsible for the fab work on the RB-swapped Subaru we featured after SEMA last year.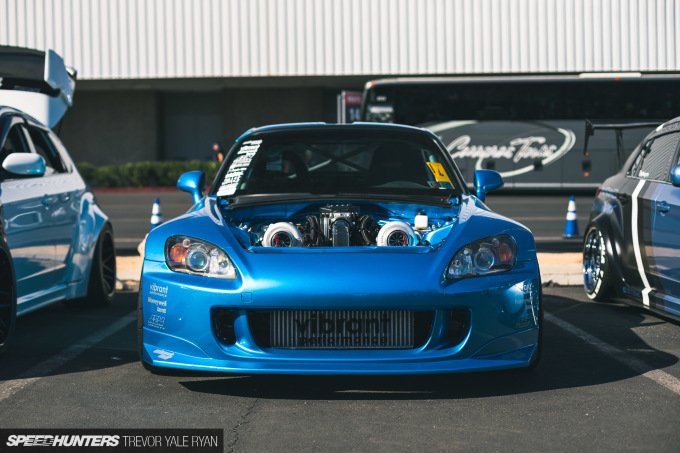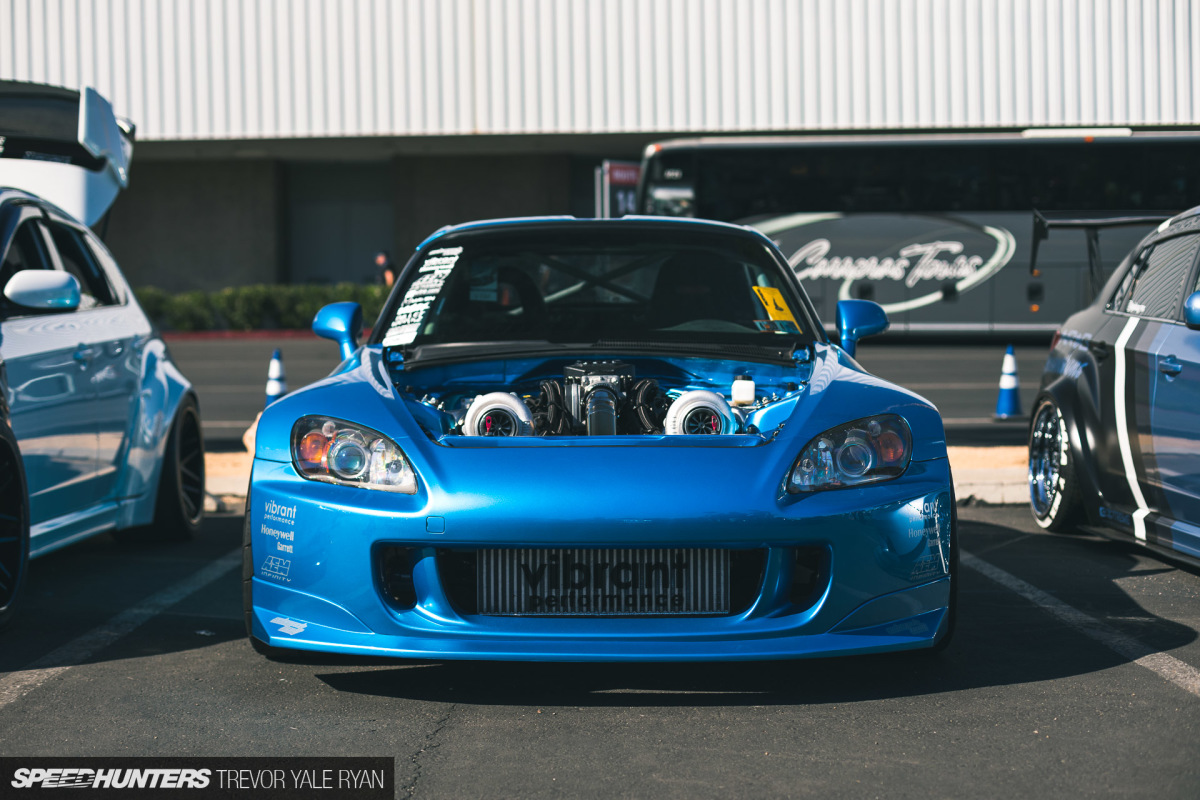 Two totally divergent builds, it's cool to see just how different an engine swap can be from one car to the next.
JZ Powa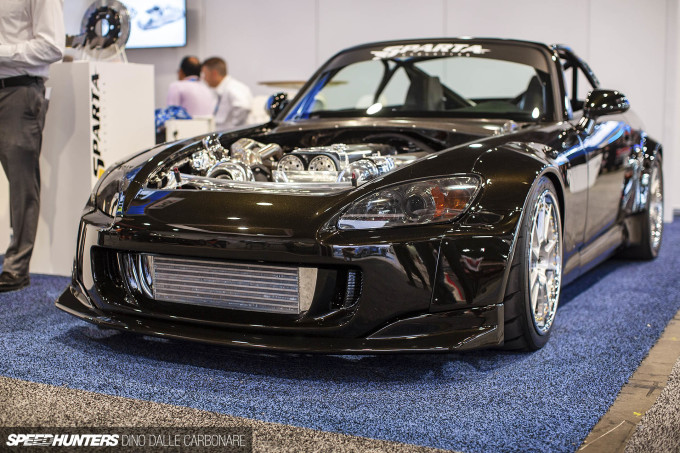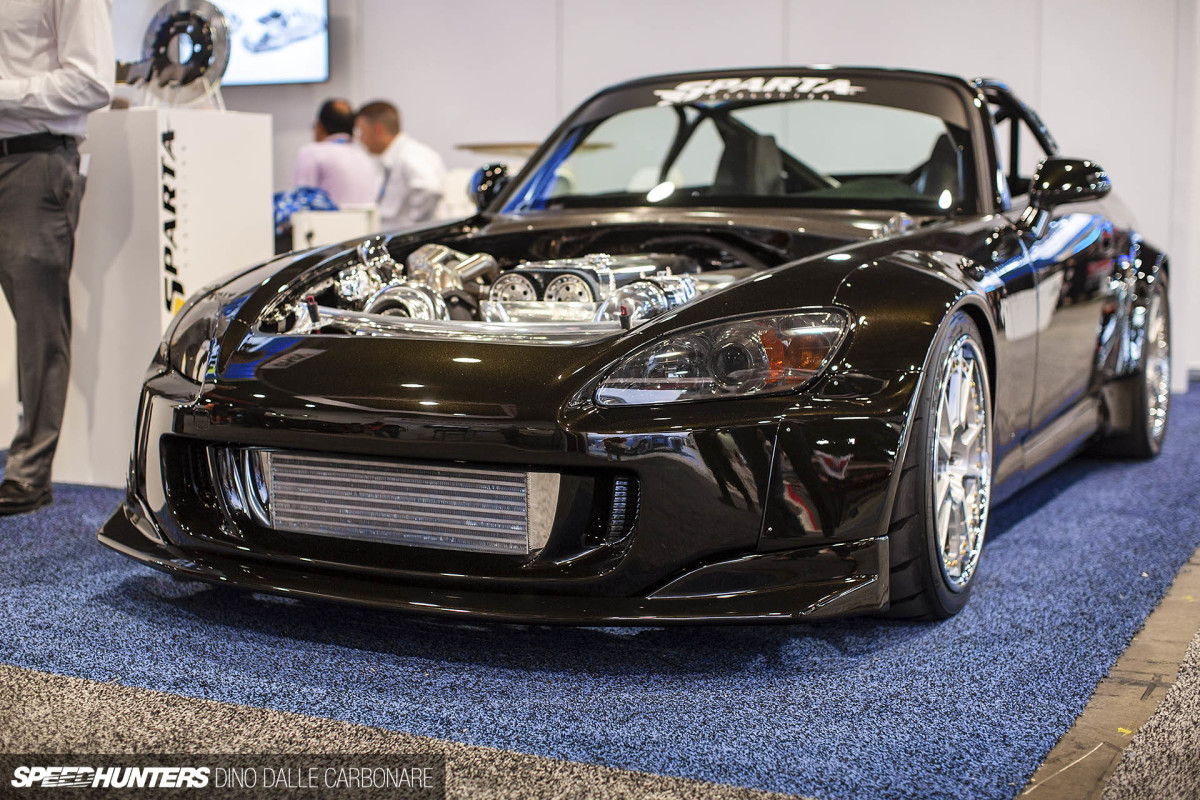 On that note, next up is another six-cylinder car, one that's an entirely distinctive take as compared to the V6.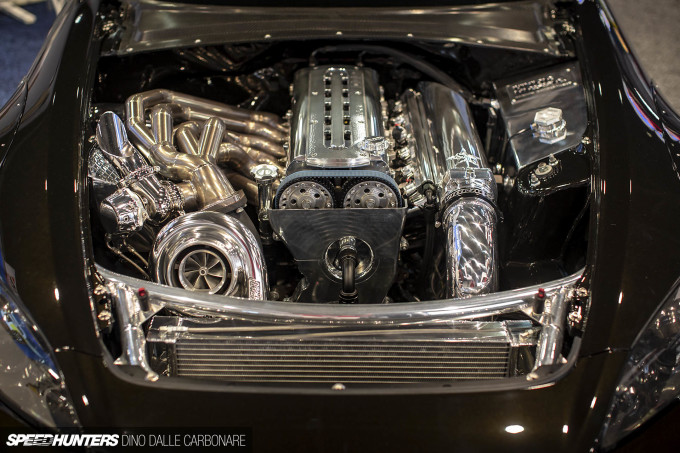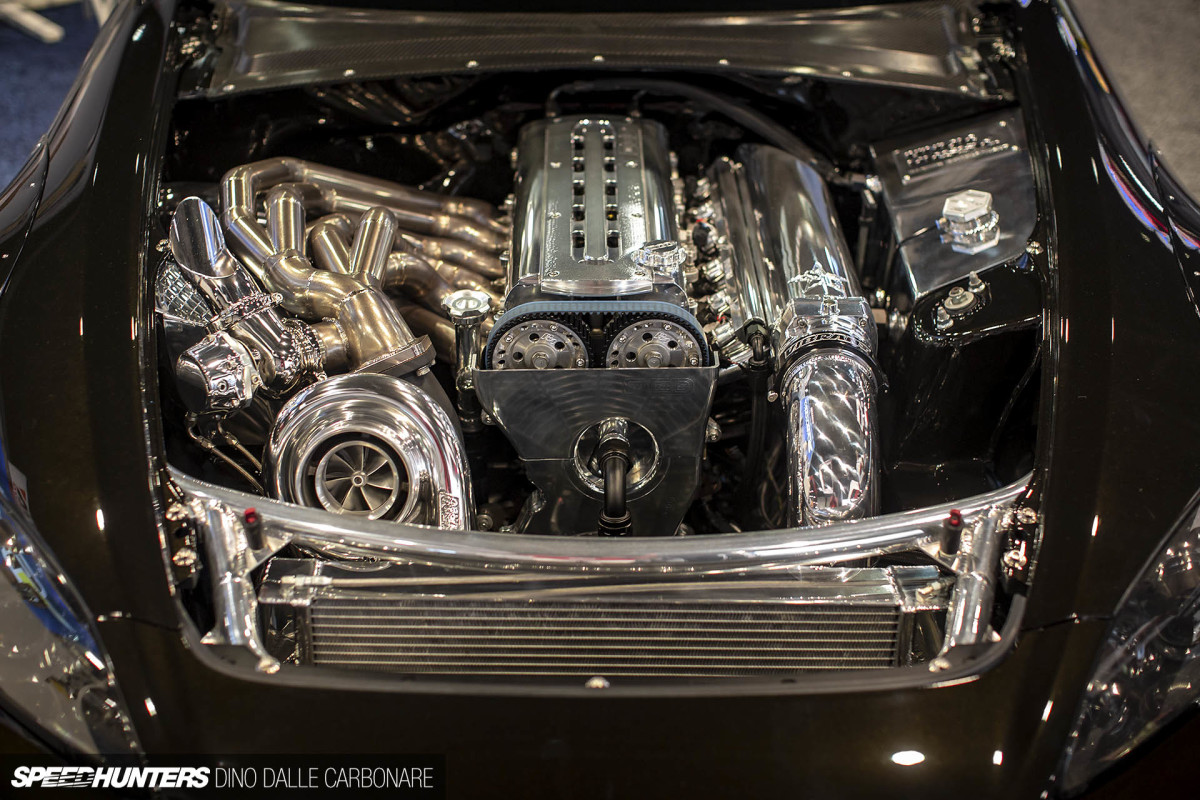 Yes, a straight six in the form of JZ power. Of course, that's not quite enough and a big single has been nicely plumbed up to provide some boost; it looks plenty capable of pretty big power for the lightweight chassis, too.
Packaging-wise, I'm surprised how well the 2JZ fits although with the matching chrome tube front, it's hard to really tell where the old core support started. Wherever it was, the end result is quite nice.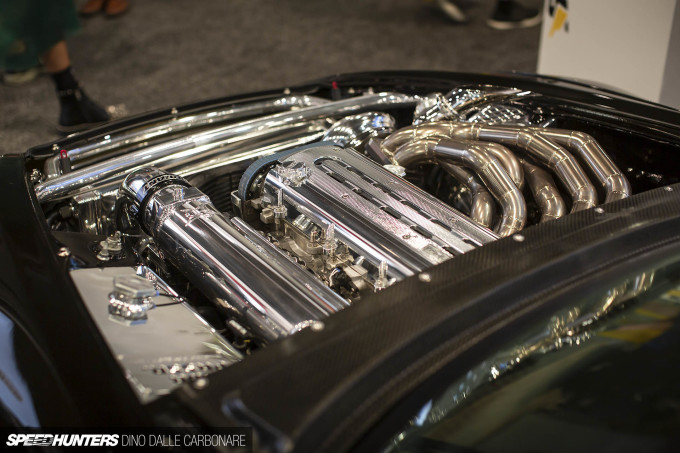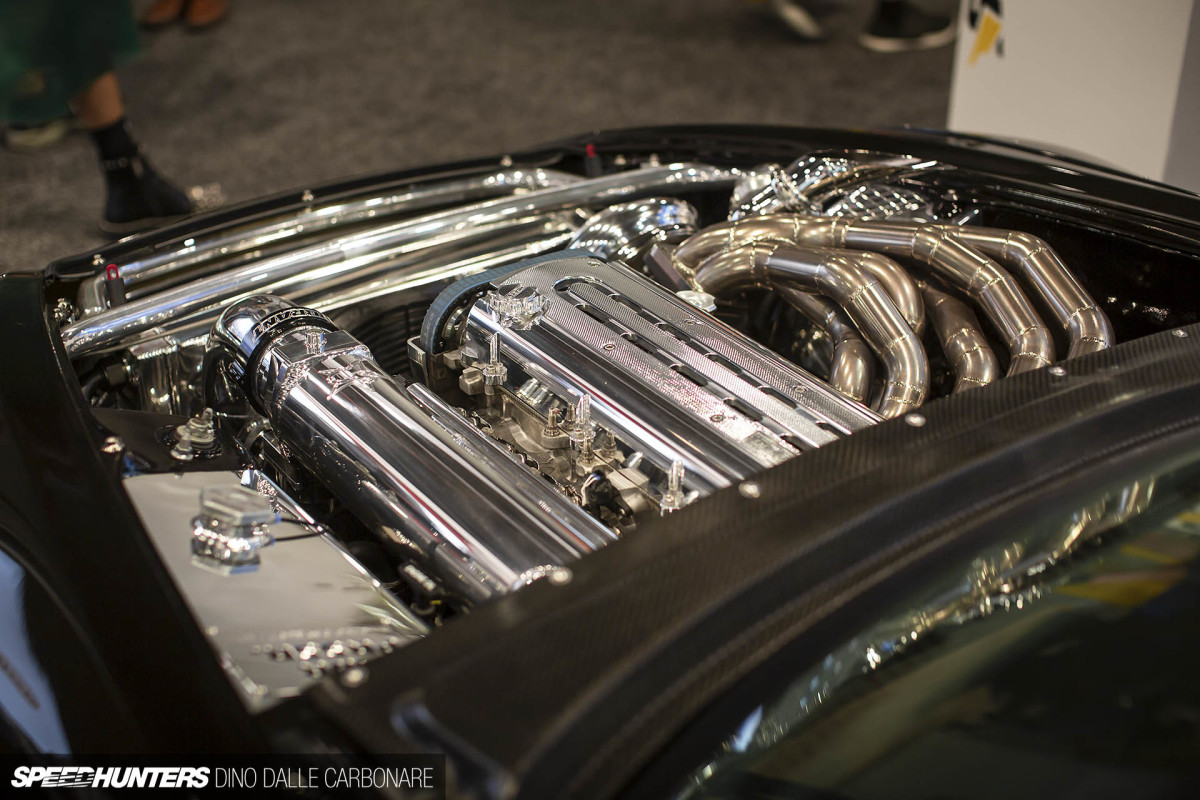 This is true inside and out; it's a very clean show car. But, wearing Hoosier slicks, here's to hoping the car actually gets some time at WOT.
In a straight line I'm sure the extra kick in the pants from the straight six is worth the weight but with the swap adding near a couple hundred pounds to the front end I'd be curious to see how the car feels as compared to near stock.
V-Hate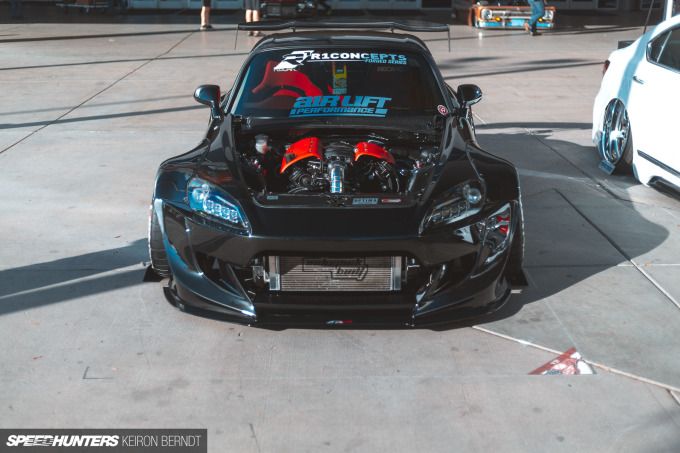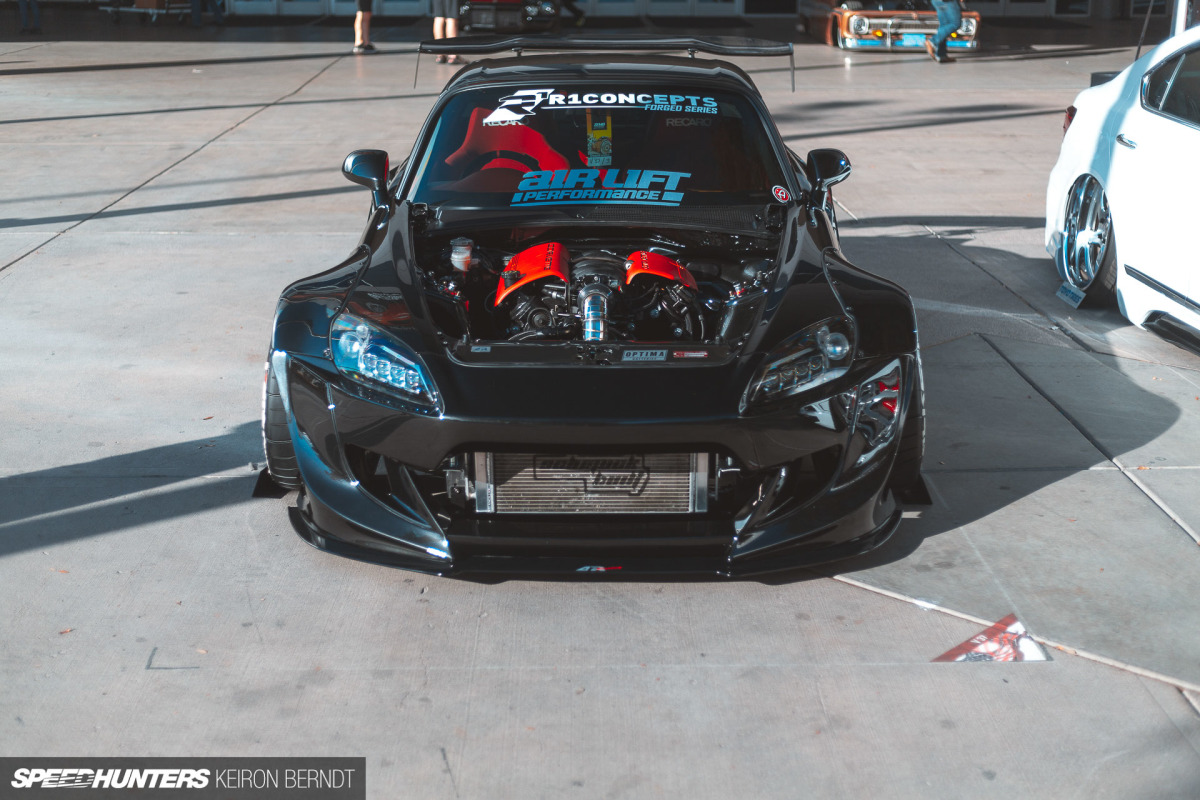 Moving on to eight cylinders, we found this wild ride parked right out front of the convention center. Again, it's a build that couldn't be any more different than the last two cars I've mentioned.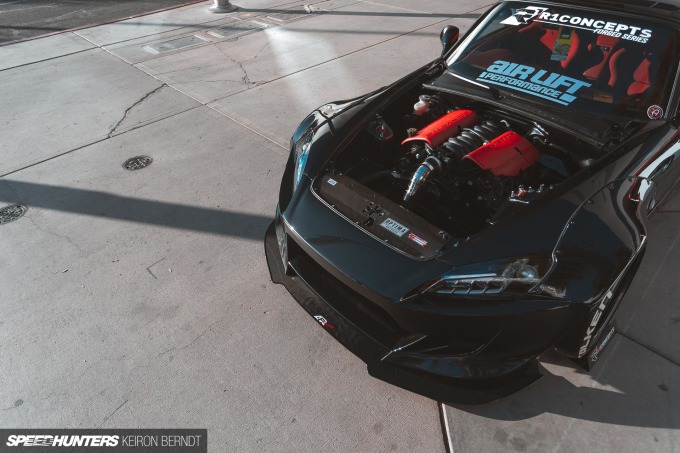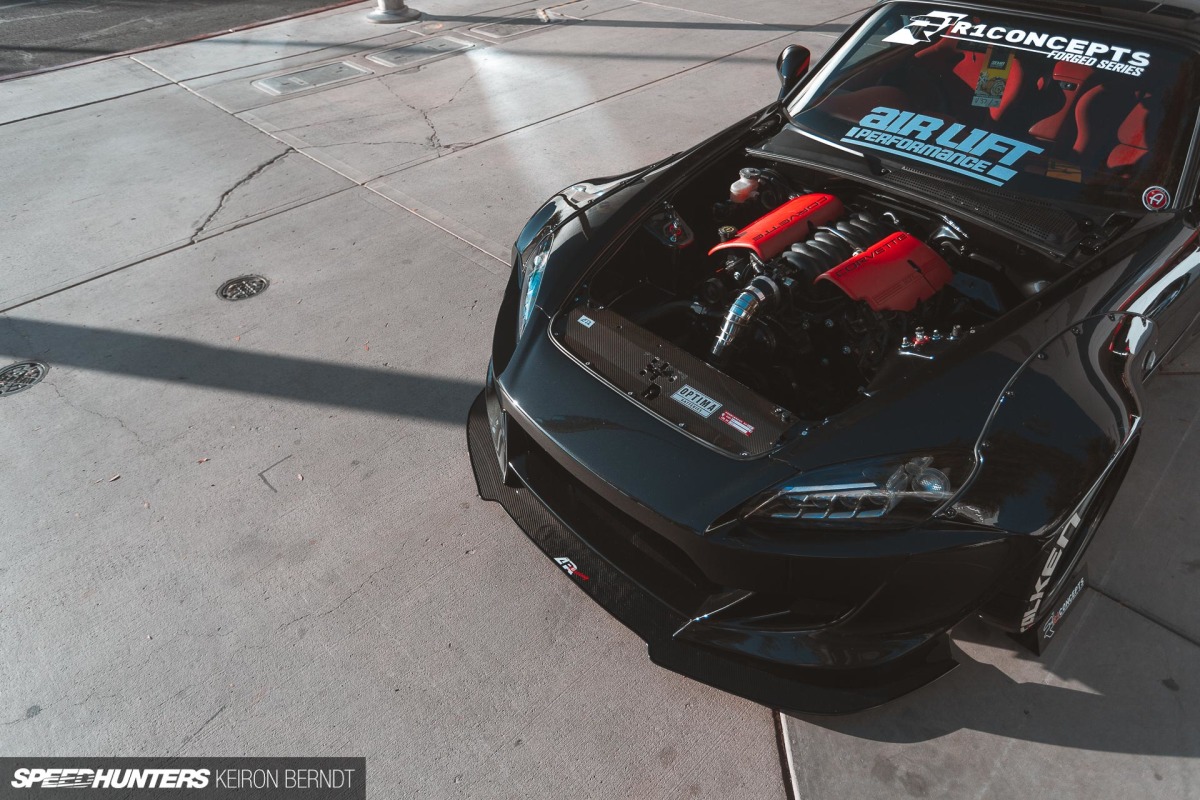 Powered by an LS1 engine, power is sent to a 6-speed T56 transmission. The choice to go with the V8 came after blowing a supercharged factory motor; owner Felix wanted something reliable to get him between San Diego and LA for all the car shows.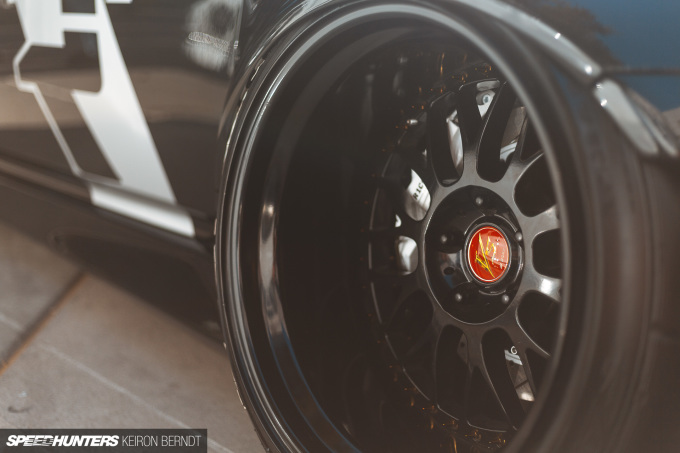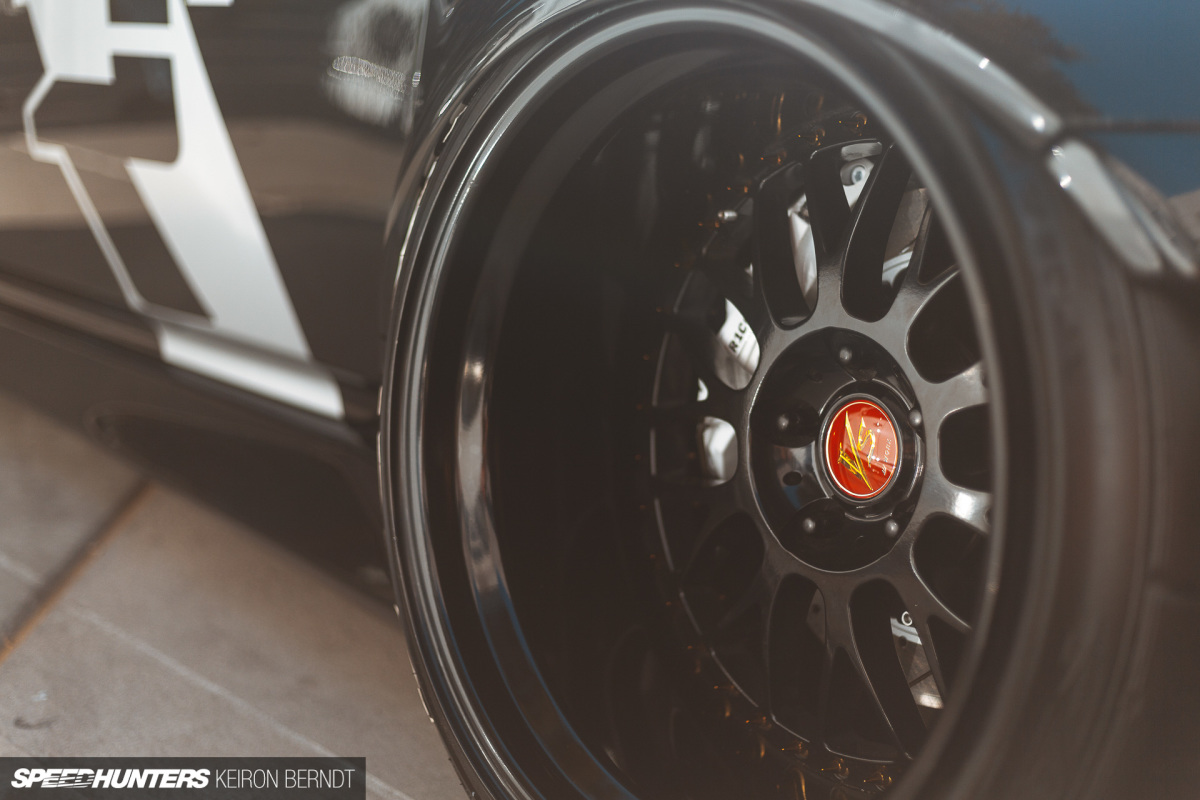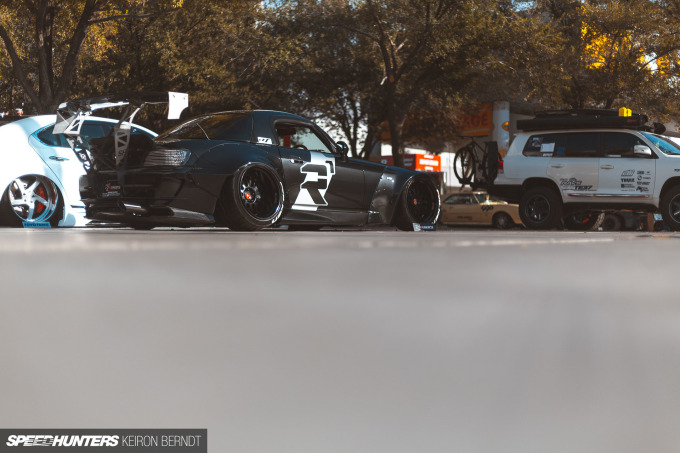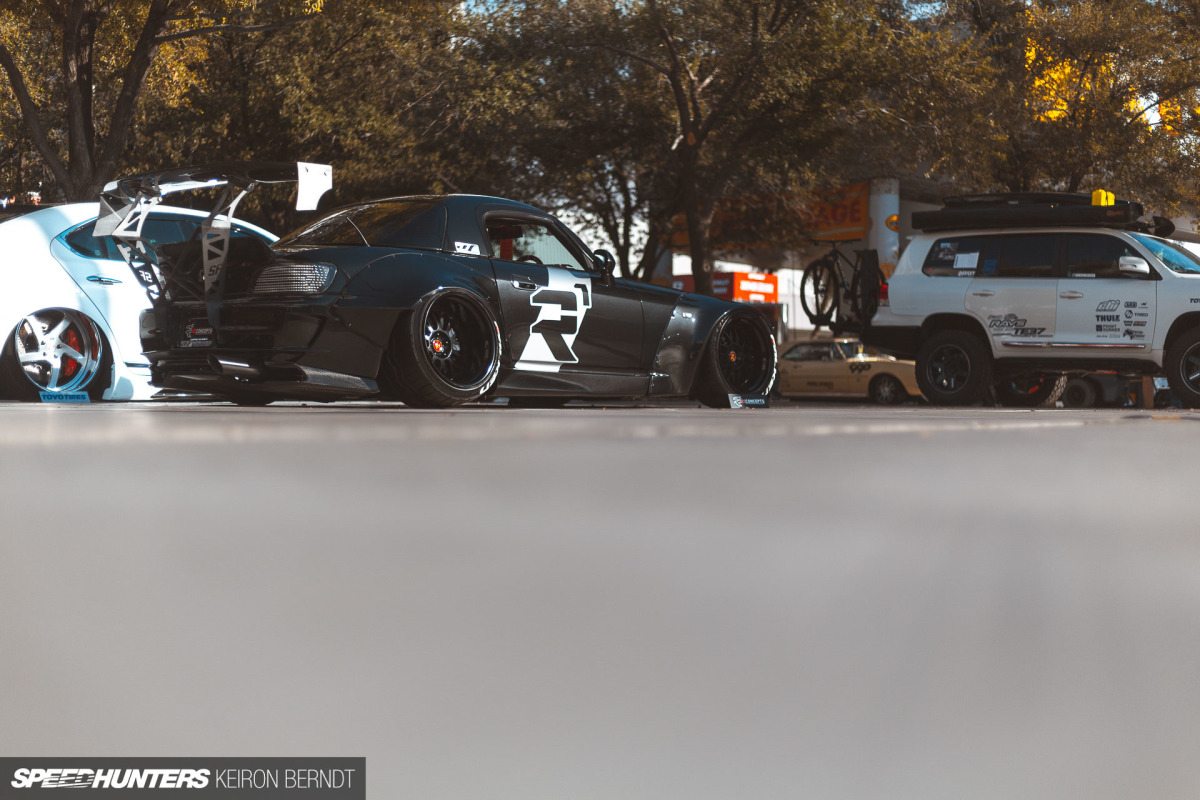 If the V8 hasn't rustled your jimmies enough, the M&M Honda Racing wide body and Air Lift Performance 3P suspension setup ought to do it.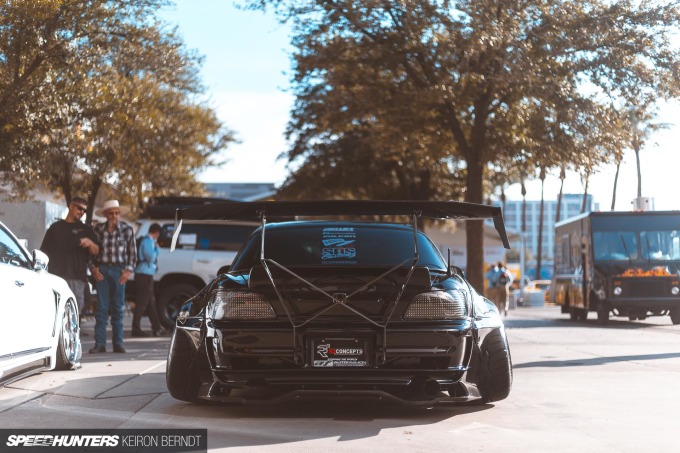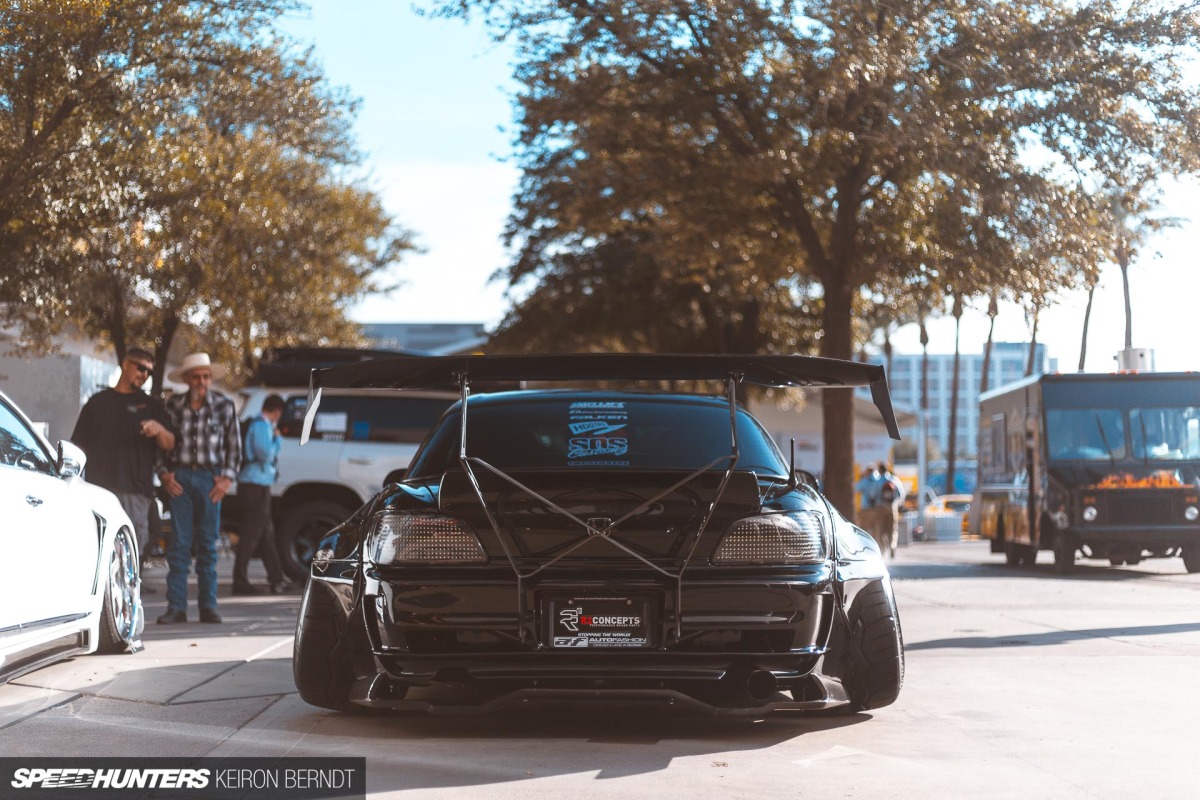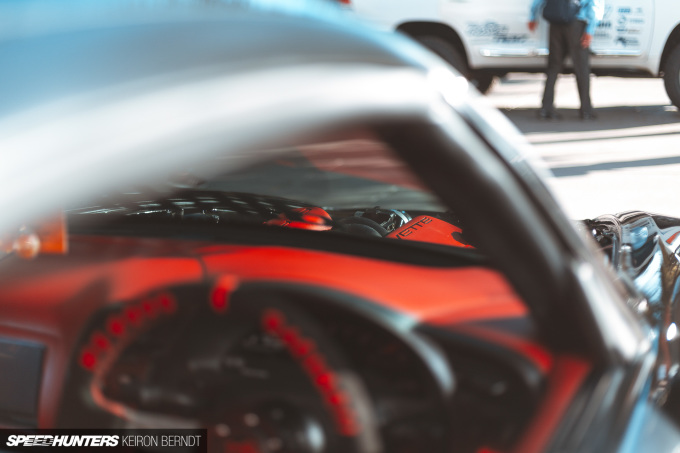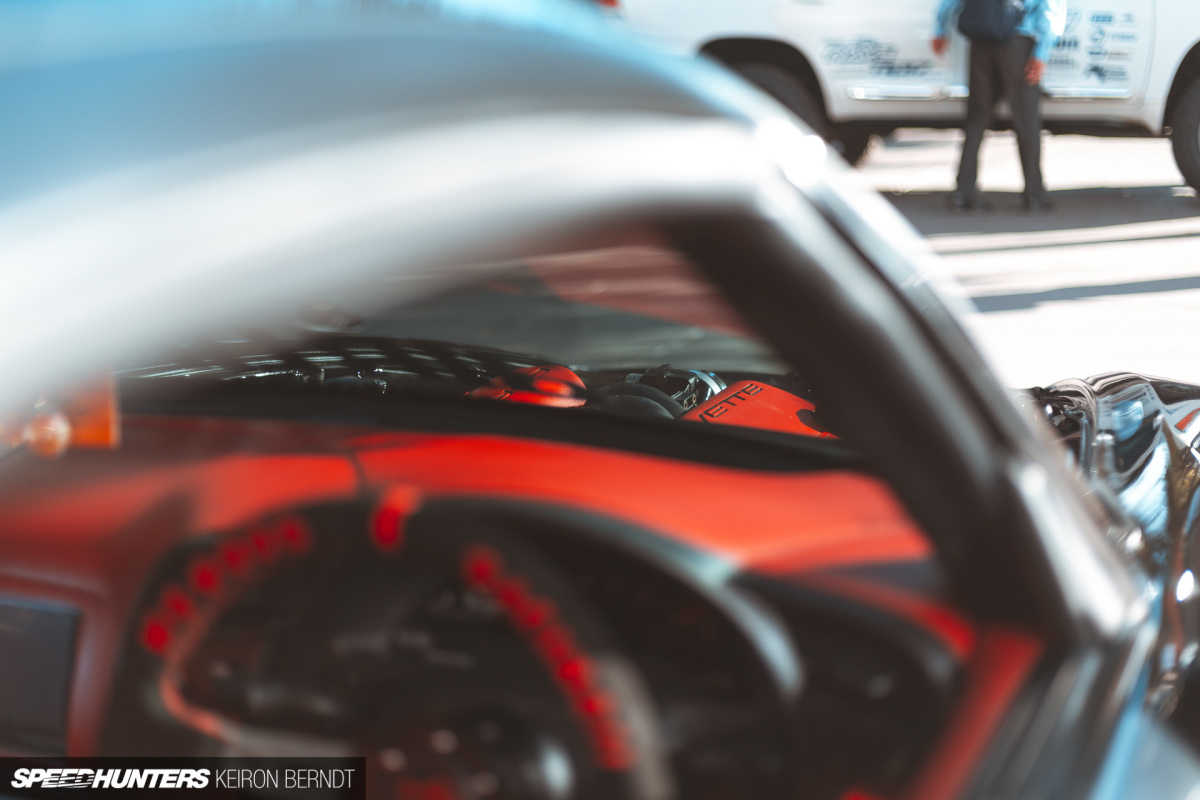 Personally, I think it's a really cool build and the owner says it always puts a smile on his face which is really what matters at the end of the day. Plus, if you didn't noticed, it's a RHD car which is always cool here in the States.
If your scrolling finger is twitching to jump into the comments, just take a breather and don't skip over this next one. It's for you.
For The Purists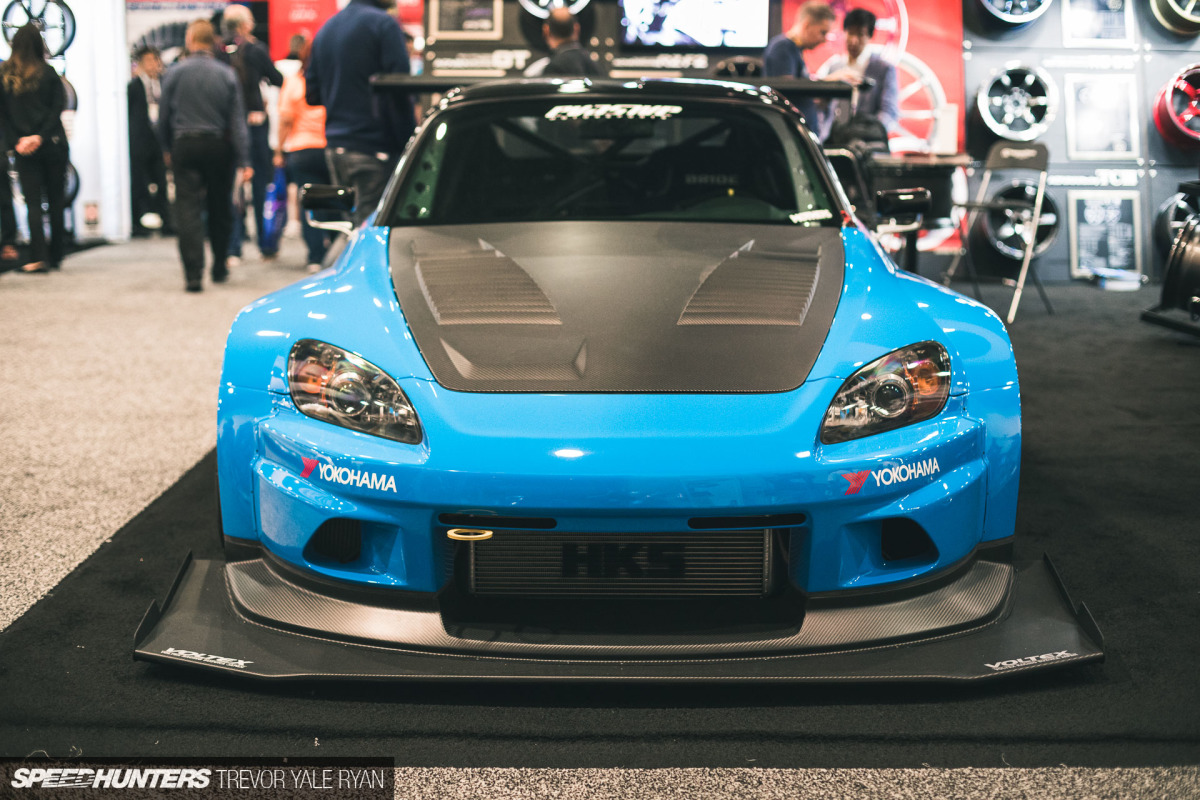 Having covered just about all the engine swap bases, I thought I had enough S2K content for a good story. But then I saw the Evasive Motorsports S2000 wearing a new Voltex aero kit.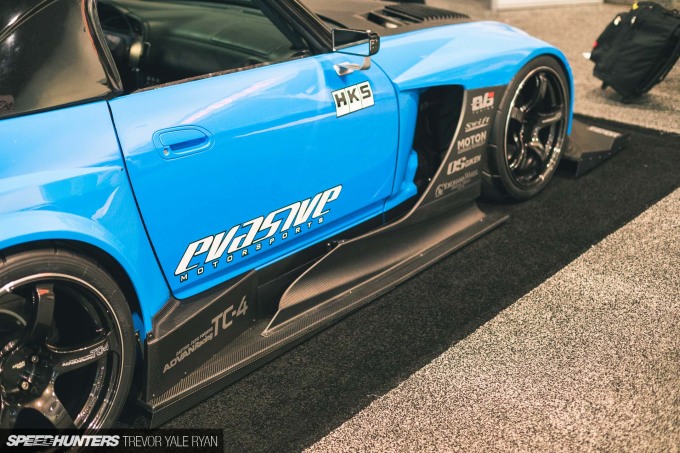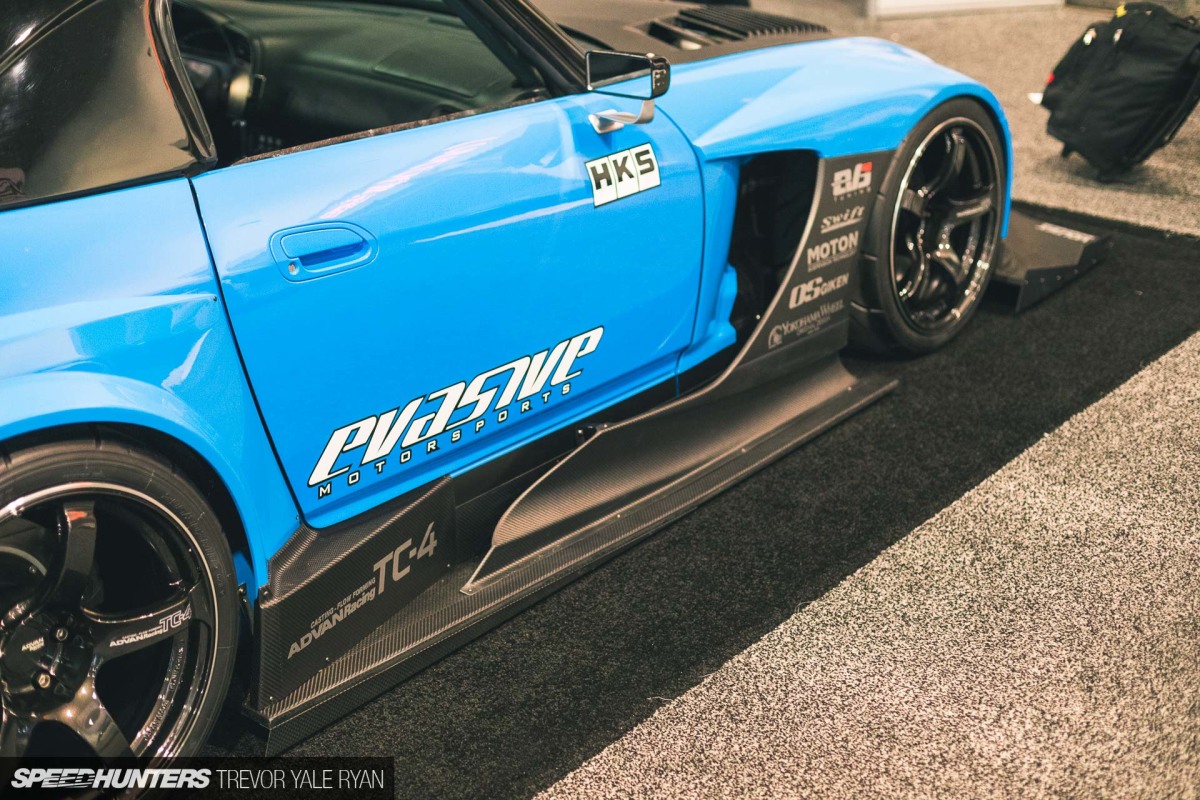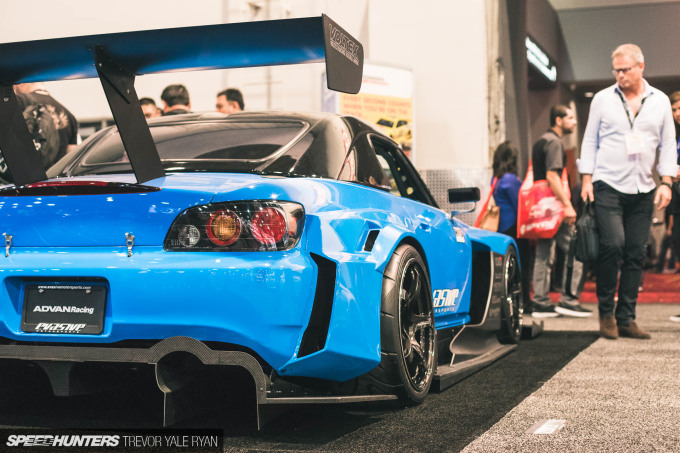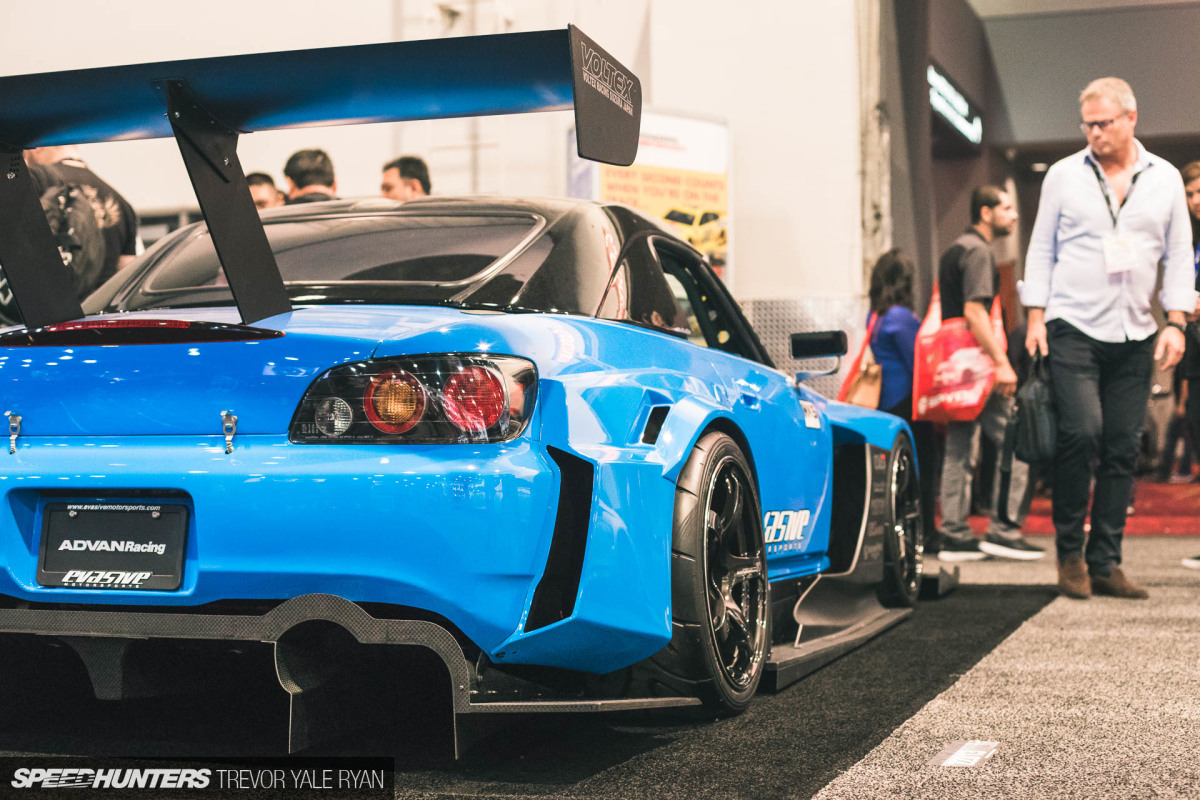 It looks absolutely amazing and is a definite step up from their previous, more reserved kits. Better yet, it's all been wind-tunnel verified to do its job where this car belongs: the track.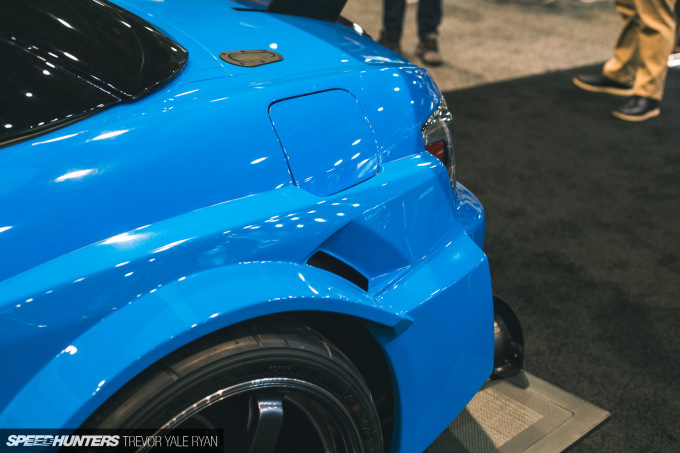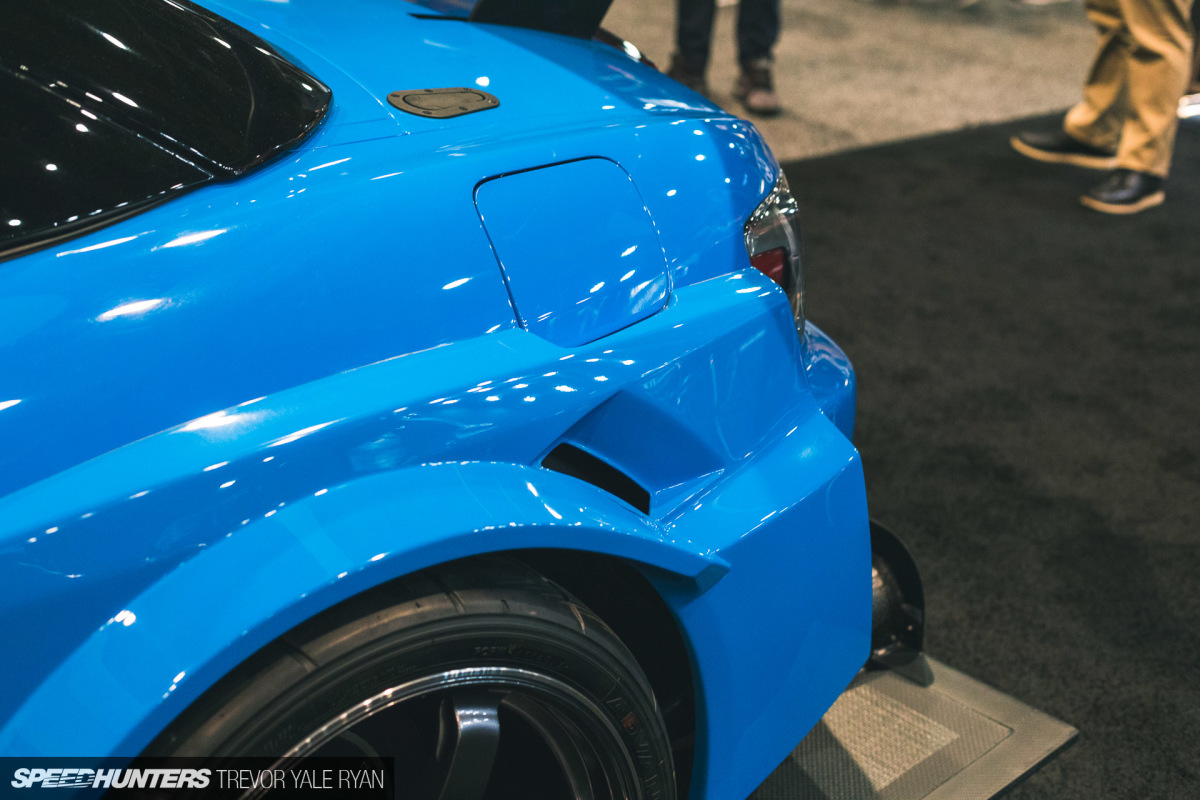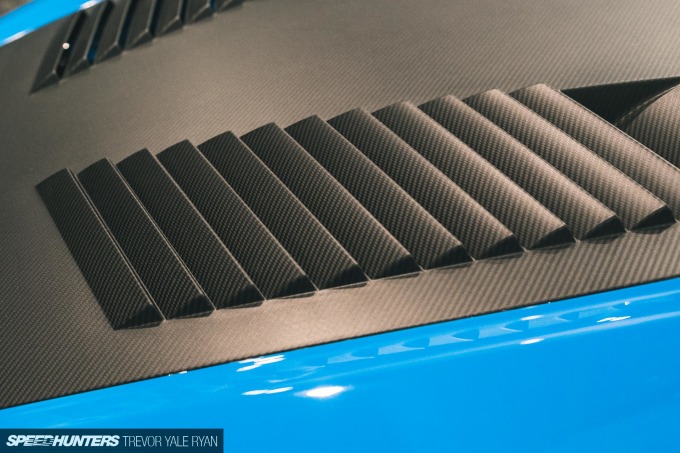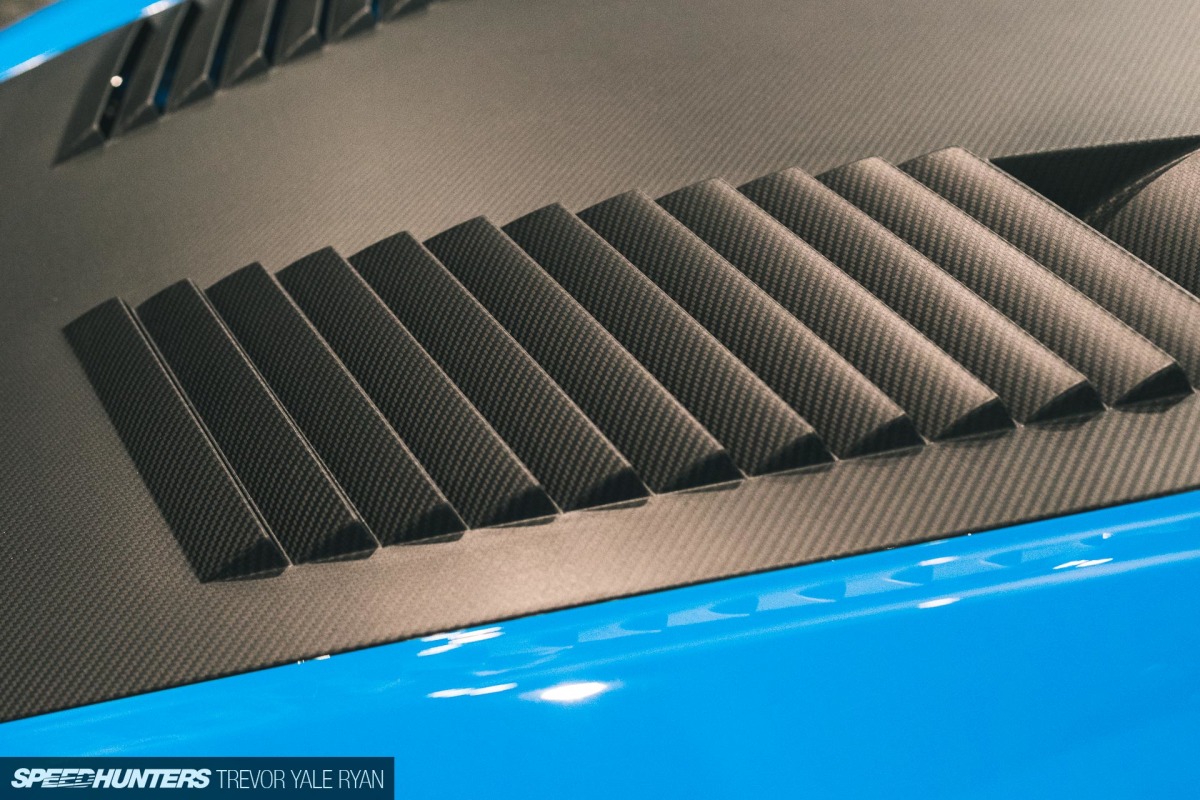 Having seen a number of Voltex-fitted S2000s at track days before, nothing even comes close to this kit in terms of aggression.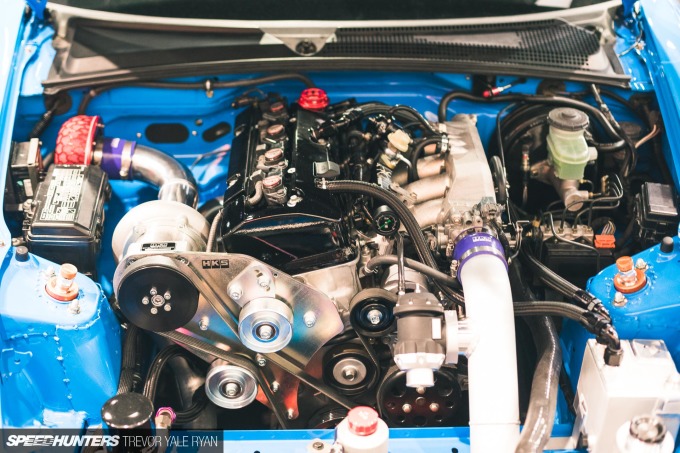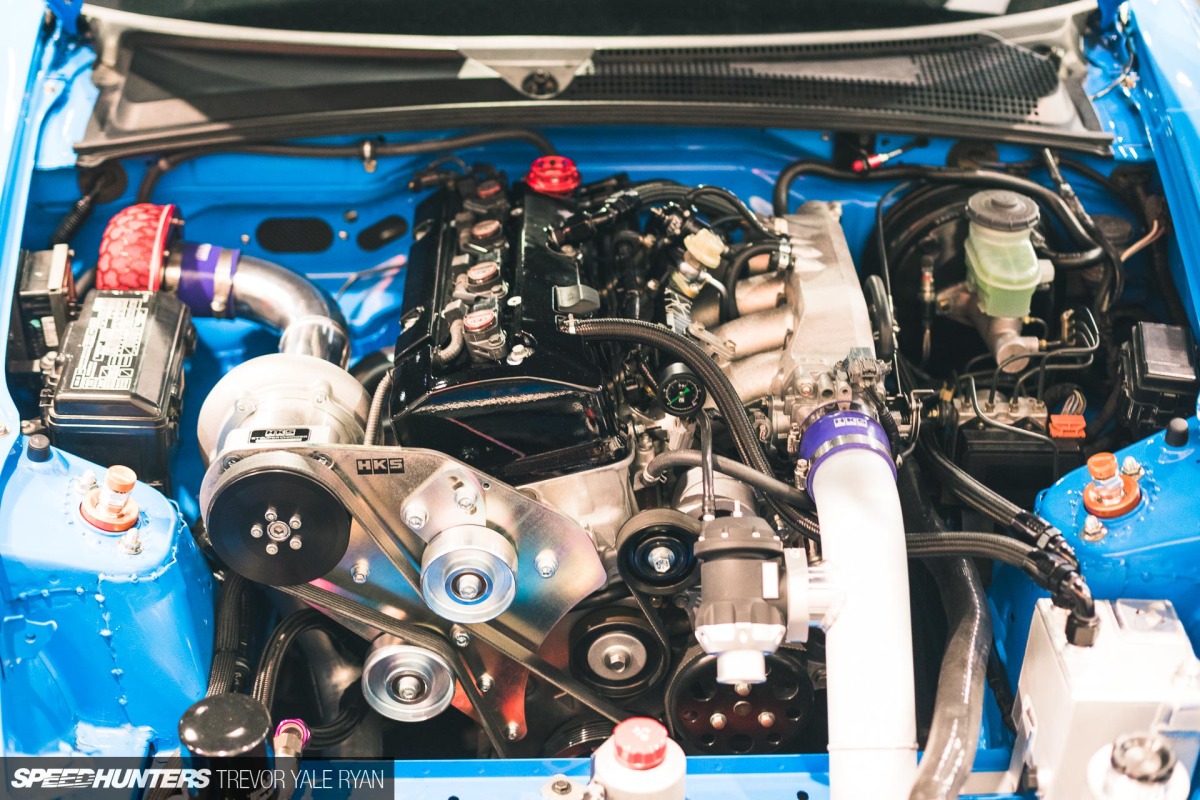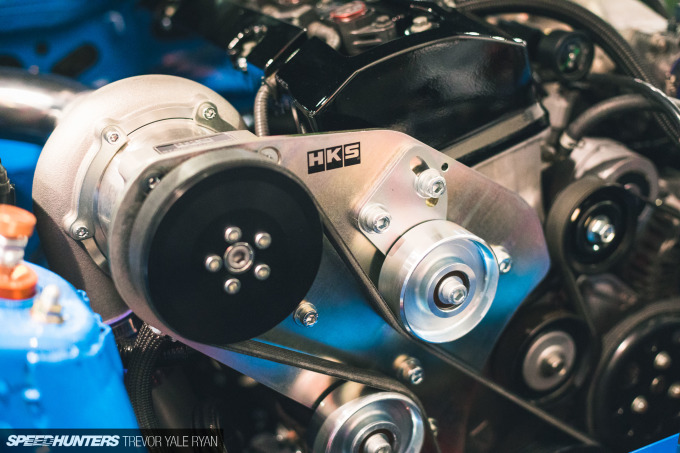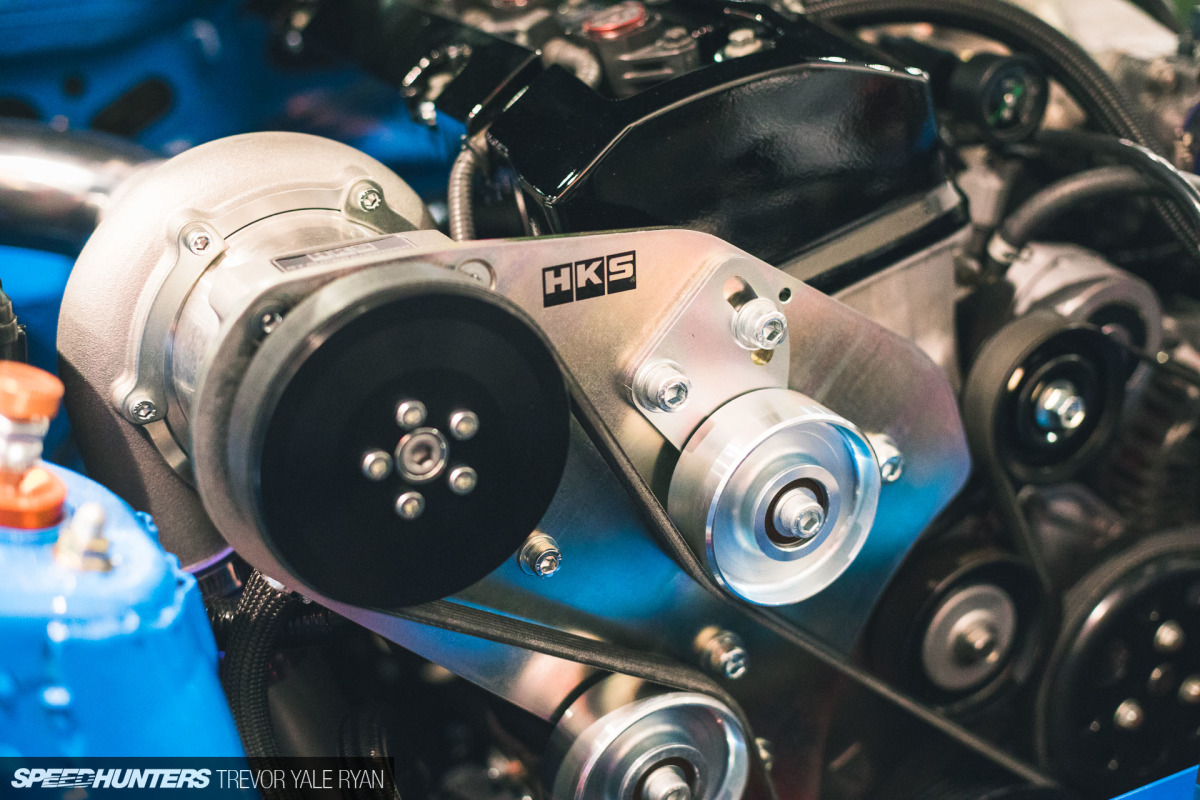 When the hood was popped things just got even better. Although a stroker kit is at use here, the die-hard Honda crowd with be happy to see the S2000 powerplant has been retained. Then there's that wicked HKS supercharger which has to be one of a small handful stateside.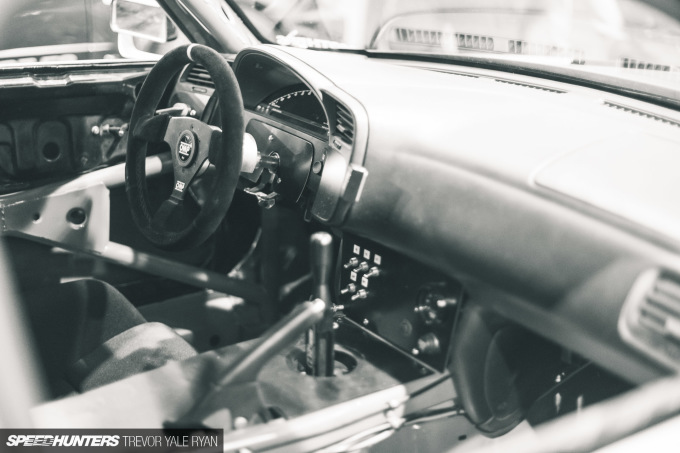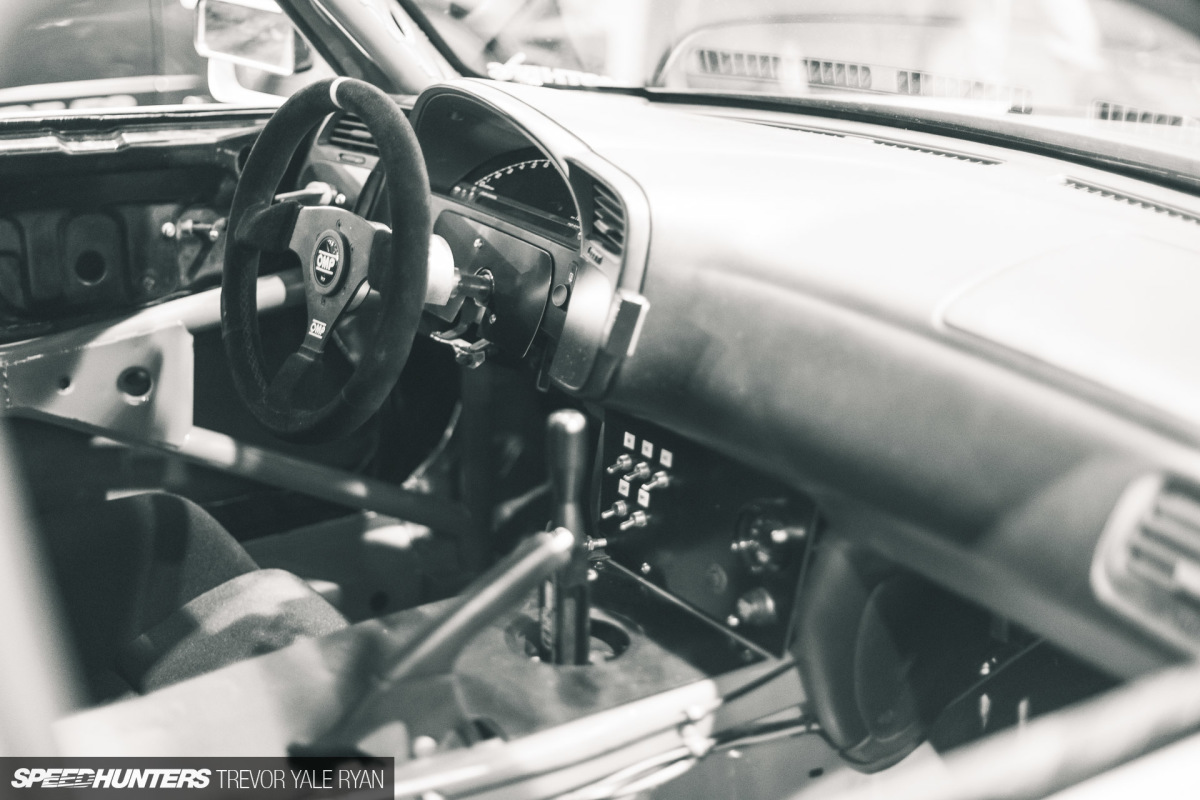 Inside, it's all business; a full cage and a handful of switches replace the carpet and radio that were one installed in their stead.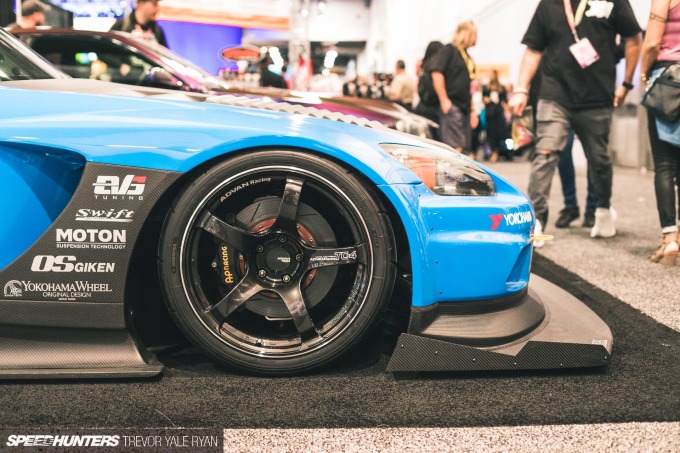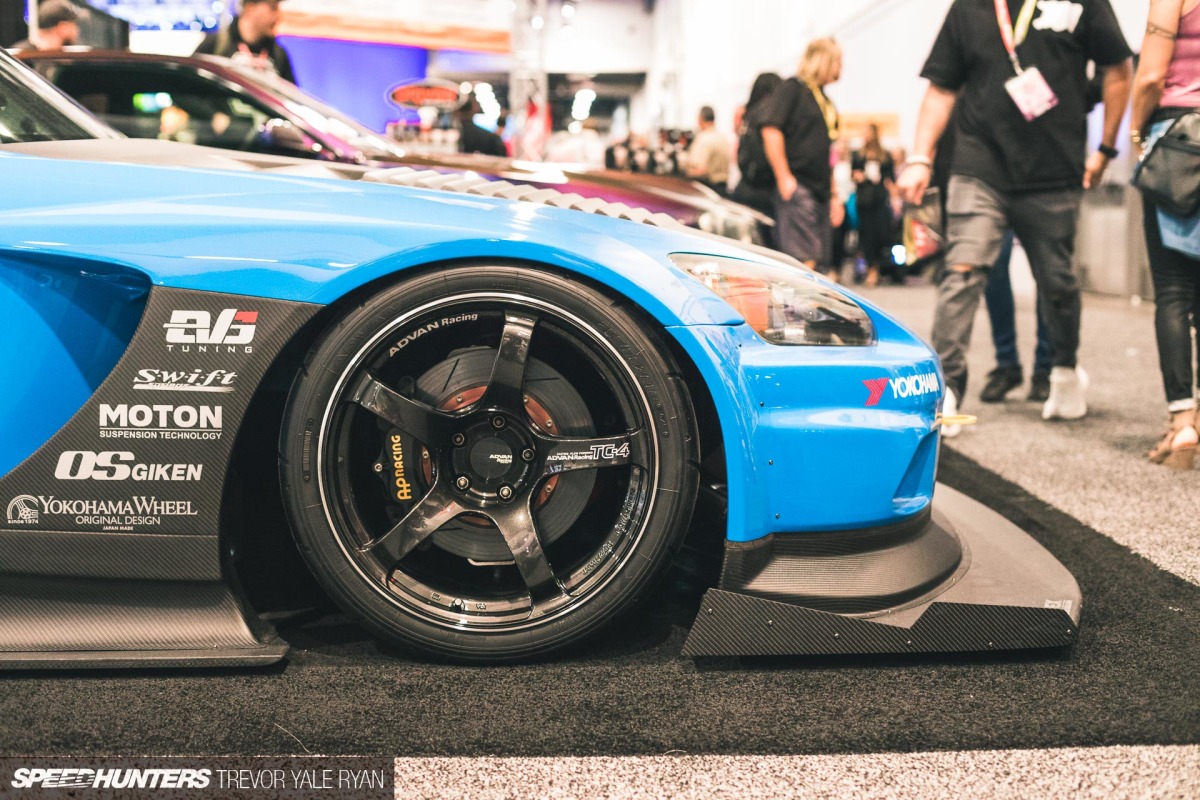 One last look at the crazy aero kit and I was off. Year after year the show never fails to amaze, and each year it's cool to see what the aftermarket brings for cars that aren't even produced anymore.
On to the next hunt, then…
Trevor Yale Ryan
Instagram: tyrphoto
TYRphoto.com
Additional Photos by Dino Dalle Carbonare & Keiron Berndt