From A Barn
Gorgeous isn't it?
This is David West's 1971 Alfa Romeo GT Junior 1300, and I am – possibly – the most enamoured I have ever been with a feature car. After pestering the Retropower team incessantly to let me shoot this build, the stars finally aligned and a slot in my schedule coincided with them having the Alfa in for some work.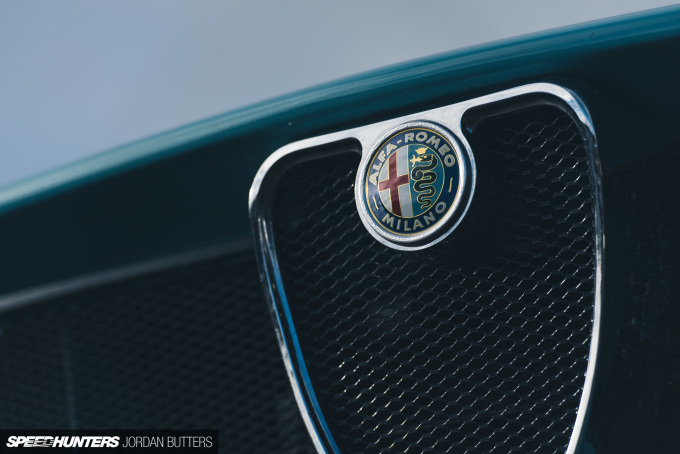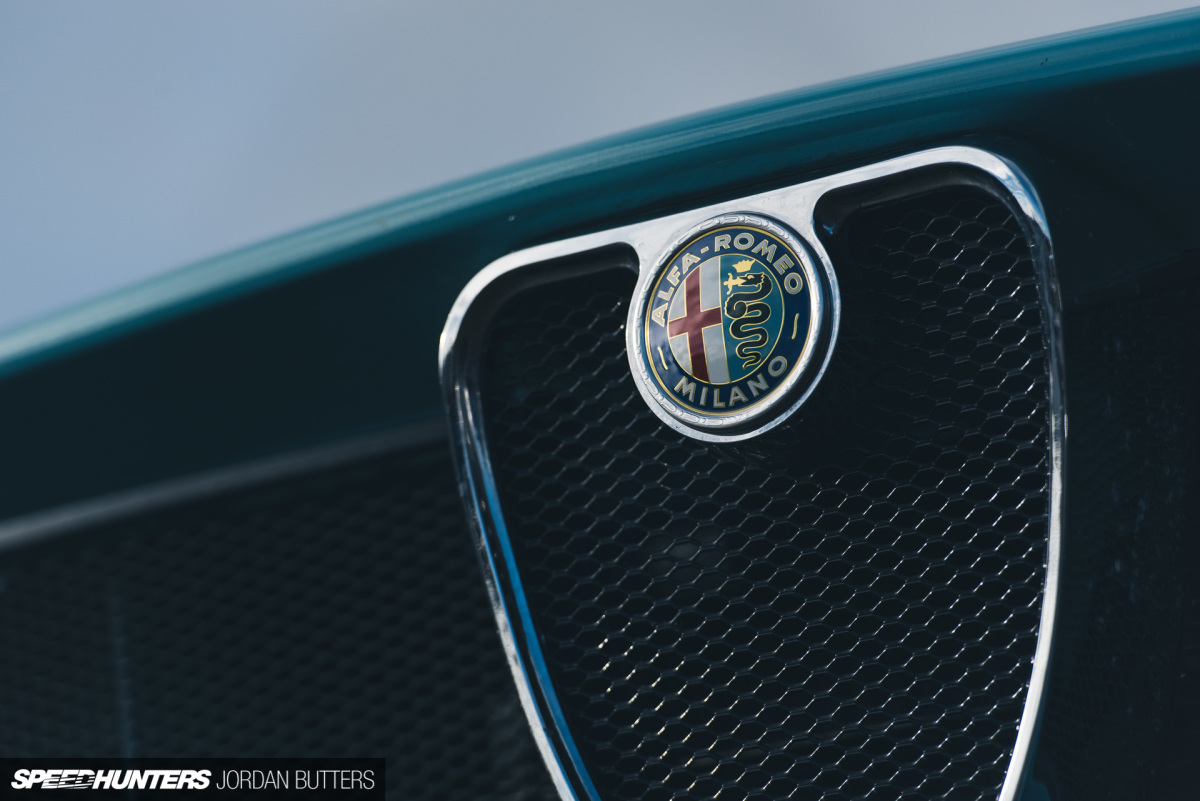 Sadly the weather didn't play ball, and as the car had just been prepped for the owner to collect it, we weren't able take it out on the road. Still, I'd maintain it looks just as good sat there as it does in motion.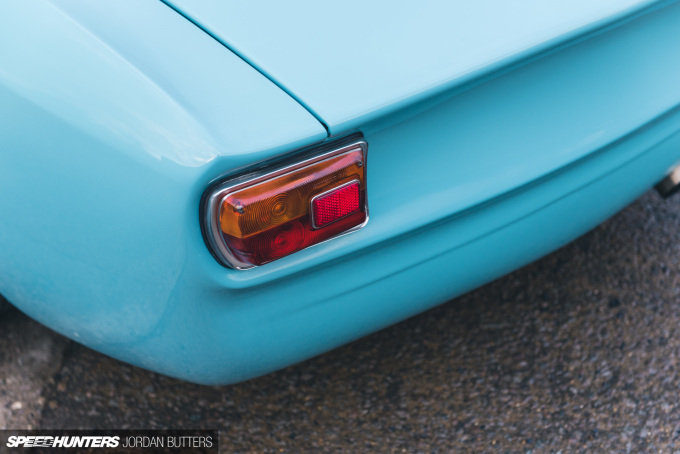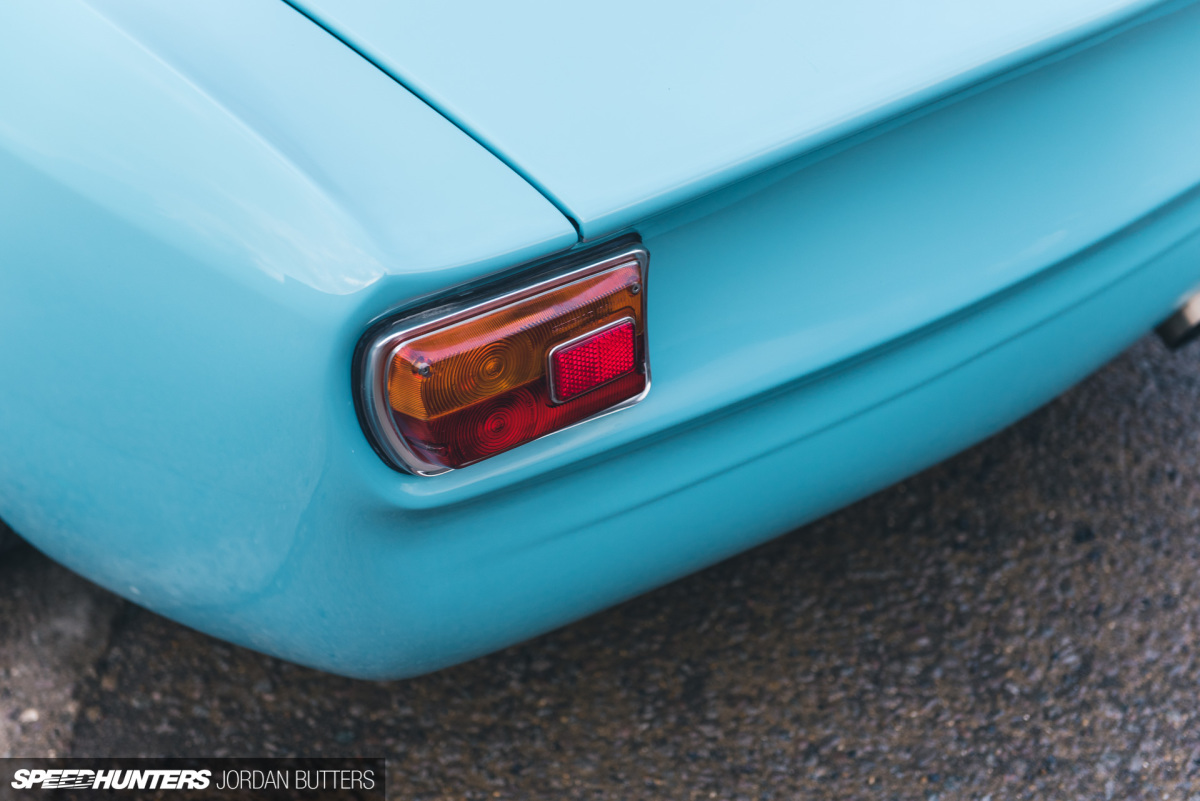 The tale of how this lovely little thing came to be is rather nice – it's a genuine bonafide barn find, it seems. David had a tip-off of an old Alfa laying in a part-collapsed garage and, already owning a couple of classic Alfa Giulias, decided to see if there was any truth in it. It turns out there was, and a deal was done on a quite battered and very sorry-looking GT Junior.
David had ambitious plans for the Alfa and, having entrusted Retropower in Hinkley with building one of his previous cars, they were the first – and only – port of call for the resto-mod.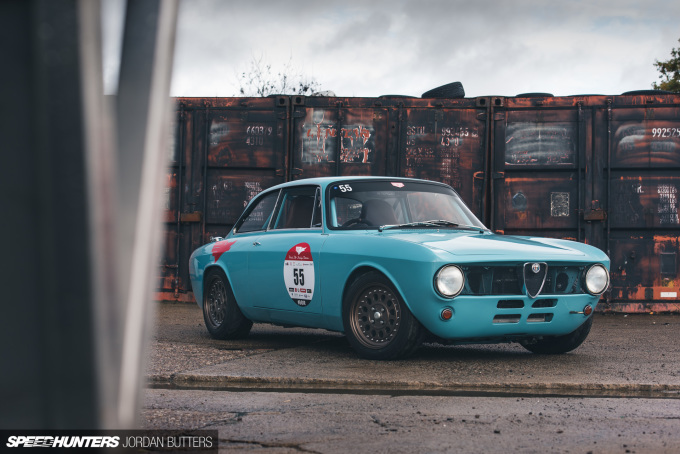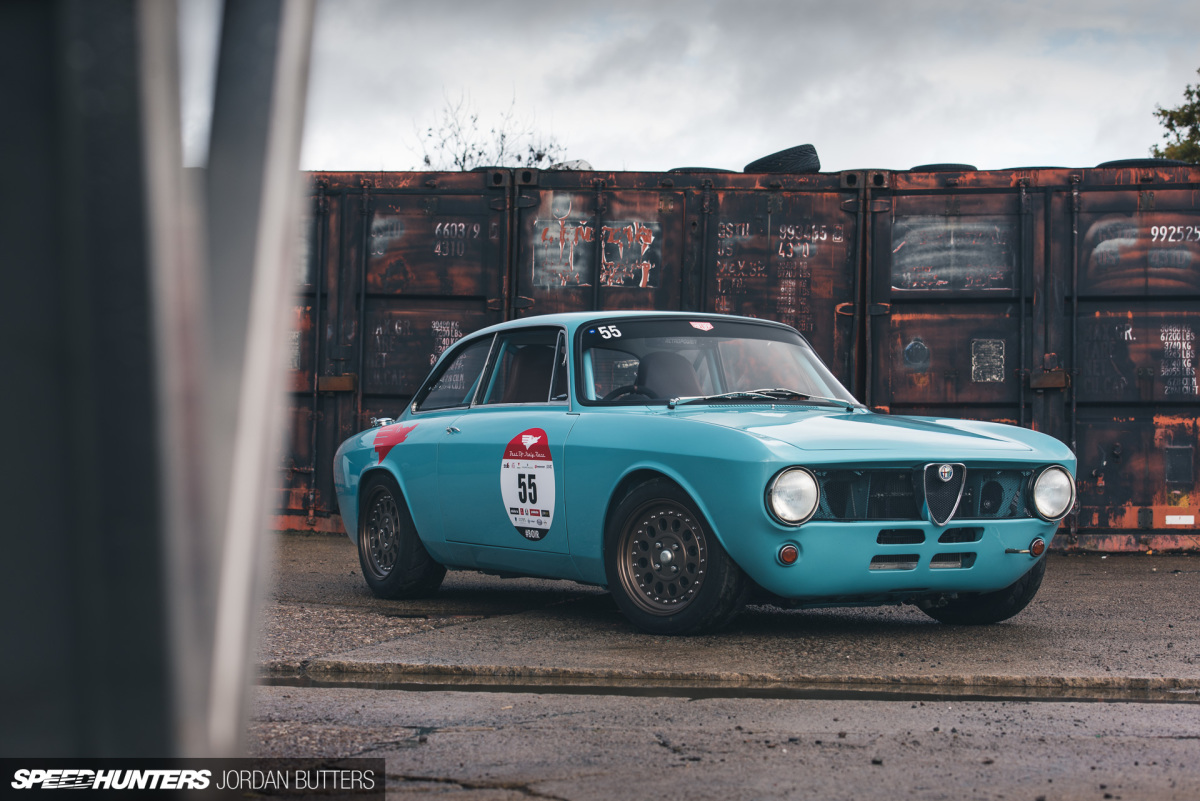 David wanted the team to have a good level of creative freedom as to the fit and finish, but maintained that the Alfa was to hold its own on a race track. He also wanted it to feature enough comfort and quality to be able to show up to an impromptu cars and coffee event in it, all whilst retaining its retro charm and essence and simultaneously possessing just the right amount of 'race car' about it.
Oh, and it absolutely had to be powered by a naturally aspirated, high-revving four-cylinder engine. Easy stuff then.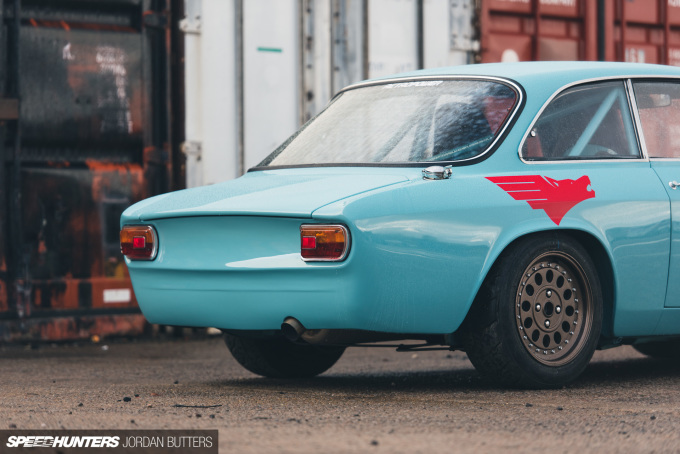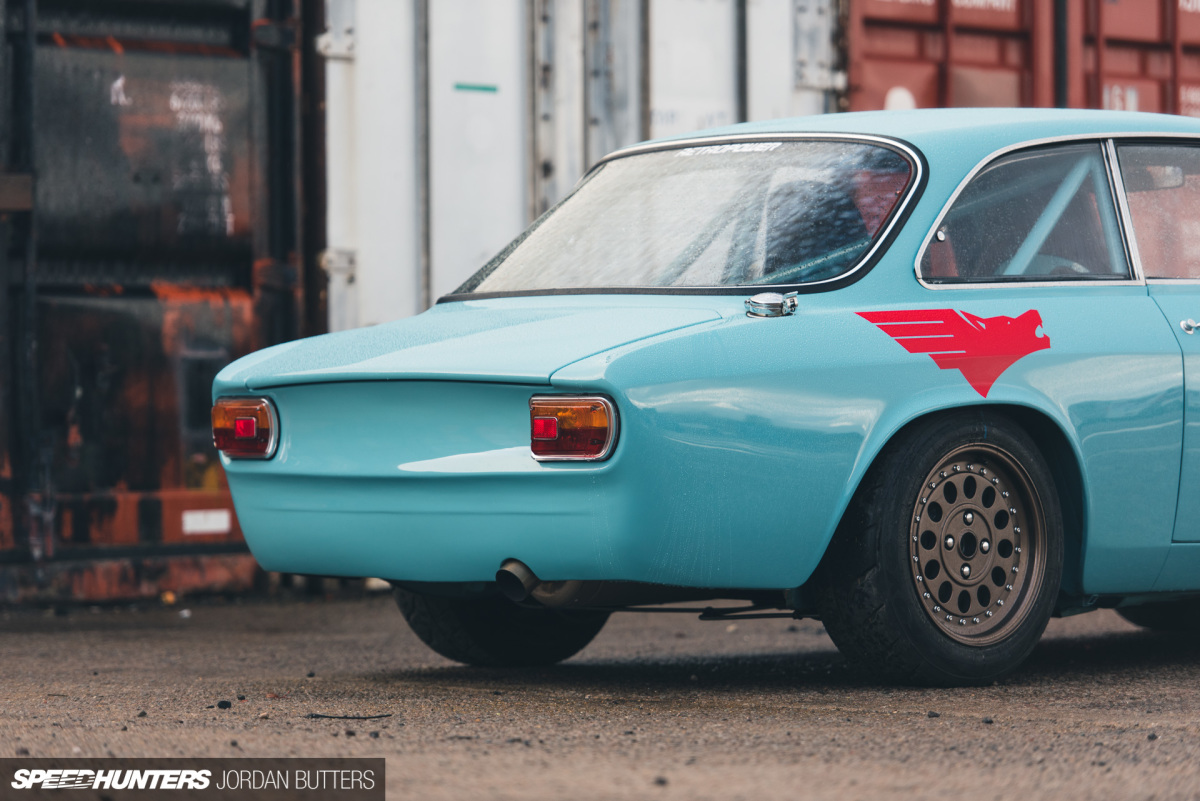 Obvious inspiration was drawn from Singer's 'Mountain View' 911 when it came to the ethos behind the car, as well as the colour combination and aesthetics, with which David guided the team. Lofty ambitions when you consider the weight that the world-famous, California-based brand swings in comparison to the small but dedicated team in this humble workshop in Leicestershire.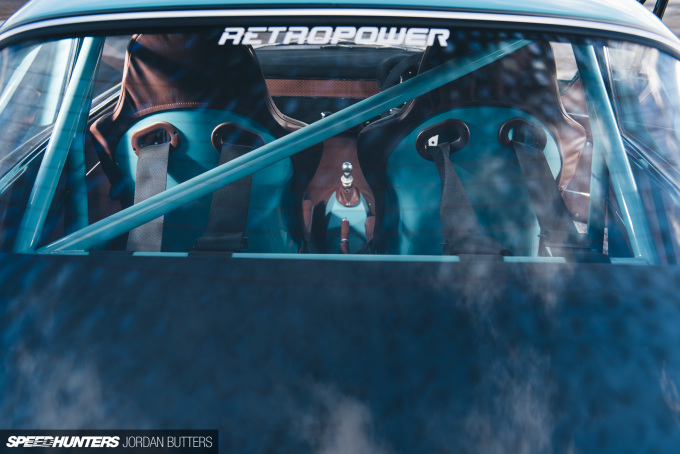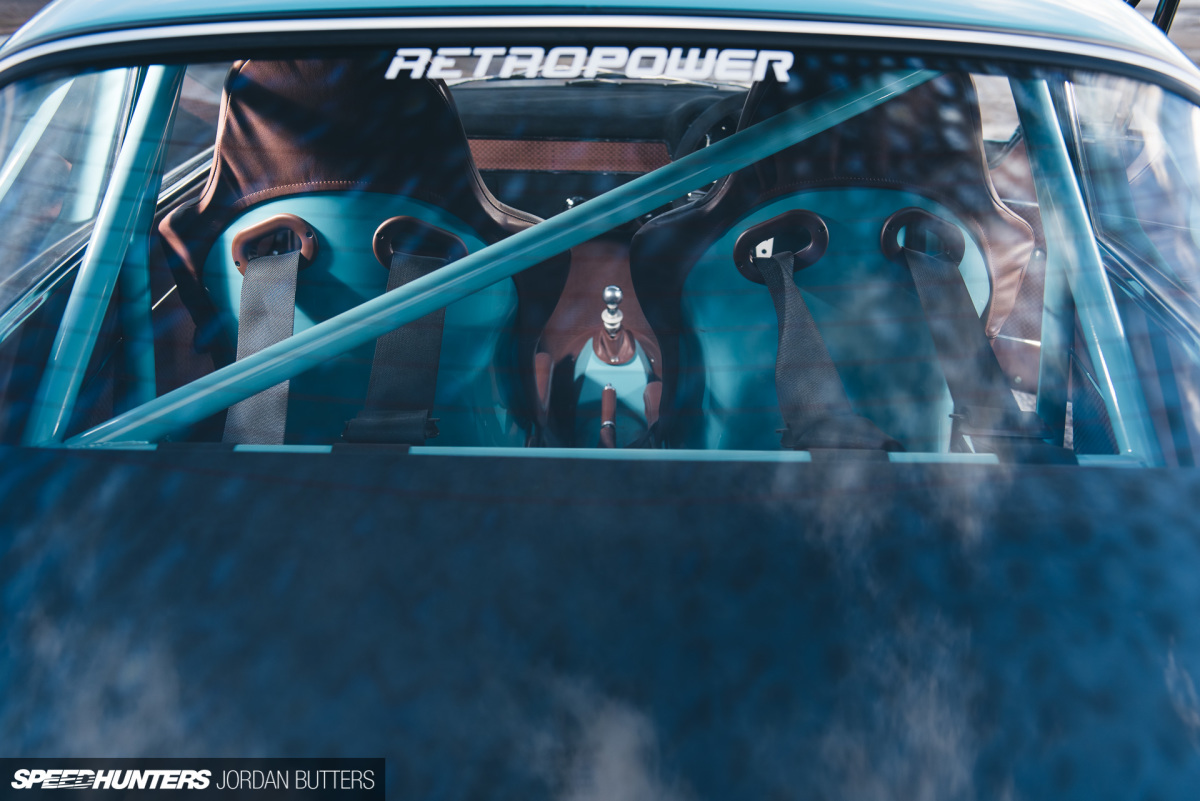 Right now, and without hyperbole, I can say that Retropower are producing some of the highest quality and most interesting restorations and resto-modifications in the UK, and the GT Junior is a testament to this. Almost every aspect of this build was handled in-house, from the mechanicals to metalwork, paint and interior.
Via Retropower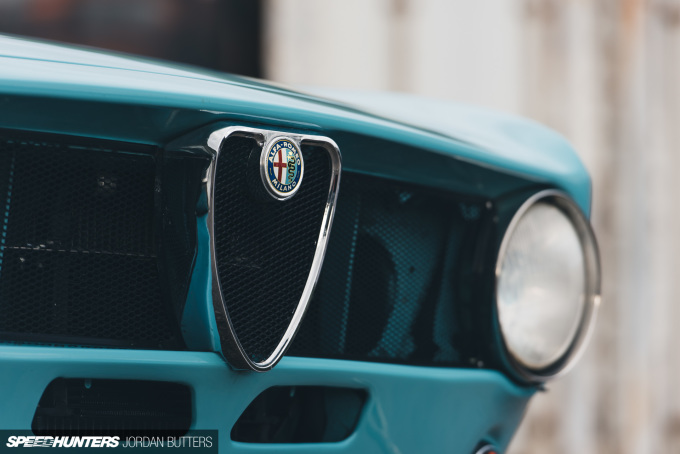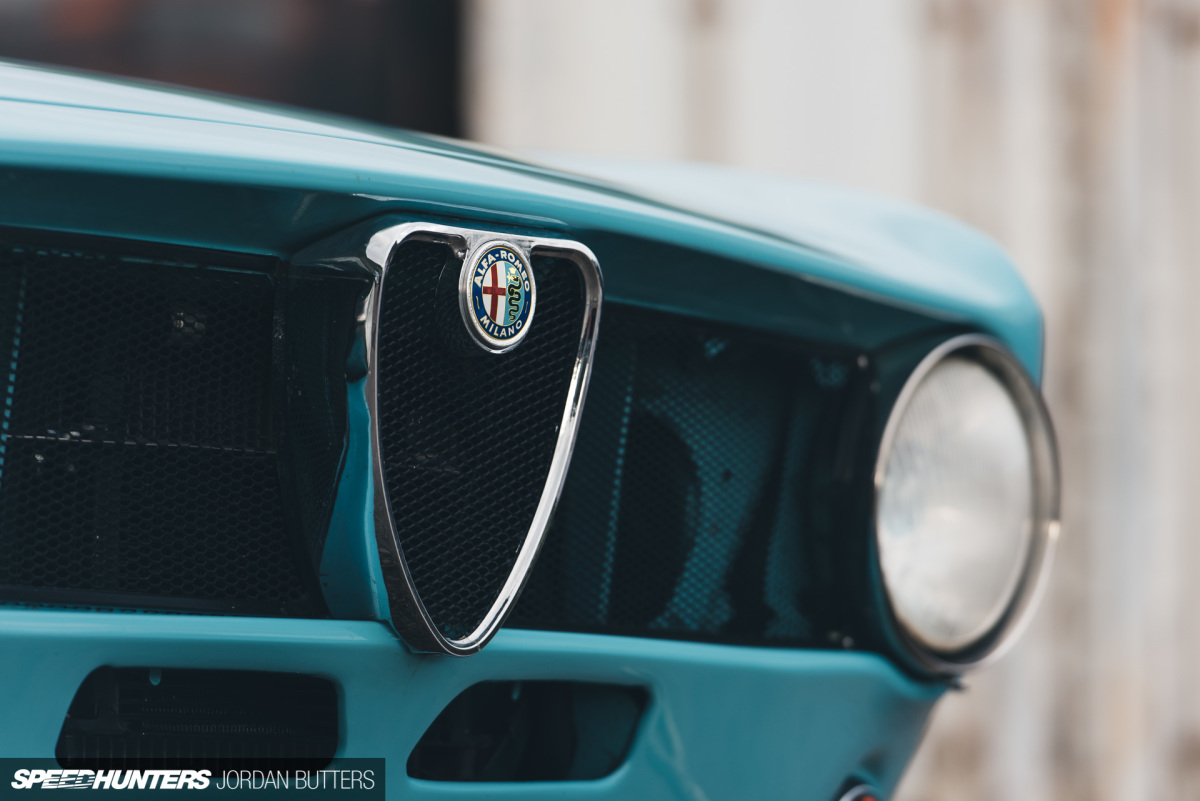 Callum Seviour, director at Retropower, tells me that the biggest challenge that they faced with the Alfa was the metalwork and bodywork. The shell was fully stripped back to bare metal, and pretty much every panel bar the roof was replaced as part of the build.
Retropower has an in-house sheet metal worker who perfected each panel by hand (if you're a fan of metalwork porn then I highly suggest you subscribe to their YouTube channel). Even the replacement panels that were ordered in still needed a lot of work to meet the team's exacting standards.
The bonnet, doors and boot lid are all carbon fibre, but these still needed reworking so that their fit and finish matched with the rest of the build. Even the seals needed a rethink to handle the change in material thickness for each panel.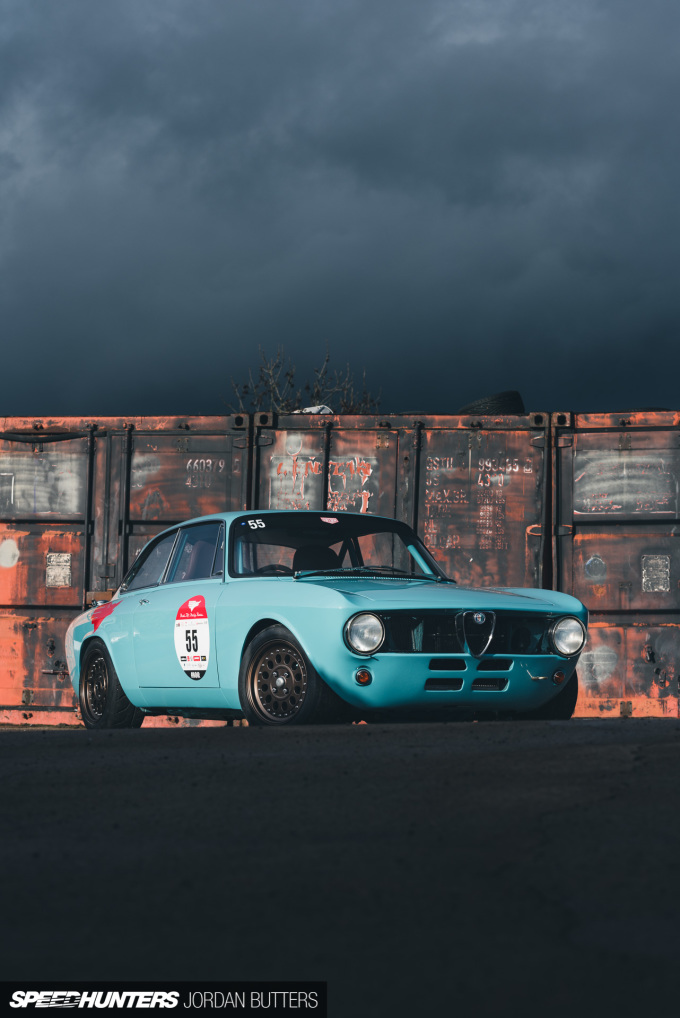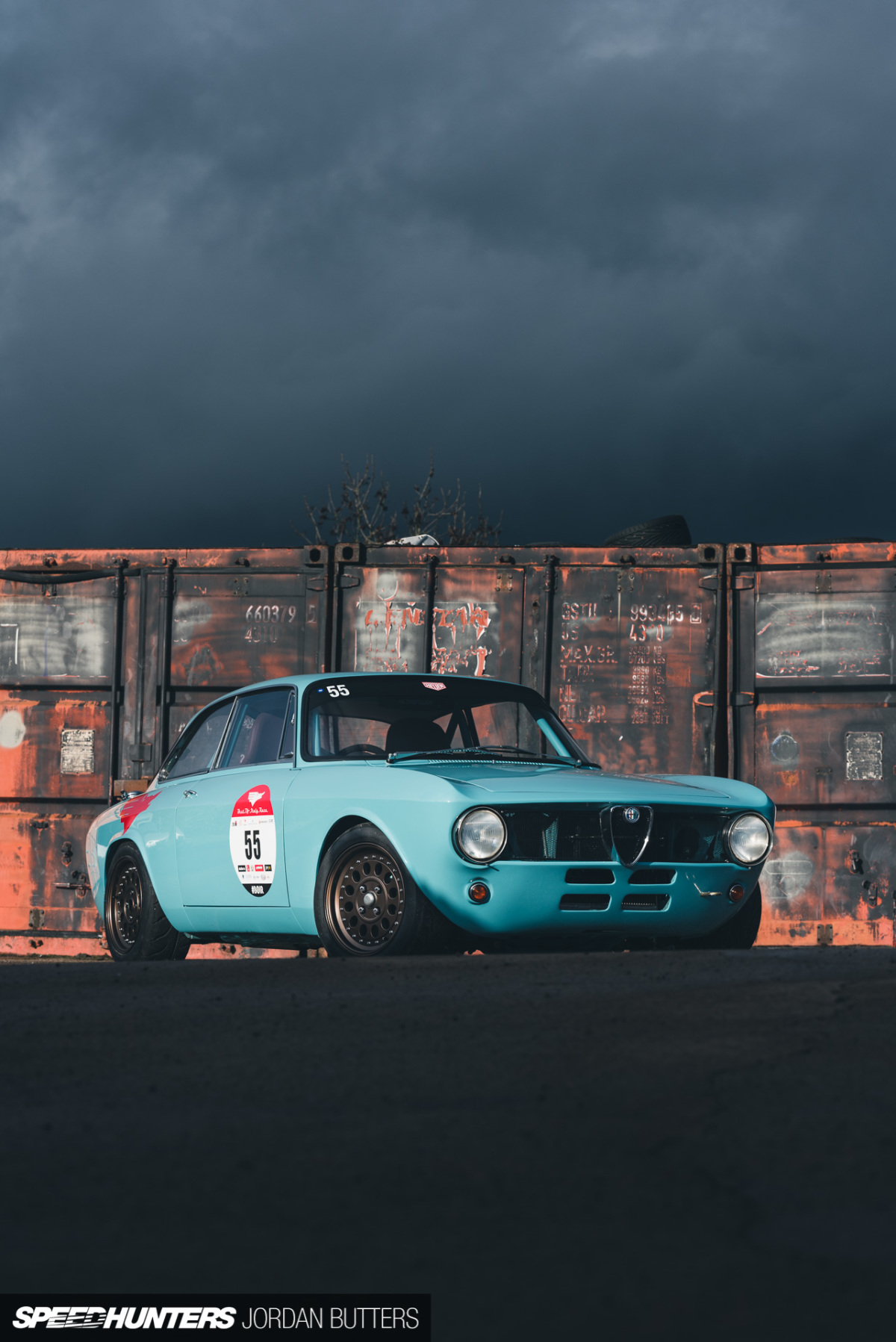 Upon first glance you should be able to spot that Retropower opted for the smooth, bumper-less look, but you'd have to be an Alfa-head to spot the little differences from there.
Like the redesigned front valance to house the cleaner round indicators over the stock rectangular units. Or that the side lights now live inside the headlamps to further clean up the aesthetics.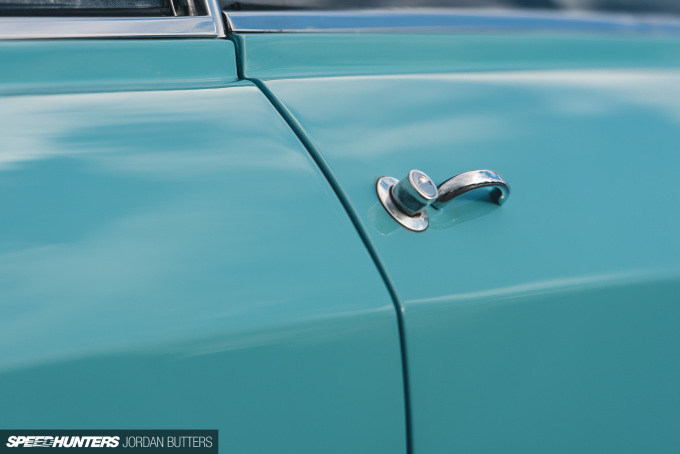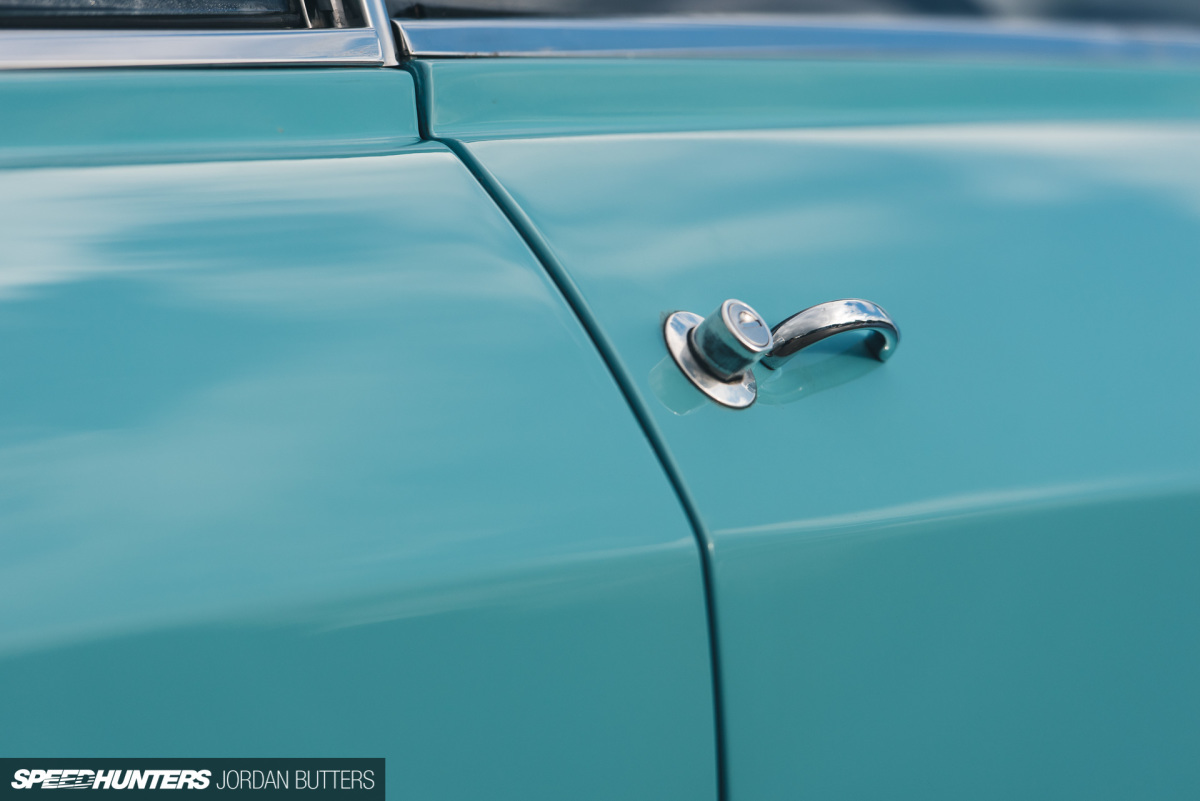 The GTA door handles and locks will probably slip past unnoticed, too.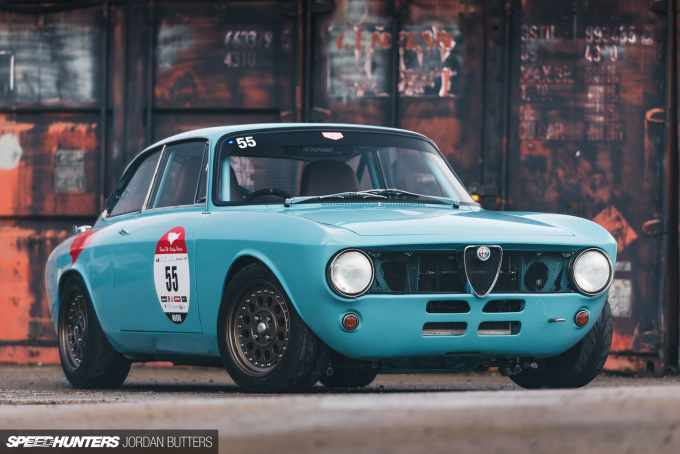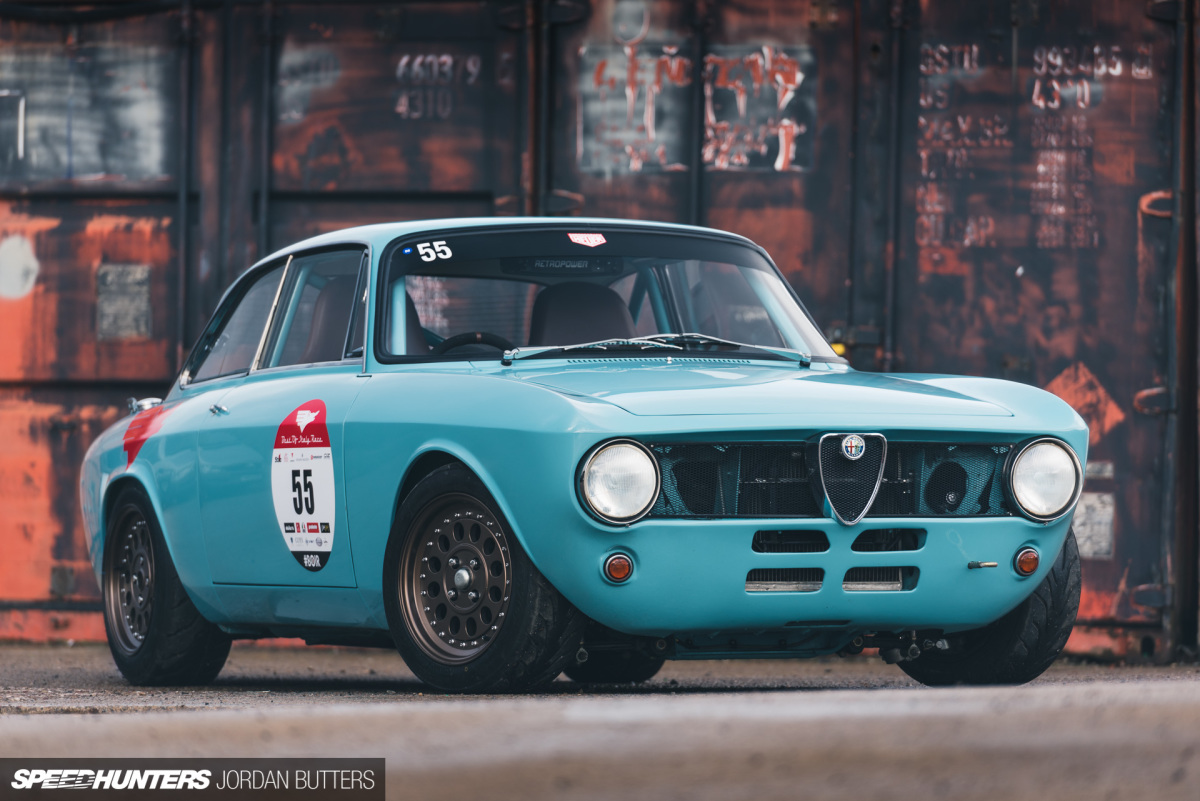 There's a lot of work that went into the shell and chassis that'll never be seen either. The exhaust and transmission tunnels were enlarged, and the sills were reinforced and strengthened.
While the floorpan was being repaired and restored, structural recesses were fabricated in front of the front seats; these cleverly hide the bias pedal box and master cylinders on the driver's side, with the passenger side playing host to the battery and fuse box. These guys are really not messing around.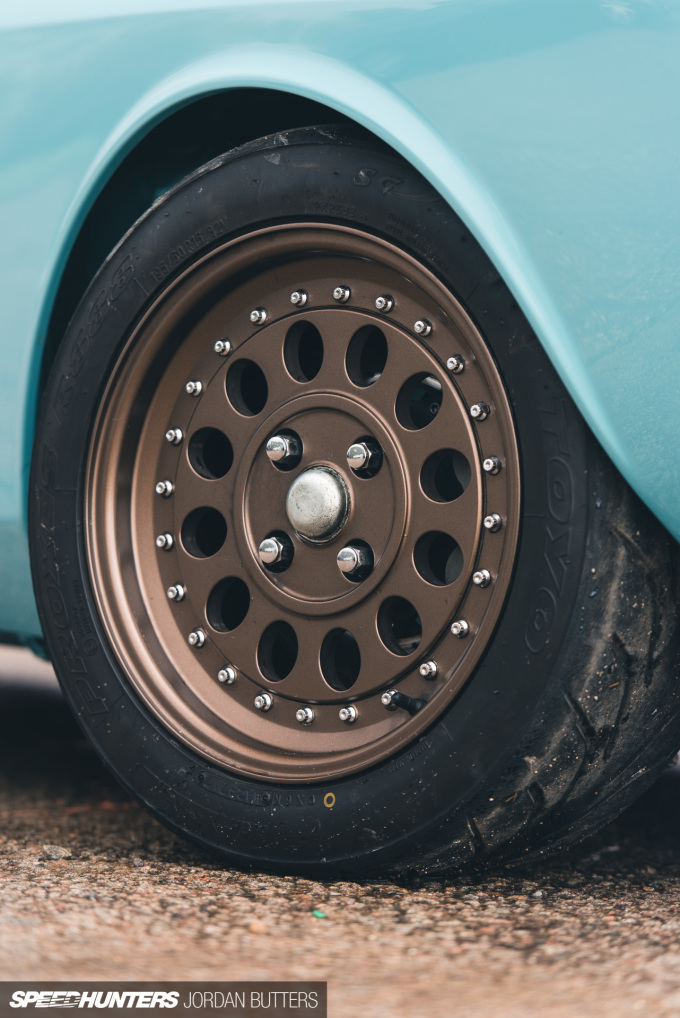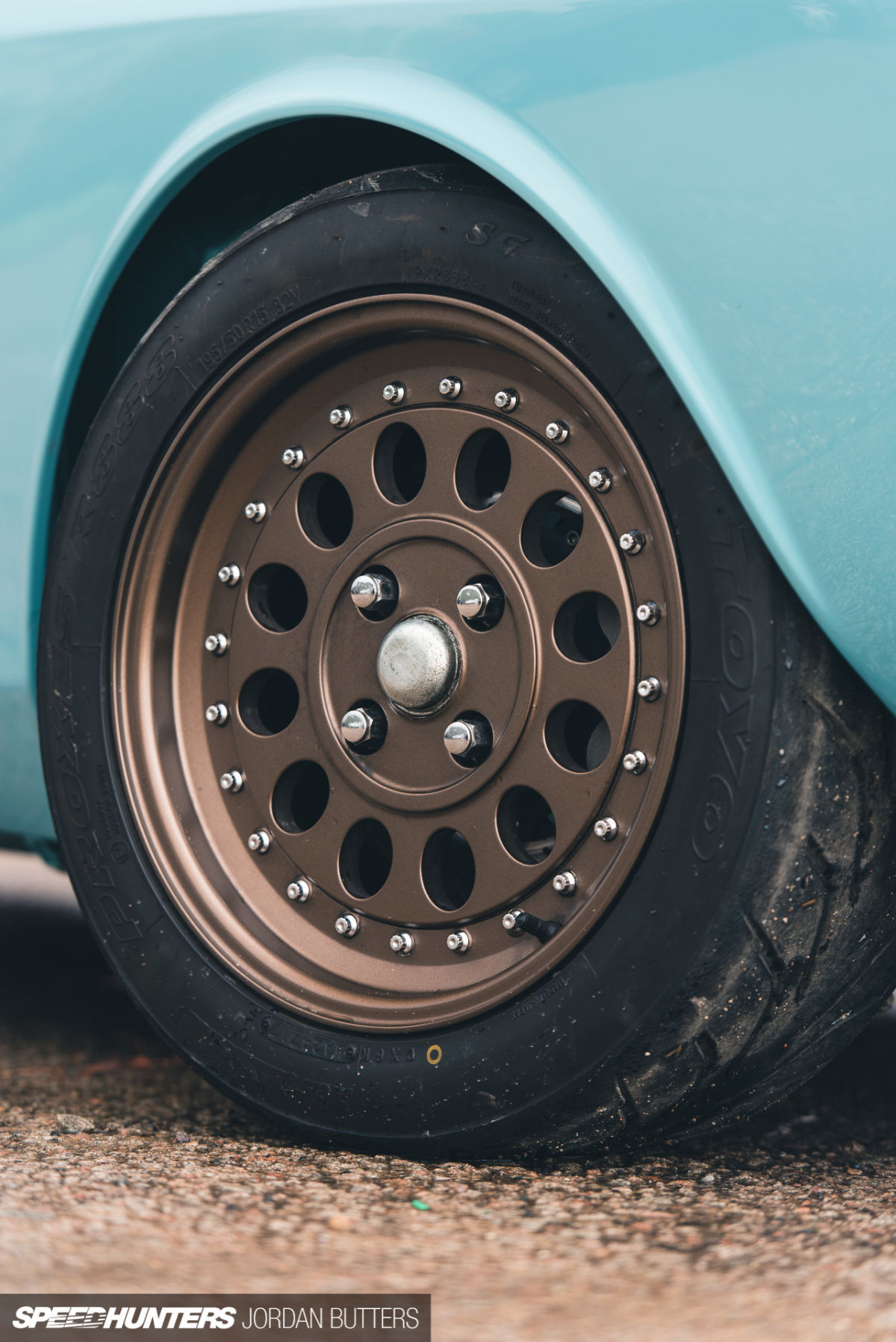 A set of bespoke forged three-piece wheels shod in Toyo Proxes 888R rubber were sourced from NTM Wheels in Italy, sized at 15×7.25-inch up front and 15×8.25-inch in the rear.
In trying to find just the right shade for the wheels, Callum ordered in a number of colours, and the final choice ended up being a mixture of the two closest. Let's just hope he isn't called upon to touch them up.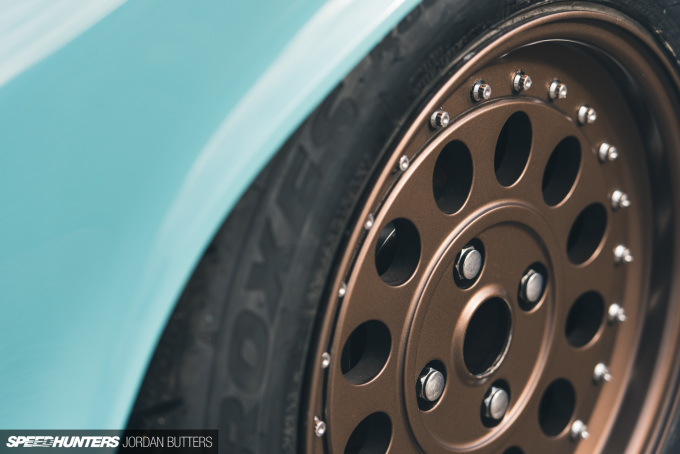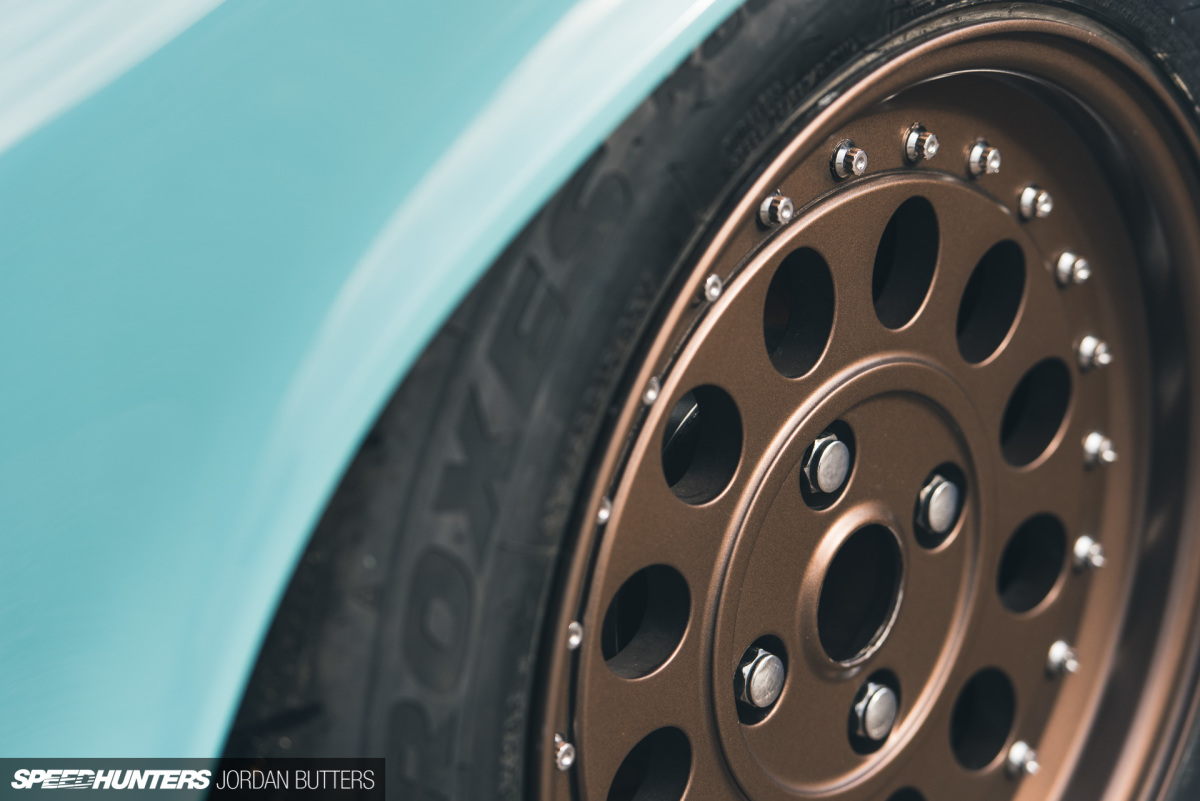 Tucked away behind the wheels, a set of Alfaholics 6-piston calipers and vented discs sit up front, while Sierra Cosworth discs and calipers reside at the rear.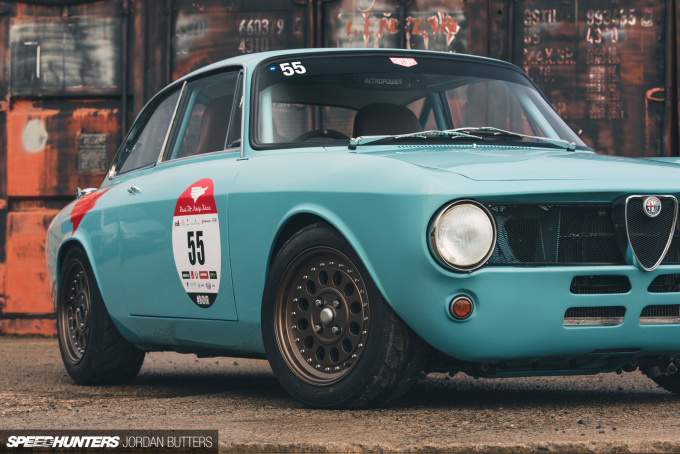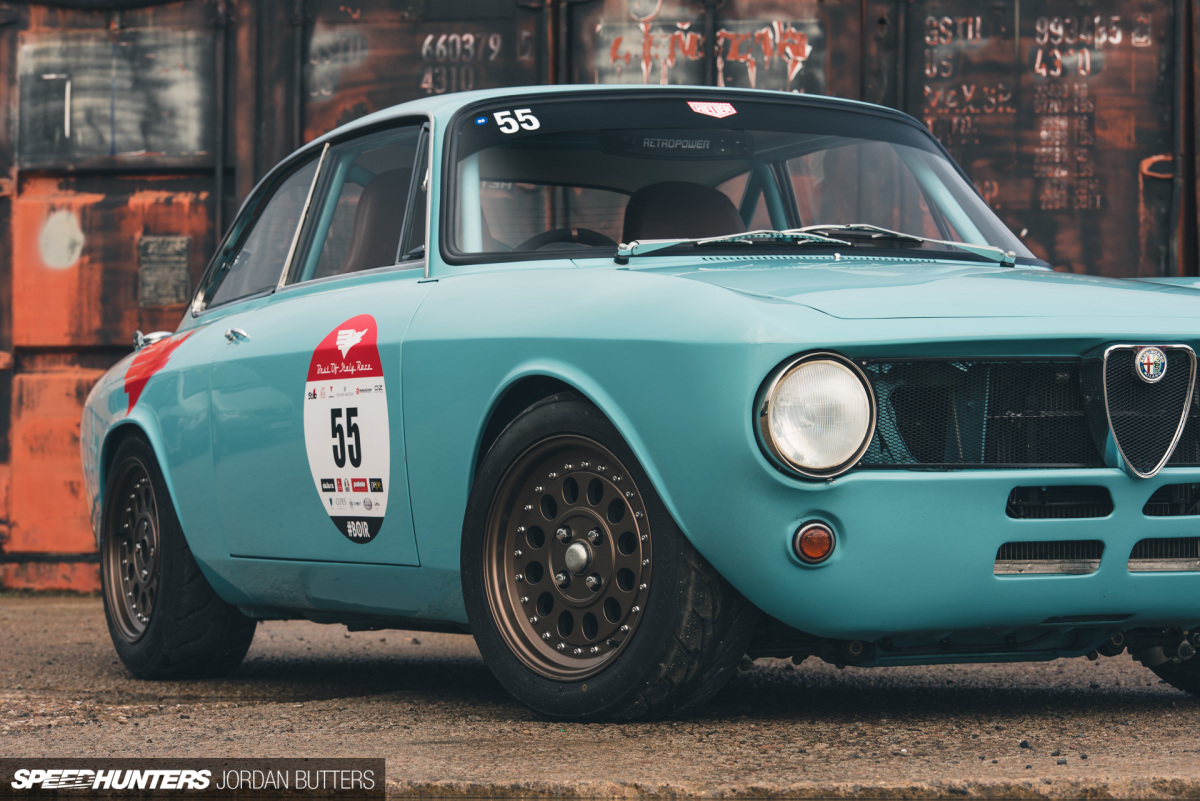 The wheels' colour choice is spot-on in my eyes, tastefully contrasting with the blue paint and tying the interior and exterior together.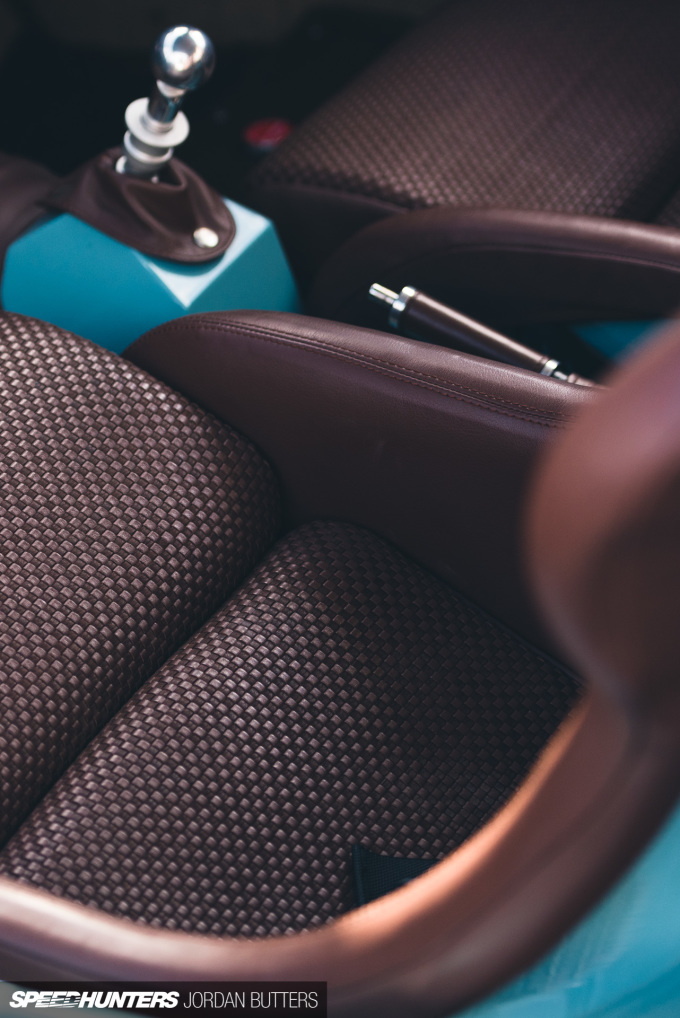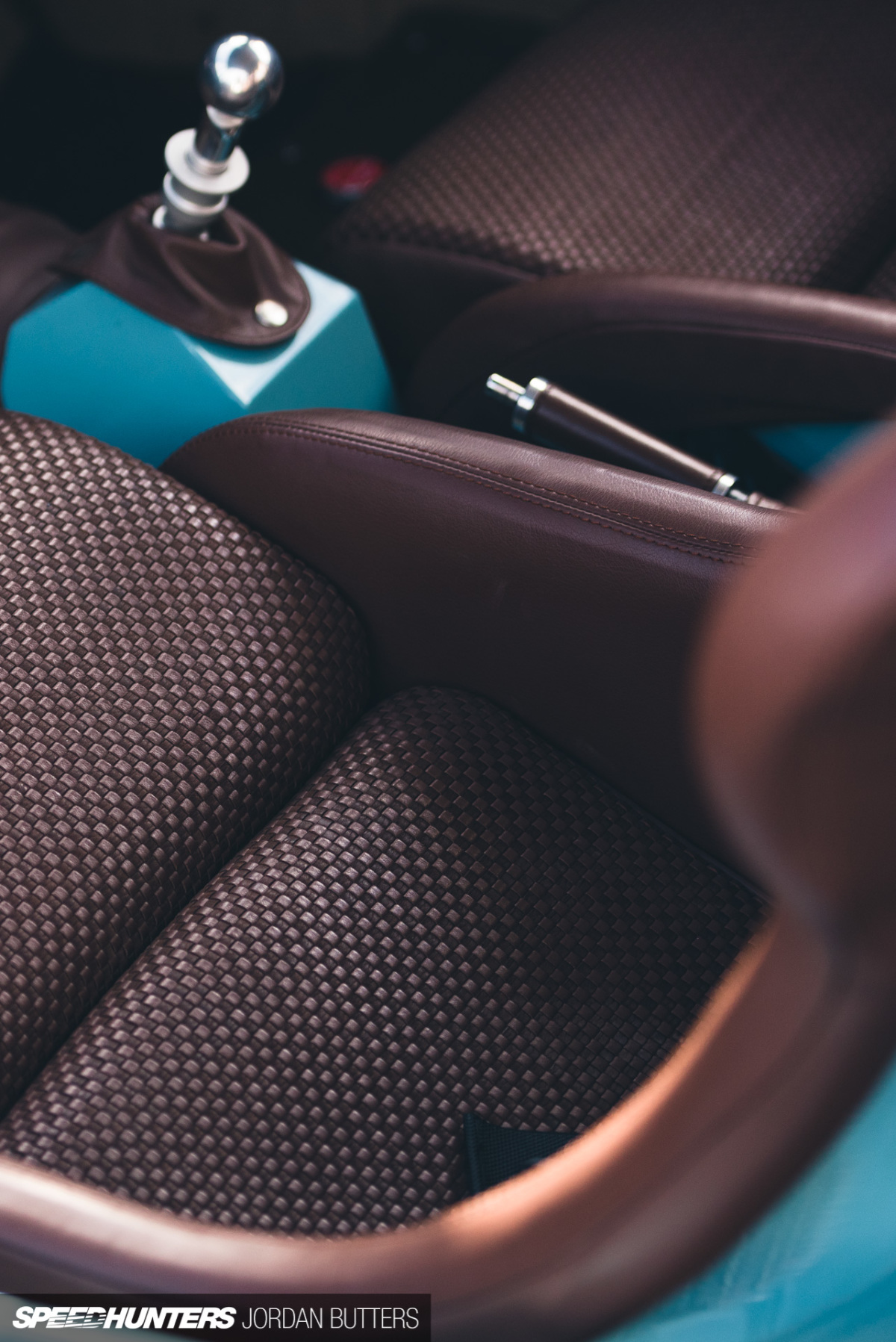 Step inside and you'll see what I mean. Anyone who hasn't quite fallen head-over-heels in love with the Junior from the outside soon arrives at the correct emotions once sat inside. From the finish to the materials used, everything oozes quality.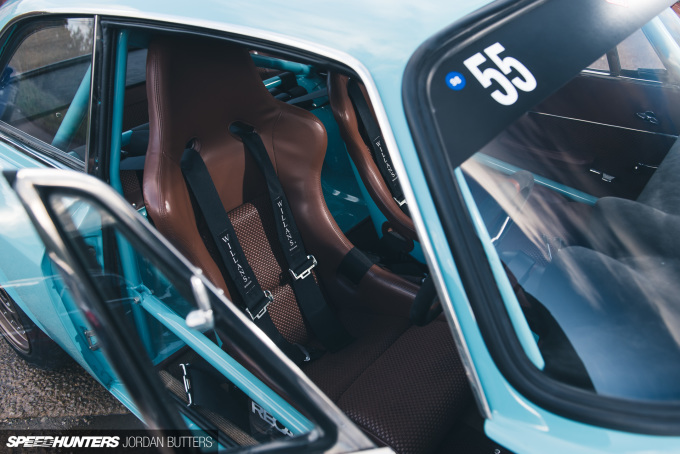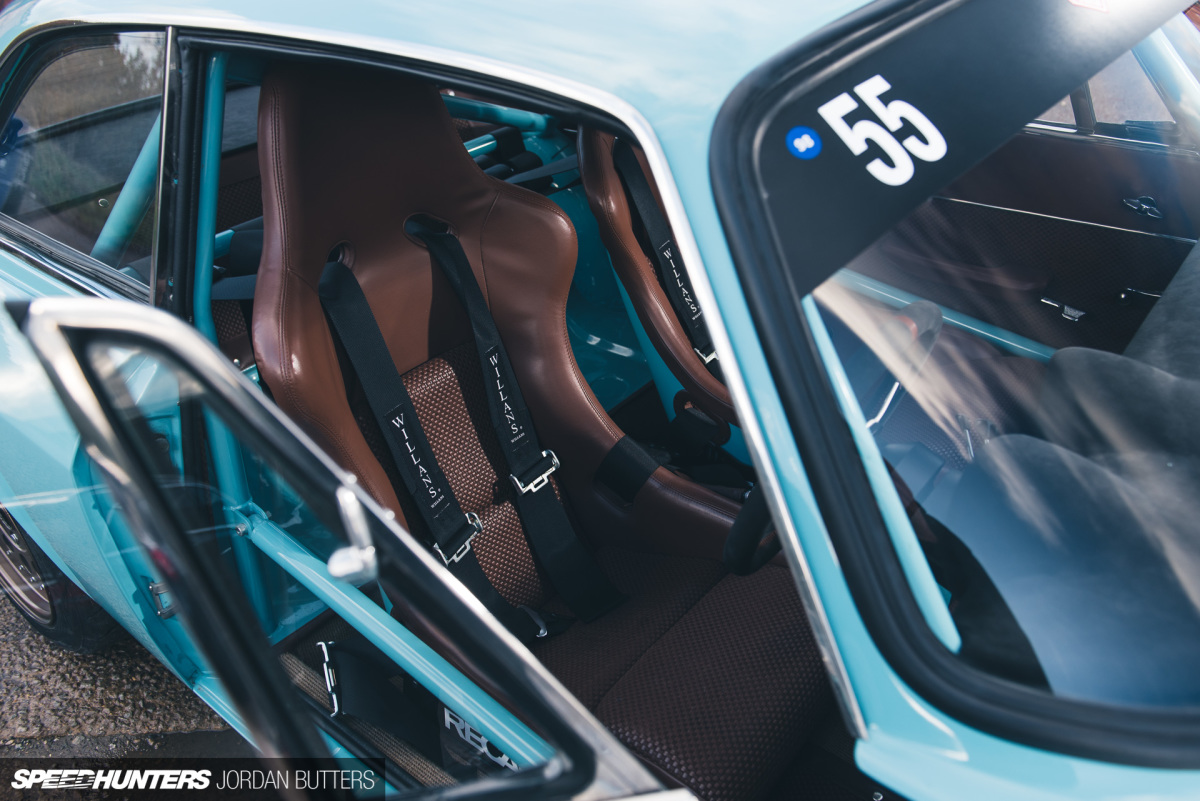 A pair of Recaro Pole Position seats take pride of place, the shell's painted body coloured and the comfortable bits re-trimmed in alternating criss-crossed leather.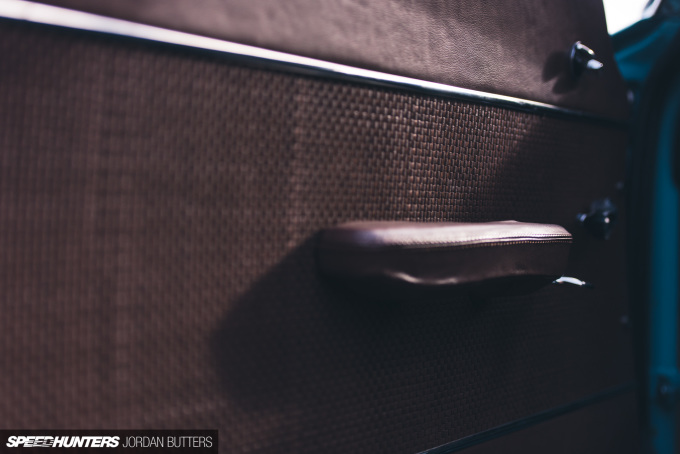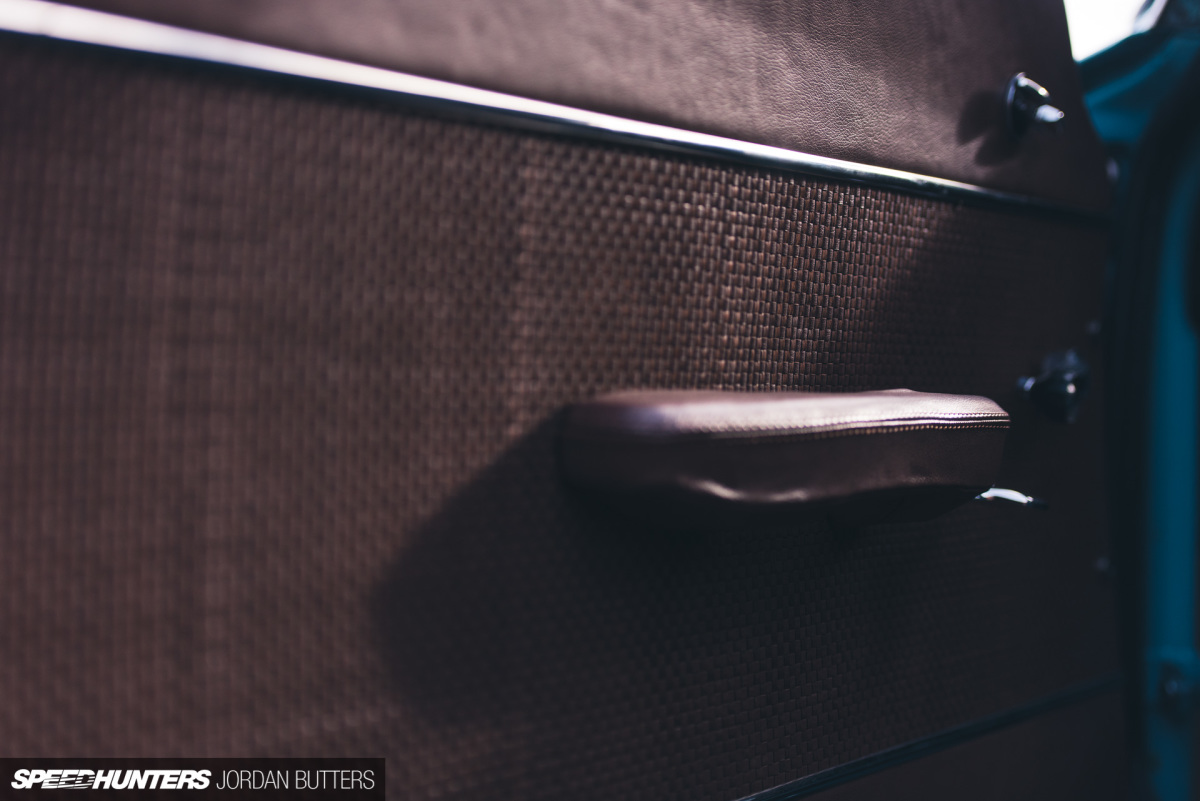 The leatherwork itself is immaculate. Two different leathers were chosen (one smooth and one suede) and then woven together in turn. This can be found across the seats, door cards, transmission tunnel and centre of the dashboard.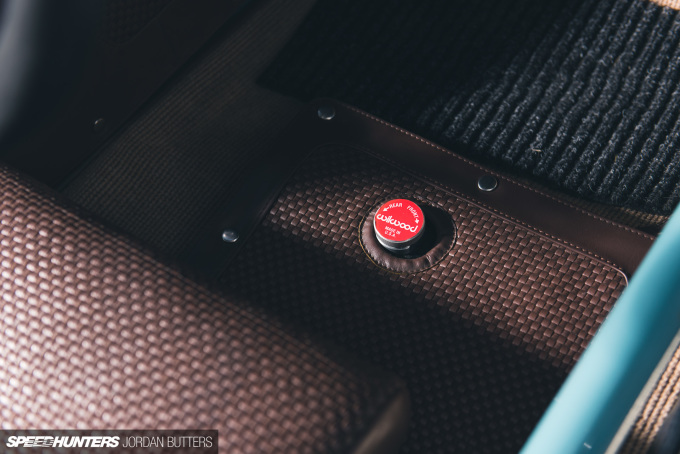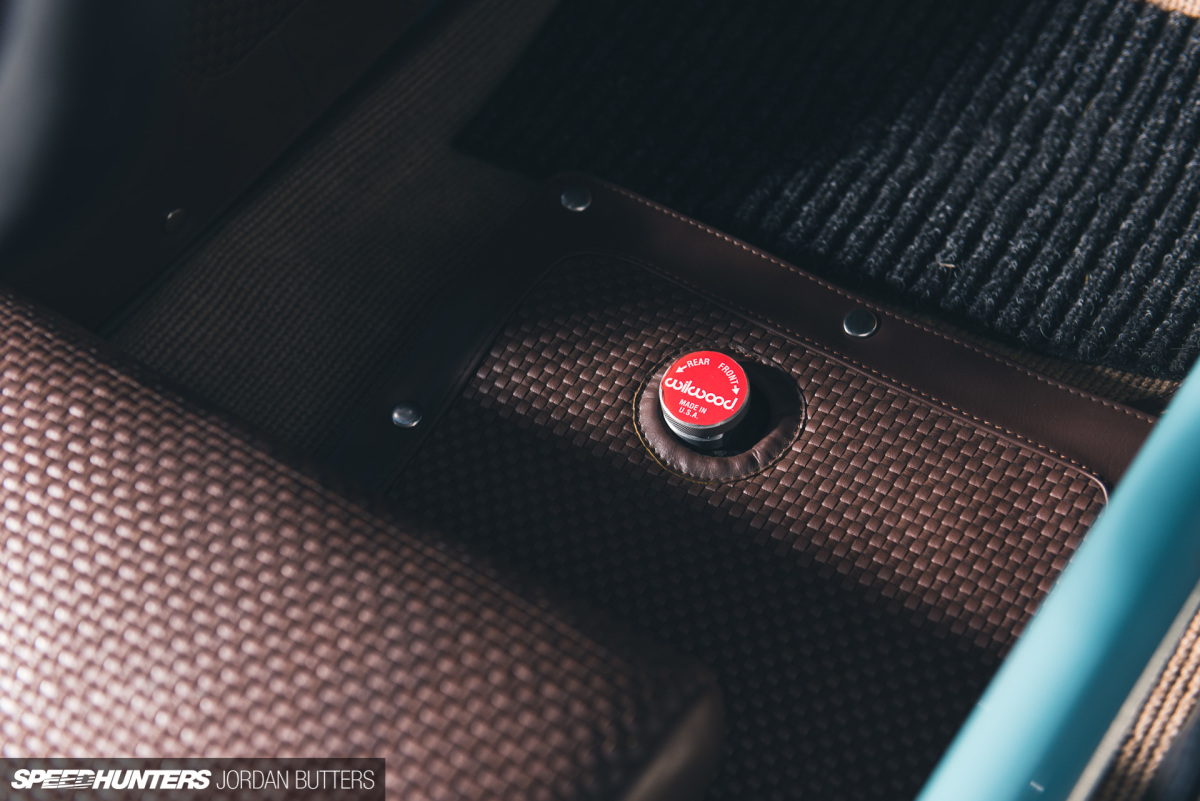 Even the carpets are edged in the same leather, and all of the non-essential trim parts are instantly removable as they're held in place by press-studs. The Wilwood bias valve pokes through from the submerged bias box so as to be easily adjustable.
Retropower have thought of everything.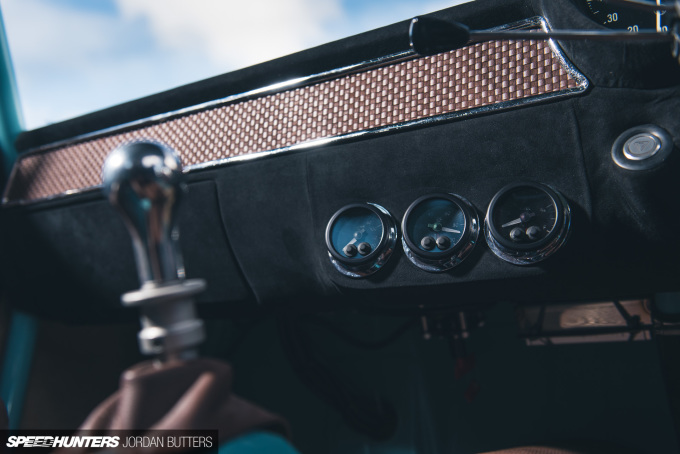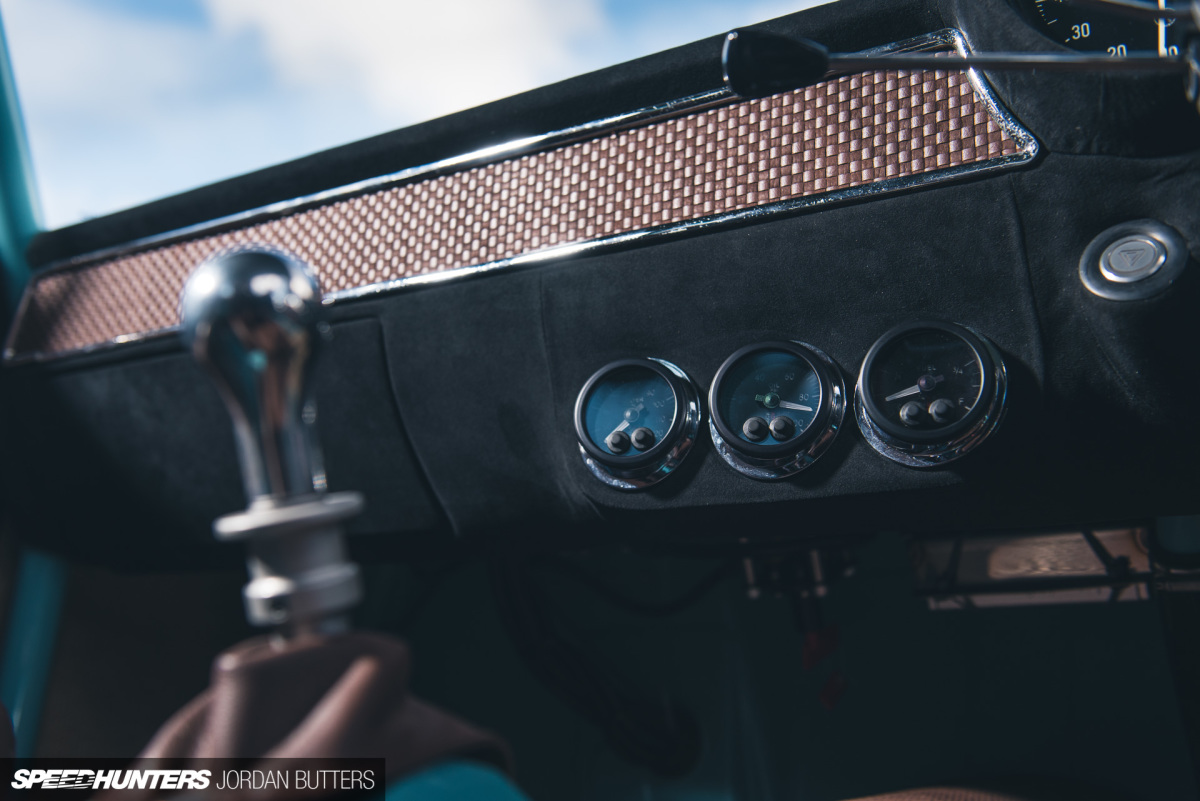 Callum and the team modified the Alfa's dashboard to accommodate three Stack auxiliary gauges in a custom binnacle, which was then re-trimmed in Alcantara along with the remaining dashboard.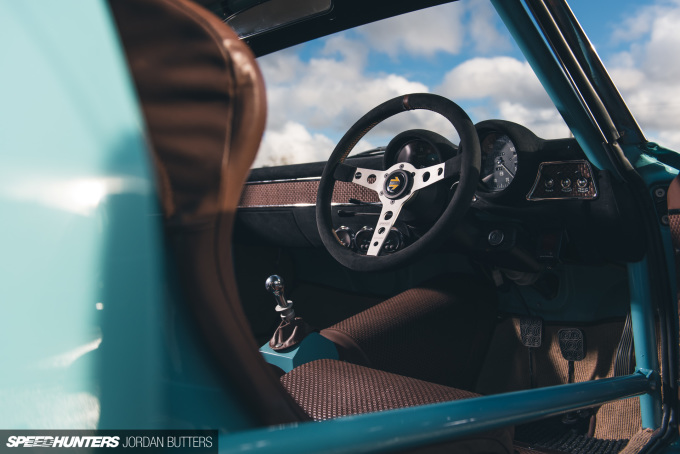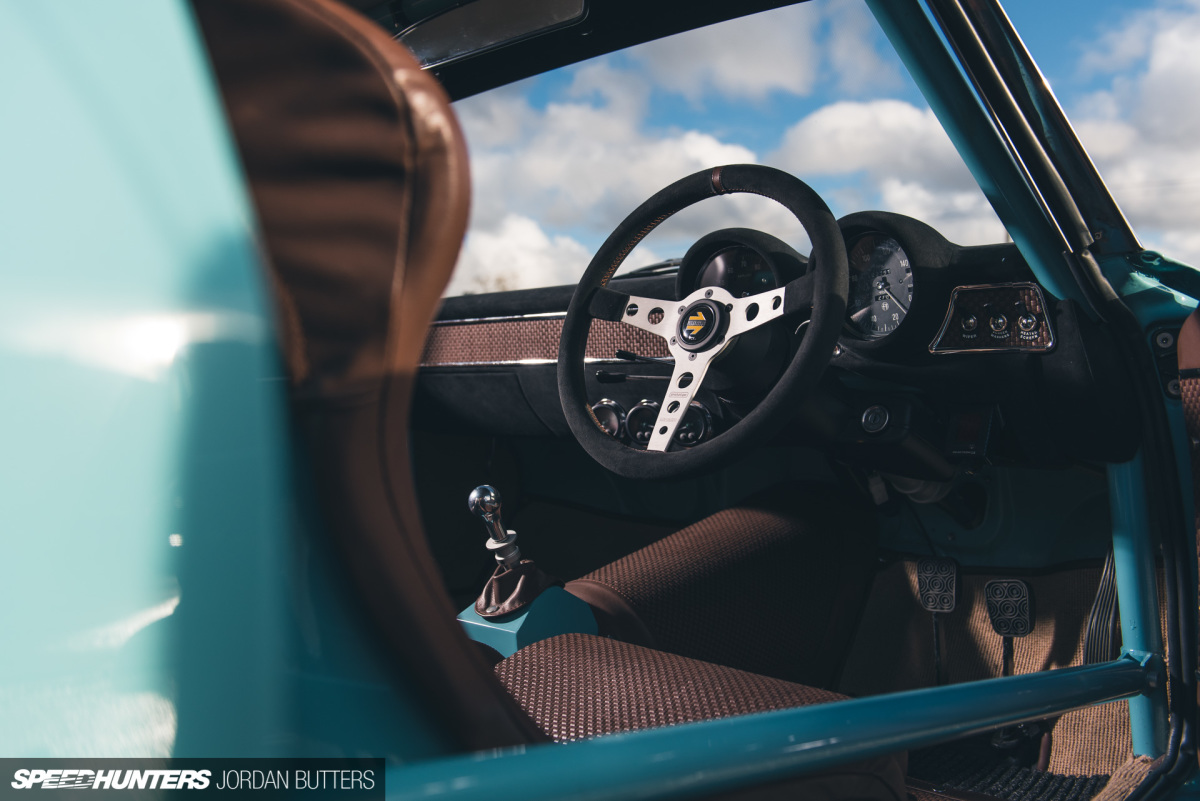 A suitably vintage-style Momo Prototipo wheel was also trimmed in the same black Alcantara with custom brown stitching to match the interior.
There's more Stack goodness incorporated into the main dials, but not that you'd know it. Callum disassembled the Alfa's original tachometer, along with a Stack unit, and turned the two into one, giving David a stepper motor tacho with OEM looks. To the right of this the original speedo is retained, however it's also driven by a stepper motor with a GPS speed input.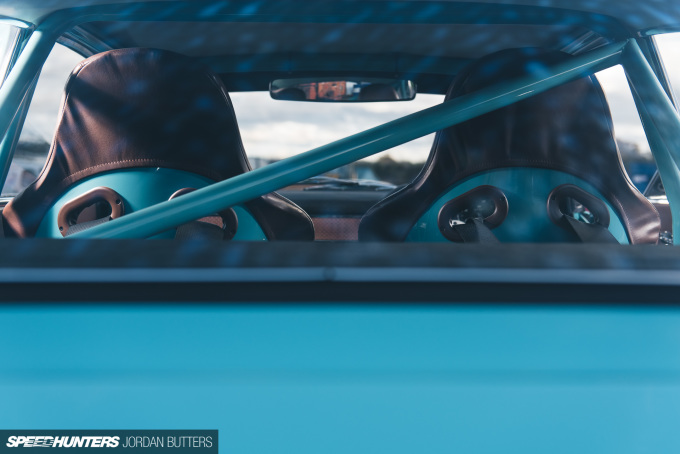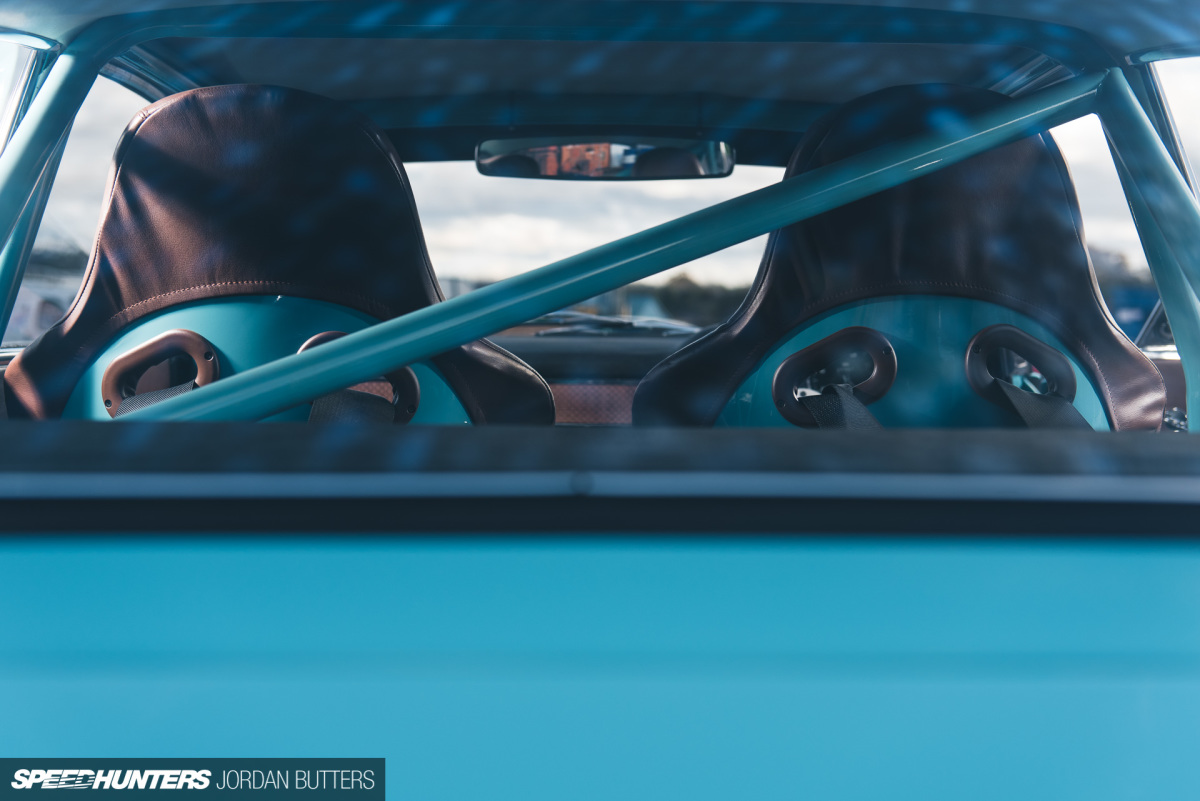 The interior is then surrounded by a body-coloured custom roll cage, which sits nice and snug to the pillars so as not to be too intrusive.
To The Race Track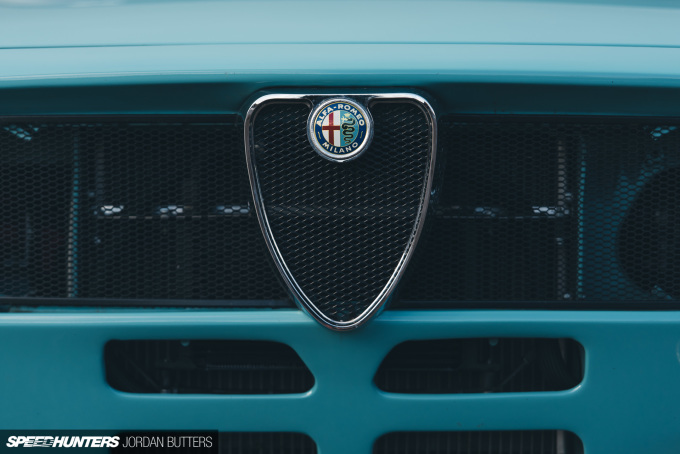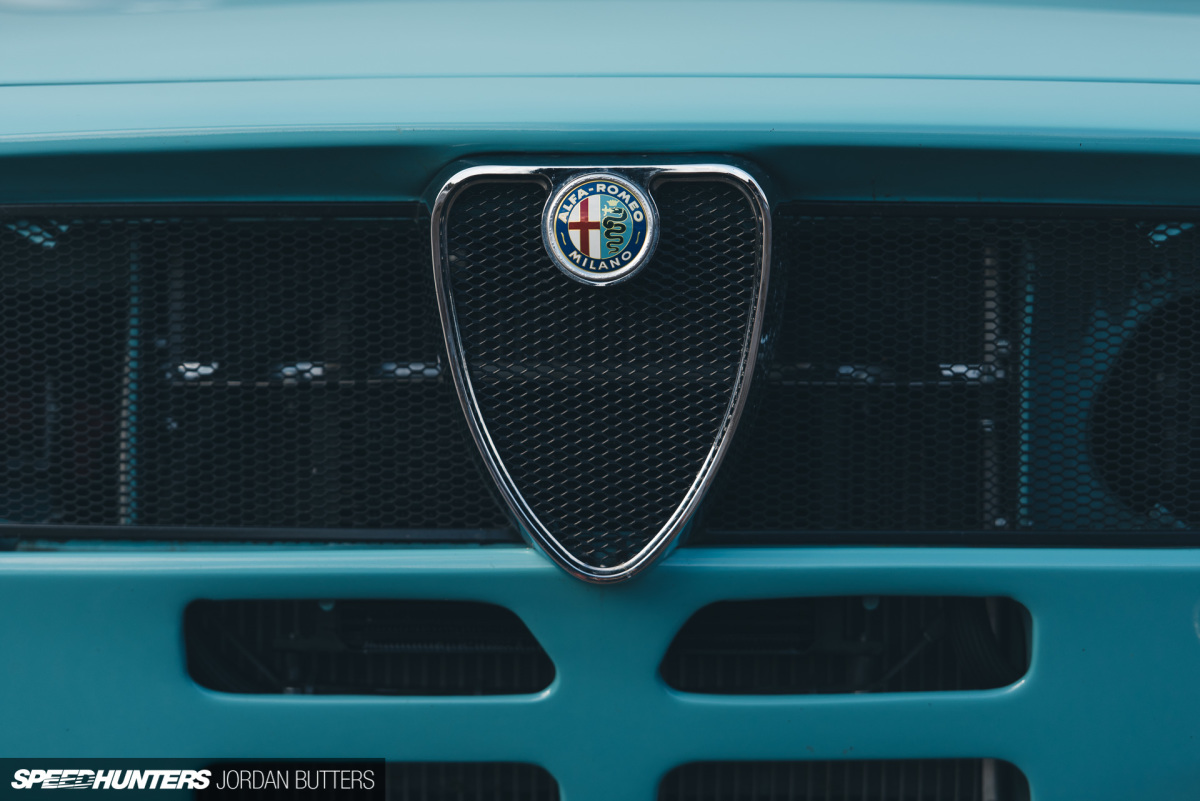 Given David's choice of NA motor, and Callum's target of 300hp, the Retropower team were left with a number of potential powerplants to choose from when planning the build. The original choice was between a Ford Duratec and a Vauxhall C20XE and, in fact, Retropower even went as far as to mock up the Vauxhall motor.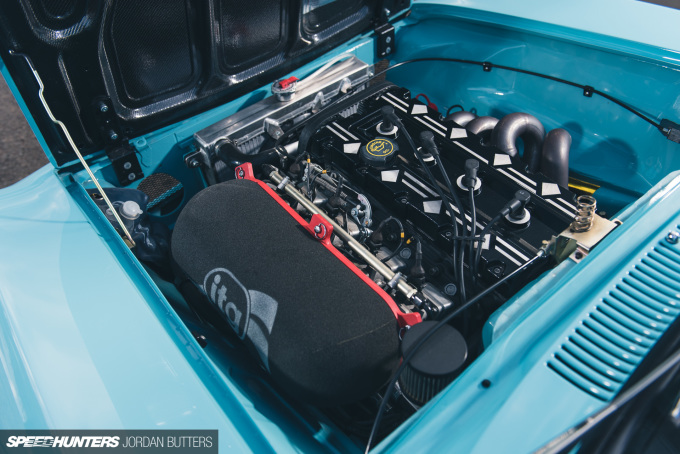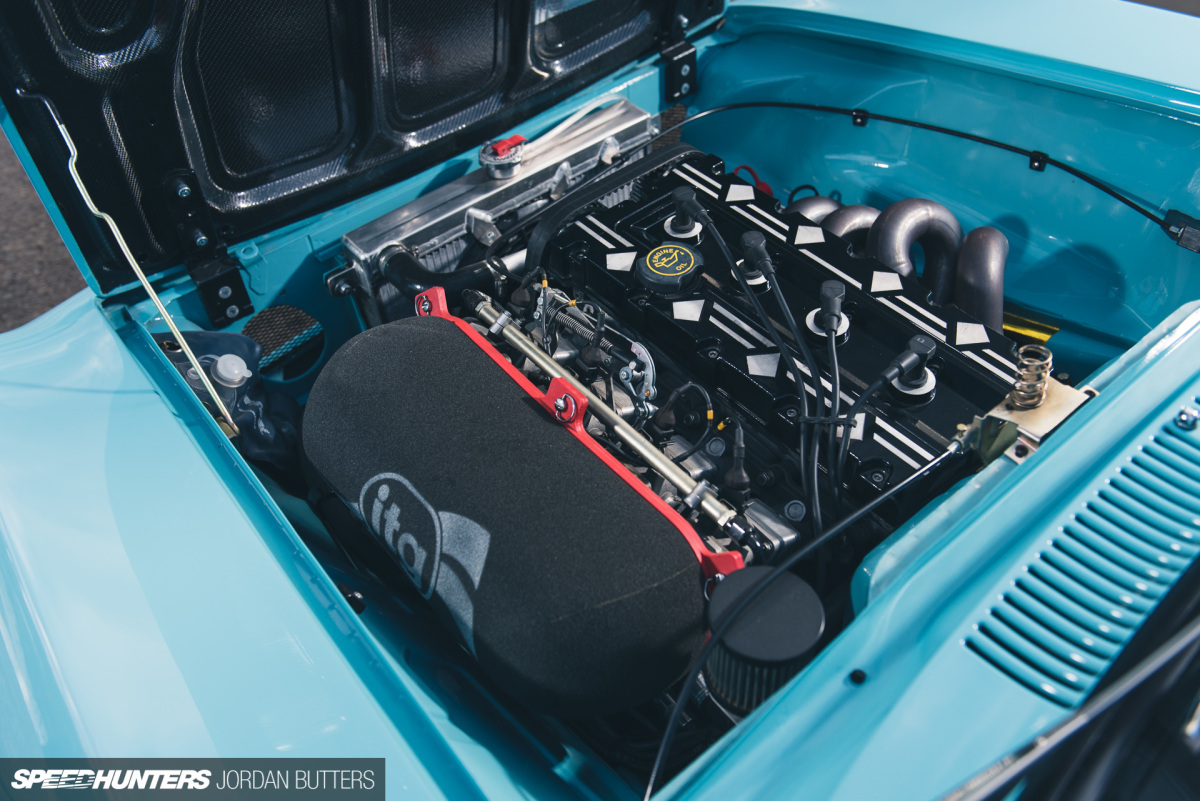 "The exhaust is on the passenger side, away from the steering box, and the engine is shorter than a Duratec," Cal tells me. "Then as we were starting that, David called to say he'd been talking to Roy and Julian Millington and asked what we thought to that idea. To us they are dream engine material, so we said yes straight away. Never mind the exhaust being on the steering side, we'll make it work!"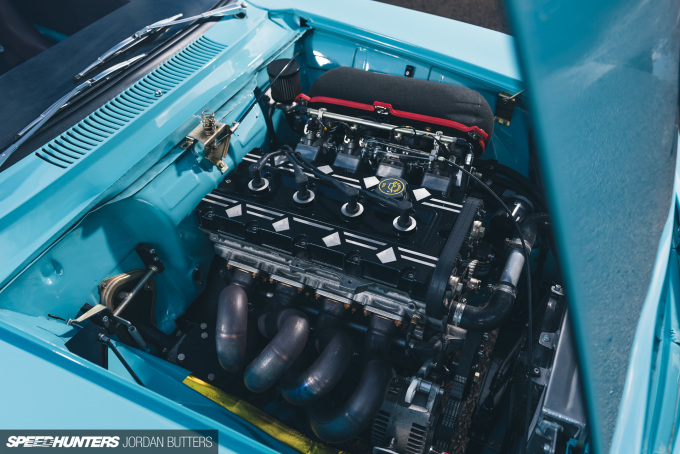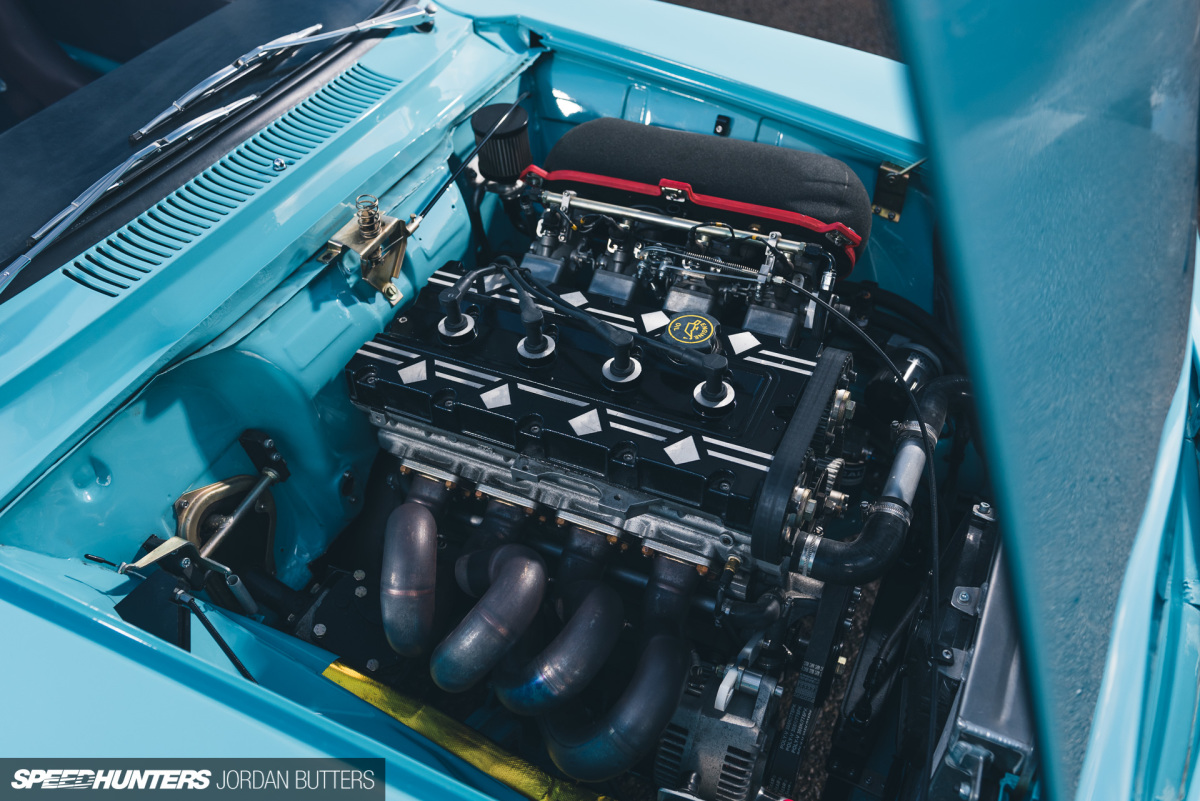 And make it work they definitely did. The Millington Diamond Series 1 motor is a 2.7-litre, 16-valve twin cam, naturally aspirated, dry-sumped powerplant based on the legendary Cosworth YB, which produces an impressive 298bhp and 235lb/ft torque whilst screaming its way to a 9,000rpm rev limit.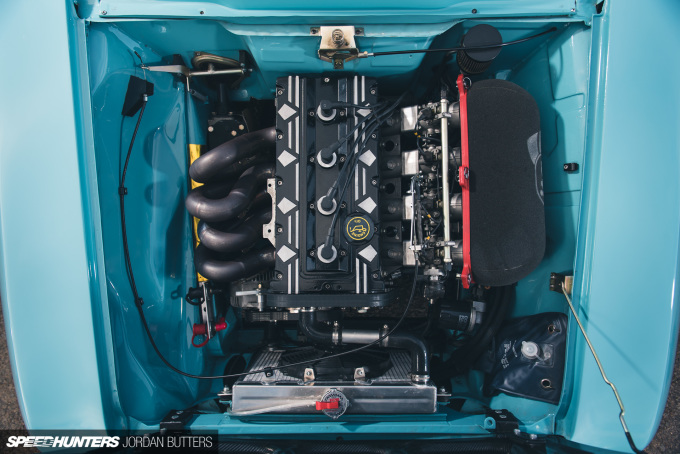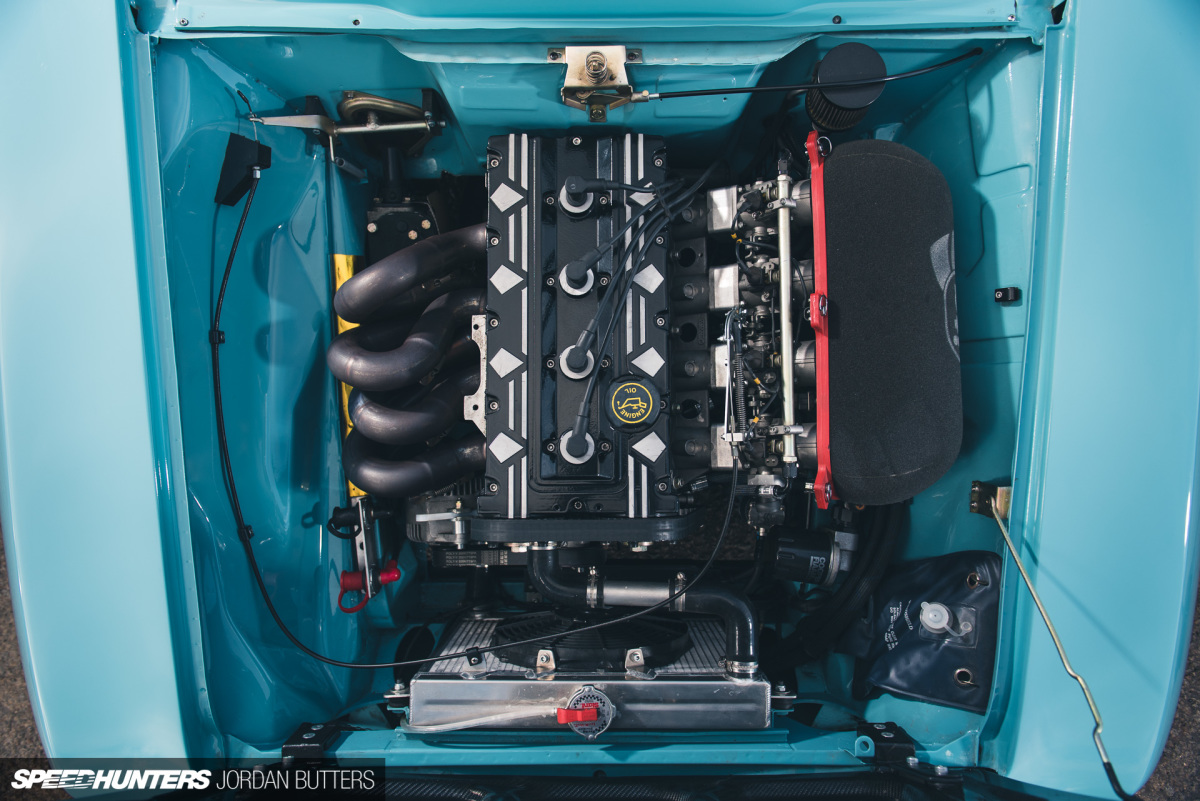 A set of Jenvey throttle bodies gives the Millington its bark, while a custom exhaust offers a harmonious sound. If you've ever heard a MkII Escort rally car at full chat, that's about where we're at right now. I honestly wished we could have taken it out to get some video, but alas the weather really wasn't playing ball.
The boot houses the fuel system atop a flat floor, with the custom alloy fuel tank neatly incorporated into the rear bulkhead space.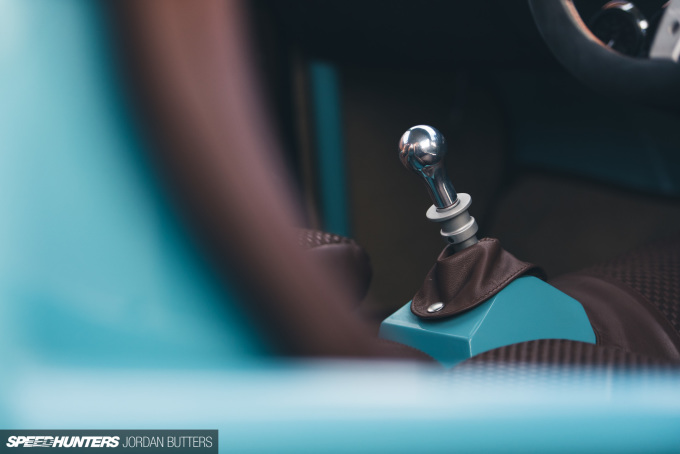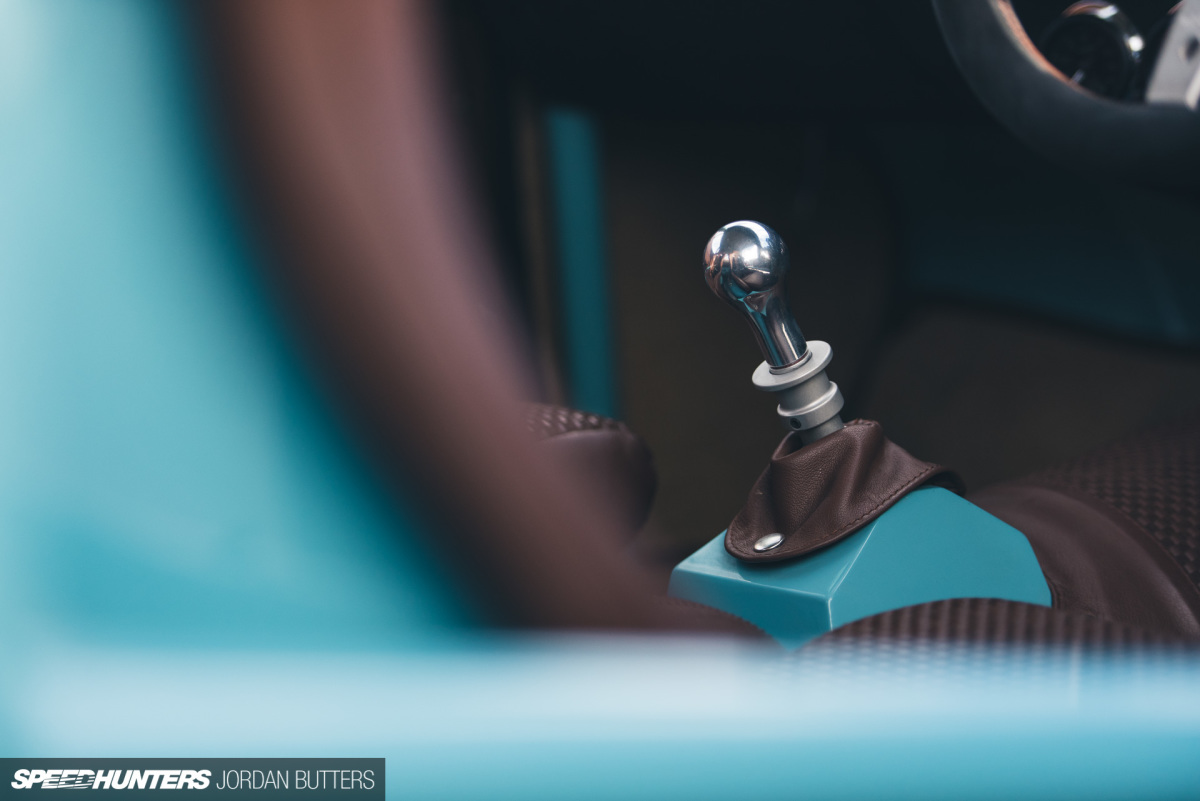 This wonderful engine is mated to a Sadev 6-speed sequential gearbox via a billet flywheel and clutch setup. A custom two-piece prop delivers power to a Ford 7-inch rear diff.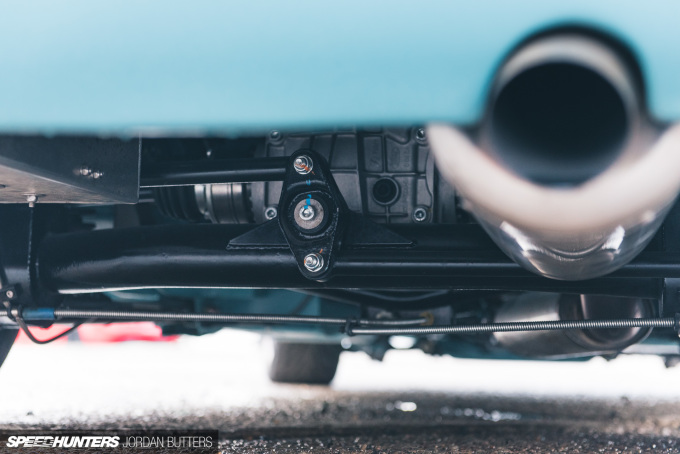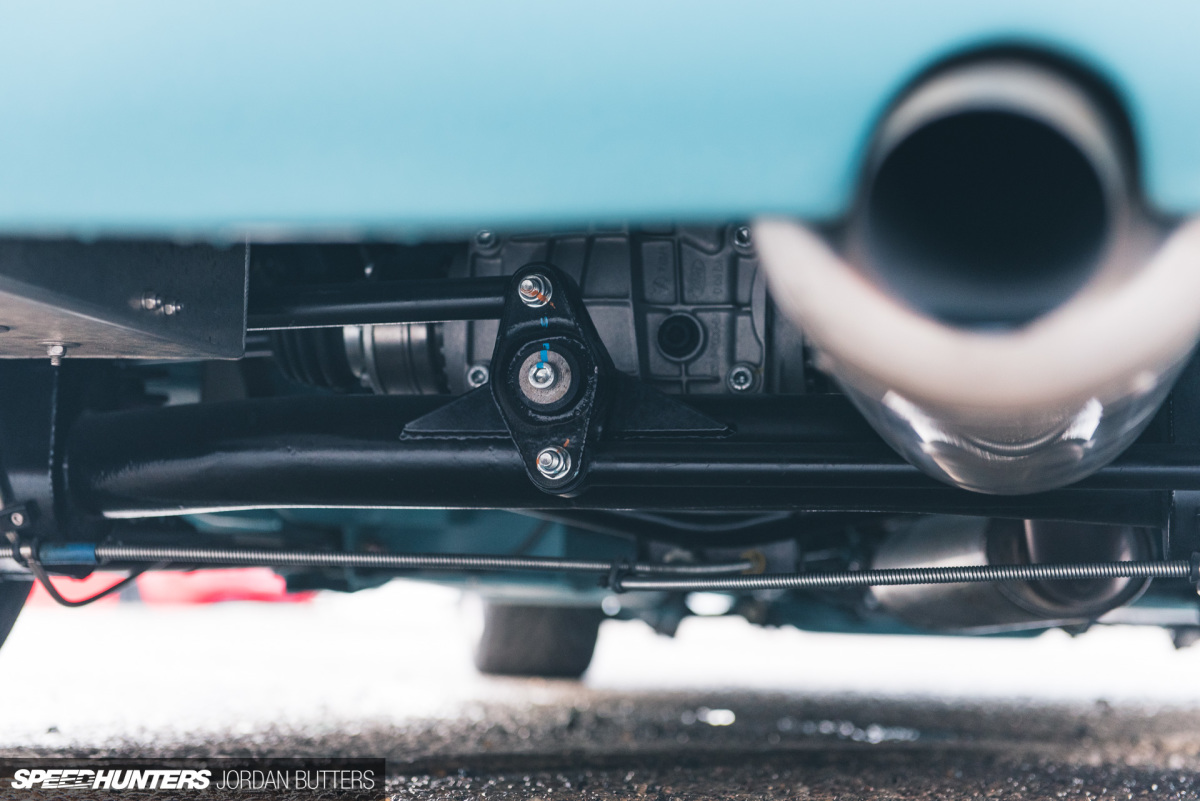 Another area which wrongly won't often receive praise or attention from onlookers is the underpinnings. The front setup features an Alfaholics billet steering box casing, custom tubular front arms, 2.25-inch spring conversion, and a rose-jointed dropped steering arm setup. The rear has been converted from beam axle to an impressive custom de Dion setup with a Watt's linkage, which was all designed and fabricated in-house.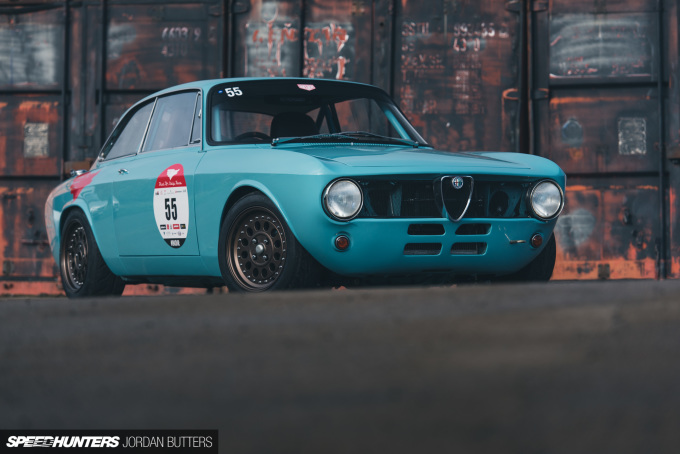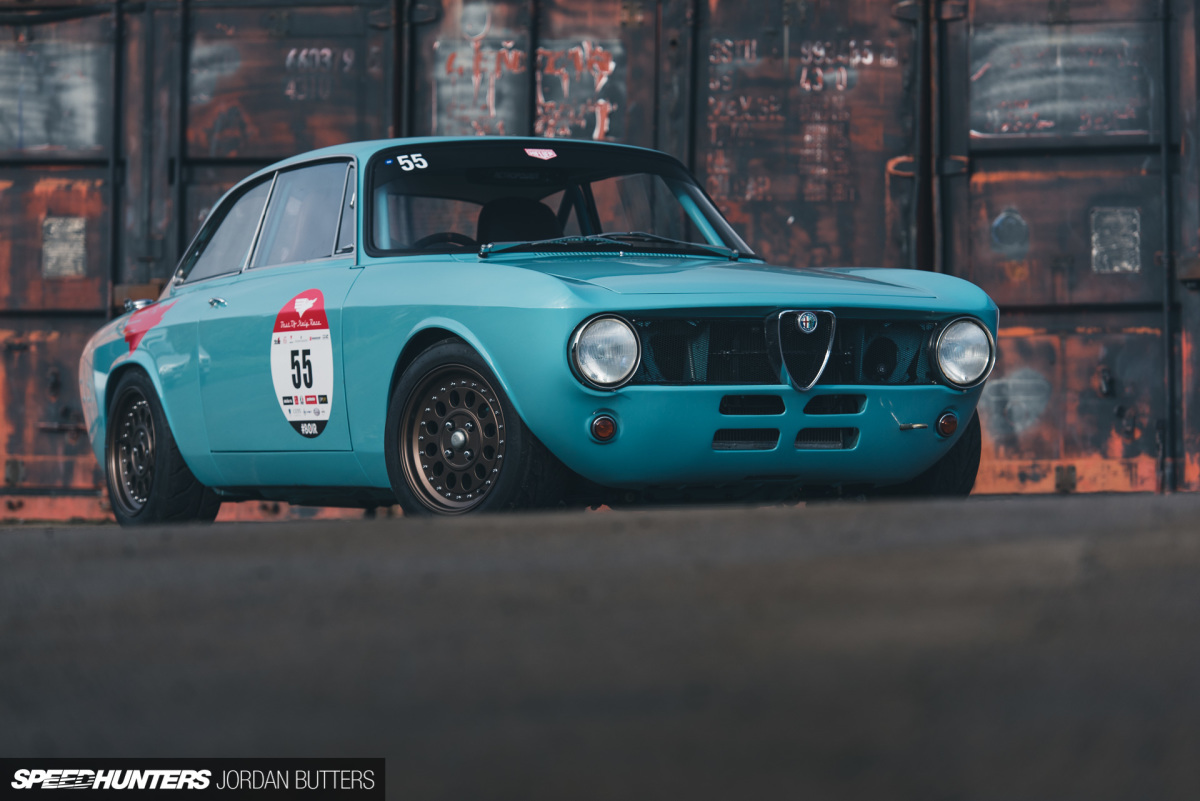 Quantum two-way adjustable dampers feature all around, whilst the rear suspension is comprised of coilover units.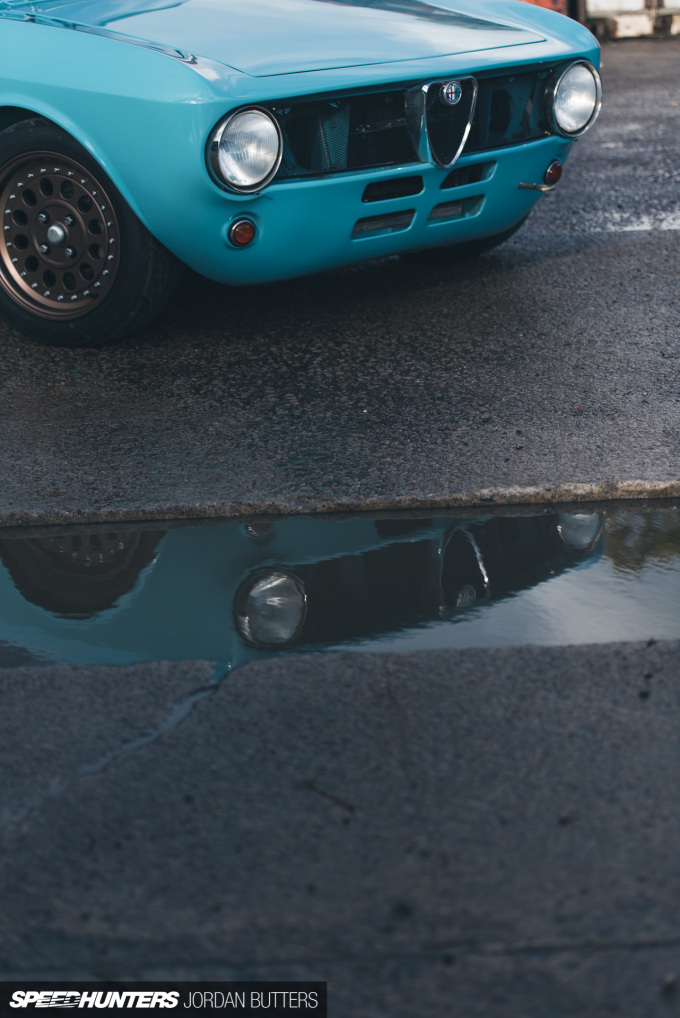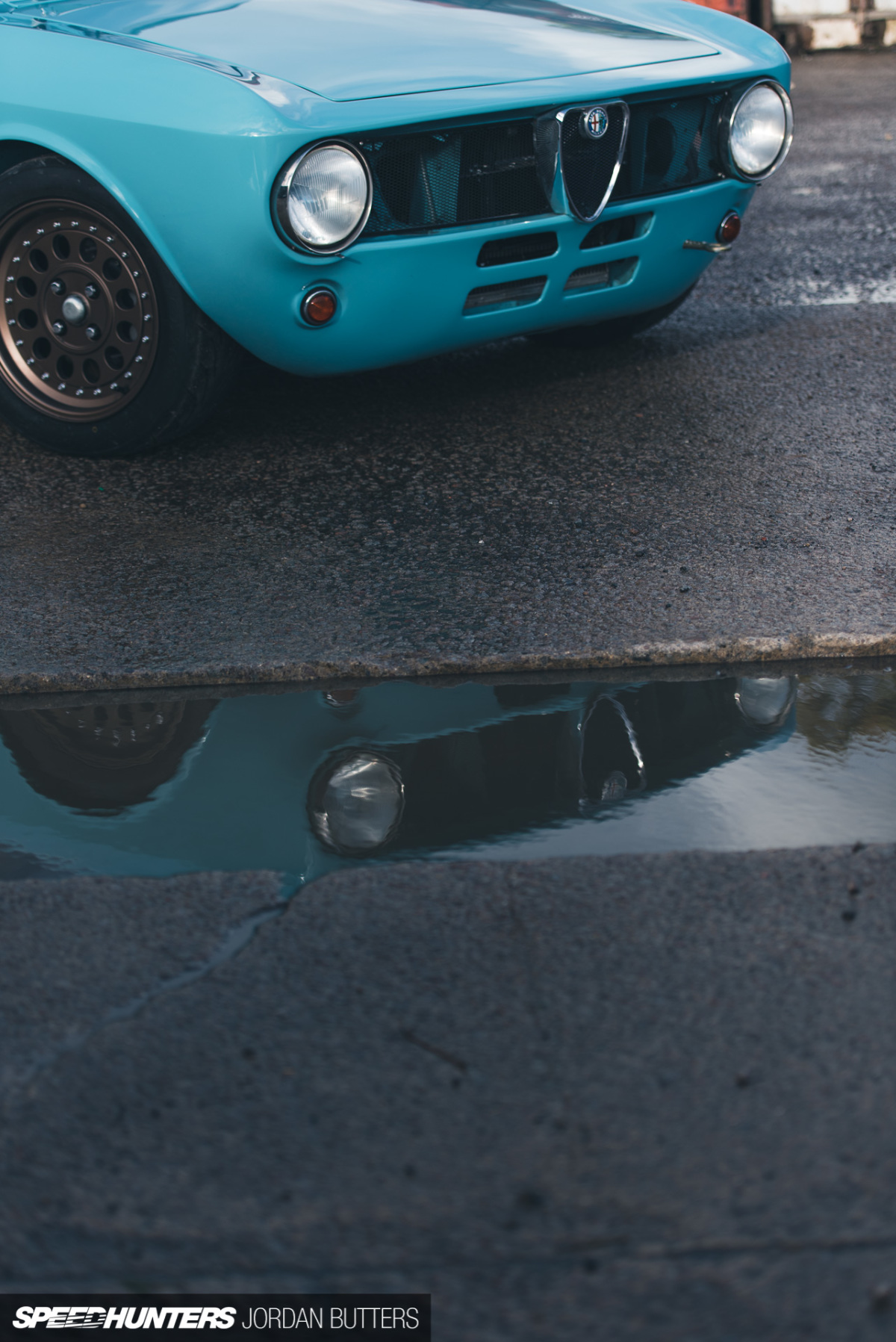 From the outside you'd be forgiven for thinking that this little Alfa is 'just' another tasteful resto-mod, but it's been meticulously planned and built to offer David a rewarding drive. With a kerb weight of around 900kg and a torquey motor, it boasts an impressive 345bhp/ton.
Coupled with the sequential box, Callum says it's "pretty epic" to drive: "It's not a car you'd want to munch miles in – too intense for that but to grab by the scruff of the neck and hurl down country lanes or twisty circuits it's incredibly rewarding. You just find yourself pushing harder and harder, exploring the grip whilst being bombarded by an unimaginably intense induction noise."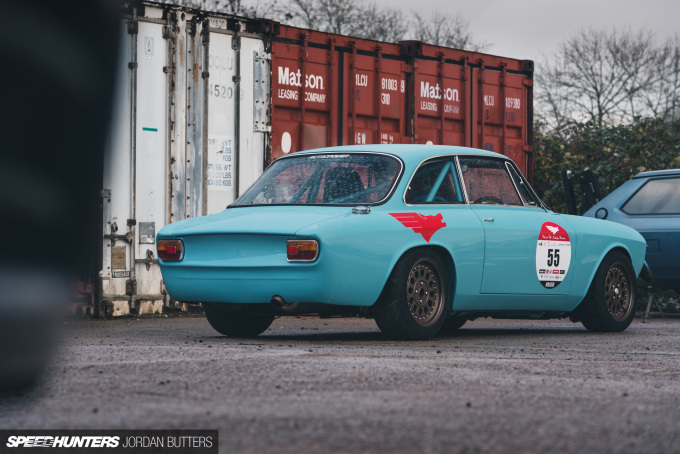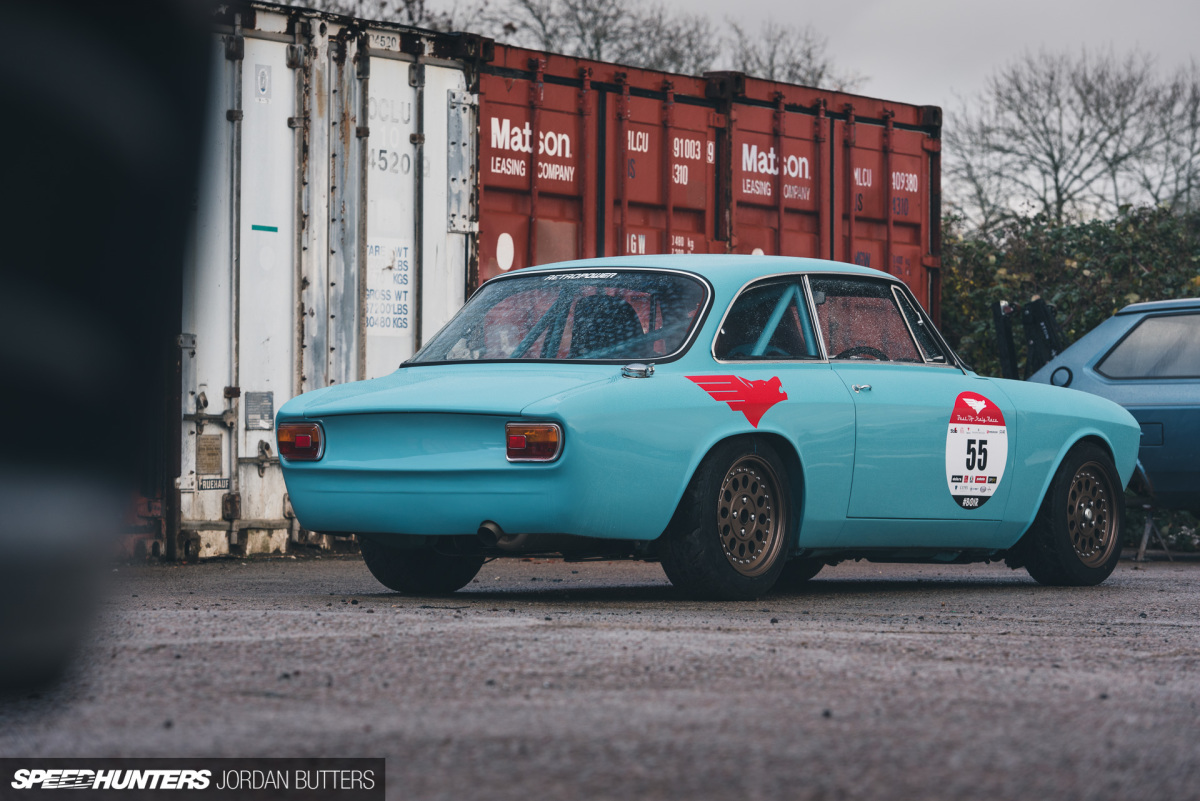 David's already got a couple of track days under his belt in the Alfa and, as the stickers attest, has just returned from the Best of Italy race on the continent. From the stories Cal tells me – from spinning around inches from the Armco in the pouring rain at Mallory Park to an alleged trailer burnout in Italy, he's certainly not babying it around.
Jordan Butters
Instagram: jordanbutters
jordan@speedhunters.com
David West's Retropower 1971 Alfa Romeo GT Junior 1300
Power:
298bhp and 235lb/ft
Chassis:
Complete bare-metal strip down, all outer panels removed, new quarters, wings, front panel and rear panel, extensive repairs to floors, enlarged transmission tunnel and exhaust tunnel, aluminium boot floor, structural recesses in main floor for pedal box, fusebox and battery, complete carbon fibre doors, bonnet and boot lid, rear bulkhead panelled in, fabricated axle tunnel and watts linkage mounts, discreet welded in cage tucked tight to pillars, sills strengthened.
Engine:
Millington Diamond Series 1 2.7-litre, dry sump, Jenvey throttle bodies
Electronics:
DTA S60 ECU, custom loom
Drivetrain:
Sadev 6 speed sequential gearbox, TTV billet flywheel and Retro Ford billet clutch with four-paddle friction plate, custom two-piece prop shaft, Ford 7-inch differential mounted in custom cradle, Gripper plate type LSD, custom de Dion beam with custom hubs and Ford 'Lobro' type shafts, Beam is six-linked with four trailing arms and Watts linkage, all links are rose joint one end and polyurethane bush the other
Steering/Suspension:
Alfaholics billet steering box casing, tubular front lower arms, 2.25-inch spring conversion and rose-jointed dropped steering arm setup, Quantum double-adjustable dampers all round (rear coilovers).
Brakes:
Alfaholics six-pot vented disc conversion up front, Sierra Cosworth discs and calipers rear, Wilwood bias pedal box sunk into floor with bias control knob incorporated into lid
Wheels/Tyres:
NTM Wheels forged three-piece (15×7.25-inch front, 15×8.25-inch rear), Toyo 888R, wheels painted in custom mixed colour and finished with satin lacquer
Exterior:
Bumpers deleted, redesigned front bodywork to suit round indicators, sidelights incorporated into headlights, GTA door handles and locks. rear numberplate light incorporated into overhanging edge of boot lid, badges deleted, Screw-in towing eye point
Interior:
Recaro Pole positions with shells painted body colour, trimmed in brown leather – centres made from two different leathers (one with a sueded finish) cut to 7mm strips and woven together before being laminated onto a cotton backing, plastics painted to match leather, dash modified to incorporate Stack auxiliary gauges in a moulded binnacle before being upholstered in Alcantara, Stack stepper motor tacho retrofitted with original Alfa face, needle and glass, original Alfa speedo driven by stepper motor unit with GPS speed input, Lucas-style toggle switches for wipers, screen wash and heated windscreen, heater delete, billet hazard button with illumination repurposed as shift light, woven leather detail on dash, custom carpet edges in the same leather, all non-essential trim parts are removable – ie. rear bulkhead cover, tunnel cover and battery box/pedal box lid covers are press-stud fitted, rear seat infills are magnetically attached, Momo Prototipo steering wheel re-trimmed in Alcantara with brown stitching and brown leather detail
Cutting Room Floor