Things are different in Japan.
That much is obvious to anyone who is paying attention. Not just from a car culture perspective, but from almost any perspective. Of all the countries and continents I've visited in the name of Speedhunters, no where has felt more alien than Japan.
It's the little things that really remind you that you're a long way from home: the markings on the ground at a train station which show you where the doors will open when the train arrives; the gyroscopic arms on the back of food delivery bikes which keep your pizza level; the confusing but brilliant toilet controls; automatic taxi doors; the ingenious ketchup / mustard dispensers; or even the ability to get a decent warm meal from a vending machine. The list is endless.
However, if there's one thing that really separates Japan apart from the rest of the world, it's the people. I think Ben best summed it up by saying that the people in Japan are so friendly and polite, that they make you want to be a better person. It's this difference in civility that allows Japan's car culture to be what it has become.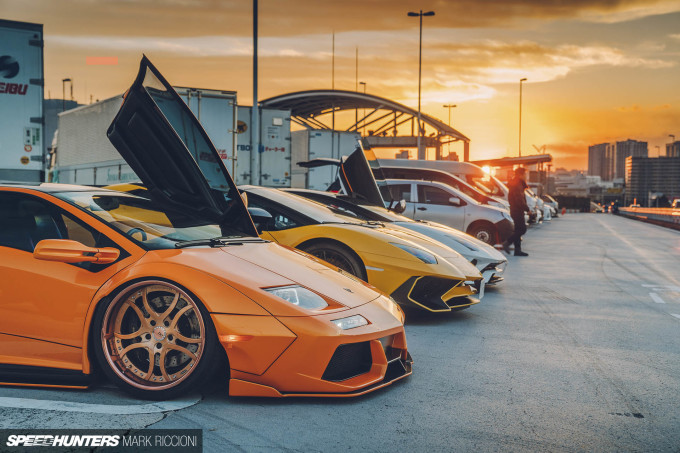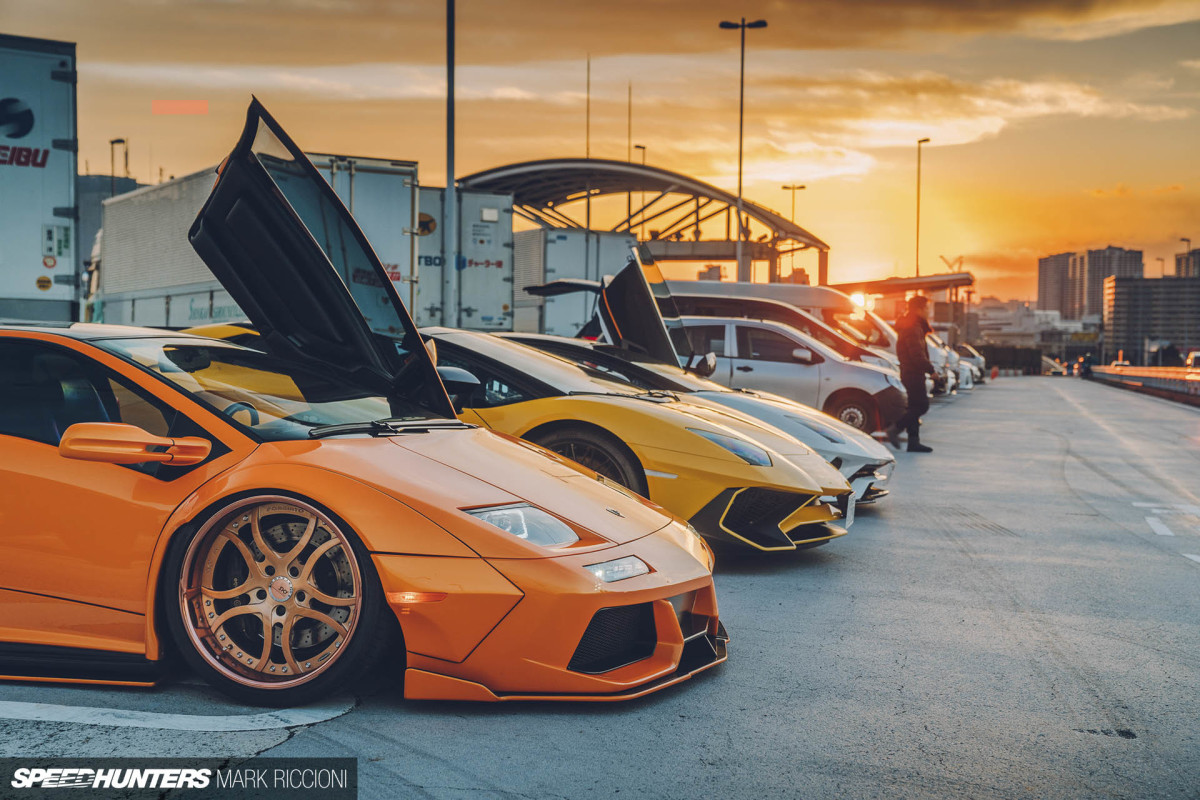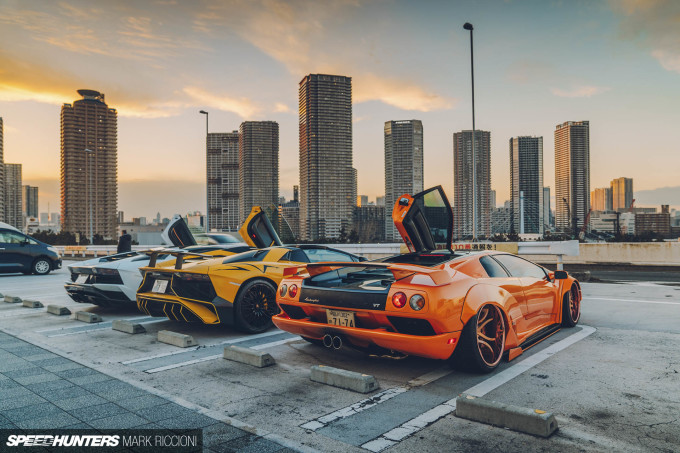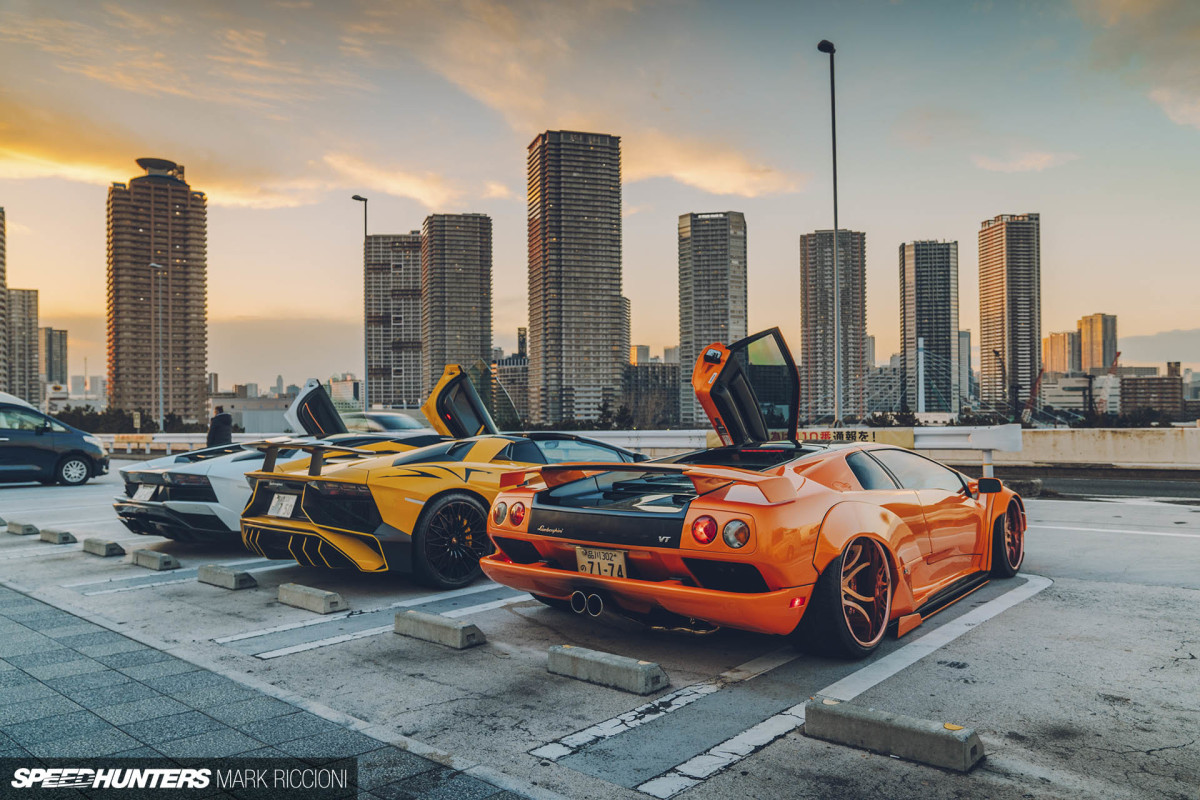 It's the evening of January 12th. It's a Friday, but our body clocks haven't even come close to adjusting to our new timezone, so it could be any time, any day, really. It's freezing cold and we're waiting atop of Tatsumi PA, a parking area which curiously sits high above a multi-level road network which must resemble a bowl of spaghetti from above. It took us two attempts to find our way in.
Warming my hands with a recently dispensed cup of strawberry flavoured hot chocolate (a decision I immediately regretted) the unmistakeable howl of V12s approaching started somewhere beneath us. This wasn't unexpected. Our fearless community manager, and accomplished photographer in his own right, Mark Riccioni, had arranged to meet some exotic owners here for no reason other than to take some photographs and drive about for the evening. As one does on their 'holiday', obviously.
A standard Speedhunters night then, but in exceptional circumstances.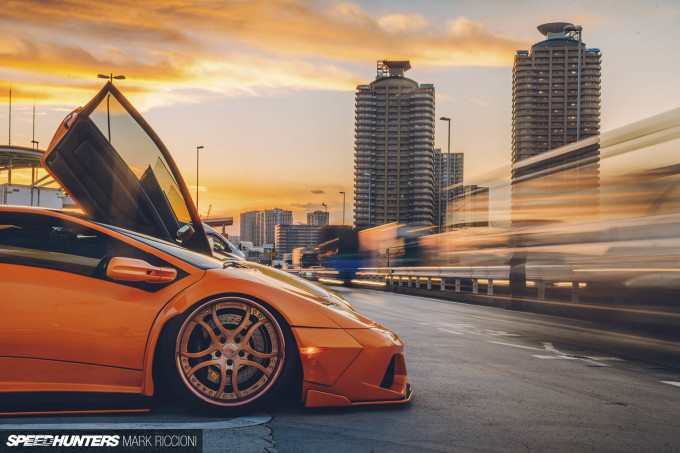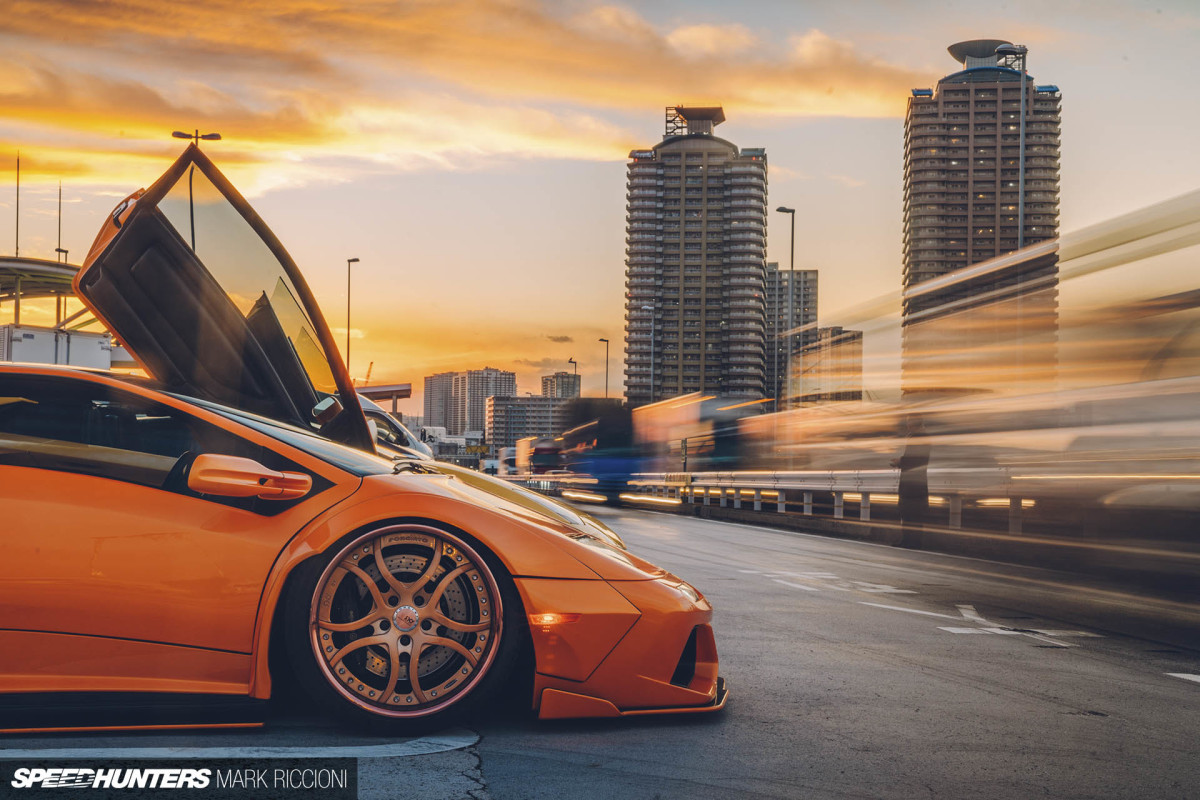 Truthfully, we weren't full sure of what was going to arrive. Mark had been speaking with one person in particular, Souki, who was trying to gather a few like minded owners to attend. From experience, genuine owners of exotics are usually quite private and reluctant to partake in anything like this, with the obvious exception of those who like to rev / set their cars on fire in highly populated areas.
When three Lamborghinis in the form of a Diablo and two Aventadors arrived into view, we thought "not bad".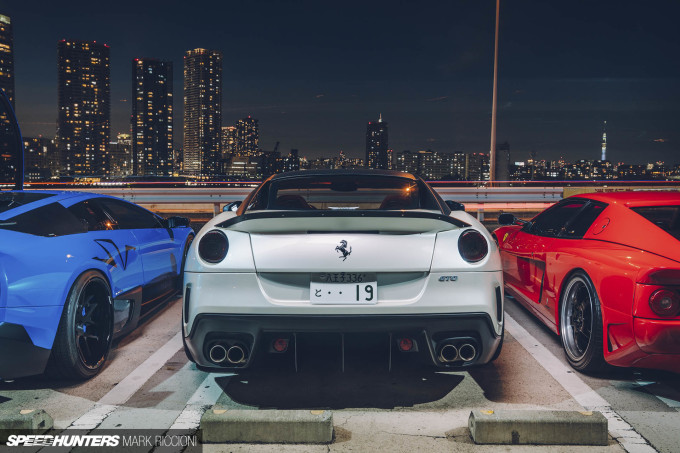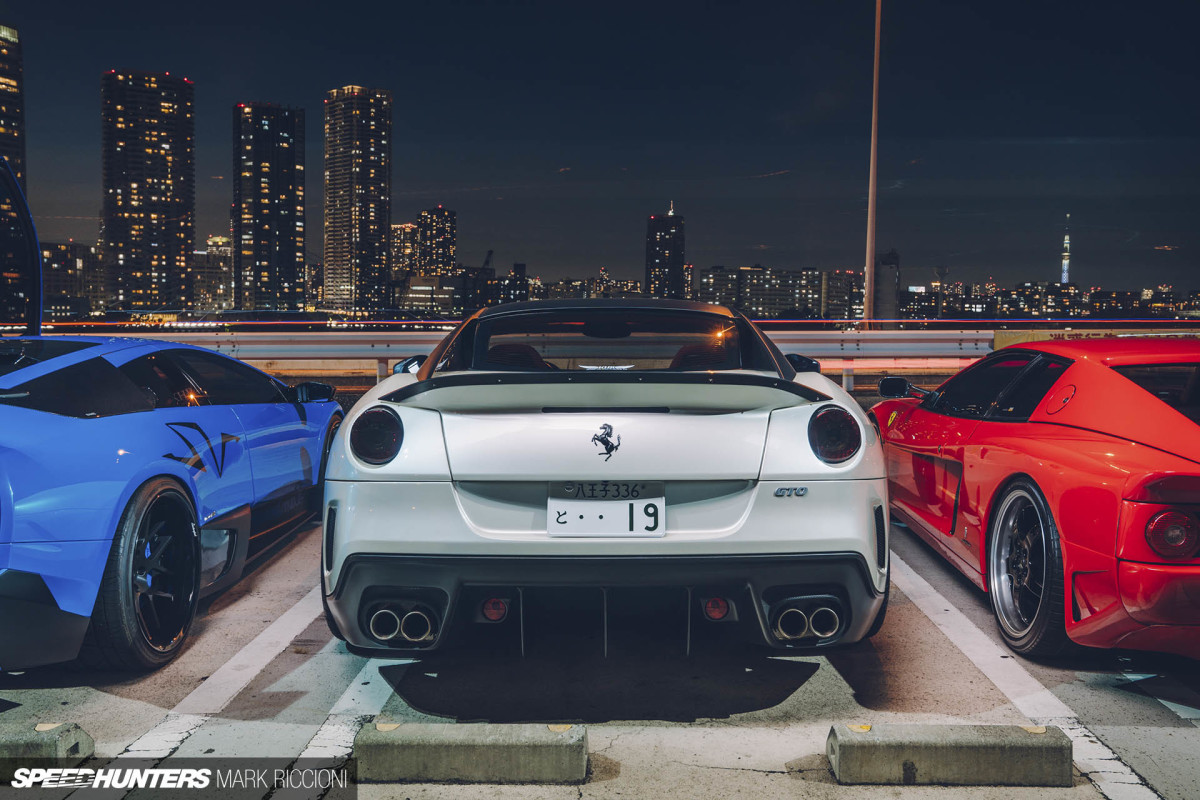 Not long after, when three more 12-cylinder Italians arrived (an Murcielago SV, 599 GTO & 512TR), our night went from "not bad" to "this probably is going to be rowdy". And it was.
We didn't stay in Tatsumi PA very long, and instead took to the expressway and headed towards Daikoku PA. This was the perfect opportunity for rolling shots as the cars stuck together, which would typically be done with a level of discretion, but something which wasn't possible when one car is illuminated like the midnight sun (which strangely didn't feel even a little bit out of place), and others were busy emitting foot-long flames.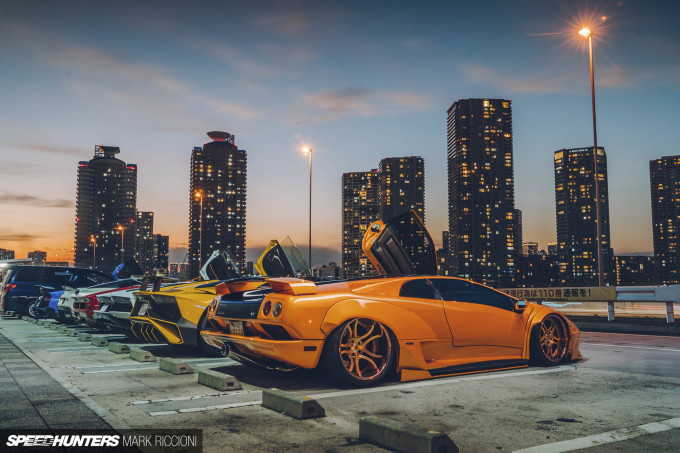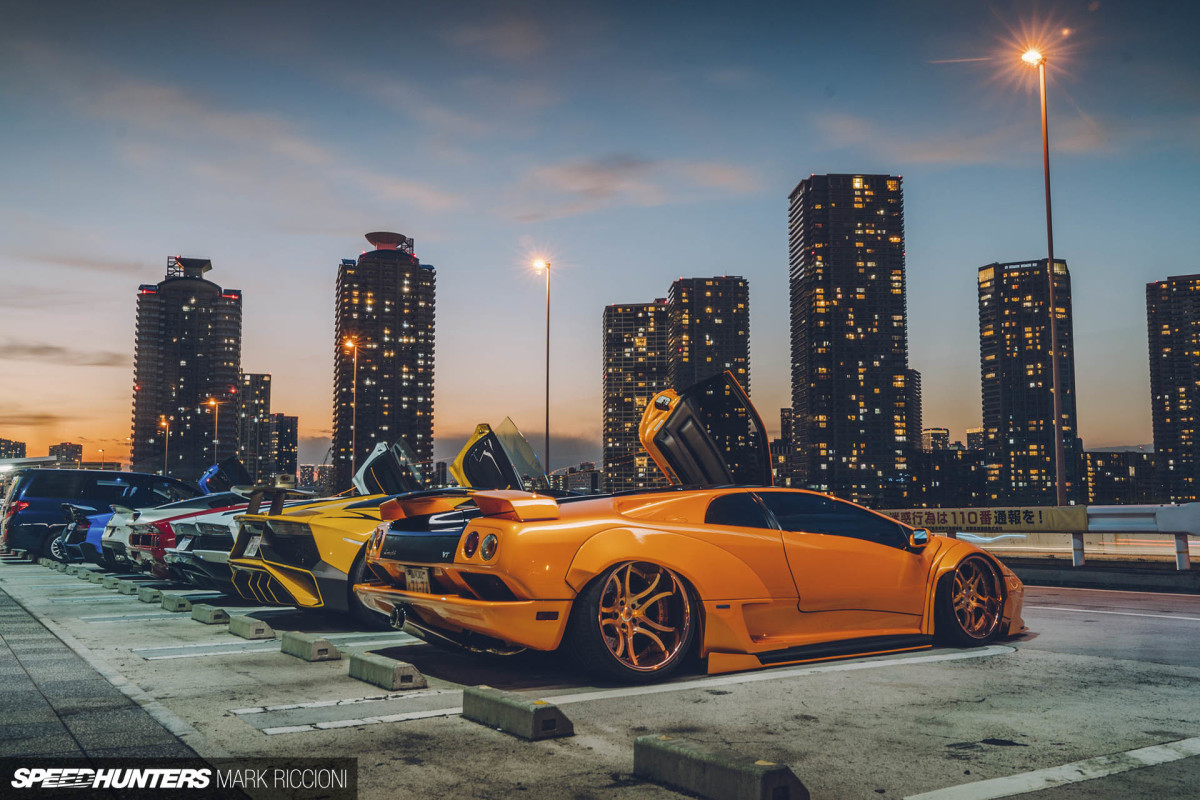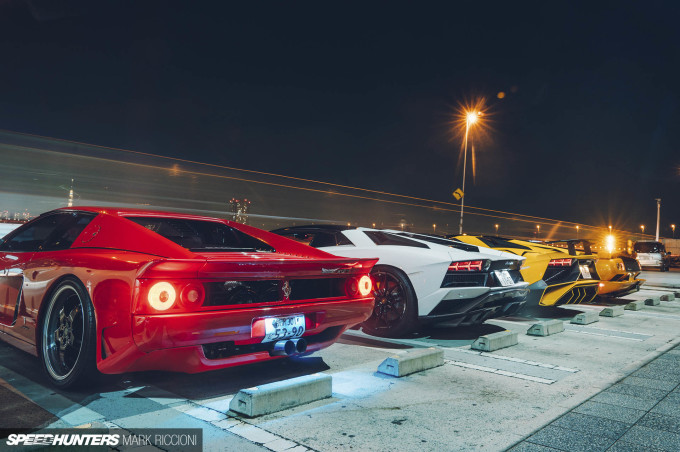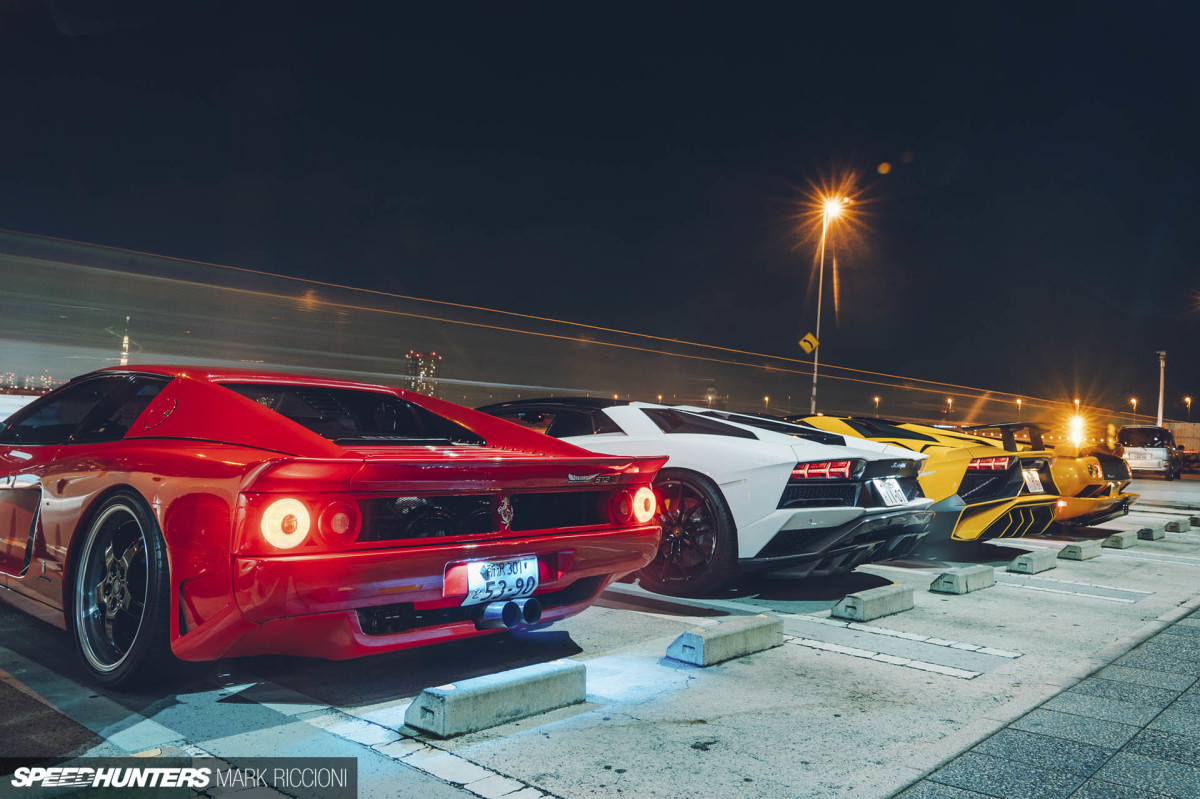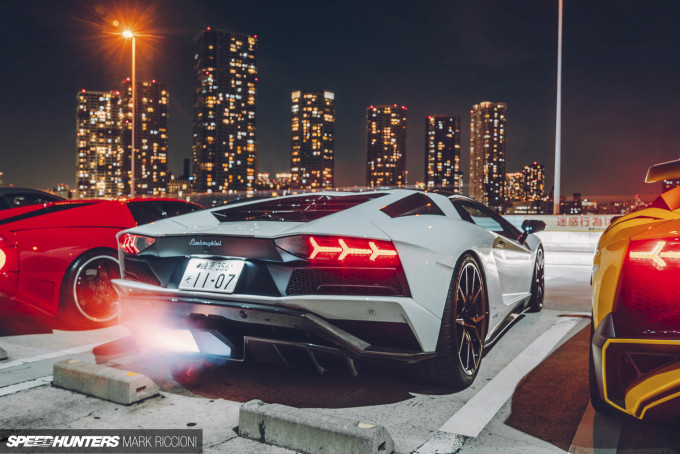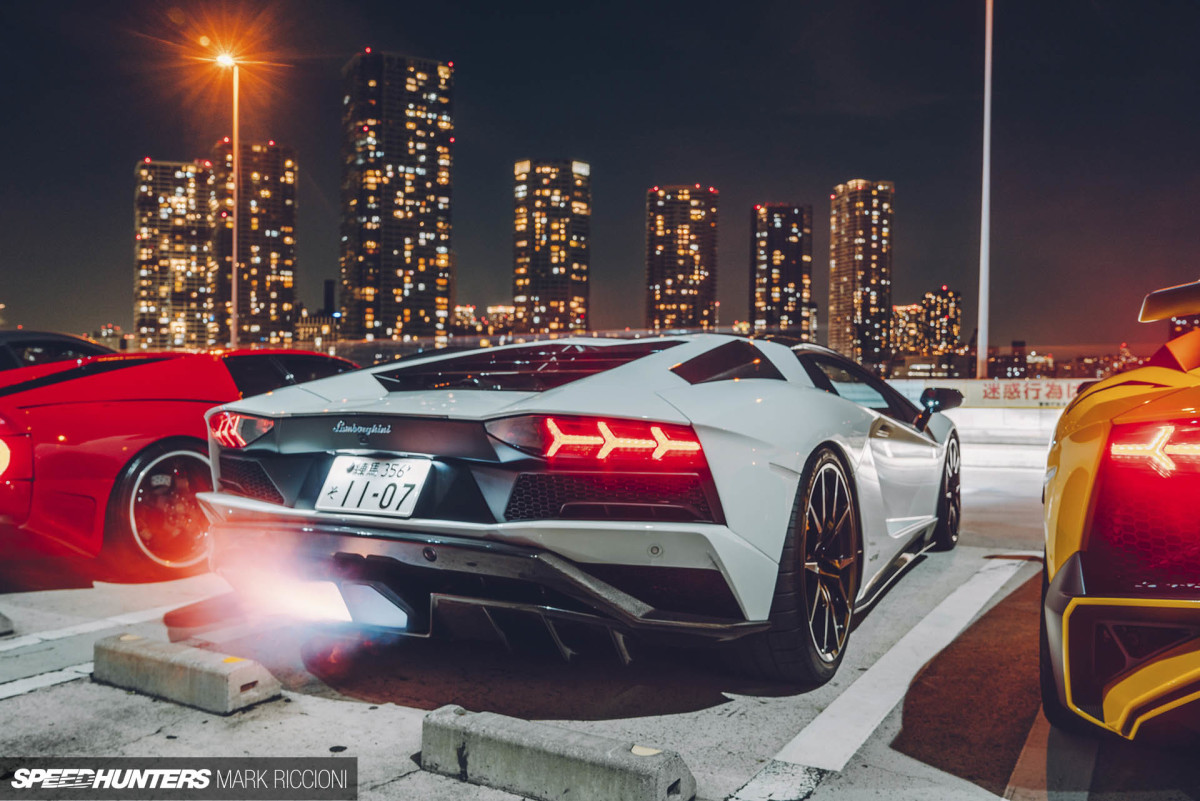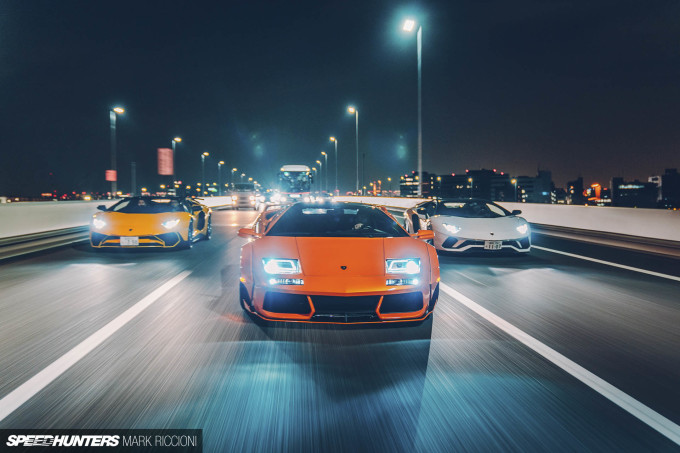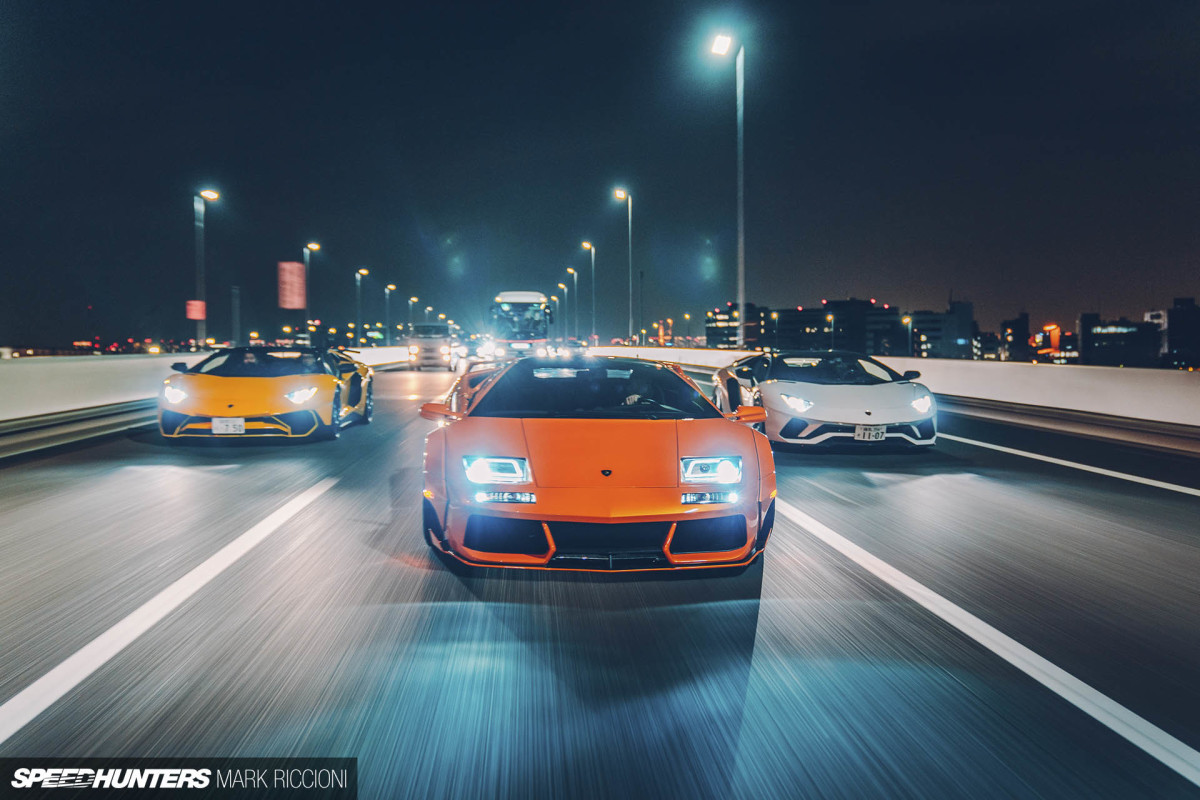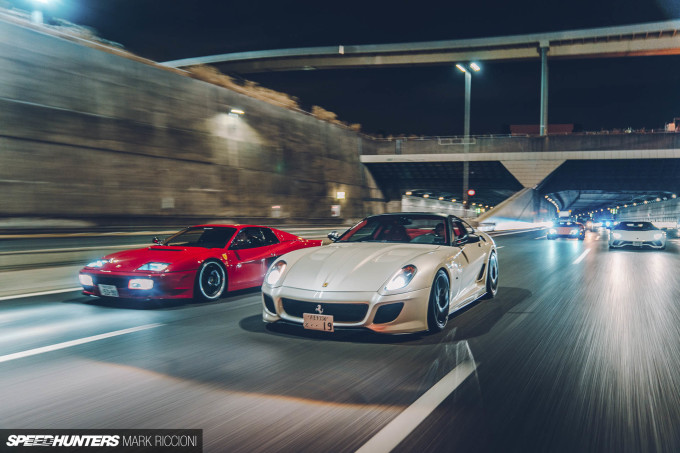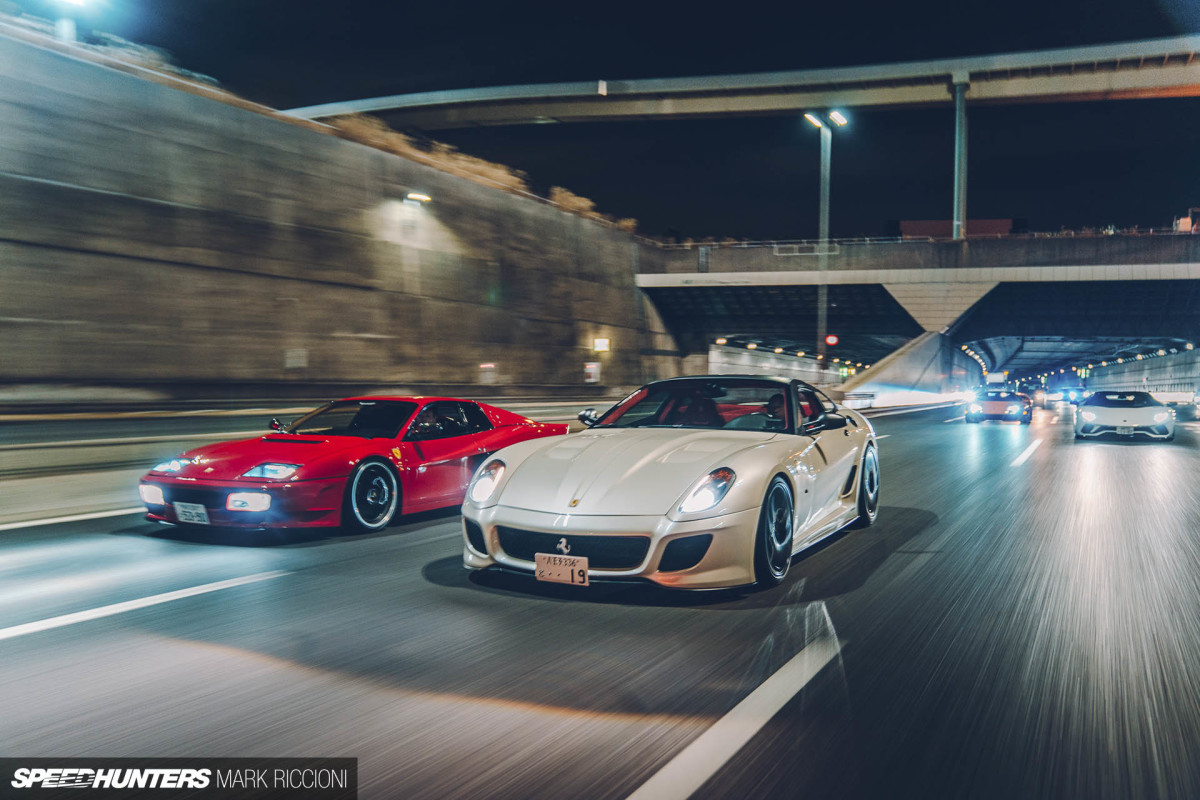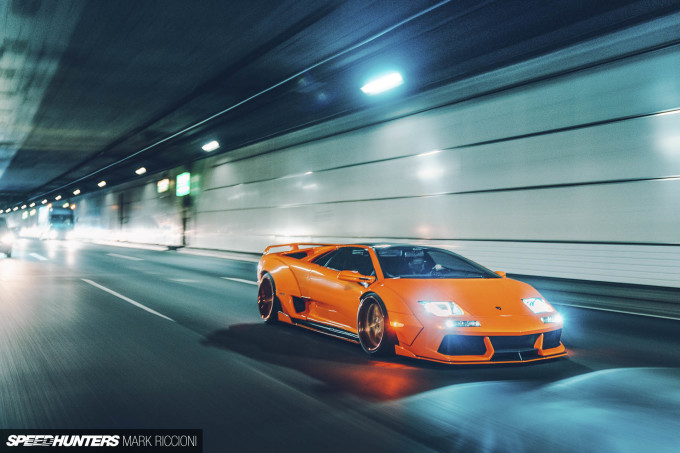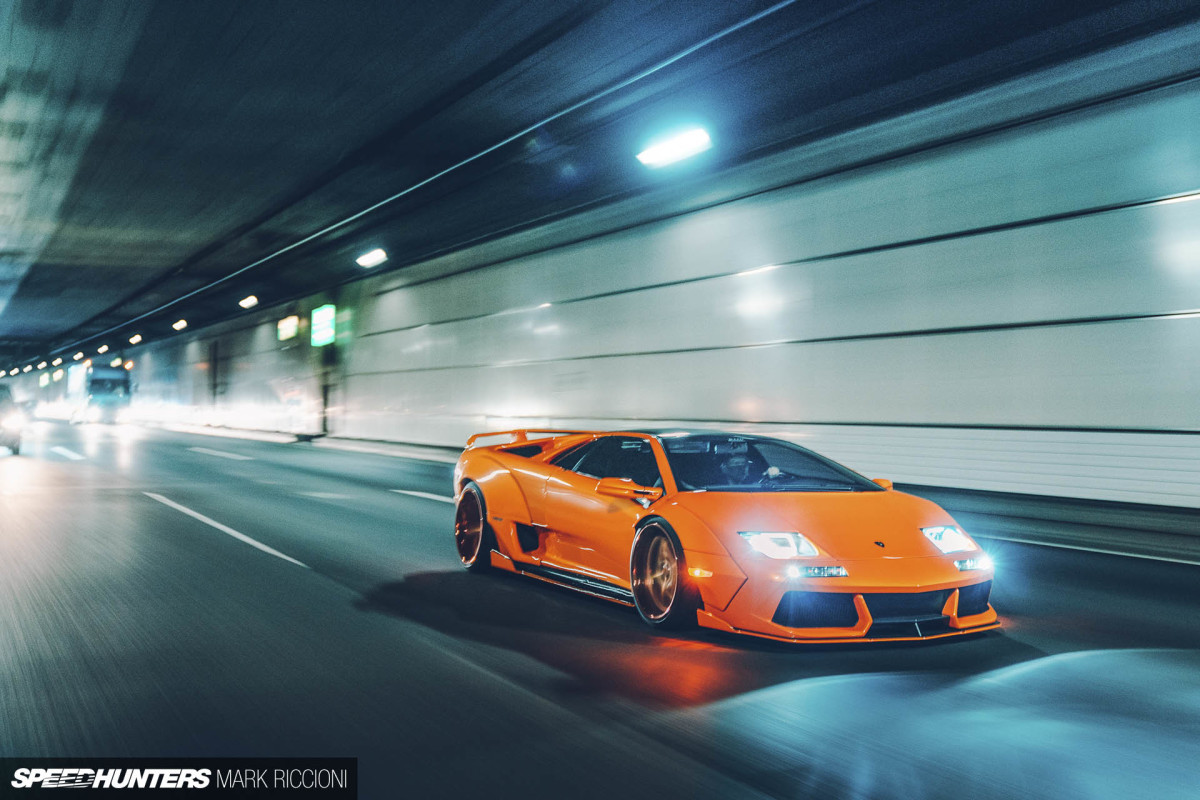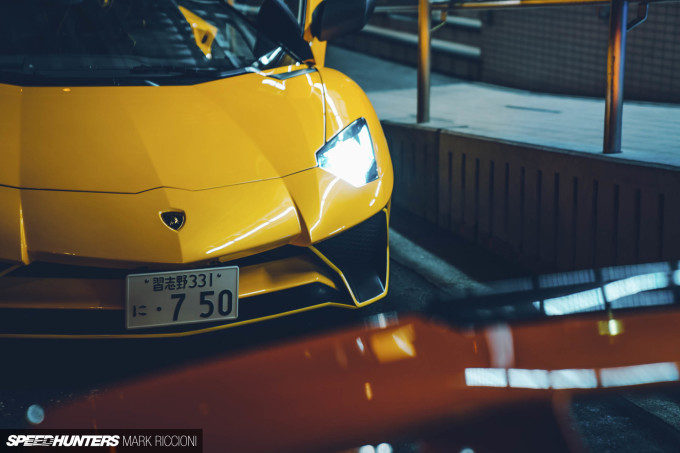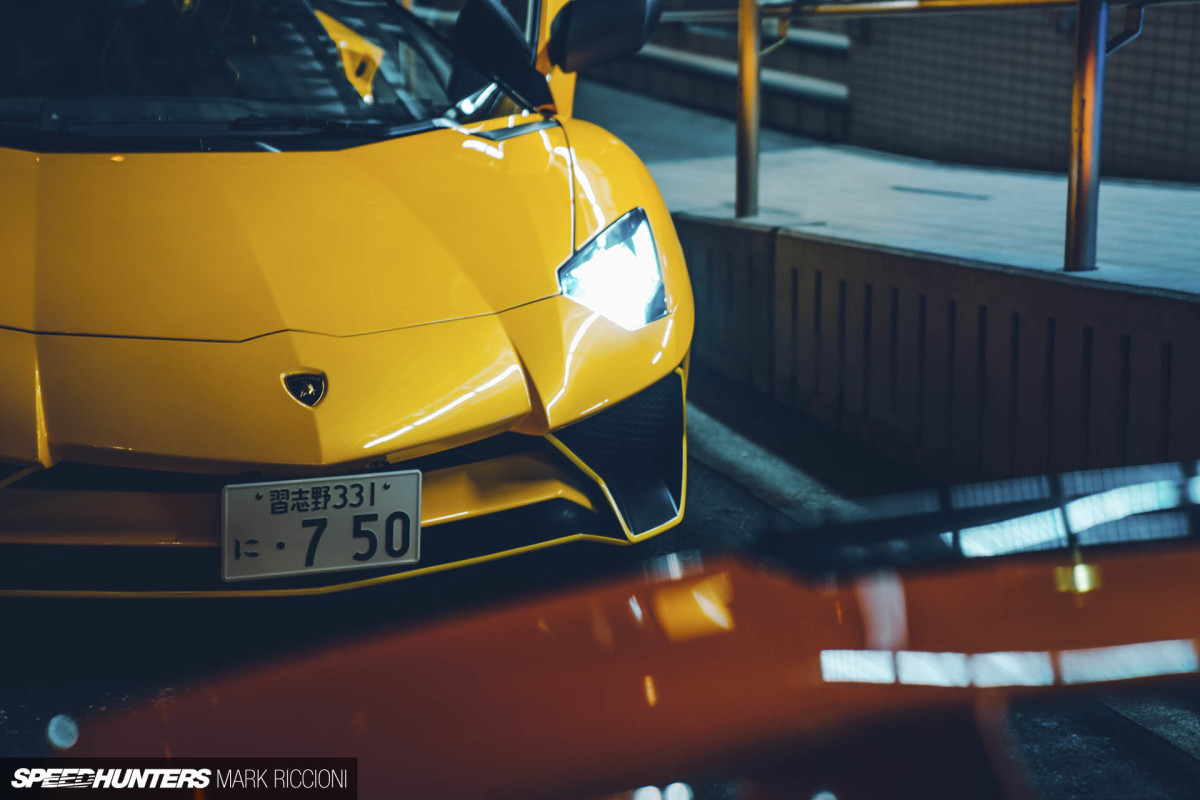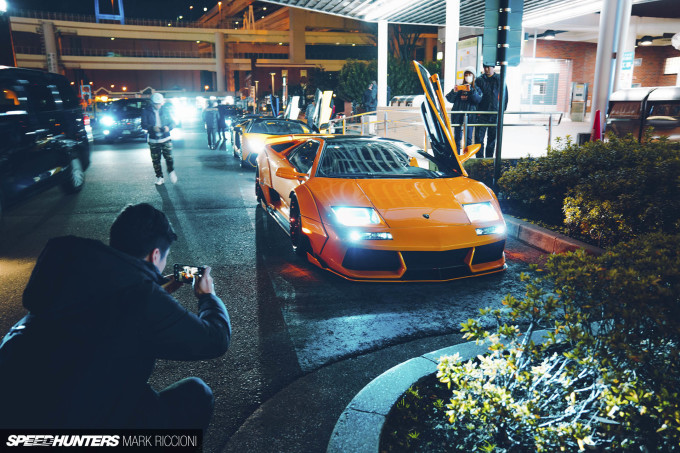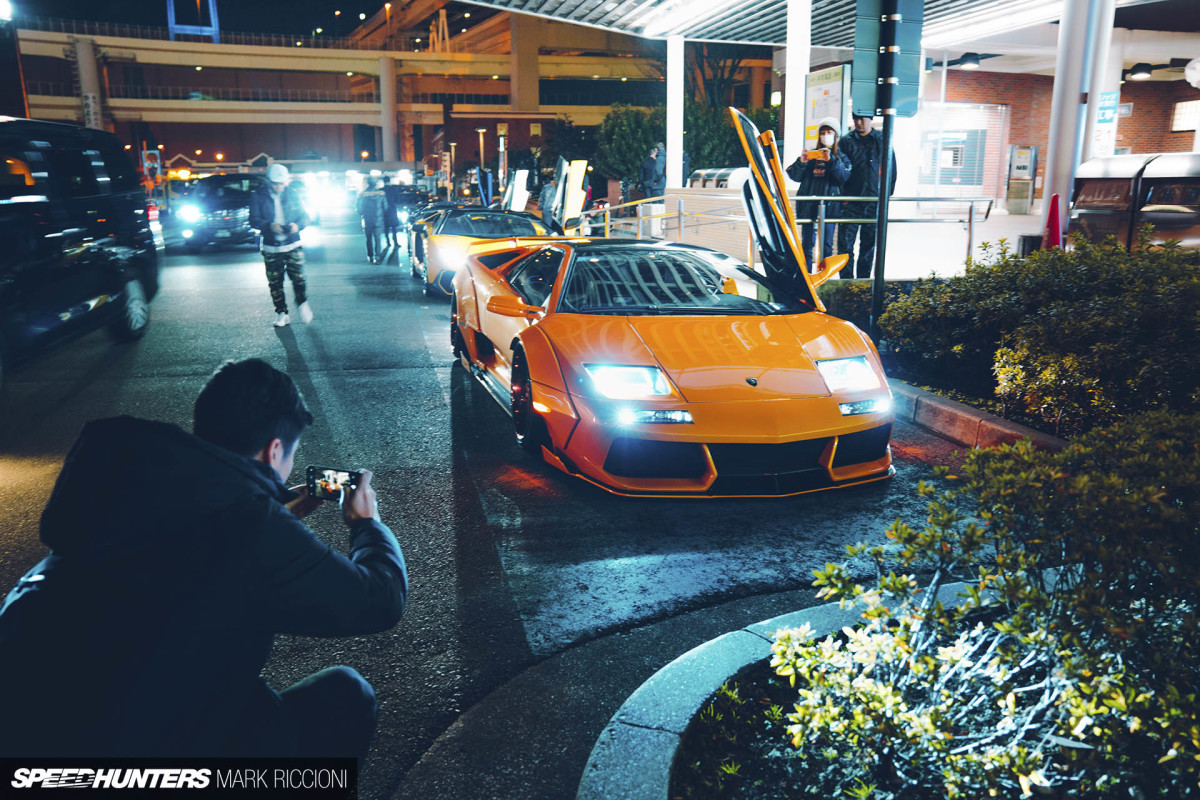 From Daikoku, we left and headed into the heart of Tokyo before finally stopping on the side of the street near the world famous Shibuya crossing. Naturally, six supercars stopped within one of the busiest pedestrian areas on the planet will attract a considerable amount of attention.
However, instead of the sneers and complaints that so often can be found in these sort of situations, it was smiles and friendly dialogue. There was a level of interaction on a scale which you just don't see between the general public and car owners in other countries, or at least not in countries which I've visited. It was just nice, really. Well, I assume the conversation was nice as I don't speak the language, but Darran, our very kind translator for the evening, indicated that it was.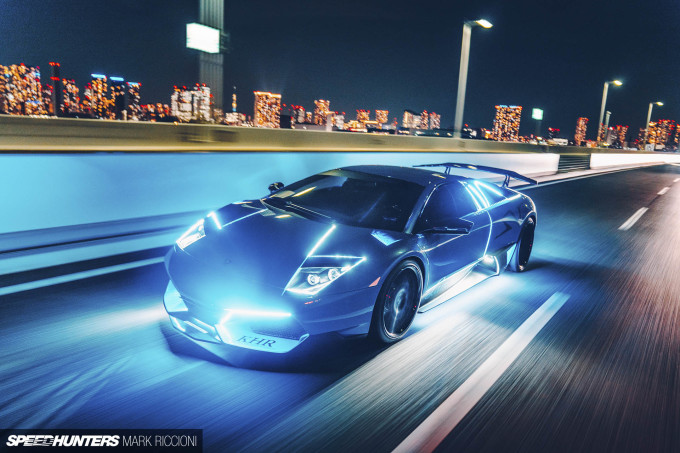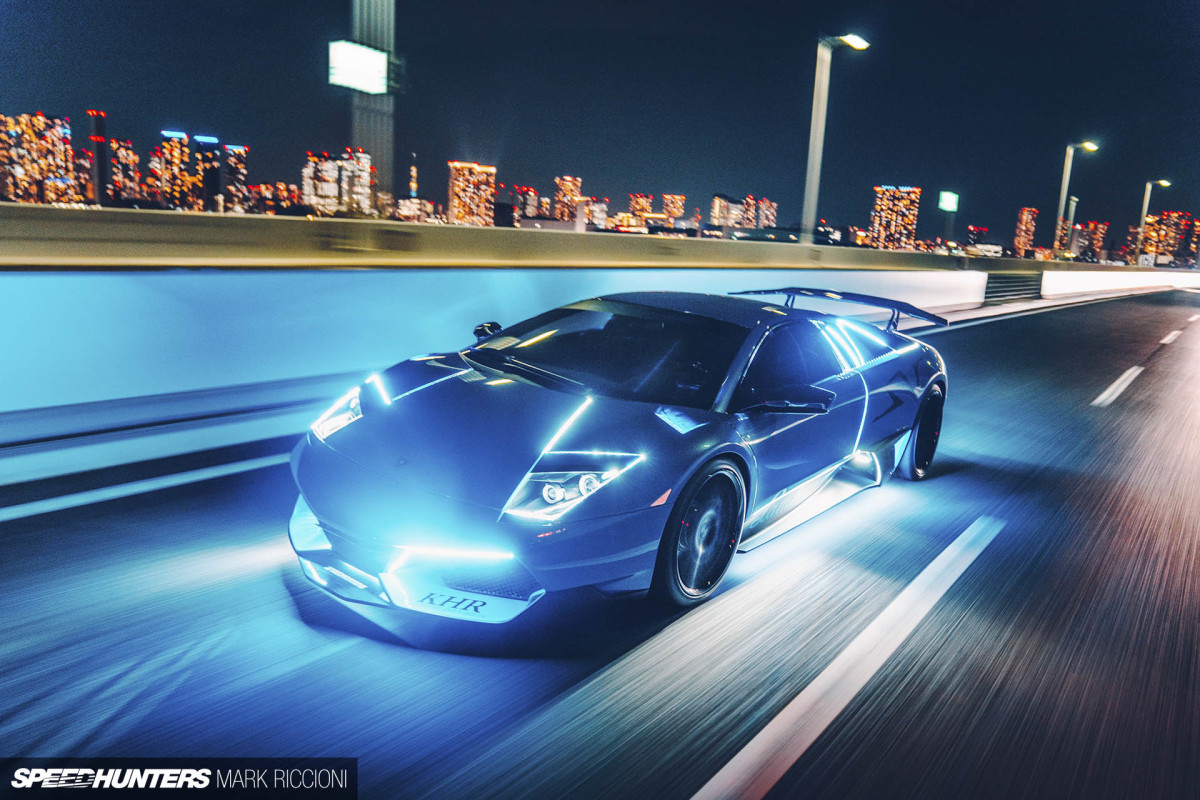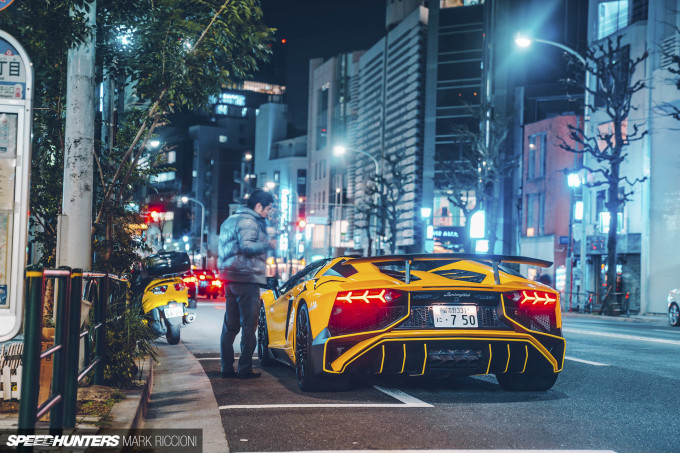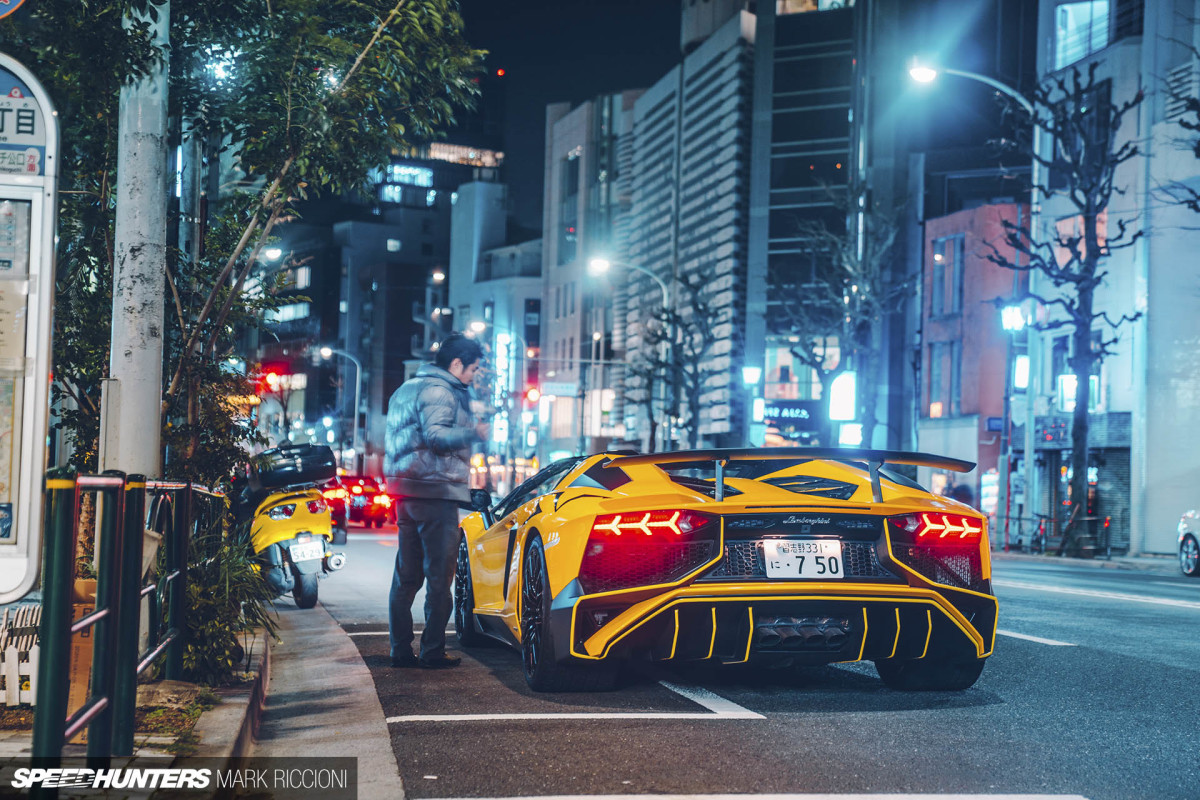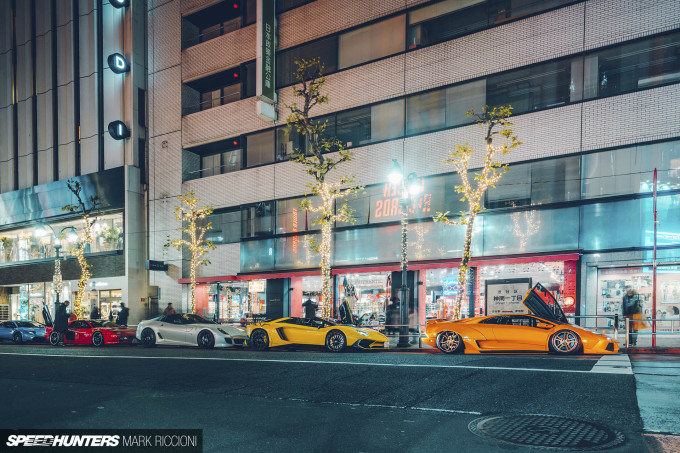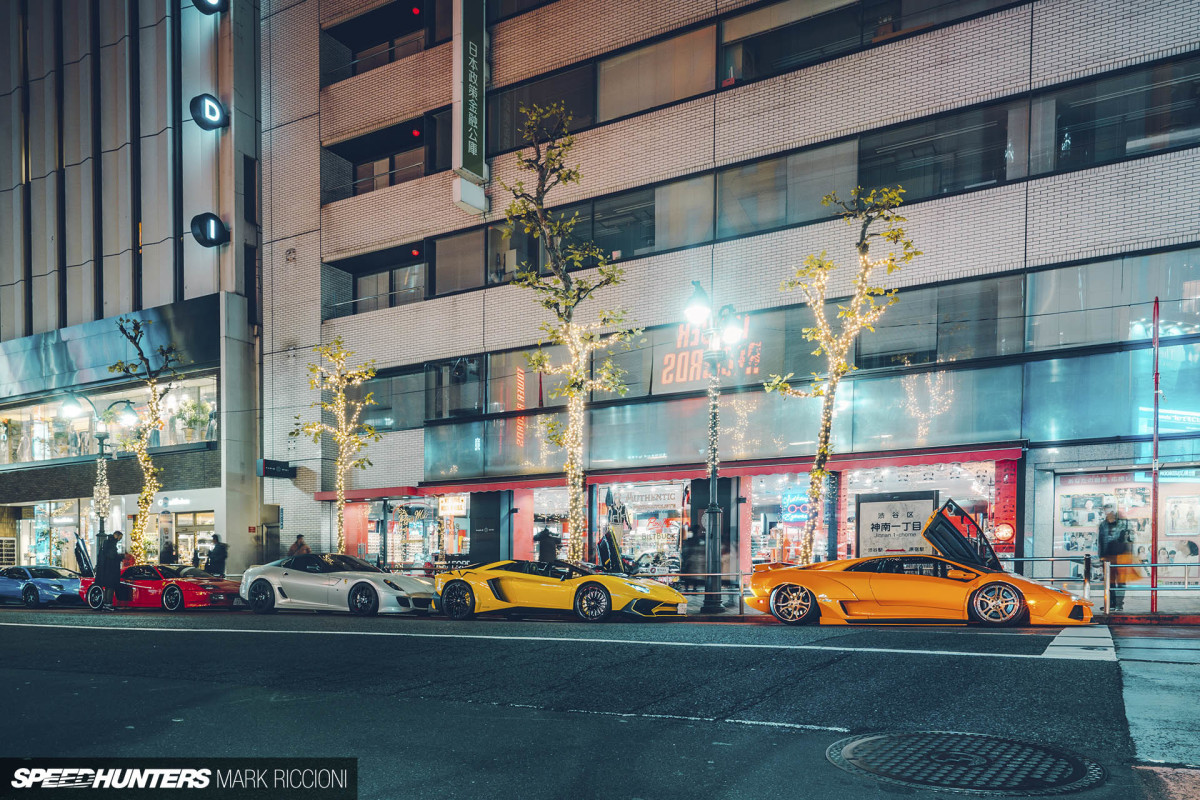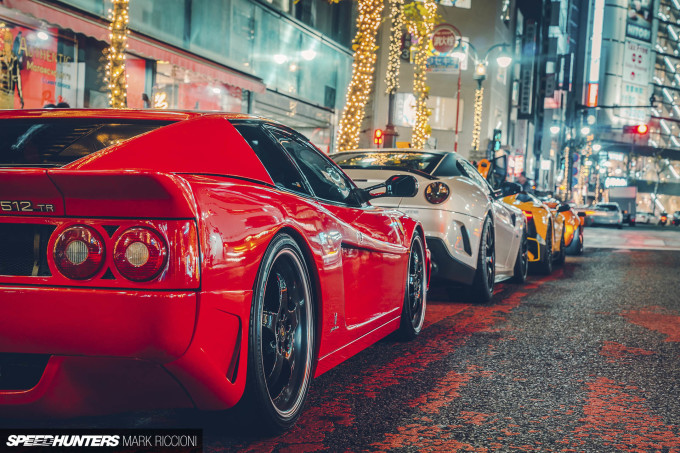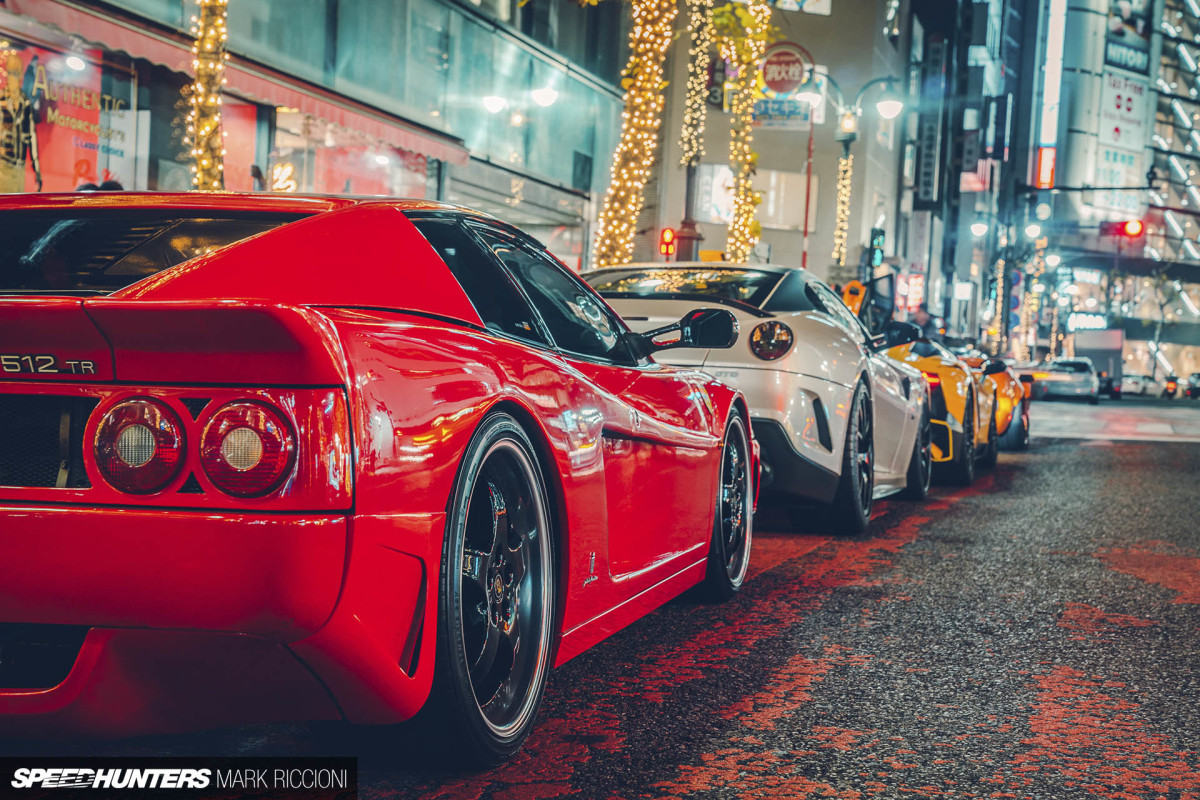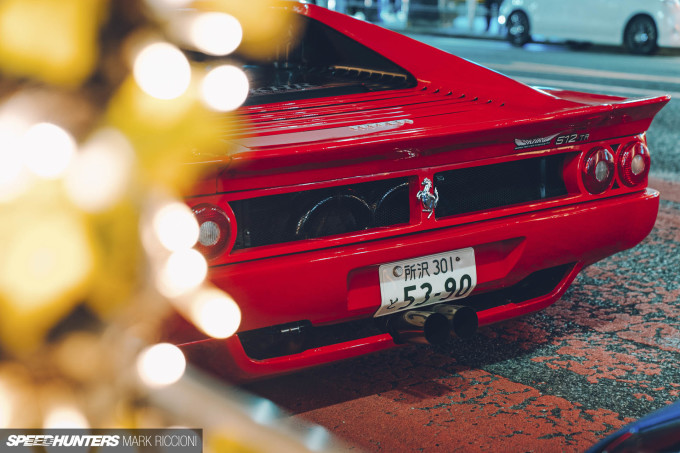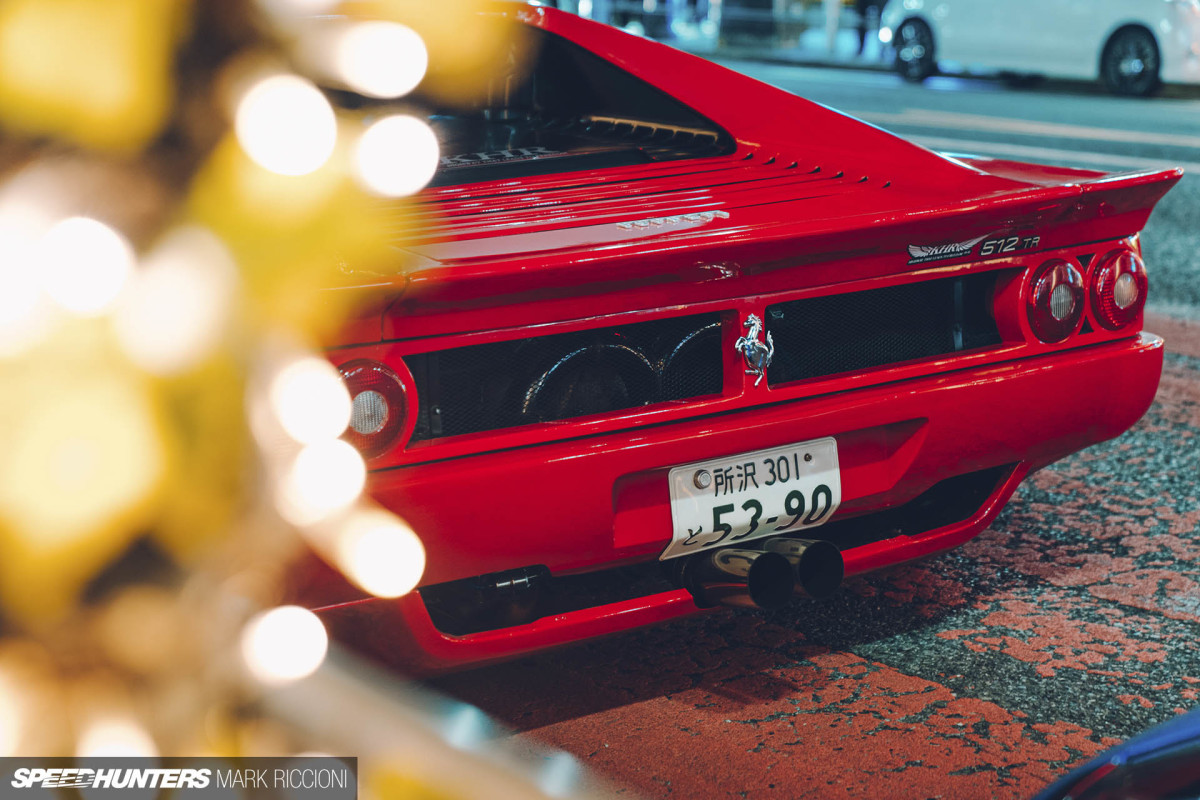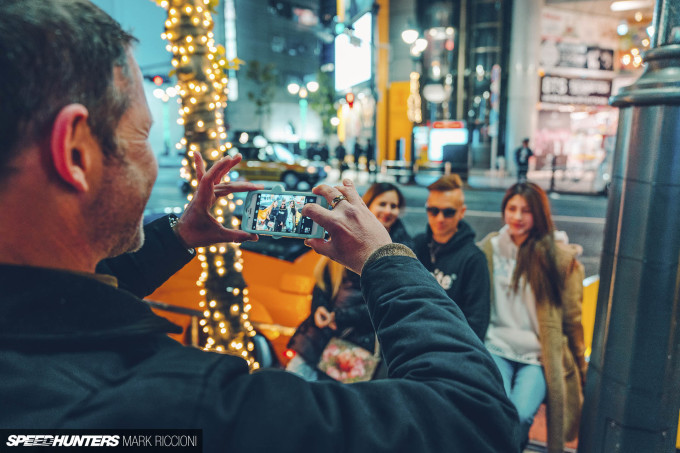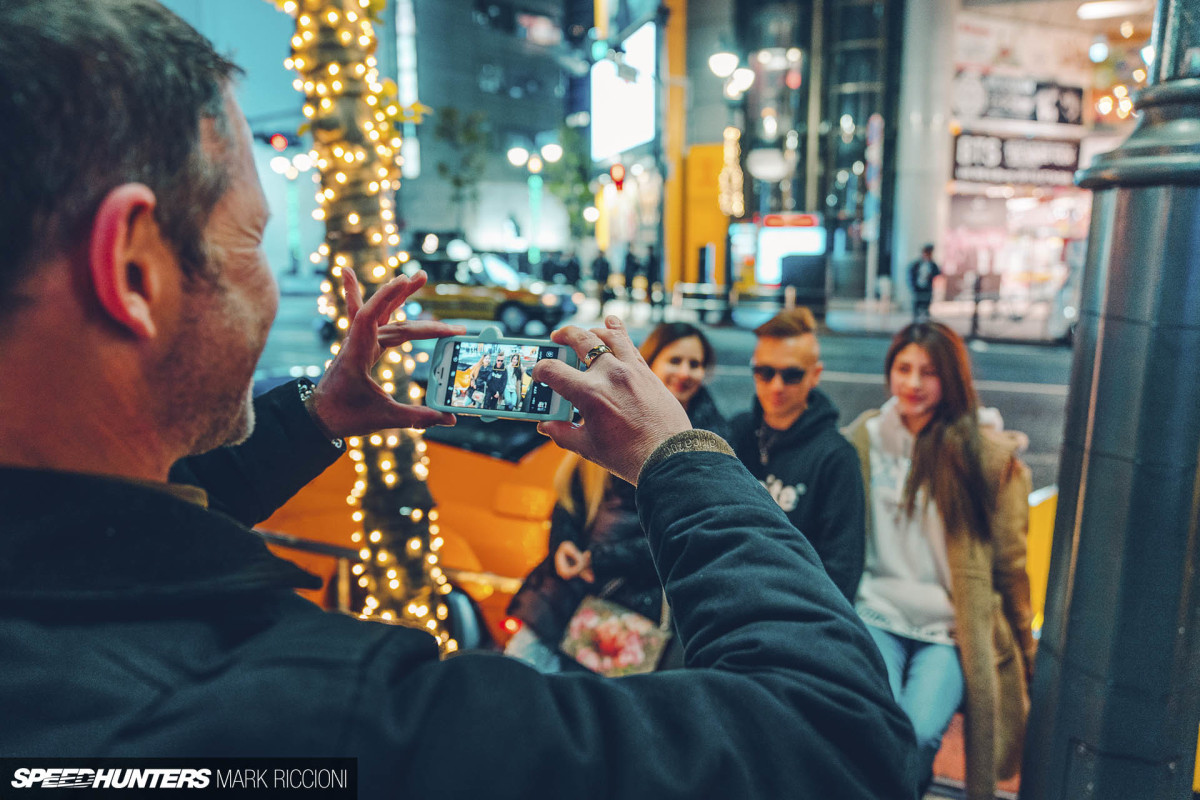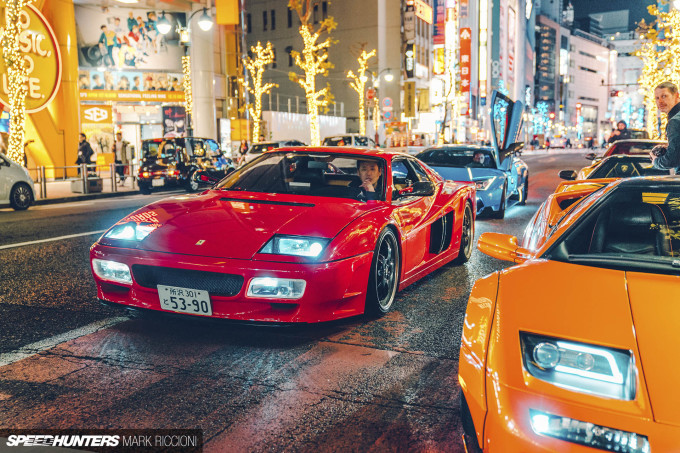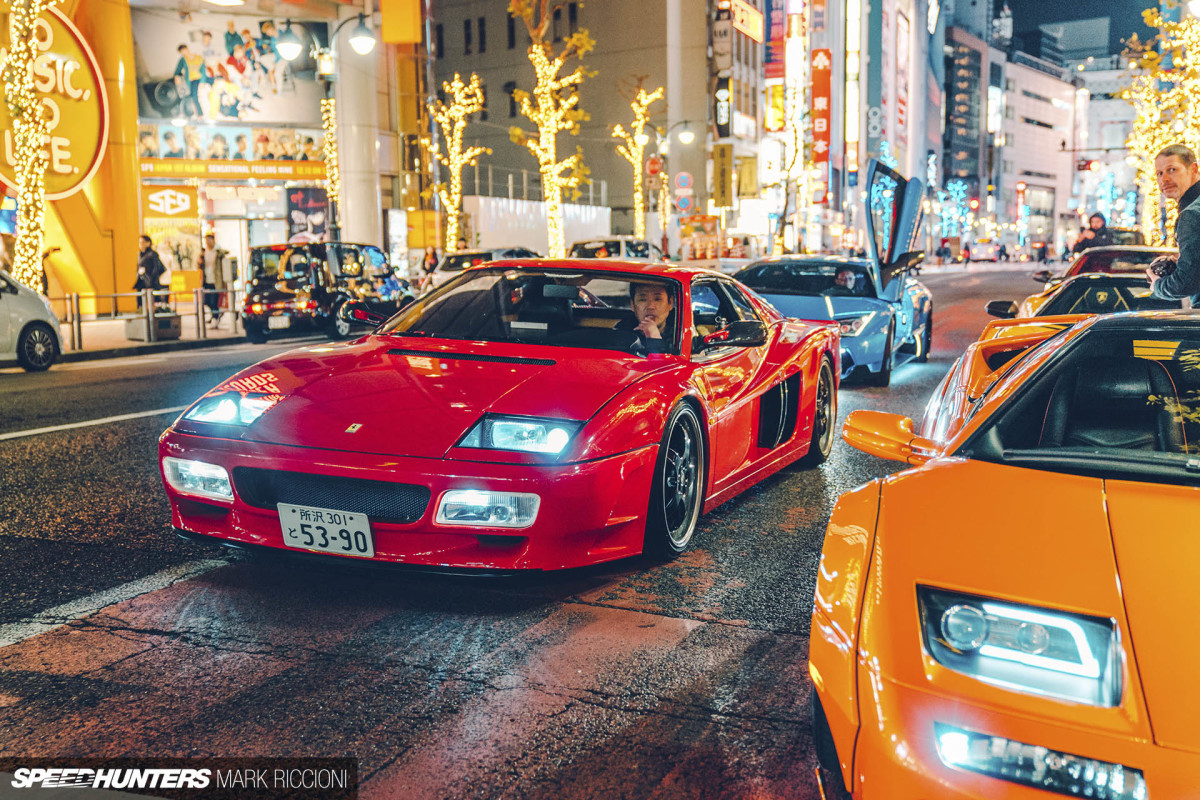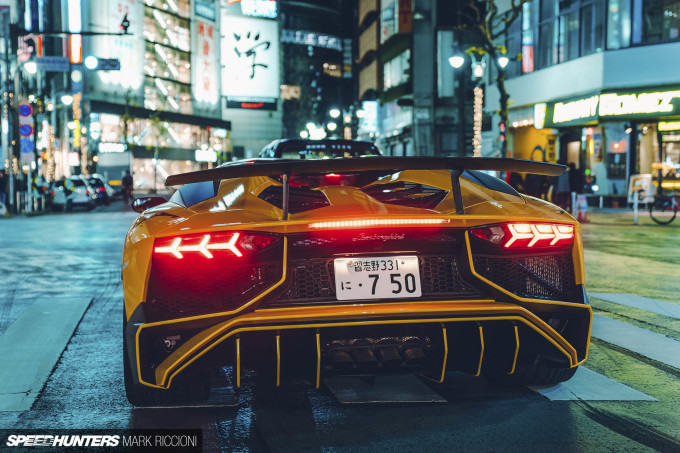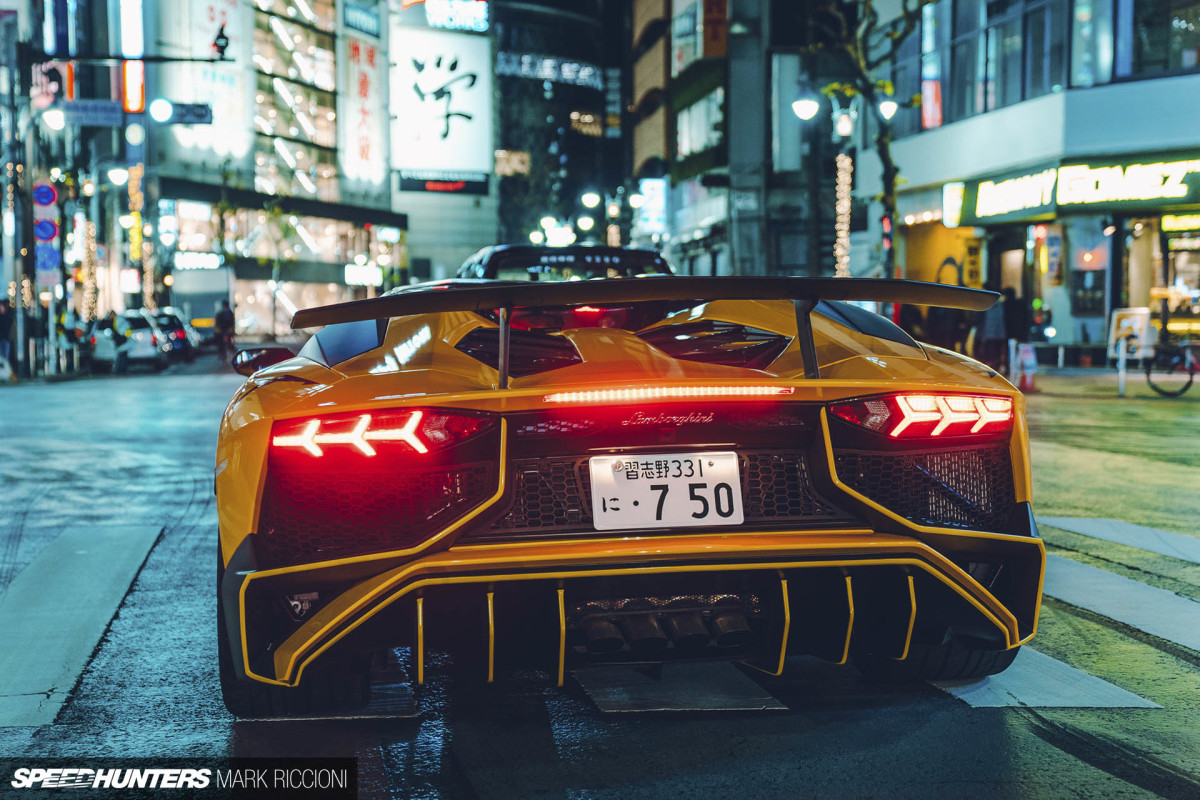 As you might have guessed, there's no real point to this story… but then again, does a fleet of 12-cylinder supercars in Tokyo ever need a reason? Cars like these should be used, and any opportunity to see them in the wild should be embraced.
Despite how extraordinary it was, it did feel strangely familiar, because it's something which countless car enthusiasts do every Friday night around the world; driving from one place to another, purely for the enjoyment of driving. Our cars and locations might be different, but how we enjoy our cars is the same basic principle.
Perhaps that's what the true measure of a genuine car enthusiast is?
Paddy McGrath
Instagram: pmcgphotos
Twitter: pmcgphotos
paddy@speedhunters.com
Photography by Mark Riccioni
Instagram: mark_scenemedia
Twitter: markriccioni
mark@scene-media.com