Every one of us has been on at least one side of a parent/child negotiation: If you clean up your room you can watch another hour of television; rake those leaves and you can stay out after the street lights go off; hit a home run and I'll get you a car. Wait, that last one might be unique to Alan Saavedra and his father Alfredo.
Alfredo made the enticing promise and Alan made him deliver, hitting not one but two home runs in three at-bats. After the game Alfredo, a man of his word, tossed Alan the keys to his first car, a well used 1986 BMW 325E that Alan would later come to learn belonged to the assistant coach. Parents can be a crafty bunch.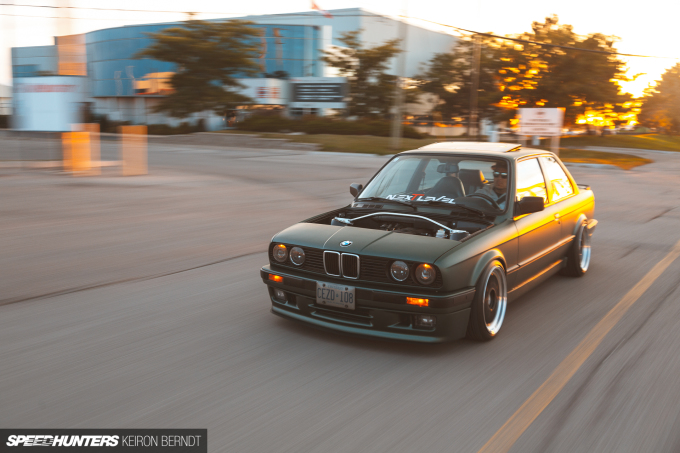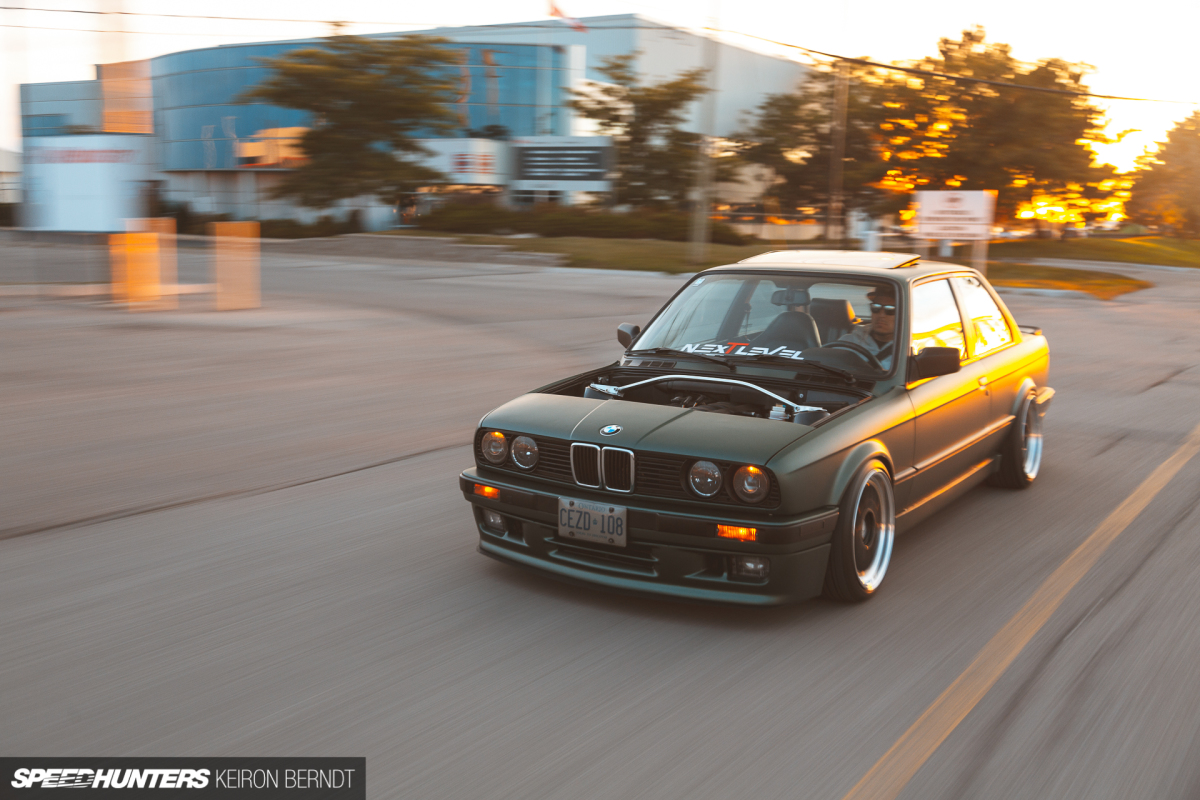 Early model North American-spec 325Es are perhaps the least desirable E30s ever built. 'Diving board' US-spec bumpers aside, the Eta (e/eta in Greek means efficiency) motors were built for economy not performance. On paper, the 325E's 2.7-liter straight six made 121hp and 171ft-lb, but the real soul-sucker was its woefully low rev limit of just 4,800rpm.
But despite not having a performance motor, 325Es can be fun vehicles. One can drive them foot-to-the-floor and still skirt under the radar of the law. Fitted with a limited slip differential, they're also a great way to learn about the joys of oversteer at relatively low speeds.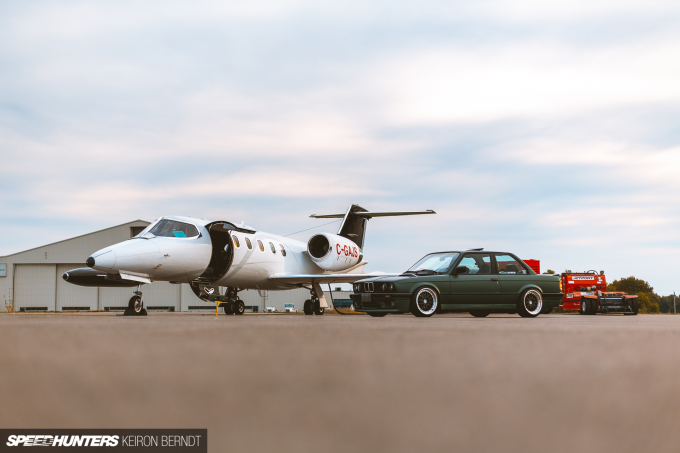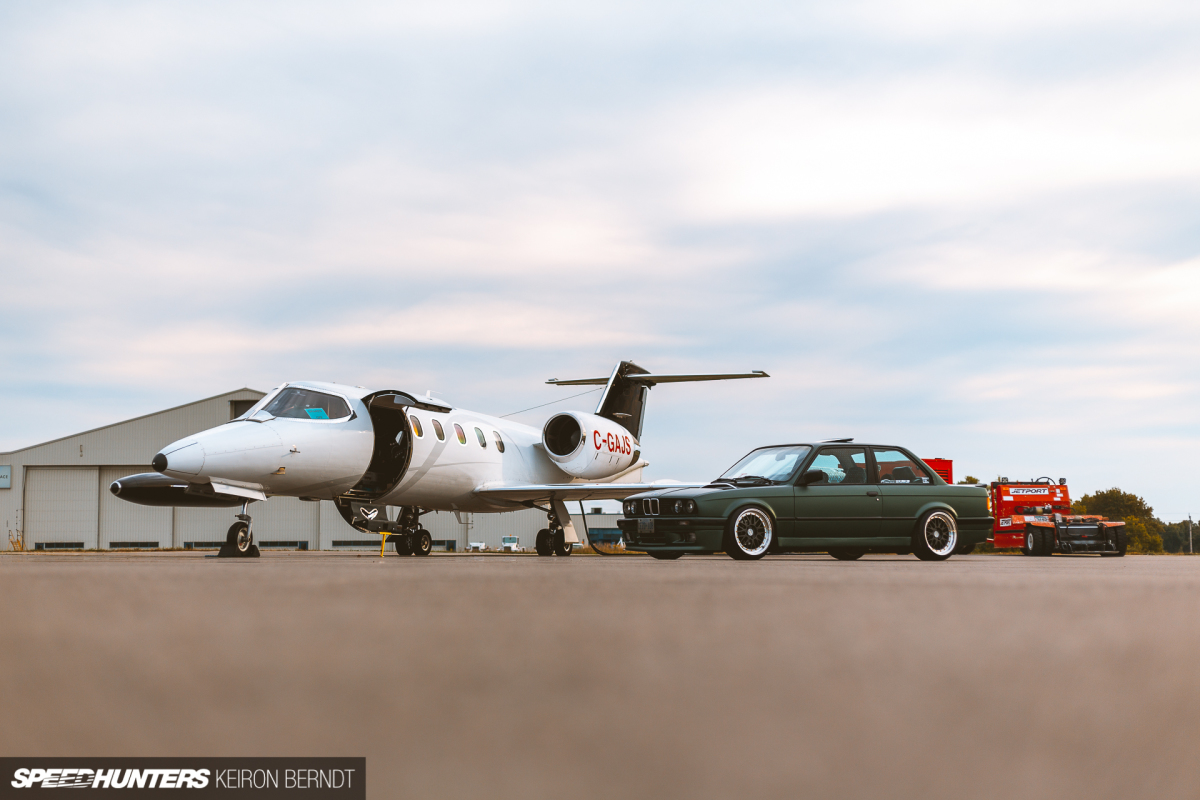 As you may have gathered, I too owned a 325E as a first car, and it's through E30s that Alan and I met. In the heyday of message boards, we both lusted over Euro-spec bumpers, Mtech II kits, and M50 swaps on MaxBimmer.com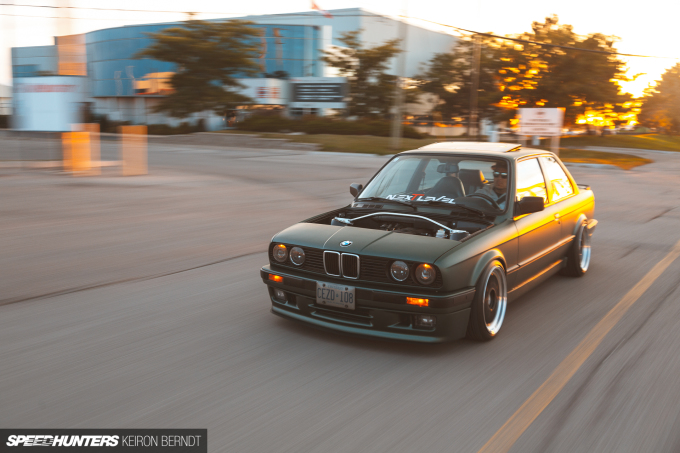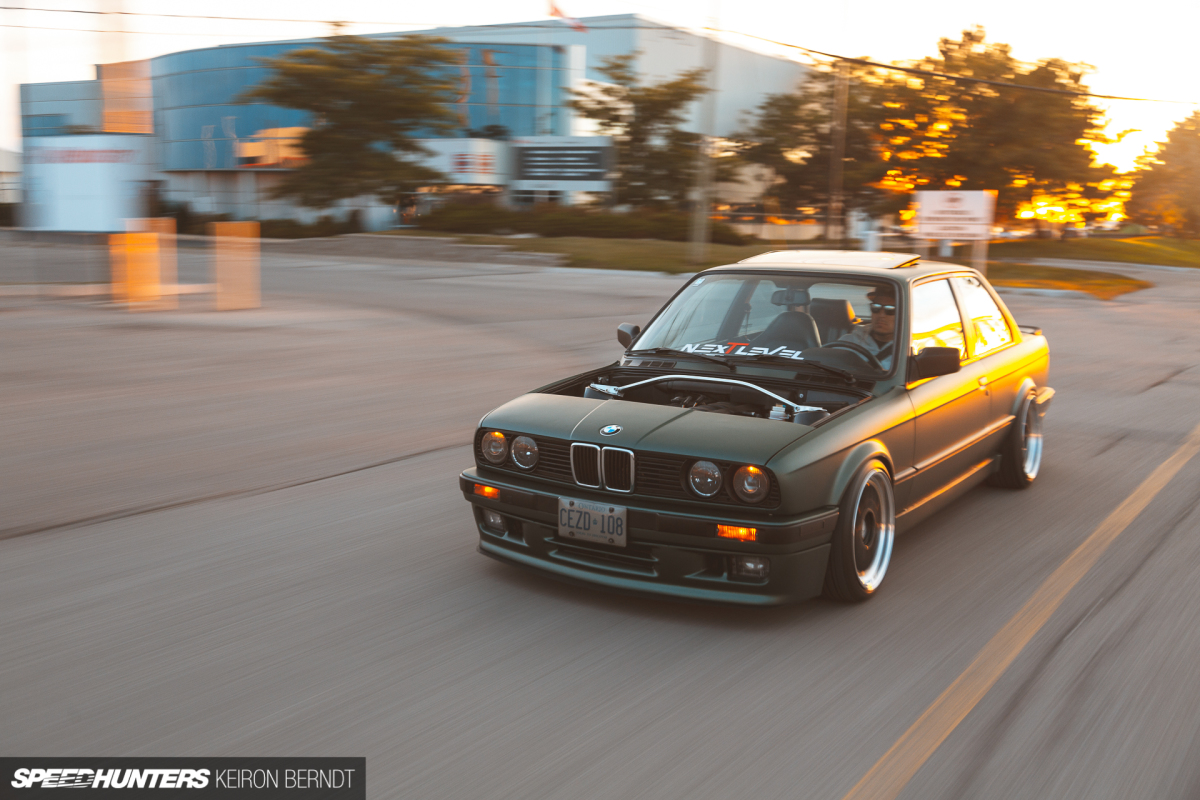 When Alan's 325E transitioned into more Flintsone car than Bavarian cruiser, he picked up a second E30. It was also rusty, but less than the previous one, so he had it repaired and painted. About a week after it rolled out of the paint booth it was written off in an accident.
Unswayed, Alan picked up another, again repaired the rust and painted it before it too was written off.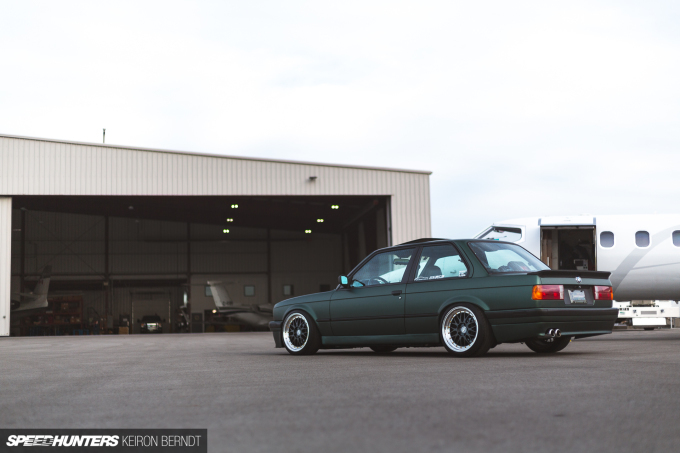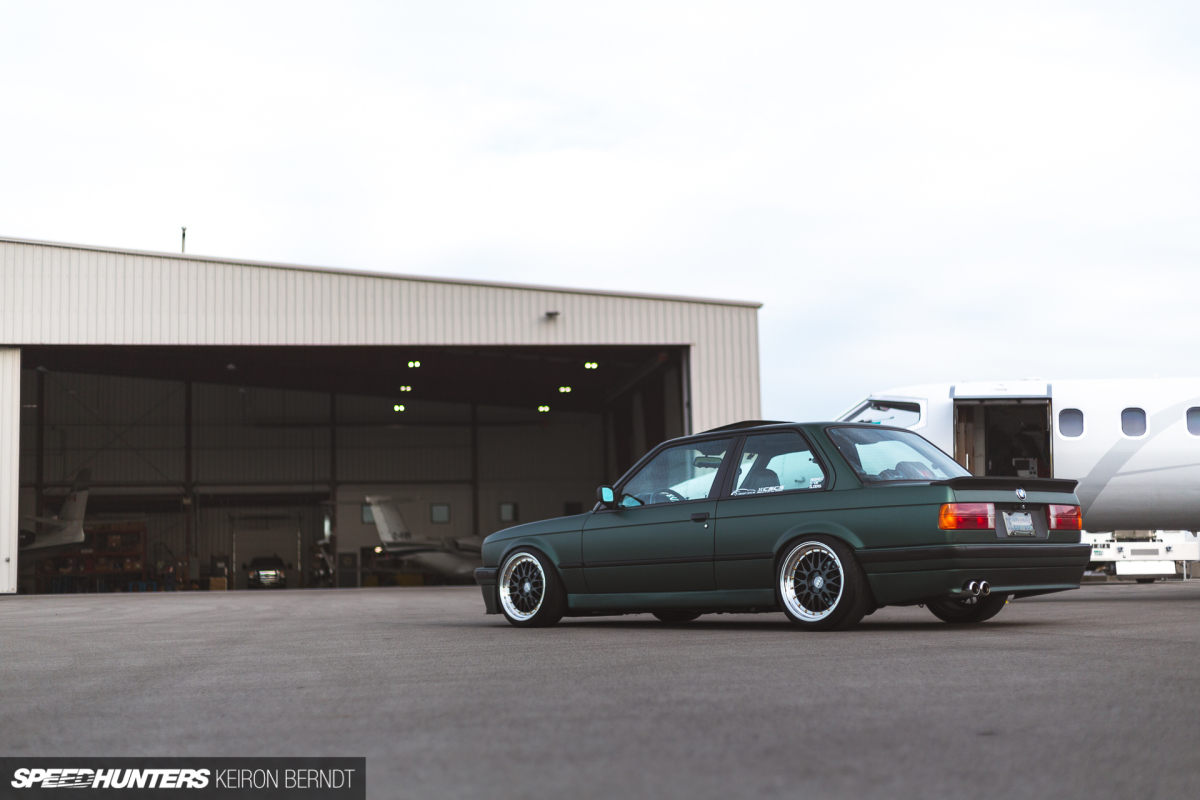 Two cars, reduced to scrap by others, in such a short succession would provoke most to buy a large truck equipped with an even larger push-bar. But not Alan.
Reading The Signal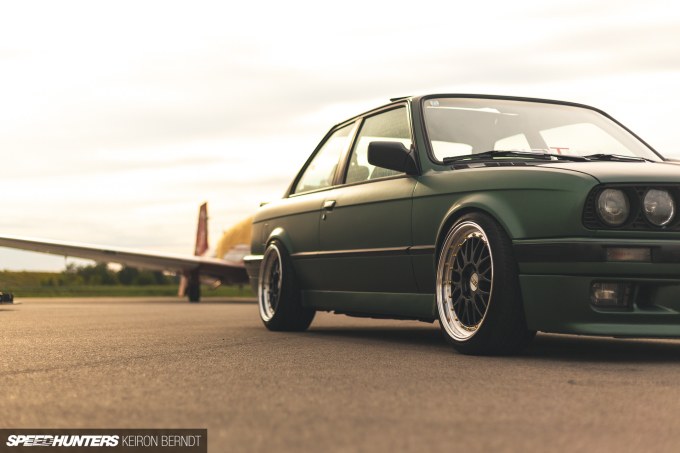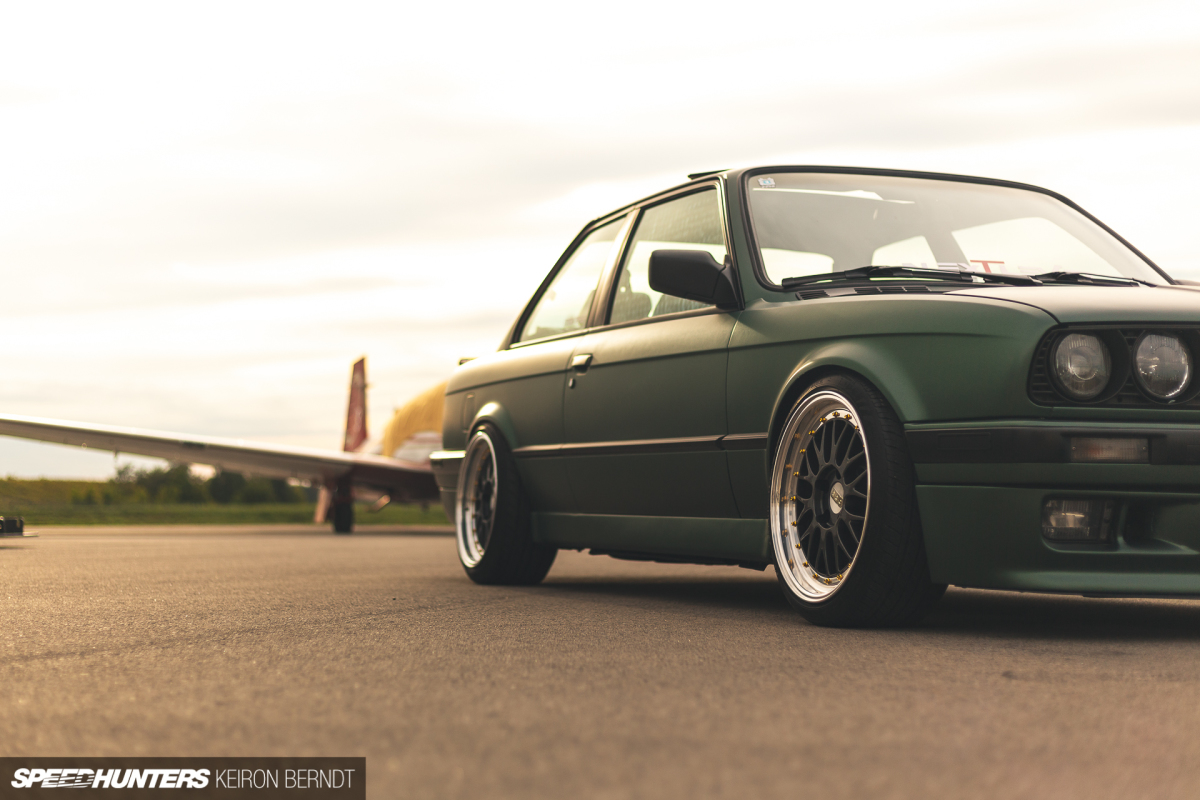 As fate would have it, one day a friend came by Alan's then place of work and said he had two E30s that had to go – one in near-running condition and one parts car, plus two boxes of this and that. The price for the lot was $1,000, too good a bargain for any E30 owner to pass up.
Three E30s in, Alan wanted to do this car right so he didn't dive in straight away. Instead, he combined the best of both cars before shoving it all into storage for further consideration at a later date. In no particular rush to build the car, what was previously on the backburner began to boil over when the business he stored the car at was sold.
At that point the race was on to get the car into a roadworthy state. The half-finished late model harness swap was completed, and the M20 motor was kicked into life. Eventually the M20 motor gave way to a later M52.
Black at that point and sitting on Keskin K5 wheels the car was nice, but Alan had done nice twice. This time around he wanted great; the time for half measures was over.
Pinch Hitter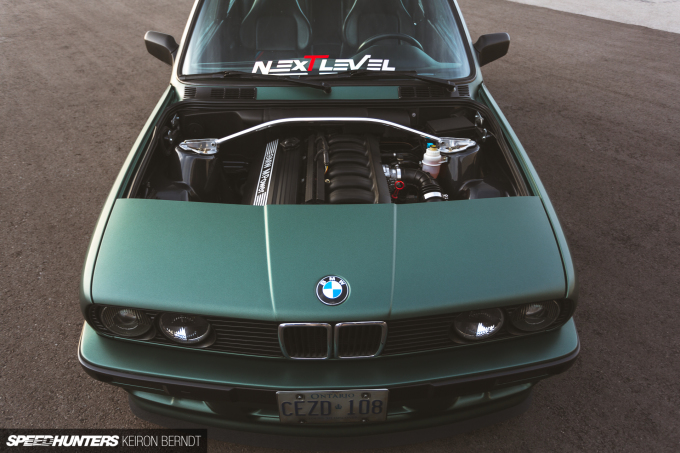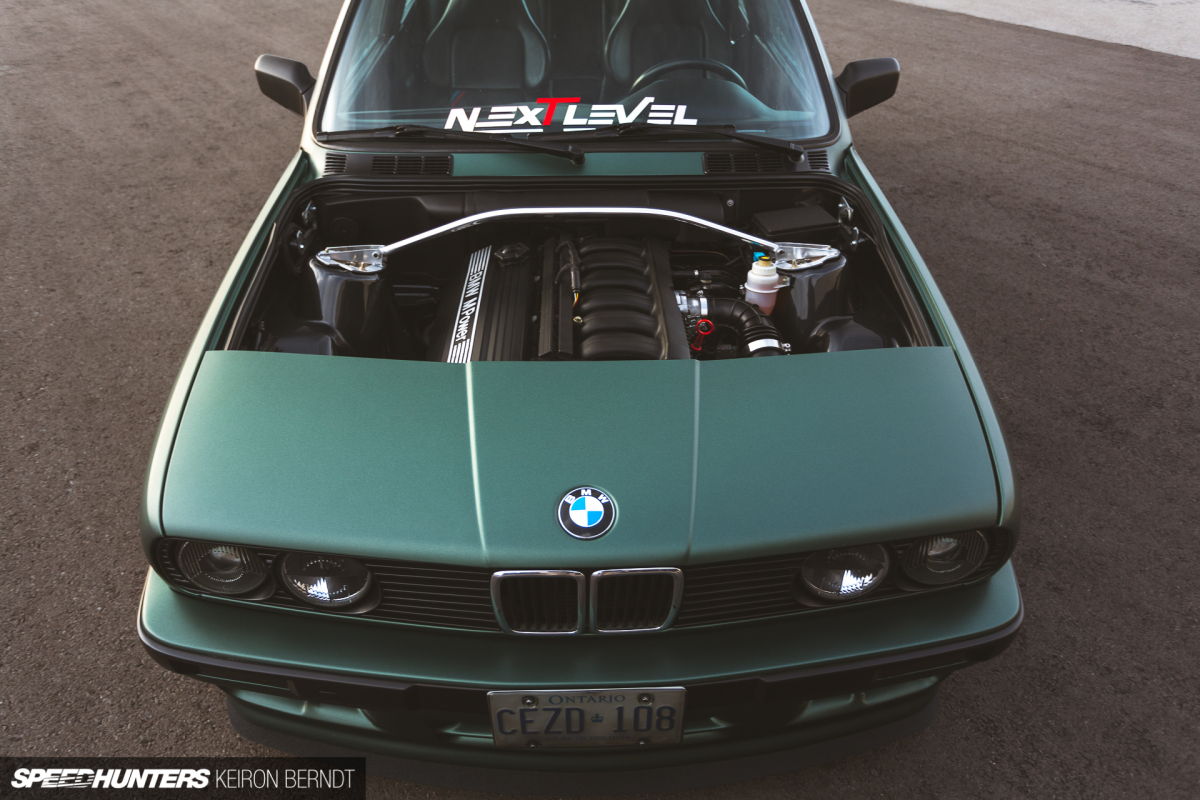 Parts cars can be a godsend, and in Alan's case he bought an E36 M3 to split between friends. Once the wrenches stopped turning Alan ended up with a very reasonably priced S52, and that 240hp motor became the center pin to the E30's latest rebuild.
Ontario climate and multiple motor swaps had resulted in an engine bay with its fair share of bruises, so to smooth things out Alan took the car as a rolling shell to a local body shop. Unfortunately, in the process he unwittingly sentenced the car to a lengthy stay in body shop jail.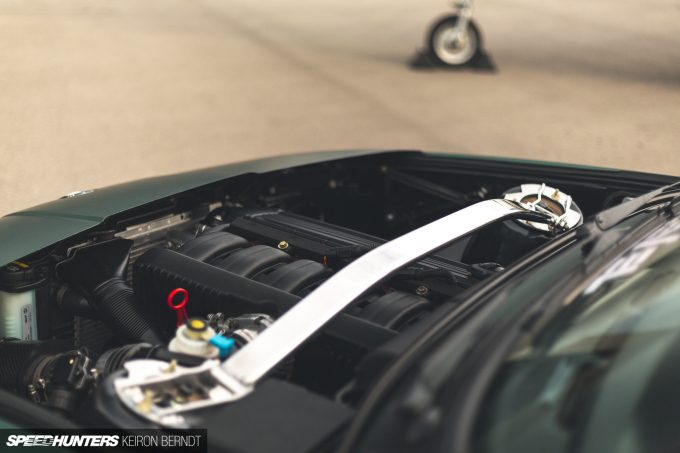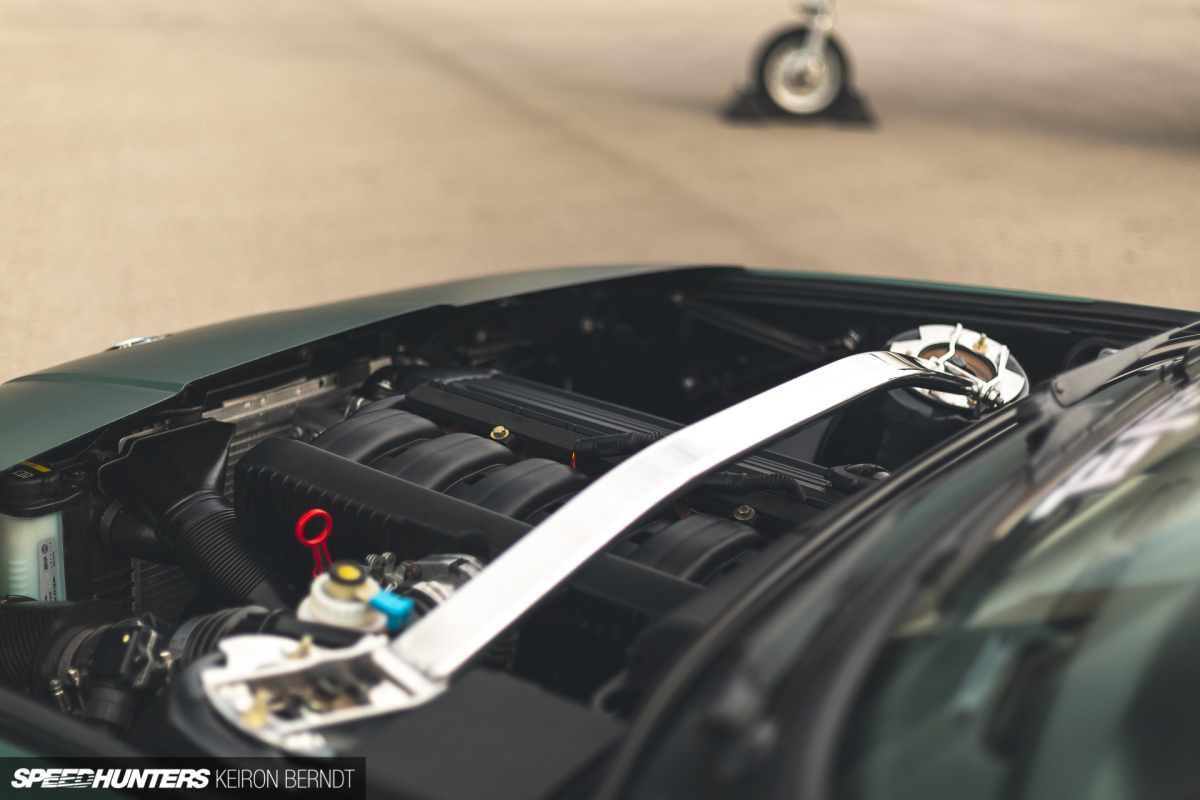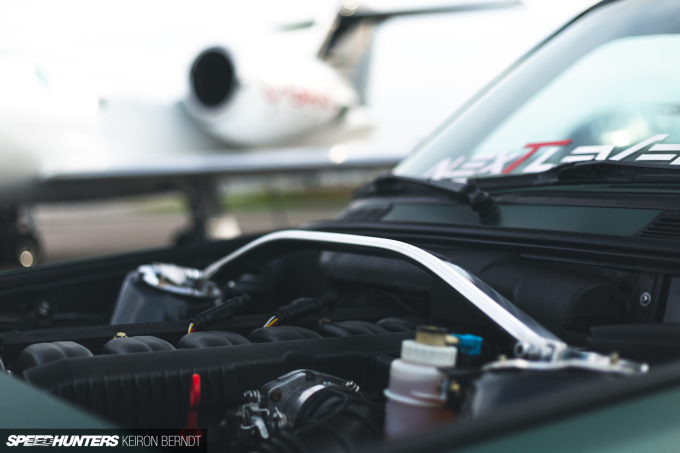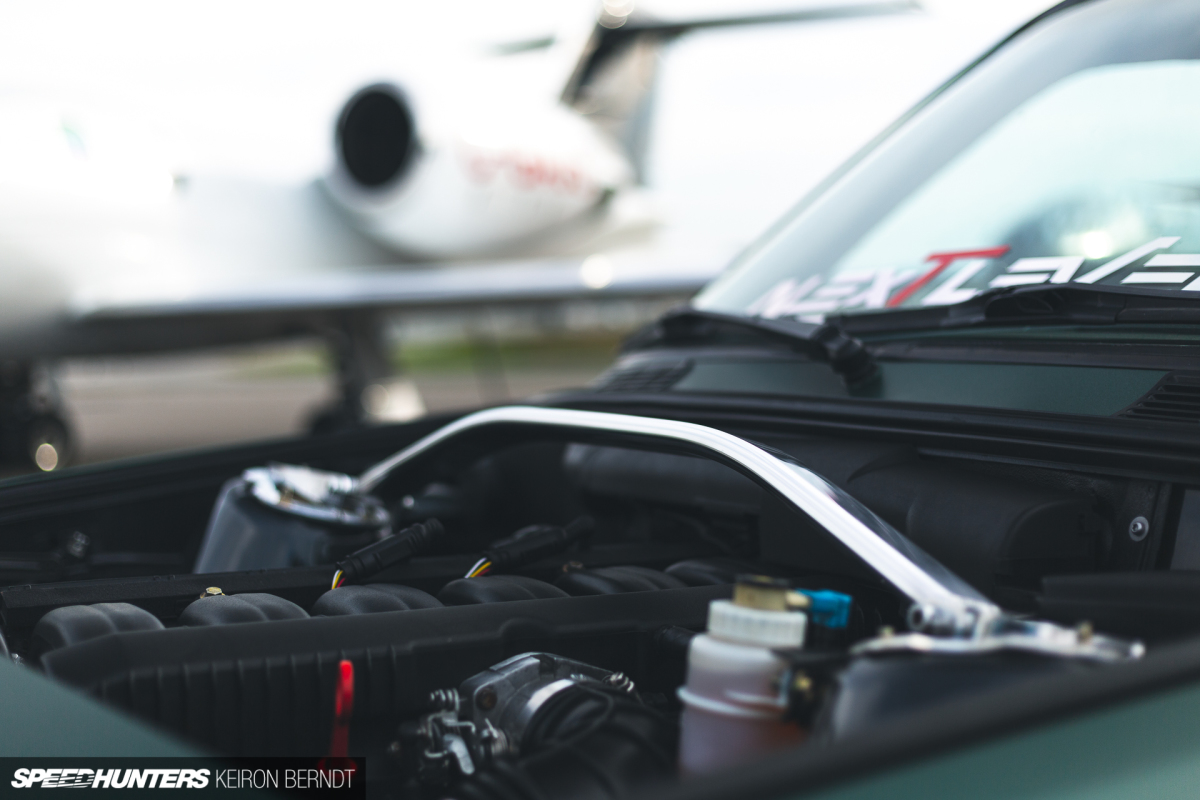 Eventually Alan was able to post bail, and the car came out of the yard with the engine bay primed and ready for paint, just months later than expected. A friend recommended he take it to another shop, and Luxury Autobody knocked it out of the park painting up the bay in less than two days.
With the stage set, Alan was ready to drop in his S52, but before that he went over the motor completely. From seals to pulleys, everything is new and replaced with OEM parts. It's even sitting on OEM motor mounts adapted for the E30. Performance-wise, Alan performed an M50 manifold conversion and a Kamotors cold air intake routes behind the driver's side headlight. An aftermarket ceramic-coated header vanishes down the passenger side. Backing up the motor is a 1998 E36 M3 ZF transmission and E24 635i 3:46 limited slip differential.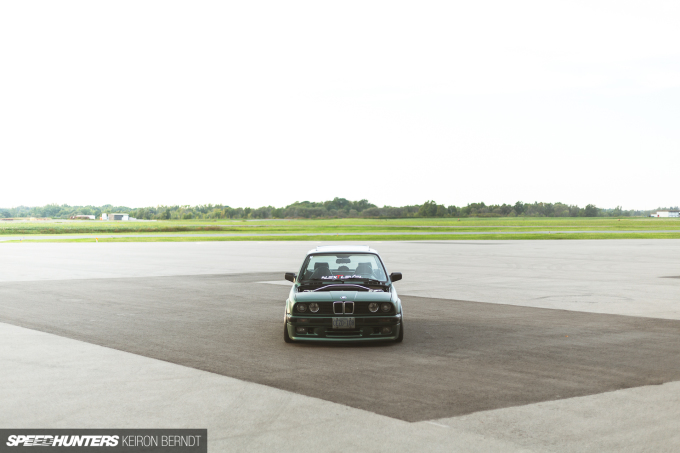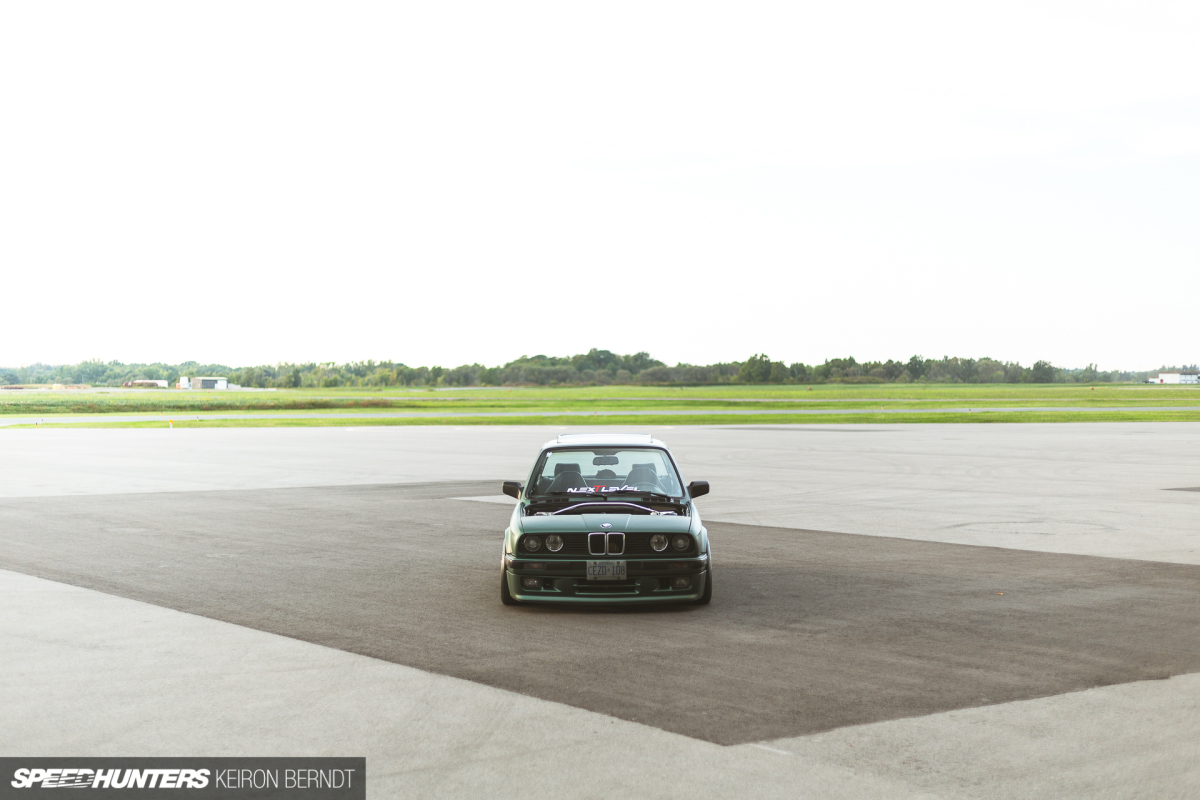 Alan's approach for the build as a whole is OEM++. It's a bit more flashy than an OEM+ build, but has an air of coherency about it that comes with choosing the right modifications, and not all of the modifications.
The quarter-cut hood is a good example of this.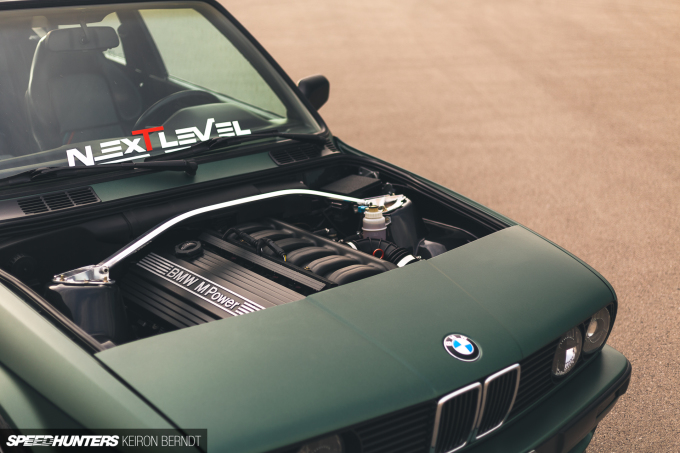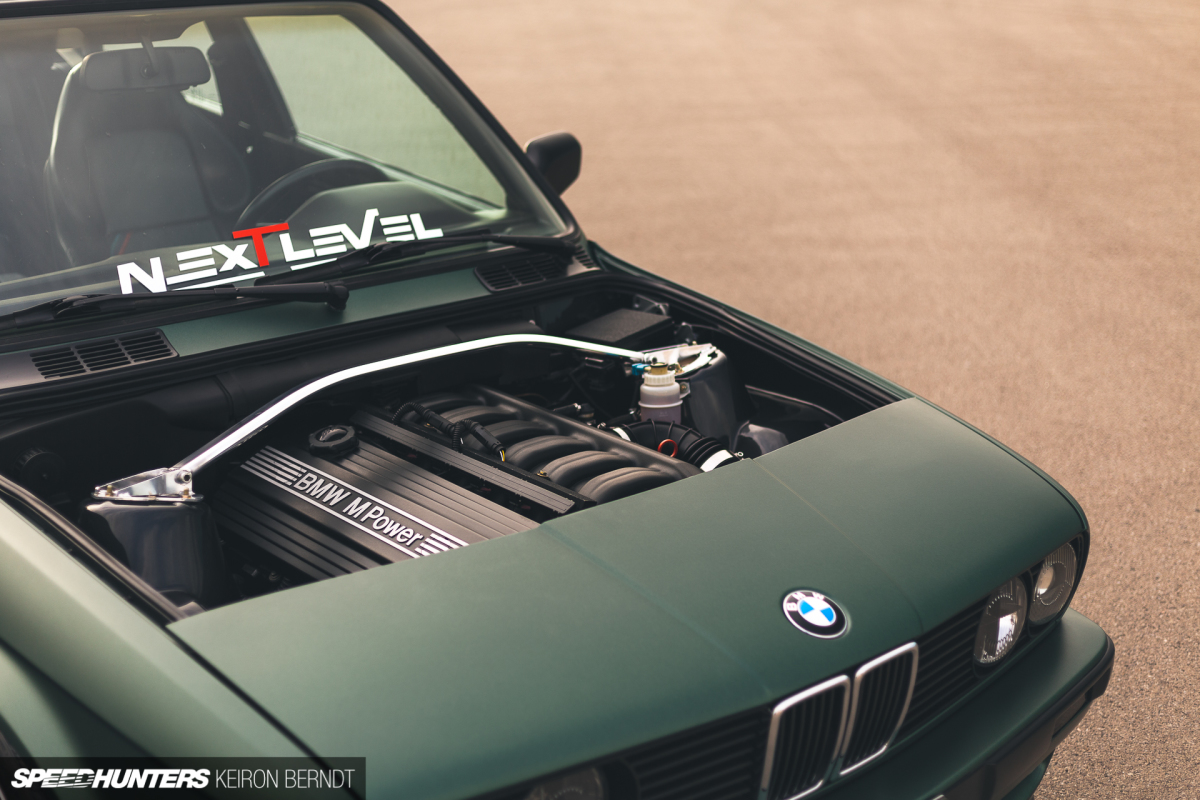 Proud of the work he did under-hood, Alan wanted a way to display it at events. Nothing kills the lines of an E30 quicker than its clamshell hood, but at the same time cars with no hood look a little unfinished around the core support area. The quarter hood solves both of these problems. From an overhead view, the rad support area looks great, and viewing the car from low enough it almost looks as though it has a full hood.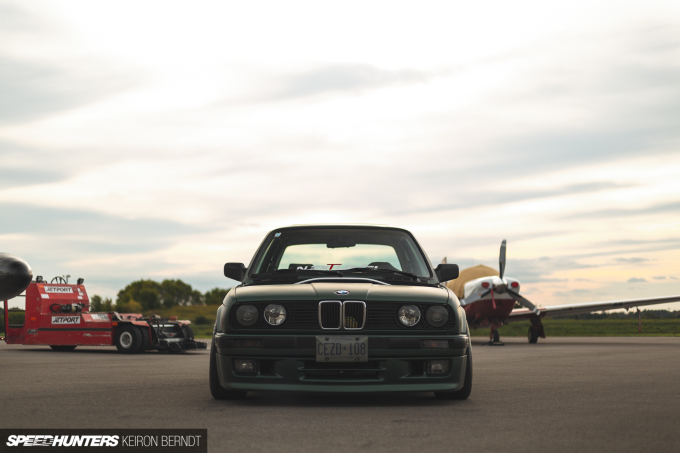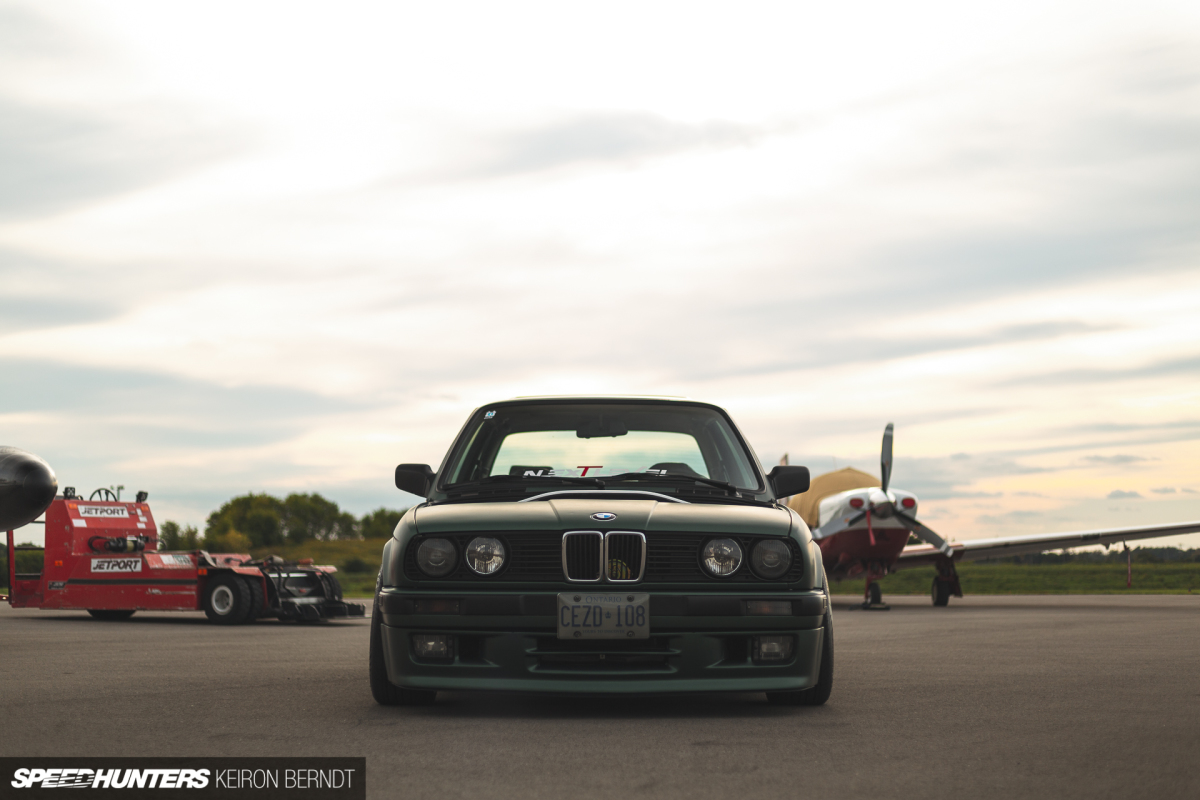 Alan does have a full hood for the car as well, in the event the novelty of the quarter-cut wears off.
Grooming The Outfield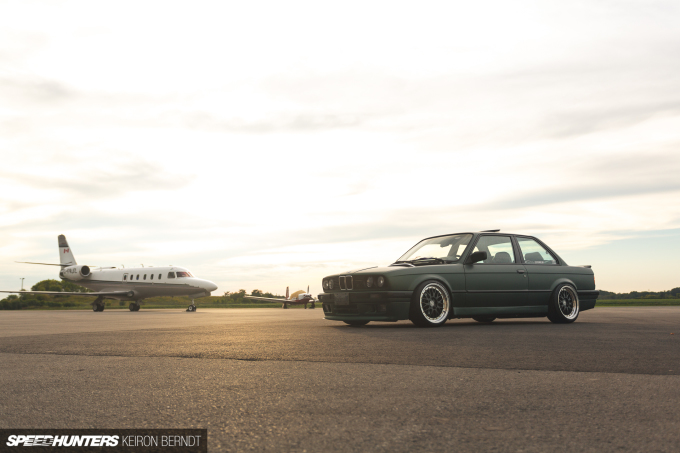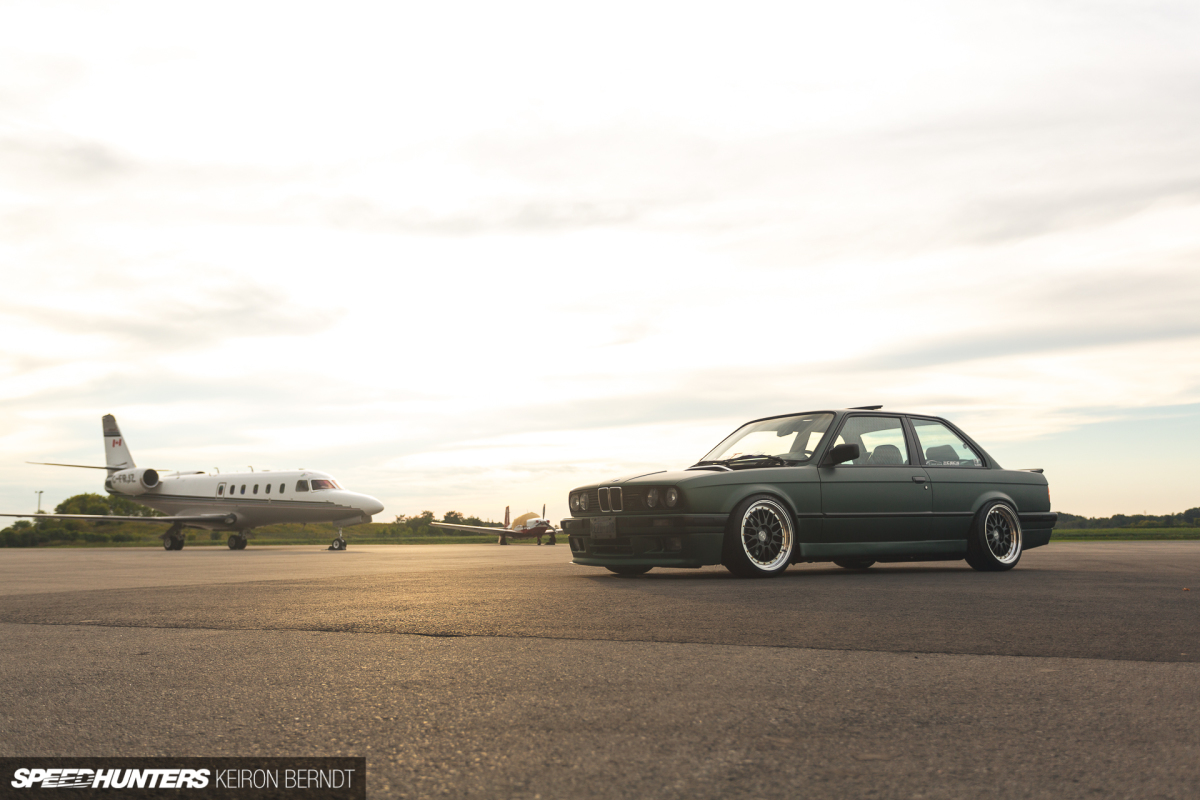 After having two cars written off shortly after leaving the body shop, you can understand why Alan chose to wrap this one. The color is 3M Matte Pine Green Metallic, which was applied by one of his old friends. It's done properly all the way through to the jambs, as a quality wrap should be.
Underneath the car, almost everything has been given a coat of rust preventative black paint. While everything was apart Alan also took care to replace all of the OEM bushings with performance alternatives. He also saw fit to install a 1998 BMW 318ti rear subframe and a 2003 330ci steering rack.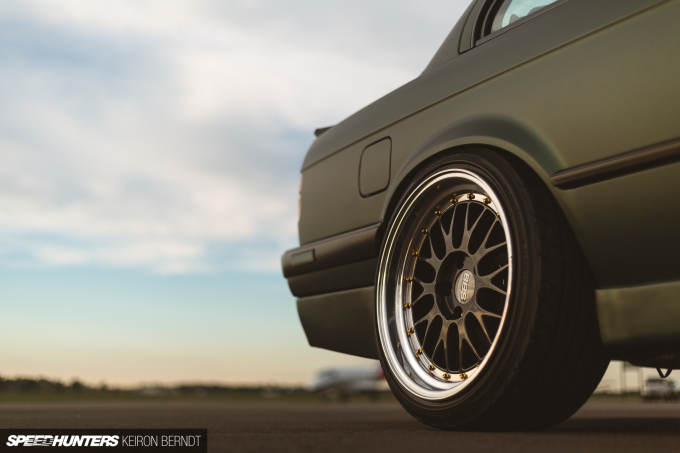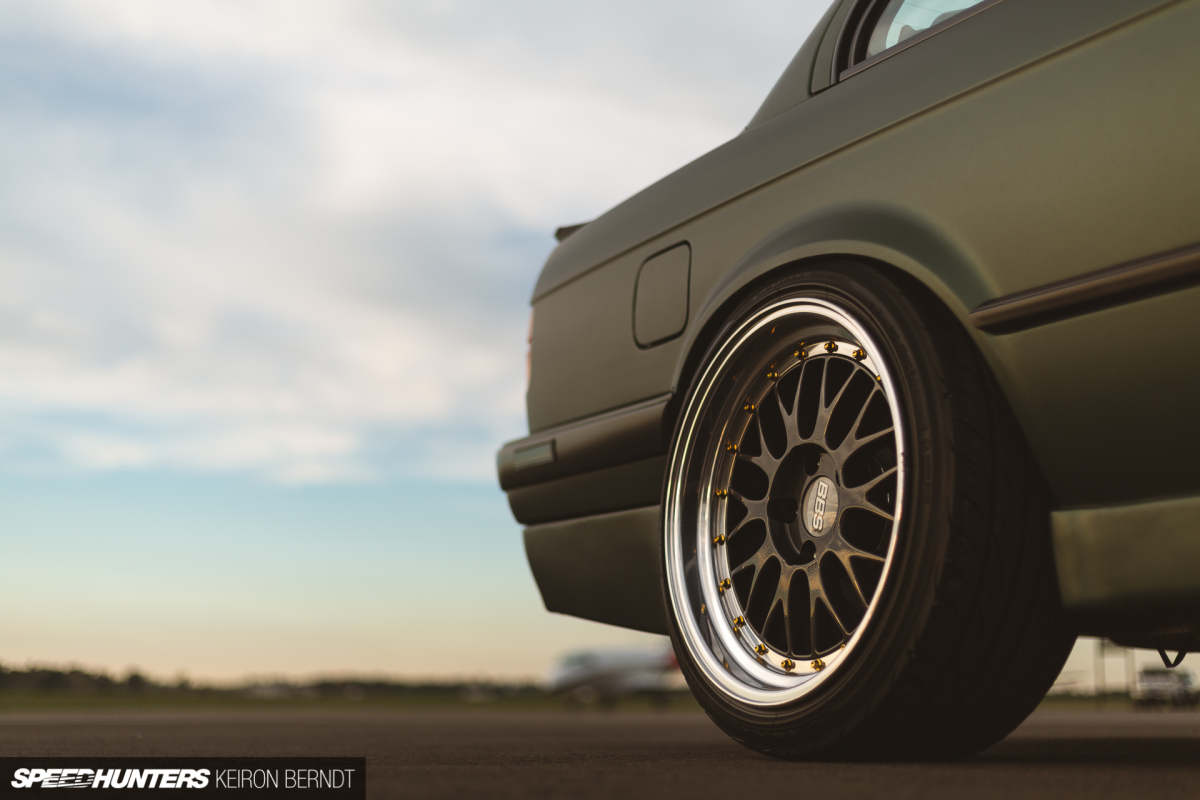 Eagle-eye E30 fanatics have probably noticed that even though the car has 89-91 bumpers it doesn't suffer from the usual reverse rake illusion that comes with late model fender arches. A late model bumper conversion has been performed, and to compensate for the early model's lack of a proper rear valance Alan added an Mtech II-style piece.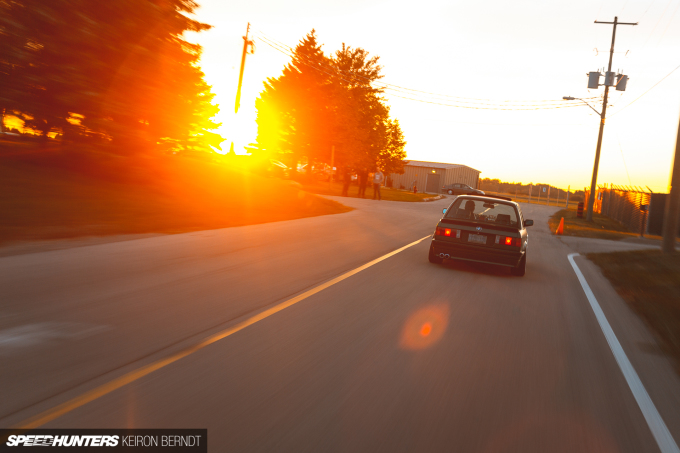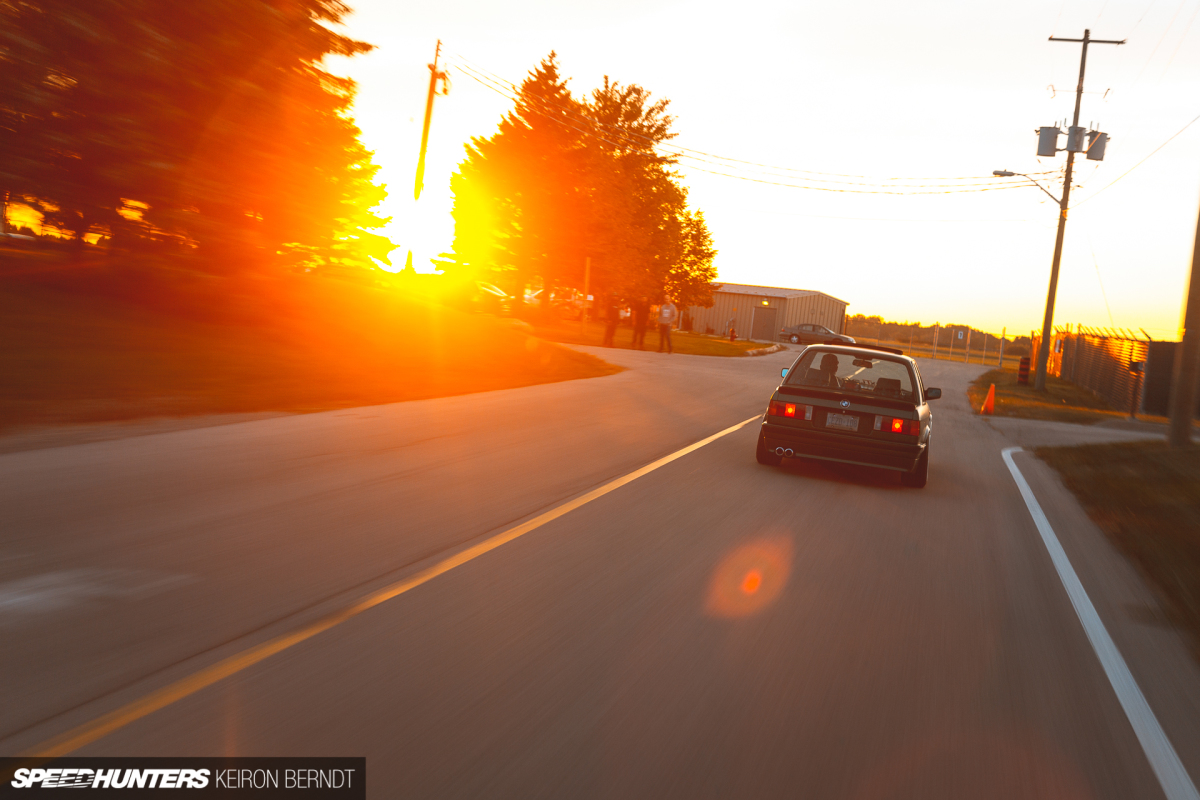 Along the sides are more Mtech II-style pieces and under the front bumper is an OEM Mtech II lower valance.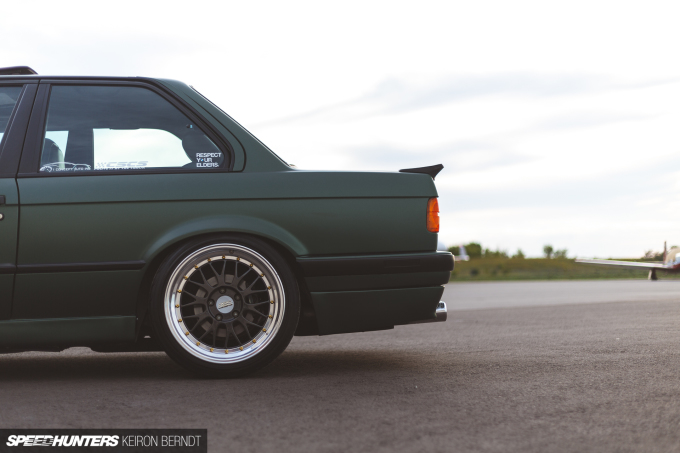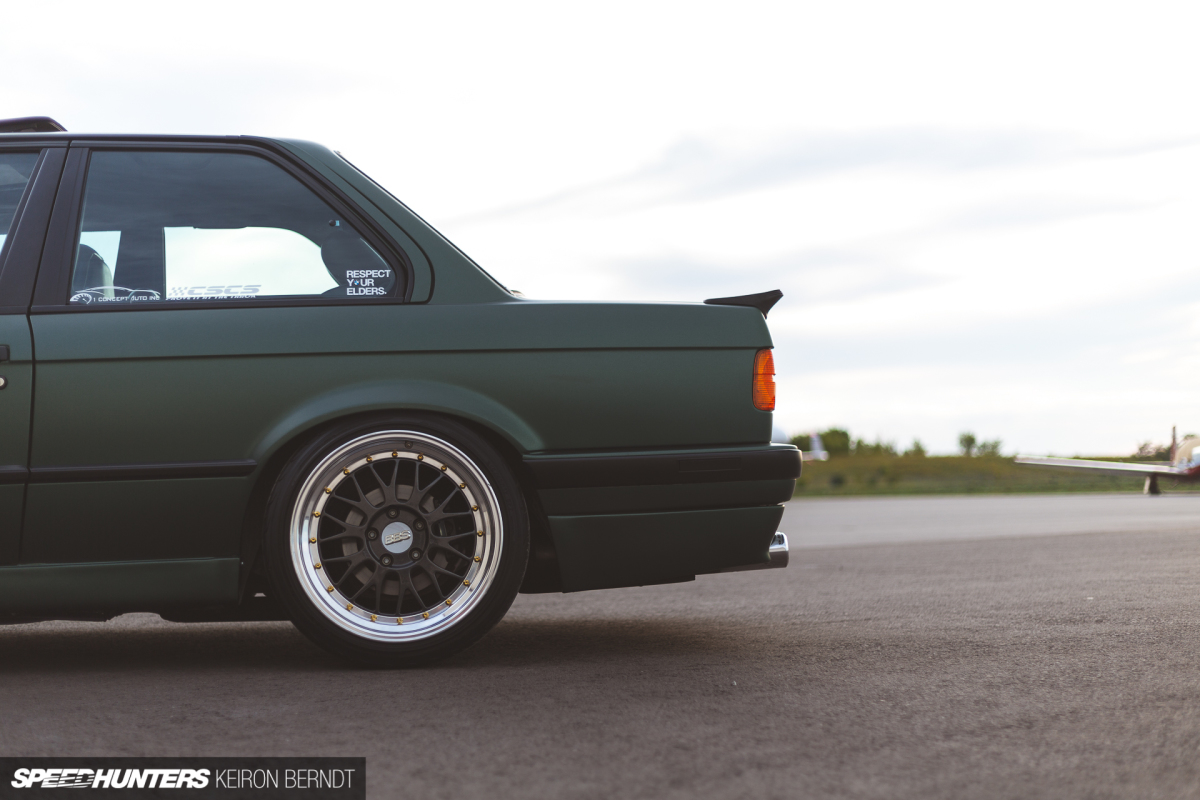 I challenge anyone that thinks BBS wheels and BMWs is an overplayed combination to take a long hard look at Alan's car. Could you imagine it sitting on anything else? The 17×8-inch and 17×9-inch BBS LM wheels fit the car beautifully thanks to 4×100-to-5×114.3 adapters from 42 Draft Designs.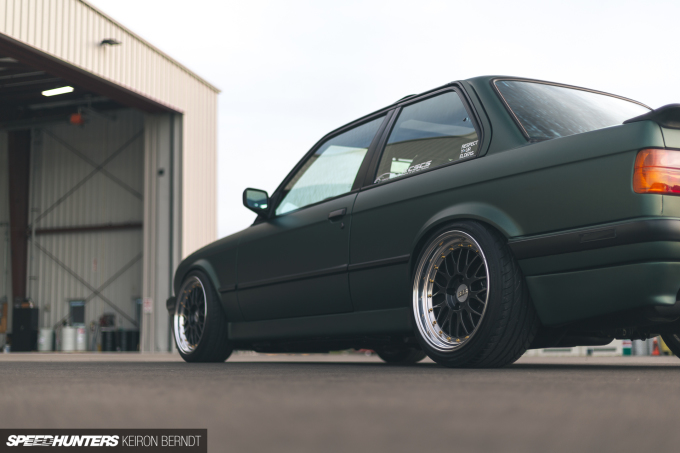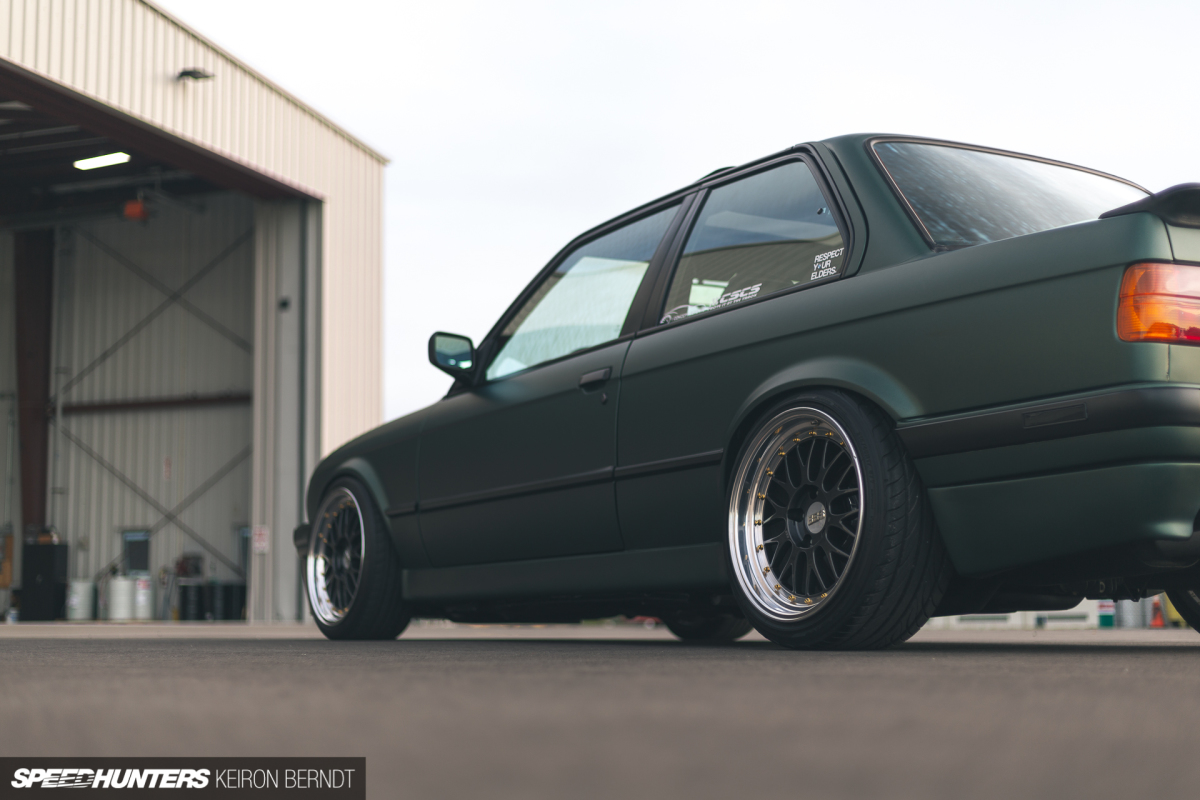 The tire sizing is 205/40 up front and 215/40 in the rear, the fitment harkening back to a day when tire stretch was used to clear fenders, not make a statement.
Rounding Home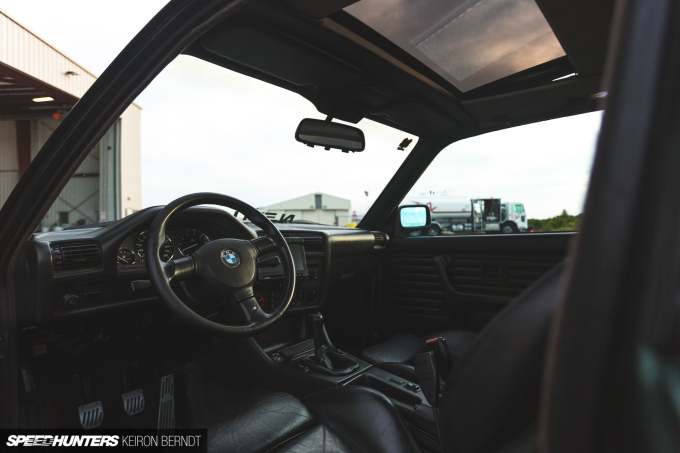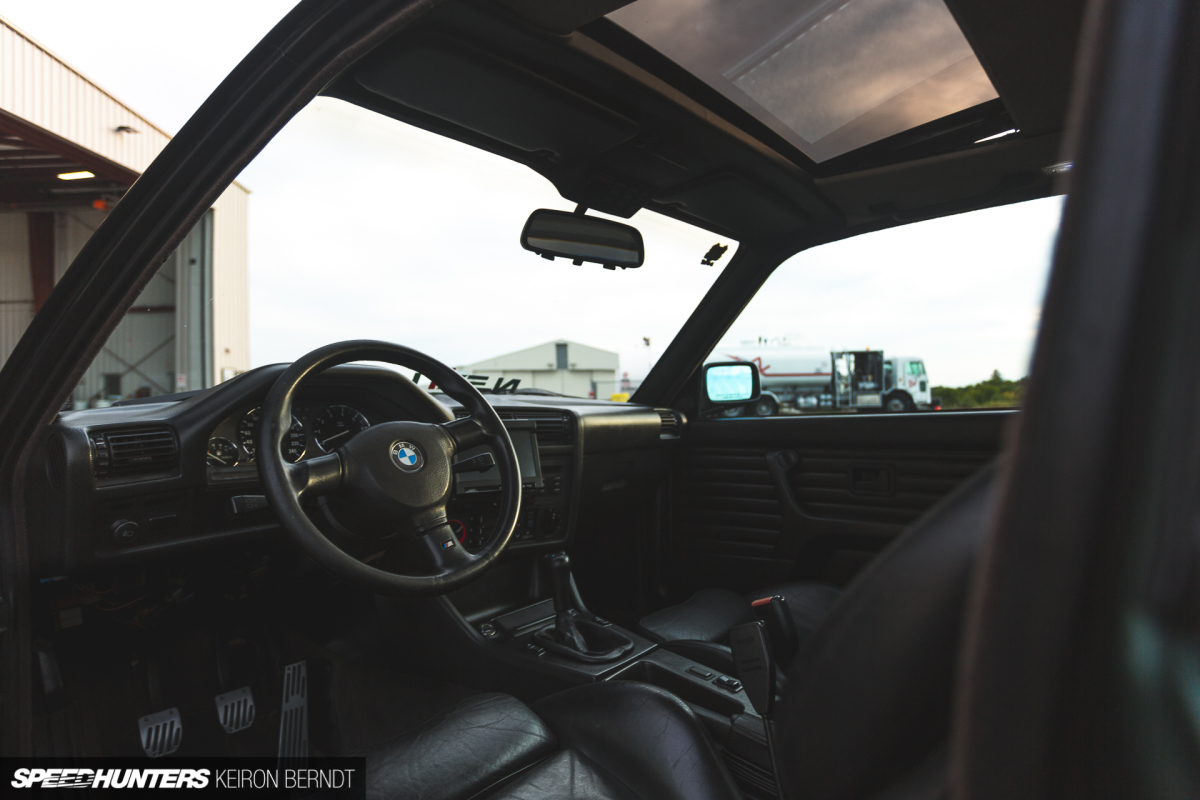 The final piece to Alan's perfect E30 puzzle was of course the interior. He's converted the car to all black leather, and installed 1998 manual heated E36 M3 'Vader' seats.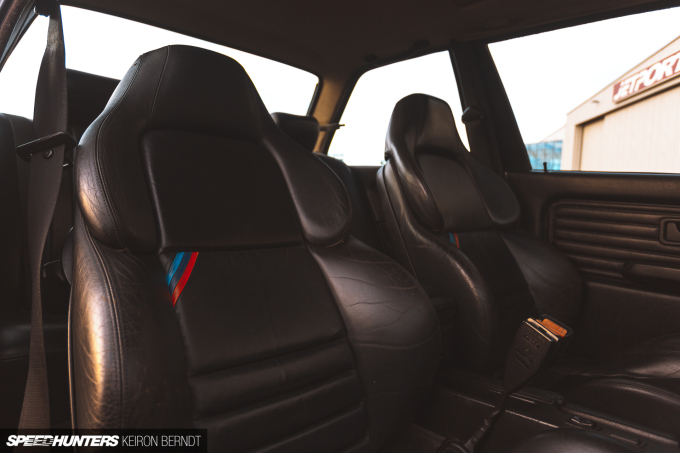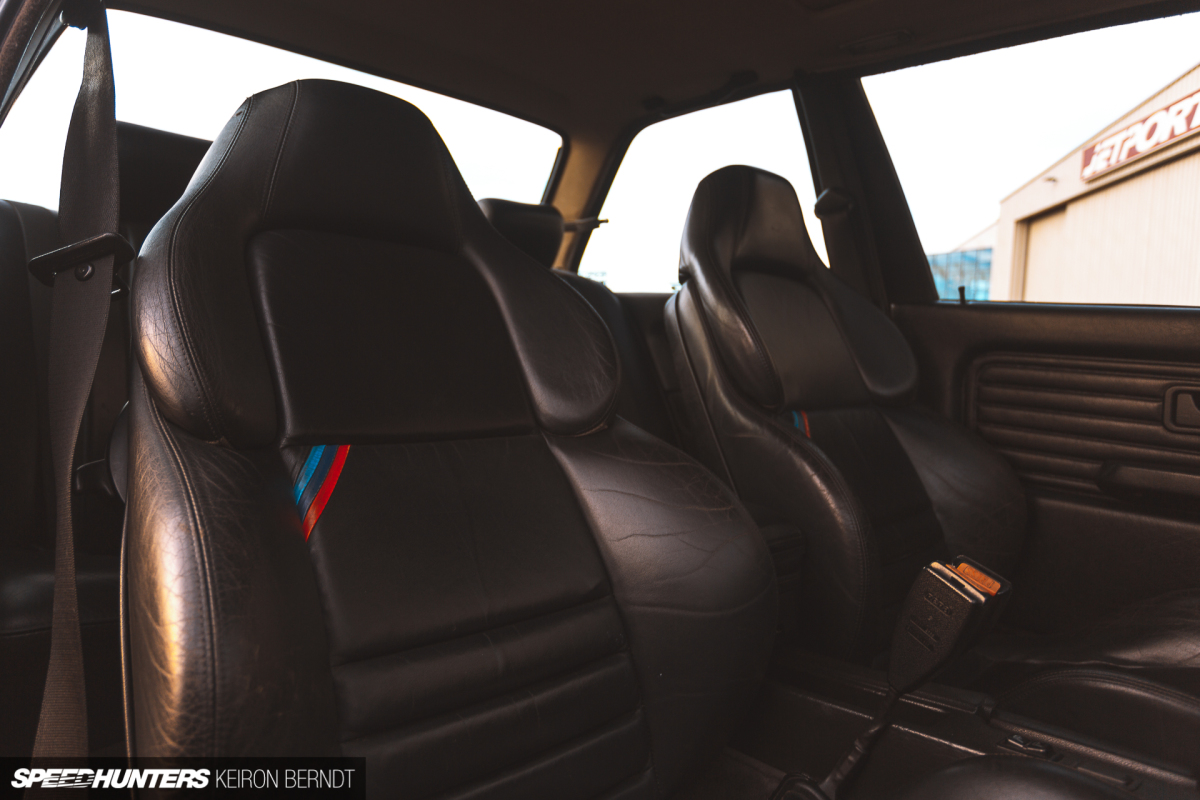 As coveted as the Vaders are, Alan concedes that they are not the perfect seats for the car. They are a little more modern than he wanted, but the fit is more generous than the factory BMW E30 sport seats. In a perfect world he'd pick up a fitting set of vintage Recaros. The rear seat is the factory one with optional OEM headrests.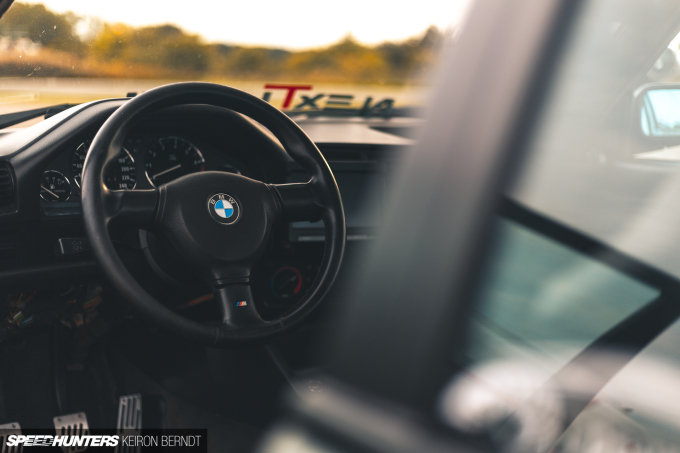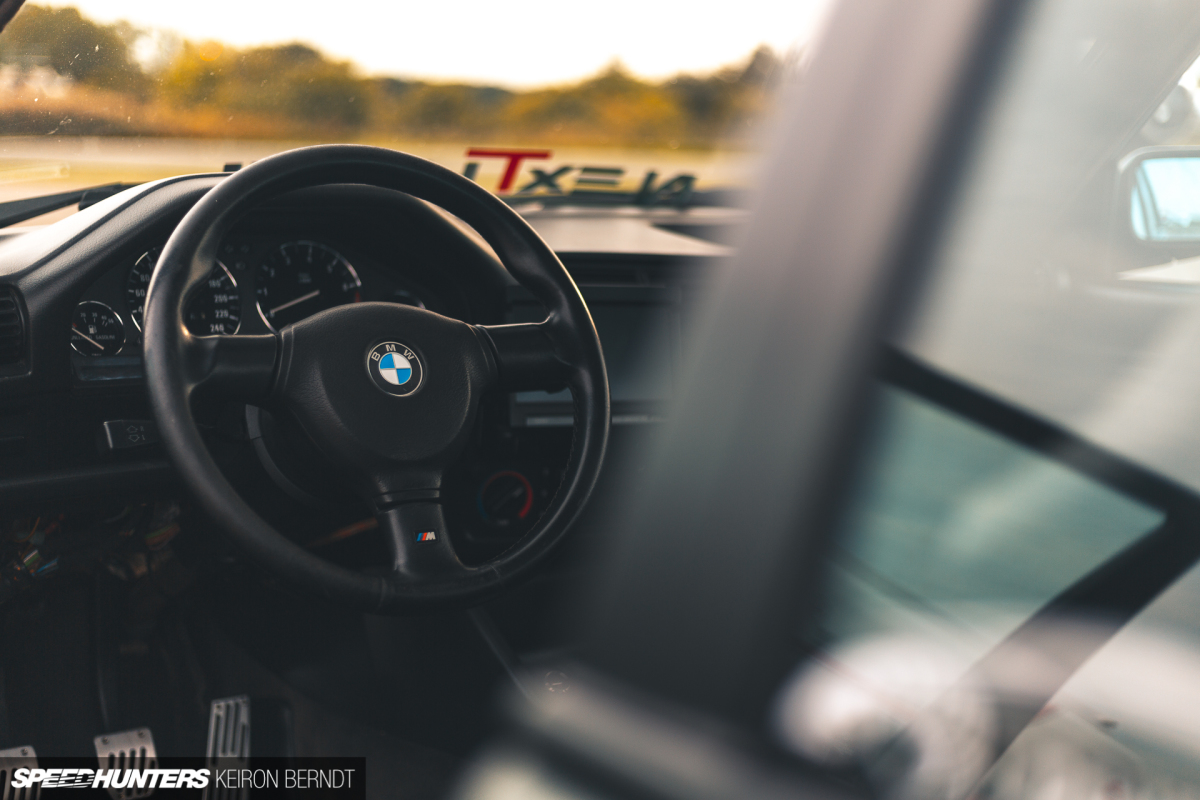 An OEM Mtech II wheel, a healthy detailing, and a moderate Clarion, Infinity and MB Quart audio setup rounds out the interior.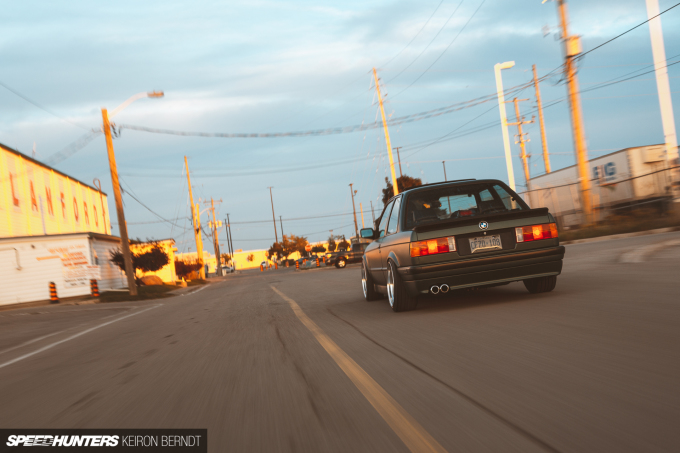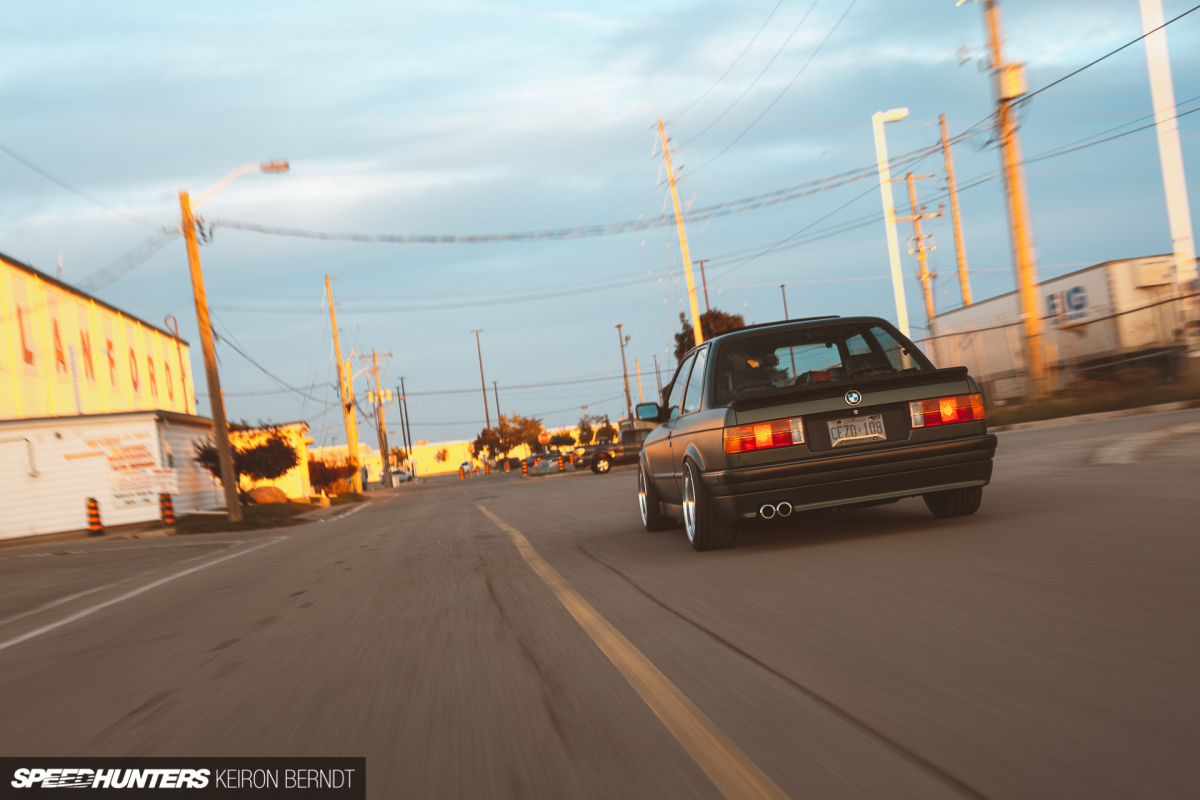 It took quite some time for Alan to get the E30 he wanted, but as of this year he's finally been able to enjoy it for a full season without issue or accident. He's entered it in a few shows and it's taken home some hardware, but Alan's favorite thing to do right now is take it for a drive.
However, always looking to improve upon what he's got, Alan is now considering painting it proper for next season. Hopefully the S52 is fast enough to outrun his personal paint curse.
Dave Thomas
Instagram: stanceiseverythingcom
Photos by Keiron Berndt
Instagram: keiron_berndt
Alan thanks Luxury Autobody, Delta Park Auto and One Concept Auto for helping with the build. Of course, he also thanks his dad Alfredo who unwittingly sent him down a life long path of E30s with one simple request his son sock some dingers.
BMW E30 related stories on Speedhunters
The Dug Out