Welcome To The Speed Ring
This isn't the first time we've been out to Motovicity's Speed Ring in Pontiac, Michigan.
With Paddy having a grand old time in America for last year's event outside Detroit, I'd been scheming for a way that I could get sent to Michigan this time around instead. With Paddy busy fixing my typoes (or is it typos?) and explaining how he'll murder me if I can't learn to use proper punctuation, I had my way and hopped on a plane to see what Motovicity's shootout-style hot lap battle is all about.
Spoiler alert: it was just as rad as I hoped it would be. Maybe even a bit more so, and this mostly comes down to how the event was organized. Rather than watching your friends go 'round shaving the tenths off their laps to see who ends up with the fastest lap, this portion of the event is handled on Saturday to slot all the drivers into a bracket.
Then, come Sunday, drivers go head-to-head through the bracket until one remains. As a competitor it's a bit more like an uphill-downhill touge-style battle; you get a warm-up lap, a lead lap, a lap to swap positions, and finally a follow lap. That's two no-passes-allowed hot laps, and if bested on both by the other car on the track you're done for the event.
Talking with the competitors after their battles, nearly every single one mentioned how much pressure this puts on you as a driver. It's a no-excuses match-up where, realistically, even if you're the faster driver you can only afford to make one mistake. In the event that you lose one run and win the other, you'll be afforded a 'one more time' battle which will continue until one driver wins outright. It's a familiar layout, no doubt, but being a timed event rather than one that's judged the main thing it's missing is keyboard warriors having a whinge after their friends get knocked out.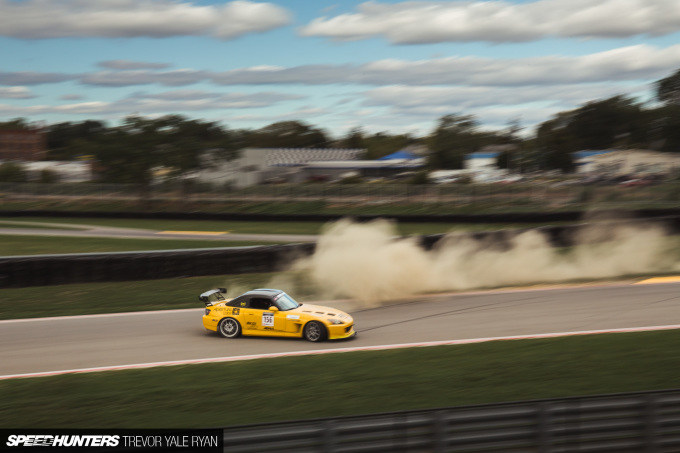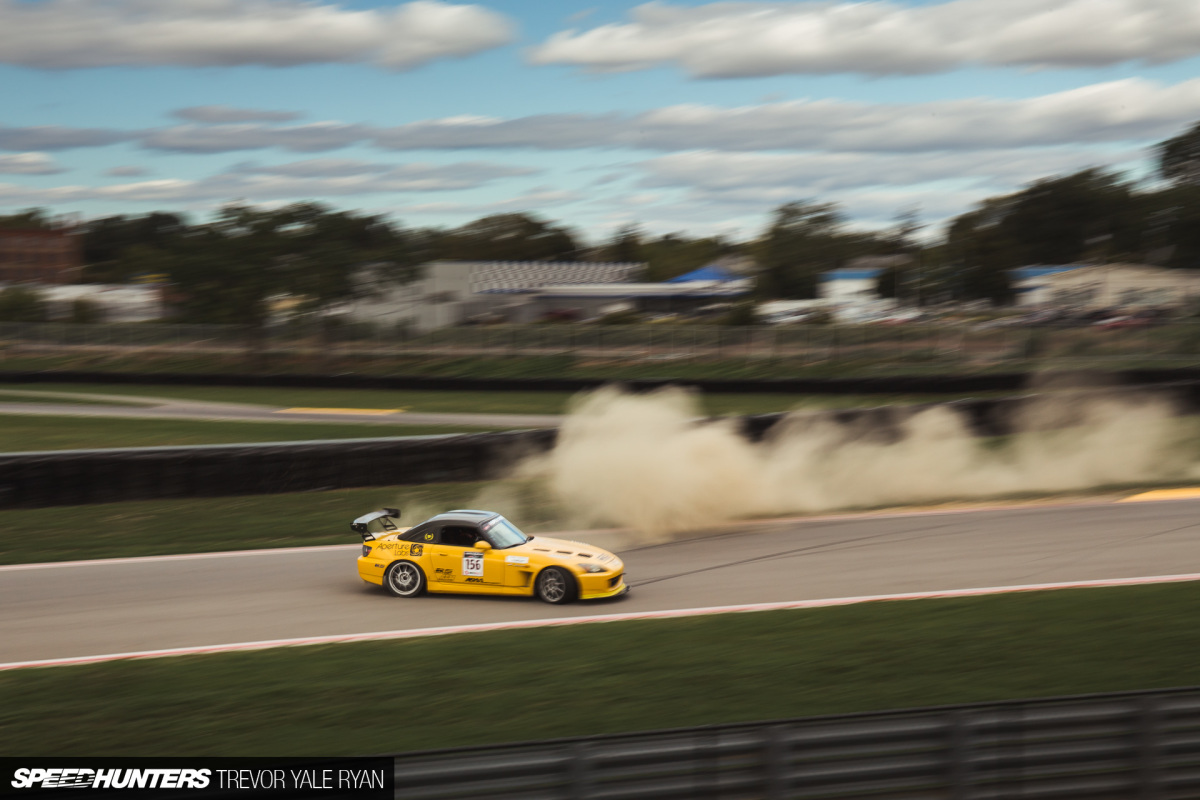 This layout is no doubt more exciting for the drivers, and much, much more entertaining for the spectators. Held at Michigan's newest road course, the M1 Concourse, it's a technical, high-speed battle with little room for error as you'll soon see. If this sounds like a good time, the whole of competition over the weekend was live-streamed and can now be viewed here at your convenience.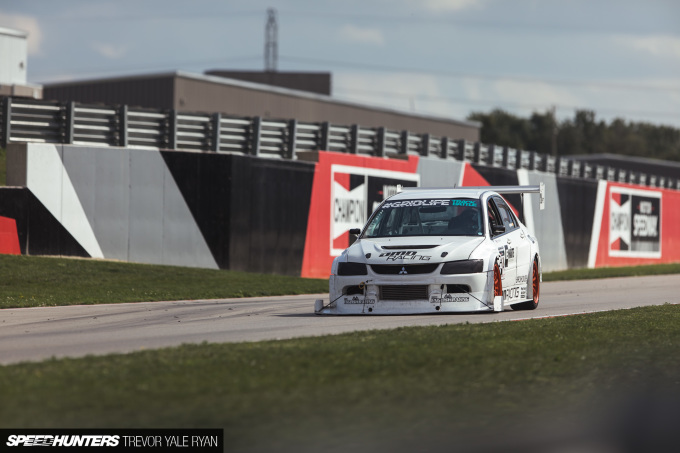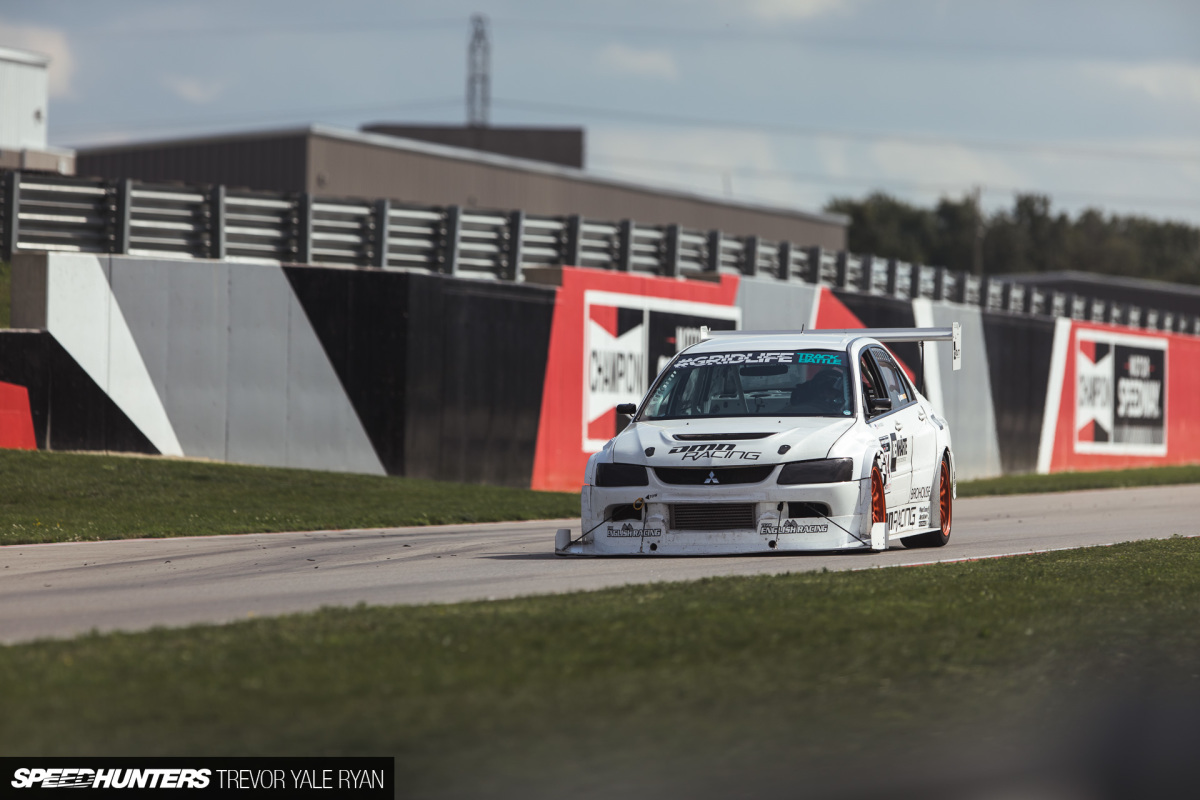 Towards the end of the day, when I was on the back end of the circuit with other photographers out of range of spectators and speakers alike, we found ourselves tuning into the livestream after each battle to see who eked out who. There's a certain level of anxiety that comes with this format which makes it a lot more fun to be a part of.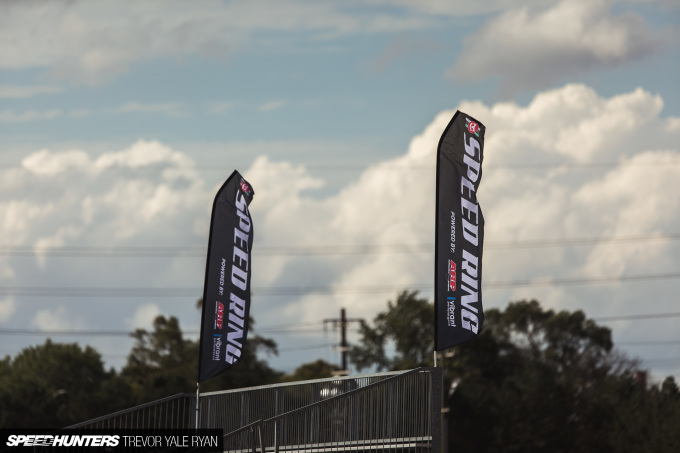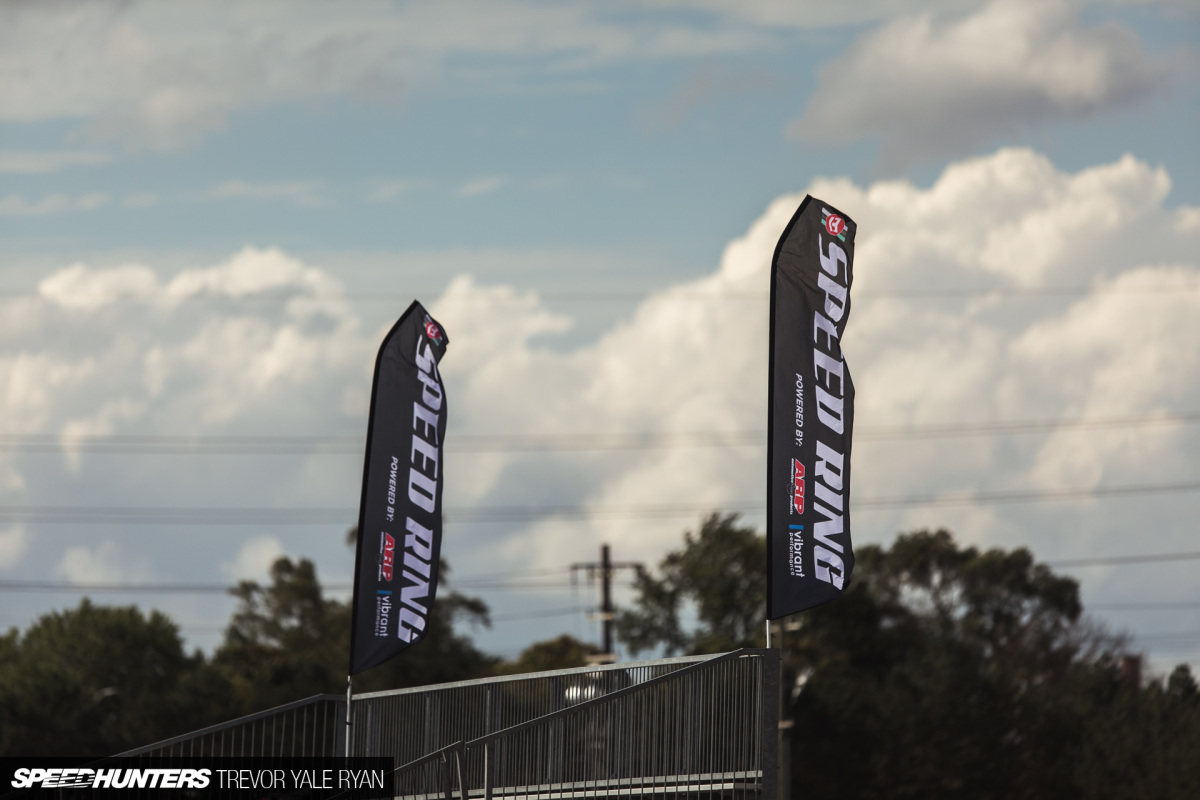 It's a fast-paced weekend and it's definitely an event I'll do my best to make it out to again. Before diving into the results, I'd like to give you a feel for what it's like to attend the Speed Ring and take you for a walk in and around the paddock. It's much more than your normal time attack experience, and Motovicity certainly knows how to put an event together and have a good time.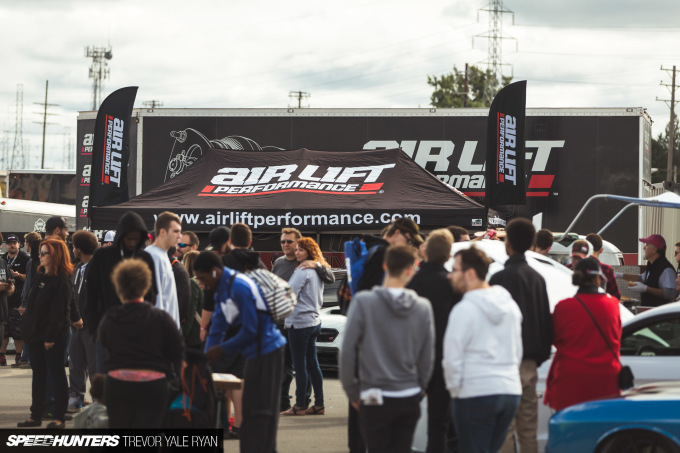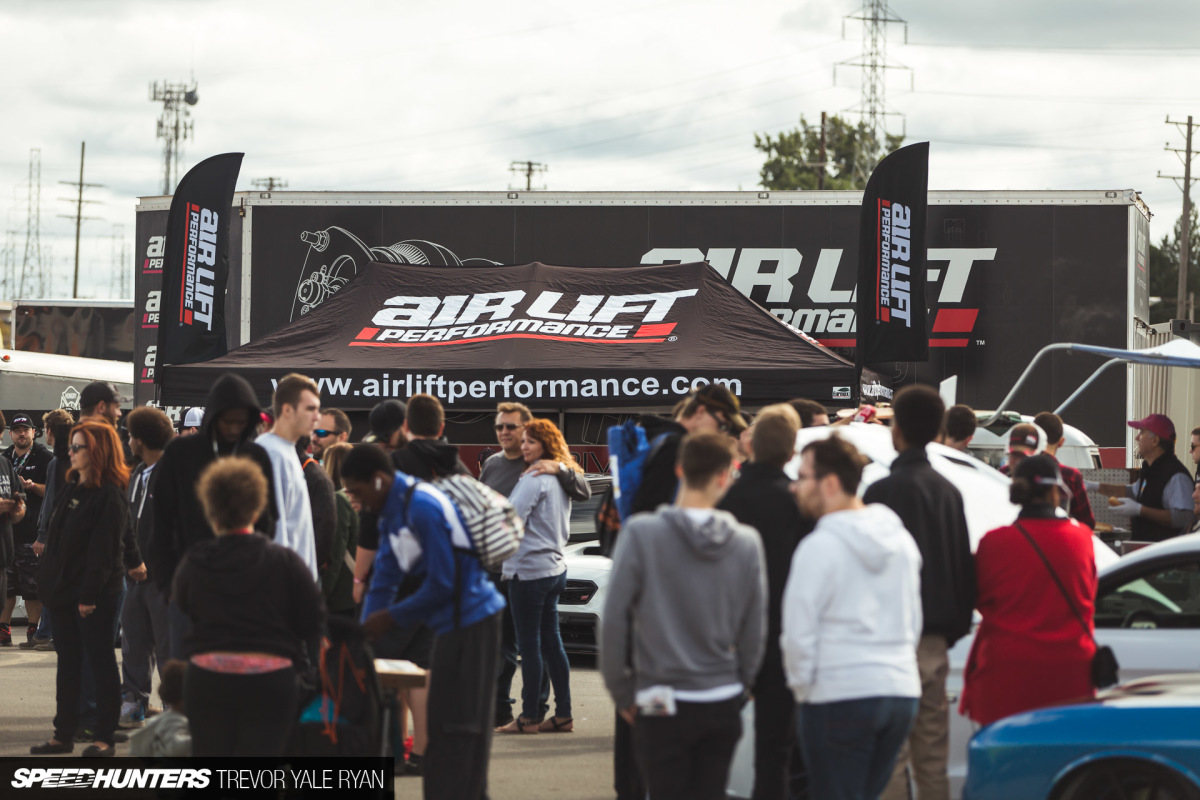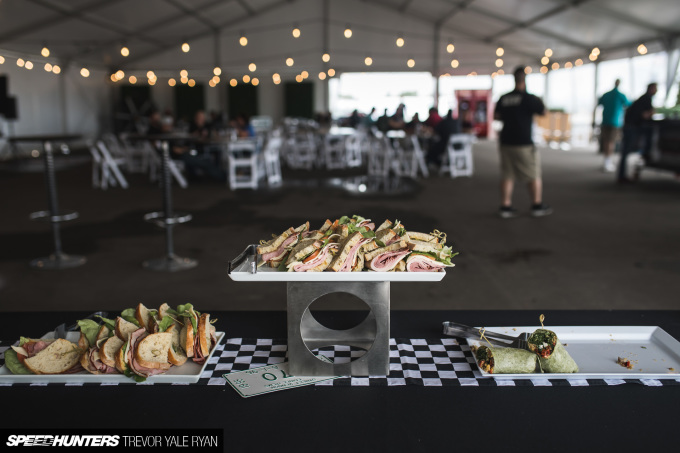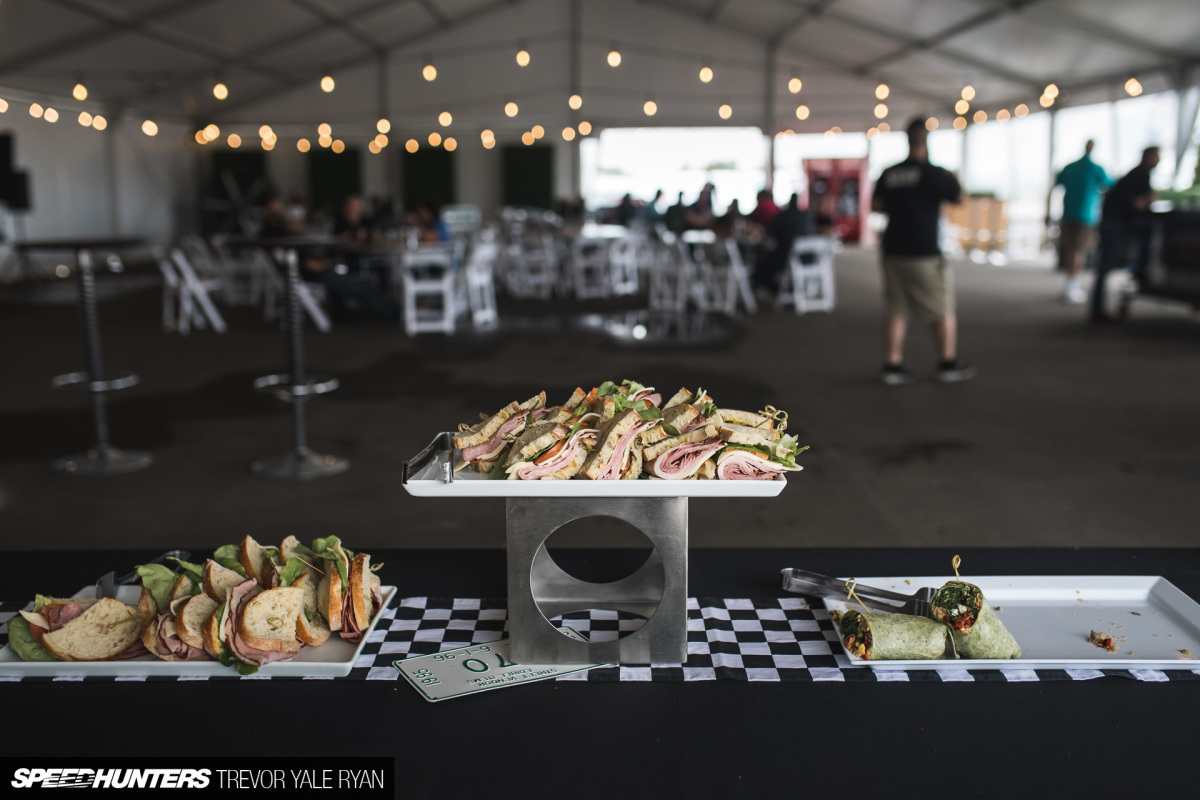 A good way to put a photographer in the right mood is to feed him or her, and that's where the event started for me. Showing up on Friday during lunch after a horrendous red-eye, I got my first taste of the M1 Concourse and the layout of Motovicity's Speed Ring.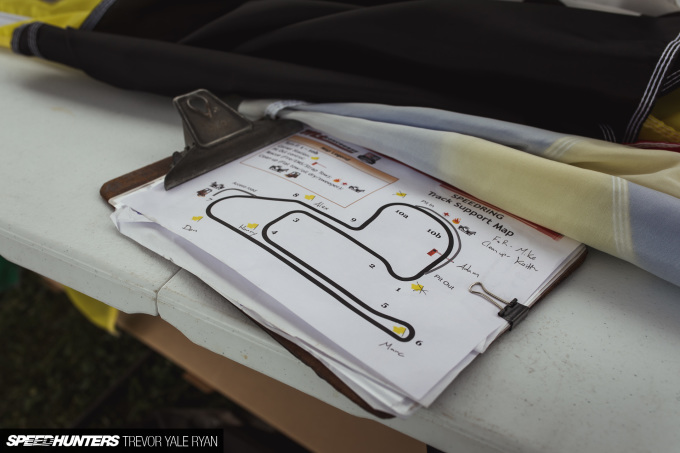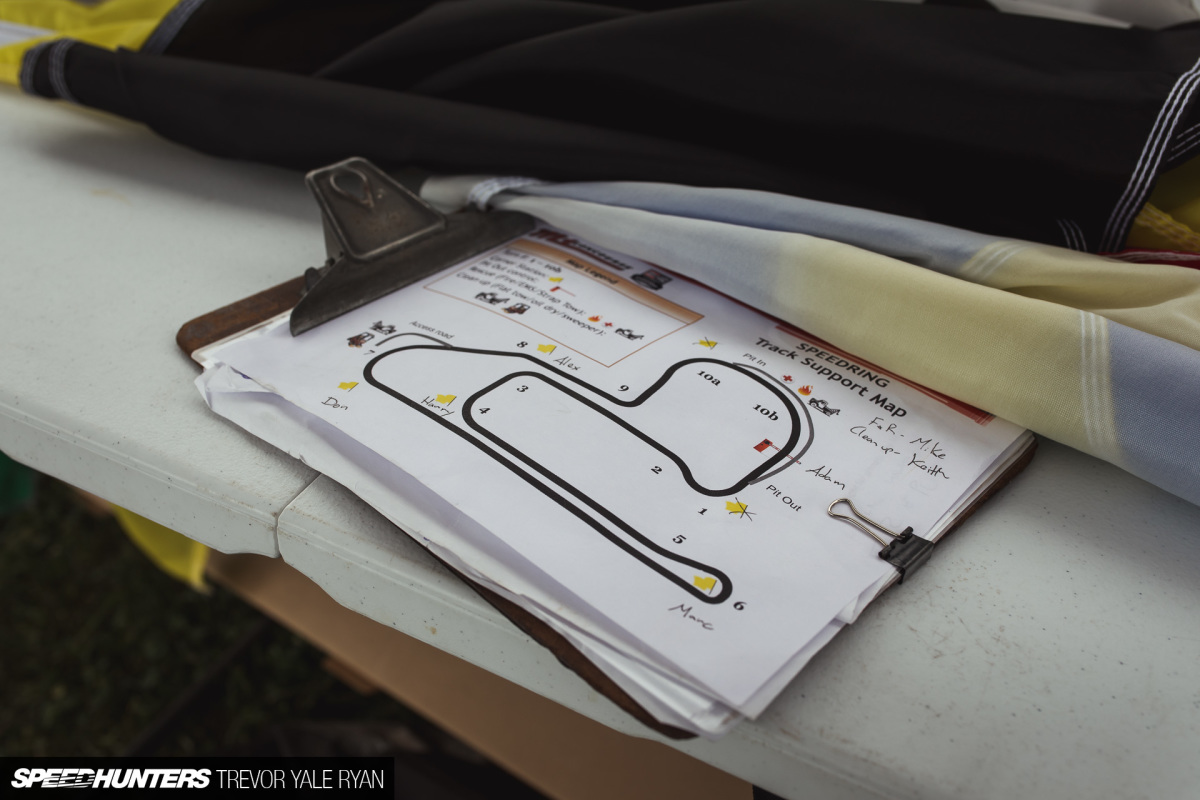 While it's something I'm better off dedicating a post to in the future, the M1 Concourse is a community of private garage owners surrounded by a freshly paved circuit. It's a roughly 1.5-mile-long course with a lap record inching closer and closer to the one-minute mark. With some mild elevation change and a healthy mix of tight corners and large radius-changing sweepers alike, horsepower also plays a big role in the dynamic course.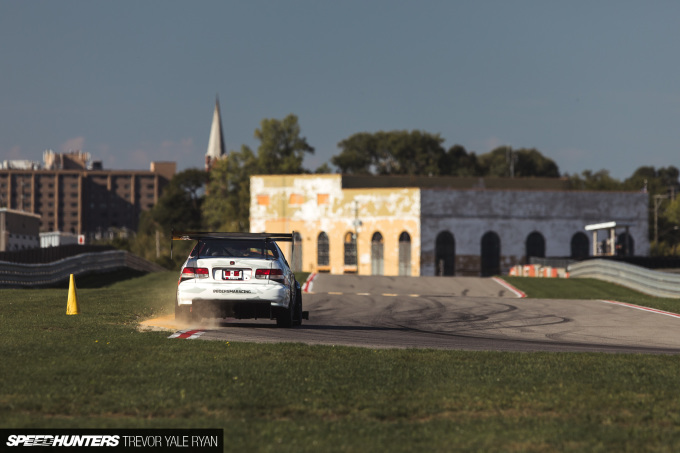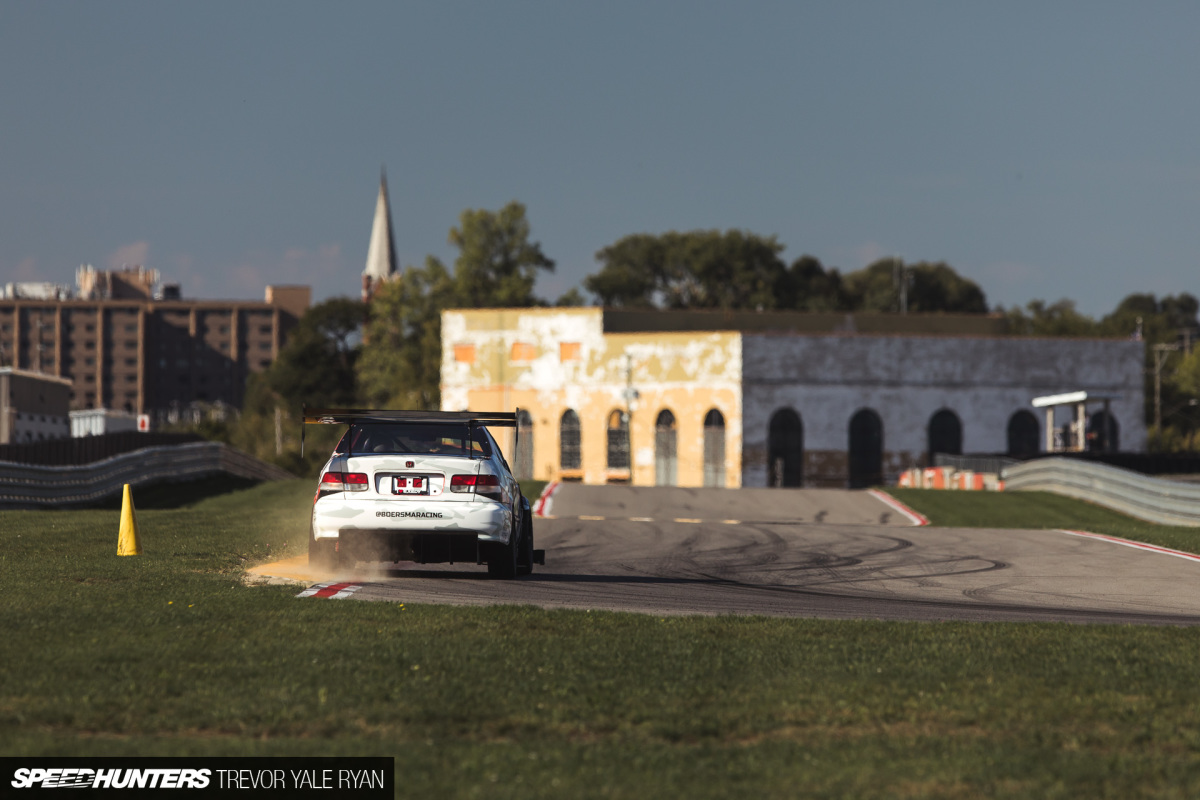 It became clear early on that with a long back straight the amount of speed that drivers can carry through turn six (the slowest on the track) would be the deciding factor in a lot of the weekend's battles.
From there you head up back uphill towards the bleachers at the top. While more garages are under construction at the compound and much of the nearly 100 acres remain undeveloped, this place has potential to become even more awesome. More on this later.
When it comes to the competition itself, the drivers are split up into three groups based on how their car's been built: Street Modified, Track Modified, and Unlimited. It's this top class you're probably most familiar with, where wings get so big they like to eat things up on their way around the track.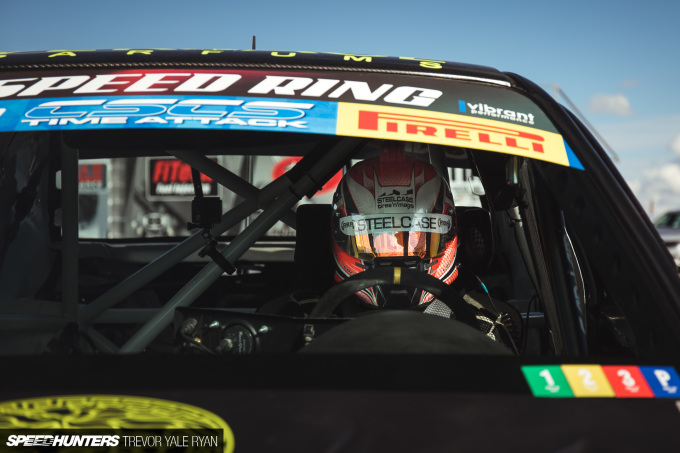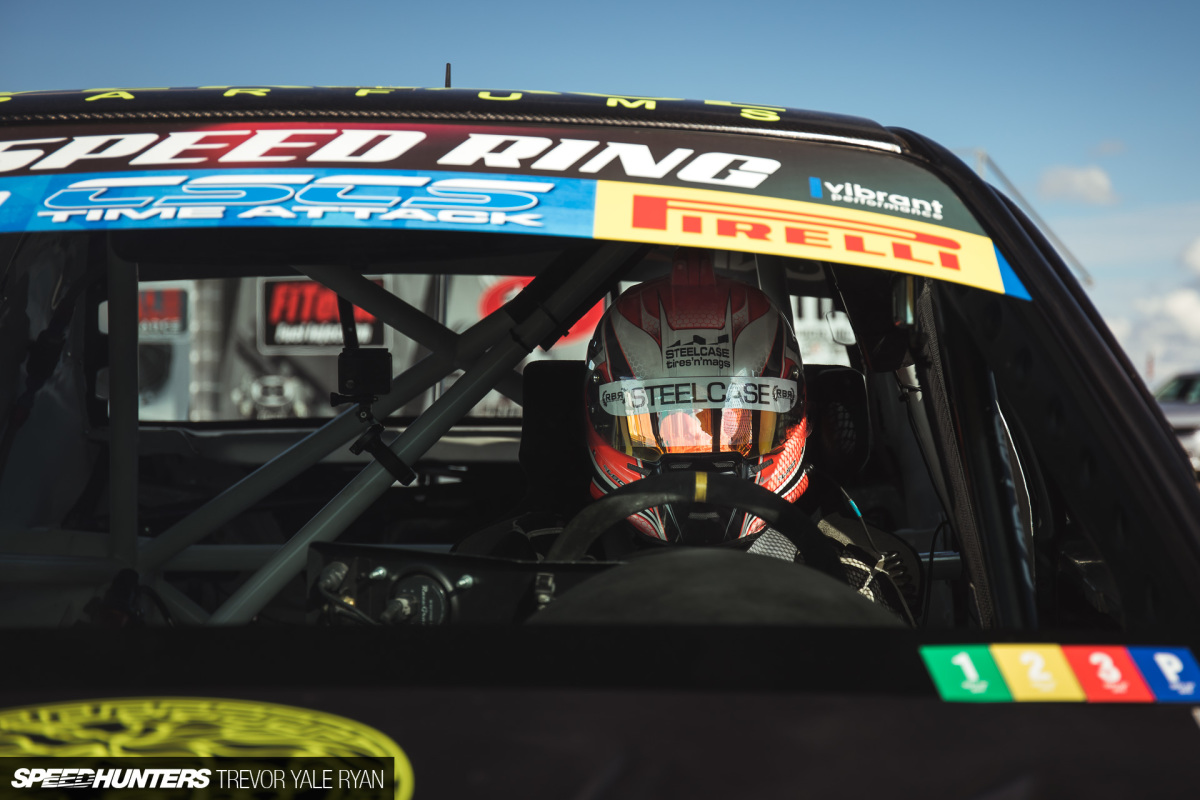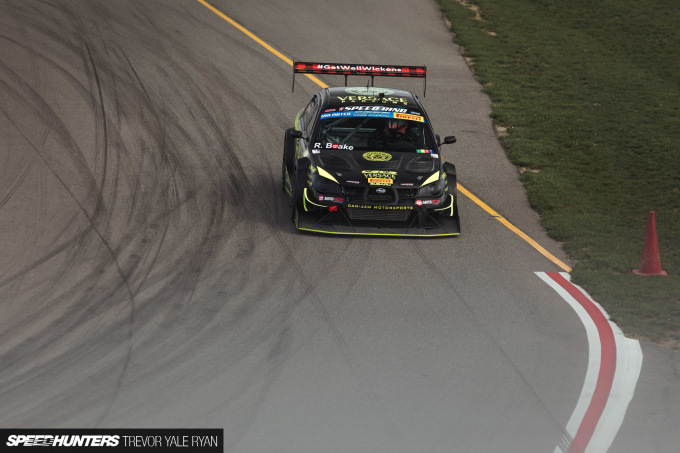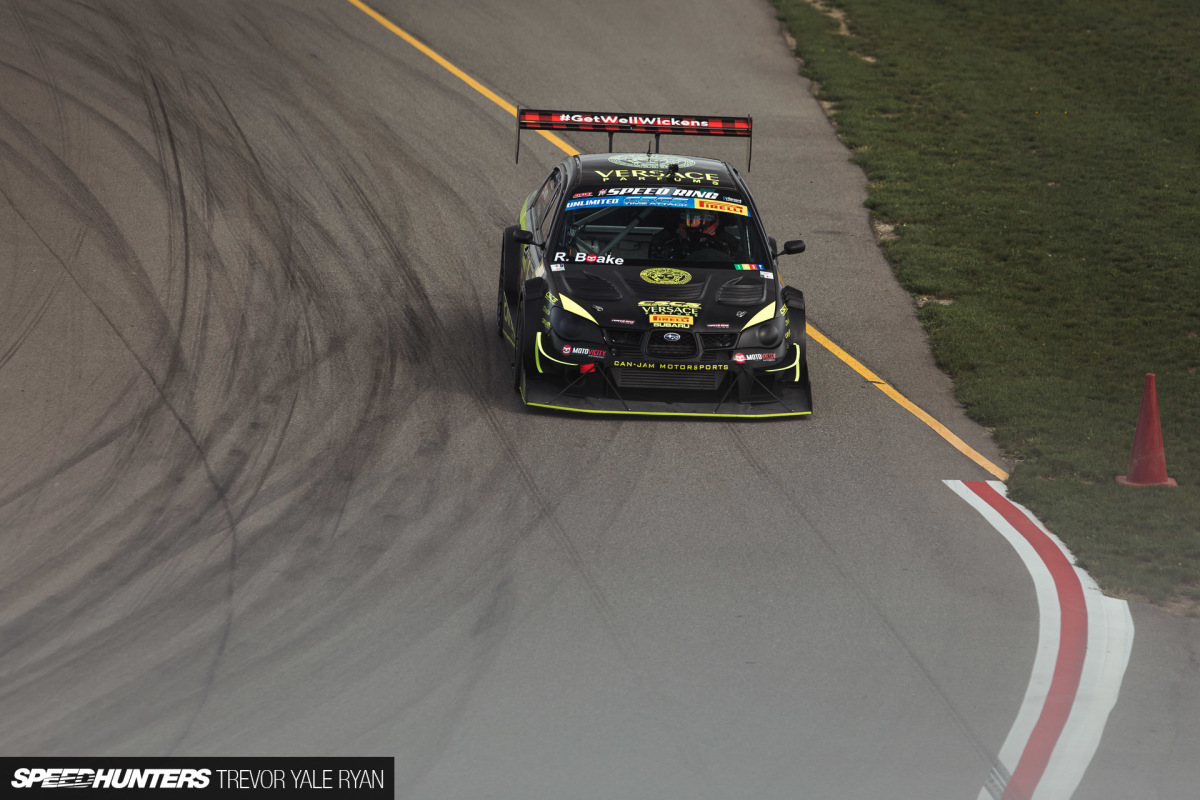 With last year's outright Unlimited champion, Richard Boake, out again in the Can-Jam Motorsports Subaru, my first wonder was if he'd be good for a repeat. With no official timing on Friday, all I had to go off were cell phones and speculation so the answer to this question would have to wait.
Please Excuse This Interruption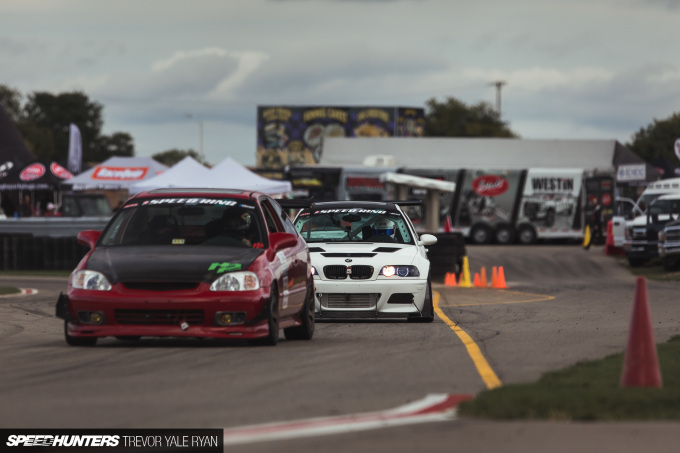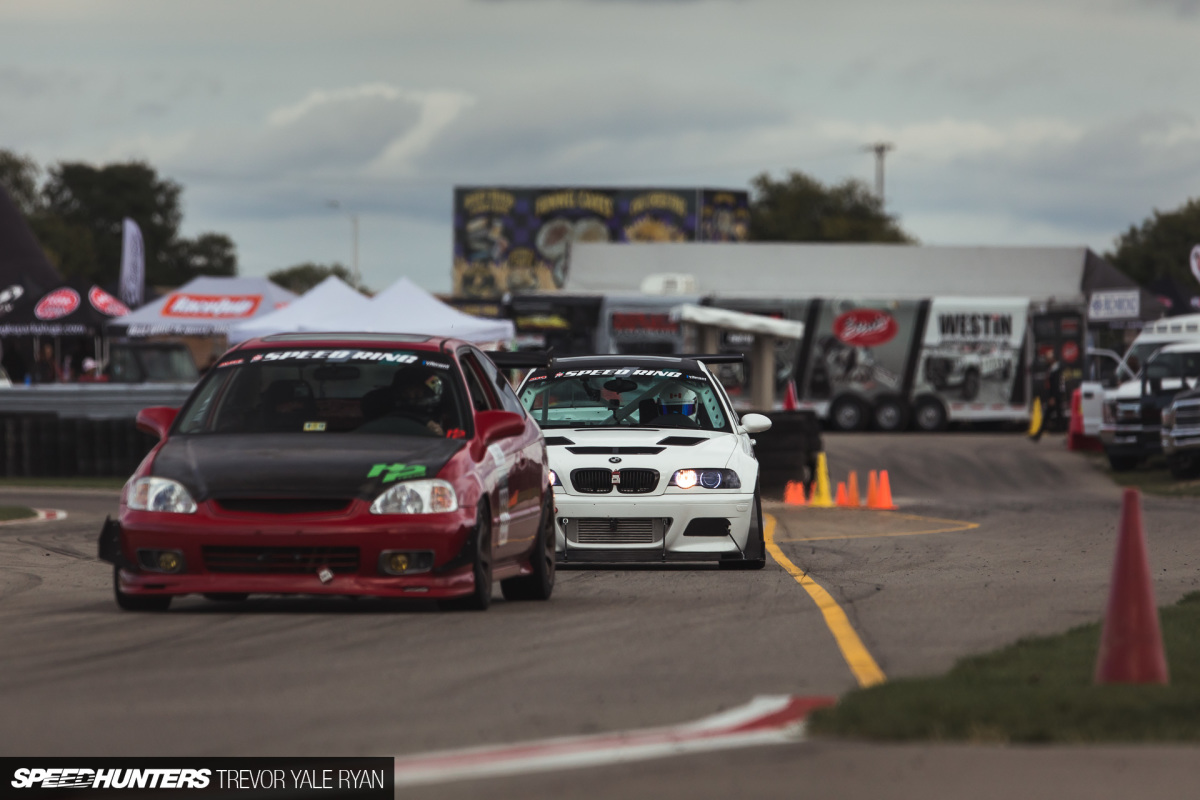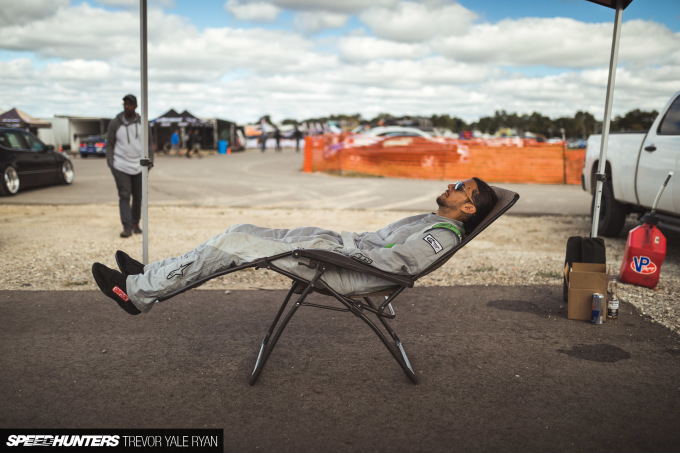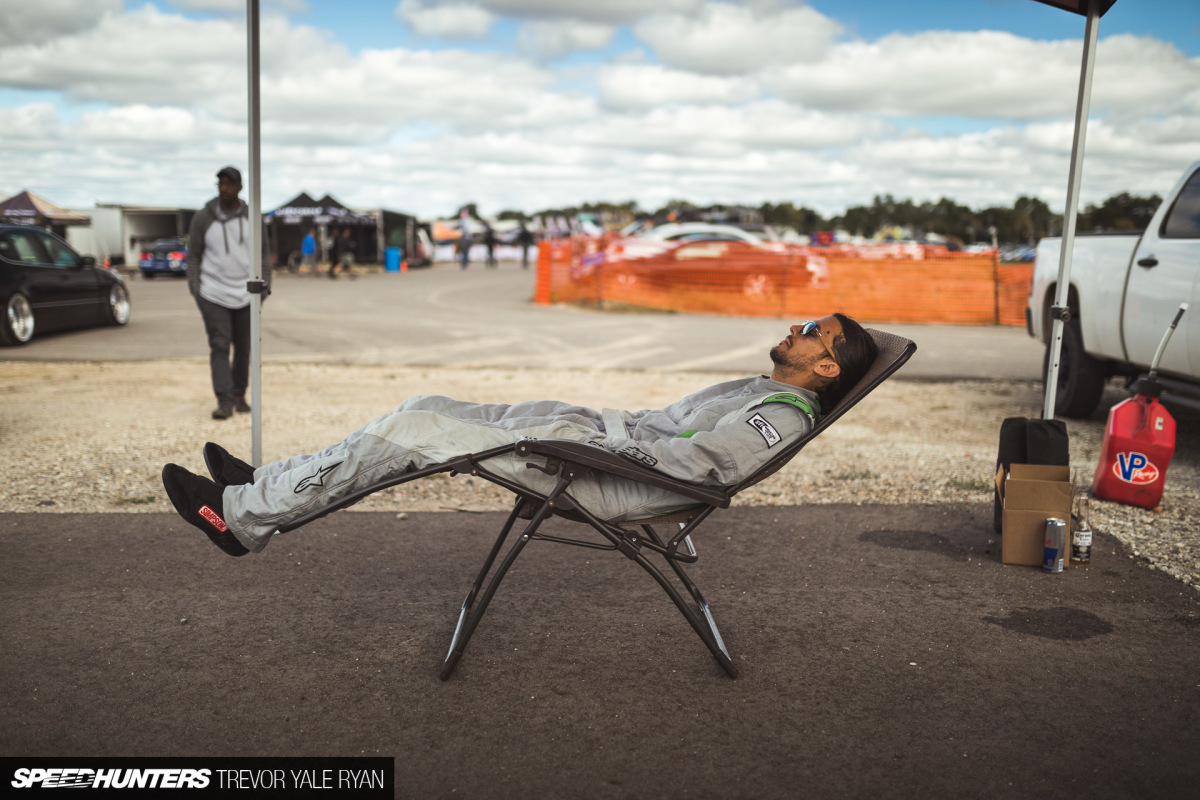 Come Saturday, things started to shake out as official times came through. But there was more than grip action going on at the M1 Concourse.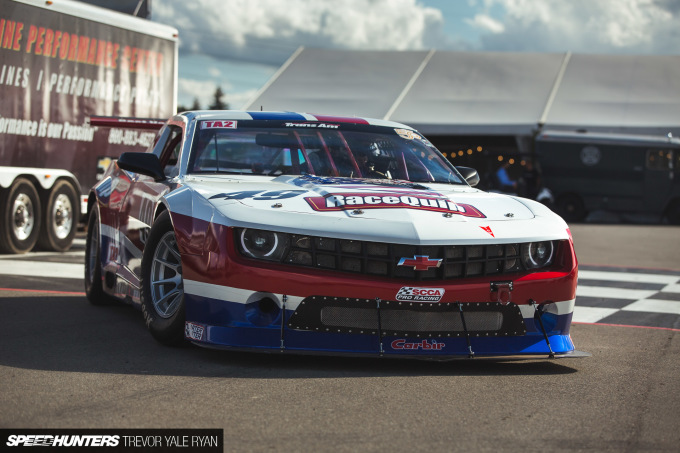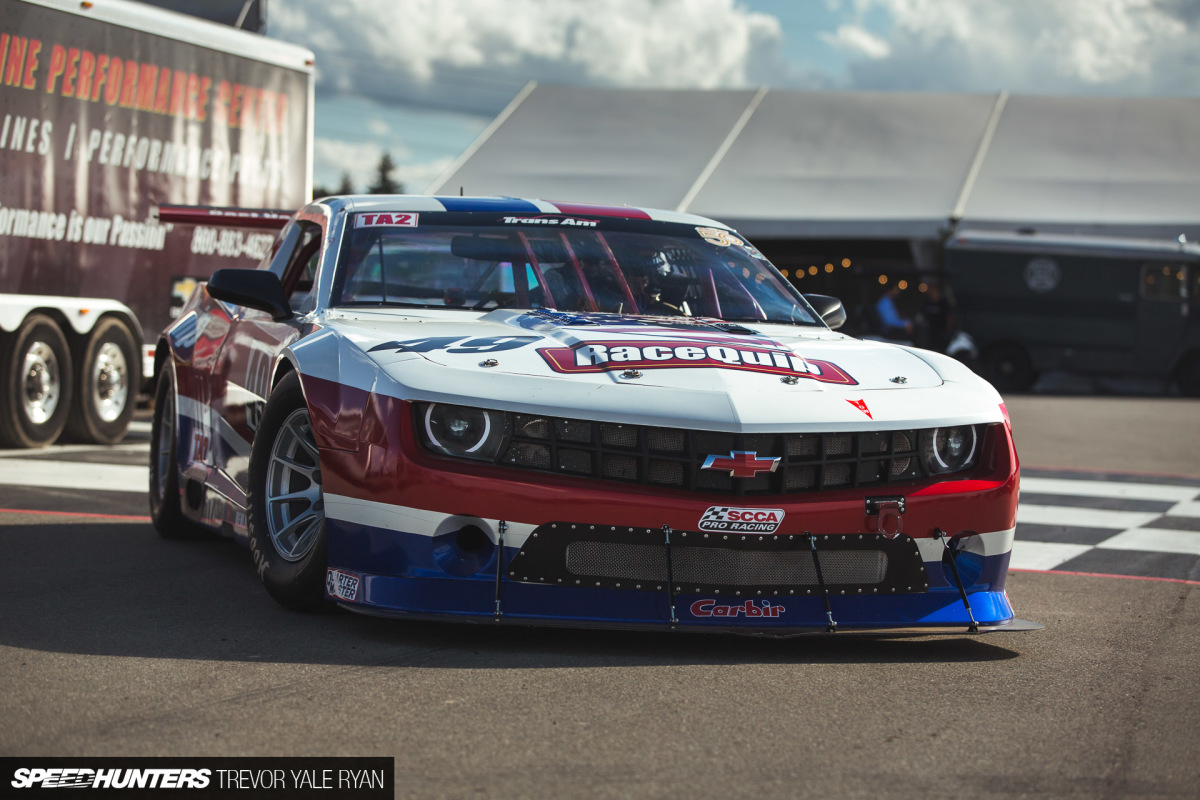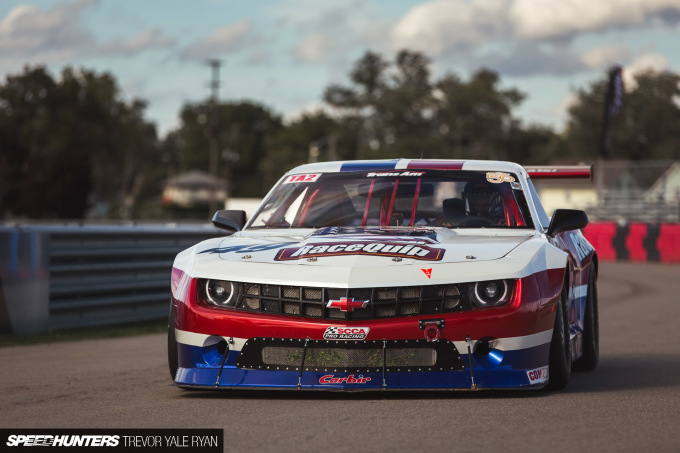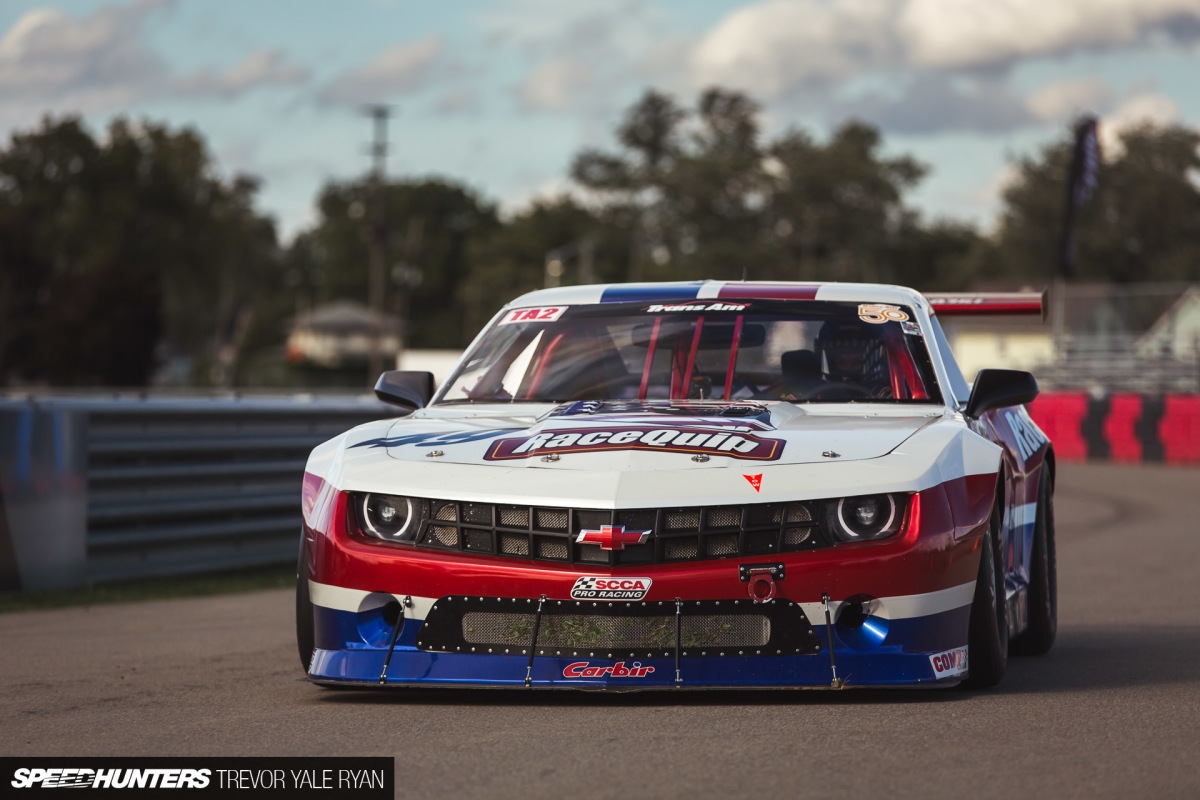 Like any decent American would be, I was happy to see RaceQuip's Trans-Am Camaro out on the track running some exhibition laps in between sessions. The driver seemed to be having a good enough time, even having a bit of a moment into turn one and finding himself on the grass.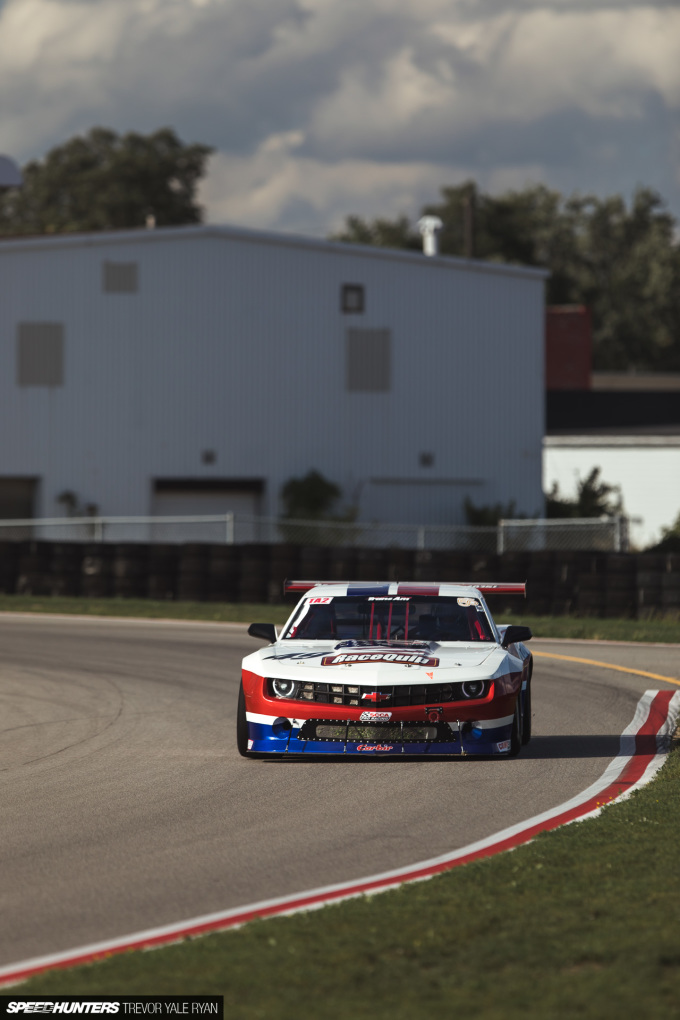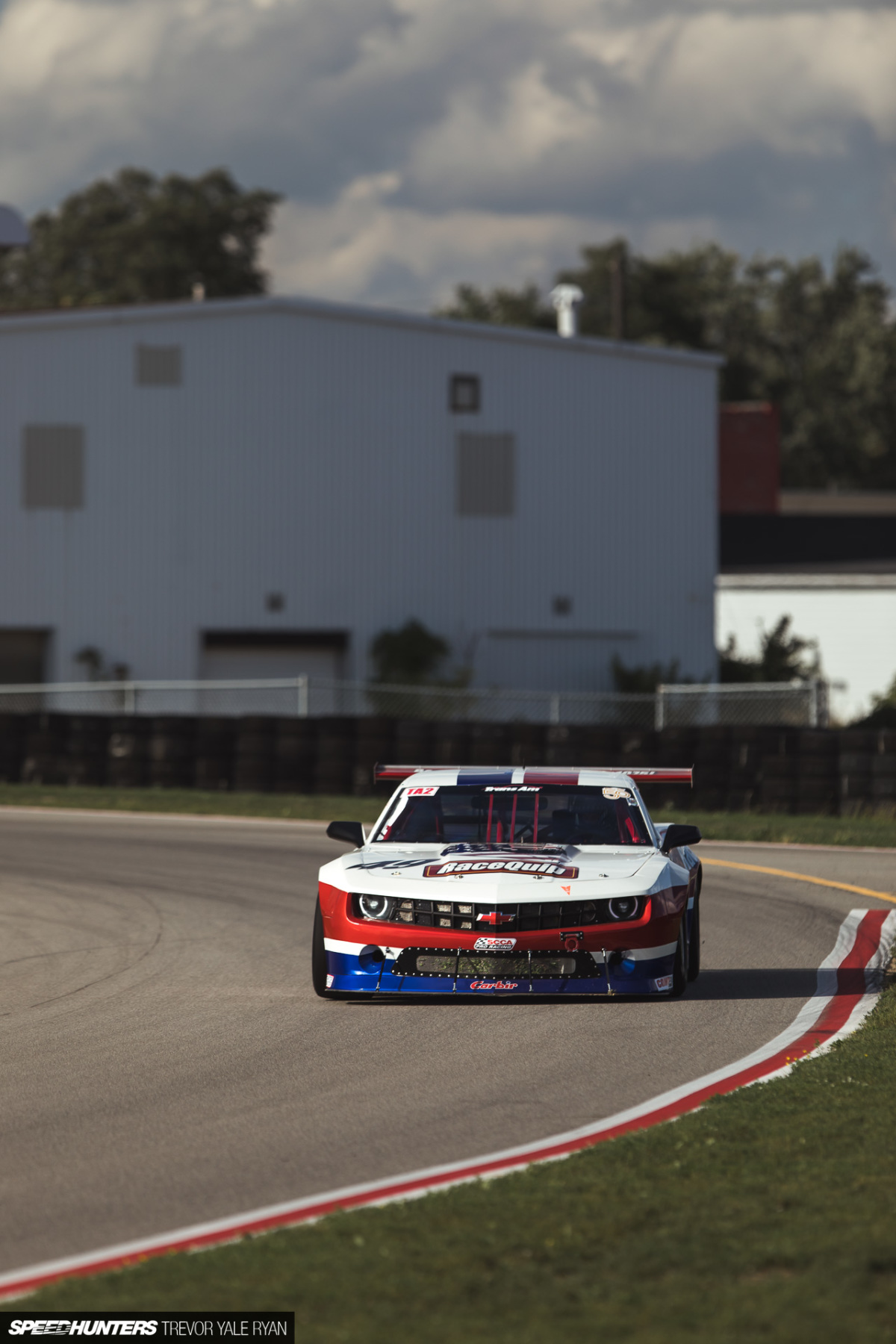 It definitely sounded as if America itself was thundering down the straight, and I couldn't help but guess if the car would be capable of crushing the course record. Although confined by class rules, I would have to think it would be at least as fast as the top drivers at the Speed Ring (who currently hold the record).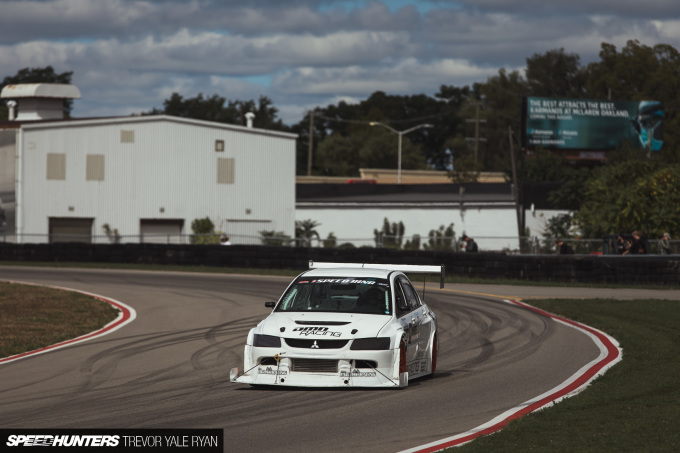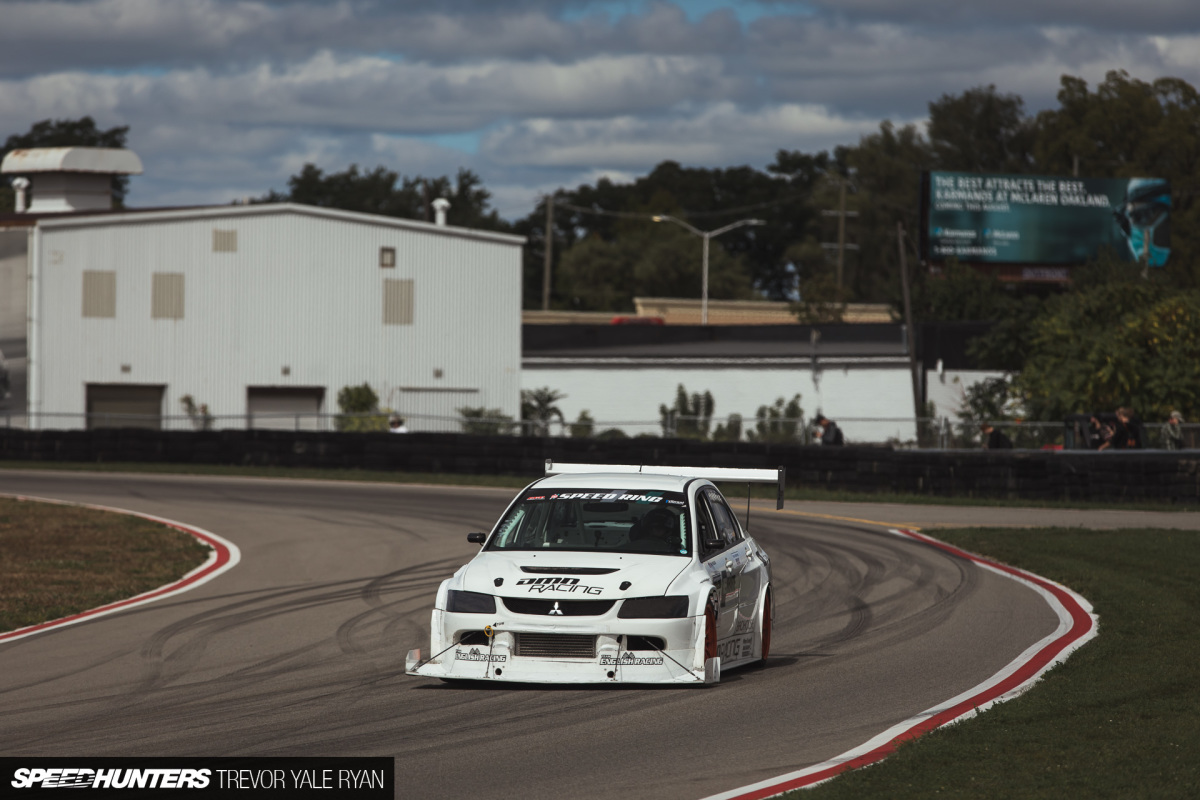 At the same time, it really is incredible just how fast the high-downforce, big-power builds are out here. It's definitely mind-blowing and face-ripping with average speeds around the track bumping up towards 90mph for the quickest cars.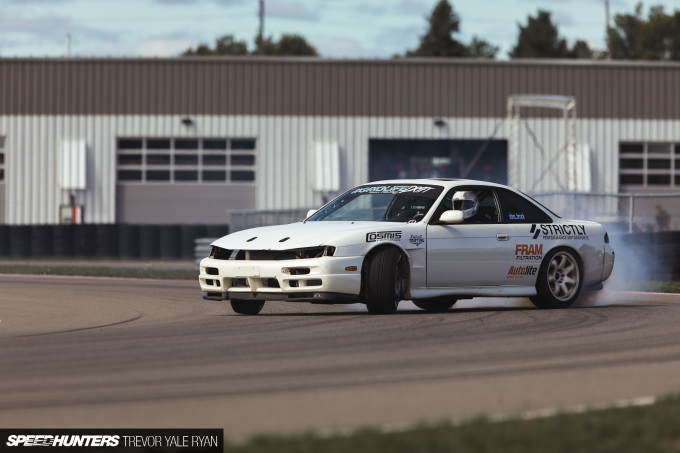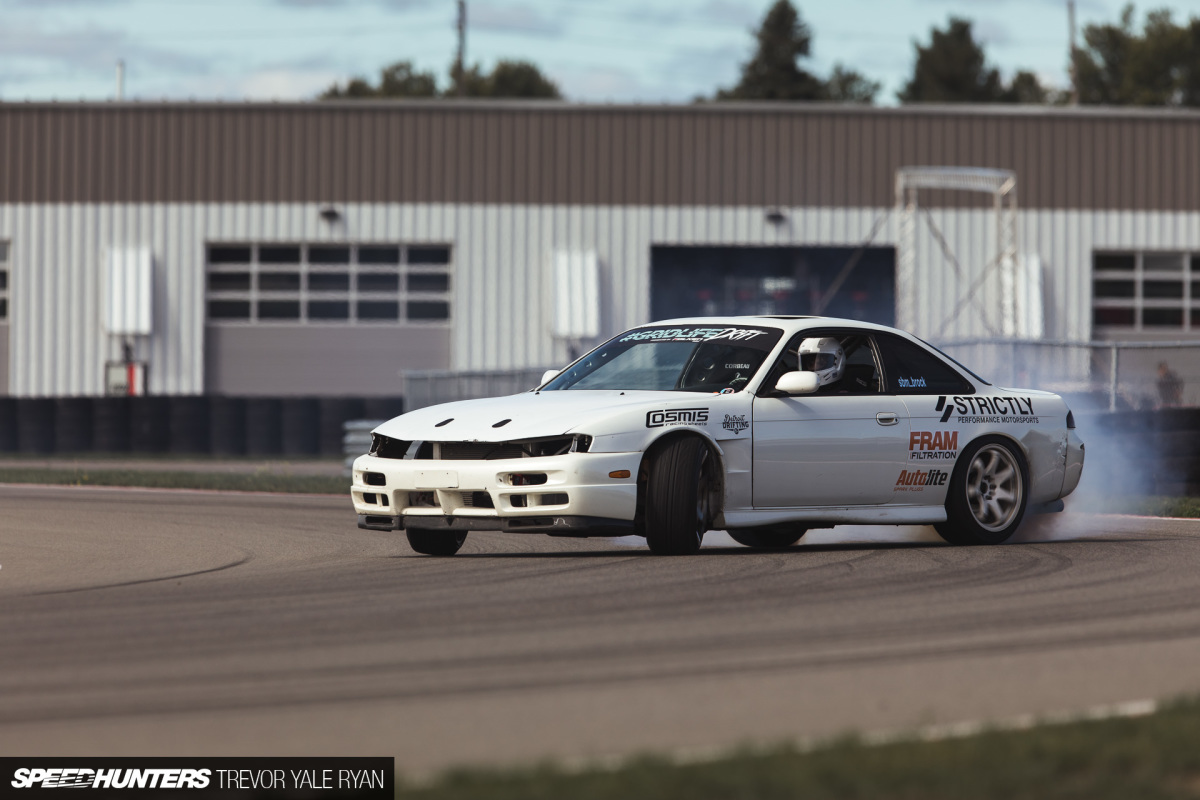 Throughout the day, the track was never really cold for more than a minute or two at a time. Filling in the gaps a handful of local drifters took to the course to entertain the small but enthusiastic Saturday crowds.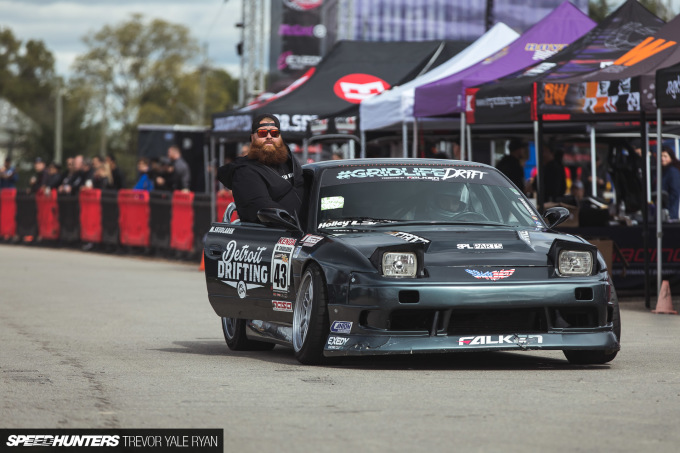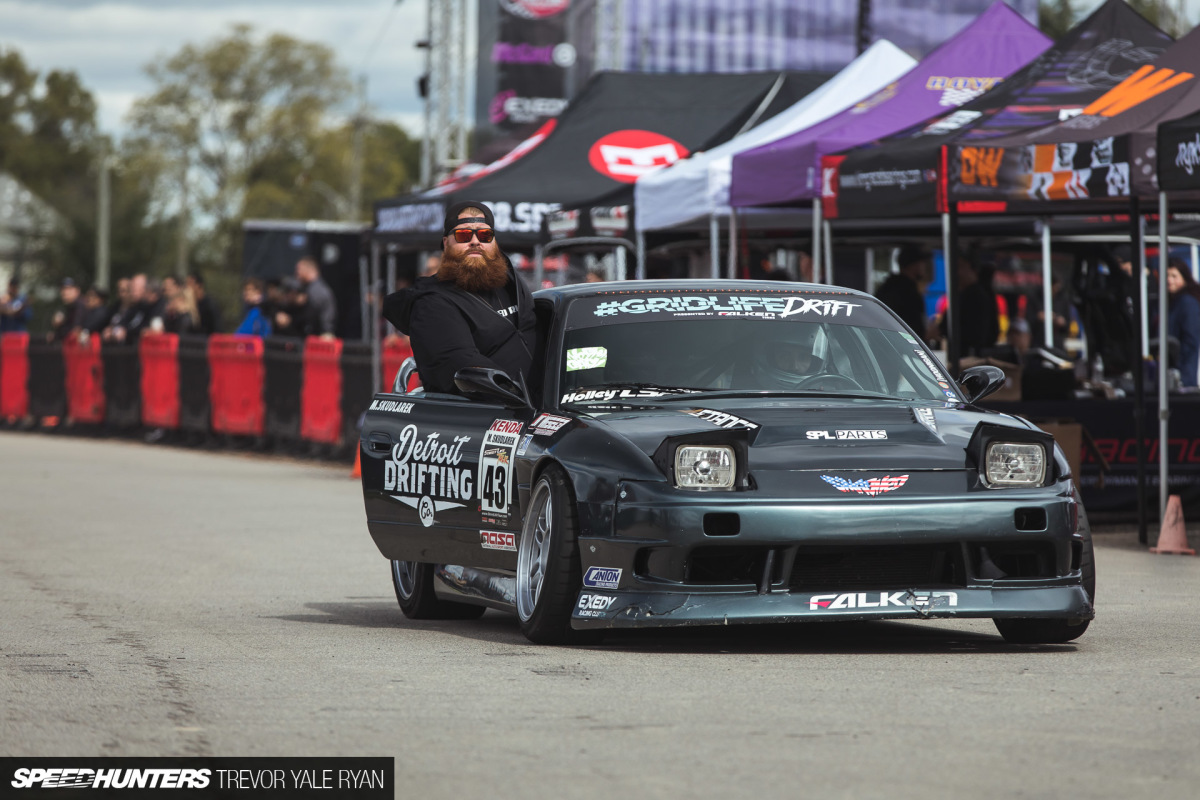 There was no competition here, but instead just a few guys having a good time.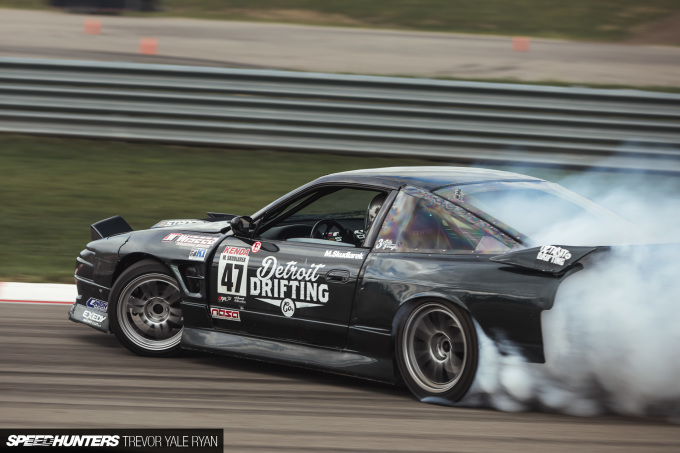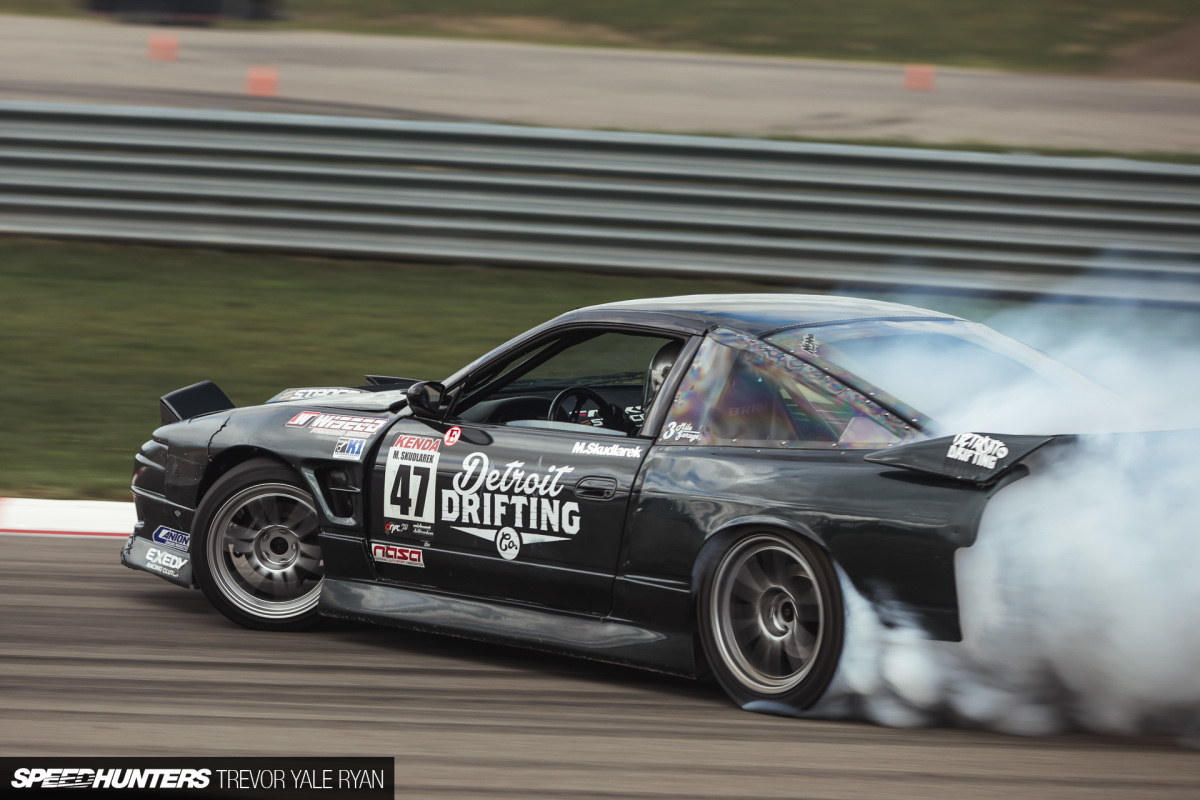 Unfortunately, one of the cars busted a hose in turn 10B, spilling antifreeze onto the course. Even more unfortunately, it may have been from this incident that the Speed Ring claimed another car during qualifying.
Seems Legit Garage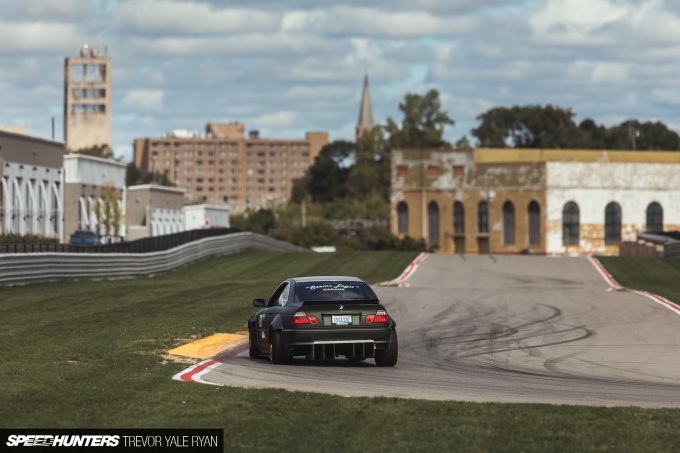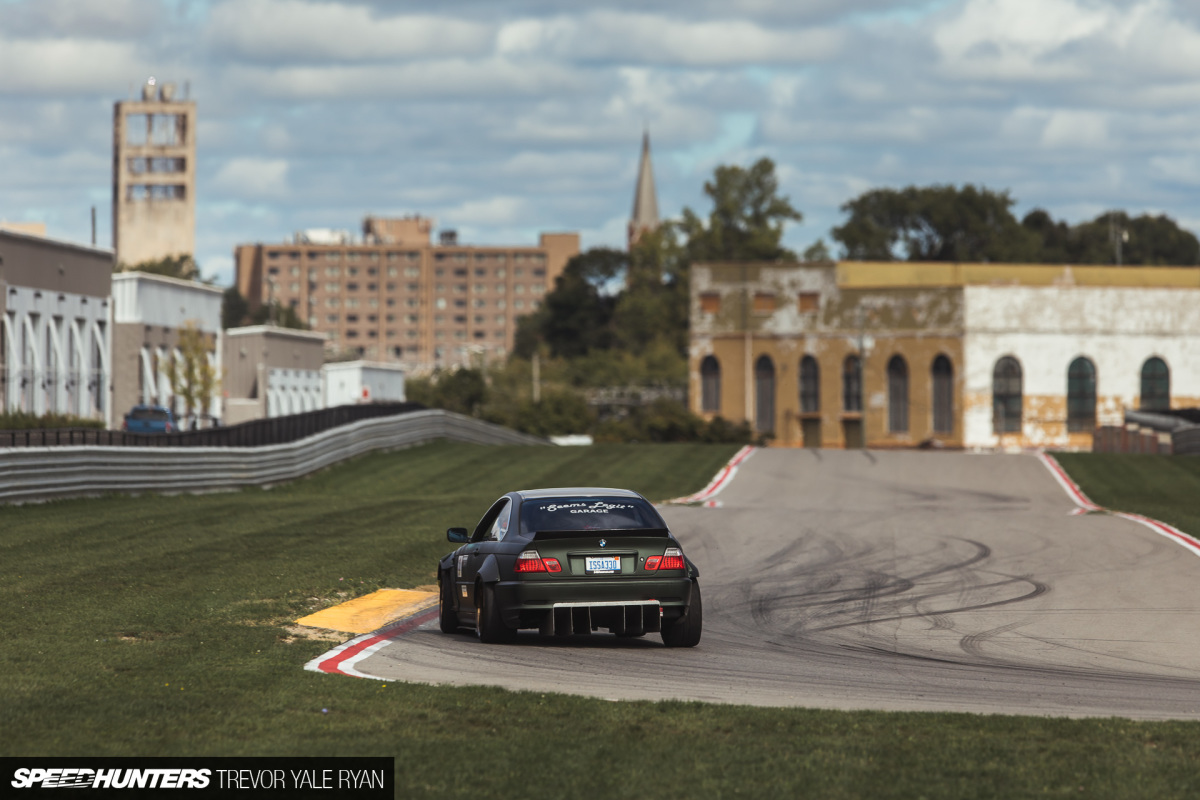 Enter Michael Pagano and the Seems Legit Garage E46 BMW 330i, competing in the Street Modified class.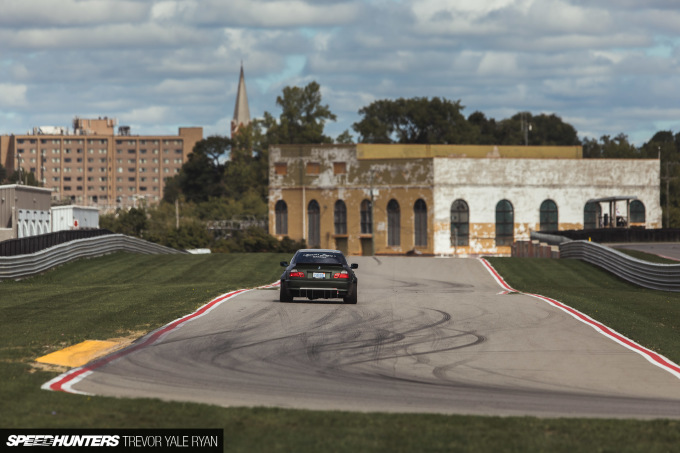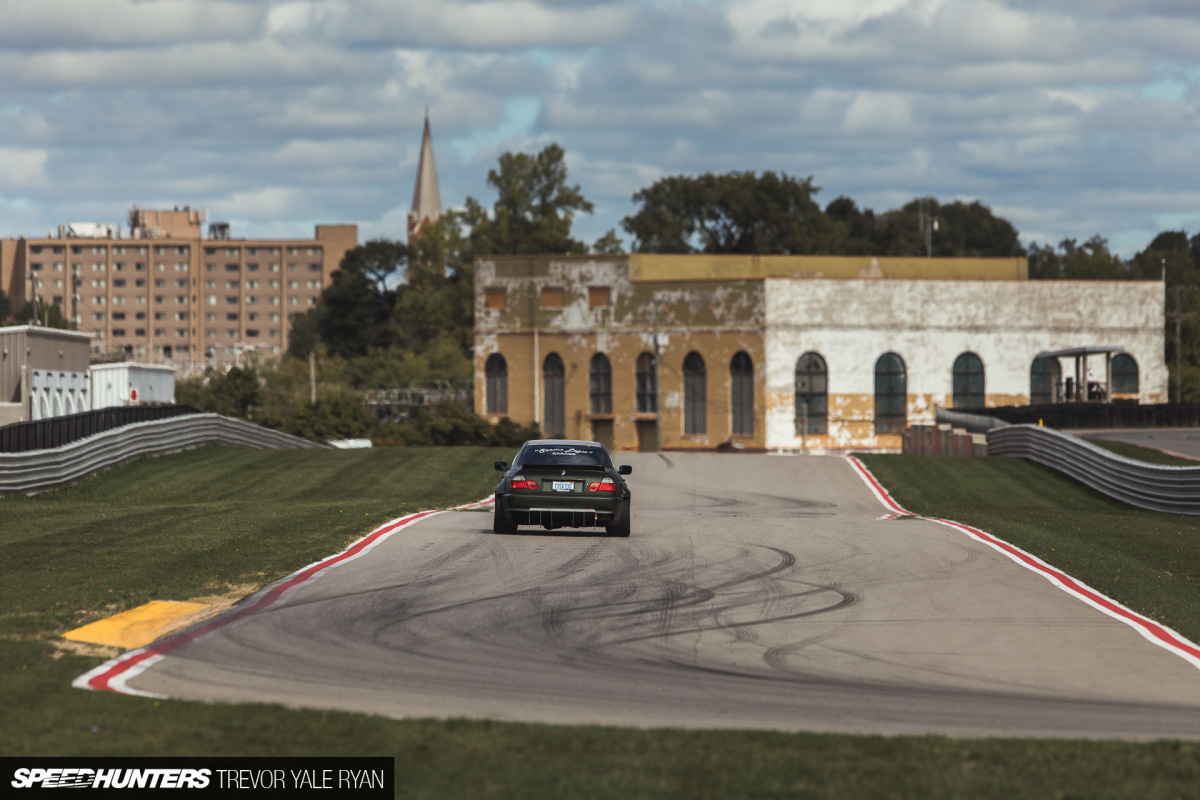 The BMW is a stunning looking car, but the only decent shots I really of the thing were as it was heading through turn six and down the longest straight on the course. Just a couple laps into the second qualifying session on Saturday, Michael went off in turn 10B, finding a tire wall instead of grip.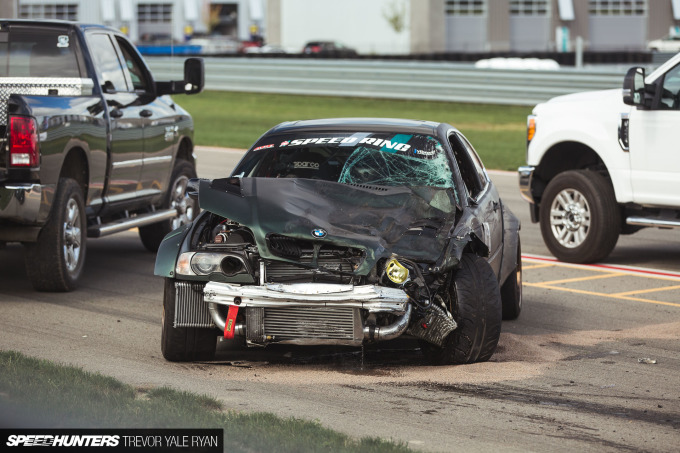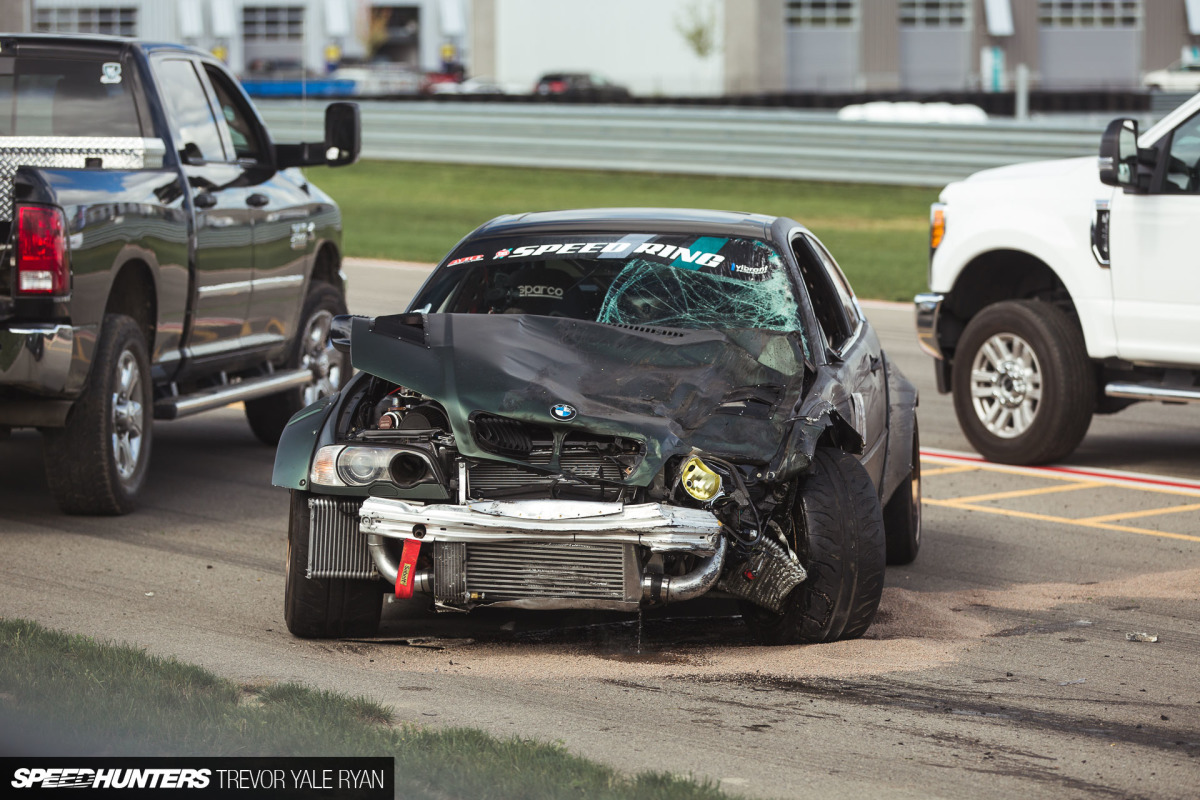 The important thing is the Michael's no worse for the wear and, for how bad the impact could have been, the car came out in not too terrible shape. The damage won't be impossible to make right as the frame turned out okay, with cosmetics and bolt-on parts taking the blow for the most part.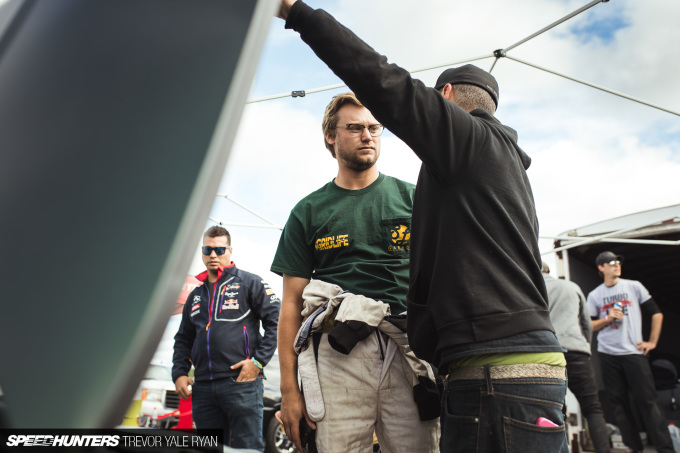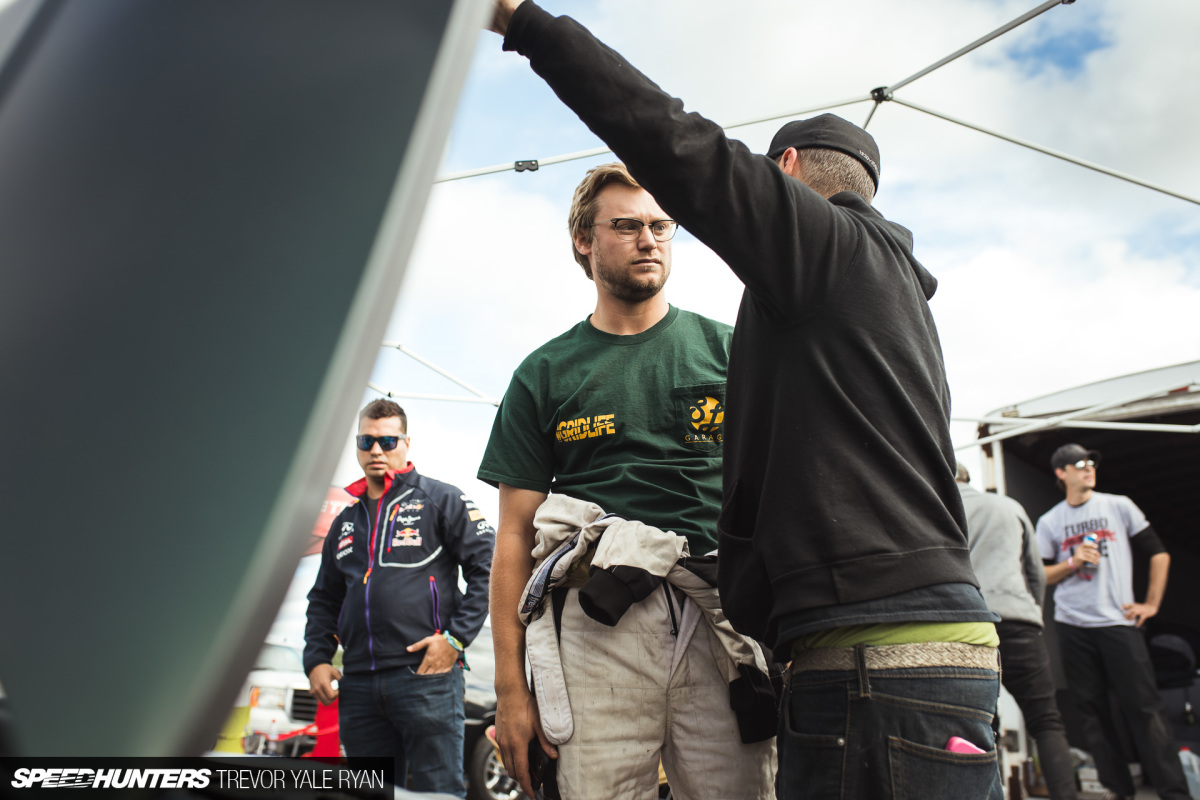 Talking to Michael immediately afterwards he was pretty shaken up, saying that this car is "everything." Still, he had the right attitude and mentioned that "you just have to accept these things can happen," and "If you want to have the fastest times there's no alternative, you just have to send it."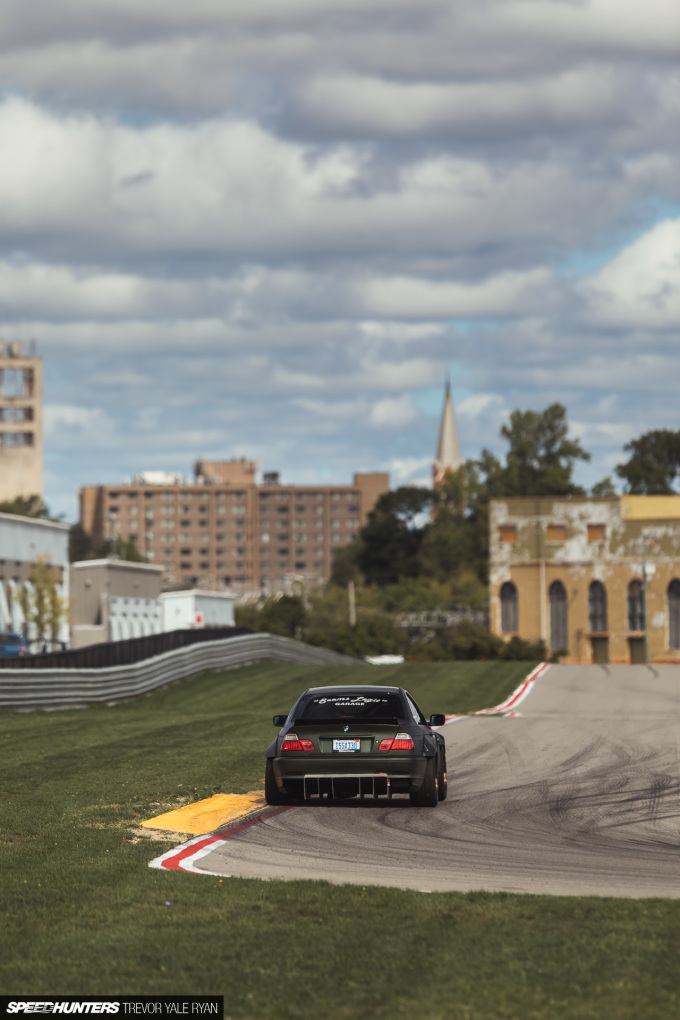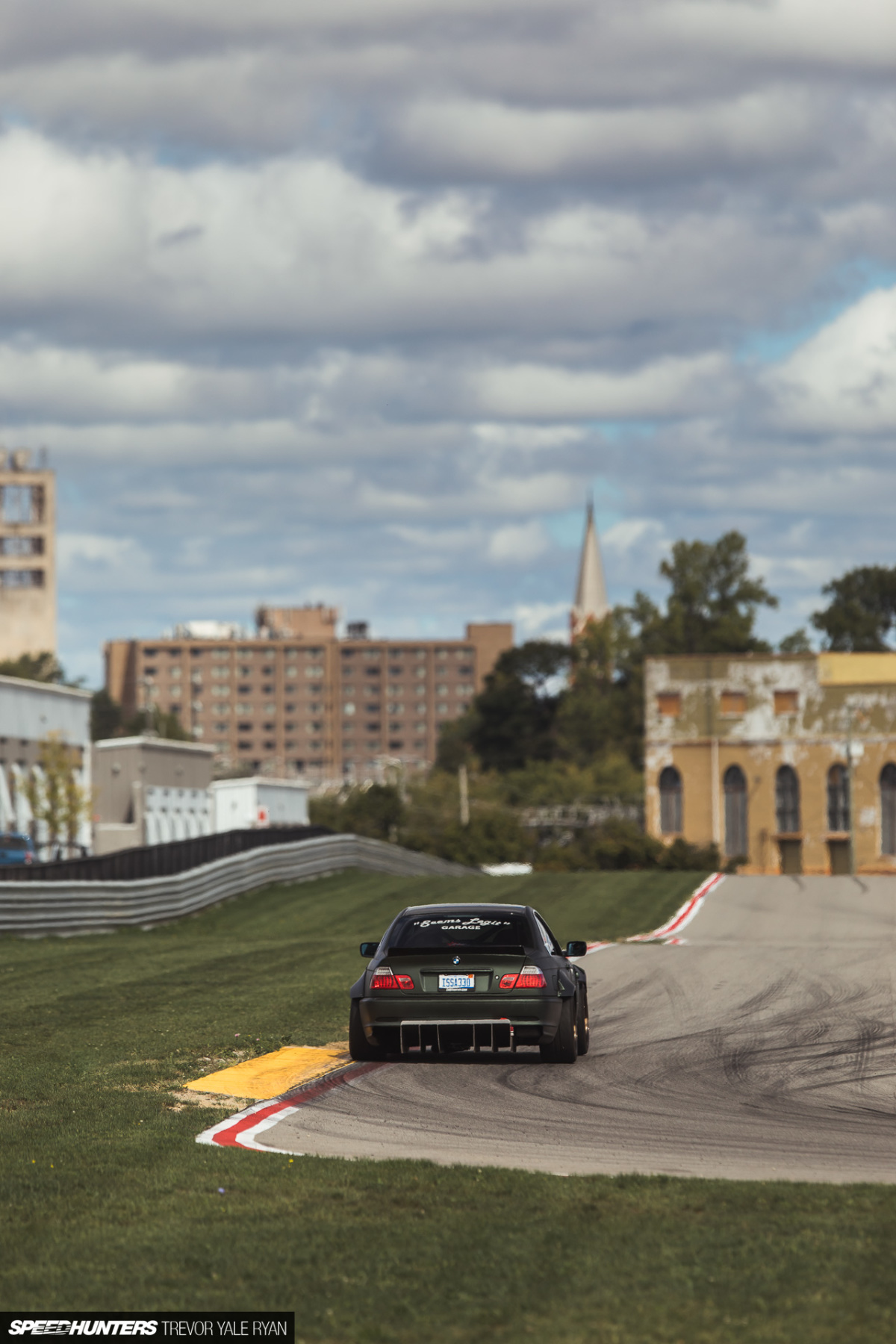 Living laps on the edge of grip, Michael was indeed clocking the fastest laps in the class with his BMW which is good for 570hp and 550ft-lb. At the time he was taken out of competition his lap in the low 1:12s was still the fastest of the weekend for the Street Class. For a bit of perspective, the third place finisher the next day was in the high 12s, meaning Michael had at least a podium in him.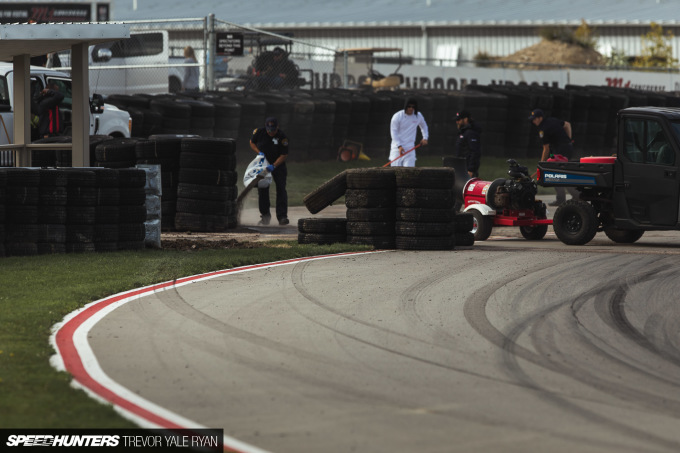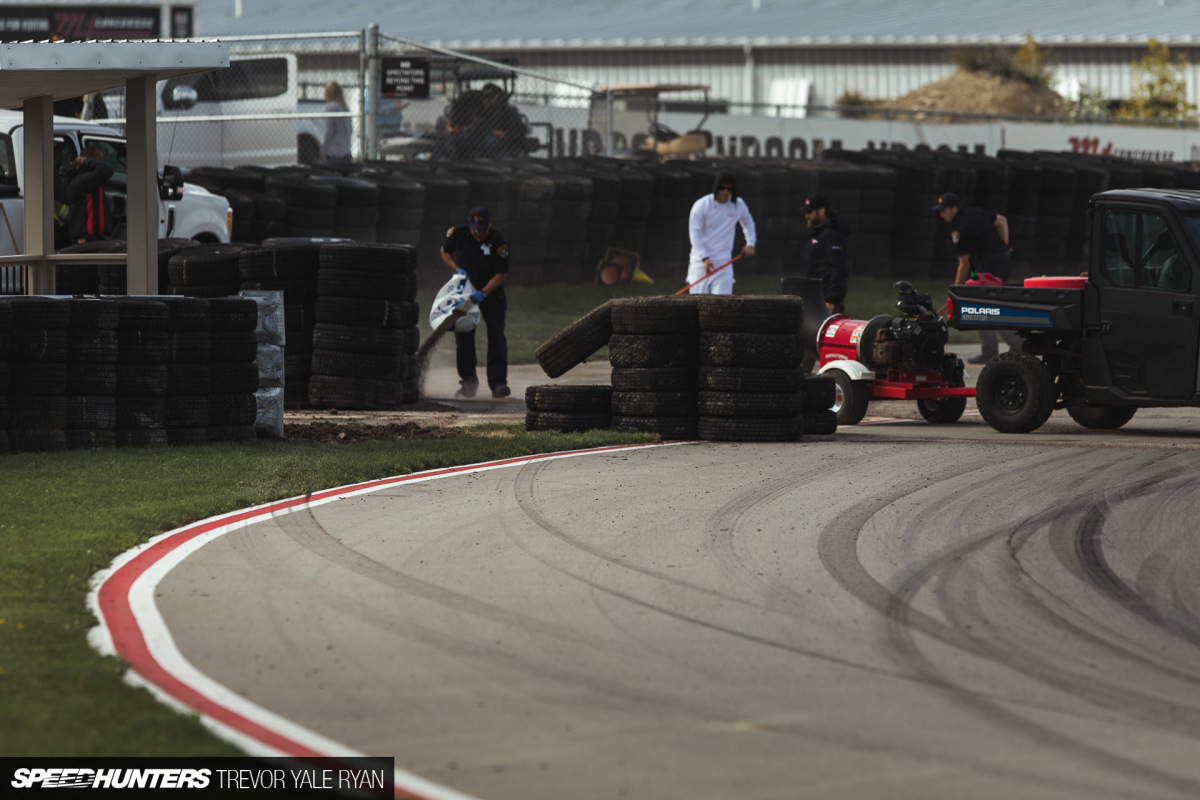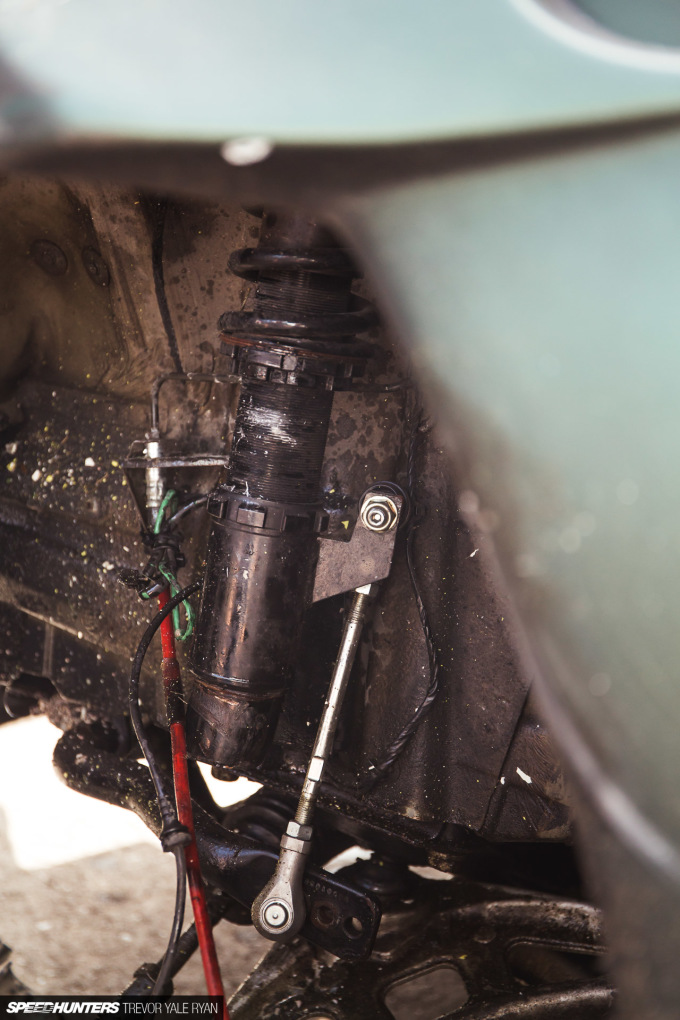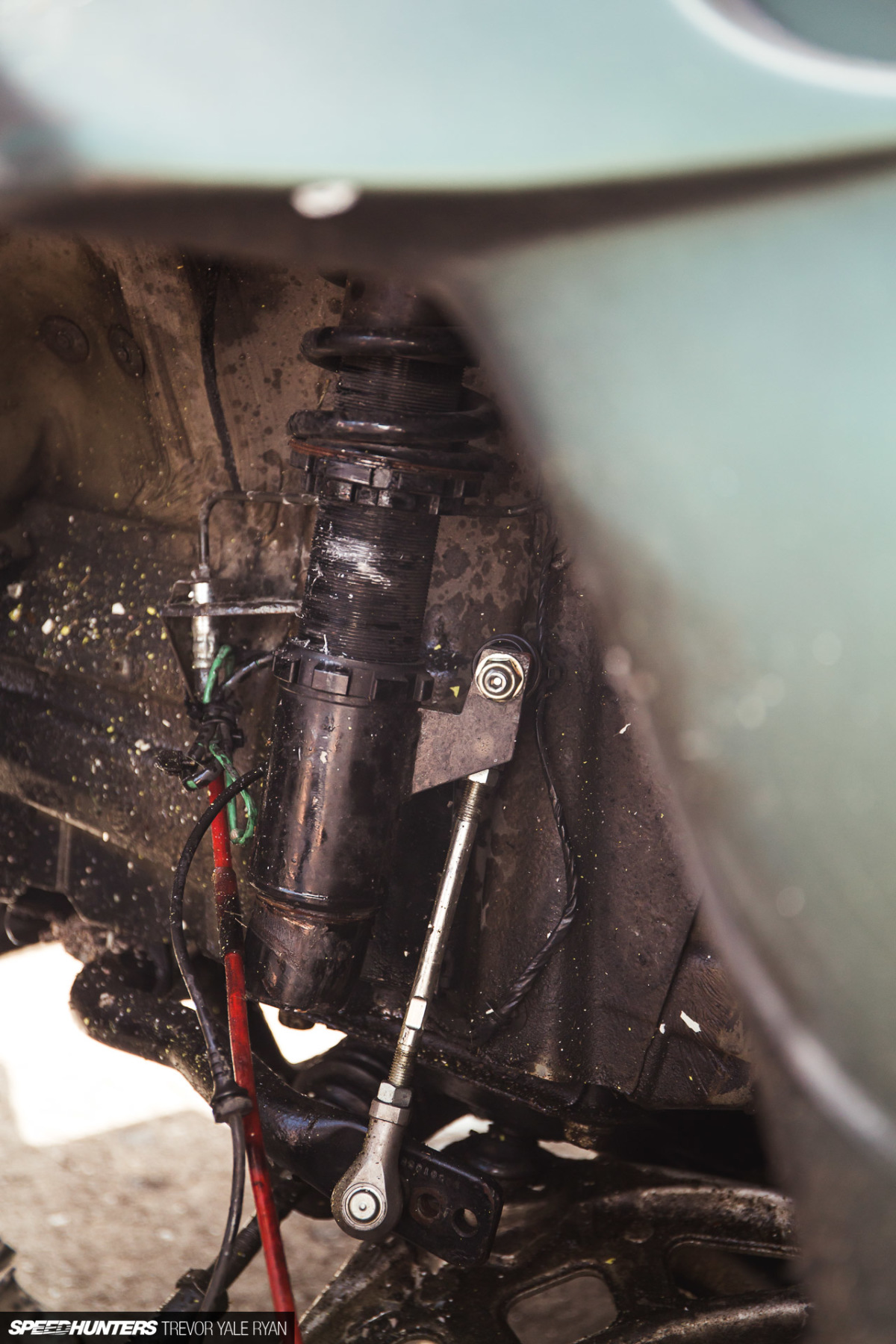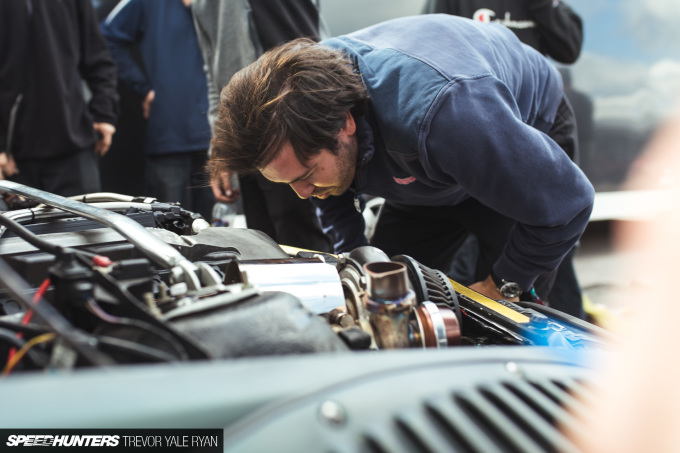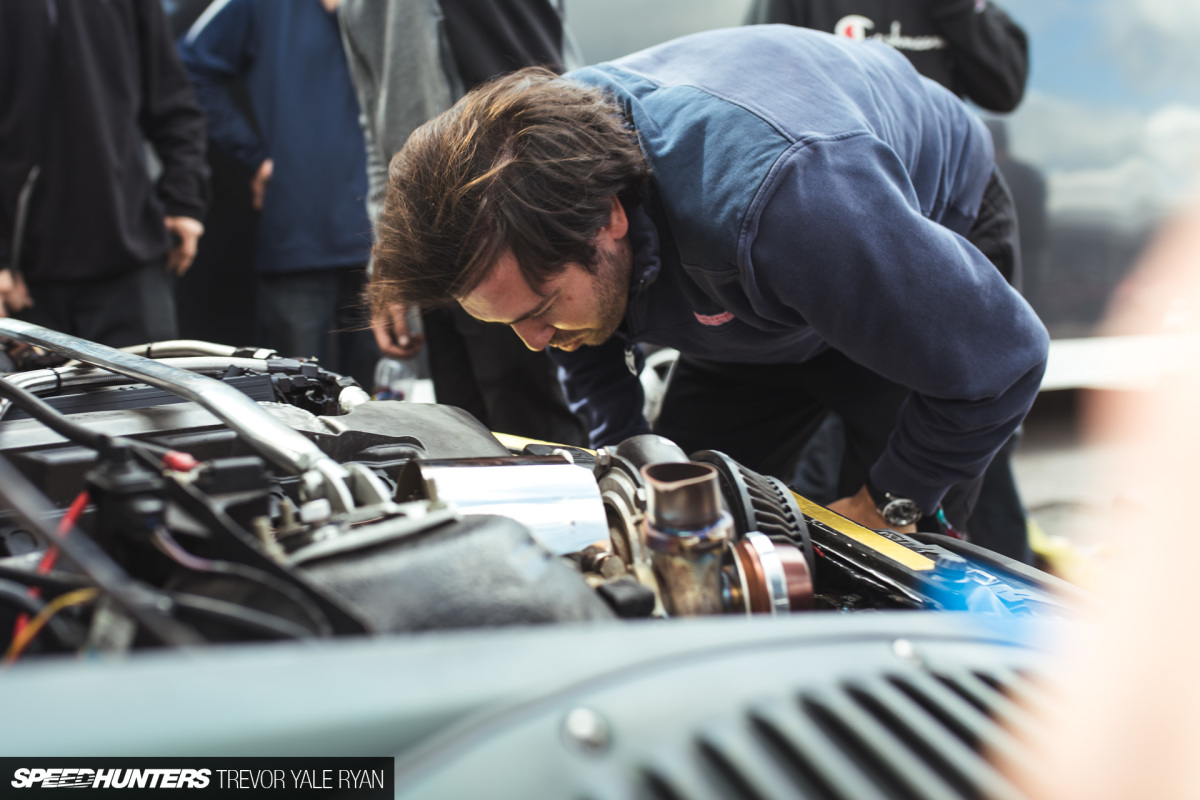 Explaining how the car lost grip, Michael said he was lift-off oversteering through 10B to get the car to rotate through the corner and be on its way to turn one. However, when the car started stepping out no amount of counter-steer or throttle control could bring it back this time around. Luckily, he was able to power past the Armco and into the tires which, likely, saved his front end from being beyond destroyed.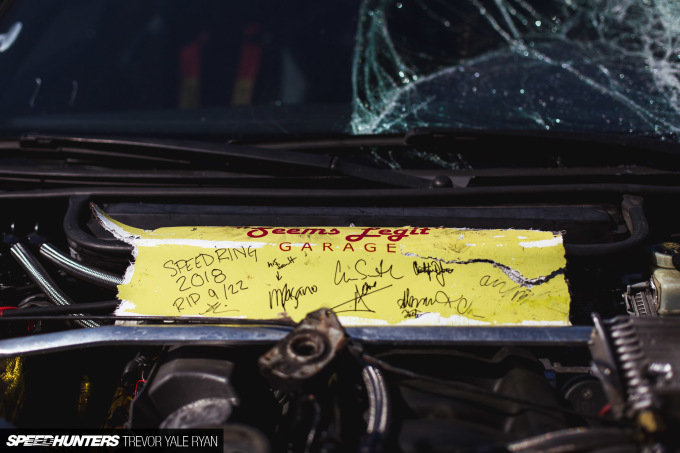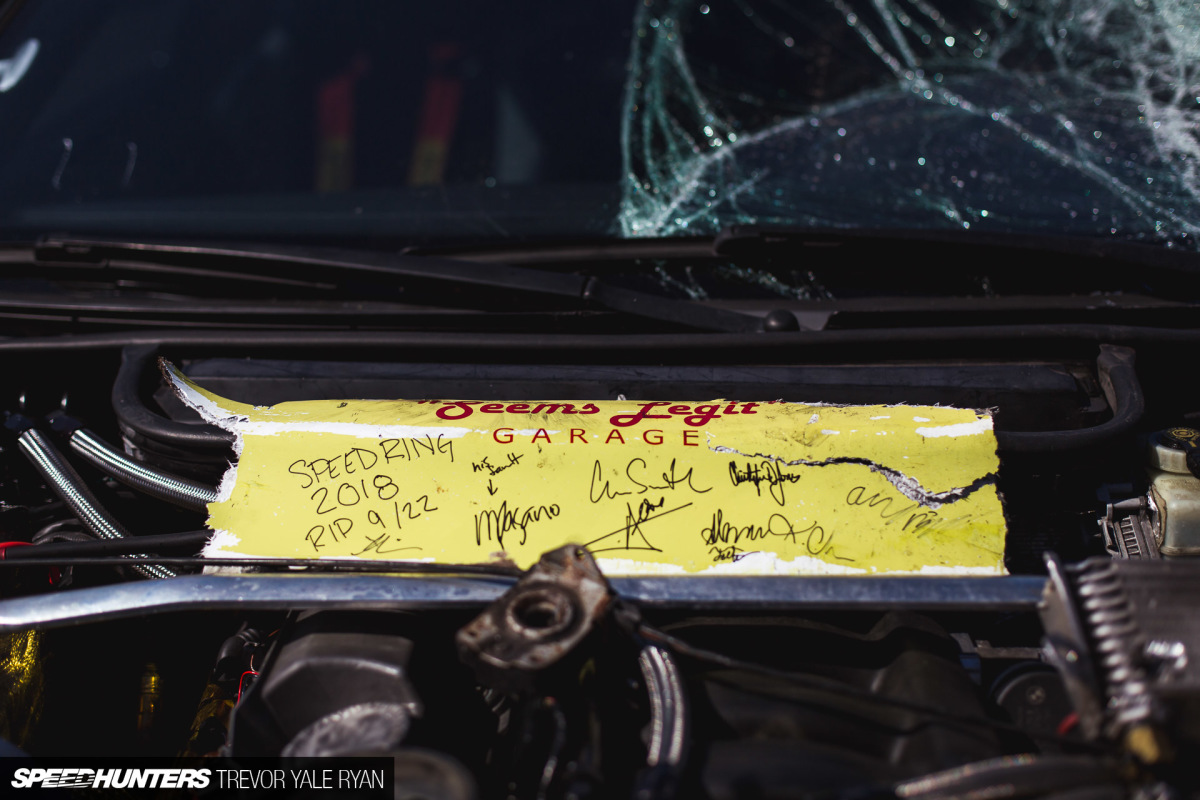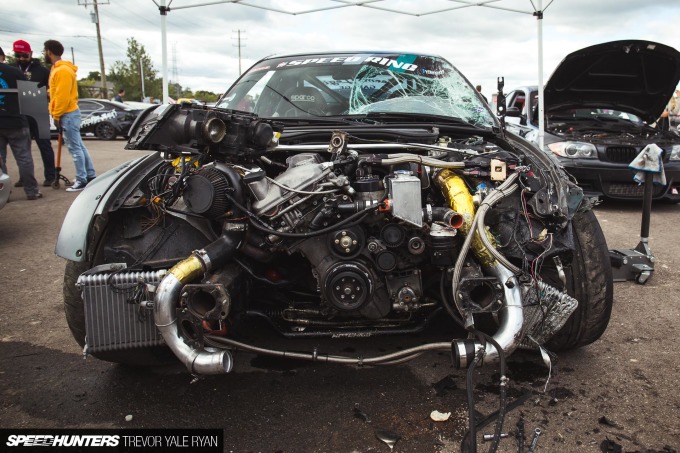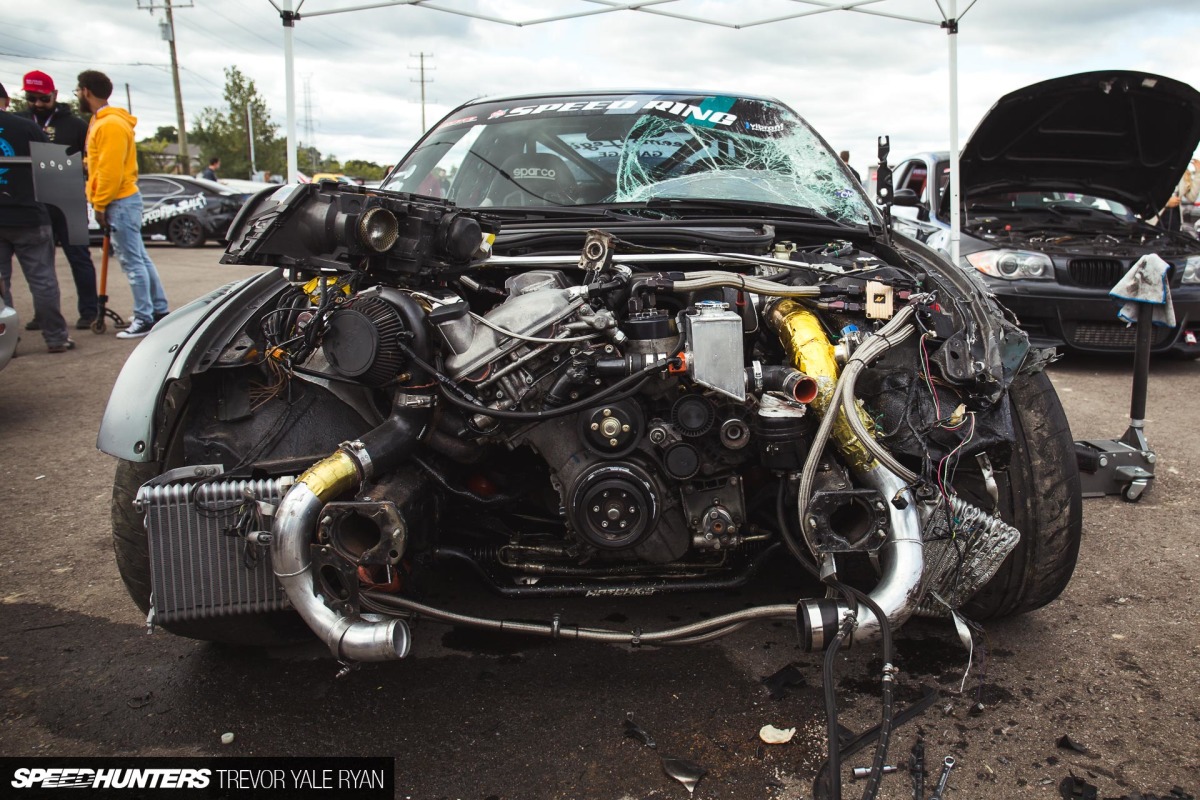 Although he had the perfect racer's excuse with the drift car dumping all its fluids in that exact spot just 10 minutes earlier, Michael didn't take the bait. Shaking off the wreck and ready to move on, I don't have any doubt that Michael will be back soon in top form with the E46.
Race Day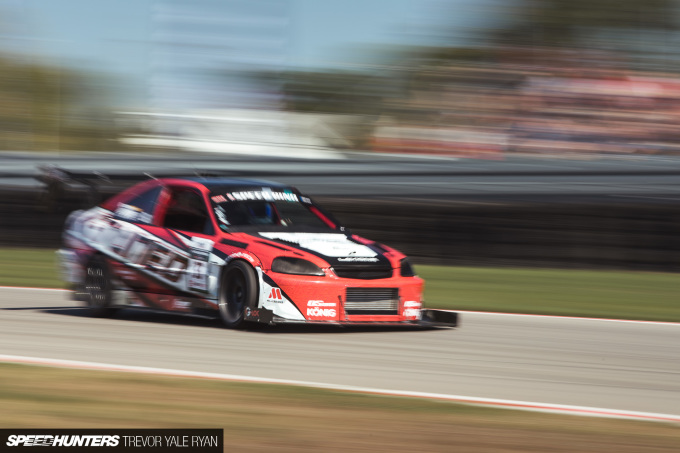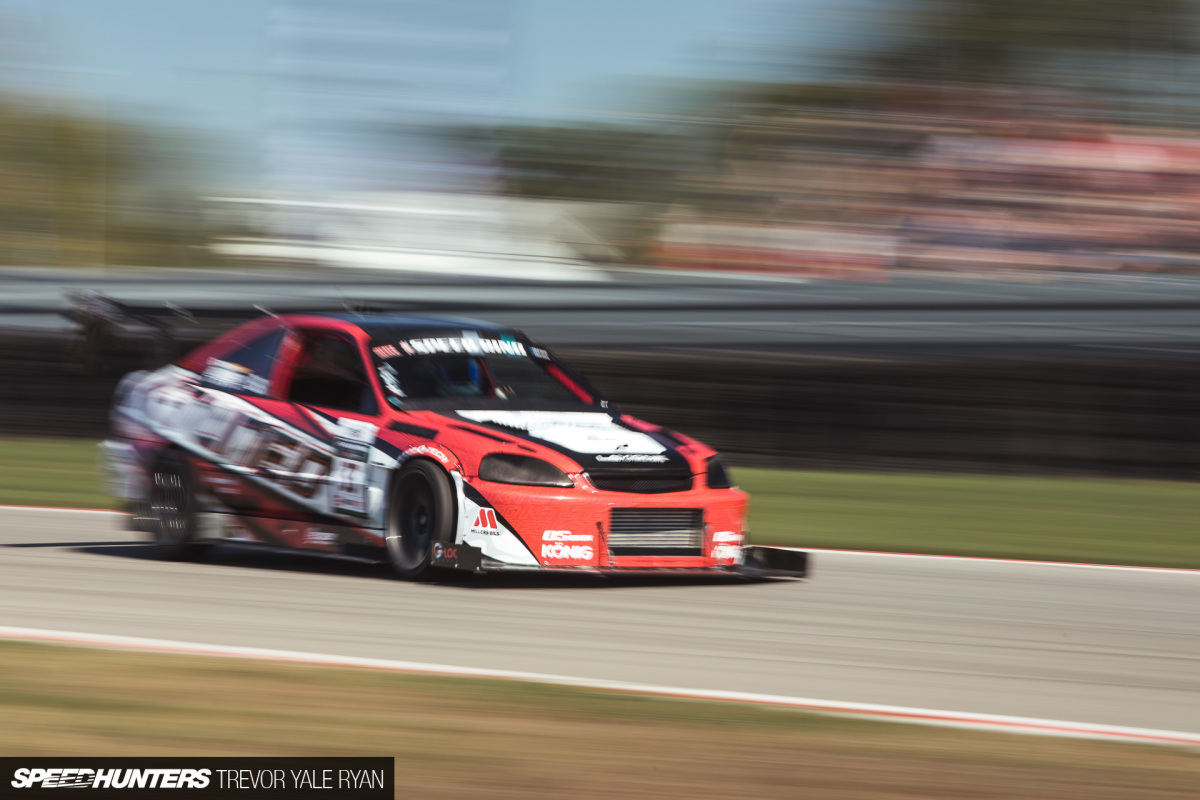 As Sunday rolled around, all the drivers were nestled into their brackets and ready for competition. With everyone's time on the course limited to this weekend (along with, possibly, last year's event), all the drivers were in the same boat when it came to learning the new course.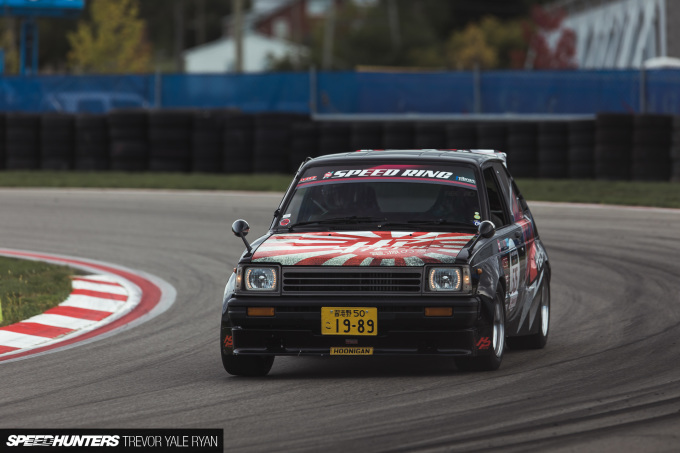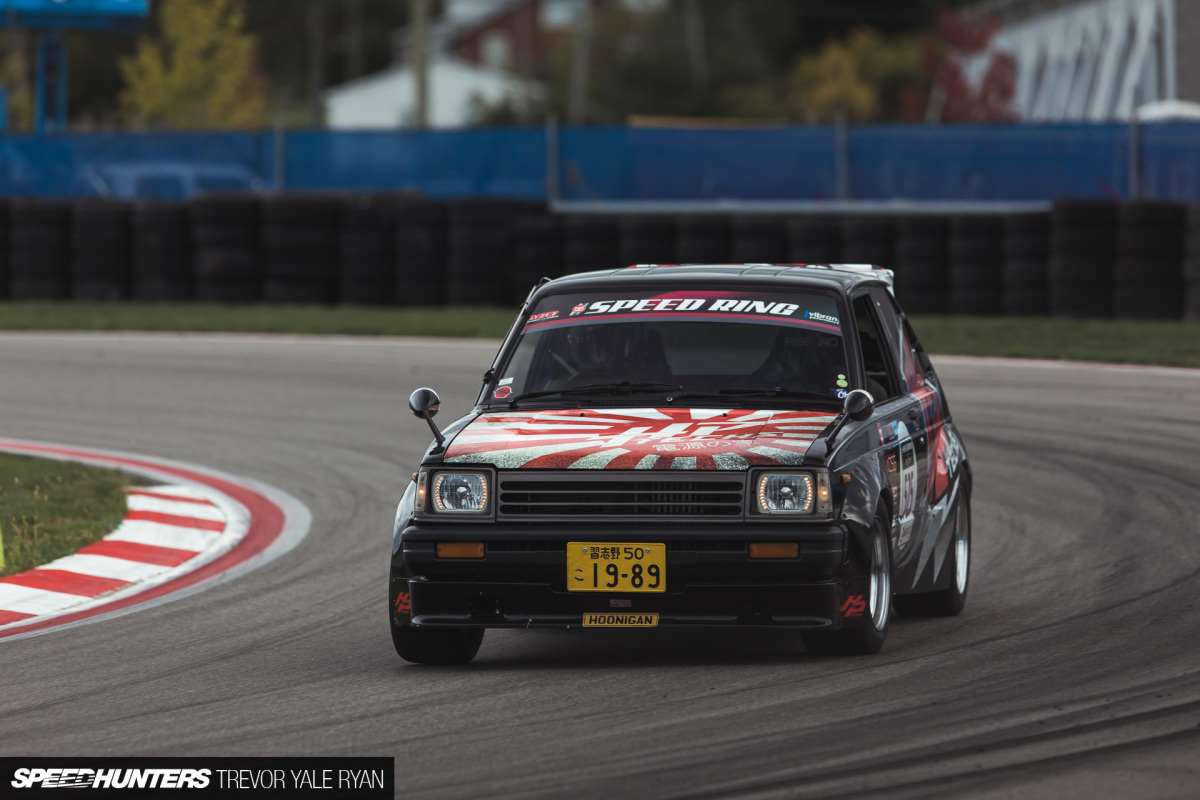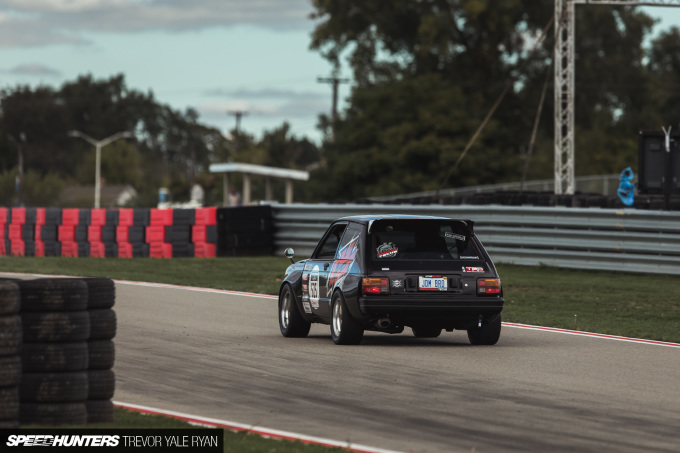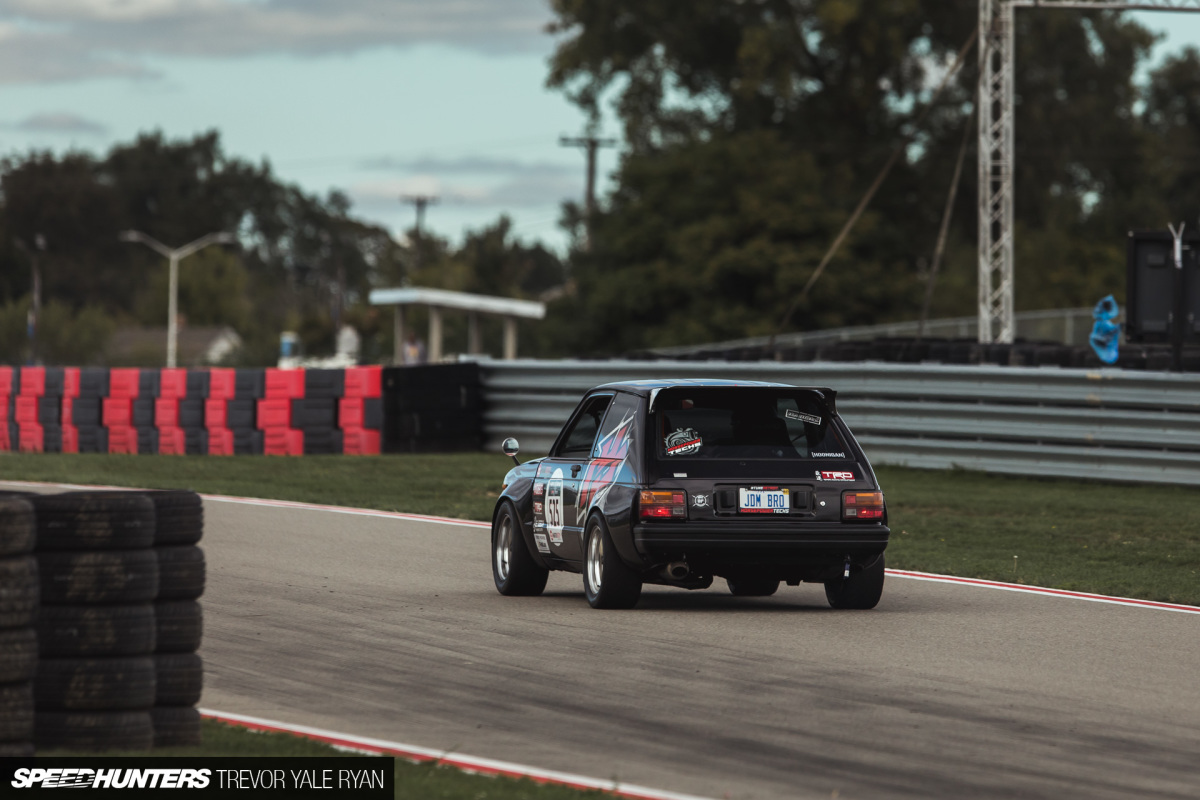 It was really cool to see all the different builds that showed up for competition with huge variety even within each individual class.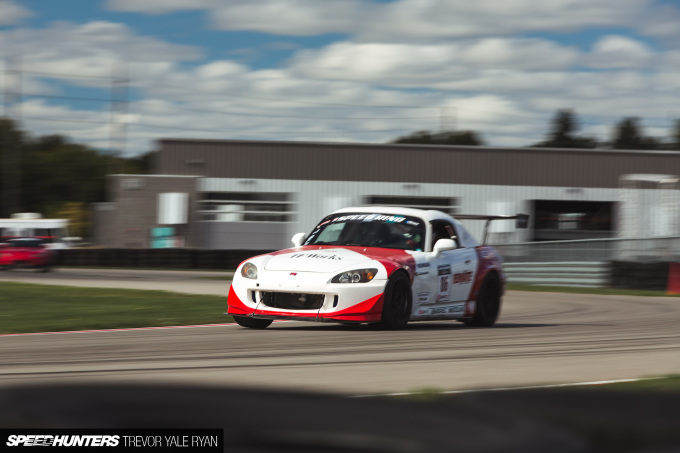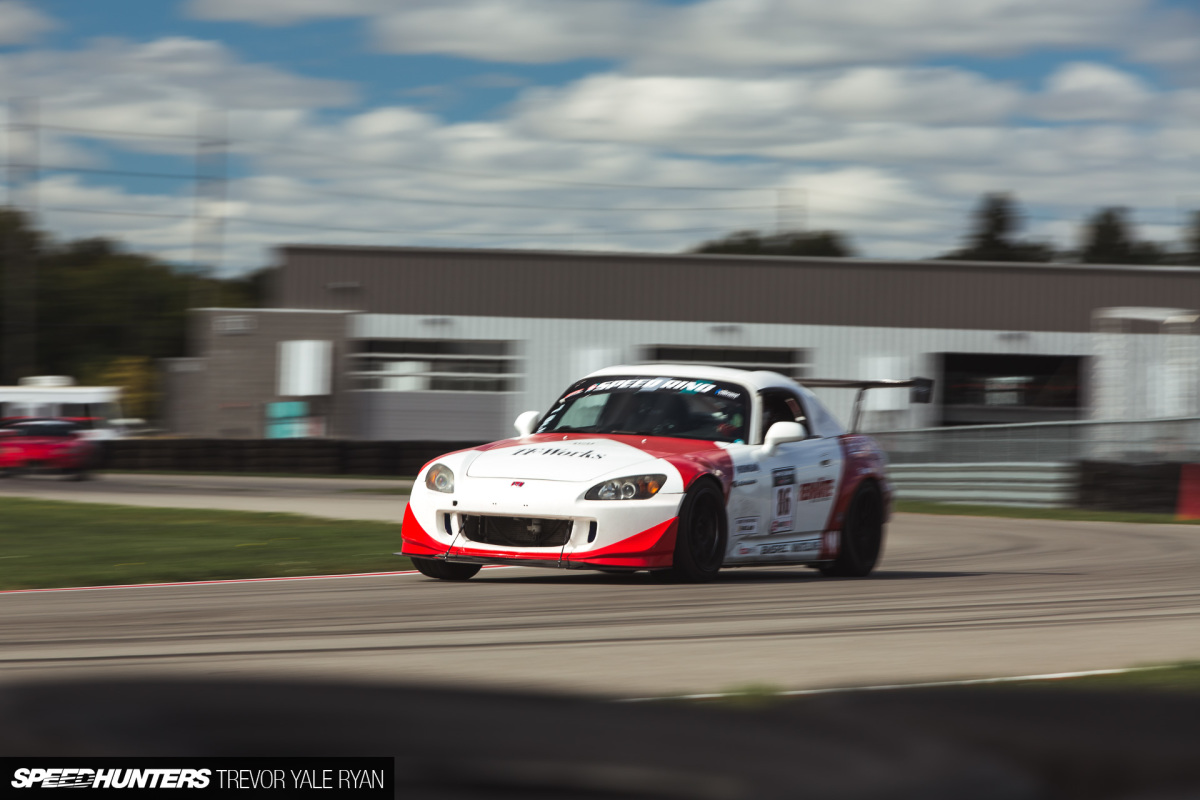 The battles were close all day long, but only a couple required a 'One More Time' repeat showdown. This classic S2000 versus Miata battle in the Street Class might have been my favorite one all day, with Jackie Ding in the S2K edging out Darby Barber's NB after a second go-around.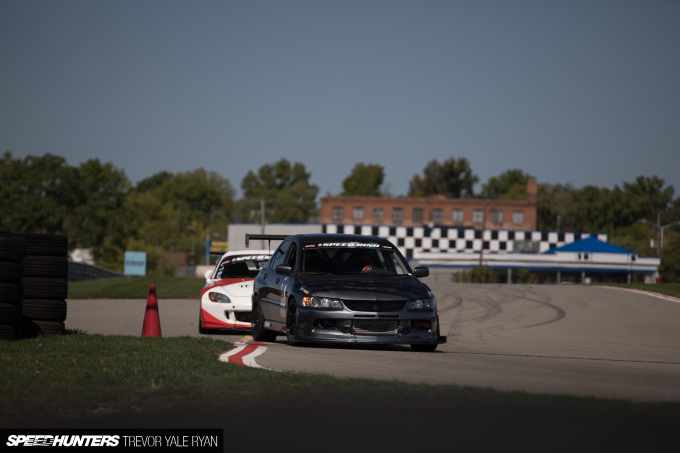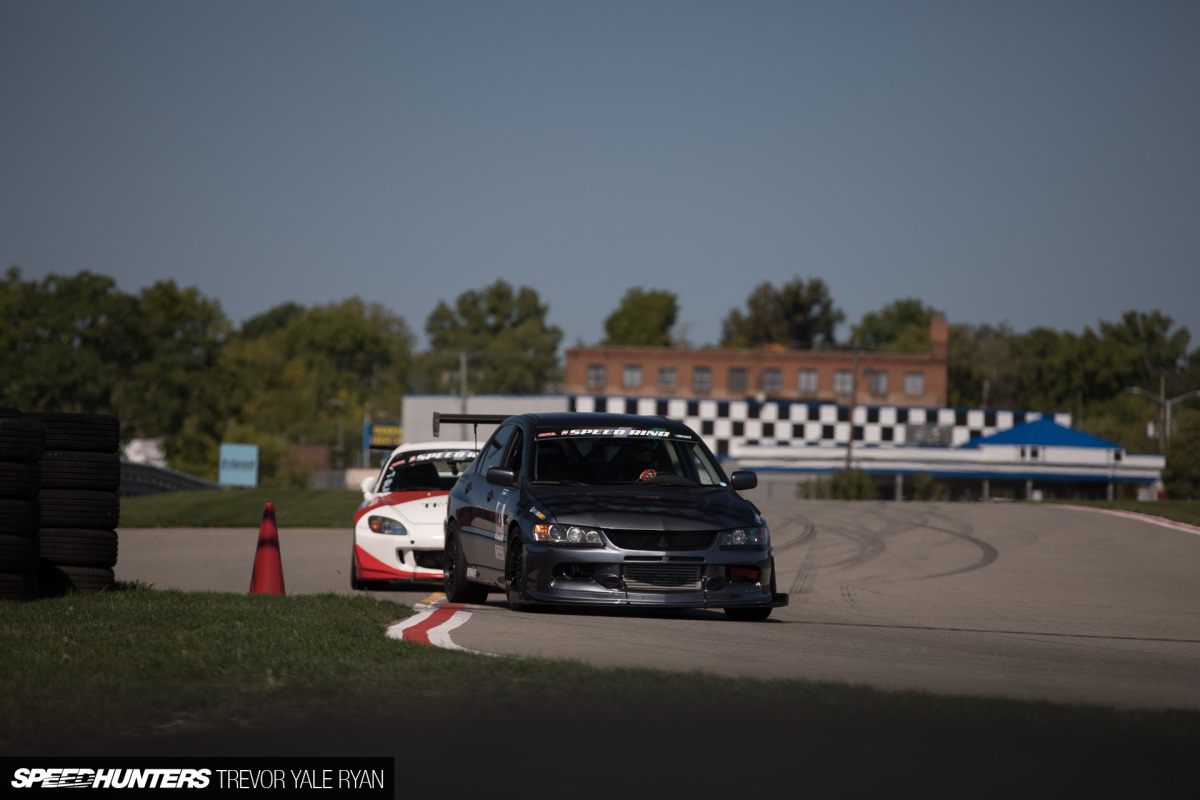 Eventually Jackie lost out to Shawn Krebsbach who went on to take second place in his Evo. I heard these guys had only just pulled off an engine swap at the last minute to make it to the Speed Ring.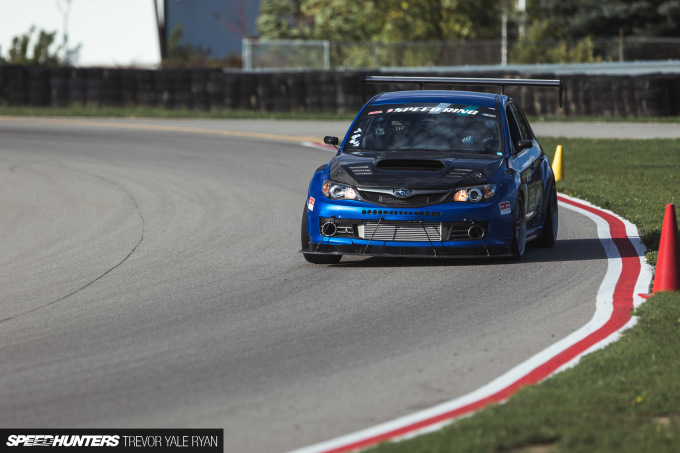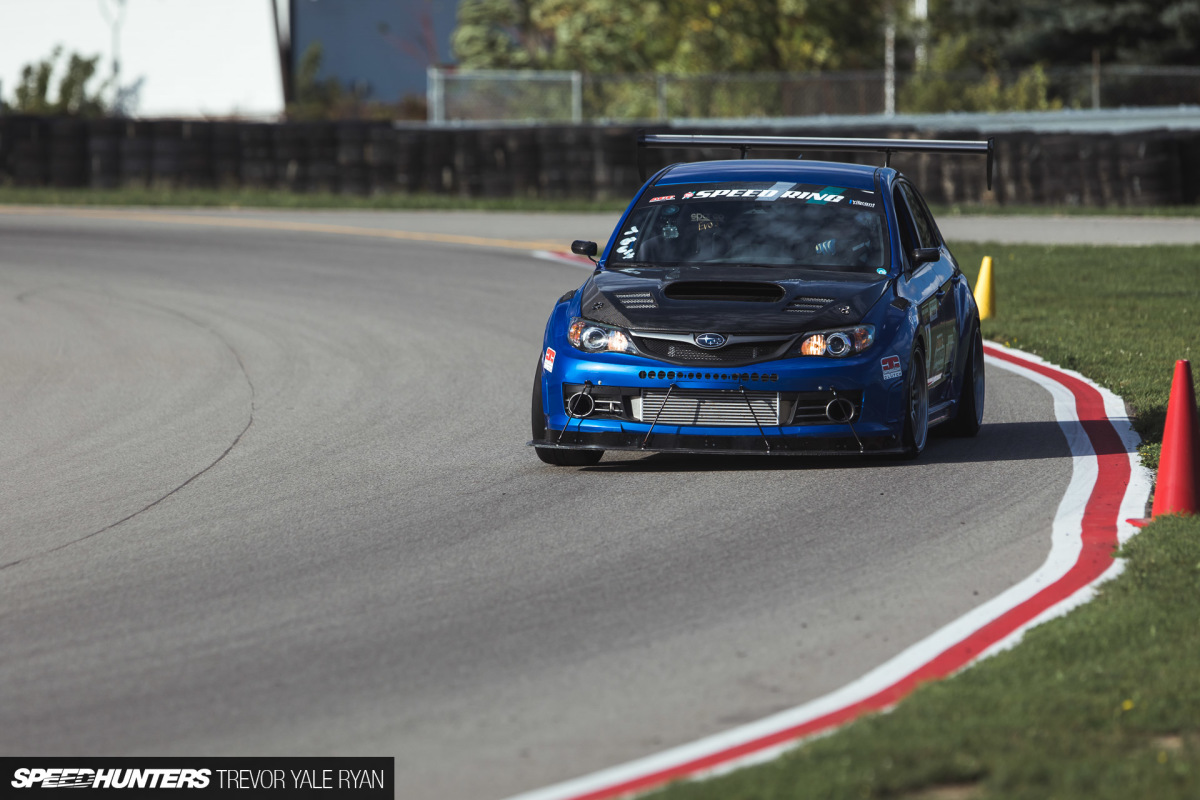 Beating him out in the final Street Modified battle was Tom O'Gorman piloting another AWD car, albeit a Subaru rather than a Mitsubishi.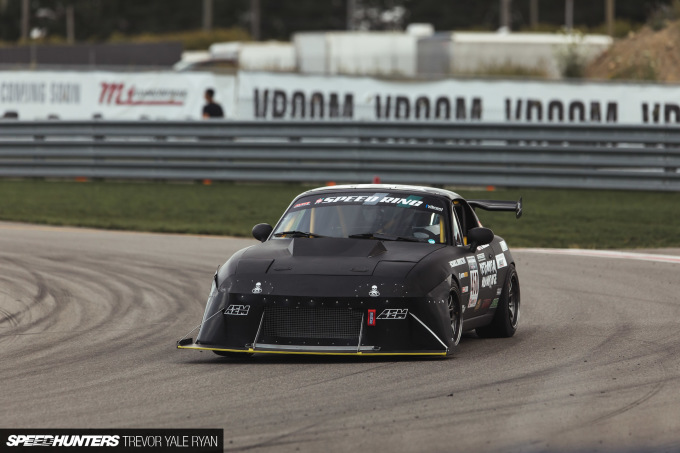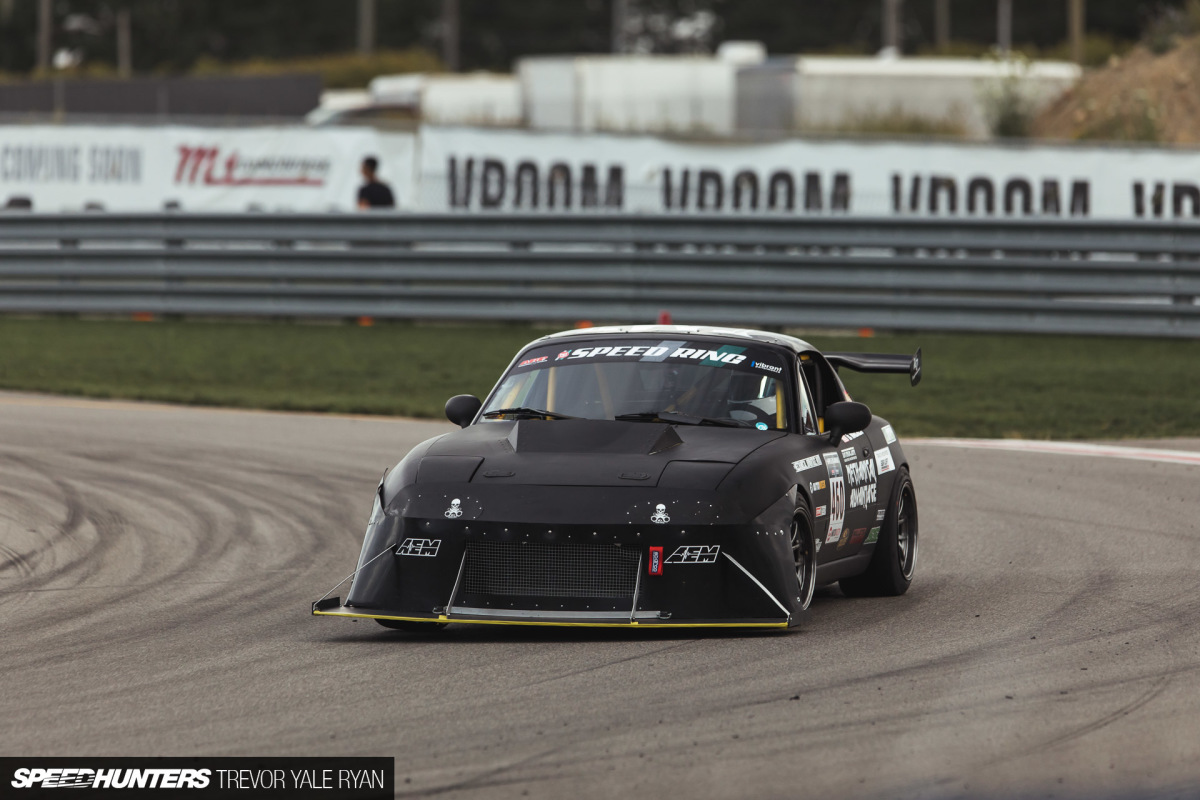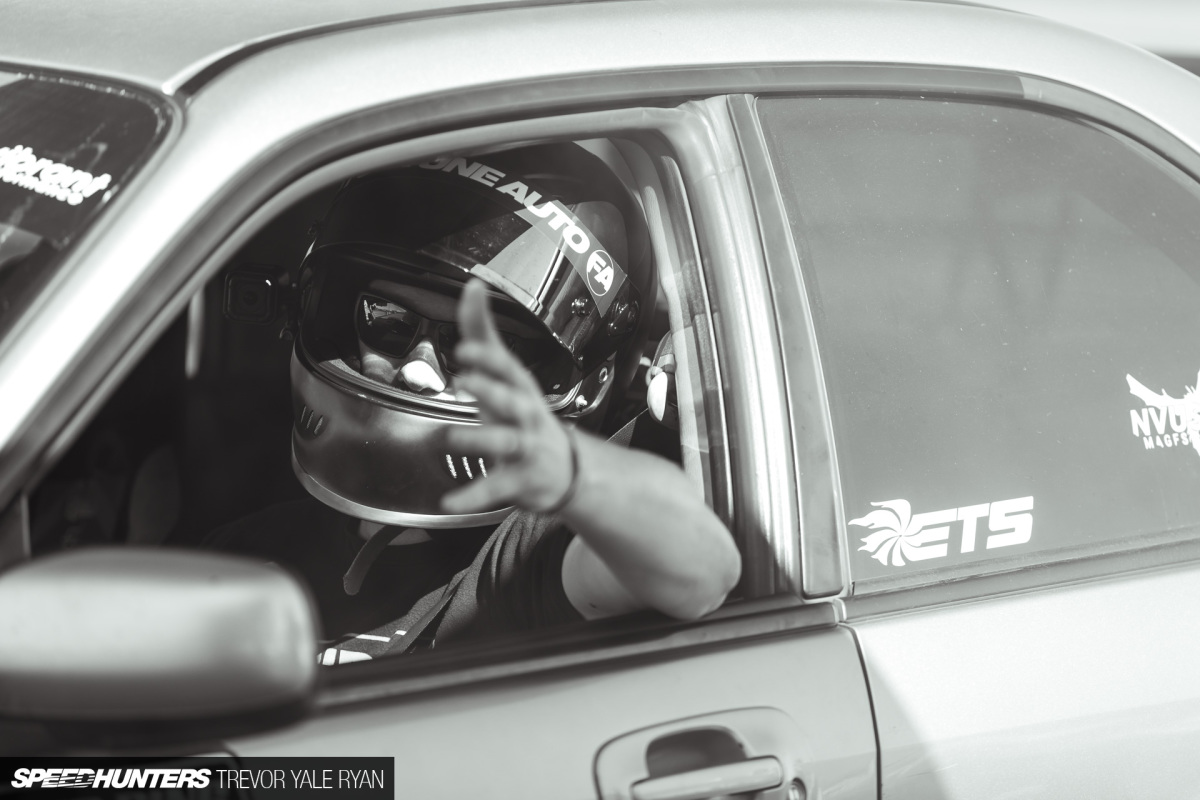 As competition moved on there were a surprising number of upsets in the brackets; plenty of guys and girls who were struggling on Saturday seemed to find a second or two of extra pace on Sunday.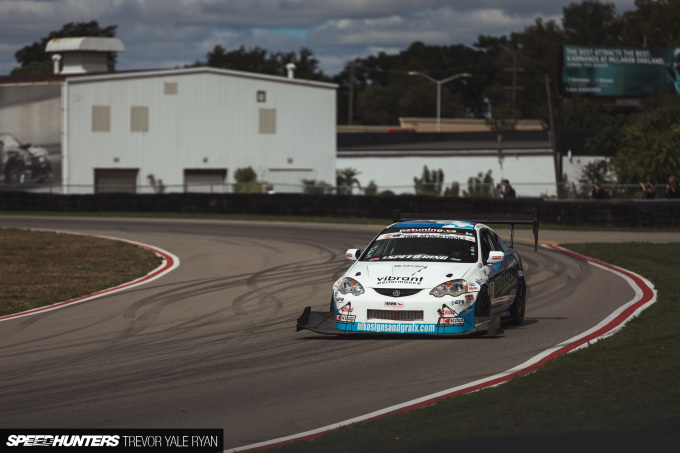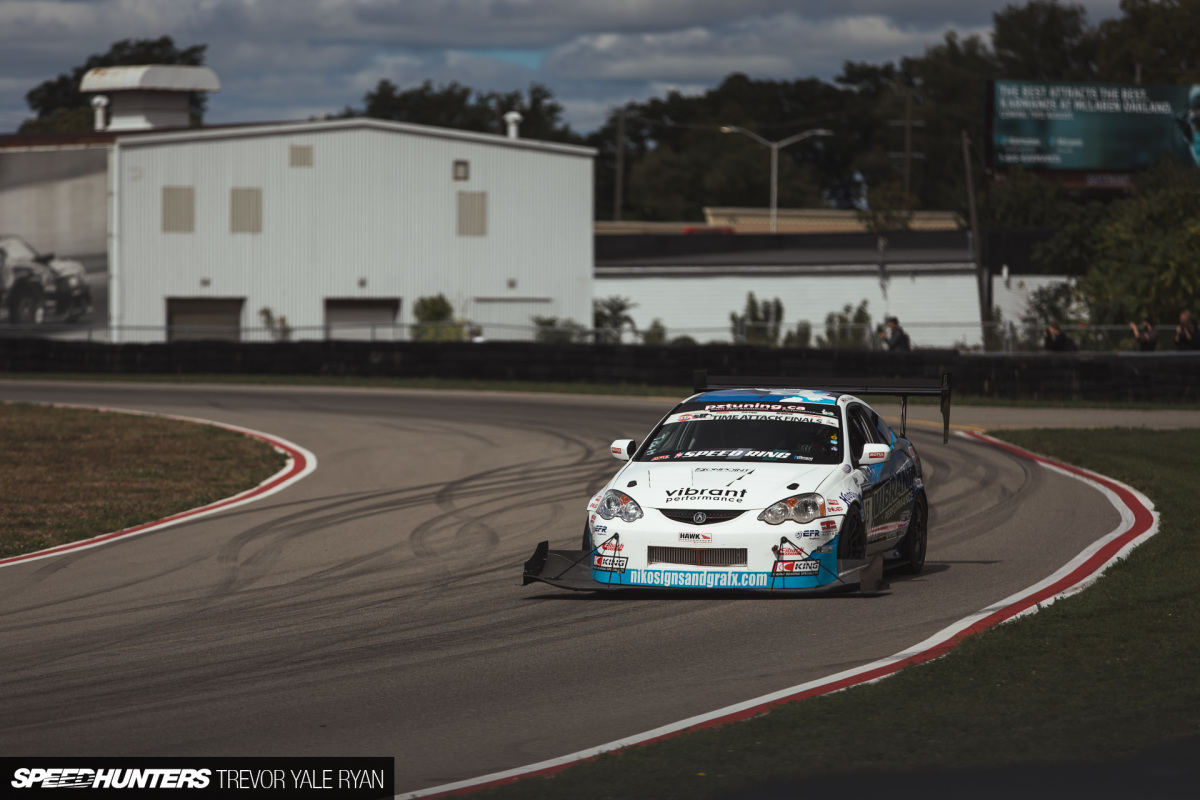 When it came to the Track Modified group, Will Au-Yeung was one of the guys who found ways to save time on Sunday taking down American car after American car to find his way to the top spot. I'll have a more in-depth look at Will's RSX coming soon, along with a more detailed account of his afternoon.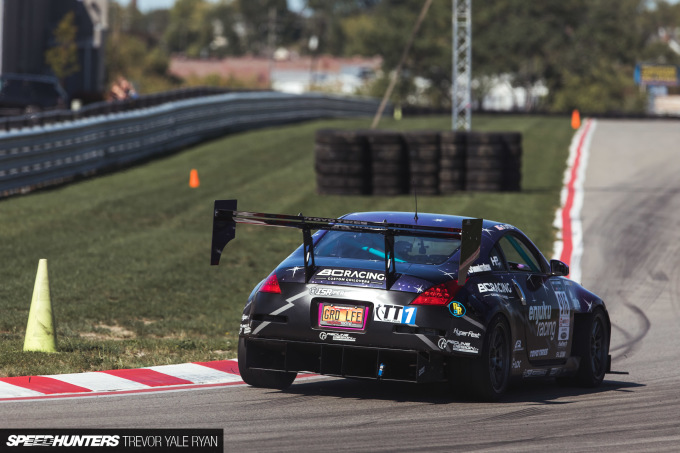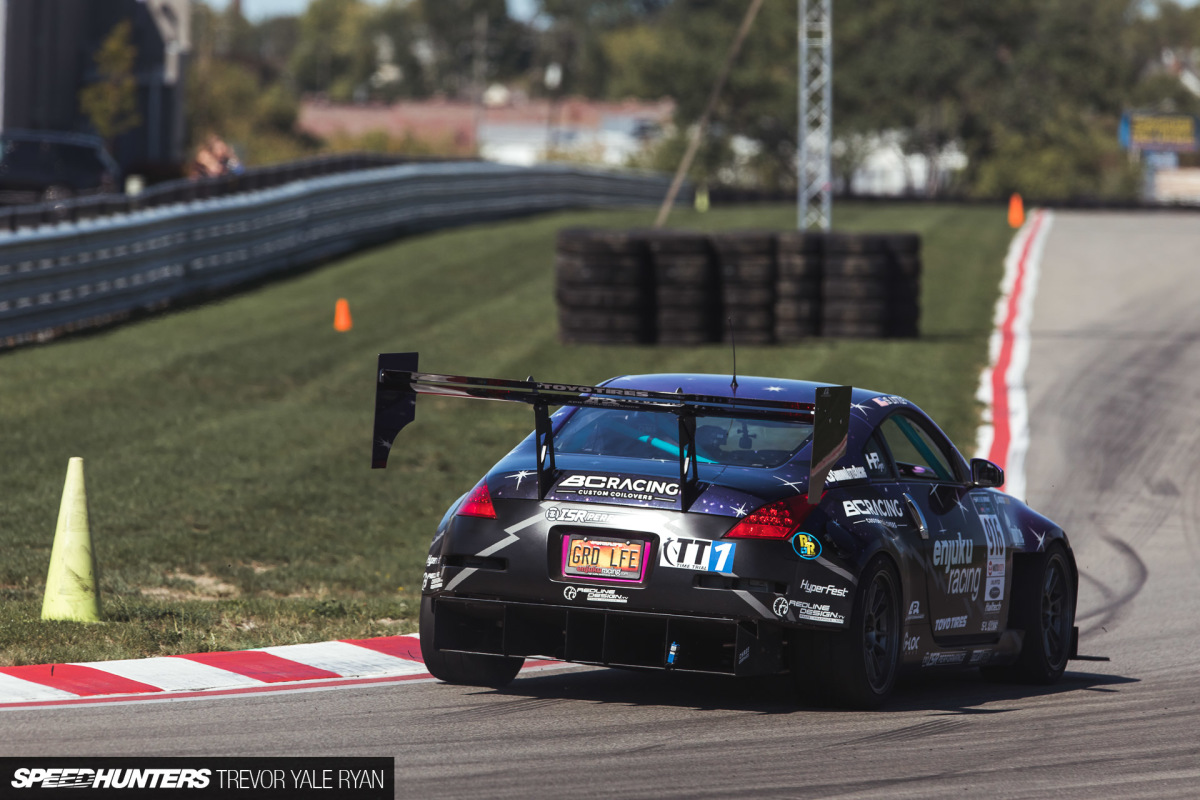 The group that seemed to have the most shuffling about in the bracket was the top class: Unlimited. With no restrictions on setup there was a huge jump forward in terms of lap times in this class.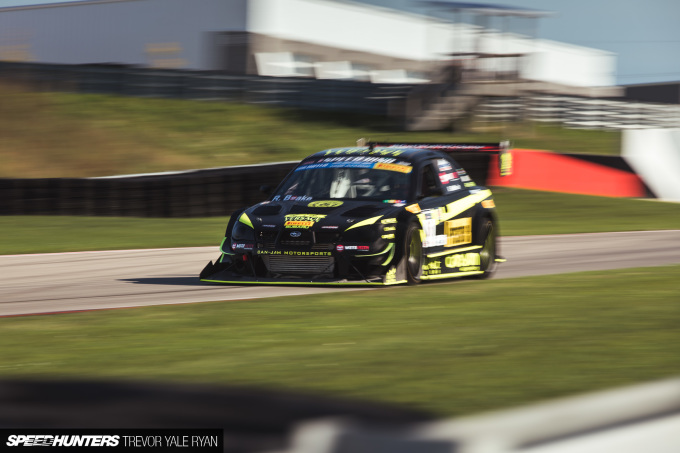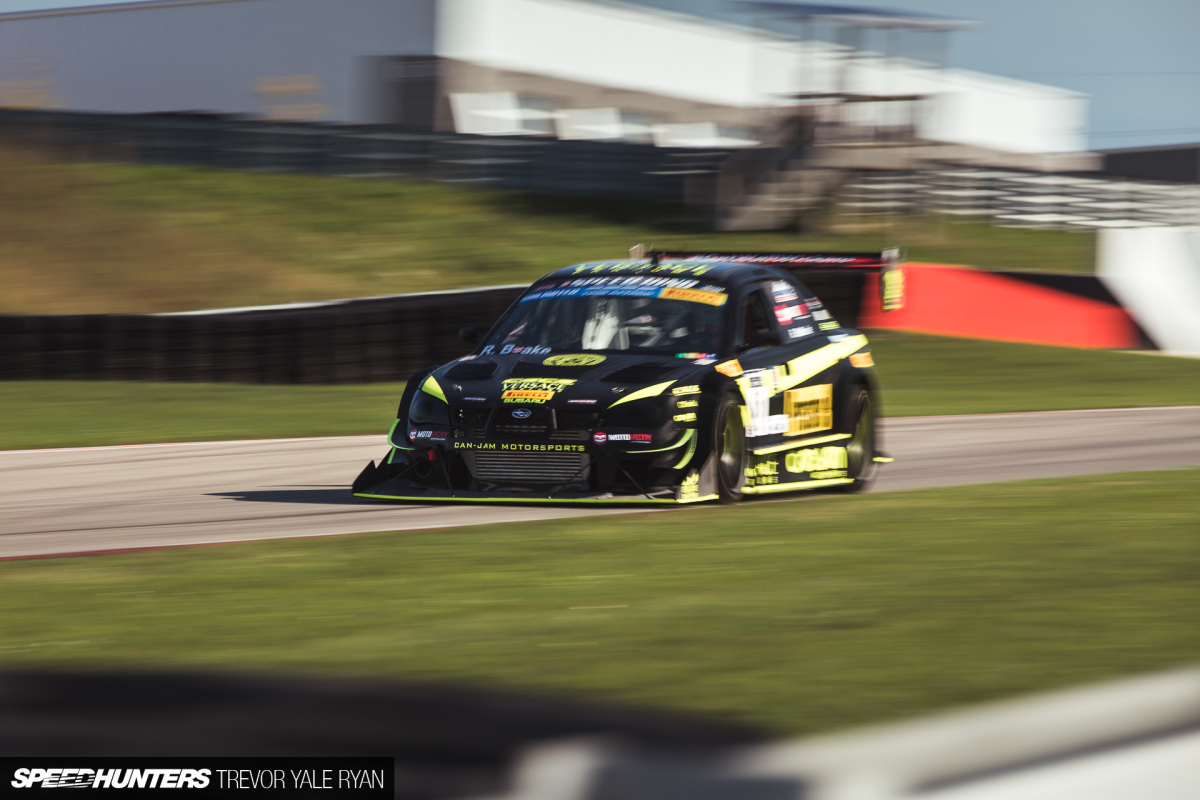 While the fastest Street Modified lap was clocked at 1:10 and the Track Modified laps dipping into the 1:08s, the fastest time of the weekend was set by the Unlimited Can-Jam Subaru with a screaming 1:02.398 (a new lap record).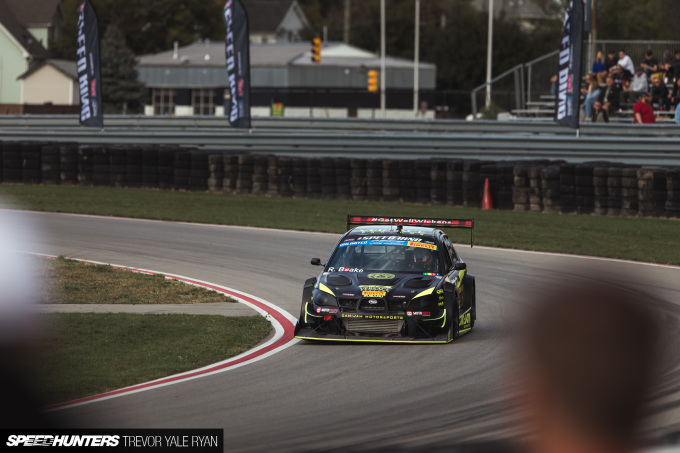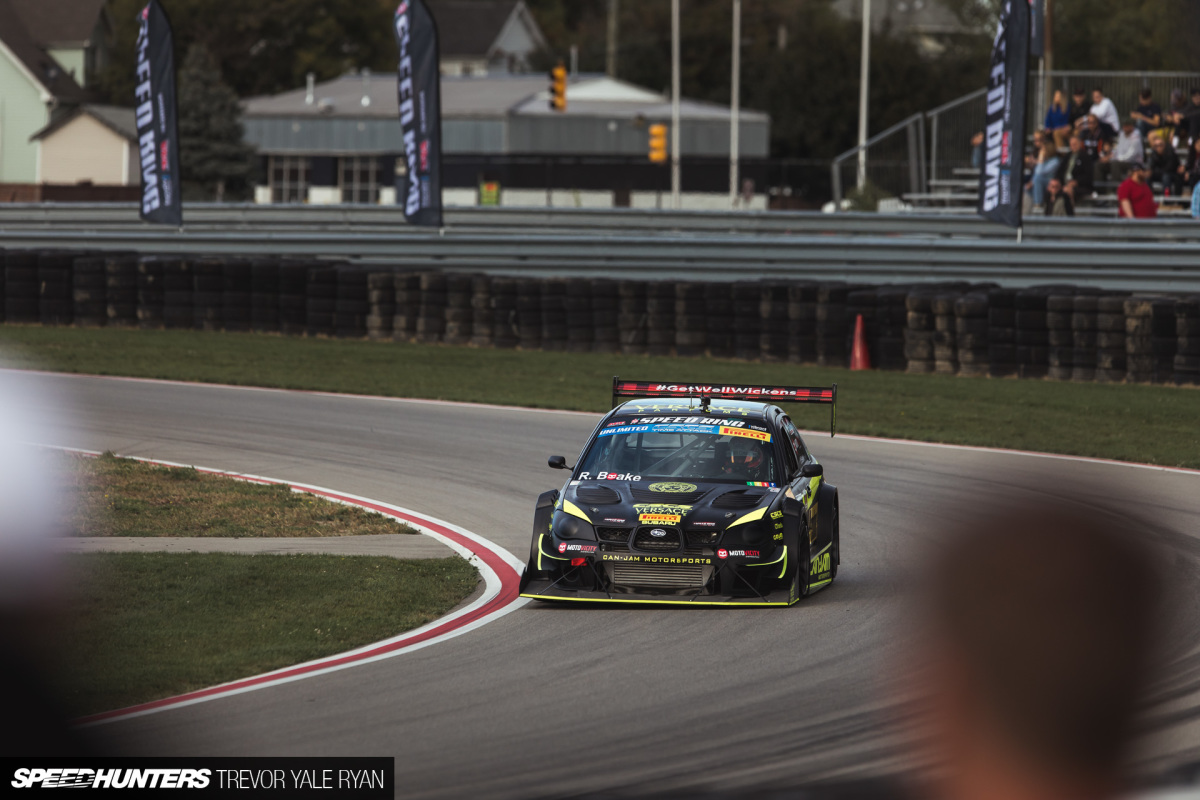 Running nearly a full three seconds faster than the rest of the competition, Richard was a shoe-in for another overall victory. Taking down build after build, Richard continued to advance and all eyes were on him.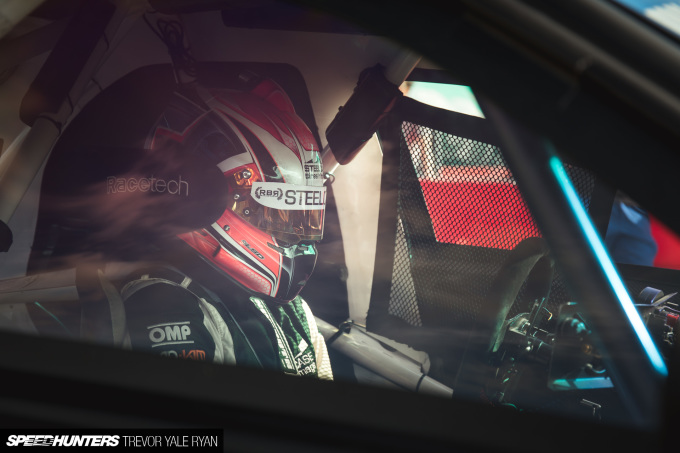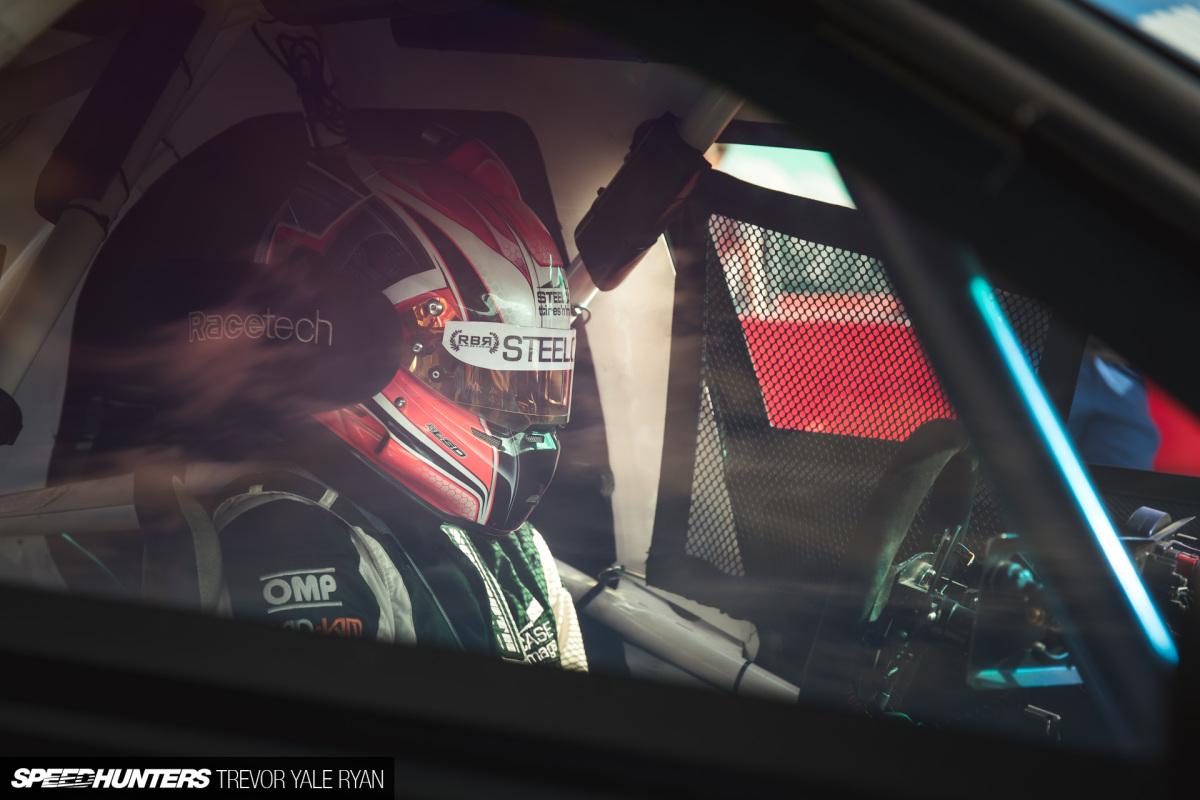 It wasn't until the semi-finals that Can-Jam Motorsports' good luck finally ran out. While at first the team thought that the Subaru broke its transmission when it came to a stop on the course, the team later determined that the front differential had been destroyed. No doubt a disappointing way for Richard to finish the weekend.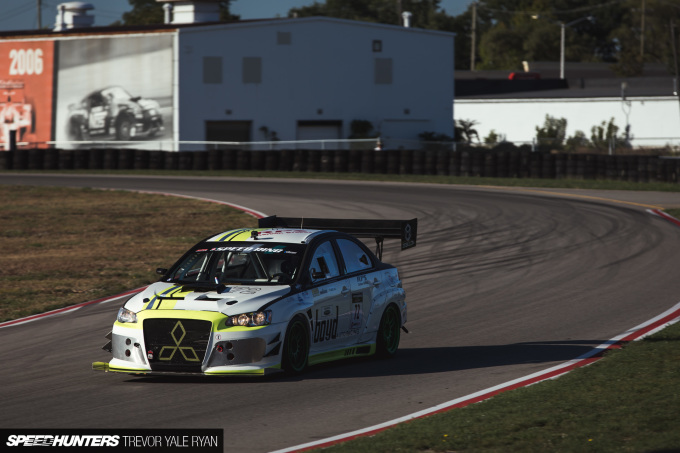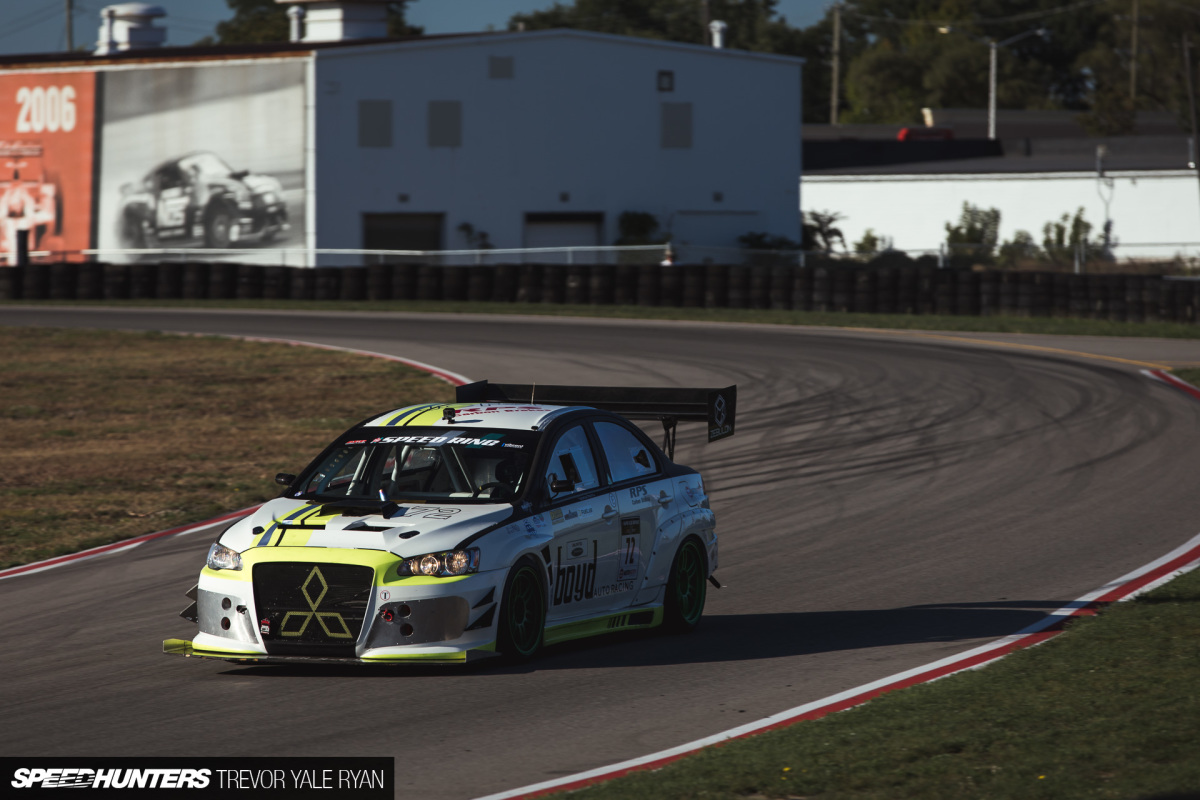 With the top competitor no longer in the running, Derek Boyd advanced in his Mitsubishi Lancer Evo X.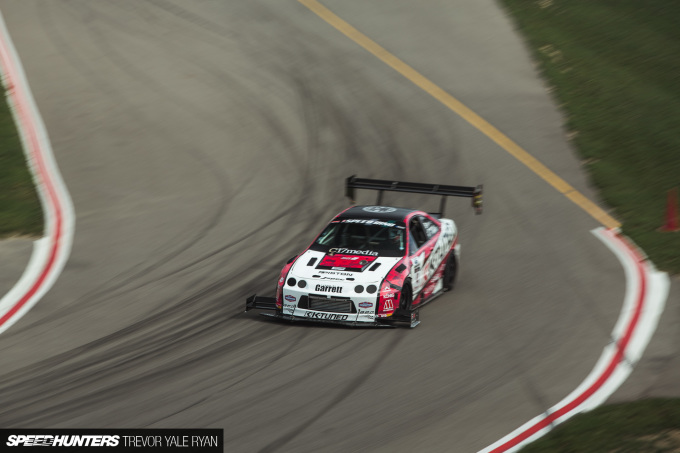 The last battle of the event would take place between Derek and James Houghton with his Integra Type R. Seeing many aero iterations throughout its life, could the ITR take home first place at the Speed Ring in its current form?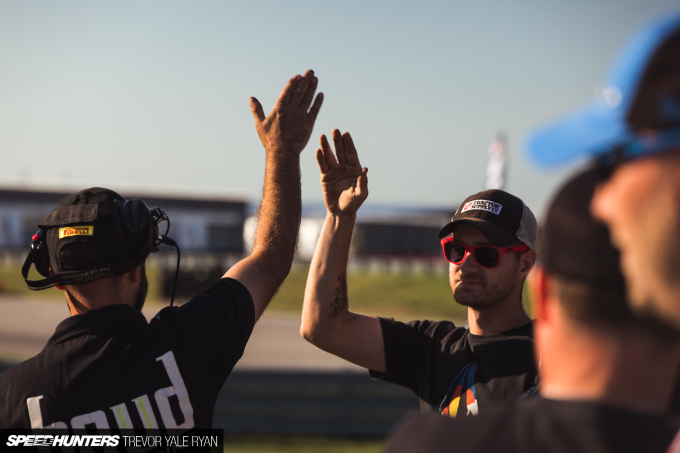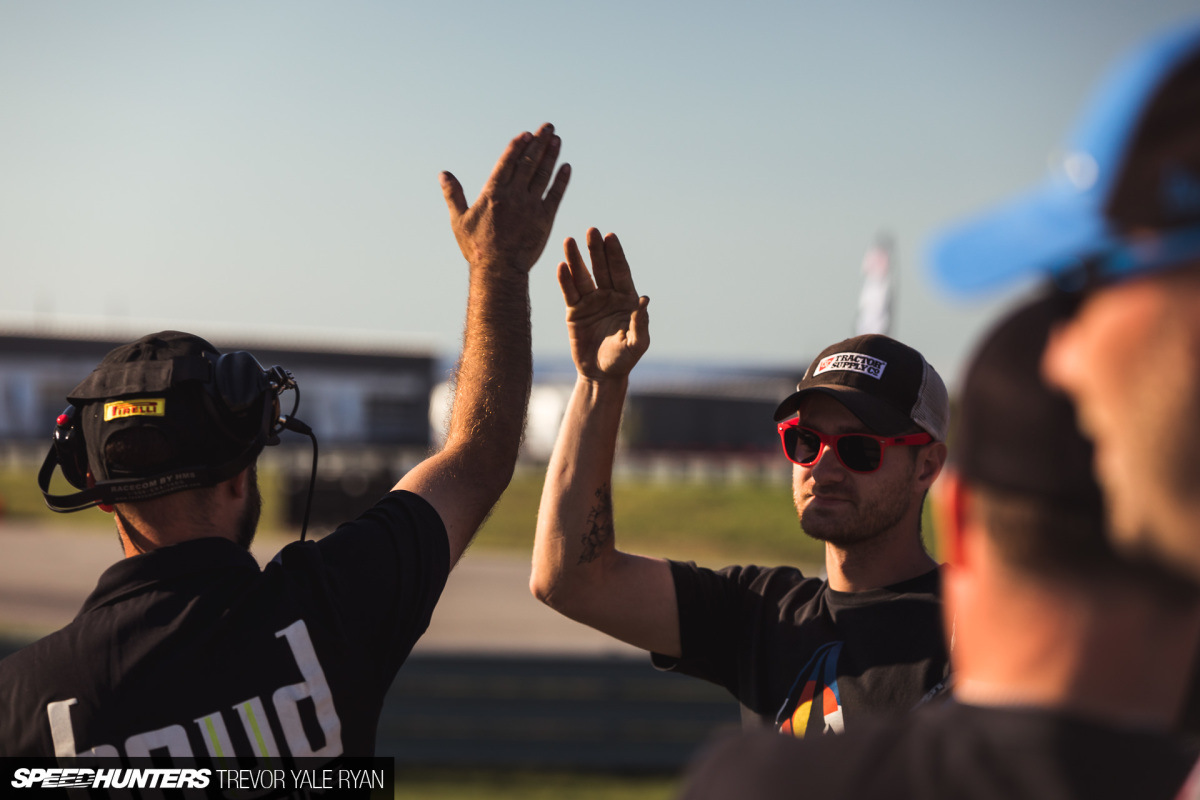 The first hot lap of the battle resulted in a win for Boyd in the Evo, with the team exchanging enthusiastic high fives. Derek would just have to do it once more on the subsequent run to secure the $10,000 cash prize and an overall win.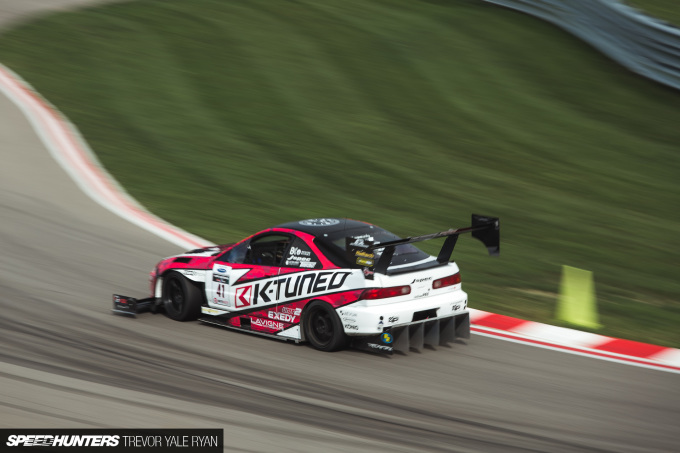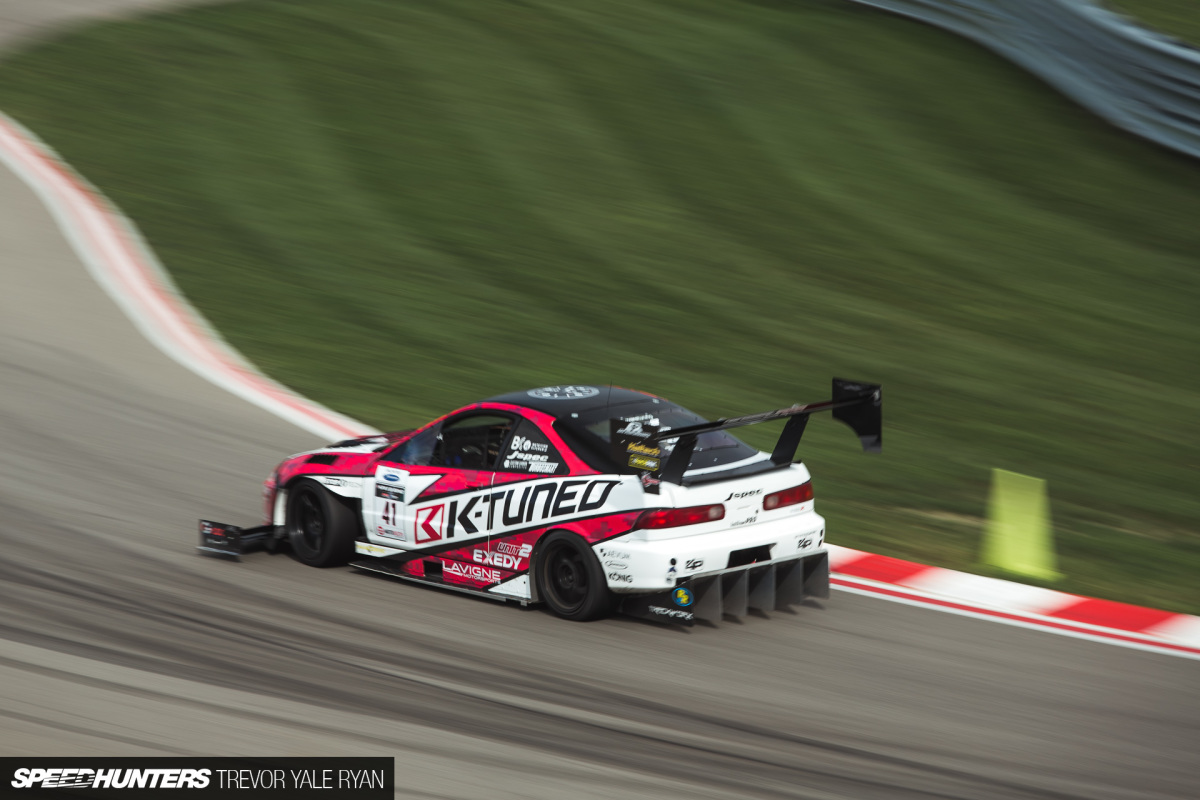 However, Houghton struck back with a lap just a tenth quicker than Boyd's, forcing a One More Time battle.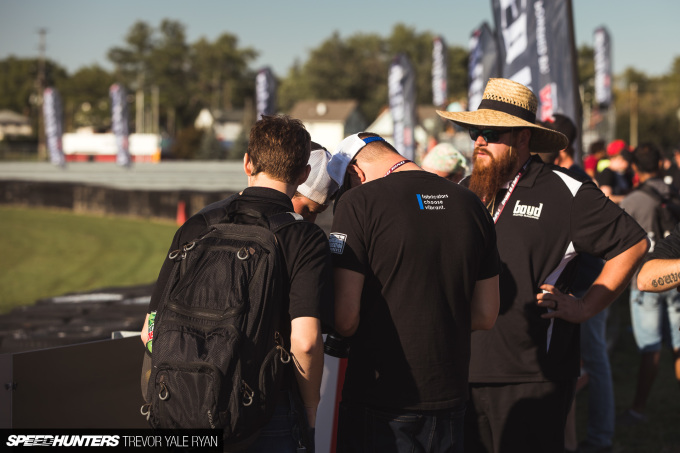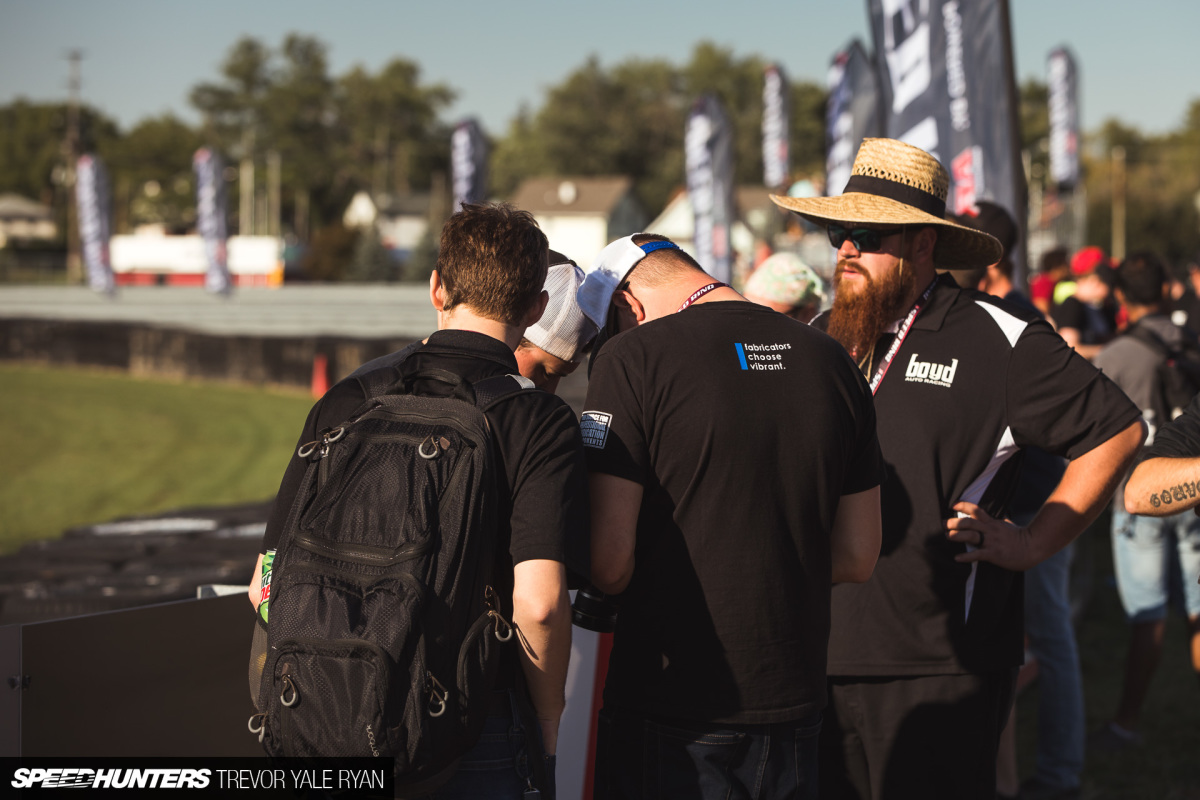 There was some talk within the Boyd crew about the Integra running four off — which would mean an instant disqualification — but nothing seemed to come of it.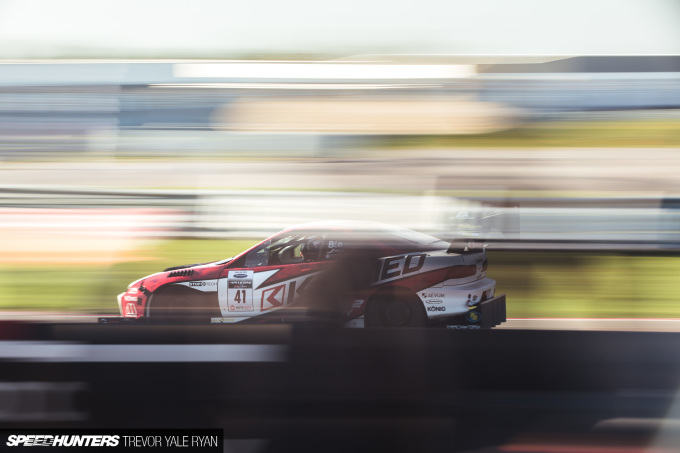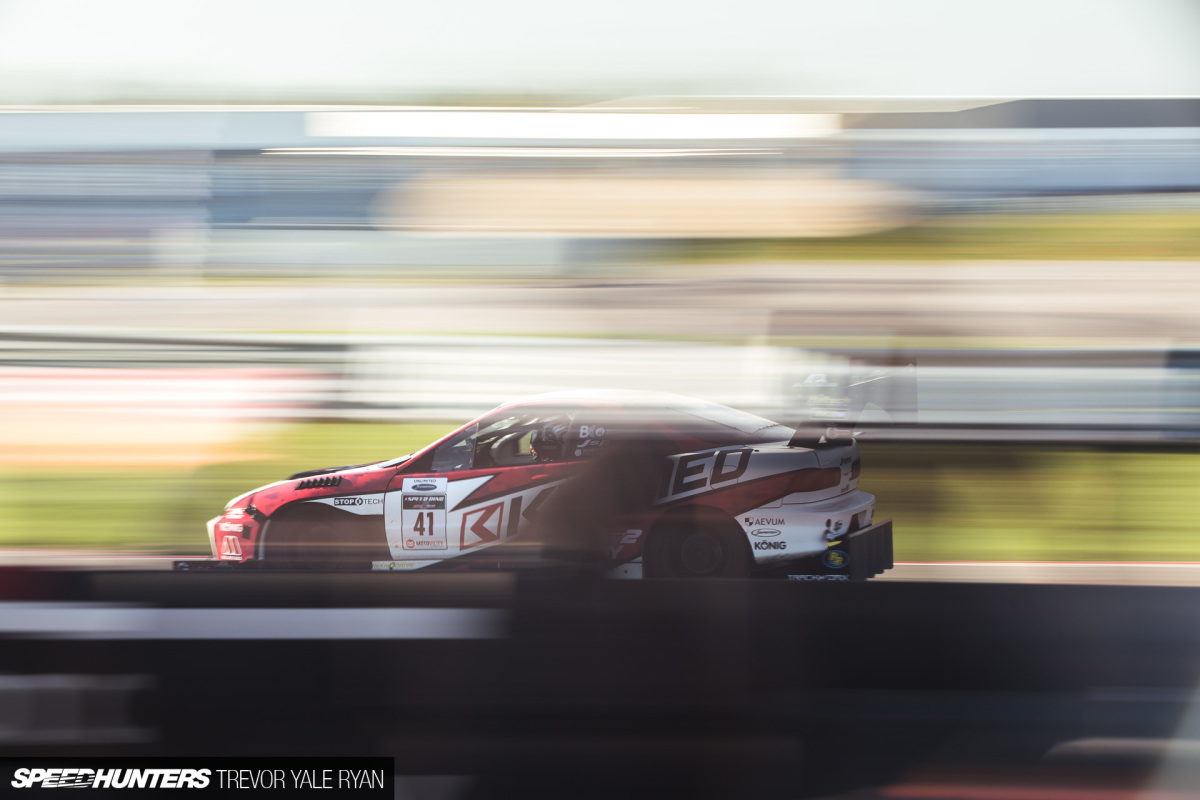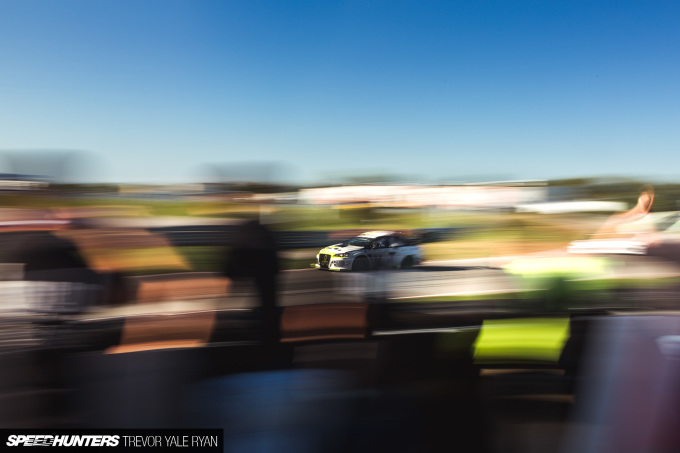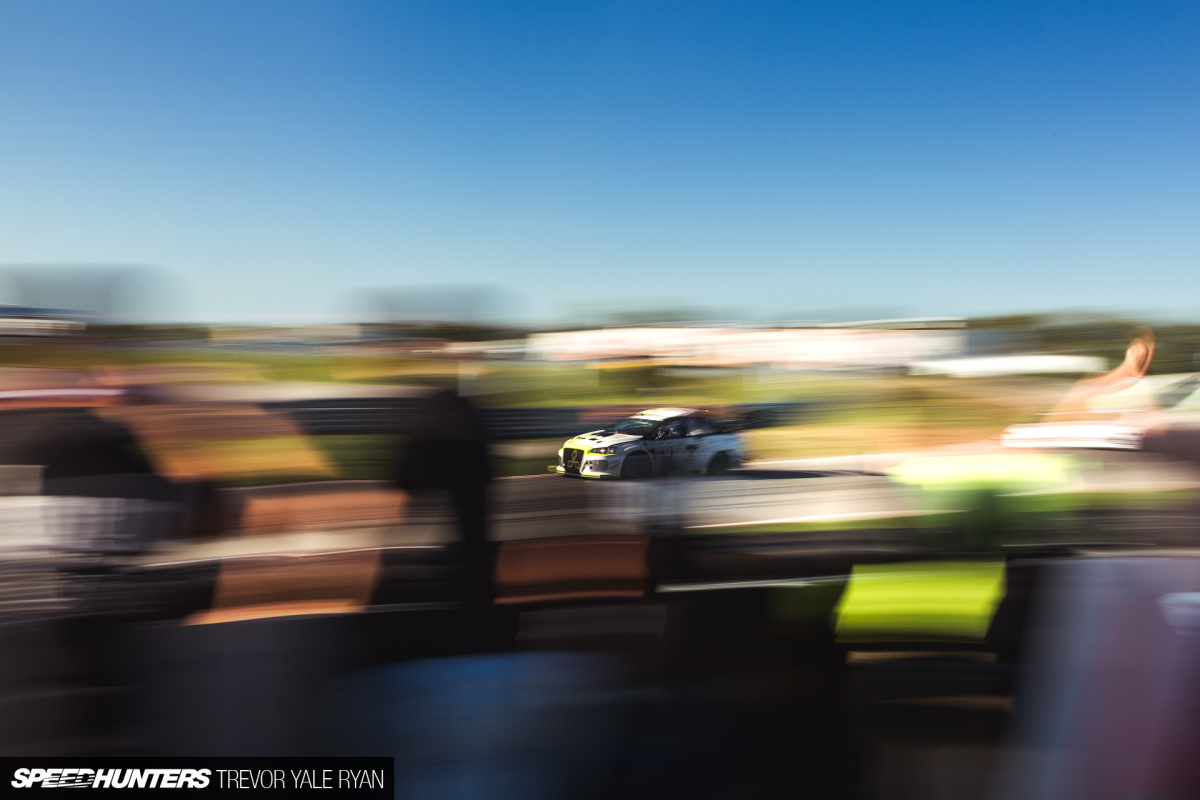 On what would be the final laps of the weekend, the margin between the cars seemed too close to call.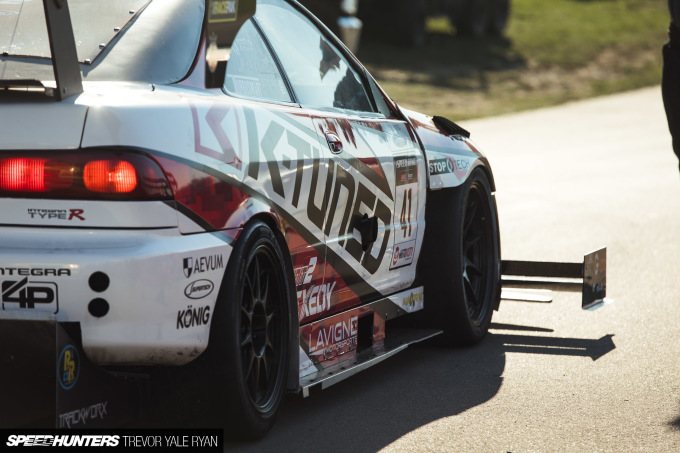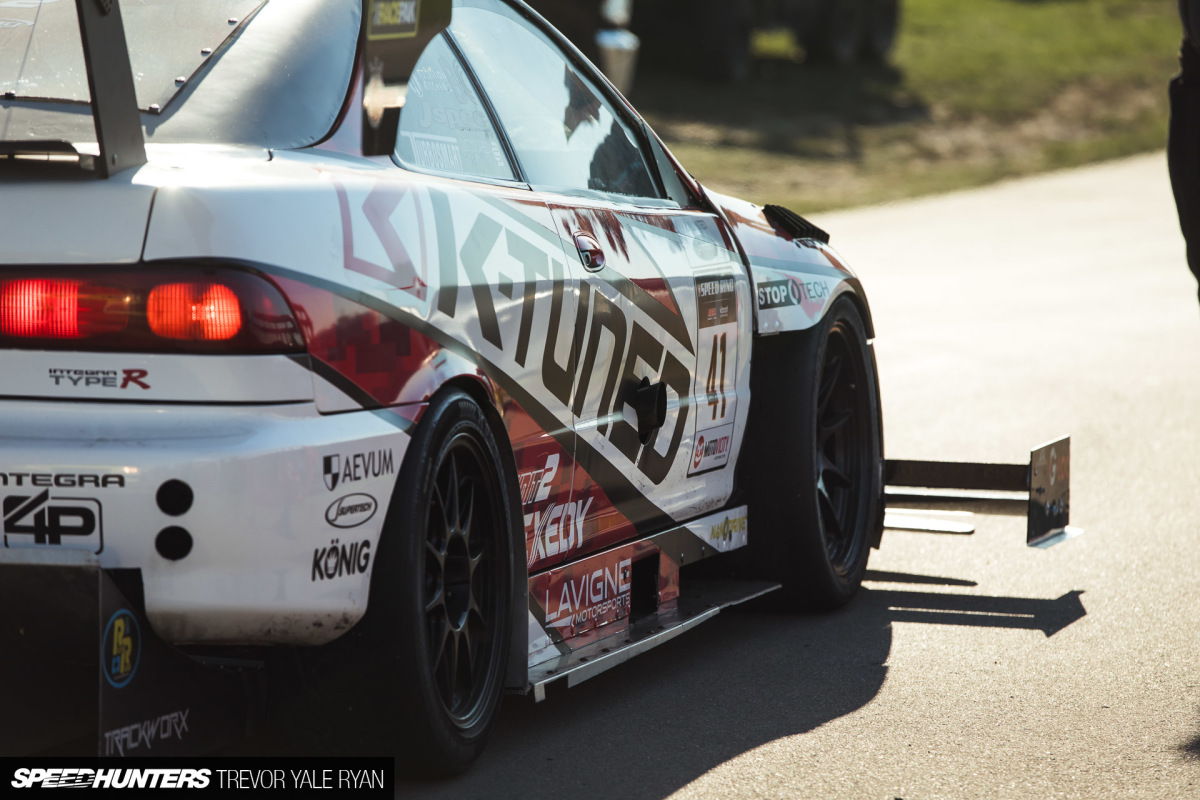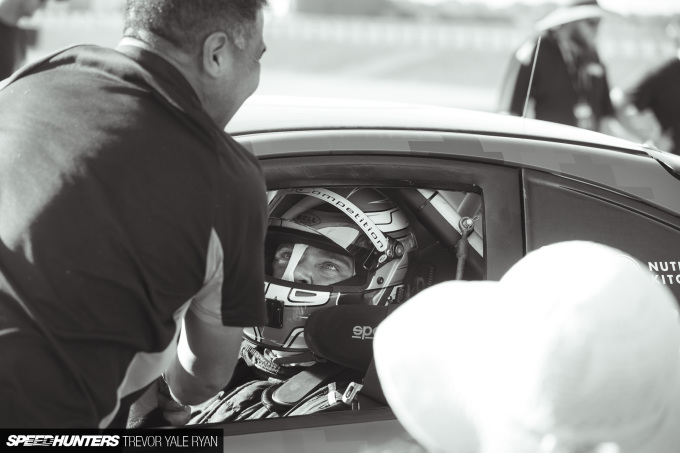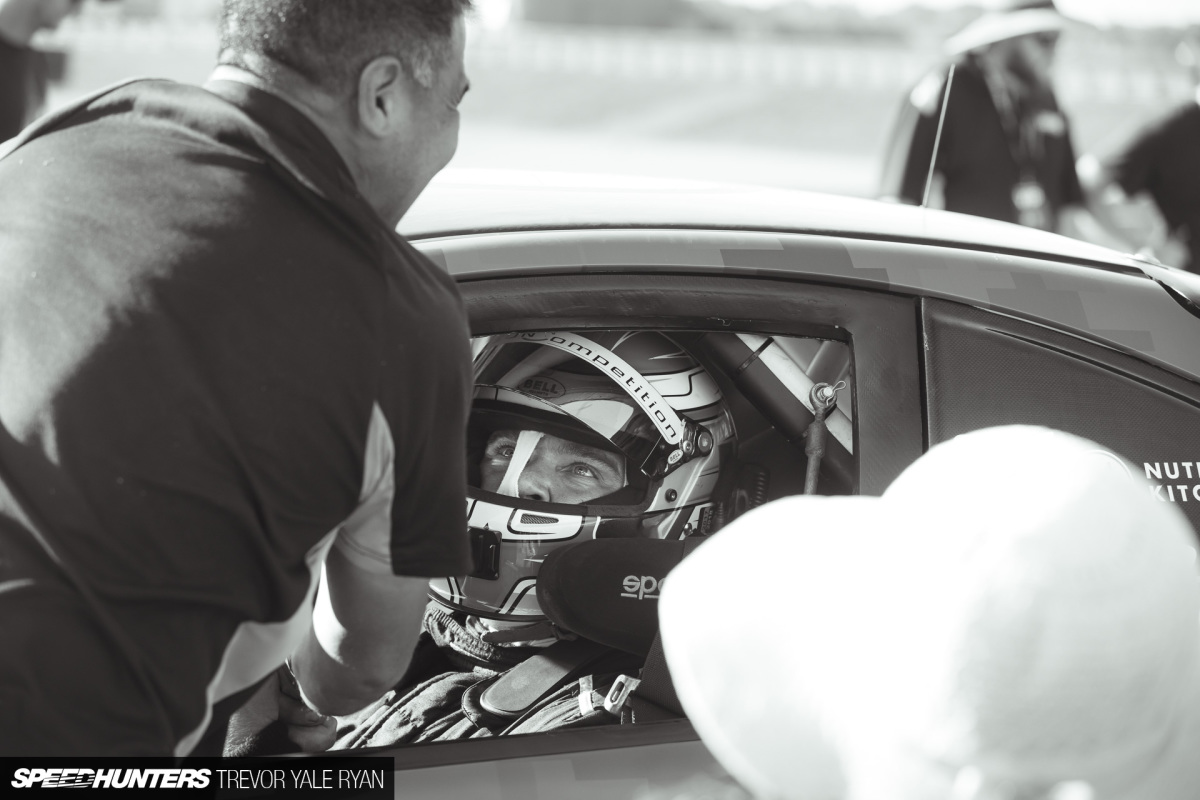 As they cruised down the back straight on the cool down lap, their run times were announced over the loudspeaker: James had scored a decisive win in the Unlimited class with a blistering 1:05.205.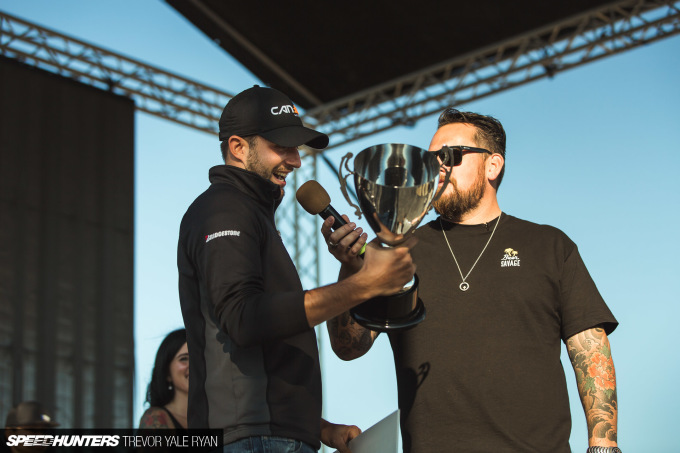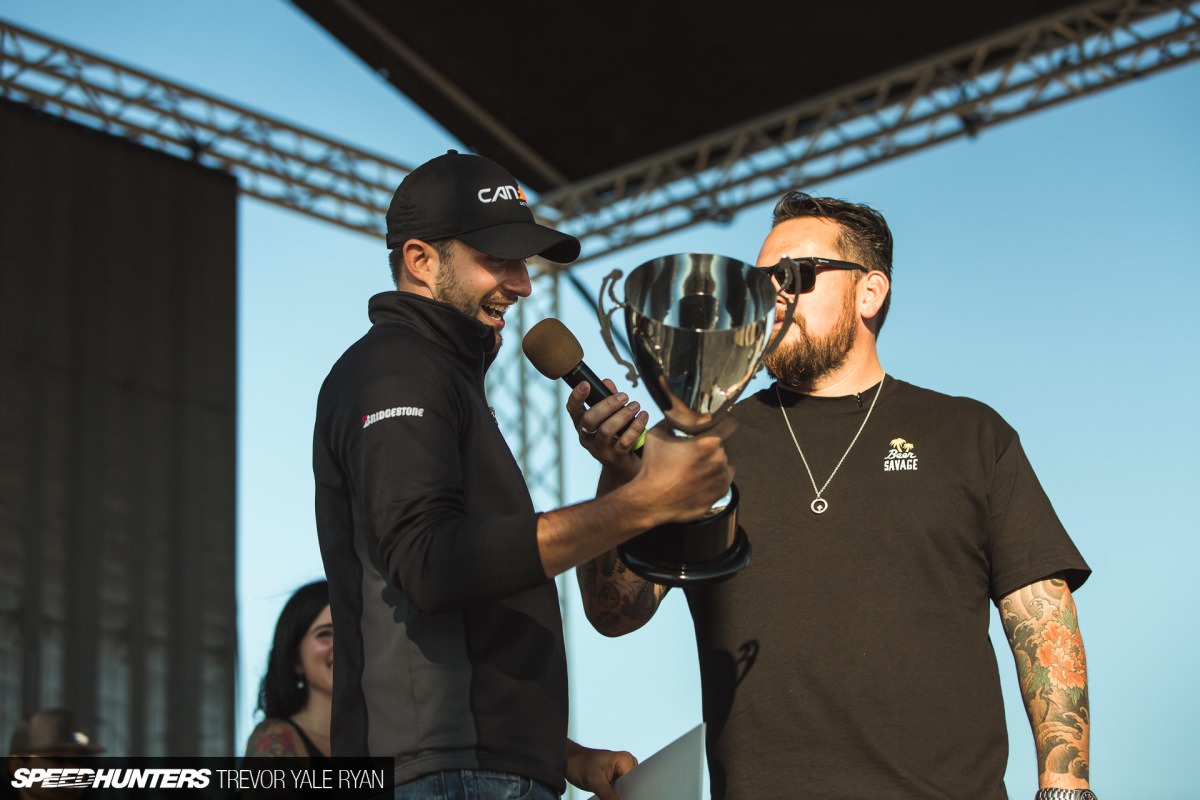 Still, the time couldn't touch the impressive 1:02 set earlier in the weekend by Richard Boake and the Can-Jam Motorsports team, earning them the biggest trophy, which read "Ultimate Badass." Richard contested that he's not sure about "badass" but that he has been known to "be an ass from from time to time."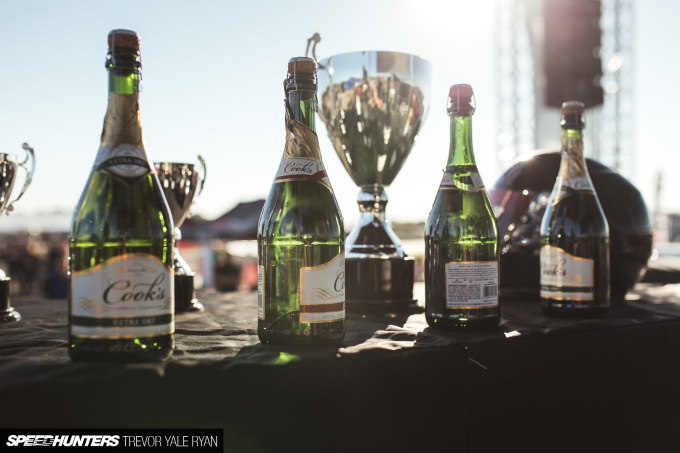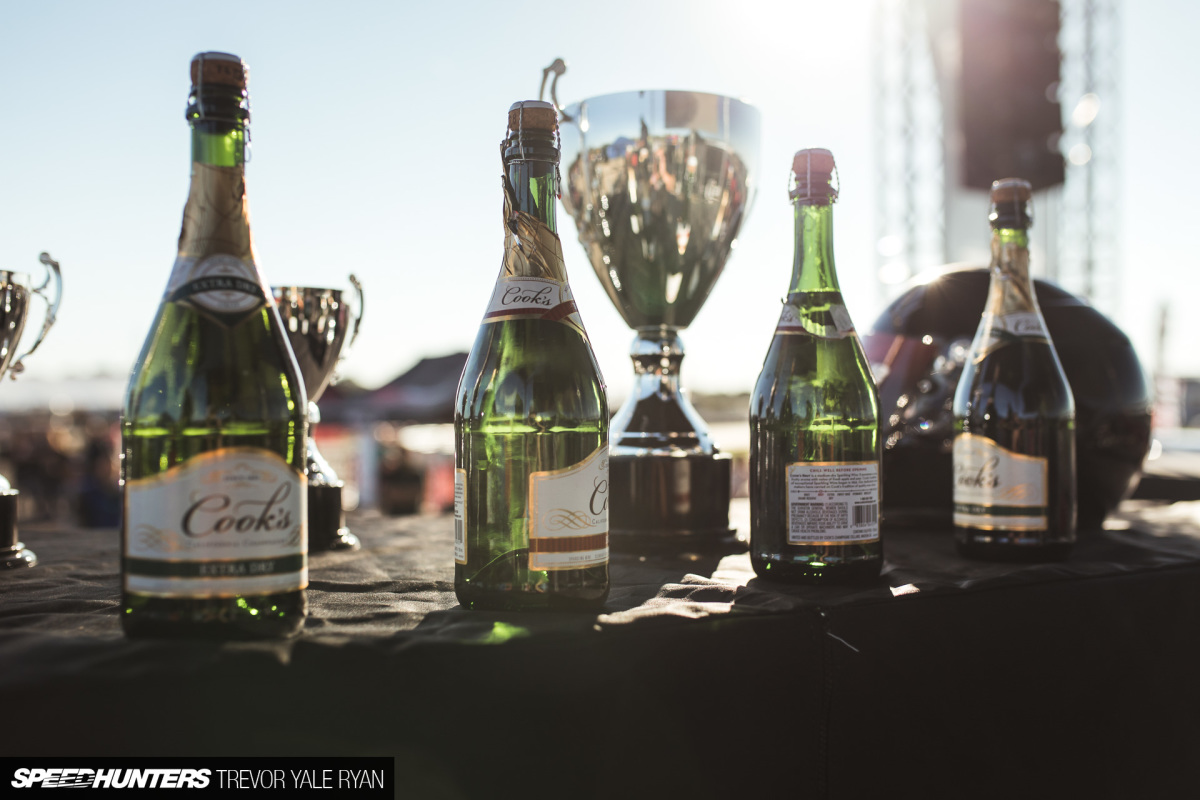 Talking to the Richard and the team, he was definitely nice enough despite the disappointing result at the M1 Concourse. Still, $10,000 was a hefty consolation prize and I'm sure he'll be back out next year to prove himself again at the Speed Ring in an effort to take home more trophies.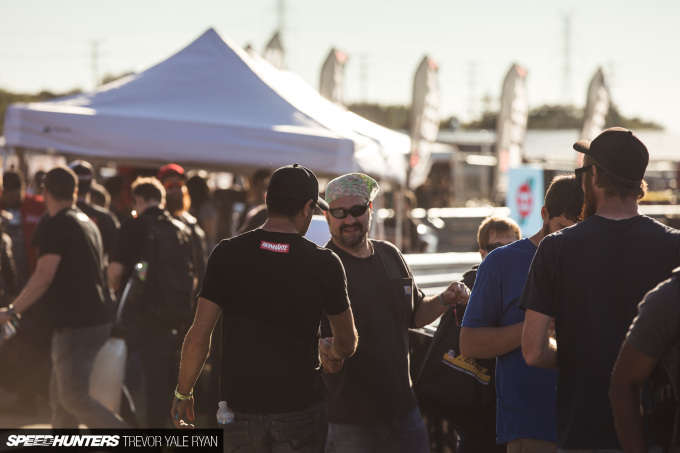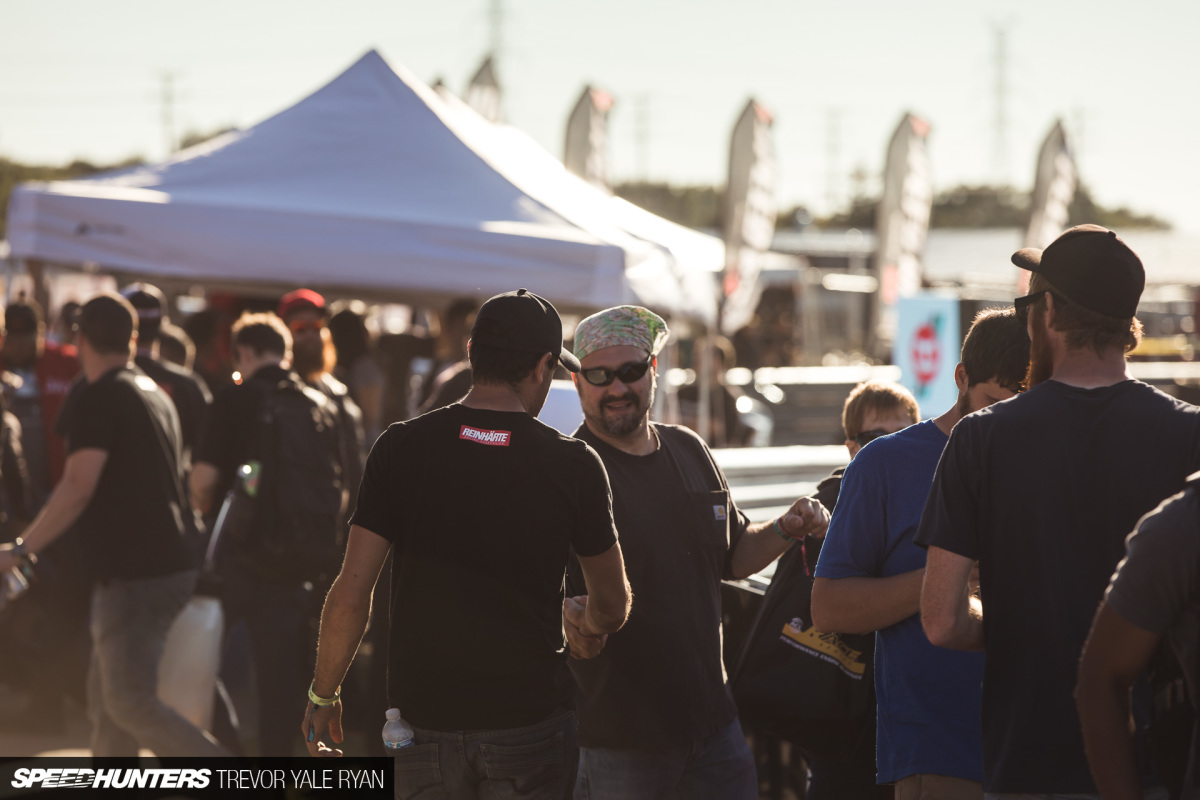 During podium chatter and interviews, every driver excitedly admitted that this was one of the most fun — if not by far the most fun — events that they've ever competed in. The head-to-head format isn't an entirely new concept, but it's one that works really well here.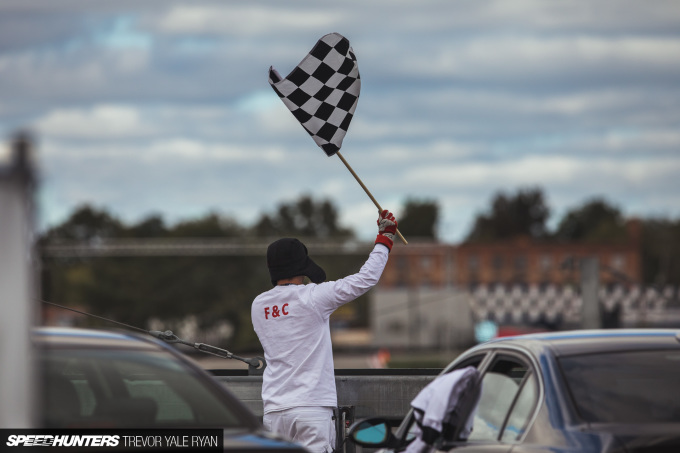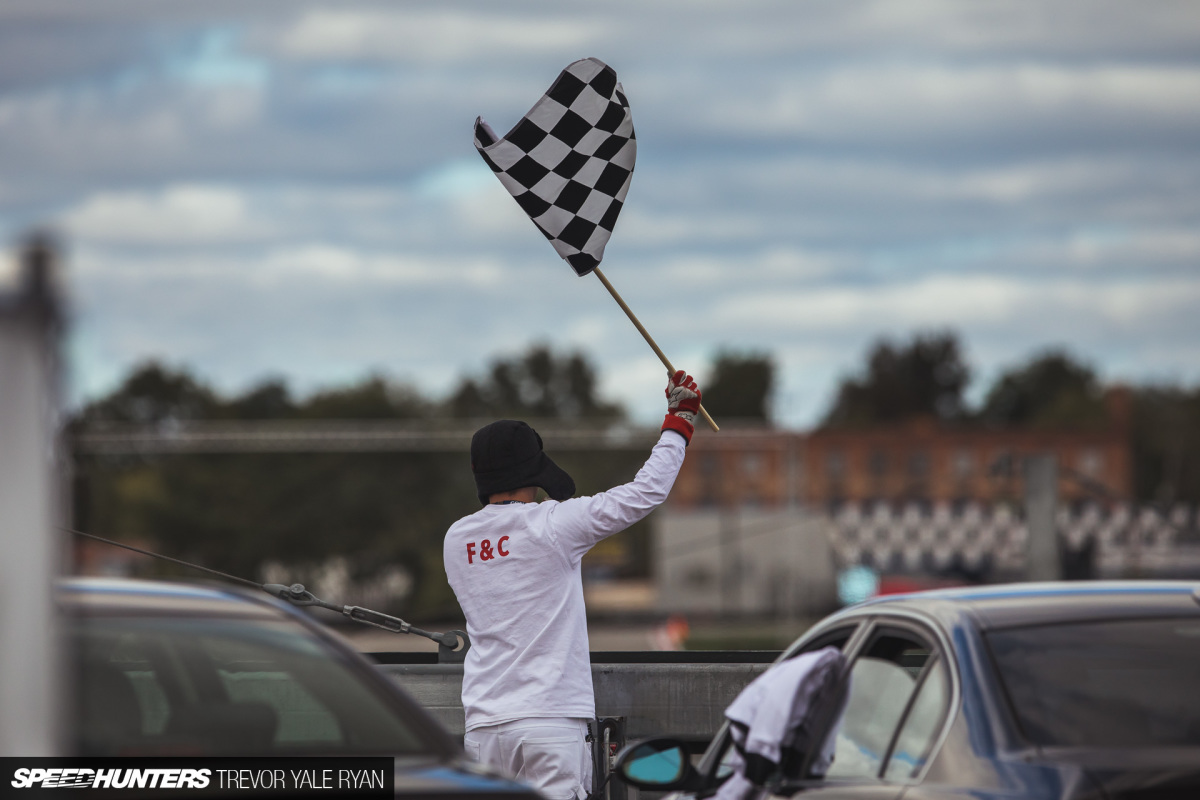 With time attack making a huge impact at local tracks in California, I hope we see more events formatted like this in the coming months and years.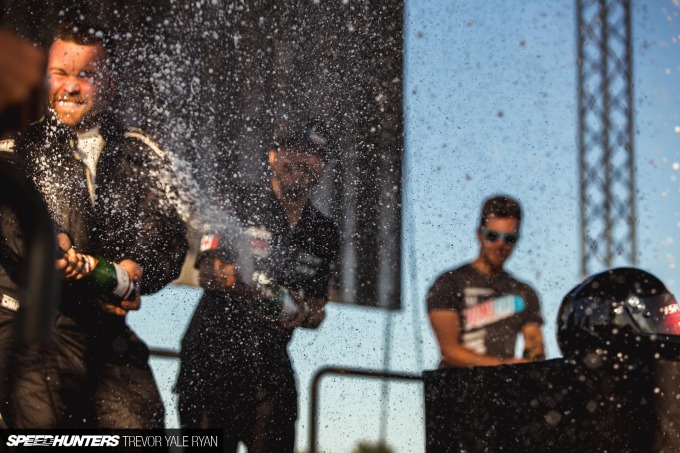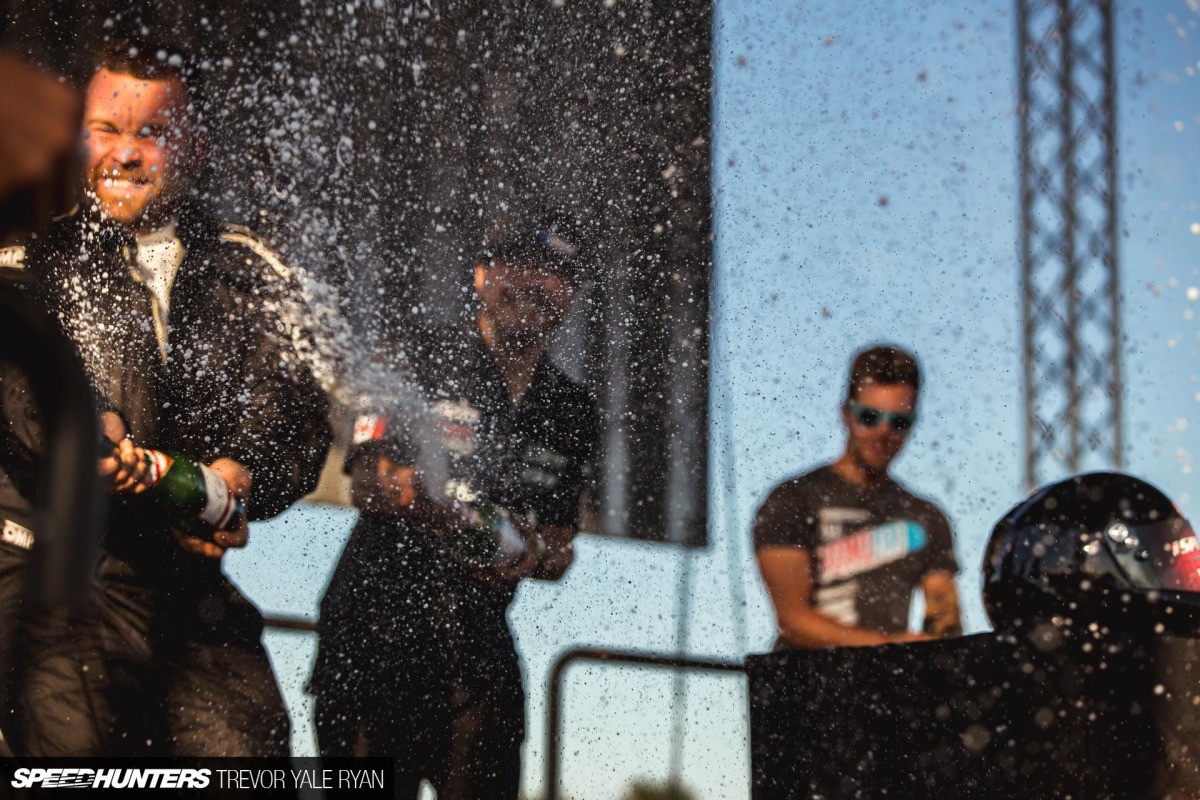 Finally, it was time for champagne, and I'm pretty sure my camera and lenses still have sticky patches left over from the celebrations. Unfortunately, I had no time to spare and quickly packed up to catch my flight out of Detroit.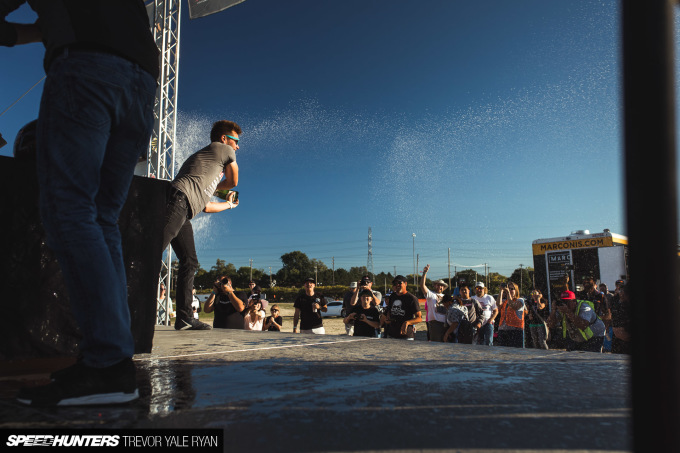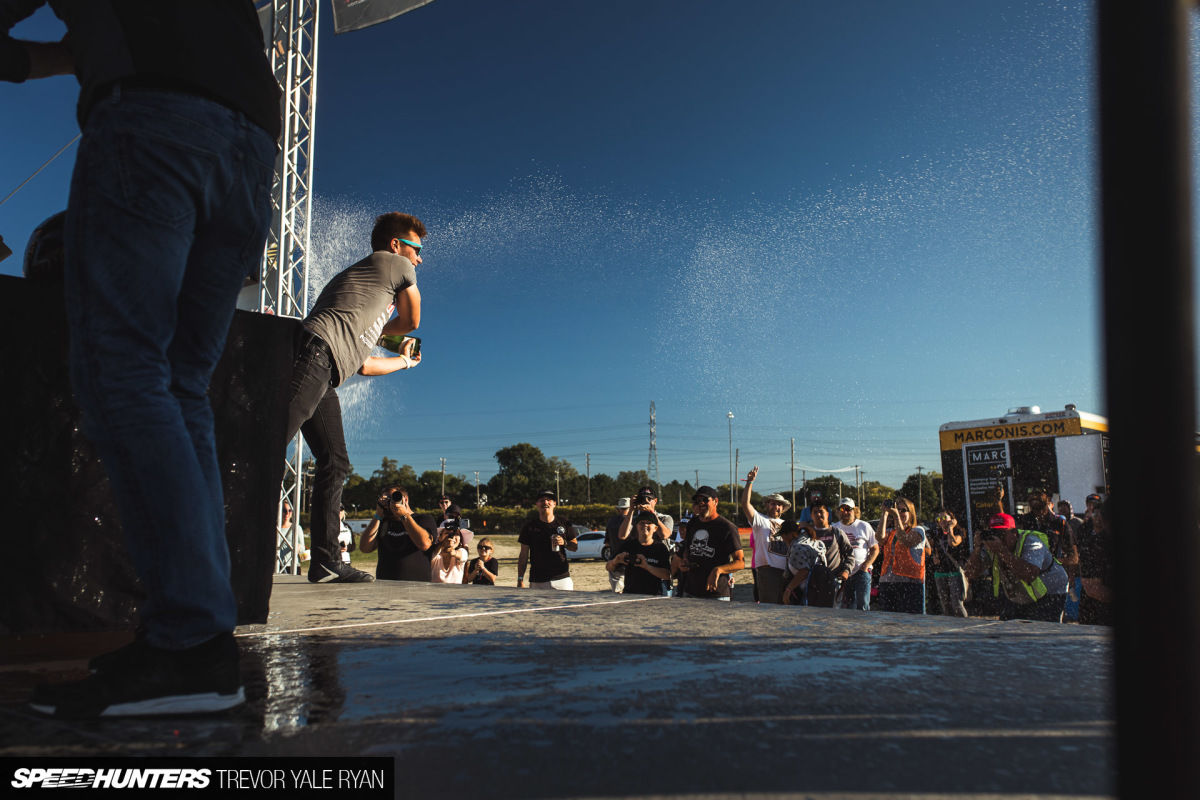 On the plane, I couldn't help but mull over a few of my favorite battles from race day. The event definitely deserves a bit more attention and I'll put together a post on the seemingly mismatched battles (as well as more from the S2000 versus Miata shootout) at the Speed Ring the next chance I get.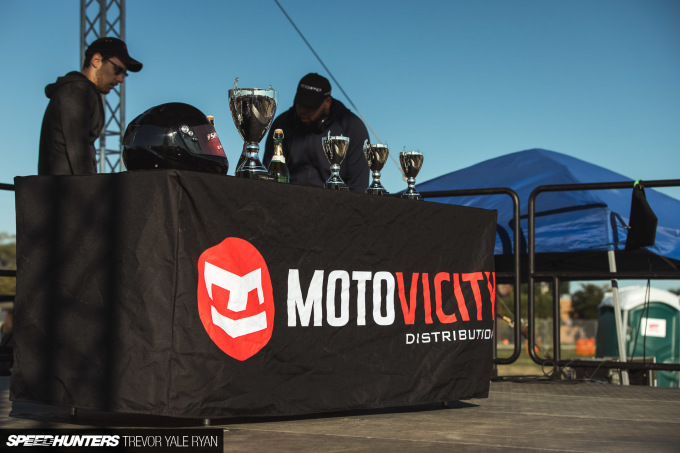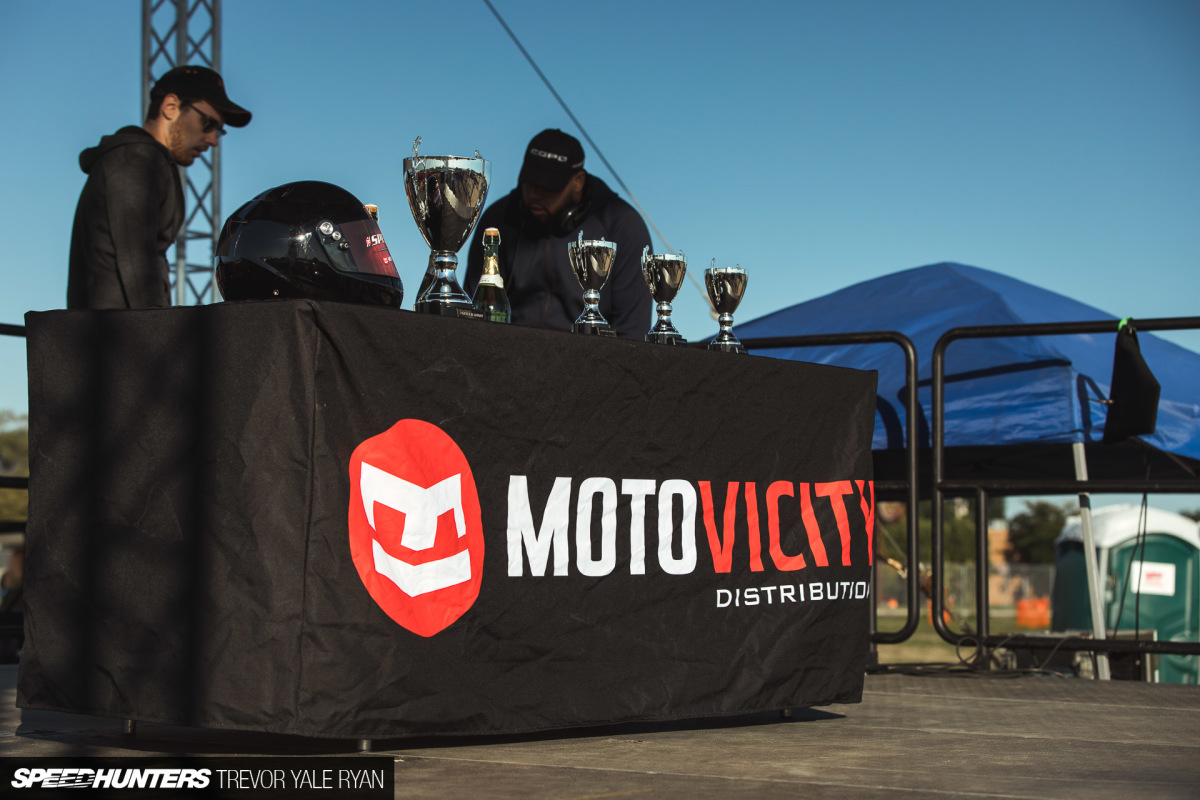 All in all, it was an epic weekend put together by Motovicity and I'll definitely do my best to make the trek out to Detroit area again next year.
That is, so long as I can keep Paddy busy enough that he can't break out of his office…
Trevor Yale Ryan
Instagram: tyrphoto
TYRphoto.com