Growing up, did your parents ever use the proverb, 'you can't have your cake and eat it too?'
It was always an odd phrase to me since I was never able to wrap my head around what the true underlying meaning of the term was. I remember the first time hearing it; I asked what in the world they were talking about, and the response was always 'you'll understand when you get older,' and then it always proceeded with, 'let's go, one Hot Wheels is enough.' Upset, I'd have no choice but to move on with life and help my mom load the rest of the groceries onto the check stand conveyer belt.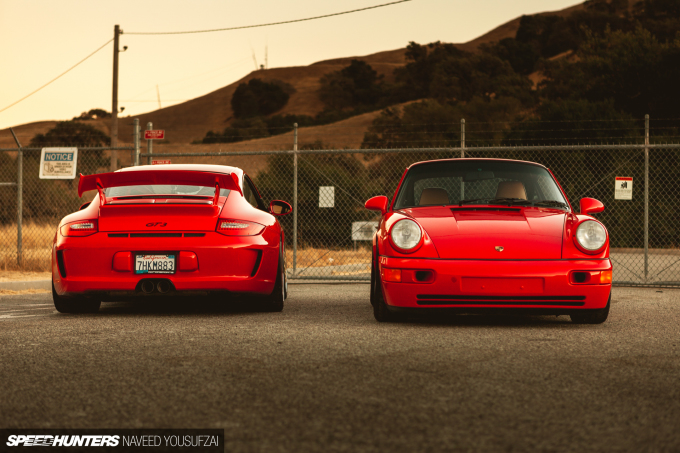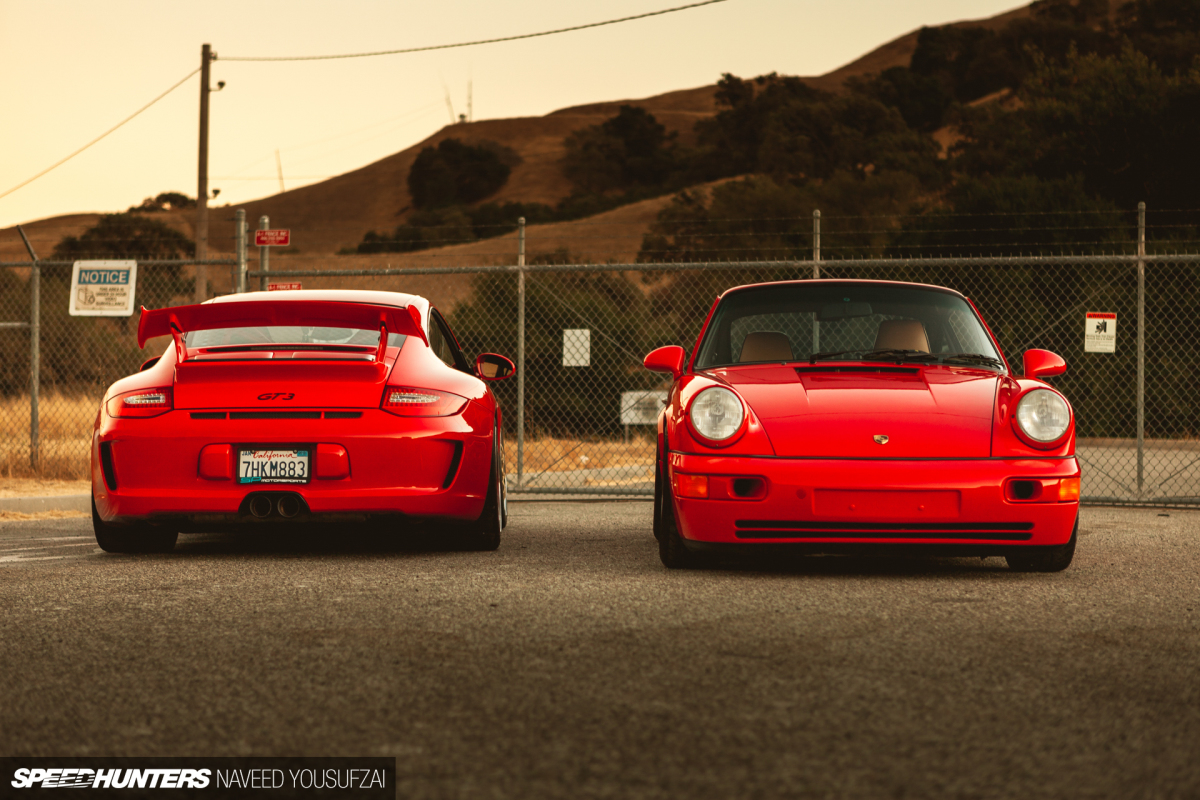 As the years went by, the phrase replayed in my mind. I could almost hear it anytime I was lusting over another car to buy in addition to what I already had. If you've been passionate about anything in life, whether it be cars, or computers, or even plants, you've probably felt this same way. But for Carlo Ocampo, the term managed to somehow stretch its meaning, giving him a little more than one cake.
Apples To Apples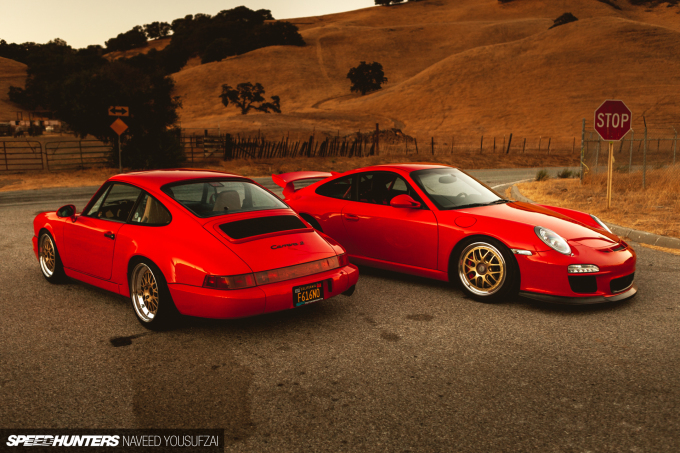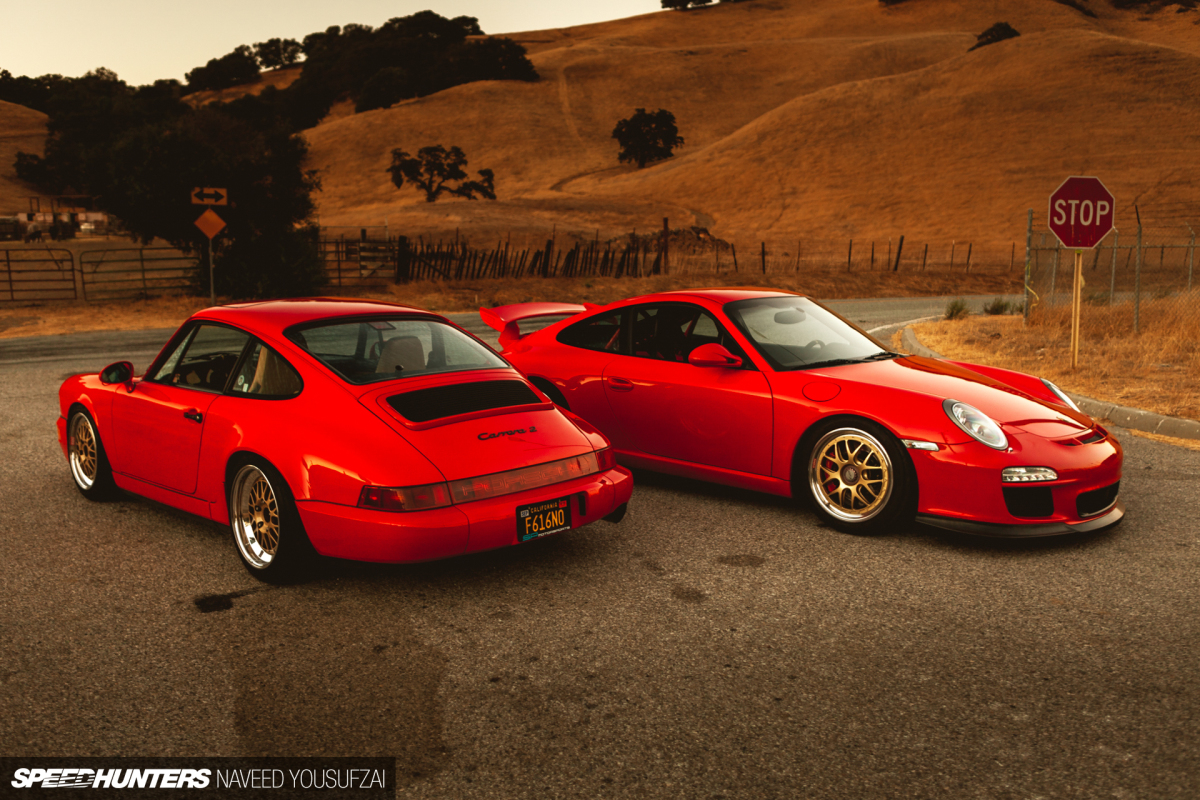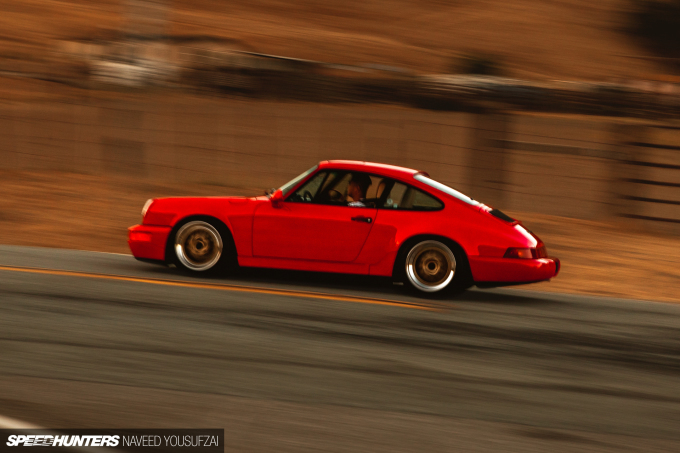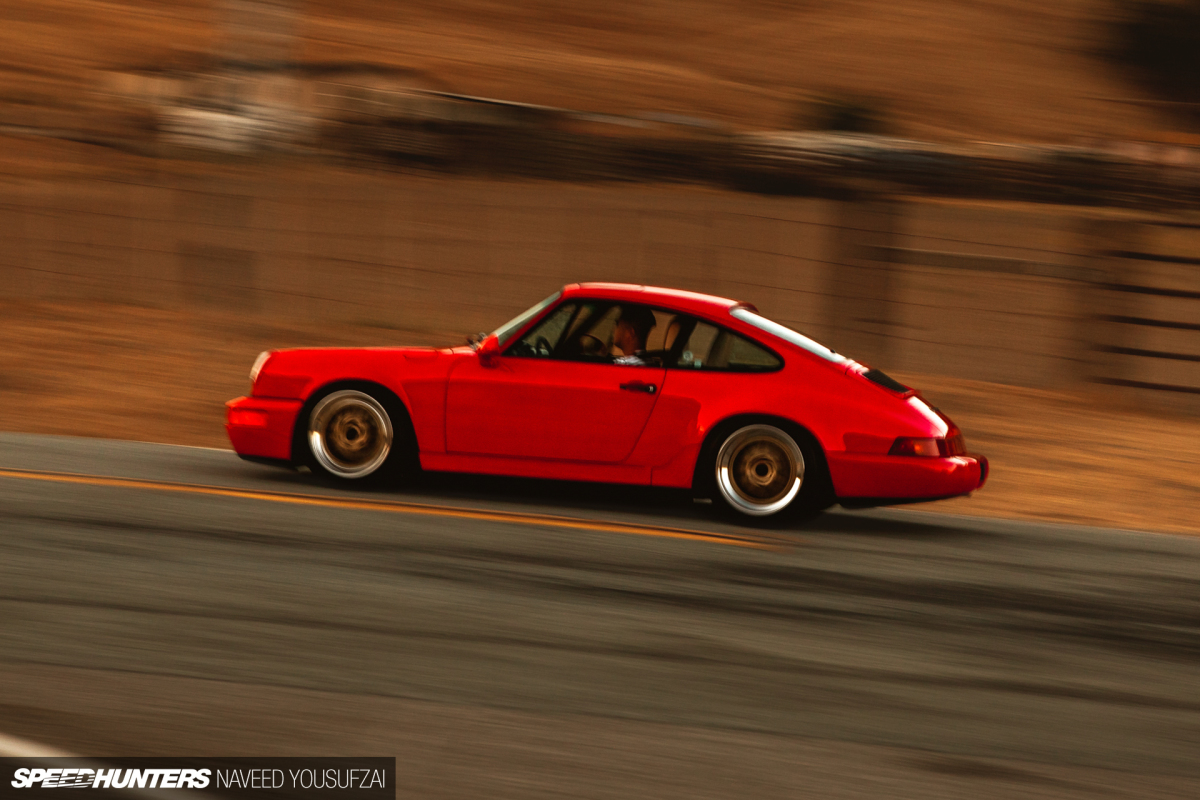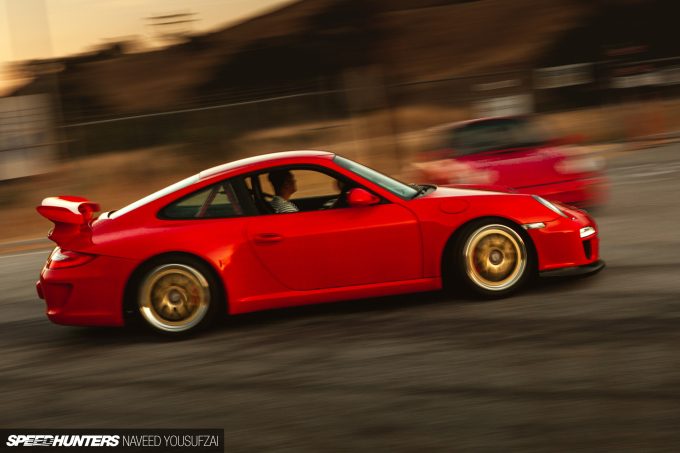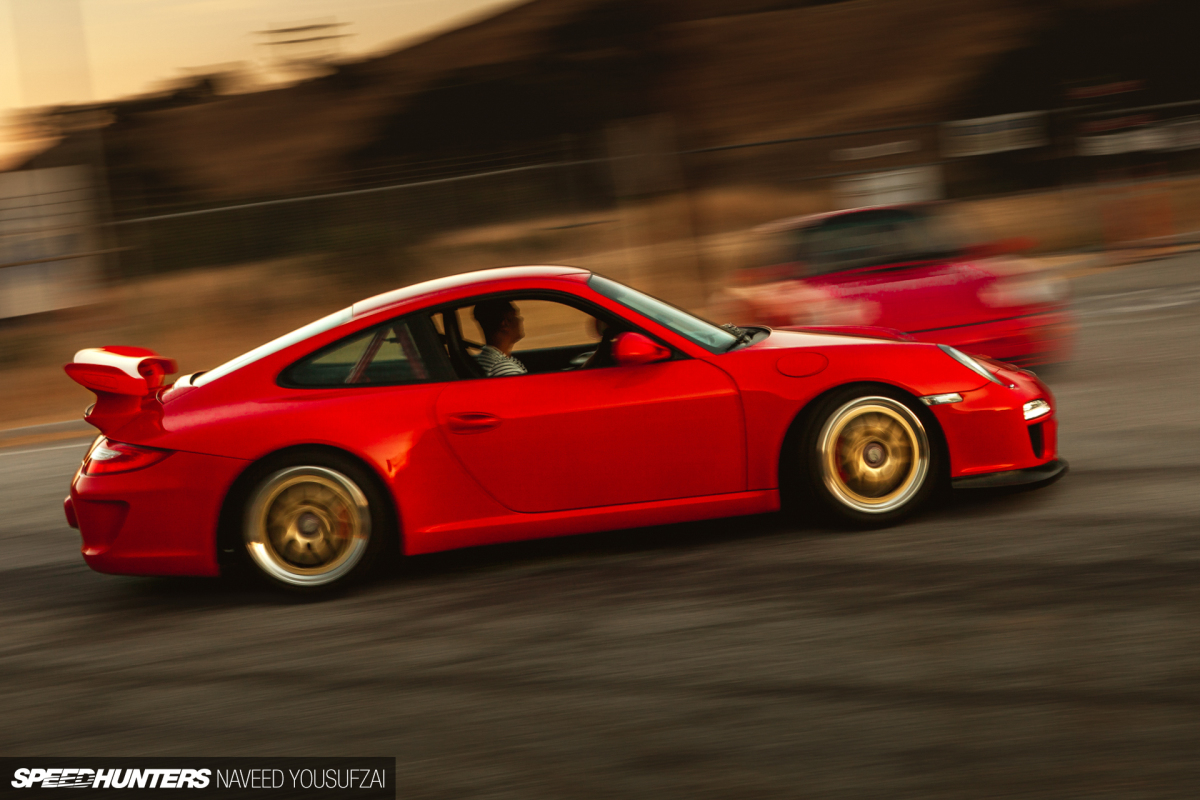 Carlo's love for Porsches began in his early days of college. Prior to that he was an avid racing fanatic, but more so towards two-wheeled death traps. His particular marque of preference was the Tamburini-designed Ducati line-up, which includes the iconic 916, 996, 998, and 748 motorcycles. All of these bikes are deeply rooted in the world of MotoGP and find influence from all sorts of race-winning engineering since the beginning of the 20th century. So when the bug bit Carlo to begin exploring new ventures in racing, he ensured not to defer too far from the apple tree.
One Slice Please…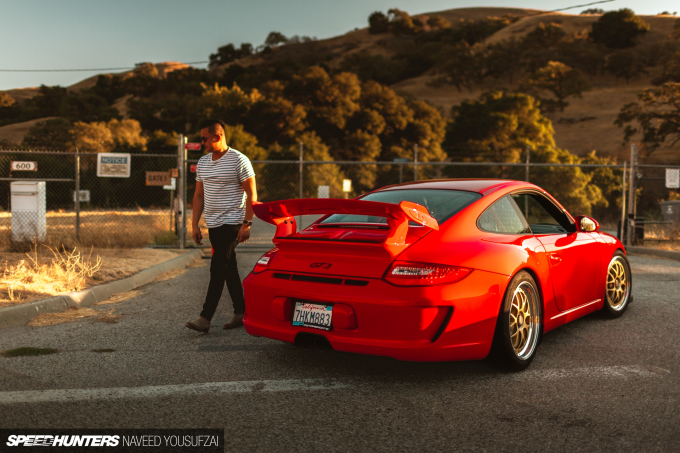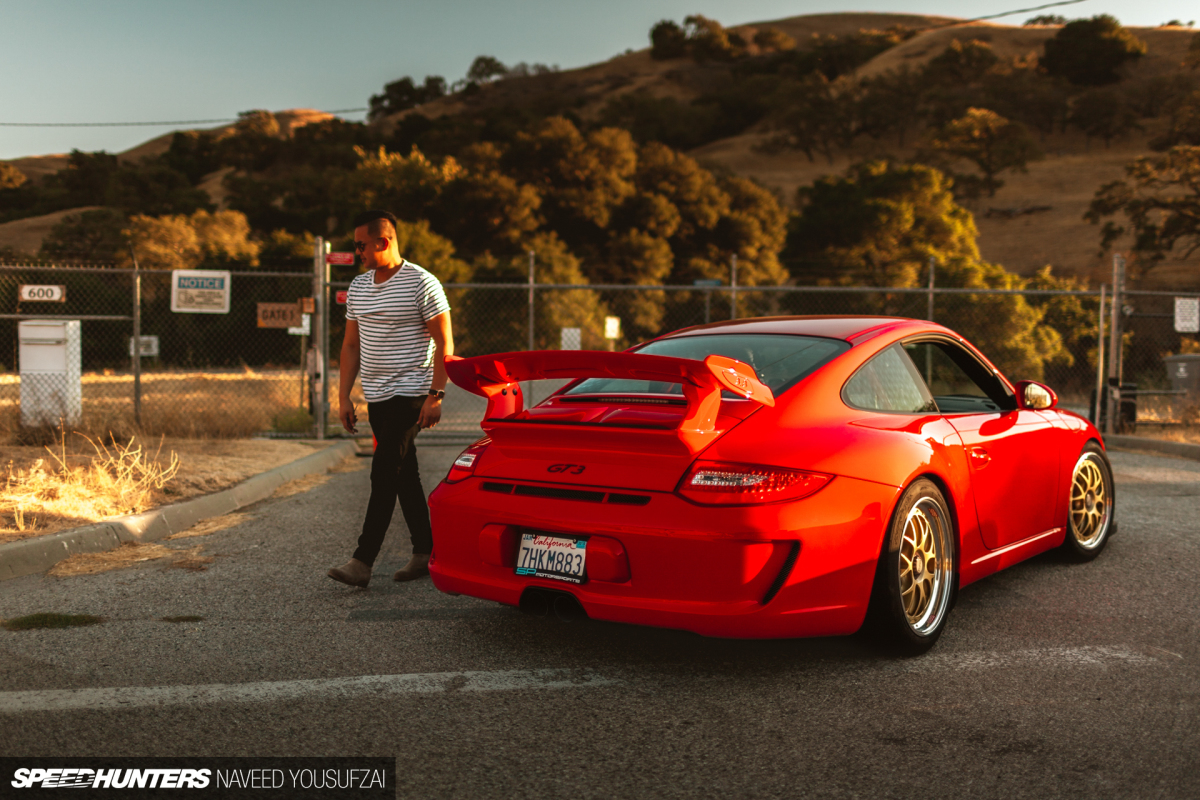 With Porsche having continuously embraced its motorsport heritage and history since the '50s, Carlo found comfort and confidence in exploring his options with the legendary company. After a few deals fell through, his ideal candidate was found sometime in 2012 – a Guards Red 997.2 GT3.
Initially, his interest was in the RS variant of the 997 model, but with a recent property purchase, he settled for the standard GT3. Regardless, he couldn't have been happier with the purchase. At the time, the newest 991 was making its way onto dealership showrooms, but his intent was to get the most out of modern engineering, while not losing the classic driver feel of the 911. The 997 was a perfect fit, as they are the last of the smaller wheel base cars and still retained hydraulic steering.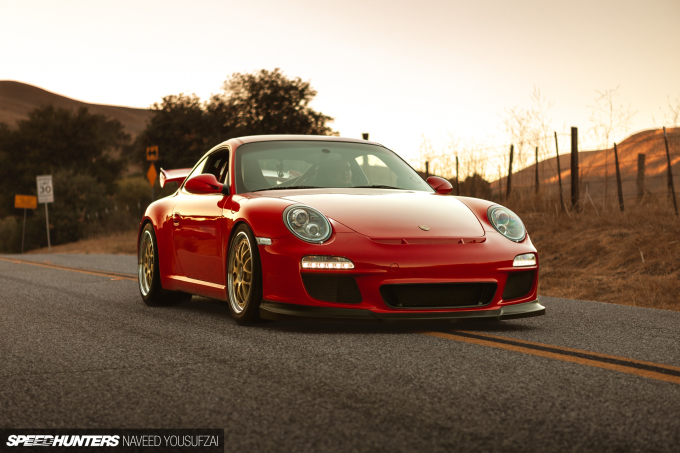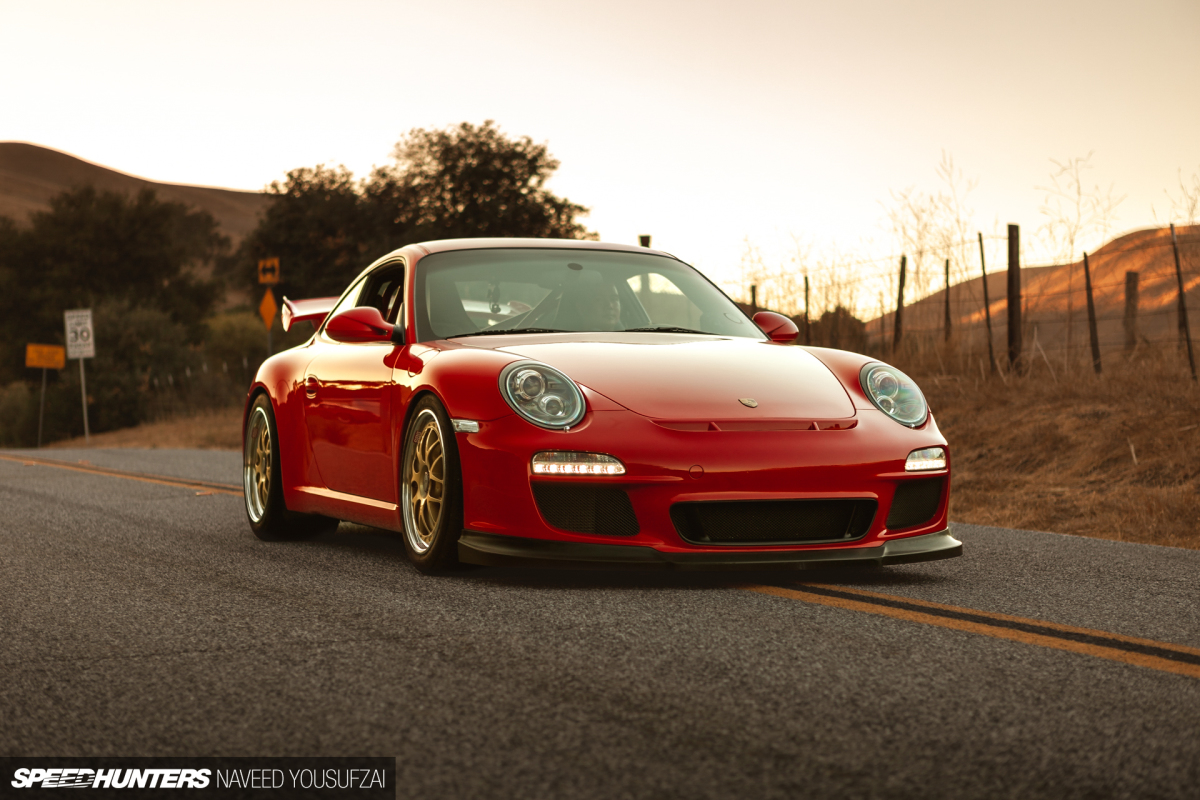 Carlo intended on keeping the GT3 as a fun weekend car, but that quickly changed after just one day at the track. I can totally understand why, too.
As we were driving to the location of this photo set, I was fortunate enough to pilot the GT3 through some winding back roads while Carlos was in the 964. It was responsive, easy to drive, and still felt raw, though to be fair I obviously wasn't pushing the car to its limits.
Even so, it always felt like it wanted more. The car seemed to be happier at higher revs and oddly enough, the faster I went, the better the suspension felt. Given I only drove it for about 30 minutes, I totally understood why this became his dedicated track toy.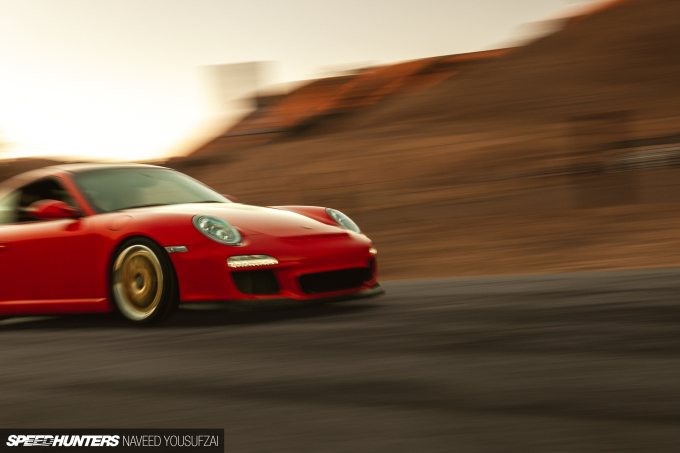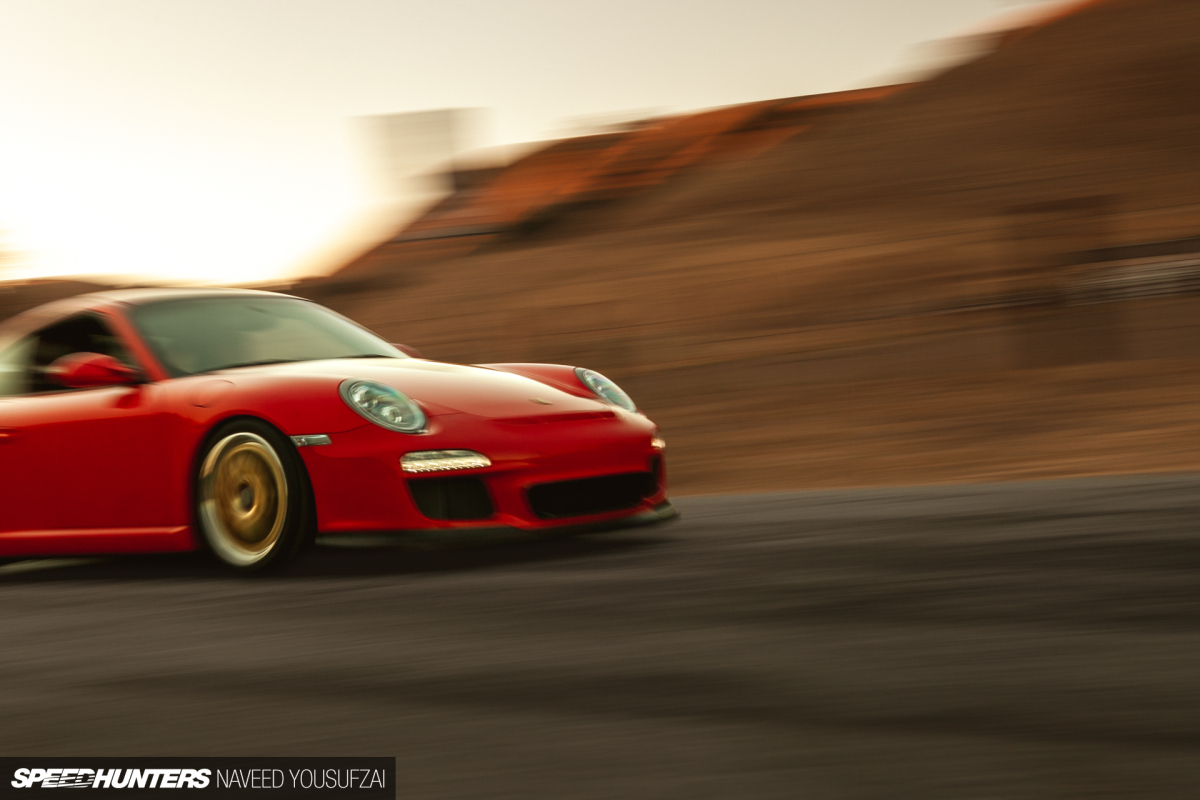 Carlo's competitive driving style left him wanting more, so the enhancements to make the race-rooted GT3 better began. As most track builds go, he started with the suspension. ERP tie rods and upper control arms, Tarret front and rear lower control arms, and RSS mono-ball toe links replaced all the factory units. Of course, a track alignment and corner balancing ensured everything was dialed in to perfection as well.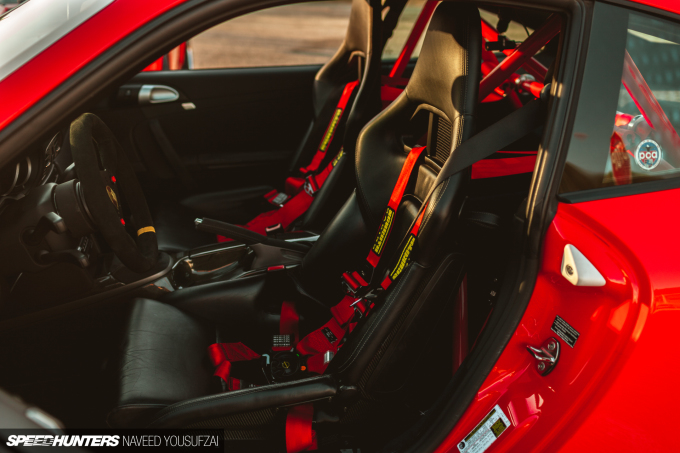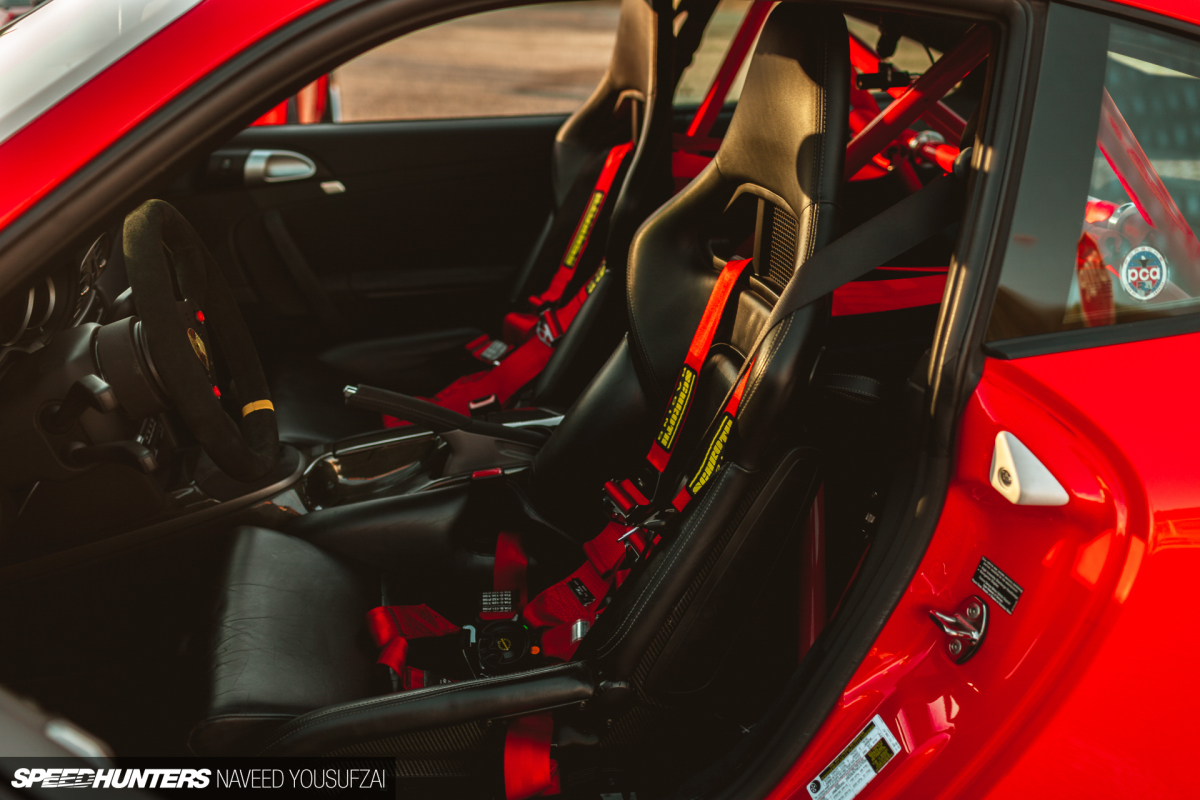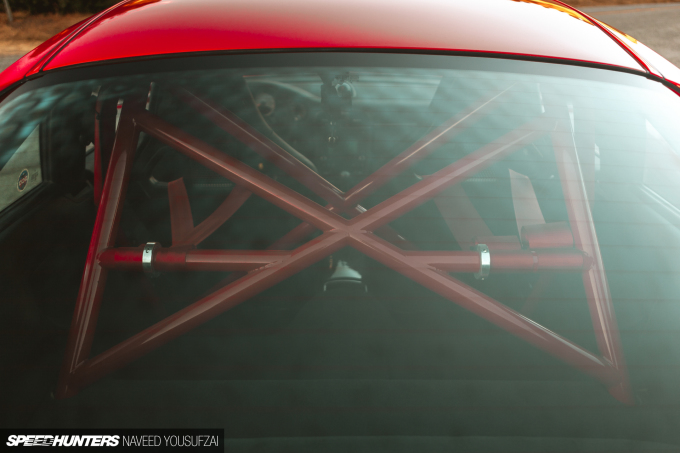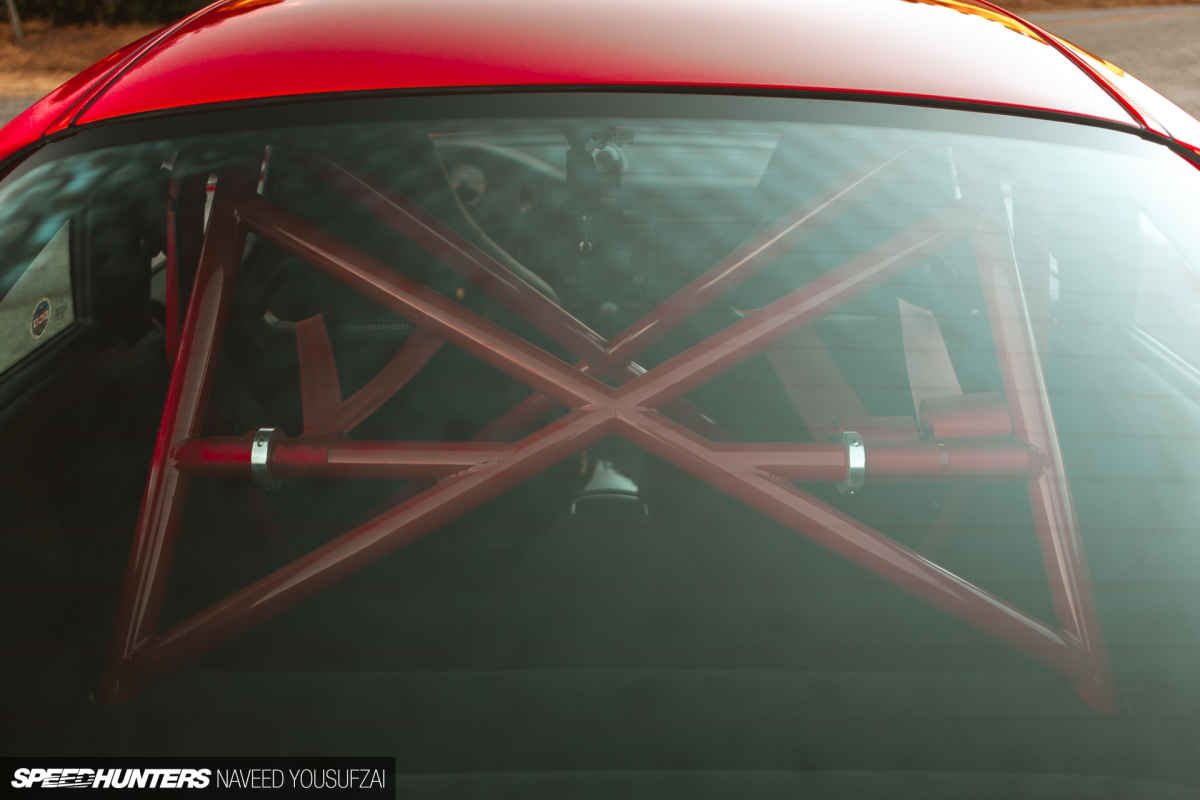 Not much was needed inside, as it's factory fitted with heaps of carbon, Alcantara, and that jungle-gym of a roll cage. Carlo made sure to opt for the GT2 factory race seats as well, which I applaud since they cost more than most average secondhand commuter cars in your local auto trader.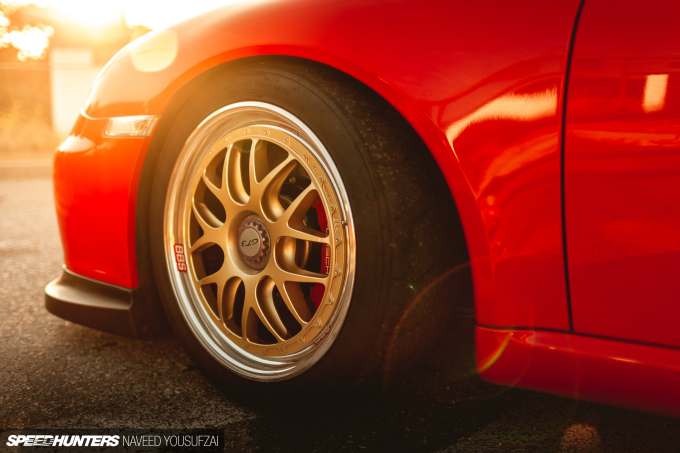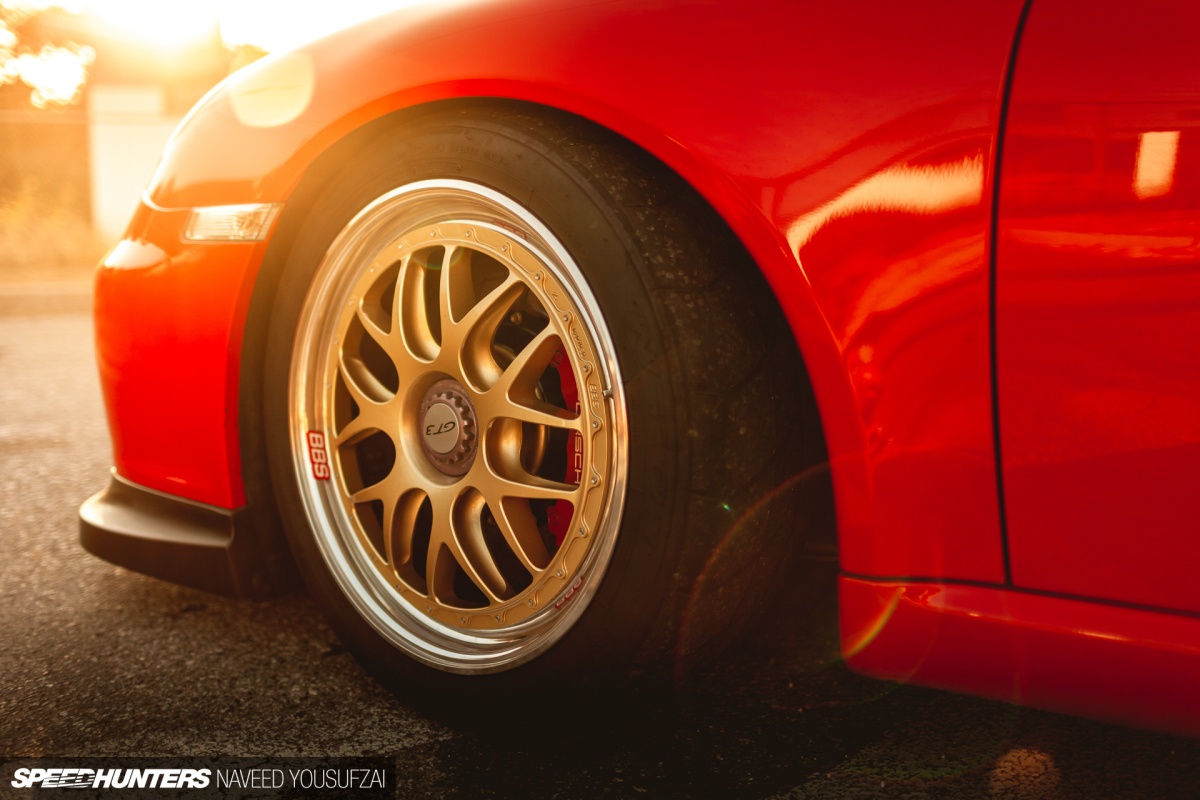 The appropriate wheels of choice were the track-oriented BBS E07, finished in beautifully contrasting gold faces and polished lips. AP Racing 2-piece rotors paired with Endless ME20 race pads fully enclose the diameter in between the spokes and provide the stopping power needed for hot track days.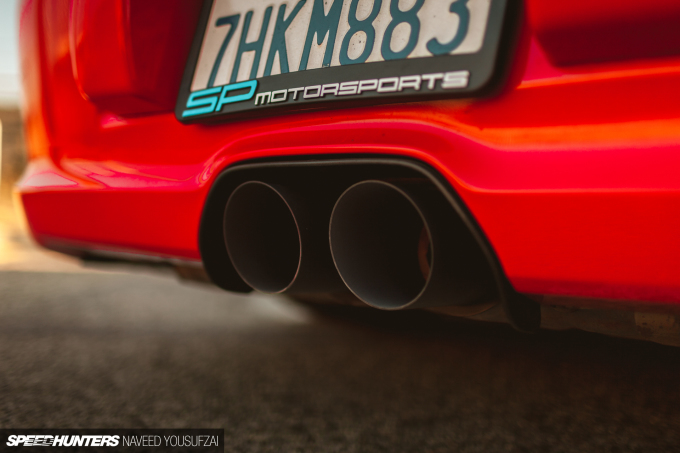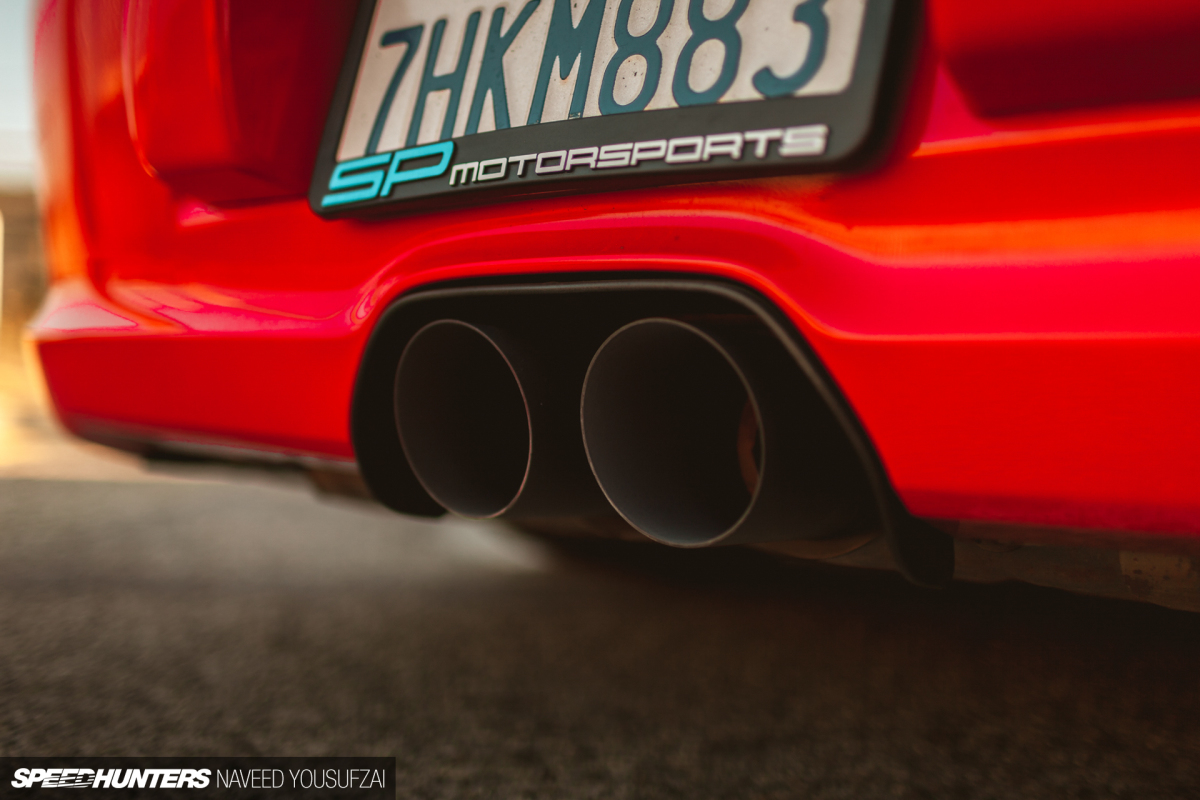 Power improvements remained modest as the GT3 has plenty of it from the factory. A custom ECU map provided by COBB Tuning, custom exhaust with SharkWerks 88mm tips, BMC air filter, and a few cooling upgrades from BBi Autosport keep the car running well under any sort of track condition.
Kidding, We'll Take It All!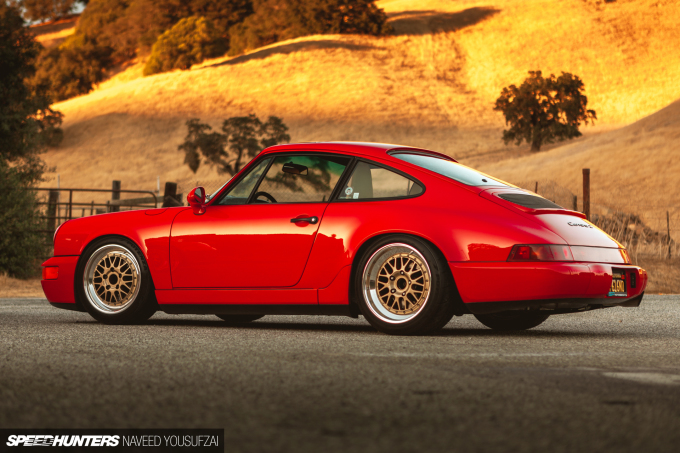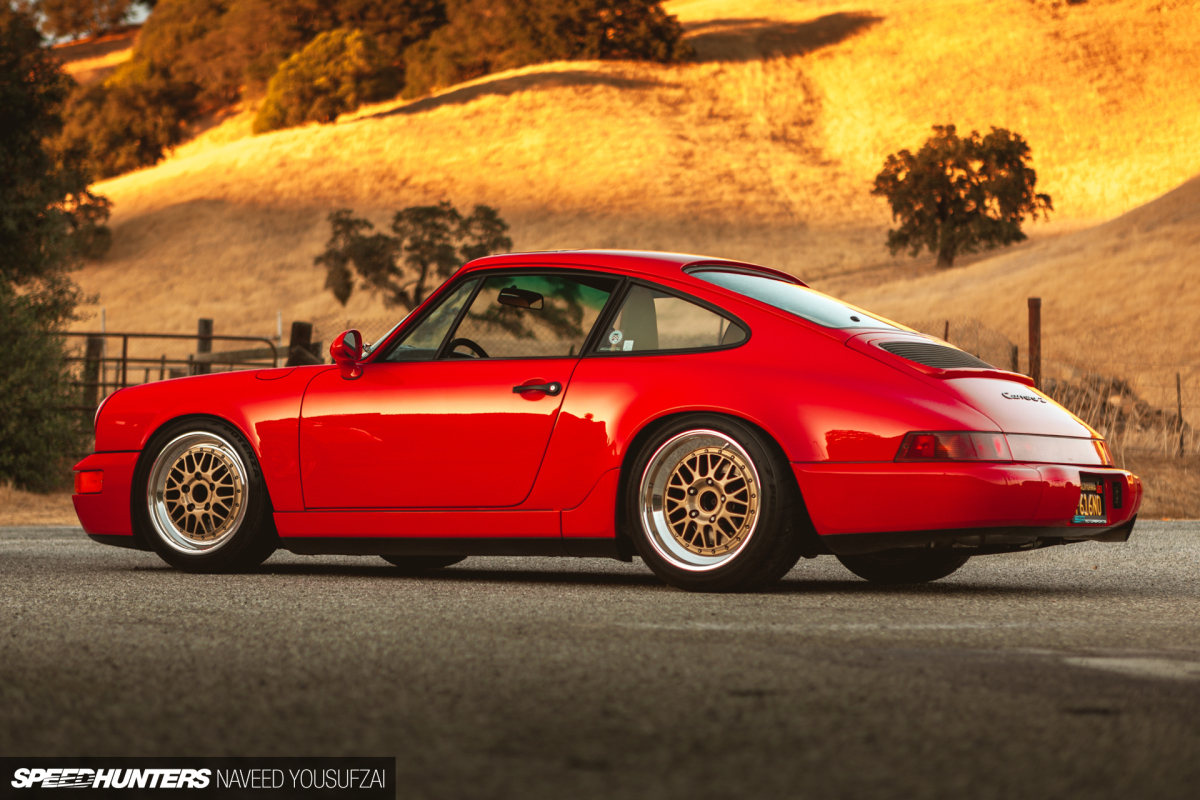 After having his cake with the GT3 for five or so years, Carlo decided to eat it too with the purchase of the 964 C2. By this point in time, Porsche tax was already in place, and finding a low mileage, well maintained example was like finding a needle in a haystack. Flippers were riding the train of exponential price increases over the last couple of years, and Carlo resorted to posting a 'want to buy' ad on the Porsche forums.
With a couple of responds and deals falling through yet again, his hopes in finding the right car were slowly diminishing. But with patience comes virtue, and sure enough, this matching Guards Red 964 C2 ended up on a shipping truck headed towards California.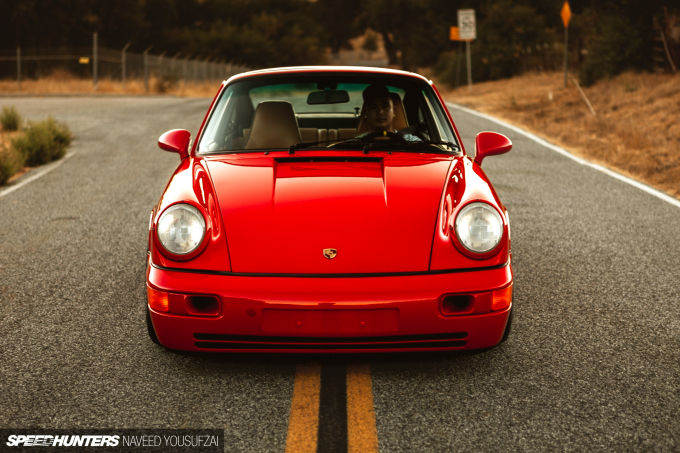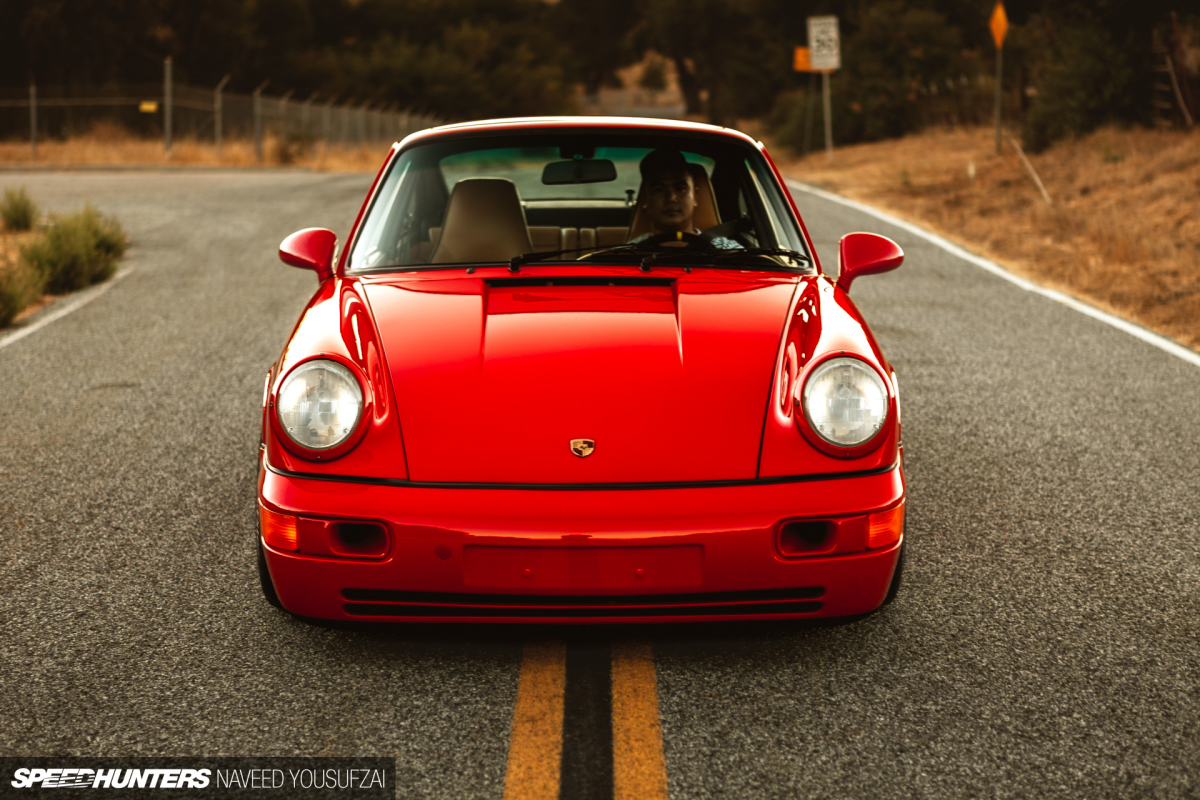 This was Carlo's first air-cooled 911, and it was a newfound love in the world of driving for him. In his own words, it was "hard to pinpoint my favorite part about the 964, because there's just too much to love." The 964 had certain characteristics to it that set itself apart and brought Carlo back to his roots with the feel of the old Ducatis he owned. There was a level of involvement required to drive the car, and it's something that you just can't get out of the newer cars on the road.
The goal with the 964 was to finally create the spirited weekend warrior he was after with the GT3. His vision was to retain the originality of the car as much as possible, but still modernize the suspension and a few small aesthetic features to suit his driving and styling needs.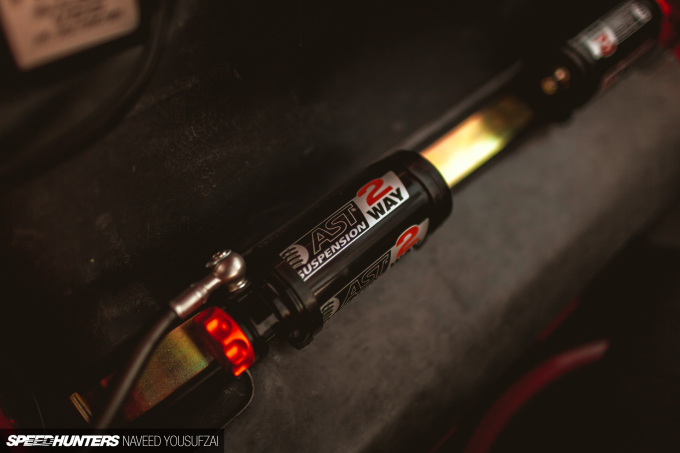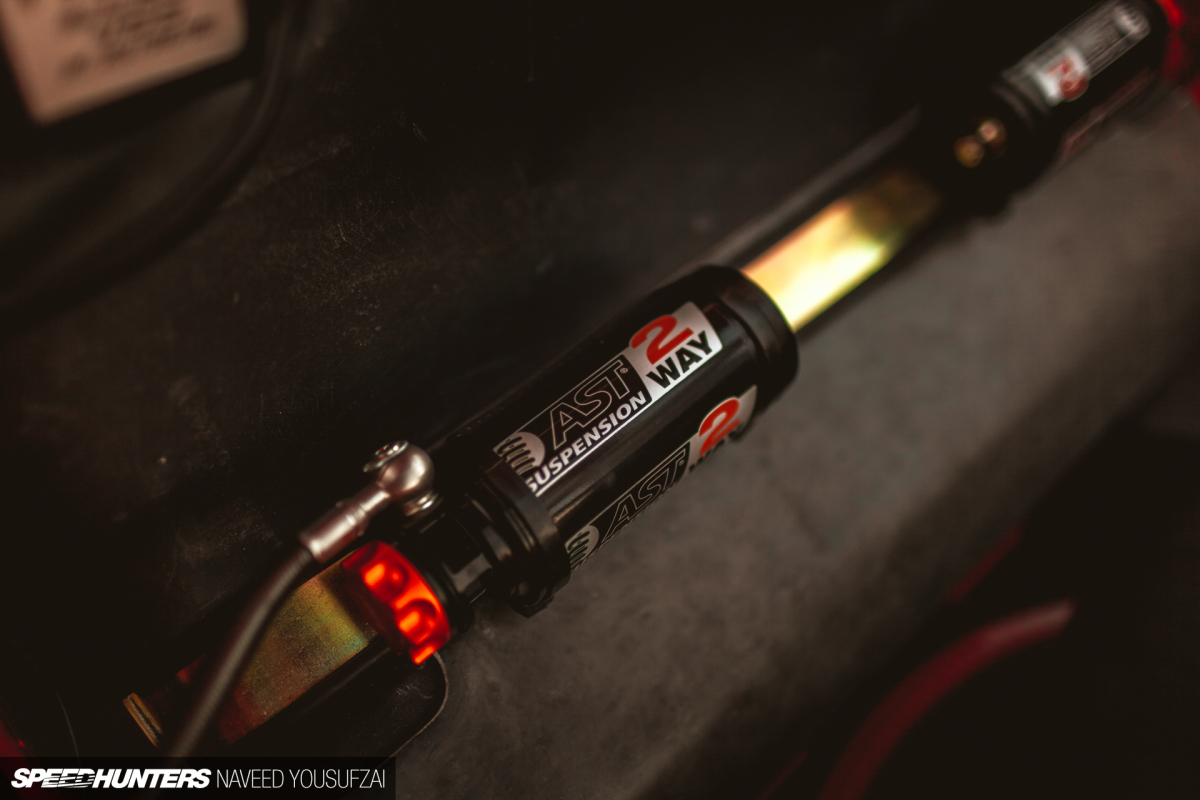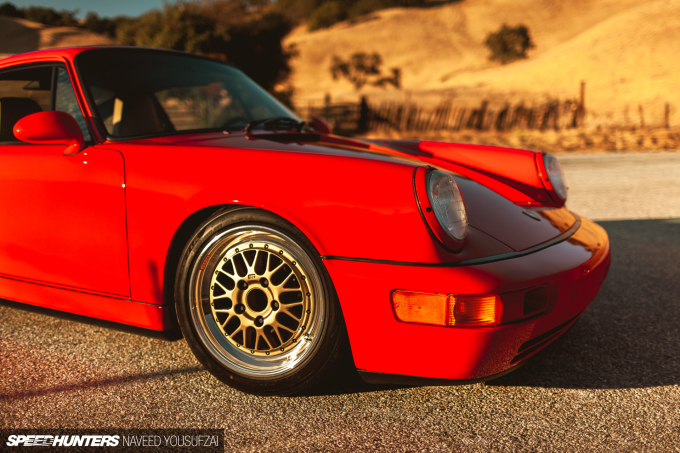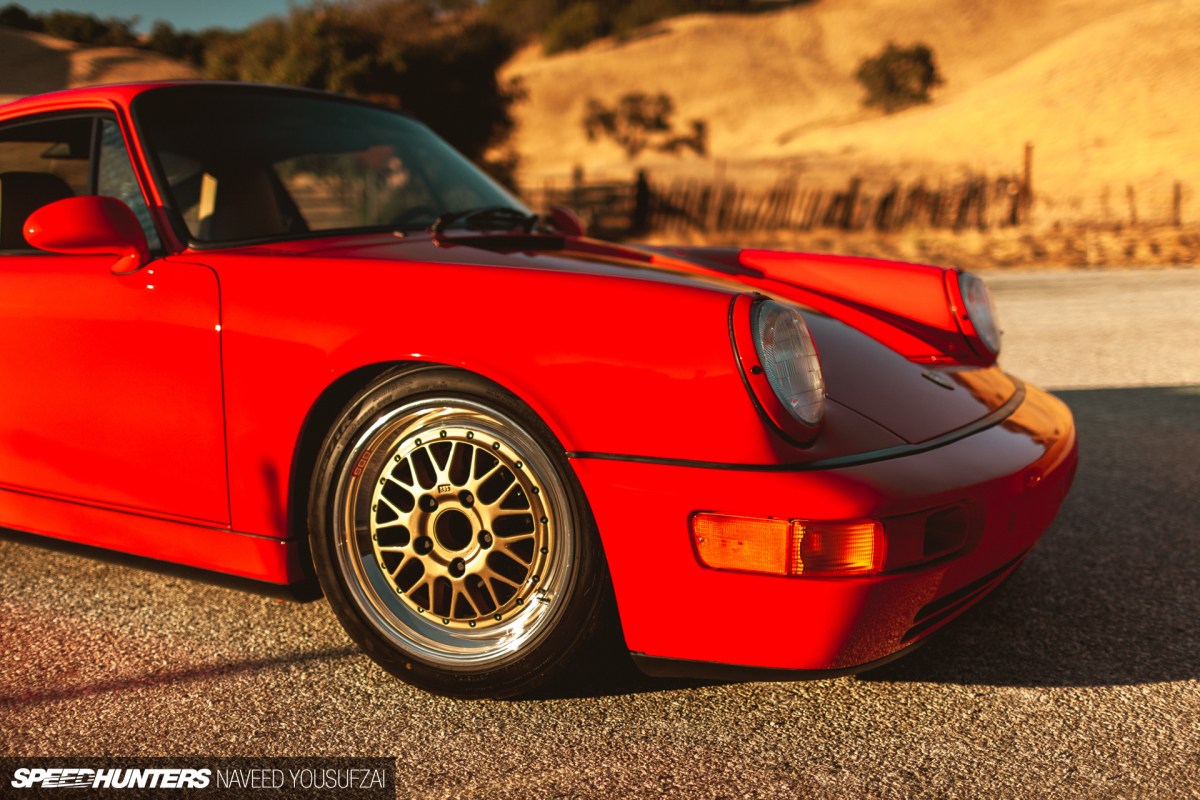 The suspension was upgraded with AST 5200 Series 2-way coilovers with external reservoirs, RS sway bars front and rear, RS strut bars, and some more Tarret goodies were fitted to replace the worn factory bits. Magnesium-faced BBS E26 wheels in an 18-inch fitment finished with gold faces and polished lips again show promising contrast against the perfectly maintained factory paint job.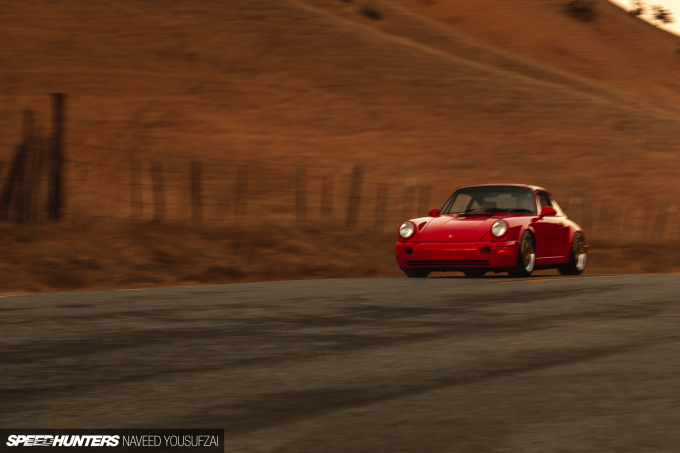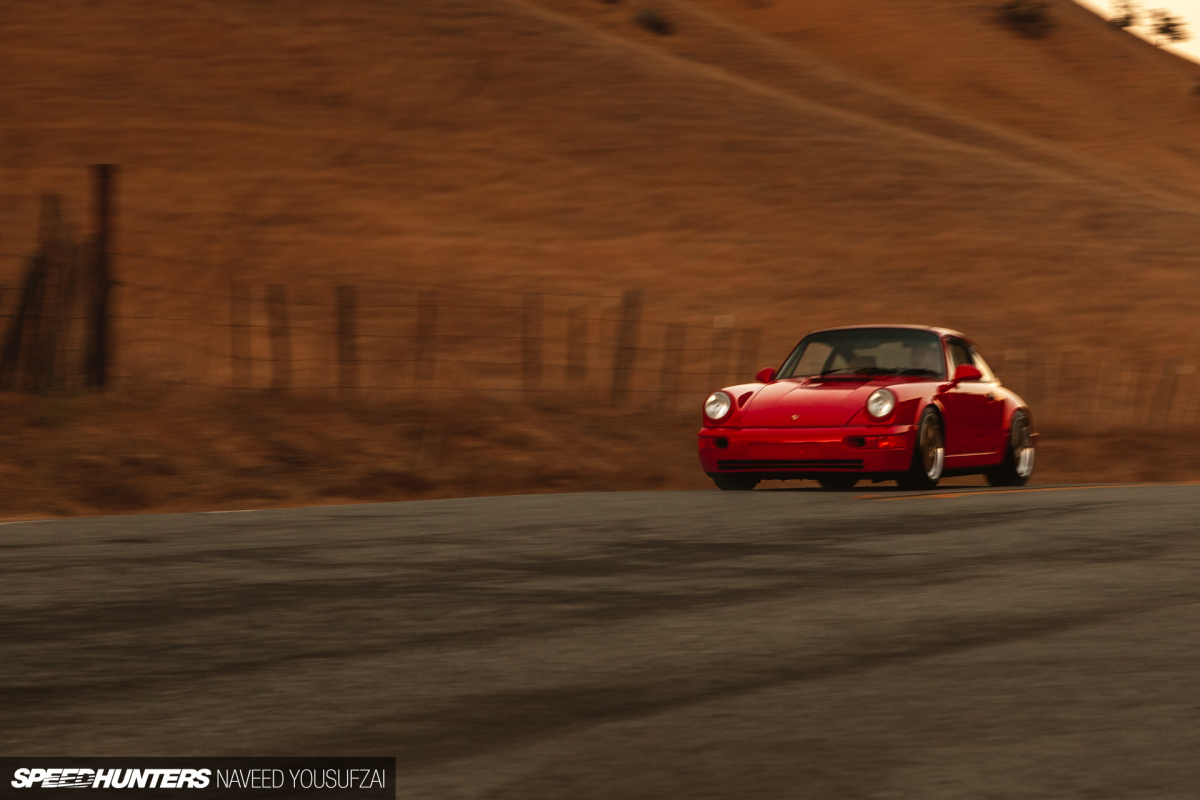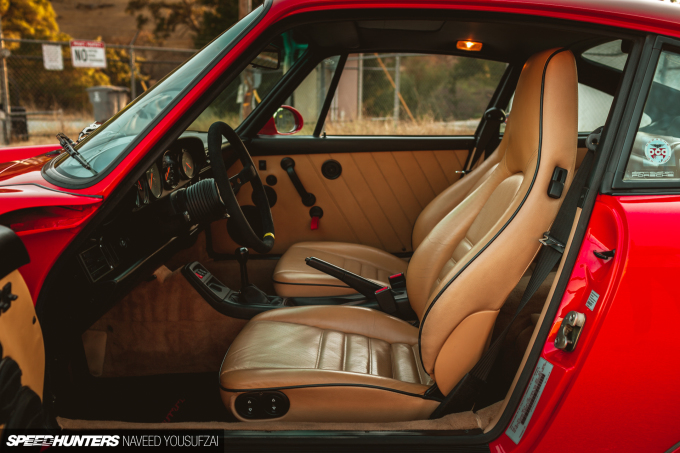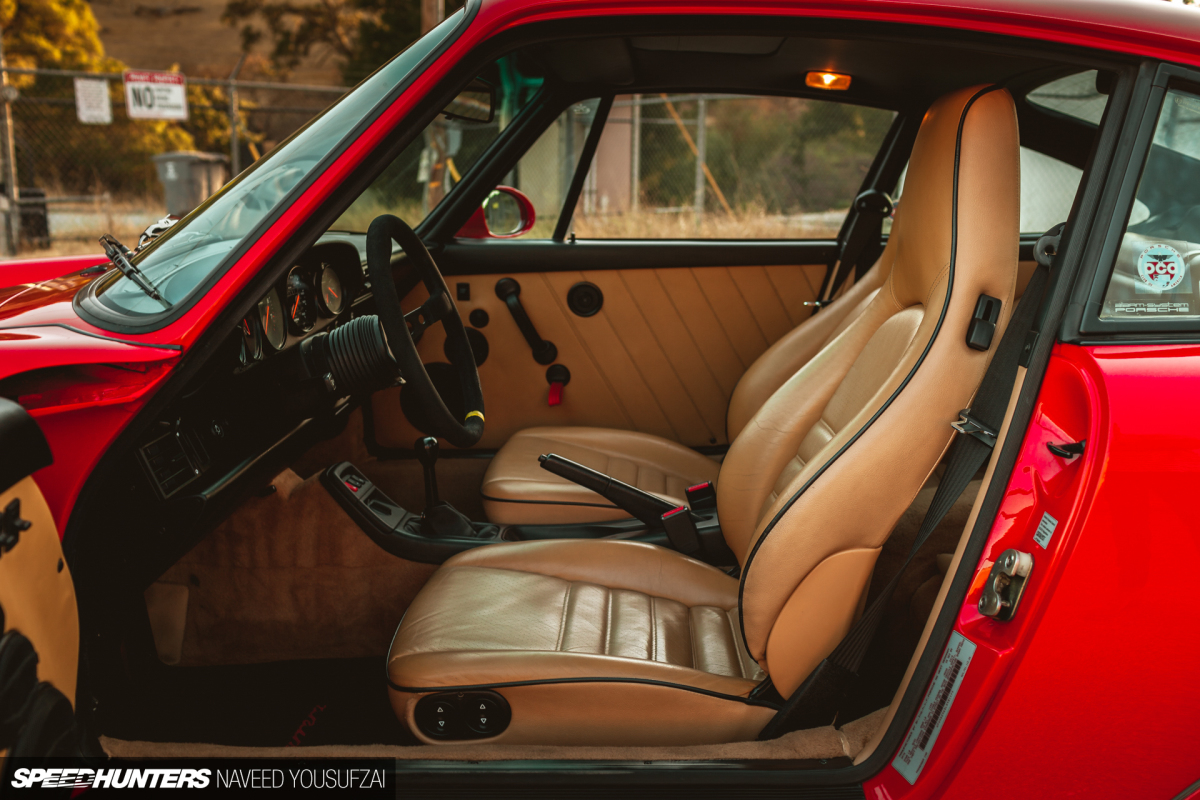 Aero mirrors, RS brake ducts, and a rear wiper delete have kept exterior changes subtle but tasteful. The interior, however, faced more drivability improvements since it was a street car. Rennline pedals, RS door panels with red leather door pulls, a Rothsport Racing billet short shift kit, and an upgraded audio system make weekend drives through Bay Area traffic far more tolerable than before.
The Picture Perfect P-Car Pair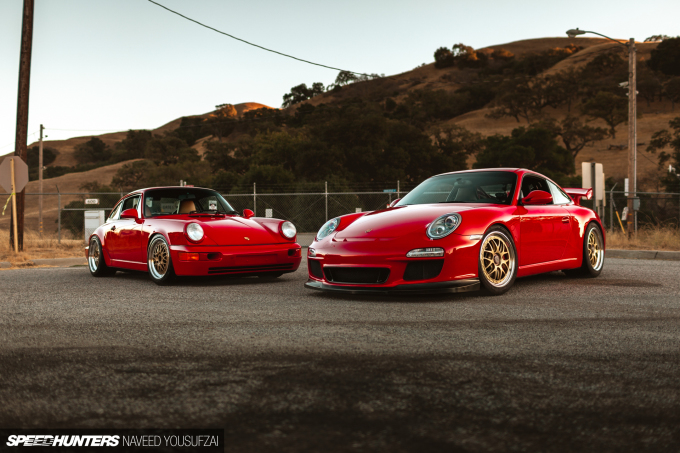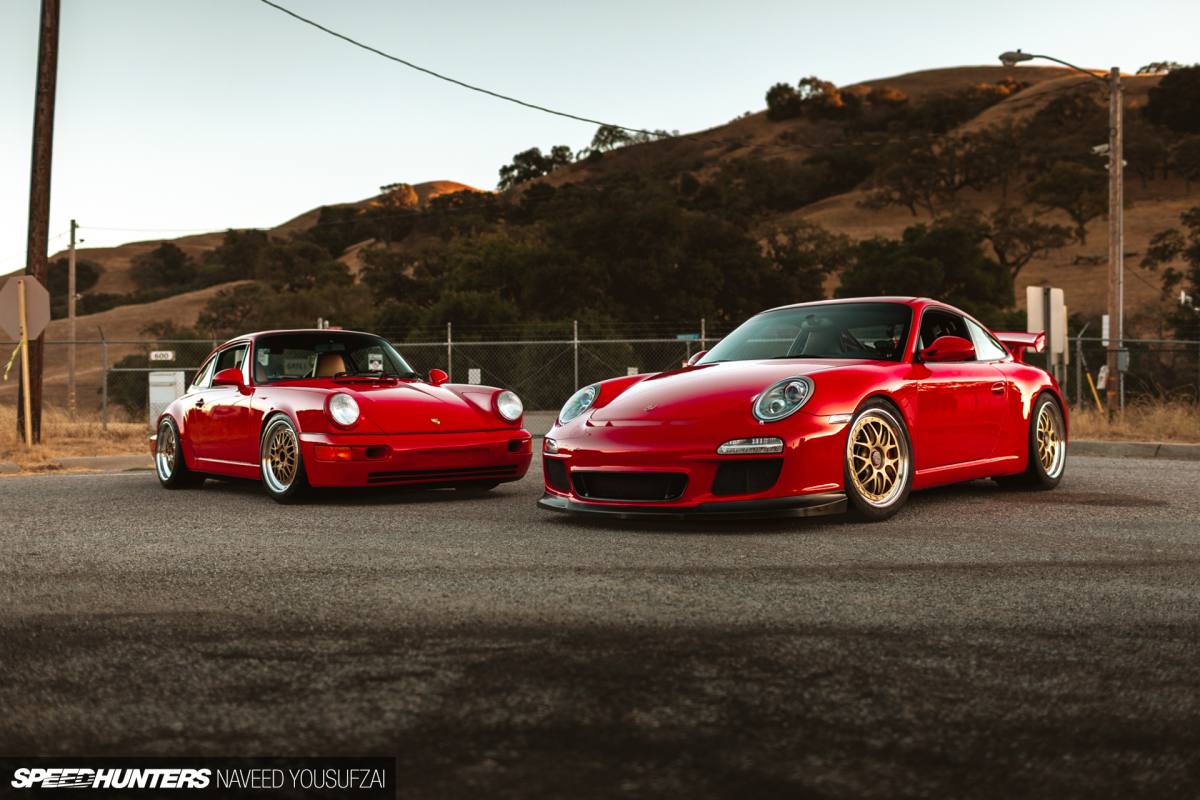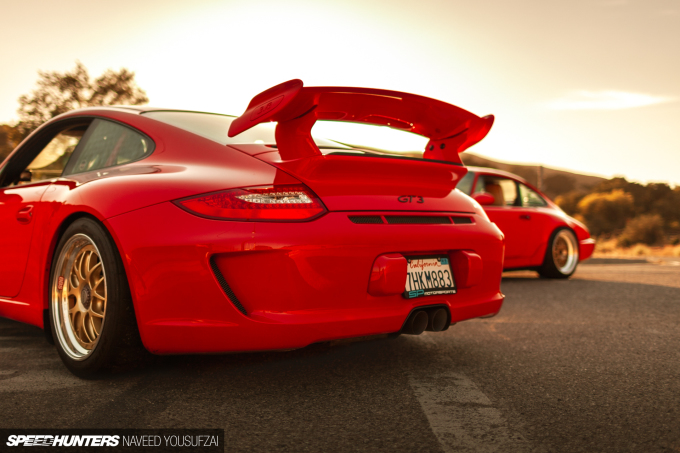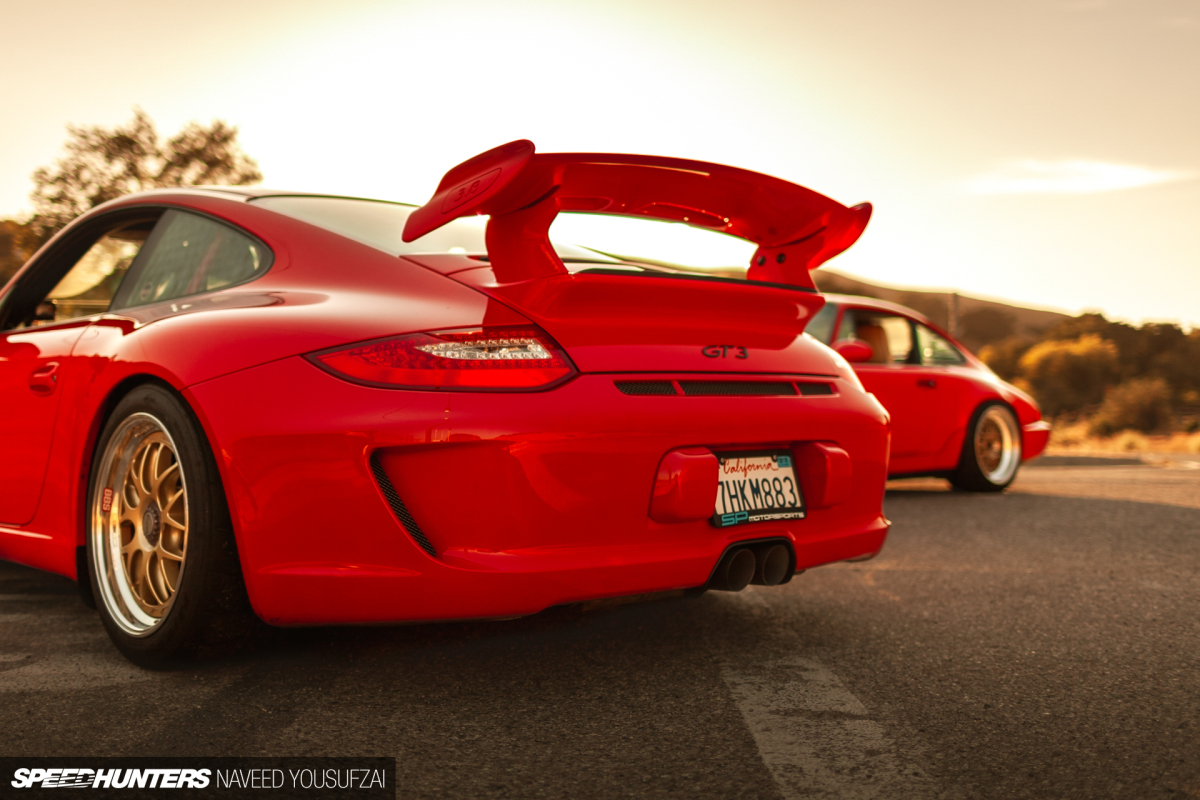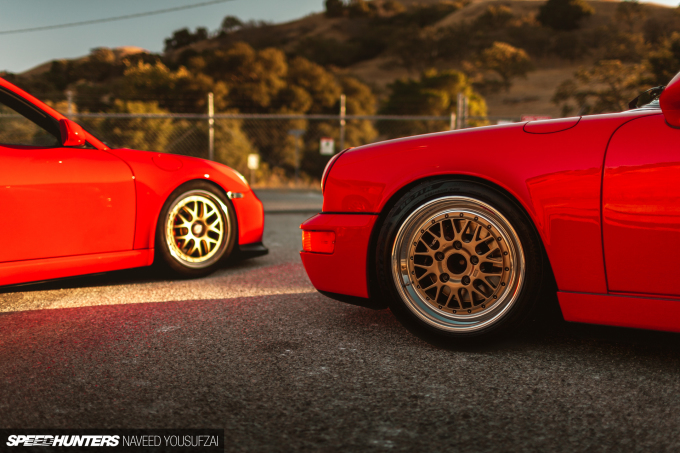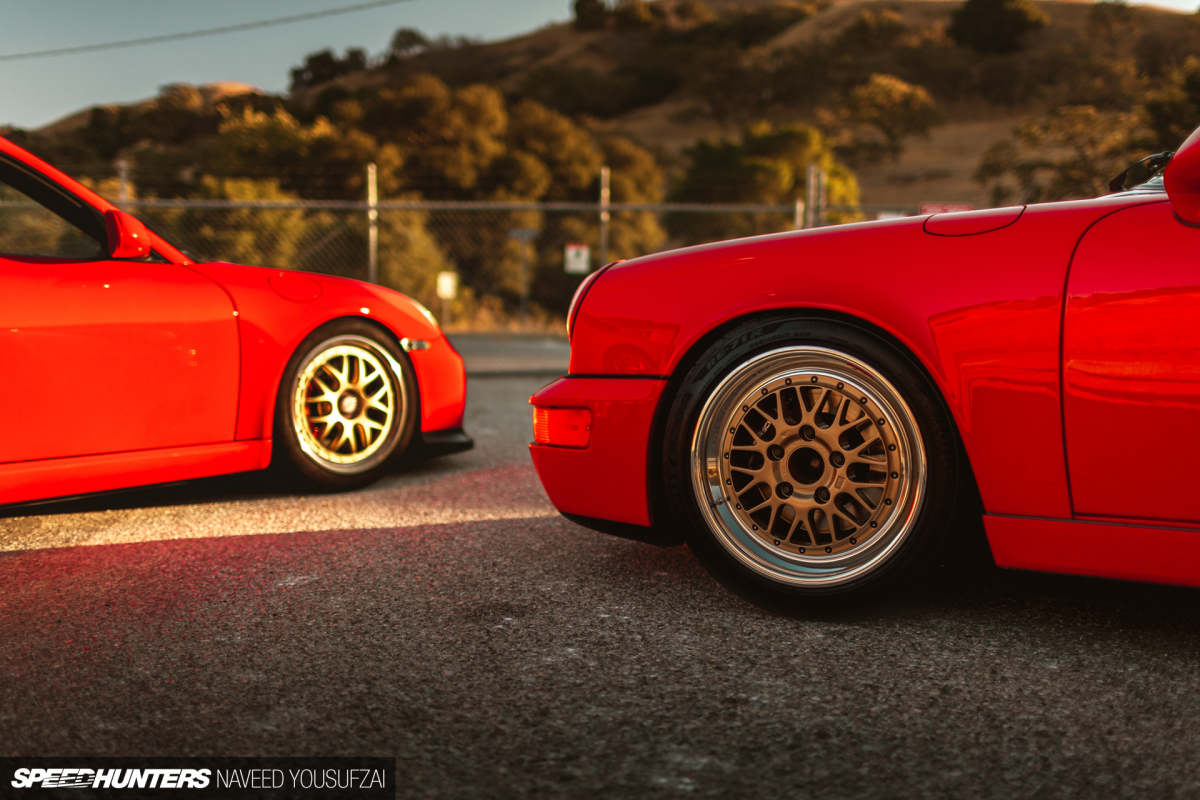 Carlo's choices in P-cars literally give him the best of both worlds. Both share an heirloom of superior motorsport history, but require a completely different level of skill to drive them at their limits. Though the 911 hasn't really changed much when it comes to design, it's hard to say that they are the same cars when sitting behind the wheel.
The power levels have drastically increased over the years, along with weight distribution, throttle response, balance, grip, and so forth. So when trying to develop driver skill, you need to find a fine balance between analog versus digital, and there is no better way to bring this to life than owning this dynamic duo. And though they are drastically different cars, both retain a special type of road presence and charisma found only when driving a Porsche.
I think it's safe to say that Carlo is living any Porsche owner's dream.
Naveed Yousufzai 
Instagram: eatwithnaveed
Gallery