Amongst the foggy Hinoki Cypress forest in the foothills of Mt. Fuji, a family business continues a generational legacy of fine metalwork.
Master craftsmen bend, cut and weld their creations from the strongest and lightest Japanese steel, and the finished product provides the edge to defeat rivals in battles all over the world.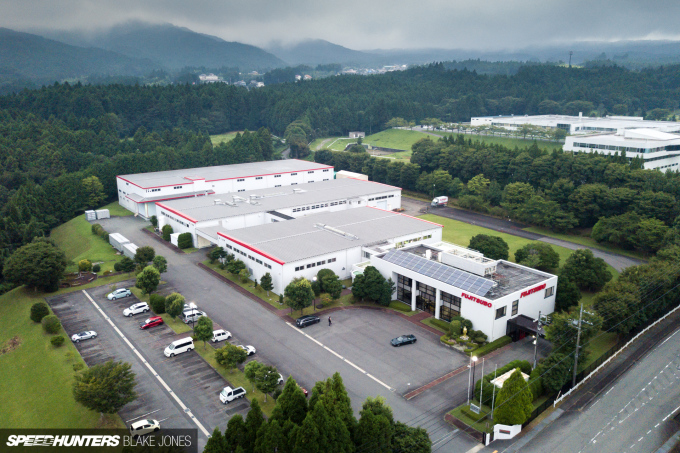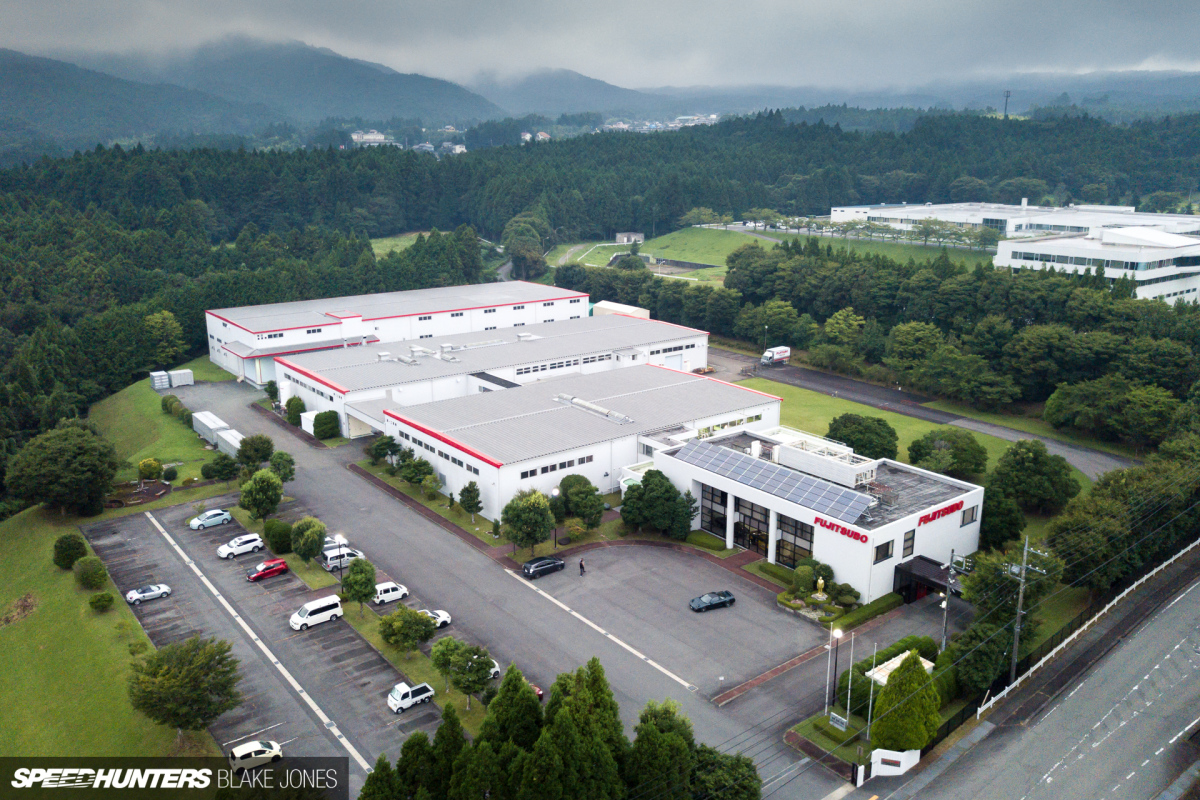 No, you haven't actually ended up at SamuraiDaily.com – this is still Speedhunters and we are still talking about cars – although you'll forgive me for making the connection between the katana swordsmiths of old and Fujitsubo's exhaust mastery.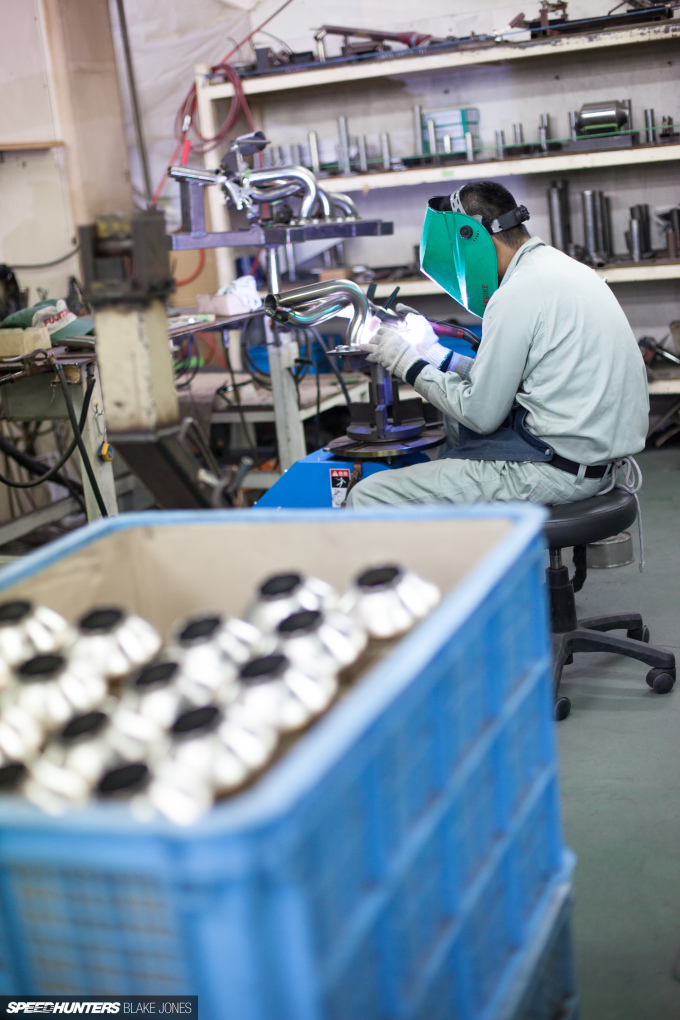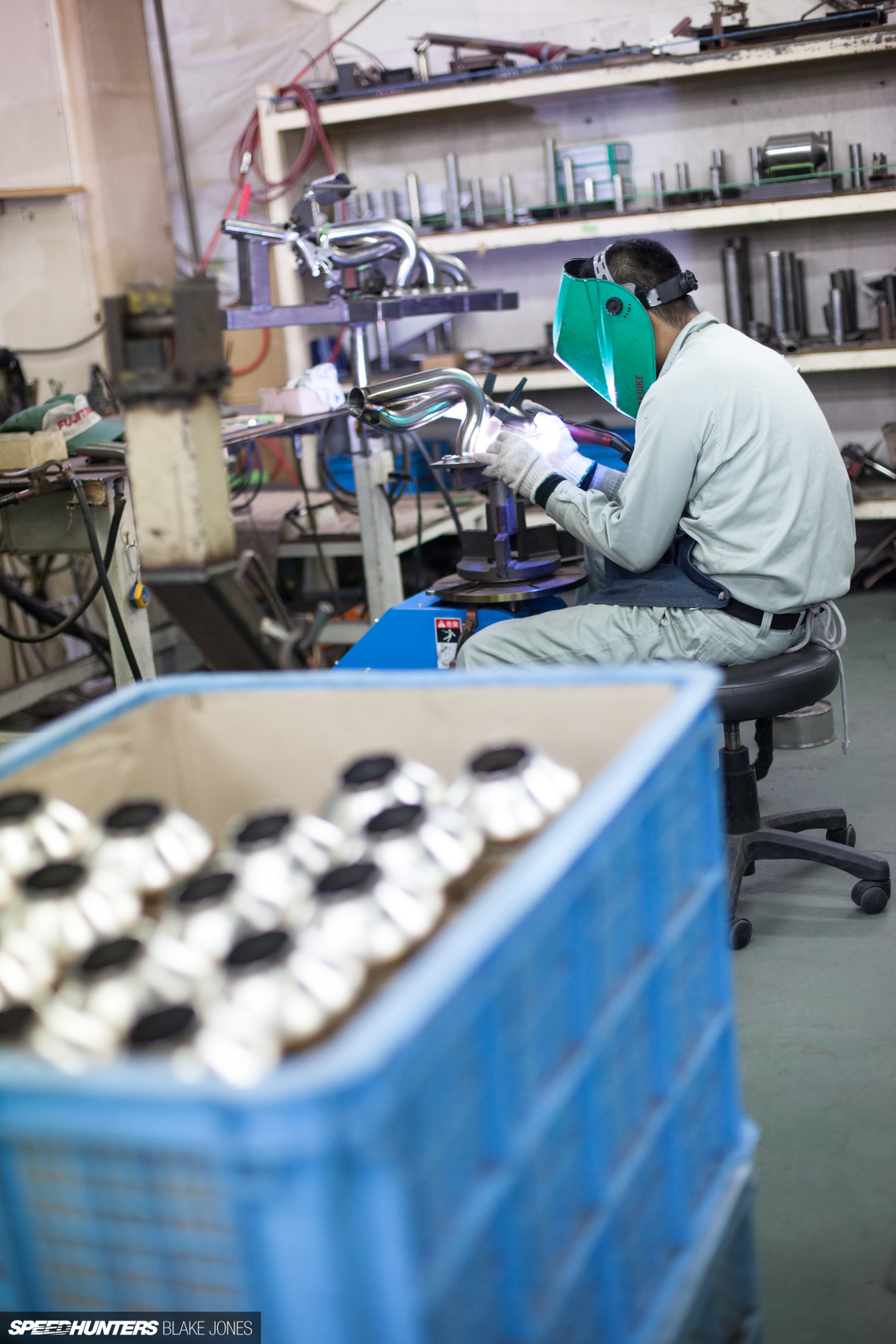 Those of you who have spent any time around Japanese performance cars will likely be familiar with the Fujitsubo name. For those who aren't, Fujitsubo has designed a high performance exhaust for almost every Japanese performance car that ever rolled off a production line.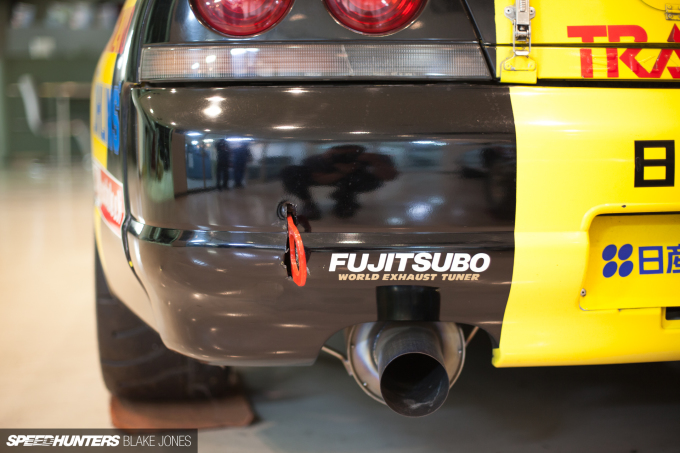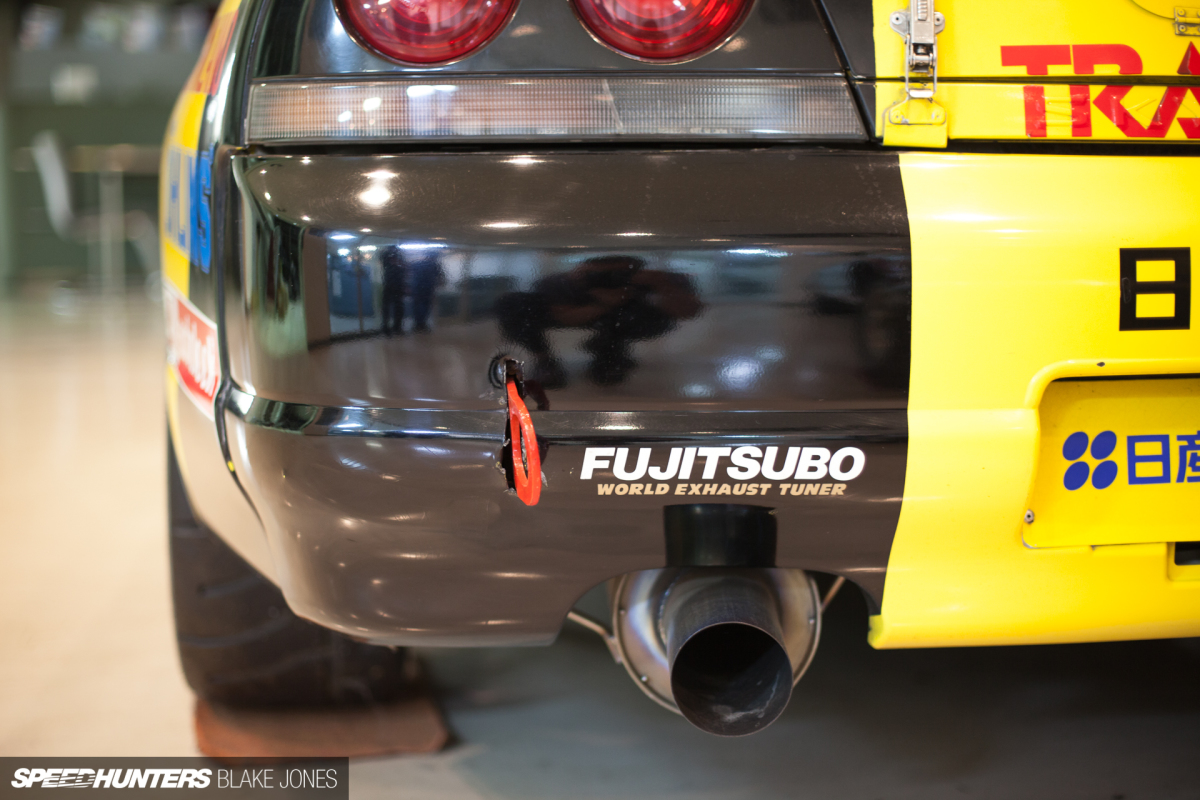 As such, Fujitsubo was the first name that came to mind when I was looking for a new exhaust manifold to maximise performance on Project NSX. The NSX's V6 isn't known for easy power upgrades, but upgrading the stock cast manifold to a proper equal-length header is at the top of any modifier's list. I'll get into the reasons why in my next project update.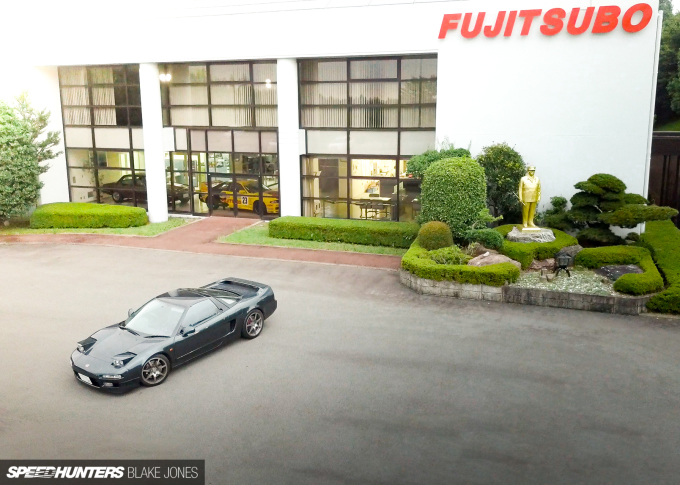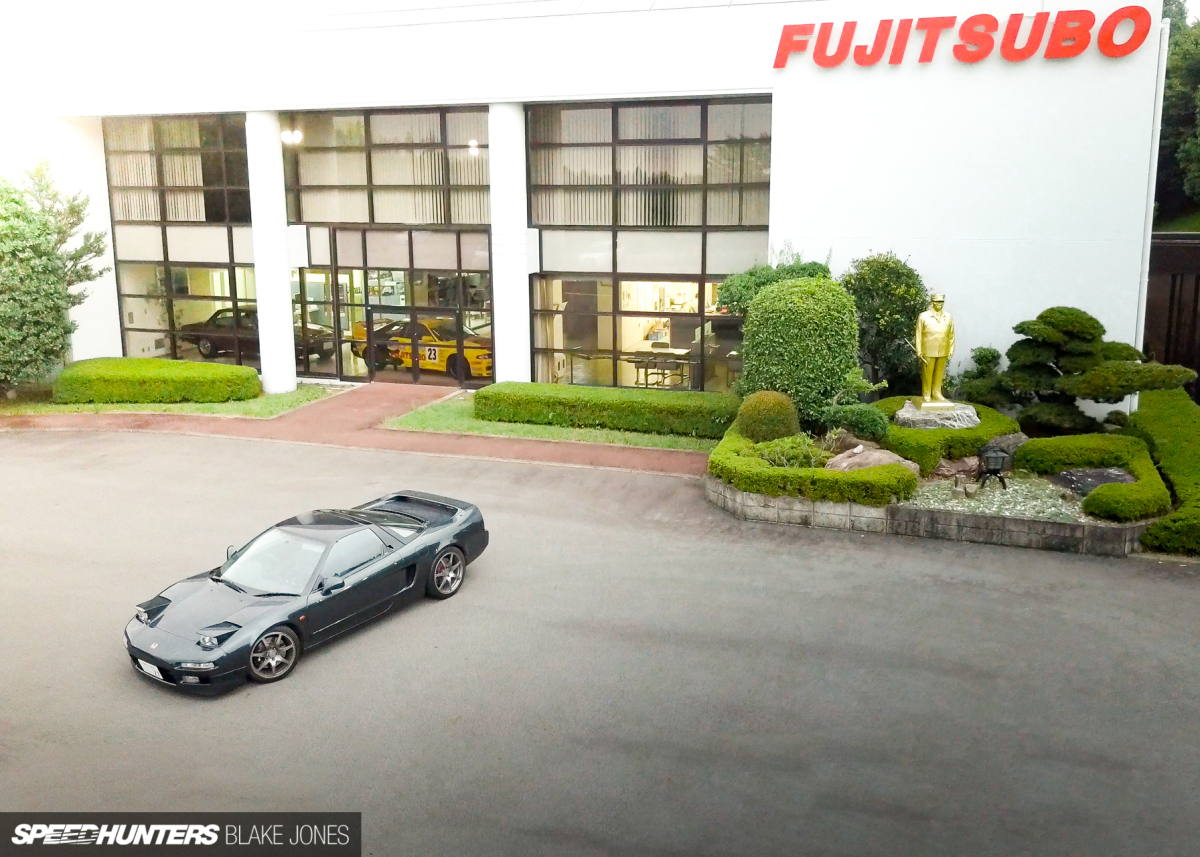 For now what you need to know is that when I bumped into company boss Fujitsubo-san in the Fuji Speedway paddock at the Endless track day in June and asked him if I could pick up the new parts from the factory, he liked the idea. I figured, why not nose around to see a little bit of the magic behind the scenes at the same time?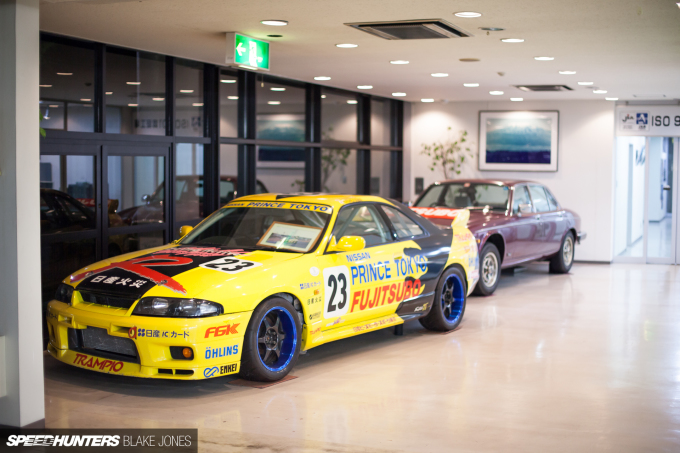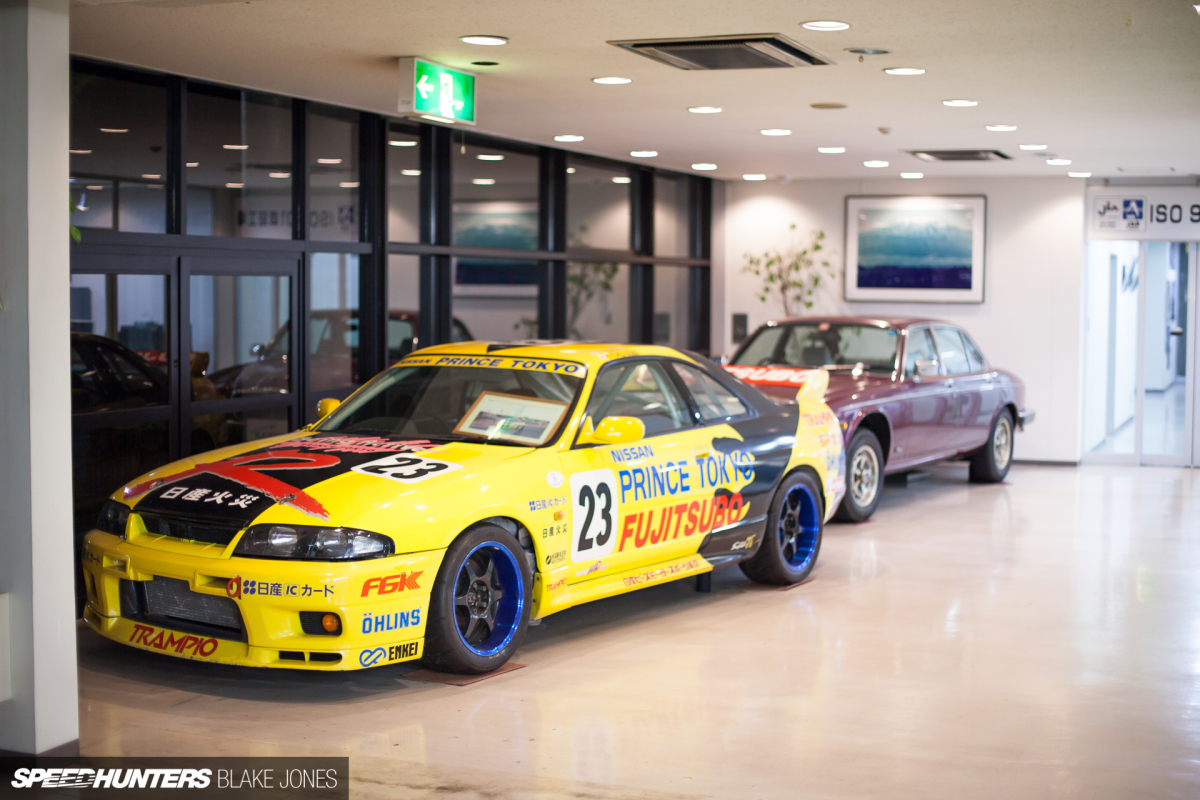 The facility is basically as close to Mt.Fuji as you can get without being on Mt. Fuji. Unfortunately, the mountain was obscured by clouds during my visit (as is often the case), but Fujitsubo-san assures me the view is majestic. Fujitsubo has been at this premises since 1997, when they moved from Yokohama in search of a location that could house an expanded design and production facility. In the lobby sits a few vehicles from the company's history, including their 1996 N1 Super Endurance GT-R and the Jaguar XJ sedan owned by Fujitsubo's founder.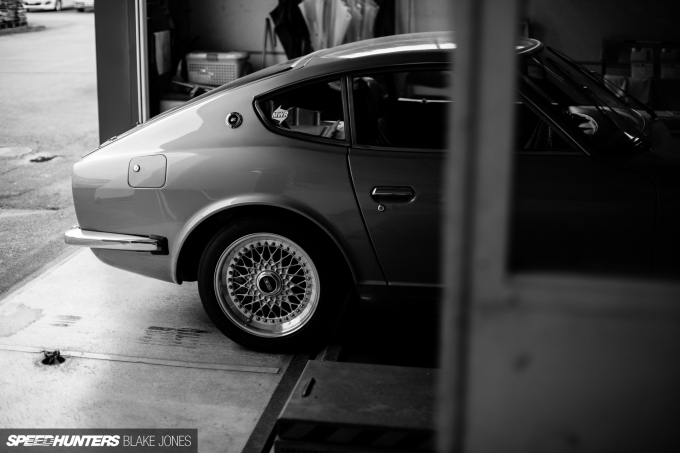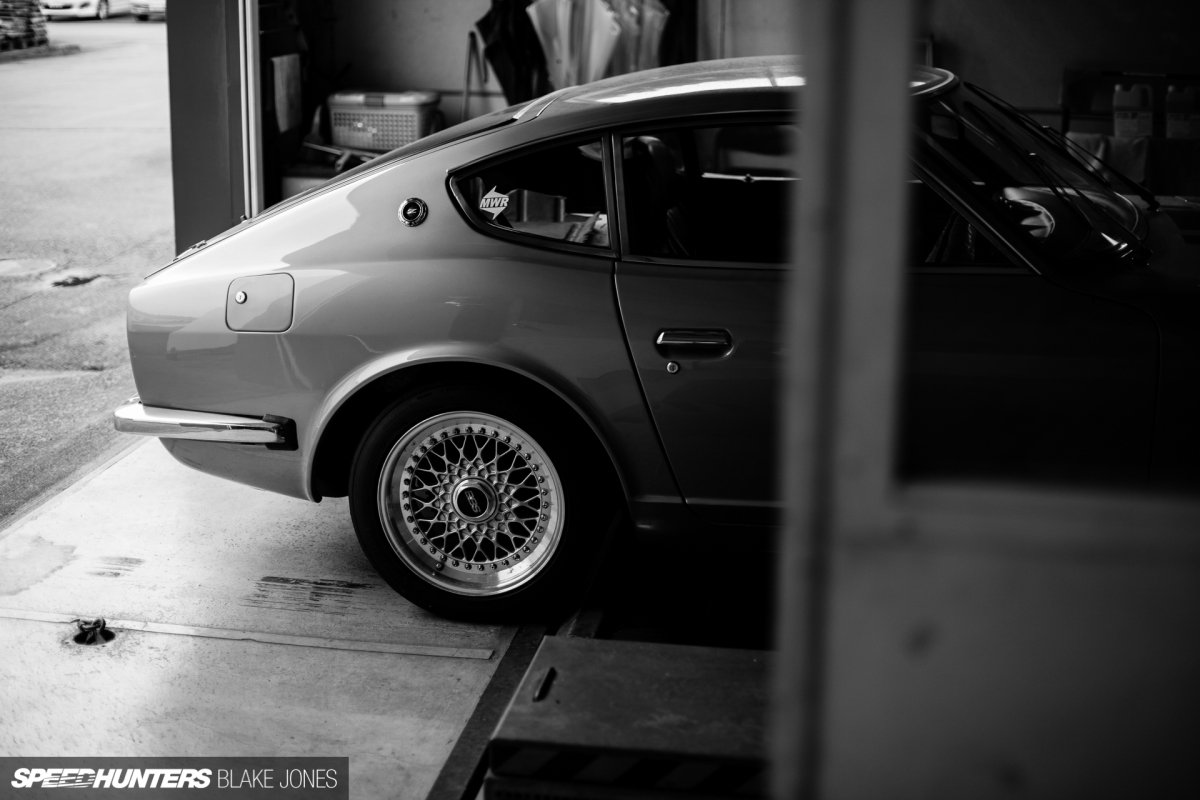 The company itself goes back to 1955, when it was started as a racing team by Masahiro's grandfather, Isamu Fujitsubo, an engineer by trade. The small shop developed springs, camshafts, pistons and exhausts amongst other performance parts to support customer racing efforts.
These days, Fujitsubo is known for one thing only: its high performance exhausts. If you are anything like me, you'd think that the business has its bread and butter in supplying the aftermarket and race teams, but most of their volume is supplying Japanese car makers with the 'stock' exhausts for their performance models.
Most notable is the Nissan R35 GT-R. I've now seen the internals of the stock muffler and – although I wasn't allowed to photograph it – can assure you that the design is much higher quality than some of the other aftermarket systems I've seen installed on cars. And people wonder why their R35 doesn't make any more power after dropping big bucks on a fancy-looking system…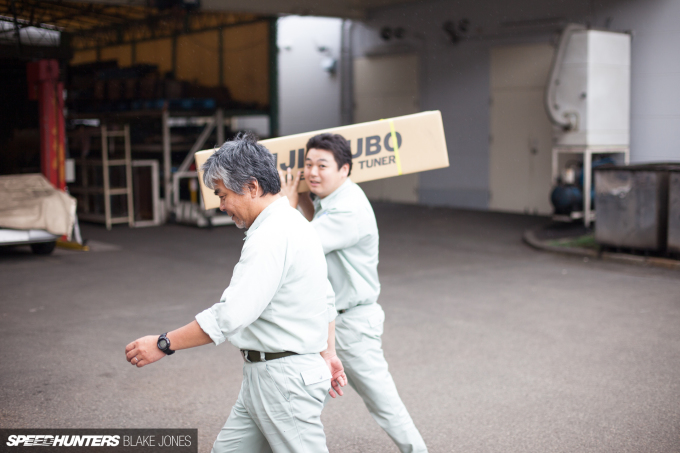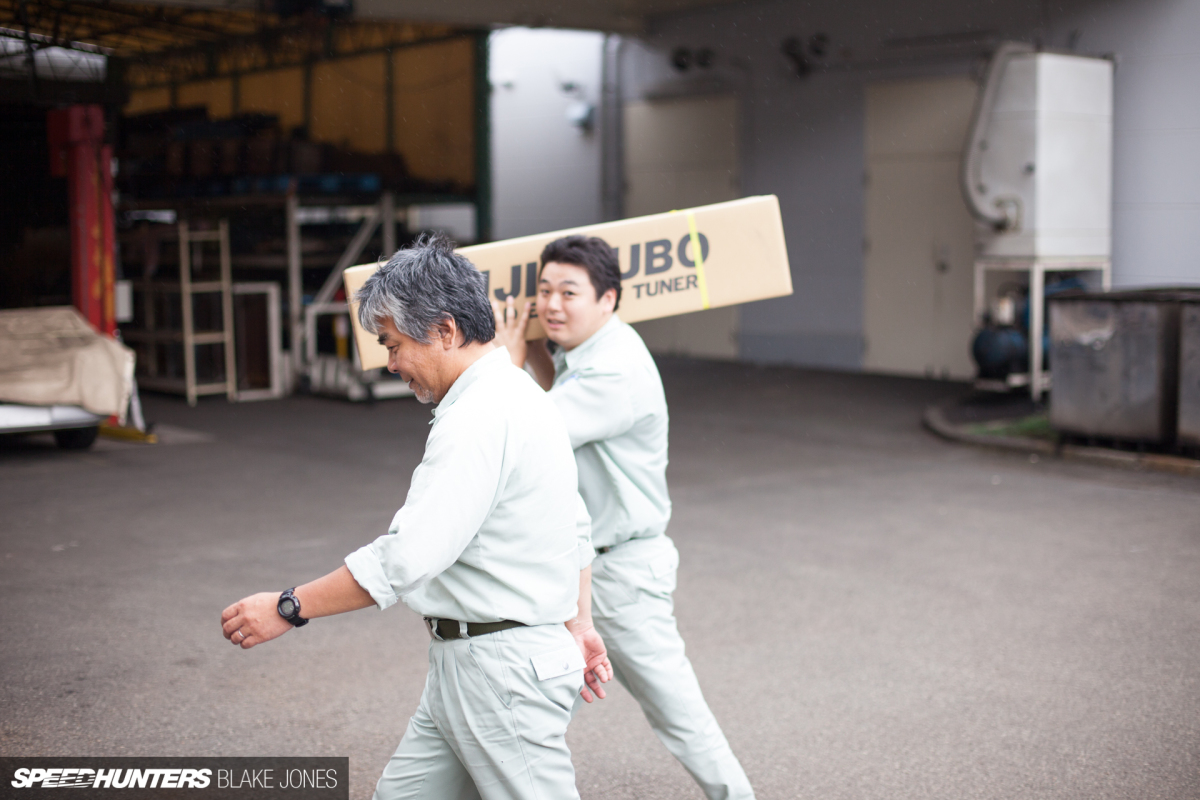 Fujitsubo also supplies lots of smaller tuning companies as an 'OEM,' meaning the systems are designed and manufactured by Fujitsubo but sold under a different name. This is common in the automotive aftermarket, and allows companies without the huge R&D and manufacturing power of a specialist like Fujitsubo to provide high quality systems to their customers.  In fact, there was a lot I couldn't photograph for risk of exposing proprietary design details.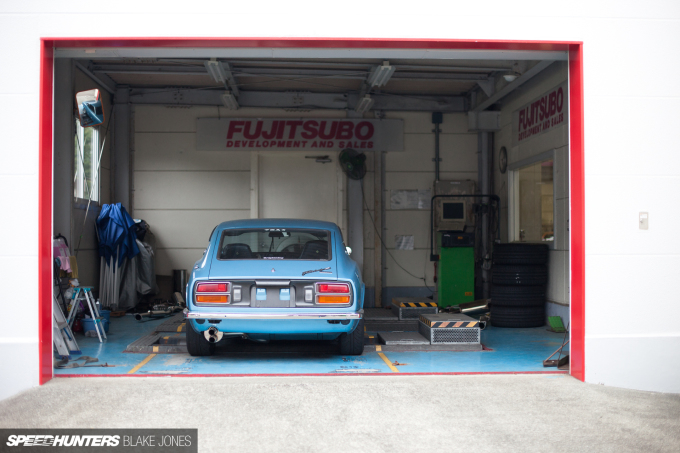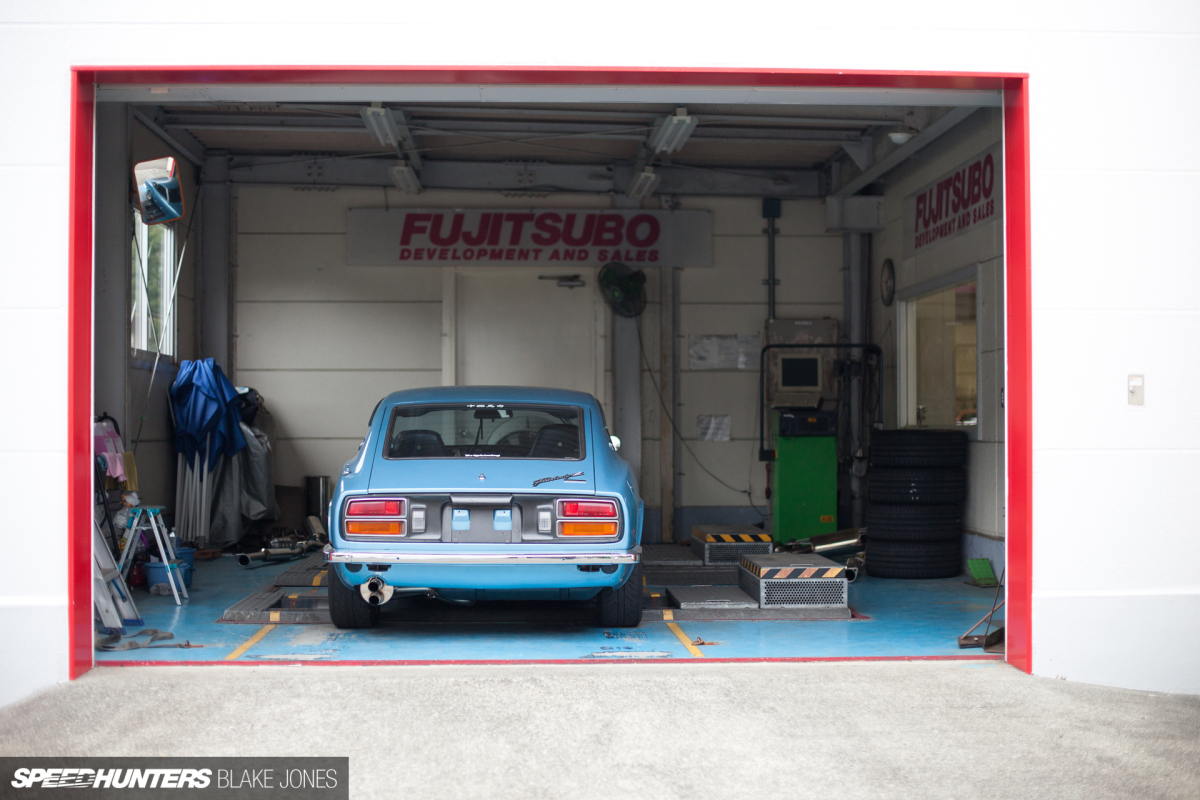 Uniquely, Fujitsubo completes the whole process from design through to manufacture under one roof at their facility in Shizuoka. Almost all competitors have turned to factories in China and Taiwan to churn out their systems, and although the quality can be 'good enough,' Fujitsubo believes that the only way to ensure an uncompromising end product for their demanding customers is to retain complete control over every part of the process.
Let's follow Fujitsubo-san through the facility and take a look at what makes a Fujitsubo exhaust the go-to choice for Japan's tuners.
What Makes A Fujitsubo Flow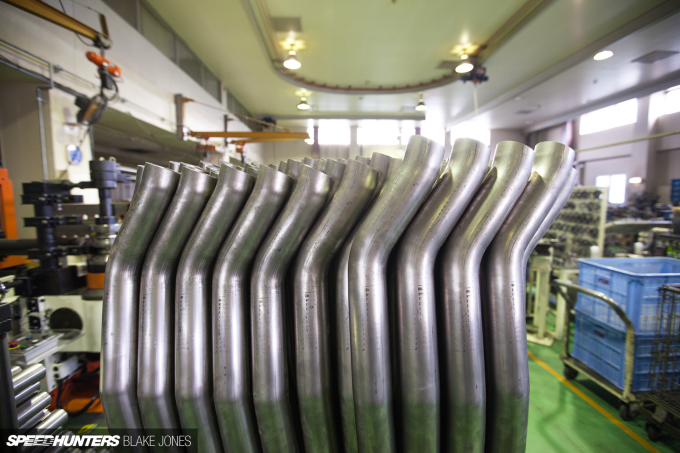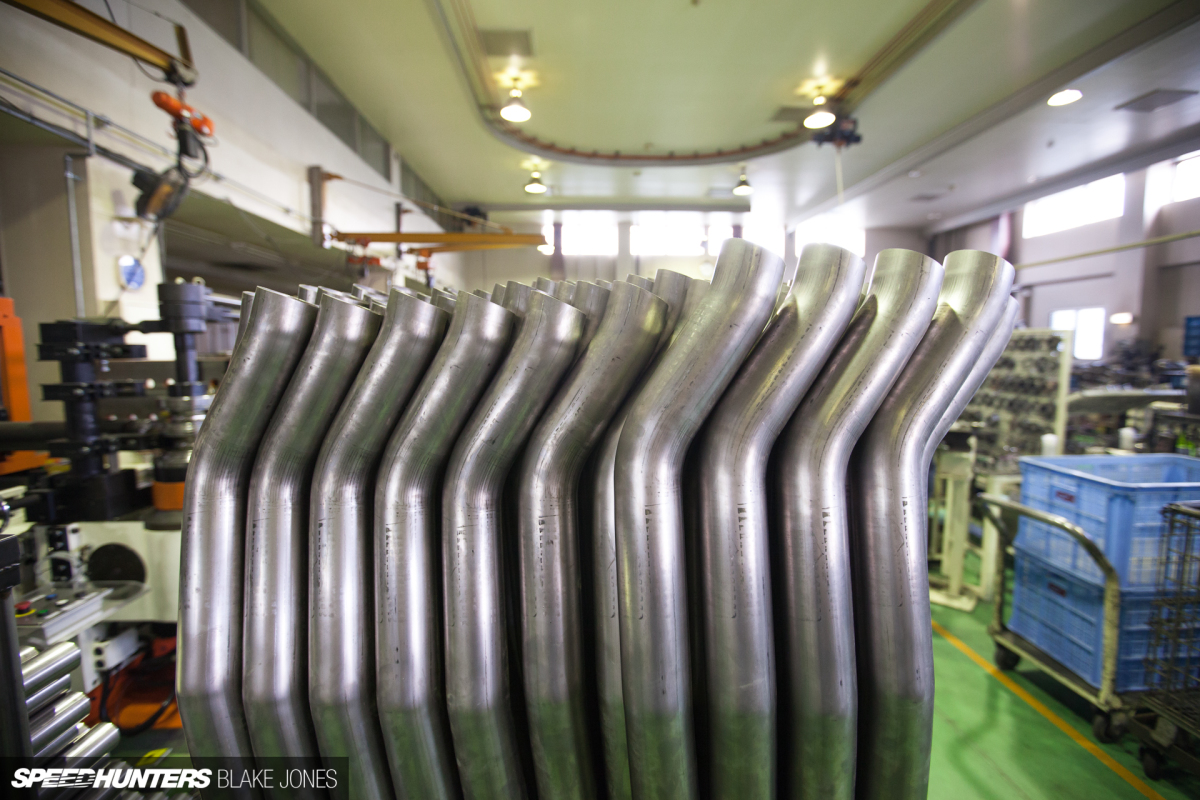 Our first stop is also the first stop for the soon-to-be exhaust systems. Fujitsubo sources its SUS304 stainless steel and titanium from Japanese suppliers – it costs more, but Fujitsubo-san is convinced that the quality and longevity is worth it. Of course, the raw pipes don't come bent…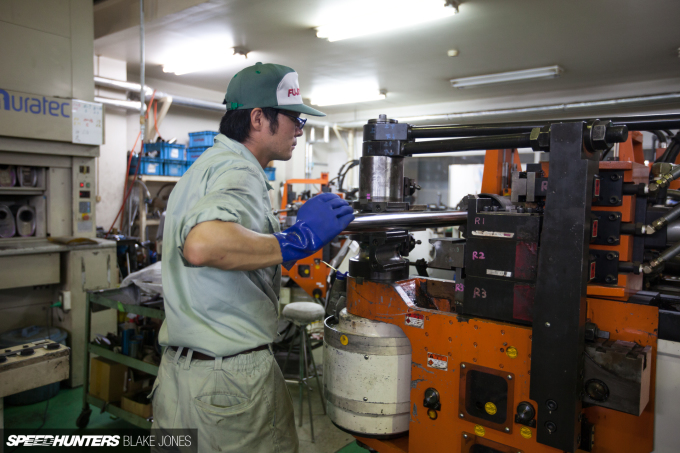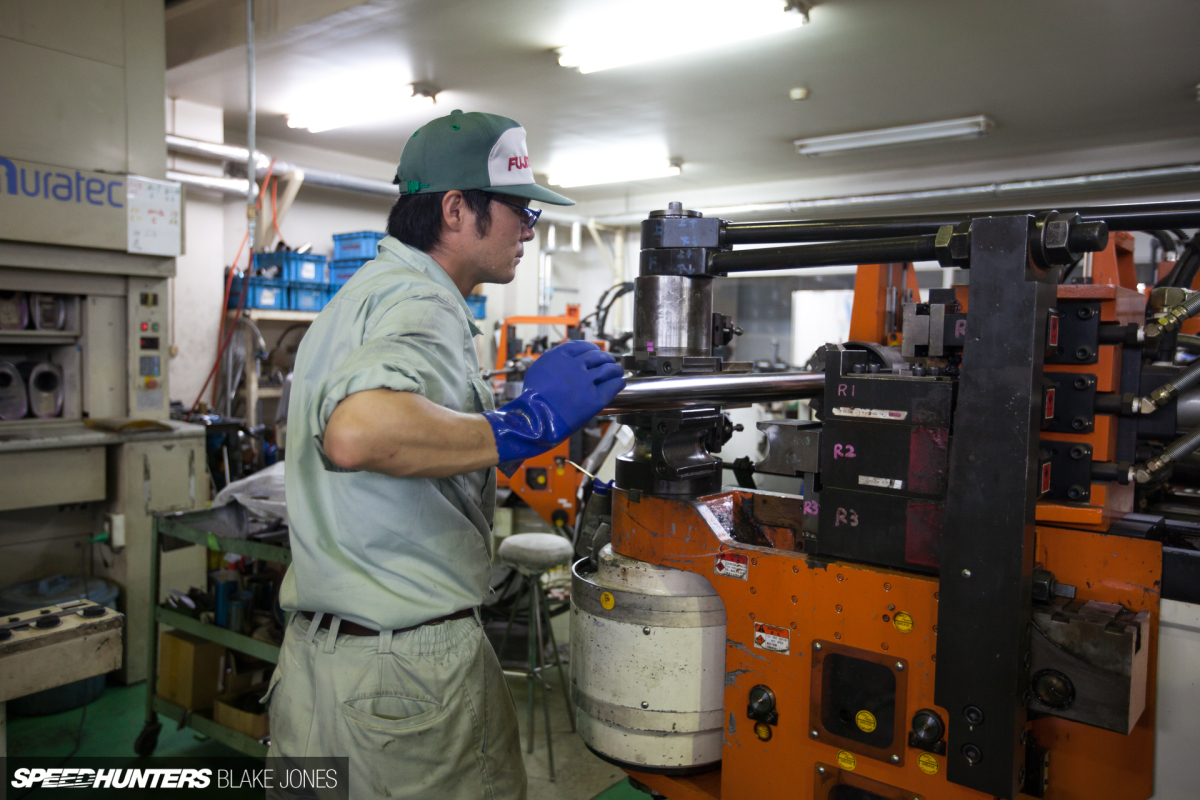 That's the job of the bender. Bending is preferable to cutting and welding sections for many reasons, but primarily it allows the metal pipe to retain its integrity better than a weld which may crack and deteriorate over time, not to mention the flow benefits of having a completely smooth inside surface. Obviously the largest expense and effort is in the setting up of a bending jig like this one.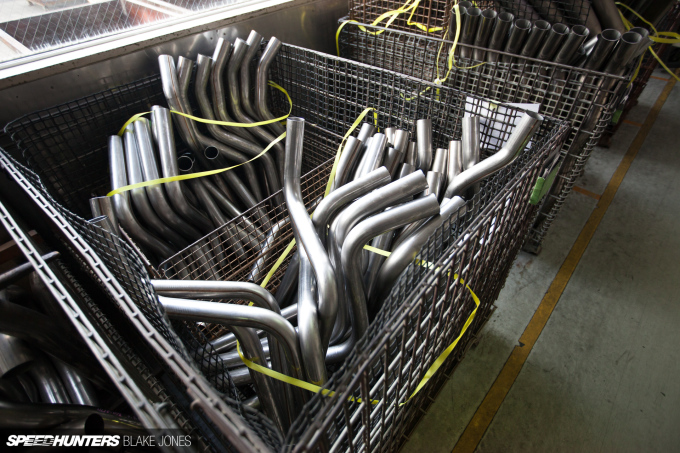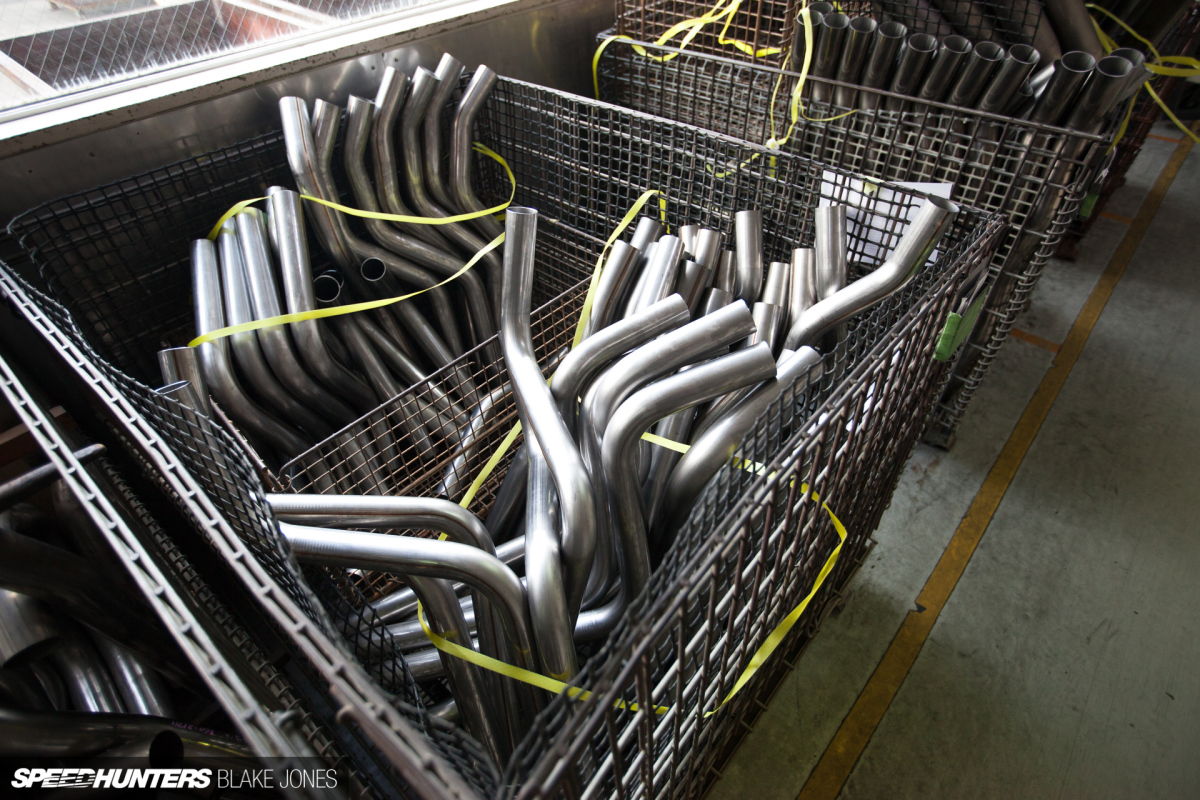 The now bent pipes may look like abstract art waiting for transport to the next section, but each of those bends provides important clearances between other crucial components once installed, so there is no room for error.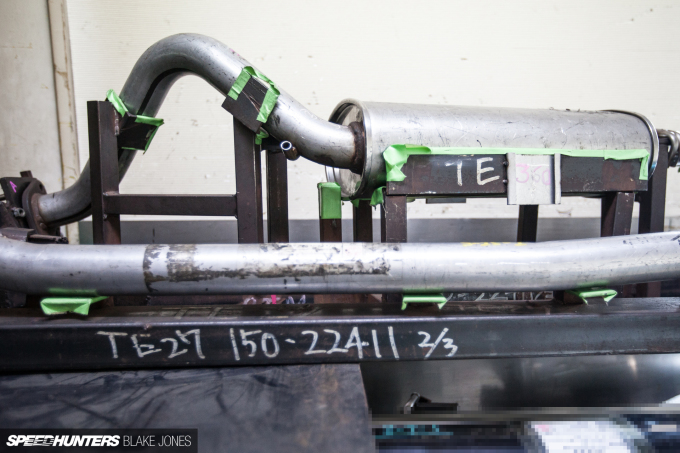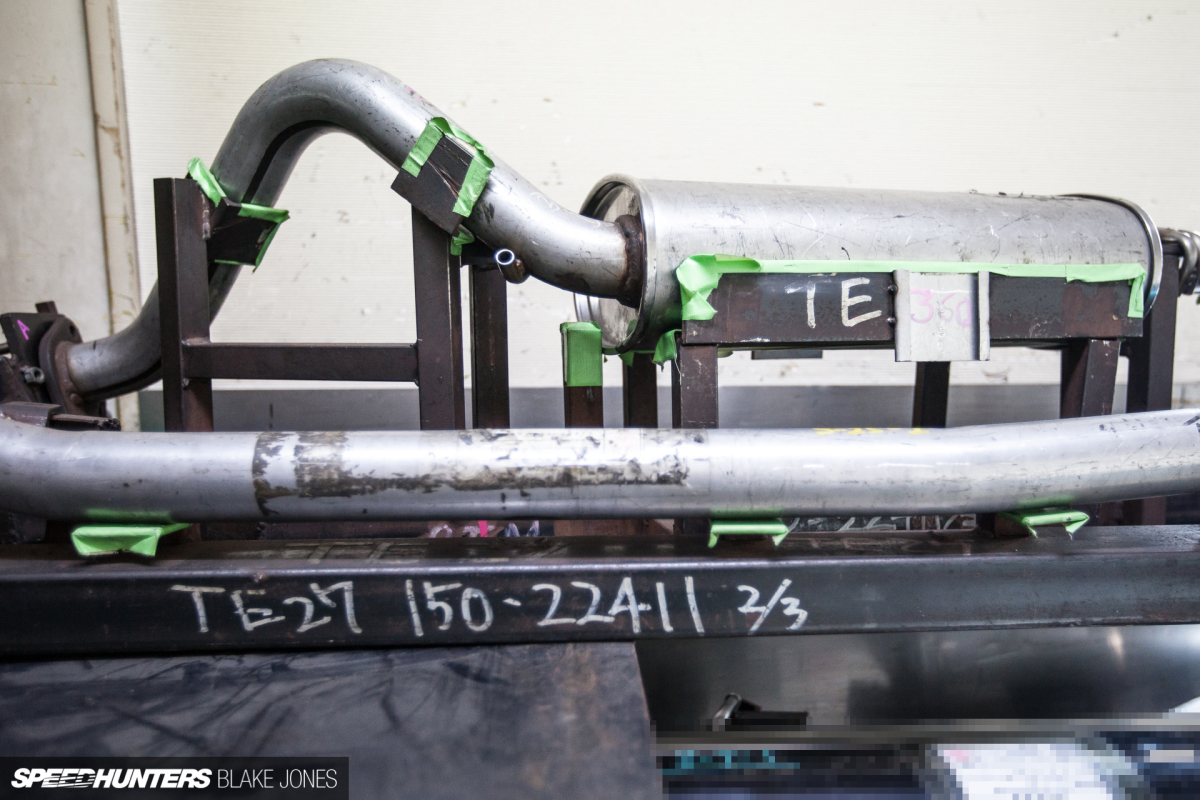 This is checked by placing each exhaust on a jig that simulates the final placement in the car – including mounting points, tight clearances and so on. The jig here is for a Toyota Corolla TE27 – a car that went out of production in 1974. It makes me so happy that parts for cars this old and rare are still being produced today.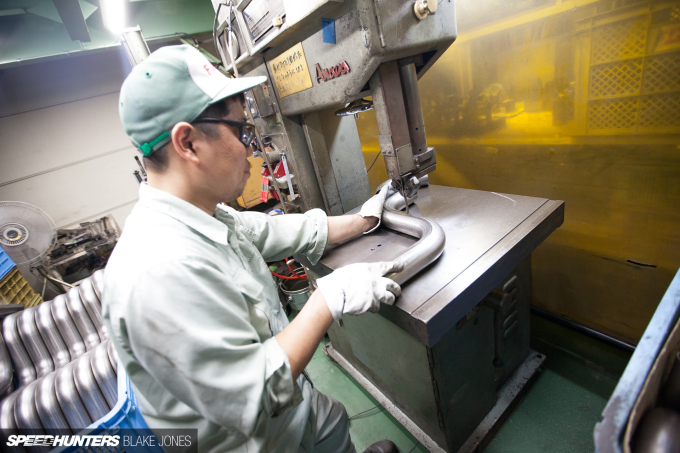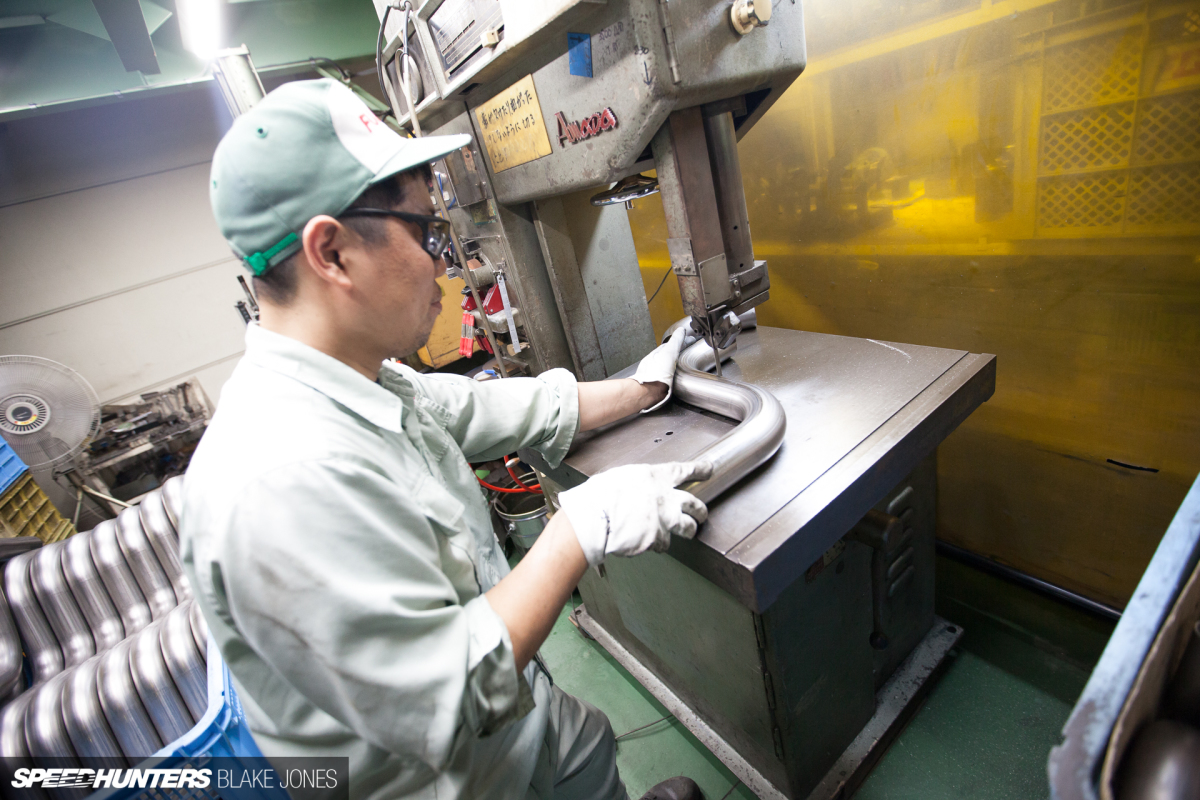 The bent pipes then travel to the other side of the workshop. Here they are cut to length, ready to be joined to mufflers, flanges or merged into other pipe sections as part of an exhaust collector.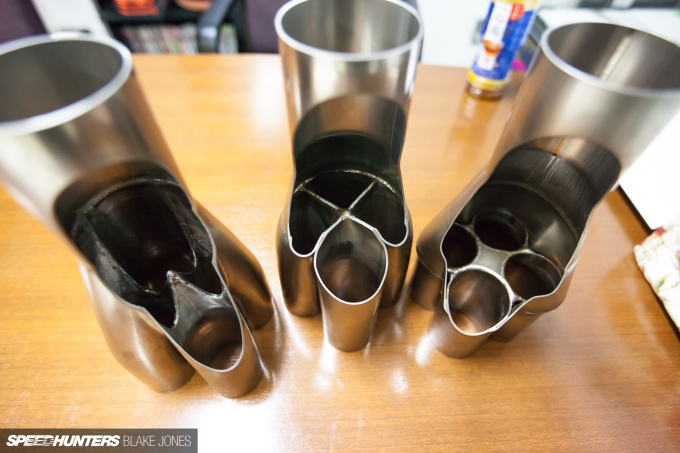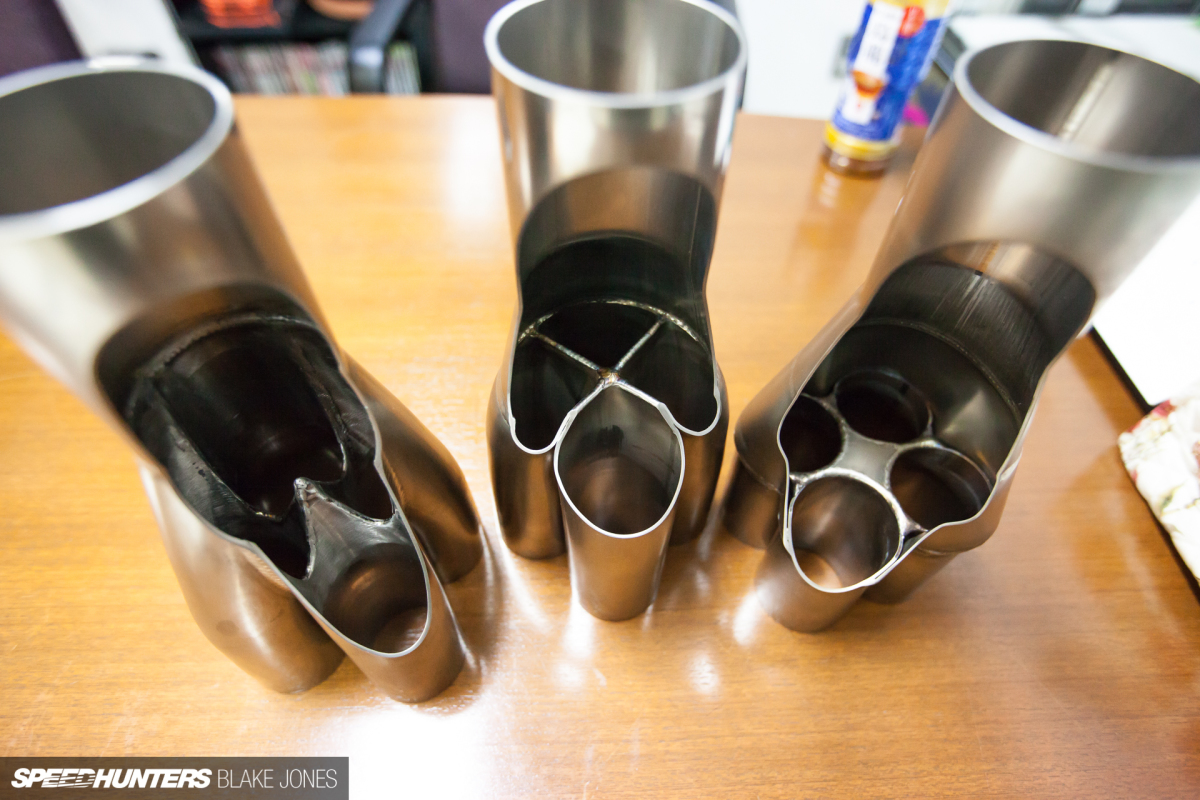 Let's hit pause for a second though;  if there's one photo you need to pay close attention to in this article, it's this one.
What you can see are cutaways of three different exhaust collectors. The objective of an exhaust collector is to merge the variously timed pulses of exhaust travelling down each primary runner into a single exhaust pipe. By making this merge as smooth as possible, the flow of exhaust can maintain its heat and velocity, meaning a happier engine that can make more power. Think of how a highway merging lane tapers away gradually instead of suddenly jutting out into traffic; it keeps the overall flow of traffic fast and efficient (well in theory anyway, some people still refuse to learn how to merge).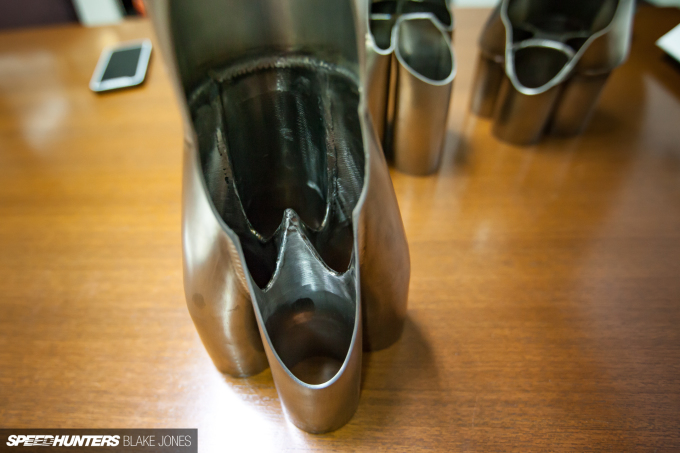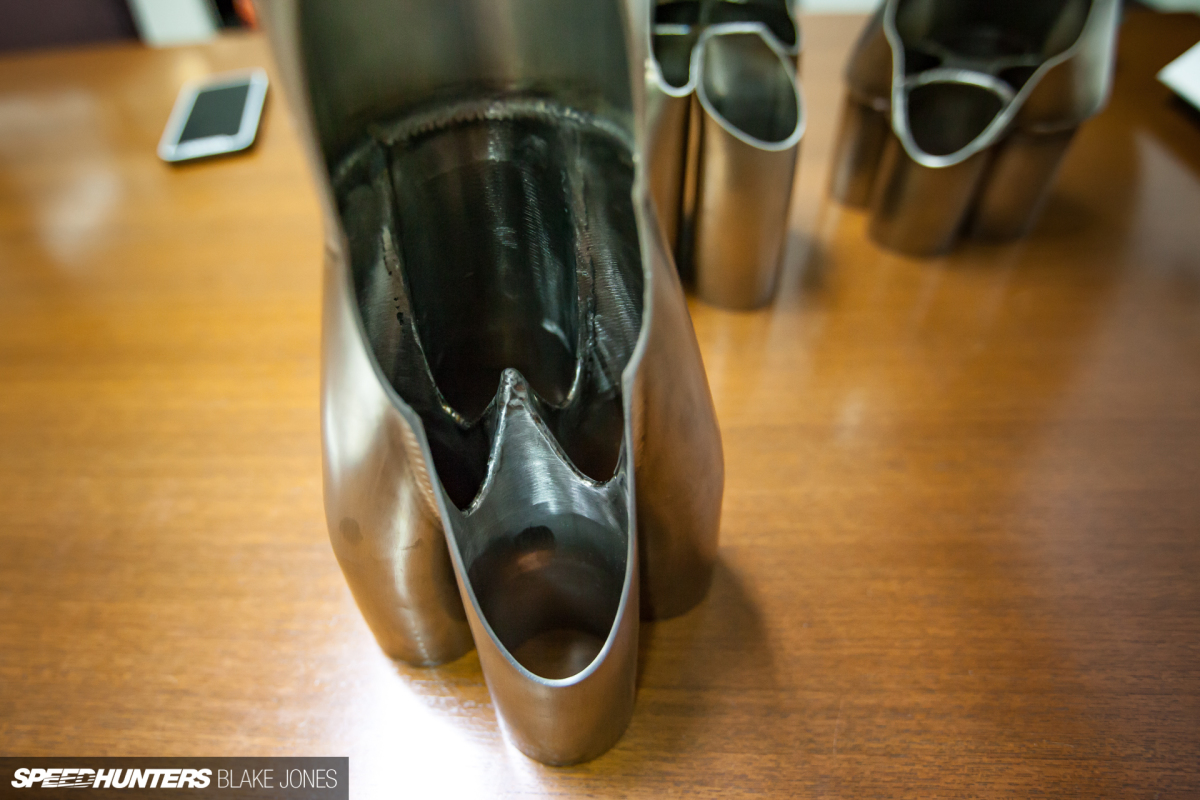 Beyond just a fast flow, a correctly designed collector will generate a phenomenon known as 'scavenging'. Scavenging is when an exhaust pulse from one runner creates low pressure in another runner (think of how a close-passing lorry will drag you into its wake) and help the cylinder evacuate exhaust gasses and draw in fresh air more efficiently, allowing a better combustion and more power. Knowing this, I'm sure you can guess which collector is the Fujitsubo one. Where as other manufacturers may just weld four straight pipes together or crush them into a collector, Fujitsubo takes a slightly more tedious approach, but one that pays dividends come race day.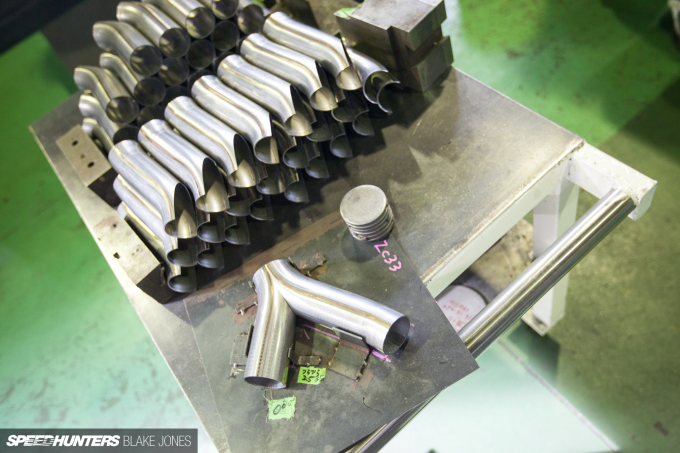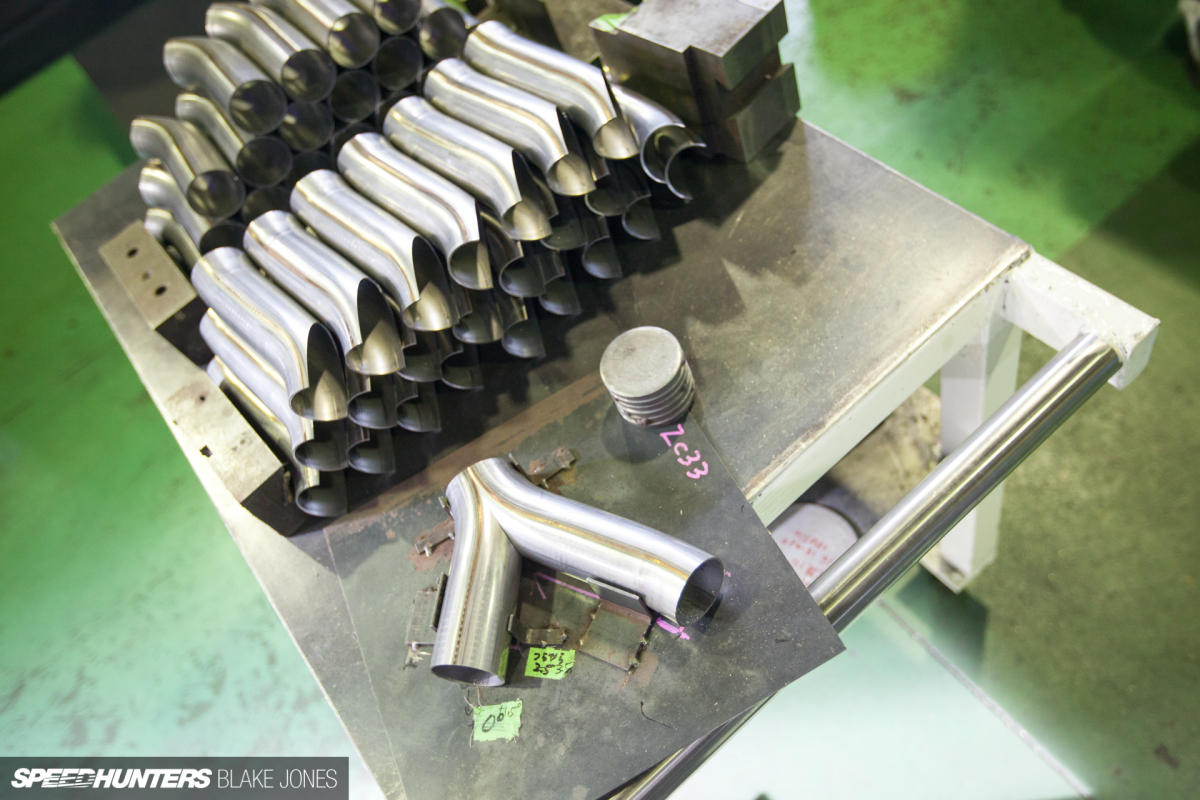 The bending we saw earlier is the first step. Correct bending allows a pipe to maintain its internal diameter, as opposed to crushing which will change the shape and diameter of the pipe as the walls are compressed together. Next, Fujitsubo makes a precision cut in the pipe which is mirrored on the adjoining pipe. Once the final welds are made, the resulting merge collector is as smooth and shiny as a sword out of a sheath.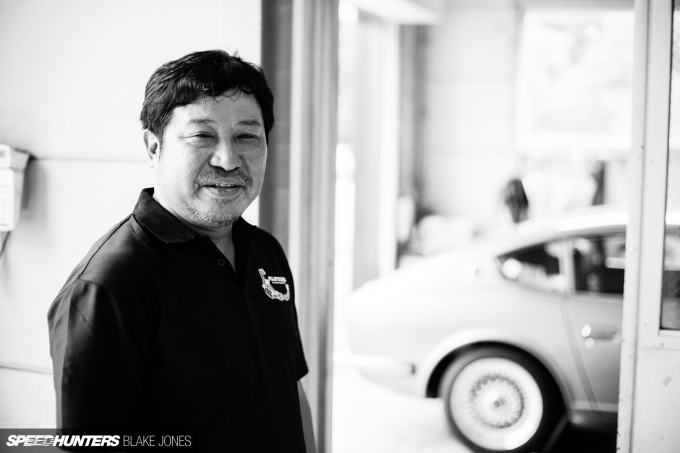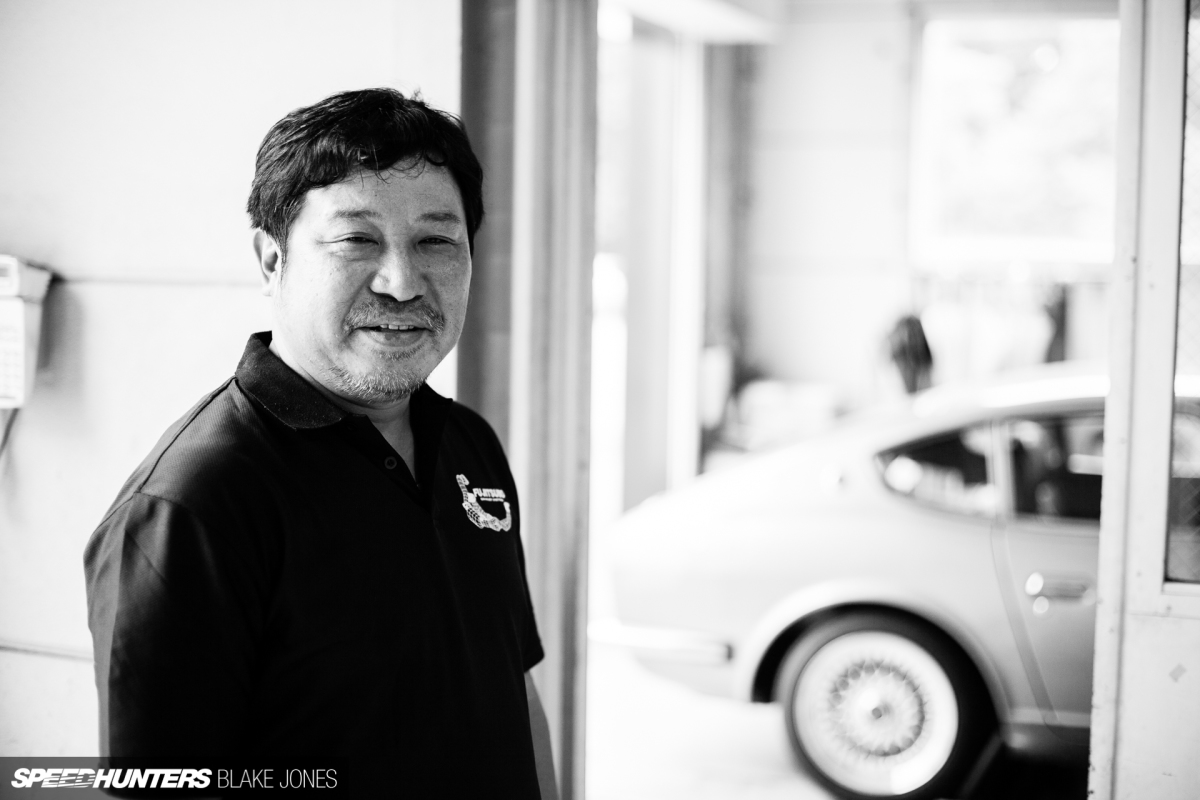 Nothing is stronger than tradition at Fujitsubo, but the engineering team continues to pursue new technological approaches to optimise the design and manufacture of high performance exhausts. They realise that the principles of good exhaust design persists, yet the demands of the modern consumer continues to change.
Making bucket-loads of top-end power with just an exhaust is not always possible when factory designs are already so optimized, and the prevalence of turbocharging in modern performance cars means an ECU-tuned increase in boost pressure is often a much easier path to bigger numbers. "Today, most customers are more concerned with achieving a certain sound or style," observes Fujitsubo-san. "But our starting point is always highest performance; from there we will pursue sound tuning and aesthetics."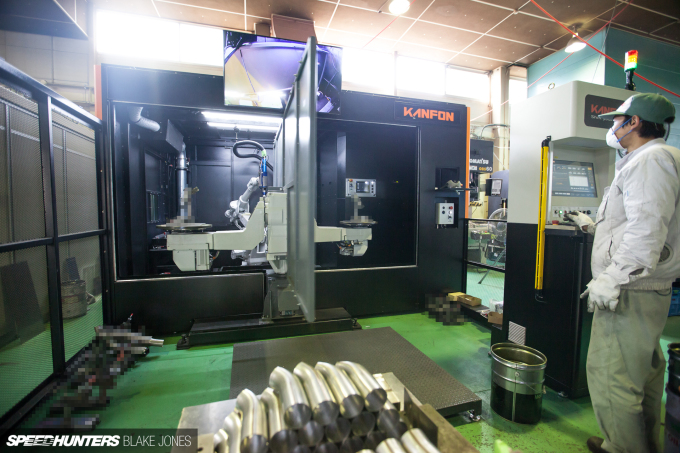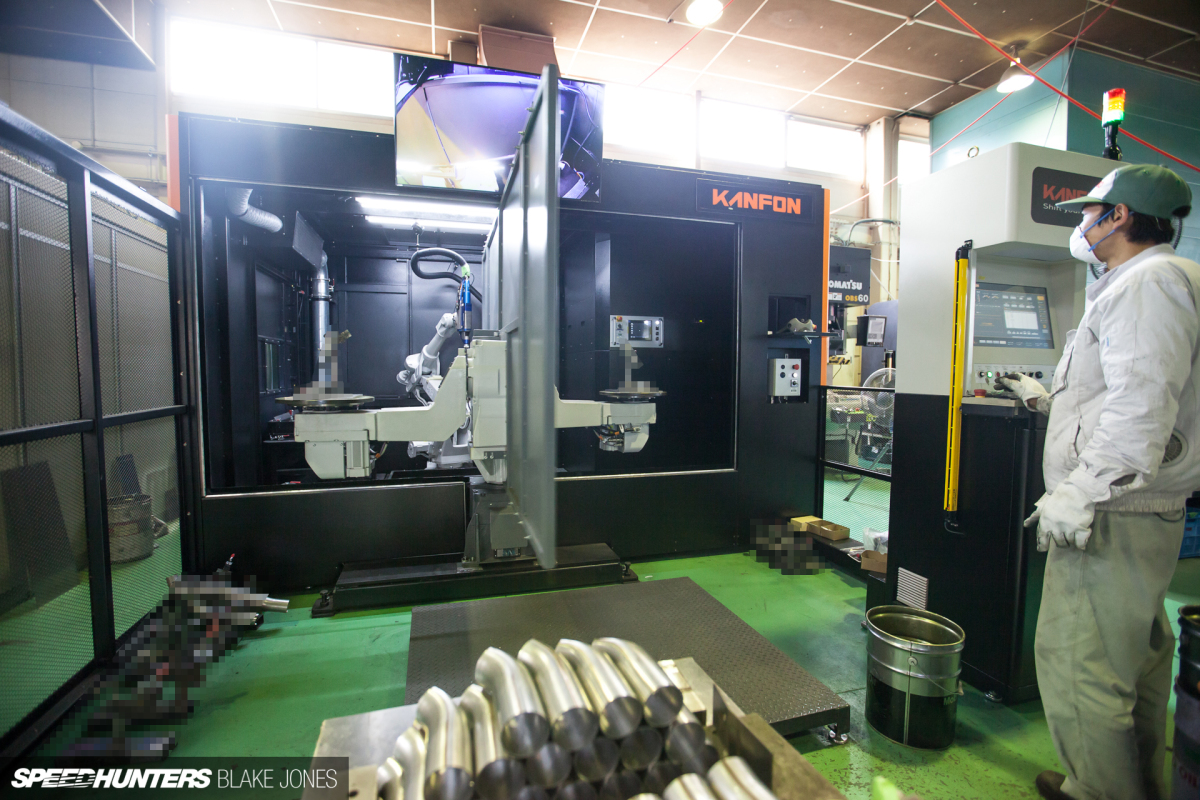 The latest investment is this rather sizeable contraption: a Kanfon robotic laser cutter. Once loaded with data it will happily cut any of the thousands of precise exhaust pieces that Fujitsubo requires, significantly reducing the muda (wasted effort) of setting up countless jigs.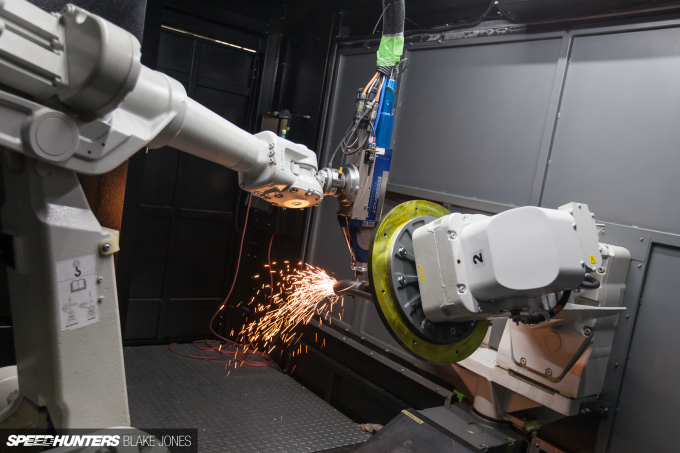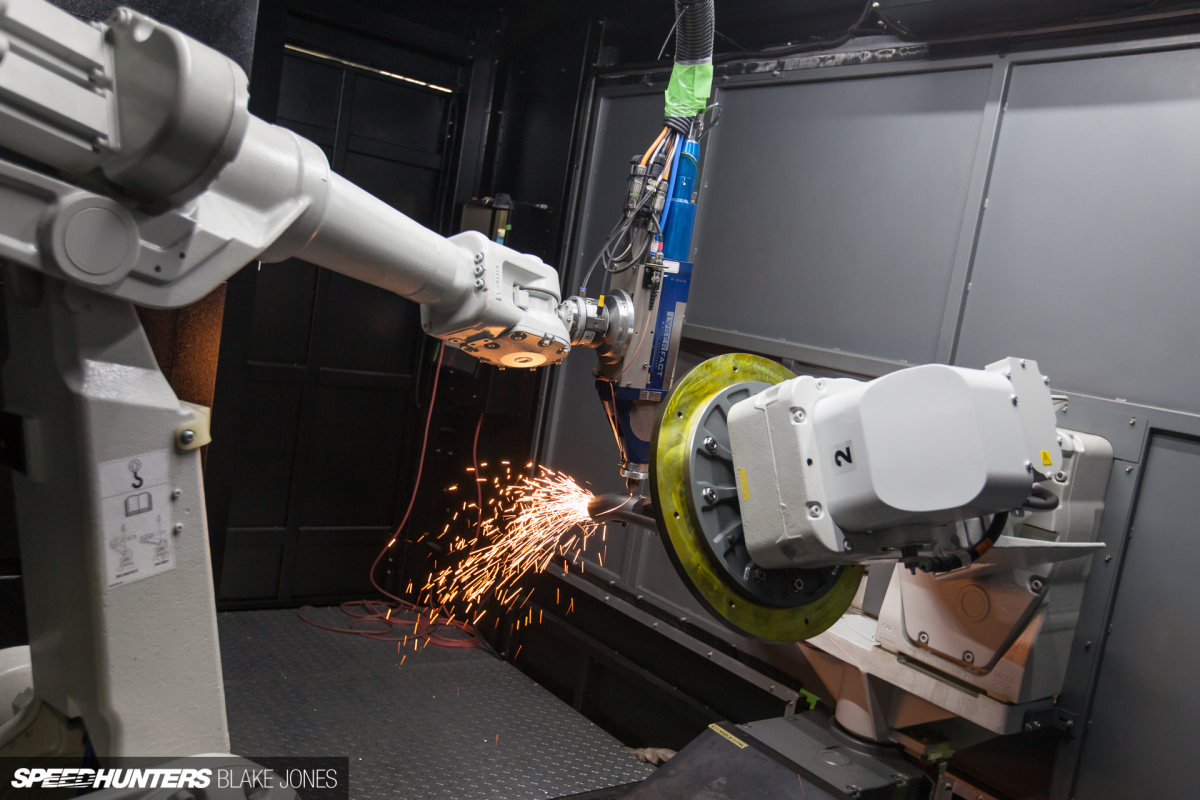 It's quite a sight to see in action. The door rotates to simultaneously shield the technician from the cutting laser while he can mount the next piece before it is, in turn, rotated into the cutting booth.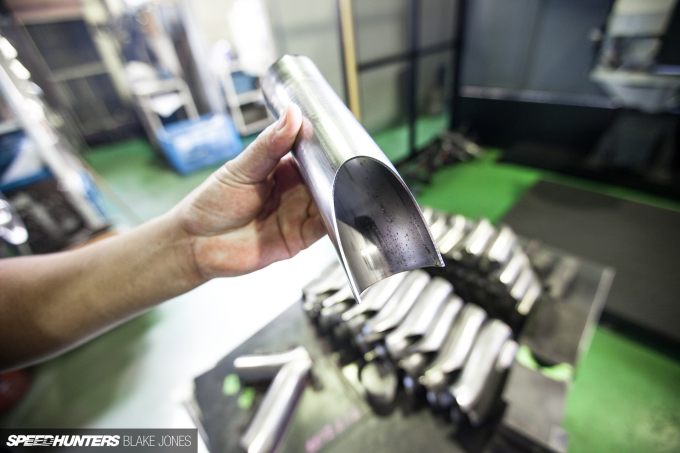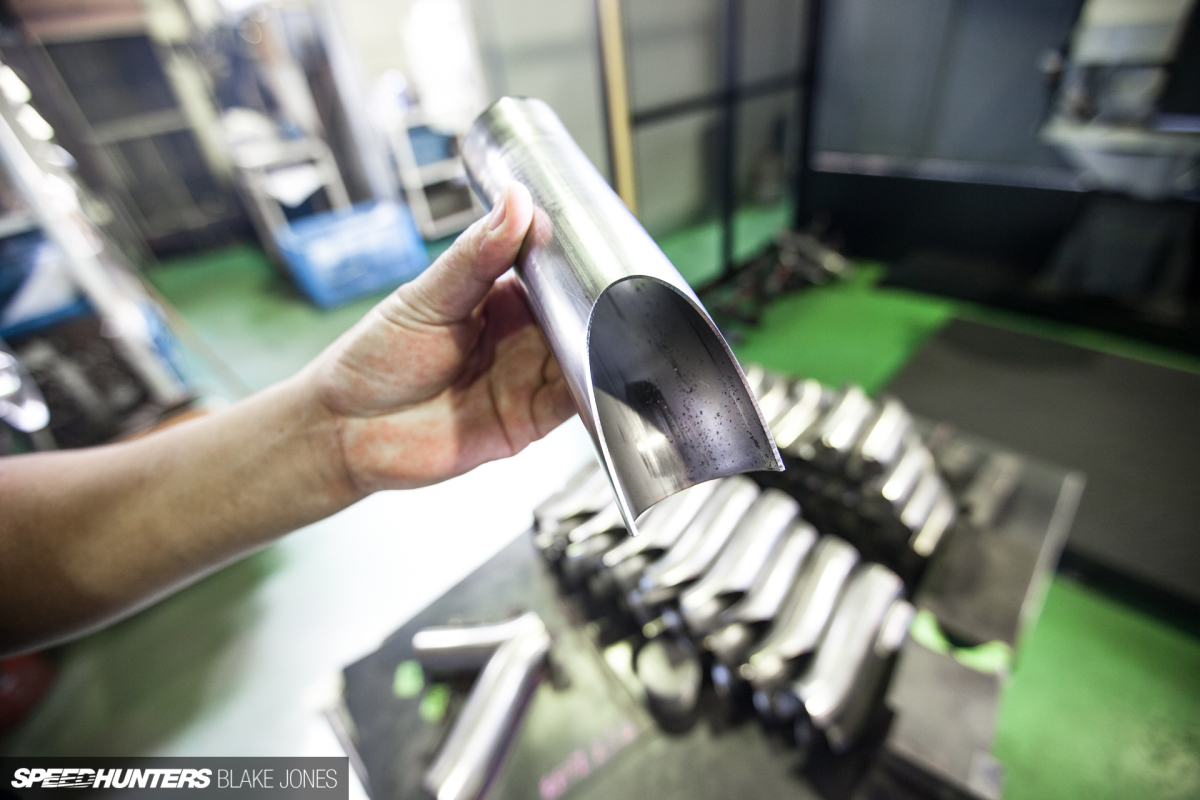 The end result.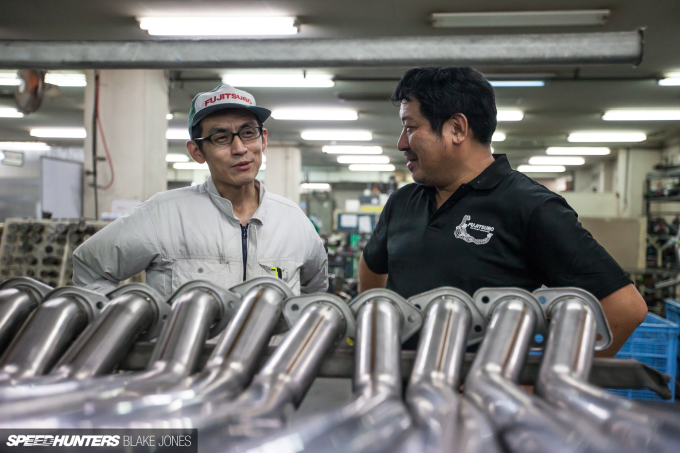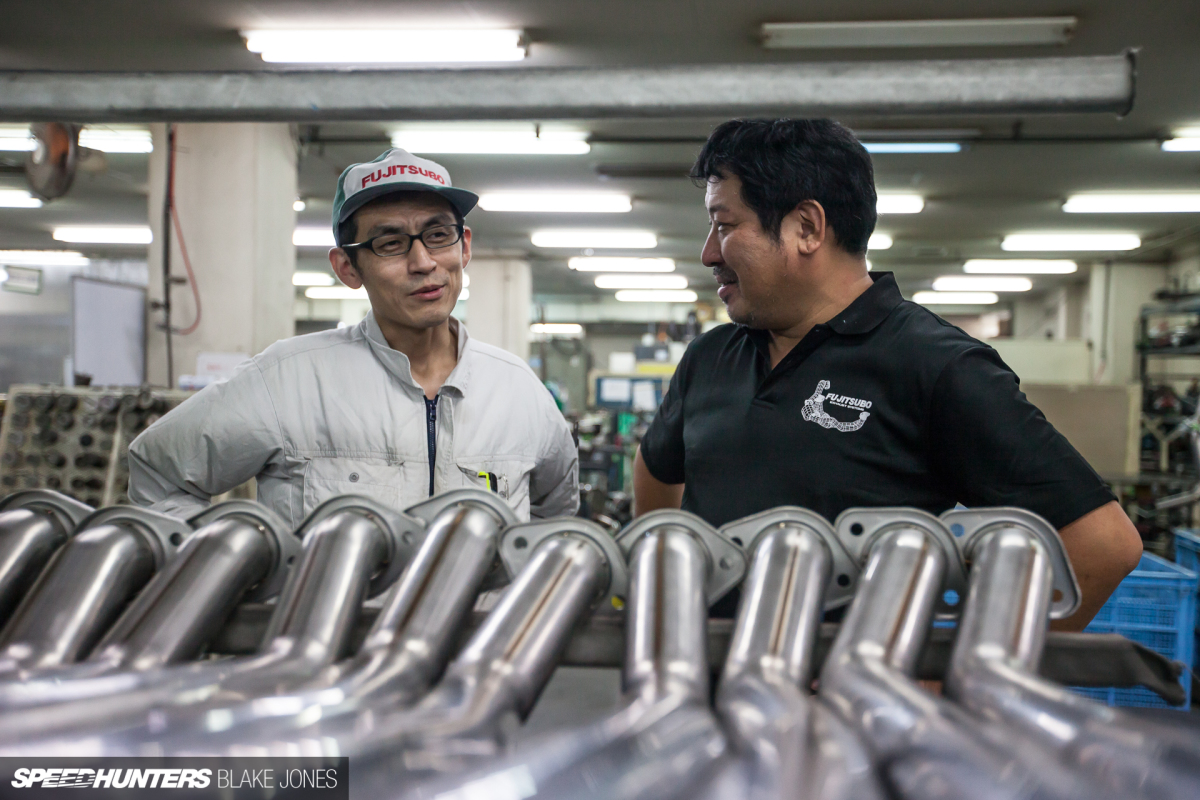 Fujitsubo-san (in the black polo shirt) took over the reins of the company from his father, but not before working in each part of the factory and even spending some time apprenticing at Yoshimura, the famed motorcycle exhaust manufacturer up the road in Kanagawa Prefecture. Of that experience, Fujitsubo-san has a good sense of humour: "Our job is much easier; nobody can see a bad car exhaust. If you have a bad weld on a motorbike exhaust, everyone will see it!"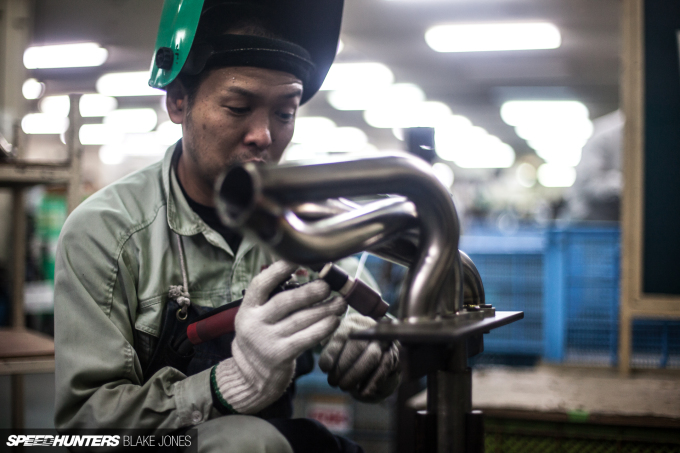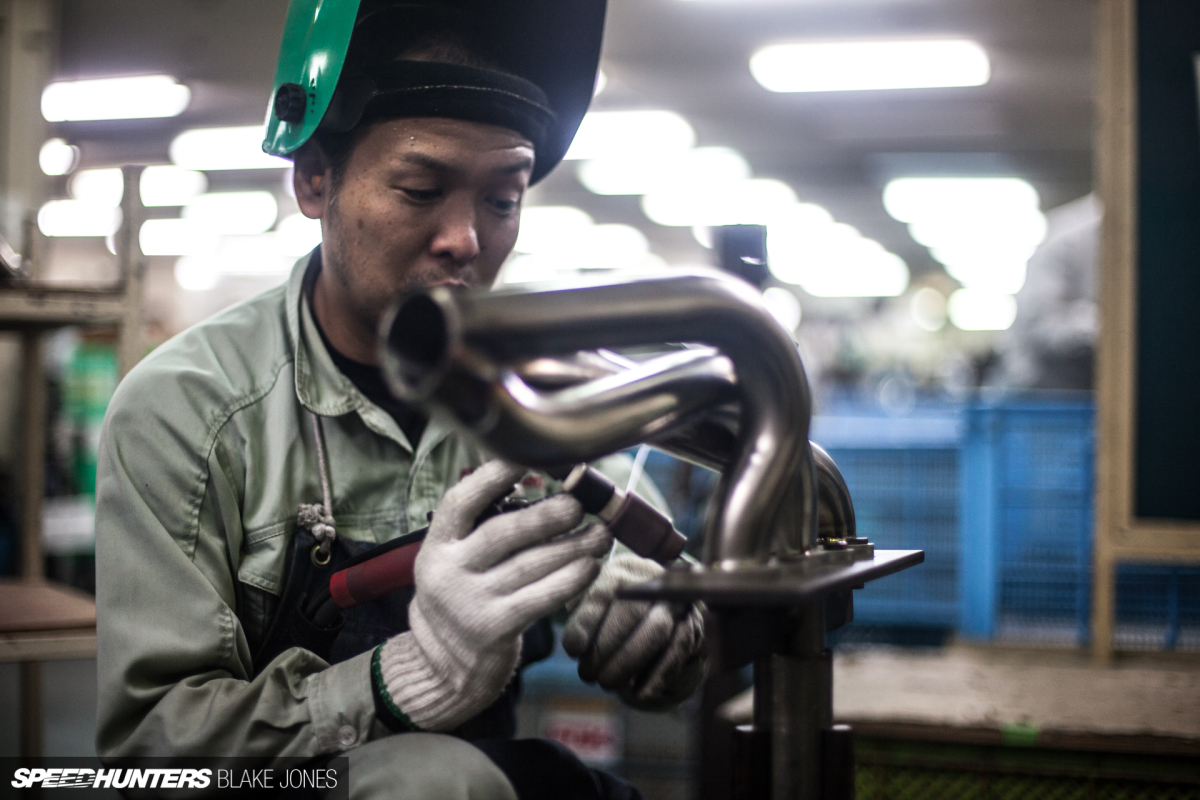 The Fujitsubo craftsmen certainly seem to weld like their products will be on display, as opposed to being tucked up into dirty engine bays.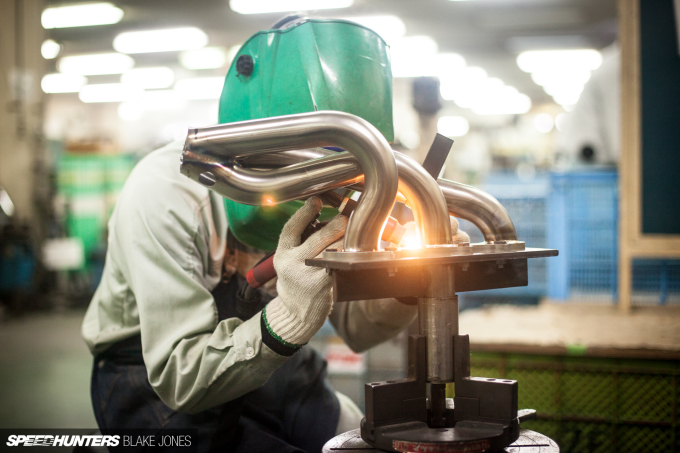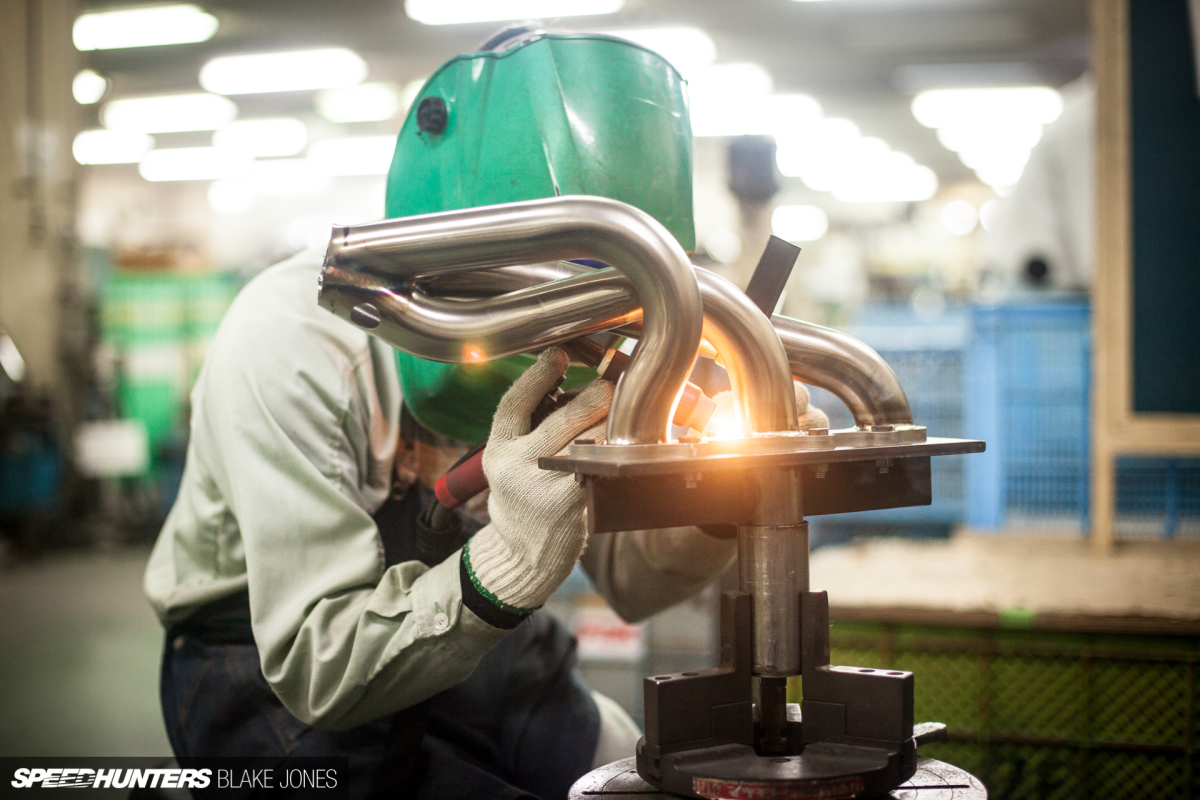 The welding is the last step of the exhaust's construction, and is the most demanding step in terms of skill and time. The welders are required to practice for months before they can actually construct a piece for a customer.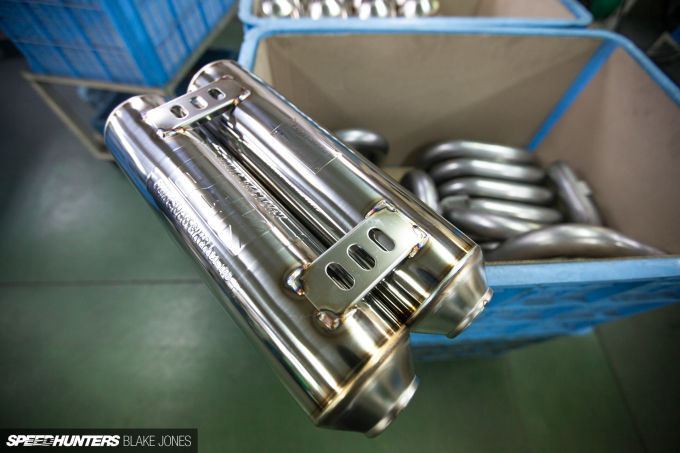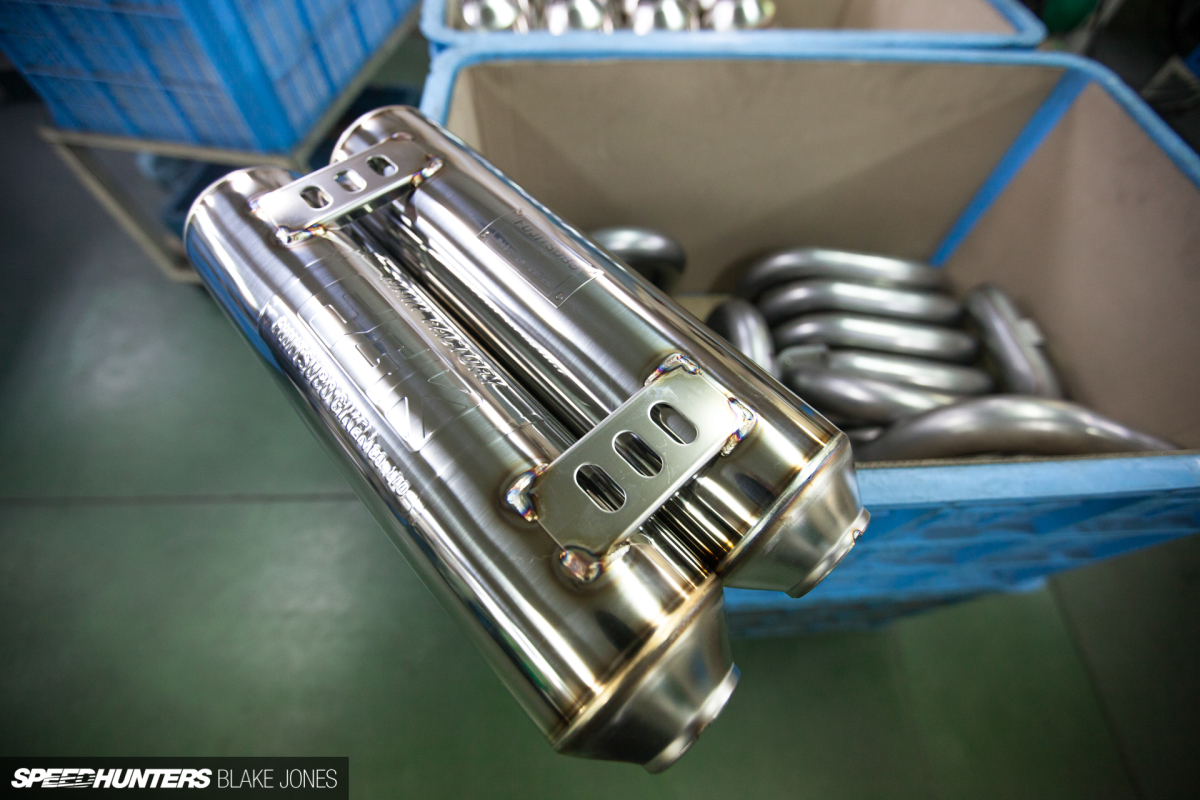 The end result of all this is exhaust systems that have earned an enviable reputation amongst tuners for their ability to perform. Many of Fujitsubo's commercially available aftermarket systems are actually not much louder than factory (if at all), but provide optimised performance across the rev range and superior longevity. It must be said that this comes at a premium price, but for Fujitsubo customers, the higher cost is clearly worth it.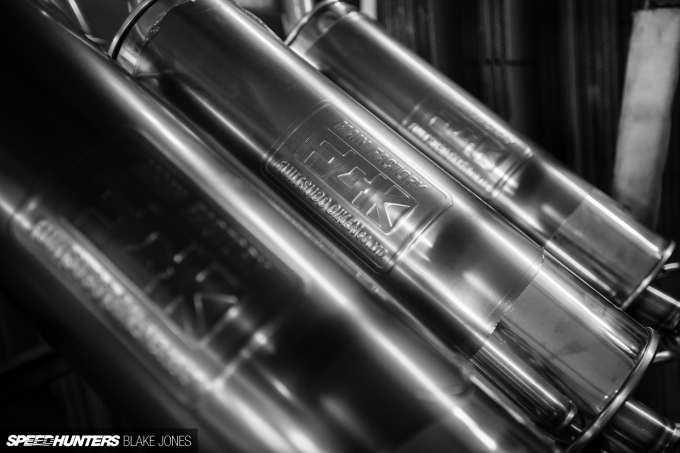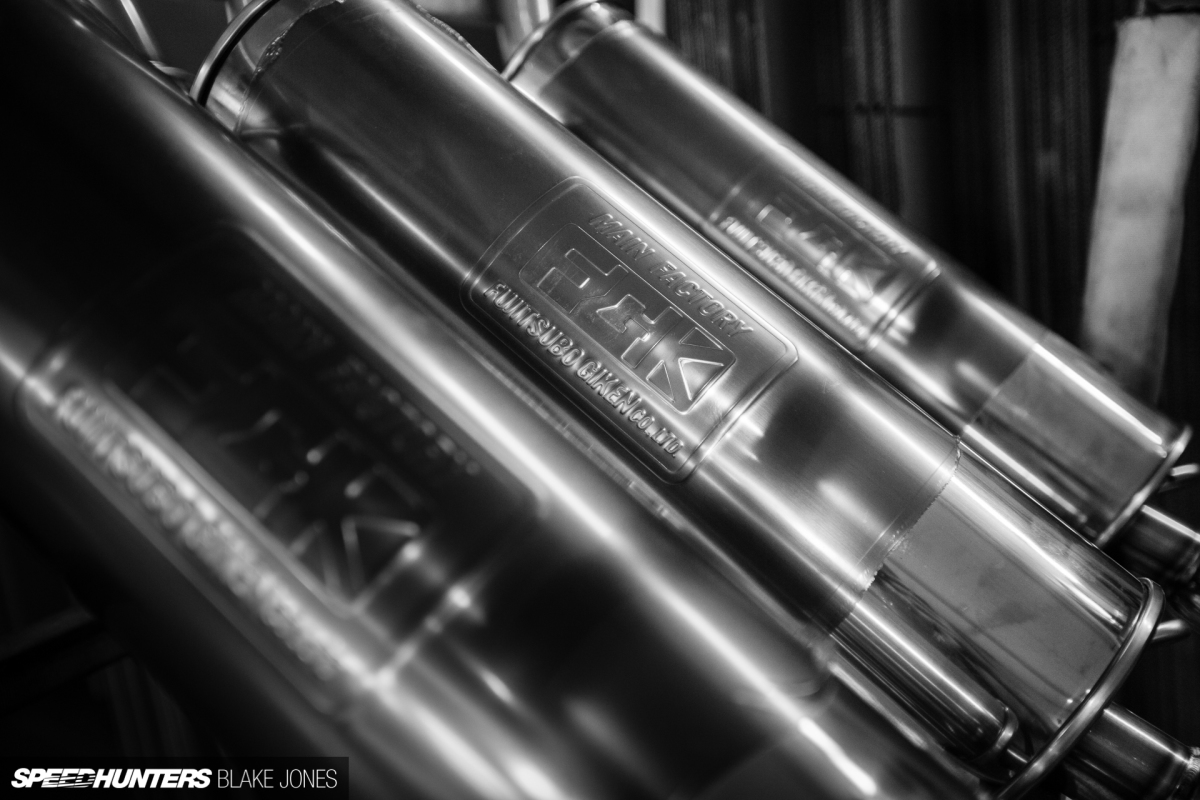 Some buyers can fall for a pretty exterior when selecting an exhaust system and never realise the extra potential that their engine is missing out on at both mid and full-throttle that a properly designed and constructed system would offer. Fujitsubo has had to also fight off fakes coming out of Asia that wear the Fujitsubo name but obviously lack the careful internal design that characterises the systems. Remember to check the reputability of a supplier if they aren't an official distributor.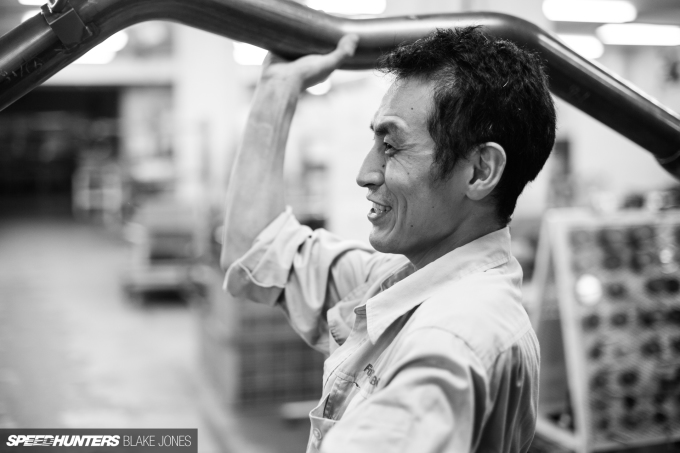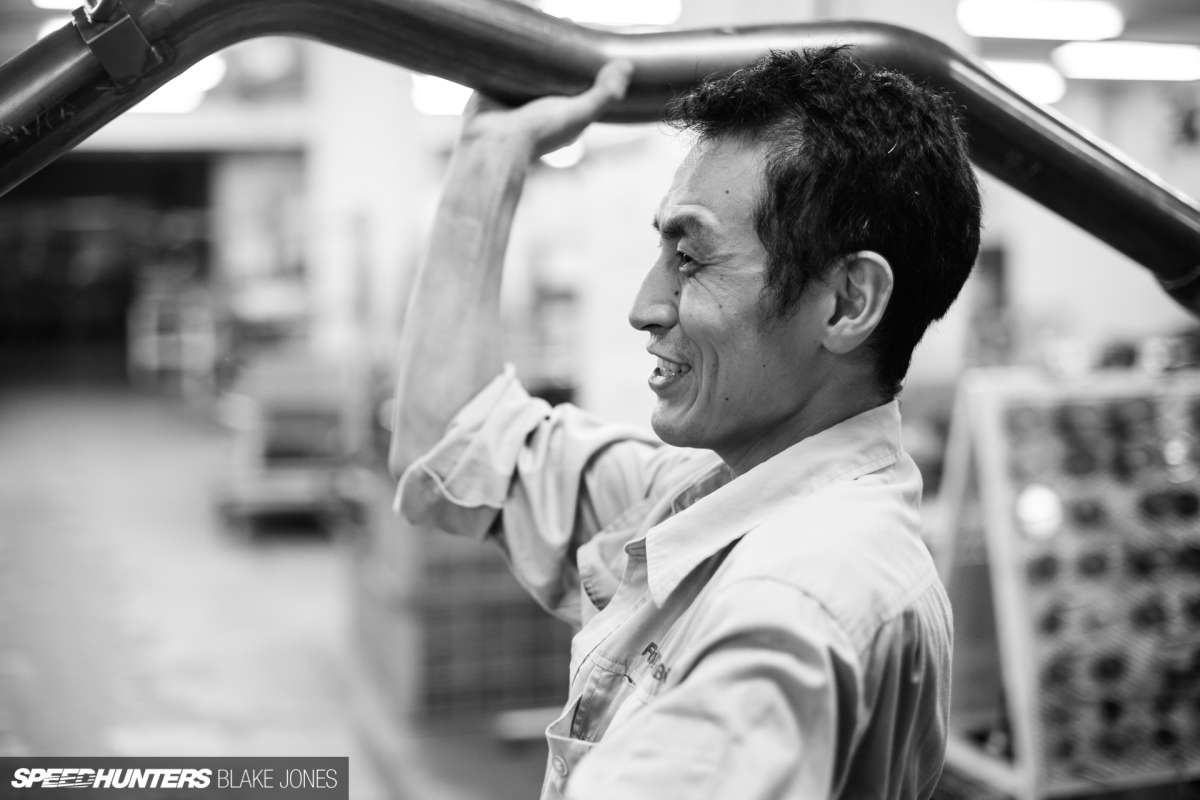 There is a whole noise and emission testing side to the business that we simply don't have time to explore today, but it's worth noting that the exhausts sold as Legalis are all JASMA (Japan Automotive Sports Muffler Association) approved, meaning they are all legal for street use in Japan.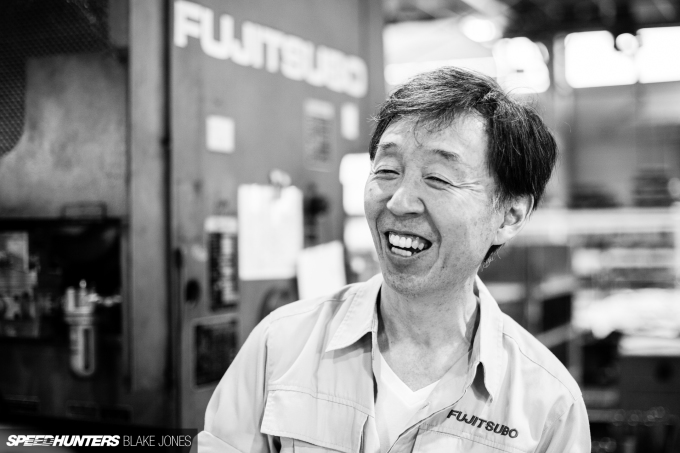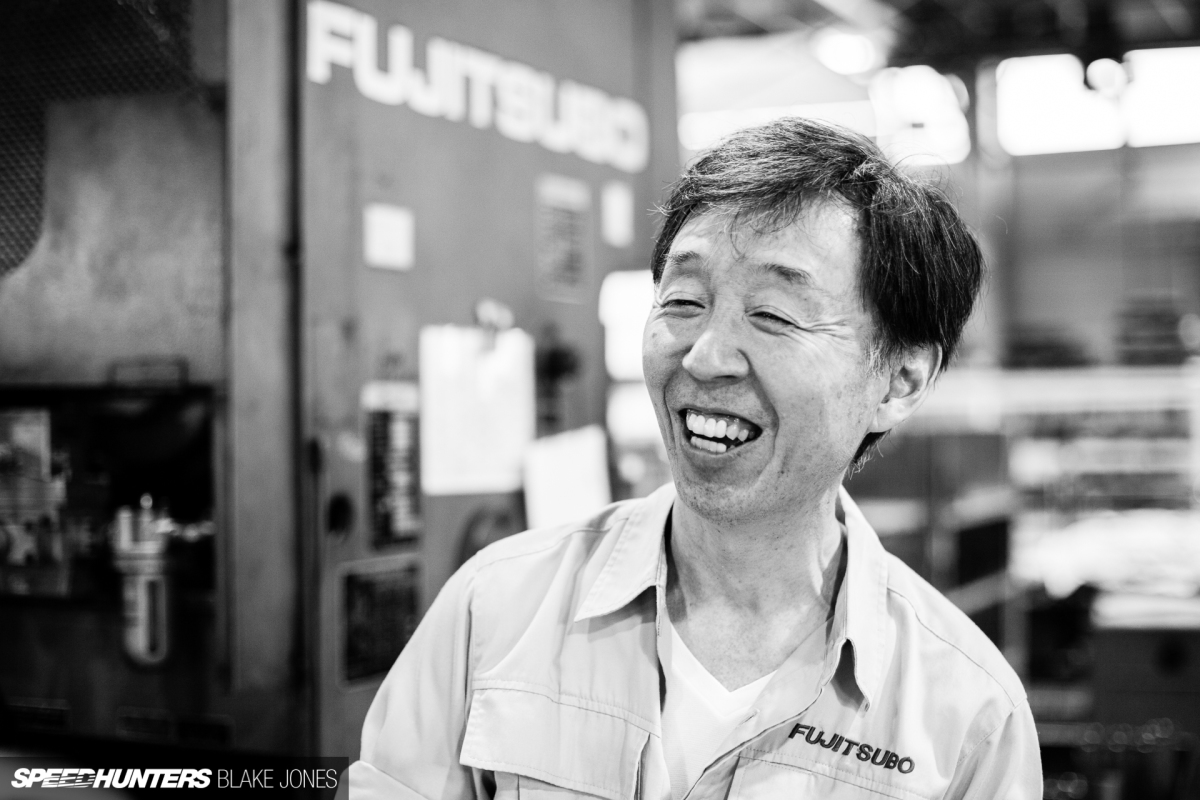 Despite a large international distributor network and 112 employees within Japan, Fujitsubo feels as much of a family as it does a business. Several of the current craftsmen have been with the company for over 30 years and remember Masahiro as a curious messy-haired youth hanging around the factory while it was under his father's leadership.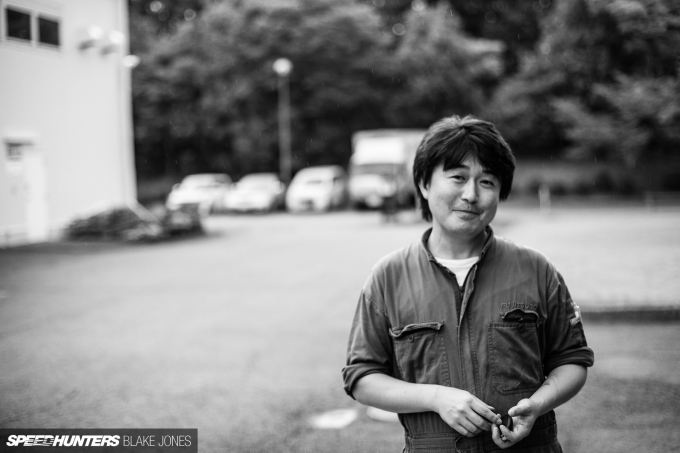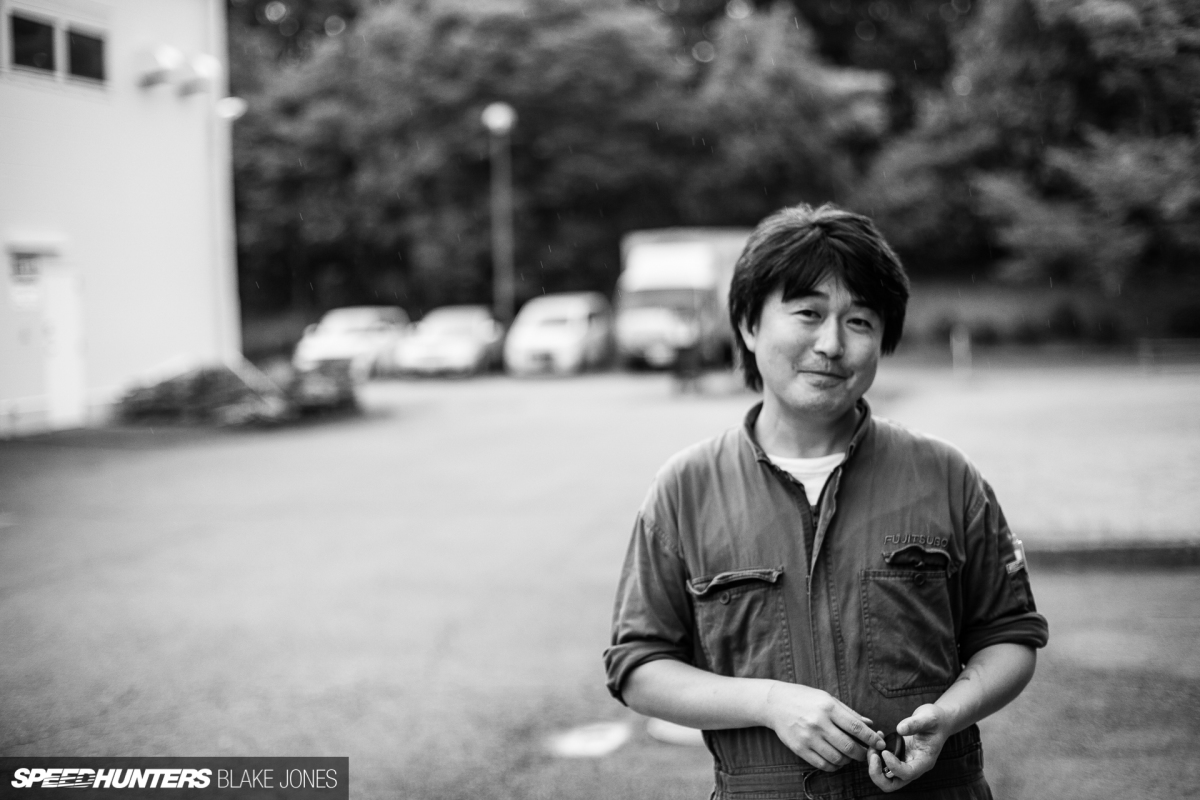 As you'd expect, a large number of the team are enthusiasts themselves and spend time tuning and driving their own cars. I guess the employee discount on exhausts must be a nice perk!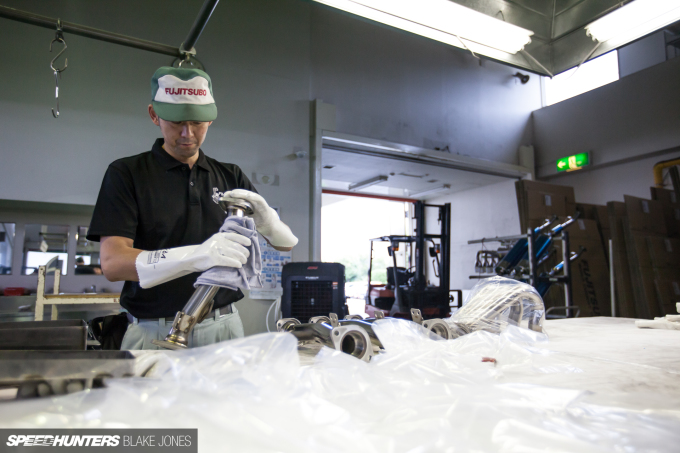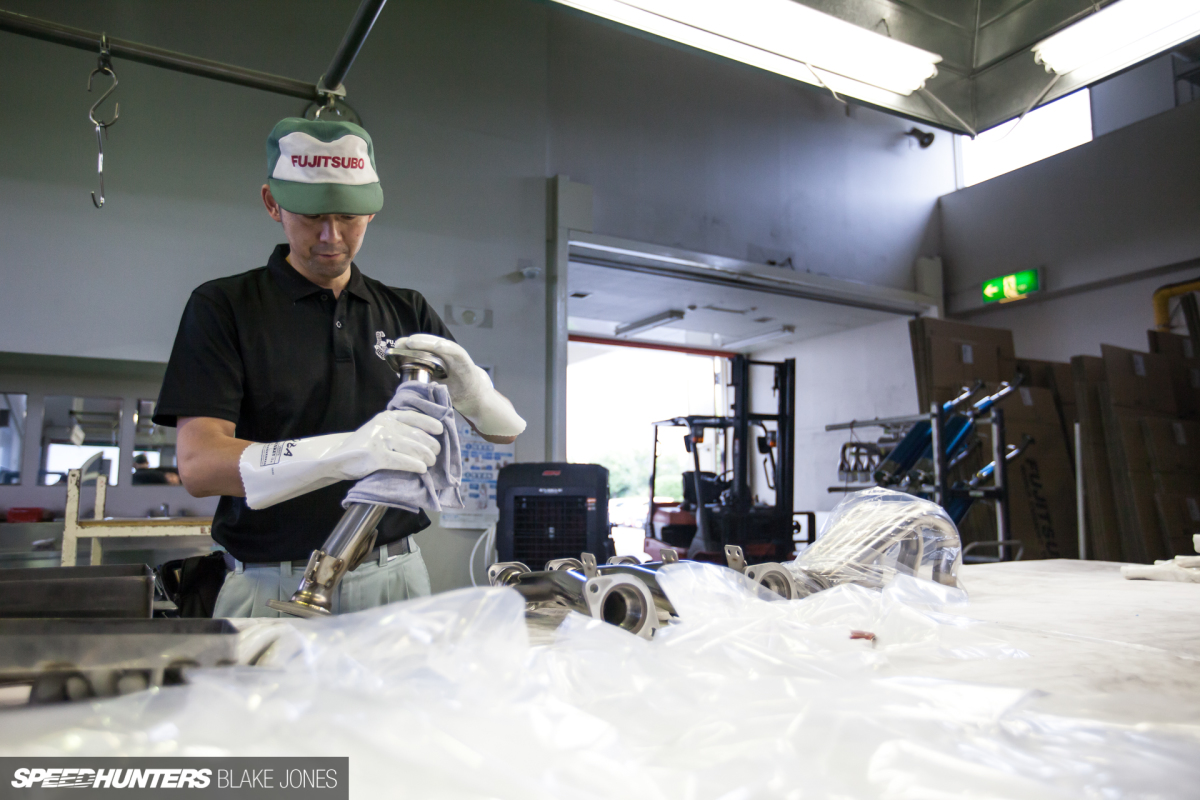 Oh, one last stop for the now complete exhaust systems is a thorough clean before packing.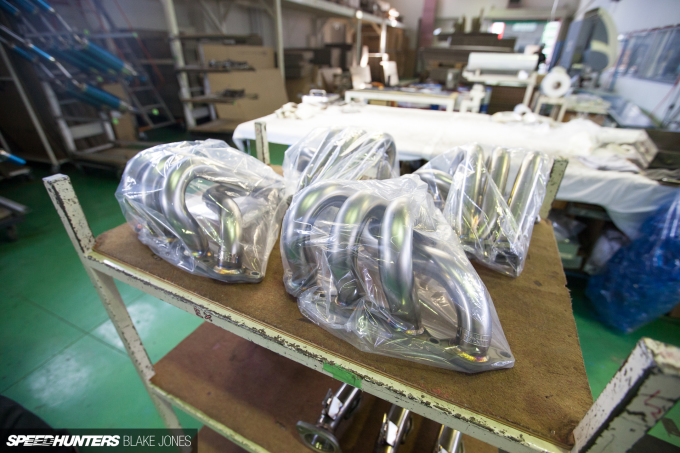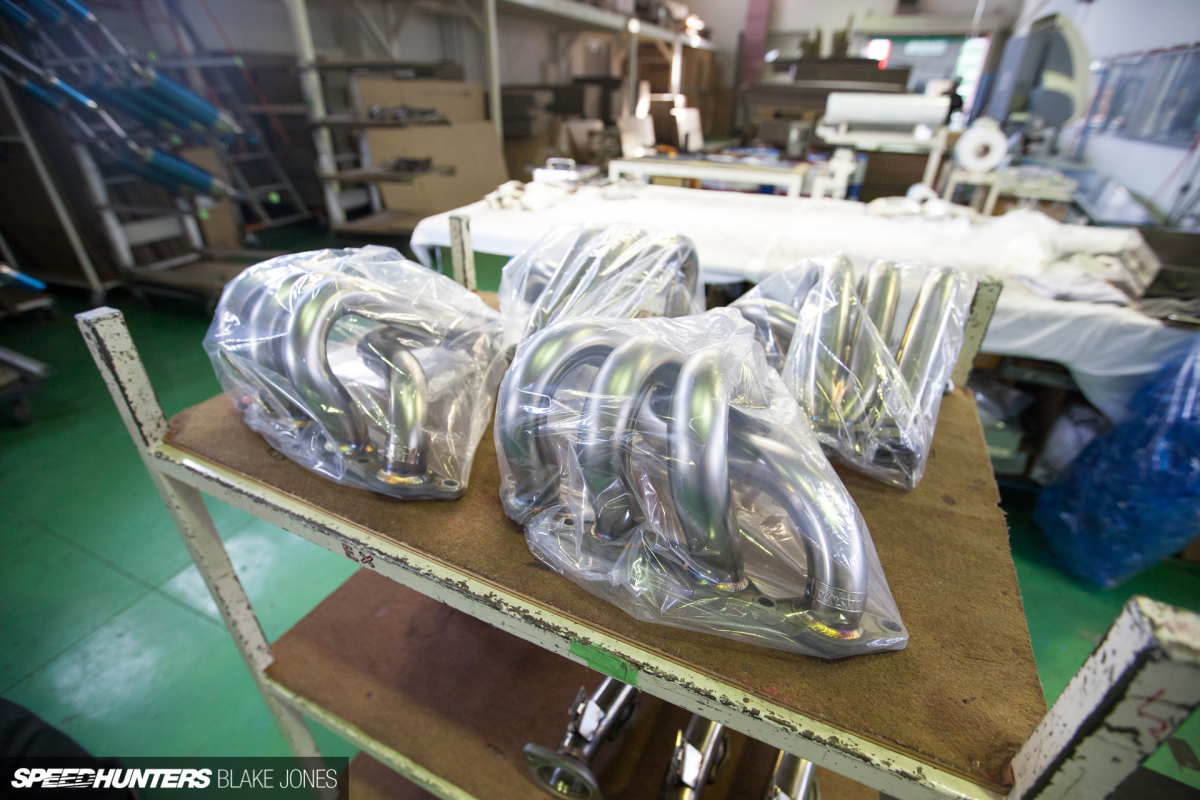 These four exhaust collectors were waiting to boxed up and sent out to excited owners – any keen guesses about what model these were designed for?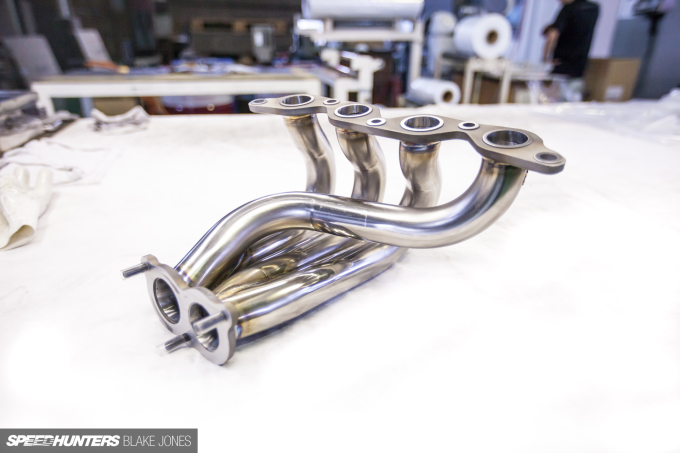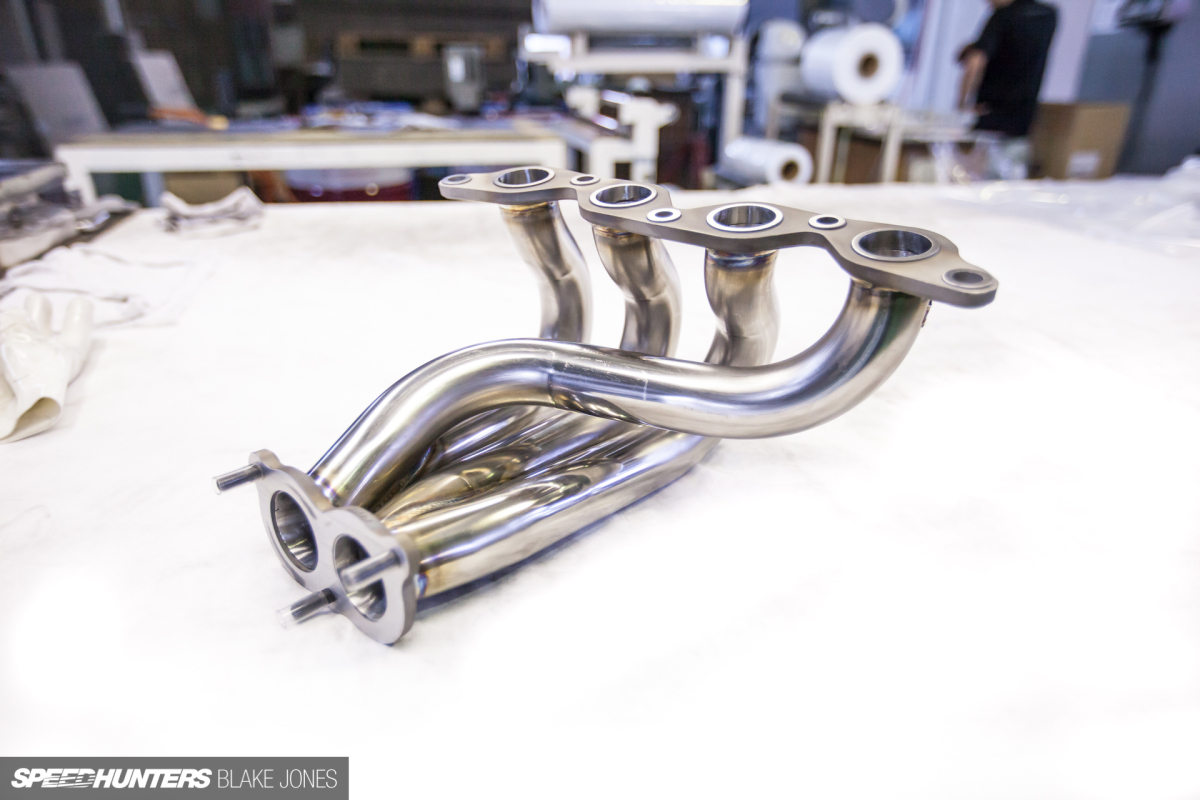 Fujitsubo's penchant for quality design and manufacturing is evident even for this more entry-level sports car system; just take a look at the subtle bends near the exhaust port flange, and the way the four runners seamlessly collect into two.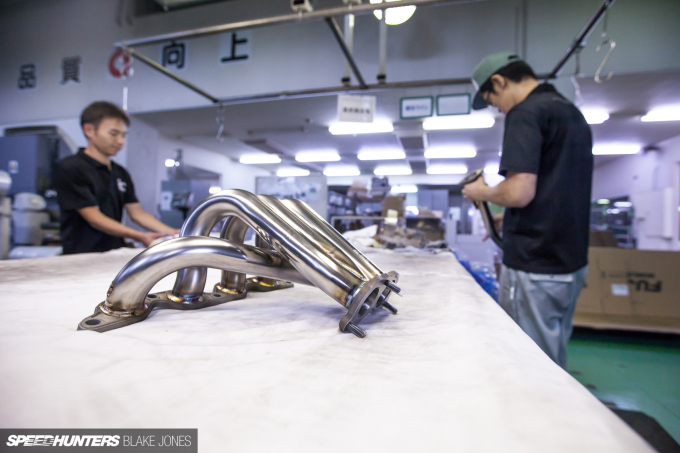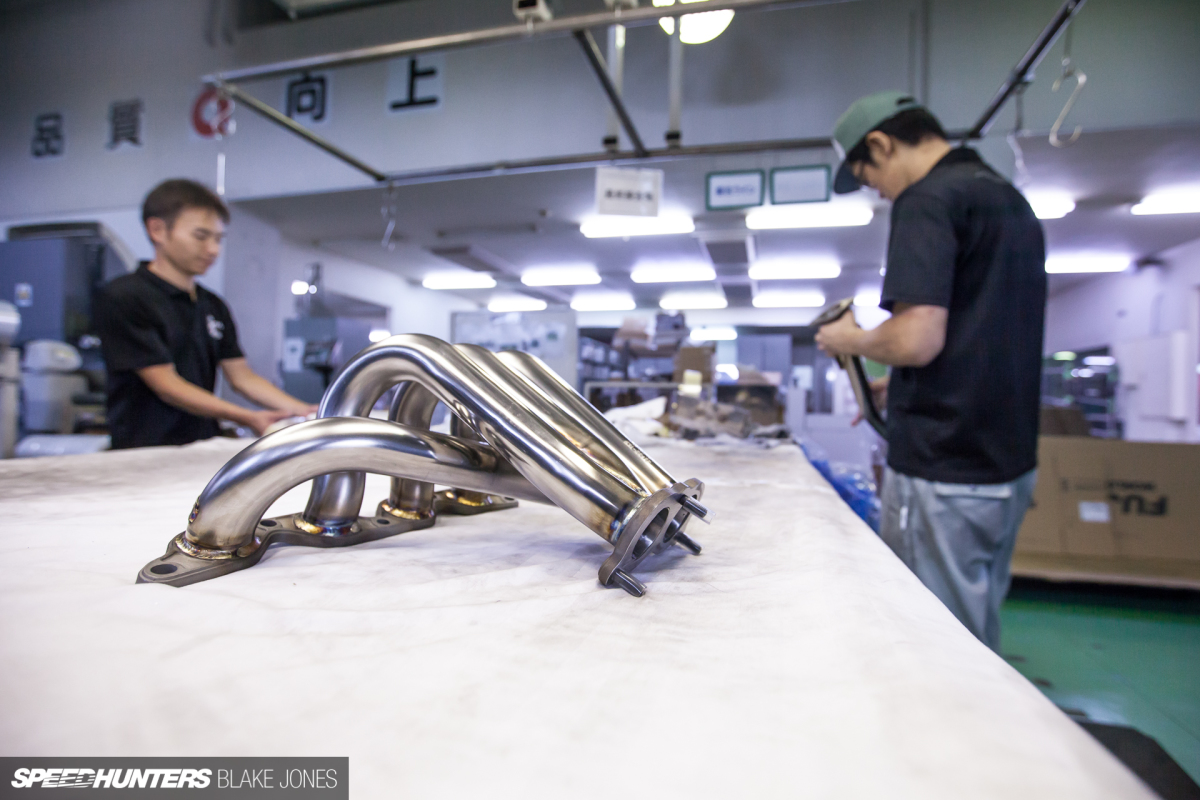 I won't keep you guessing, this is Fujitsubo's 4-2-1 system for the 20V 4A-GE found in the AE111 Toyota Corolla.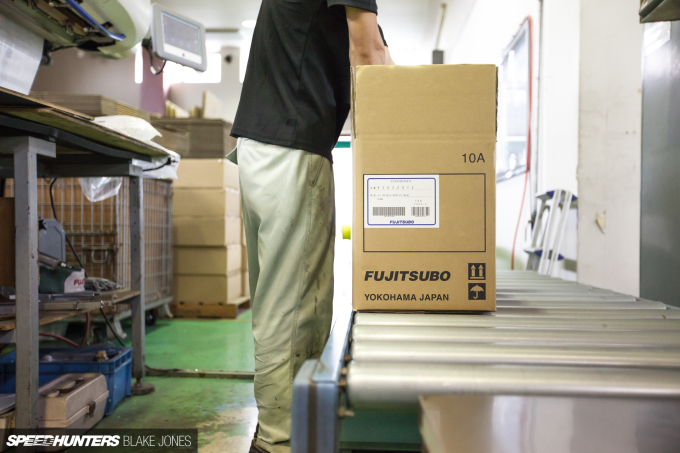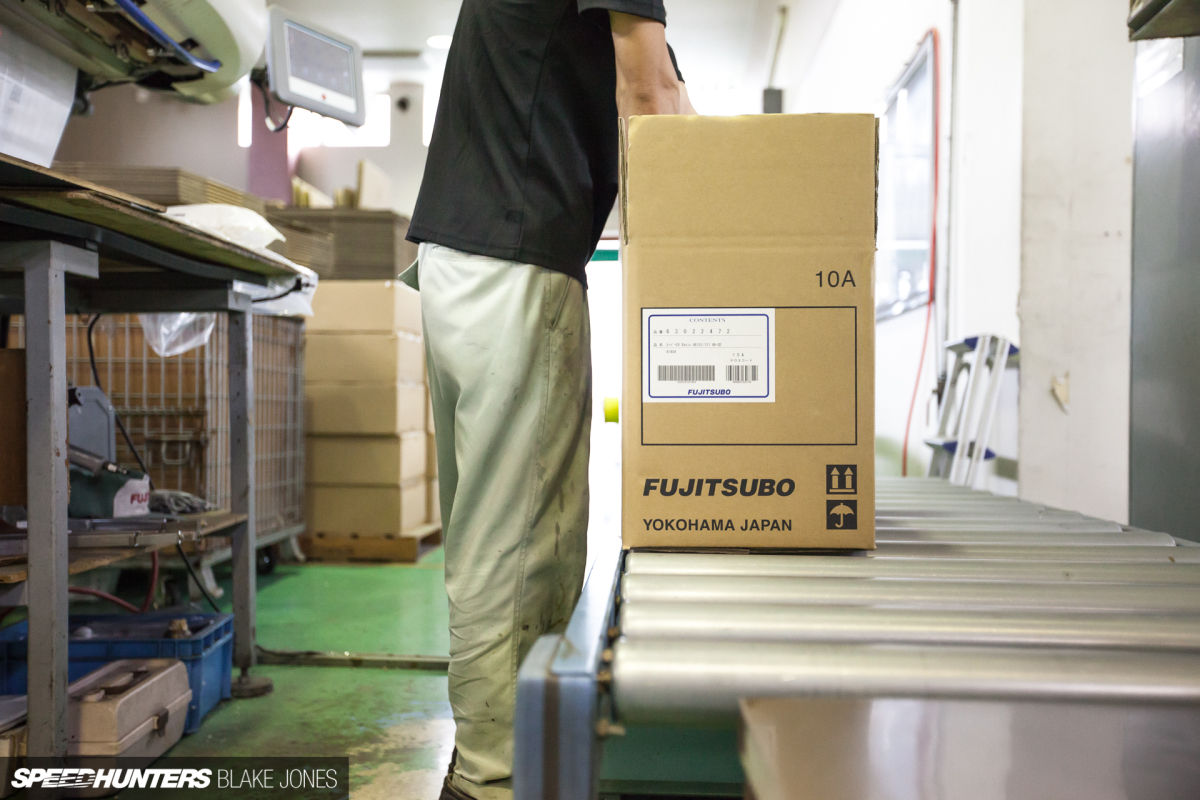 The next time this box is open, it will be delivering that new parts high to some lucky guy or girl.
A Desire To Perform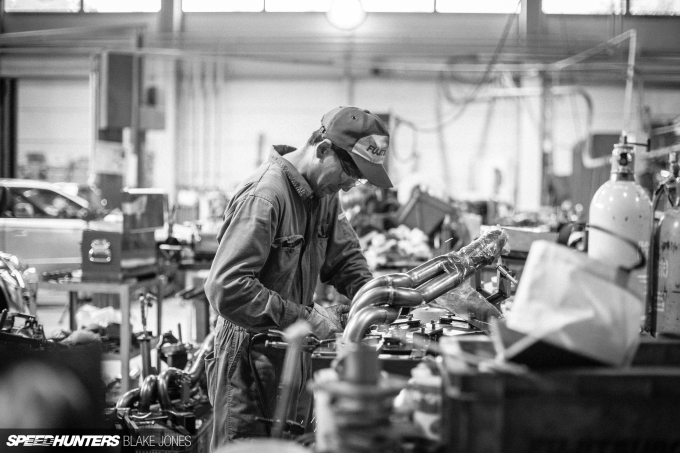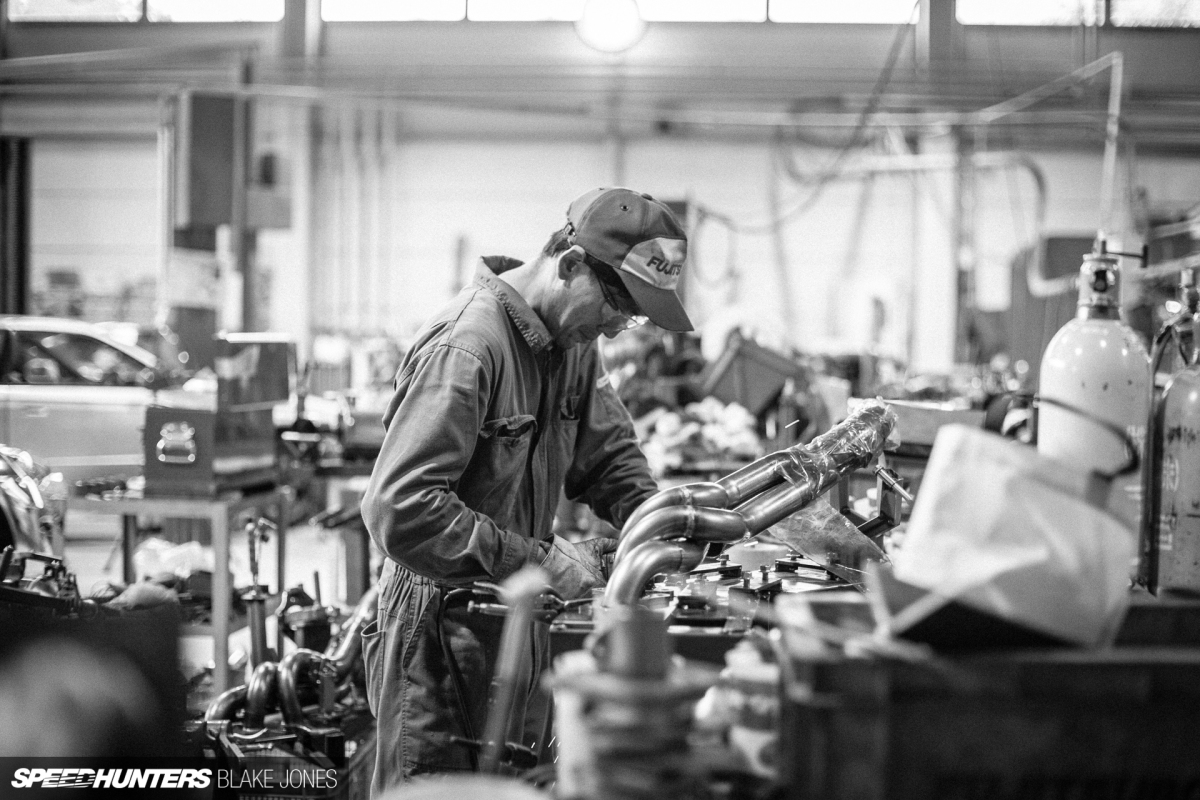 Although the exhaust's journey from raw steel pipe to polished performance part is now complete, there was one more area of the facility that Fujitsubo-san wanted me to see, so we strolled across to an annex on the main building. Here things seem a little less ordered, more workshop than production line. This is where Fujitsubo's engineers do their development and testing for new vehicles and the race teams which Fujitsubo supports.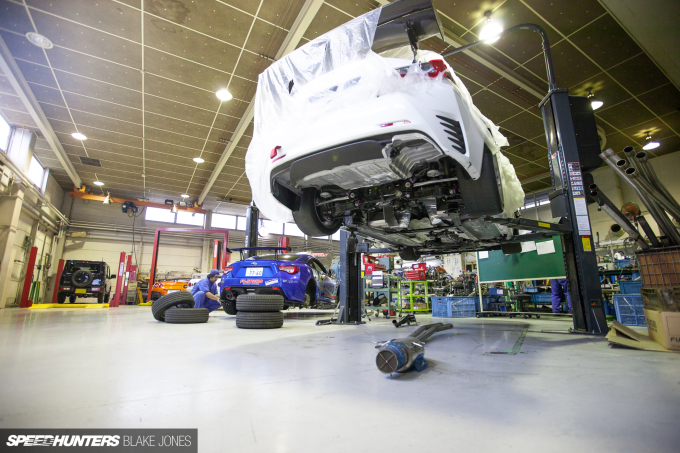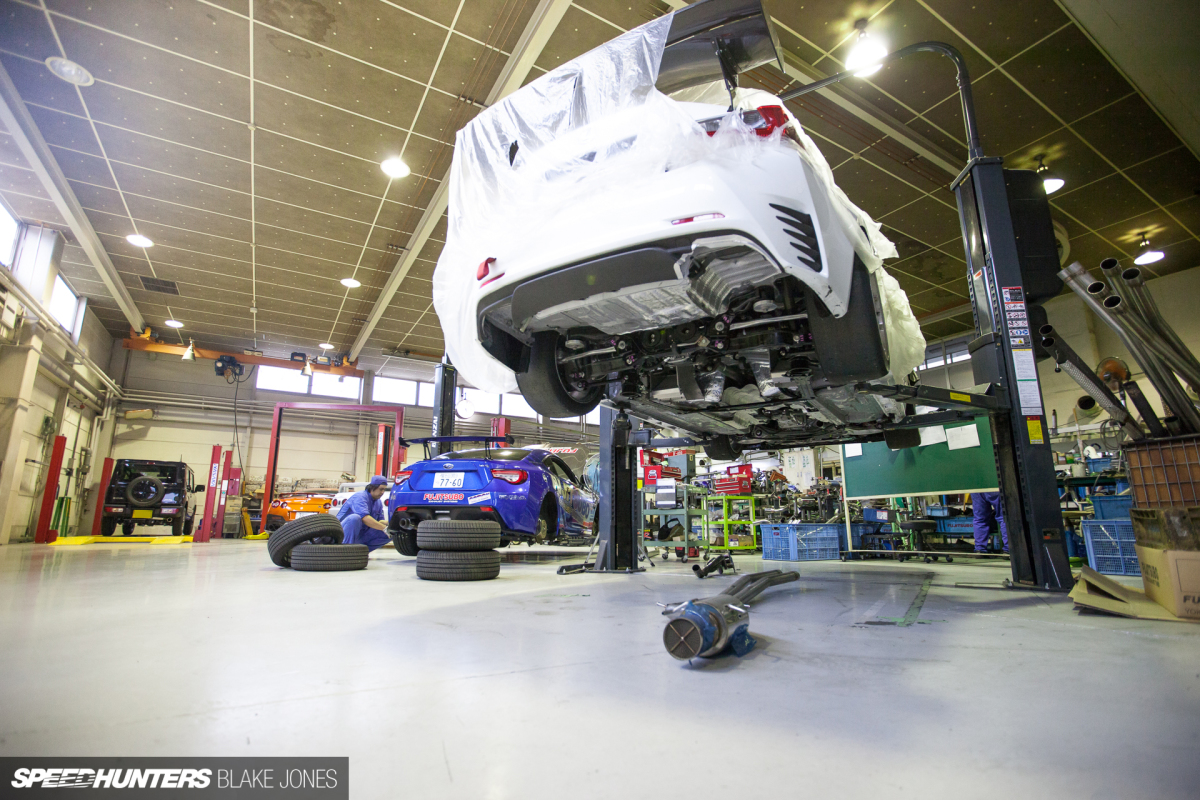 Today's subject was a Super Taikyu Lexus RC 350 from Osaka-based team Tracy Sports, in for further development. Super Taikyu is a popular series in Japan that I've been meaning to take a closer look at; the race cars are refreshingly similar to their road equivalents, making it much more relatable for the average motorsport fan than something more extreme like DTM or Super GT.
It's also cool to think that Fujitsubo's boffins may be taking things they learned from pushing these cars on the racetrack and applying them to their regular products, something that can't be said for the aforementioned 'space-frame' based series.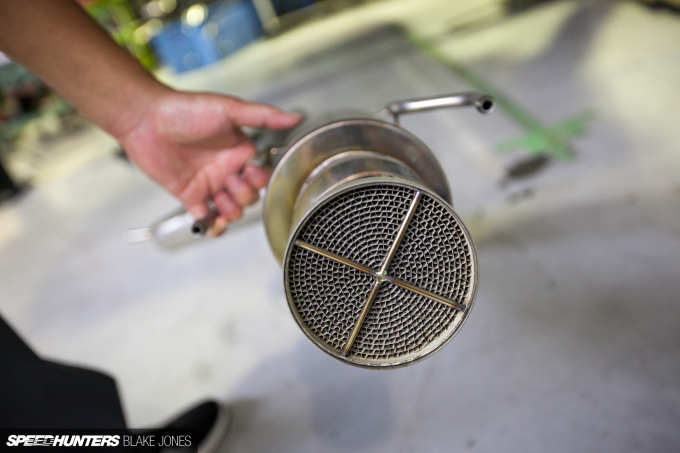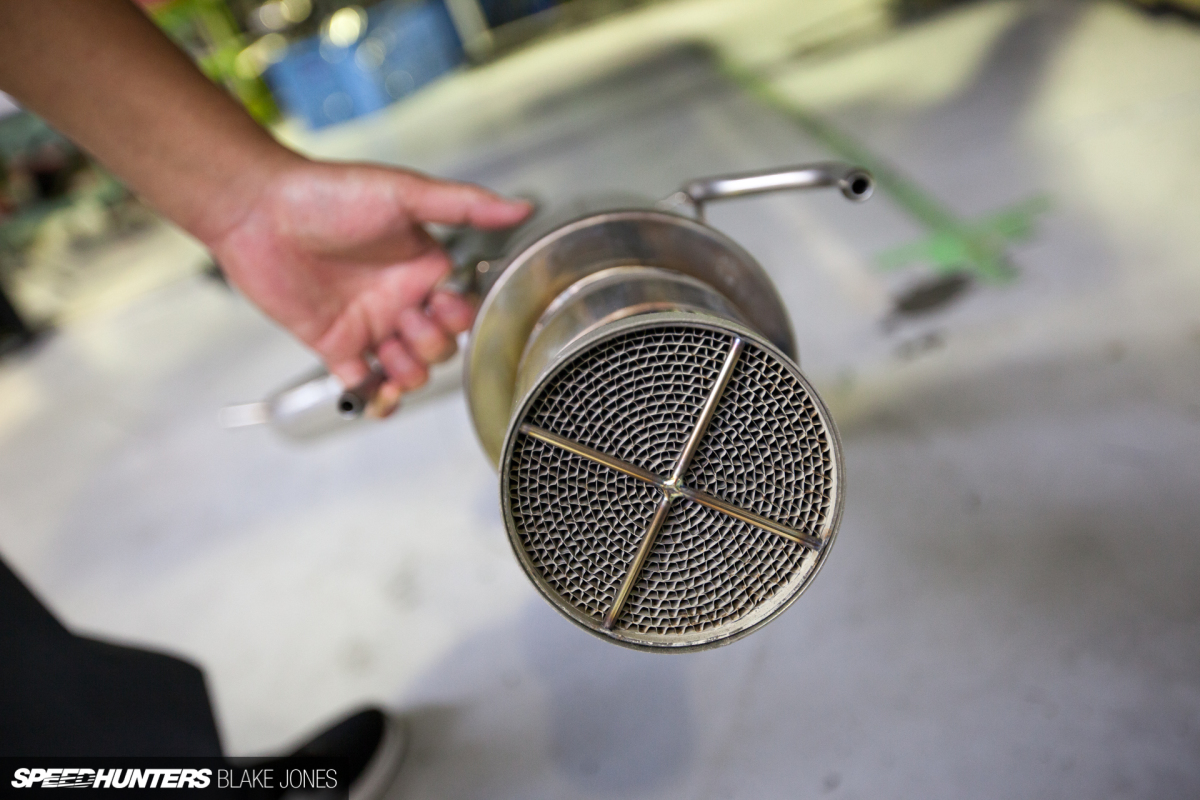 Initially I'd assumed this to be some sort of sound suppressor due to track noise regulations, but Fujitsubo-san advised that it's actually the catalytic converter. The rules stipulate that there must be a cat in the system, but doesn't specific where, and testing showed that placing it right at the tip generated the highest performance. If you follow the WRC, you would have seen the telltale orange tailpipe glow that comes with this sort of rearward placement.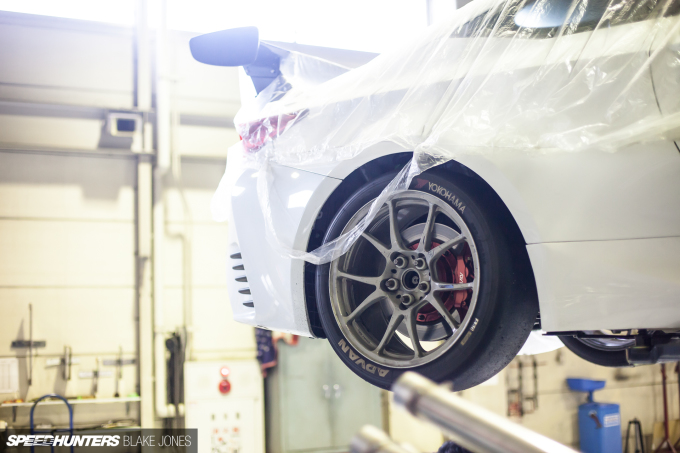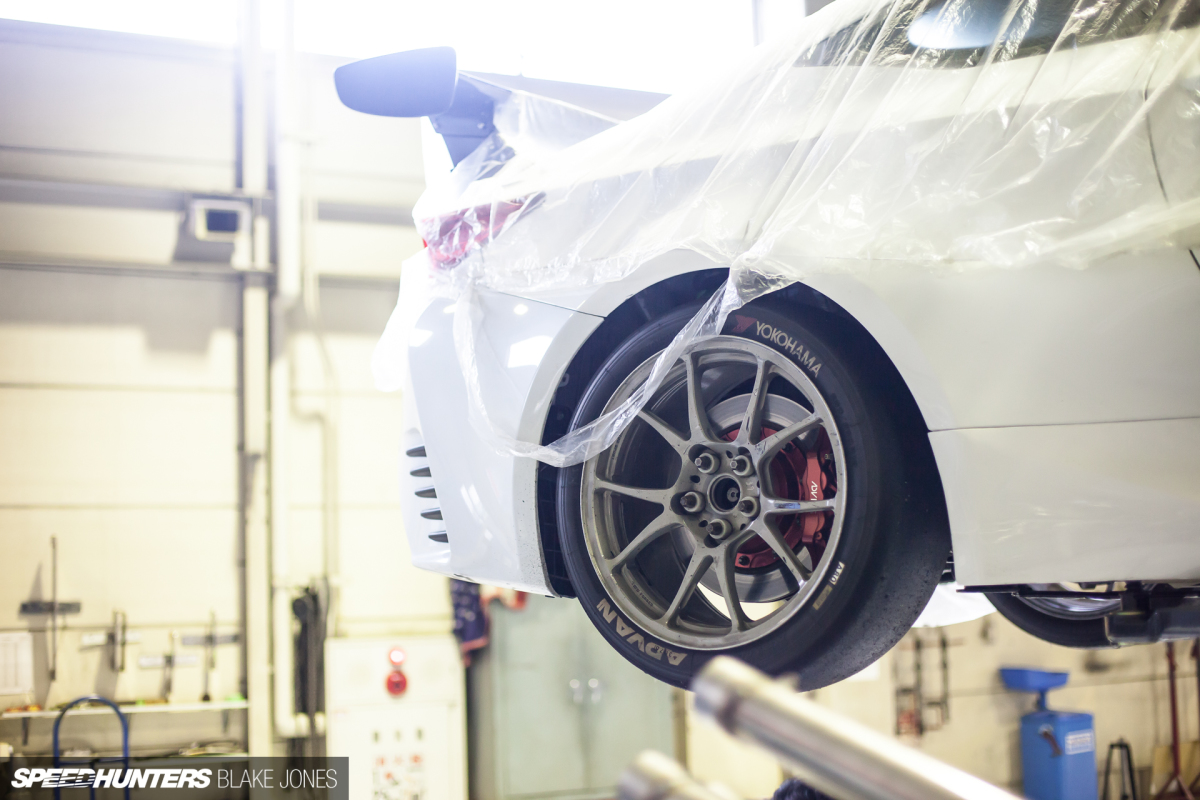 Thirteen teams in the Super Taikyu field rely on Fujitsubo for their exhaust development, and Fujitsubo-san never misses a race. He's been making a concerted effort to bring the company closer to the racetrack based on his personal passion and belief that it's here that exhaust components will receive the most abuse, and thus provide the engineers with the most opportunities to improve their designs.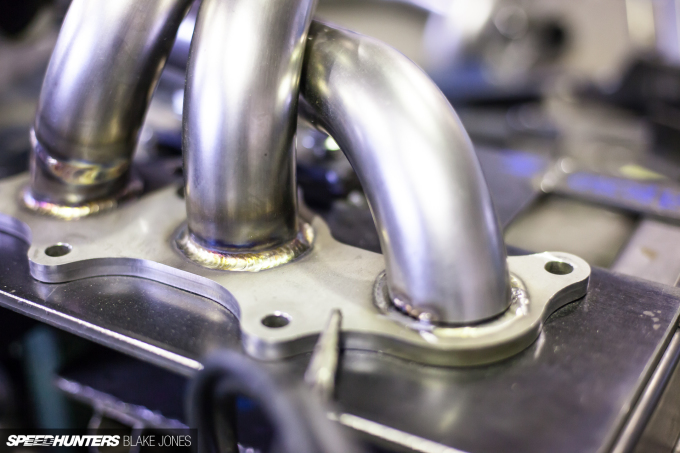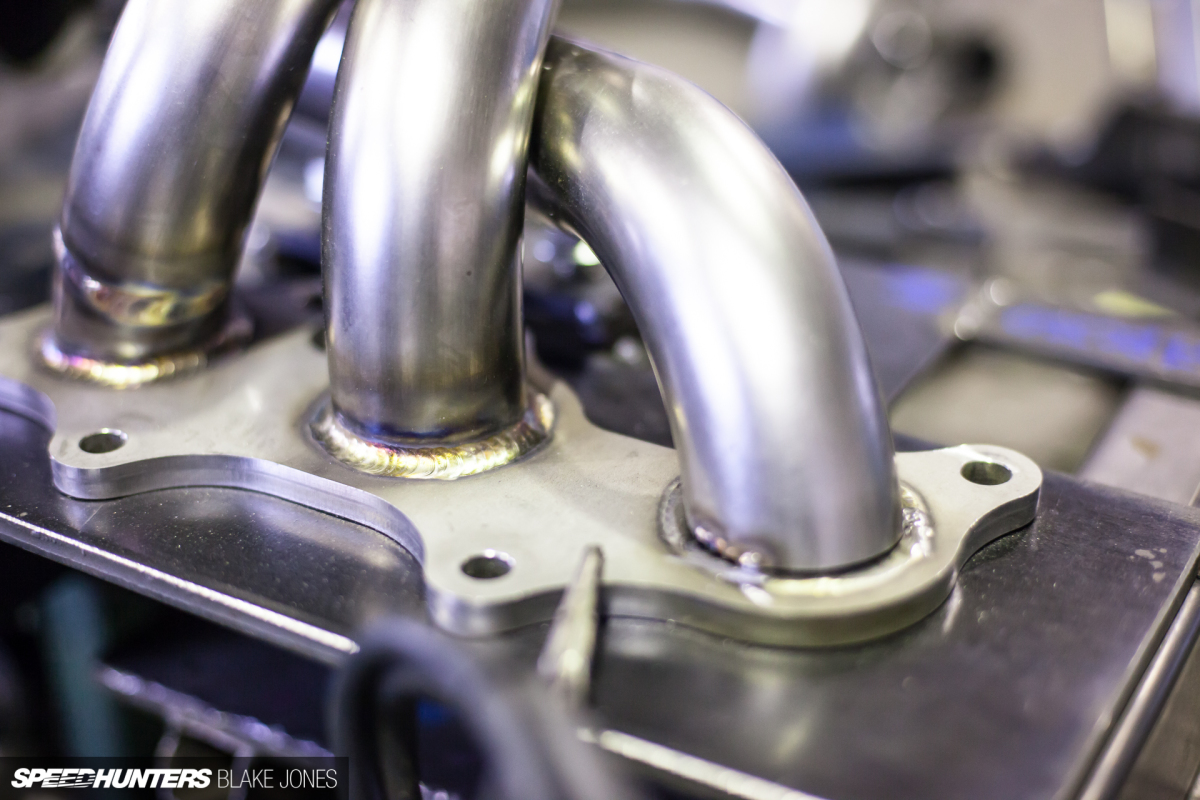 Fujitsubo will even make complete custom systems for private customers, but be prepared for a two-and-a-half year waiting list and a fairly hefty tab. How much? Well, a recently completed system for an NSX that made the journey down from Japan's northernmost island came to ¥1 million (approximately US$10,000).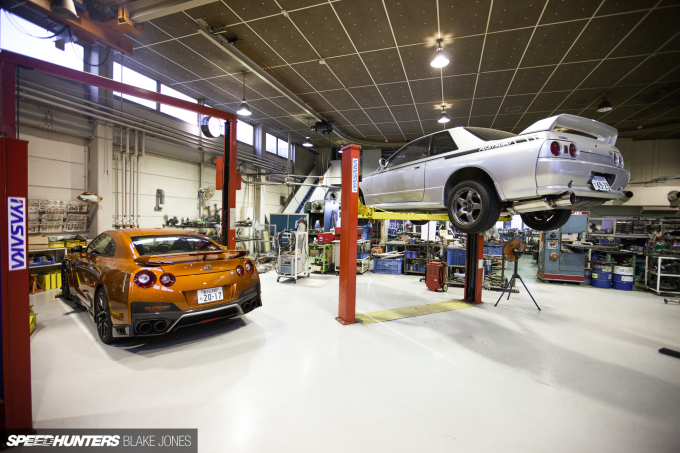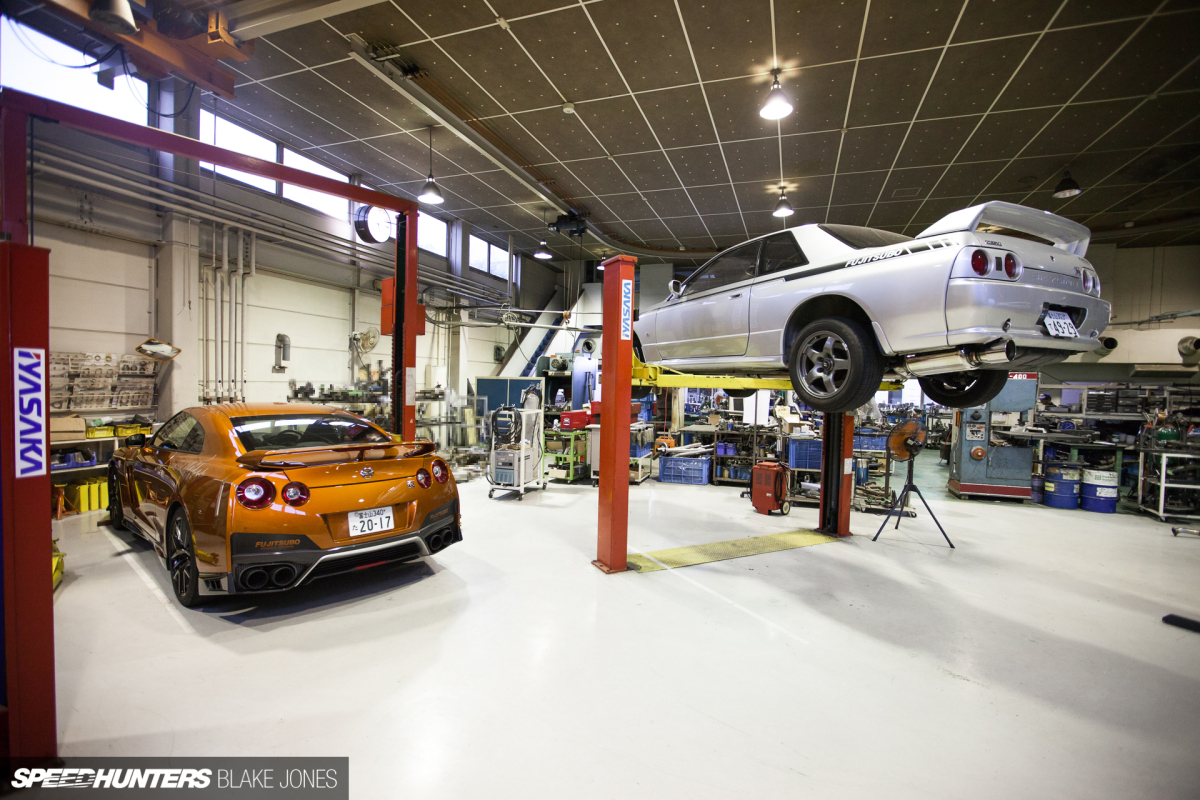 Elsewhere in the skunkworks department sat a few models that Speedhunters readers will be familiar with – an R32 GT-R (which was completely original save for the valve-actuated muffler, and in incredibly good condition) and a more recent R35 GT-R which was testing the durability of carbon fiber-look exhaust tip shields.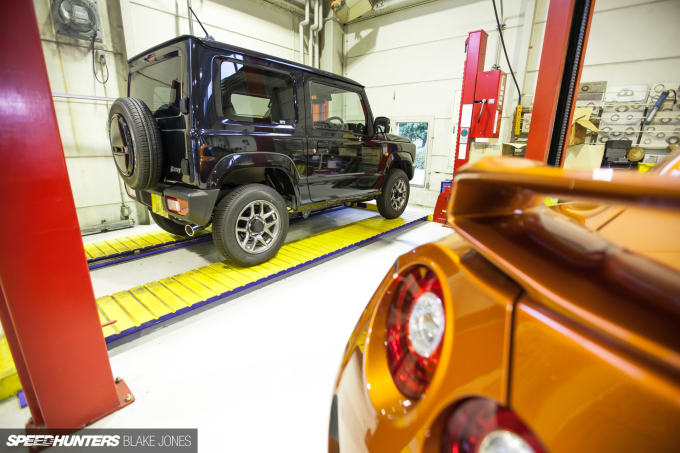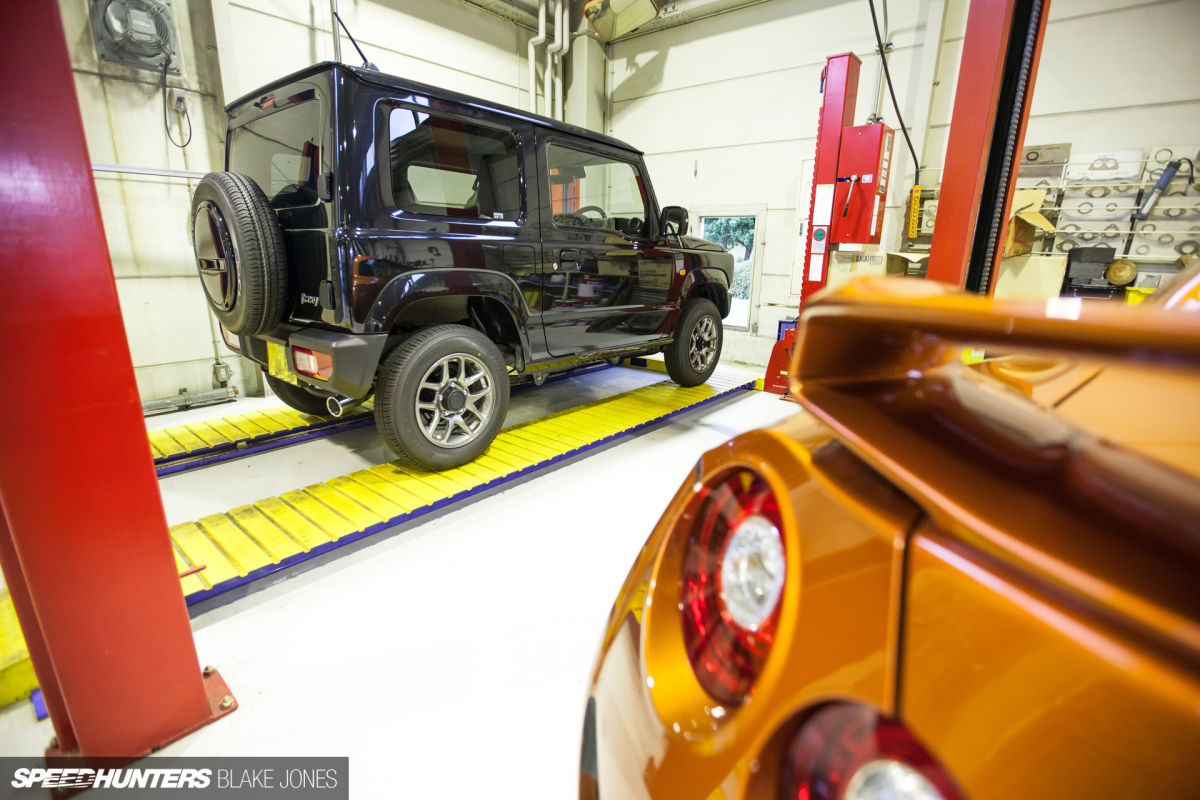 But the car I was most excited to see in the shop was one that is certainly less recognisable than the Nissan siblings. This is the 2017 Suzuki Jimny.
The original Jimny was designed as a small but capable workhorse, and it put Suzuki on the car-making map back in the 1970s. Those first generation cars are now quite rare, but the second generation cars that were produced through much of the '80s and '90s are still a common sight on Japanese roads, and are a favourite for space-limited adventurers.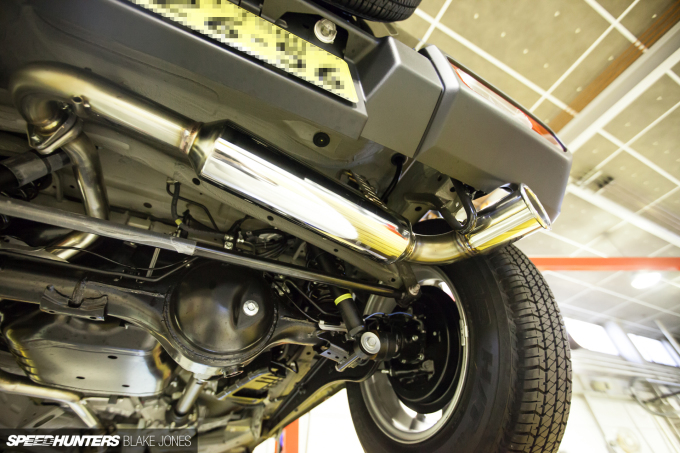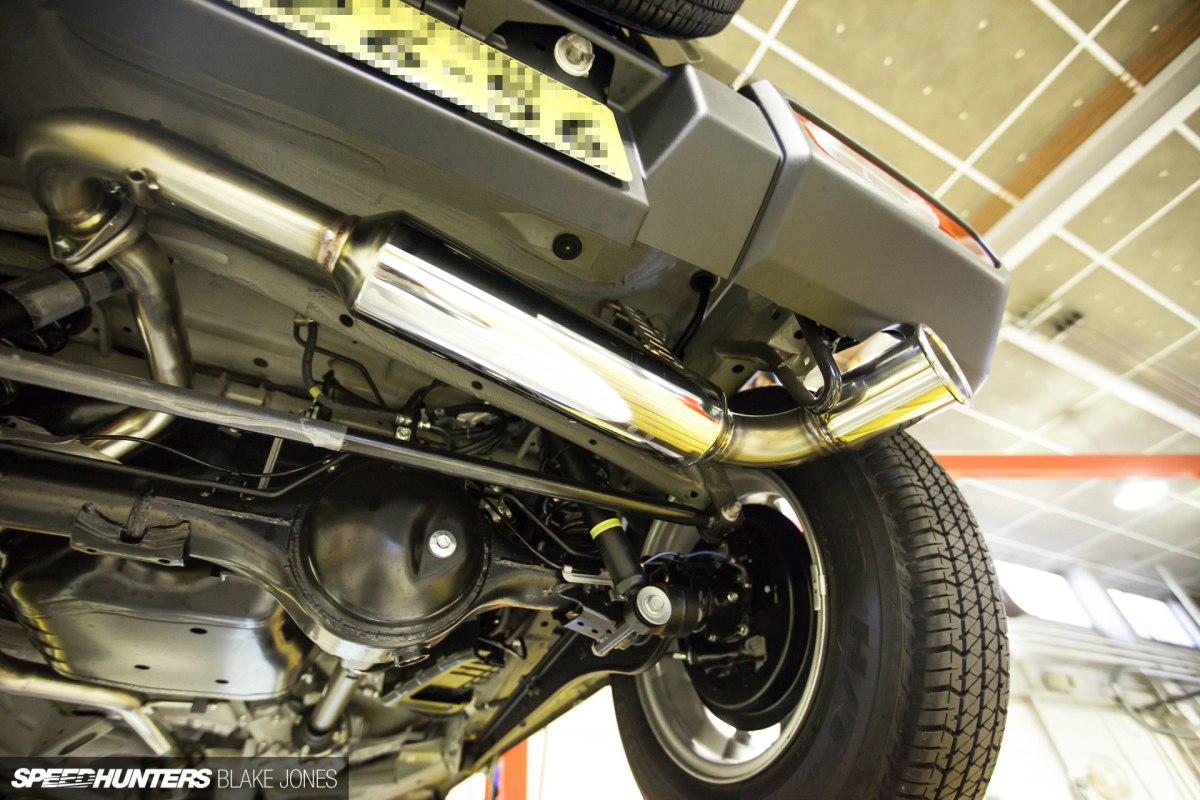 Fujitsubo-san lifted the car up so I could take a better look at the system. The pipes were comically small compared to the other systems we'd been looking at, but considering the engine only displaces 660cc, any larger would just be adding weight and reducing that all-important exhaust velocity. You might assume that this is some niche product in Fujitsubo's portfolio, but that couldn't be further from the truth. The Jimny's system has displaced the 86/BRZ twins at the top of the sales chart since its introduction in July.
While I was underneath, I couldn't resist poking around a bit. Check out that centre diff and solid front and rear axles – don't let the size fool you, this thing is a serious off-road machine.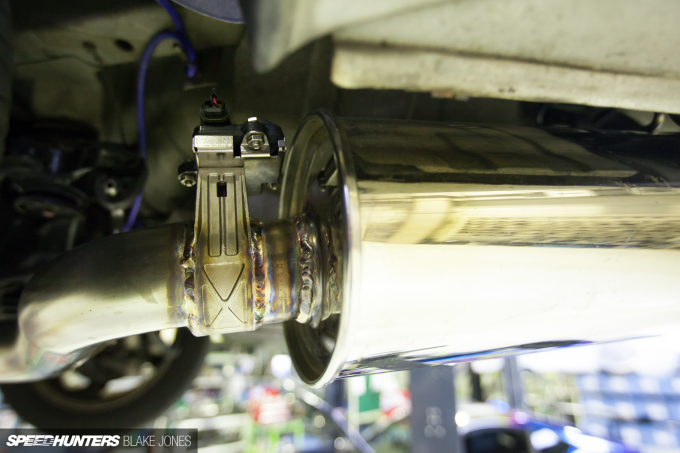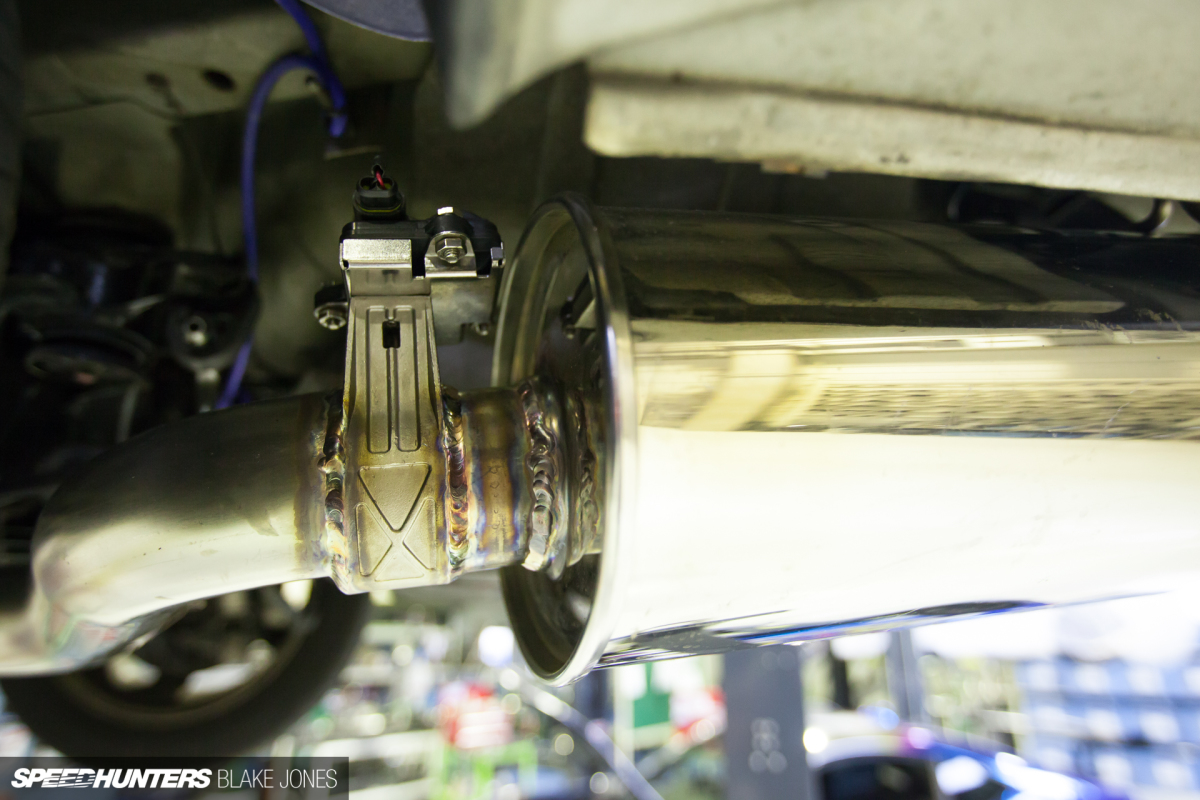 Here's a closer look at the prototype valved muffler on the R32 GT-R. There is a smaller bypass pipe that is used when the electronically actuated valve is set to closed/quiet.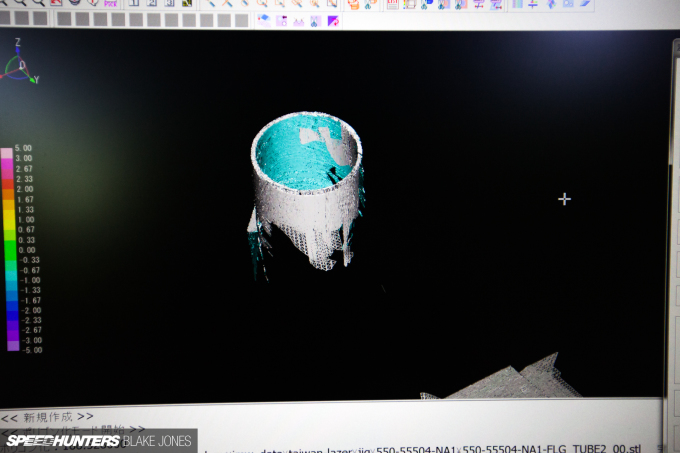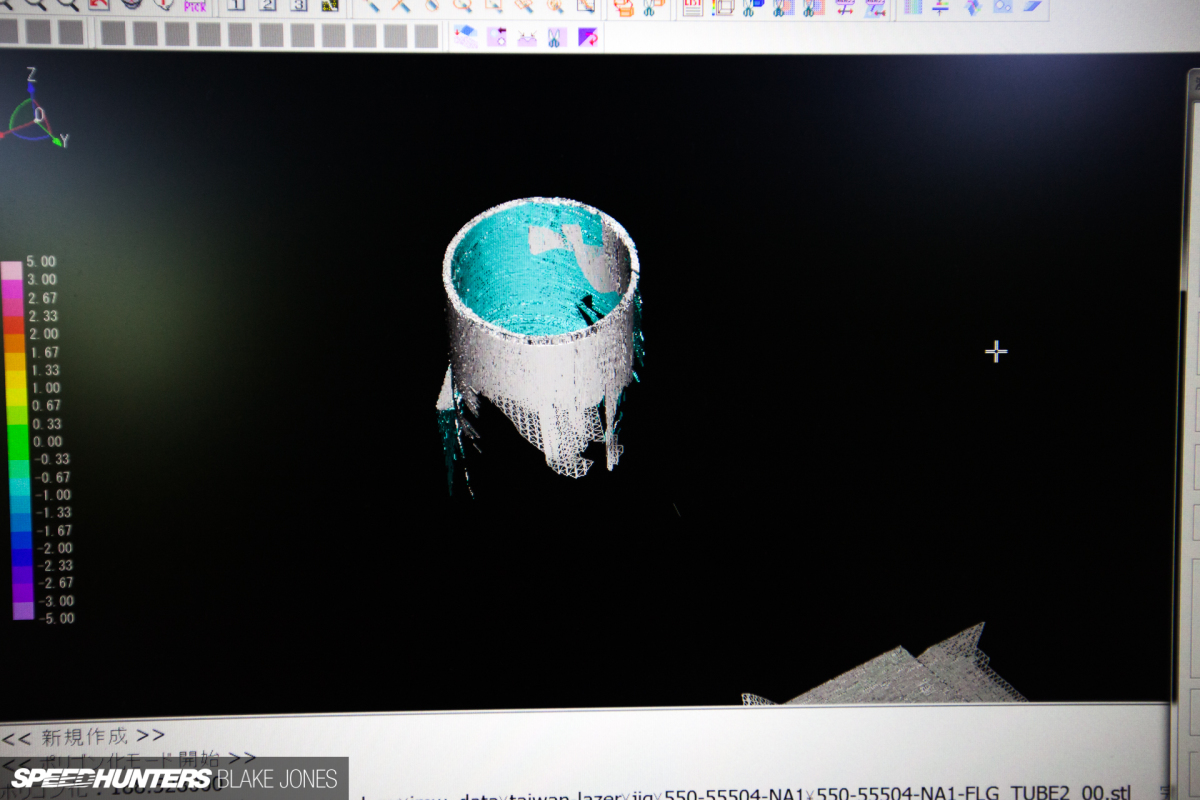 Also in the development centre is a lab for the digital side of exhaust design. Today two of the engineers were laser-scanning the very headers that would be going into Project NSX, creating a 3D model which can be endlessly analysed and modelled to find any opportunity for improvement.
Fujitsubo is in the process of converting all of their historical designs into the digital realm. Remember the S30 we walked past earlier? Using these advances in technology, the engineers discovered that the primaries were not precisely equal lengths in their original header design, so they recently redesigned them to get everything perfect. If that's not an example of the famed Japanese attention to detail, I don't know what is.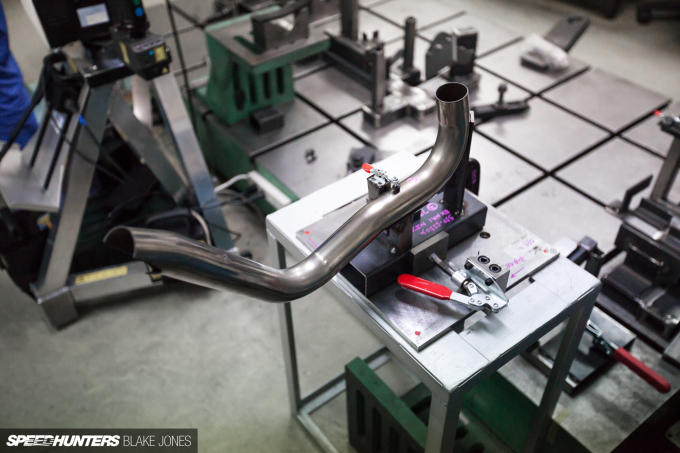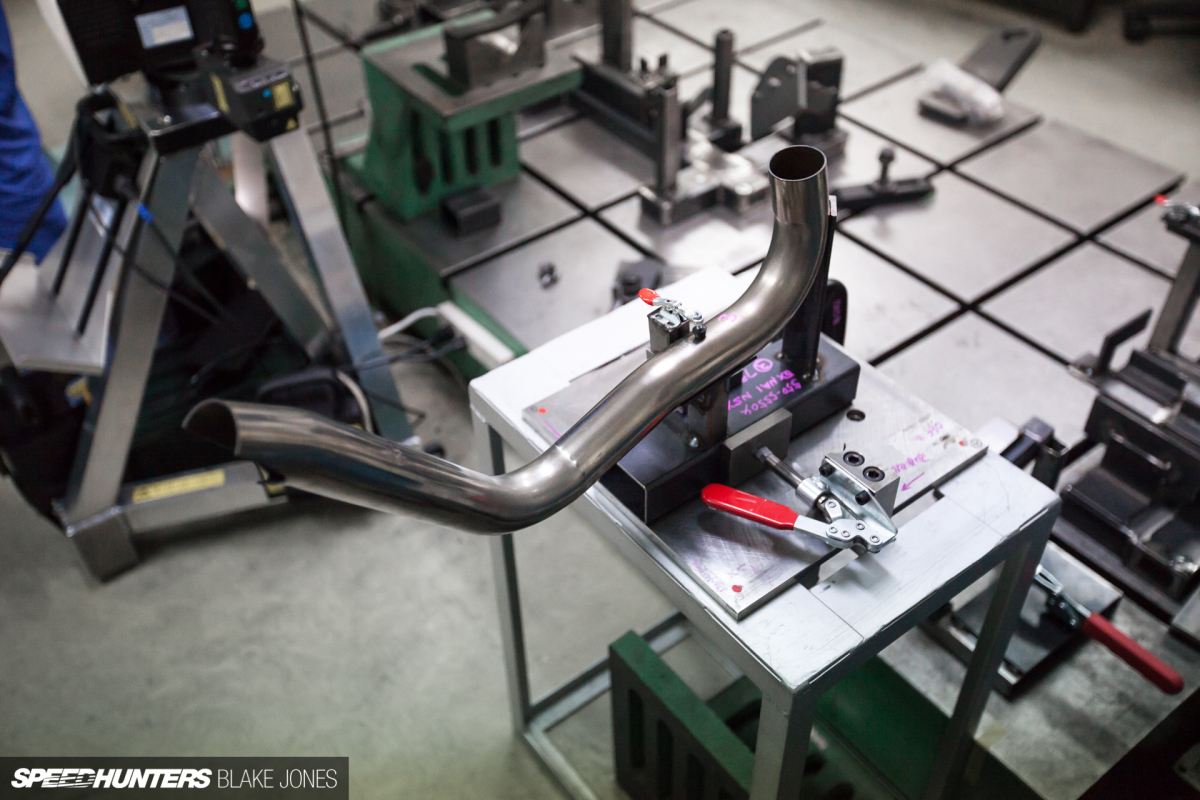 Here you can see one of the NSX manifold's equal-length runners that will eventually scavenge gasses from the front cylinder bank of the transverse V6 and run under the engine to the collector. As you'll see in the installation story, the NSX's mid-engined layout makes for a complex installation process, and the pipes are required to contort around engine mounts, sumps and the rear subframe.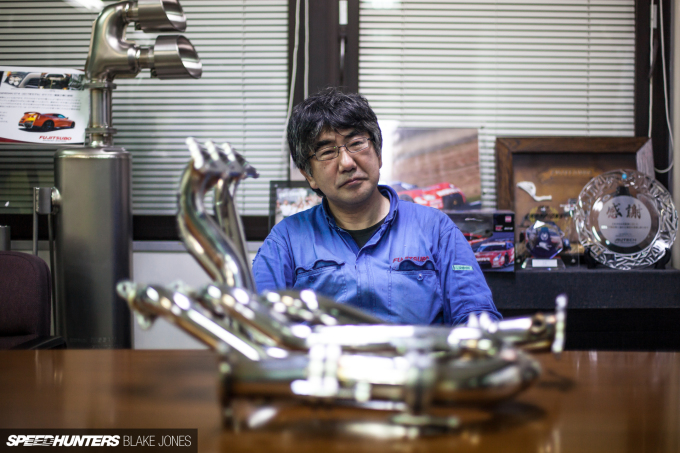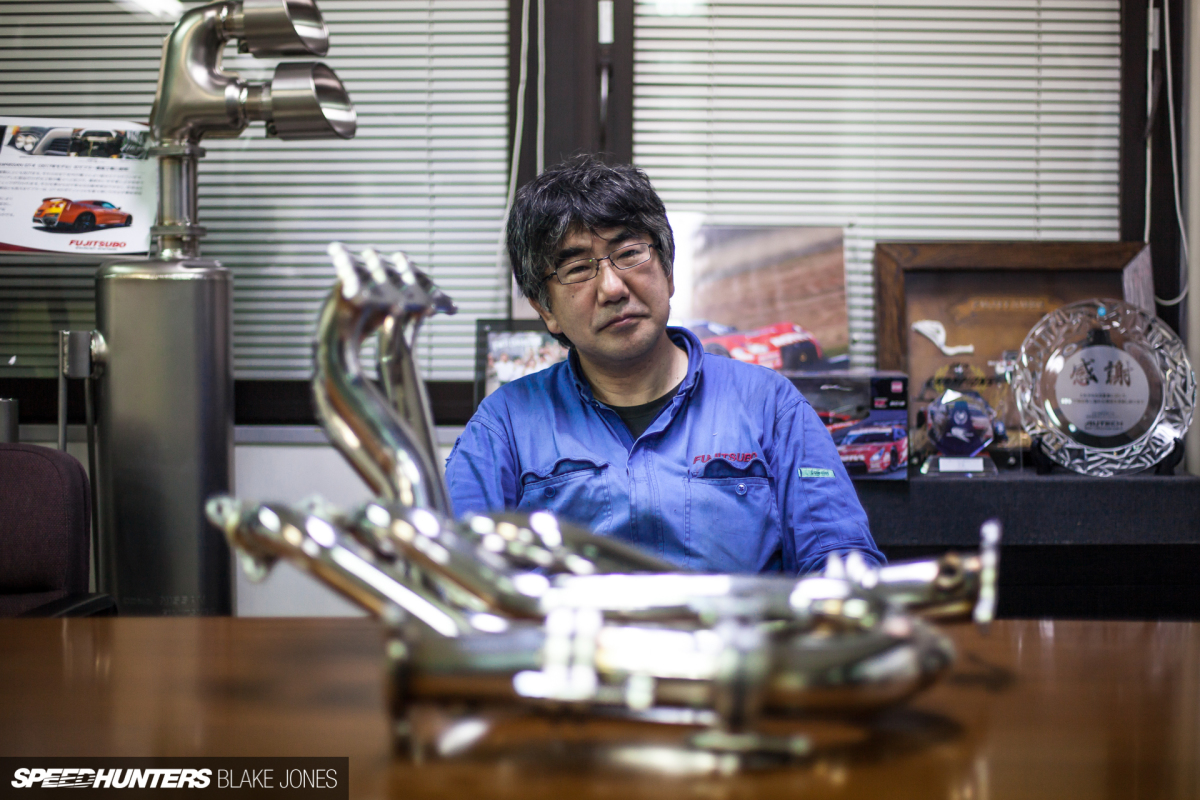 Kenichi-san has worked as an engineer and designer for Fujitsubo since 1980. He's the man who penned the original design of the company's NSX manifold, and the man who built the very system that will be installed into Project NSX. Listening to him rattle off extremely specific details of the design to Fujitsubo-san in the way only an engineer could was simply awesome.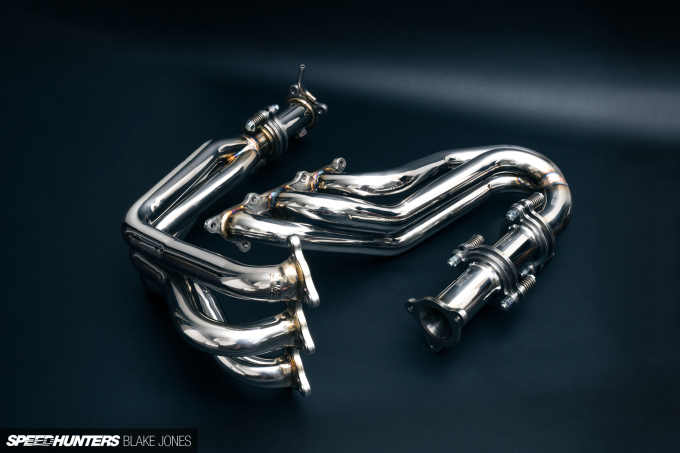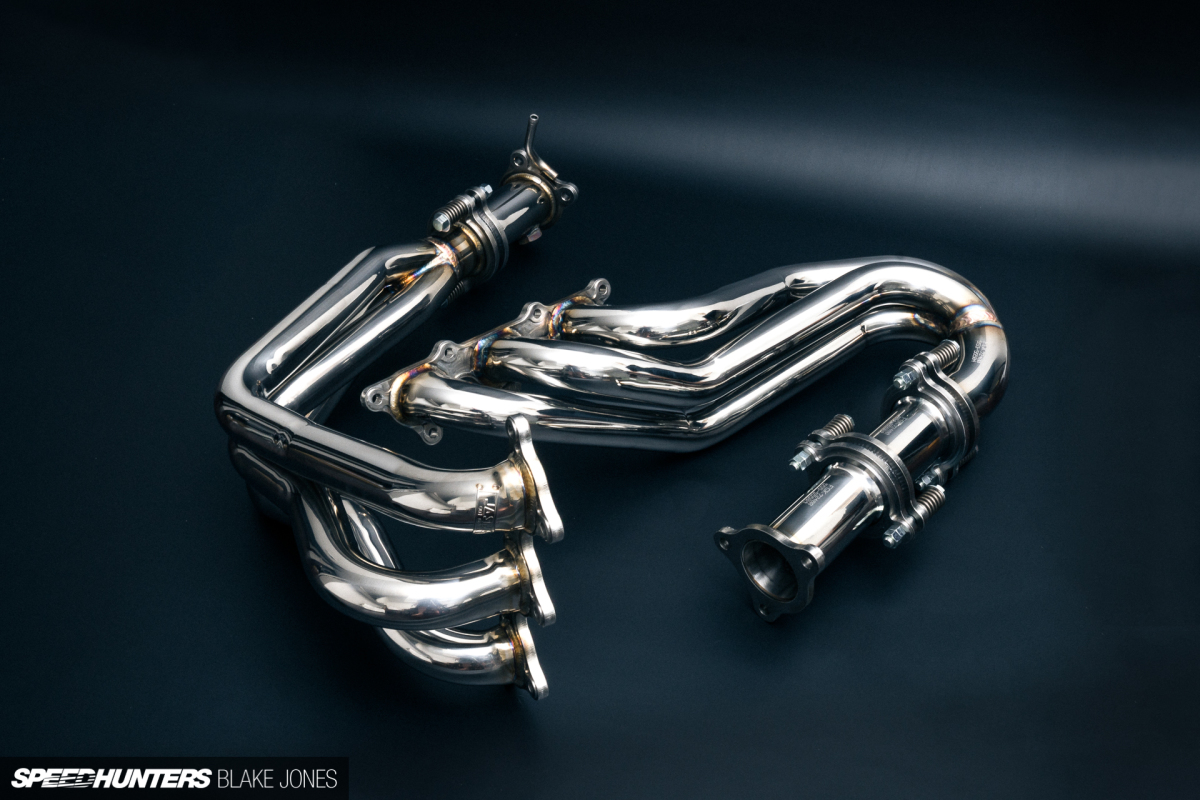 Is it too much to call them art? We'll take a closer look at these in the next Project NSX update, but right now I can barely contain my excitement.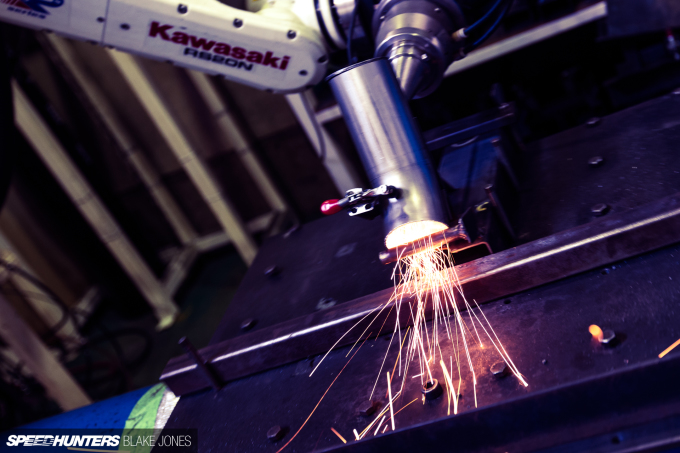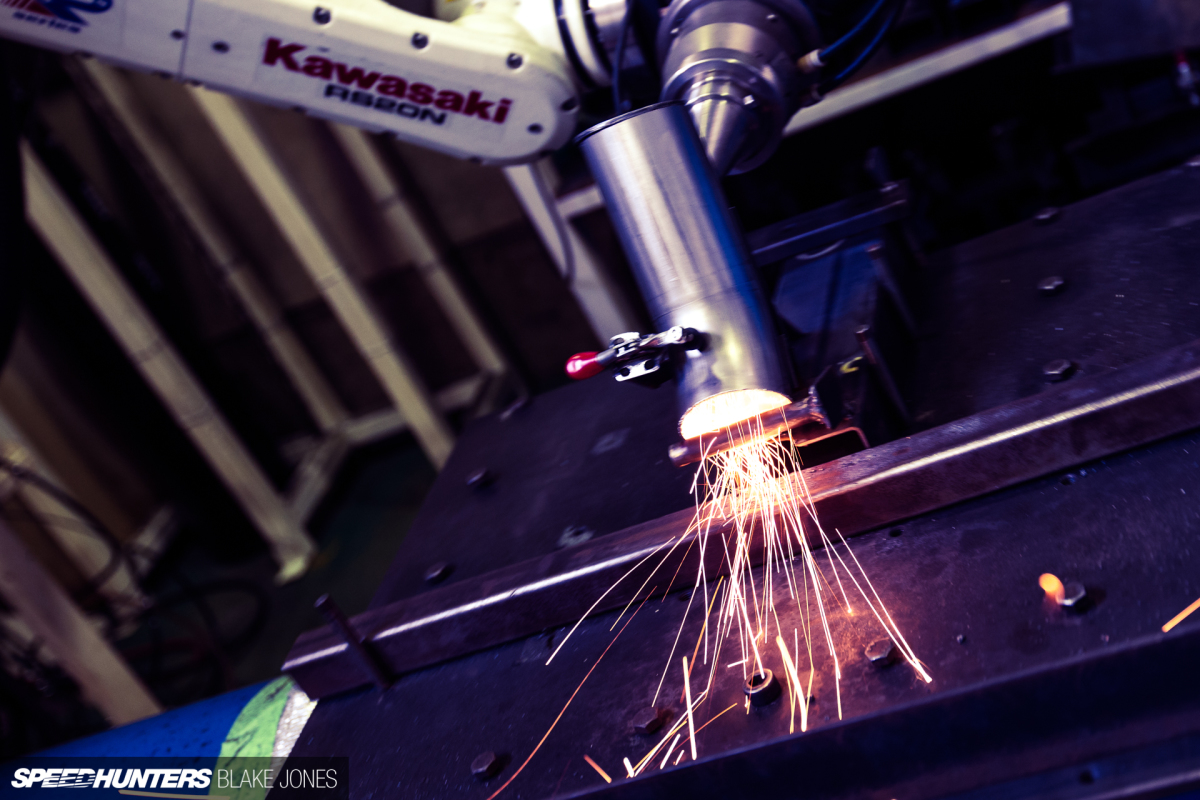 Fujitsubo is a great example of how strong tradition and new technology can comfortably and profitably co-exist, something we'd love to see more of from Japanese manufacturers in 2018.
This tour was illuminating for me in understanding the intricacies of exhaust design and manufacture, and on that note are there any other famous Japanese manufacturers you'd like to see behind the scenes of?
Blake Jones
Instagram: blaketjones
blake@speedhunters.com