If you approach life in a fiscally responsible manner, then diving both feet into the world of cars and motorcycles, while penniless and in college, is a terrible idea.
Outside of money, things like keeping a social life, sleeping more than six hours a night, and the desire to have at least one well rounded meal a day, are all valid reasons not to pick up a project while pursuing a post-secondary education.
However, gear-head friends have a way of providing excellent counter arguments to all of the above, the most simple being 'it will be fun'. Some call it peer pressure, but as car people we know it as just another Saturday night. On such a Saturday night, Keegan Hollister's friends managed to convince him that buying a dirt bike – with its motor in three buckets' worth of pieces – was a good idea.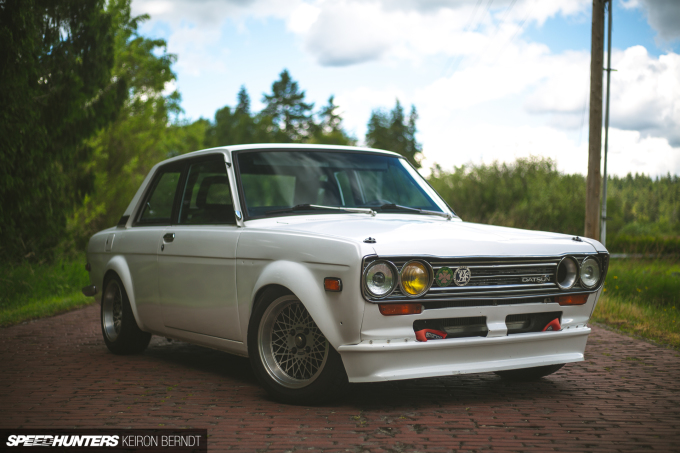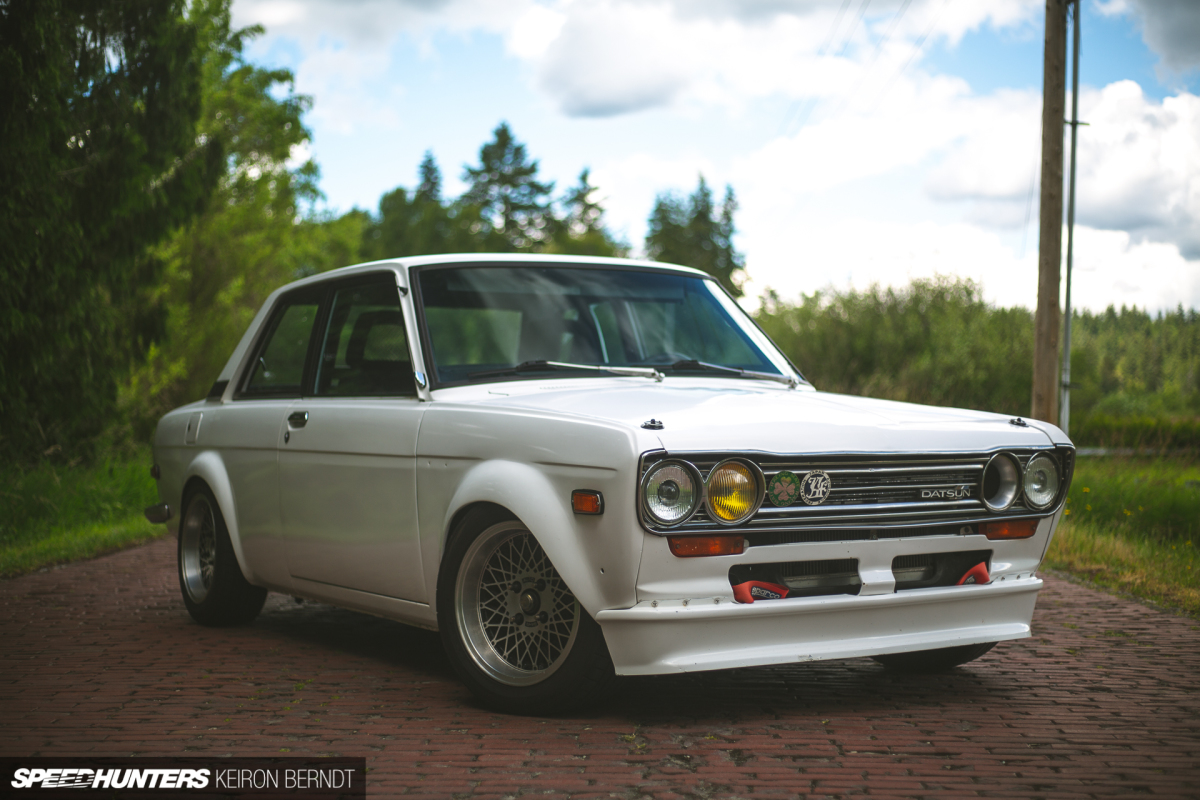 This was a trick of course, his friends knew he would wind up one of us. If this story sounds a little familiar, years later Keegan would pull a similar slick move on his friend Josh Wilson in order to introduce him to car life. Turnabout is fair play, no?
Often those who enter the world of motorsport on two wheels don't switch back to four. This would have been true if Keegan had not had a less than alert 'cager' remind him that riding a motorcycle in a densely populated urban area is a risky endeavour.
With motorcycles off the table for the time being, shortly after graduating as a mechanical engineer, Keegan built an STI as a daily/fun toy. A shifter kart soon followed, and though he did manage to hoist the go kart on top of the STI a few times, it was a little precarious. So in the sake of practicality, Keegan picked up a Toyota Tacoma as a daily driver and toy hauler.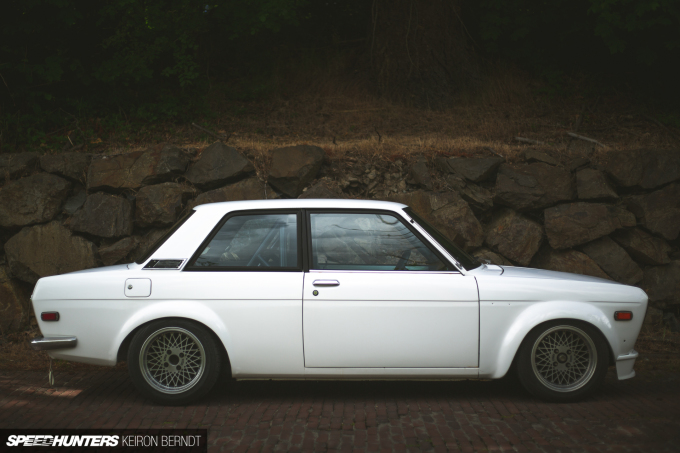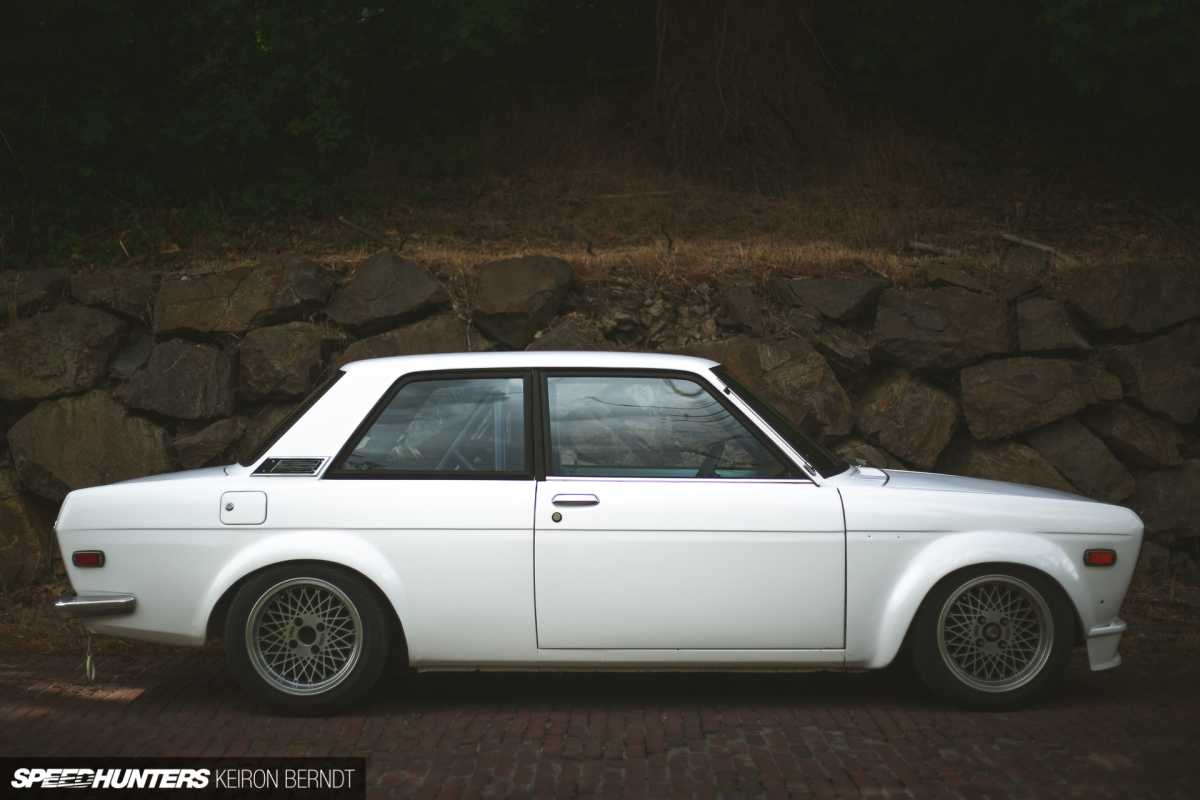 While building his collection of petrol-powered toys, Keegan's group of friends (the same ones that got him into this mess) were changing their cars as well. By coincidence, or divine intervention, the group all gradually gravitated toward the Nissan/Datsun marque. With a reliable daily now in the stable, along with a few other smaller scale builds completed, Keegan felt the time was right to get something new.
Racing Pedigree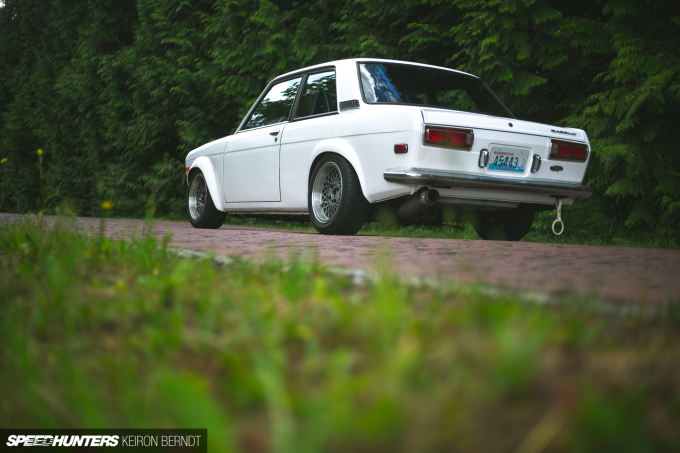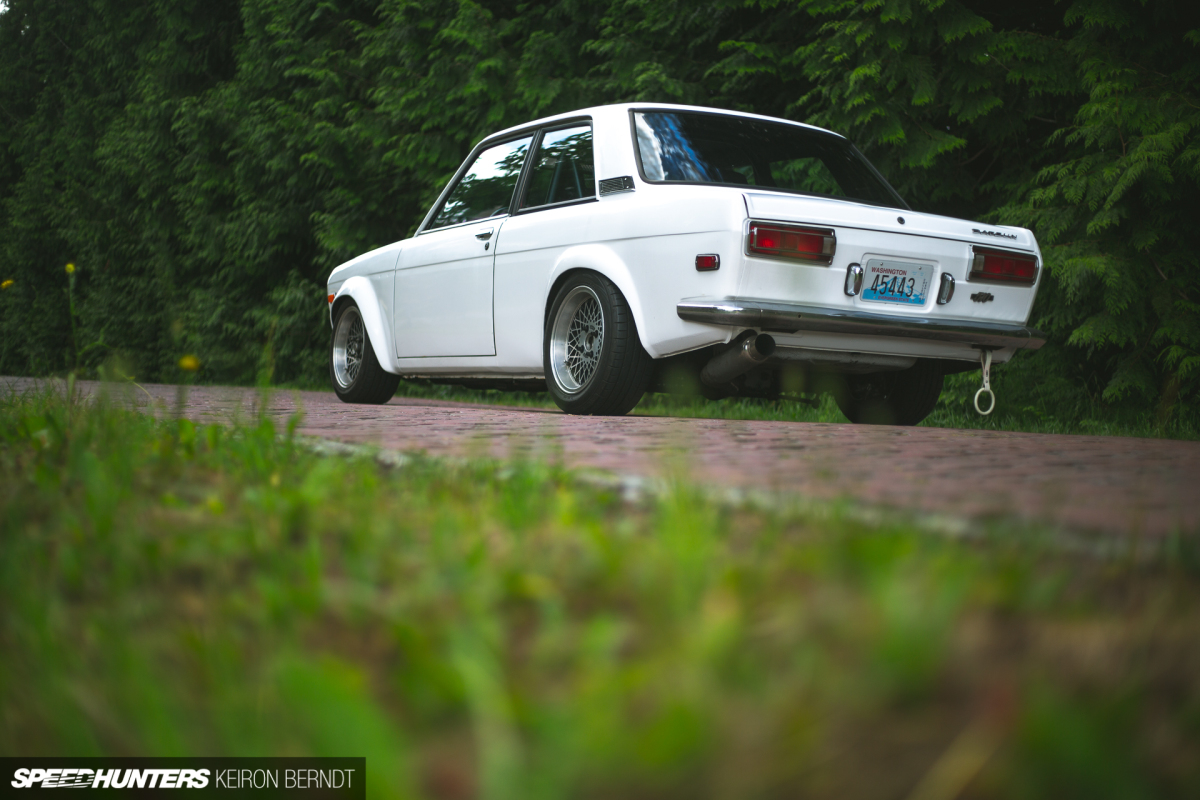 Keegan's Datsun 510 was already in his social circle before ending up in his garage. His friend Dallas was the car's second owner, but he didn't put a single mile on the odometer. Dallas purchased the 510 in a non-running state through an estate sale; the original owner had modified the car for light track duty and during one spirited adventure ran out of manoeuvrable space and put the car into something immovable.
Sadly, the owner was never able to get the car back together before life got in the way and he ultimately passed away. Several projects deep himself, Dallas only managed to pull the car straight before he relegated it to simmering on the back burner.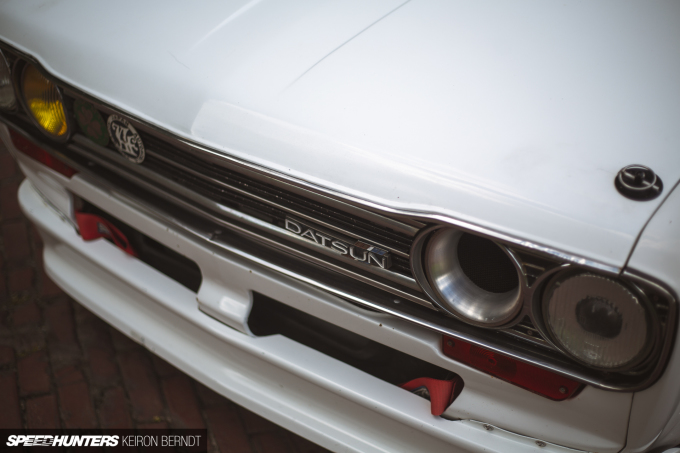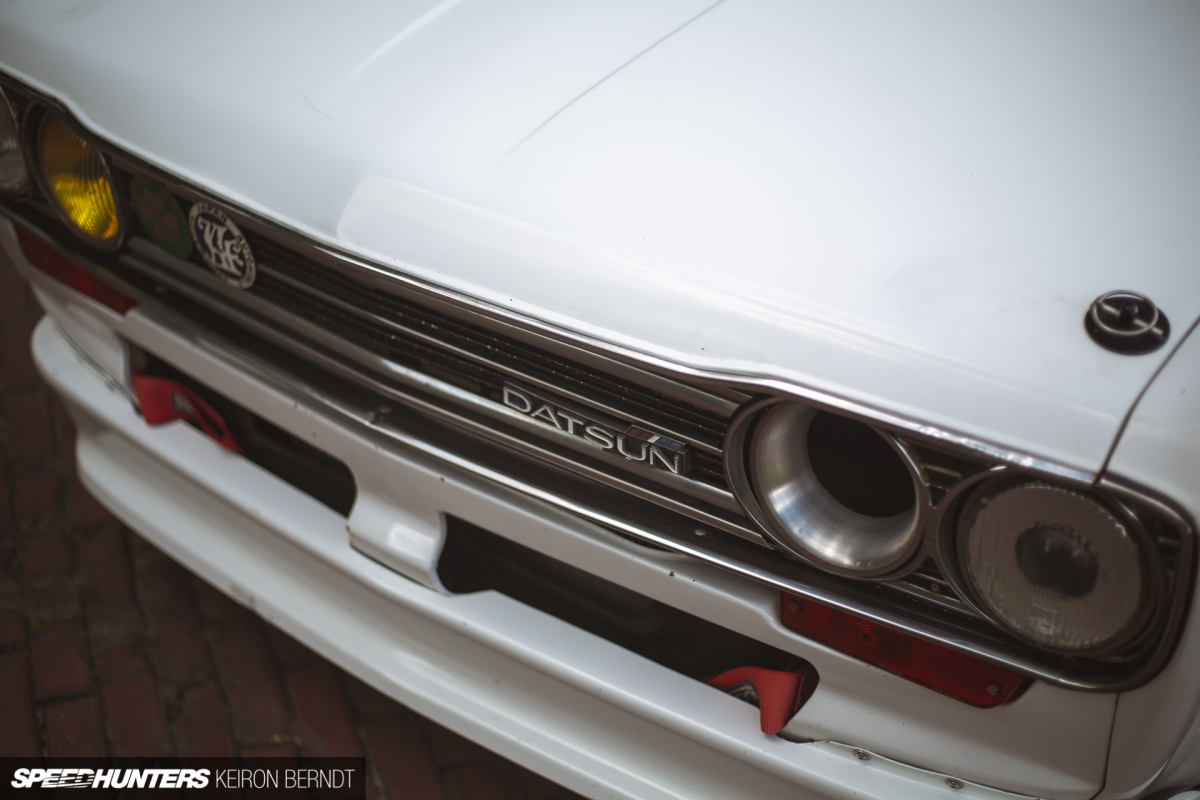 Enter Keegan who, eight years after Dallas got the car, brought it home with every intent of getting it back on the road.
The Same, But Better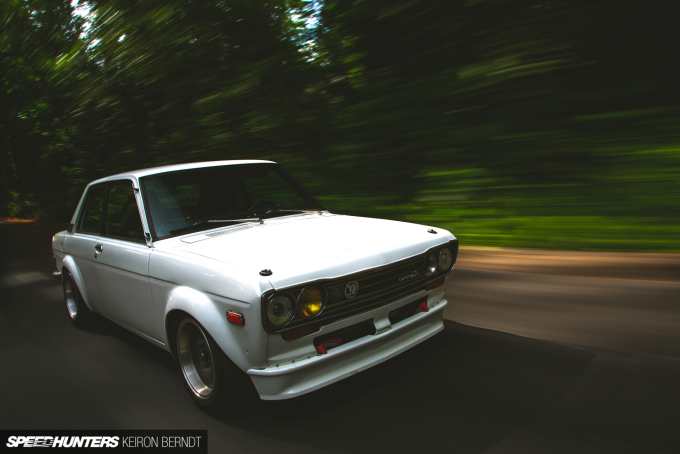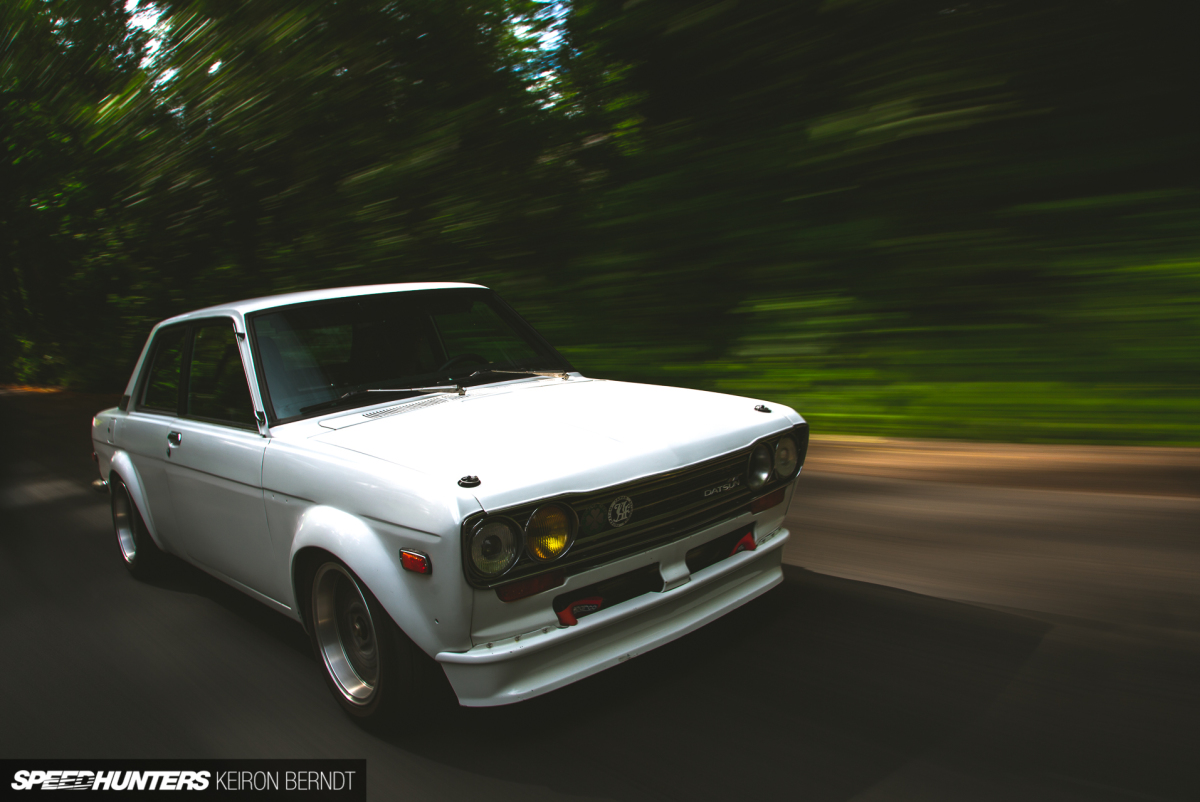 Having been garage kept for so long, despite the accident the car was in excellent shape. "It had some body damage, but was largely rust-free which is rare for a 510," says Keegan when asked about the car's overall condition, pre-rebuild.
Inside the car, Keegan also found the original owner's racing log book. Based on the last log and the safety tag on the racing buckets, he was able to determine the car last saw competition in the mid-1980s.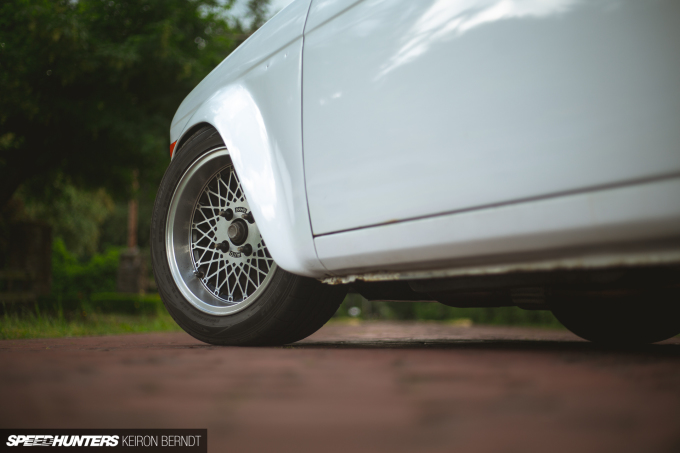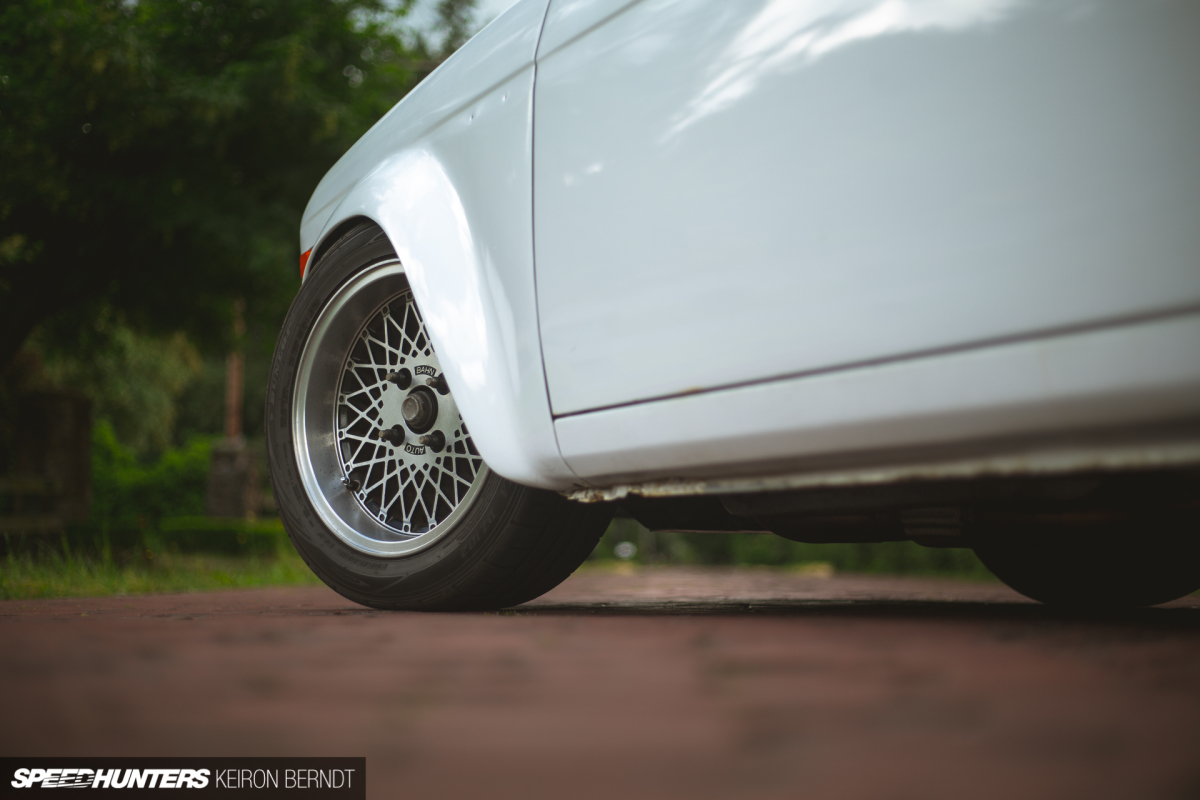 Outside of a color change, the Datsun is very similar to its mid-'80s self. The vintage Dobi front air dam only need a bit of refurbishing, and the BRE flares added by the original owner are something that will never go out of style. Keeping things period correct, Keegan chose a set of Weds Autobahn 15×7-inch +10 wheels.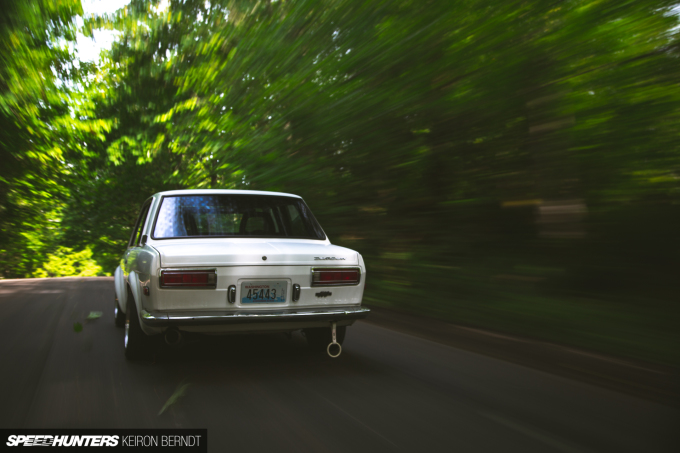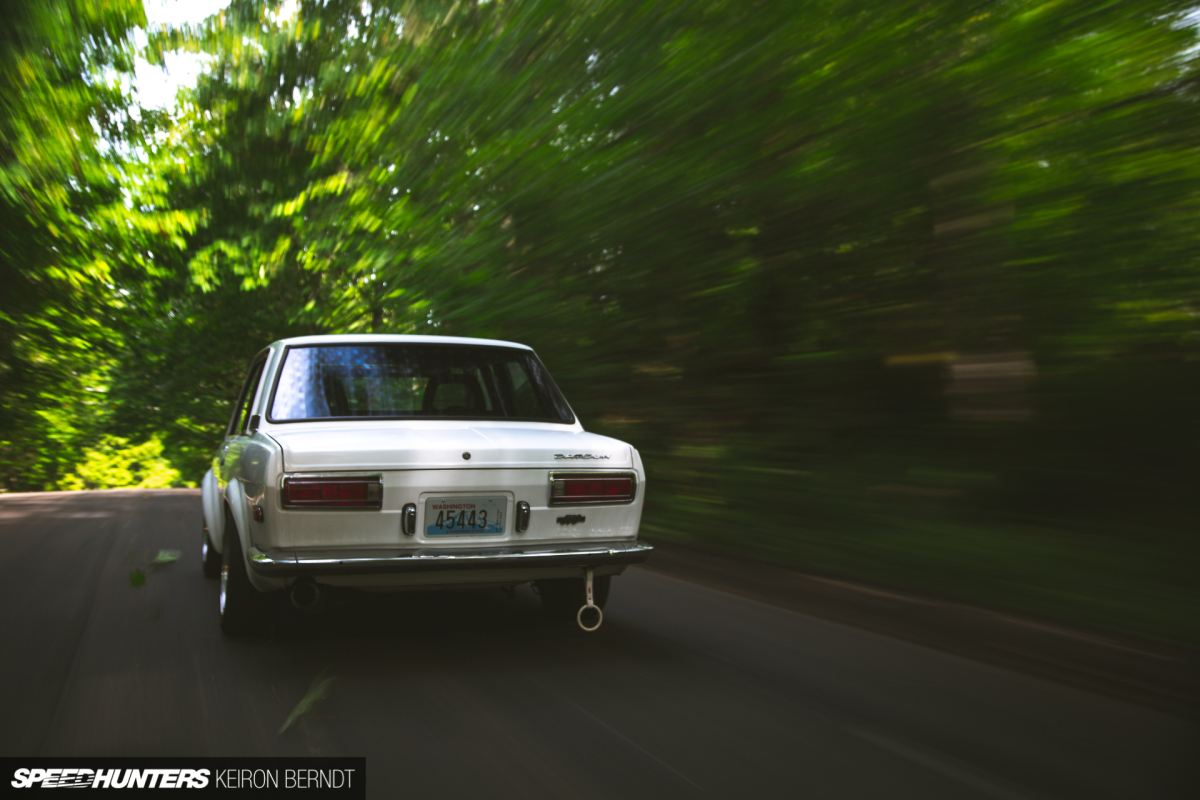 The minimal exterior modification list is partially because of the slim three-month deadline that Keegan originally set to get the car on the road, and partially because it looks so good as is. He admits that he's not completely happy with the paint and bodywork, but the focus of this car is, and forever will be, driving over showing. So, Keegan's in no rush to take the car back to the panel beaters.
Leveling Up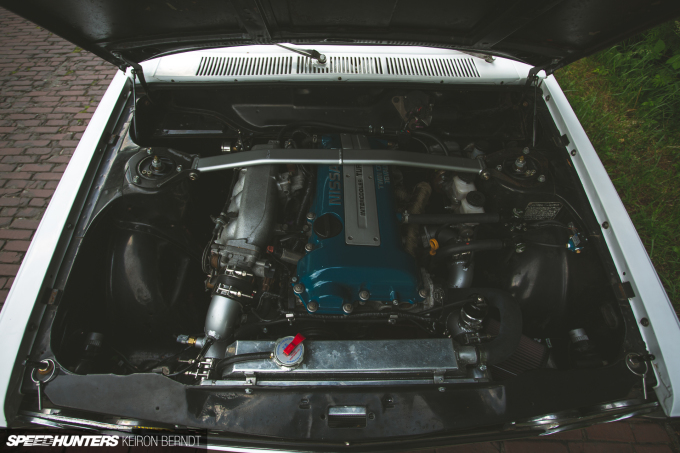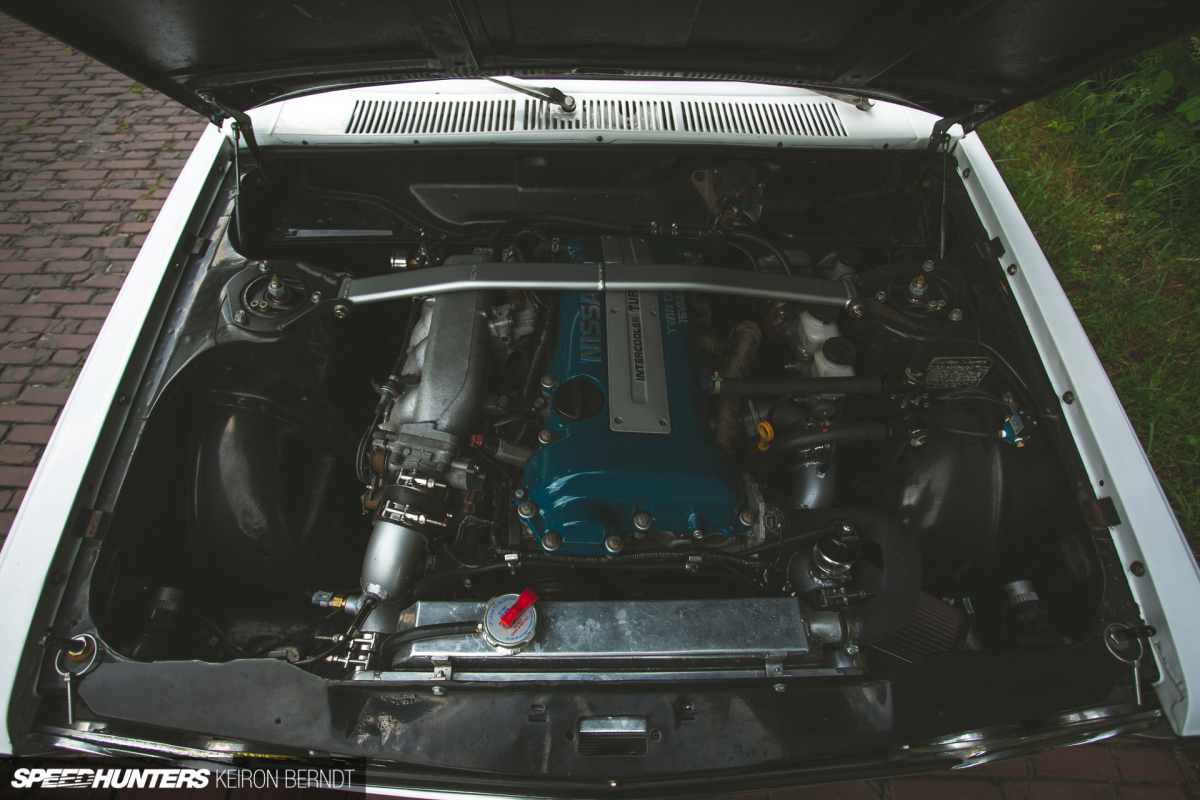 When Keegan purchased the car it had an L18 motor under the hood, the same one it was previously tracked with. That motor eventually gave up the ghost, so it was sold to friend and a larger, rebuilt L20 found its way into the Datsun. The same friend he sold the L18 to rebuilt it and slapped on a budget blow-through turbo system, and the next time the guys met, Keegan's car was blown into the dust.
Disappointed, yet motivated, Keegan decided to step things up by going down the SR20DET route.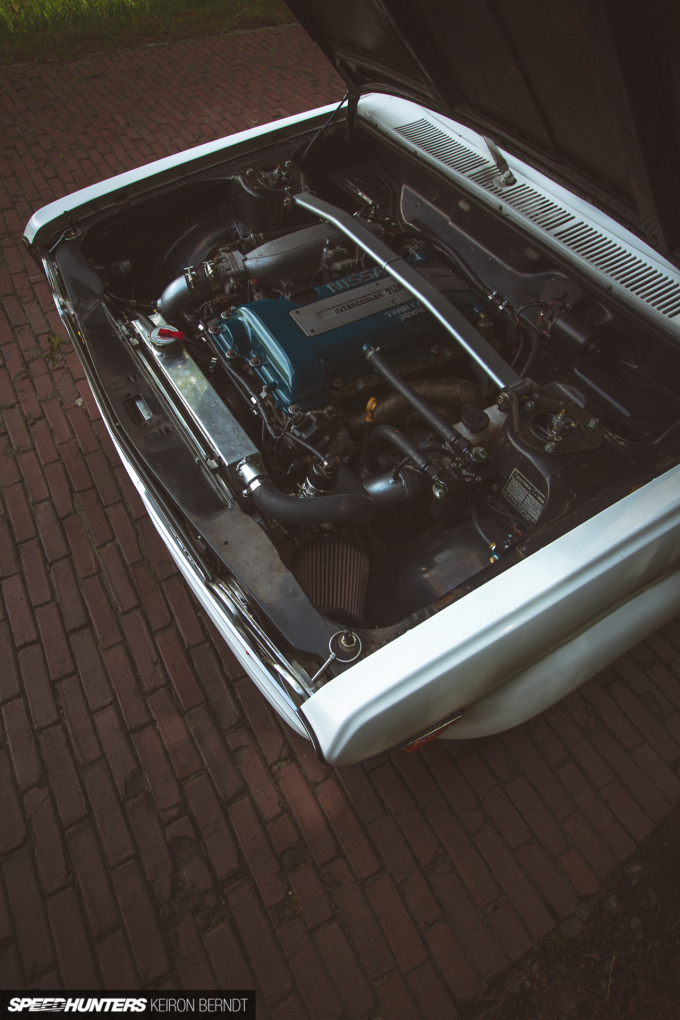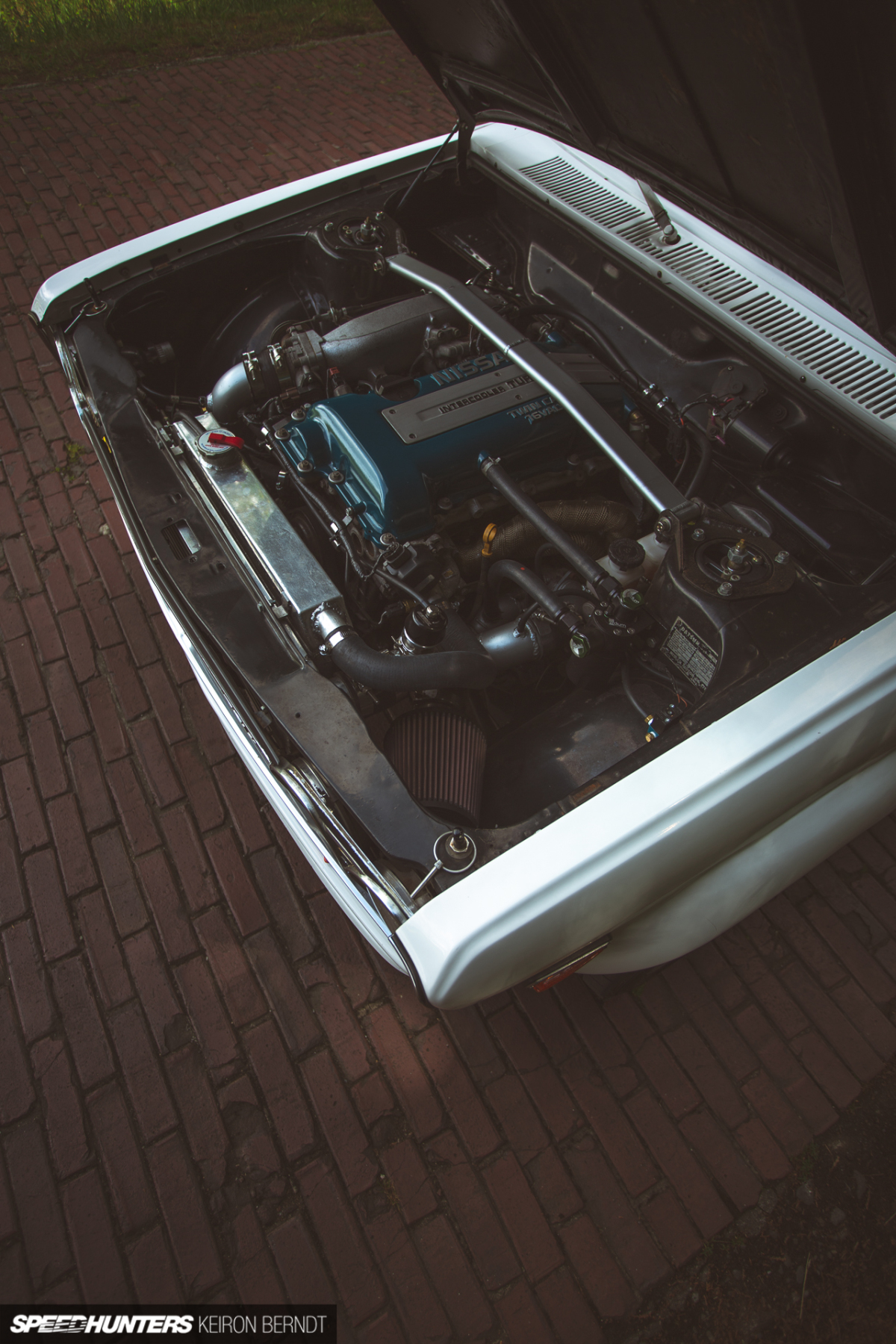 Like the chassis, this particular SR20 has a bit of a history. After coming from Japan, the engine sat unused in British Columbia before eventually crossing the border into the United States. Stateside, it changed hands two more times, but was still never fired up.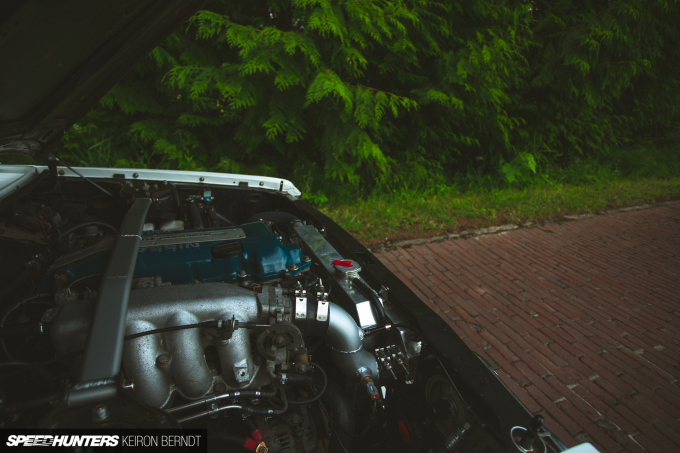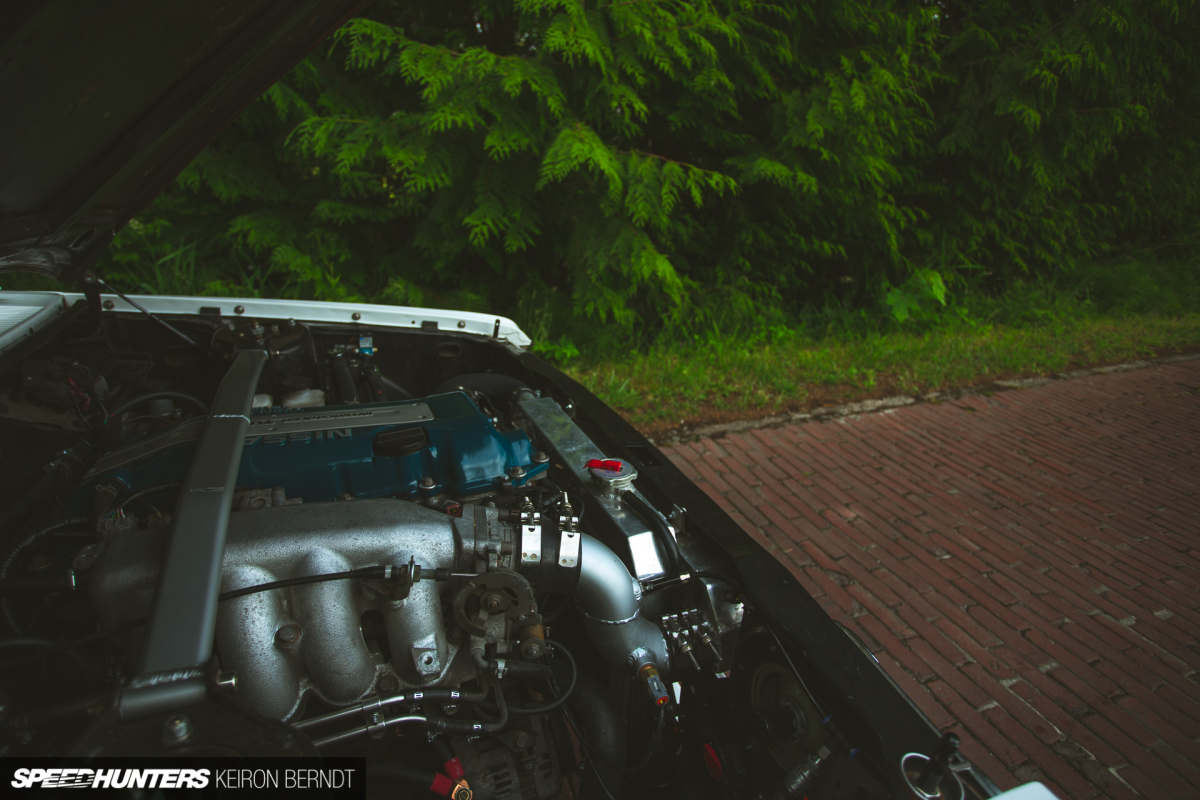 At purchase, Keegan was a little skeptical that a motor passed up on so many times was actually a strong runner. A compression and leak-down test confirmed that, on paper at least, it was in good shape, and with the price being right it was worth taking a chance on.
With a Tomei header, outlet pipe, custom three-inch exhaust, and a rewire courtesy of Keegan's friend Josh, the SR20 finally fired up under the Datsun hood.
Keegan's leap of faith with the SR20 was wholly rewarded; there were no strange noises or leaks at start up, and to date the engine is humming happily along.
Fun Lays 'Round The Bend
In the end, the 2.0-liter turbo engine, as now controlled by a Link G4 engine management system, allowed Keegan to show his friend his tail lights on their next encounter. So, at least for the time being he has the leg up.
Reliability and drivability were top of mind with this project, so to that end no corners were cut in the cooling department. A modified Champion radiator sits behind the grill working in tandem with three Spal fans, and below the grill Keegan has added a Mishimoto intercooler, tweaked ever so slightly for this application. For a final cooling effort, an AEM water/methanol injection kit has been installed.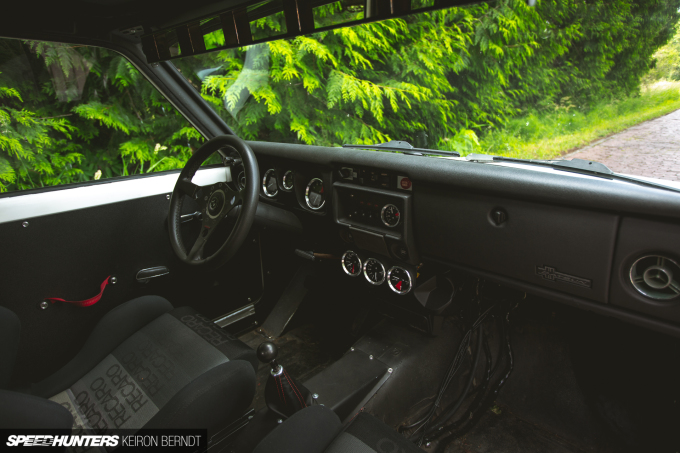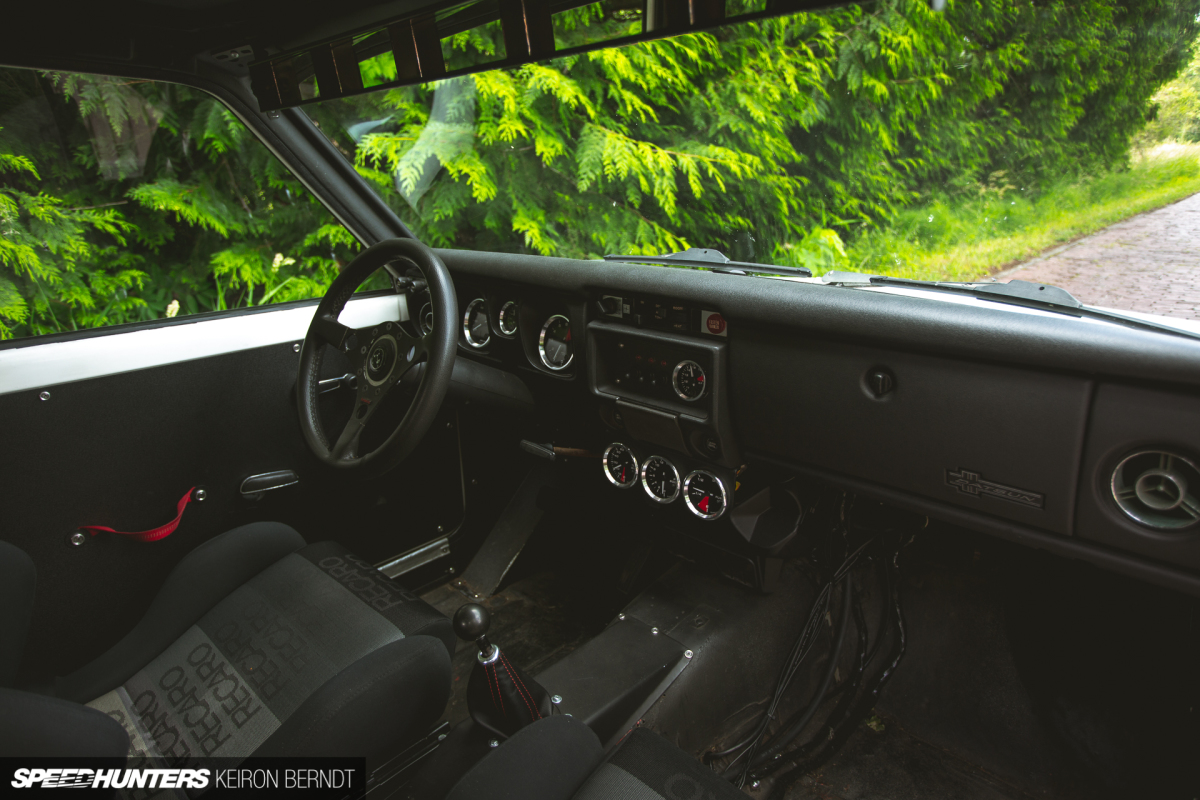 Inside the car, Keegan's interior is fairly sparse. A pair of Recaro LX seats sit on Sparco sliders, and Schroth Rallye 4 ASM belts keep the occupants in place. Speedhut gauges feature in the dash along with a Innovate LC-2 wide-band controller, and wrapping from one B-pillar to another is a vintage Autopower roll bar.
T3 aluminum door inserts, a wink mirror, and billet buttons for the methanol injection, launch controller, and starter round out the interior.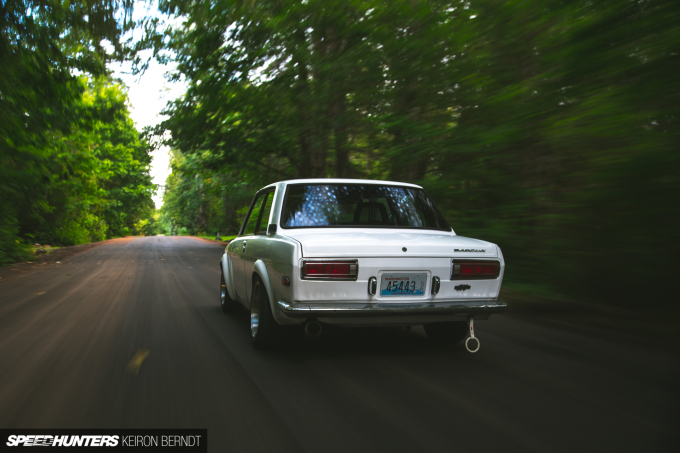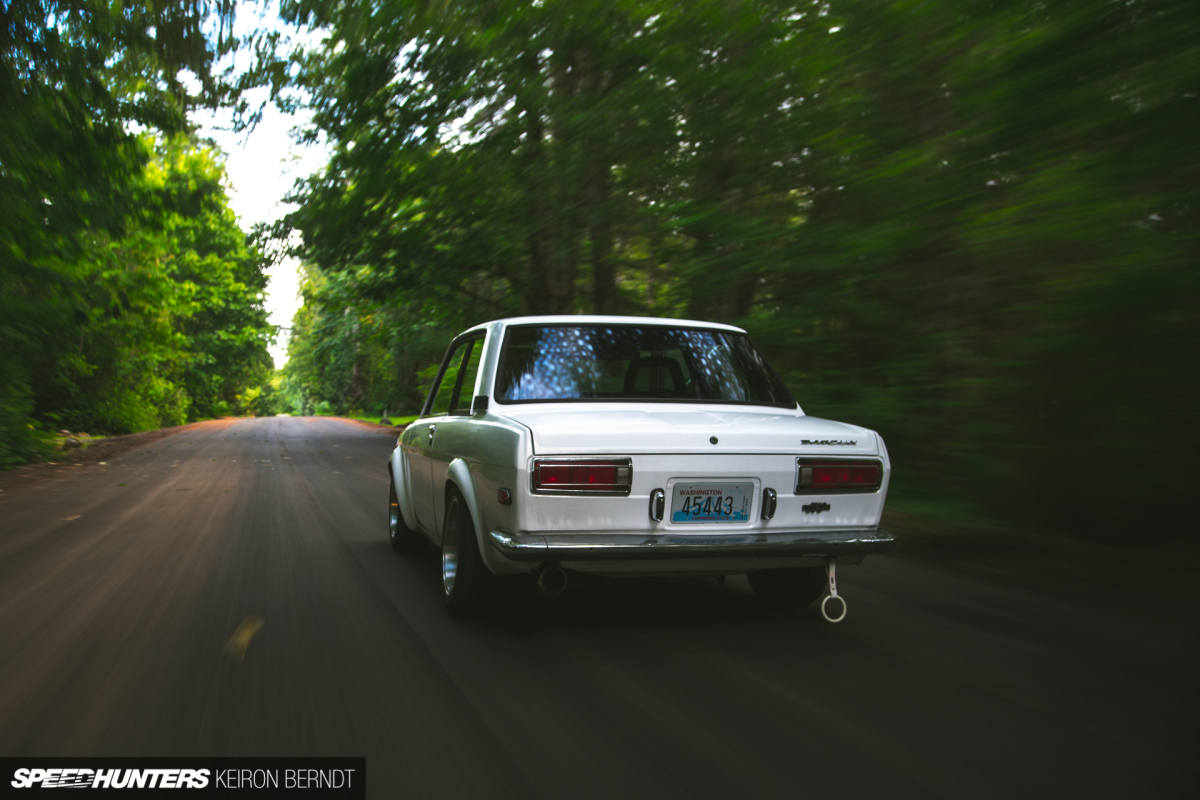 Keeping the car sorted through the bends are coilovers, '79 280ZX struts shortened and converted by Garage Autohero with Koni race inserts and matching Eibach springs up front, and QA1 shocks with Eibach springs in the back.
Polyurethane bushes have been installed in every area that would accept them, and a custom rear sway bar has been added. The rear end was brought up to spec with a 2004 Subaru STI rear diff and T3 STI stub shafts.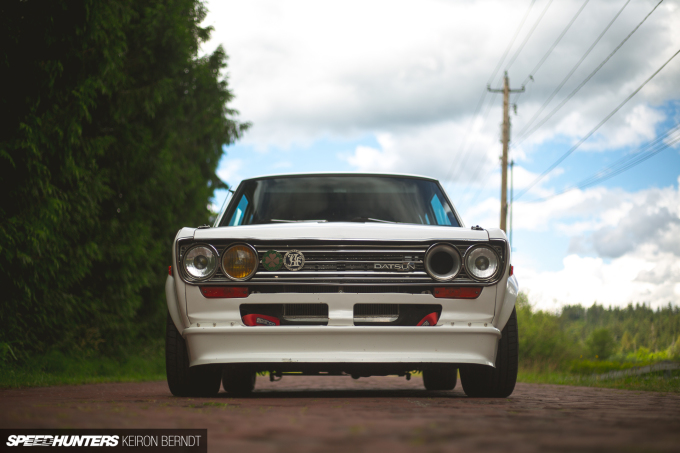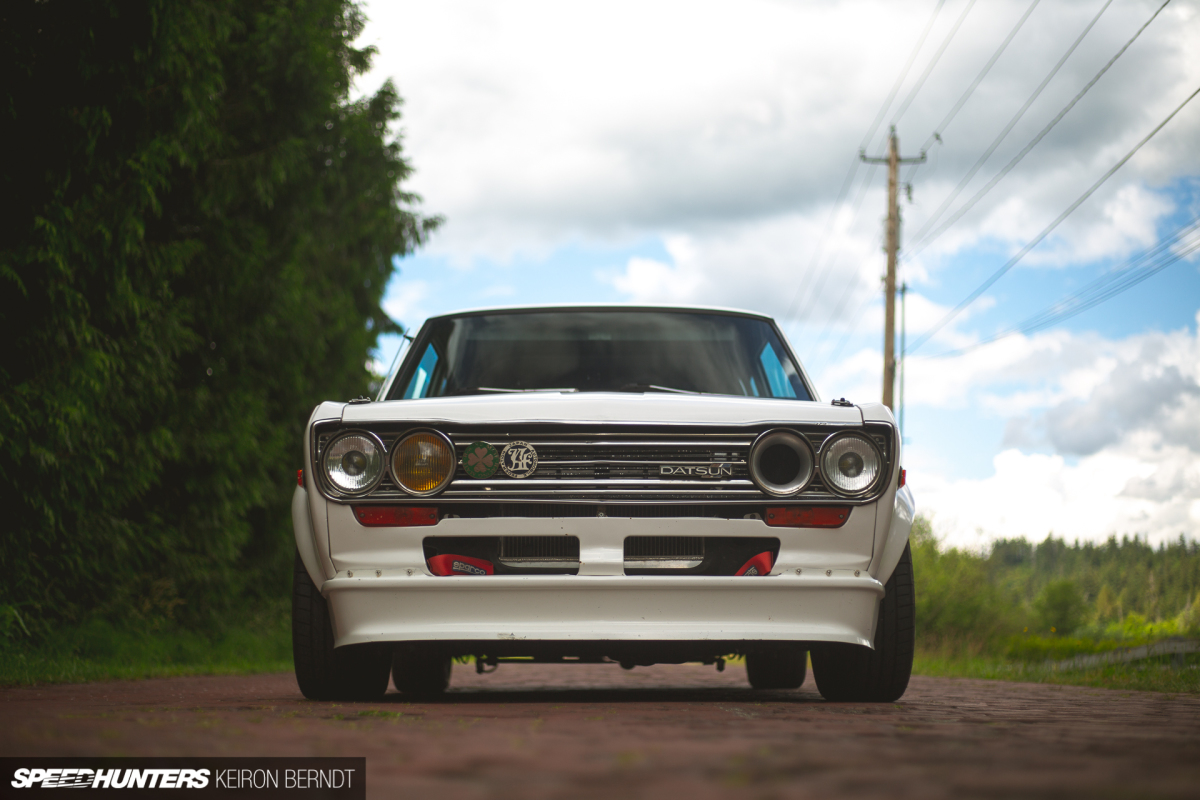 With looks, interior, power, handing all safely squared away, the last piece of the puzzle was a suitable brake set up. 280ZX calipers and rotors are used up front, with 1986 Maxima calipers in the rear. An upgraded 7/8-inch master cylinder and B210 brake booster keep pedal feel consistent.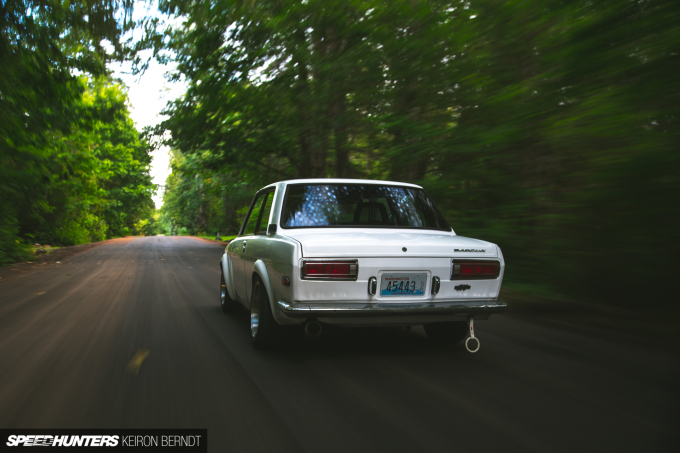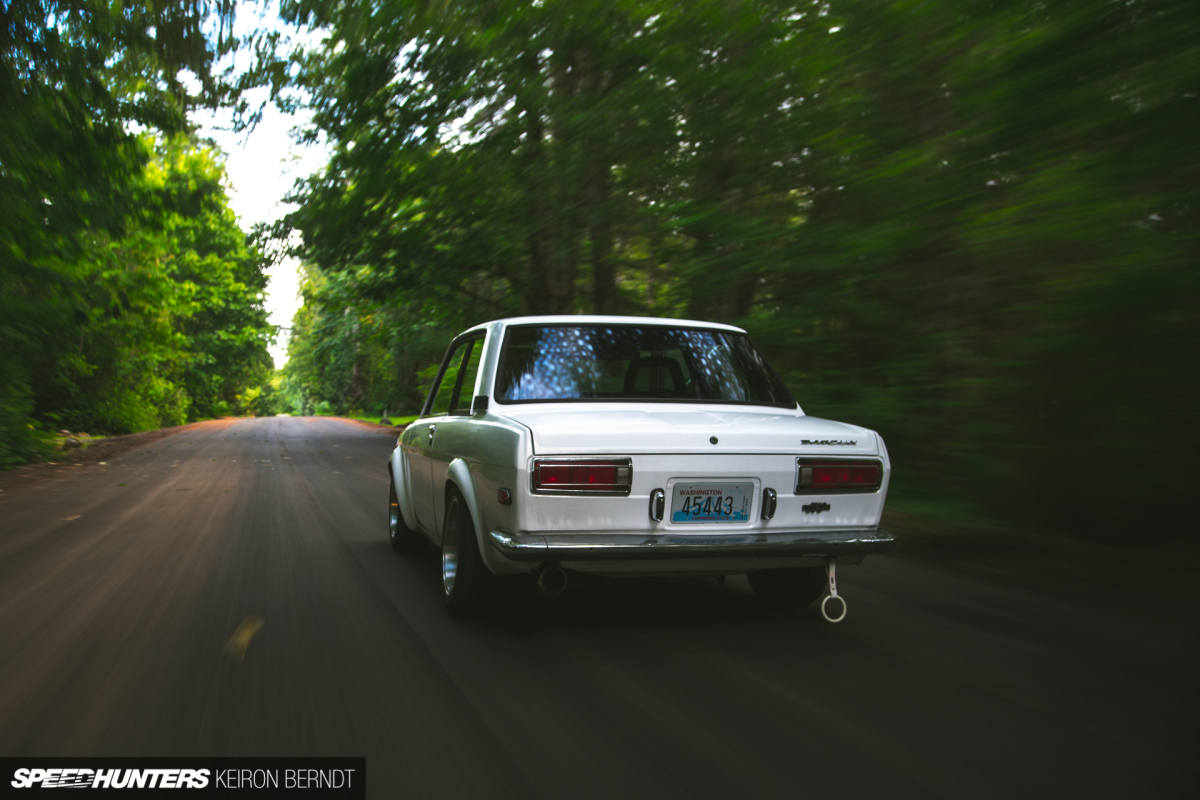 With race car roots, Keegan has every intention of bringing the car back to the track, though he hasn't done it quite yet. But with no immediate plans to part ways with the 510, after some more shakedown it's game on.
I have a sneaking suspicion the car will hit the track around the same time Keegan's friends Josh, Dallas, Kevin and Rob have their cars ready. Healthy competition among friends is a good thing, right? After all, they started it…
In all seriousness, Keegan thanks Josh Wilson, Dallas Wilson, Kevin Compton-Drake, Rob Jaques and Garage Autohero for all their help with the build.
Dave Thomas
Instagram: stanceiseverythingcom
Photographed by Keiron Berndt
Instagram: @keiron_berndt
Keiron Berndt Photography
Cutting Room Floor