"Every car I've owned has been lowered as far as possible."
With those few words, I knew that Connor Surdi and myself were of similar mind. Appreciating a car lowered well past functional benefit is squarely within my wheel house.
Hailing from Seattle, Connor Surdi is a professional photographer who's part of the Sony Alpha Collective. By day he shoots for the Starbucks Reserve, a vocation that's about as 'Seattle' as it gets.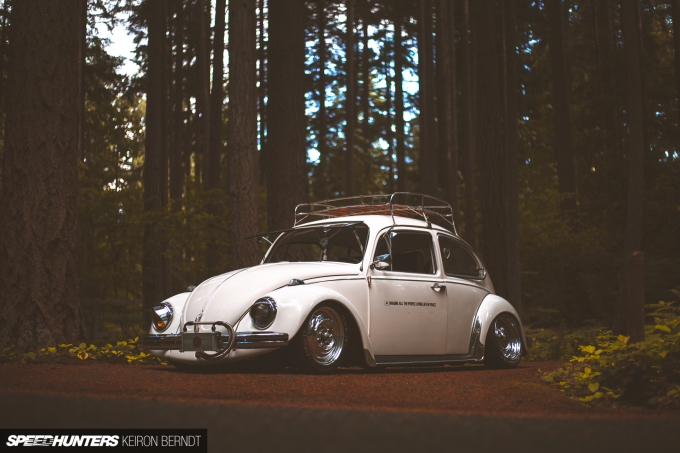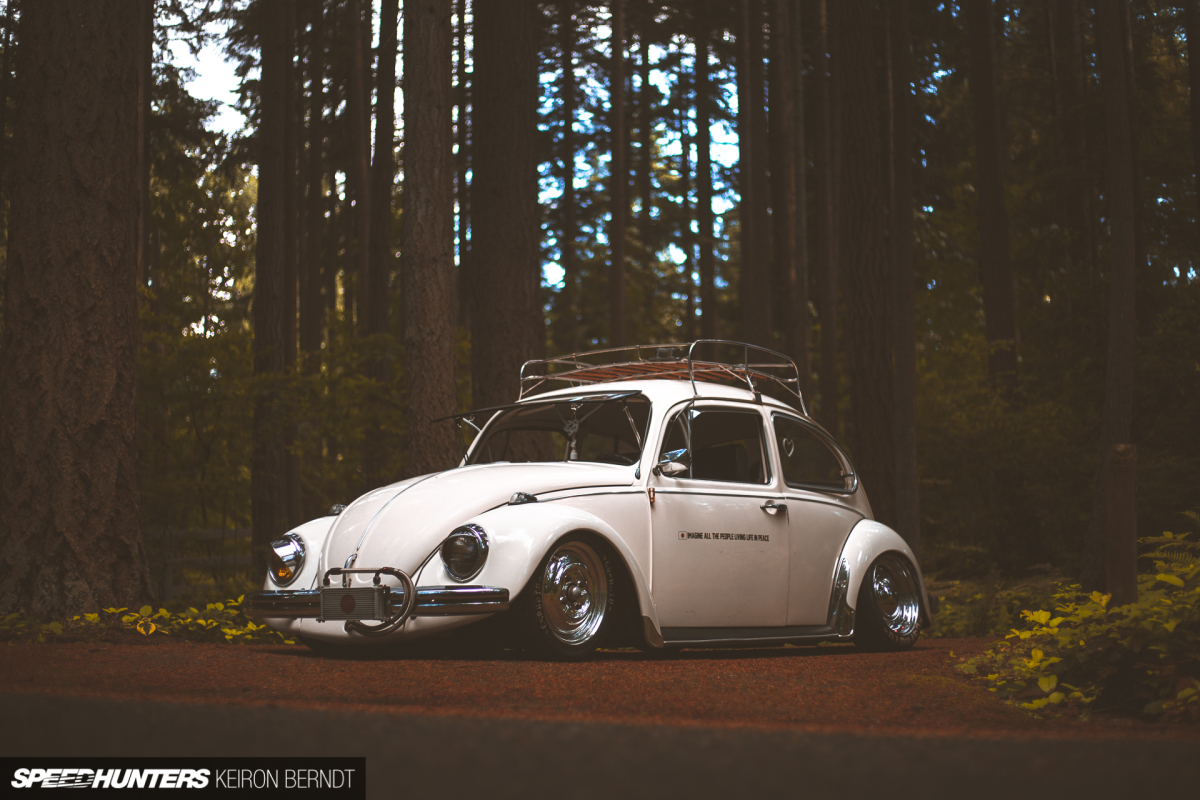 Off hours, Connor's interests have always circled back to a love of cars. Before picking up a camera for Starbucks, cars were his favorite photography subject. Many of the cars he photographed were of the same variety we typically feature here: exotics, show, race and drift machines.
Through the lens, and over 10 trips to Japan (including two extended stays), Connor developed a deep seated love for Japanese car culture. "They have always gone with their own style, no matter how crazy it is," he commented.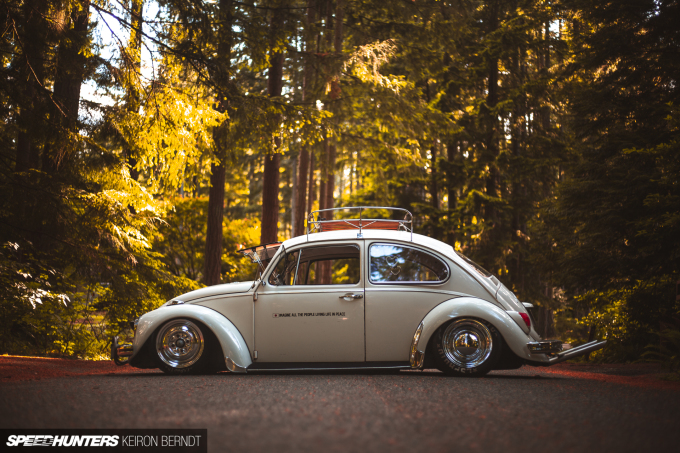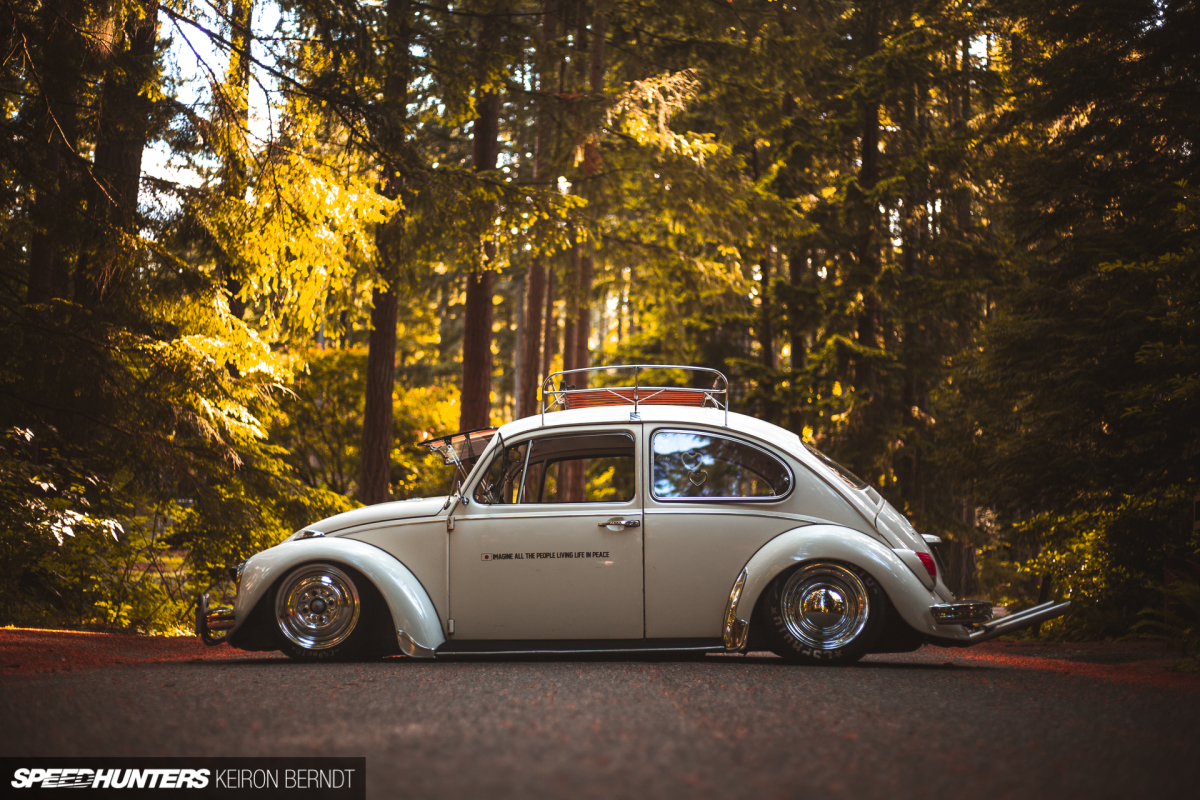 In the past Connor has always treated his vehicles as somewhat of a creative exercise. Being an artistic person he strives to create cars that are unique, yet tasteful. His Beetle is an exercise in bringing Japanese style to the classic Volkswagen Type 1 aesthetic.
The project has also been a great excuse for Connor to spend more time with his friends and family. As you can imagine his occupation keeps him fairly busy, so the Beetle has been a way for Connor to enjoy life literally, and figuratively, at a slower pace.
Picking A Canvas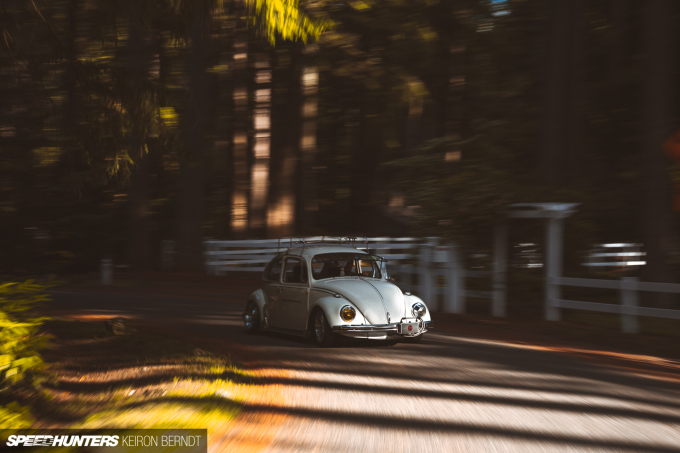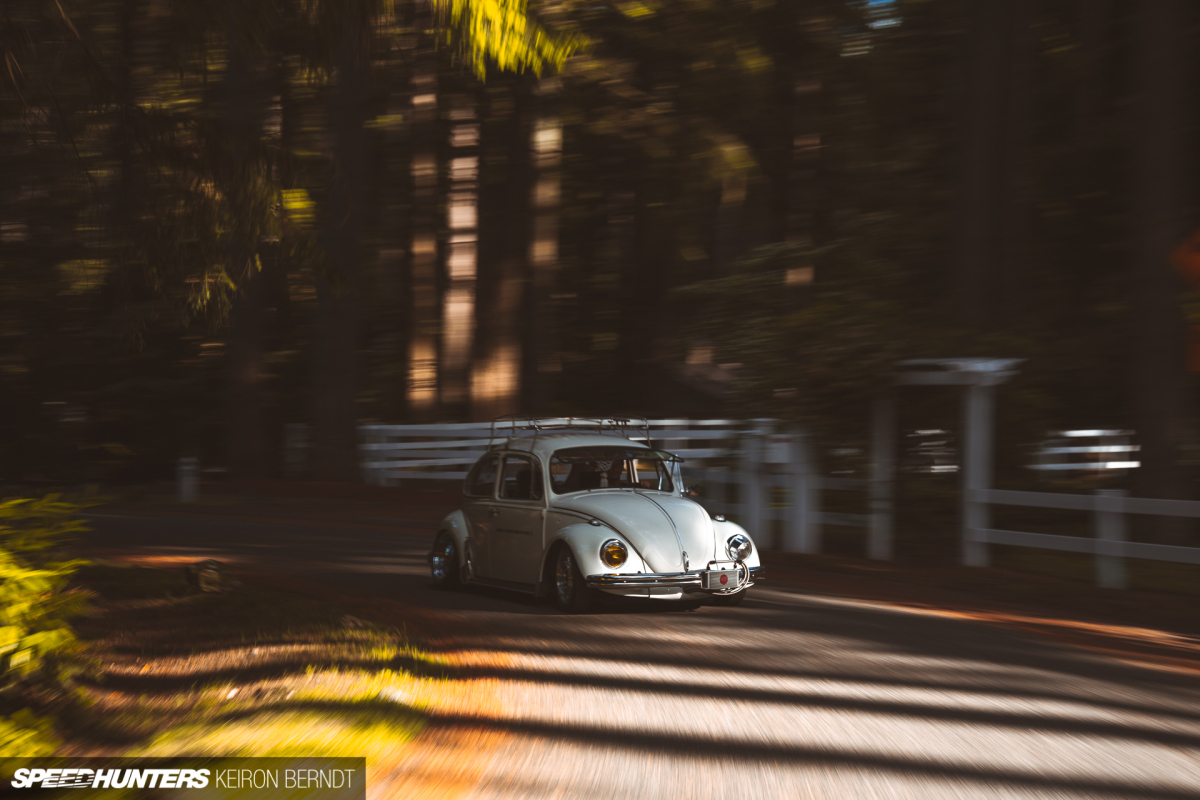 Growing up, Connor's father owned more than half dozen air-cooled Beetles. Being such a significant part of his childhood, it's no real surprise that Connor found himself drawn to the Type 1 as well. When Mr. Surdi found a one-owner '68 a day's drive from their house, he didn't have to twist Connor's arm much to make the trip.
Conveniently the car was located near Connor's grandmother, and after collecting her on the way, father, son, and grandmother all agreed at first sight that the Beetle had to be brought home.
For a 50-year-old car the white Volkswagen was exceptionally well kept. The undercarriage of Connor's previous cars all payed the price of a permanently low ride height, so in hopes of persevering the pristine Beetle pan he's crossed the battle lines from static to air here.
Instead of bags Connor's Beetle uses air shocks along with a small tank and a single compressor. Managed by feel and a set of manual paddle valves, the amount of lift the car gets isn't insane, but it's enough to prevent high-siding on things like speed bumps and driveway entrances.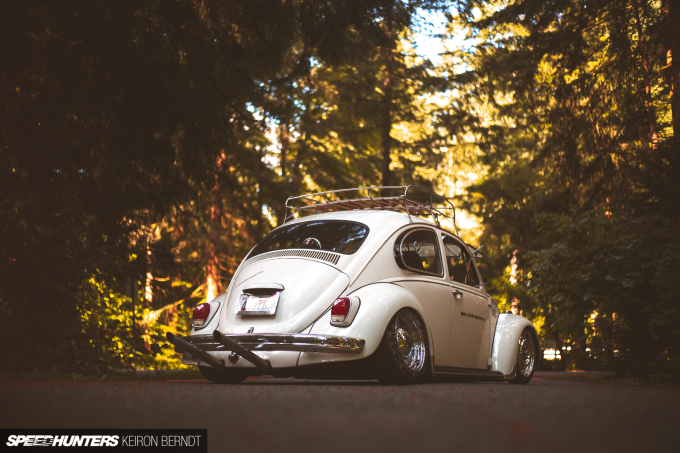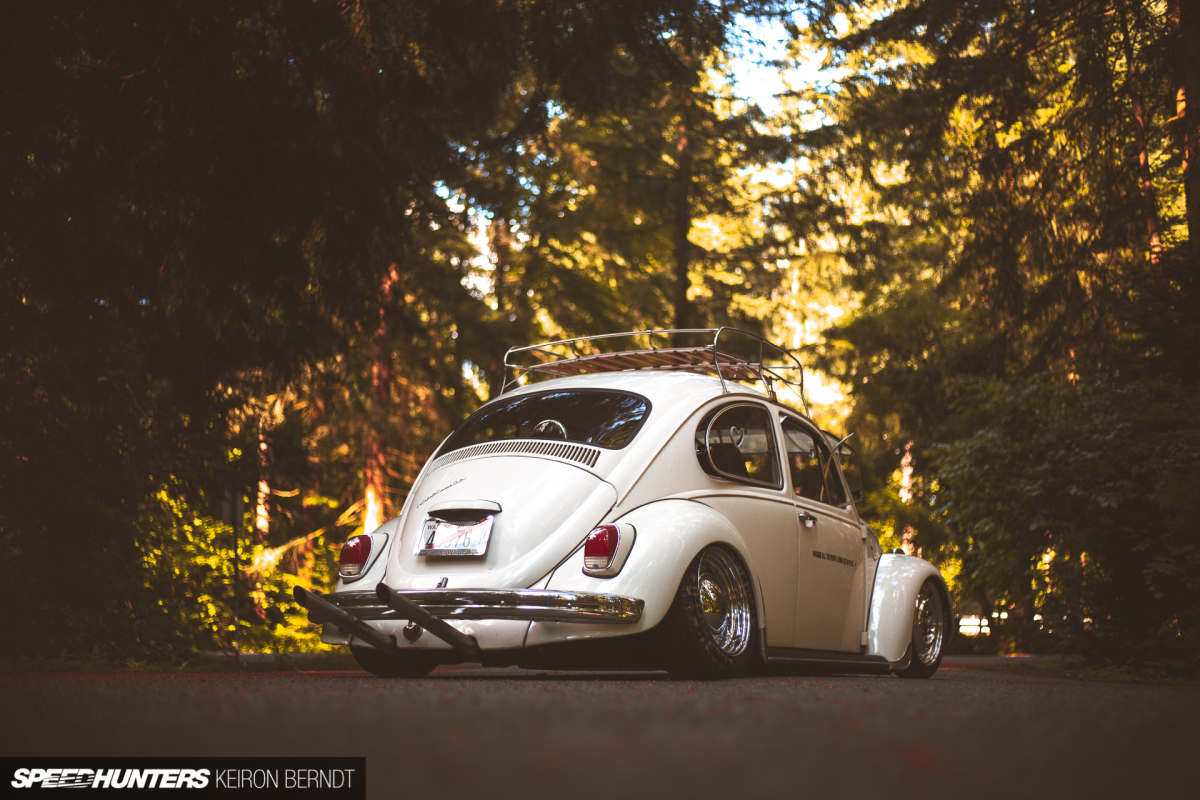 That said, Connor doesn't drive the car much higher than you see it in the photos. Despite best efforts, some old habits die hard.
Steel wheels are hard to beat on a Beetle so Connor didn't break the mold here, opting for a simple set of staggered chromes shod in white-lettered rubber. Connor forwent the dog dish caps up front for a bit of a visual distinction front to rear.
Painting Outside The Lines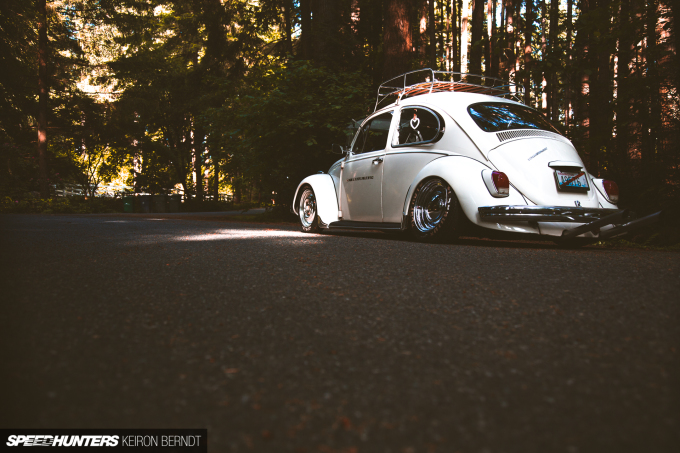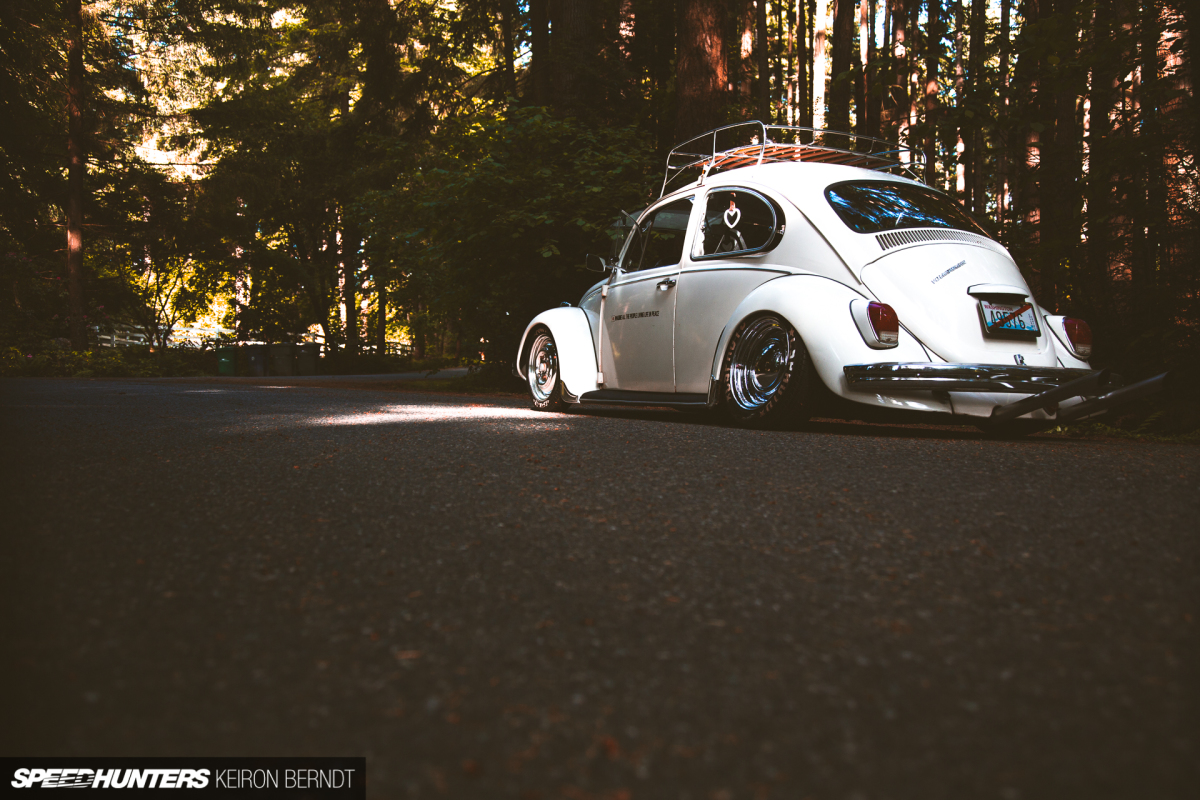 Peppered throughout Connor's Beetle are various nods to the creative influential forces behind this car. In particular, Connor has incorporated a few of the 'couldn't care less what you think' styling methods Japanese enthusiasts are known for.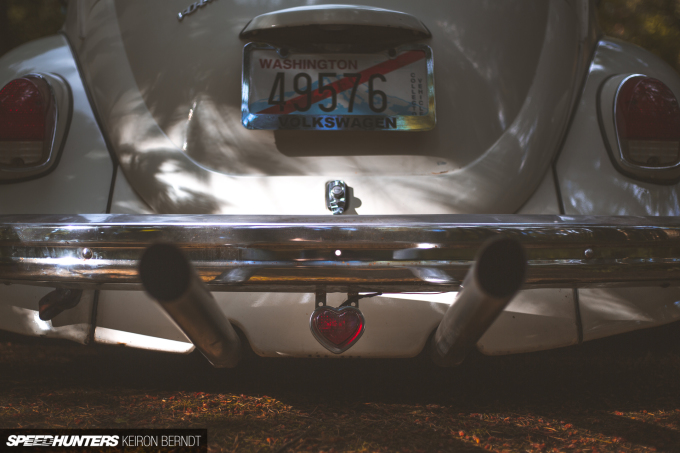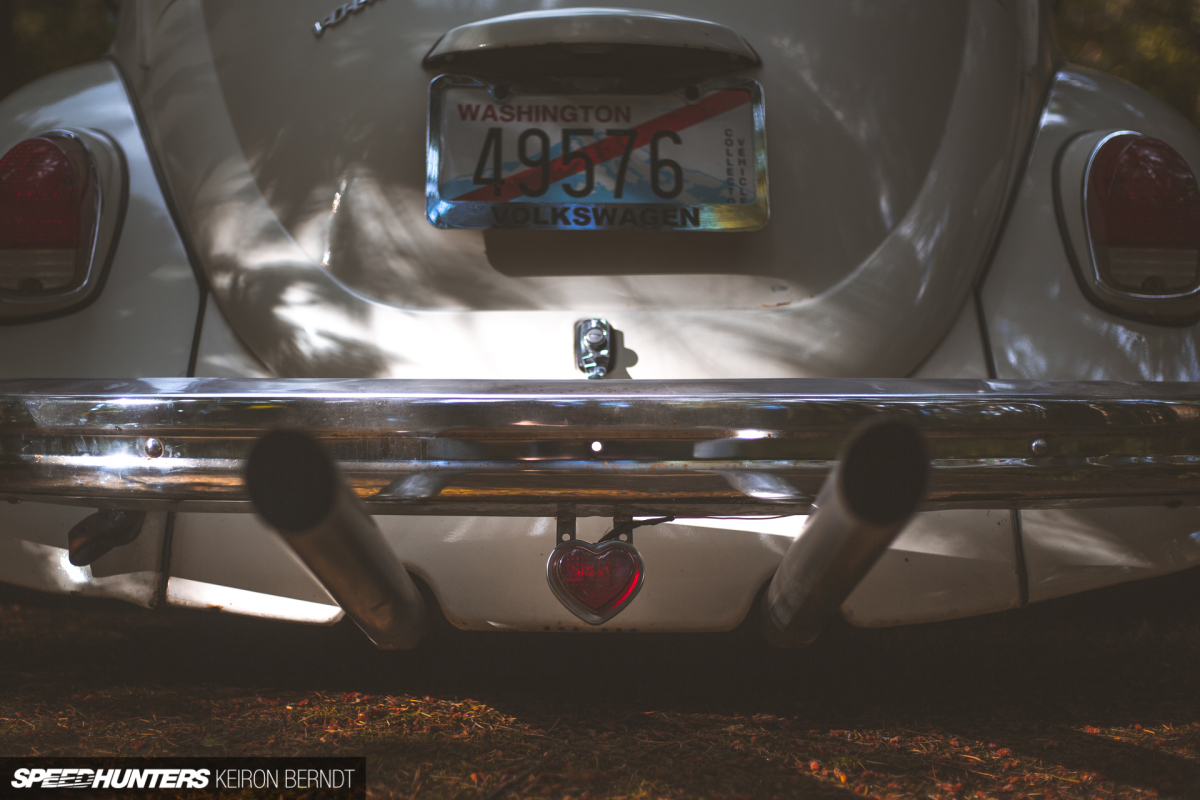 The red slash plates are a clear hat tip towards the Land of the Rising Sun, as are the lengthy pipes built by his friend Christian.
As they extend quite a bit past the rear bumper, I asked Connor if he'd ever racked his shins off the upturned pipes. His answer was a simple "not yet."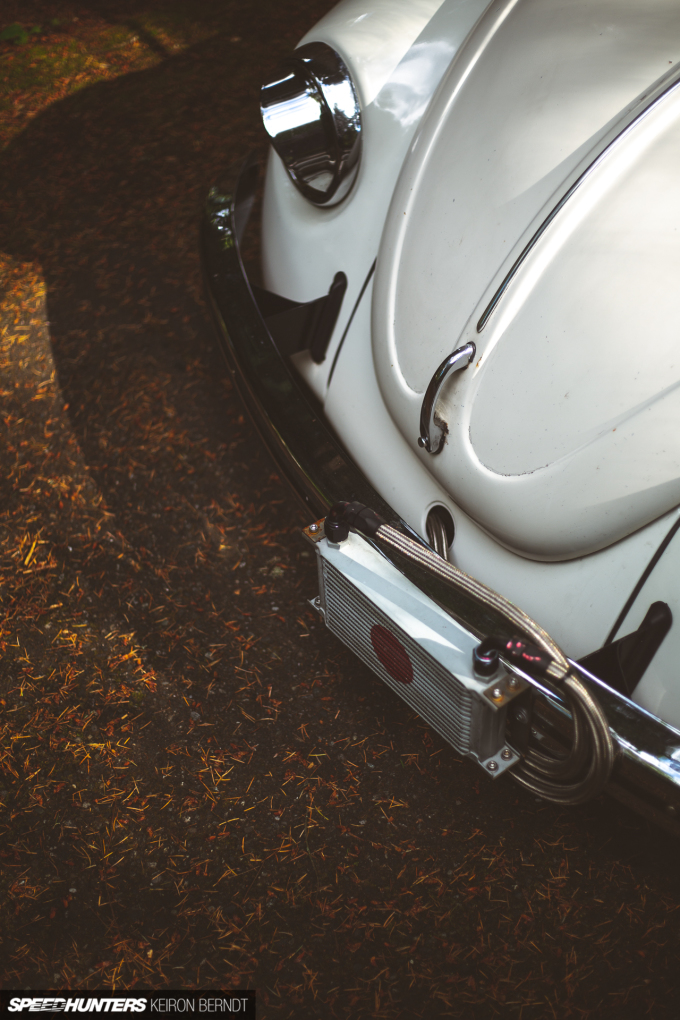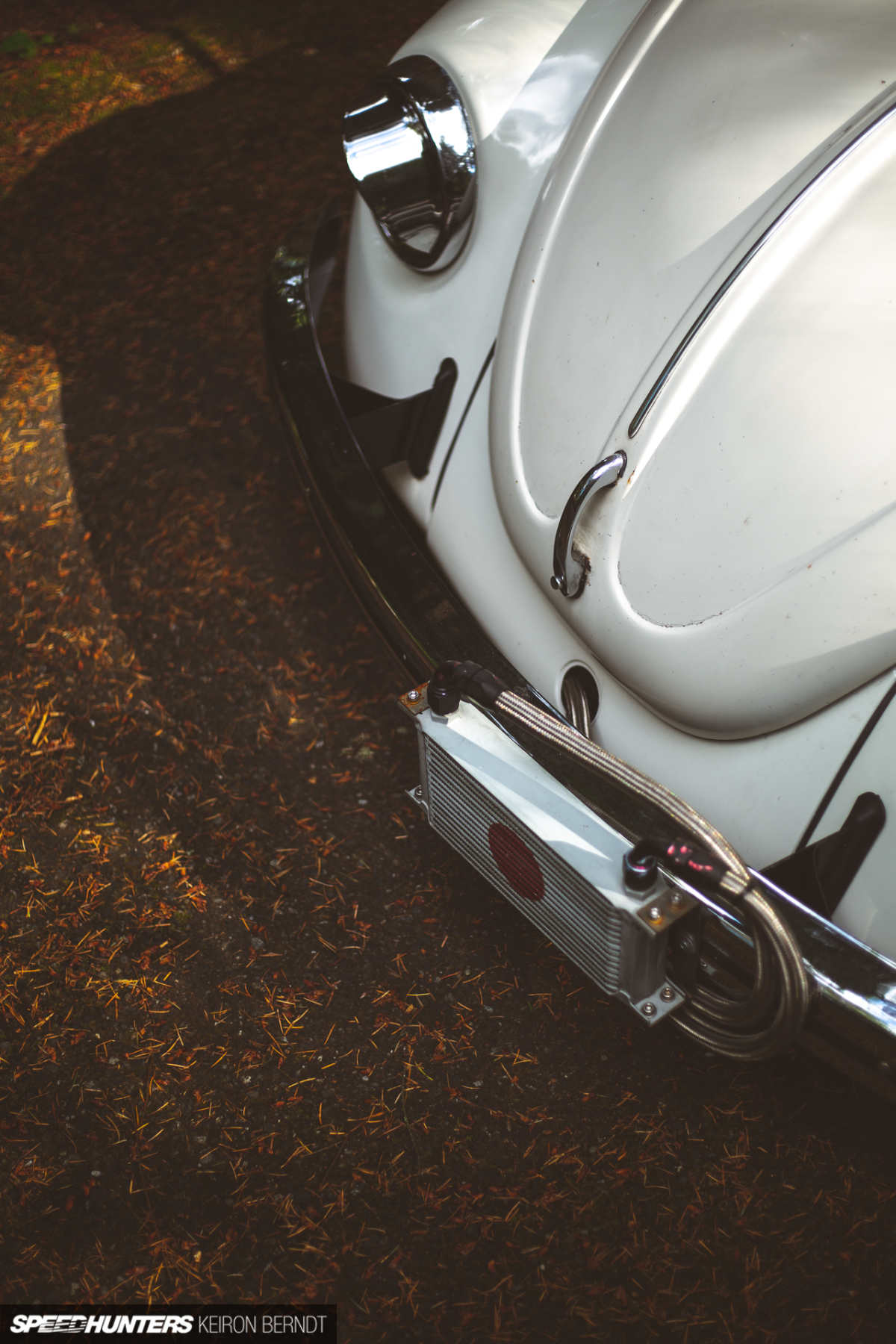 Up front, a final nod to bosozoku culture is the externally mounted oil cooler. As you may have guessed, it's not functional – running lines to the rear would be silly and hazardous – but as a visual element it works surprisingly well.
On the roof classic Beetle styling rings true with a polished roof rack accented with teak slats.
Signing The Bottom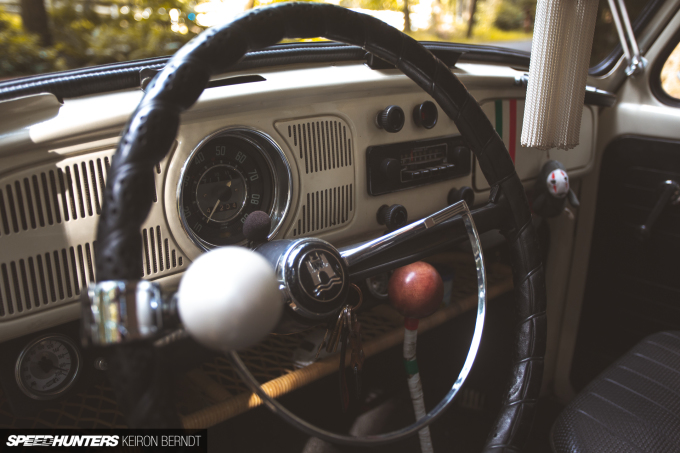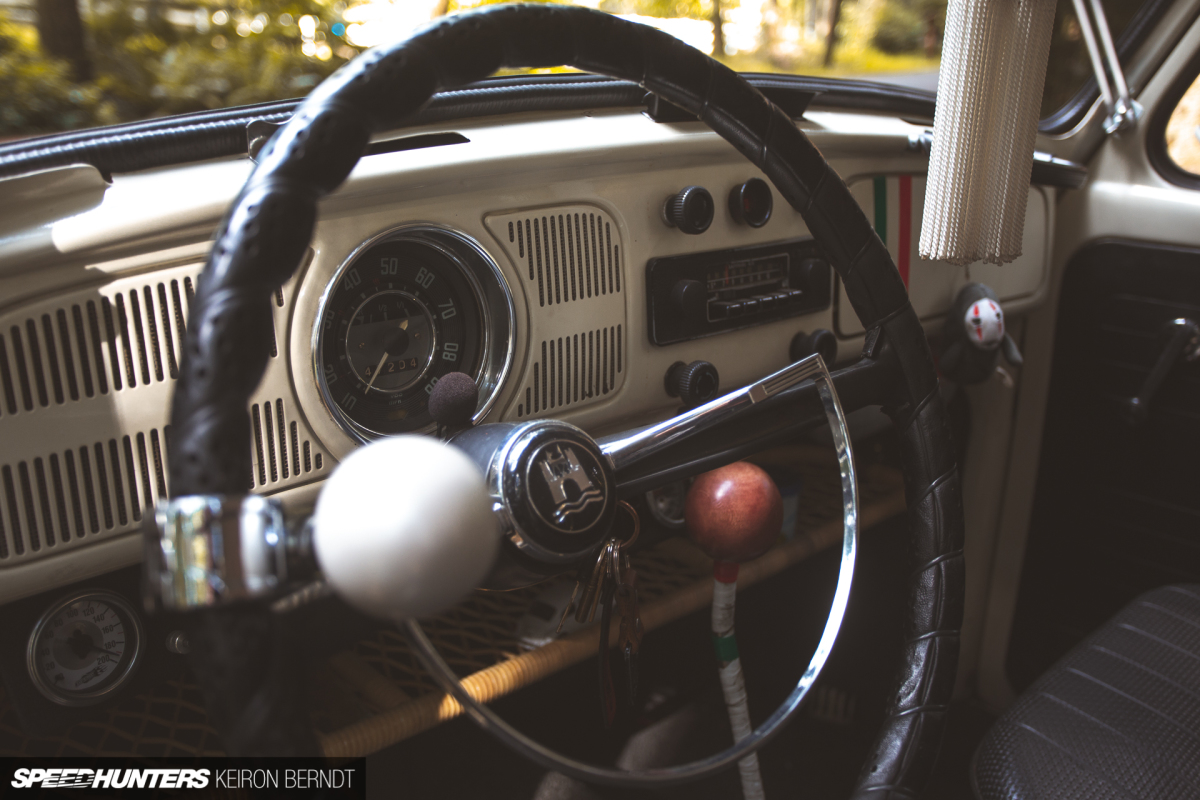 Connor's selection of just the right eclectic accessories continues inside the car. Atop a Volkswagen Bus shift knob extension is a maple shift knob Connor made himself. Through the flip-up LooseNuts Safari window a white fusa sways in the breeze.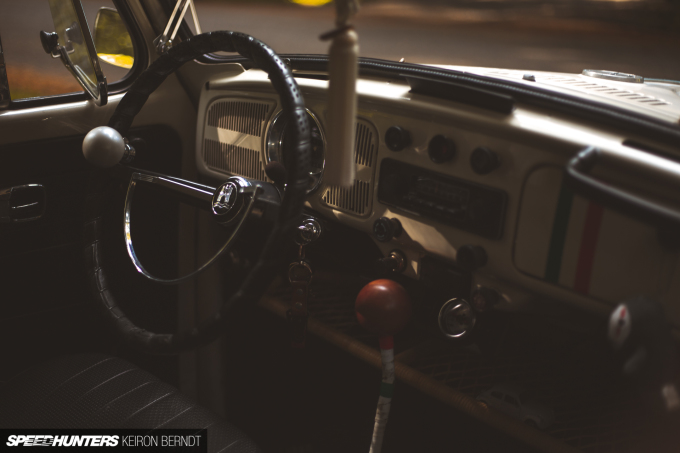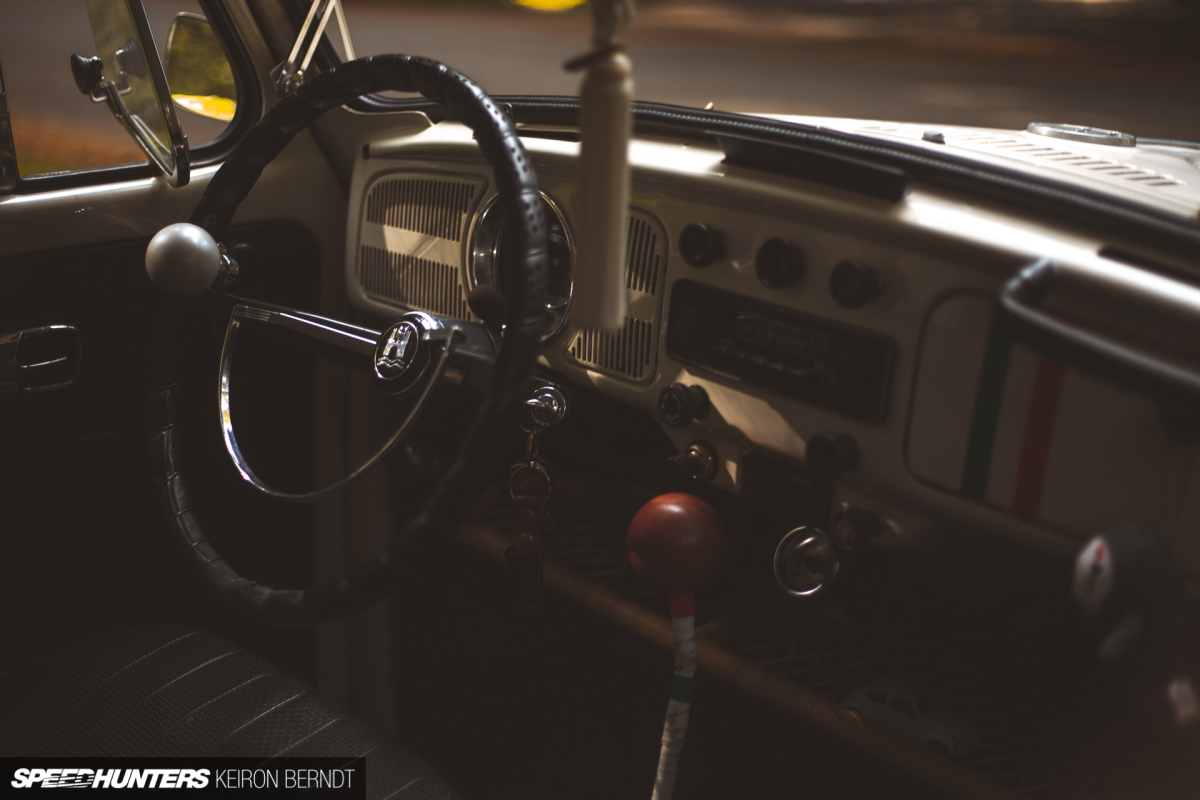 American culture is subtly represented inside with the addition of a 'brodie' knob, an accessory common in the trucking industry, and popularized as a style item by the American custom car community.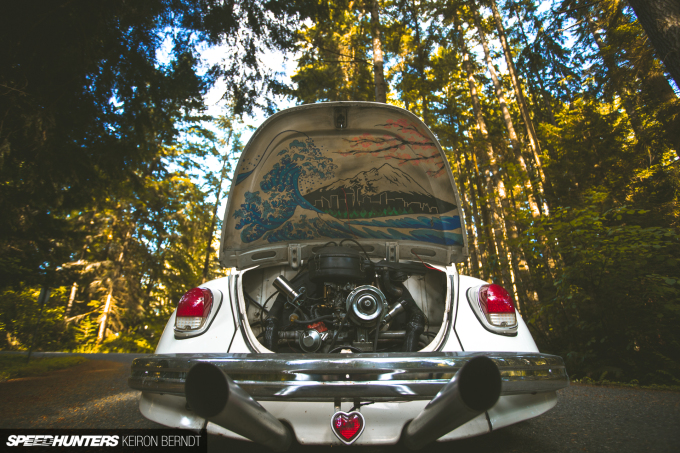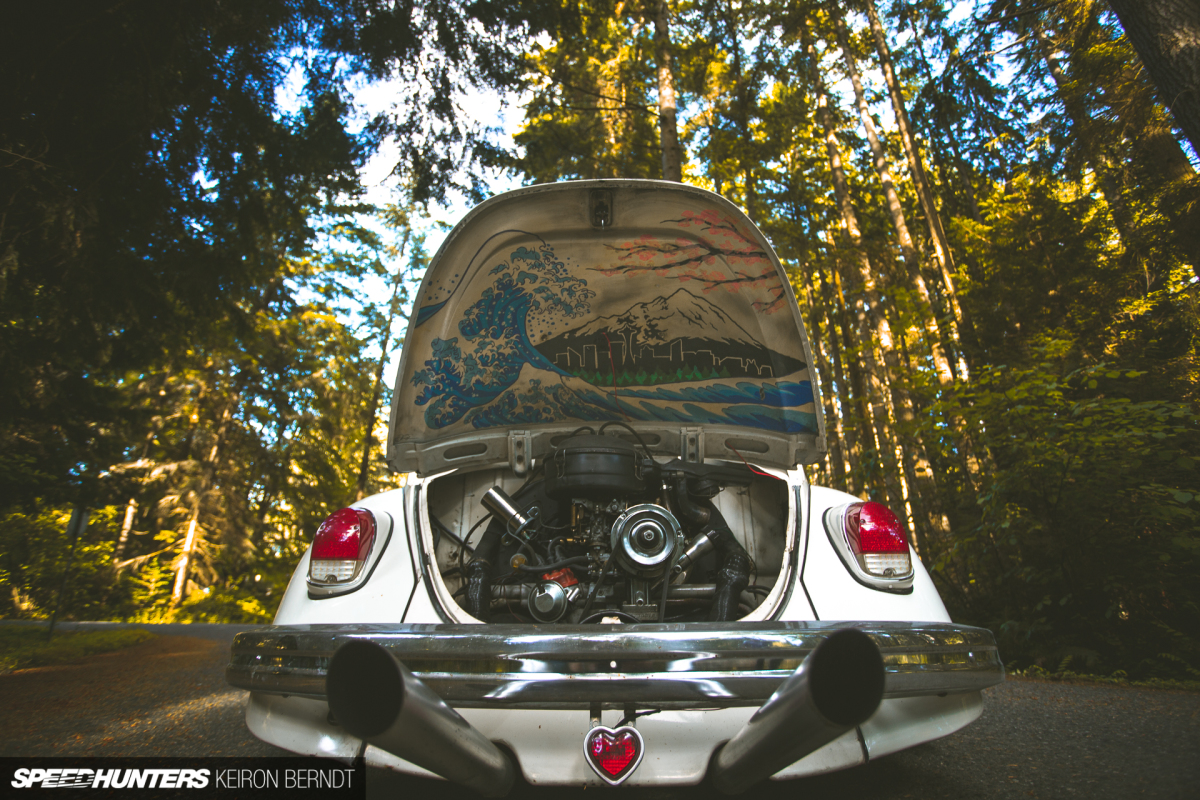 One of the Beetle's coolest modifications can be found under the rear deck lid, but it's not the motor. Overshadowing the basic engine clean up is a stunning bit of artwork designed by Benson Chou and brought to life by Dan Chun.
On a very non-traditional canvas, Dan has managed to perfectly sum up the fusion of cultures that exist within Connor's car. In the backdrop, the snow-capped mountain is half Washington's Mount Rainer and half Mount Fuji. Similarly, the skyline is half Seattle and half Tokyo/Ghibili. Evergreen trees and cherry blossoms are incorporated into the center and right, and finally a Katsushika Hokusai-inspired great wave curls in from the left. Given all the symbolism it's almost a shame this work is hidden as often as it is.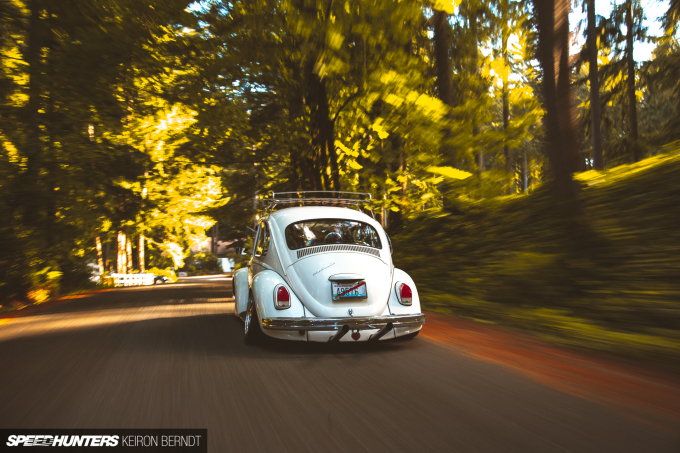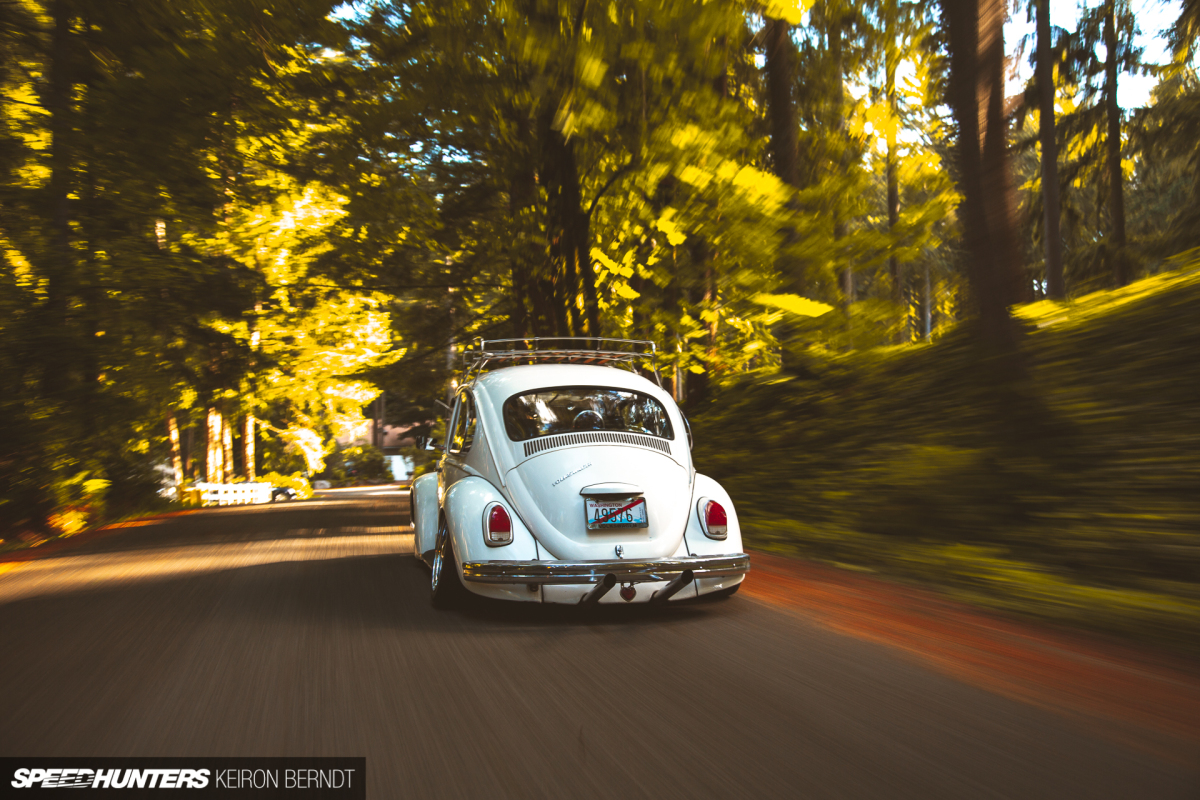 At this point Connor has formed a deep bond with his '68, going so far as to name it after his grandmother Eveline. Though he's previously riffled through a variety of cars, including a DC2 Honda Integra, Lexus SC300, and Subaru WRX, he's currently enjoying year five with the Beetle.
Without getting too philosophical, it's great to see people find a way to incorporate important elements of their upbringing and ongoing life into their projects. At first glance some may see just another slammed Beetle, but the car is a form of rolling expression that Connor intends to continue refining.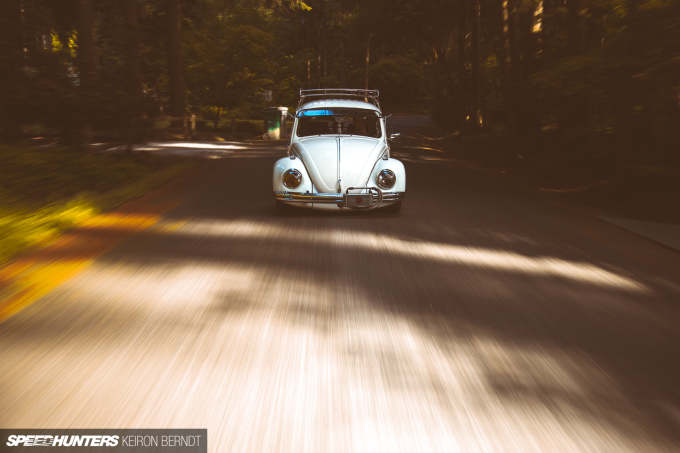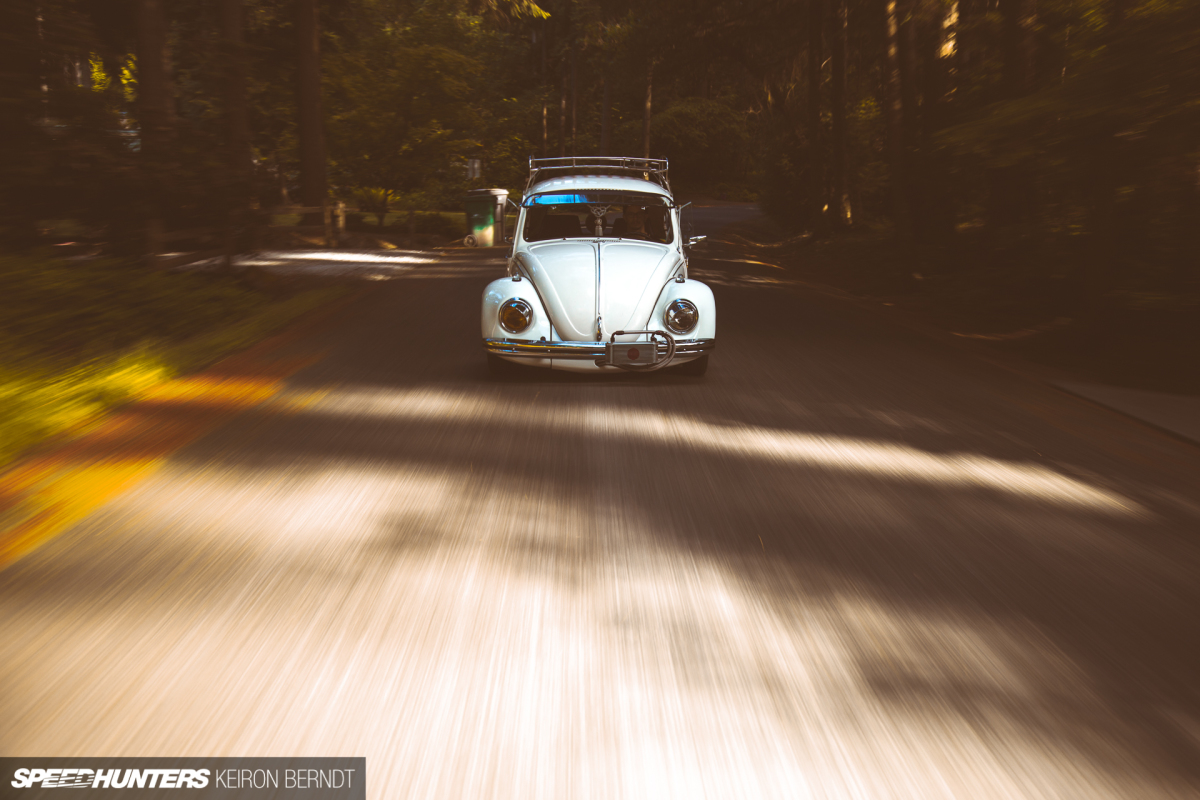 Art is subjective, but hopefully you can appreciate this rolling exercise just as much as we can.
Dave Thomas
Instagram: stanceiseverythingcom
Photographed by Keiron Berndt
Instagram: @keiron_berndt
Keiron Berndt Photography
Cutting Room Floor