Tool Of North America
I was in Torrance, California to shoot a certain Group 5 BMW E21 when the owner mentioned there was a shop a few blocks away that I might be interested in. Naturally, this is all it took to pique my interest, and I was halfway into asking more about it when one small issue was raised. Actually, it was sort of a big one: I wouldn't be allowed to take photos.
Obviously, this sort of detail defeats the whole point for me, but the conversation continued all the same. When I heard "Formula 1 car," "IndyCar," "original Cobra," and "Vasek Polak's old shop" in the same sentence, I was once again fully interested.
I learned that since Polak's passing in 1997, all of his Porsches, spare Type 912 flat-twelves, and so on had found new homes with the workshop space being completely renovated. Since 2001 the shop has been owned by filmmaker and director Erich Joiner, whose work you're likely familiar with whether you realize it or not. He was the man behind the documentary chronicling the return of the Ford GT, aptly titled The Return, and has been involved in countless other automotive films, advertisements, and projects which have nothing to do with cars.
Needless to say, we hopped in my rental and a short drive later we arrived at the workshop. I was immediately impressed for a number of reasons, but there was still that matter of not being allowed to take photos. After some time taking in the cars and meeting TJ, the mechanic who keeps the collection running and in shipshape condition, I was on the phone trying to reach Erich to ask if I could snap some images here.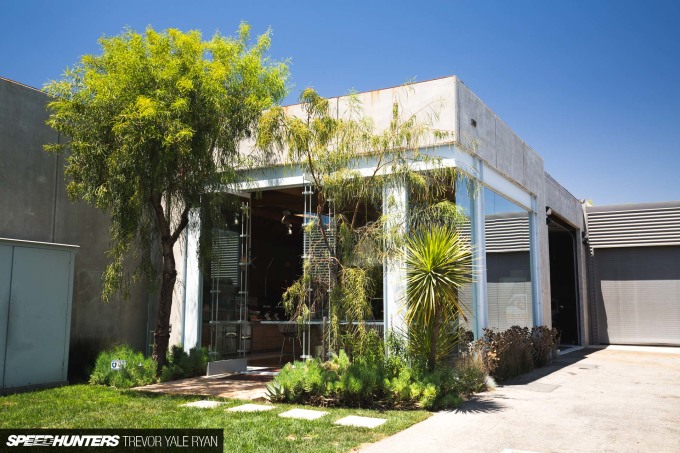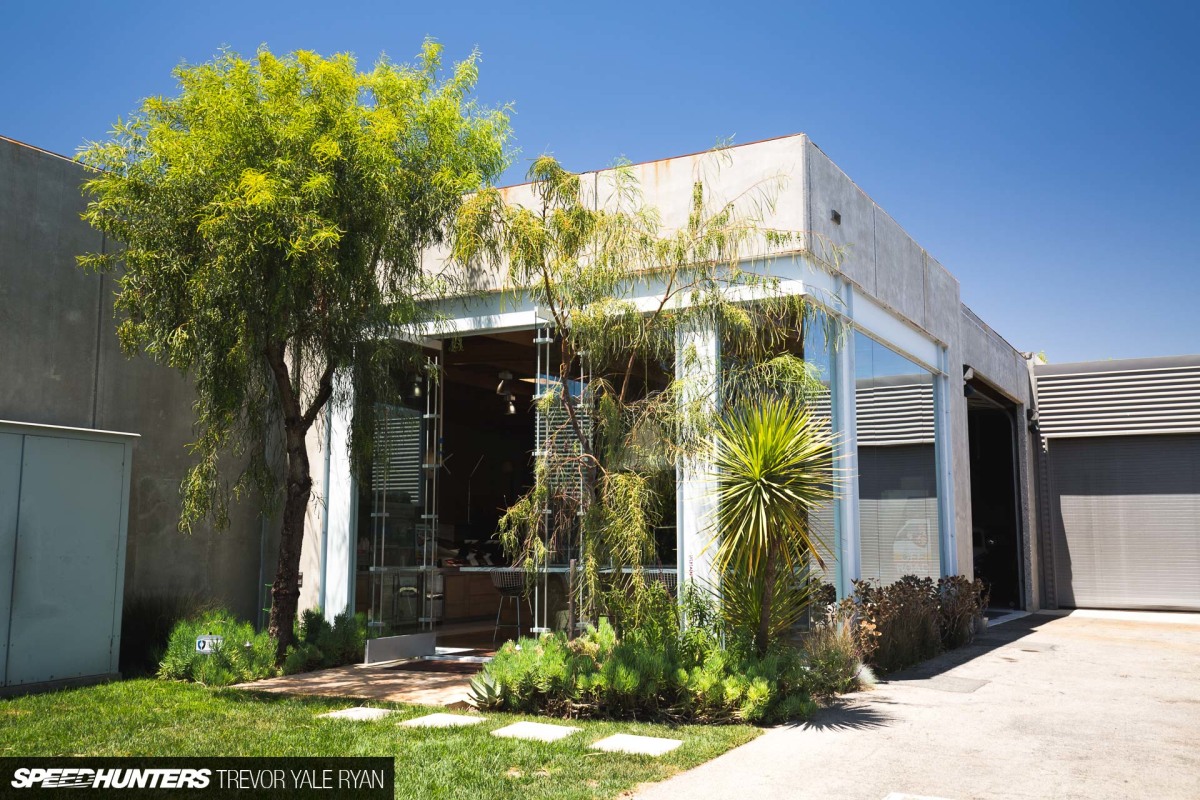 My hopes were not high; he was away filming a new project and I did not expect an answer, nor a call back. But, lo and behold, a day later I reached the man. His response?
You guessed it…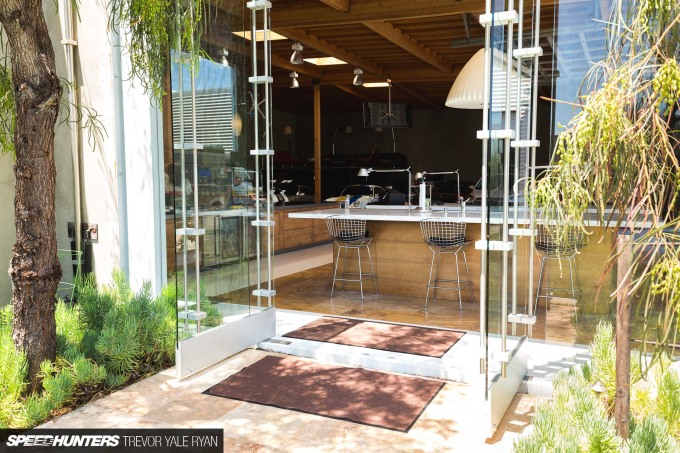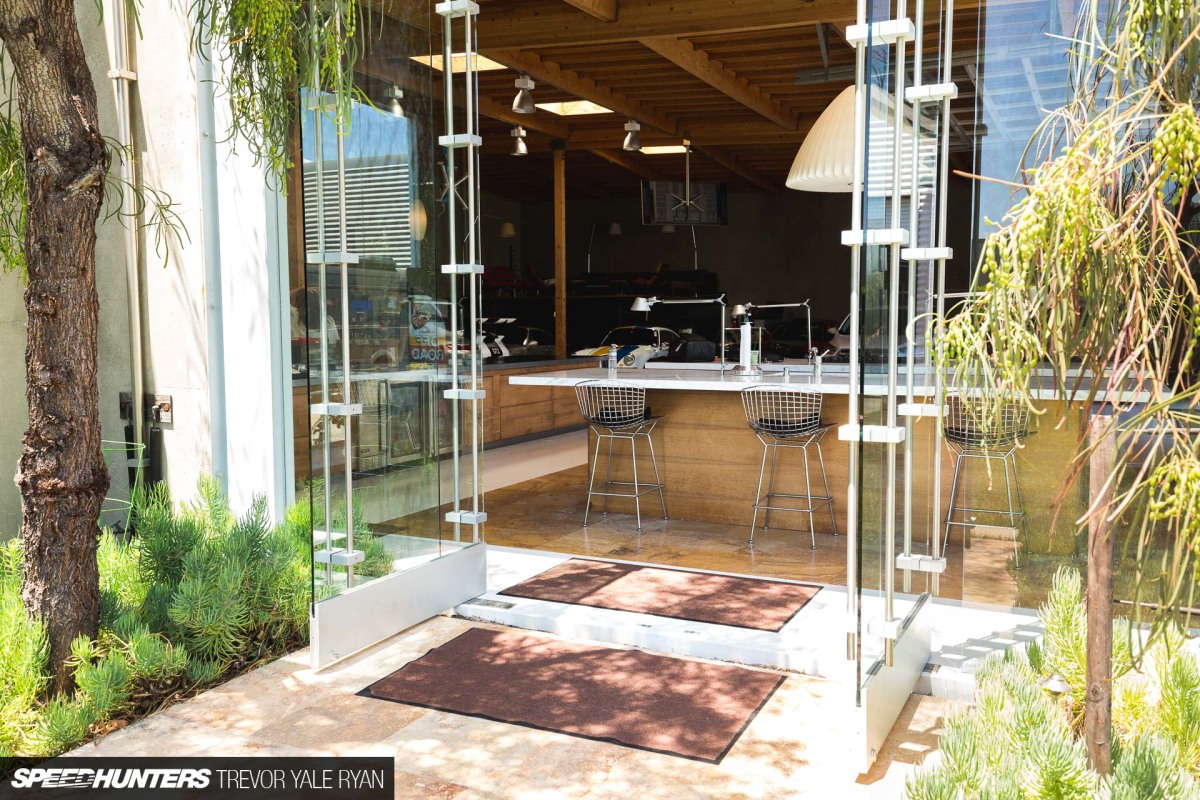 Camera in hand, we stopped by again during our next open time slot. TJ opened the doors for me to what is quite possibly the coolest hangout spot and garage combo I've ever seen in person. Or, maybe, at all.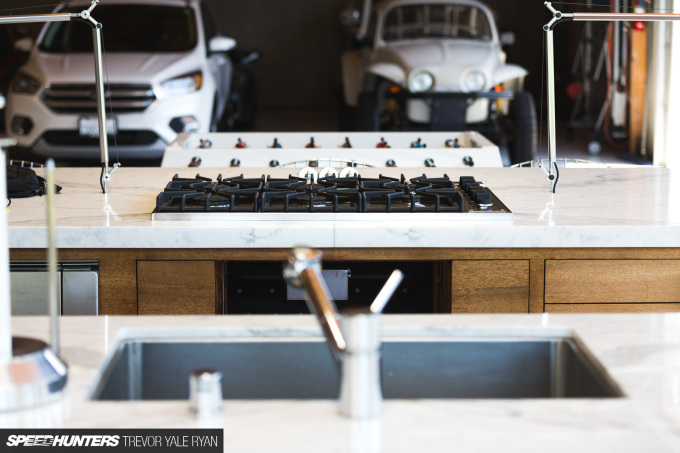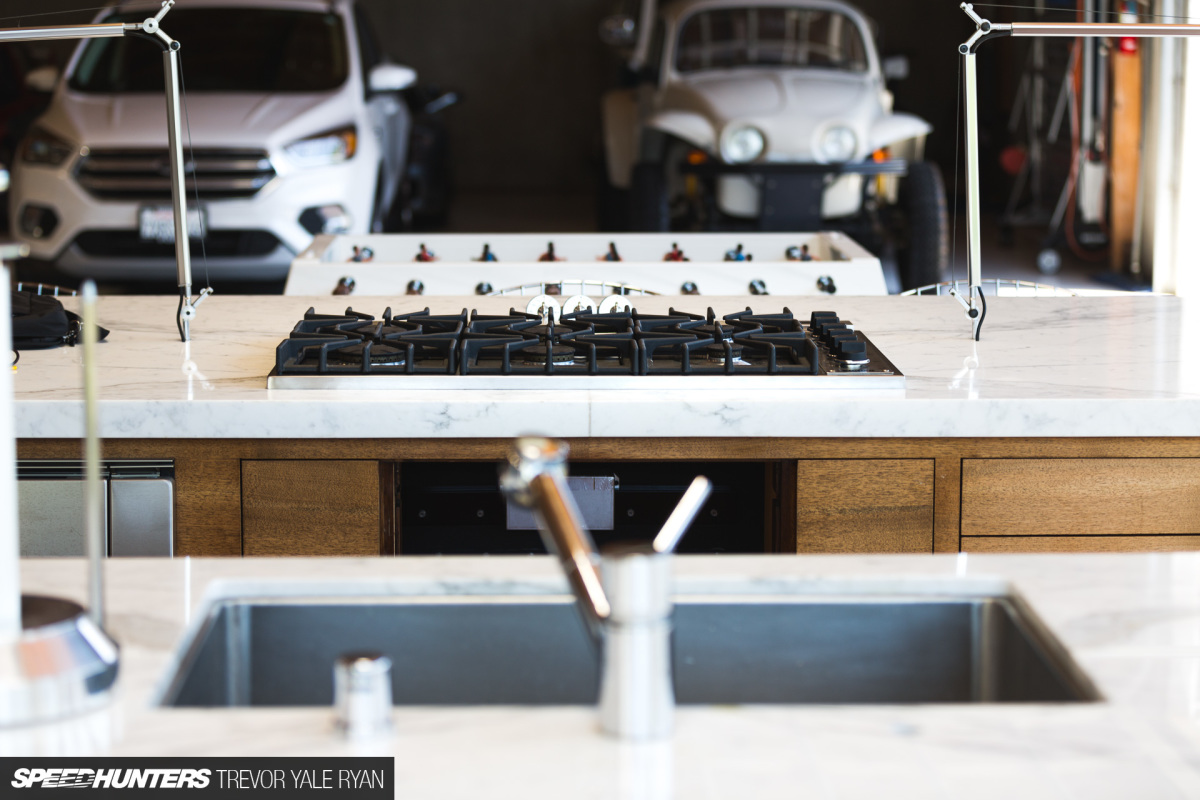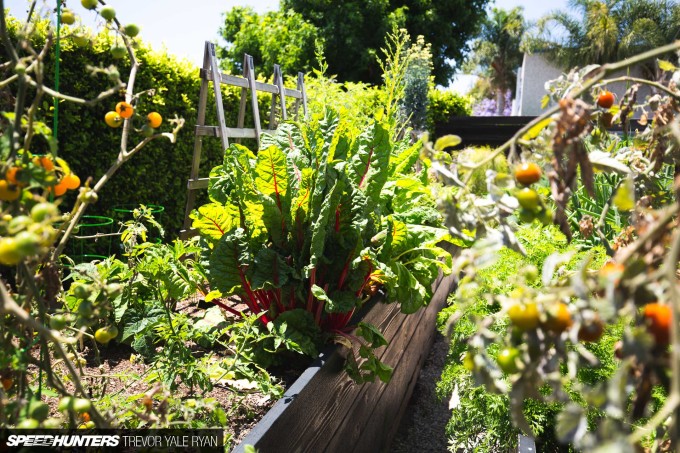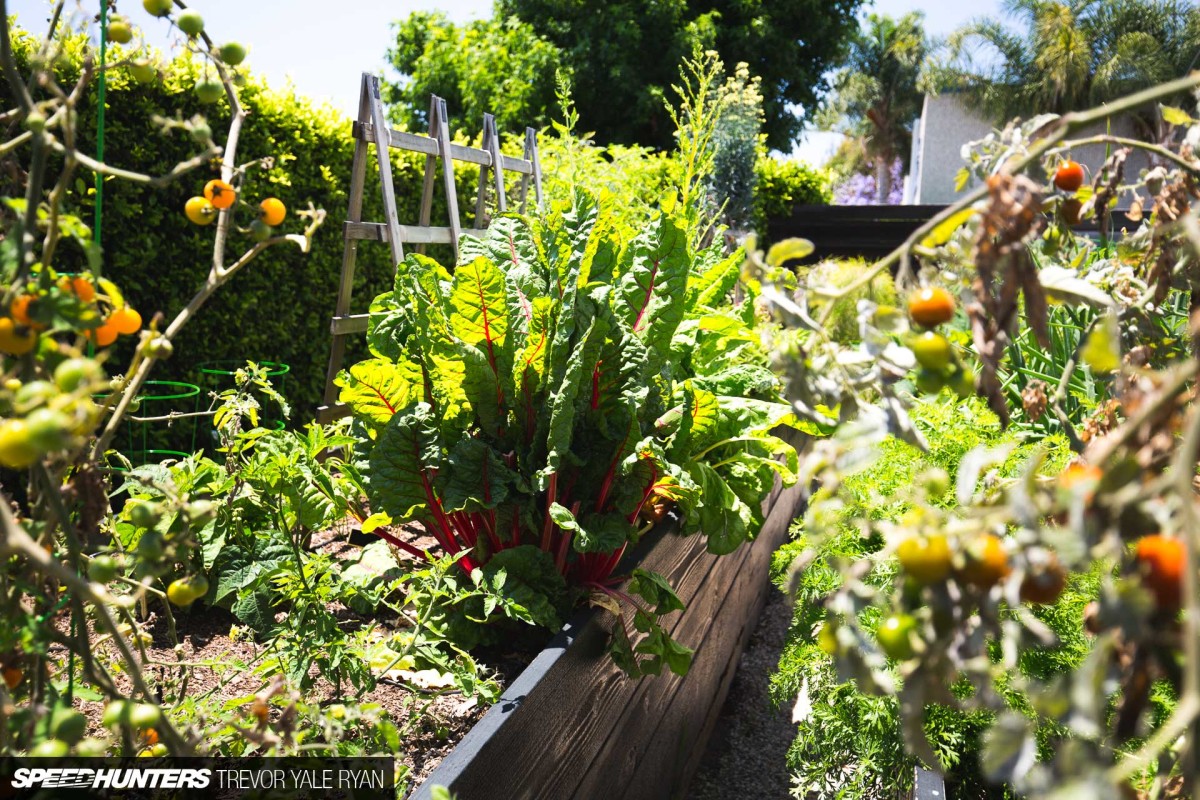 With a full kitchen, arcade games, a dozen or so incredible cars, and several very full garden boxes, this place quite literally has everything you need to survive. You'll definitely find me here during the apocalypse; each of these items will be high on my priority list as society crumbles to an anticlimactic end.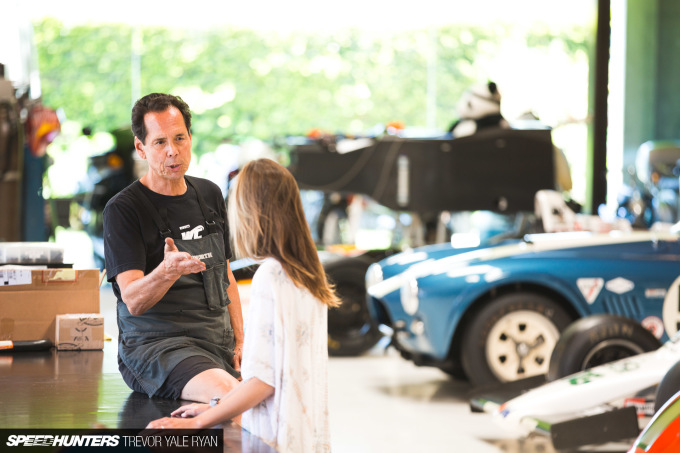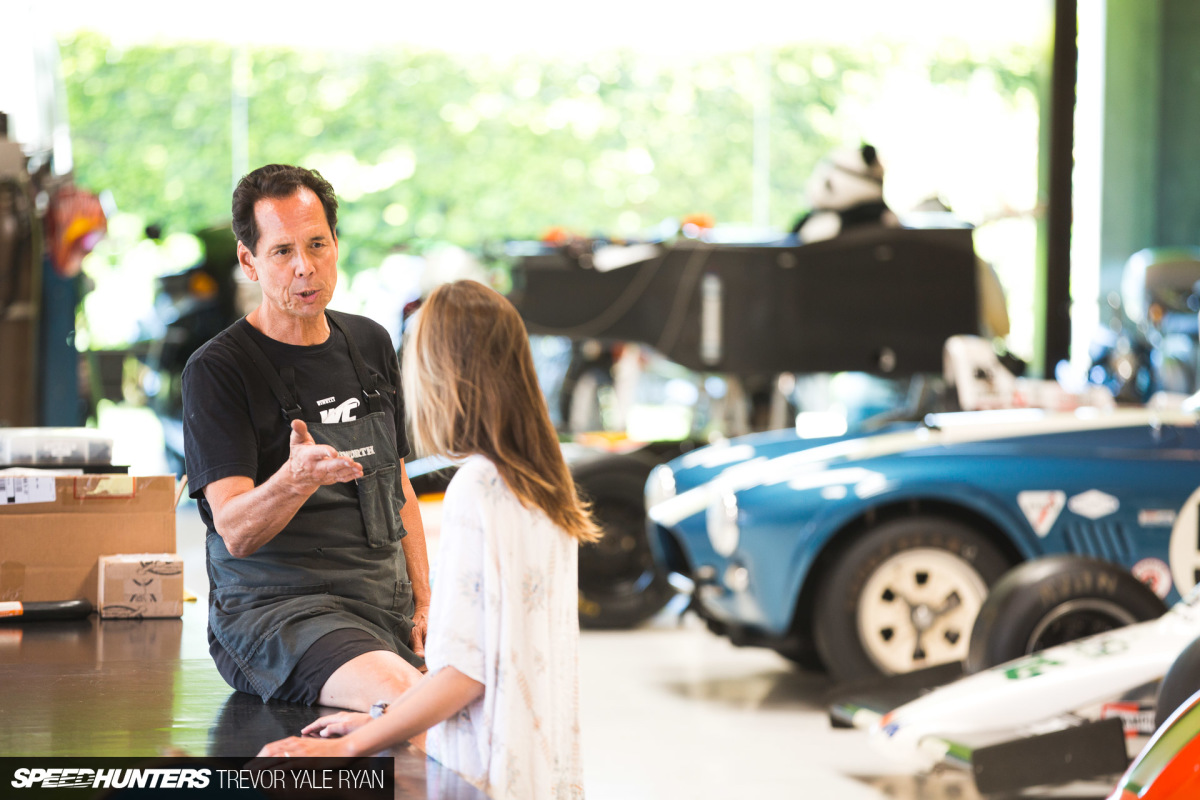 I've already mentioned TJ who was an incredible help during our visit. Commanding your attention with kindness, he's an old school guy with an impeccable attention for detail. He has at least a few stories about every car in the workshop and makes for the perfect tour guide.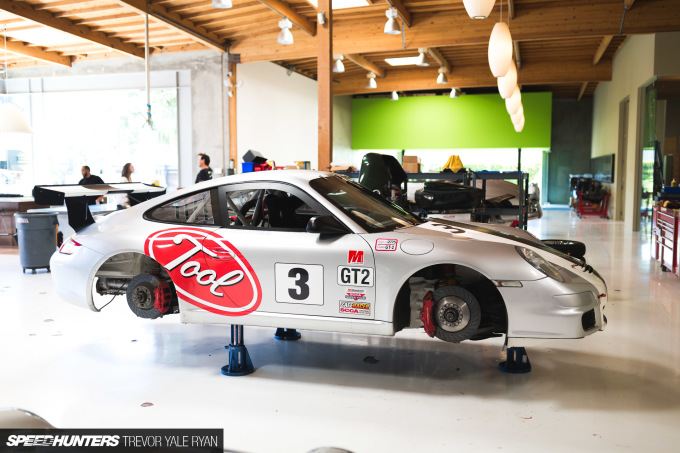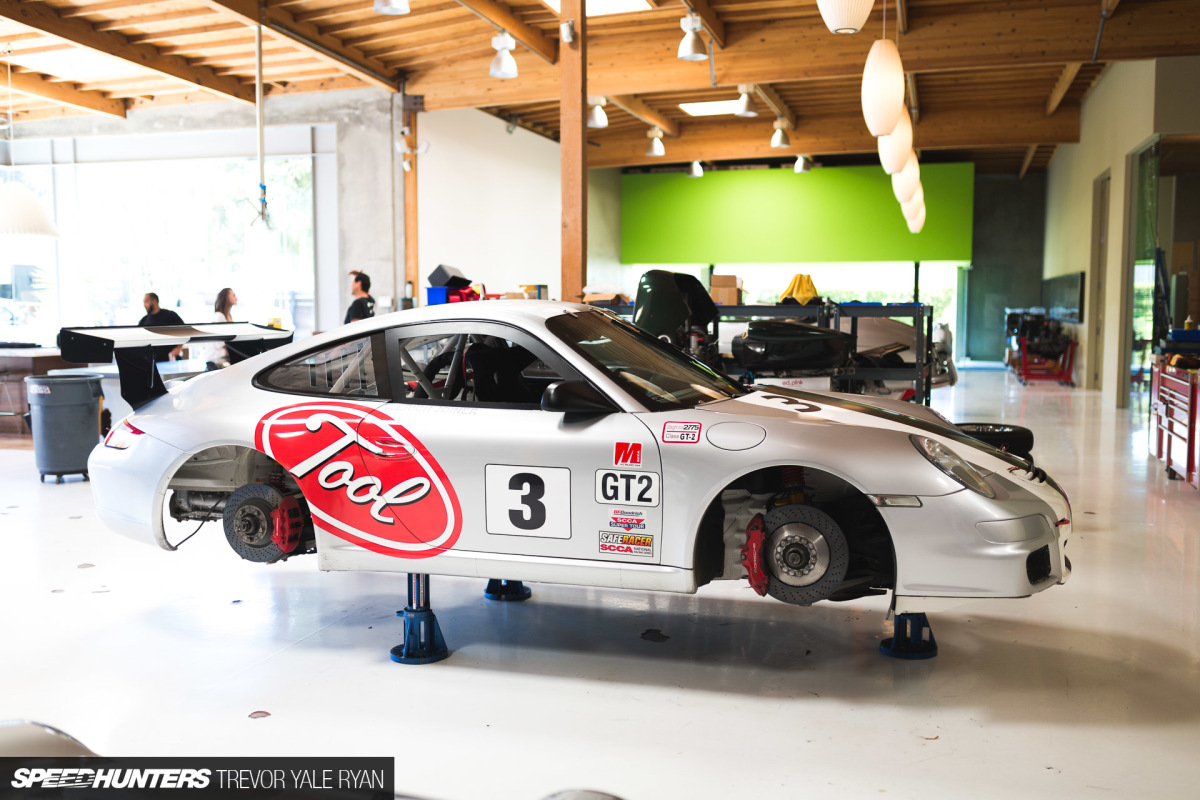 The first bit I learned was about Erich himself, whose name you'll see on many of the vintage cars in the shop. That's because he actually drives them when he's not in the middle of creating award-winning content with his studio, Tool Of North America.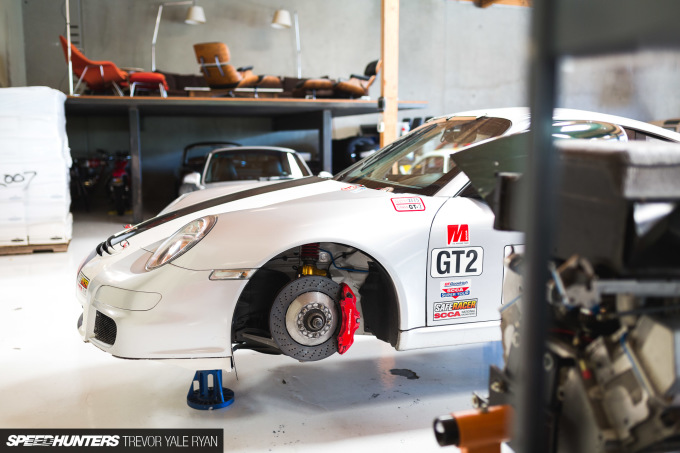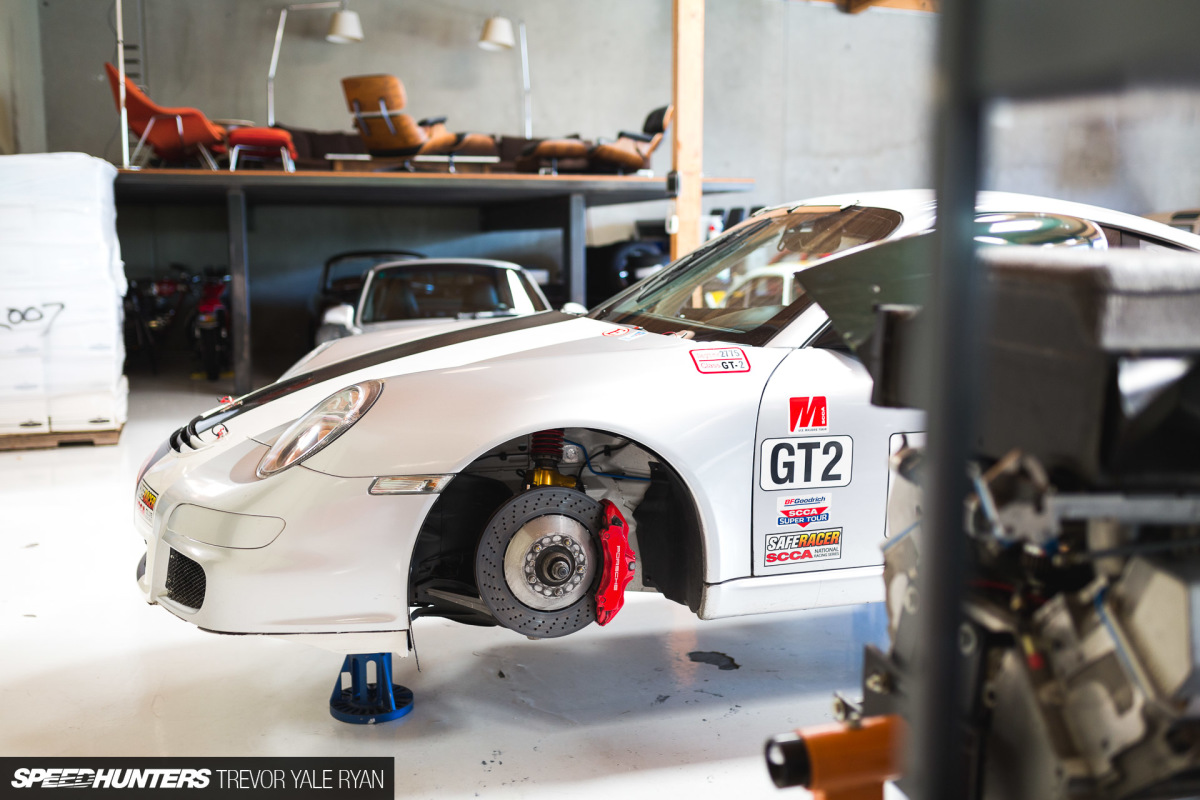 Being redesigned by a director, what struck me most about this workshop was the copious amount of ambient light. I don't think I've ever been in an indoor space that was so fantastic to shoot in; all of these photos were made using only available light.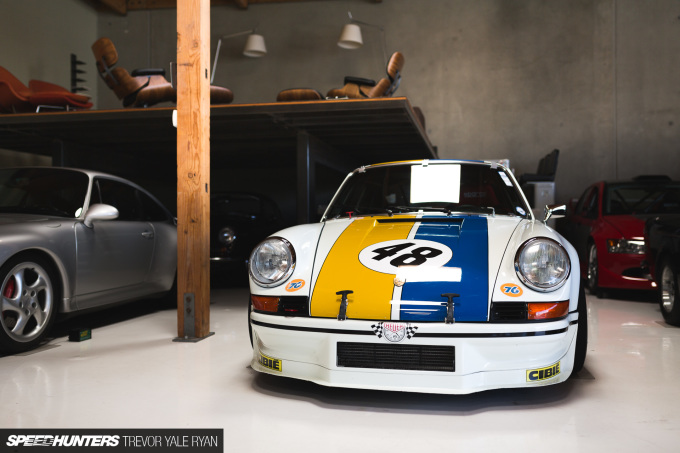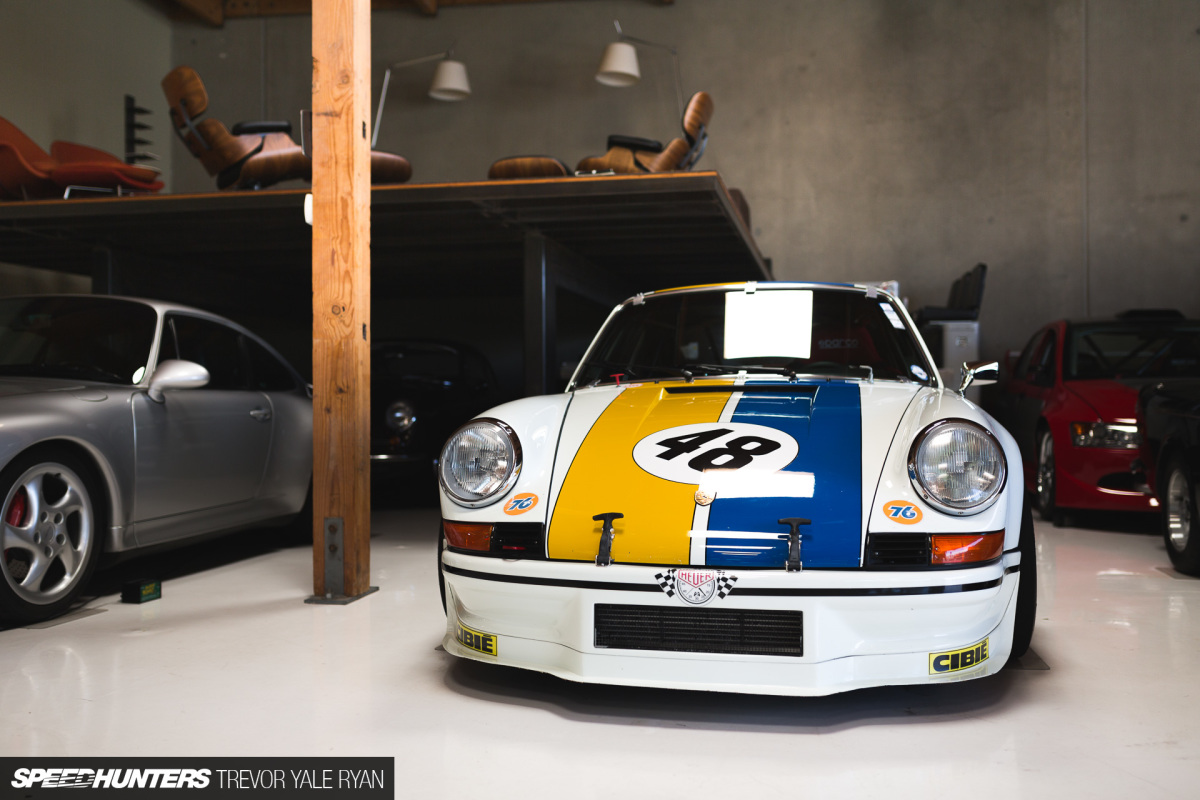 But this space is more than just a garage, and Erich's built a stunning little loft in the corner. It's the ultimate place to watch an F1 race, if you ask me.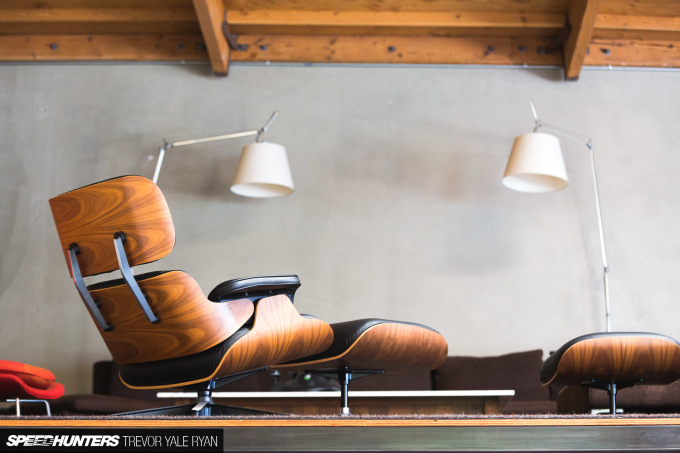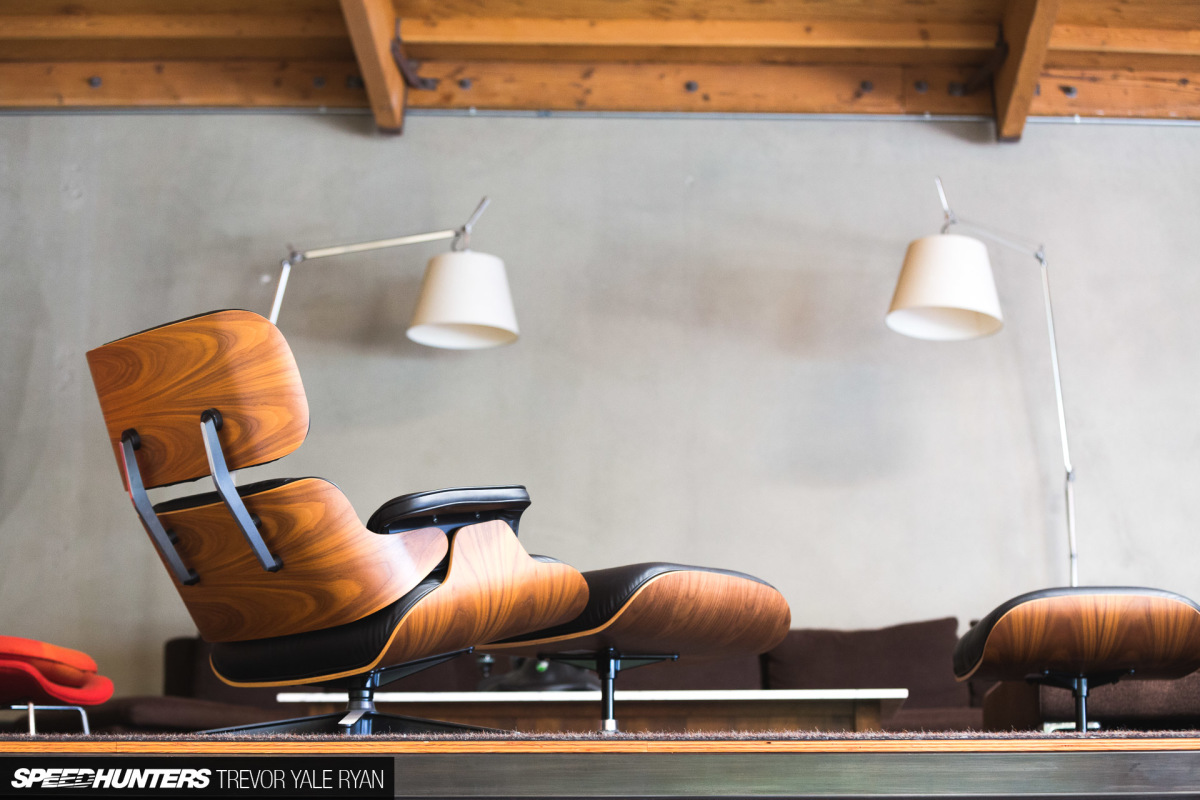 We'll start our little wander around the workshop from up here and you can follow along in the gallery below.
Cars include a rear-wheel drive Lancer Evolution with the motor flipped around and attached to a Corvette Z06 transaxle. It was built for Formula Drift, although the Mitsubishi was never able to compete due to rule changes. There's a Porsche RSR which I hope to see later this year at the Rennsport Reunion, and the 1977 Targa Florio-winning Chevron that Erich's hammered around Laguna Seca in recent years, of which TJ had a couple vintage race photos. On the topic of that circuit, there's a Laguna Seca-winning '99 Reynard IndyCar which also took pole at the event parked up next to a genuine Shelby Cobra (which is also raced around by Erich). You might as well toss in a few spare motors, old Porsches, and a couple motorcycles while you're at it too.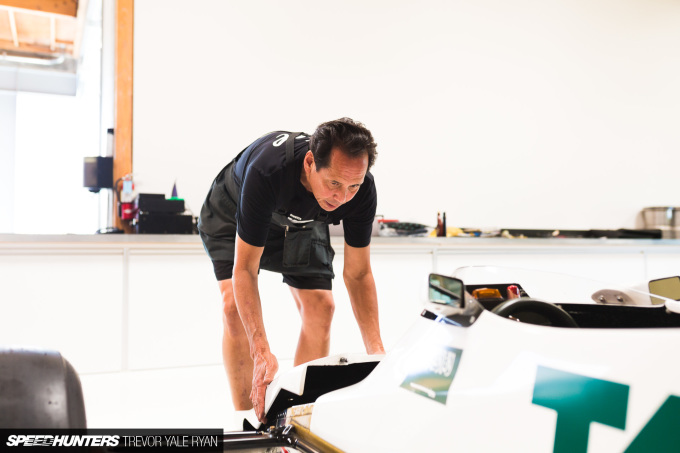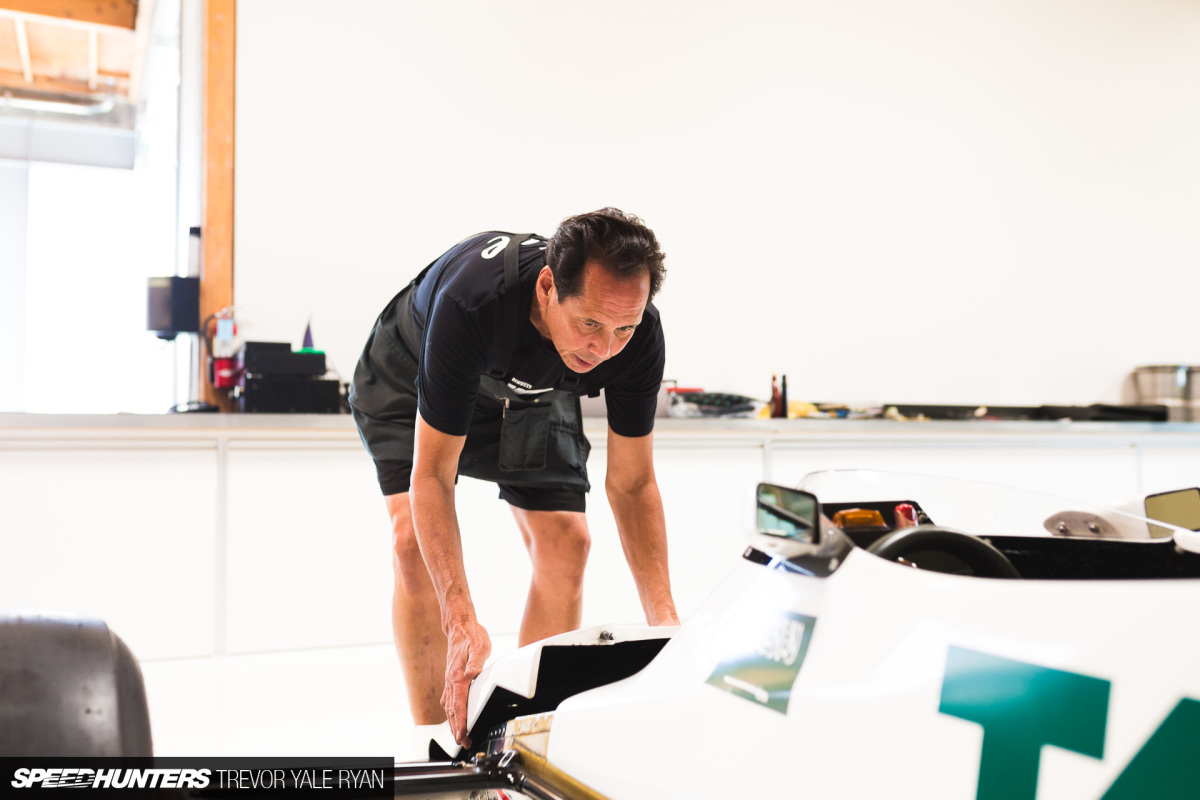 And that's avoiding the elephant in the room: Keke Rosberg's 1983 Monaco-winning Formula 1 car which he piloted as champion of the world. TJ painstakingly removed every panel of the car so that I could get a closer look which I'll be bringing you soon.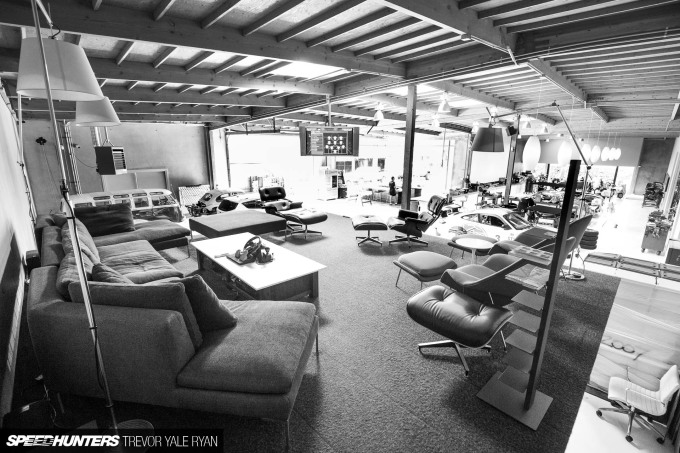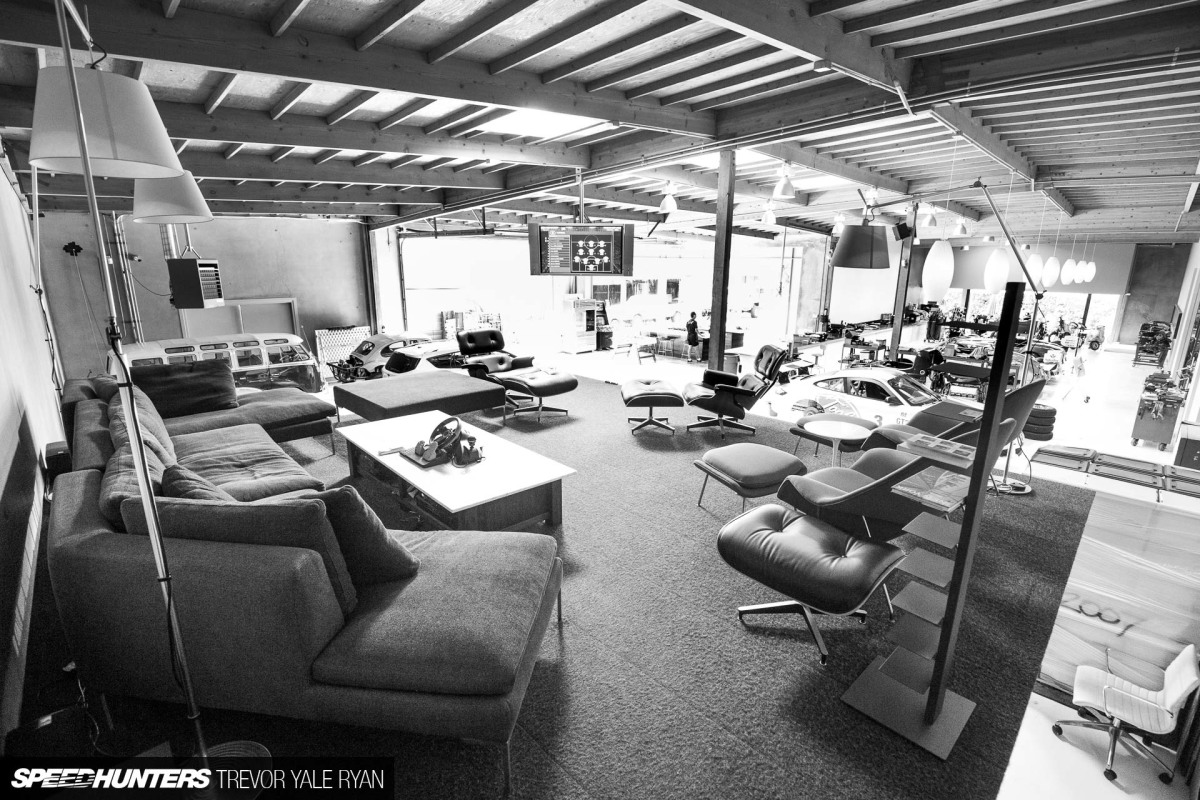 More important than all of the incredible cars here, I was struck by how genuine everyone at this workshop is.
I've always sort of been under the impression that people who own and work on cars like these can't be bothered to give you the time of day. But it's always a good day when you can realize you were wrong about something, isn't it?
Trevor Yale Ryan
Instagram: tyrphoto
TYRphoto.com
Commencing The Tour