Drifting has shut down Liverpool city centre.
Mad Mike Whiddett is in town, and he's brought with him some of the best drivers from around the world, a crazy street circuit, and one of the most creative approaches to combining motorsport and entertainment we've seen.
It's hard to convey in words, or even in images, the scale of what's being done here. Red Bull's ambition is unquestionable; this isn't a quiet dead-end road or conveniently spacious carpark tucked away from view – Red Bull Drift Shifters has, quite literally, taken over some of the busiest and most recognisable roads in Liverpool.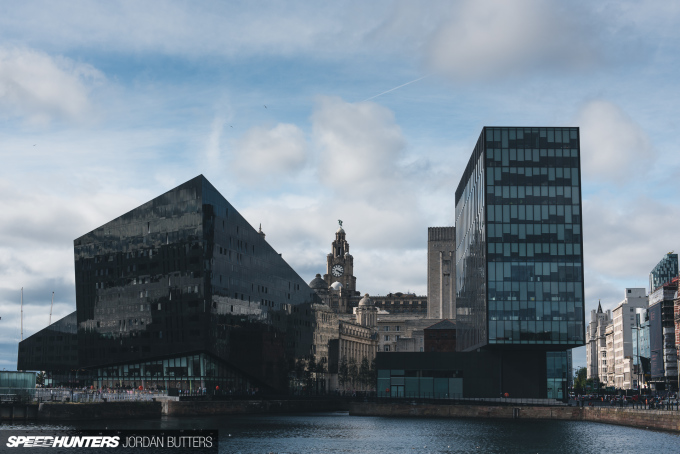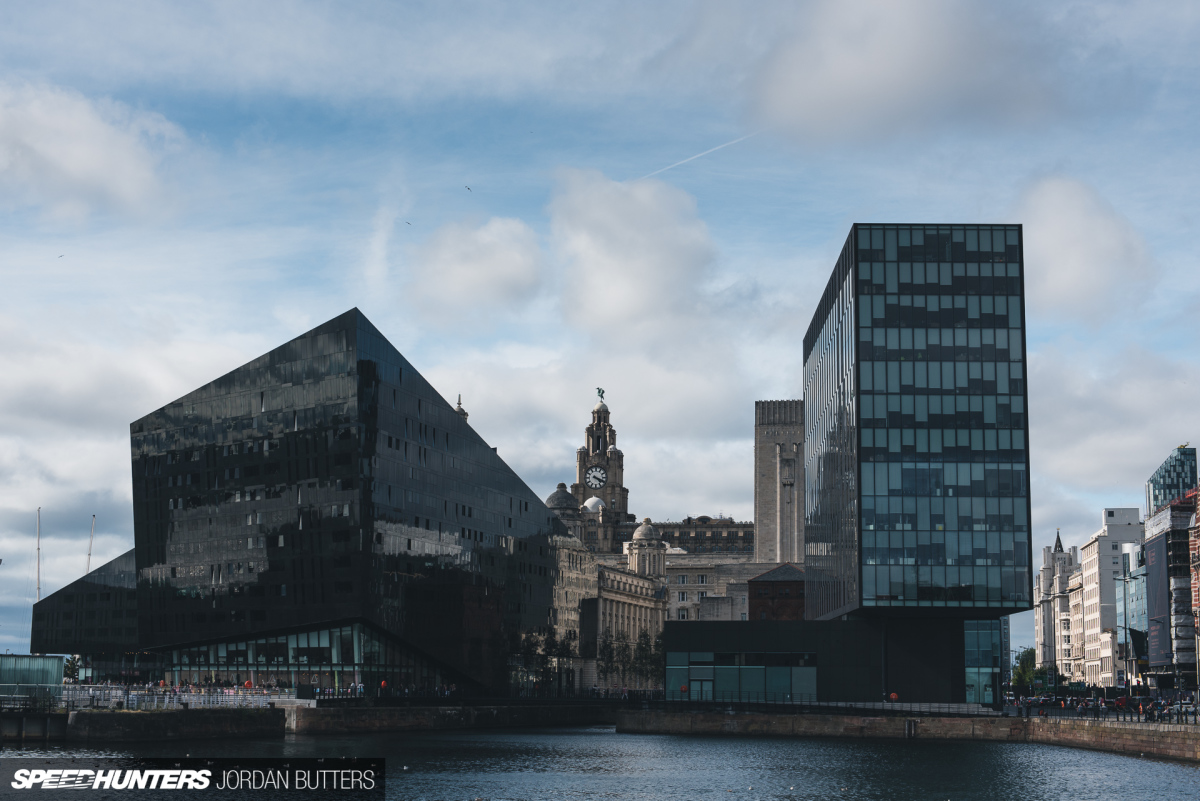 Laid out in front of the world famous Royal Liver Building on Liverpool's waterfront, the backdrop for this weekend's Drift Shifters playground could barely be more iconic. This part of the city is gorgeous, and a major tourist attraction for visitors all around the world. And we get to have drifting here?! Slap bang in the middle of it all.
Tomorrow, tens of thousands of fans will line the circuit, just inches from the action, to witness something the likes of which many of them have never seen before. It's going to be utterly insane.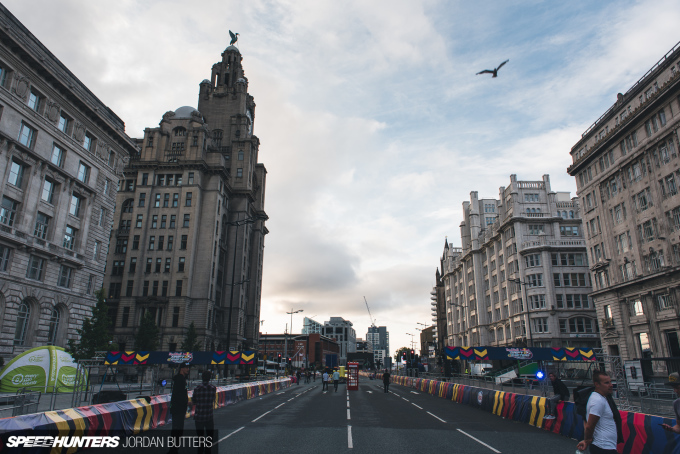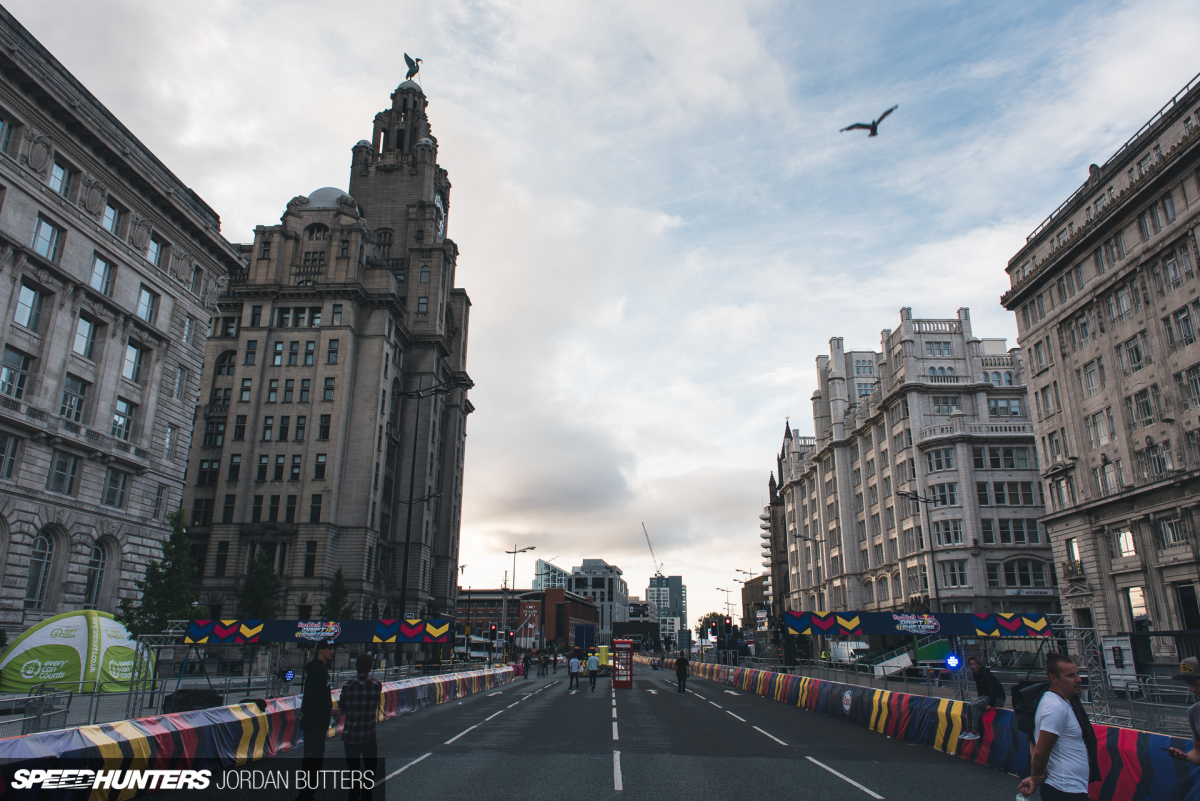 Before you even see the intricate and colorful track itself, straight away, from the signage up and down the waterfront to the huge metal walls that stop prying eyes from sneaking a free glimpse of the action, it's clear that Red Bull are not messing around. This is a drift event of the scale and ambition that I've personally not seen in Europe before.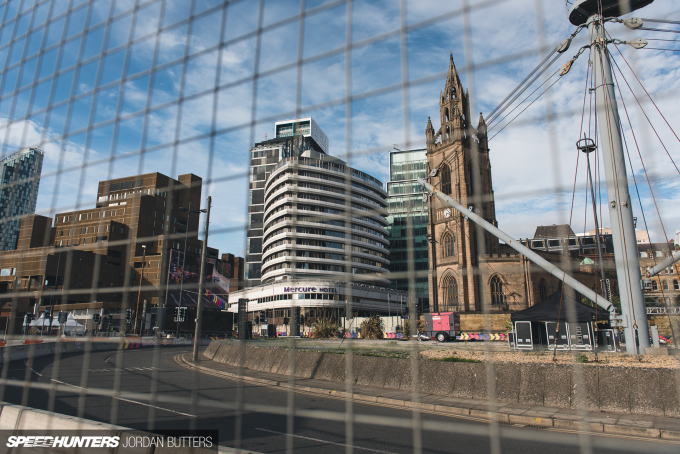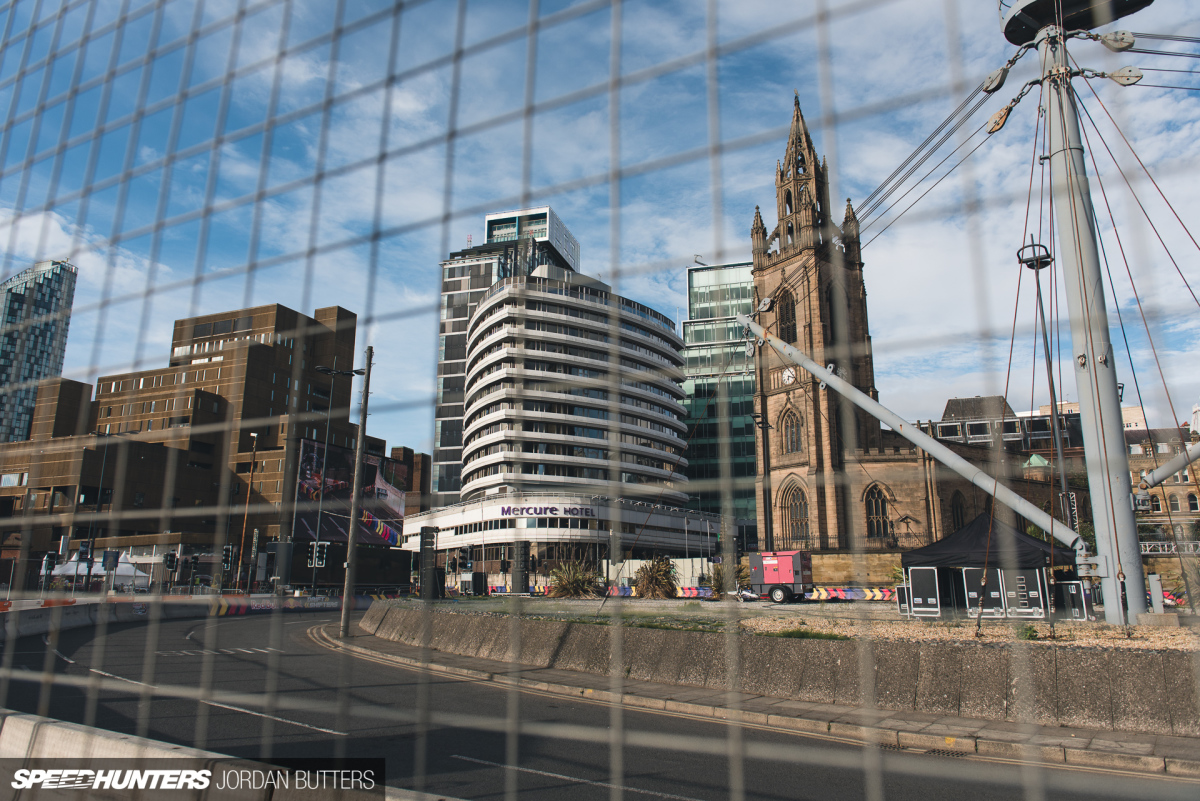 Of course, this isn't your average drift event either. Mad Mike's pinball-style concept has been imagined to make the relatively complicated sport of drifting as understandable and digestible as possible to your average punter. Thanks to a huge array of angle, speed and proximity sensors littered around the course, the drivers are judged entirely objectively. And not only that, they're totally free to take whatever line or approach to the circuit they want.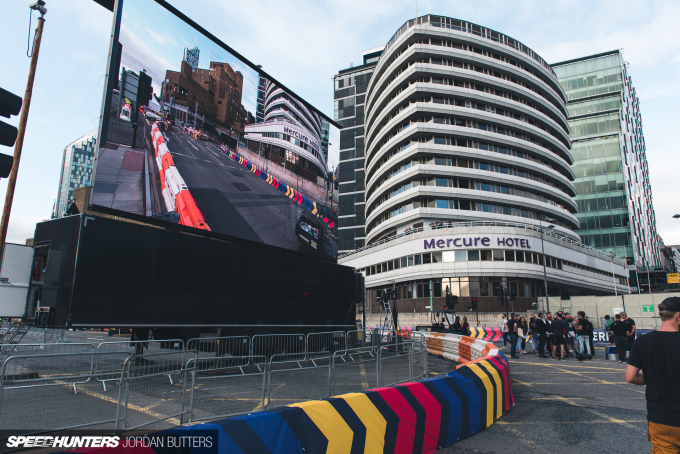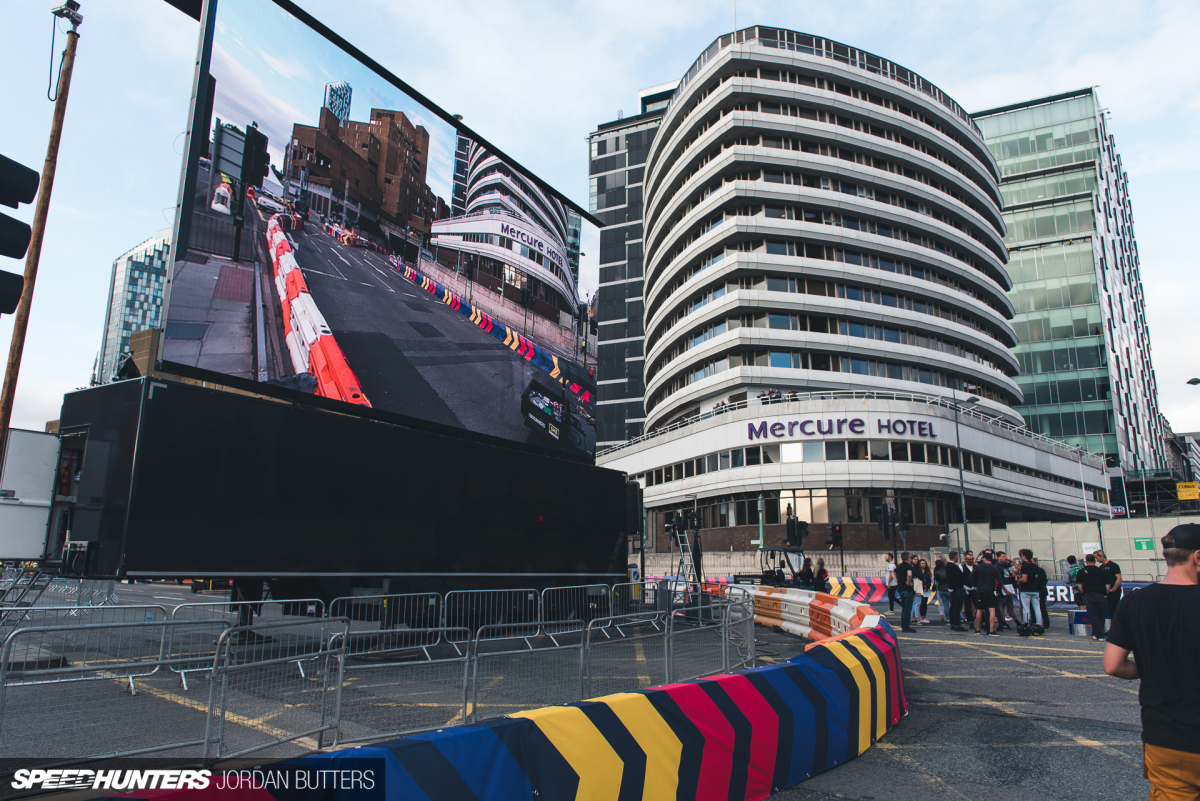 The name of the game is points, and with a huge jumbotron displaying the score in real time, the crowd can quickly see what someone's doing something right, or wrong, all the while pinball machine sound effects play over the tannoy each time a sensor is successfully hit. It's a fully immersive, audio and visual experience, and not only is it unlike any other motorsport, it's quite unlike 'regular' drifting as we all know it.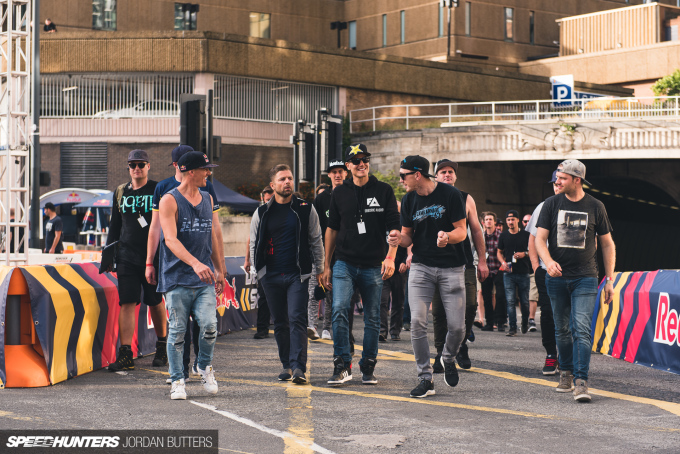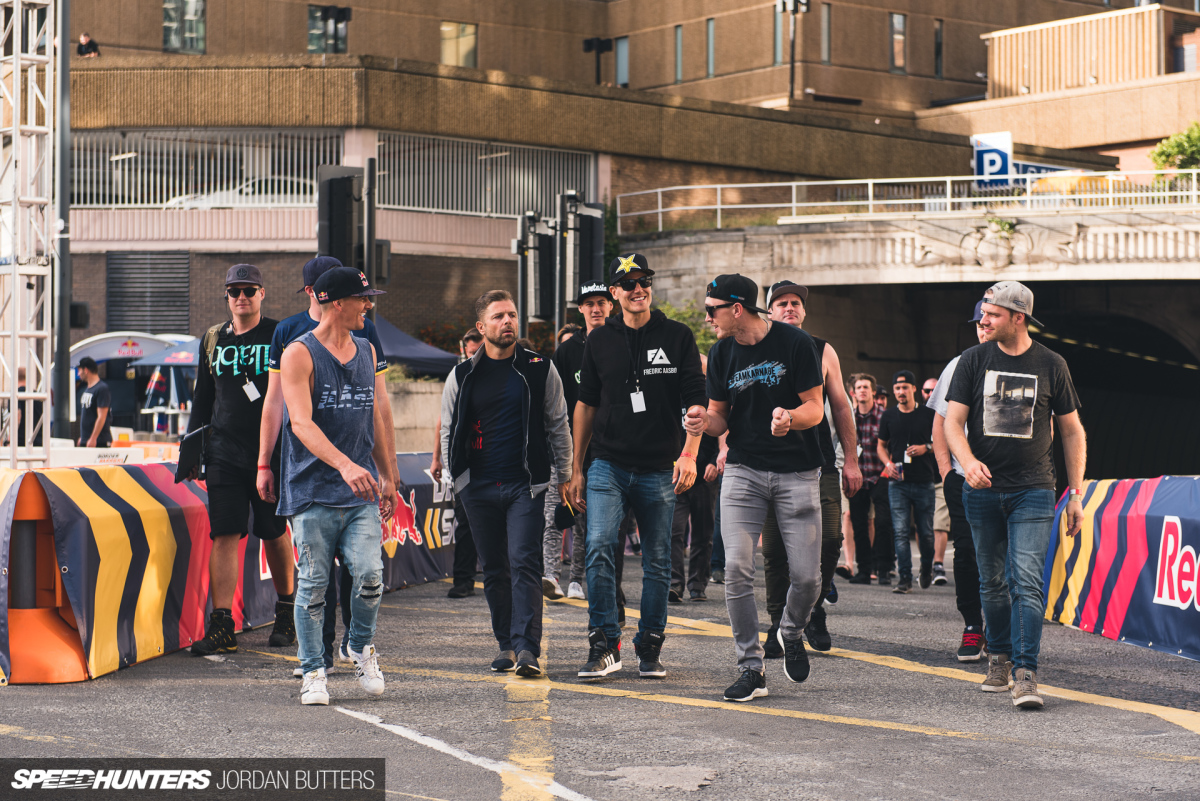 Paddy and I arrived at the track this evening just in time to join the very much international roster of drivers taking a brief track walk before Sunday's main event. There's a handful still missing, however, as James Deane, Piotr Wiecek and Matt Carter are all taking part in this weekend's Drift Masters round in Torun, Poland, before making the overnight flight to Liverpool ready for tomorrow.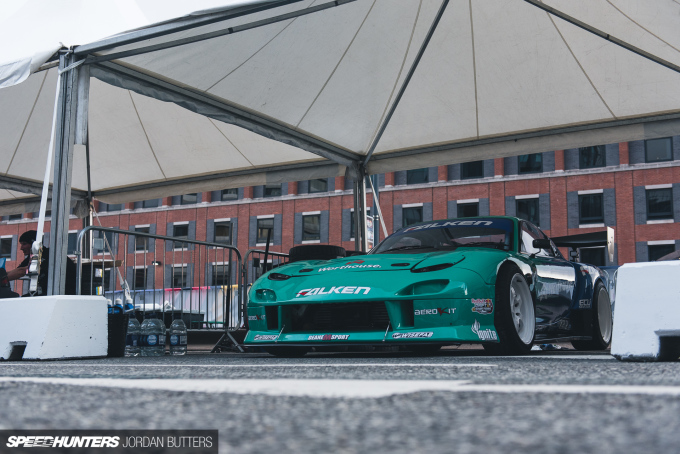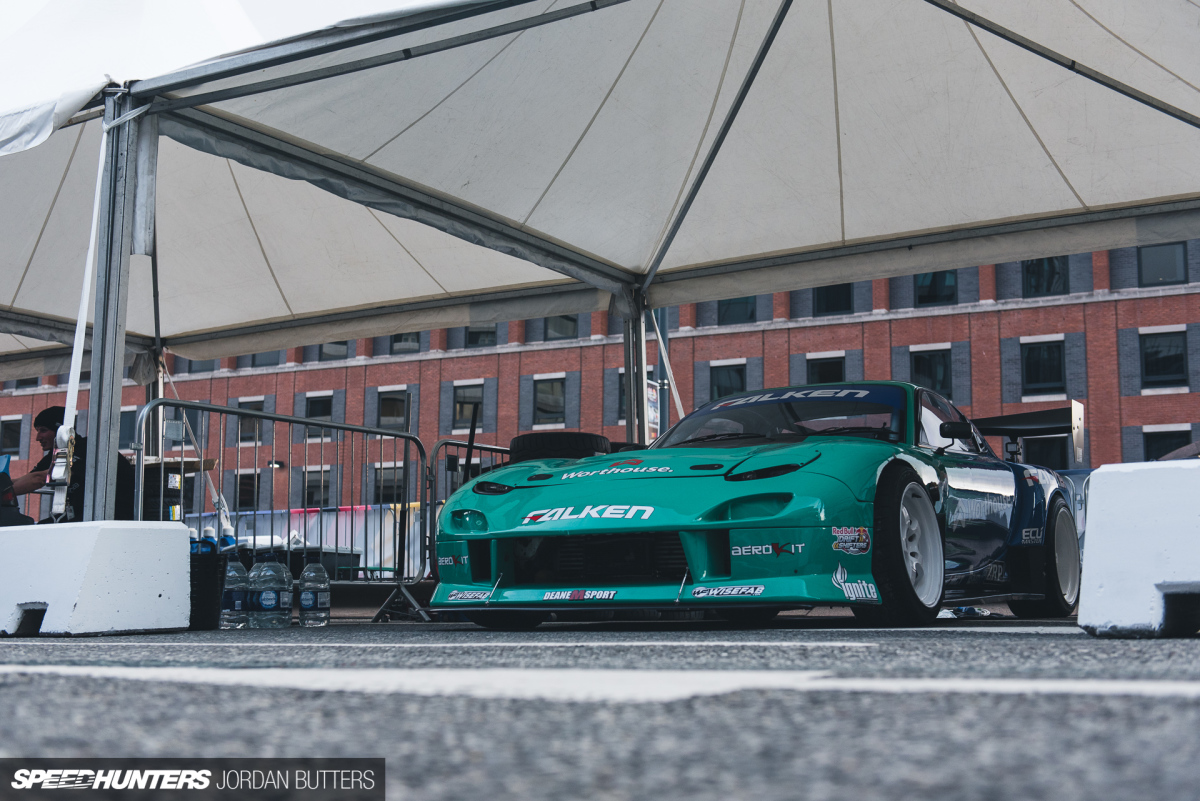 All accounted for, this will probably be the most diverse and multinational roster at a drift event in history. Aside from the three drivers just mentioned, the rest are as follows: Mad Mike, Fredric Aasbø, Masato Kawabata, Gaz Whiter, Fanga Dan Woolhouse, Dean Kearney, Forrest Wang, Joachim Waagaard and Abdo Feghali, with Duane McKeever sitting in reserve.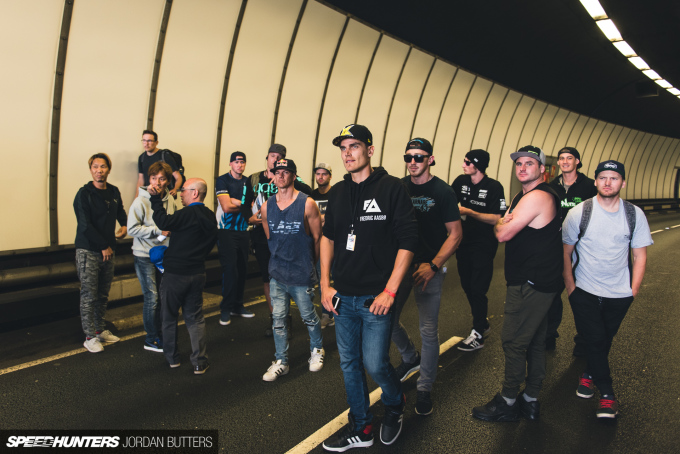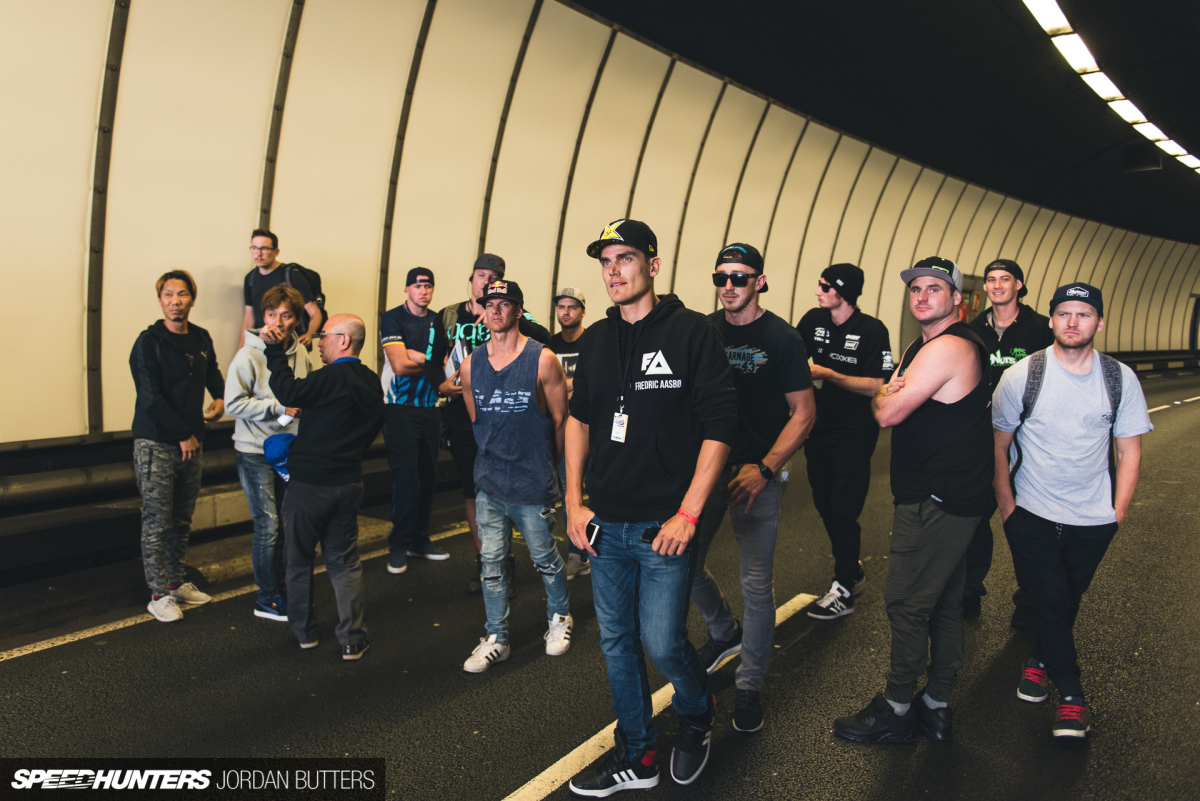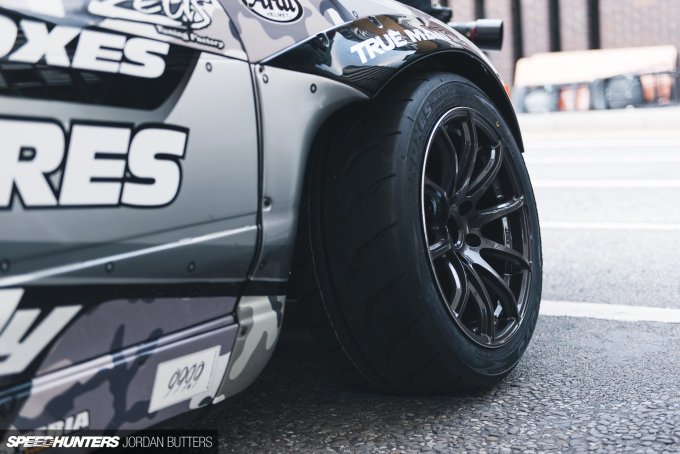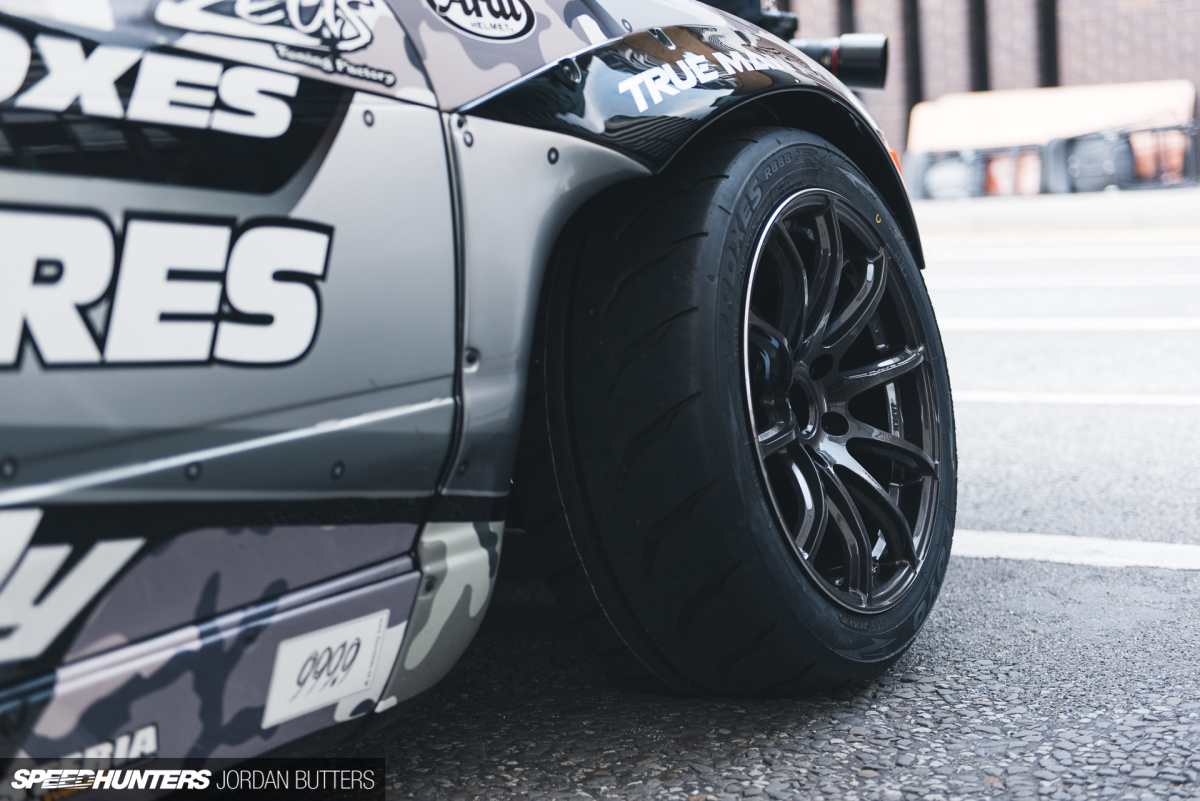 The circuit that Mad Mike has imagined starts out in the Mersey Tunnel, where drivers will fire into view uphill amidst a cloud of tyre smoke and a cacophony of noise. Can you image how good it's going to sound coming out of this tunnel?!
Straight out into daylight and the first obstacle is mandatory – an angle sensor, AKA the 'Angle Grinder' will measure drivers' angle of drift and starts the combo rolling as they slide towards a front proximity sensor. After this, the drivers are on their own to decide their routine around the course: They can tackle the obstacles in whatever order they like, but they have just 100 seconds to do so, scoring the maximum amount of points they can along the way. I say 'just' 100 seconds, but that's a lifetime in a drift competition, so it'll be interesting to see how both drivers and machines fare in these new circumstances.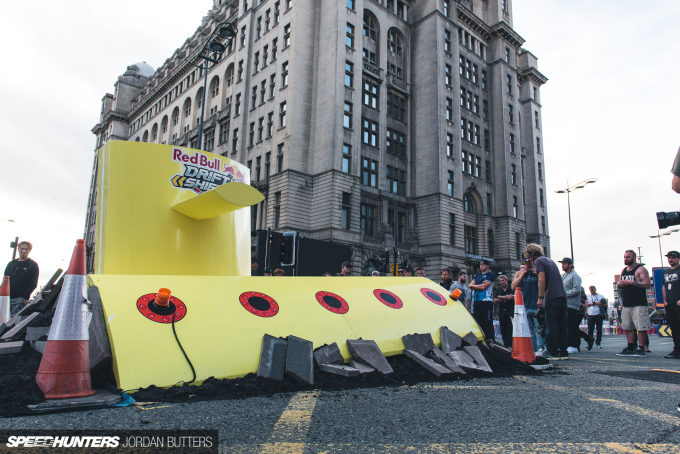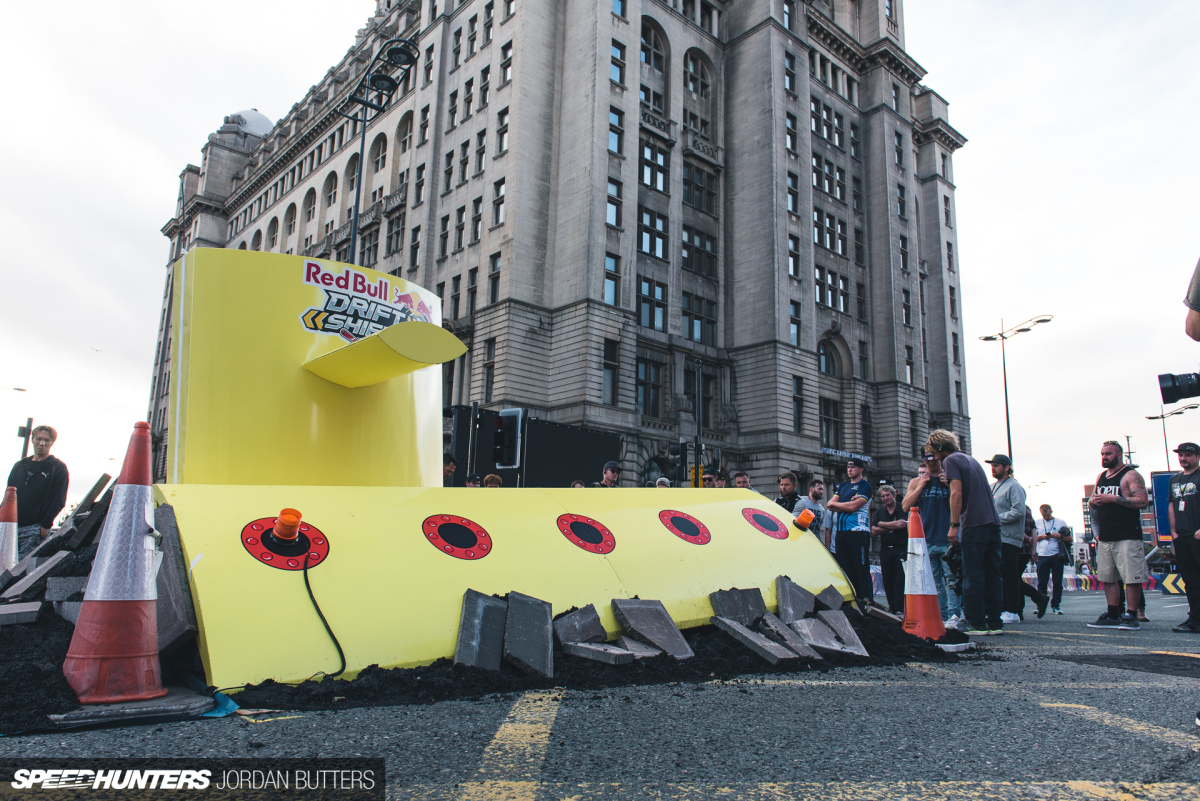 As part of the track walk, the drivers took the chance to see how the sensor system operated, with Mike explaining the distances each sensor could read from, and the potential scores from each. Combos and multipliers could be racked up by hitting multiple sensors in a row, or completing certain lines or obstacles throughout the course. The universal hand language of drifting played a big part in this, and the drivers were each keen to see how each sensor worked, and test them too. There was much waving of arms and walking back and forth to be witnessed. Bright LED clusters inform the drivers and crowd when a sensor has been successfully activated, along with the aforementioned pinball noises.
The obstacles include a yellow submarine breaking out of the road (see: The Beatles), several traditional British red phone boxes, a huge wallride around a roundabout, and a big rig truck that the cars can slide under. Bonus points can be had by parking the car, sideways of course, in the parking box before the end of the run timer chimes.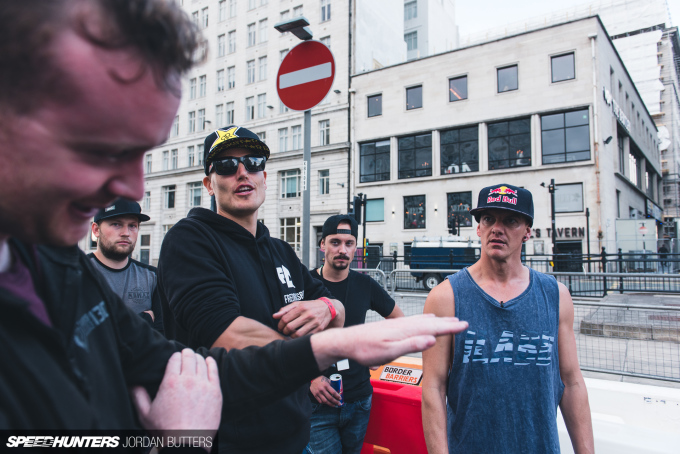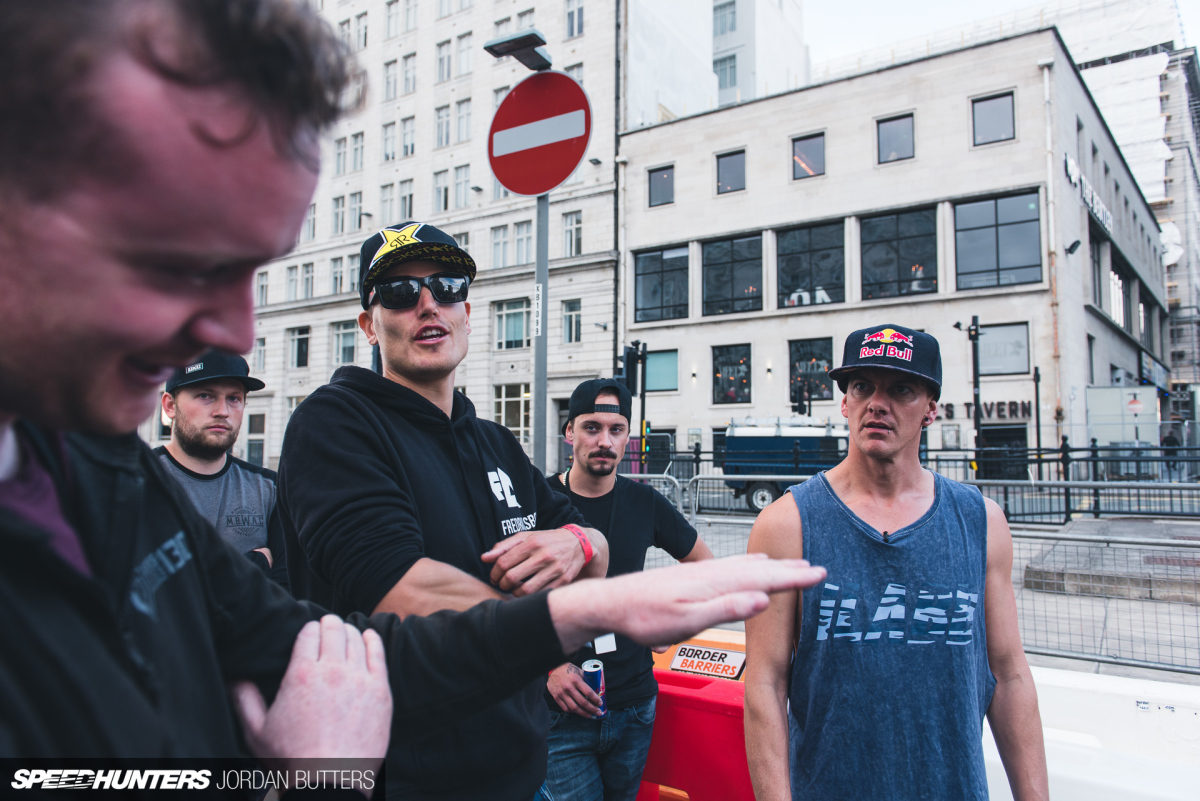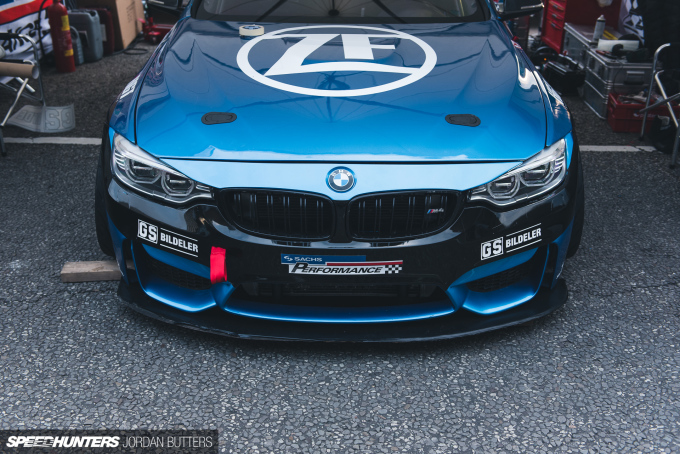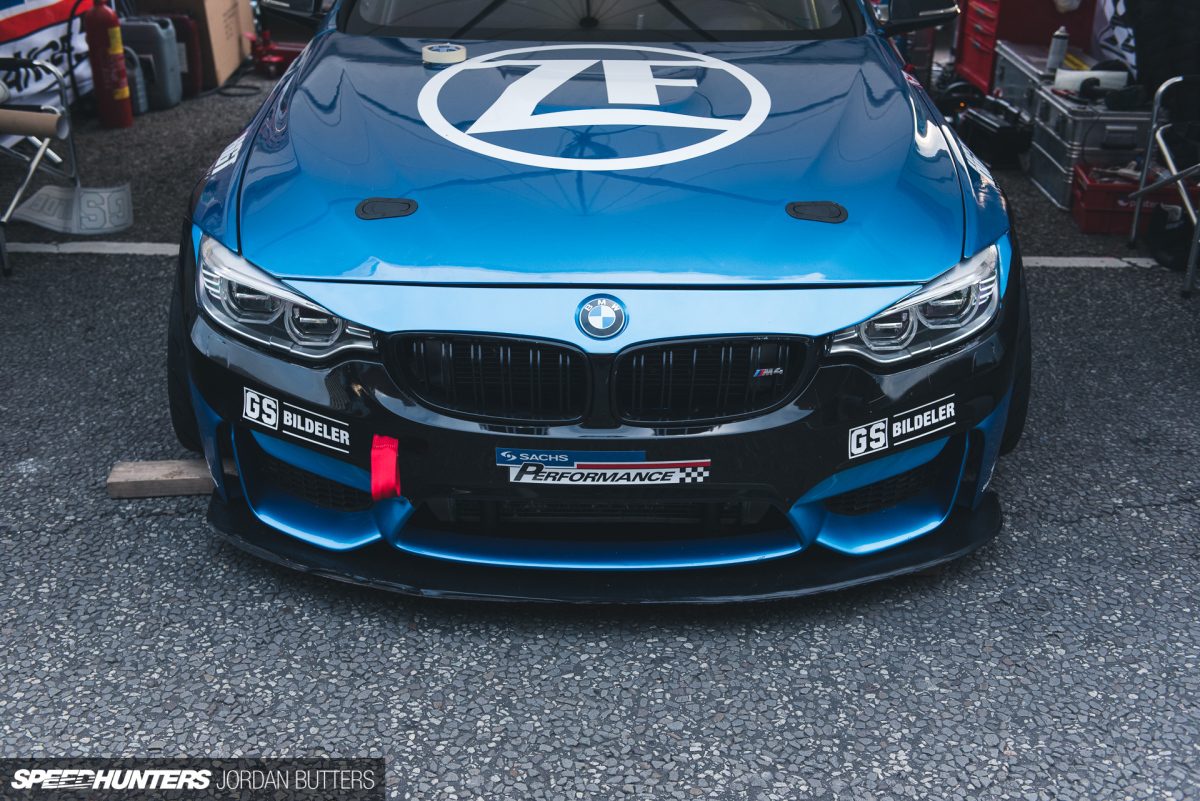 With the stage set, tomorrow can't come quick enough; I've genuinely not been this excited for a drift event in a good while. The forecast looks like it could be mixed, which should make for some exciting moments as the drivers push hard to score maximum points.
If you're able to, we strongly recommend getting yourself down (or up) here to witness Drift Shifters first hand, but if not, be sure to check on Red Bull TV tomorrow for the livestream.
Jordan Butters
Instagram: jordanbutters
jordan@speedhunters.com