Hiding In Plain Sight
White paint, a moderate drop, and classic Enkei RPF1s – at first glance this particular Scion FR-S is considerably understated. So much so in fact, that many of you might be wondering why exactly it's being featured?
But with this car, its simple exterior is its costume, and that costume is meant to distract from what lies within.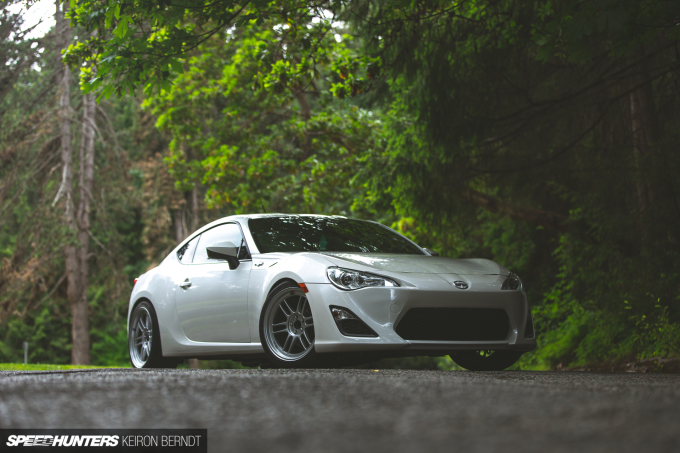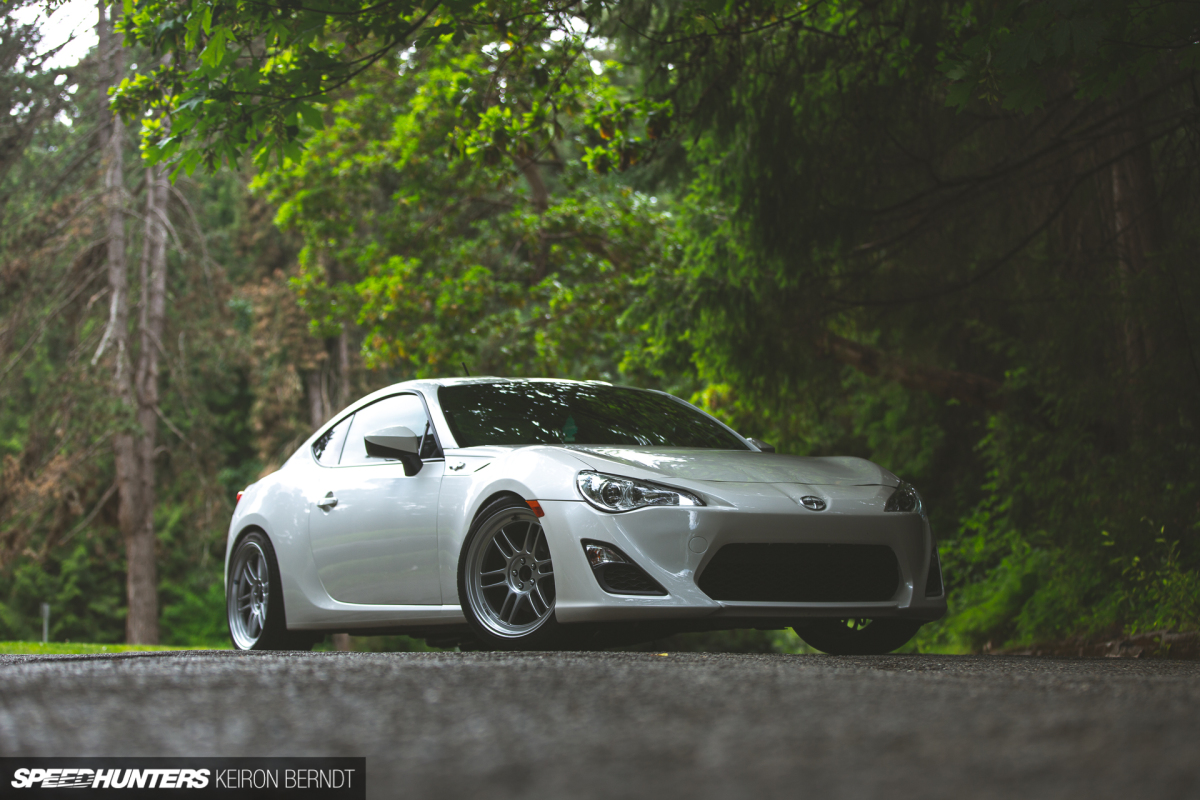 If you see this car on the street and assume it has only wheels and a drop, well, that's your own folly.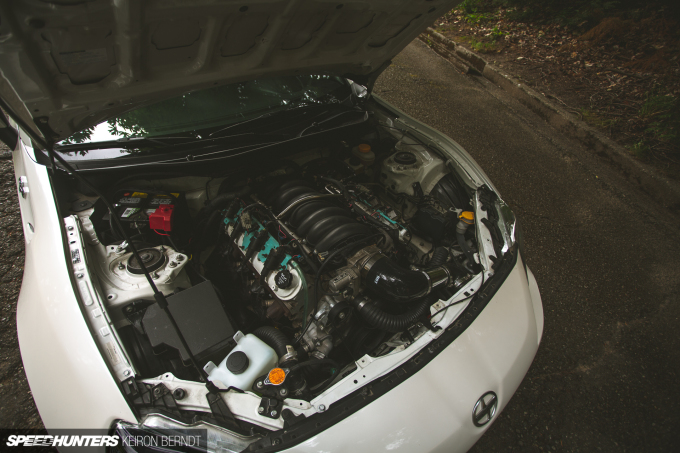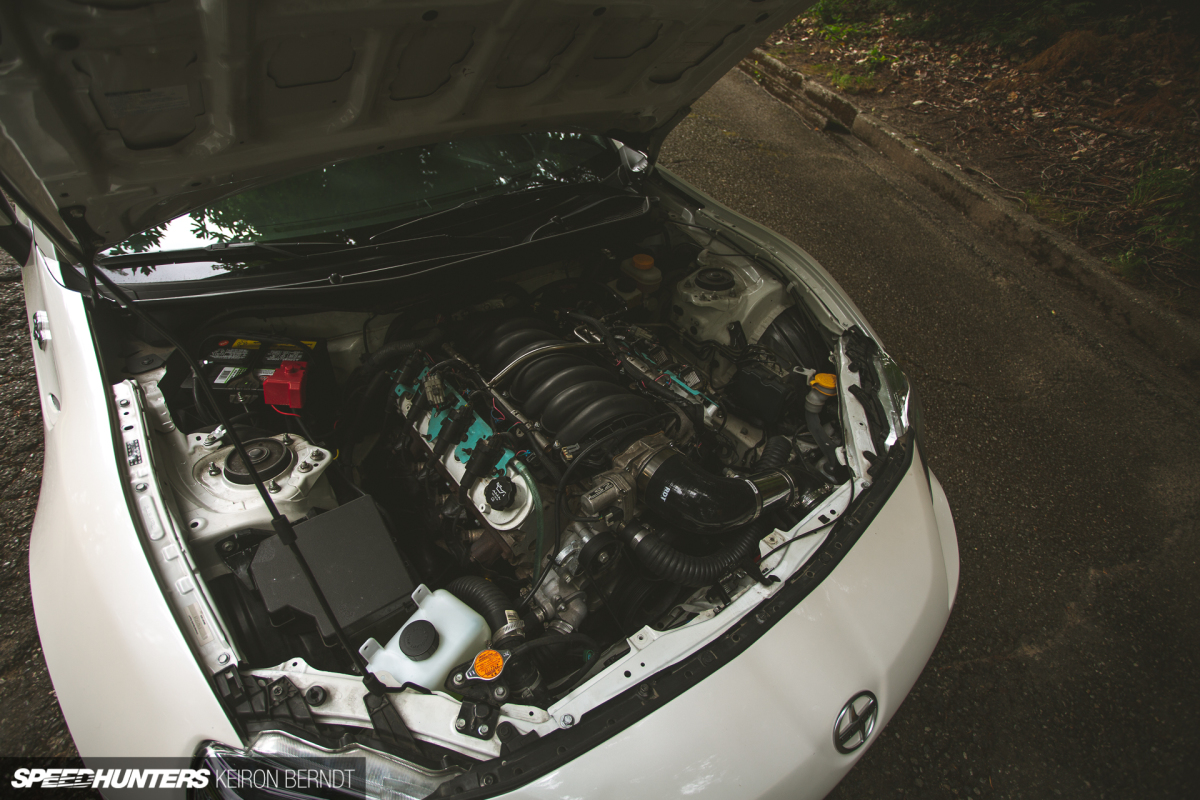 Admit it, for this car to hit the front page you knew the stock 4U-GSE/FA20 was long gone. My poker face is atrocious, and this is Speedhunters after all.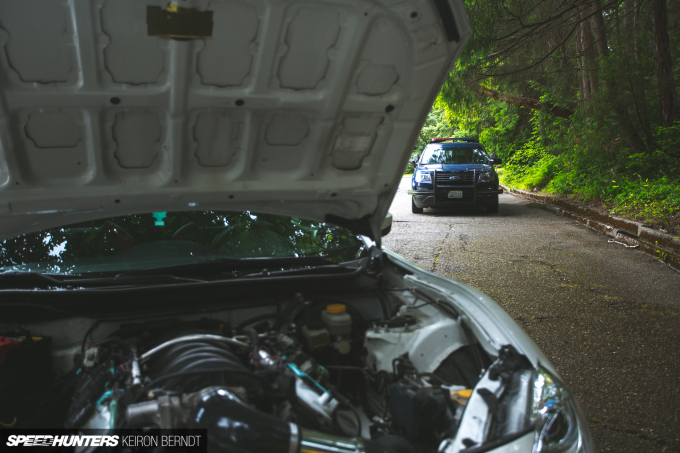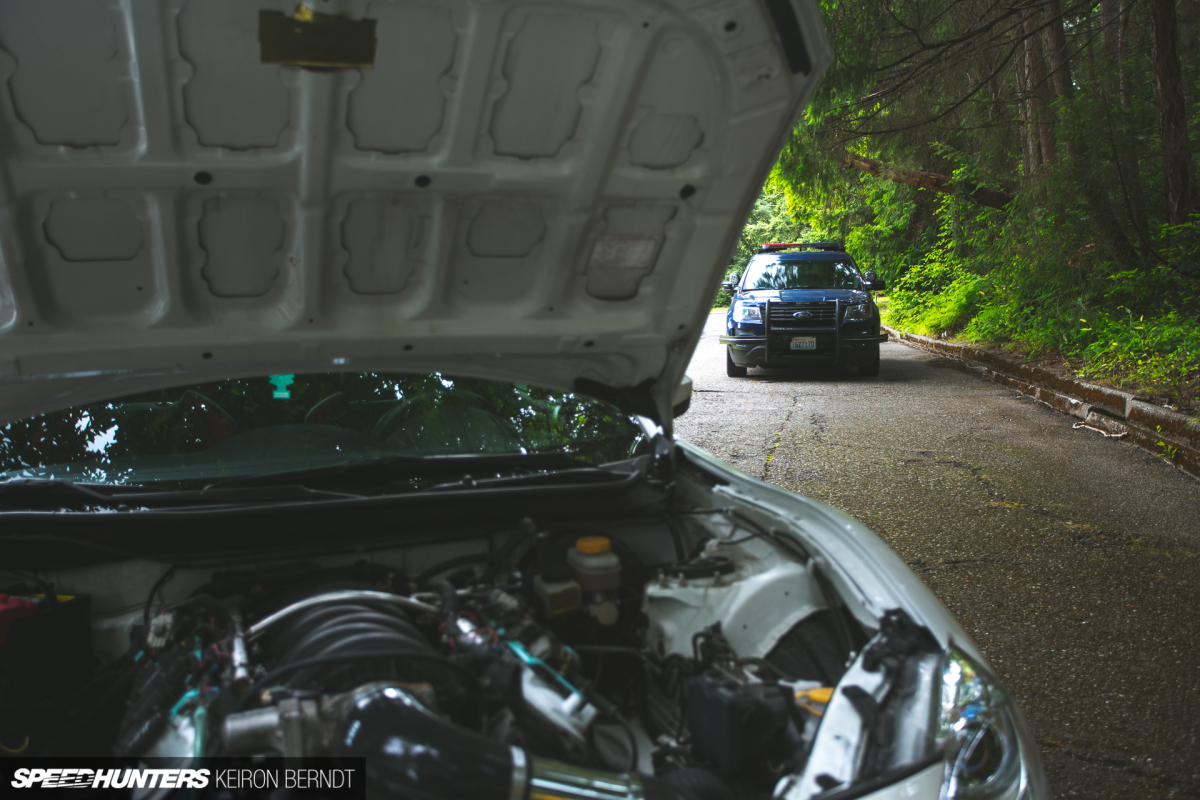 Call an LS swap what you will, but CJ Caspersen, who's got a long history of building a variety of interesting cars (including a Honda J32A-swapped Exocet) states that prior to this car the most fun he's ever had driving was behind the wheel of an LS-motivated Nissan S14. Therefore, a V8 was in the cards for this Scion from the moment it was purchased.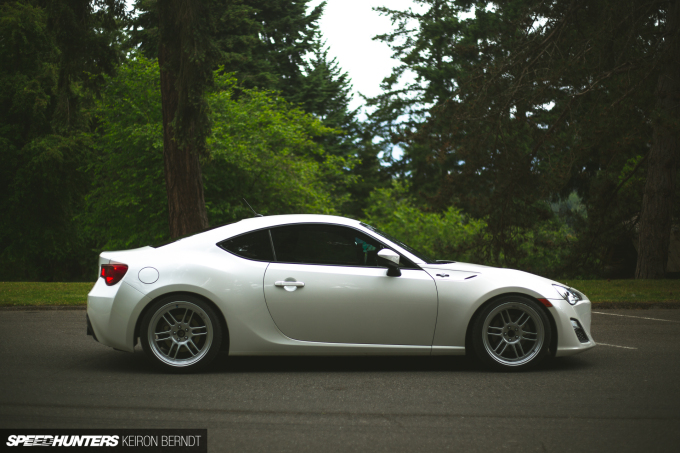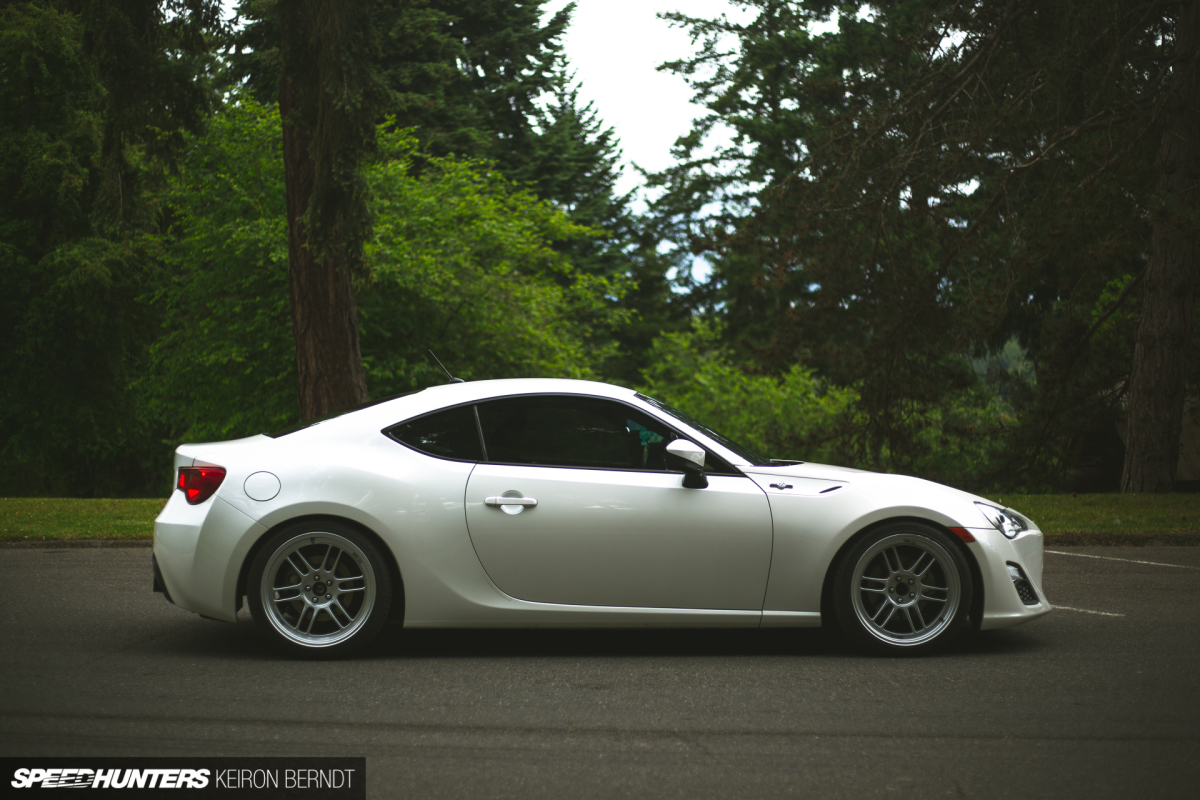 CJ's aluminium 5.3-liter LSX is fitted out with 799 heads, a Delta 228/228 cam and PAC 1218 valve springs. There's also a ported LS2 intake and FAST injectors in the mix.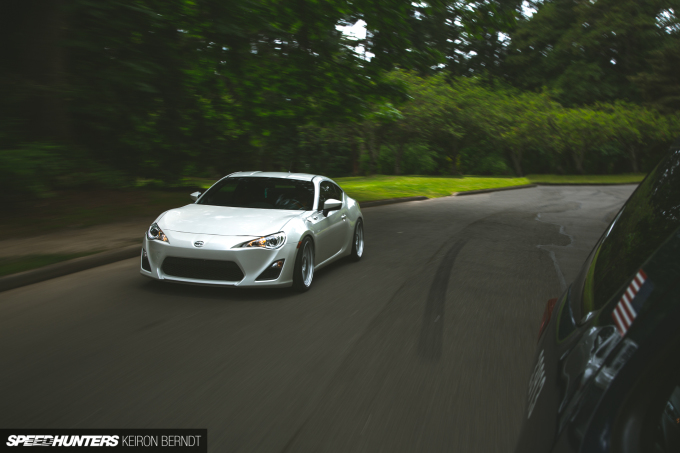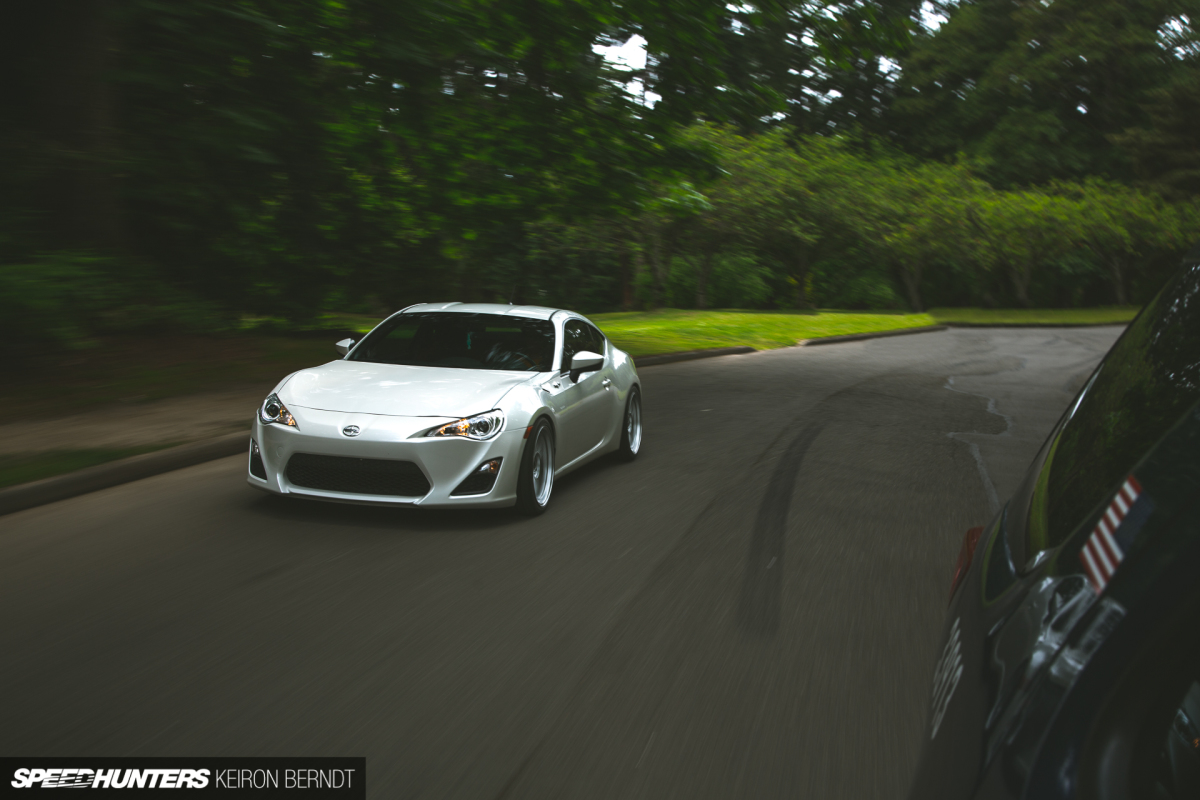 CJ tackled the motor swap and all the modifications aside from engine tuning (that was done to an LS2 GTO ECM via HPTuners by Josh Meinert) himself. Basic hand tools, a welder, determination, and a helpful LS swap community got this car done.
Mild Mannered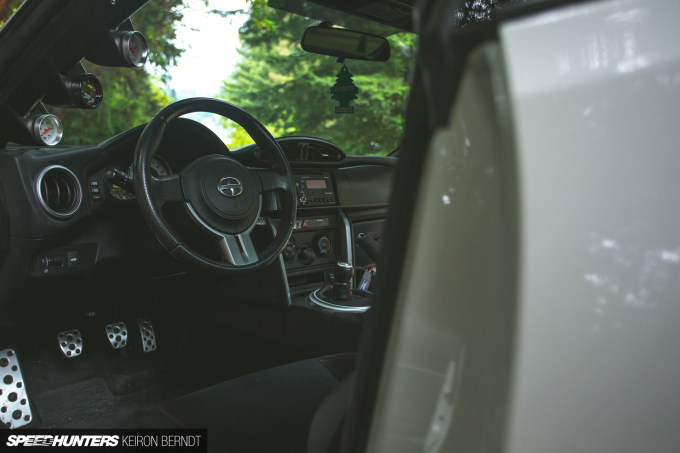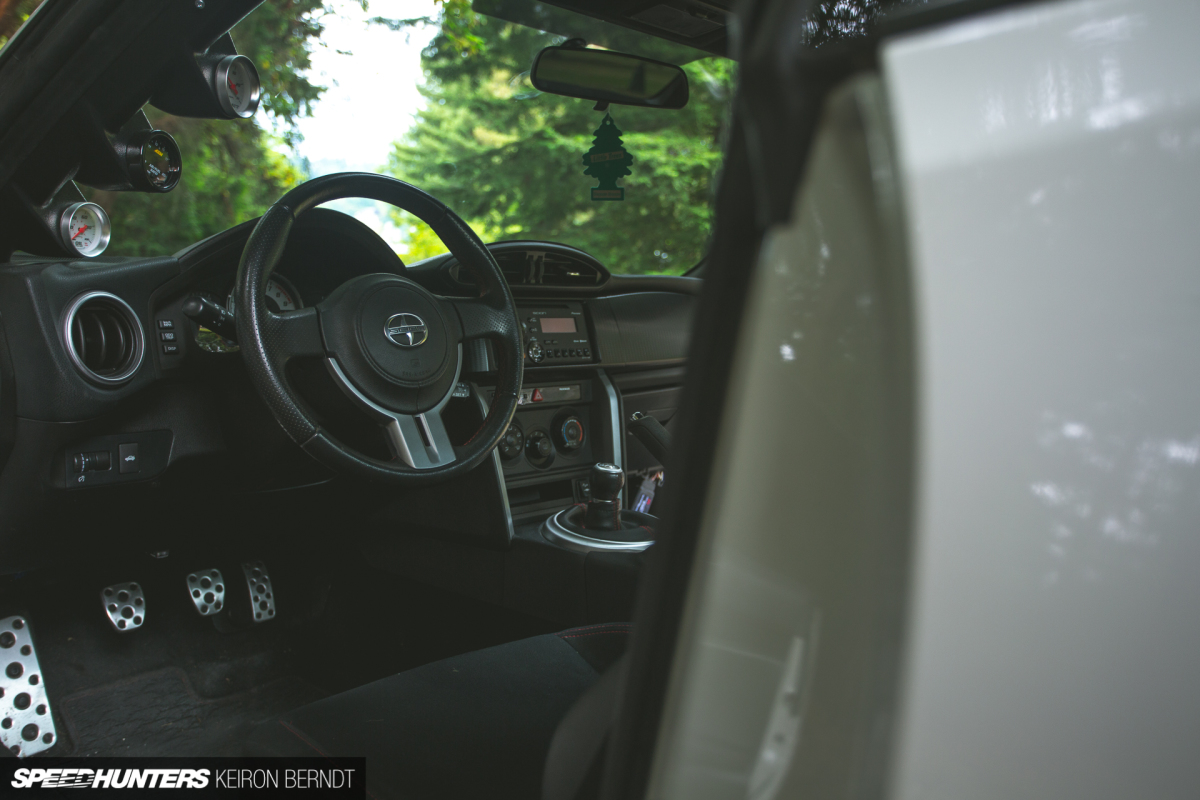 Inside his FR-S, CJ has gone to impressive lengths to keep things looking and behaving as stock as possible. Outside of the trio of pillar-mounted gauges everything looks factory, but under the factory accelerator pedal is a GM drive-by-wire unit that interfaces with a matching LS2 drive-by-wire throttle body.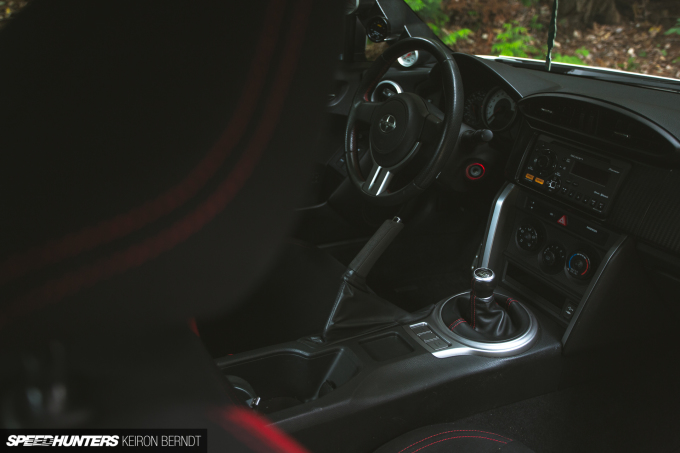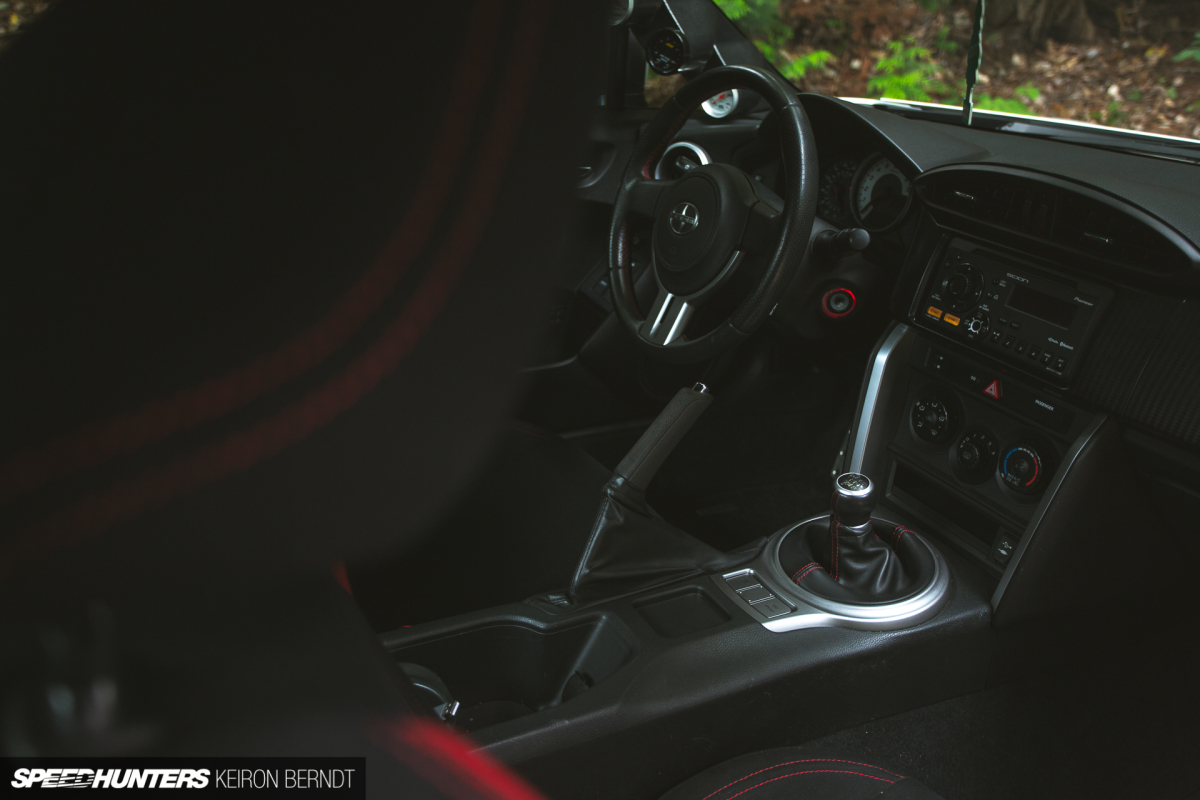 The factory FR-S shift boot and knob are retained and connected to an F-body T-56 transmission. From there a Monster stage 3 clutch and NW Drivelines driveshaft carry power to the 255-section Hankook Ventus V12 Evo2 tires. In keeping with the subtle look, those tires are mounted to the aforementioned Enkeis in a 18×9.5-inch +38 fitment.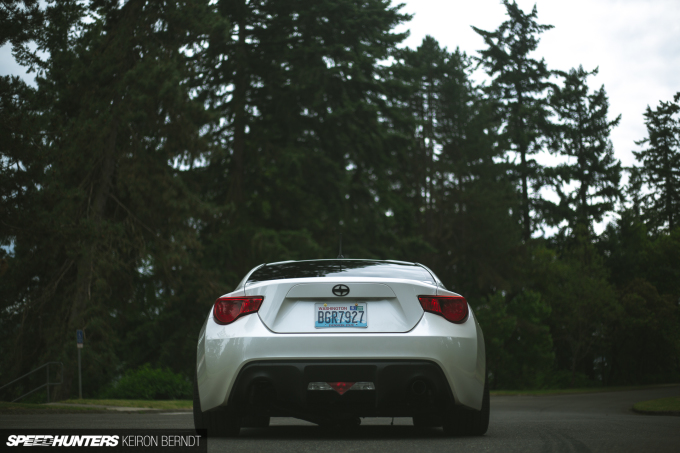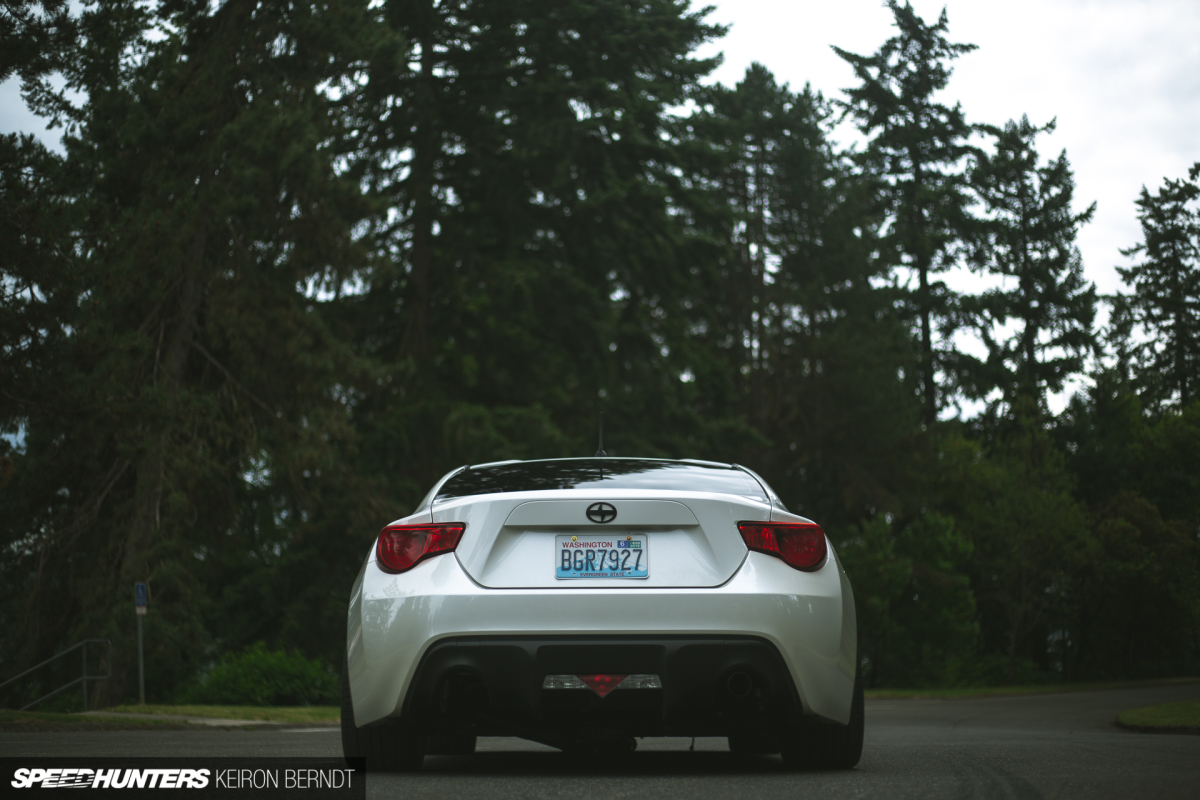 Out back, the dual 2.5-inch into 3-inch exhaust manages to remain fairly hidden. Most of the time exhaust gasses passes through a Magnaflow muffler, however, one of CJ's favorite LS features is the V8 roar at full commotion, so he's installed an electric cut-out. Flip a switch and the bald eagles are permitted to scream at will.
Off Duty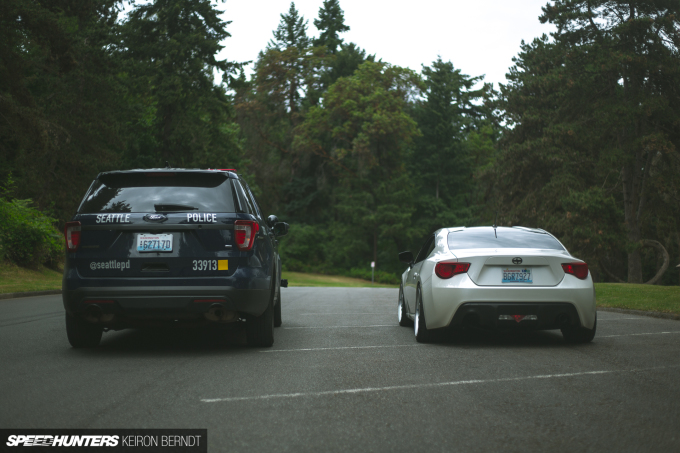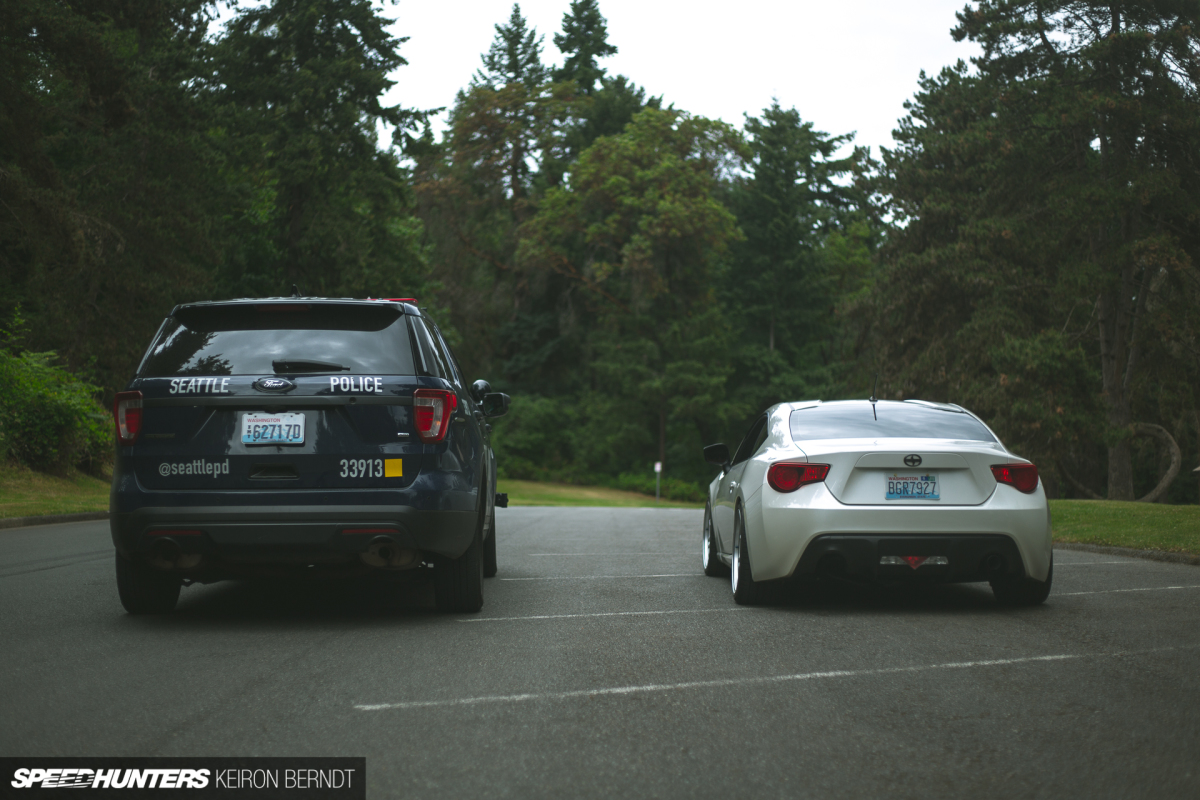 When it comes to the V8 chorus attracting the unwanted attention of police, CJ doesn't have to worry much – he's actually a man in blue himself.  CJ mentions that as much as possible he uses his position to encourage rather than deter automotive enthusiasm. The Fast and the Furious franchise played a big part in him becoming the gear head he is today, and while he hasn't let a gang of Torettos run free, there are without a doubt a few enthusiasts in his native Seattle that have reaped the benefits of having a guy like CJ on the force.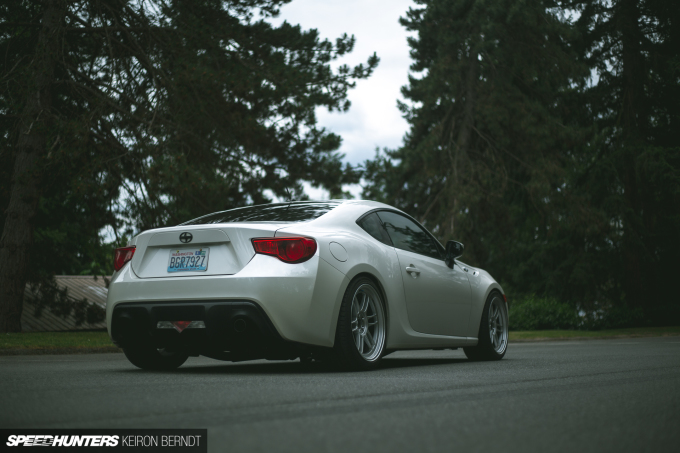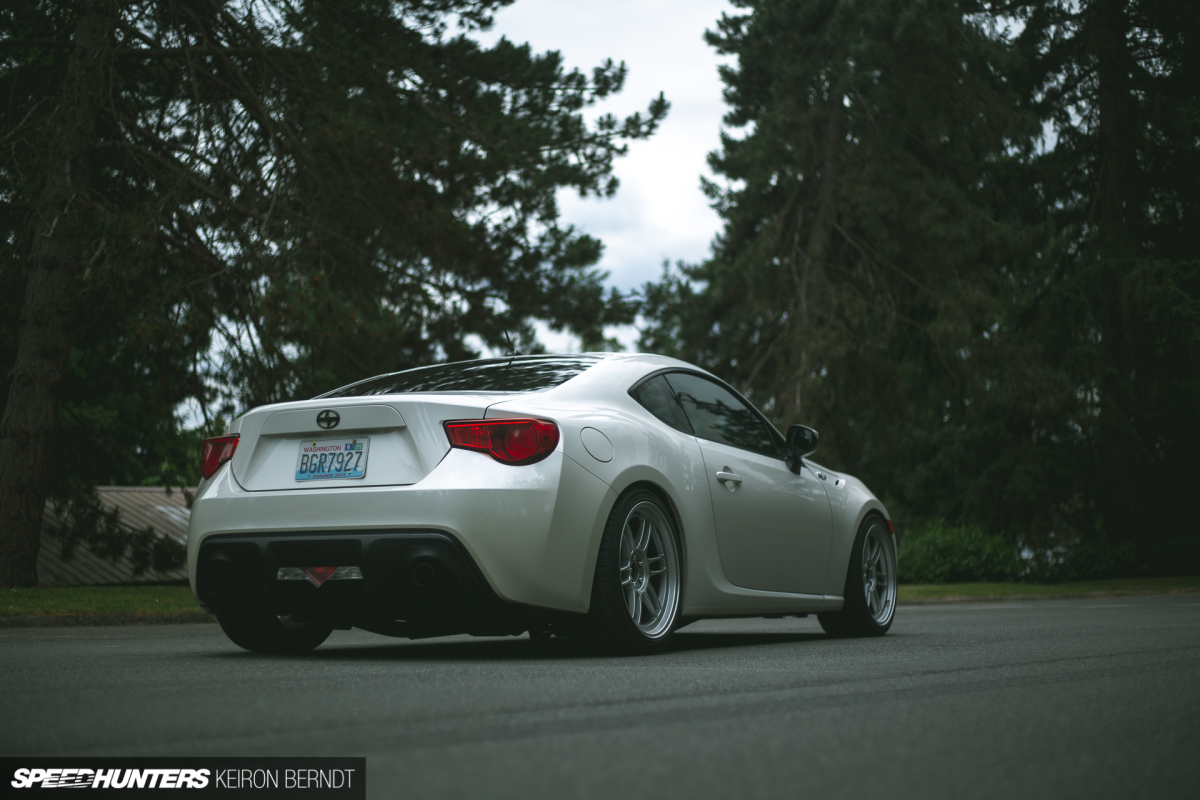 As enthusiasts we often forget that many of the uniformed men and women we pass in our day-to-day lives are car people themselves. I'm not sure about you, but I'd love to see more of what police officers drive, here on the site.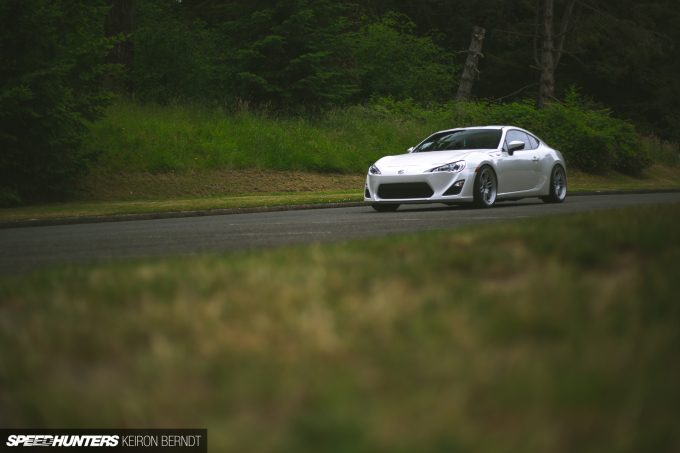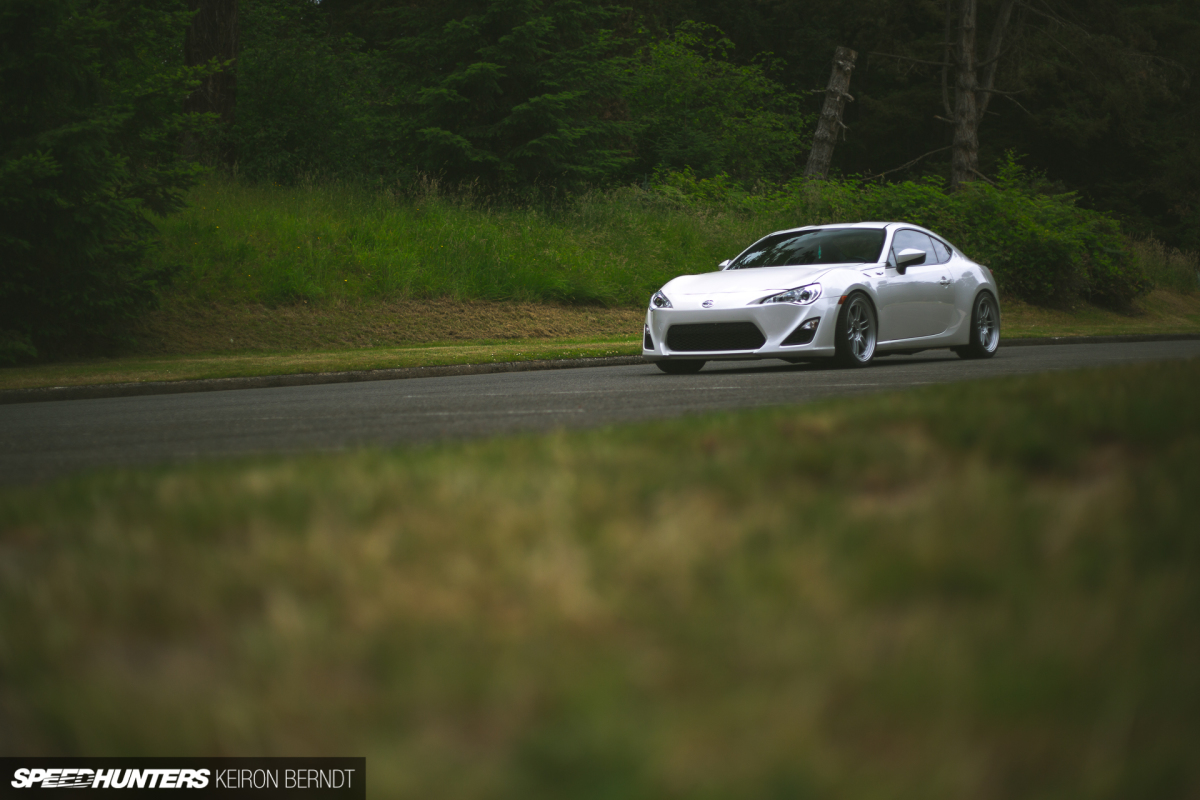 What do you think? Is this an avenue worth exploring? Perhaps the start of an ongoing series? Maybe we could even line up a cruiser or two against some of the cars…
Strictly for scientific purposes, of course.
Dave Thomas
Instagram: stanceiseverythingcom
Photographed by Keiron Berndt
Instagram: @keiron_berndt
Keiron Berndt Photography