Toyota Did Well
Do you think manufacturers know when they're onto a good thing?
It's never been that easy, of course, but I'd say these days it's become a massive feat, because you never really know how a car will be received until you put it out on the market. If it was so simple we'd be bombarded with awesome cars all the time. A few decades' ago, I think it was easier to bring a more simple type of car to fruition, and the AE86 chassis is the prime example.
Back when makers weren't burned with countless safety regulations, emission constraints, internal hurdles and marketing departments telling designers and engineers what the market wanted, it was a little easier to nail a car. These days the whole notion of the perfect car has gone on a weird tangent, but I don't even want to get into that discussion today. What I do what to do is celebrate one of the most accomplished Japanese cars ever made, the Hachiroku.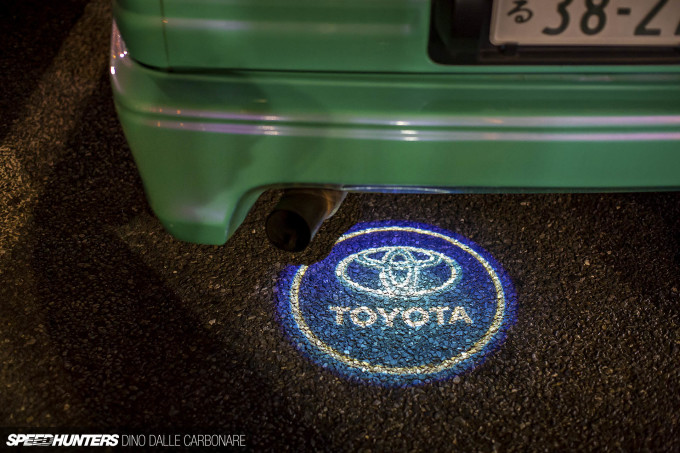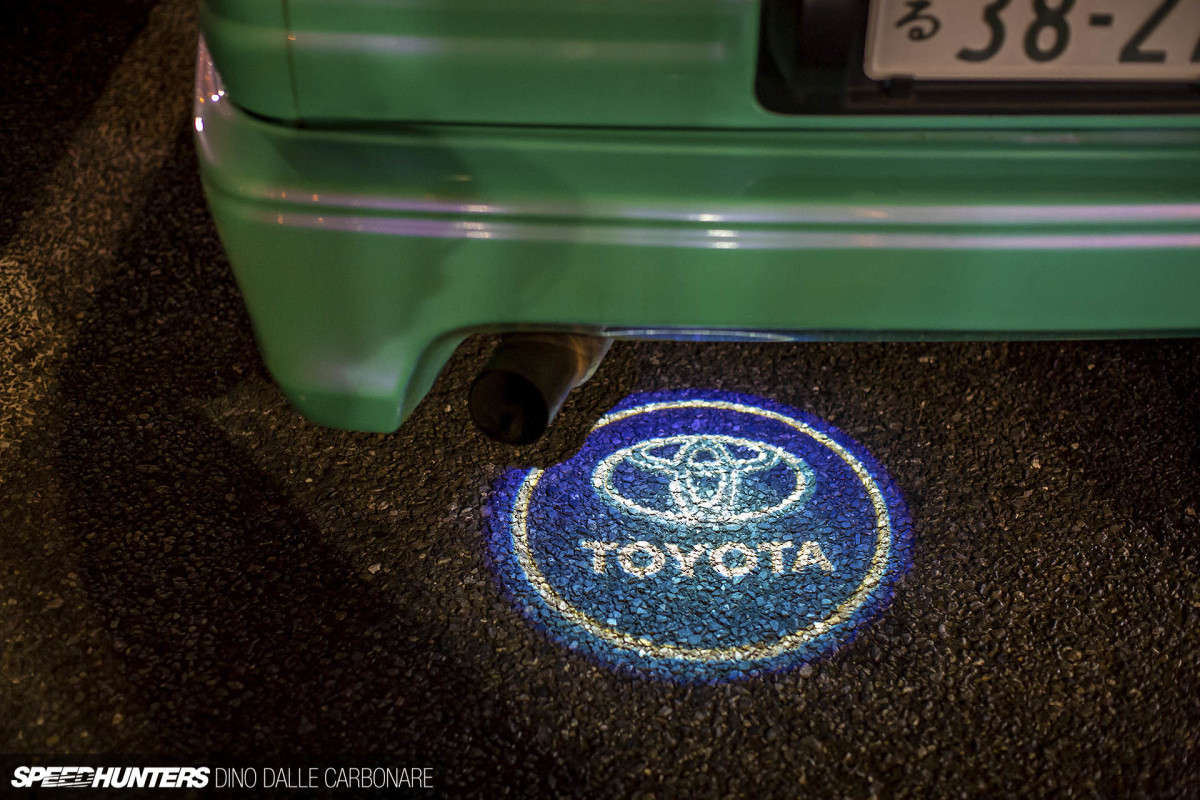 Did Toyota know the car was going to be so well received with the enthusiast crowd? Probably not, but what they did know is that they'd succeeded in making a fun, cool and affordable entry-level sports car. Little did they know they had created a true icon, one that 30 years later would spawn a remake that would also bask in unexpected success.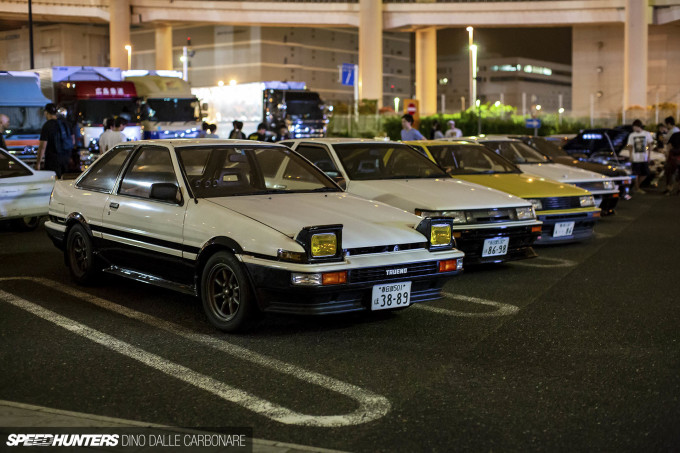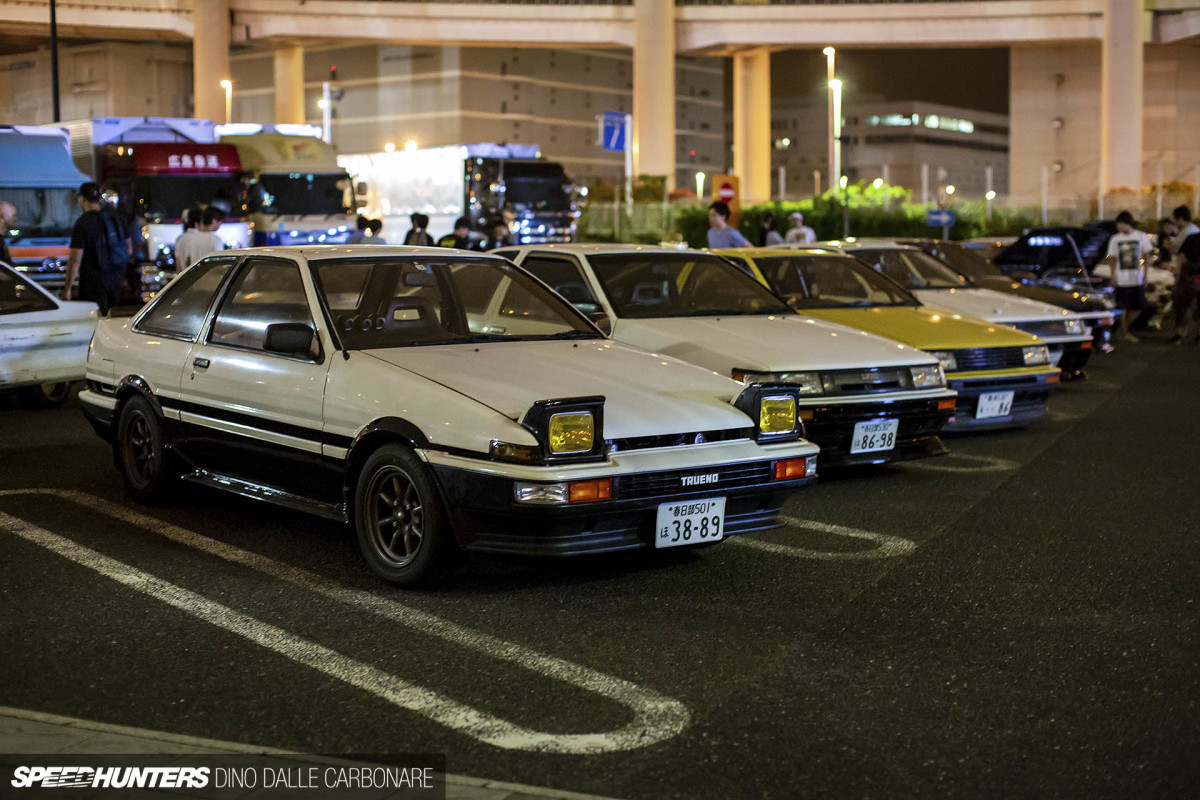 And the 6th of August (8/6) is the day we celebrate this very success, the little car that wore the popular Corolla name and ever since its inception has touched the hearts of so many car guys and girls around the world.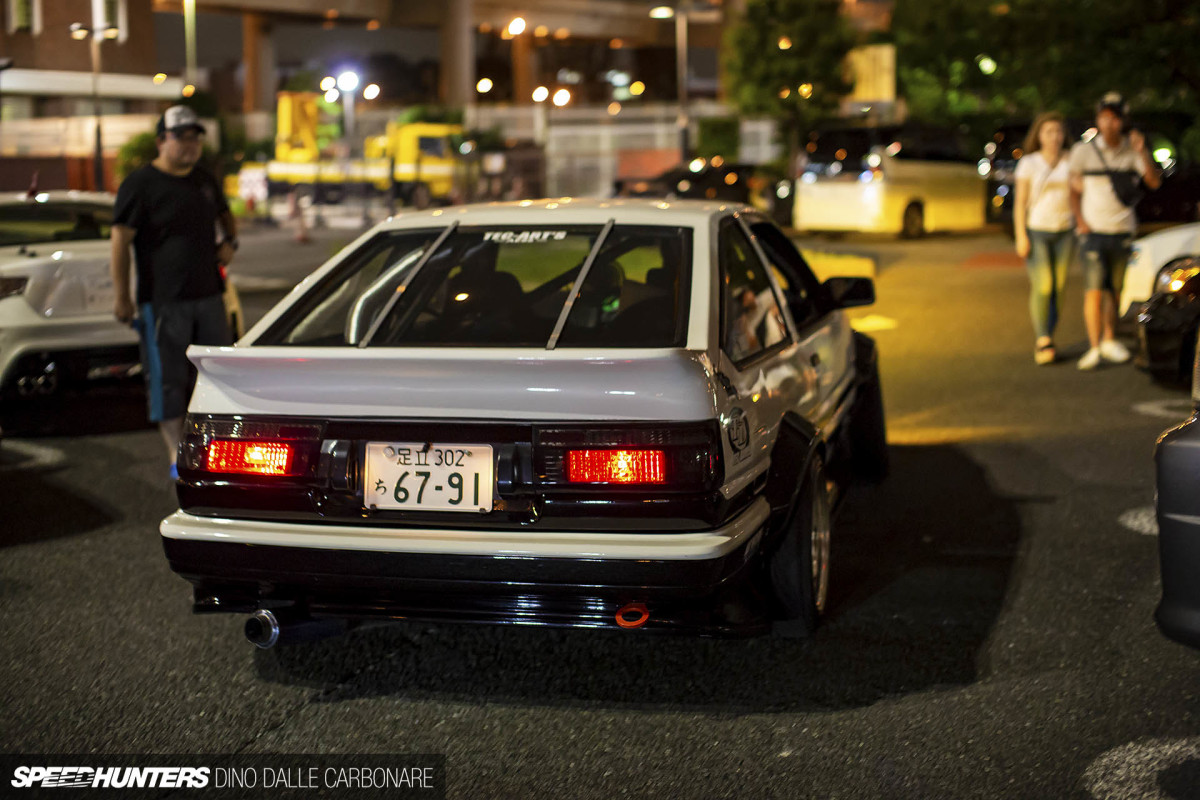 It's been a while since I've checked out this gathering myself; these last few years I've either not been in Japan on the day, or fellow Speedhunters have covered the celebrations at Daikoku PA in Yokohama.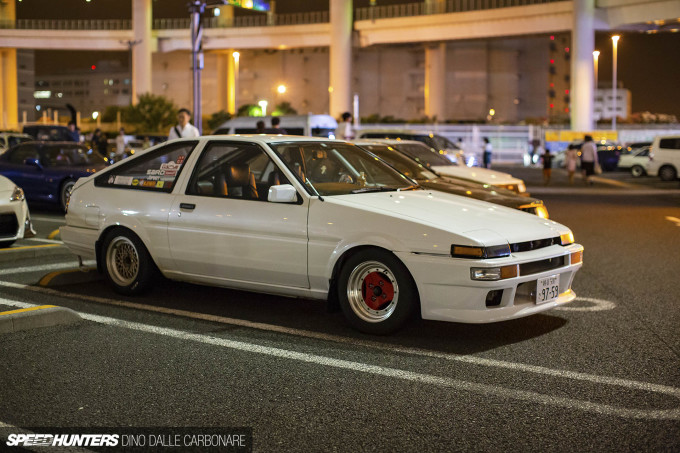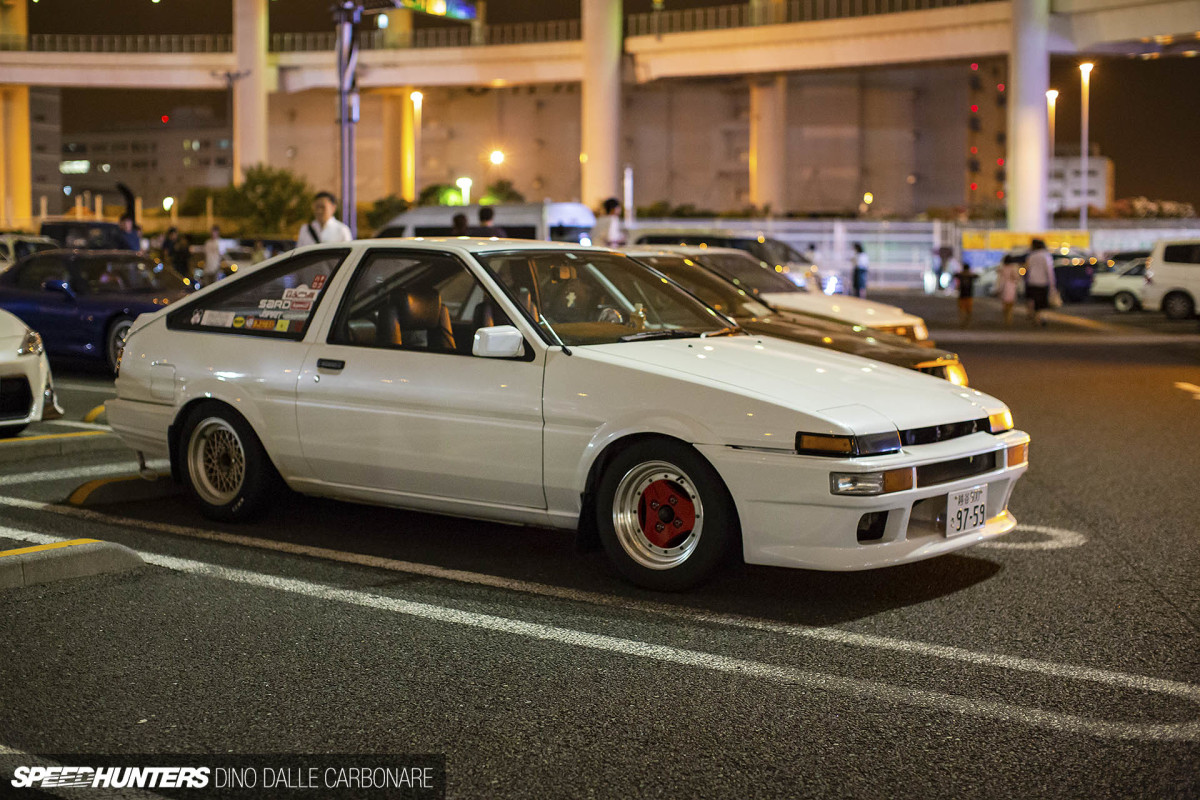 But last night the stars aligned. I got back from a short family trip right in time to glance at my watch and think, 'wait a second – if I head out now I can probably catch the 86 Day meet down in Yokohama'. The resulting evil eye I got from the wife was promptly ignored (RIP Dino – PMcG) and off I went on yet another Speedhunting adventure.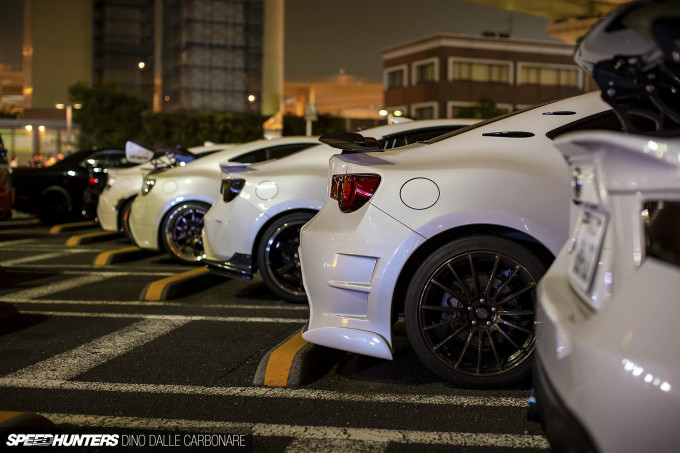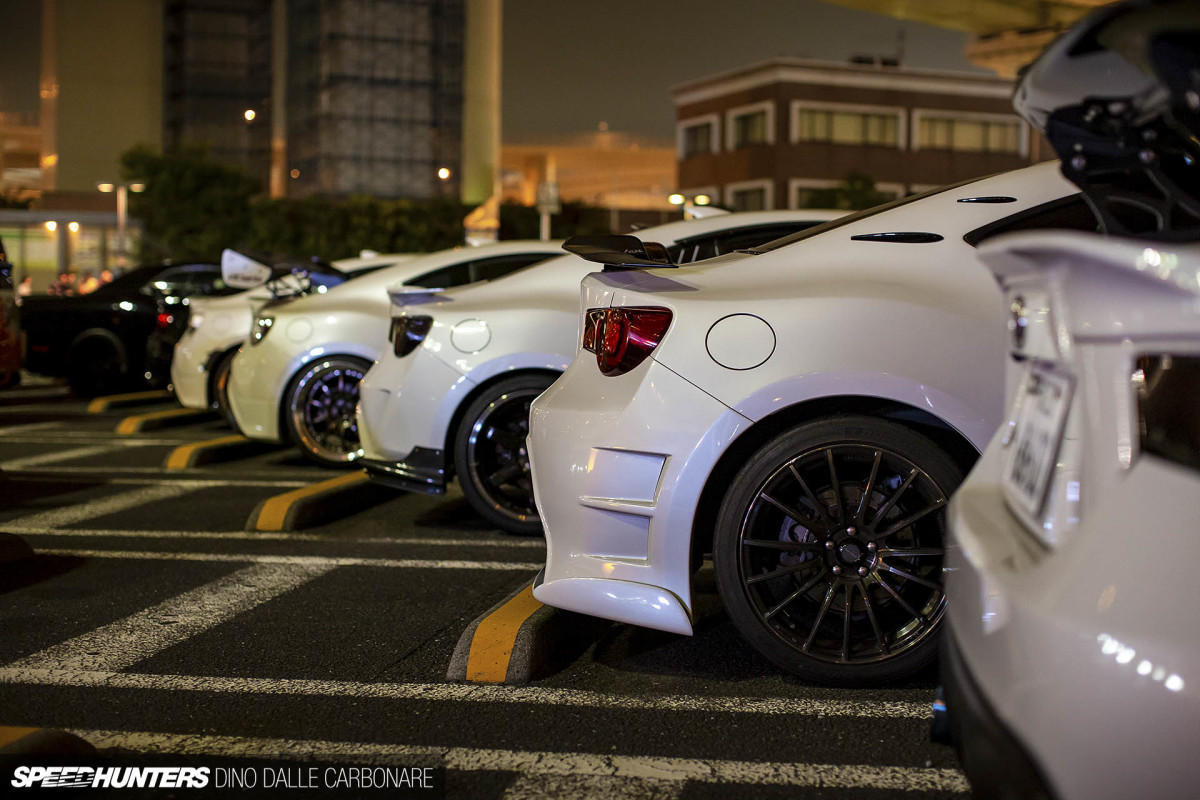 Full Night
I have to say, I was very pleasantly surprised as I pulled into the parking area at 9:00pm – it was full and buzzing with life. The 86 Day meets I've covered in the past were never this big, and the seeing a mix of old and new 86s in all states of modification filled me with joy.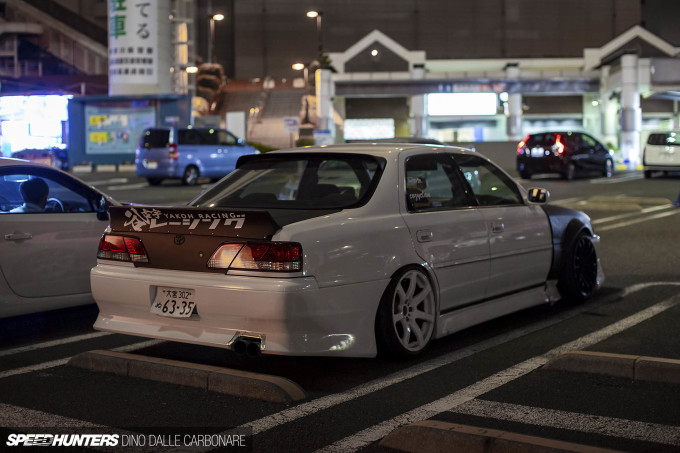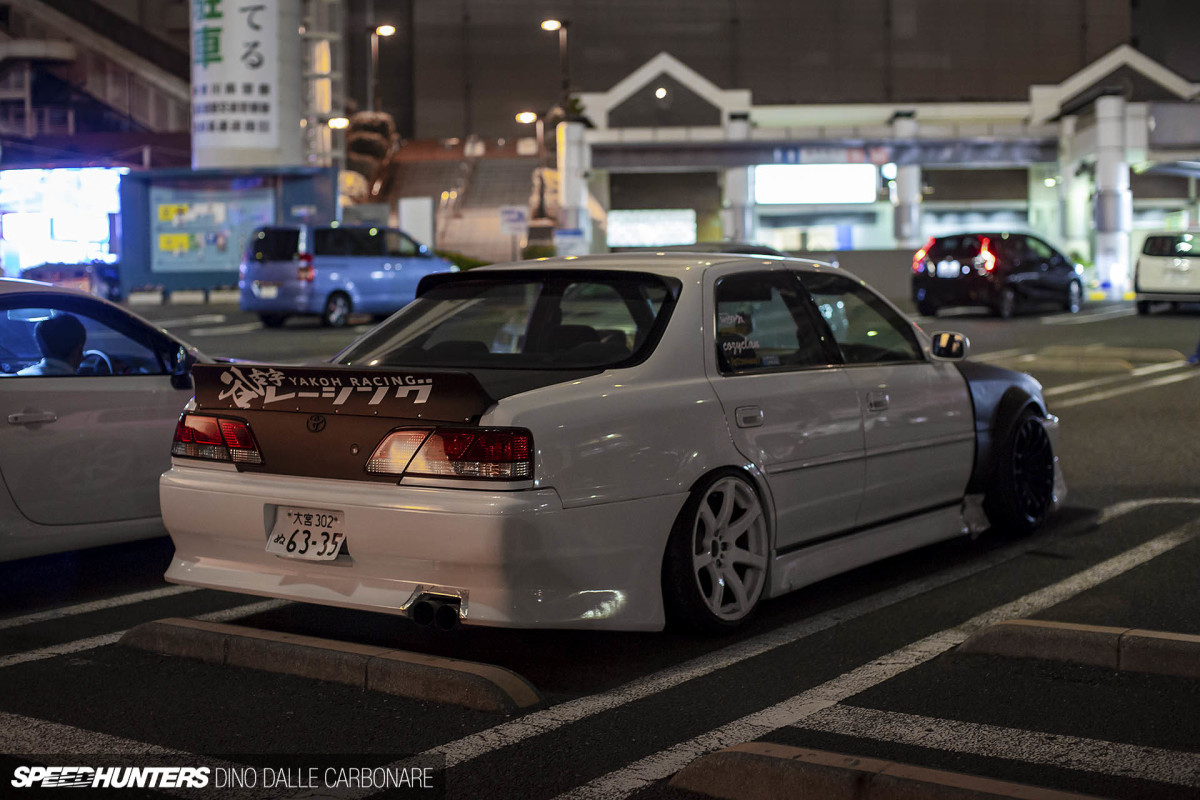 Of course, there were countless other cars to check out too, this is Daikoku after all.
One car receiving a lot of attention was this slammed Cappuccino on Work Equips. I just love seeing a car executed beautifully, and in that moment, as I kneeled to the ground to grab a few pictures of it, I even forgave a stance that pretty much eats away at its inherent handling dynamics. Damn, low cars are so photogenic.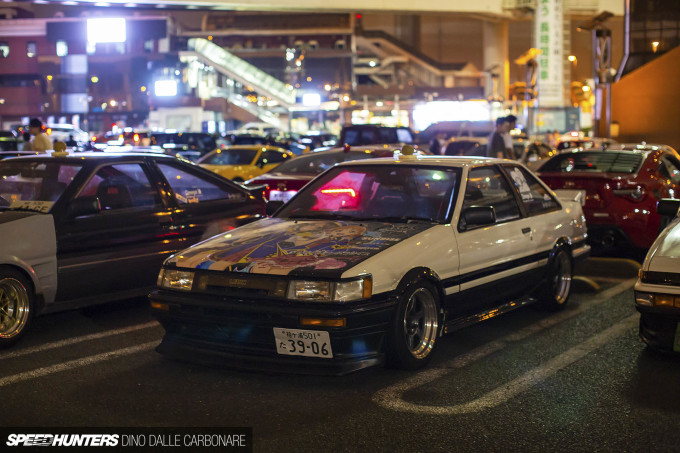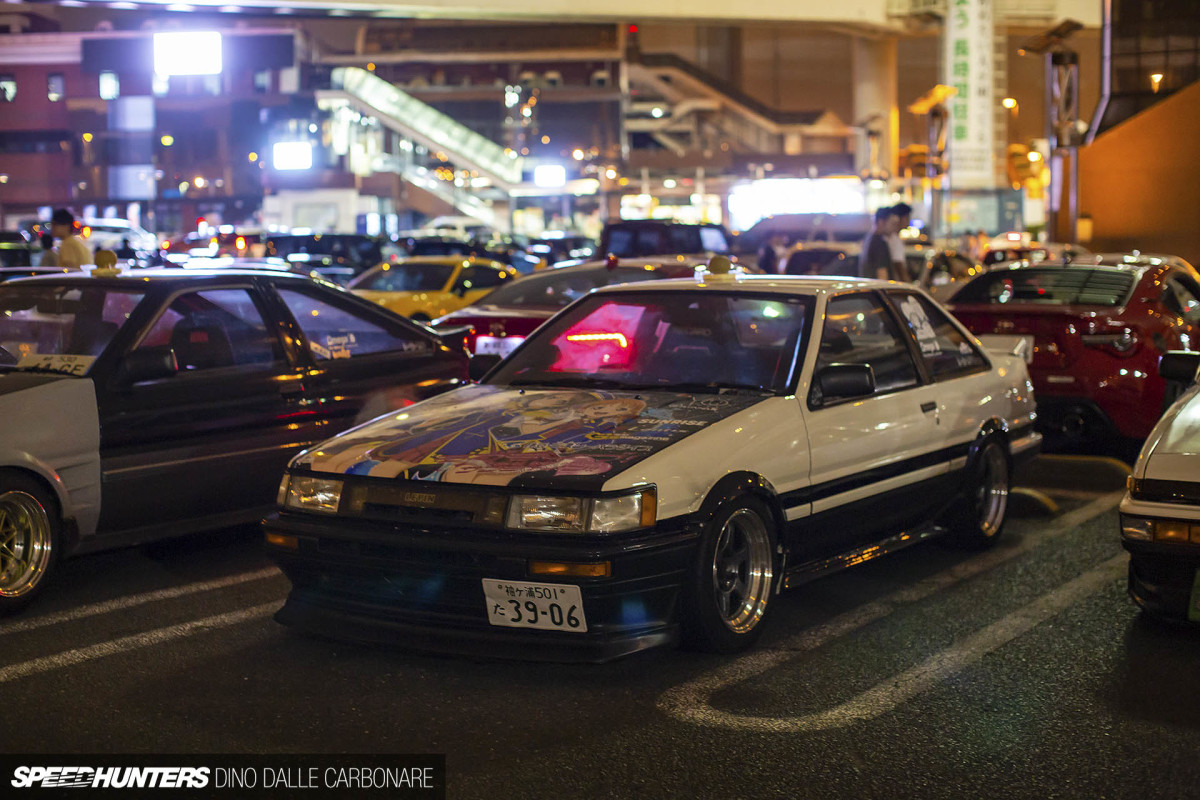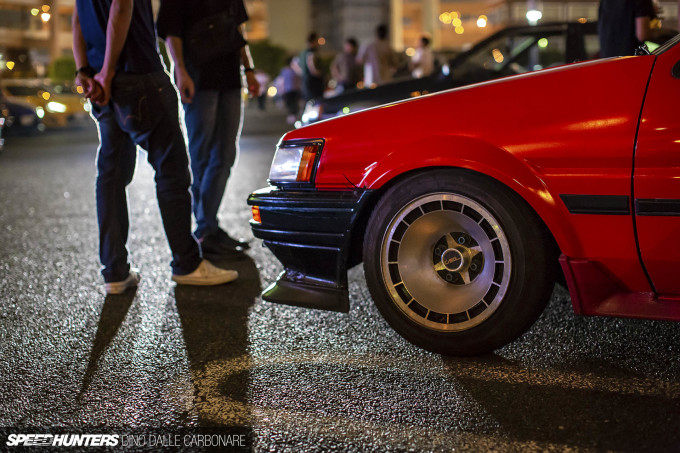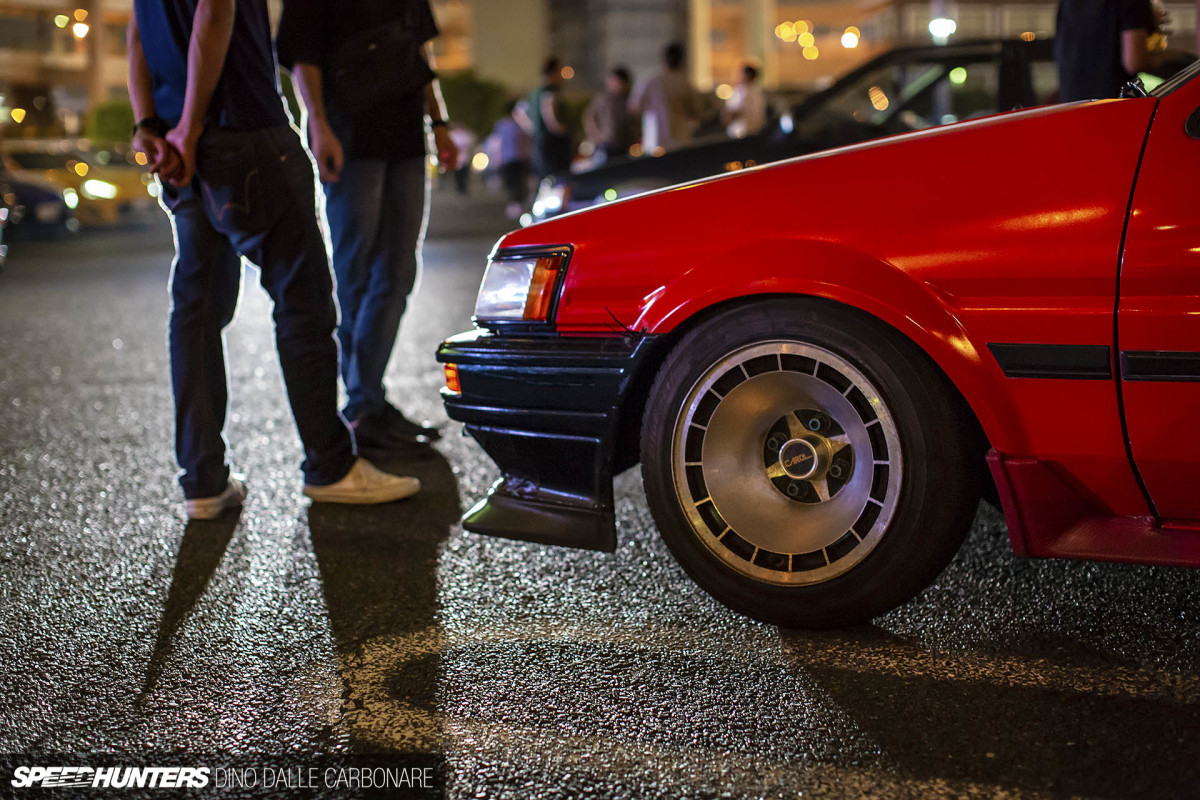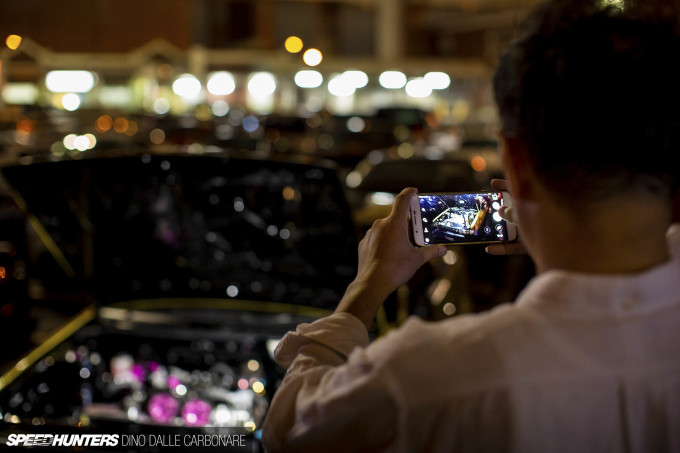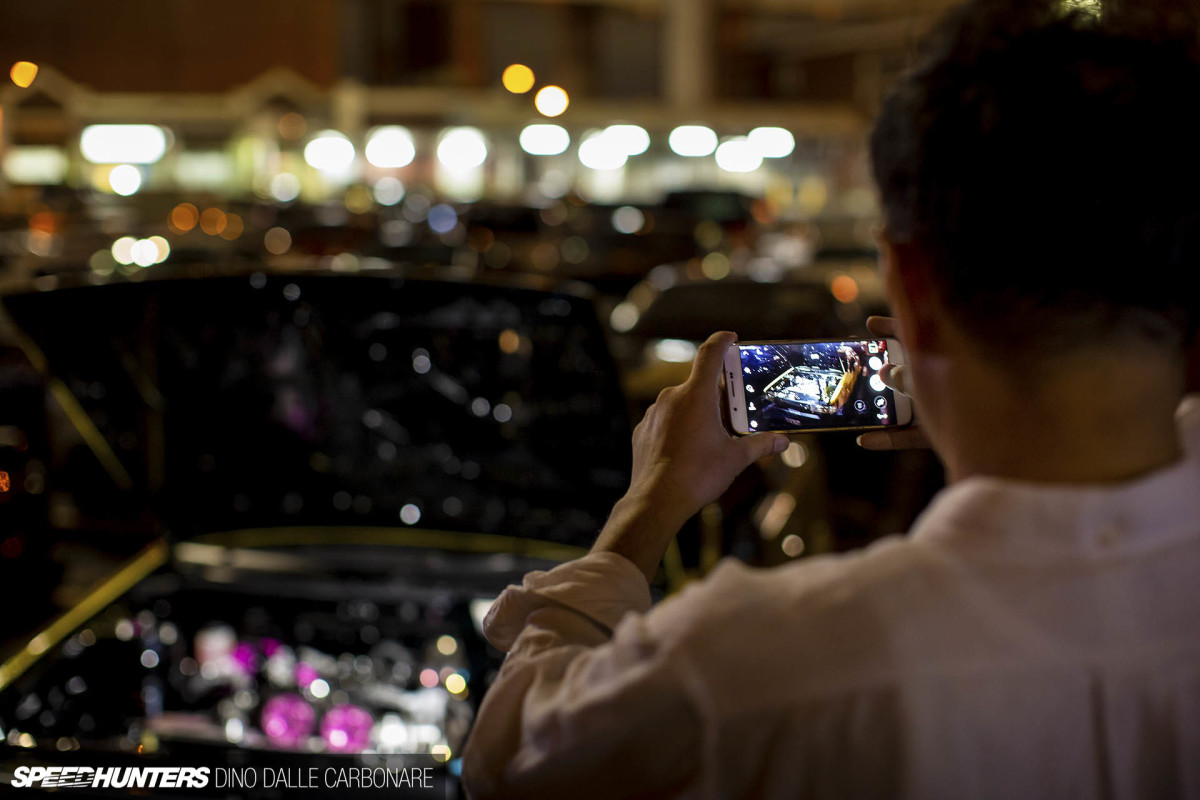 No matter how times you hit Daikoku, when a good event is going down here you are brought straight back to the very first time you visited. It's like the energy and atmosphere never dilutes. It's this that I love the most about car culture in general; irrespective of where you are, cars bring likeminded people together.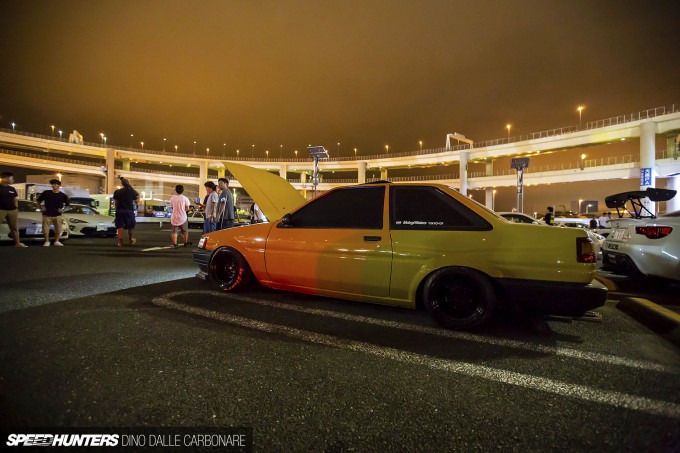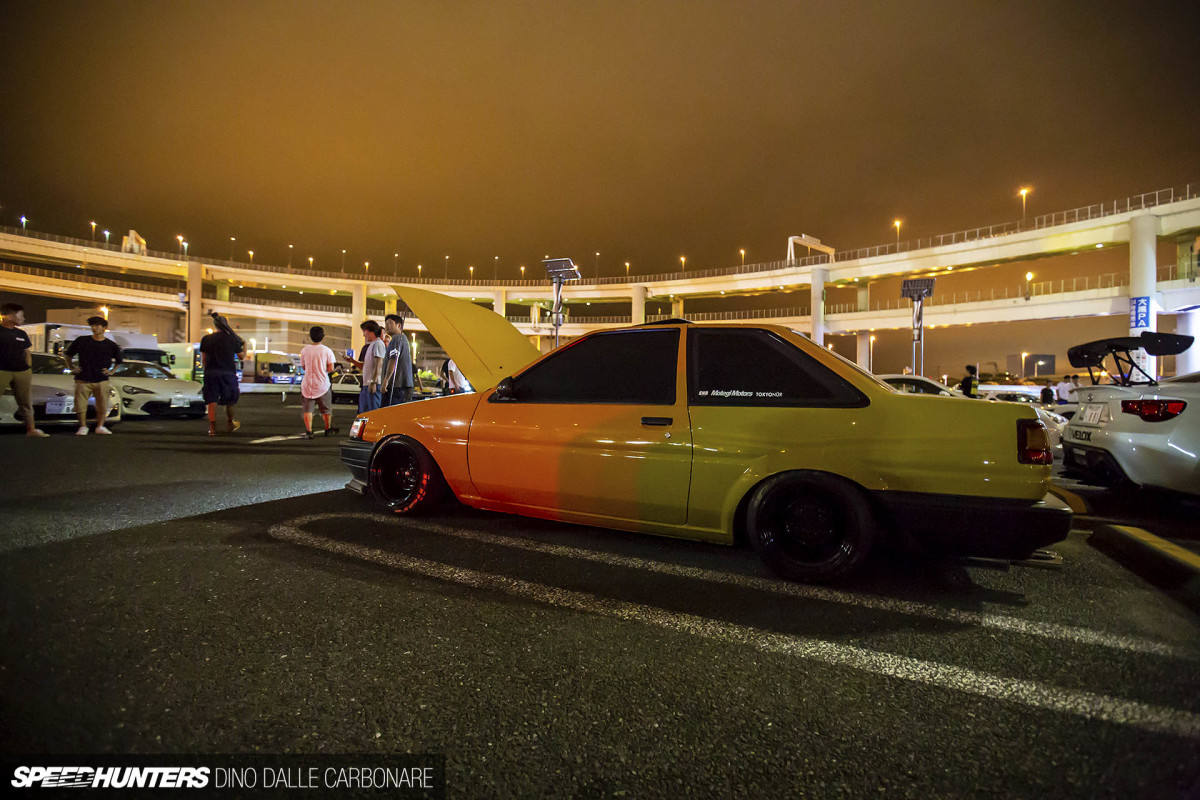 There was so much to look at, but if I had to pick my favorite original generation Hachiroku from all those in attendance, it would have to be this particular example.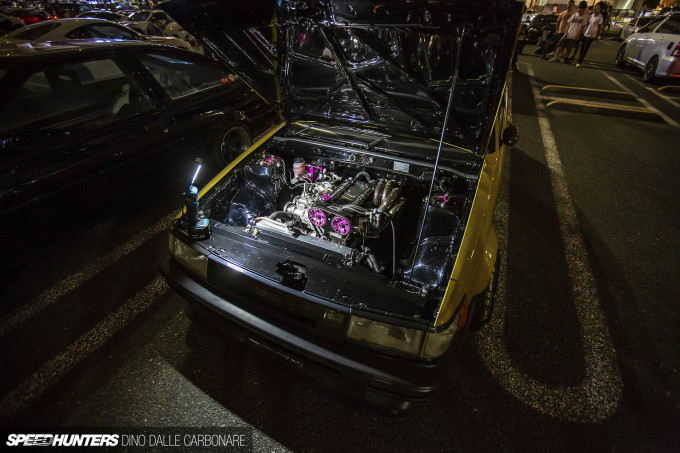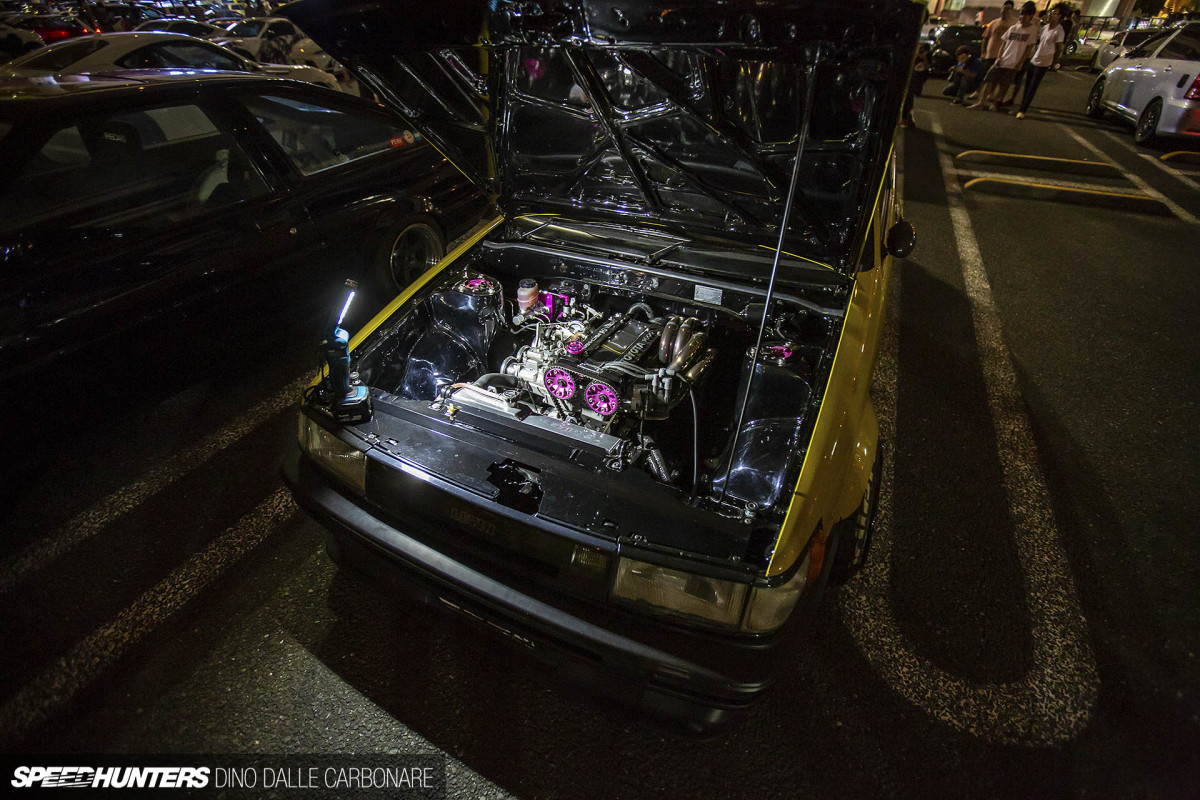 It's so nice seeing owners pouring heart and soul into their cars, rides that they know they are going to be owning for the long run. We see it at 7's Day too, the continuous advancements, experimenting and general cleaning up of cars – for lack of a better term. But that's it right there; once you know you've found the car for you, the envelope keeps getting pushed and the money never stops being poured in.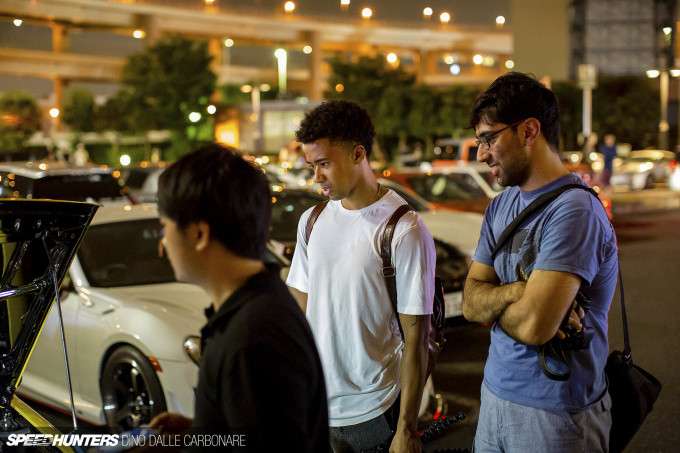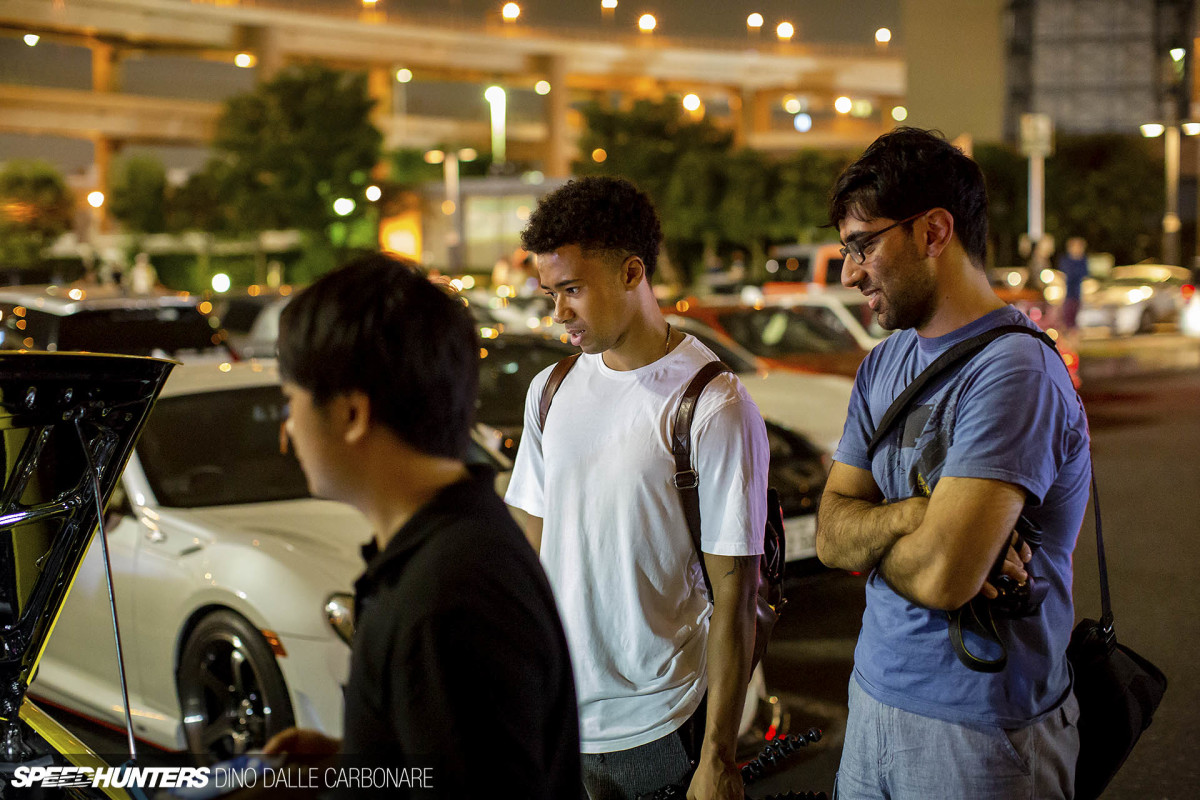 I bumped into Nissan/Nismo driver Jann Mardenborough who had just driven the Impul/Calsonic GT500 GT-R at the Super GT race the previous day (with a rather unlucky turn of events), something he was reluctant to get into. Being in Japan and obviously into cars he didn't want to miss dropping by Daikoku to check out the 86 Day celebrations for himself.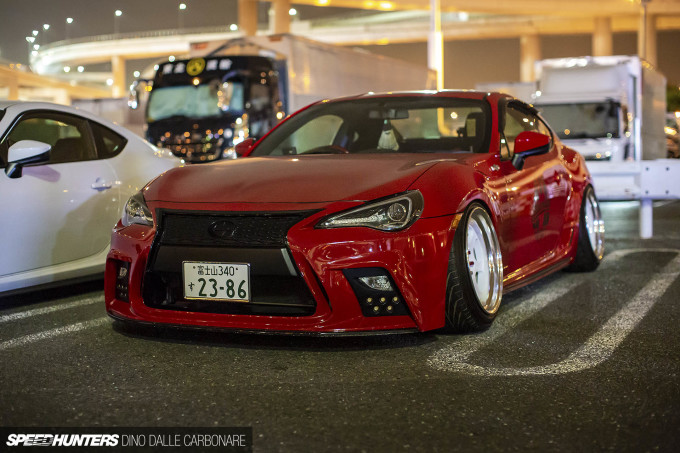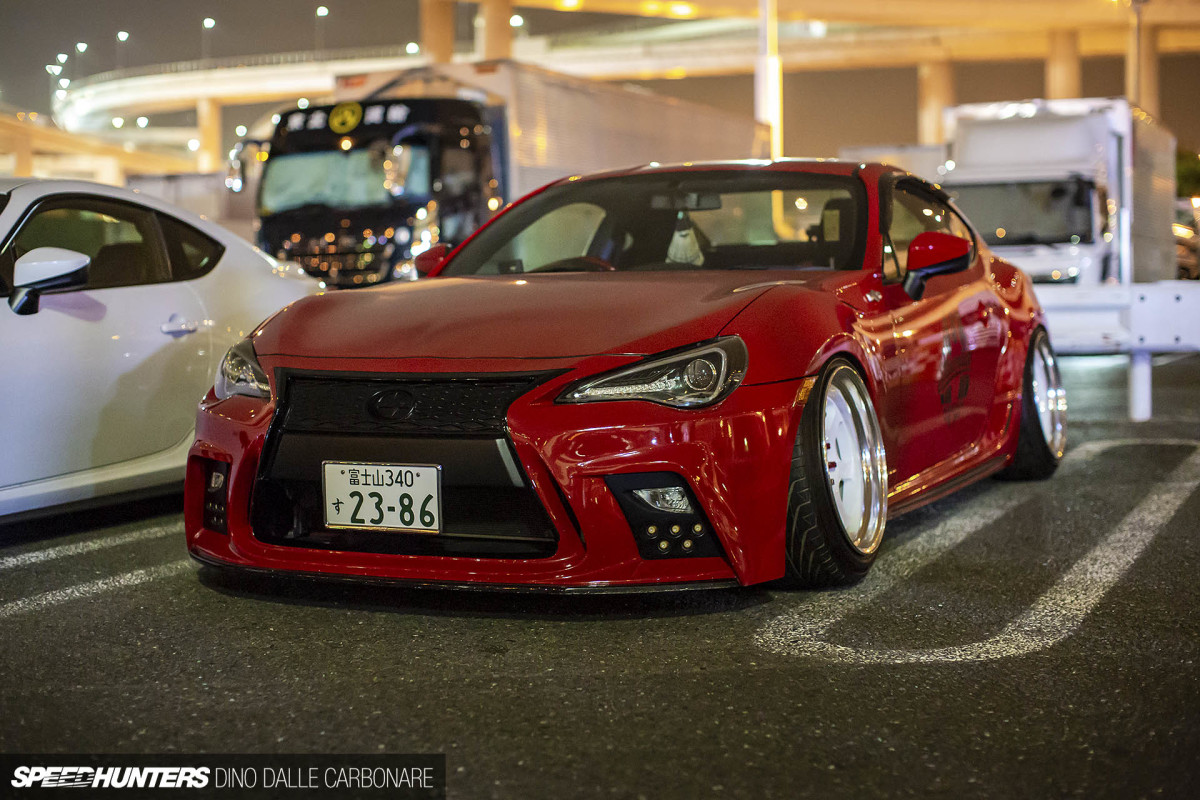 It's funny how slapping a Lexus-like grille on a ZN6 instantly makes it look much more upmarket. Aimgain certainly has the right eye when it comes creating unique and fresh aero kits for Toyotas.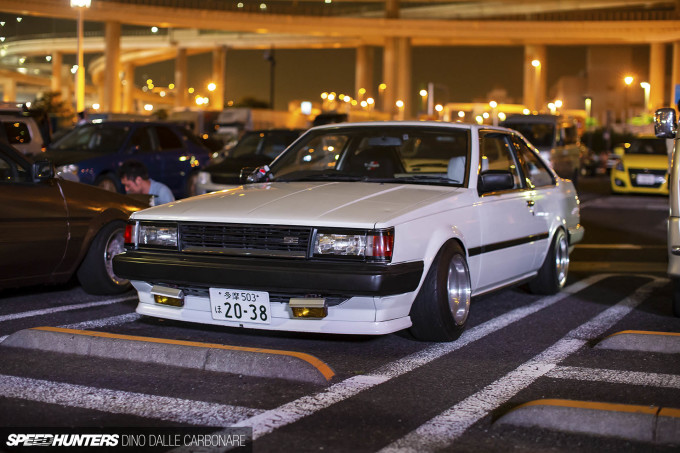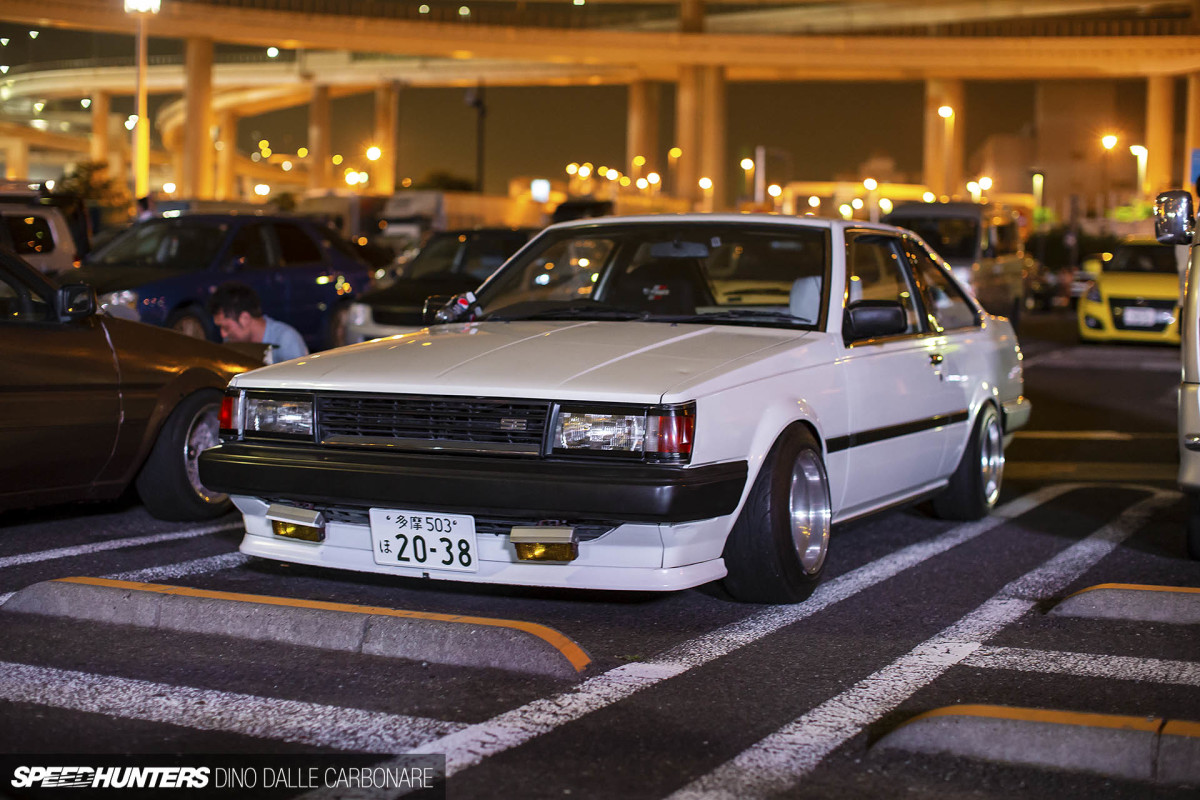 86s are cool and everything, but how can you pass up drooling over a rare 4A-G AA63 Carina?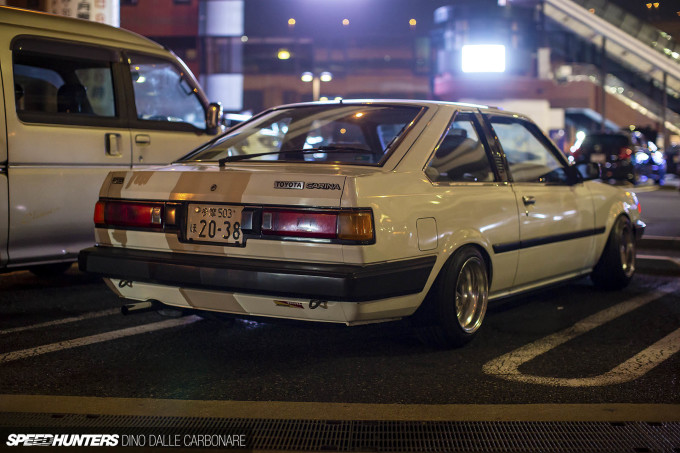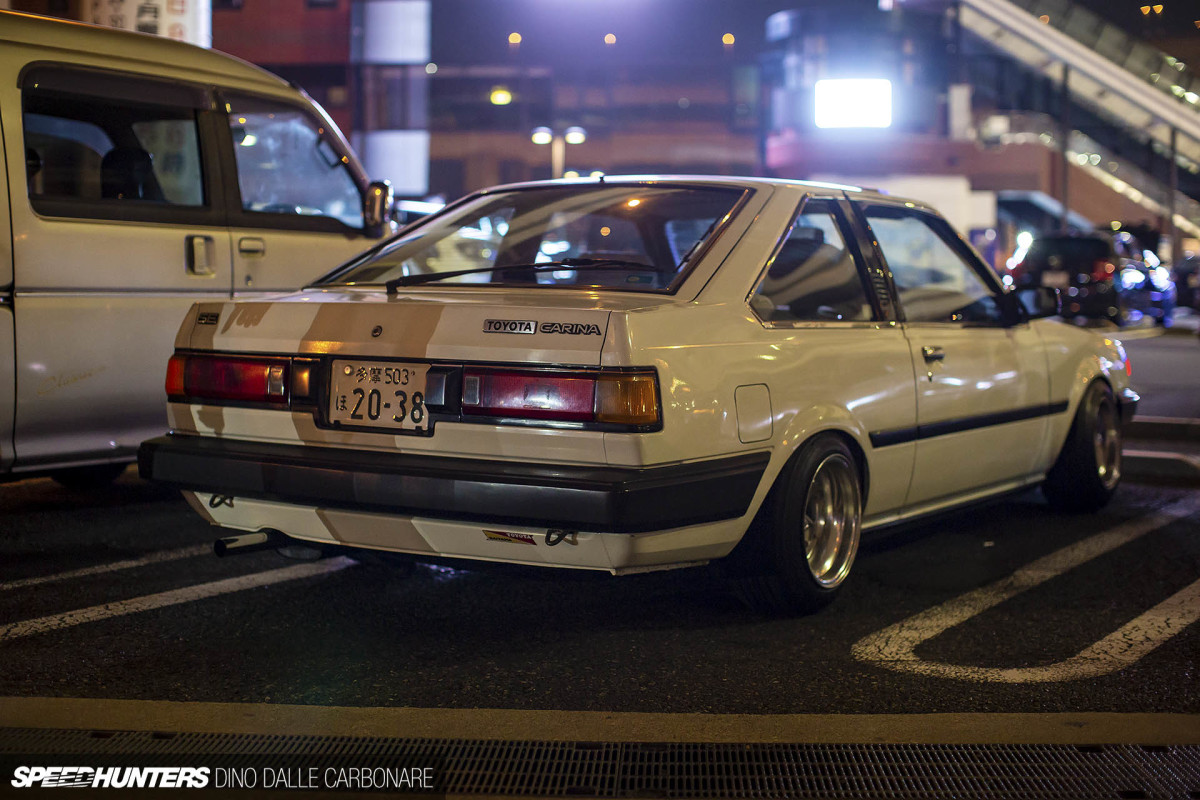 Sure, it's not for everyone, but those angular '80s boxy lines and the sleek coupe profile just wins in my book.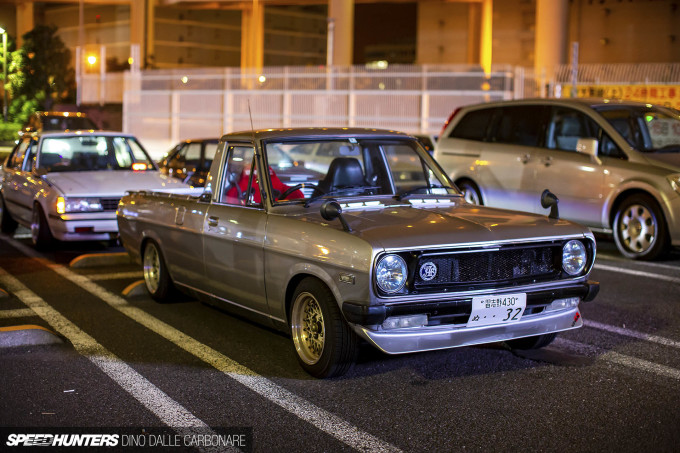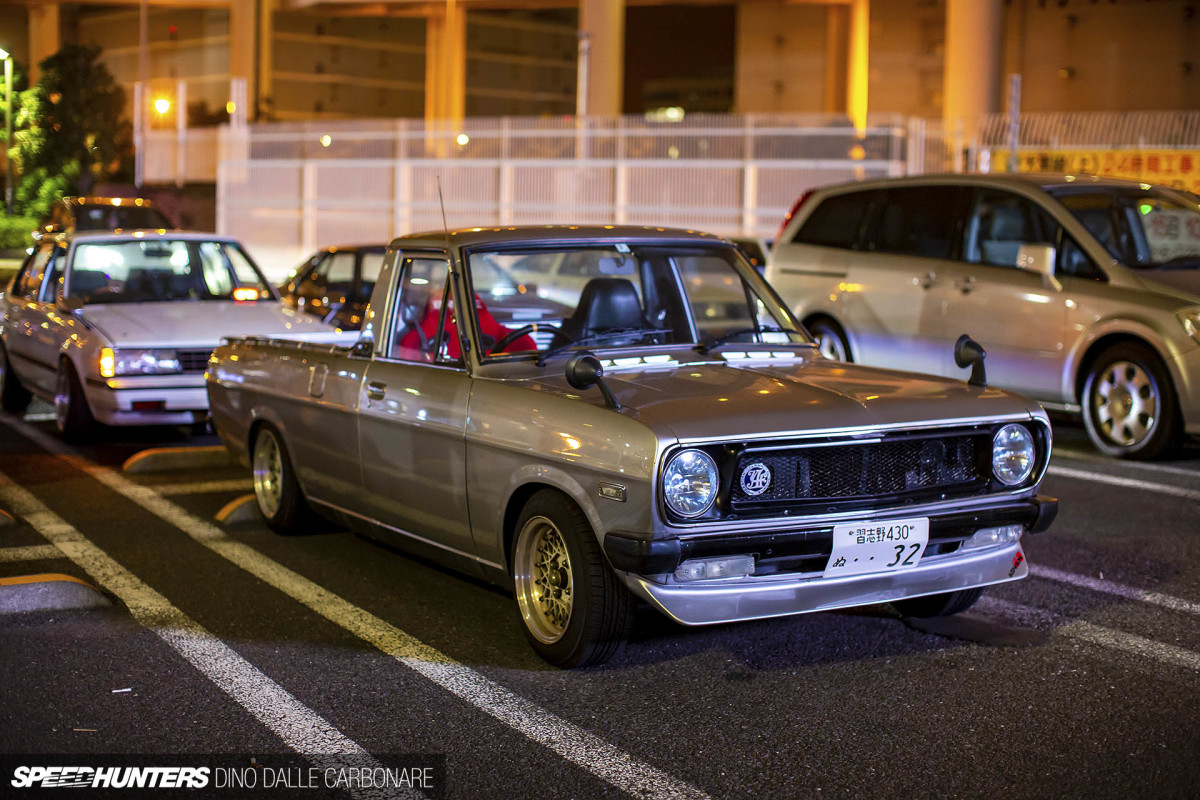 I'll thrown in a Sunny truck to balance things out; this one was super-clean and dropped just right on a setup that looked refreshingly functional.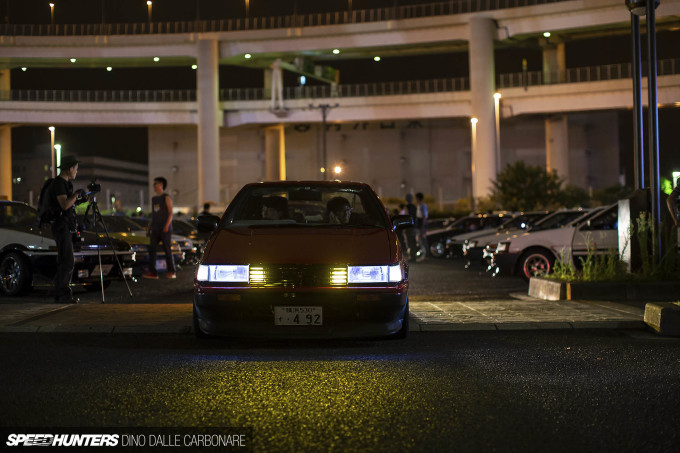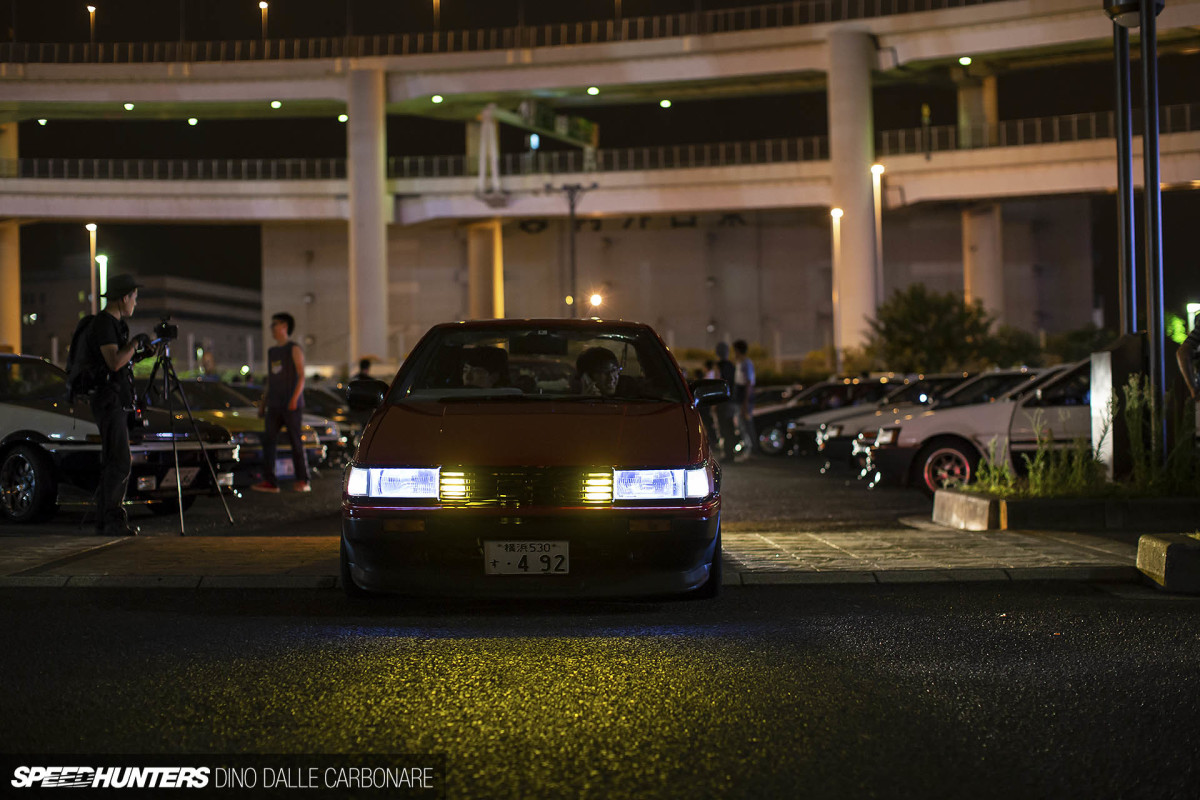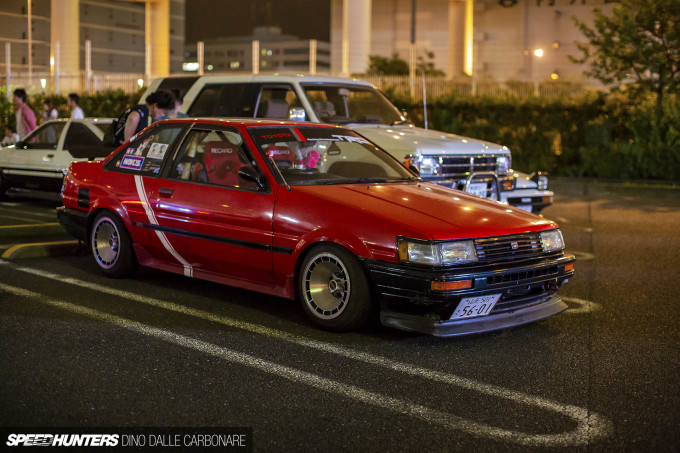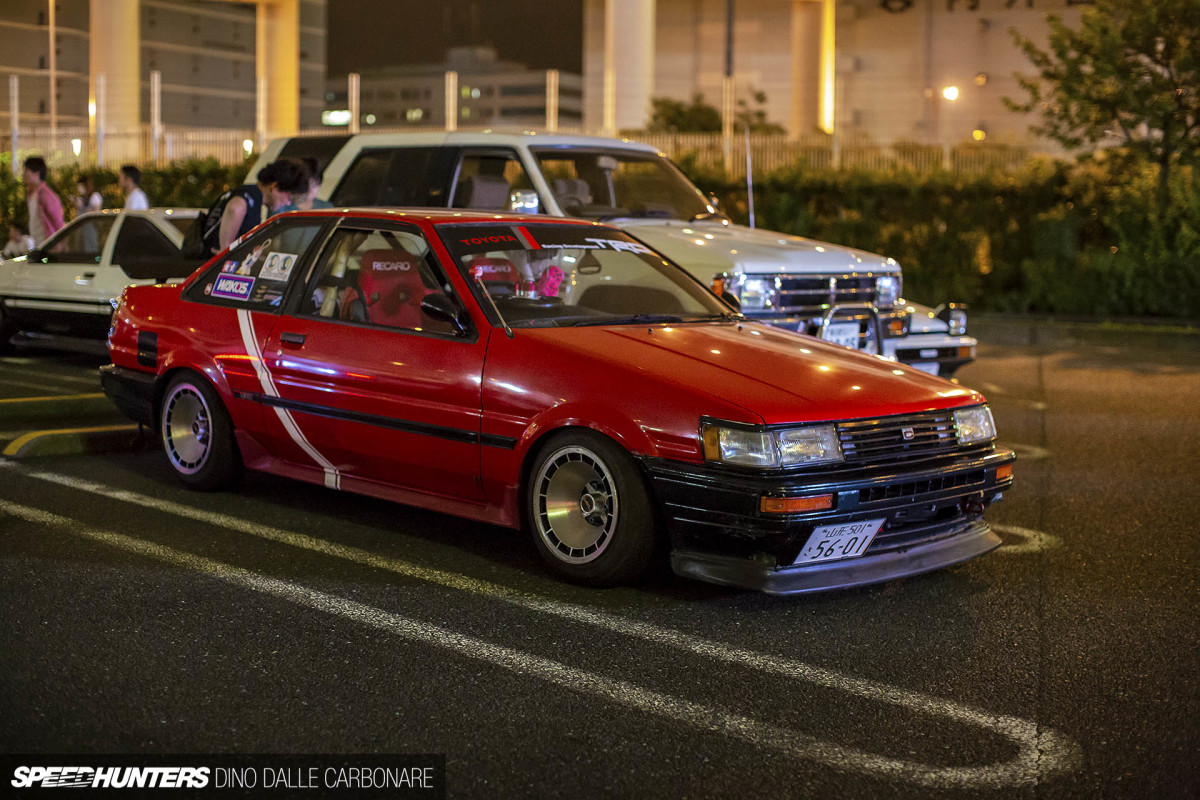 It was pretty crazy how many cars had shown up to this meet and the sheer variety in looks. Not one was the same, except for the ones mimicking that popular tofu delivery car.
By the way, how sick are the Suzuka Carol wheels on the Levin notchback above? It's like they have integrated turbo fans on top of the little four-spoke inner design.
86 Success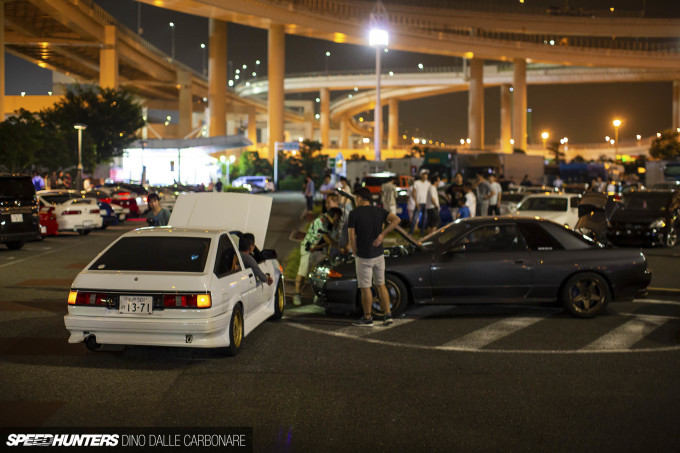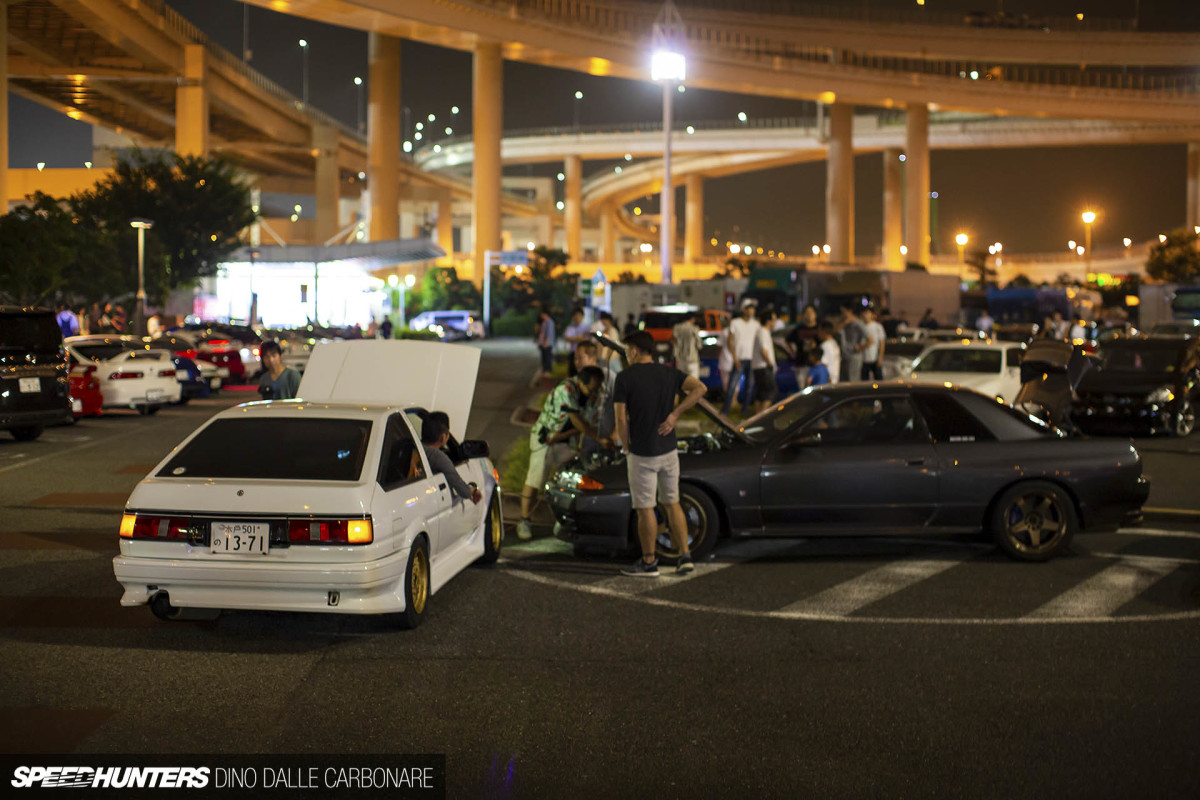 I was laughing at this scene – an AE86 being used to jump start a dead BNR32 Skyline GT-R.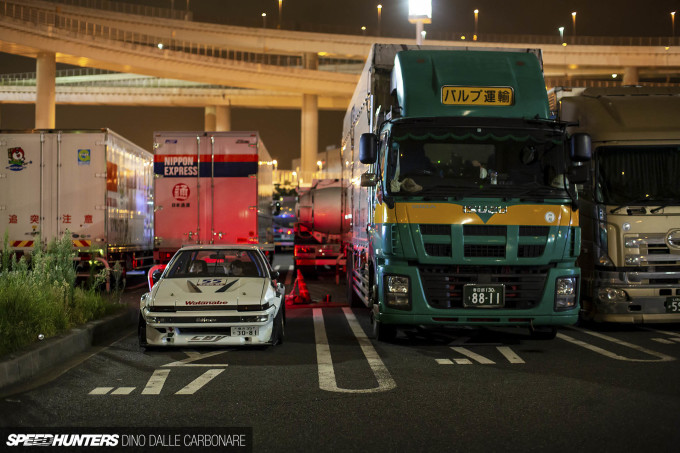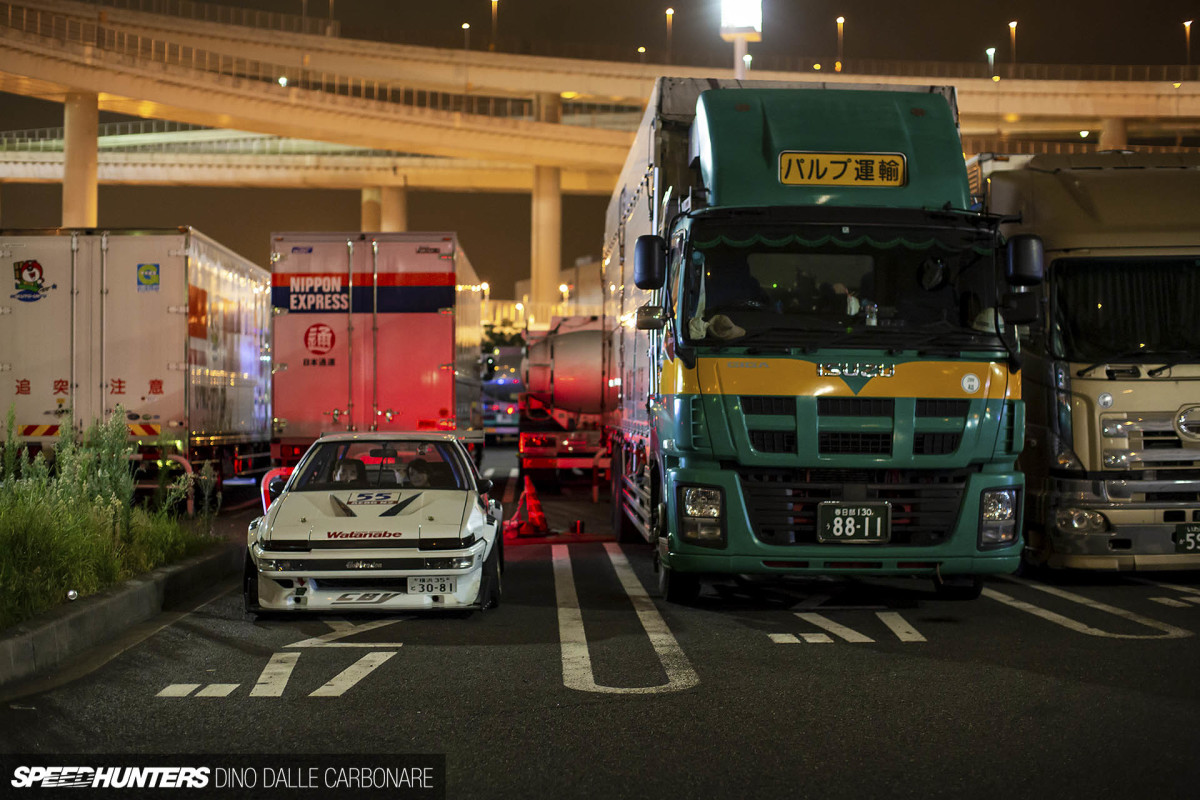 Well known names in the AE86 world were present too, from the Crystal Body Yokohama Trueno hiding away in the truck section of the PA…
To a fully built Tec-Arts car sitting on deep dish Work Meisters. Awesomeness was everywhere you looked.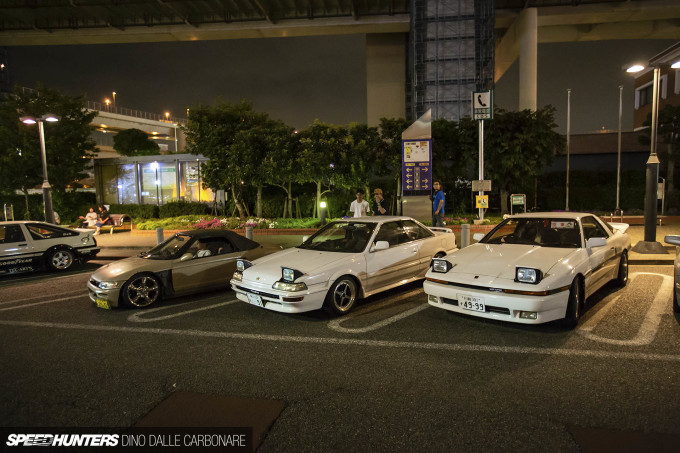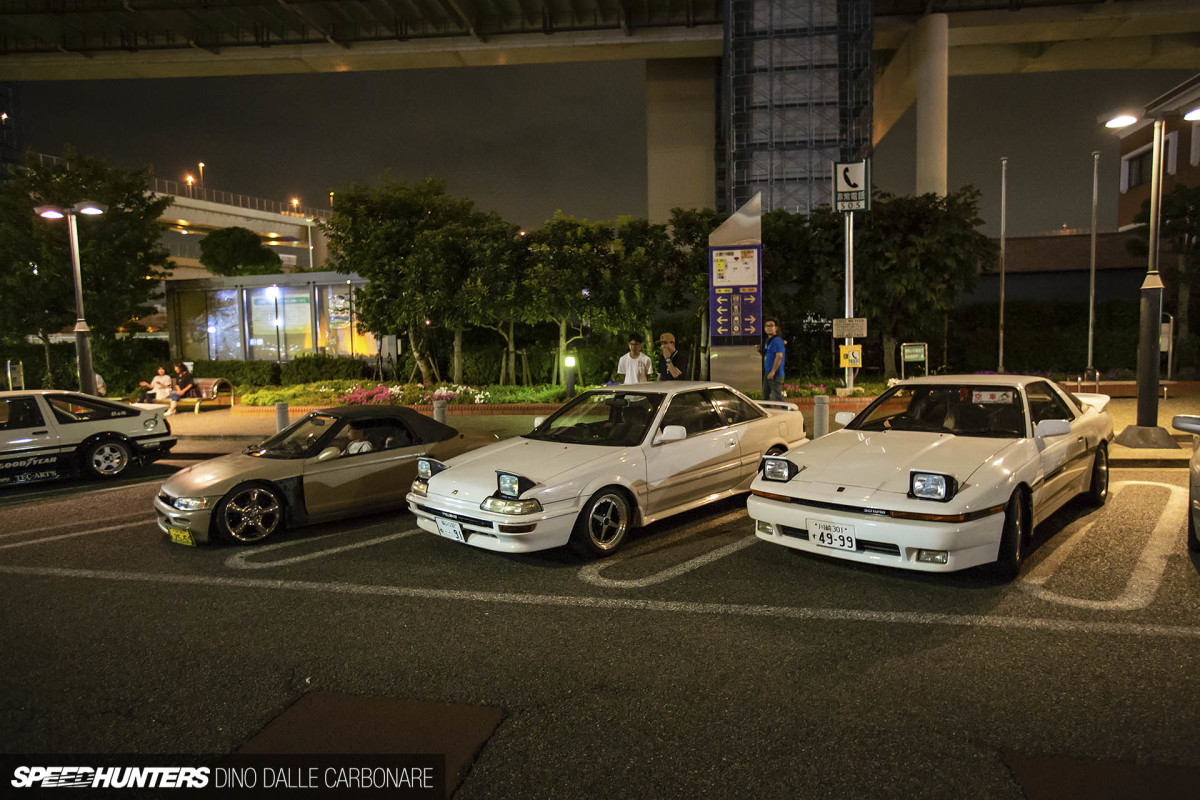 And that was also true for non-AE86 metal.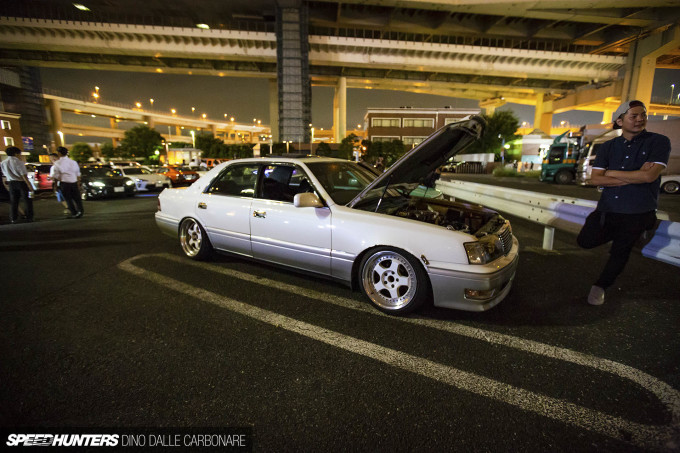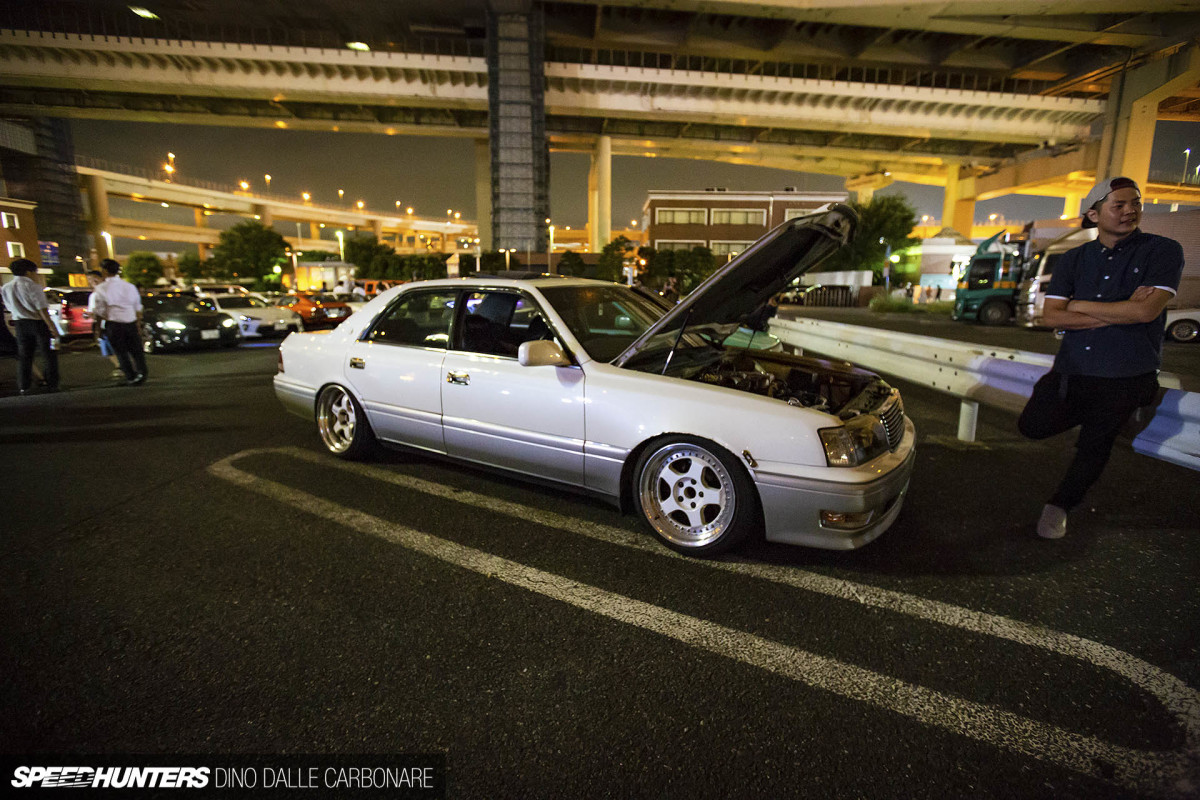 As I'm sure anyone that has spent a long time in Japan around cars will attest, you feel sudden fear when old Crowns pull up alongside you. For decades these were popular cars with the police, and you still see them patrolling more rural areas of the country. This particular example was as different as you can get from a patoka (patrol car) though.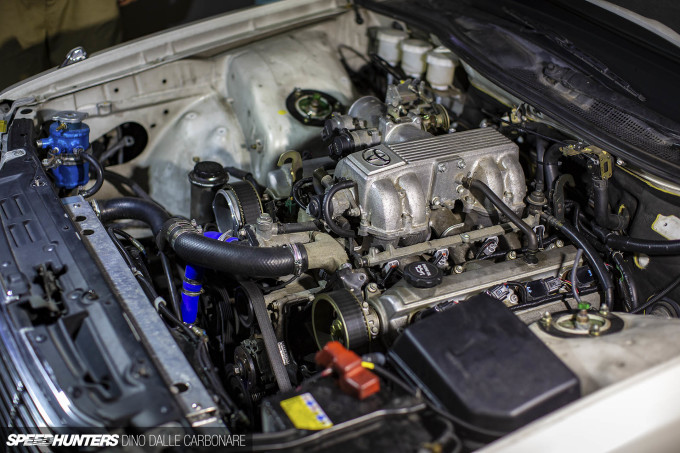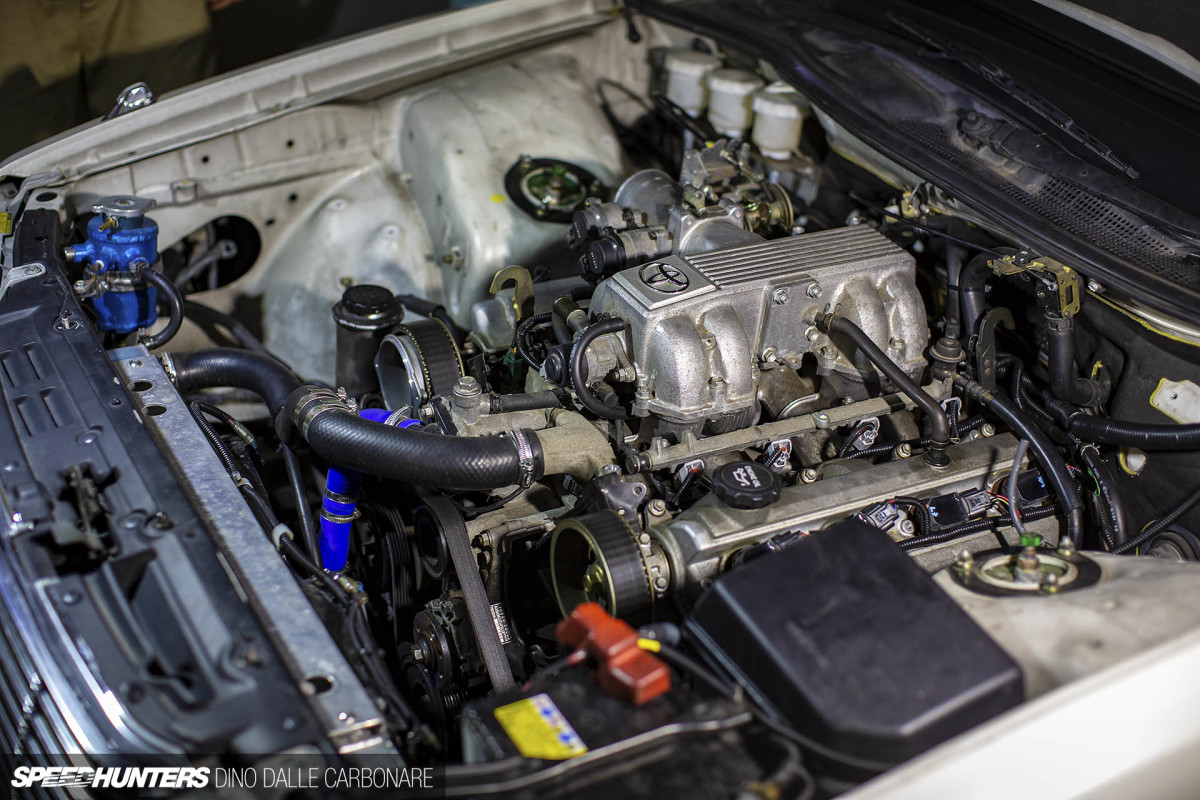 With a 1UZ swap, a 5-speed manual transmission, an adjustable pedal box and a hydraulic e-brake, this is the coolest drift car I've seen in a while. I need to feature this thing as it's just too good, and it certainly sounded the part.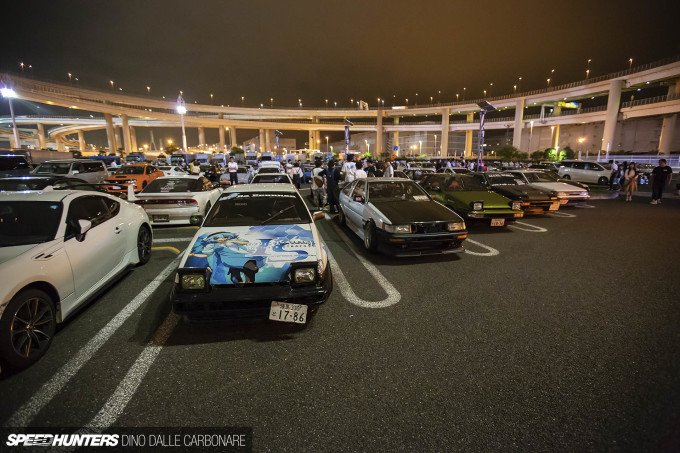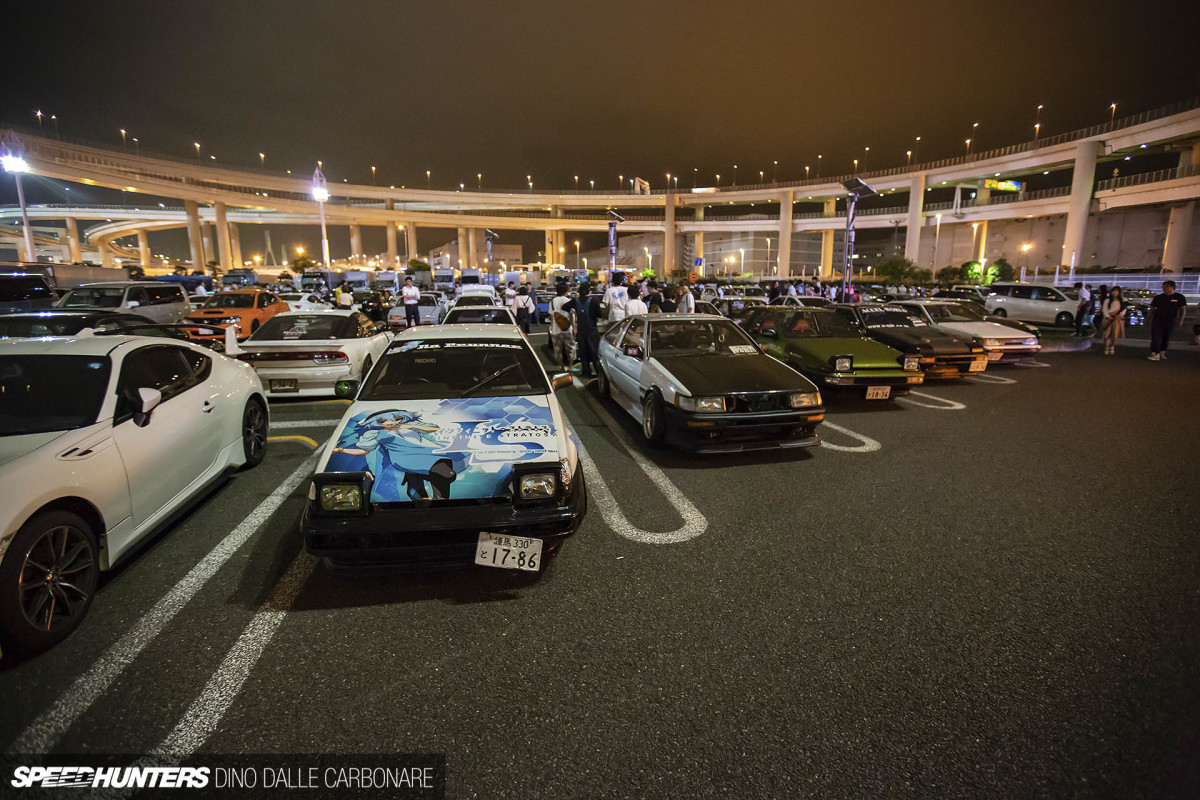 The team responsible for the original 86 knows very well that they hit the bullseye all those years back. Hell, even the new interpretation of the car has been a success, hinting that Toyota can churn out some serious goodness when they put their mind to it.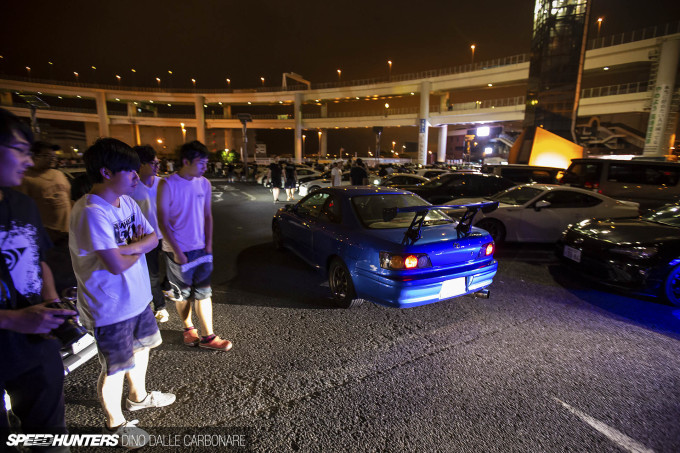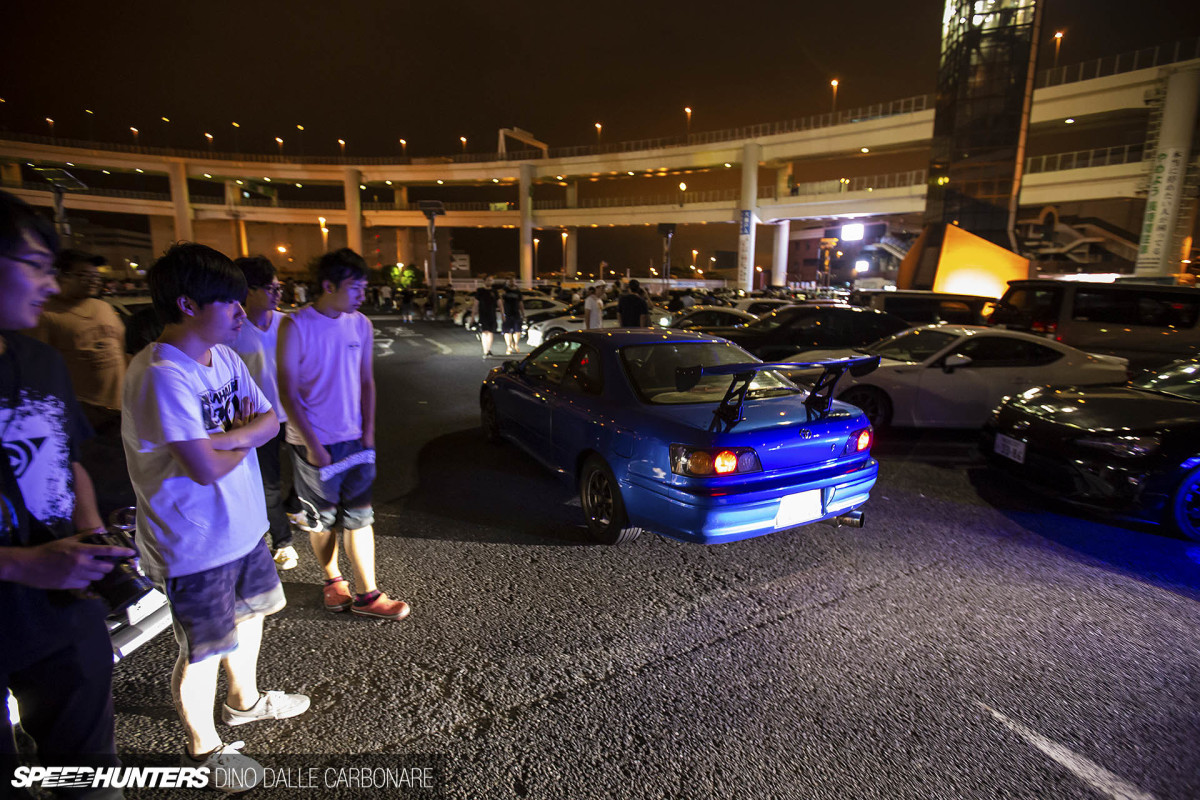 As I saw this AE111 pull in – the final 4A-G Trueno/Levin that solely exists to donate its 20-valve variant engine to AE86s – I wondered one thing: Will Toyota be able to replicate this success with the new Supra? They're already half there with the previous generations of the car, but will the new one resonate with owners as the ZN6 (and all its variants) has done?
What do you think? And since we are at it, when the hell do we celebrate Supra Day?
Dino Dalle Carbonare
Instagram: speedhunters_dino
dino@speedhunters.com