Despite all the talk of the non-VW attendees at Players Classic this year, I couldn't help but shine a spotlight on at least one build of note, namely Dan Bray's Caddy R360.
There is a tiny bit of self indulgence here, which I'm hoping you'll allow me. My first motorised vehicle was a 2005 Volkswagen Caddy, so I've always had a soft spot for them. Despite having some outlandish ideas for mine, I never would have realised something like this was possible. What at first might appear to be just another 'bags and wheels' build is actually so much more.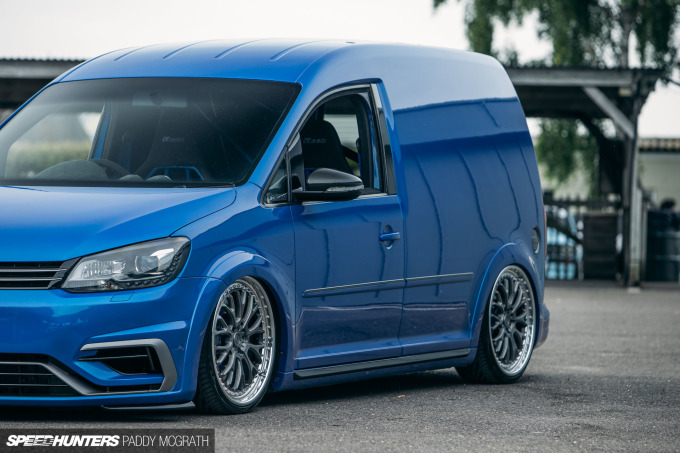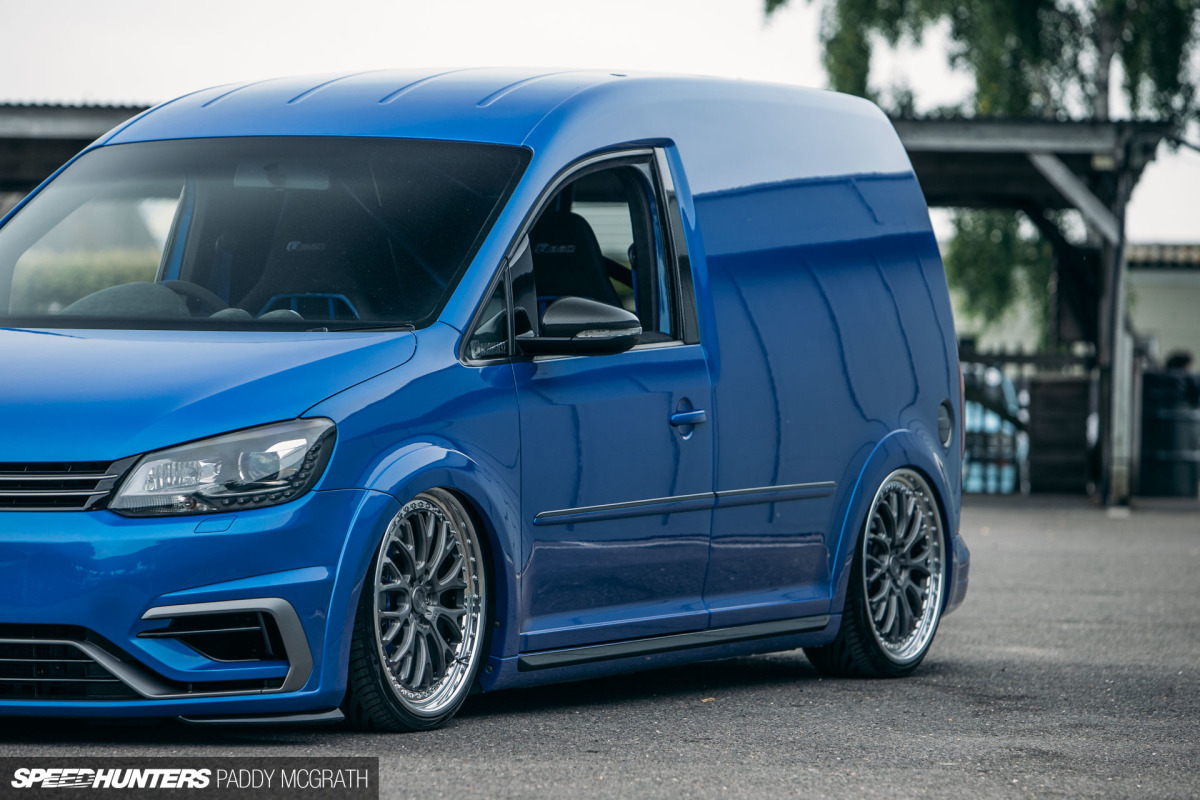 When this Caddy left Volkswagen's production line in 2011 it was a 2.0-litre TDI 140PS model. Similar compact vans are a common sight on the roads and highways of Europe, offering maximum loadspace within a compact wheelbase. Typically, they come with a sliding side door which accesses the rear, which this one used to have until the entire quarter panel was removed and replaced with a non-door panel. This is maybe your first insight into just how considerable the vehicle's build was, as it's something which involved a huge amount of work, but that's invisible to the untrained eye.
The subtle addition of Caddy Cross arch extensions and side sills, complete with custom carbon inlays which have been blended and colour matched, are another subtle OEM+ modification. The removal of the stock fuel filler cover and its subsequent replacement with a complete Audi R8 item is another significant visual modification which could easily go unnoticed. For reference, the standard Caddy fuel flap is a rectangular door with a traditional filler neck inside.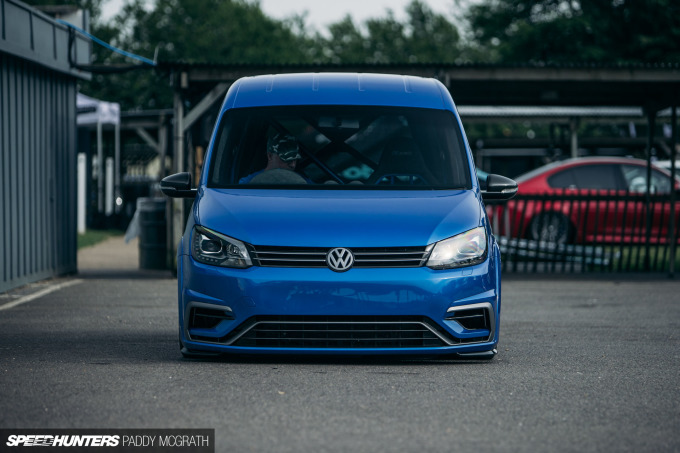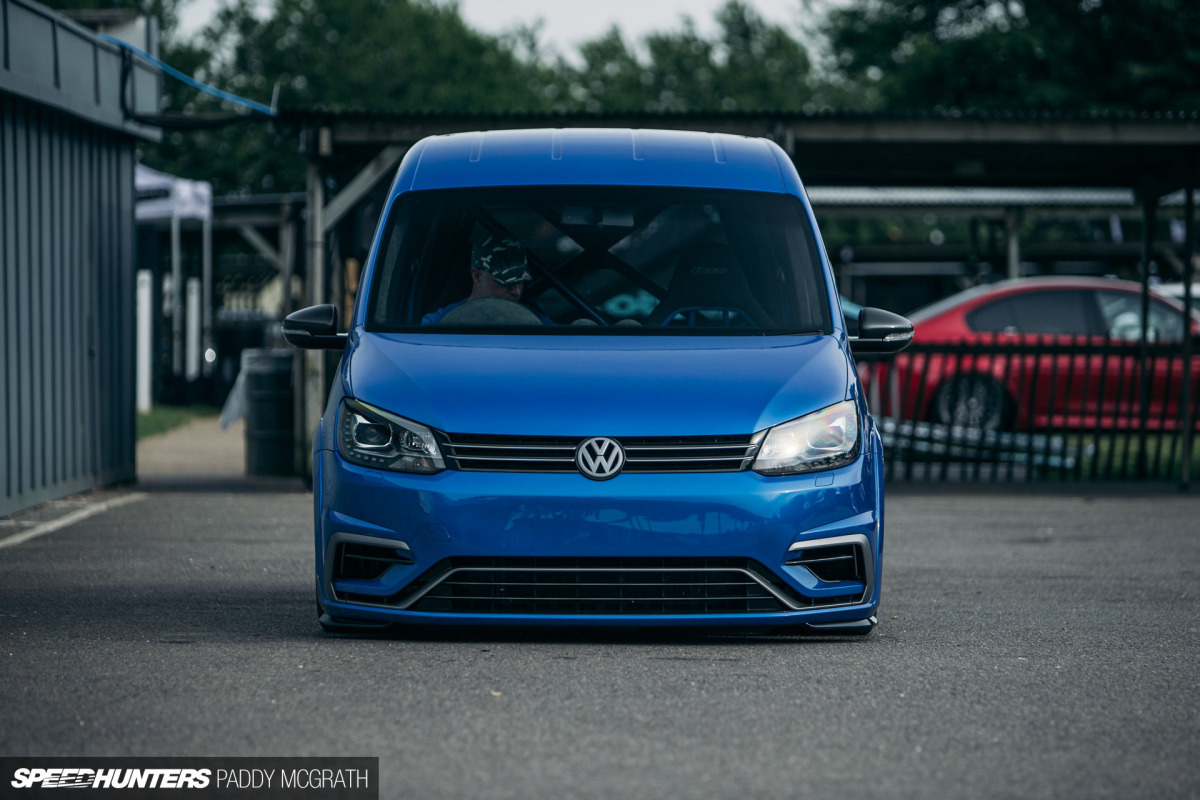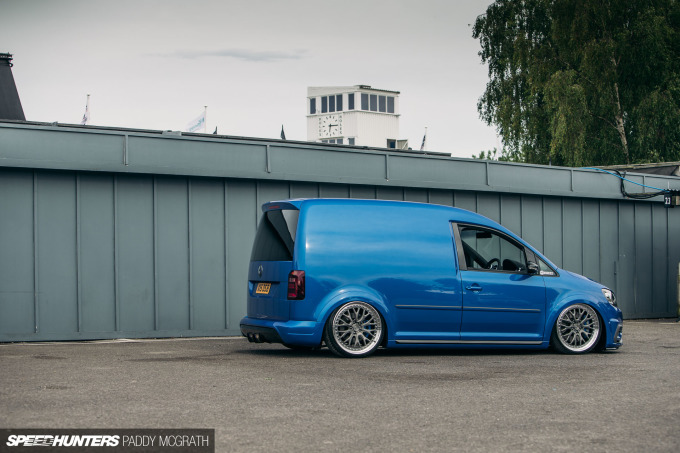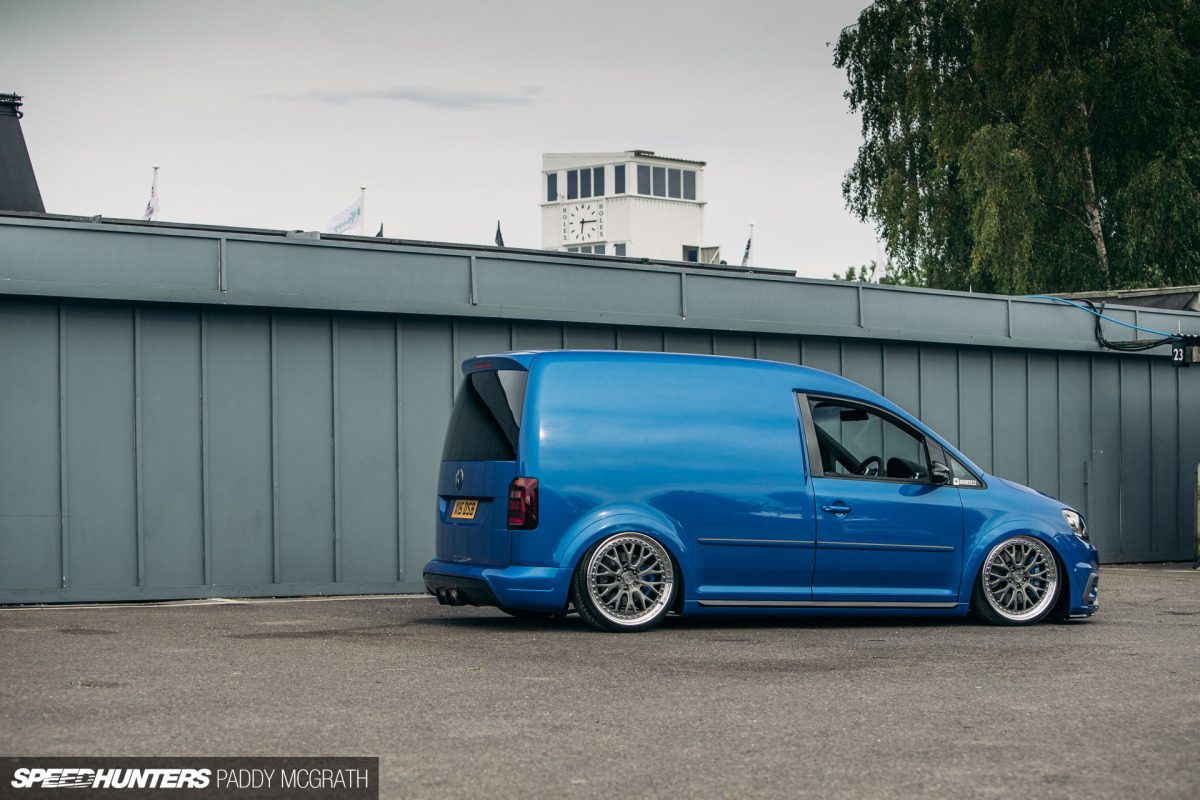 Then there's the completely custom front bumper which merges the original Caddy item with that of a Golf Mk7.5 R front bumper into a one-off piece. The bonnet on these usually feature a notch for the top of the VW badge, but that's been removed. Dan wanted to retain the badge, so had to modify the original grill to lower the badge into place and clear of the bonnet's edge. The rear doors were removed and replaced with a lifting tailgate. The mirrors are custom VW Touran items with custom carbon covers. The rear bumper? You guessed it, a custom Caddy/Golf Mk6 R hybrid. Oh, there are custom carbon B-pillars, too.
That's the guts of 400 words and we're still talking about the exterior, which in my opinion isn't even the best part of it.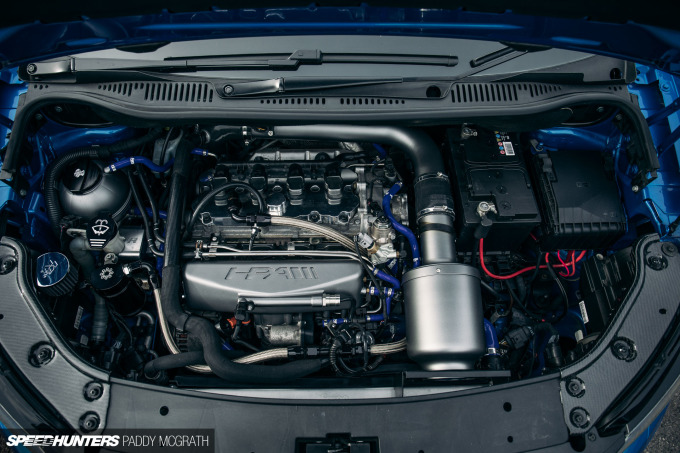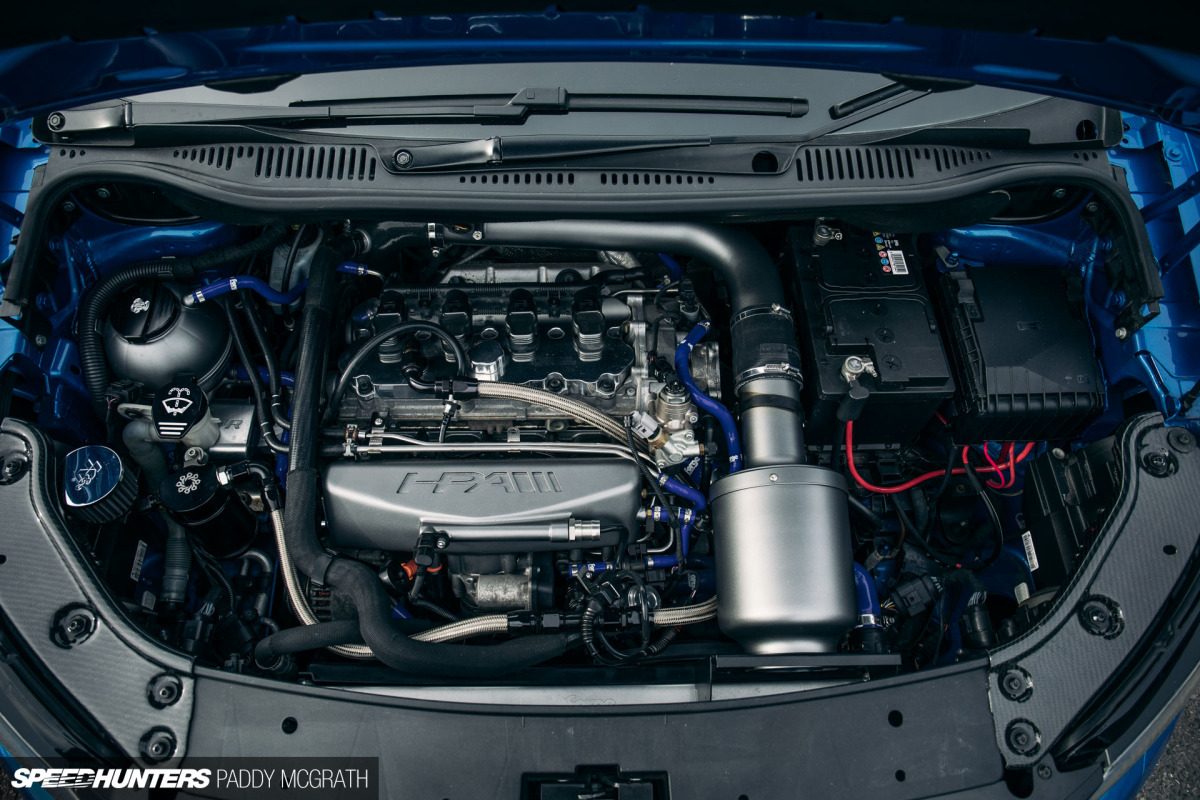 This is.
A 2.0-litre TFSI sourced from the limited Golf Mk5 GTI Edition 30 producing 360hp in its lightly modified form. These sort of power figures are pretty much the norm for these engines, which are equipped with a K04 turbocharger from factory. Some mild breathing modifications courtesy of a HPA intake manifold, VWR air intake and an Inconel down-pipe matched to a titanium exhaust system get the party started, while an uprated intercooler courtesy of Eurojet, a Forge radiator, Integrated Engineering valve cover and catch can ensure the party stays going. Finally, a Loba high pressure fuel pump and the aforementioned Golf ED30's fuel pump fitted to a Caddy's petrol tank are all the extra fuelling requirements needed for the Revo Stage 2+ software to bring everything together.
360hp to the front wheels is considerable, but will prove no issue for the Wavetrac limited slip differential, as also fitted to Project GTI. These things are quite simply magic pieces of kit, and transform the FWD experience immeasurably. Unlike my GTI, Dan's kept the 6-speed manual gearbox from the ED30 and outfitted it with a Sachs Stage 2 clutch mated to a Loba flywheel, as well as the beautiful CAE shifter inside the cabin.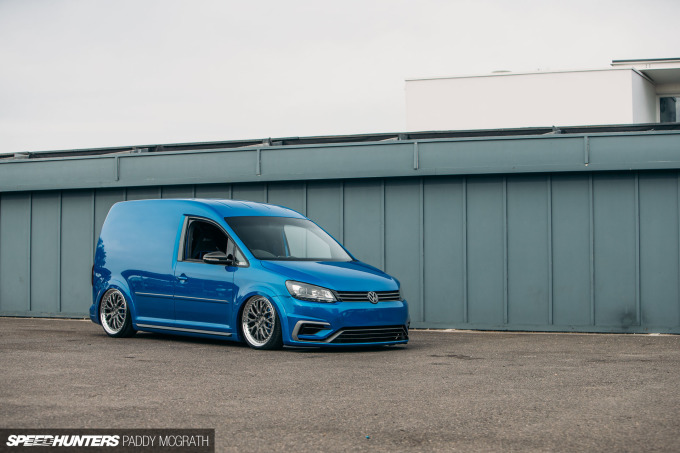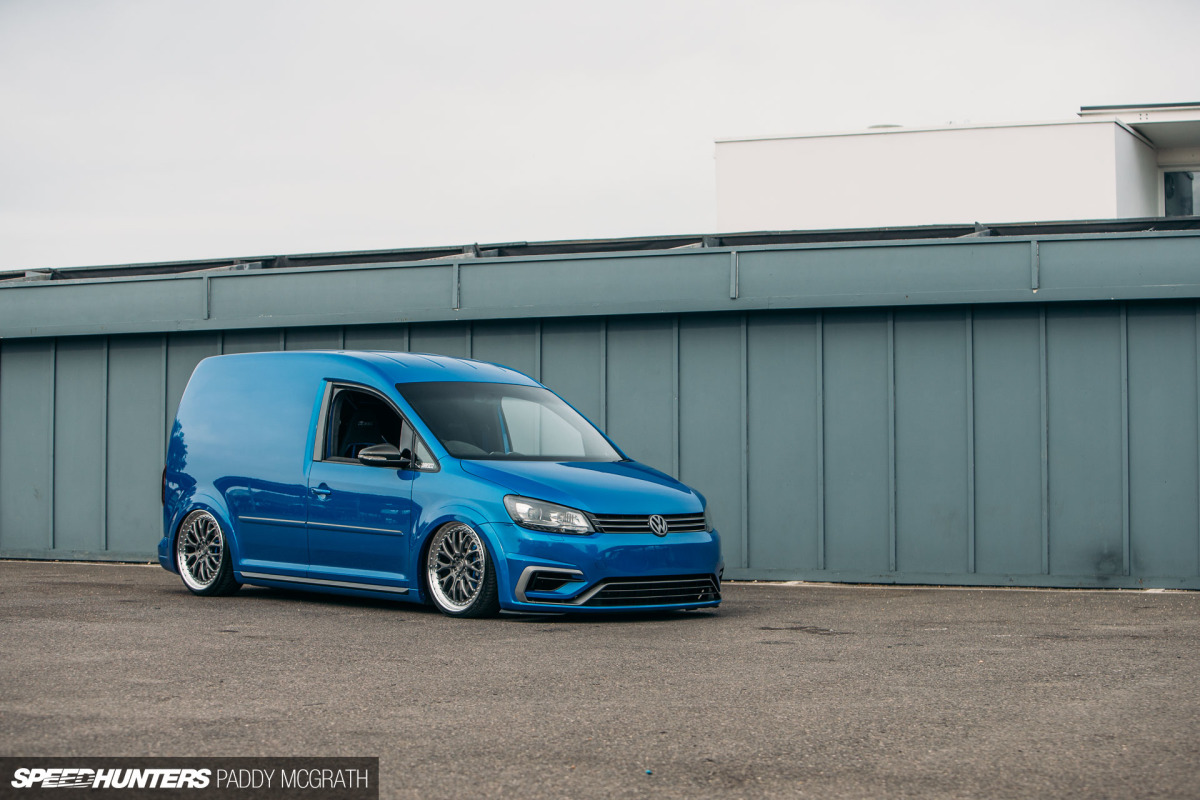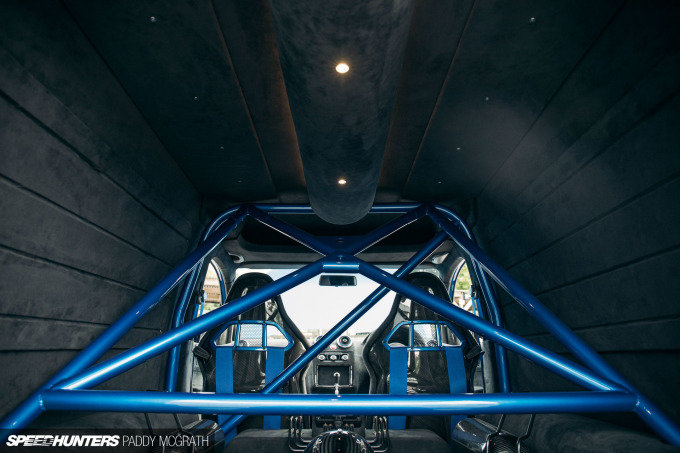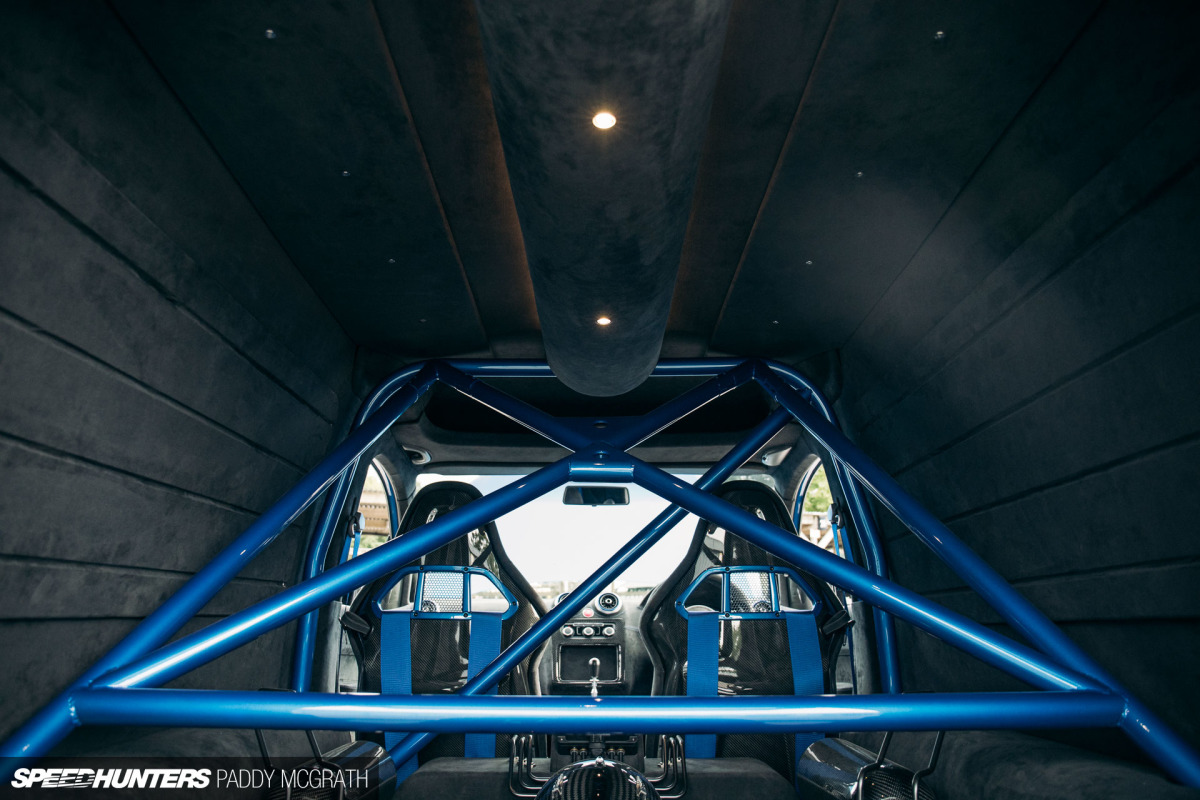 Then, there's the interior which is a talking point in itself. It's certainly not typical and again features countless small touches that require huge amounts of work, for incredibly subtle details. Asides from everything being wrapped in Alcantara with blue stitching that is. Take the air vents as an example; they're not from a Caddy, they're from an Audi A3 and they're most certainly not a direct swap, but they look factory. The hazard light switch is from an Audi TT. The seats aren't just any old things, they're brand new Porsche Boxster Spyder items which were immediately stripped of their leather and re-trimmed.
While it's unlikely that Dan will be working on any building sites with the Caddy in the future, the completely custom build in the rear ensures that he won't be carrying any bags of concrete any time soon. The clubsport cage has been colour matched to the exterior while the Air Lift Performance 3H manifold takes pride of place within the install. The neatly arranged hard-lines lead to custom wrapped carbon air tanks fed by custom wrapped carbon compressors. No detail has been left untouched; everything has been considered in here. Regardless of whether it's your thing or not, the craftsmanship has to be admired and respected.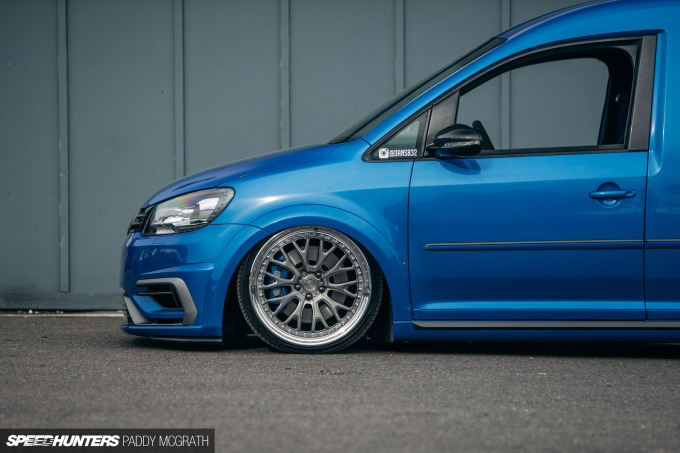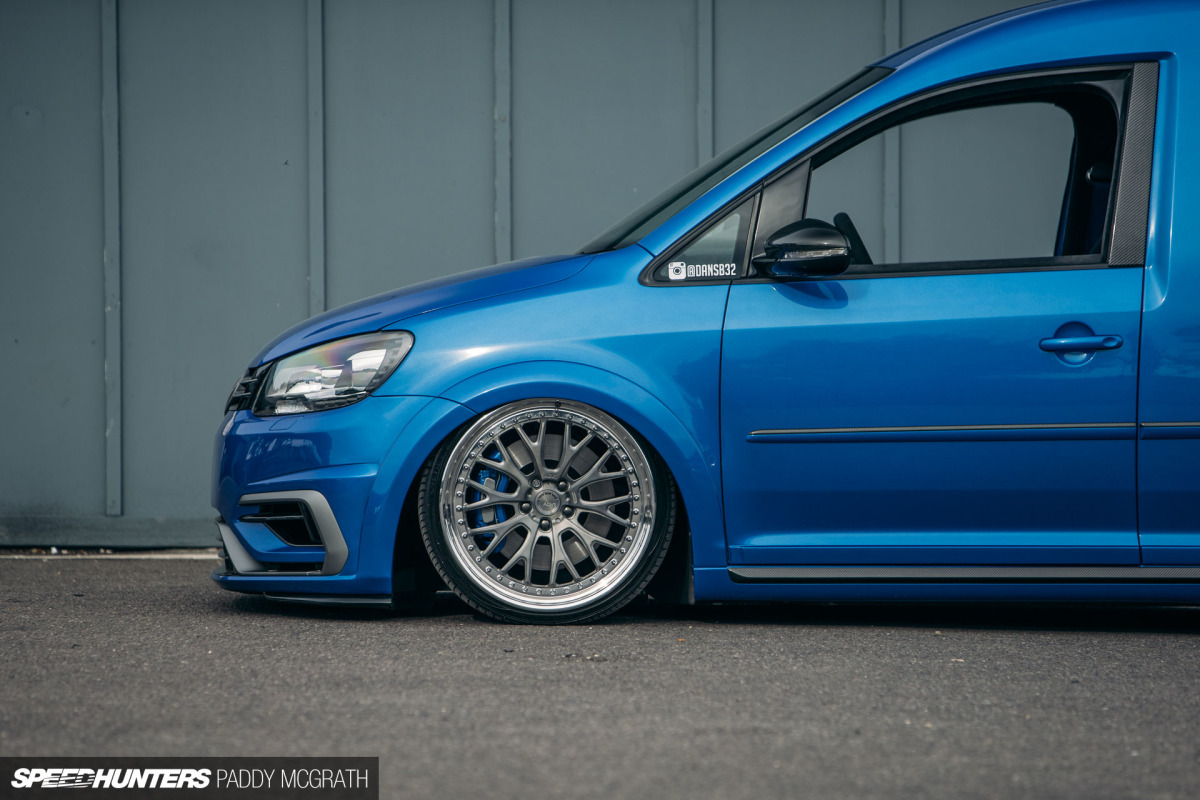 Sat on 20-inch ADV.1 wheels, and brought to earth with Air Lift Performance front struts and bags with Air Lift Slam Series rear bags, I think you would be forgiven for not taking note of every detail on this van as you walked past it at Goodwood.
For me, it epitomises what I love so much about the VW scene. There's so much here that didn't have to be done, but was done because the builder wanted to. Details that only Dan will ever know how much work was involved in crafting them.
It's not a vehicle that was built for the approval of others, which becomes quite clear when you talk with Dan himself. It's a vehicle built for him and something which he, and all involved, can take pride in. Surely, that's what it should always be about, no?
Paddy McGrath
Instagram: pmcgphotos
Twitter: pmcgphotos
paddy@speedhunters.com