Champions League
For a long time, European drifting has sat in the shadows of the USA and Japan.
It's an injustice in my eyes, as although in previous years it's not been as polished as its counterparts, things are really starting to pick up. The Drift Masters European Championship is bringing a fully professional programme into Europe, and the results are showing already. For example, almost one million people tuned into the livestream from the first round in Poland on Facebook alone, and got to witness 14-year-old Conor Shanahan dethrone Formula Drift champion James Deane in a thrilling final.
In my opinion, European drifting is at its most exciting right now.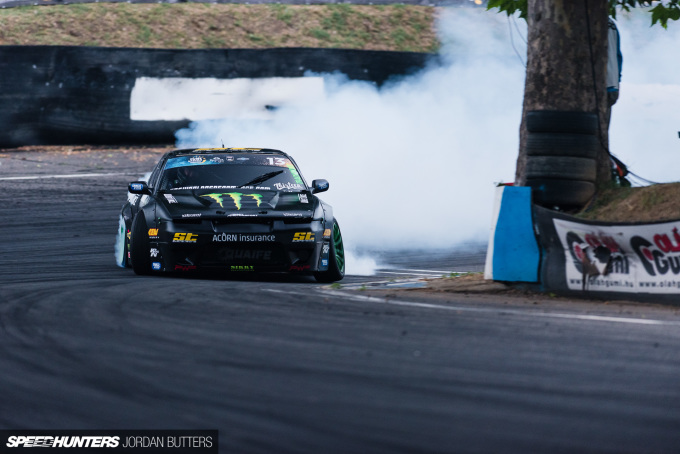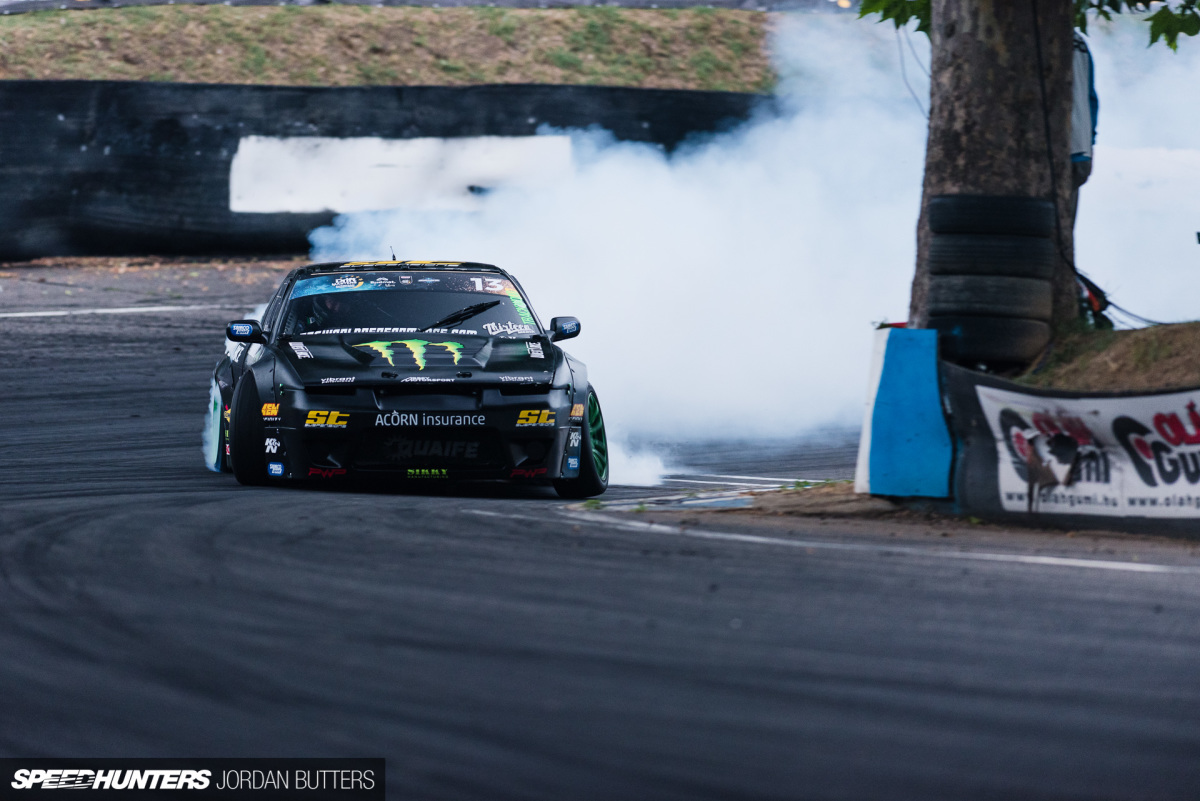 The past few years has seen countless national championships disappear across Europe. Perhaps a combination of fluctuating economies across the continent, arguably mixed with some overzealous ambition on behalf of promoters could be to blame, but a by-product of this is the rise of the international series.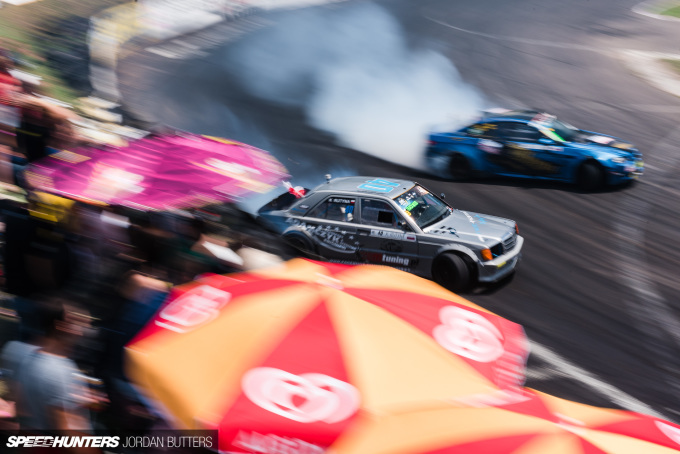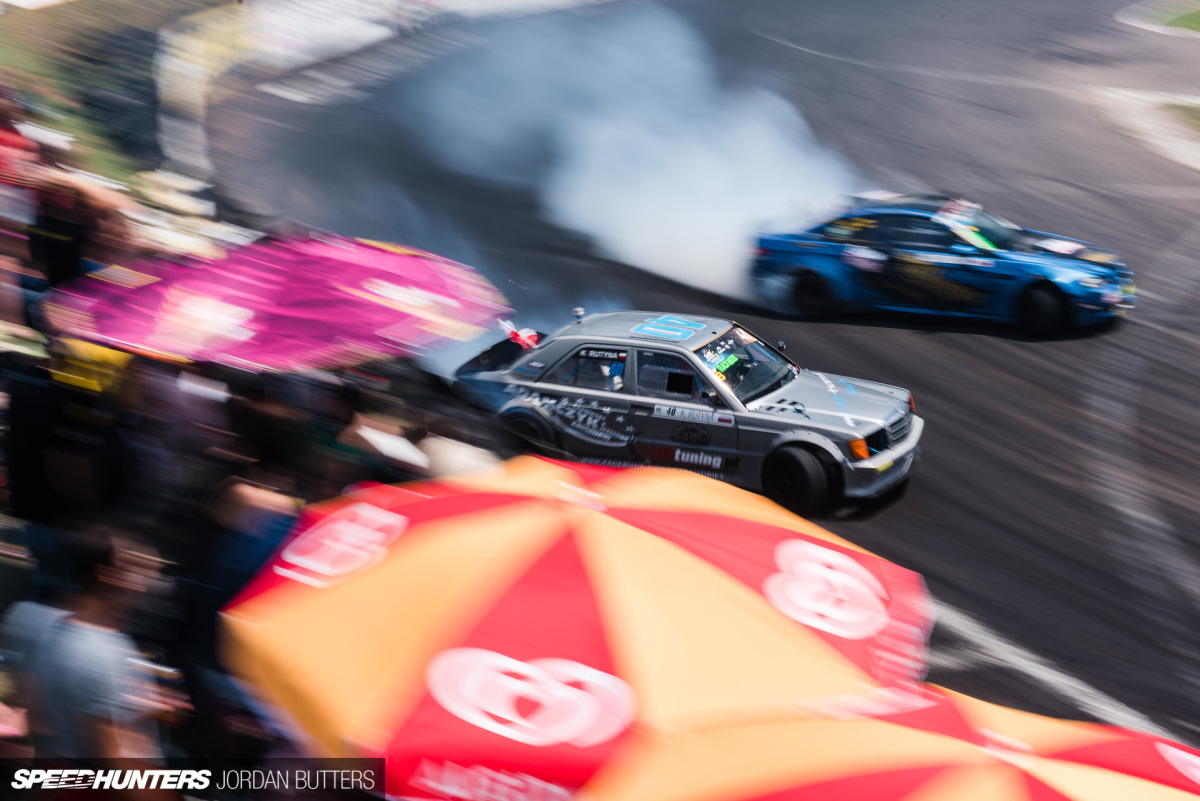 Lacking a national series into which to toss their hat, many drivers are looking to cross borders in order to compete, and Drift Masters is offering up cash prizes as an added incentive to invest in its series. With €8,000 per round, as well as a €20,000 luxury cruise, additional €10,000 cash fund and Formula Drift scholarship up for grabs for the overall champion, you can see why so many can justify the outlay in competing at this level.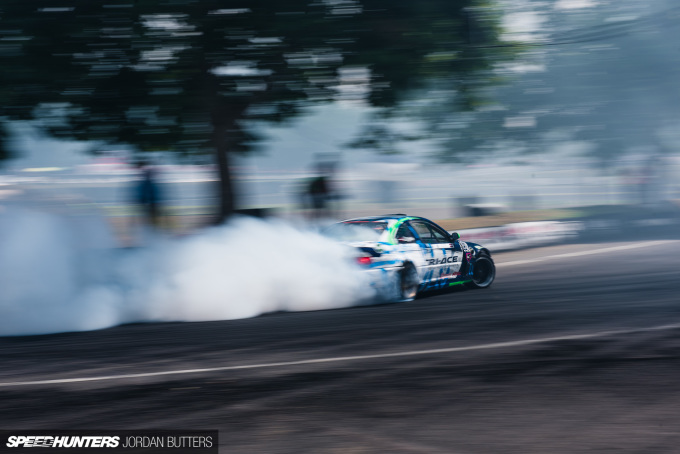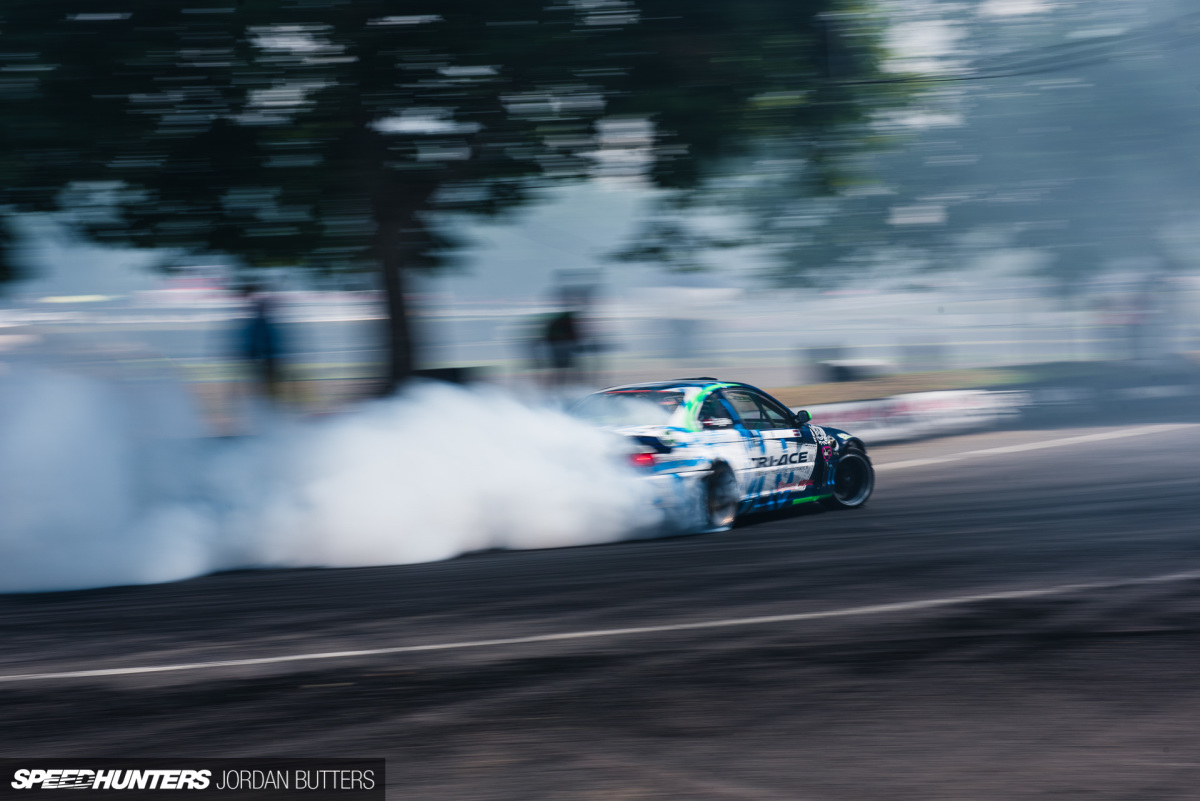 Ease of travel is another major factor in making a championship like this work. With the exception of the few that have to cross a small amount of water, Europe's open borders make travelling to a series that spans five different countries simple, from a logistical point of view at least.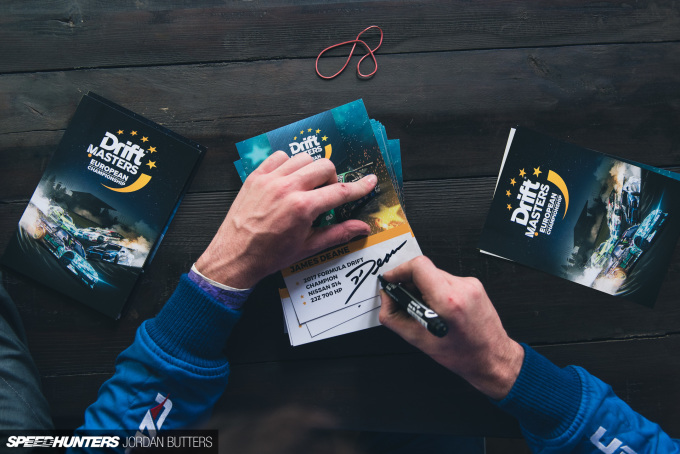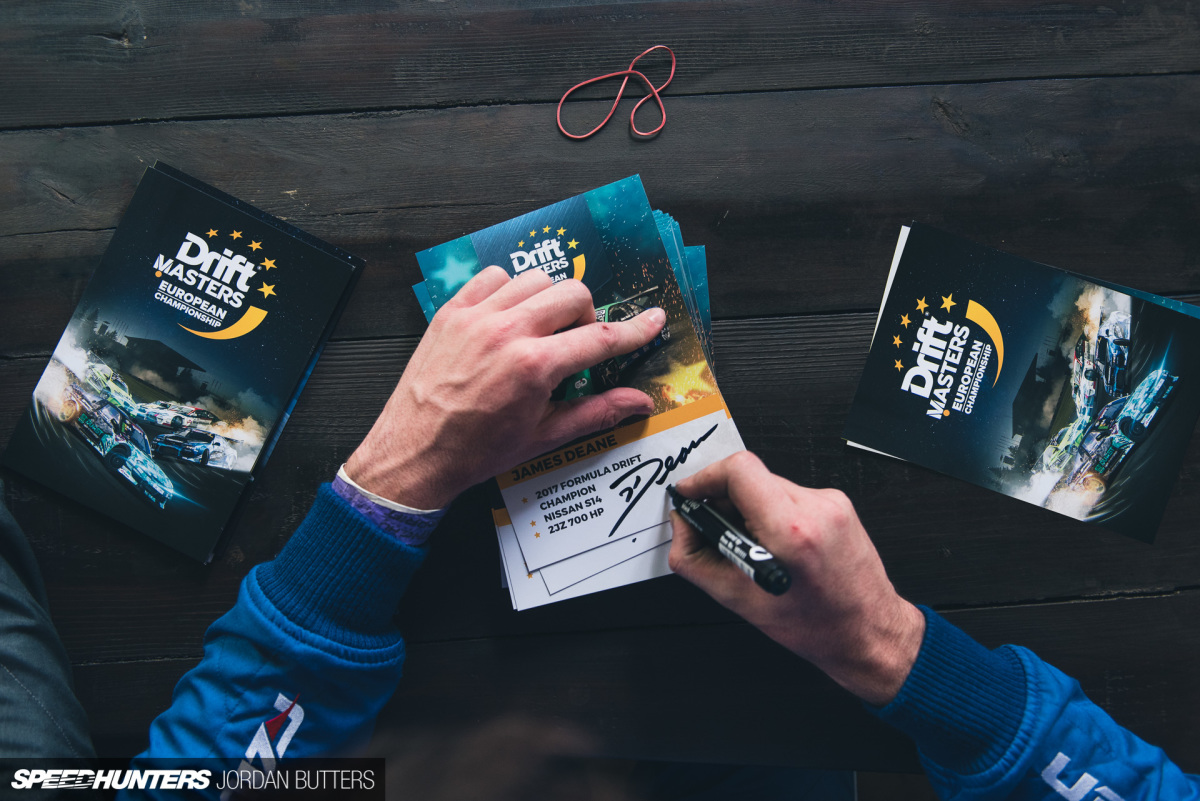 As a result, Drift Masters has quickly become somewhat of a 'champions league' for European drifting. At last weekend's second round in Hungary, no less than 22 current or former national and European champions were present, from 19 different nations.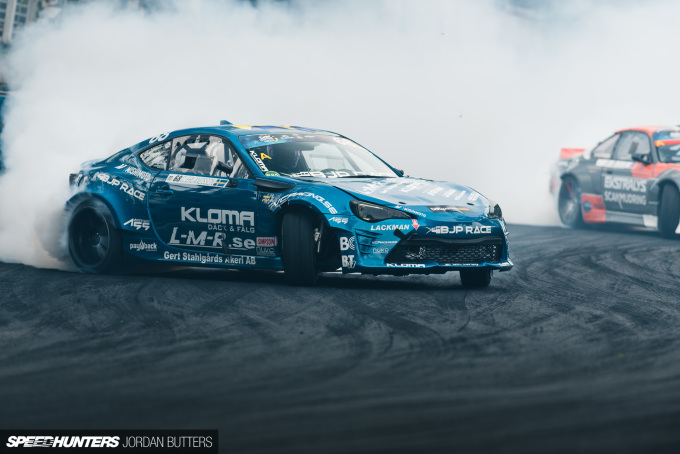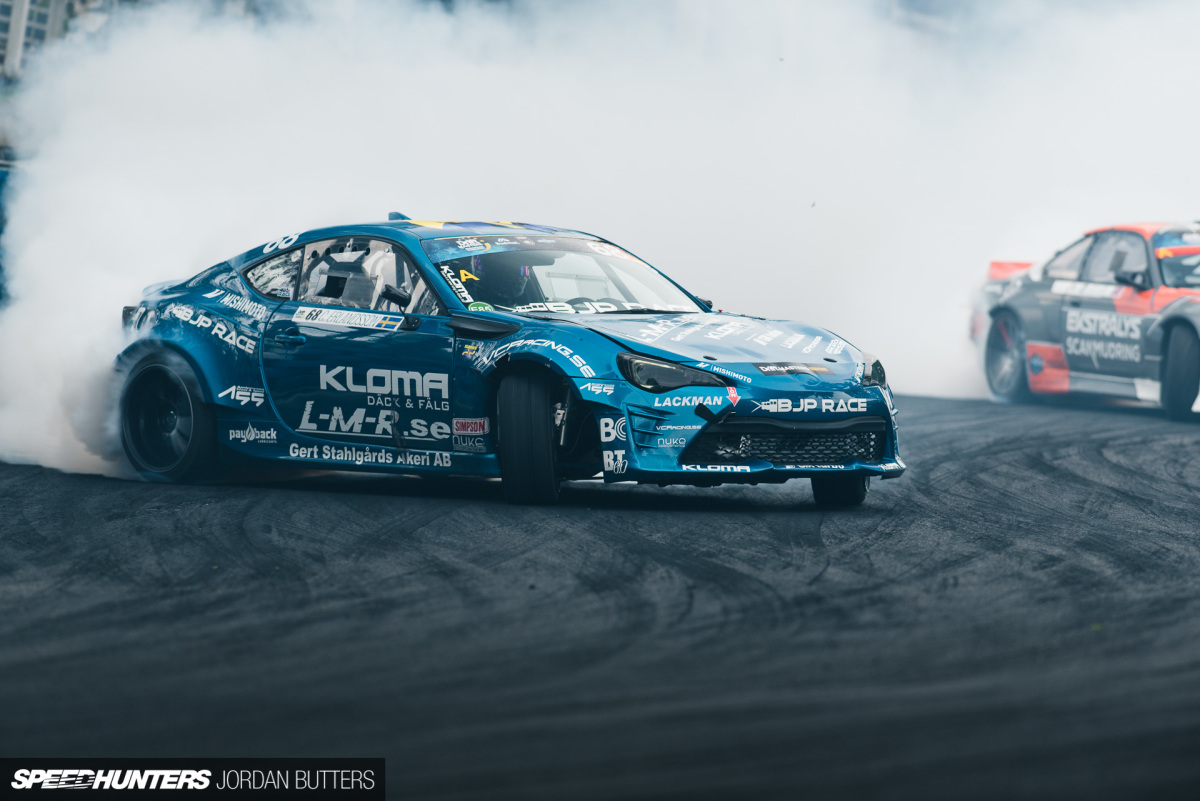 This is a melting pot of top-level drifting, from across a large continent, with a huge variety of driving styles, machines, backgrounds and budgets all thrown into one. These differences are simple enough to observe walking through the paddocks and comparing two drivers against one another on face value, but out on track these divides fall down.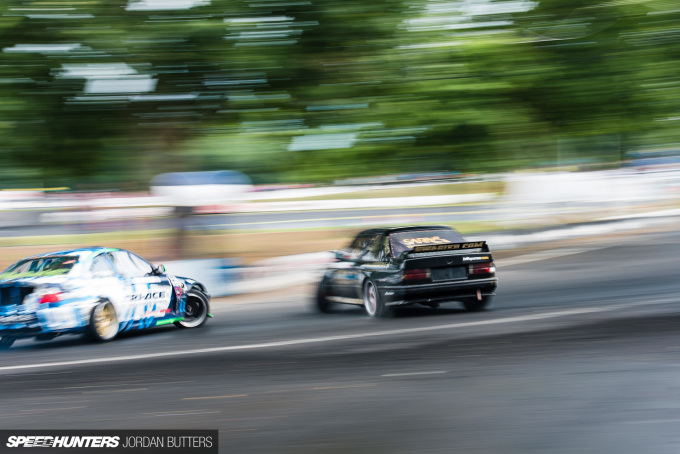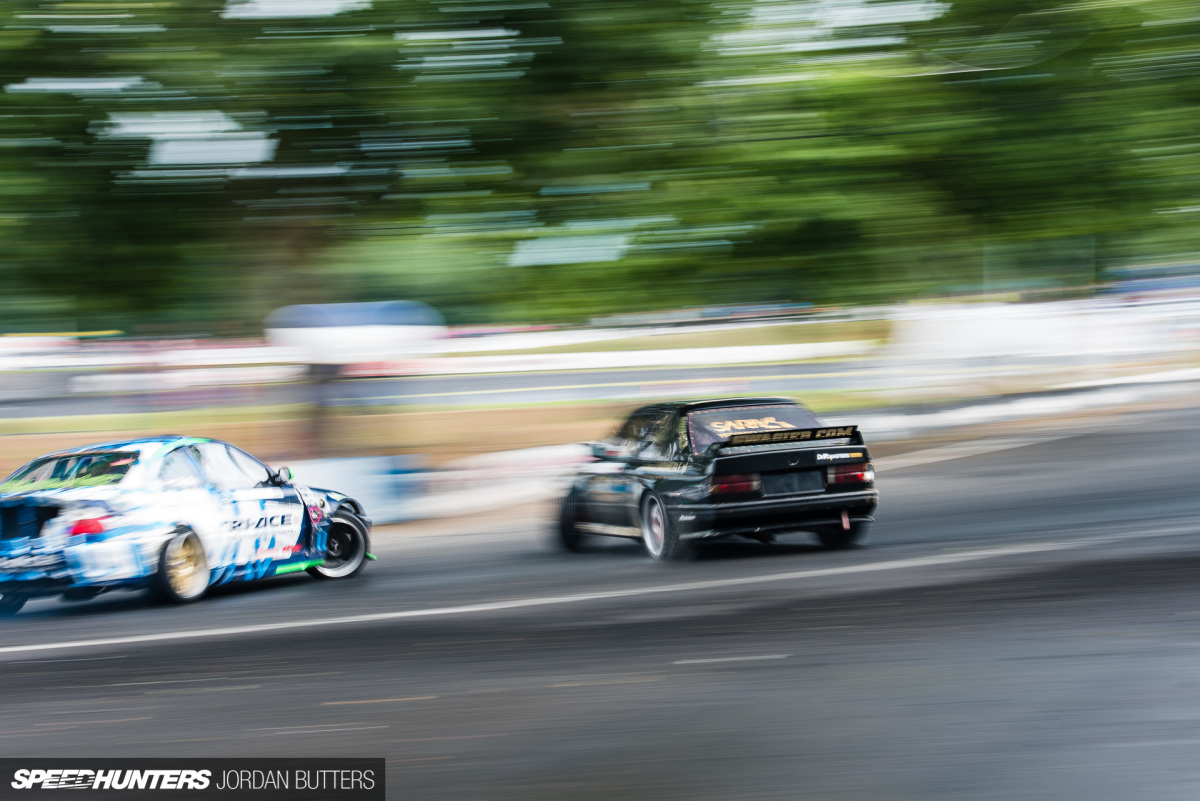 The circuit is the great leveller. Drifting is one of the few forms of motorsport where a relatively unknown name can topple a world champion, or a driver running on a shoestring budget can overcome another with comparatively considerable financial backing.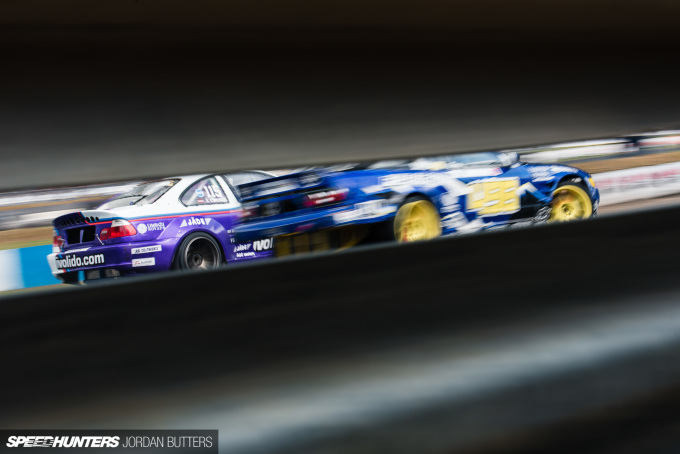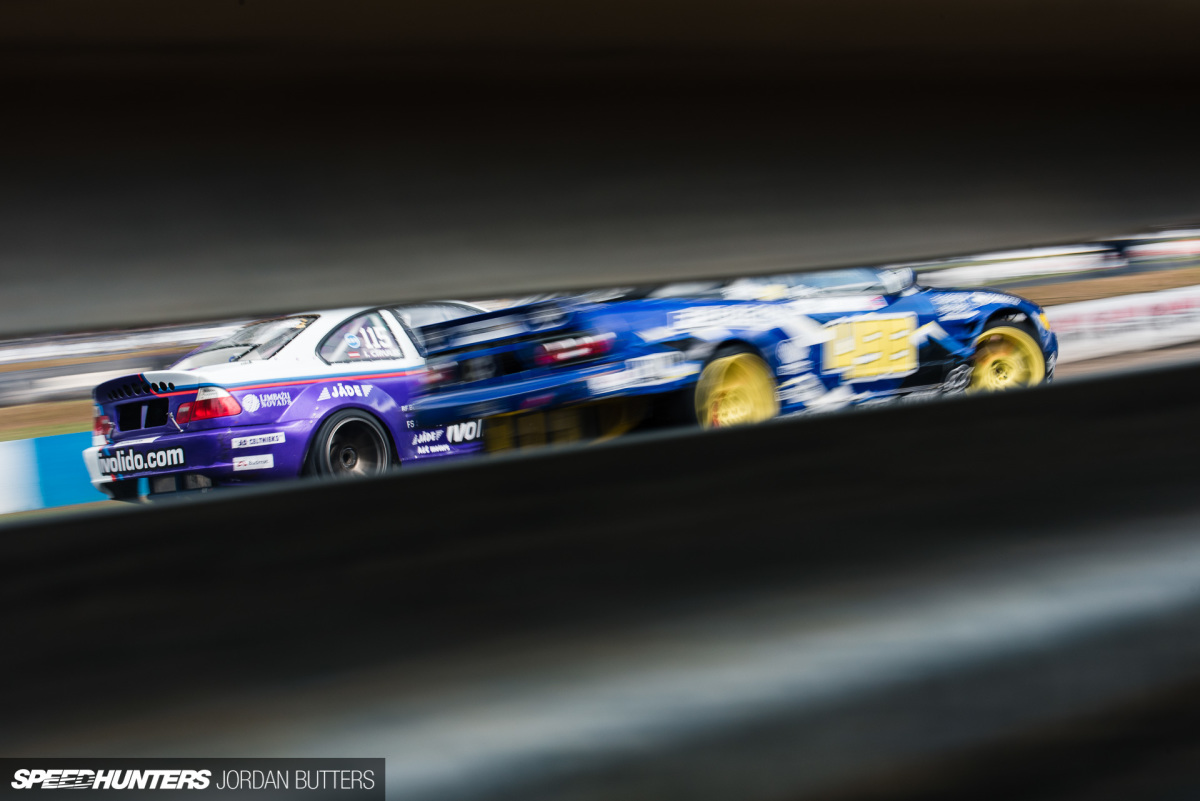 While European drifting might not yet be as polished or widely-followed as some of the other series, this incredibly high standard of driving brings the best out in everyone. I've watched drifting all around the world since becoming involved in the discipline around 14 years ago, and the one quality that stands out in European drifting is the drivers' sheer aggression.
Another element that I love is the variety of machines used on the continent. Whatever your automotive persuasion you're likely to see something that appeals here.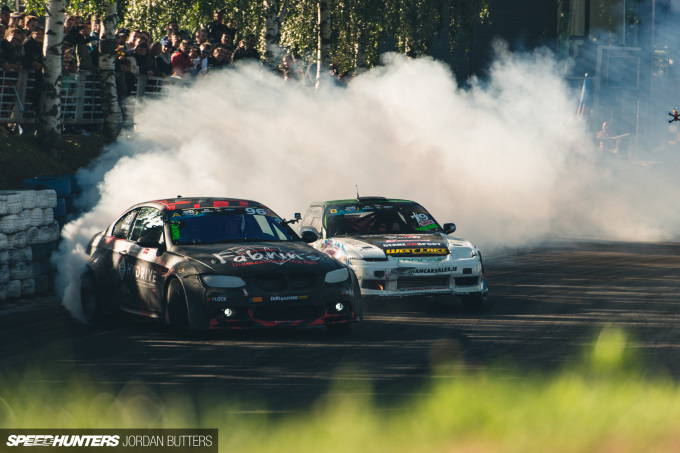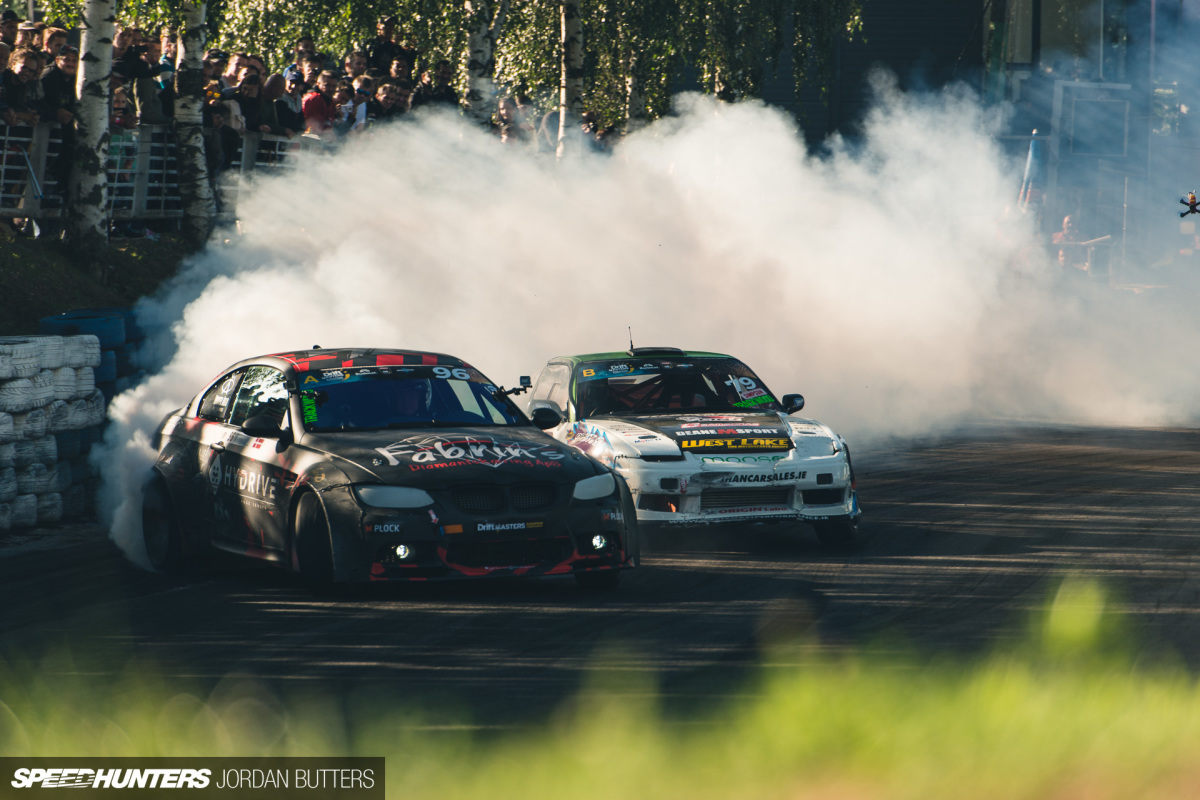 While the opening round of the 2018 Drift Masters European Championship set the scene for what we'd expect in arguably its most important year to date, the second round at RabócsiRing Máriapócs, Hungary demonstrated that, here in Europe, they can hold their own against the best in the world.
The Eye Of The Storm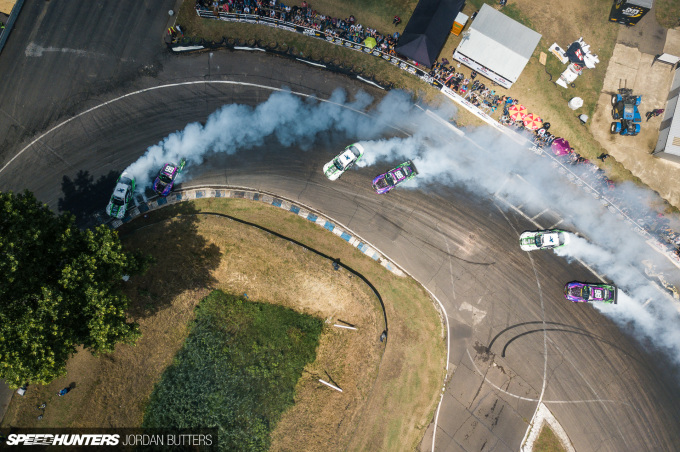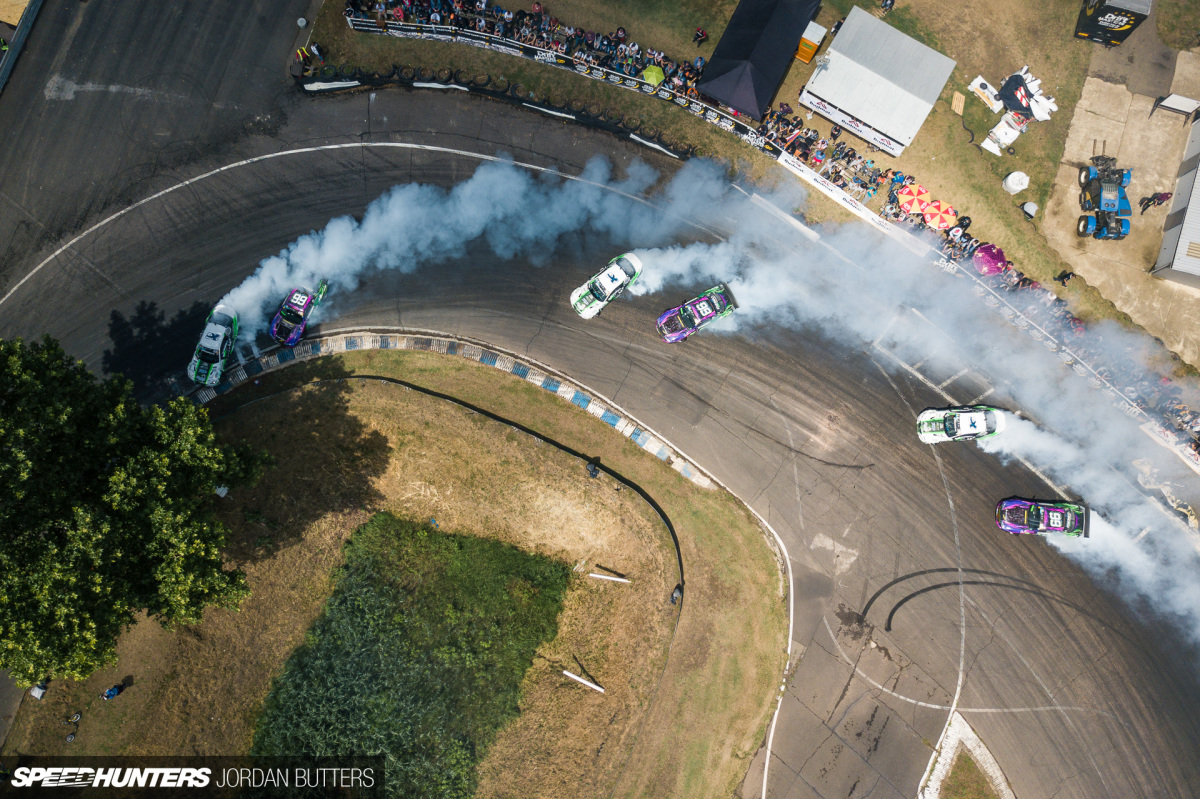 RabócsiRing, otherwise known as Trackwood, is a relatively small circuit, however its size belies its speed and danger. There's only one defined deceleration zone throughout the Drift Masters course, and the rest of the time the drivers are expected to be at full throttle.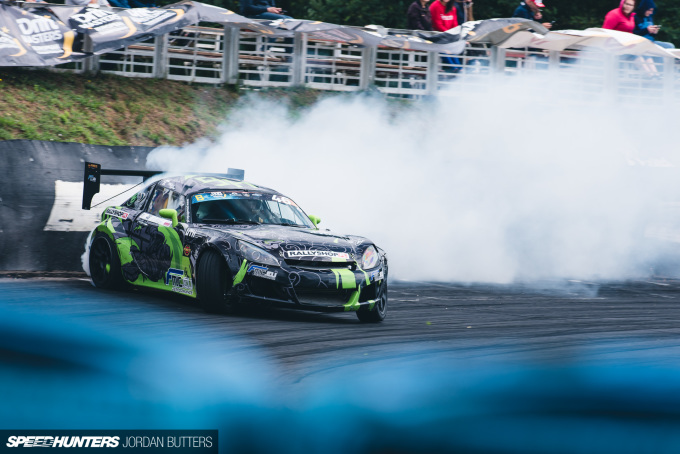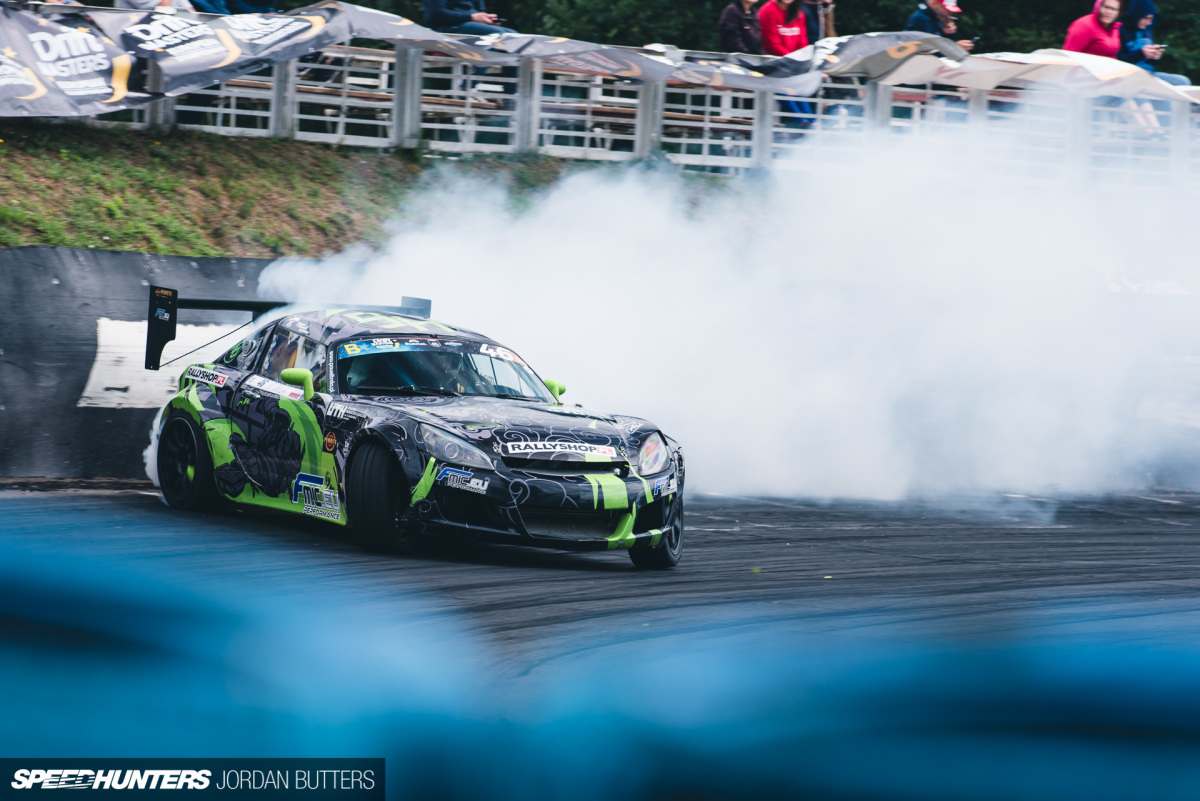 Bearing in mind that the average power output here is an insane 776hp, that equates to some pretty fast circuit speeds.
There's no run-off either; you're either making it in a cloud of glory or you're in the wall. The circuit boundaries at Trackwood are tyres too, which you may think offer more cushioning that concrete or Armco. You'd be right in a sense, but on the flip side there's no forgiveness if you scrape off them with the rear bumper – the walls pull you in, spinning you around and impacting the front end too. It's a scary, scary sight to fire your car at under full throttle.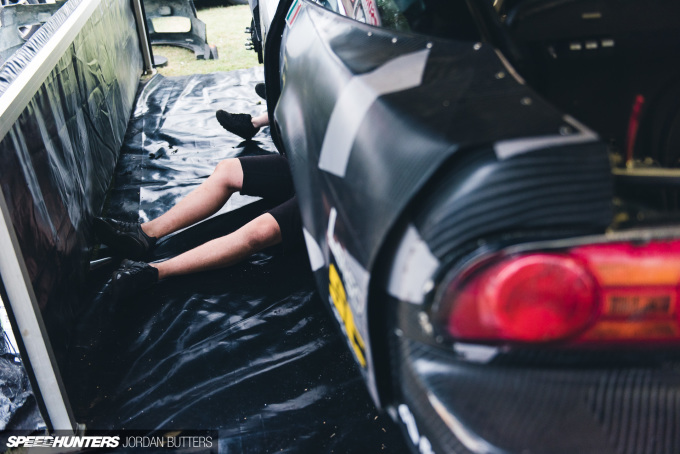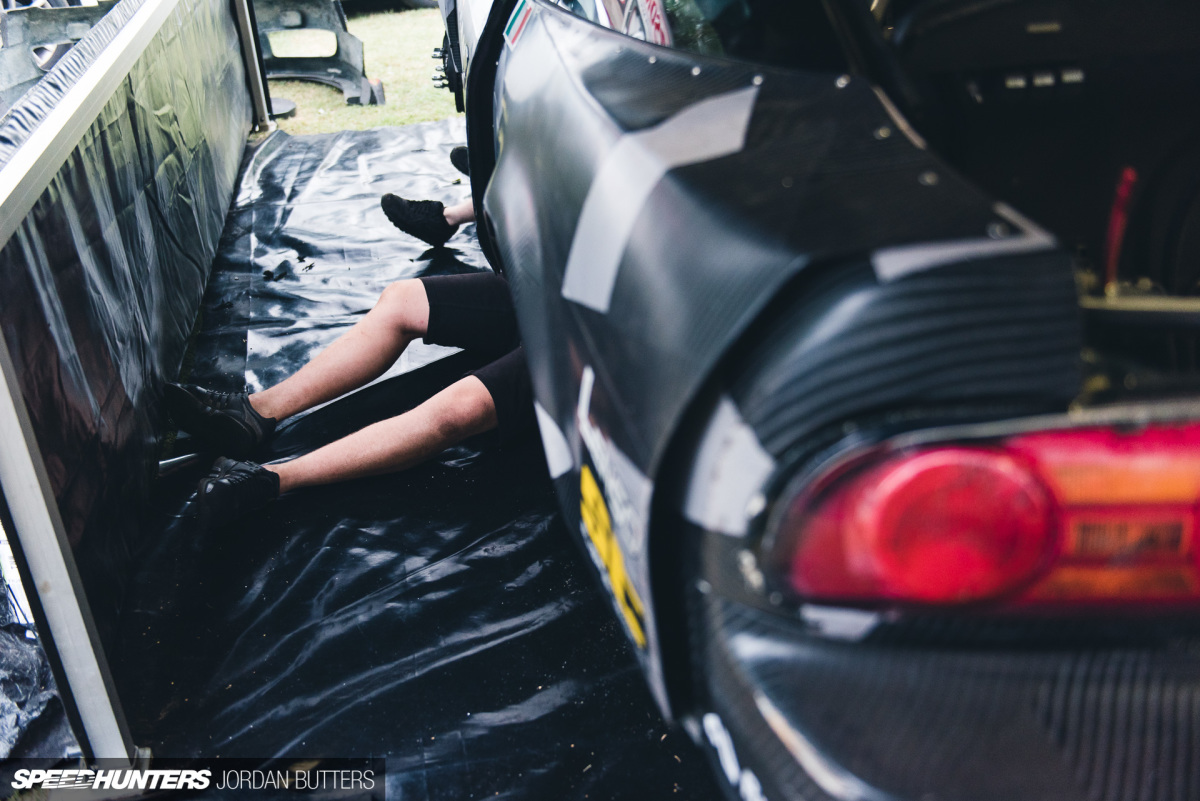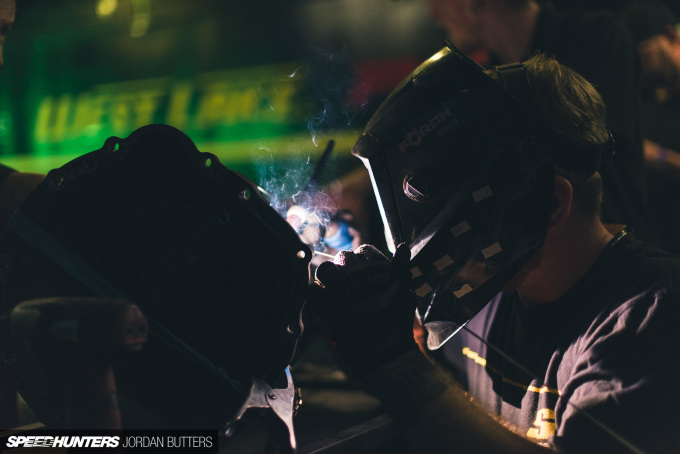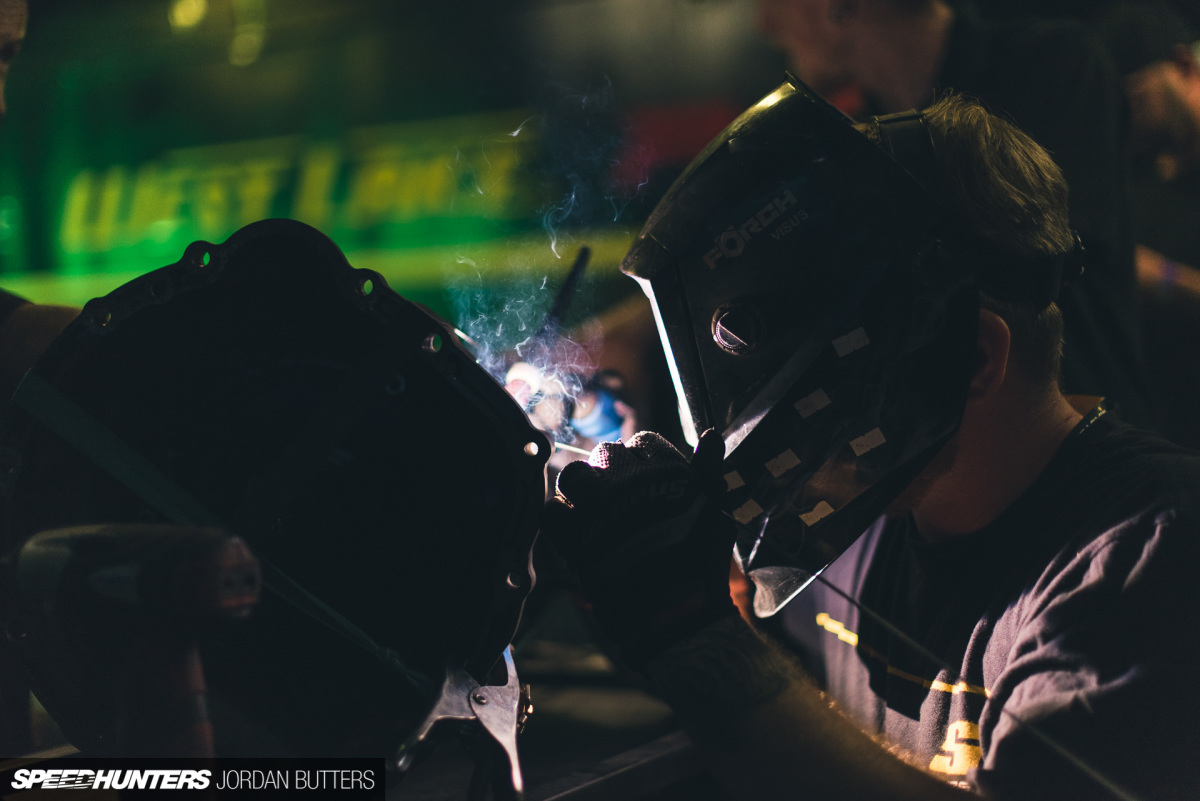 For some, the drama started before a wheel had even turned in Hungary. The logistics of an international championship means that drivers are often not reunited with their cars until days, or hours, before the next event. Irish driver Nigel Colfer made the journey to Poland and drove over to Hungary the day before Round 2, only to find that an engine mount failure at Round 1 had cracked the gearbox bell housing wide open. Emergency repairs were made late into the night to ensure he made it to the track the next day.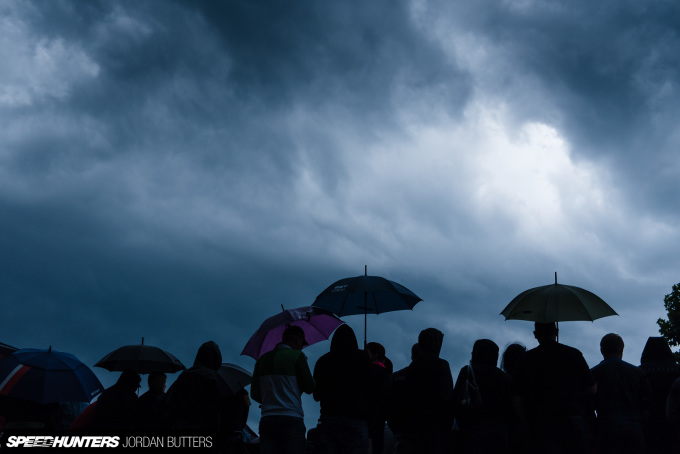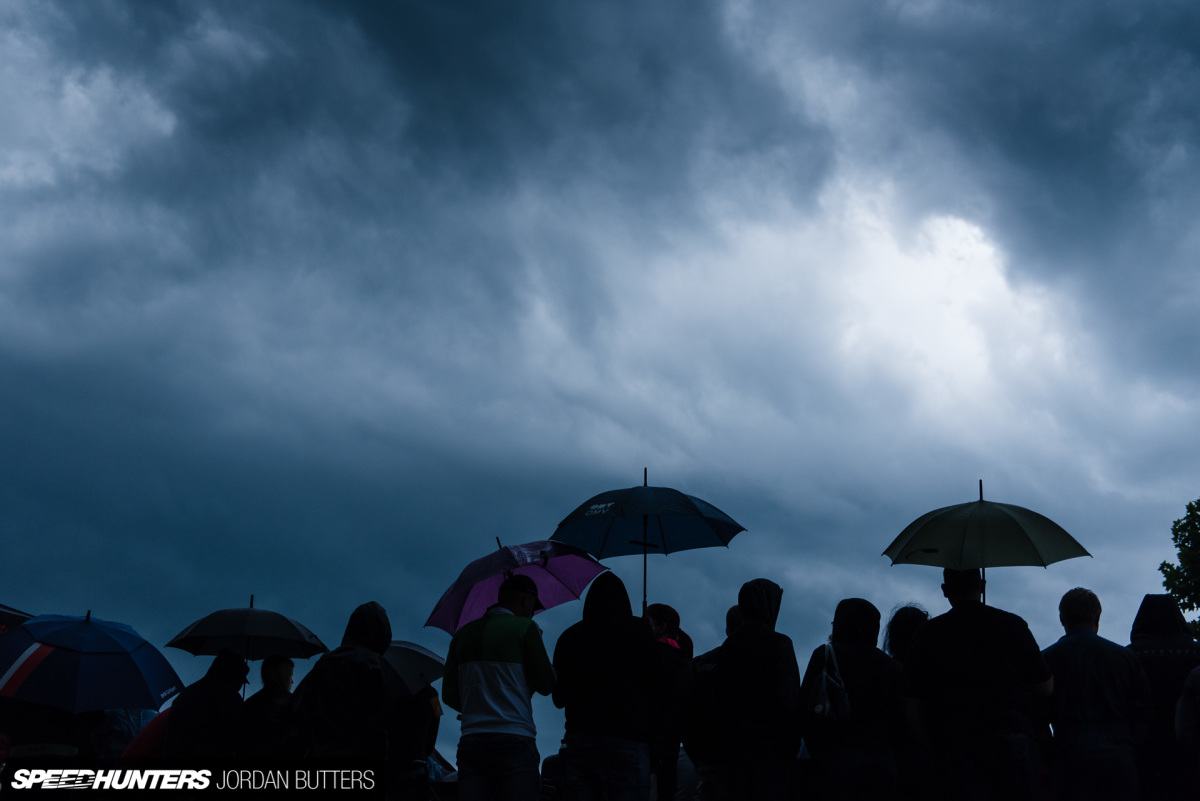 Not only did the competitors have to battle against each other and a challenging layout at DMEC Round 2, but there was also the weather to contend with. Both during qualifying and the main event the track was one minute basking under 35°C sunshine, and the next a deluge as heavy thunderstorms passed directly overhead.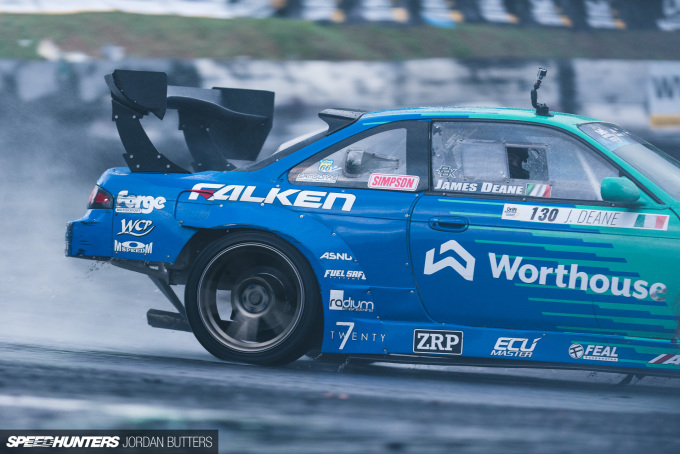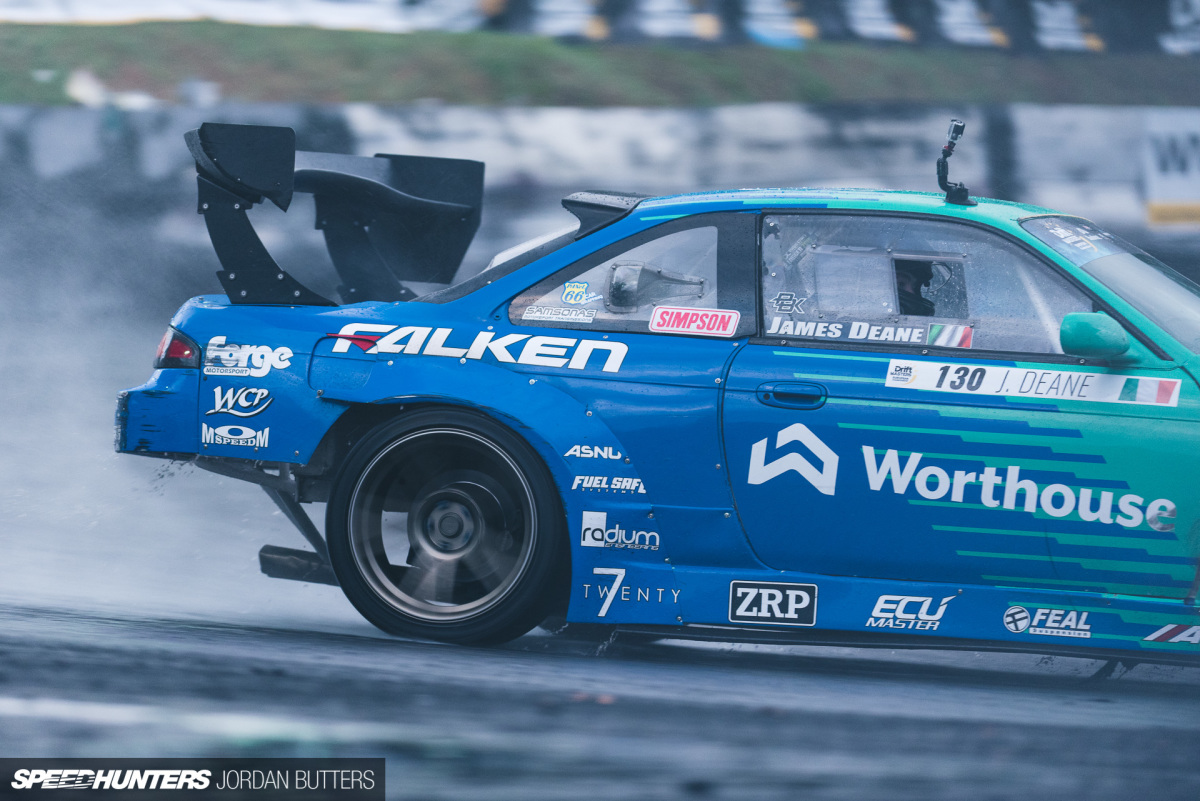 One man no stranger to driving in the rain is James Deane, who somehow managed to pull out the most intense wet qualifying run I have ever seen, outscoring both his own, and all of his fellow competitors' dry runs and netting him P1 going into the main event.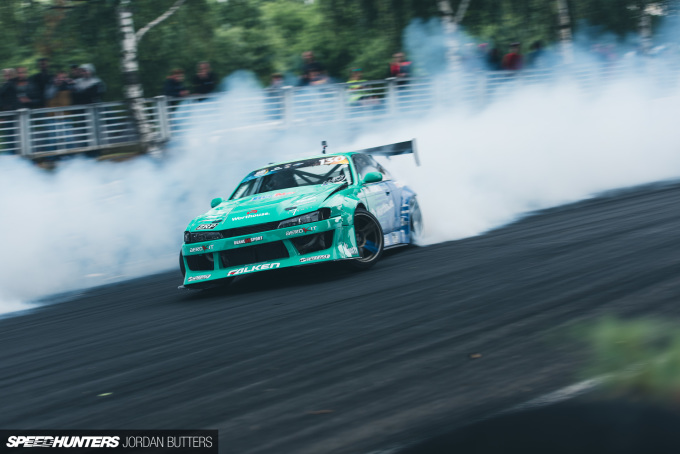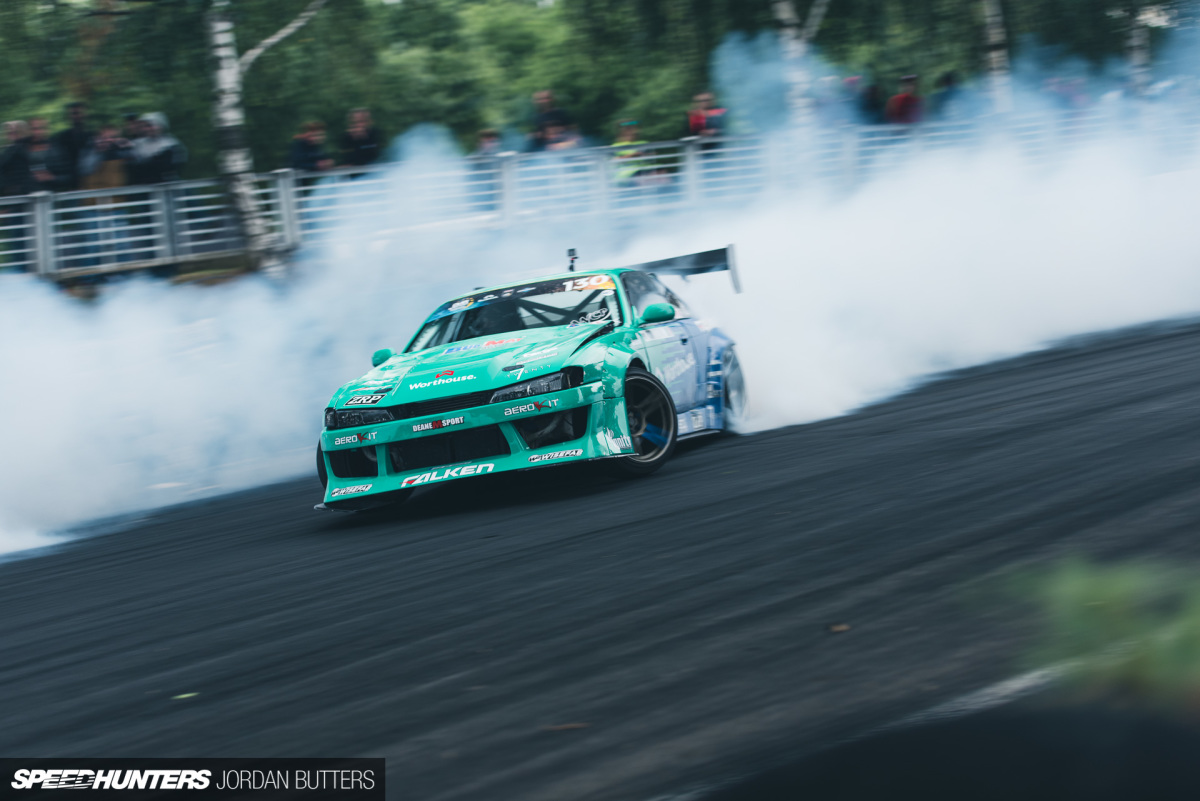 Despite this strong start, and his 3rd place finish at this round, James didn't really look his comfortable self on this circuit in battles. An incredibly narrow escape in his Top 16 battle against Enver Haskasap saw James avoid a heavy impact with the wall by millimetres after Haskasap charged into him on turn one. James commented that it knocked him back, as he was pretty sure he was going to end up in the wall.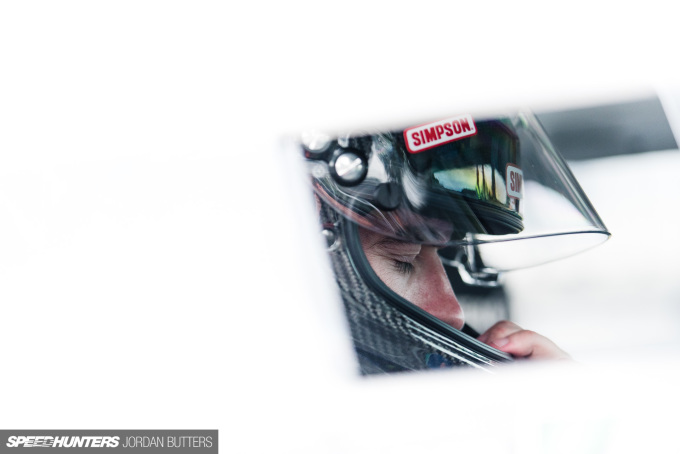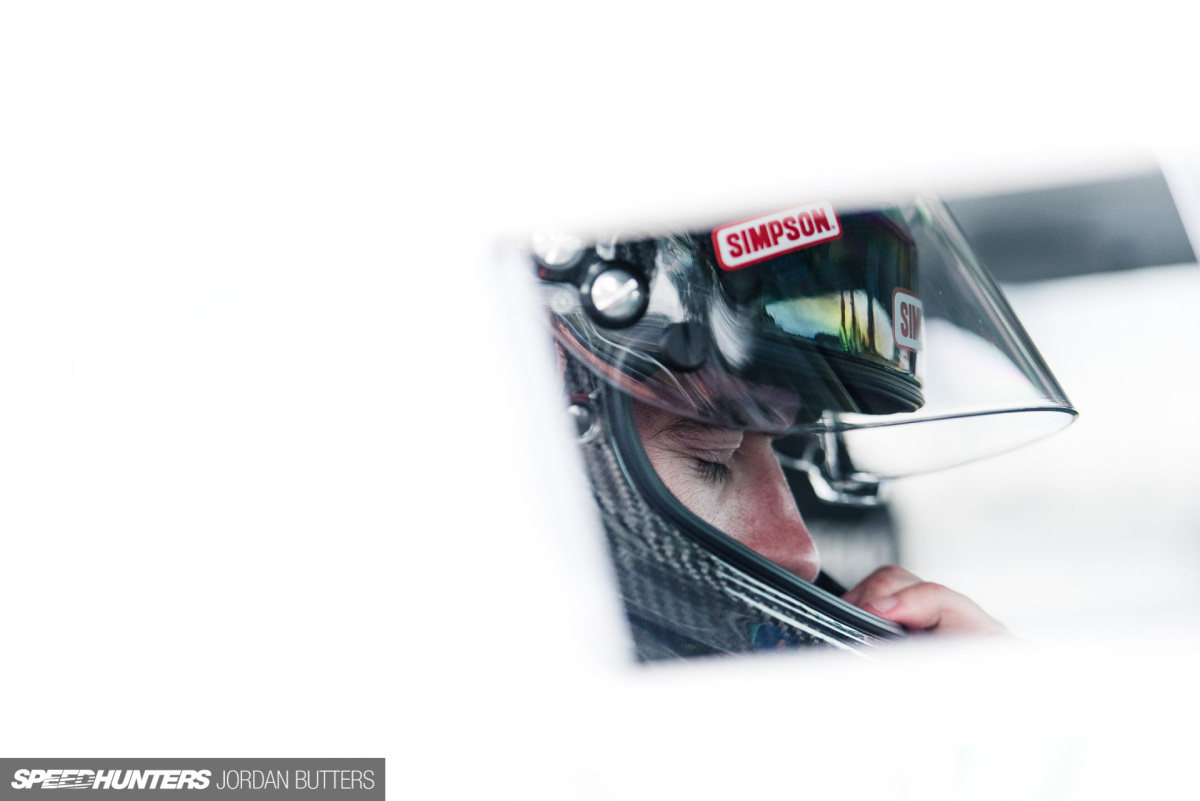 After this narrow miss, and with the weather turning, James made the occasional uncharacteristic mistake in the battles that followed, although did enough to secure a podium. Did Hungary show us that The Machine is human after all?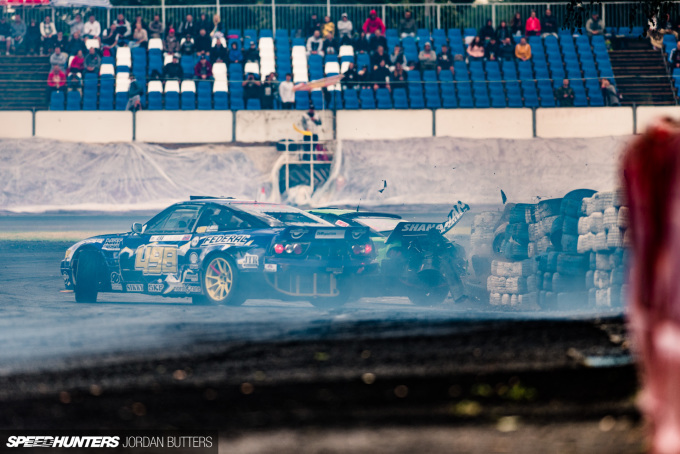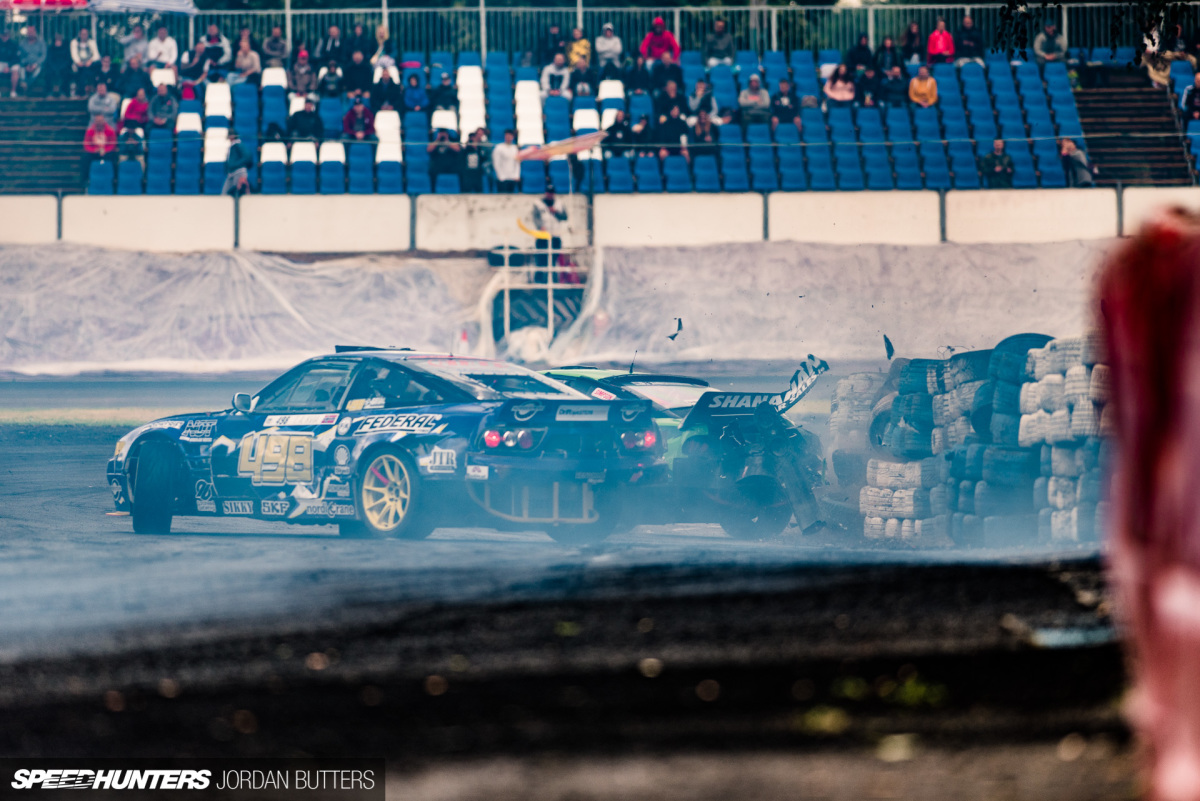 Leading up to the event, young Conor Shanahan (who, incidentally is James' next-door neighbour in Ireland) was the Formula Drift champion's biggest threat. Unfortunately, Trackwood was not kind to Conor, who suffered multiple impacts throughout the weekend.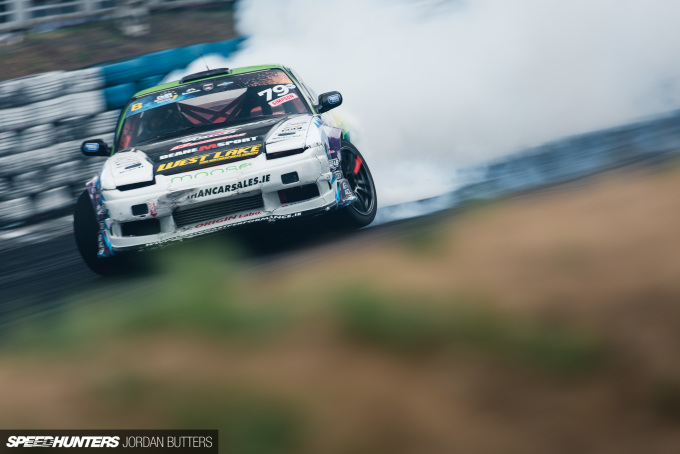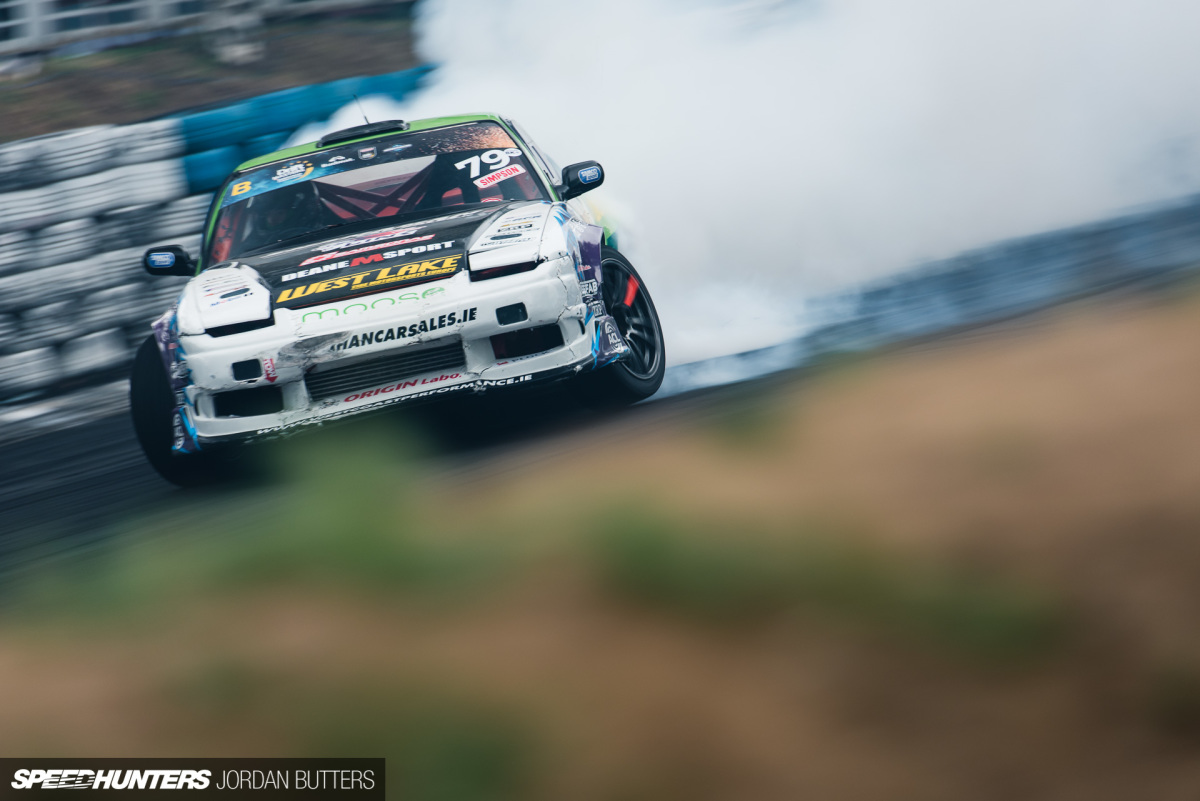 He actually finished his final qualifying run with just three wheels after impacting with the wall on the third clipping zone, and still scored over 75 points. A coming together in the Top 32 saw Conor progress, but sadly his team were unable to fix his car sufficiently for him to offer a competitive chance in the Top 16.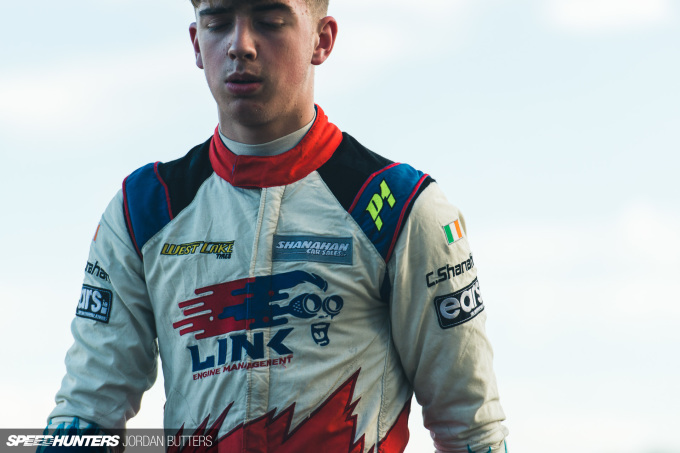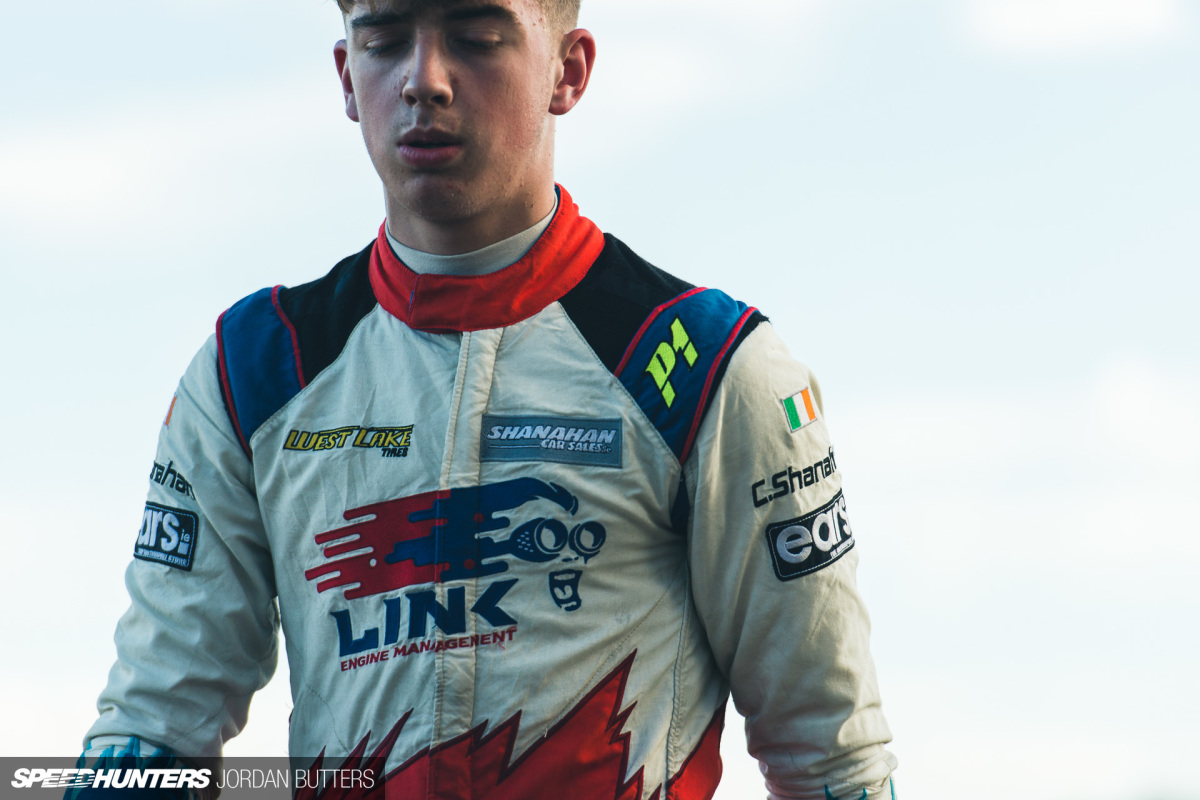 He still sits in second place overall in the championship, and is definitely one to watch for the title. His confidence behind the wheel hugely belies his years at this point, and he's only going to get better.
Red Bull 'Driftbrothers' Joe and Elias Hountondji made the journey to Hungary from Germany and were a big hit with the fans. It's amazing what good livery design and familiar branding can do for both on-track and paddock presence; couple that with great driving and you have instant fan favourites.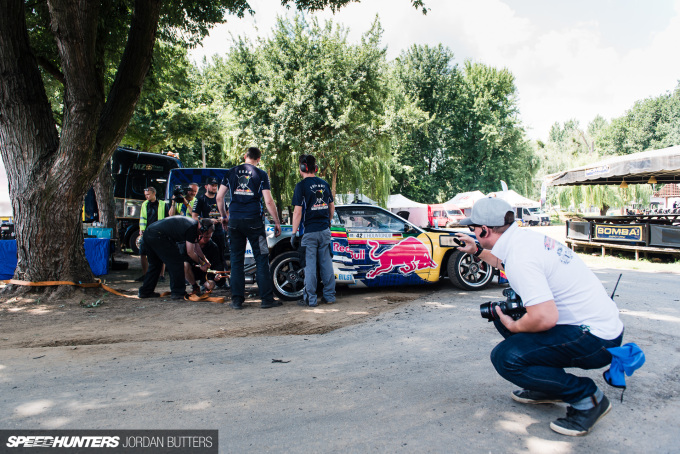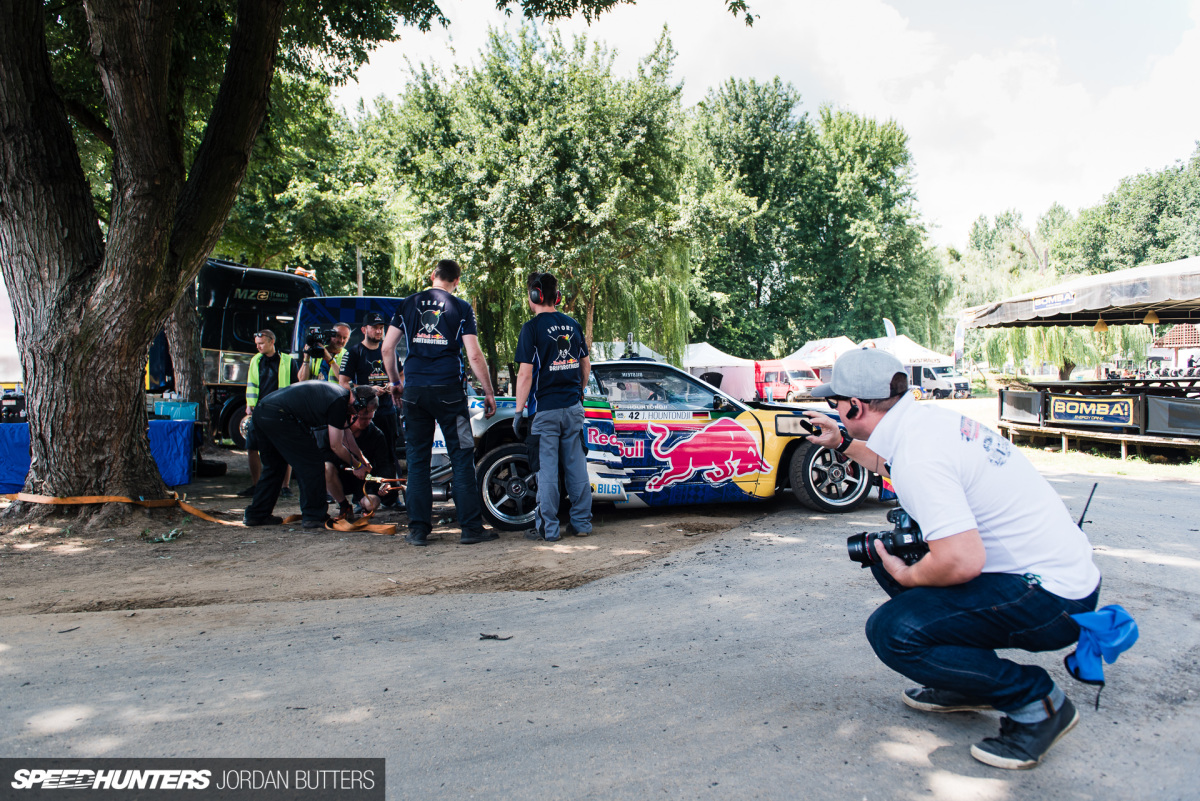 Trackwood also punished the siblings, however, with continuous repairs taking place in their pit area throughout the weekend.
Goliath Who?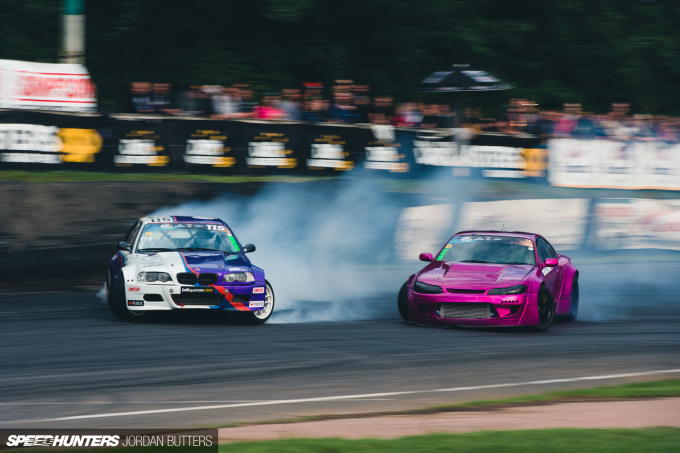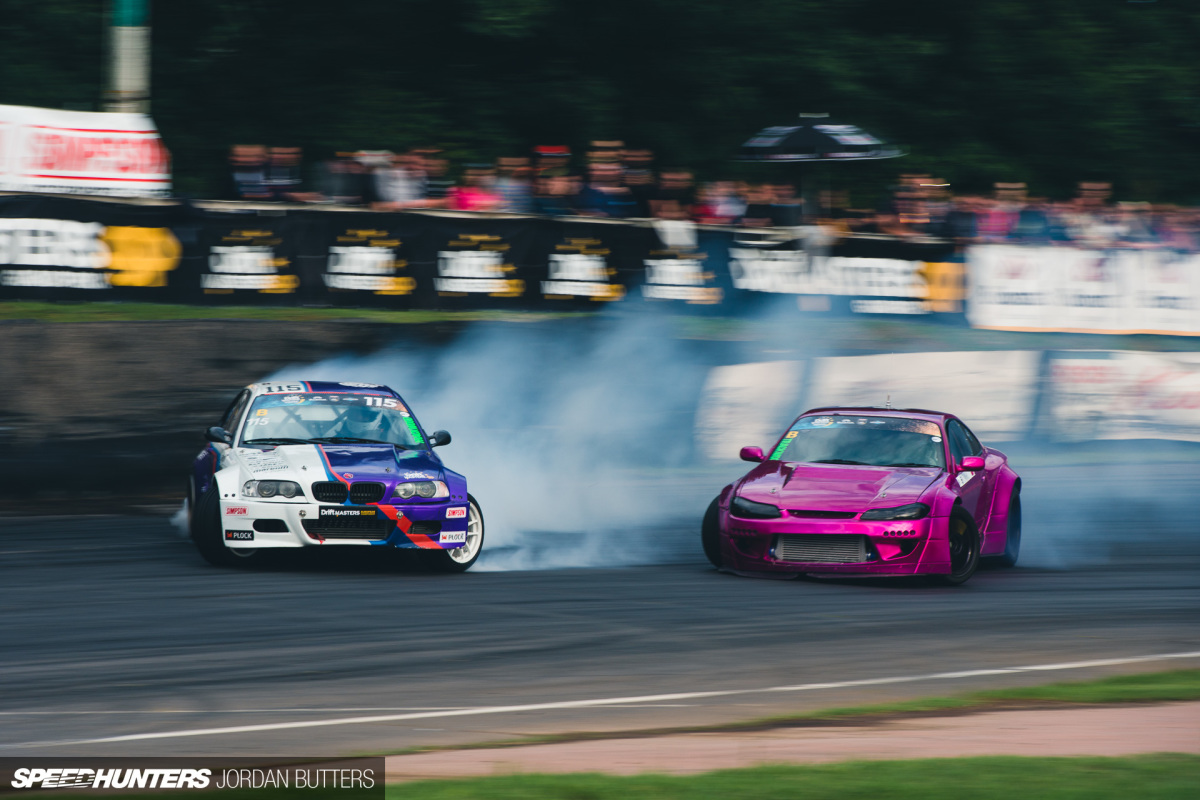 With Drift Masters originating in Poland, it's no surprise that this nation boasts the largest roster in the series, and arguably some of the most aggressive drivers; Grzegorz Hypki, Adam Zalewski, Paweł Borkowski, Bartosz Stolarski and Dawid Karkosik, to name a few. Karkosik has previously driven under the BudMat banner alongside Piotr Więcek, and having seen him drive several times before I had high hopes. Sadly, he never really looked to be a serious threat at Trackwood, and was sent packing by Latvia's Ivo Cirulis.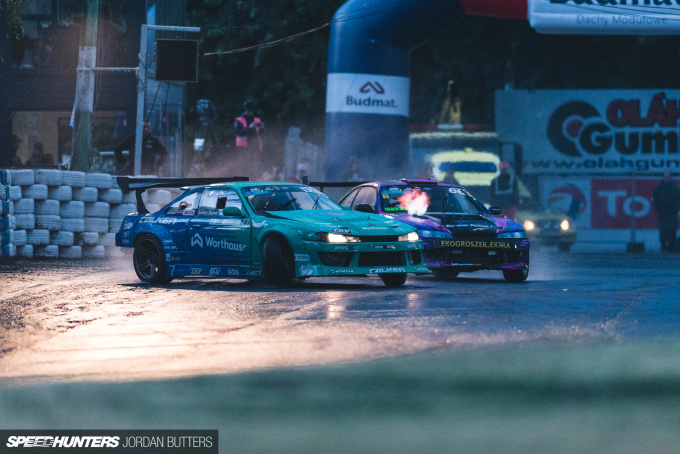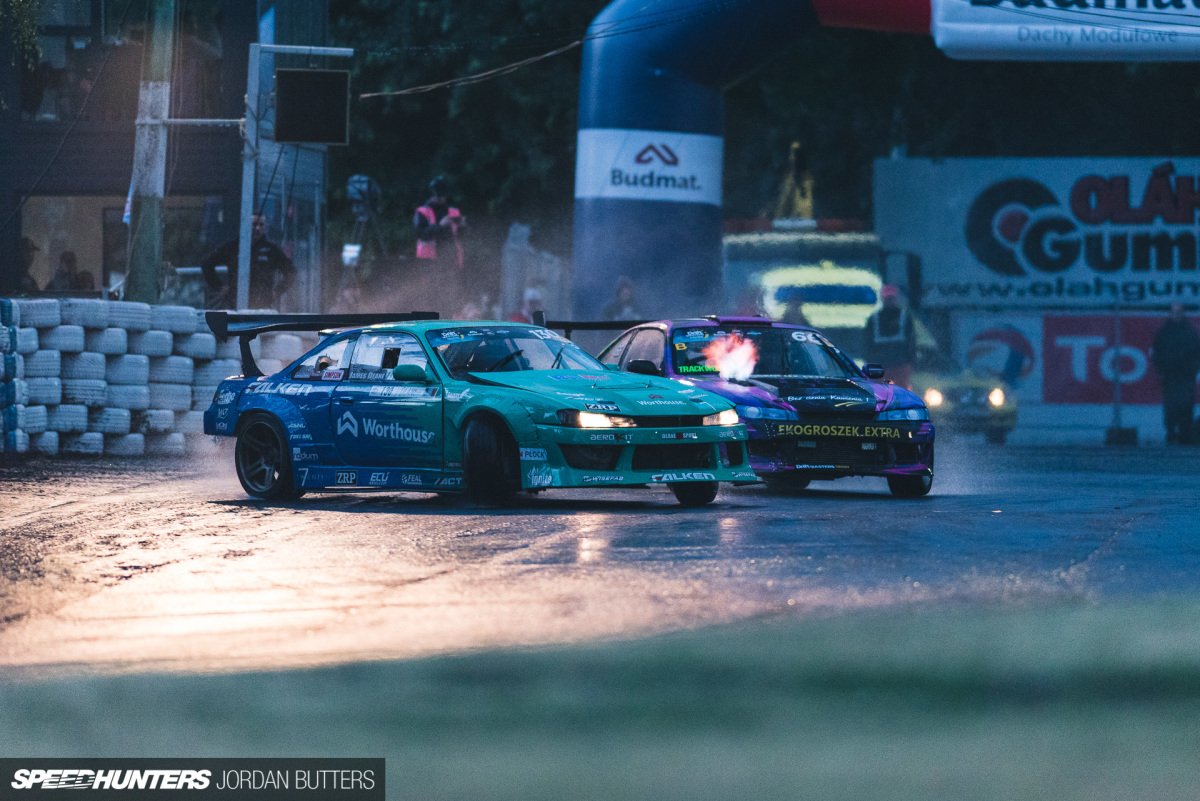 Stolarski is one to watch in this championship; he narrowly lost out to Deane in the playoffs but there was nothing in it. Out of all the drivers in the roster, Stolarski's hunger for the victory really shows. He sits in 6th place after Hungary, but with Riga next up, and a track he knows well, he could easily jump up the rankings.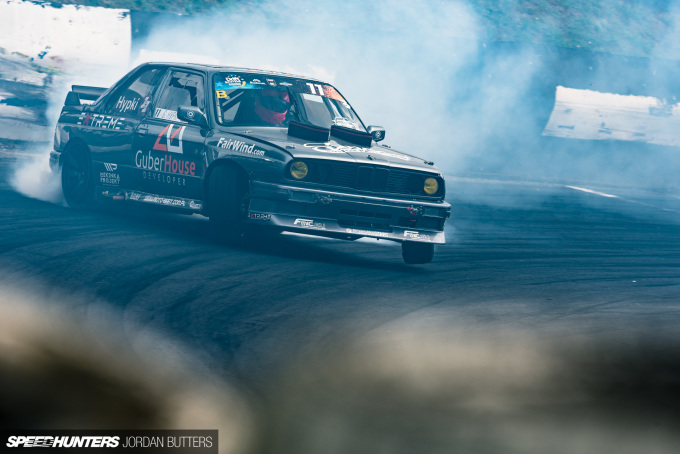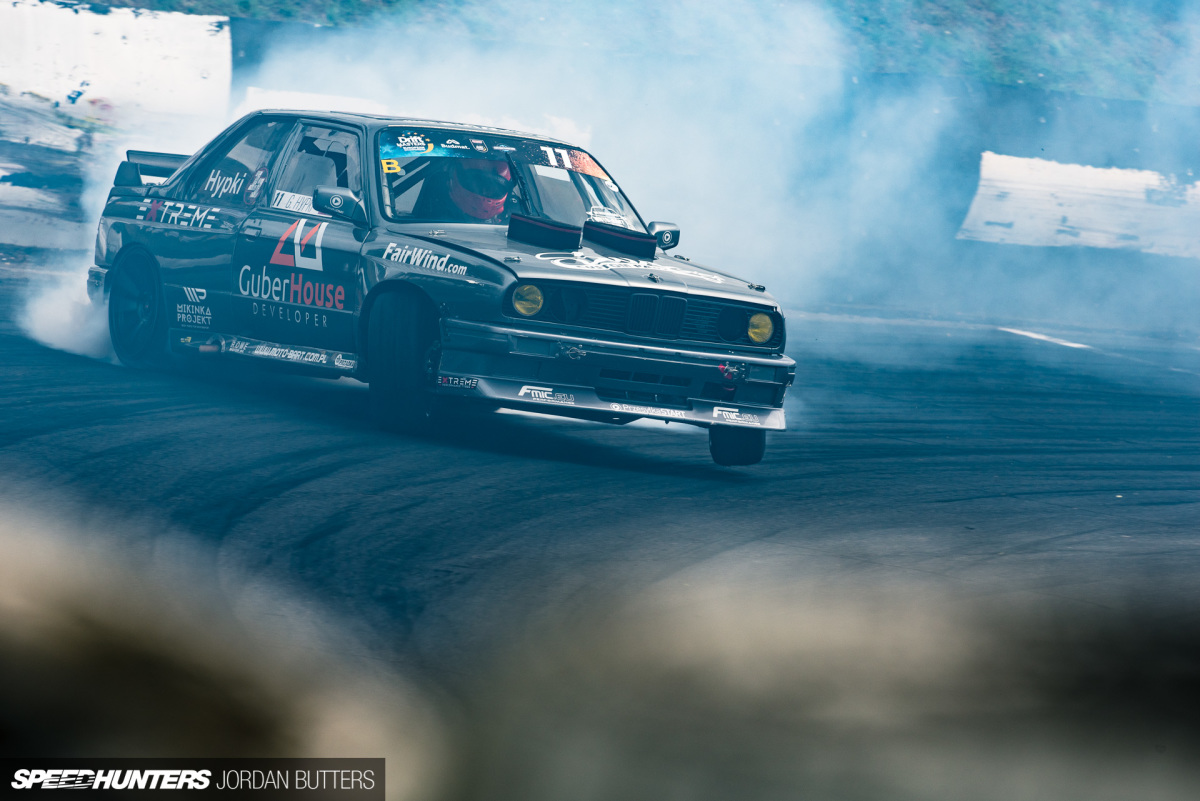 Out of all of the Polish drivers, it was Hypki who dominated in Hungary, taking the overall victory. The pace of his 600hp LSX-powered E30 M3 was unfathomable coming through the tree-lined section of the track. It was one of the few cars that consistently picked up the inside trailing wheel as he applied the power.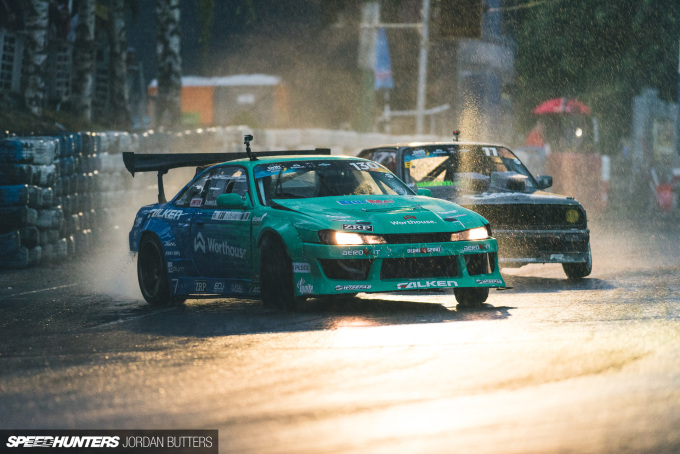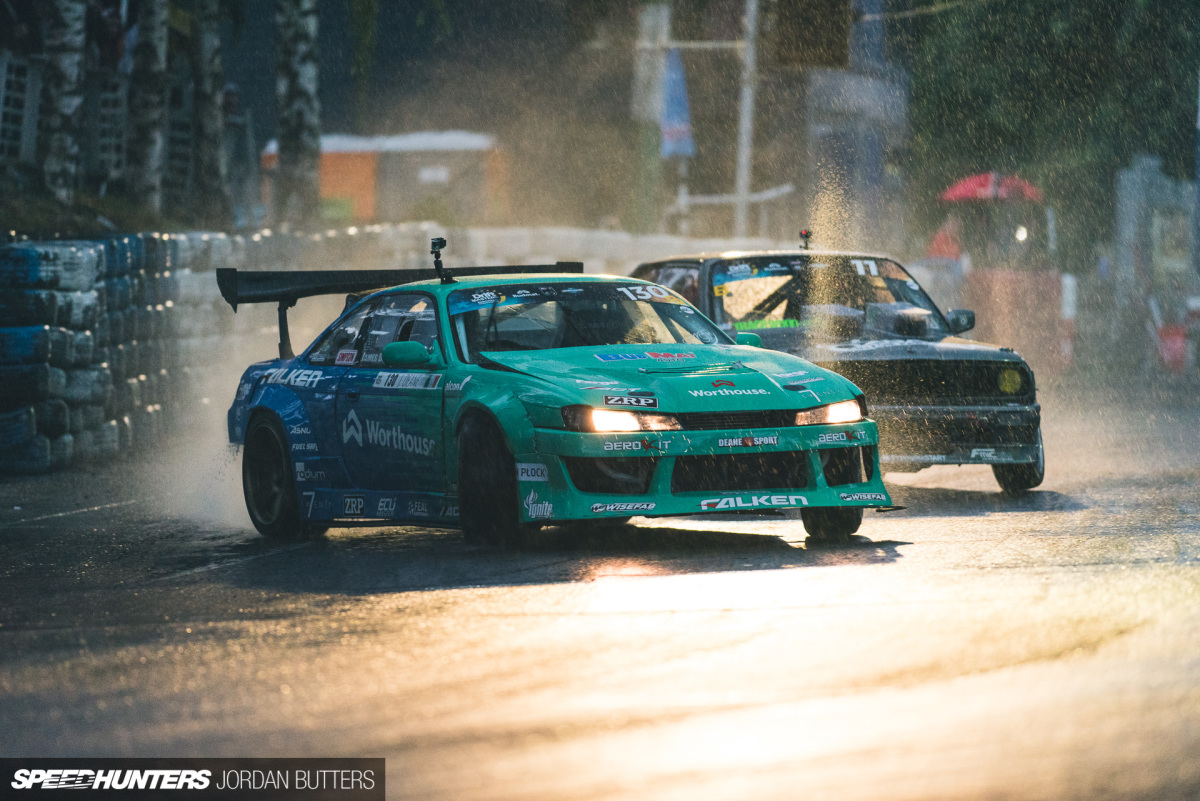 Hypki's route to the top of the podium wasn't easy either, taking down fellow Polish drivers Kajetan Rutyna's Mercedes 190 and Paweł Borkowski's S14 before going on to out-drive Deane in the semi-finals.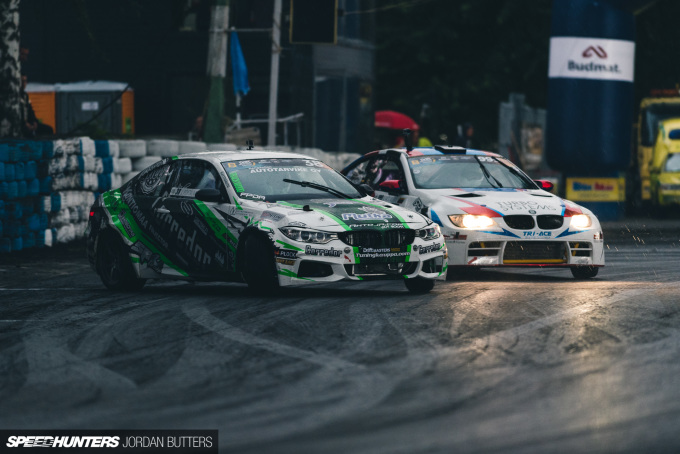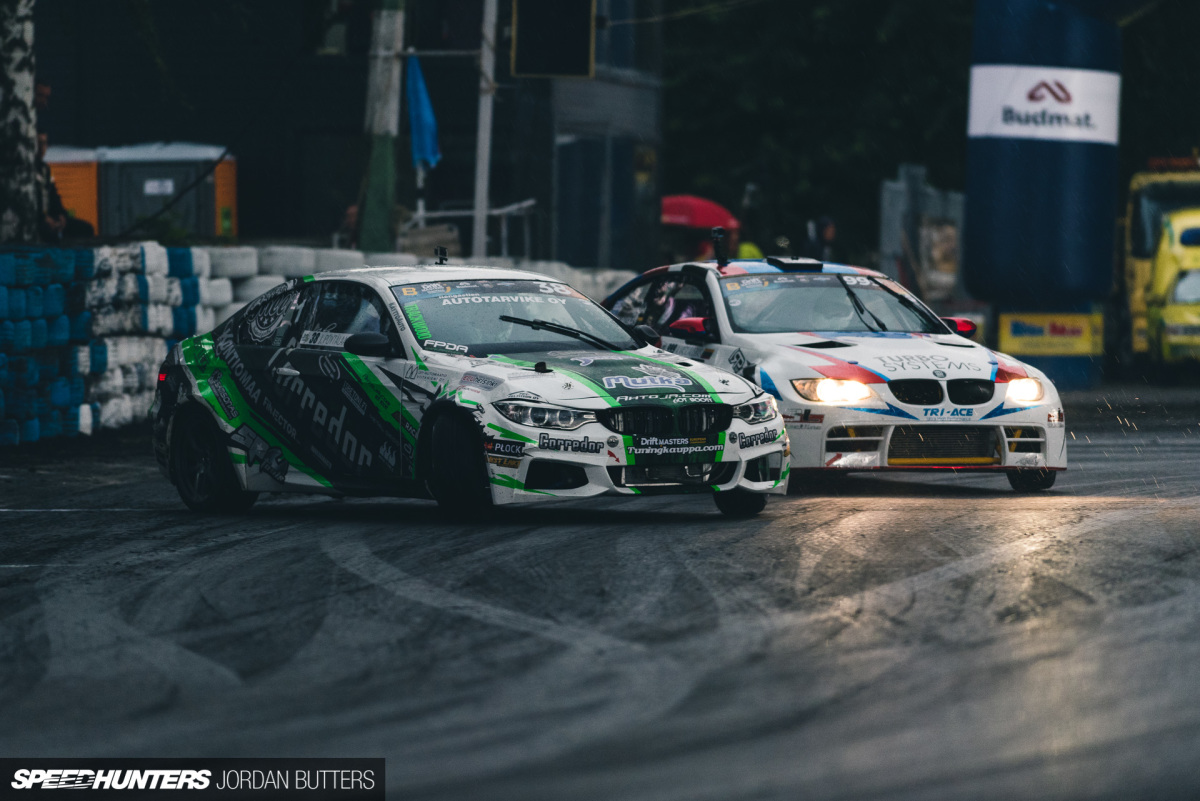 The only person standing in Hypki's way in the final moments was Finnish and Drift GP 2017 champion Juha Poytalaakso and his F82-fronted E92 M3. One battle that I was really looking forward to seeing was Juha facing Lithuanian Andrius Vasiliauskas in the Top 16, as both drivers are famed for their incredible aggression and ridiculous smoke levels – Juha packing a 900hp turbocharged S50B32 and Andrius an 800hp turbocharged S54B32 motor. Sadly, the rain relegated this battle to a slow-motion, smoke-free affair, but Juha's car control remained on-point regardless.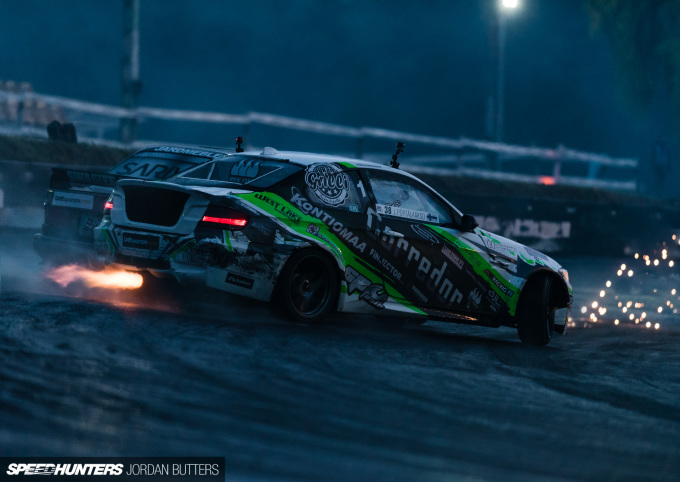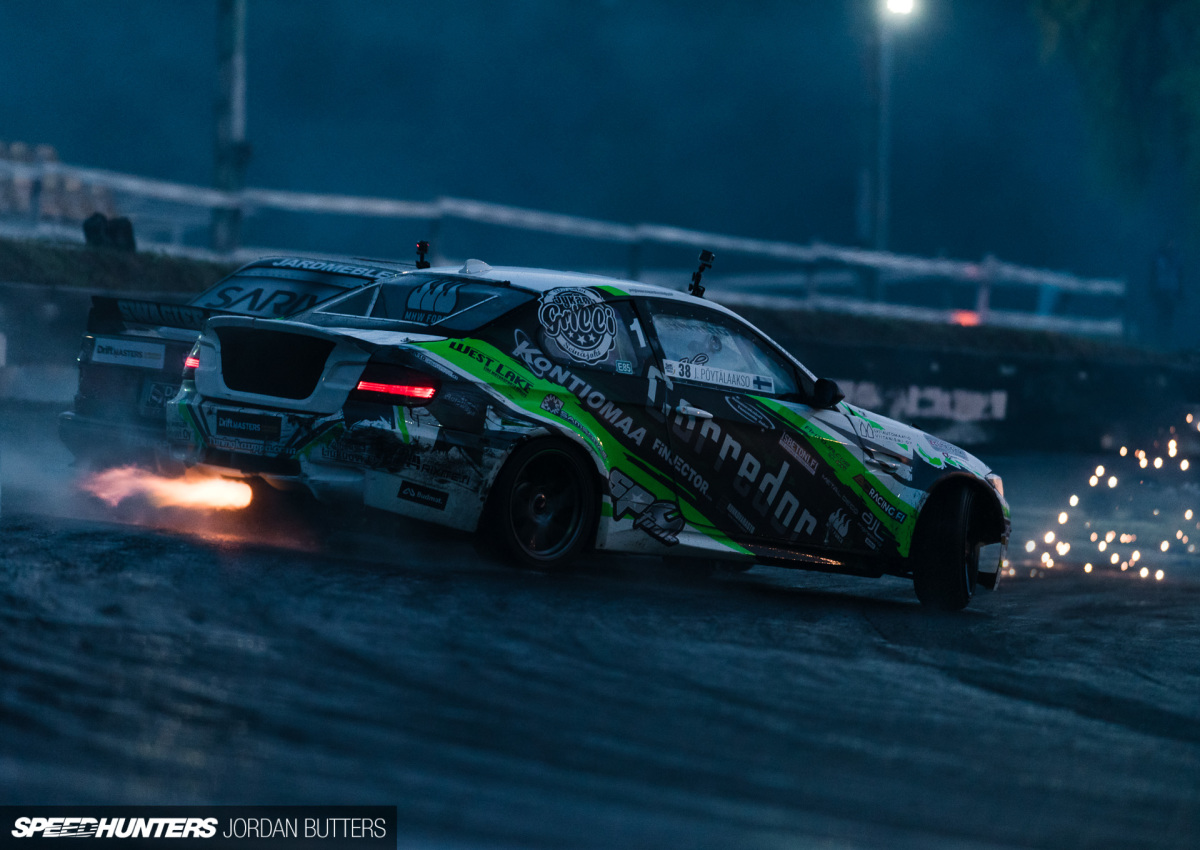 Juha and Hypki's final battle was everything we'd hoped, given the conditions. The storms had plunged the circuit into premature darkness, making things even more hazardous. Juha was consistently fast in the wet, but Hypki's pace was unmatchable in this moment. The odd nudge from Juha as they crossed the line and fireworks exploded overhead and Drift Masters Hungary was in the bag.
An incredible event at a thrilling circuit with the added unpredictable drama of the weather thrown into the mix. If the excitement of Trackwood is anything to go by, the next round in Riga, Latvia on 4th August is going to be something you won't want to miss.
Jordan Butters
Instagram: jordanbutters
jordan@speedhunters.com
Cutting Room Floor