Let's jump straight into the nitty-gritty of my Mooneyes Street Car Nationals coverage with three cars that couldn't possibly be more different from each other. In fact, not only are they all from different corners of the world, but they represent very different styles and genres of car culture. With this being a Mooneyes event, however, this level of diversity is not only expected, but very much welcomed.
First up, and representing Japan, we have a little Datsun B210 coupe which has just gone through a thorough restoration, or should I say, restomod.
The car stood out for its glistening paint job and color-matched bucktooth front lip spoiler, not to mention the yellow headlights, a touch that I think really looks ace on these little Sunnys.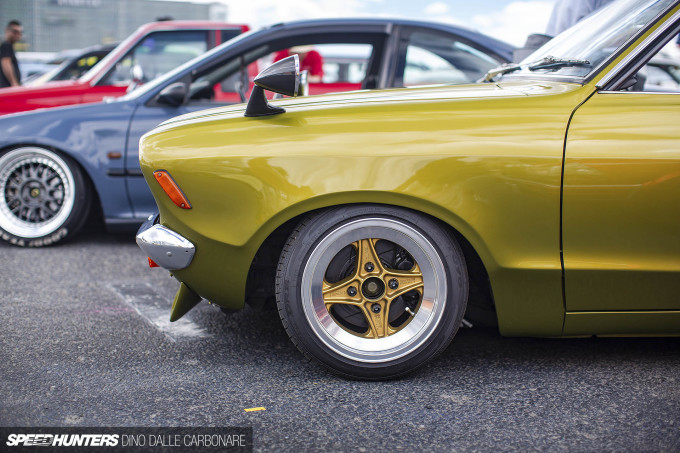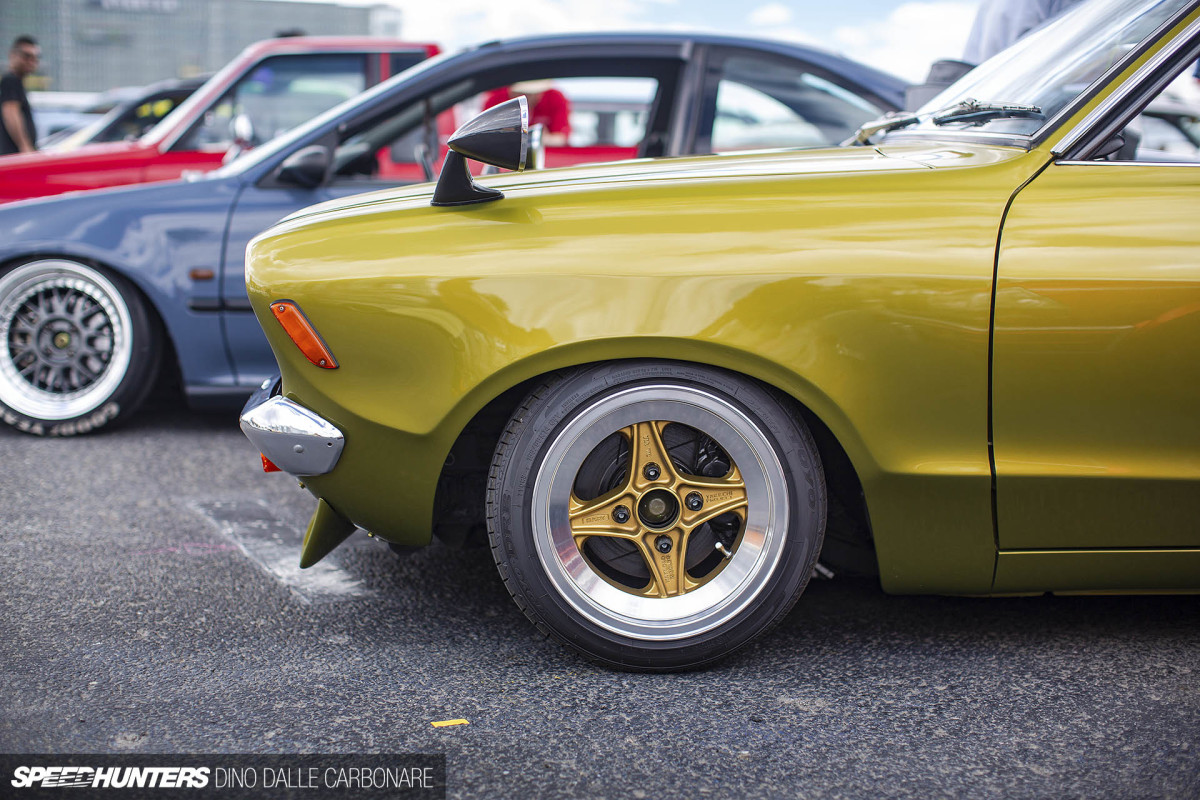 There's a rather fitting set of kyusha shoes in the form of 14-inch Racing Hart Takachi Project four-spokes, while the car sits nice and low, tucking the top part of the tires into the fender wells.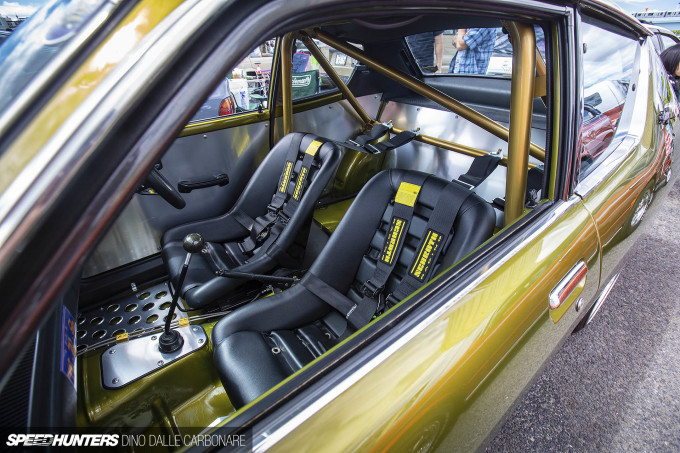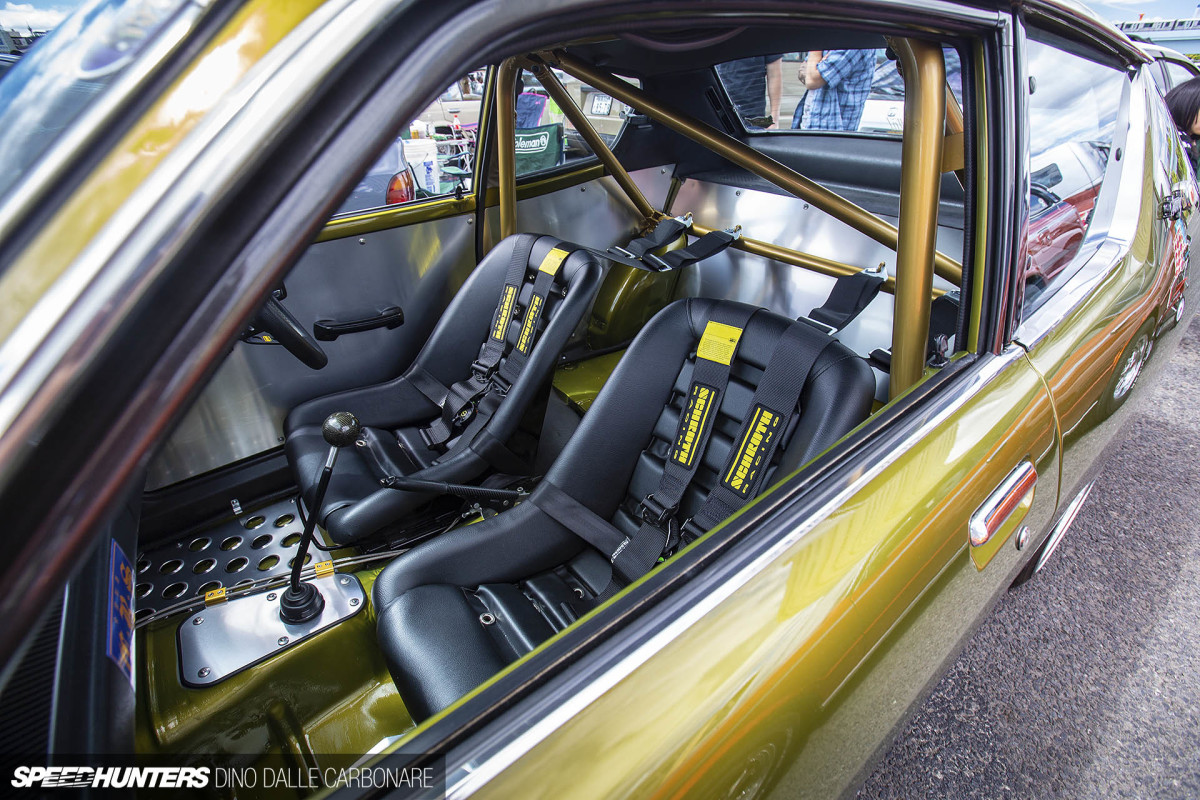 One look into the cabin and you quickly realize just how extensive this restoration was, the Datsun having been stripped right down to the metal and a half cage fabricated in the back. The rear bench seat has been done away with altogether, and all of the trim has been replaced by simple and light sheetmetal paneling.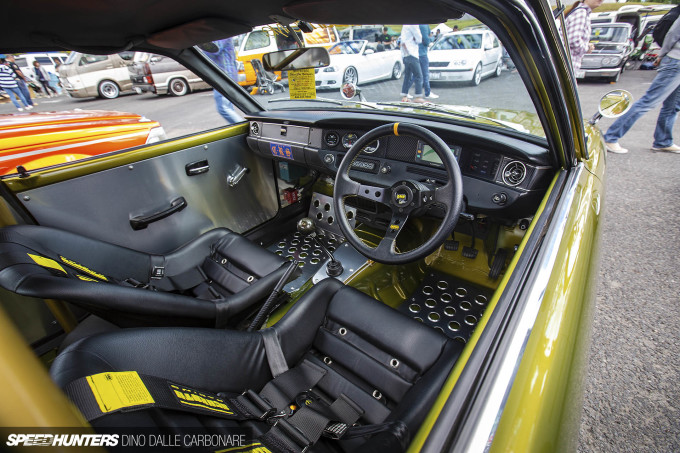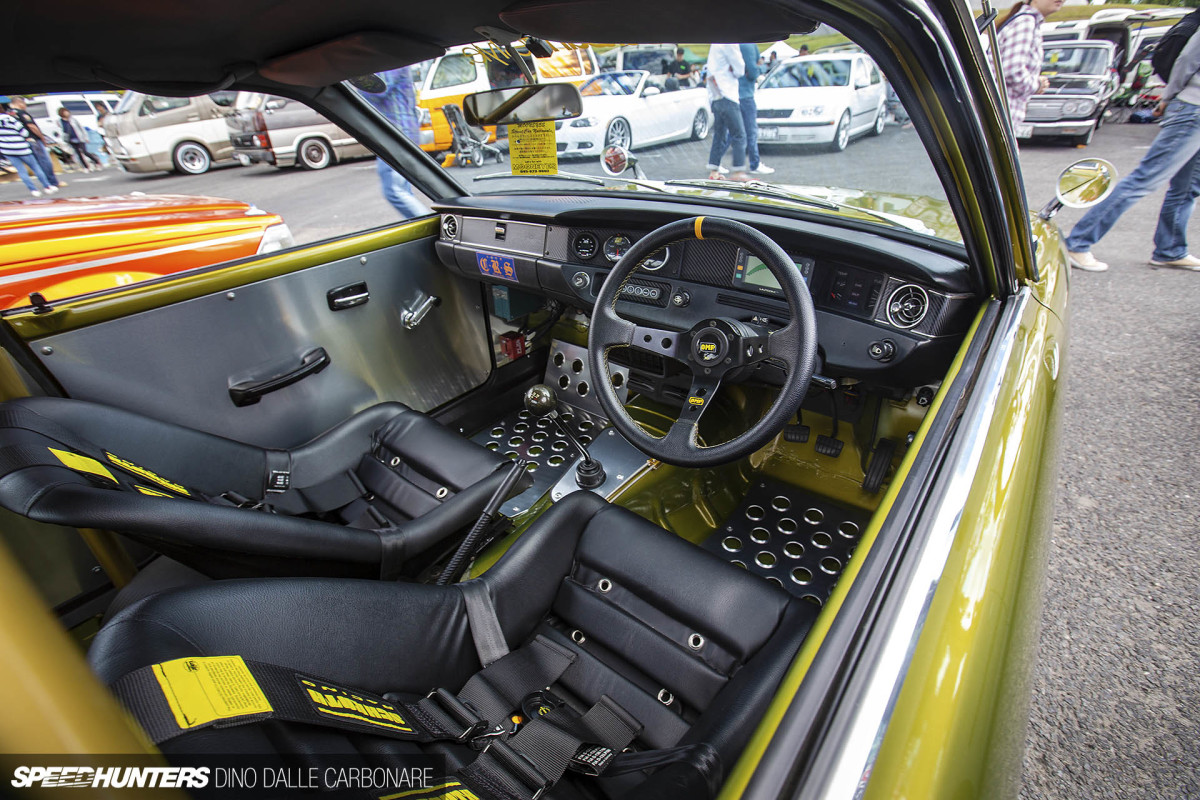 In fact, only the dashboard remains, everything else is painted or exposed metal. The low-back bucket seats are equipped with Schroth Racing belts which color-coordinate perfectly with the OMP steering wheel. I'm loving the details!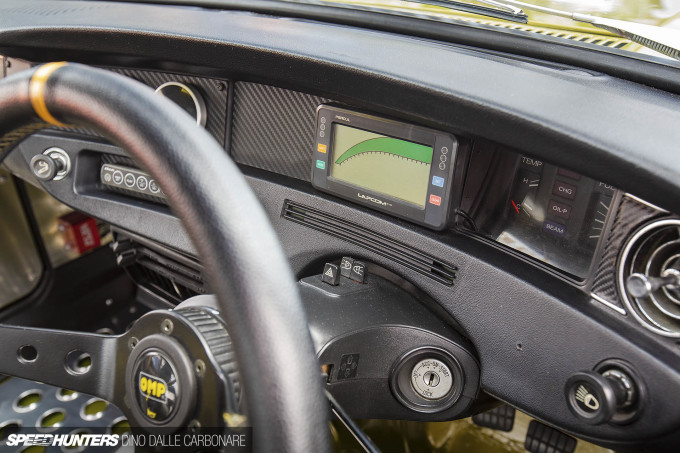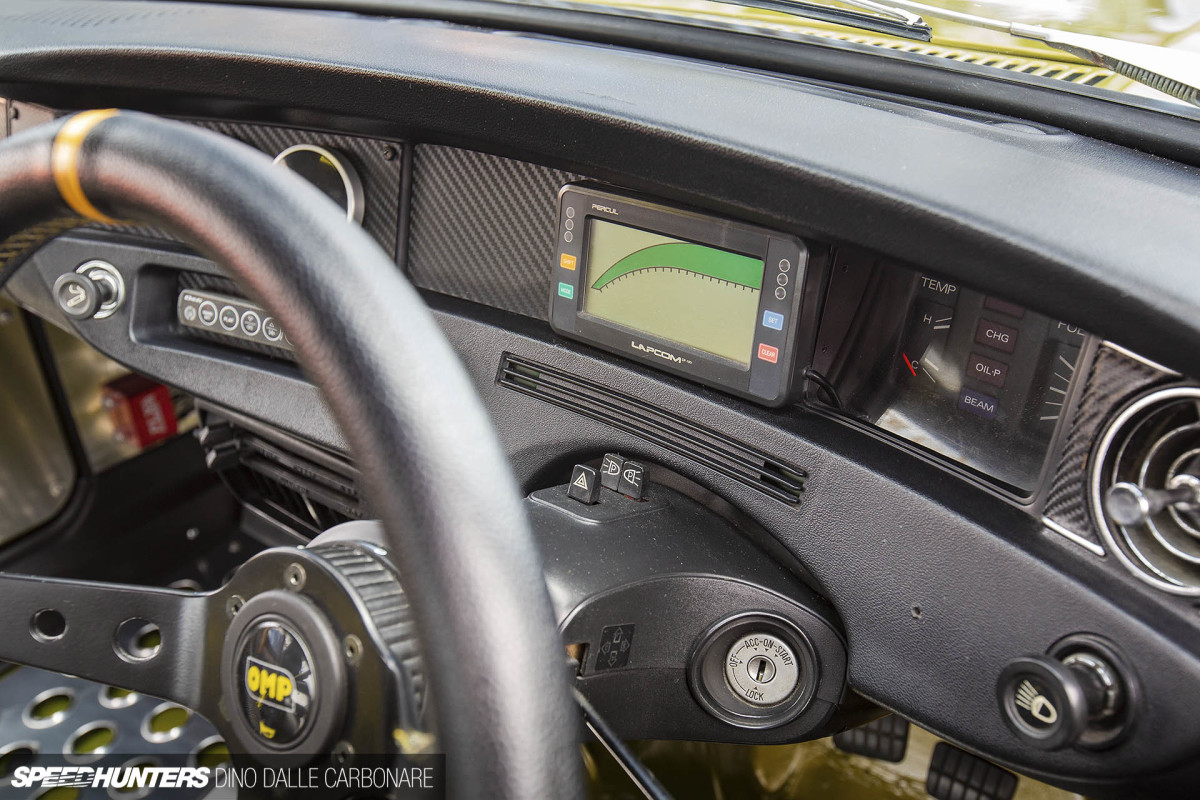 The best touch is the stock instrumentation giving way to something a little more modern and simple.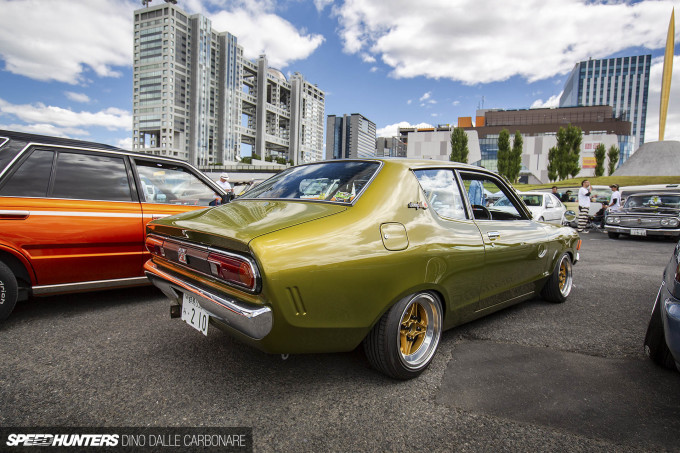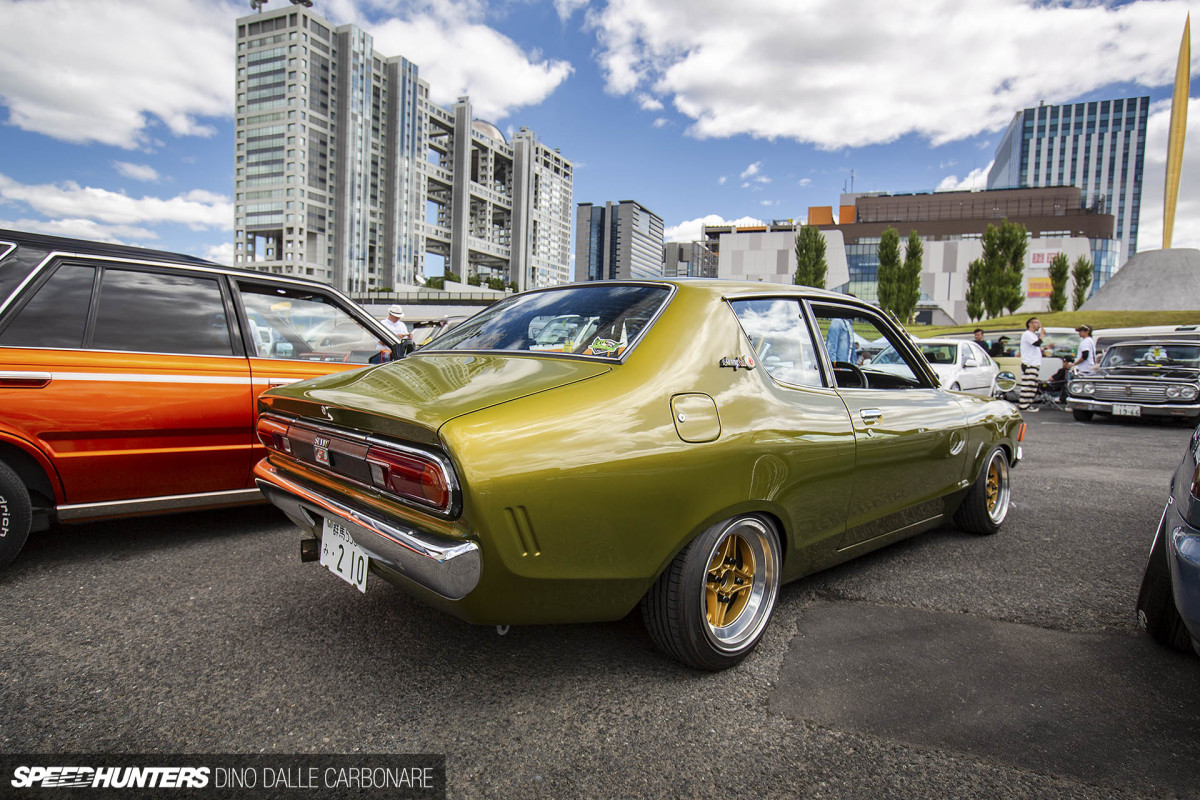 The owner told me that the engine still needs to be done and that it's currently stock and dirty, hence why I wasn't able to get a shot of it.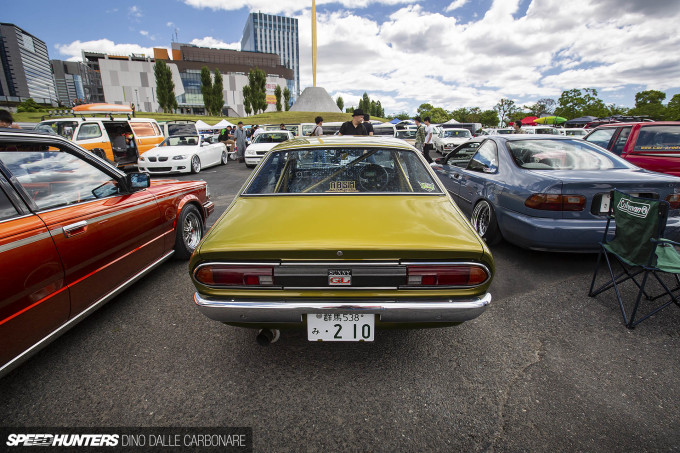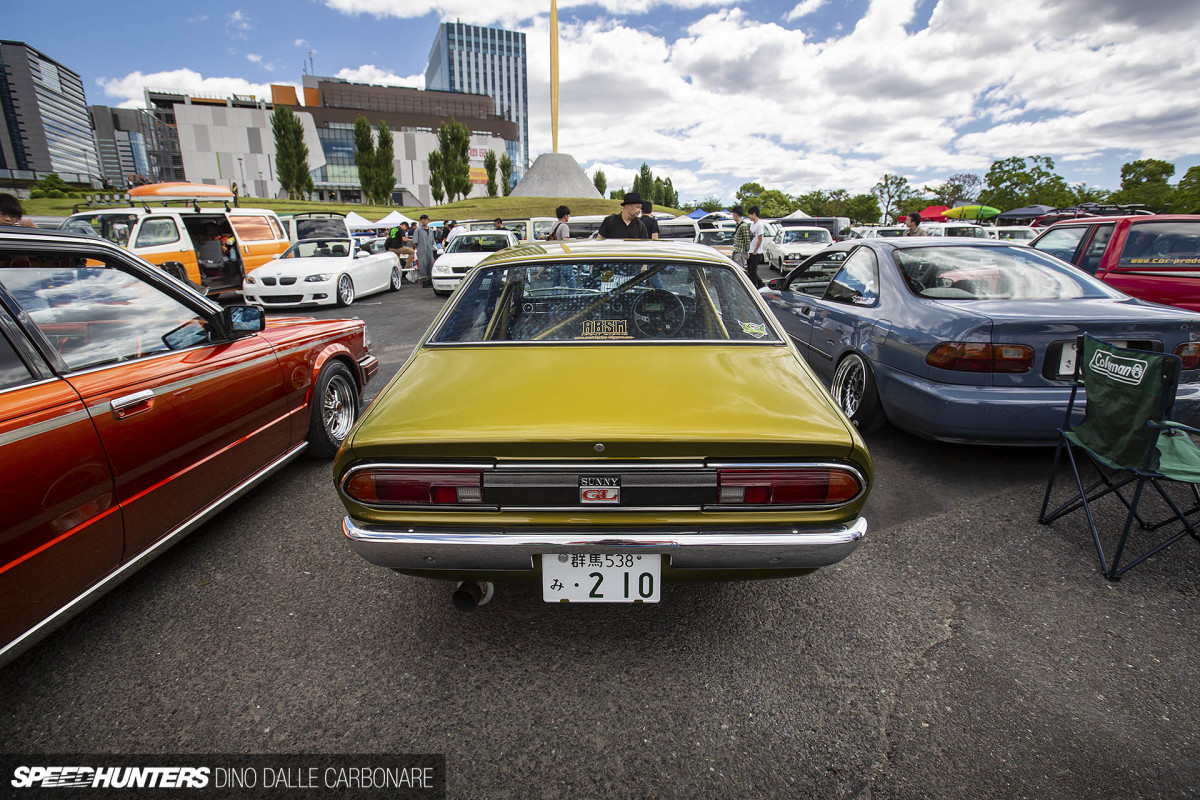 But judging by the meticulous work on the exterior and interior, I'm sure the engine bay will end up looking very cool, and the owner has promised to contact me as soon as it's completed so we can take a proper look at this build with a full feature.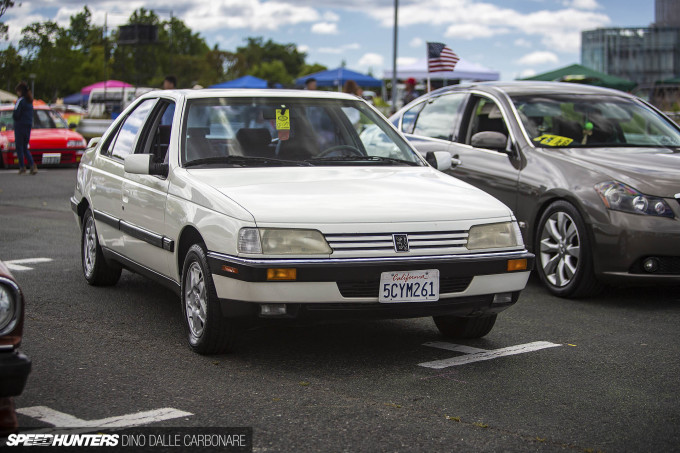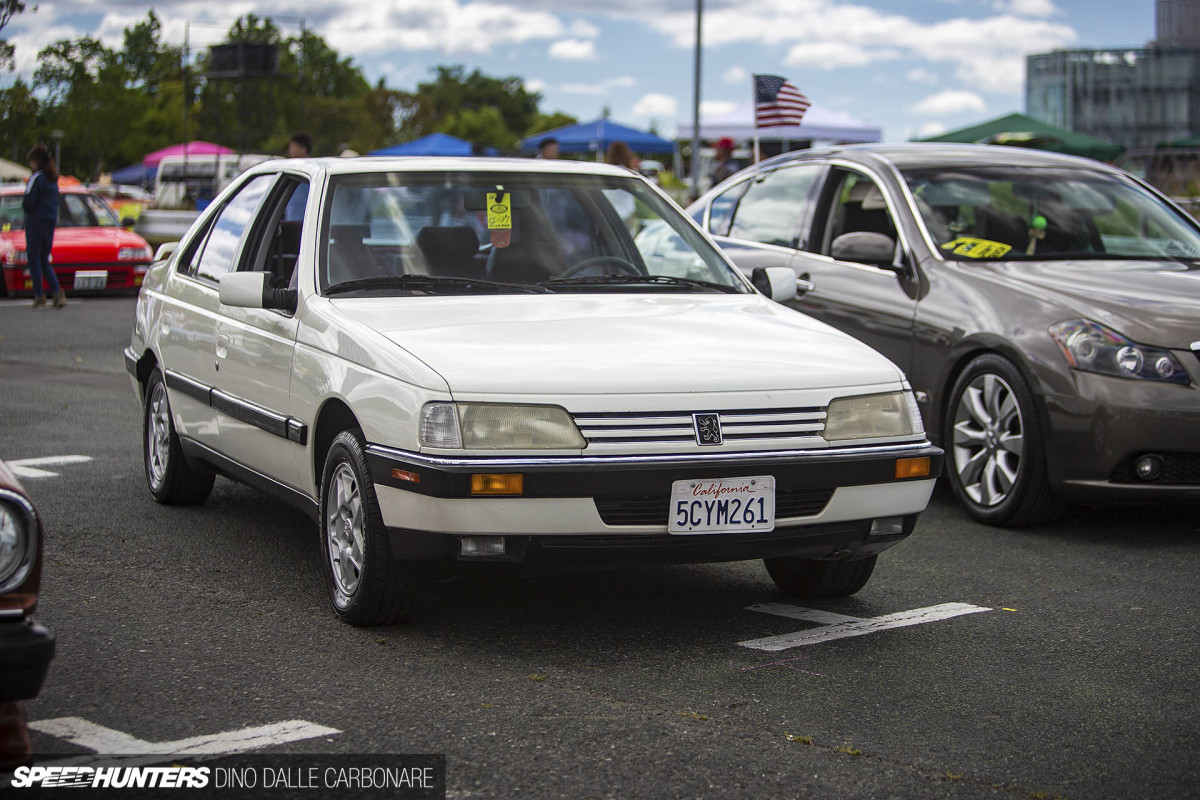 Spotting a Peugeot among Japanese kyusha and American hot rods isn't something new; we've been seeing the odd 405 at this event over the years. This French performance sedan from the late '80s is a little different though…
I had a brief chat to the owner, and as the telltale signs like larger bumpers and smaller rear license plate recess hint at, this is indeed a rare US market model.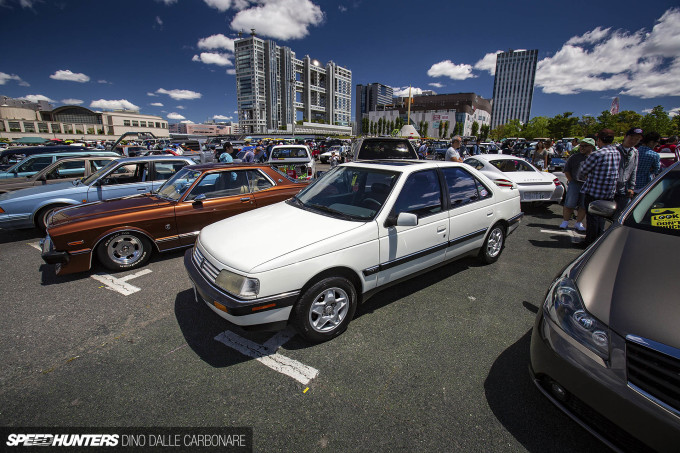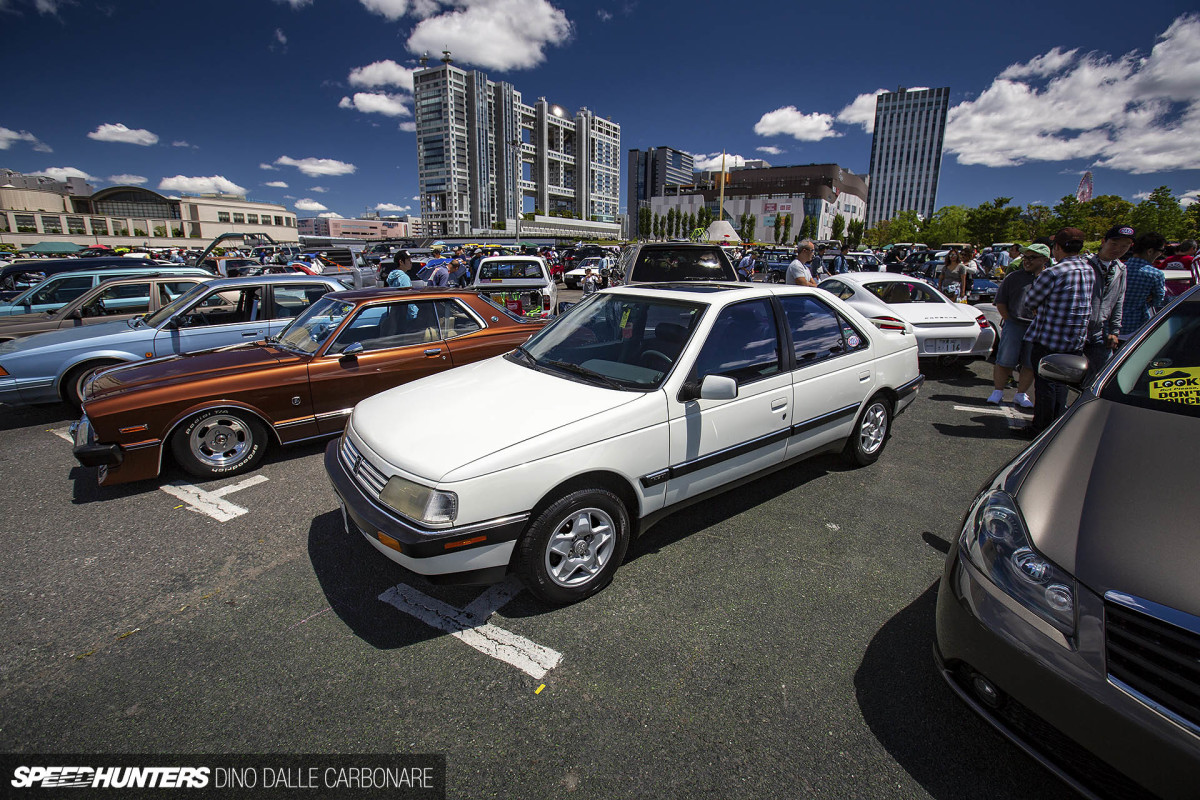 Built in 1988, this Mi16 spent most of its life on the streets of San Francisco and Northern California before the current owner went over, found it, and brought it back to Japan.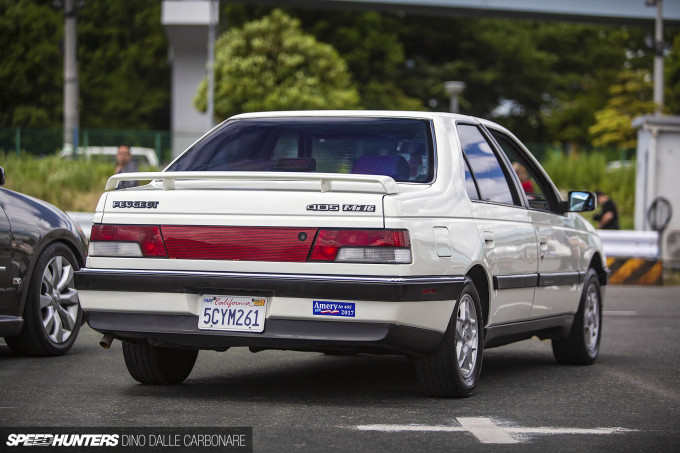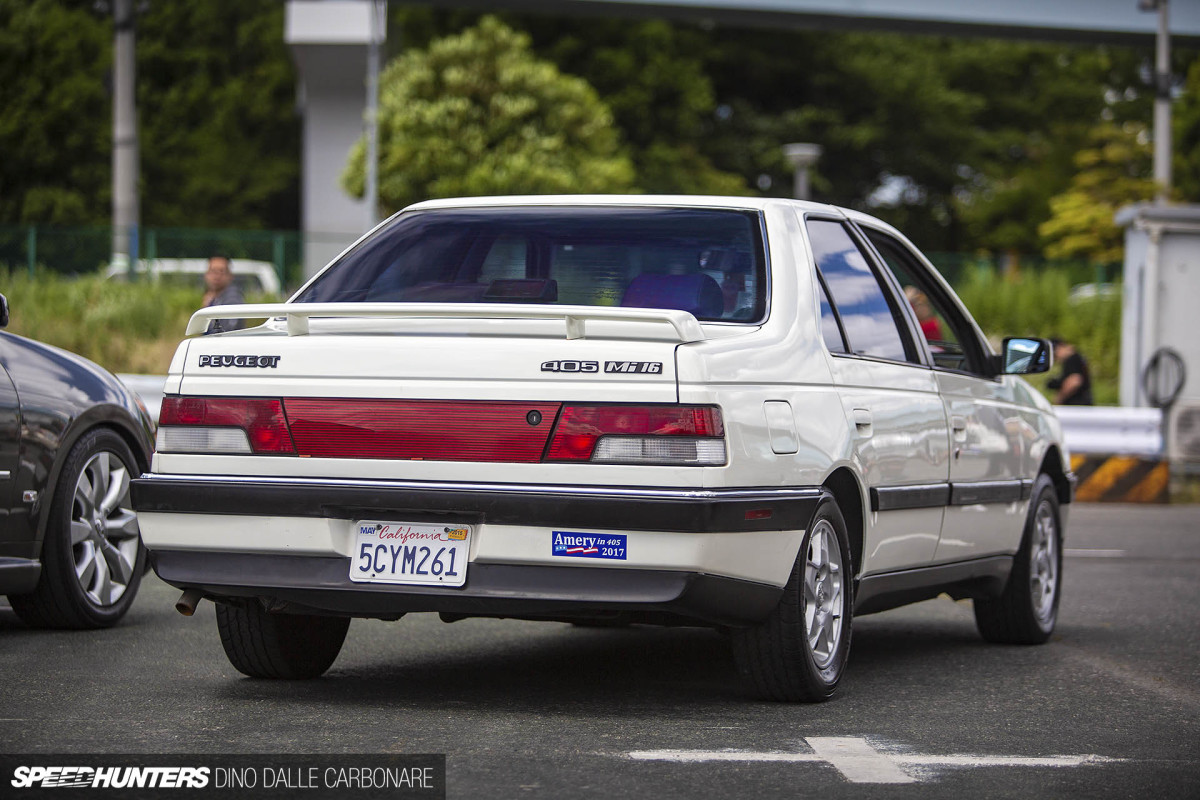 The Peugeot was obviously very well cared for by its previous owner and still sits on the original (and very high) suspension and factory 16-inch wheels. The US model came with a 10hp deficit over the 160hp European version of the 406 Mi16, but I'm sure an aftermarket exhaust with a sports catalyst would see some of that lost power return.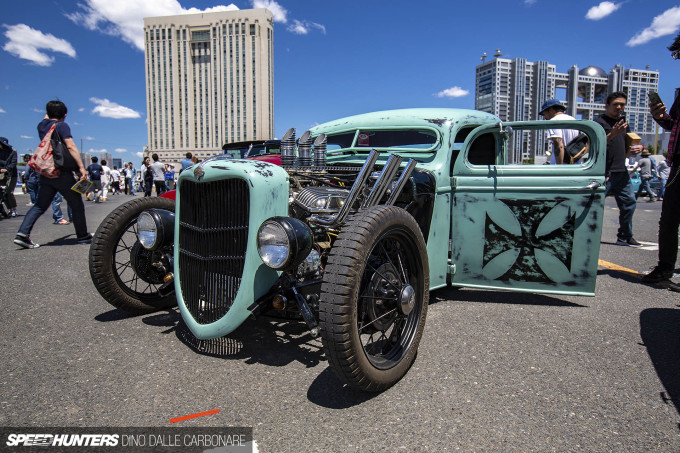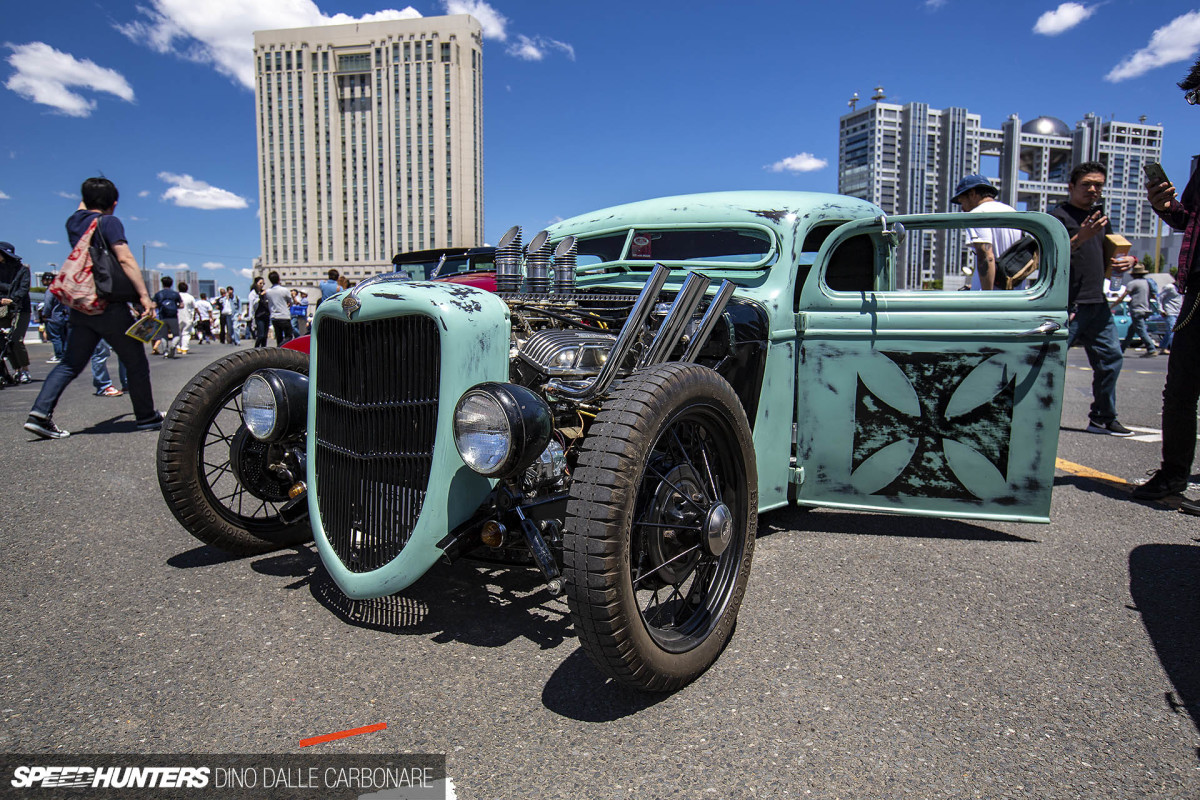 To end this first round up of spotlights from the Street Car Nationals I've gone with something very different, a Ford split-window truck with a warplane theme to be precise.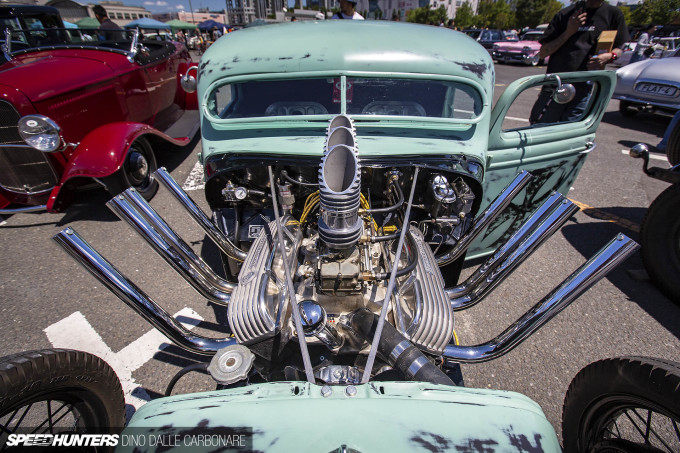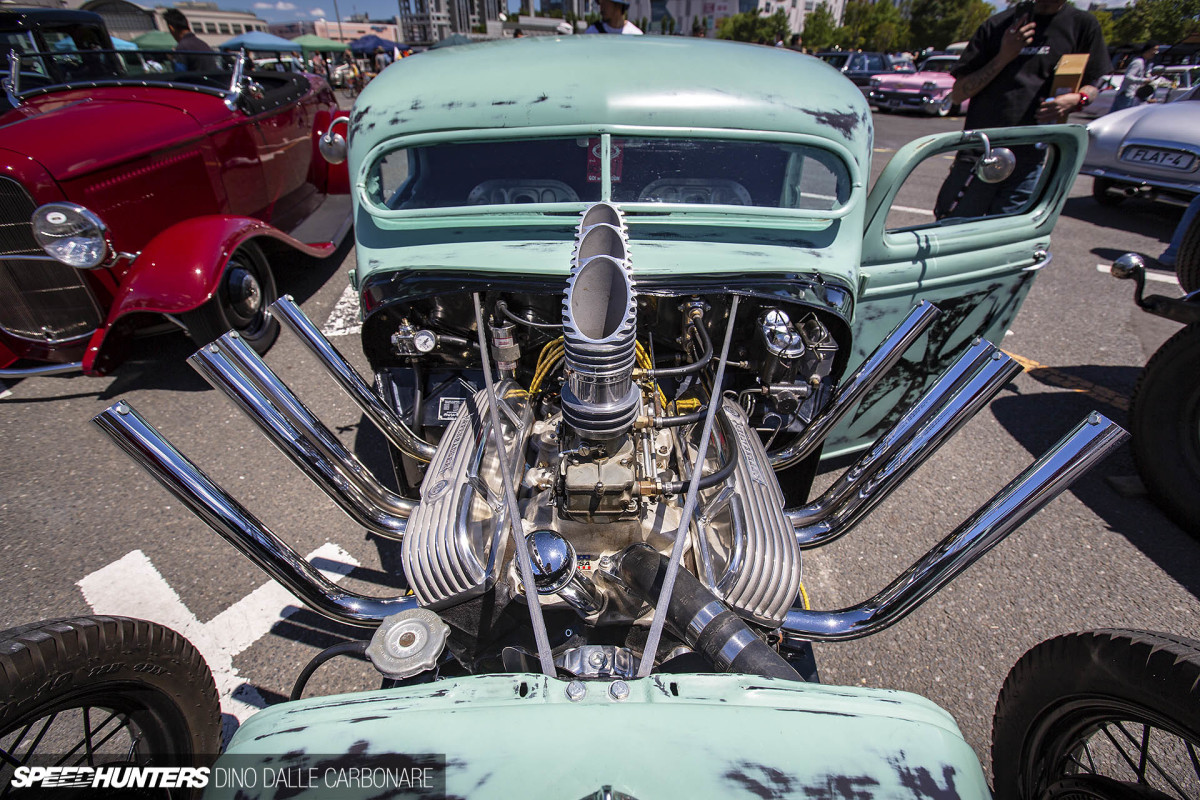 Even the exposed small-block with its Offenhauser heads and upturned headers has some airplane-like qualities about it – especially the machined stacks on the carbs that almost resemble the heat sinks on a radial engine.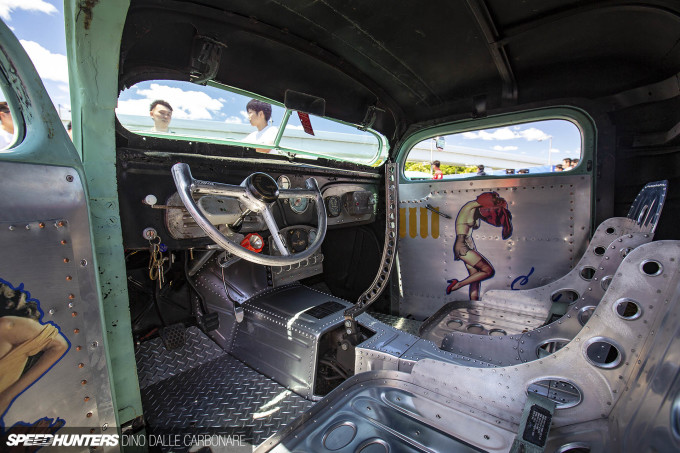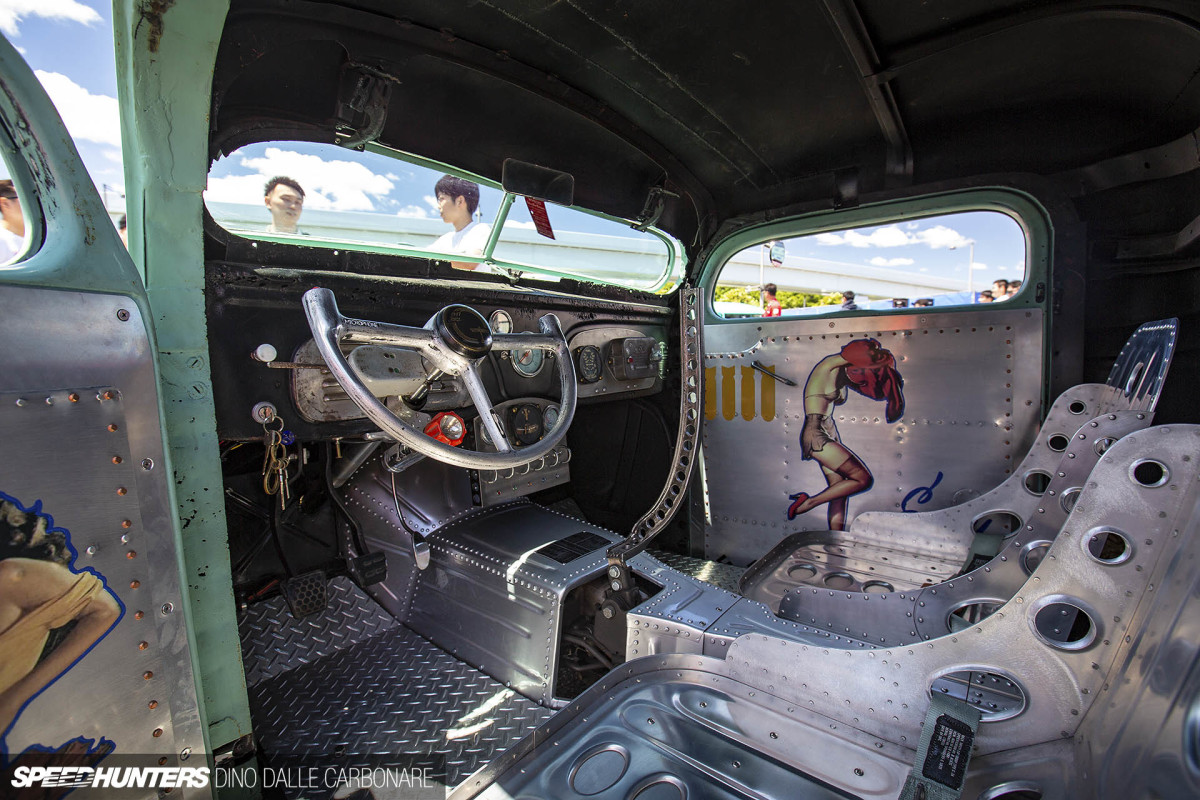 If there were any doubts about the underlying theme, the interior sees to that. This is more like a bomber than a car!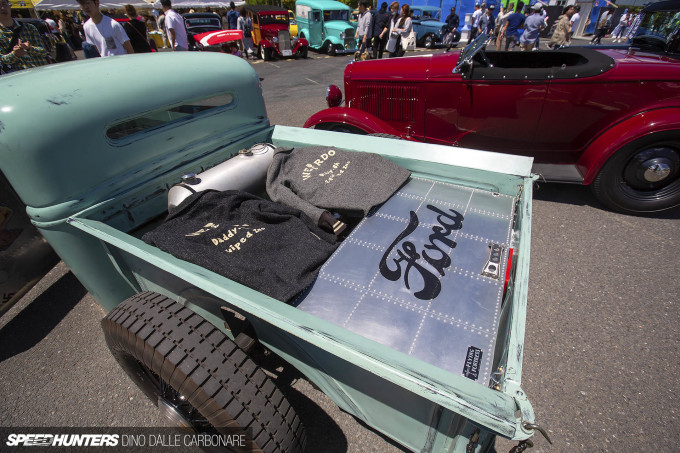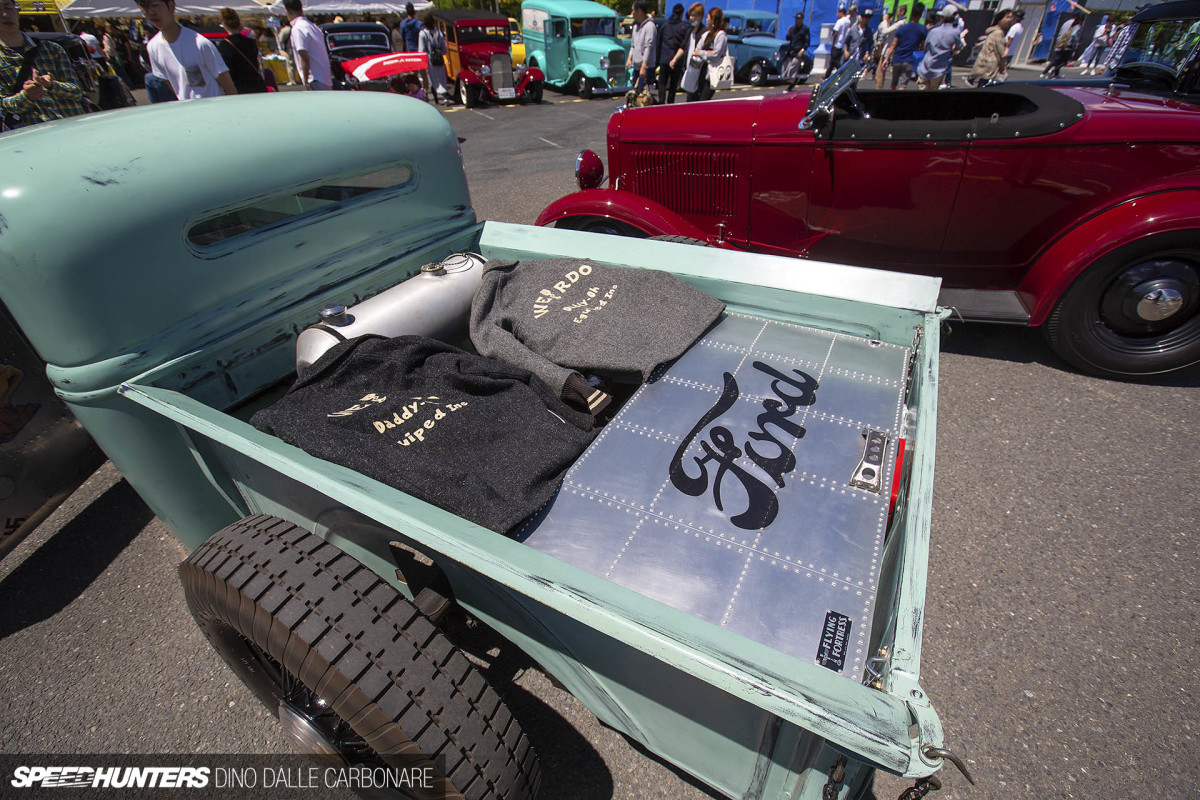 Nothing too wild has been done to the bed and it's full functionality is still there.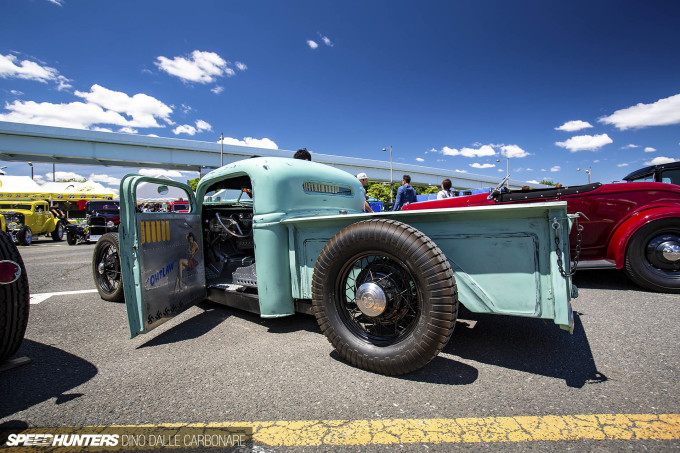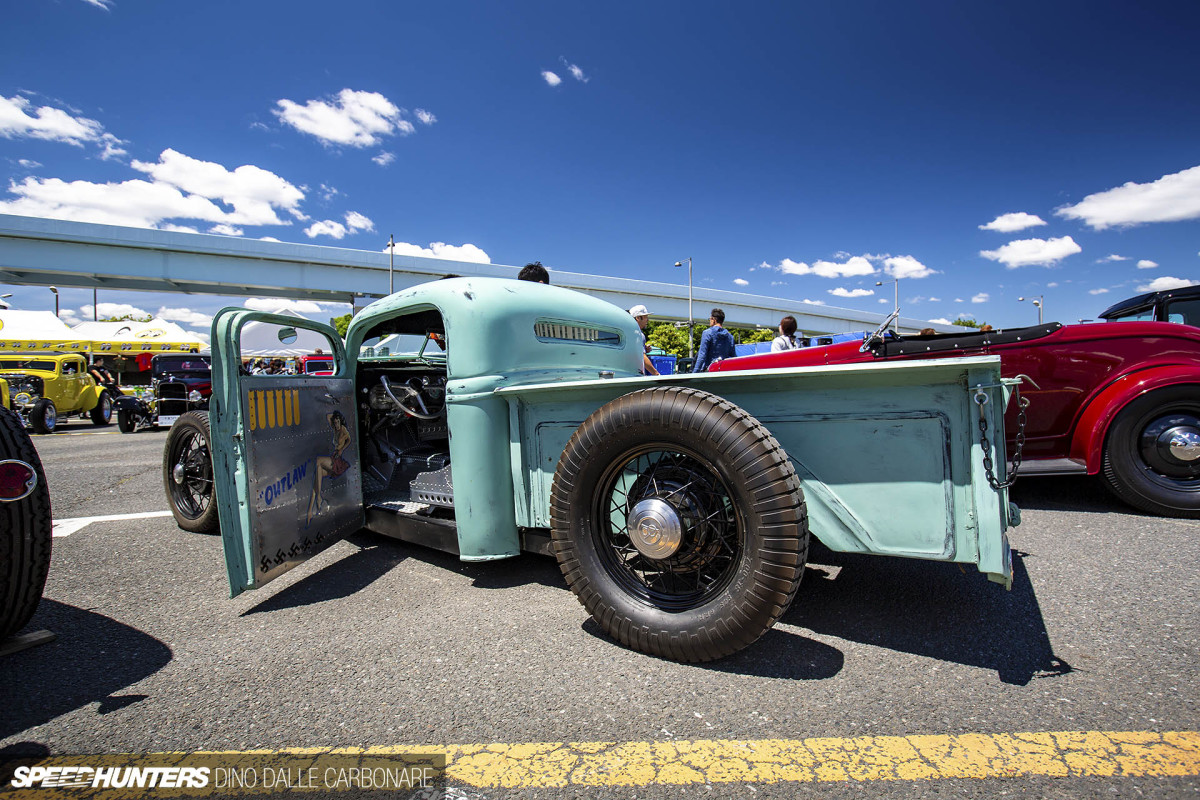 My favorite aspect of this truck were the spoked wheels, which just seemed to suit it so well – much more than normal steelies would have.
Next up, I want to show you my absolute favorite car from the event. If you've checked out my Instagram, you may already know what that is!
Dino Dalle Carbonare
Instagram: speedhunters_dino
dino@speedhunters.com