What do you do when no one makes a wide-body for your vehicle? Easy – you create one. But that's only half the story of this 1977 Toyota Hilux.
While I was out at Holley LS Fest West earlier this month, I saw Josh Mazerolle from Vague Industries driving around in the unique build. The turbo sticking out of the hood – along with the intake and alternator – and wide-body is initially what caught my eye, but there's a lot more to this Hilux than that.
Let's start with the wide-body; it's an all-metal job, and it's this type of metal work that Vague is known for over in New Hampshire. The fenders are hand-formed sheet metal and welded together with cut accents on the openings behind each tire. This also includes the custom front bumper and splitter, all made of steel. While you are probably expecting me to say it uses inches of spacers, that's not actually the case.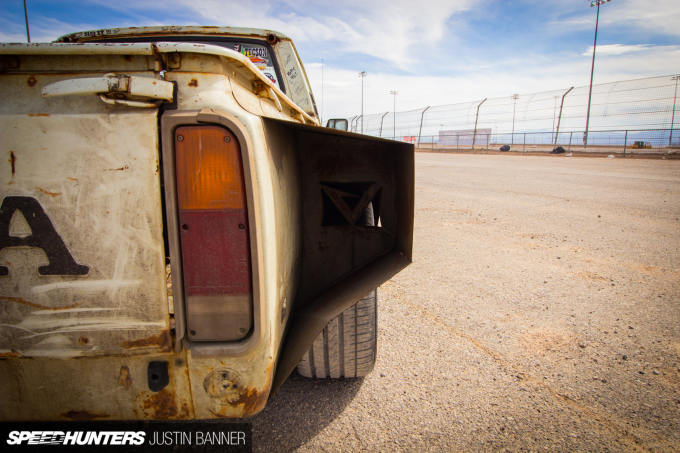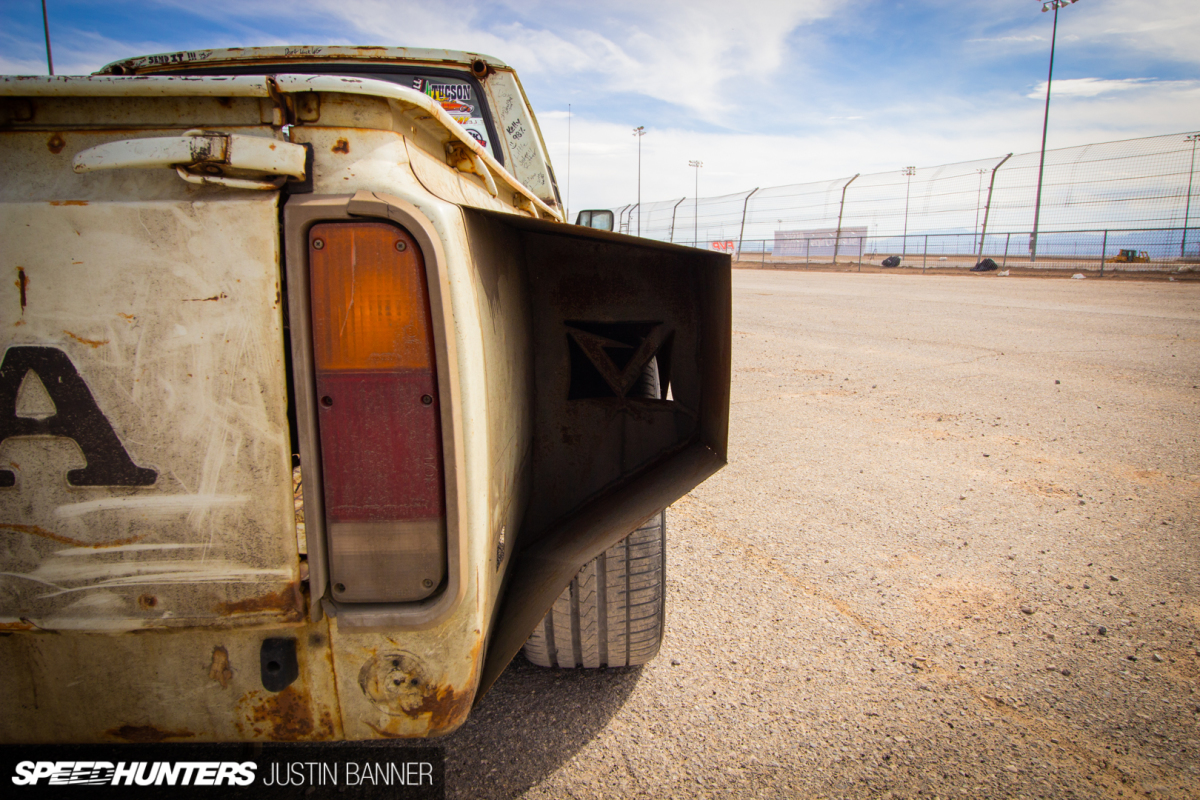 To get this wide setup, a Ford Crown Victoria suspension was removed from a donor Panther chassis, all while Josh was stuck in Texas thanks to an oil-puking 20R. Of course, those parts just don't bolt up, so Josh cut the front of the frame off and made a new front frame.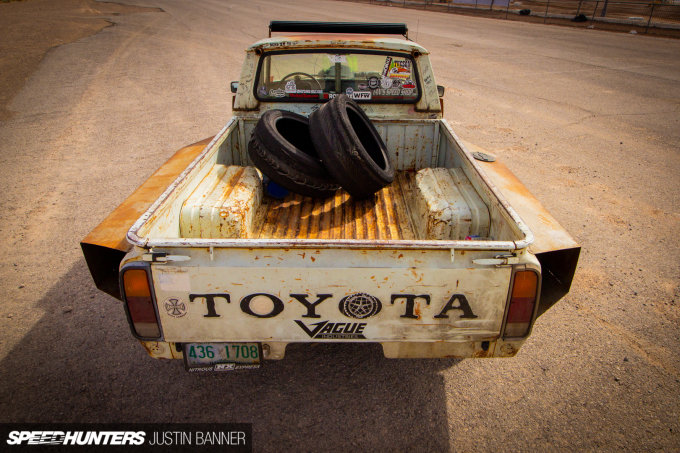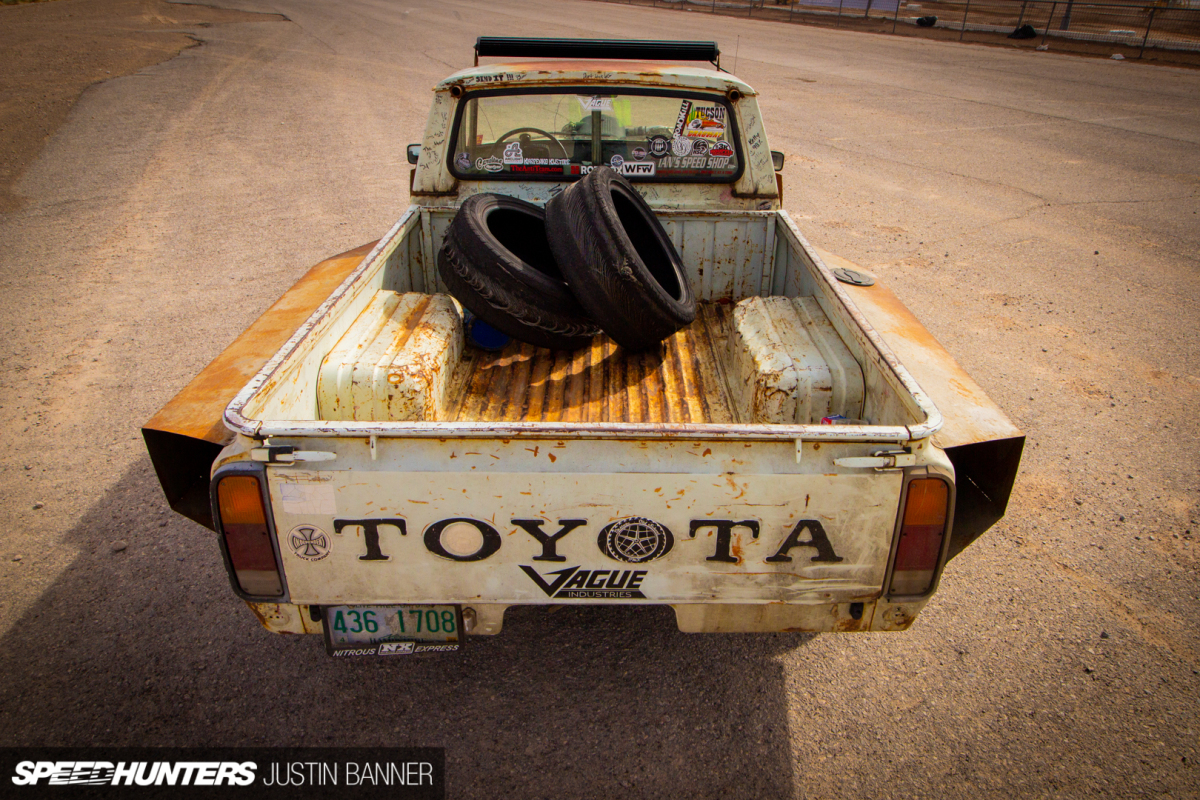 The rear is also from the same Crown Vic donor, but a set of custom leaf spring perches gets the chassis close to the ground without the need for lowering blocks. The Ford 8.8-inch rear end is also stronger than the original Toyota 7.5-inch unit, as well as being about six-inches wider per side. Thus, this truck has no need for spacers with its 18-inch wheels wrapped in 275/40R18 Falken Azenis FK510s at each corner.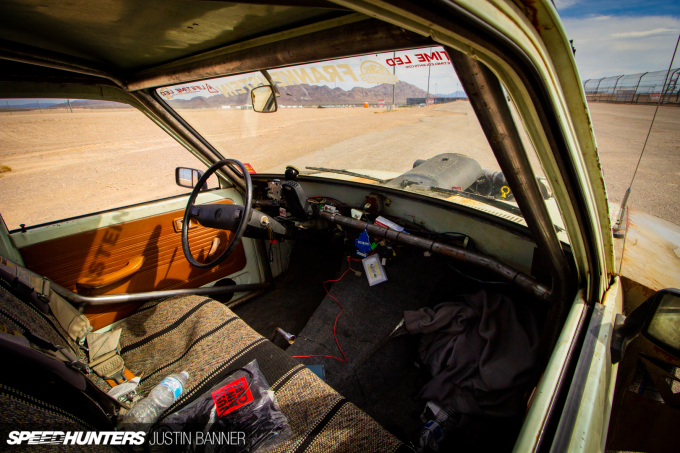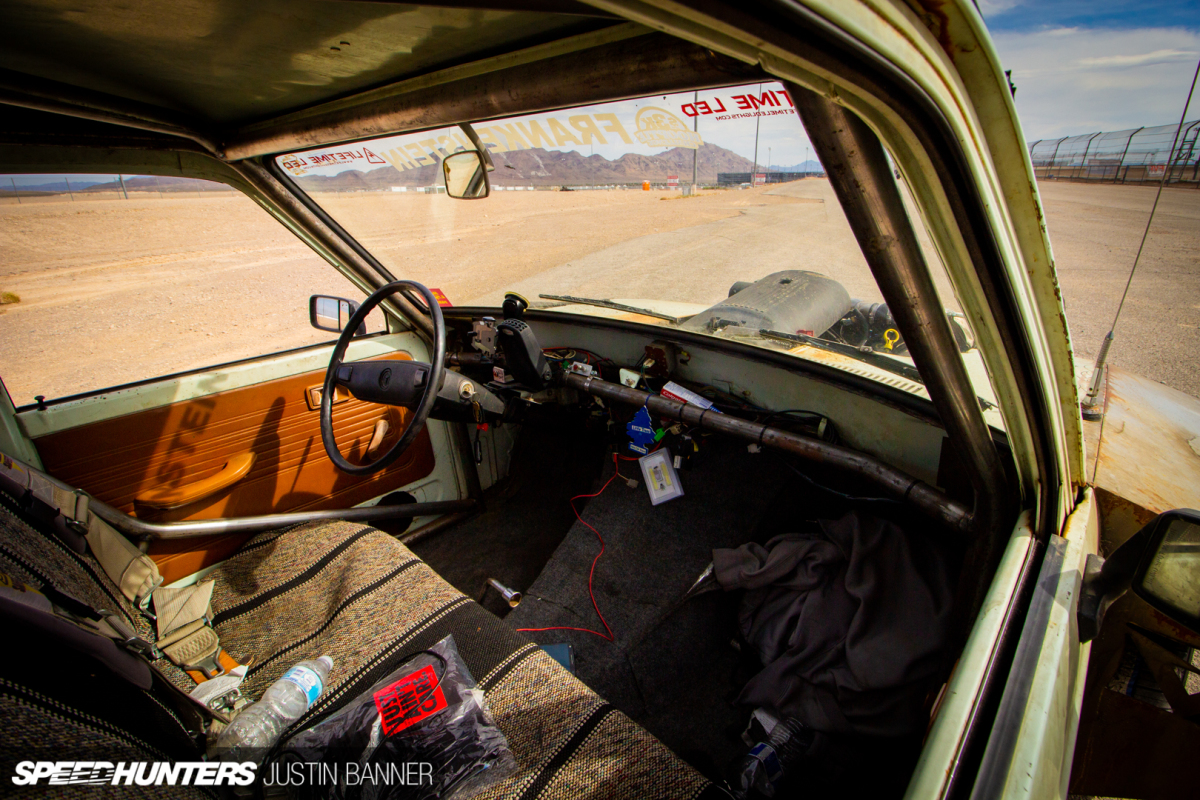 Inside, a fully TIG-welded 4130 chromoly cage was installed, and with the way it was built Josh only lost around a 1/2-inch of headroom in the cab. The gauges are, well, drawn on a white piece of paper and taped on the cross bar just above the stock steering wheel.
If you're a Hilux fan, you probably notice a couple of things out of the ordinary, namely the larger trans tunnel and the odd placement of the lug wrench. The tunnel was cut and new metal fitted to accomodate what's up front, while the lug wrench is the shifter.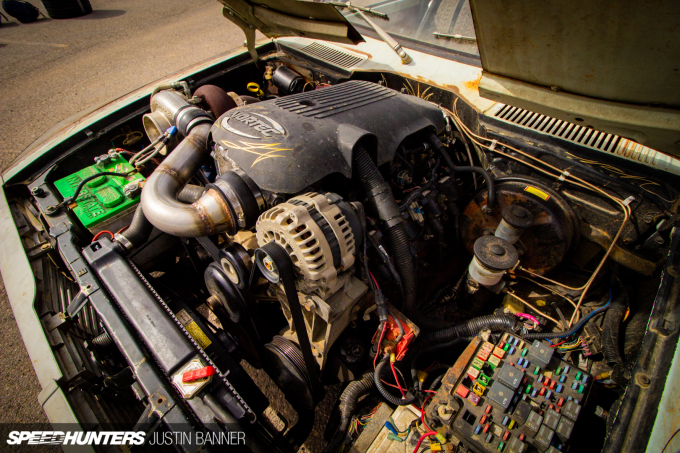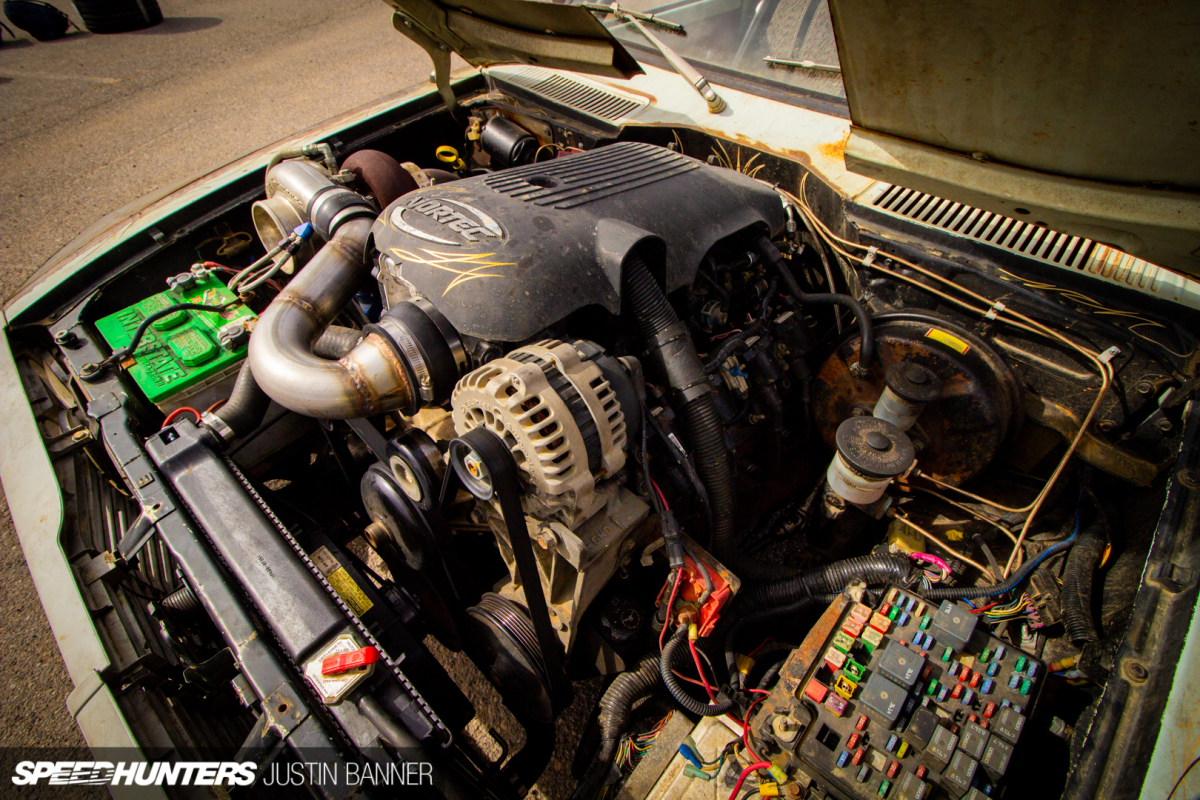 The engine itself turned out to be an interesting story, as it was originally thought to be a LM7, otherwise known as a Gen III 5.3-liter iron block unit as found in GM trucks. A tune was burned into the GM 0411 PCM for the On3Performance 70mm turbo, Nitrous Express 100hp shot kit, and the 4L80E (a GM 4-speed automatic). It has been driven this way for two months and over 20,000 miles thanks to trips between New Hampshire and Los Angeles. It's also gone through several pairs of rear Falkens on this tune.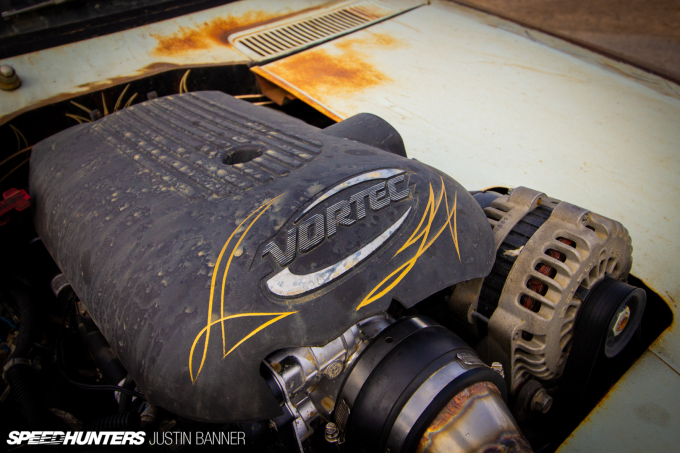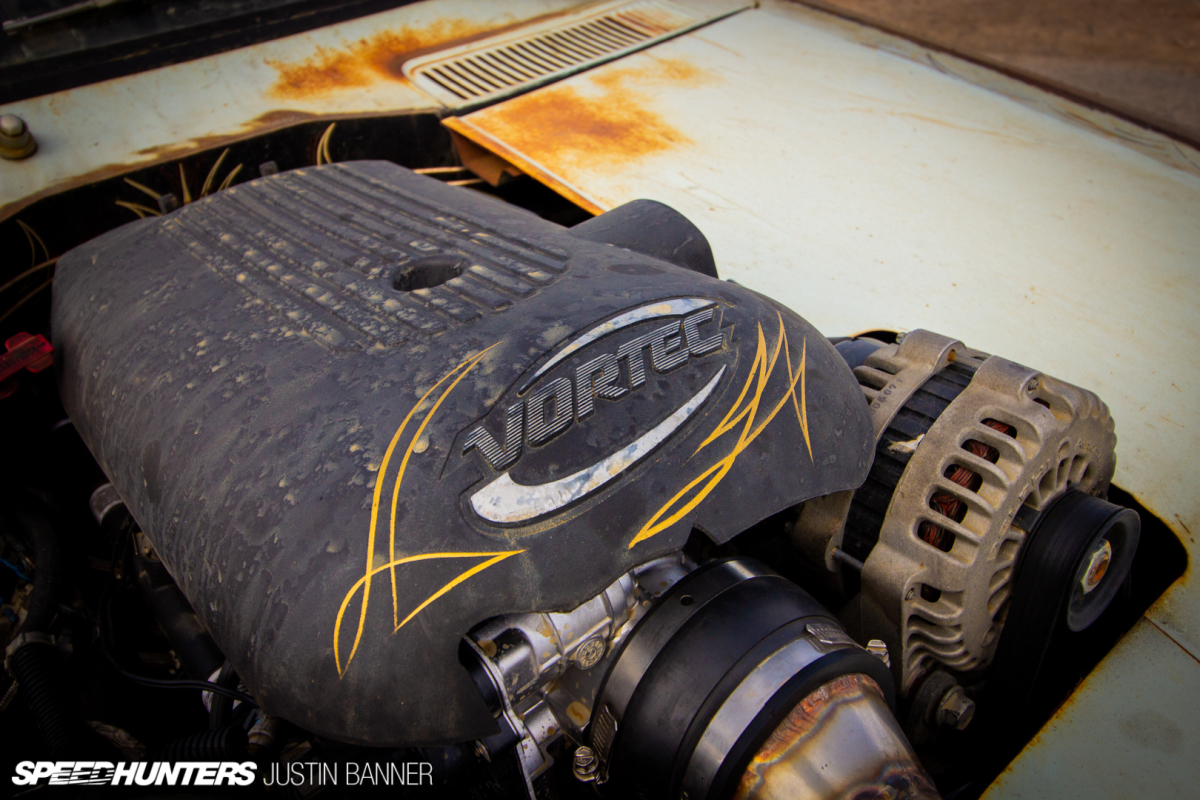 However, while in Las Vegas for LS Fest, Josh found out that the engine's actually an LR4, which means this is a 4.8-liter iron block V8 instead of a 5.3-liter. That's the trouble of the GM LS-based truck blocks, without a VIN number it's hard to tell what you really have until you peek through the spark plug holes and see the pistons. The LR4 has flat-tops while the LM7 has dished pistons. It also speaks to the strength of these truck engines when you can put a 100-shot of nitrous and 7psi of boost through the intake and it doesn't melt away on you.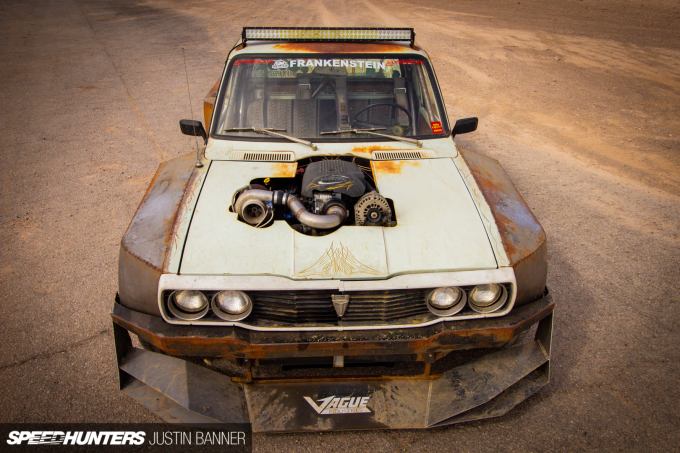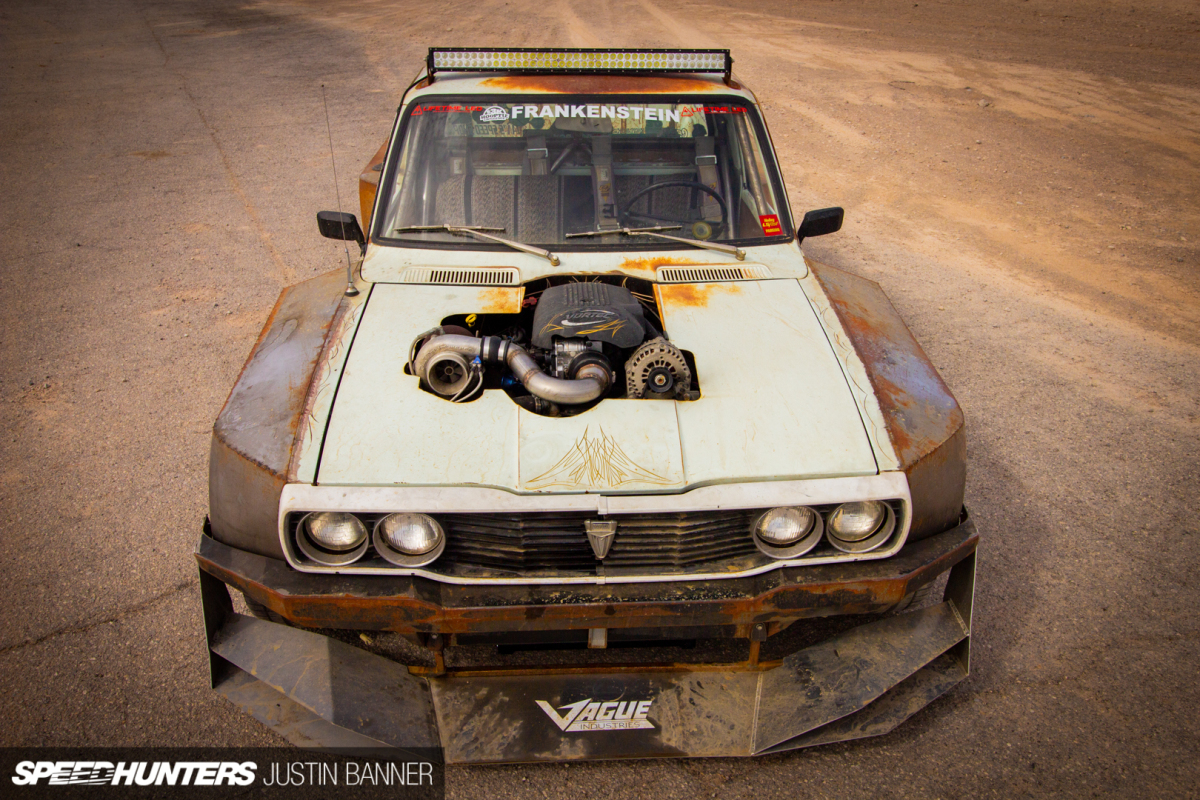 You'll probably be seeing more of Josh and this Frankenstein Hilux; both will continue to cross the US and speak to the power and reliability of its boosted 4.8-liter on nitrous.
Justin Banner
Instagram: jb27tt
Facebook: racerbanner
Twitter: RacerBanner