A Toyota Prius on Speedhunters. You never thought you'd see the day, right?
It's not actually a first, in fact, a quick search through the archives and you'll find we've shared stories about Toyota's little green machine before, but never one like this. As revolutionary as the Prius has been for the development of everyday, affordable EVs, they aren't without their issues – longevity being the main one, although their mundane design and dull driving experience rank highly on that list too. You see, the batteries have a limited lifespan, and as we're now finding out, older Prii need costly cell replacements, running into the thousands of pounds/dollars/etc.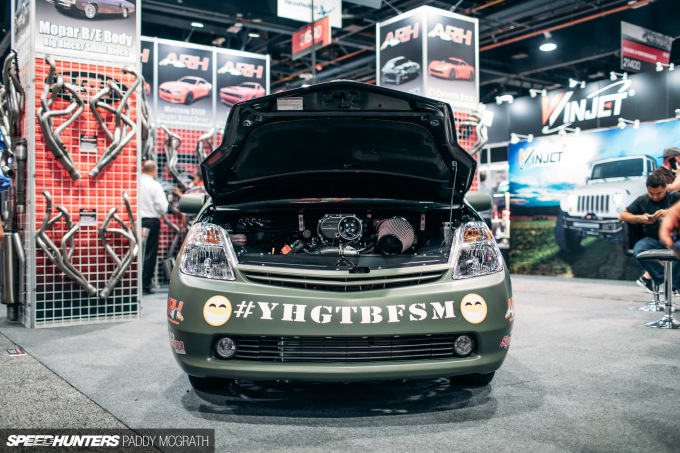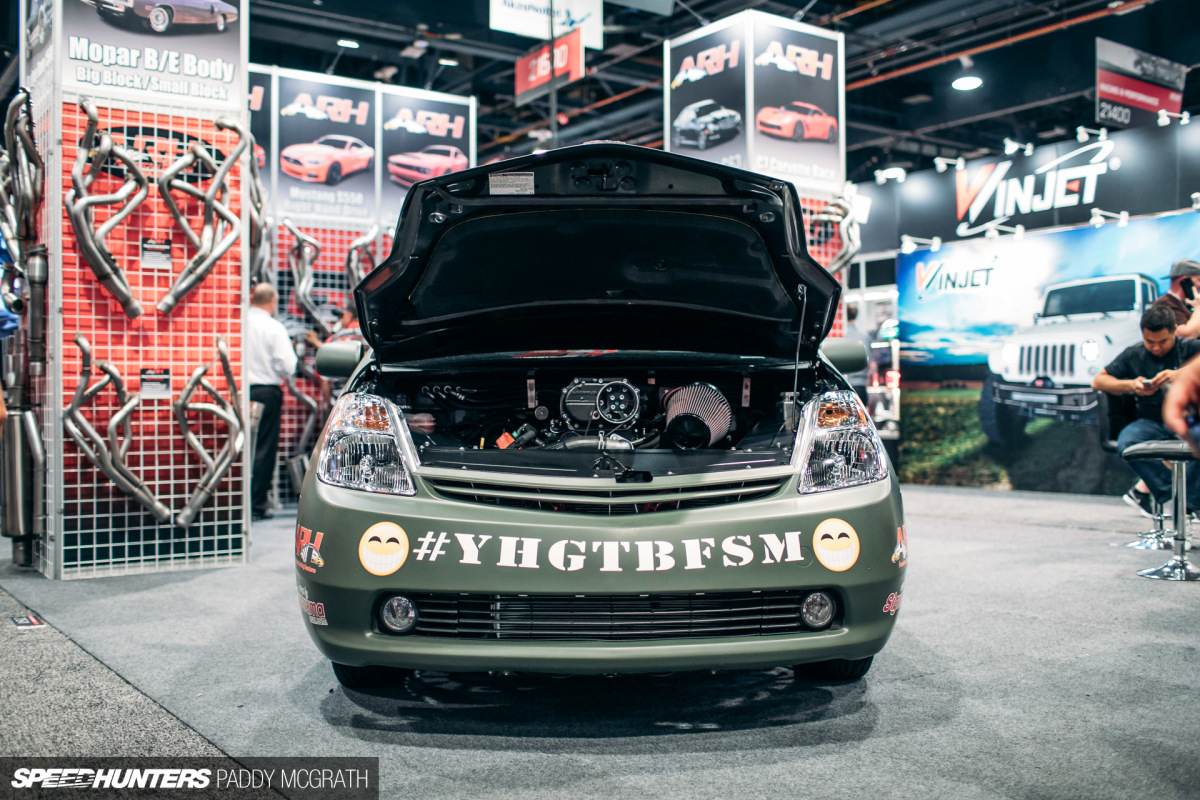 American Racing Headers have come up with an ingenious solution to overcome the battery issue, and inject some much-needed life into the little Toyota. This is the' 'PriuSRT8′, and if the badge itself wasn't enough of a clue, then the huge drag slicks should give the game away. Long gone is the 1.5-litre petrol-electric hybrid motor, replaced with a devilish 700hp 6.2-litre Dodge Hellcat crate engine, dubbed the 'Hellcrate'. If that wasn't enough, American Racing Headers then upgraded the supercharger to a 4.5-litre Whipple unit, along with some of their own custom headers, bringing the total power output to 800whp – yes, that's wheel horsepower. The powerplant is mated to a six-speed Tremec manual box, sending drive to a Ford nine-inch rear axle via a carbon-fibre propshaft.
In truth, it's only really the bodyshell that's Prius now. The chassis underneath is tubular and entirely custom and there's a full rollcage inside. Personally, I'd have loved for ARH to have kept the cage, slicks and paintwork on the down-low for the ultimate street sleeper. That's right – it's road legal too!
A Prius that pulls wheelies and is street legal. Maybe not all Prii are built evil?
Jordan Butters
Instagram: jordanbutters
jordan@speedhunters.com