Rebuild It Better
Andreas Kokor is probably the most dedicated Ford fan you'll ever meet, and the car you're looking at is his world.
This 1970 MkI Ford Escort RS2000 contains more of his blood, sweat and tears than many of us will ever put into anything in our lifetimes. This is a build driven by pure passion.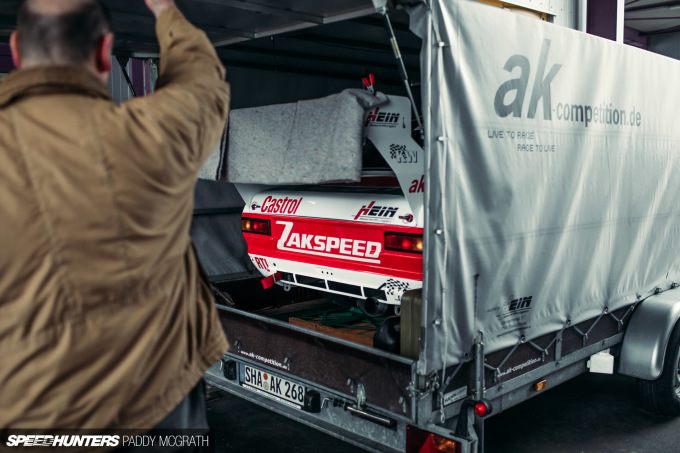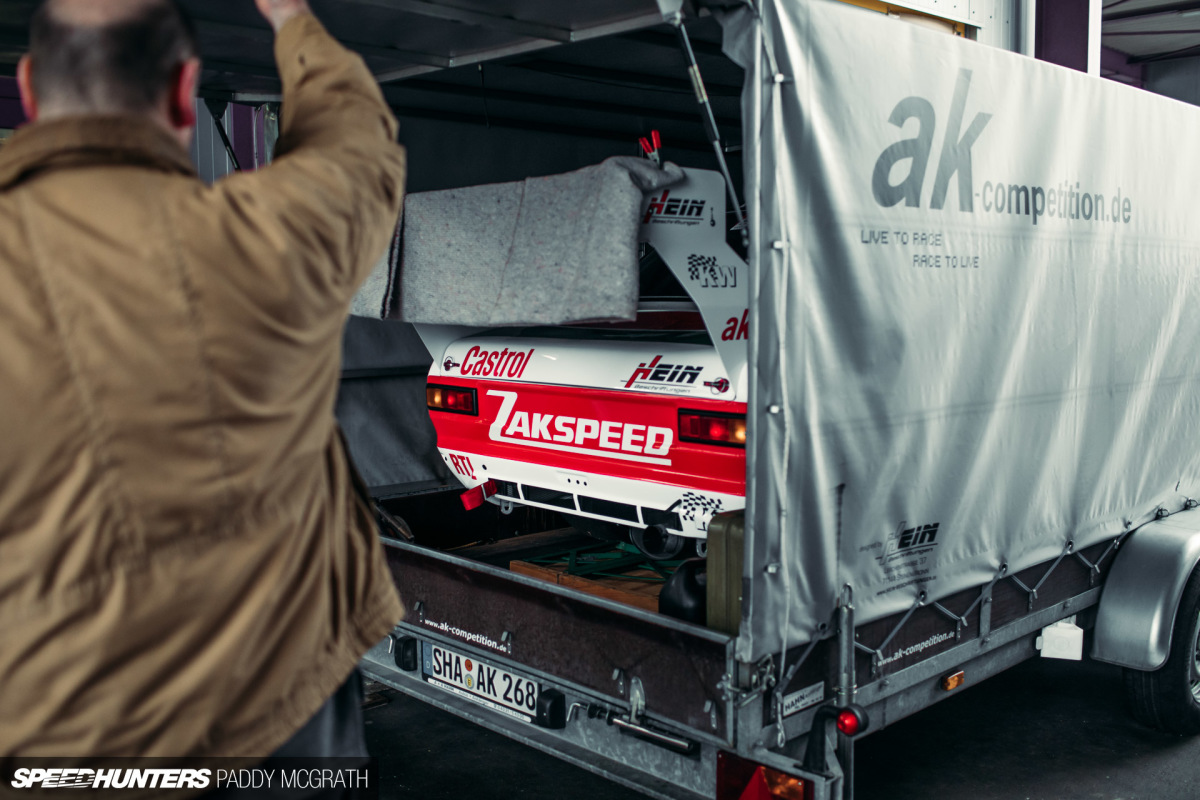 Andreas also happens to be a key member of the Technical Support Team at KW Suspensions in Germany, so alongside the aforementioned idiomatic bodily fluids, there's also a huge amount of expertise and cleverness tucked away under the Escort's white, red and green exterior too.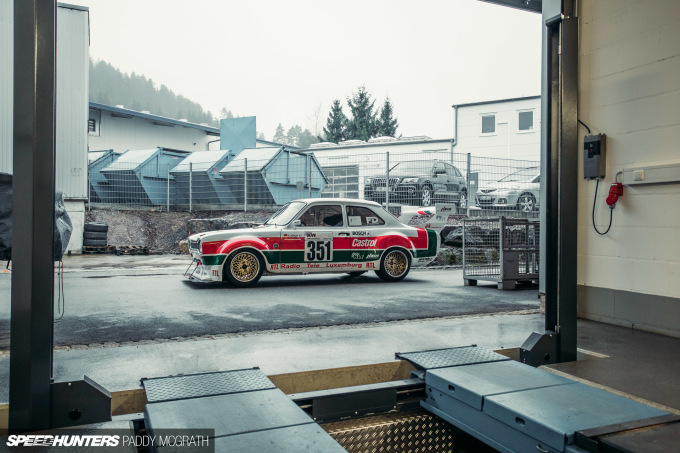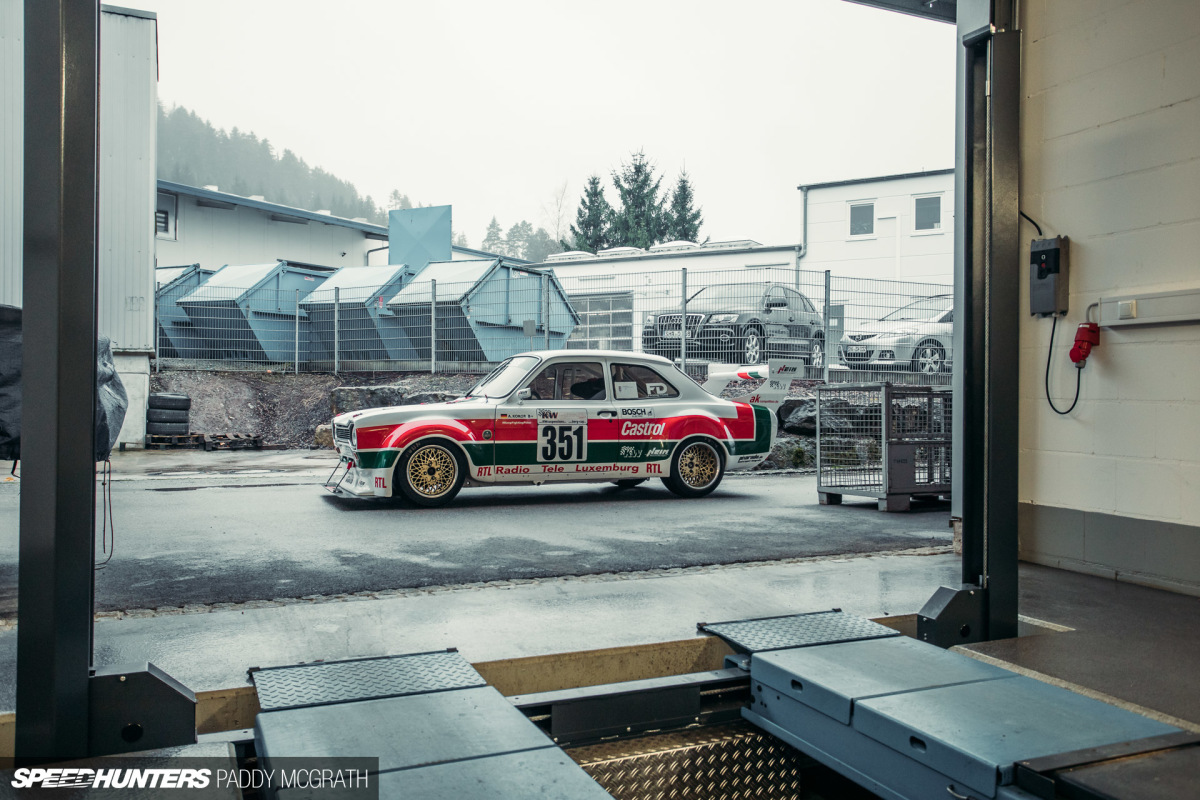 See, not only does Andreas absolutely live for anything with four wheels (as long as it's pre-1975 and strictly with a blue oval badge, I'm told), but he also happens to be rather handy behind the wheel, competing in hill climbs, sprints, slaloms and the KW Berg Cup.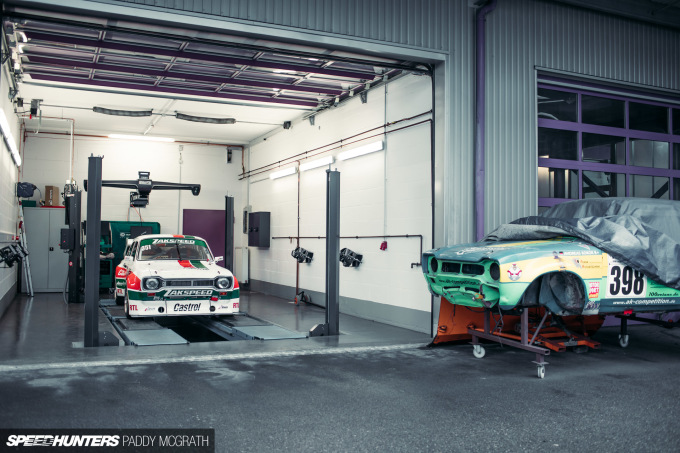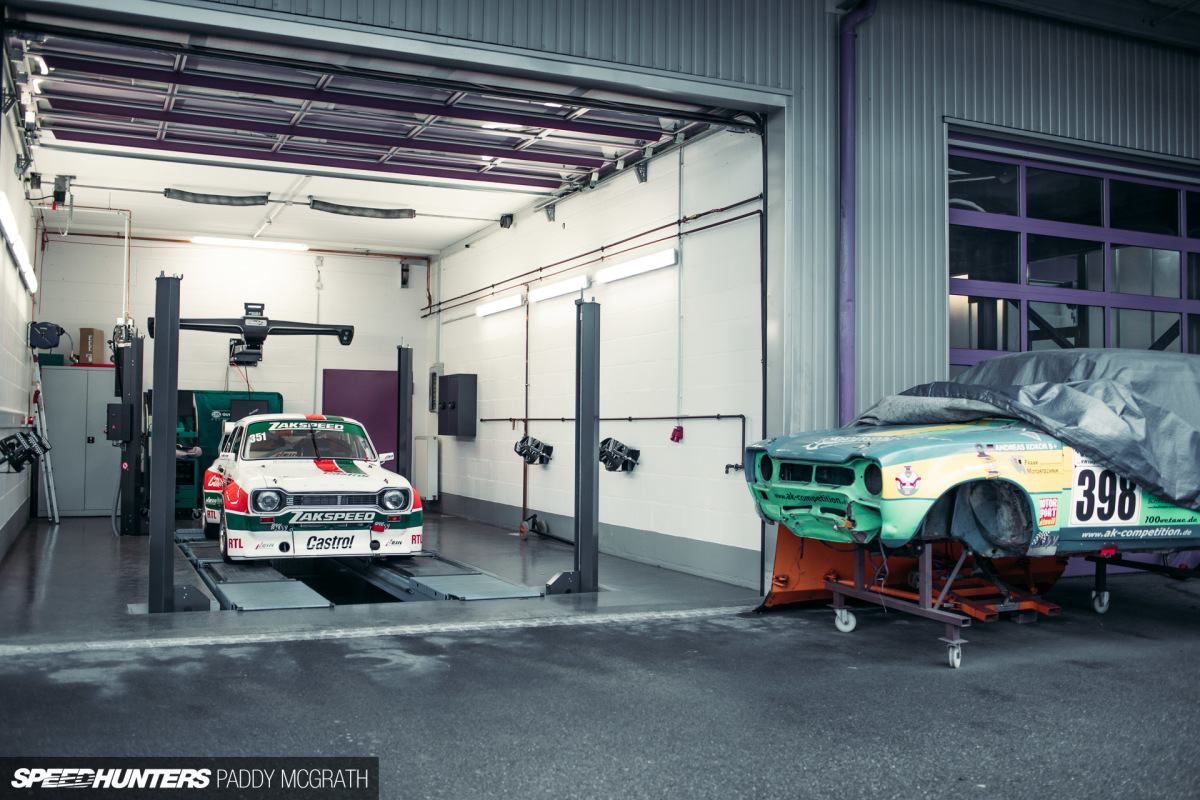 This isn't his first competition Escort, either. That's his previous competition car creeping into frame on the right, with which he's enjoyed considerable on-circuit success in the past. From here you might question why he chose to rebuild that Escort into this one, but what you can't see from here is the damage done to the old car. A heavy impact with a stone wall during a saturated competition event in 2008 mangled the chassis beyond repair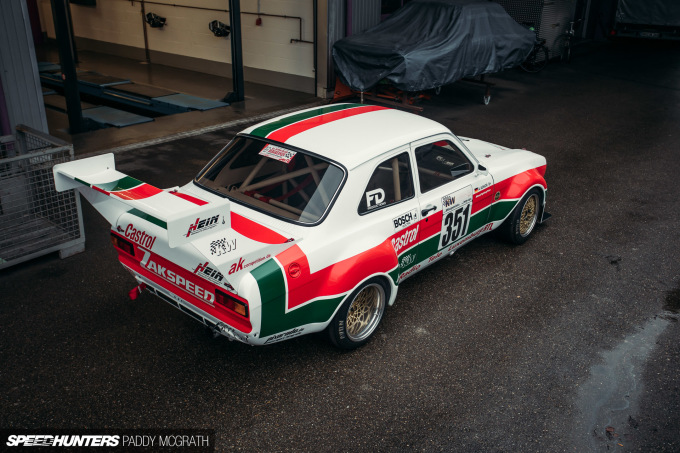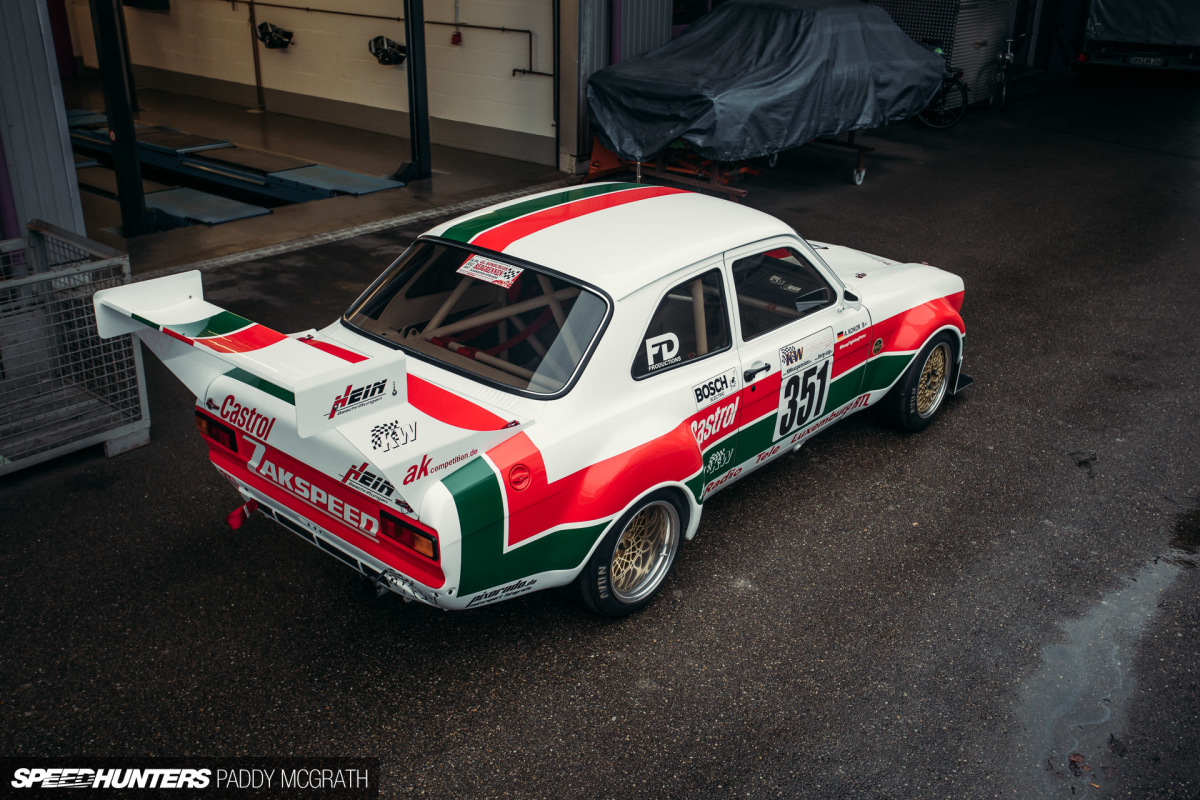 Following on from the accident, and rather than wallow in self-pity, Andreas faced straight up to the task of replacing his beloved Escort – he had to get back out on the circuit.
Two MkI RS2000 shells were almost immediately lined up for viewing. The first was from a race car in-use which had already been modified for purpose, while the second was an original road car that, despite some interior and floorpan rust, hadn't been modified.
Wanting to make the car his own, and already planning some of the complex custom work that would go into the build, Andreas opted for the slightly rusty but original 1970 road shell.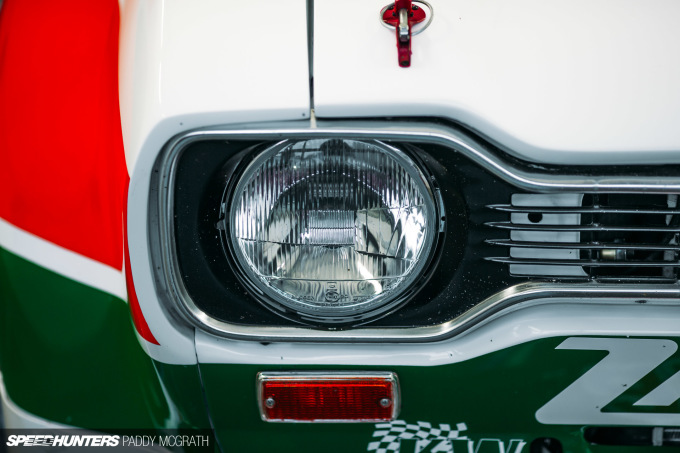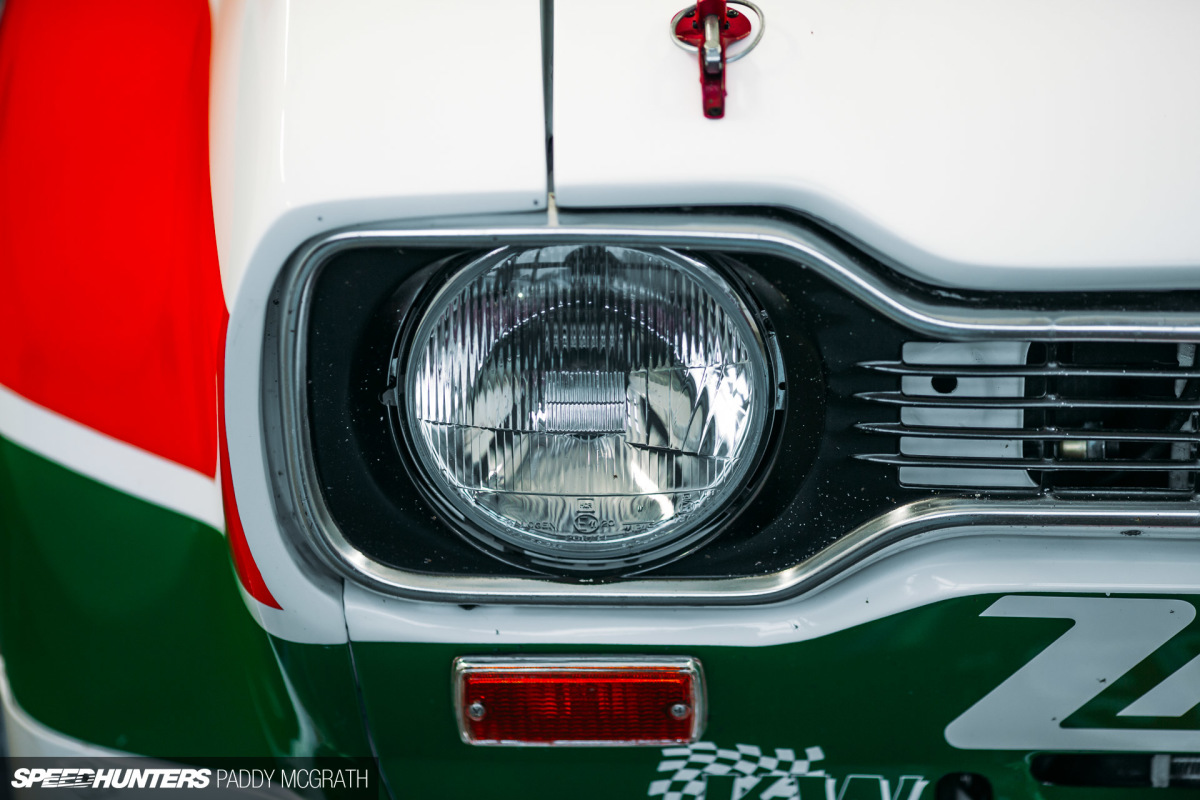 Back at Andreas' workshop, AK-Competition, work began on preparing the forlorn Ford and returning it to its former glory.
In that regard alone, you could say that Andreas hit way above the mark.
Stronger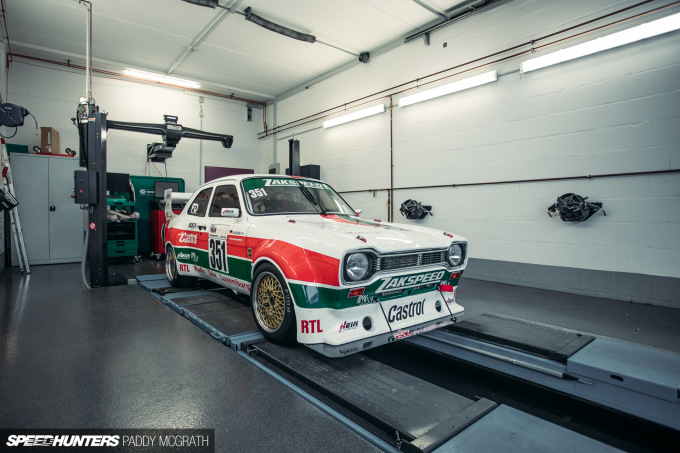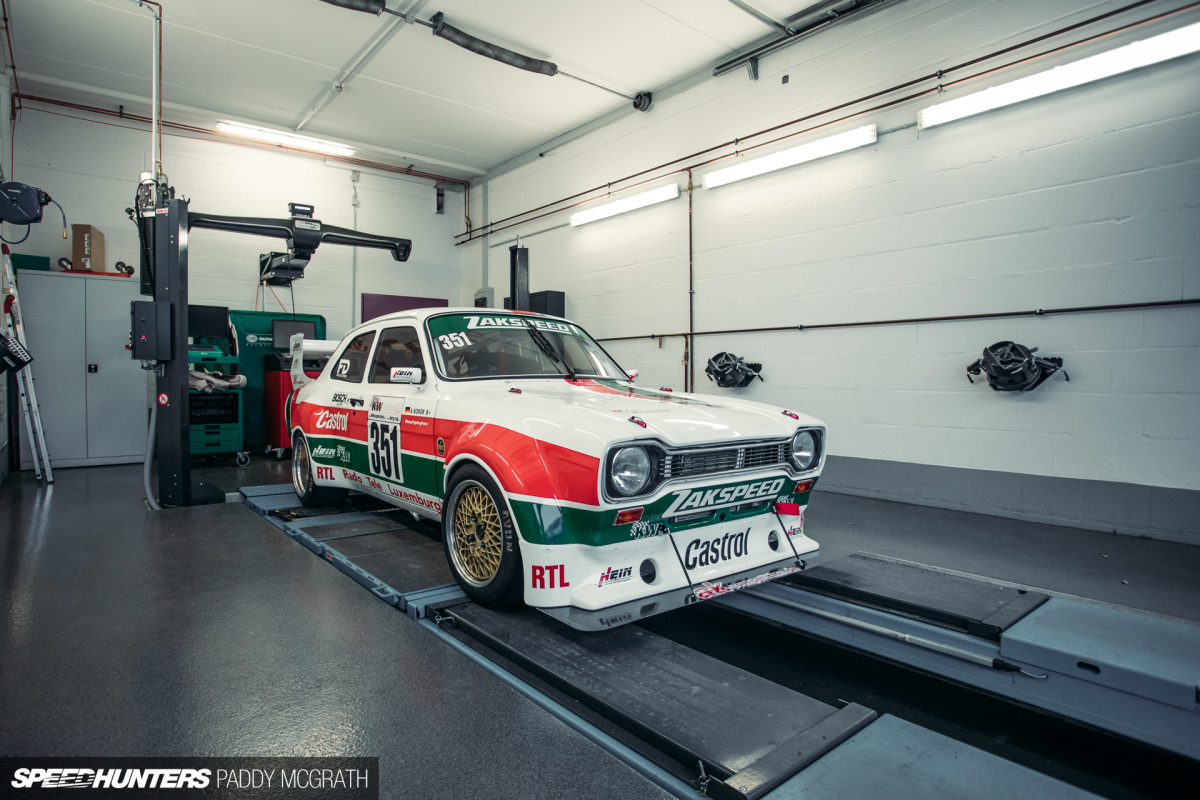 The body was hand-stripped of all of its paint and every small trace of rust was cut out. New panels were then fabricated by Andreas from sheet metal – from the floor to the engine bay and inner arches.
A complete FIA-approved roll cage from Custom Cages was next on the list, as this and the rest of the shell were refinished in a brilliant white.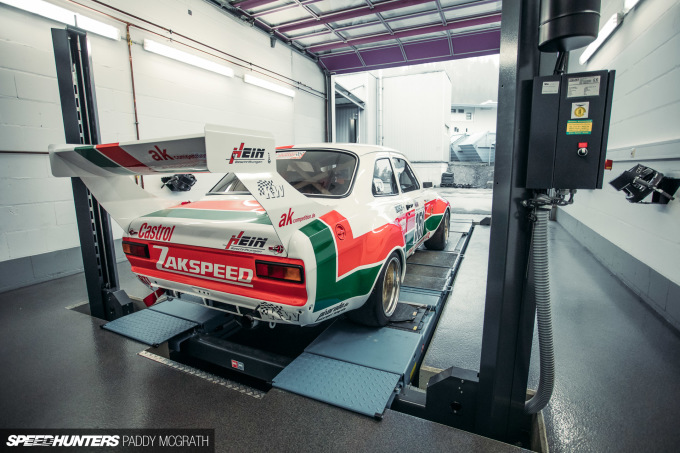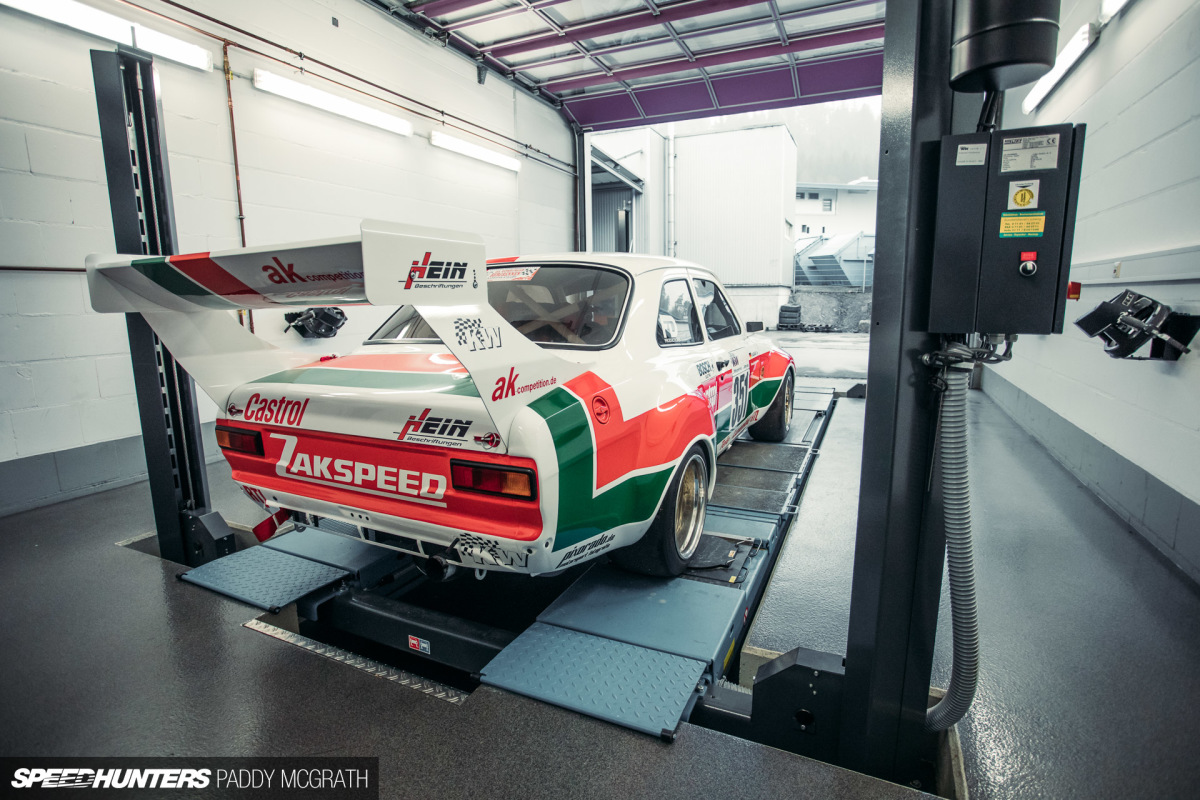 Lighter carbon fibre doors, bonnet and boot lid were introduced, along with fibreglass-reinforced plastic front wings. Lightness was added wherever possible.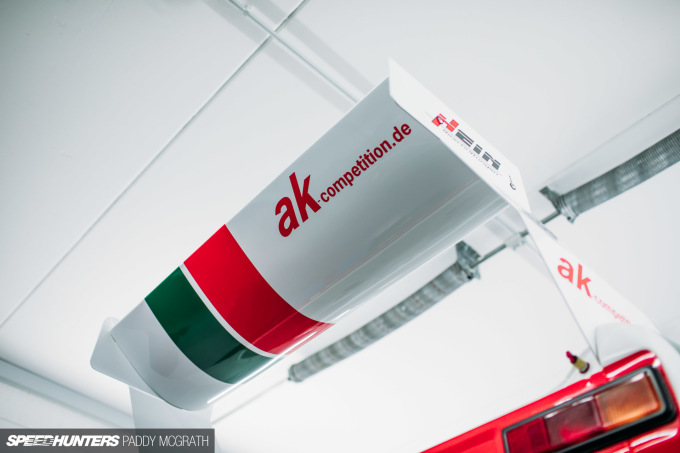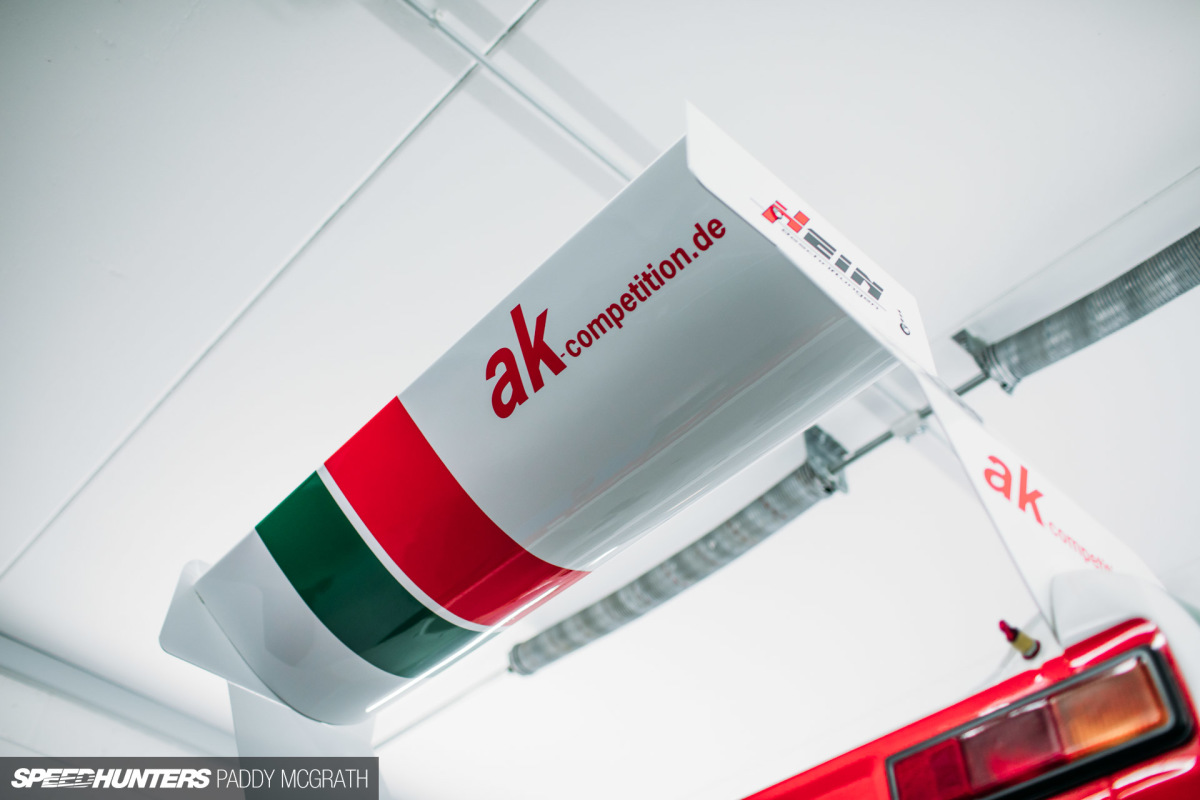 Meanwhile, Andreas got handy once again and fabricated the aggressive shin-threatening front splitter and upturned angle-adjustable rear wing. Here's me, literally able to make a cup of tea at a push, and this guy is fabricating pretty much an entire car from sheet metal.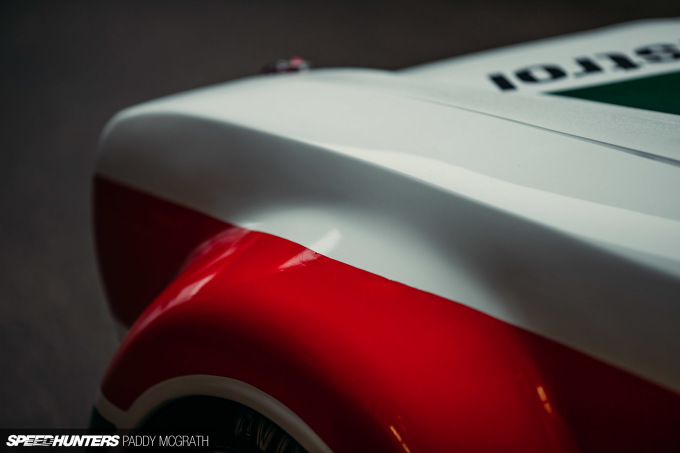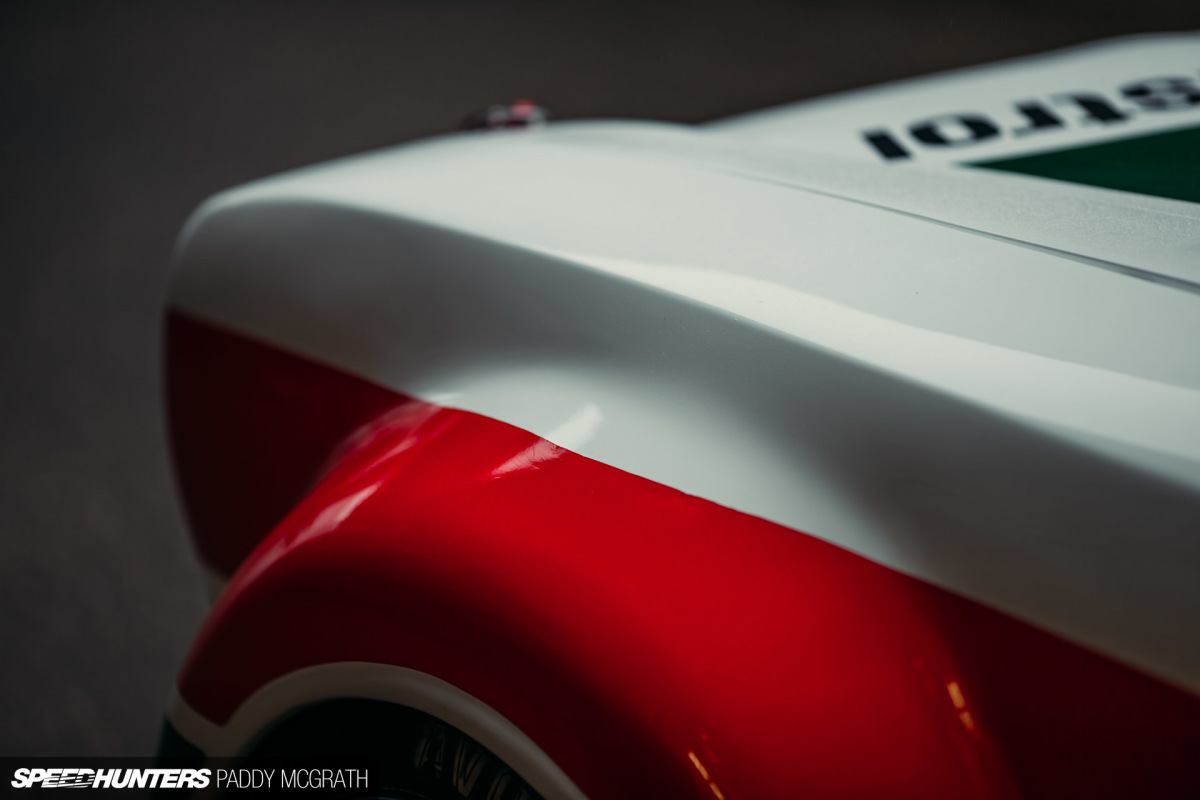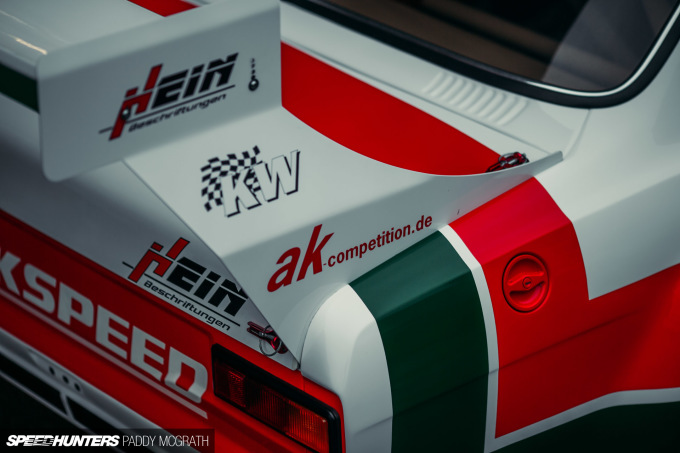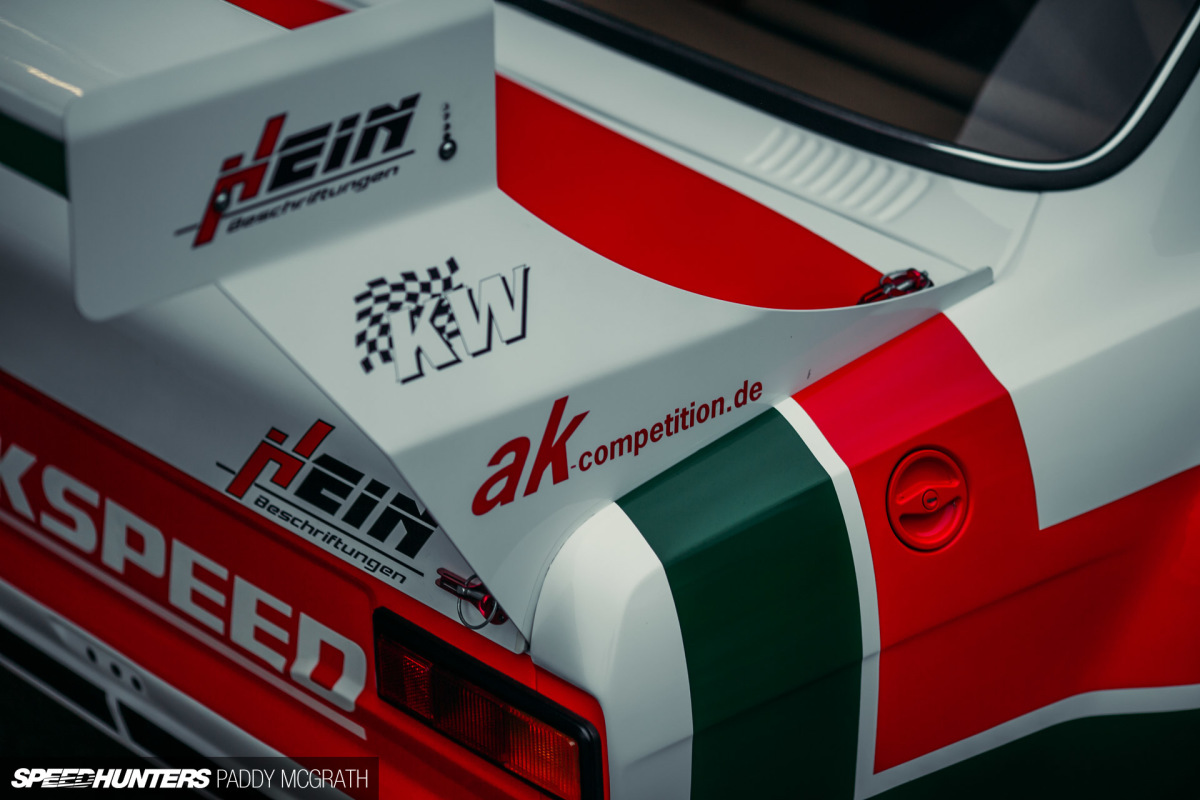 In homage to the original Zakspeed Castrol Mk1, the familiar red and green stripes were added, along with – mostly – period-correct decals, bar a few modern additions from Andreas' sponsors.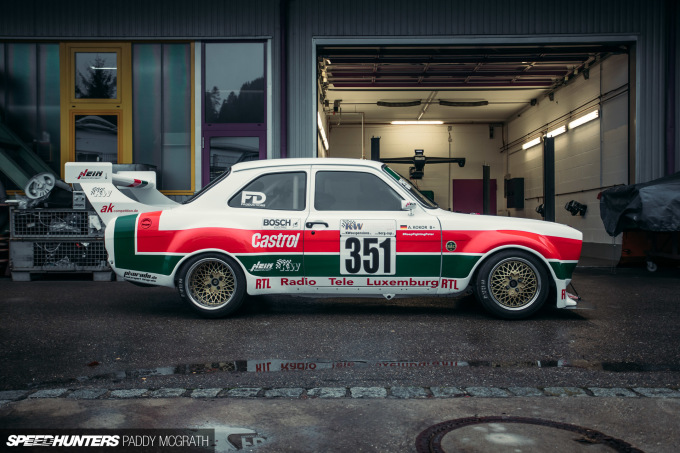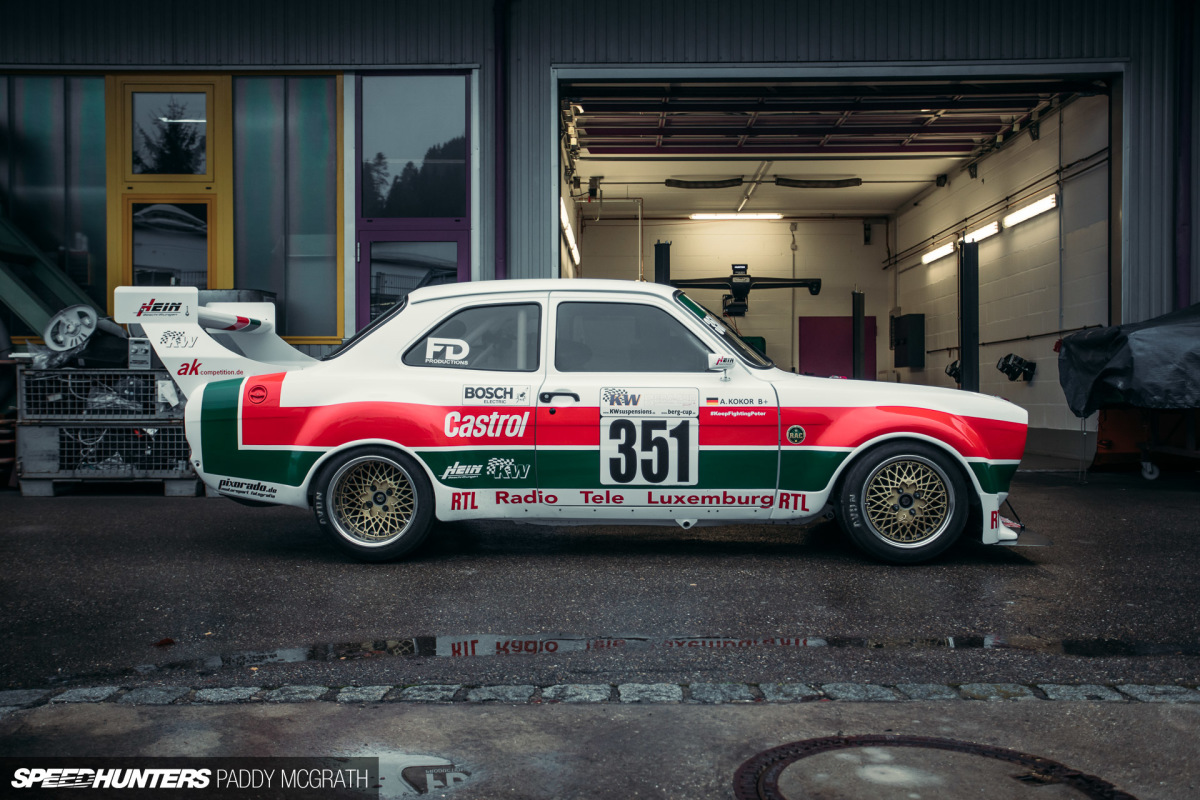 The rear wing in particular was something missing from the original Zakspeed car, but it's an addition that definitely contributes to the car's poise and presence in my eyes.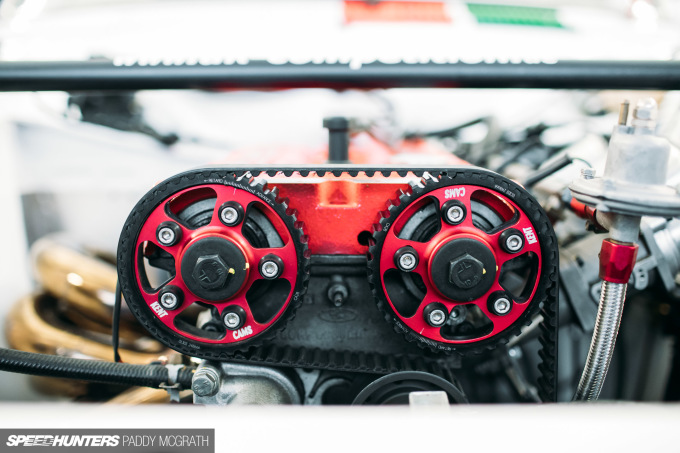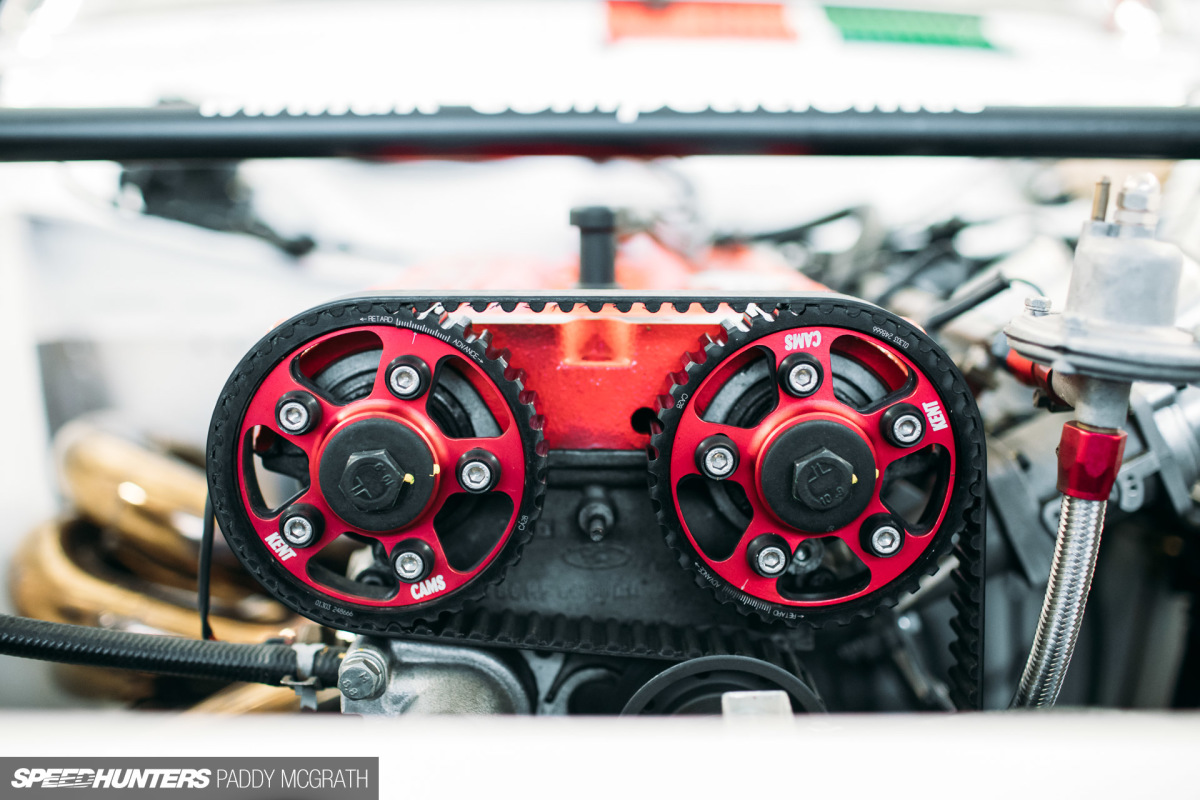 Andreas' engine of choice for this reimagined and improved Escort would come from its younger, but bigger, brother – the Sierra RS Cosworth. The 2.0-litre YB engine left the factory with some 204hp back in 1986, thanks to a Garrett turbocharger and a Cosworth-developed 16-valve head.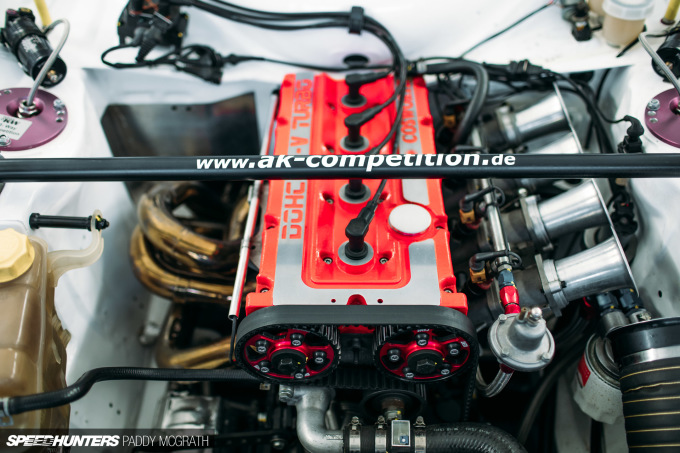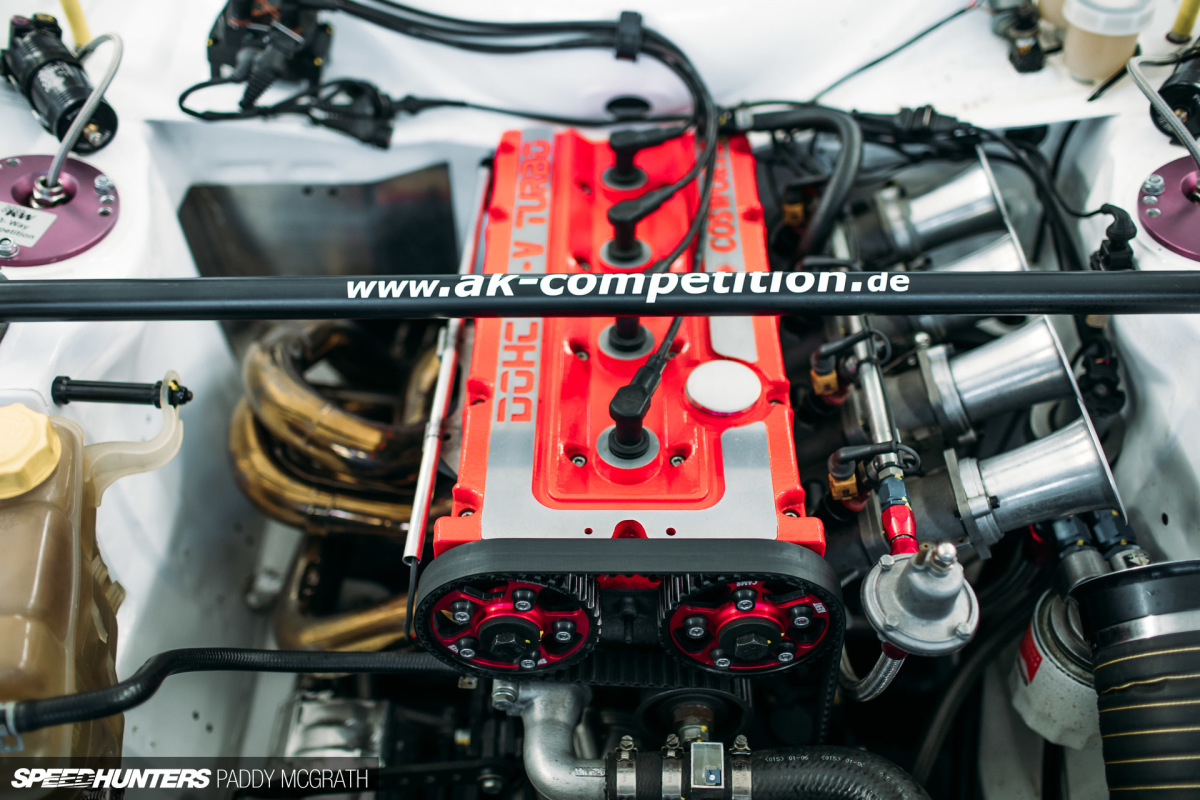 You should notice something immediately obvious about this particular YB, however. I'll give you a clue: it's in low boost mode, permanently.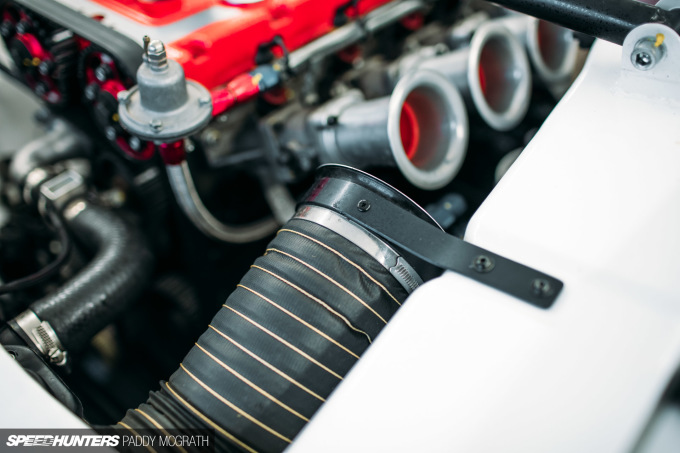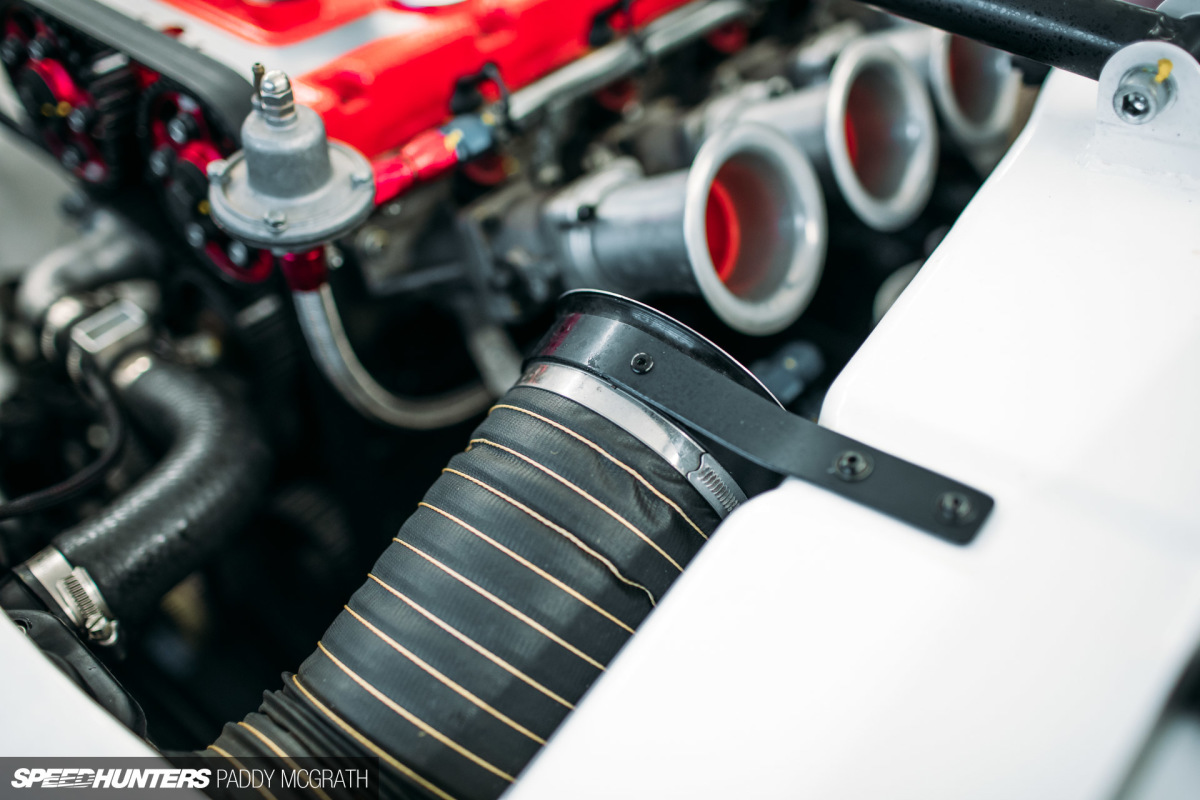 Andreas opted to convert the Cosworth engine to a naturally-aspirated setup. The YB swap is a popular option for Escorts of this ilk; not only is it easier to come across and more cost effective than sourcing and rebuilding the famous Escort BDA powerplant, but it's also similar in design and as such, in spirit, too. While turbocharging offers a easier route to more horsepower, in converting the motor to natural aspiration the car retains much of its original charm and bark.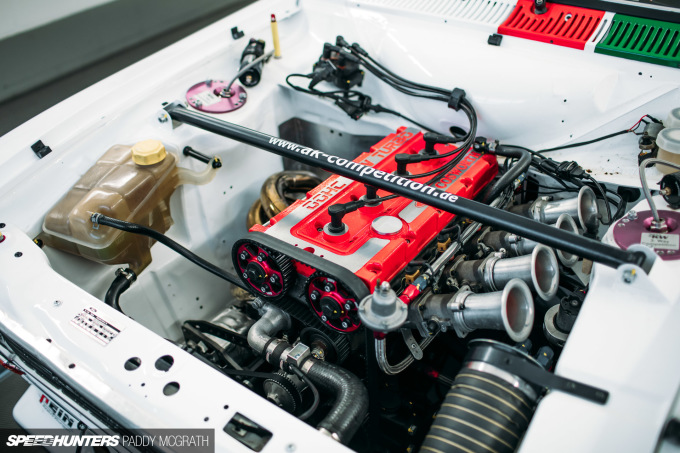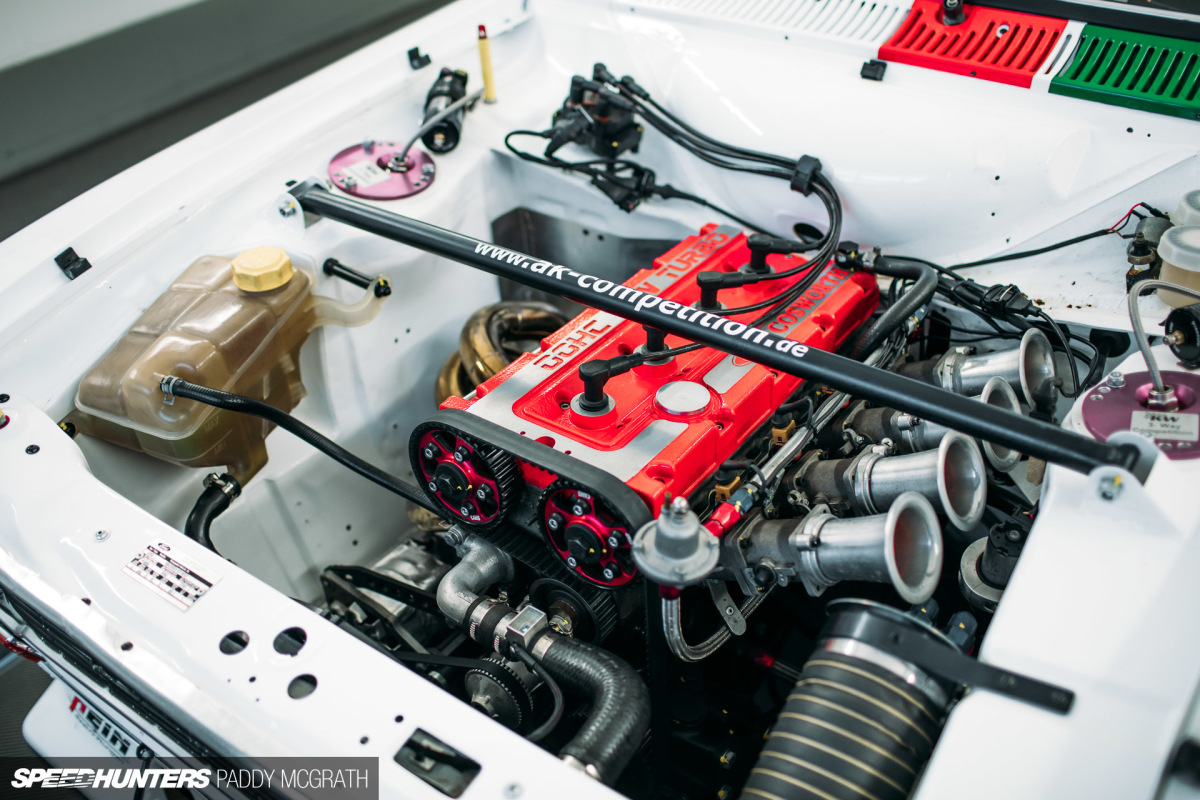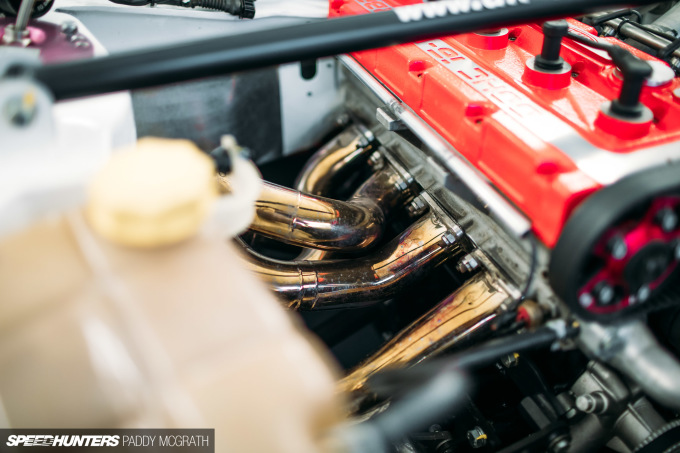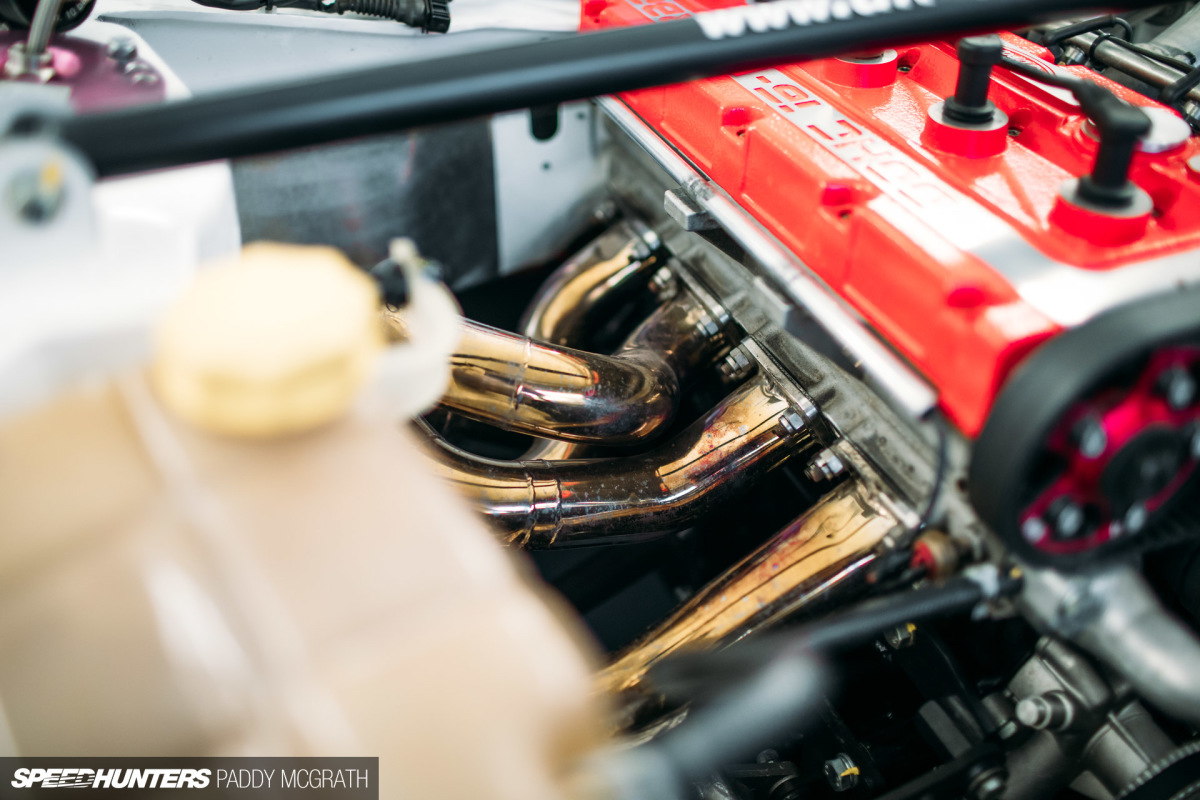 Speaking of bark, air and fuel is handled courtesy of a bank of Jenvey 48mm independent throttle bodies with 90mm trumpets, complete with a Jenvey fuel rail. At the other end, a custom-built exhaust manifold from SPD expels the spent gases, helping to create a cacophony of intake and exhaust sounds fighting for your attention.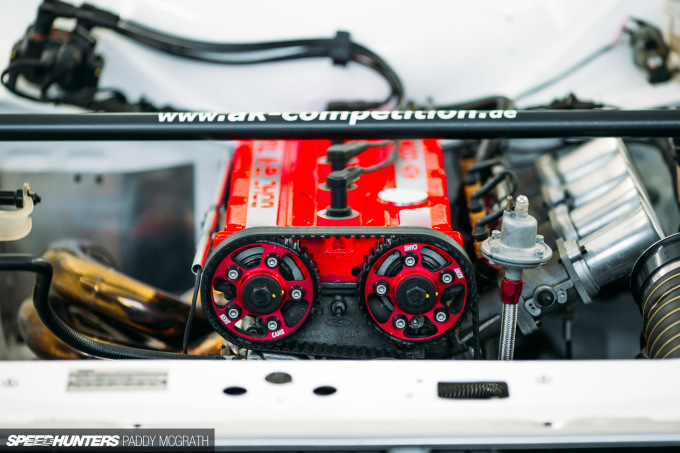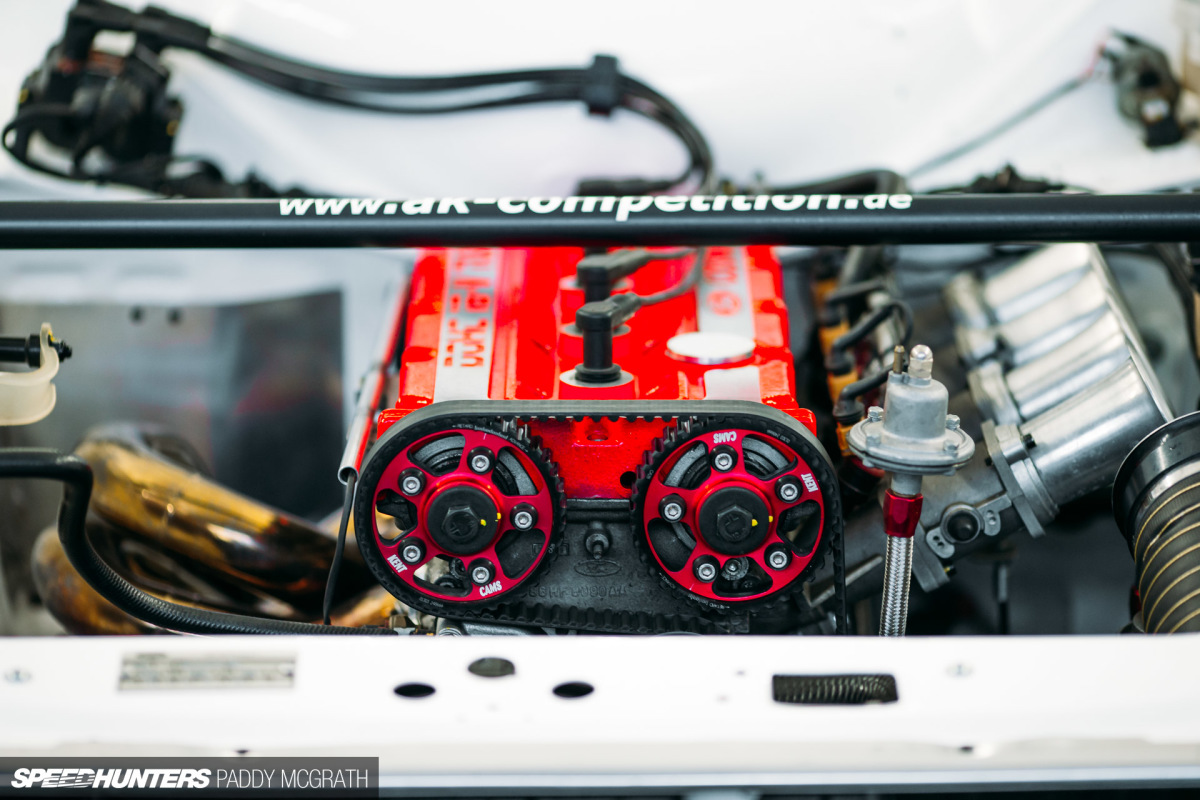 What's most impressive is that Andreas has managed to eke 280ps out of the motor at an ear-piercing 9,300rpm. That's over 70hp more than the engine left Cosworth with in 1986, minus the turbocharger, too. The YB might be an old engine in 2018, but its tuning potential and raw power delivery separates it from much newer motors.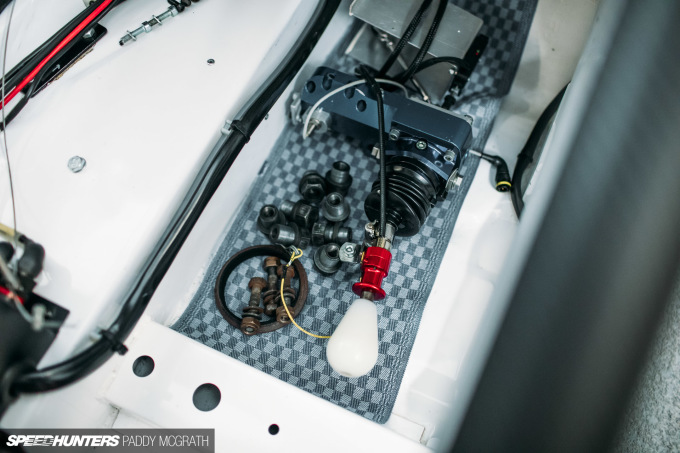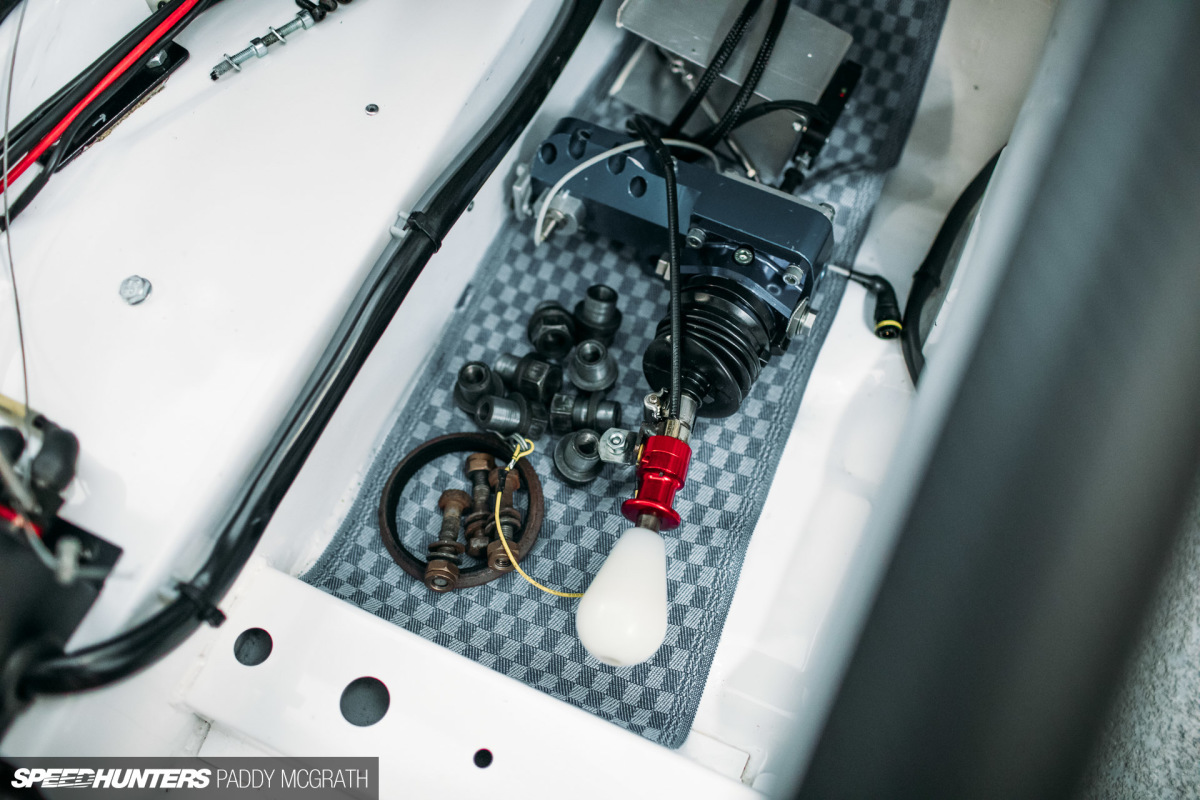 Power is delivered via a Quaife 69G sequential gearbox, part of which is pictured above. The rest of the gearbox was absent and undergoing a rebuild during Paddy's time with the Escort.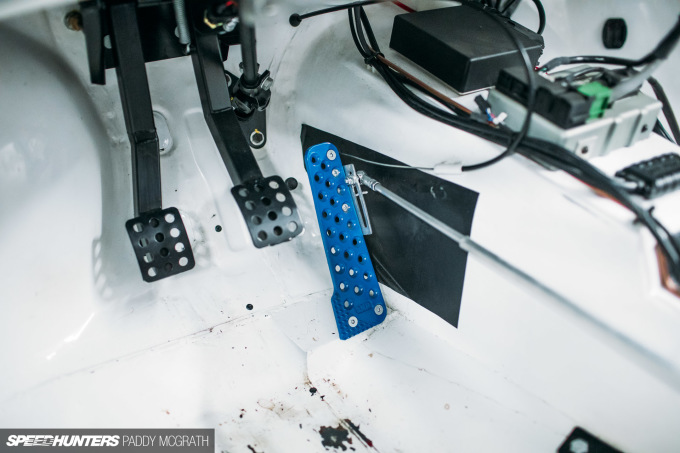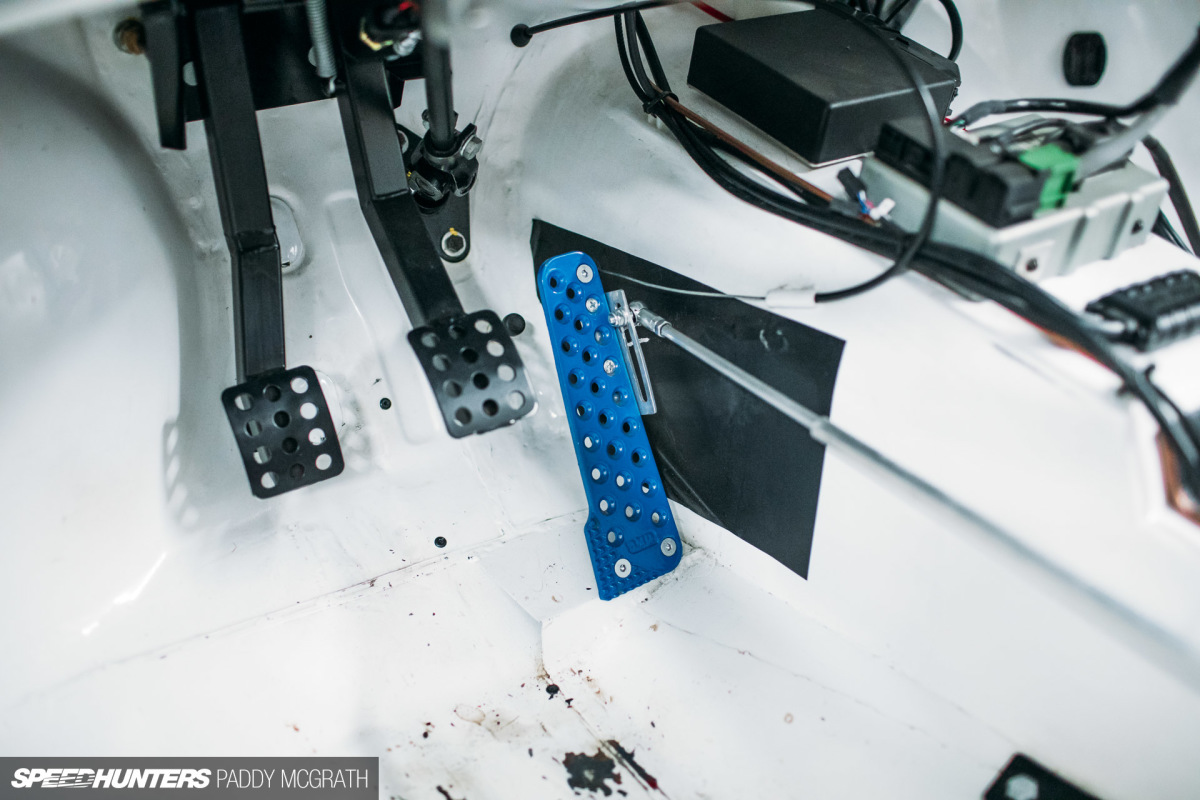 One particular feature which I found interesting is the custom linkage that Andreas has fabricated between gear lever and throttle pedal. This is designed to automatically blip the throttle on downshifts, effectively like an automatic – and very much mechanical – heel-and-toe system, helping to rev-match the engine on downshifts. I love simple engineering solutions like this.
Faster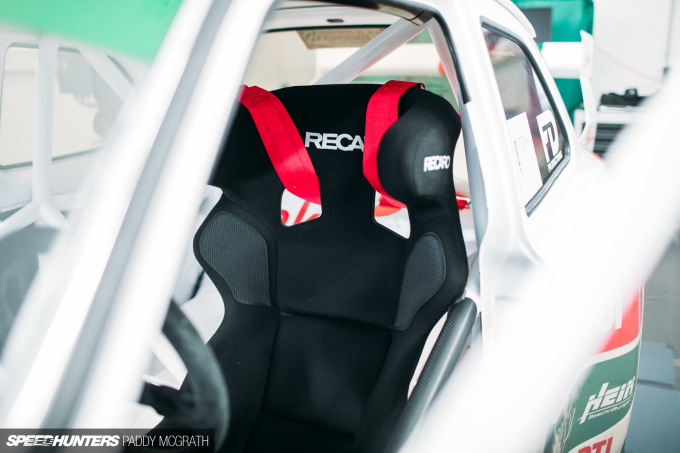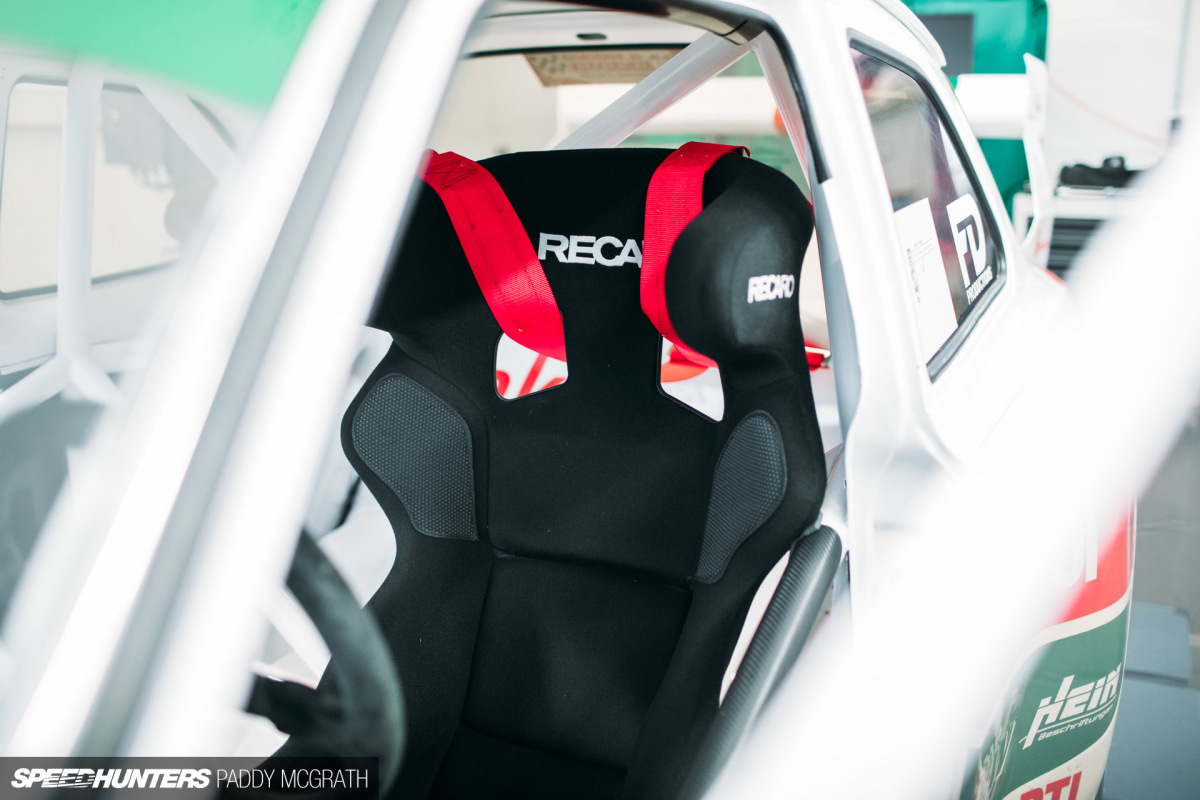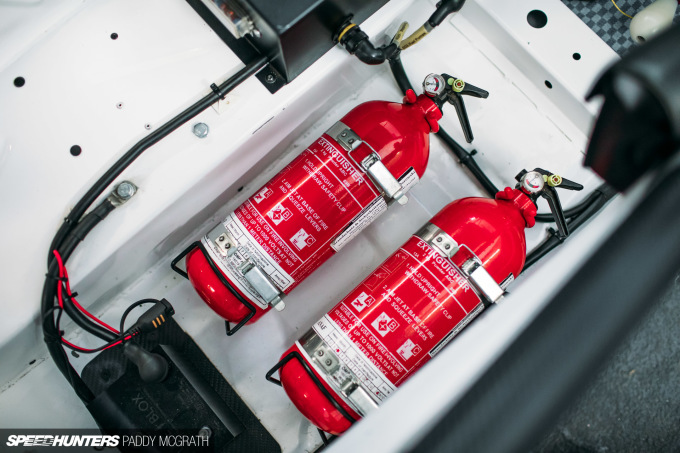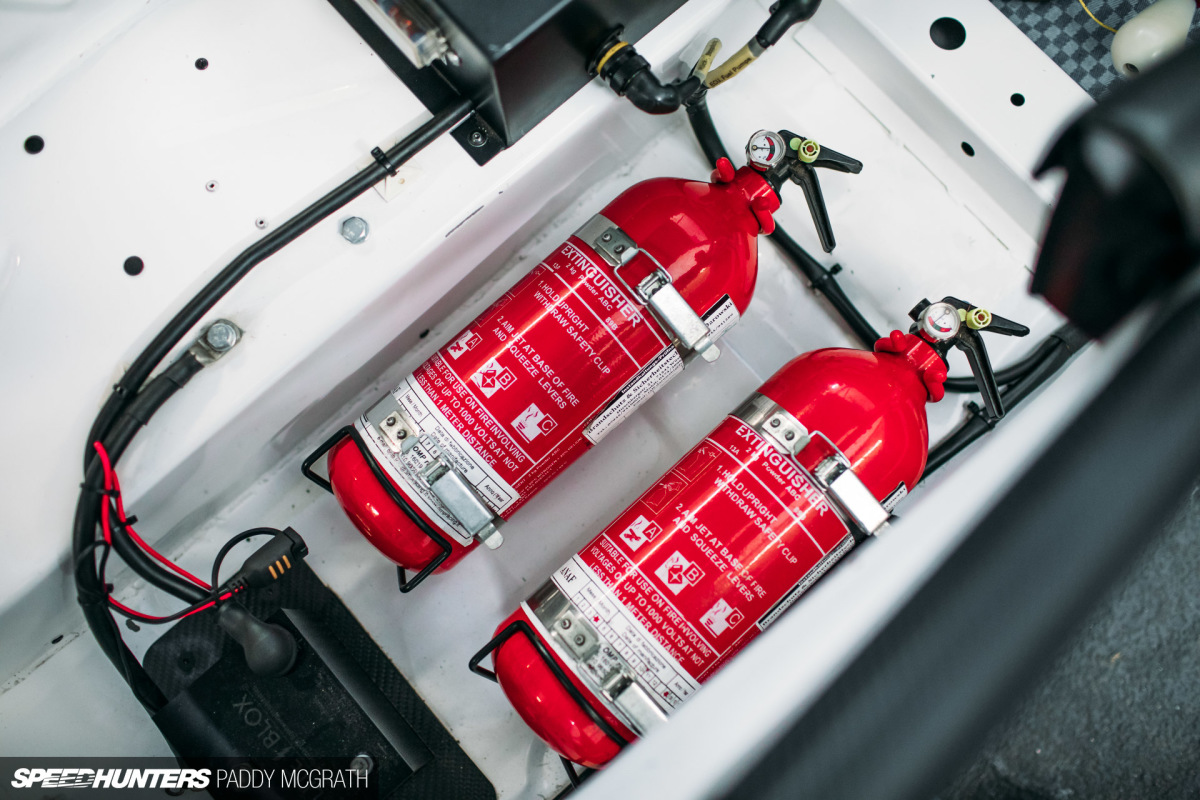 Inside the little Escort things are kept purely functional, a solitary Recaro seat the main piece of furniture in this very white and very bright space.
Carbon weave stretches across the custom dash, ensconcing a simplistic Stack dash unit. If your needle doesn't go all the way around to 10, are you even racing?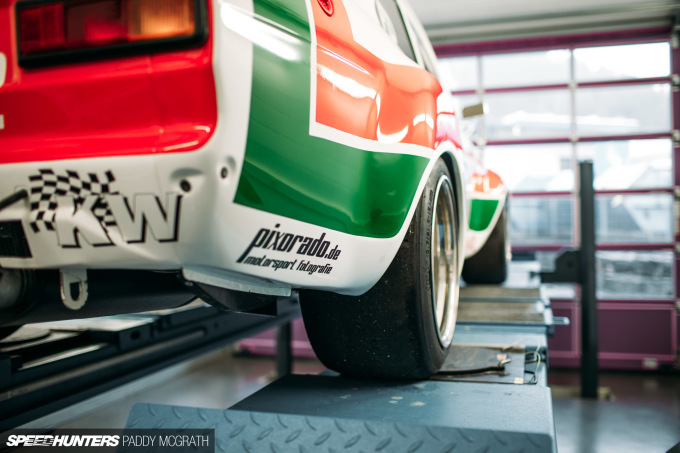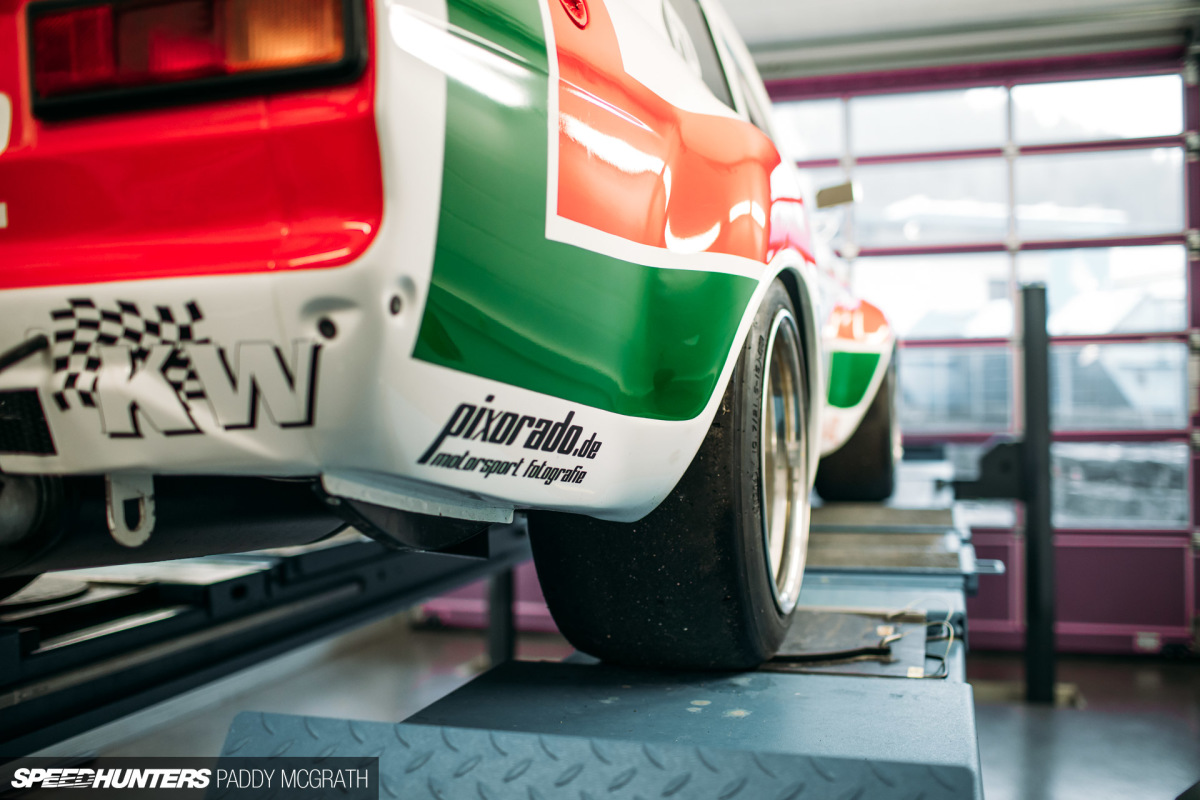 Acceleration is only part of the battle in hill climbing, with control and stopping important in equal, if not higher, measures.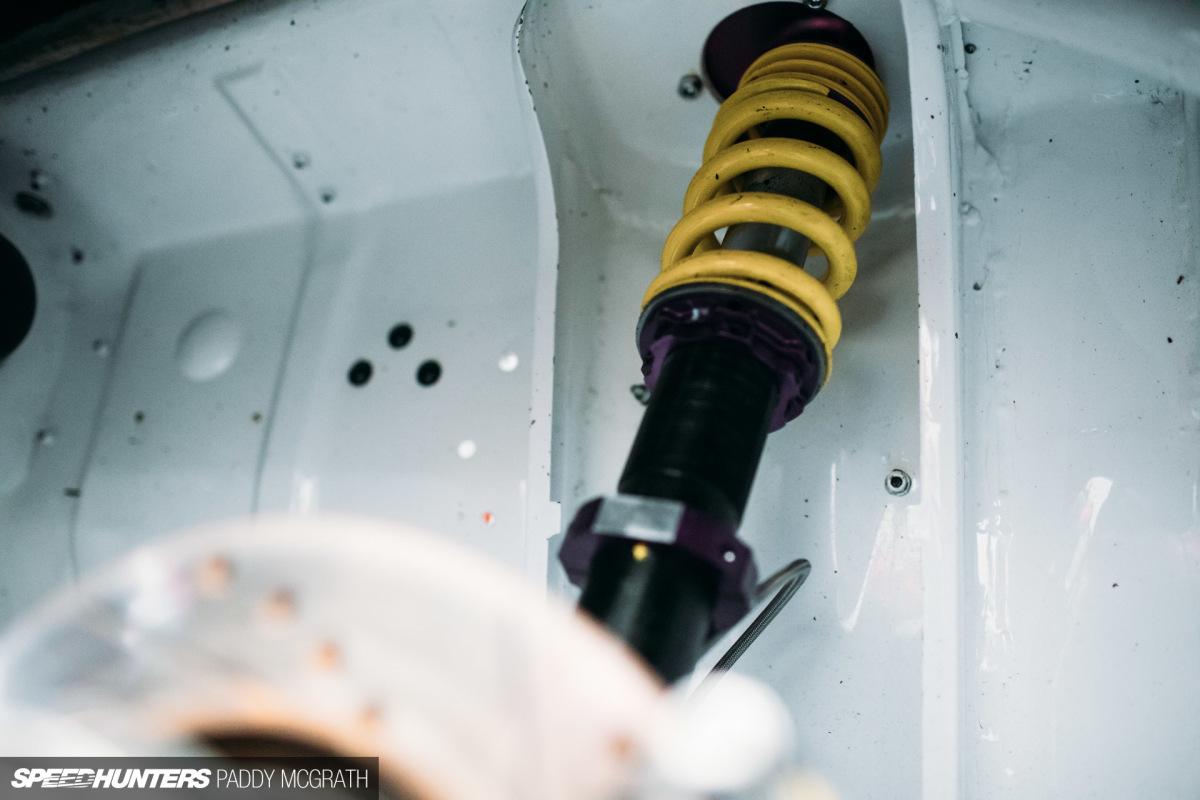 With Andreas being a vital part of the team at KW Suspensions in Germany, there's no prizes for guessing what he went with to keep the spirited Escort under control when attacking the climbs he frequents.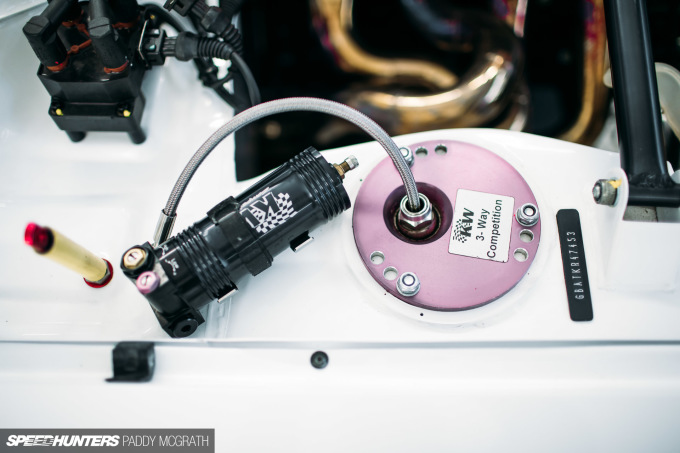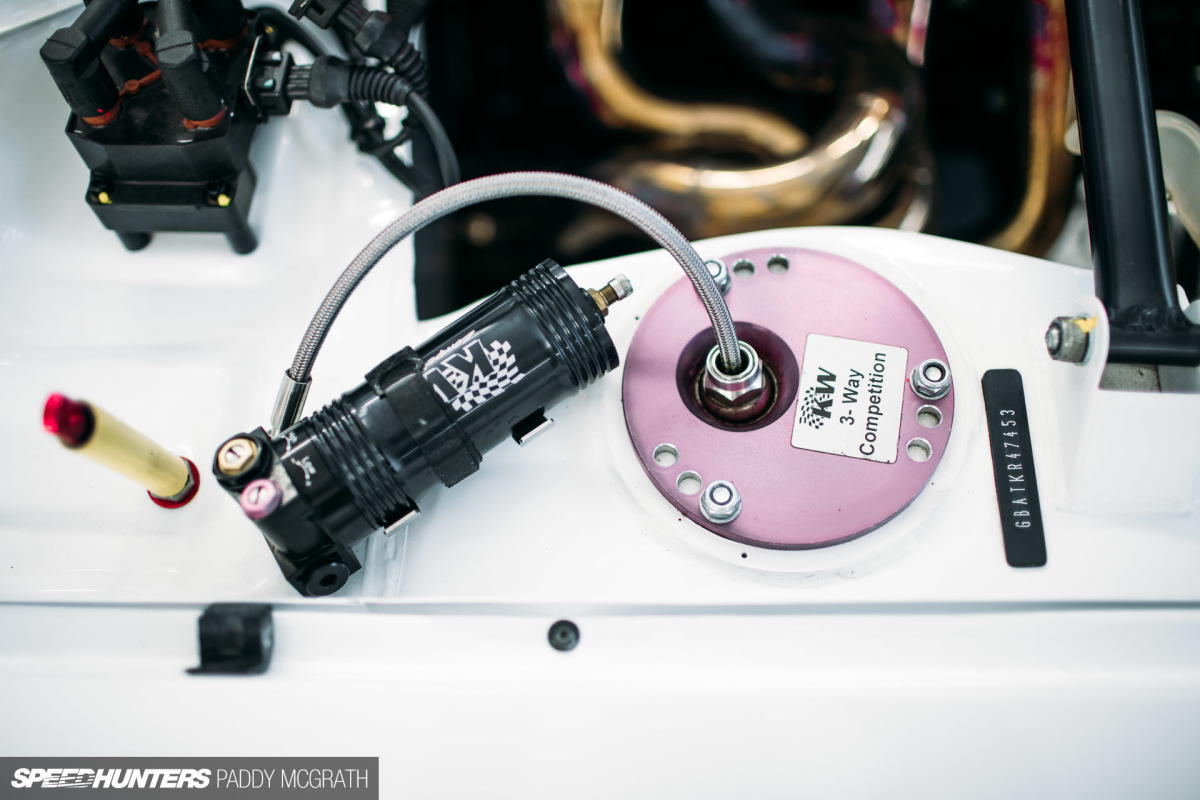 A custom KW Competition 3-way adjustable suspension with remote reservoirs adorn each corner. Although KW's racing suspensions are always developed specifically for each application, in this instance the Escort's custom suspension setup required a completely bespoke solution, built to suit Andreas' specific discipline of hill climbing.
A custom McPherson strut conversion was fabricated up front, specifically designed to allow the Escort to run modified steering angle with zero scrub radius – this helps with stability on the undulating terrain than the Escort is used in anger on. At the rear, Andreas developed a completely custom axle setup, converting the car from its original leaf-sprung rear axle to a more efficient 4-link setup with KW suspension struts. Of course every component of the suspension is adjustable, allowing for complete control.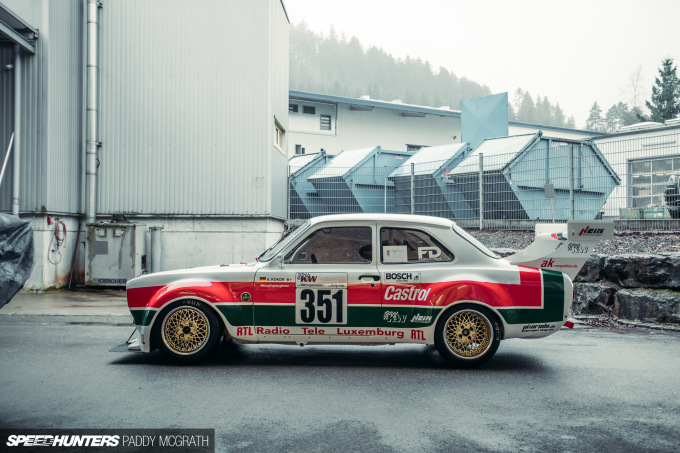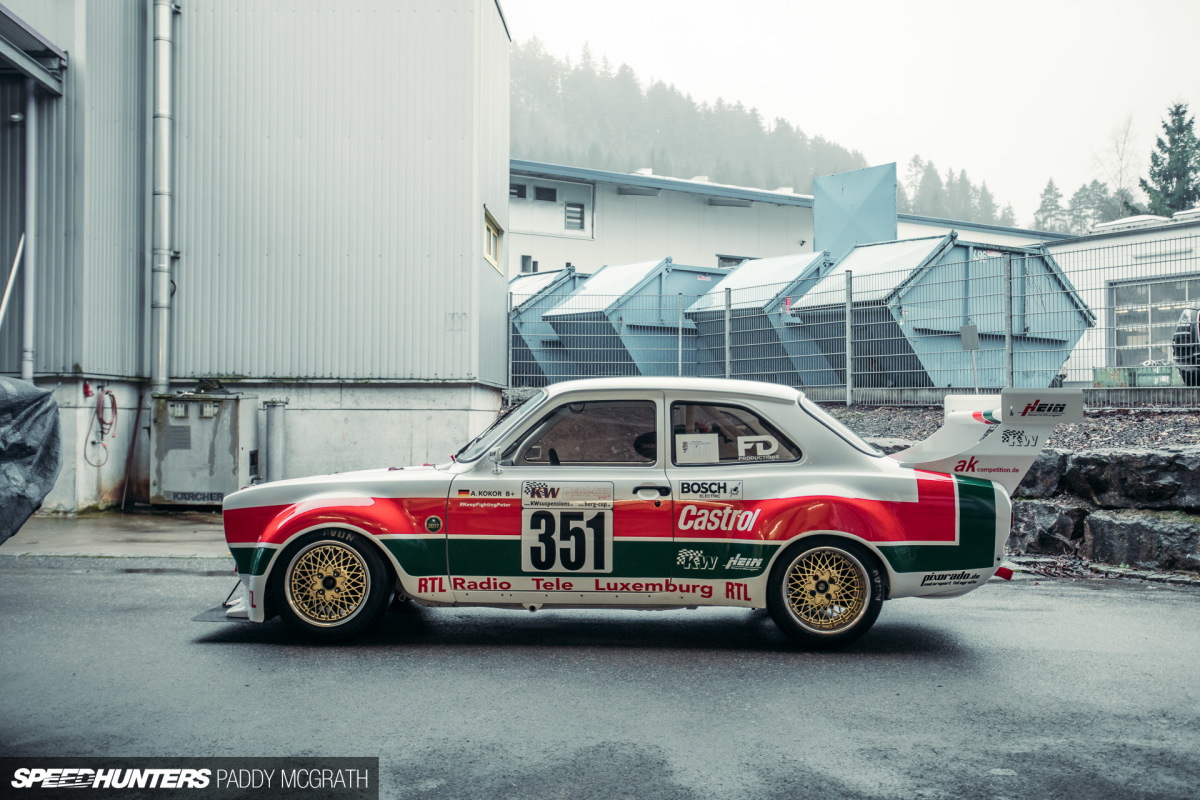 On KW's Competition 3-way units in particular, there's rebound adjustment available at the turn of a dial, as well as independent low-speed and high-speed compression adjustment, allowing Andreas to tweak the setup for the conditions at each event.
Helping to bring the show to a halt is a set of compact but powerful Wilwood 4-pot front calipers clamping down on 247mm discs. At the back, Dynalite 4-pots are mated to Wilwood 240mm discs. A Burton Power pedal box sits at Andreas' feet, which gives him to power to adjust front and rear bias easily to suit his setup and the circuit.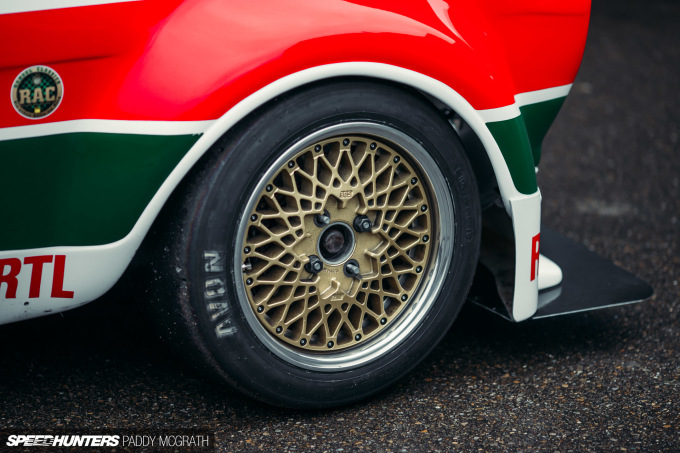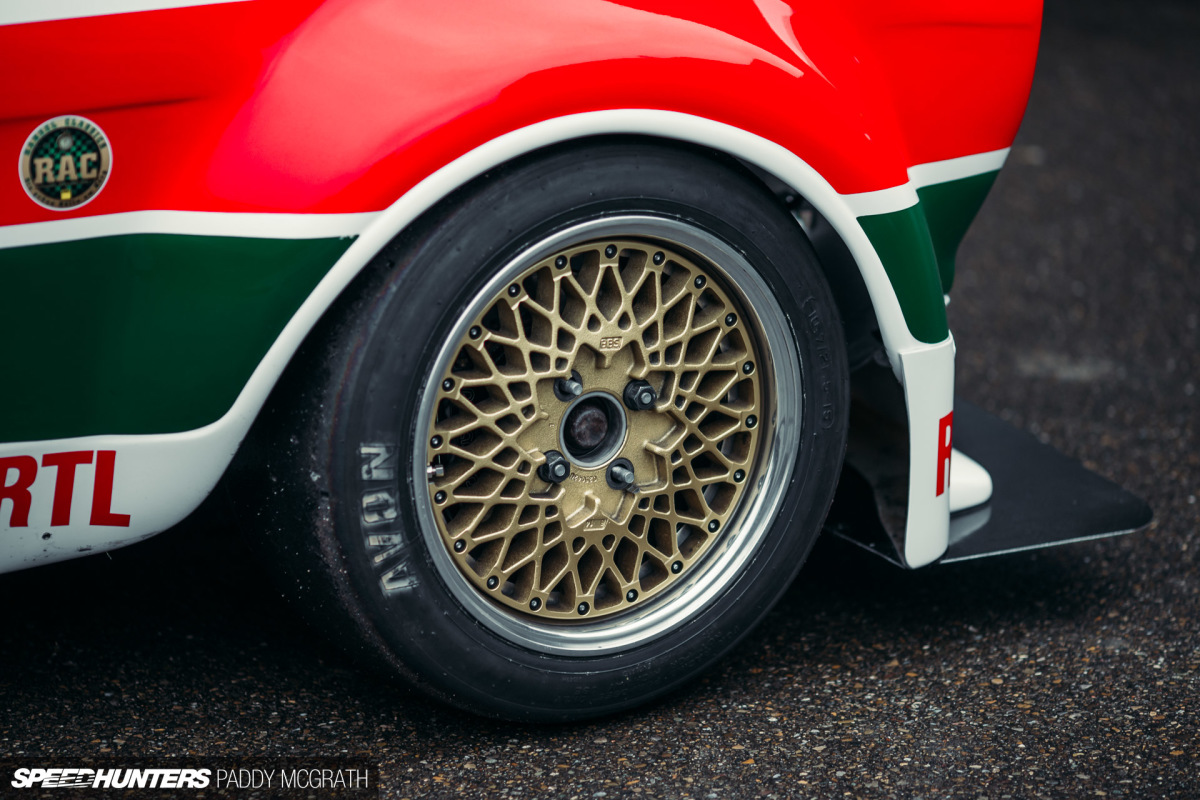 Keeping with the period-correct theme of the build, the rolling stock is a set of gorgeous BBS E50 mesh wheels. The fronts measure 15×10-inch…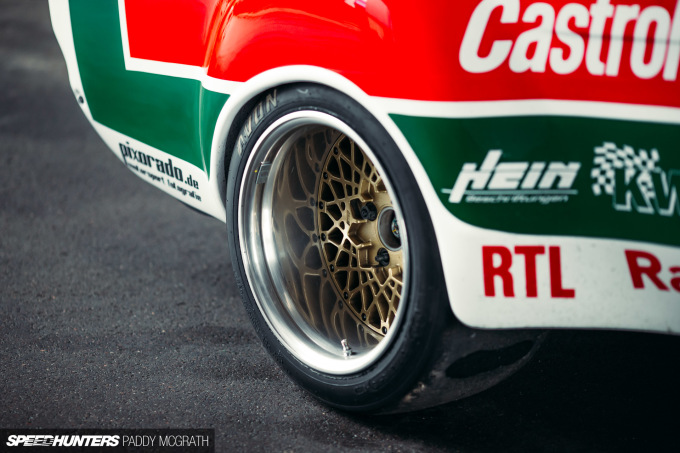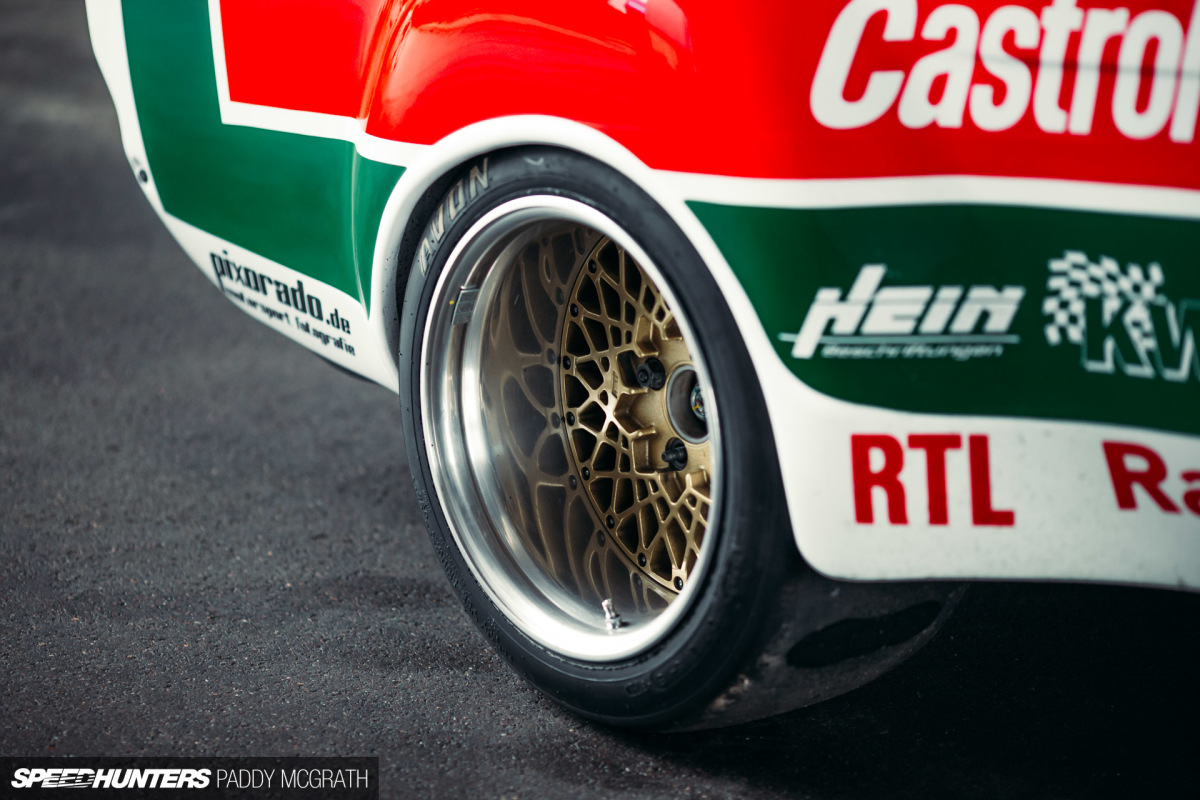 …while at the back sits a pair of dishy 15×11-inch of the same. All four corners are shod in Avon 10.7-21.5 crossply slicks. And before anyone says it – don't worry, all four wheel bolts are used when the Escort isn't in 'maintenance mode'.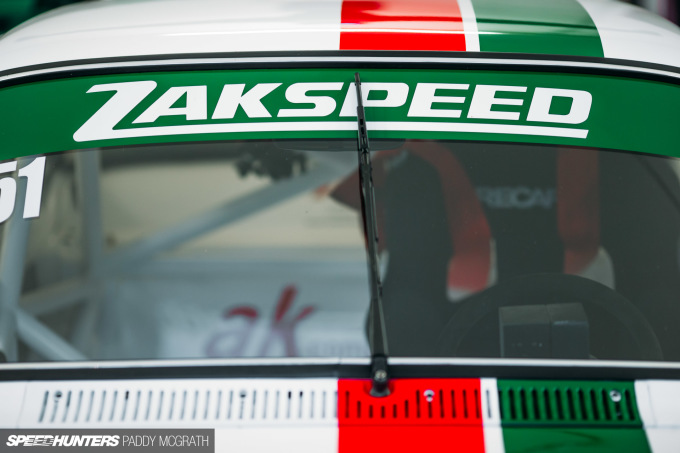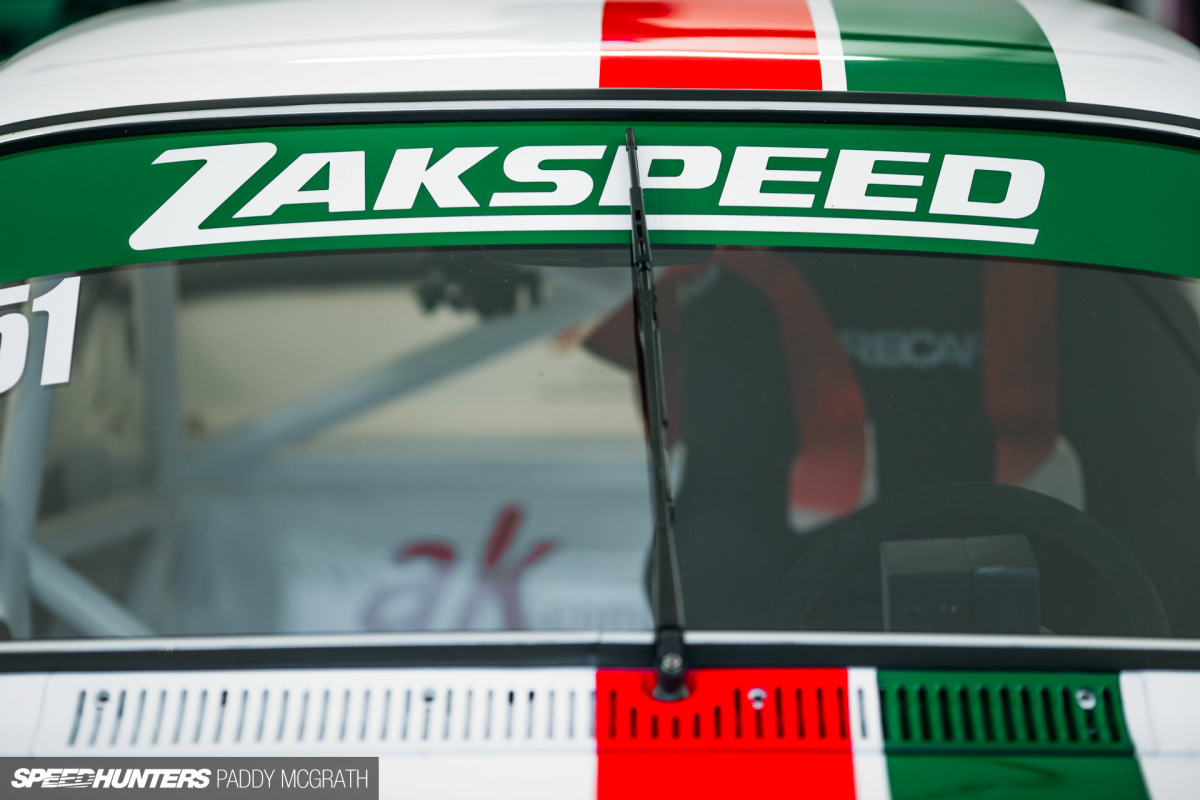 From start to finish, the Escort consumed six years of Andreas life. Fabricating, building, tweaking and perfecting it to be the perfect weapon on track.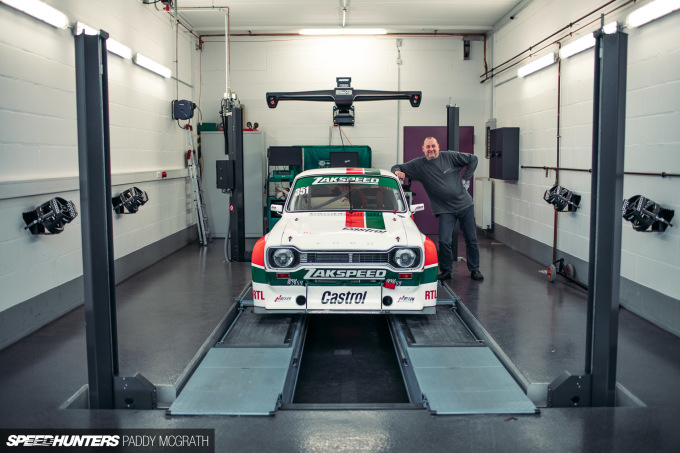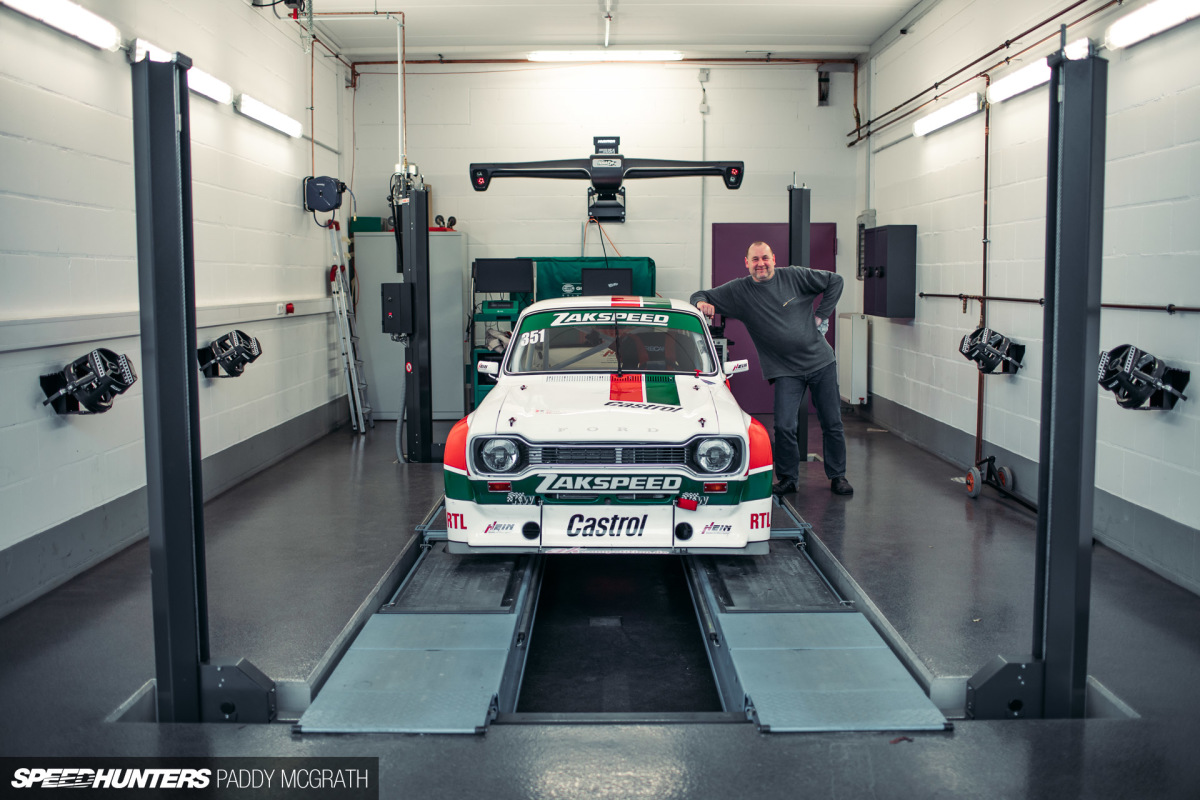 There's such immaculate attention to detail here that you can't help but respect Andreas and his unwavering determination to create his vision. It's a classic race car reimagined, but done so in a way that is completely respectful to its roots. What we have here is one of those rare stories where a car hasn't been built for attention, or to appease the crowd, or some trend.
Andreas has built it for himself alone, driven by passion.
Jordan Butters
Instagram: jordanbutters
jordan@speedhunters.com
Photography by Paddy McGrath
Instagram: pmcgphotos
Twitter: pmcgphotos
paddy@speedhunters.com
Cutting Room Floor