Of all the places we visit and stories we tell on Speedhunters, in my mind it's pretty hard to beat a shop tour.
Getting to go behind closed doors at workplaces that specialise in making cars look better or perform better, or even better, both, is a definite perk of the job, but it also provides an opportunity to give you guys a look into places that you probably wouldn't be able to otherwise. In this particular case it really rings true; unless you live in Auckland, New Zealand and are familiar with JTune Automotive, that is.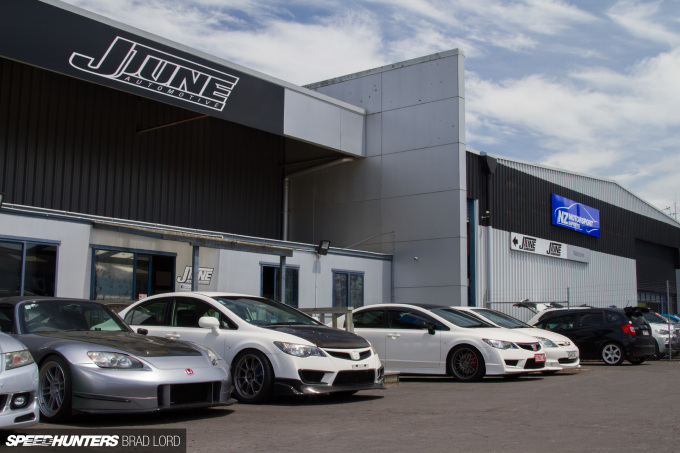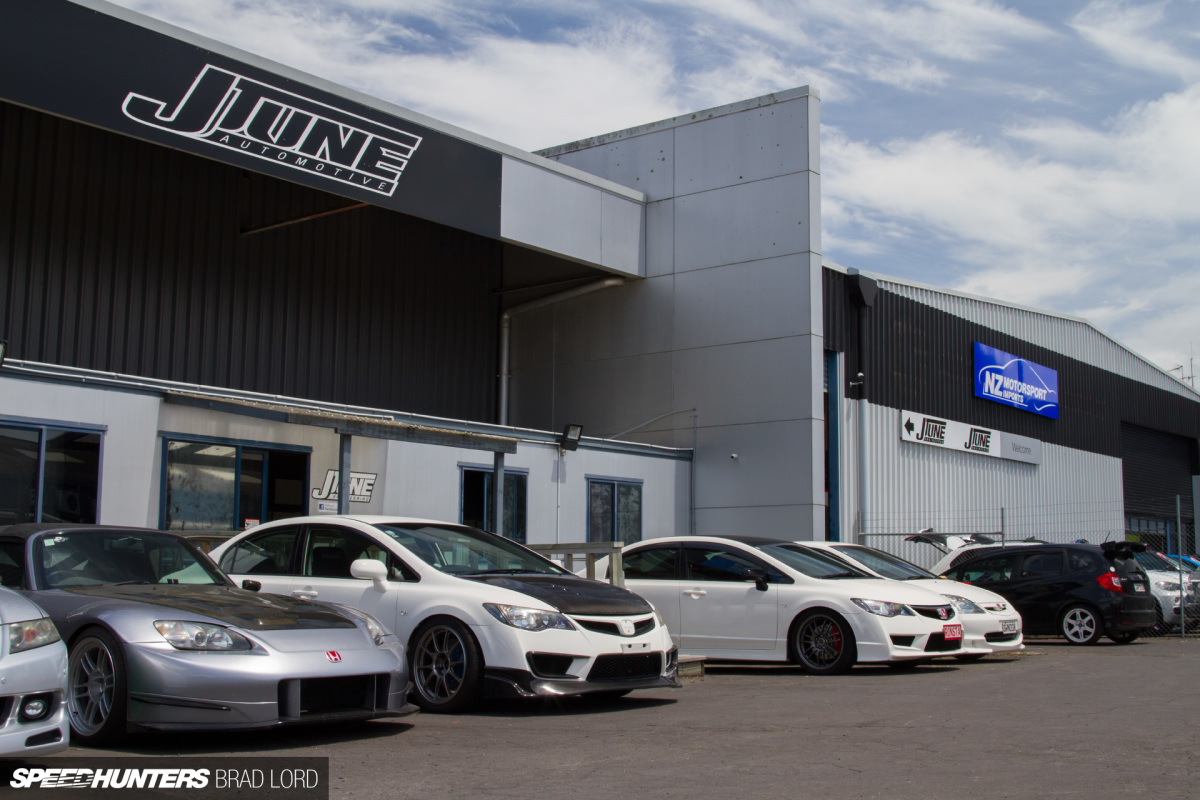 I've been meaning to bring you a story on this local (to me) performance workshop for a while now, and recently I was able to spend some time at JTune taking a closer look at what they do.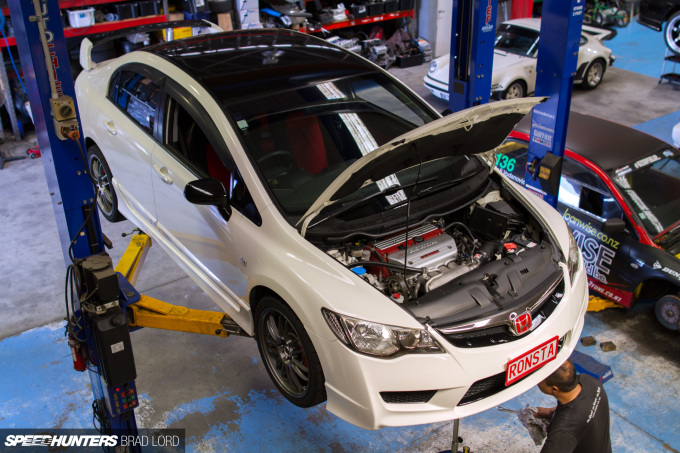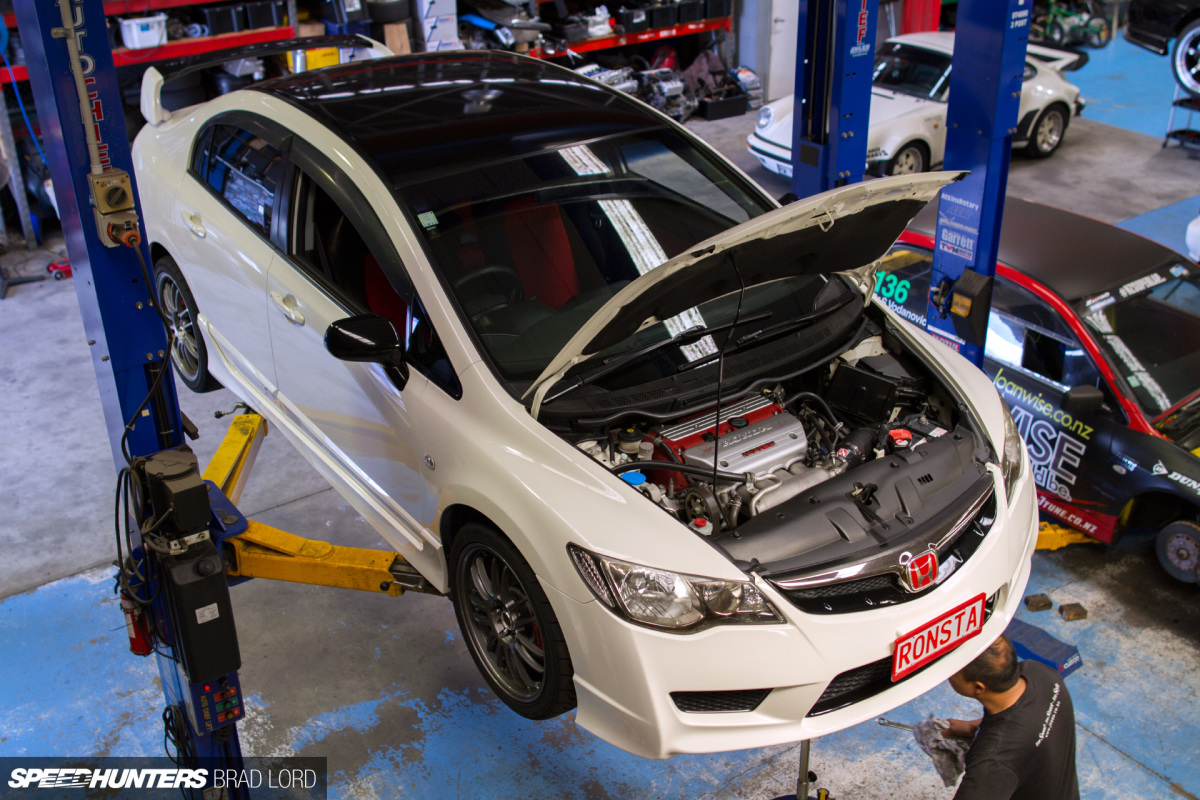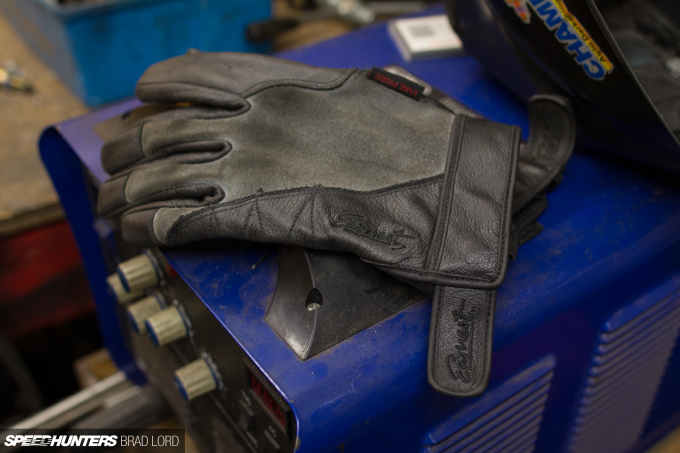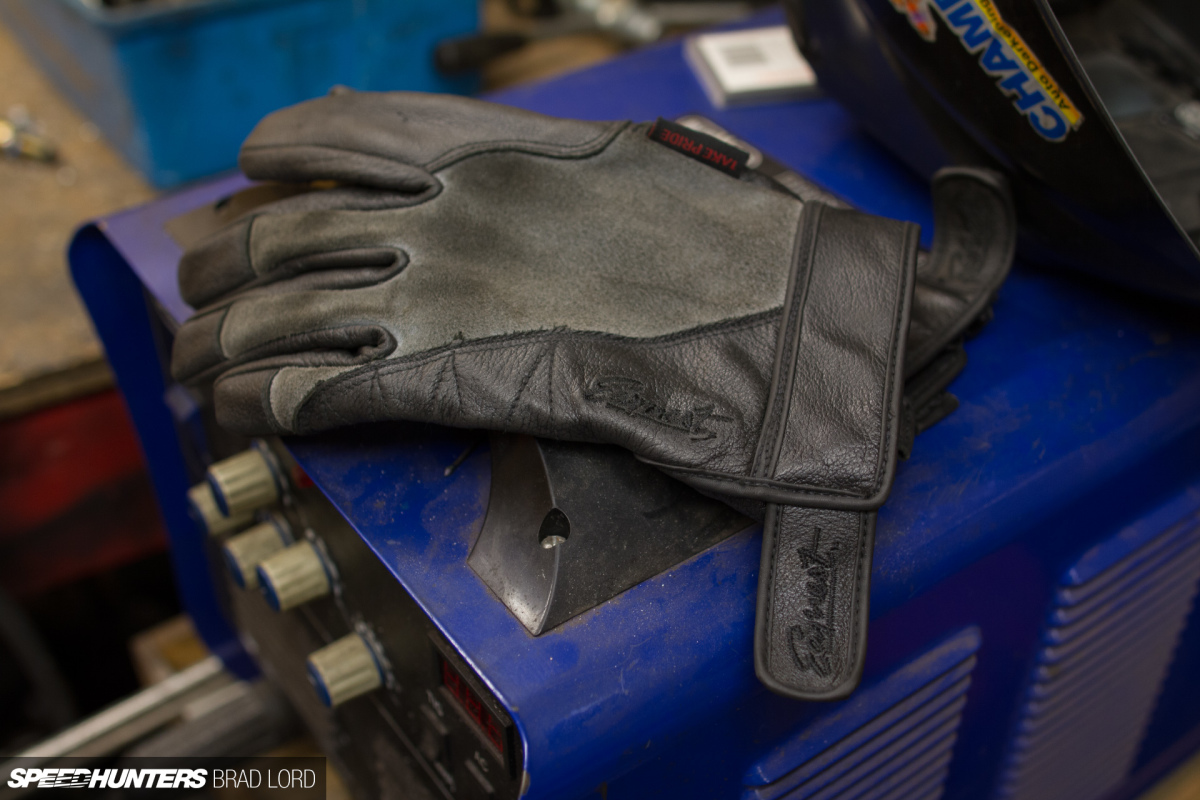 And they do a lot.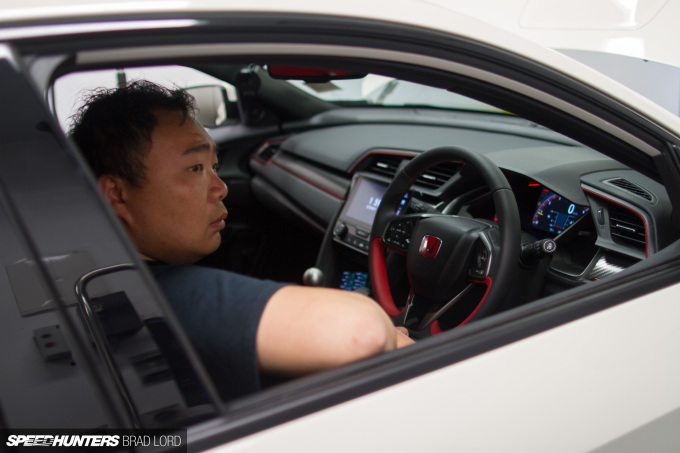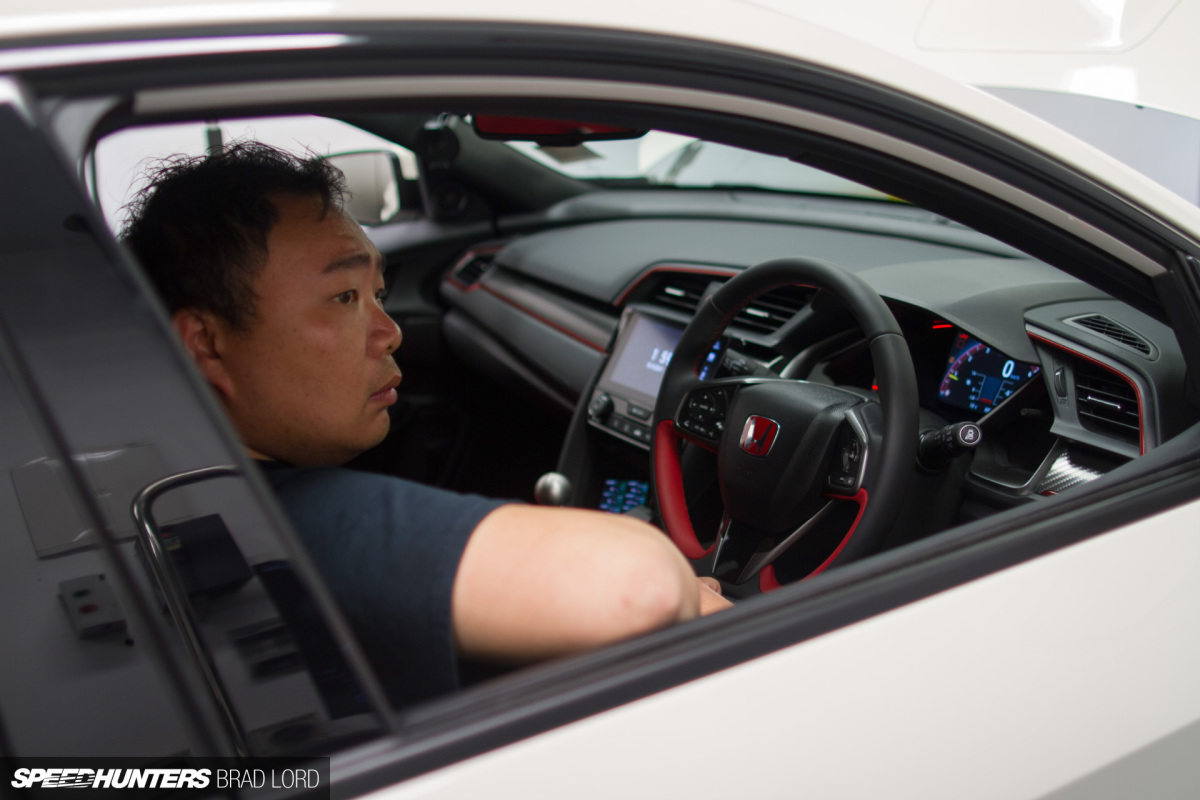 I've known JTune's Jacky Tse for well over 10 years, and in that time he's gone from being a Honda dealership technician to the owner of one of Auckland's most well respected performance tuning shops. JDM cars make up the vast majority of what the small team at JTune work on day in and day out, and as you'll see in this post there's never a shortage of interesting things going on.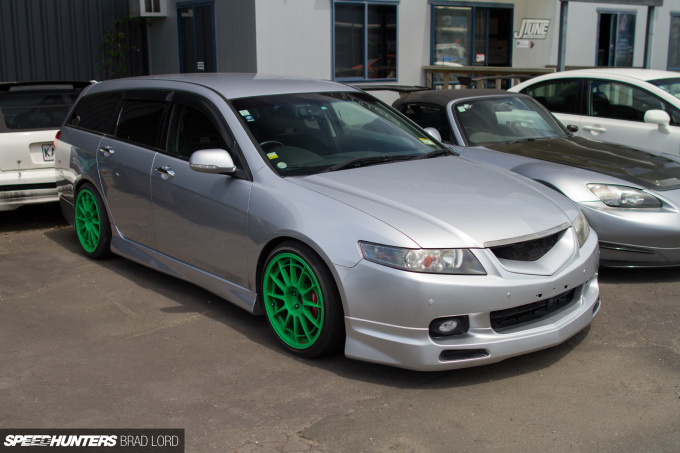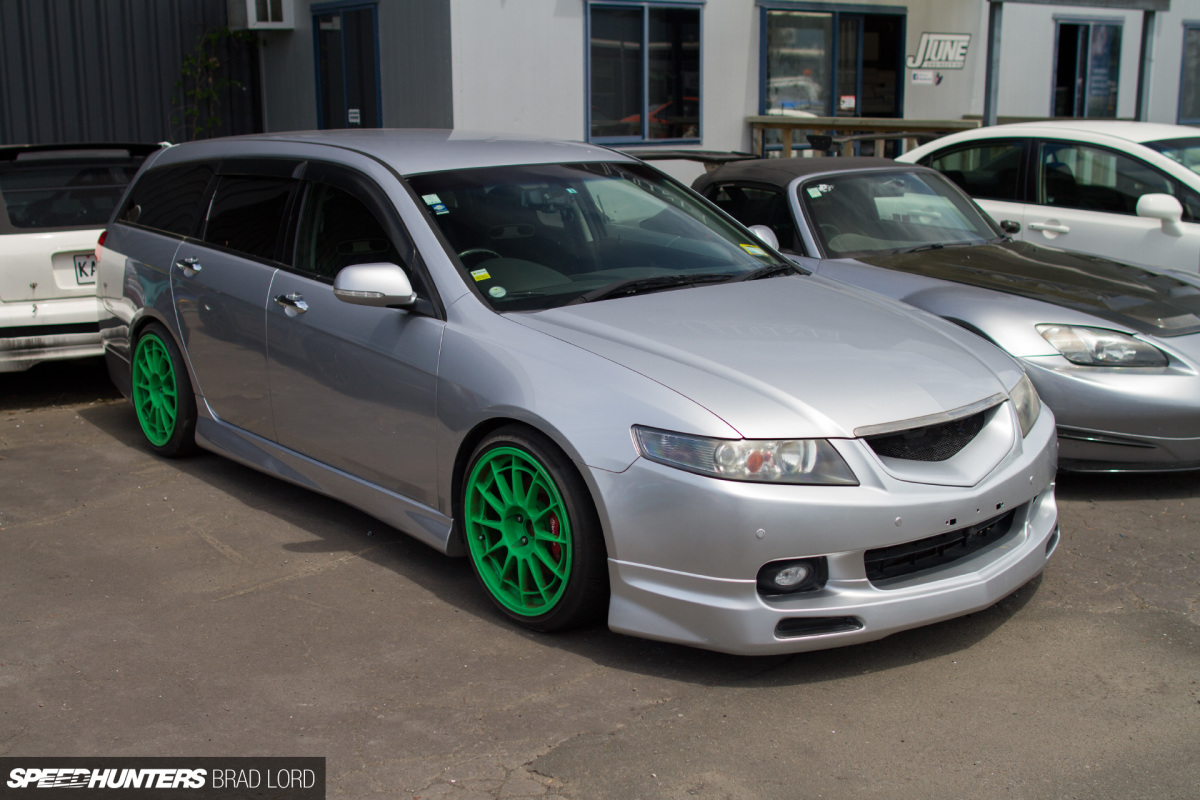 One of the first cars that caught my eye in the carpark was this customer-owned Honda Accord station wagon. CL wagons were never sold new in New Zealand, but many used JDM imports have made their way here, including this example that JTune has taken to another level. Apart from the kit, it's hard to miss the custom green Enkei NT03 wheels and Brembo brake upgrade, but the real beauty is what's inside.
If you know anything about these wagons you'll know that they were only offered with a automatic transmission, however the one now benefits from a 6-speed from a JDM FD2 Civic Type R running a Spoon cross-mission gear set. The Accord's K24A 200hp has been fitted with a Rotrex supercharger for a total output of 240kW (322hp) at the front wheels.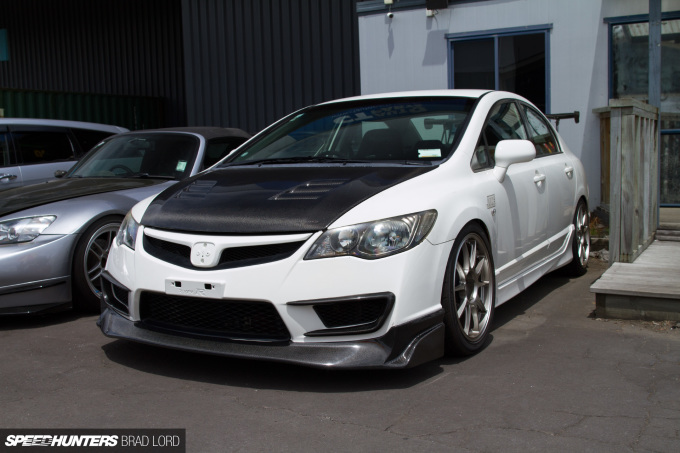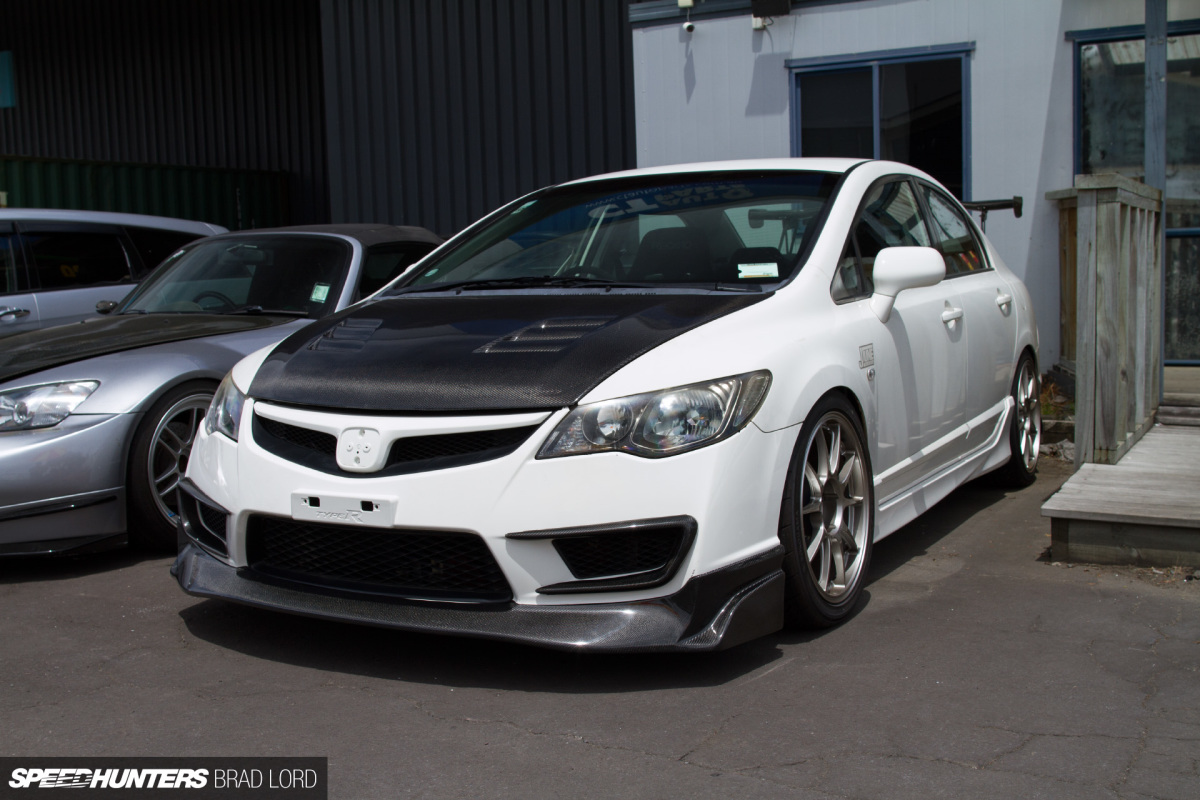 Next up is one of JTune's own cars, which up until very recently served as Jacky's daily driver. In factory form the JDM FD2 Honda Civic Type R is solid performer, but factory spec was never going to cut it.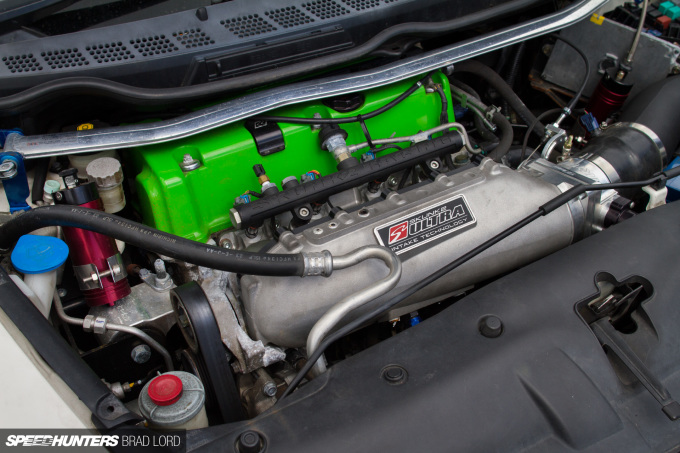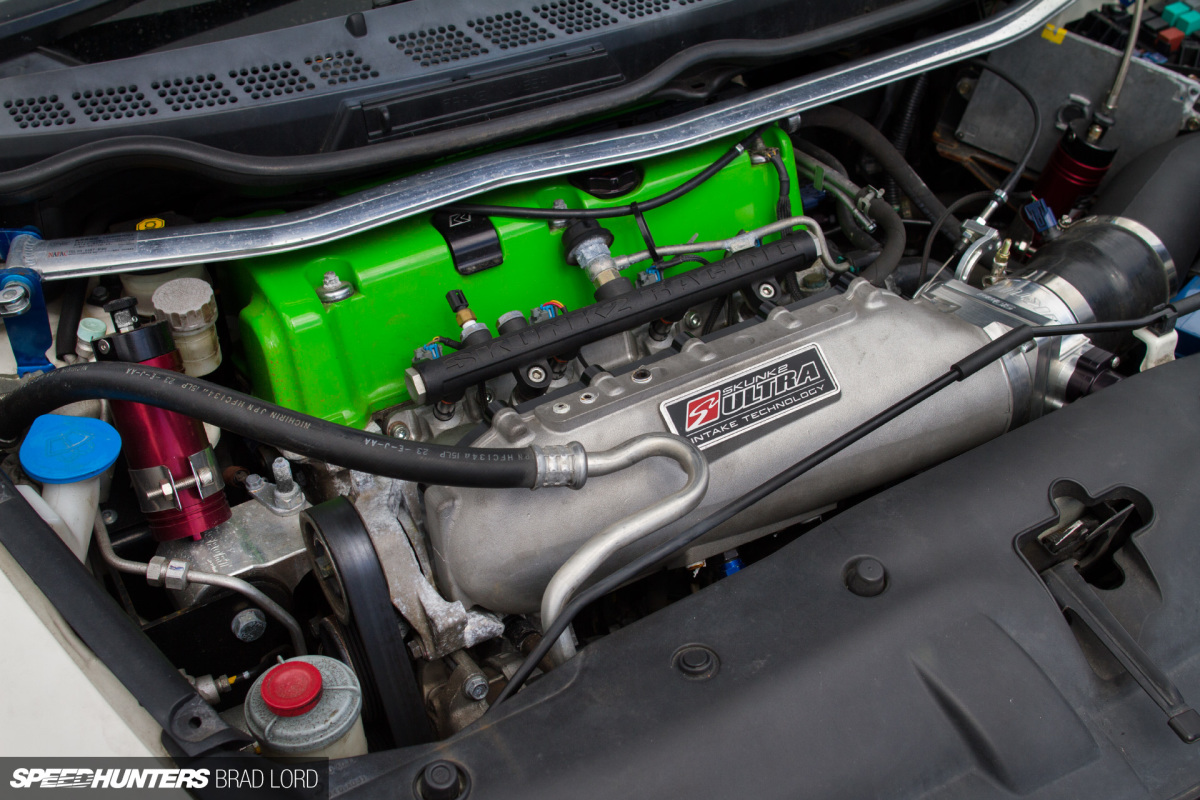 Under the hood, the original K20A has been swapped for a K24A upgraded to JTune '200R' spec which brings 200wkW (268whp) to the table from the naturally aspirated engine setup. As you can see, part of that upgrade includes a Skunk2 intake manifold and fuel rail and a 90mm KTuned throttle body.
Opening the driver's side door revealed another non-original part, but this one has factory ties being a Mugen FRP door card – with roll cage cut-out sections – from a one make series FD2 Type R race car.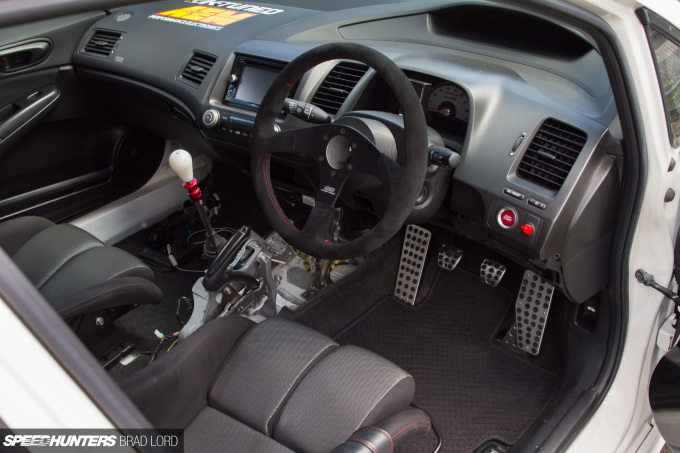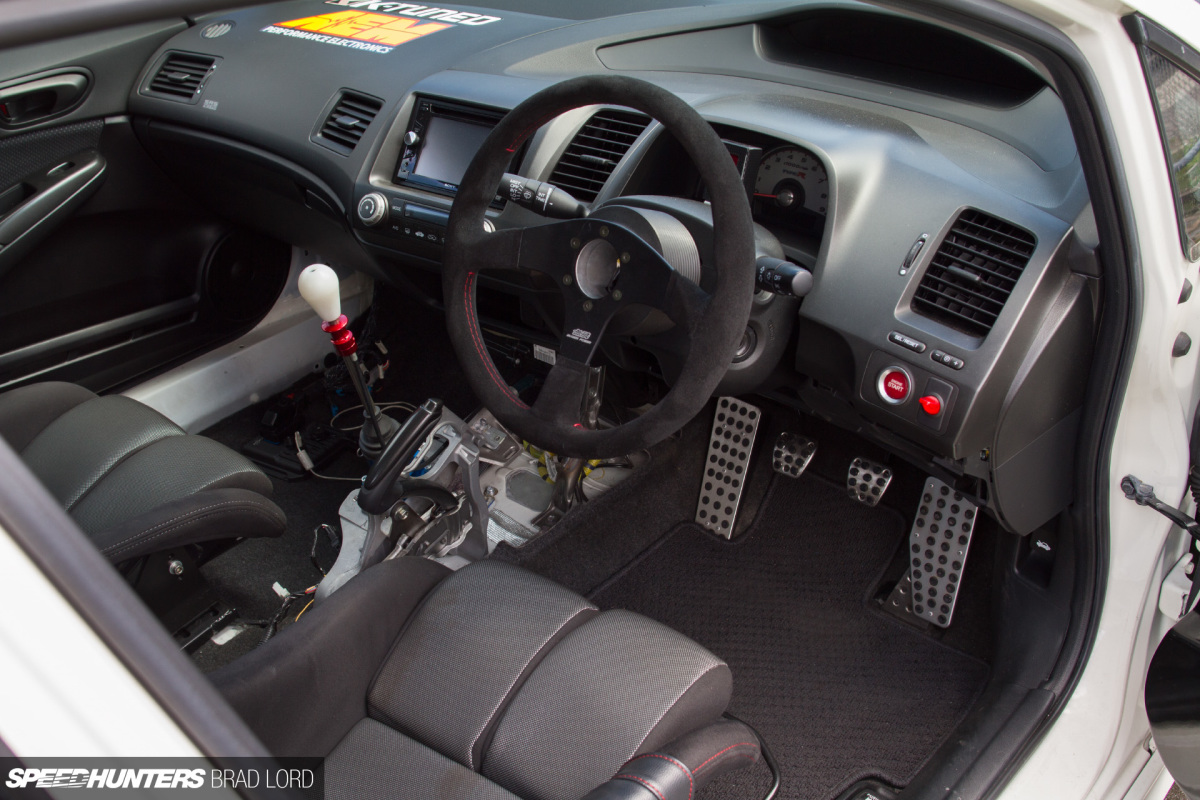 Jacky's still on the hunt for the matching Mugen one make centre console, which will be the perfect finishing touch for the Quaife sequential shifter.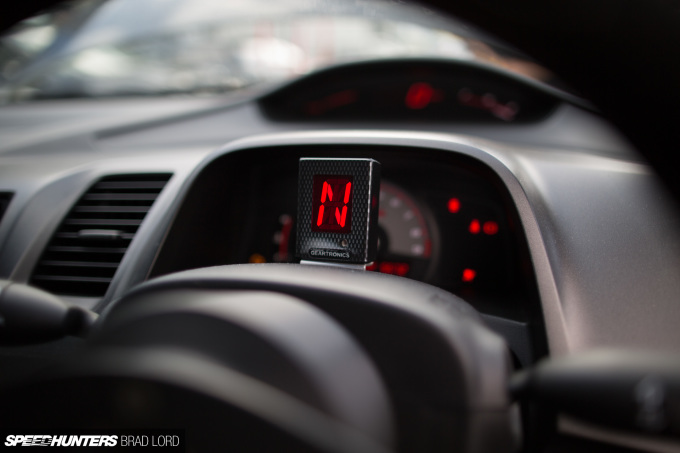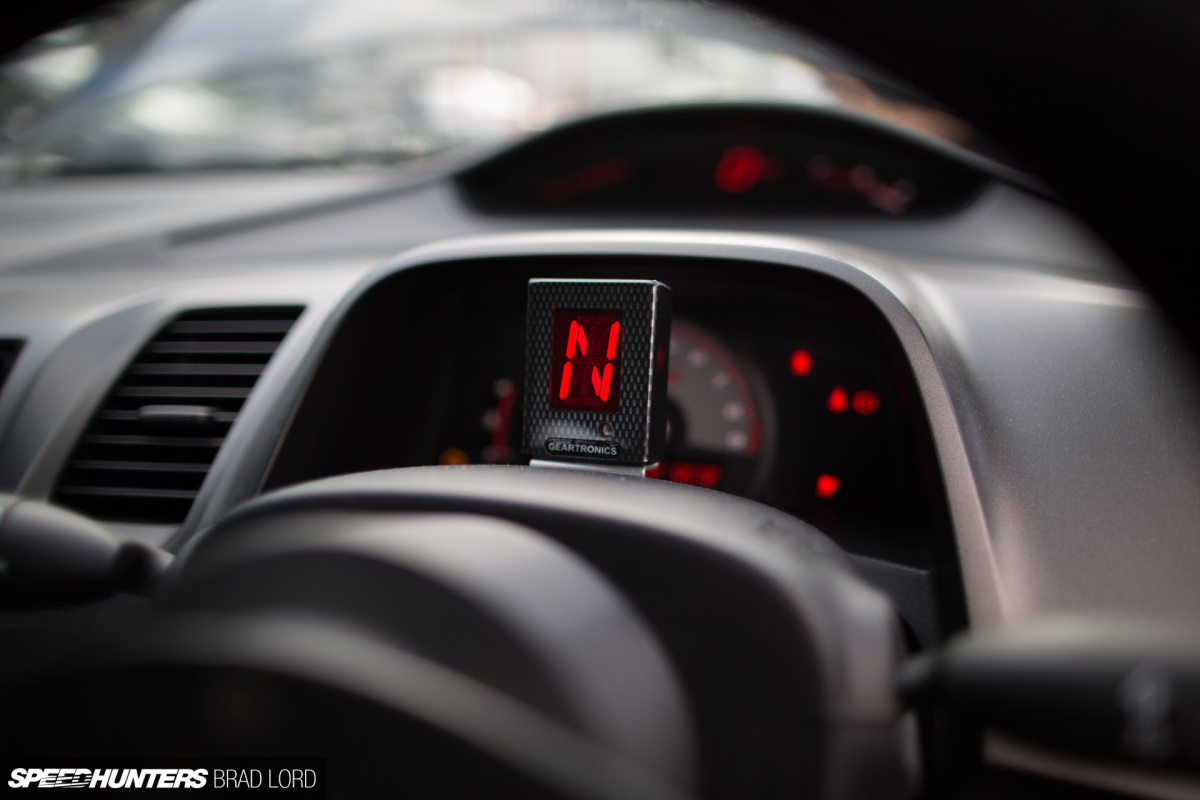 Yes, this street car runs a Quaife sequential gearbox, its digital gear indicator sitting just behind the Mugen suede-wrapped steering wheel.
In order to satisfy the factory CAN Bus system the car's original ECU remains (although, it's a Spoon modified unit), but on top of this Jacky is in the process of adding an AEM Infinity engine management system running in piggyback configuration.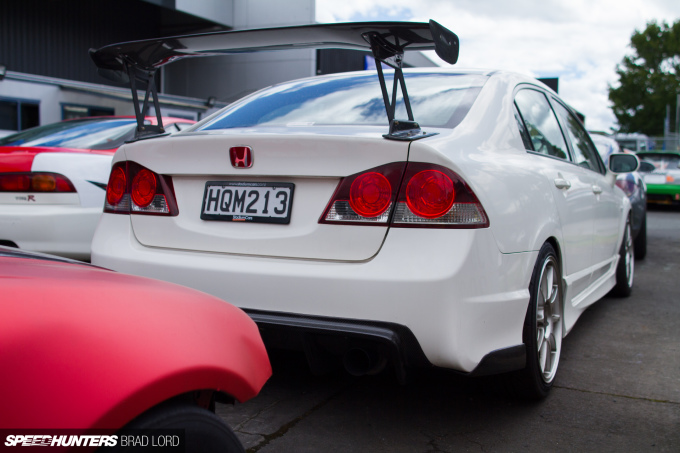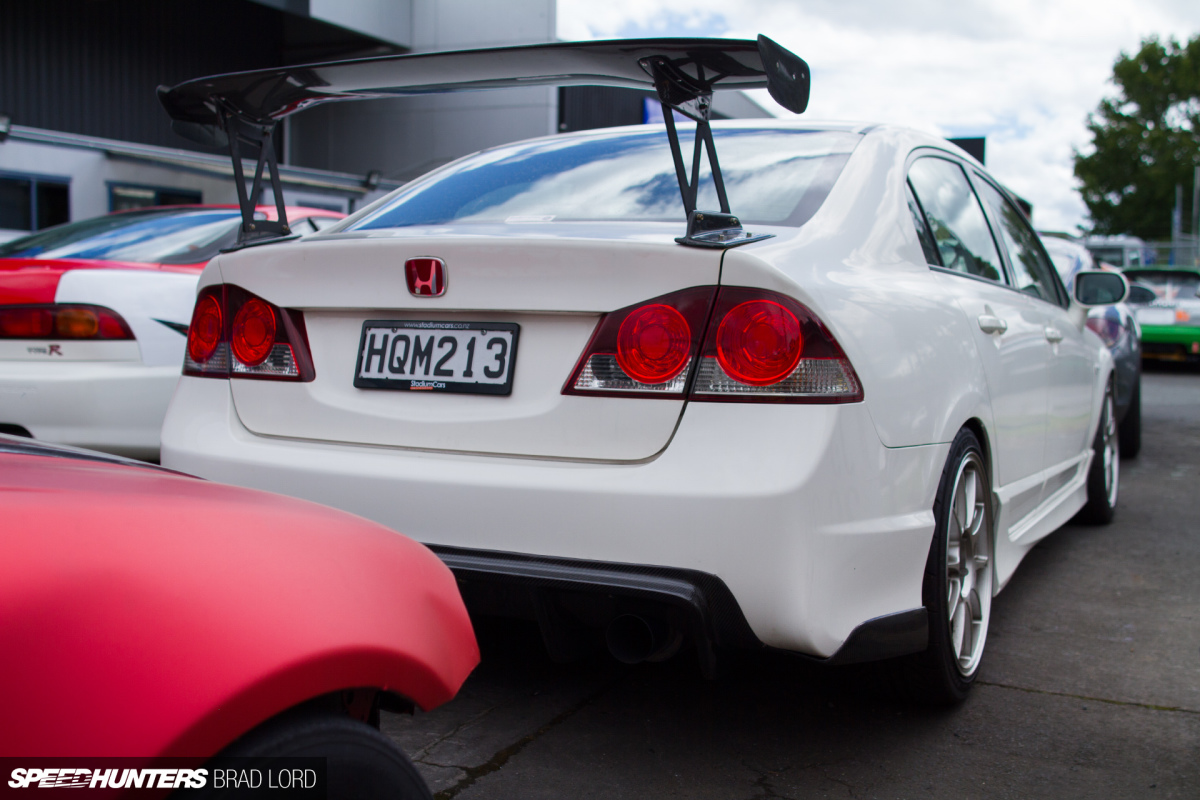 I like the simple aesthetic employed here; the Type R's original Championship White paint set off by a carbon fibre bonnet, front lip and GT wing, and 18-inch WedsSport TC105N wheels.
You might have noticed the front end of this Honda S2000 in one of the earlier shots, and although it's an older shop build – almost 10 years old in fact – and hasn't been used in a long while, it's definitely worth a mention. On top of the Amuse GT1 wide-body kit, the original F20C engine has been stretched to 2.2-litres courtesy of a Toda Racing stroker kit, and it now breathes through Toda VTEC Killer cams and TWM quad throttle body injection. A Nitrous Oxide Systems wet kit is installed for an added N2O kick.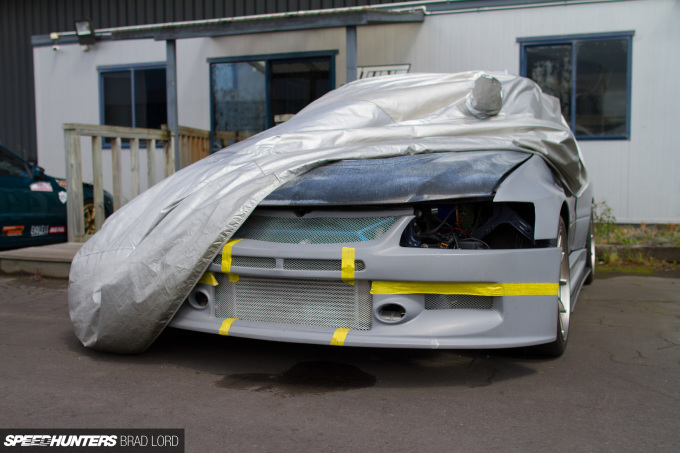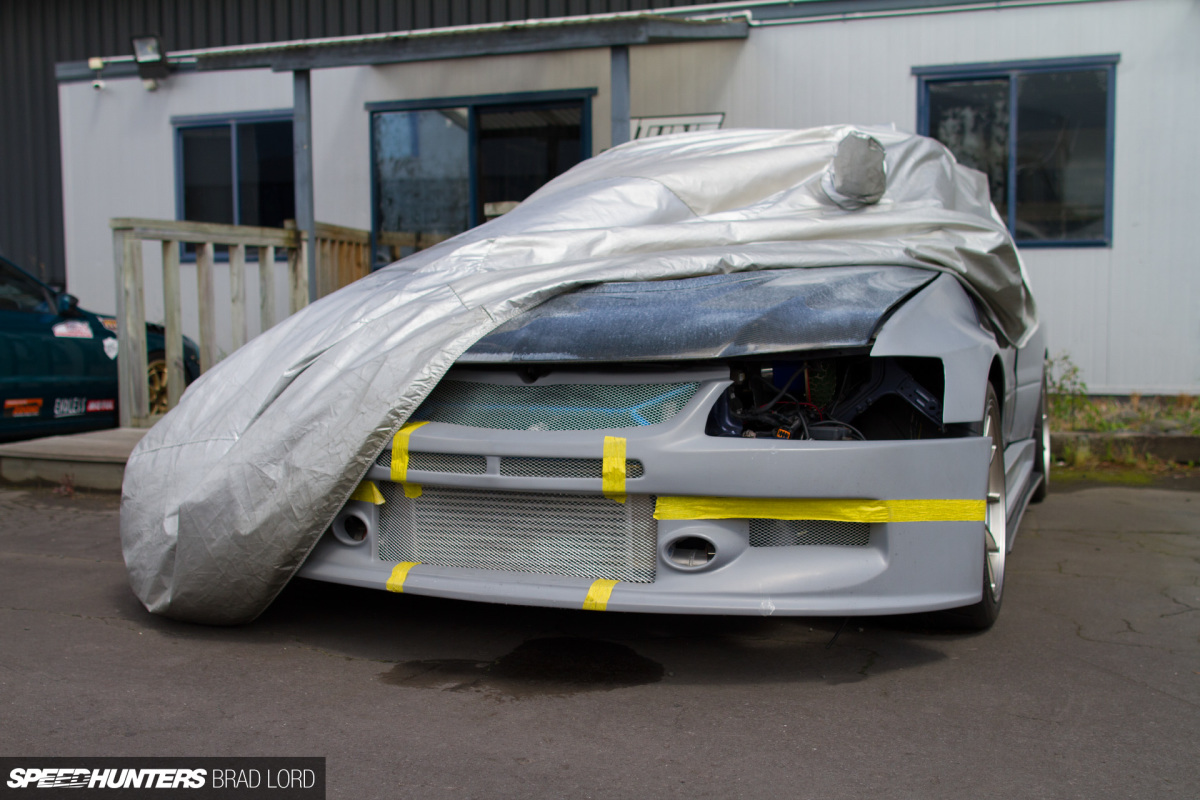 It's not all about existing projects or Hondas though; here's a Mitsubishi Lancer Evolution shop build that's currently being put together.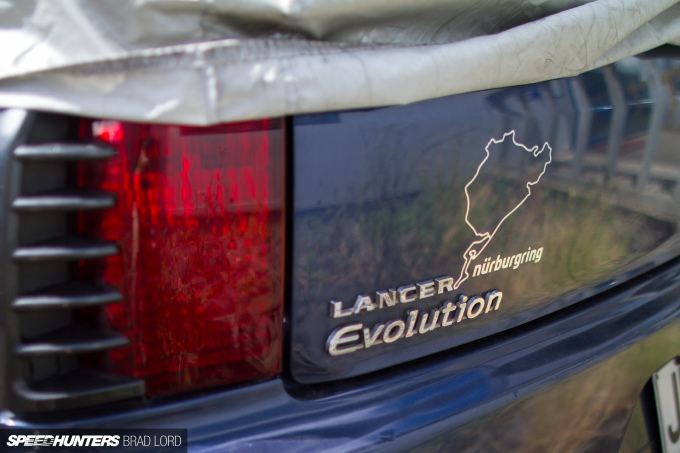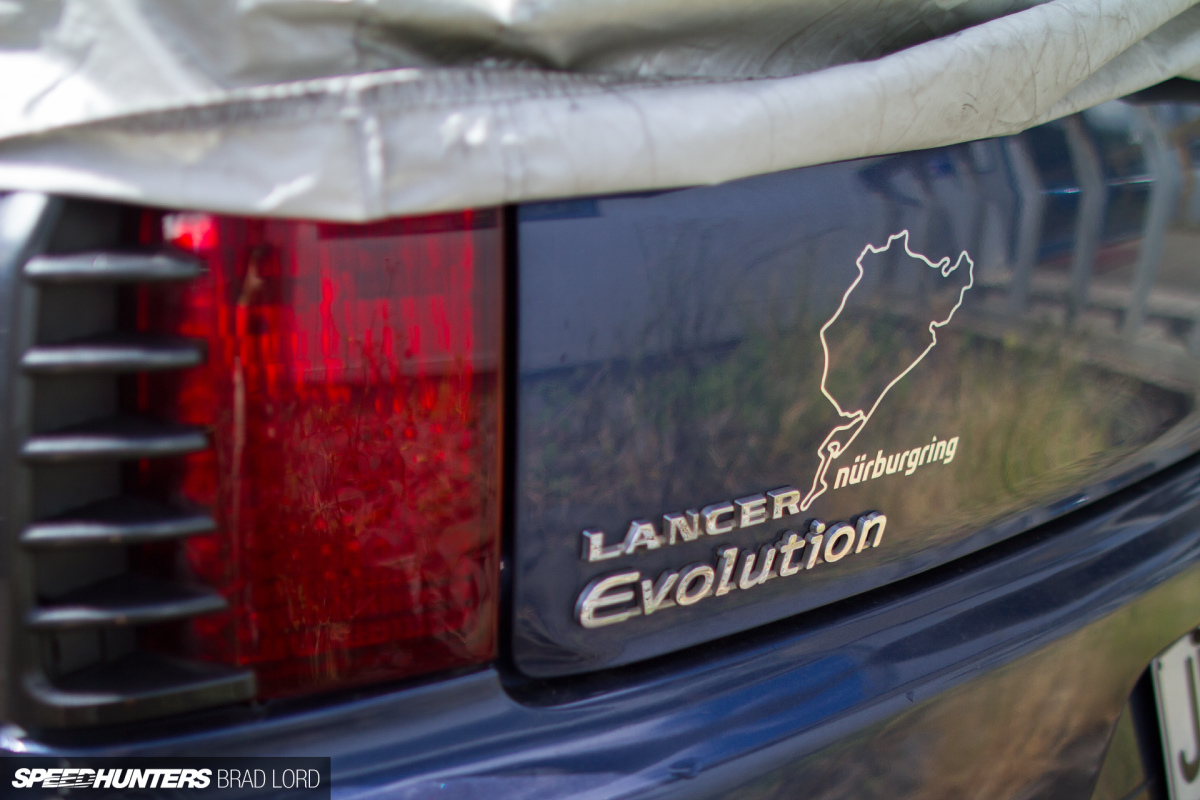 It's not just any Lancer Evolution though, rather a rare JDM 6-speed manual CT9W GT wagon.
Since I shot these pictures the Evo wagon has been sent away to have its new APR wide-body kit custom fitted, but as you can see from the images above it's already pretty well sorted in the performance department. The built 2.2-litre engine is running a large Precision turbo, and there's a large Endless brake upgrade inside the WedsSport wheels. I can't wait to see the finished product, and will be sure to take a closer look at the wagon once it's finished.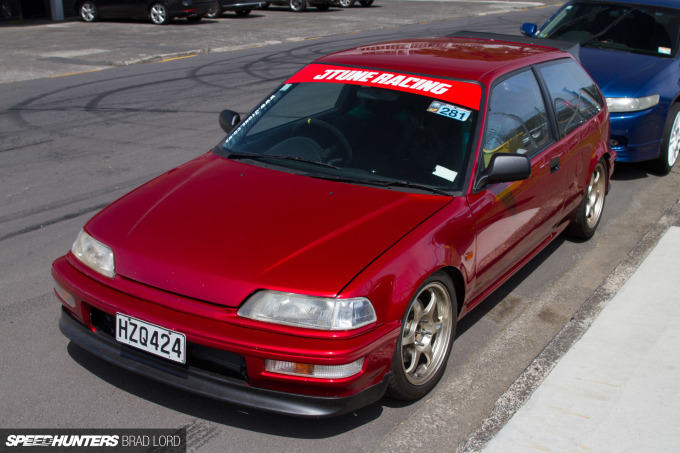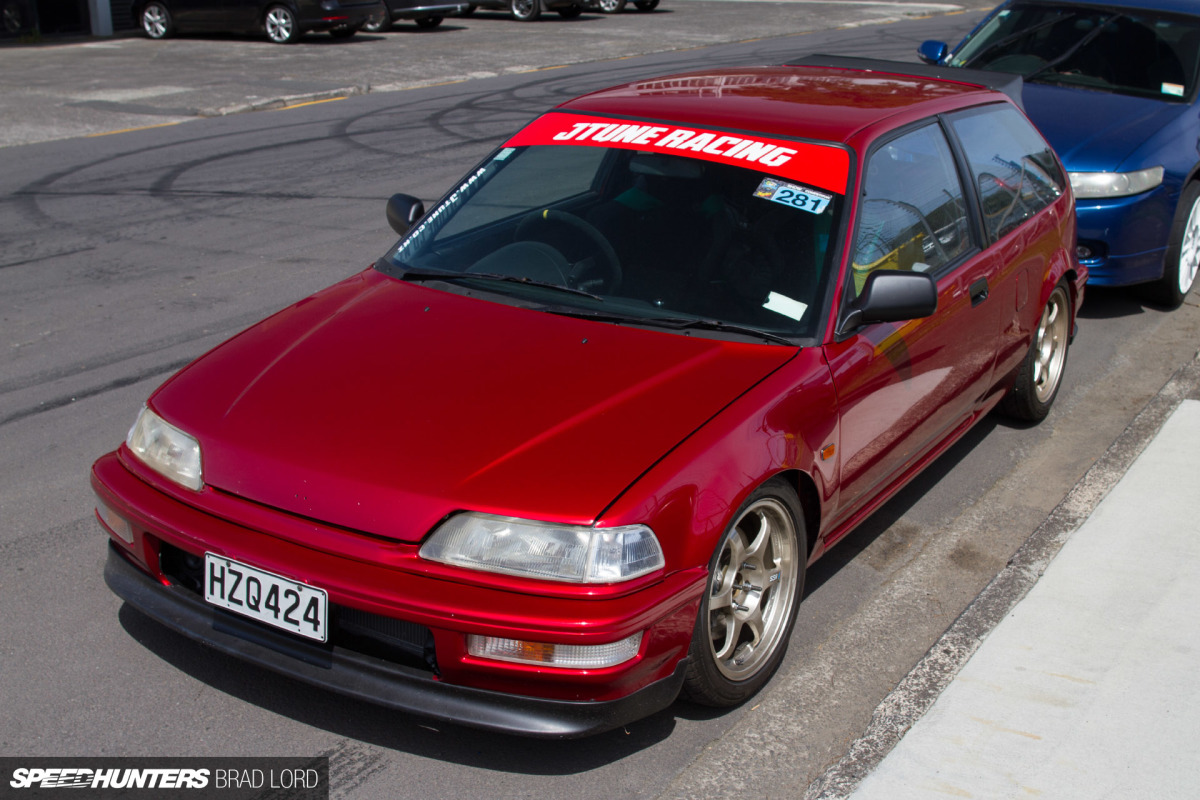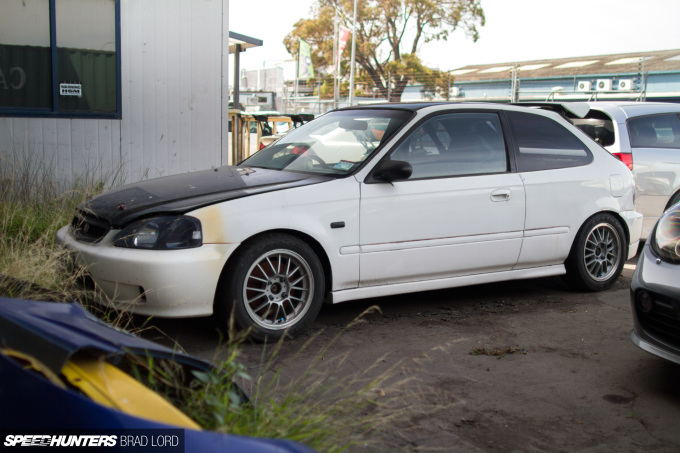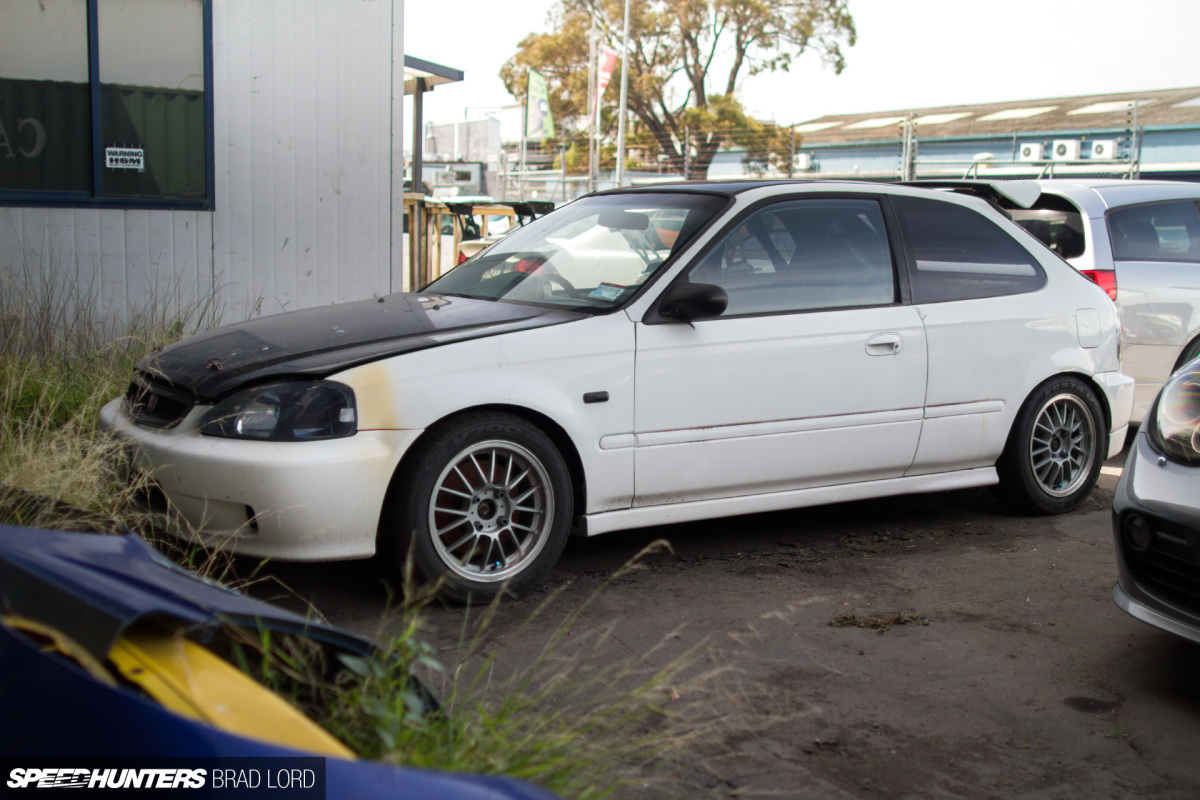 Elsewhere in the carpark and storage area, a mix of shop and customer cars, and parts ready to be recycled. Jacky tells me that the EK9 Civic Type R above has a bit of history, first being built by Auto Select in Japan and then raced in Macau before being imported to New Zealand.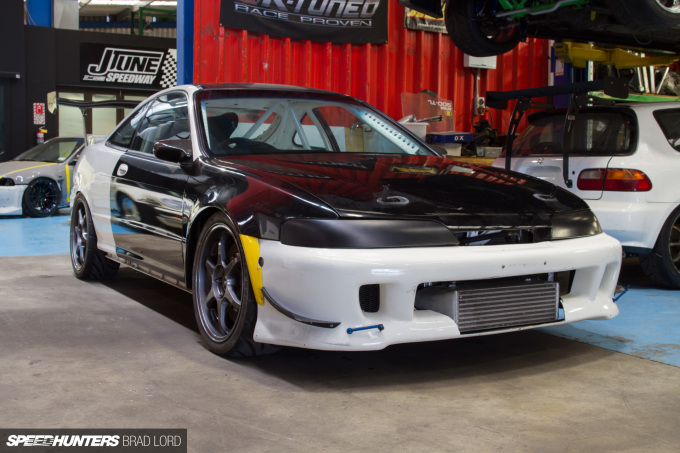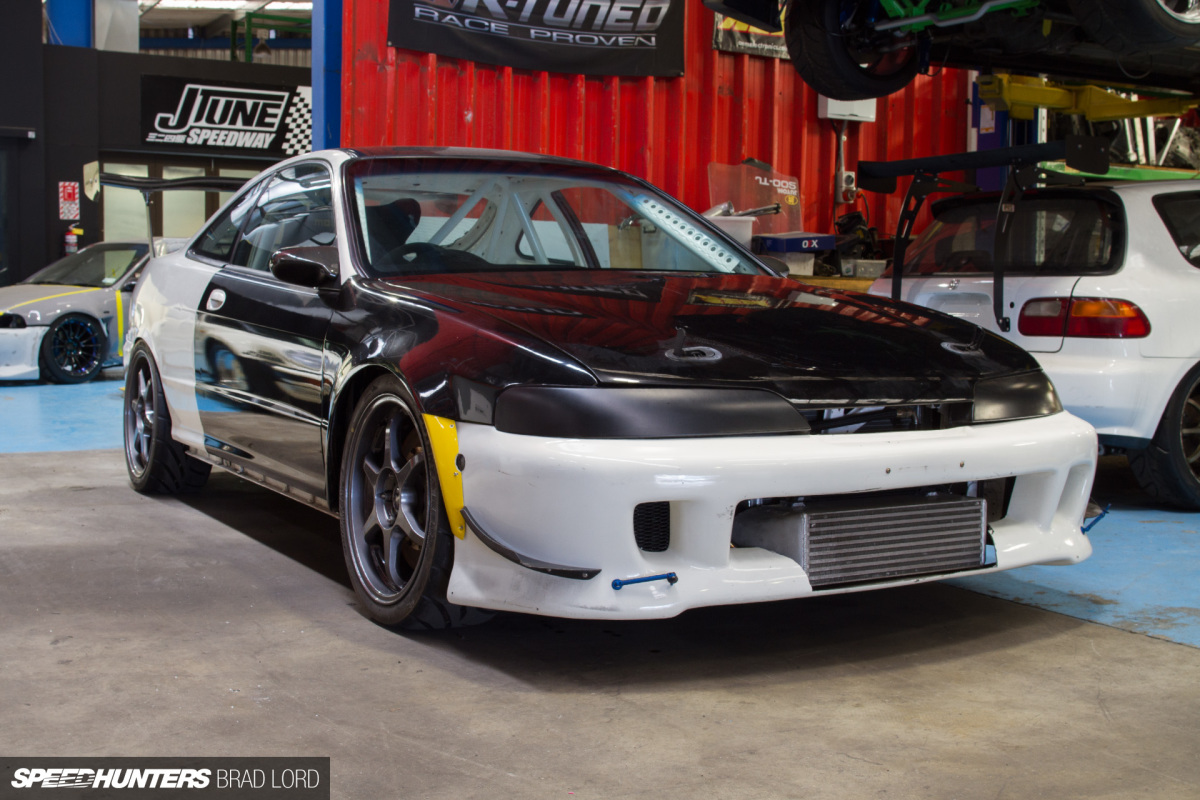 Heading inside the workshop, another build that will warrant a more detailed spotlight once it's completed is this DC2 Integra Type R. I actually featured this Honda back in 2013, but in the five years since then it's gone through a substantial transformation from street car to race car.
It's still K24A powered, but natural aspiration has given way to forced induction with a fresh forged build and a Rotrex supercharger.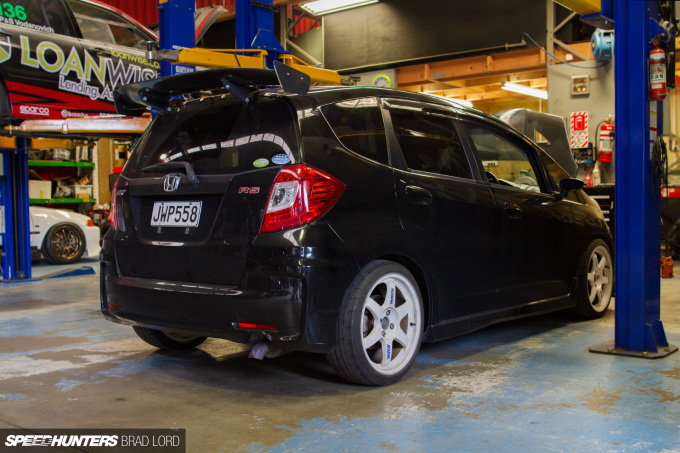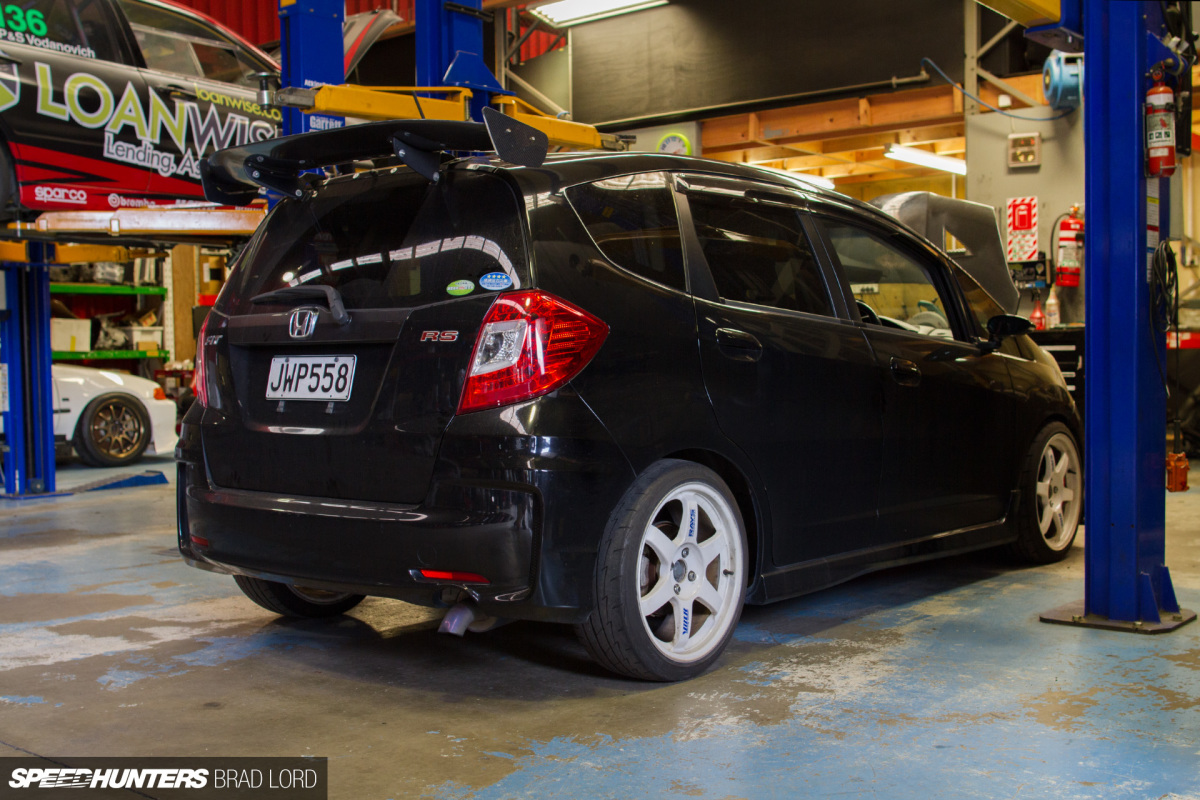 A more recent addition to the JTune fleet is this 2010 Honda Fit RS. It arrived from Japan a couple of years back as a factory original 6-speed manual car, but in the time since it's received a few obvious upgrades including a carbon fibre hood and wing, RAYS Volk Racing TE37 wheels, and large AP Racing front brakes.
A little more inconspicuous is the Sprintex supercharger, which takes the Fit's standard L15A engine from 118hp to around 160hp.
But it's not going to stay this way for long; currently being cooked up is another one of the 200R K24 packages which will slot straight into the GE8's engine bay via the Hasport mount kit above. A K-series 6-speed manual transmission will also be used, but this one's being fitted out with a custom gear set (3rd through 6th) to make the most out of the powerband.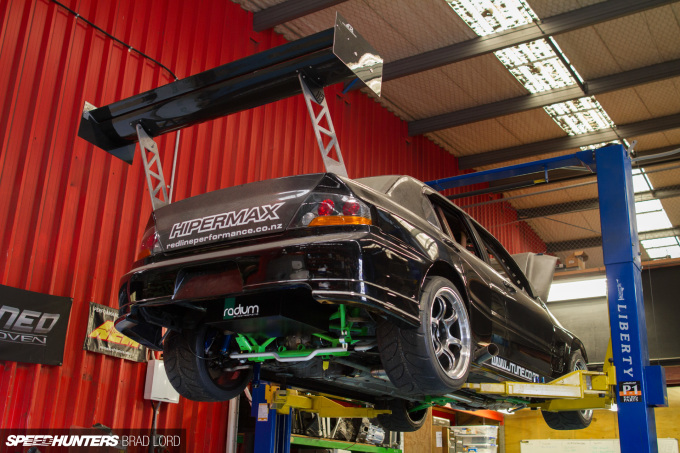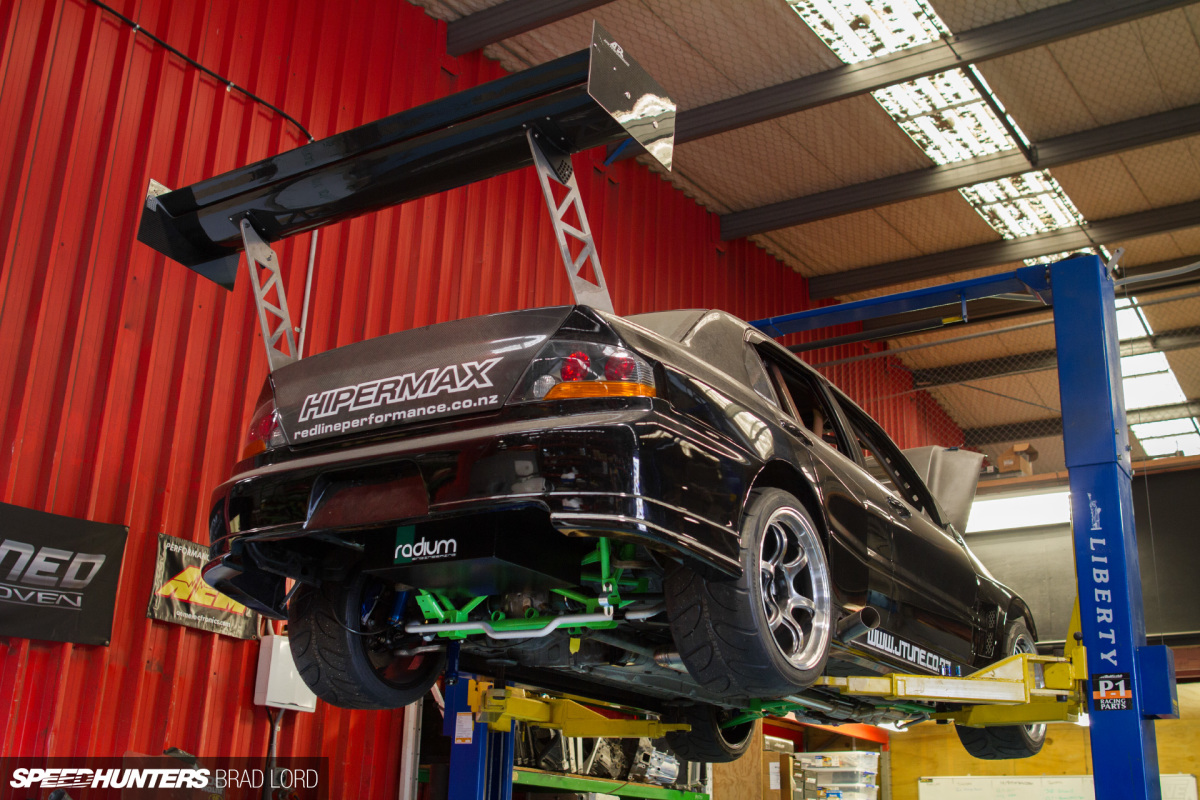 You saw the black Evo in the opening shot and I mentioned it earlier, so I think it's about time for a quick look.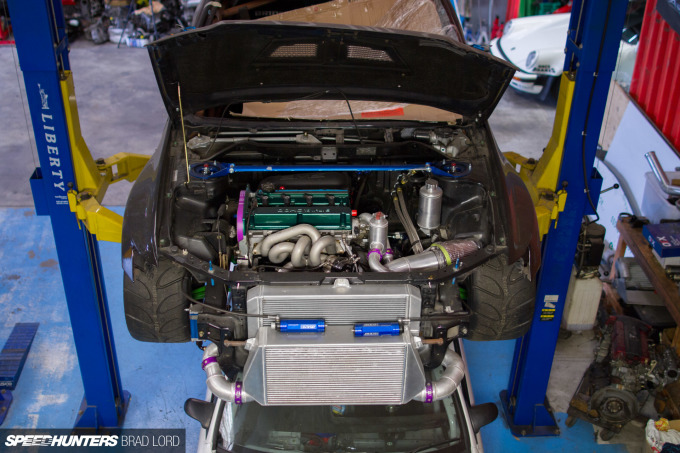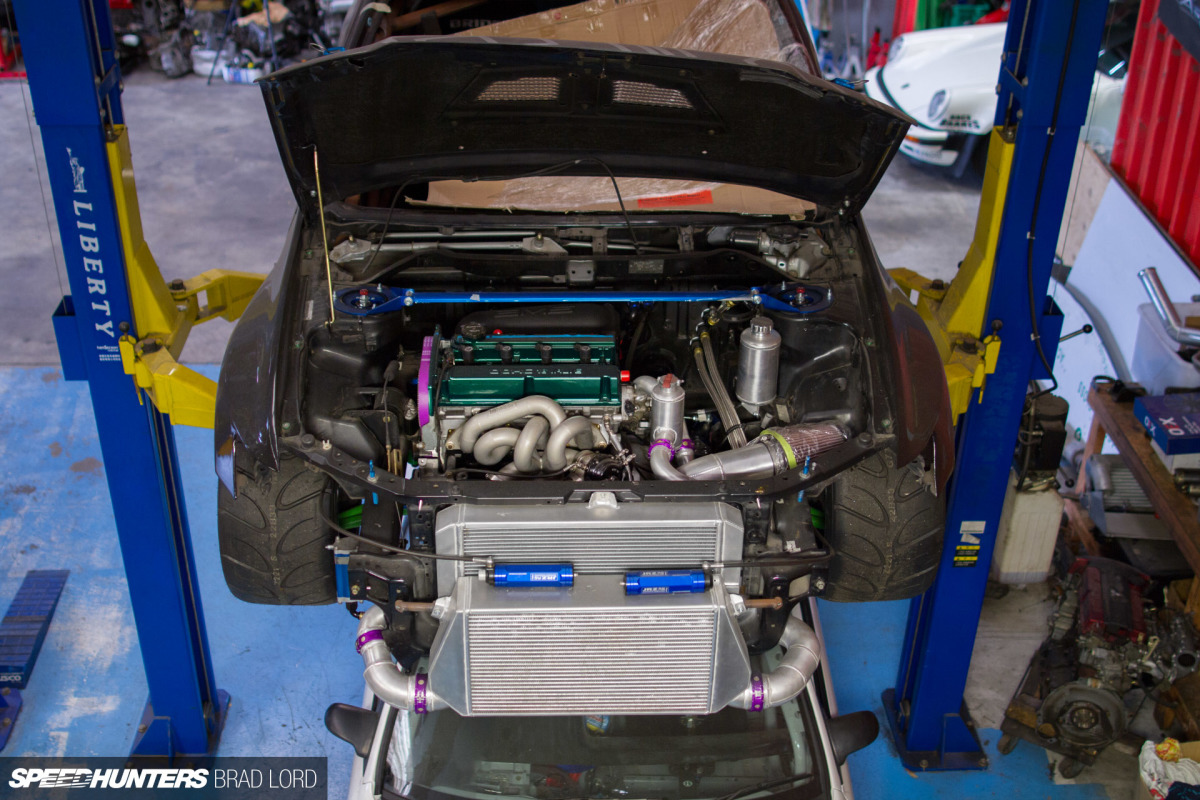 Of all the builds going on in the JTune workshop, Jacky's time attack project is easily the most highly anticipated. I honestly couldn't tell you how long the Lancer Evolution VII has been under the knife, but with each passing year it's gotten more and more impressive. The best part of all is, it's now oh-so-close to being fired up, tuned, setup then shaken down.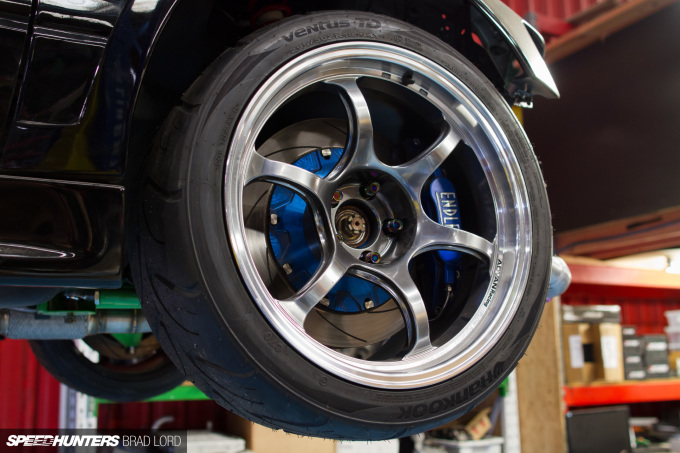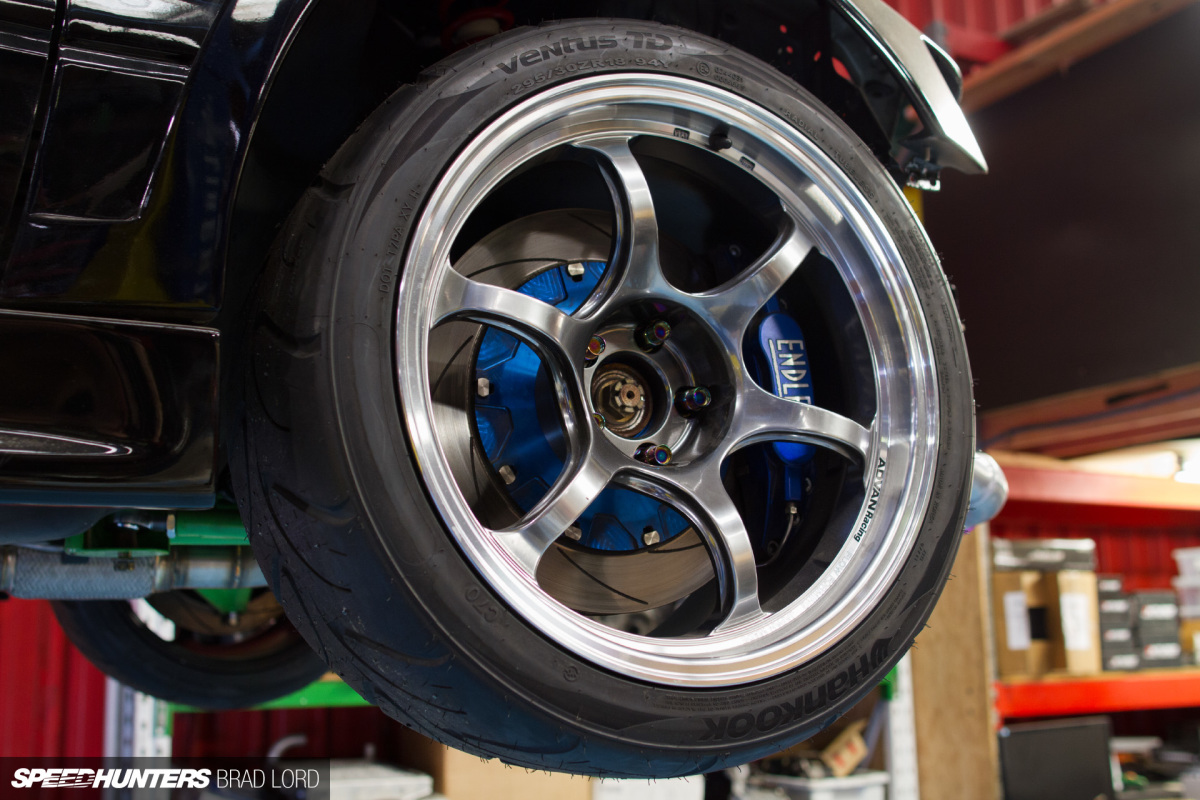 While I love to see time attack boundaries being pushed in the pro/unlimited classes of events like WTAC, there's something special about a car that still cuts a tuner-style silhouette, and that's exactly what this Evo will do. The black APR-enhanced body over Advan Racing RG-D2 wheels looks superb.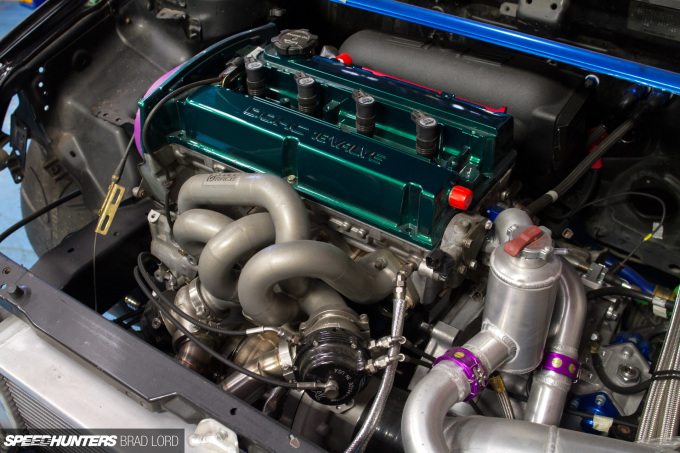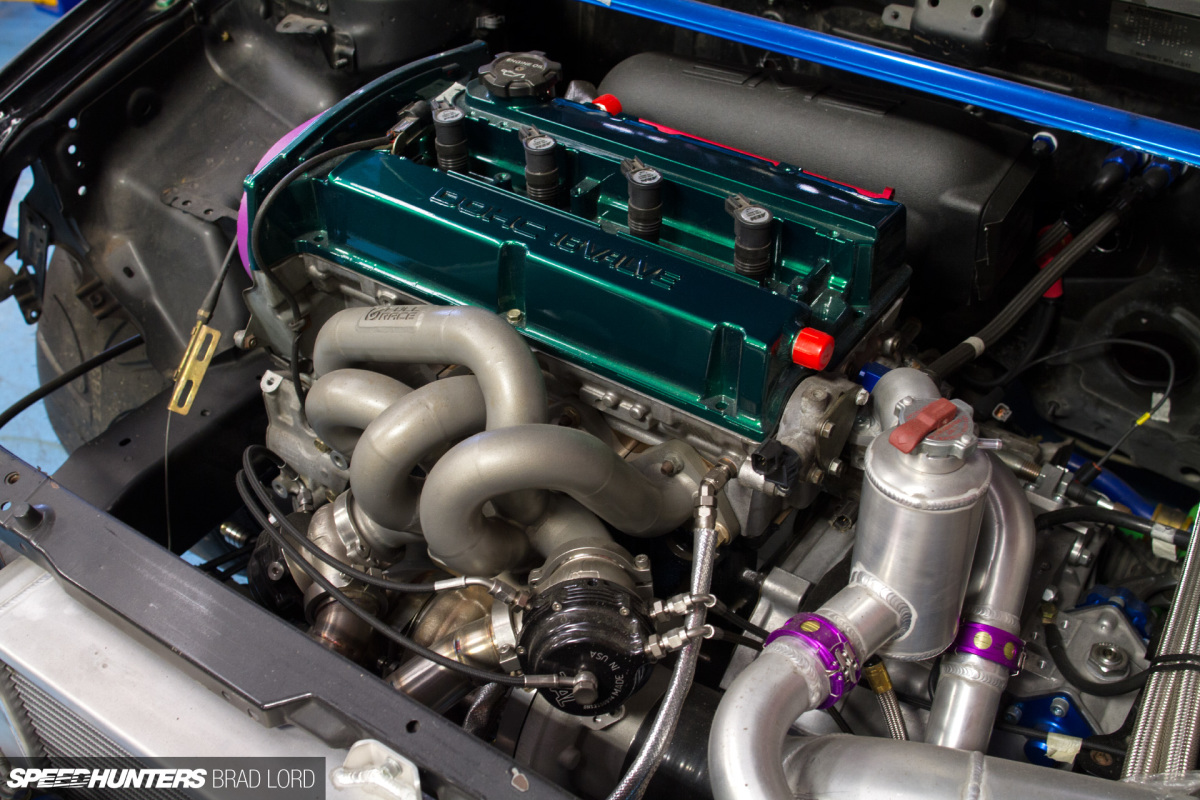 It's definitely not going to be short on performance either; the engine is fully built 2.3-litre unit running an AMS intake and a BorgWarner EFR series based Full-Race turbo system, all tuned through a Life Racing ECU. And yes, this one's running a Quaife sequential gearbox too.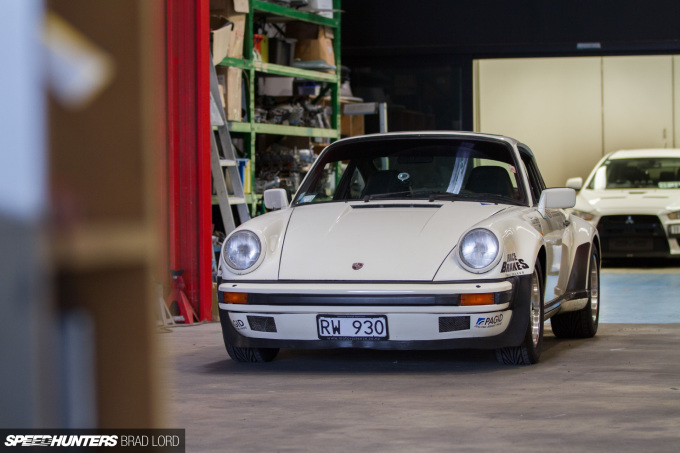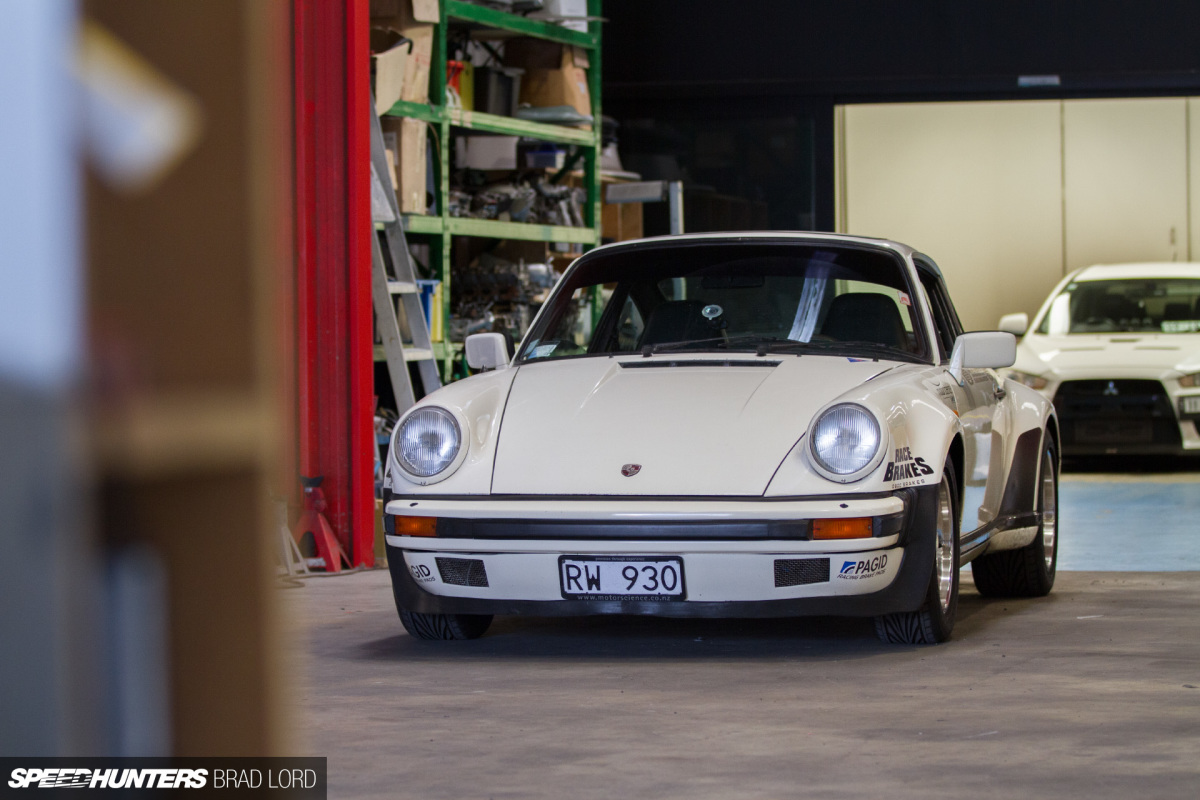 One car I didn't expect to find in the workshop during my visit, but was pleasantly surprised to, is undoubtedly New Zealand's most famous Porsche 911 Turbo.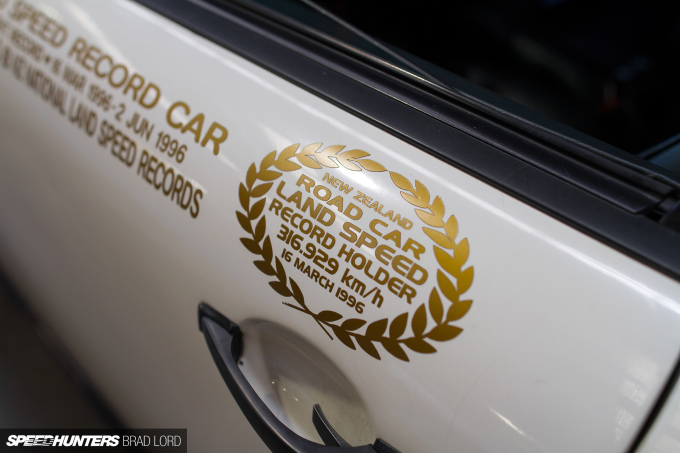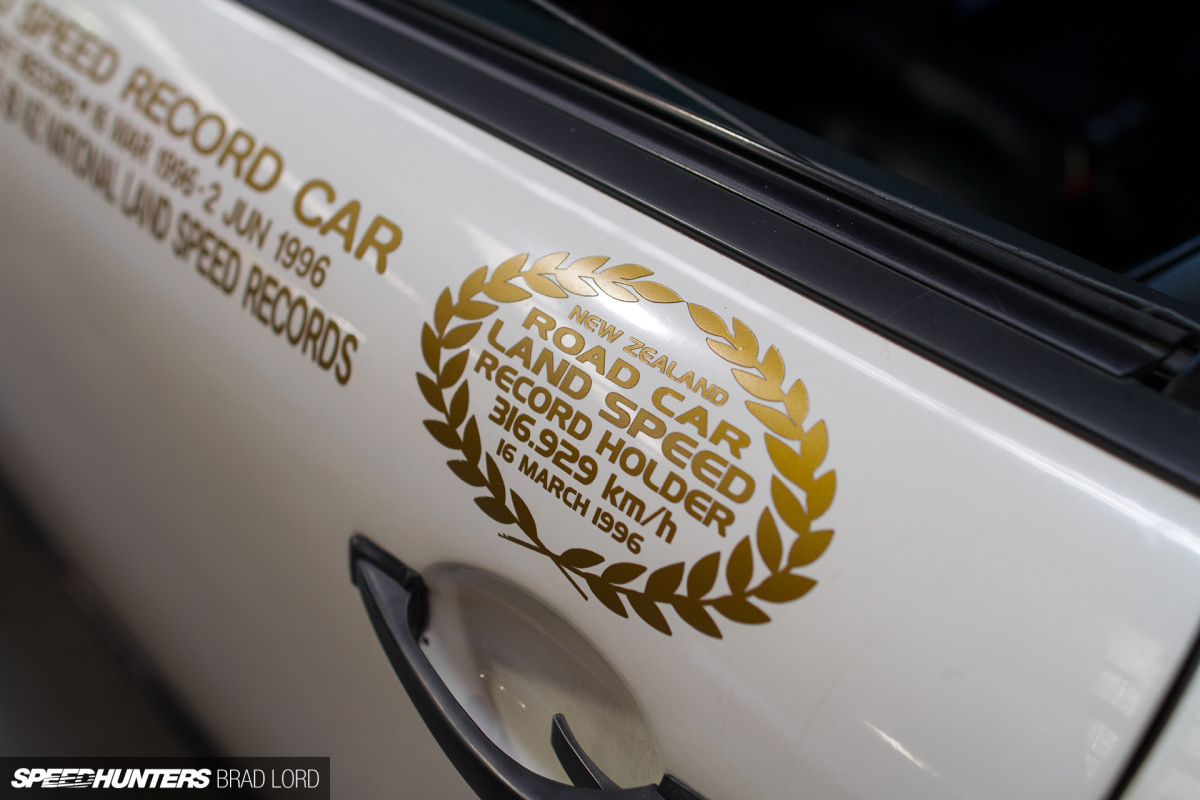 'Racing Ray' Williams purchased the 930 as an Dubai import in 1988, and in the years since it's racked up some pretty impressive local accolades, including winning the 1991 Bridgestone-Porsche Championship outright. Amazingly, right throughout its racing career it's been maintained as a road car, and 30 years on it's still registered and regularly street driven.
Of all the car's achievements, there's one that stands out above all other, and the Turbo proudly wears it as a badge of honour on its doors.
In attempting to better a 348km/h Porsche 930 road car top speed record set on the autobahn, in the mid-'90s Ray had the 3.3-liter flat-six fully built and modified with a larger turbo, huge intercooler and MoTeC engine management, resulting in close to 600hp. A taller top gear ensured the 930 had the potential to match the German record, but ultimately a lack of quality road for such an attempt (and a wet one at that), saw Ray post a two-way average speed of 316.9km/h. His quickest down-wind run was closer to 330km/h, which let's face, is pretty damn impressive in its own right. Press play above to watch some old school video of the attempt.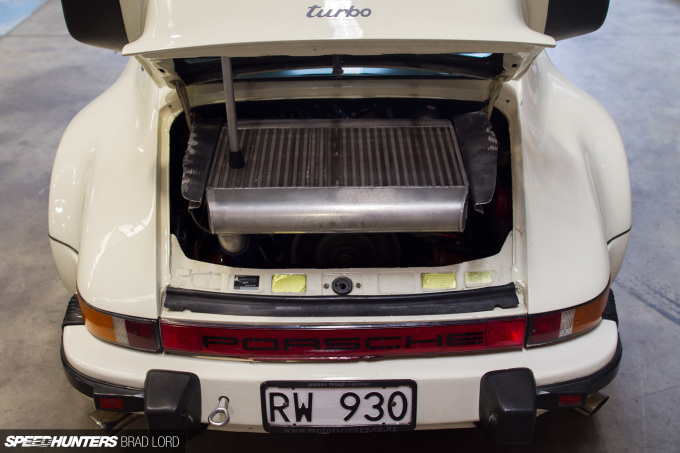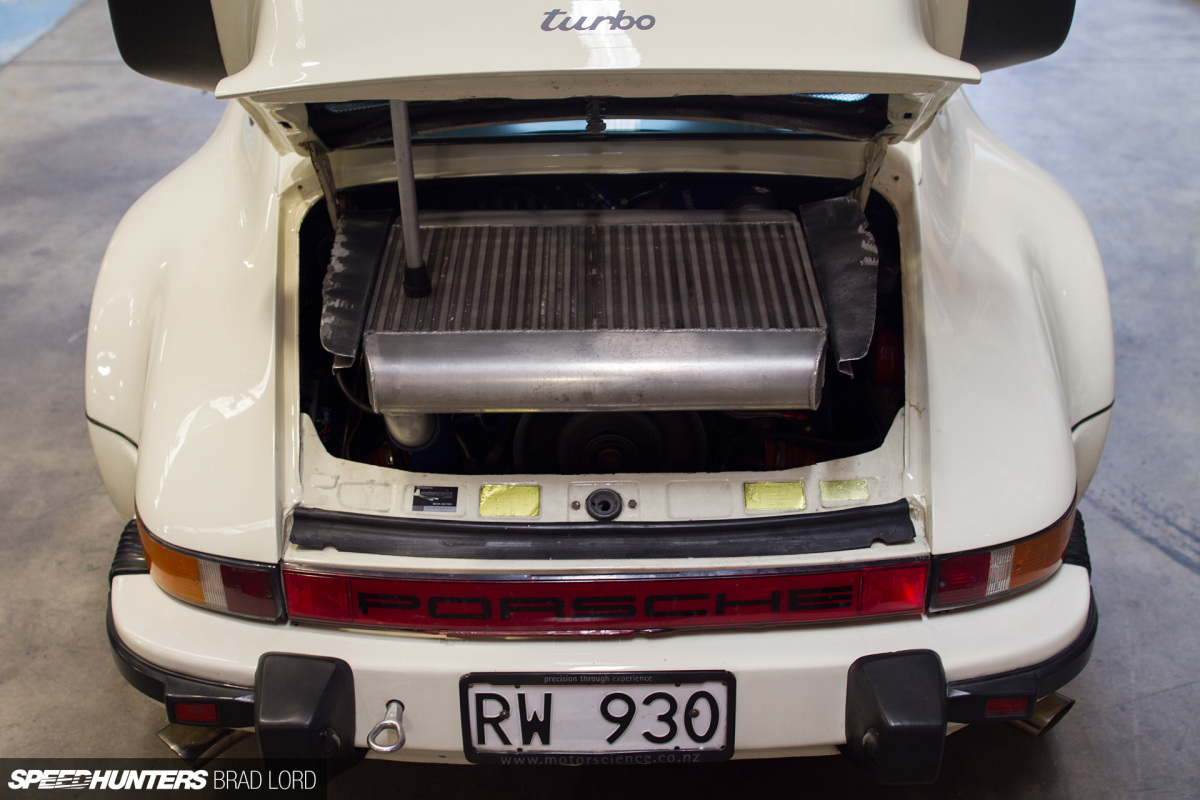 Although the 930 is detuned now, it was definitely cool to have a nose around the car. It was in at JTune for Jacky to install and set up a Zeitronix wideband system.
While general maintenance (this JDM imported NSX was in for an engine-out service), dyno tuning, Honda engine conversions and Honda race car preparation is JTune's bread and butter, it really is more of a one-stop performance shop.
Engine building, gearbox rebuilding and modification, and light fabrication (think exhaust systems and intercooler pipework) is also on the menu.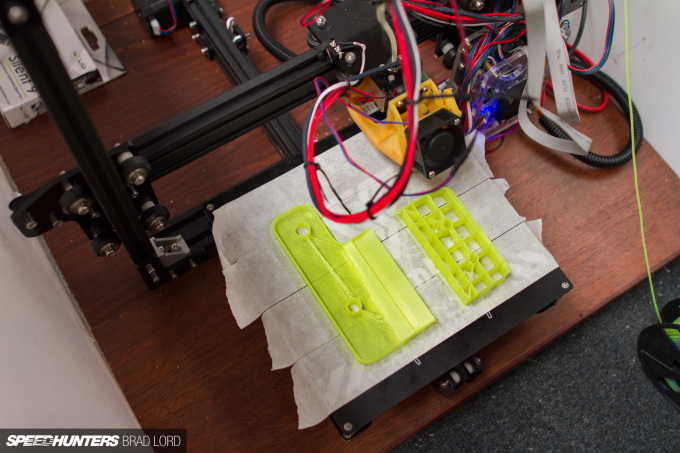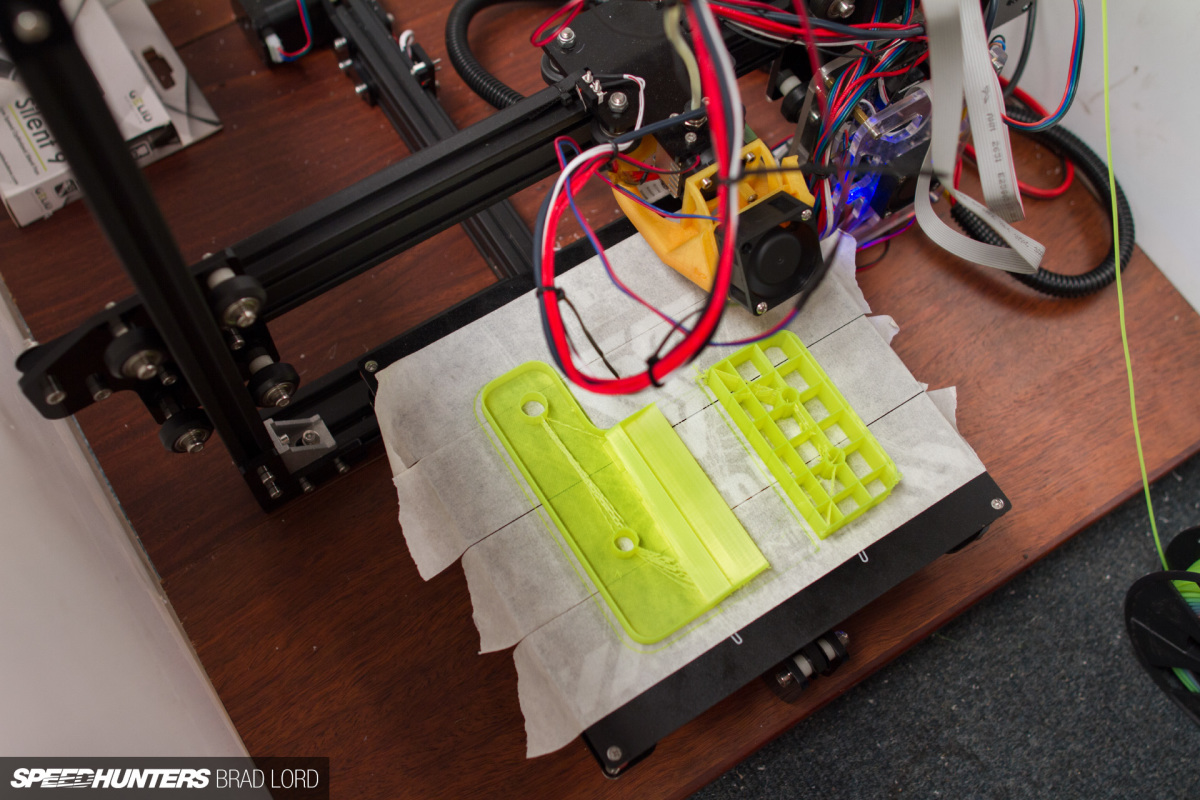 Thanks to the advances in cost effective 3D printing, the shop has also started prototyping its own parts using the medium. These components, designed in SolidWorks, will eventually be CNC-milled from aluminium and help attach a large GT wing to the back of the K24A-swapped and supercharged DC2 Integra Type R race car we took a look at earlier.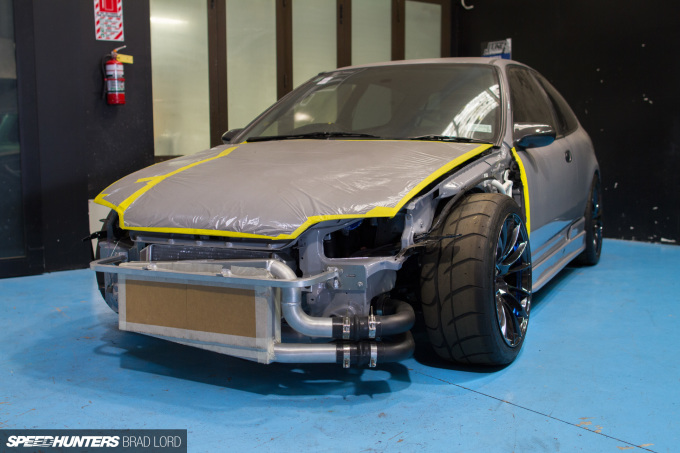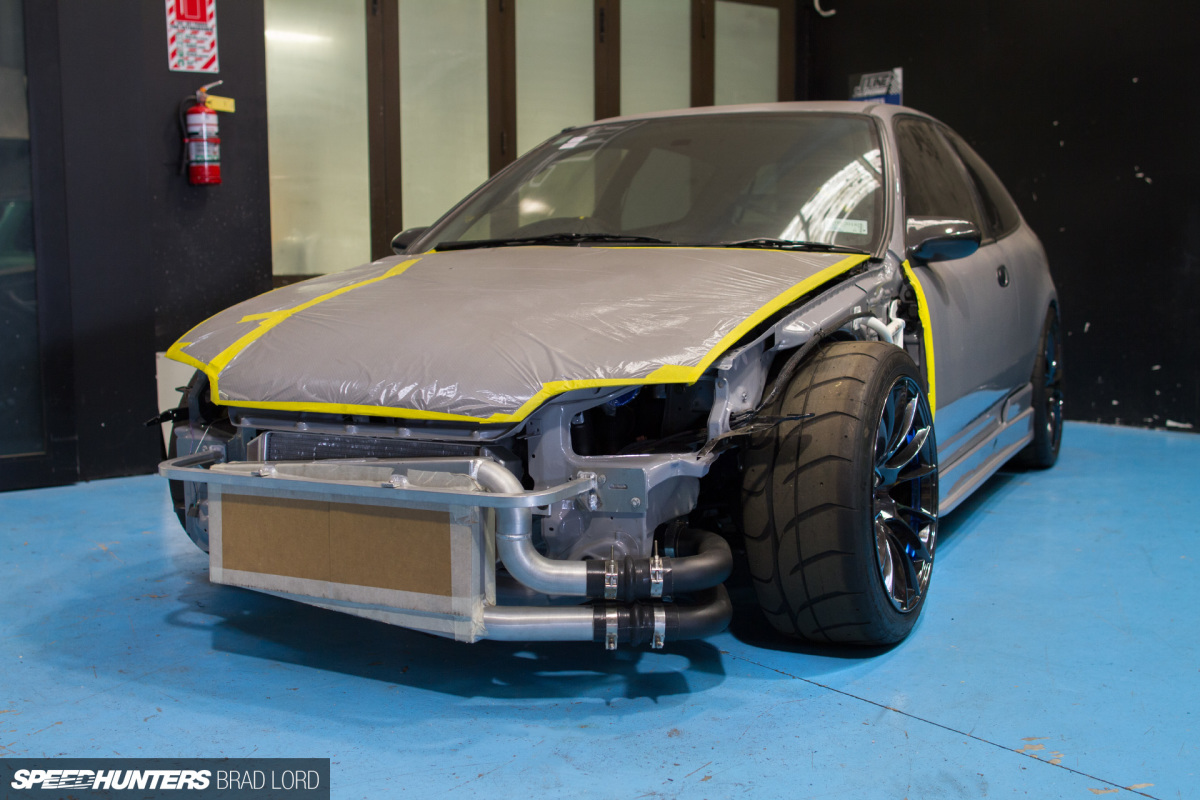 Towards the back of the workshop I found another car being built by one of JTune's staff. If you thought the white race car was the only EG Civic build going on in the workshop right now, you'd be wrong.
While this EG hatch is a street car first and foremost, its owner is definitely not holding back on modifications. In fact, it's going to be an absolute weapon when it's done. Even though the shift knob is currently removed, I'm sure you'll be able to figure out what sort of transmission it's running…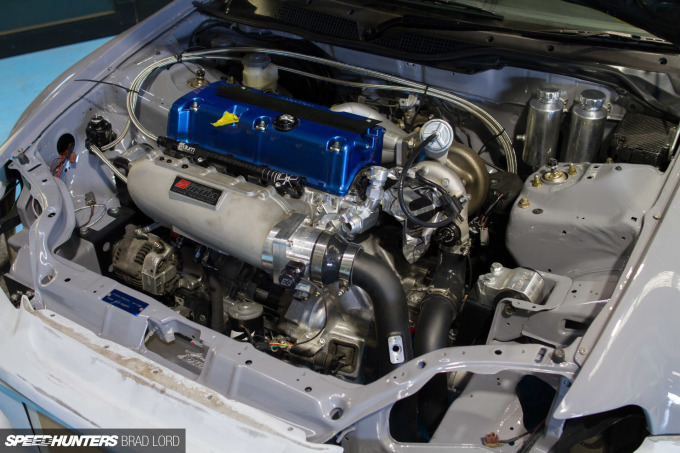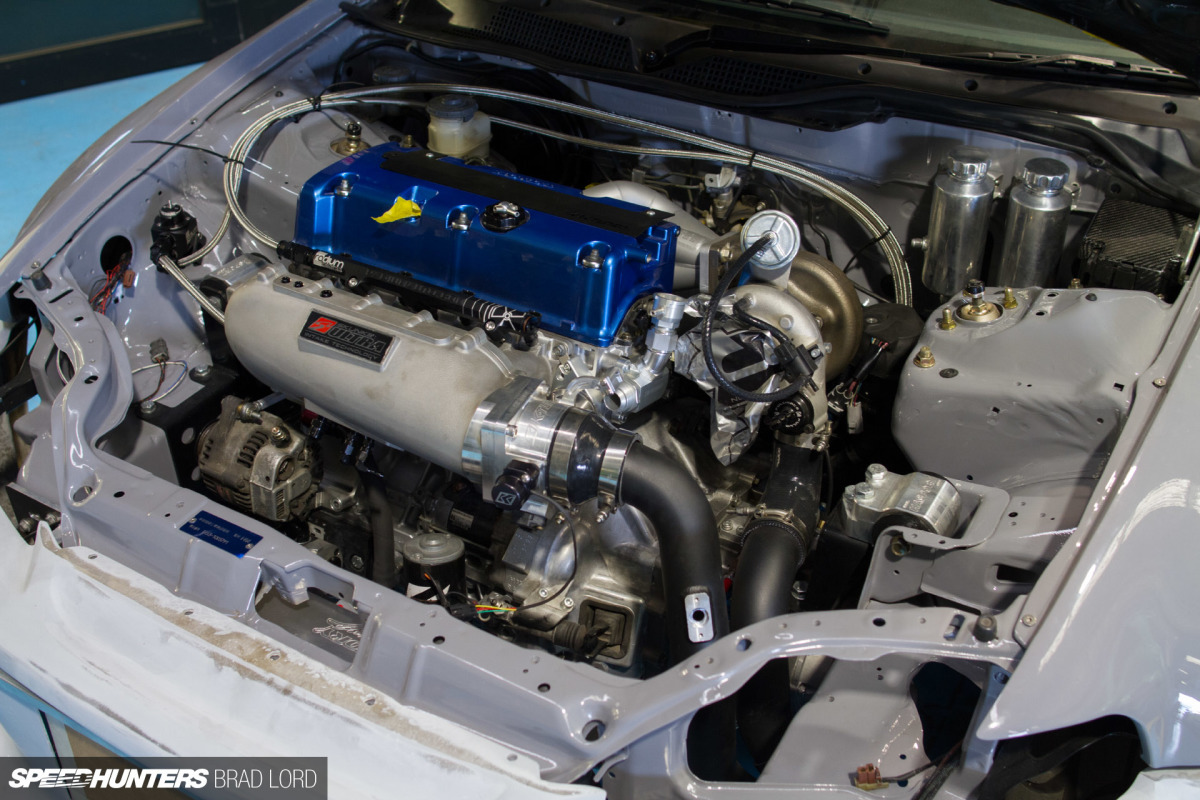 It too is bolted to a K24A engine, but in this instance it's been built up for forced induction. Providing that boost is a Full-Race turbo kit based around a BorgWarner EFR series turbocharger.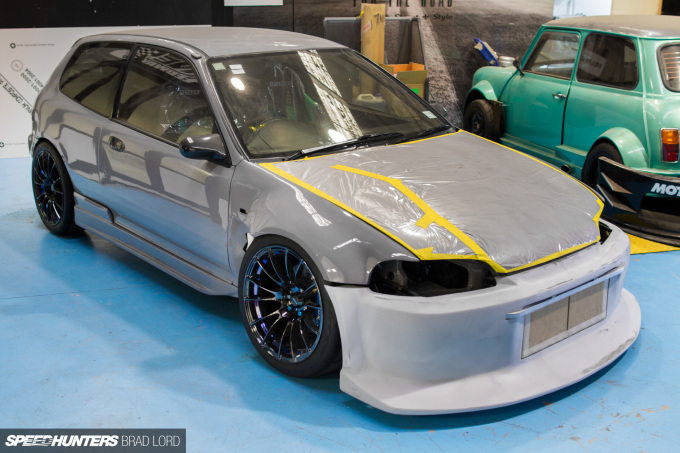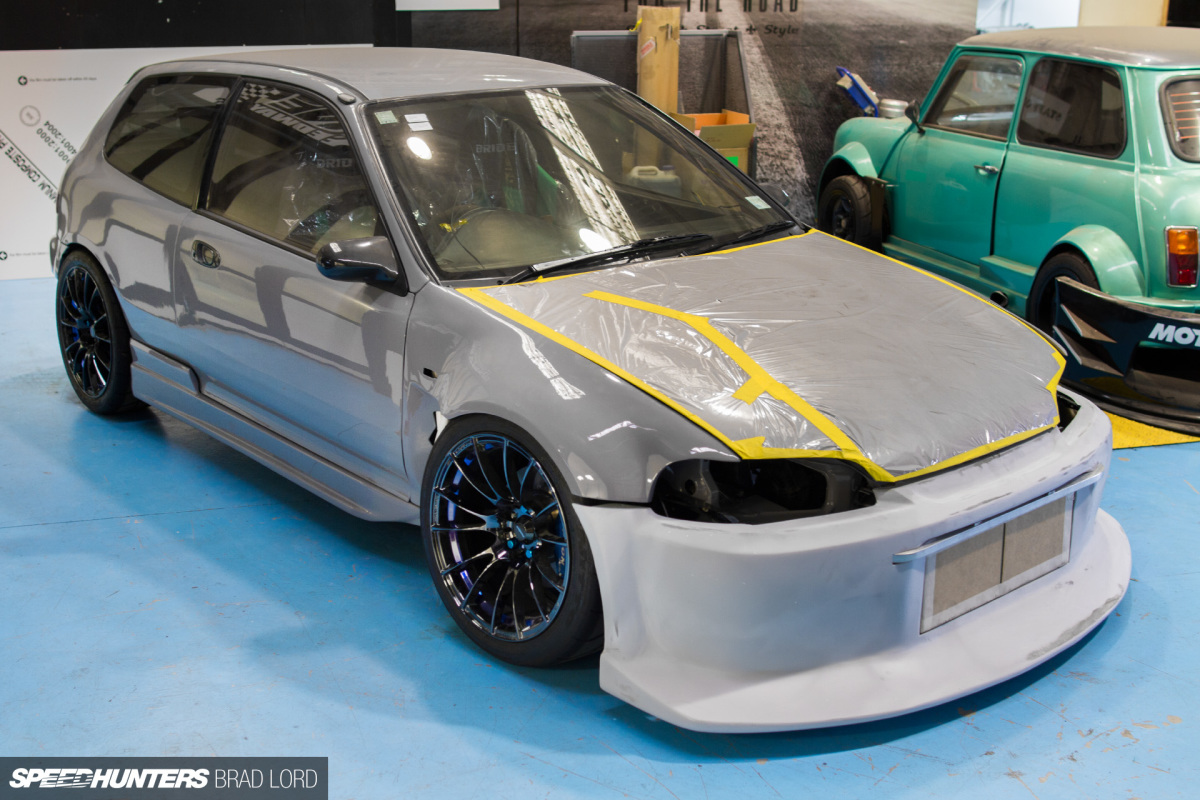 Another cool aspect is the custom body kit designed and constructed in-house. This will likely not be its final form – and there's still a large wing of the ducktail of GT variety to be decided on at the rear – but it's coming together nicely.
What's that Mini in the background, you ask?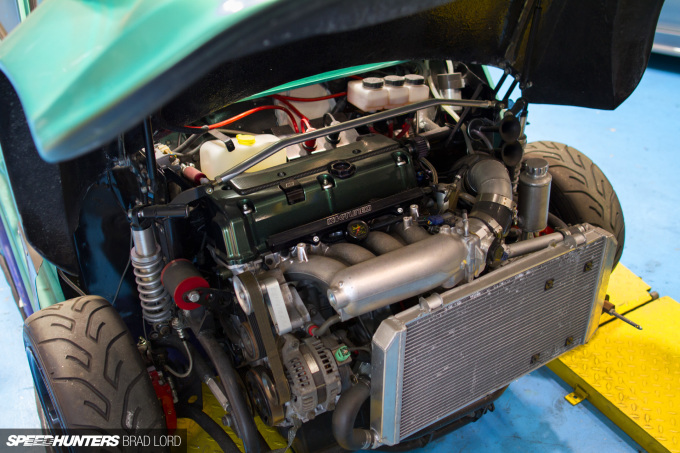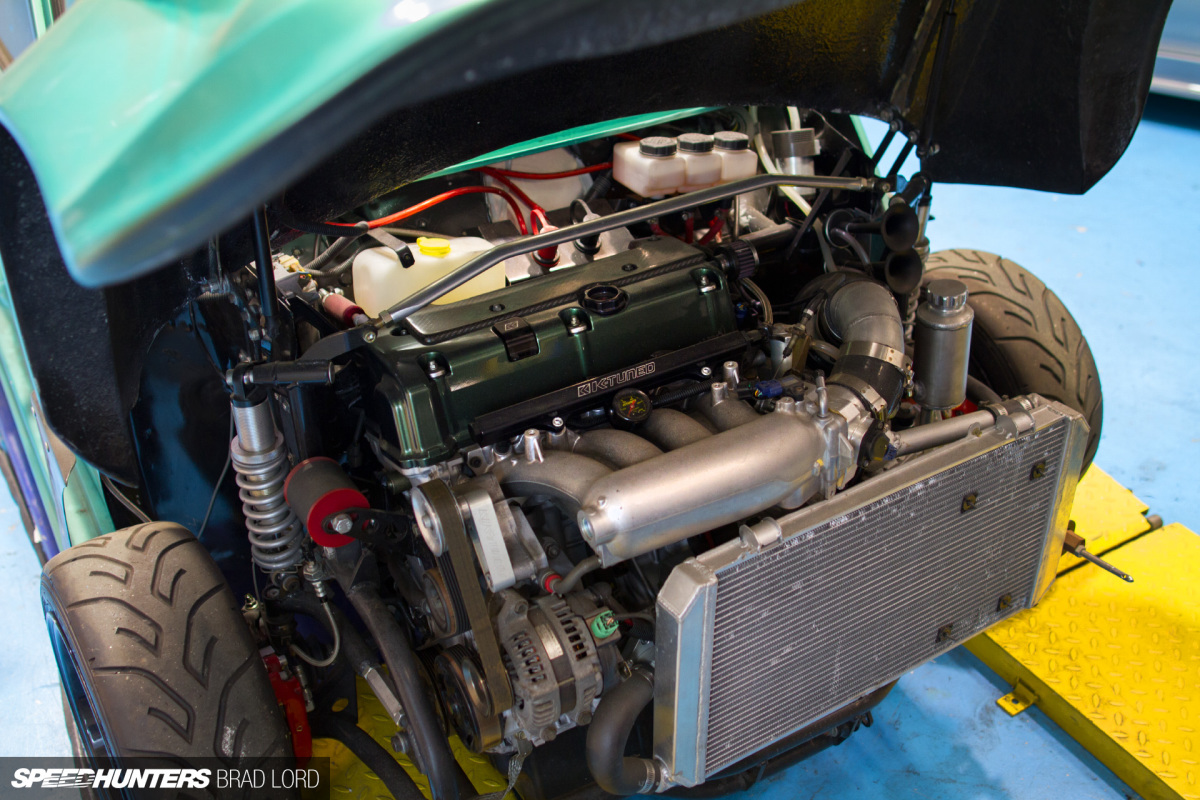 Oh, just another custom K-swapped JTune creation.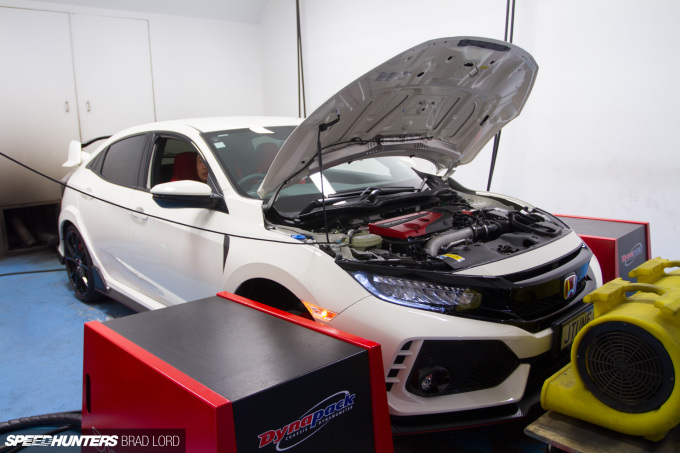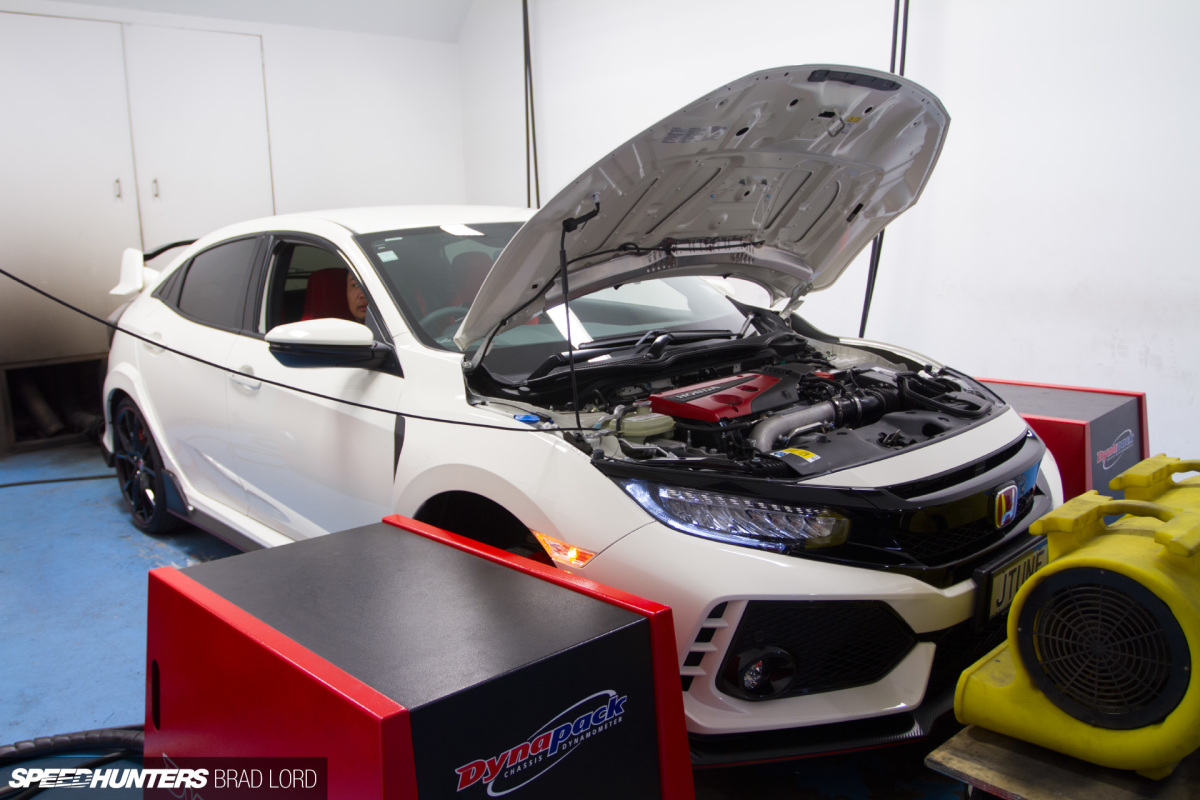 When I wrapped up my shoot with Jacky and his team, the shop's latest R&D acquisition was being run on the in-house Dynapack dyno to establish some base figures ahead of a series of planned upgrades. Motul brought a selection of 300V series oils to the party, and by the time they had all been tested the best of the bunch netted a 10hp again for the brand new FK8 Civic Type R.
It's going to be interesting to see how this car progresses over the coming months, but given JTune's results with other Honda builds, I think it's in pretty safe hands.
Brad Lord
Instagram: speedhunters_brad
brad@speedhunters.com