Reality Check
I'm about to sound like a super self-entitled twat, but Speedhunting is a hard gig.
After a few weeks of quiet reflection I can comfortably claim that, outside of starting a family, Speedhunting is the most demanding project I've ever worked on. But for all of the long gruelling days of travel, and nights being locked away from friends and family in isolated darkness, it's a job that also presents incredible opportunities.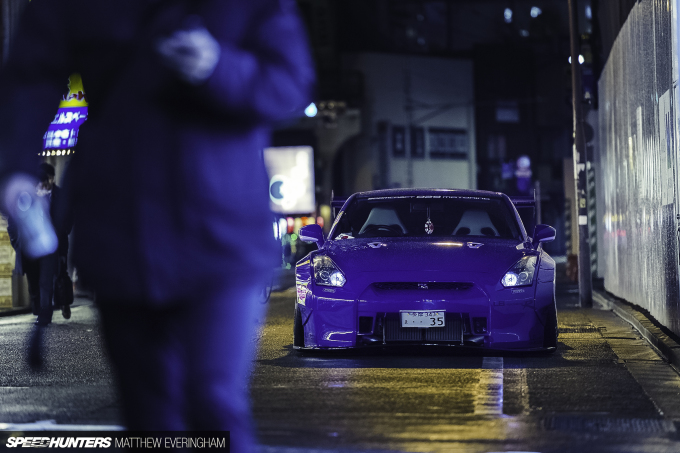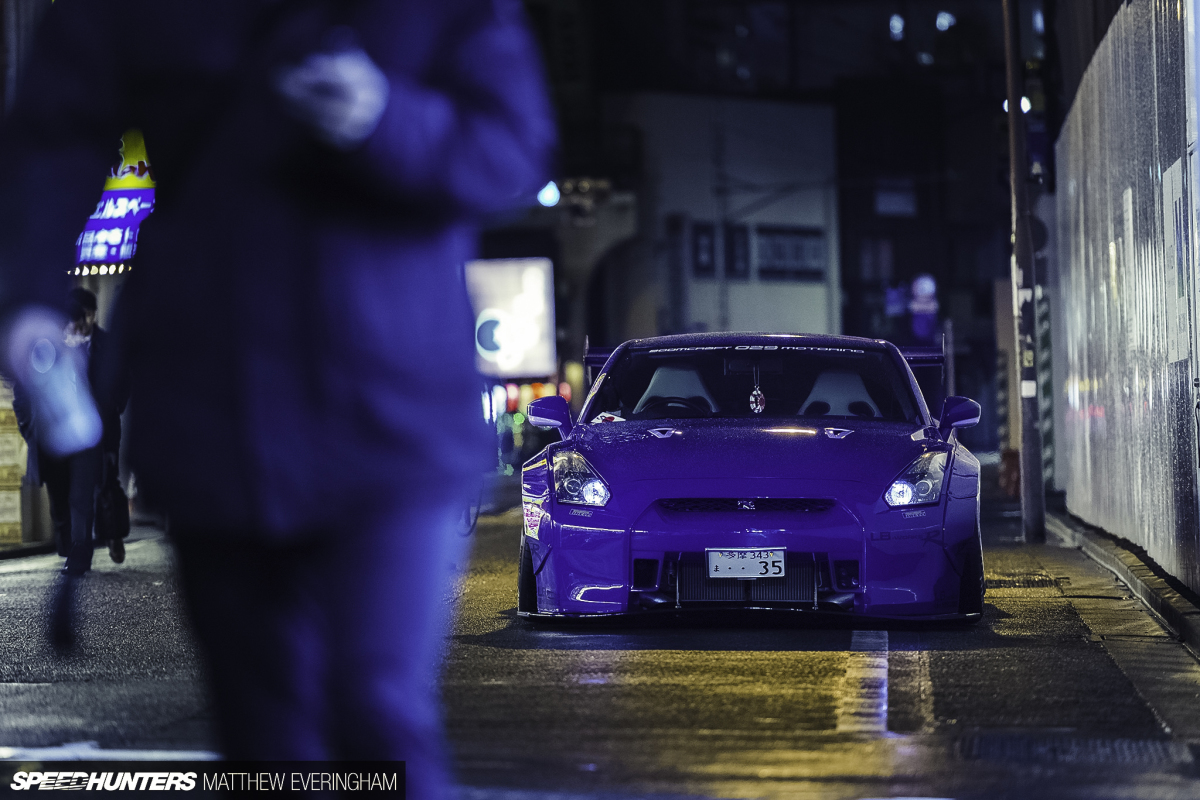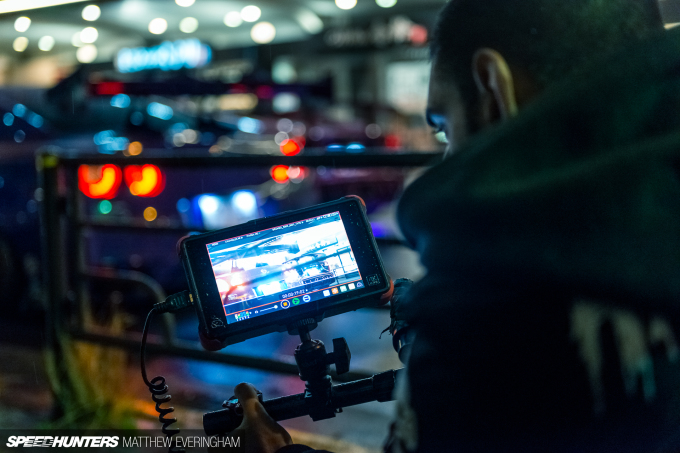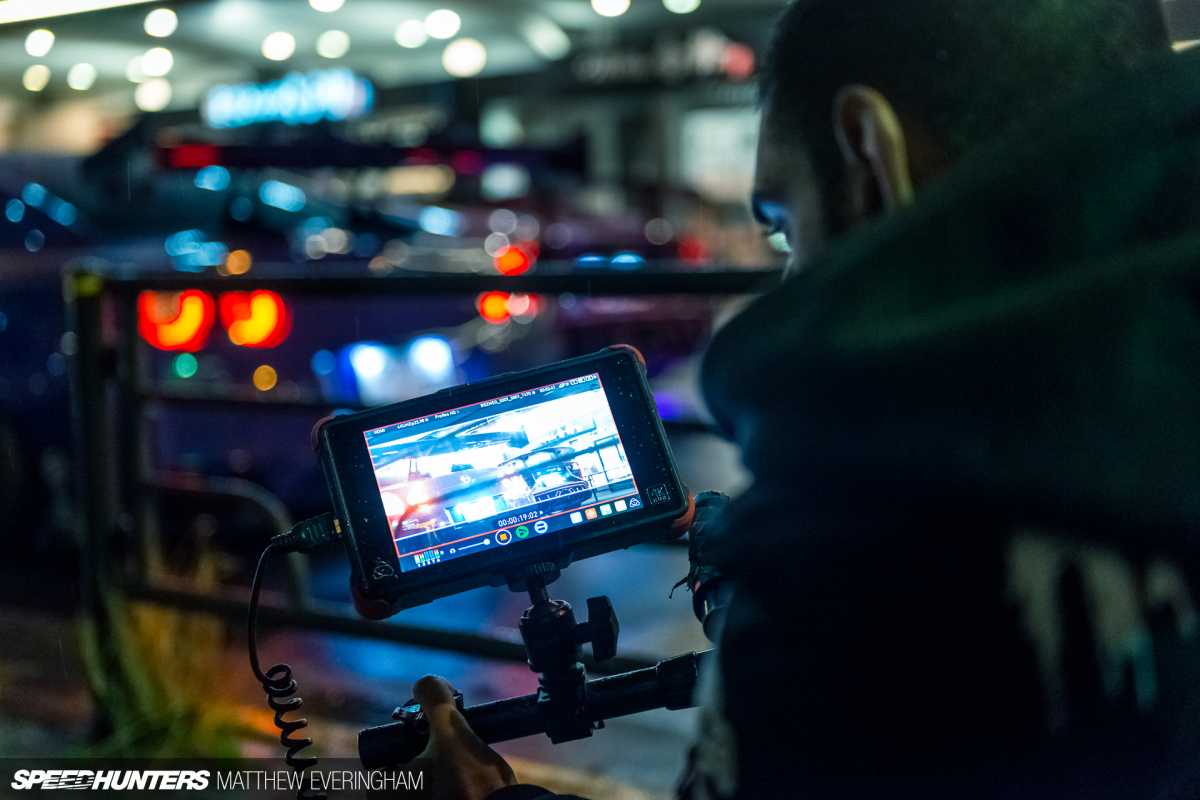 Opportunities that I'm still obtusely aware of and deeply grateful for, now well into my second year on the road. Even amongst the myriad of cool and crazy shit we get to do, I still feel the need to momentarily give some situations a quick reality check.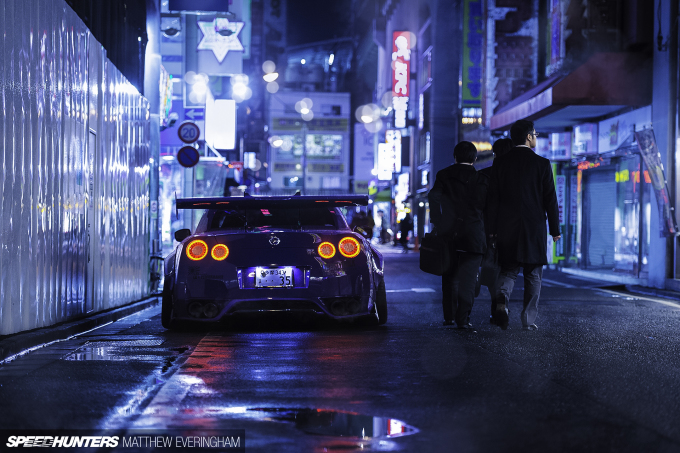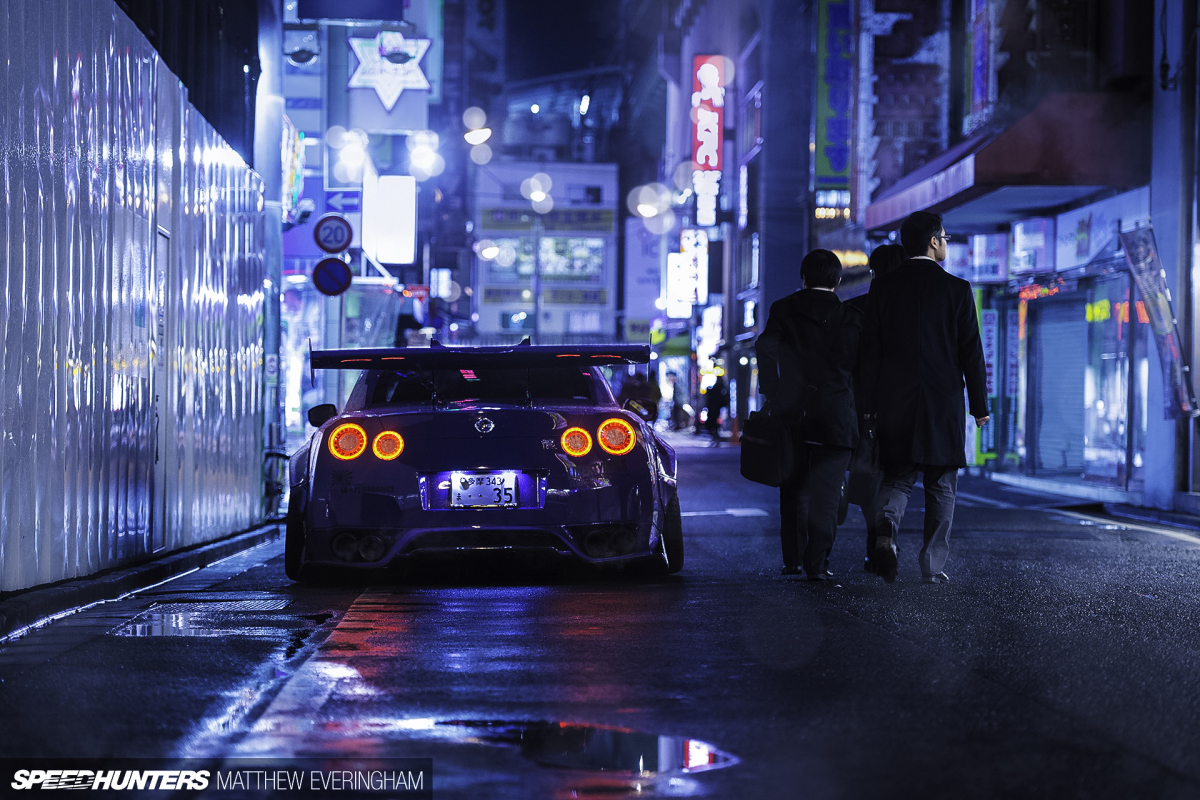 Moments in time when the unreality of the situation outweighs the daily reality that most of us accept as the 'rules.'
The moment my appreciation of those special moments fades to an expectation will quickly be followed by the moment I hang up my camera and keyboard and pass the torch to someone more worthy. Hopefully, that day never arrives.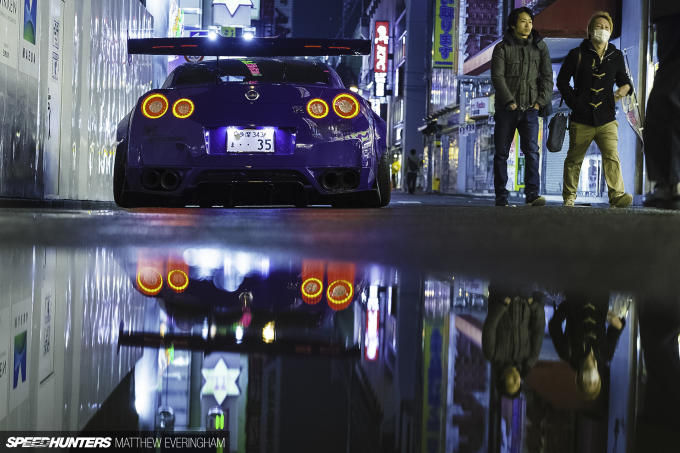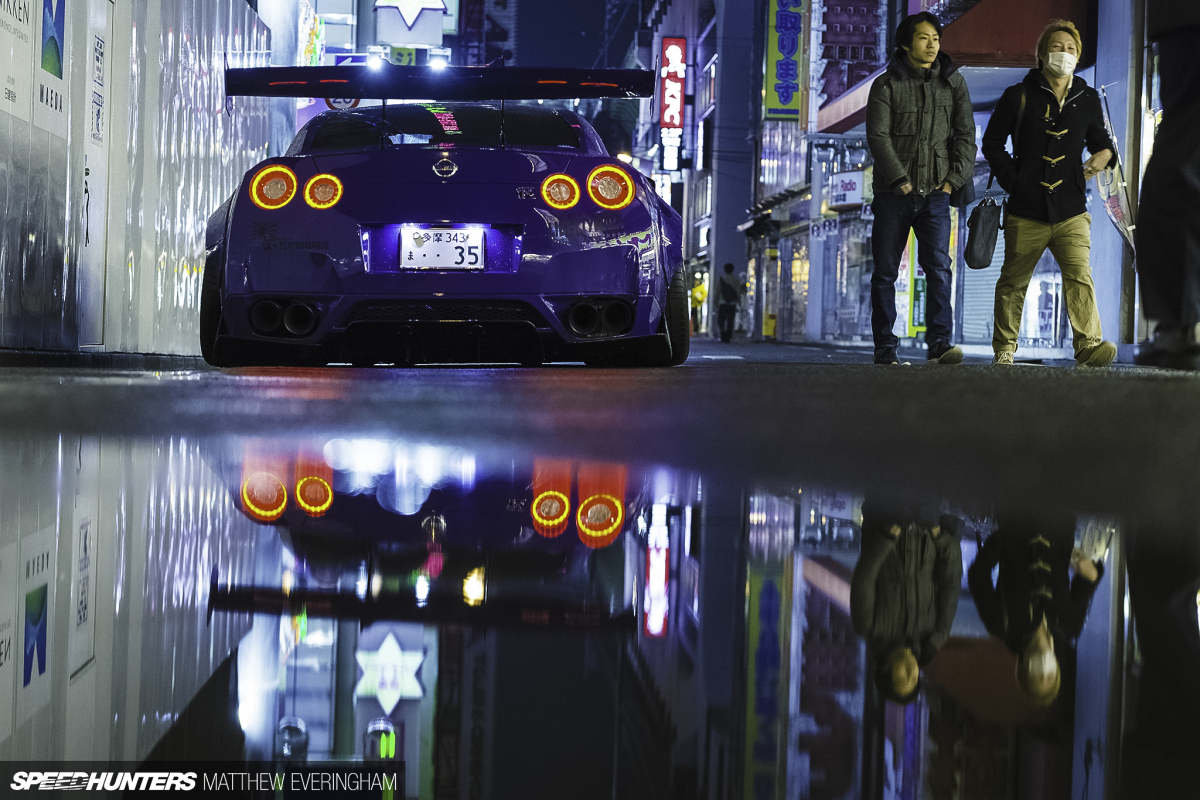 If I'm honest, there isn't much substance to this story; it's not life-changing, you won't learn any new skills, and there's no real deeper meaning. This is simply me sharing one of those rare moments of unreality.
Planning To Be Spontaneous
The best nights are usually spontaneous and unplanned, but this adventure almost didn't eventuate. There was a plan to meet up with Nikko-san and his Liberty Walk R35 GT-R and help a mate do some cinematography – that was the full extent of our itinerary.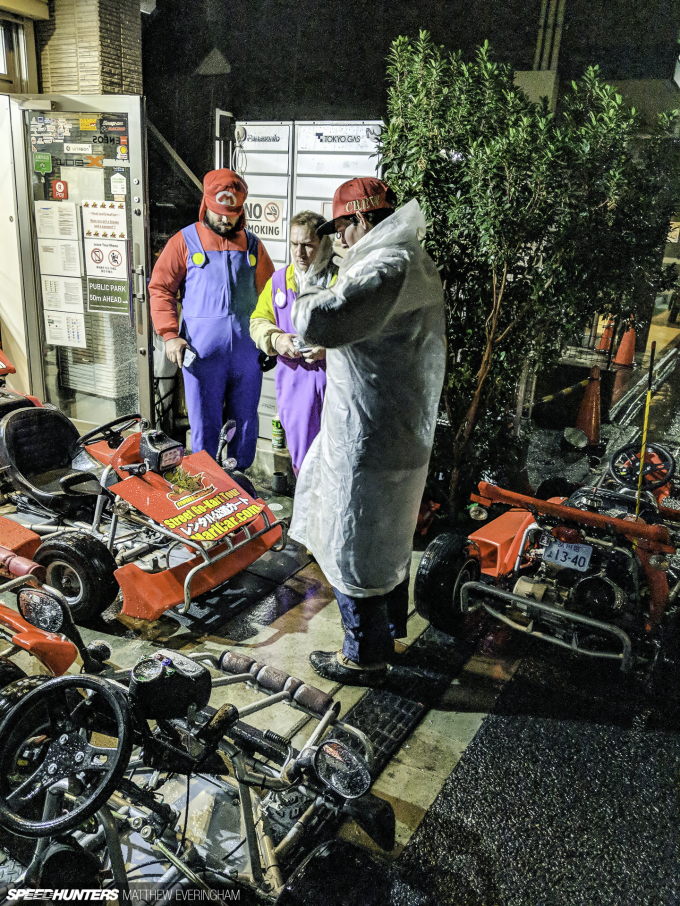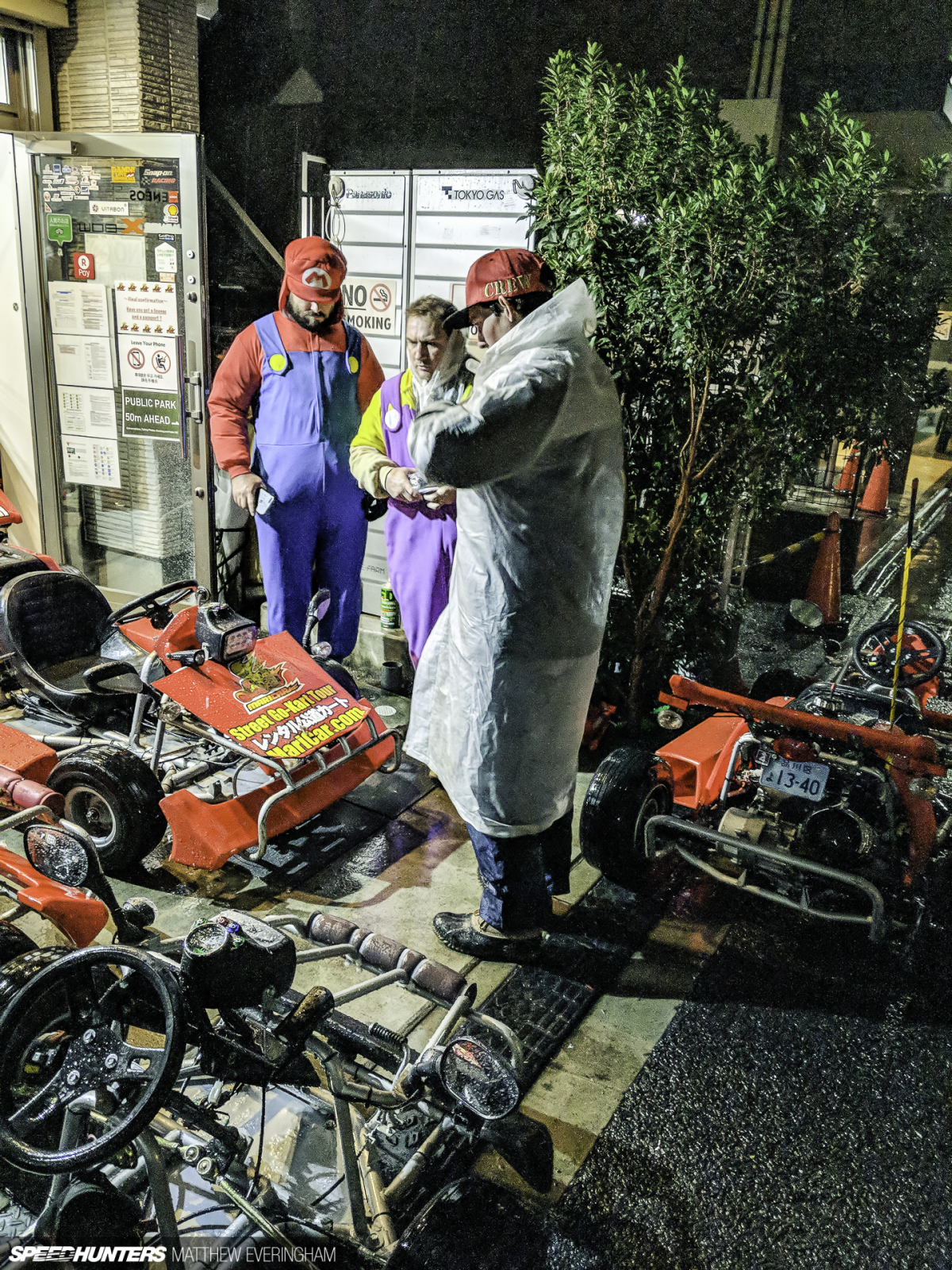 If I were a smarter man I would have stayed inside surrounded by warmth, but as that wise man Forest Gump once proclaimed, "I am not a smart man." He was talking about me.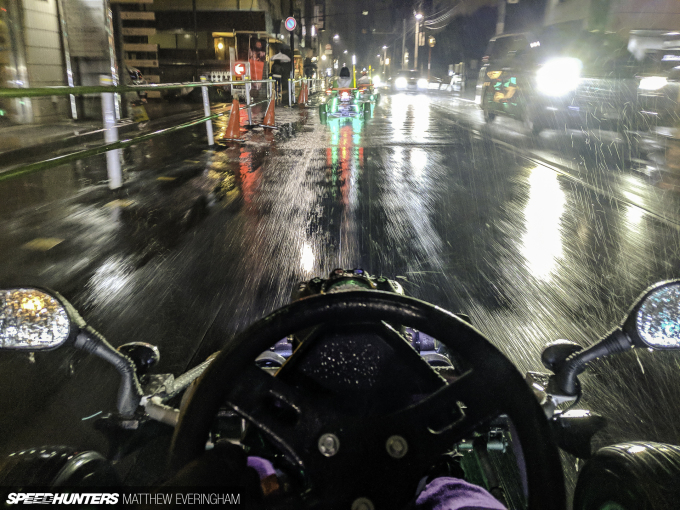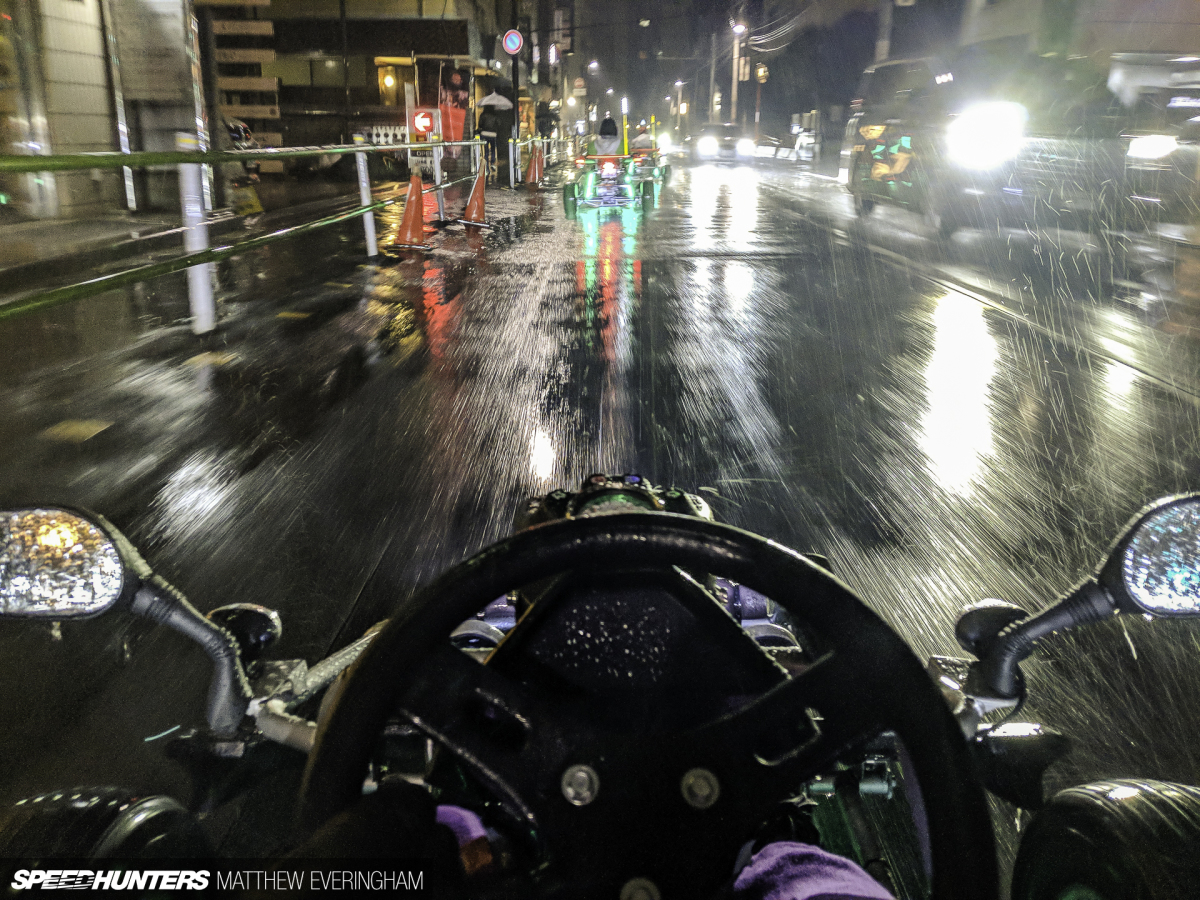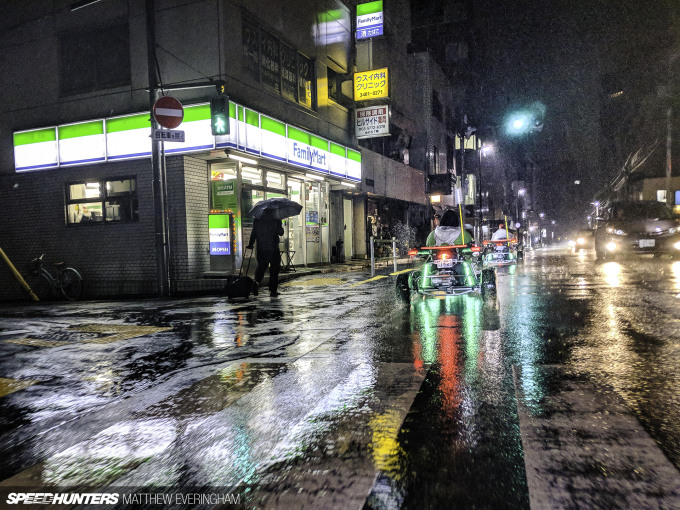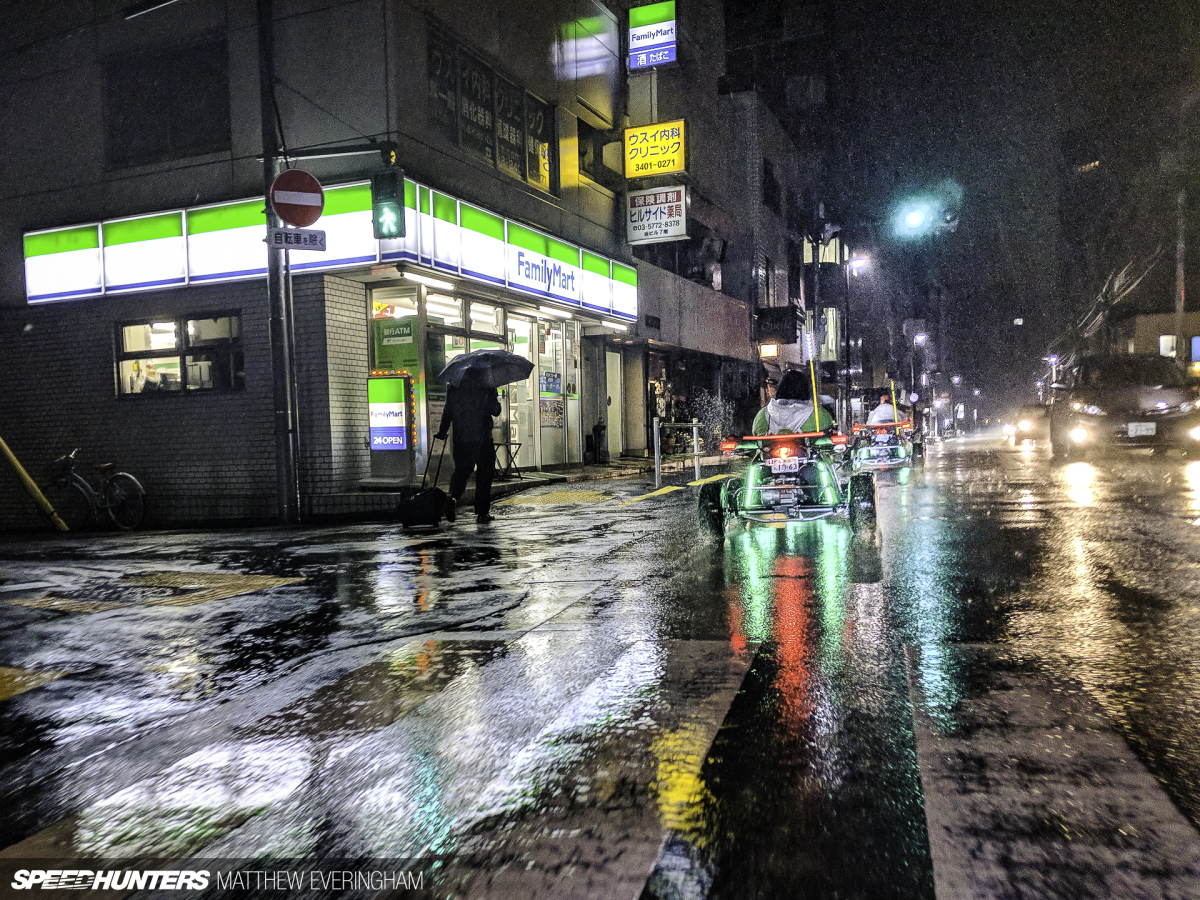 You see, I'd spent the earlier evening hours dressed as Wario, tearing across Tokyo in torrential rain and near-0°C temperatures. The water-assisted handbrake slides were great; the numbness was not.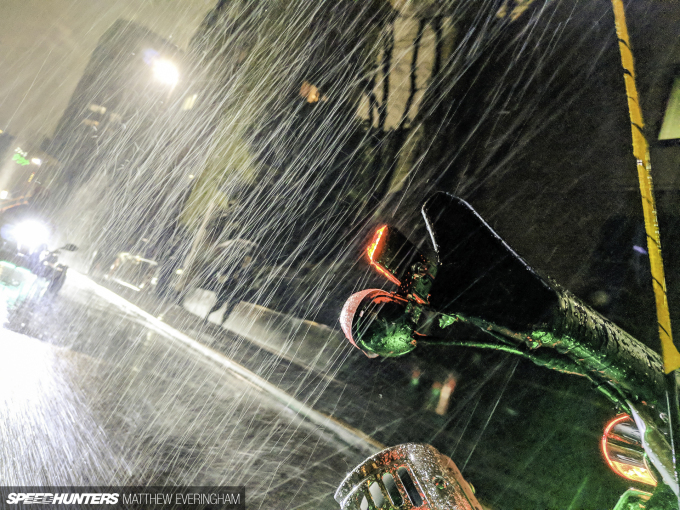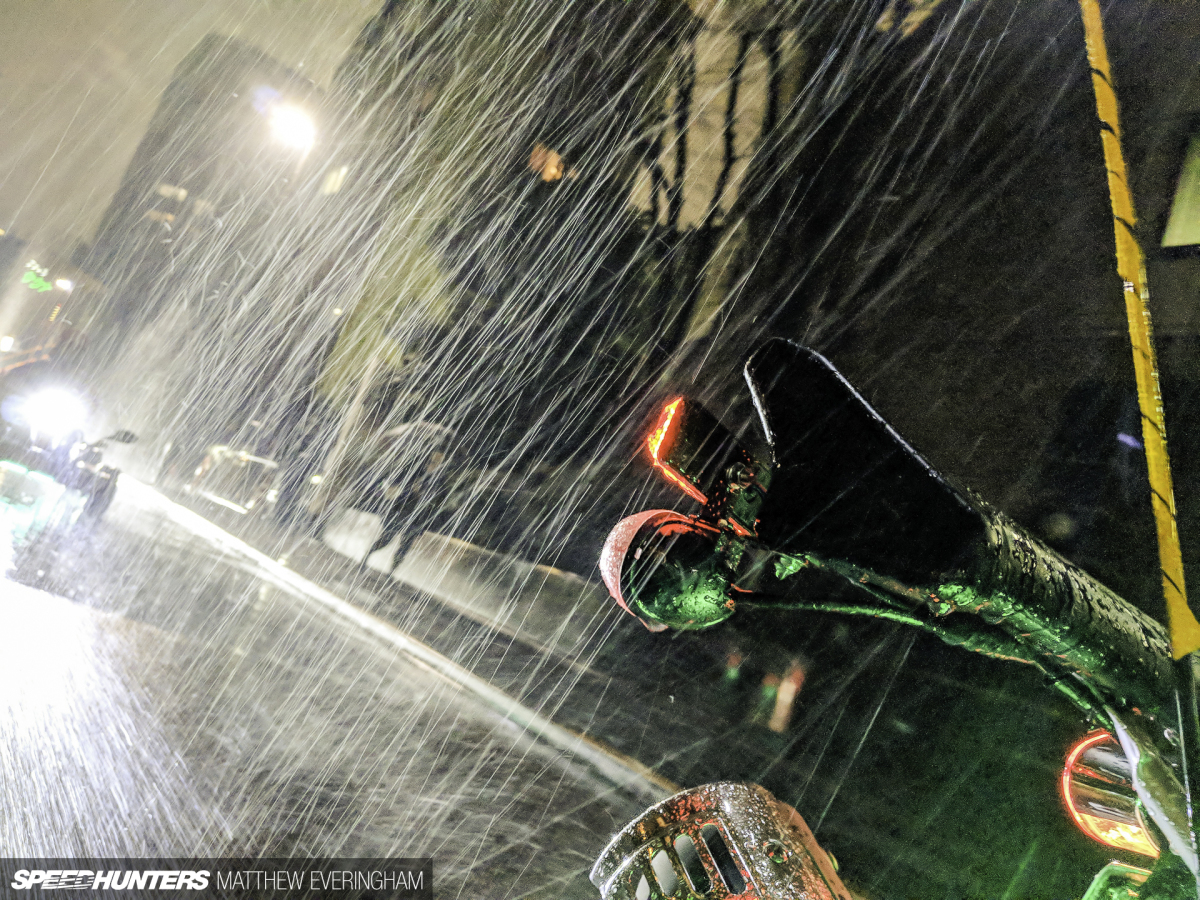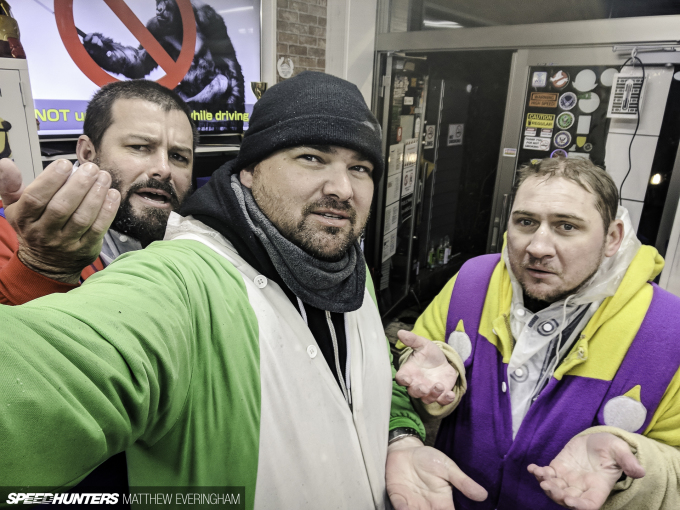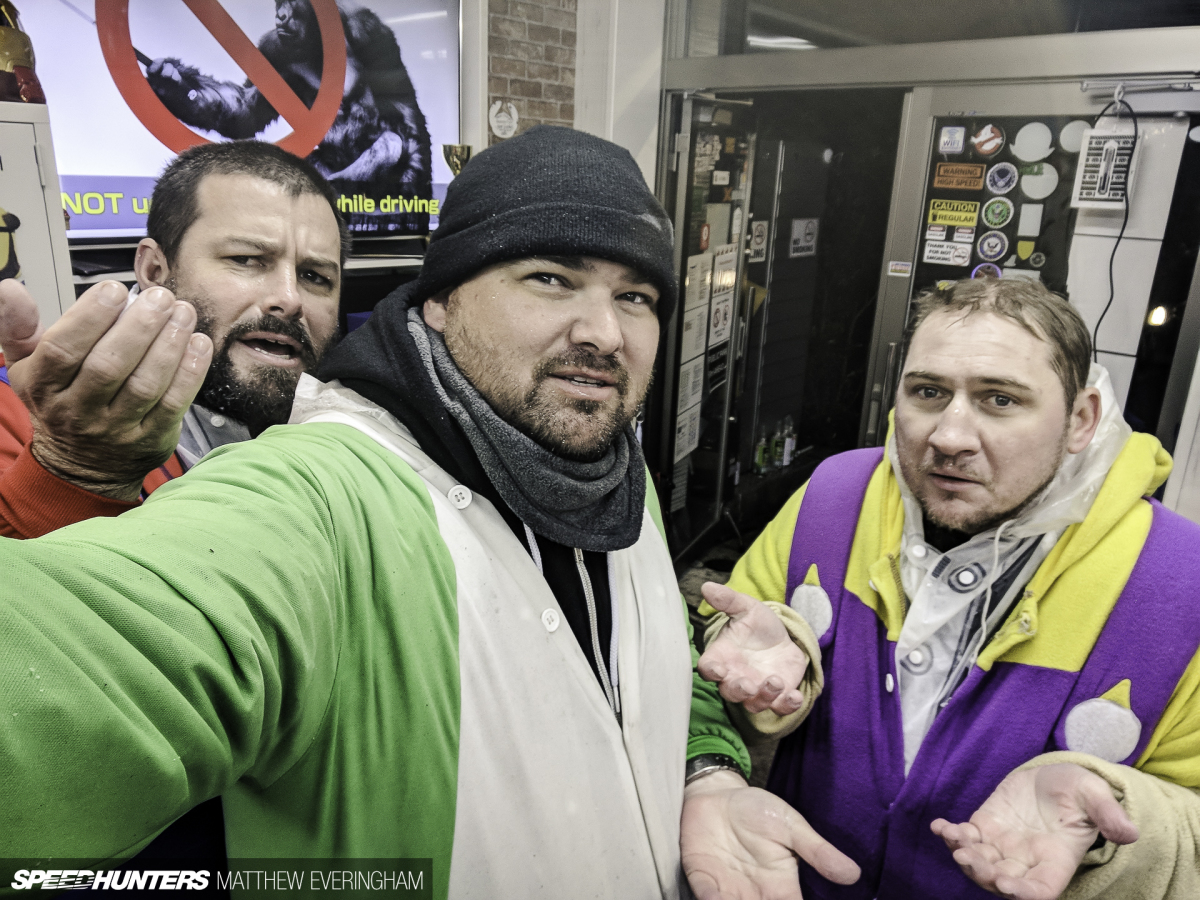 Along with soaking my only pair of jeans in Japan, I was also feeling slightly more hyperthermic than usual. But seriously, what kind of guy would let hyperthermia and no pants stand in the way of adventure? Not to mention, I'd be letting a mate down if I decided to play it safe. After a scalding shower and some clever 'MacGyvering' with a hairdryer, I was ready to brave the cold once again.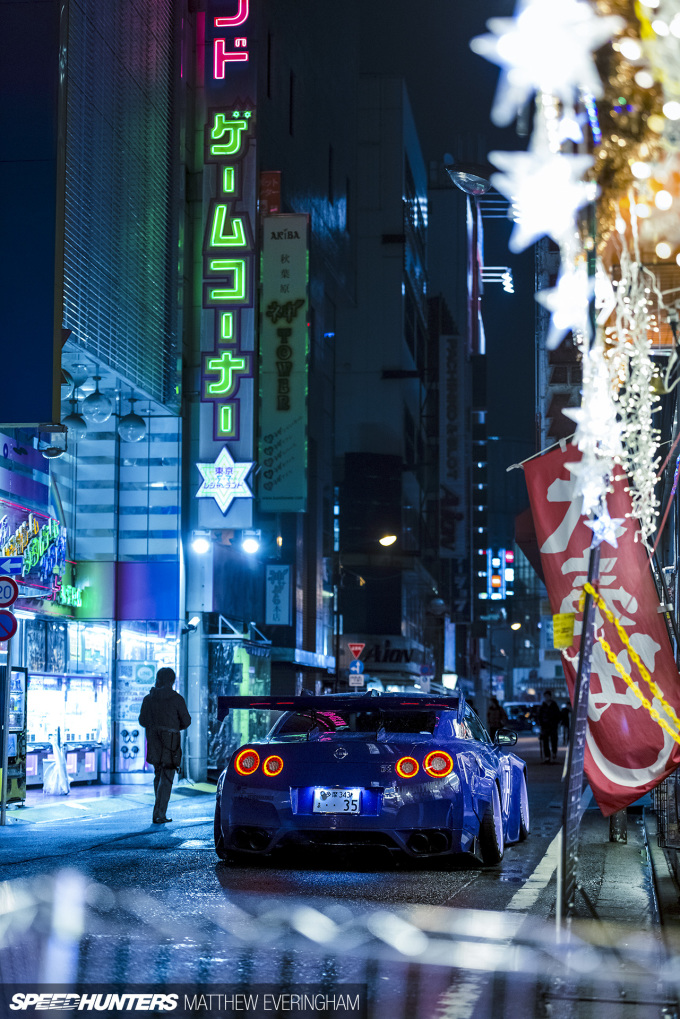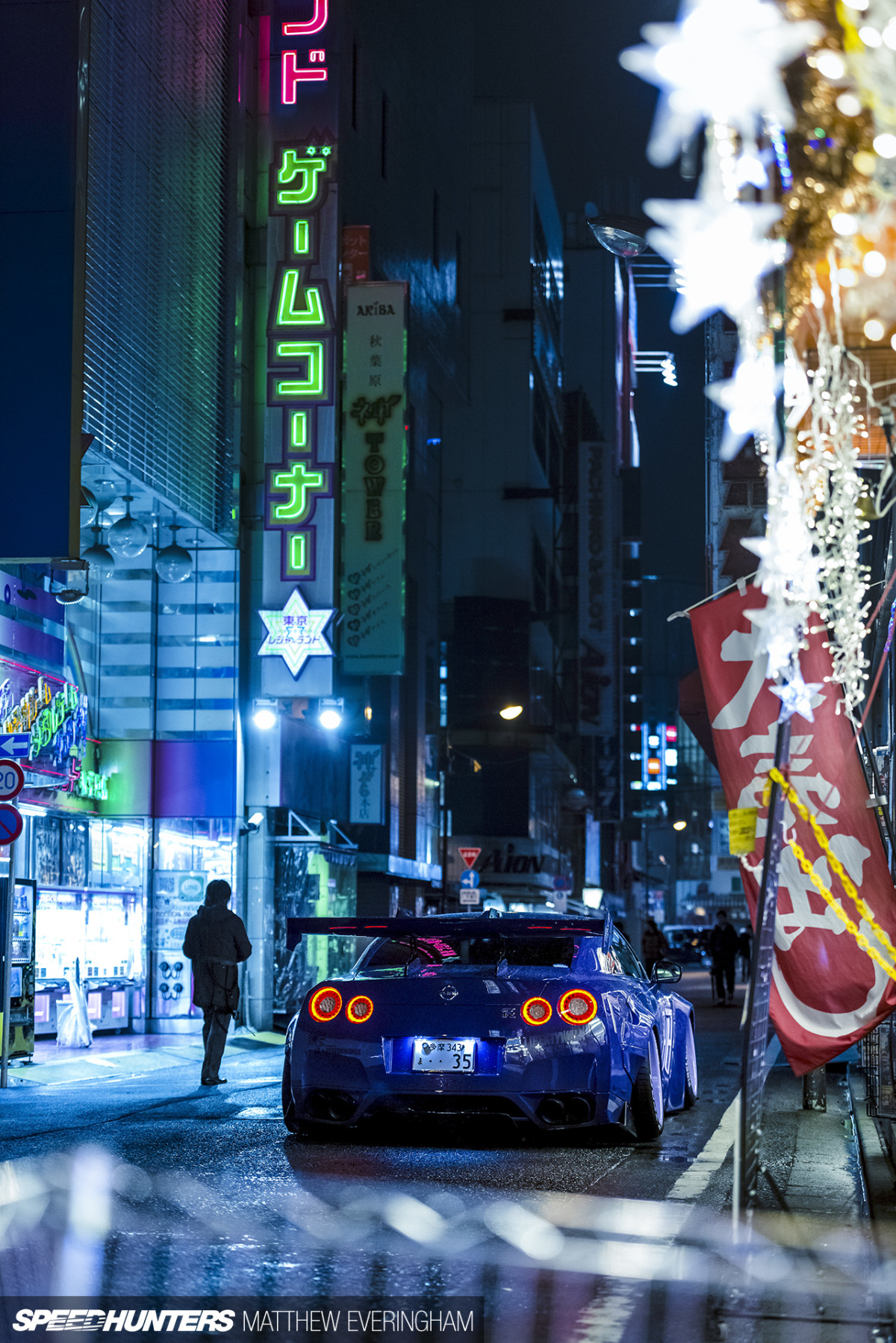 I'm damn glad I did, too. It was our last night in Japan for 2018, and it was also our best night in Japan. Zig-zagging through deserted back roads and quiet alleyways, we eventually made our way to Akihabara, otherwise known as Electric Town.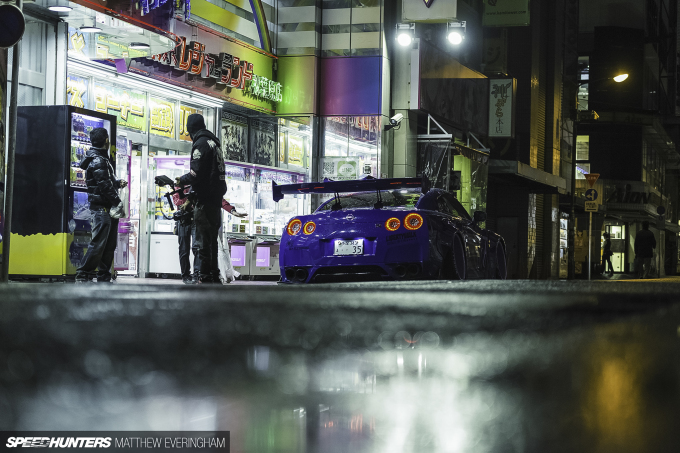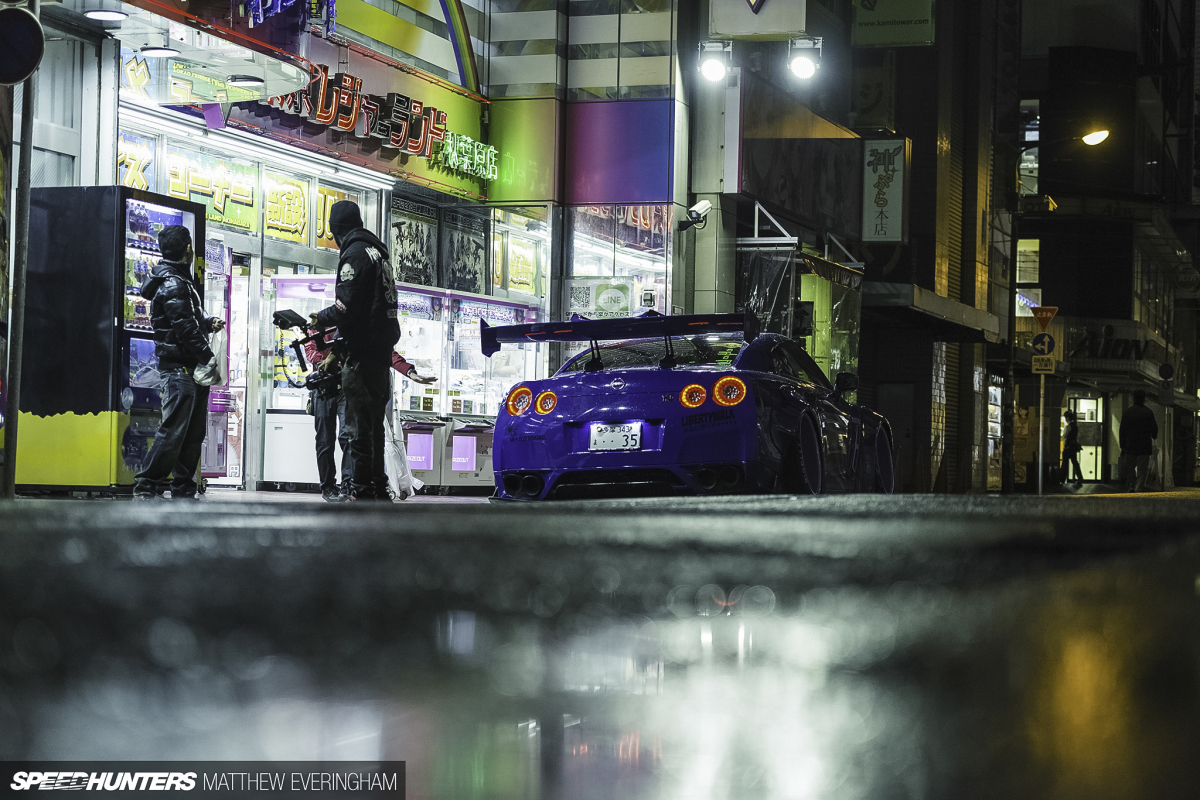 Akihabara's futuristic neon landscape is unlike anywhere else I've seen in real life. It's more Blade Runner than reality.
Could there be a more appropriate location to play with one of Kato-san's bold creations? Could anything trump a wide-body GT-R in a neon heaven?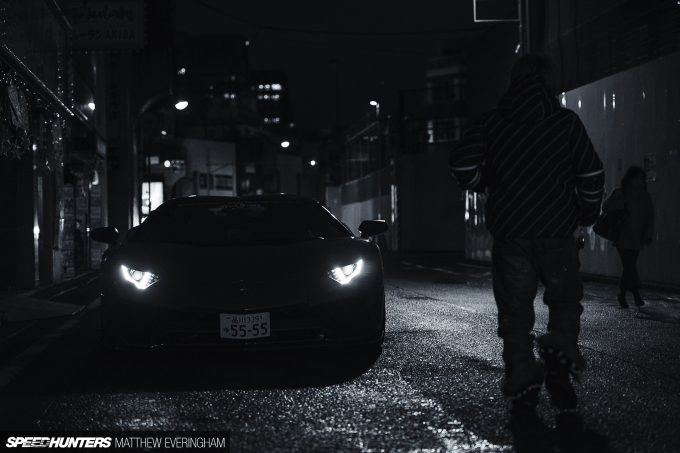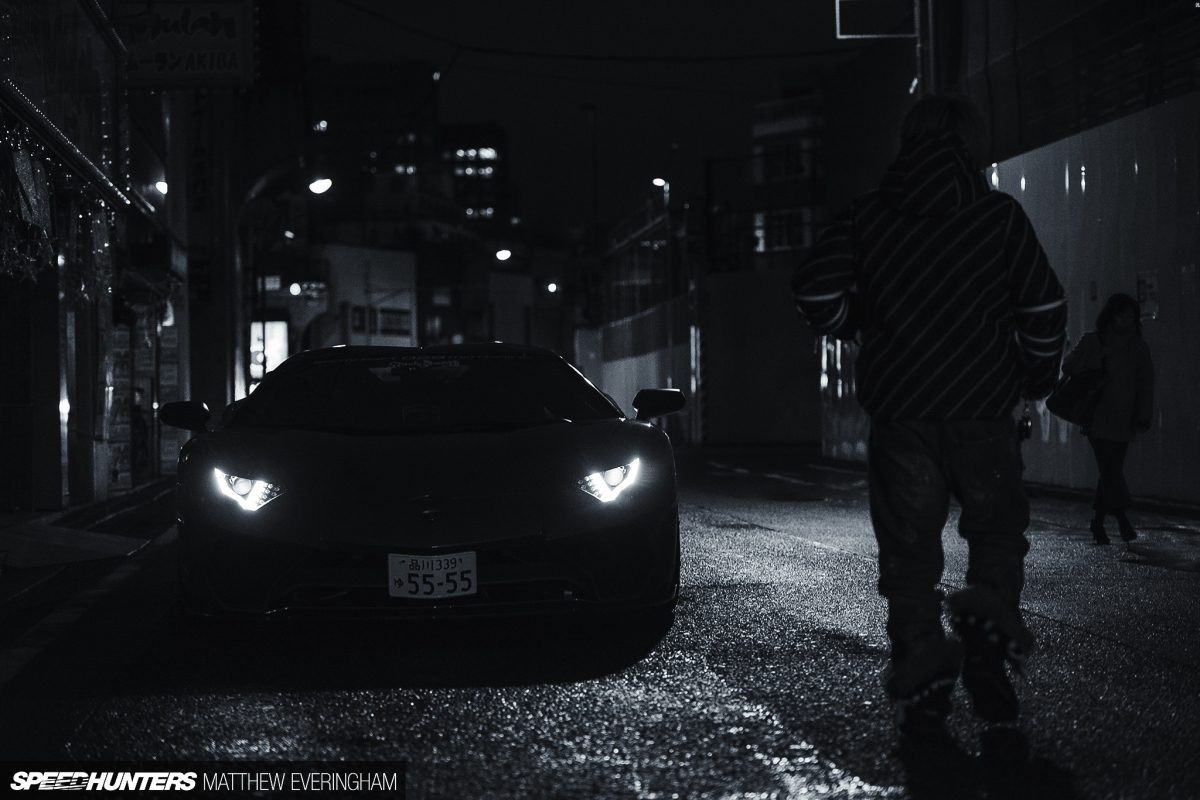 I know the answer, and you do too. A laser-flashing, neon-throwing pink Lamborghini to complement said wide-body Japanese supercar. Believe it or not (and if I weren't there I'd be skeptical too), but Manabu-san and his Lamborghini were a last-minute thought. Nikko-san made a call to secure a camera car to assist with some rolling shots of the GT-R.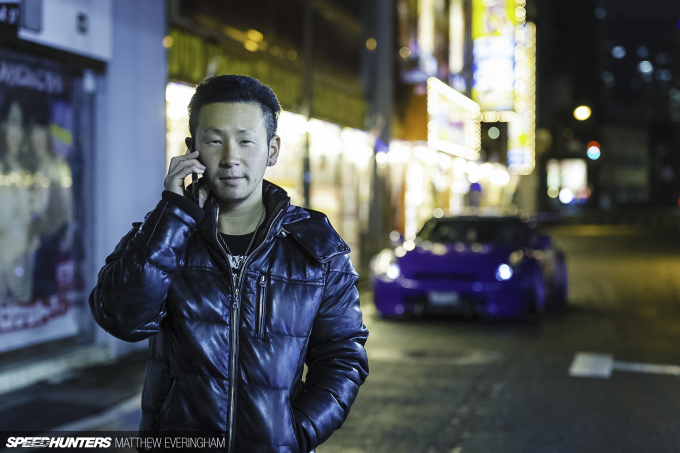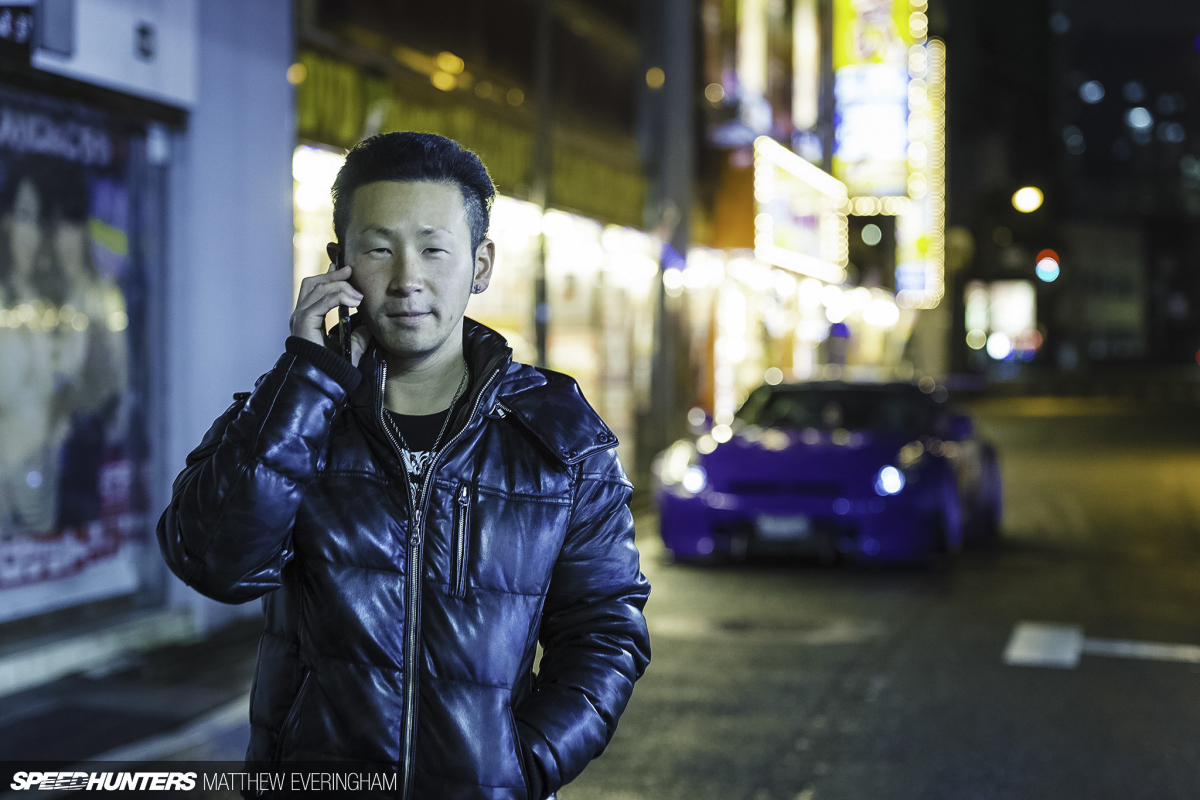 Manabu's Aventador is officially the coolest camera car I've ever (nervously) shot from.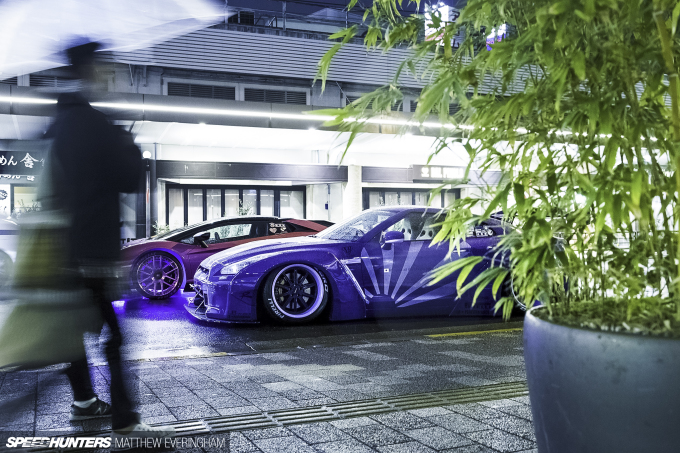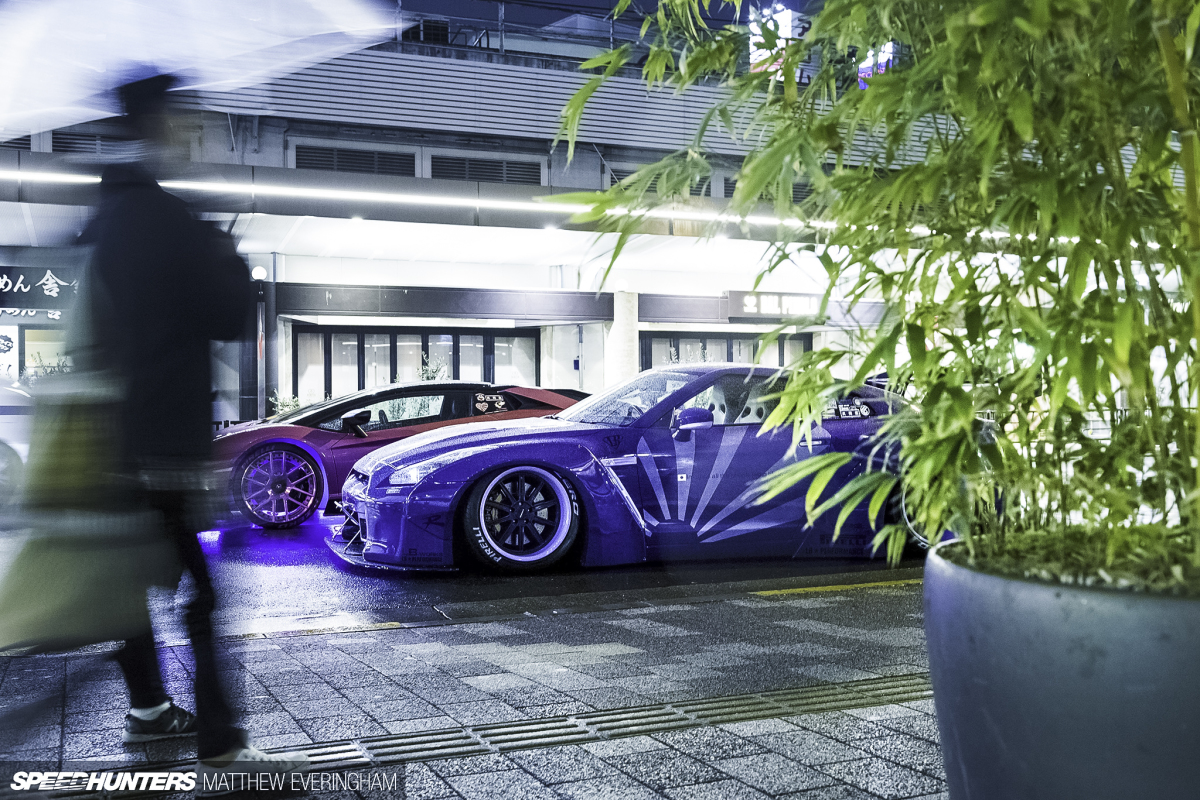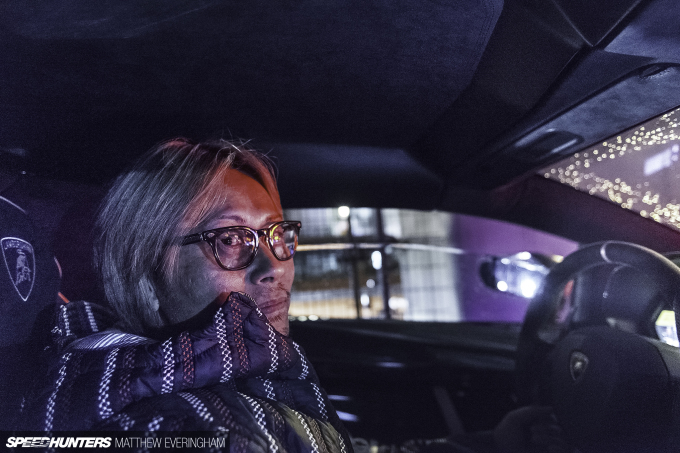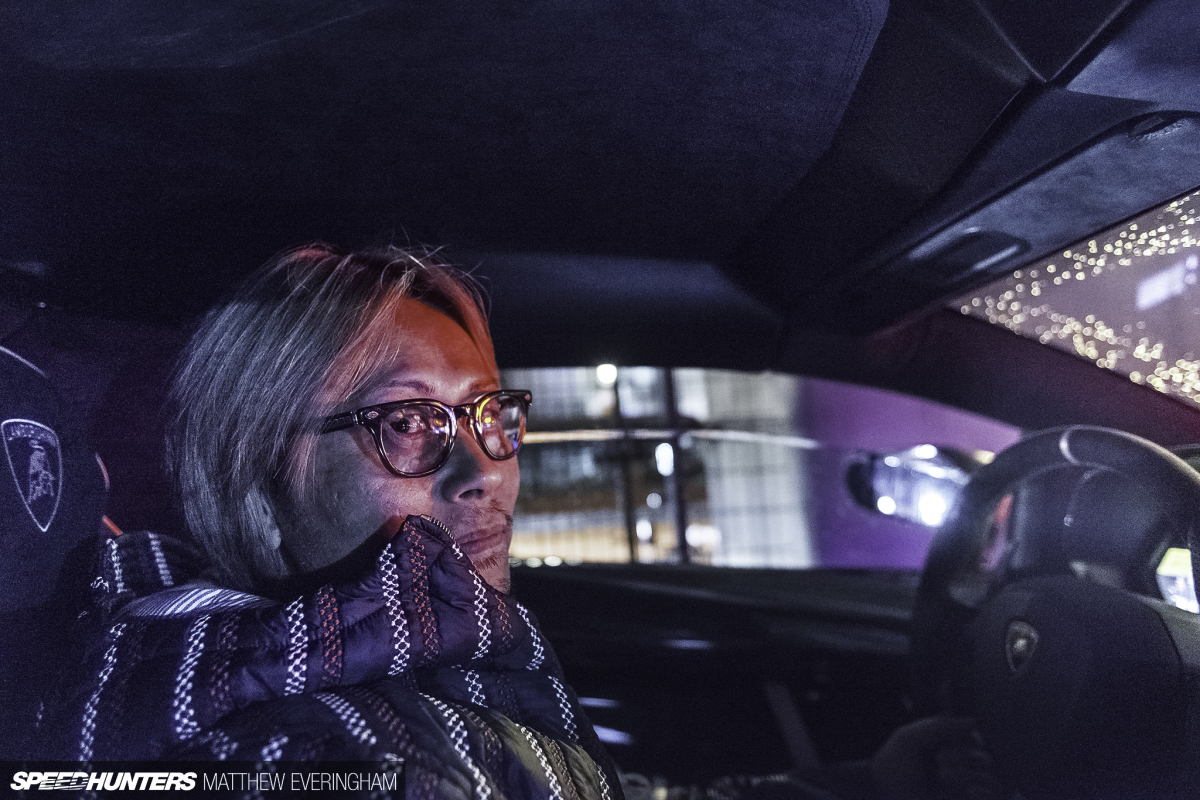 Once we'd finished filming, our hosts decided it was time to unwind and offered a late-night tour and a blast across the city. What kind of miserable guests would we be to refuse such a gracious offer?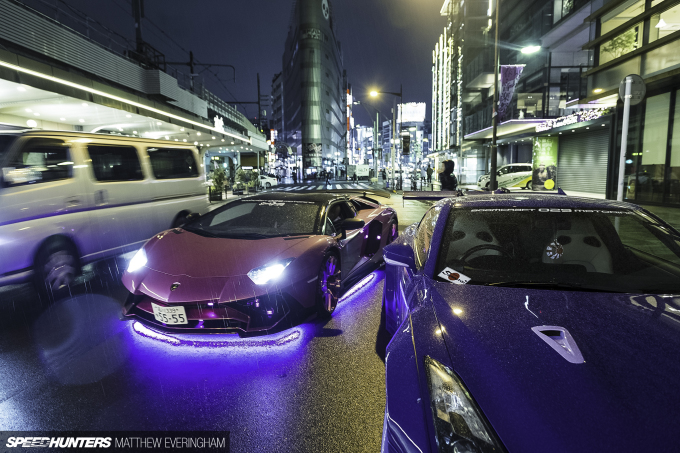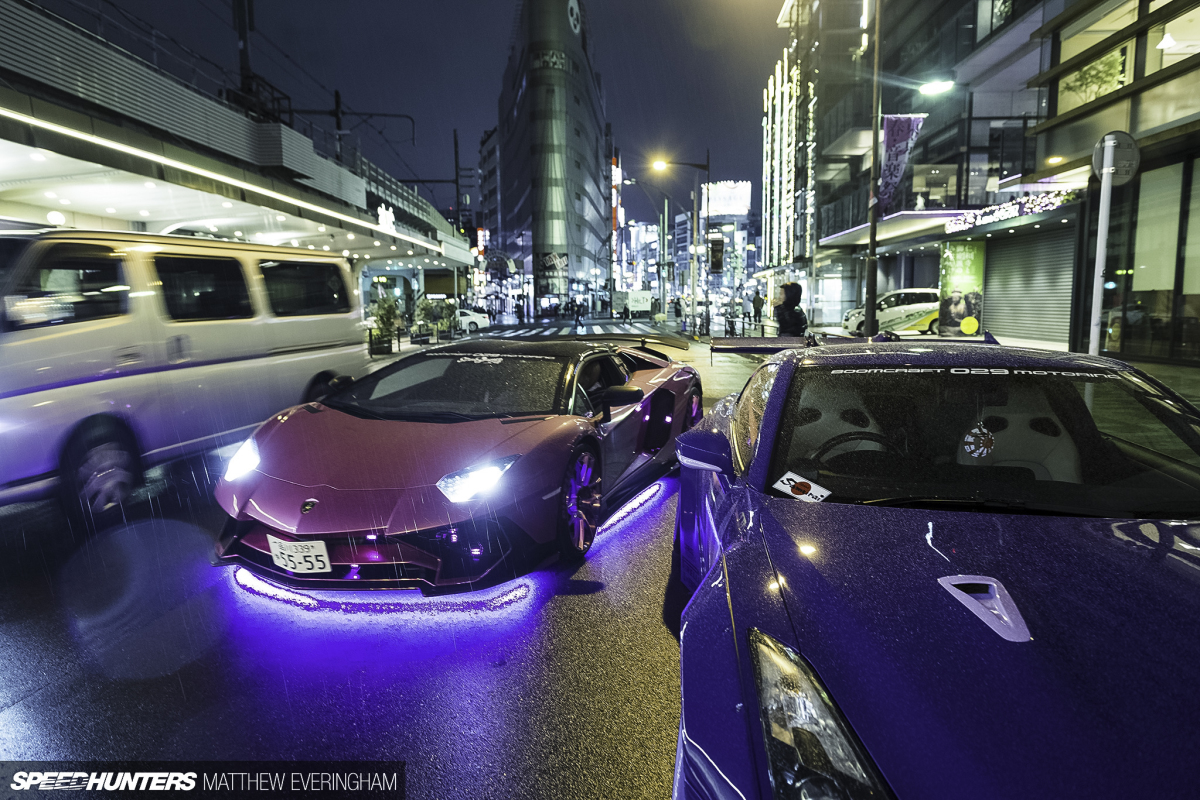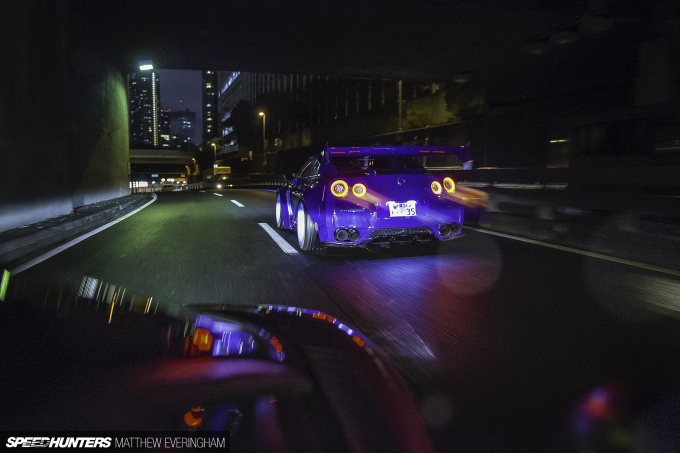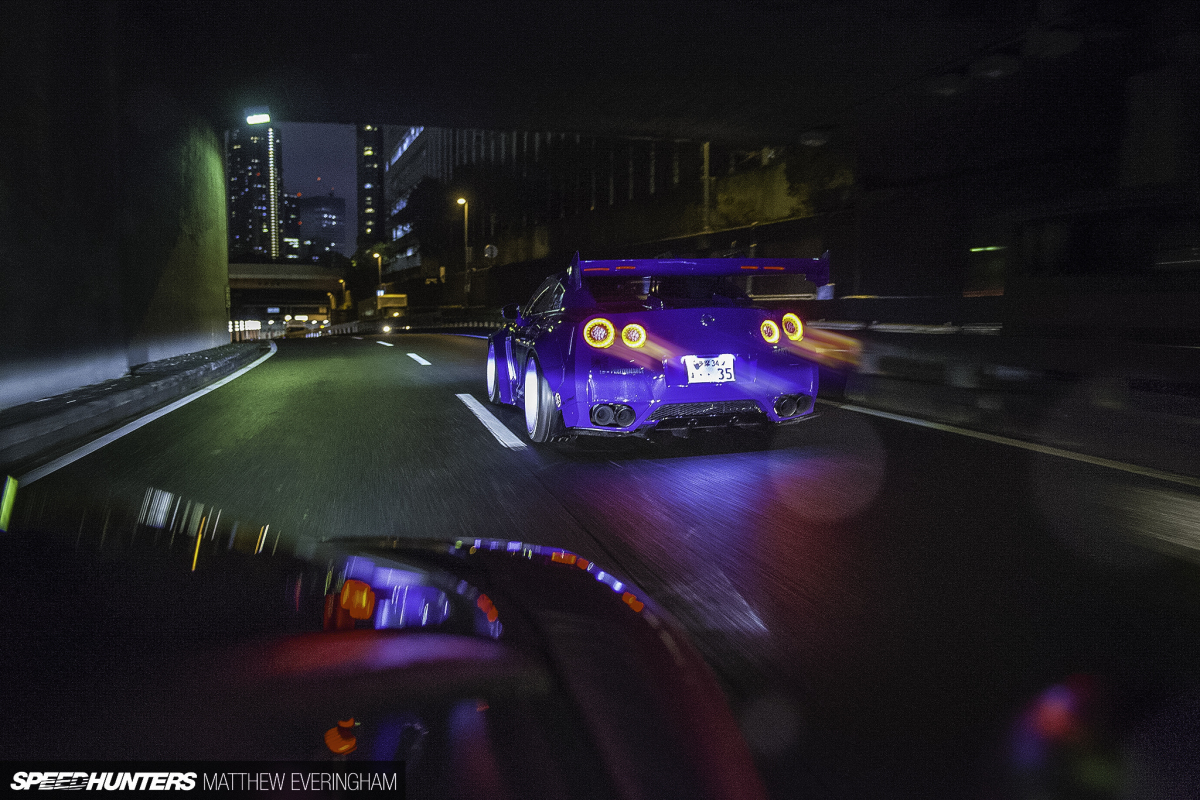 Here we were, in that moment of pure unreality. Rolling through Tokyo in dream machines, making new friends with no common language, traversing roads I'd previously only driven in video games, and spotting landmarks in a beautiful and very foreign land.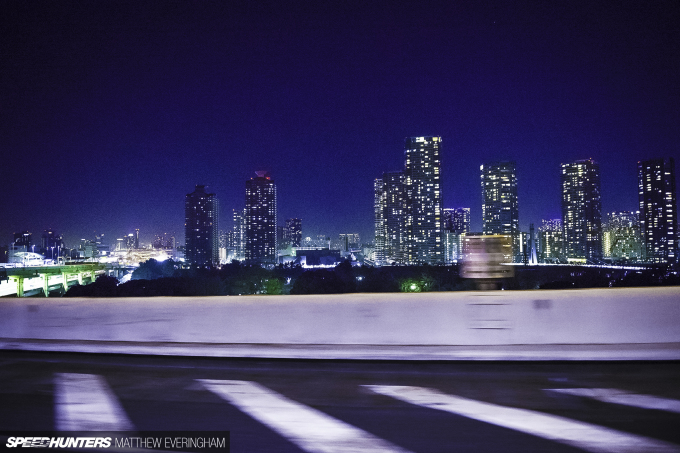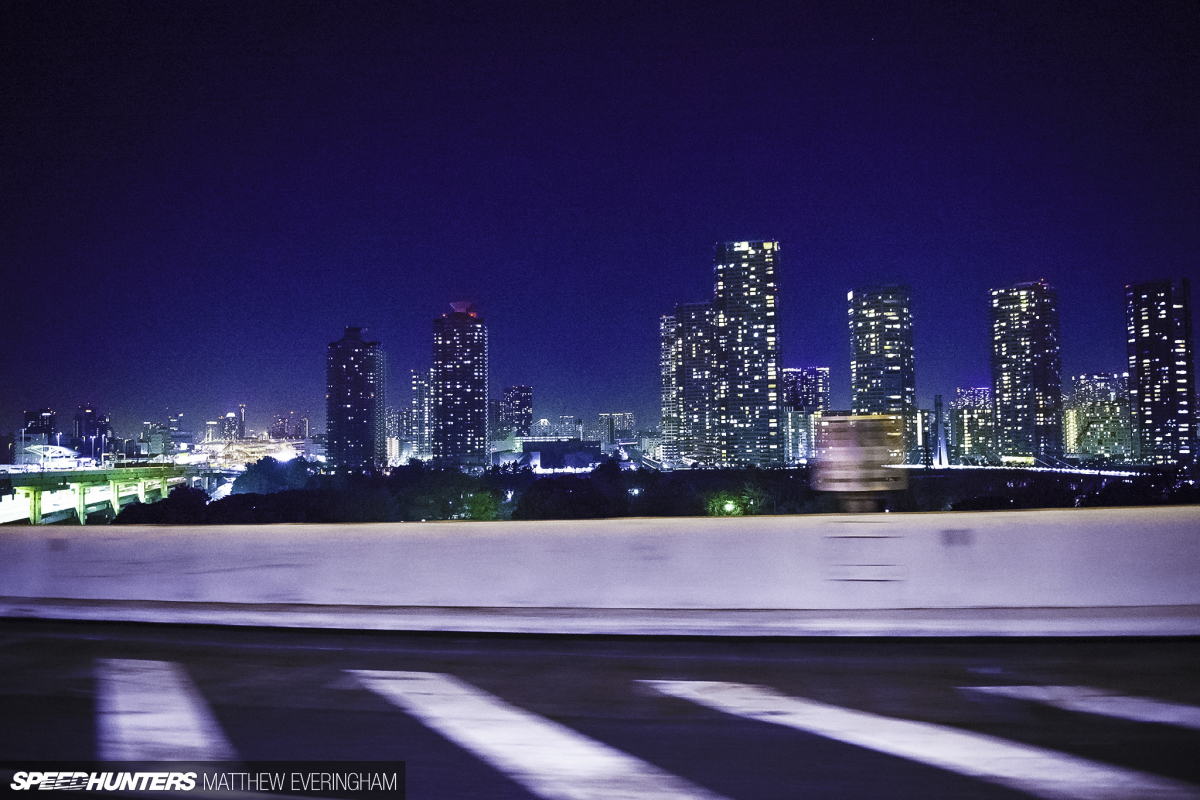 Life is good.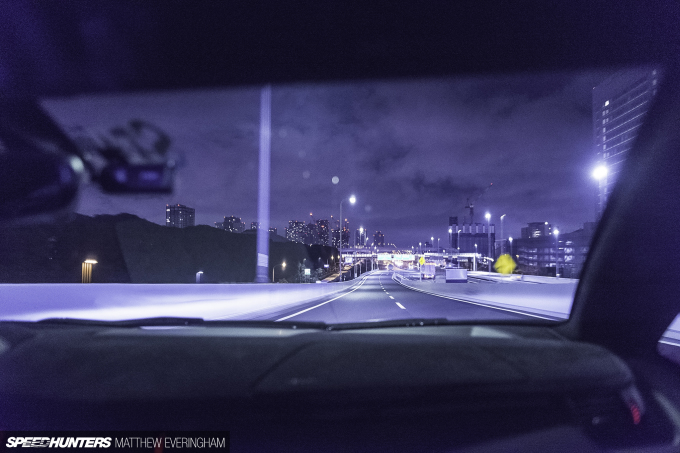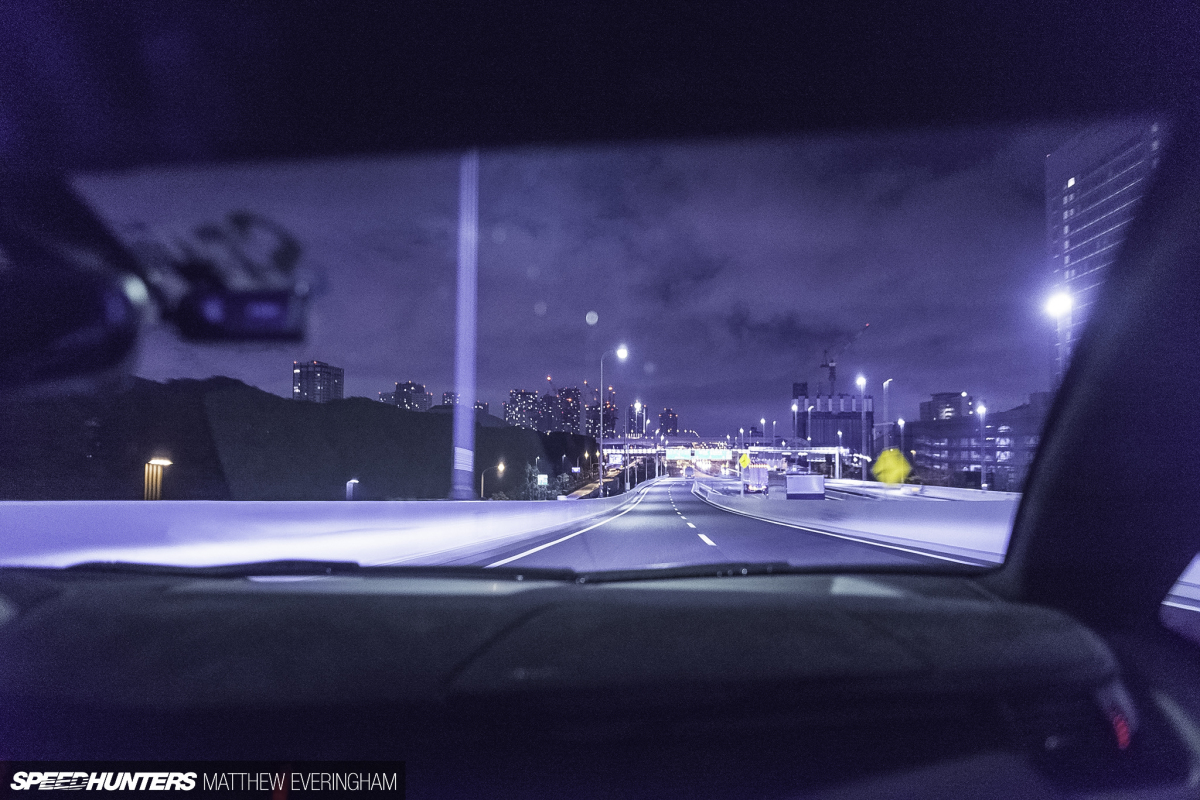 Time flew by and I was scared to check my watch, but it would have been in the wee hours of the morning that we arrived at our final destination: Tatsumi PA.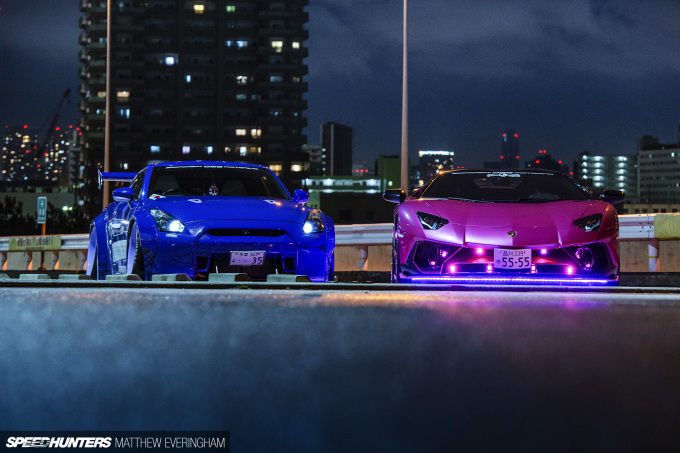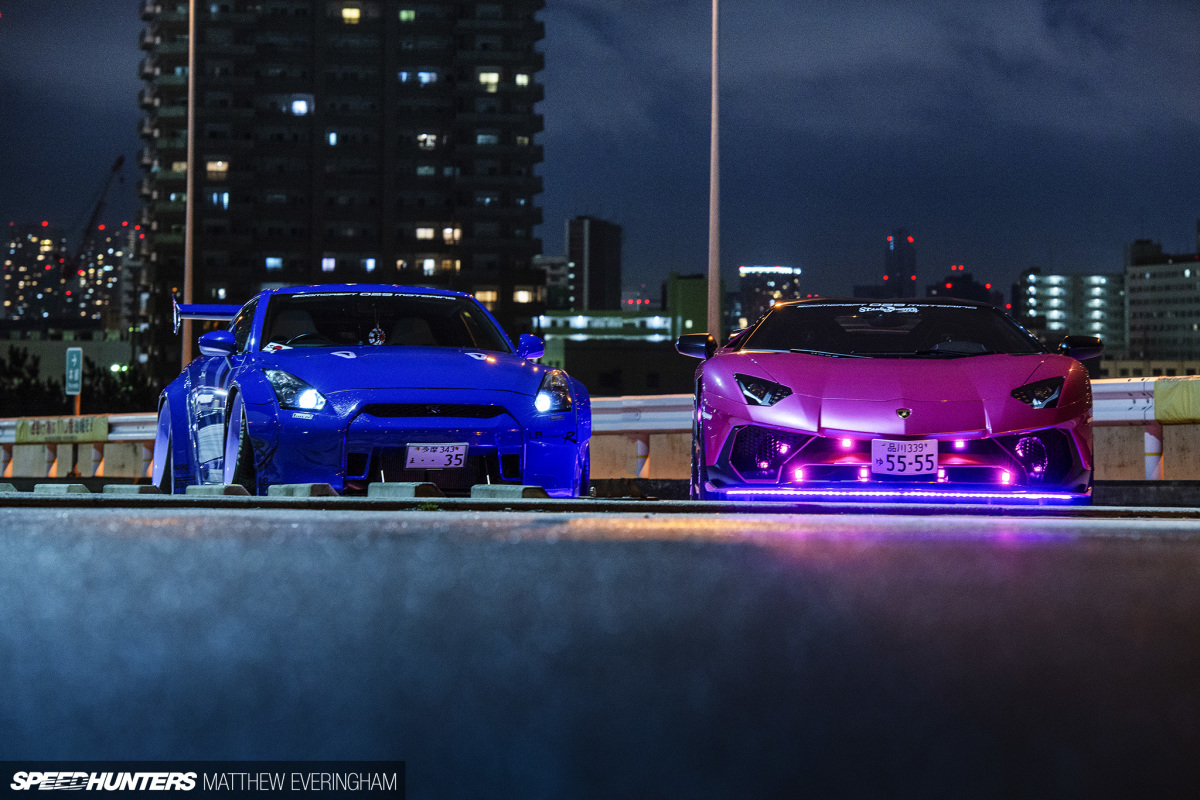 This was the first and only time I've ever seen this place devoid of sports cars, except ours, of course. I think it may have had something to do with the temperature.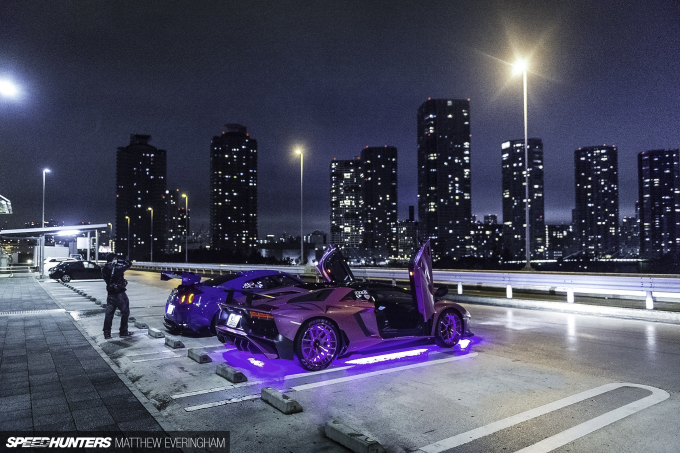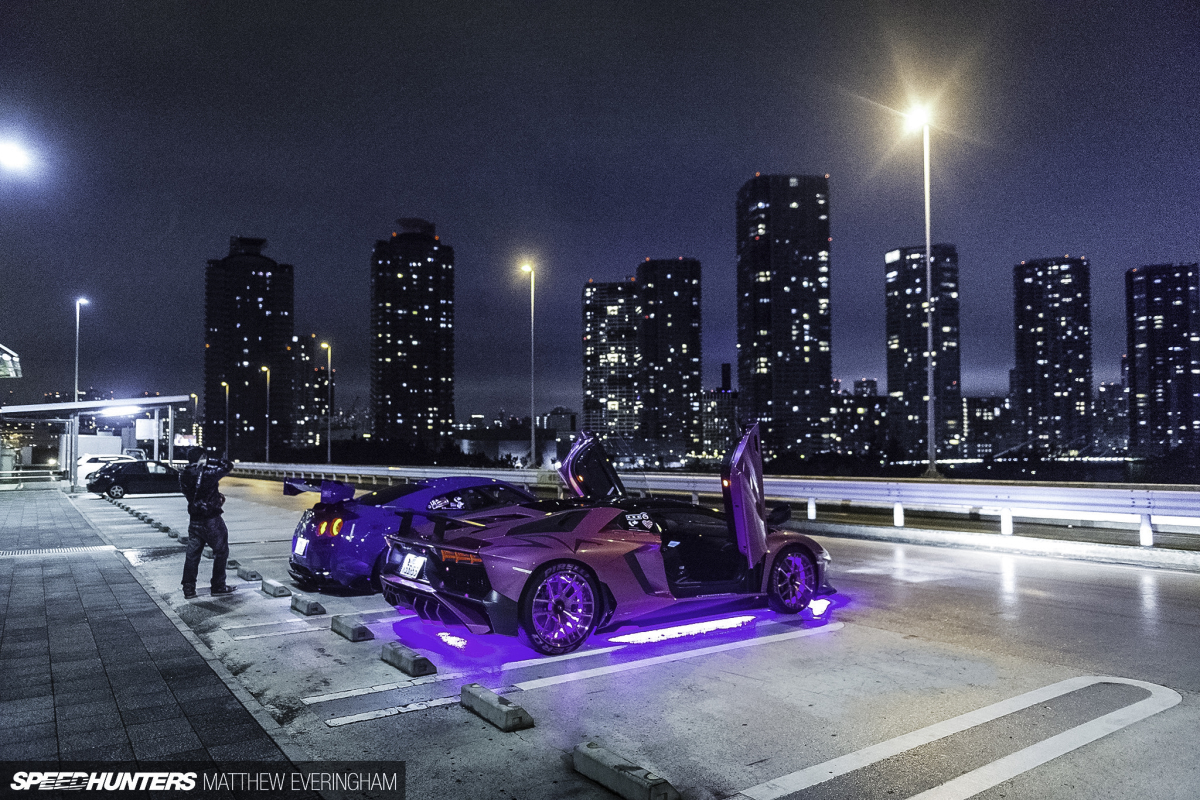 The vending machines were a godsend. Curiously, Nikko bought each of us two hot coffees and offered a quick tip that felt life-saving at the time, a tip I'll share now: Shaking the cans heats the coffee, and you too, once they're snuggly placed in your pockets. You're welcome.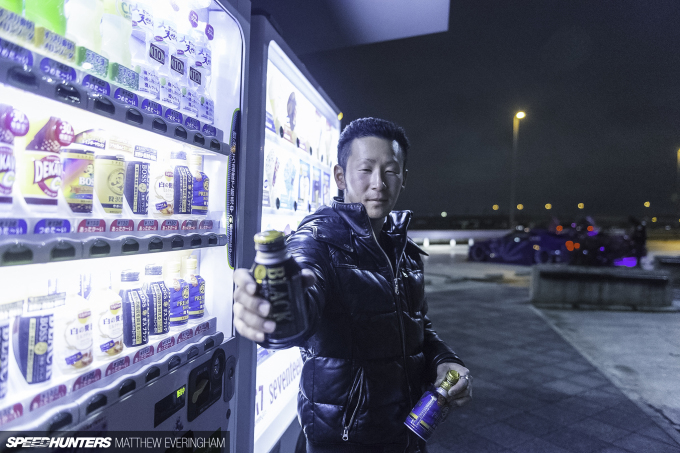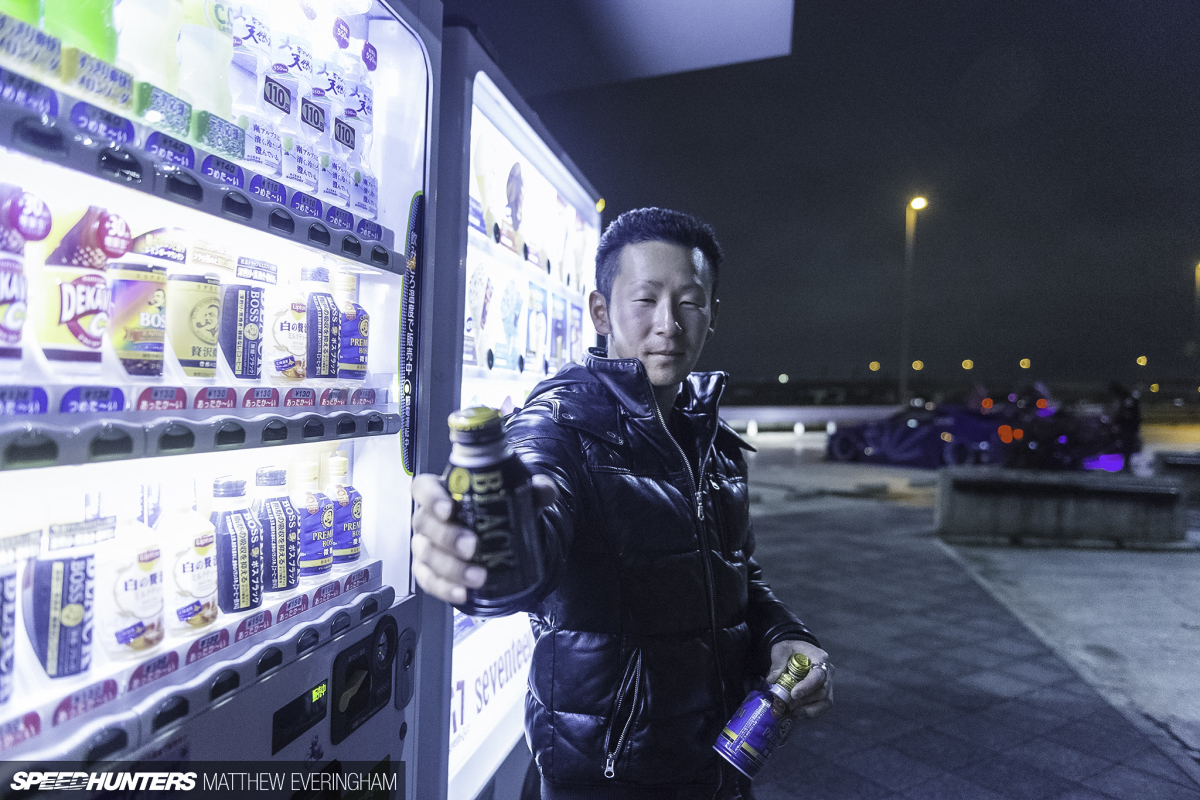 Once the cans began cooling a new source of heat was required. The options were staying warm or going home.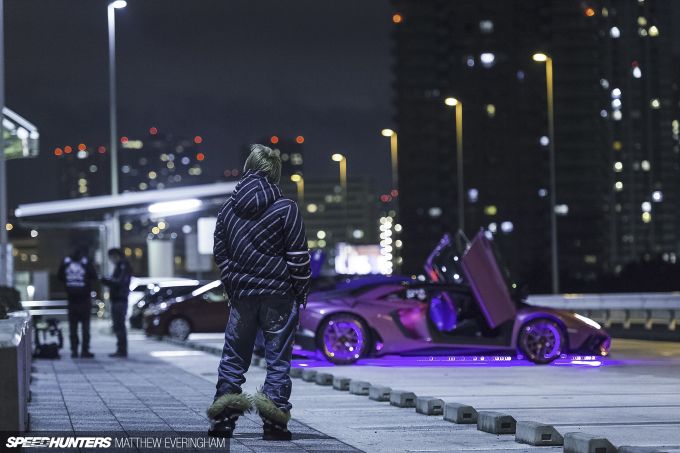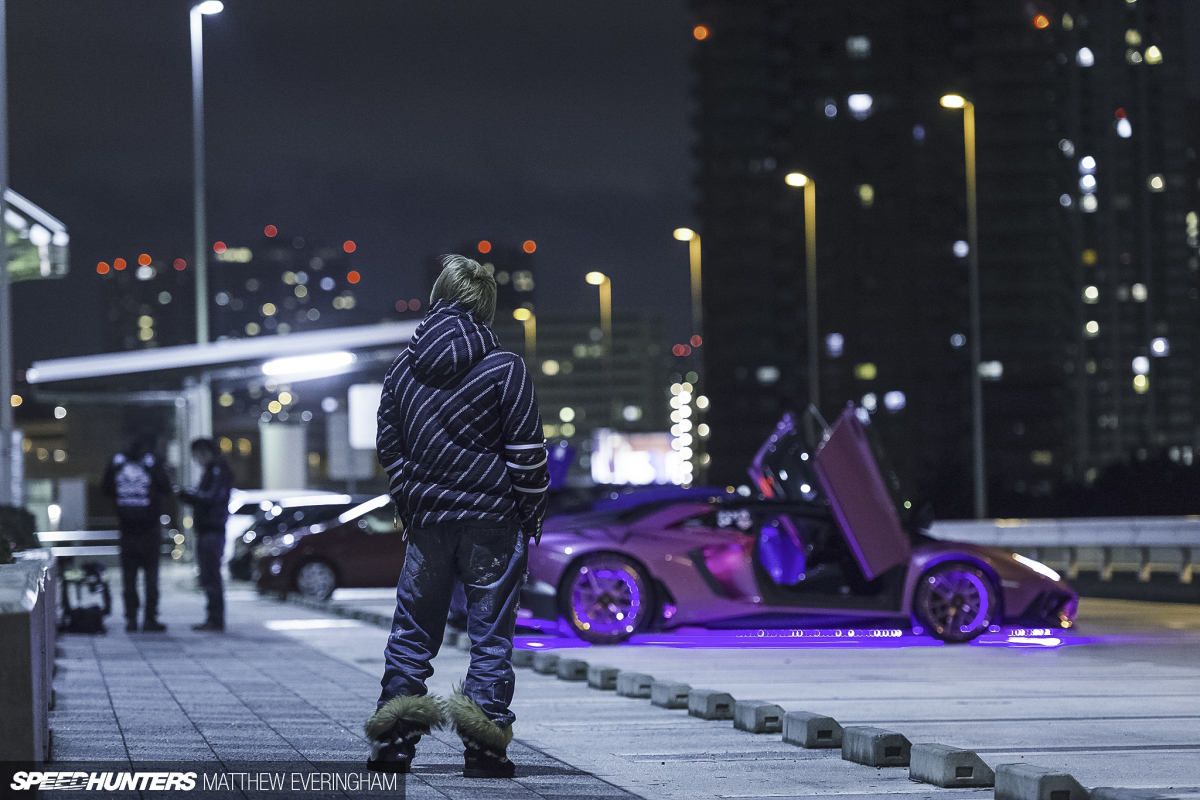 Clearly, none of us felt ready to leave just yet. Instead, we huddled around the Aventador's exhaust for warmth while we tried to communicate using broken words and smartphones.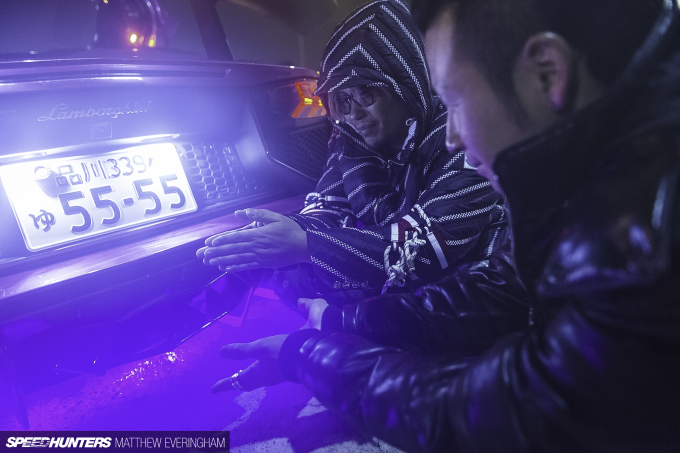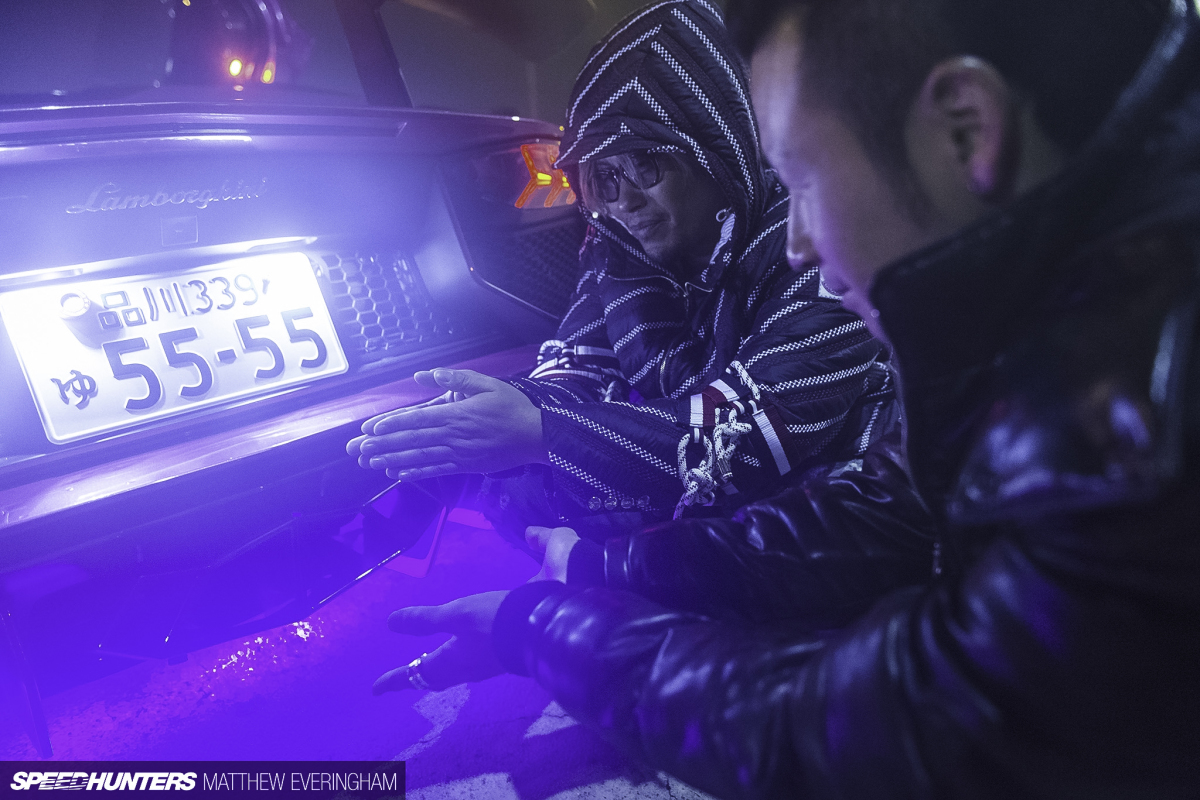 Eventually, we all agreed it was time to make a move. We all shook hands, bowed politely and went our separate ways.
Unreality was over, reality was calling. For Bez and I it was a long flight home in just a few short hours. Nikko planned on catching up with friends out of town, and Manabu mentioned an early-morning start for a charity event. All very different people on different paths, but at our core, most of us car blokes are very similar.
Reflecting
Things have been chaotic since returning home. That's not a complaint as such, I'm just calling it how it is. I can't count how many times I've found comfort by returning to the images captured on that bitterly cold night, even if it's just for a few minutes between tasks. Most of the time I'd do it without even realizing, too.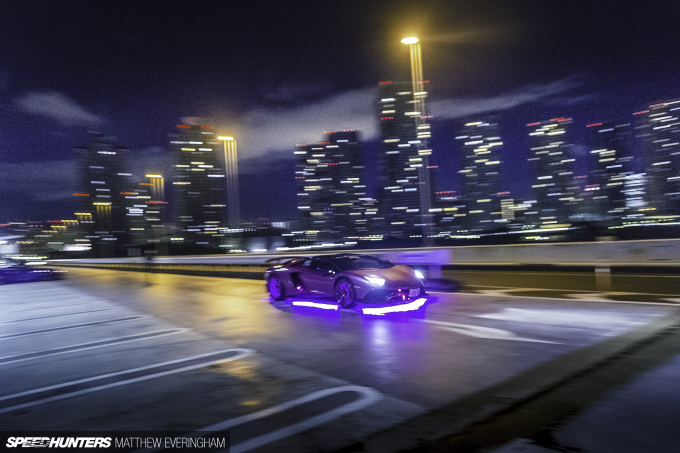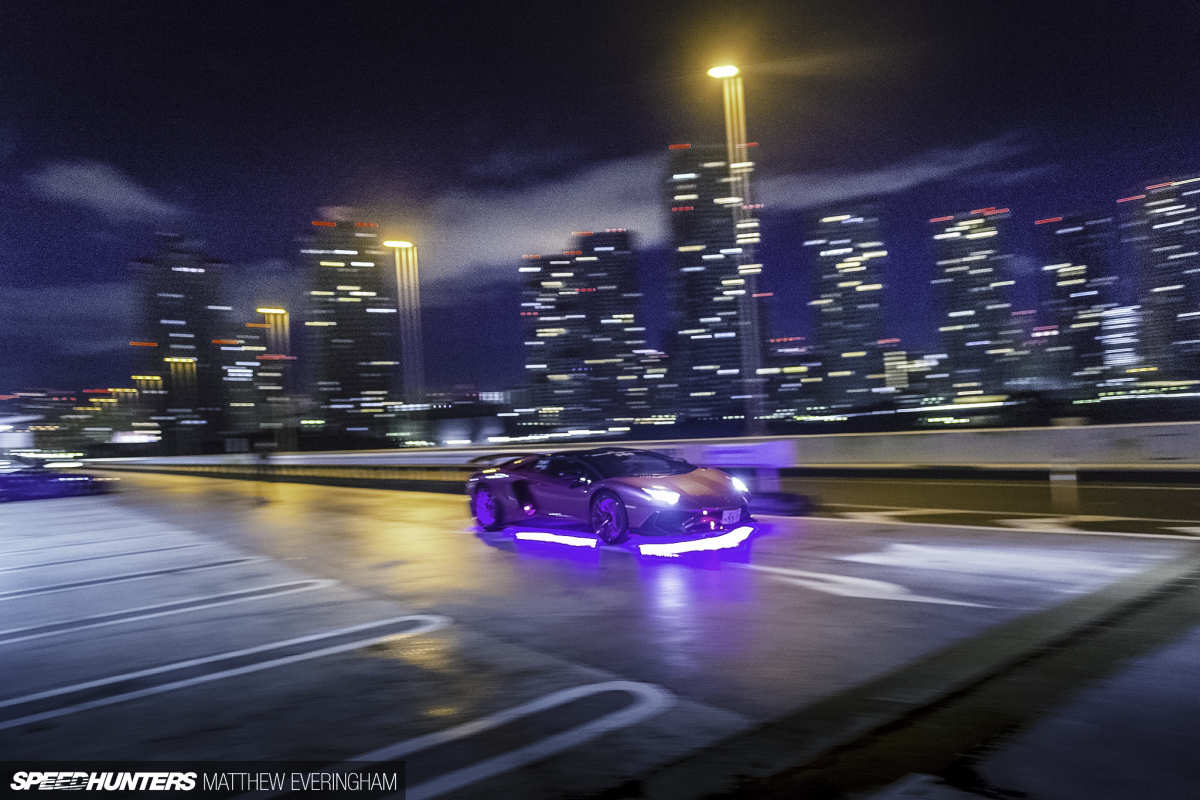 Perhaps it's the sheer absurdity of the night, or how wholly disconnected that one night was from a reasonable person's reality. Regardless of the reason for my constant reflection, I'm thankful it was something I got to experience, and now to share with you.
While this story may lack the usual substance I chase, it's a reflection of the purest form of what Speedhunting means to me and why I do what I do. That is, sharing the #JoyOfMachine with like-minded individuals.
Hopefully, through sharing these audacious cars in their surreal setting, I'll be able to trigger that same joy in you too.
Matthew Everingham
Instagram: matthew_everingham
matt@mattheweveringham.com
More Of The Feeling