Will The Real GT-R Please Stand Up
Welcome to the second wave.
At a quick glance, you might dismiss this whole feature as just another story on just another tuned Skyline GT-R. But this R34 put together by the team at Trust Japan, like many other new GT-R demo cars out there right now, represents so much more.
The RB26DETT was first introduced in the 1989 R32 GT-R, a car that next year will be thirty years old. The R34 is 20 years old next year. Yet, here we are, still captivated over the lure of an engine that was introduced three decades ago. And the industry is right behind it all, supporting us along the way by going back to the drawing board and coming up with new and re-engineered parts to help keep these cars as current as possible.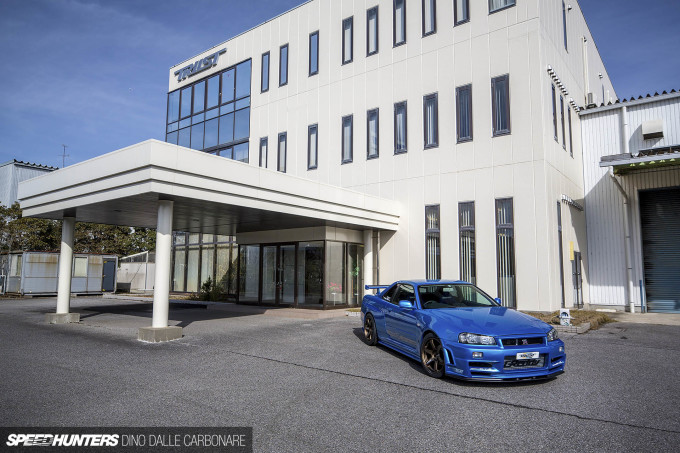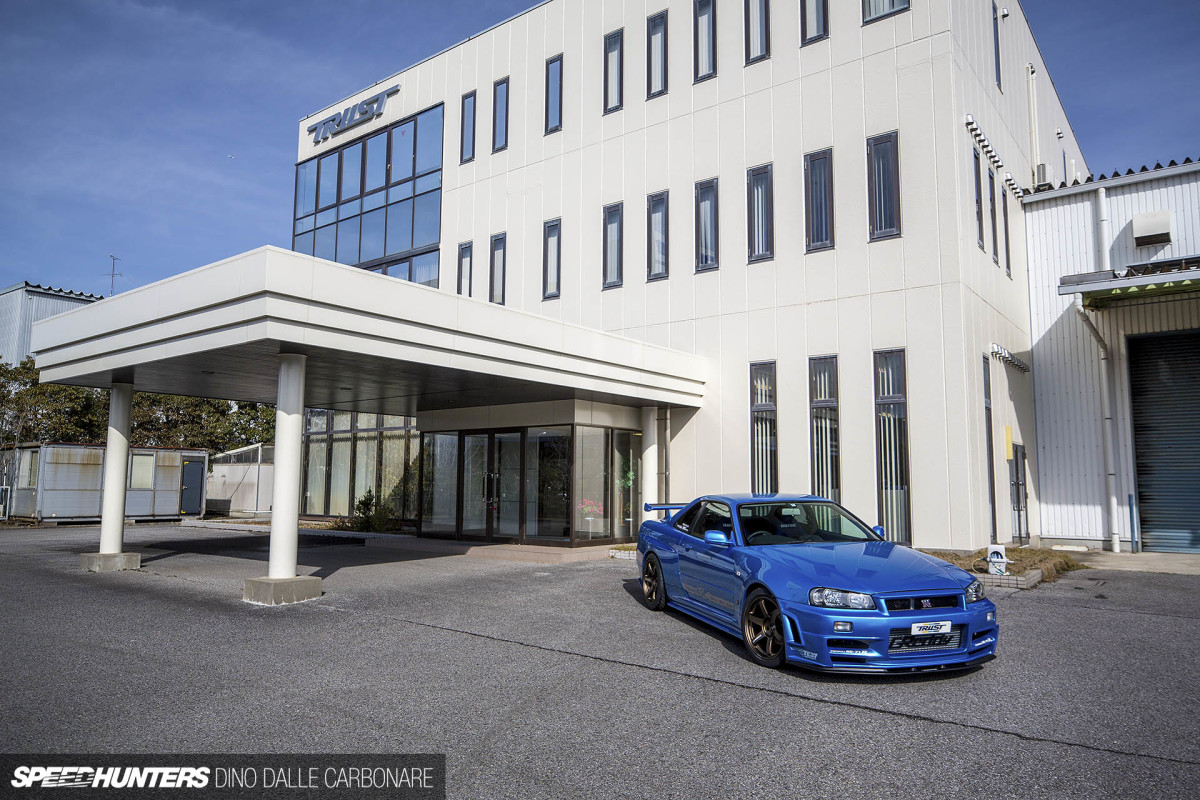 One of these companies is Trust, or GReddy as they are known outside of the domestic Japanese market. To kick off 2018 with a bang, they teamed up with the guys at GT-R Magazine and collaborated on a build of an early BNR34, a car that would serve as a development platform for Trust to develop a series of new parts. By doing so, they were in a way celebrating the popularity surrounding these cars and the constant demand by owners to perfect their cars.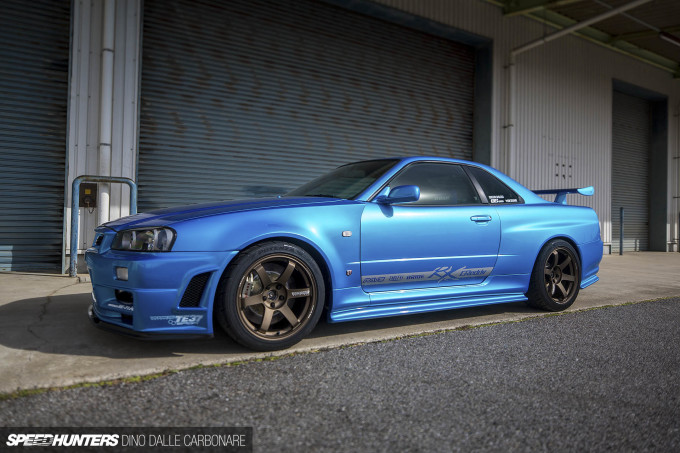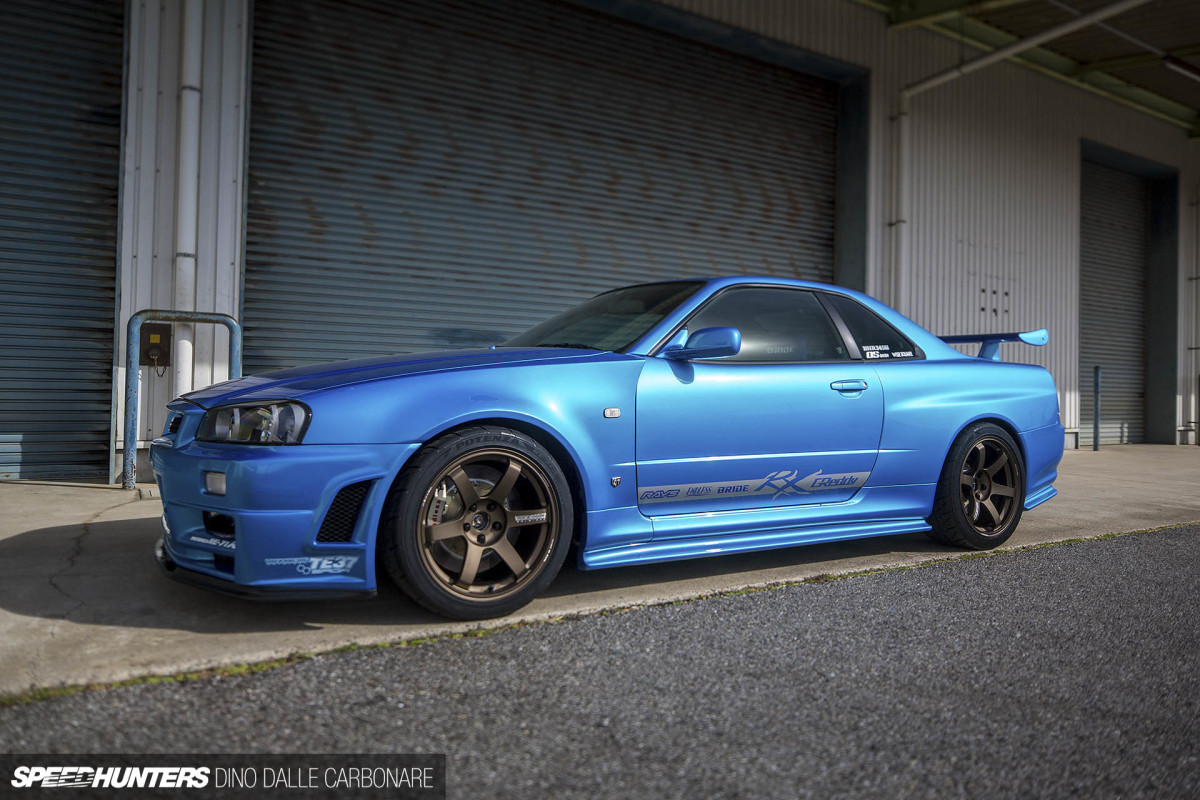 As you see it here, the candy blue san-yon sits completed, a first wave of modifications which have seen the exterior of the car addressed as well as some basic mechanical enhancements to get the best out of the hidden potential a stock GT-R hides.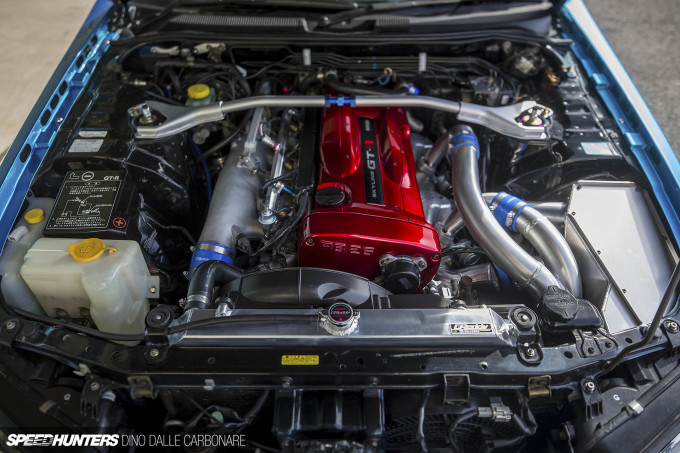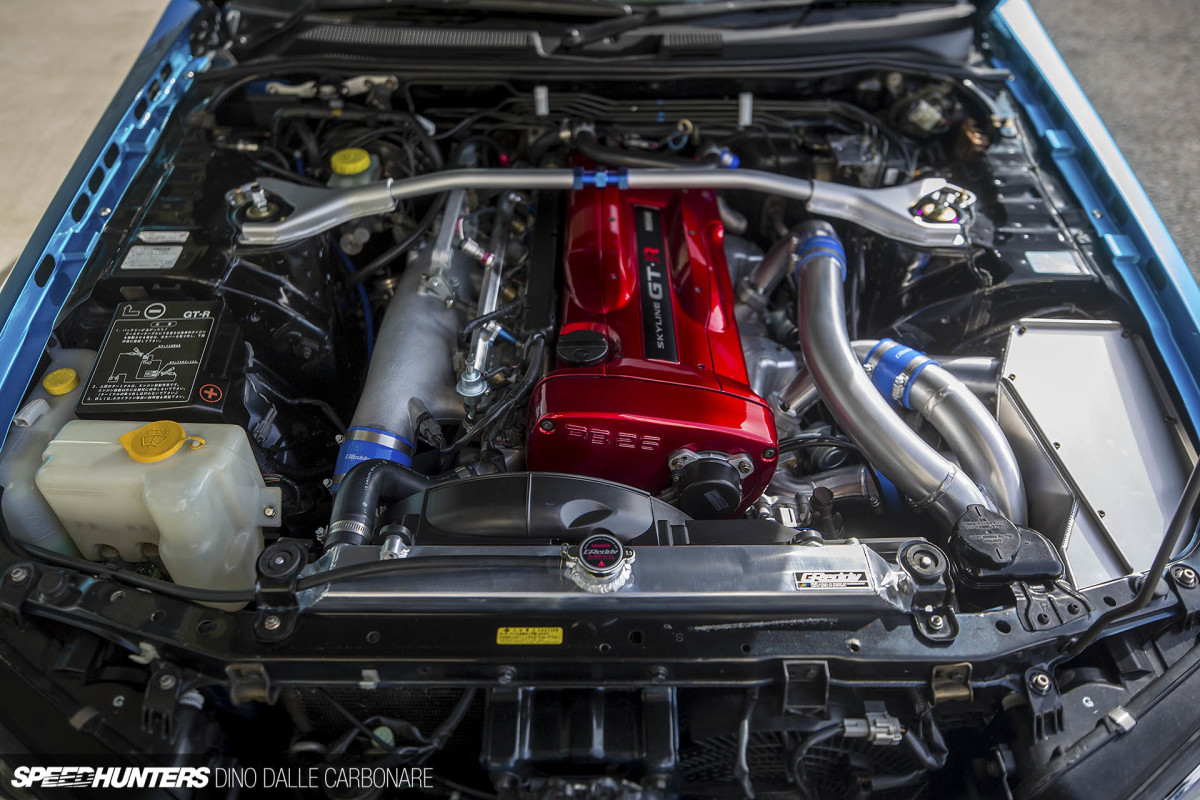 Let's first jump into the nitty gritty of the engine, which is what Trust really wants you to take notice of. We won't get into power figures as these aren't something that have been announced yet, but as you would with your car consider this a first set of modifications that the majority of owners would do, and that most would stop at.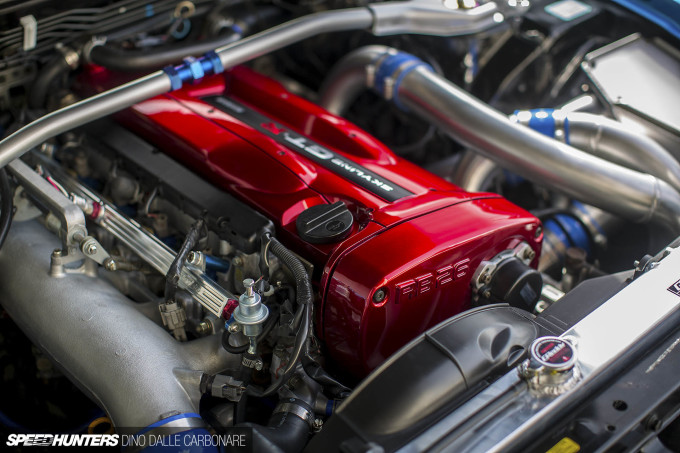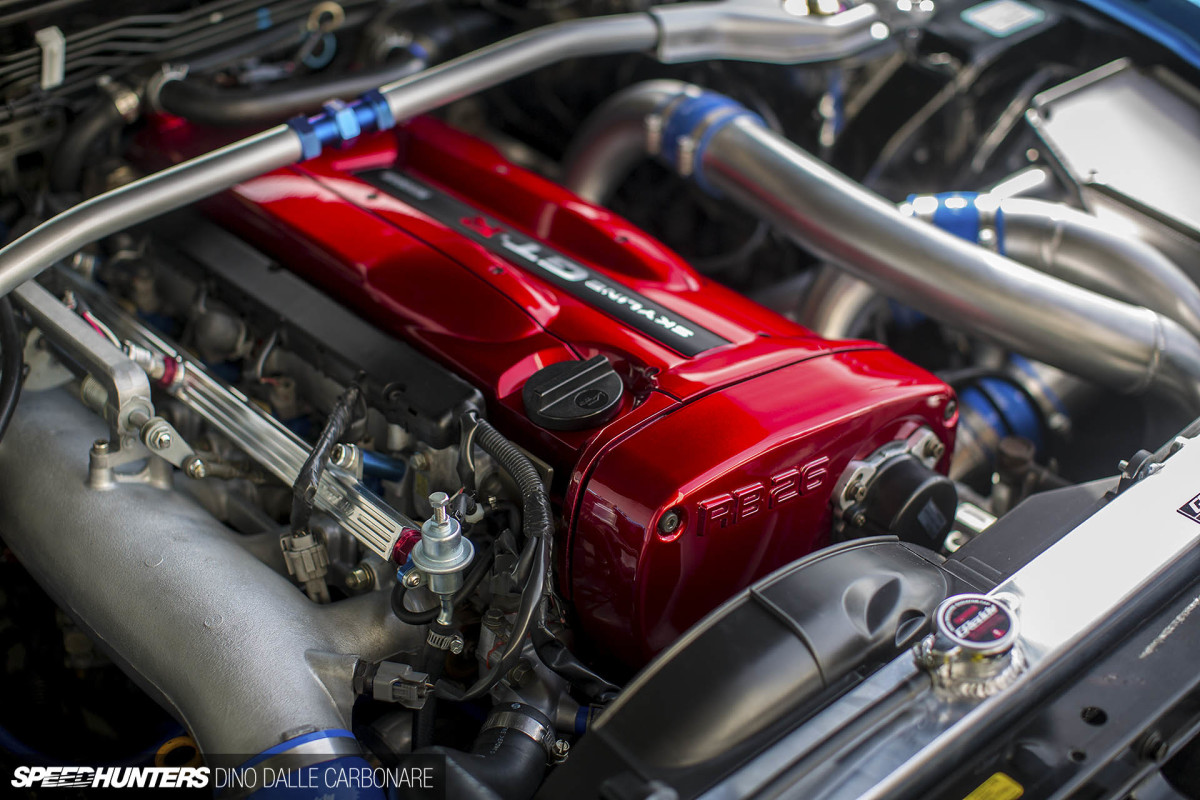 To make the whole thing stand out more at the Tokyo Auto Salon they even repainted the engine covers, respraying them with a candy version of the stock metallic red. It's hard to get the gist of what it looks like up close through the pictures, but it definitely has more depth, and if you're a GTR guy you will notice that it's not the factory hue straight away.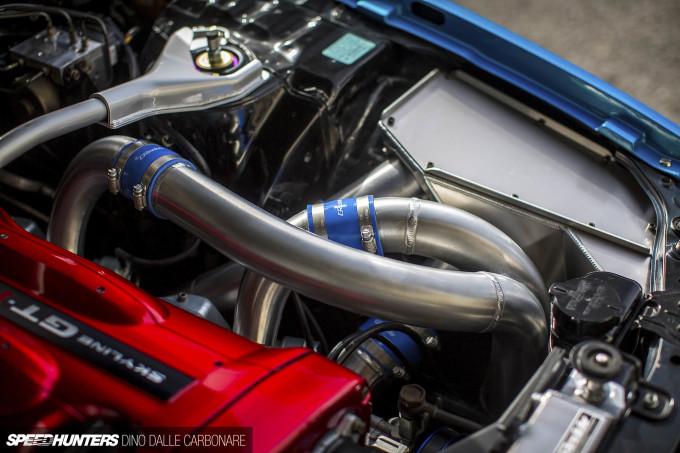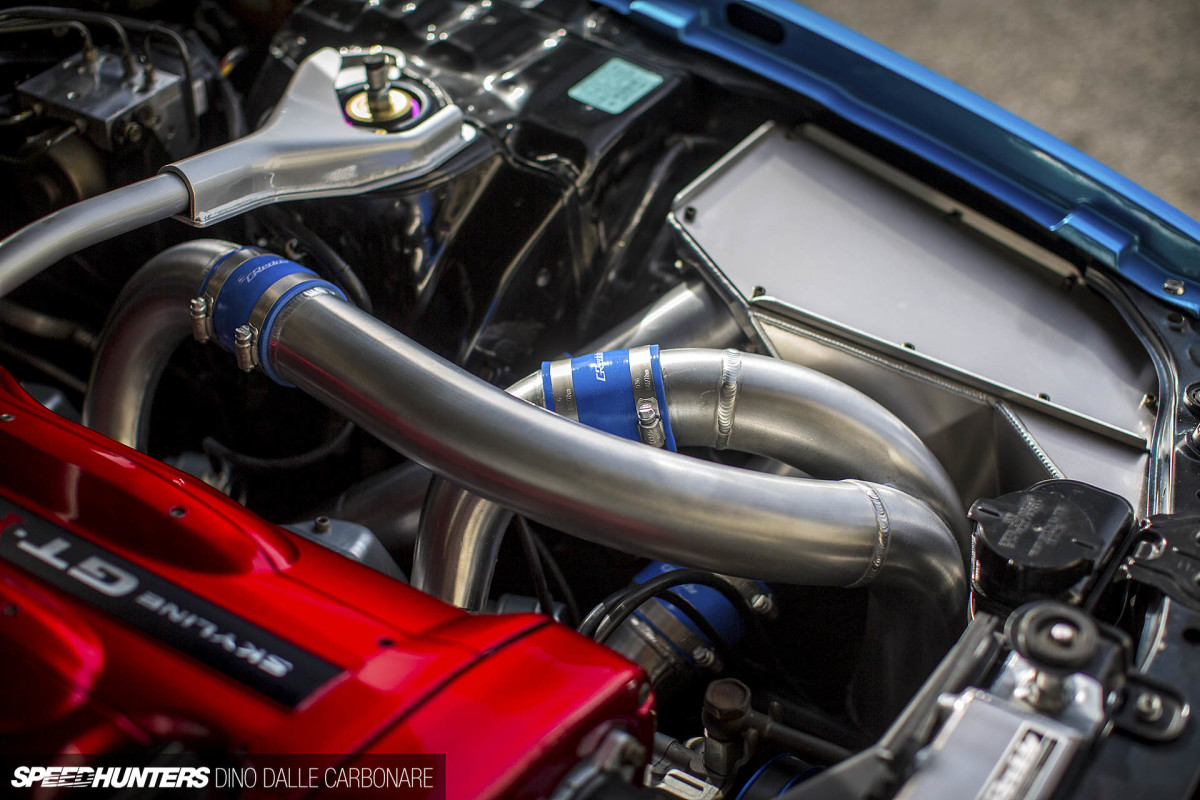 The induction side of the engine is where your eyes will land first. Trust took inspiration from the old Gr.A turbo inlet pipes and created their own version which are unlike anything that's out on the market. They've been kept nice and small diameter wise to not upset flow and response, as well as featuring gentle curvatures so as not to create turbulence with the intake charge.
Buried deep beside the engine are a pair of new turbochargers that they are testing out. Their aim with these units is to not only offer excellent response and a strong boost curve, but also to bring a decent gain in power to the table. These will support somewhere in the region of 500hp+ depending on supporting mods and tunes. They feature compressor / exhaust housings and wheels which are considerably smaller than their old T517Z turbines.
The way they join, prior to the single entry of the intercooler, was also carefully thought out, a much improved design compared to the close to 90-degree merge that the stock pipe has. Air flow meters have been thrown in the trash, where they belong, and tucked away in the sheet aluminium air box is the filter. The location takes full use of the fender-side intake to maximize the volume of air being sucked in but allowing a little back pressure to make every function just right.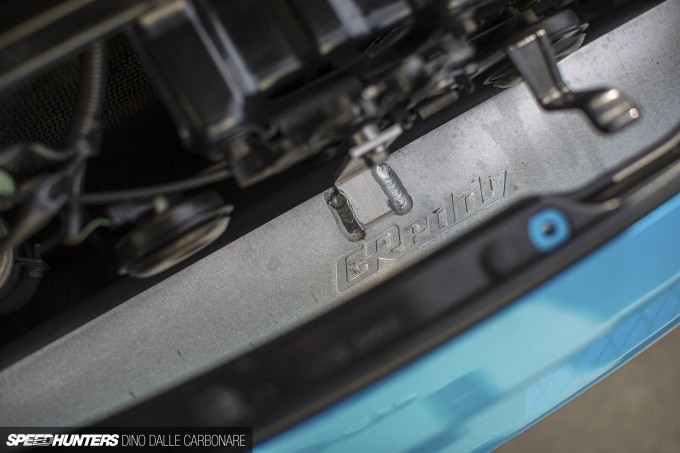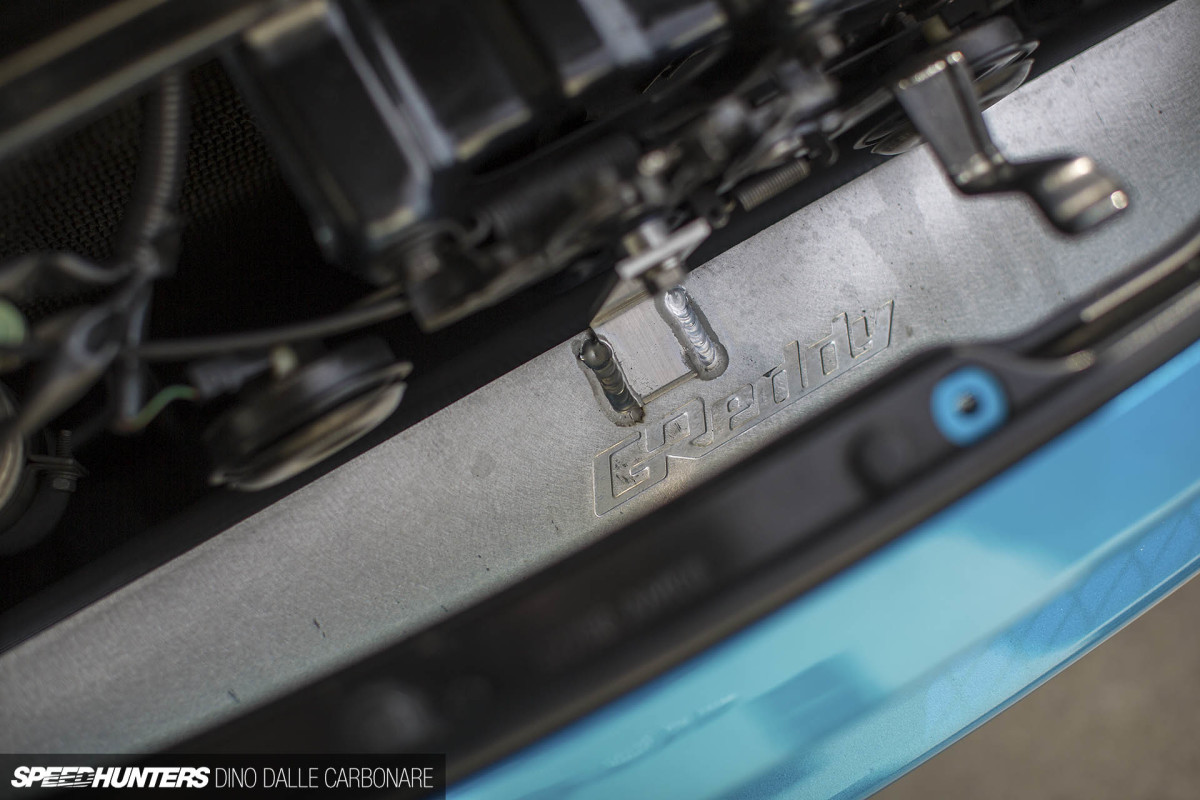 It's then up to the Type-29F intercooler to cool the air before it's directed towards the six-throttle set up via the stock intake plenum.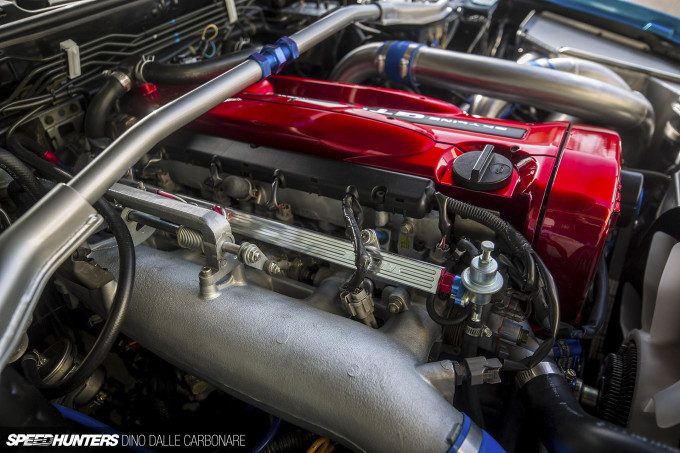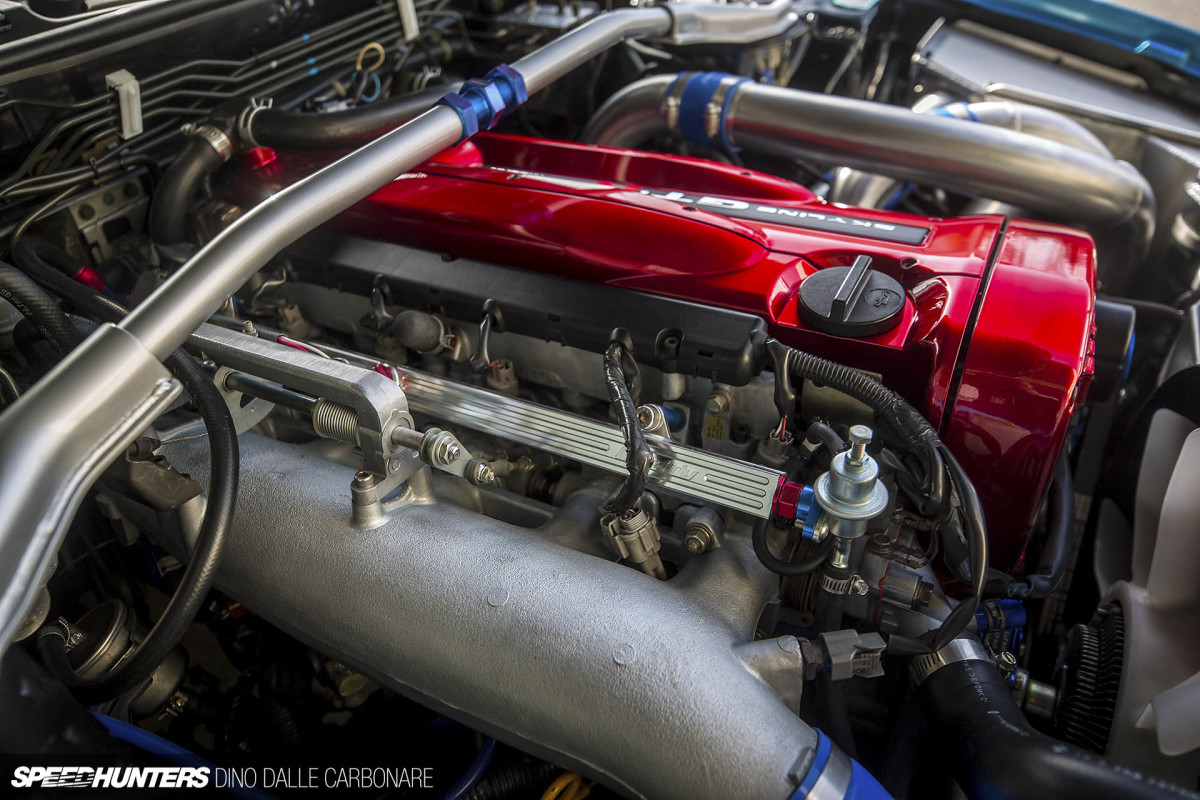 Keep in mind that the car is still very much under development so a lot of setups will end up being tested, but for the time being they took the simplest and most appealing route to take care of the fuelling.
I say appealing because in Japan, everyone in the GT-R world raves about going with Denso R35 injectors. The multi-hole, low-impedance sprayers are light-years better than the single hole squirters that tuners have been throwing onto RBs for the last three decades. Their size, however, won't get you far past the 550hp mark. So, while they are spot on for this particular application, once larger turbos are tested along with a stroked up capacity, bigger units will have to be used. The instantly recognizable blue injectors are slightly shorter than what was typically used on the RB, so they need adapters to fit the GReddy fuel rail.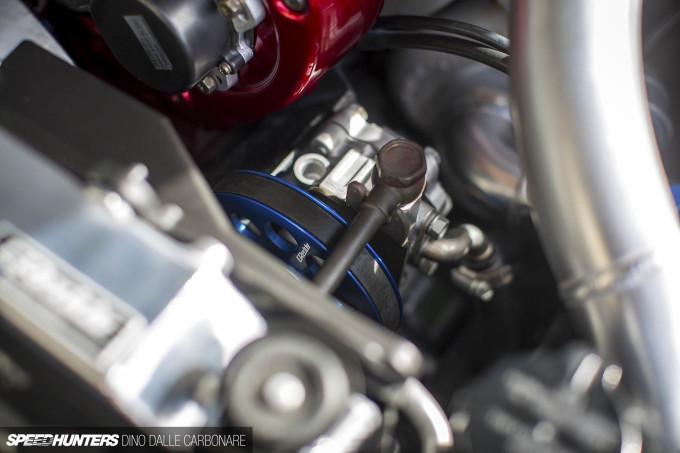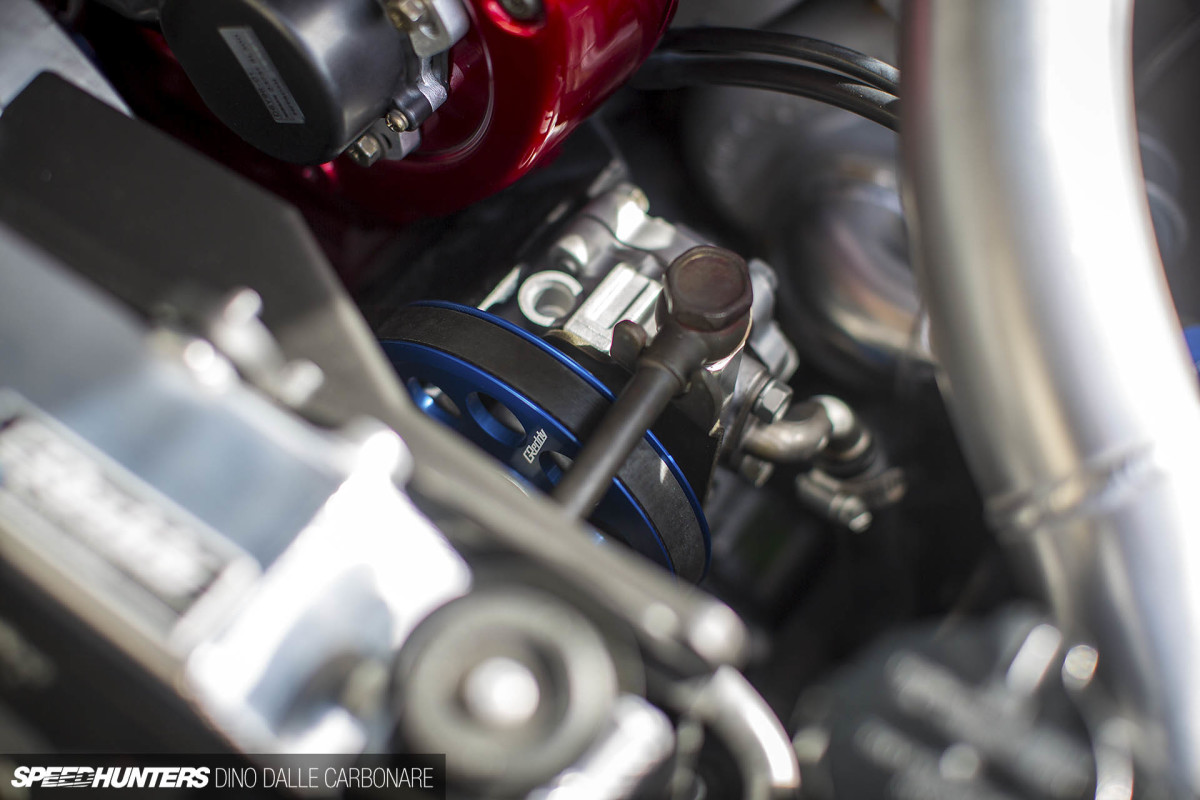 More interesting GReddy items include their lightweight pulley kits which help shed some rotational – and power-sapping – mass from the engine's ancillaries.
With the removal of the two Mass Air Flow meters, a MAP (Manifold Absolute Pressure) sensor was needed as part of the conversion to run the Link ECU that looks after the engine's vitals. You can see the small 3-bar MAP sensor neatly mounted onto a custom bracket on the firewall along side GReddy's own boost control solenoid.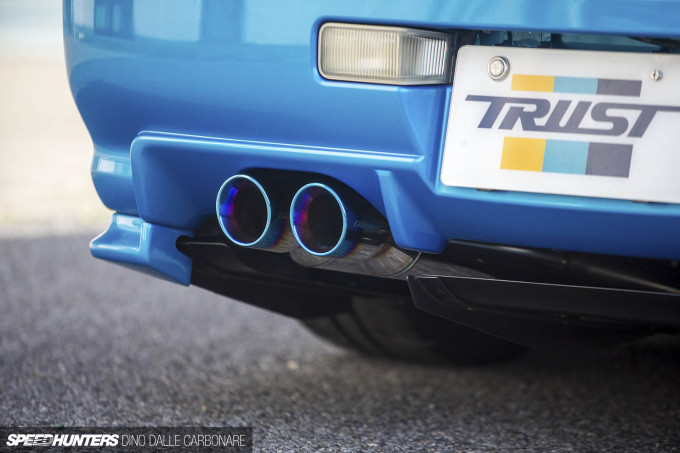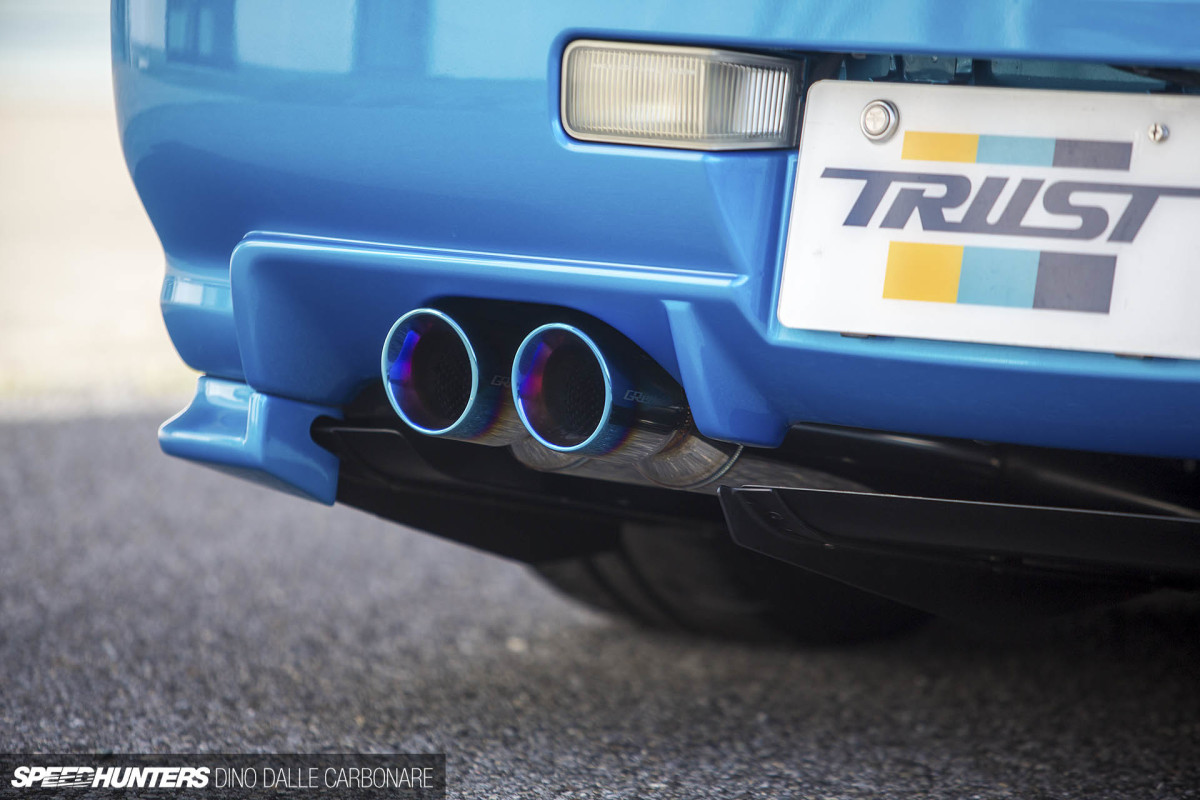 The final piece of the puzzle was the exhaust, which starts off with Trust front pipes, a sports catalyst to keep the car nice and legal for street use and all ending up with a GReddy Power Extreme R 90mm dual system.
Redoing the Exterior, Conservatively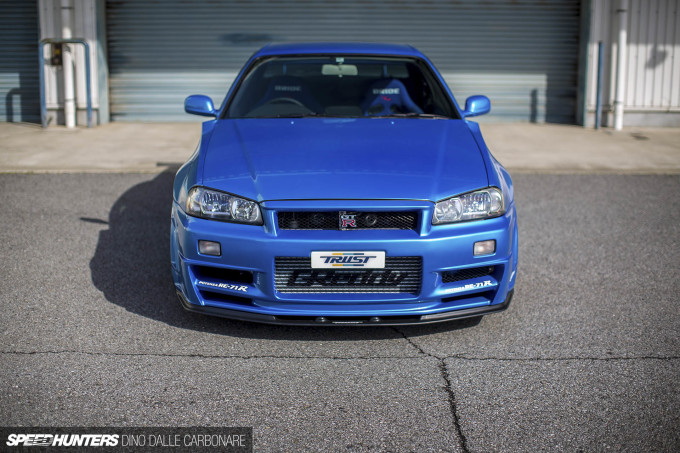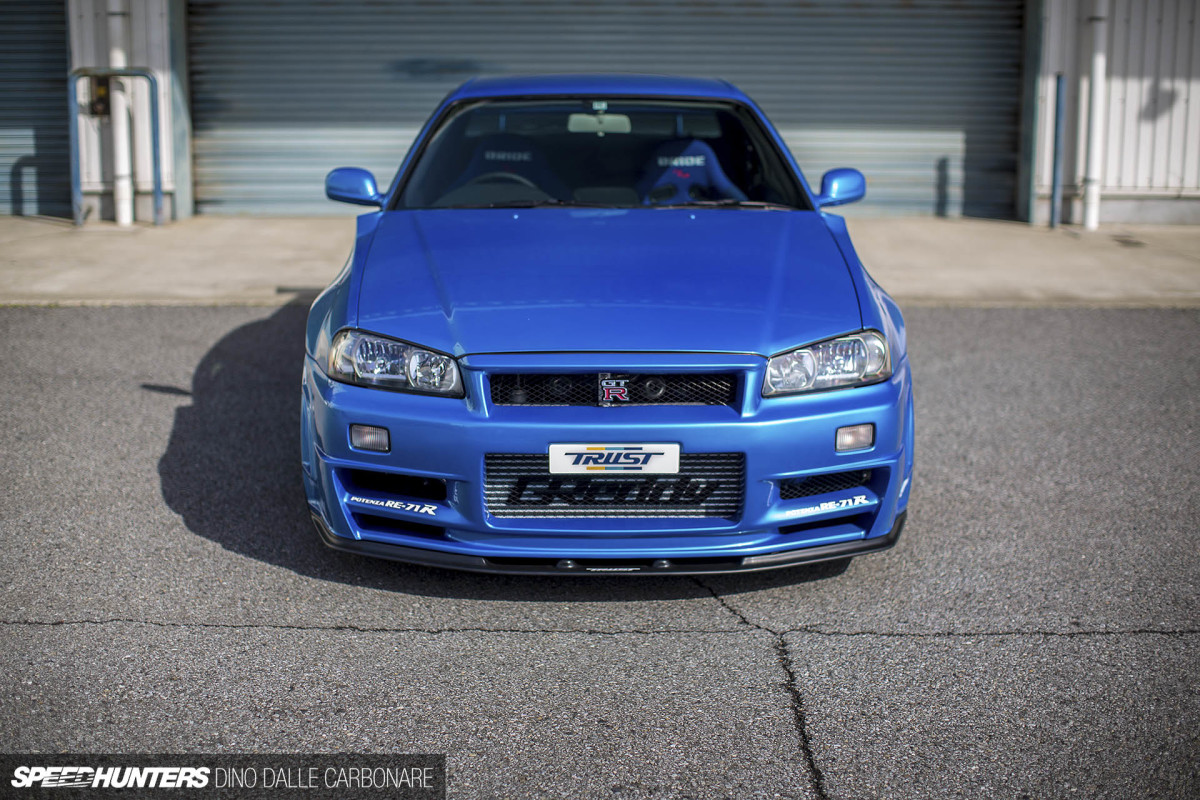 Mechanically, the work hasn't quite ended there.
Since Trust is now part of the Glion Group along with OS Giken, the R34 driveline has been thoroughly upgraded with nice OS Giken goodies such as their Street Master GT2CD clutch kit. Seeing as this is a non-V-Spec model, they swapped out the factory mechanical rear differential for an OS Super Lock LSD. Furthermore, a lightweight propeller shaft from the Driveshaft Shop has been also added, replacing the heavy two-piece stock item.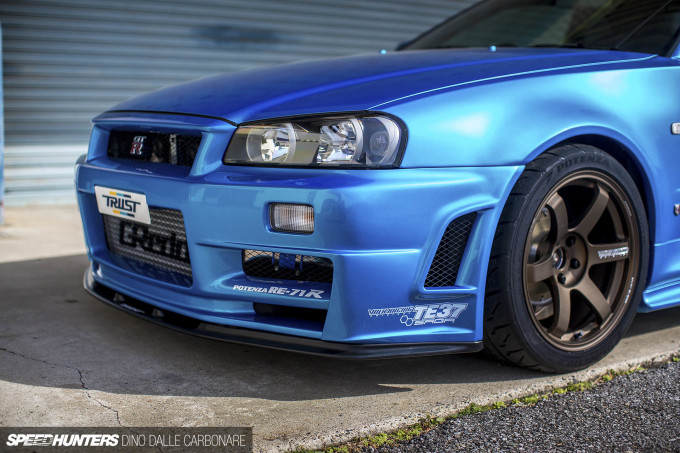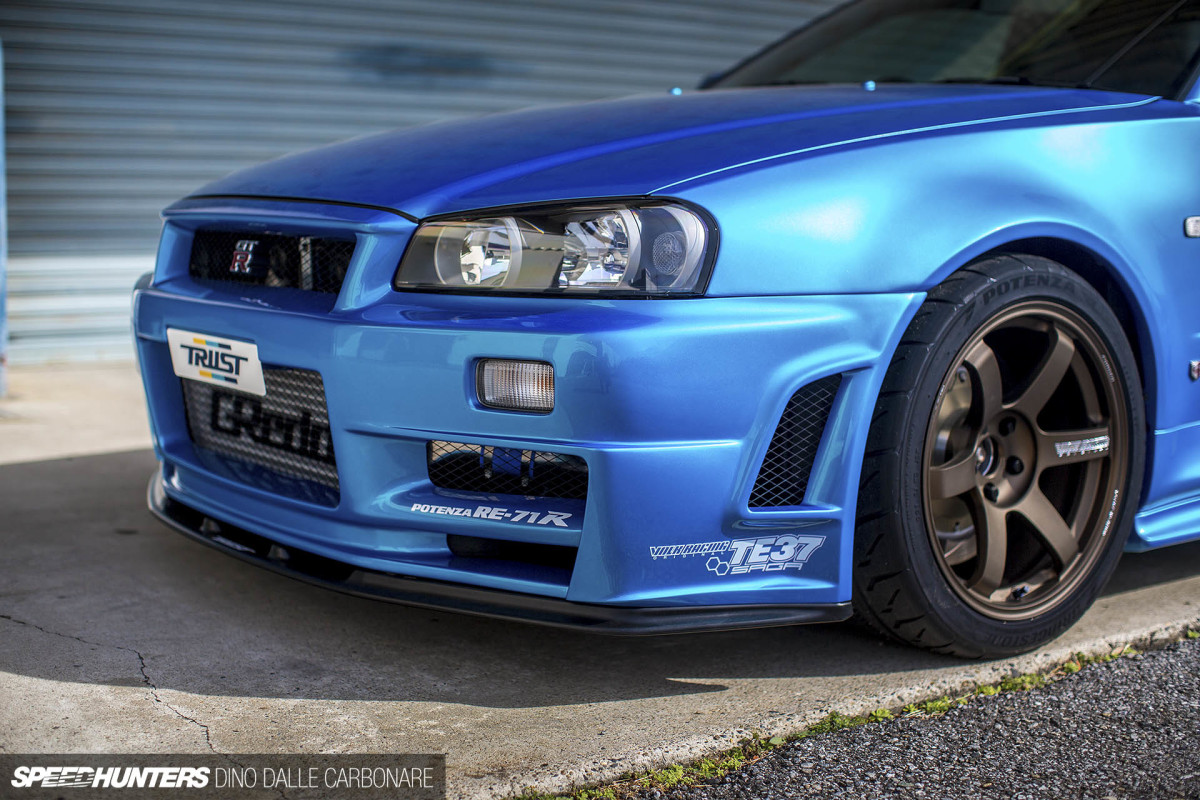 With regards the aesthetics, simple is often the best approach on an R34, even if there is a multitude of kits you can go with. The rather conservative way in which GT-R Magazine has always approached its project cars means they took a similar route for this car. The Nismo Z-Tune look is one you really can't go wrong with and that's exactly what we have here, an FRP bumper and the appropriate vented and slightly wider fenders.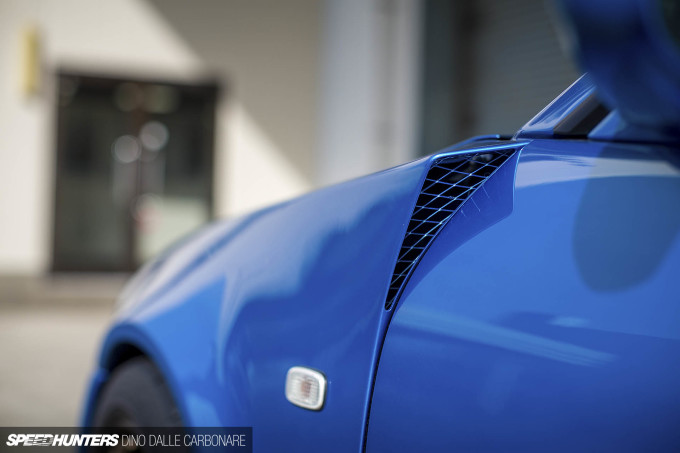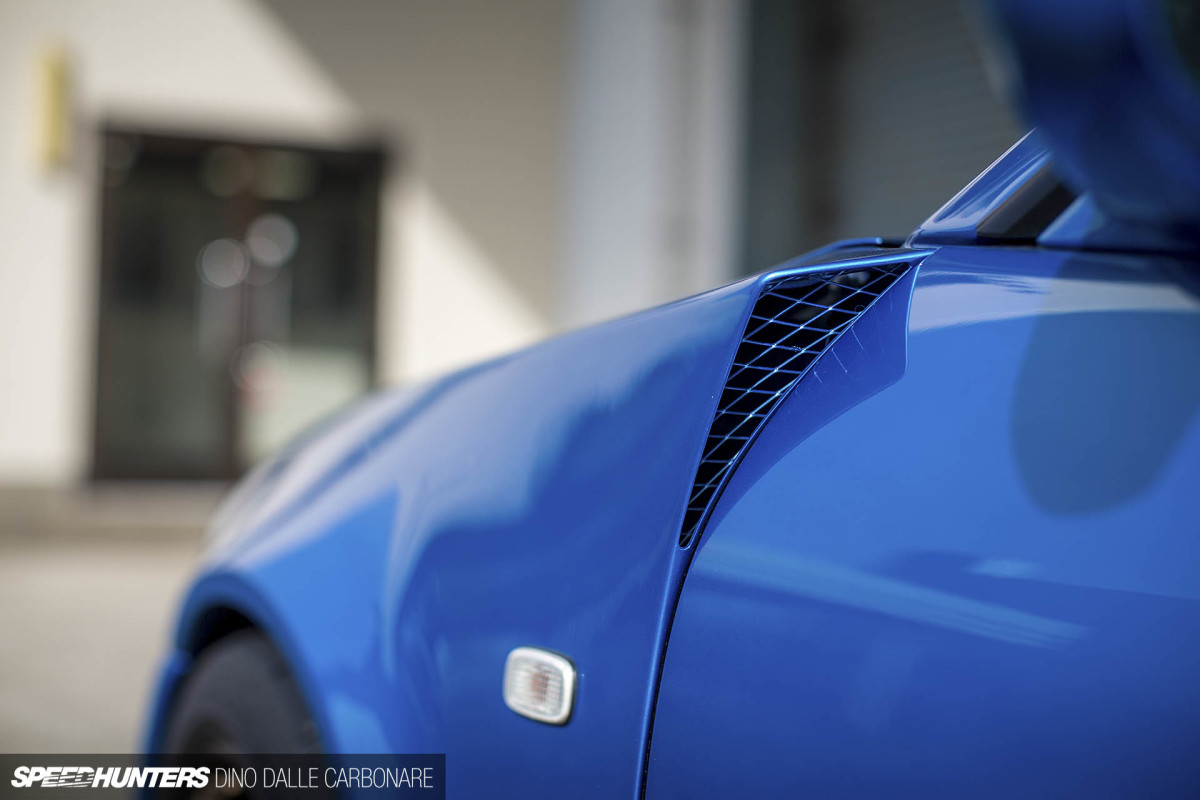 These, through the use of some openings along their length help channel hot air away from the engine bay and exhaust it out through these flared openings.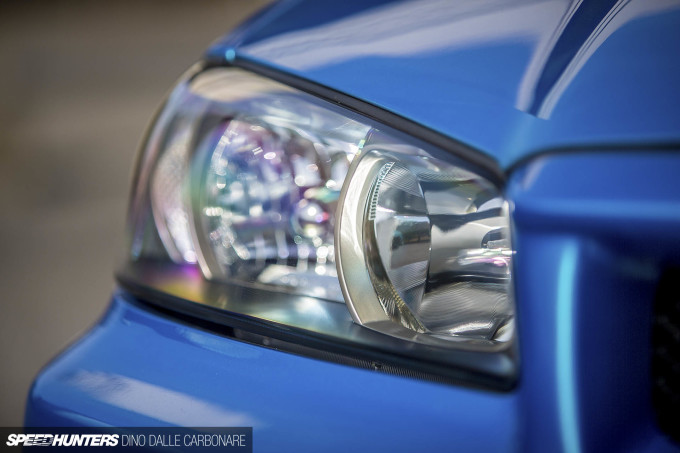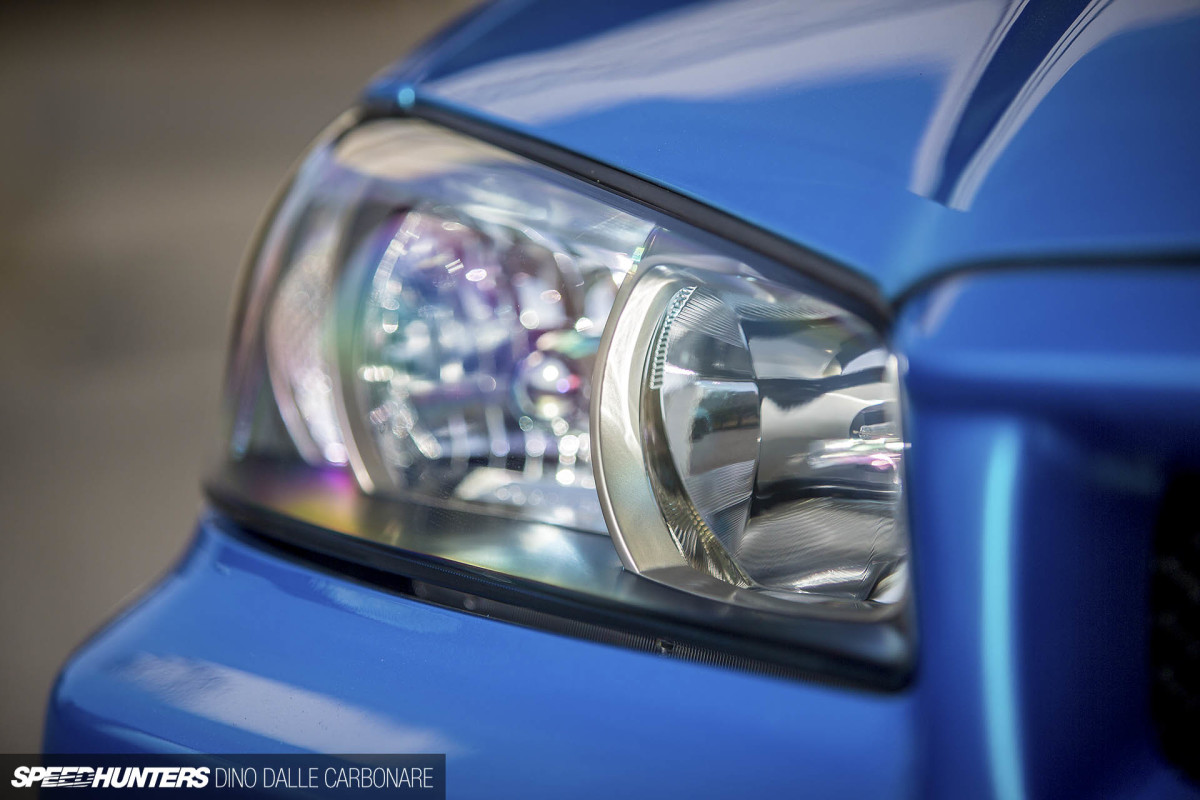 With the whole car having been sprayed with a light candy version on the stock Bayside Blue, there's no doubting that it all looks extremely fresh and unique. As soon as I saw the car at Tokyo Auto Salon, the first thing I noticed was the headlights; this is one of those things that haunts R34 owners at night.
The discoloration that occurs on the clear covers can get pretty bad and there's nothing much you can do about it; plastic ages. There are a ton of 'miracle' cures out there. Some that I've tried alleviate the problem for a little while before it re-manifests again. Trust have utilised a much better solution: completely new covers from Wise Square, you simply fit them in place of the factory ones and your GT-R gets that factory fresh look again.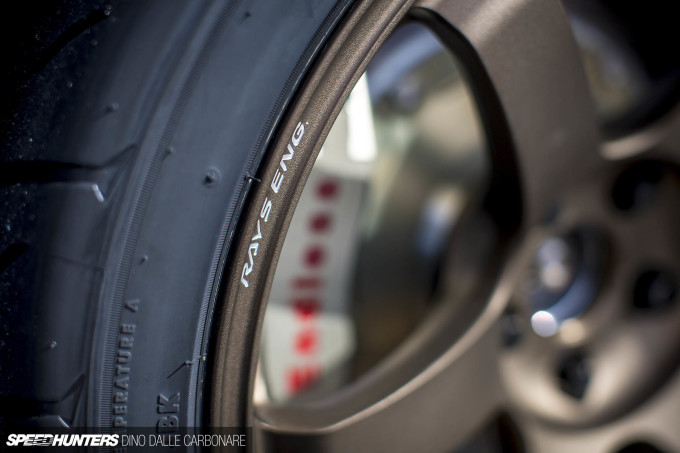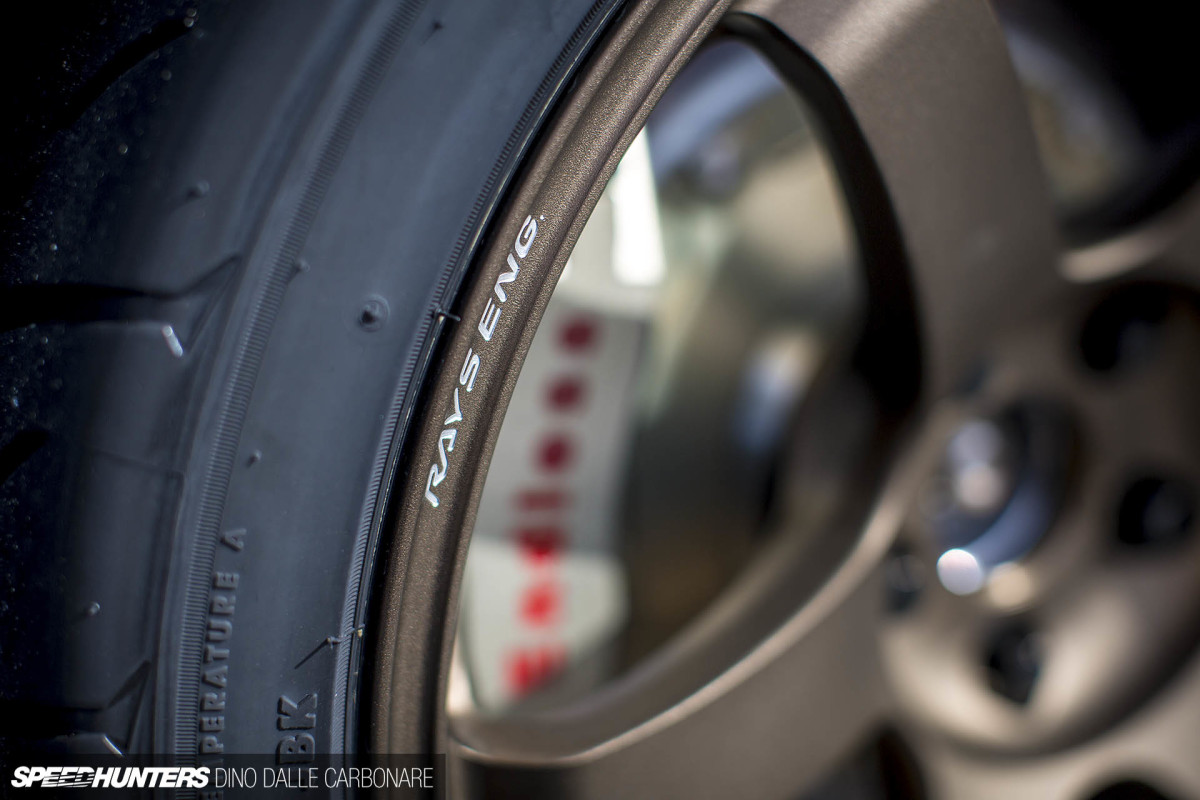 This car really wears the latest and greatest products out there, right down to the wheels with a set of 18×9.5-inch TE37 Saga.
These are easily recognizable as they sport machined RAYS and Volk Racing branding on the spokes, as well as what looks like a far more refined finish on that legendary bronze paint. The machining is something that RAYS has been doing over the last couple of years to help them fight against knock off wheels. The quality in finish, paint, coating and machining is visibly of the highest order, so people can spot replicas a mile away.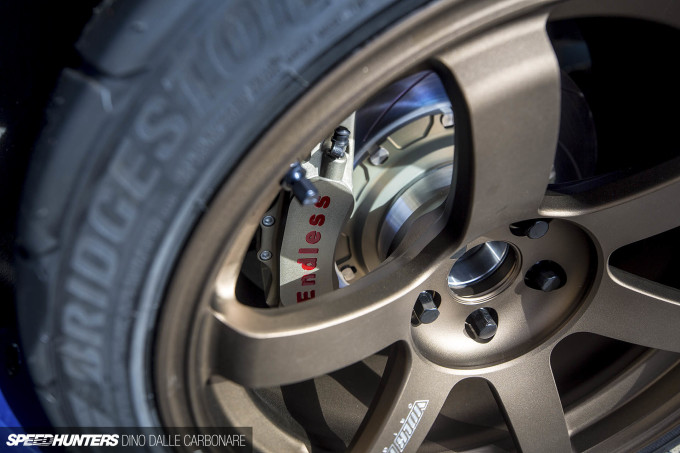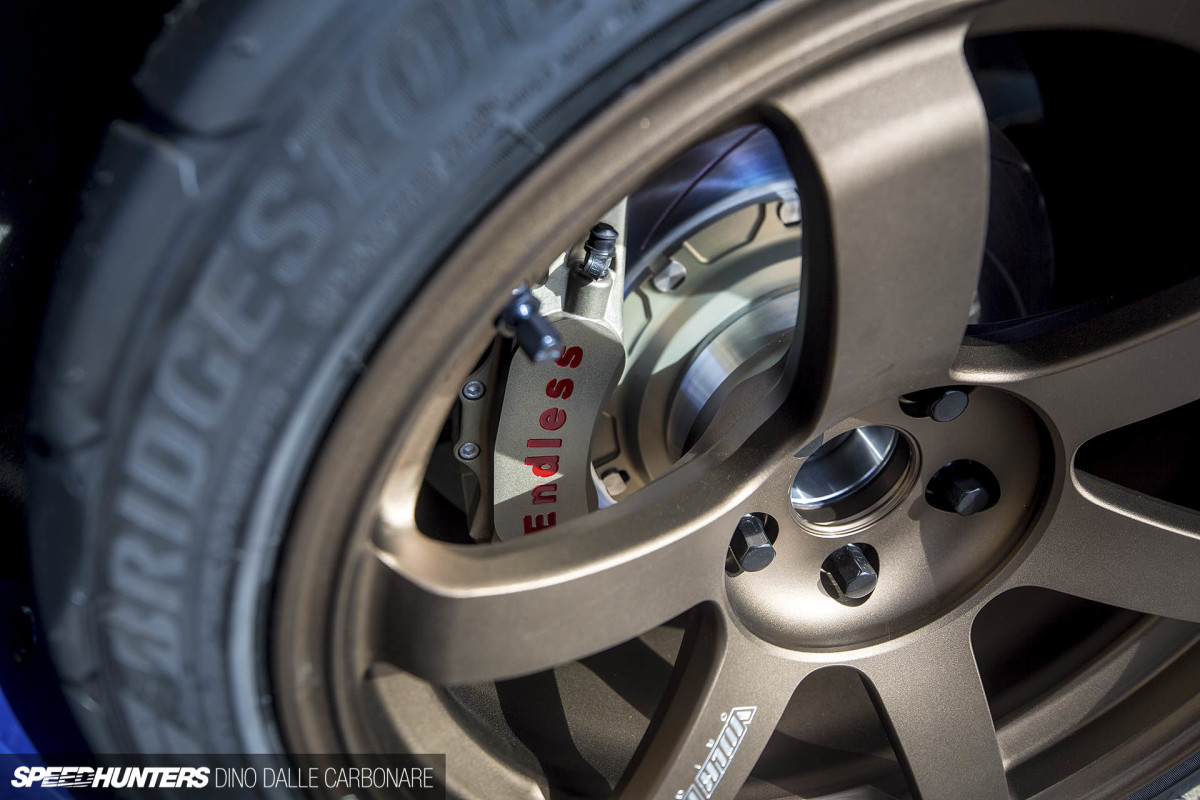 While the car sits on Trust's own GReddy adjustable coilovers, they approached Endless for the braking side of things whom offered a 6-piston caliper kit for the front and 4-pistons for the rear, all mated to two-piece floating and slotted discs.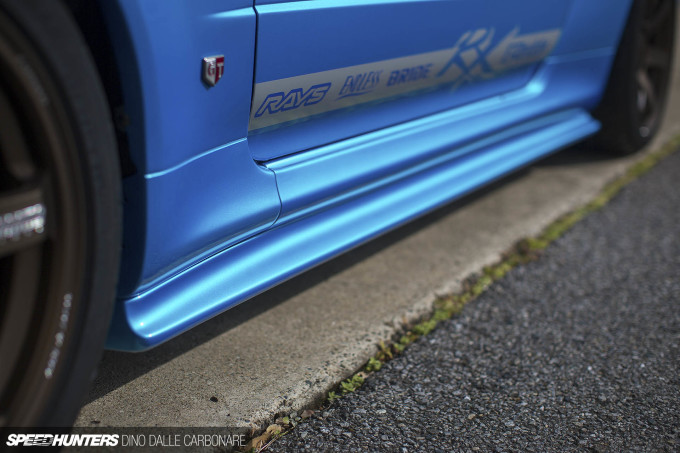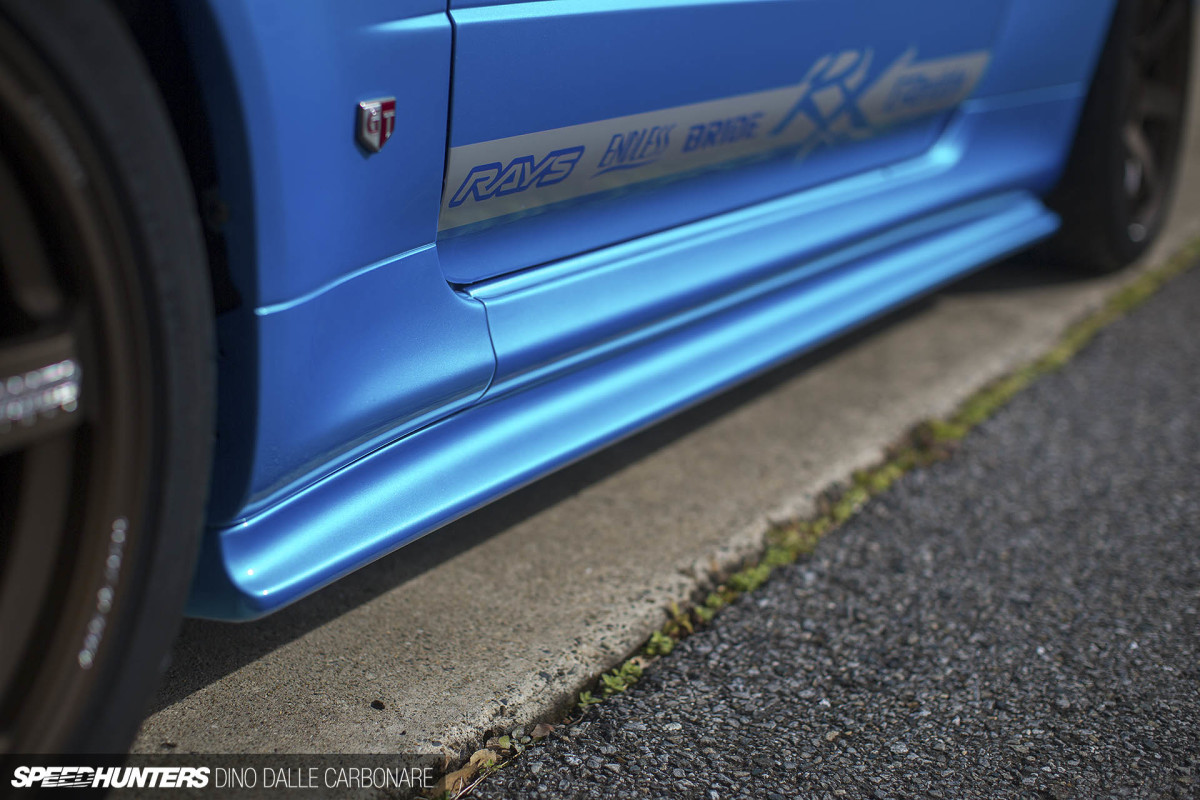 The Nismo Z-tune front end is paired with Nismo side and rear skirts, that give the impression that the body is sitting closer to the ground than it actually is.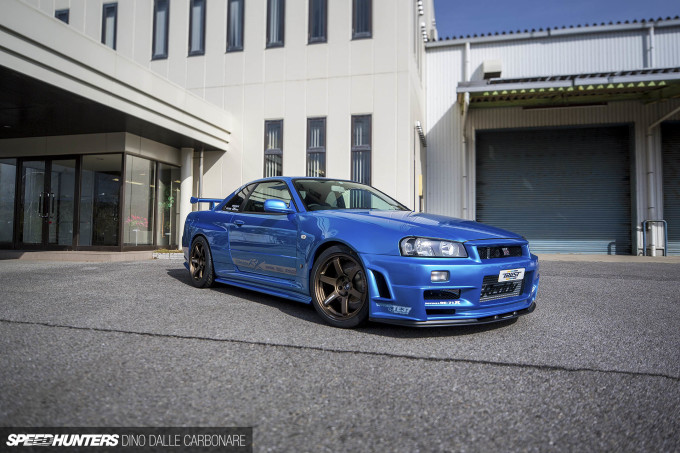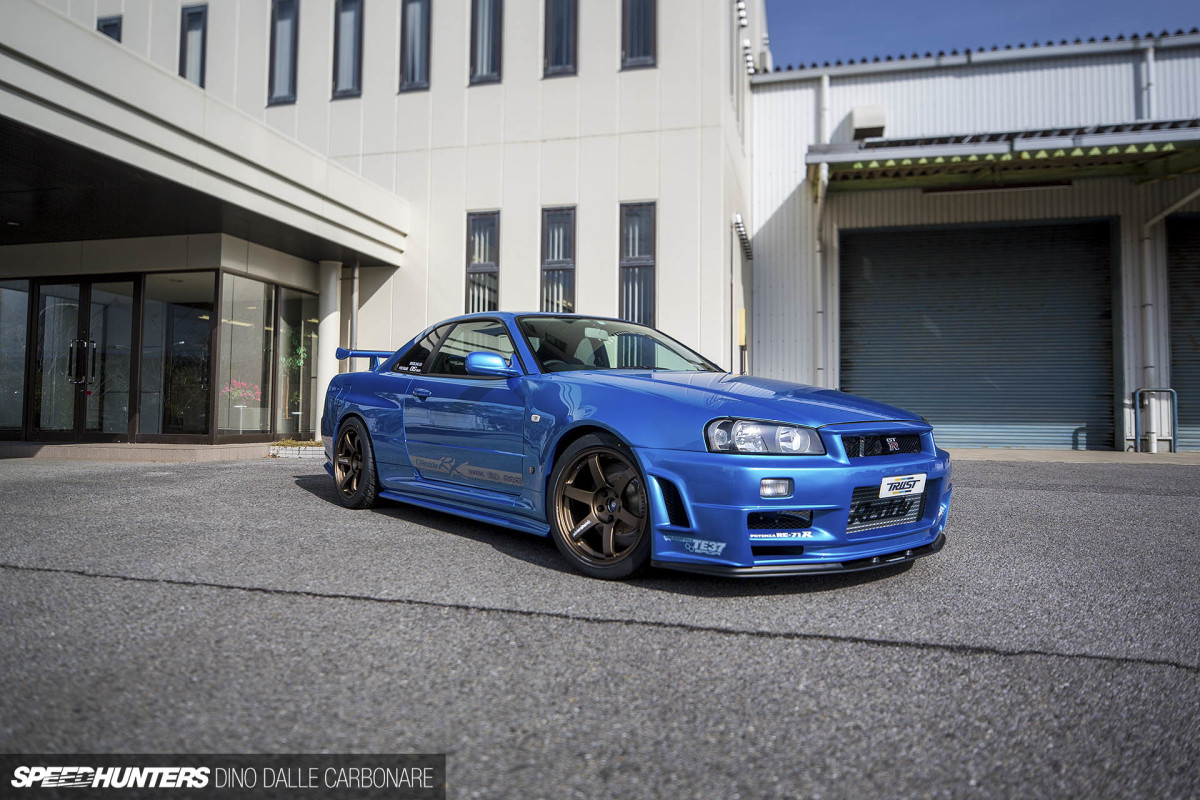 We can't fault the execution in any way, it's the look most would salivate over, maybe the addition of an R-tune carbon hood may make it even more lust-worthy?
It's All About The Blue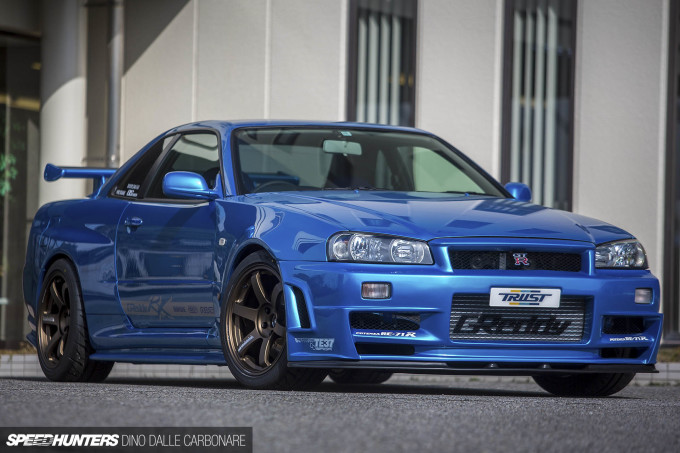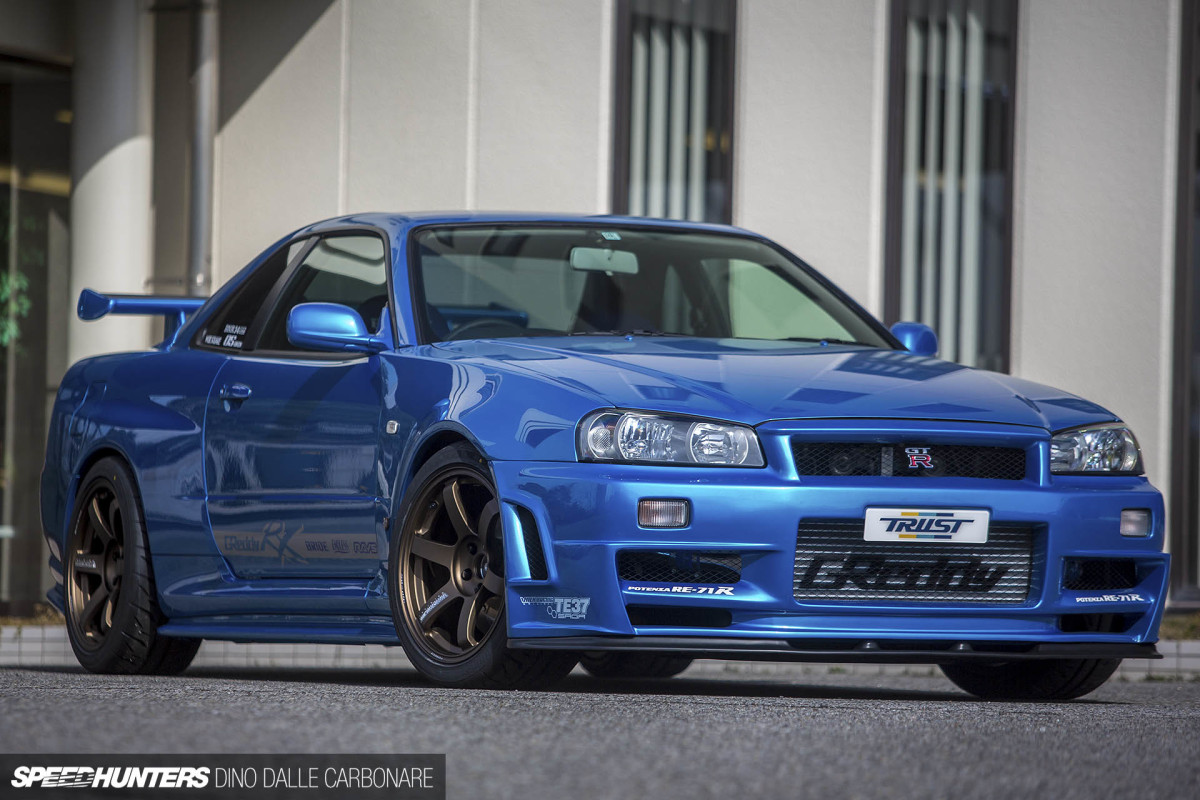 Everything so far combines to create a powerful, yet useable, interpretation of the R34, but one that wouldn't be considered complete without a few changes to the interior.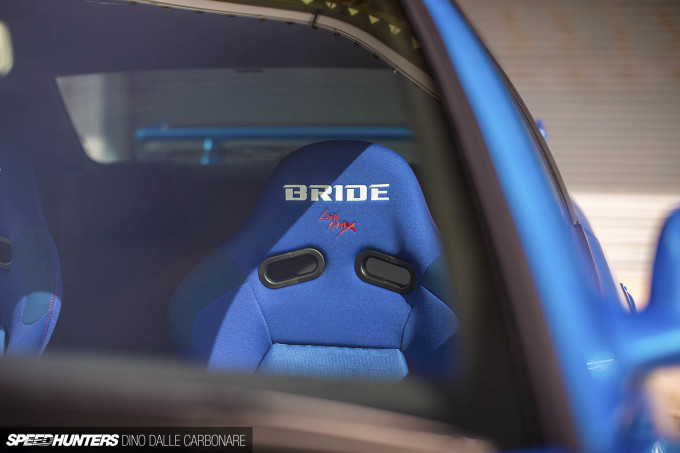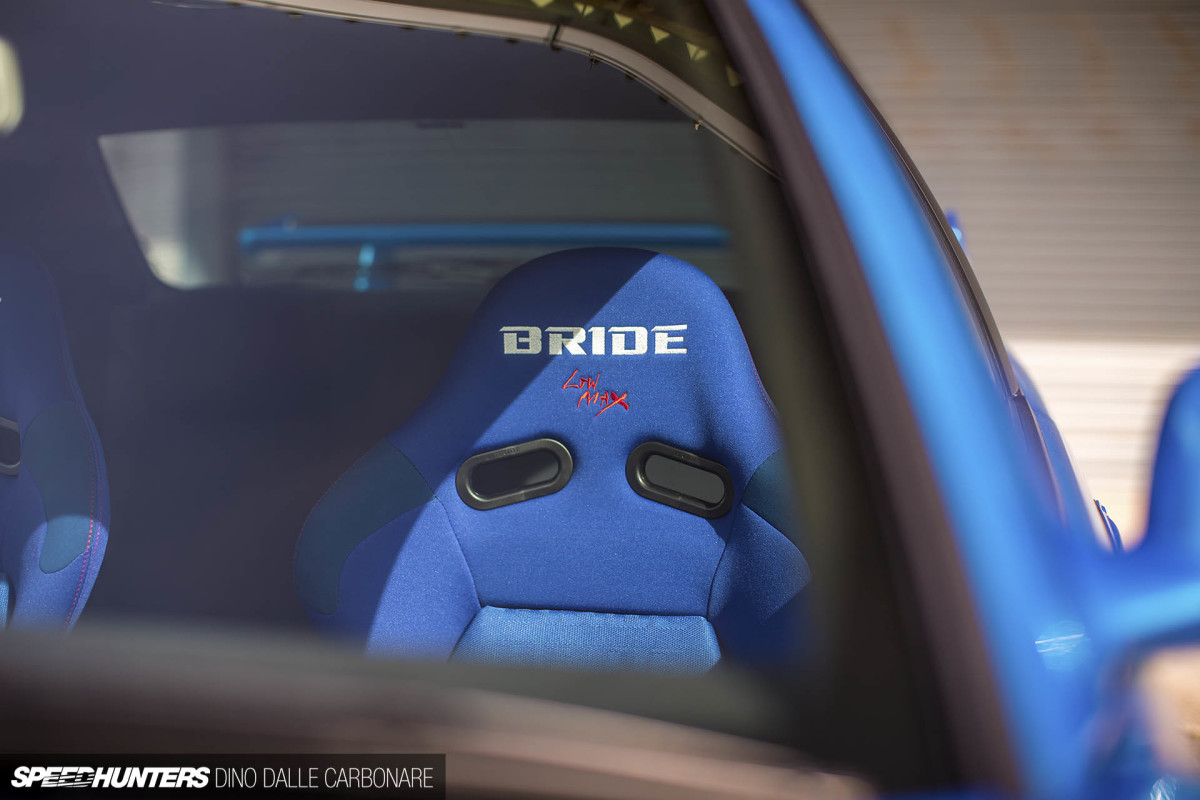 You've probably already spotted some colorful additions from some of the other exterior shots.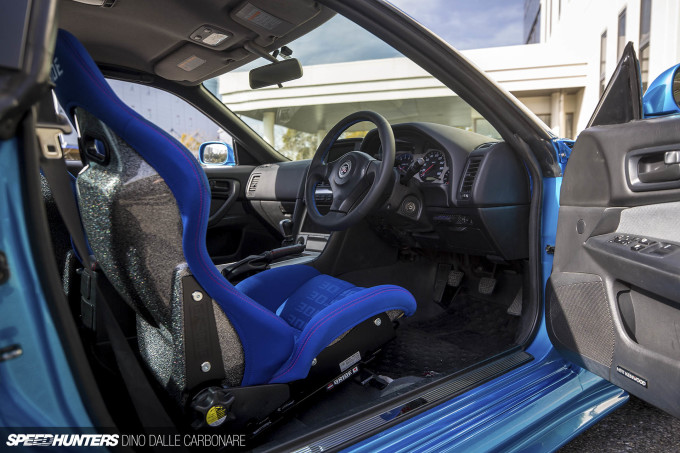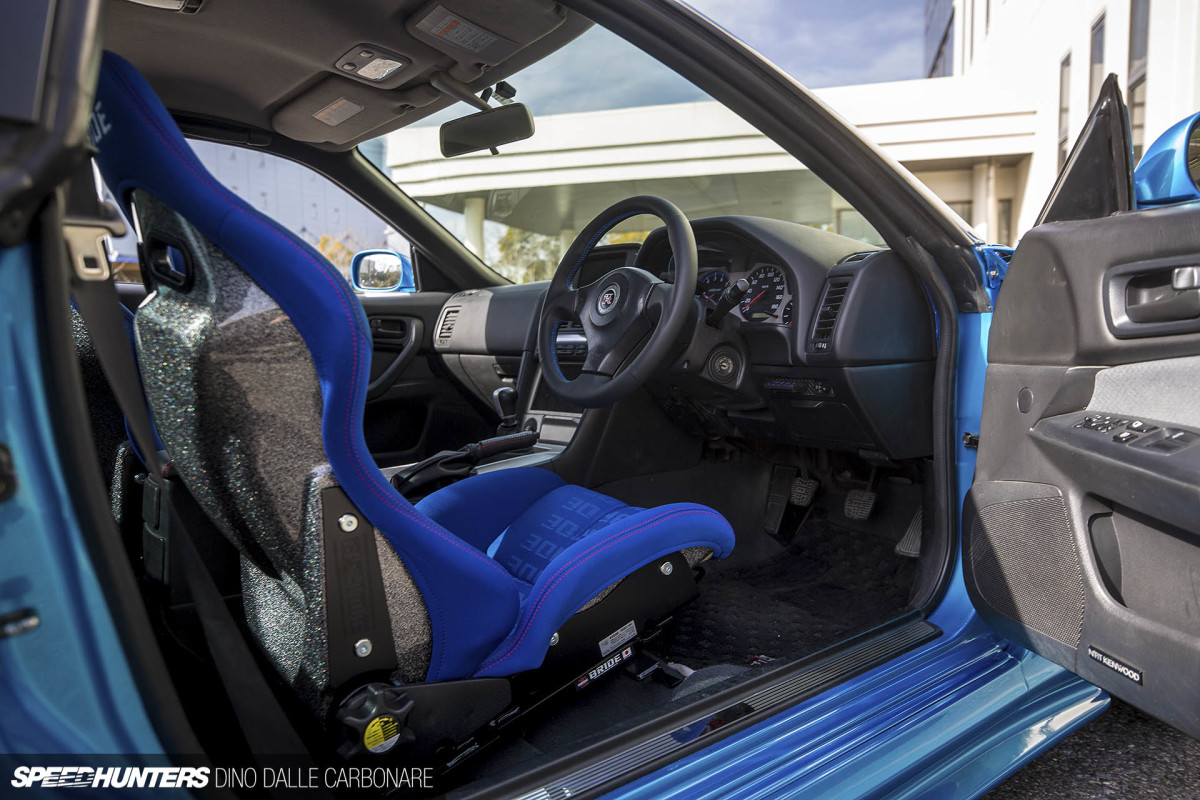 In place of the stock seats are a pair of Bride Stradia II half buckets. I call them that as they can still be reclined, so you won't suffer too much on a long drive. After taking the car around the block for a quick drive I can confirm they are totally anti-gaijin. Or at least those that are prized with a more generously sized hip. Yes, I mean fat people.
The blue is nice, but without much else tying it into the rest of the cabin they stick out quite a bit.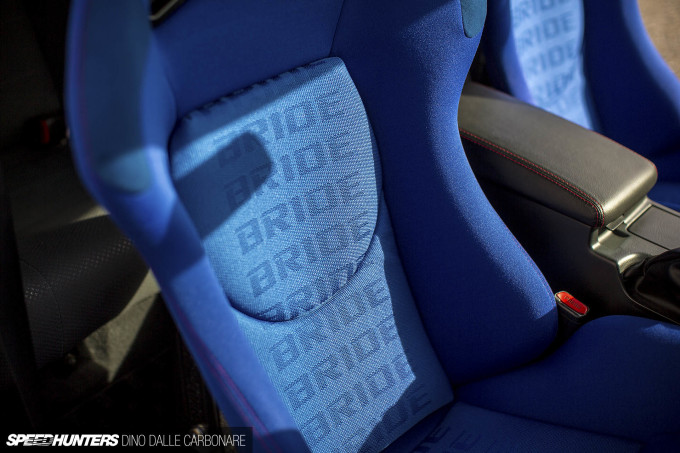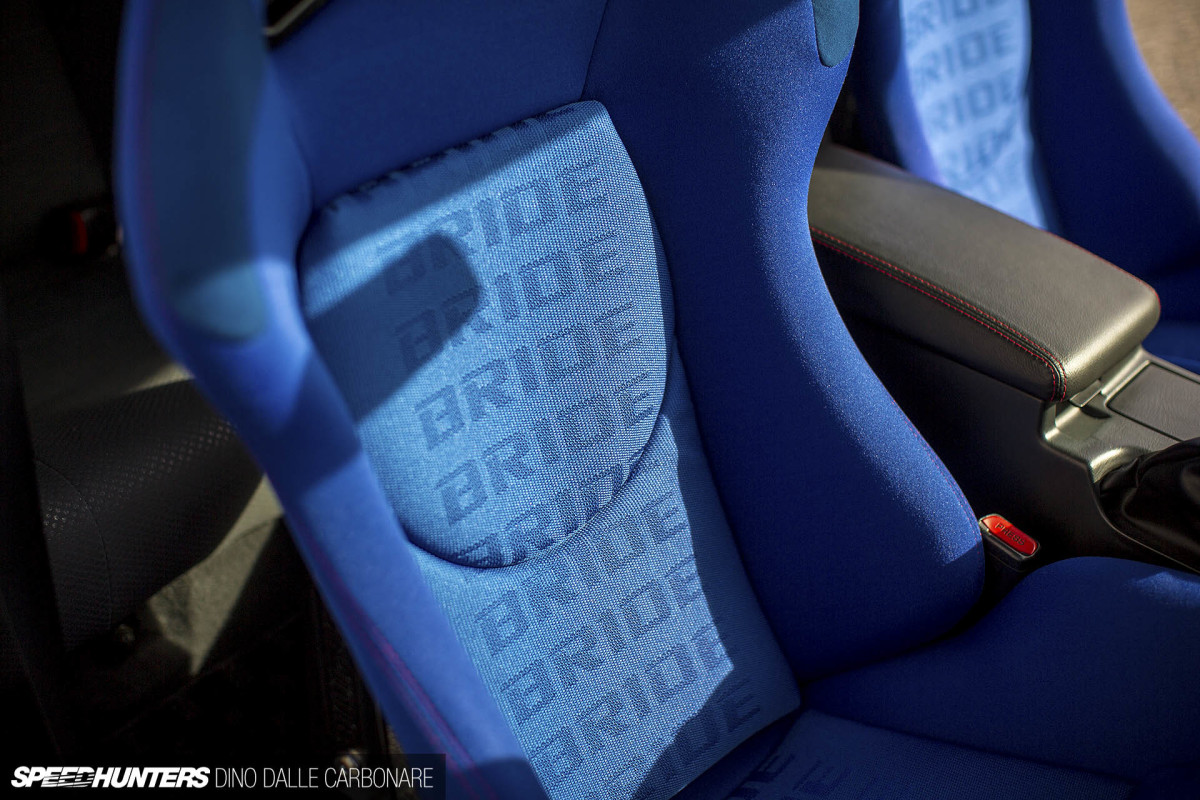 Maybe upholstering the door cards and rear seat bench with the legendary Bride logo fabric might help alleviate that?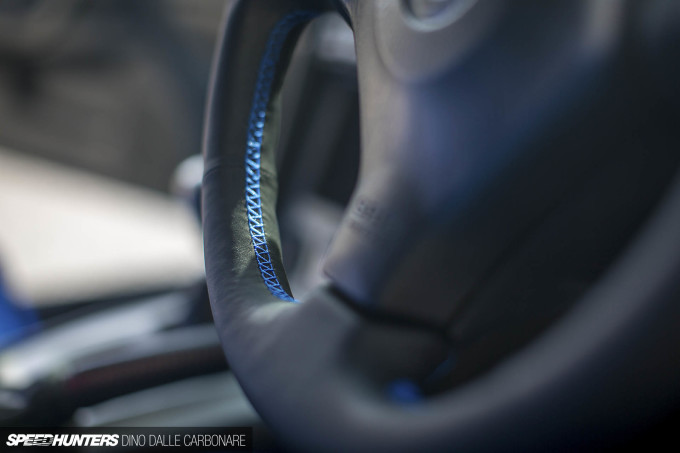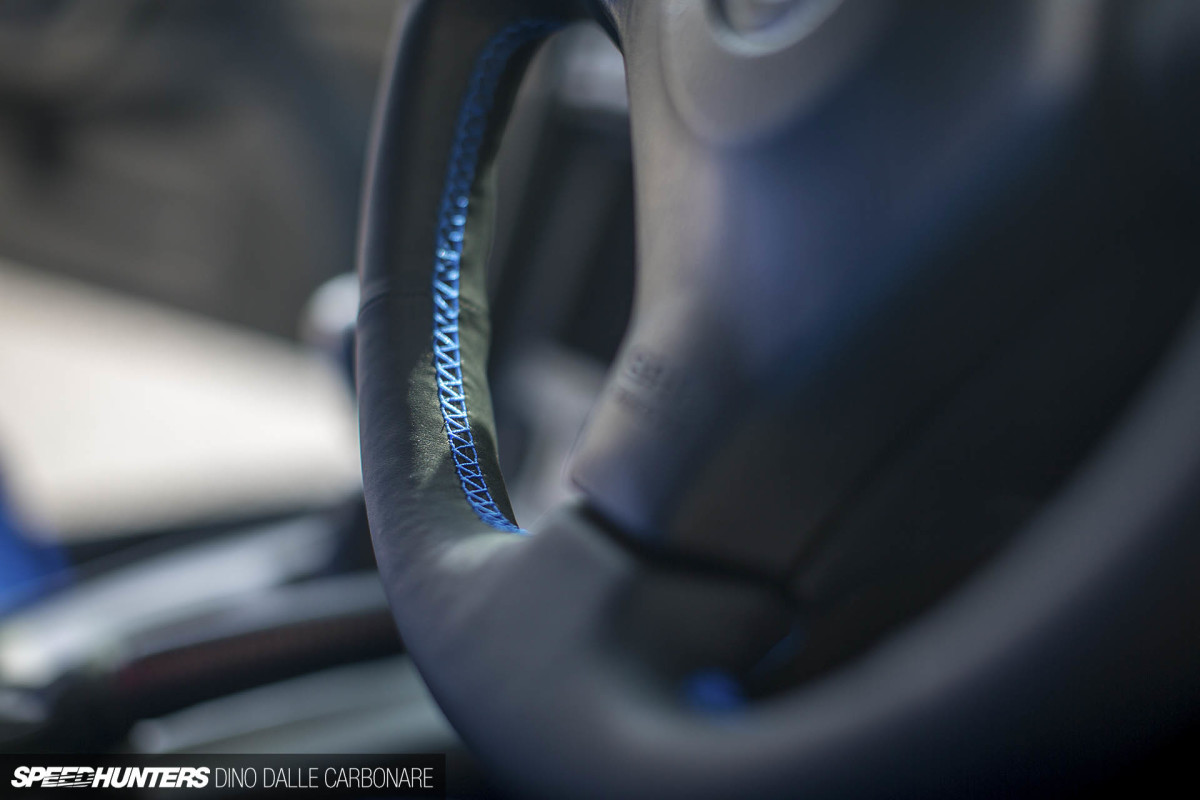 At least the GT-R Magazine steering wheel does have some blueness in it. That said, the car is still a work in progress so that may well be looked into at a later date.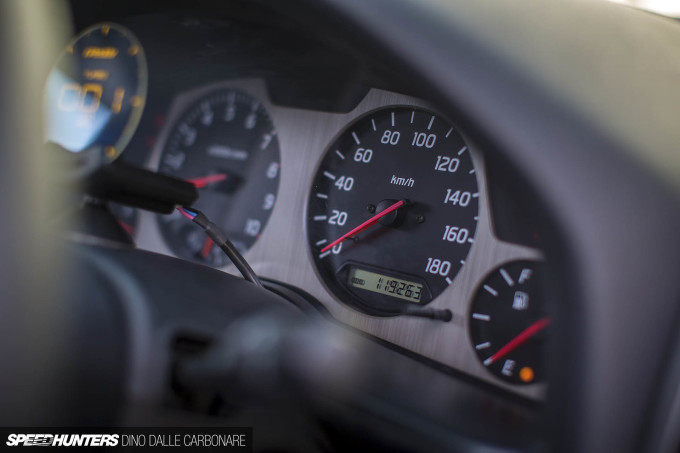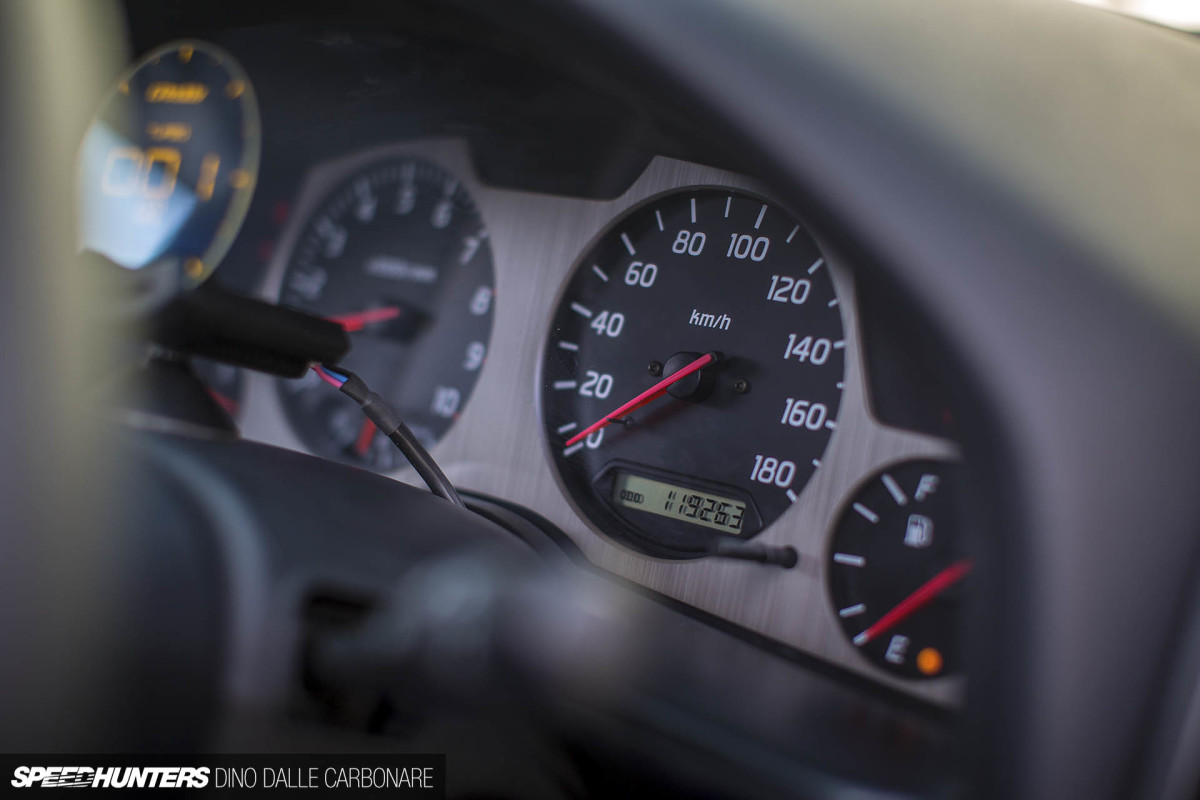 The odometer reads just over 119,000kms (~74,000 miles) and I was surprised to see a stock meter panel installed, as the Japanese like to call it, or a tachometer and speedometer assemblies to you and I.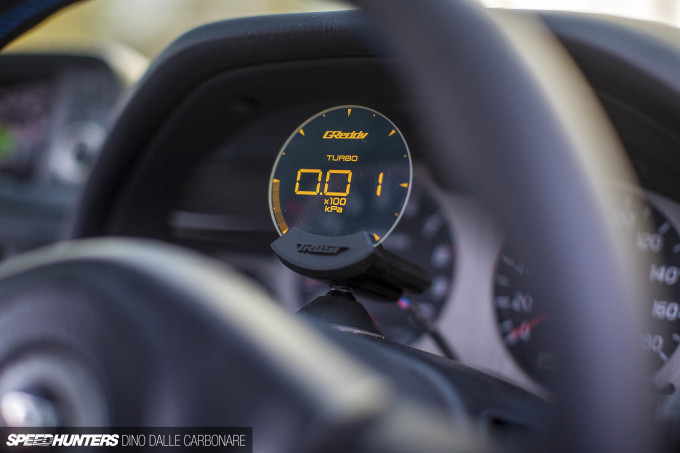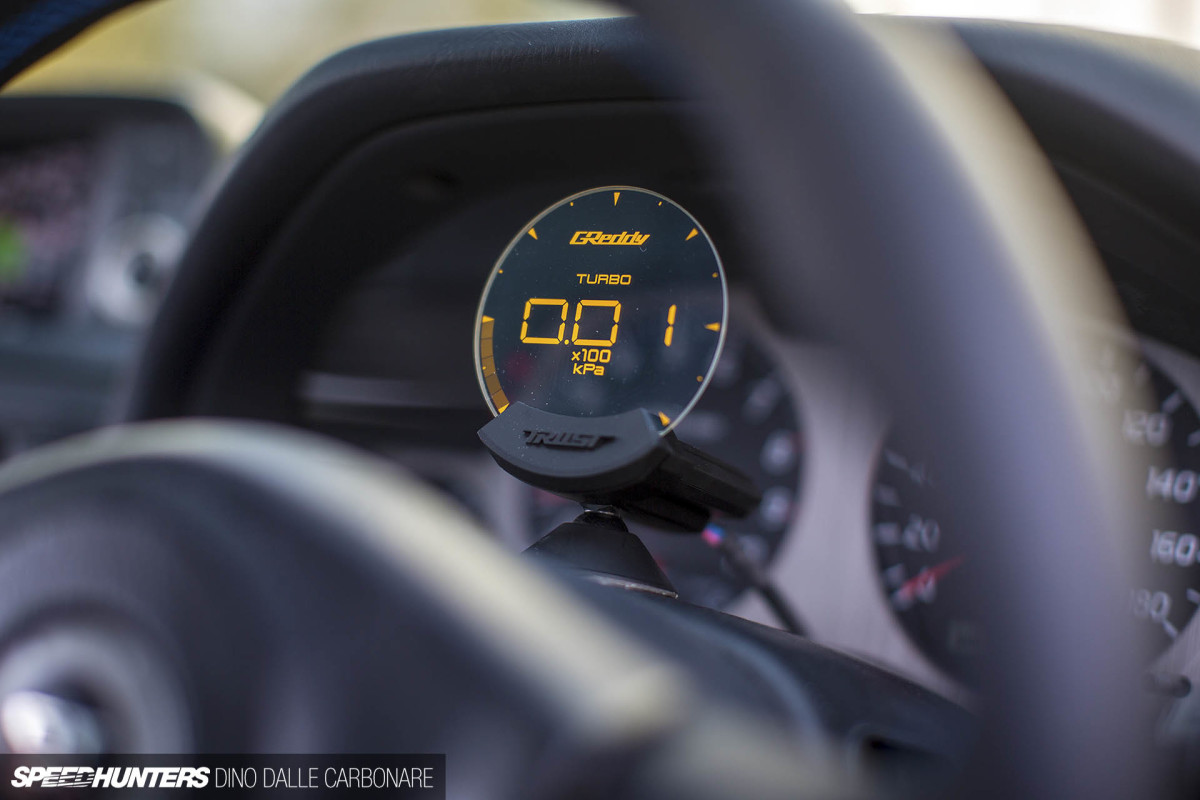 GReddy's über-cool Sirius Vision gauge has been position center stage in front of the dash, a – pardon the pun – serious bit of kit which in my opinion makes old style gauges look and feel, eh… old.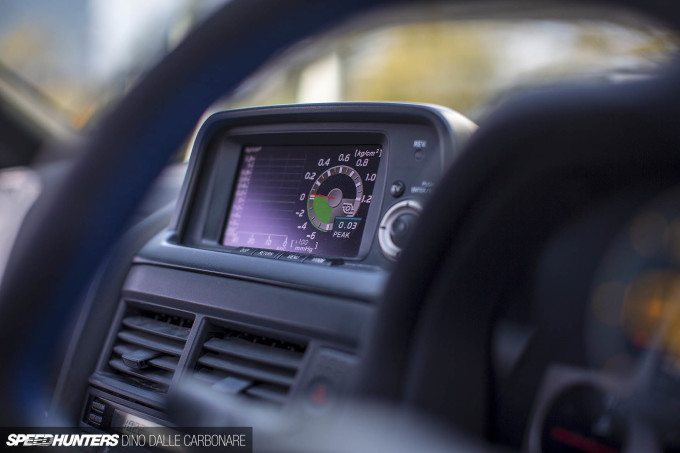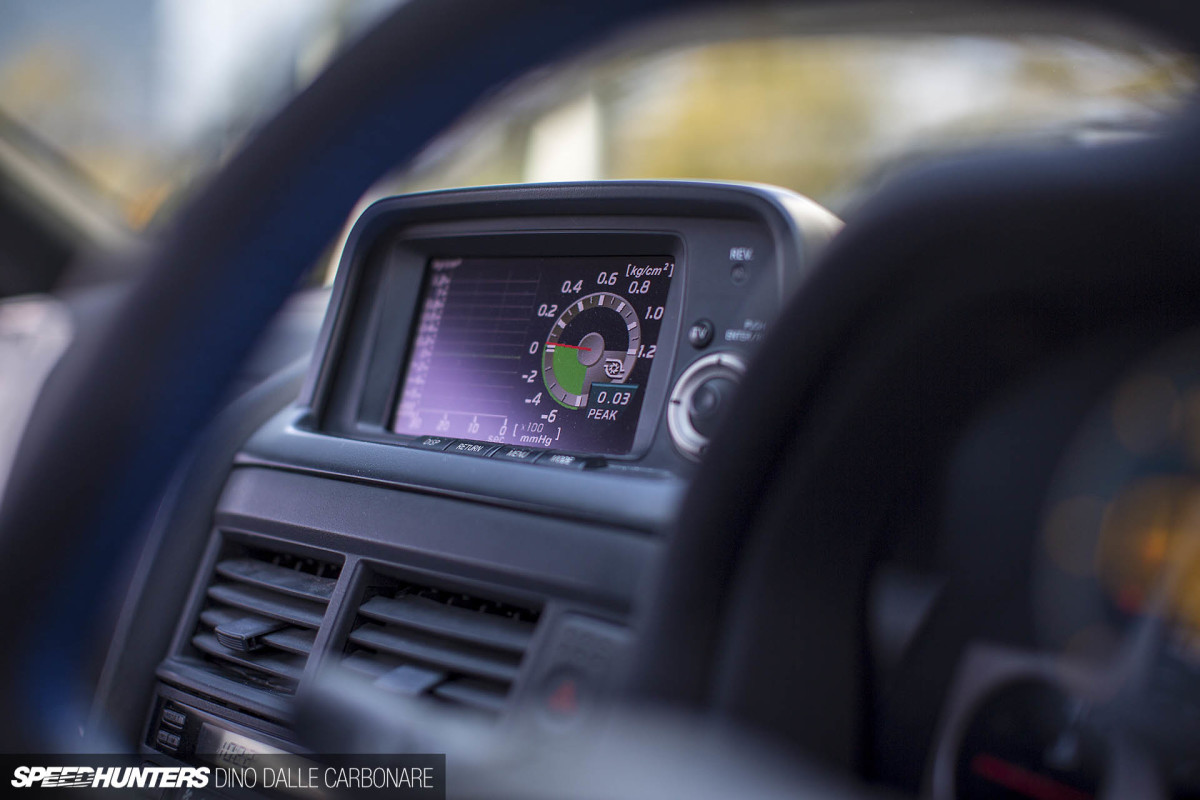 Now, there's a rare sight these days: a functioning MFD screen. Much like a few other details on the 34 that sooner or later will need changing is the LCD screen that sits atop of the dash. The screen that spawned such one liners as "the car for the PlayStation generation" from condescending and unimaginative motor journalists back in 1999, but a detail that literally EVERY single maker of supercars has blatantly copied over the last 20 years.
Okay, apologies for going off on a tangent, just don't get me started on that gimmicky rear steering that now Porsche and Ferrari happen to use. I promise I won't do it again.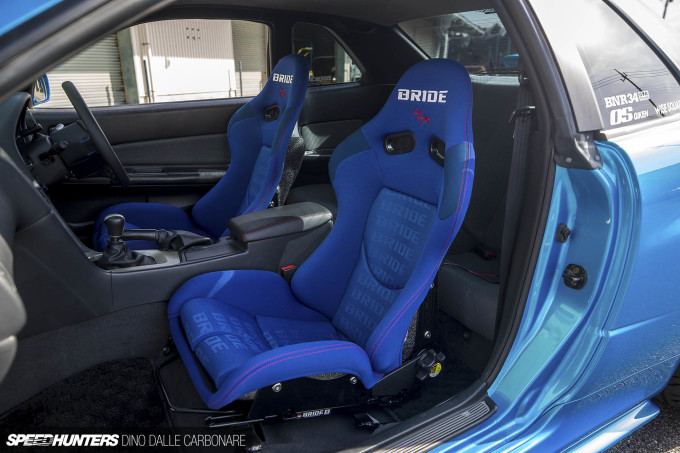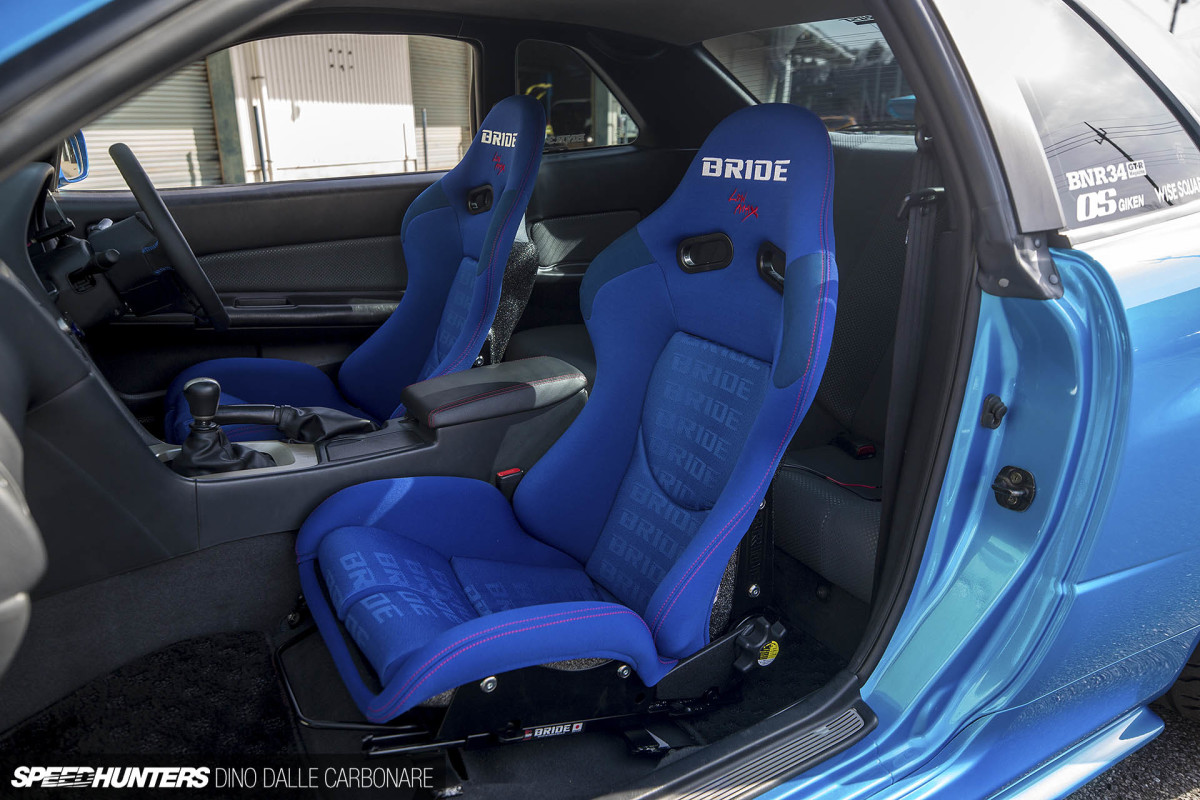 Much like the crazy Patrol that Trust built for TAS, this is one car we'll no doubt end up re-visiting at some point in the future.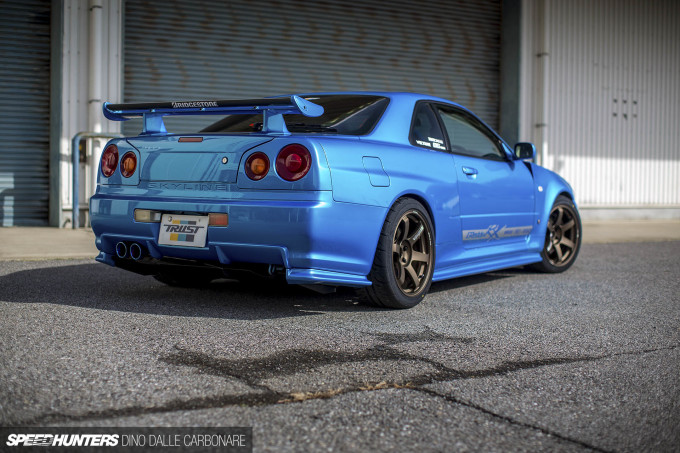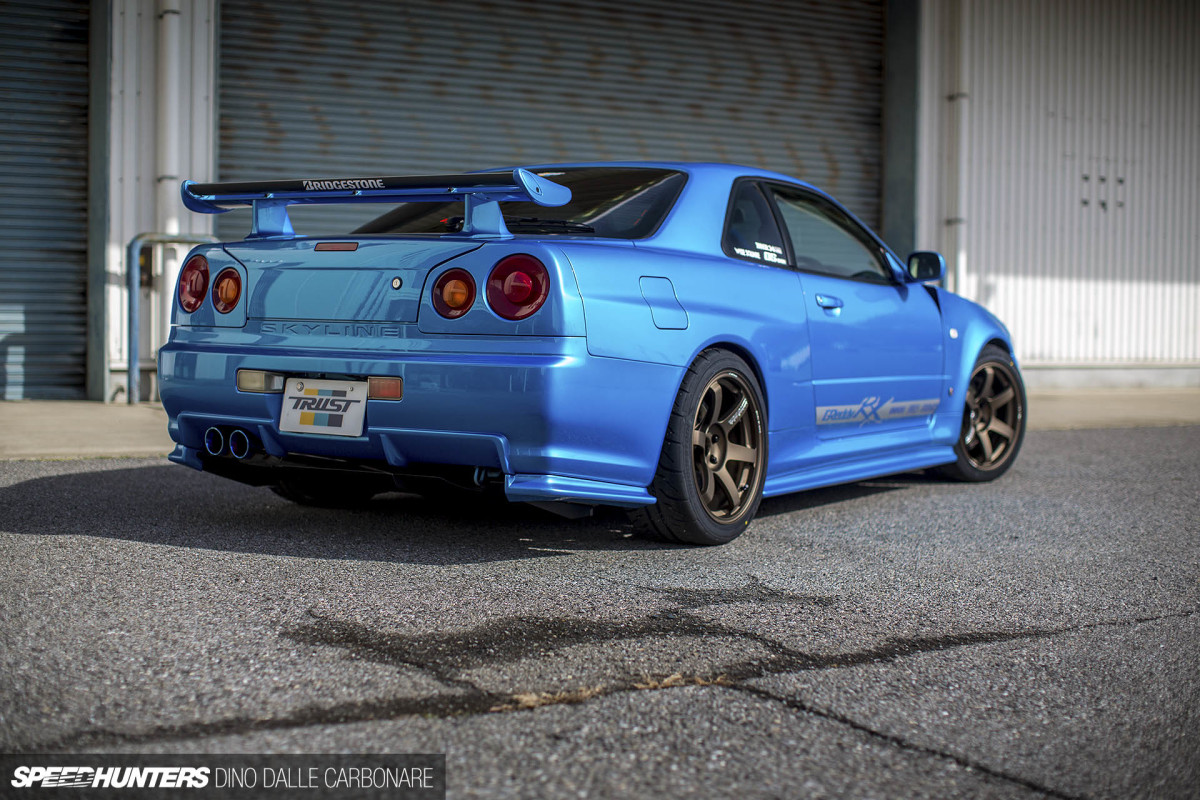 I'll probably wait until they stroke the engine and go single turbo, and maybe re-invent modern day versions of the T78 and T88 turbochargers. How cool would that be?
The way the industry is supporting these older cars, it seems like anything is possible.
Dino Dalle Carbonare
Instagram: speedhunters_dino
dino@speedhunters.com
Trust X GT-R Magazine 34RX Skyline GT-R 
Engine
GReddy prototype twin turbo kit, GReddy Race Spec suction kit (prototype), GReddy intercooler Type-29F, upgraded fuel tank, GReddy fuel rail, Trust injector adaptors, R35 GT-R injectors, GReddy front pipes, 200 cell sports catalyst, GReddy Power Extreme R 90 mm dual exhaust system, GReddy TW-R radiator, Link ECU, custom pearl red engine cover color
Driveline
OS Giken Street Master GT2CD clutch kit, Driveshaft Shop lightweight propeller shaft, OS Giken Super Lock rear LSD
Suspension & Brakes
GReddy Performance Damper Type-S all round, Endless 6-pot front calipers & 2-piece slotted rotors, Endless Racing 4 Ver.2 4-pot calipers & 2-piece slotted rotors
Wheels & Tires
RAYS Volk Racing TE37SAGA 9.5J x 18″ +22, Bridgestone Potenza RE-71R 265/35R18
Exterior
Nismo Z-tune front bumper, Nismo Z-tune front fenders, Nismo side skirts, Nismo rear skirts, custom pearl blue paint, Wise Square headlight cover
Interior
Bride Stradia II seats, GT-R Magazine/Robson Type-355 re-upholsterd steering wheel with blue stitching, GReddy sirius vision multi-function meter