The Creative Minds Of NATS
When it comes to the seemingly endless exhibitors that flood the halls at Makuhari Messe for Tokyo Auto Salon, there's one in particular that I always look forward to – Nihon Automobile College, or NATS.
Ever since I had a chance to experience their Mercedes-AMG G63 6×6-inspired Suzuki Jimny (yes, really), I've found myself spending hours on end in the NATS booth come TAS time, meeting with the students of the Chiba-based school's various customization and restoration programs as they showcase their graduation projects.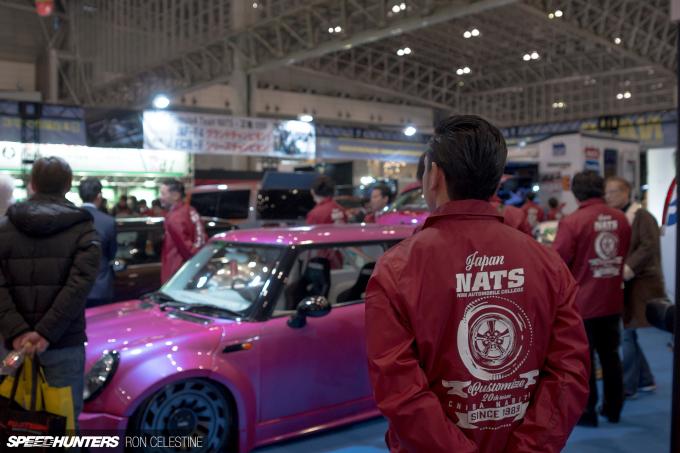 Grouped in sixes, the NATS students tackle a variety of challenging builds with the aim of showing them finished at Tokyo Auto Salon, and also passing the stringent bi-annual shaken inspection for roadworthiness. The latter is something easier said than done when you've radically altered a vehicle's exterior, and sometimes even its structural integrity.
Some groups work on a full restoration, and for the 2017 school year the main subject was a classic S30 Fairlady Z.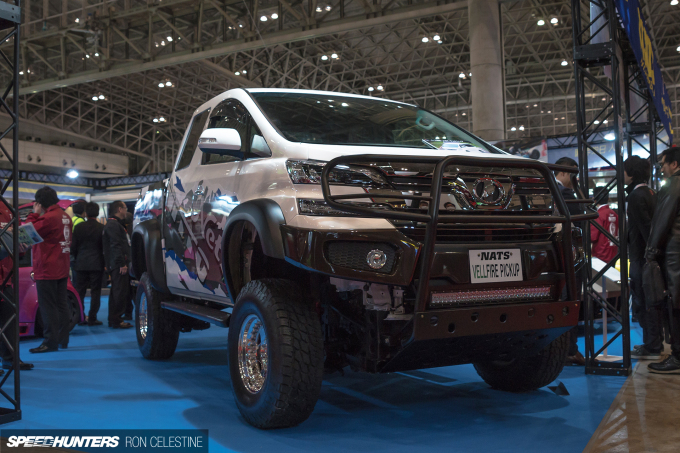 The perfect example of a radically altered vehicle was their Toyota Vellfire pickup, which as you can see no longer resembles anything of the full-size family van it came off the production line as. With the lack of anything resembling an aggressive, American-style pickup truck here in Japan, the students decided to build their own.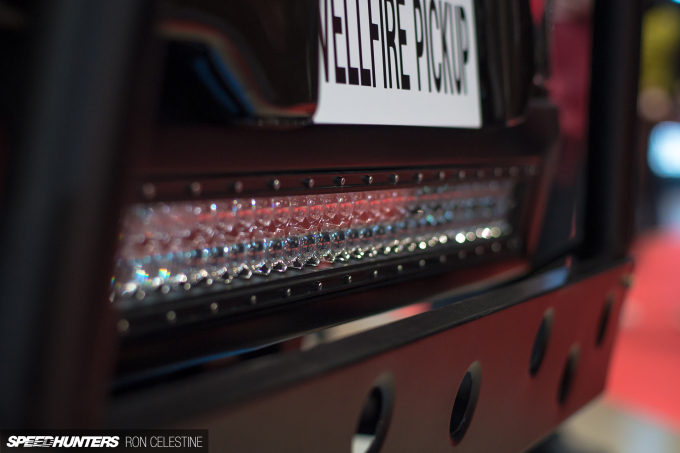 There are a few things you must do when making your pick up truck more American, and they include lifting it to the sky and fitting a high-powered light bar.
Lifting the Vellfire was never going to be as easy as going online and ordering a kit though – they simply don't exist, and for obvious reasons. So the students decided to lift the body 10-inches higher using custom fabricated spacers. This solved their height problem, but in doing so created a domino effect that saw other important components like the steering column requiring modification too.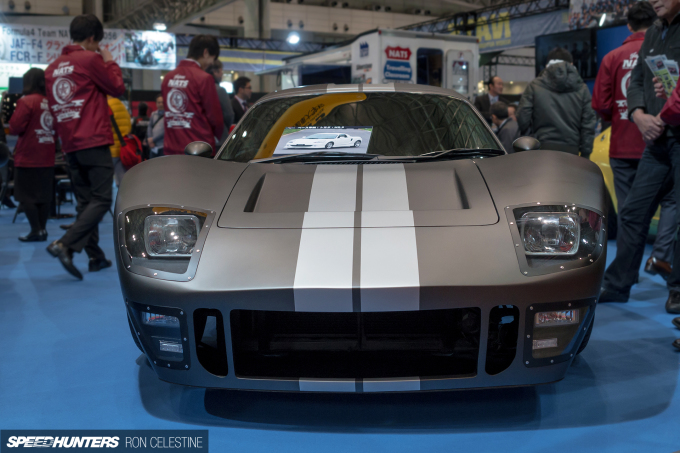 What at first glance looked like a Ford GT40 parked right next to the Vellfire pickup drew crowds in from afar.
This being NATS, things aren't always what they appear to be, and upon reaching the creation its Toyota MR-S origin became clear. It's hard to fathom how much work would have gone into creating this illusion…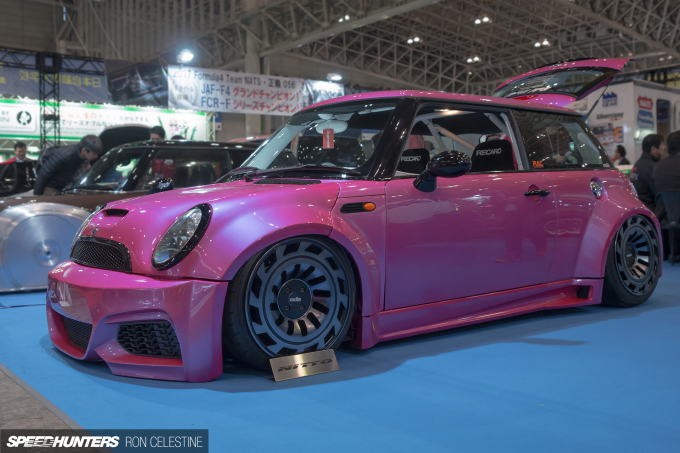 NATS' pink MINI Cooper looked like something you'd come across at a stance event in Japan: Recaro seats, a roll cage, air ride suspension, overfenders, and 18-inch Radi8 R8T12 wheels being some of its key features. However, there's a lot more to this car than a bunch of bolt-on parts; for starters the fender work is all-metal.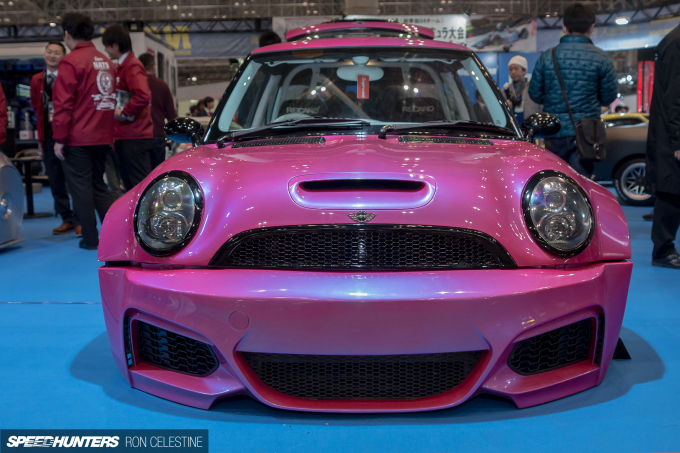 A BMW 2 Series gave up its front bumper for the project, but to get it to fit the narrower MINI body it had some width removed from its center section.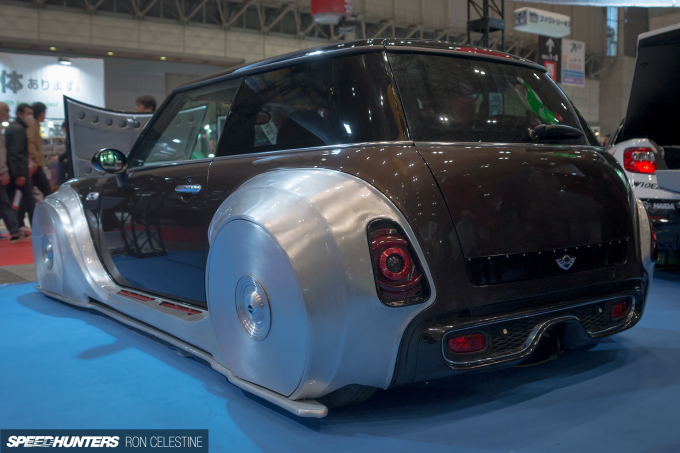 It wasn't the only MINI on the NATS booth, though. The Cooper alongside wore a rather unique aero kit that looks like something inspired by the Victorian era. The all-aluminum kit was handmade by the students under the instructors' expert tutelage to ensure a flawless finish.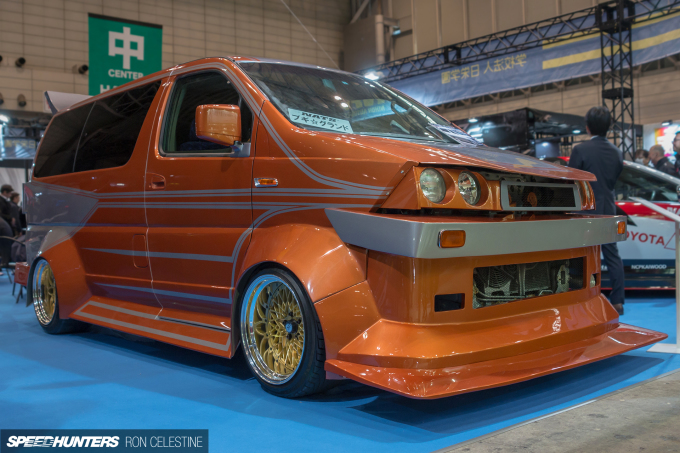 Another personal favorite of mine was this Nissan Elgrand-based ブギグランド, or 'Boogie Grand,' inspired by the manga Shakotan Boogie.
No stone was left unturned with this build, and all the familiar character traits were checked off: massive duckbill spoiler and front splitter, angular hood, and works-style overfenders all meticulously crafted in metal.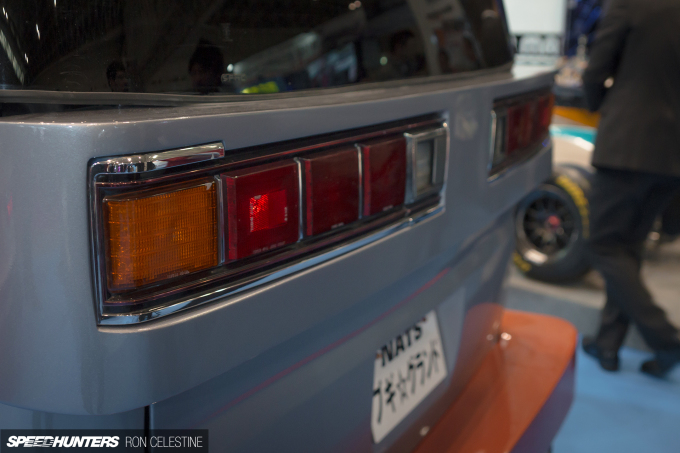 The tail lights which came compliments of a Toyota Century are fitted into a custom housing which was also made out of metal.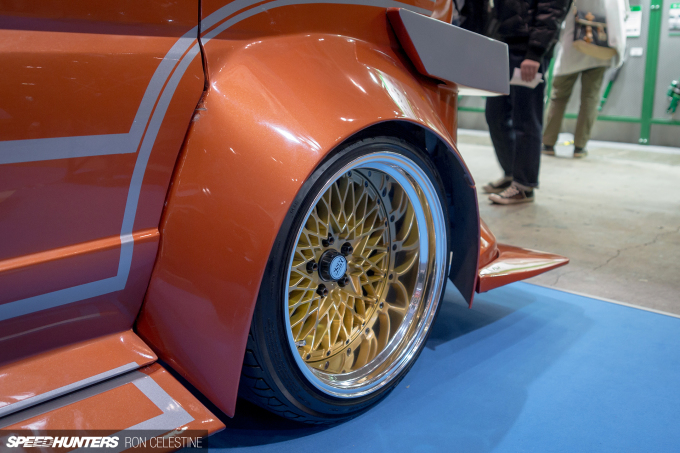 Tein suspension dropped low and 18-inch SSR Formula Mesh wheels help complete the visual transformation from boring van to something that fits right at home inside the manga universe.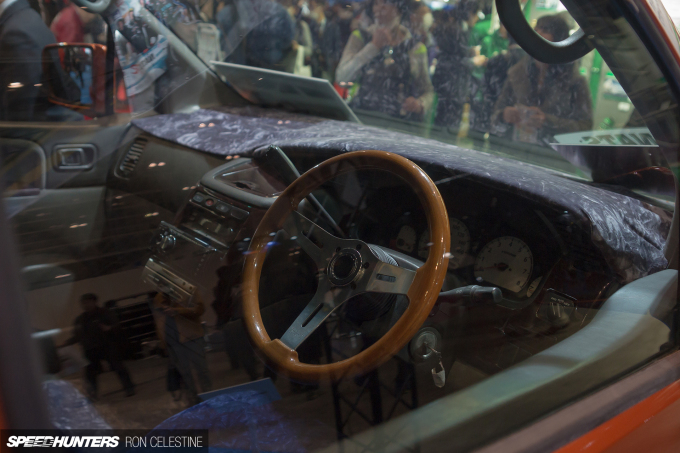 The interior continues the theme with a healthy dose of faux chinchilla fur, a popular choice for shakotan and bosozoku owners alike.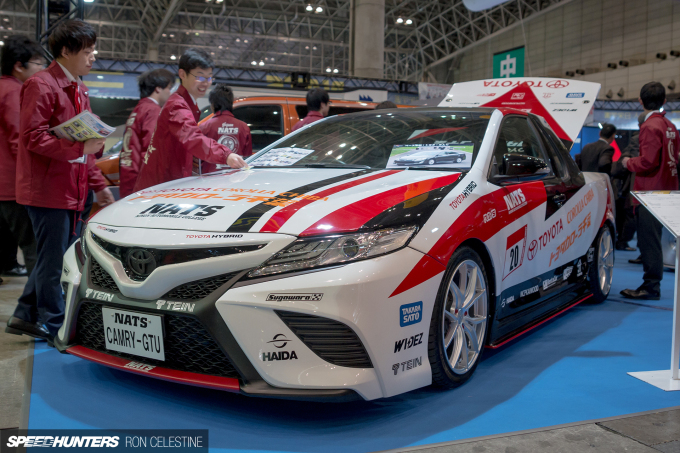 Last, but certainly not least, was this ute-inspired Toyota Camry Hybrid. I know what you're already thinking… 'WTF?!'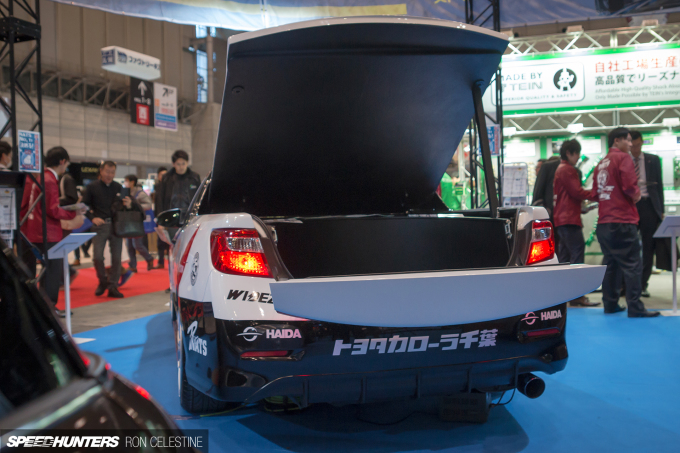 The group responsible for this creation have a soft spot for El Caminos and Australian-built Holdens and took inspiration from those vehicles to build their own ute.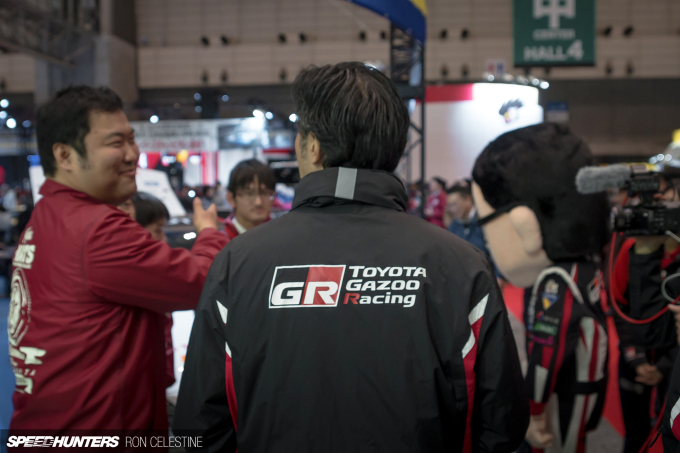 With the help of Toyota, which donated a Camry to the school, the idea was able to become a reality.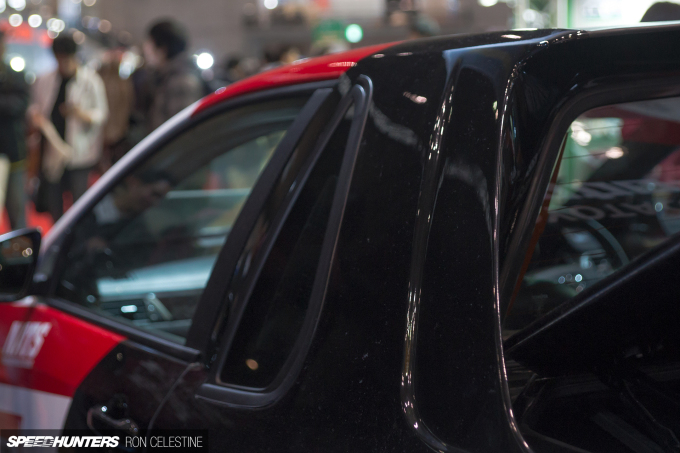 To pull it off, a custom C-pillar section had to be built and fitted where the rear passengers would normally sit. The new rear glass came from AW11 Toyota MR2, simply due to the fact that the students found the screen laying around the school and it surprisingly fit.
The original Camry's trunk was left untouched so as not to complicate the build any further, but it now opens in a ute-like fashion with the addition of a functional tailgate. I was warned not to put too much load on the tailgate, but the fact that the students pulled this off is a feat in its own right.
Aside from the main exterior modifications, the students set about adding extra elements that only those paying close attention would notice. The front bumper and accessories came from the States, the hood was extended to sit flush with the new USDM front end, and the corners of the tail lights were rounded off so they sit fully enclosed and flush with the new bed opening.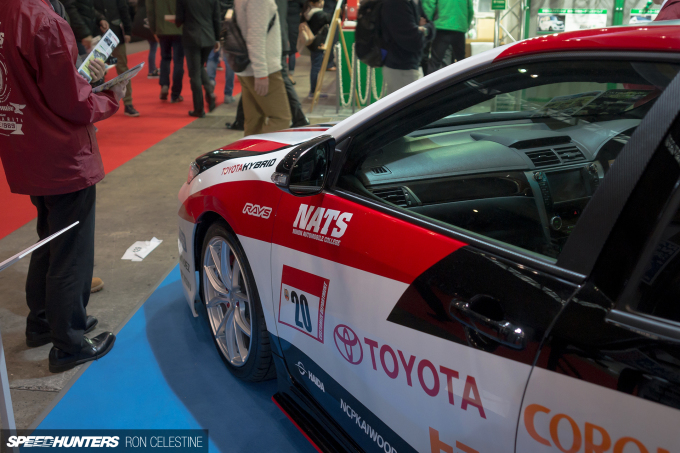 After spending a couple of hours talking with the NATS students and teaching staff, I decided it was time to go explore the rest of Tokyo Auto Salon. But given what I was shown, I'm definitely going to have to make another visit to the school and spend some time with a few of their other projects.
Ron Celestine
Instagram: celestinephotography
The Cutting Room Floor