Sunshine Superstar
Let's say you and I bumped into each other in the middle of some automotive event, somewhere in the world. It would probably be here in New Zealand, as that's where I tend to lurk about the most with my camera.
That small talk kind of thing would happen, right? And no doubt, we'd chat about the weather in some capacity. Because, for some yet-to-be-determined reason, that's what strangers do. So that's exactly how I'm going to start this yarn about the weekend that kicked off my summer season of Speedhunting.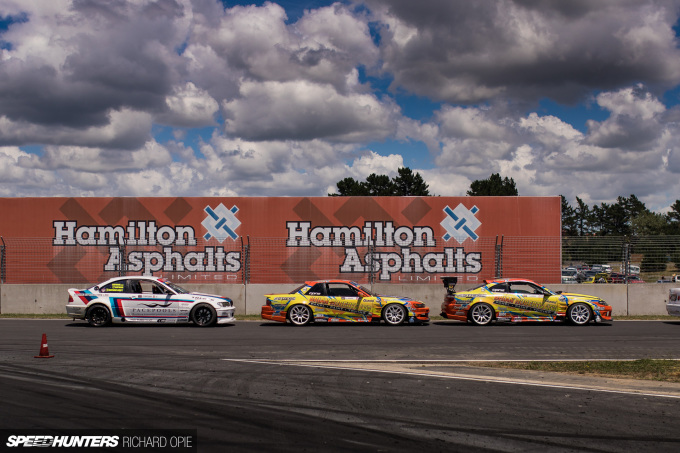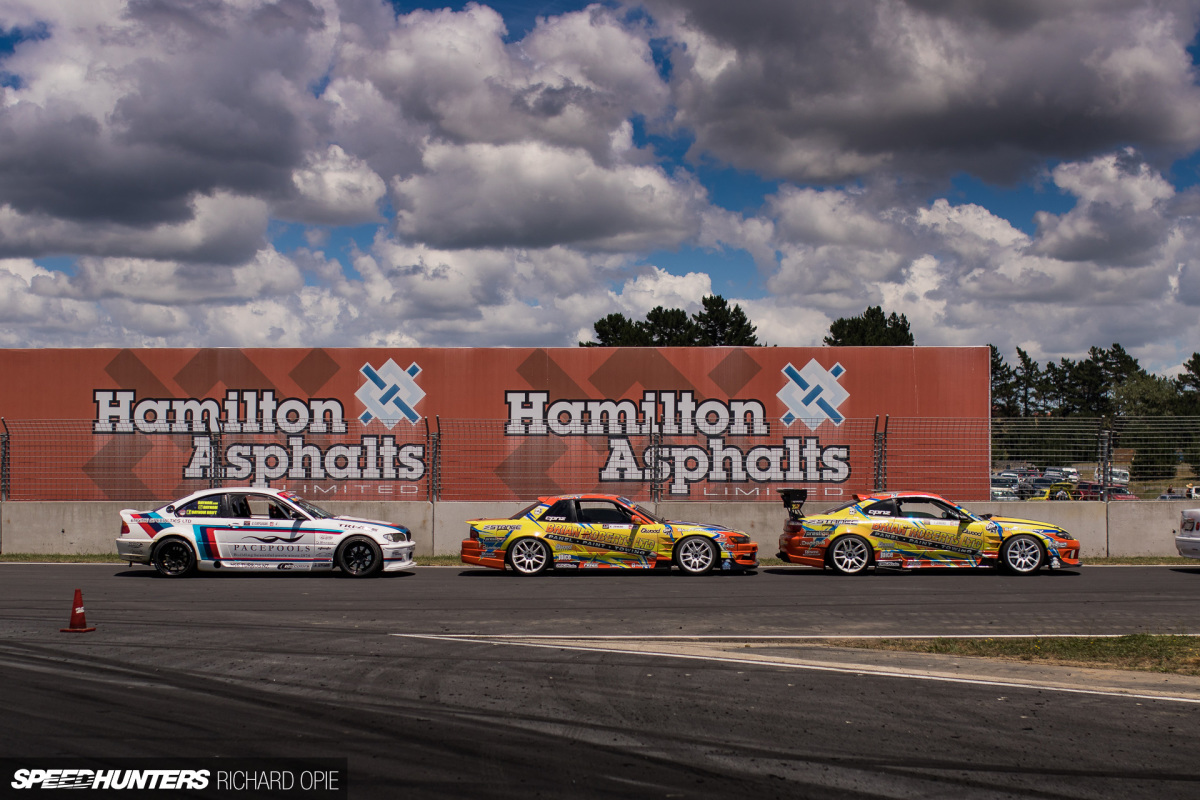 The news isn't really positive, I'm afraid. To summarise, it feels like New Zealand's population of around 4.5 million has endured nothing but grey clouds, dispensing infinite millimetres of the wet stuff. Probably the kind of climate Paddy and Jordan are more accustomed to (We are – PMcG), but not so much in our island paradise; we like to think we're a bit more temperate. Either way, the last three seasons have presented unmitigated garbage for those of a motorsport persuasion. Trying to organise feature shoots and pluck up the motivation to get out to the slim event pickings presents a special sort of challenge when confronted with week-long monsoons.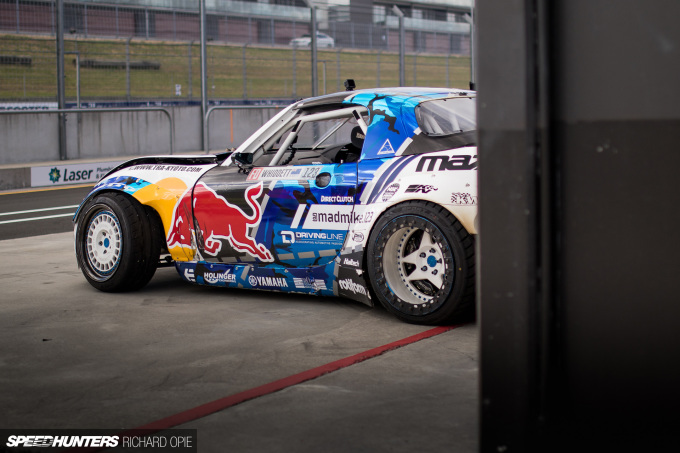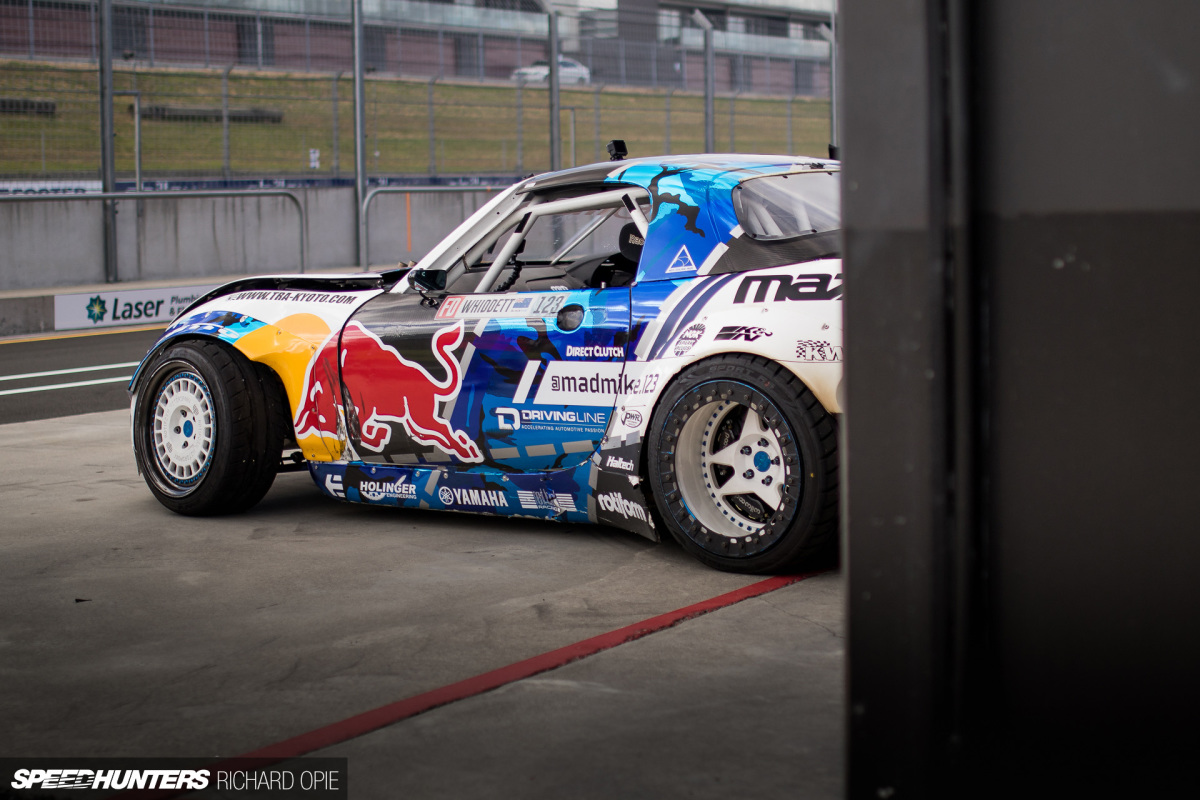 Anyway, I digress. The point that I'm trying to make in a slightly convoluted manner, is that we've finally experienced the long-awaited onset of fine weather. On an absolute scorcher of a weekend, the inimitable Mad Mike Whiddett kicked off my summer season with the second annual running of Summer Bash, the ultimate expression of his affiliation with Hampton Downs Motorsport Park.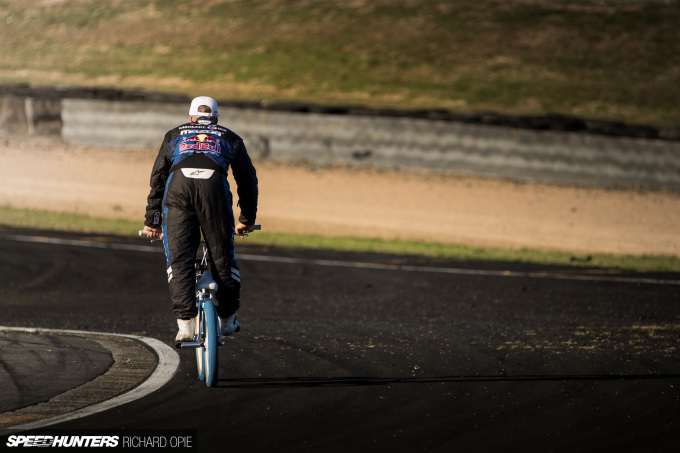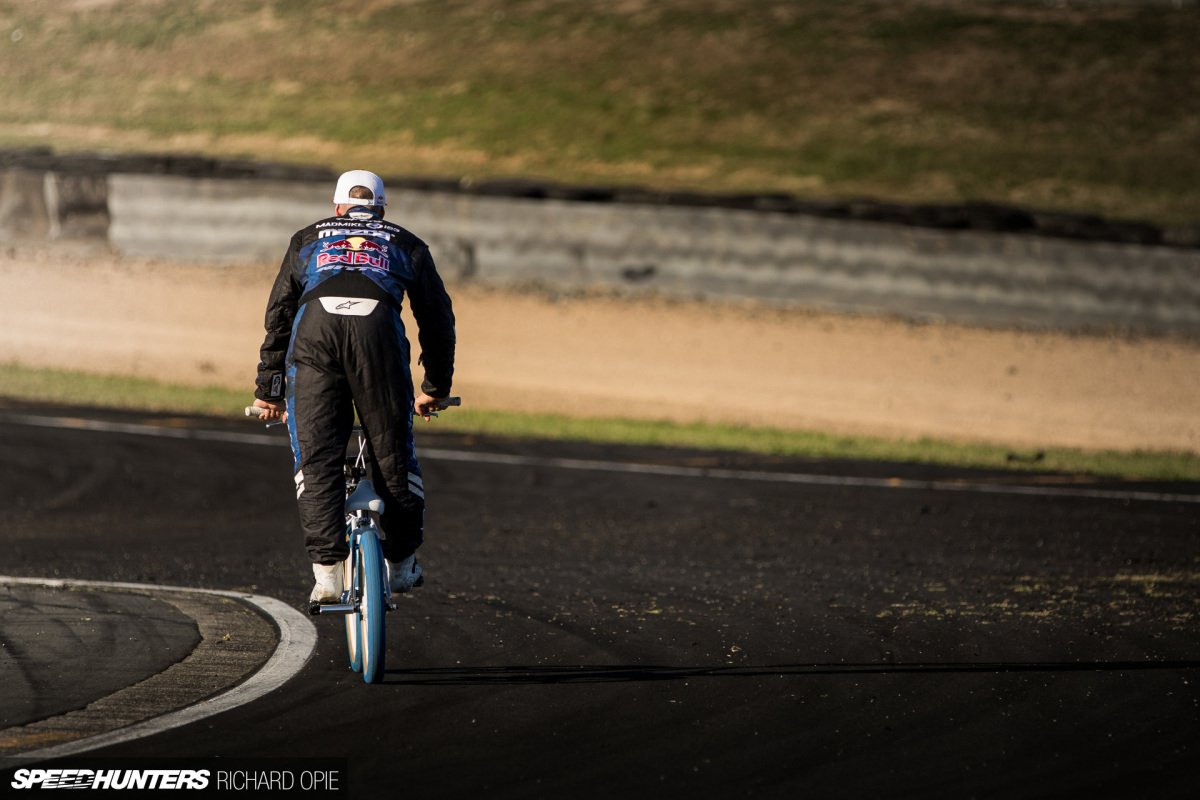 Mike's one of those guys who most definitely has an appreciation for his roots, and for the country that escalated him to cult stardom even before he'd slayed a set of treads in the name of drifting. For those not in the know, Mike's rise to fame among car circles came at the wheel of a Mazda 808 wagon. Kitted out with a naturally aspirated 13B peripheral port engine, Mike and the 808 became revered for their burnout competition prowess, and the progression to drifting seemed like the natural step.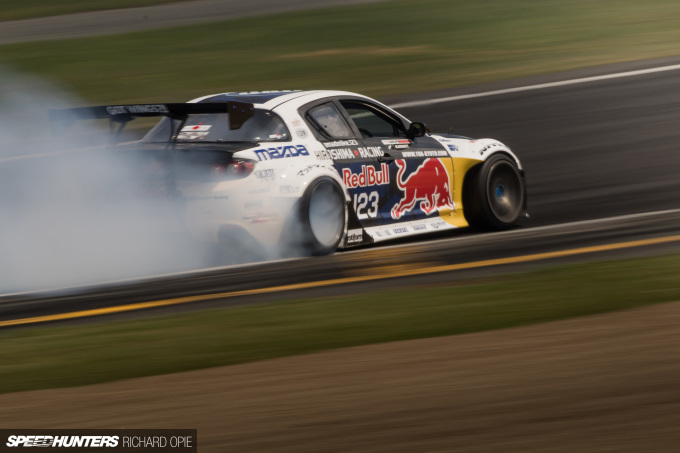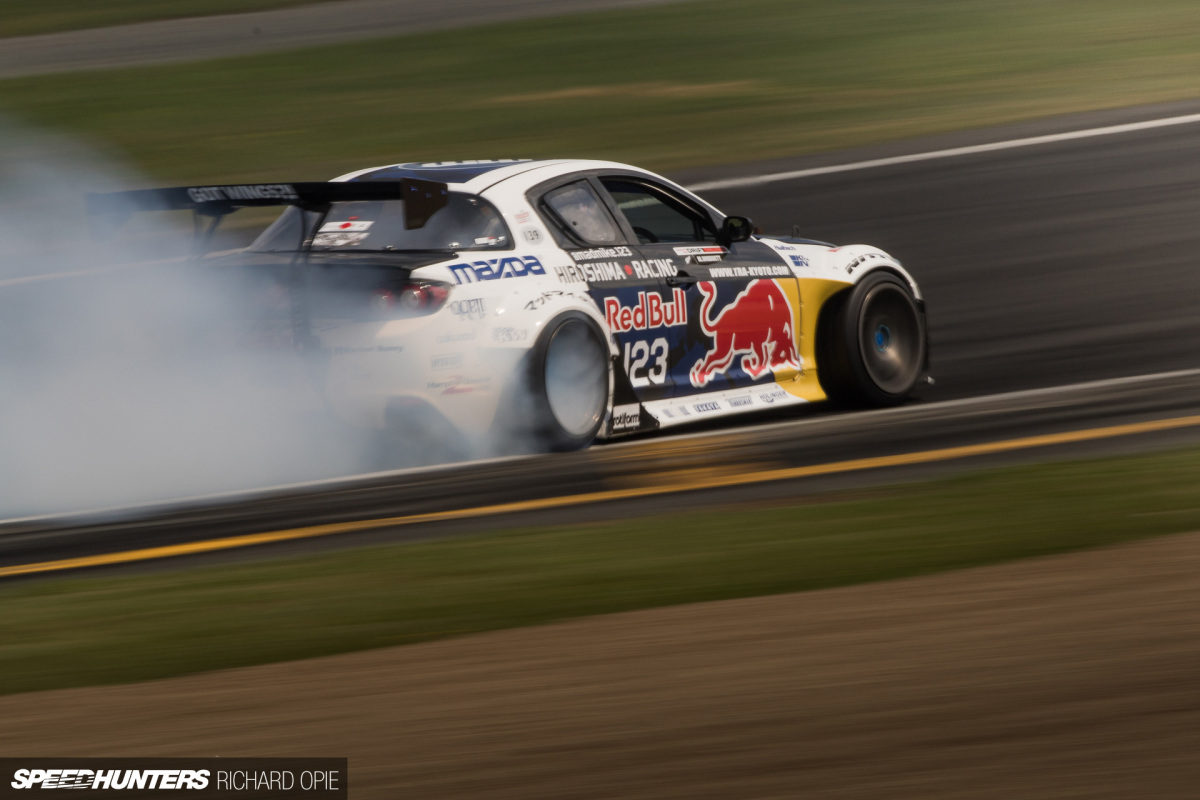 As you're all rabid consumers of automotive related content, you'll undoubtedly be aware of Mike's ascendency to Formula Drift, the scores of Red Bull-produced videos, and even his chauffeuring of Lord March up the Goodwood driveway at the Festival of Speed. Sideways, with a healthy serving of rotary revs, naturally.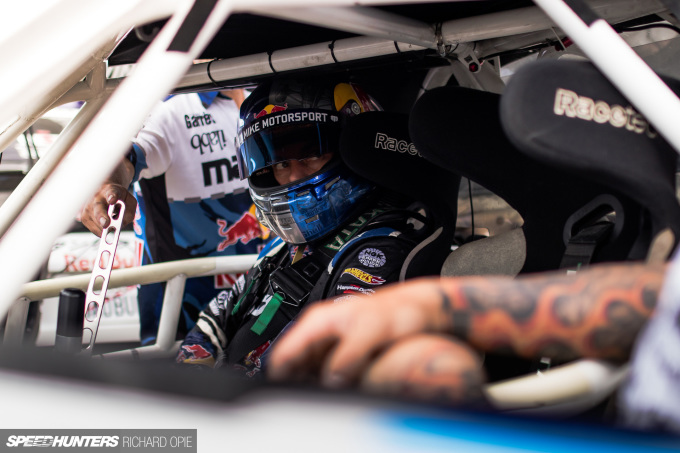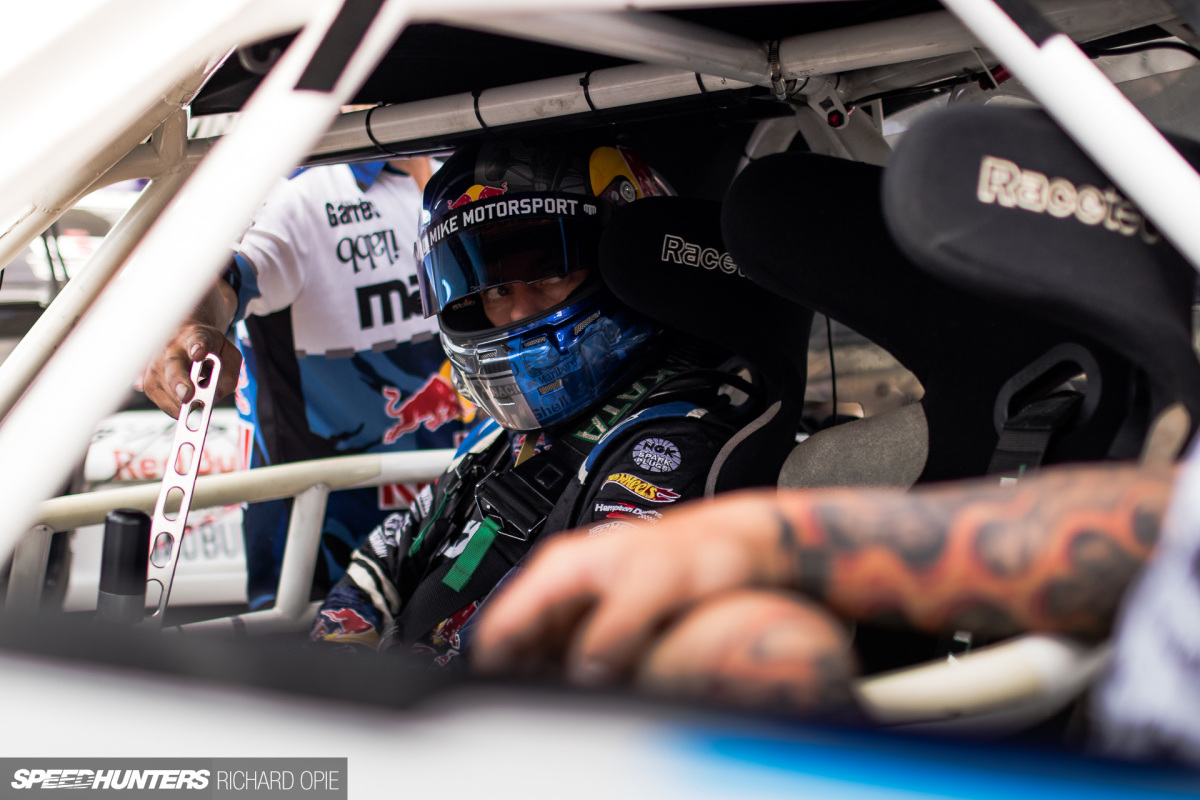 For a self-made Kiwi lad, it's been a bit of a dream ride, and since returning to New Zealand to settle (as settled as a man of his hectic schedule can), Mike's been on a bit of a mission to give something back to the local drift community. Of course, his relationship with the Hampton Downs circuit is where this all begins.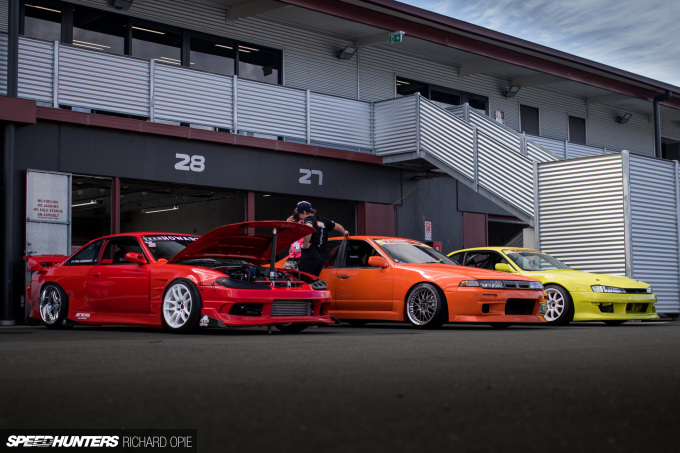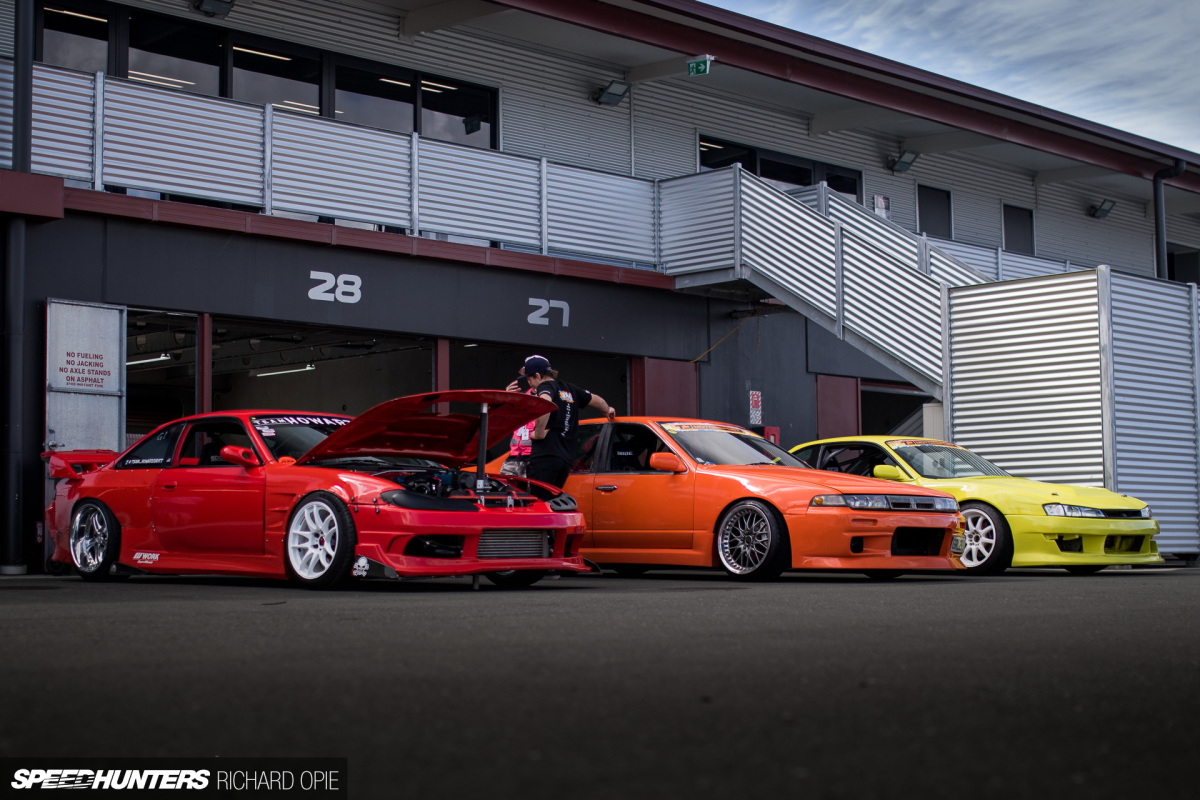 Throughout 2017 and come rain or shine, Mike's been involved in the running of a series of casual drift days on the club circuit under the 'Drift Force' moniker. In a nutshell, it's your average grassroots drift event, accessible to all and sundry. Pay the entry, bring your car along and practice your craft. Hey, you might even get to bang doors with Mike.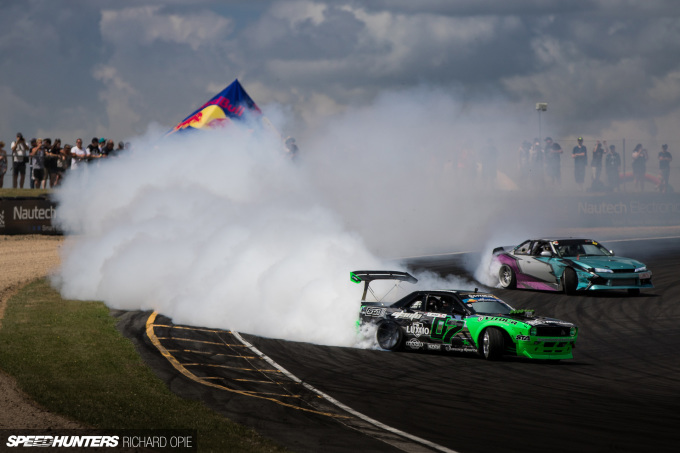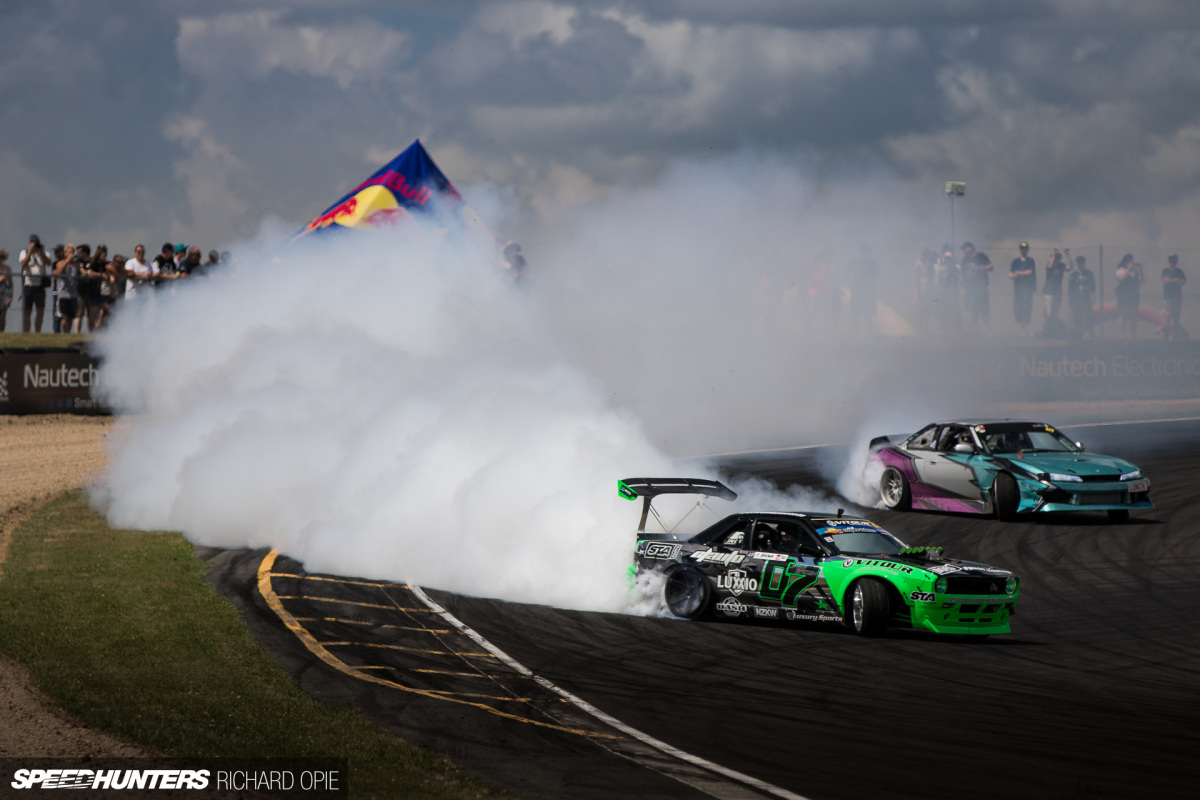 The culmination of these grassroots days is the annual Summer Bash. The ethos is pretty simple: Having fun in drift cars, with your mates in drift cars, with a few other attractions throughout the day to keep the throng of spectators lining the fences entertained.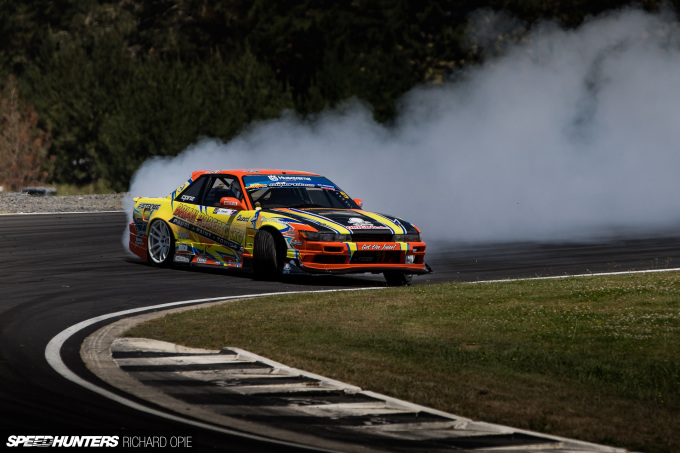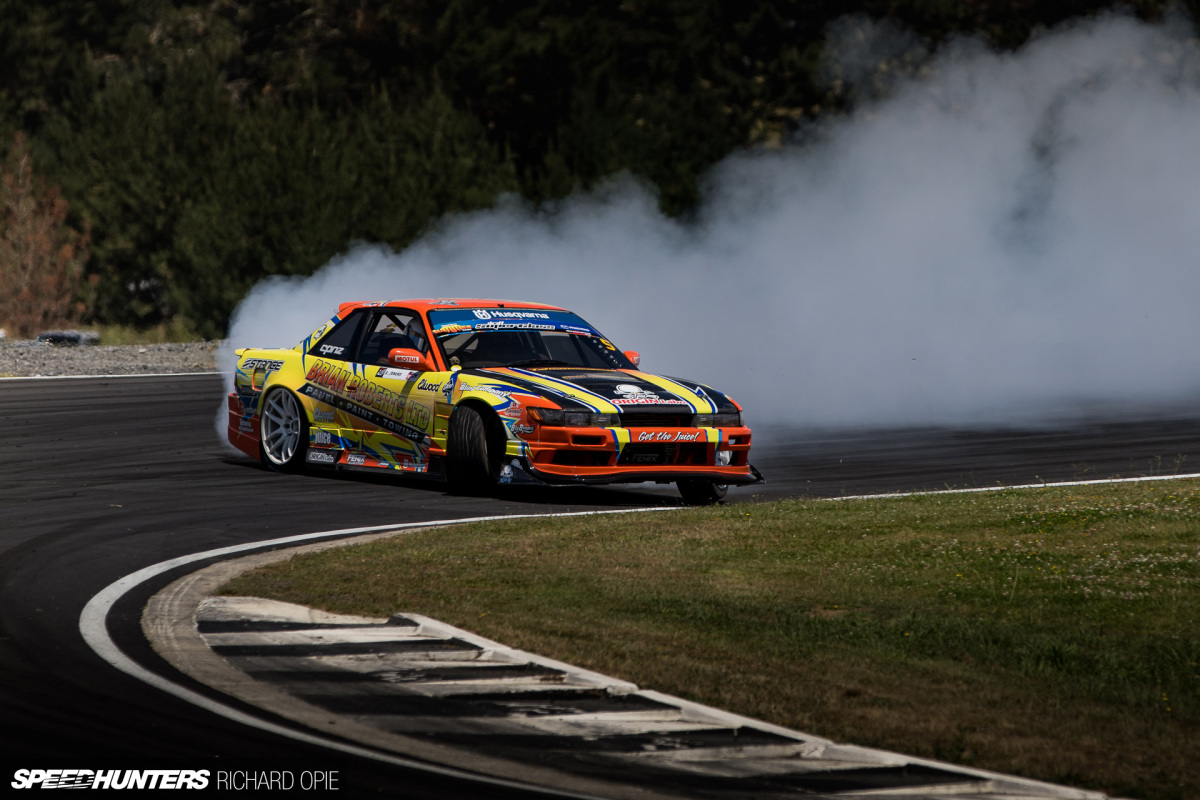 Now in its second year, the day out is well on its way to being a must-attend fixture on an already crowded drift calendar, particularly from a driver's perspective. But the opportunity to gain competition experience against some of the best in the land is surely enticing to the budding competitive slider.
Catering To The Scene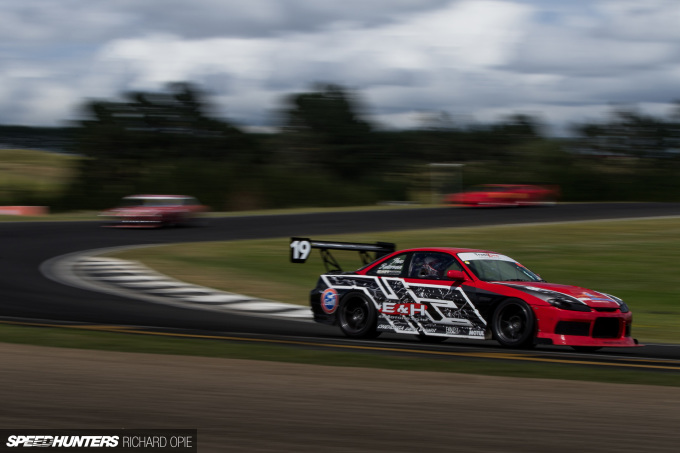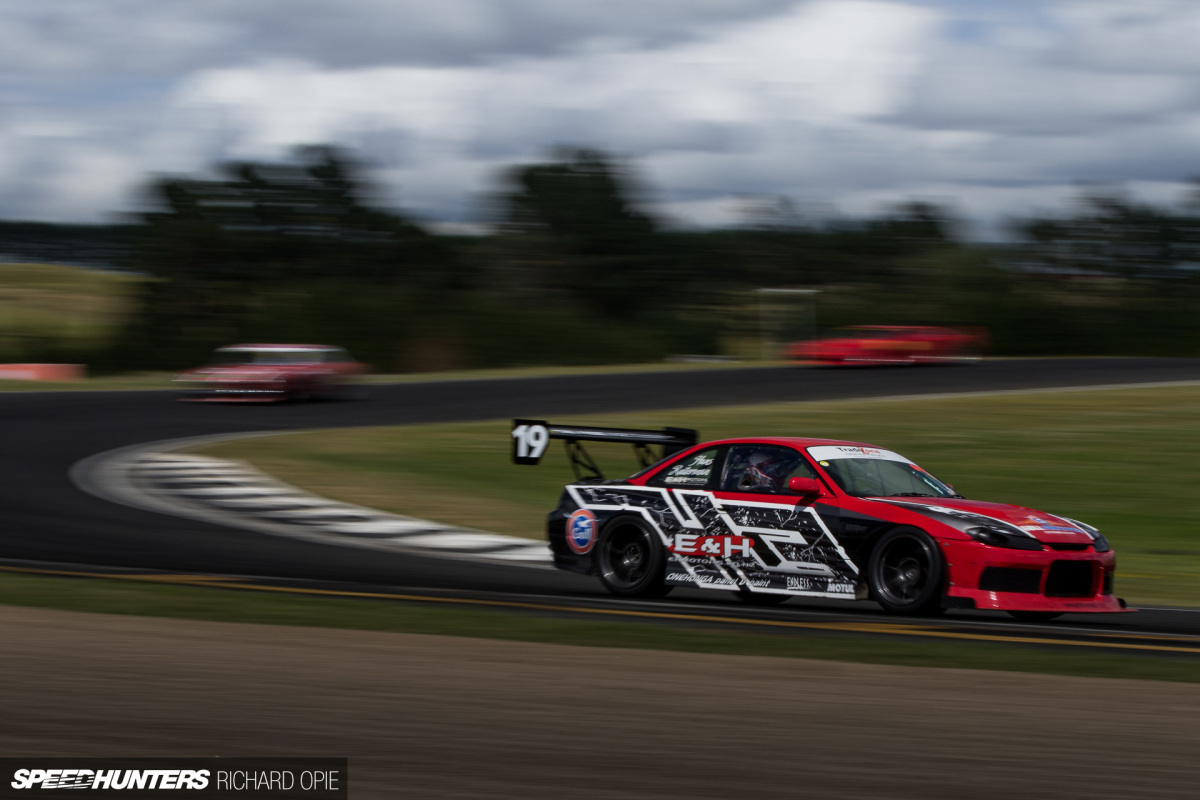 It's easy enough to write Summer Bash off as being just another drift day, and sure, the bulk of the event is structured around pitching cars perpendicular to the track edges. But adding to this is a few different opportunities for folks to get out and enjoy the Hampton Downs circuit.
For those inclined to maintain the perfect racing line, a concept coined as 'Fast and Furious Racing' invited all-comers to turn up and test their mettle against an eclectic range of machinery. Slightly cheesy name aside, the layout was simple: a three-lap sprint, followed by a cool down and reform behind a safety car, before a rolling start into another three-lap sprint. The goal? An attempt to reignite public excitement for circuit racing.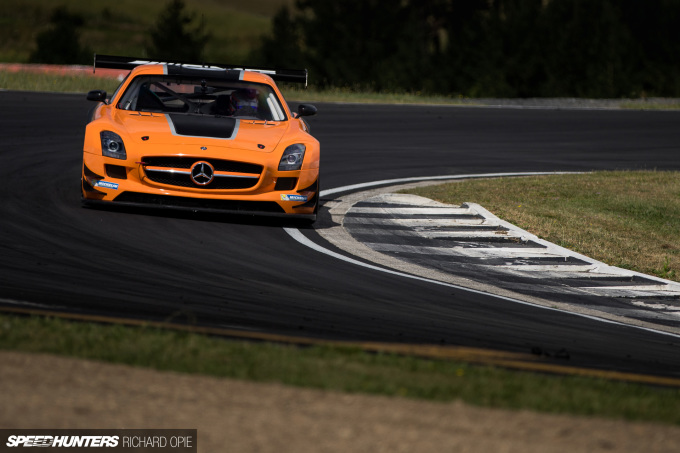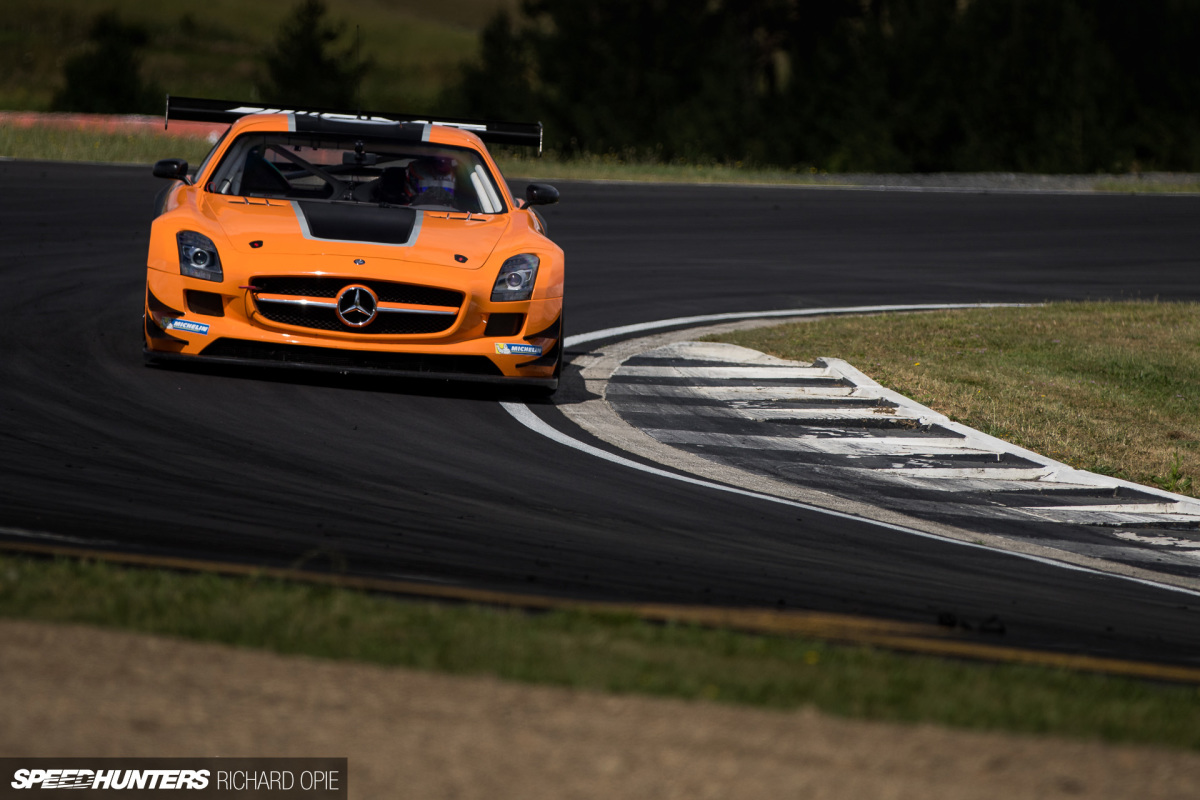 The assembled range of grip hardware spanned one hell of a spectrum. At the slower end of the field, a 1960s MGB; at the pointy end, Mike Racing's Mercedes SLS GT3, which proved monstrous early on. Local GT3 driver and some-times drifter Graeme Smyth streaked to the lead in a couple of heats before a mechanical put paid to the team's efforts. Nonetheless, the bellowing of an SLS GT3's 6.2-litre V8 is always a welcome soundtrack to an afternoon of circuit racing.
Did it work? Sort of. The spread of machinery was maybe a little bit too wide, although some intense battles between the Dinan-engined E92 M3 of Warwick Mortimer and the S14 Silvia grip-machine steered by Hans Ruiterman definitely provided a spectacle heading into the day's final hours.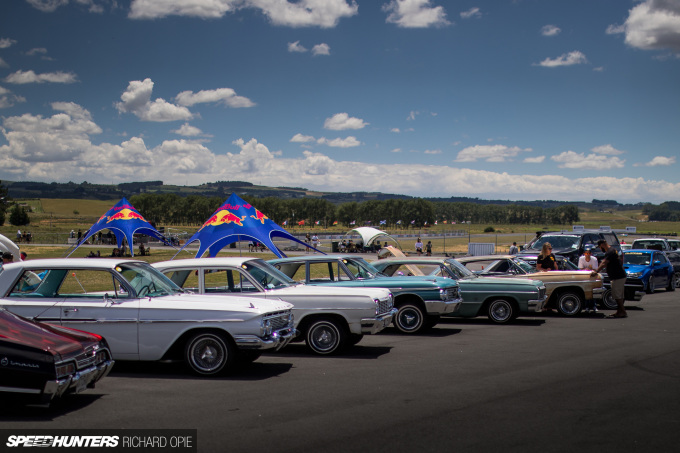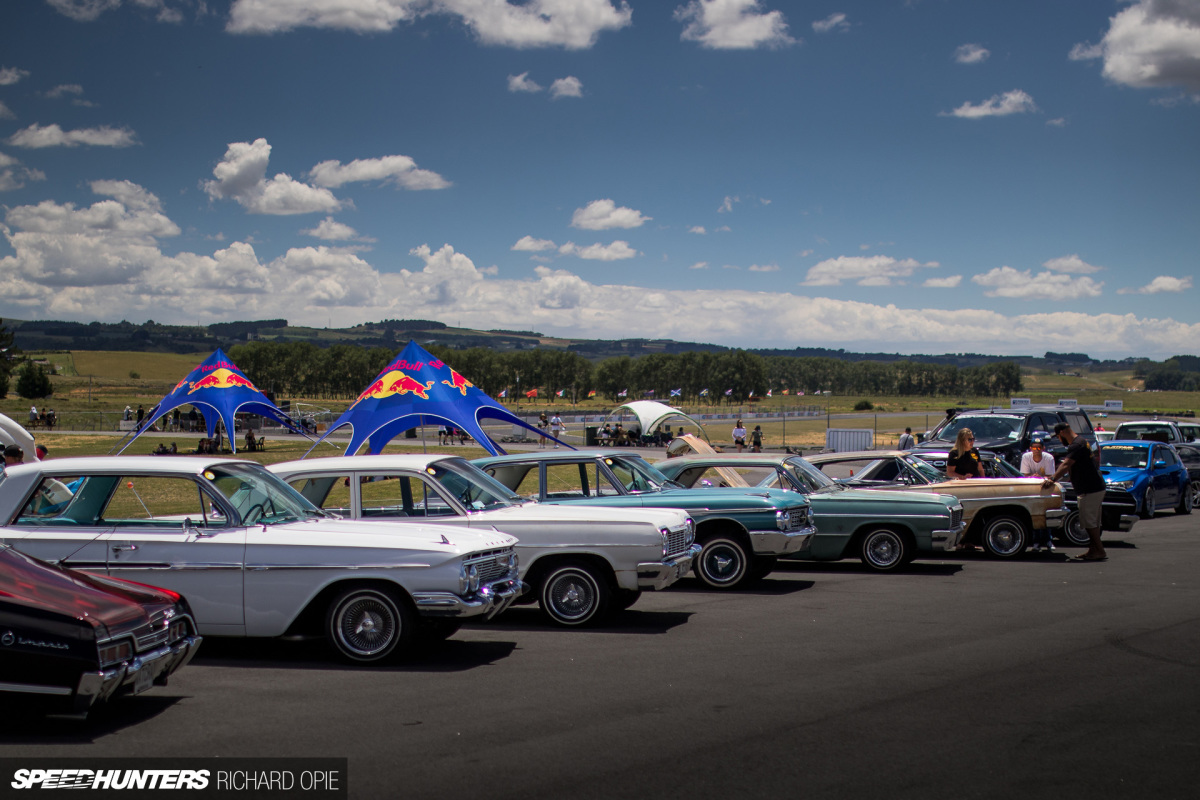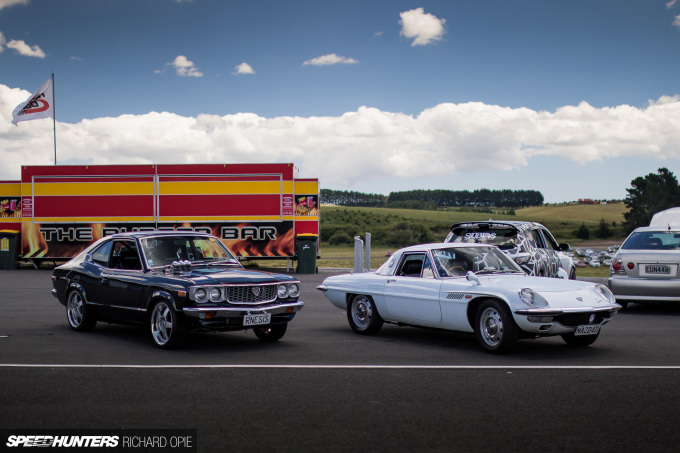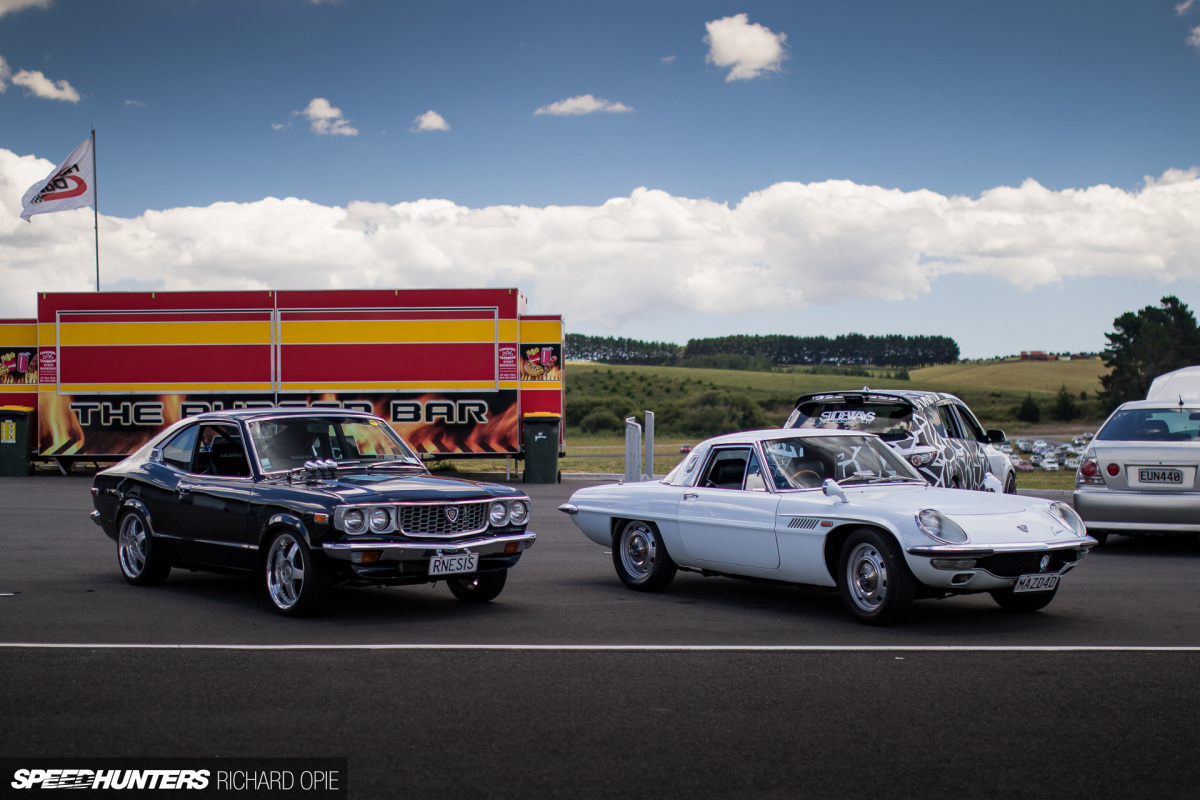 If your tastes were aligned with relaxing and just watching the track action, street and show cars were able to arrive and park in style. It's an aspect of the first Summer Bash that also proved popular with prizes up for grabs for the cars that caught Mike's eye.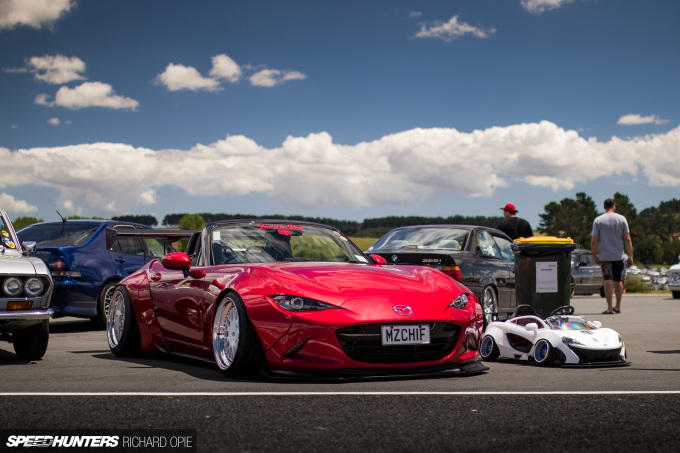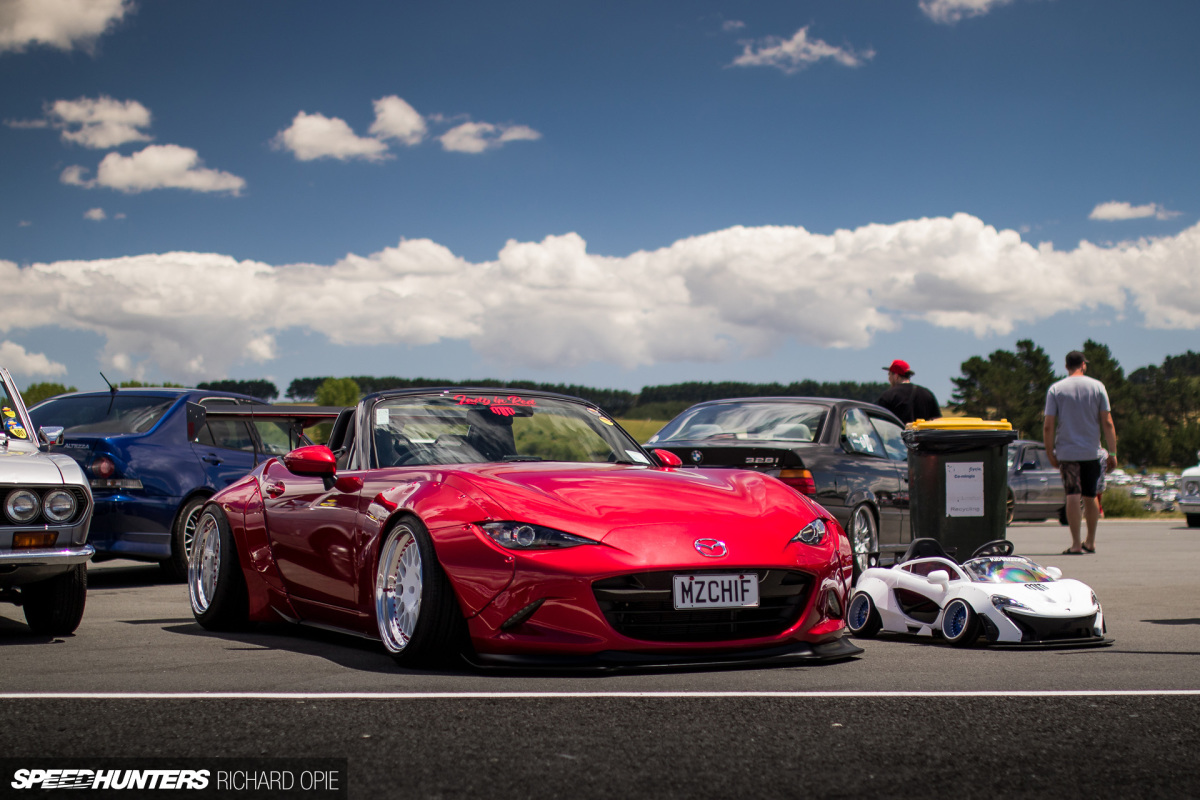 Any new build from the Mad Mike Motorsport stables is going to draw attention all day, and the latest was no exception. Wearing the MZCHIF plates long associated with her history of trophy-winning show machines, Toni Cook rolled out the Pandem-kitted ND MX-5 for its first topless summer escapade. Sitting static on 17-inch three-piece Rotiform LVS wheels and with a splitter perched dangerously close to the tarmac, the factory Soul Red hue sparkled in the summer rays, doing justice to the lines of Kei Miura's pen.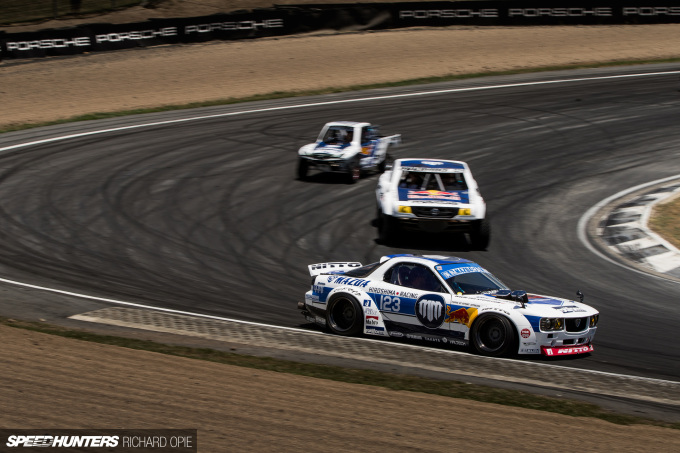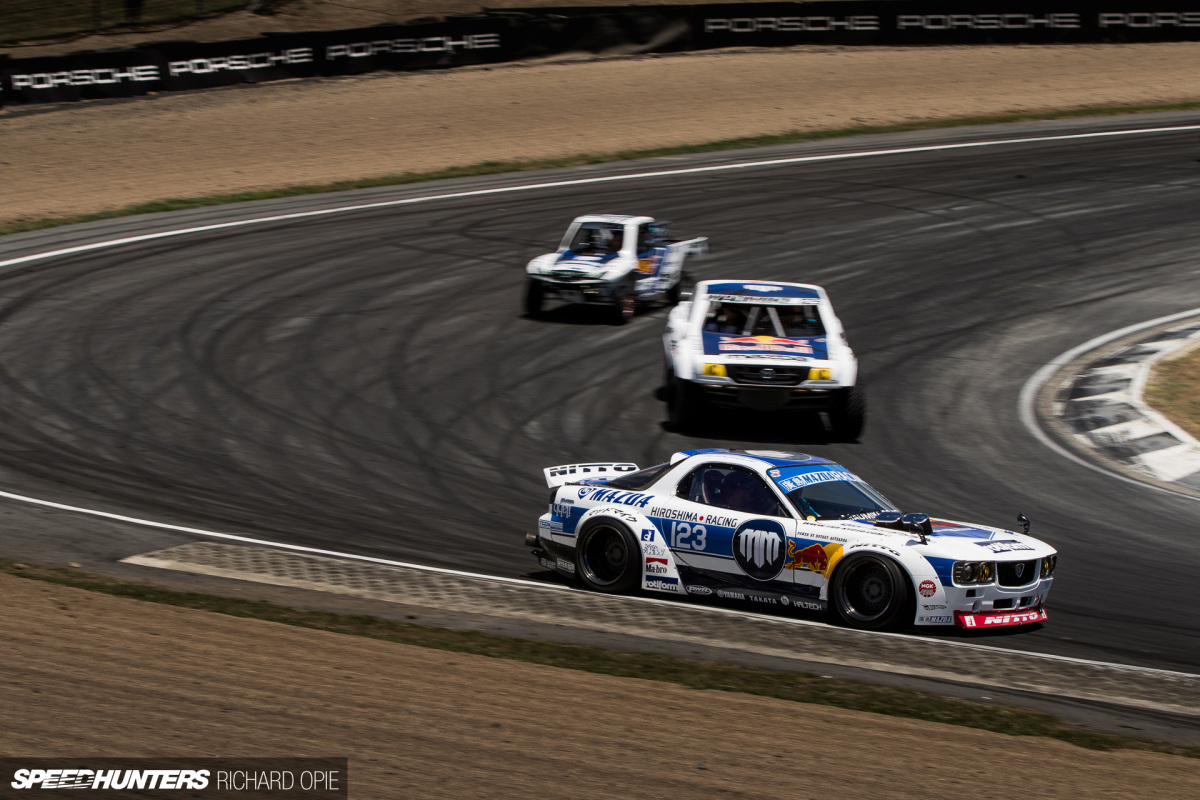 The opportunity to cruise the international circuit over lunch was taken up by more than a few in attendance, with Mike's entire stable showcased on track. Everything from daily drivers, to lowriders, to past Speedhunters feature cars littered the track for a few laps, a rare opportunity to get a taste of the full 3.8km circuit. While not strictly endorsed, it was a prime opportunity to pack a couple of straight-line roll races in too.
Finally, Mazda New Zealand offered up a brand new MX-5 for the skid pan gymkhana. Anyone could sign up and have a crack at the cone circuit on the (very) slippery surface. With temperatures soaring, top down among the water sprayers was possibly the best place to be, and anyone posting a slower time couldn't be blamed for lingering beneath the mist for a short while.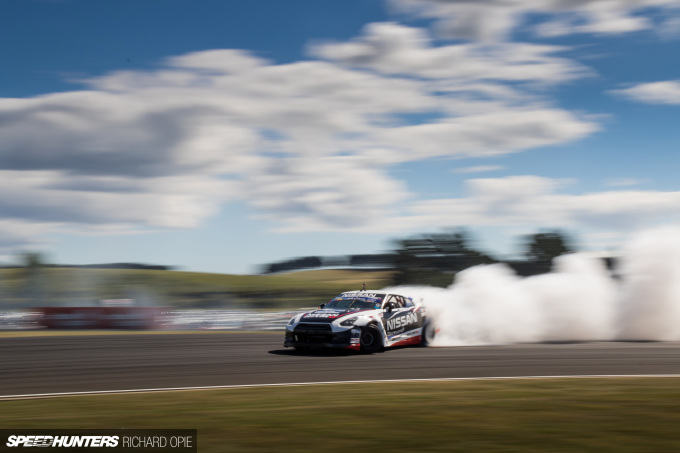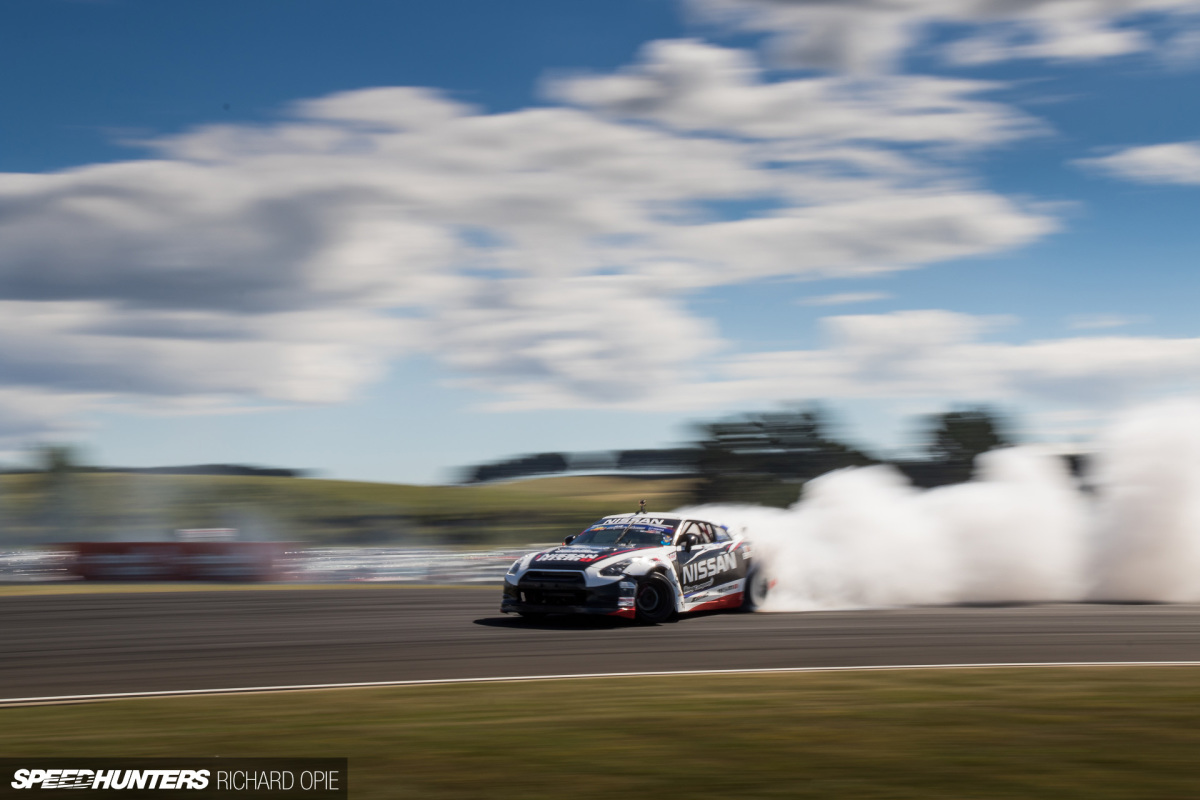 All of this, however, was a mere supporting act. Regardless of the heat, around 50 drivers entered and hit the tarmac in search of some good old fashioned sideways antics. The art of keeping drifting fun.
Competitively Relaxing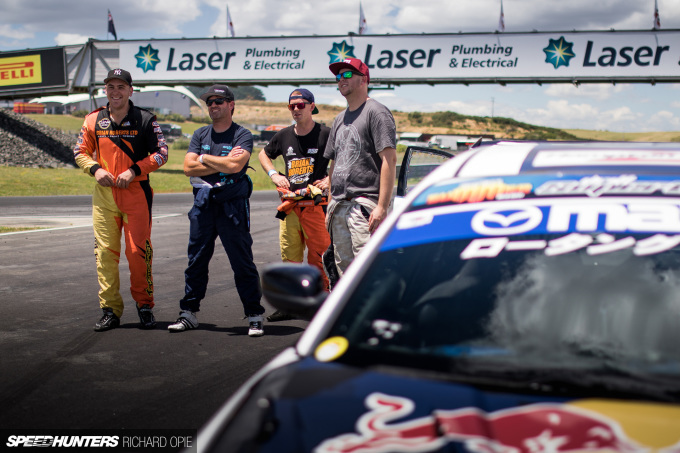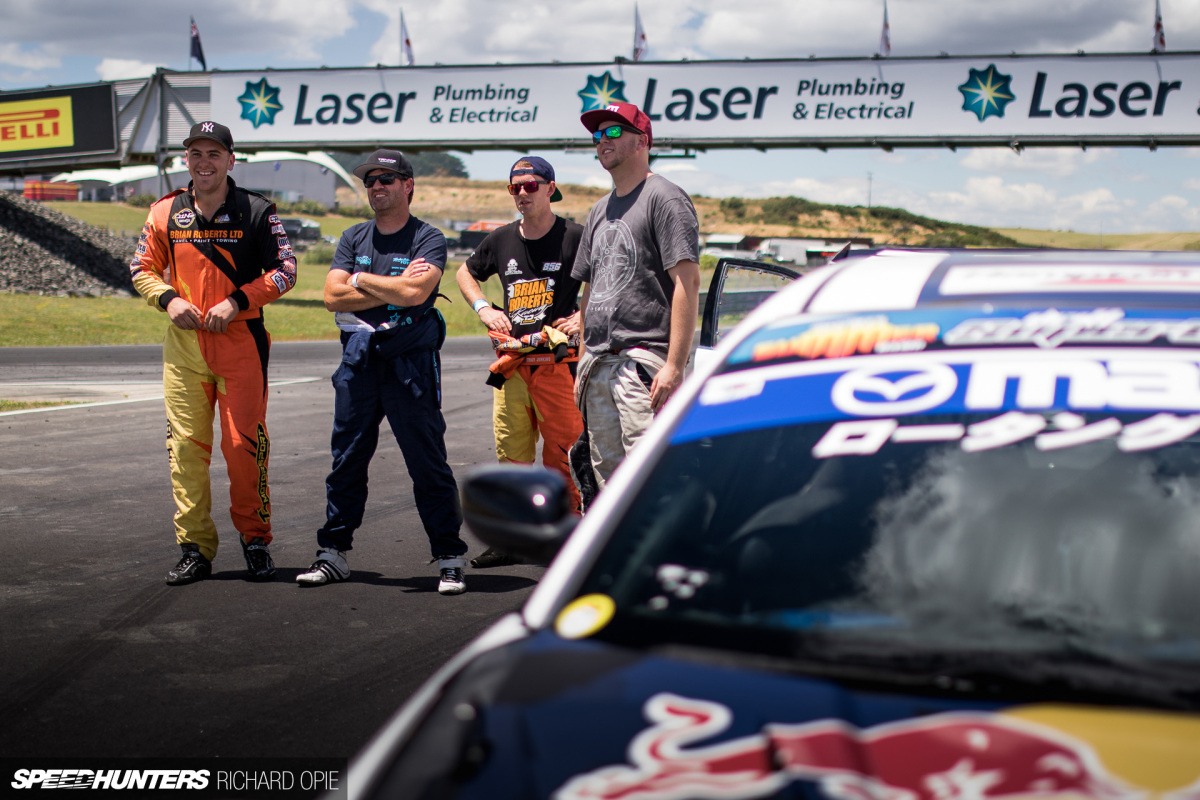 While the competition element defined the day, the focus of Summer Bash was fun. The drift community is one of the most laid-back bunch of aficionados ever to bless a sporting code, and for the bulk of the morning the original spirit of drifting was upheld by open drift sessions.
Held simultaneously on both the club and the national circuits, these sessions catered to the casual and D1NZ professional-level drifter alike. Emphasising getting out and developing skills behind the wheel, occasional weekend warriors were able to share the track with some of the pro-level monsters.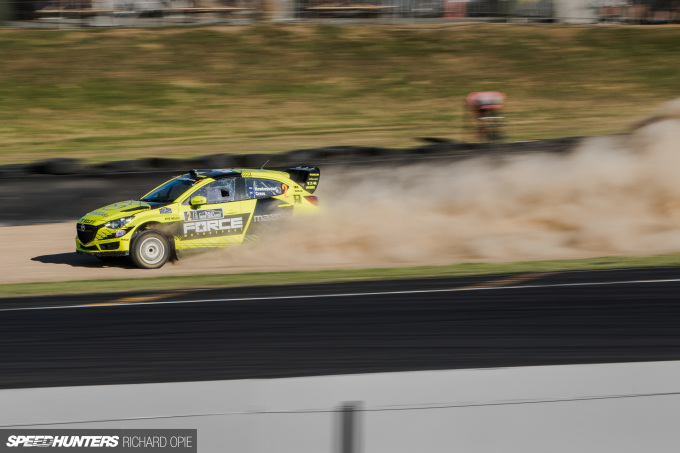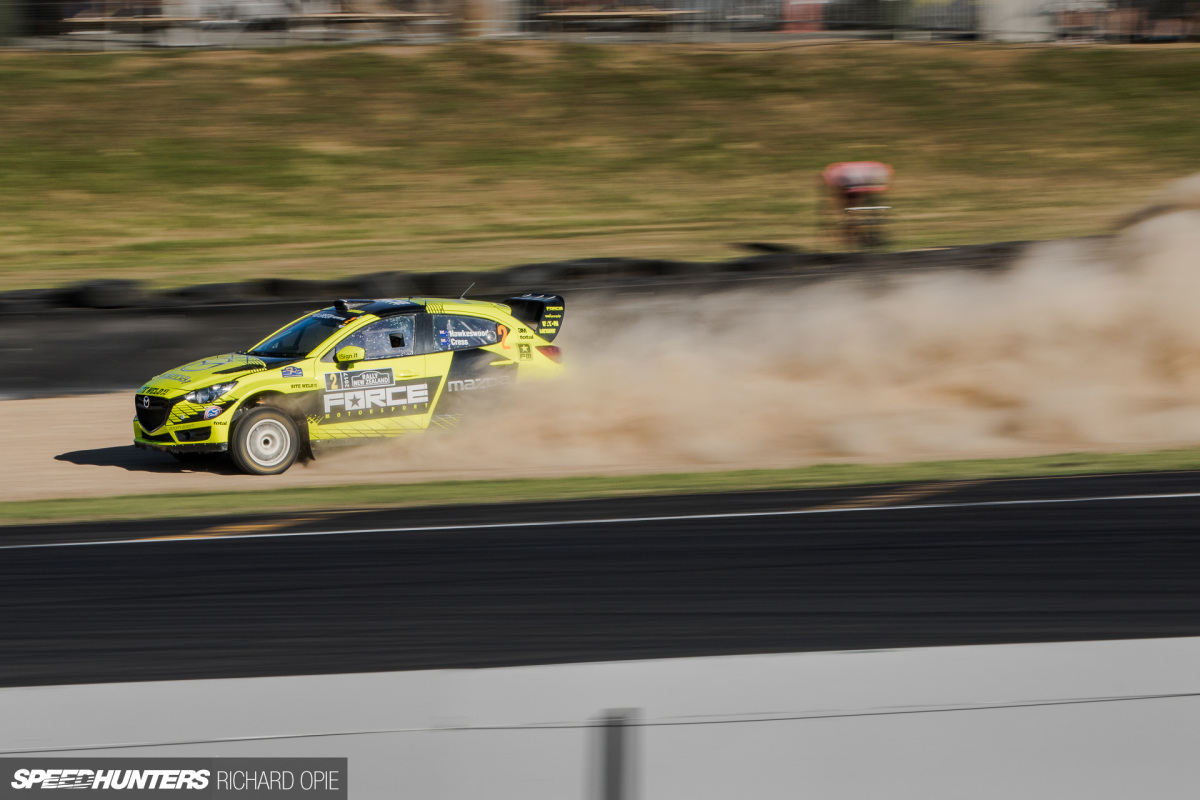 Even a couple of rally cars got in on the action, with fellow Mazda-backed driver Andrew Hawkeswood giving his AP4-spec Mazda 2 a beating on track, running against the circuit cars in a grip context but also carving his own drift line.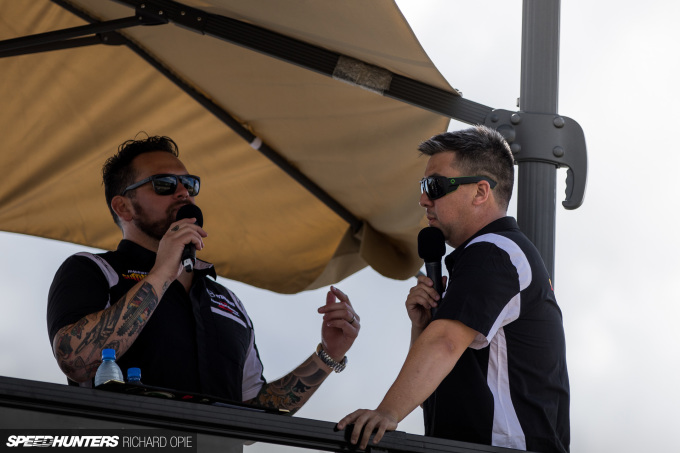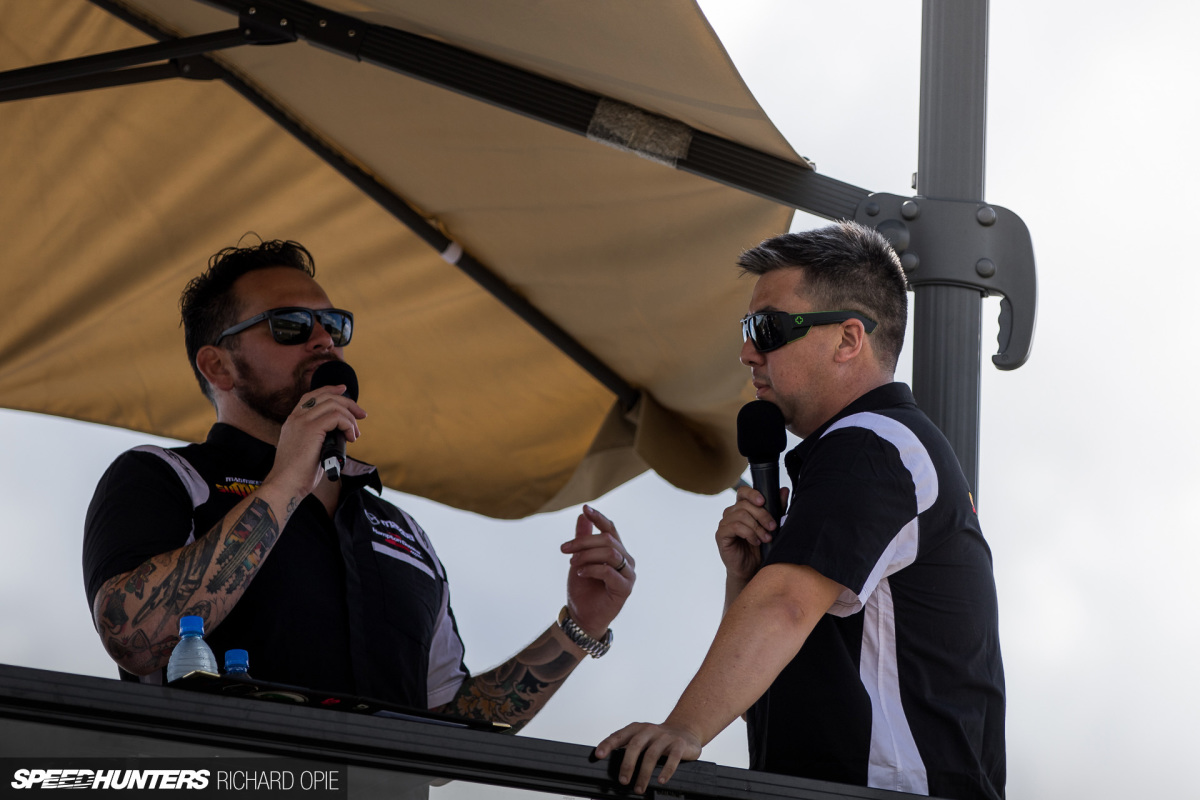 And while these open sessions provided a spectacle, the Top 32 invitational added the tension and excitement associated with competitive drifting. A measurable, if you will, and a means for the crowd to get behind their favourite wheelman. As a cherry on the top, enhancing the atmosphere was the voice of Formula Drift, Jarod DeAnda sharing the mic with local vocal-ninja Warren Sare.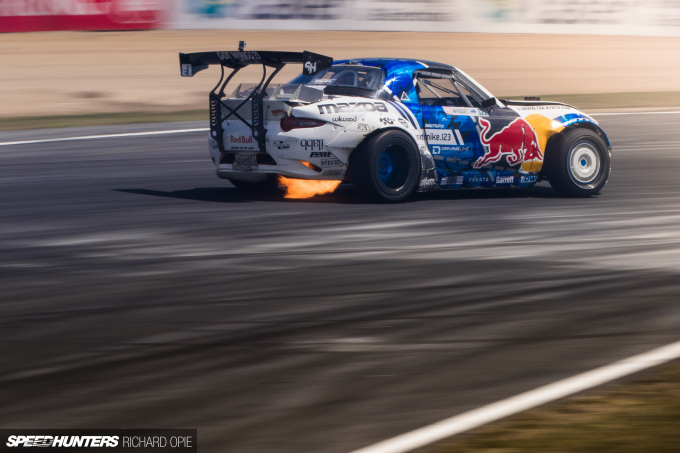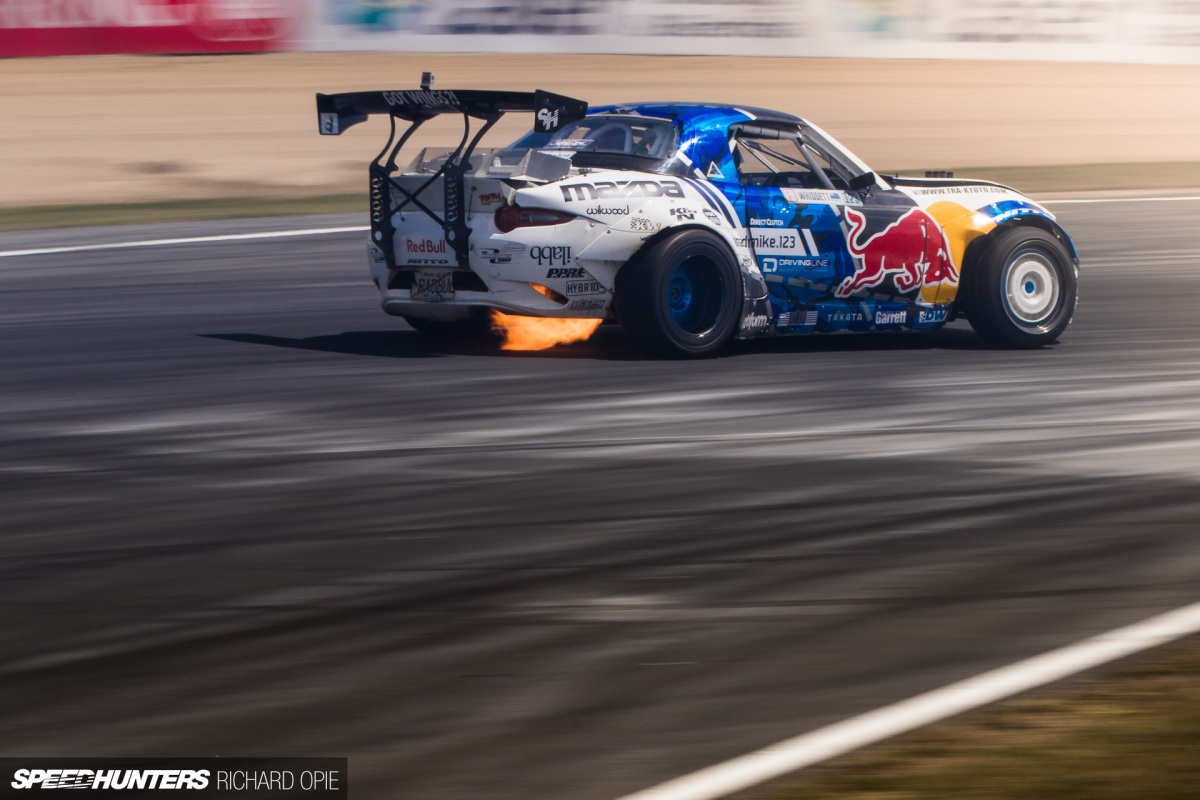 The Top 32 contained a bit of a who's who of Kiwi drifting, with a few handpicked wildcards thrown in to upset the apple cart somewhat. Mike took to Hampton Downs' curves initially within the cramped confines of the RADBUL MX-5, putting in a few smoky practice laps permeating the air with an equal amount of quad-rotor symphony. The car however wasn't to play ball, with a mechanical sidelining the drop-top. It's not all bad when you've got another couple of BULs in the stable to choose from, so Mike simply strapped himself into the MADBUL RX-8 and continued making clouds.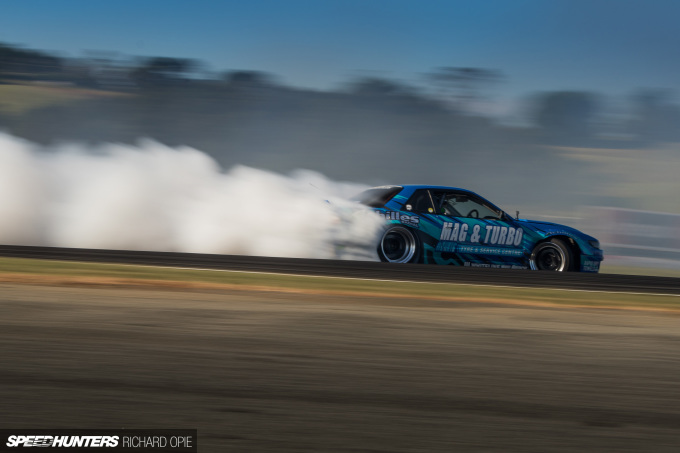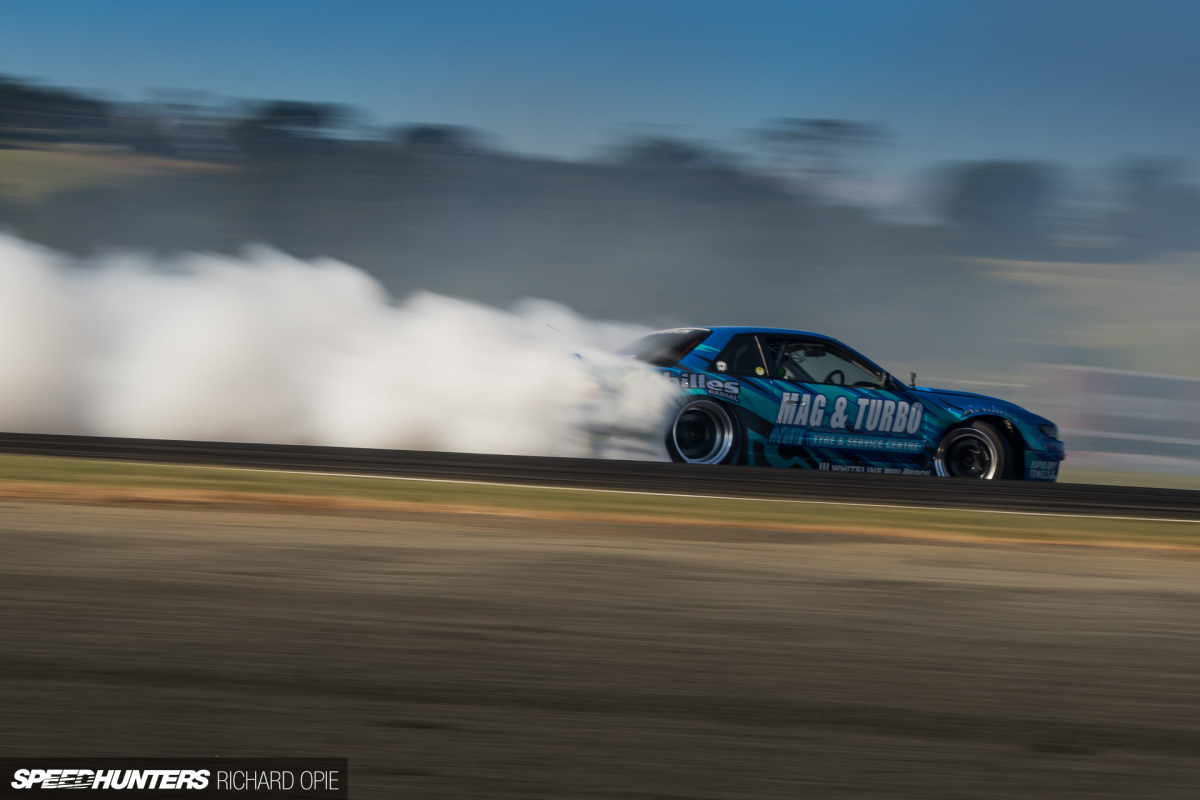 One of the most drifted top-level chassis in the country made its debut for the upcoming season sporting a throwback livery. Bruce Tannock's Rocket Bunny-kitted and RB32-powered S13 Silvia has been drifting competitively at the top level for over a decade. The super-clean appearance is testament to Bruce's attention to detail, and while a knock-out early in the Top 32 sent him back to his pit, he came out blazing in the 'Insane Entry' competition, netting second place after a particularly wild ride into the Double B corner.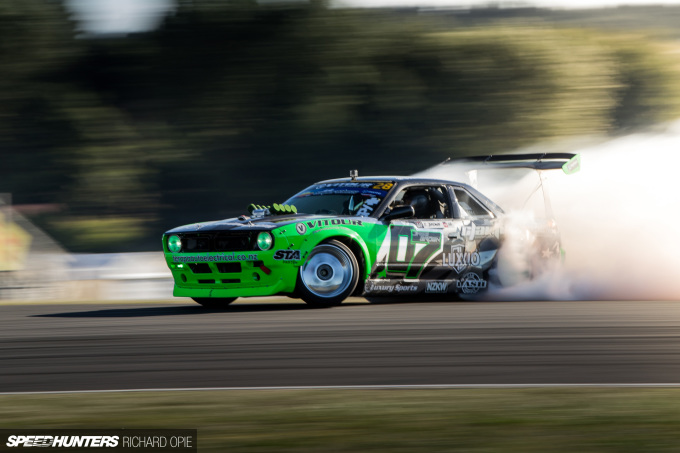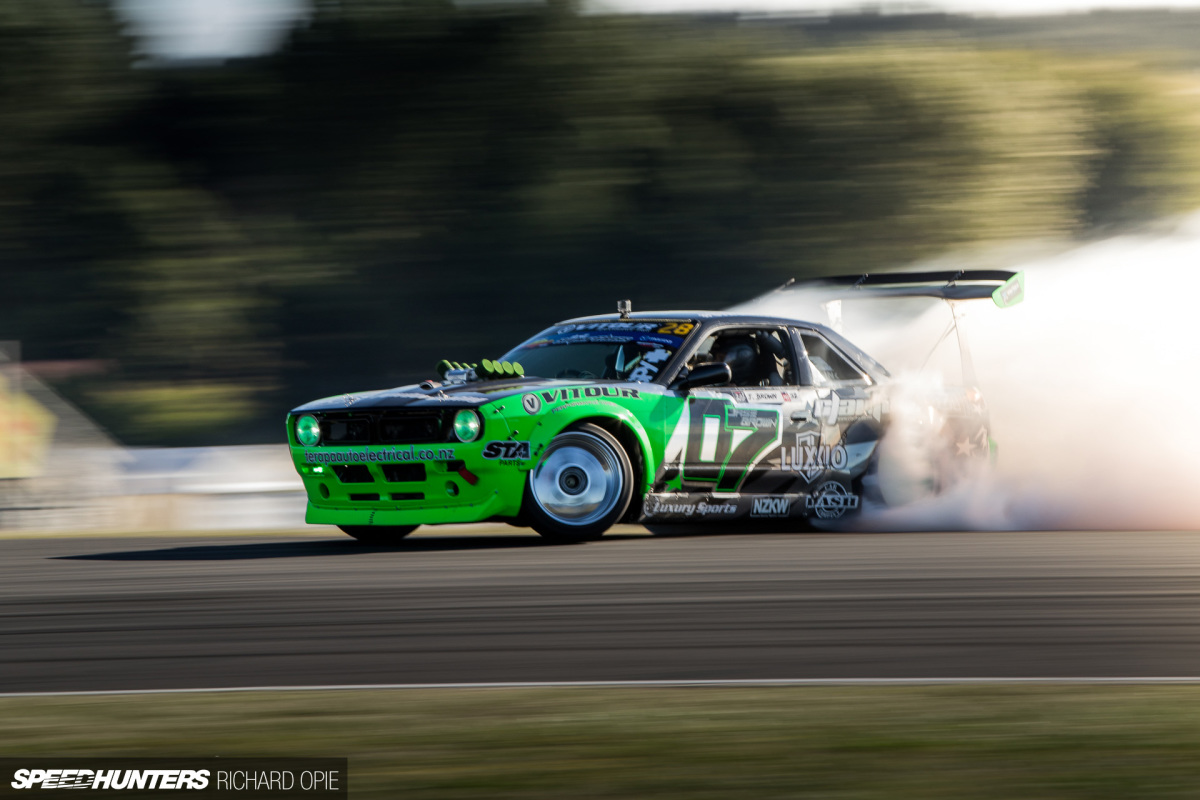 Staying on the S13 theme, they don't come much wilder than Jase Brown's example. Yes, that's a Rocket Bunny Boss S14 kit mashed onto an S13 Silvia; but what's maybe even more wild is the powerplant. Beneath the eight throttle bodies and supercharger poking through the hood lies a 1UZ-FE, one that sounds like it's ready to go postal on the rest of the grid. Knocked out in the Top 32 by the eventual victor, Jase still managed to take out the wildest entry, a fitting accolade for a car so left of field.
Another much anticipated debut came in the form of 'Fanga' Dan Woolhouse's newly minted RTR Mustang drift machine. This car isn't his competition car as such – his actual Roush-Yates V8-powered monster is set for arrival early next year – but Fanga showed he was getting to grips with the left-side driving position of his 'activation car,' before a minor teething problem relegated the Mustang to display duties in the pits.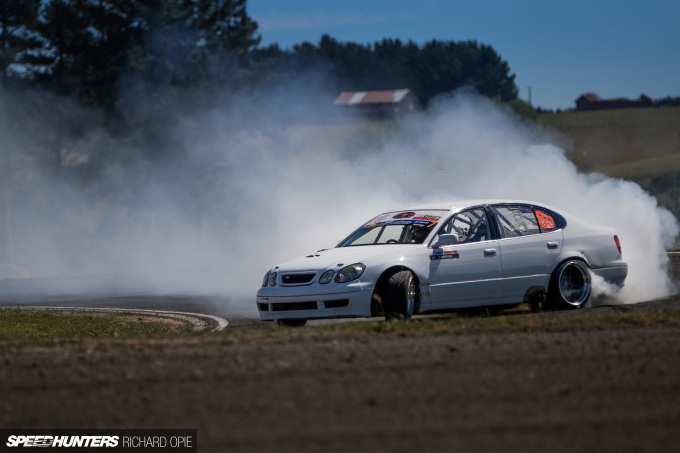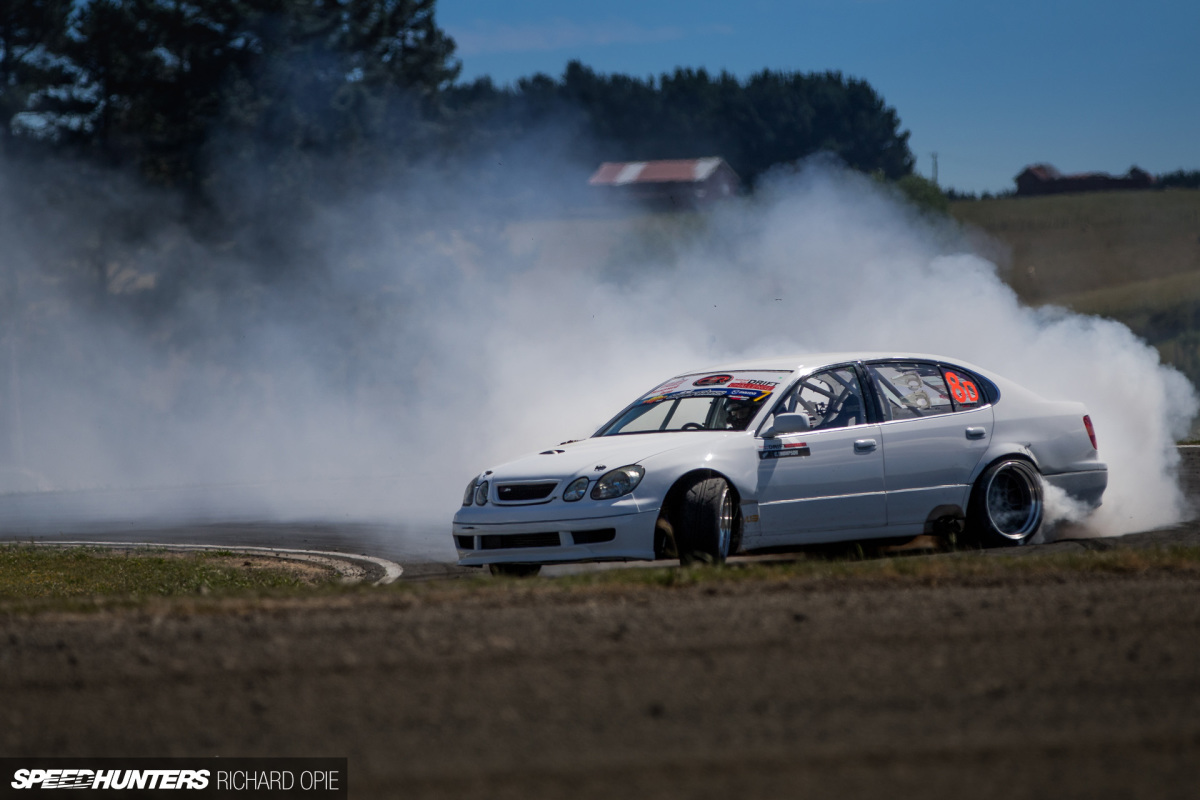 Wildcard spots went to a couple of the country's most unhinged rotary drift machines. Carl Thompson's quad-rotor Lexus, now somewhere in the region of 1,400hp, never fails to command attention. It's a car where traction is a mere option, but where the Lexus is built to a level beyond pristine, the contrast to the other rotary wildcard couldn't be more vivid.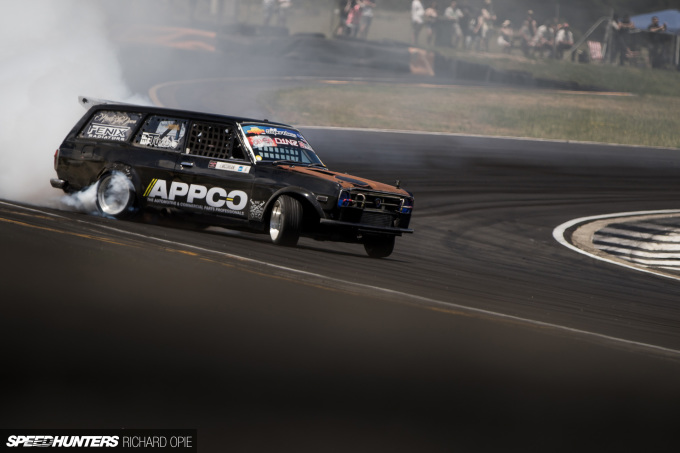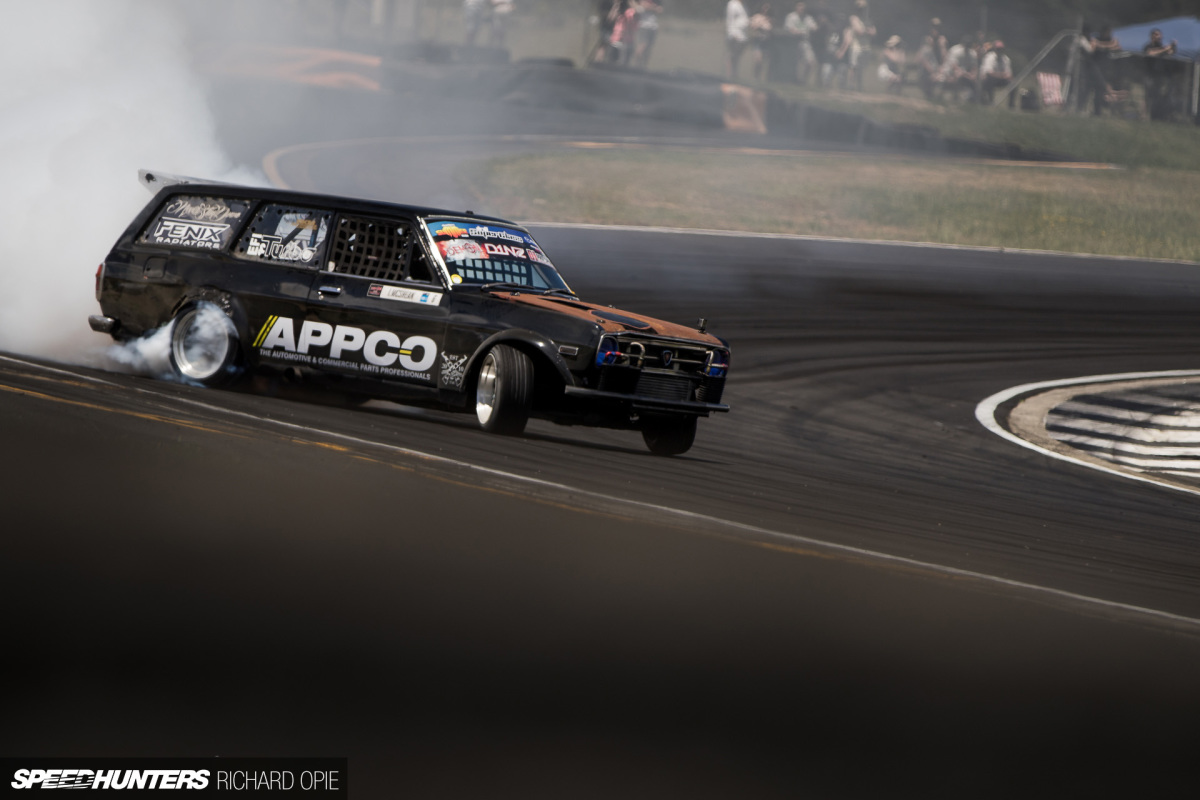 Travelling a significant distance north for the day, Ian McShean brought along the 'Rotang' Datsun 1200 wagon. It's no show winner, but the 13B turbo-powered Datsun is a cult favourite with home-grown engineering and ingenuity proving the ideal marriage to Ian's hard-charging style. The man simply doesn't have a halfway setting; it's either 110% or nothing at all. Sadly, the little wagon was to retire early, but not before shredding a few 15-inch tyres to the crowd's adulation.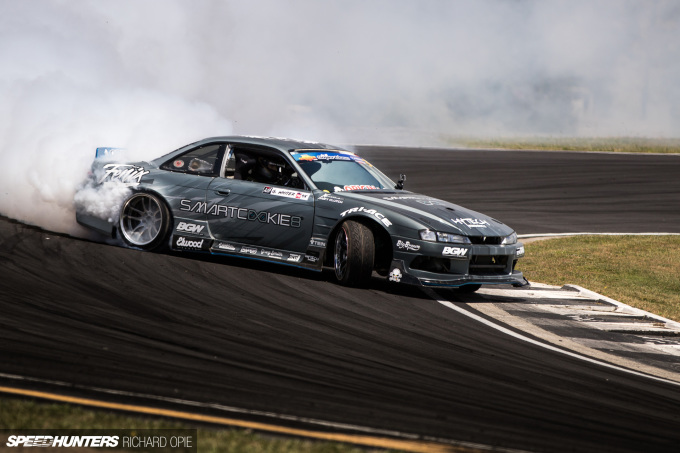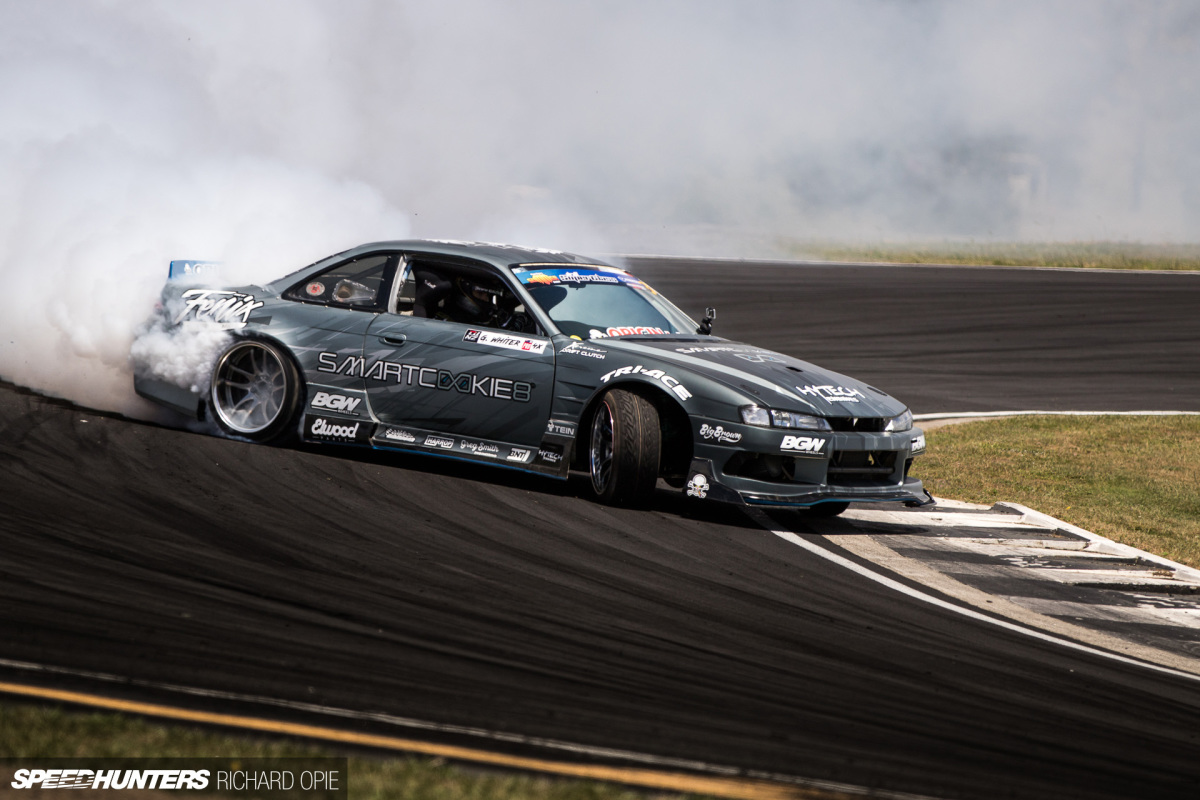 There's only room at the top of the podium for one driver, and this year four-time Kiwi champion Gaz Whiter returned from hiatus to absolutely shred the field in his freshly rebuilt S14. Yes, it's got a Harrop-supercharged LS3 in it (sorry, purists), but with an 8-into-1 header the Silvia absolutely screams. Gaz's driving style is one to behold, the car sweeping from clip to clip with smooth, effortless ease. It almost looks too relaxing; even in the final battle the little Nissan was glued to the door of its younger, bigger R35 cousin piloted by Darren Kelly.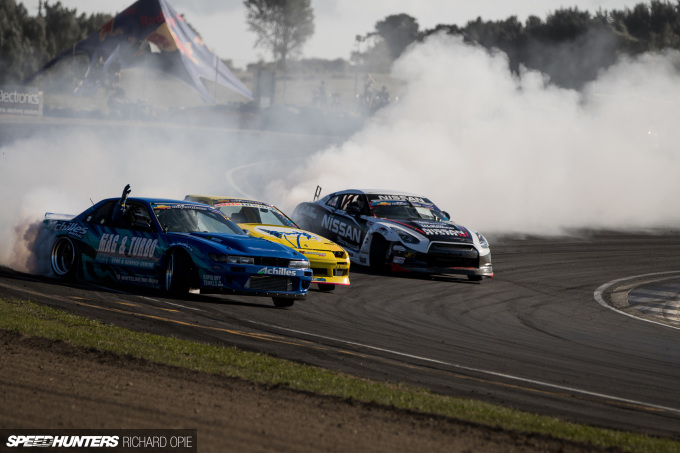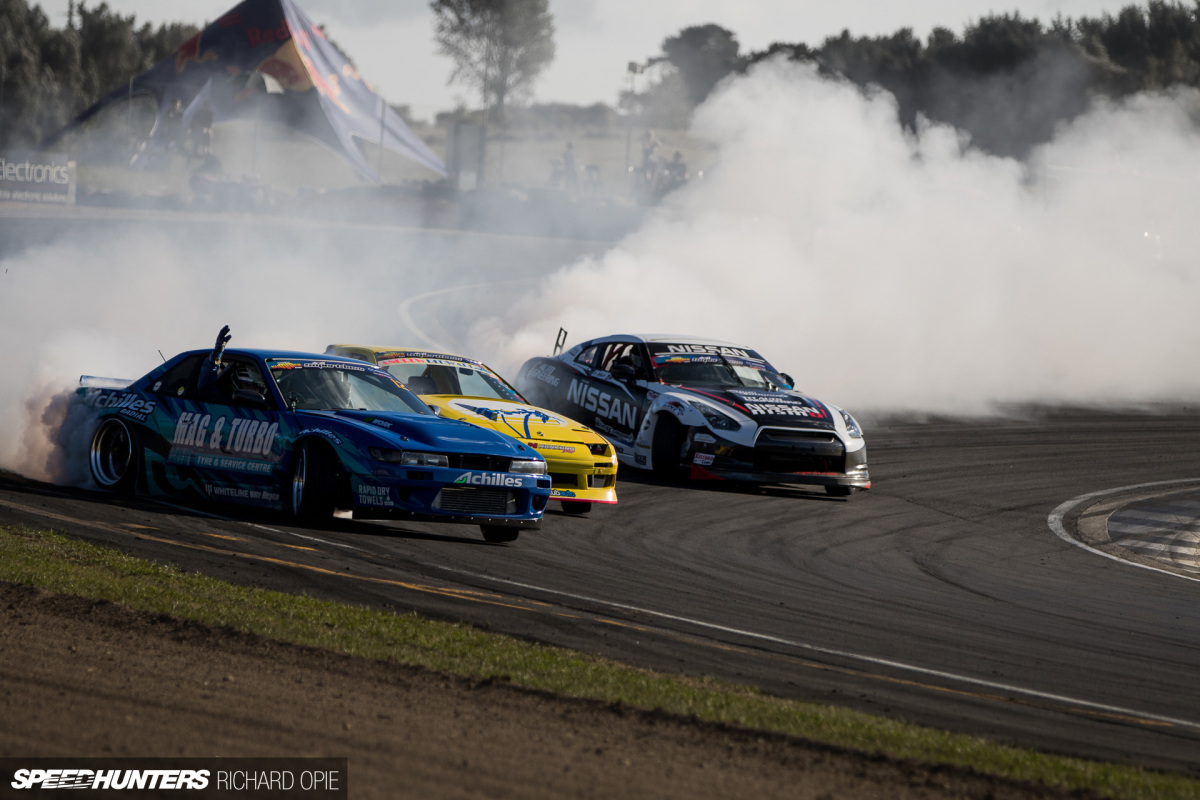 On track, the day concluded with an entertaining flourish. The 'Triple Threat' called for three-car teams to put on a show, entertain and do something a bit different. Trains are something that seem to be lacking more and more these days, especially in top-level drifting, but when you boil it down, is there anything more raw than chasing a bunch of mates sideways, door-to-door through your favourite turns?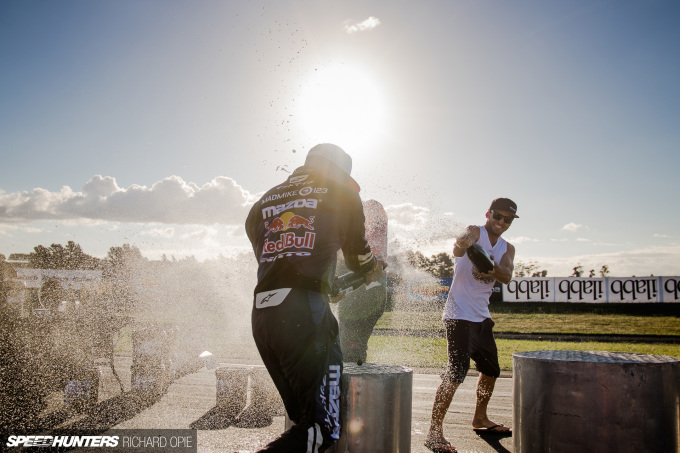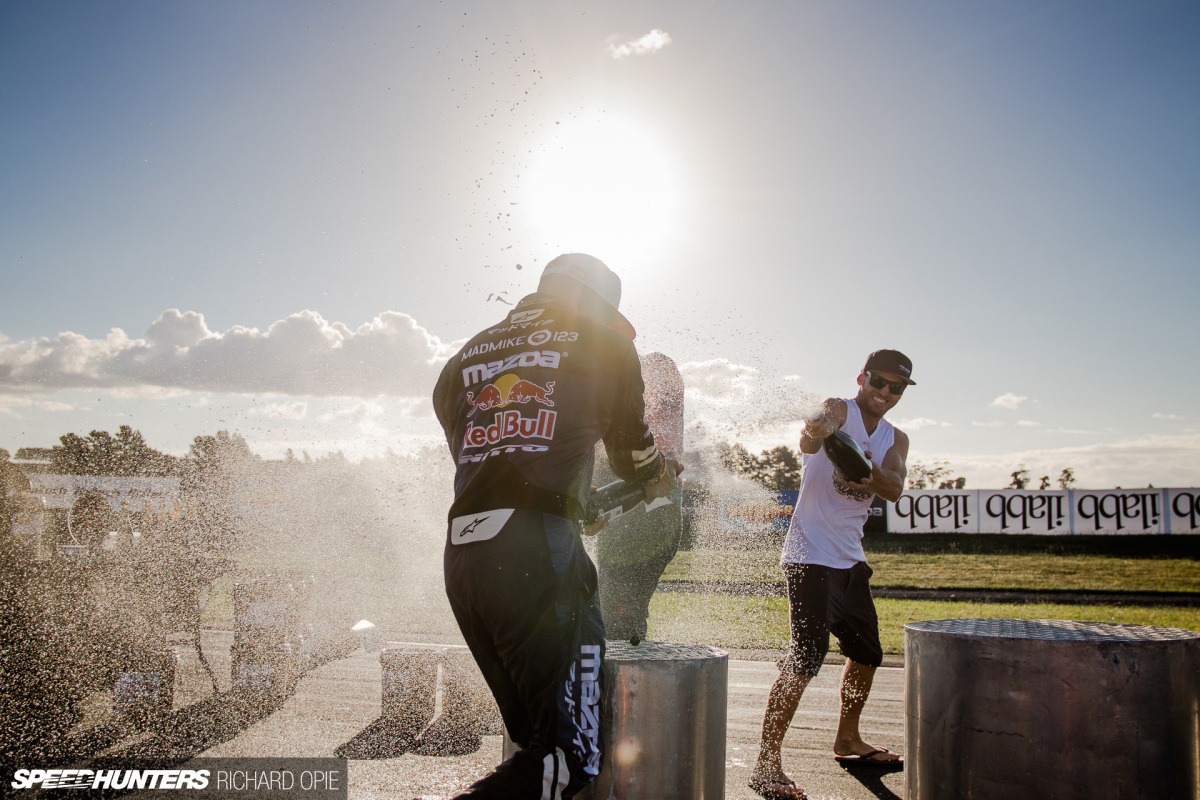 But as the sun dwindled, the prize-giving commenced. The grin said it all. The selfies preserving the essence of drifting, the sentiment to linger for another year before we get to do it all over again. But first, a whole summer awaits, heralded by a hell of a drift day to remind us all why we even do any of this.
We do it for fun.
Richard Opie
richy@speedhunters.com
Instagram: snoozinrichy