That One Night
It's always around this time of the year where we stop and realize how fast time is flying by. Looking back at the season of car life, it's as if it went by in the blink of an eye. While there's no shortage of events, track days and meets during the summer, there's always that one event that sticks in your memory. For us – PrimeNYC – it was in early July, the 7th to be exact.
7's Day by PrimeNYC is an event that had a specific focus, but ended up being so much more this year. When asking anyone who attended how it was, a common response from the locals has been 'the night was a movie' – a celebration of NYC street car culture.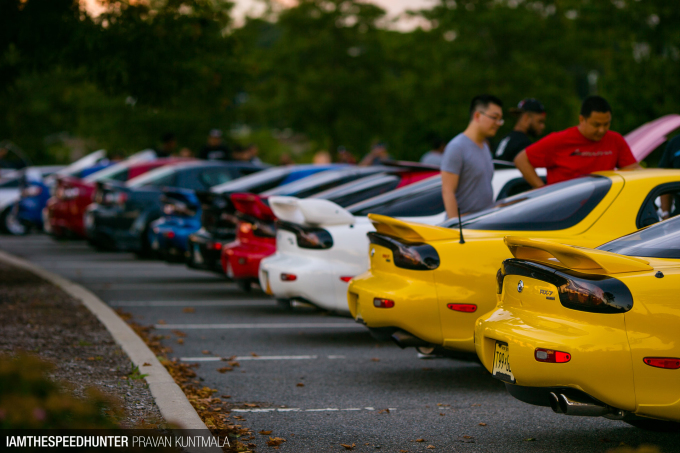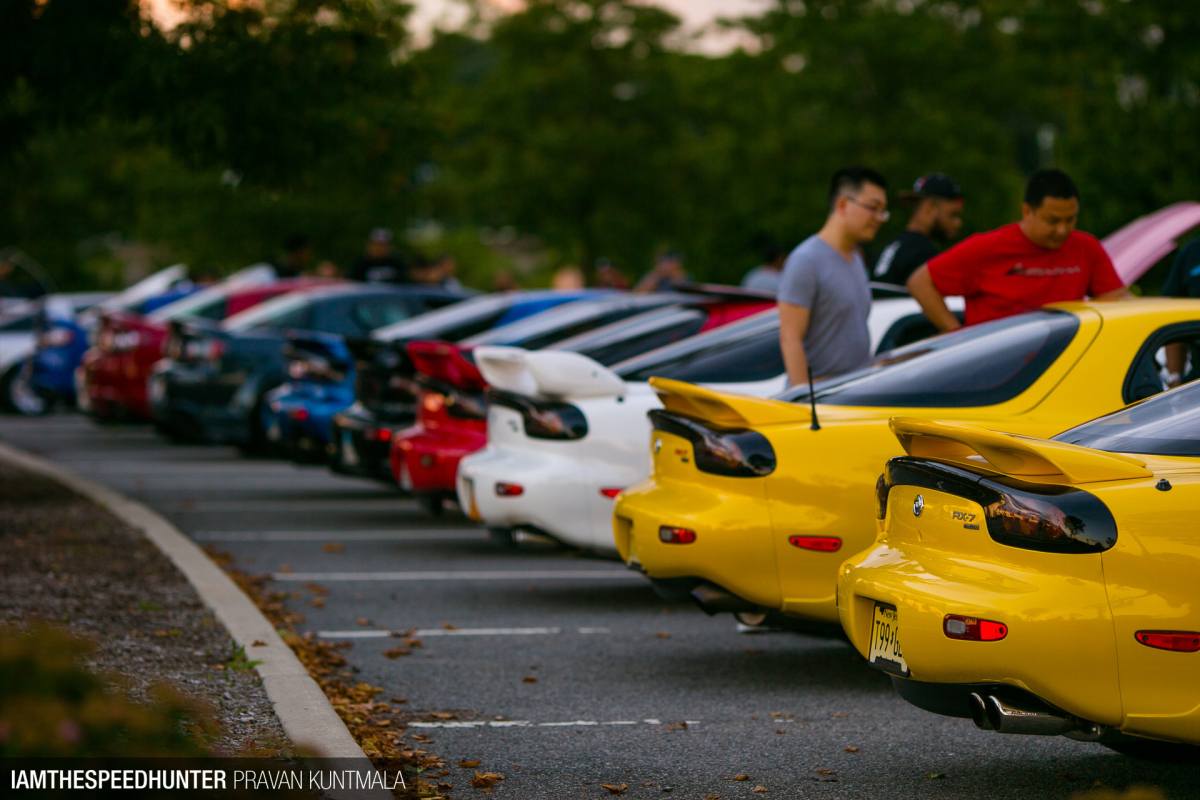 Thanks to publications like Speedhunters, we all now know how epic the annual 7's Day is in Japan and other parts of the world. This was the main inspiration and motivation for us to hold our own version of this event in the place we call home, New York City.
This year, it just so happened that 7/7/17 fell on everyone's favorite day of the week: Friday.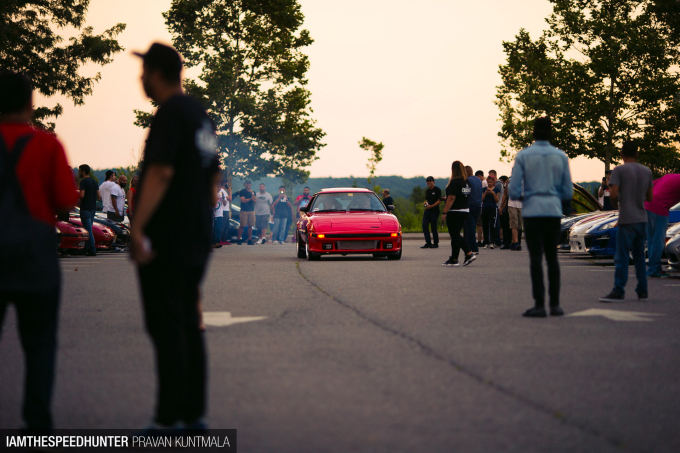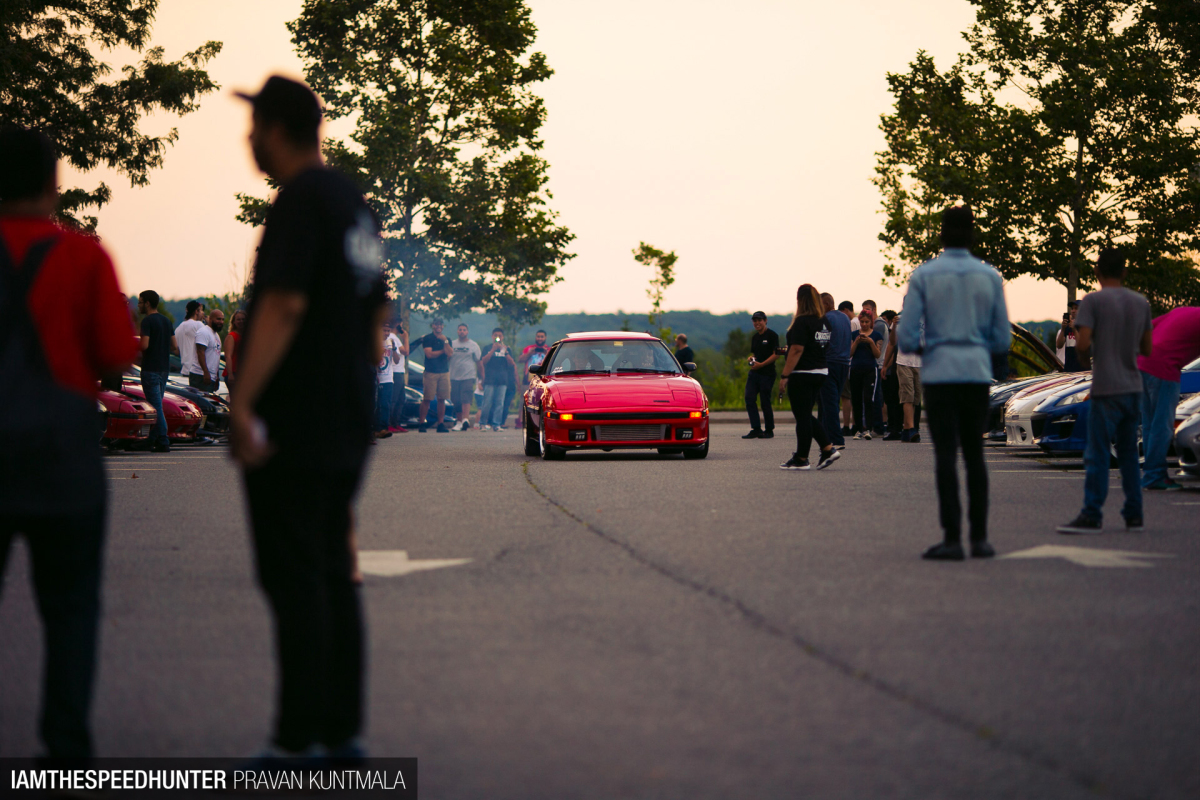 As it approached, we devised the plan for the evening. A starting location to gather; a roll-out time for the cruise; a secret Manhattan location to regroup; and finally heading to the crossroads of the world, Times Square. Many nights leading up to the event were spent planning the routes and locations, ensuring we avoid any (terrible) NYC roads that would love to bend a wheel or keep bits and pieces of cars as a souvenir. All was set in stone, we just needed the weather to hold up.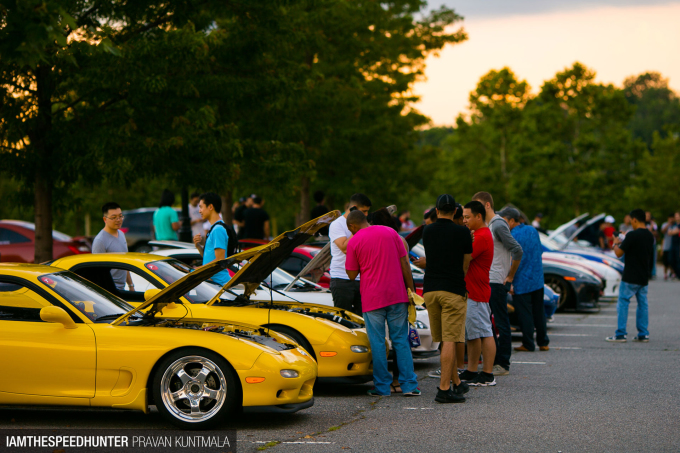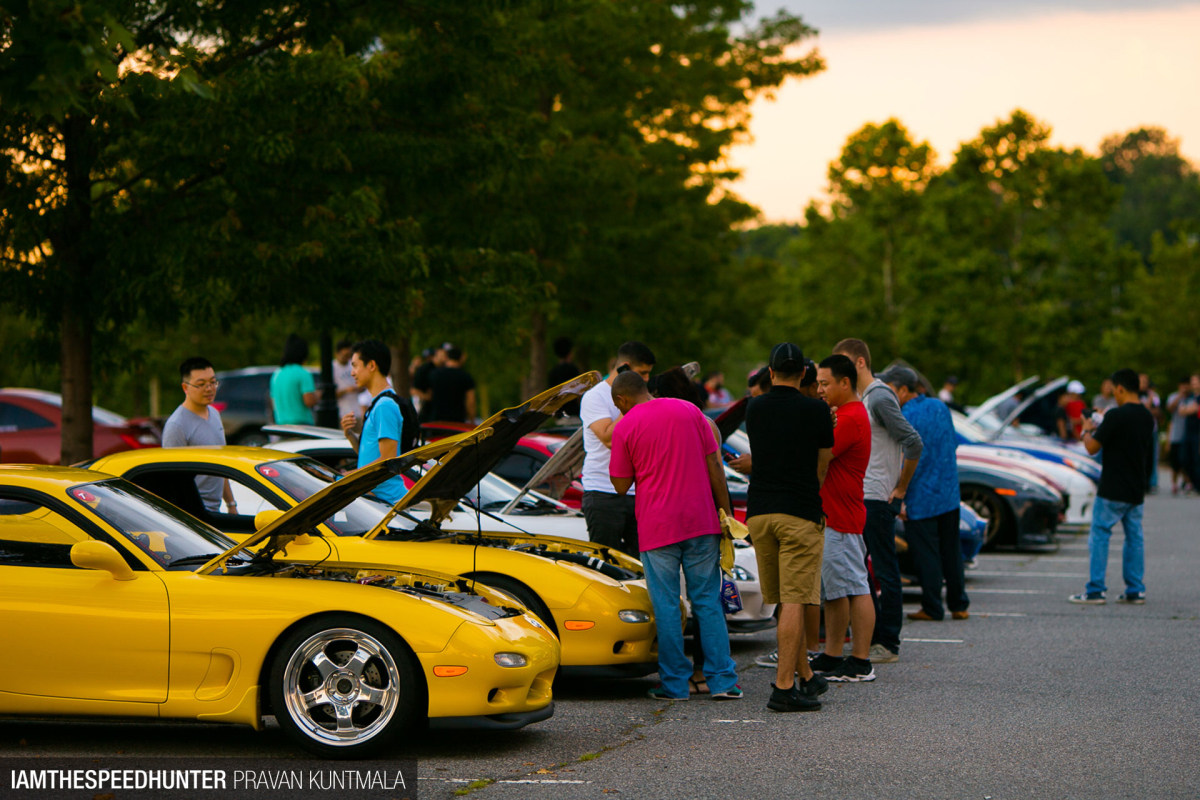 The day of, we split into two groups – the NY/NJ side, and the Queens/Long Island side. There were similar plans for each: those from Queens/LI would gather by Astoria Park, and those from NY/NJ at the park by the George Washington Bridge.
Exceptional examples of both rotary and piston platforms filled the lots. Though the event was based on word of mouth, the number of attendees continued to grow. It was going smoothly, until those beautiful blue skies began to darken…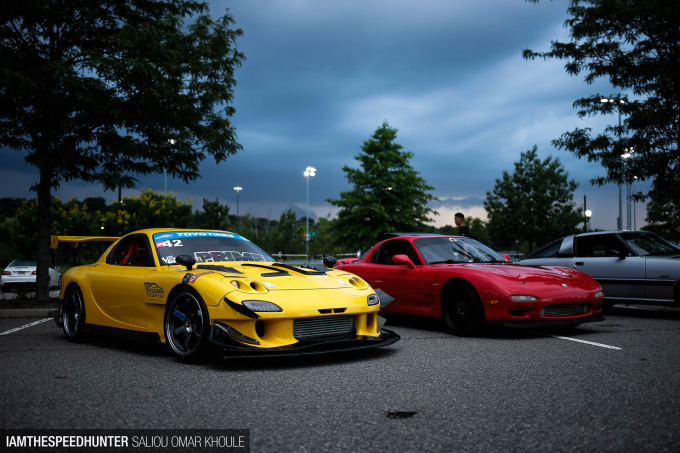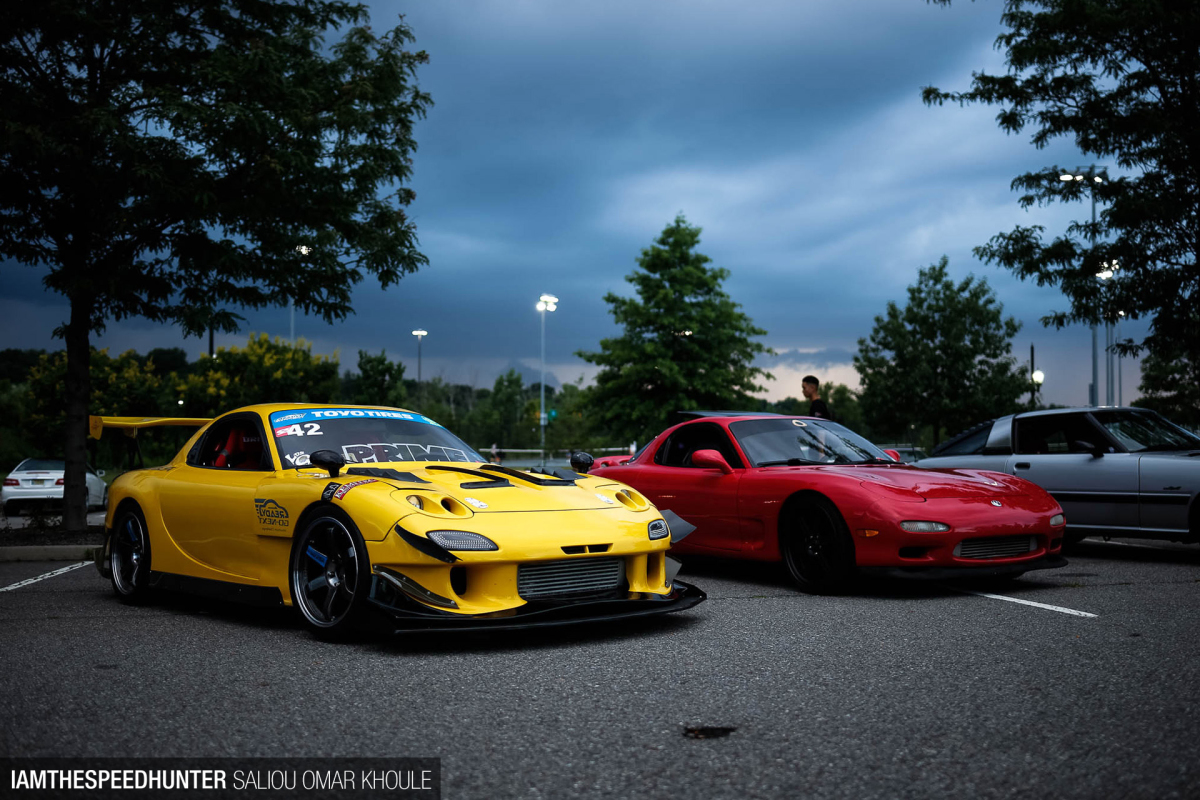 The apocalyptic thundercloud that suddenly appeared and dropped a monsoon-grade downpour on us was definitely not part of the plan. It was anxiety inducing at first; what should we do?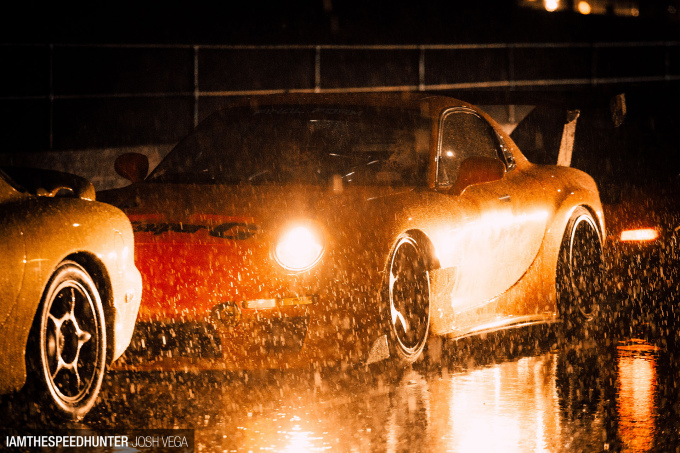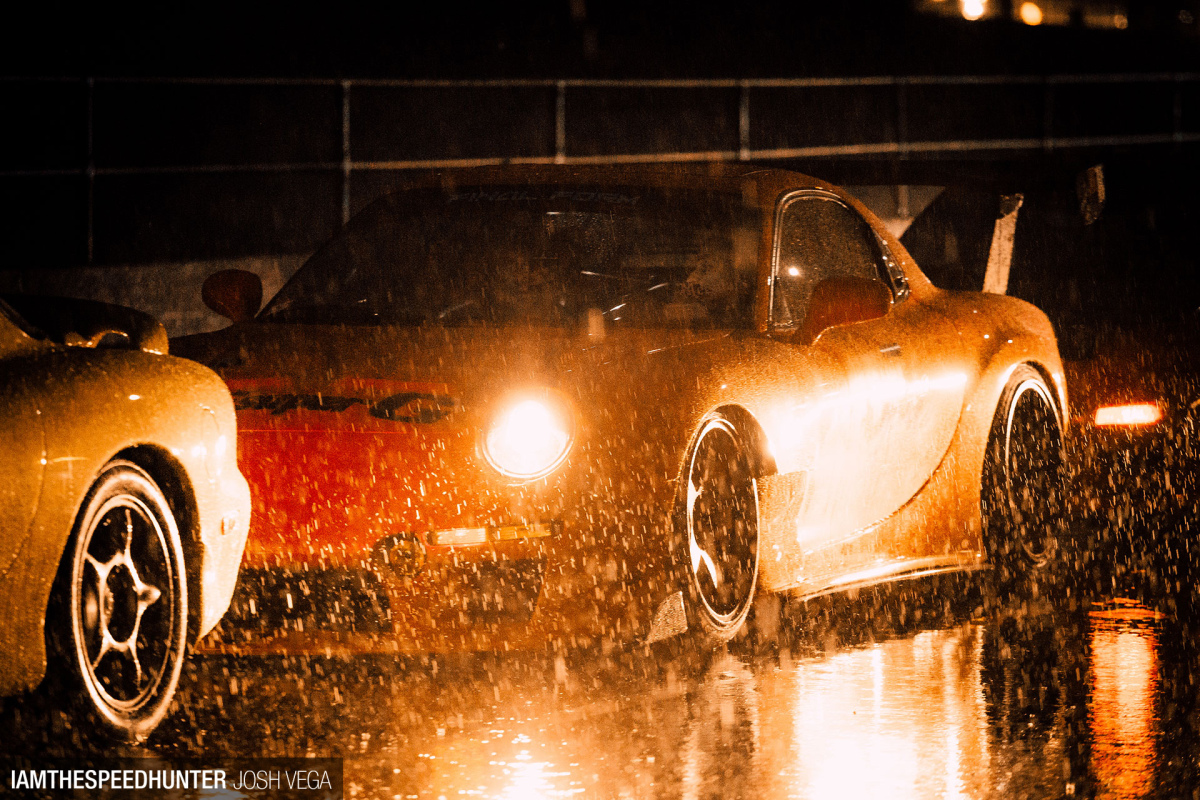 There was only one possible outcome here, ride it out! The collective response from all in attendance was 'it's just water, let's do this!'
And so we did. Before we knew it, the storm had passed and it was time to roll out.
The Drive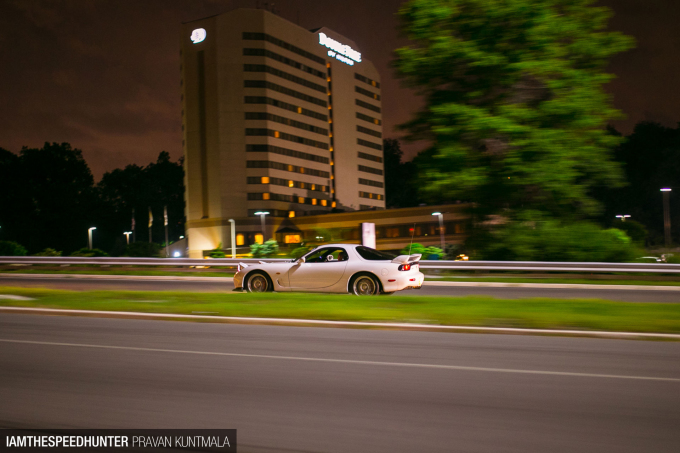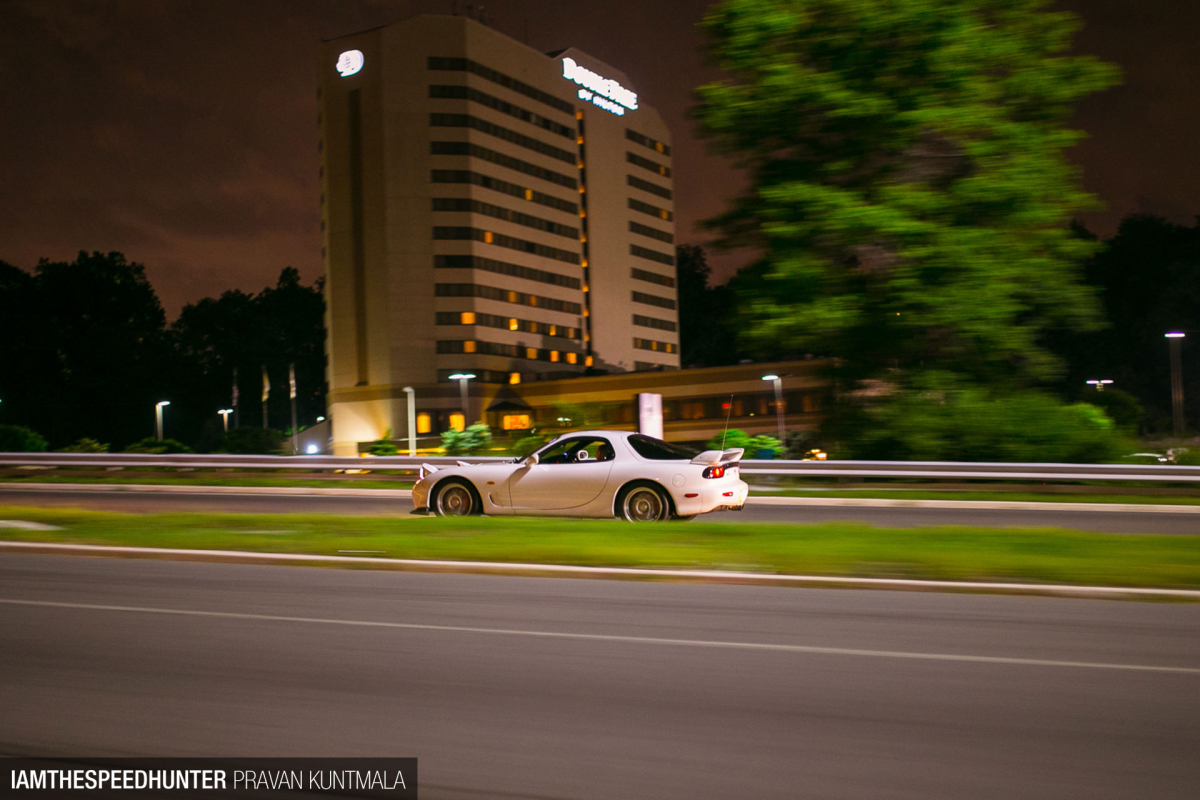 Personally, the drive into Manhattan was one of the most amazing automotive spectacles I've ever seen. Everywhere you looked there was a tuned Japanese sports car. Supras, Skylines, Evos, Subies, NSXs and of course, RX-7s.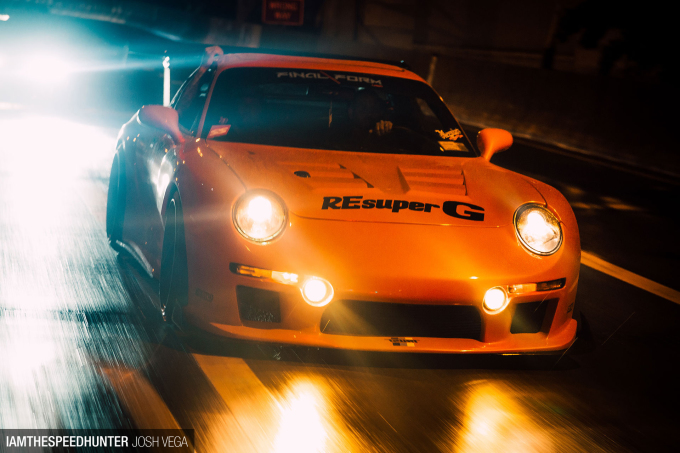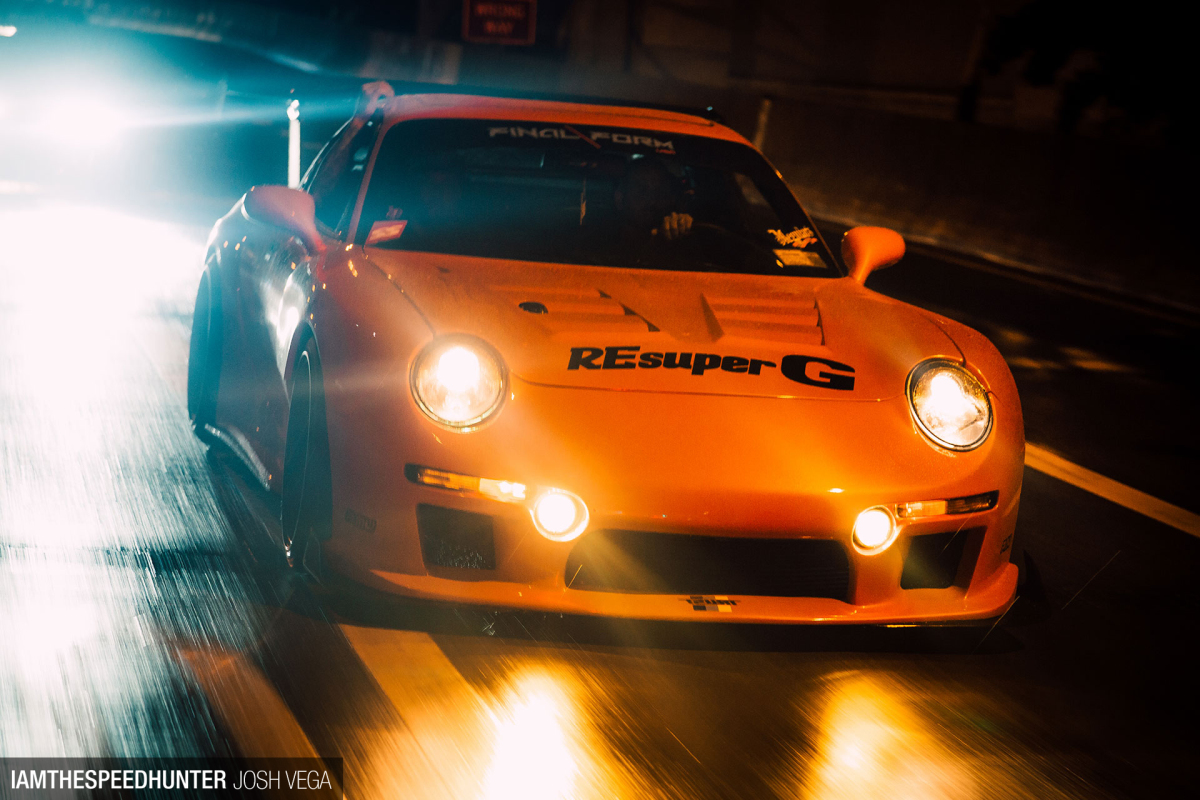 The sight of all these cars cruising down the West Side highway looked like something out of a movie or video game. Coupled with the reflections from the wet conditions of the roads, the visuals were out of some sort of lucid dream, only, it was real.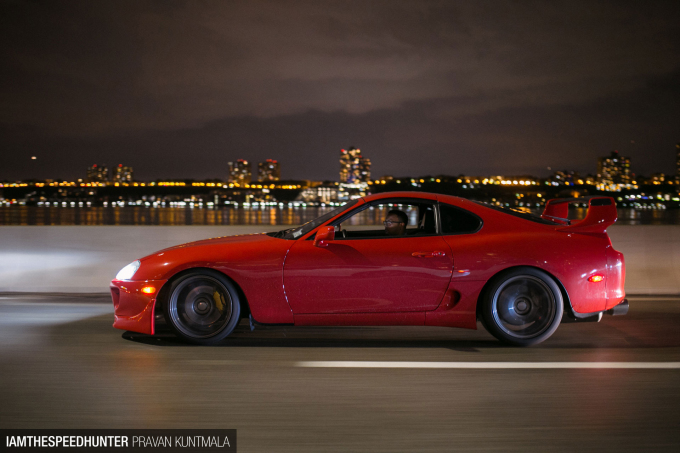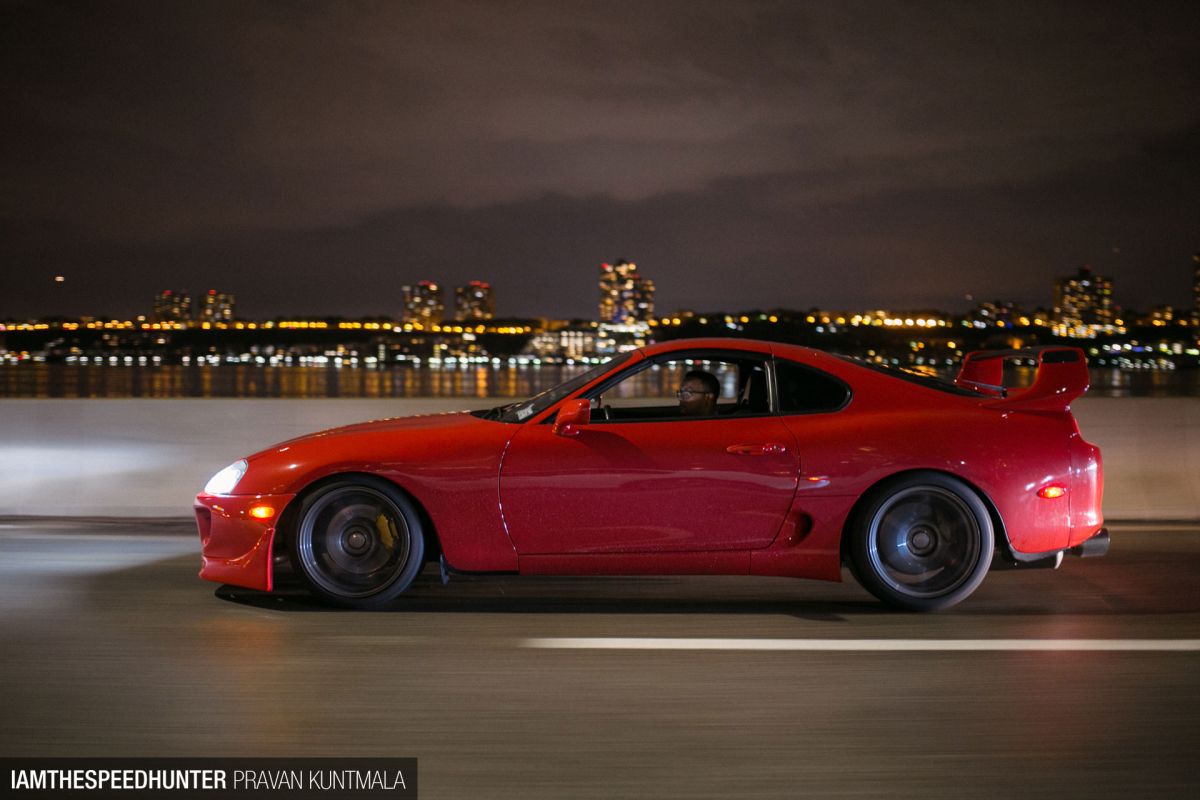 Regroup
We then reached our 'secret' regroup location. I use the term lightly because it seemed as if every car person in NYC knew where to go; it was packed! Word definitely traveled fast. The two units combined into one massive group of enthusiasts; it was a sight to behold.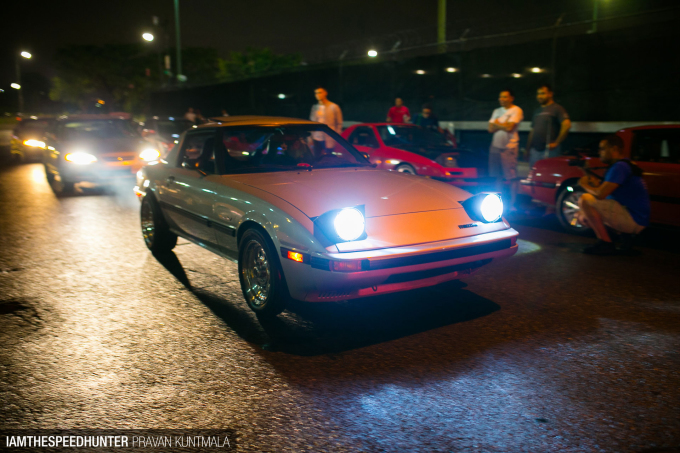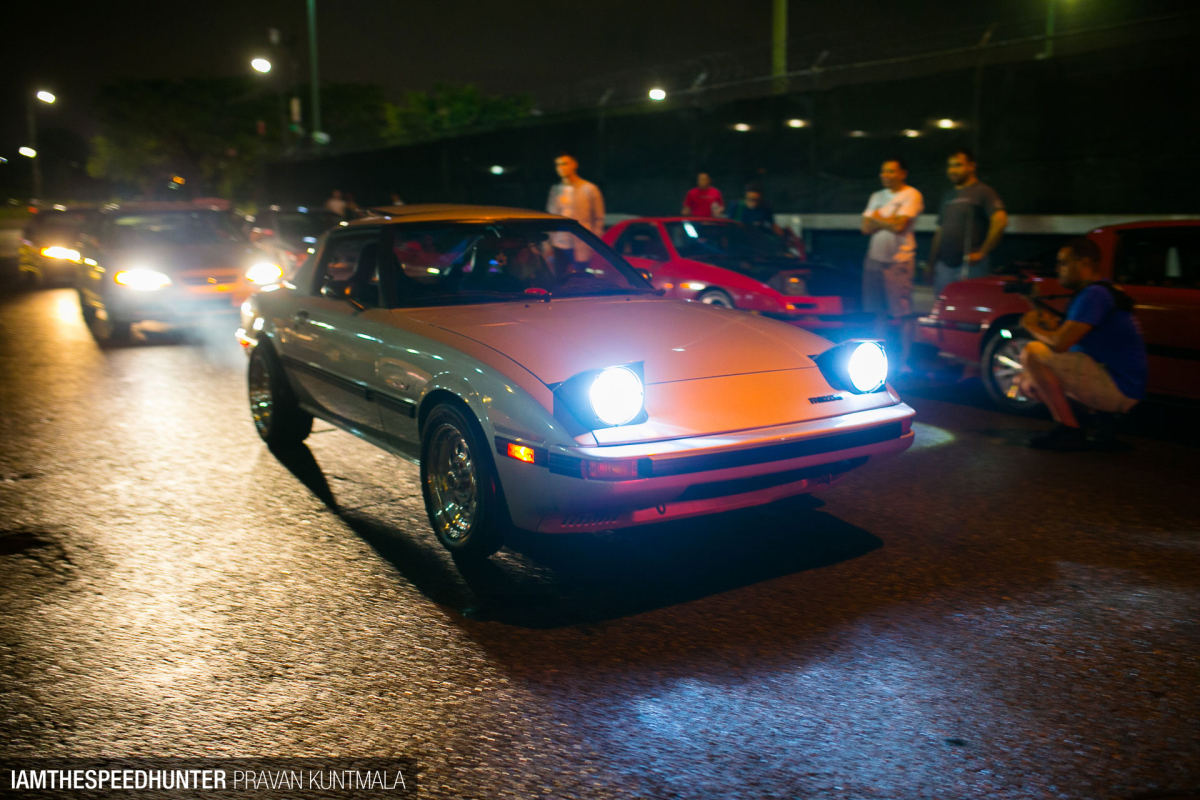 The gathering of cars, both OEM and built, that are usually never spotted outside of a garage or a car show; the stories of the drive from both areas; the disbelief of seeing countless numbers of dream status cars; the excitement from those who traveled from afar (some all the way from Boston and Wisconsin), who were realizing their journeys were well worth it – we were in the middle of something special.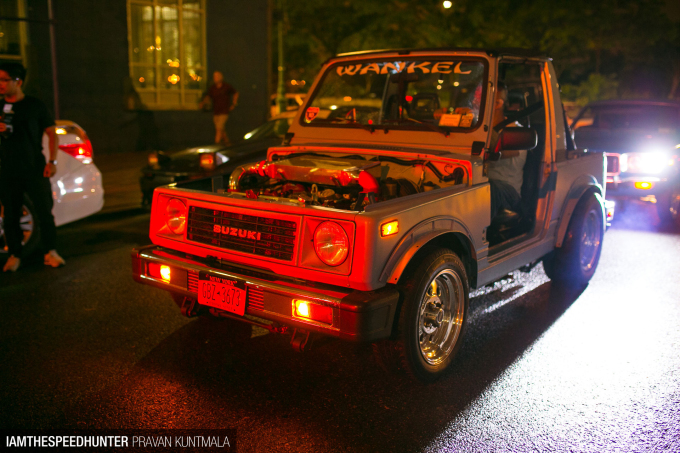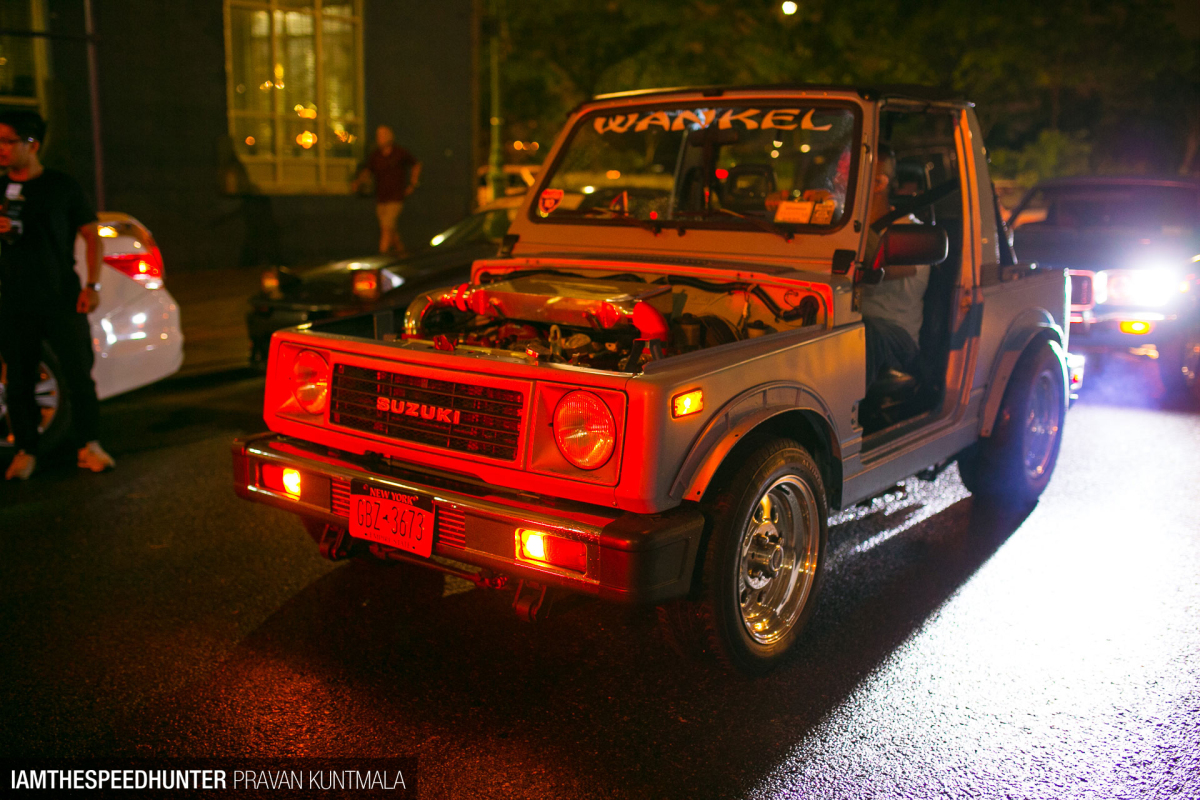 The night was not over yet; Times Square, the final destination and main event was up next. Driving in the city, on any normal day, you're confronted with obstacles on a regular basis. We've done these cruises in the past and a random occurrence is almost always a guarantee. But not on this night; we all made it, safe and sound.
Crossroads Of The World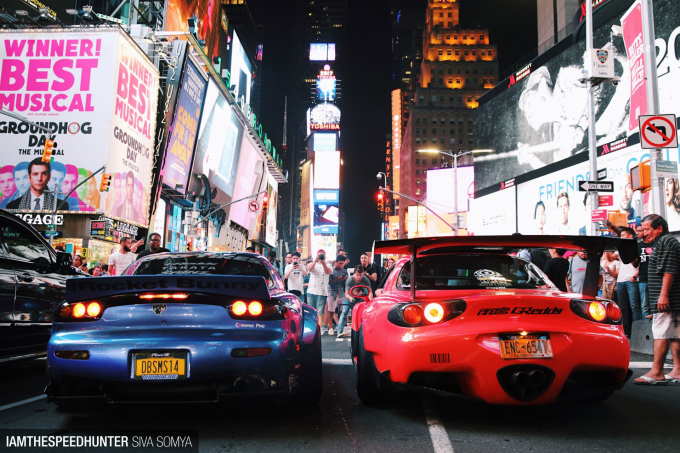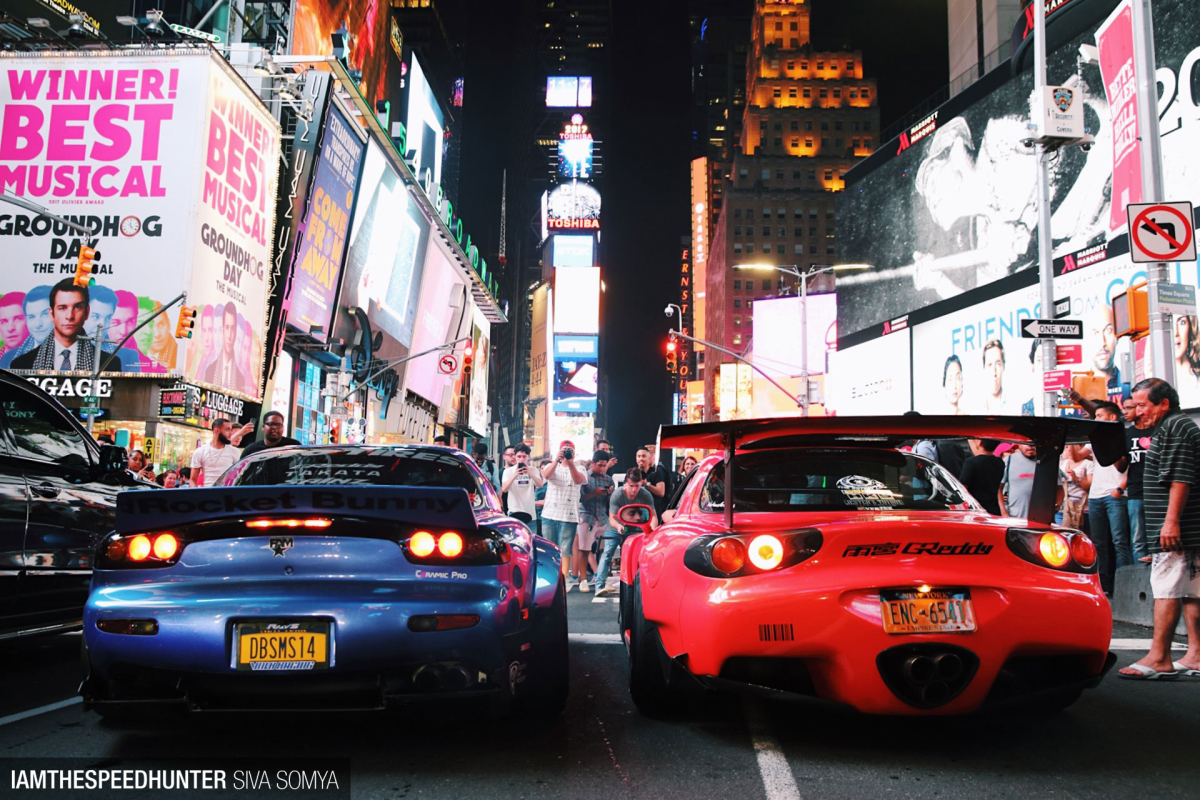 The Rotary/JDM tuning party in Times Square was the climax. The cars continued cruising down 7th Avenue, literally capturing all of the spotlight.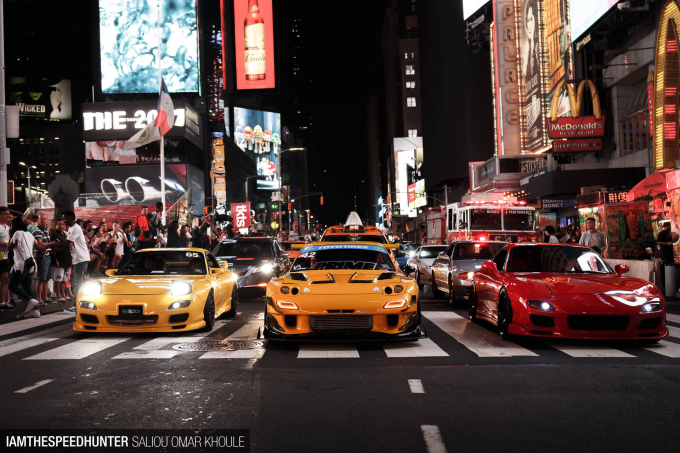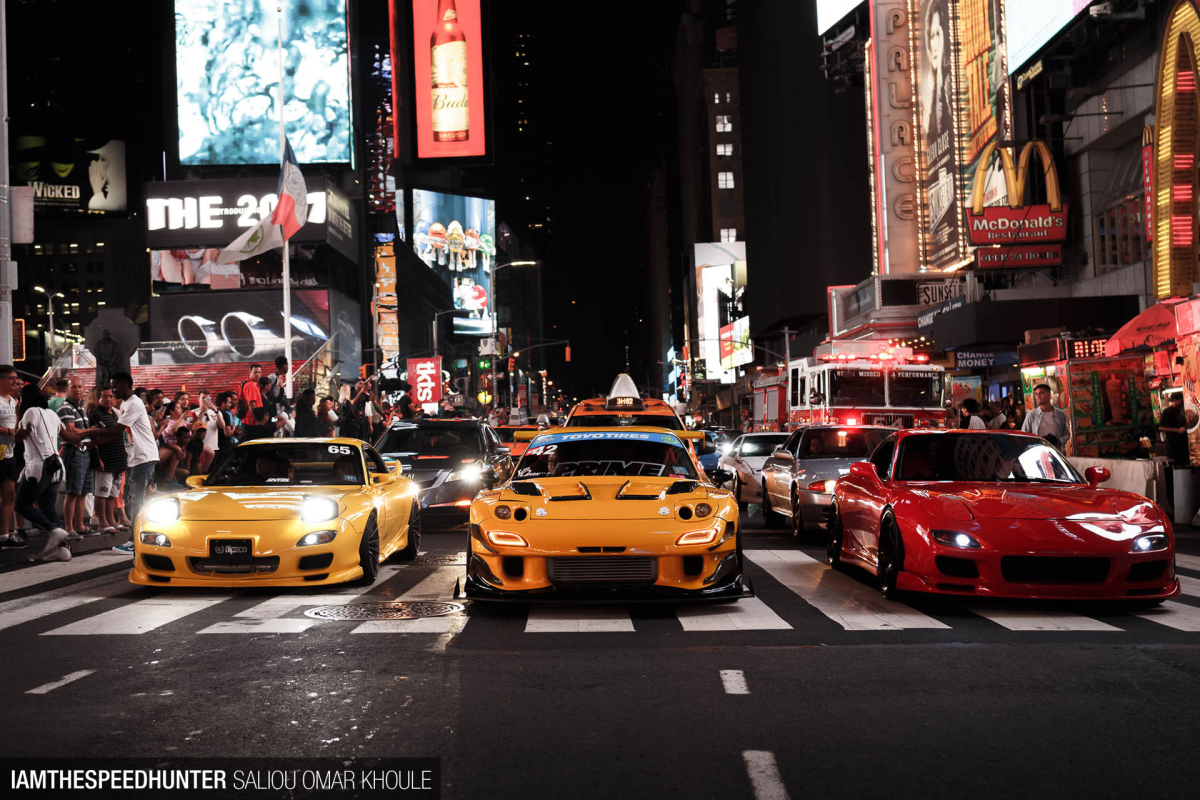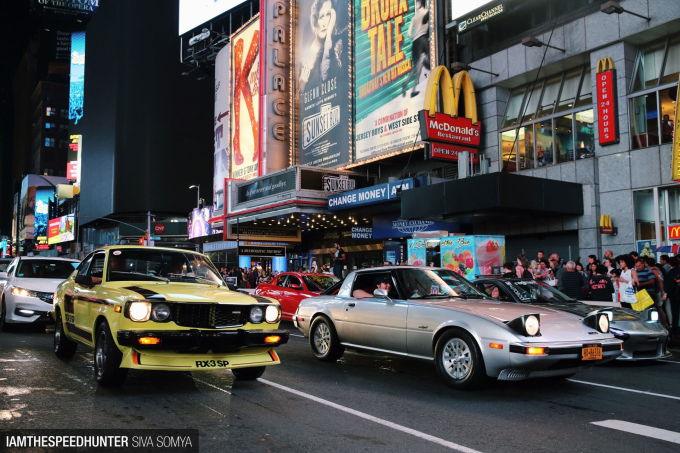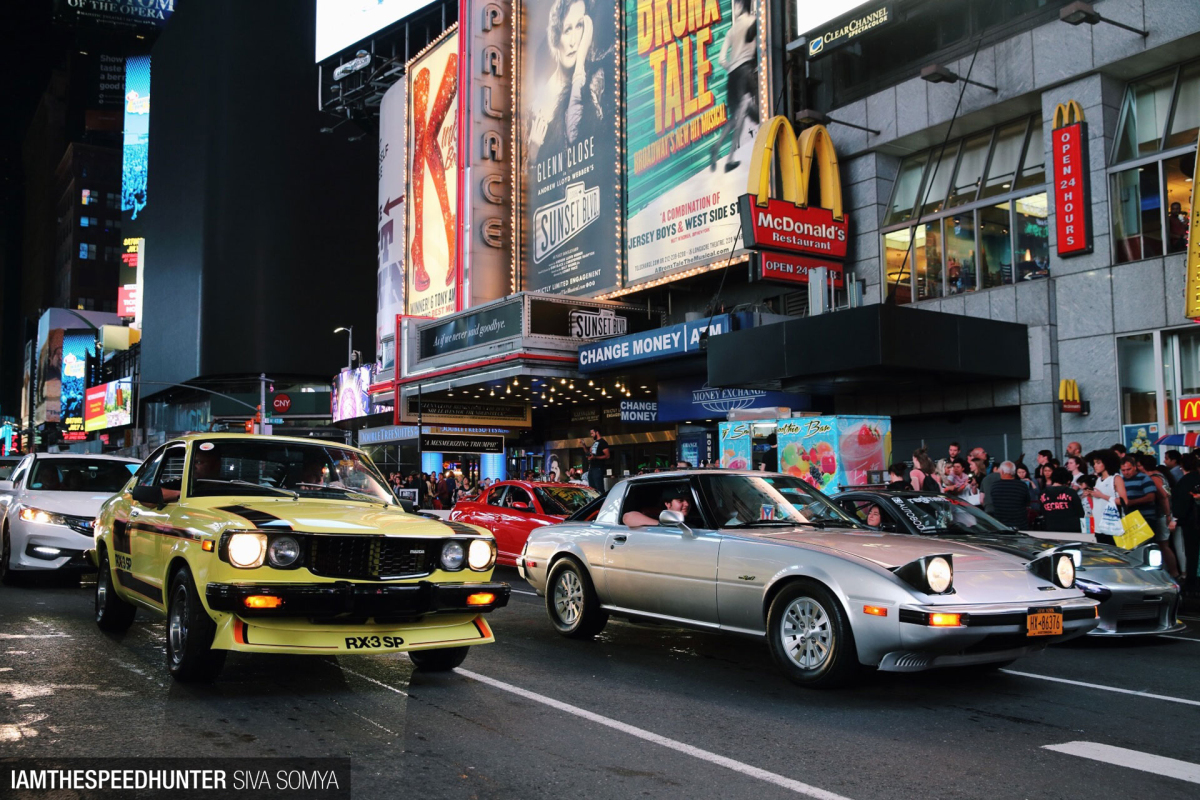 Tourists and photographers competed for a chance to capture this seemingly spontaneous car life parade.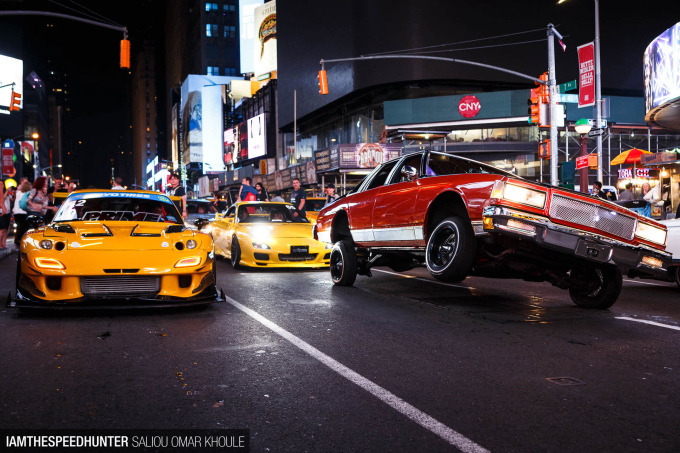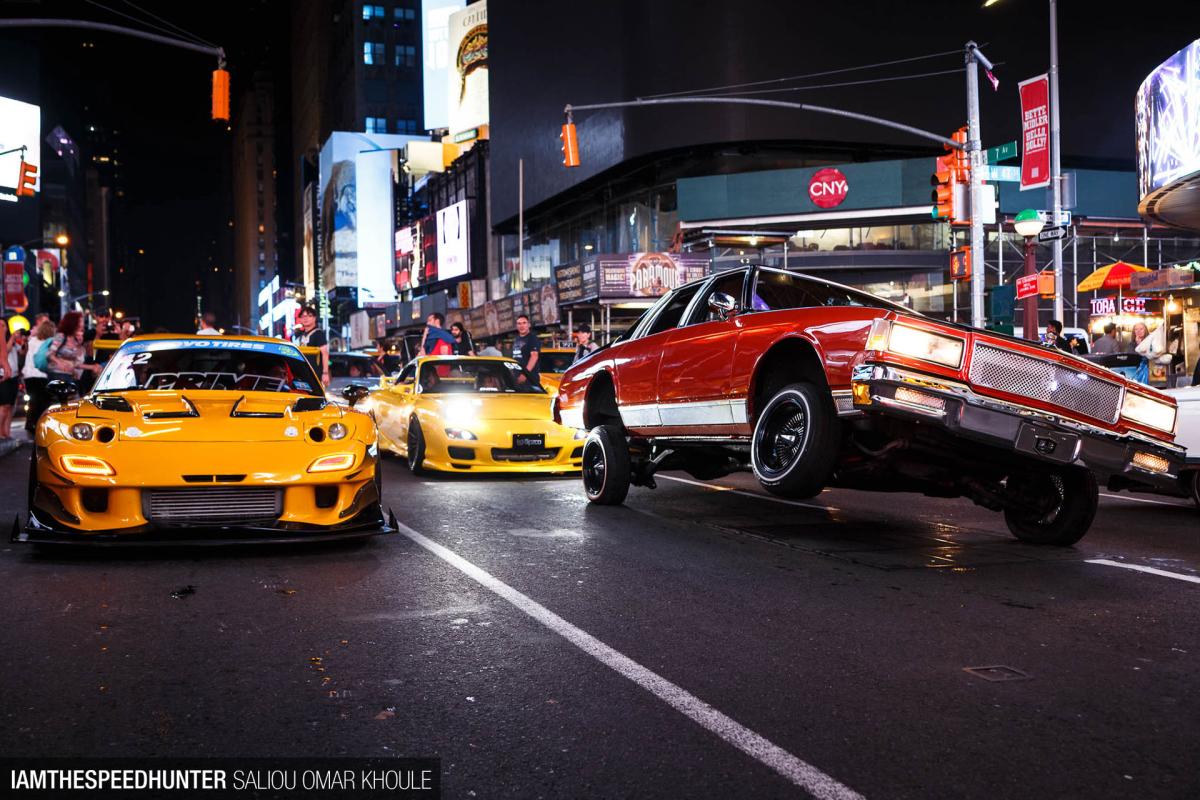 In the midst of all, a group of lowriders suddenly joined the fun. A lucky and random coincidence which we later would come to find was planned by Prime's very own Pravan.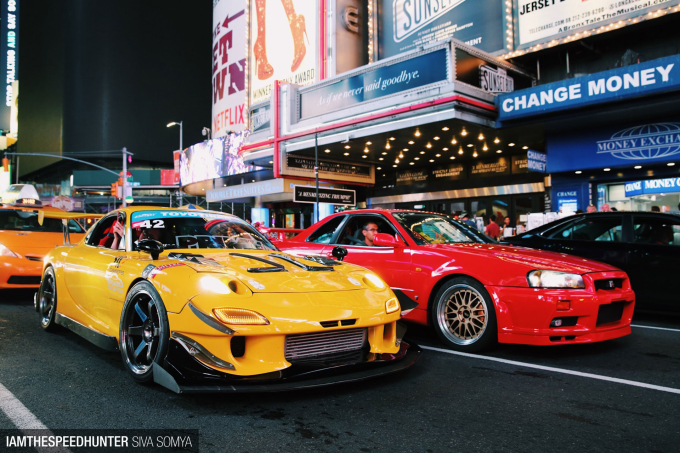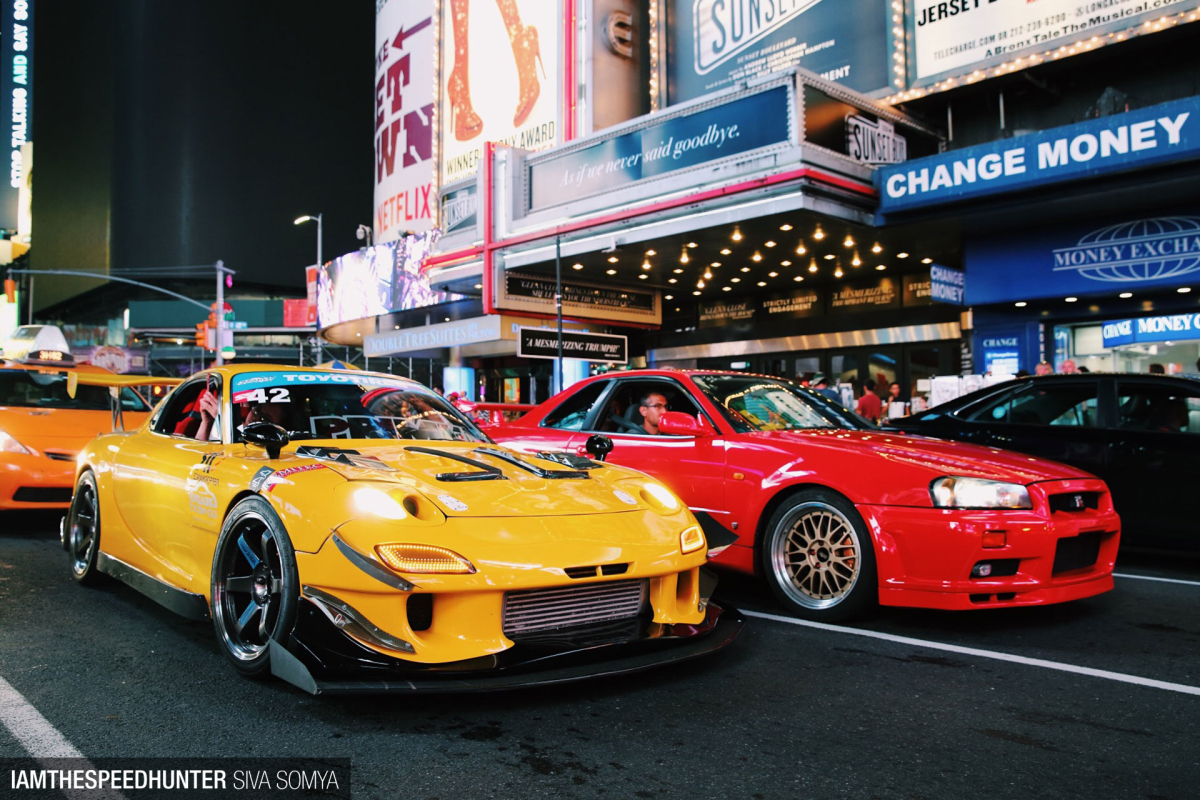 Rotary owners are a special breed. The amount of dedication and passion they have becomes apparent after only a few words in a conversation. Roger from Queens, is one of those guys. He and some of the well known owners/builders were out living their passion that night – Ted, of team Regiment Zero, included. He's a local hero who drives his yellow show-ready RE Amemiya FD, everywhere. Track, city, suburbs, you name it.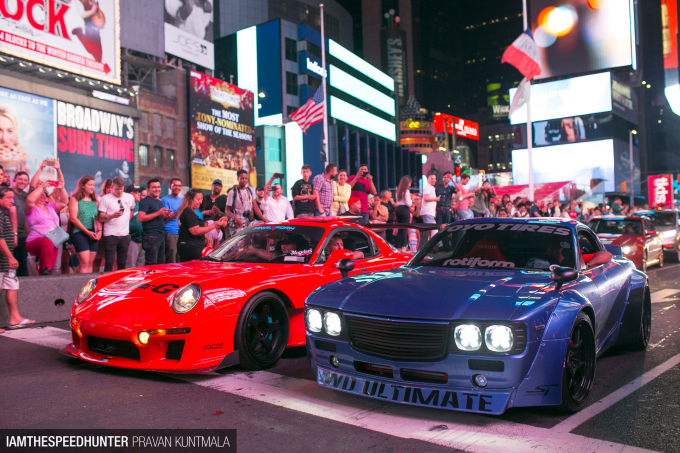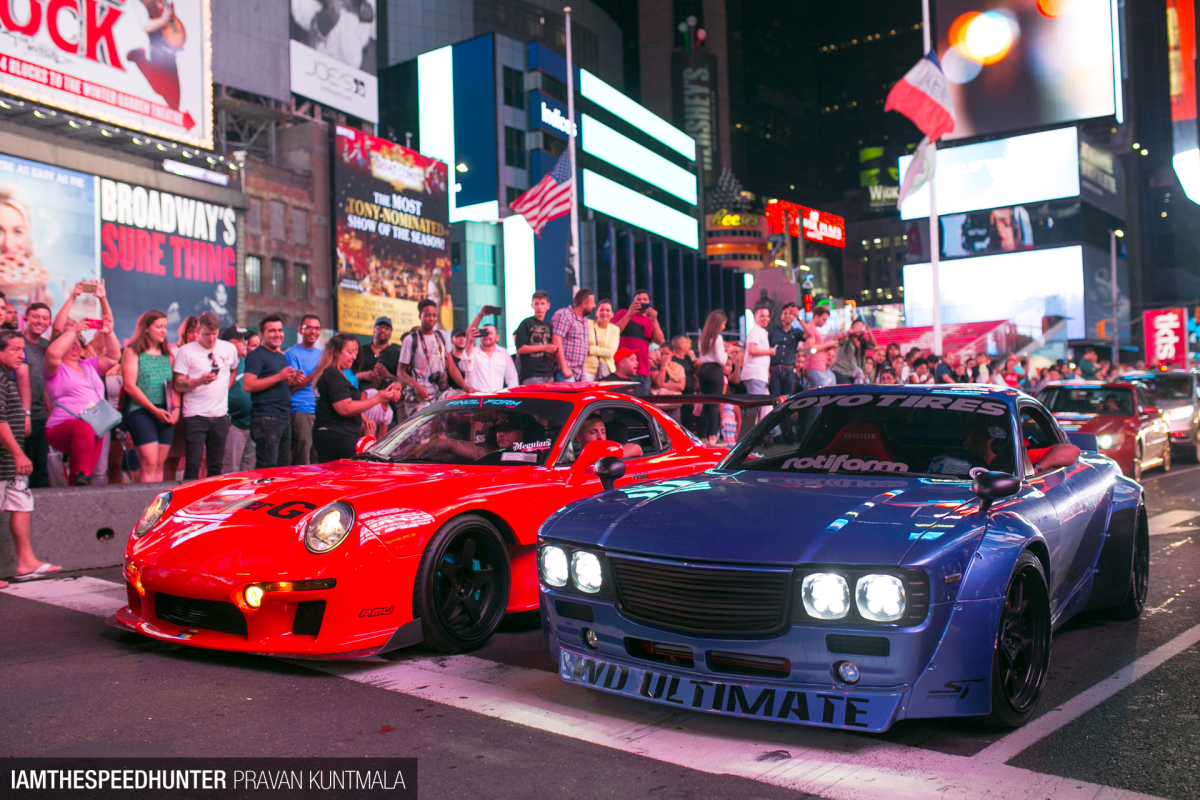 Then there were unique versions, such as Phil's Orange AC037 RE Amemiya FD, too. This is build which is the result of years of scouring the internet for all of the now-rare RE parts that were required complete his vision.
Another conversion was Blanco's full-catalog Rocket Bunny BOSS FD. Seeing these two parked side by side in Times Square was probably the last thing Kei Miura or Amemiya-san would have ever expected to become a reality some day.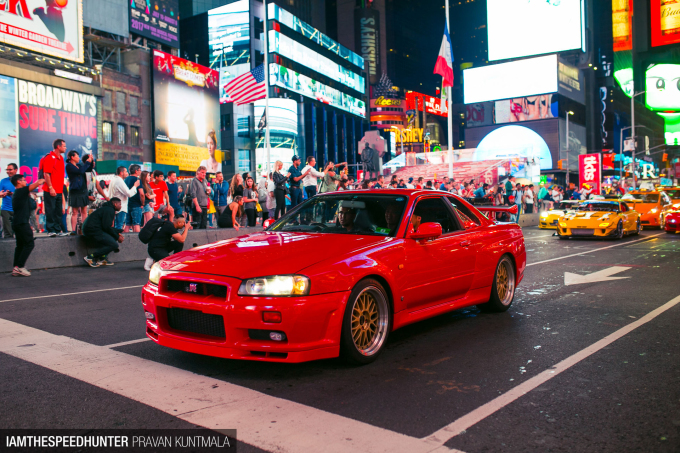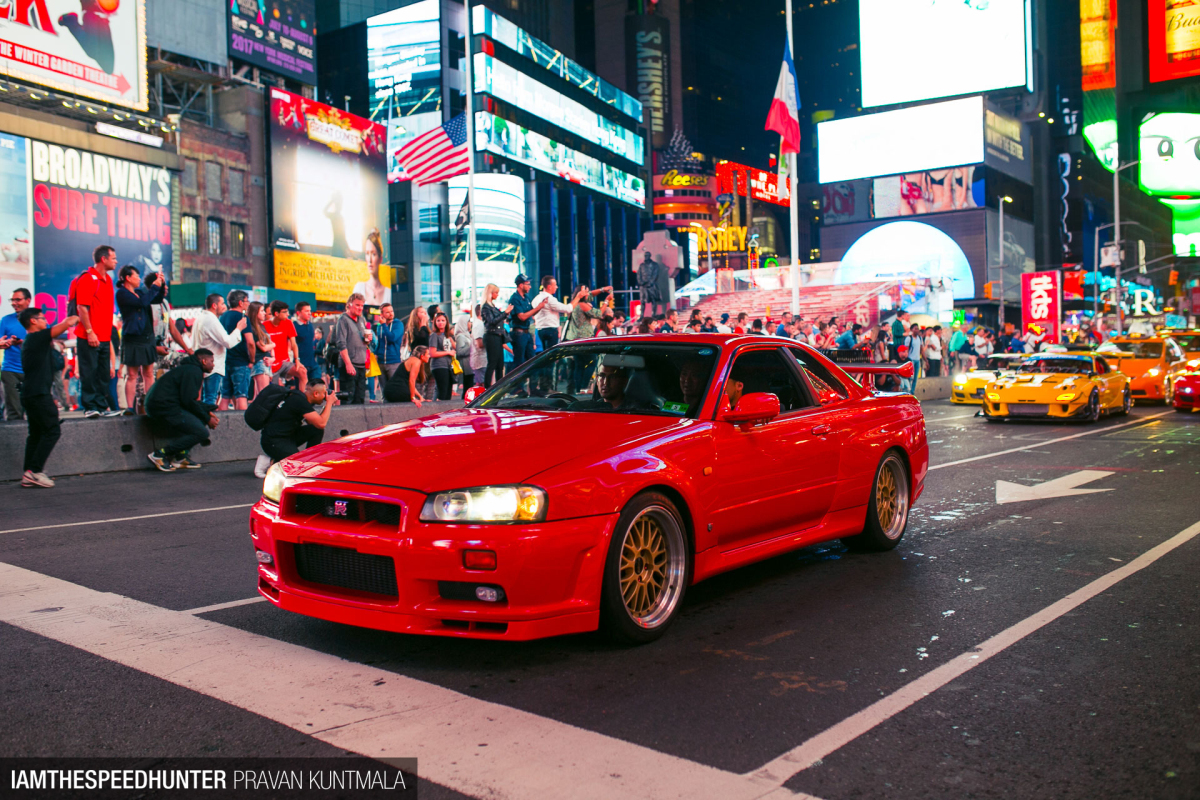 Other non-rotary JDM legends were out to make their mark as well, and one incredibly rare example to these roads was this Active Red Garage Defend Skyline R34 GT-R. Beautiful gold BBS LMs complete this perfect set up. This car, in the middle of Manhattan – what a time to be alive.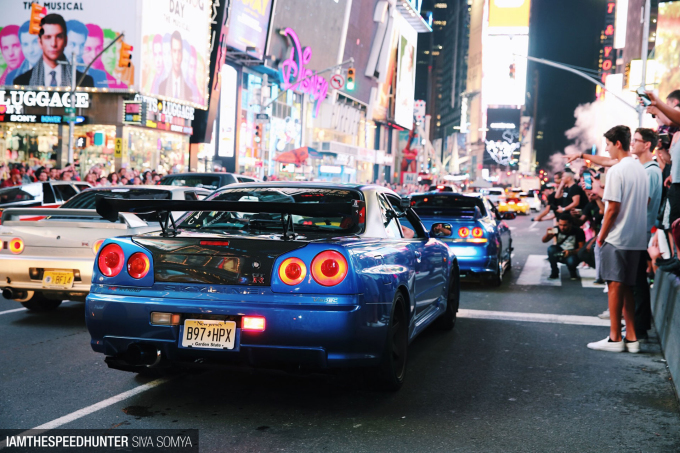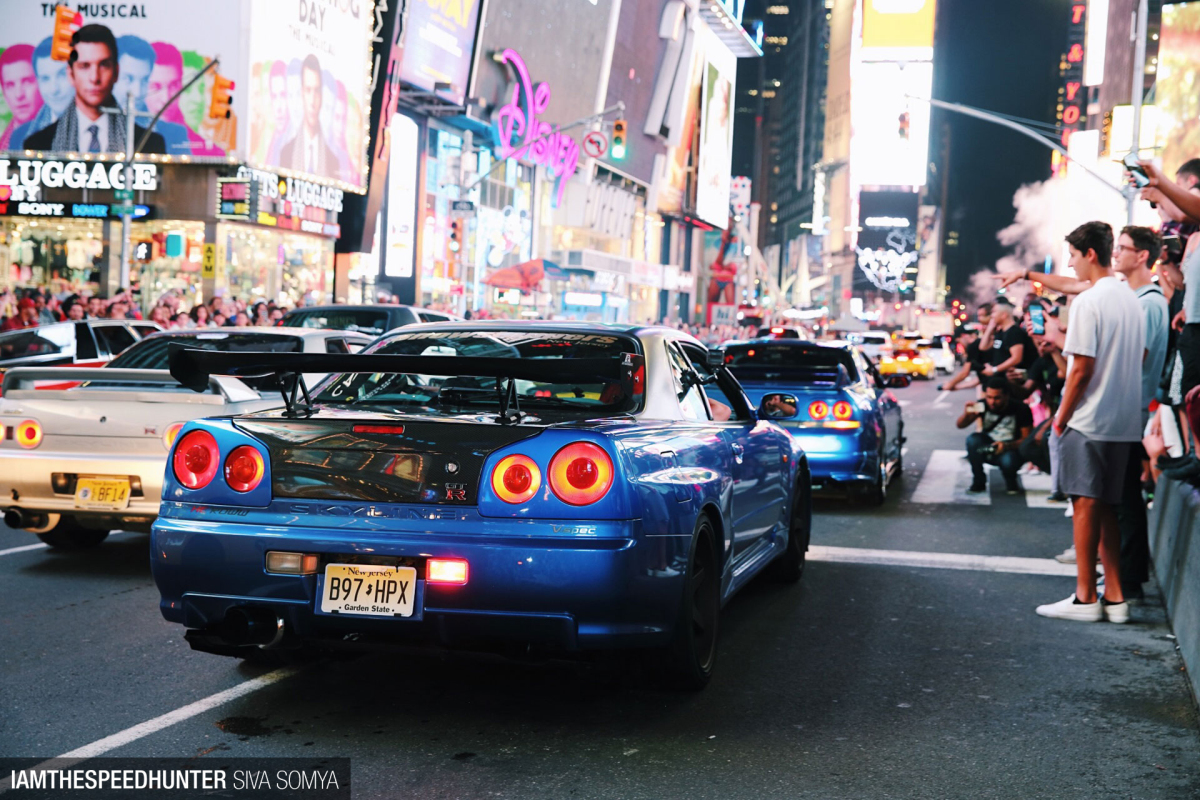 You might be reading this, seeing these JDM sports cars on roads that are clearly not meant for them, and are asking yourself 'Why?' If so, I counter with the question, why not? Sure, we could go to the track or throw a meet at a strip mall parking lot, but that's easy. It's the nights like these that become lasting memories. For a few hours, on a summer night, street car culture was thriving like never before in NYC. Then, within another blink of an eye, it was all over, as if it never happened.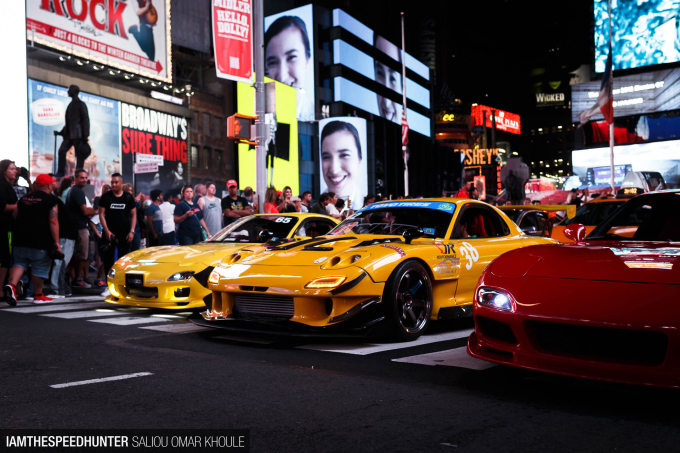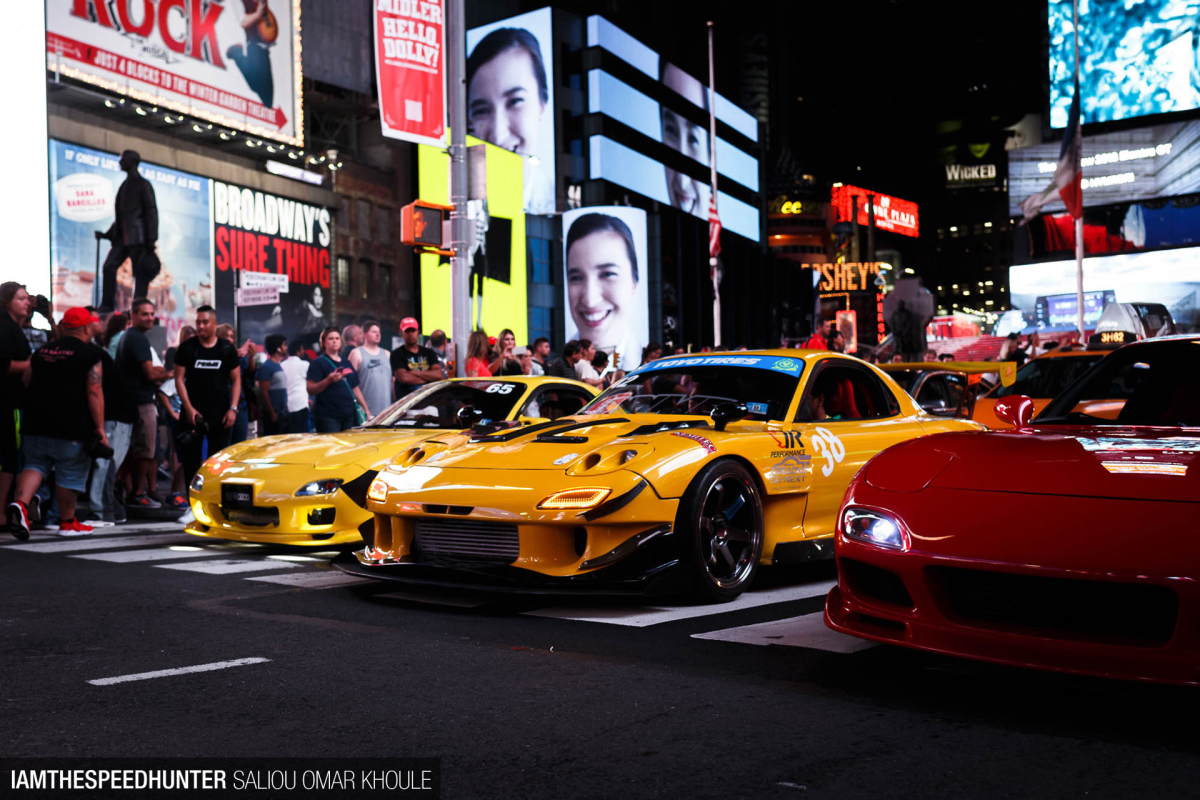 Bringing people together, talking cars, going for a drive and hopefully inspiring others to join the fun; city meet or not – isn't that what car culture is all about? We definitely think so.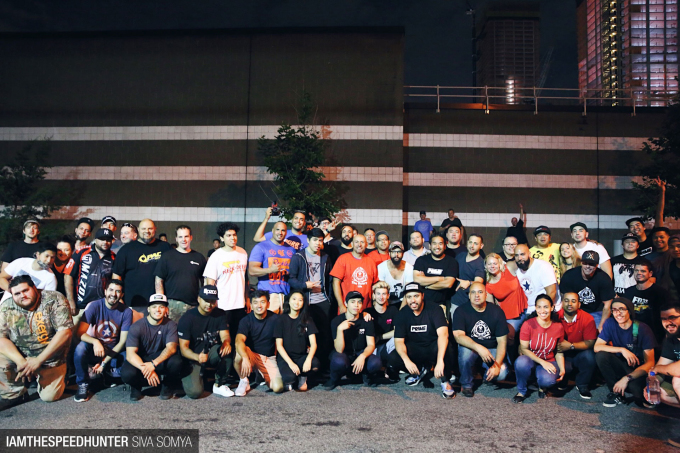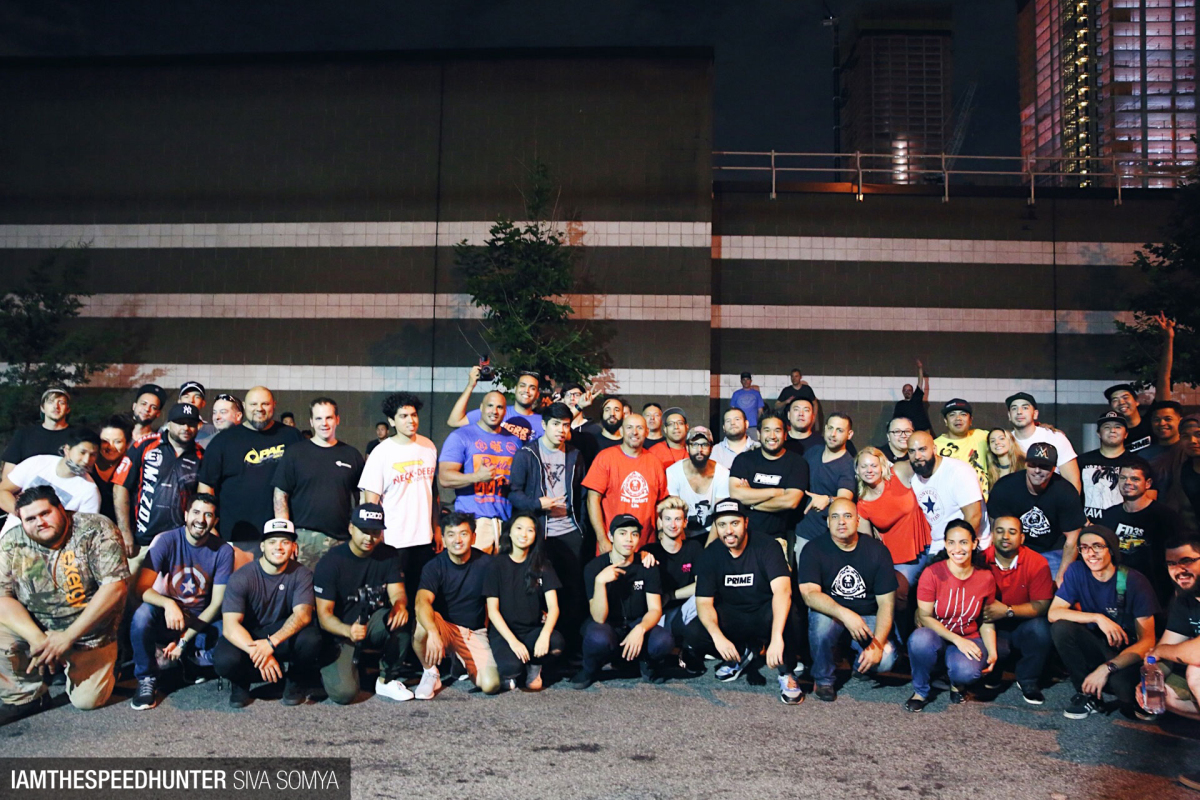 Thank you Speedhunters once again for allowing us to share our experience. Thank you as well to all of the readers and enthusiasts out there. Look us up if you're ever in town!
Edwin Reyes / PrimeNYC
Instagram: PrimeNYC.co

Facebook: PrimeNYC.co
Website: PrimeNYC.co
Photos by Pravan Kuntmala, Saliou Omar Khoule, Josh Vega & Siva Somya
Bonus Video & Images