An SR20DET Sedan
While most Datsun fanatics lust over the coupe version of the 510, Gilbert Susana of Team Wild Cards went the four-slammer route. And what he's created is sure to be enjoyed by the Datto faithful everywhere.
The 510 sedan, to me, breaks the conventional wisdom that only a classic coupe can look good as a modified car. I mean, most sedans of this era were family cars designed to carry the kids around from point A to point B; they aren't performance machines that push limits of traction and g-forces. But as Gilbert shows with his '72, it might be time to start looking at four-door Japanese classics in a different light.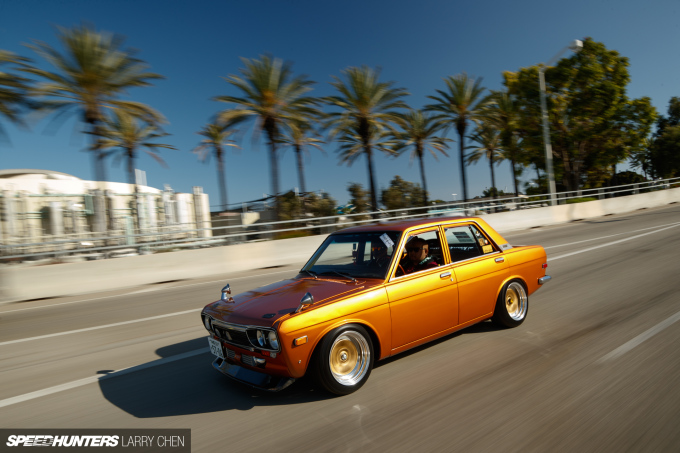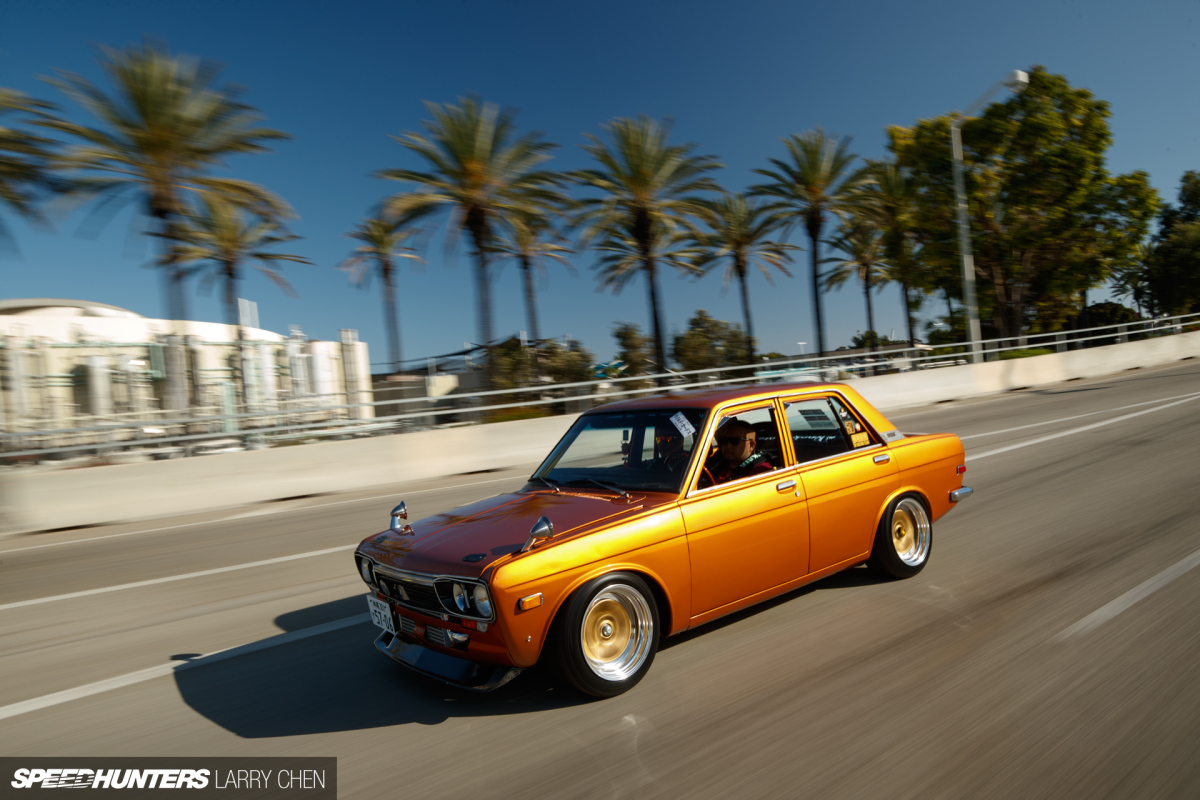 Gilbert's owned this car since 2010, picking it up from the original owner in Las Vegas, Nevada. The paint, Honda's Tangerine Orange Metallic is original from purchase as both he and the first owner have taken diligent care of it.
However, it's not so original in the engine department…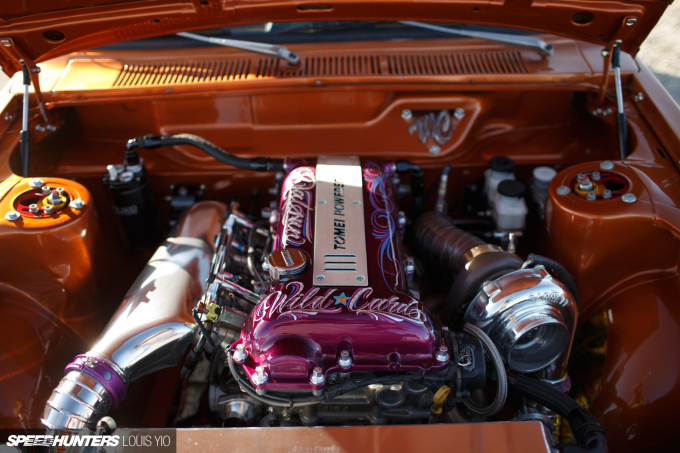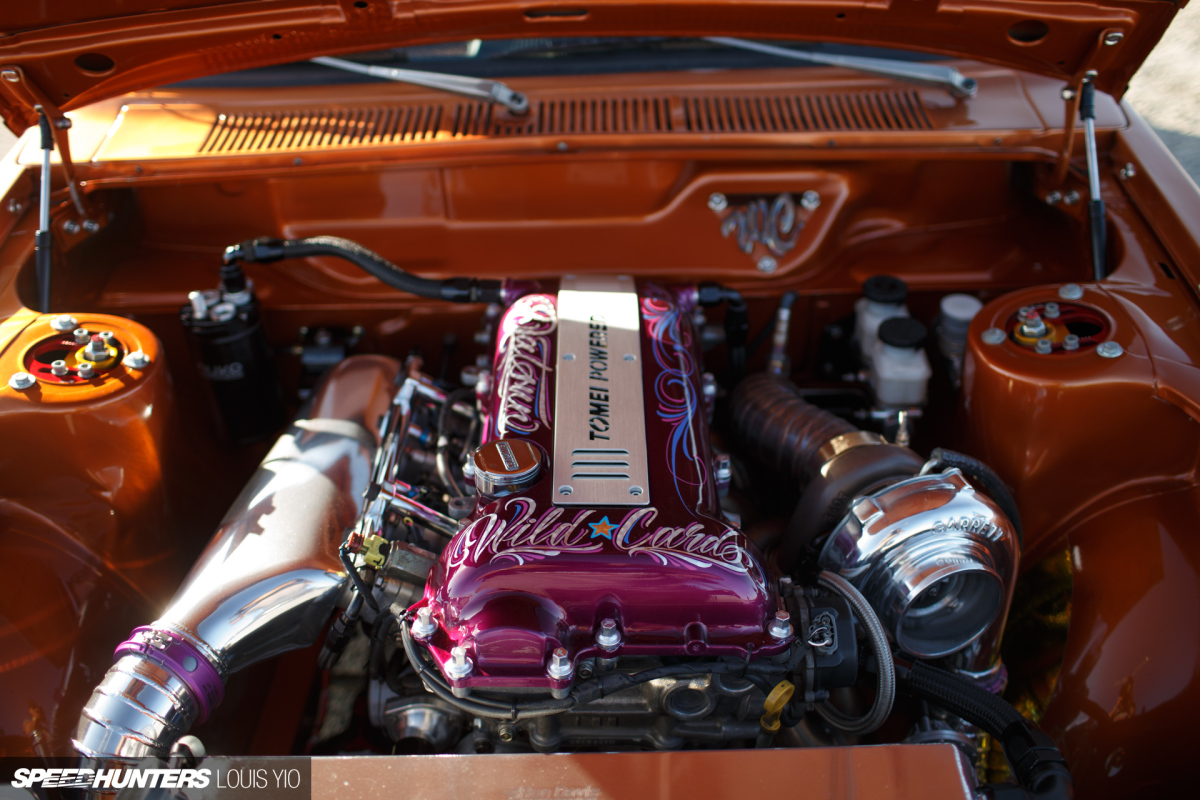 First swapped with an SR20DET from an S13 Nissan Silvia, these days there's a S14-generation SR fitted with a Honeywell Garrett GTX3071R in the engine bay. It was fully built up by Speed Alliance in San Diego and features Tomei forged pistons and a Cosworth MLS head gasket between the DP Racing ported and polished head with ARP studs. A pair of Tomei Poncams open the valves, while a Tomei oil pan keeps the oil controlled and near the pickup. For engine management, a MicroTech EFI LT-9c directs a set of Injector Dynamics ID1000 injectors mounted on an Ikeya Formula ITB manifold, while in the cooling department a Mishimoto intercooler chills the boost charge in front of a custom three-inch core Ron Davis radiator.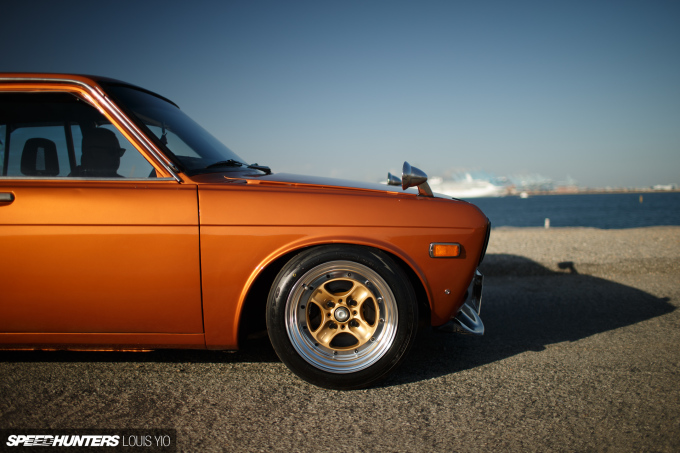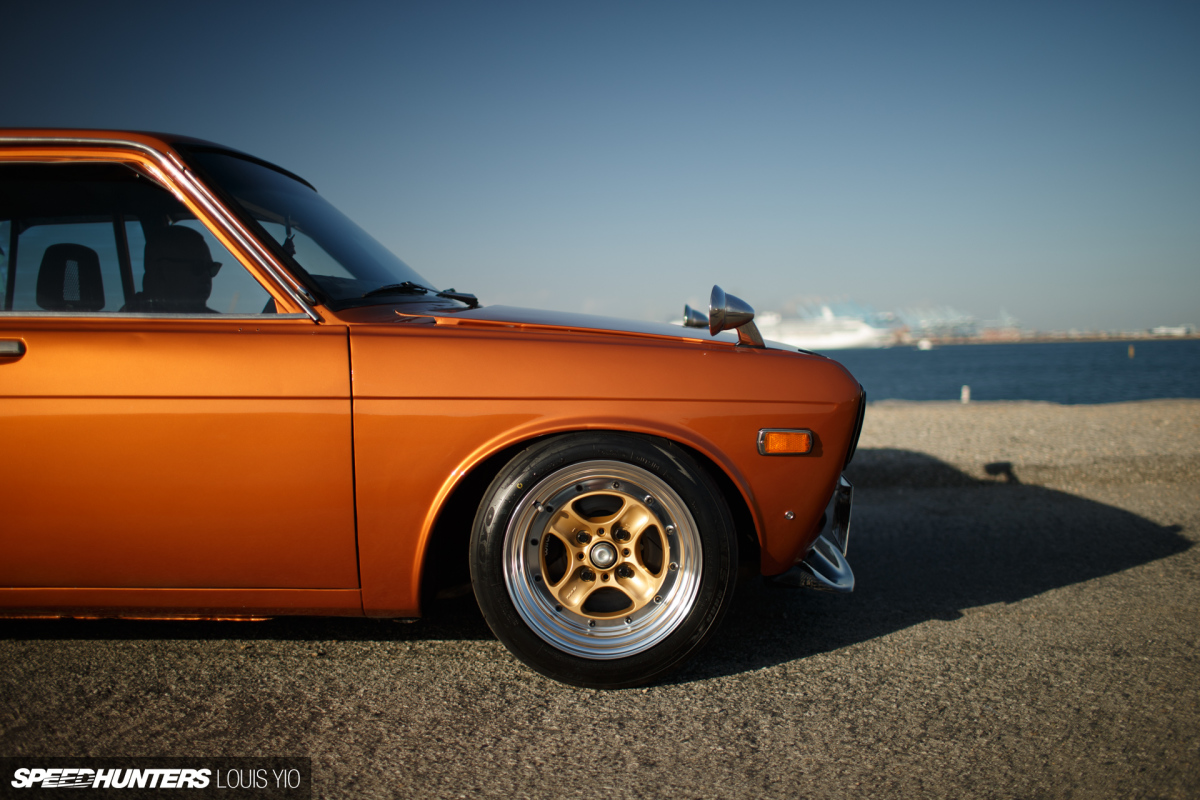 Techno Toy Tuning takes care of the front suspension with Tokico Illumina damper inserts within the coilover-modified 510 strut housings, mounted on a set of their camber plates. In the rear, a set of QA1 springs on custom-made adjustable collars with KYB AGX dampers. It works well as a corner-carver thanks to this setup despite being a front-heavy four-door, and the rear is only just cambered in for clearance.
But high speed cornering nothing without the ability to stop, so Gilbert fitted a set of Wilwood Ultralite 4-piston front and 2-piston rear calipers with custom sized and drilled Wilwood 2-piece rotors. The entire setup was originally sized to fit the 14-inch wheels it had, but those have since been replaced with a set of Work Wheels Equip 40 15-inch rims with lightly stretched Toyo Tire R888R tires sized 195/50R15 all around.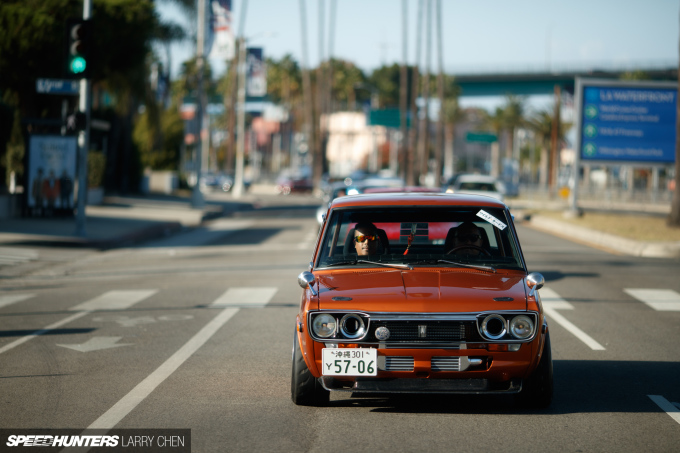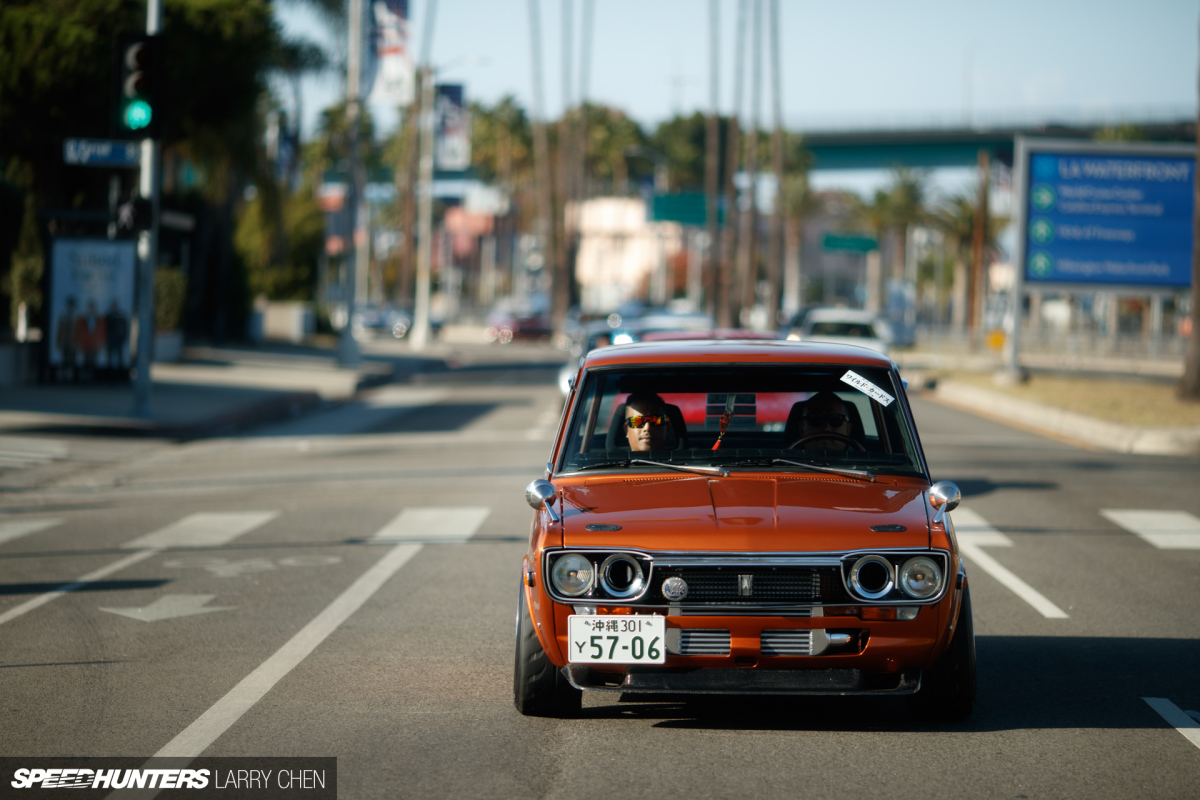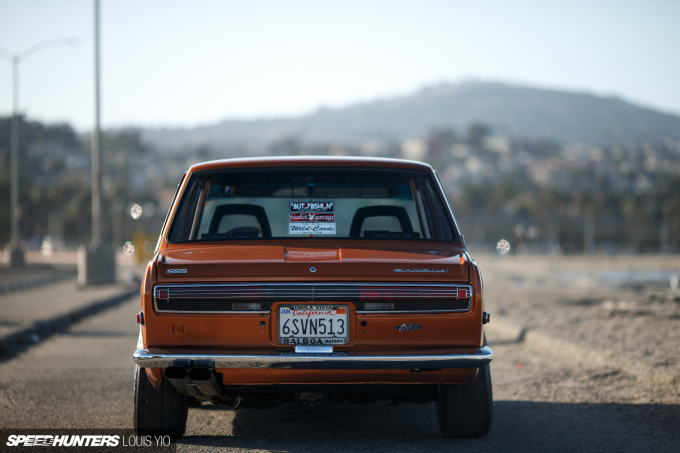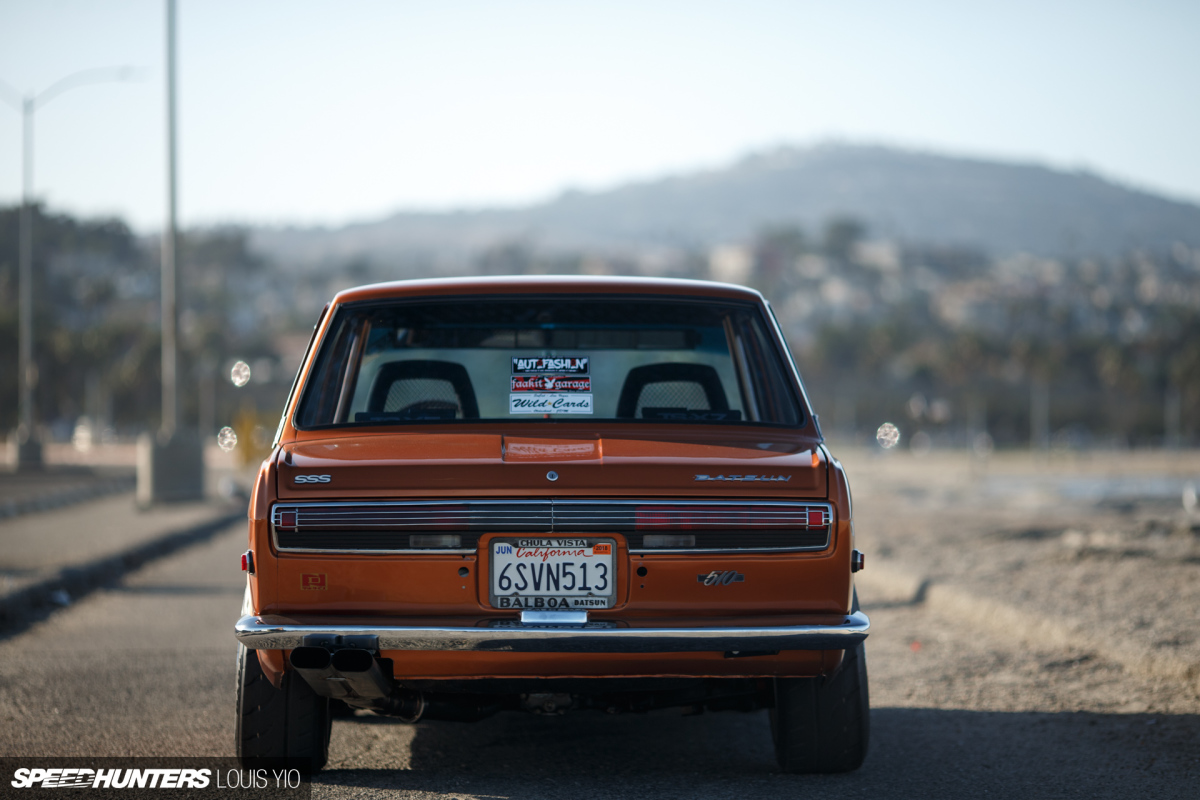 There hasn't been much body work done to the sedan, but it isn't totally factory stock, either. The front grille is a SSS item that Gilbert got from a friend in South Africa, and SSS taillights were added too. Lighting the way are LED headlights with high and low-beam function in the low-beam buckets. The high-beam buckets are replaced with velocity stack intakes with one going to the turbo intake and the other for further engine bay cooling. The hood is flanked by a pair of fender-mounted mirrors while being kept secure with a set of AeroCatch 120 series locking latches, and also up front is a carbon fiber duckbill lip.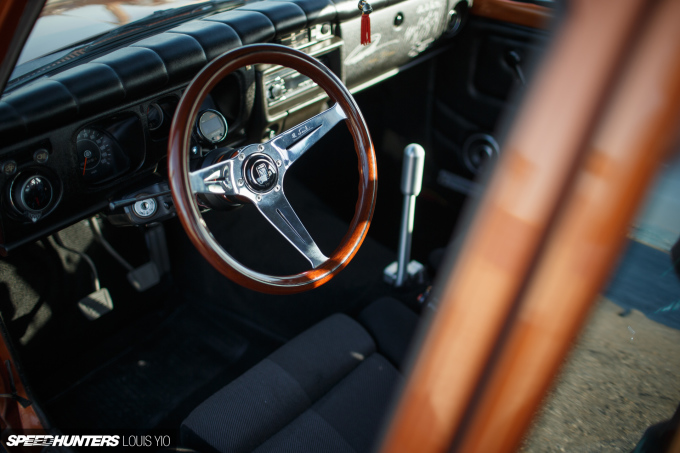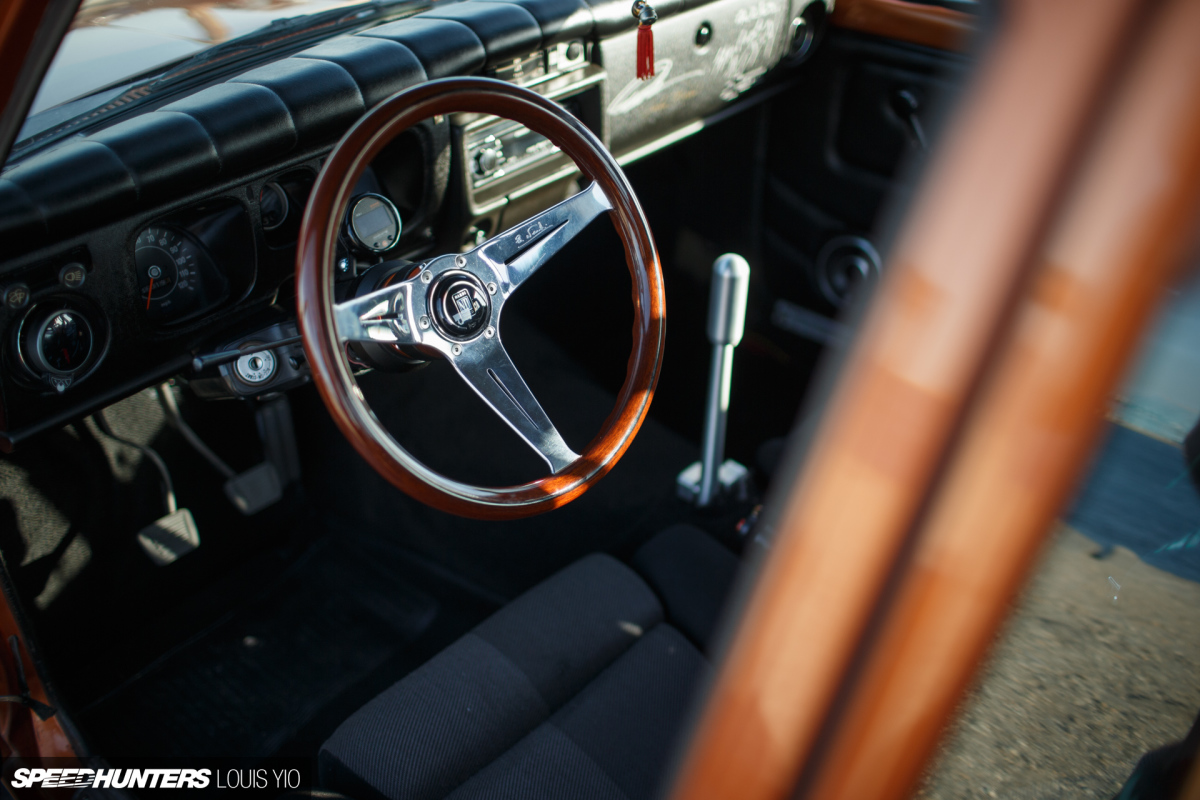 The factory original interior features some custom touches including Recaro LS seats and a pair of Takata Racing harnesses installed on a Chasing Js copper-plated harness bar. A Nardi steering wheel completes the performance feel of the sedan.
A Kenwood head unit is housed in the original 510 dashboard, but a MicroTech EFI LTC dash display (mounted where the tachometer used to be), Innovate boost controller/AFR gauge, and Auto Meter fuel gauge all relay the vitals to Gilbert as he's driving.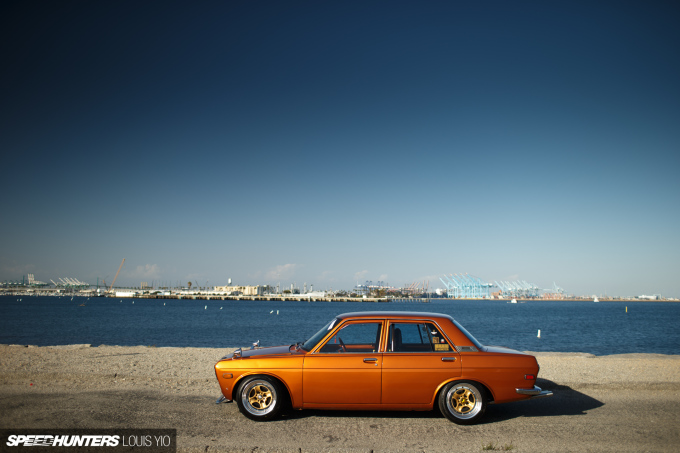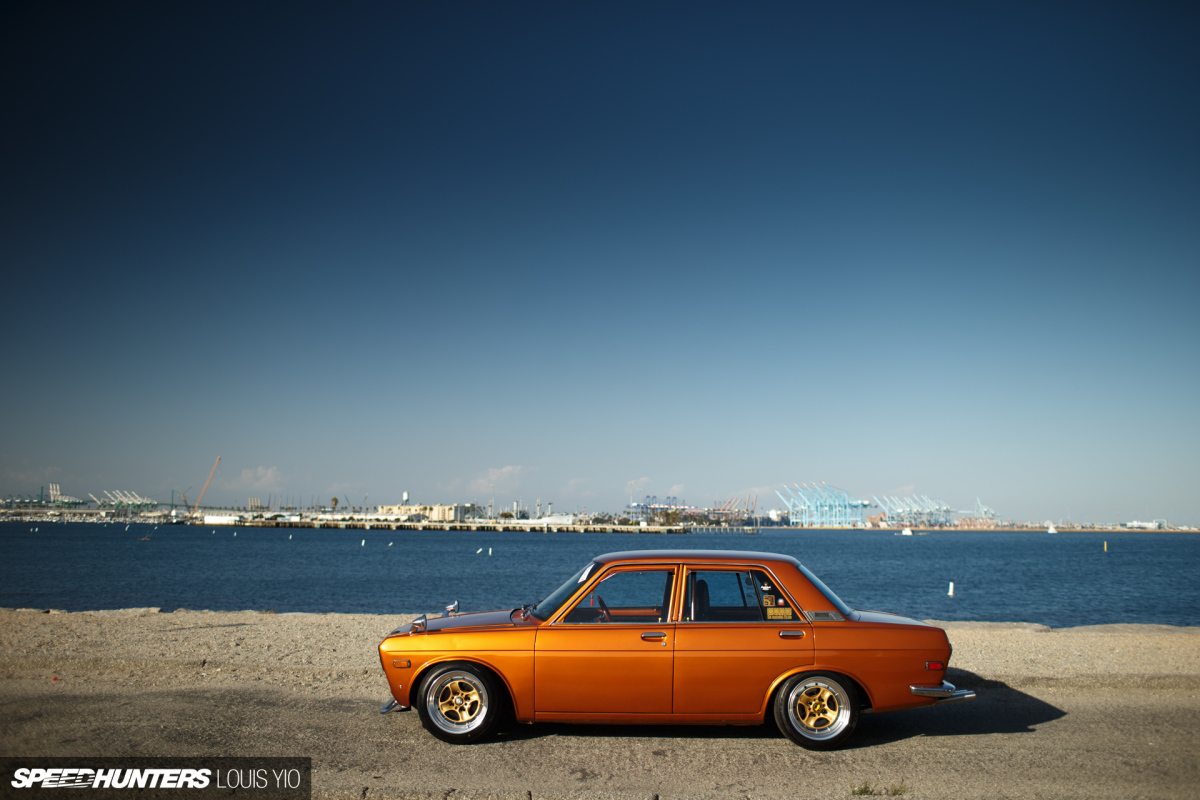 Classic four-door cars don't usually get the love they deserve by the performance public, and I put that down to them not being able to shake the family carrier mentality like their wagon counterparts have. However, as coupe and wagons become harder to find, the sedans are starting to see a rise in popularity. Gilbert's 510 sedan has gone a different route, but what's been created is something every Datsun enthusiast can enjoy.
Words by Justin Banner
Instagram: jb27tt
Facebook: racerbanner
Twitter: RacerBanner
Rolling Photos by Larry Chen
Instagram: larry_chen_foto
larry@speedhunters.com
Static Photos by Louis Yio
louis@speedhunters.com
Instagram: lusciousy
Cutting Room Floor