Where To Begin
Usually when preparing and structuring these stories I like to start slow in my storytelling, gradually building up with some nice details, culminating into what I feel is a build's most impressive or captivating features.
My approach is often easing the faithful Speedhunters audience through the nuances of the car before hitting you, square in the chin, with its showpiece – the one stand out part or element that makes the build worthy of a place on these hallowed pages.
Boom. Mic drop. Exit stage right to rapturous applause.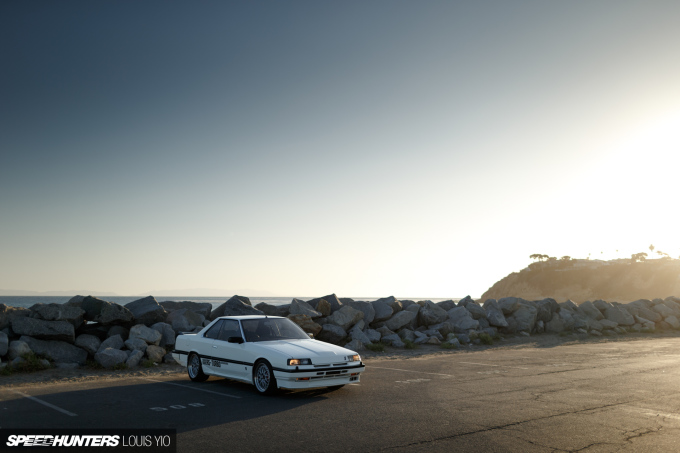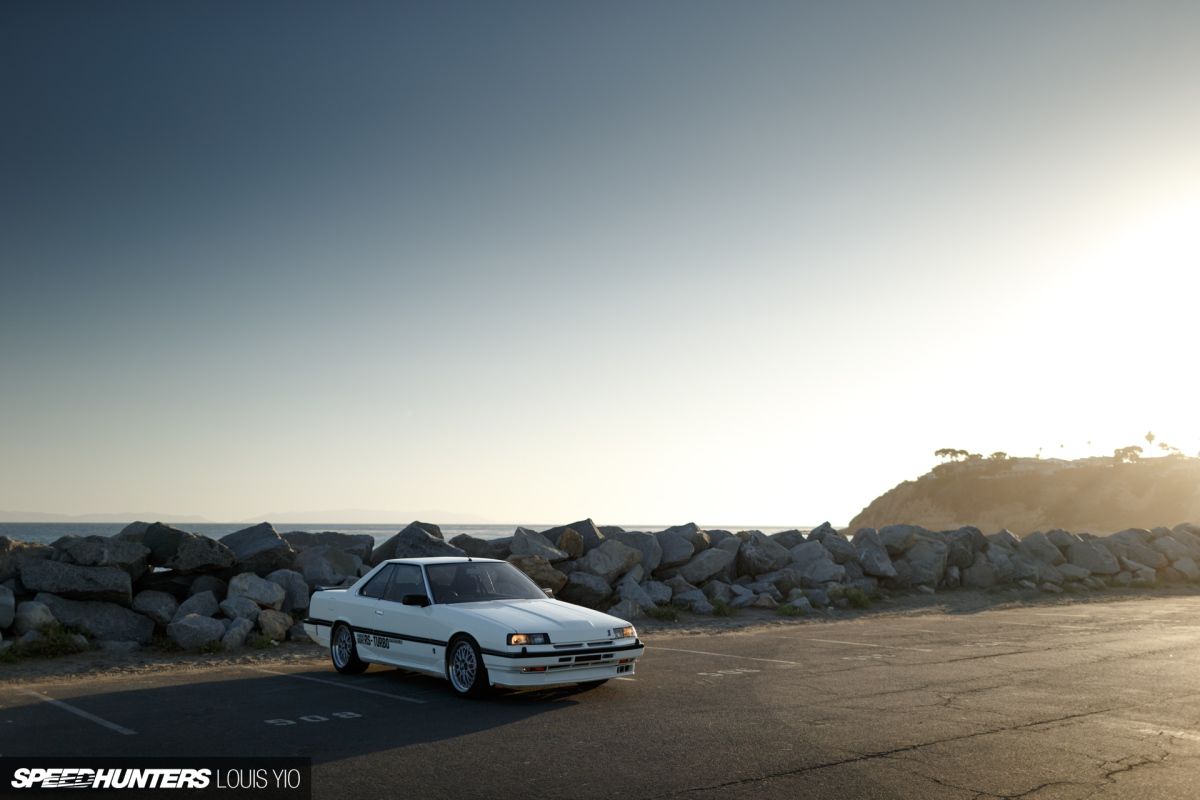 My outlandish and overly embellished imagination aside, when it comes to Eric Straw's 1984 Nissan Skyline RS-X DR30, I'll be honest, I don't know where to start. And it's not for a lack of impressive elements either. I find myself asking… myself: what's the stand-out part of this build?
Is it the perfectly-restored retro exterior with gleaming gloss white paintwork? Or how about the modernised footwork and handling, or the choice BBS LM wheels? There's the interior too – the perfect blend of OEM and period-correct upgrades.
Maybe it's what you can't see – the immense amount of custom fabrication that's taken place under the surface to not only restore the R30 to former glory but to future-proof it for a sizeable increase in horsepower.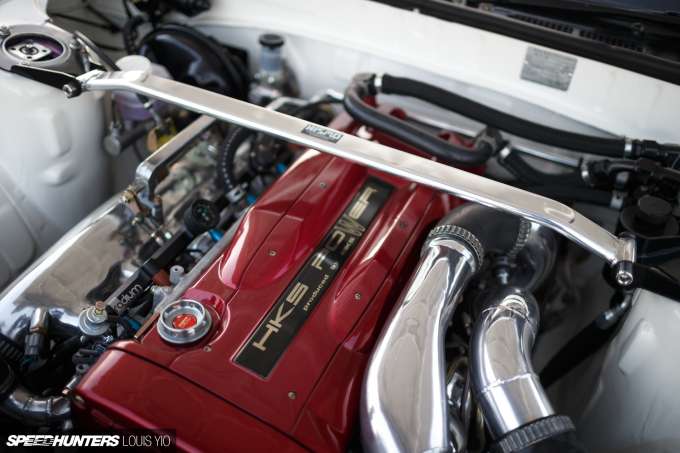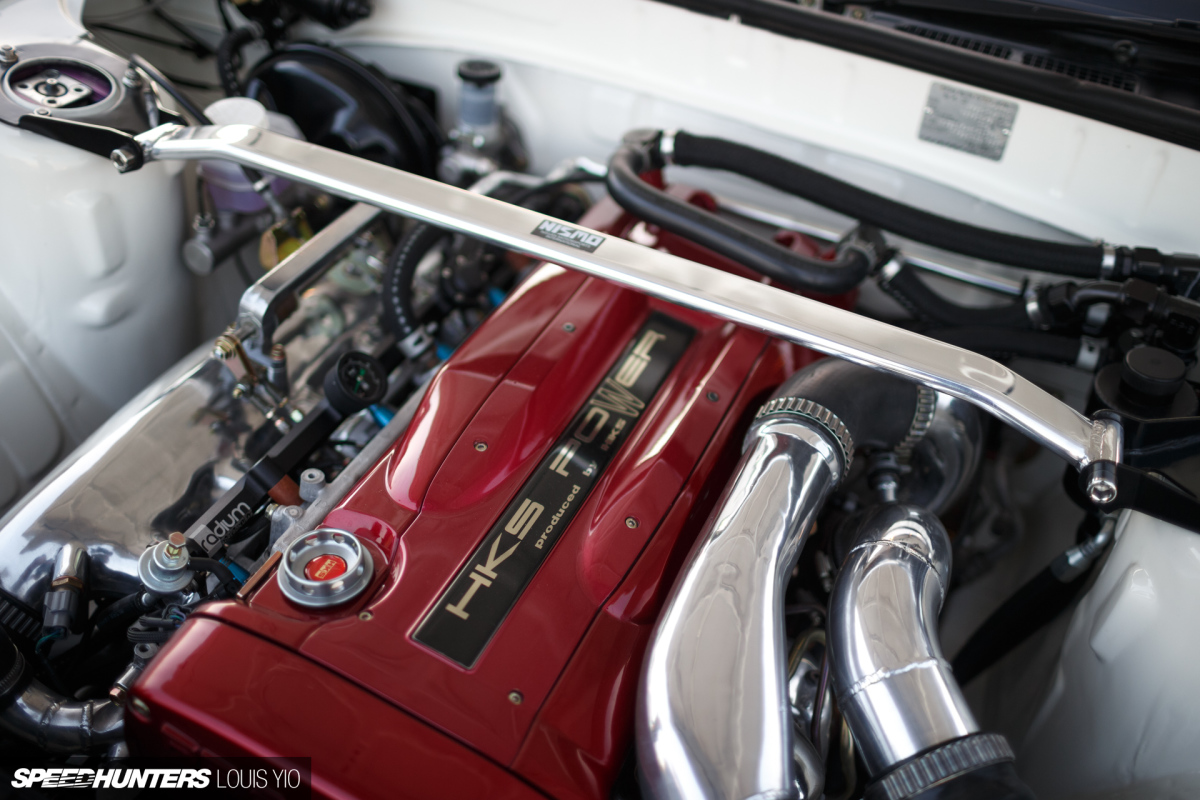 Of course the source of said horsepower is pretty special too – the heart of Godzilla. This legendary twin-turbo six-cylinder powerplant would've been a futuristic pipe dream when Nissan first created the R30, yet here it sits in Eric's Skyline, looking just as at home as it would've done had Nissan's engineers enjoyed the fruits of time-travel back in 1984.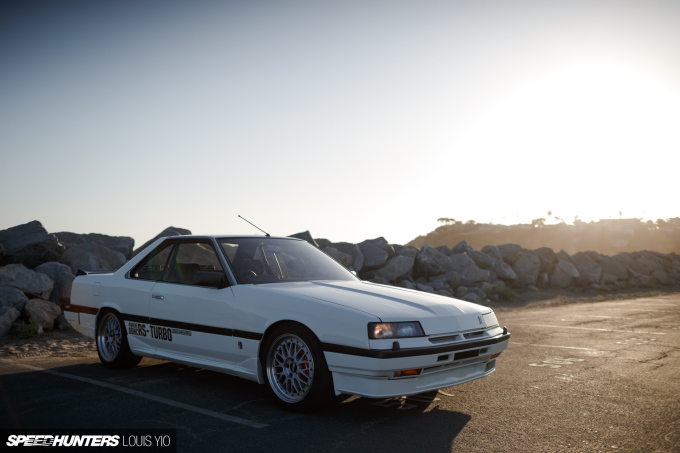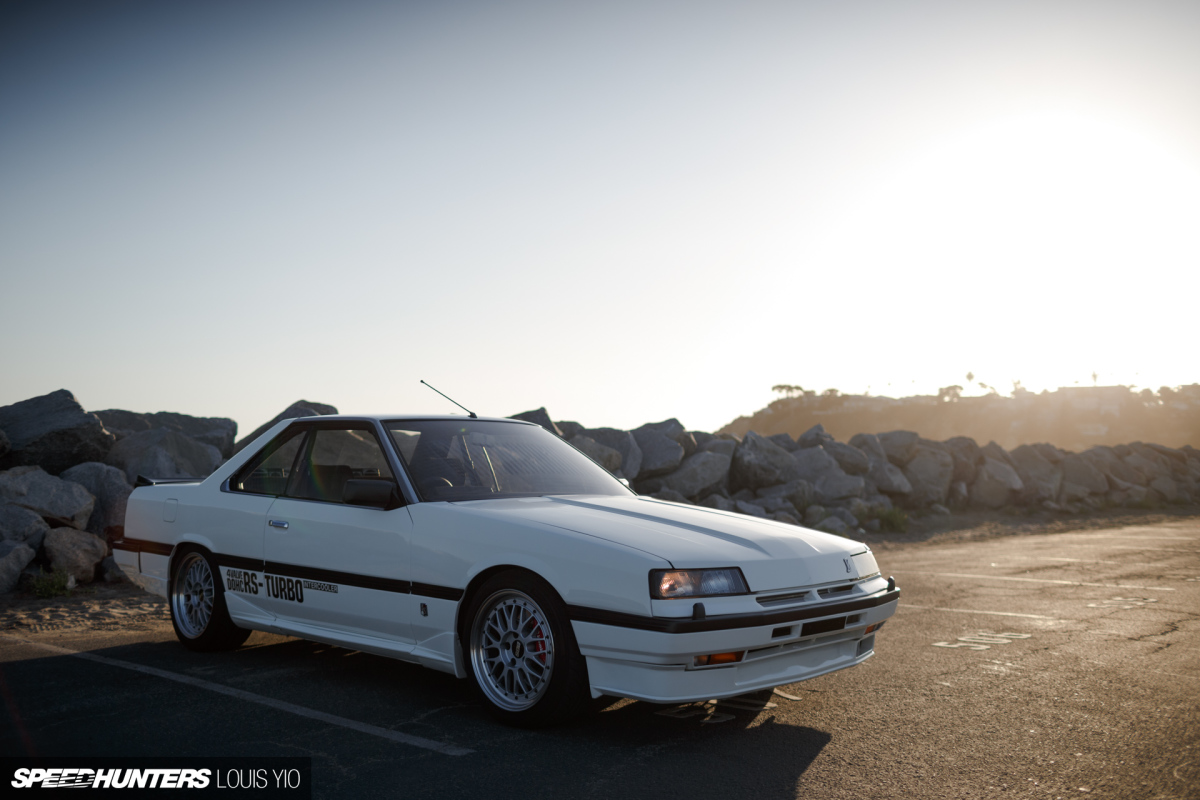 It might be that, in the post-SEMA sensory haze of bright colours, overfender overload and extreme transformations, Eric's K.I.S.S. approach to tuning is a breath of fresh air?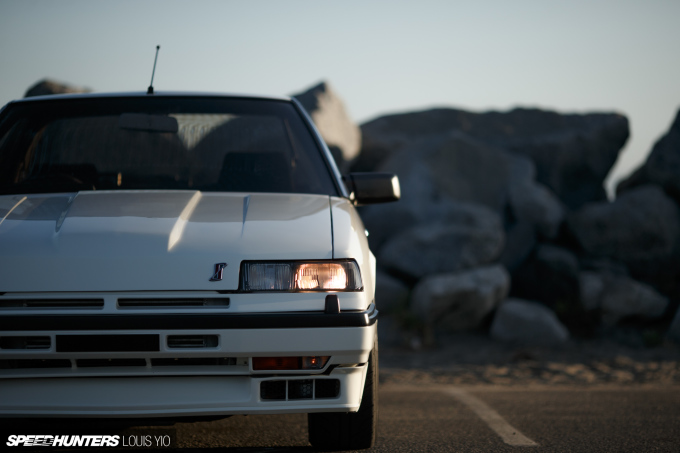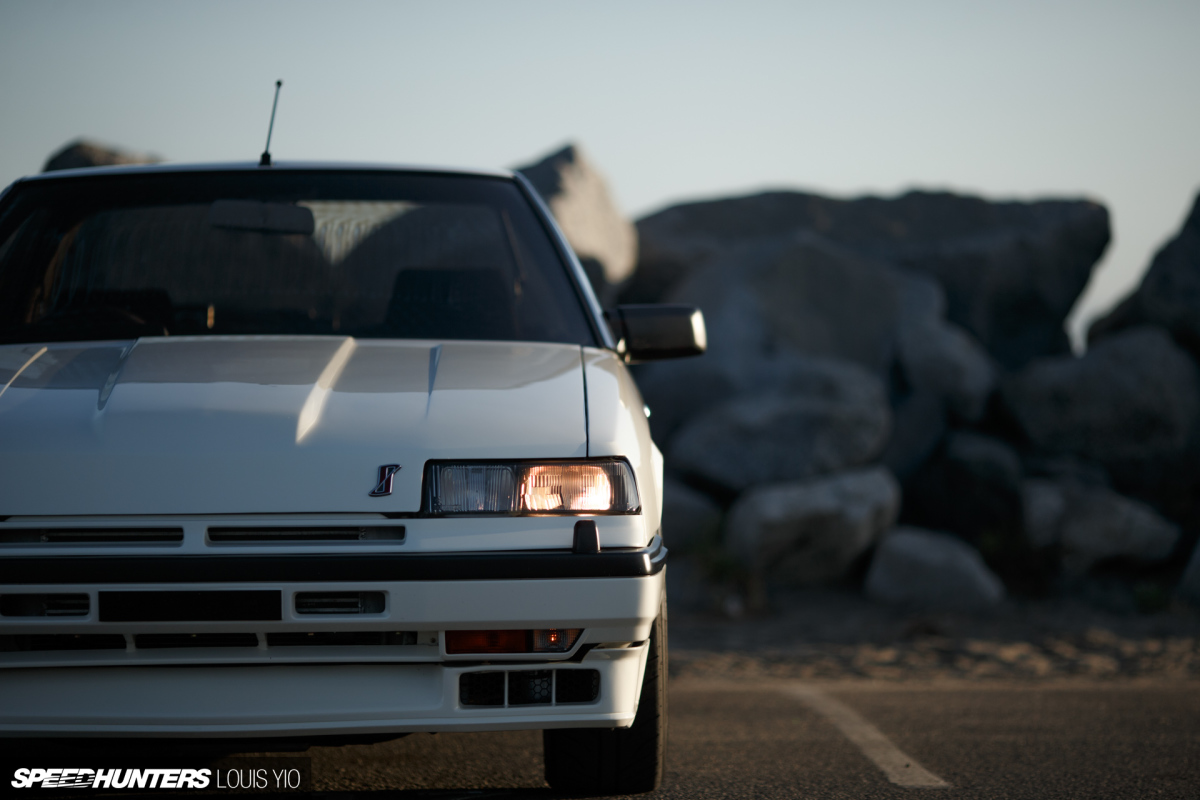 Truth be told – the stand out attraction here is all of these above. It's the way that all of these restorations, modifications and improvements have been brought together into an incredibly tasteful package.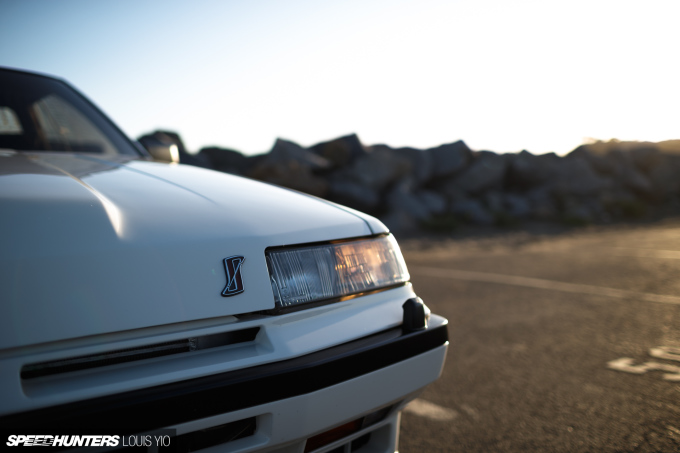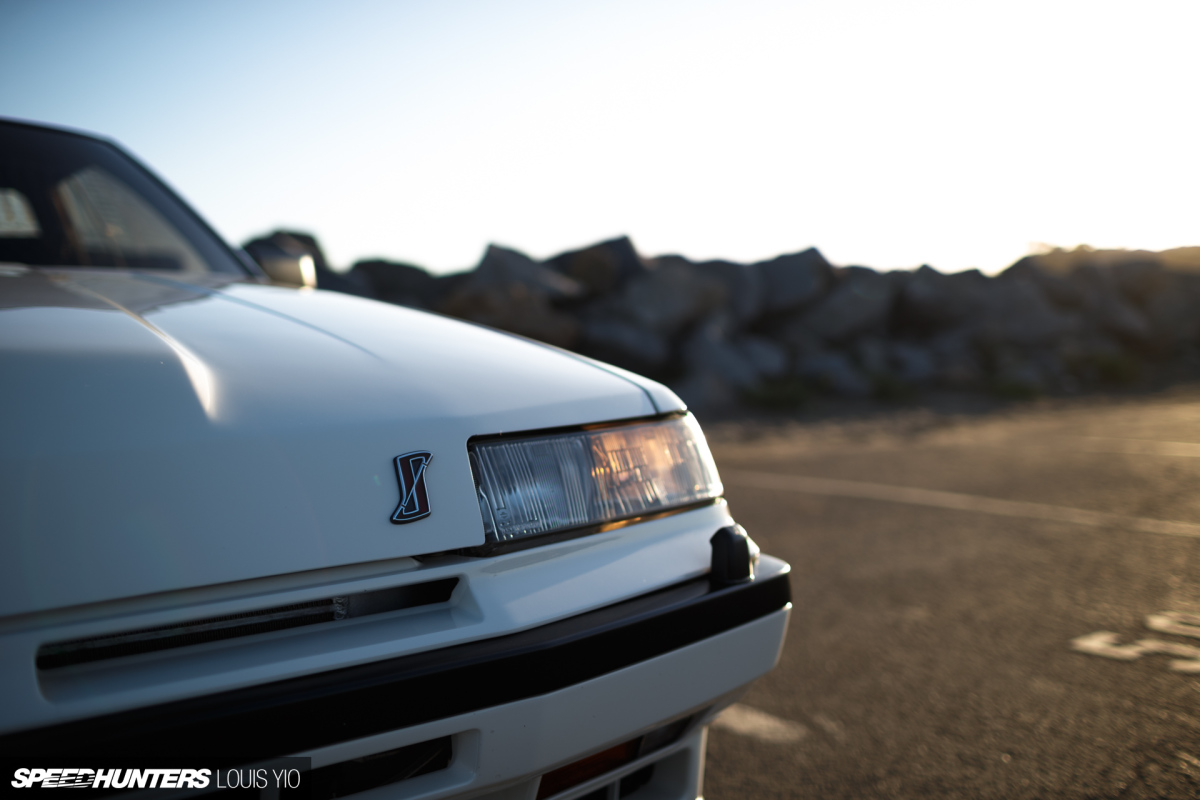 A simple recipe of a reinvigorated and reimagined retro car encasing much more modern and advanced underpinnings. It's resto-modification done right.
One Thing Leads To Another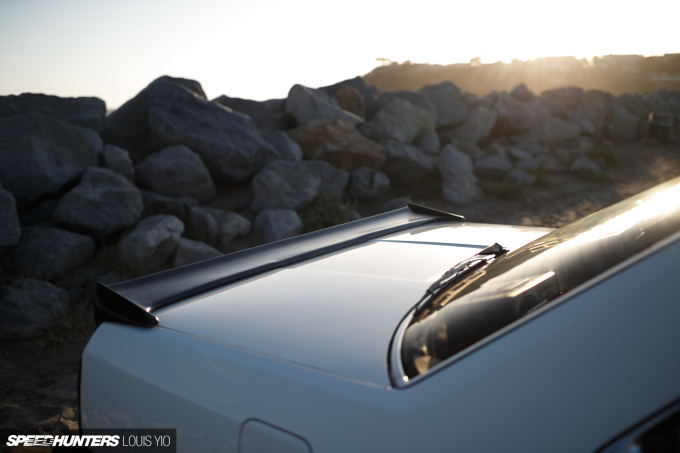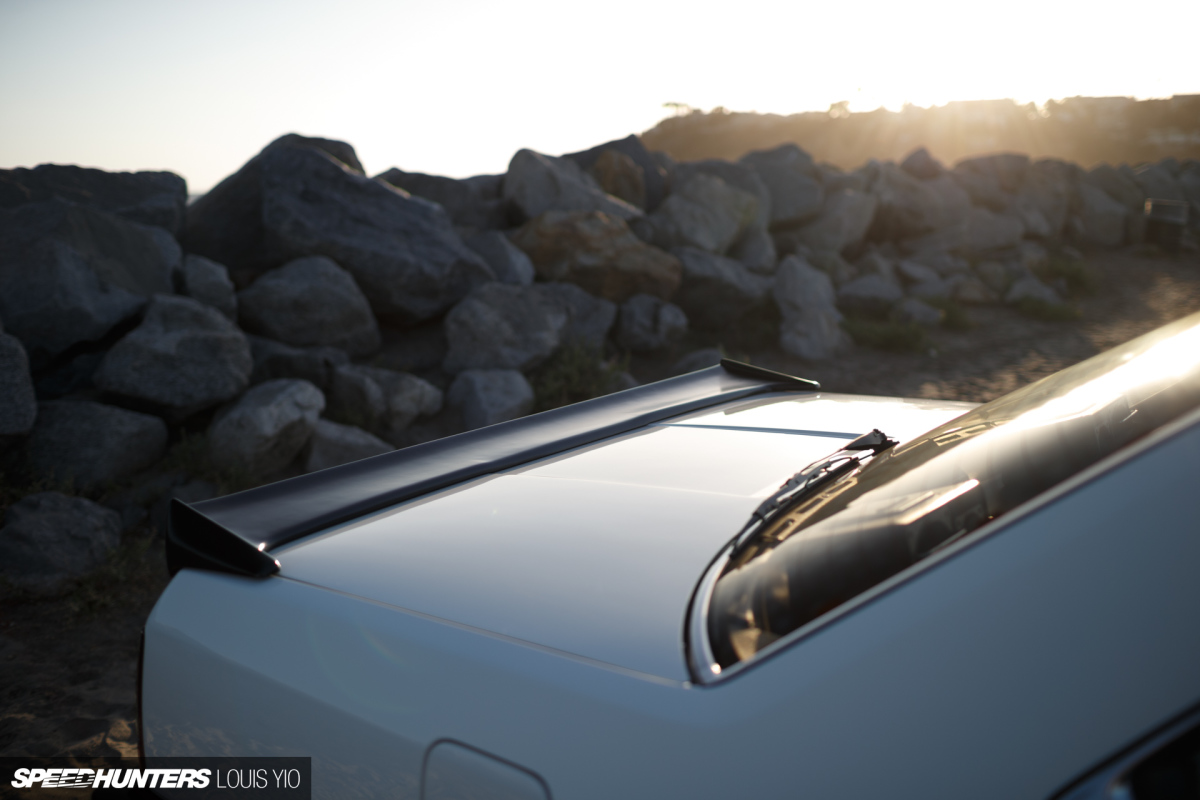 This R30 isn't Eric's first rodeo, and as a builder and fabricator he's got around 19 years of previous form from transplanting more modern turbocharged Nissan motors into older bodies – namely his immaculate Datsun Roadster and Datsun 510, both powered by tuned SR20DET engines. Both different stories for different days…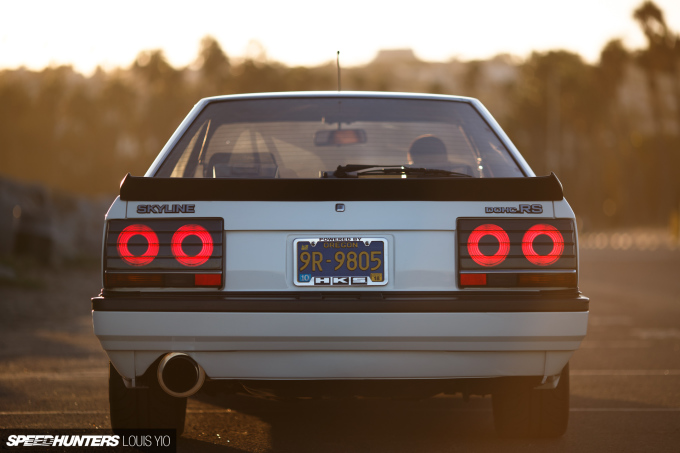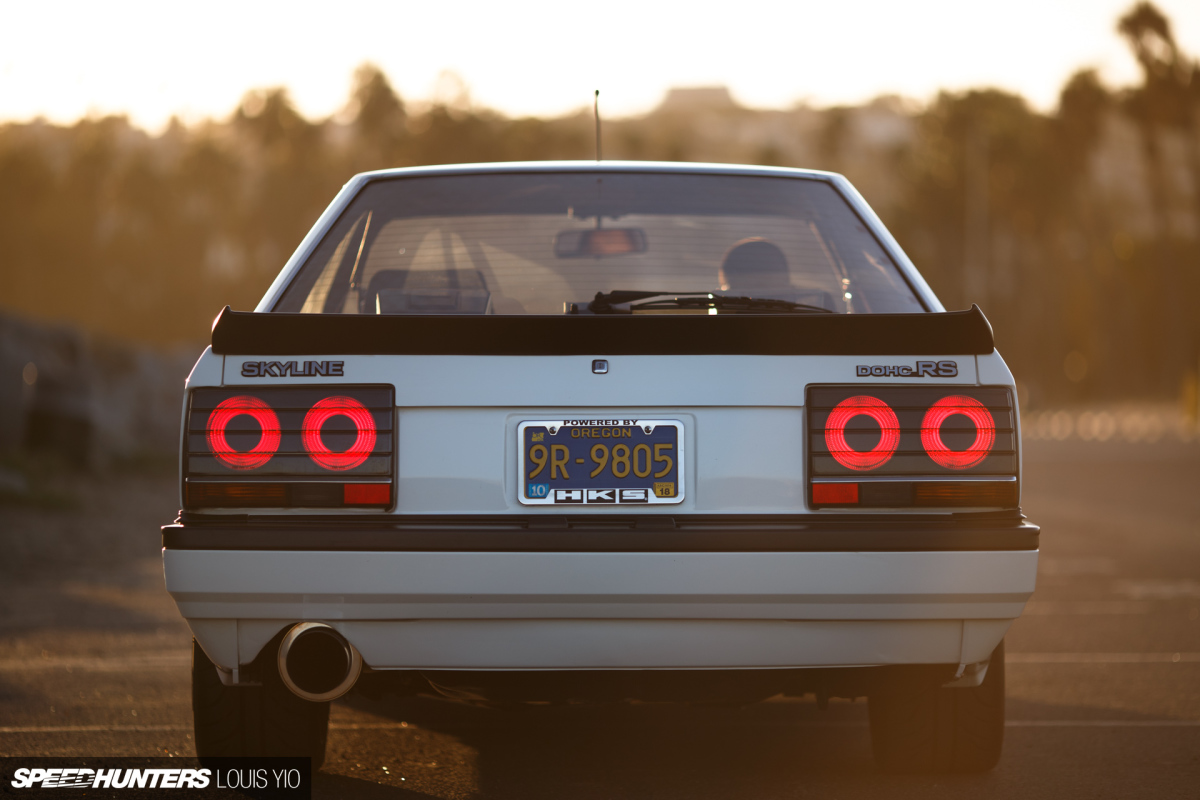 The story of this particular build started when Eric and fellow Datsun enthusiast Michael Spreadbury of Spriso Motorsport were discussing what Eric should build next. The conversation turned to the DR30 Skyline, but it wasn't until some time later that the perfect candidate came up for sale. A vague advert for an 'iron mask' DR30 RS-X with no engine soon lead to Eric and Michael finding themselves on a 400 mile roadtrip to pick it up.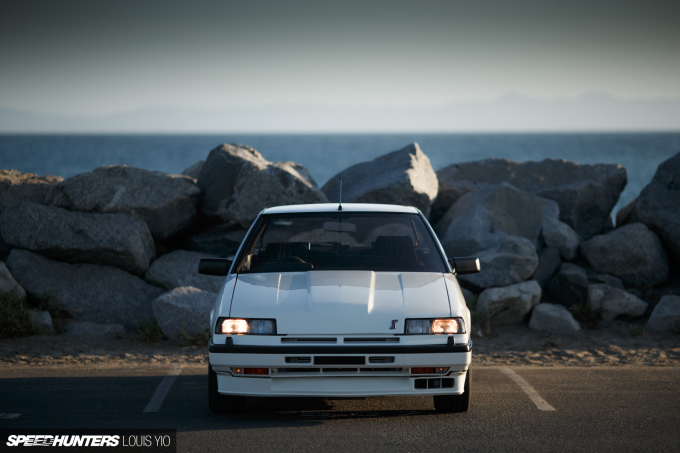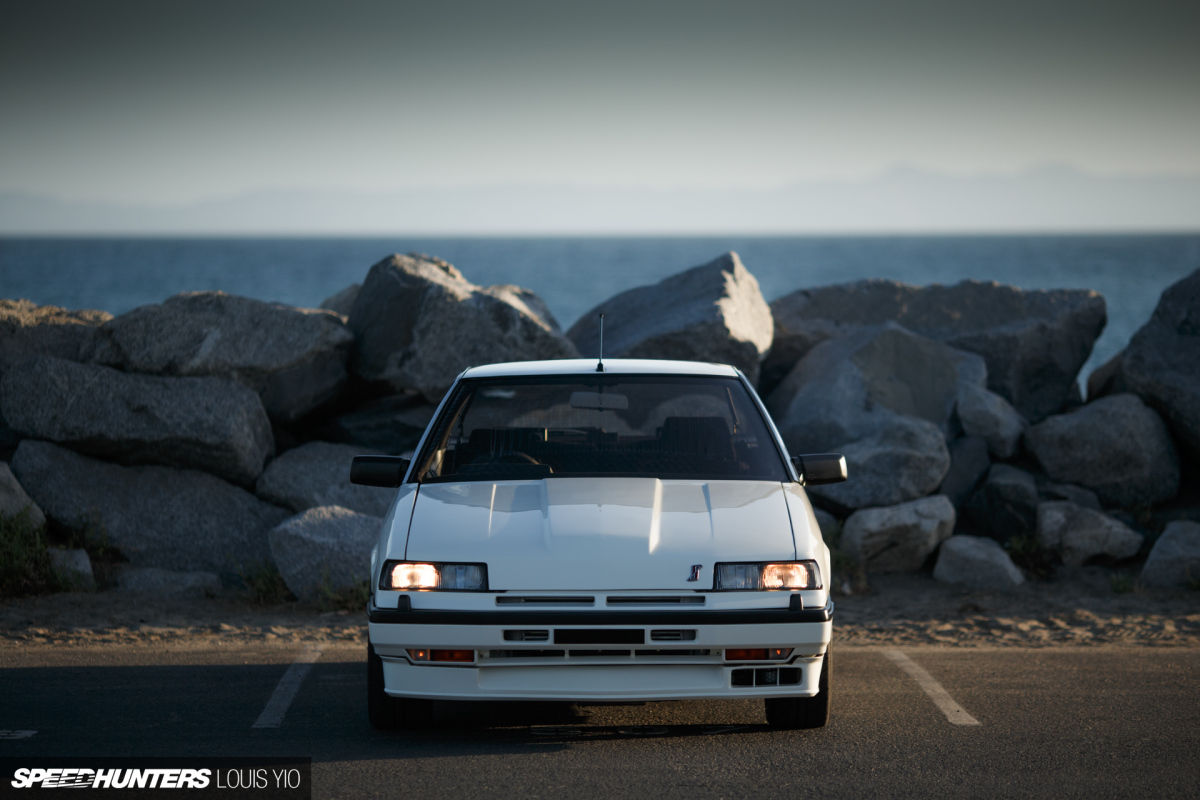 As is so often the story, what started out as what Eric puts as a 'straightforward motor swap' (or to someone as mechanically inept as myself – 'a lifetime project') ended up being a long and arduous two-year journey involving a bare metal rebuild and an immense amount of fabrication (or to someone like me – 'nope'). This was part driven by Eric's OCD-like levels of attention to detail, but also by the fact that not all was as first seemed with his new purchase.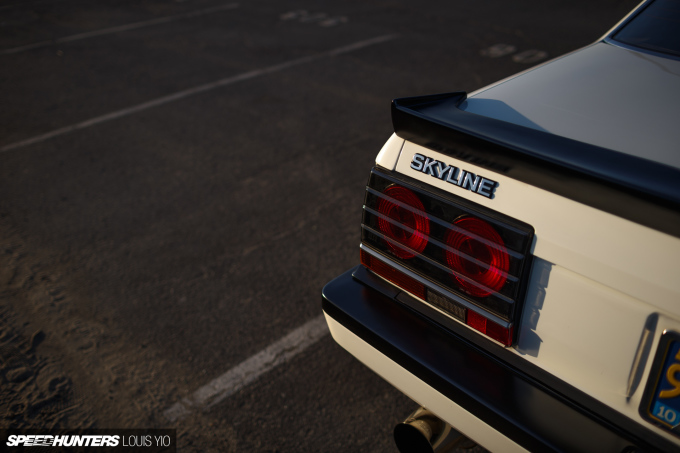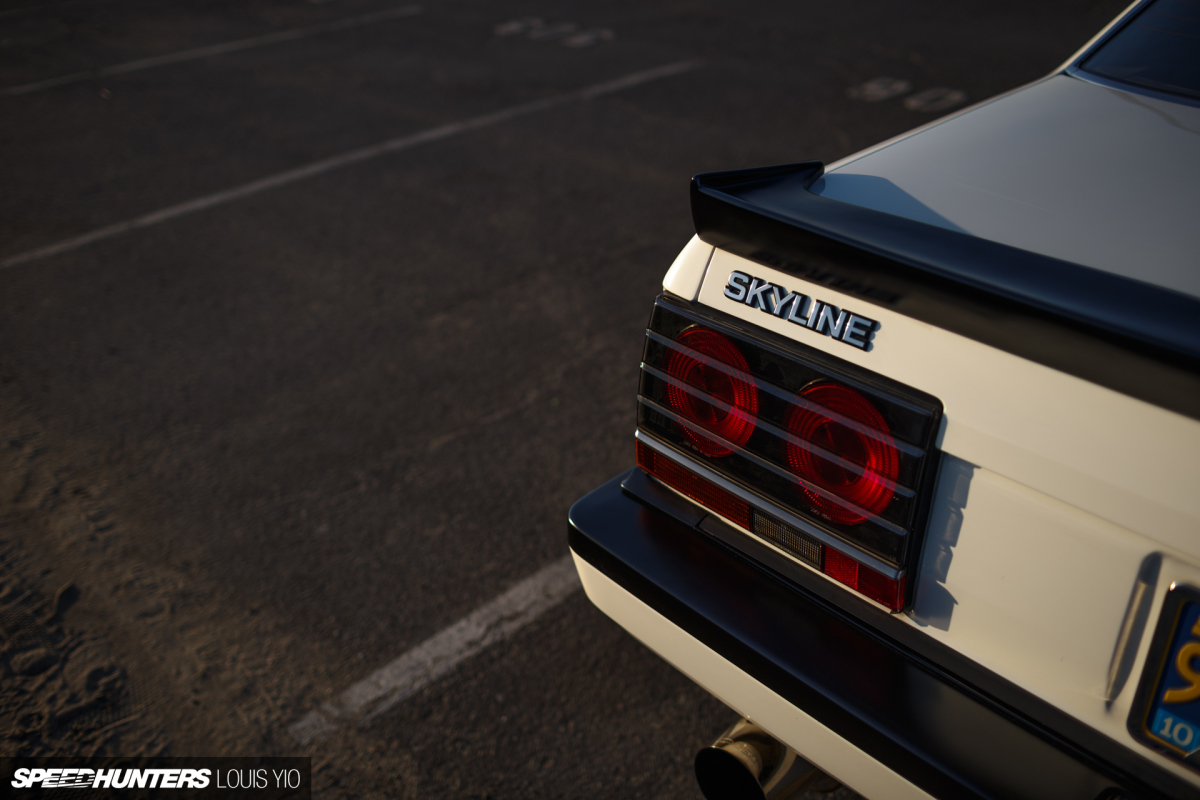 "I soon discovered the car had been repainted and some weird repair work had been done on the floor and firewall. After digging into it a few days I discover the car had lots of rust in the floors, A-pillars, firewall, cowl, and tail panel," Eric explains. The solution was obvious at this point – the body was stripped back of all trim and soda blasted back to bare metal.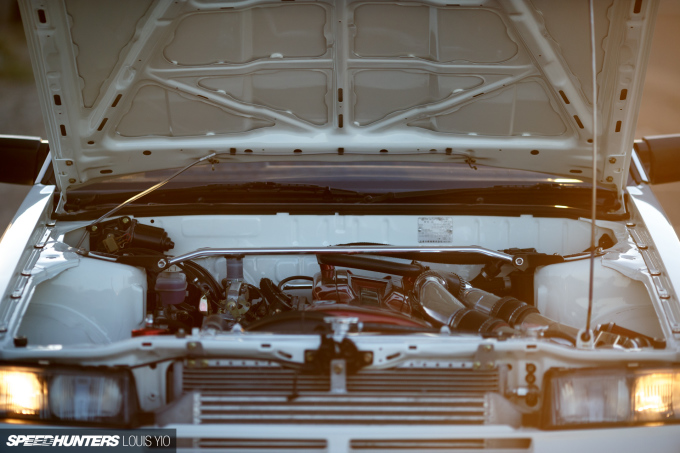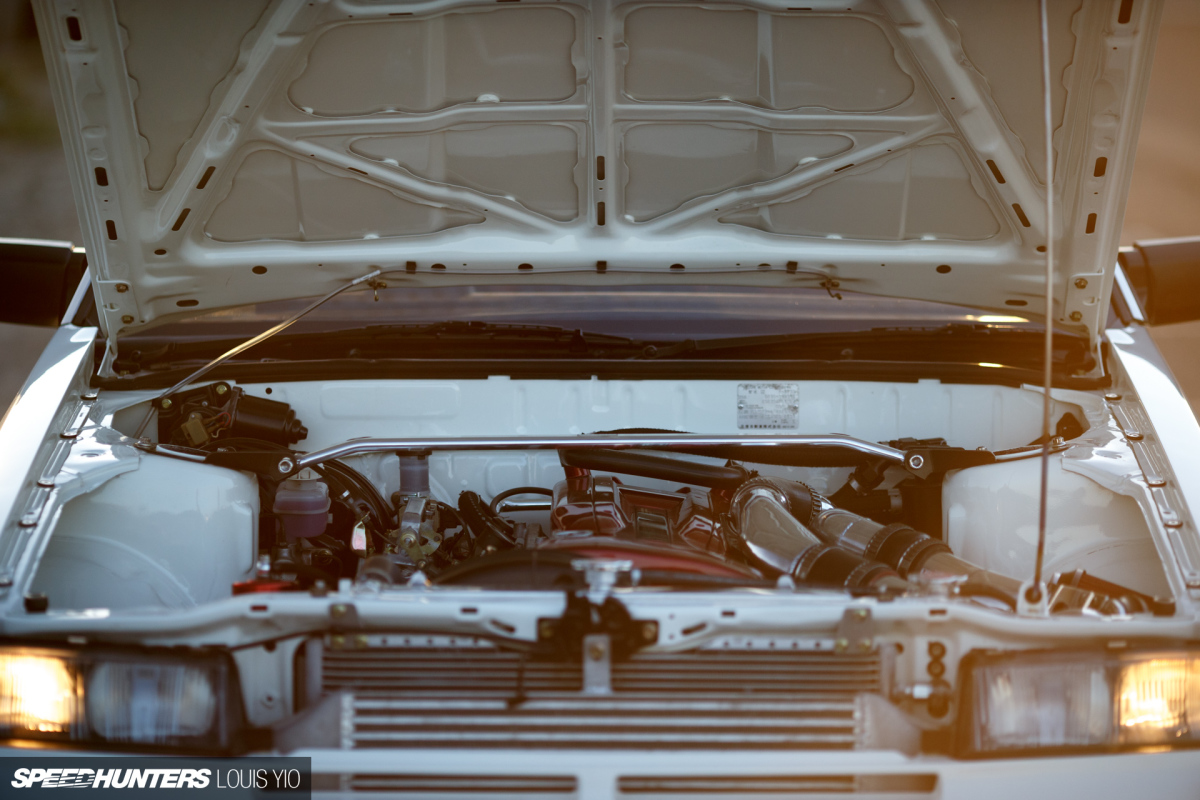 This gave Eric a fresh base upon which to start building the R30. While he addressed the bad metalwork that needed repairing or replacing, Eric also set about preparing the chassis for its new powerplant. After all, the Skyline was about to experience a significant jump in horsepower.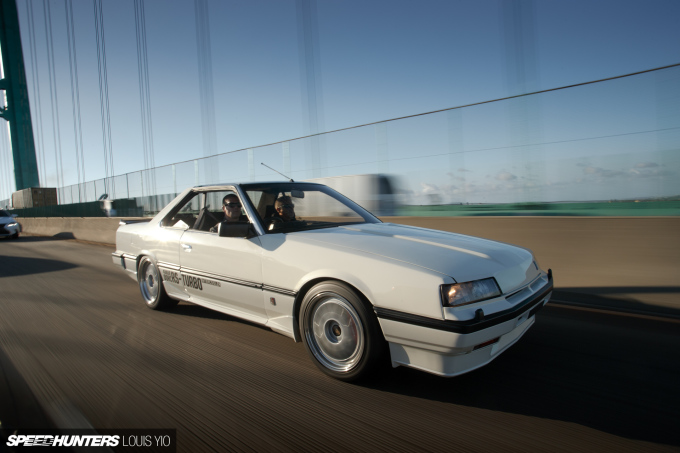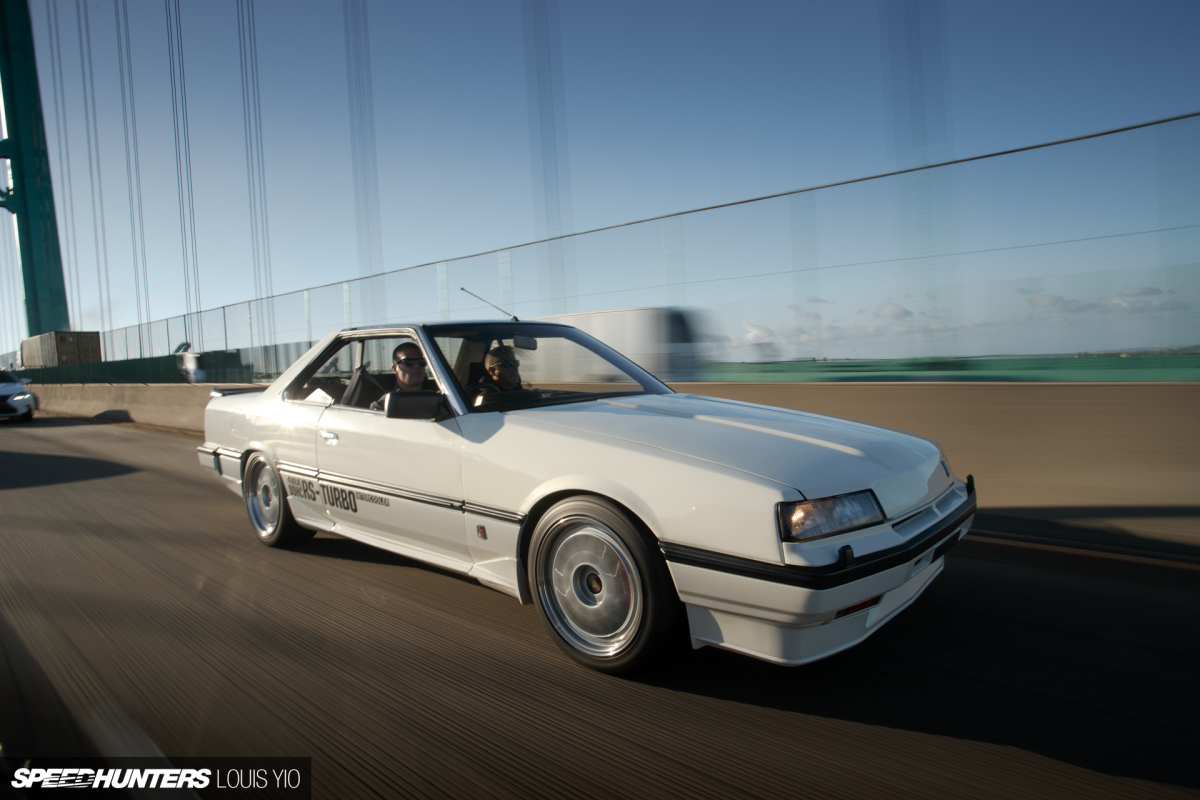 One thing that Eric was keen to retain was the Skyline's ability to be street driven without compromise – in fact, it's rule number one in a recipe that he follows for each and every one of his builds. The R30 isn't a show car, nor is it a race car – it's a car he's built to jump in at a moment's notice and take on some good ol' fashioned spirited driving.
For this reason he had no intentions of adding a cage to help with the chassis strengthening – to Eric this would've been a shortcut that would have compromised the look and feel of the car on the road. Instead, he turned to his fabrication skills and modified Infiniti M30 full-length frame rails to connect the front and rear of the chassis.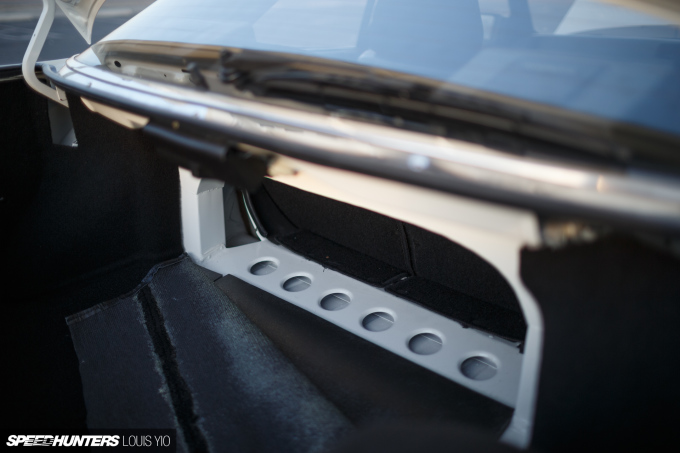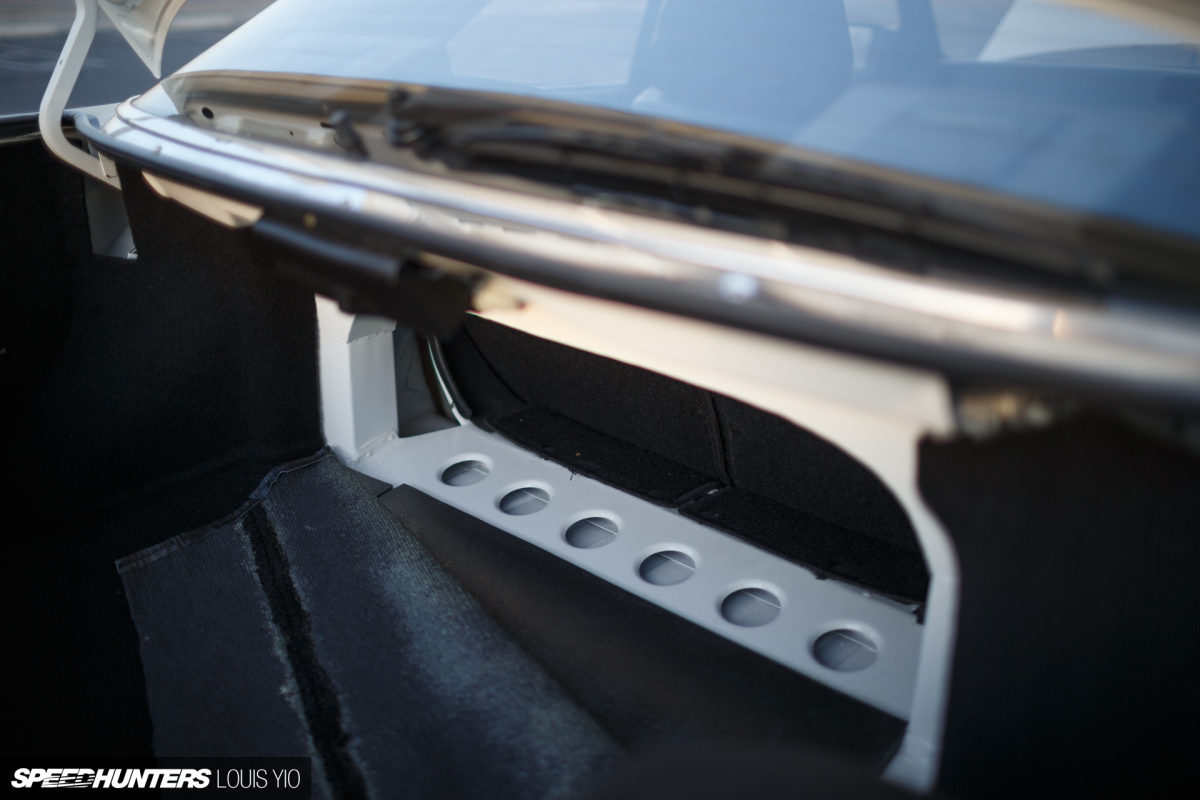 The chassis was then fully seam welded, and the floorpan was reinforced with sheet metal and finished with dimple dies. With hundreds of hours in the metalwork and chassis prep alone it seems a shame to hide it all, but that's exactly what Eric did. The finish is period-correct Nissan 002 white throughout.
(If you're interested to see some more images of the build up, you can here)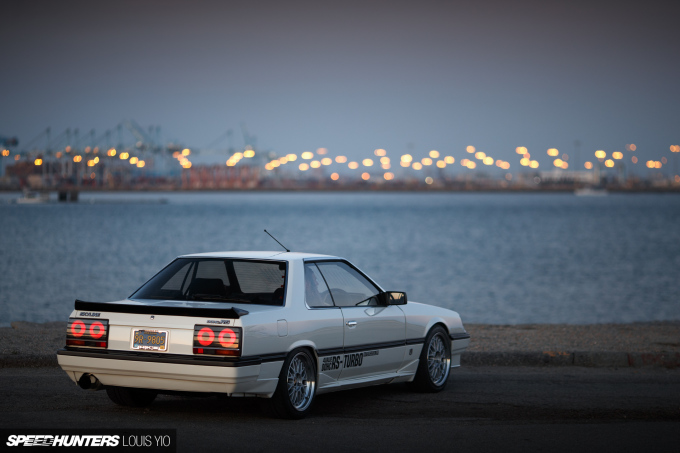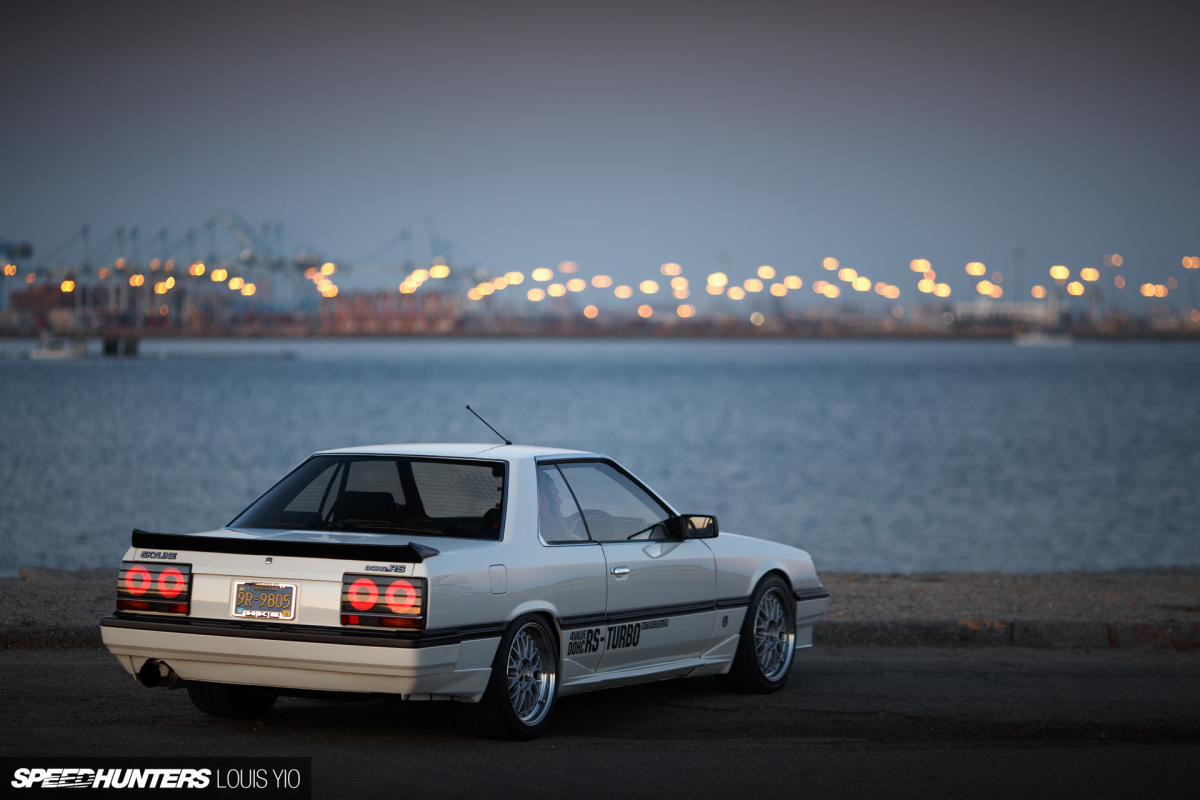 The exterior was kept largely as standard – not that there are a whole host of aftermarket options for the R30 available any more – but it follows with Eric's rule two of car building – keep the exterior appearance as OEM as possible.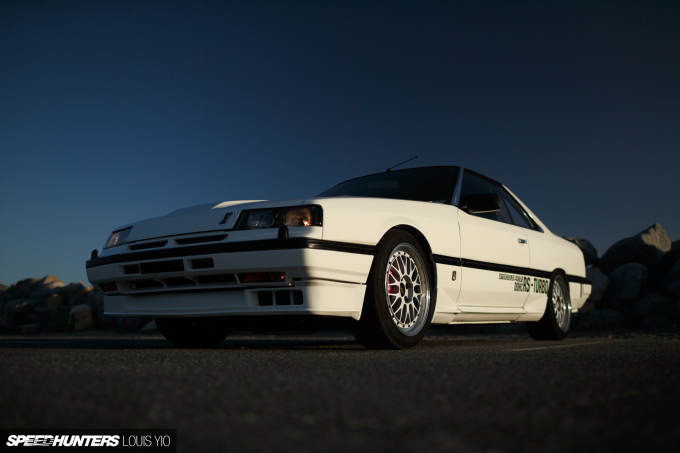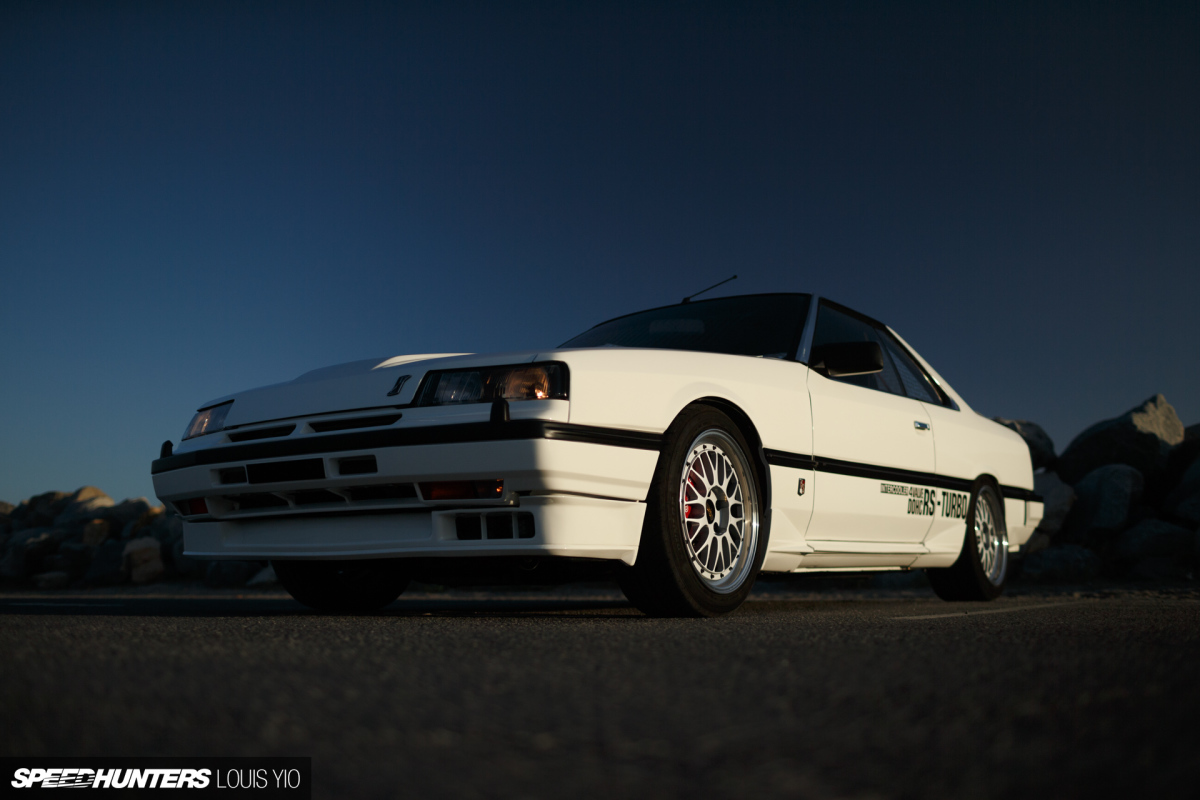 Rule three of Eric's car-building formula is to add modern engineering and footwork to his retro builds. The most obvious solution was to turn to some of Nissan's most popular and well-supported performance platforms for suspension parts – the Nissan S13, S14 and R33 Skyline.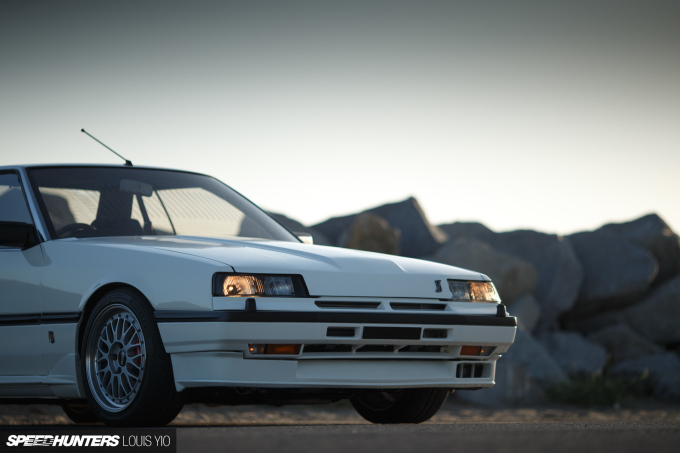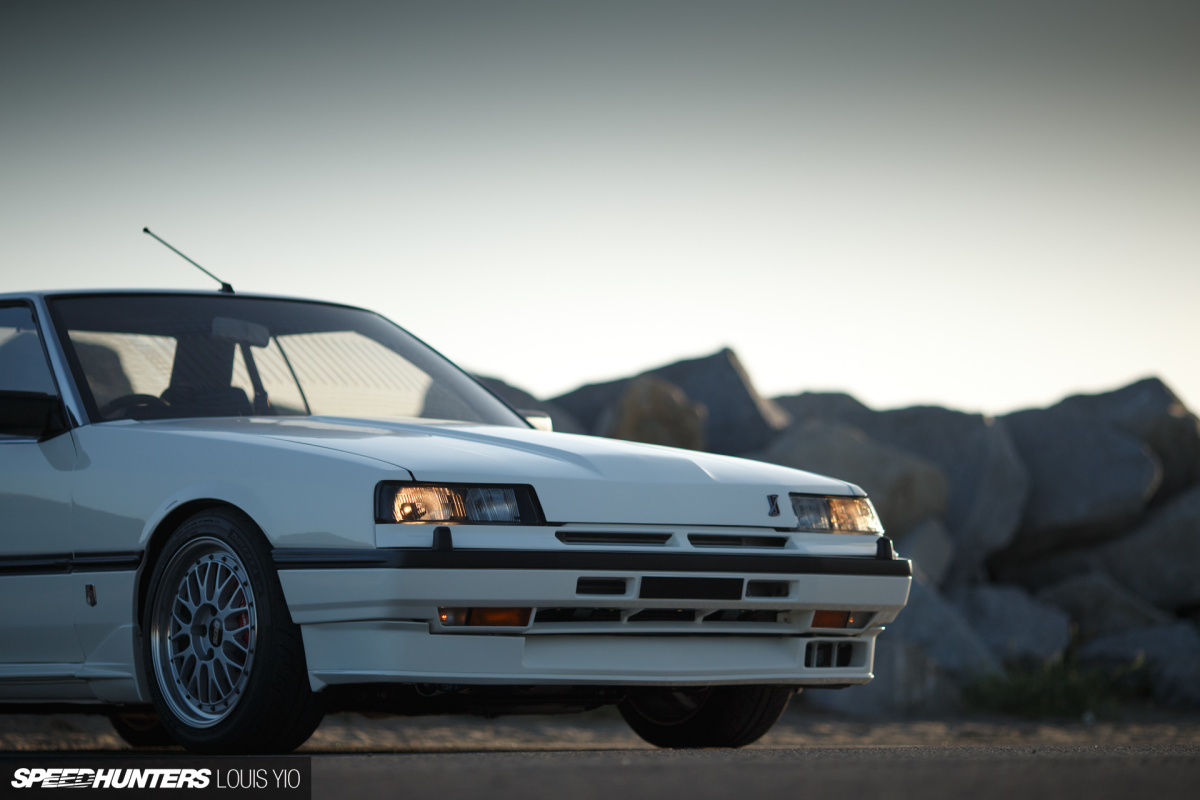 An R33 GTS-t was relieved of its front subframe and Eric heavily modified it to fit its much older brother. An S13 RHD steering rack was sourced and bolted up.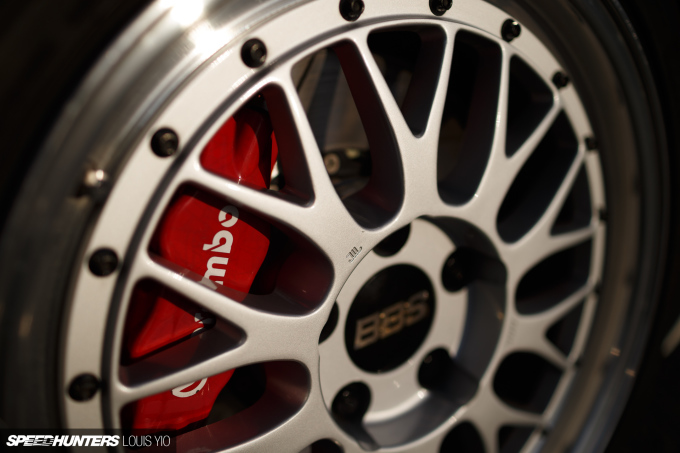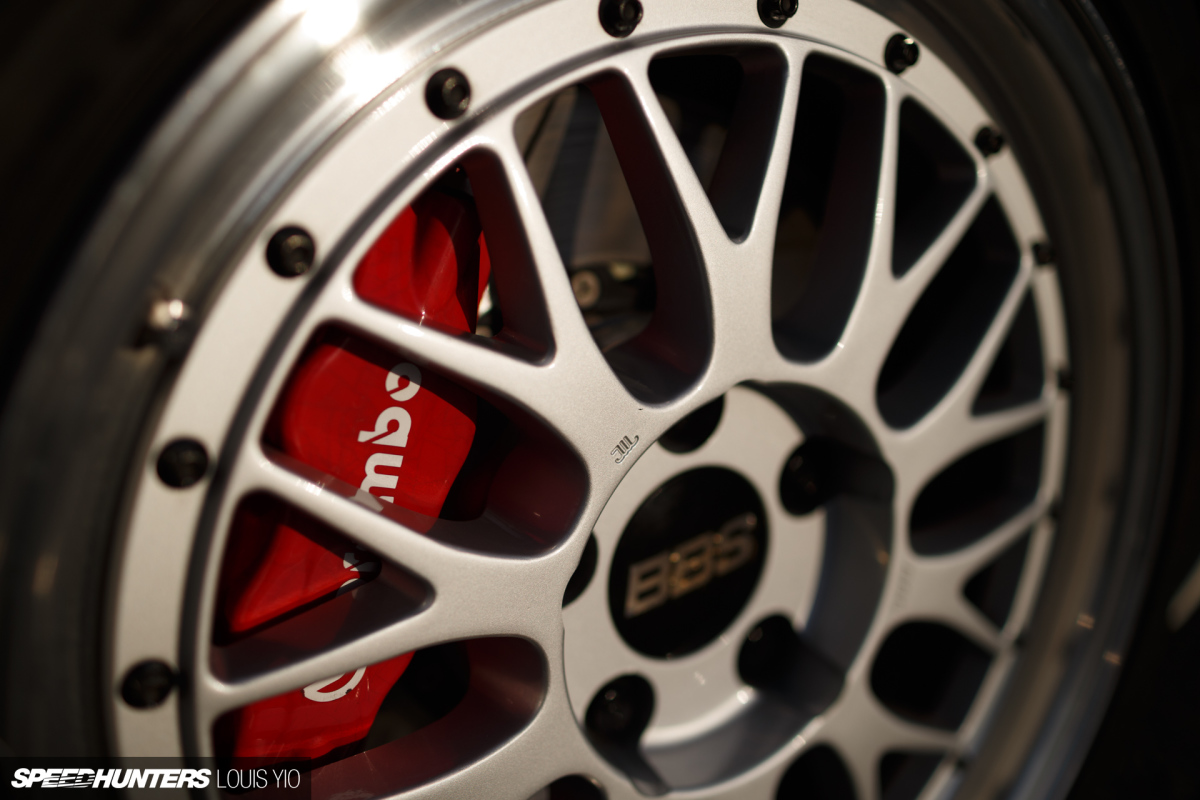 The suspension of choice was a set of KW Clubsport coilovers, in Nissan S14 flavour. The front knuckles and hubs and were also replaced by 5×114.3mm S14 items and graced by a pair of Brembo Evo IX front calipers with DBA two-piece slotted rotors. The rears are slightly newer but matching Evo X Brembos.
At the back, the R30's stock crossmember was modified to allow Eric to utilise adjustable camber and toe arms, while the Infiniti M30 was called upon again for its rear trailing arm setup. Power is handled by uprated axles and delivered via a Nissan longnose R200 rear differential.
Eric's tasteful restraint in the aesthetics department came into play when it came to his wheel choice too. A timeless set of BBS LMs, measuring 17×8-inch front and 17×9-inch rear were sourced and complete the footwork.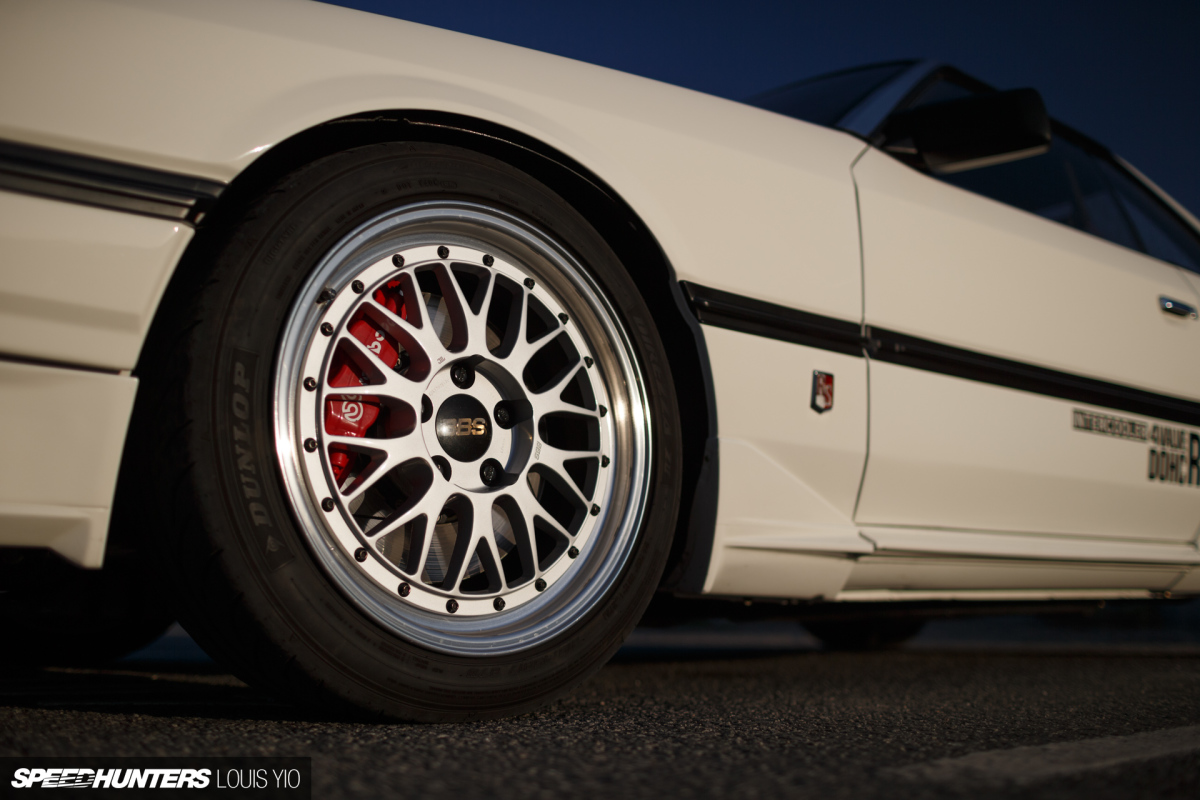 Although much larger than the R30's stock wheels, the LMs fill the stock fenders perfectly. That's right, stock fenders, in 2017! What even is this?!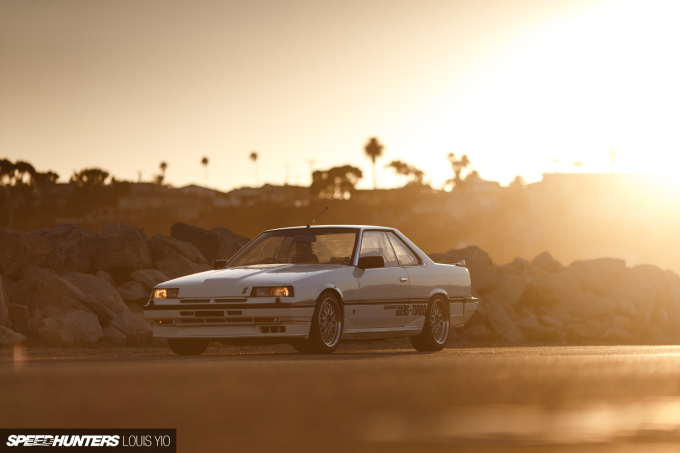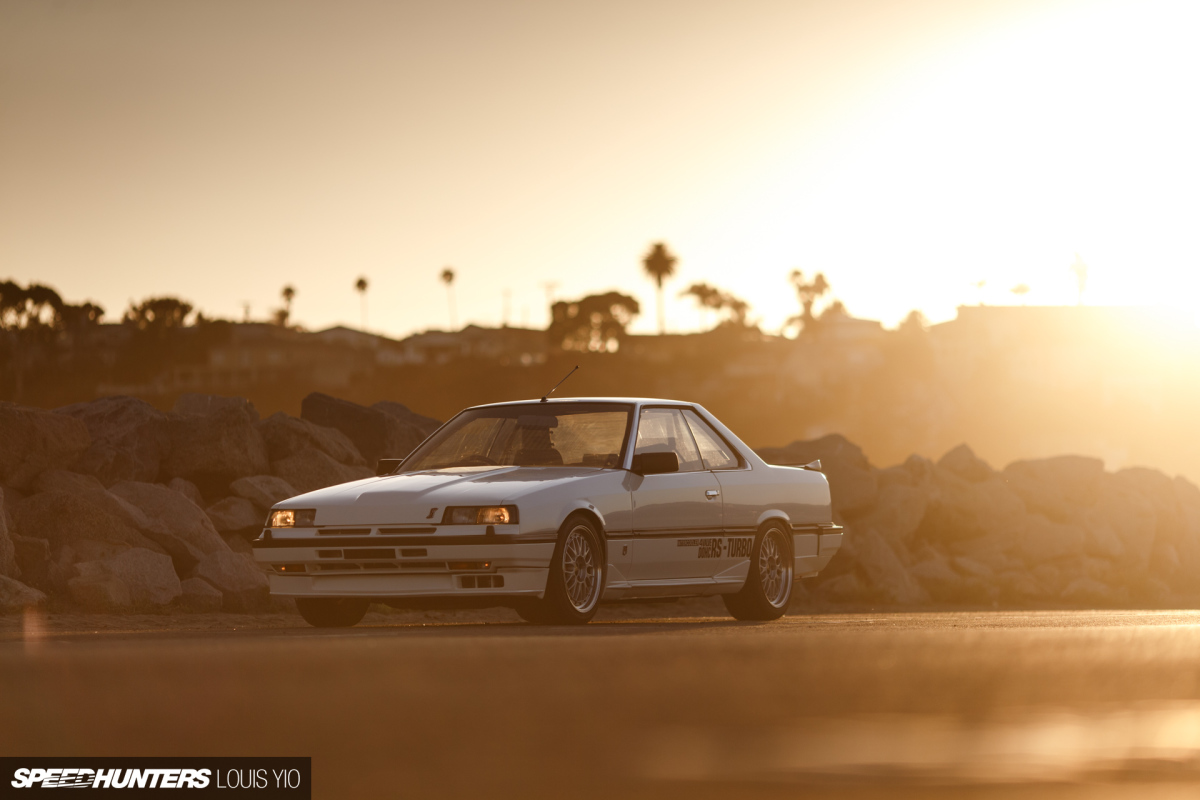 There's no testosterone-pumped overfenders, overly-aggressive ultra-low offsets, fancy anodised bolts or lips deeper than the Mariana Trench here. The approach to 'stance' is a fine balance of aesthetic and functional qualities, whilst remaining respectful to the R30's origins.
Be Still My Beating Heart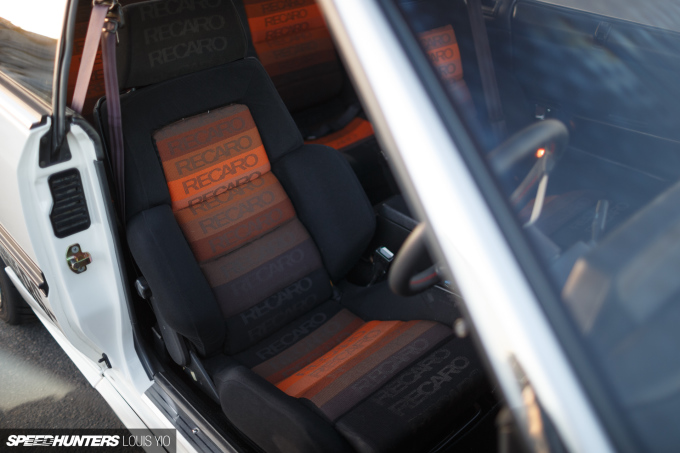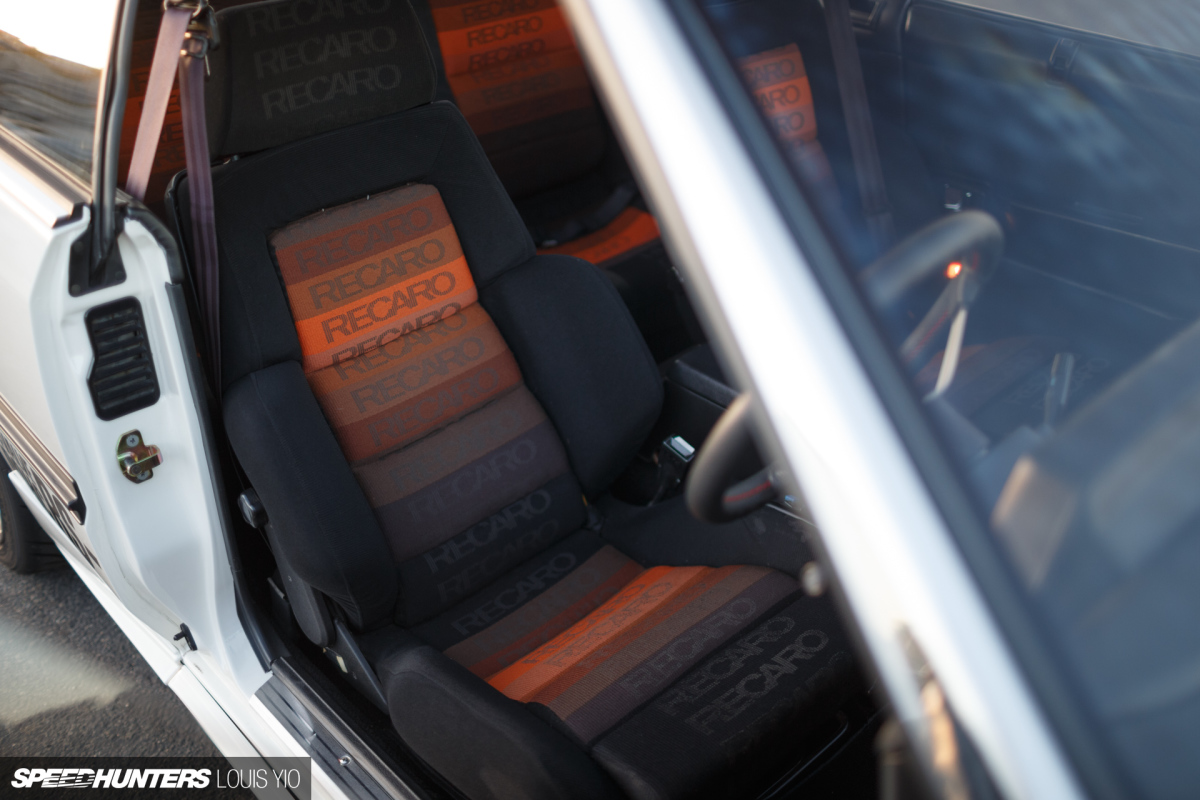 The period-correct details and OEM+ approach continue on into the interior. Swing open the R30's weighty doors and you're cast back to a simpler time. A time when a full set of gradient-fade orange Recaros were on every auto enthusiast's wish list.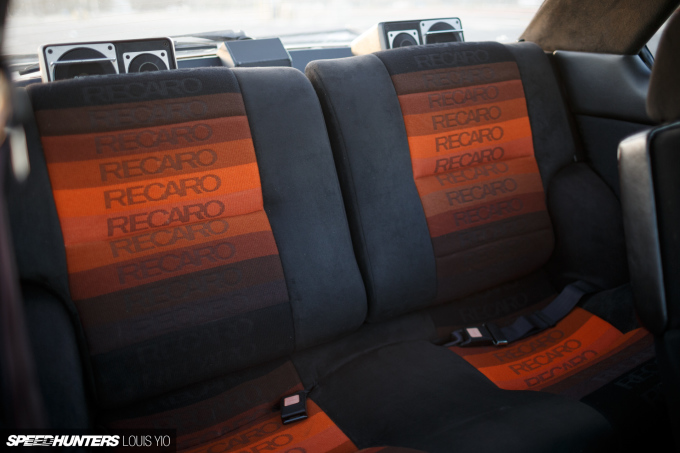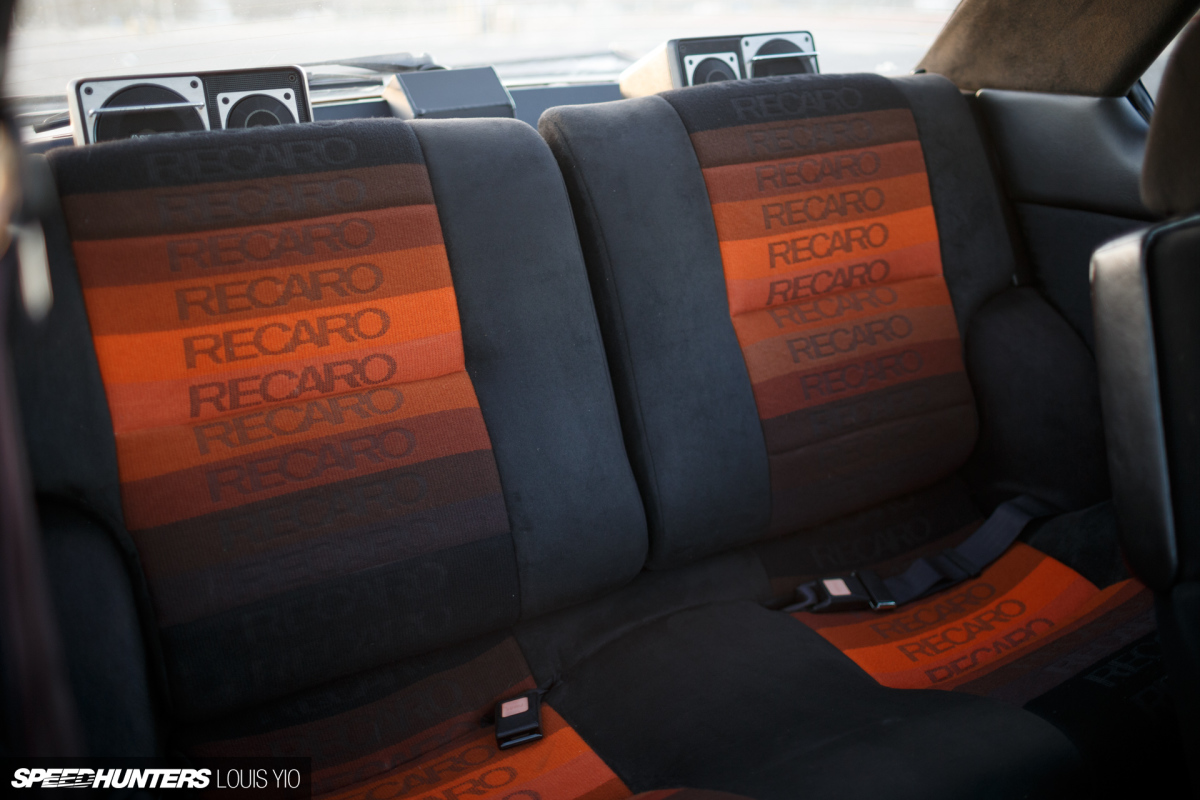 I have no idea where he found them, but Eric somehow managed to source the Orange Spectrum Recaro Ideal C heated and powered front seats and mated them to the R30. The rear bench and door panels were then recovered in the same retro-fade fabric to match.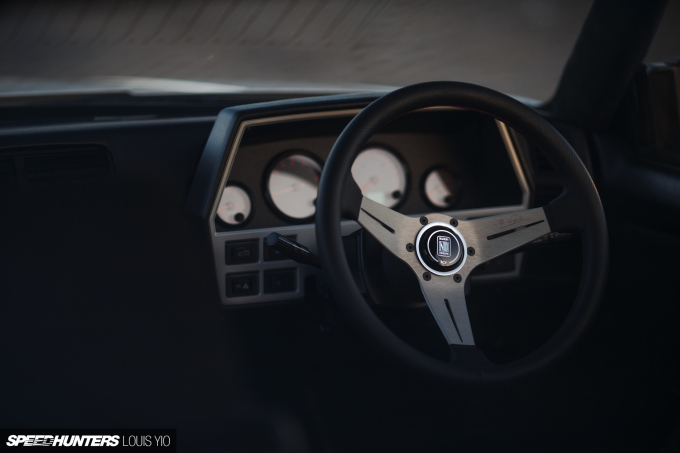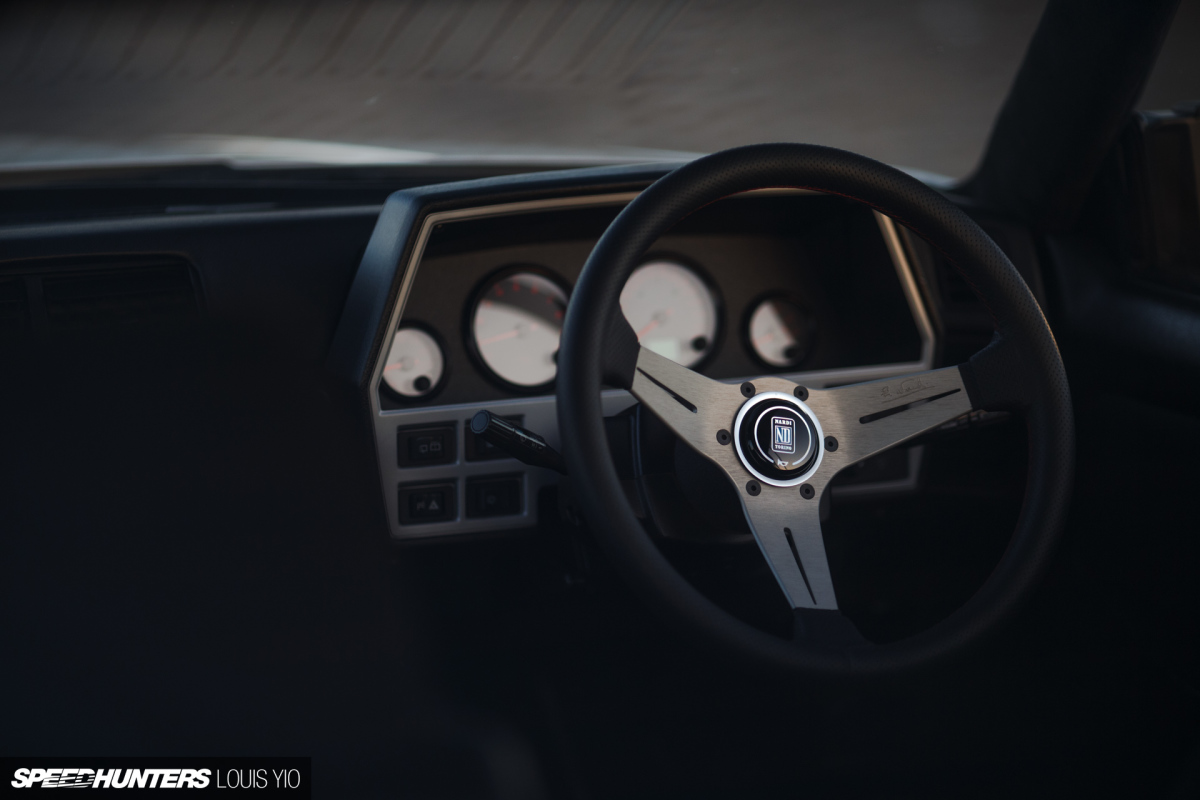 Drag your attention away from the lush seating and you'll also notice lots of neat little touches – from the vintage Nismo floor mats to the Nardi wheel, the retro sound system occupying the rear shelf and weighted Tommy Kaira gear knob. Or how about a Puretron RMII-S? A spot of Googling and clumsy Japanese to English translating tells me it's a  deioniser – a somewhat rare factory comfort option back when the R30 graced showroom floors.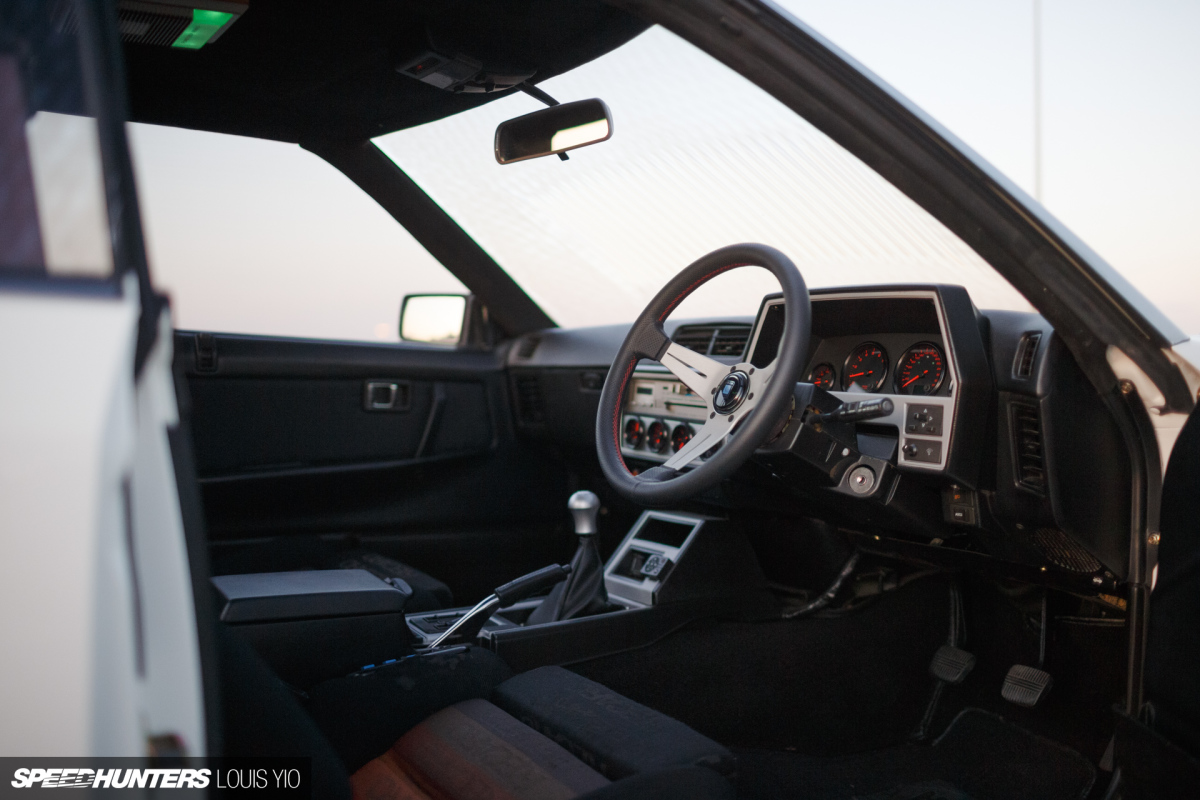 What you can't see is again equally as impressive as what you can – the inside was fully sounded deadened and insulated prior to installation, making the interior of Eric's Skyline a pretty nice place to be.
Essential information is relayed back to the pilot thanks to a set of retro Speedhut gauges mounted in a custom dash panel and centre console. Again, Eric was keen not to stray too far from the OEM+ approach and, in my eyes, it works perfectly.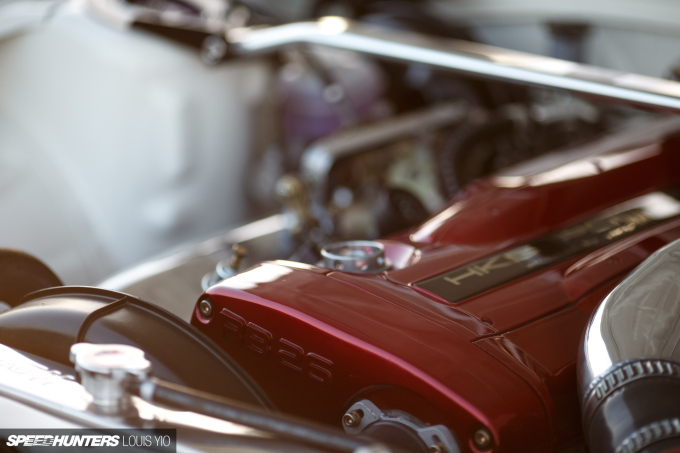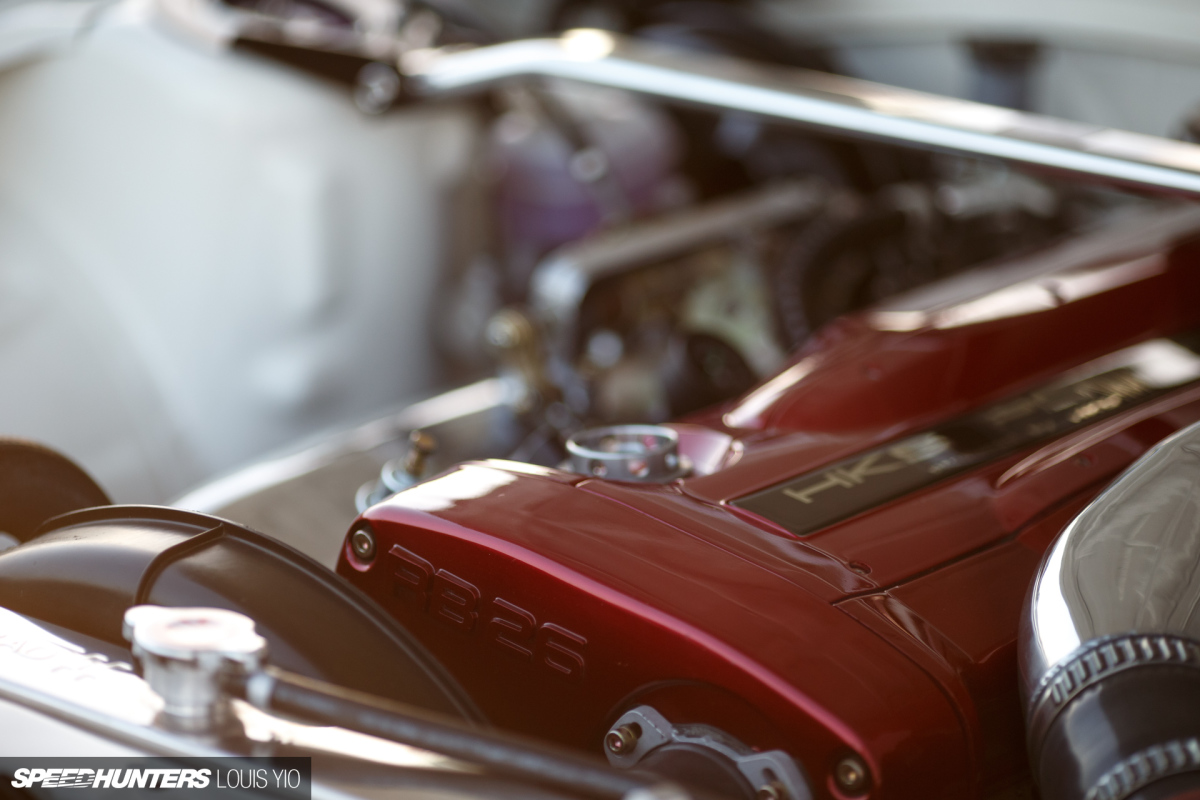 Remember the part where I talked about building up to a build's climax? Open that distinctive 'iron face' bonnet and there it is.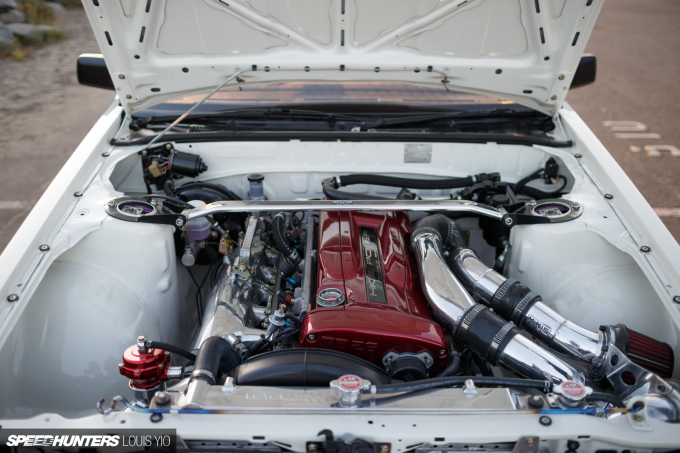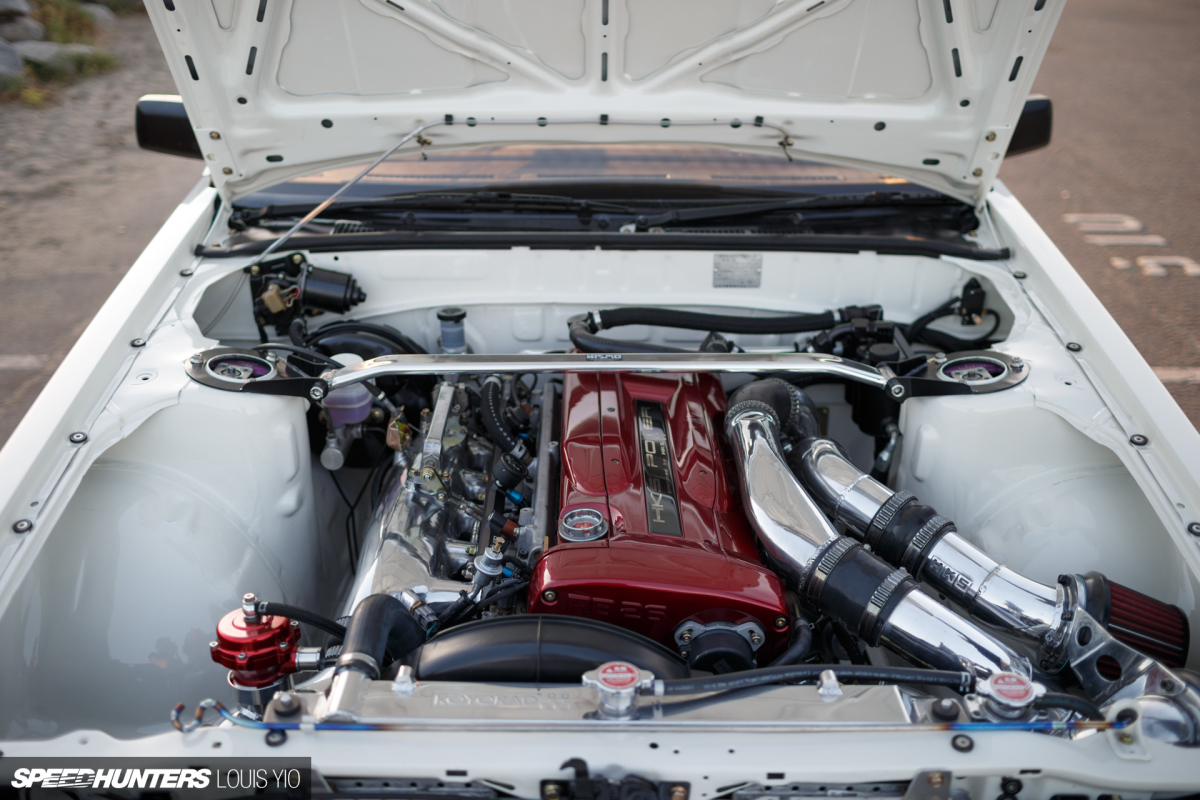 Perhaps Nissan's most revered powerplant, the RB26DETT originally came from a BNR34 Skyline GT-R and was expertly transplanted into the R30 by Eric's fair hands. Keen to retain the R30's rear-wheel drive configuration, an R33 RWD 5-speed gearbox was mated to the new engine.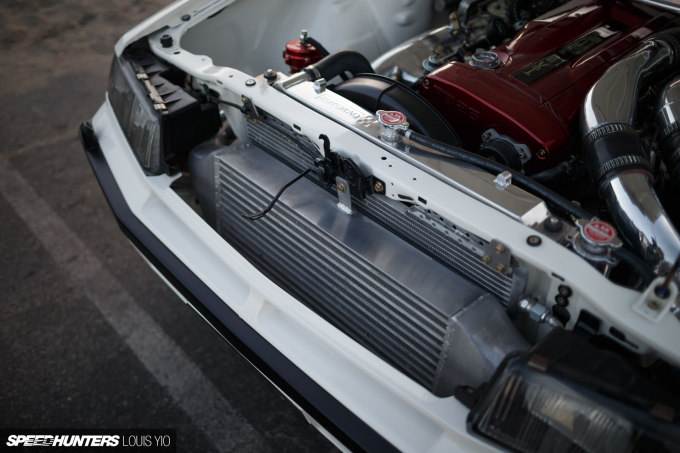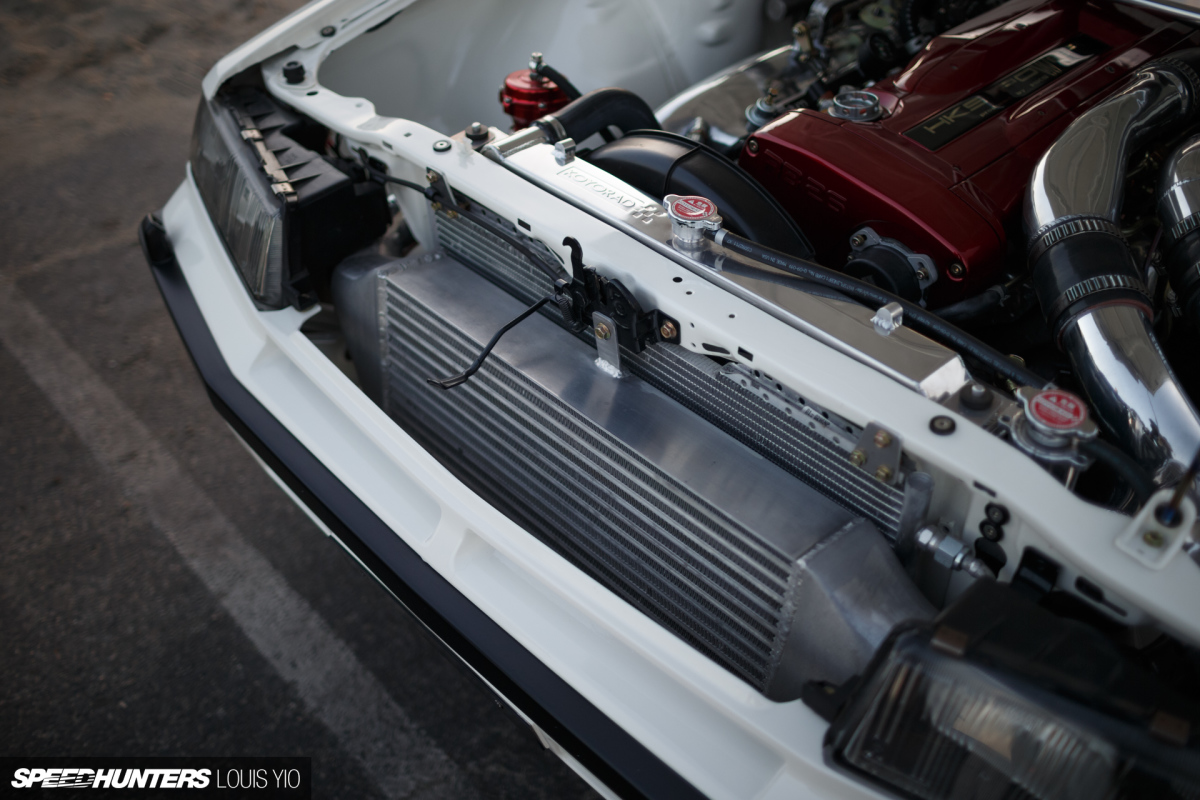 Boost is provided by twin Garrett GT2860RS turbos, with the intake cooled by a huge custom front-mounted intercooler.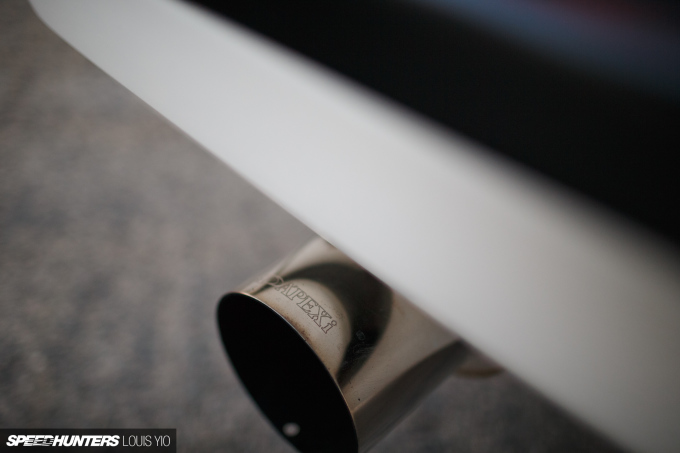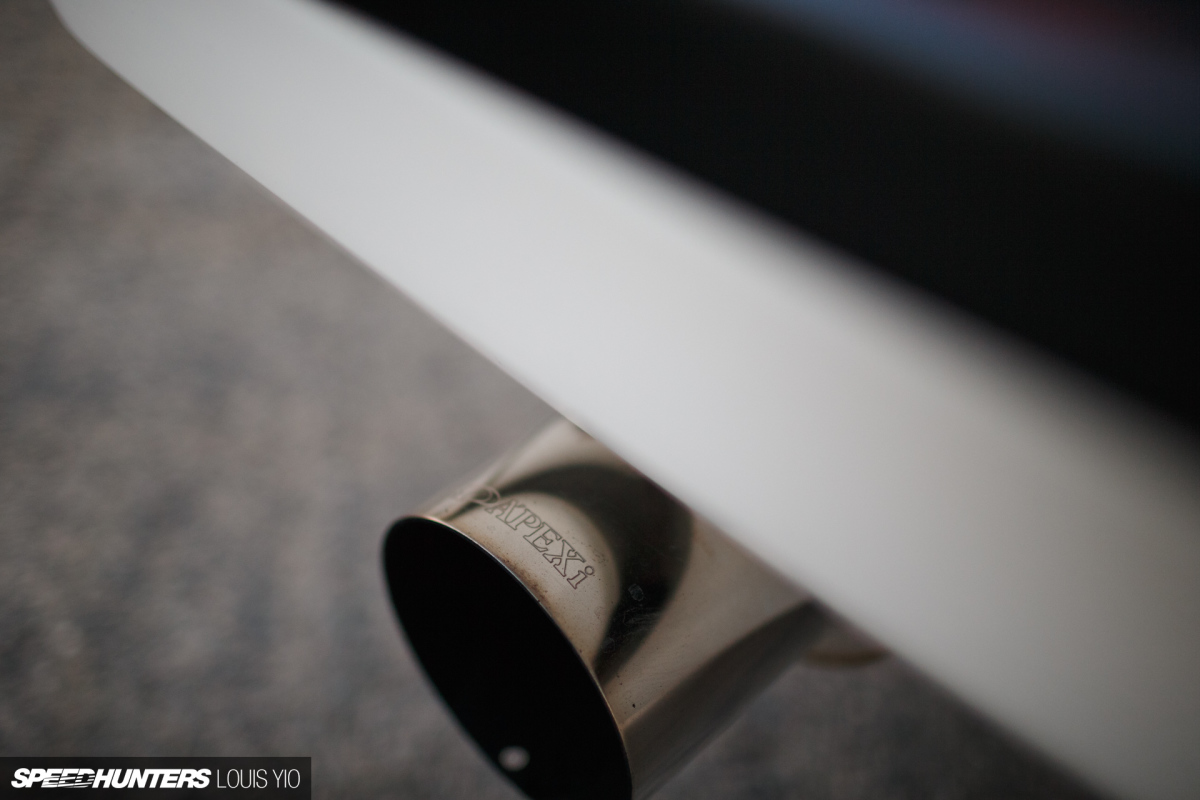 Eric fabricated the exhaust system himself, for the most part. Twin Tomei downpipes carry the waste gases into a custom 3.5-inch stainless pipe with an A'PEXi muffler exiting at the rear of the Nissan. I've not heard the car in action myself, but I can guess that the sound is somewhere in between 'holy crap' and 'oh my God'.
A Koyorad Nissan S14 radiator fills the space at the front of the engine bay nicely and helps to keep things running smoothly. Fuelling is courtesy of a Radium fuel rail and Injector Dynamics ID1050x injectors.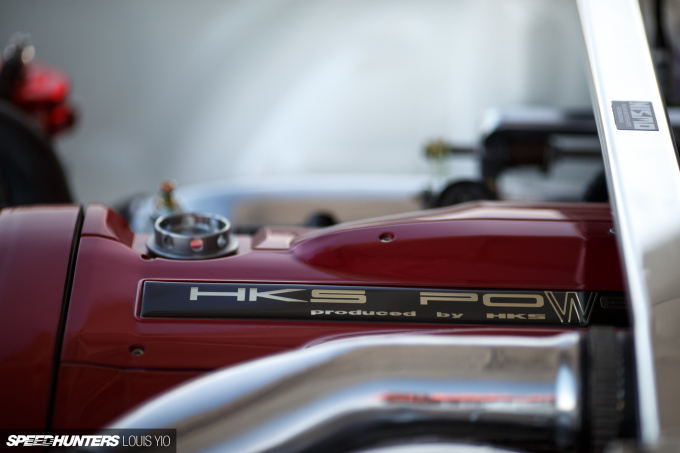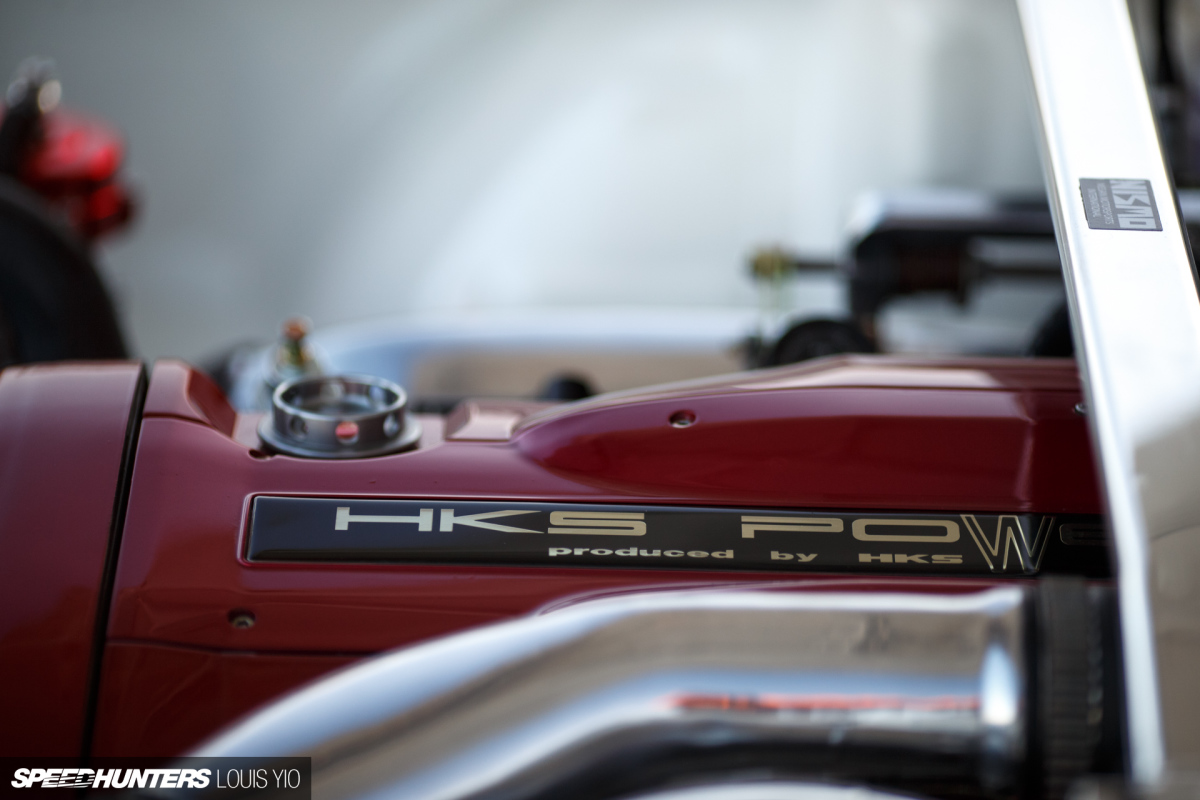 Twin HKS intakes and an old school HKS coil cover finish things off nicely. The whole setup looks so right that, bar timeline inconsistencies, you'd struggle to know that it wasn't created this way by Nissan themselves. I can't think of a more fitting engine for this build and Eric has packaged the transplant with exemplary execution.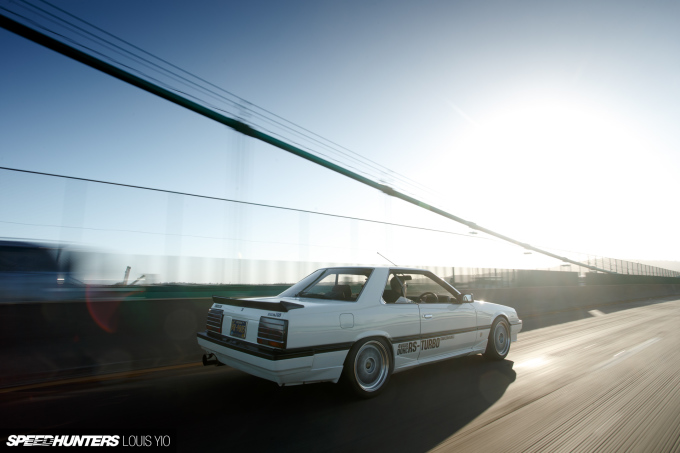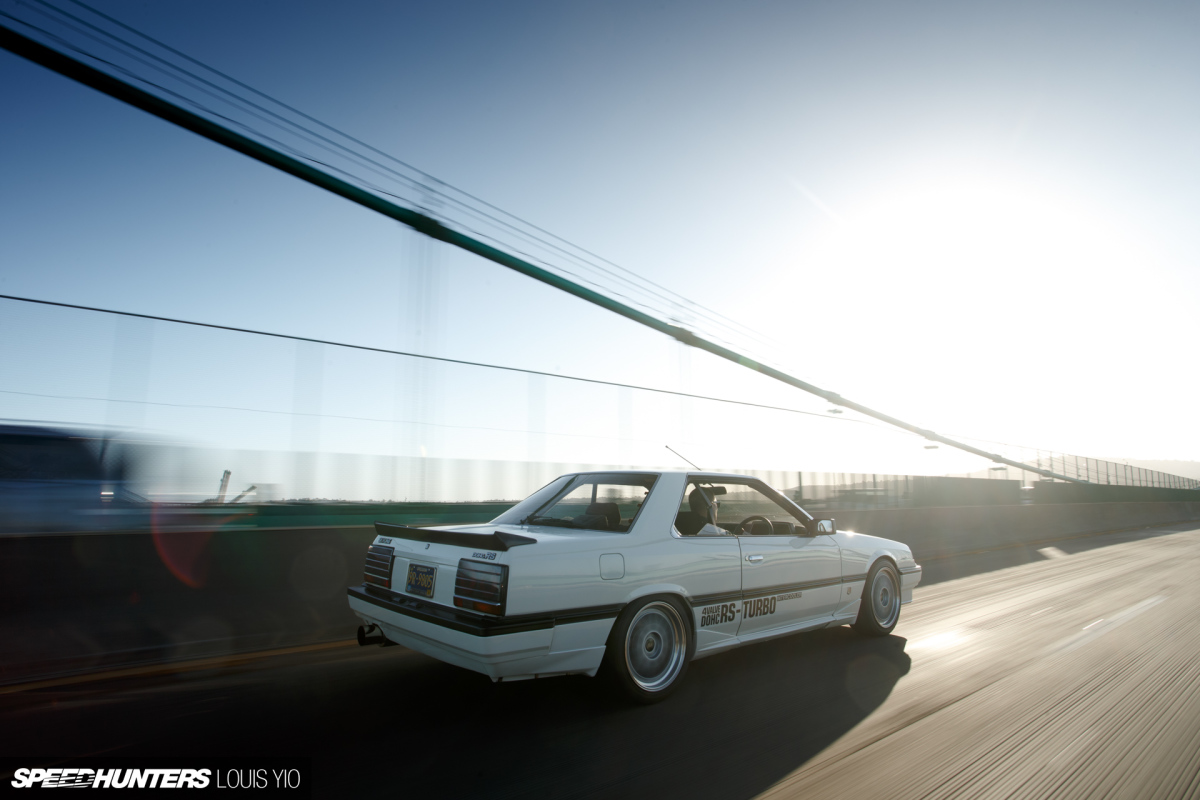 Engine management is provided by a Haltech Platinum Pro, and the magical numbers are 532hp and 389lb-ft to the rear wheels, as tuned by Z Car Garage in San Jose.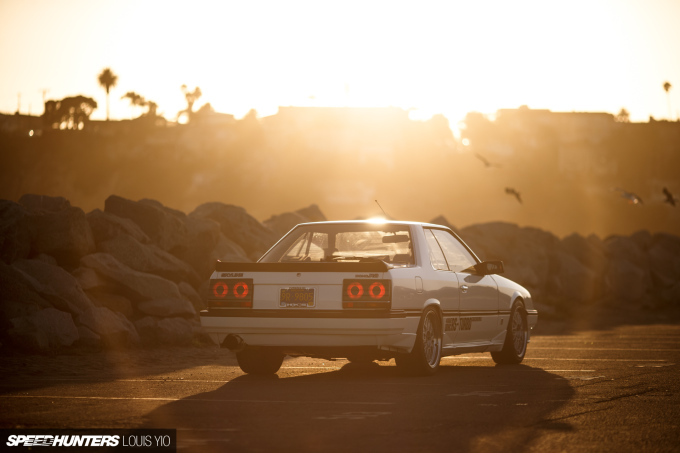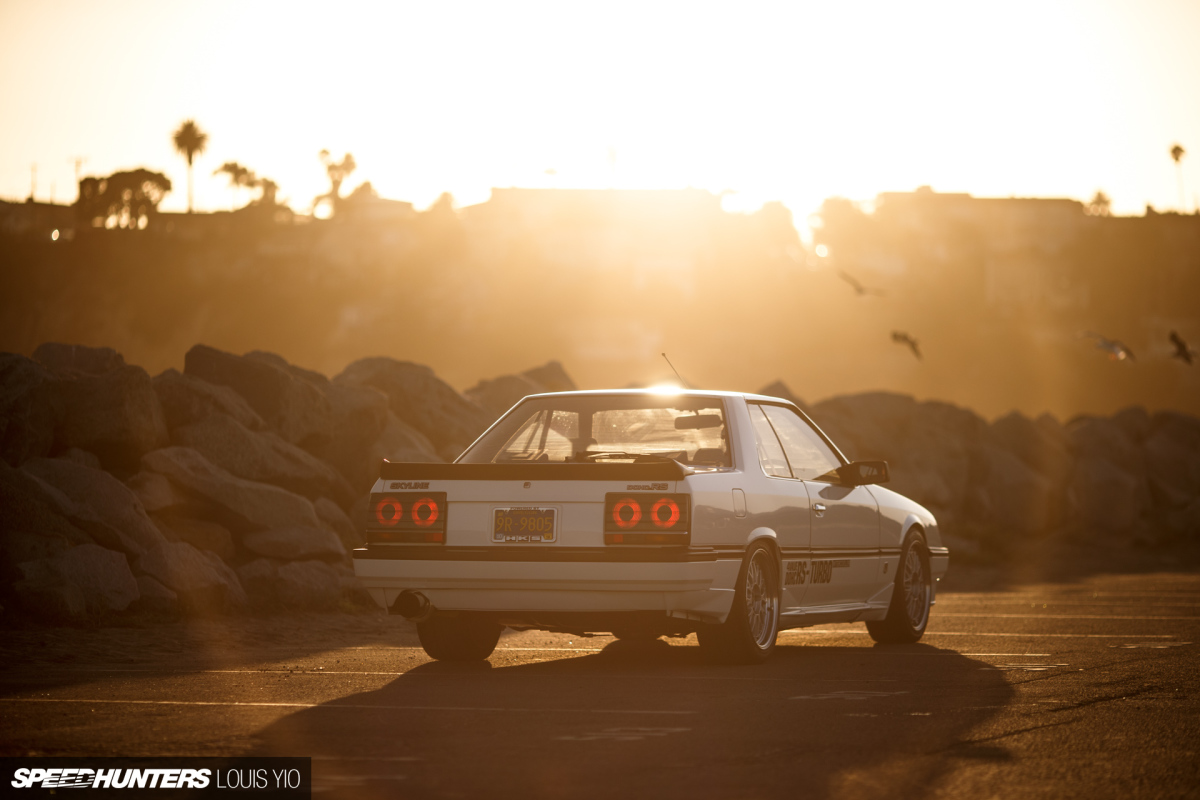 When Eric set out to build the R30, his main goal was to create a car which looks OEM yet offers a huge boost in performance over the typical ageing stock example while remaining perfectly drivable on a day-to-day basis.
I'd say he's nailed it, wouldn't you?
Jordan Butters
Instagram: jordanbutters
jordan@speedhunters.com
Photos by Louis Yio
Instagram: lusciousy
louis@speedhunters.com
Cutting Room Floor