With the 2017 SEMA Show less than a few weeks away now, the hype is beginning to build with pre-event teasers and concept reveals.
A long-running partnership between the American subsidiary of Korean automaker Hyundai, and horsepower-mad Californian tuner Bisi Ezerioha, has resulted in some crazy SEMA builds over the years, but for the 51st running of the world-renowned convention, the thinking has been dialed back to a more practical level.
Hyundai and Bisimoto Engineering's SEMA 2017 showpiece, the HyperEconiq Ioniq, has got us thinking: Could the foundations of this custom build become the basic future tuning standard, just as preliminary intake, exhaust, wheel and suspension modifications are looked at today…
To give the the HyperEconiq Ioniq some perspective, we need to look at what this collaboration has brought to the SEMA party in previous years. For 2015, it was a Tuscan CUV with a fully-built 2.4-liter Theta-II engine outputting more than 700hp courtesy of a Turbonetics BTX-6465 turbocharger and AEM Infinity 6 ECU; last year the Santa Fe SUV became the Santa Fast with a built 3.8-liter engine running twin Turbonetics TNX-3056 turbos and AEM Infinity 708 management, for 1,040hp all told.
The HyperEconiq Ioniq is a little different; it's chasing numbers too, but they're fuel efficiency figures not maximum horsepower.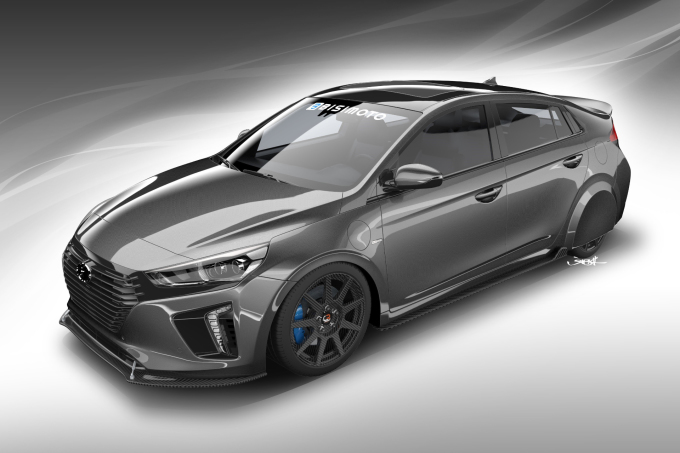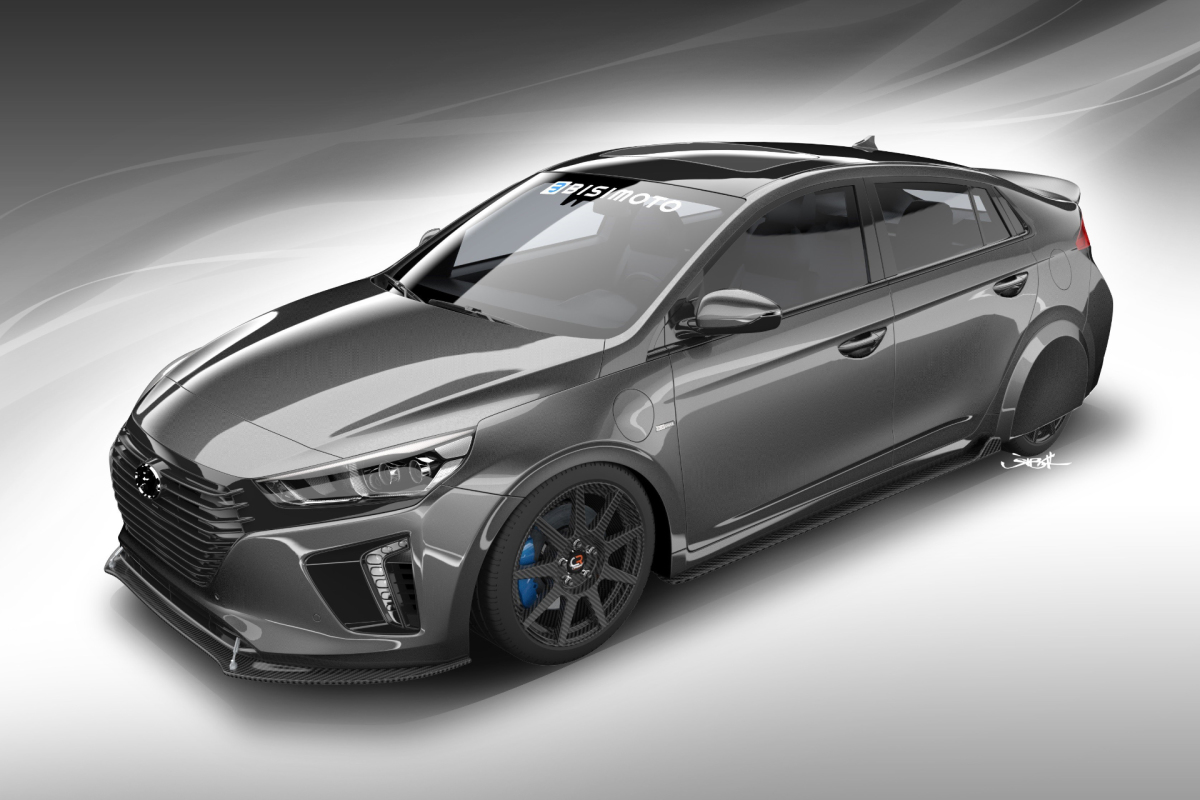 That may not sound very exciting, but what the HyperEconiq Ioniq concept lacks in sheer power it makes up for with some well thought out modifications and upgrades to enhance the driving experience and improve the petrol/electric hybrid hatchback's looks.
The Bisimoto 'Dream' aero package, comprising of a carbon fiber front splitter, rear wing, carbon side splitters, and rear wheel covers, is the most noticeable alteration, and here the focus has been put on lowering drag and improving downforce. The 19-inch, one-piece carbon fiber wheels by Carbon Revolution are an exercise in lightness, and they're shod in low-rolling resistance tires. Other important enhancements include a Bisimoto pulse-chamber exhaust system for improved volumetric efficiency, enhanced e-generators, Progress Technology coilover suspension for minimized ground clearance and an optimized alignment setting, lightweight Buddy Club aluminum brake calipers, and Recaro Pole Position seats.
This build might not be what we're used to seeing from Bisi Ezerioha – and don't for a minute go thinking it's Bisimoto Engineering's focus now – but it's an interesting look into the future of modifying all the same. Apply similar thinking to any hybrid or full electric vehicle, and it's a pretty good place to start. That said, we wonder what SEMA 2018 and beyond will bring…
Brad Lord
Instagram: speedhunters_brad
brad@speedhunters.com