It's Never Won, Until It's Won
By now, you'll already know the result. Some will say it was inevitable, but there are no guarantees in motorsport.
In the days before the final round of the 2017 Formula Drift championship, there was never talk of when James Deane would take his first championship, but only if. 
After Texas, it was widely understood that James would only have to complete a single lap of the course during qualifying to be crowned champion, such was his point advantage over his nearest rival, Fredric Aasbø. However, just days before the event officially kicked off, Formula Drift announced that to receive points for the Top 32, and thus win the title, James would have to cross the start line at the Top 32 stage of the competition.
It was a small change, but one that added more opportunities for things to go wrong.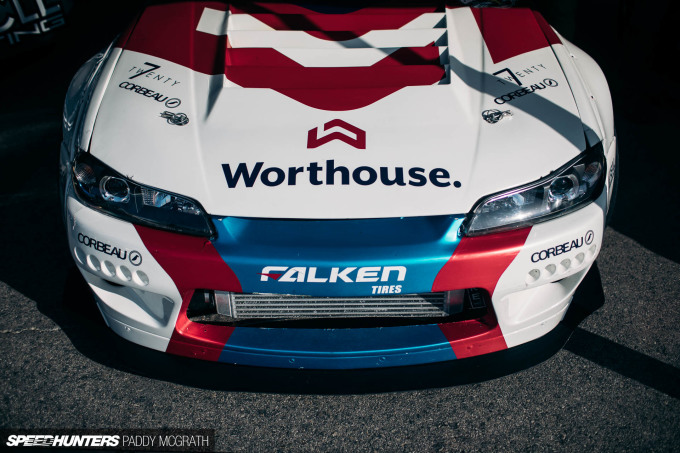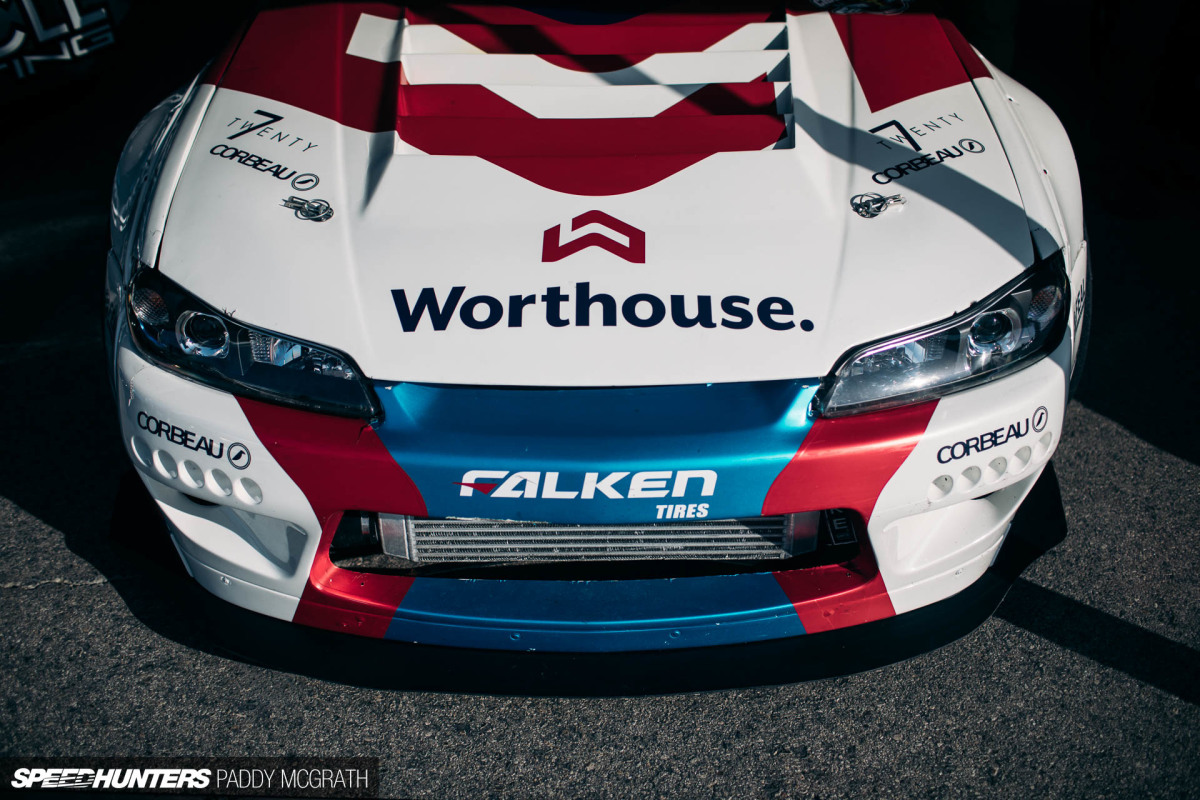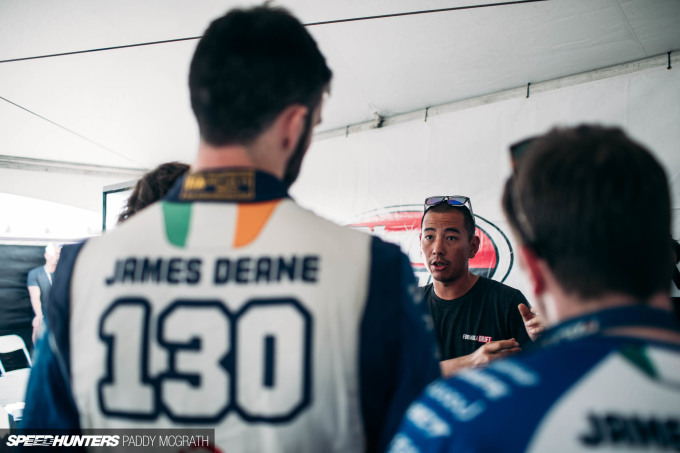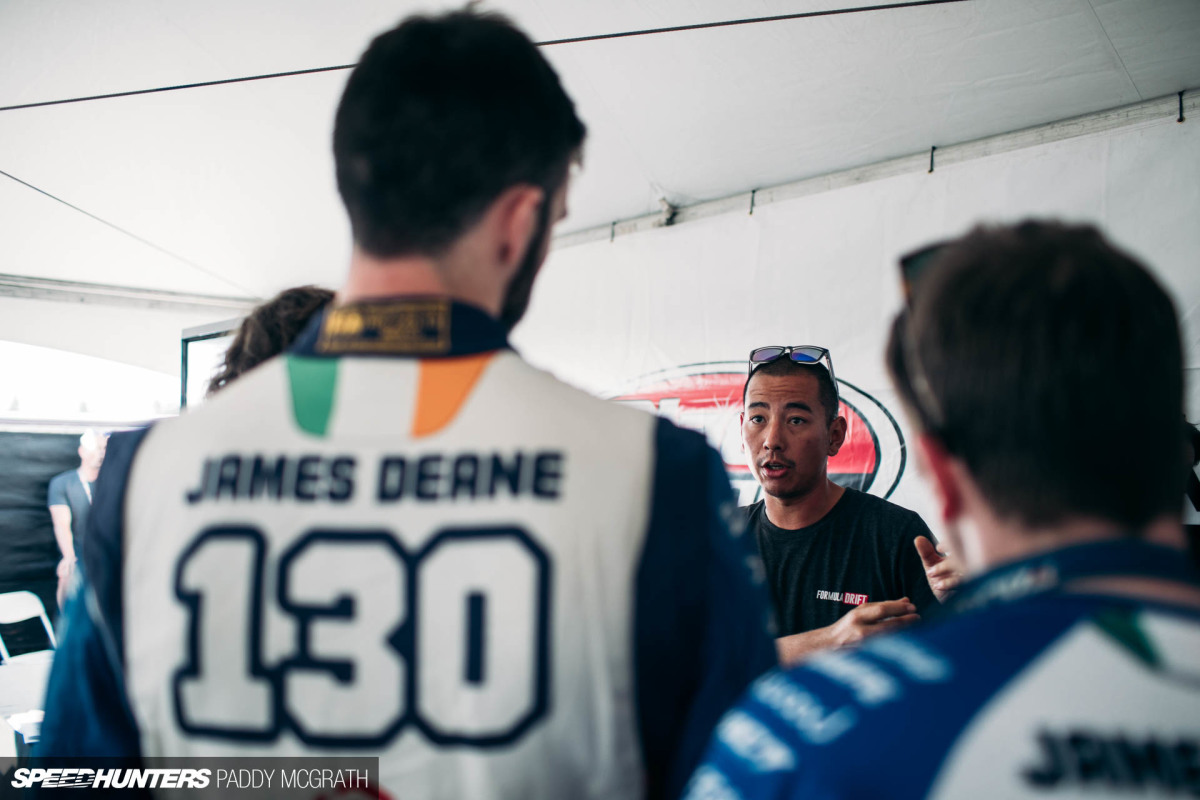 If all he had to do was the bare minimum, you would be forgiven for thinking that James would park up his S15 for the weekend, roll it out for qualifying and just drive off the start line in Top 32 to take the title. But that's not the James Deane way and the bare minimum was never on the agenda.
Right from drivers' briefing, Irwindale was being treated like every other event this year with the same goal in mind: winning.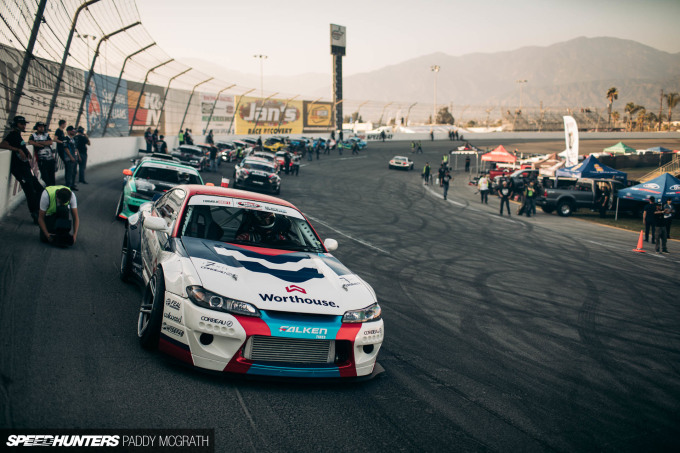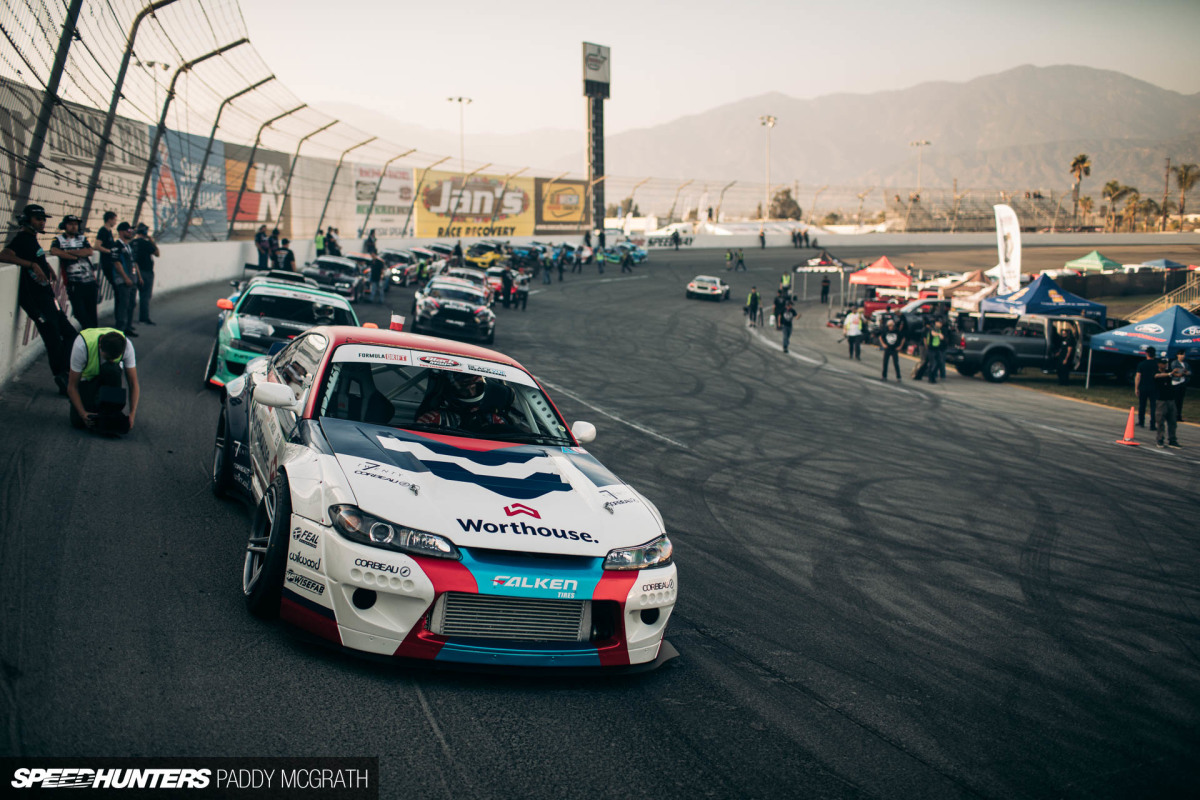 The same plan was in place for James' teammate, Piotr Więcek. The multiple Polish champion has had a baptism of fire in his first Formula Drift season, and we've only seen glimpses of what he's truly capable of throughout it. Still, he was on course to take an easy Rookie of the Year win amongst a thoroughly competitive field of drivers.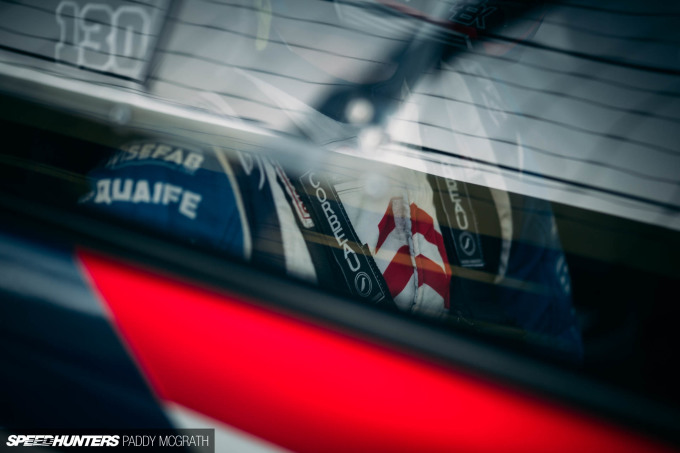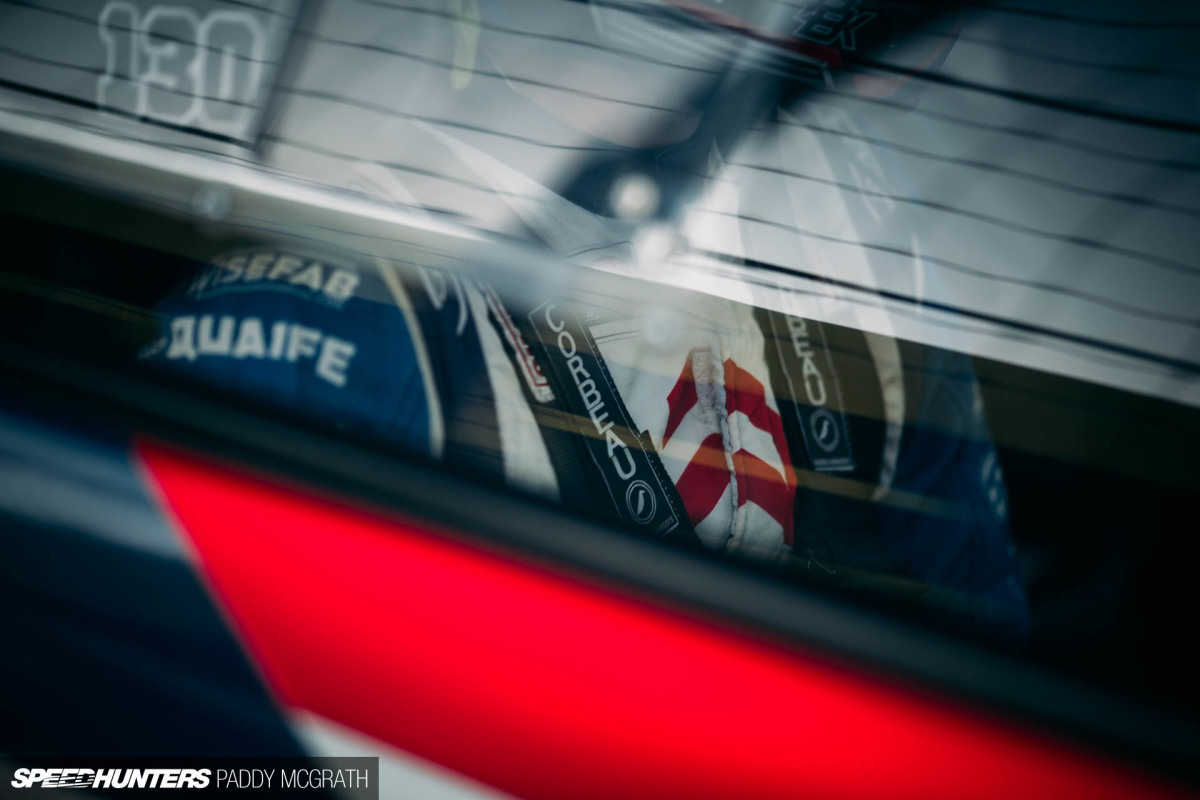 There wasn't much time for small talk in advance of the event, as we took the two S15s aside for a long overdue photoshoot before practice kicked off. Both drivers are always keen to get as much track time as possible, despite the possibility that the more track time you have, the more you run the risk of something going wrong.
As James waited on the line for his first run of the weekend, there was a reminder that the Machine is still human. Beneath his harnesses, his chest quickly rose and fell under heavy breathing. No one was more aware of what was at stake than him.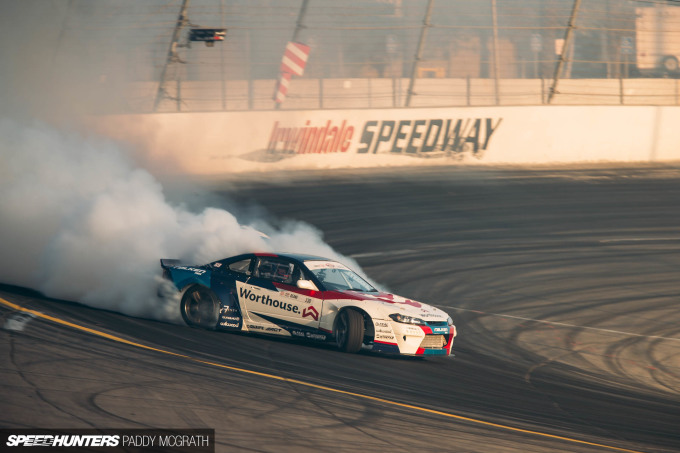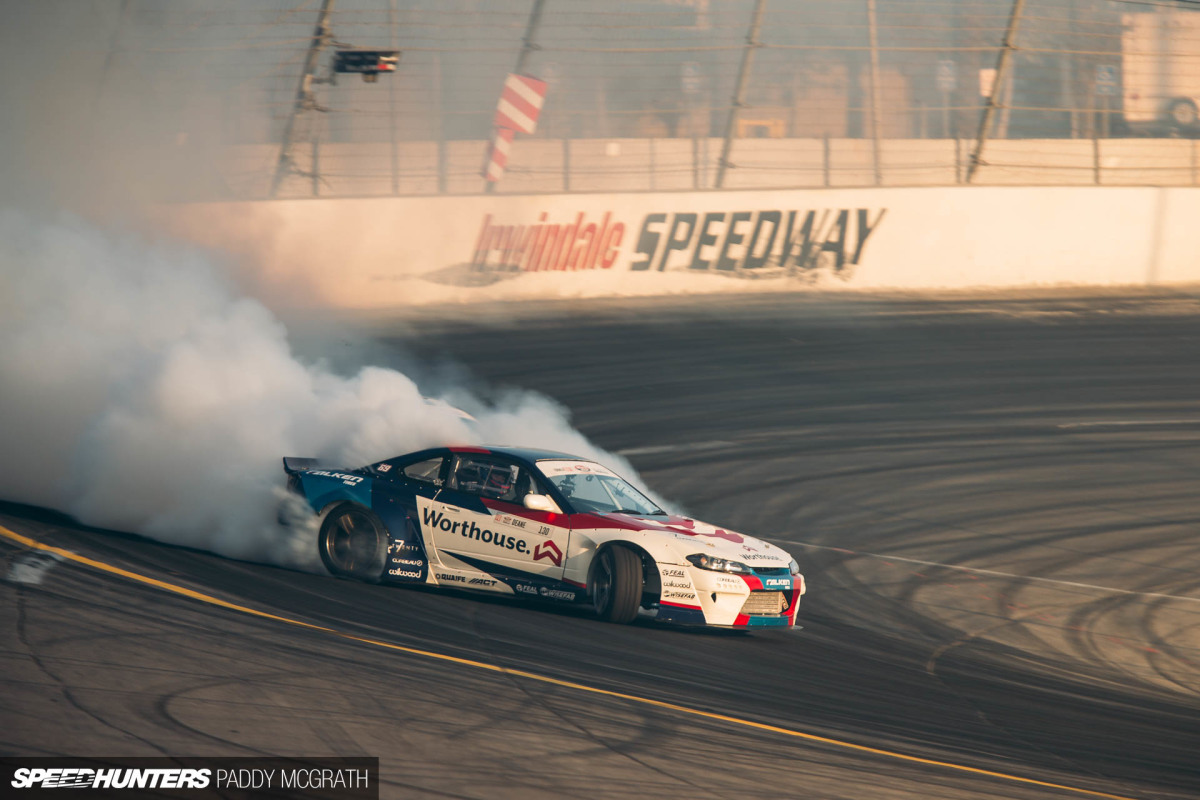 There was nothing out of the ordinary for his first run, which was a calm completion of the course.
With that safely out of the way, James wanted to make immediate changes to the car. Even with a huge four-hour practice session on the Thursday evening, every run was vital. A different final drive ratio was installed, and Worthouse's chief mechanic, Grzegorz 'Gelo' Chmielowiec, checked over the car's vitals.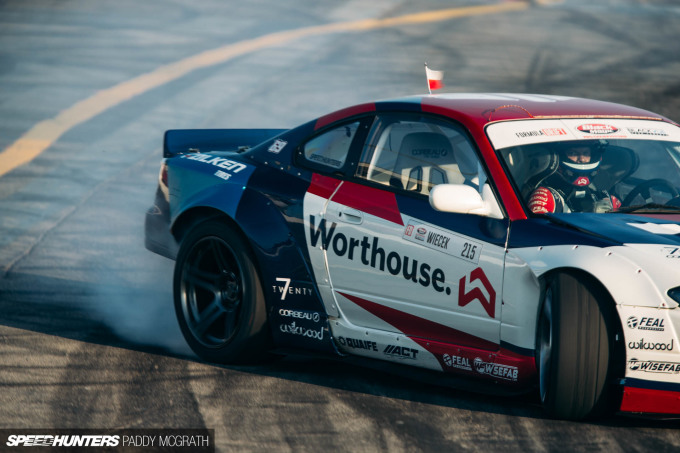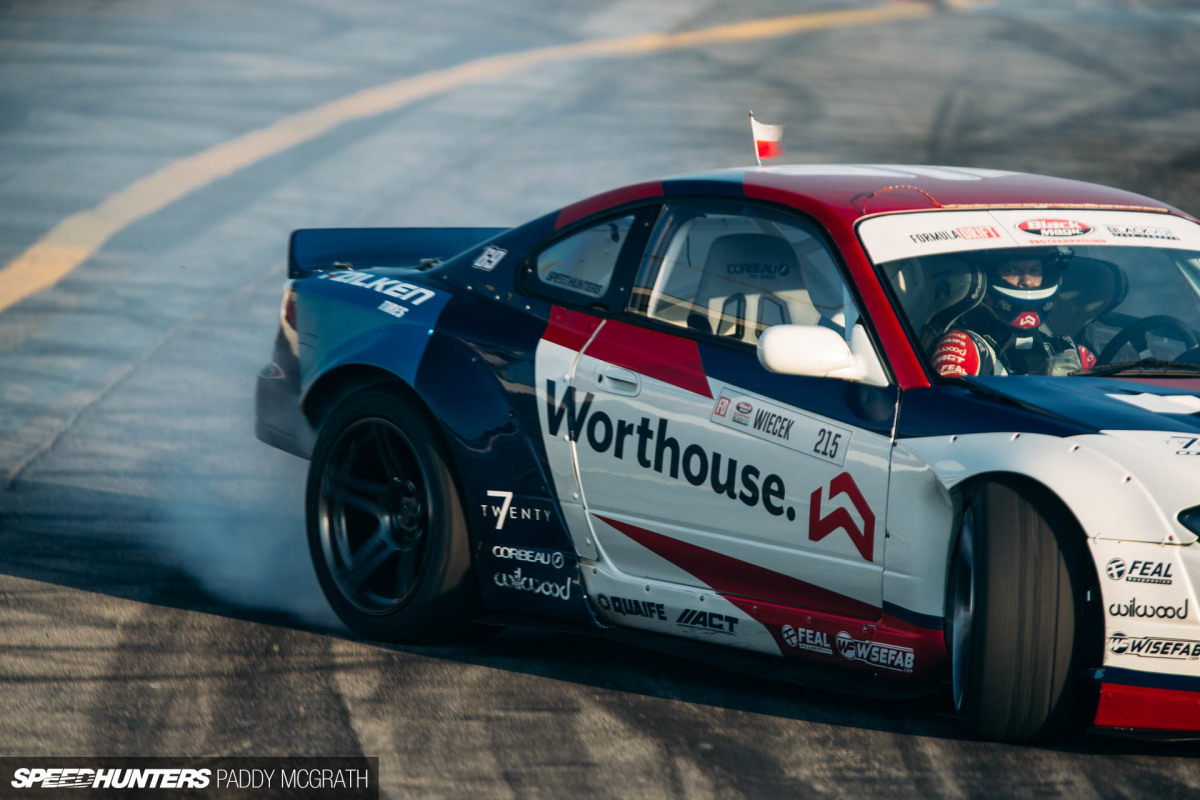 What was most impressive, was how quickly Piotr took to the track. This was his first time ever driving at Irwindale Speedway, but you wouldn't have known it. His commitment and speed out of the gate was frightening.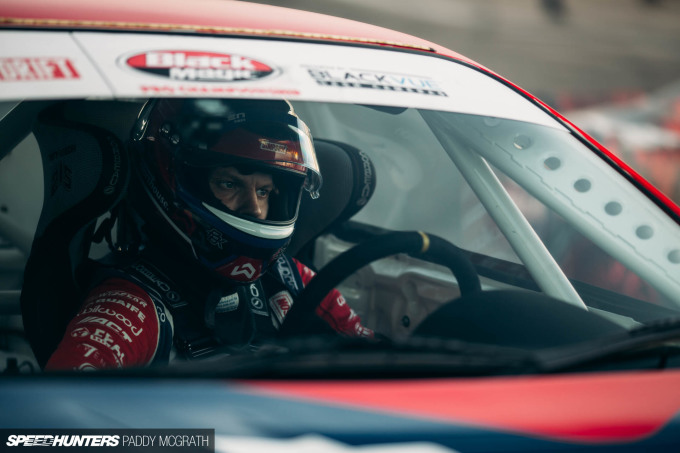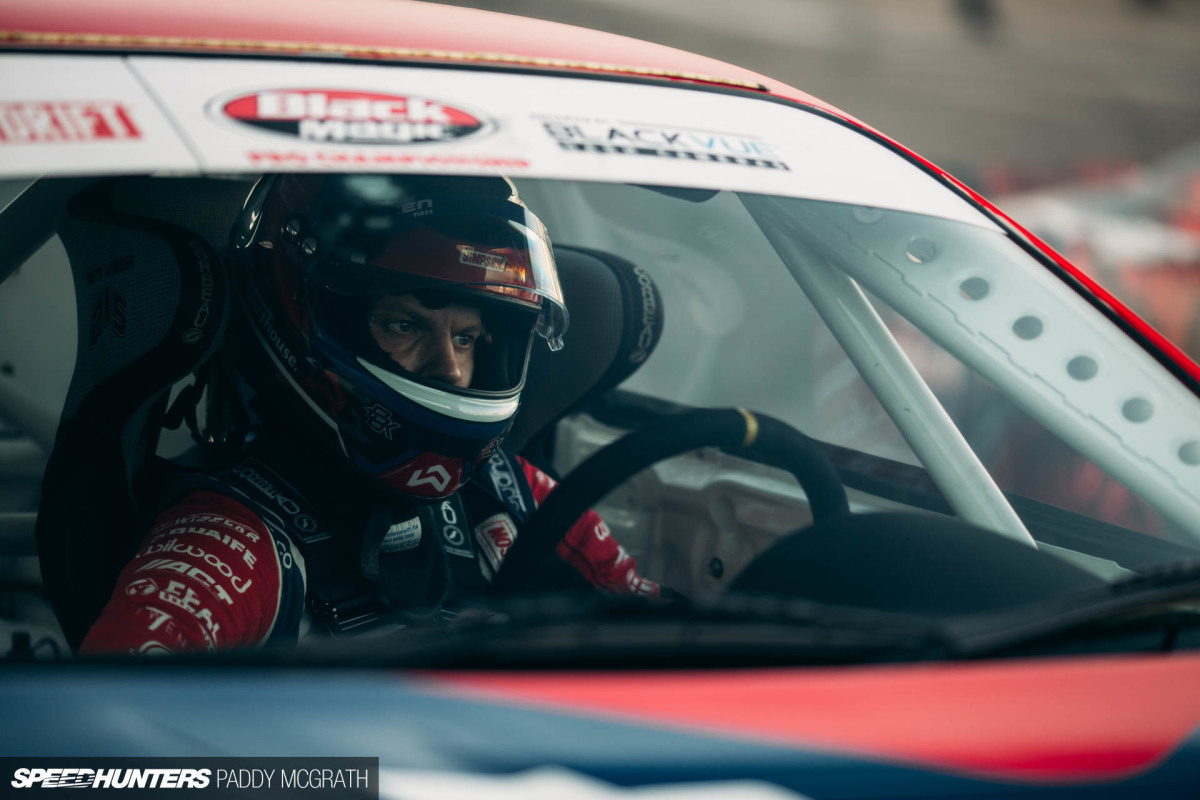 More than one driver remarked to me how Piotr was comfortably the fastest driver on course over the whole weekend. Things seemed to be finally falling into place for him.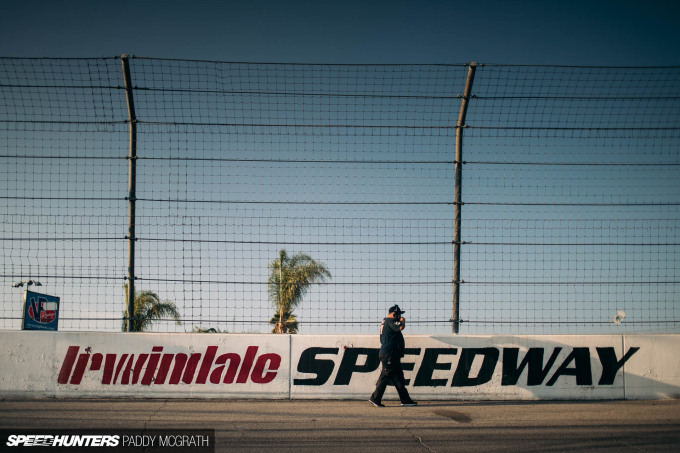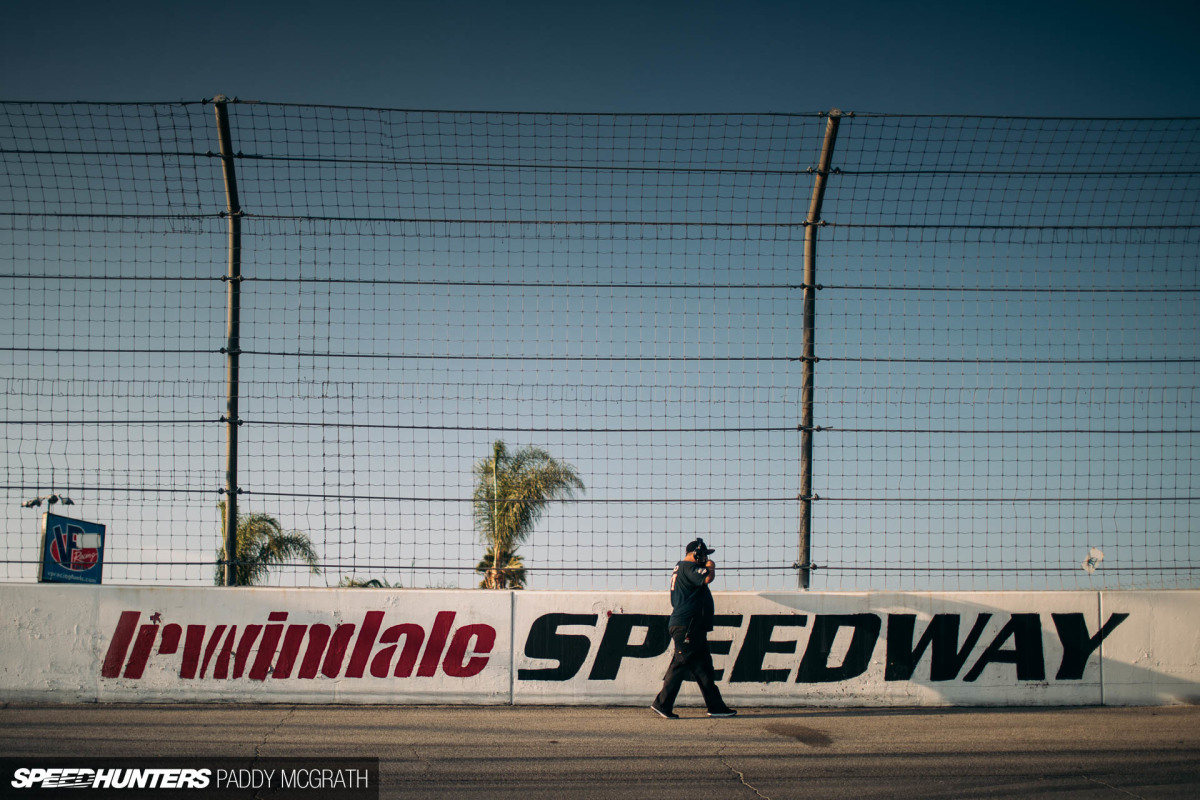 Irwindale itself is a special venue, and while I'm grateful I got to shoot here before it closes down in January, it's still a real shame that it's going to be no more. Imagine if Ebisu was to close, because it's on the same scale.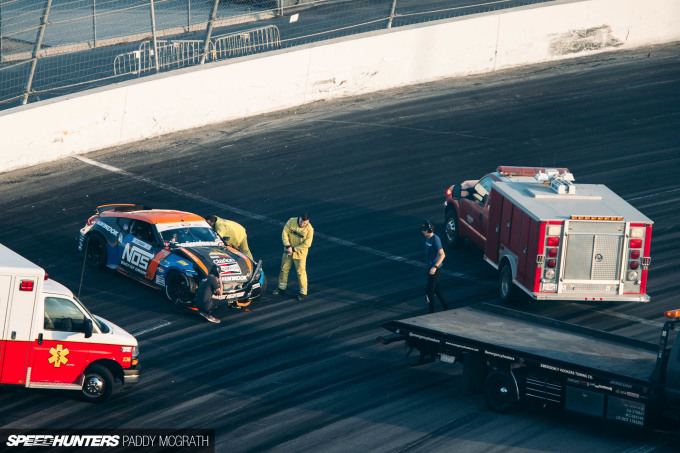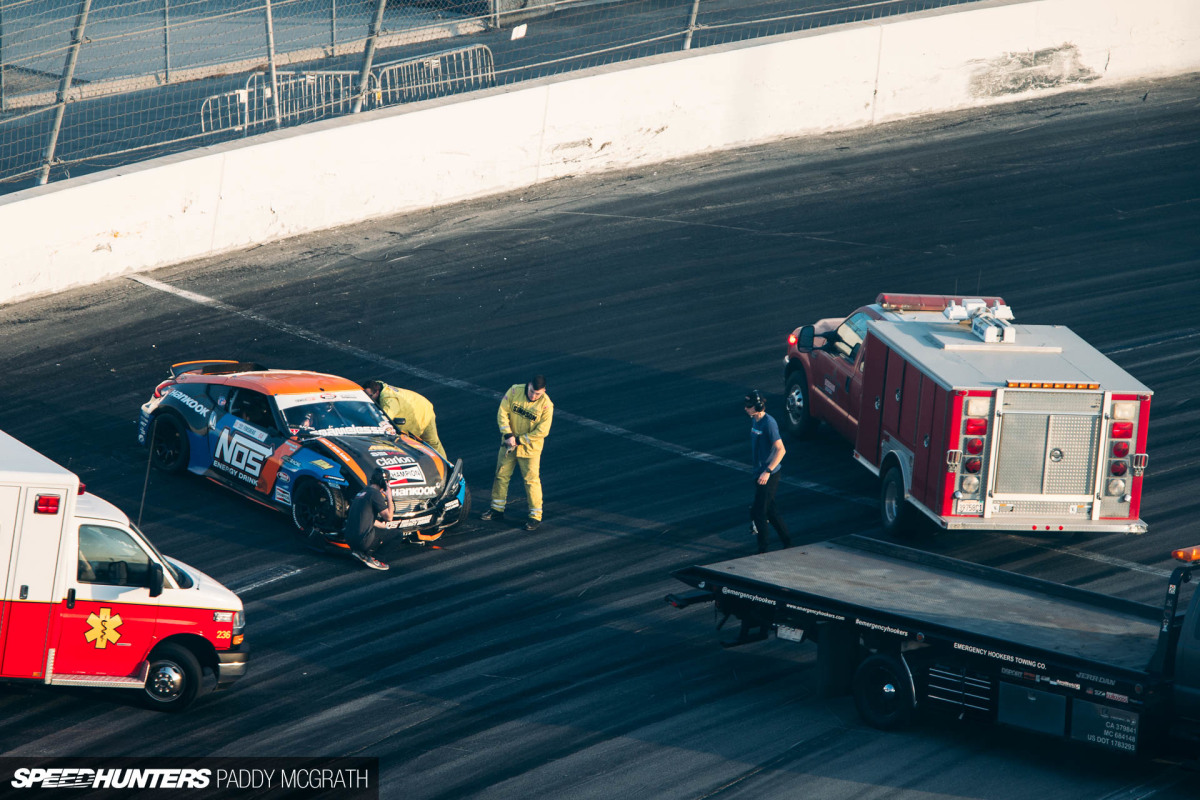 Irwindale is unforgiving, too. There's no room for error and the length of the course was absolute murder on cars that were already coming off the back of a long season. The surprise of the weekend was Chris Forsberg's crash in practice, where the car just seemed to grip up and launch him head first into the wall. The damage was repairable, but the incident served as a reminder that if it can happen to the most successful driver on the grid, it can happen to anyone.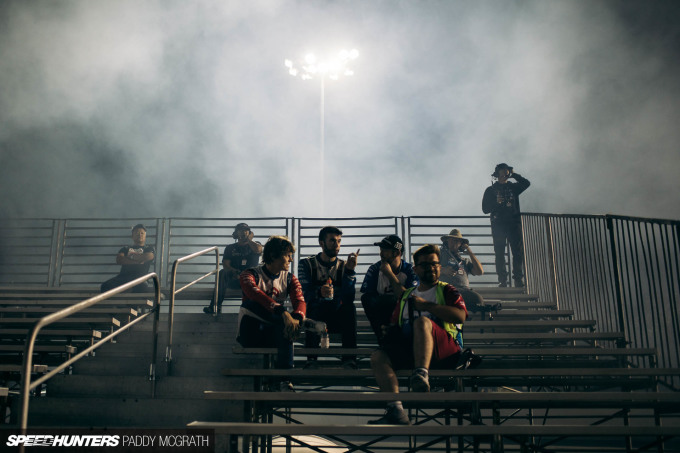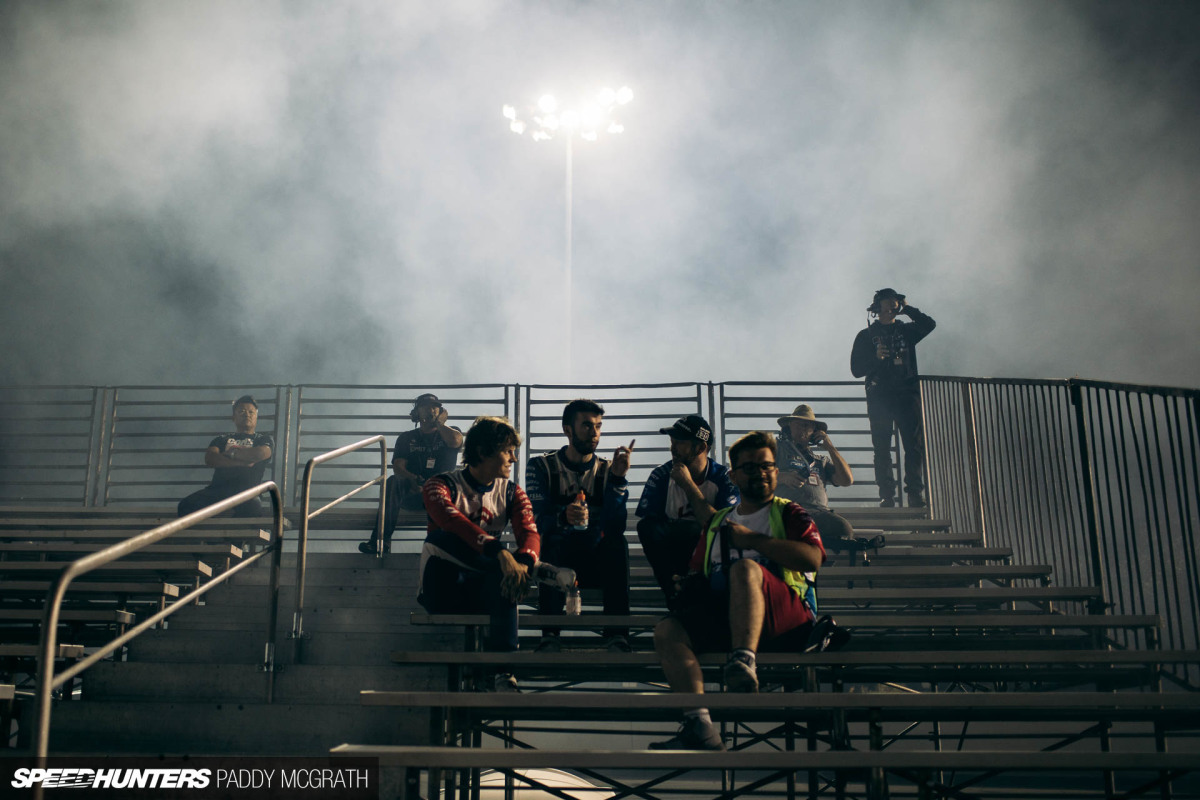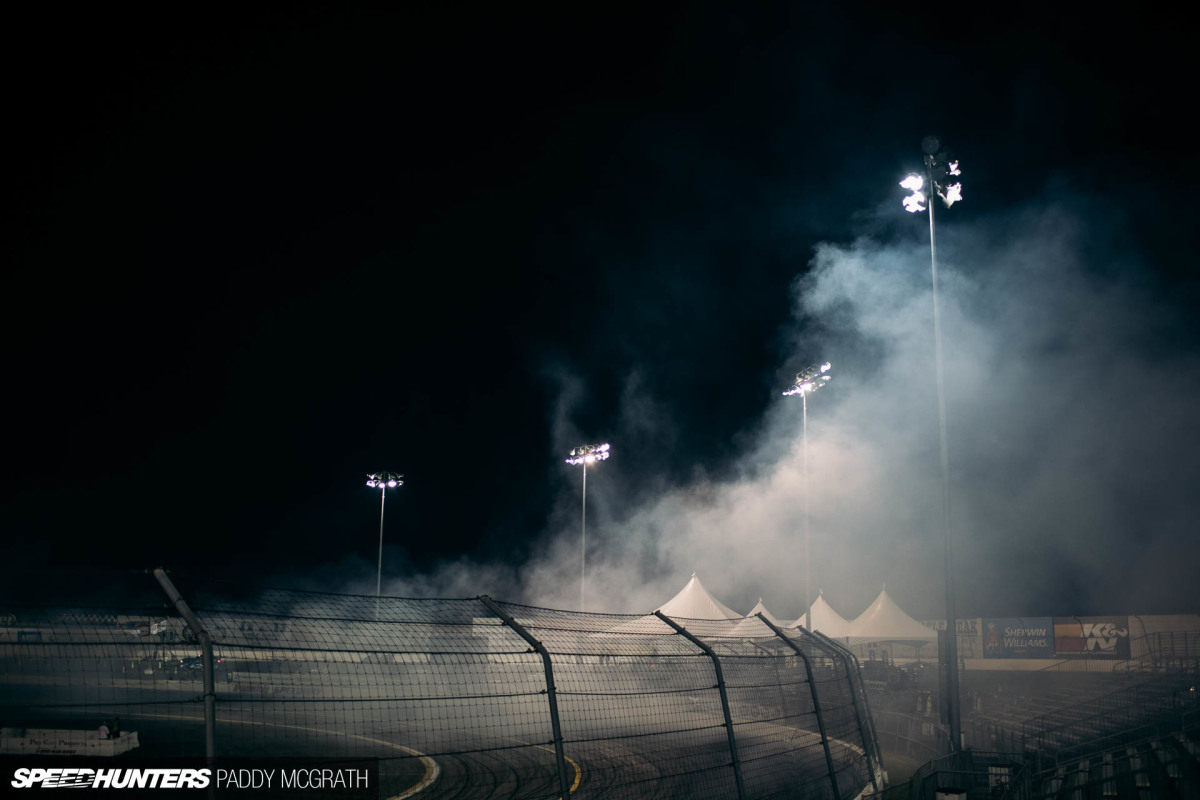 It's also an ever-changing course. As night fell and ambient temperatures dropped, the track began to grip up.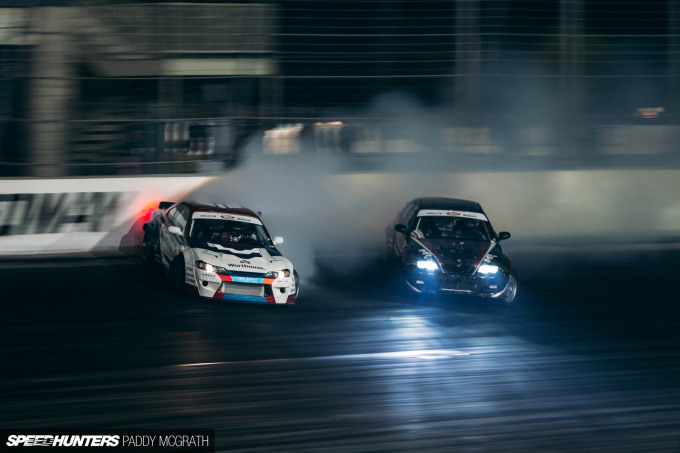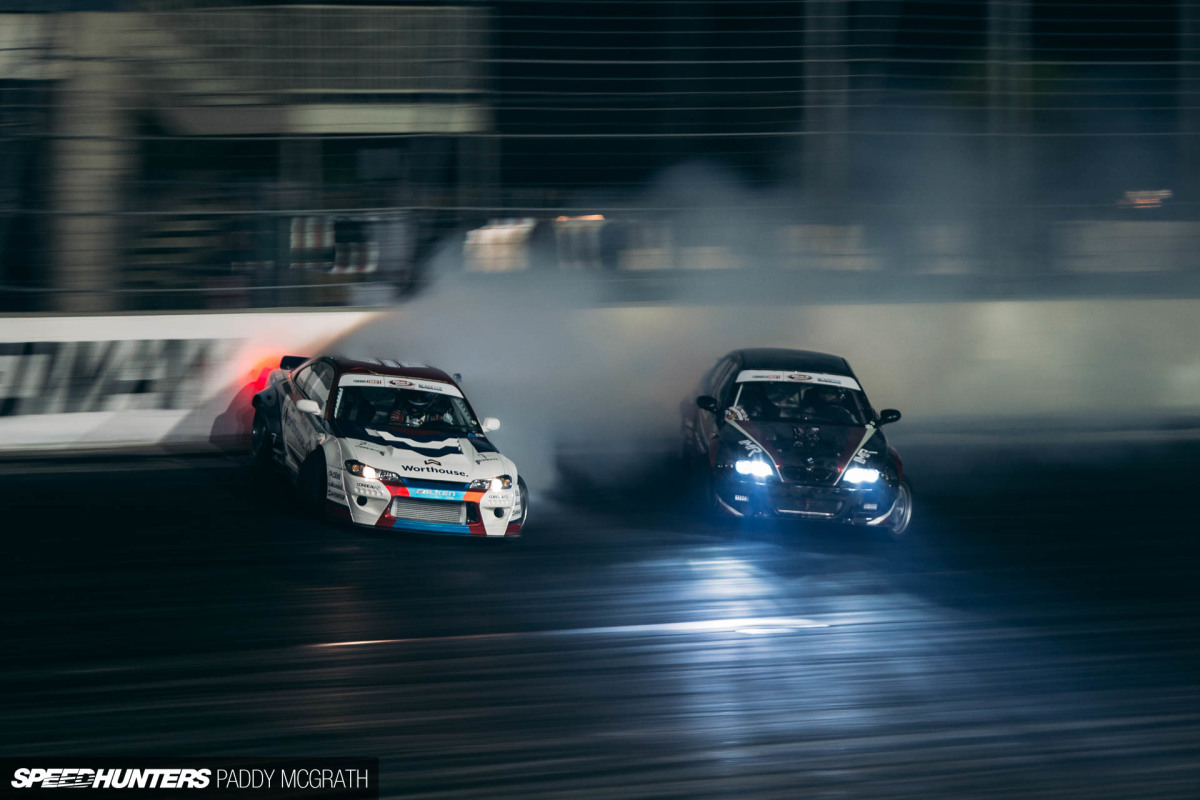 Running that high line on the outer bank became more and more difficult, requiring full commitment and maximum throttle. Any hint of hesitation would see a driver struggle to make it up to the wall.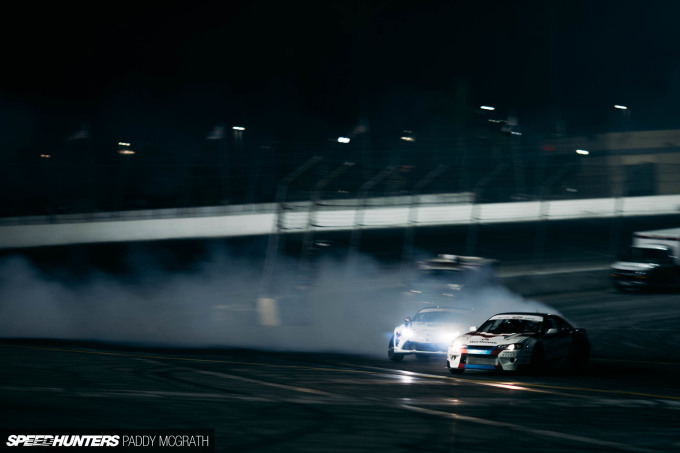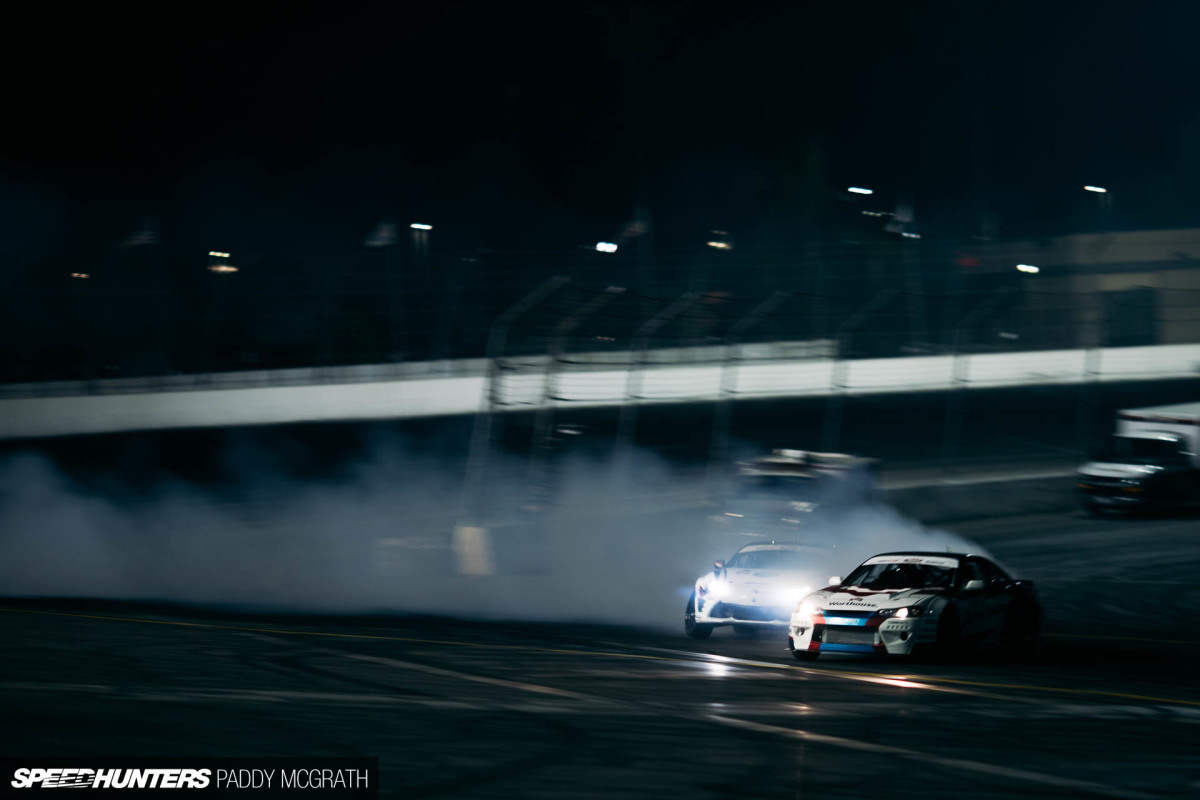 As the cars came off the bank and past the first inner clip in front of the grandstand, they continued to stay on full throttle before transitioning back into the inside bank.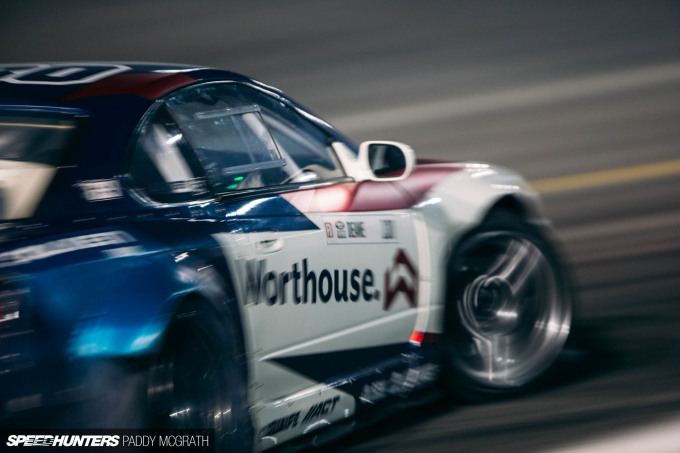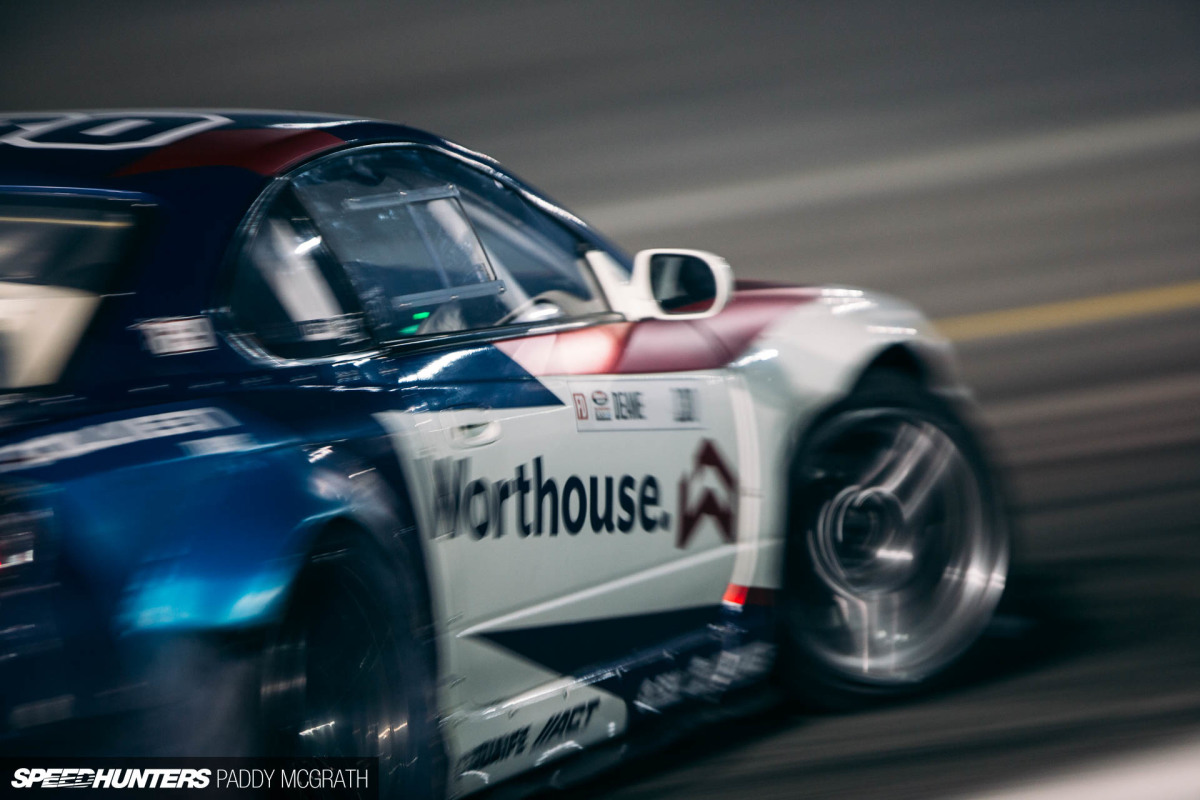 For me, this was the most impressive/terrifying part of the course. With a front-row seat in the media box, the cars were literally feet away as they headed towards the wall-lined sweeping left-hander at 80+mph. Every time drivers transitioned, you'd think that there was no hope that they could get their cars slowed down enough in time.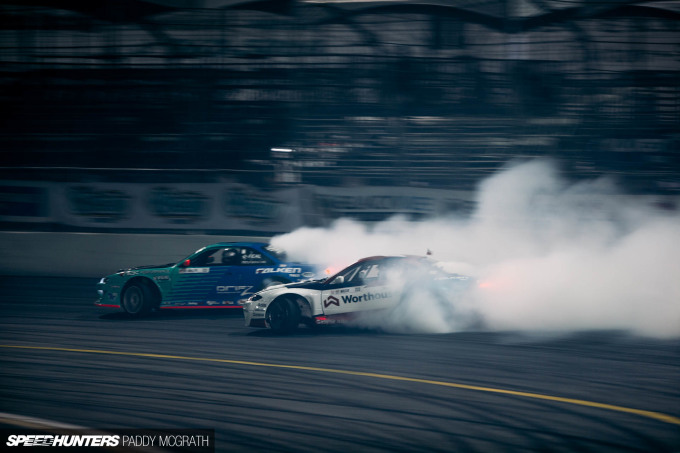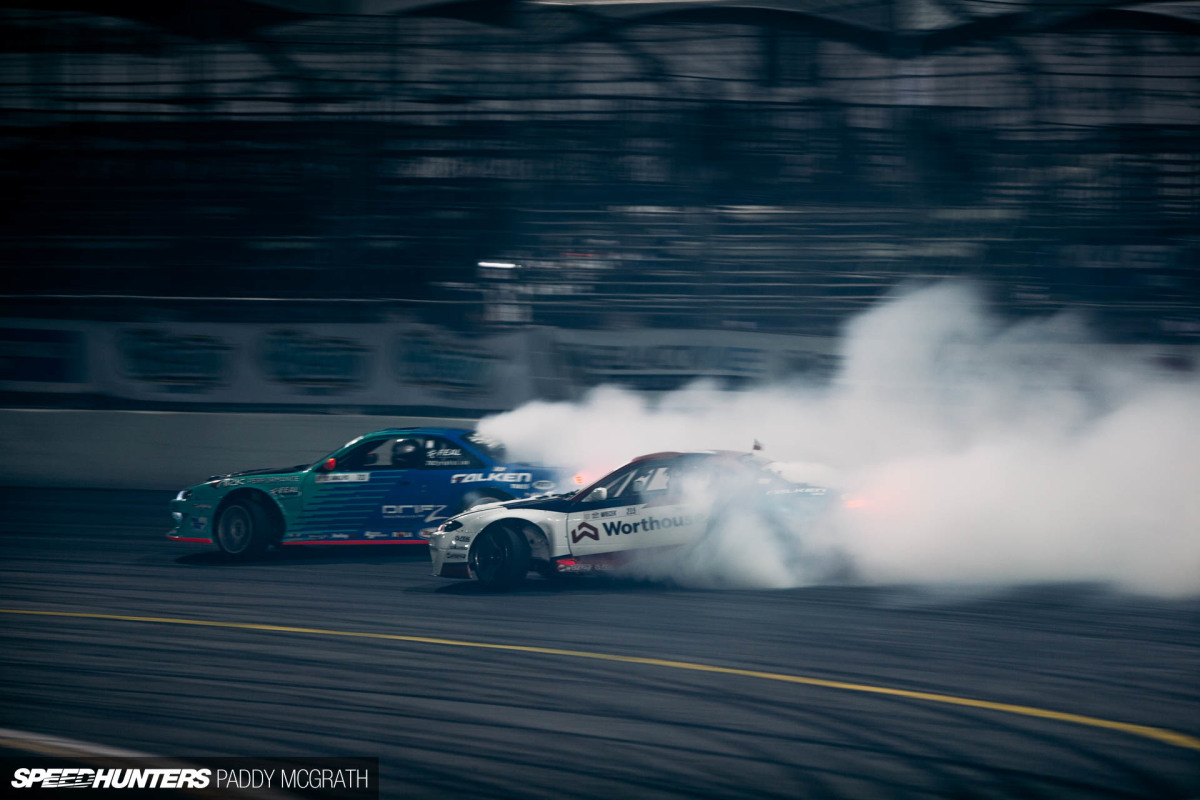 But somehow they would, continuing their momentum all the way across the finish line. Looking back at the livestream, it doesn't appear nearly as fast as it does in person, which is a shame. It was a proper sight to behold.
At the end of the day, both cars returned to the pits unscathed, with two very happy drivers. For James, it was one step closer to his championship. For Piotr, it was a huge confidence boost heading into qualifying the next day.
It was the perfect start to what would be the perfect weekend.
Moving Goalposts
Friday should have been the day that James Deane was crowned Formula Drift champion.
Instead, it was another day of competition with any number of opportunities for things to go catastrophically wrong. James might not have said it out loud, but I'm sure that every possible scenario would have gone through his mind during his night's sleep.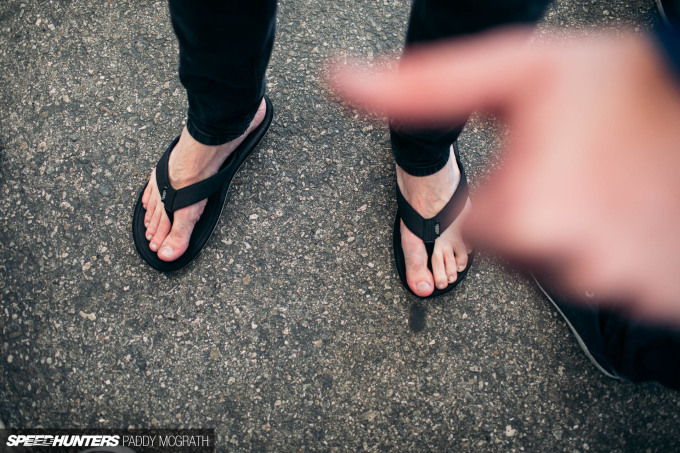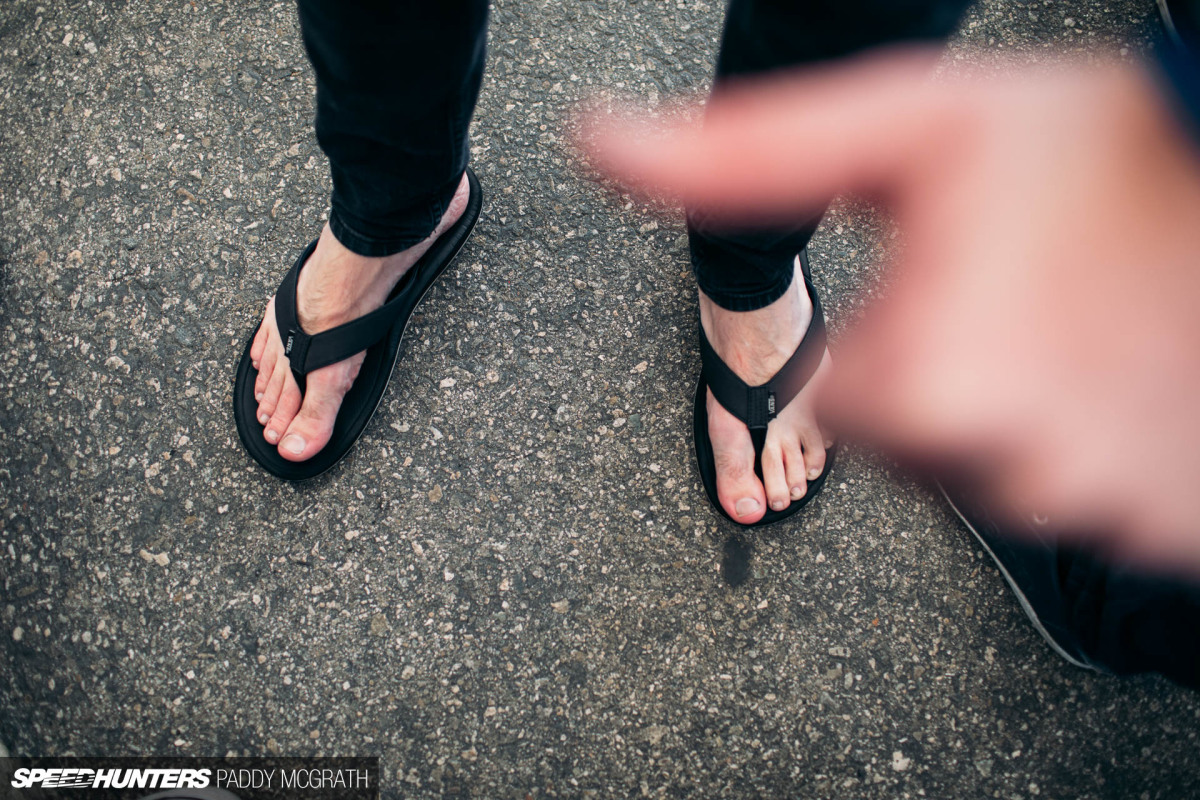 It doesn't excuse his choice of footwear, however.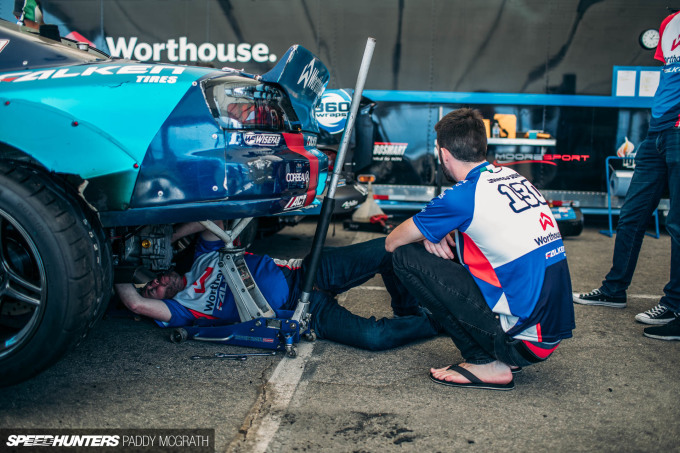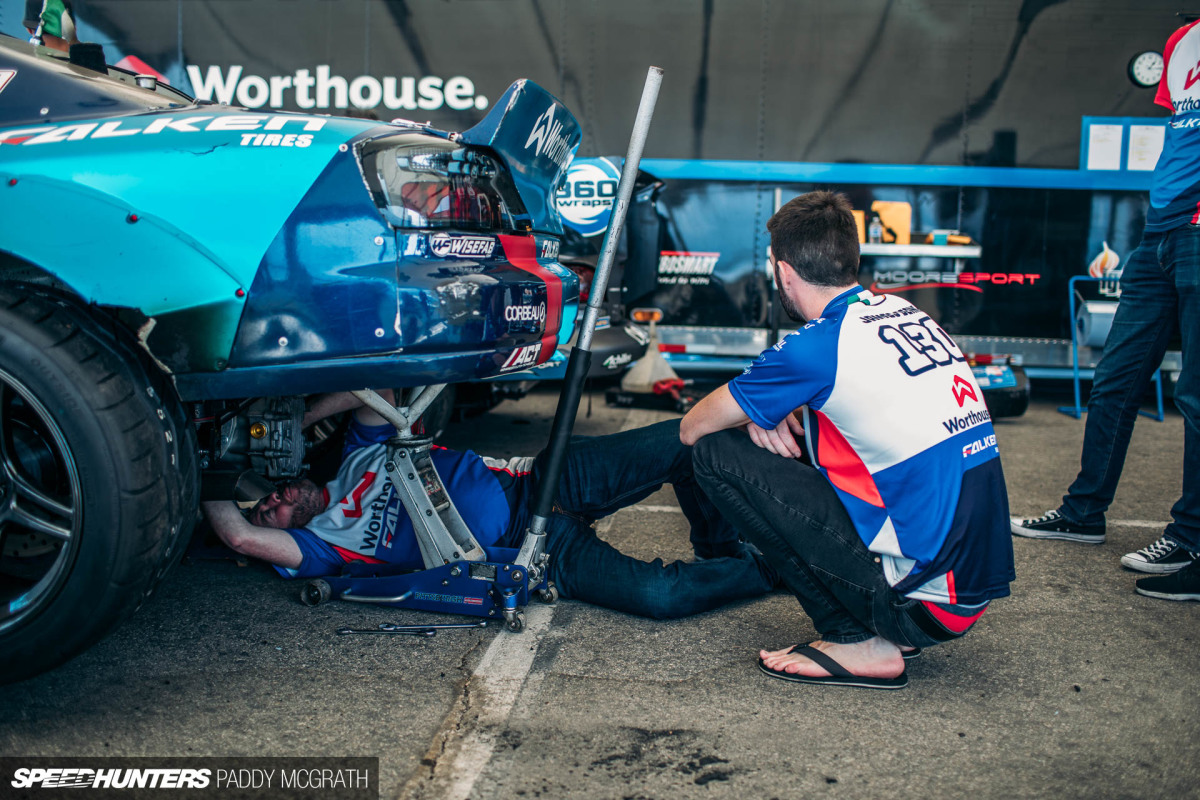 In saying that, there was serious positive vibes around the Worthouse pit on Friday morning. Of course, there was plenty of business to attend to, including a full spanner check and alignment on both cars. Nothing would be left to chance.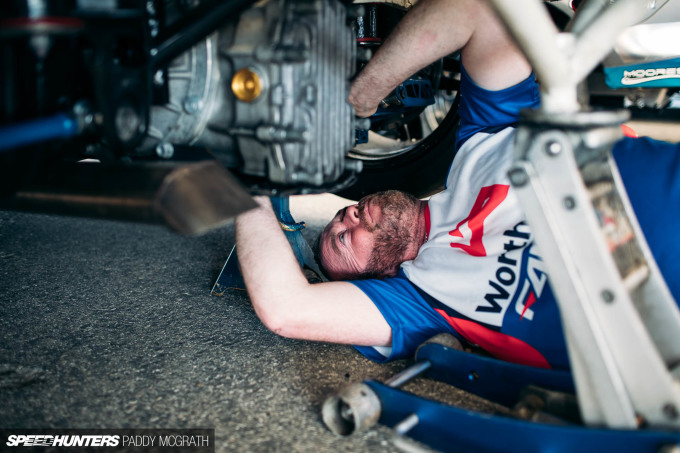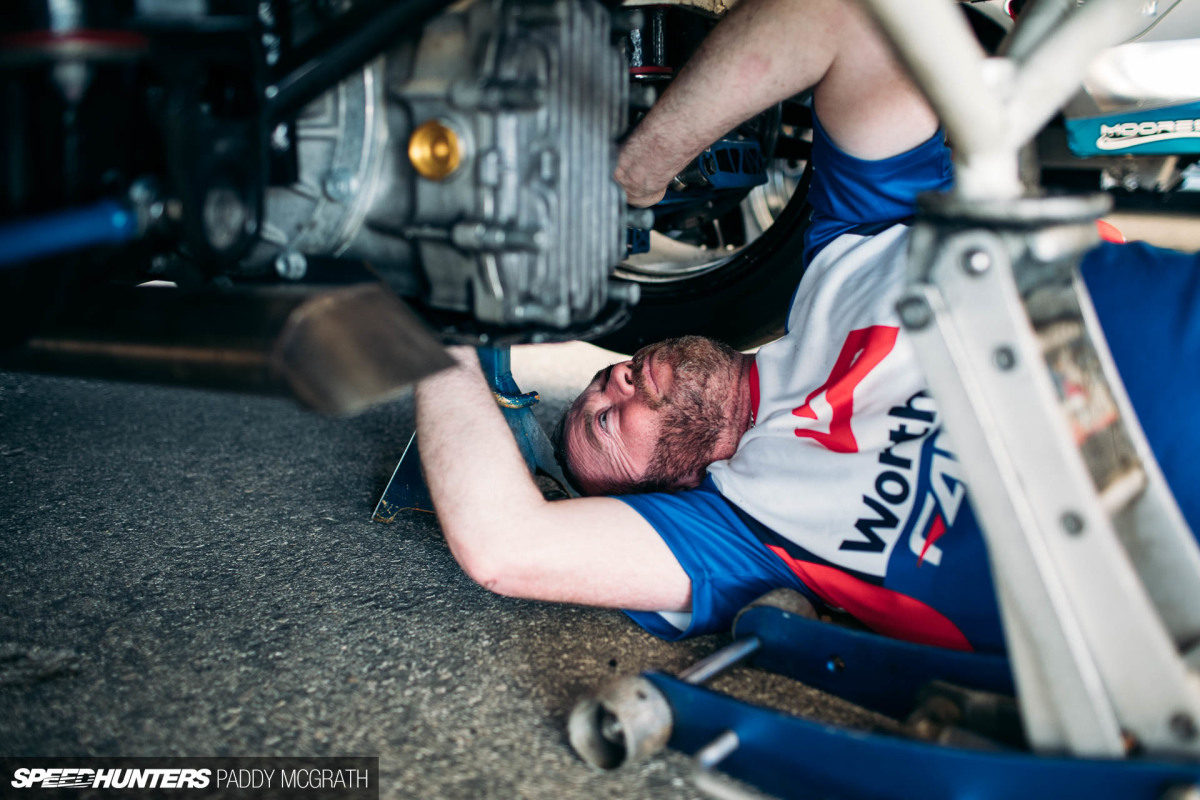 What would prove a huge boost to James was the presence of one of his older brothers. Mike Deane, himself a former Irish drift champion, was on hand to take care of James' car over the weekend. James is lucky to have had a great (and award-winning) crew at his side all season, but there's a special bond between family that can't be surpassed.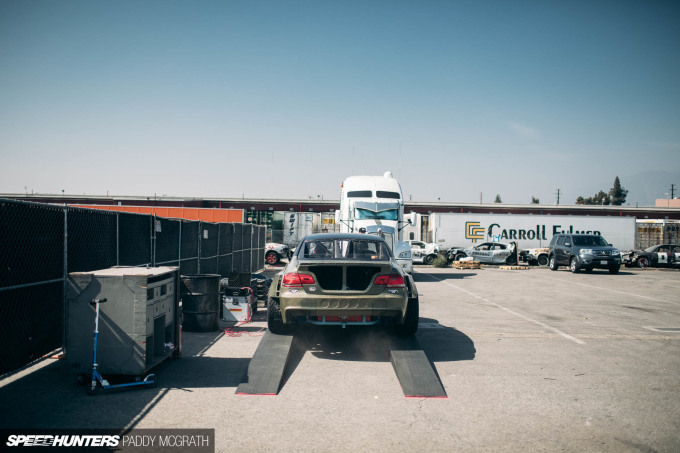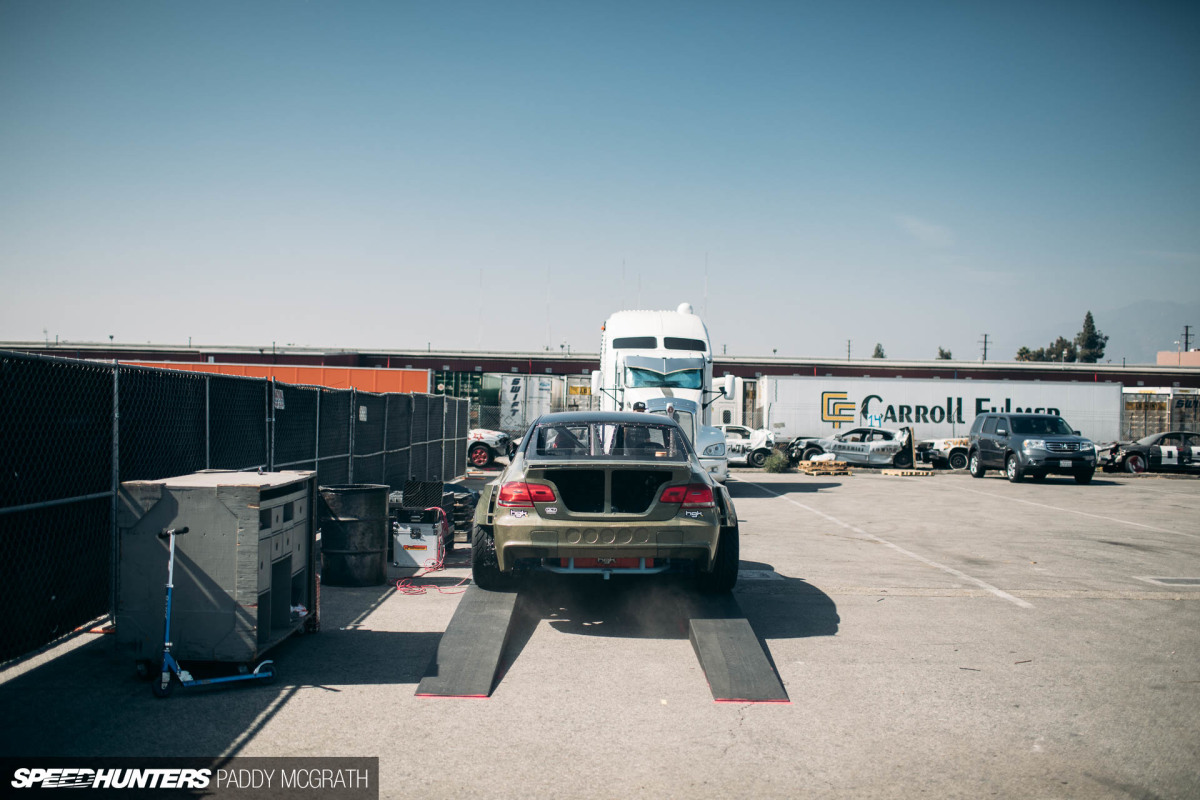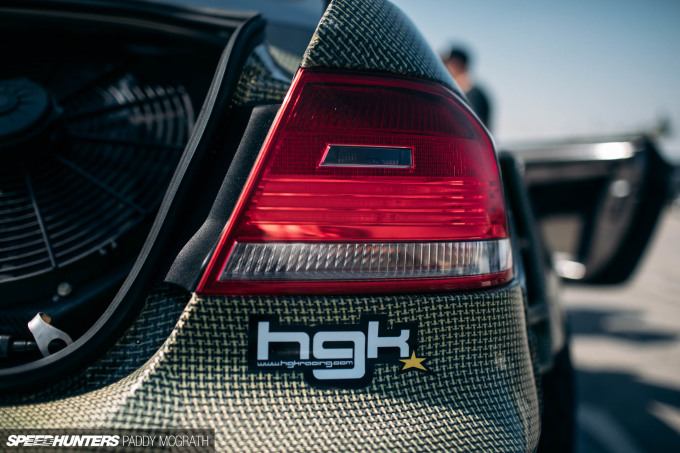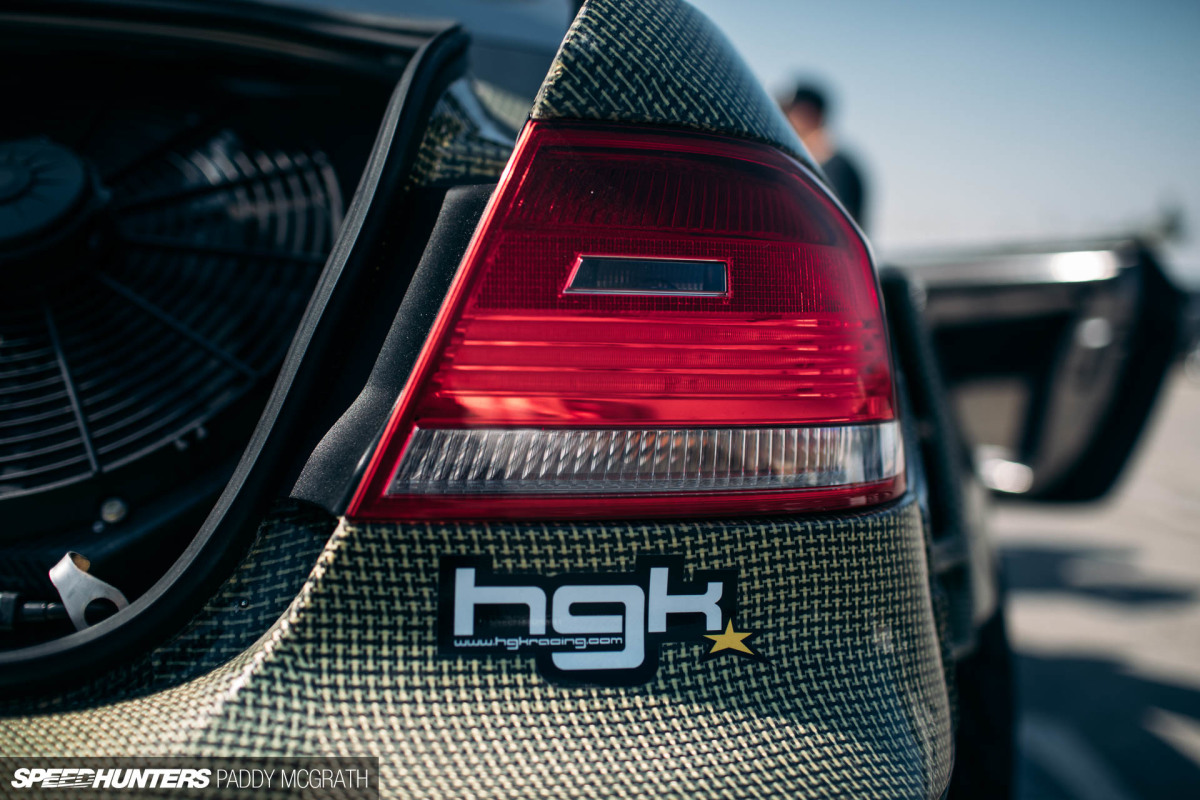 One of the major talking points of the weekend was not just the arrival of HGK's E92 'Eurofighter', but its immediate deployment into battle. After his E46 blew its motor on the dyno, Latvian Kristaps Bluss had no choice but to drive his new SEMA-ready car in competition for the first time. It's a breathtaking piece of art.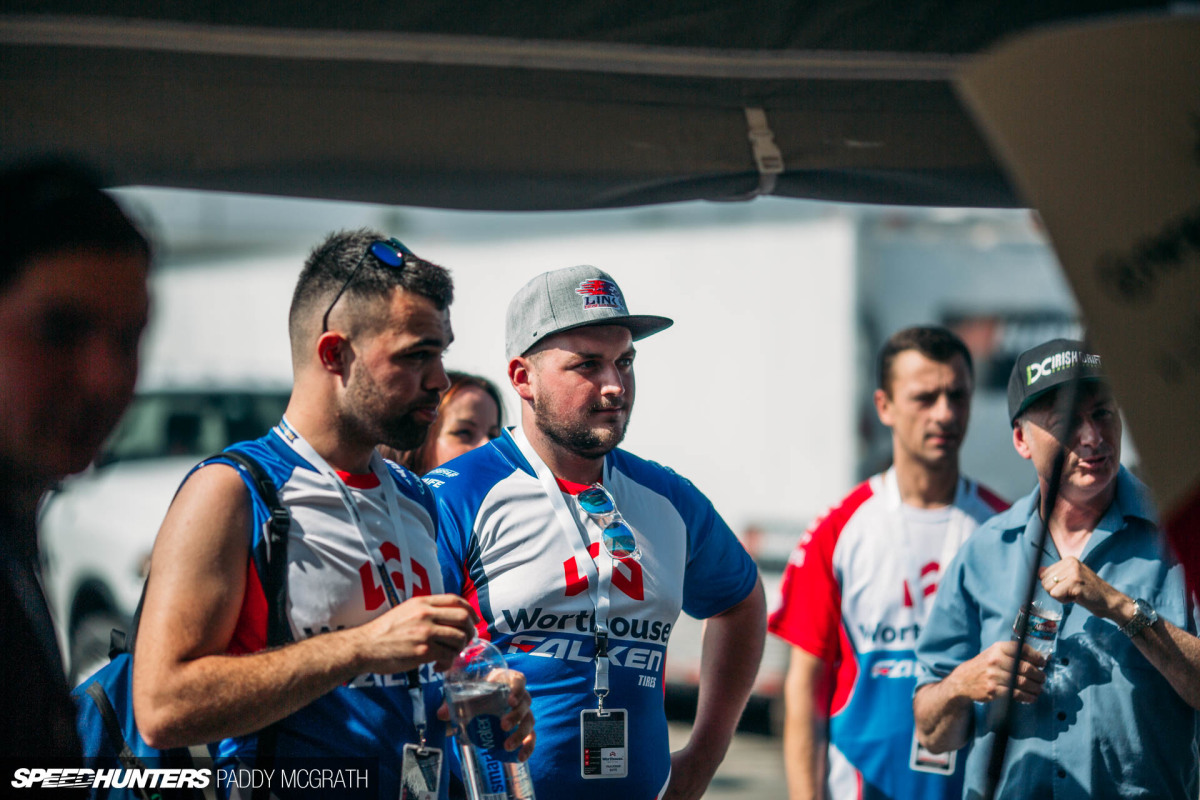 Friday would also see the arrival of the majority of travelling Irish supporters. An estimated 100 fans made the long-haul flight across the Atlantic to support James, including current and reigning Irish drift champion, Jack Shanahan.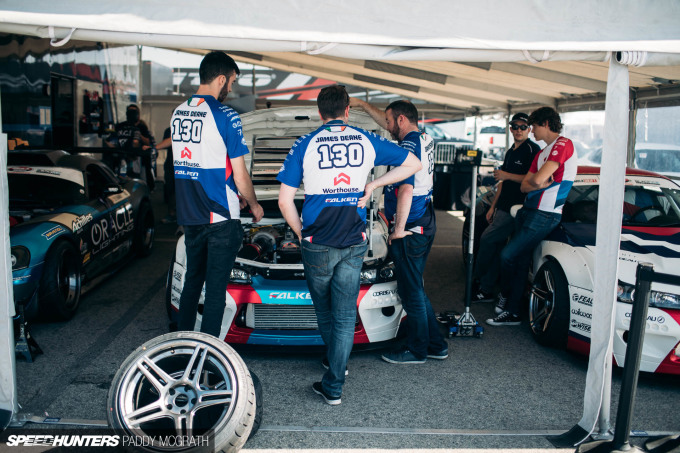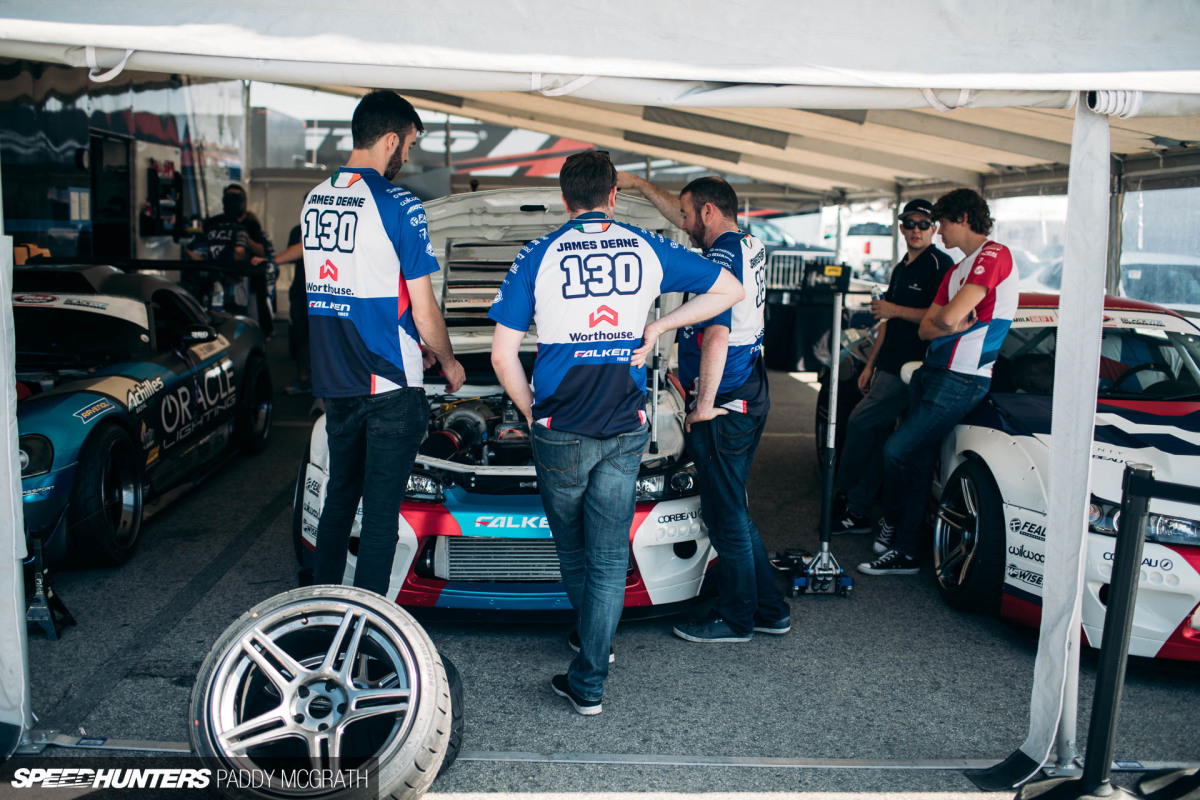 Considering how much was on the line, the atmosphere only improved throughout the morning and early afternoon. It was business as usual in the Worthouse pit, a place that has constantly impressed me throughout the season.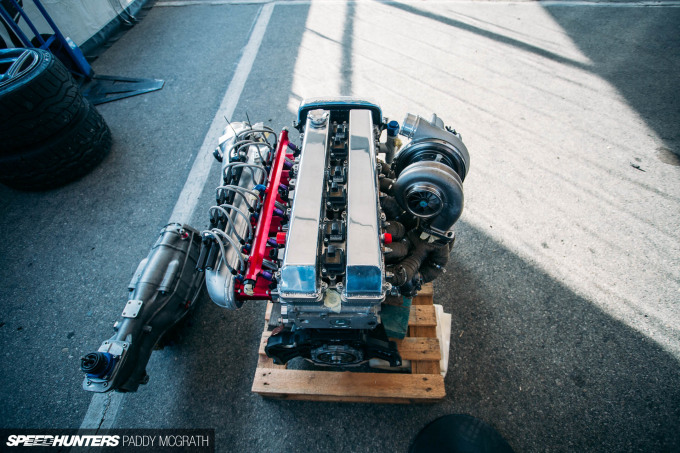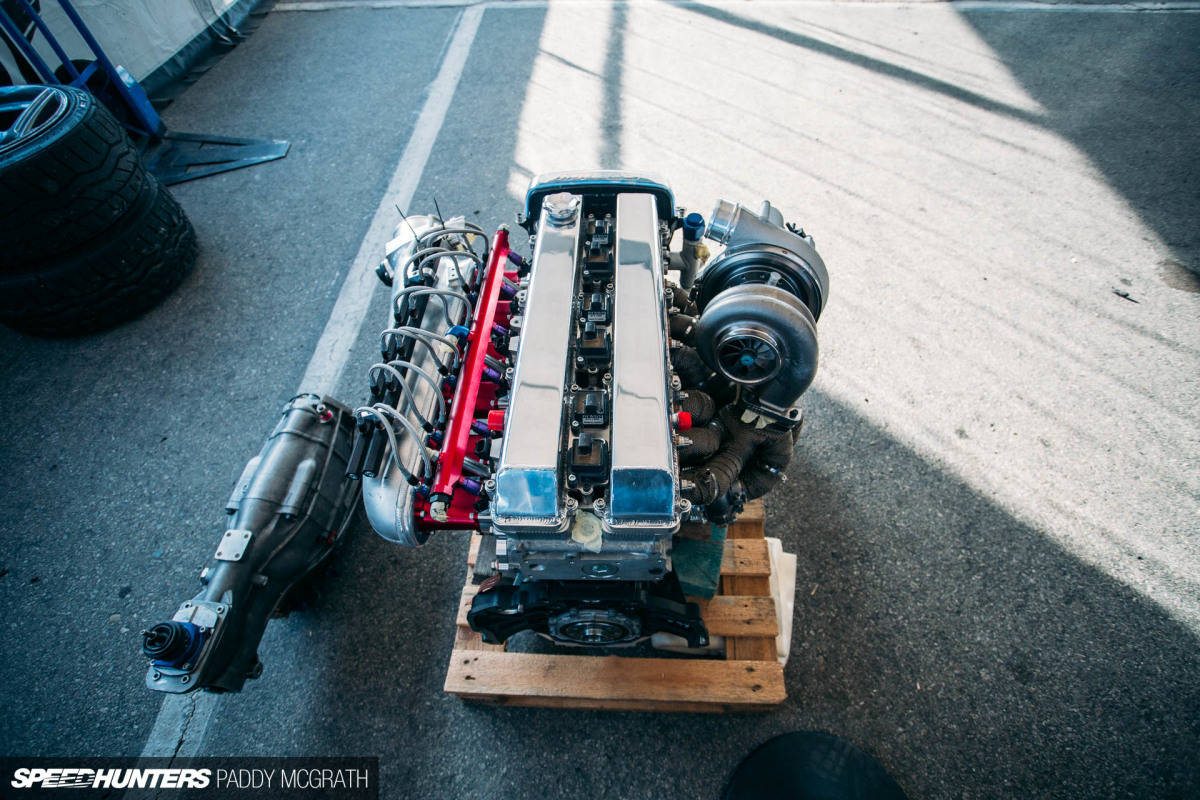 There were small reminders that this wasn't your typical weekend; a spare 2JZ motor and sequential gearbox were both on standby should they be needed. The crew estimated that they could perform a full motor swap in around two hours if it needed to happen.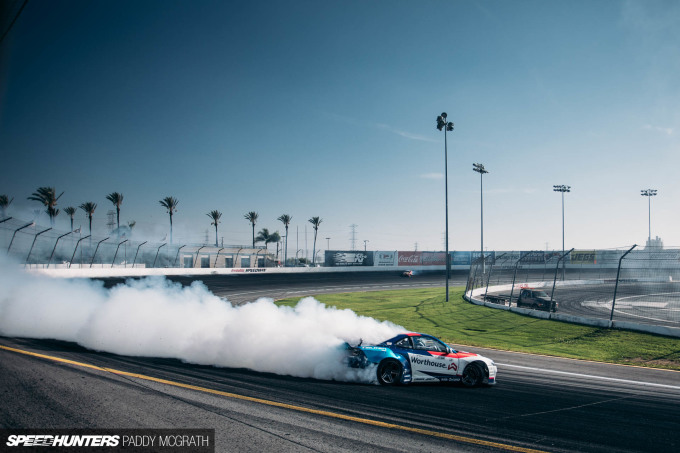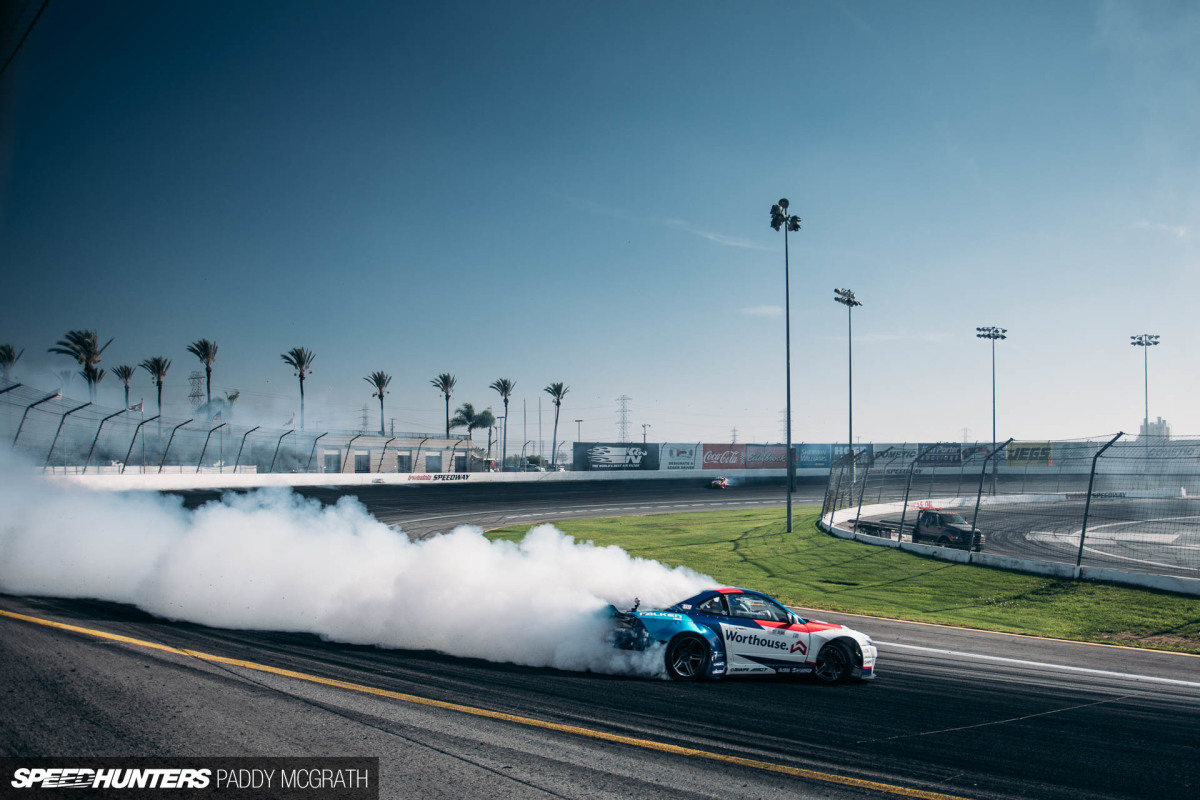 There was no shortage of practice available to the teams. James and Piotr both opted to take the vast majority of their practice runs as lead runs, in preparation for that evening's qualifying session.
I've always maintained that Aasbø and Deane are the best drifters in the world, and this season has only cemented that opinion. Their consistency and ability to drive to the limit repeatedly, sets them apart in a world of some great drivers. These two always seem to be able to find that extra 10 percent when needed.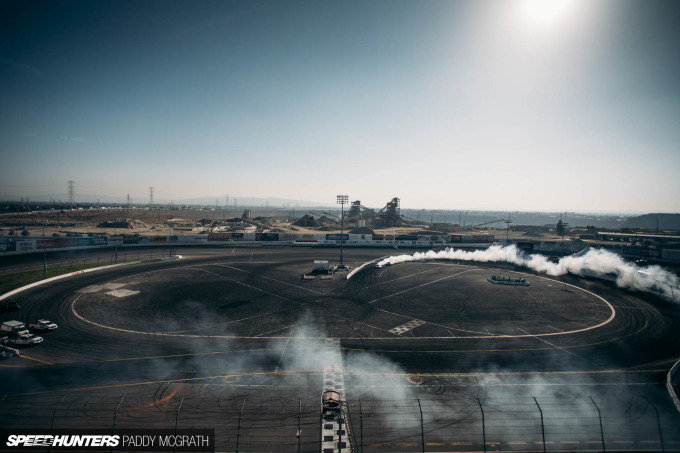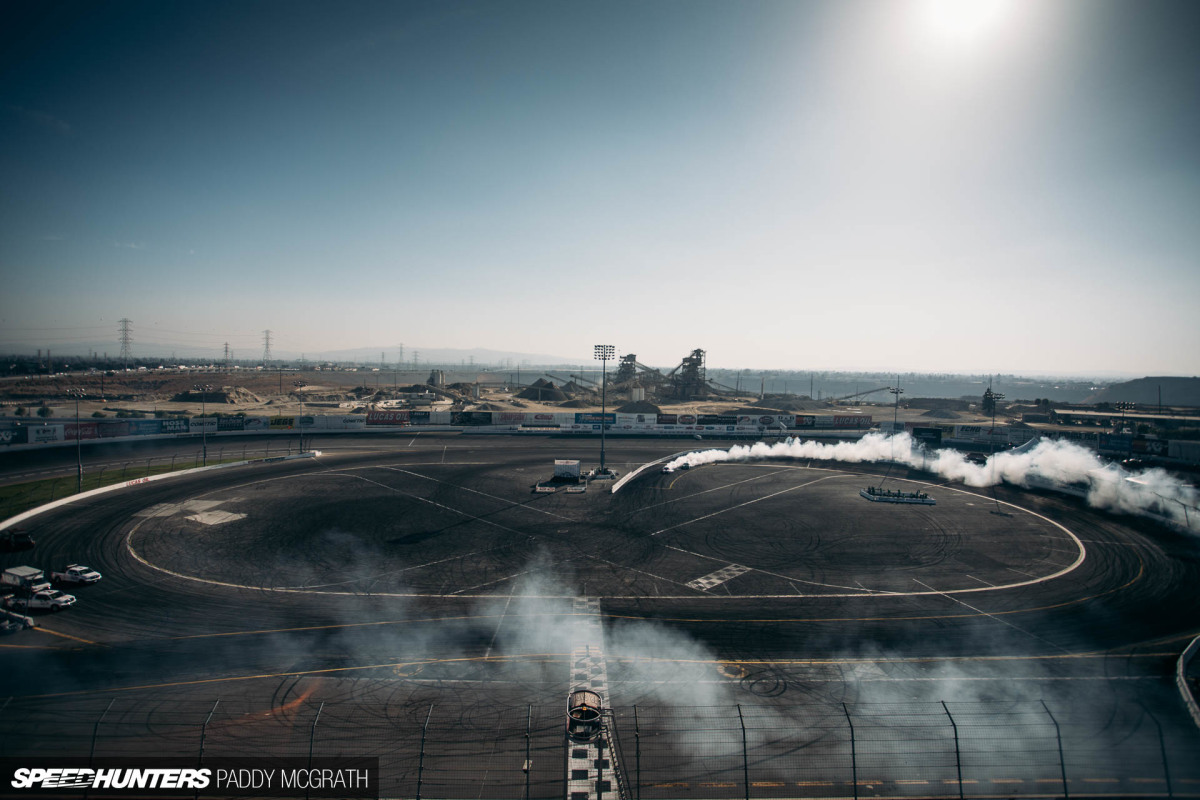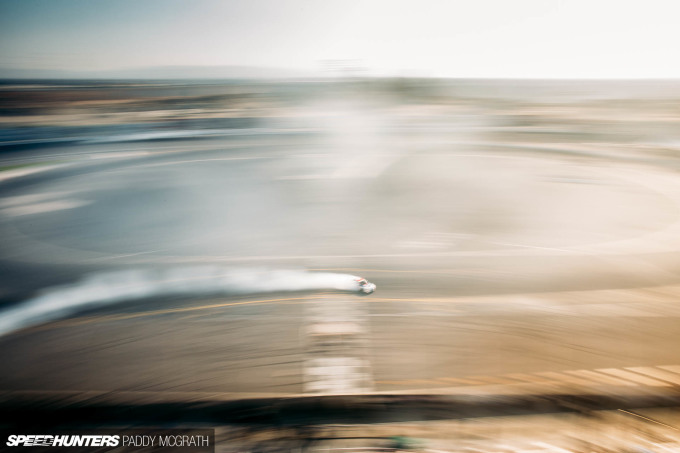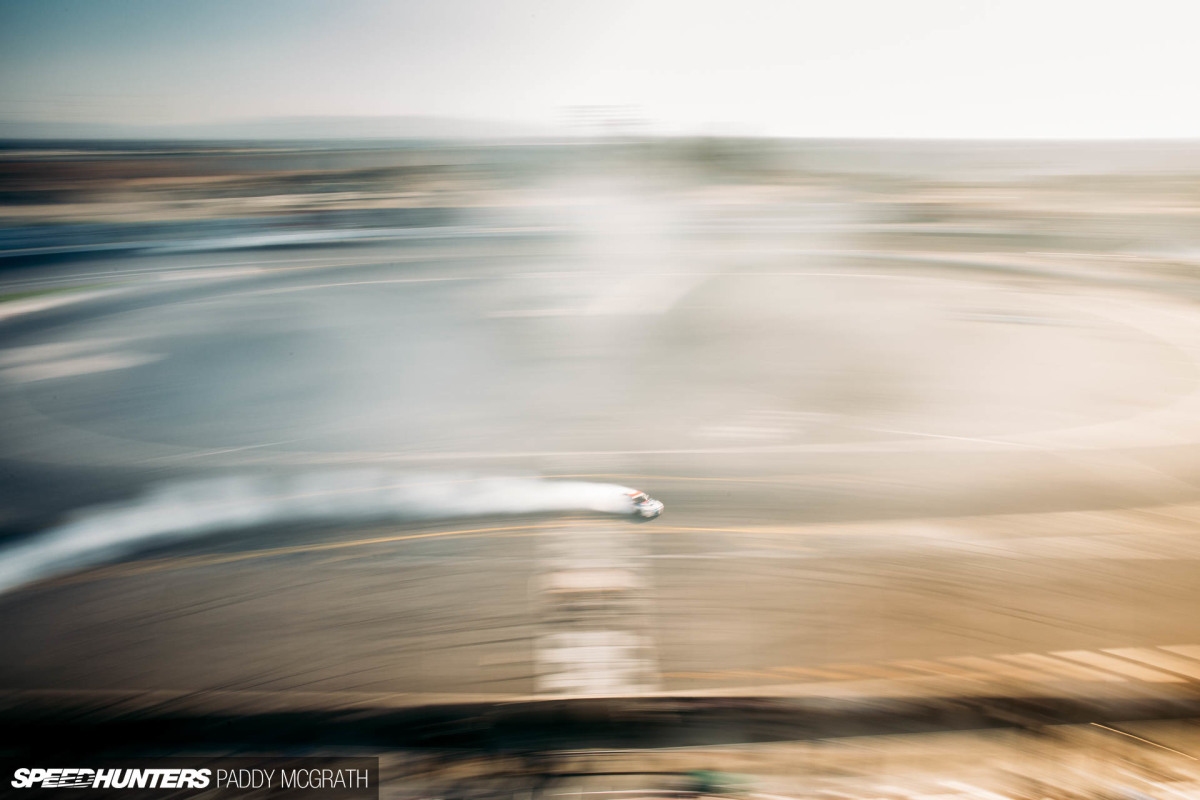 Despite Irwindale's size, photo opportunities are limited. It's a high speed track, so safety is paramount, and as such, shooting locations are restricted, and rightly so. Still, the roof of the grandstand might be my all-time favourite shooting location. I could happily have shot the entire event from up high.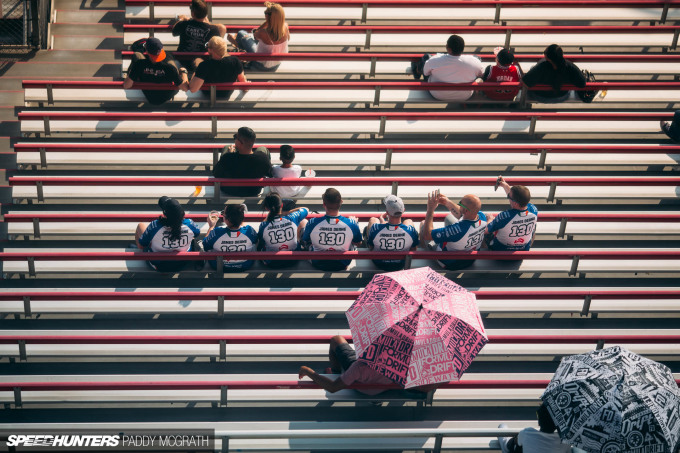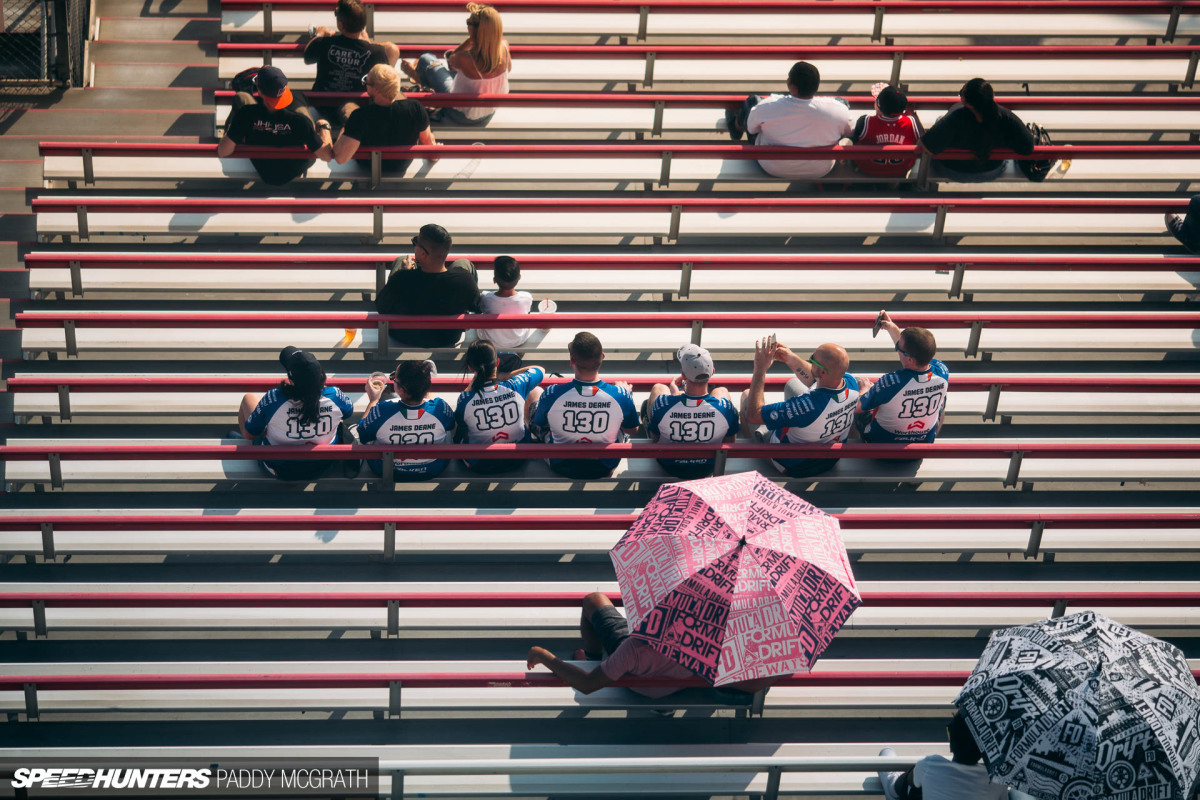 Attendance is typically modest on qualifying day, but there was already some extra voices in the crowd. The combined Irish and Polish contingent made no apologies for their support.
For what might have been the most important qualification run of his career, James' preparation was the same as always: fuel, tyres and a quick check over of his 2JZ S15. The rear right corner showed plenty of signs that James had found the precise limit of the track on more than one occasion, having rubbed a small hole in the bumper.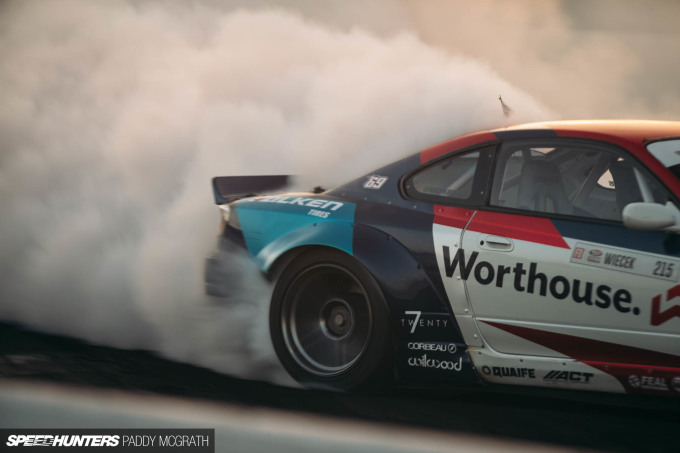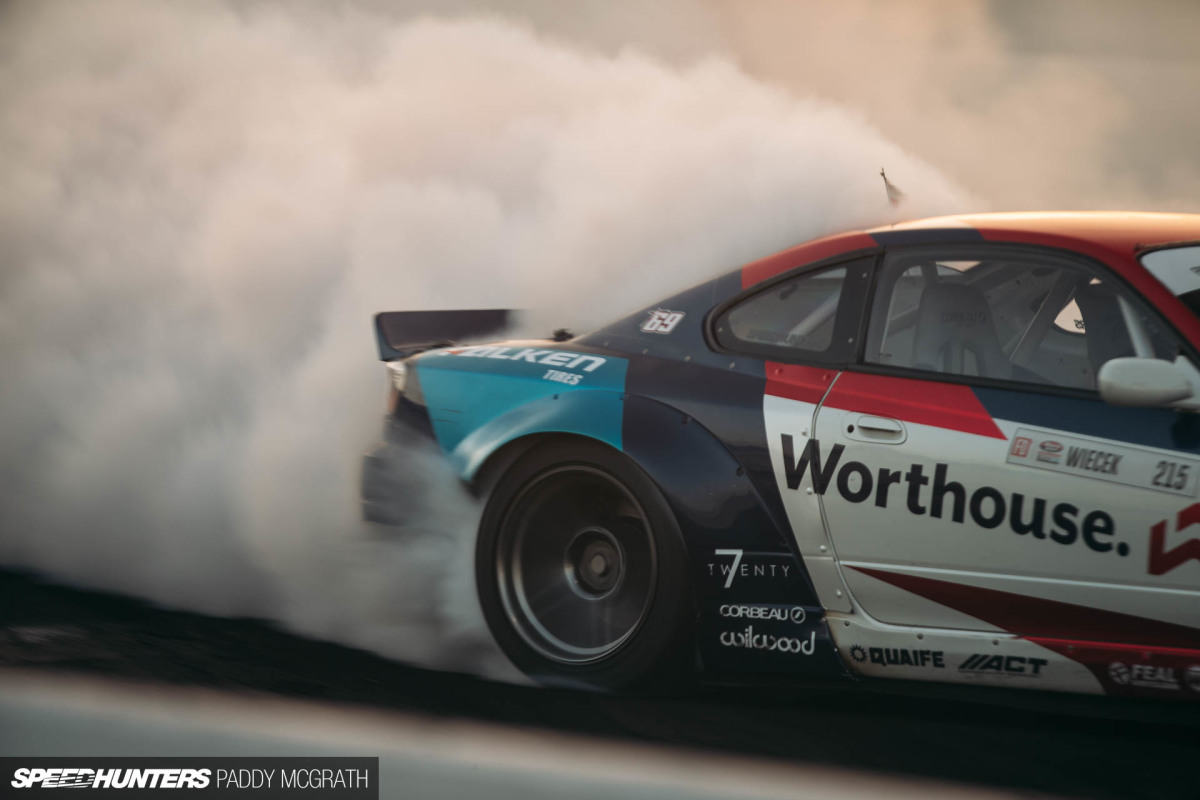 As he was ranked lower in the championship, Piotr was again the first of the two cars to make a pass of the course. Where he had excelled all weekend, his first run was distinctly average, earning him a poor 59 points. A small mechanical issue had arisen, which forced the car's electronics to cut boost and drastically reduce his power resulting in the disappointing run.
Still, he had points on the board.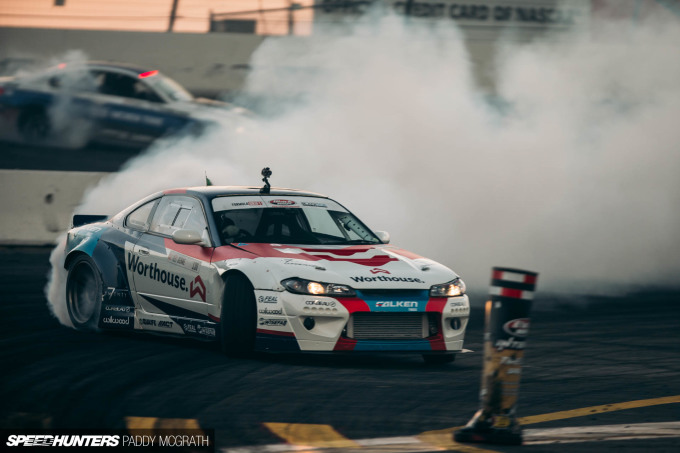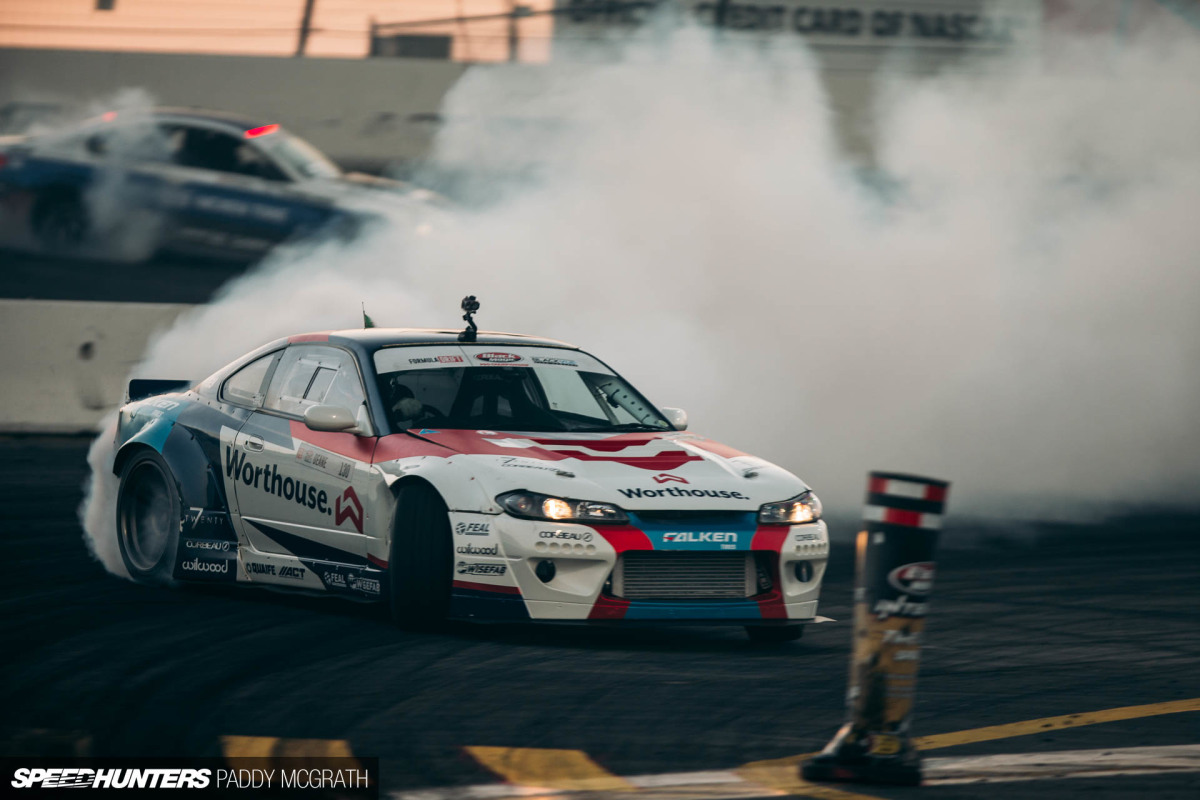 With the sun just dropping below the horizon, James Deane took to the track for his first qualification run. Whatever nerves he might have had, were completely gone by the time he initiated. Another man would have put in a safe run to guarantee qualification, but not James Deane. His first pass put him in provisional pole position with 91 points from a possible 100.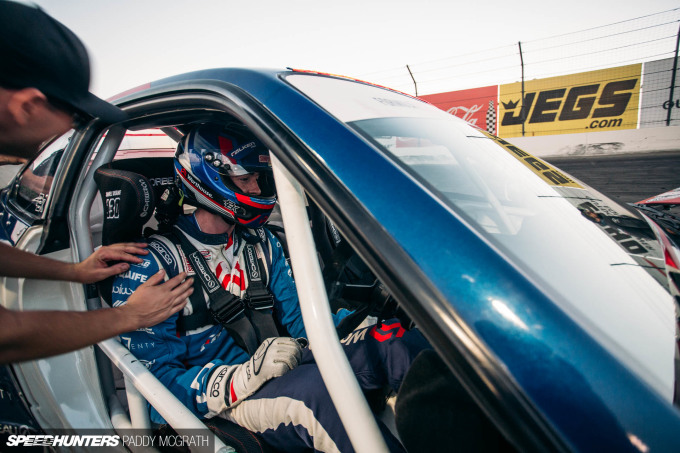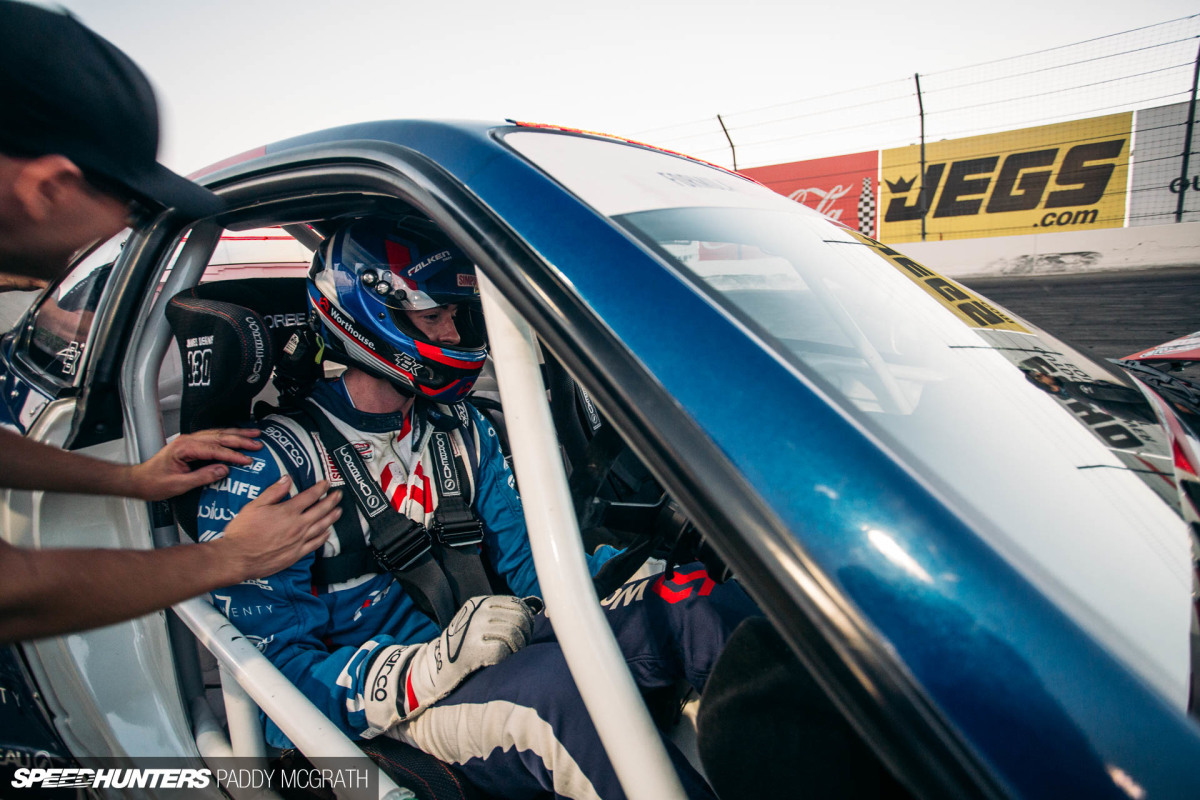 The weight that came off his shoulders must have been huge. He was now within touching distance of the title, with his only remaining task to drive the car off the start line for what would eventually be a Top 32 bye run.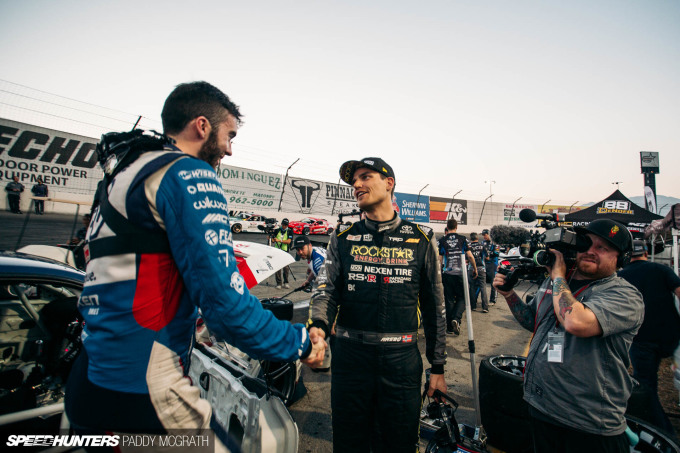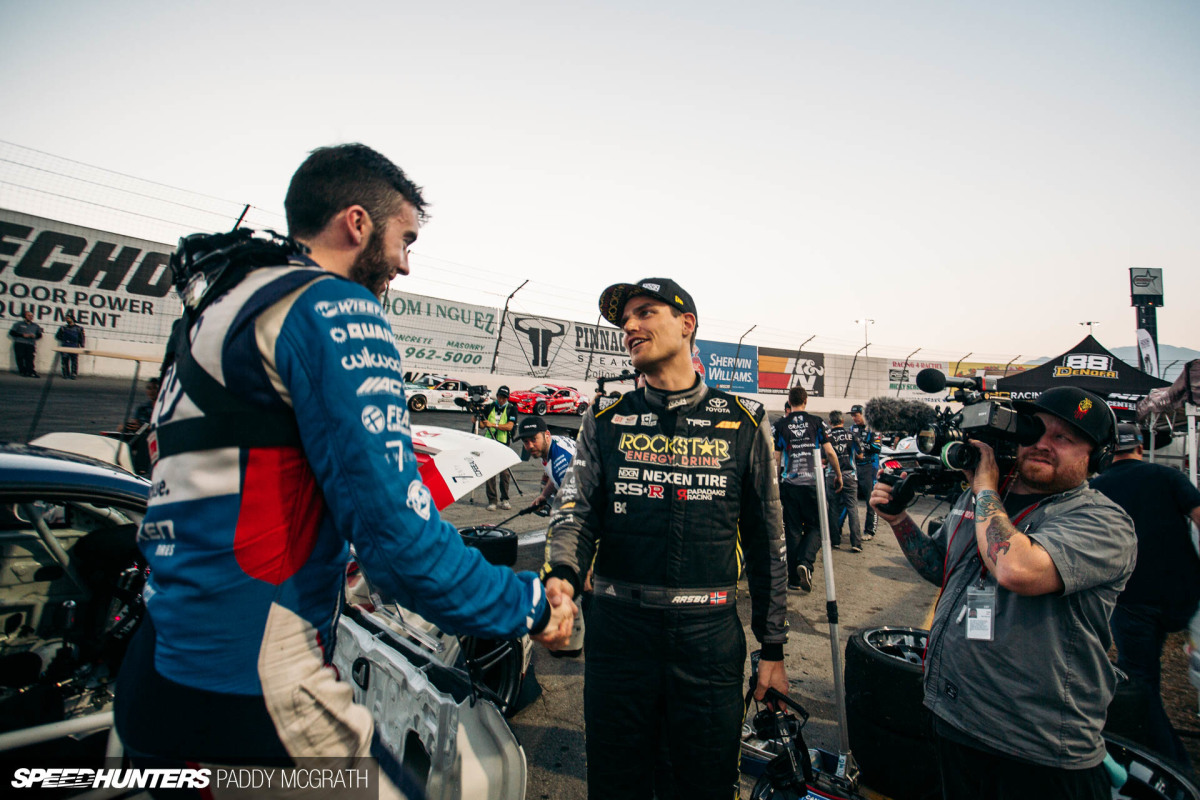 The first man on the scene to congratulate him was his closest rival, Fredric Aasbø. The respect between these two is unrivalled.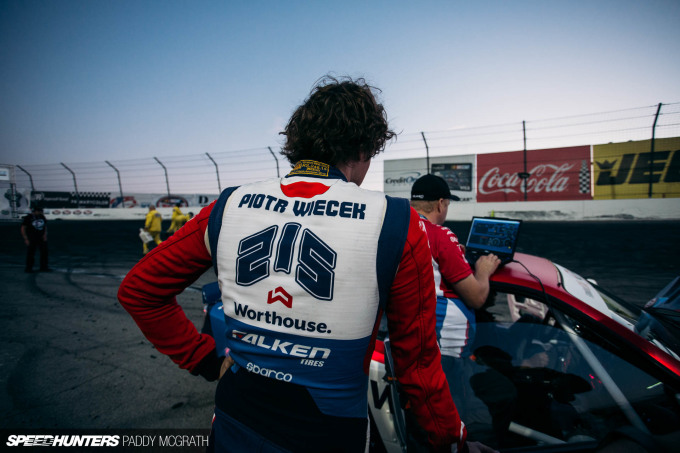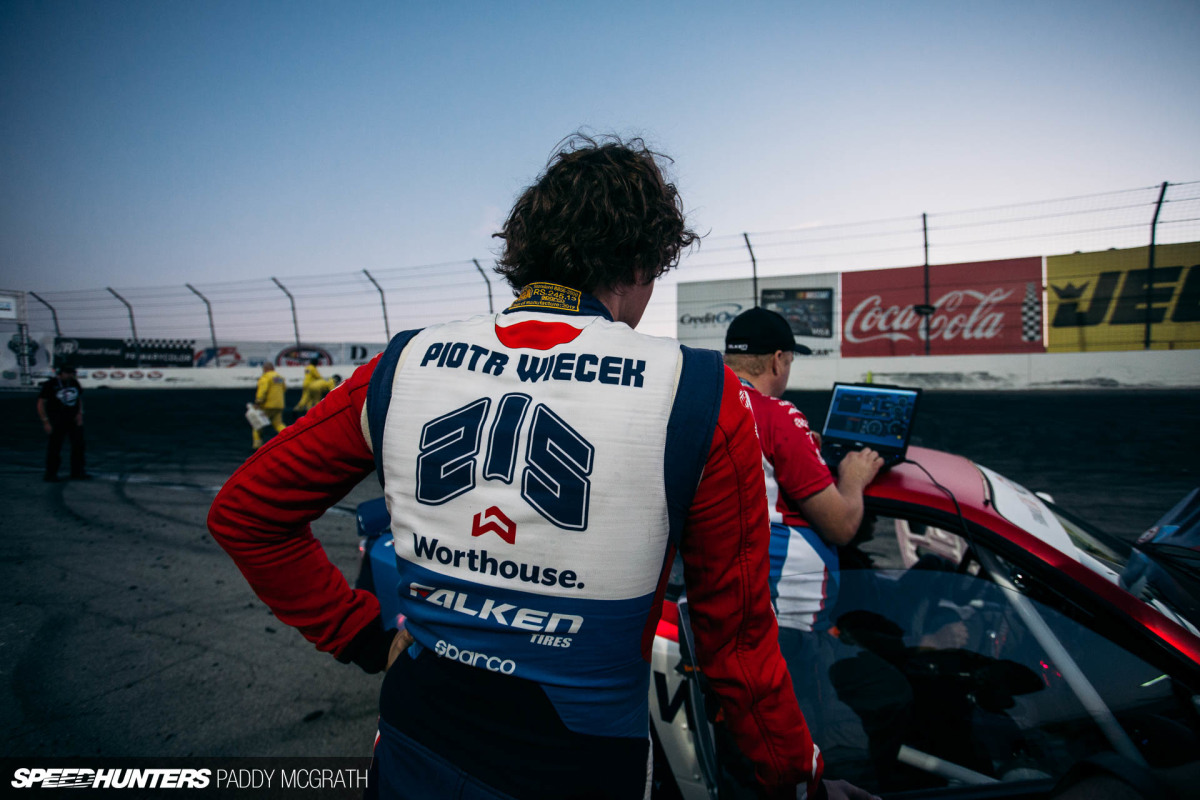 However, nothing was won at this point and there was still the matter of those second qualification runs to take. Repairs had been made to Piotr's car, which he was able to quickly confirm with a few acceleration tests between the sessions.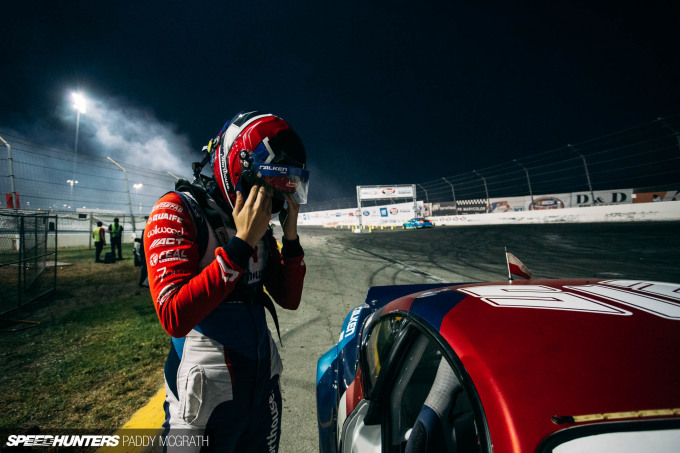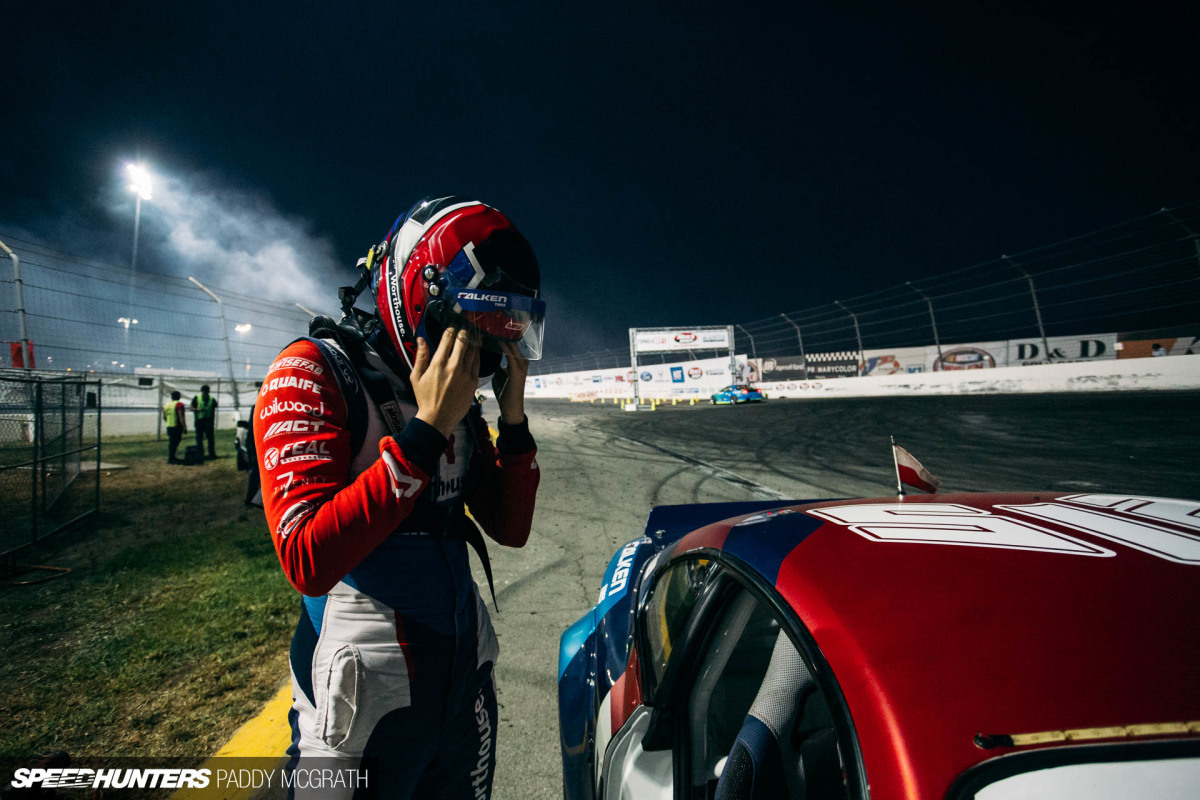 At this point, he must have been wondering what he had to do to have a little bit of luck, after a season of mechanical difficulties.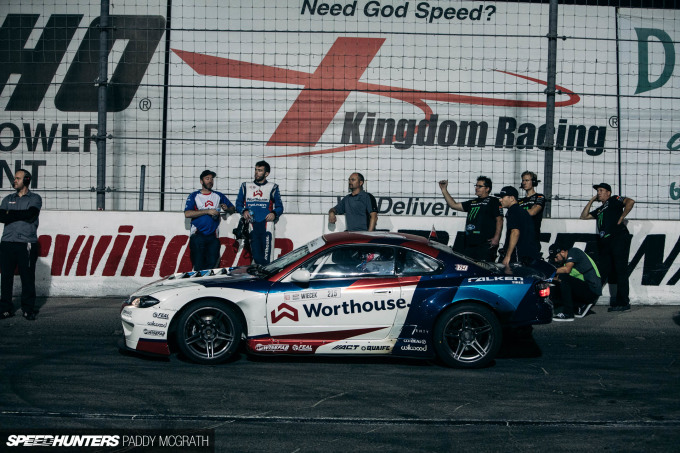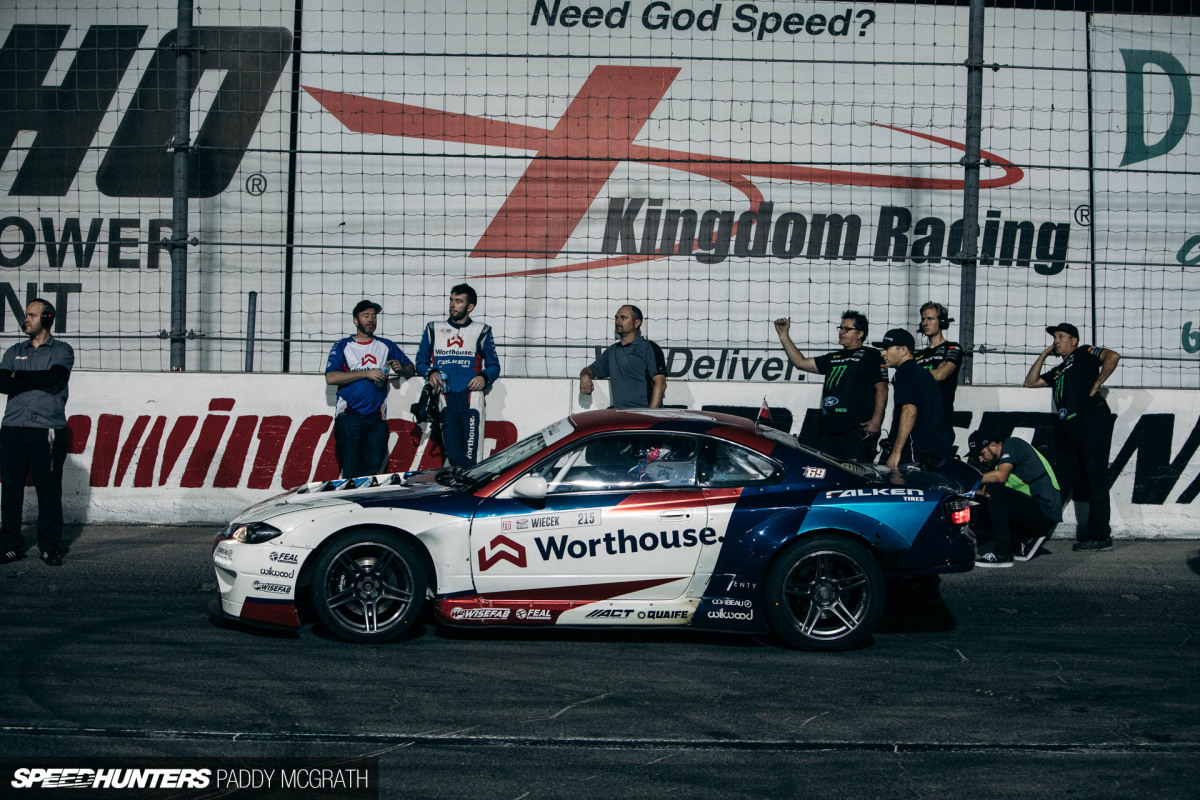 Strapped into the car and waiting on the line, he would throw caution to the wind and just go and do what he had been doing all weekend.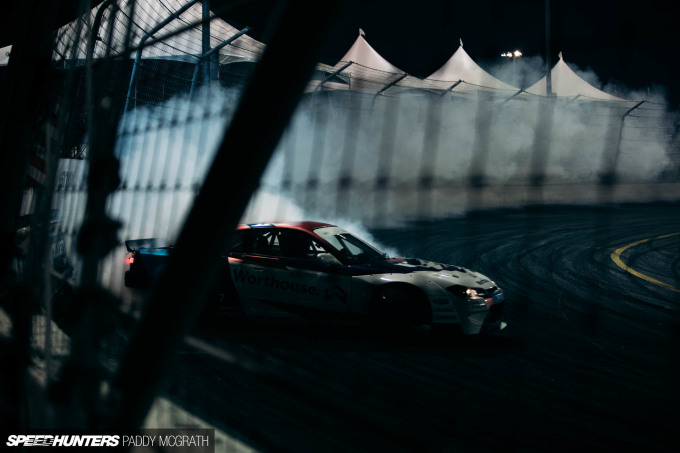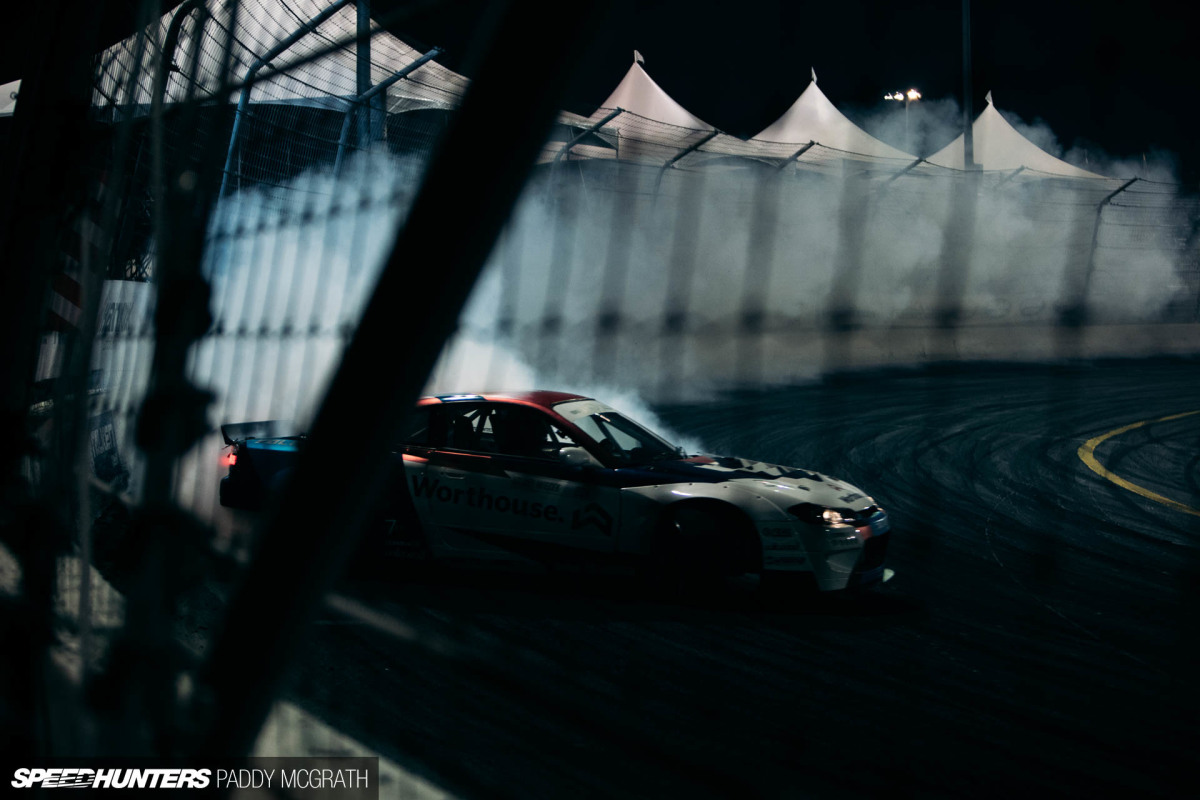 The resulting run was sublime.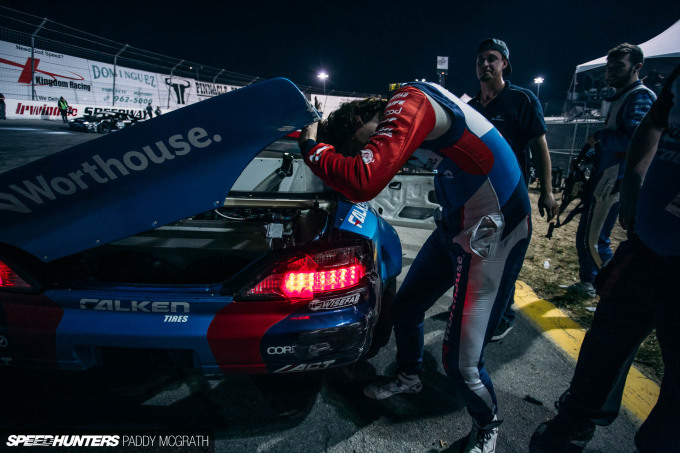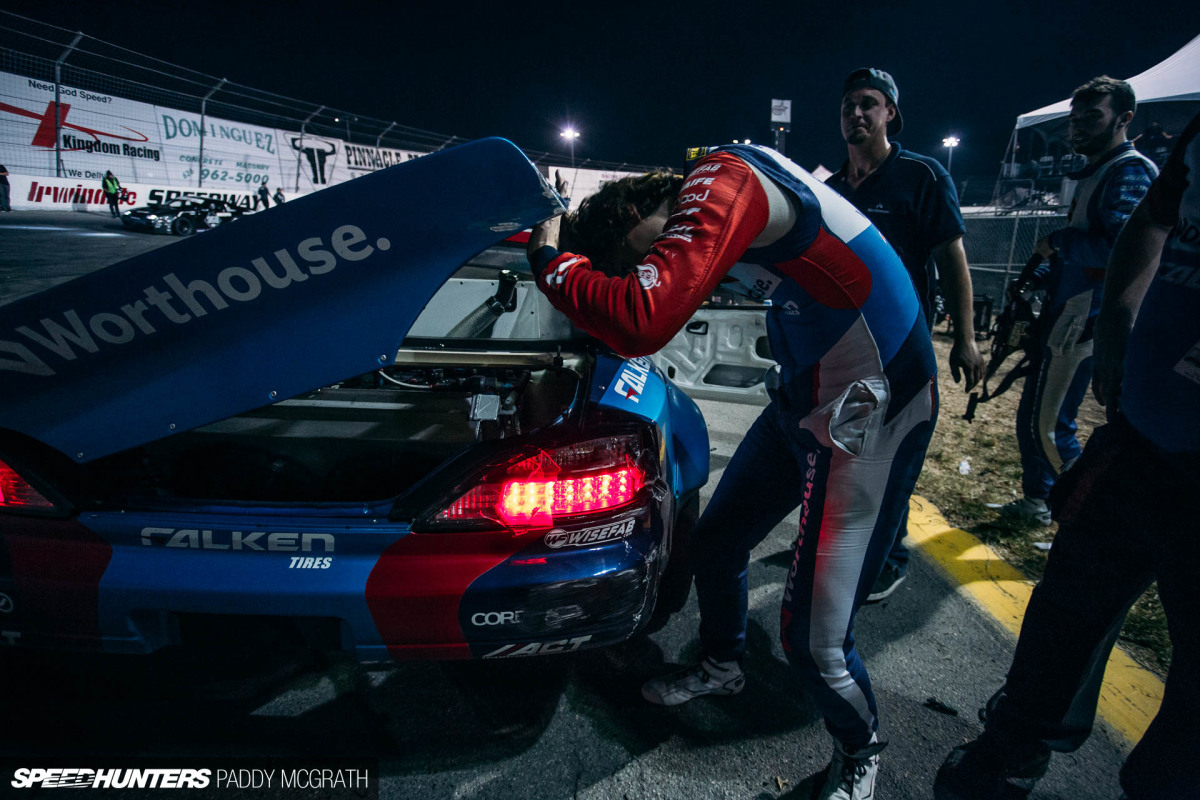 Having left his mark on the wall in more than one place, the smile on his face as he emerged from the car said it all. His score? 95 points.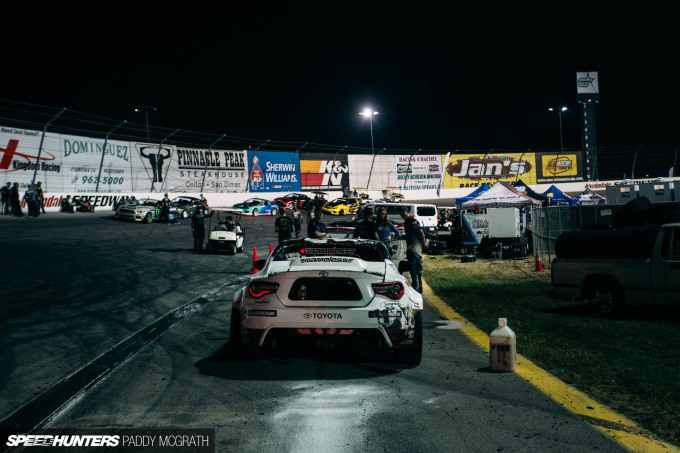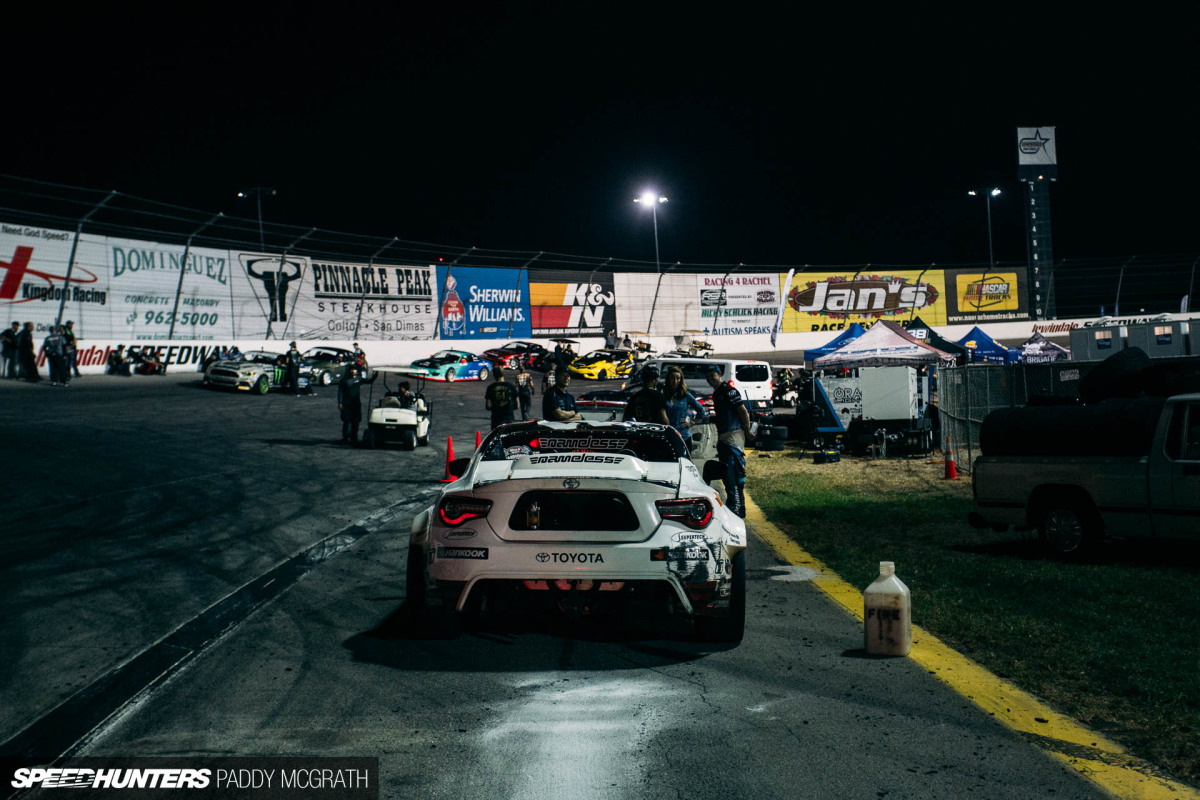 Others weren't quite as fortunate, and yet again served as a reminder that things can go wrong, quickly. When Ryan Tuerck came past us at full throttle, it looked like a killer run, but just a moment later, his 2JZ ejected the contents of its first two cylinders onto the track with no outside warning.
It was a heartbreaker for his team, who had just spent the night before dropping a new engine in and were now facing into another night of the same.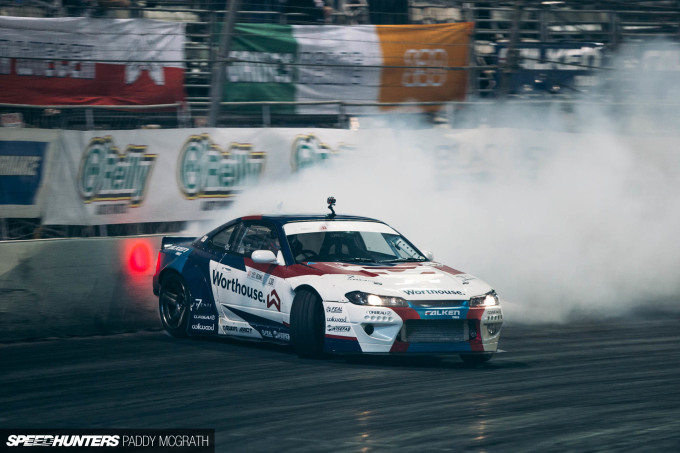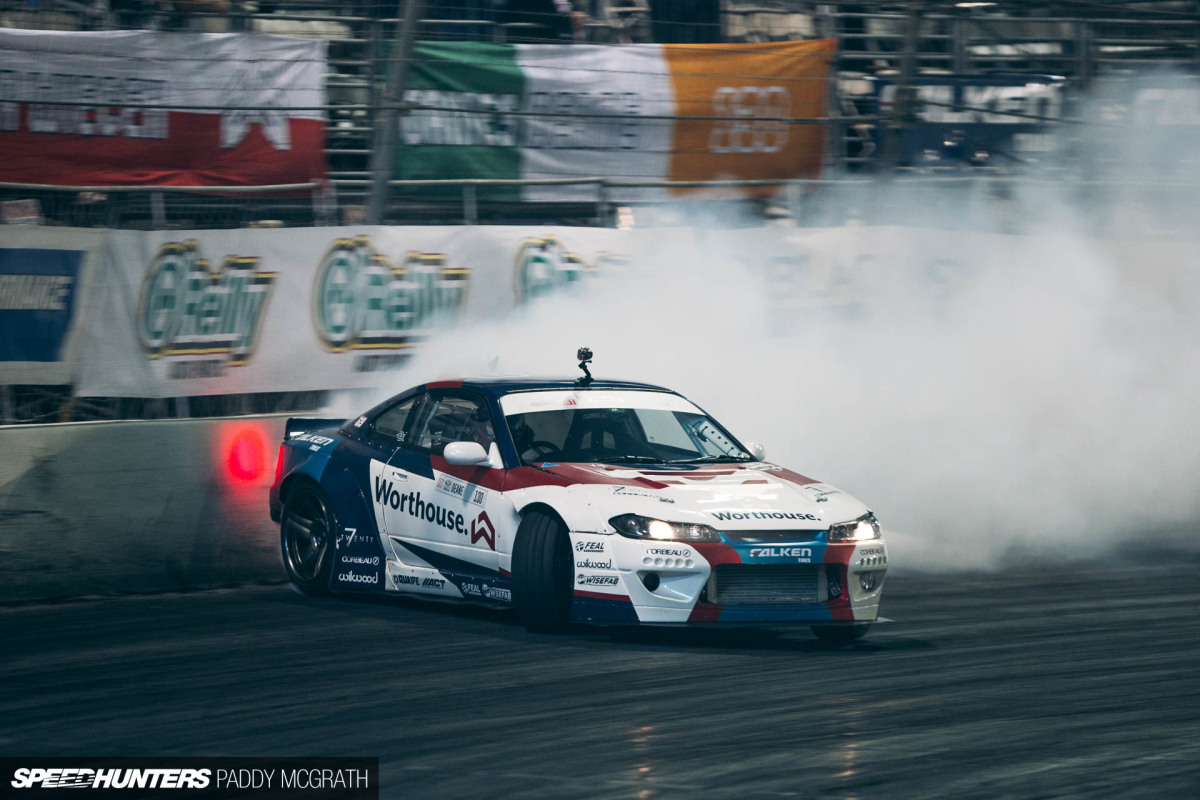 In the meantime, Chelsea Denofa had somehow surpassed Piotr's score with a 98, leaving it all up to James to take back top spot for Worthouse. Despite a pretty impressive effort, he would earn 94 points, putting him third place behind Piotr.
Most importantly, it gave him a bye run into the Top 16 which would make his life that little bit easier when it came to Saturday's action.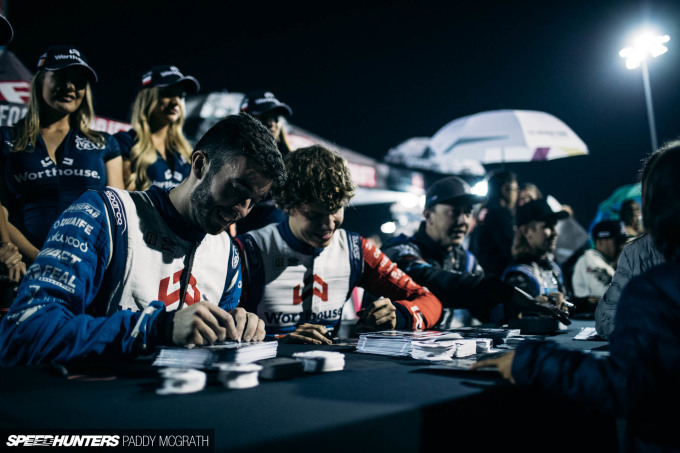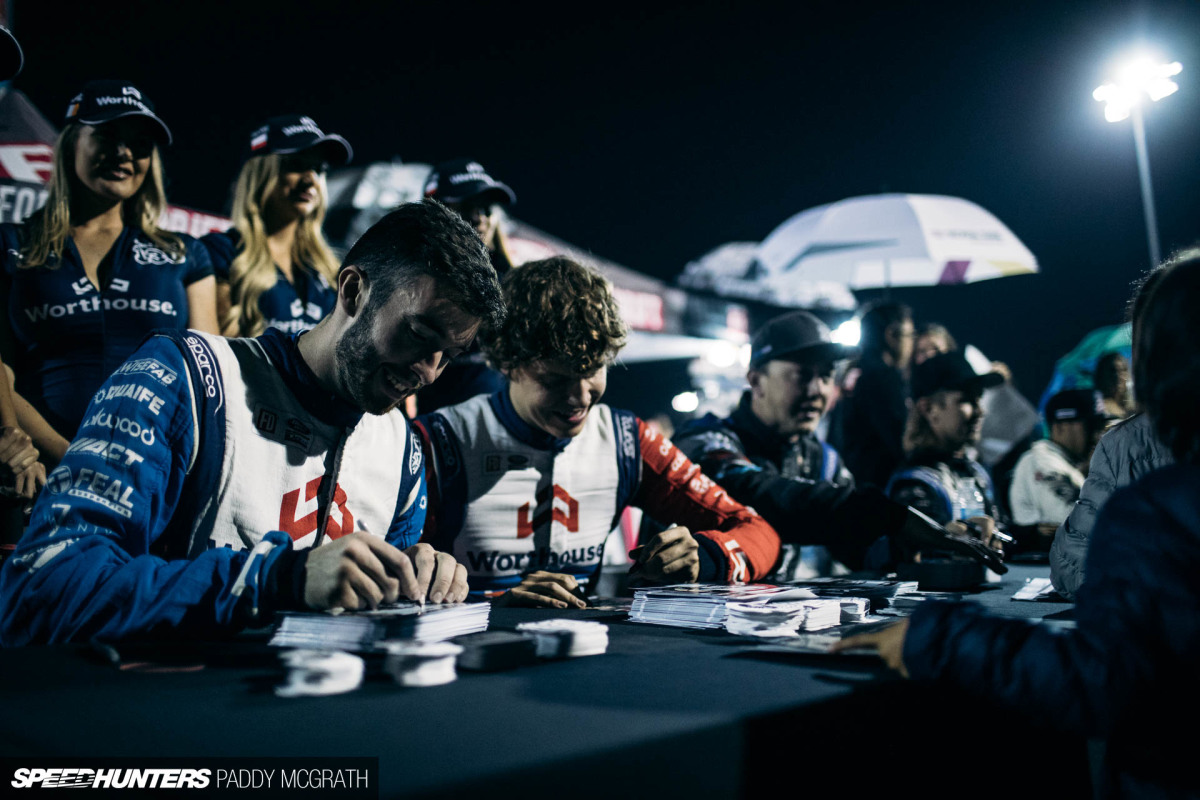 Following qualification, a night of autograph signing and handshakes was on the cars for both drivers. While celebrations were still on hold, it was increasingly looking like a formality. However, there were some twists in the story to come.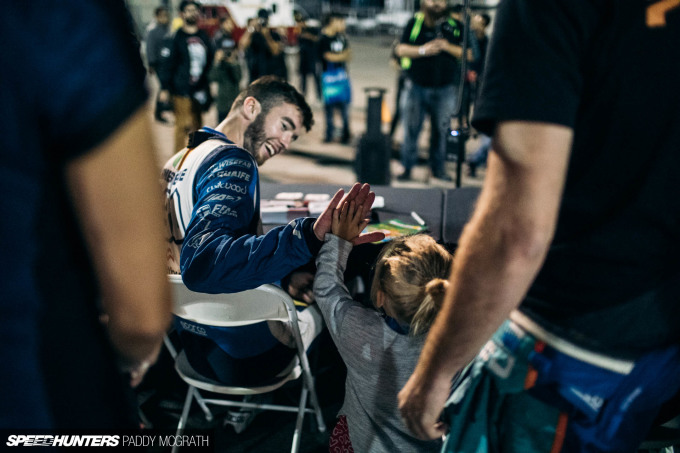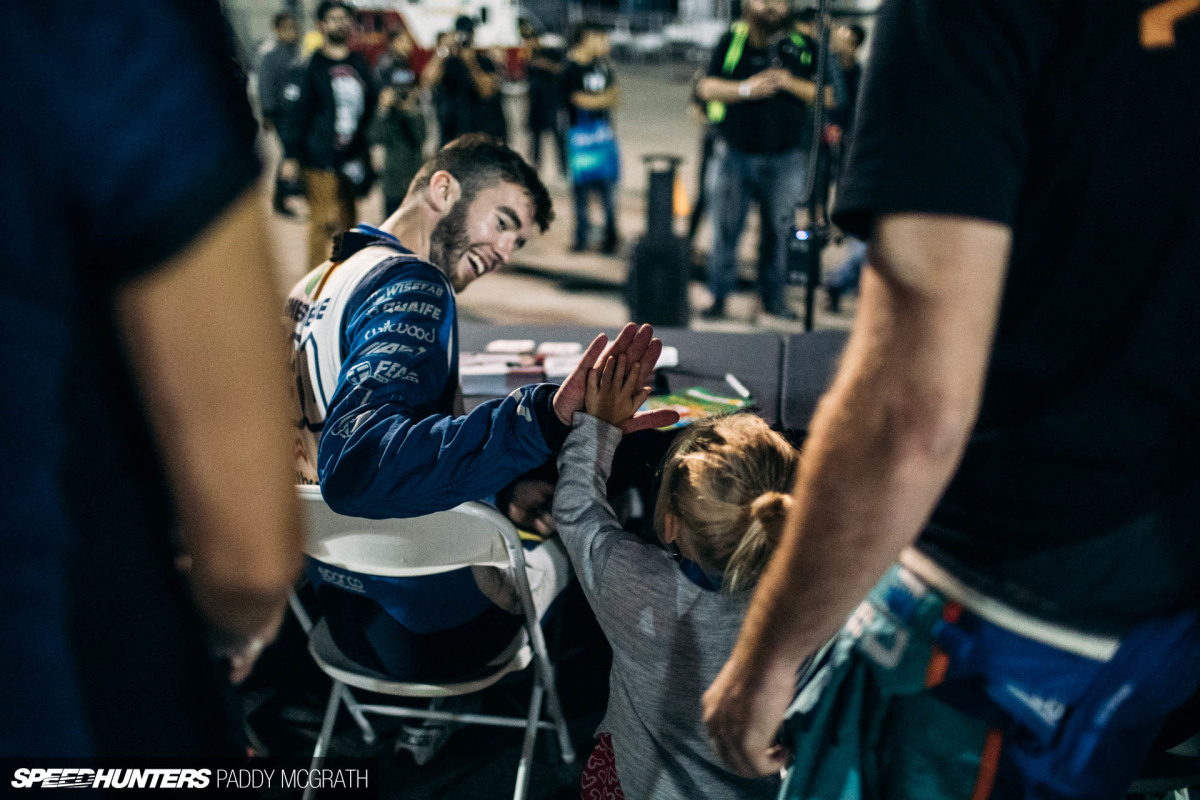 Still, a high five from Little Bakchis was a pretty good outcome while waiting for Saturday to come around. James was now on the very edge of taking his first championship.
The Perfect Day
Almost a year to the day since announcing their intention to compete in the 2017 Formula Drift championship, both drivers found themselves at the leading edge of the pack. I don't think it's a situation that either driver could have predicted.
Similarly, this day would throw up its fair share of unexpected surprises and results.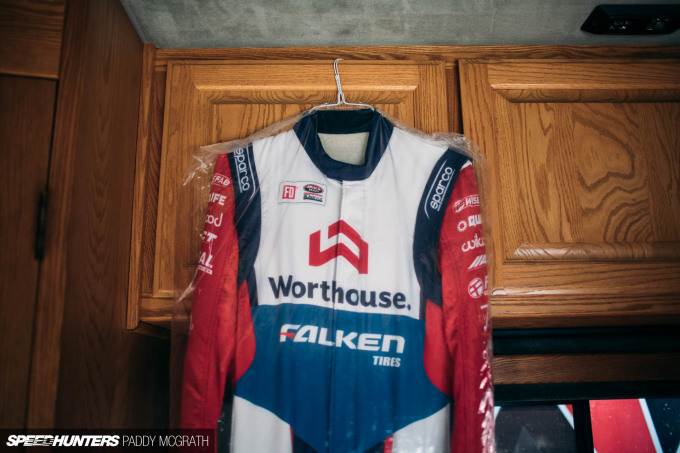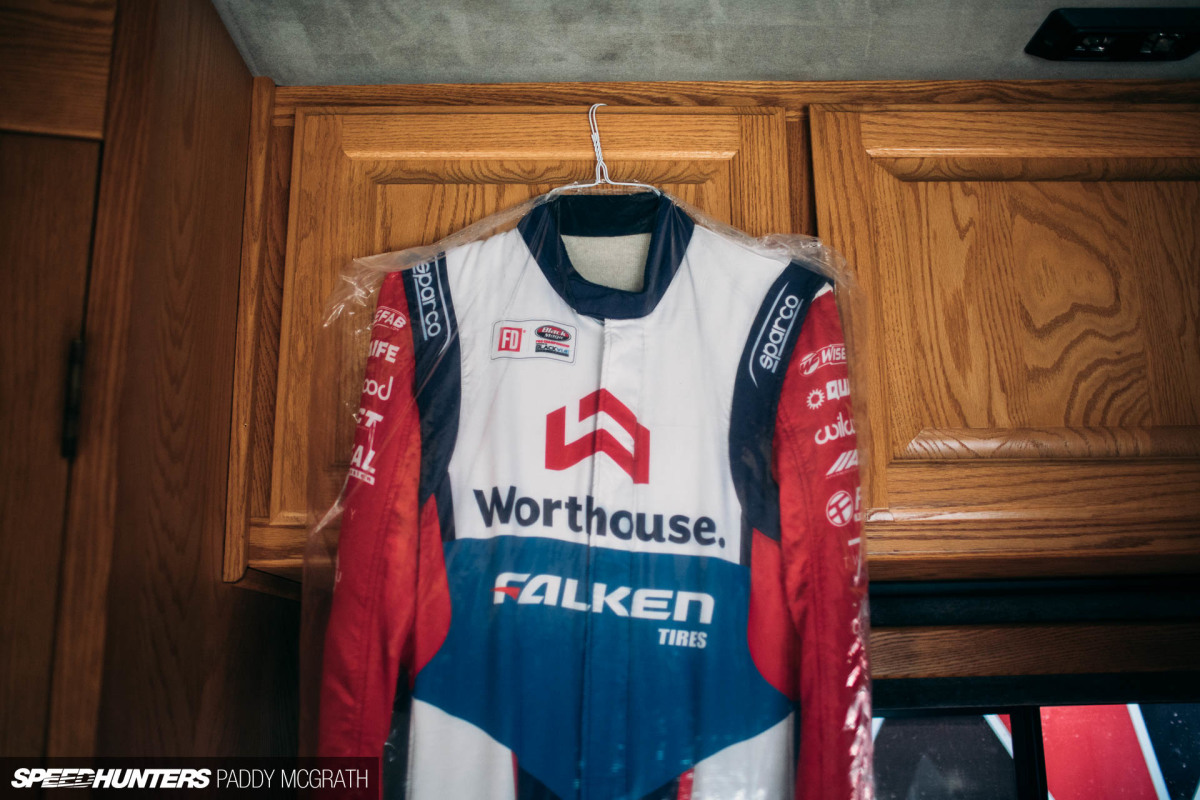 While it would start as any other of the seven main event days that came before it, it most certainly wasn't like any of those other days. This was a day that would potentially result in total elation or abject misery, with nothing in between.
To be fair, at this point, it was James' championship to lose.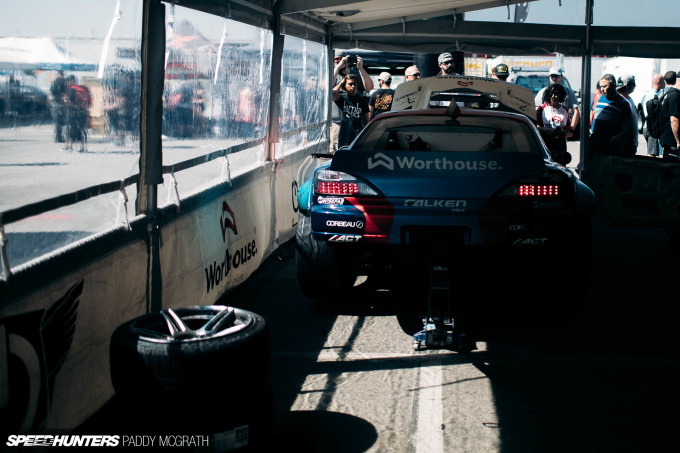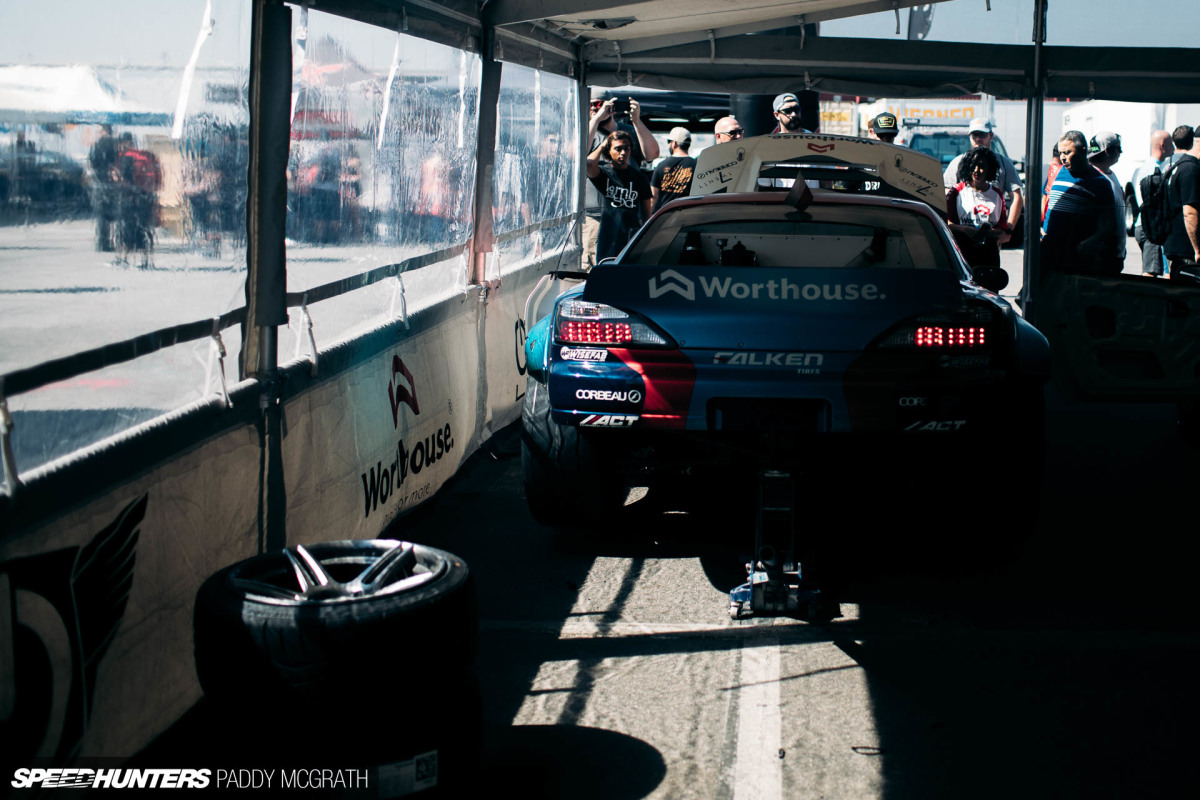 The only way he could lose was for him not to make the line for the Top 32, and Aasbø to win the event outright. Everything was certainly against the Norwegian, but that didn't mean that the Worthouse crew were taking chances with either car. Every pre-session check was just that little bit more thorough.
With the cars wearing almost identical battle scars, there was time for one more practice session before the all important bye runs needed to be completed.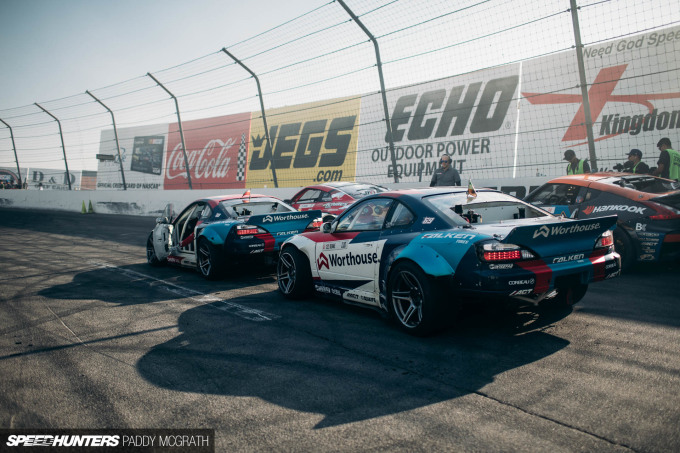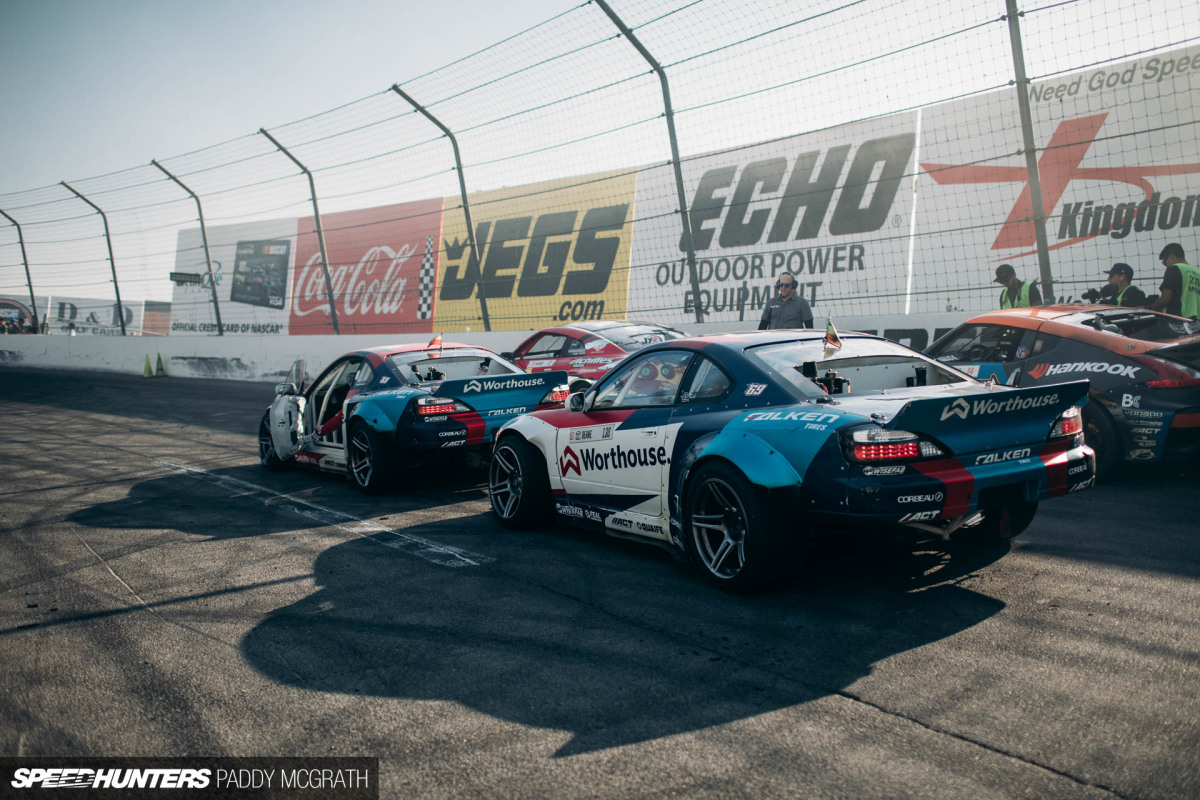 While caution might have been thrown to the wind the day before, strategy and planning came into effect in a more pronounced manner on Saturday afternoon. James would run through two sets of rear tyres and the contents of one nitrous bottle, before calling an early halt to his practice session.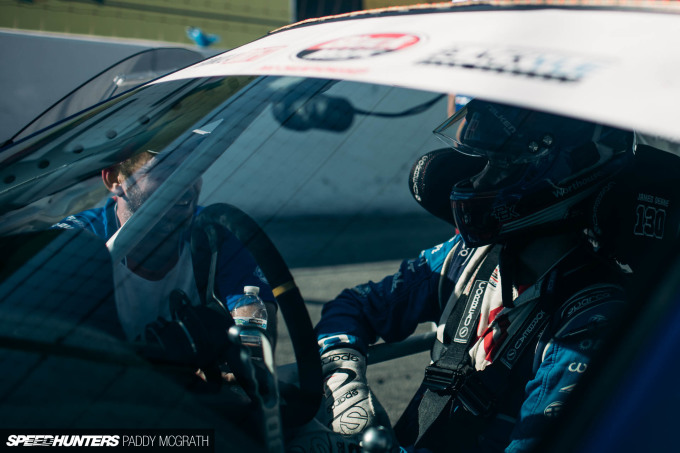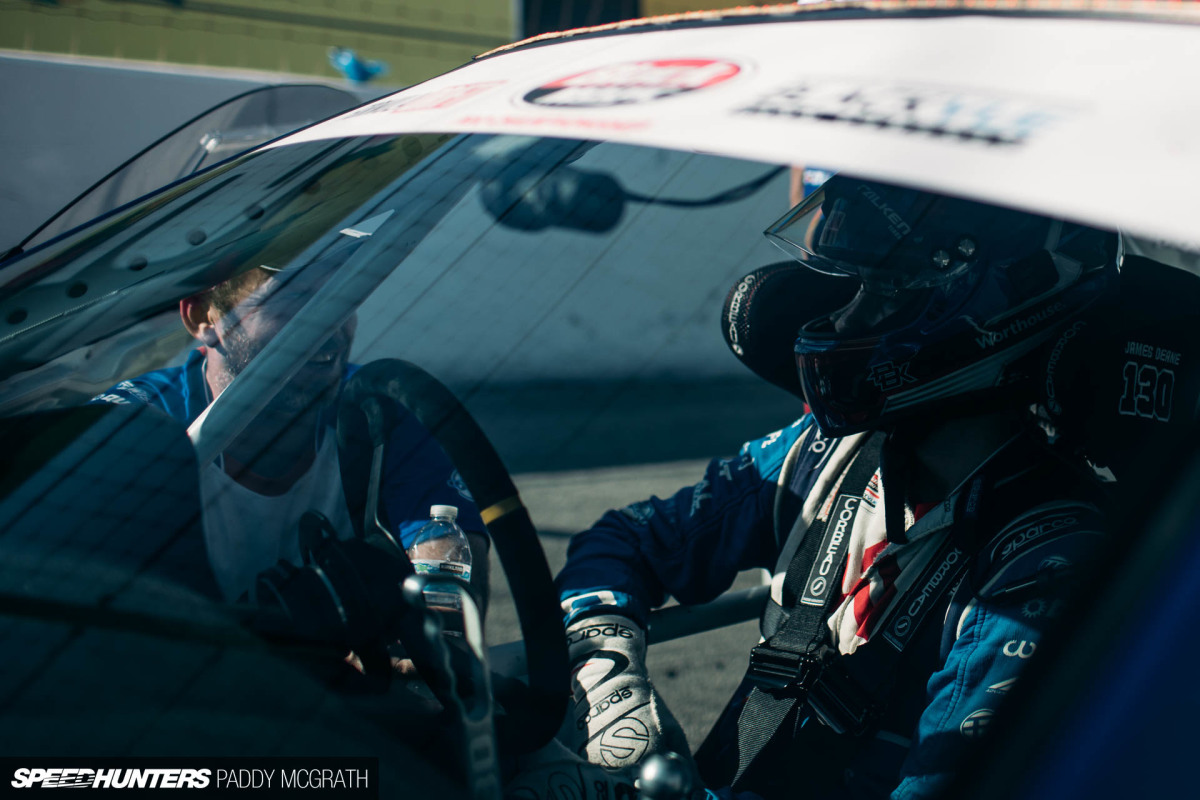 This allowed a certain margin of error should anything go wrong. Although the team weren't expecting any surprises – and James' year has been uneventful in that regard – there was still the chance that something could go wrong and they would have to be ready to deal with it.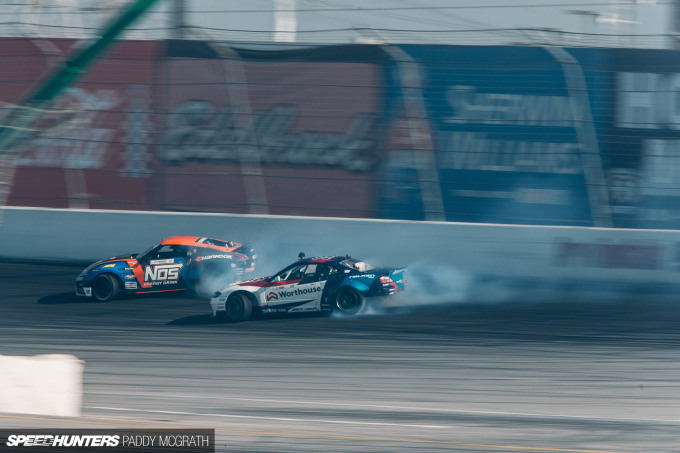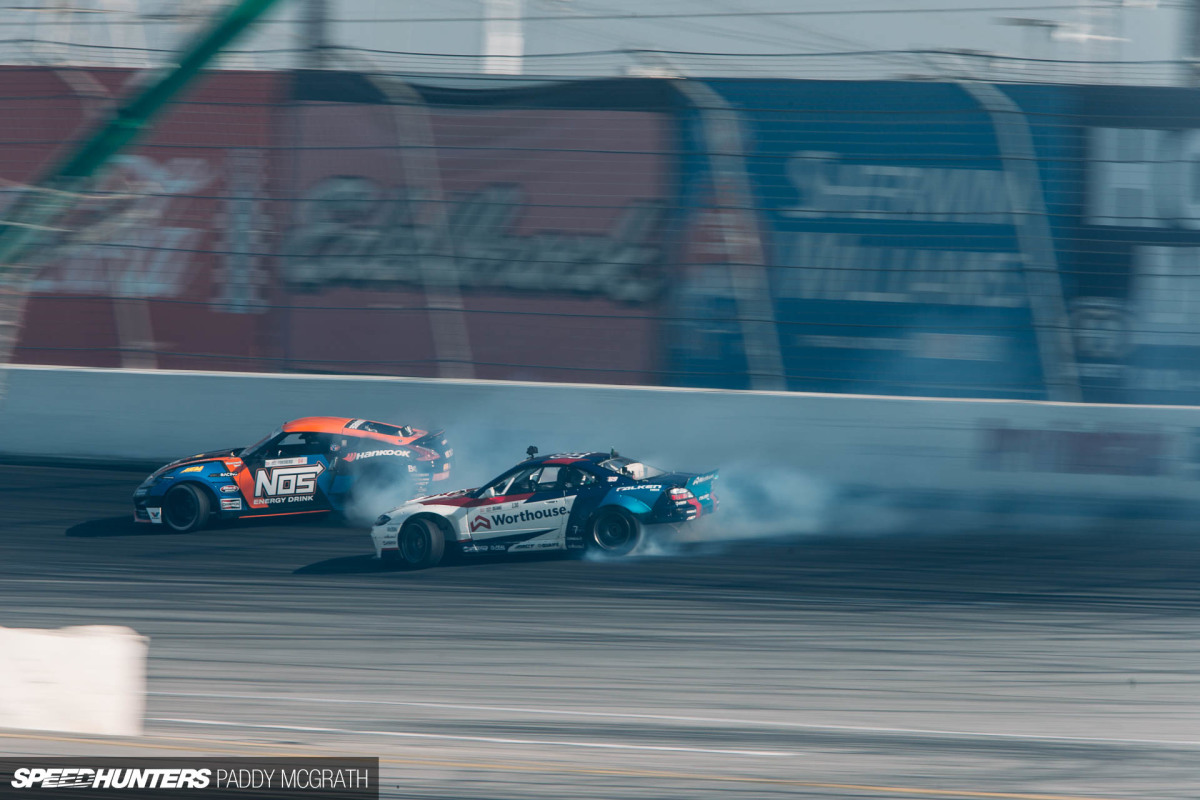 Both drivers would spend this session working on their chase runs, and gauging the speed of their opposition. Where possible, they would choose more reliable opponents, who could be trusted not to make silly mistakes or cause an incident.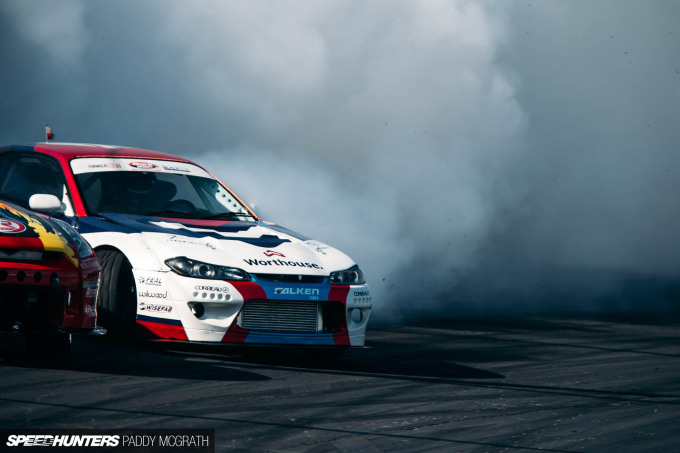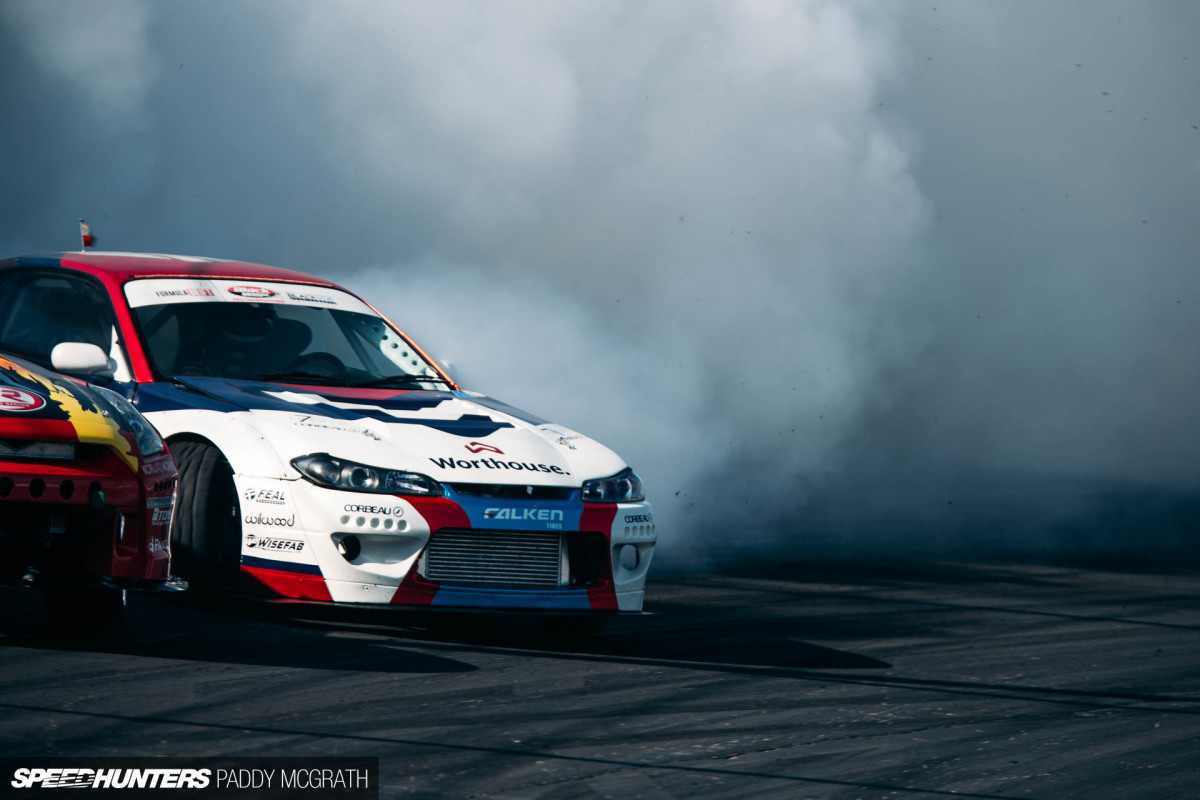 Looking back, this portion of the day passed by in the blink of an eye. There were no incidents or moments of note, just a steady set of laps with a consideration towards preserving the cars.
There was a considerable increase in temperature, though. With the ambient air temp nearing 100℉ (38℃), you can only imagine how hot it would have been inside the cars. As the only two cars that I can recall with fully enclosed cockpits (to keep smoke out), the heat adds a huge degree (pardon the pun) of difficulty.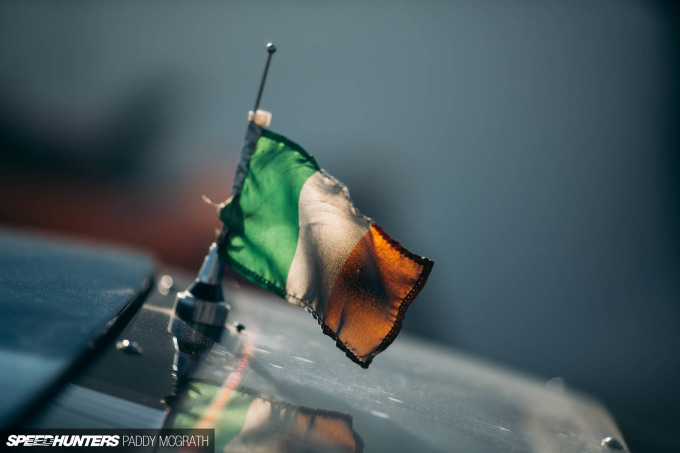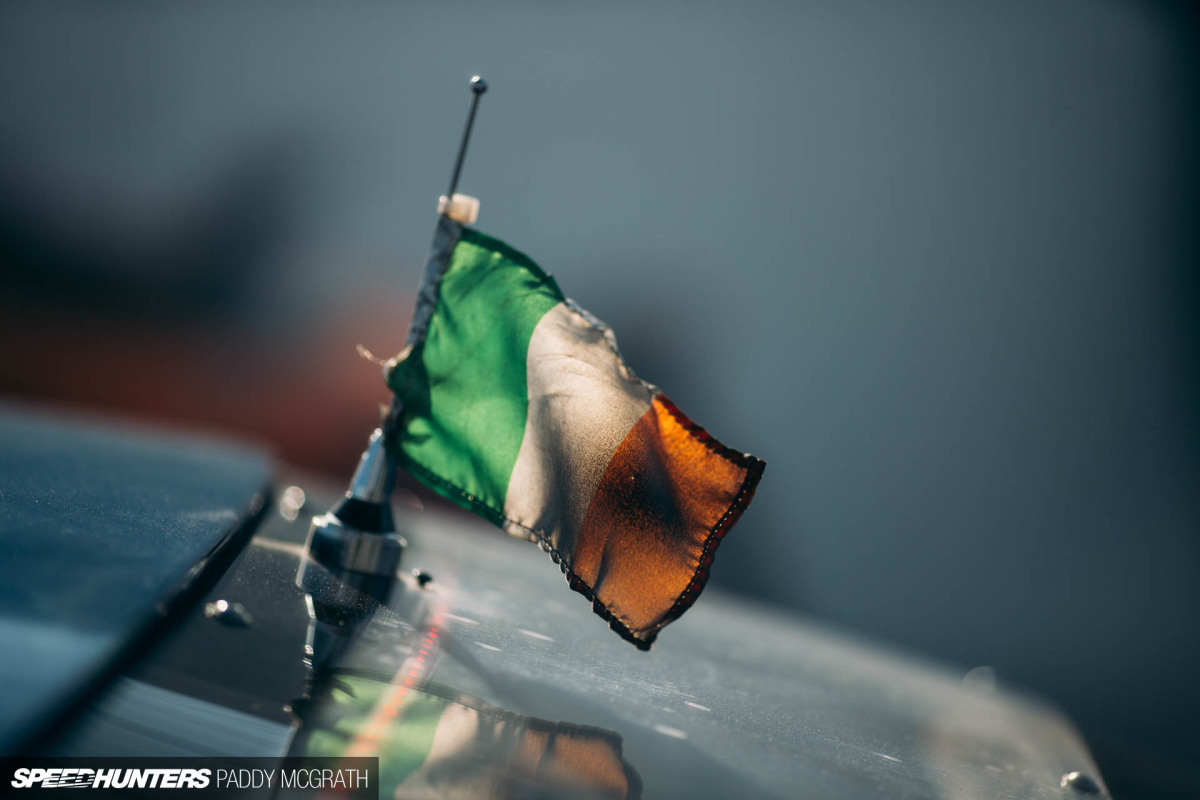 As an aside, the flags that sit atop either of the cars, one Irish and one Polish, have been there for most of the season. They are looking a little bit battle-worn, but I think that's part of their charm, which is why they've been retained. Someone – not to mention any names – did almost attempt to wash them, but that didn't go down particularly well.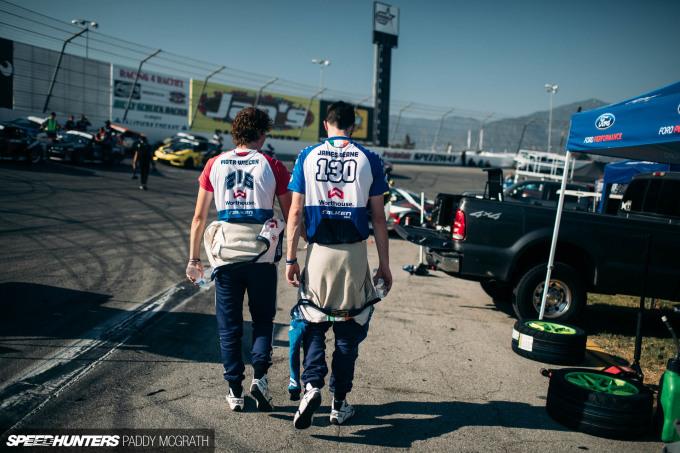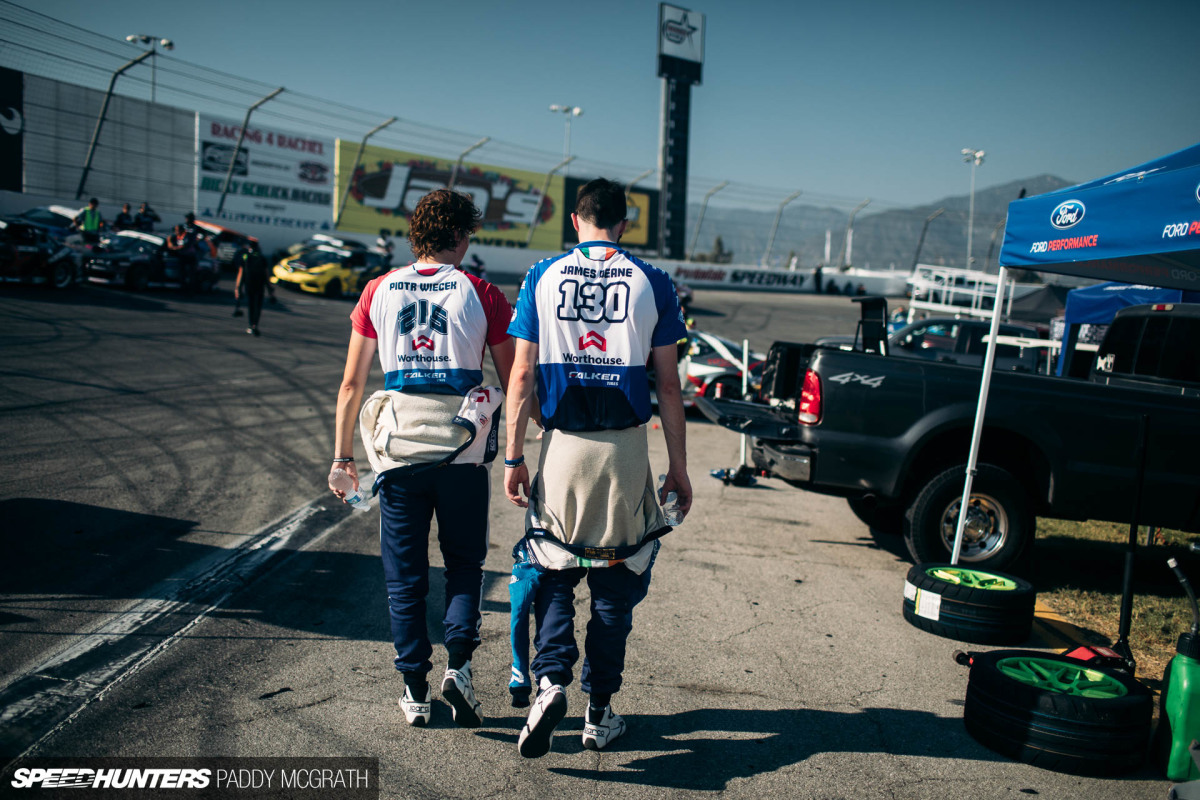 To avoid the needless waiting around and the potential of overthinking things, Piotr and James left the hot pit to get away from the action for a few minutes.
In their absence, James' brother Mike would lead an inspection of the cars before the Top 32 commenced.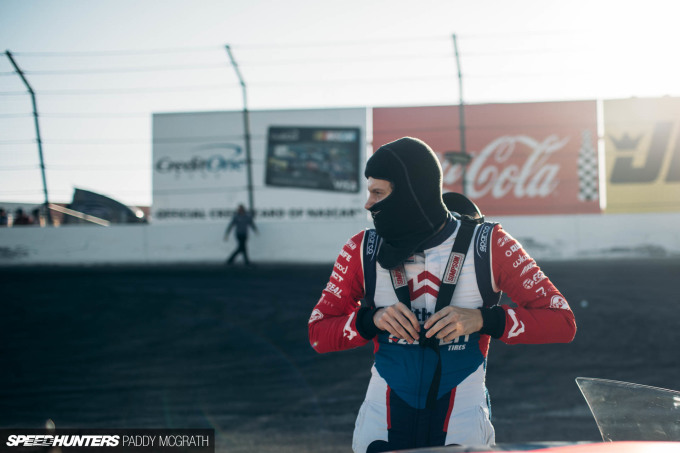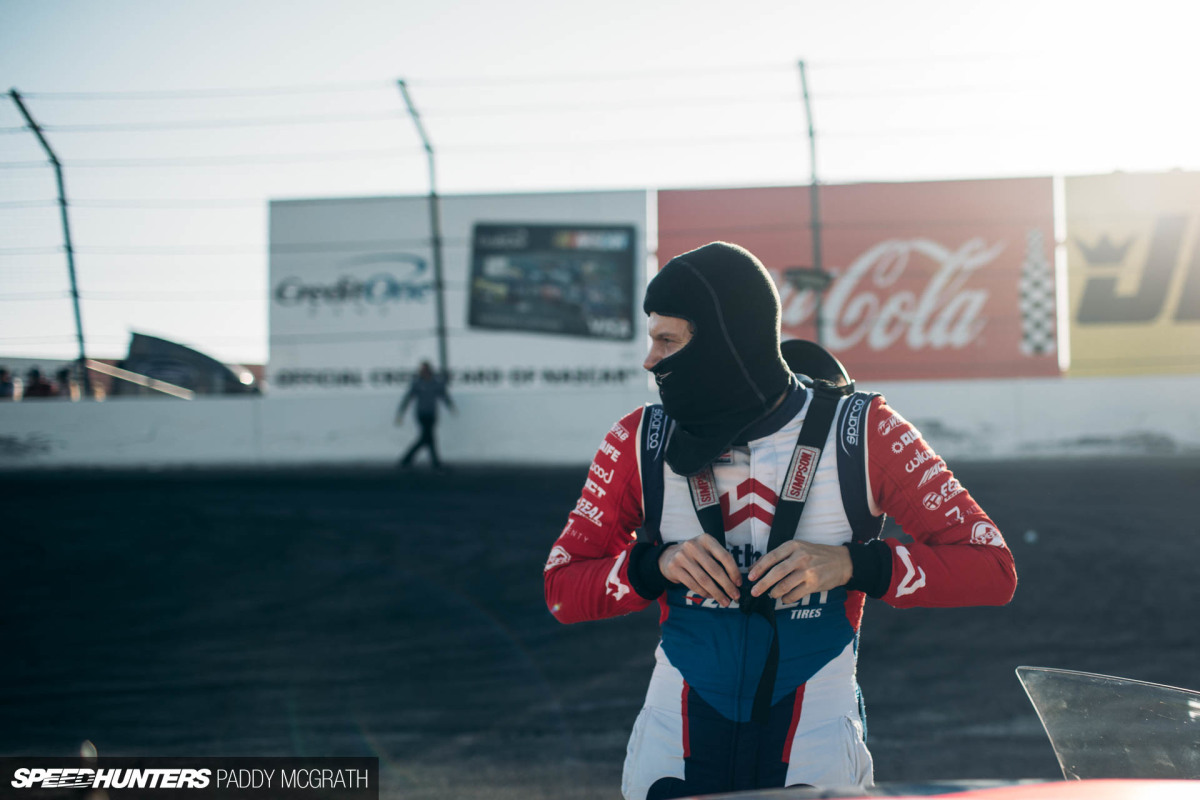 Piotr was the first to take on the formidable 'Bye Run', who has had a breakout season in Formula Drift.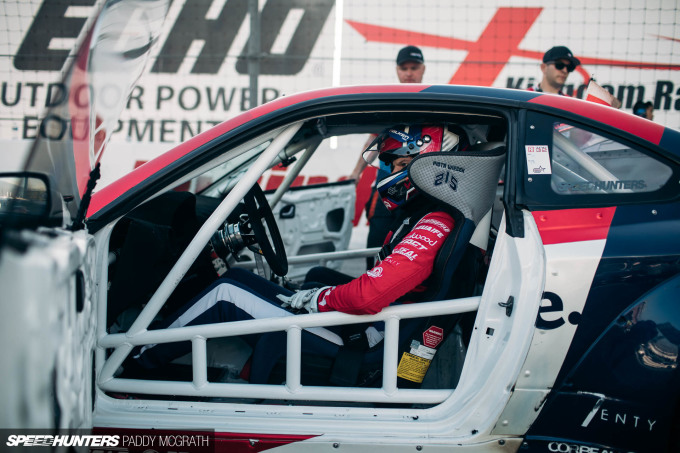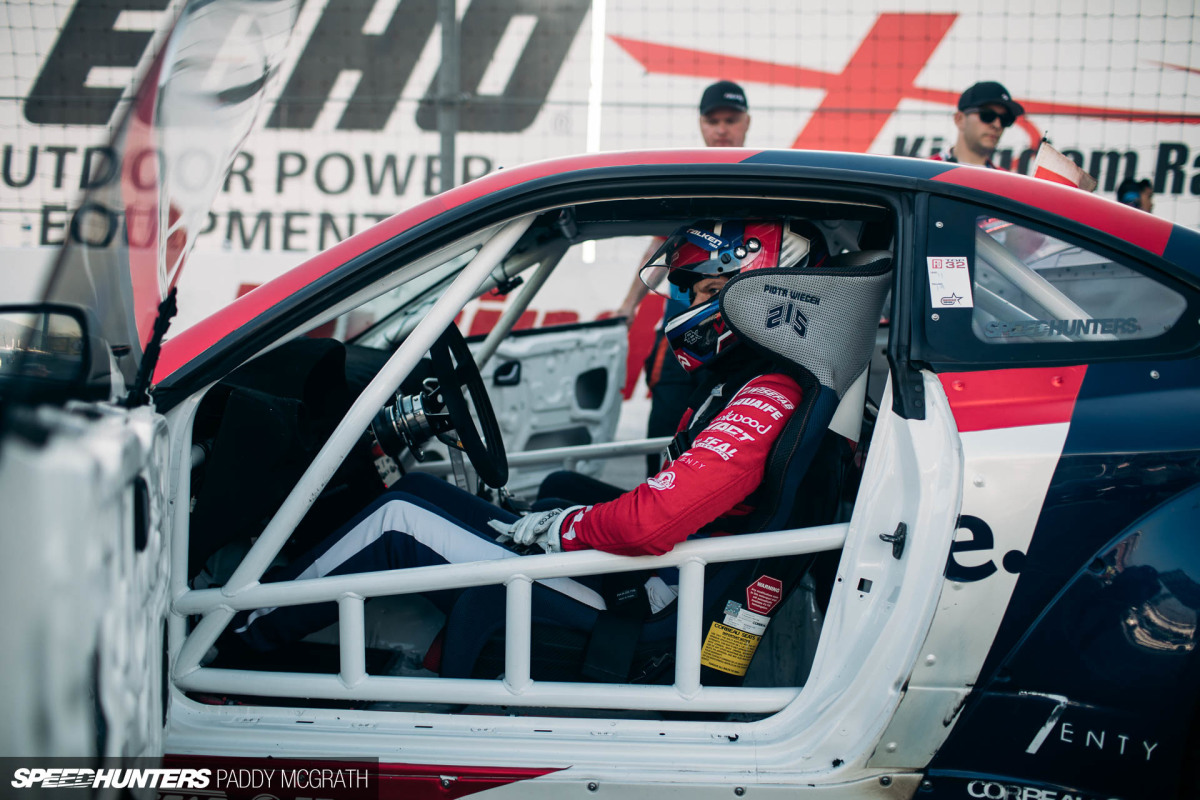 To repeat myself, there's no guarantees in motorsport. So even what seems like a simple bye run is treated seriously.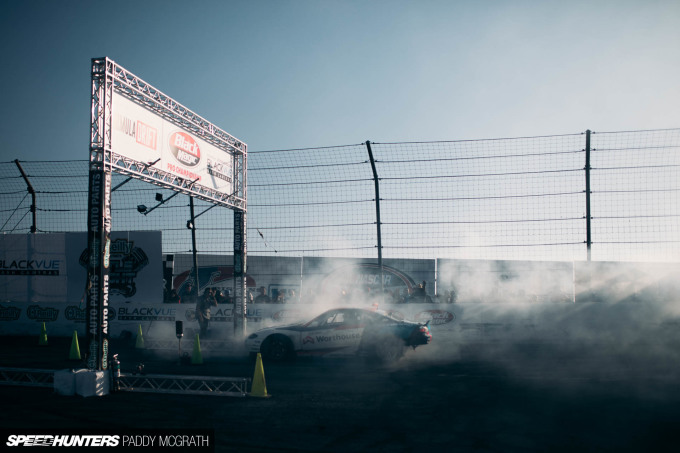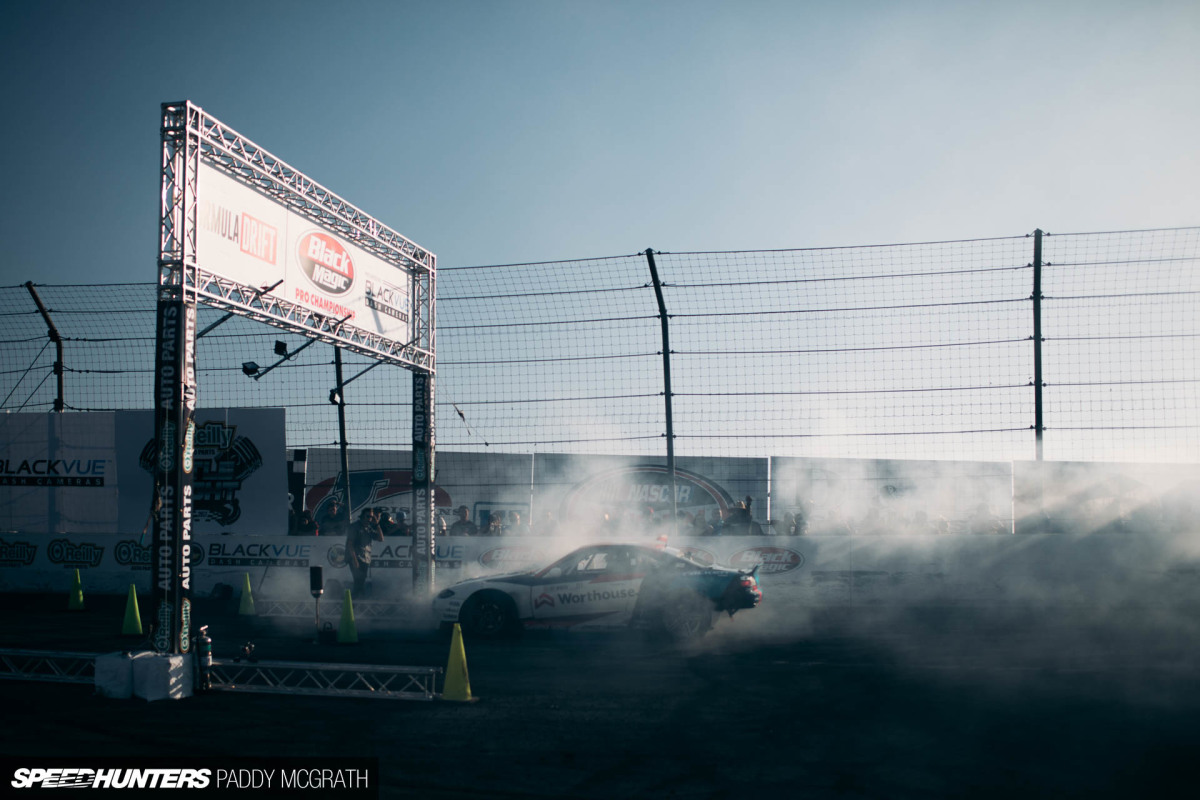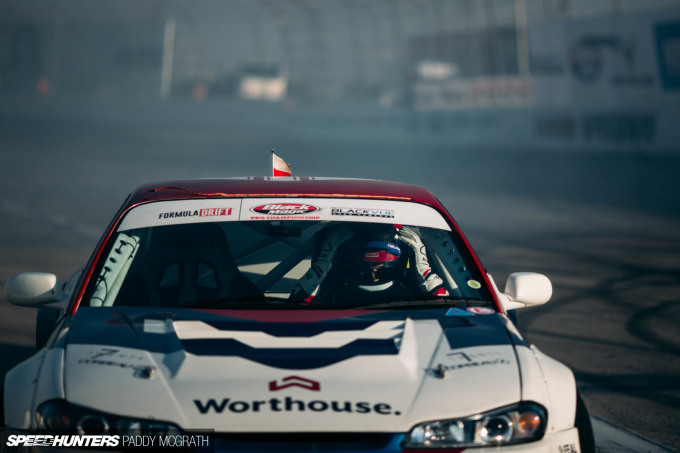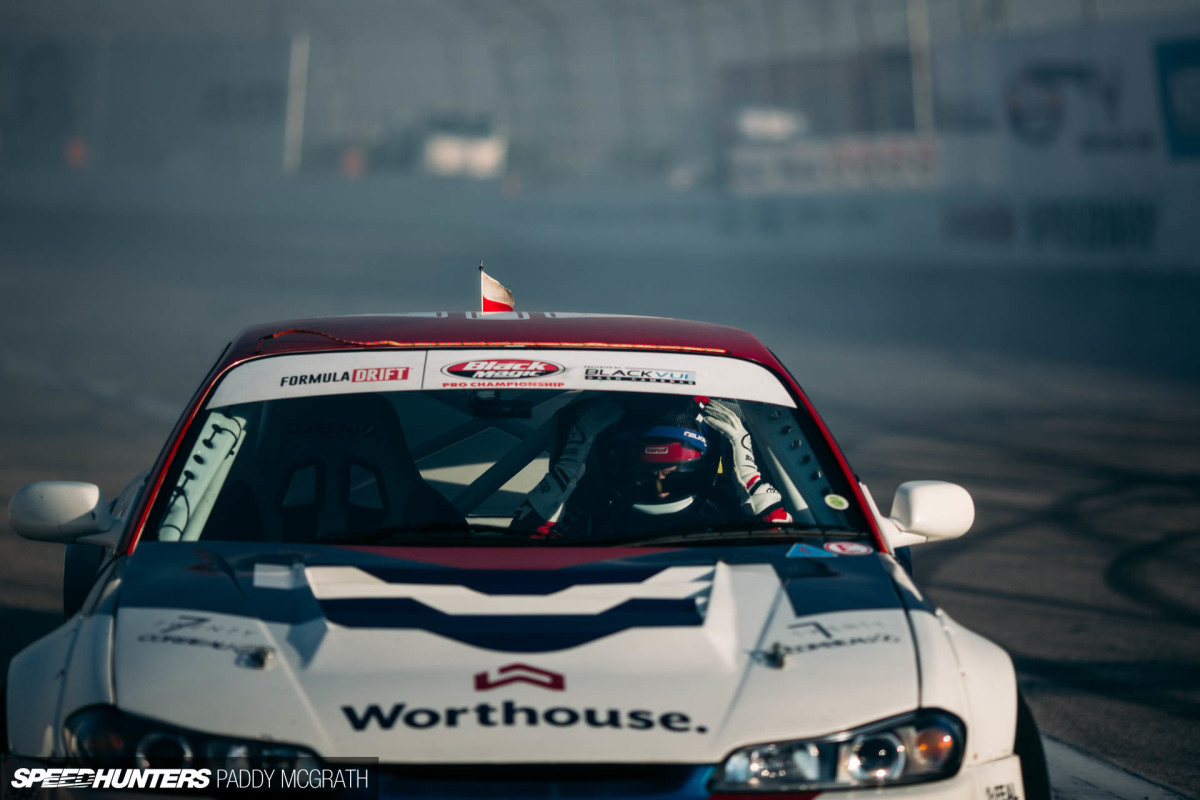 It would prove to be a straightforward run for Piotr, whose elation at reaching the Top 16 at the final Irwindale event was absolute.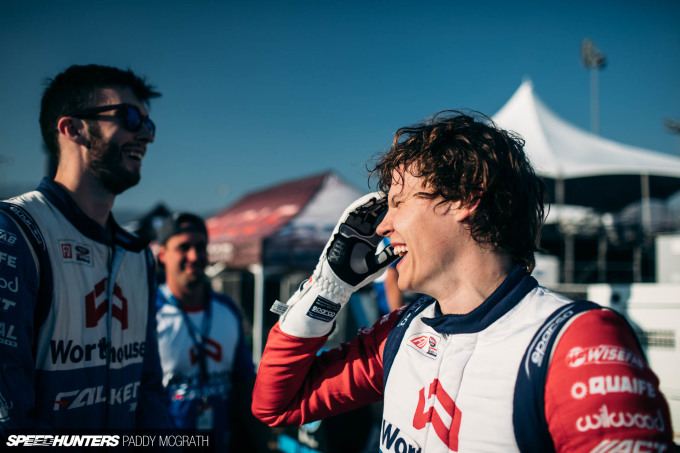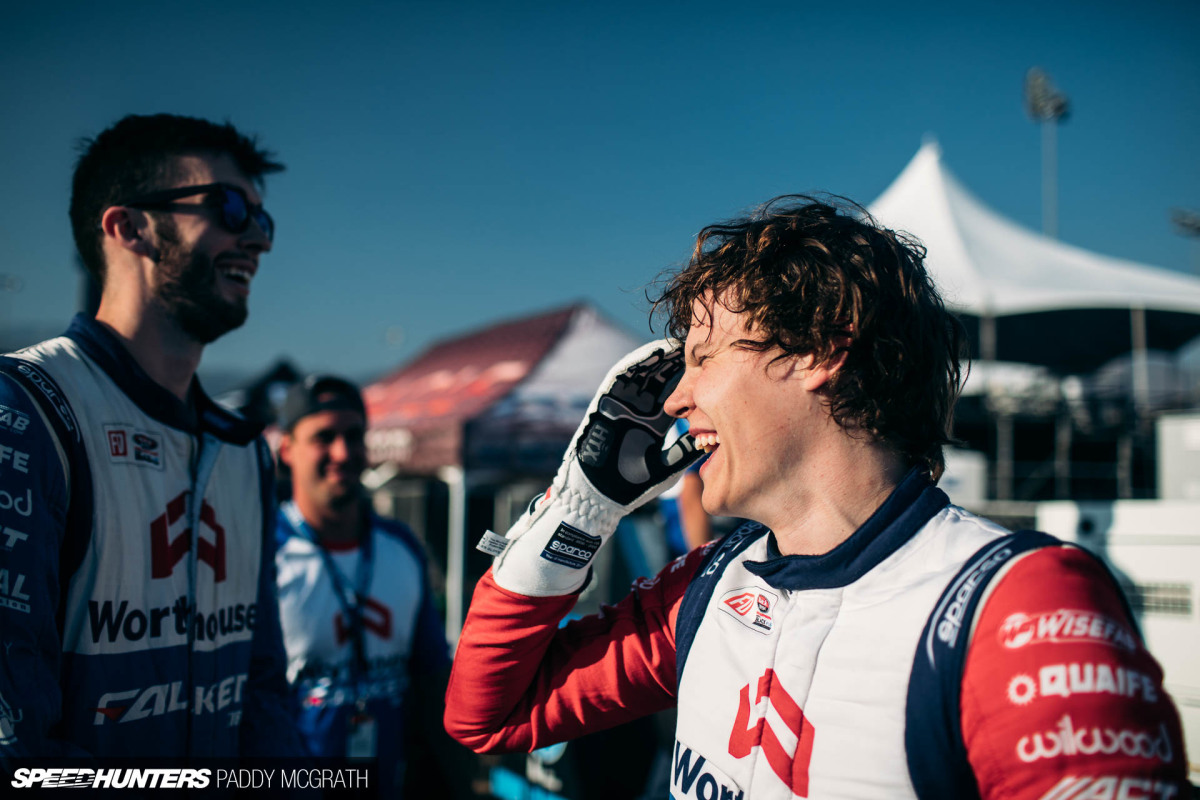 Honestly, the joy that he gets from drifting is enviable. He appreciates every little thing and celebrates it like it's his last. Little did he know…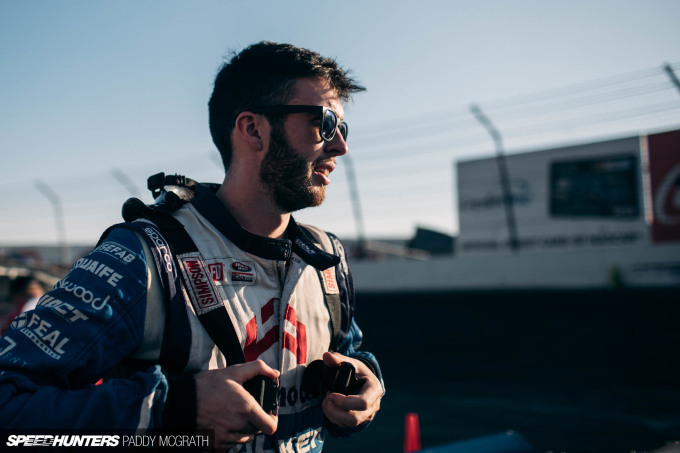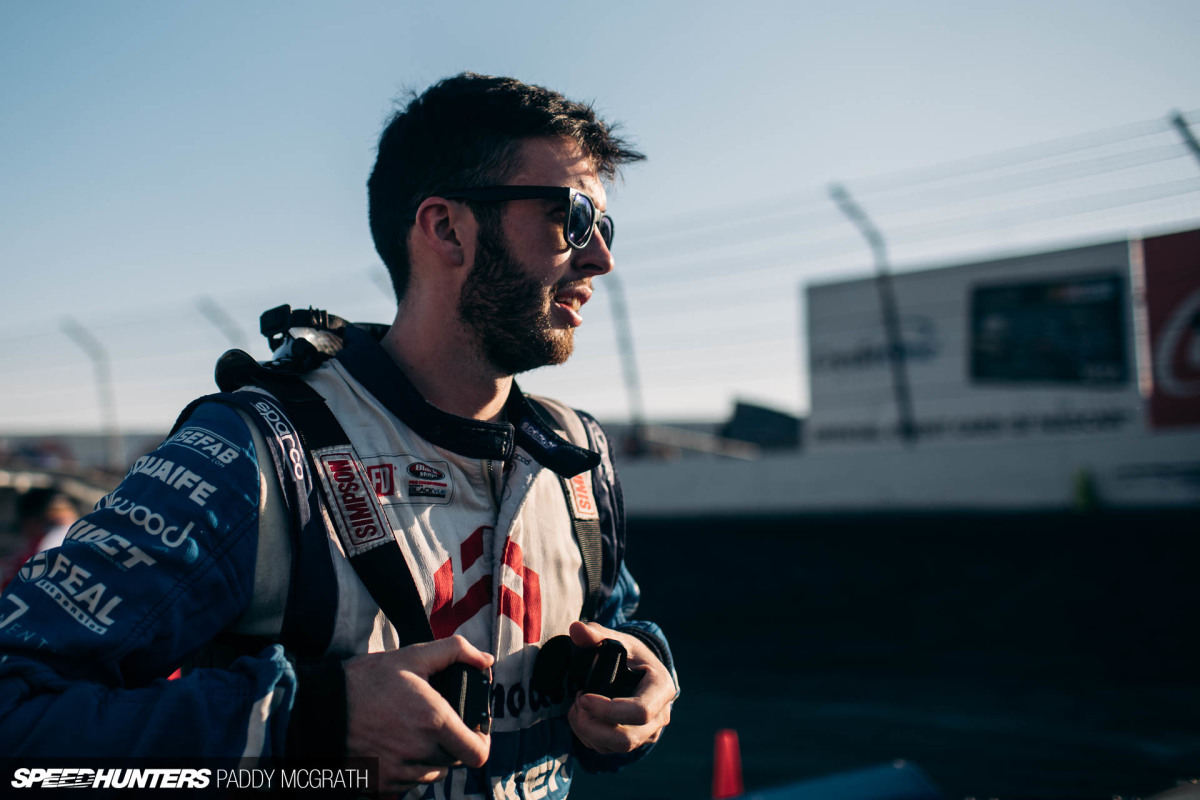 James' run was soon after Piotr's, although he waited for Piotr to come back before preparing for what could prove to be his defining moment.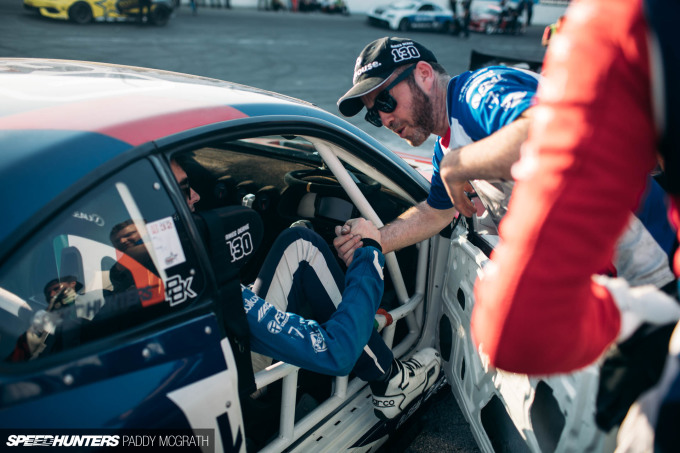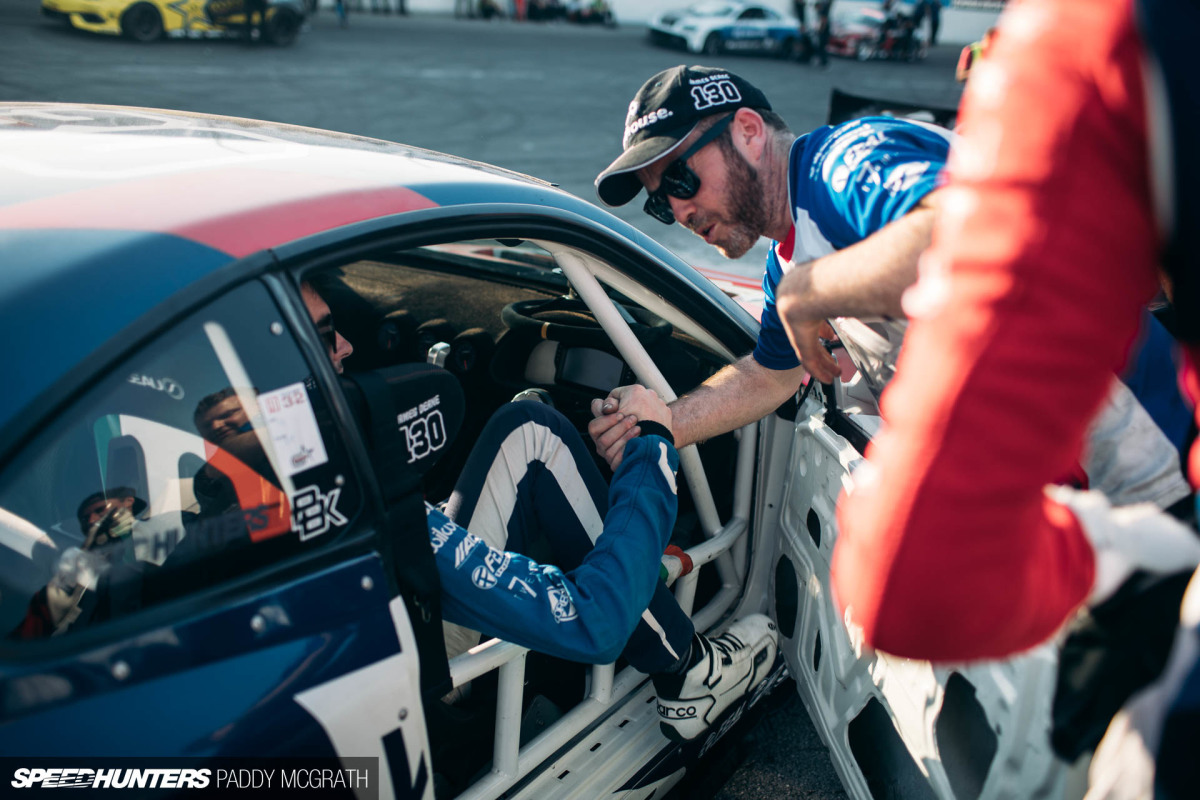 There was just time enough for well-wishes and handshakes before he closed the door and headed to the line. Nothing really needed to be said at this stage; James knew exactly what he had to do. As the 2JZ turned over once, twice, then three times before sparking into life, a collectable sigh of relief was breathed around the hot pit.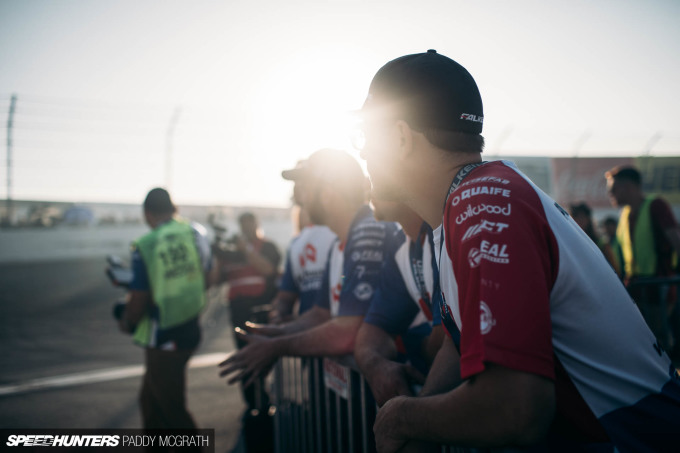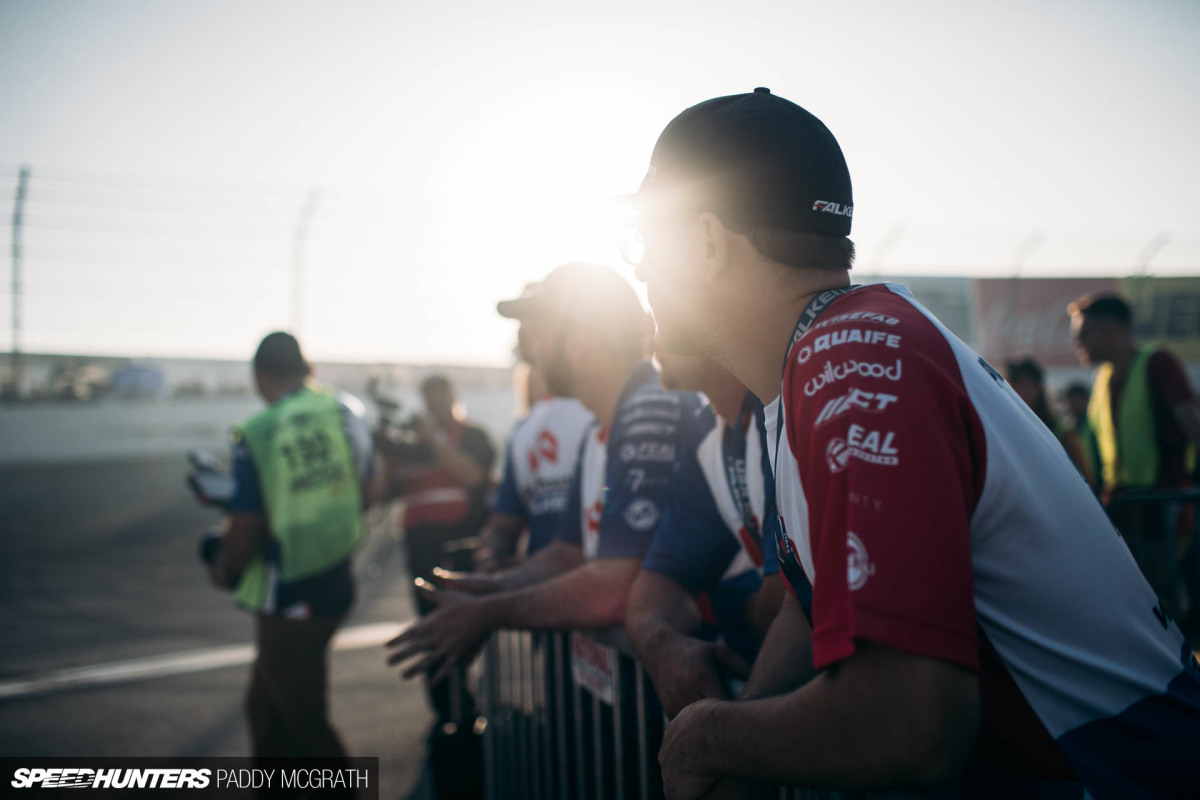 With everything the team could do already done, they headed to the start line to watch on.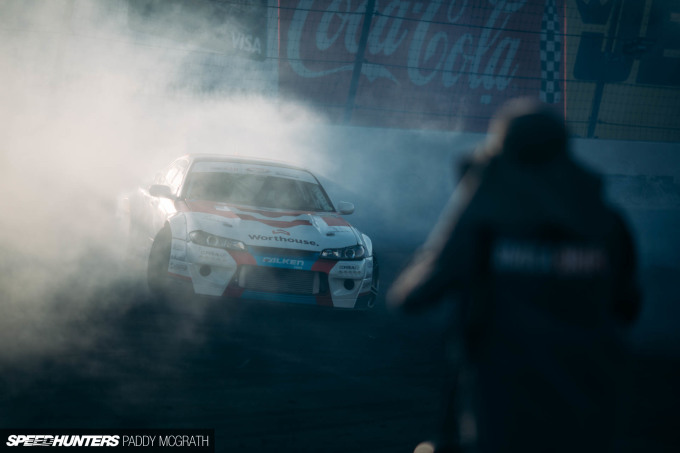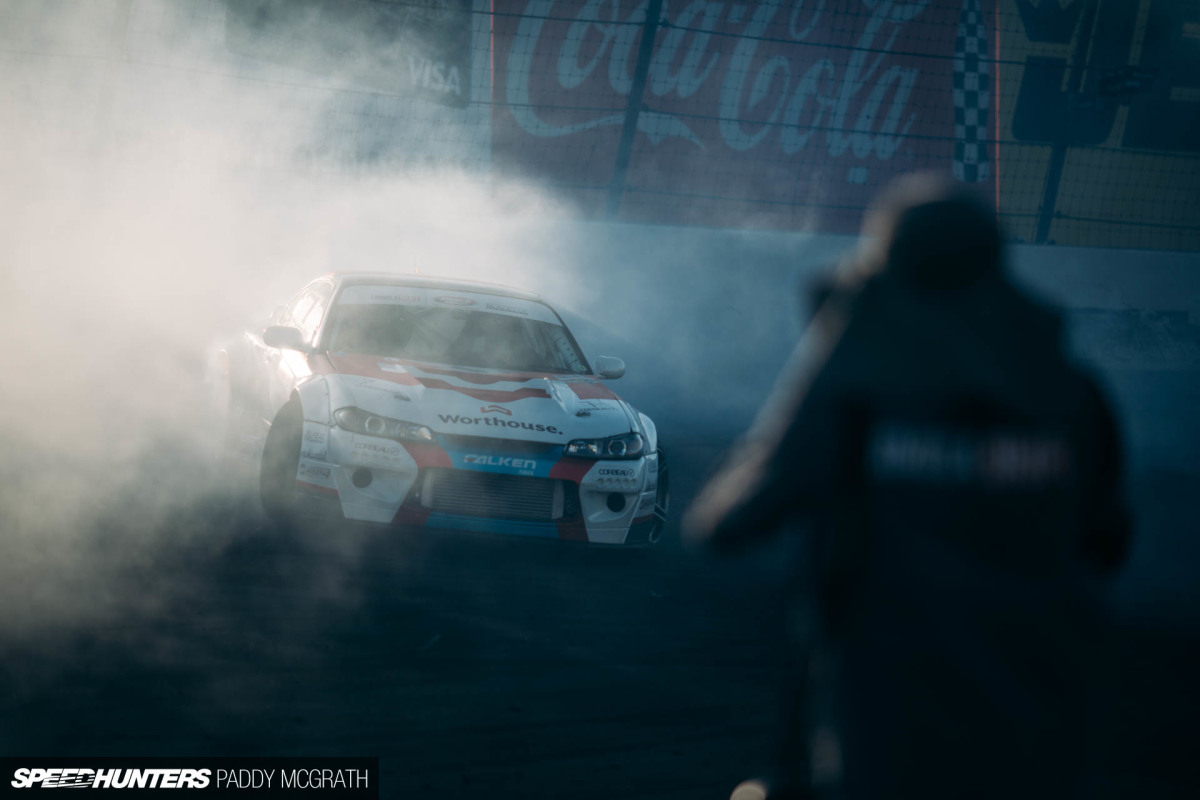 The now traditional warm-up procedure was carried out as normal, heating the front and rear tyres as much as possible before heading to the line.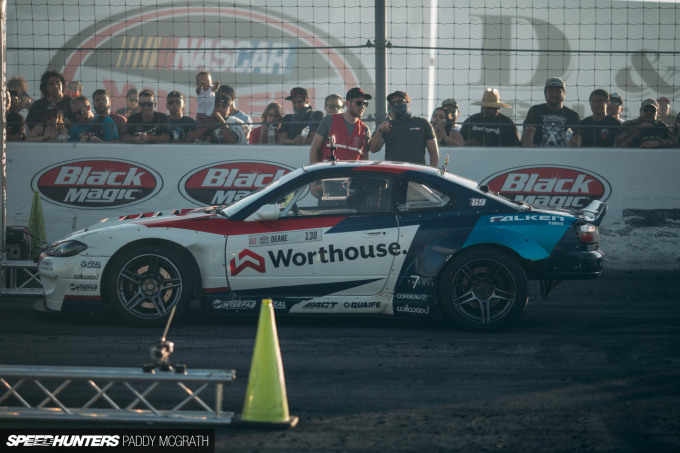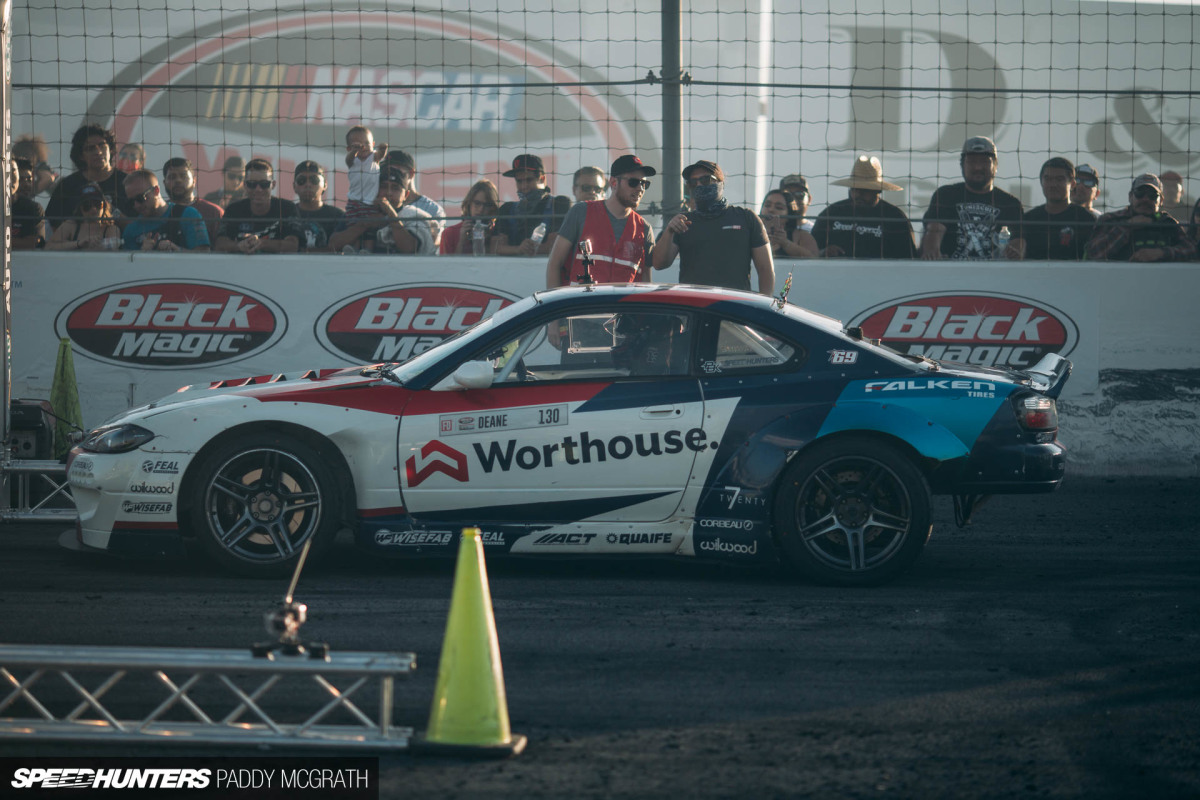 This was James' moment. As the red start line lights went out, a flare of engine revs saw the S15 pull away.
James Deane was champion.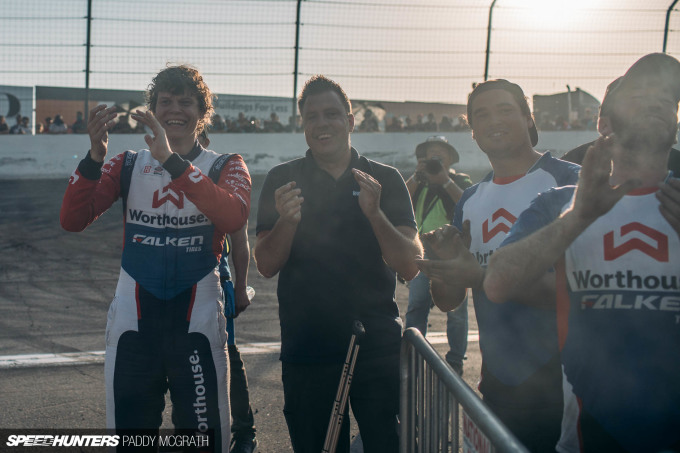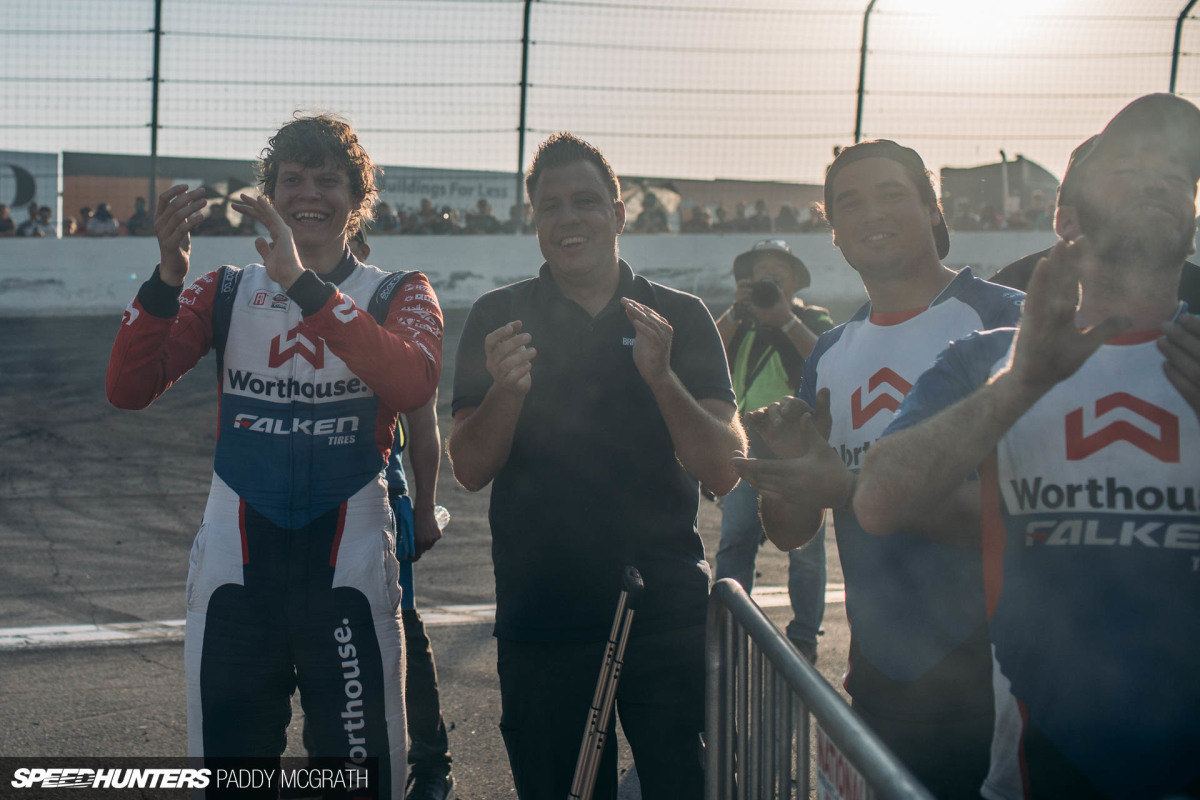 The significance of the occasion wasn't lost on the team or assembled supporters, as James laid down a qualification run that any driver would be proud of, he was cheered on every inch of the way.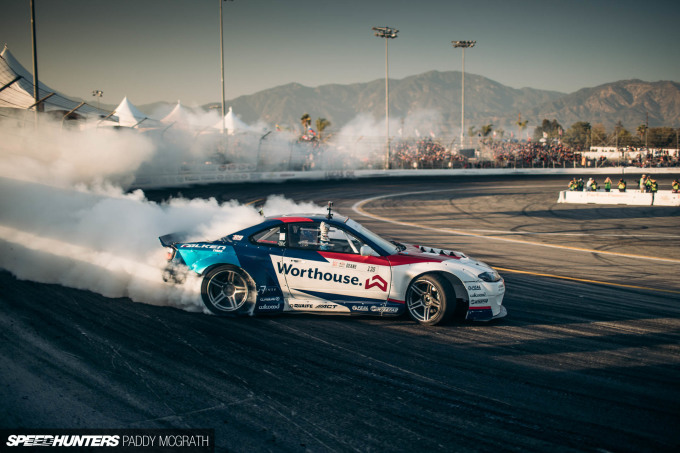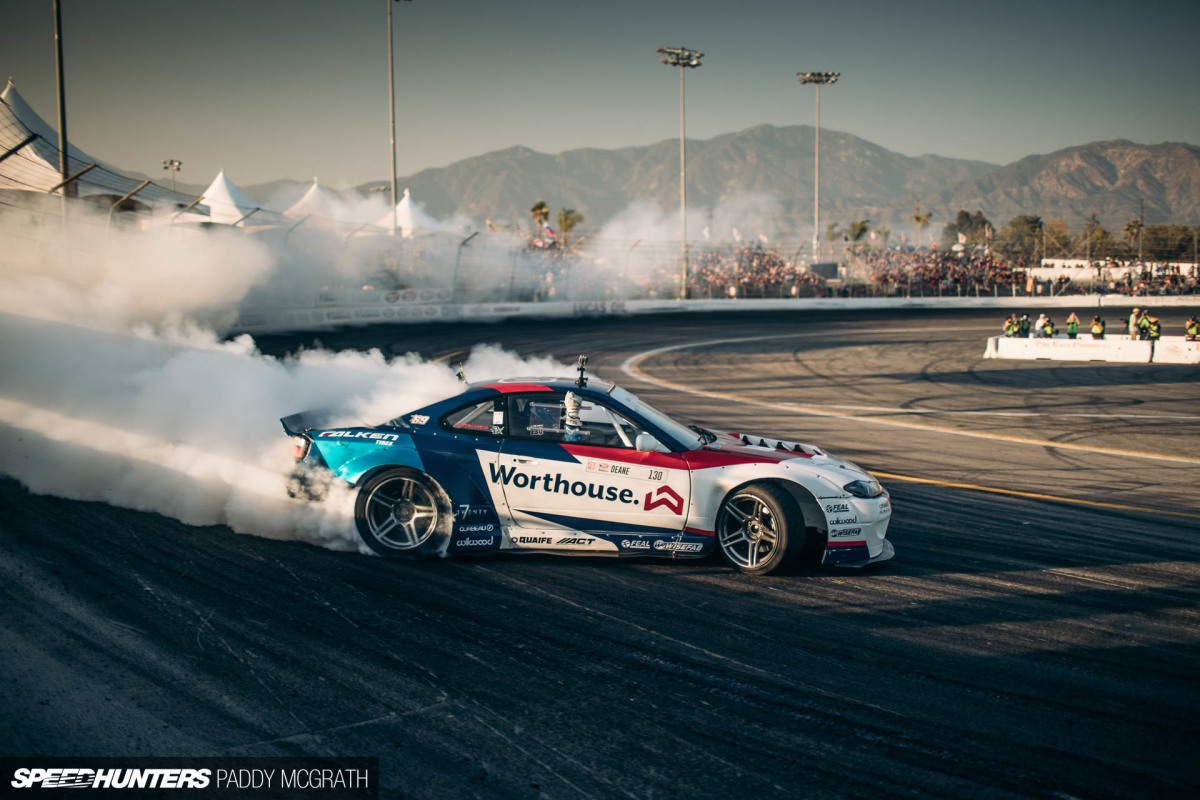 As he came past us, he punched the sky through the open window. Everything he had worked his whole life for, since leaving school as a teenager, had led to this moment. Arguably, his greatest.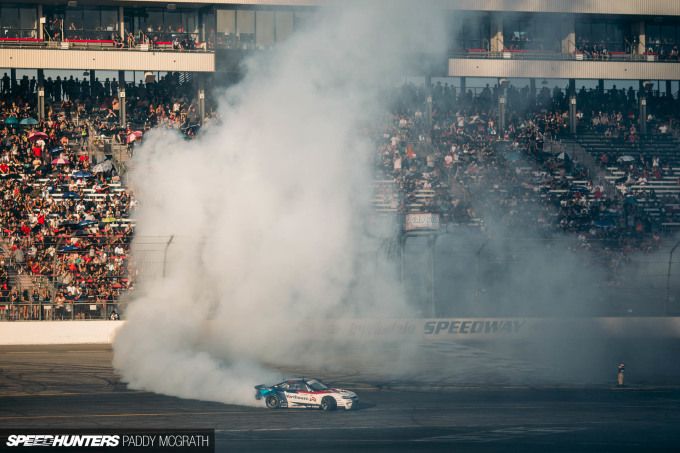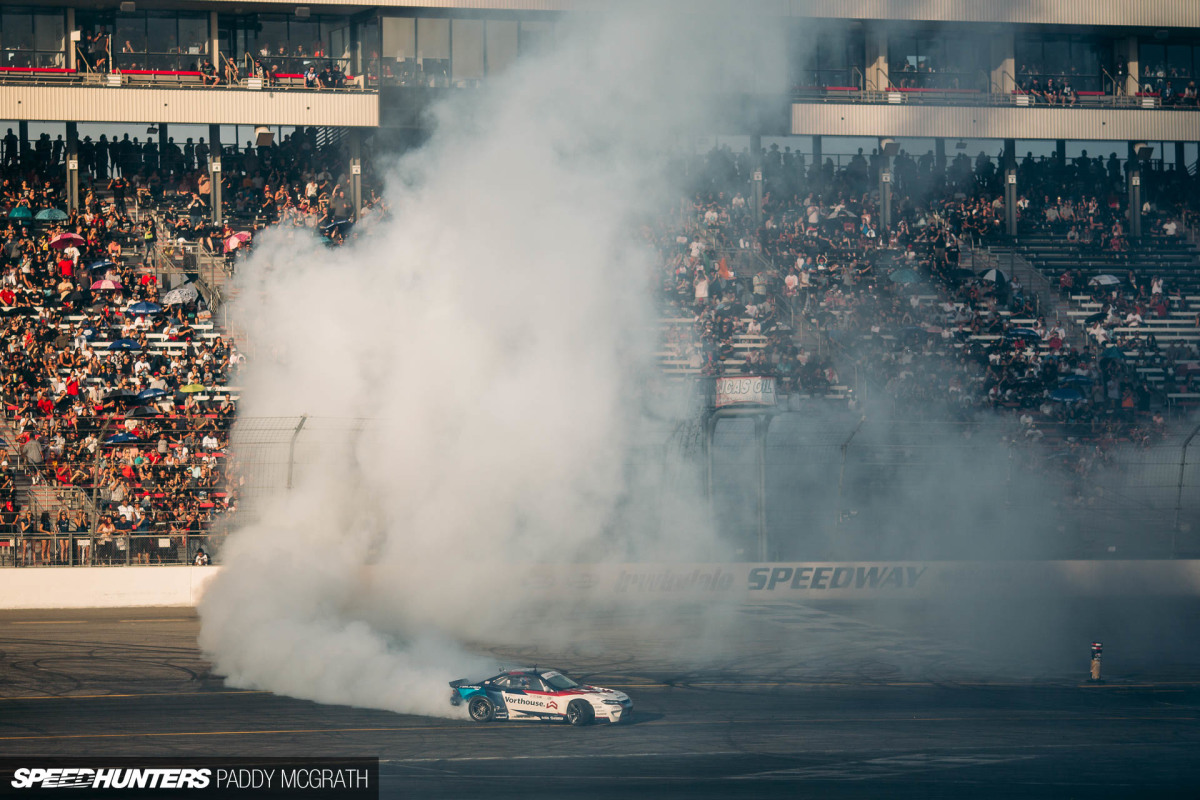 Once across the finish line, he tipped in for some celebratory donuts in front of the grandstand which housed his family, friends and fans.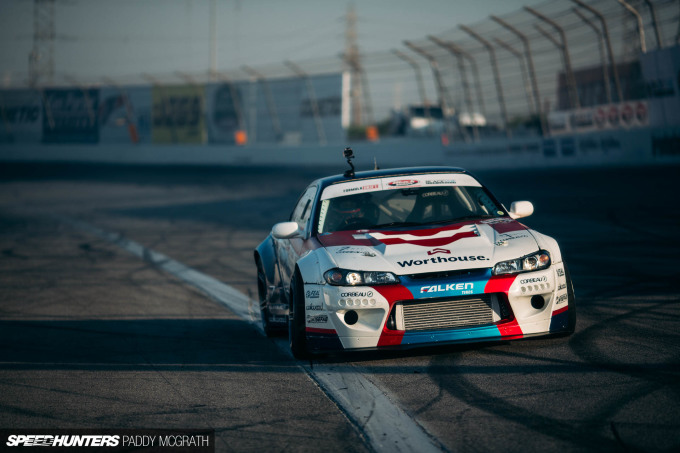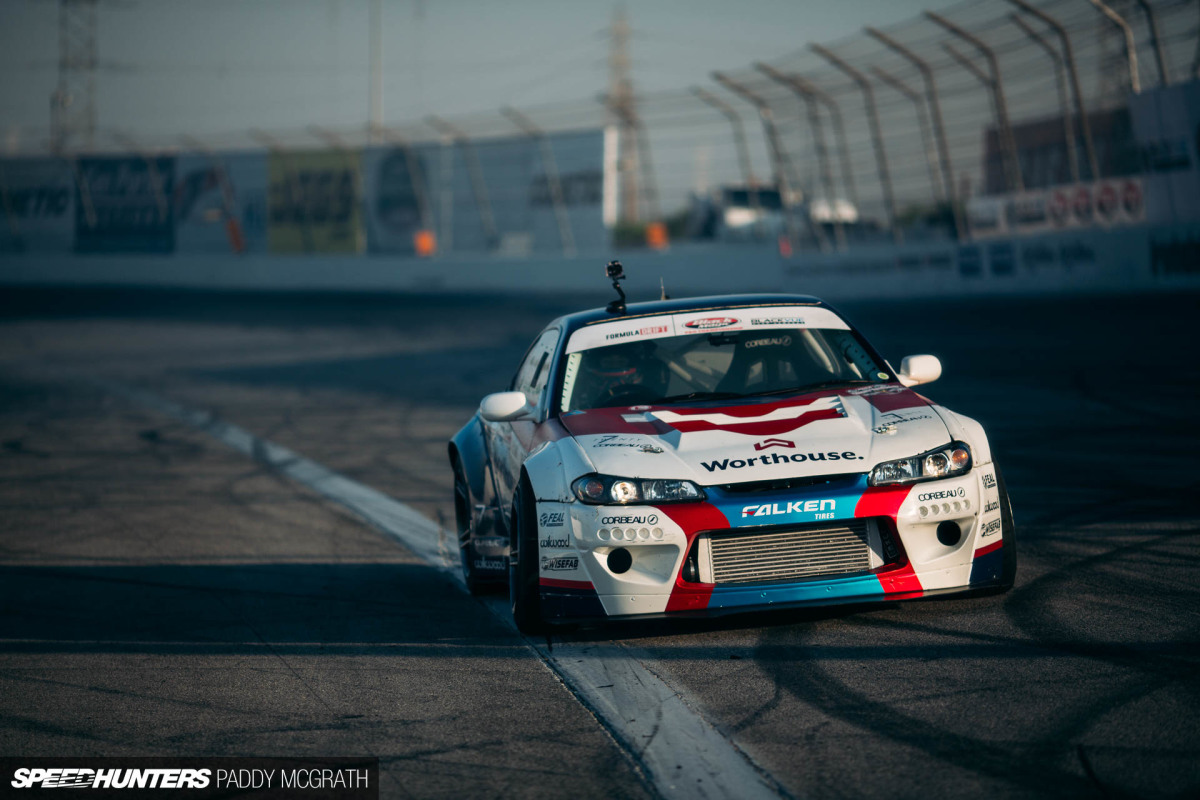 Although it was a championship that was won earlier in the season, with multiple wins and podiums (I'll get to the statistics momentarily), it could have felt anti-climactic to win it on a bye run. In reality, I think it was the most fitting way for him to be crowned. Truthfully, no one had an answer for his dominance this season.
Out of 32 battles, he won 29 of them, a 90.6 percent win rate. He equalled the all-time record for most wins in a single season in his first full season. He featured on the podium six times out of eight, and won the championship with the largest points haul in the last 10 years (651), as well as by the largest margin (113). All of which was achieved in a season that was never intended as anything more than a learning experience, so that a proper challenge could be mounted in 2018.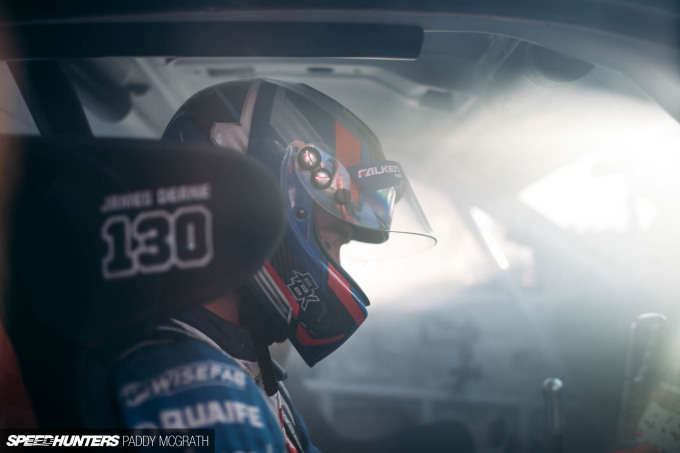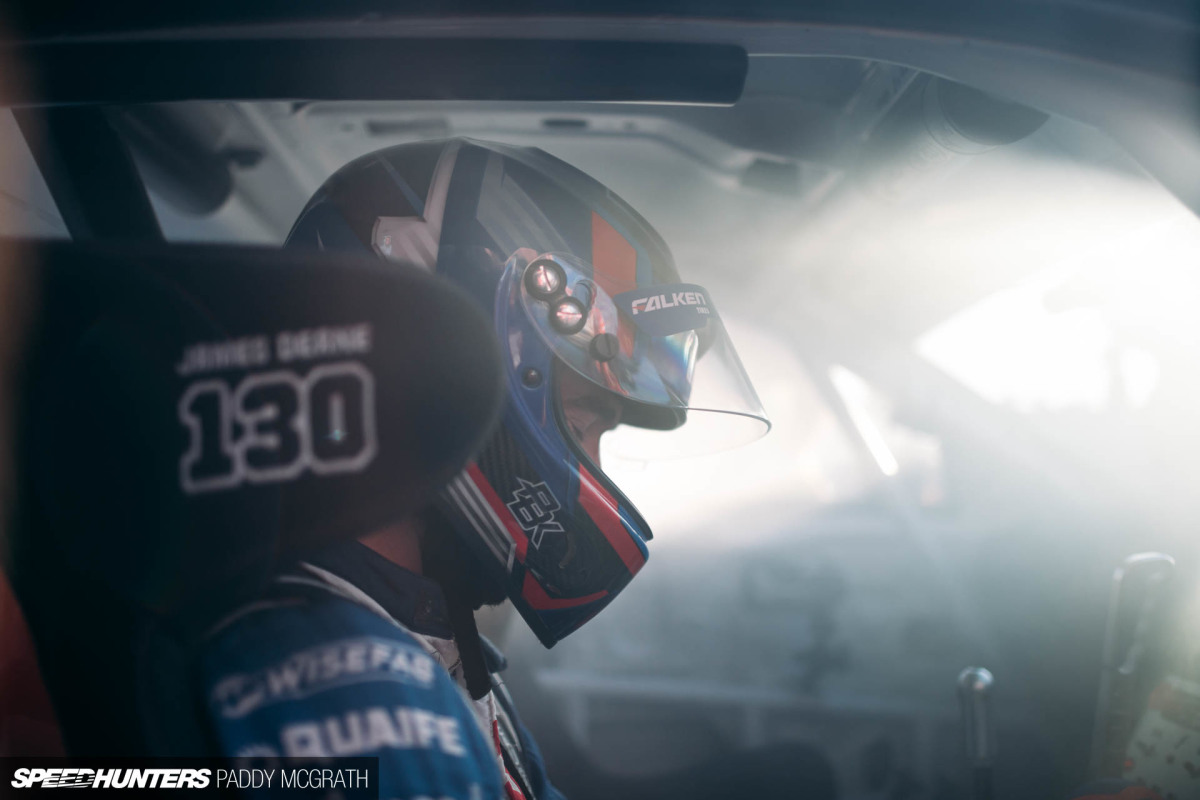 As the car came to a stop in the middle of a scrum of media and teammates, still full of Falken tyre smoke, James took the briefest of moments to himself, and to reflect on what he had just achieved.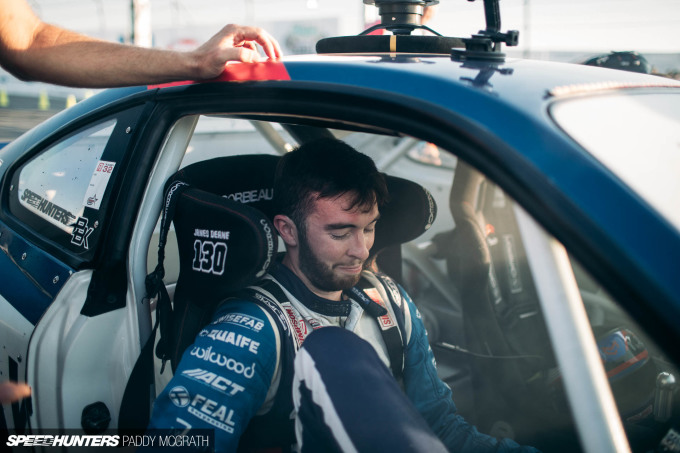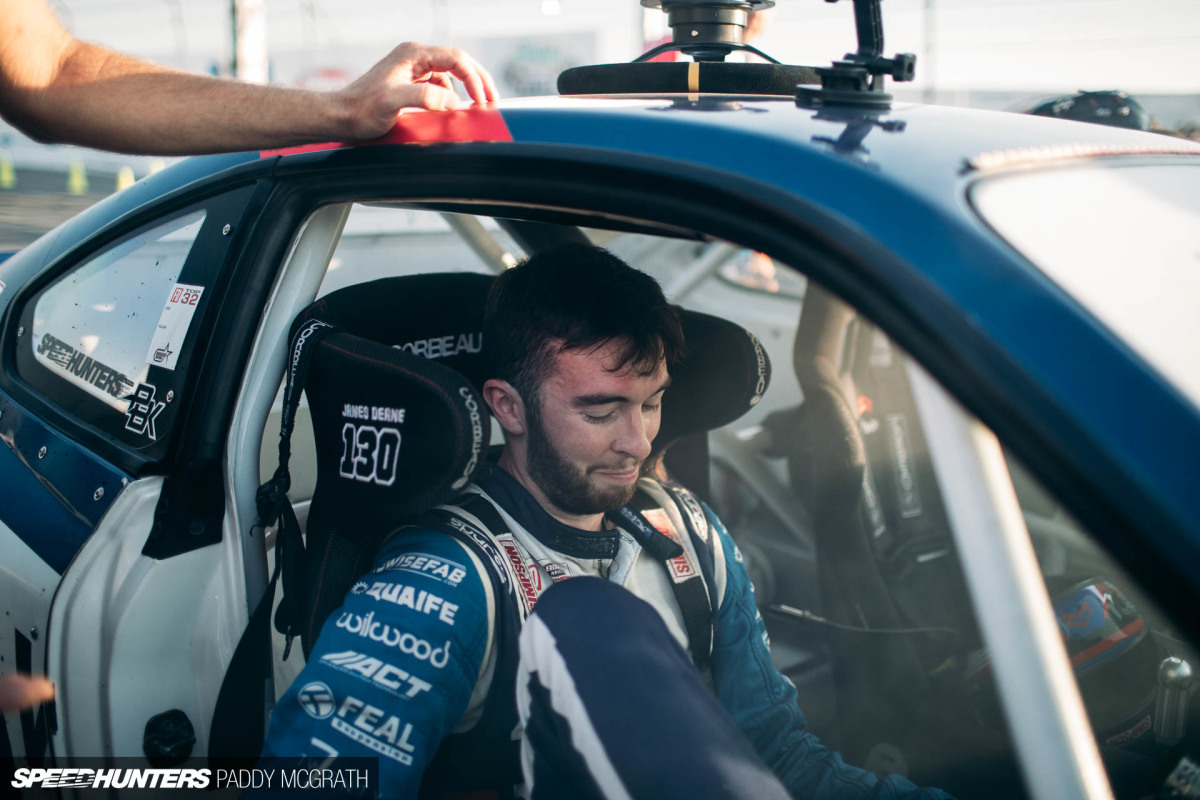 He could barely contain himself as got out of the car, only to be swarmed by his crew.
Amongst the first to greet him were his brother Mike, teammate Piotr, and his crew, before he was promptly hoisted into the air.
The first of his opponents to arrive was, again, Fredric, who greeted him with the most sincere and authentic congratulations.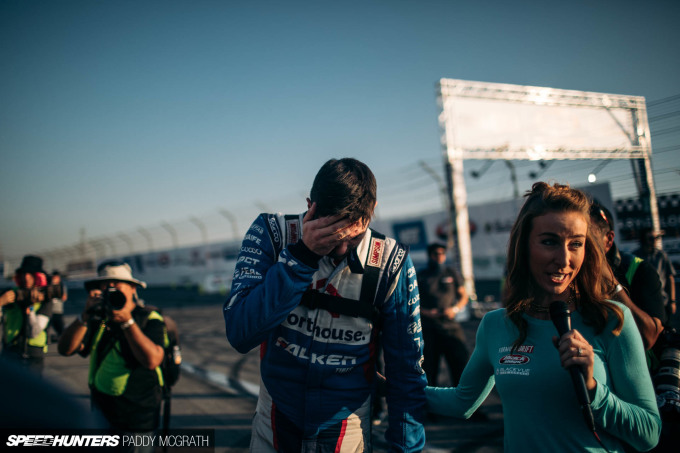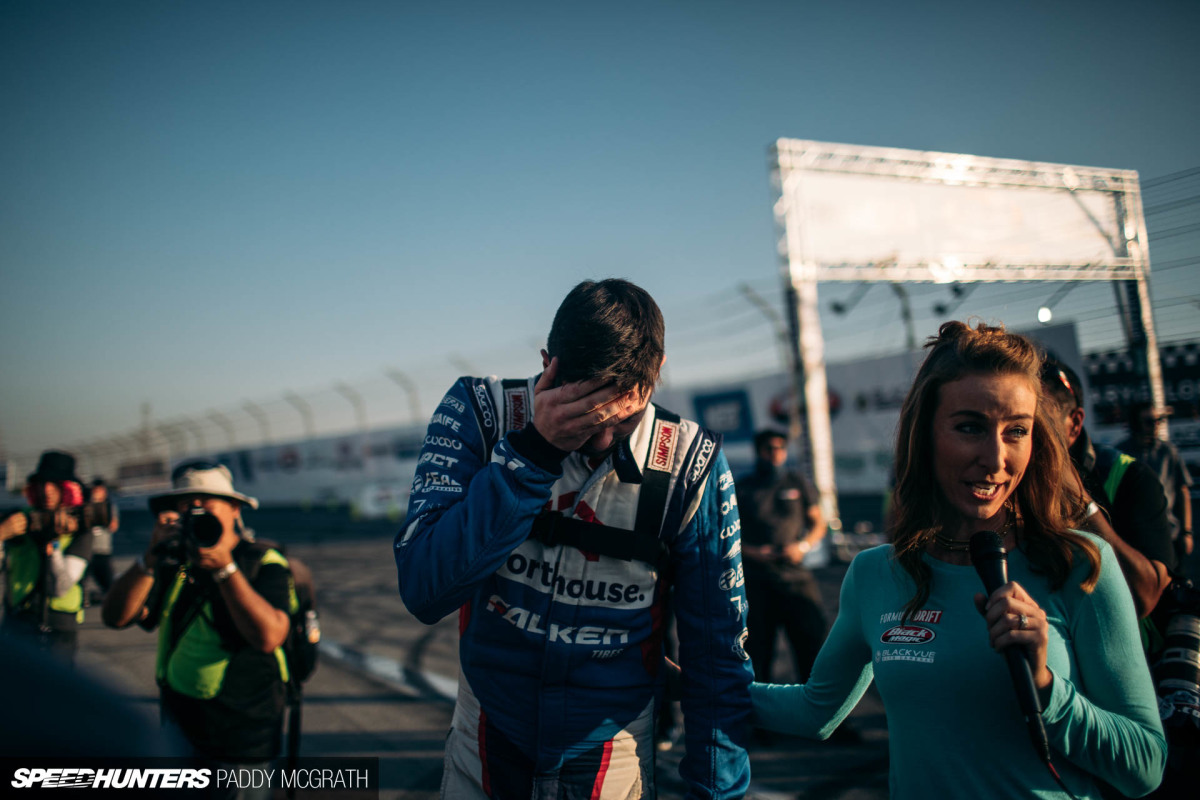 As he was grabbed from the horde for the mandatory interview, it was all starting to sink in for James.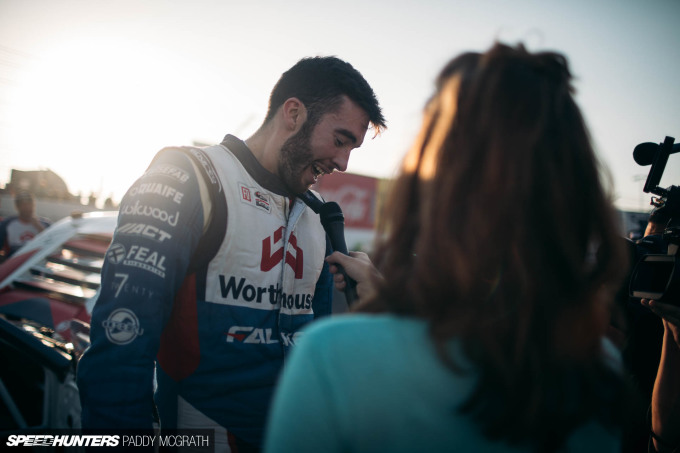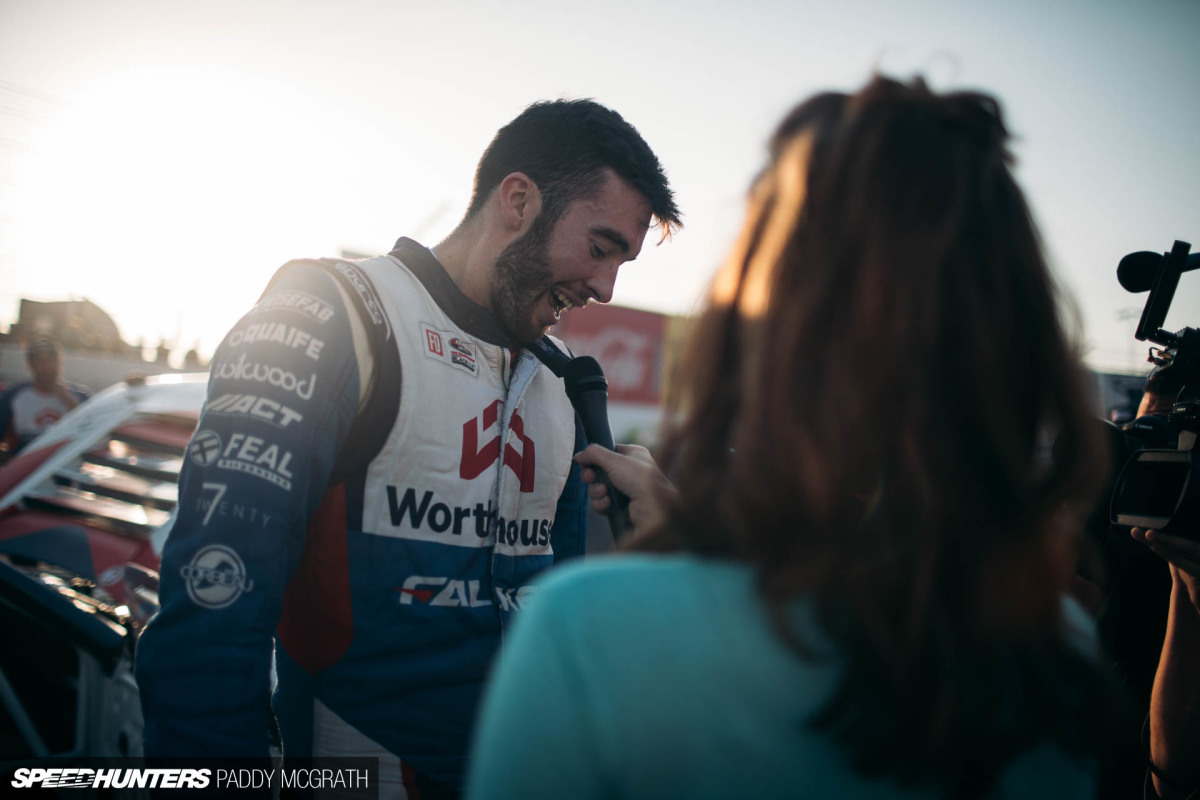 In typical fashion, only he could win a championship and talk about everyone else bar himself. His heartfelt thanks to his team, family, friends and supporters was one that came from the heart.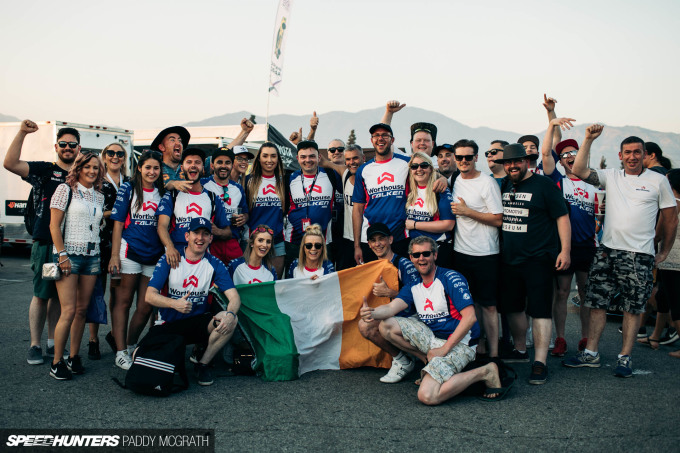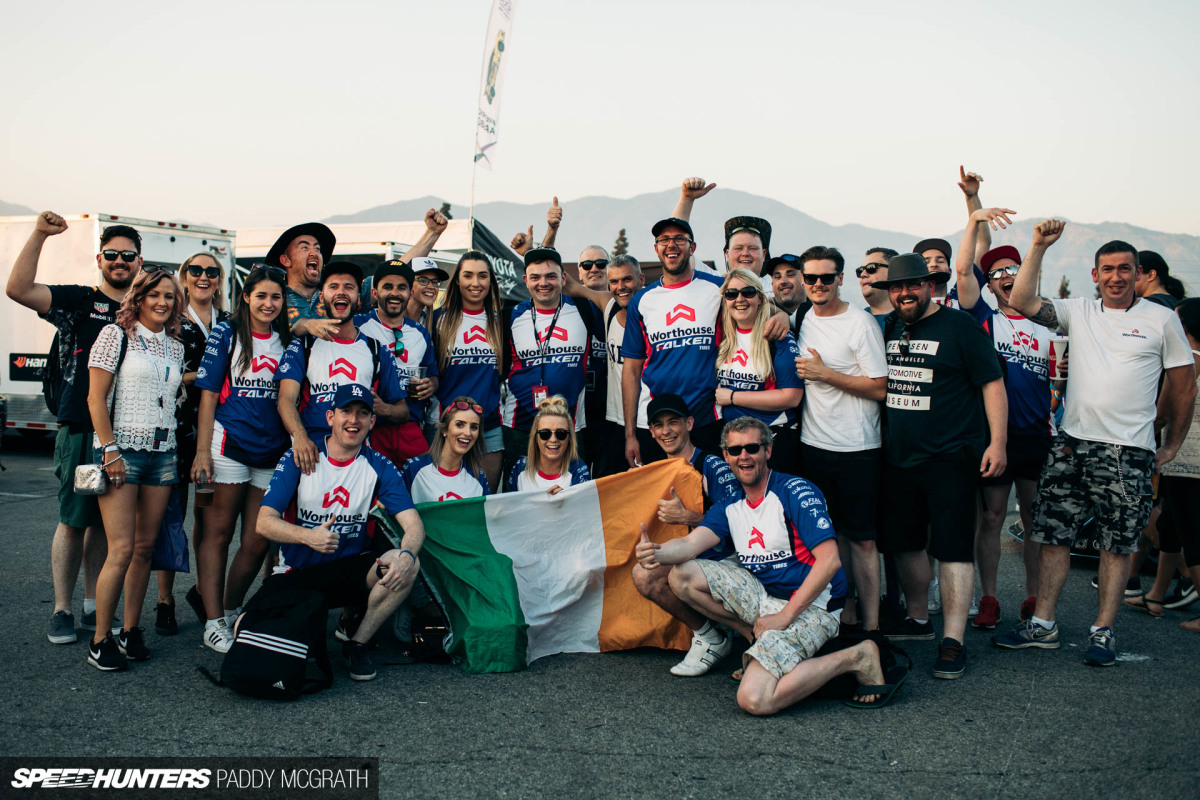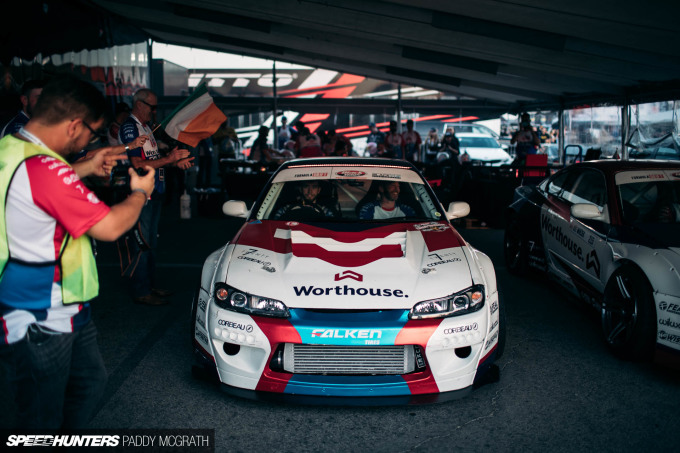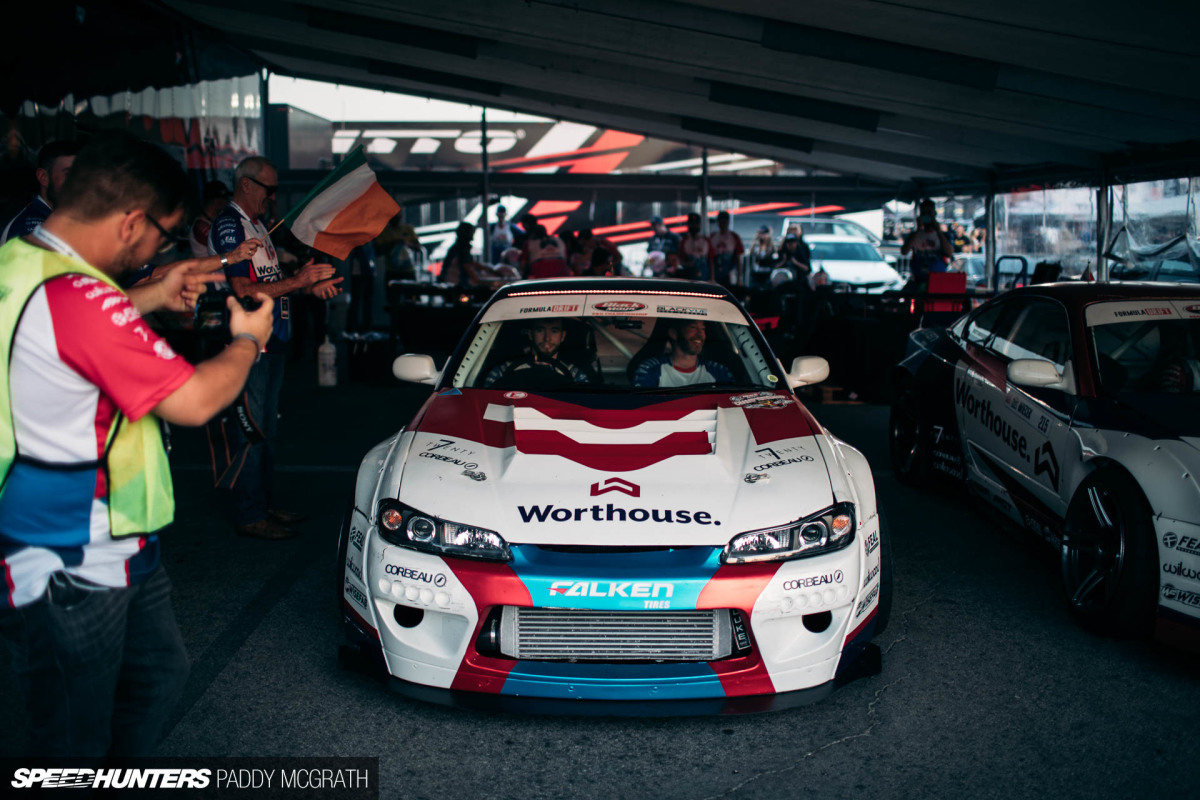 Upon his arrival to the Worthouse pit for the halftime break, it felt like the entire island of Ireland and Poland was waiting for him. The twin S15s played their inline-six chorus before shutting down, but the noise didn't abate. The sound of screaming engines was replaced with applause and cheers.
After what must have felt like an eternity, James was greeted by his biggest fans, his mother and father…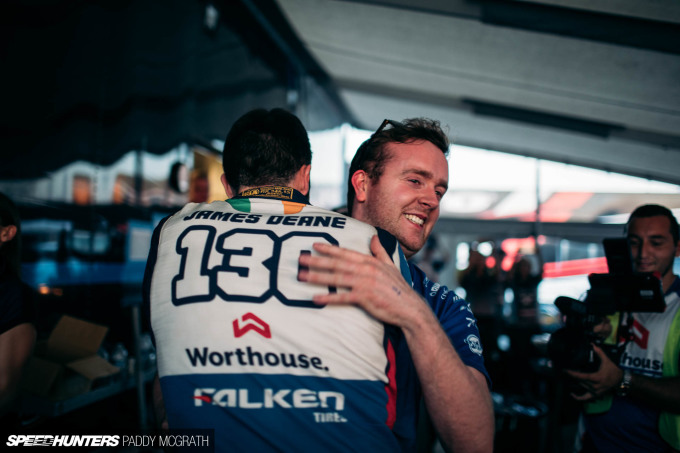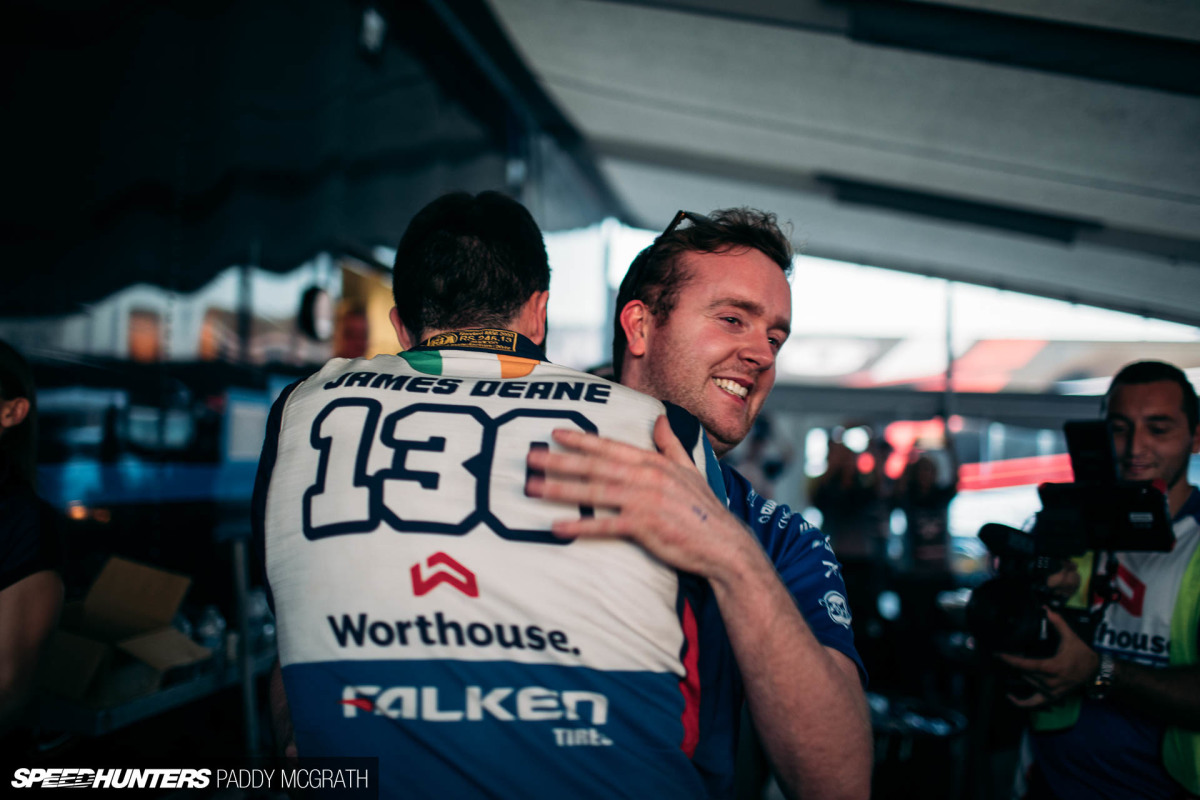 …and his best friend and spotter, Michael Sheehan.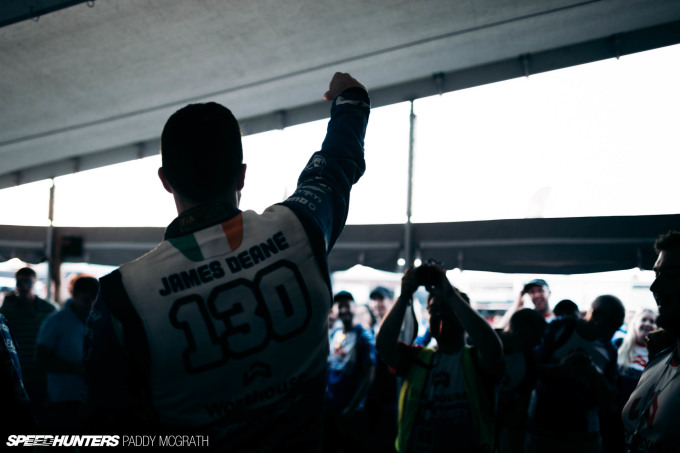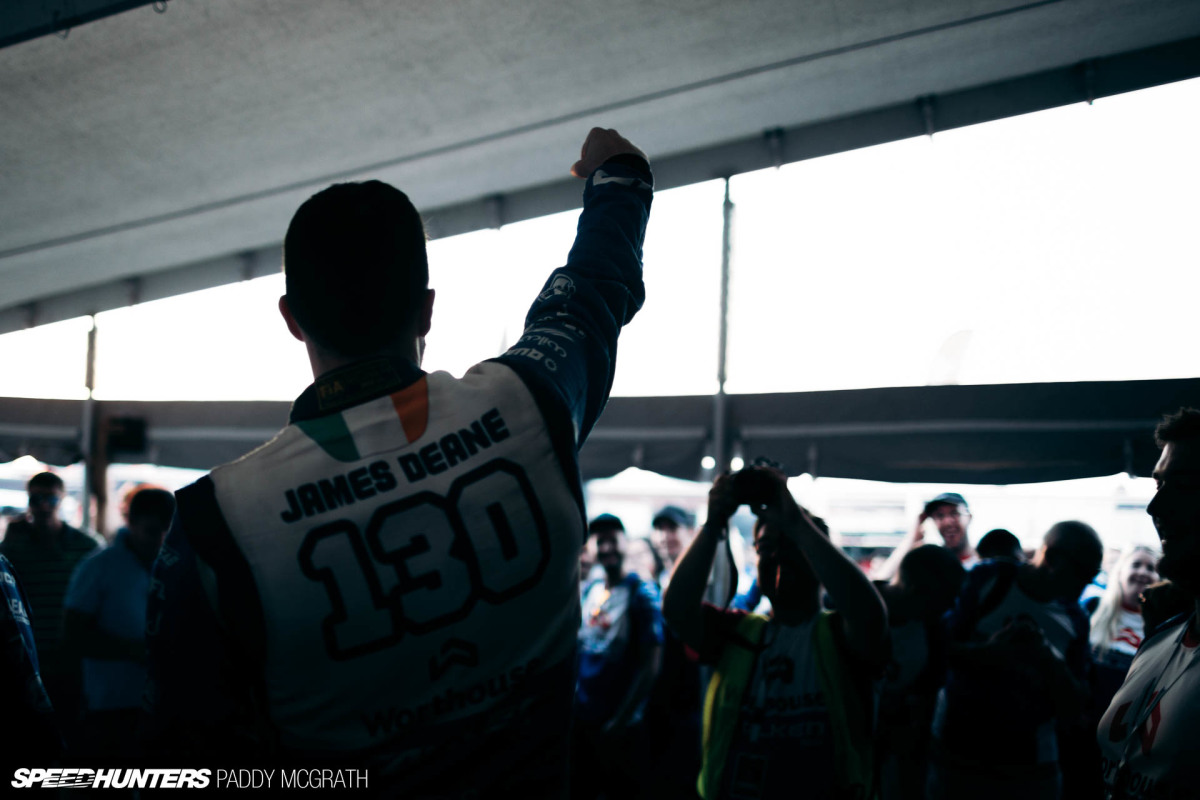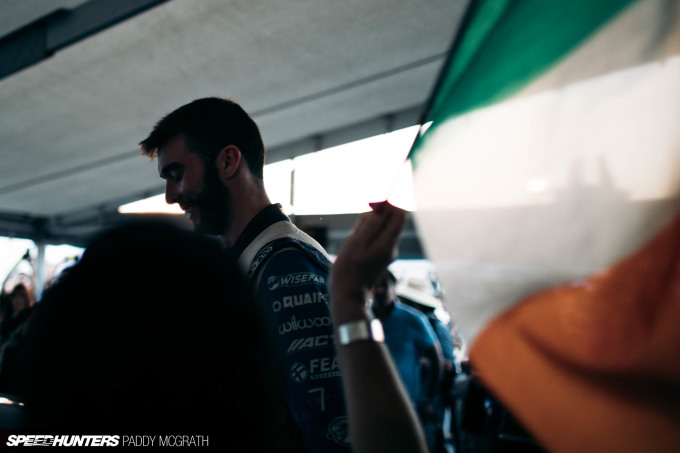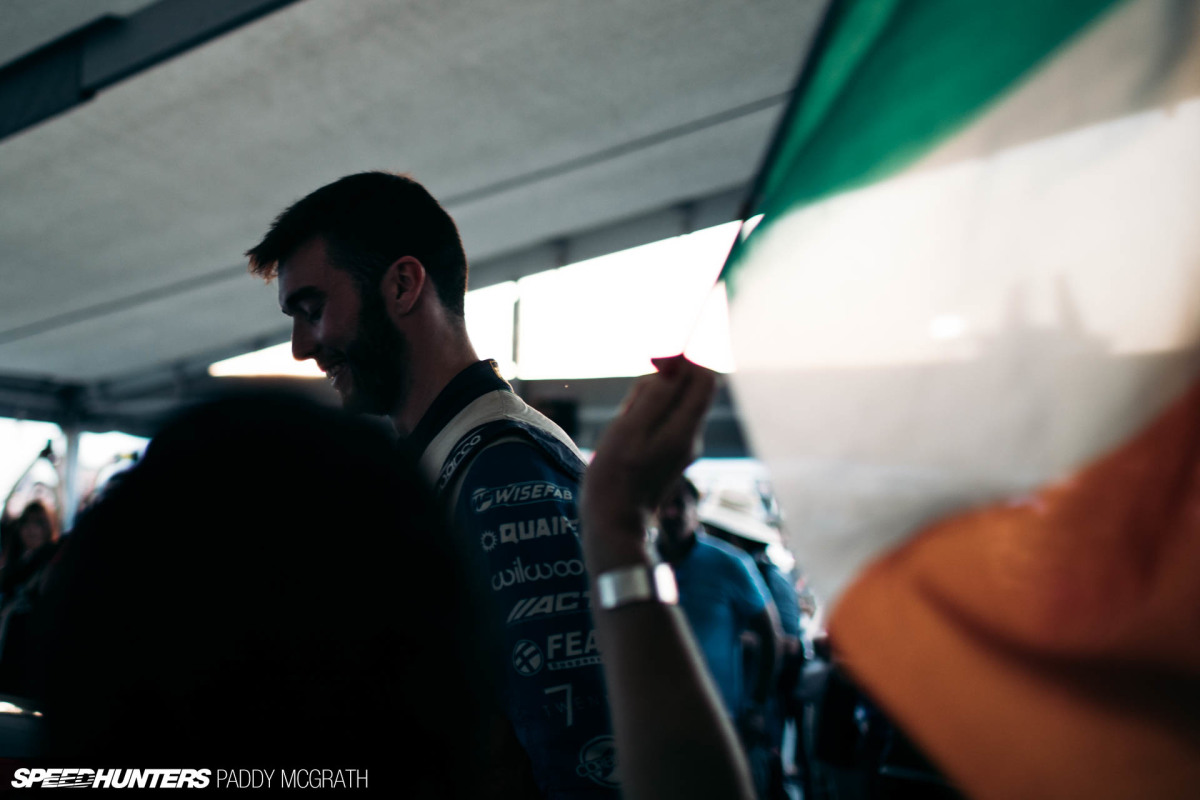 Soon, the pit was swarmed with the travelling Irish.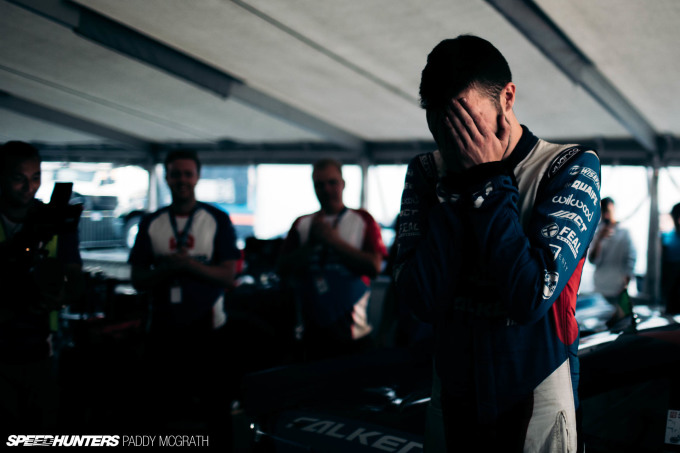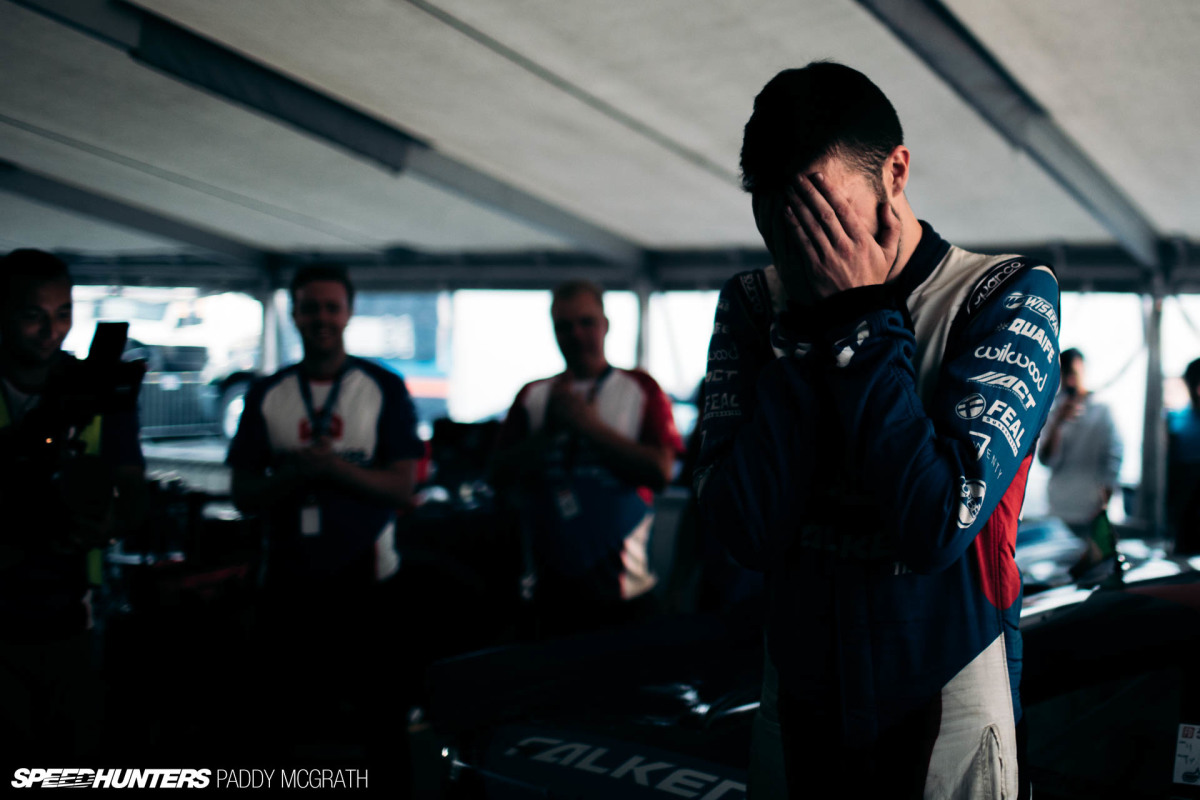 I'll never know what was going through his mind, but on the outside it was a man having the best day of his life.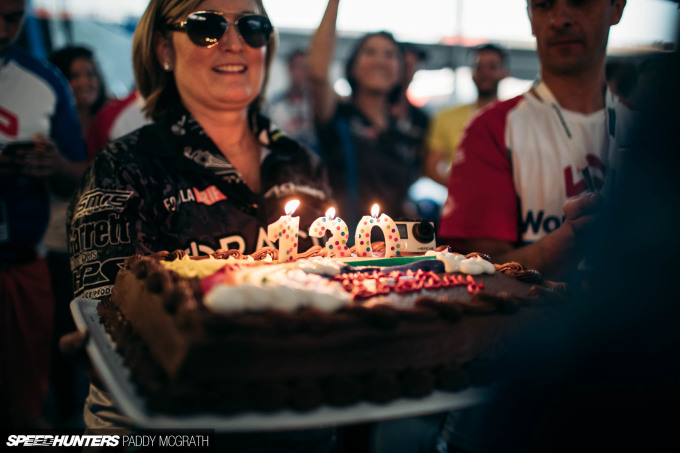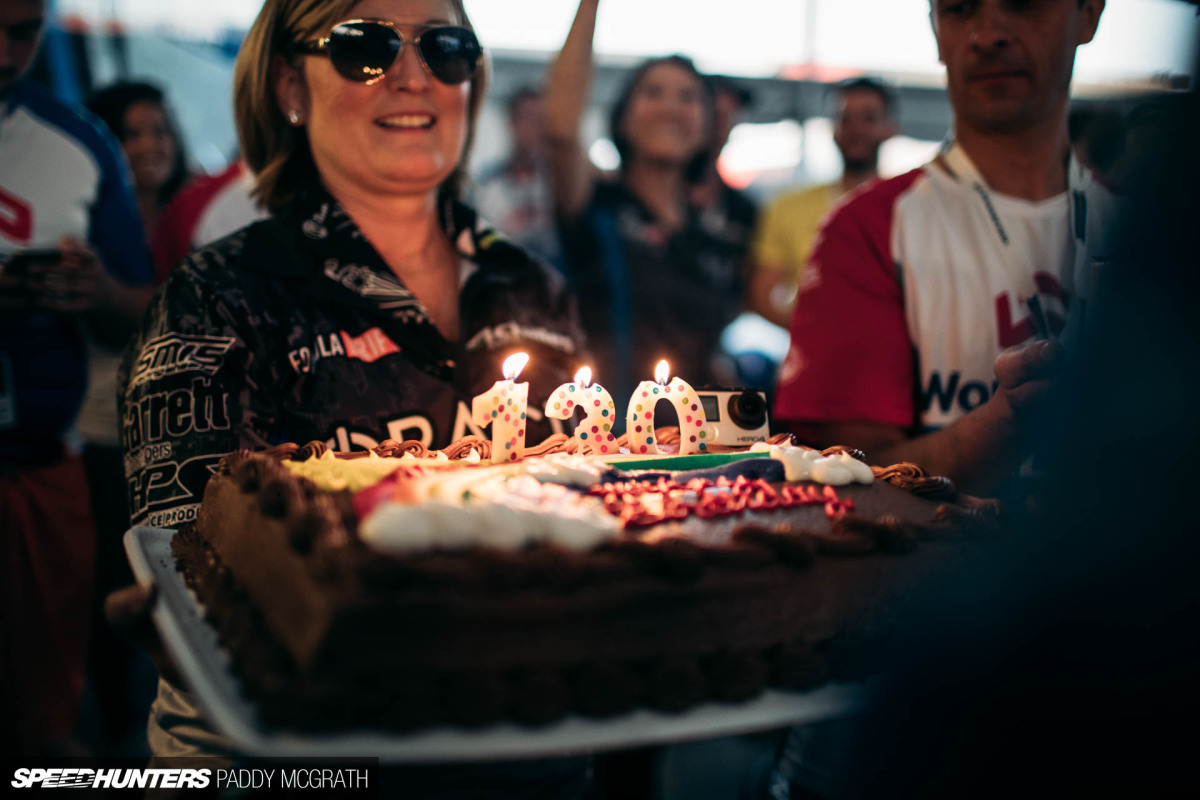 Oh, it was also his birthday, too. Talk about something being written in the stars…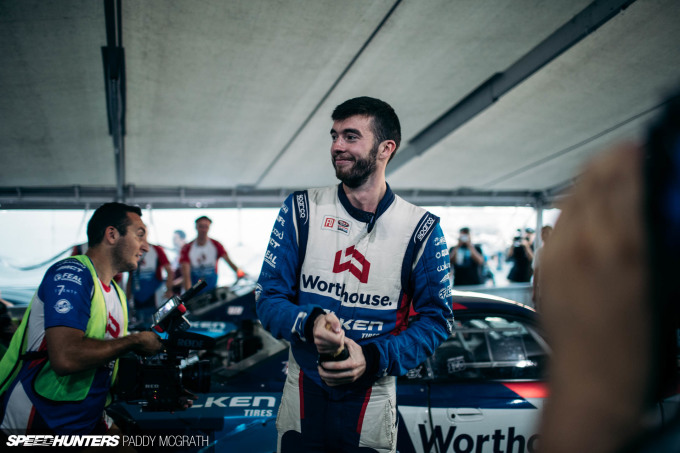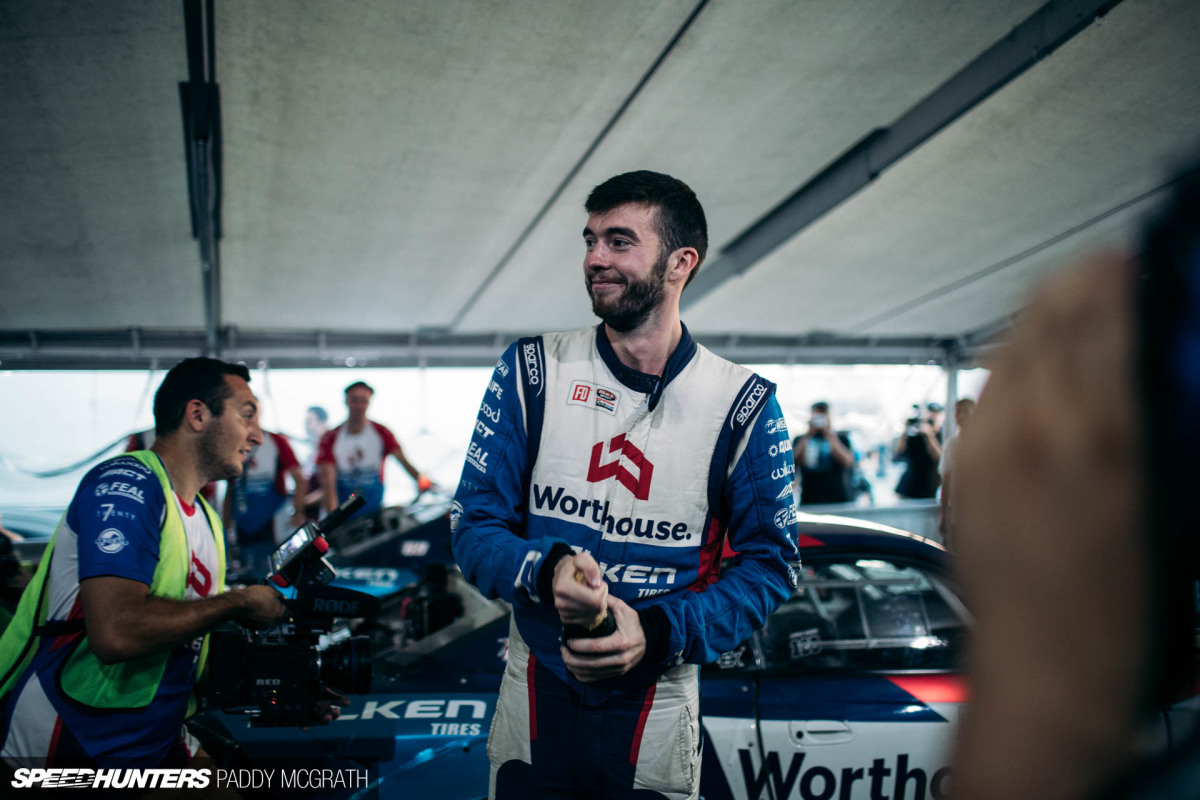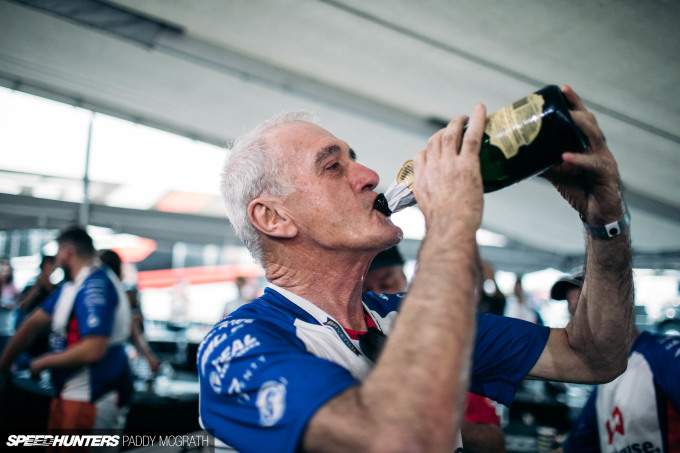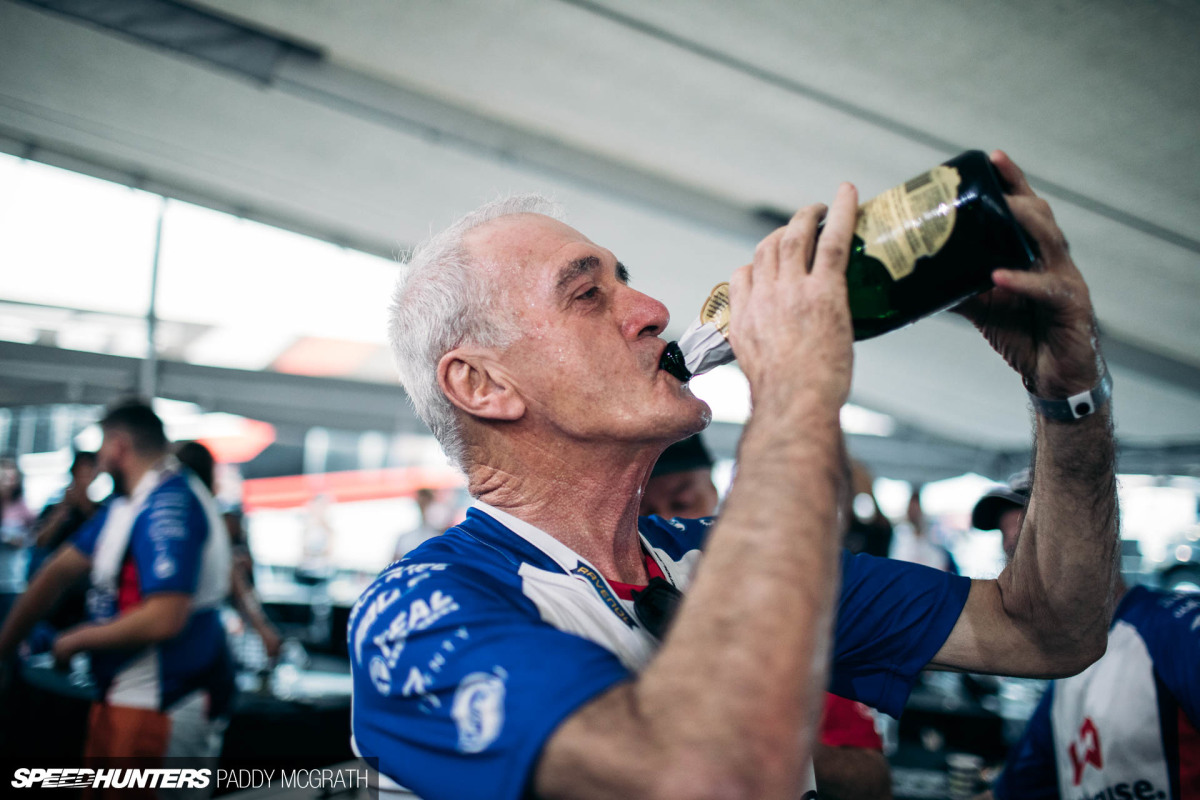 There was just enough time for a champagne shower, although that first taste would have to wait until after. It didn't stop the rest of us starting the celebrations, however.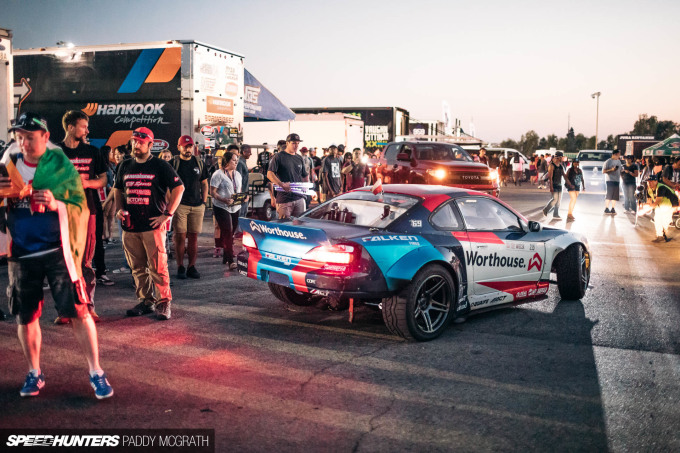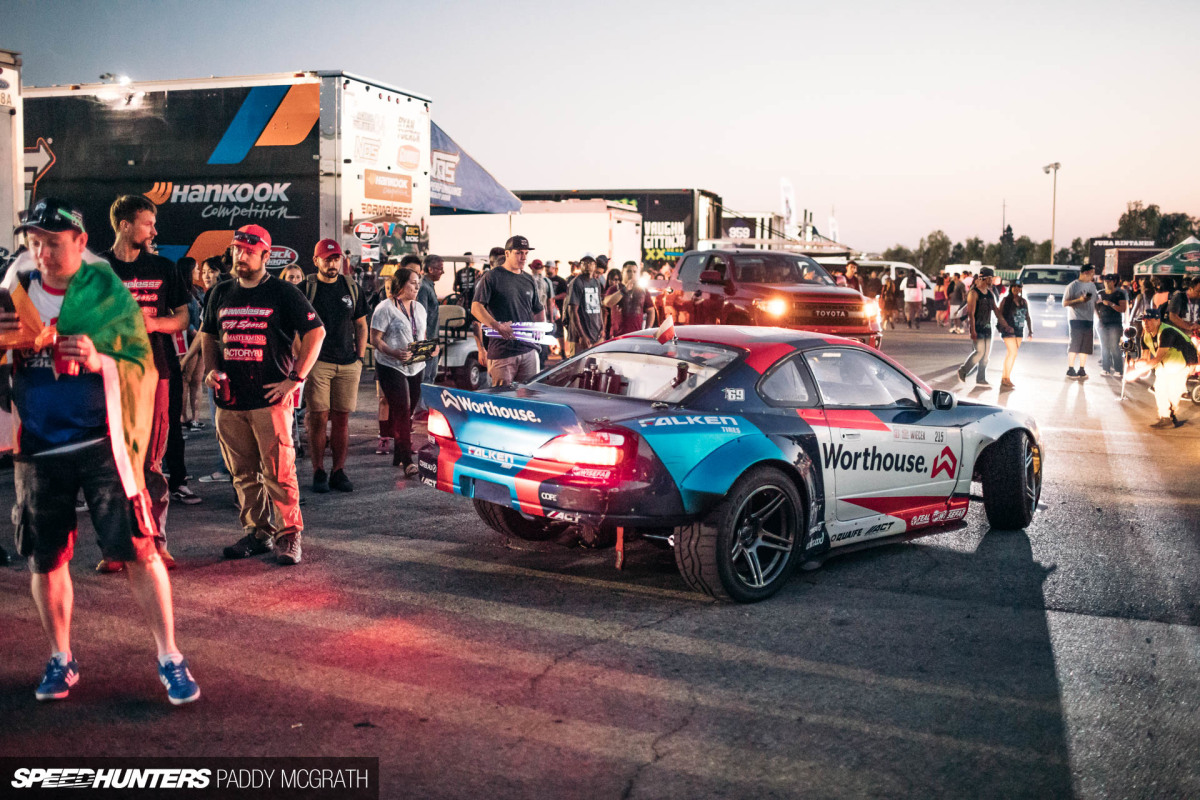 Still, the day was only half over. There was still an event to win.
Out Of His Shadow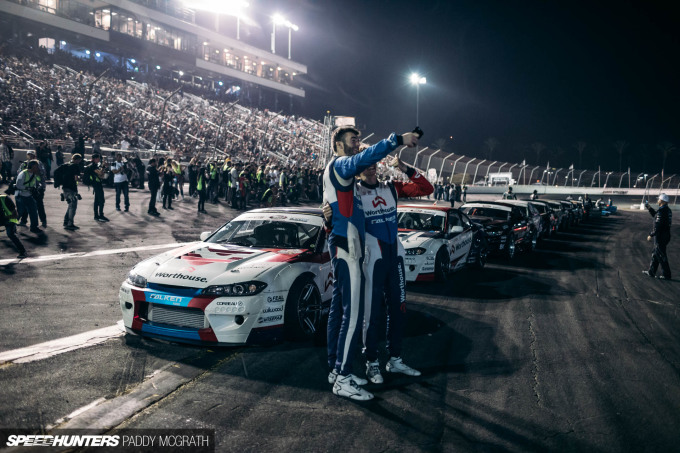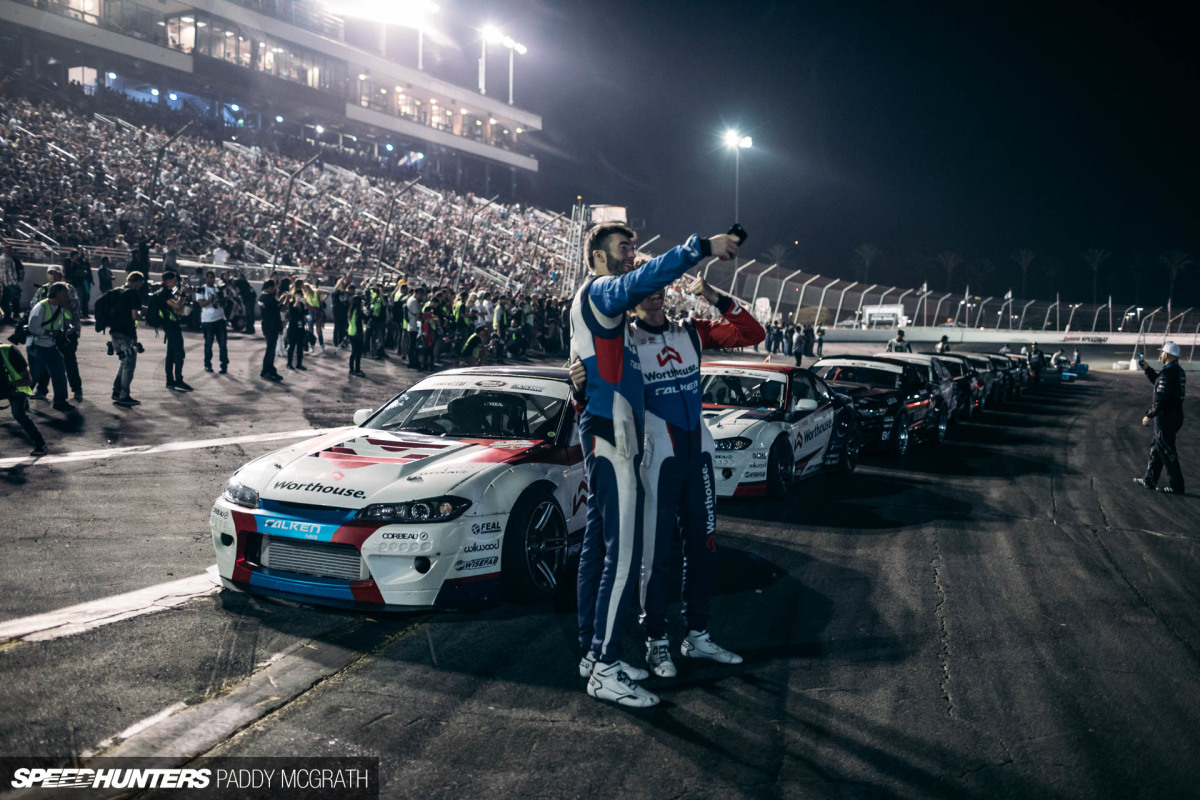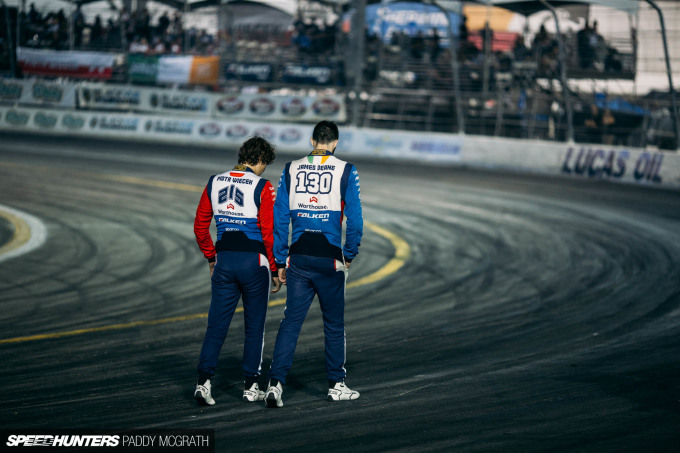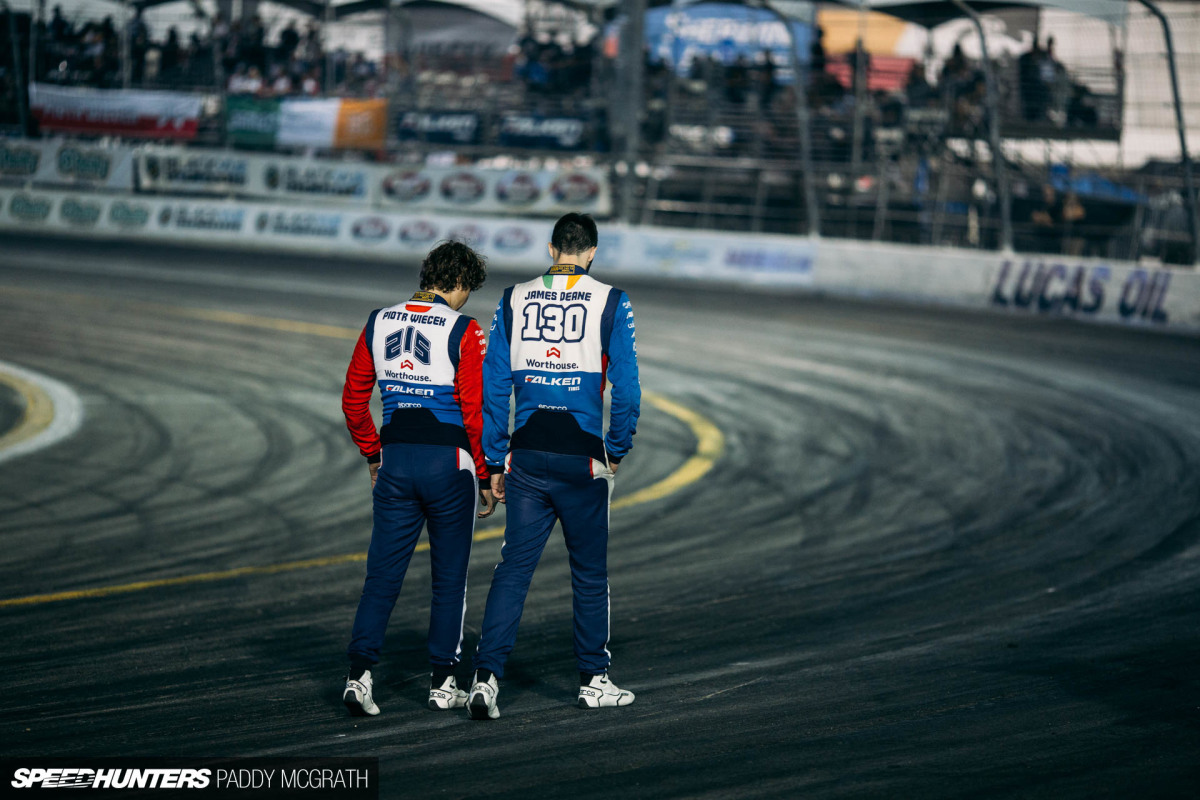 For any competitor, making the Top 16 is their absolute minimum target at each event. Every one of them wants to be in the main show, to stand before the assembled crowd, and to bask in the moment. Nowhere is this more applicable than Irwindale. With a capacity crowd before them, both James and Piotr found themselves on the sharp edge of proceedings.
Before they commenced, there was time for a quick track walk to ascertain grip levels on the infield.
As this would be the last event to held at the birthplace of professional American drifting, the event centre's owners put on a sizeable firework display for those assembled to celebrate the occasion.
They wouldn't be the only fireworks we would see that night.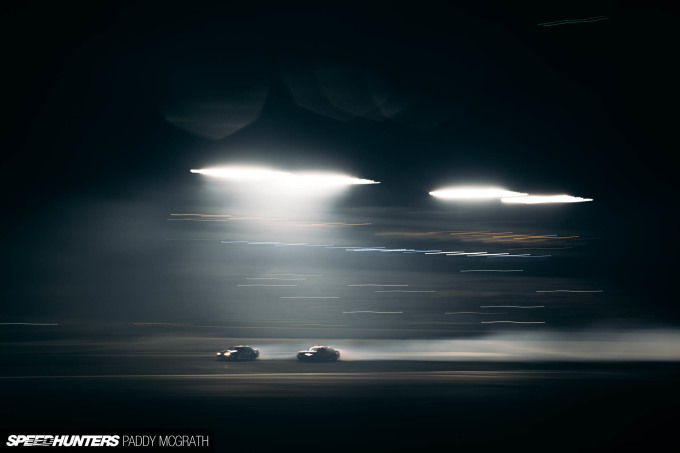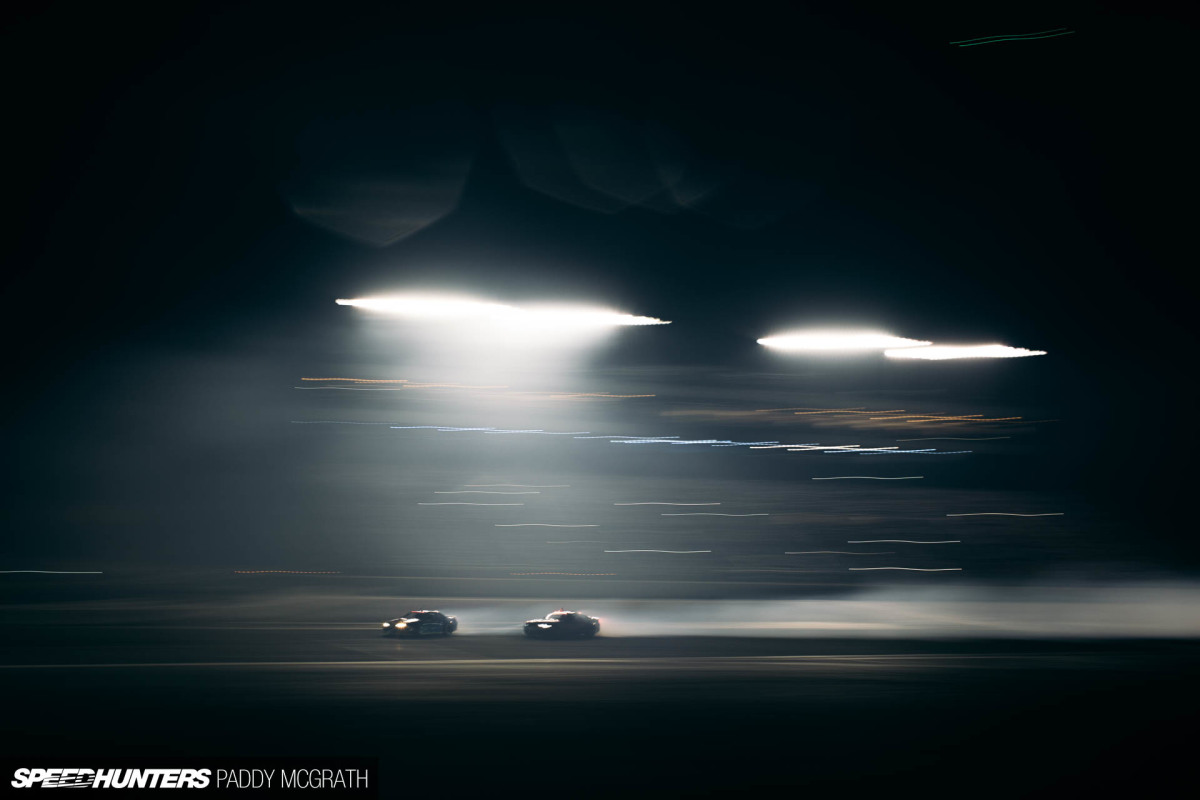 One by one the battles rolled past, but there were only two drivers that I was paying attention to.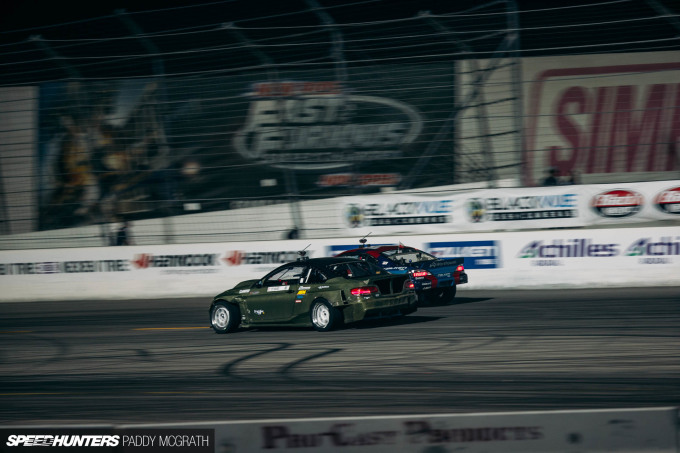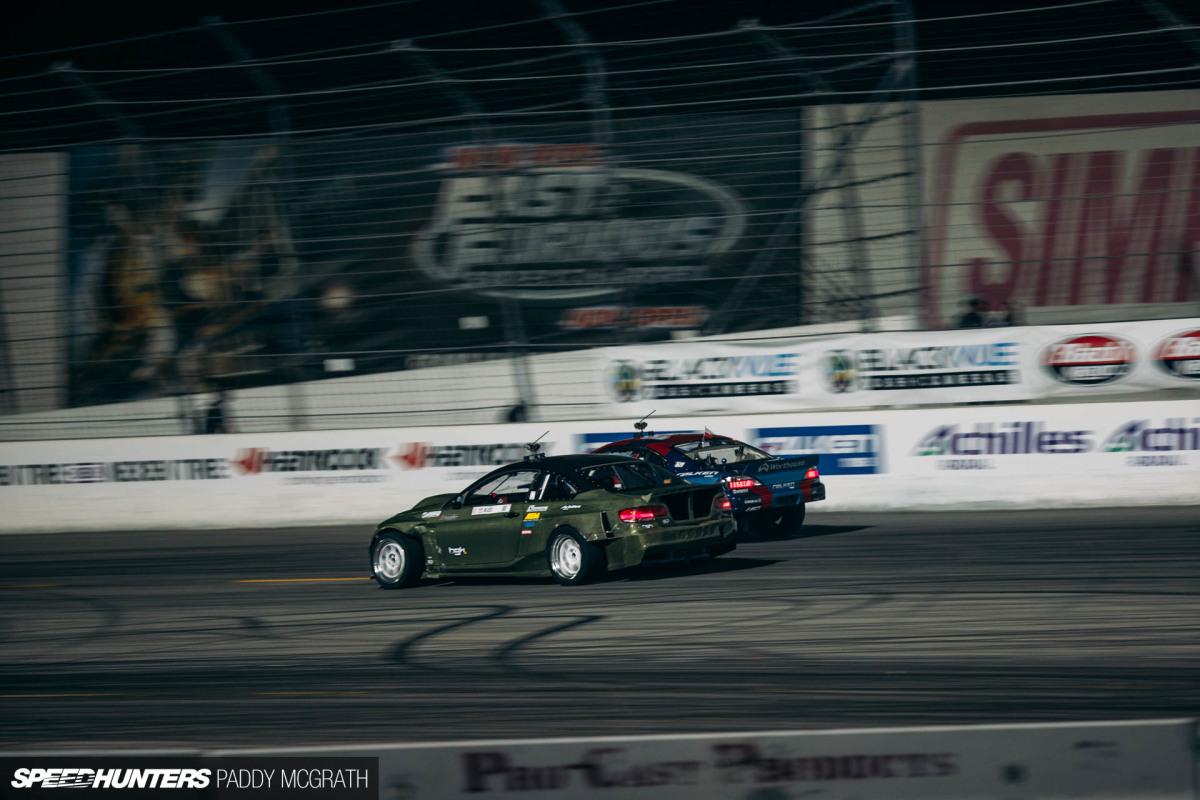 For his Top 16 battle, Piotr faced off against the brand new carbon-Kevlar E92 of Kristaps Bluss.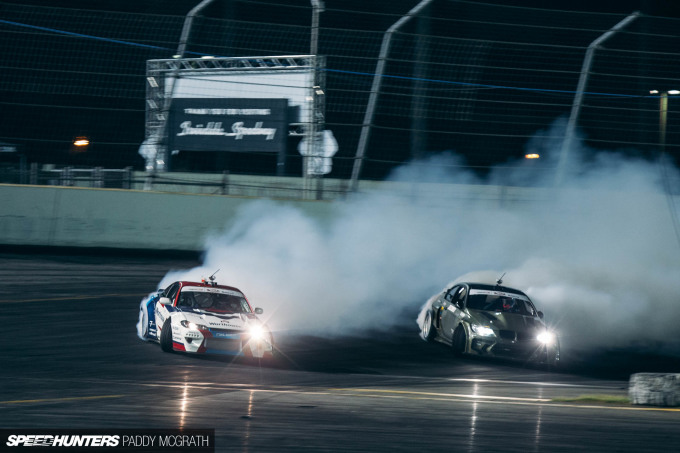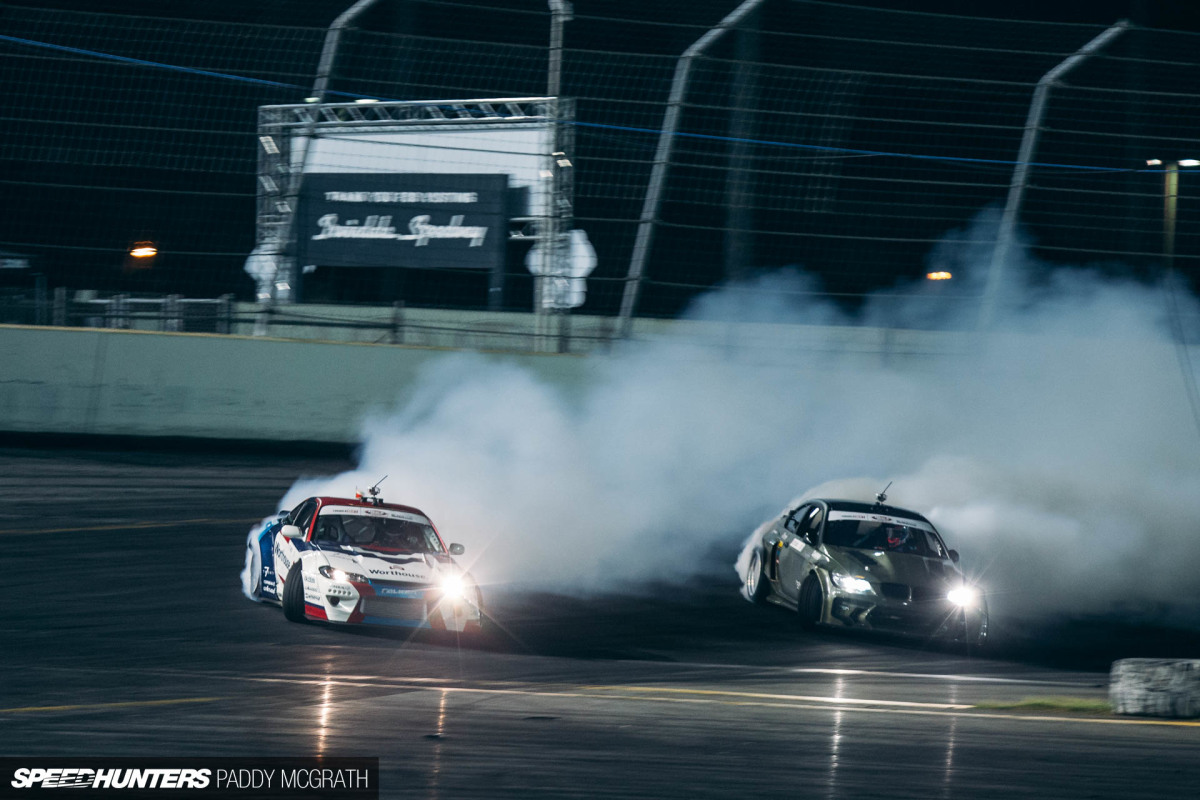 Piotr's lead was textbook – high on the bank, solid proximity to the outer zones and clips, and plenty of aggression. In my own head, he was carrying a good advantage into the second run.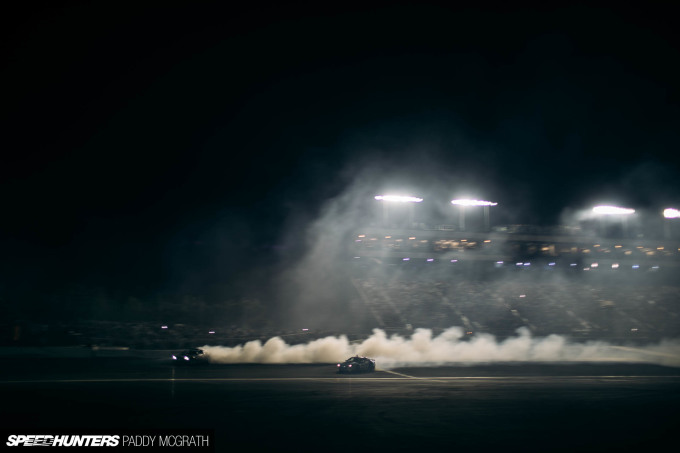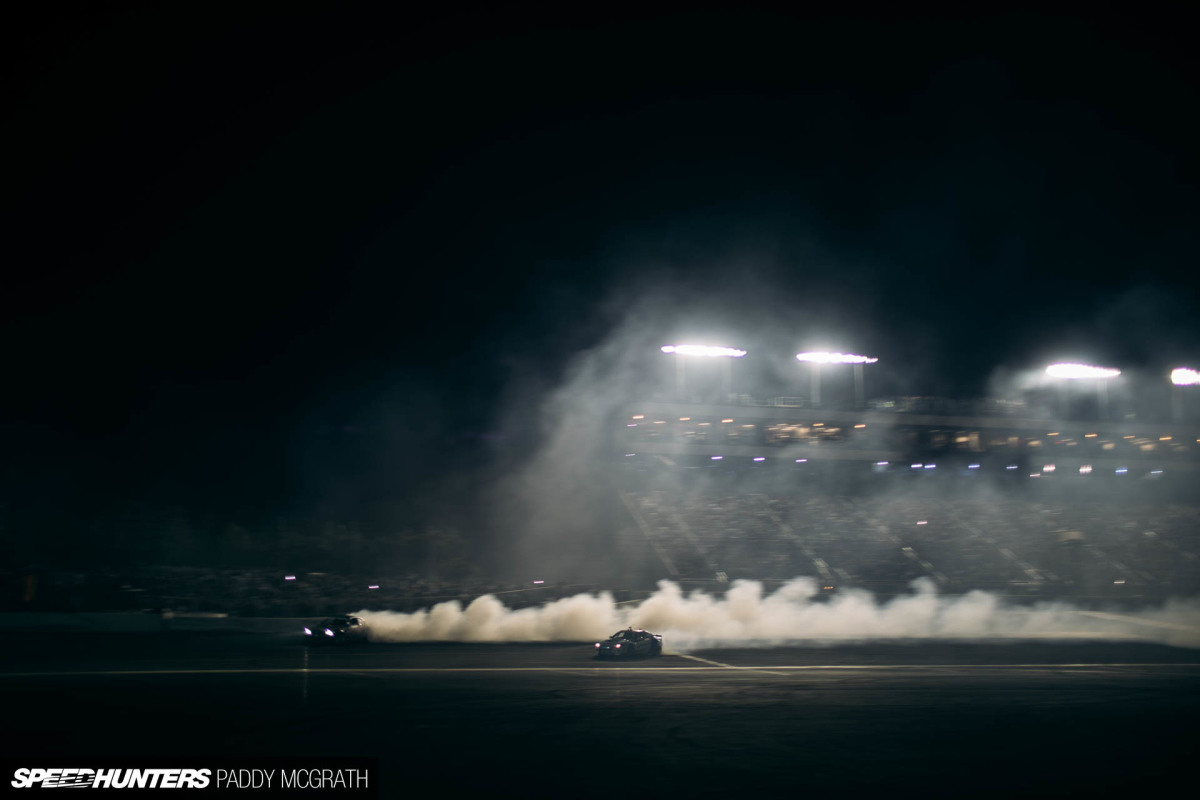 With Bluss leading, it started well for Piotr, right up until the first inner clip where he appeared to get lost in Kristaps' smoke and made a big mistake, resulting in Kristaps opening a huge lead over him. It should have been the end of his night, but for the first time this season, Piotr was on the receiving end of some good fortune.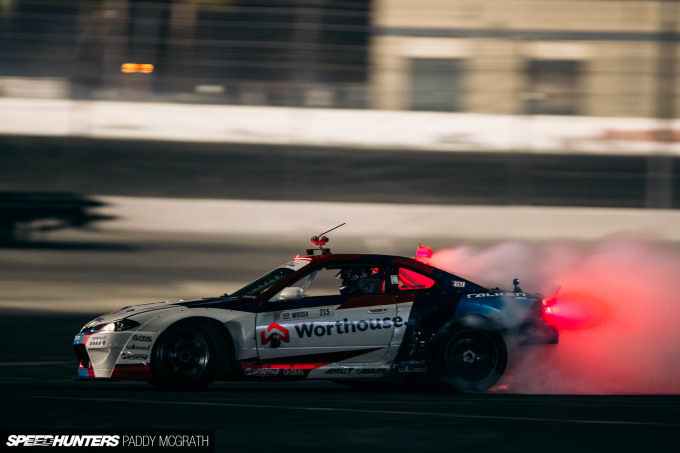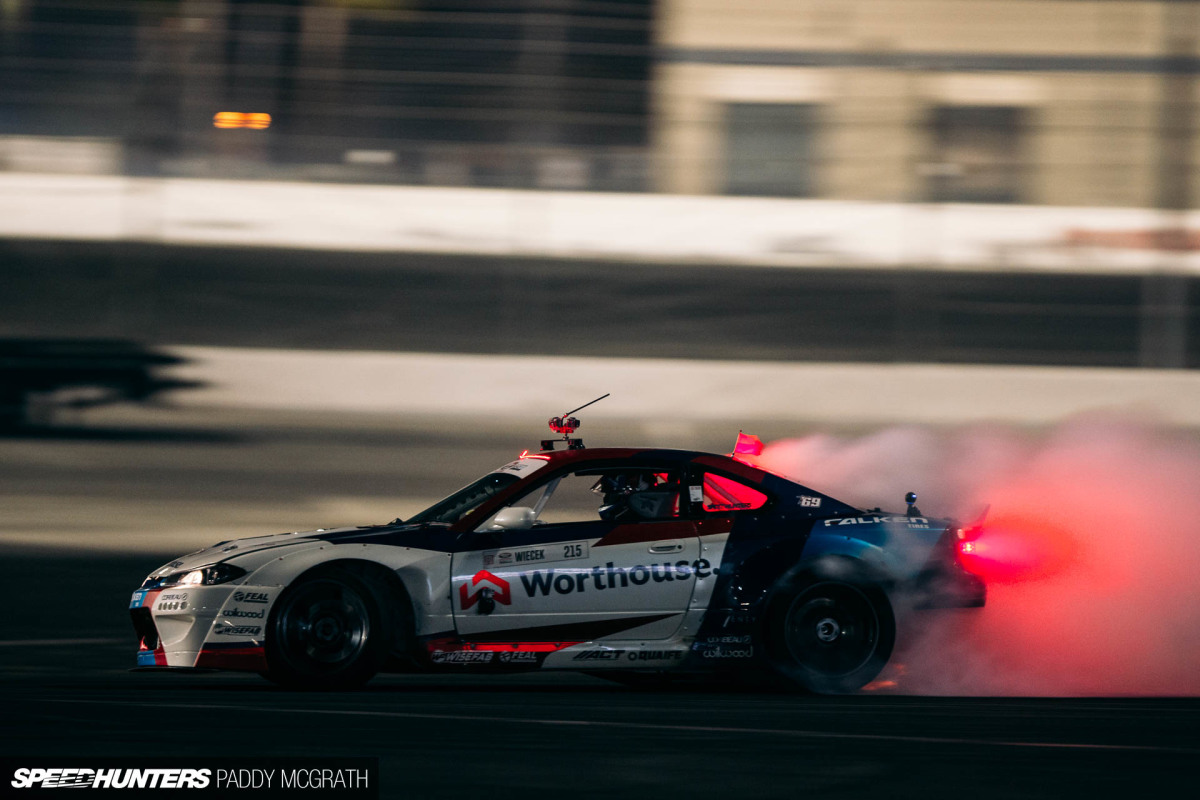 Just ahead of him, Kristaps over-rotated and ran off course within touching distance of the finish line. The judges deemed that both drivers had not completed this run, so based their decision on the first run, and awarded the win to Piotr. It would be the only error of Piotr's night.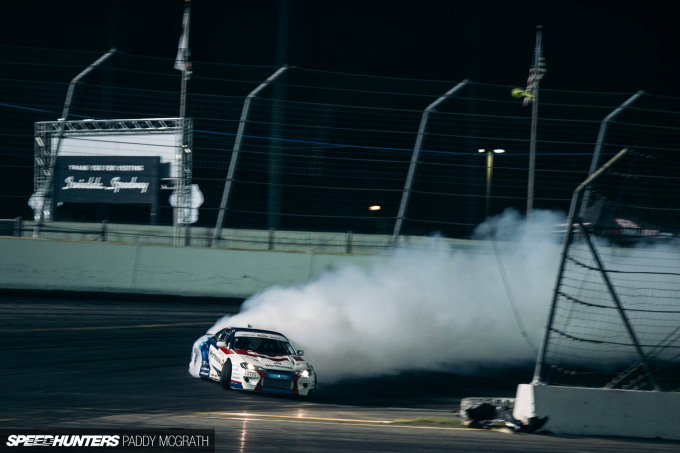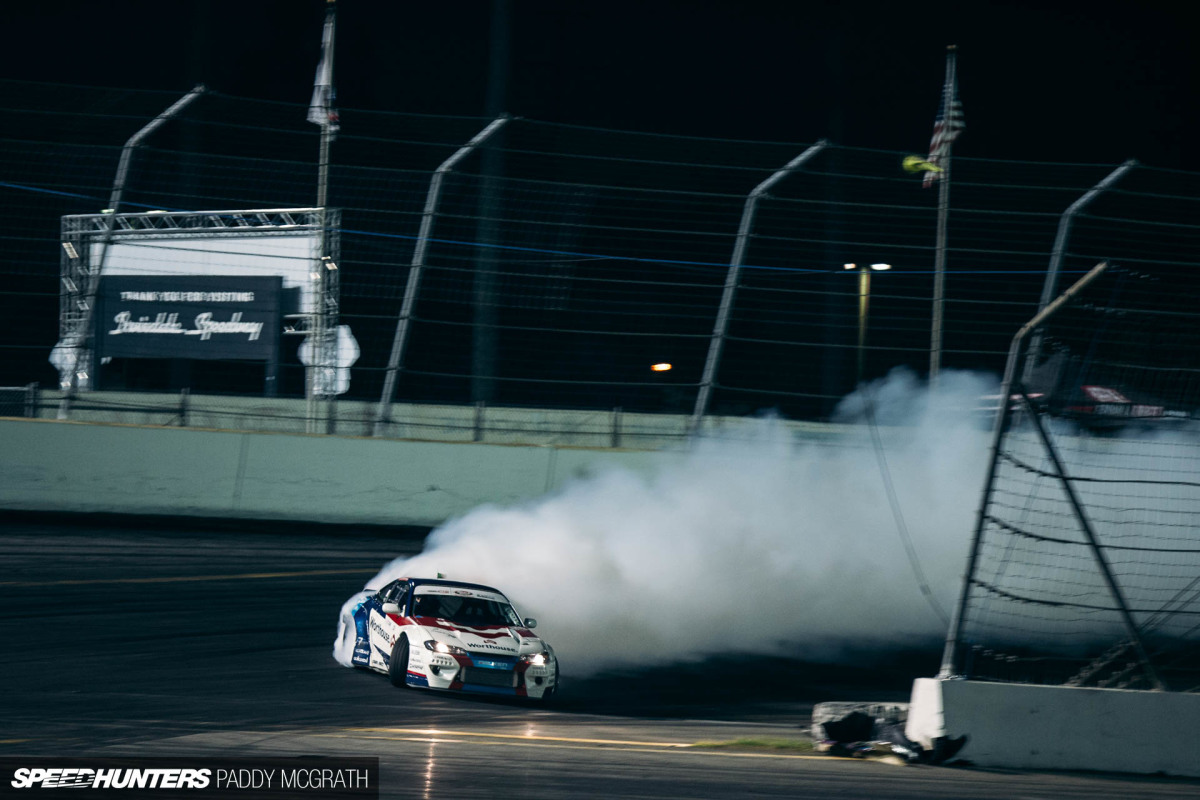 James would find himself in the unusual position of a Top 16 bye run, after neither of his potential opponents could make the line. During Dean Kearney's and Ken Gushi's Top 32 battle, the Viper's motor exploded, leaving an oil slick in its wake, resulting in Gushi hitting the wall and both drivers retiring from the event.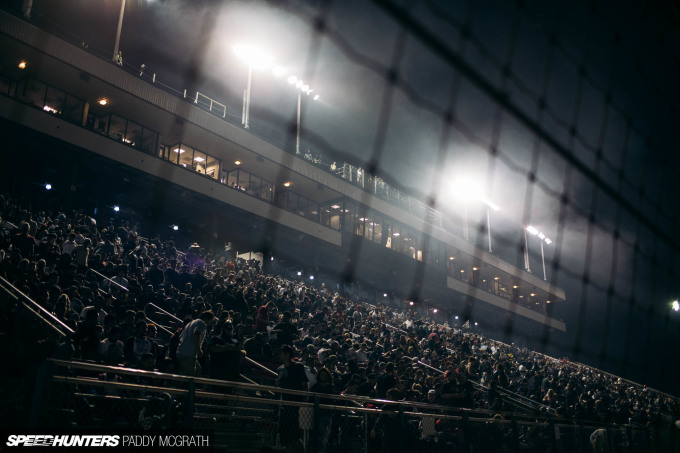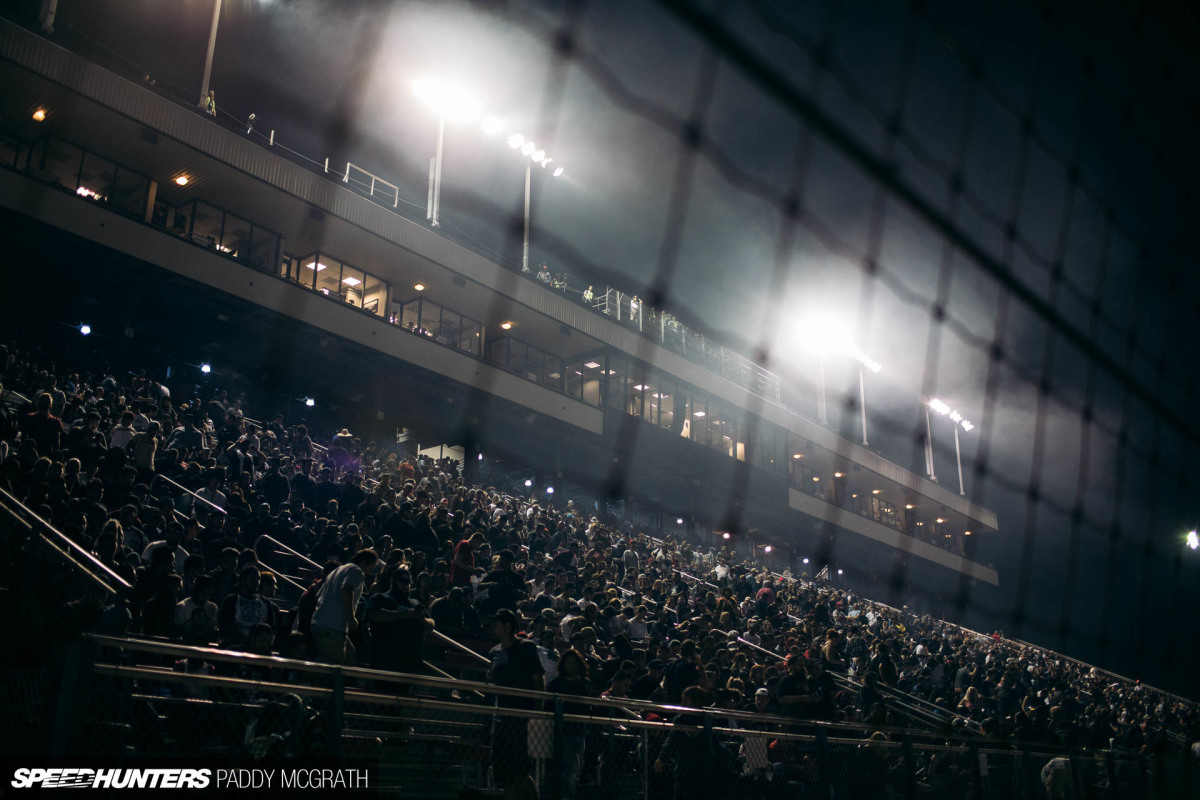 All season, I've heard about the legendary support at Irwindale and it wholly met expectations. I can't believe they're going to close this place and – supposedly – replace it with a shopping mall.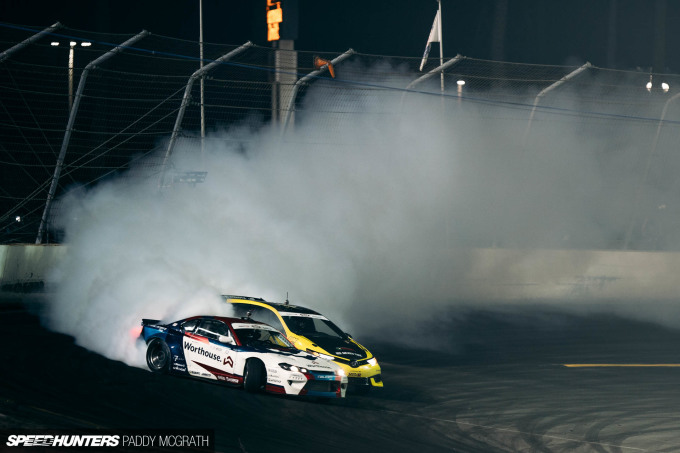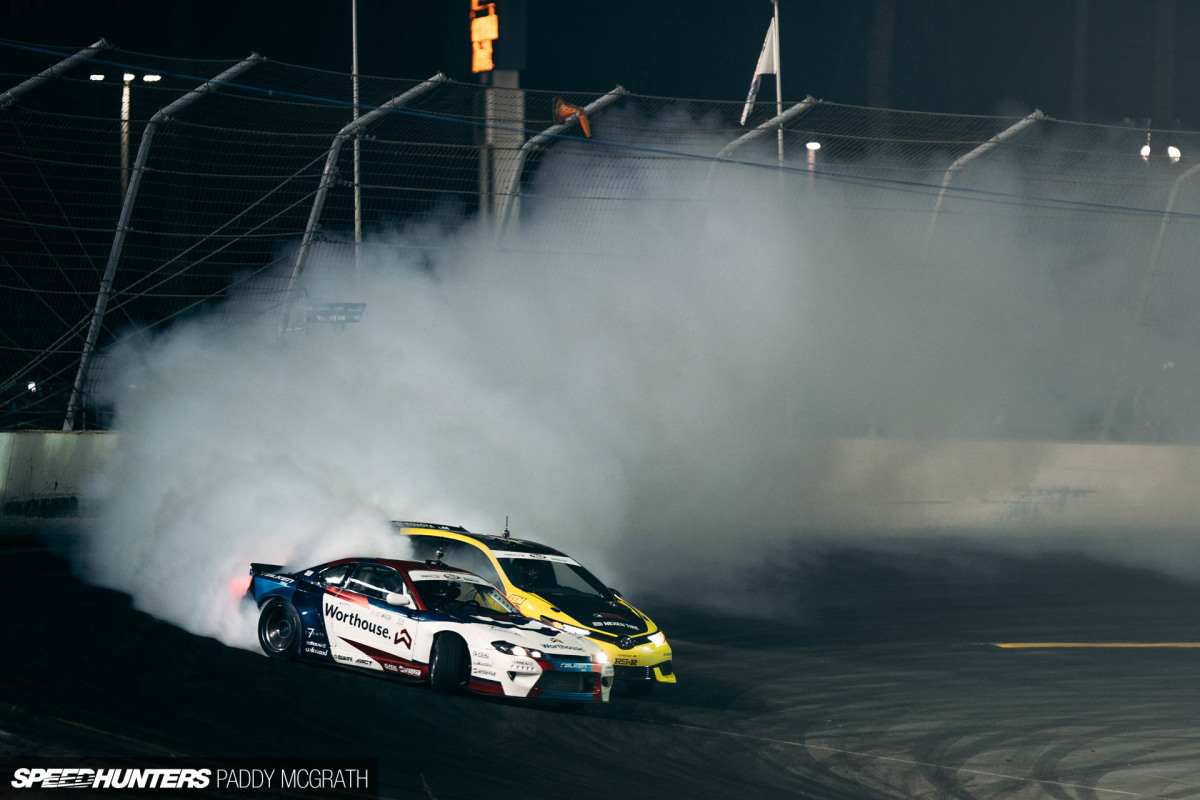 In the Top 8, Piotr would face another formidable battle in that of Fredric Aasbø. Fredric was no doubt desperately looking for the last victory at Irwindale, to make up for his defeat in the championship.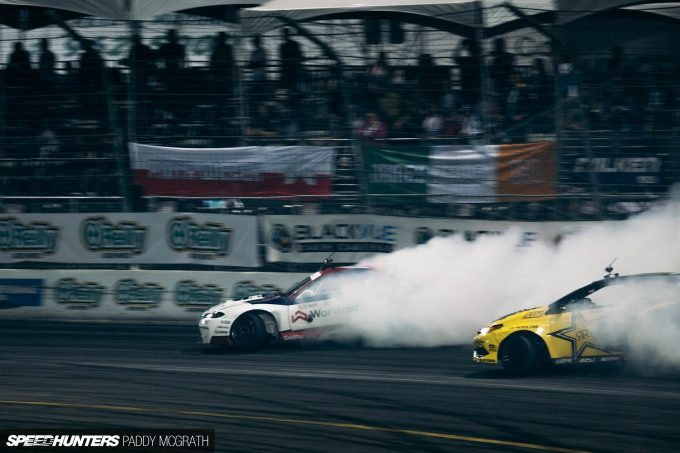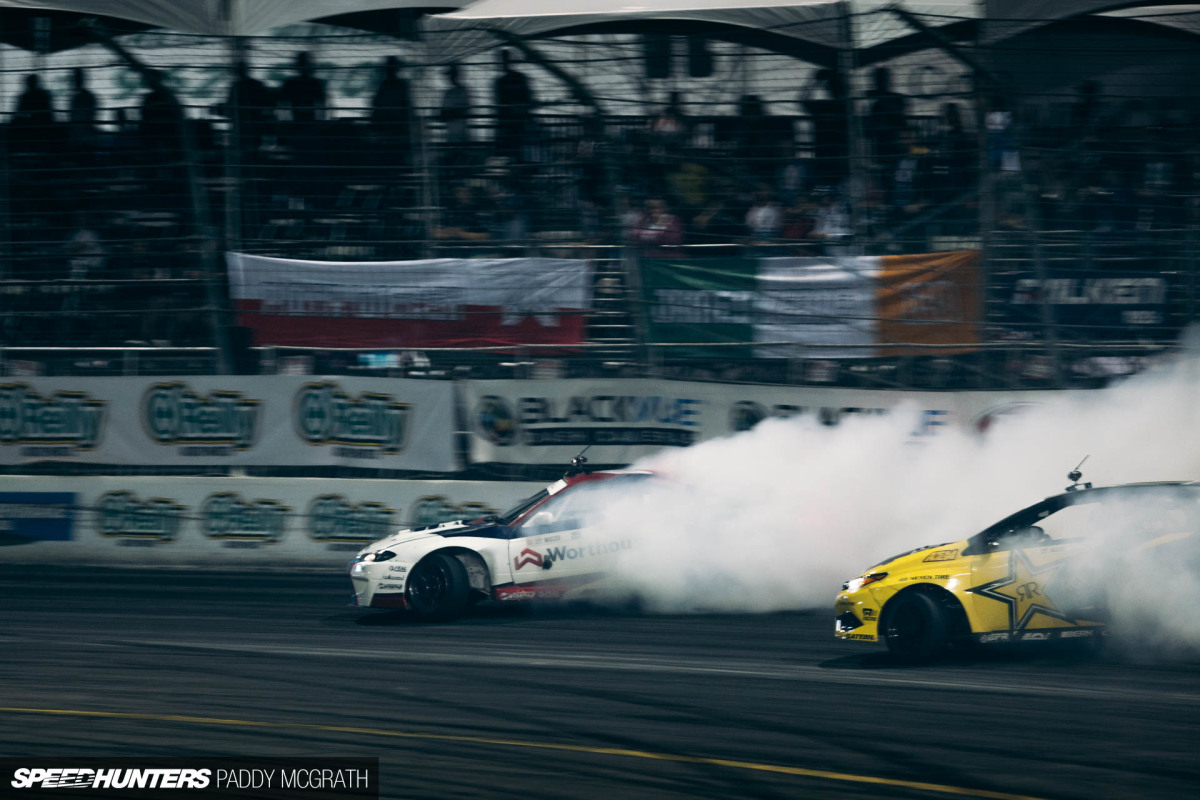 Piotr had other ideas about that, and resumed the form that he had shown all weekend. As they headed towards the first inner clip, Aasbø over-rotated and lost significant ground on Więcek. This mistake was enough to give the victory to the euphoric Pole.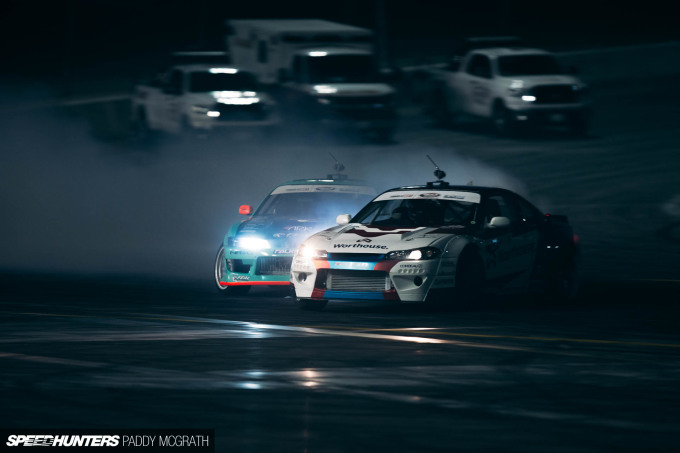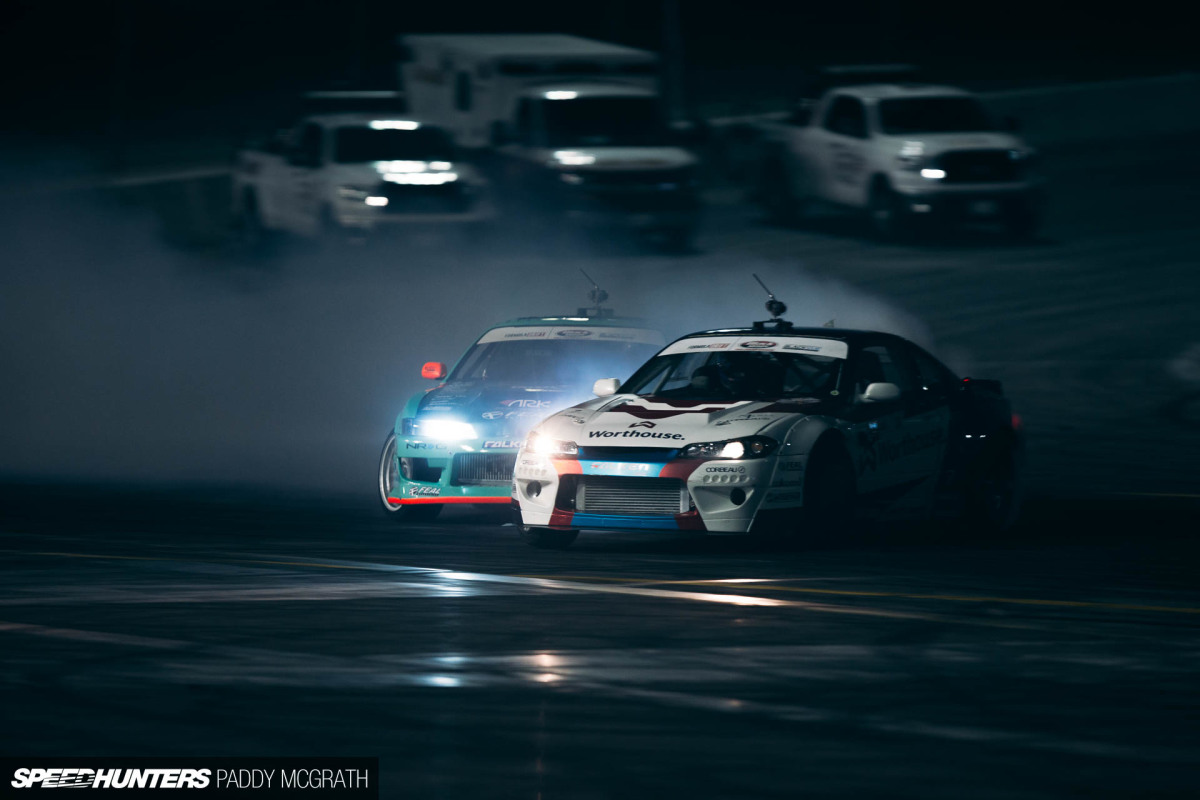 James would finally have a battle at the Top 8 stage of proceedings, against fellow Falken teammate and one of Worthouse's sponsor's, Odi Bakchis. It was not the battle that we expected.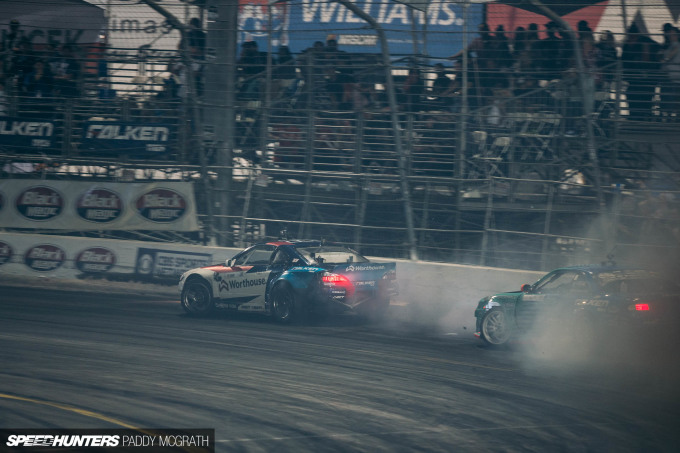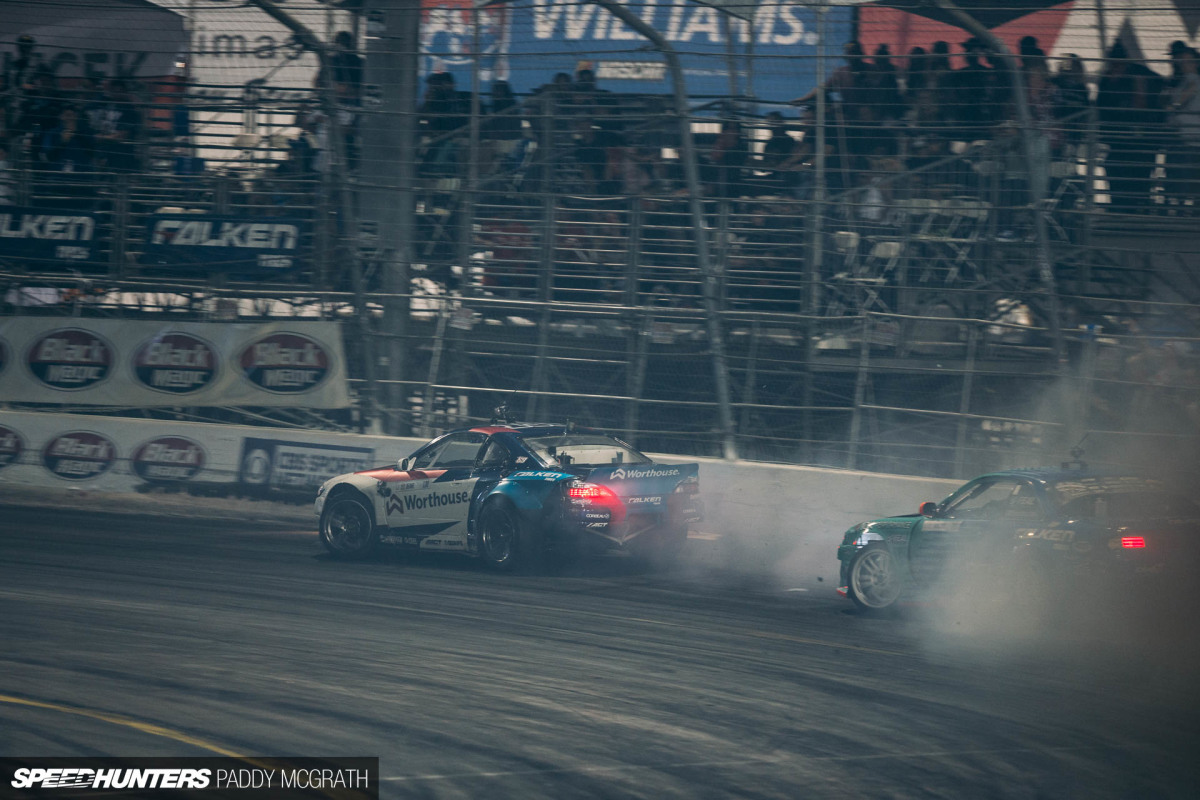 After an error coming off the first bank, Odi overcompensated and put on too much speed in a vain attempt to make up ground on James. The result of this saw Odi connect with the back of the blue, white and red S15, sending James headfirst into the wall.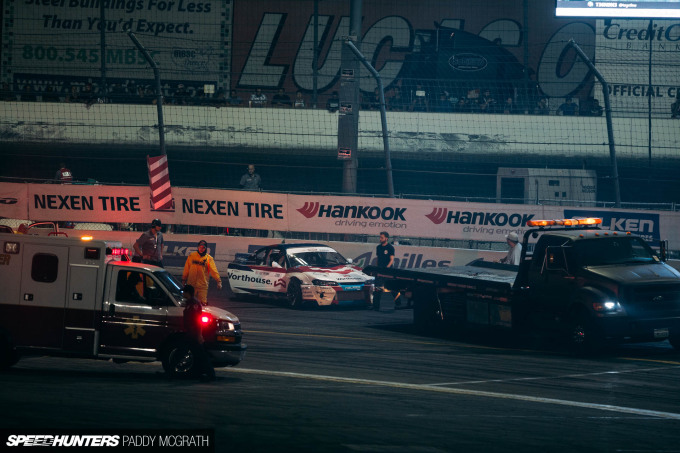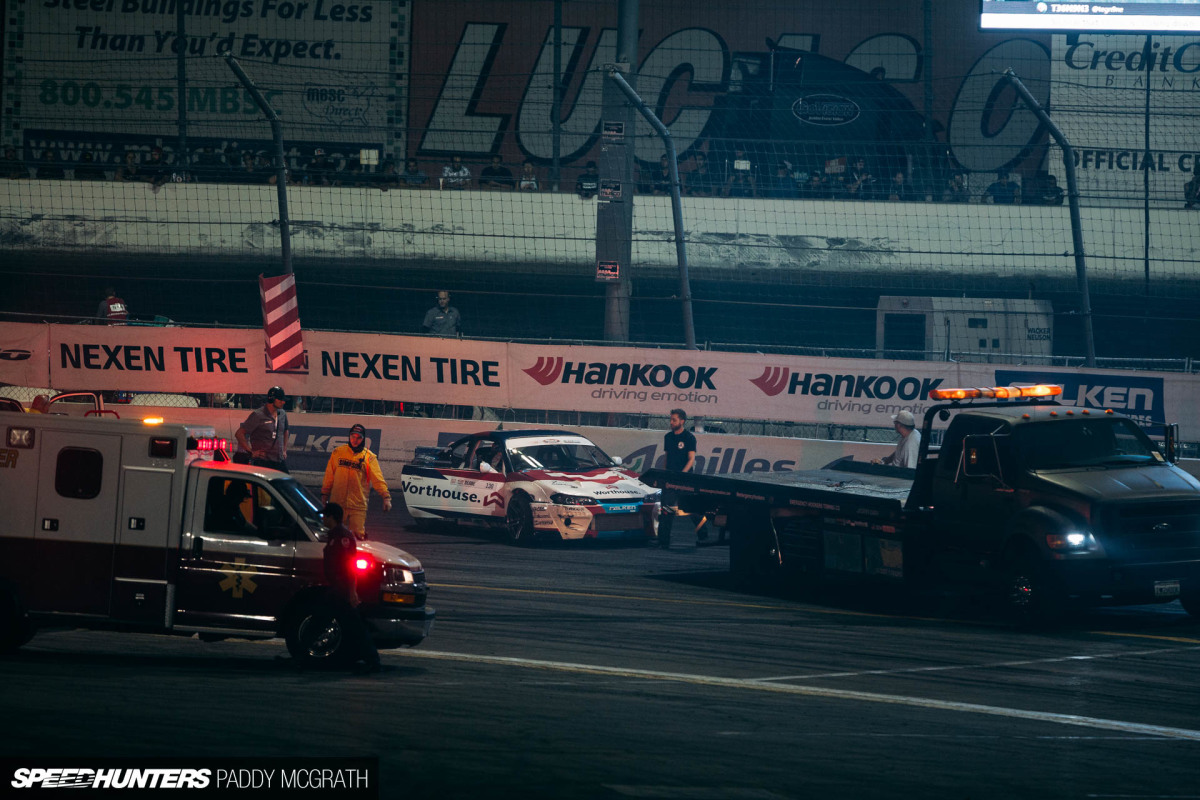 James attempted to drive out of it, but it was obvious the S15 had lost all steering and that a recovery truck was needed. Odi apologised immediately; it was an honest mistake with no malicious intentions.
Before the cars arrived back, the full Worthouse and Bridges Racing teams were on standby, with the expected spares required to hand.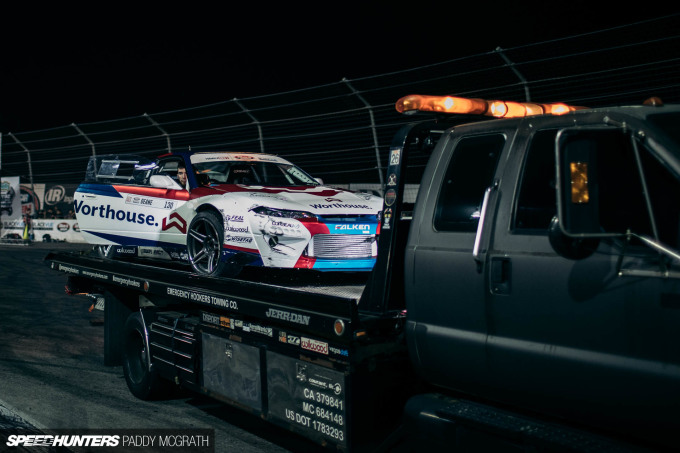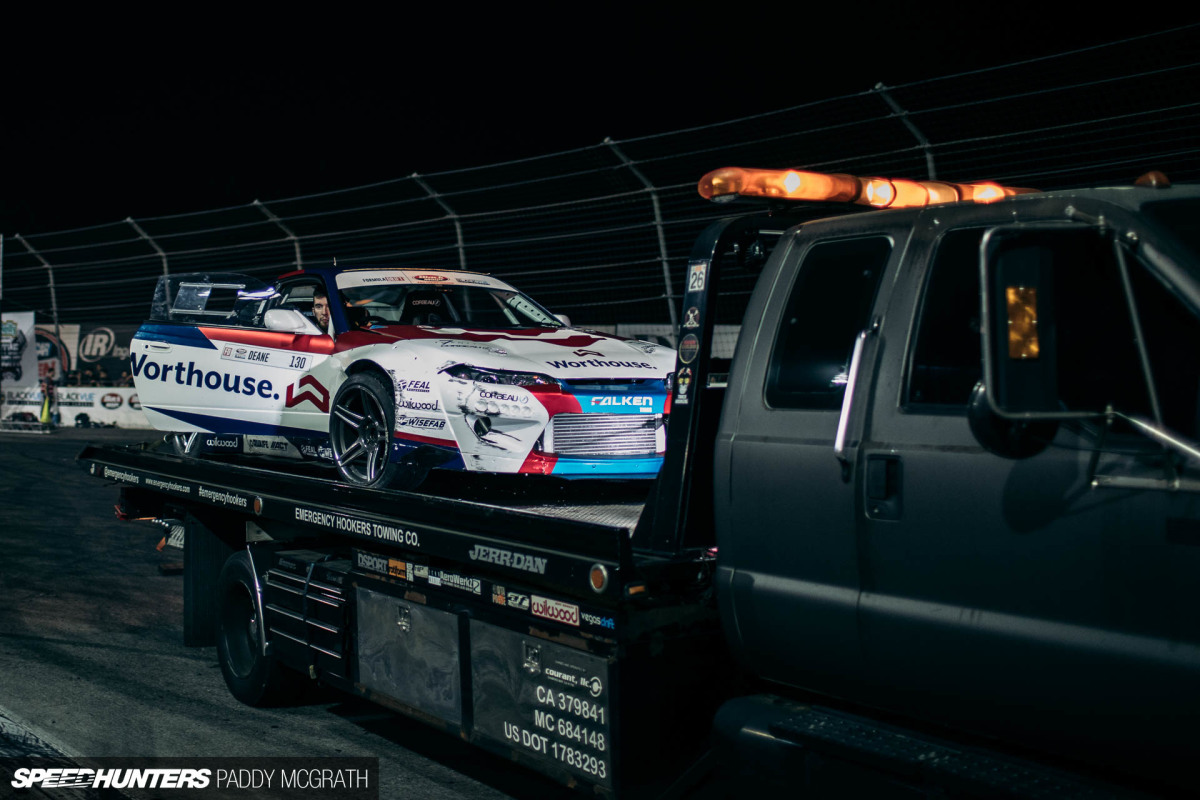 As the car arrived on the flatbed, the team got its first look at the damage. It was significant.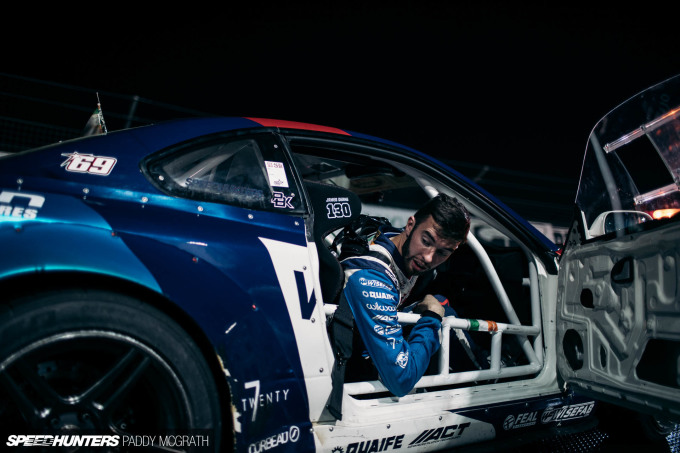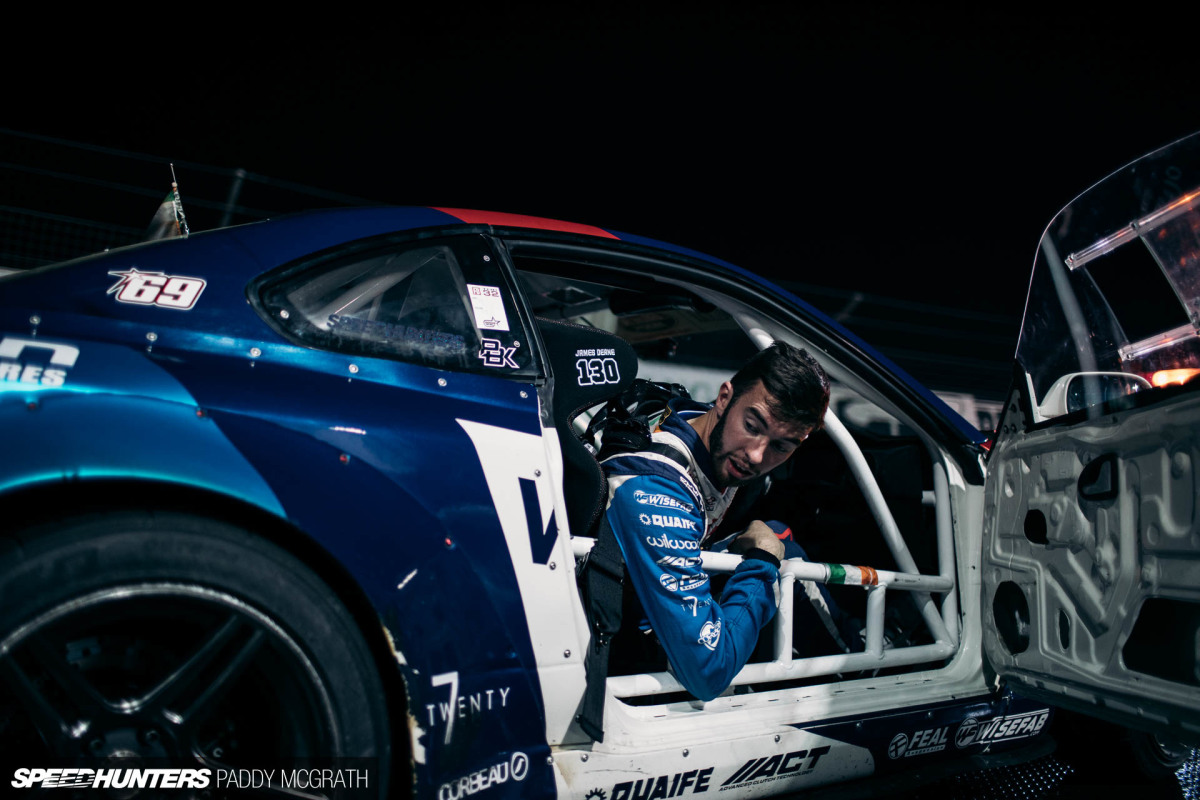 James was fast to remind the team not to touch the car, but only to look. Any interference with the car would automatically start the clock, giving the team 10 minutes to repair the car. As Odi was deemed to be at fault, he would be forced to call his own five-minute Competition Time Out.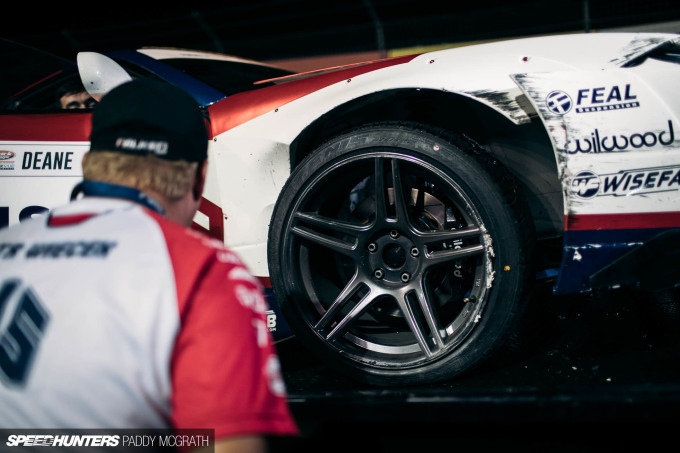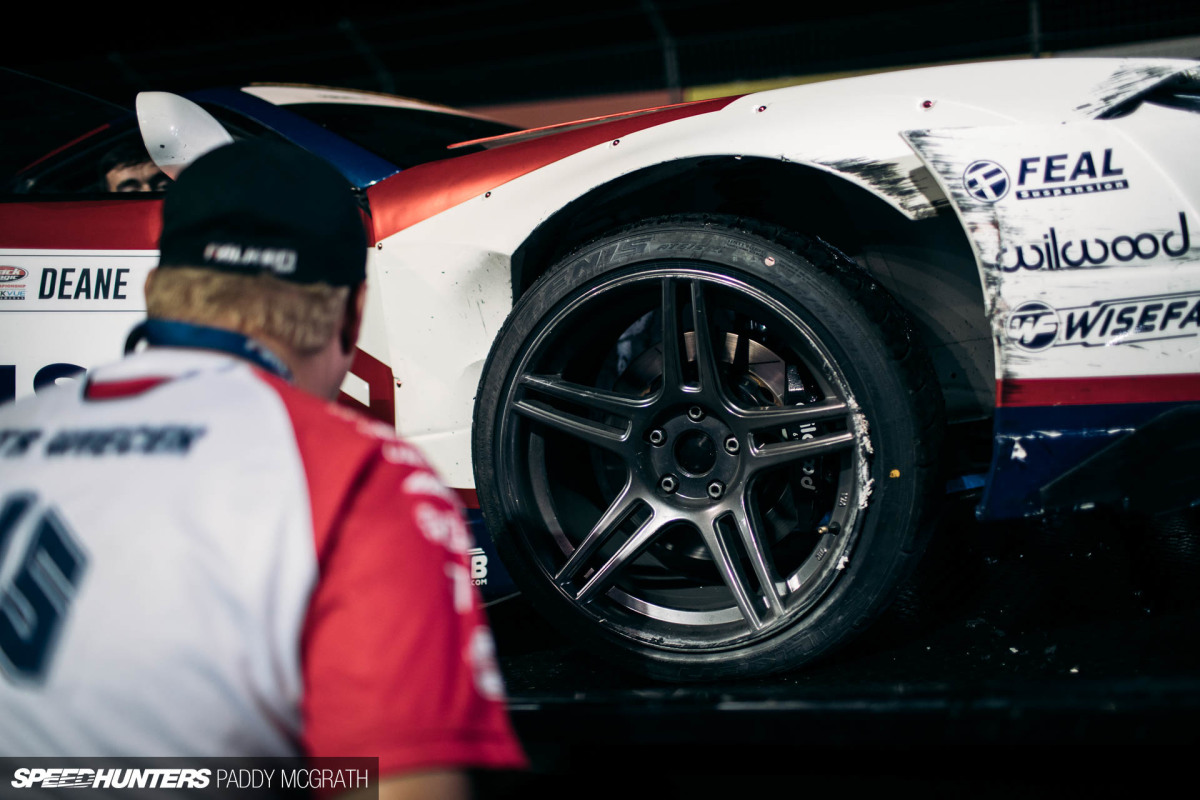 The majority of damage was focused on the front right of James' car, where it had been sucked into the wall while still on steering lock.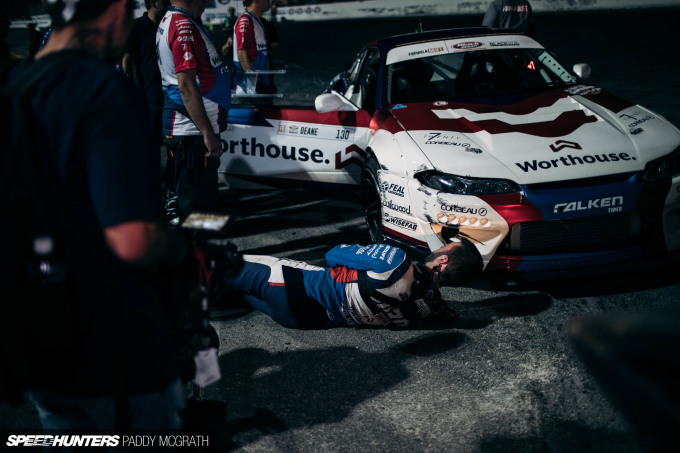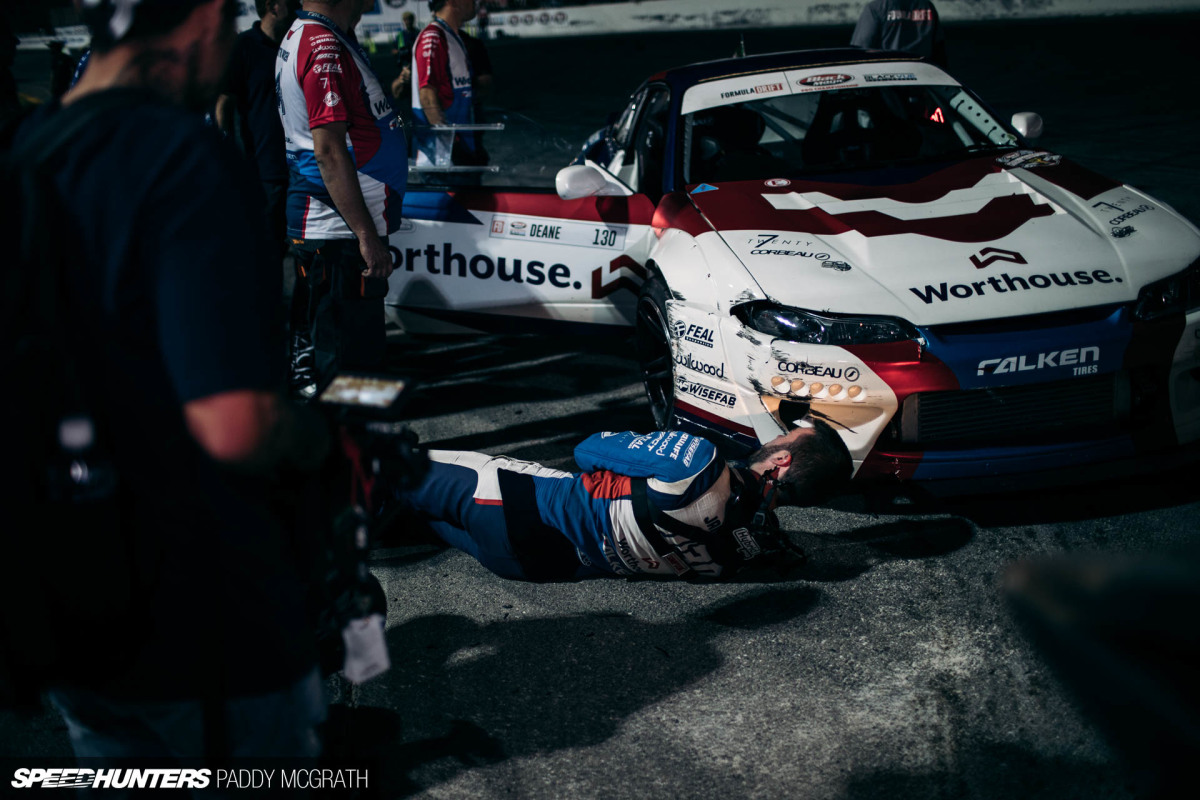 With the car off the truck, James crawled under the car and started to list off what needed to be replaced.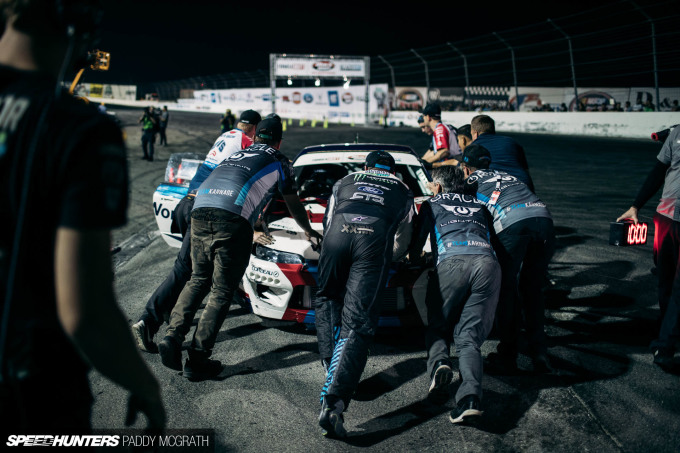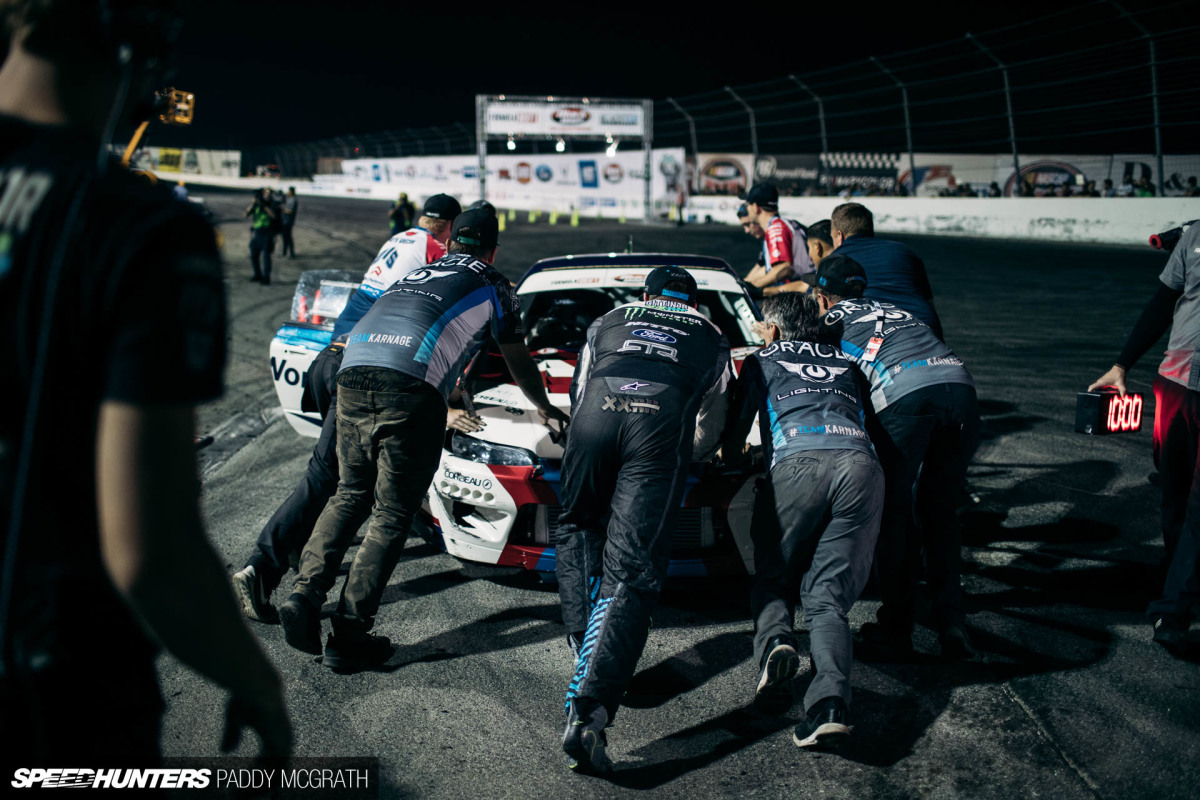 As the hot pit was on a bank, and the car had no steering, it had to be pushed into position before repairs could commence. Thankfully, there was no shortage of hands on deck, including other competitors who stopped by to help, Vaughn Gittin Jr. being one of them.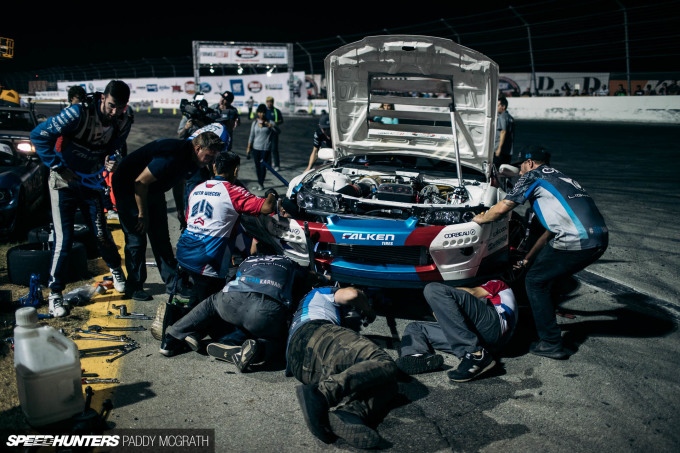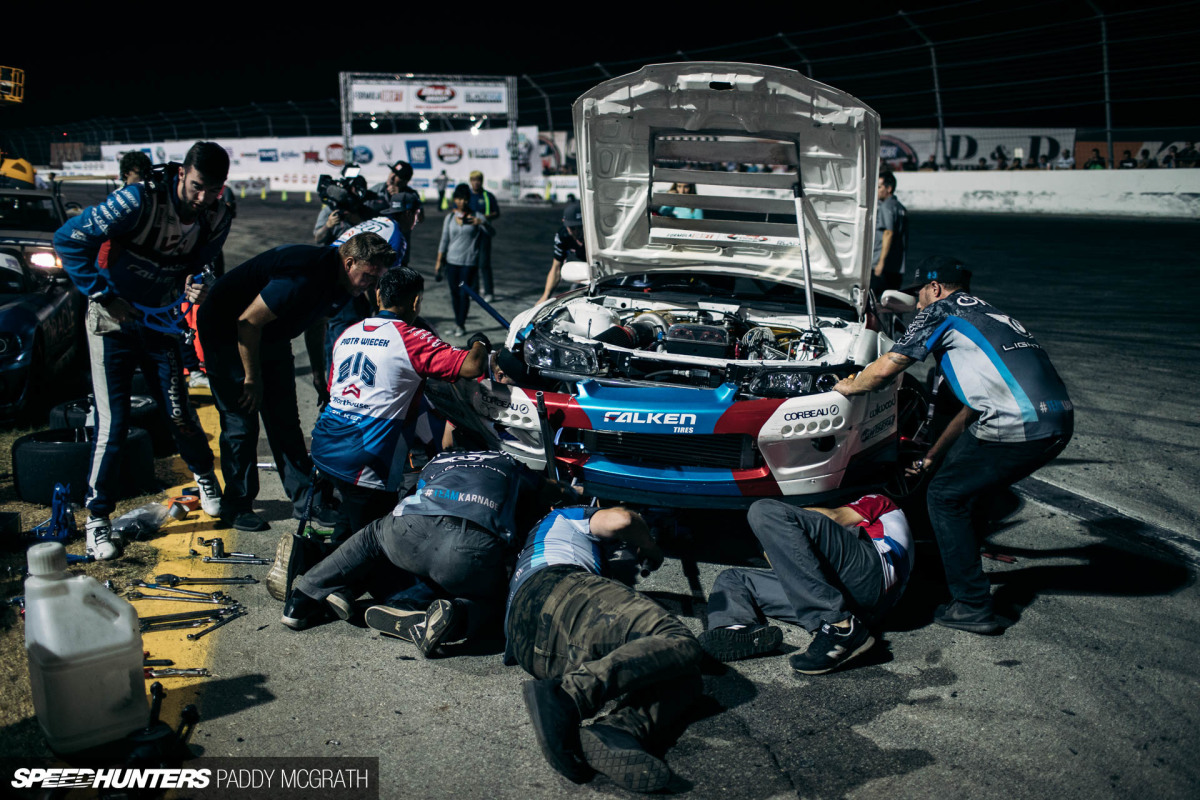 The major parts required were a lower wishbone and tie-rod, components which can usually be replaced in the allotted time.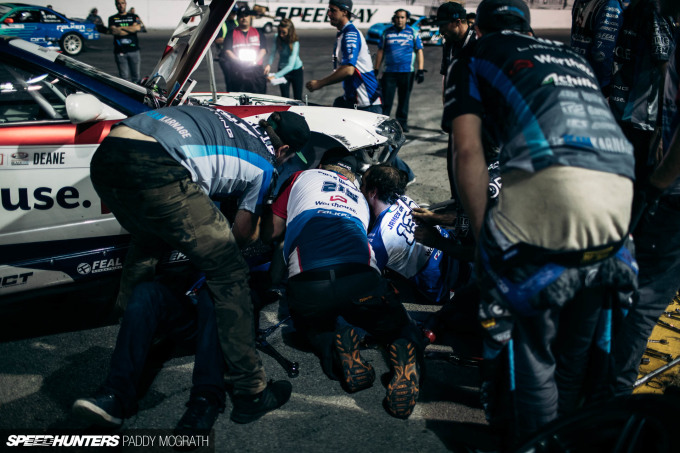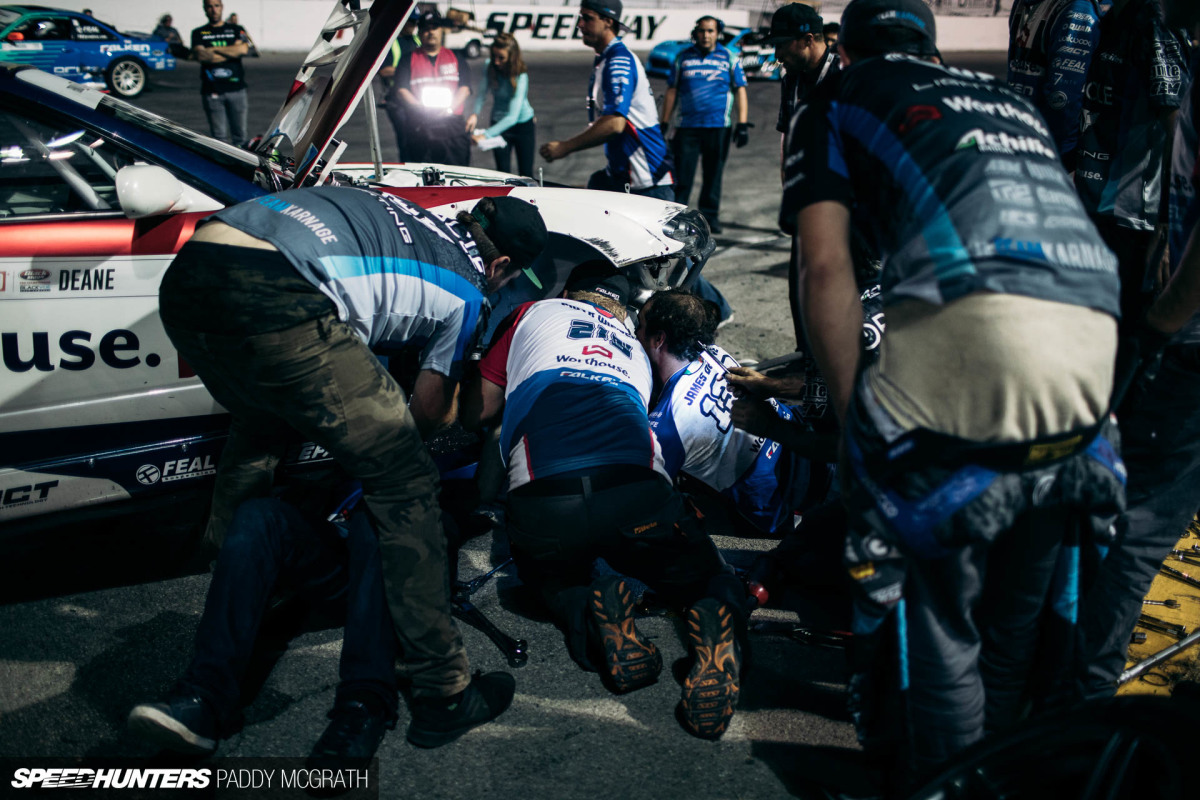 There were complications, however, as the front crossmember had been badly damaged and bent out of shape.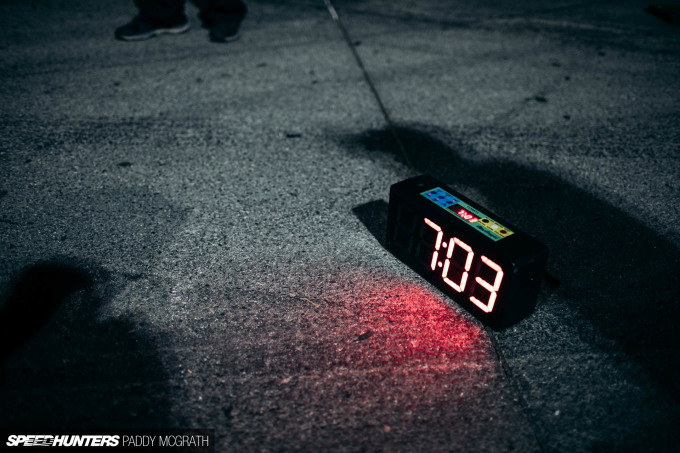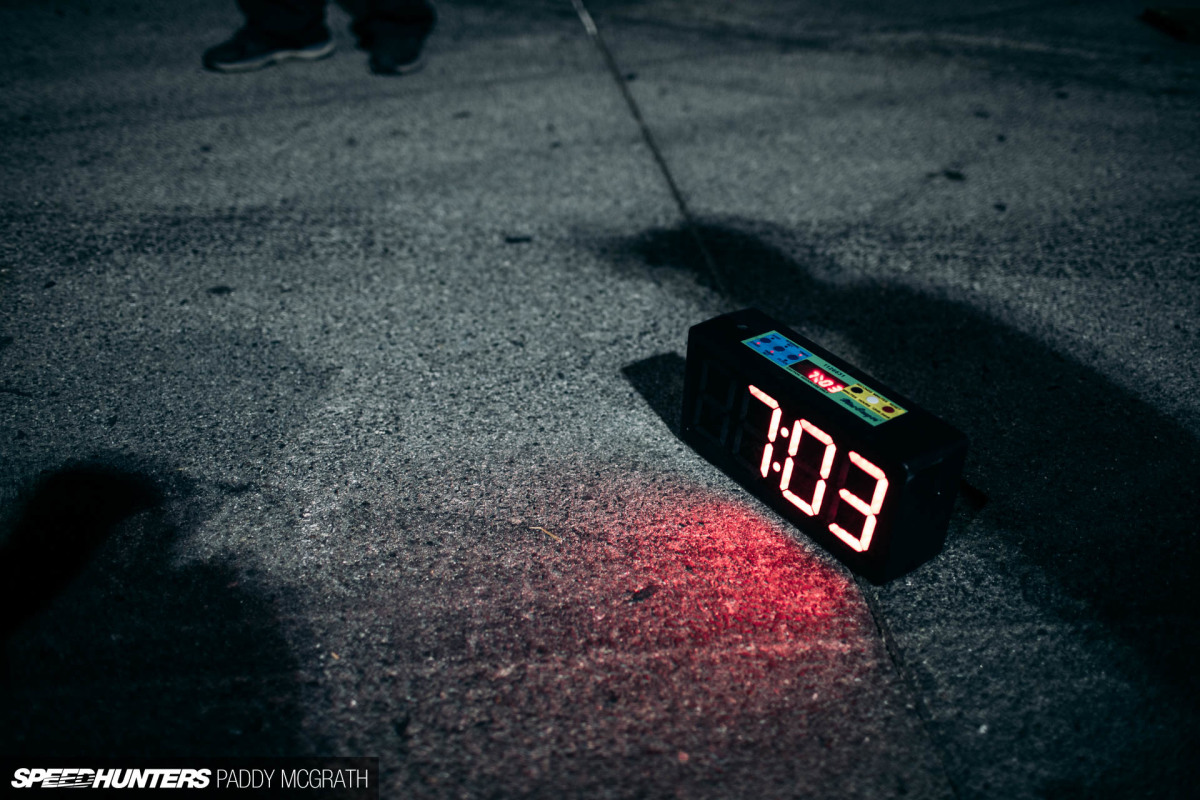 Quite quickly, the original 10 minutes ran out, forcing the team to call their own five-minute CTO.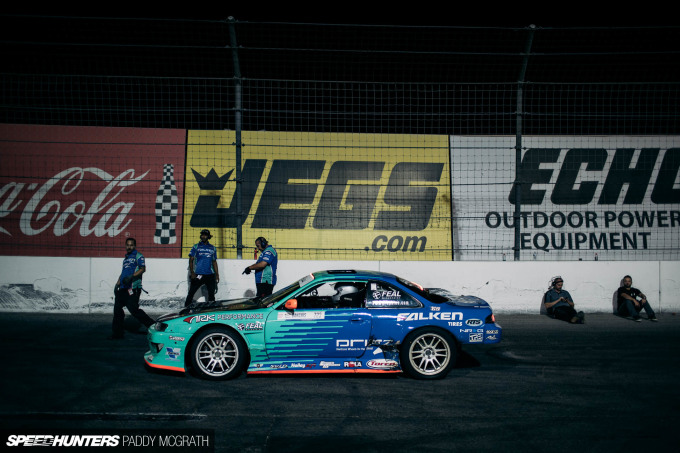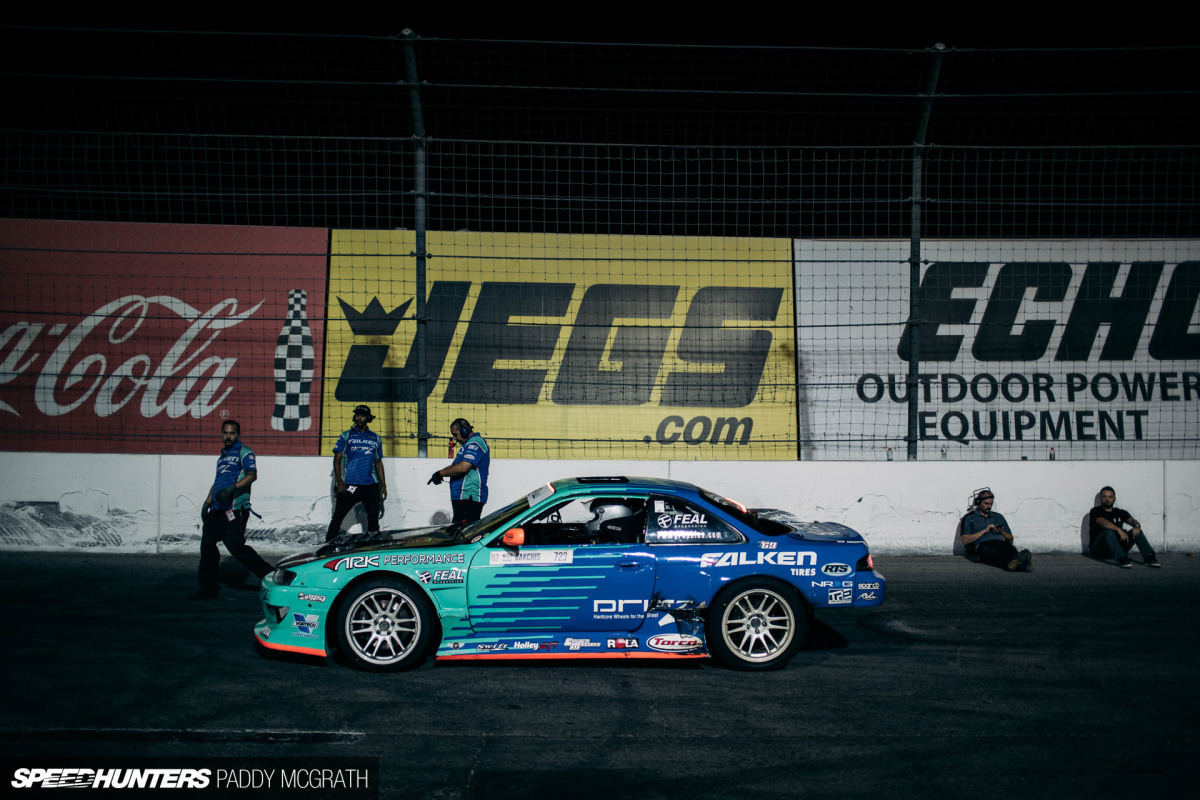 In the background, Odi had returned to the line, having made the necessary repairs to his car. He would wait in relative silence, watching as the Worthouse team frantically worked on the stricken Silvia.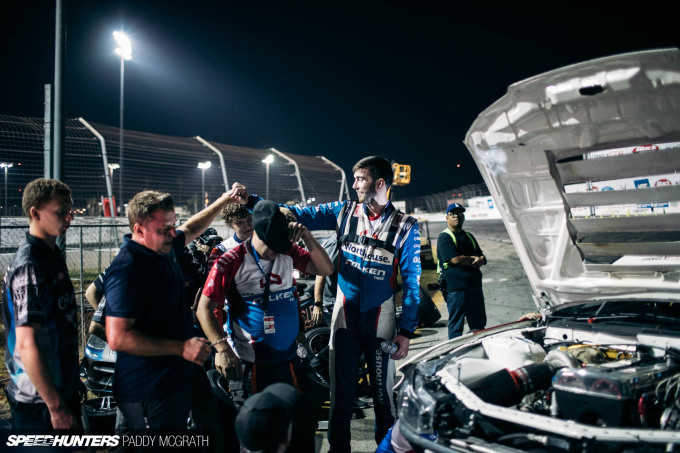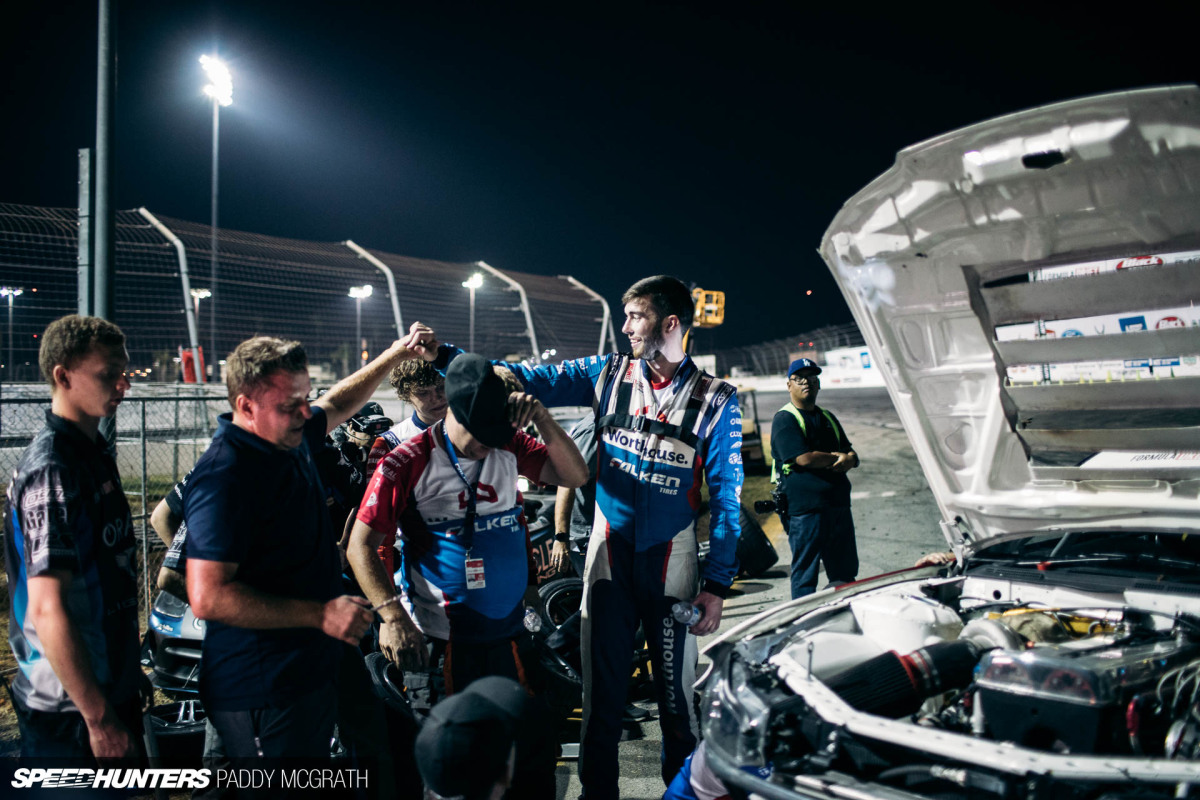 With time still remaining on the clock, the car was deemed beyond repairable in that timeframe and retired from the event. James' season was over.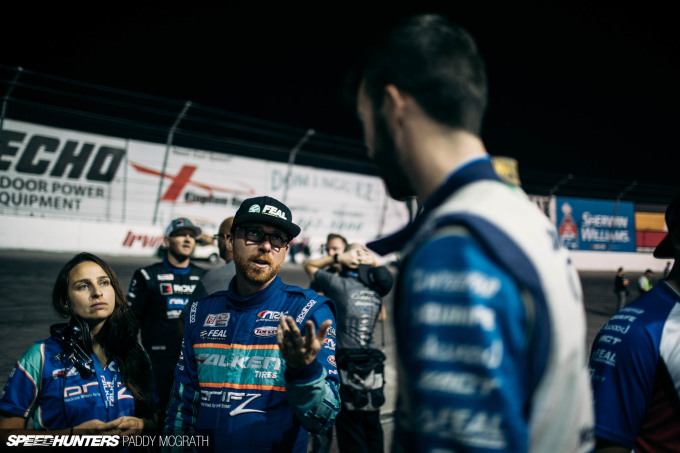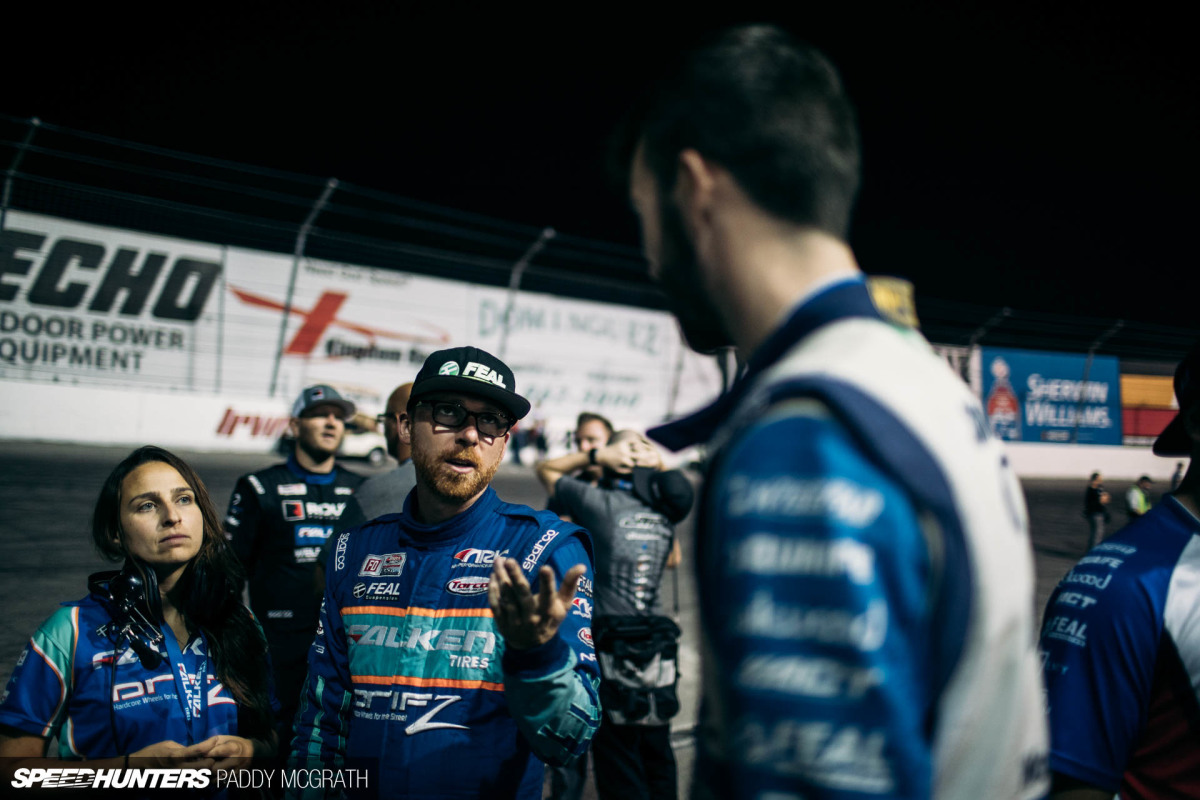 Odi, again, came by to both apologise and congratulate James on his championship. He's an absolute gentleman with a great team, so there was never going to be any hard feelings. But because James was unable to return to the line and wasn't at fault for the crash, the battle was awarded in his favour and Odi was eliminated. It meant that James' Top 4 opponent would get a bye run, while James received the points for a Top 4 finish.
Amusingly, despite not completing a single set of battles, James would find himself on third step of the podium, regardless of what happened next, due to this third place qualifying position.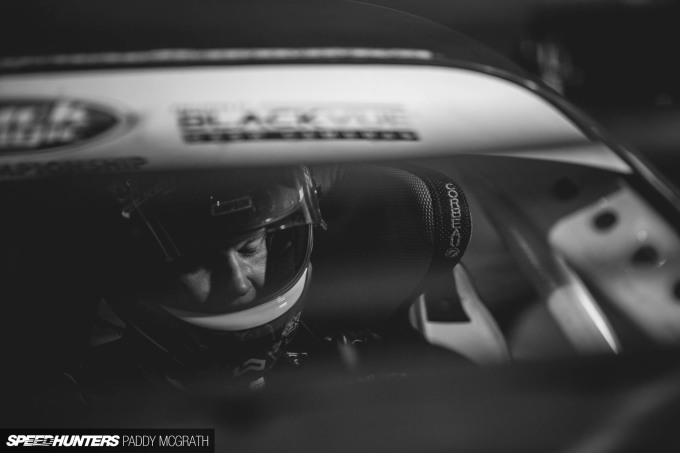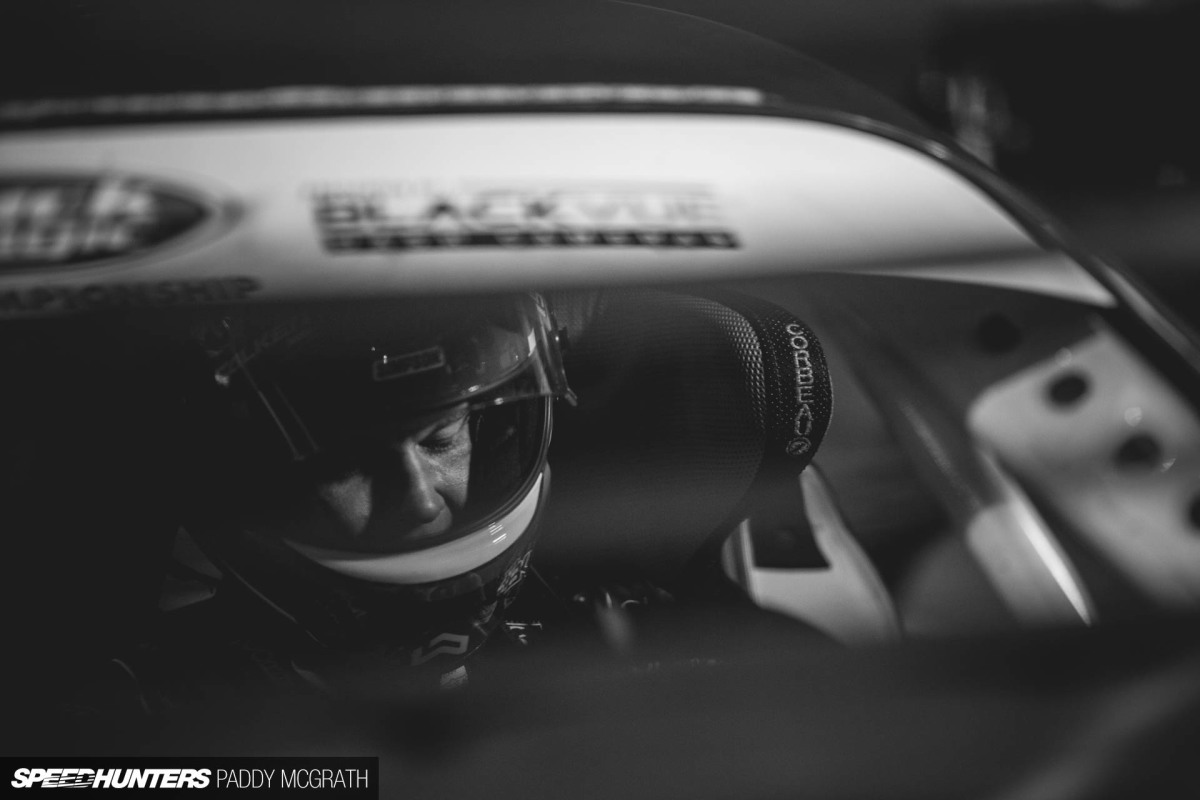 Who would benefit from James' misfortune and make his very first Formula Drift final and in turn his first FD podium? Mr. Piotr Więcek.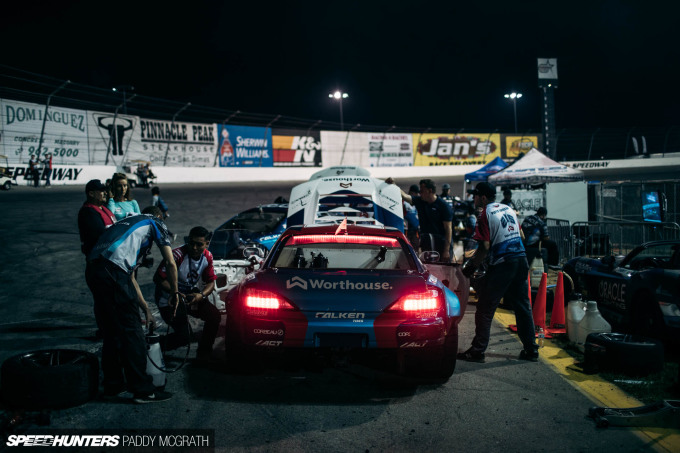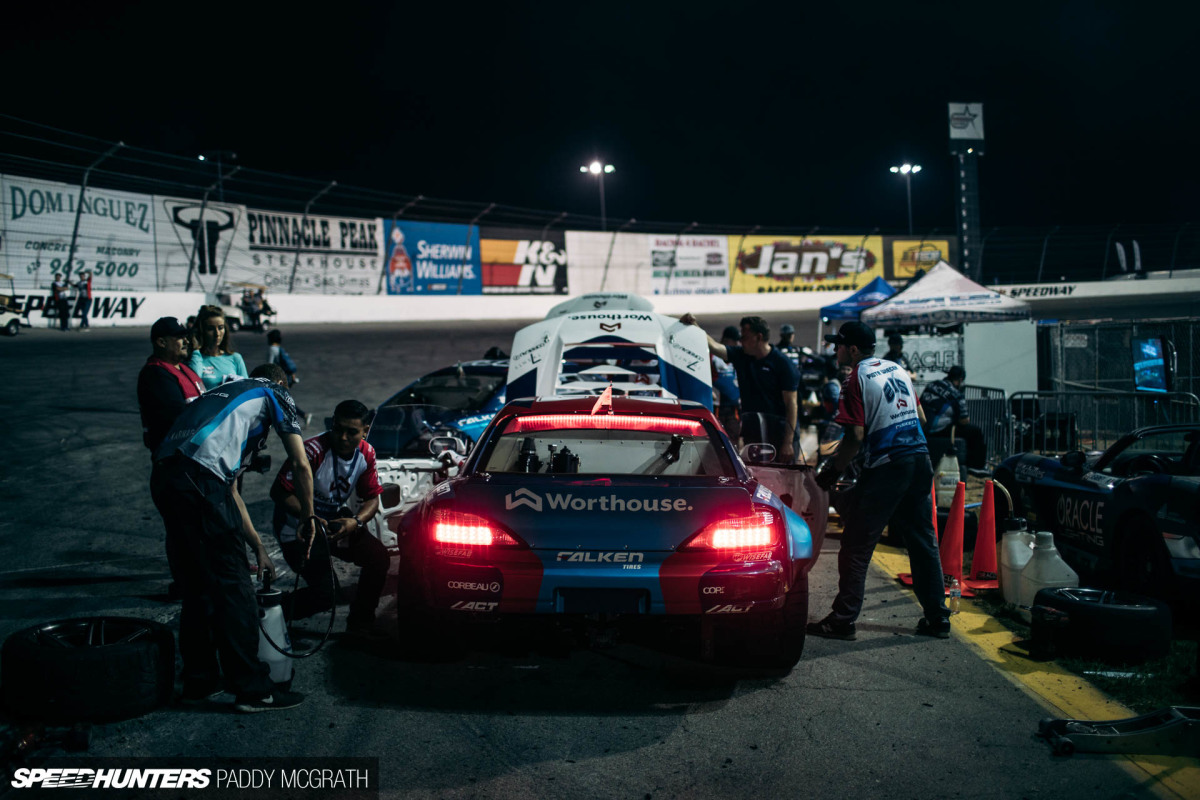 Every cloud and all that. With James out, the team turned their focus to Piotr's car. Piotr, who at first didn't believe he was in the final and had to ask 76 Formula Drift staff before believing us, was absolutely on another planet with happiness. His joy was contagious amongst us all.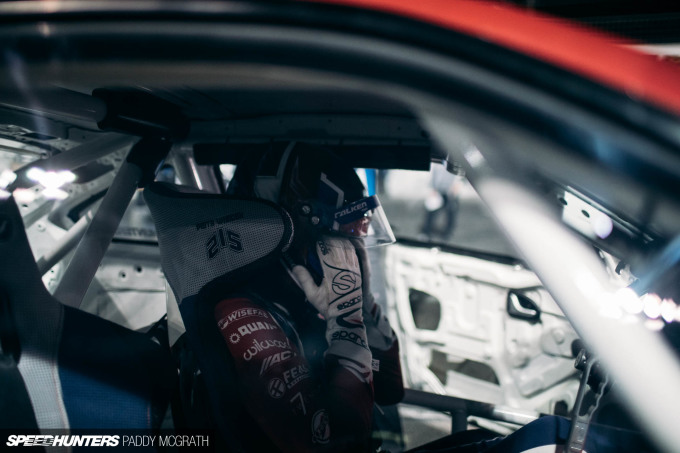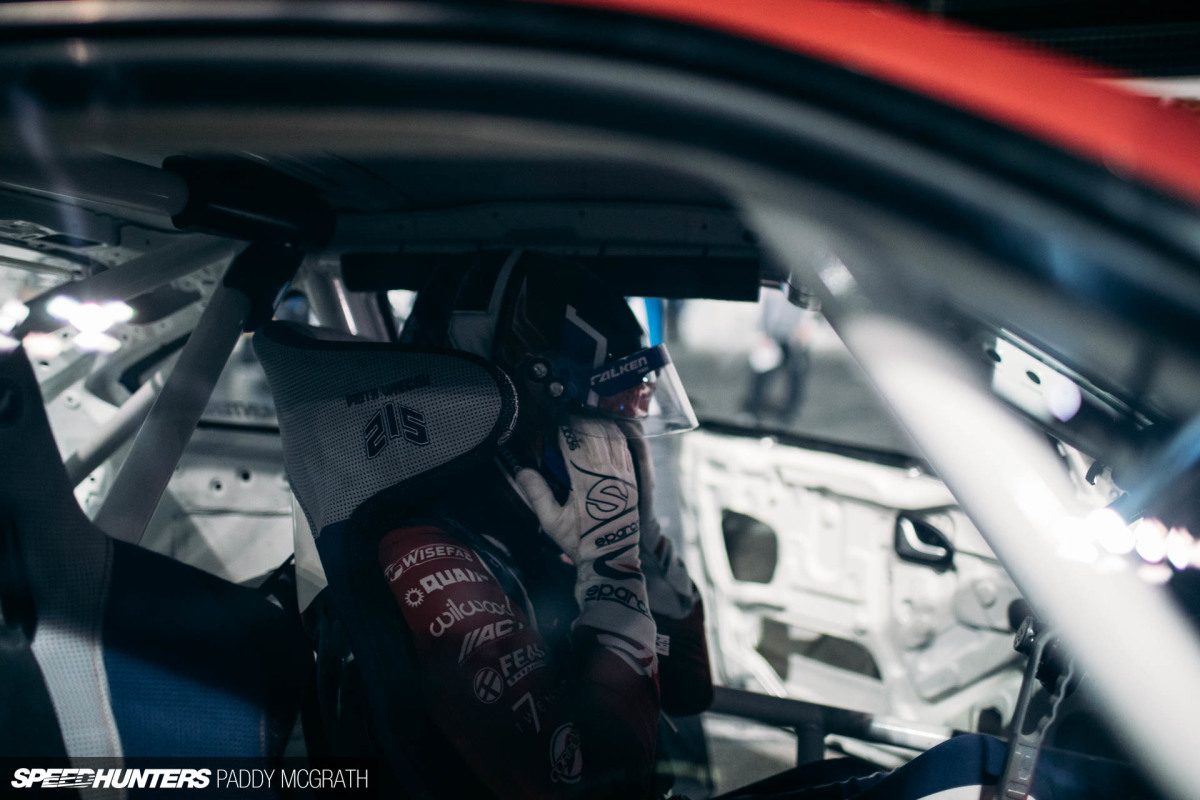 There was still a final to battle, but not after another bye run, Piotr's second of the weekend. He quickly calmed himself once strapped into the car and set about concentrating on what he had to do. The smile in his eyes was gone, and he was back in the zone.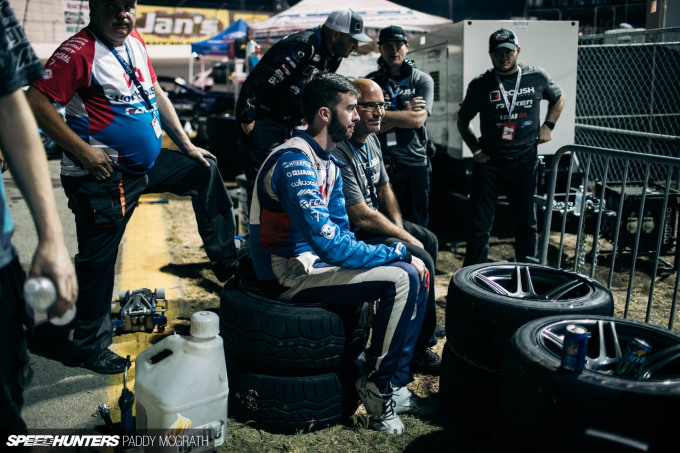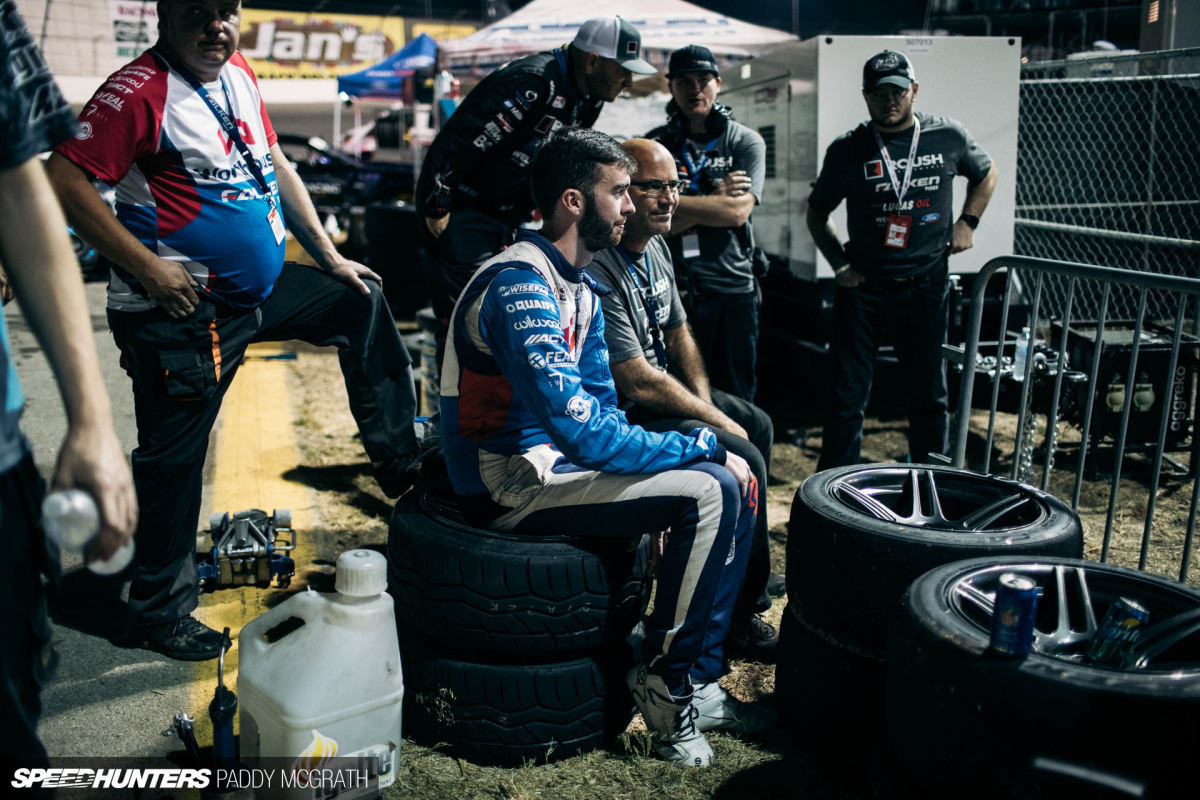 James would take a seat to watch the battles unfold on the supplied hot pit TV screen.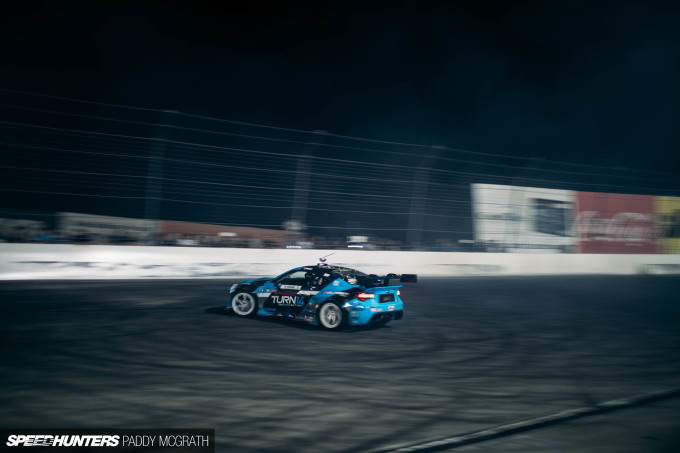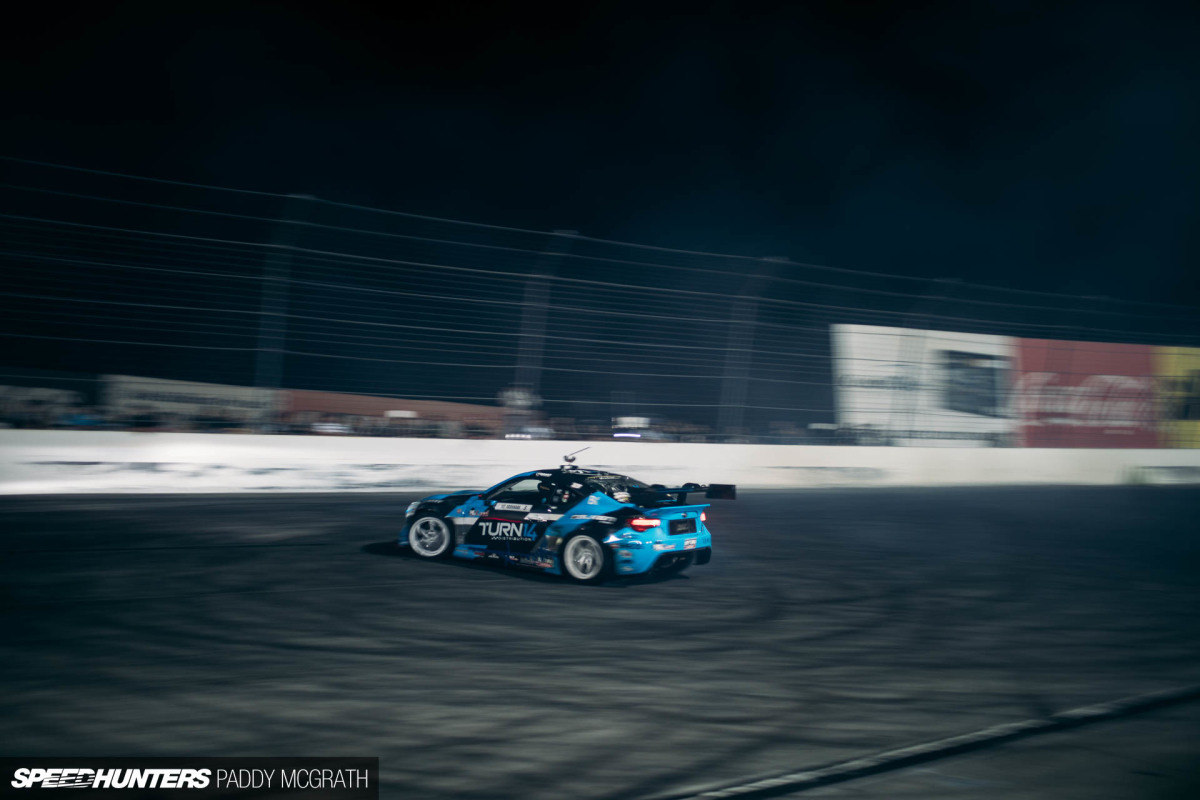 Having had waged his own war on the other side of the bracket, Dai Yoshihara also found himself in the final following victories against Castro, Heilbrunn and Gittin Jr., a series of competitors who all represent different aspects of drifting.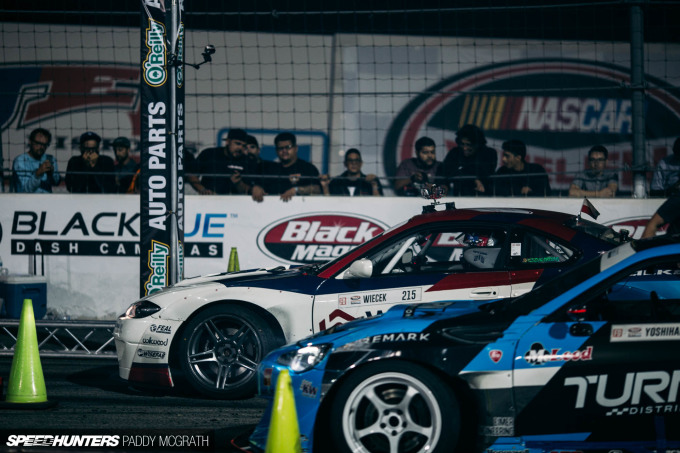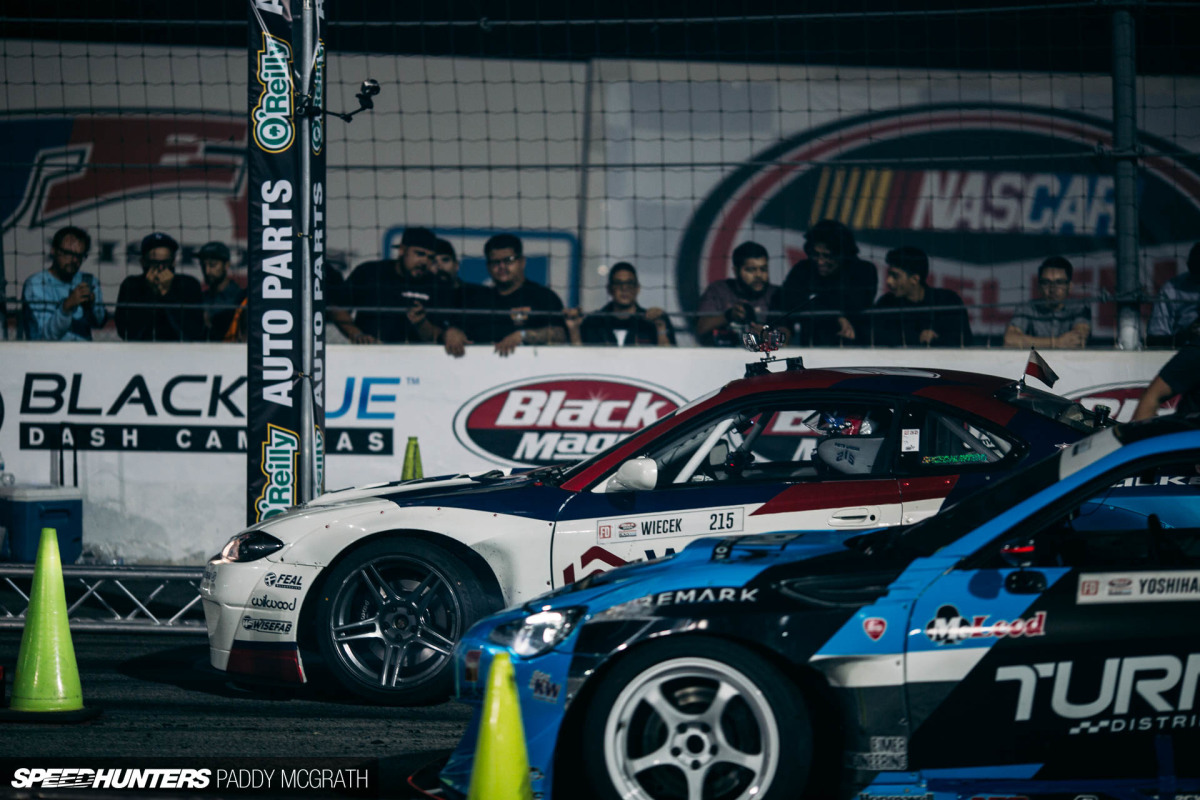 One thing each driver could rely on each other for was for there to be no games, and to have full trust in each other. I would consider both drivers to have quite a lot of honour in that regard.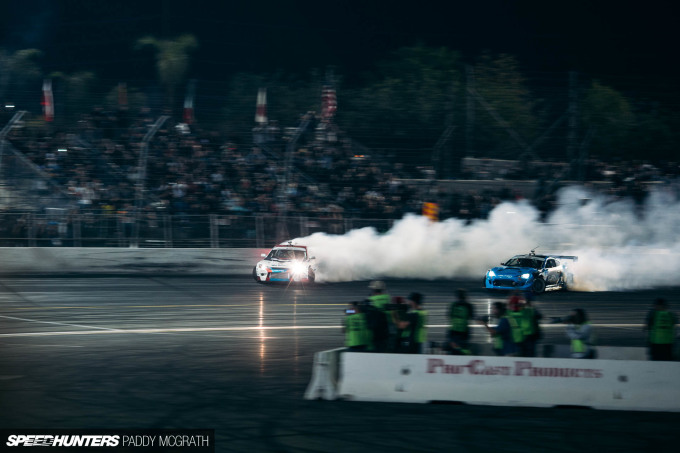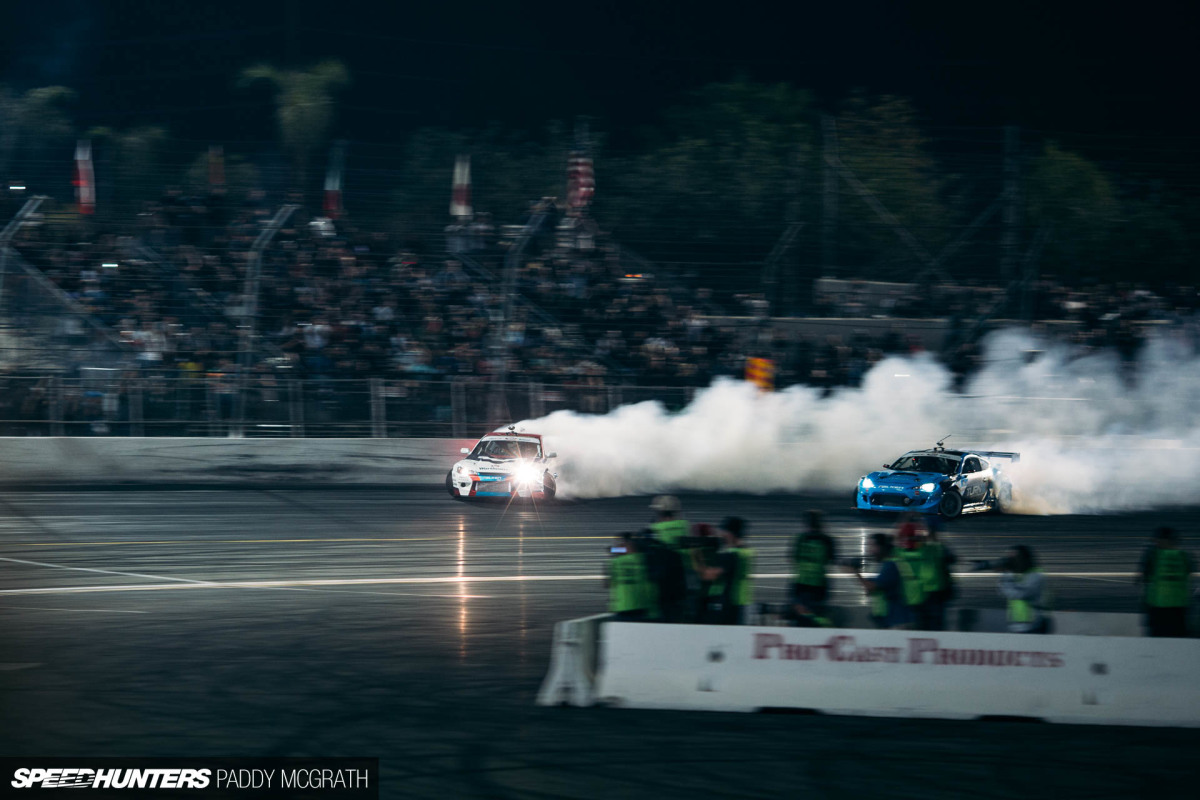 From the off, Piotr was at maximum attack and laid down the same type of lead run that had people on their feet all weekend. His proximity to the wall around OZ2 was barely believable.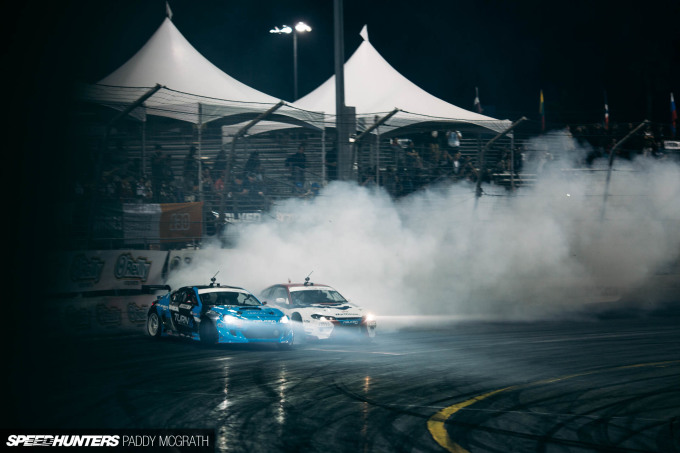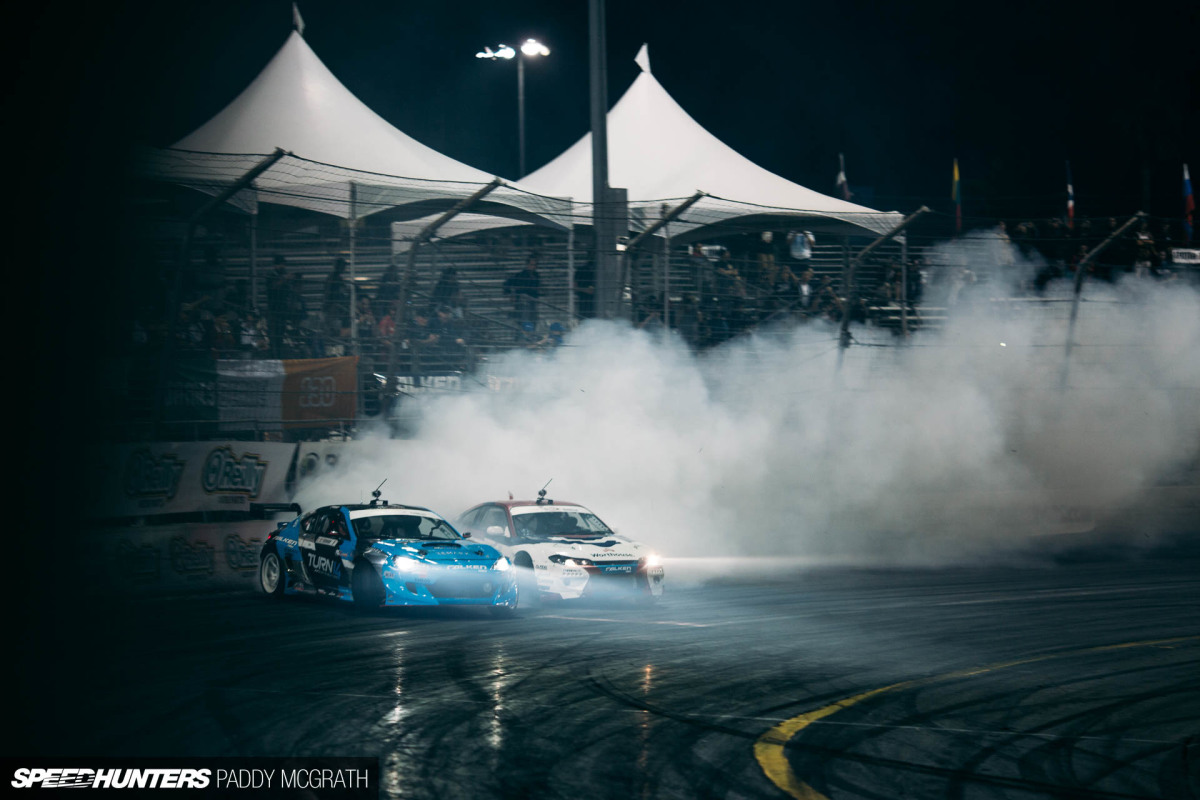 With the roles reversed, Piotr initiated harder behind Dai and stuck to his door much faster while staying with him for the duration of the course. It couldn't possibly happen, could it?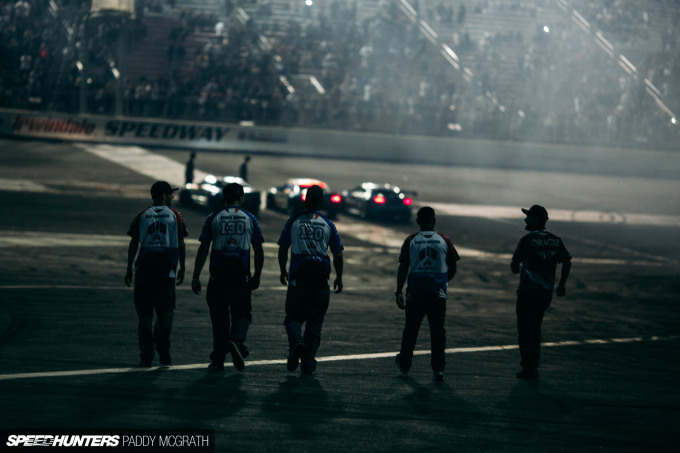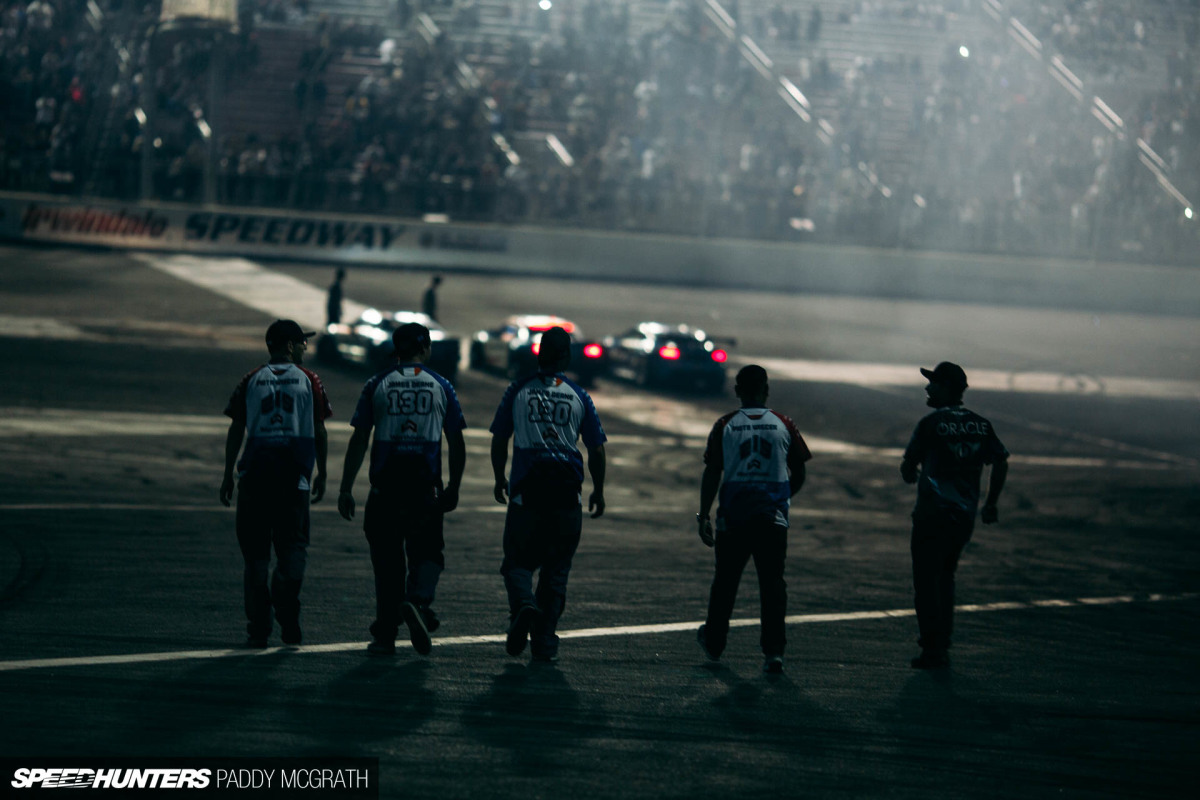 The team made the long walk to the grandstand where the cars were ready to await the announcement of the last ever winner at Irwindale Speedway.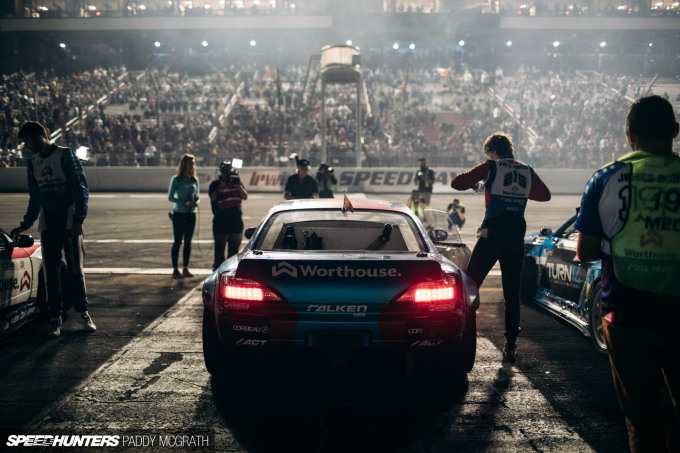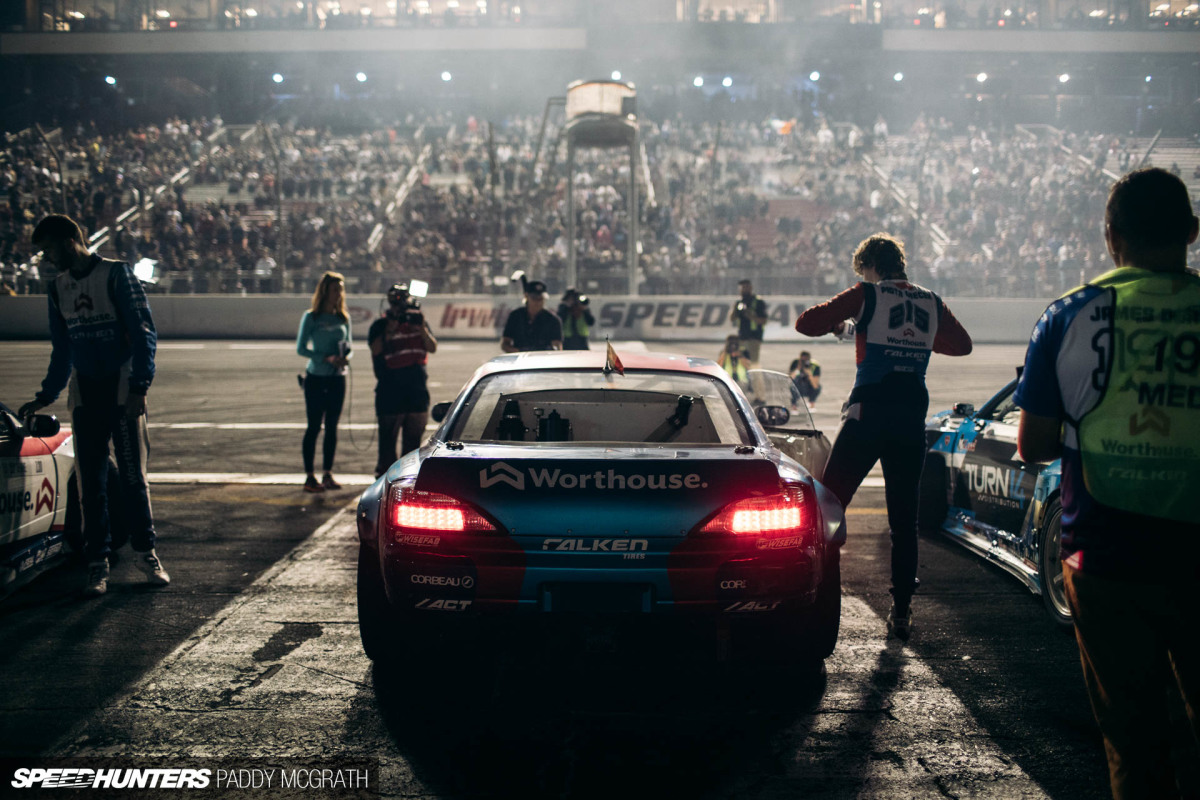 No matter what, both Worthouse cars were on the podium. That in itself, was a huge victory for team.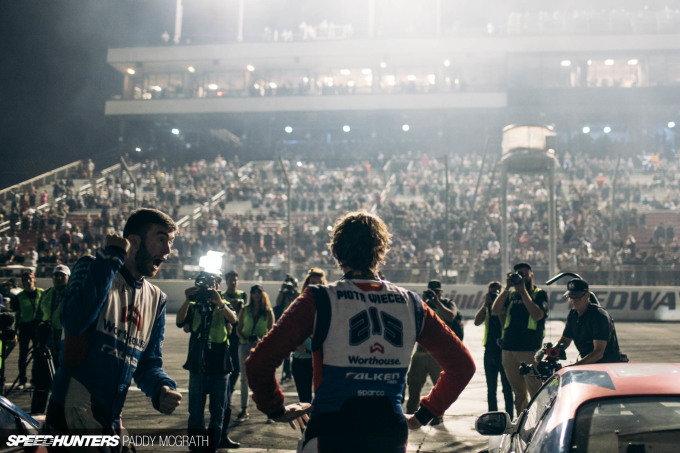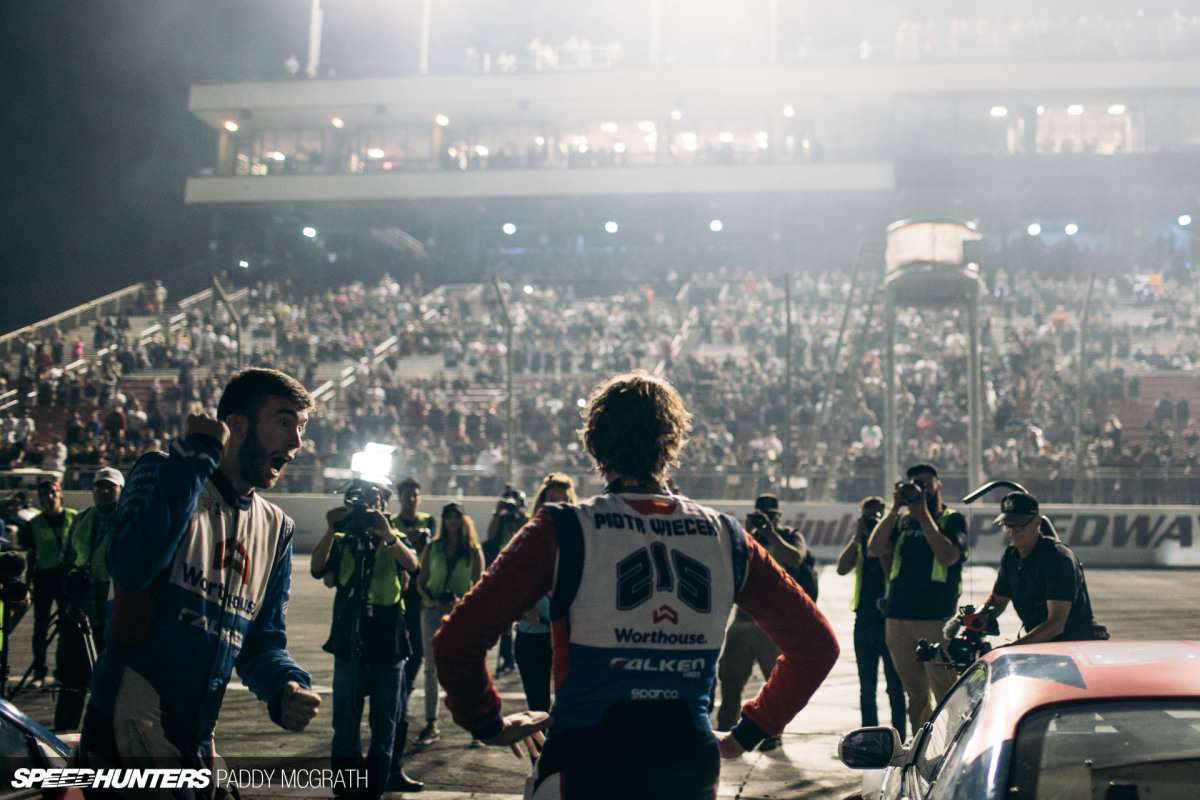 The icing on the cake (possibly James' birthday cake, but it has yet to be confirmed) was Piotr being announced as the winner. The delayed reaction from Piotr, accompanied by James' immediate celebration for his teammate, reminded me of James' win in Seattle. Both drivers show a level of humbleness that always impresses.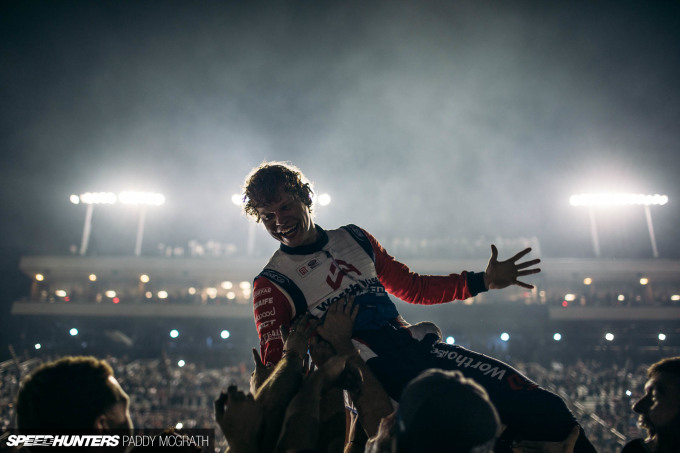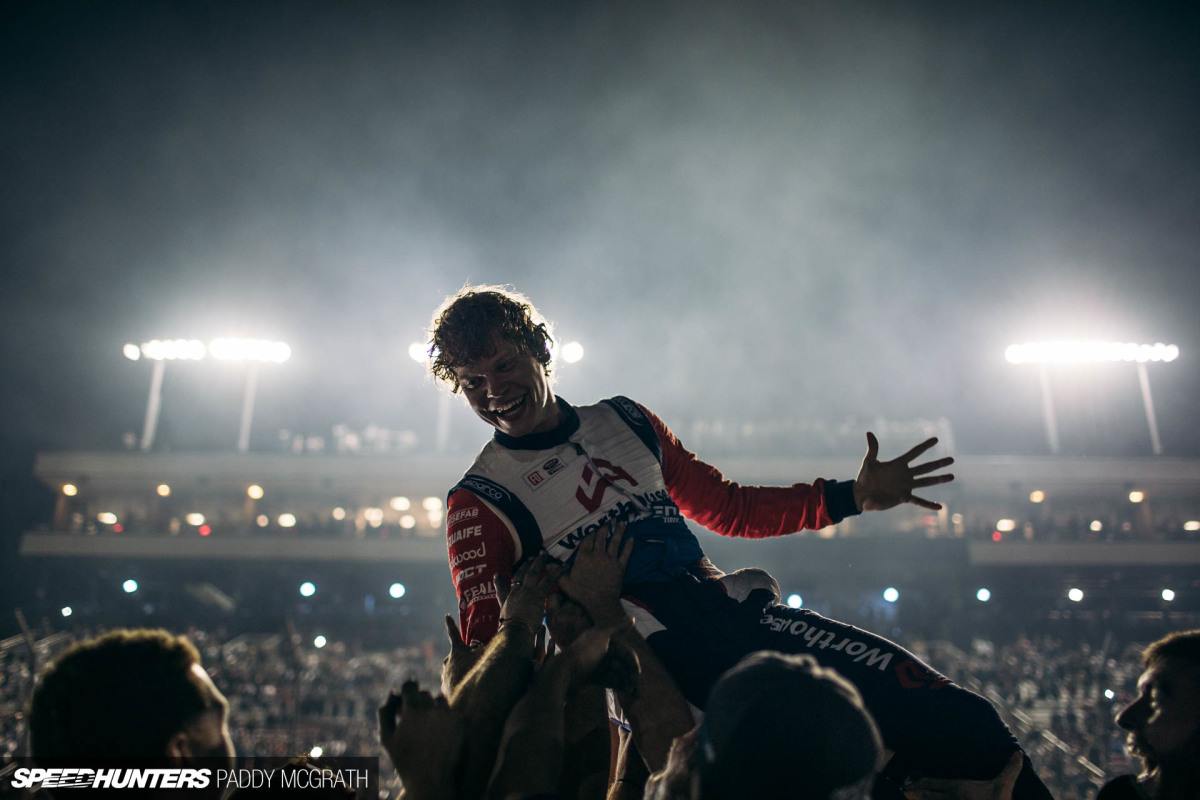 It was maybe on the third or fourth bump that Piotr began to realise what was happening. He had taken his first victory in Formula Drift.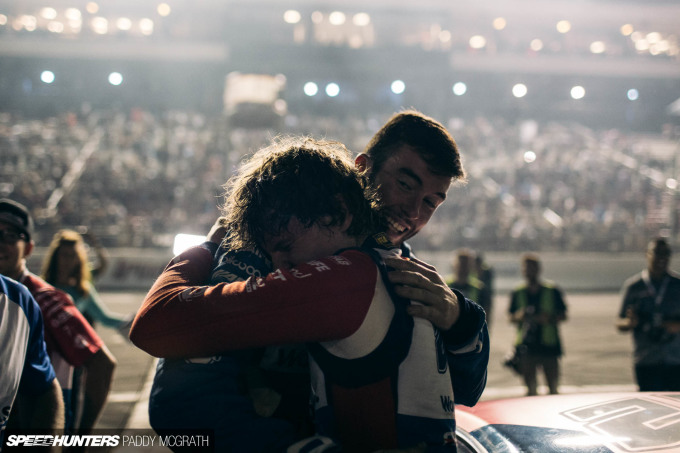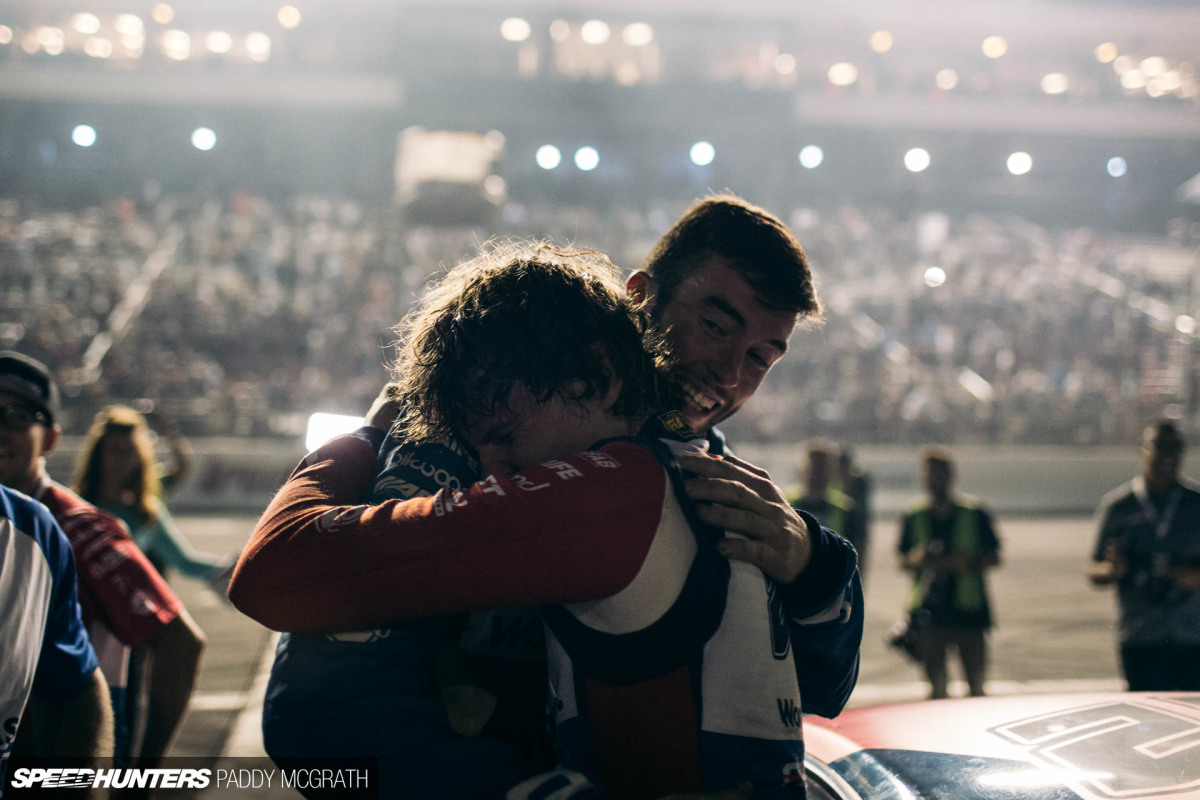 I don't think anyone could have been happier for Piotr than James. The two have formed a bond that will last a lifetime. From on-track competitors, to team mates in Europe, to leaving a sizeable impression on Formula Drift in just their first season.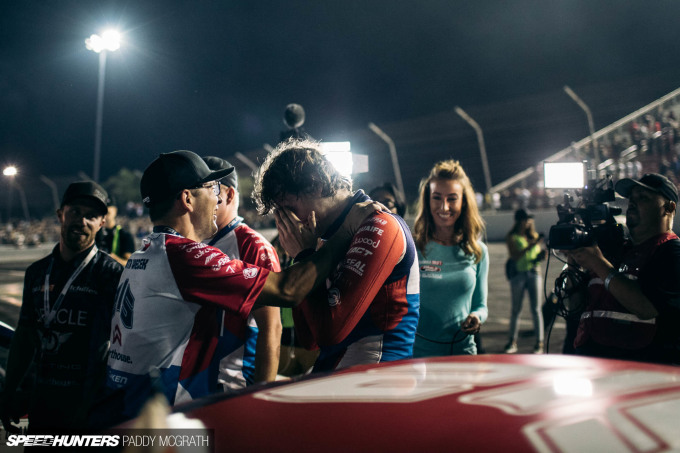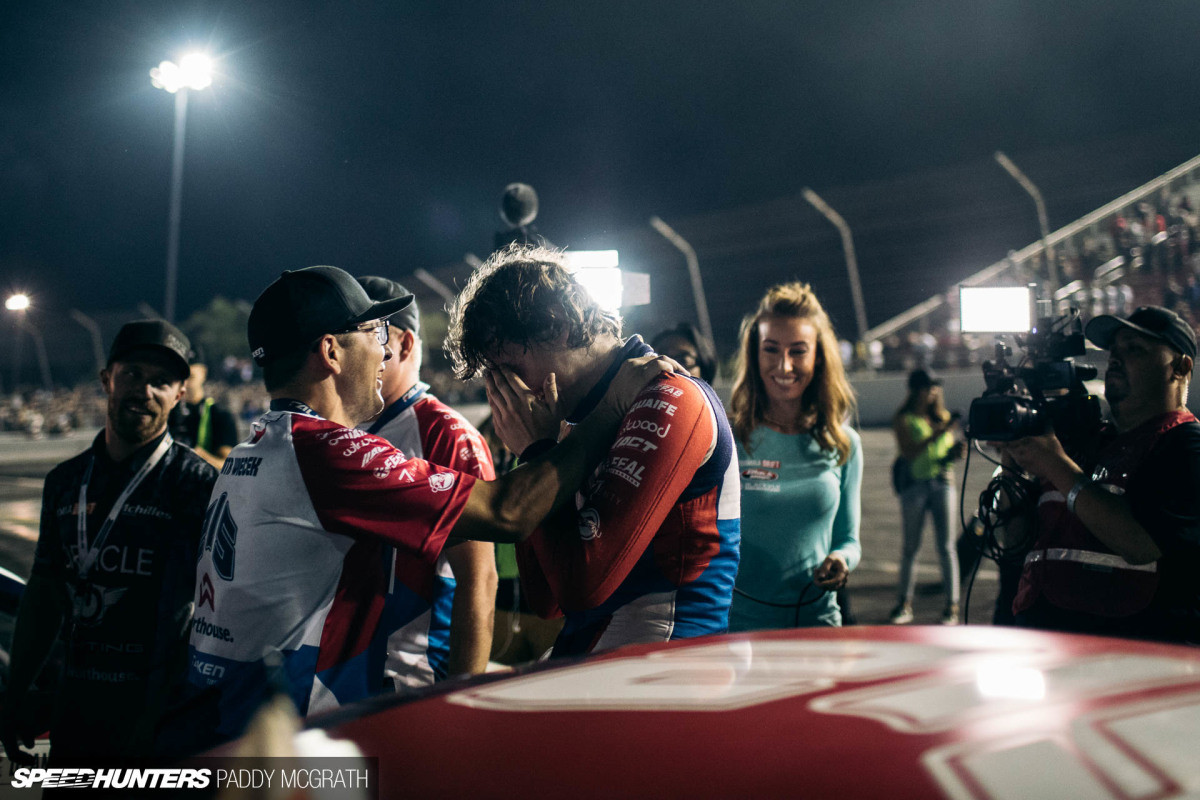 Not only did this absolutely nail on Piotr's Rookie of the Year award, but it puts him in some esteemed company. As far as I can see, only Daigo Saito, Masashi Yokoi and now Piotr Więcek have won events in their rookie season in the last decade.
The celebrations and congratulations were quick to flood in. Piotr wears his heart on his sleeve, and this win will have meant the world to him. Without him, there would be no Worthouse Drift Team.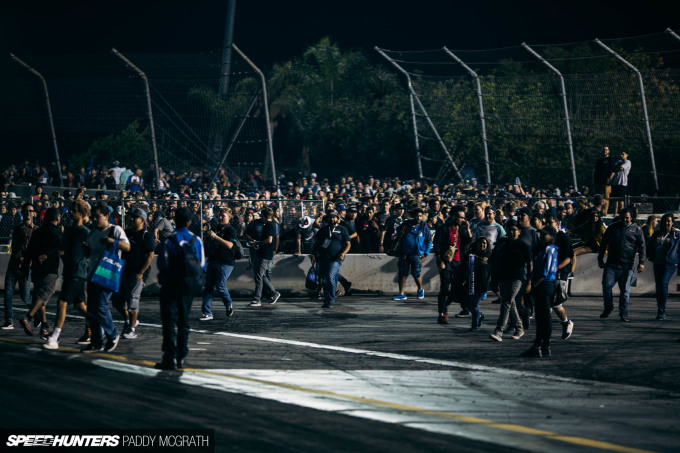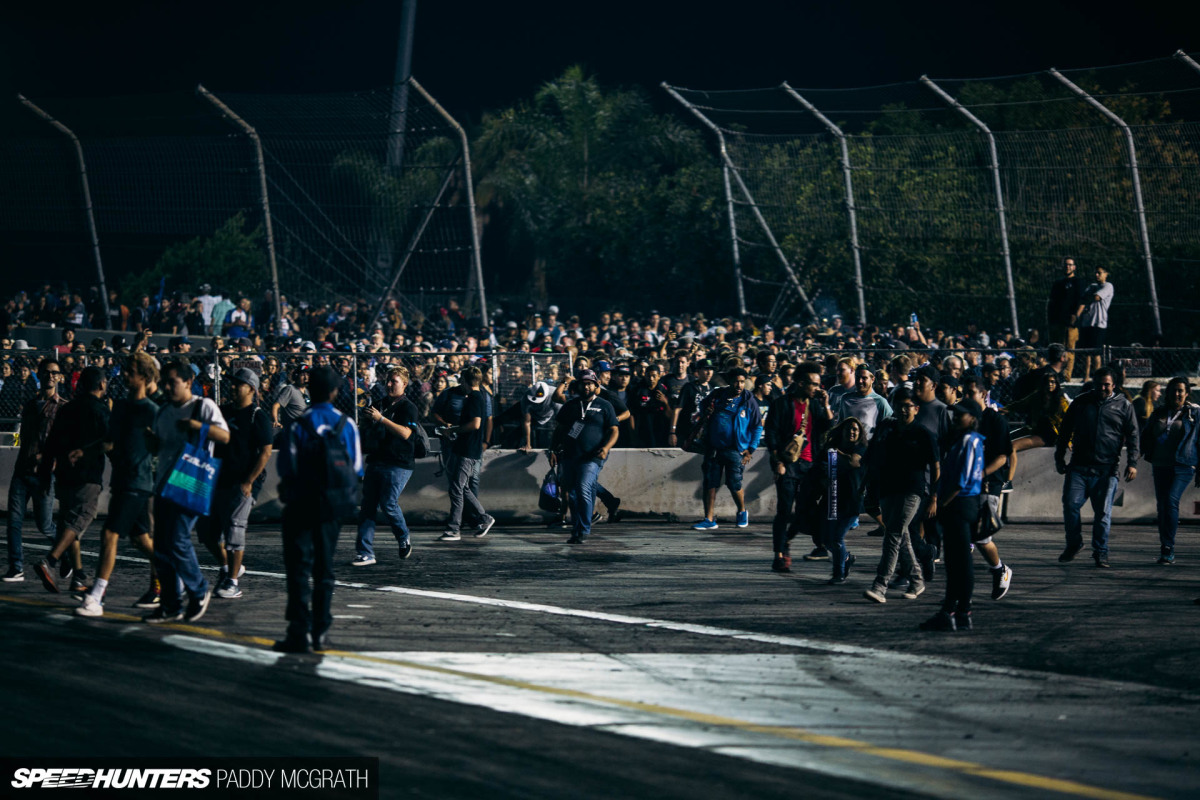 With fans allowed on the track to join the celebrations for the last time at this venue, the party quickly moved to the podium.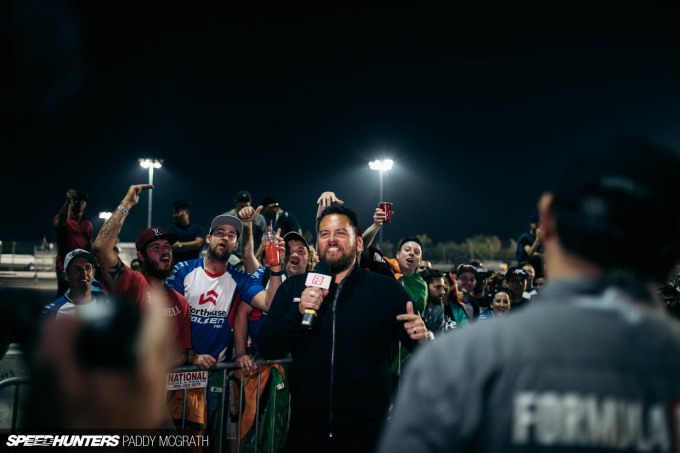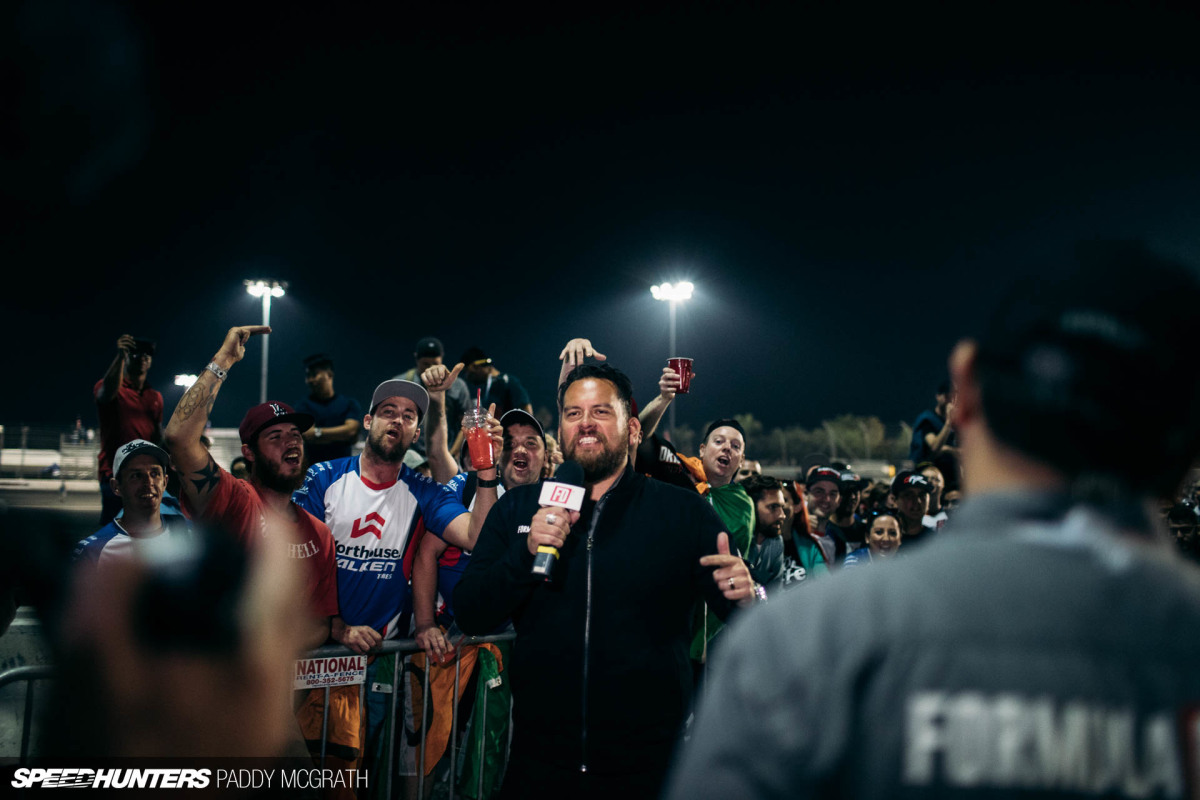 The noise was truly turned up to 11 for the final broadcast of the season.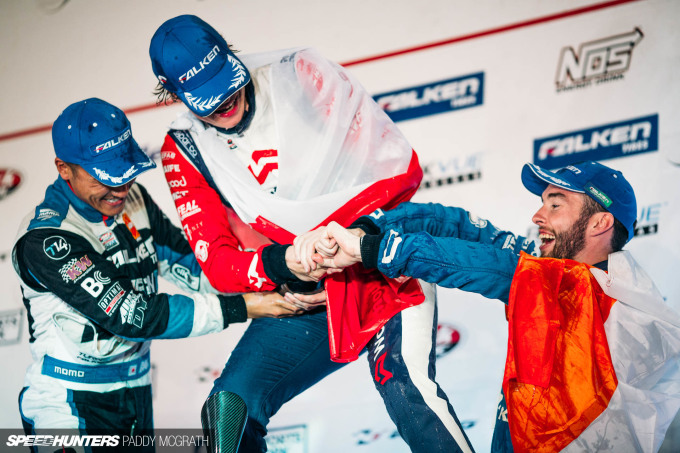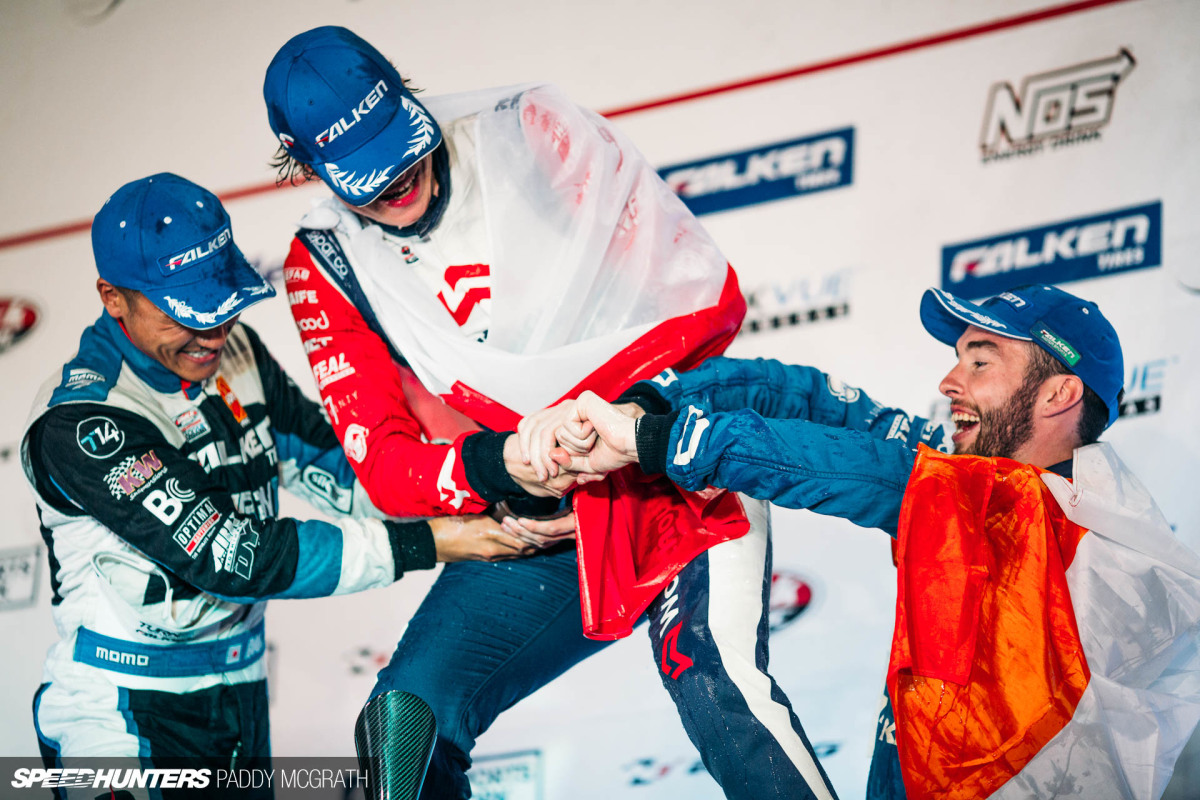 Więcek, Yoshihara and Deane, on the final podium at Irwindale. I'll let you caption this one yourself.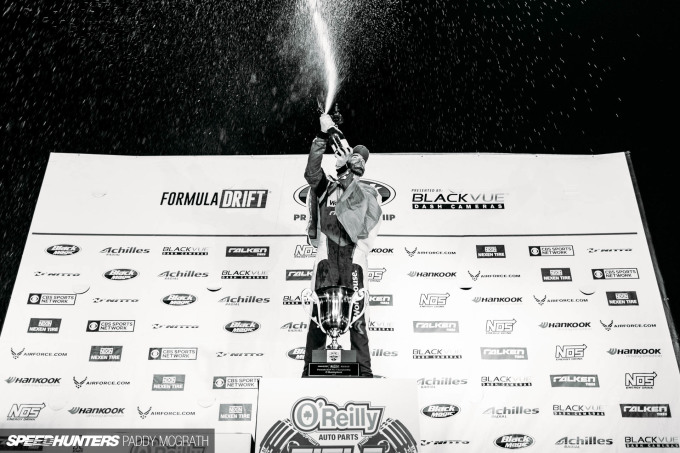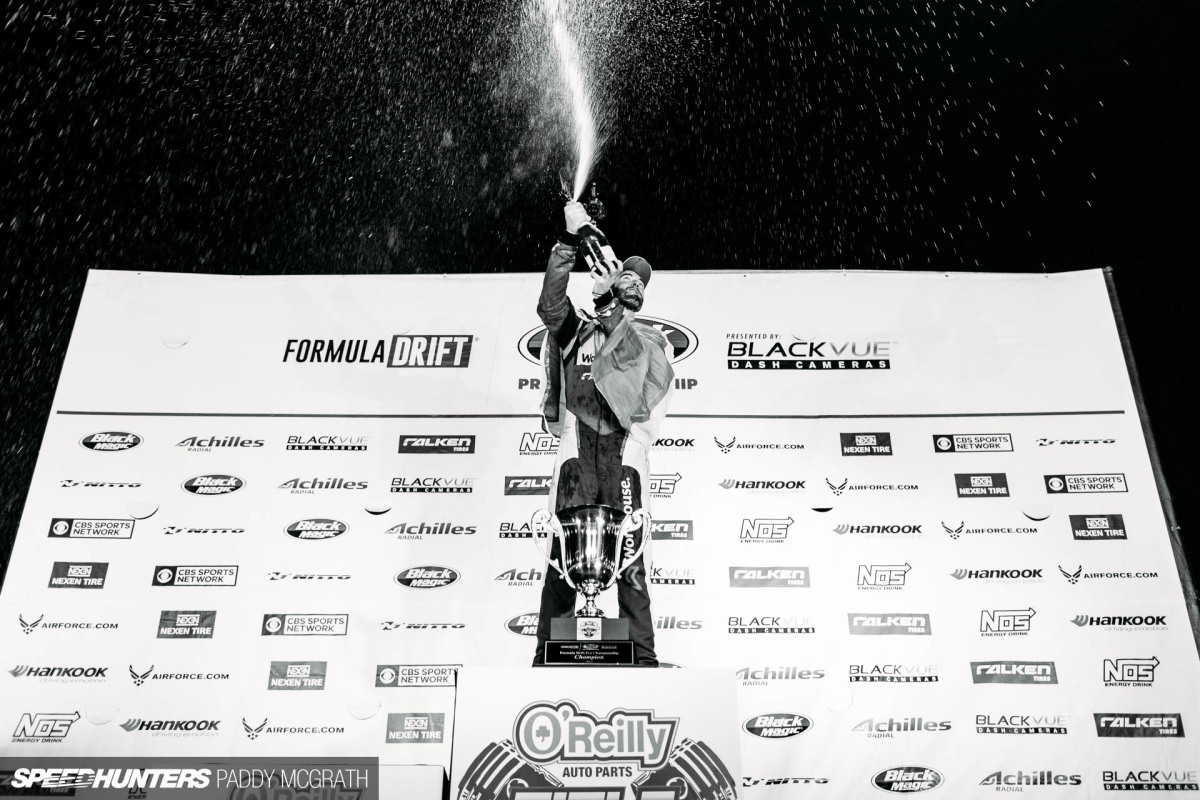 With the traditional podium out of the way, James took to the top step to receive his championship trophy. I won't ramble on about the size of this success, as it should be obvious to everyone.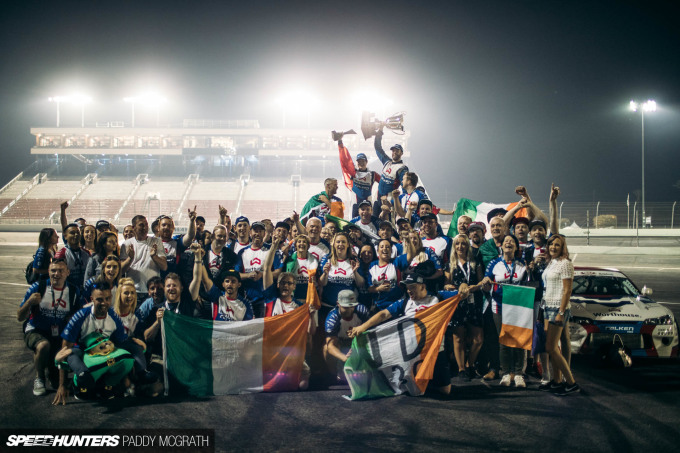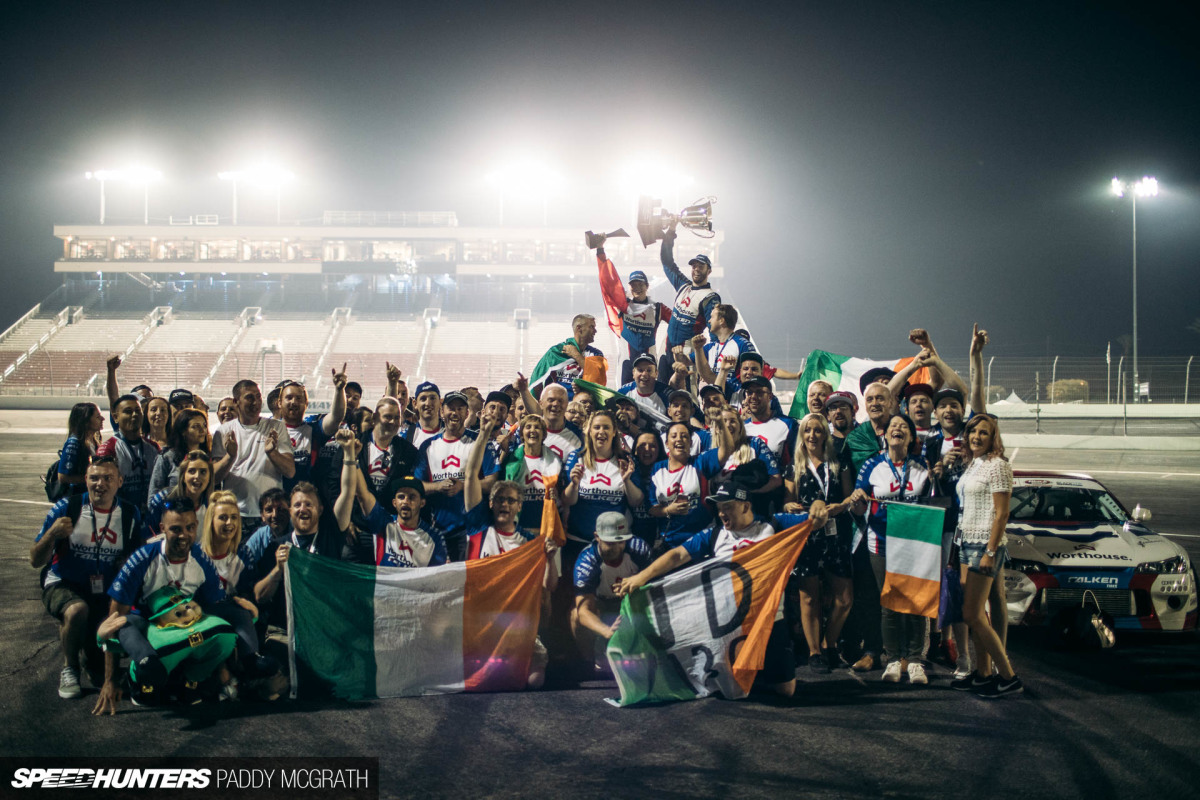 Their story isn't just about drifting, it's about never giving up.
David Egan, head of the Irish Drift Championship best summed up James' achievements after Irwindale with the following: "What are the chances of a kid leaving school at 16 with the dream of becoming world champion, in a sport that nobody in his country took seriously? What are the chances of him winning every championship he entered from that point, without a complaint, an excuse, or a dispute?"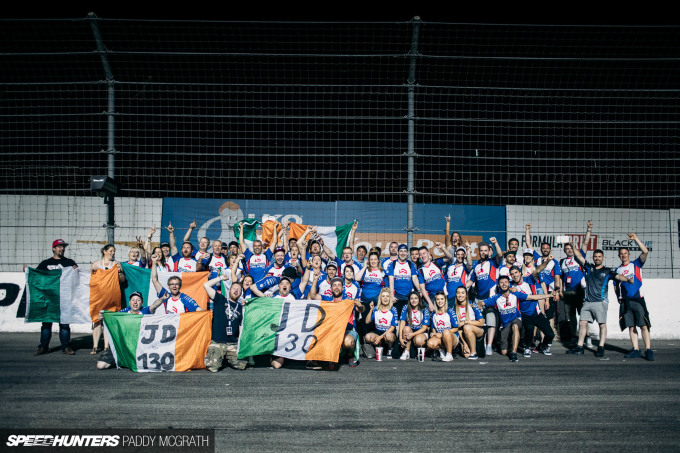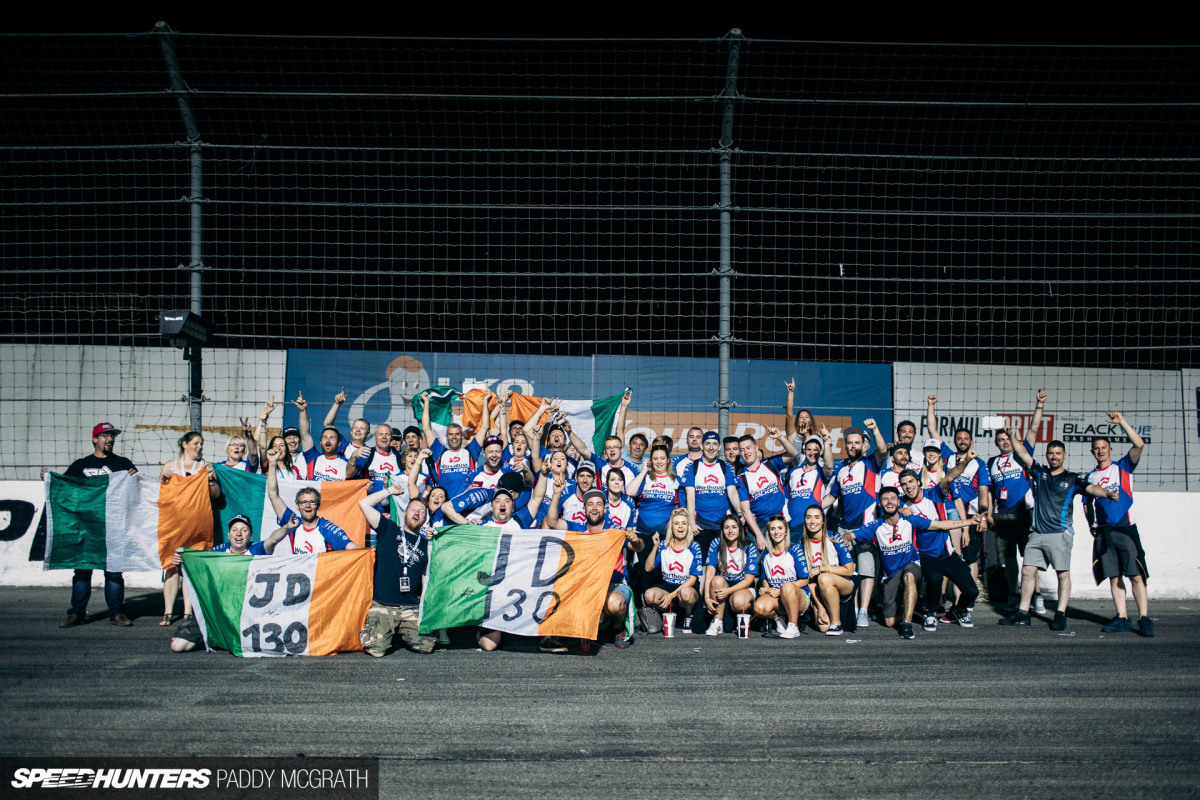 "What are the chances of him building an FD-winning car, with his family, 25ft from his childhood bedroom where the dream began? He is more than a champion in my opinion, he is a role model to anybody who feels their dream is unattainable due to financial or geographical limitations. Anytime you feel like giving up, or need an excuse, have a look at this photo and believe it is possible. Raw talent and more importantly raw determination personified," he finished.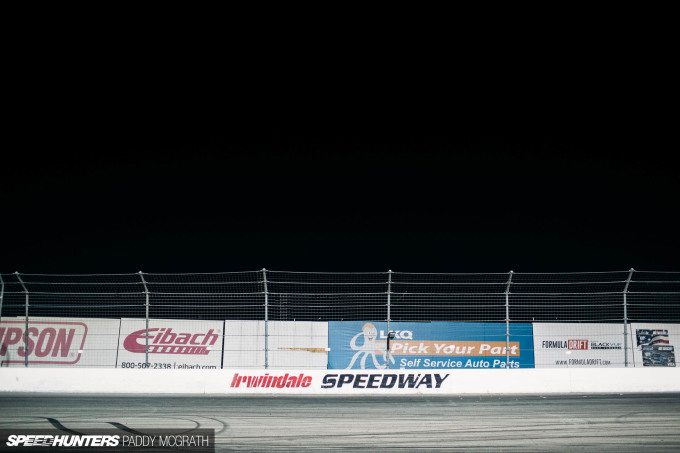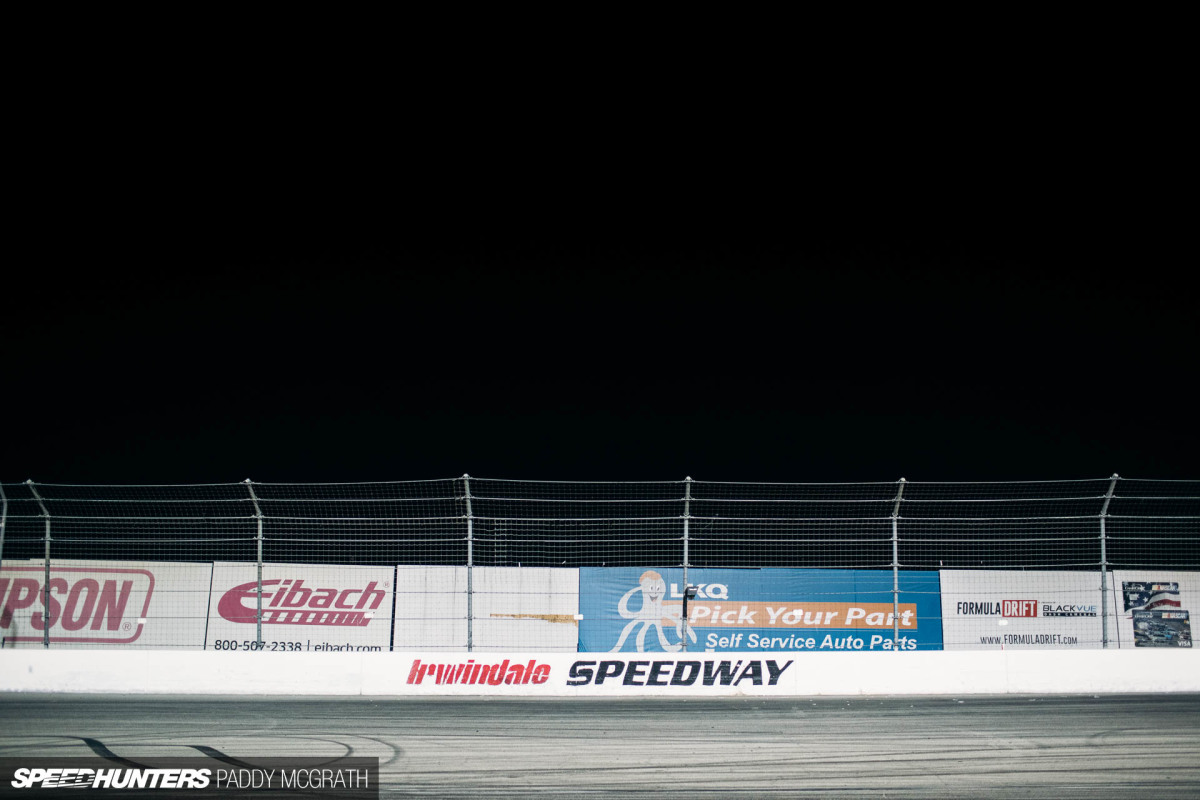 For me, it's the end of a story that has been over 11 years in the making. From the first time watching a teenage James Deane take to Rosegreen in County Tipperary in a humble Ford Sierra Estate, to watching him take the biggest prize in world drifting. Over those 11 years, he's never ceased to amaze, either with his talent and natural ability, or the fact that he's still the same, down-to-earth guy from a humble background in rural Cork.
He's a product of his environment, born into and raised by a hard-working family with strong morals that taught him never to give up, because they never gave up on him.
More than anything, I'm proud of James Deane, what he has achieved and what he will achieve in years to come. This isn't the end of James Deane's story, it's only the beginning.
Oh, and Piotr? Nailed on future Formula Drift champion. Chalk it down.
Paddy McGrath
Instagram: pmcgphotos
Twitter: pmcgphotos
paddy@speedhunters.com
Cutting Room Floor