Hunting Speed In KL
There's nothing I love and appreciate more than being able to hunt speed in different countries.
It's at the core of what we do, bringing together people of all different cultures and paths through the shared love we have for cars. With each and every trip abroad we grow, make new friends and share experiences, all the while showcasing what we come across in our travels. There are no boundaries, and languages and beliefs don't even come into it; once two or more car people meet it's as if they've known each other for a lifetime.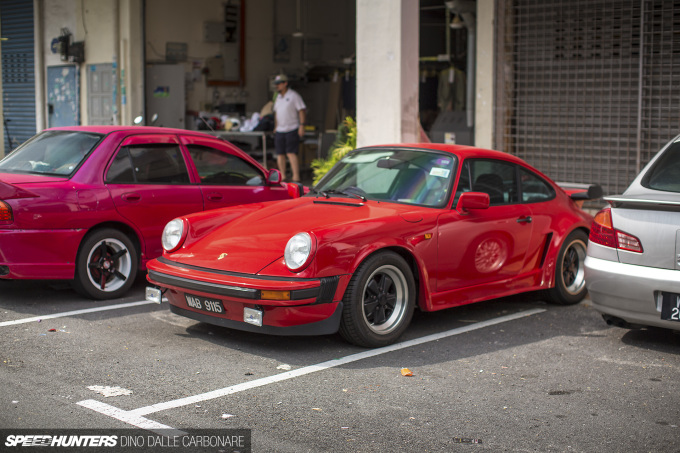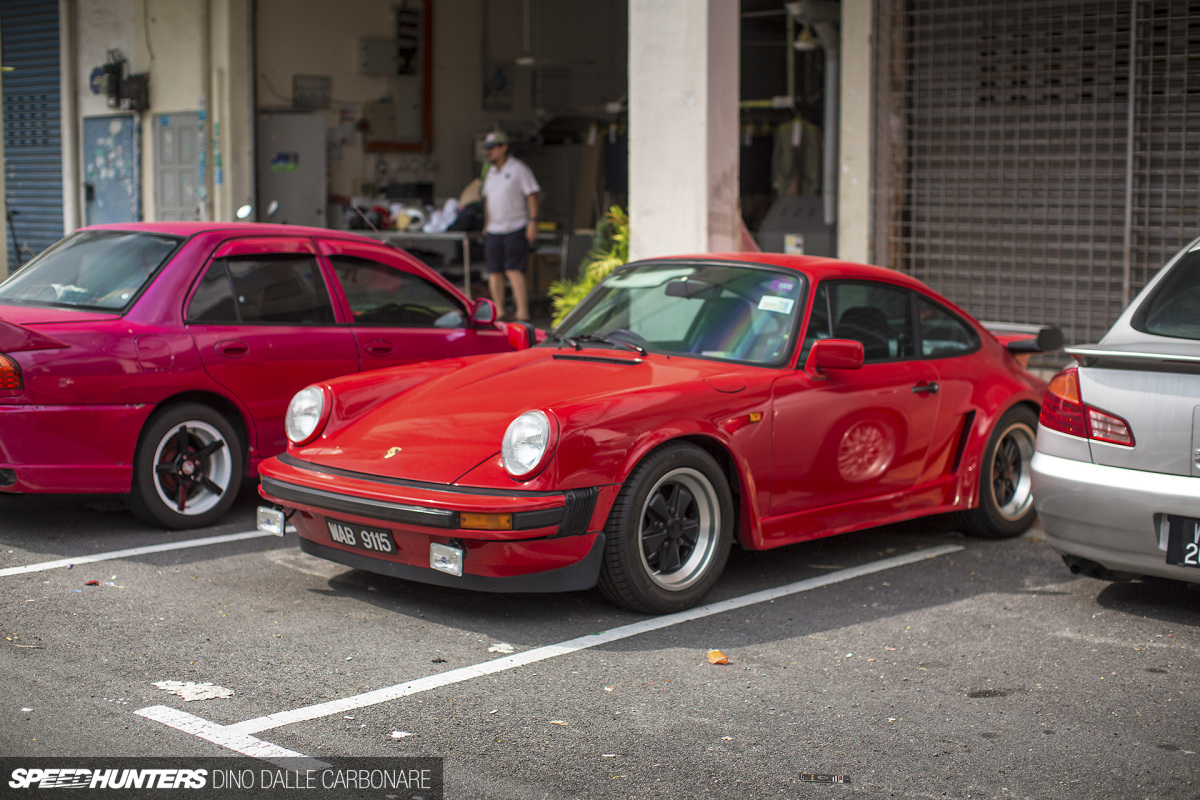 Arriving in Kuala Lumpur for this year's Art Of Speed, I set aside a whole day for some proper Speedhunting business before the show. I've been to Malaysia's capital countless times over the years, and I've been fortunate enough to have met key personalities in a variety of car scenes. They're people that I now call friends, and they're always there to lend a helping hand when a Speedhunter is in town.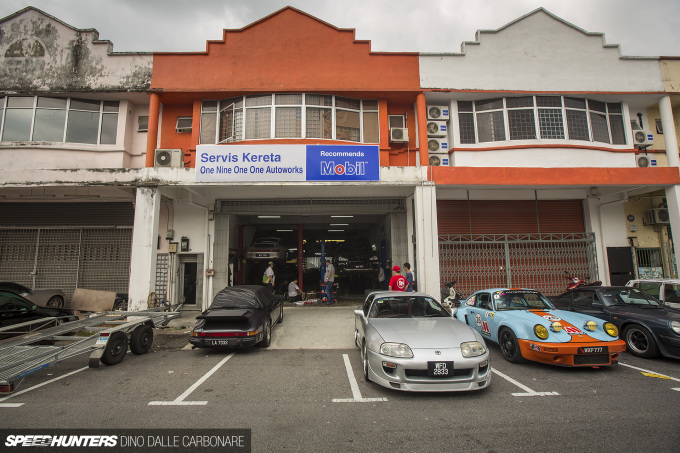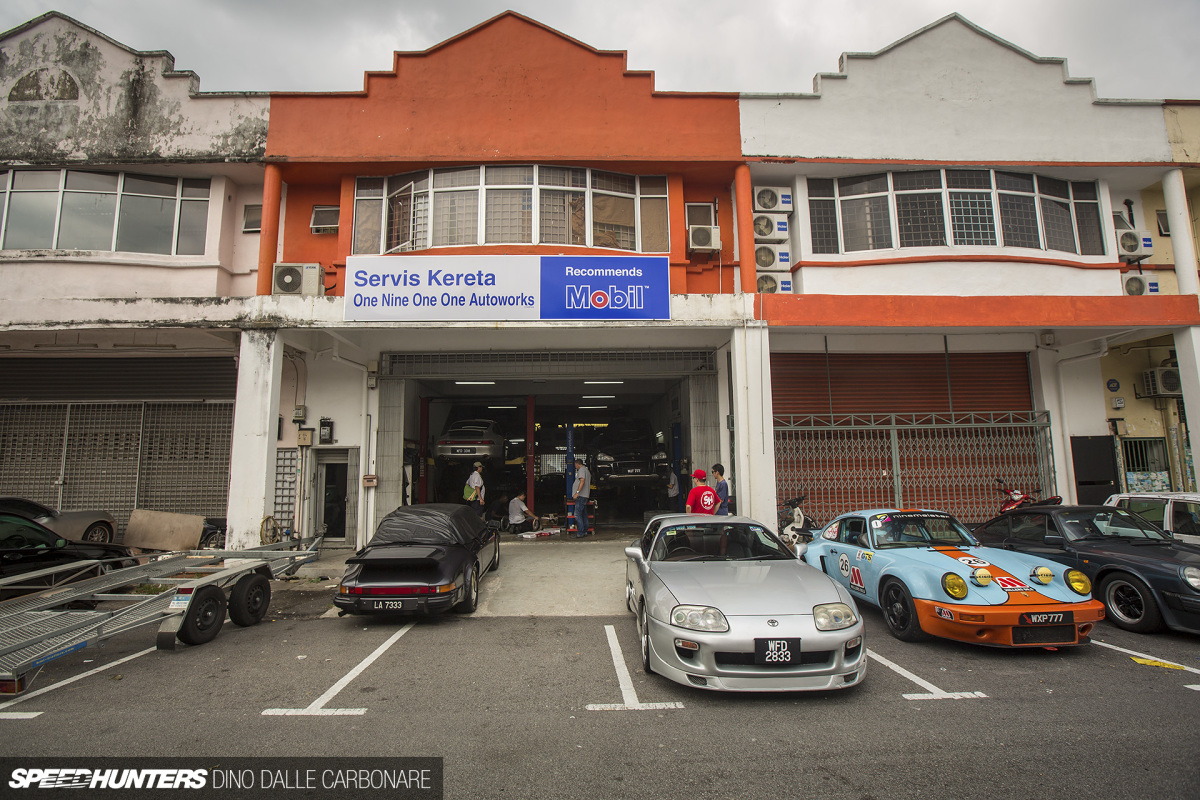 Which is precisely how I ended up at One 911 Autoworks, a Porsche specialist located in the outskirts of the city.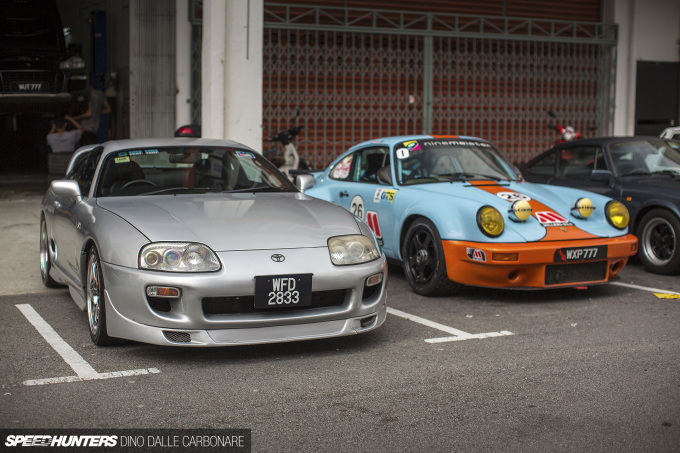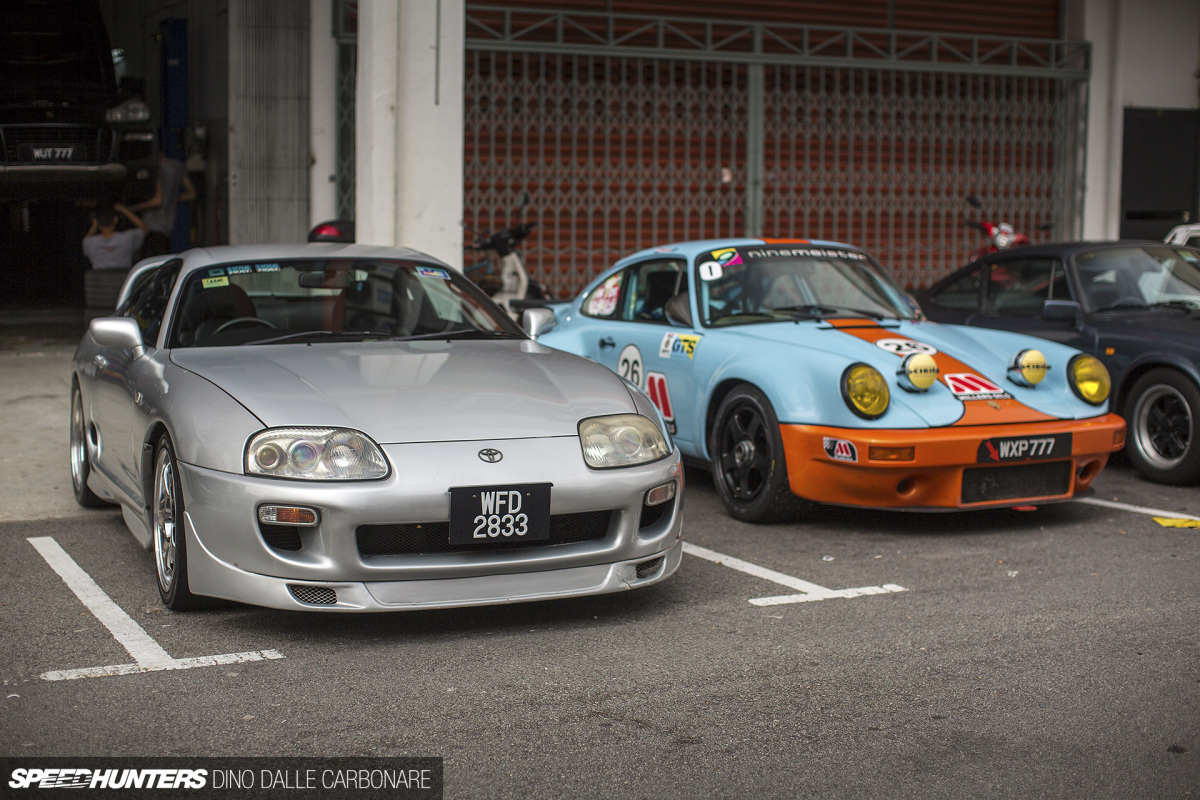 I was picked up from my hotel by Sean Eu, a guy with his finger on the pulse when it comes to the Malaysian scene. He drove me around in style too; that's his recently manual-swapped JZA80 Supra. Sean is someone I'll no doubt be seeing more regularly now as he's just left his job at Top Gear Malaysia to join the crew at Mooneyes Area 1 in Yokohama.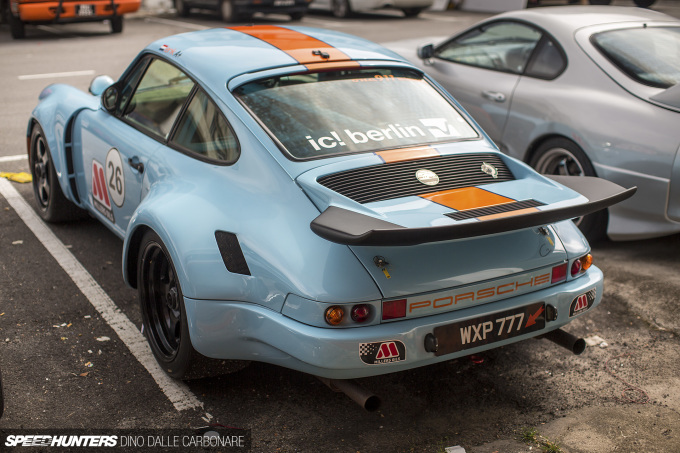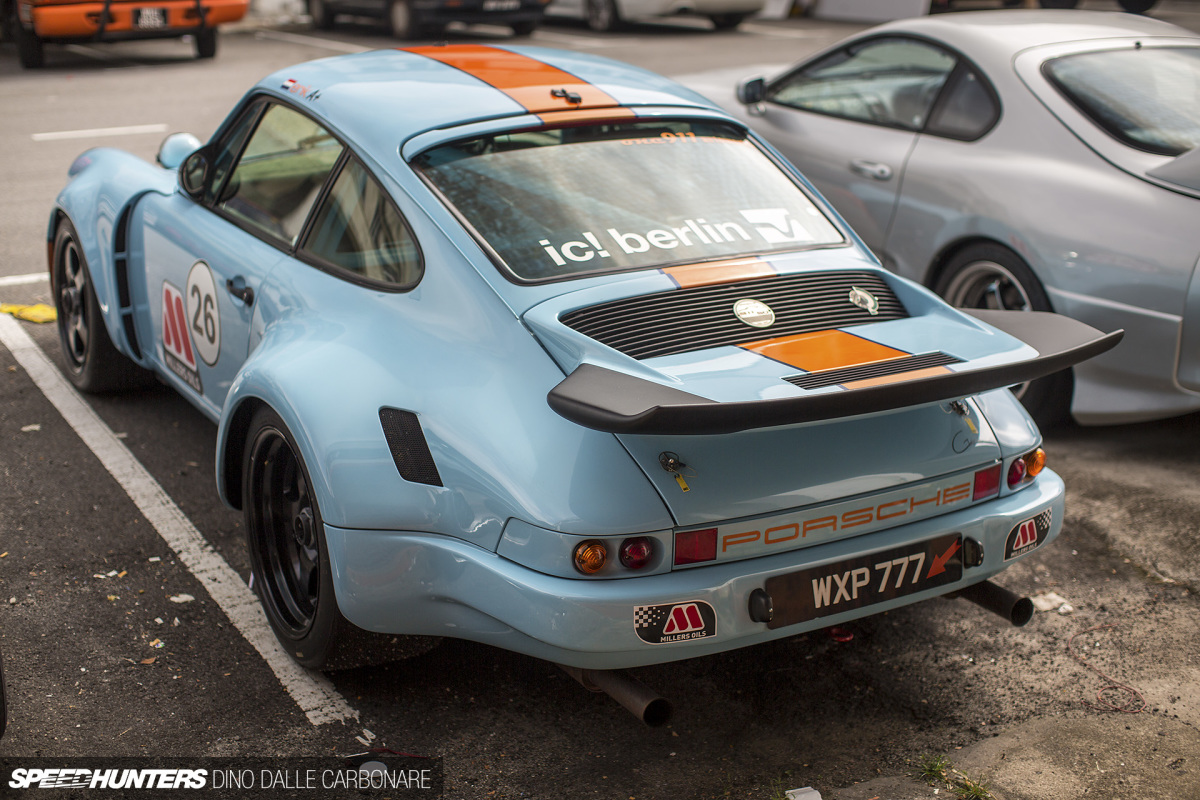 Upon my arrival I was really happy to see a familiar car parked outside. I first met the owner of this very special 911 back in 2015 when he dropped by the RWB Miyabi build, but time was tight and I never got a chance to go out and shoot it properly. Thankfully, this time we were able to make it happen, so look out for the feature later this month.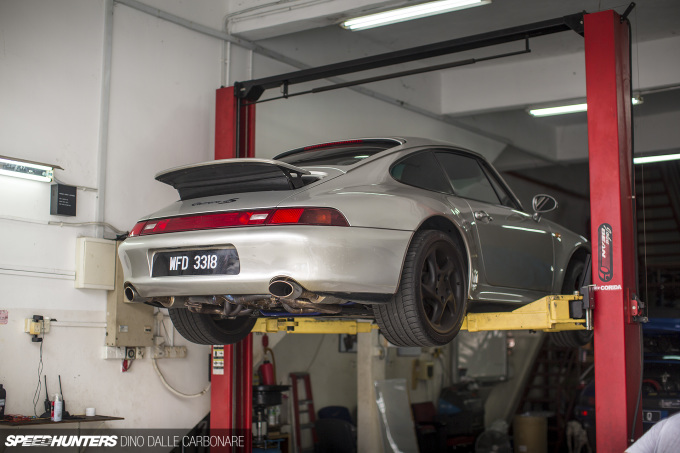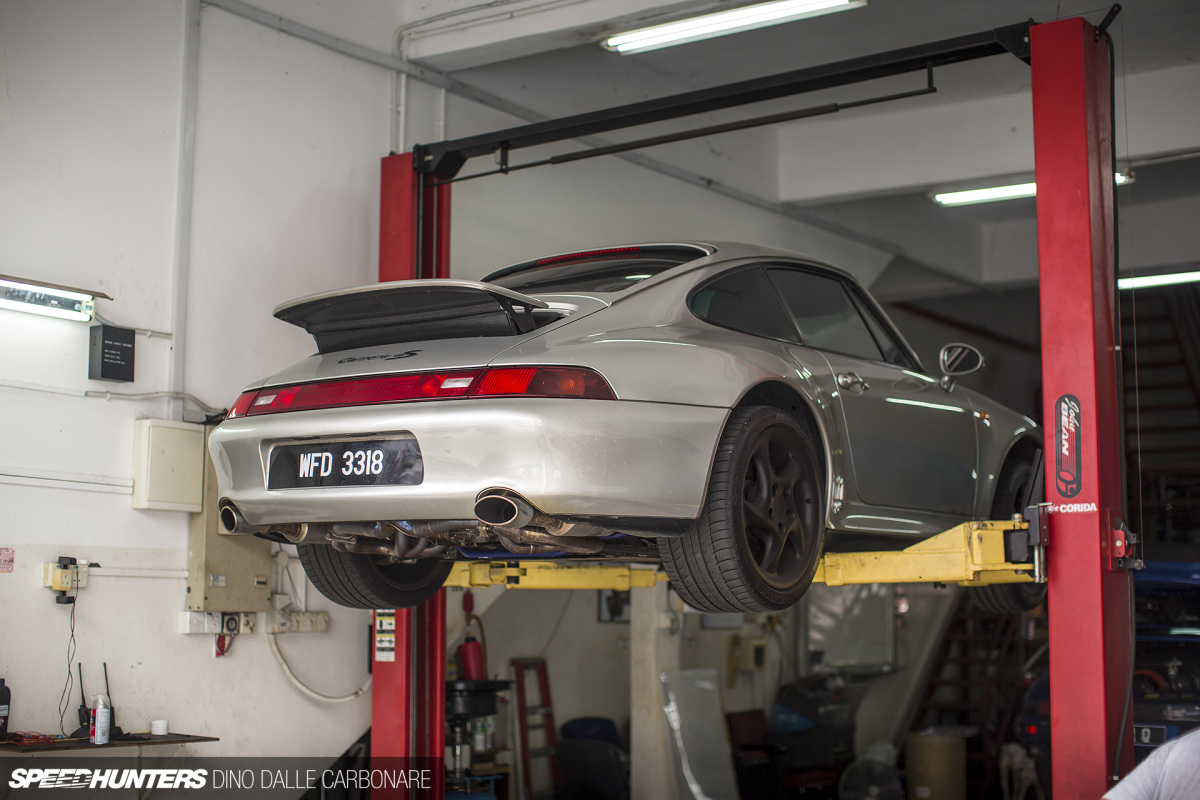 The guys at One 911 Autoworks gave me free rein to roam around their shop, a place where they undertake a variety of automotive services for the local Porsche community. From regular maintenance to overhauls, upgrades, and anything else that you may fancy doing to your prized possession from Stuttgart, One 911 can take care of it.
Like in every part of the world, 911 values in Malaysia have shot through the roof, which means places like this have their hands full keeping up with the demands of current owners. After all, you have to look after your quickly appreciating asset.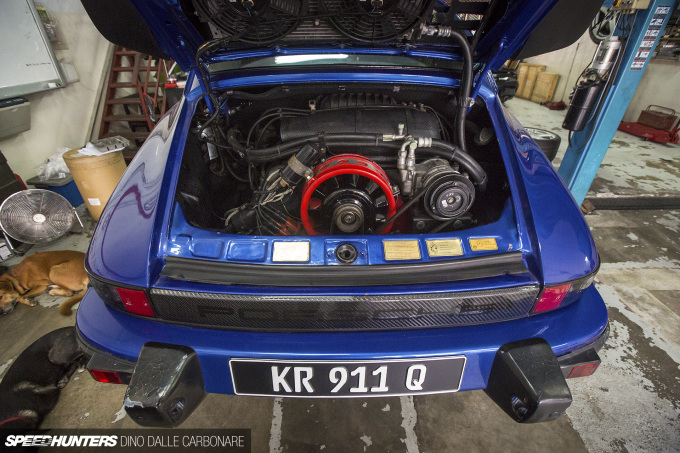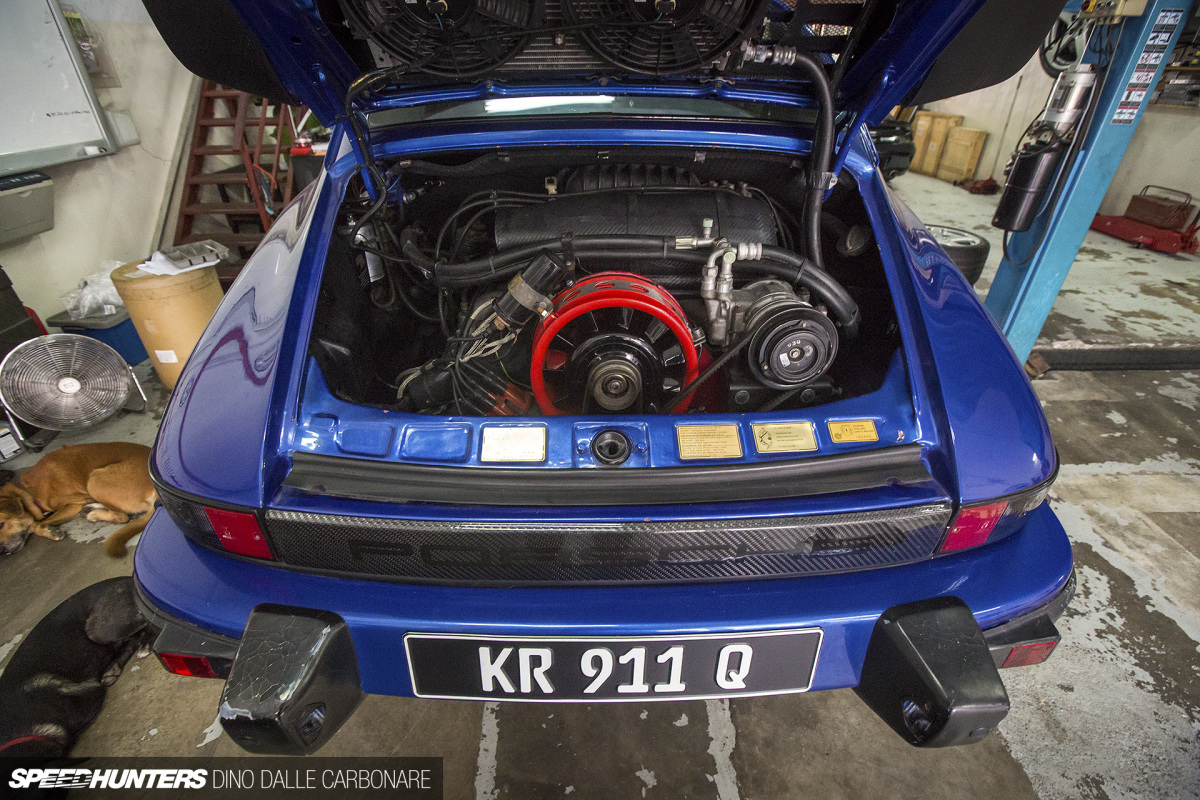 I quite liked the simple lines of this narrow body, but that US-spec impact bumper has to go!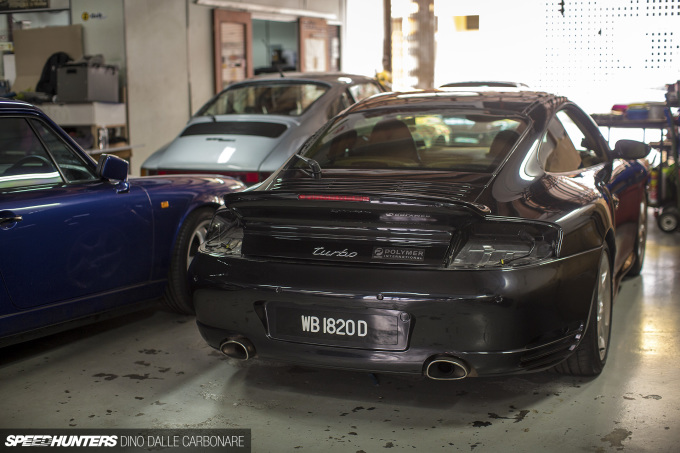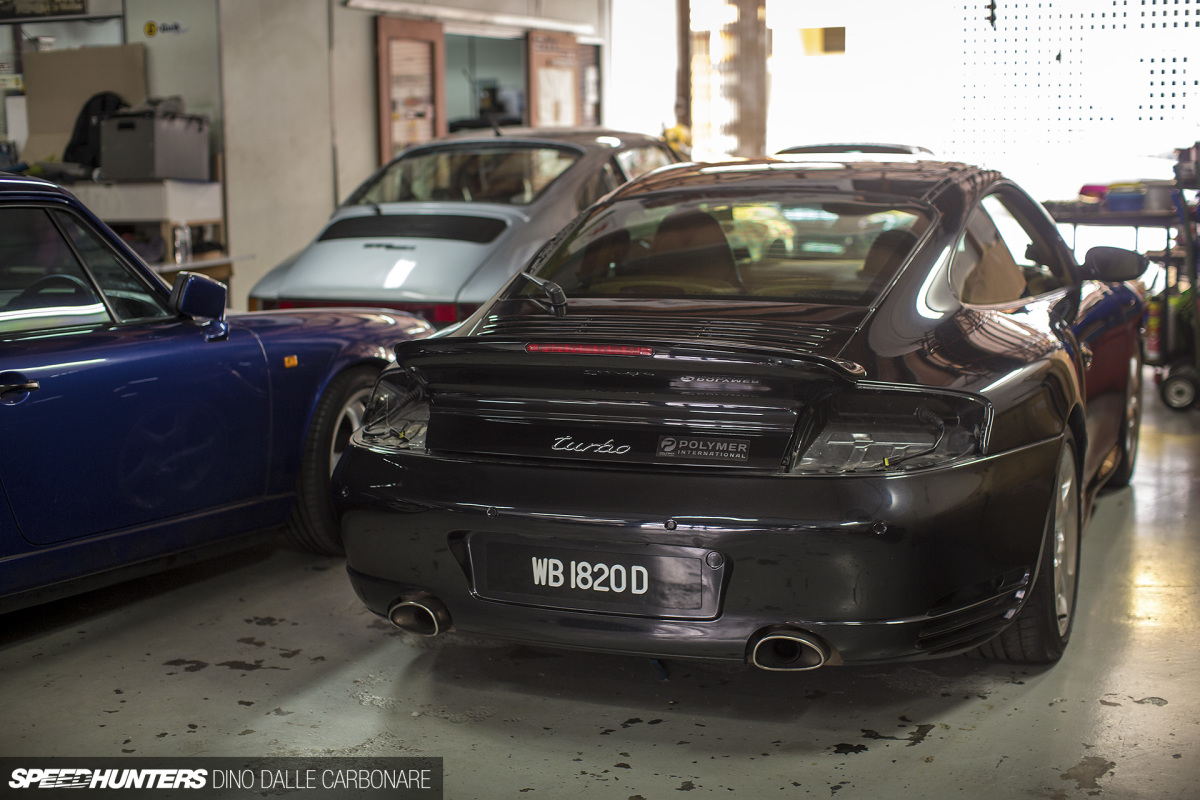 996s are being touted as the next in line for Porsche tax – especially the GT3 and Turbo models. I instantly thought of Larry's Project 996 Turbo when I saw this black example.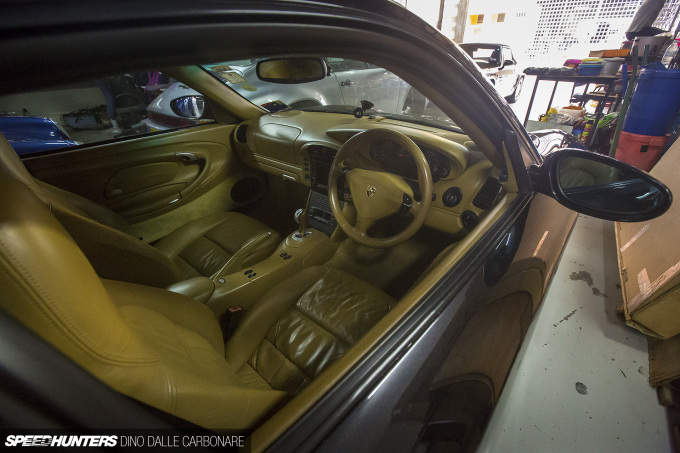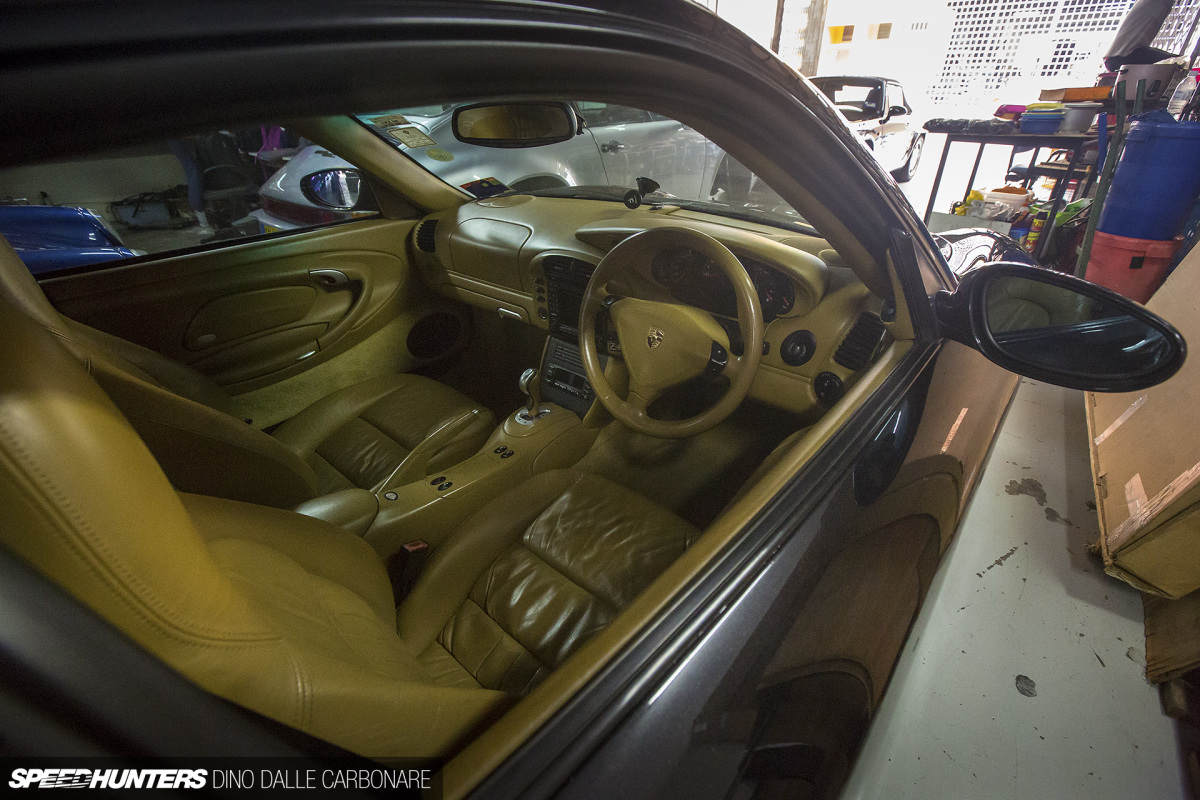 This was a Tiptronic car, so not the more sought after manual, but even in this transmission guise still a fast performance car even by today's standards. And that's without thinking of what you can do to it with goodies from the aftermarket.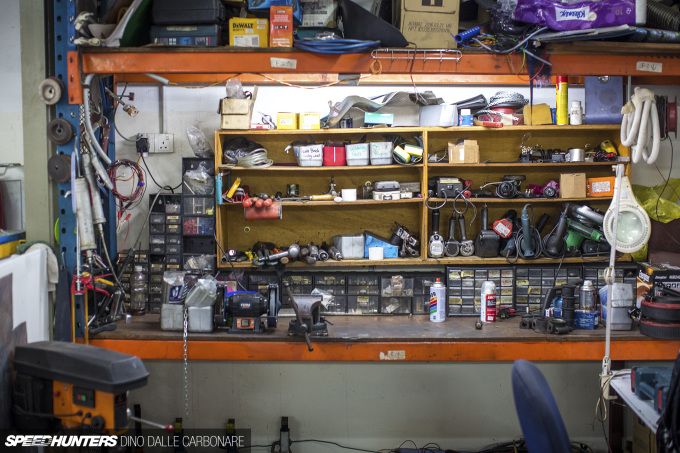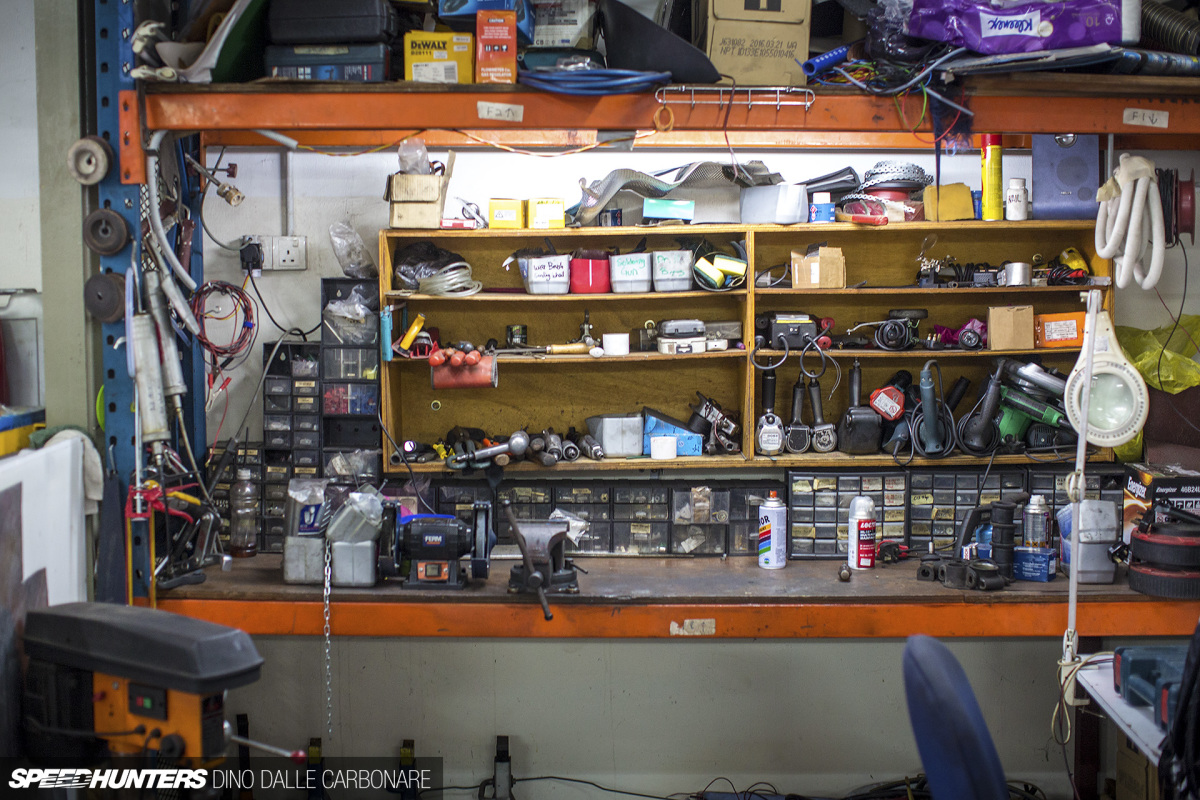 Work benches are my favorite thing to look at when I do shop tours; they are an instant insight into the type of tasks the mechanics do, and you can tell if it's a place that thinks outside the box or just bolts on parts from a catalogue. Like most outfits in Malaysia though, ingenuity is often what's required when it comes to fixing older vehicles.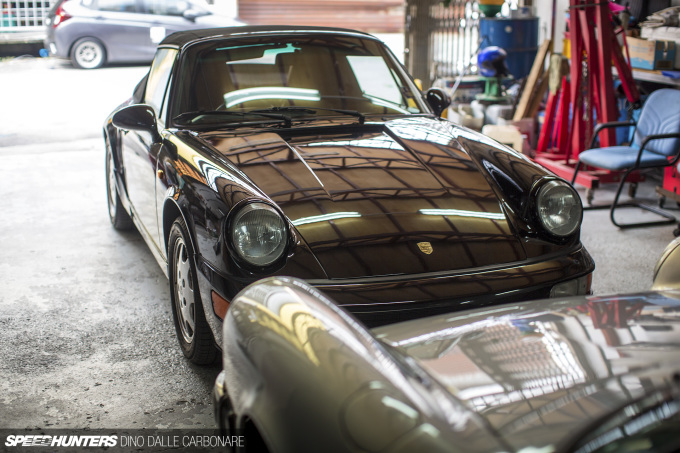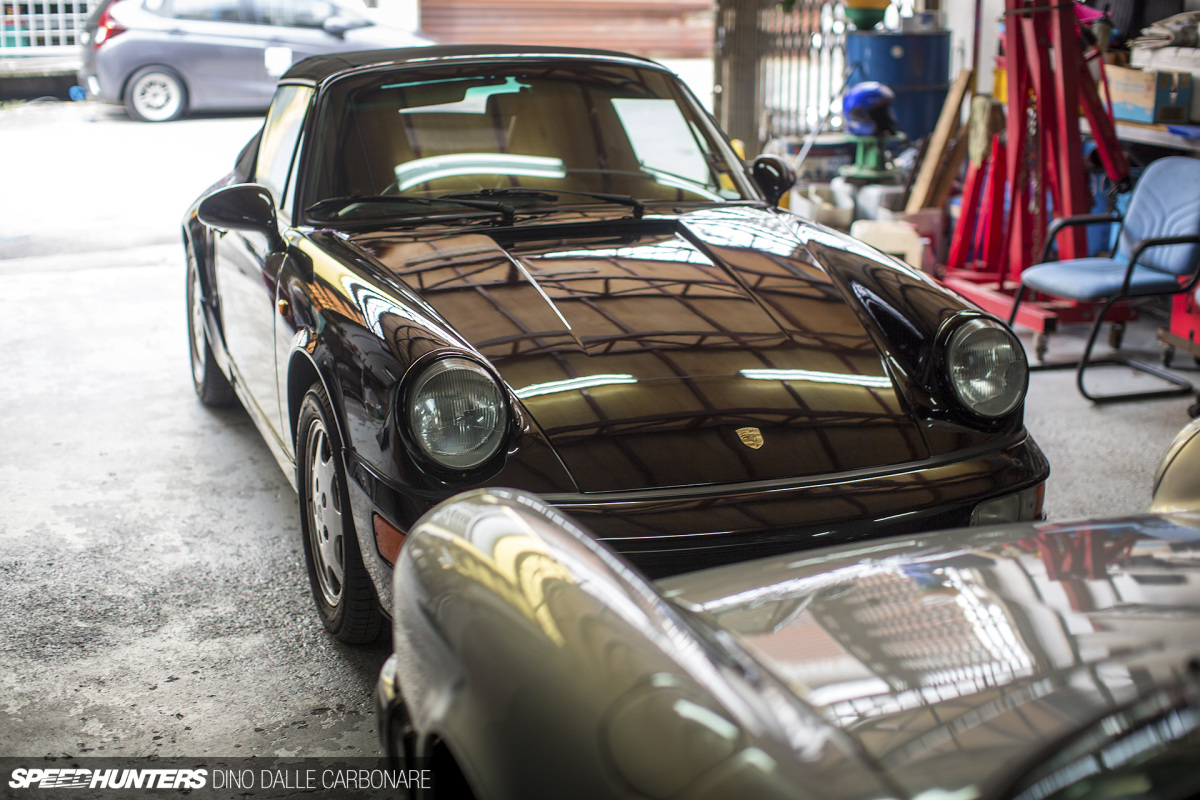 I mentioned the RWB Miyabi earlier on, and by coincidence one of the owners of the car dropped by One 991 Autoworks to say hi, knowing that I'd be there. The week we spent together two years ago was a special time, and another lifelong friendship was formed.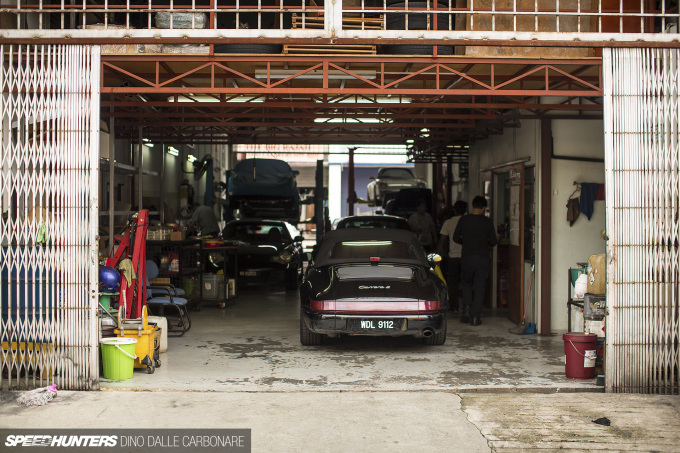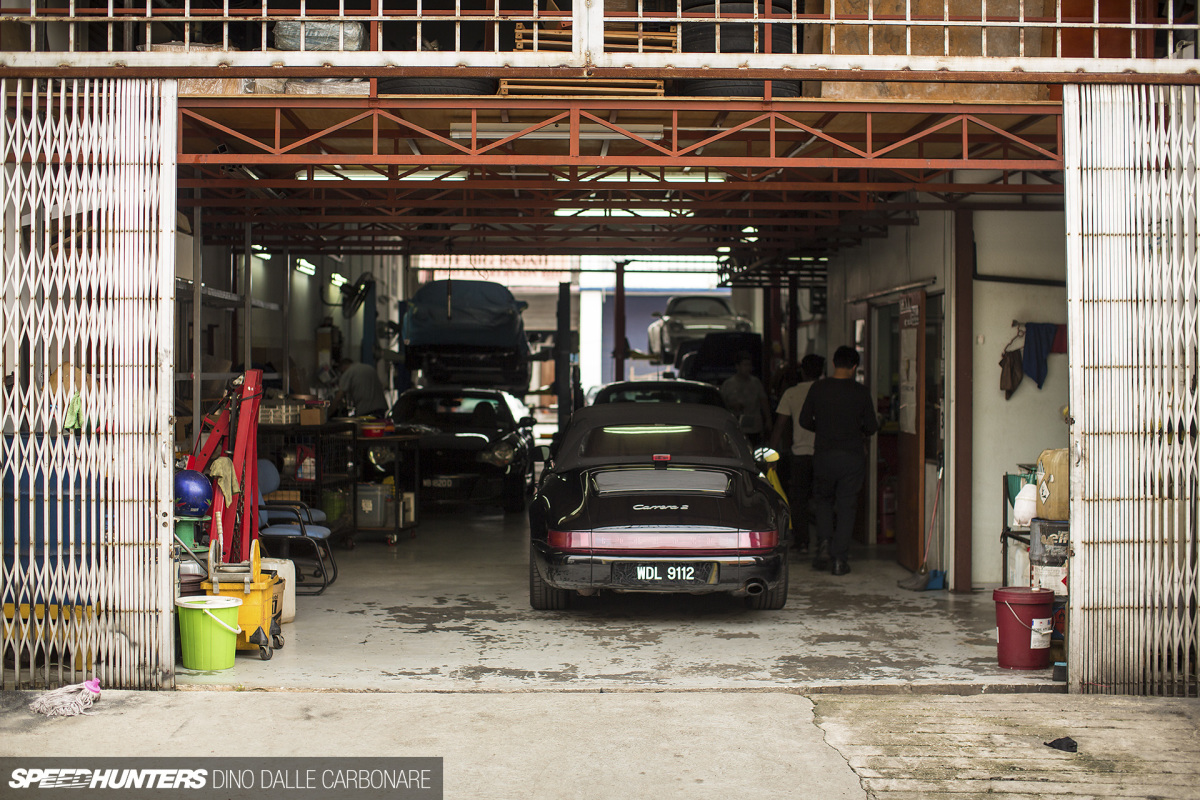 But I'm going off on a tangent here; I was just going to talk about the fact that it was cool seeing another 964 C2 drop top at the shop, the same base car Miyabi is built upon. Contrary to what I assumed, Malaysians aren't really into cabriolets. Yes, there's a lot of sun to be enjoyed in this region, but being so close to the equator it's just too hot; you are better off with the top up and AC the blasting.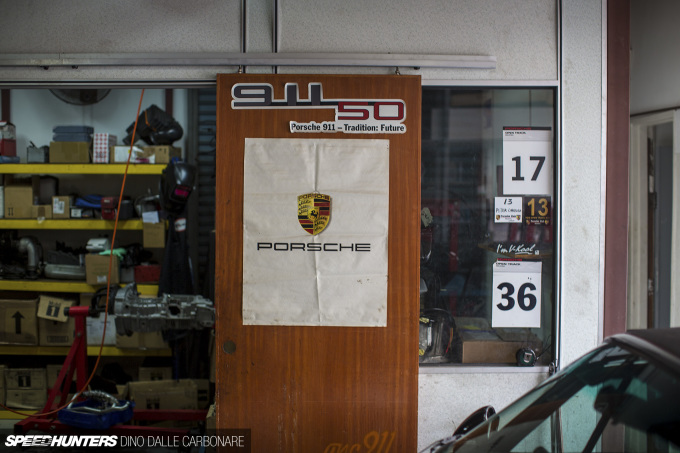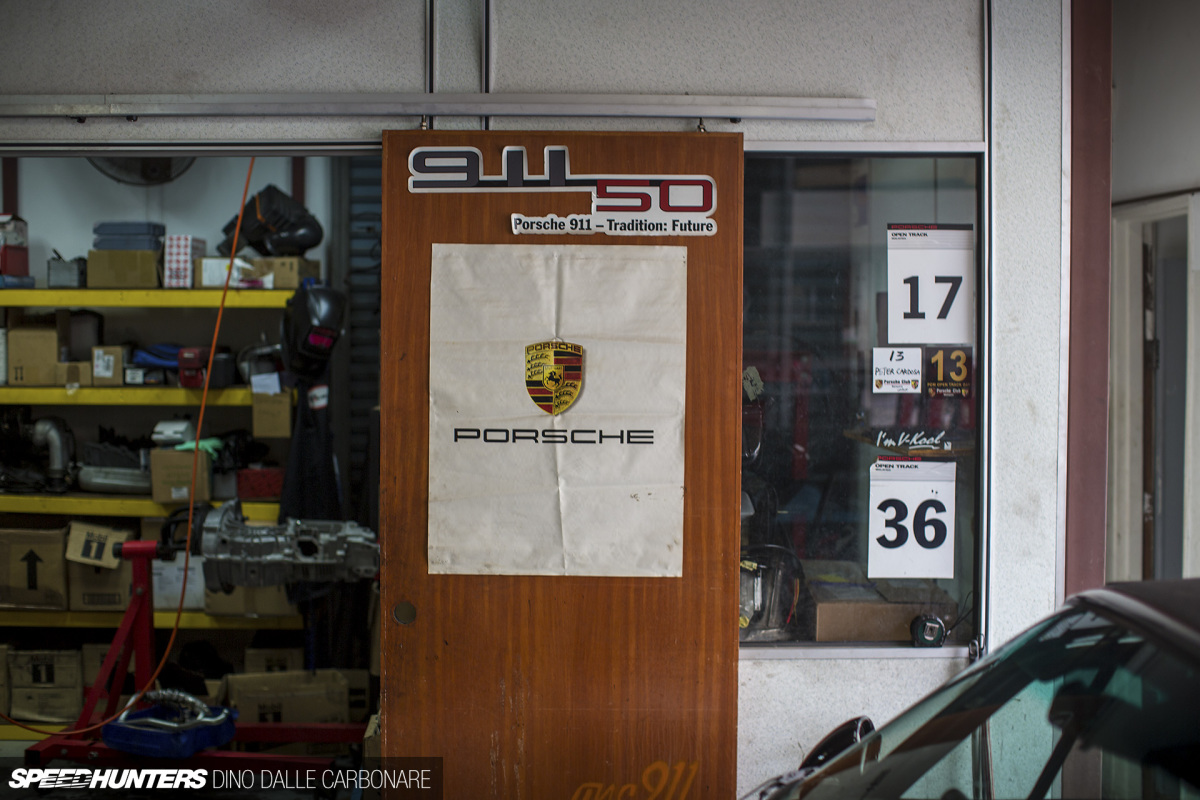 A separate room in the back of the shop is where engines are stripped down and overhauled.
As soon as I poked my nose in, my focus was consumed by a Turbo unit that had been freshly rebuilt and was ready to be refitted. I couldn't help but notice just how compact that intercooler is though.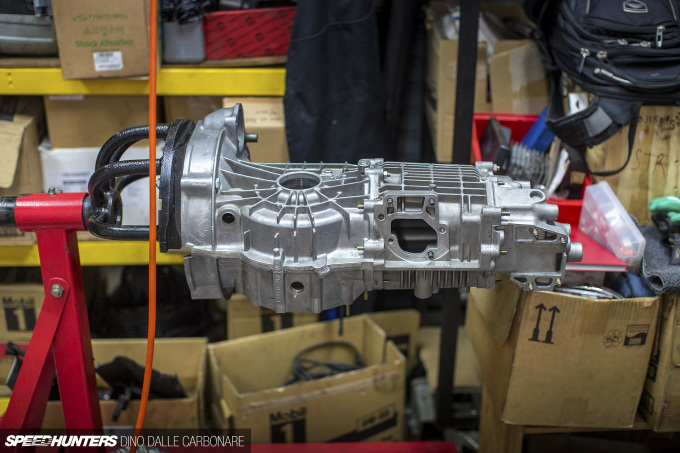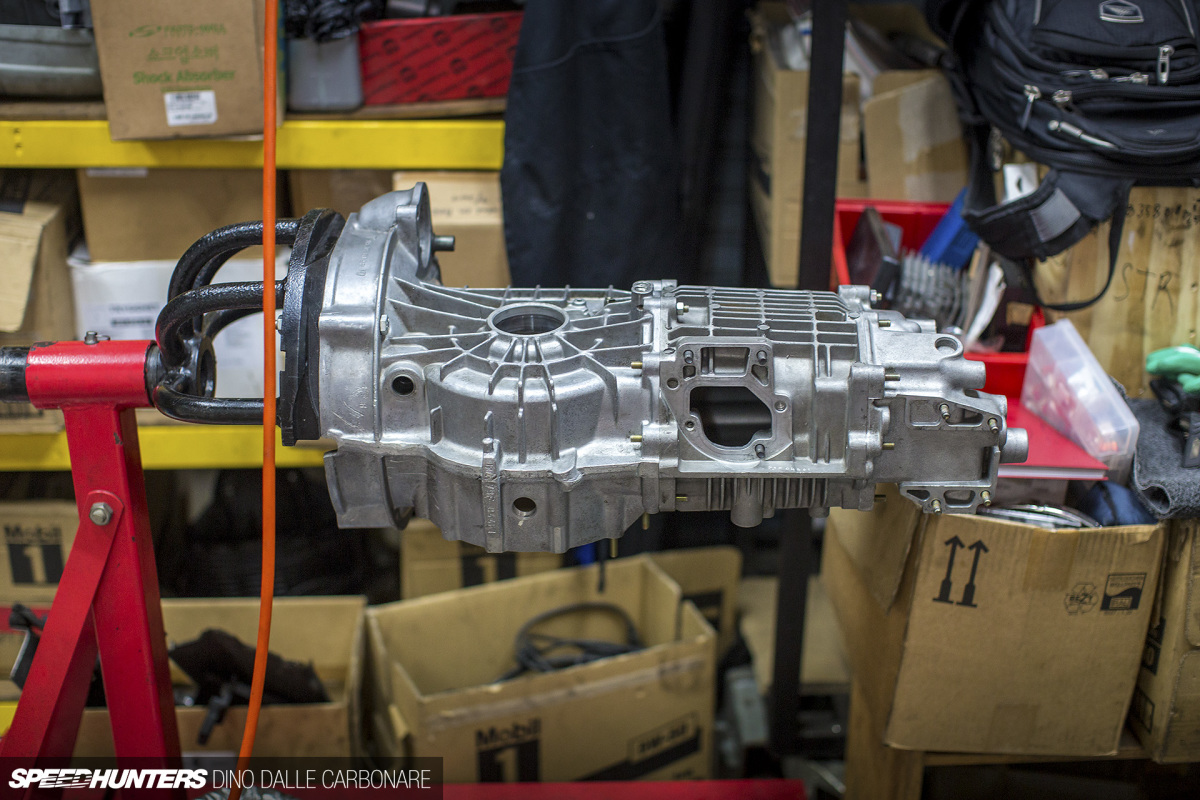 There was also a transaxle being operated on. Of course, being from a 911 the engine gets mounted behind the driven wheels; it still blows my mind how wrong that looks!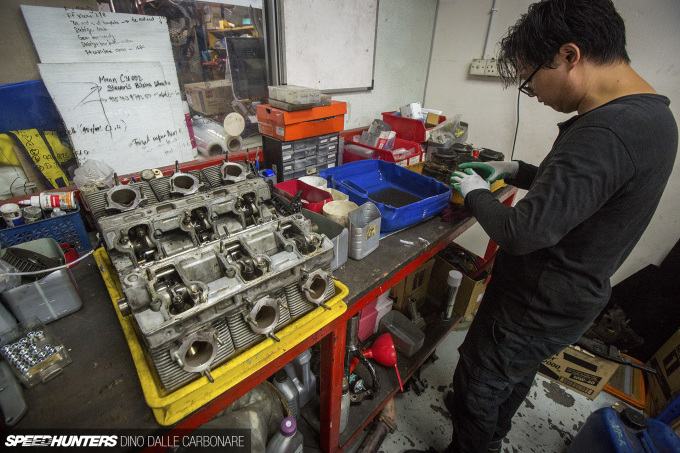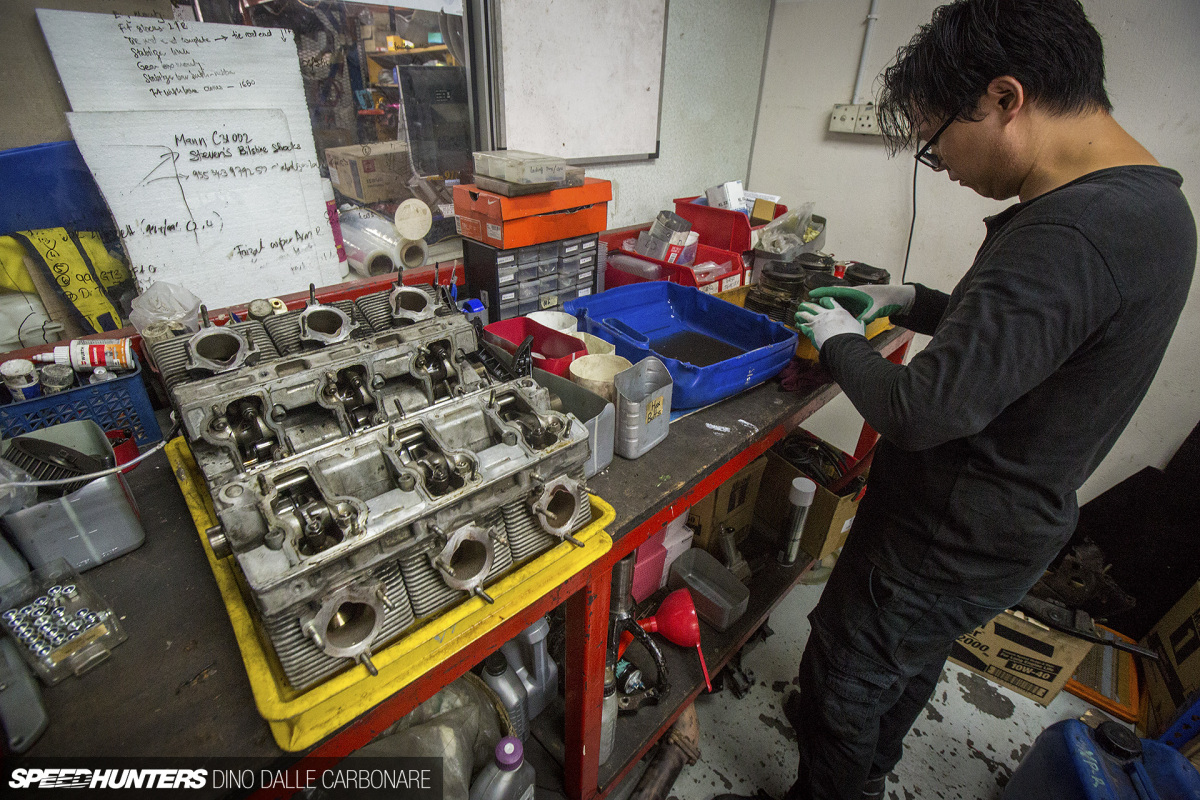 The shop's engine specialist was busy taking apart an older air-cooled engine.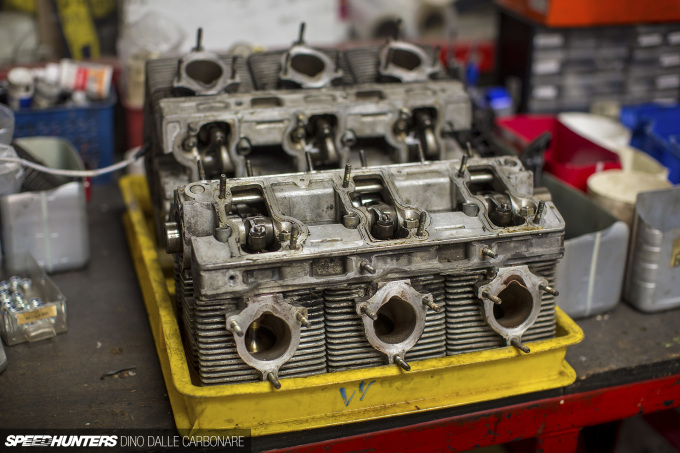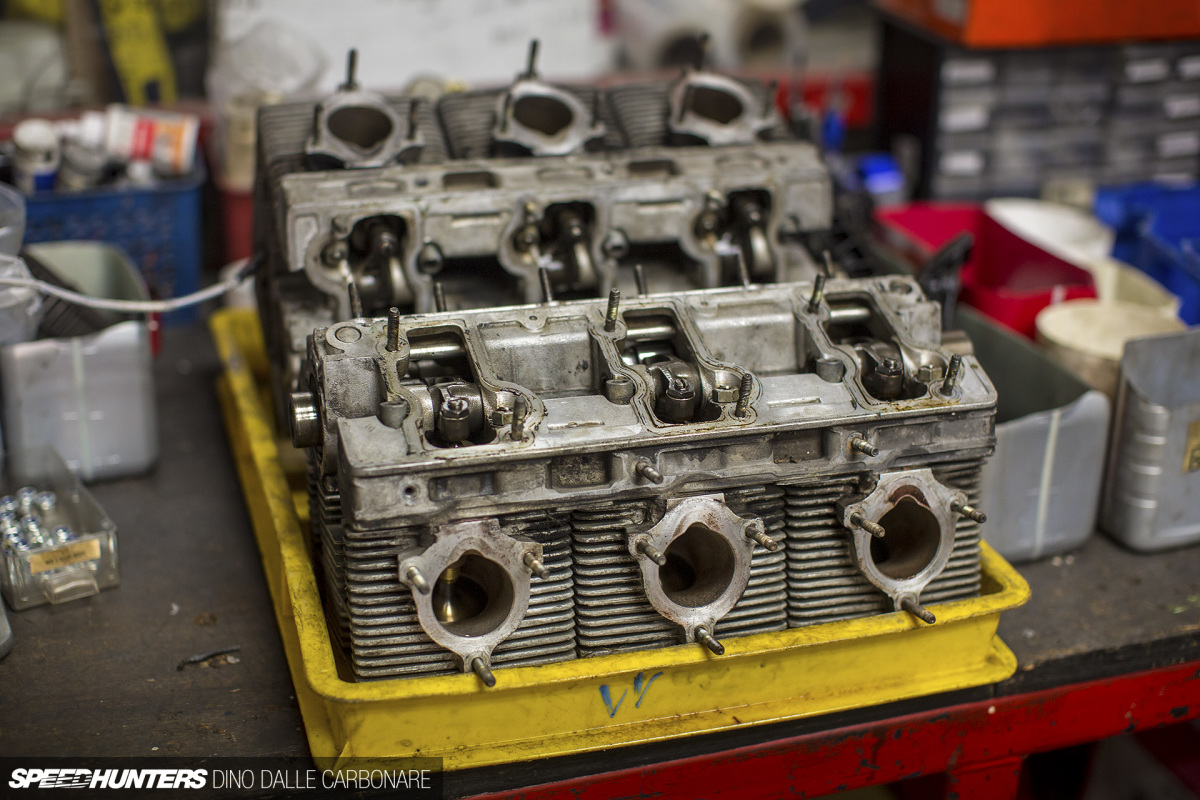 It's always fascinating to see how different these engines are from liquid-cooled ones, where each vaned cylinder is removed away from the crankcase (inside the smaller yellow container, pistons and all) and then the two heads are removed from that. The single thing that's always impressed me is how long the head/cylinder studs need to be to hold the whole ensemble together.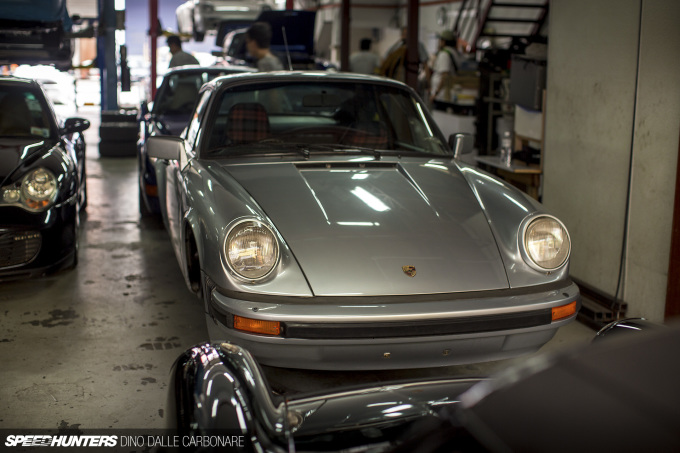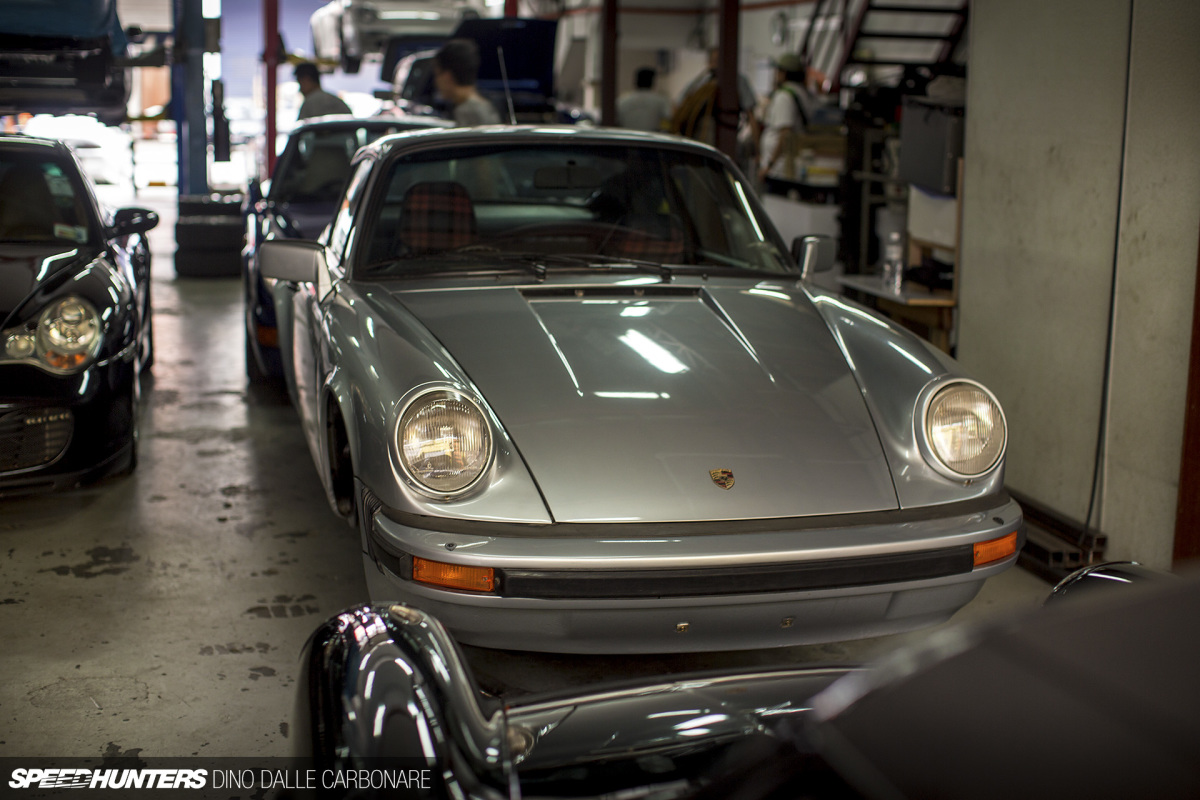 Plaid seats for the win.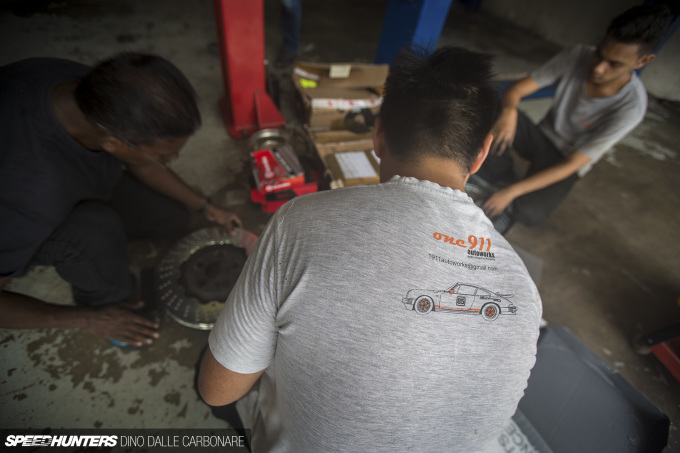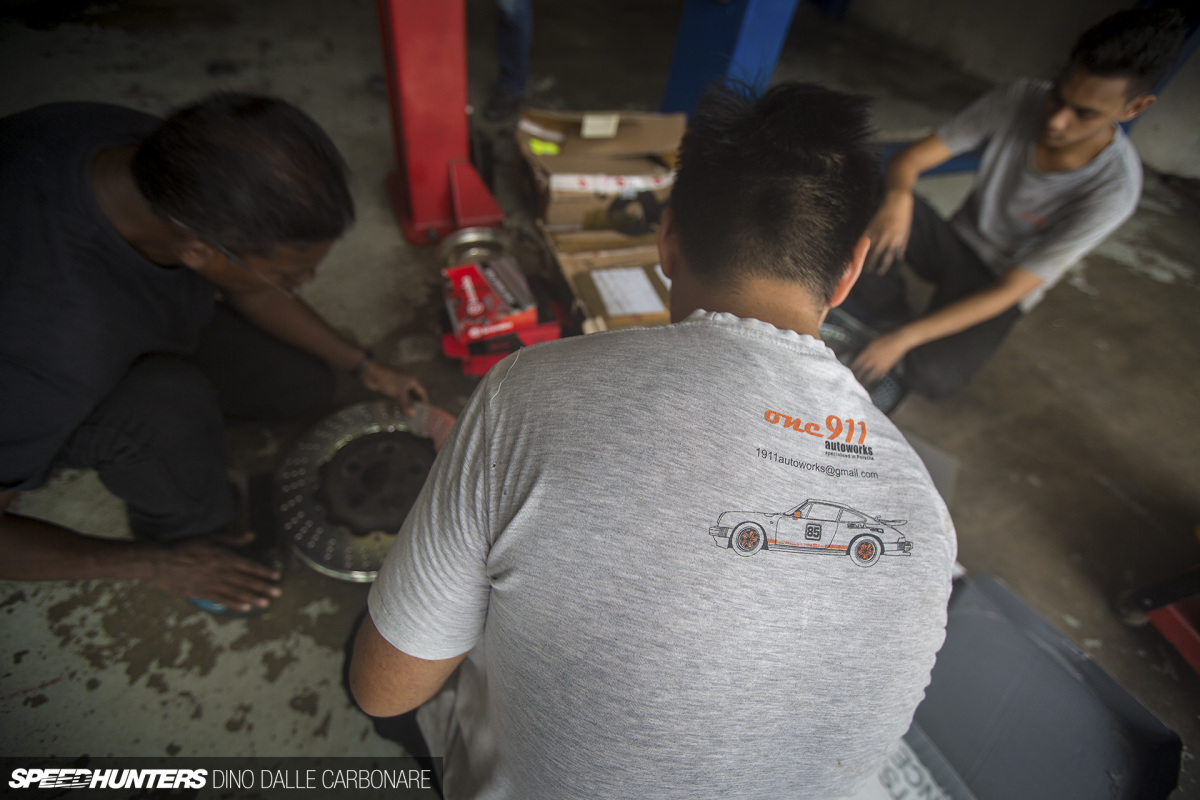 While I was shooting away, the guys in the main workshop were busy setting up a new brake rotor kit for a Cayenne on one of the lifts. I had to pull them away from their work though as there was one car I was particularly interested in.
The Unicorn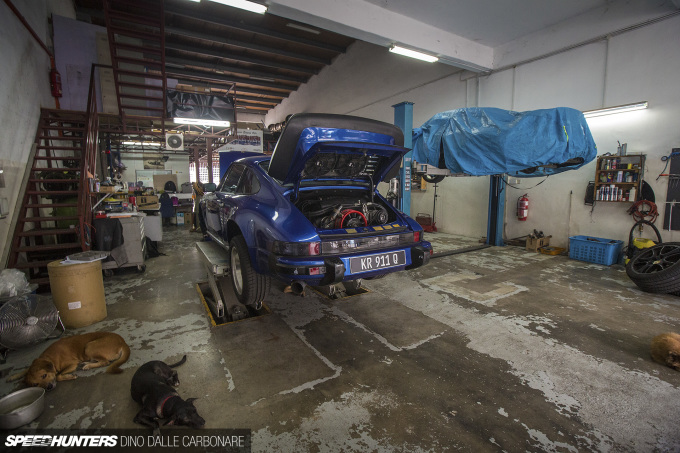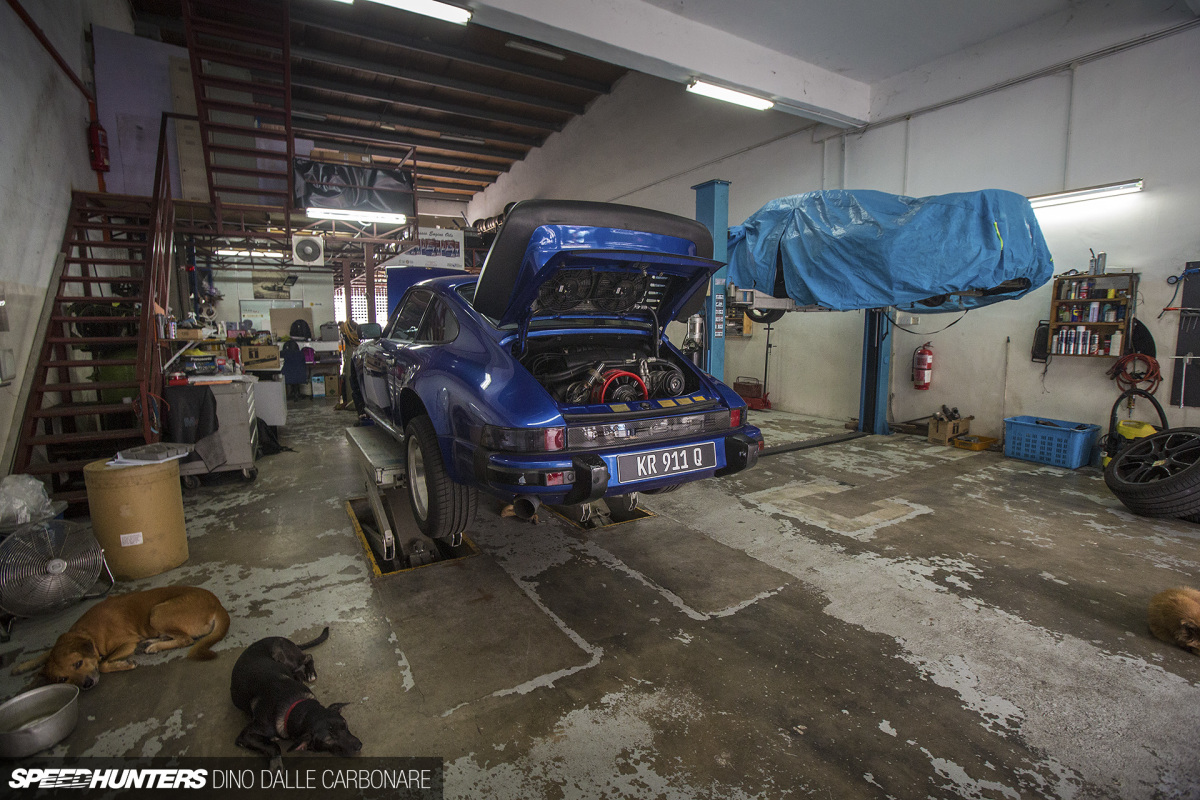 It was sitting on one of the shop's four lifts, but hidden away under a blue cover. Given there were a couple of 5-spoke wheels under it sporting the RUF logo, my interest was instantly piqued. Could it be?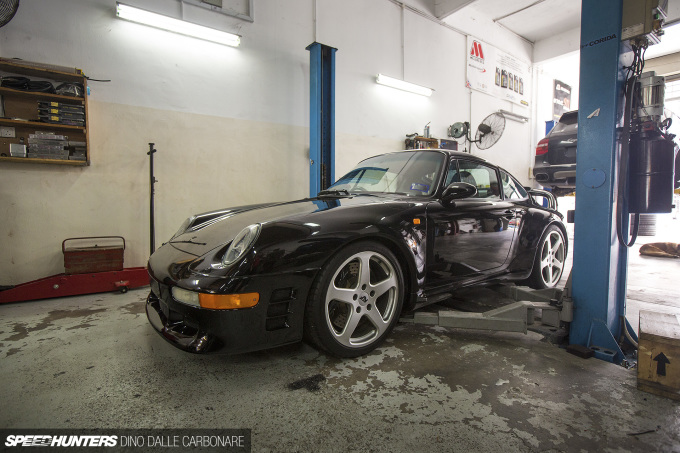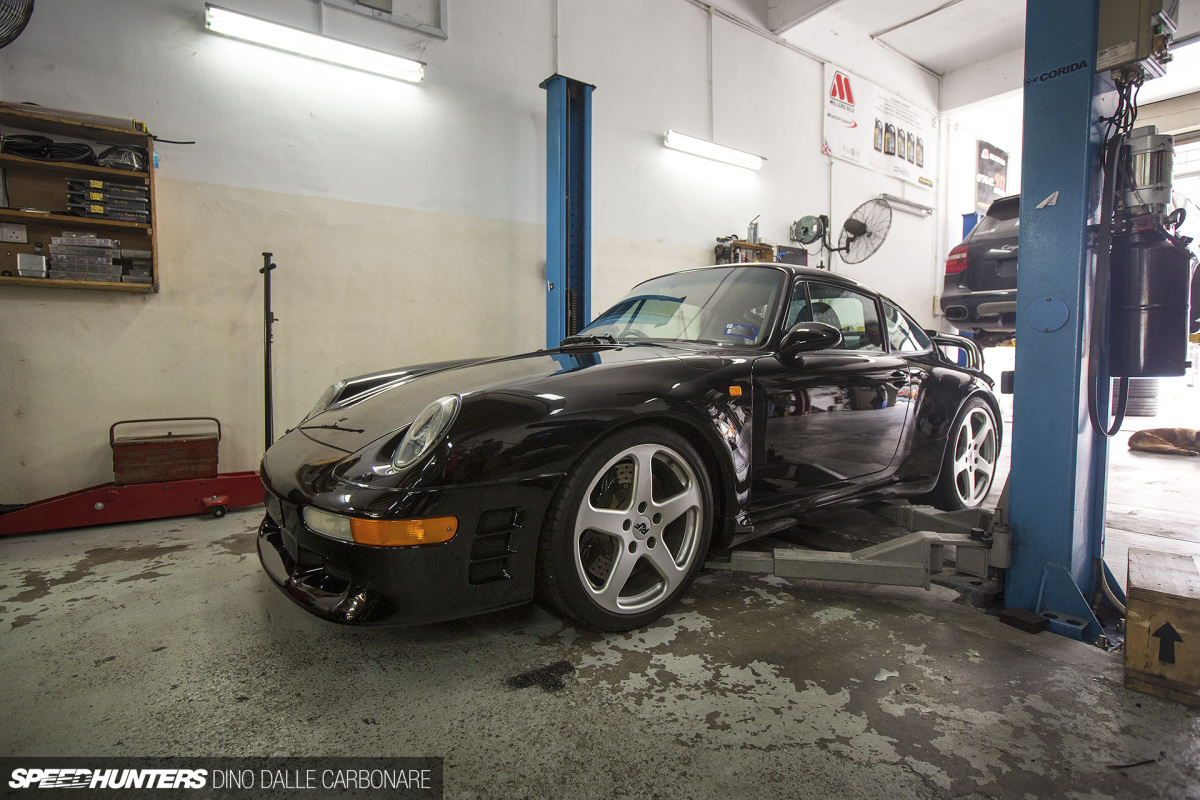 The guys were all super cool about it, bringing the car down to terra firma and removing the cover. Holy mother of #$%& – a genuine and pristine RUF CTR2, otherwise known as a unicorn when it comes to 993-based creations.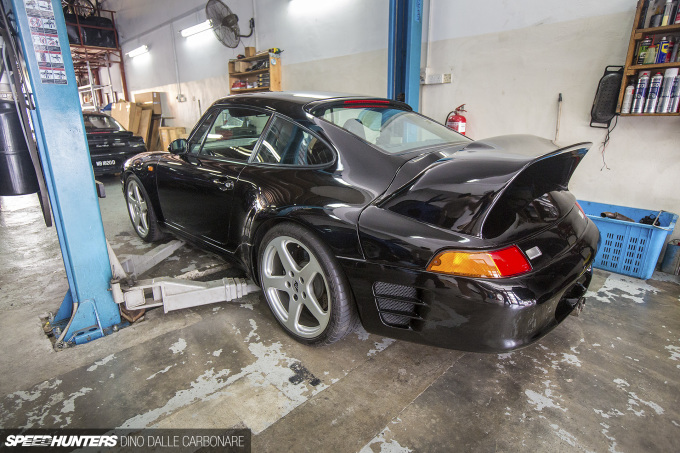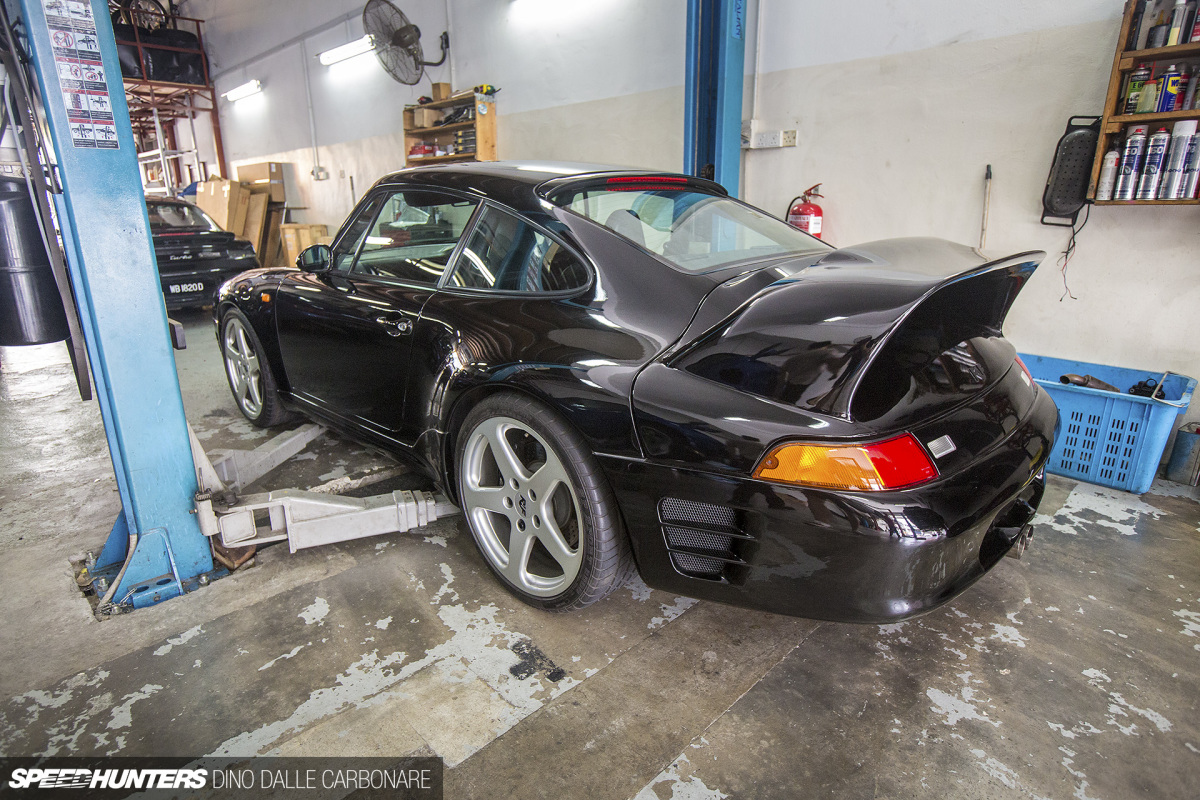 Look at that rear end with the integrated spoiler where its mid-section doubles up as an air intake to feed the two intercoolers that are housed behind the rear arches. Look at that vented rear bumper. And the iconic wheels. And look the faultless black paint. I'm truly thankful to the owner for giving me the OK to grab a few photos of it.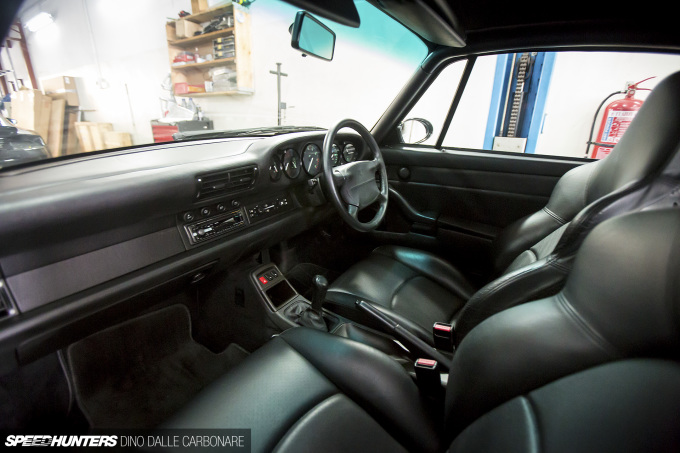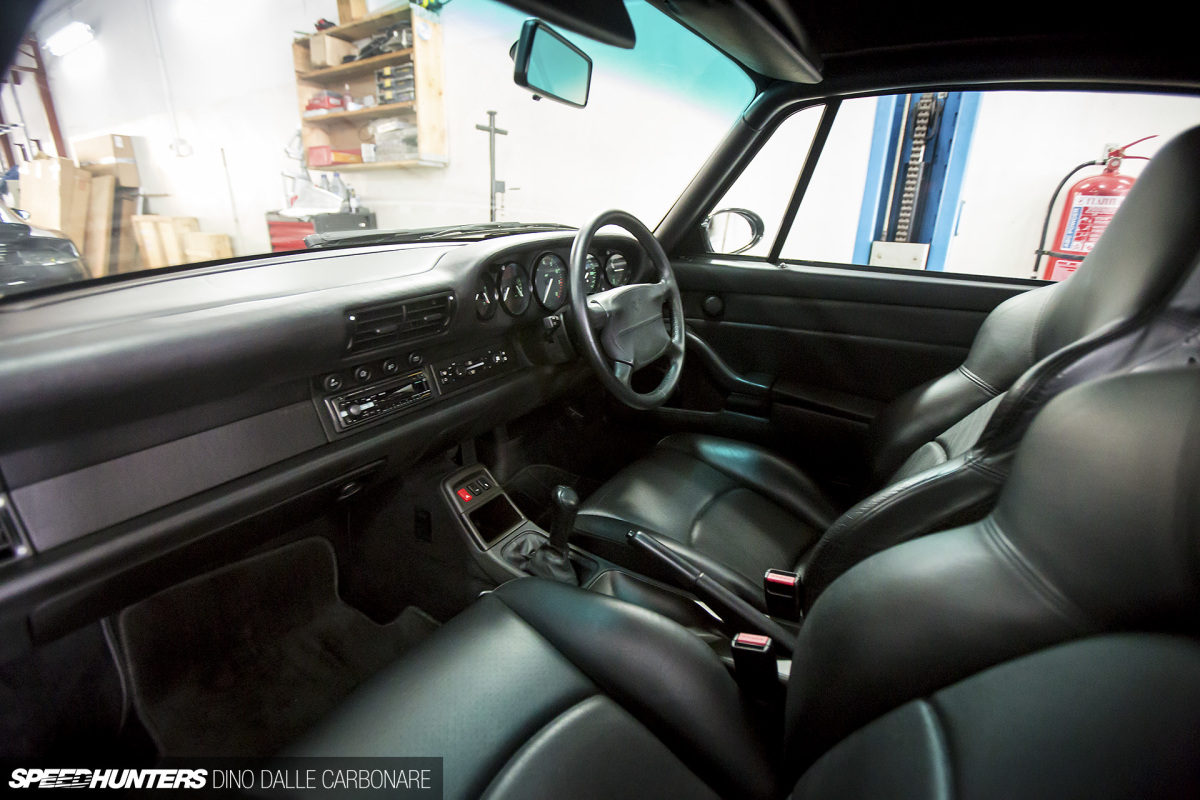 It was clean to the point that it looked like it had never been driven since emerging from the RUF factory in 1995. The cabin still had that new car smell!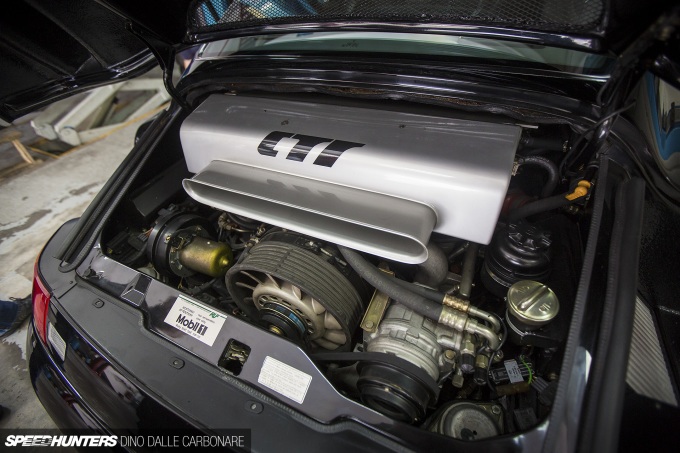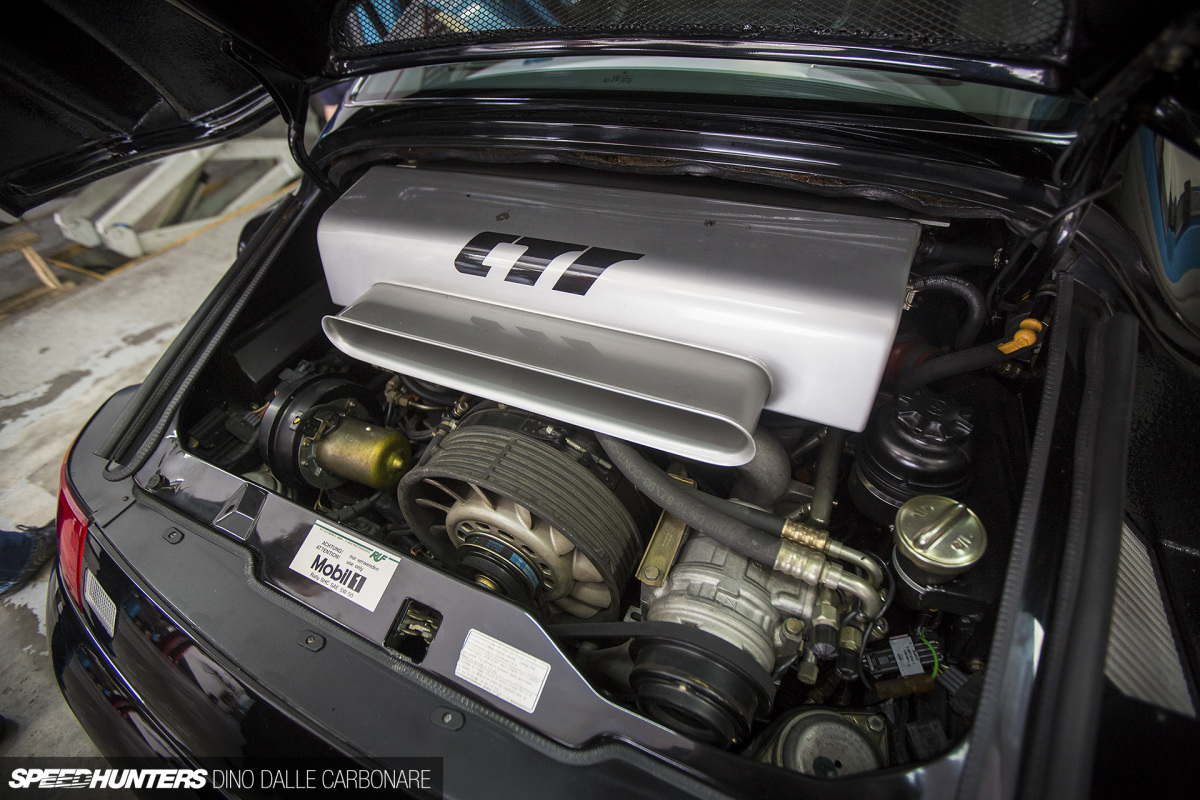 Of course, I had to take a look at the RUF-tuned Turbo motor that boasts 520hp. This is a car that could accelerate from 0-60mph in 3.6-seconds and had a top speed of 217mph – 22 years ago. Think about that for a moment… These are numbers you associate with modern day supercars.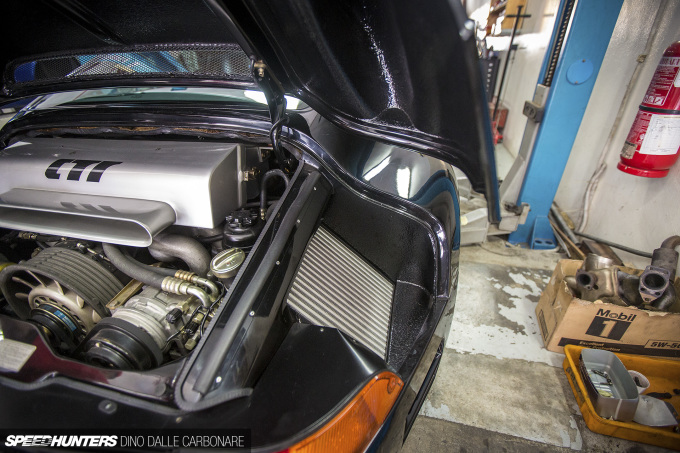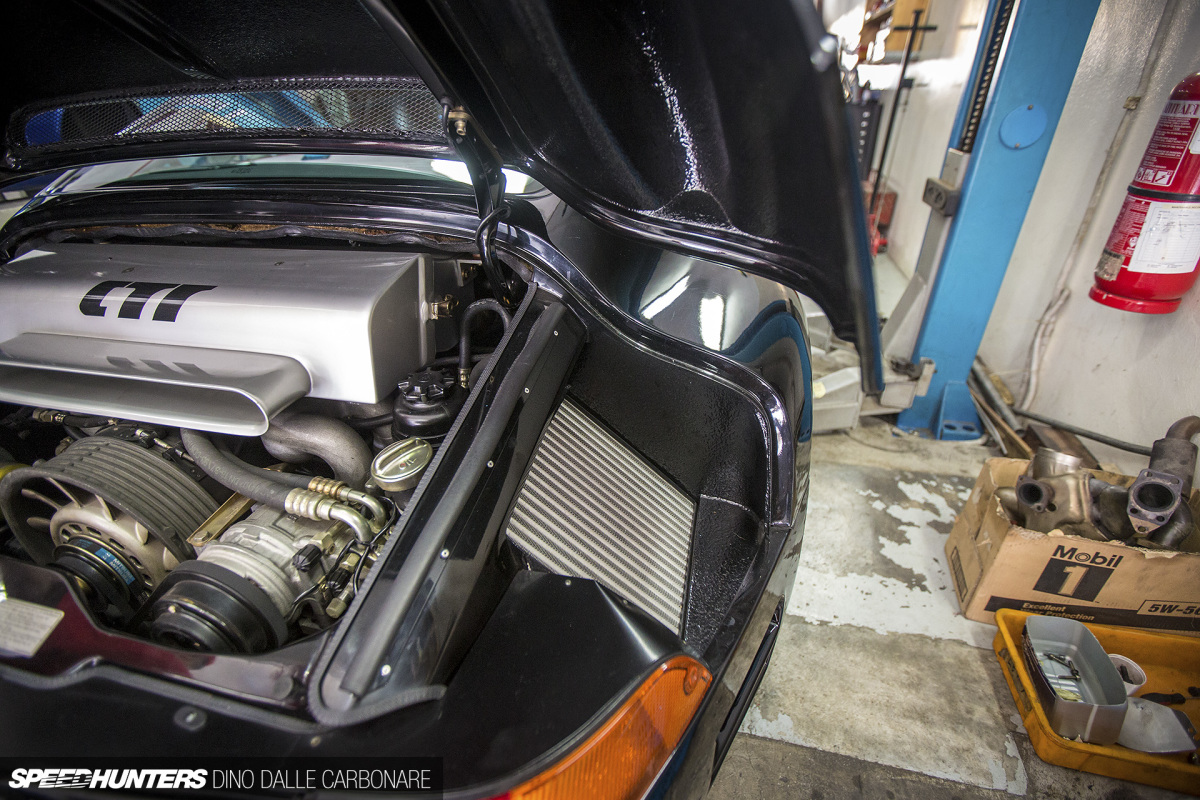 And here is what made that engine quite so special: the twin intercooler setup. Each core (one for each turbo) is fed through the top via the air guides built into the spoiler, while hot air was forced out of the grilled openings on the sides of the bumper. There was also a Sport model of the CTR2 with a wider body, but I think the flowing lines of the road version were far more visually pleasing.
It was the perfect ending to the first shop visit KL had in store for me.
Dino Dalle Carbonare
Instagram: speedhunters_dino
dino@speedhunters.com