Road Tripping
There is something special about jumping in your car and going on a road trip. Getting to your final destination as fast as possible is good and all, but when you build time into your schedule to get a little lost along the way, a long-distance drive can become pure joyful bliss. Or maybe it's just the American in me that loves road trips…
At any rate, for the three years that I have been living in Japan, I had never gone on a proper road trip. Of course, while hunting Japanese car culture I regularly find myself flying, catching the bullet train, or behind the wheel headed to somewhere outside of Tokyo. Those places often include Fuji International Speedway, Tsukuba Circuit, Daikokufuto PA and Umihataru PA; what they don't include are the small towns off the beaten path in between. This had bugged me for a while. In a country full of rich culture, heritage and traditions, how could I have not gone and explored it more?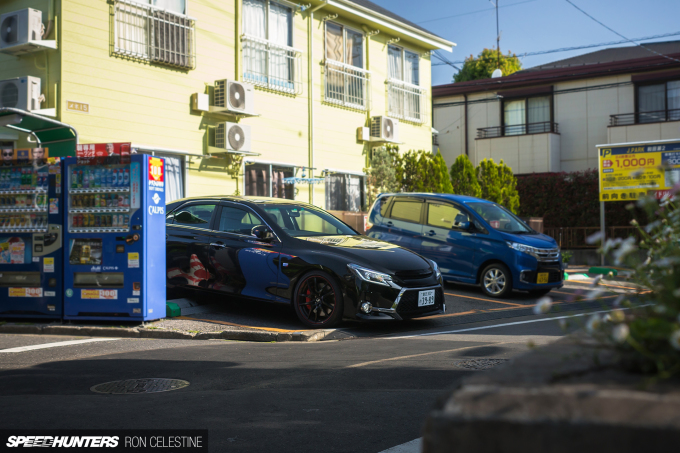 So when Blake offered to lend me his Toyota Mark X G's while he was out of town for this year's Golden Week holiday, I decided it was time to finally take the epic road trip I've always wanted to go on.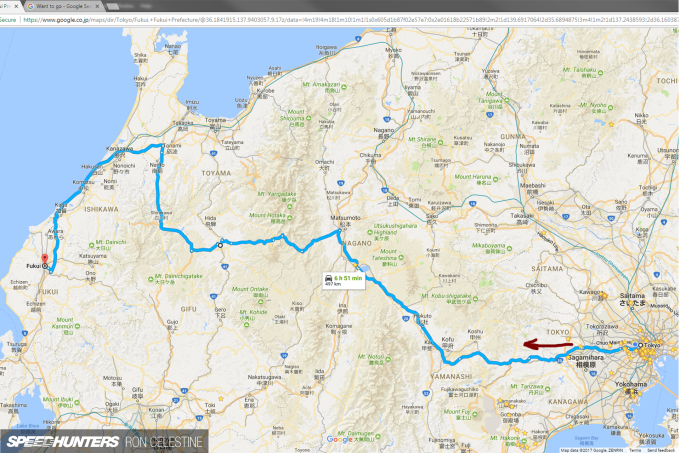 Not really being in the know about where to go, I let my girlfriend plot our route, which ended up looking like this. The plan included stops by UNESCO World Hertiage Sites, famous parks, castles, and a bit of hiking. At the same time, I would see what kind of car culture I could find along the way, while giving Mark X a good drive.
The Adventures Began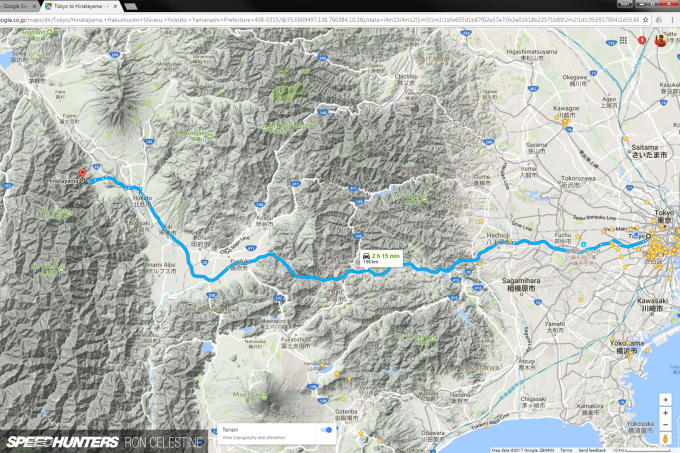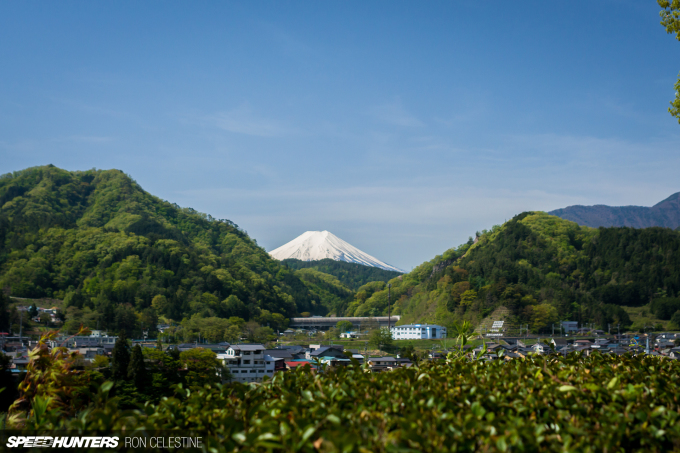 Leaving bright and early three hours behind schedule, we first made our way to Mt. Hinta in Yamanashi Prefecture, which is known for some unusual sand deposits at its peak.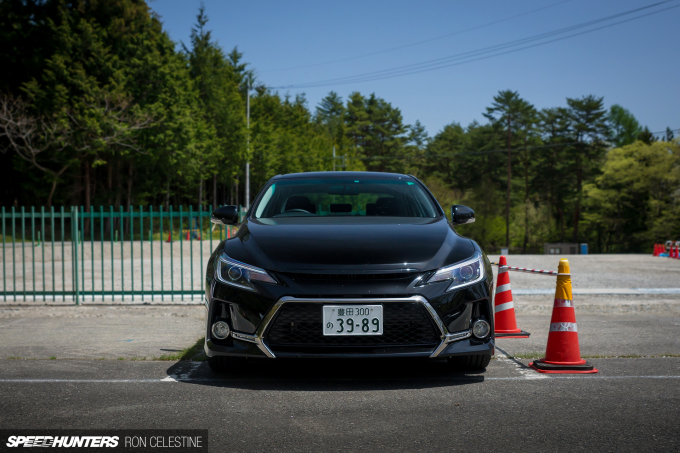 Of course, given that it was Golden Week when the traffic is even worse than it normally is, we got well and truly caught up in the heavy highway congestion. On the bright side, it meant I could properly familiarize myself with the Toyota. First impressions: the interior was very spacious, and the G's-spec firm suspension wasn't uncomfortable in the slightest.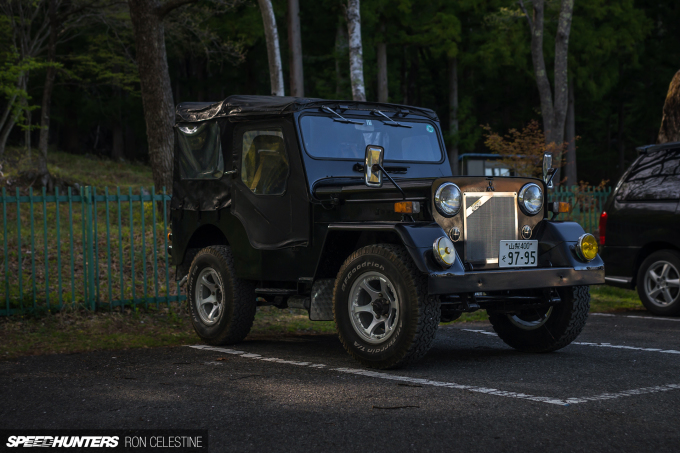 The drive to our first destination was somewhat uneventful, but on parking the car I immediately walked over to the first interesting vehicle of the day – this Mitsubishi Jeep.
Jeep entered the Japanese market back in 1953 with its CJ3, a model sold under the Mitsubishi banner to compete against the Nissan Patrol and Toyota Land Cruiser. The owner of this particular rig has added beefier BFGoodrich All-Terrain tires, fog lights, bucket seats and a Momo steering wheel. I'm sure it would be a blast to drive on some of the trails this area has.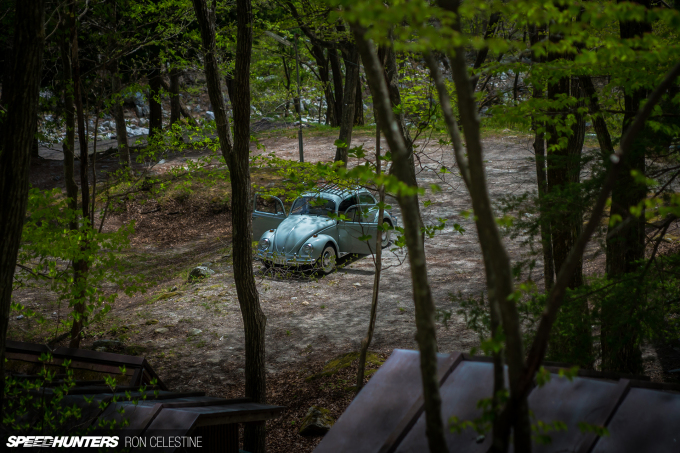 Having the off-road capabilities of a Jeep is great, but sometimes all you need is an air-cooled VW Beetle to get you into the great outdoors.
I'm not an expert mountain climber, and carrying camera gear up the steep trail probably wasn't brightest idea I've ever had, but the views from the top of Mt. Hinta were absolutely breathtaking. With another conquered mountain to add to my meager list, it was time to hotfoot it back down the trail before it got too dark, and then head to Suwa for our first overnight stop.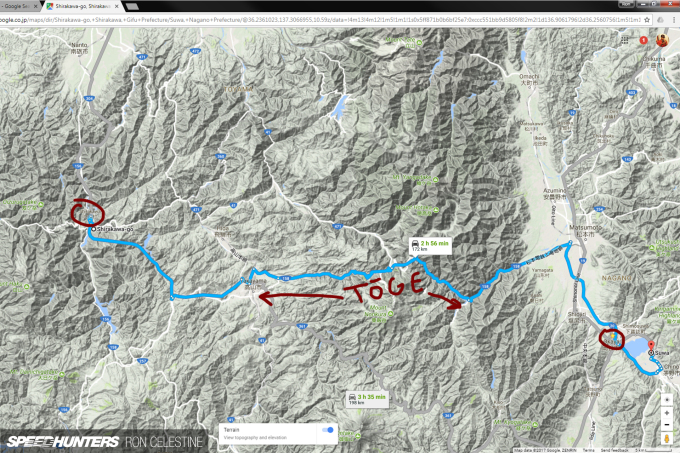 After a good night's rest, we woke up early to make the drive to our next destination on the list: a World Heritage Site called Shirakawa-go. To my great excitement, the 172km (107mi) route there was almost entirely made up of touge (tōge) roads.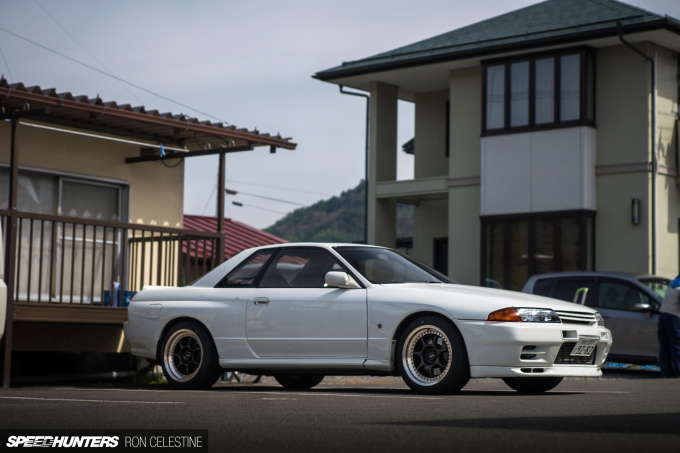 On the way to the car, I spotted this BNR32 Nissan Skyline GT-R sitting on Enkei RS Evolution wheels and hiding a rather large ARC intercooler behind its front plate. I really would have liked to wait and meet the owner, but seeing that it was 6:00am, I figured that wouldn't be the best use of our time.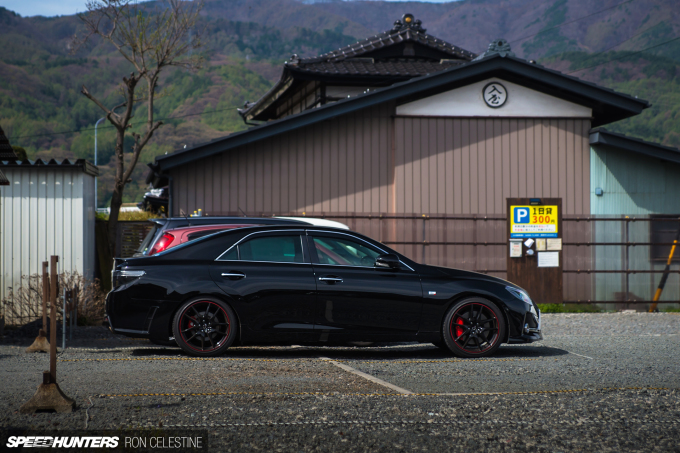 Finding parking in Tokyo can not only be incredibly frustrating, it's also expensive costing you almost ¥300 for 20 minutes. This parking lot however was ¥300 for the entire day, but that everything was based off of the honor system.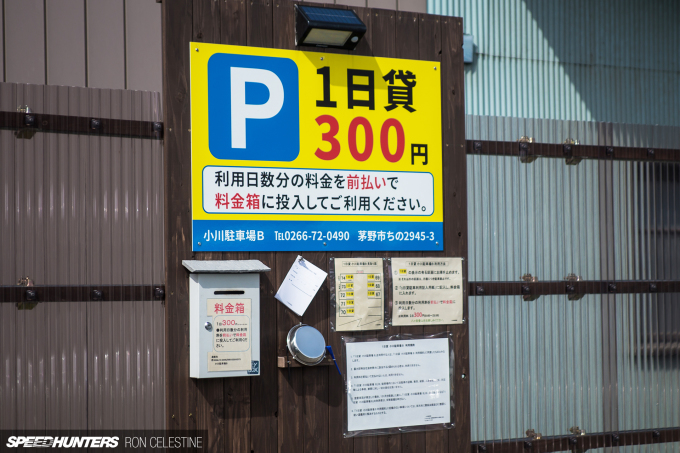 On the little sheet of paper, you were asked to write your car's plate number down, and along with it add ¥300 into the drop box. No cameras, no one attending the lot, just good old fashioned trust.
The Prince & Skyline Museum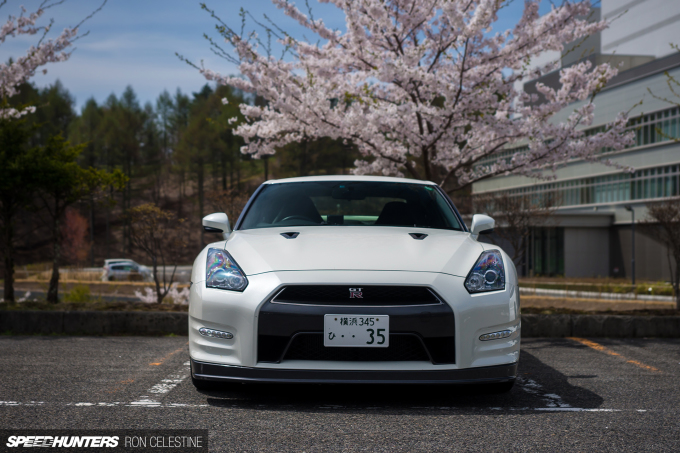 I didn't mention it earlier, but on the way to Shirakawa-go we had made a plan to stop at the Prince and Skyline Museum in Okaya. If you consider yourself a Nissan enthusiast, this is definitely a place worth visiting if you come to Japan.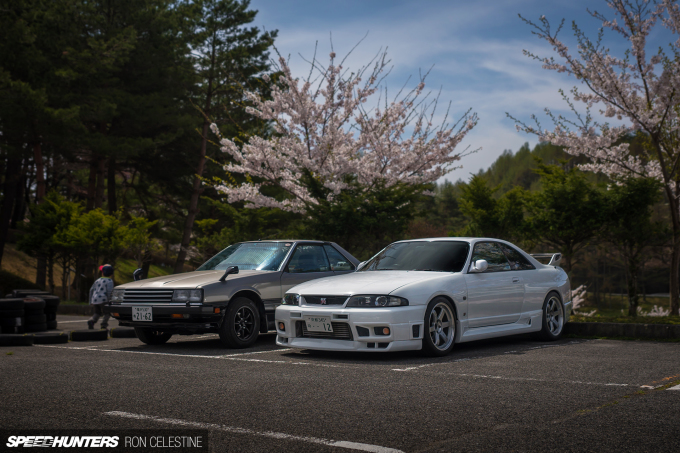 Even the parking lot had me excited at the prospect of what I'd find inside.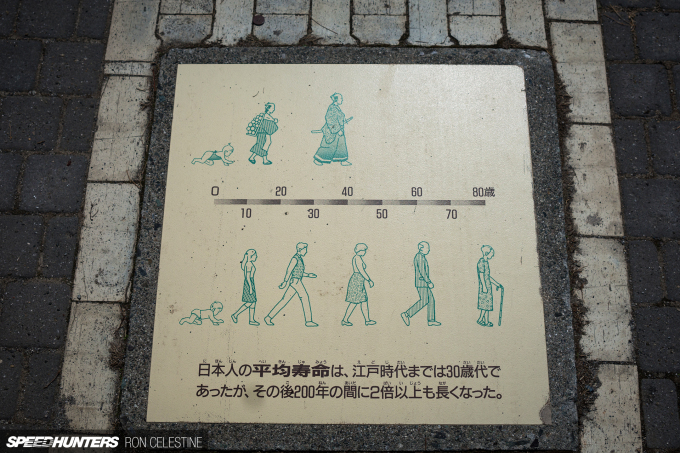 The museum is located inside Toriihira Yamabiko Park, which is essentially a massive family playground. Thus, the pathway to the museum was filled with factoids built into the sidewalk, including this one comparing the life expectancy during the Edo Era to the present day, 200 years later.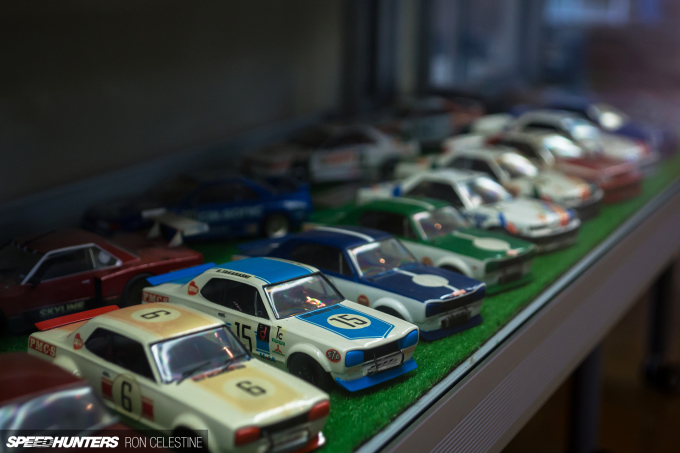 Once inside the museum, you first walk through the gift shop, a place where I could have easily blown the entire trip's budget. Along with various manuals, magazines and collectables, the shelves were filled to the brim with model cars and the walls peppered with beautiful sketches.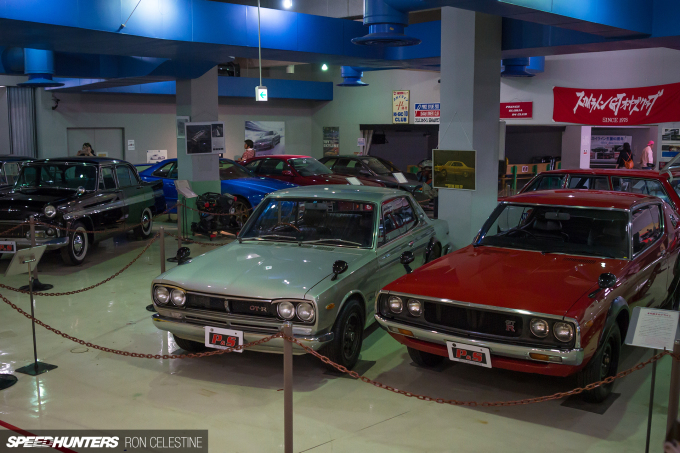 A simple set of stairs takes you down to a dimly-lit area and the cars. Wow.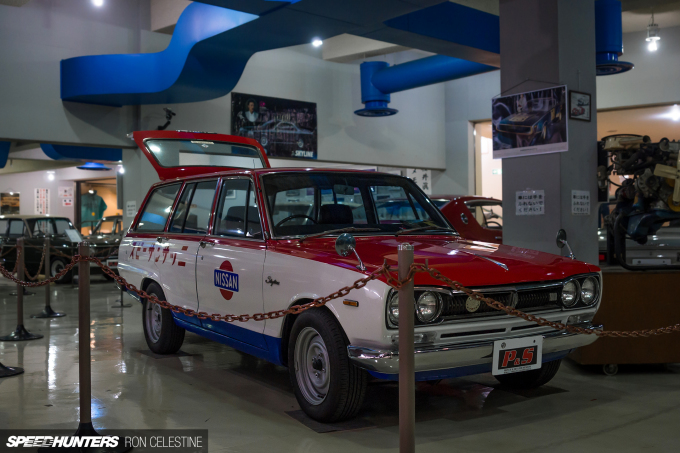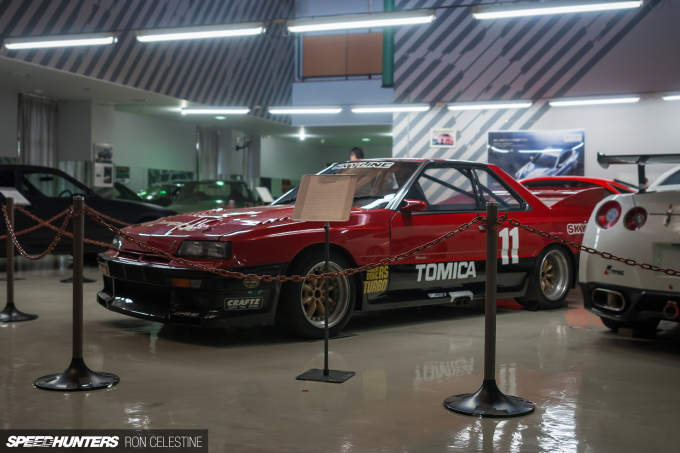 Being my first time at this museum, it was fascinating to learn more about the automaker formally known as The Prince Motor Company and see its lineage in person.
It really made me wonder what the streets of Japan looked like when they were filled with Glorias, Homers, and first generation Skylines.
Of course, no Nissan collection would be complete without GT-Rs in pristine condition. This R35 was beat around the Nürburgring in a 24-hour endurance race.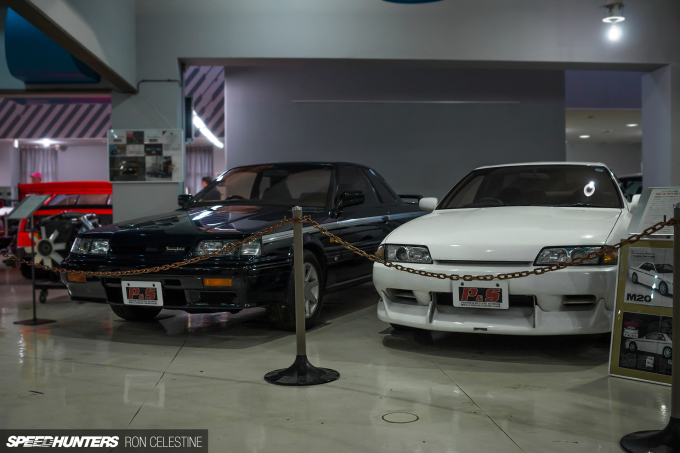 Before creating its own vehicles, Tommykaira successfully landed contracts to provide aftermarket support for Nissan and Subaru. The Tommykaira M30 (based on the R31) is considered one of Japan's first fully tuned cars, and saw rebranding of the original model in a similar manner to what RUF is to Porsche. Alongside was the M20 (based on the R32 GTS-T), both models now commanding large sums in the Japanese used car market.
What is a car without a great drivetrain? To answer that question the museum also had plenty of engines on display.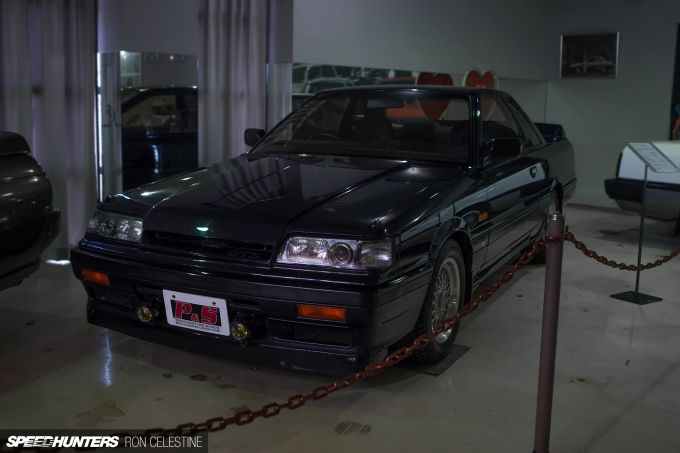 I could have pored over the automotive history all day, but with the glazed-over look my girlfriend had, I knew my time limit was up. I need to come back here though!
World Heritage Tour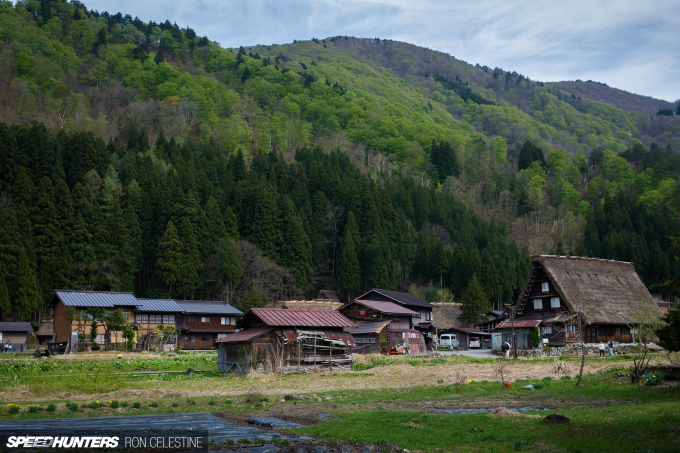 Back on the road, we continued our journey to the World Heritage Site in the small town of Shirakawa-go. In a perfect world, the road would have been completely devoid of other traffic, however the world isn't a perfect place and during Golden Week the entire stretch was experiencing heavy traffic.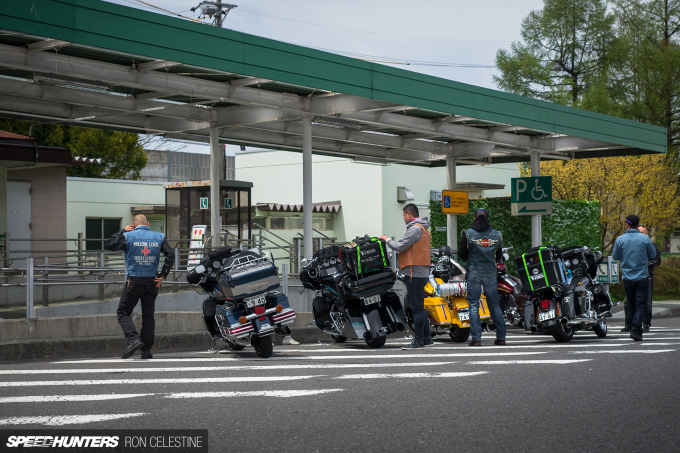 Being stuck in traffic is no fun, so I took every chance I had to pull over in rest areas. Like Daikokufuto PA and Tatsumi PA, you never know what gems you may find.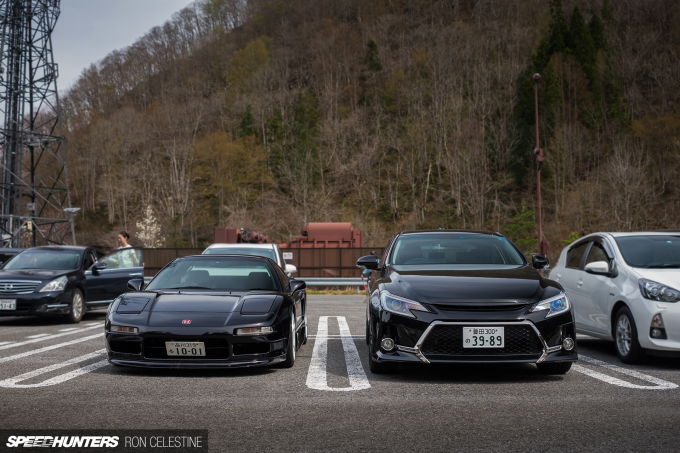 Here's a perfect example: a lightly modified NA1 Honda NSX in the middle of nowhere. Judging by its plates the owner of this one was also from Tokyo.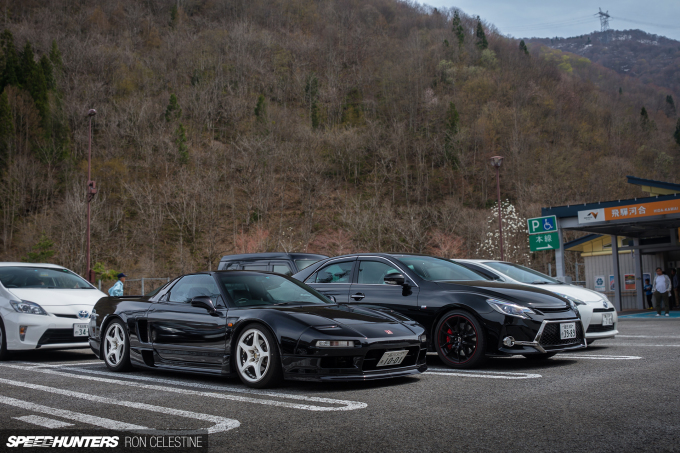 The irony of finding an NSX in Blake's Mark X while he was buying Project NSX wasn't lost on me.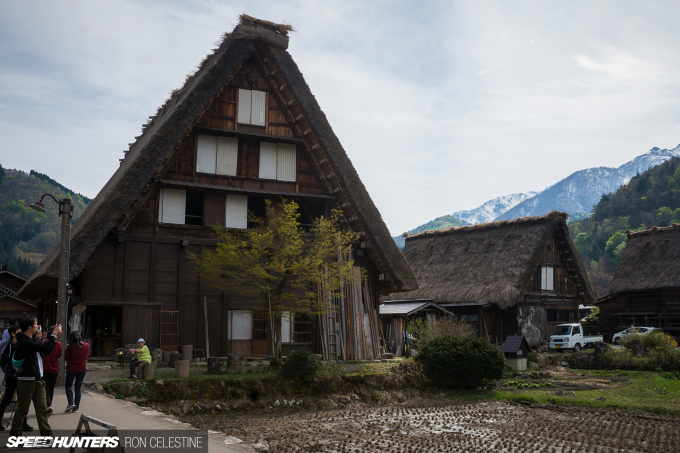 Shirakawa-go is a traditional Japanese village that has all but been frozen in time. The gassho-zukuri farmhouses reveal how villagers lived in the remote area well over 200 years ago.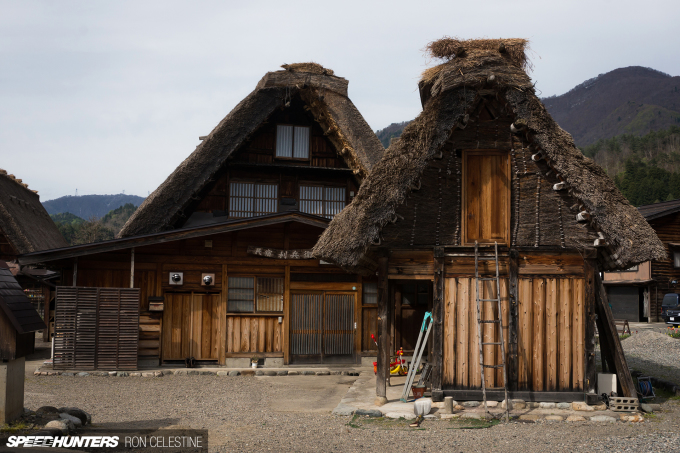 These structures resemble the hands of buddhist monks pressed together in prayer and they can withstand the pressure created by large amounts of snow even though the roofs are made without nails.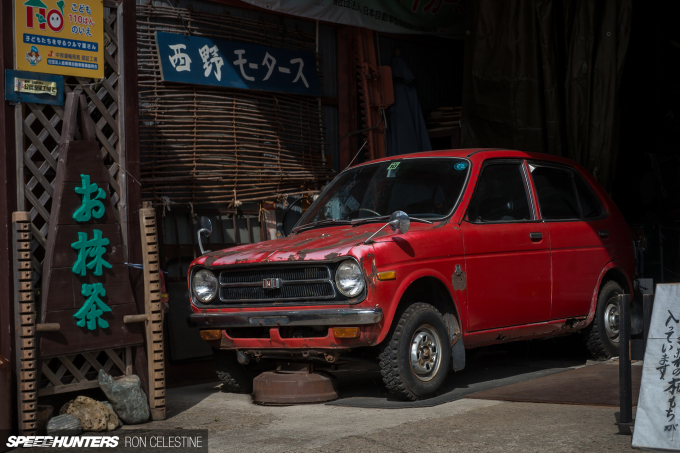 As to be expected, the area was absolutely packed with tourists; not expected was finding this little Honda Life parked up outside a tea shop. Although the car was in a real state of disrepair, the tires were all fully inflated, so there's a chance it still runs errands around the village.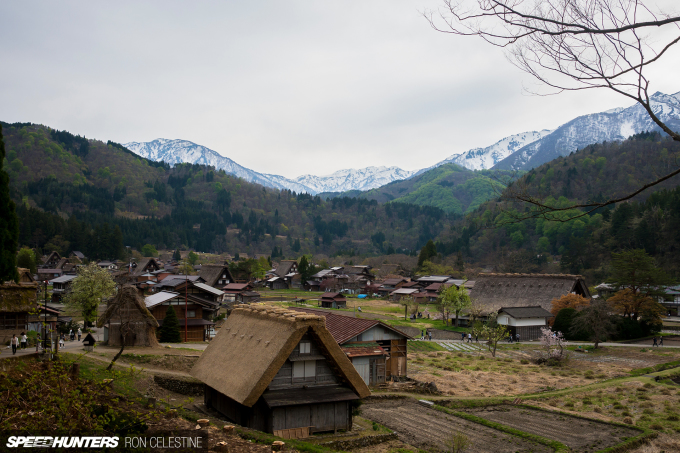 With so much rich culture and breathtaking scenery, I can highly recommend visiting Shirakawa-go – just make it weekday (and not in Golden Week) to avoid the heavy influx of tourists.
With sunlight fading quickly, we decided it was time to head to our local accomodation for the night.
The next day brought a 150km drive towards Fukui, the capital city of Fukui Prefecture which borders the Sea of Japan. On the way, we made stops by Kenrokuen Garden and Kanazawa Castle, but I was always on the lookout for cars. It quickly became obvious that the local car enthusiasts have a thing for Subarus.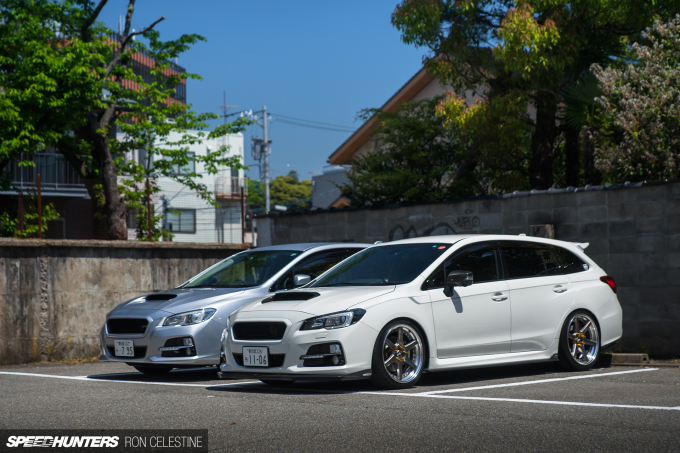 In Tokyo (and Fukui it seems), a lot of people have flocked to the Levorg for its performance potential, styling, and practicality being a wagon. Not a lot needs to be done to give the model a proper stance; a simple suspension drop and set of wheels like the 18-inch Work Zeast ST1s on this particular one, really transforms the Levorg's appearance.
Kenrokuen Garden outside Kanazawa Castle features a landscape style that focuses on six attributes (roku meaning six) for the perfect garden: spaciousness, seclusion, artifice, antiquity, watercourse, and panorama. Besides its stunning scenery, the garden hosts a variety of tea houses that date back to the 18th century, and also the oldest fountain in Japan.
Seeing that the US lacks anything that remotely resembles a castle, I always find visiting them in Japan highly intriguing. Aside from their majestic size, the way in which they were built using techniques that require absolute precision to lock the beams in place without the use of nails is truly remarkable.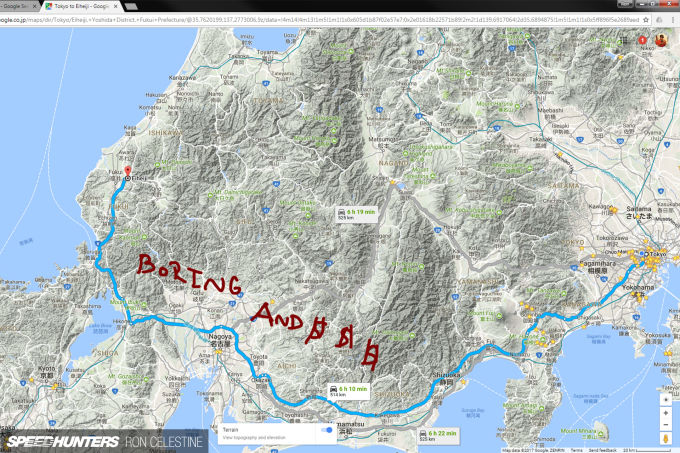 After a stopping at a monk monastery in Eiheiji, it dawned on us that we had nowhere to stay for night. Still being Golden Week, every place was filled. That left two options: make the 525km drive back to Tokyo using the highway which would have been boring and cost well over US$100 in toll fees, or backtrack the way we had come from Tokyo, but this time at night and without traffic. I don't think I need to tell you which way we went…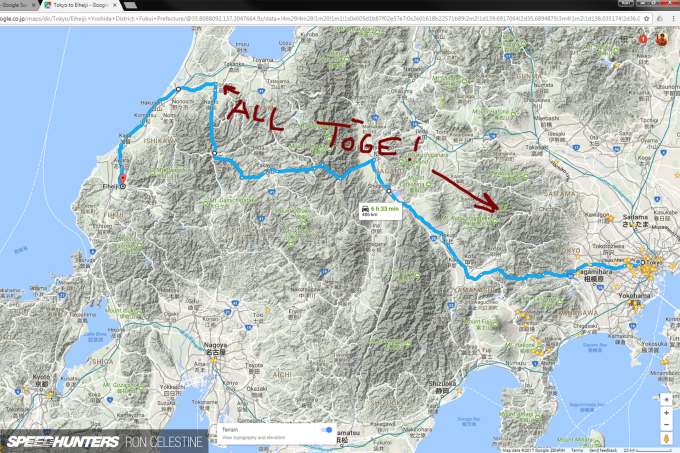 As exciting as it was, if it wasn't for the Toyota's large infotainment screen displaying the route and upcoming turns, I don't think I would have had the nerves to do it at speed. It redefined what I know as pitch black, an endless stream of turns and hairpins constantly appearing out of the darkness. Although I could hear Blake's voice telling me to thoroughly enjoy the Mark X G's, I also wanted to make sure he got his car back in one piece.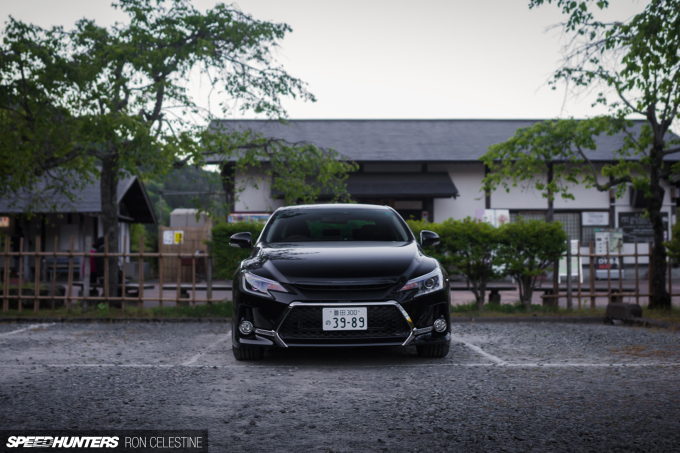 With that 400km of white-knuckle driving over, so was my first real road trip in Japan.
Although the Mark X is long gone now, it will always have a special place in my heart. It may not have been the fastest or best handling car I have ever driven, but it took me to some extraordinary places in Japan in style.
Ron Celestine
Instagram: celestinephotography