Fun In The Sun
In the hunt for the most unique cars and car culture that Japan has to offer, I often find myself at the nearest bookstore browsing through the magazine section.
Besides giving me an excuse to get out of my office and to see how far (and sometimes how little) my Japanese has come over the few years, Japan's car magazines often provide some excellent insight to current and future trends. One that I find myself often turning to is Autofashion Import, or AF Imp for short.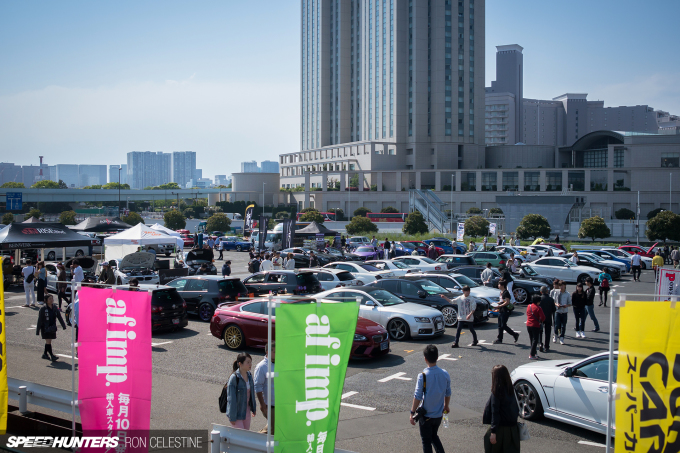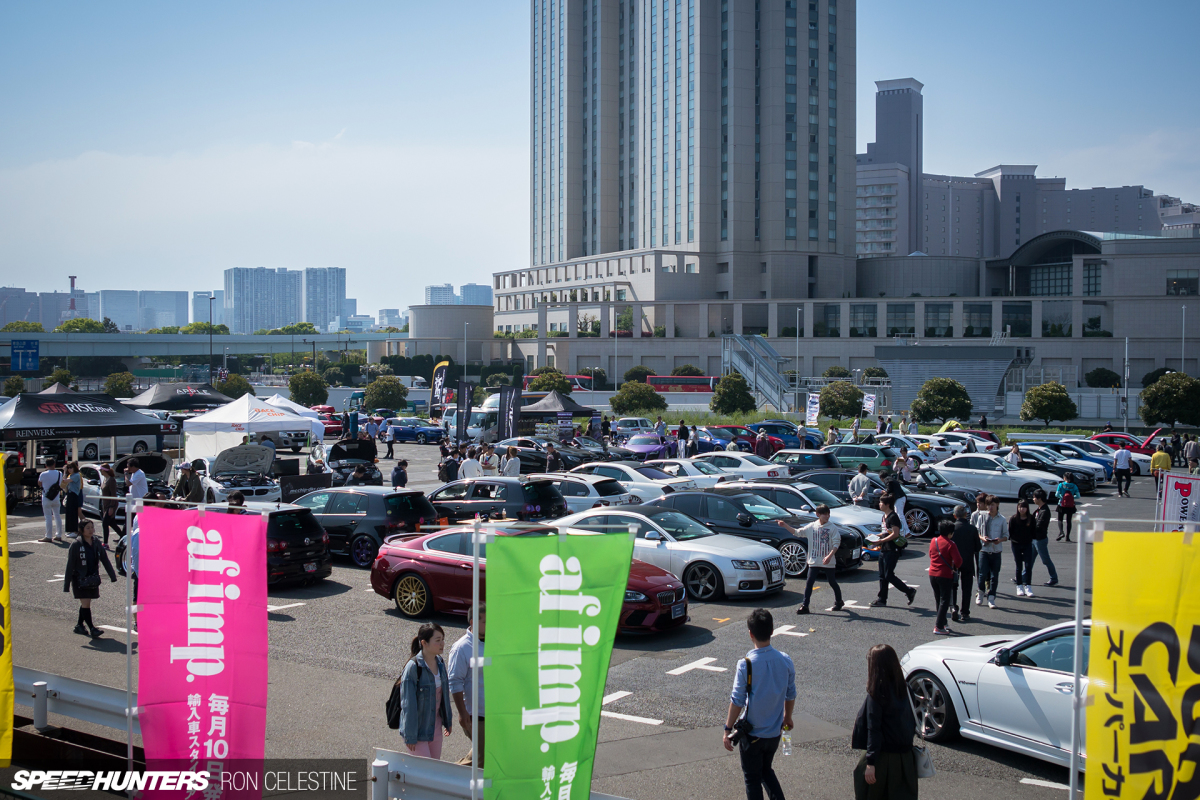 Focusing solely on the Japanese love of European imports, the magazine does an excellent job of highlighting not just the cars that appear regularly at their meets in Osaka, but the owners as well.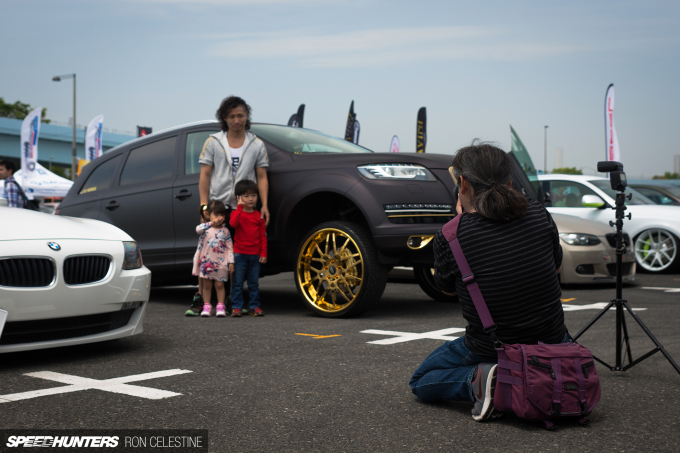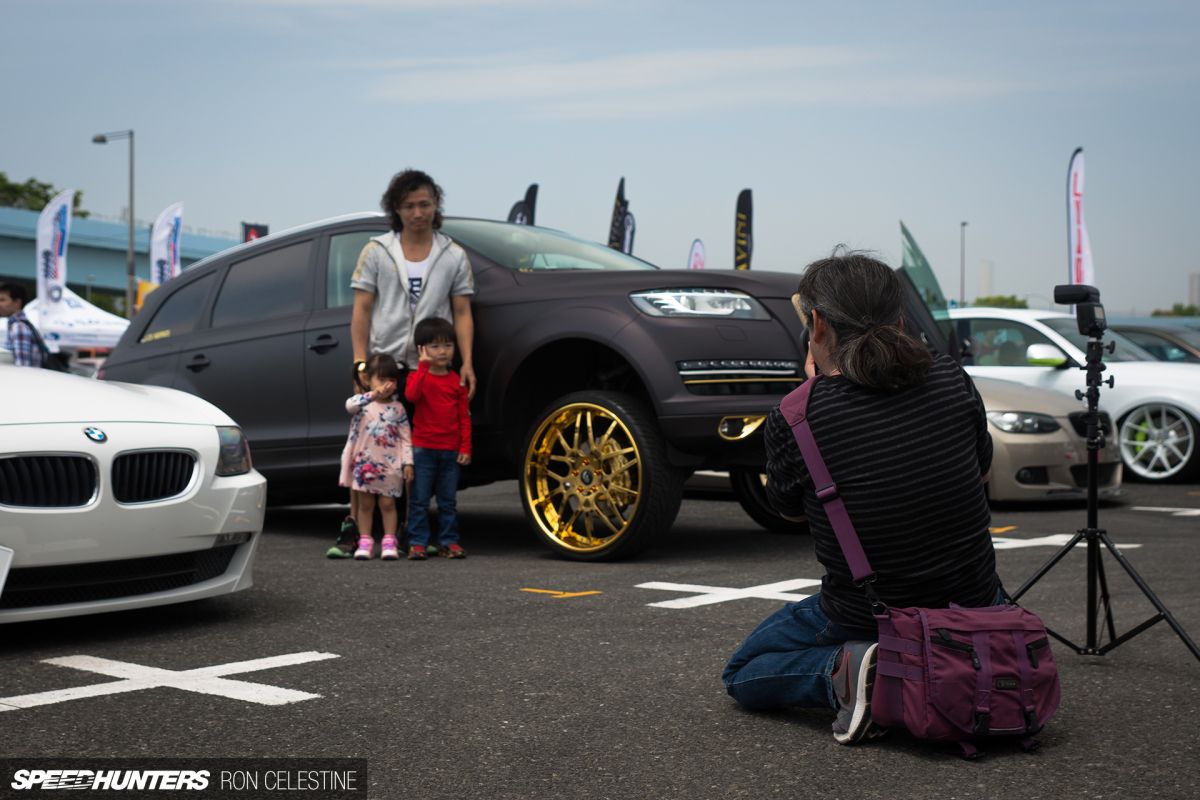 Thus, when AF Imp announced that they'd be hosting a meet on the artificial island of Odaiba in Tokyo, I knew I had to go check it out – even if it was scheduled right before Japan's 'Golden Week' holiday period.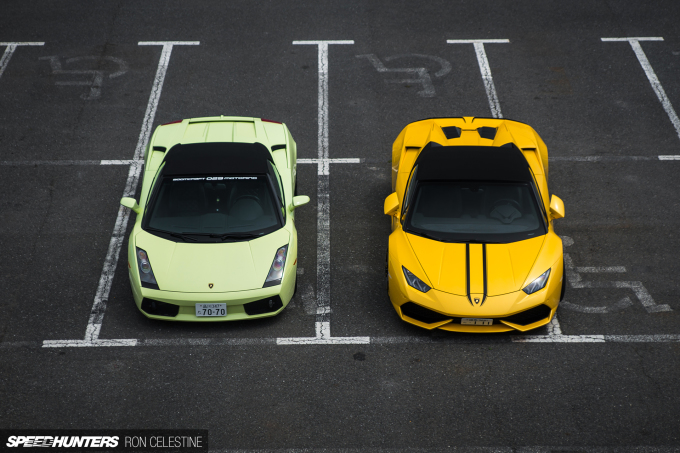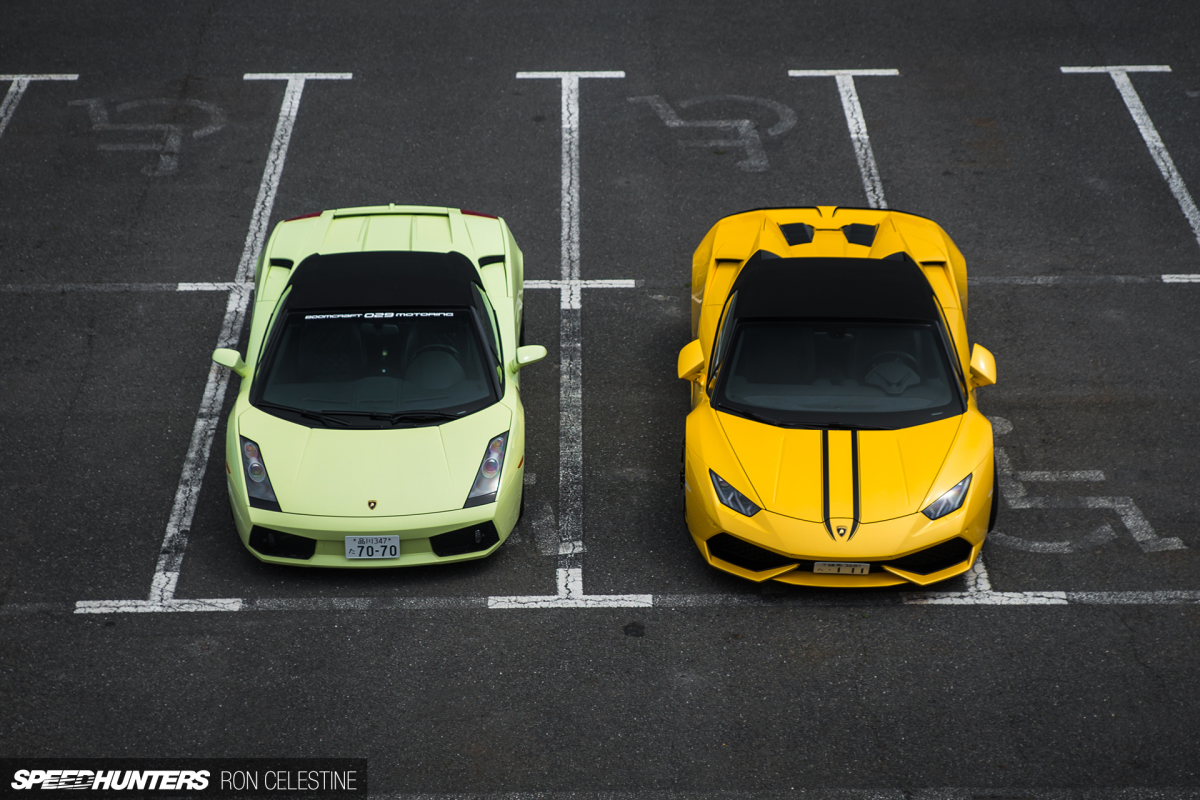 The game plan was to arrive early and get some shots of the cars rolling into the 'Super Carnival' before checking out the main venue. However, after arriving I quickly noticed that Golden Week had greatly affected the predicted turnout. Given the opportunity to actually use their vacation days, many Japanese people head back to their hometowns to have some hard-earned R&R with family.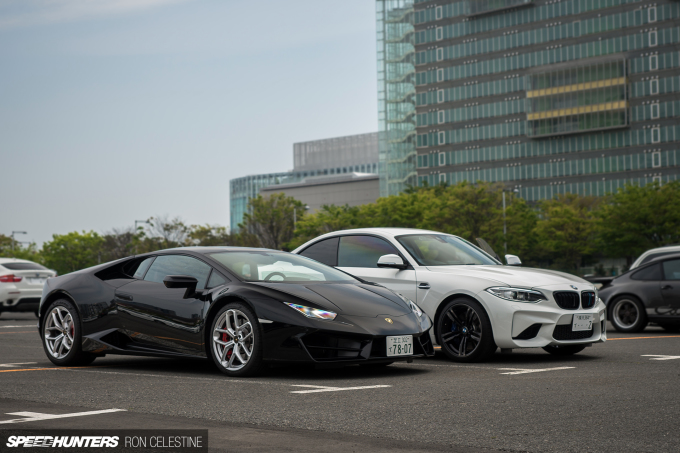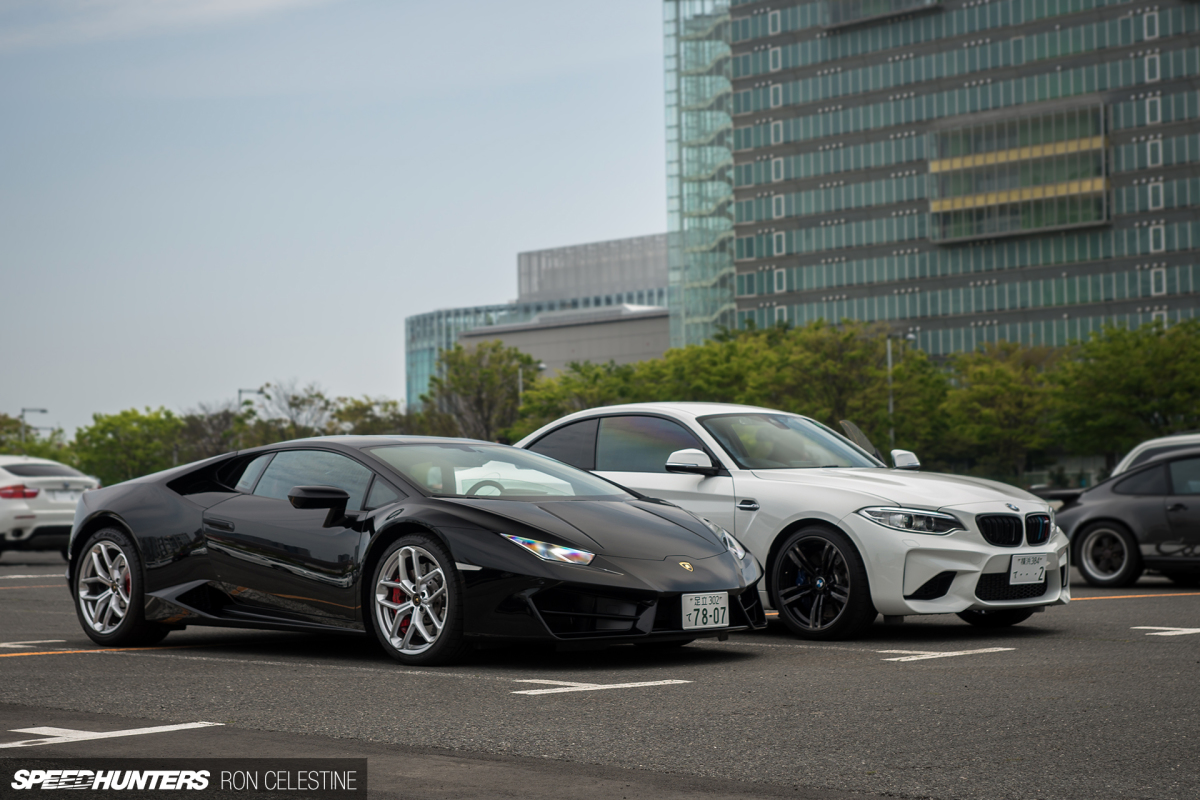 But regardless of car numbers being smaller than anticipated, it was still a beautiful Saturday morning and the parking lot had some awesome machinery to check out.
When it comes to the art of form balanced with function, Naohiko Otsuka is a master, and this beautiful 991 GT3 RS is one of his latest creations. The Porsche is fitted with JRZ adjustable dampers for increased functionality and custom-made 20-inch Pokal DR5 wheels with center-locking.
This being an AF Imp event ensured the venue would be filled with the sort of styling and creative customization that you'll only find in Japan.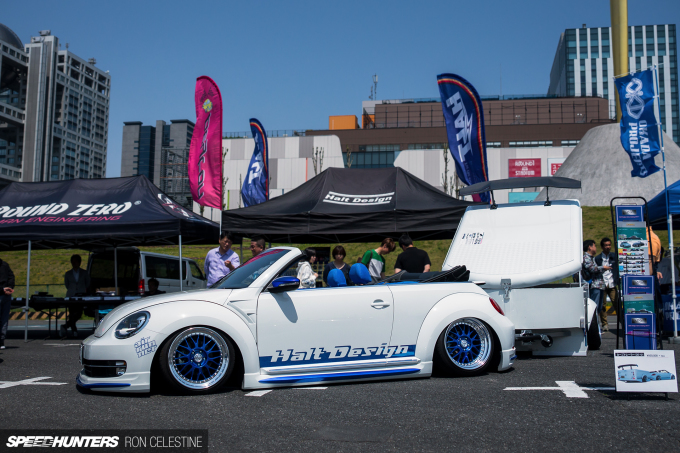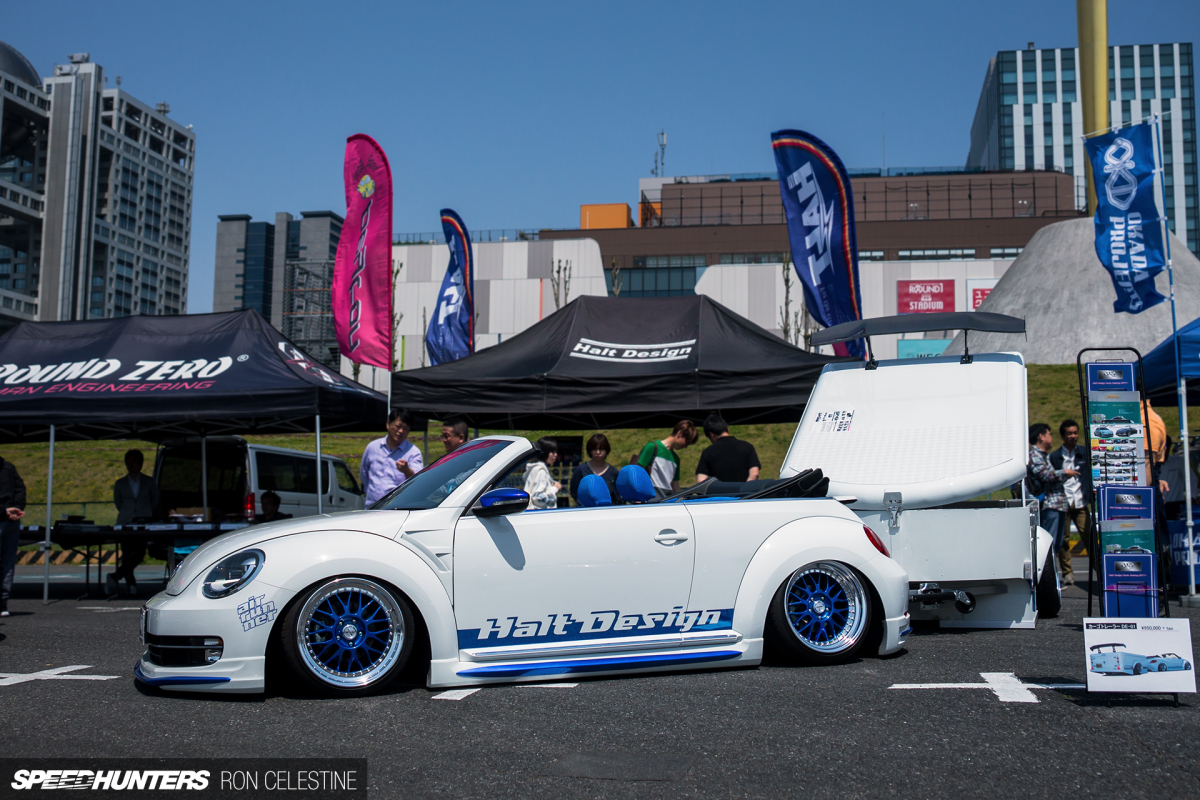 Specializing in all things Volkswagen, Halt Design brought along their rather interesting A5 Beetle. Obviously, when I use the term 'interesting' it's not in regard to the custom-colored two-piece Work Meister M1R wheels nor the fact that it lays out on Air Runner suspension…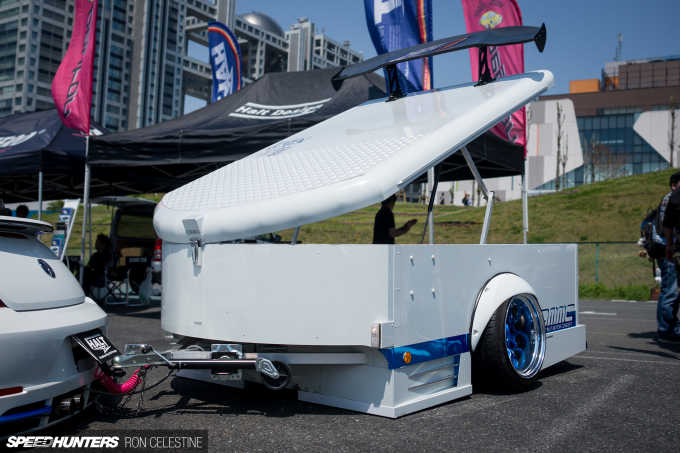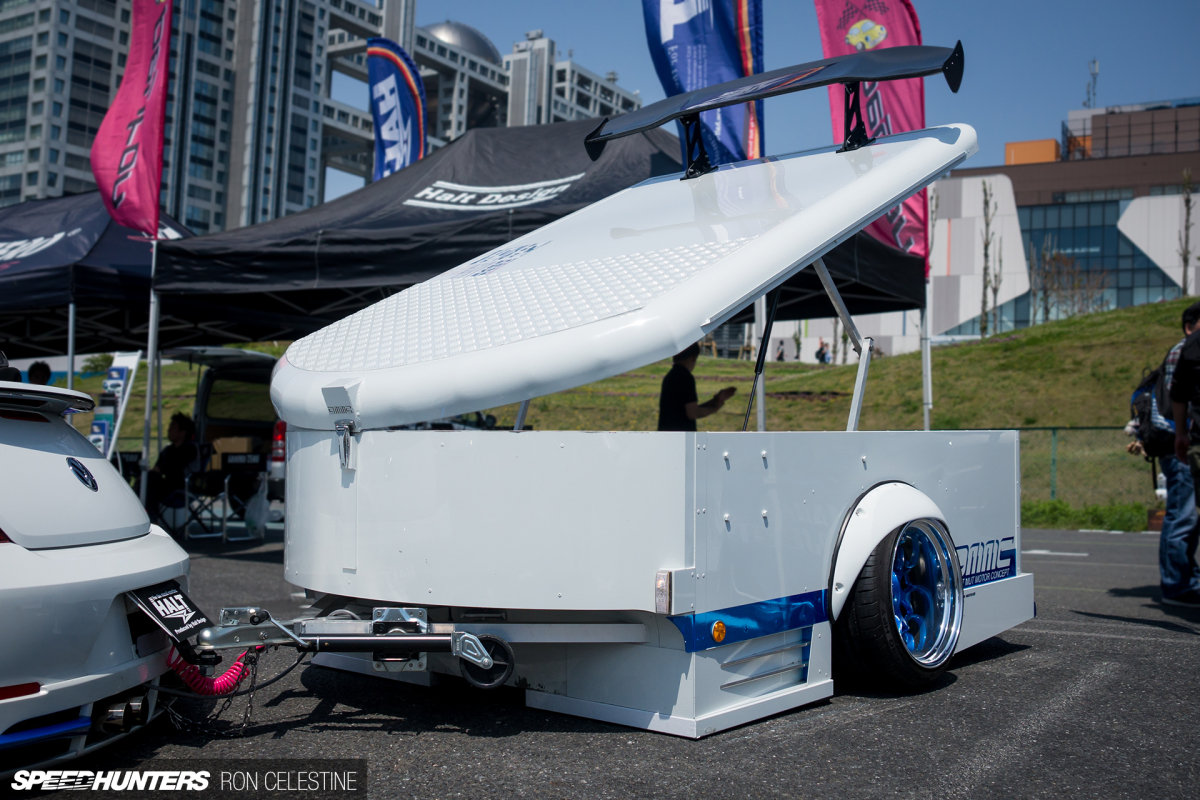 It's the custom cargo trailer that's equipped with a GT wing and overfenders, and is slammed to the ground!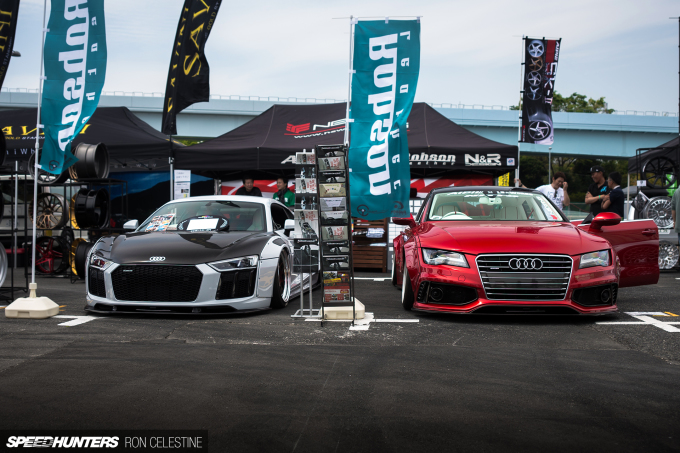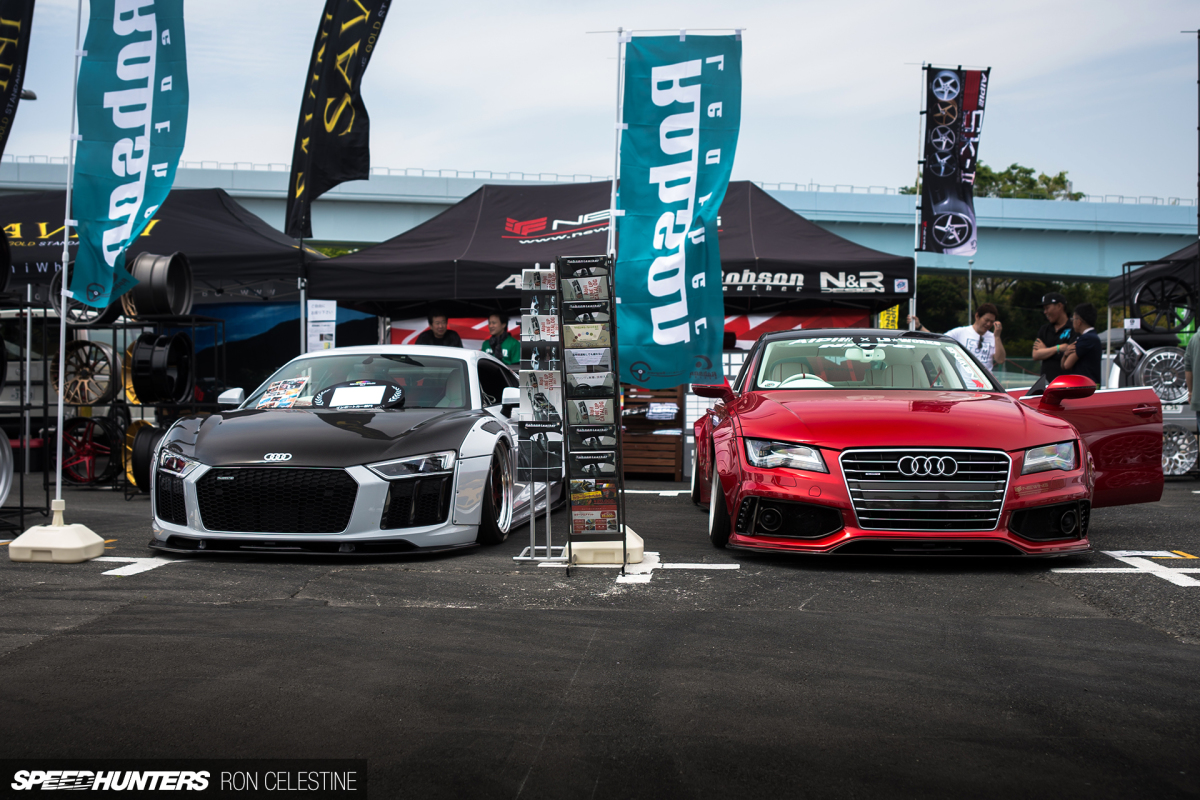 Newing's Audi R8 and A7 were present at this year's Tokyo Auto Salon and I absolutely love both of them. That said, I'll be coming back to one of them with a spotlight a little later on.
Just because you own a van doesn't mean you're destined for soccer mom status – at least in Japan in anyway. Having a lot more functional space than their sedan counterparts at a lower cost makes wagons like this a perfect solution for anyone who has a family yet still wants to drive something that stands out.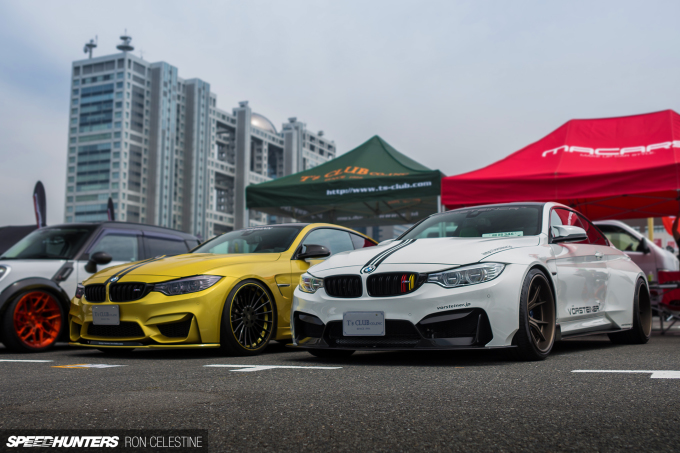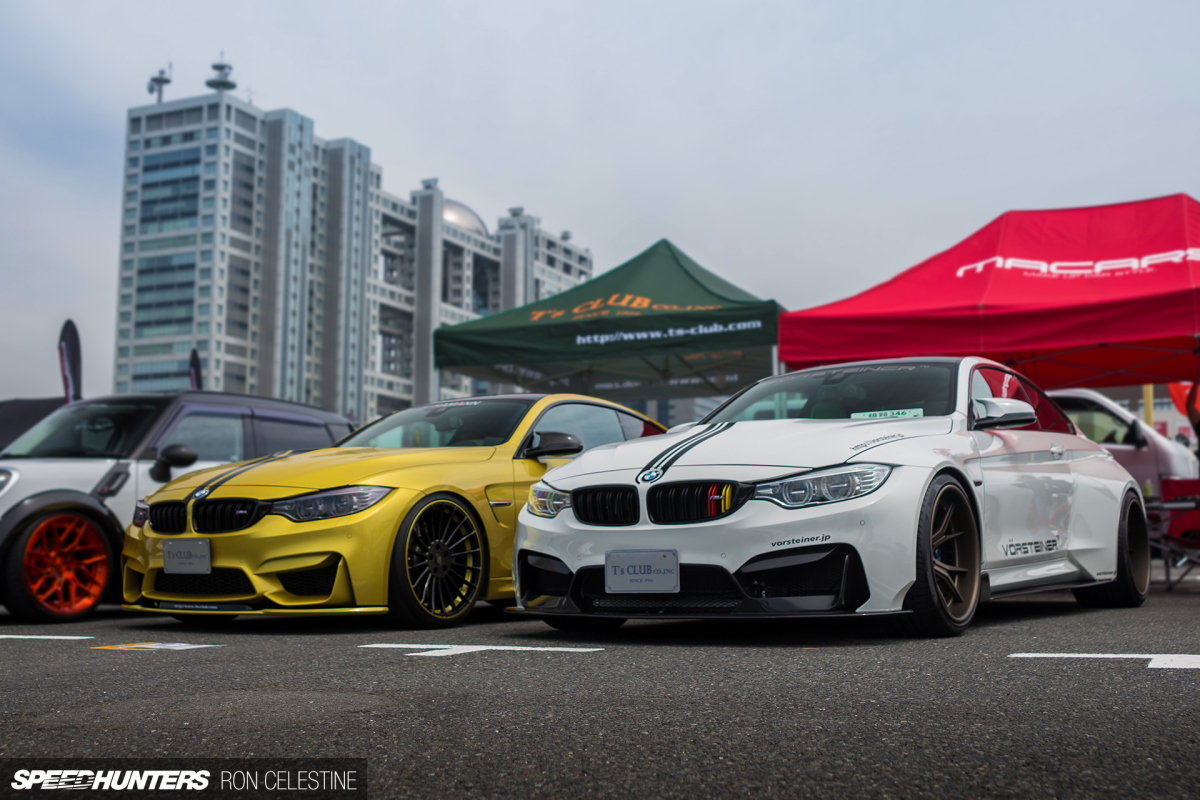 There was no shortage of late model BMWs at the event, but my favorite was this white F82 M4 BMW. The Vorsteiner GTRS4 wide-body kit and V-FF 103 wheels add the drama and aggression missing from factory.
With the popularity of off-road vehicles steadily increasing in Japan and the already strong love for the Mercedes-Benz G-Wagon, why not combine the two? I don't foresee that shovel being used any time soon, but it does give you some ideas on what can be mounted up top.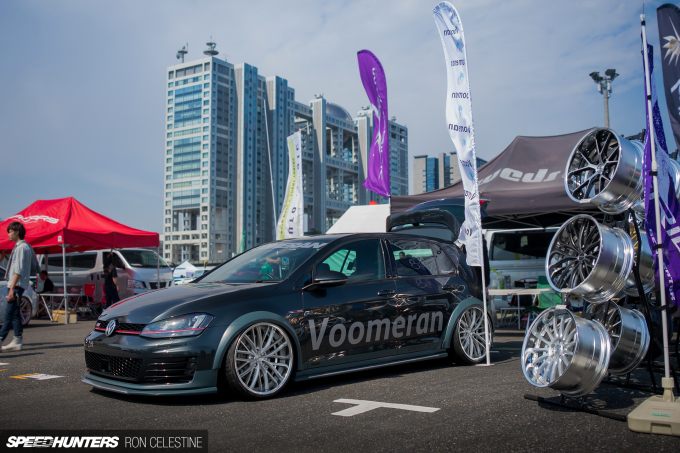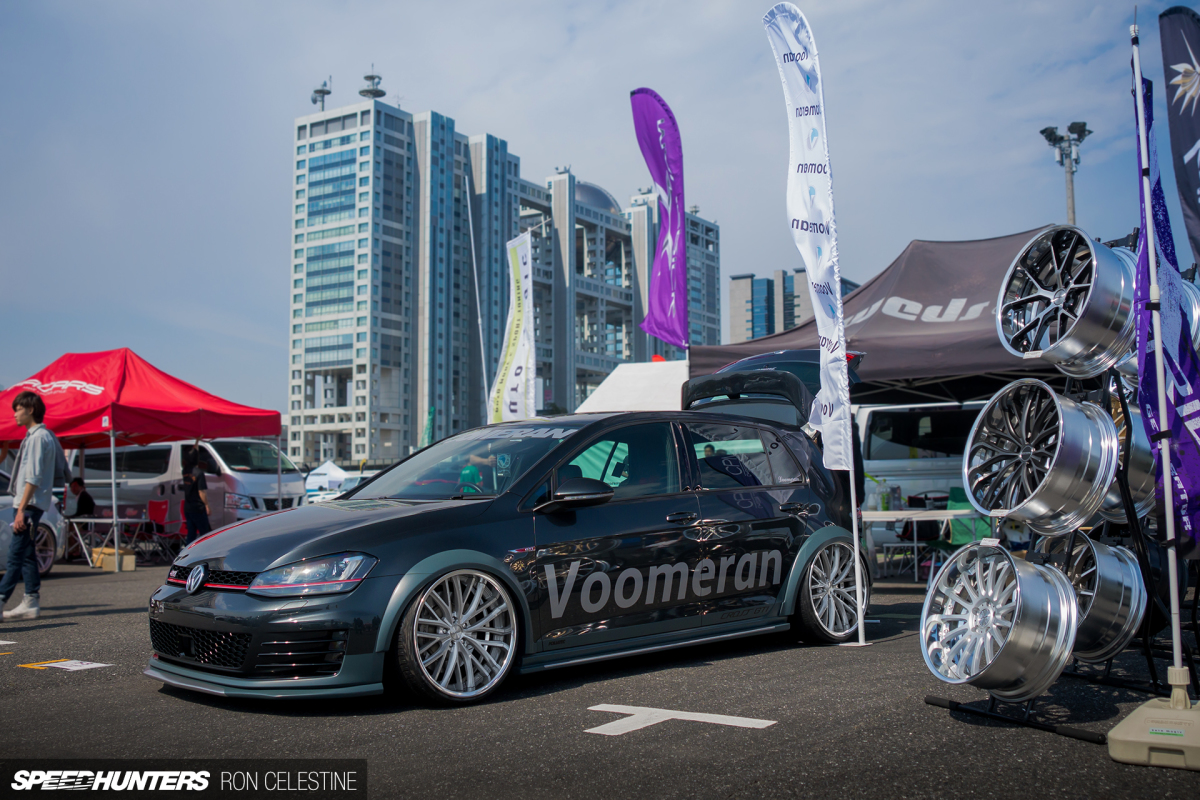 As with most events like this in Japan, there were plenty of vendors on site showing off their latest products.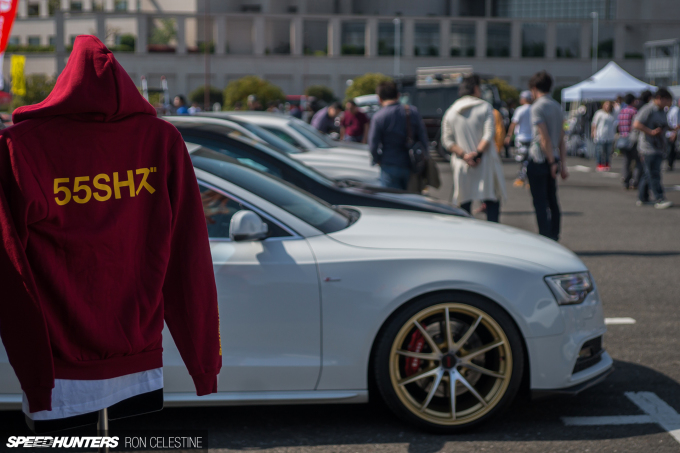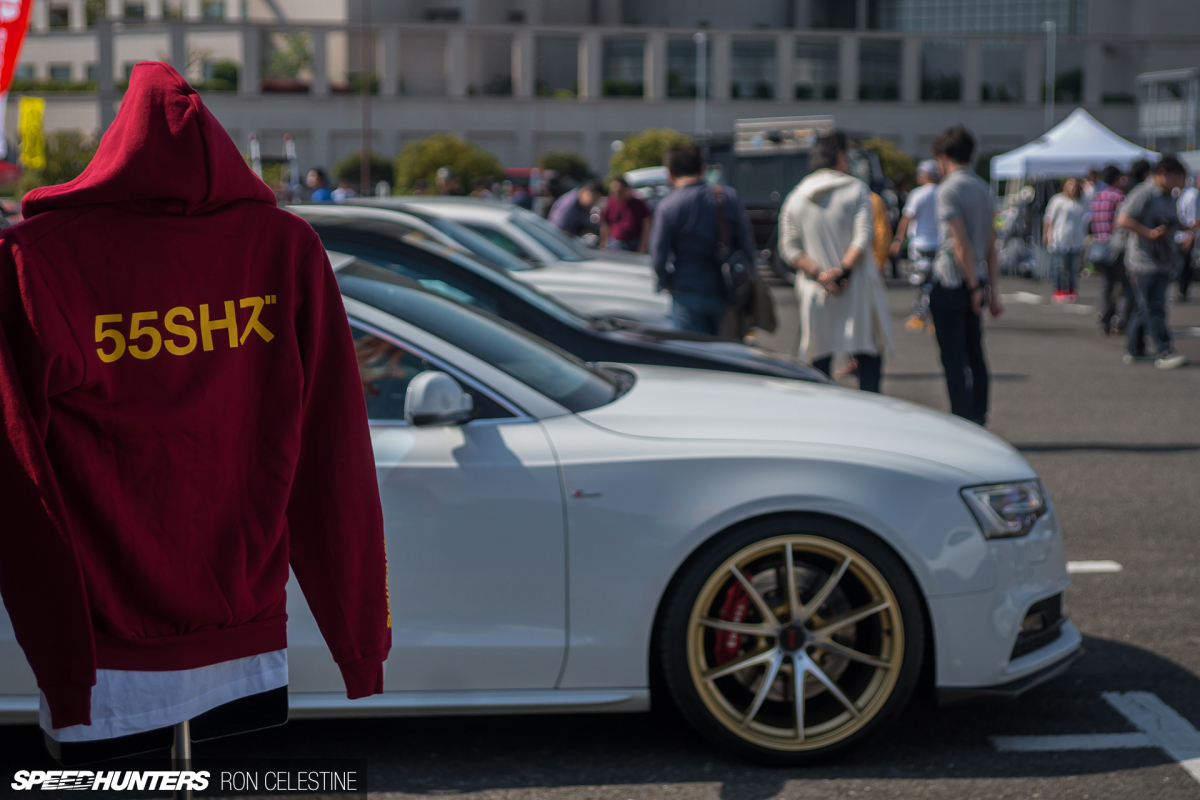 And thanks to the guys at Hashimoto Corporation, Speedhunters goodies were available too.
Living Large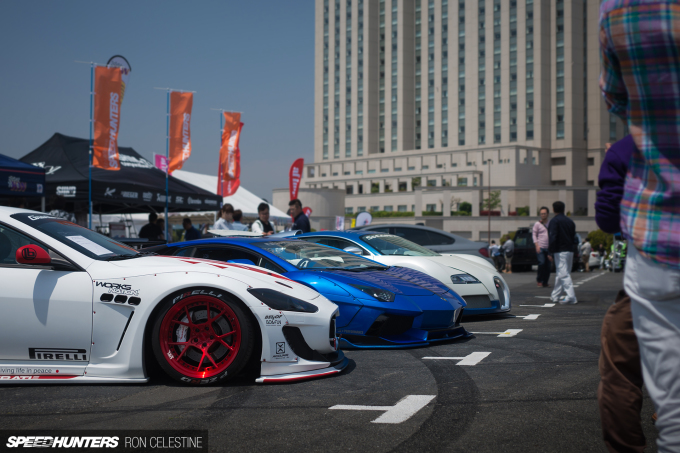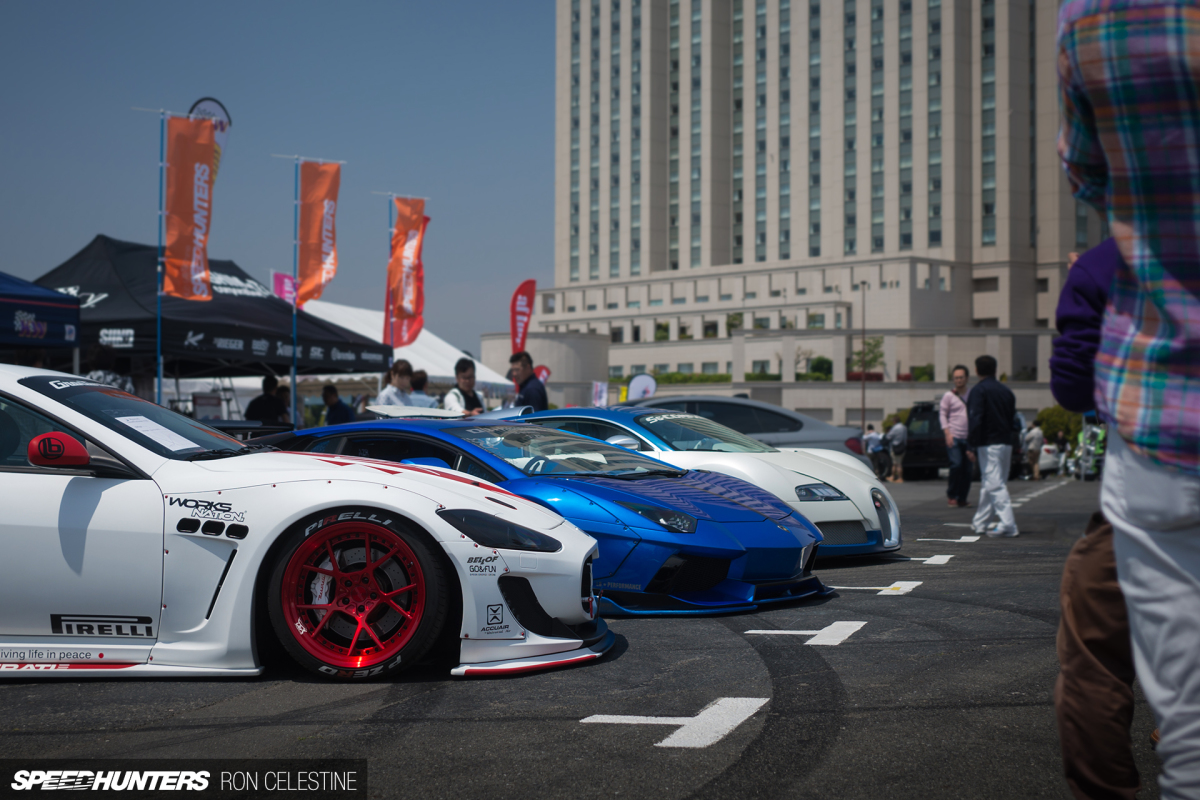 As I ventured around the venue, I noticed that one area in particular was attracting a lot of attention. Curious, I decided to make my way over towards the crowd and see what was so interesting.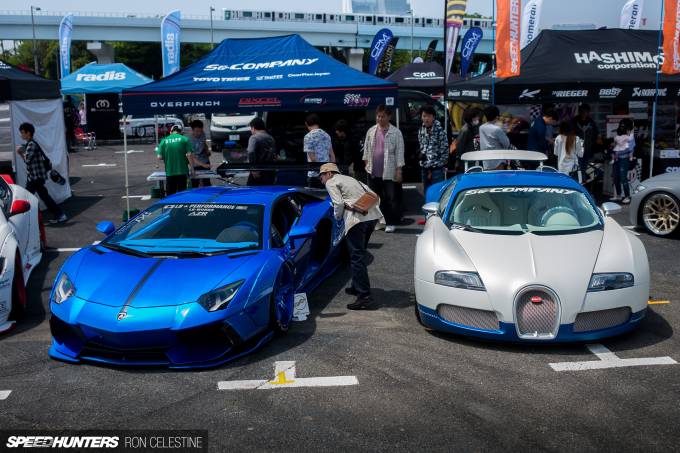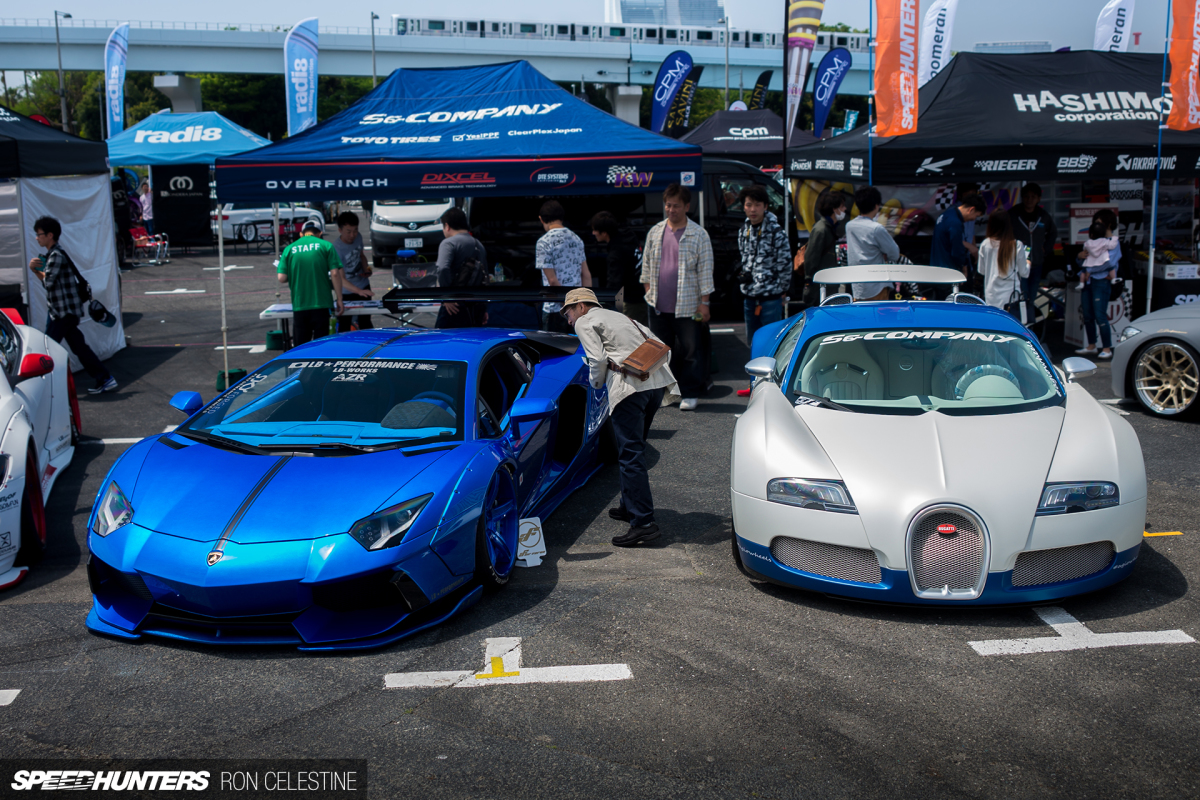 It didn't take me long to find it either. Parked alongside a Lamborghini Aventador and a Maserati GranTurismo, which themselves had both received the Liberty Walk treatment of being slammed to the ground and fitted with overfenders, was one of the world's automotive masterpieces: the Bugatti Veyron EB 16.4.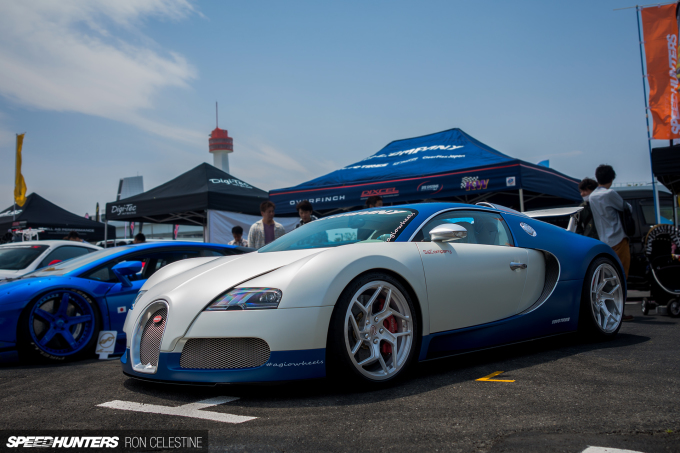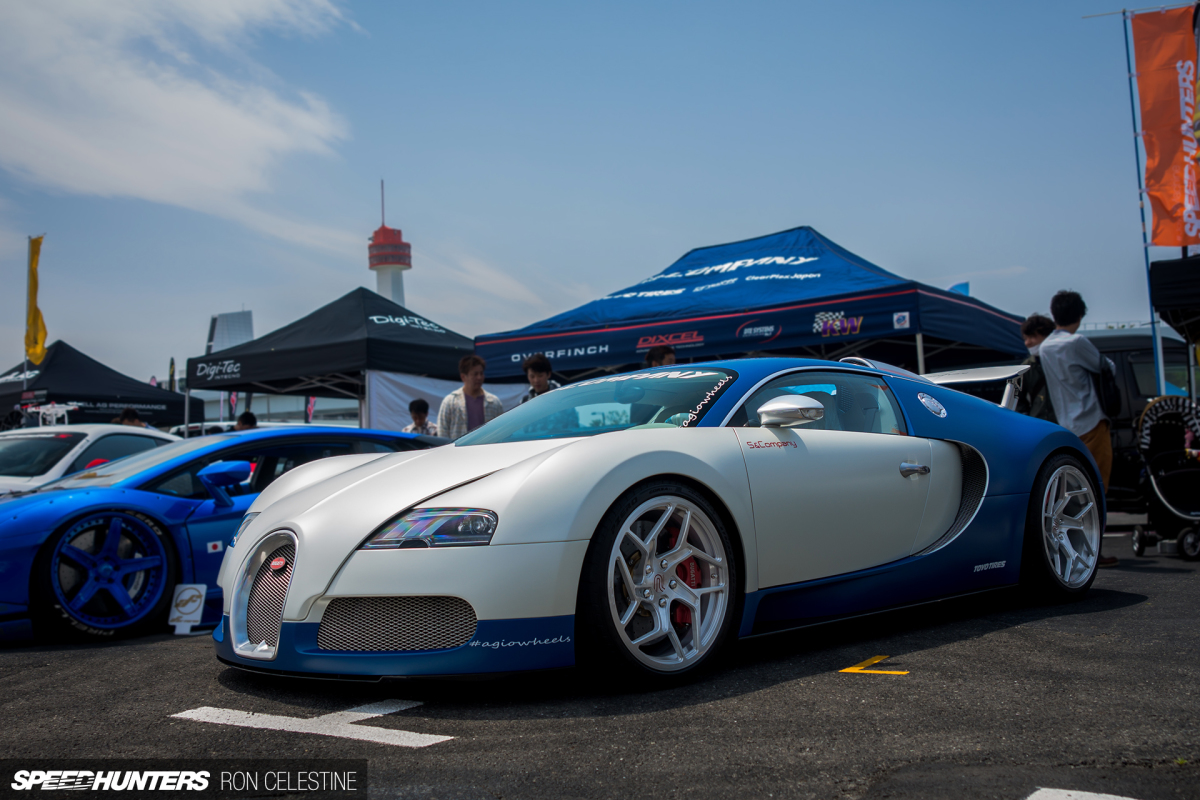 It seems so long ago now thanks to the progression rate of technology and its profound effect on the motoring world, but when the Veyron first released it was a collection of numbers that simply boggled the mind.
Its 8.0-liter W16 engine with quad-turbocharging equated to more than makes sense in a road legal production vehicle, and the system displaced so much heat that it required 10 radiators to keep everything cool. Let's not forget the top speed of 253mph (407km/h) either, nor the sticker price – before mark-ups!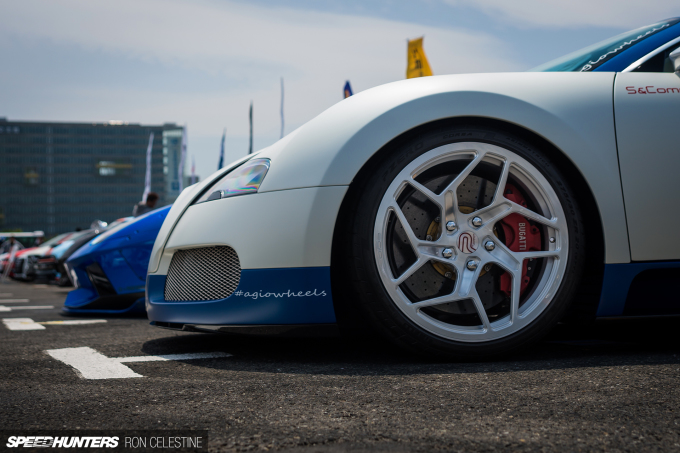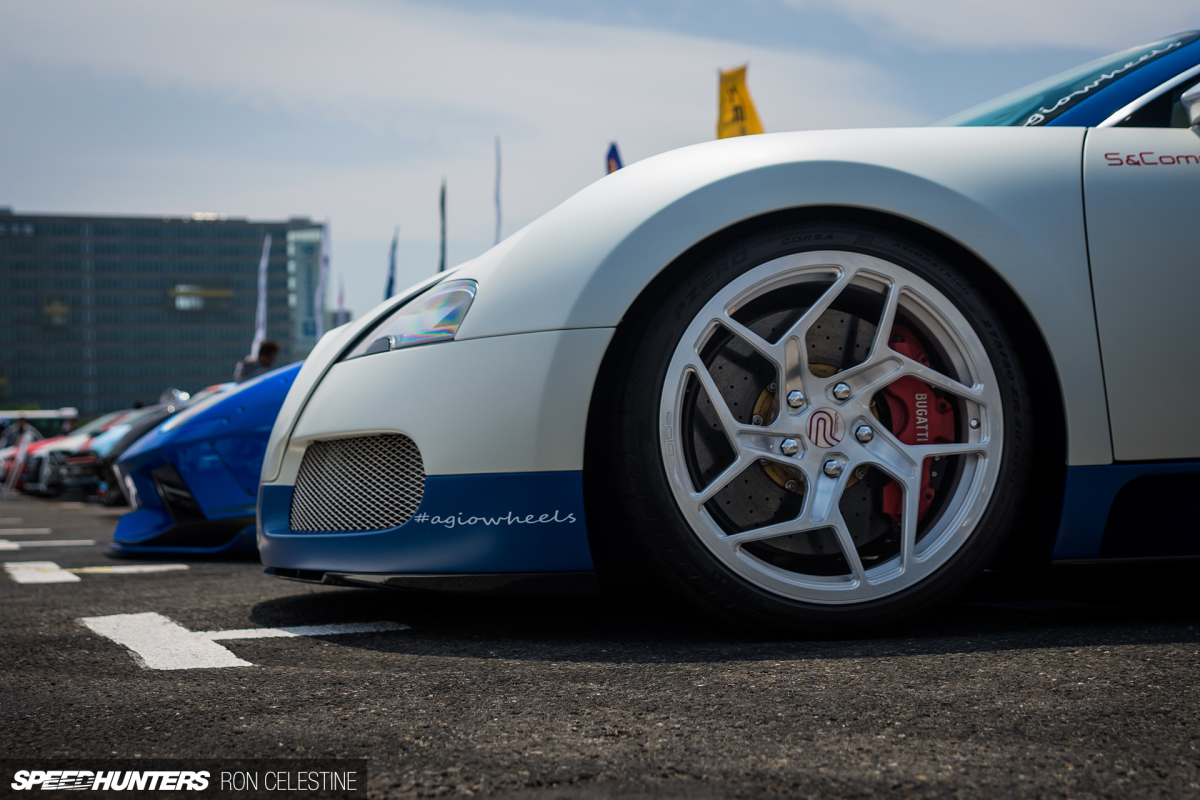 That's probably why besides a change from the original wheels and special Michelin Pilot Sport PAX tires to PKR Agio wheels with Pirelli P Zero Corsas, no other changes were made; everything else was left standard.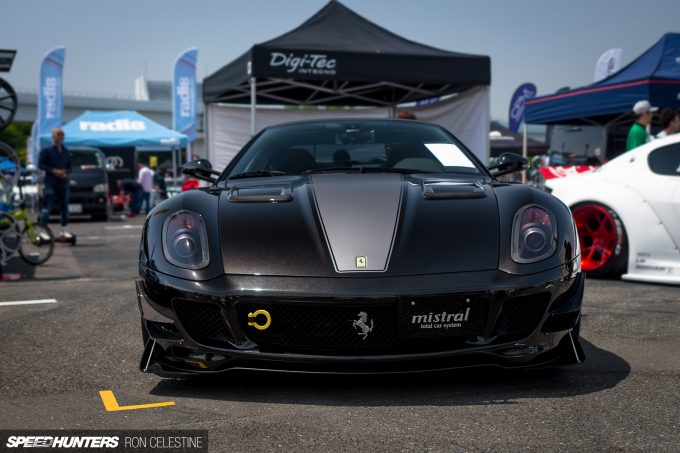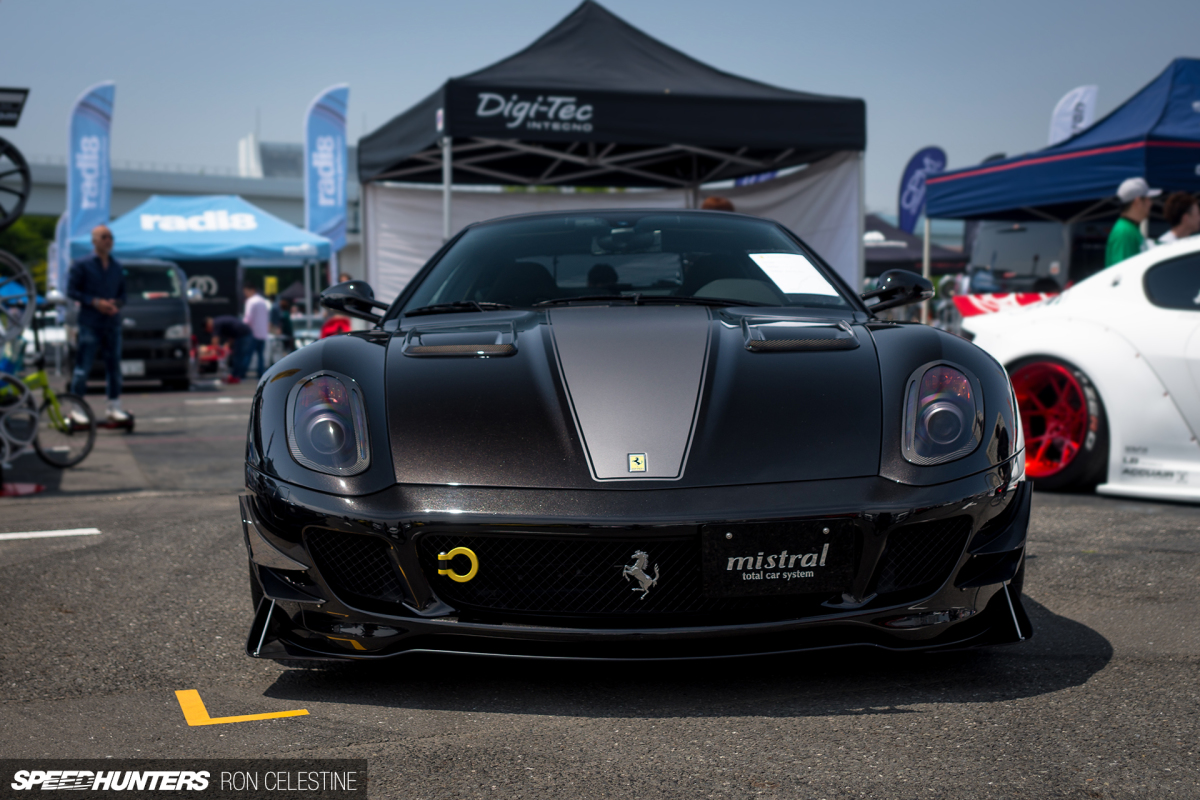 This Ferrari 599 on the other hand has gone through a radical transformation in the aerodynamics department.
And that's thanks to a carbon fiber front splitter and carnards, and a massive carbon GT wing.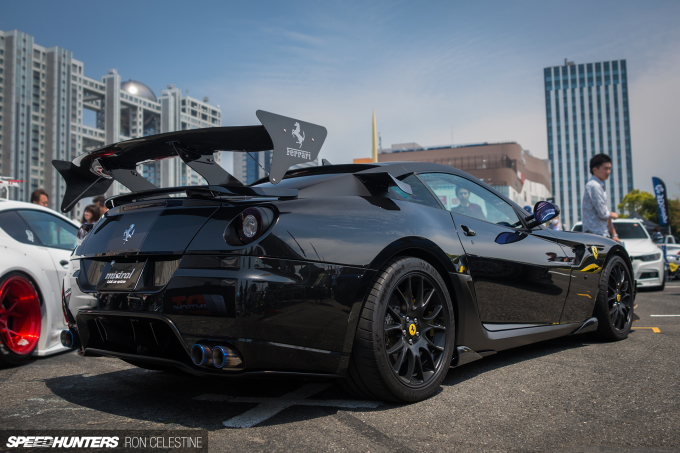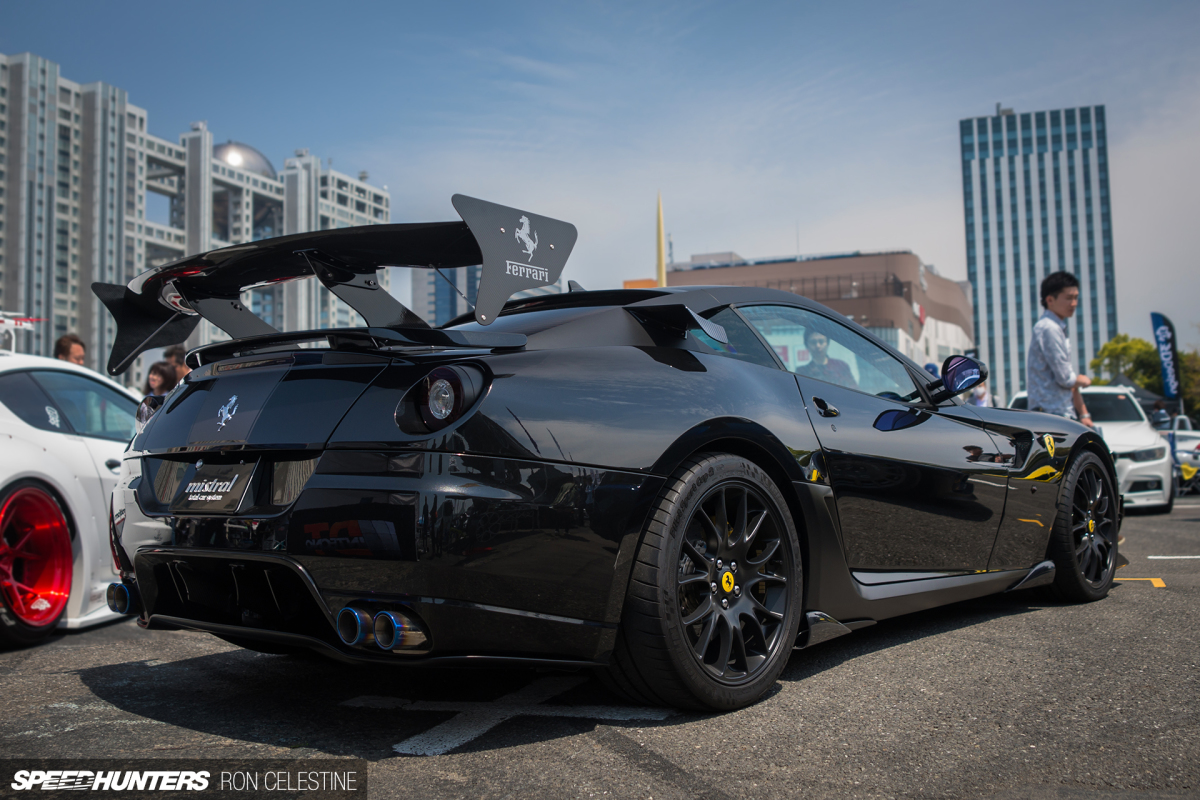 I guess I should say wings because sometimes one just isn't enough. Along with the visual changes, Digi Tec extracted an extra 47hp from the 6.0L V12, which means this car is now throwing down 541hp to the rear tires.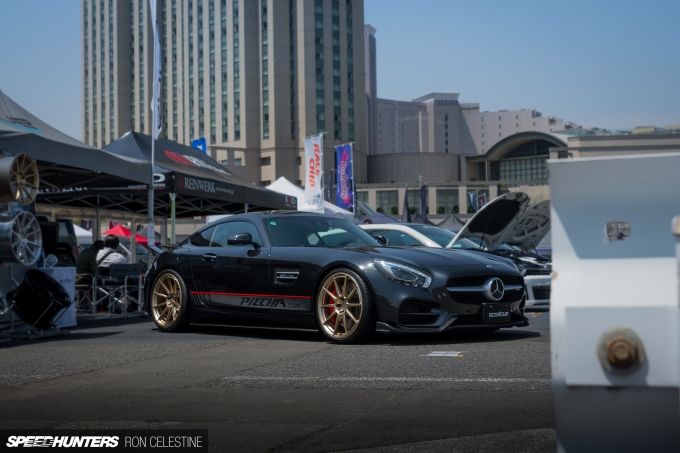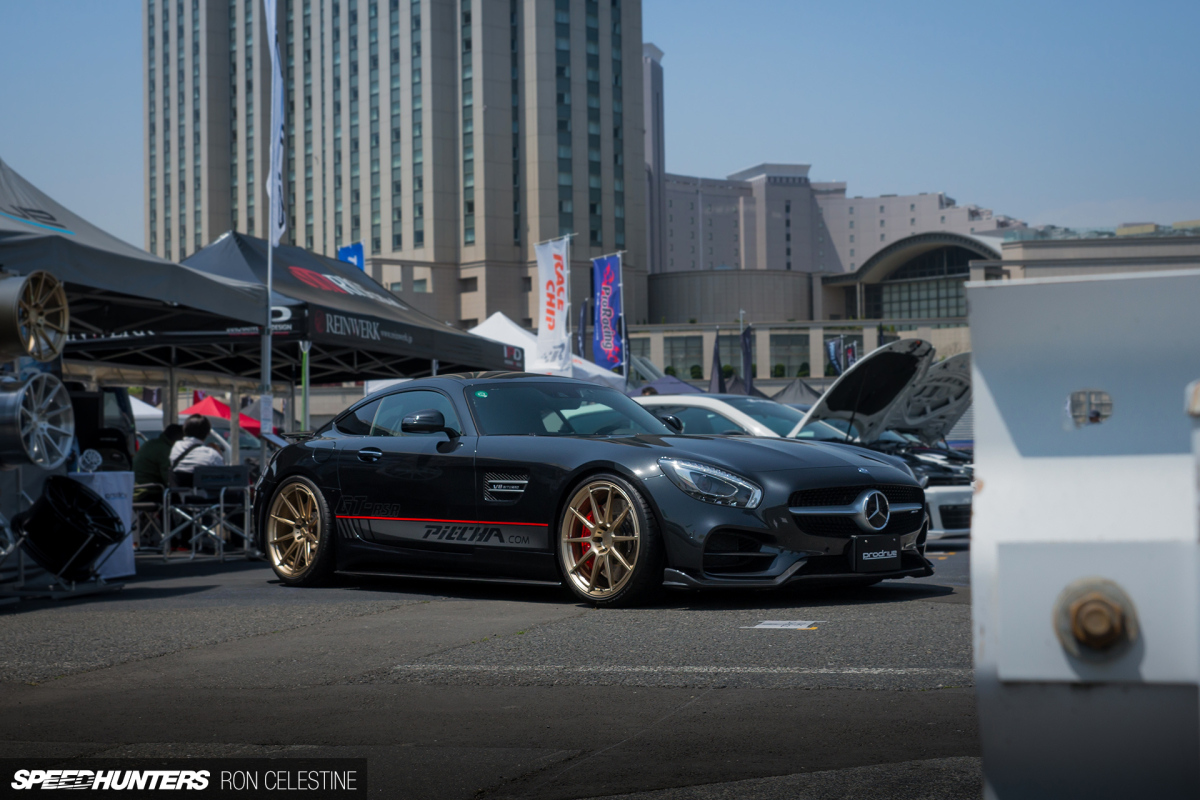 Although there weren't a huge number of Mercedes-Benzes at the event, there were some good-looking machines, like this AMG GTS on Prodrive GC-0100 wheels.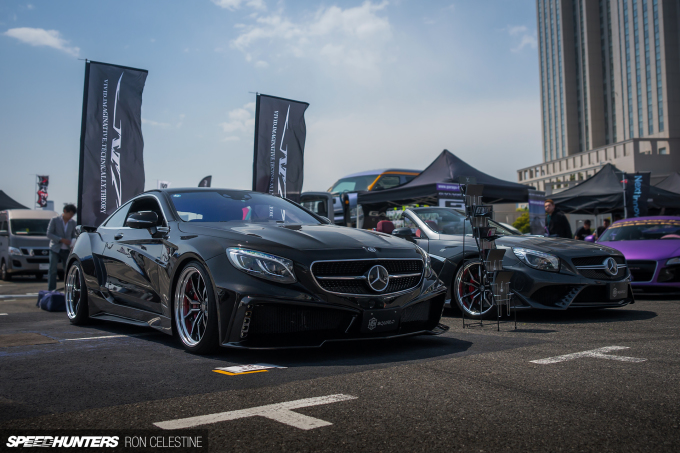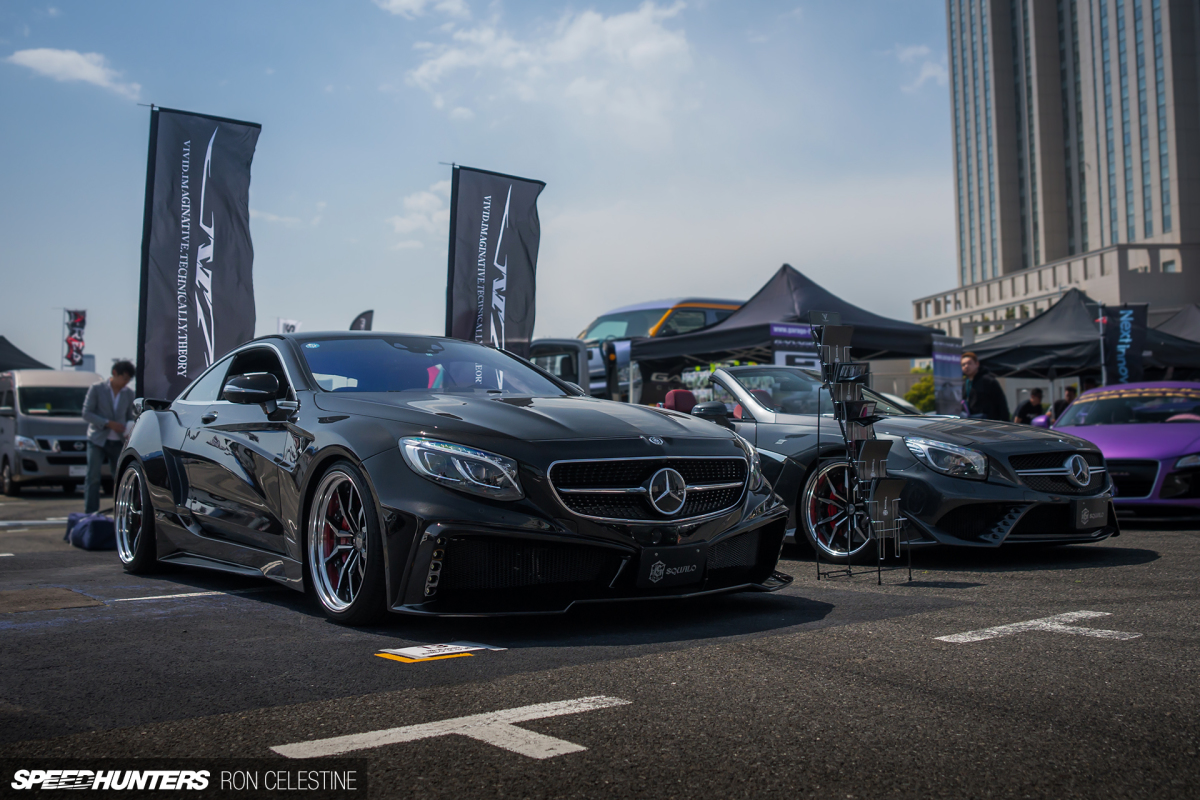 However, if there was an award for the most unique Mercedes-Benz at AF Imp Odaiba, Squalo would have won hands-down. Both their R23 SL and S Coupe demo cars have been customized with Squalo's own VITT wide-body kits, which radically change the exterior look.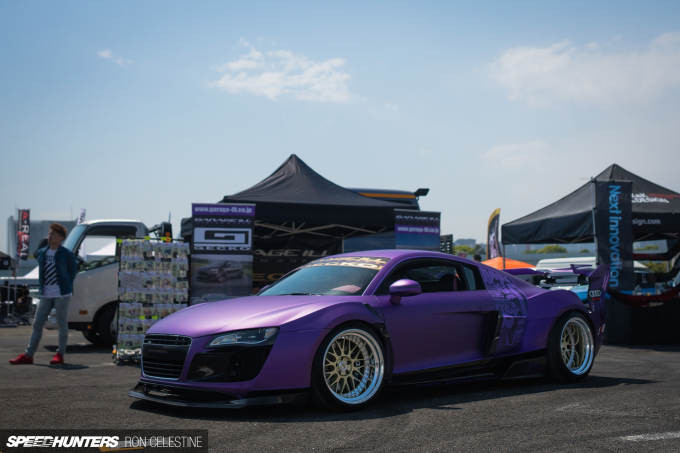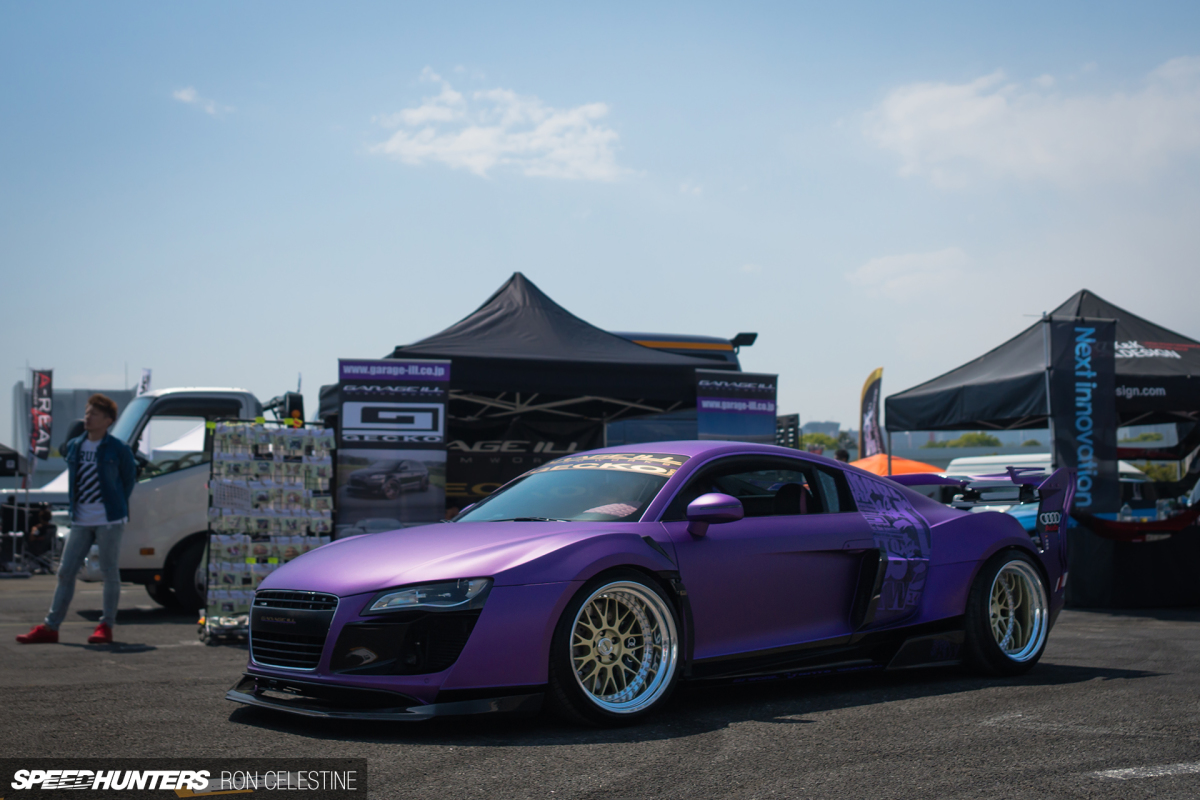 And speaking of unique, I can never get tired of seeing Garage Ill's insane wide-body R8.
Although the turnout of cars wasn't huge – at least by Japanese car show standards – it didn't stop the die-hard fans from coming out to AF Imp Super Carnival and enjoying the day. Make sure to check back soon for spotlights on a few of my favorite cars from the event.
Ron Celestine
Instagram: celestinephotography