Normally I like to save my favorite spotlight from an event for last, but this time around I just can't bring myself to do it; a JB23W Suzuki Jimny kei car weighing 750kg and powered by an SR20DET needs to be shared straight away.
This isn't a brand new build, and many of you will likely remember Kinokuni Enterprise's Yellow Bullet Jimney in its original rear-wheel drive drift guise. At last weekend's Rev Speed Hyper Meeting however, it made its first appearance as a time attack machine. Yes, you read that right.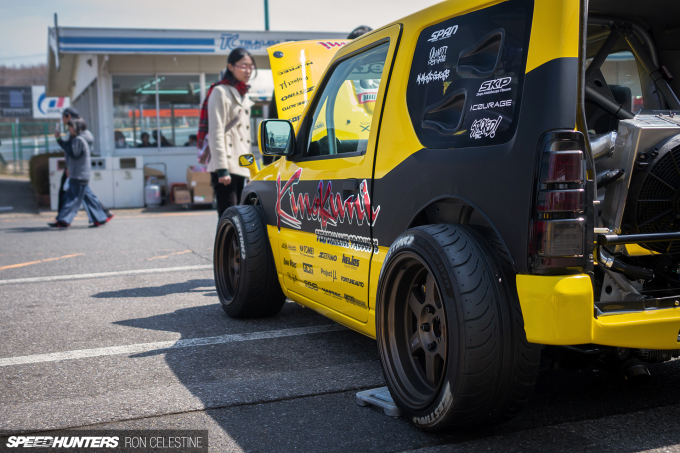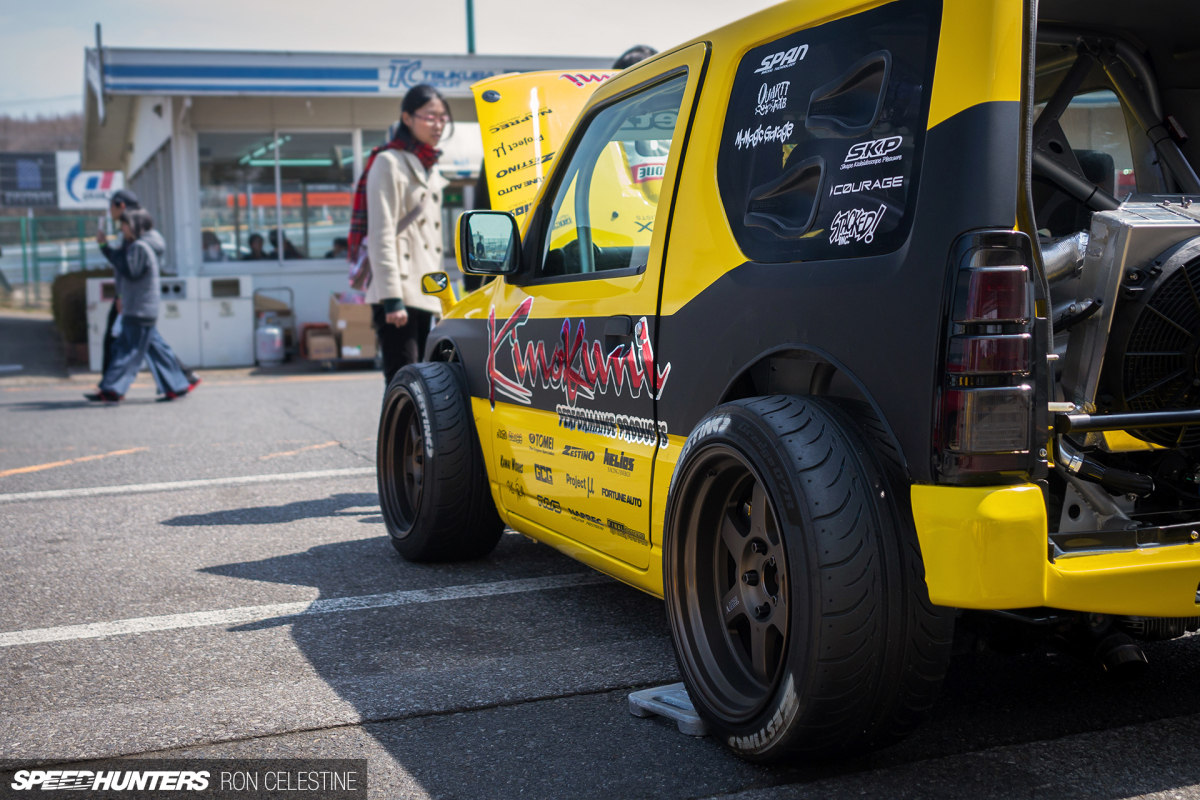 If you think that sounds crazy you'd be correct, but perhaps not as crazy as the Suzuki looked sitting in the paddock. Normally the now renamed Yellow Bullet 2 runs a wide-body kit, but with cornering g-forces being a lot higher than the custom FRP was designed for, the Kinokuni team decided it would be safer to remove it entirely and run the car without it. This also meant that the aerodynamics gained by the kit would be gone, which wouldn't be doing the Jimny any favors given its brick-like dimensions.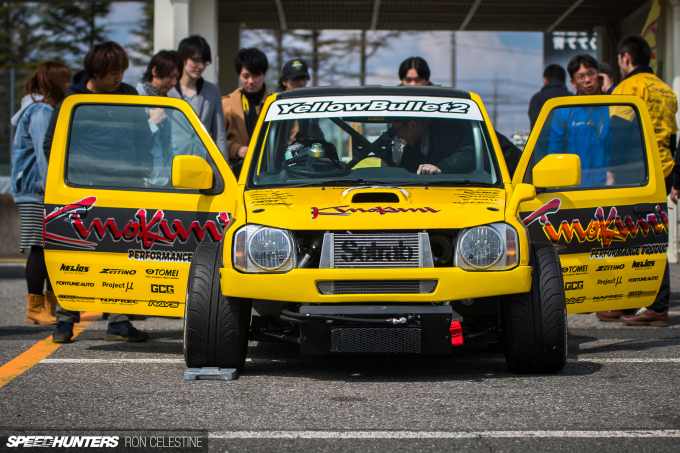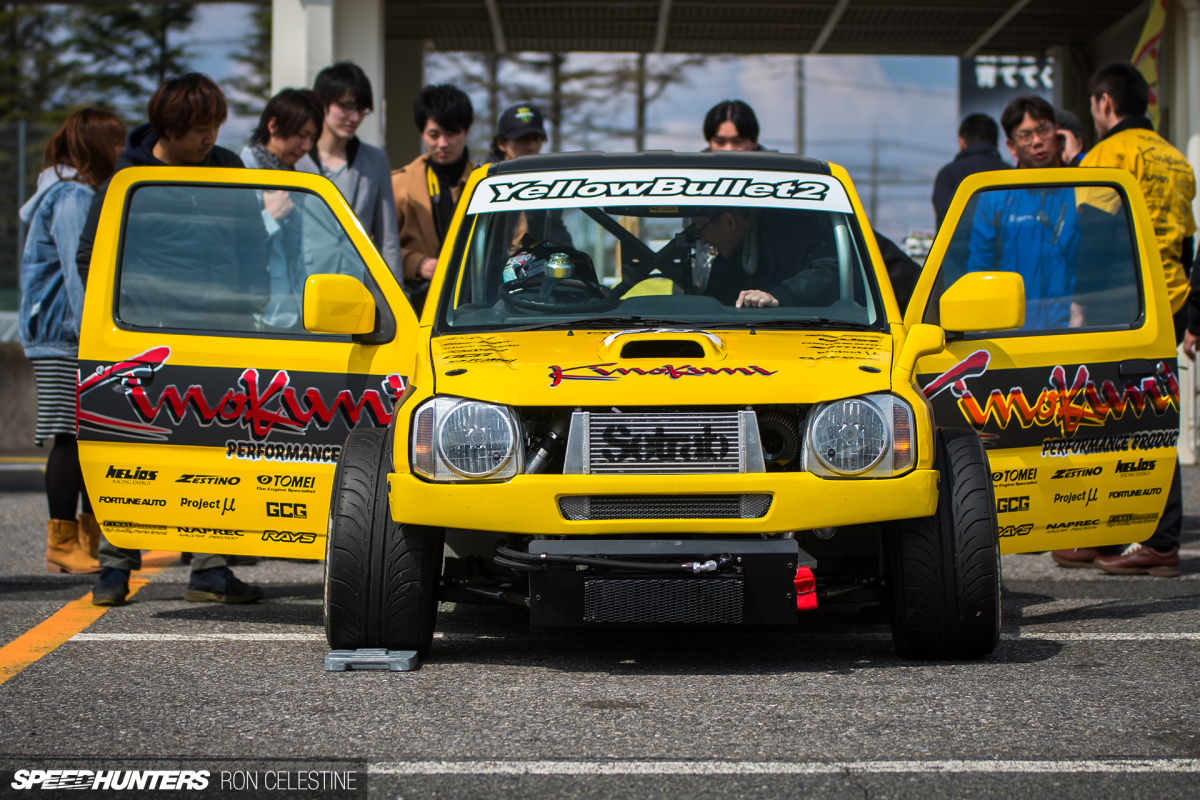 Nevertheless, the team was in high spirits and excited to see what the car could achieve around the hallowed turns and short straights of Tsukuba Circuit. While the Suzuki was being warmed up in the paddock, I swooped in for a closer look.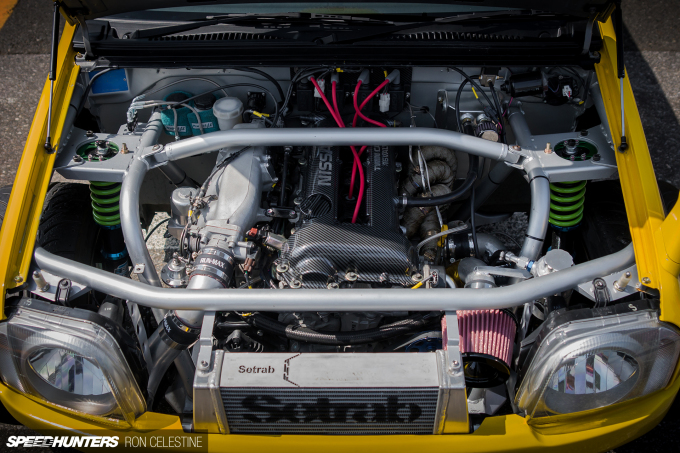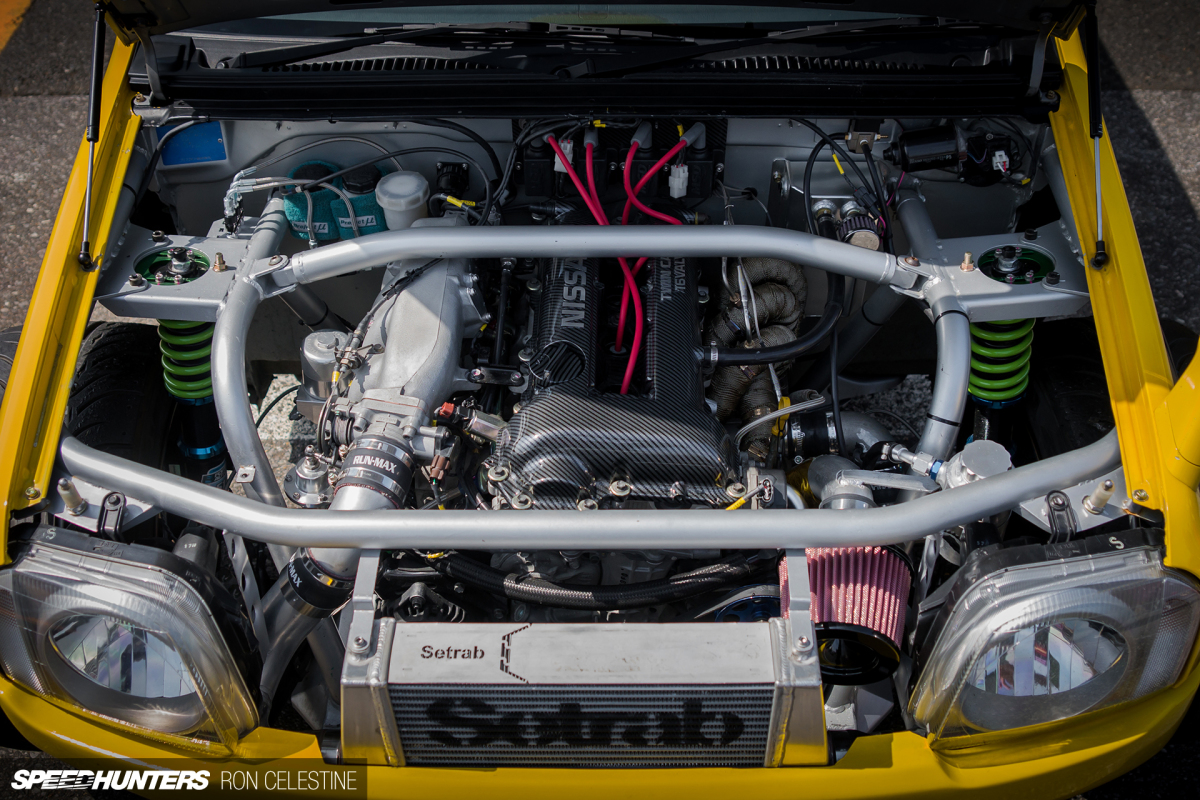 For a vehicle to be eligible for the kei car category here in Japan, and thereby able to receive tax and insurance benefits, manufacturers must abide by strict regulations put in place by the Japanese government, one of which being a maximum engine capacity of 660cc. As such, the Jimny originally came with Suzuki's K6A, a 658cc three-cylinder engine good for an earth-shattering 64PS.
As you can though, that engine is long gone now, in its place the powertrain from a Nissan Silvia S15 with an SR20DET developing close to 400ps.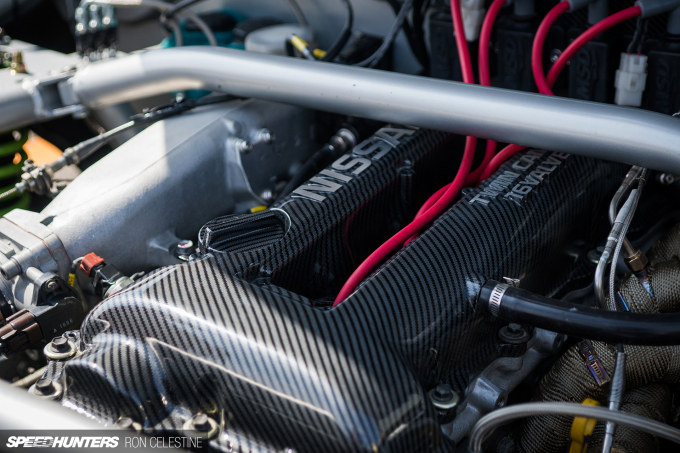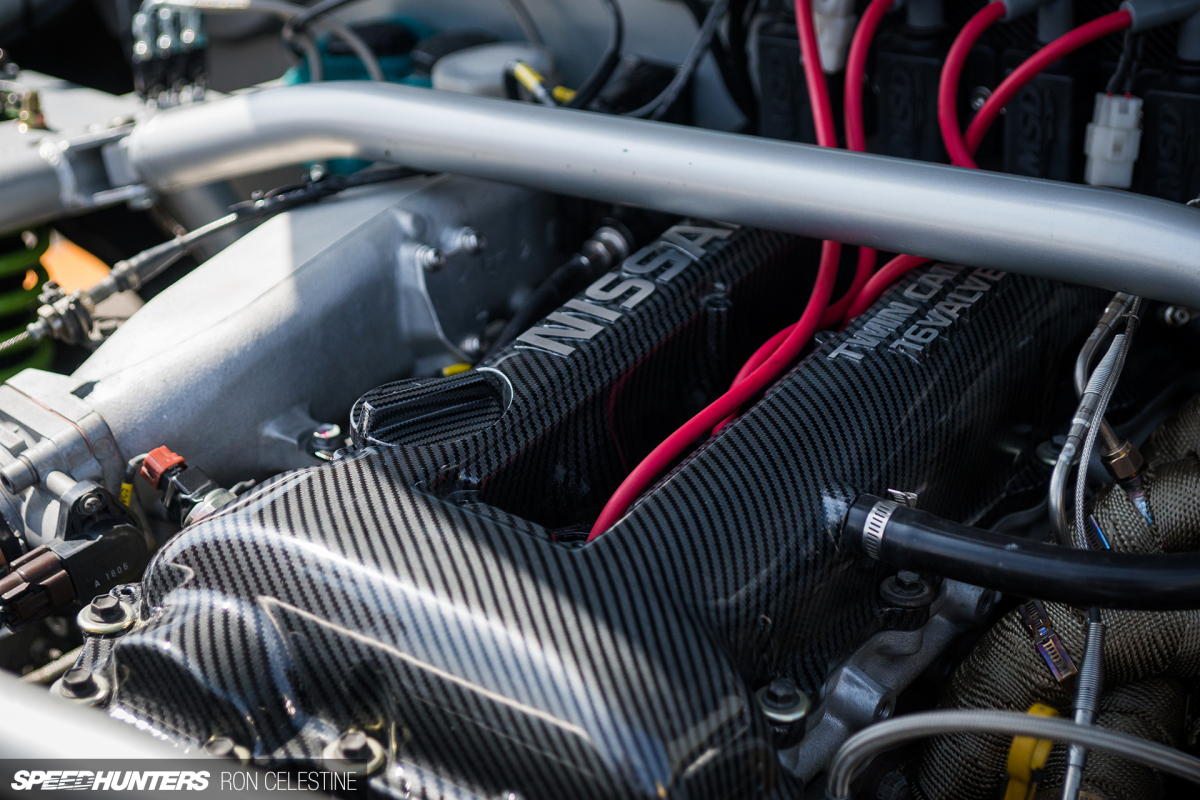 The SR20 features a number of upgrades including Tomei forged pistons and engine processing, Naprec oversized valves and upgraded springs in the cylinder head, and a BorgWarner EFR 6758 turbocharger. The whole package is controlled by Haltech Elite 1500 engine management system and other modules from the Australian aftermarket ECU manufacturer.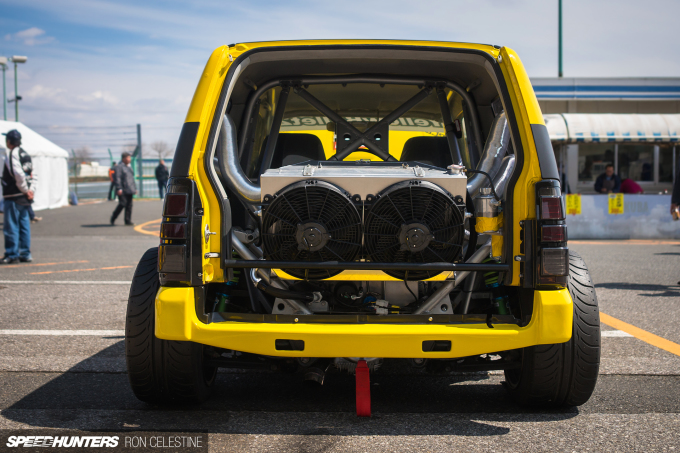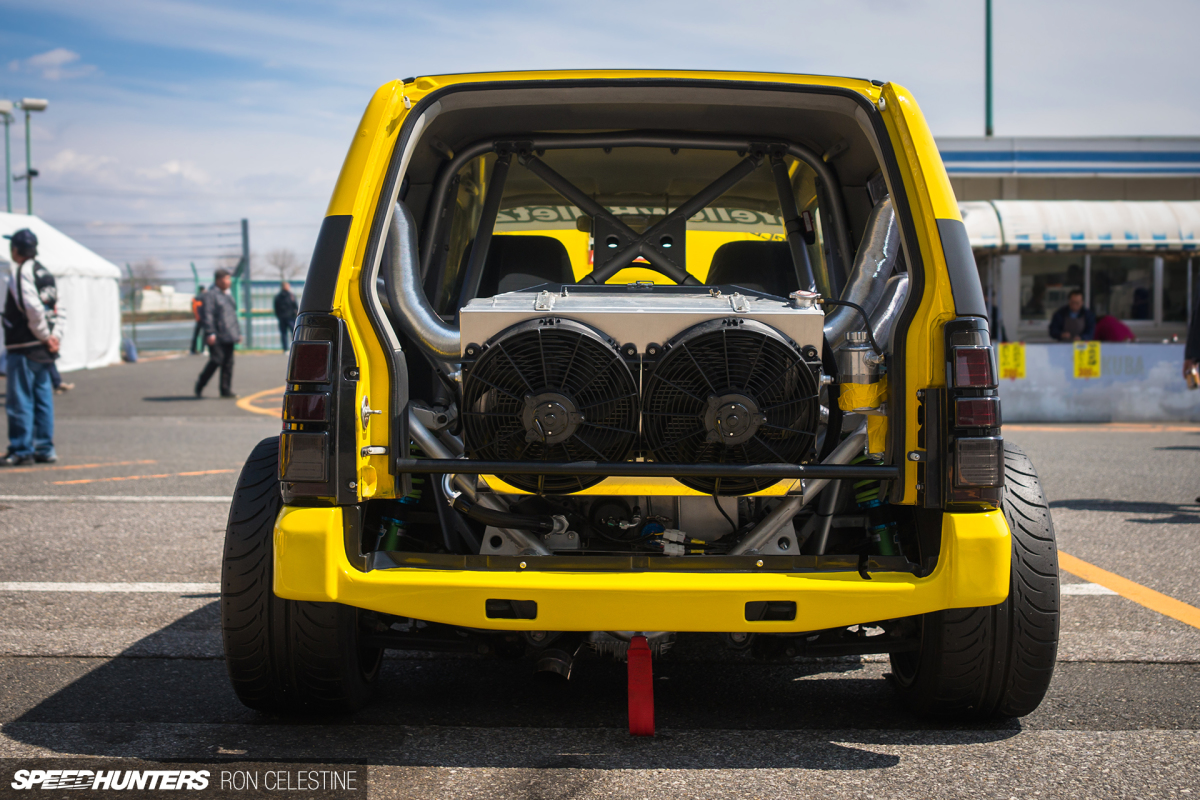 As you'd imagine, a huge amount of custom fabrication has gone into this build, and some of that is evident in the trunk area which is now home to a rear-mount radiator setup. You can also see the roll-cage that ties all the tube work to what's left of the Jimny's original structure, and the Fortune Auto 510 Series coilovers, which are used front and rear.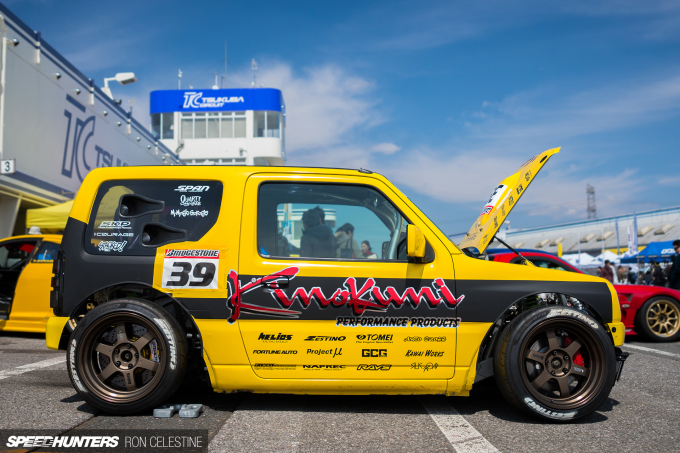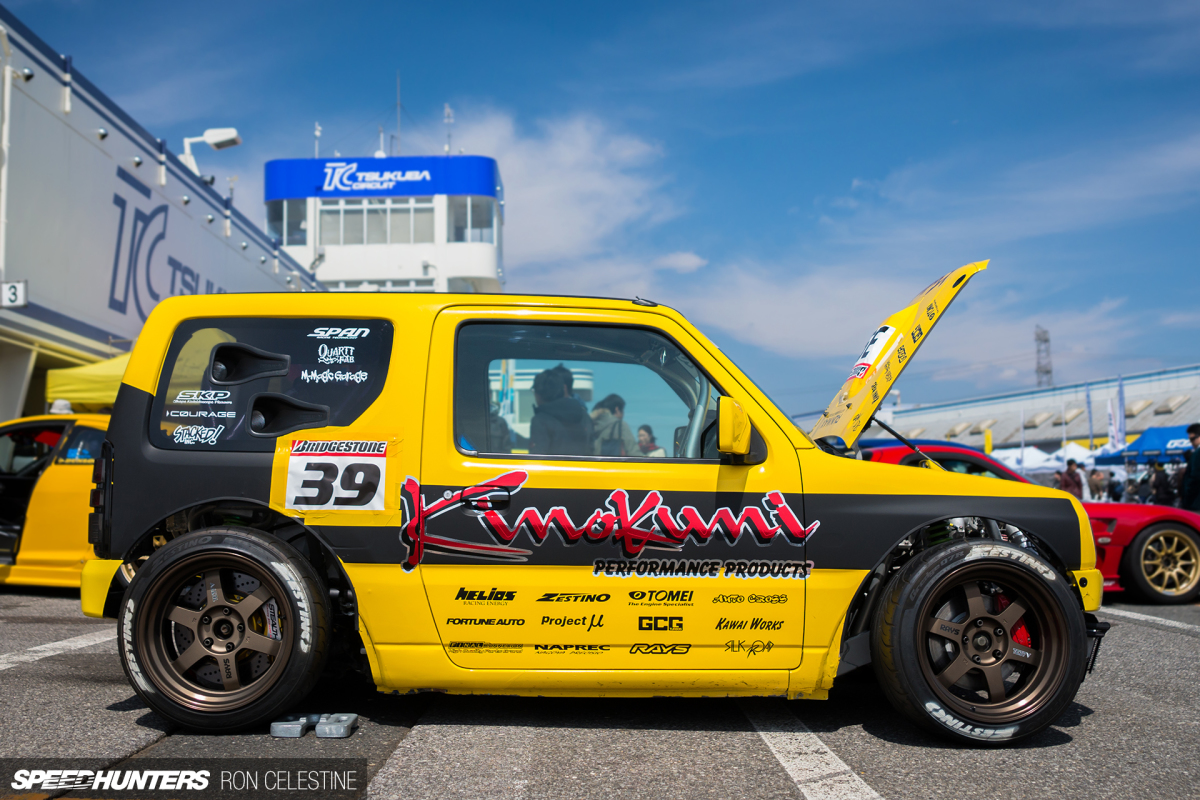 Providing a lightweight wheel solution and pulling the whole visual look together are RAYS Volk Racing TE37Vs in a 17×10.5-inch fitment at both ends of the Suzuki.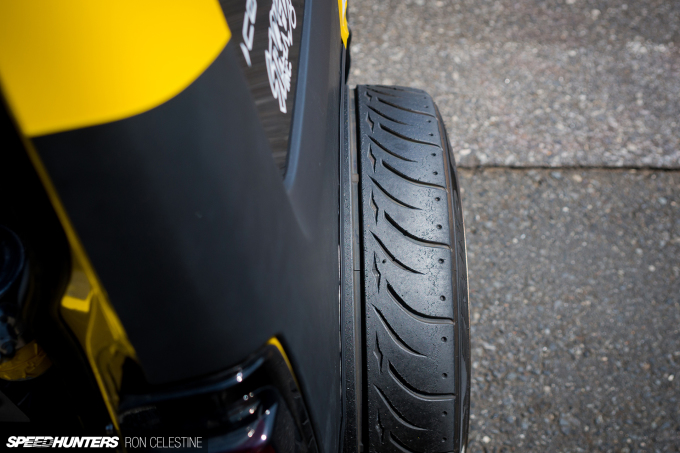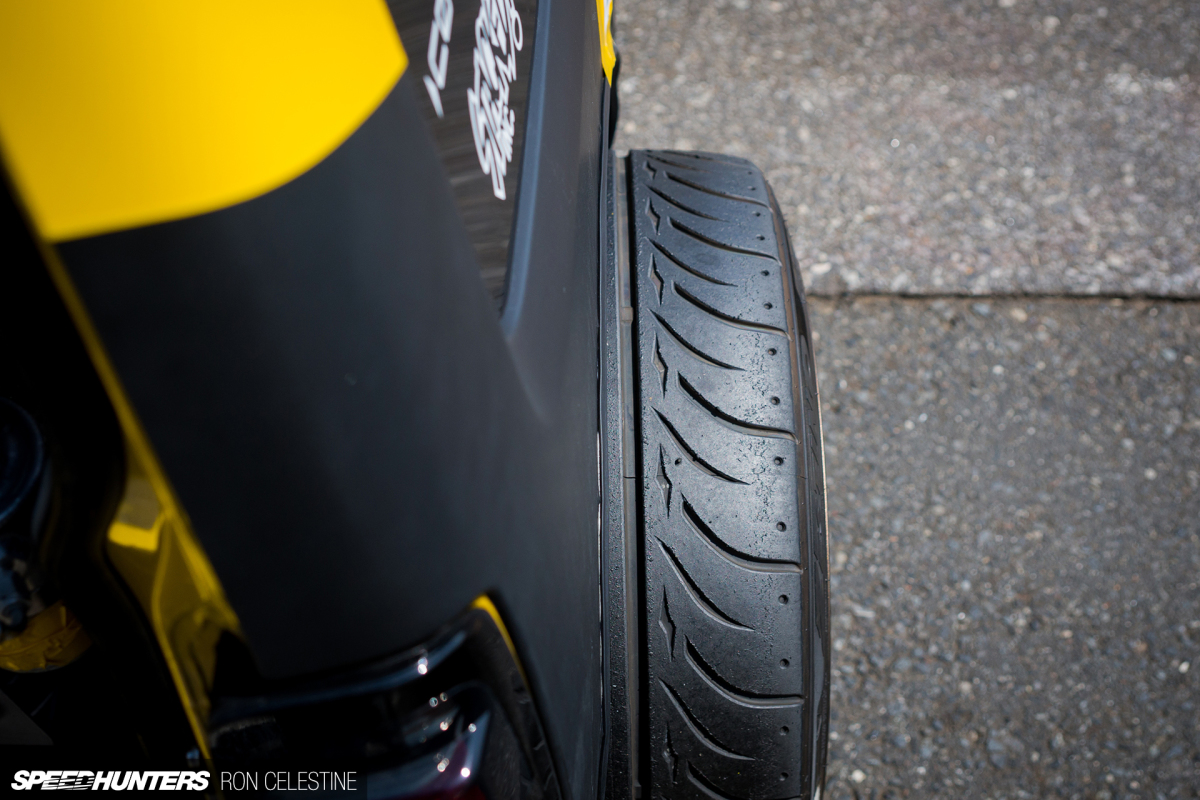 Without the wide-body kit attached, the massive (for a Jimny at any rate) 255/40R17 Zestino Gredge 07R tires bring new meaning to the word 'poke.'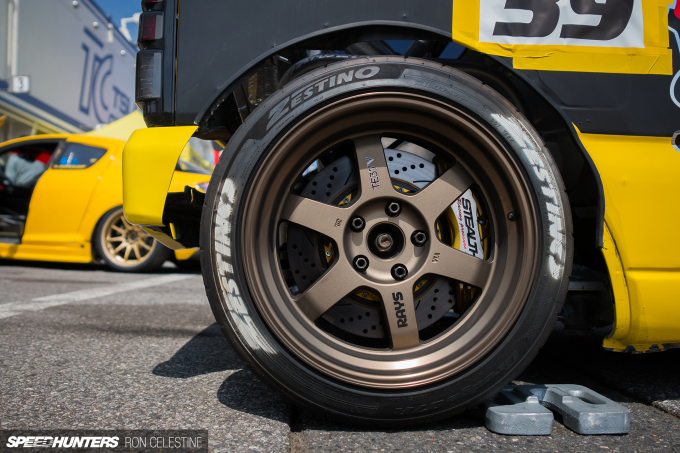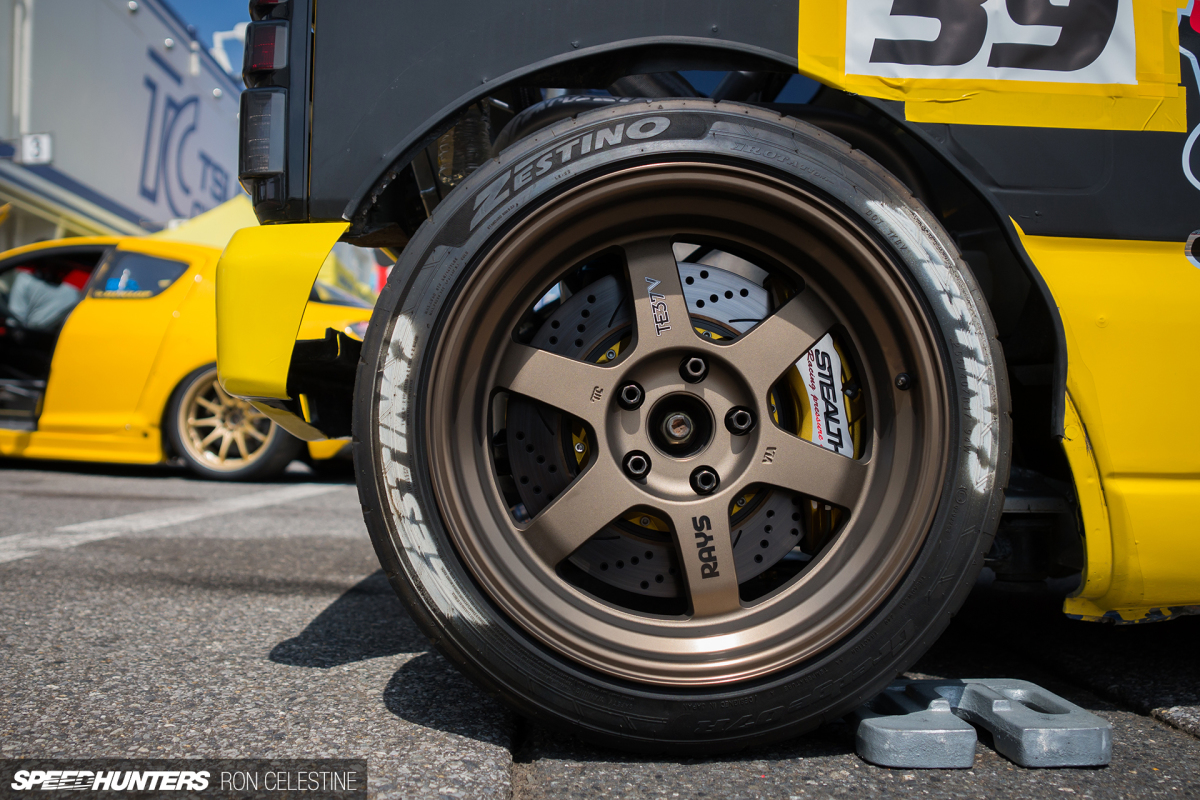 With drifting being the original function of the Suzuki, the rear end features extra stopping power from a Stealth Performance setup connected to the hydraulic handbrake in the cockpit.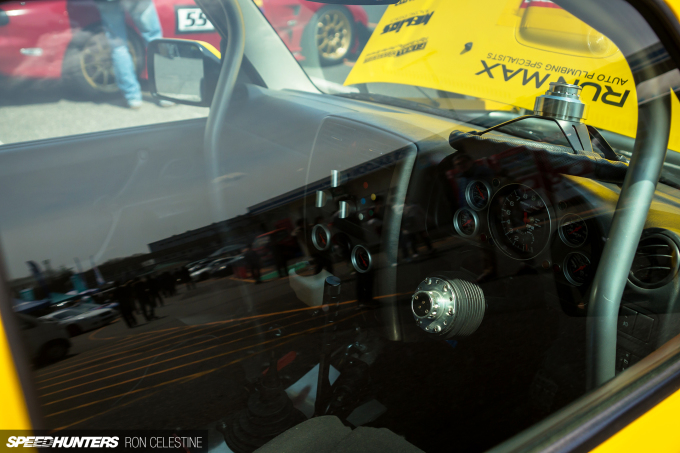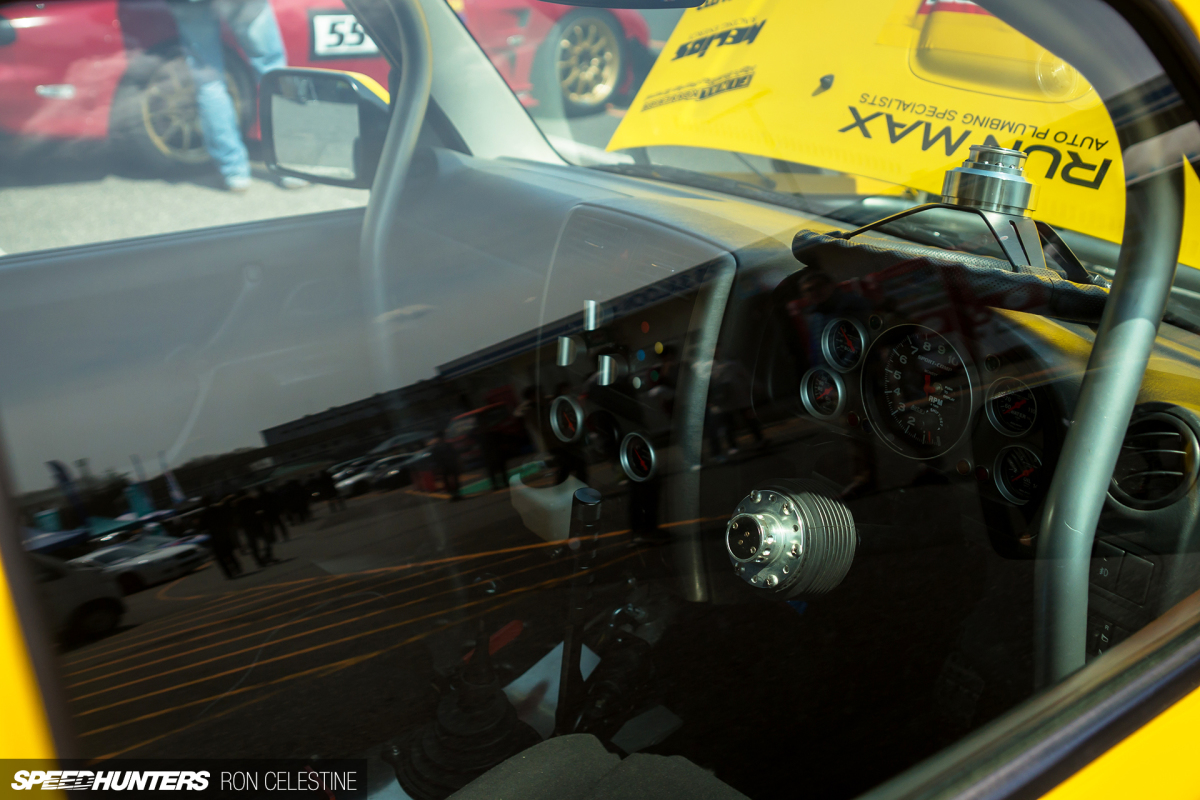 And speaking of, the original interior remains mostly intact (at least in the front), with extra gauges and an Auto Meter Sport-Comp tachometer fitted into the Jimny's original dash and center console.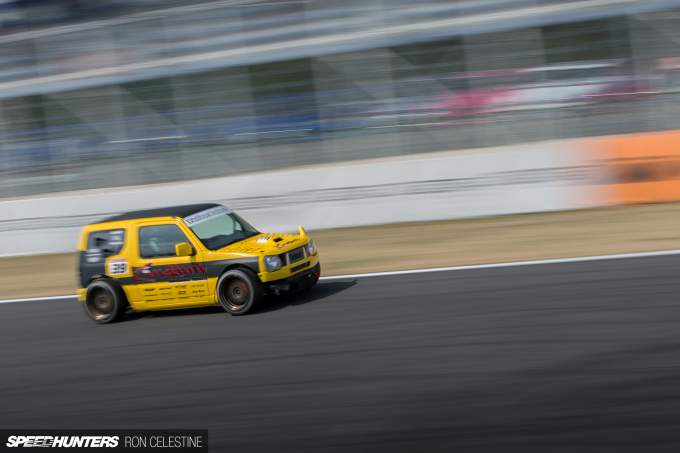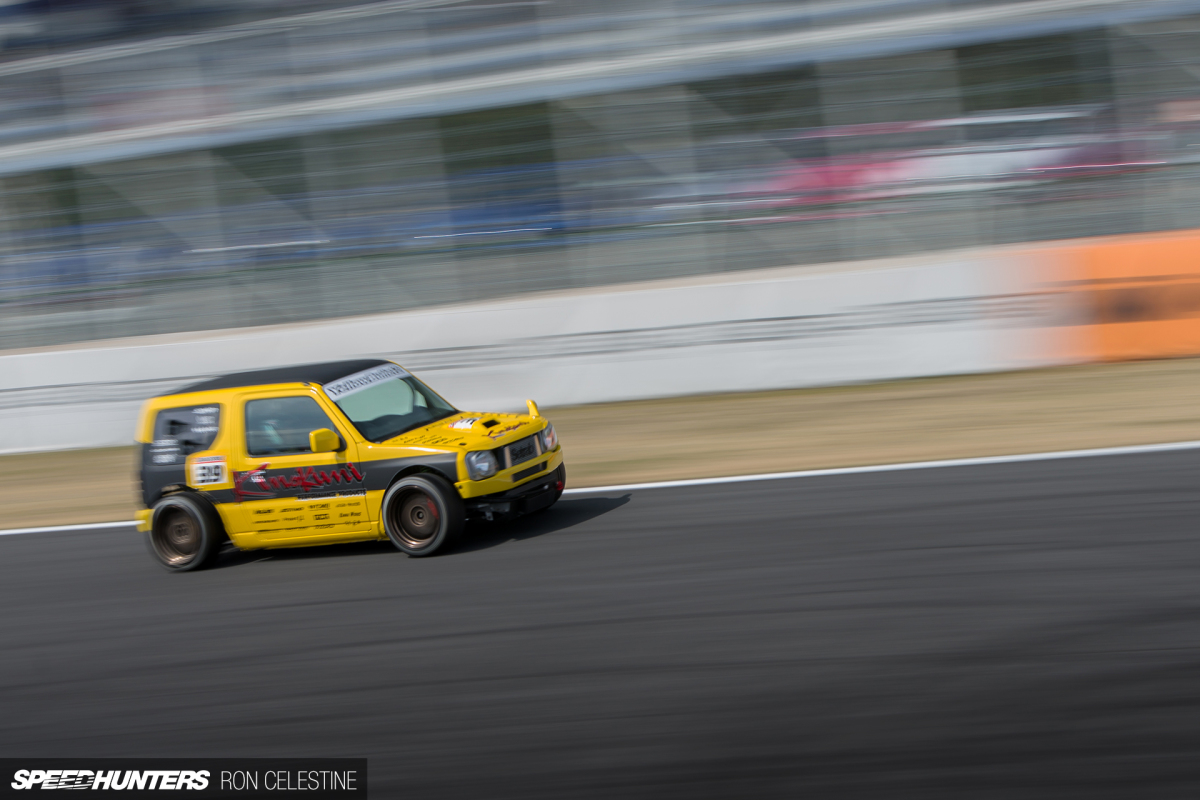 Yellow Bullet 2 was simply amazing to watch haul around Tsukuba, and with pro driver Sunako Tomohiko at the wheel, despite all its handicaps it still managed a respectable 1:06.431 lap time.
Of course, video makes everything better, so click play above to watch 13 minutes of onboard footage.
Hopefully we'll see more of Kinokuni's creation at future time attack events, but until then you can check out the build diary here.
Ron Celestine
Instagram: celestinephotography