Truth Care, Truth Brings
Over the course of the last seven days, I've learned some valuable lessons. I also have a confession to make.
Ever since moving to Dublin, and to the joys of on-street parking, I've been letting things slide with Project GTI. It's half been a case of inability to perform any maintenance for fear of being run over by passing traffic and half due to a completely full calendar. Needless to say, it couldn't be allowed to continue.
Considering I'm the sort of person that harbours anger when my car is dirty, the accumulation of small issues had reached a point where something had to be done. Now, it's worth pointing out that none of the issues were in any way serious, just those small things that can worm their way under your skin. If you're reading this, you'll likely know the sort.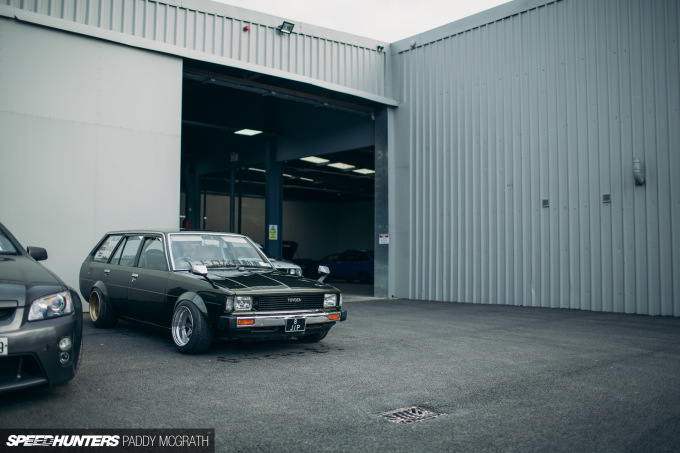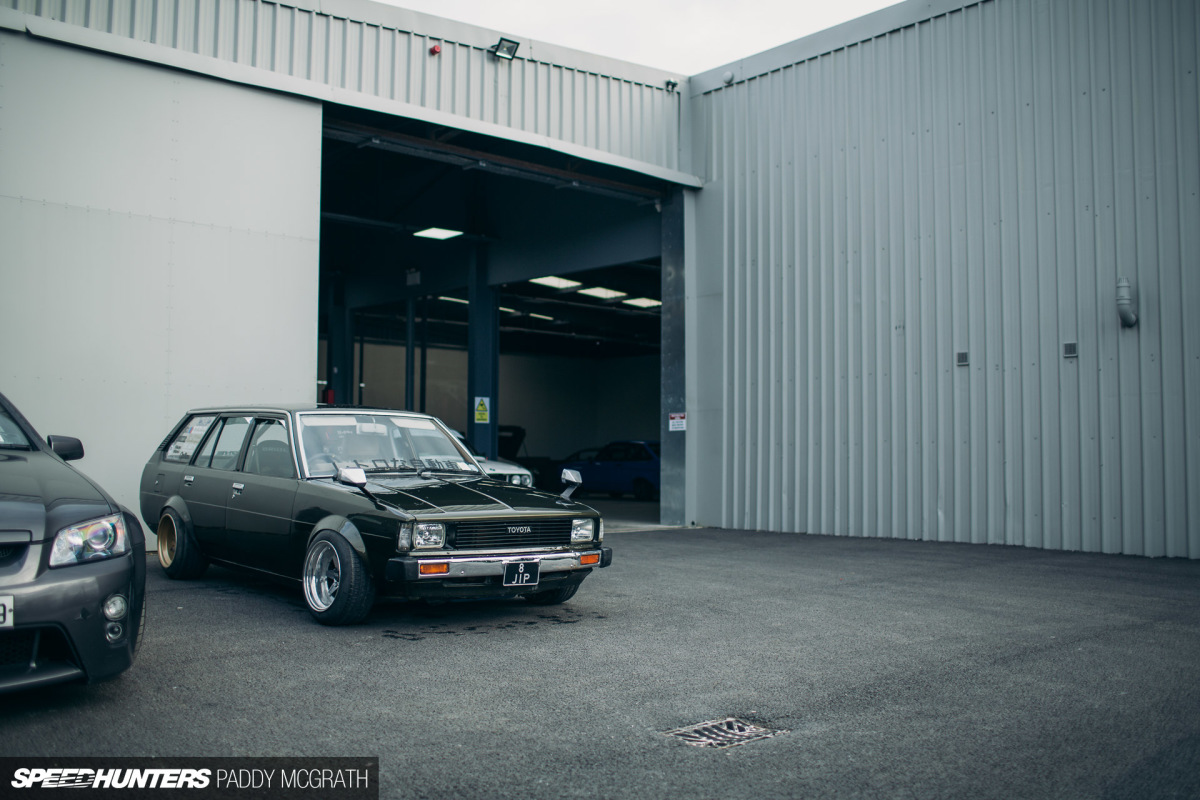 So, I put a plan in motion. I started by writing down every current grievance or concern that I had into a to-do list on my phone. I then started the process of parts gathering before booking the car into Stone Motorsport to see just how much we could put right over the course of a day.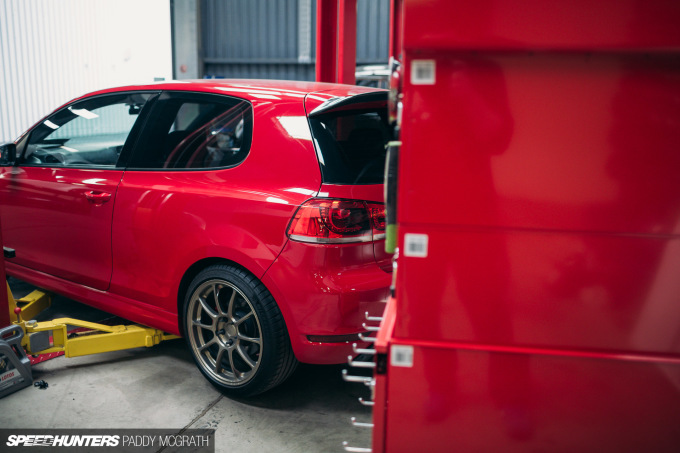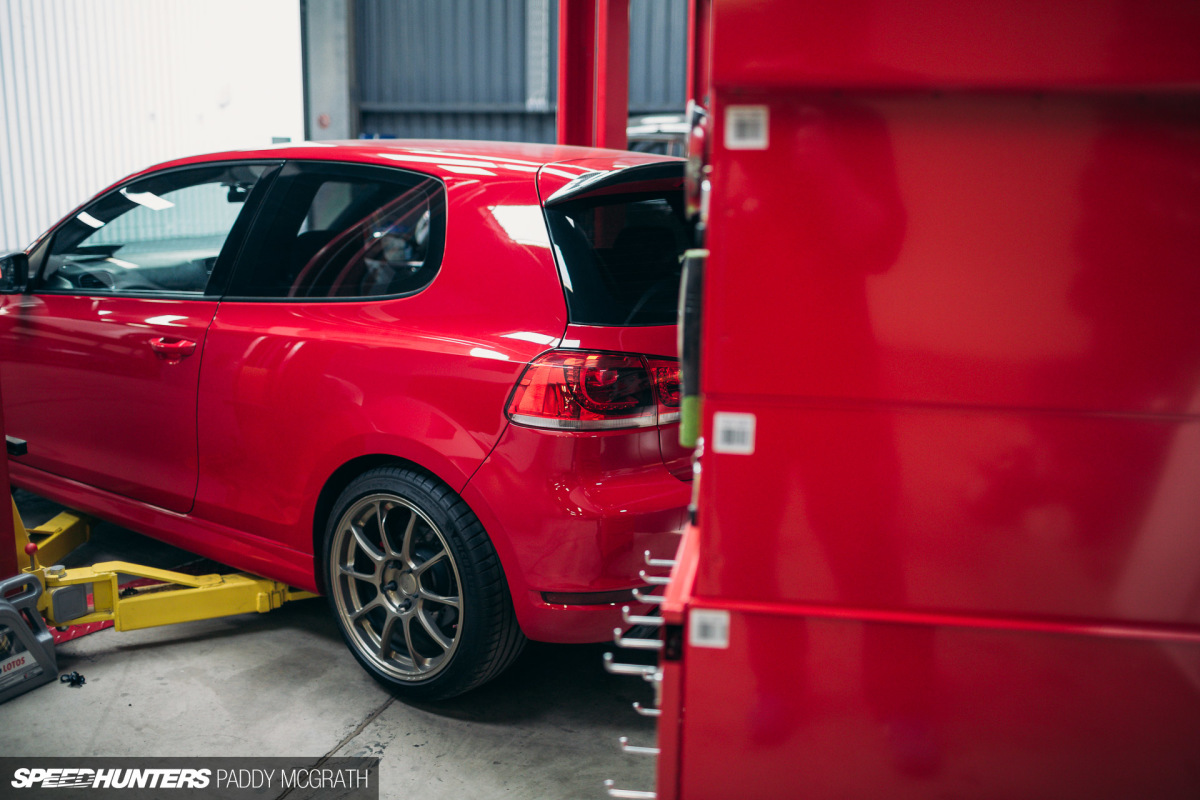 With the car having recently passed 62,000 miles, it was no surprise that the front suspension bushings were getting tired and a small knock had developed from the front driver's side. A recent track day had taken its toll on the Tarox brakes, which have been fitted to the car for nearly 18 months, so they were overdue some some love too. A vibration under braking had developed, which also needed to be investigated.
These weren't problems, rather they were opportunities. Brendan Stone had the misfortune of dealing with me for the day; he's a former IDC champion with vast experience across various motorsport disciplines including rallying and time attack, so I was in good hands. His first actions were to get the discs off and send me to a nearby trusted engineering shop to have them skimmed, after a previous skim with a different shop had only exacerbated the vibration issues.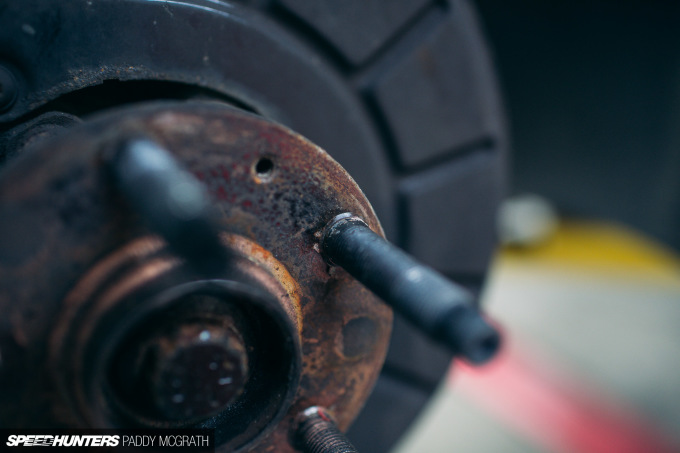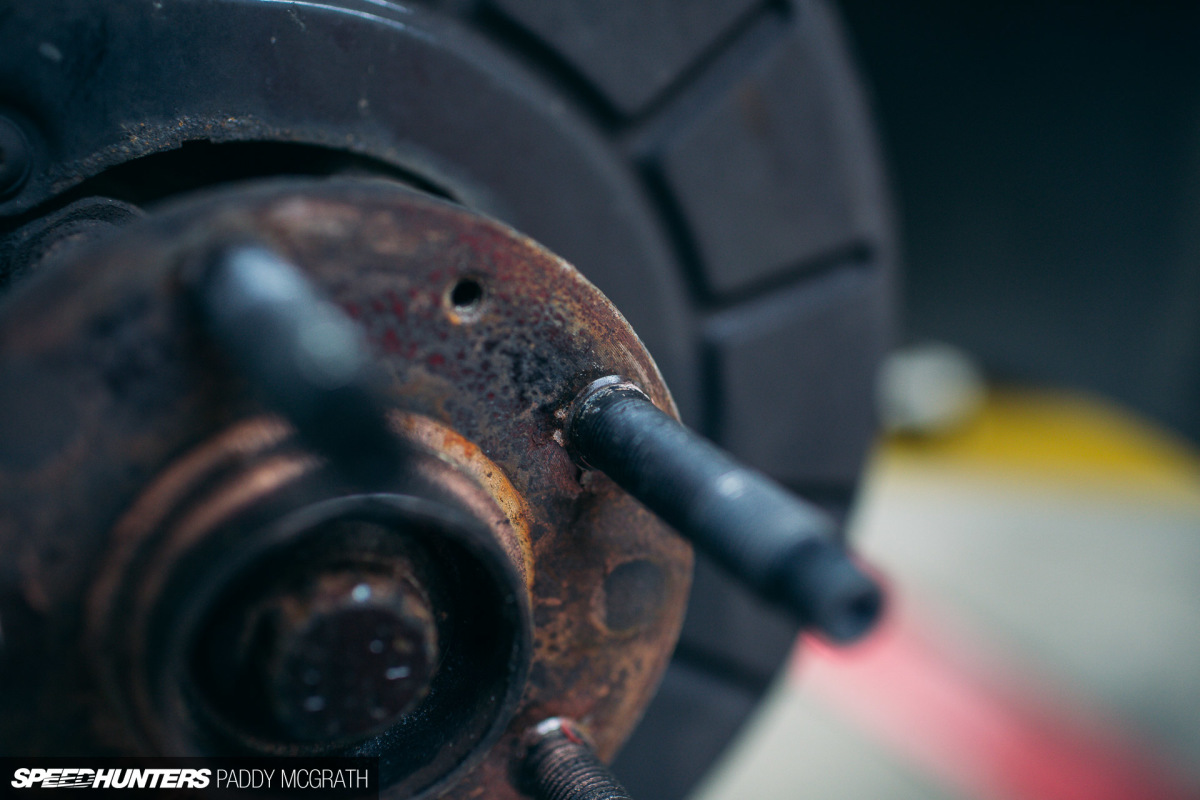 With the discs off, Brendan inspected the hubs and discovered a peculiar irregularity that definitely wasn't helping the braking issue. When I converted the car to a stud setup, I used a lock thread solution to secure them in place, but I must have used too much as it oozed back out of the hub and formed a base around the bottom of each stud. It appears here as a shiny taper, but it's actually glue that shouldn't be there. This was preventing the discs from sitting true to the hub face and it appears was the cause of my braking problems at a recent track day and the vibration which developed.
It would also explain why the vibration became exponentially worse after the prior skimming attempt, as it was the first time the discs were removed from the car and when they were refitted, they couldn't seat properly. It certainly didn't help matters but it was an easy fix. If you're interested in the proper procedures for cleaning and preparing the hub surface, Tarox have a great guide you can read.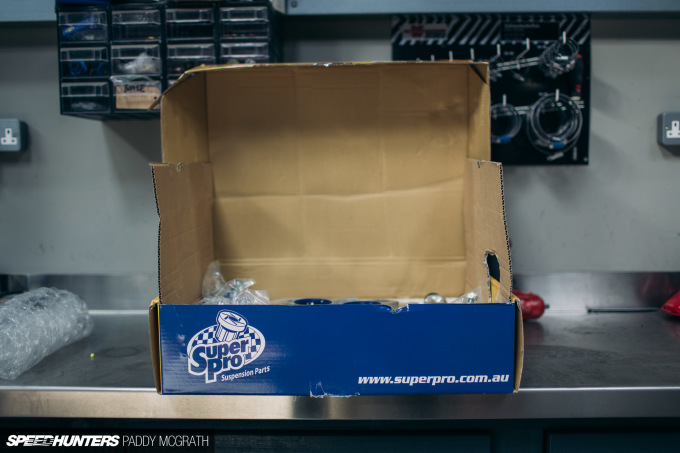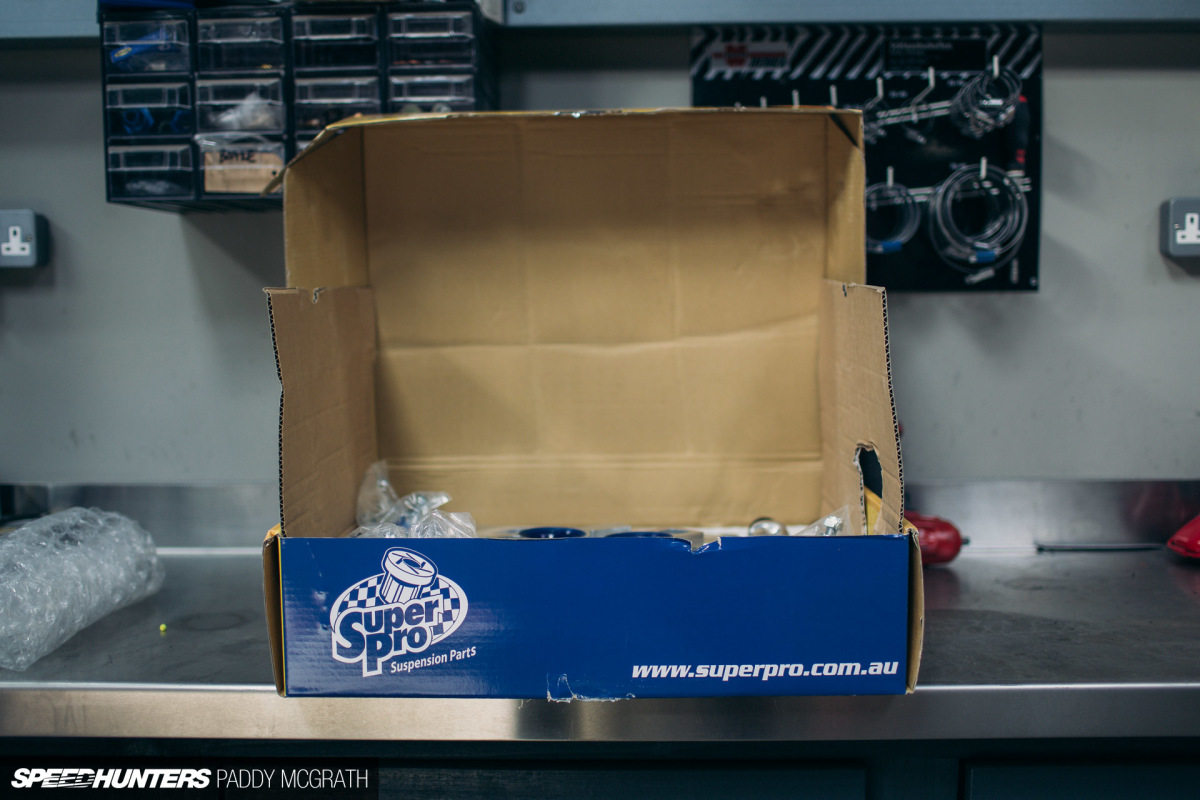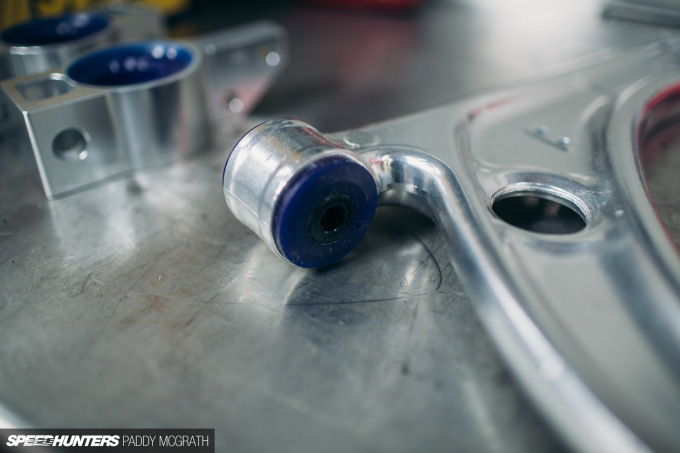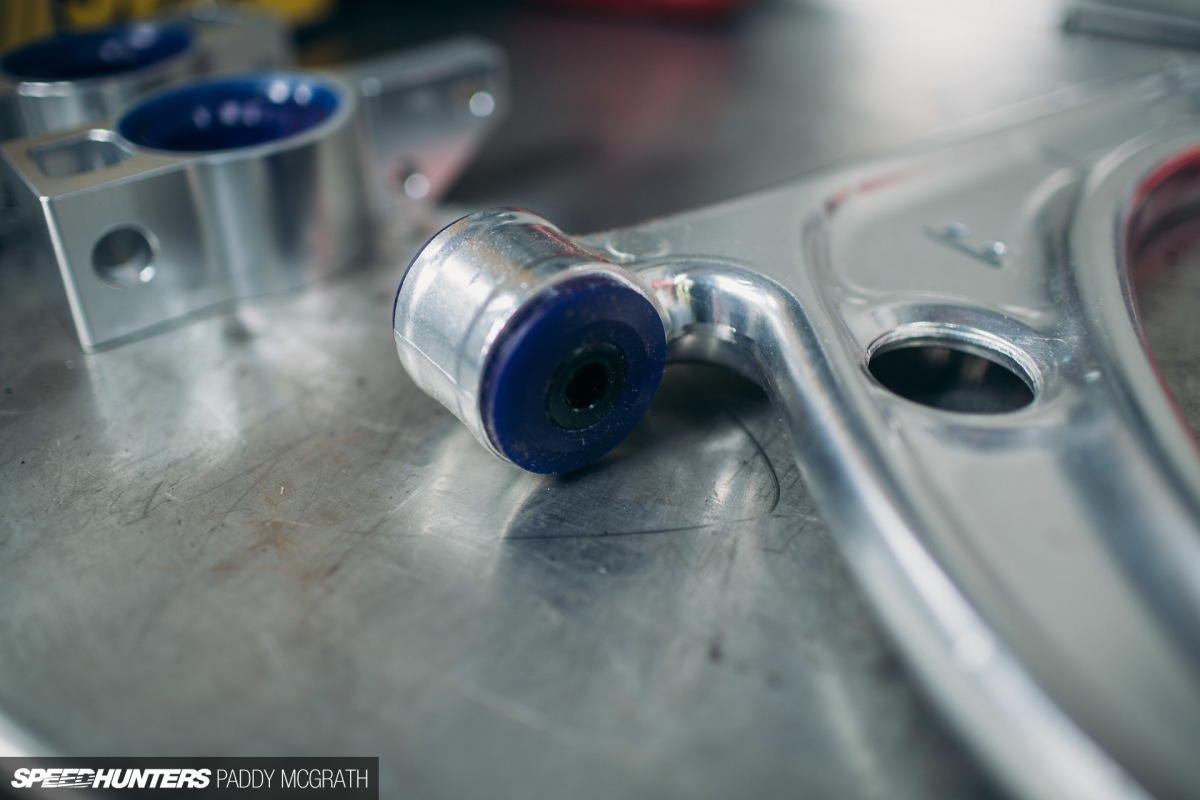 As mentioned above, with the car getting on in mileage it was the perfect opportunity to overhaul the front suspension componentry. I've been waiting for an excuse to fit SuperPro's lightweight lower control arm kit to my GTI, and that knock was all the reason I ever needed. I spoke to Regal Autosport about my options and it was advised that I should go all in with this aspect of the car as the benefits are worth the outlay. After a couple of back and forth emails, I was the proud owner of a complete SuperPro LCA kit with roll centre adjustable balljoints and anti-lift. New car parts are the best.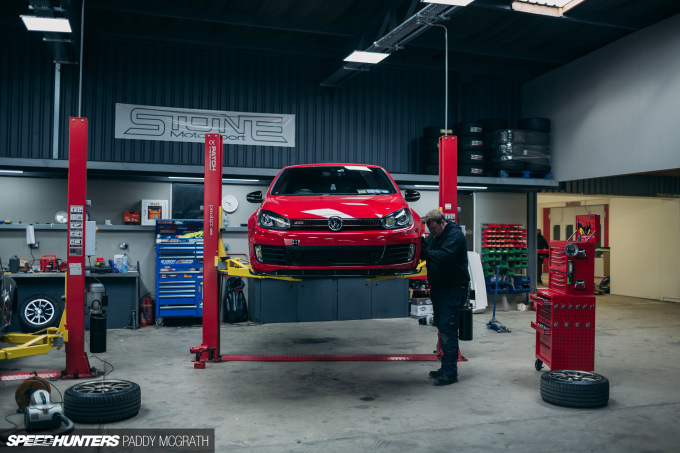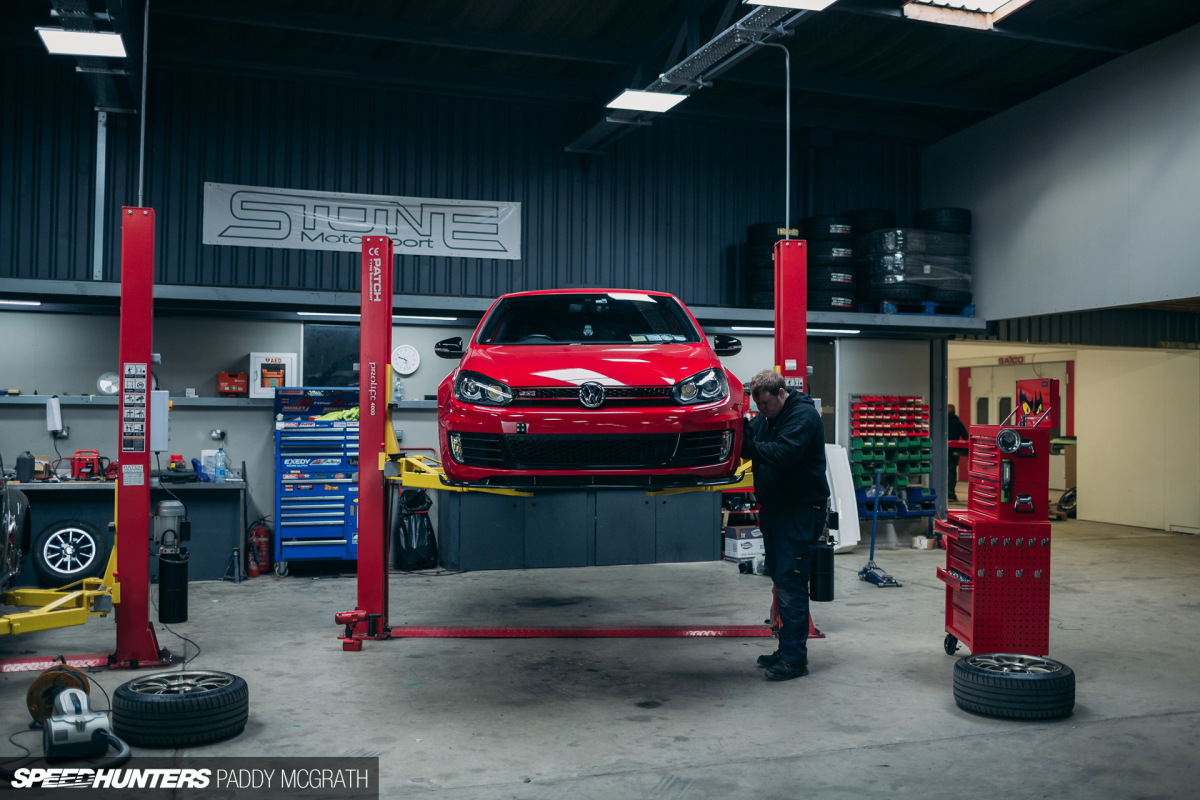 I didn't get too much time to fawn over them, as with the discs already off, Brendan sent me on my way to get the discs skimmed properly, once and for all.
Blast From The Past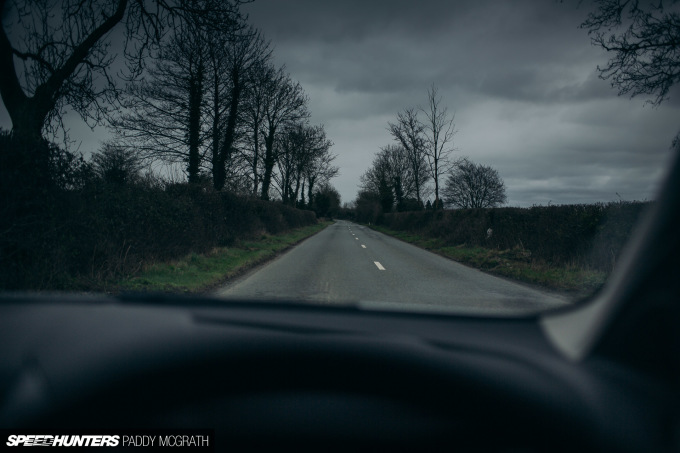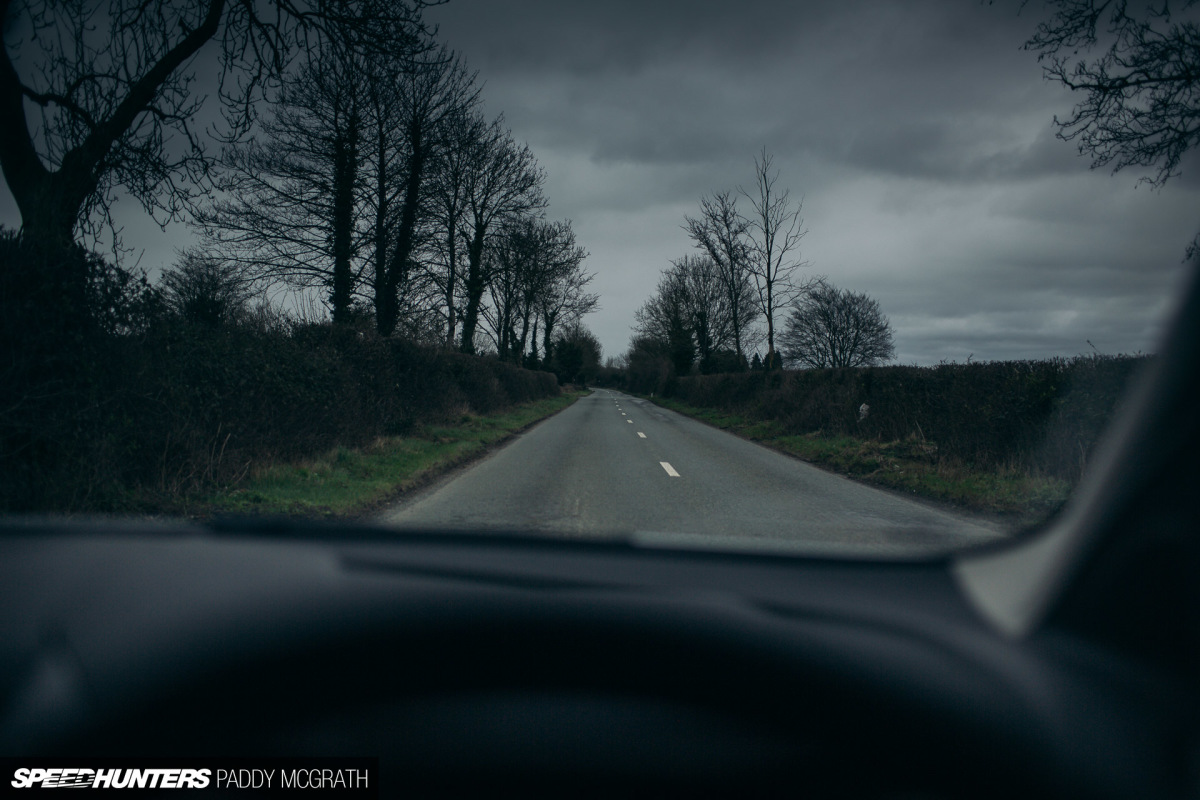 Ireland can be a funny country at times. There are certainly plenty of very talented people involved in the motorsport industry, but finding them and sorting the wheat from the chaff, is the real challenge. Located around 45 minutes from Stone Motorsport in Co.Kildare, is Westward Precision Engineering in Co.Meath.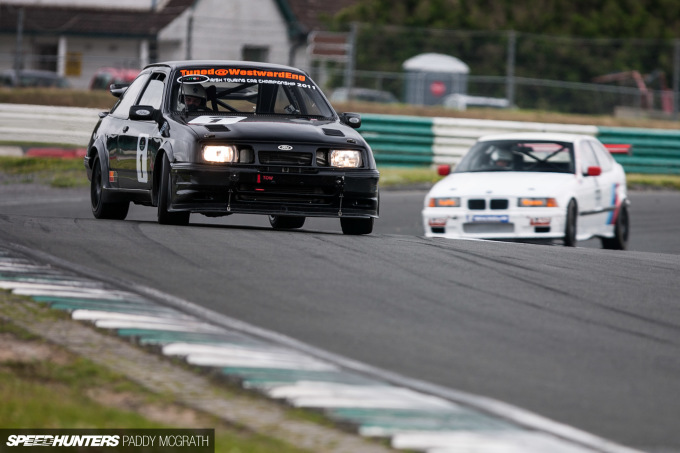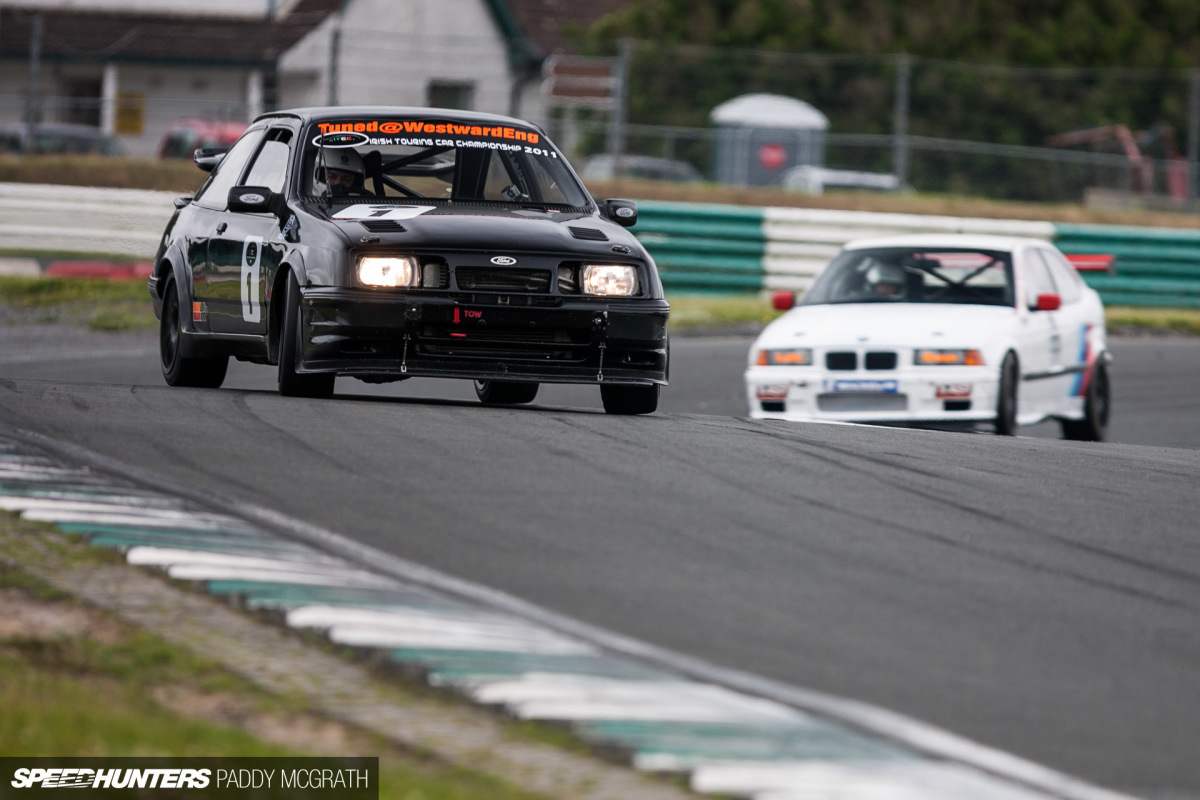 Despite watching Martin Treacy, owner of Westward, absolutely decimate his rivals on track with his Sierra RS Cosworth in years previous, I'd never actually been to his shop before.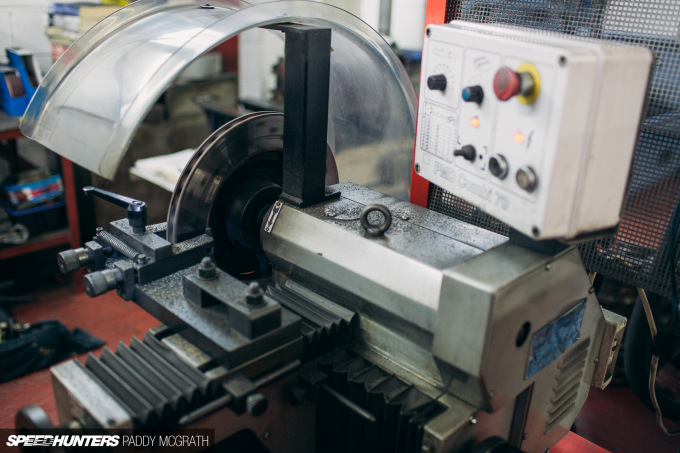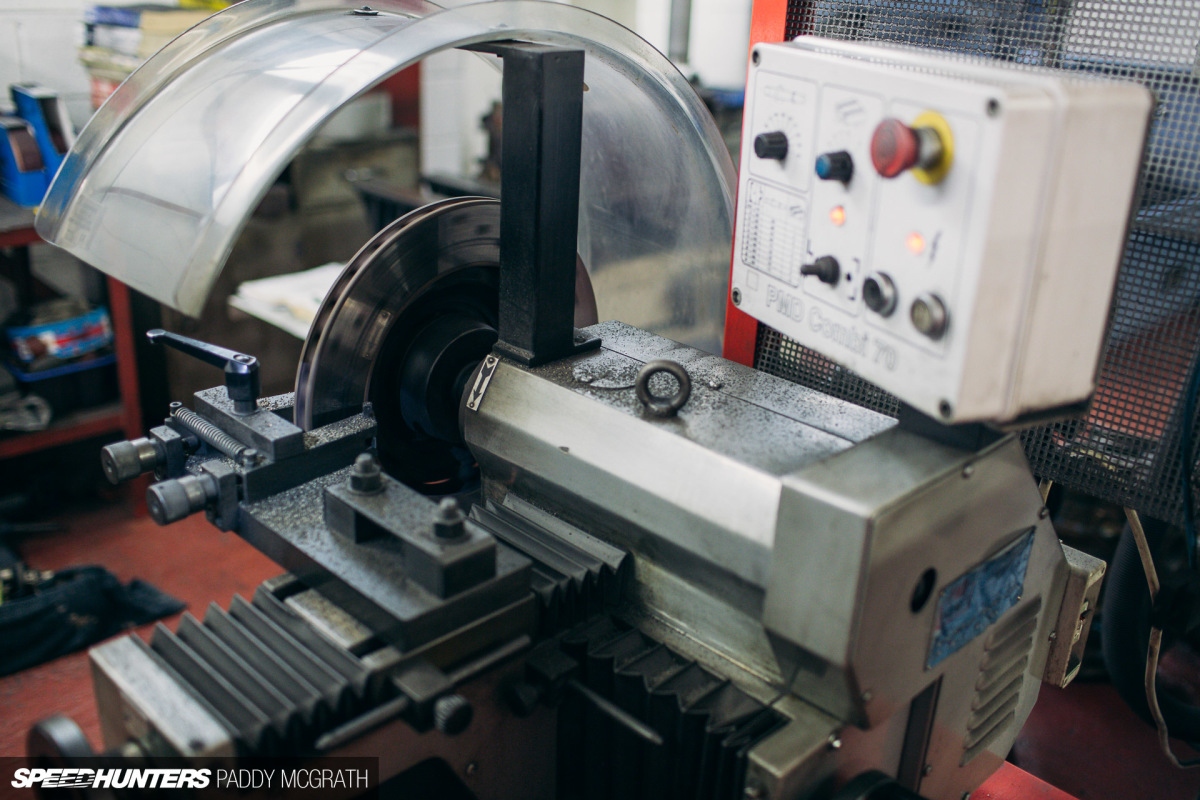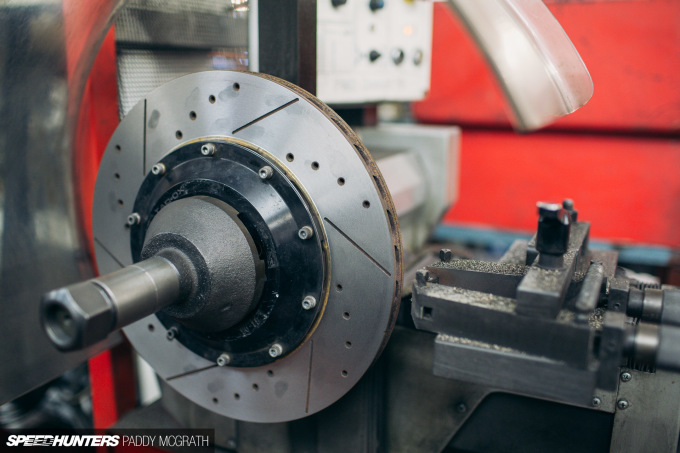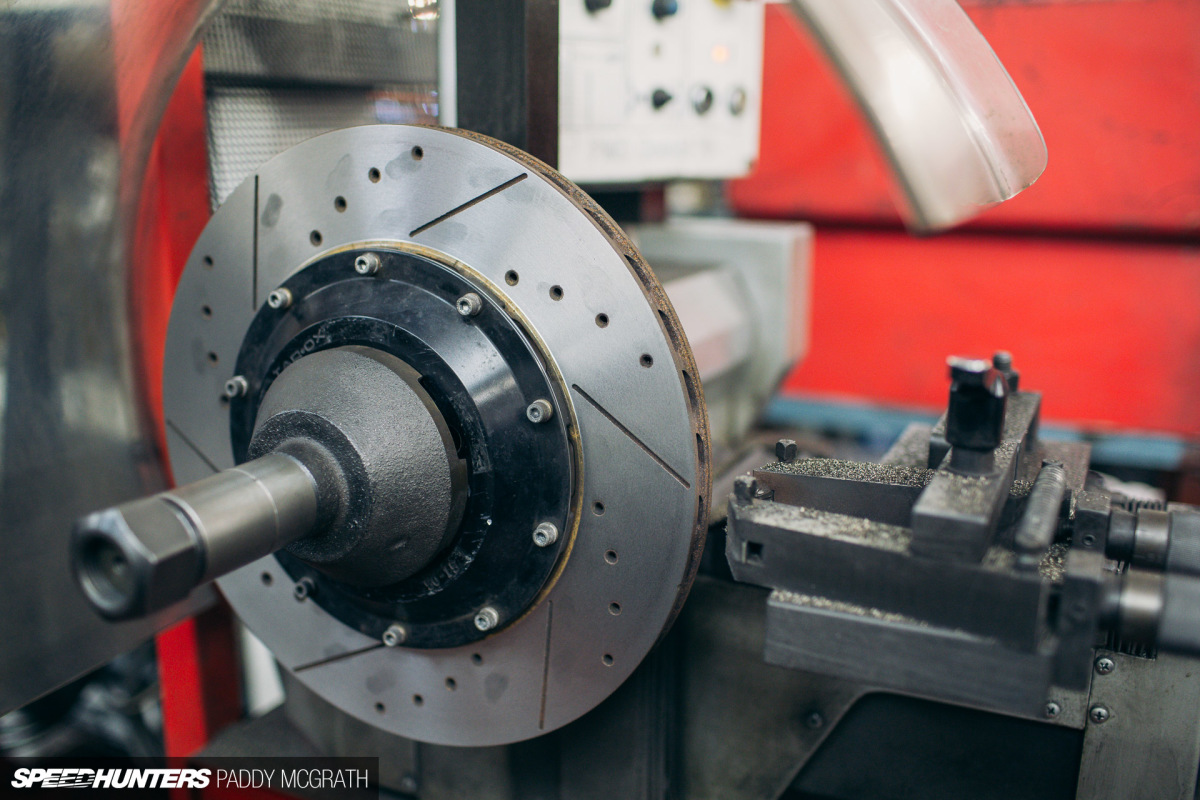 Martin was practically waiting at the door for me, with Brendan having spoken to him in advance, so he was ready to make a start on the discs straight away. He has a very methodical and deliberate approach to his work, which was fascinating to watch. He was also happy to explain what was happening and why he was doing what he was doing in order to try and get a perfect finish on the discs.
Whatever had happened previously with the prior attempted skim at an another shop, had resulted in a set of poorly discs. There were considerable high spots, but over the course of an hour, Martin slowly but surely removed the absolute precise amount of material to bring the discs back to perfection.
There wasn't much time for chat, so with Westward in my mirrors, I headed back across country to see how Brendan was getting on.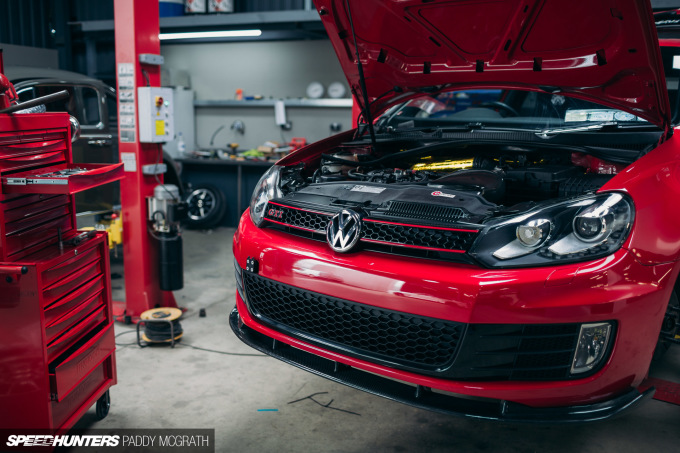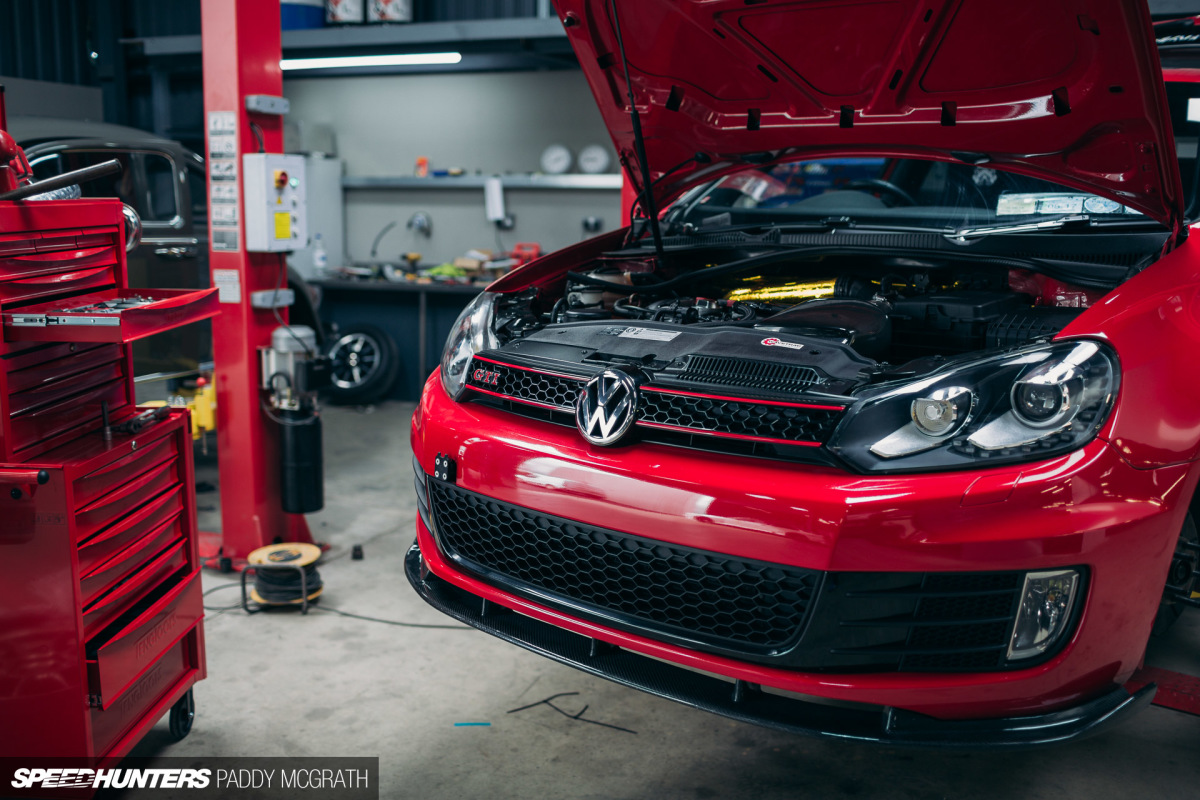 What I wasn't expecting was for him to have already installed the new lower control arms and associated parts, and be waiting for me to bring the discs back.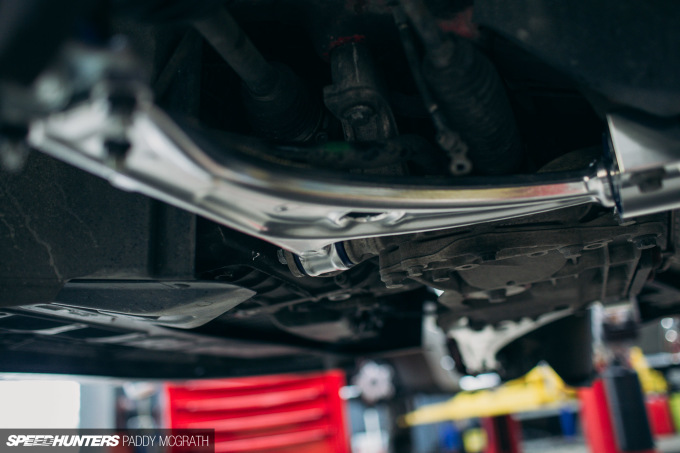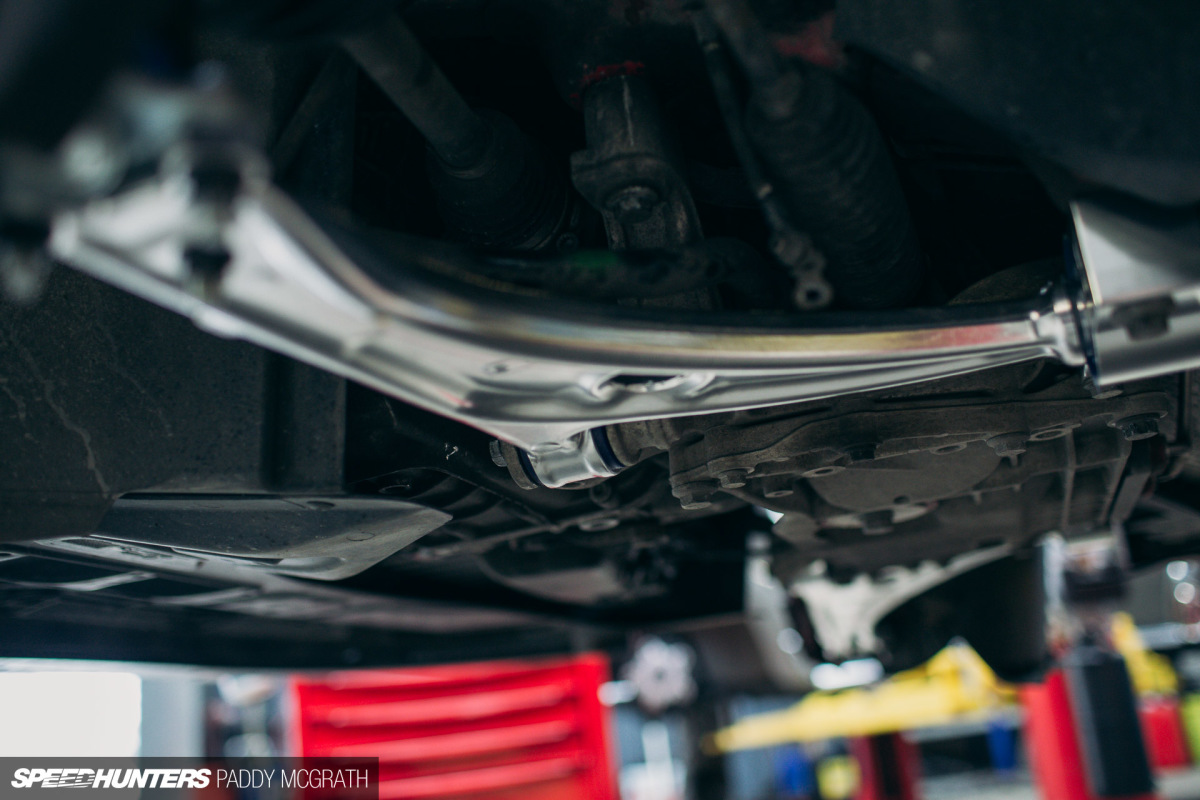 The SuperPro alloy arms are 44 percent lighter than the stock arms, along with being corrosion resistant. They also come pre-fitted with polyurethane bushes and a rear alloy bracket which increases caster and provides anti-lift. I also went with their roll centre adjustable ball joints which assist in correcting geometry on a lowered vehicle. Lots of little small upgrades, which should in theory, make a big improvement to the feel of the car.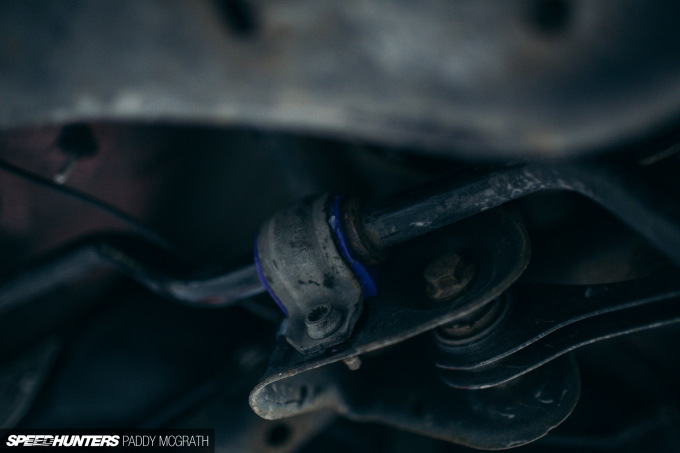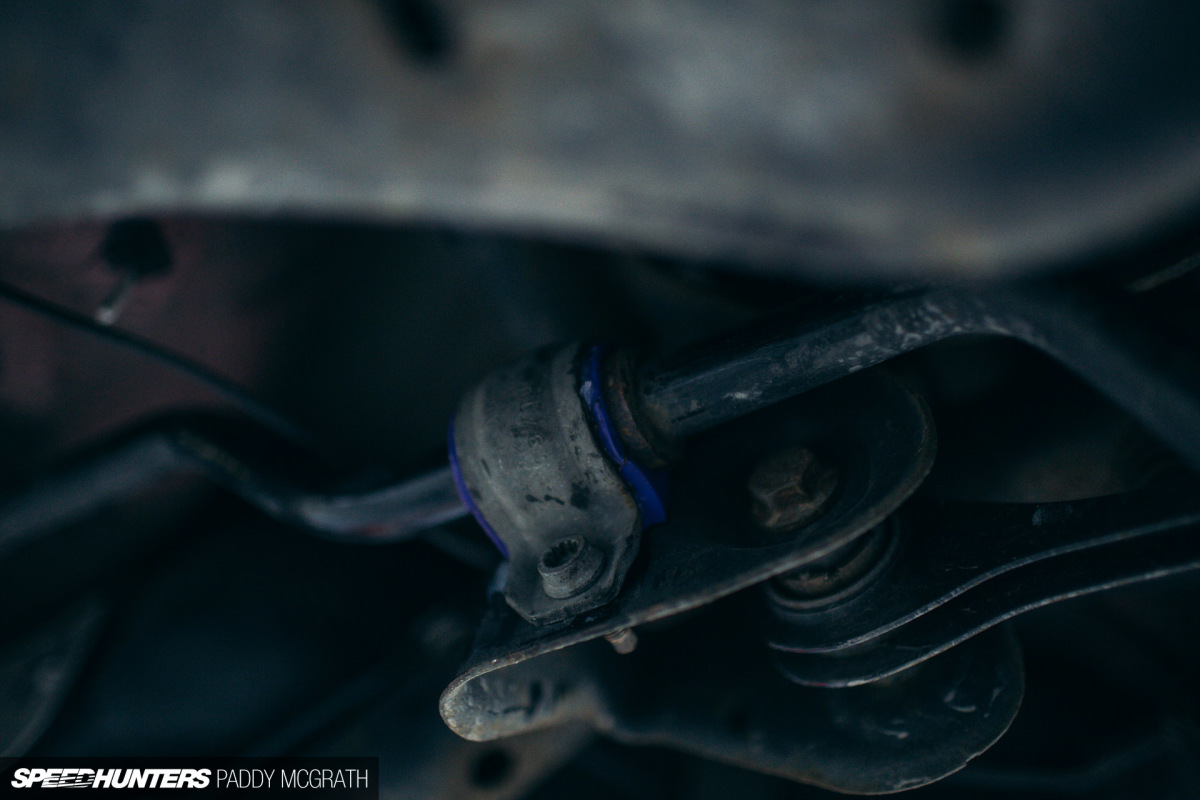 At the same time, we fitted Powerflex anti-roll bar bushes. When I say 'we', I obviously mean Brendan.
With the hub surfaces and the rear faces of the discs cleaned to a perfect finish, the brake discs were refitted. The Air Lift Performance 3H height sensors were then attached to the new arms too.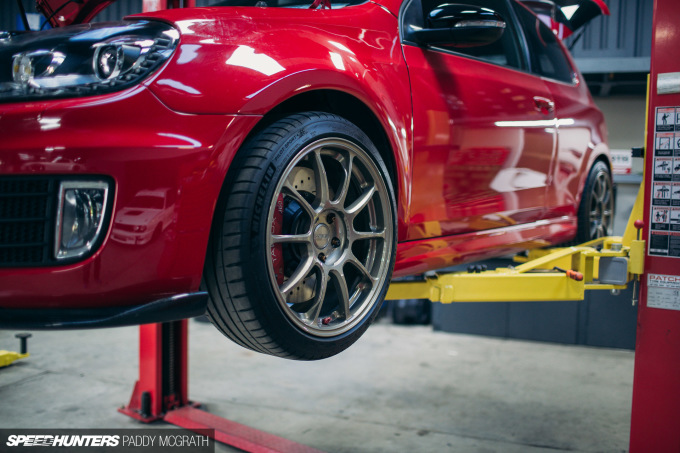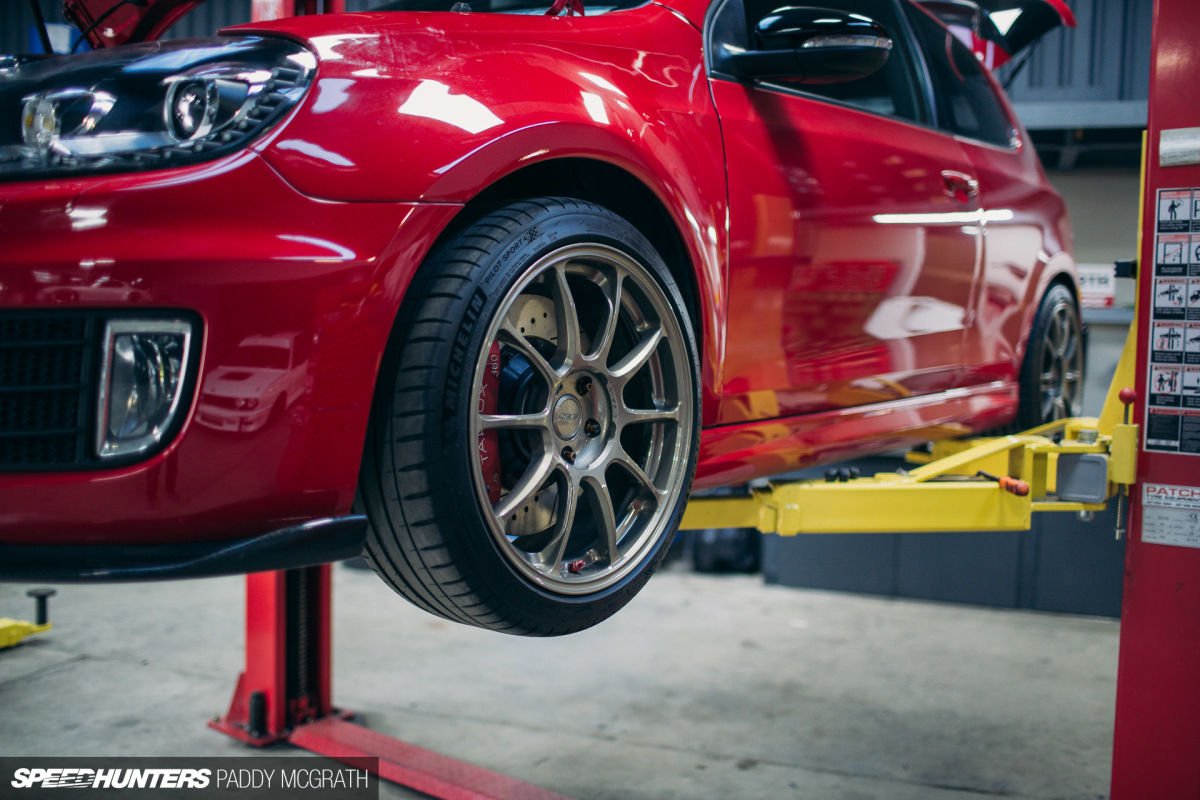 Things were looking very bright. Prior to the visit at Stones, I had already addressed other small things that I wanted to such as rotating the wheels from front to rear (the joys of a square setup), tidied the air install in the boot and fitted an emergency fill valve, along with having Flip tackle some cosmetic items that had arisen. I also increased the damper stiffness to 20 clicks (front) and 25 clicks (rear).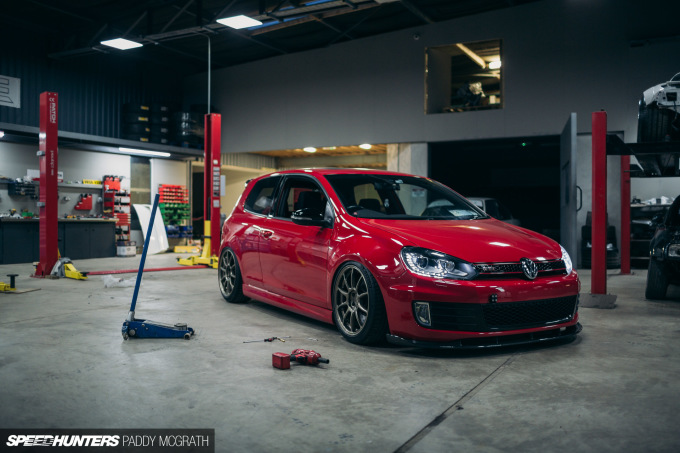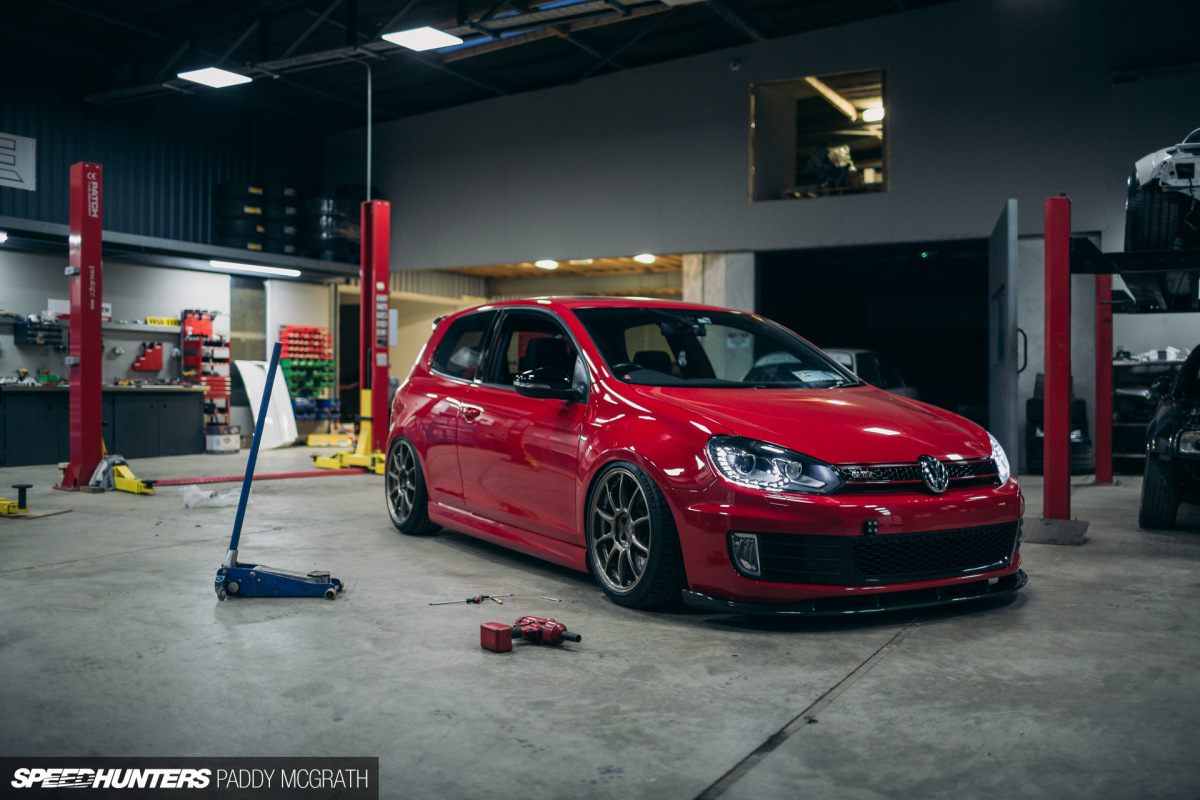 With the car off the lift, a quick recalibration of the height sensors was completed and I was ready to hit the road. The car would still need an alignment, but on the short drive home that really nice brake pedal feel that I had come to know and love had returned, the suspension knock had been banished, and I had the biggest damn smile on my face. There was an increase in cabin noise from the new – and much stiffer – bushes, but that faded away as they bedded in. Things were coming up Millhouse.
Never Again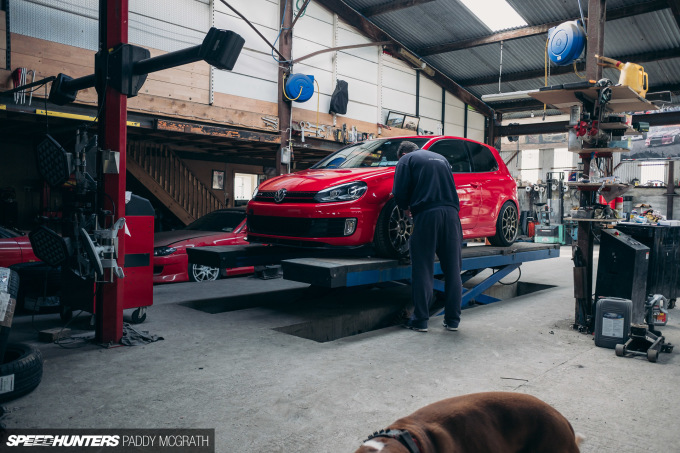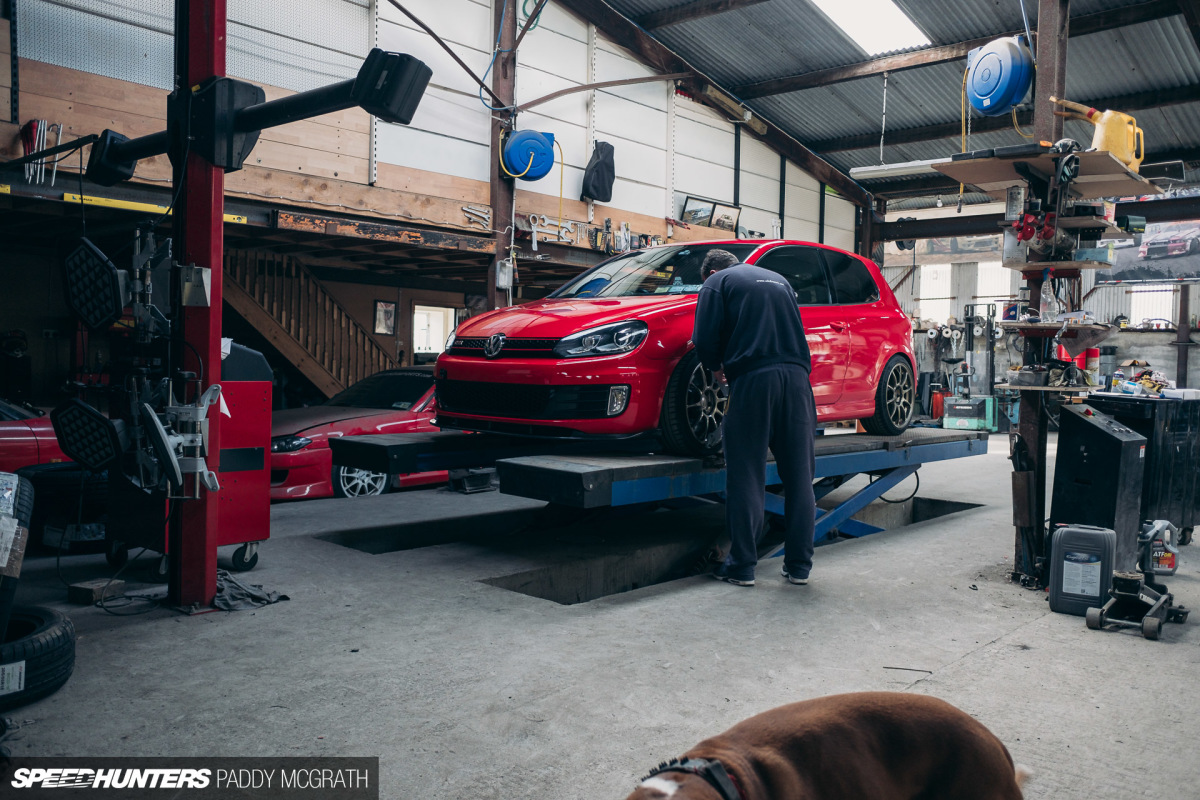 It took a couple of days to find the time to get the car's alignment checked, but it was time well spent. Before I headed to WKD Imports and to long-time friend of mine, Wesley Keating, I had the car spend a day with an auto electrician who installed the rear Kenwood speakers (that I never got around to) along with wiring in the factory reversing camera to the badass Kenwood head unit. These were things that I could have done myself, but I had reached the point where I just wanted them done and knew that procrastination was my biggest enemy. With these installed and sorted, I was pretty much at peak automotive nirvana.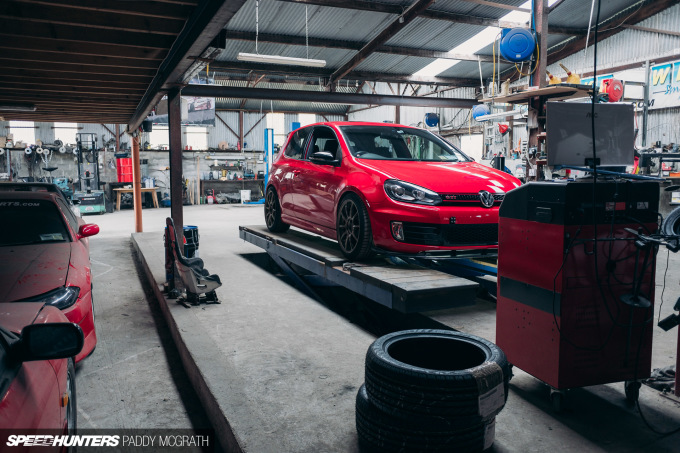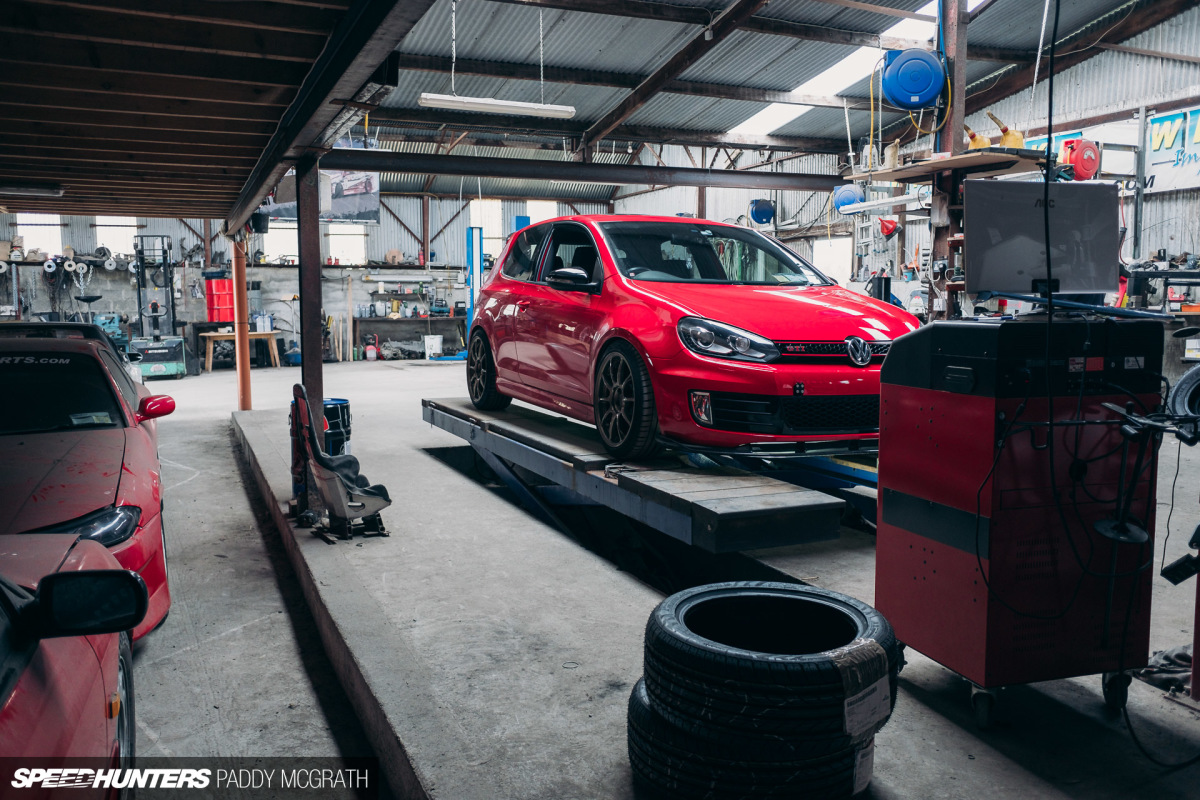 The alignment session on WKD's Hunter system was pretty straightforward, unlike my front toe settings which were severely out of spec. It was easily remedied, though, and a quick drive afterwards showed a remarkable improvement in the car's steering feel and cornering characteristics. There's a little bit more weight to the steering and mid-corner feel has been hugely improved. It also feels much sharper, with the vagueness in feel over centre having been almost completely eliminated.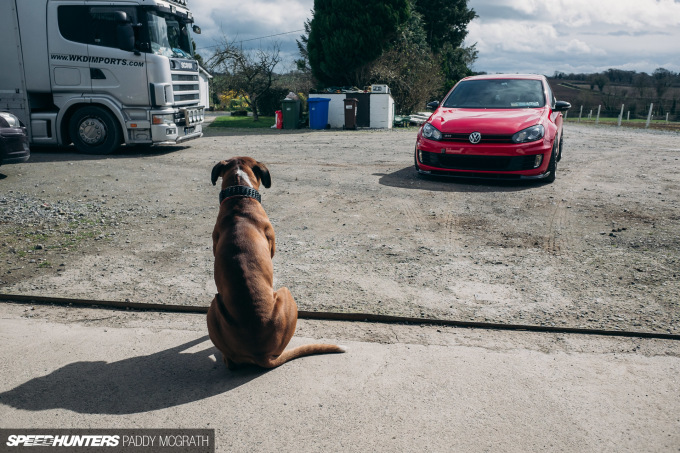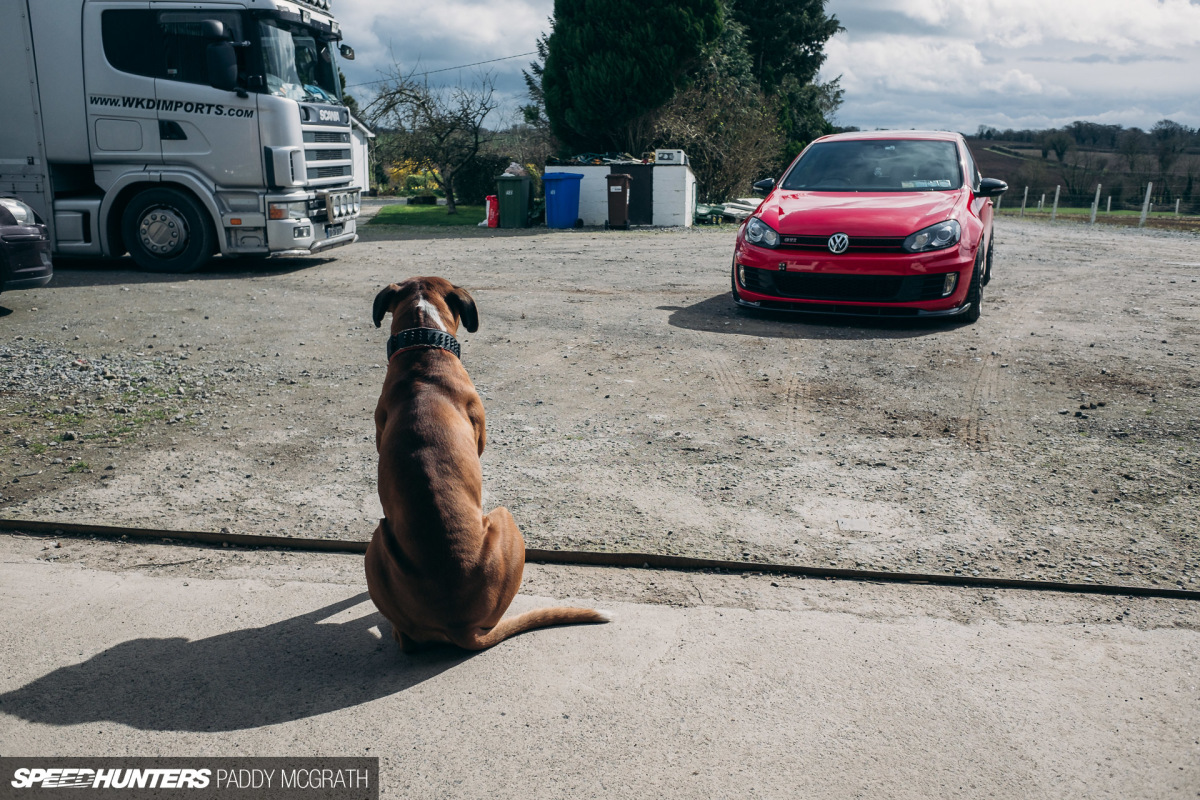 Buster approved.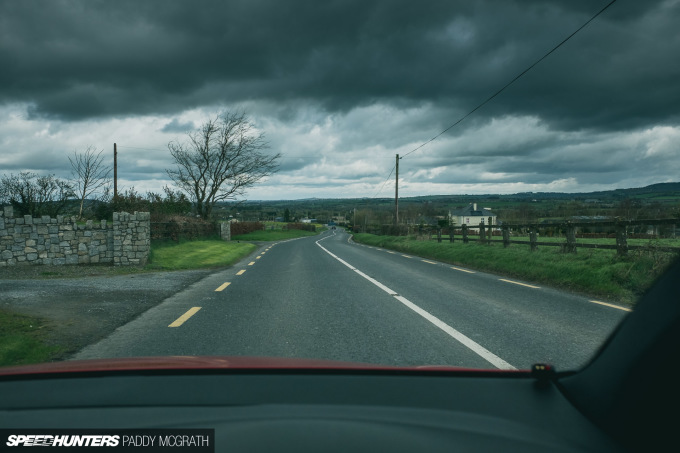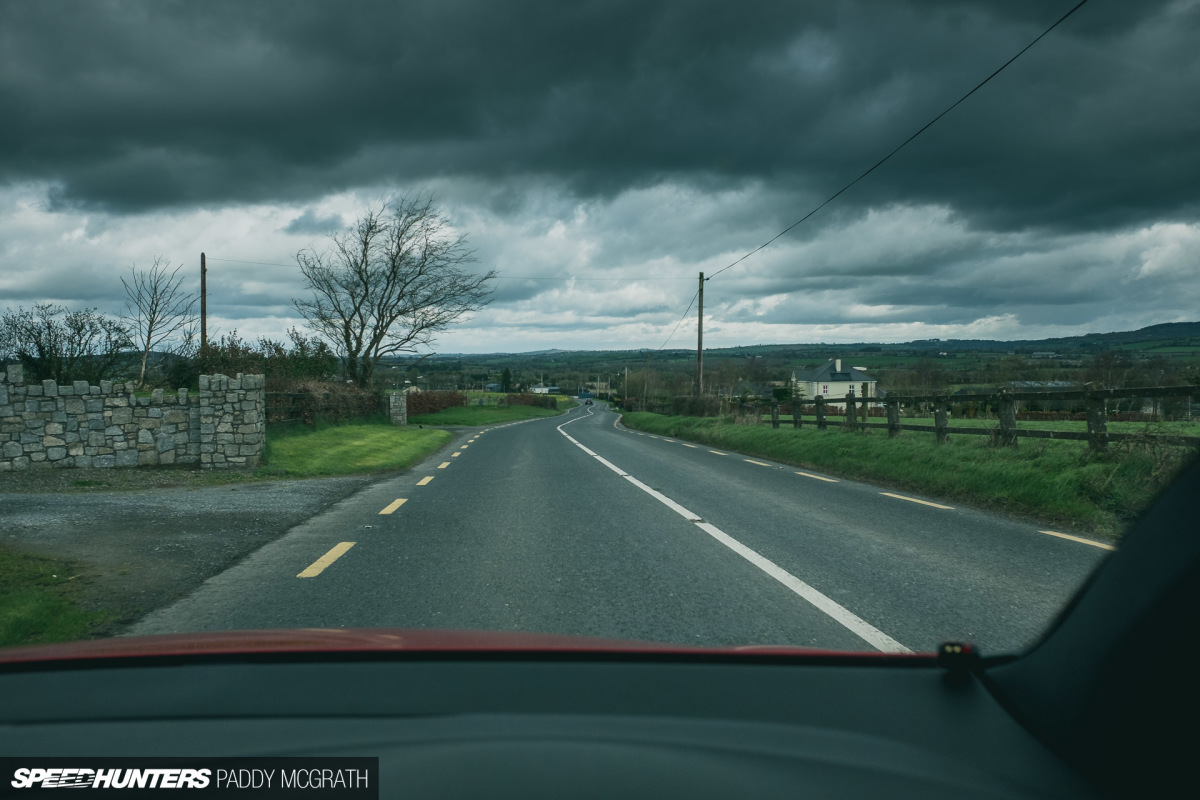 For the very first time in many moons, there isn't a single thing out of place on the car. Everything is exactly to my liking and I can't even begin to express just how happy this makes me. Fair enough, none of them were big issues in the first place and I'd wager that 99.99 percent of people would never have noticed them, but I did. I shouldn't have let them get to a stage where they bothered me as much as they did, but I did. It won't happen again.
Having the car in its current state does raise a couple of curious observations though. As it is now, if I never made another single modification to the car, I would be perfectly happy. It really doesn't need anything, asides from being maintained and fed fuel. It's plenty fast, it's superb to drive and it's easy to live with. What more could I ever want?
Well, maybe a little bit more power…
Paddy McGrath
Instagram: pmcgphotos
Twitter: pmcgphotos
Facebook: Paddy McGrath
paddy@speedhunters.com
Cutting Room Floor