Finding A Worthy Substitute
When Toyota set out to design a Lexus IS worthy of wearing the F badge, it pulled out all the stops.
I've already praised the IS F's silky 5.0-liter V8 and rapid-shifting 8-speed transmission in a previous Project FujiSpeed update, but did you know the F also comes from the factory with big Brembo brakes and 19-inch forged BBS wheels? It has all the stuff I would have installed if I were improving a Lexus of lesser trim level.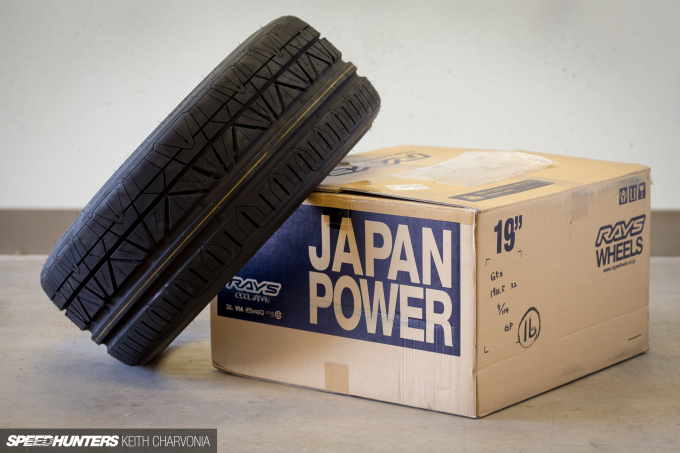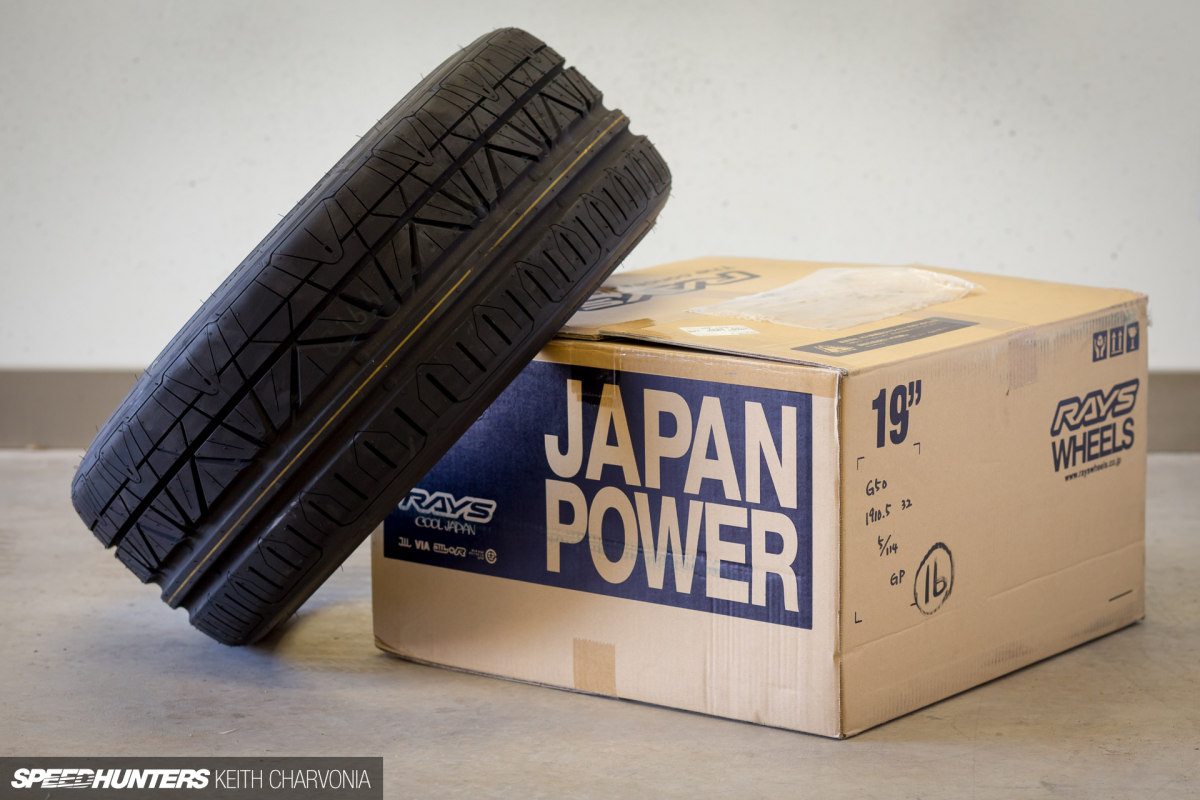 If you have any sense at all, this means one thing when it comes to modding your IS F: The bar has been set and one should only strive to go above it. Anything else is a step in the wrong direction.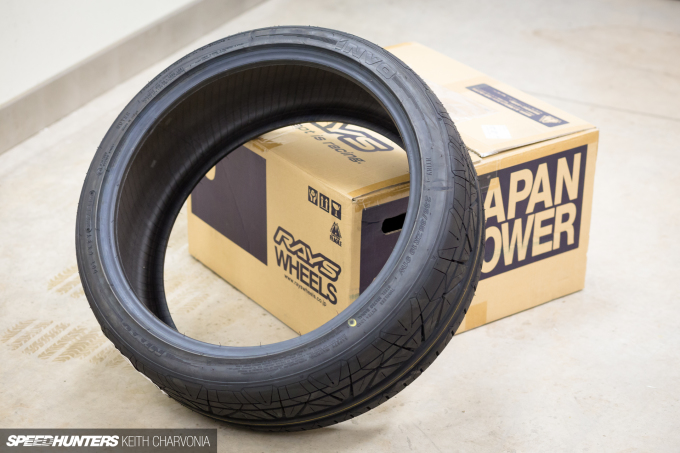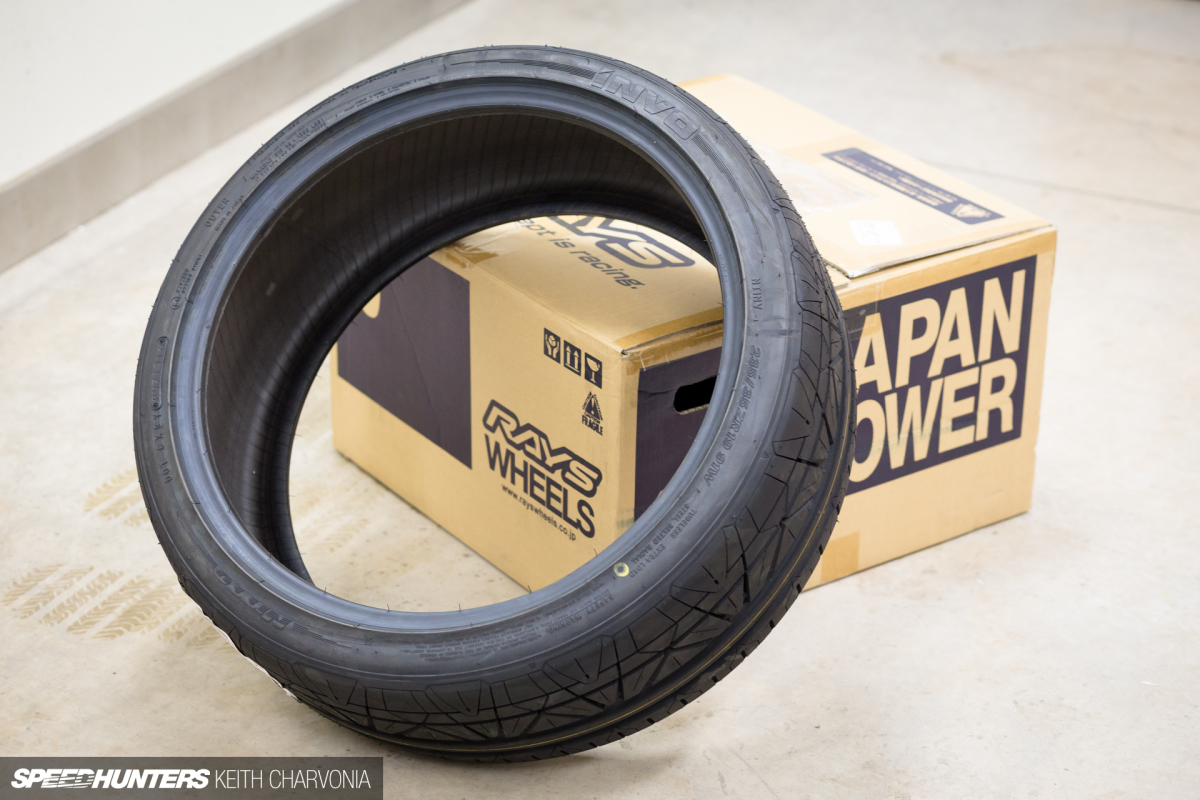 Just as you wouldn't install a more restrictive exhaust or a squishier suspension, wheel choice should follow suit.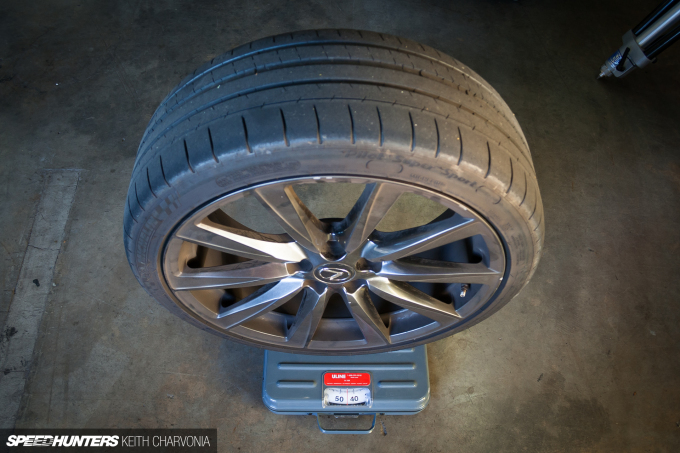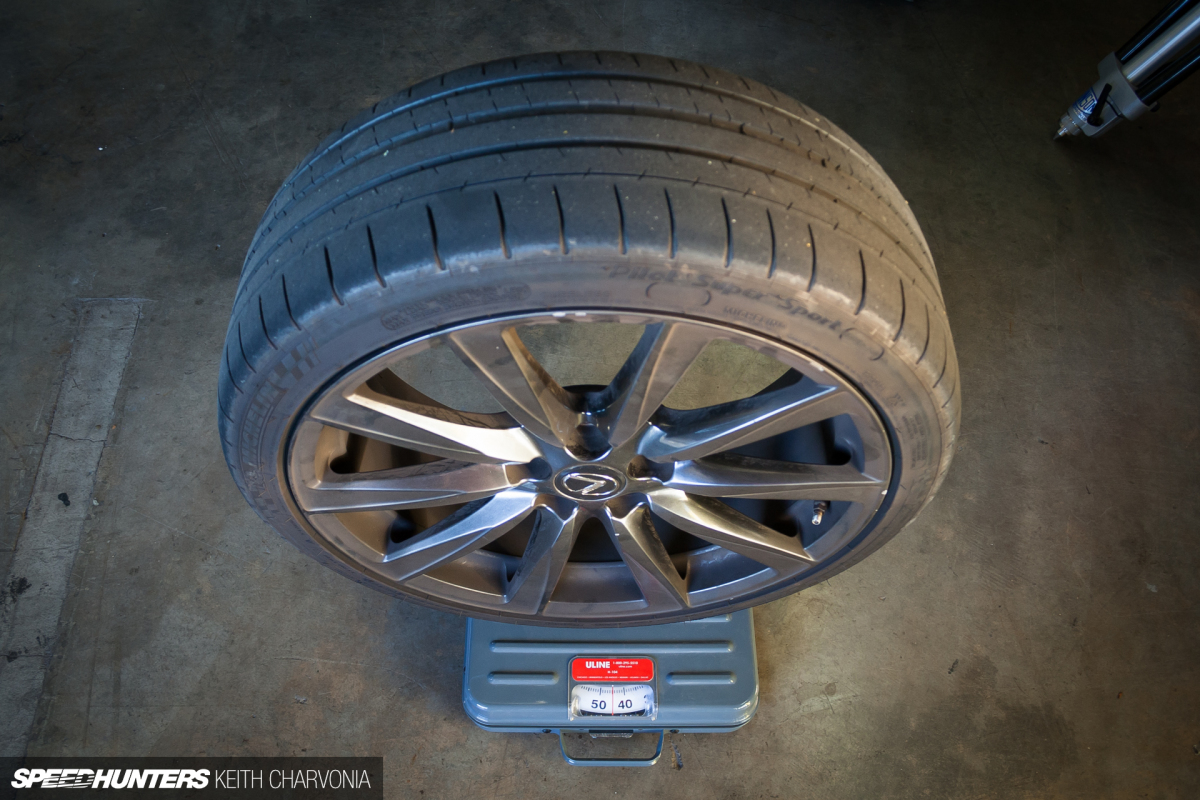 The factory forged 10-spoke wheels aren't particularly unattractive, but the pedestrian fitment did leave some room for improvement. Take note of the 45lb (20kg) combined wheel and tire weight in this picture, because we'll be coming back to this.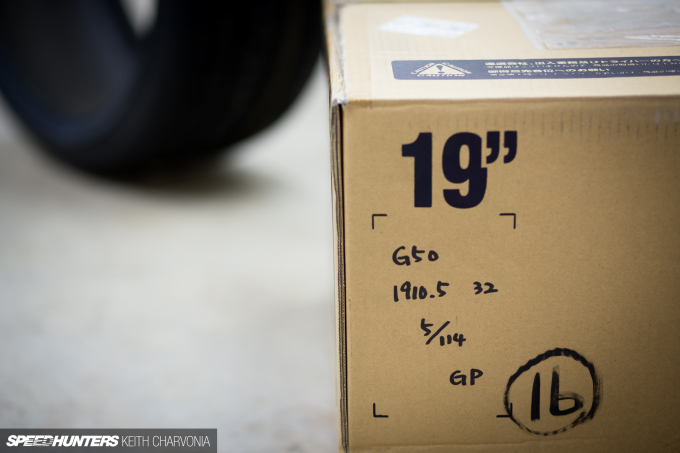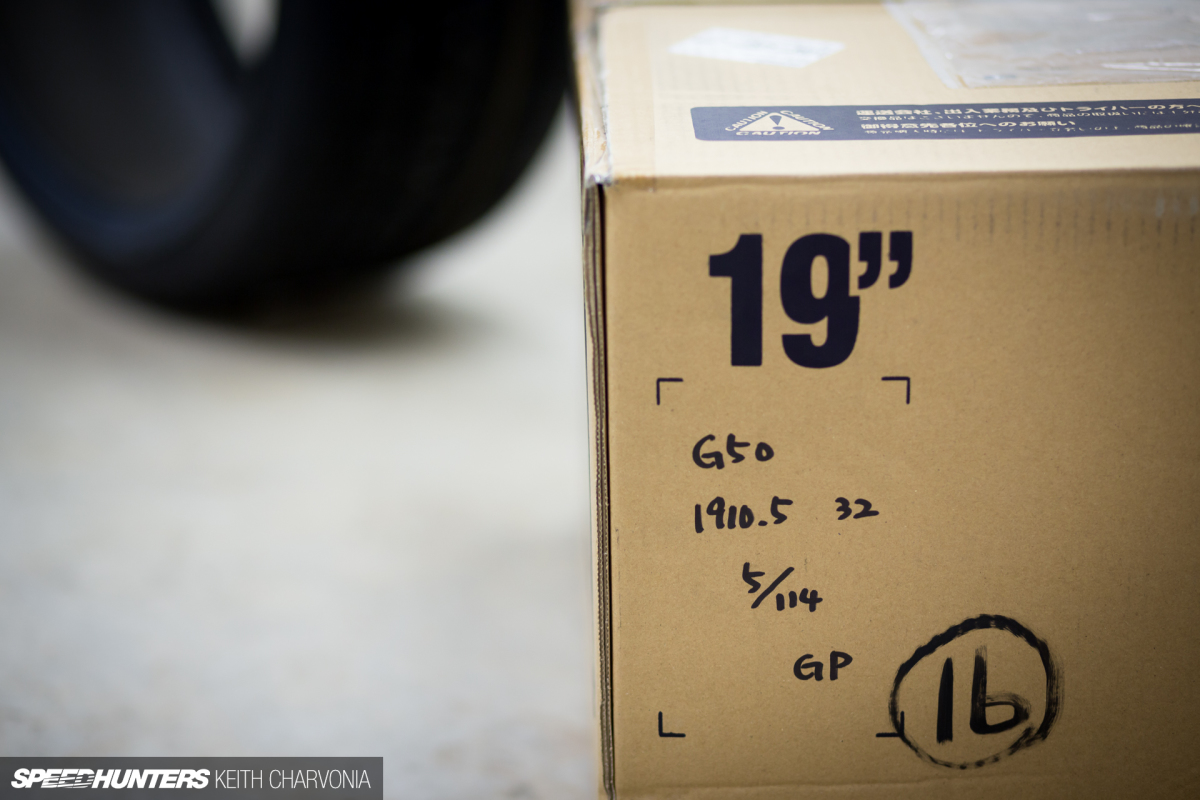 When it came time to choose wheels for Project FujiSpeed, I naturally reached for the catalog of longtime Speedhunters supplier RAYS, since they're legendary for producing some of the highest quality, lightest and strongest wheels to come out of Japan.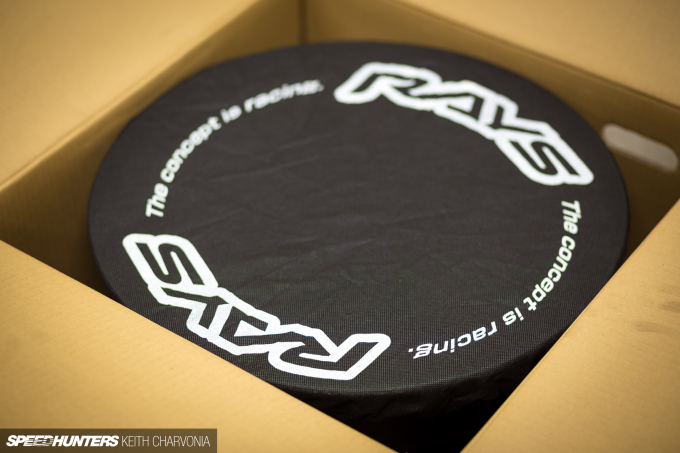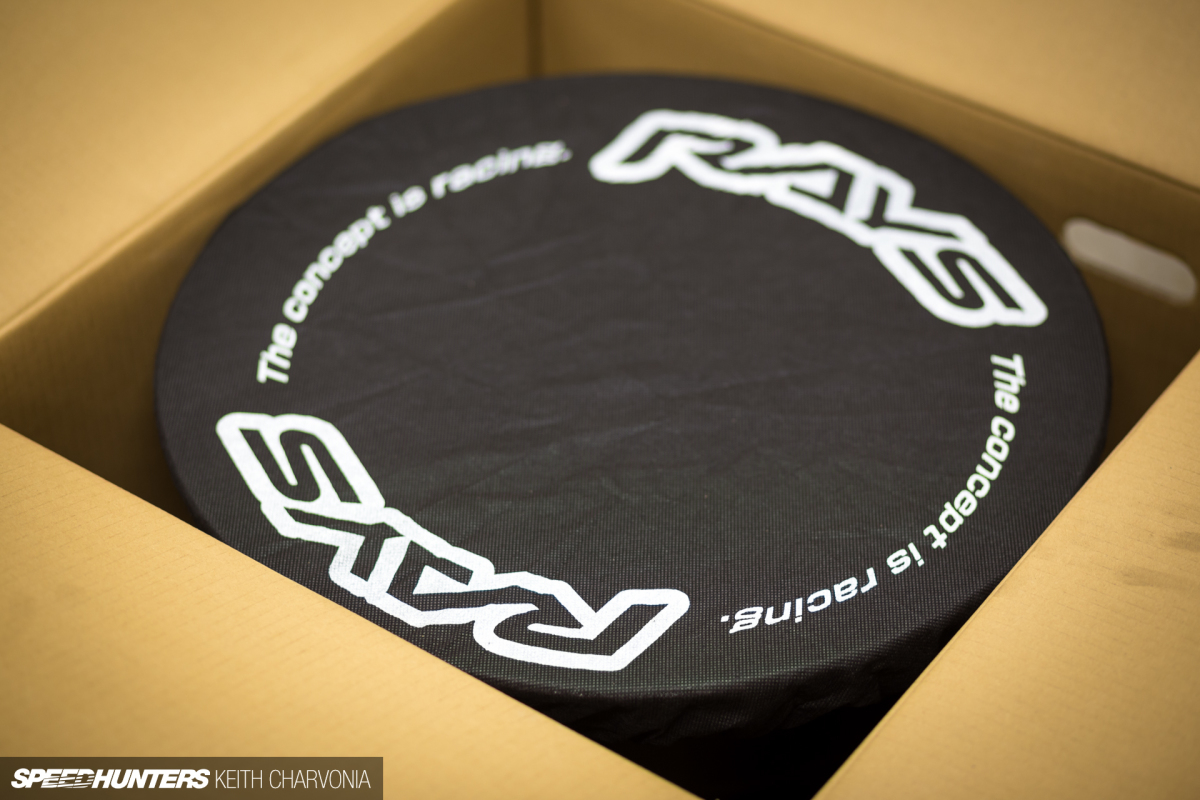 RAYS has several offerings in the popular 5×114 bolt pattern, including the classic Volk Racing TE37. The trouble it, that wheel's been done over an over again, and with good reason – it's a great look. But I wanted something different for Project FujiSpeed.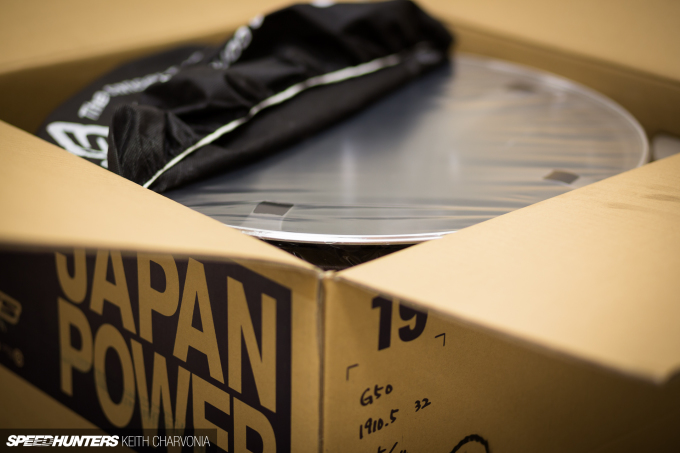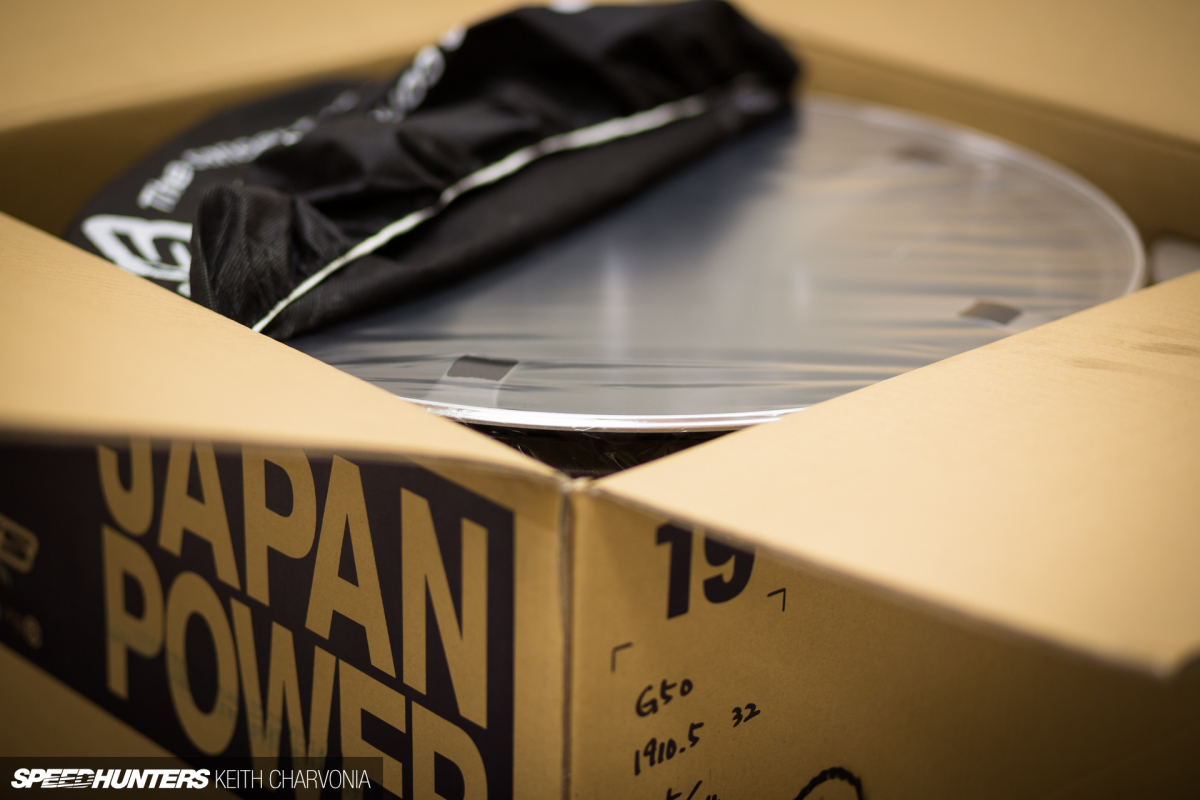 Much of the beauty in a RAYS wheel comes from the aggressive dish its engineers are able to design into the lower offset wheels. Since the IS F is a front-engine, rear-drive car with a grunty eight cylinder engine, I knew this was the look I wanted.
And that's when I turned the page and saw the Volk Racing G50. It's just a simple five-spoke wheel, but the spoke profile quickly dives to the center, plus it has strategically placed weight saving pockets and CNC-machined engravings. These features all add up to turn a simple five spoke into something droolworthy.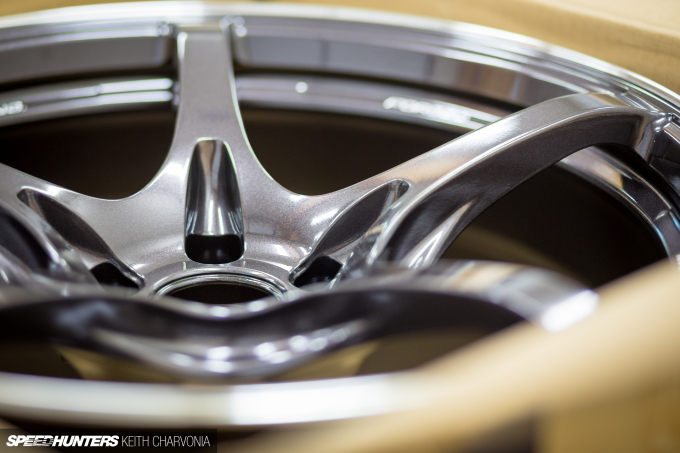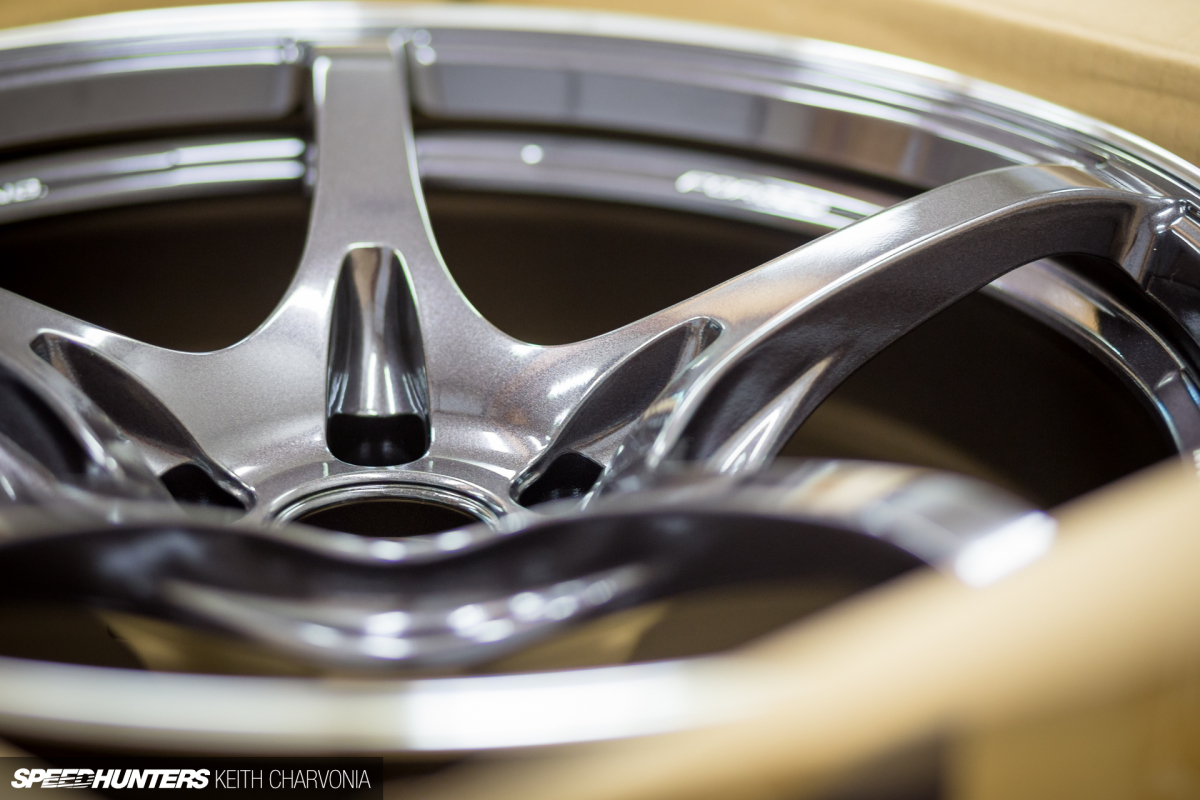 The spoke count felt significant too, considering that it was half the number found on the OEM wheel.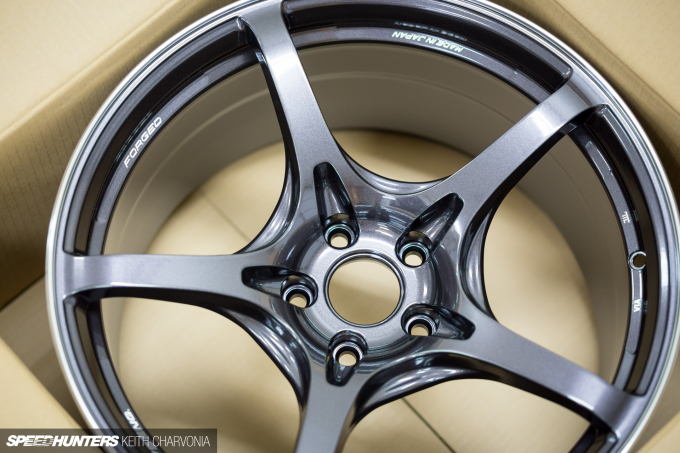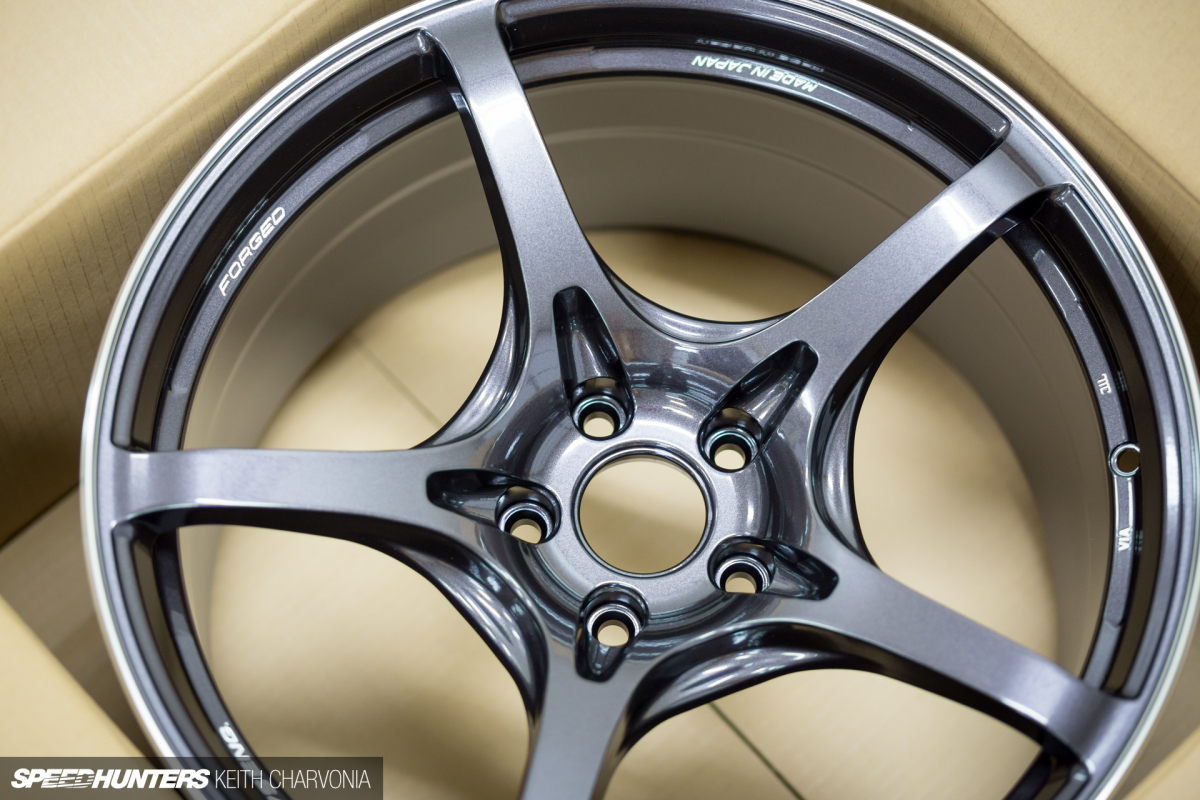 How do you improve on a forged 10-spoke wheel? Get one with five spokes!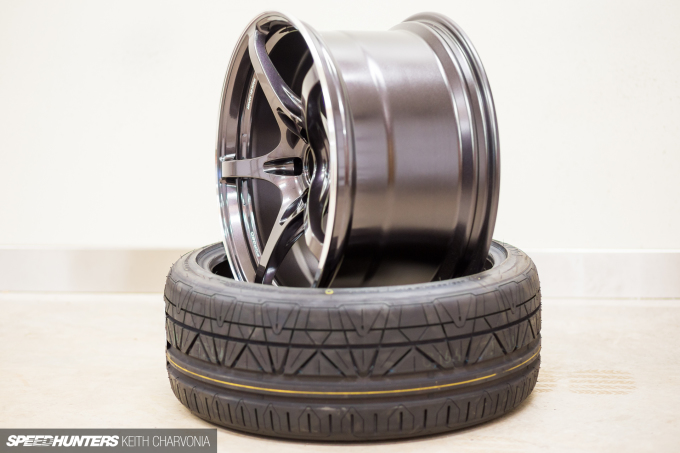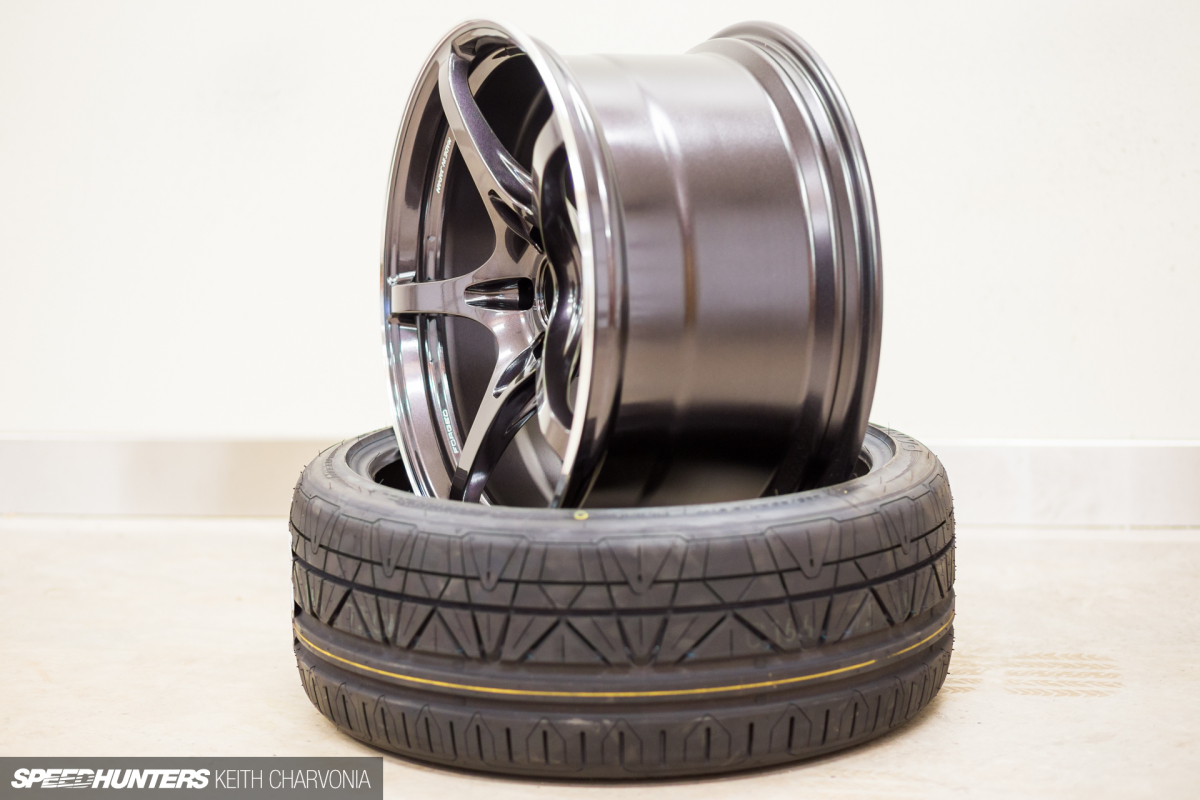 I did my homework, both online and in person at an IS F meet in Southern California. Finally, I settled on the specs I thought I wanted and ordered the G50 in 19×9.5-inch +26 front and 19×10.5-inch +32 for the rear, with the Dark Purple Gunmetal/Rim Edge DC (GP) finish.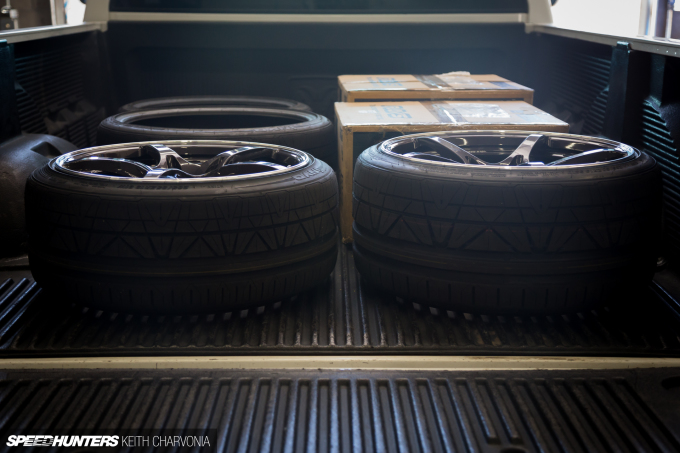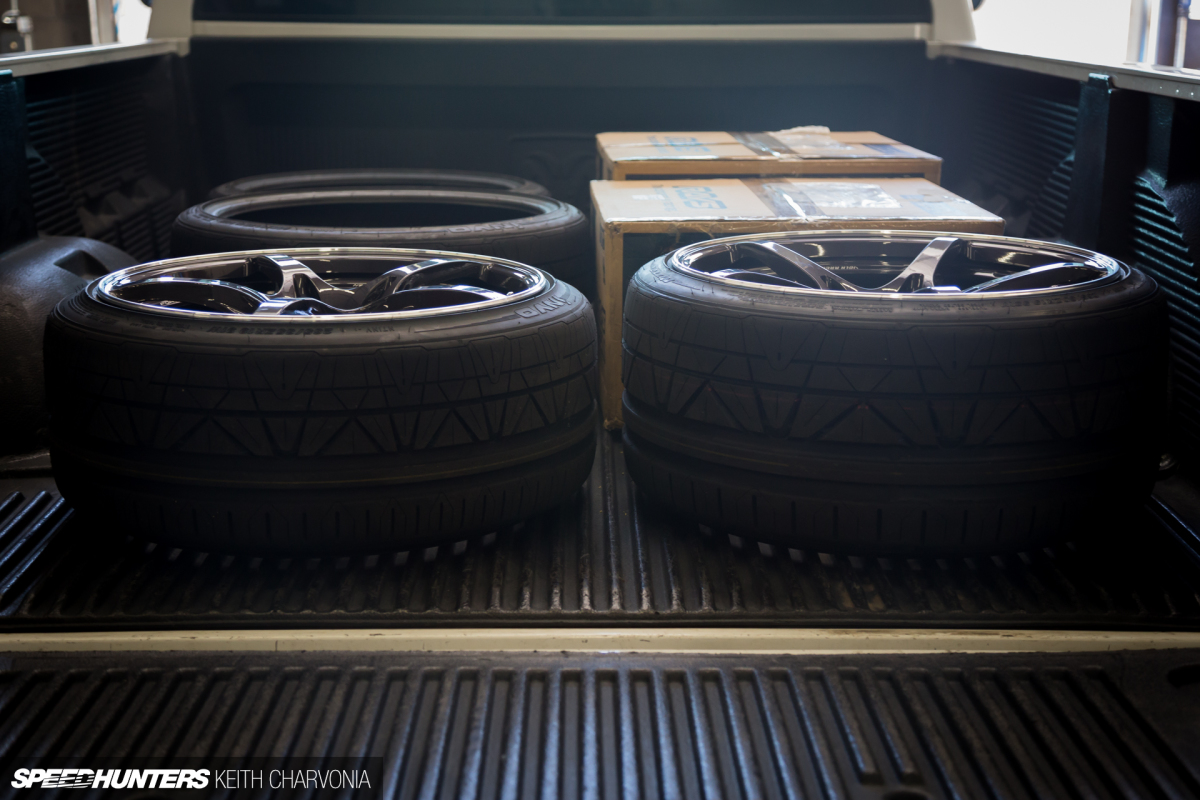 For rubber I chose the Nitto Invo in 235/35R19 and 265/30R19. I've run these tires on the Double Down RTR and Project ZN6, and was impressed by the quiet road manners and excellent tread wear while still having plenty of grip for spirited driving.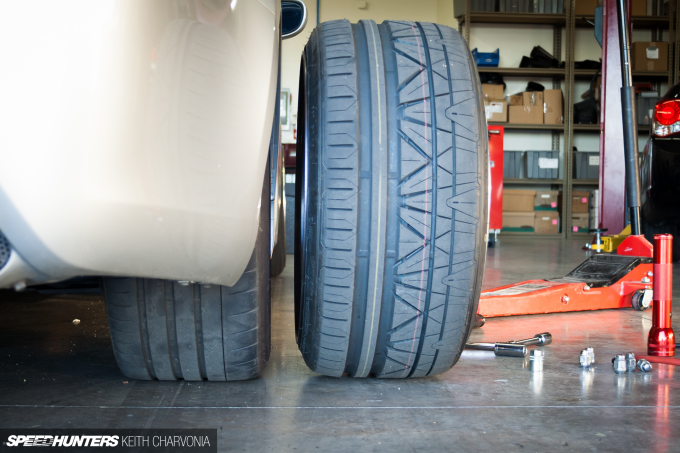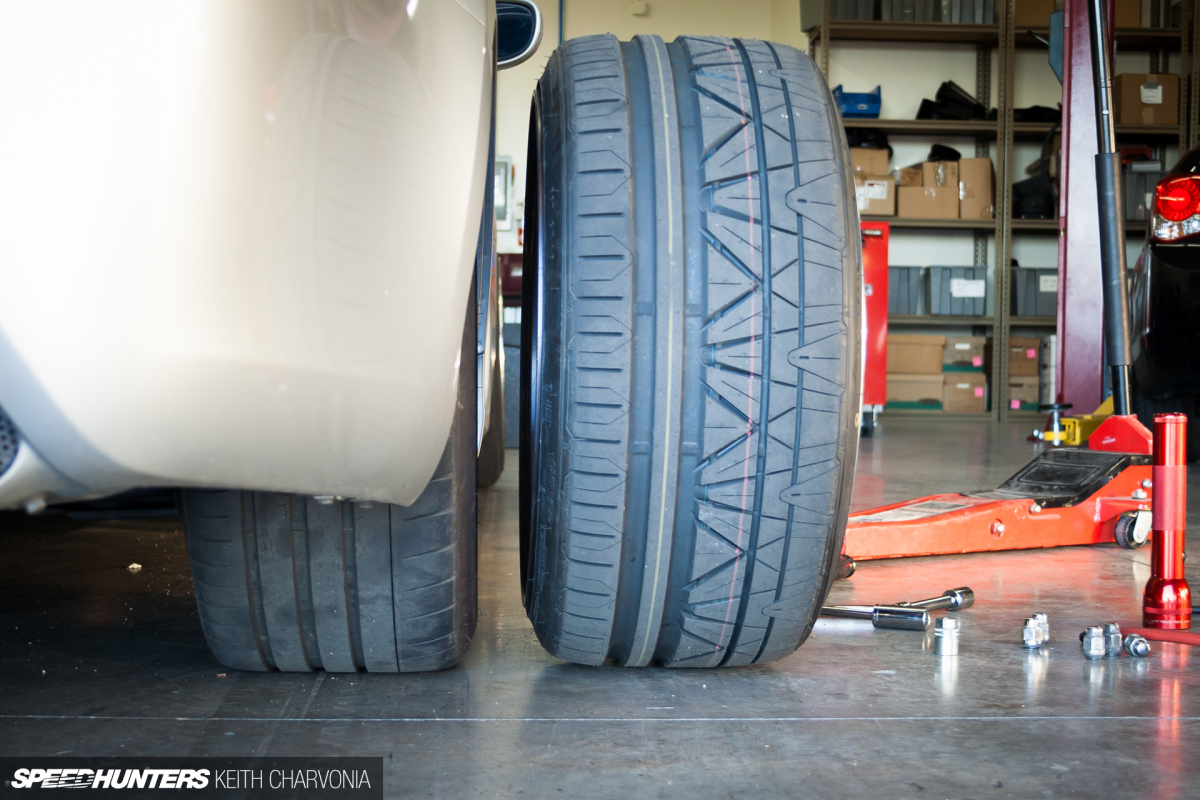 The asymmetric, non-directional tread pattern means you can rotate them side to side to make them last longer too. I would be going from the stock 255/35 tire on a 9-inch rear wheel to a 265 on a 10.5-inch.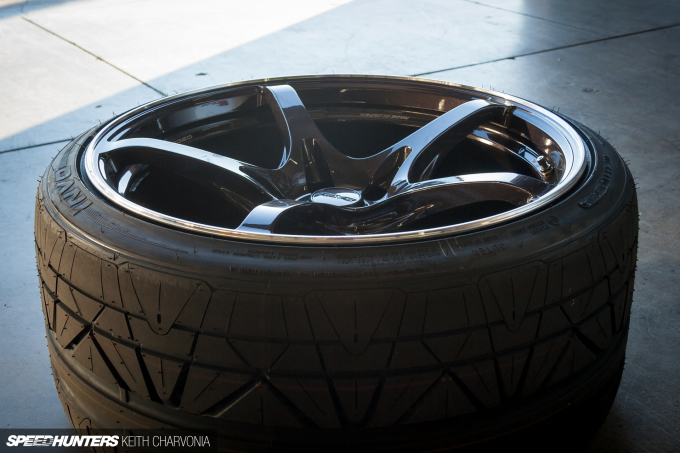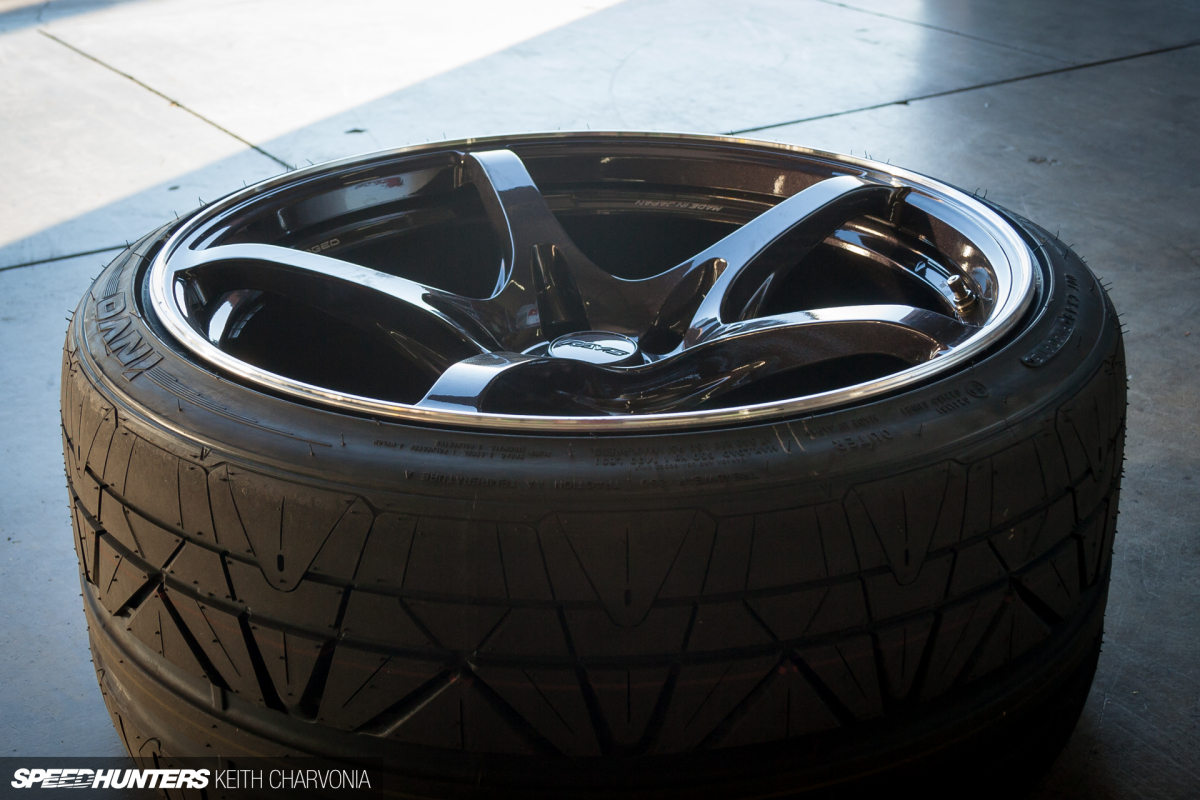 This did require some stretch, but it gets you the most aggressive fitment possible without throwing in tons of camber and making the handling suffer.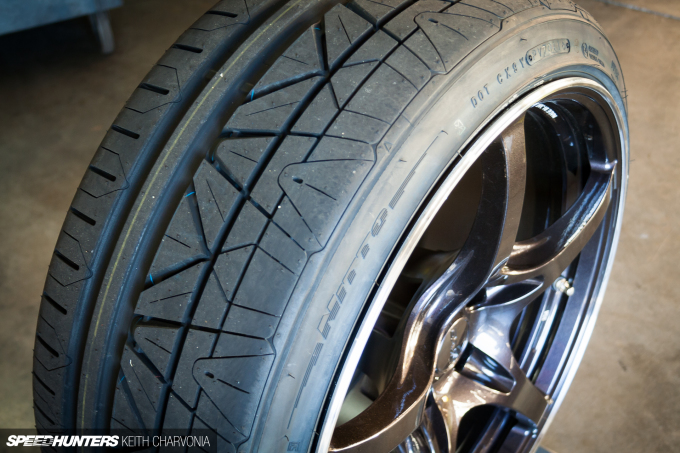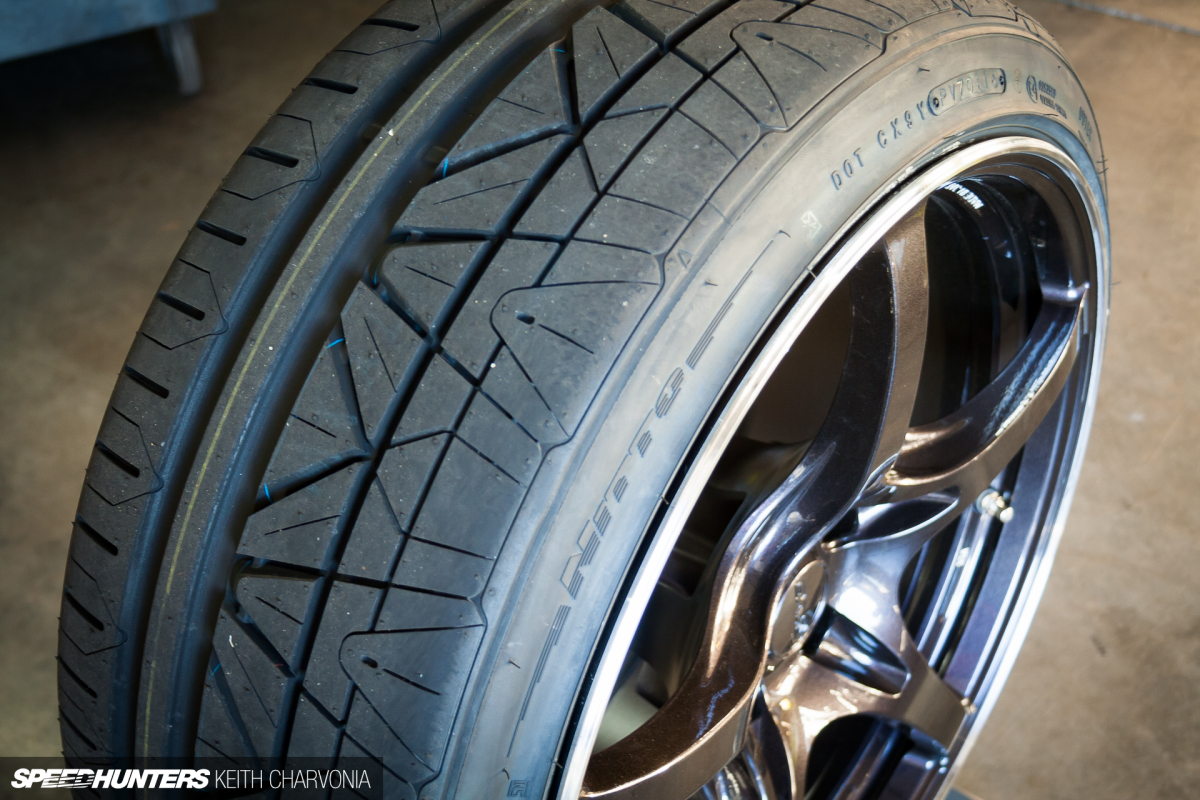 In fact, I didn't need to have my alignment adjusted at all to run this fairly aggressive fitment.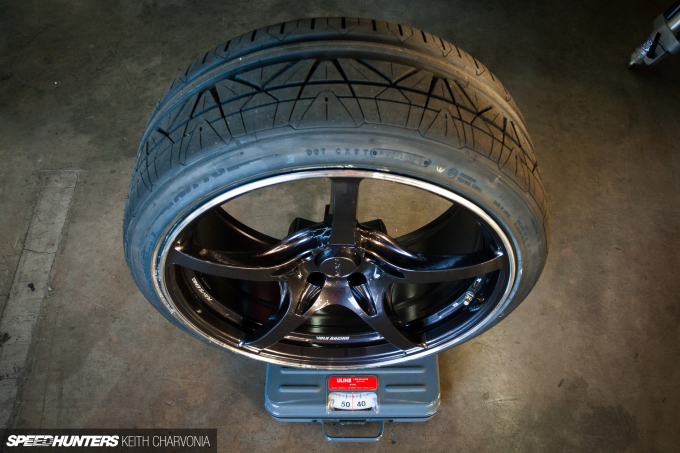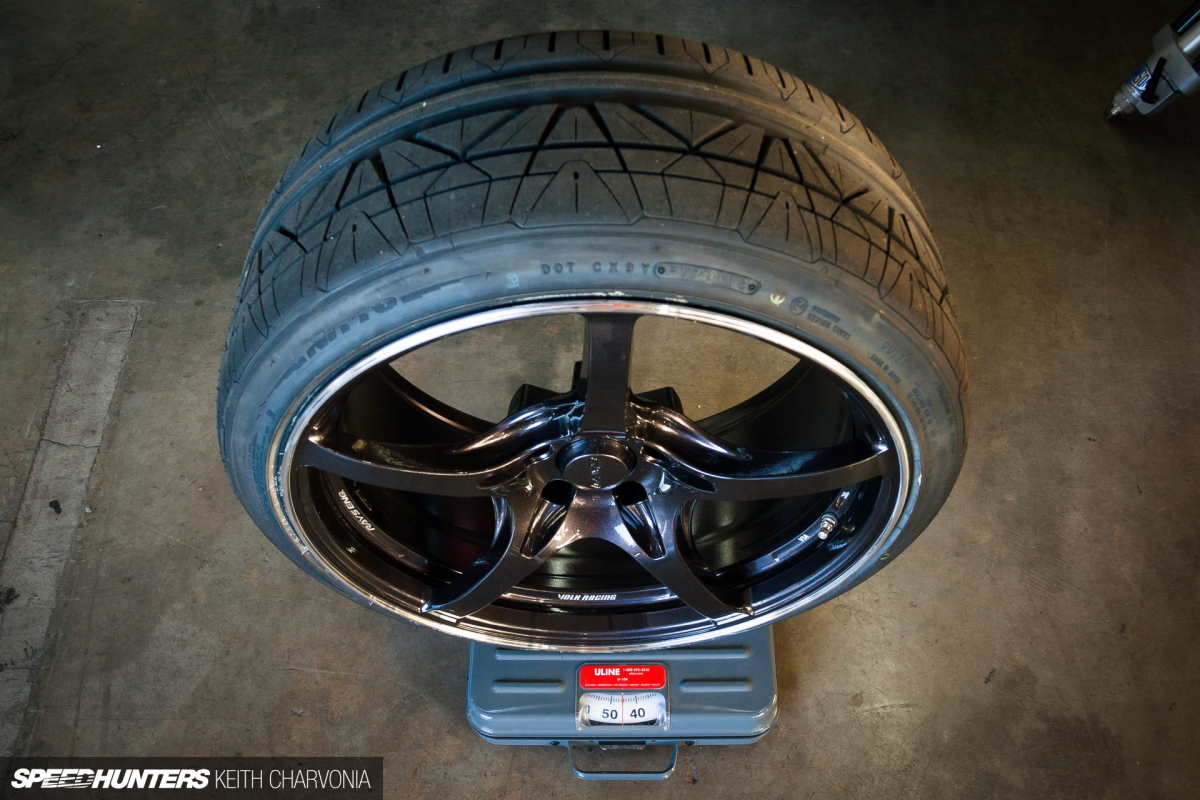 The other good news was that I had gained considerable tread and wheel width without sacrificing any weight at all.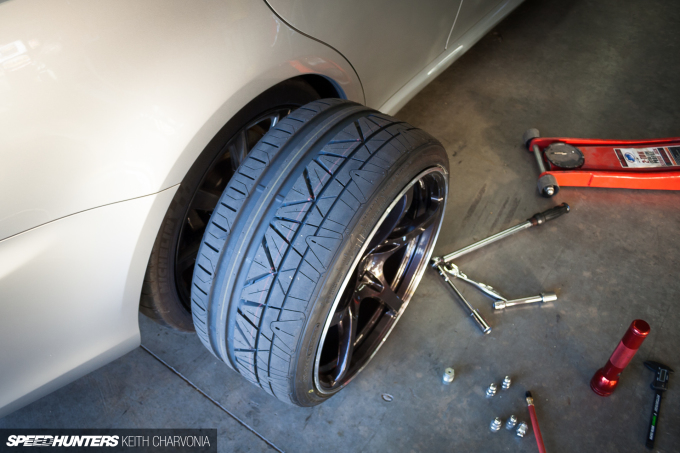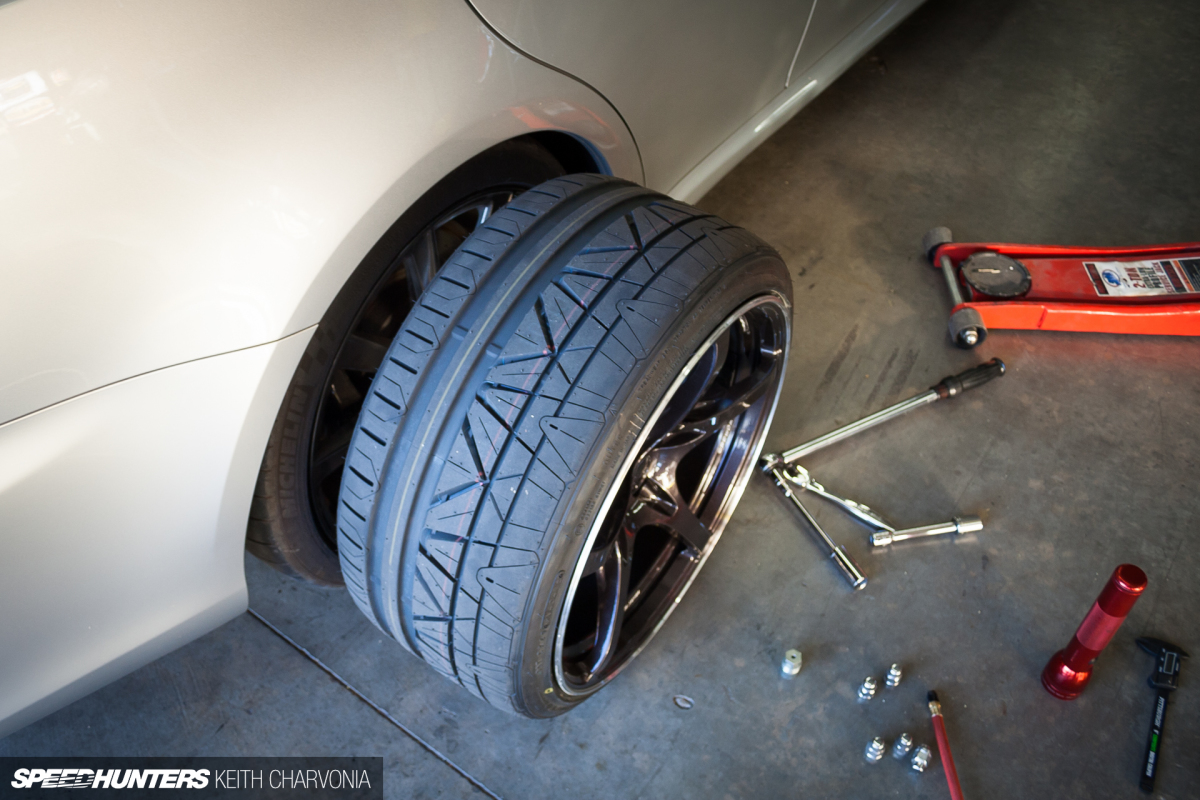 The trouble with fitting wheels on the IS F is that the front suspension doesn't leave much room for a low offset wheel. Likewise, the rear fenders have to be rolled if you want any dish or lip at all.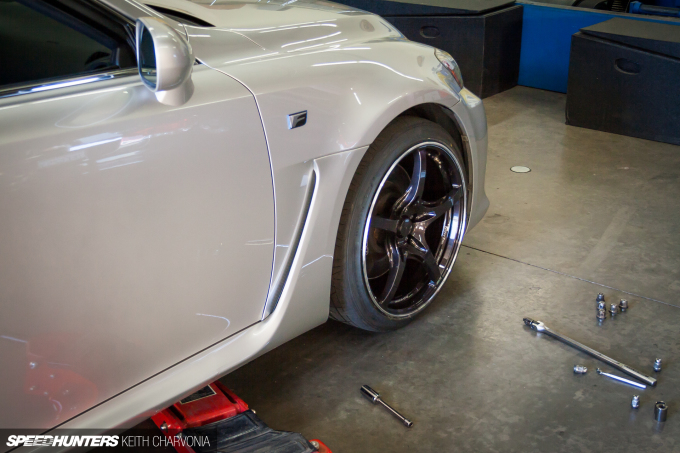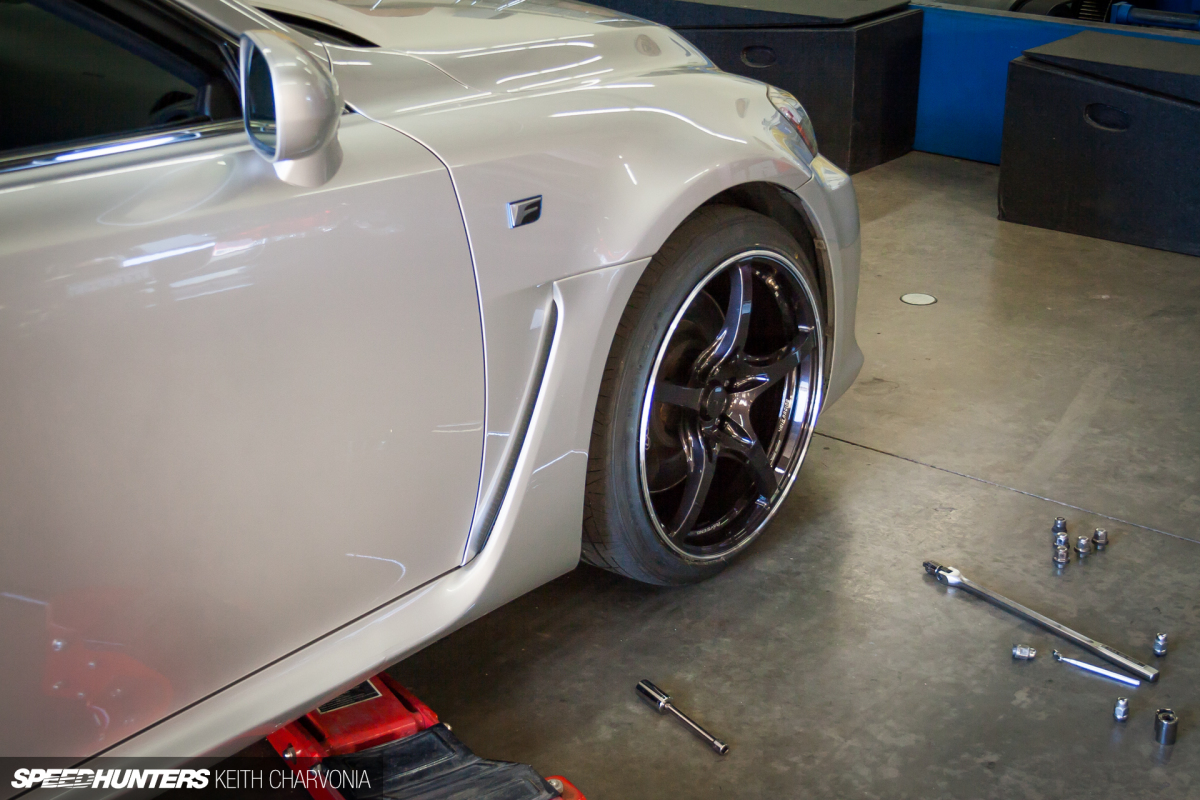 I bolted up the front and rear wheels on one side and lowered the car down off the jack, and to my pleasant surprise, they fit perfectly! Well, almost.
Making Things Fit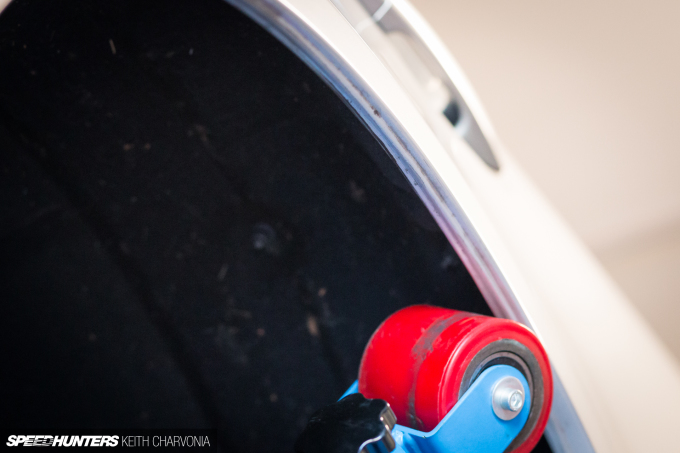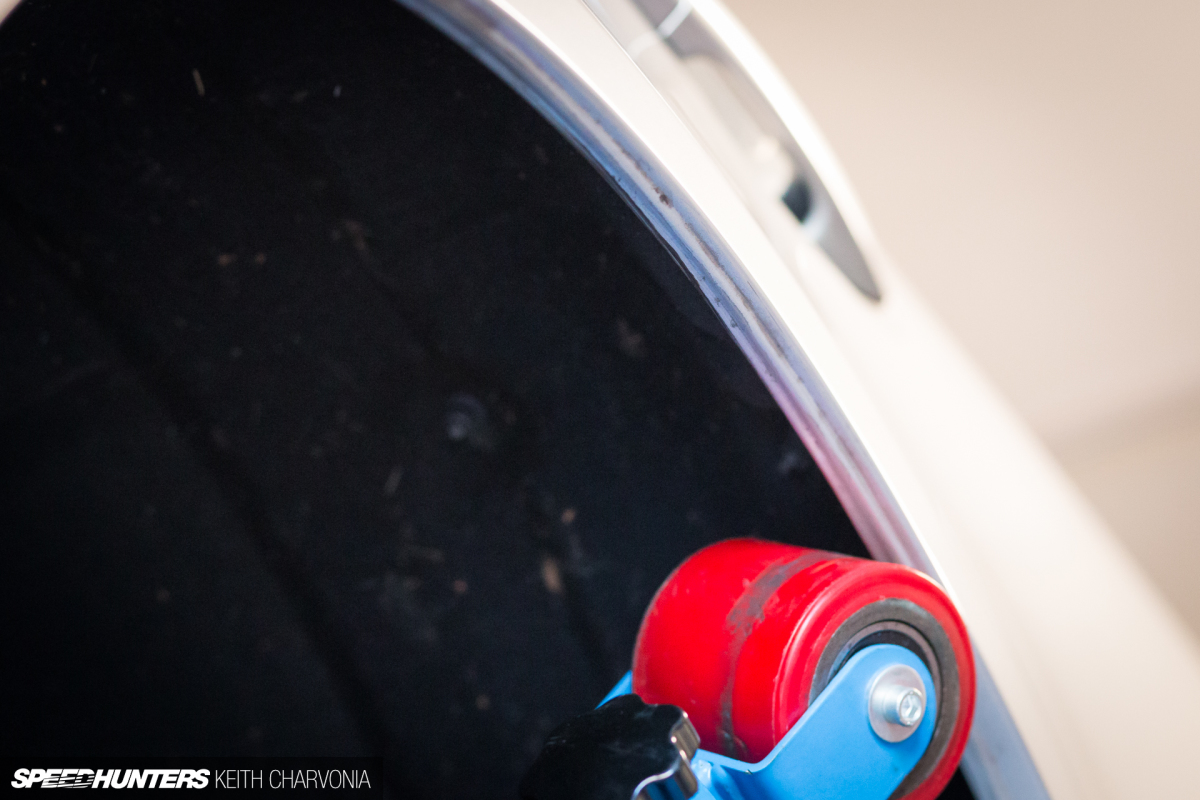 While the wheels looked perfect aesthetically, a quick drive around the block confirmed that the rear fenders would have to be rolled, which wasn't a surprise at all. Look closely and you can see where the tire rubbed the paint off the fender lip.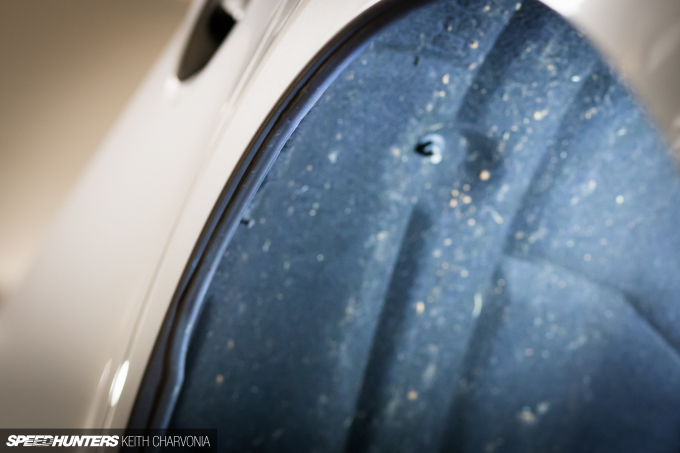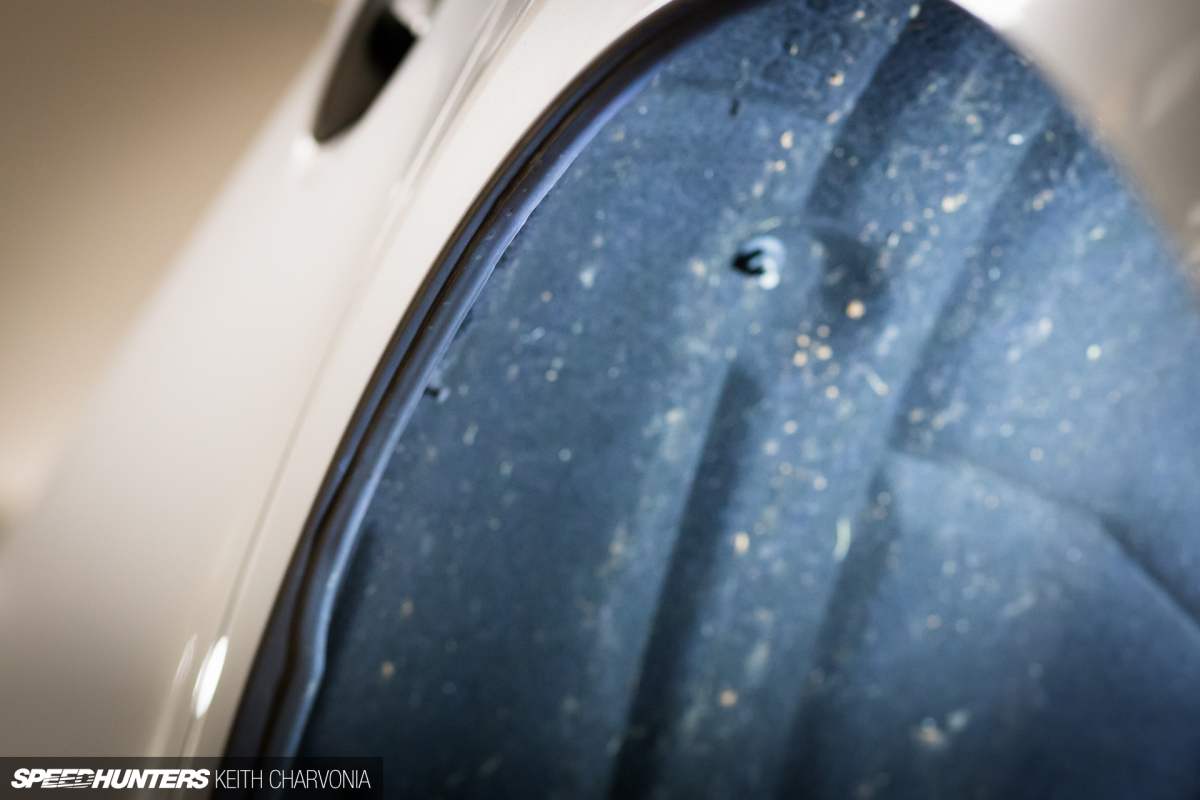 Fortunately, the fronts did not require any work, but this perpendicular lip on the rear fender had to go.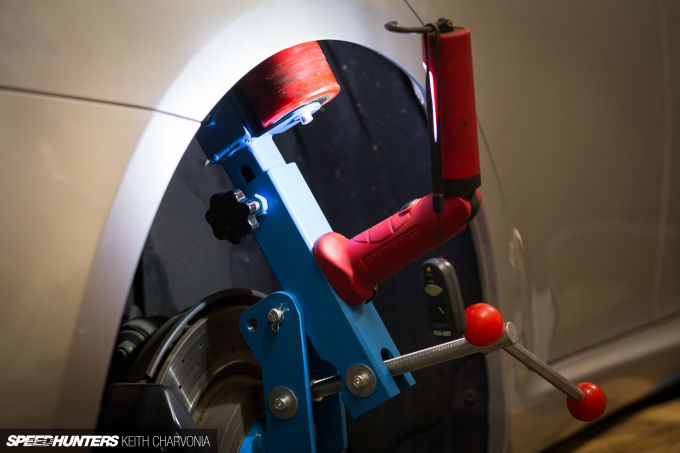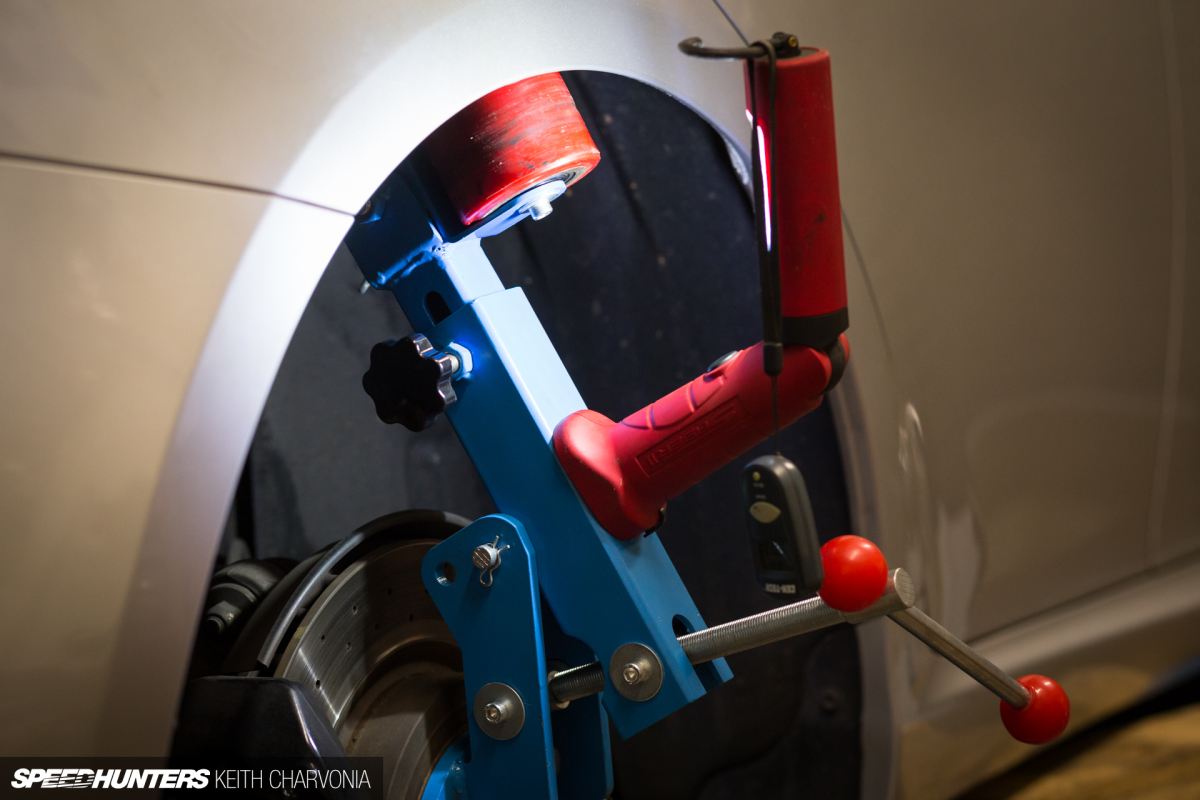 On my previous builds I have always reached for a body saw, grinder, and possibly even the welder to make room for tires and wheels. But for my nice daily driver with good factory paint? I decided to borrow a fender roller and give it a go.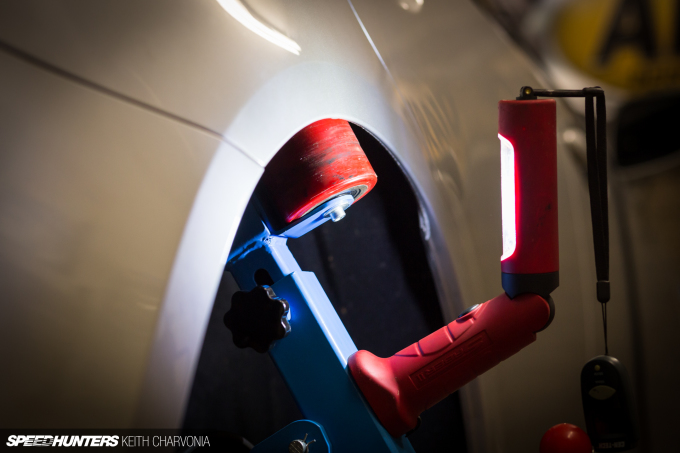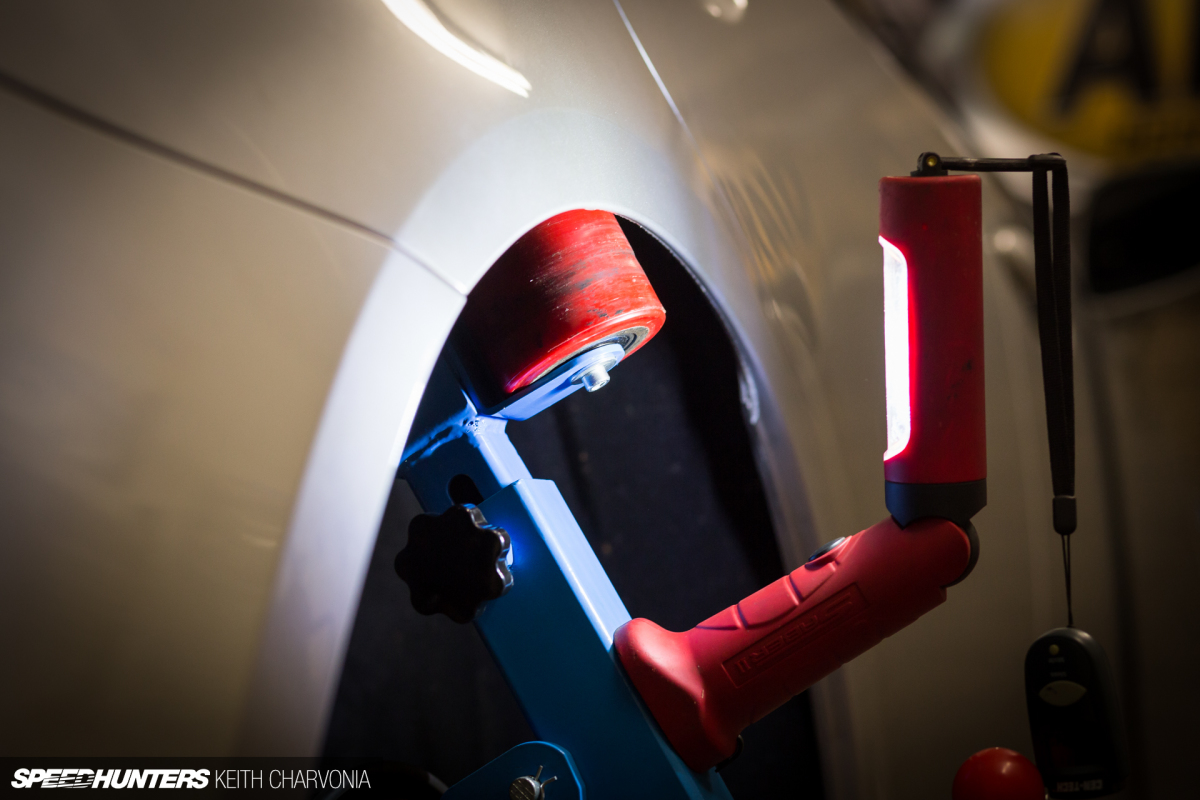 Notice the infrared thermometer I have hanging off my LED shop light. I quickly learned to keep the sheetmetal between 120-140°F to avoid cracking paint.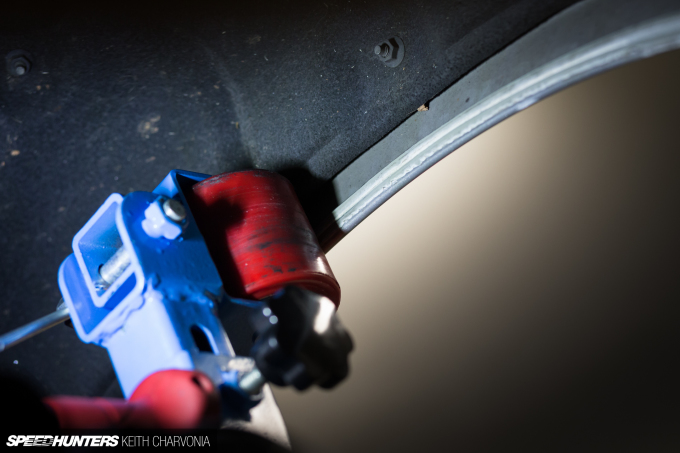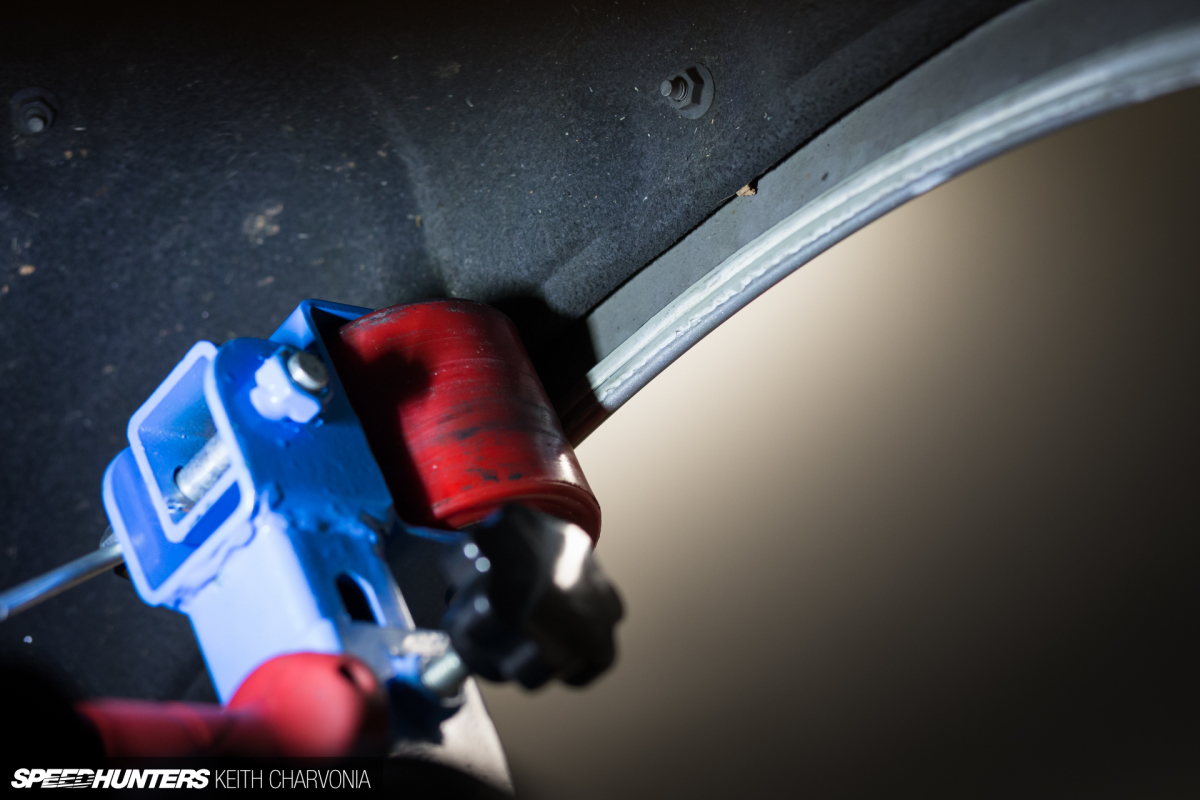 After several careful passes I had the lips rolled flat. If I rolled any further it would have actually pushed the outer sheetmetal skin out too, leading to the 'pulled' look that some guys run.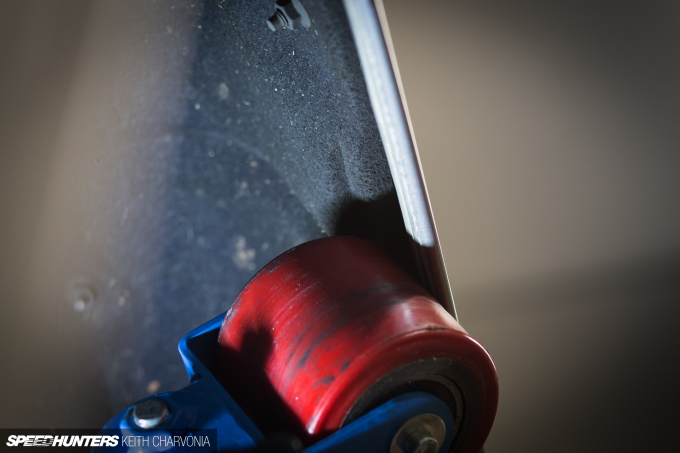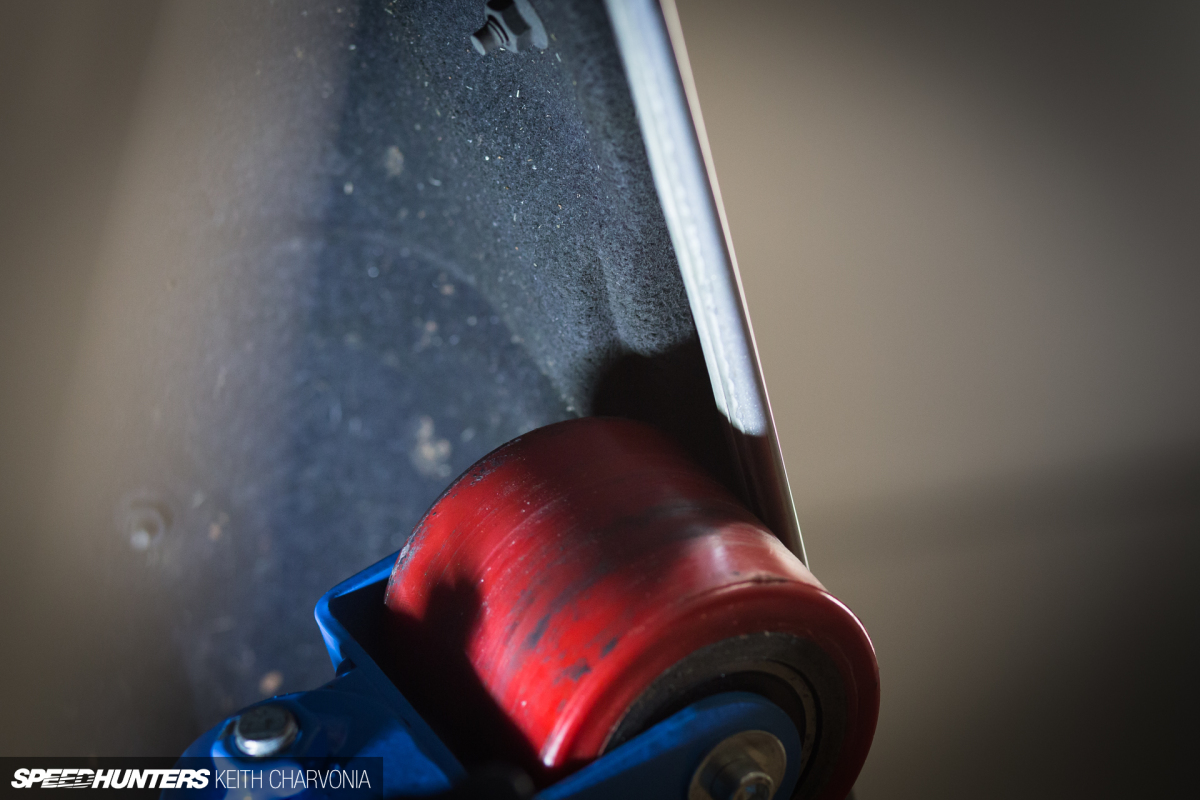 I'm not one for disrupting the body lines that were designed into the car though. This should be plenty to avoid rubbing under compression, while keeping the stock sheetmetal intact.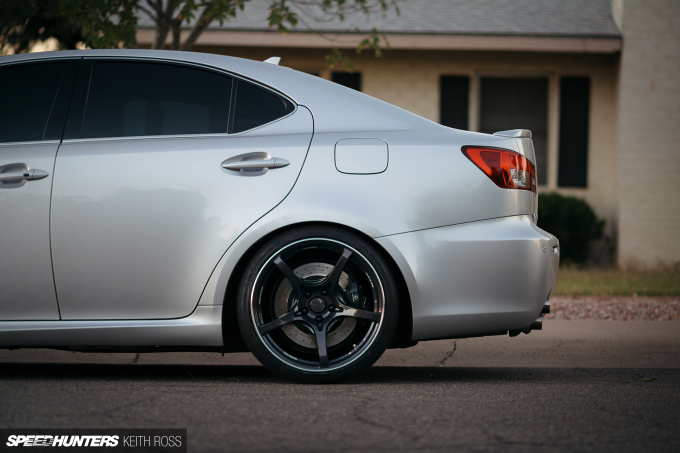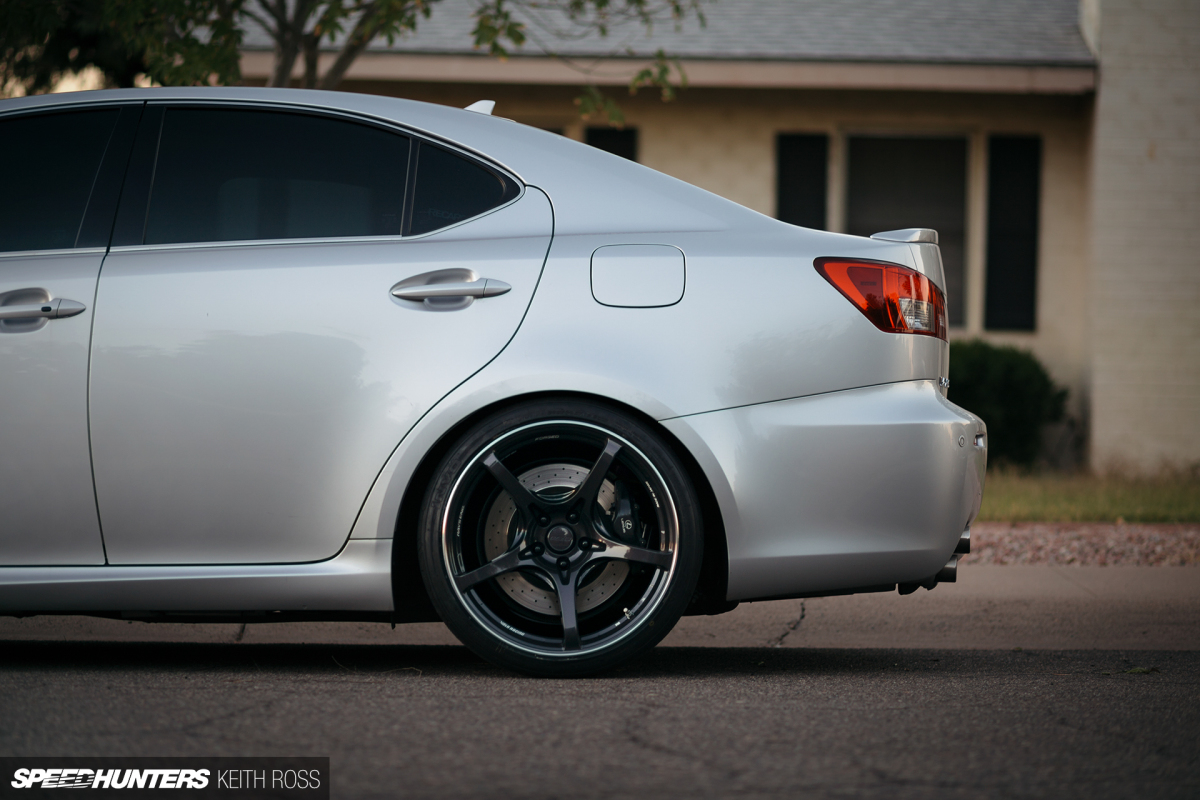 I headed straight to my buddy Keith Ross's house to show him the great news. Of course, he couldn't help taking a few shots of the car now that it finally looked like something. I didn't even have to adjust the height of Project FujiSpeed's KW Variant 3 coilovers or play with camber settings as noted earlier.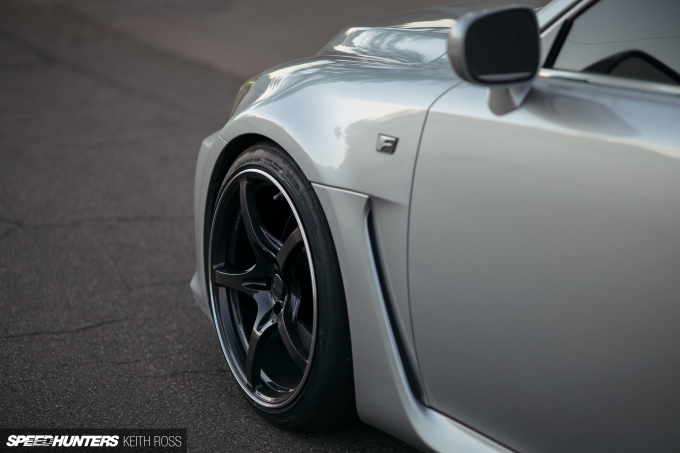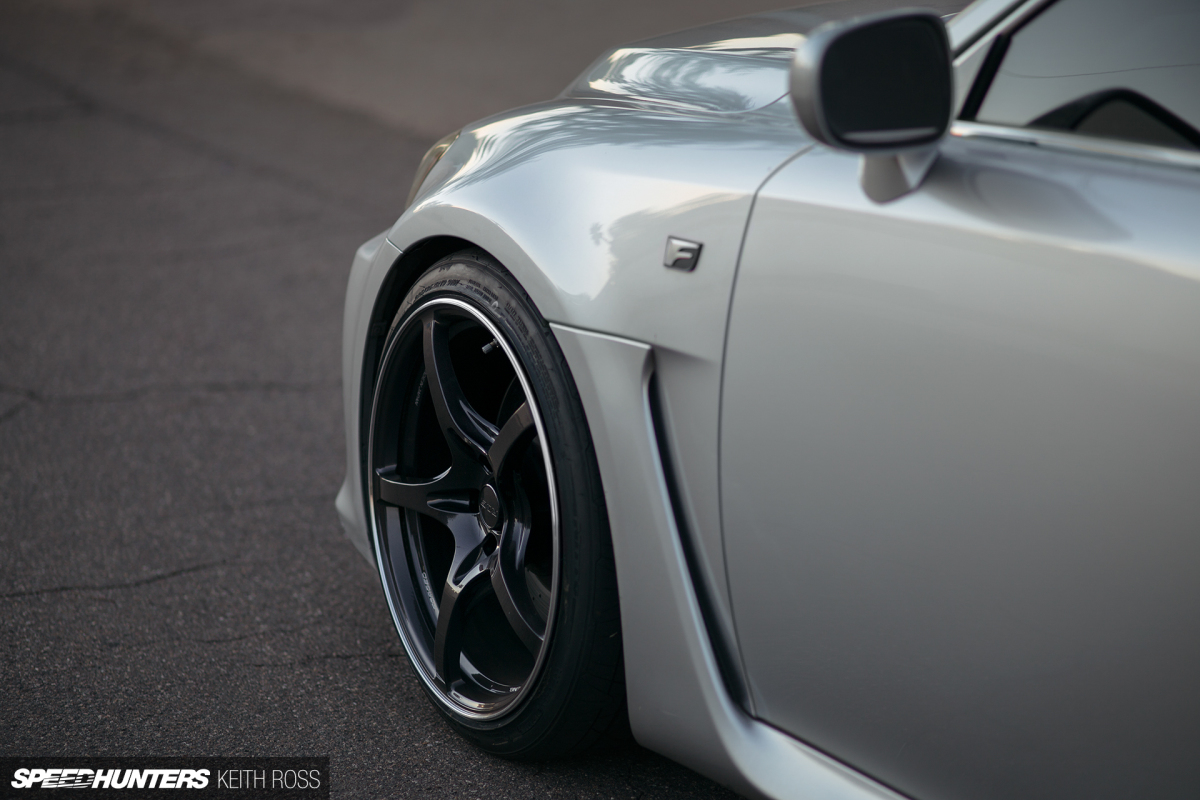 I think next time around I might go to a 245 wide front tire to get rid of some of the stretch, because it looks like there's plenty of room.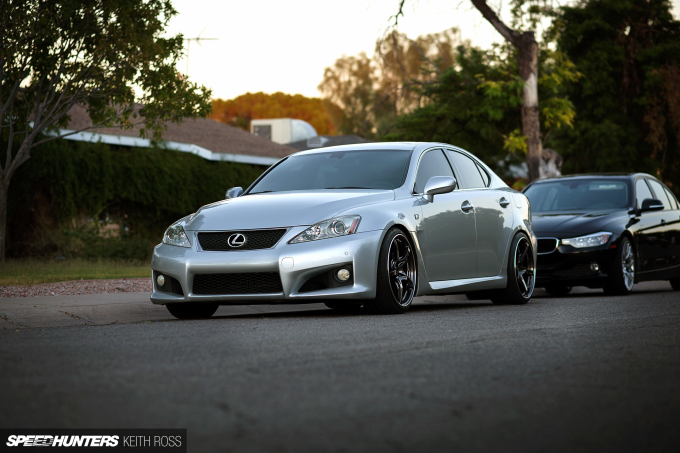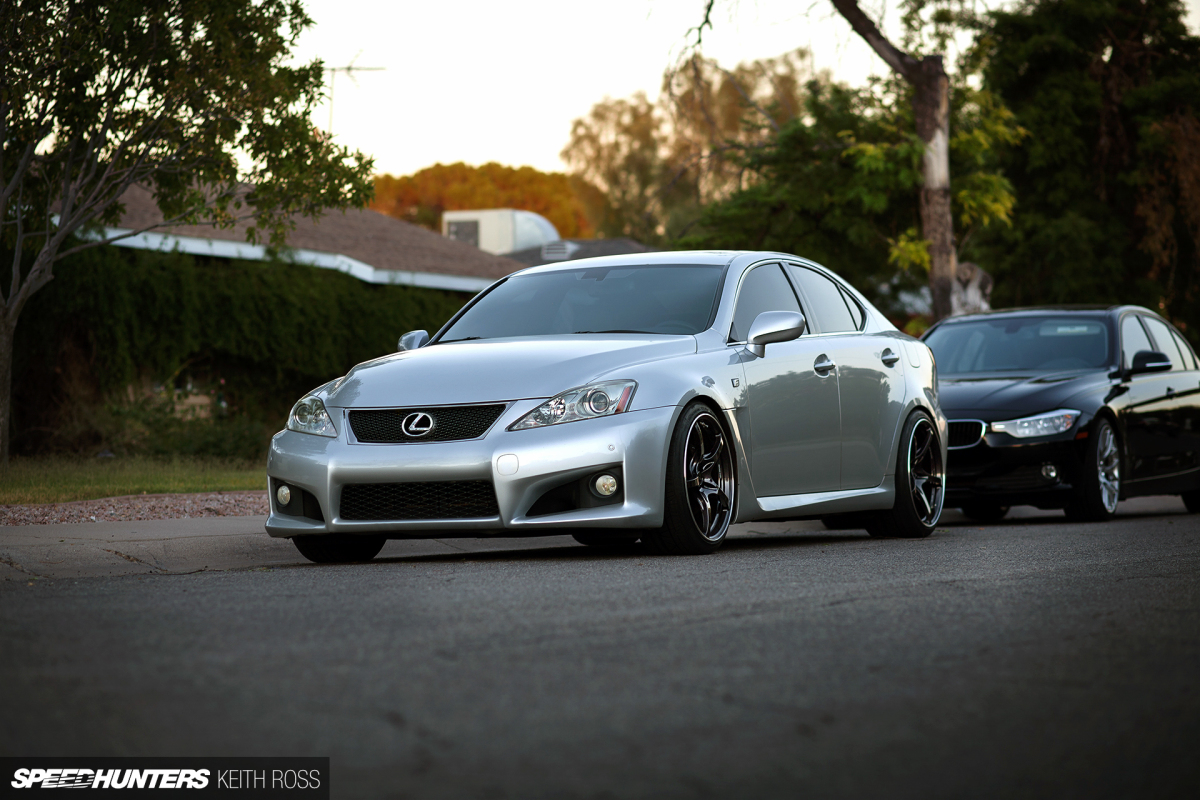 But for now I'm absolutely thrilled with how the car sits, looks and above all – drives. The Borla exhaust sounds great, the KWs feel tight and sporty yet soak up bumps, and the Volk Racing G50s with Nitto Invos are the icing on the cake to complete my lightly modified daily driver.
Keith Charvonia
Instagram: speedhunterskeith
keith@speedhunters.com