Second Time's A Charm
You know a car is good when it gets featured on Speedhunters not once, but twice.
I'll be honest, I completely missed Blake's spotlight when it first appeared back in 2015 so had no idea that car had already been seen here. If anything, it's perhaps a ringing endorsement of what V-Sport have built, considering both Blake and I saw it and immediately thought 'this needs to be on Speedhunters'.
The circumstances under which we individually saw it for that first time couldn't have been more different, though. While Blake had the pleasure of witnessing it run in anger at the 2015 Yokohama World Time Attack Challenge, I had the honour of finding it sat in V-Sport's workshop, raised high on its air jacks with its wheels removed.
I had previously identified the Toyota at Fitted Friday some days previous, as a car that I wanted to look at it in more detail before the 24-hour flight back to Ireland. There's a great balance at Fitted Friday, when you look back through the stories that we created after the event, I think this is reflected really well. And for me, this GT86 was the perfect representative of Australia's time attack culture.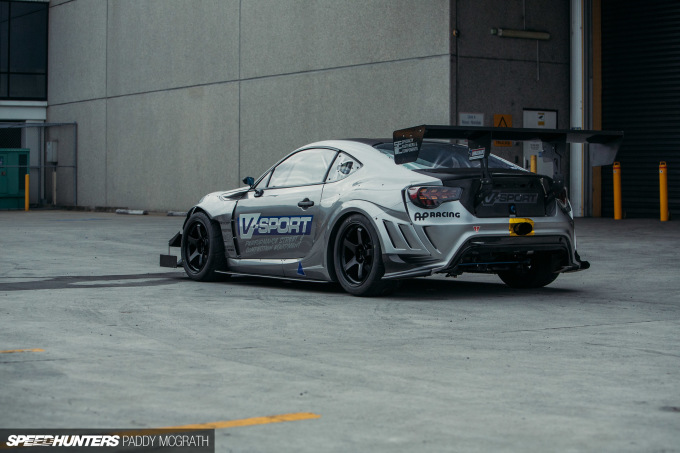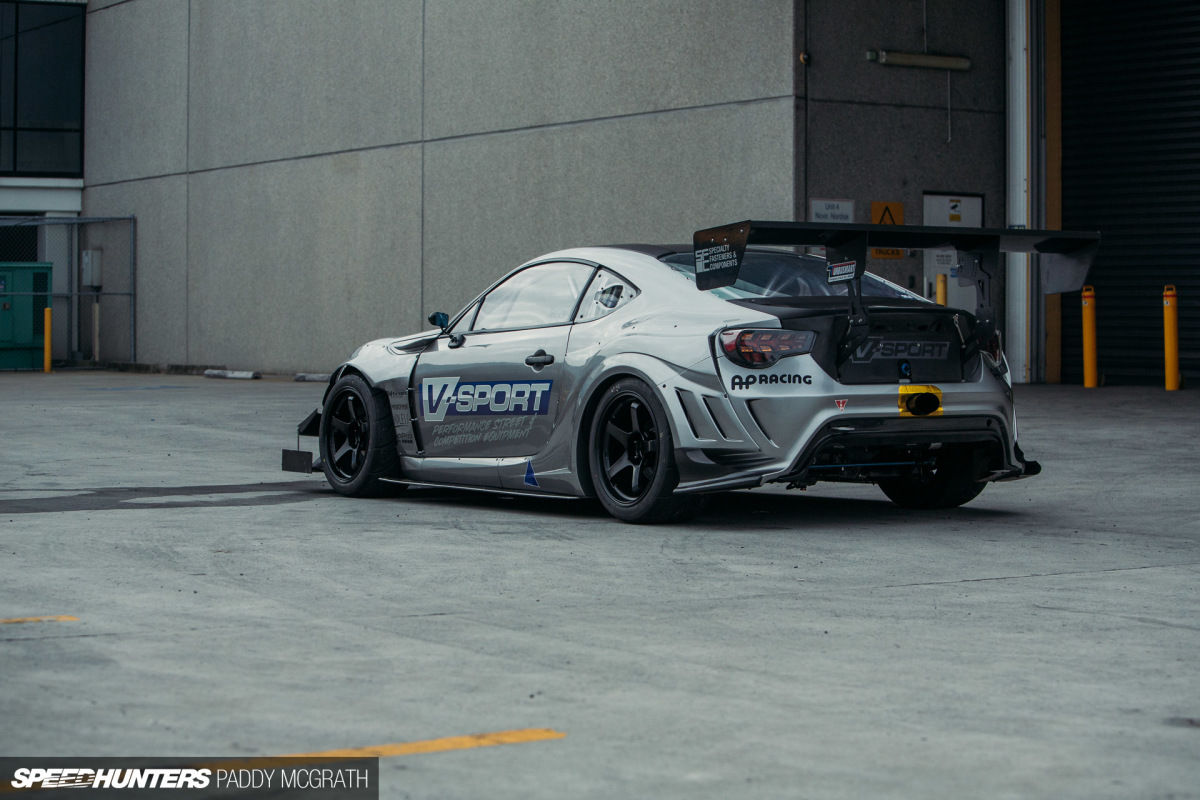 I won't speak for Blake, but what attracted me to this car, more than others, is that it's a very honest kind of motorsport build. It's still a GT86 and not a tube chassis monster; it remains relatable. There's nothing wrong with the alternative, but I know that a car grounded in reality is often far more interesting than an unlimited budget, no-holds-barred build.
It might sound silly, but it feels like it has a soul.
Part of this is the fact that it remains a full bodied car. Under its skin, is still a ZN6 chassis and not the silhouette of one. The base body kit is an odd mismatch of Rocket Bunny and Varis, front and rear respectively, but it's one that still works together very well and gives the car that something different. It was the right choice to leave the exposed hardware on the rear part, for both aesthetic and practical purposes. It is a race car, after all.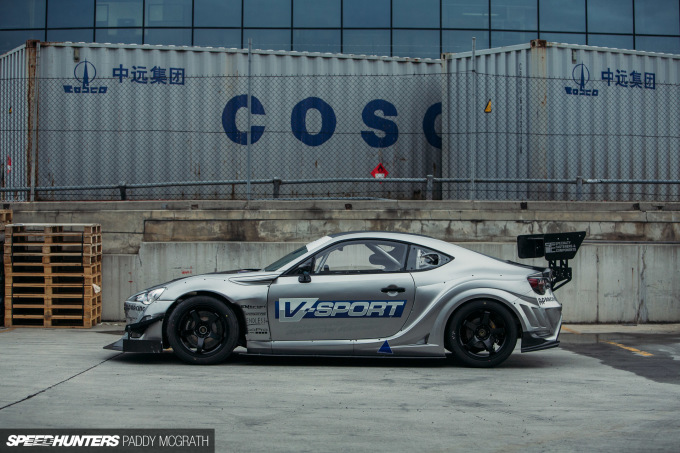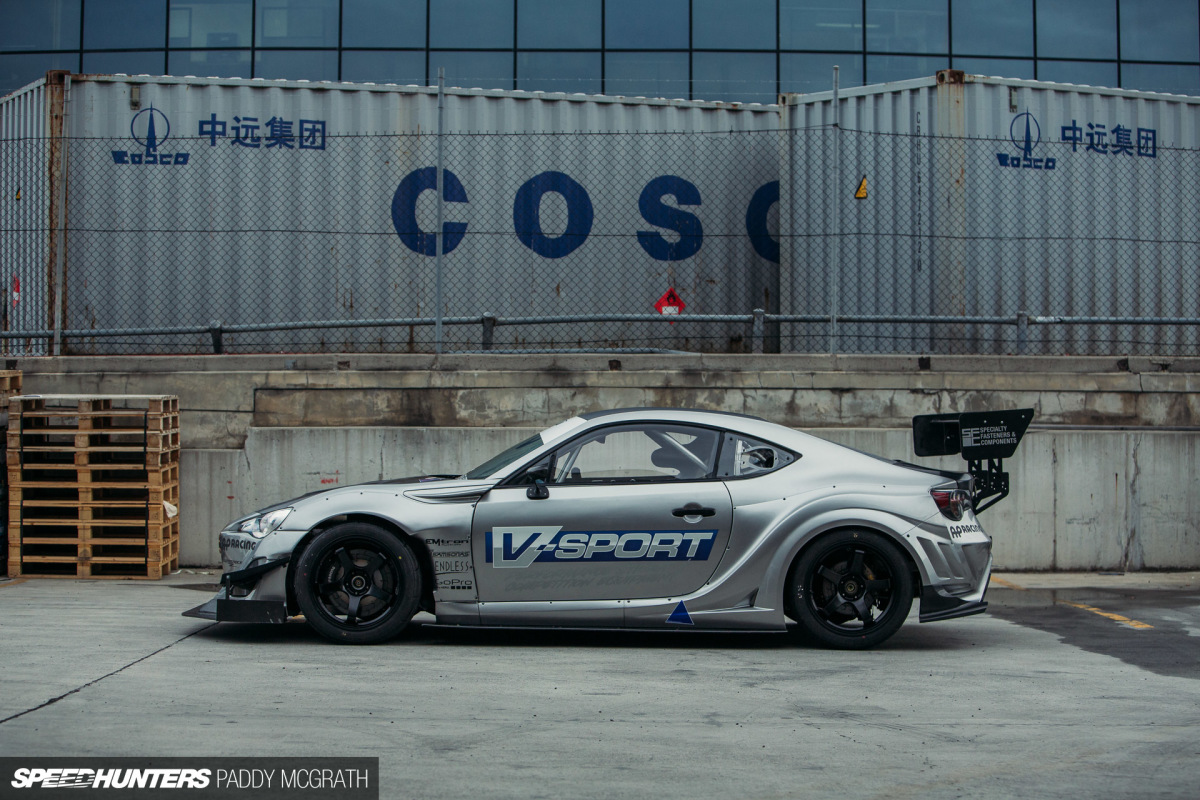 The Toyota went on a strict diet in order to offset the weight of the safety devices that have been added to the car; the bonnet, doors, roof and boot lid are all carbon fibre and do their own bit in getting the car down to 1250kgs (2755lbs). When you consider everything on this car, that's a pretty remarkable feat.
The slightly raked stance isn't part of the car's setup, rather it's its transport mode, in case you were wondering.
When I visited, the team were still working on developing the aerodynamic package on the car, as it's an area they feel like they can make a lot of ground up in terms of performance and reducing lap times. The custom front splitter with hard-linked dive planes proved a huge asset, although there's more to come when a new rear diffuser package is completed.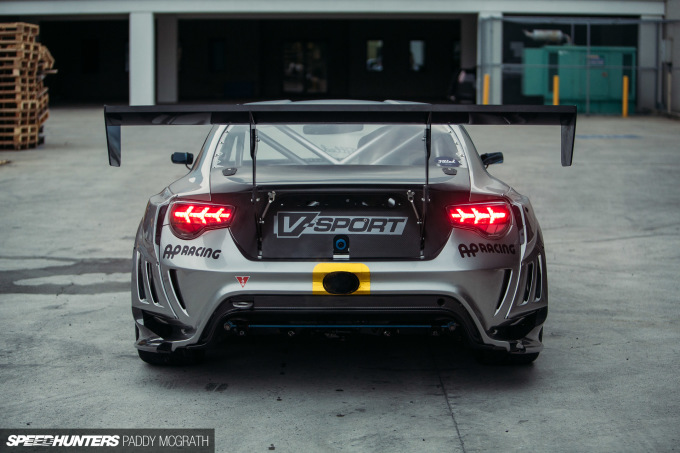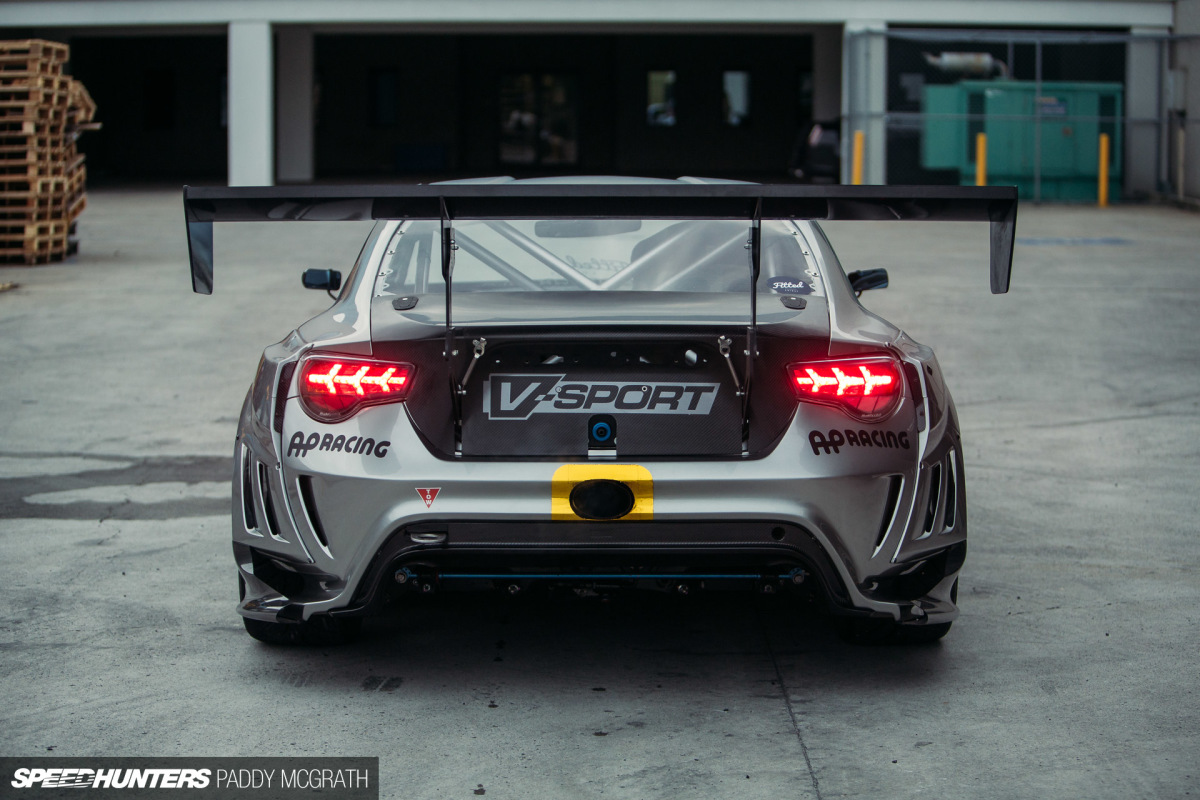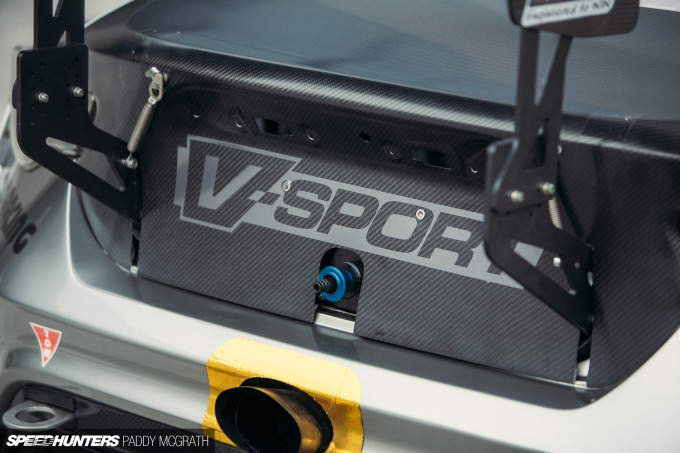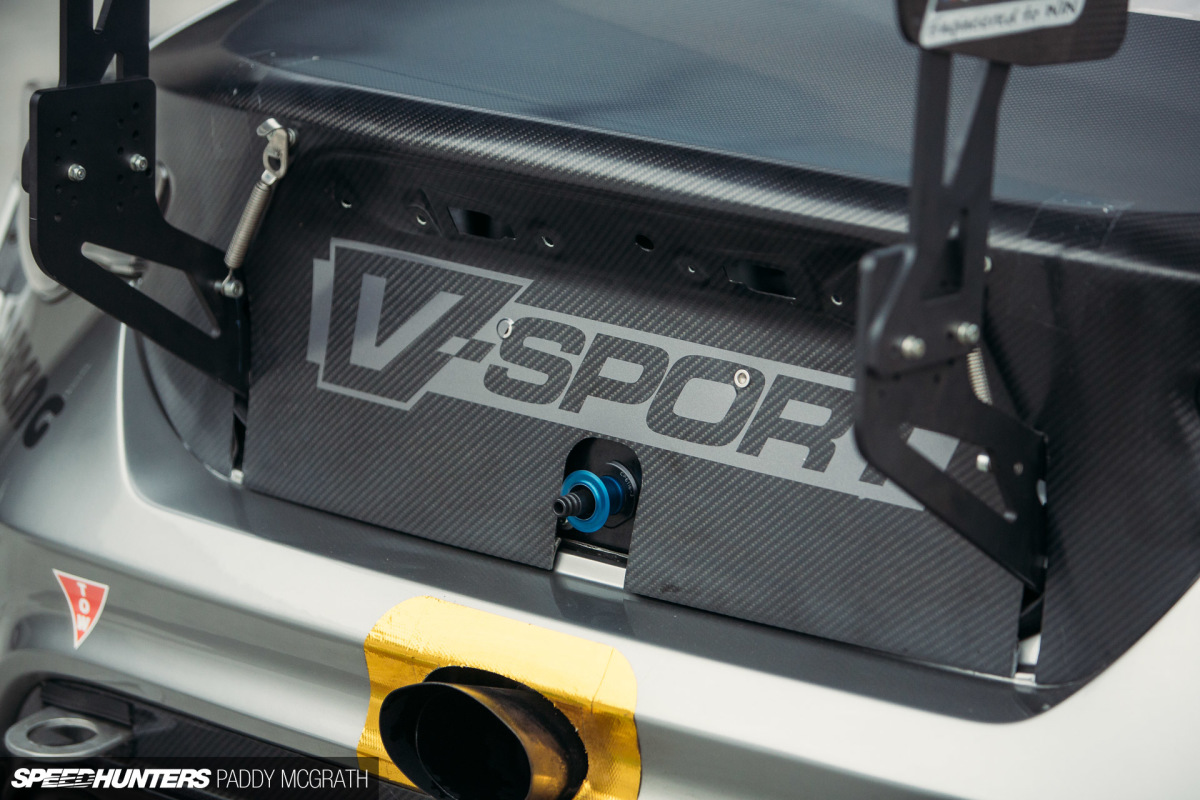 The adjustable full-width rear wing is mounted through the featherweight carbon boot and directly to the rear boot floor. To mount it directly to the boot lid would be, well, completely pointless.
Beneath The Skin
For all the excitement on the outside, it's the bits hidden out of sight that excite us the most. The car was put together by V-Sport as an in-house project to showcase what's possible with this chassis and, in particular, the 4U-GSE/FA20 engine that comes in the GT86/BRZ. When I first saw the car I was fully expecting a 2JZ or EJ motor, so it was another feather in this car's cap that they've chose to develop the key aspects of the car. Again, it keeps it relatable and much like HKS's new time attack machine.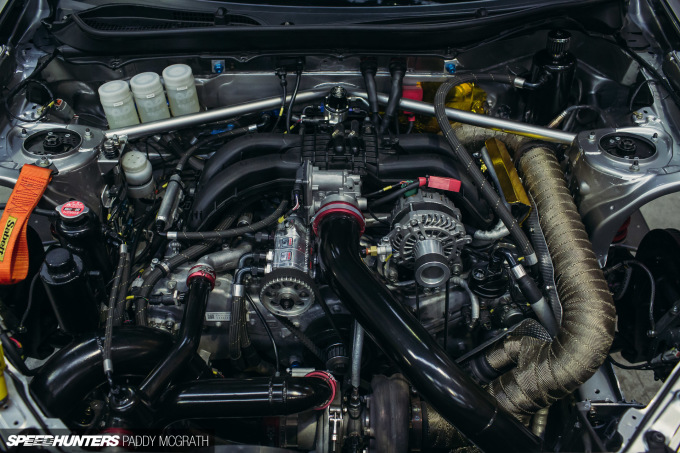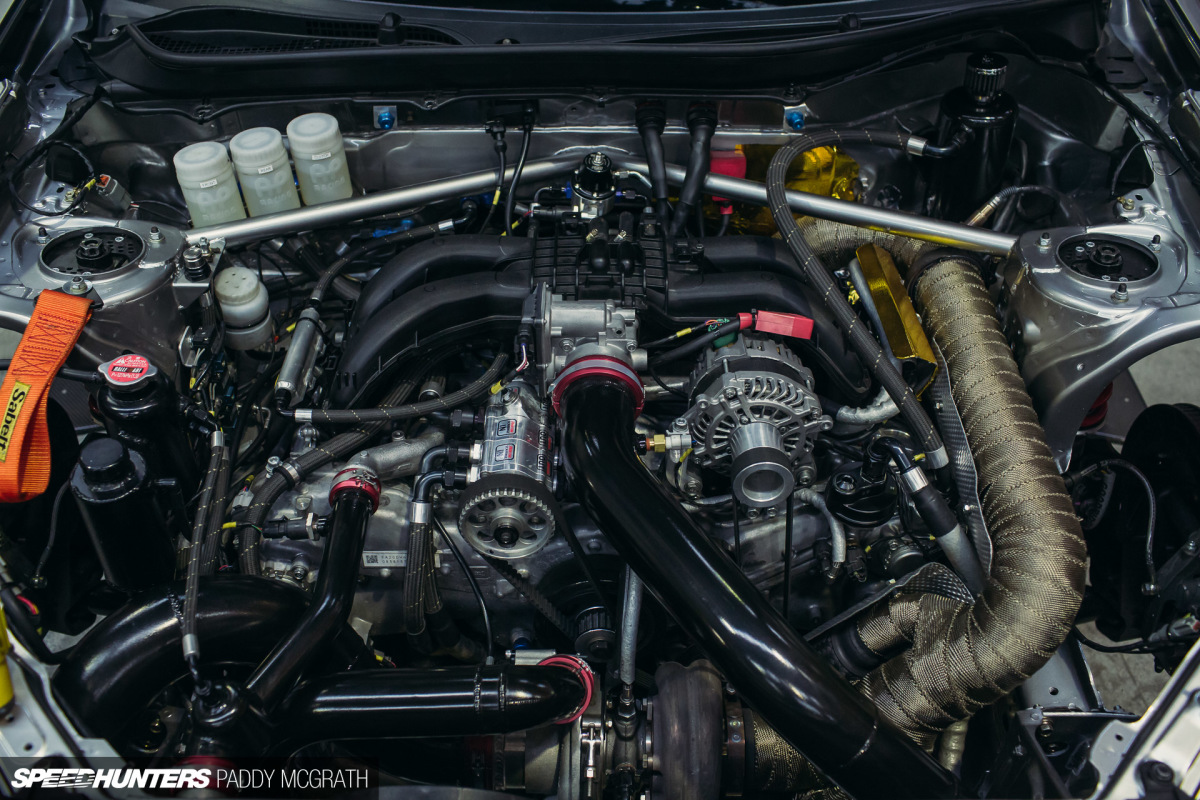 Anaemic would probably be a kind description of a stock 4U-GSE/FA20; they are simply not powerful engines by any means. They lack torque and power pretty much everywhere in the rev range, but it's fascinating – and frustrating – how much potential they actually have. On the stock crankshaft are CP-Carillo rods with JE pistons, while HKS camshafts with Ferrera valves, springs and retainers are the main talking points of the cylinder heads, along with having being converted to port injection.
As Blake pointed out, it's also a dry-sumped setup.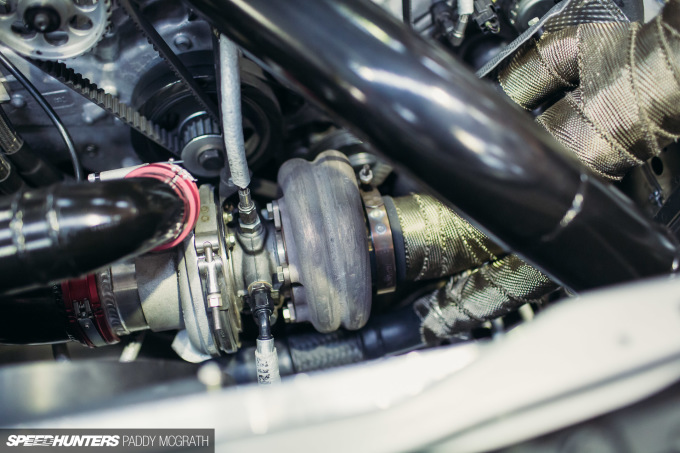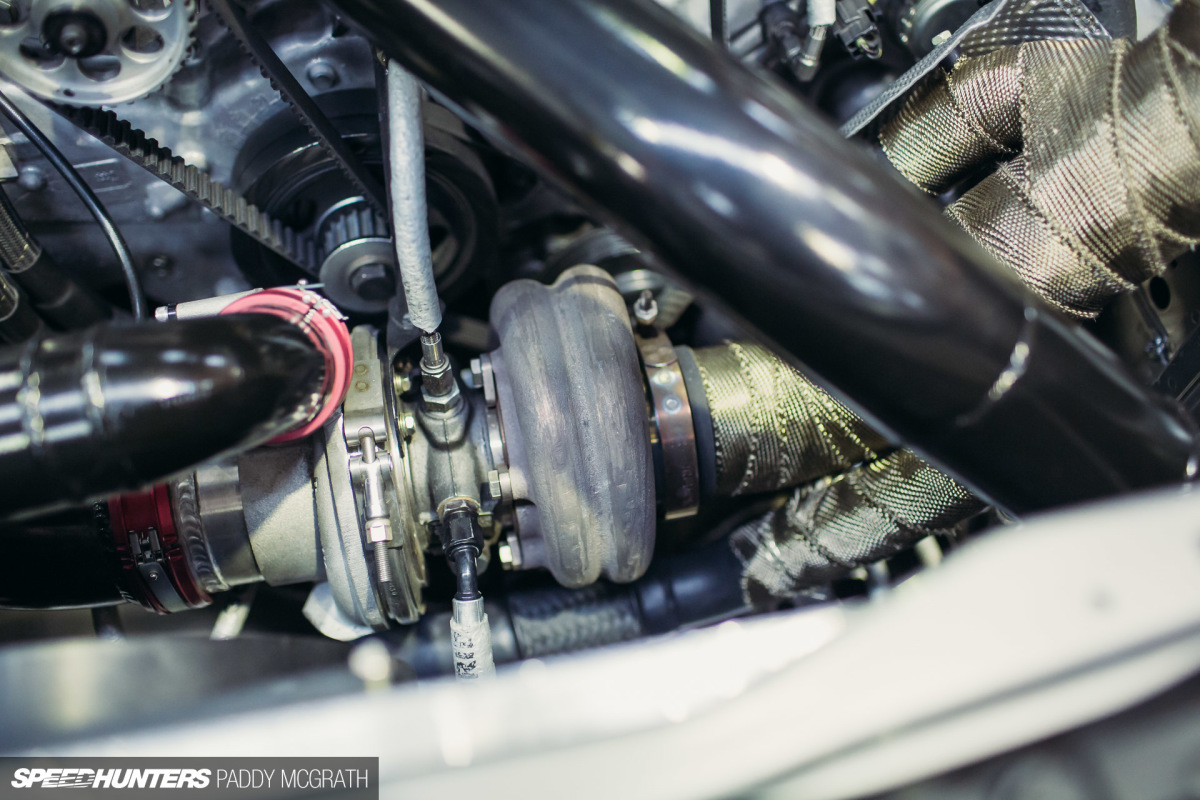 I can't imagine that these engines are ever going to make big numbers without the assistance of forced induction – I'm open to being proved wrong – but this is another on the increasing list of boosted examples. In this case a BorgWarner EFR 7670 is mounted on a custom manifold with a Turbosmart 45mm external wastegate, creating enough boost for 350kW (475hp) to the wheels, as tuned through an Emtron KV8 ECU. The power is then put to the ground through a Samsonas sequential gearbox, a Cusco LSD and Driveshaft Shop driveshafts.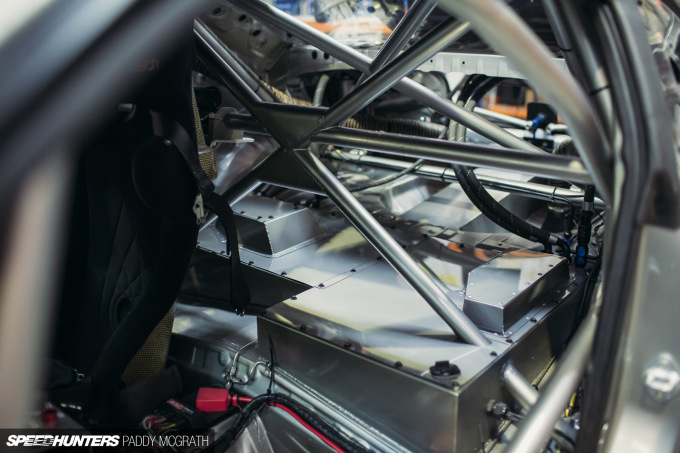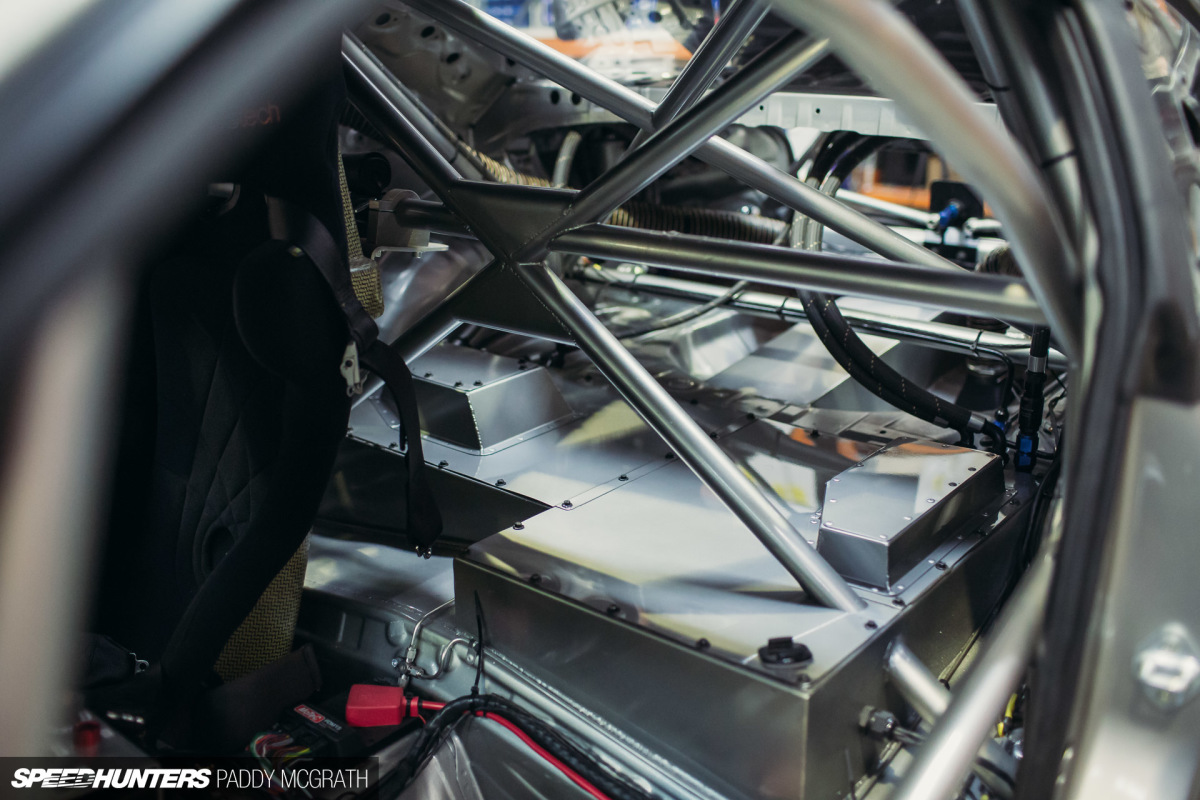 Coming back to the chassis for a moment, the car is outfitted with a tower-to-tower roll-cage along with the mandatory safety equipment for a car of this nature. Where the cage passes through the steel box – which I assume houses the fuel system – makes me smile, for many reasons.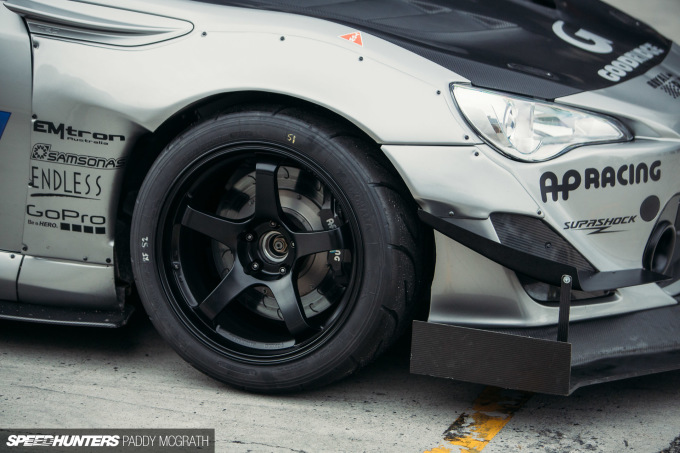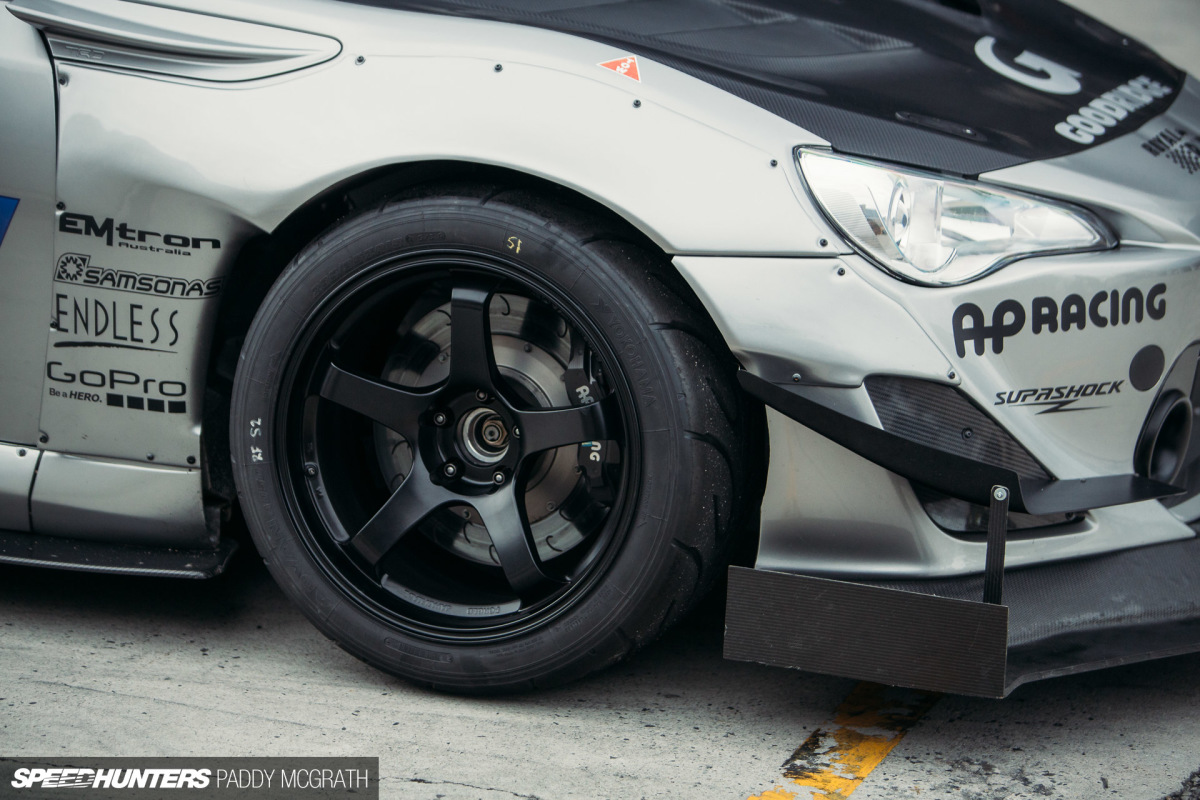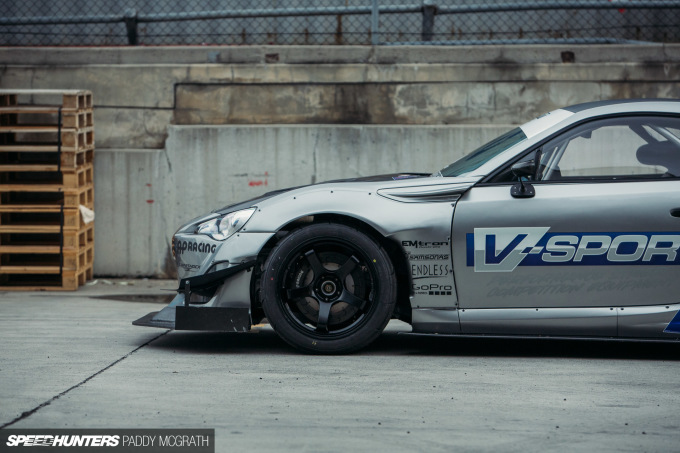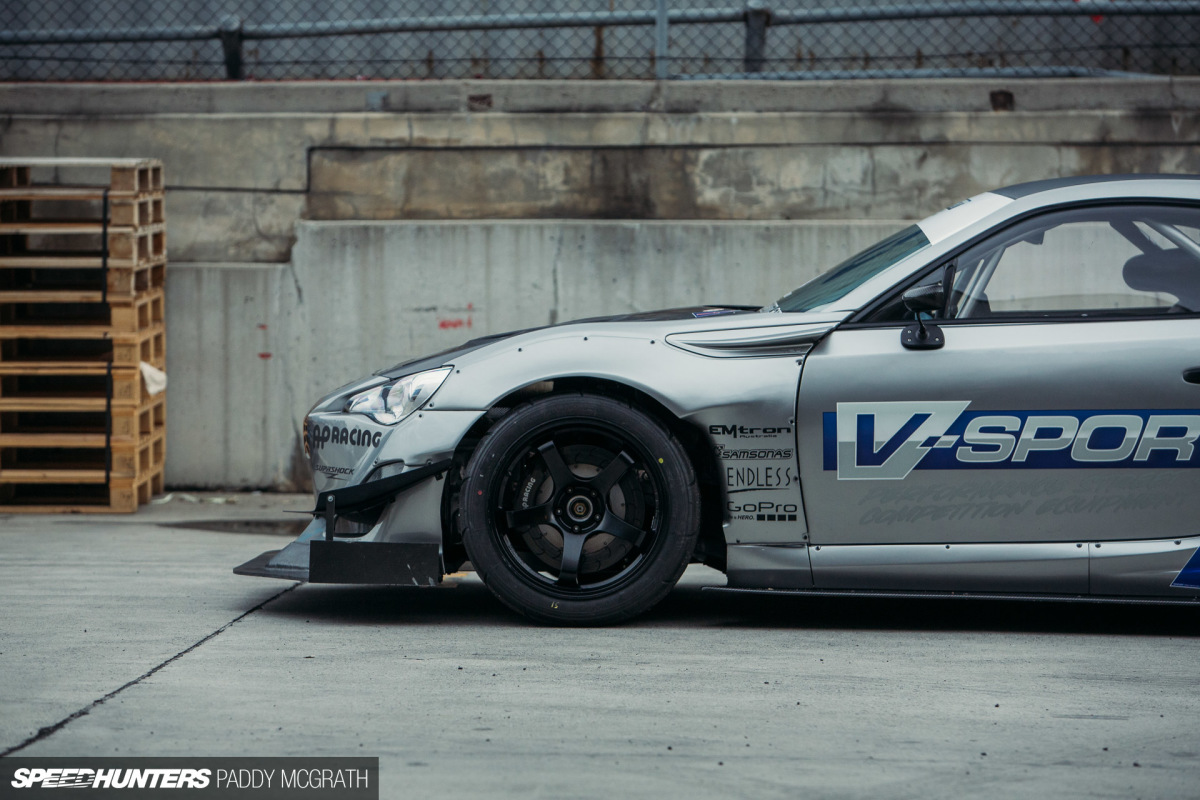 Advan Racing 18×11-inch wheels with 295/35R18 Yokohama Advan A050s are a significant increase in footprint over stock. To accommodate the larger wheel and tyre combination, the GT86 was tubbed front and rear.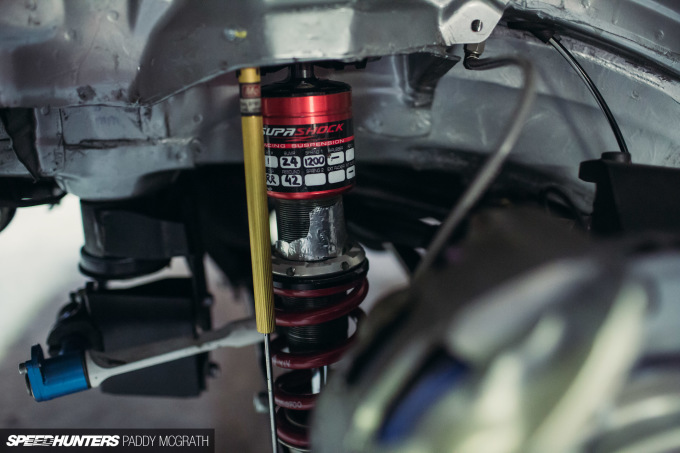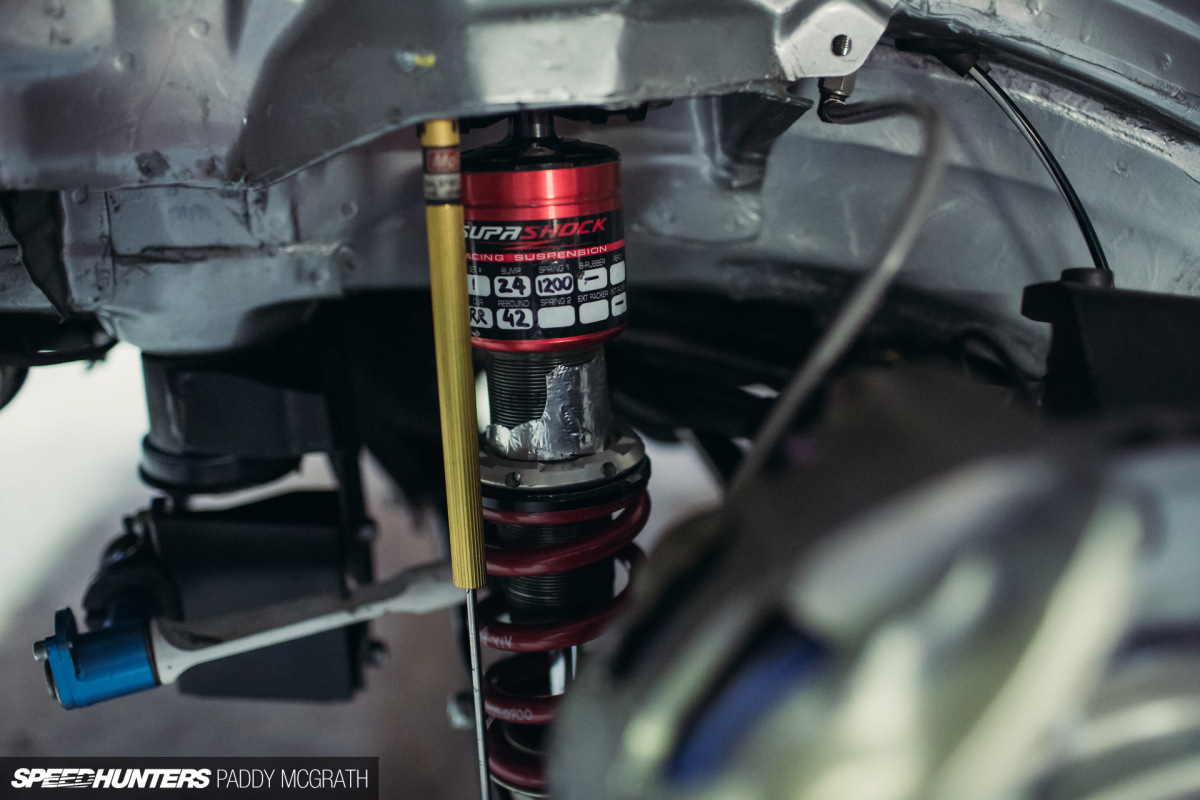 The Toyota is suspended on Supashock coilovers front and rear, with accompanying RaceFab suspension arms and Brypar uprights. The gold MoTeC linear potentiometers are used to measure suspension travel and are data-logged accordingly for review after any session.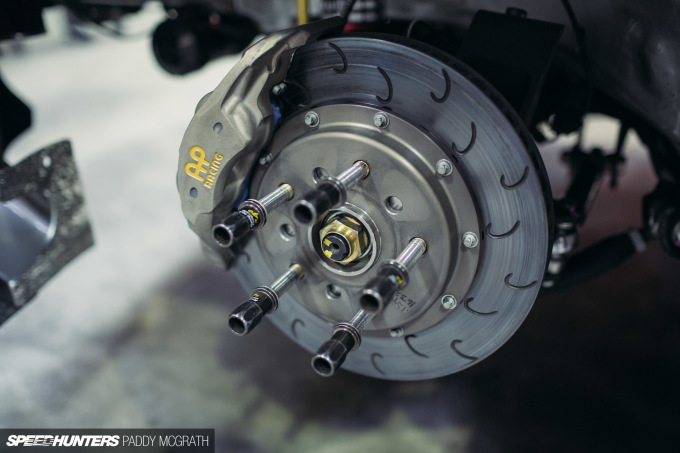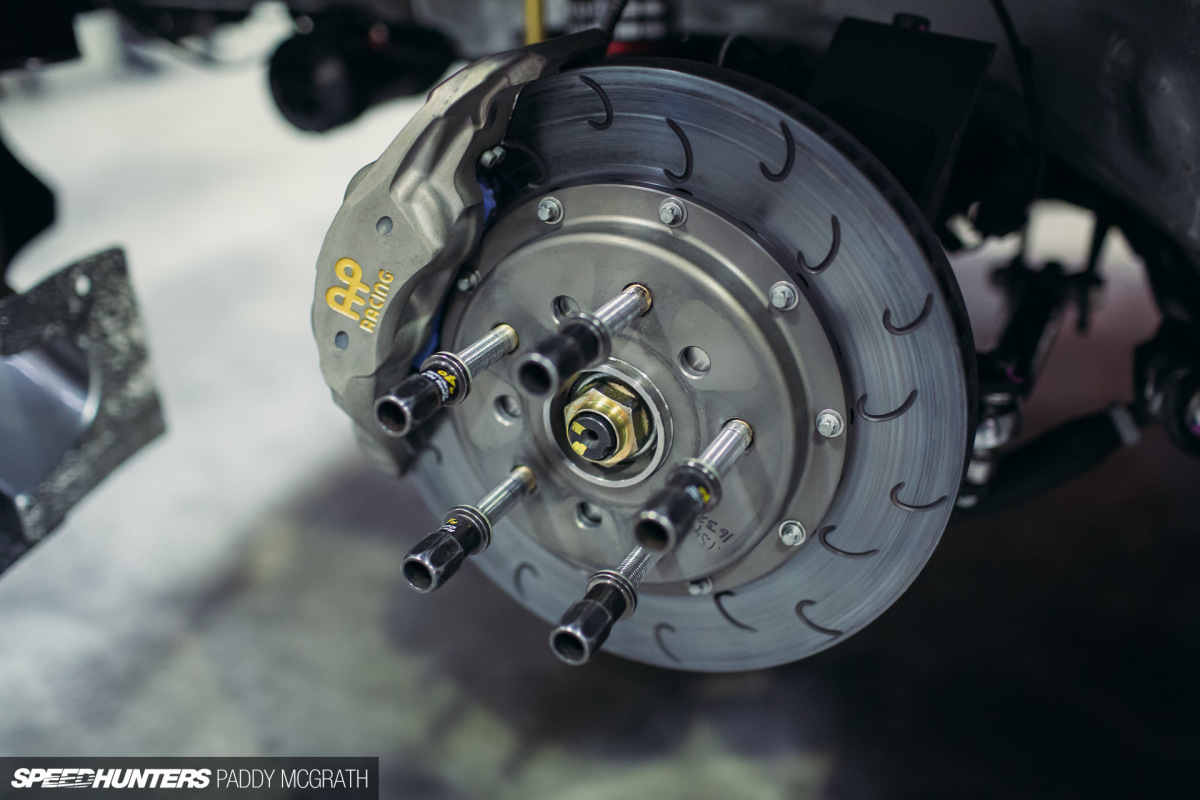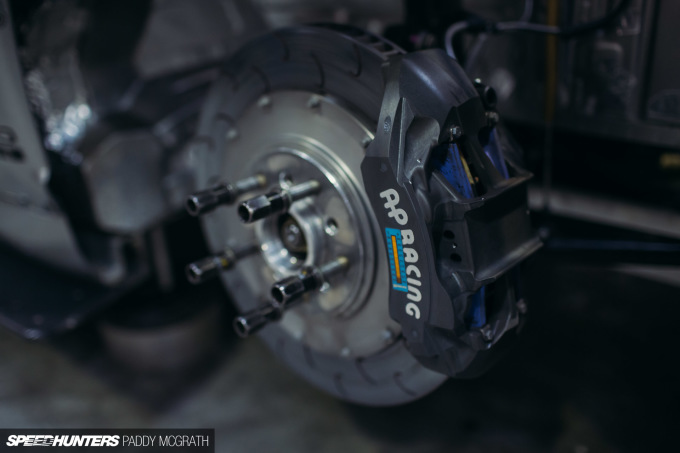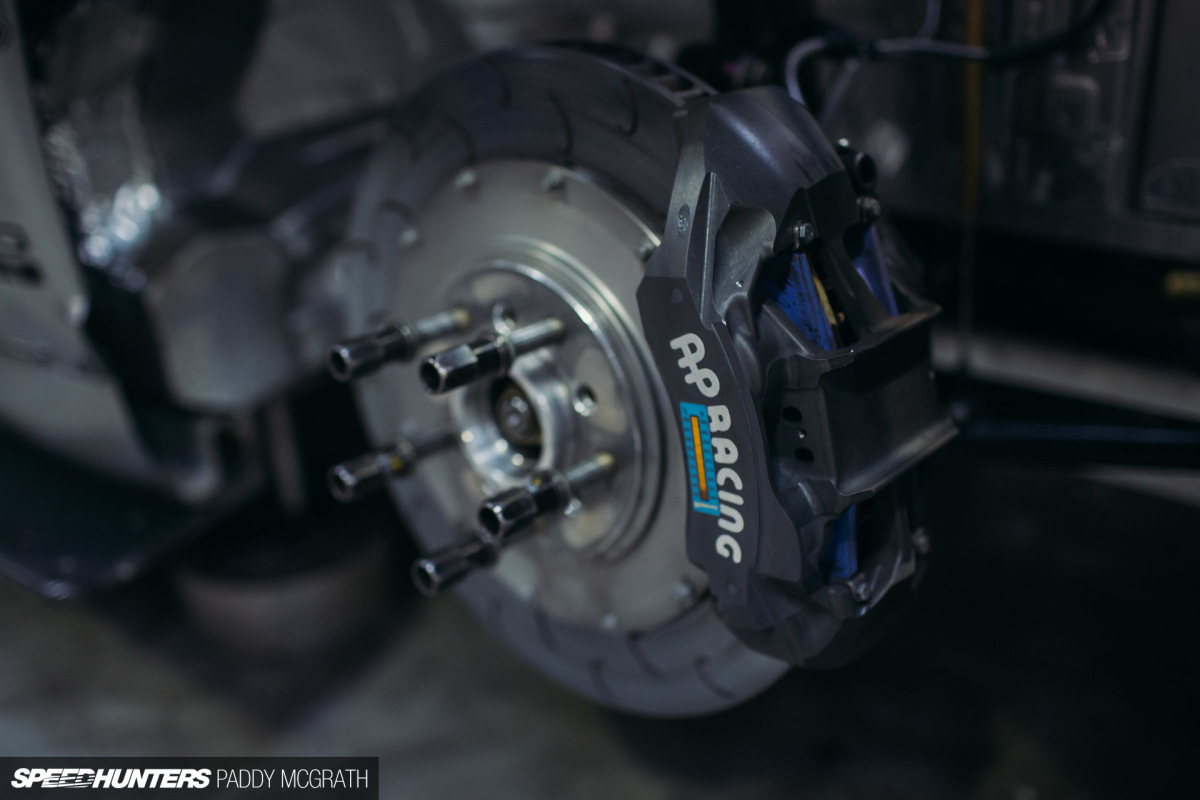 As an AP Racing retailer, V-Sport didn't have to look too far for stopping options. 355mm front discs and 295mm rears are clamped by 4-piston calipers, mounted with custom hats and brackets.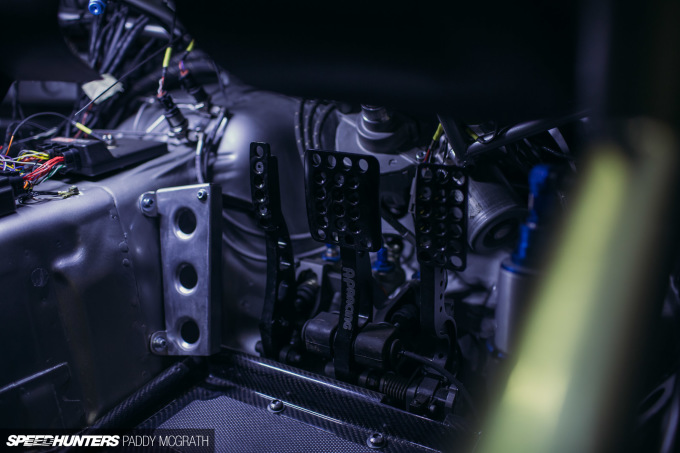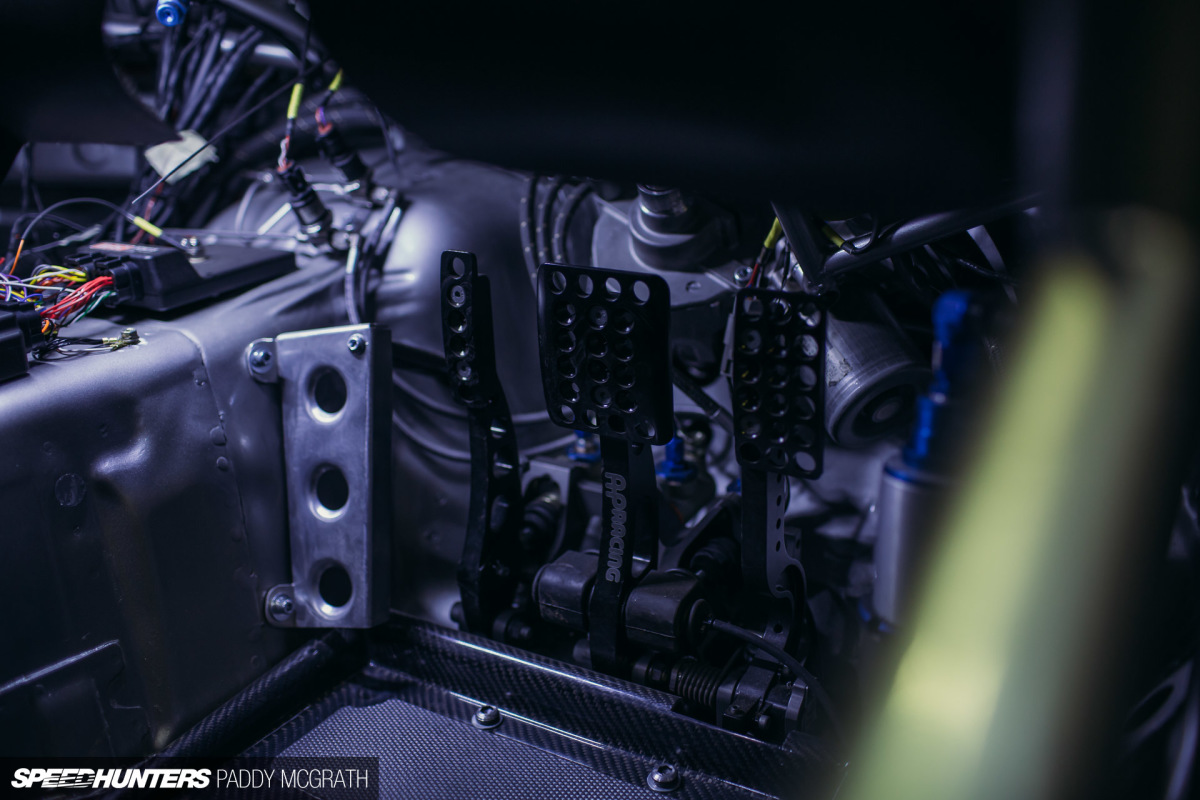 AP Racing also supplied the floor-mounted pedal box, with the accelerator linked to the engine via fly-by wire throttle control.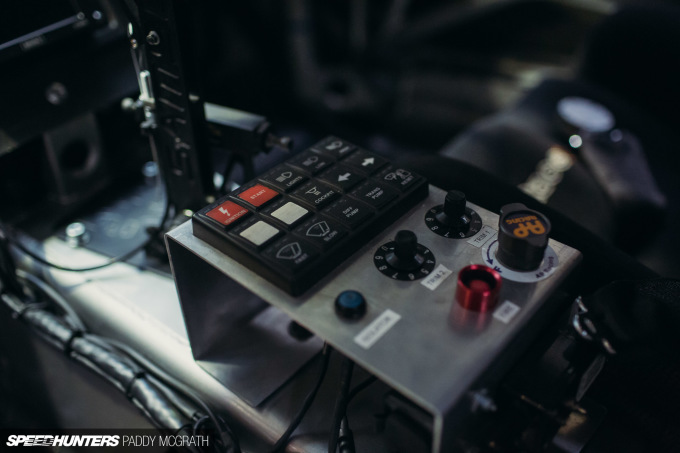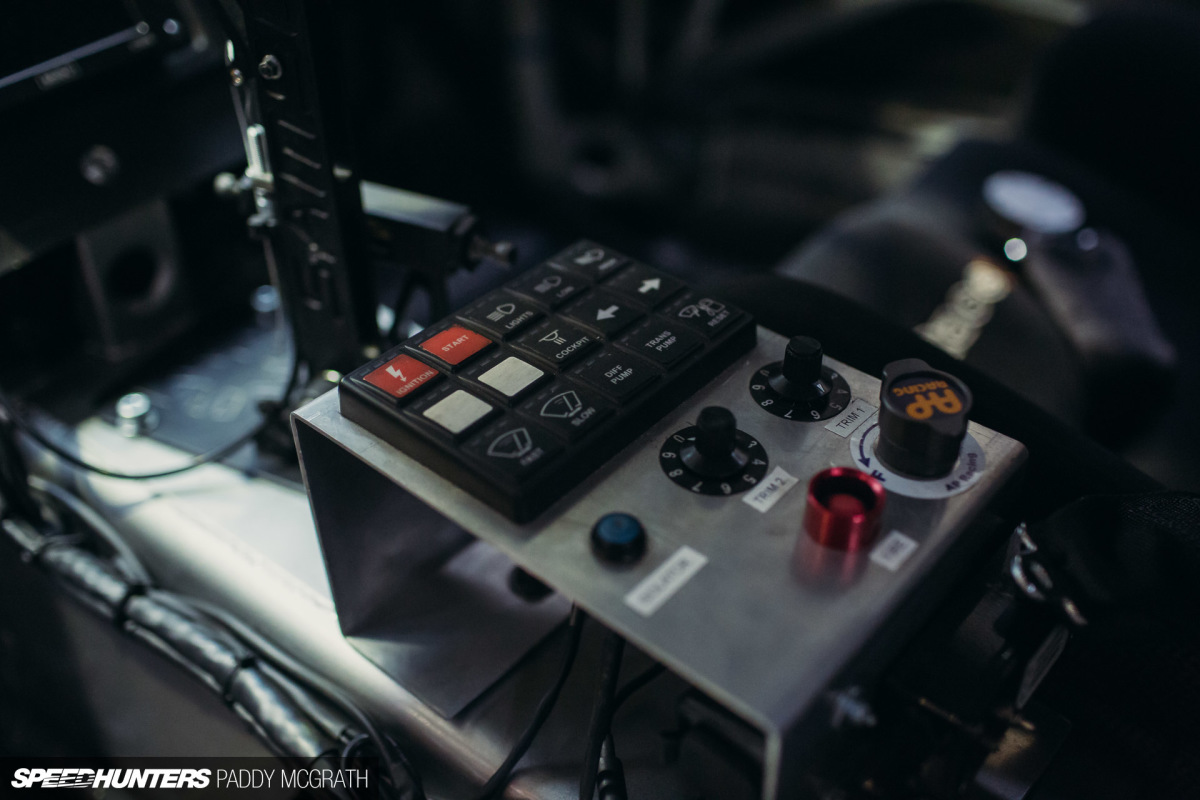 The interior is very much race car, with a neat switch panel mounted on the gearbox tunnel. For convenience, and much to my delight, one of the switches operates a low-key interior lighting system. Information is relayed to the driver via a series of MoTeC displays.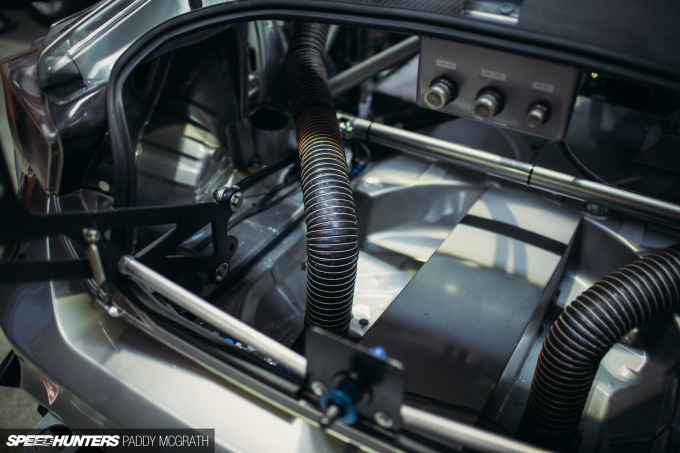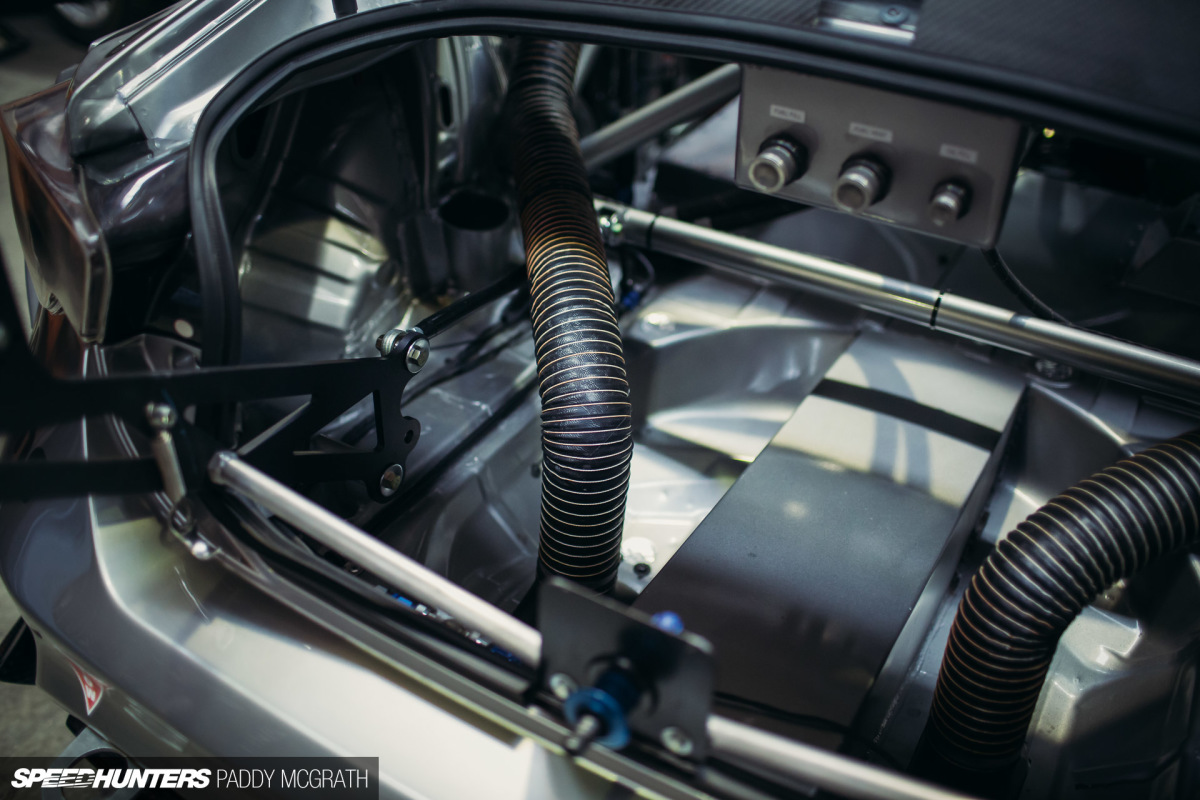 The rear is sparse but I was surprised to find the original spare wheel well. NACA ducts in the rear quarter windows feed cold air beneath the car to the gearbox and differential coolers.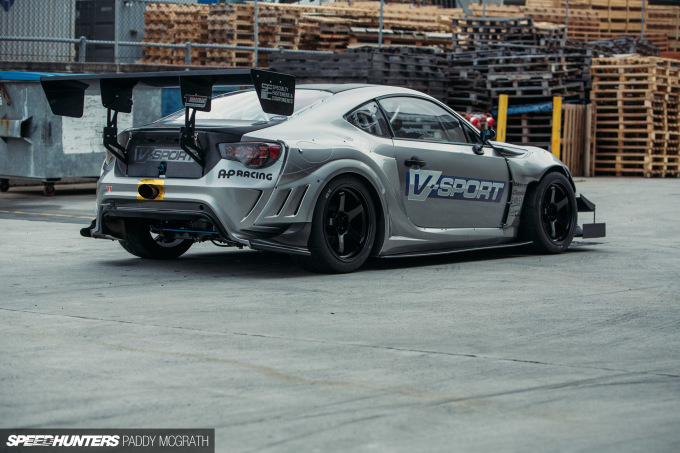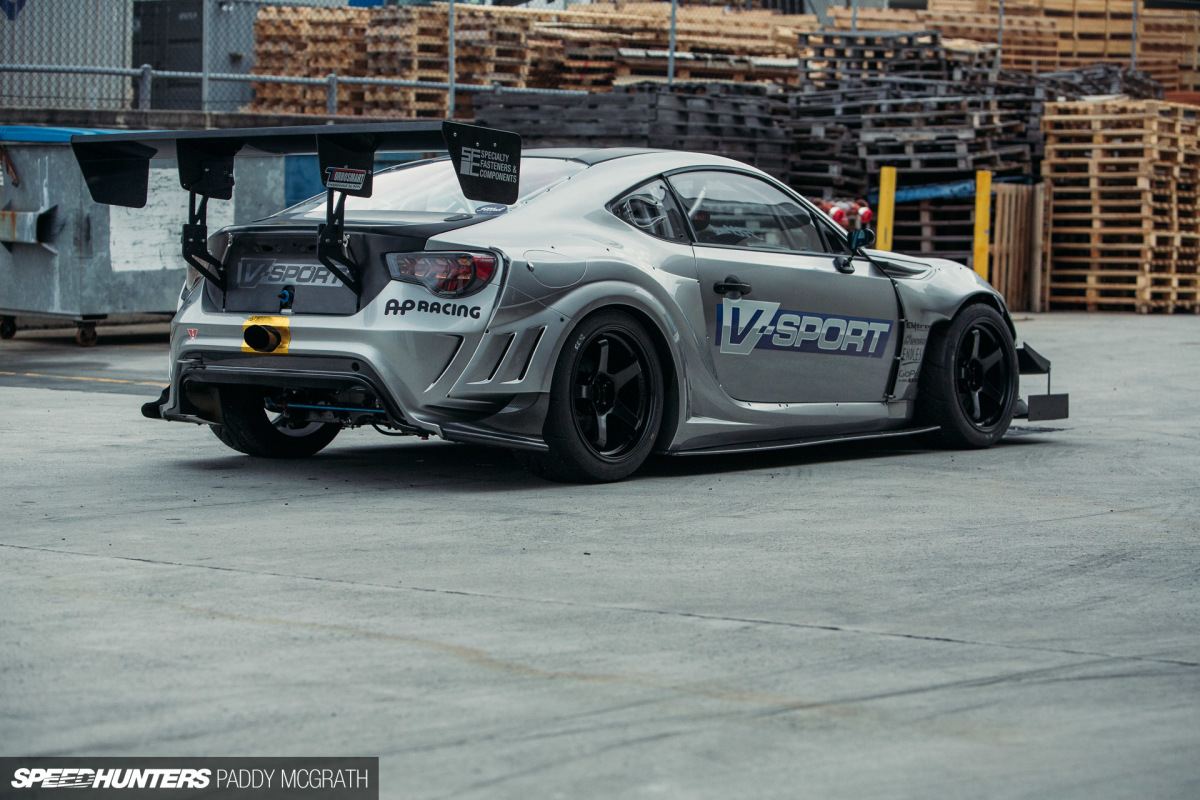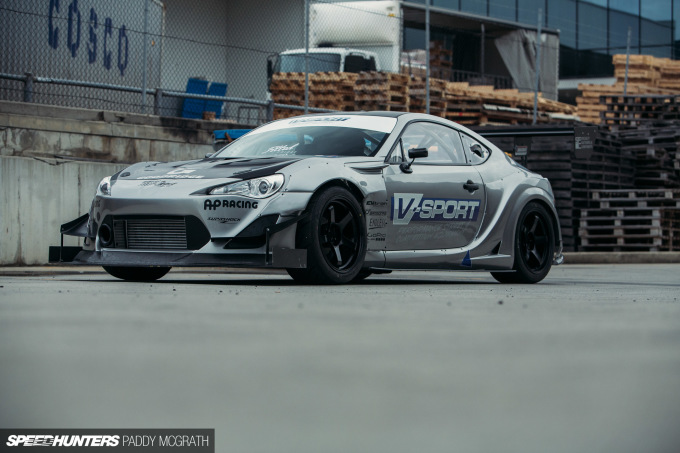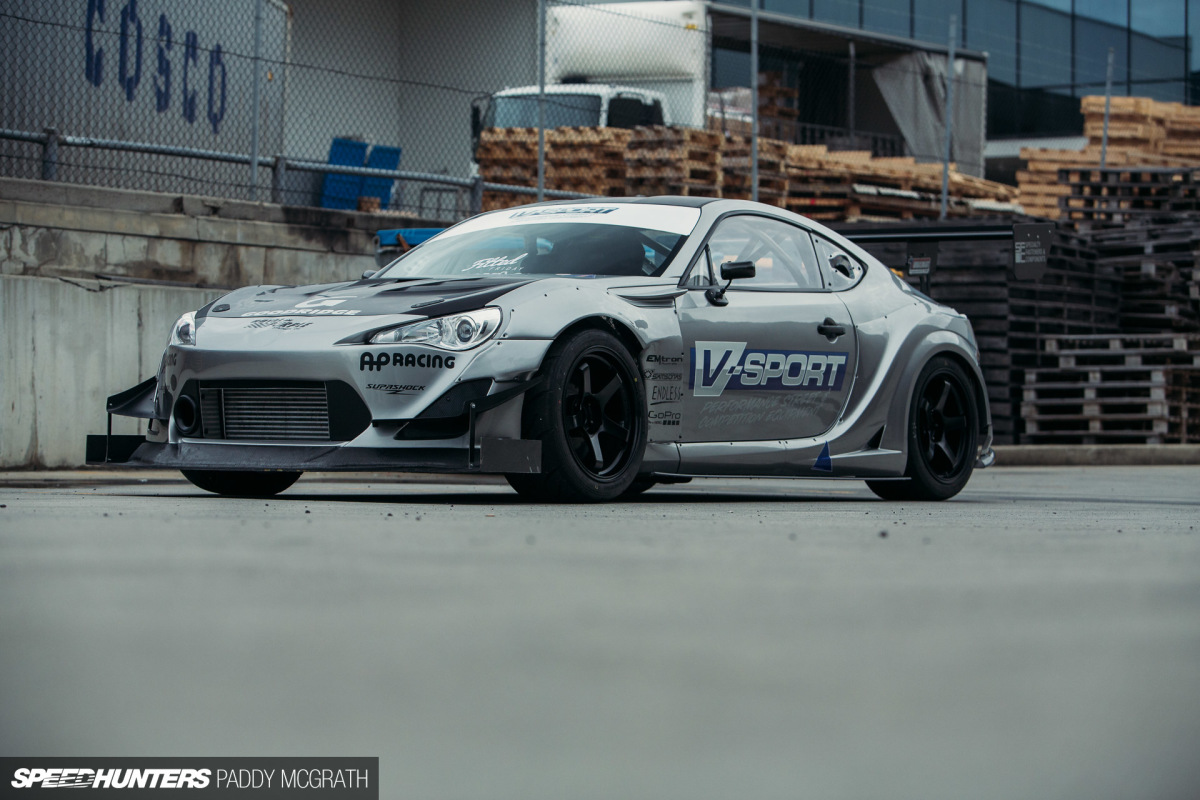 While it's certainly not an out and out big horsepower car, it's the complete package. For me, this alone makes it so much more interesting. By focusing on the balance of the car, instead of just winding up the boost, V-Sport have arguably created a much better car too. When it's dialled in, more power can always be added to the mix to find more time if needed. But there's something satisfying about finding that time by other methods.
Power is often the easy solution, but it's worth taking a stroll down the road less travelled from time to time too.
Paddy McGrath
Instagram: pmcgphotos
Twitter: pmcgphotos
Facebook: Paddy McGrath
paddy@speedhunters.com
Cutting Room Floor