Attention To Detail Is A Way Of Life
I'd like to first apologize for the lack of updates; I'm waiting for some major parts to arrive which I promise will be amazing. In the meantime though, I was asked to write about how 'OCD' I get with my car.
With work done by tuners or others it can be tough, but something like this DIY project which I did in my spare time over several weekends (hence the long delay) provided an ideal opportunity to show the kind of stuff I spend time doing, my thoughts during such a project, and what I perceive to be that extra 10 percent that makes the difference. I'd be curious to learn about special techniques and tips you may have, too. Feel free to let me know. Oh and please, I am in no way a professional, so I'm sure there are those of you out there who could do a much better job.
As anyone who has visited Japan knows, the Japanese pride themselves on attention to detail in almost everything they do. After 13-plus years of living here, I myself have adopted this trait (it's not genetic) to many things in my life too, but none more obvious to my friends than how I clean and tinker with my cars.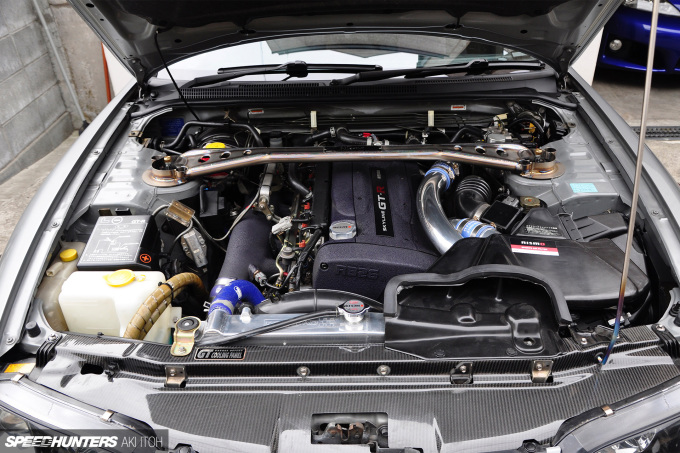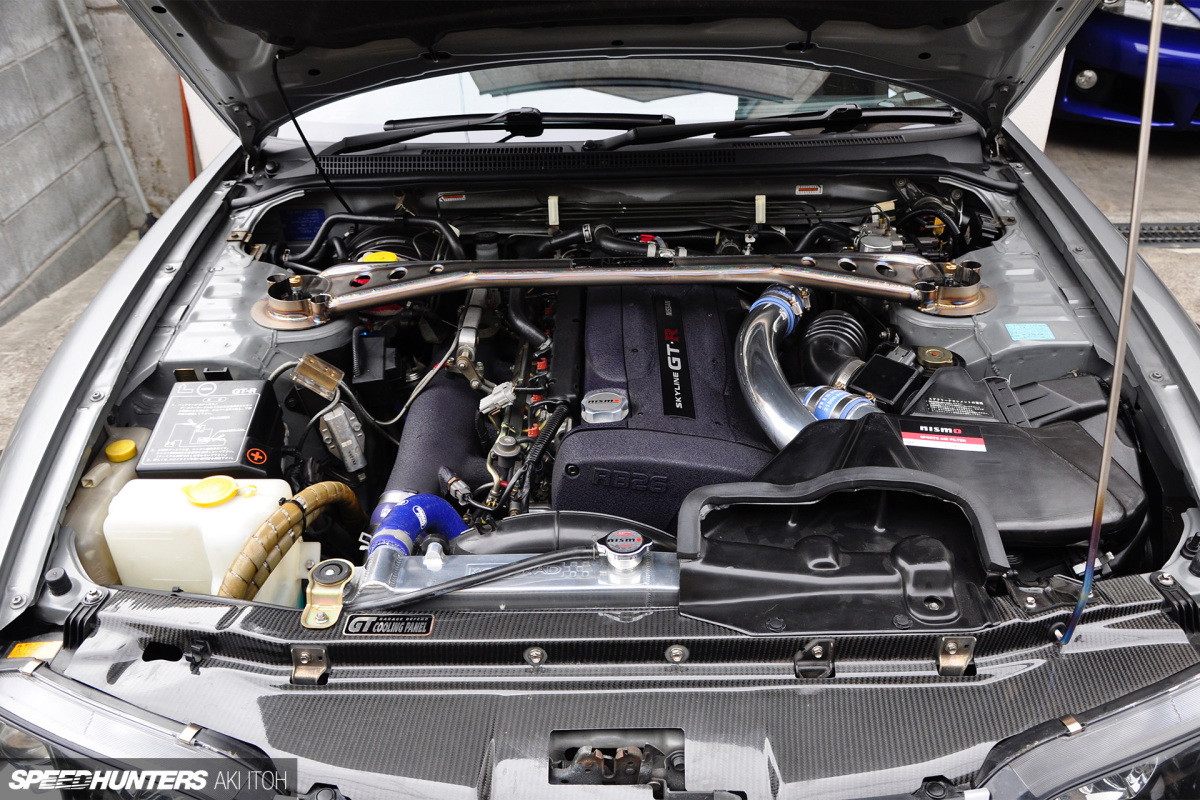 Often, people express their attention to detail (or 'OCD-ness') by, of course, detailing their cars. But for me, the journey with my GT-R isn't just about keeping it clean, but in modernizing and actually 'finishing' many parts on the car which I believe to be incomplete. I think you will agree that, by paying attention to the little details, the end result is often much more than just throwing a bunch of parts on the car.
For example, one thing I've always wanted to try was to give a more uniform and cleaned up look to the engine bay. Obviously the RB26DETT engine itself isn't meant to be pretty, being that it's essentially a tuned-down race car engine. The engines in the R32 and R33 GT-Rs were painted no-nonsense black and all the associated metal bits were mostly left in their natural state of shine. Some of the show car quality RB26DETT Skylines I've seen, both in real life and in photos, look amazing, with repainted cam covers, rerouted wiring and piping resulting in a less cluttered engine bay, or lots of chrome for some nice bling. Maybe someday I'll go down that route, but right now I'm too lazy and not mechanically minded enough. Up until now, the only bling for me has been the by-products of whatever parts I've installed, like the purple/blue wrinkle paint-covered Mine's built engine and that Nismo piping. Just like how wax build-up on a car's emblems can visually detract from an otherwise spotless car, I decided to simply focus on some small parts in the engine bay, which to me detract from the overall RB26 package.

Here's an example of what's possible (the before and after) by taking care of the details.
I Like Bespoke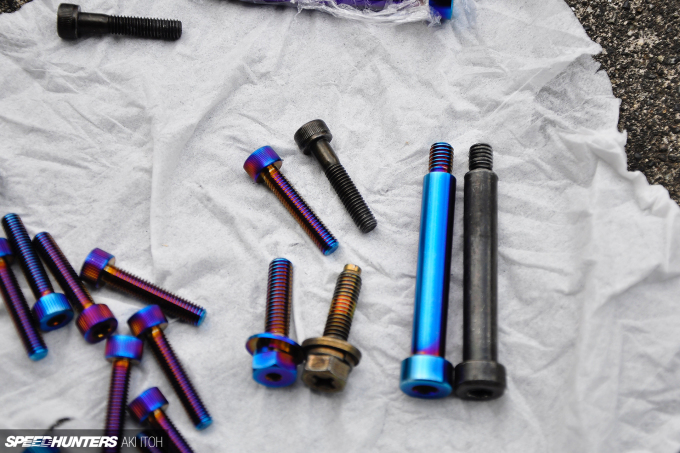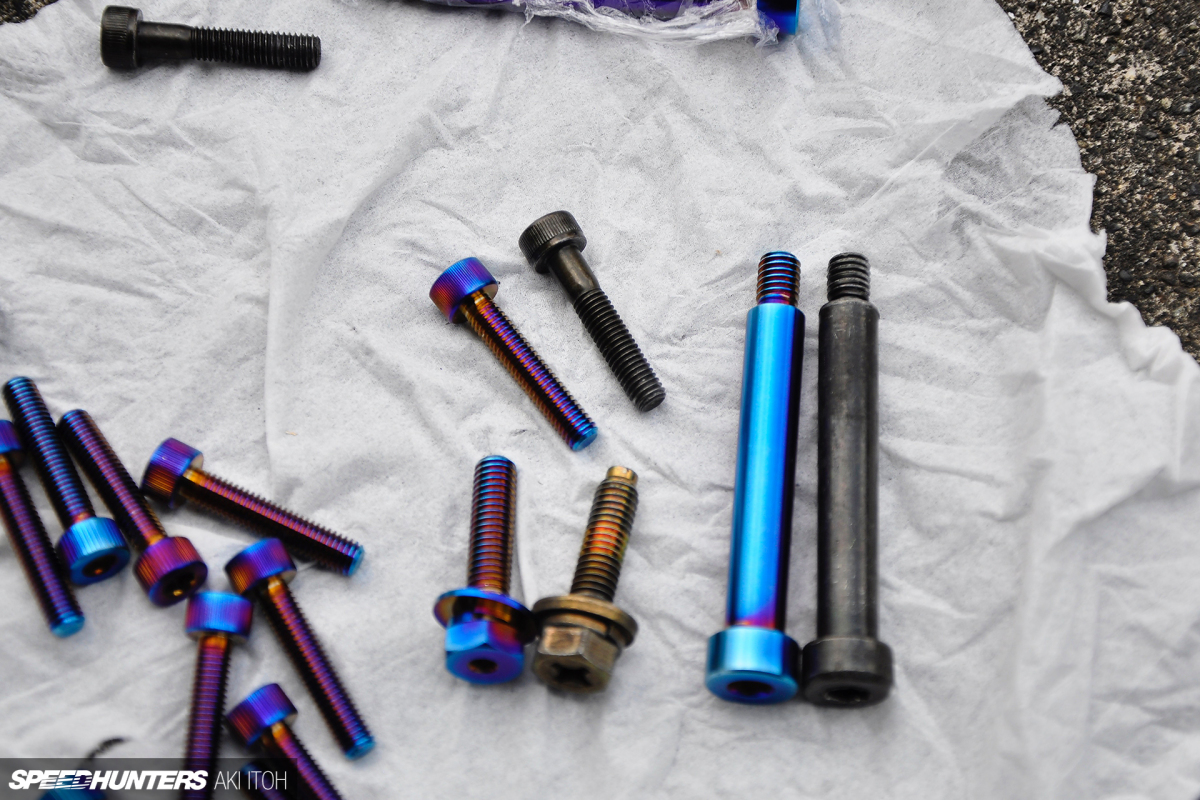 Inspired by some aftermarket 'dress up' bolts for engine bays, I decided the only way to get truly functional but affordable equivalents was for me to have them recreated to OEM dimensions in titanium, and then manufactured in bulk. I had three colors produced – Burnt Blue, Nitrate Gold and Nitrate Black – and the bolts were then sold at cost to members in Club R33, the owners-only Facebook group that myself and several like-minded R33 GT-R owners around the world set up.
I chose to replicate the OEM bolts for the engine coil pack cover, the front 'RB26′ cam belt cover, and the cam angle sensor.
Mmm. Blue is tempting, yes, but…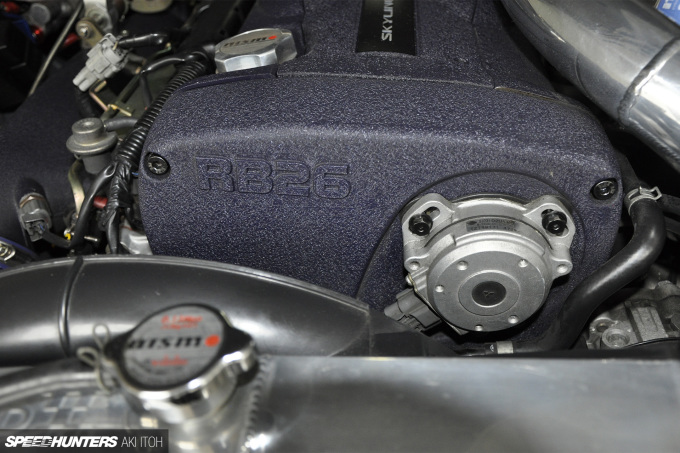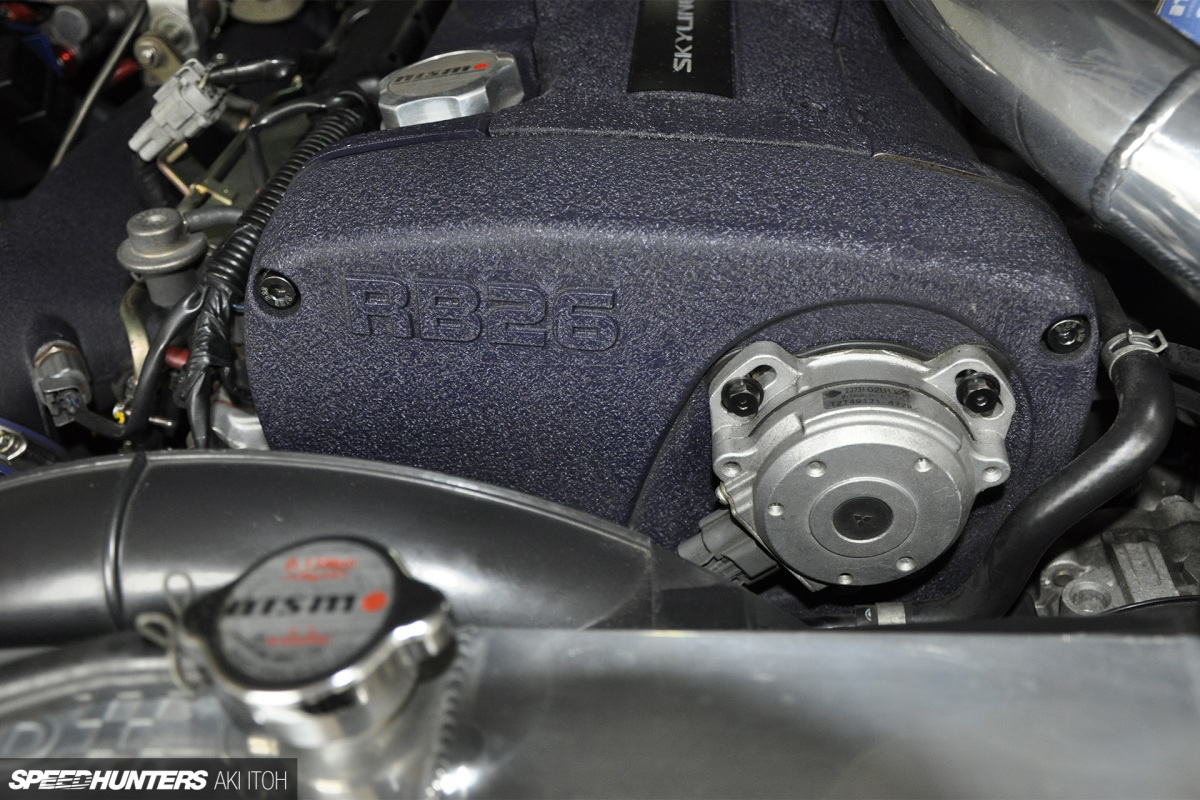 For my car, I decided to keep things simple and stay away from flashy by installing the Nitrate Black bolts. With this minor freshen up of the engine covers, I then turned my attention to several items in the engine bay that needed some real TLC.
Powder Coating
Several metal brackets used in the engine bay appear to be unfinished (or very lightly protected) metal. Left alone to the elements, they usually rust up, or even if the car is parked inside, gradually accumulate dirt and oil blow-off, like these two. Not pretty.
Just when I was thinking about simply repainting them, my friend Chris, a fellow American and R33 GT-R owner like me living in Japan, introduced me to his friend Aaron who does some powder-coating. On a moment's notice, Aaron agreed to help us out, so I decided to get these brackets powder-coated in gloss black.
Aaron started by cleaning each part thoroughly, then applying electrical current while spraying on the colored powder. Then it was just a few minutes in his home-made oven for the powder to melt and solidify, followed by cooling. Easy!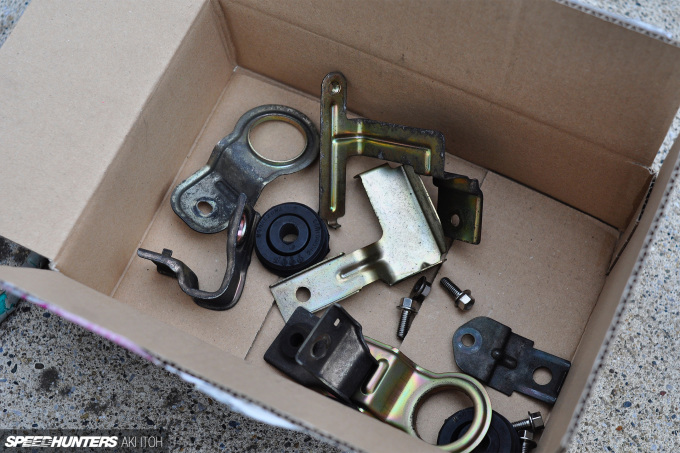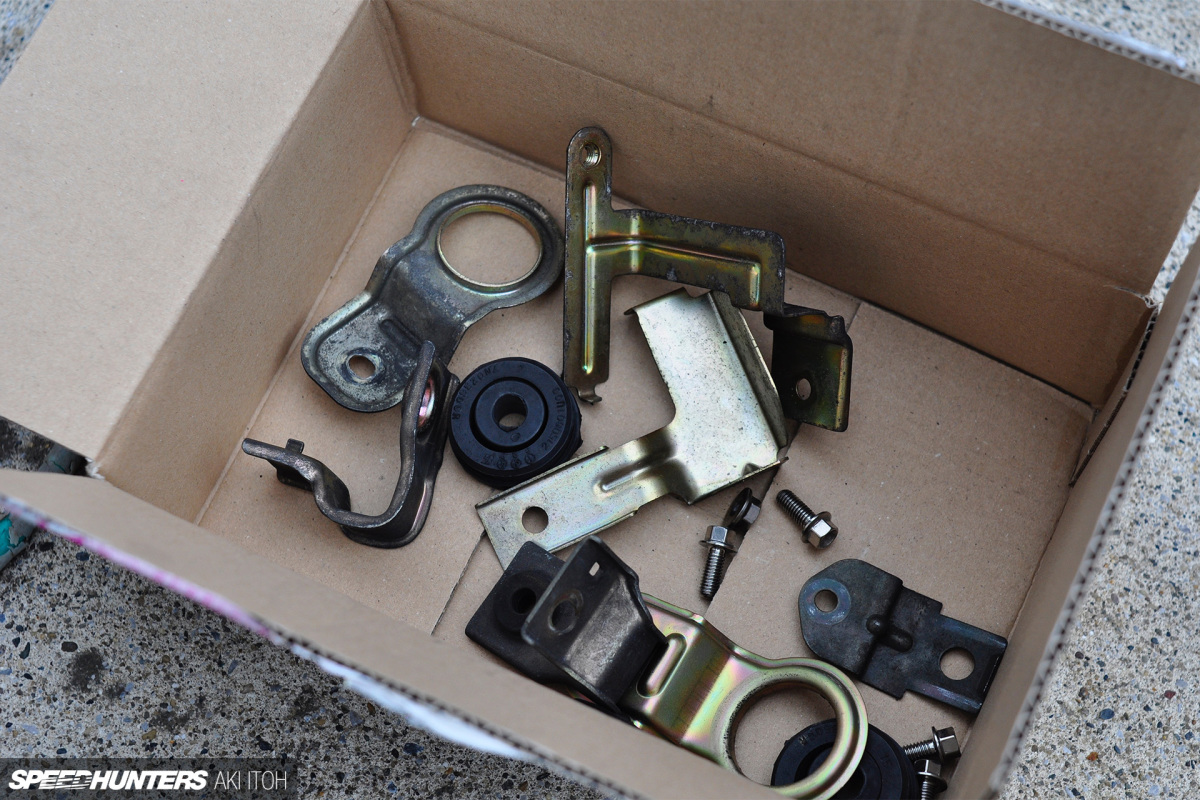 Before…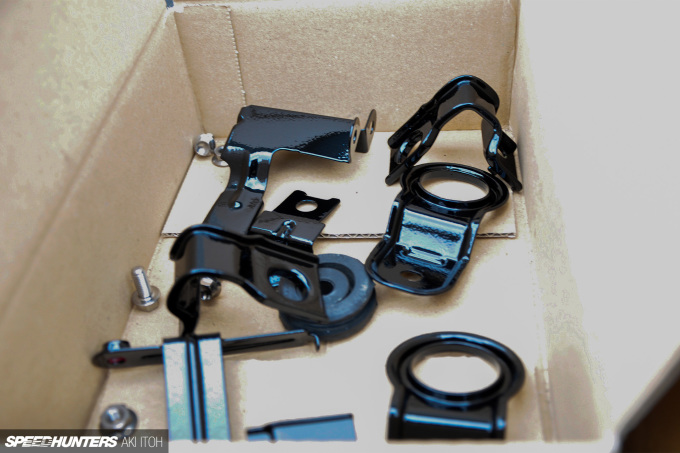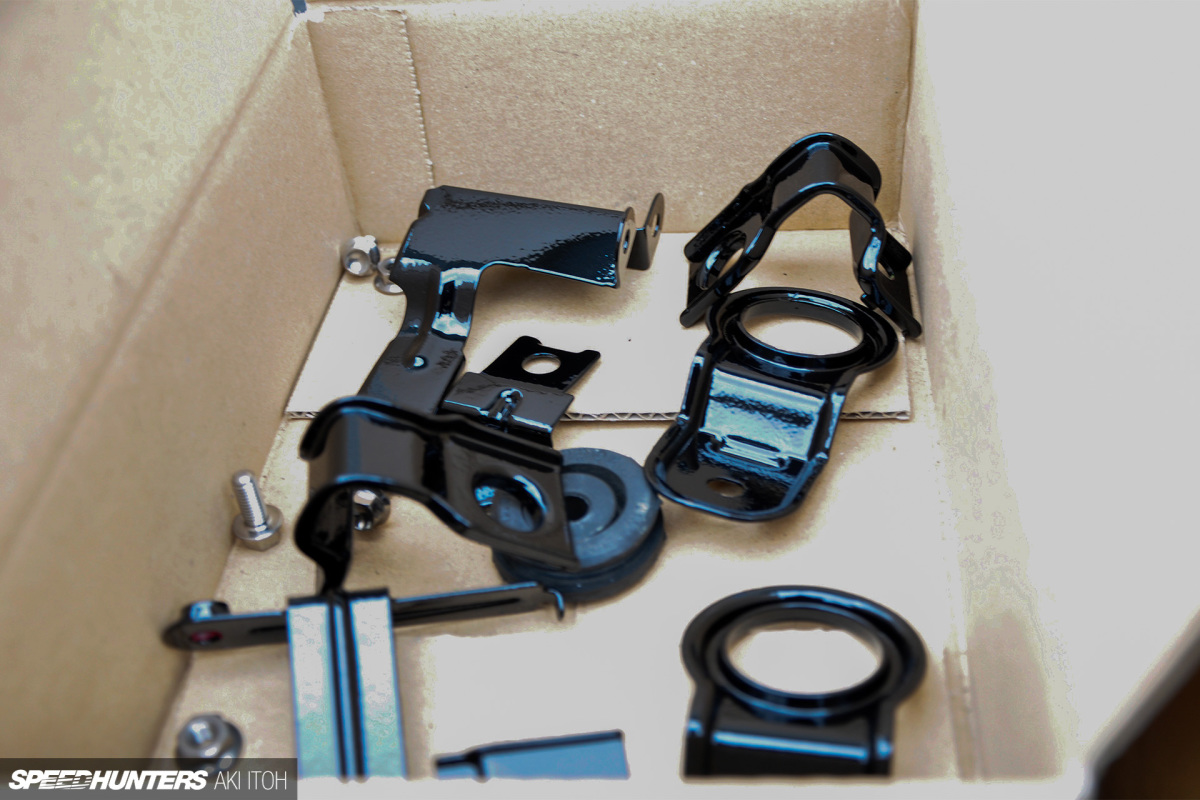 And after.
Why gloss and not matte? Because there are already OEM brackets in the engine bay that are gloss black, so I thought I might as well try to get it all to match.
Cleaning, Rust Removal & Respray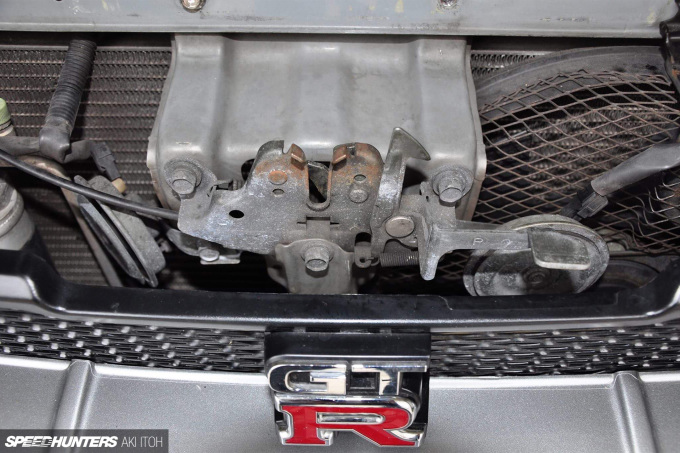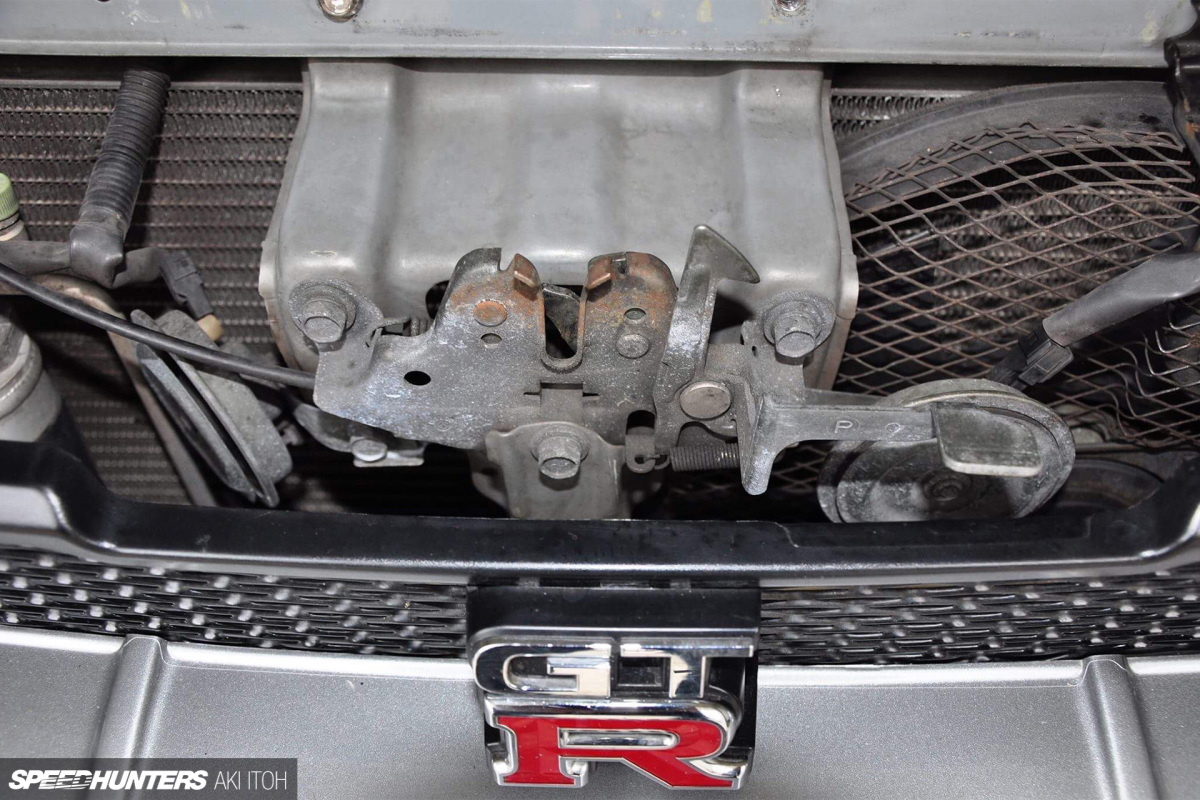 While removing the brackets to have them powder-coated, I noticed that the hood latch wasn't just dirty, it was ugly with what looked like rust and greasy dirt. Not only that, but the horns located on either side of the hood latch bracket were corroded too, and there was a bit of rust on the gloss black bracket covering the fan mesh. Yes, usually all of this is covered up by my carbon fiber Garage Defend GT Cooling Panel, but still…
After removing it from its bracket it looked worse than I thought. Obviously powder-coating wasn't going to work here, so I proceeded to spend some quality time with a wire brush to remove as much rust and remaining dirt as I could.
I then painted the latch mechanism with a Rust-Oleum type spray paint, but that still wasn't enough. And yes, before you ask, I sprayed some black Plasti Dip on the edge of the latch lever, not just for looks but also to protect my fingers whenever I open the hood.
Next up was dealing with the rust on this black bracket. I masked it off, removed as much rust I could with sandpaper, applied some anti-rust paint and then followed up with a coat of gloss black.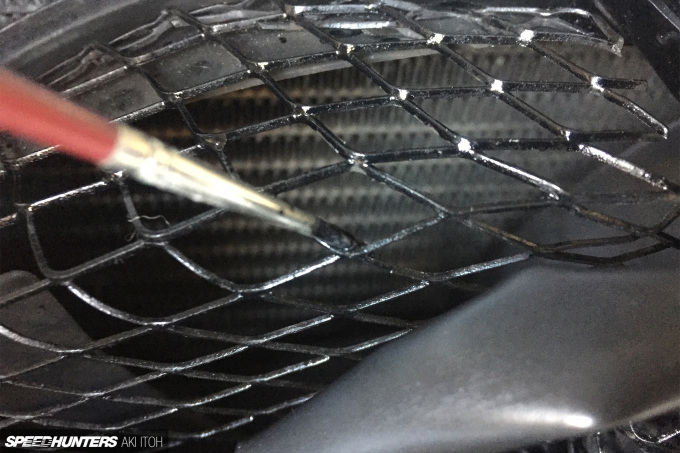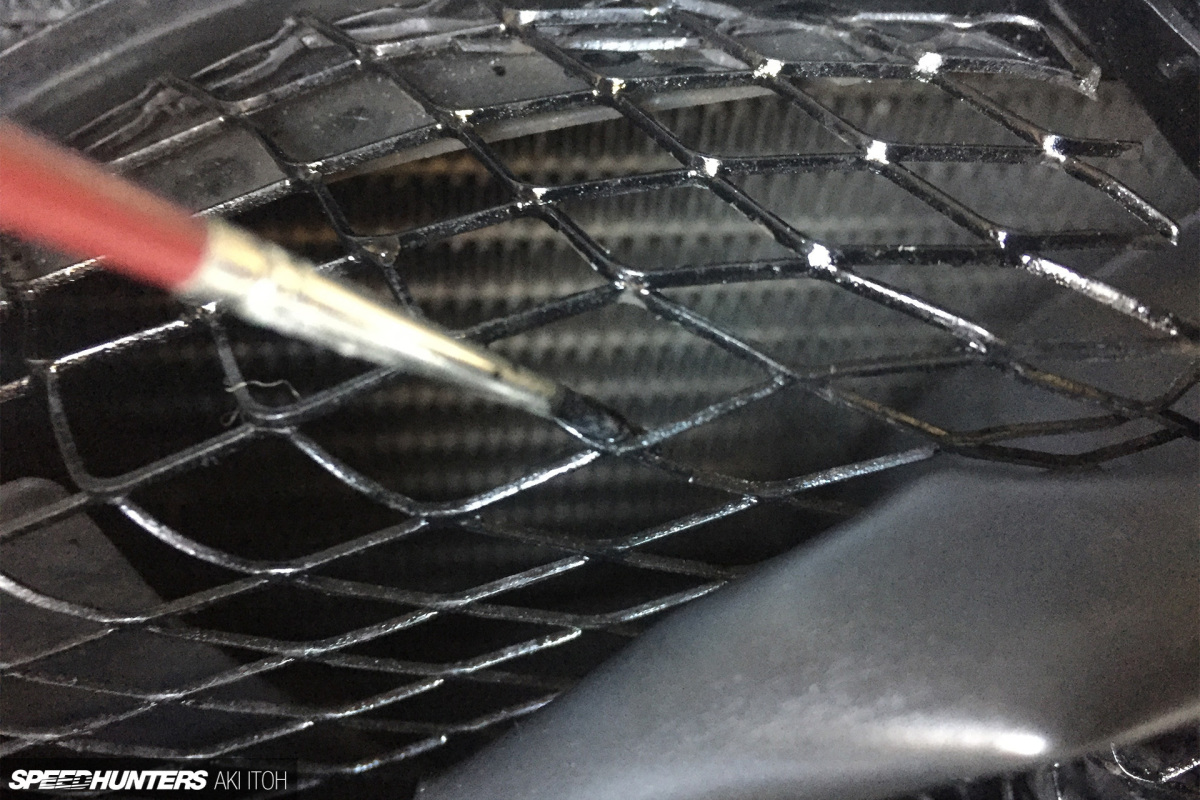 Of course, I used a small paintbrush to apply both paints to the mesh as well; I'm too lazy to disassemble the whole front and use spray paint.
It was then I realized that the metal bracket that supports the latch was also quite dirty, which I guess is to be expected on a 20-year-old car. As it doesn't have a coat of clearcoat, I had to use some brake cleaner as well as a clay bar to remove the embedded dirt.
I wasn't quite done though, as the OEM horns needed to be replaced. Initially, I tried painting one with anti-rust paint but that killed it, so, after a lot of research, I decided to stick to OEM (or nearly anyway) and ordered the dealer option Nissan Sports Horn. Genuine Nissan is always good, even though these are actually for the Z34.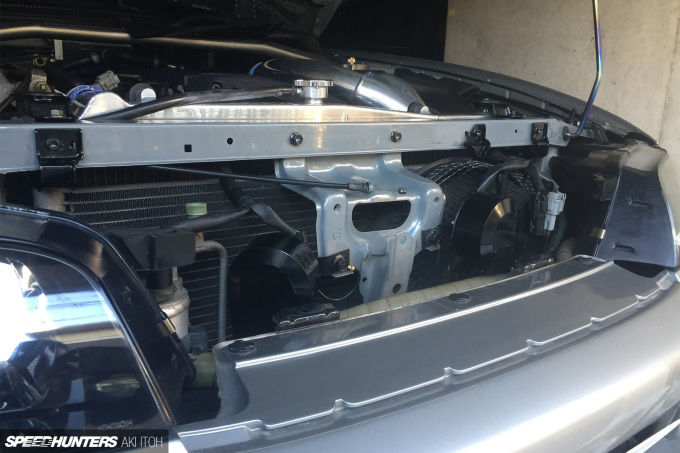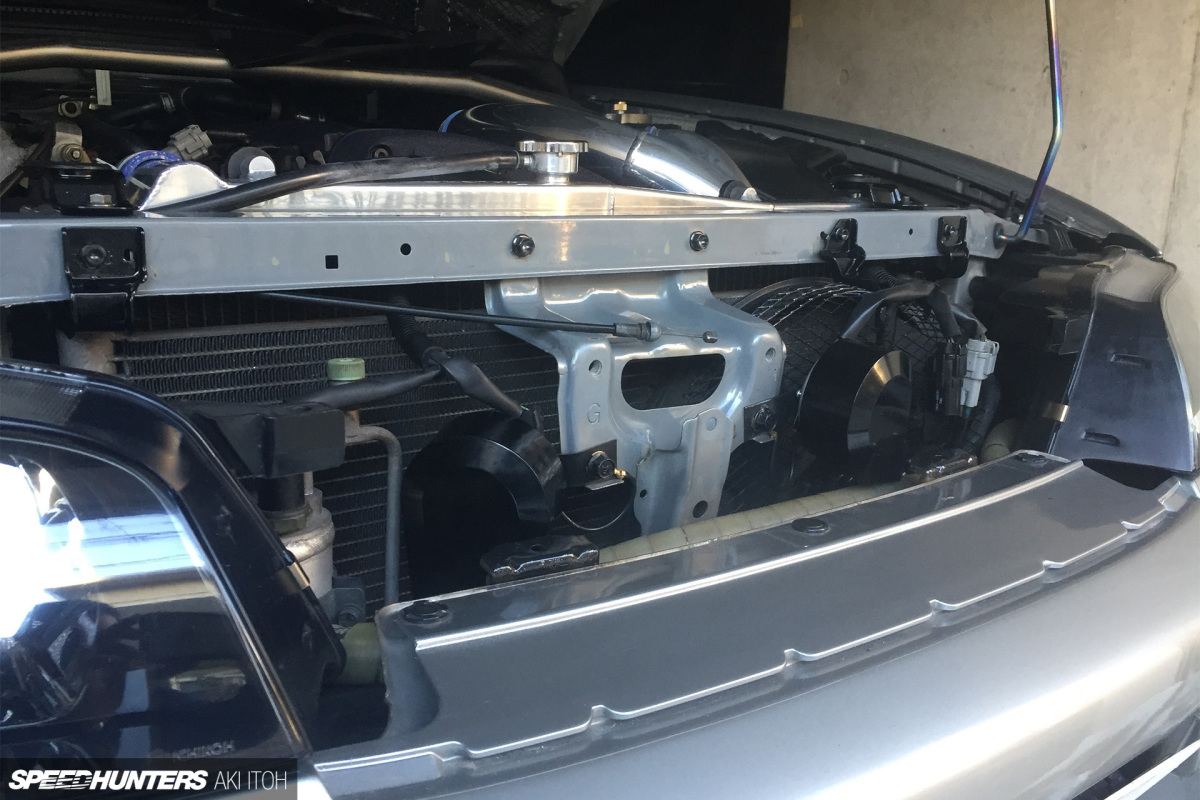 After a bit of bracket bending and rewiring, I managed to bolt both new horns to their proper positions.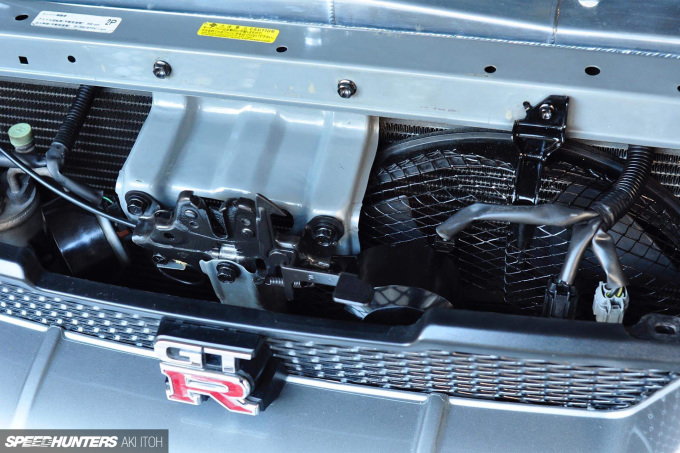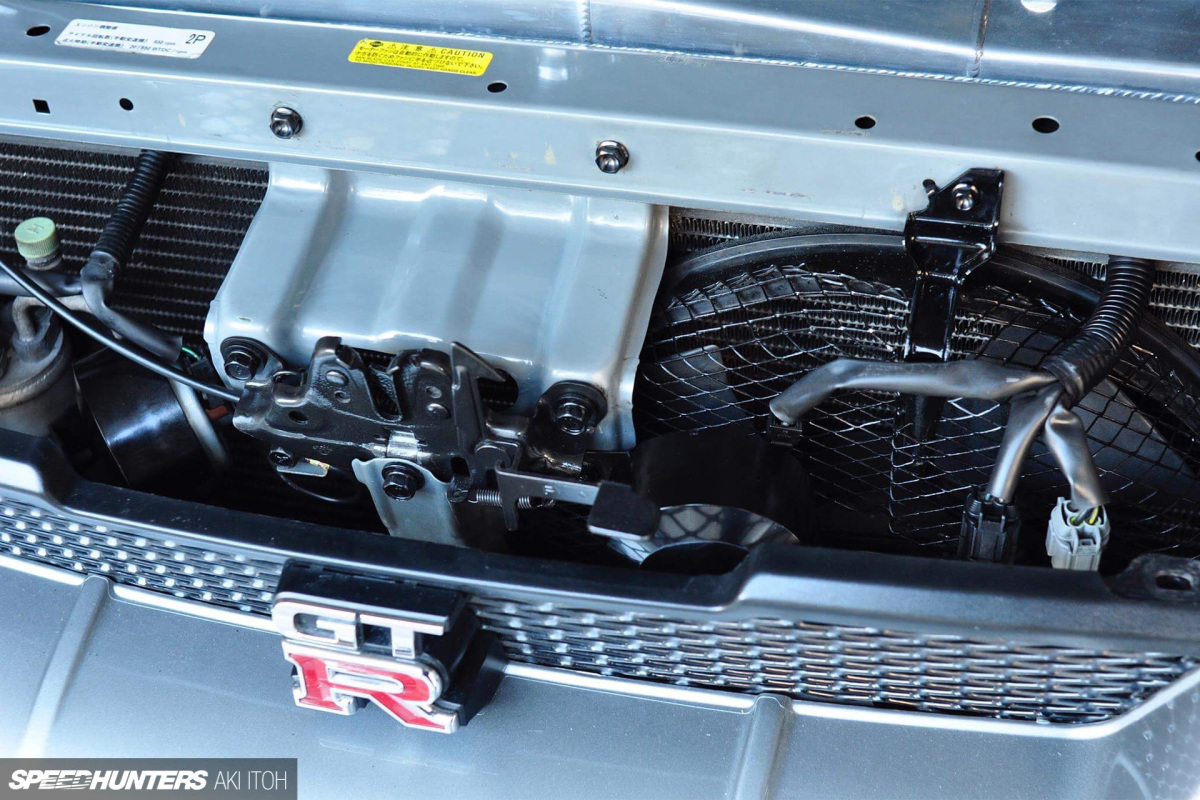 And the finished result. Note the use of black painted bolts; it looks good eh?
Finishing Touches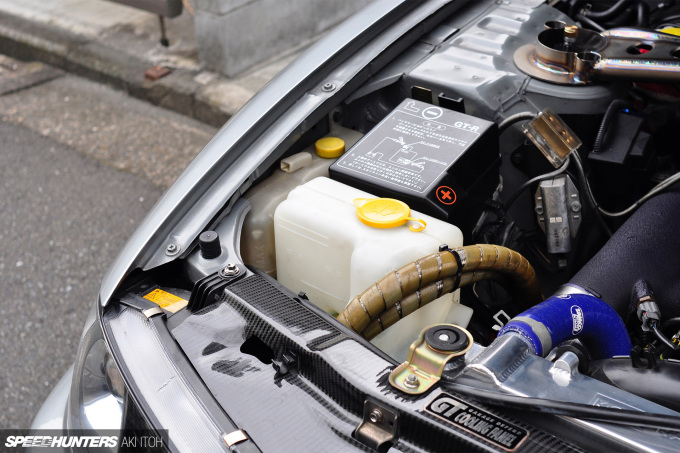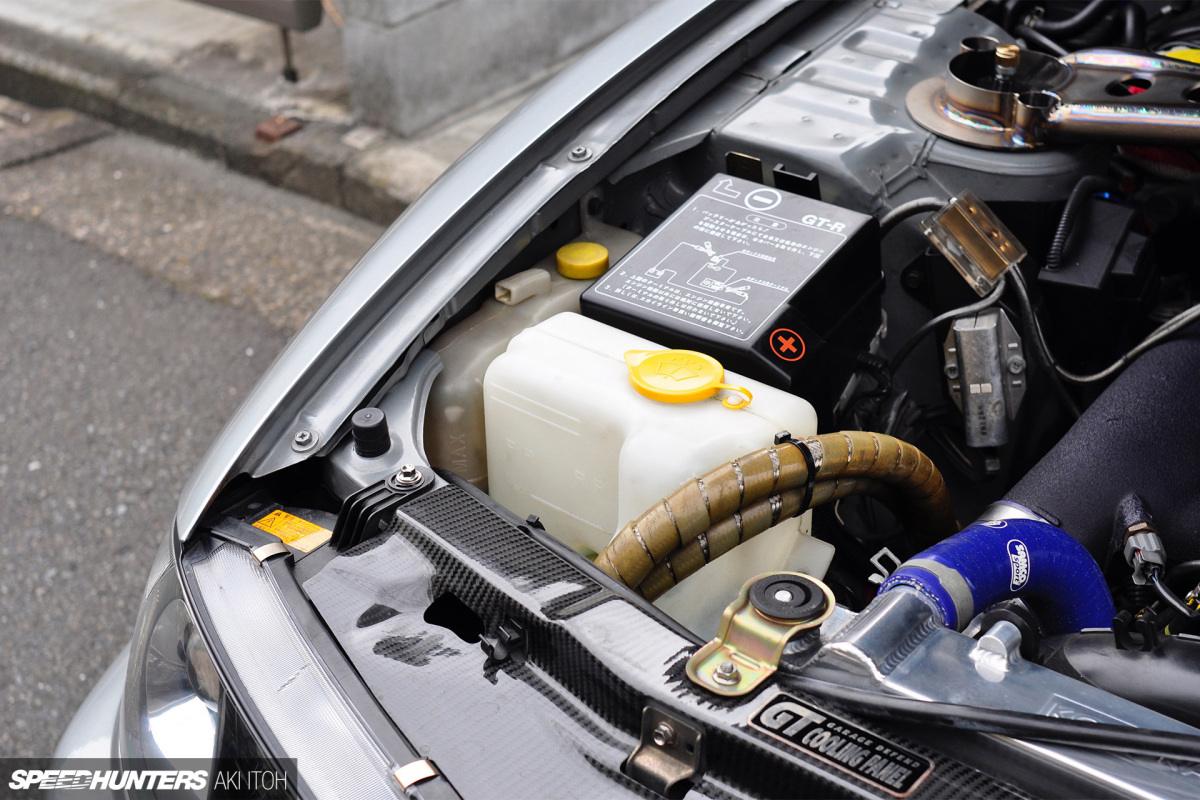 I was now quite pleased with myself, but I just couldn't stop. You see, I noticed something else, something which unlike the hood latch and horns wouldn't be hidden under the Garage Defend GT Cooling Panel.
I realized that in this space, there were three things wrong. First, a few years ago, I had replaced my leaking windshield washer tank with a new unit, and that whiteness contrasted strongly with the now brownish coolant overflow tank. Second, the white plastic coil wrap that surrounds the braided hosing for the HKS oil cooler had yellowed with heat and had accumulated lots of dirt, oil and grease. Plus, zip-ties look cheap (oh, and a stupid way to route the hoses too). Third, the blue silicon radiator hose had some weird white spots all over it, that I could not remove. Furthermore, while the clips used were functional, they were also somewhat ugly.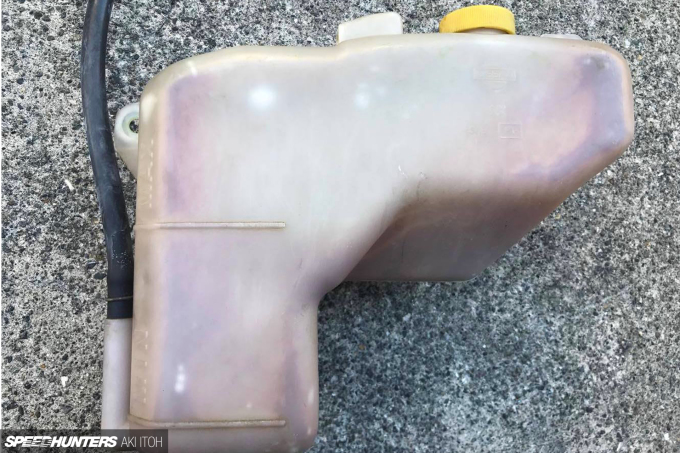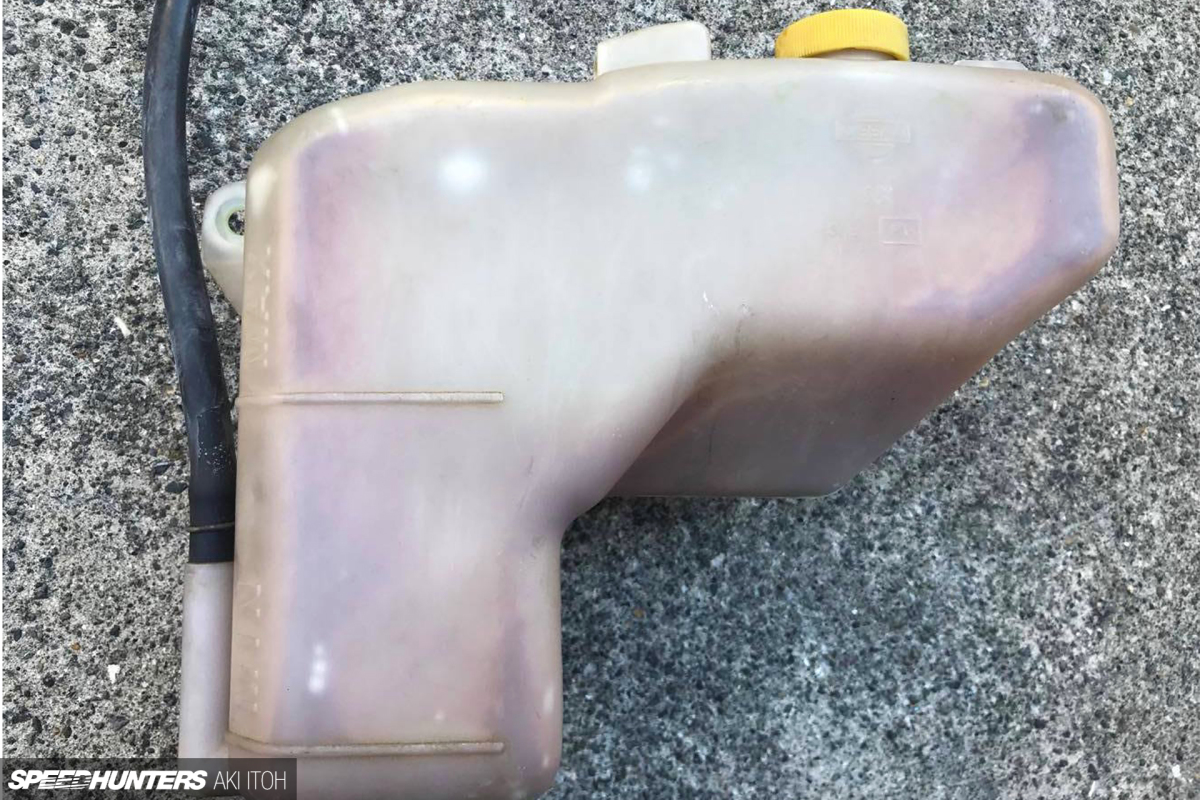 First, I removed the coolant overflow bottle. It was disgusting, and even worse was the crud inside (NSFW)!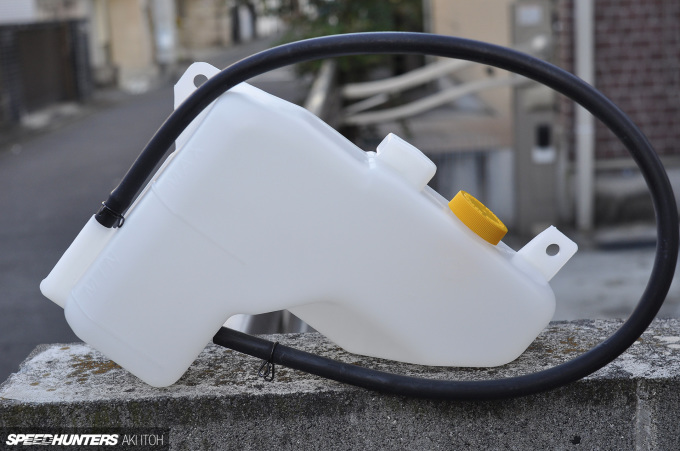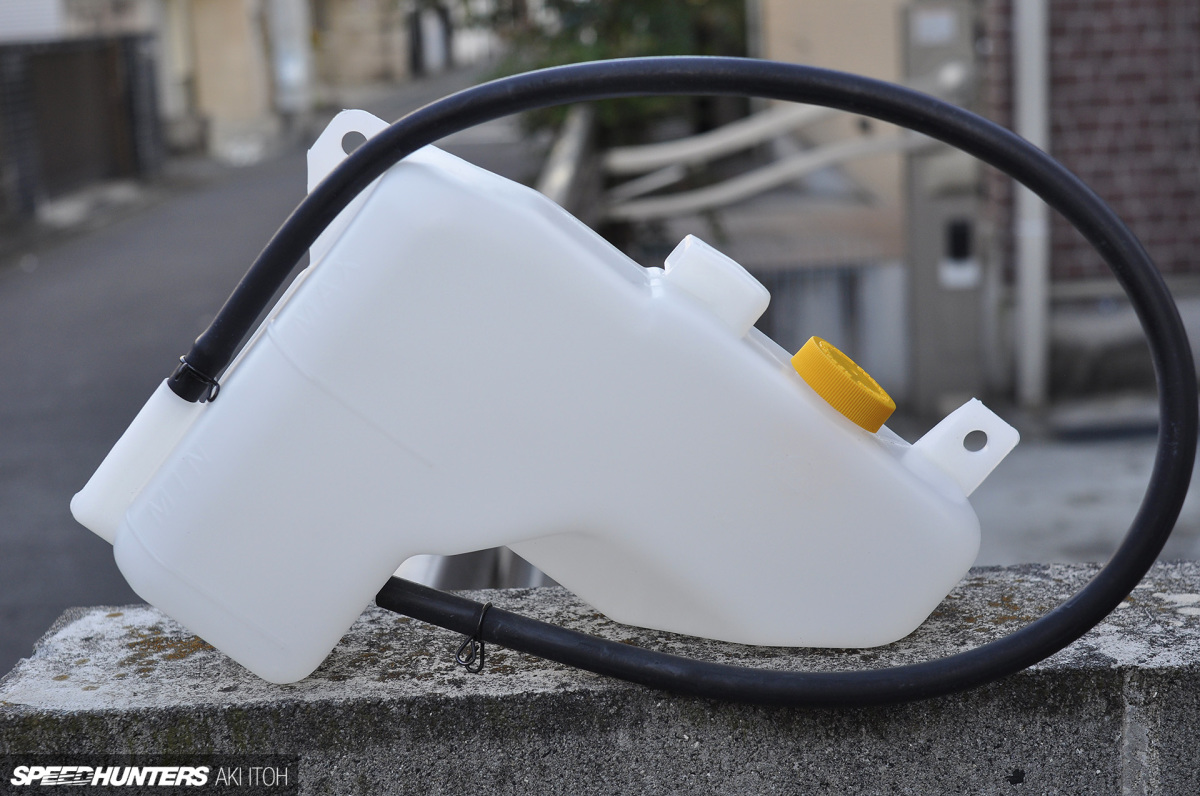 So, I replaced that with a new unit as well.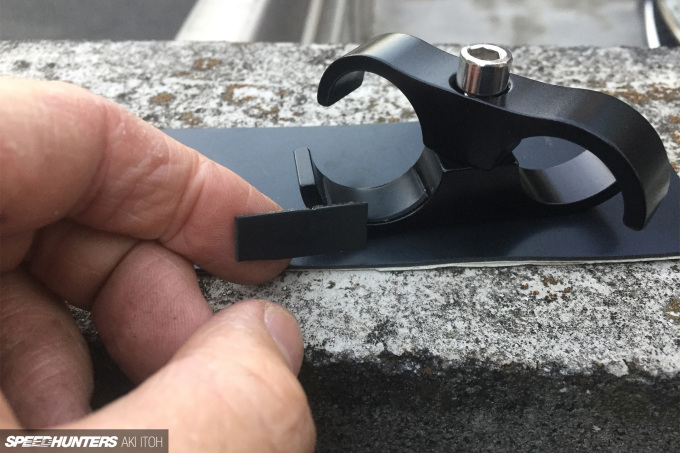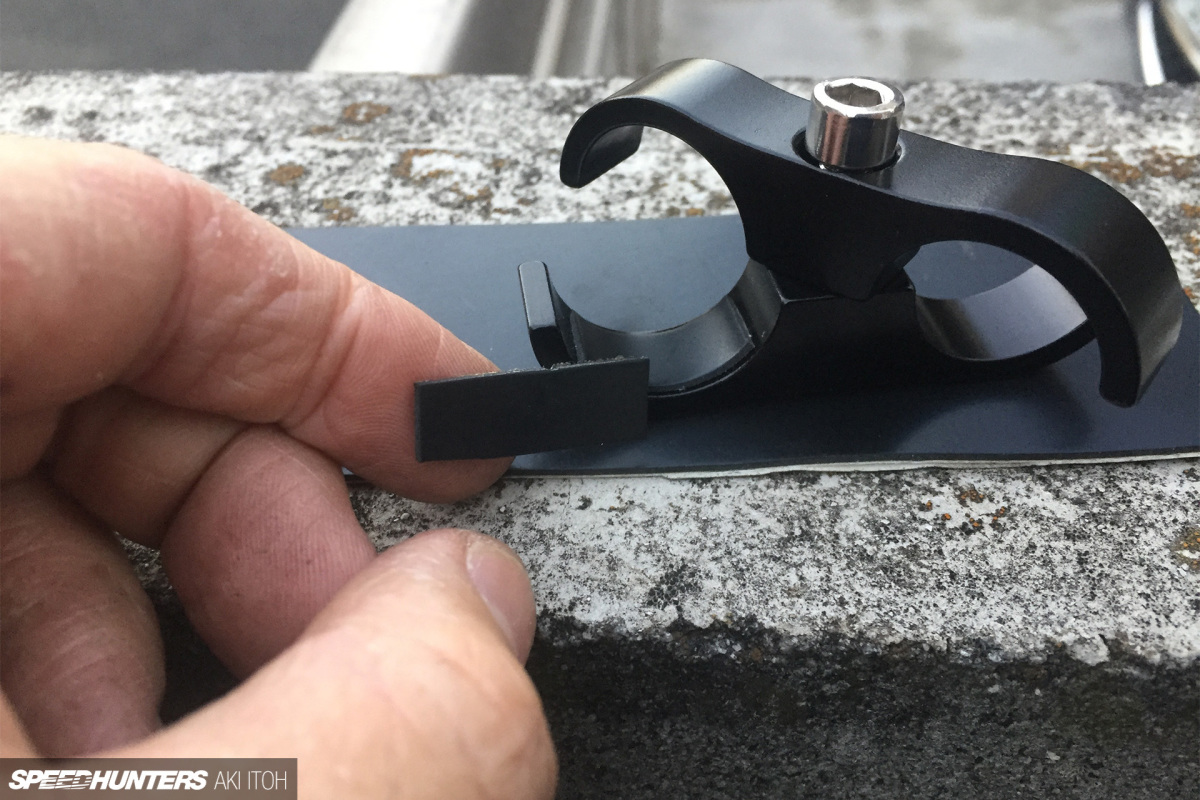 Second, I cut off the dirty plastic coil wrap and then used anodized aluminum brackets to hold the oil cooler's braided hoses together, remembering to apply some rubber tape to the insides of the brackets to prevent scratching the hoses, as well as to the side of the washer tank where one hose rubs.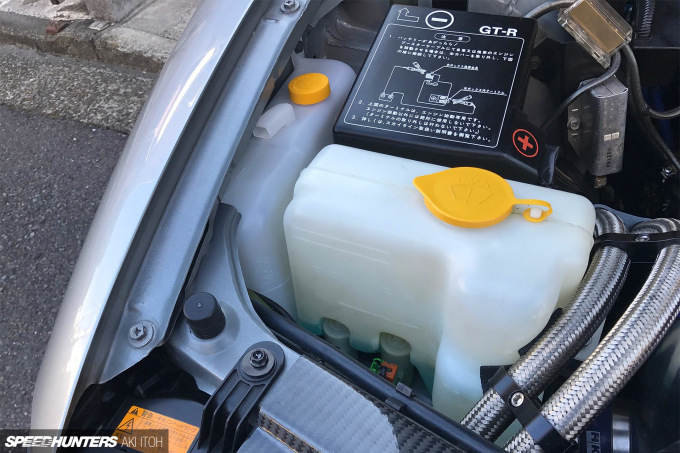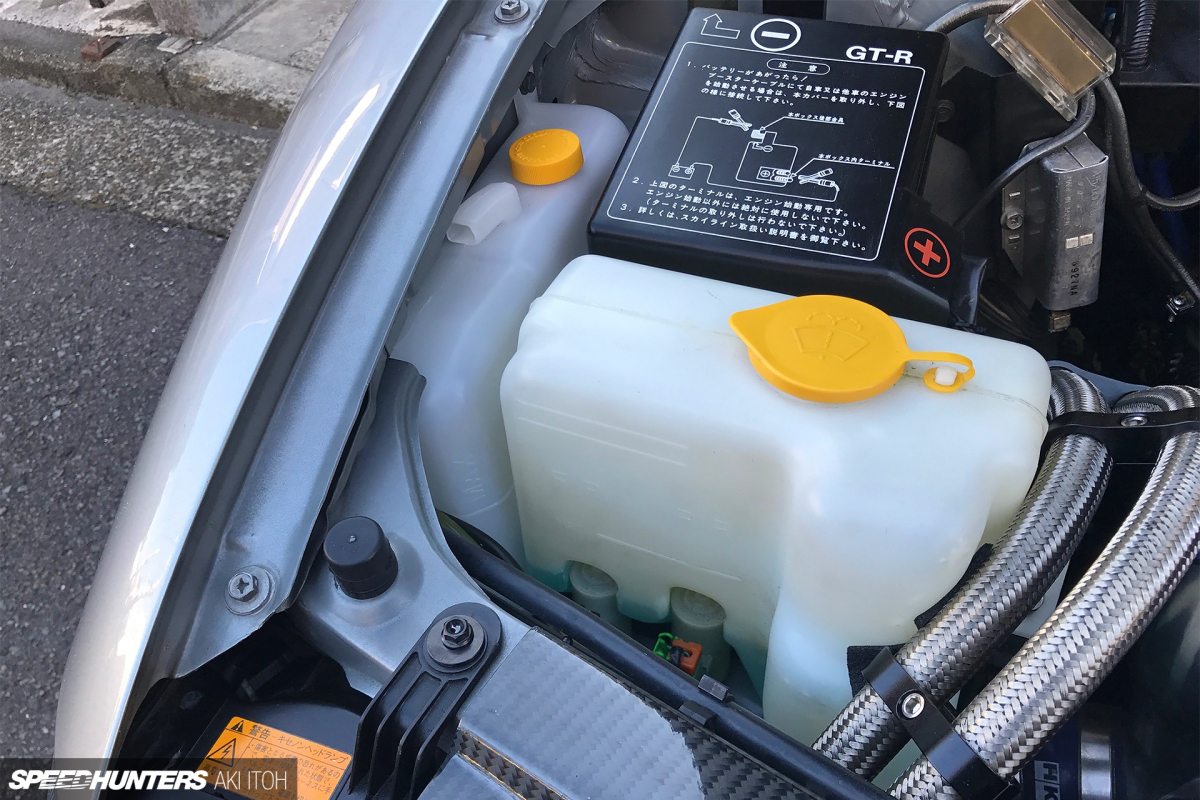 And this is how this area looks now. Much better! Did you spot the new black bolt?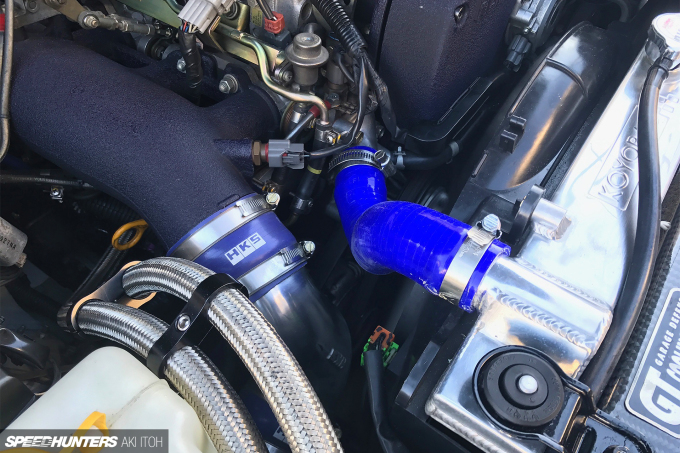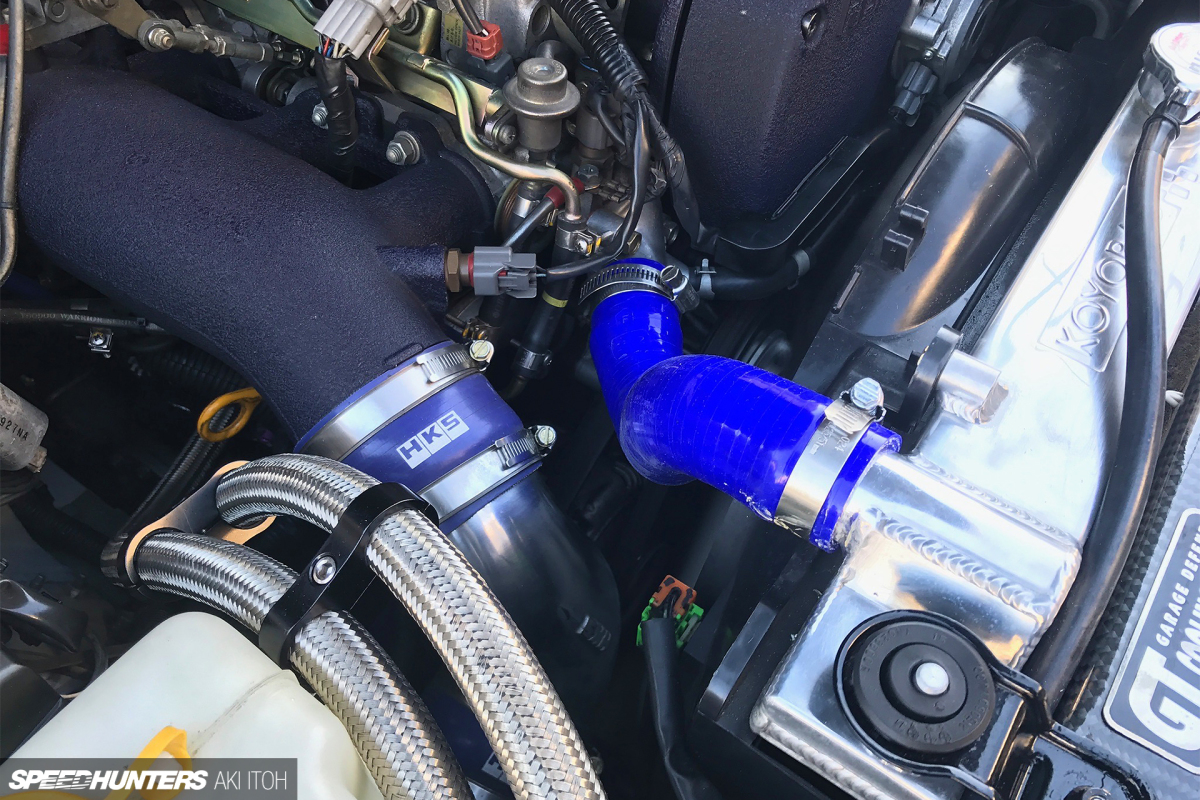 Finally, I replaced the radiator hose with a new silicon one, and got some stainless steel clips to boot. While I was at it, I used some metal polish on the Koyo radiator.
People with sharp eyes will see that in addition to some polishing done on the visible aluminum, I also replaced the brake fluid reservoir cap with a new one.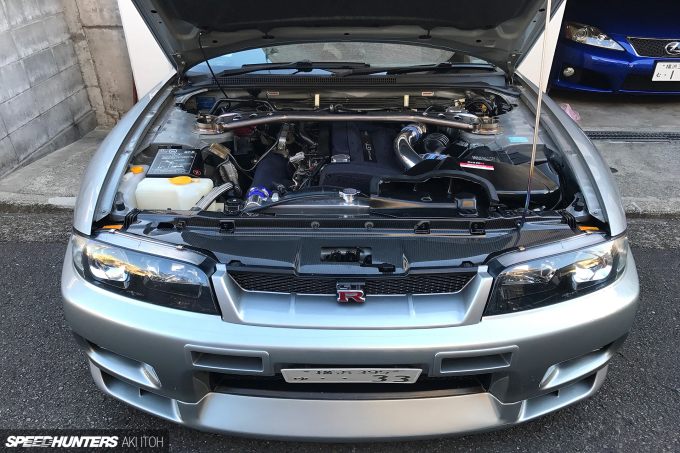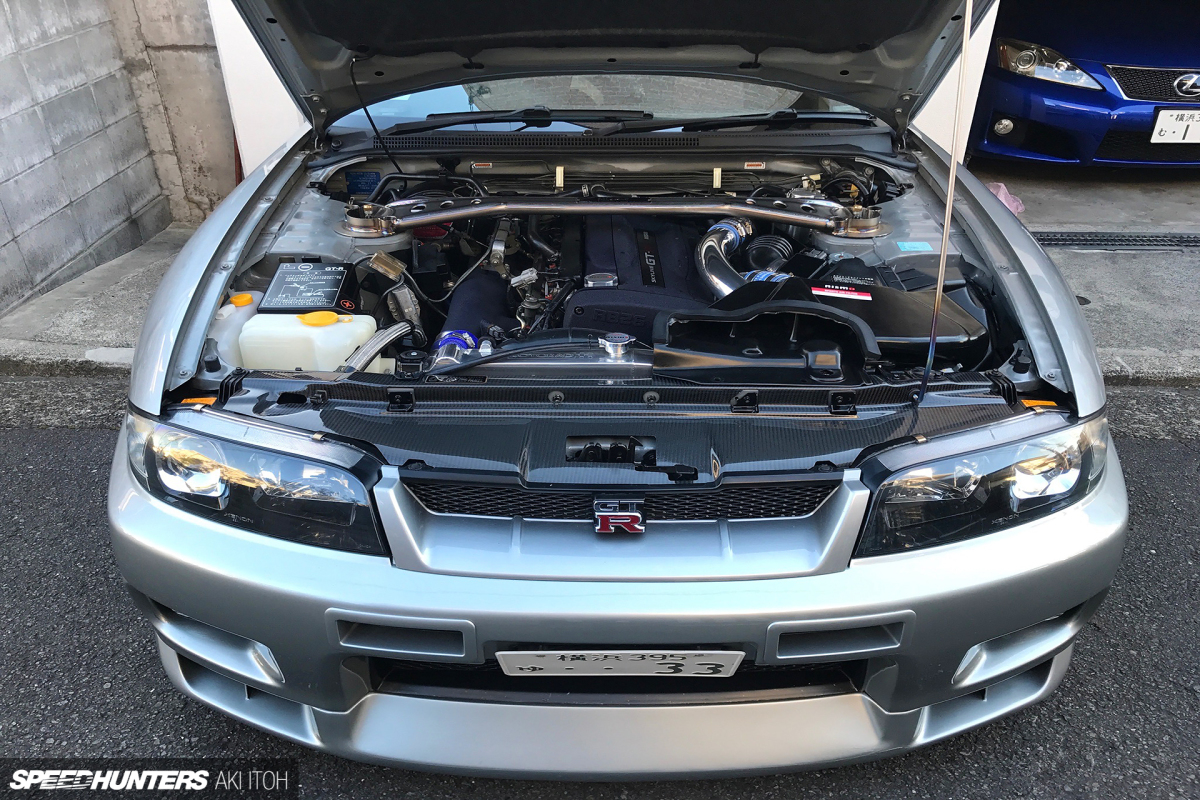 Now that it's all finished (for now, anyway), I think it looks much better. What do you think? Not bad for an amateur, right?
Any suggestions you may have, I am all ears!
Aki Itoh
Instagram: aki_itoh
aitoh@hotmail.com