The Old
Time attack is all or nothing racing. It's about chasing that one perfect lap, and in attempting to do so the format often pushes cars and drivers beyond breaking point. To win, you need to throw yourself out past your limits of control and somehow hold it together for a whole lap. Under these conditions one lap can feel like half a life time.
Paul Henshaw is one driver who felt this battle for control wasn't challenging enough, so to up the ante he decided to compete with his 45-year-old Datsun 240Z.
Why would some one choose to forgo decades of chassis developments in geometry, strength and weight, and compete in this madness with what a lot of people would consider a massive disadvantage? Because for some people racing isn't about having the outright fastest car in the field. For some it's about building and finding the limits of a car they connect with.
The real battle for people like Paul isn't with the the rest of the field. It's more intrinsic; their battle is the fight within themselves, and the machine they've chosen to build as an extension of themselves.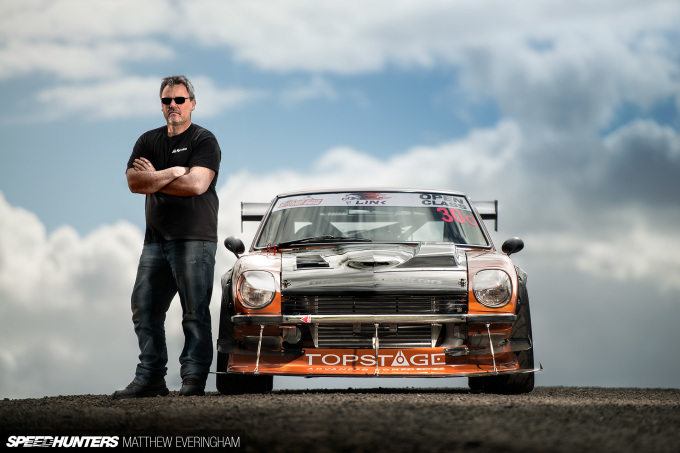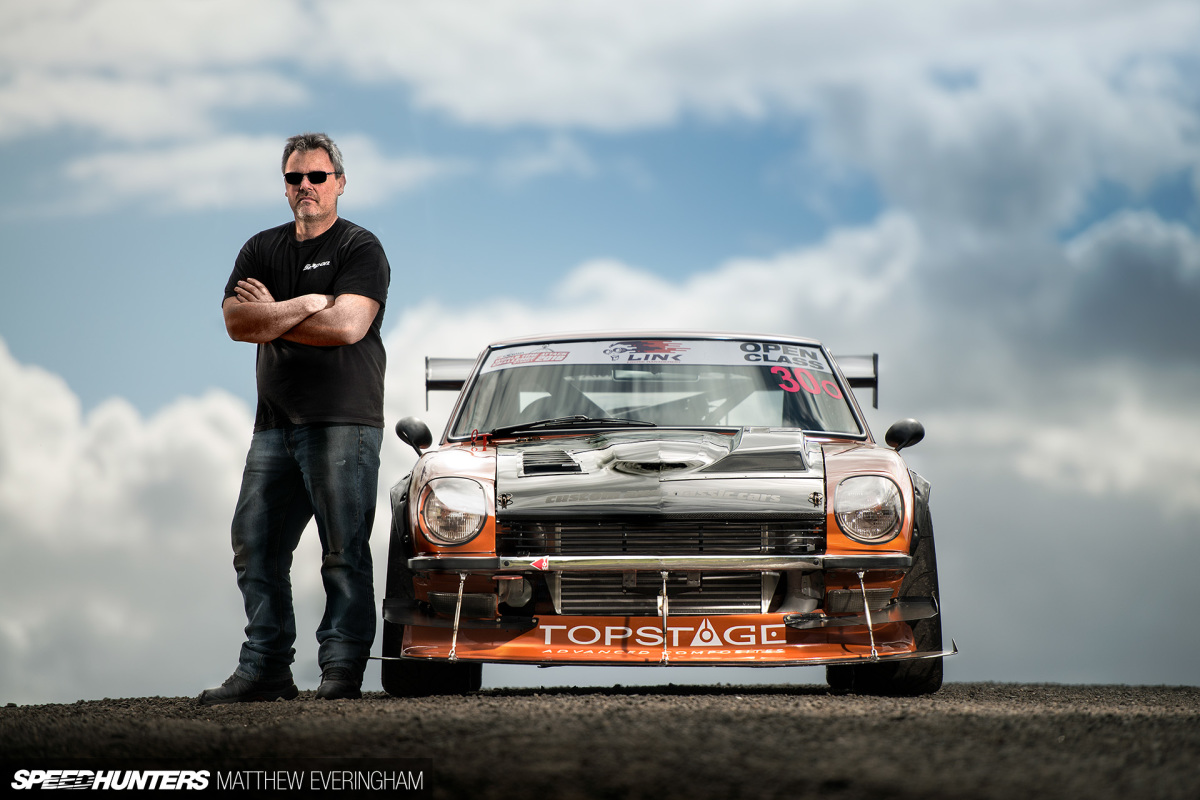 Paul has dedicated his life to classic cars, a high percentage of them being early Datsuns (Nissans). He took his dedication to the craft to the next level four years ago when he quit his stable nine-to-five job to open a small workshop in South Australia, Custom and Classic Cars (CCC). Here he's free to concentrate on his passion: restoring history and creating modern classic art. This sunburnt orange and carbon 240Z could well be his first masterpiece.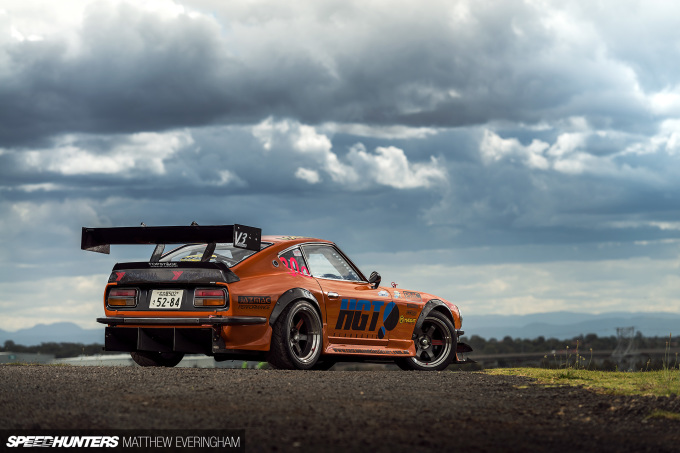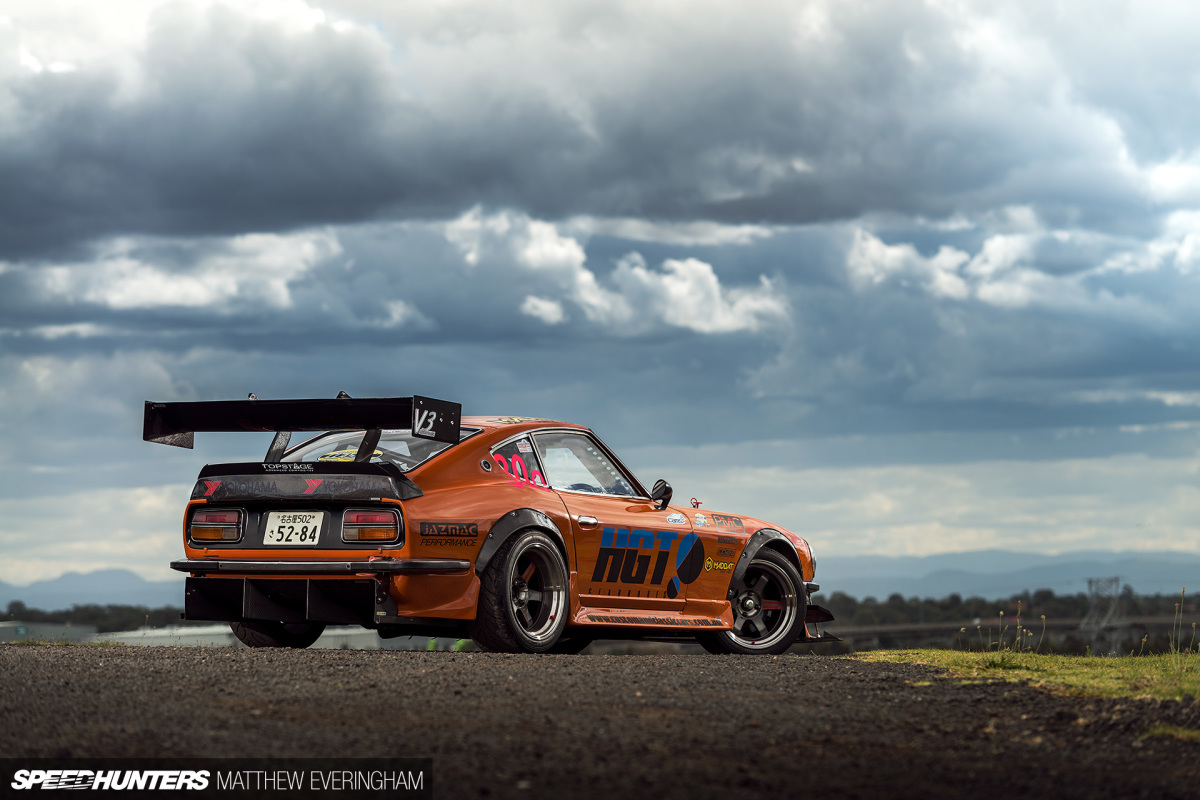 Magic happens when the desire to build and refine something unique is stronger than the desire for outright victory in just another well-proven chassis. I don't know about you, but I'm glad for Paul's philosophy and also the results of his time and effort. This 1971 Datsun 240Z ranks right up there as one most impressive cars I've ever encountered. Every angle is perfect and every modification is purposeful.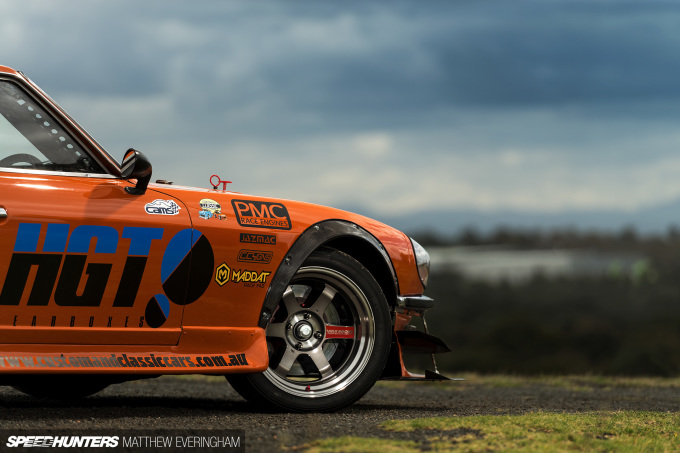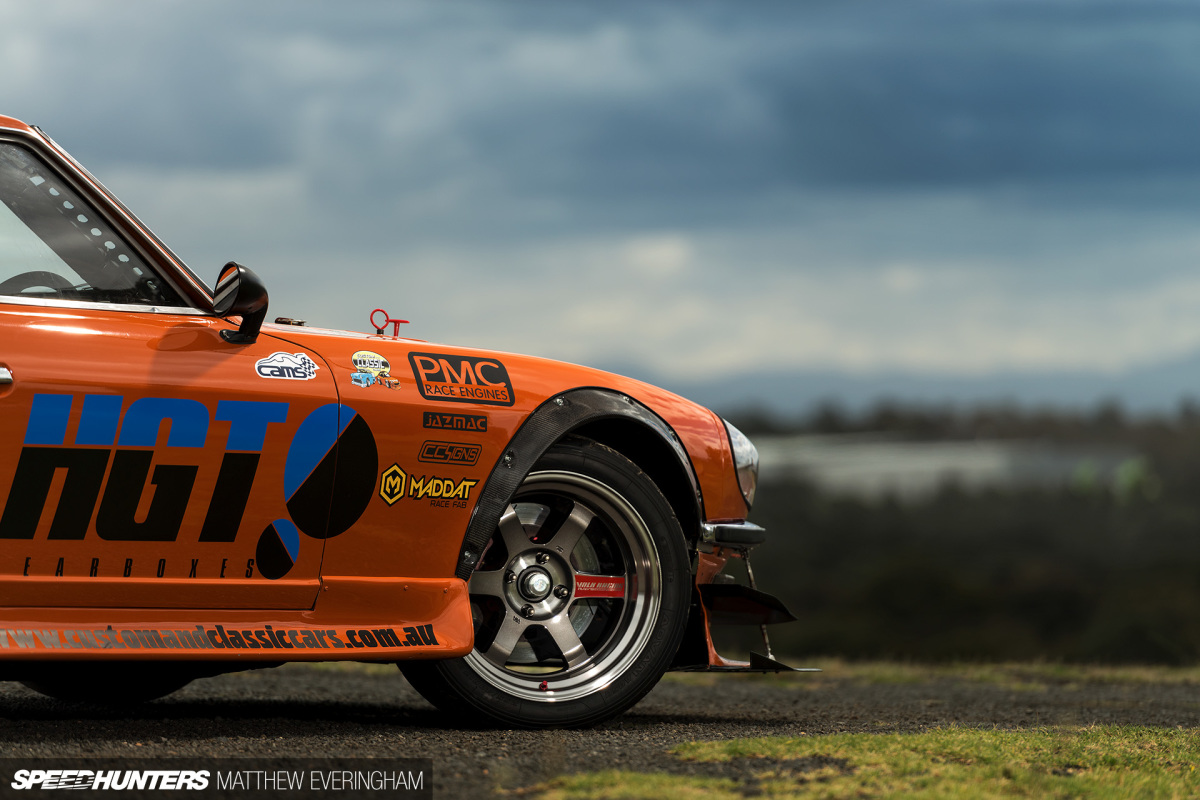 This is one of those builds that's almost impossible to break eye contact with. It commands attention and every additional minute you spend in its presence is rewarded by the car revealing more small and subtle details that need to be appreciated. Our shoot was on a relatively tight schedule and I still ended up shooting off over 100 extra snaps of this car than I needed to. I was powerless.
The 240Z is already an amazing platform but with Paul's carefully thought out additions the final product was on a whole new level, one that most of us don't encounter in person very often. Did I mention I really like this car? You will too by the end of this piece.
The New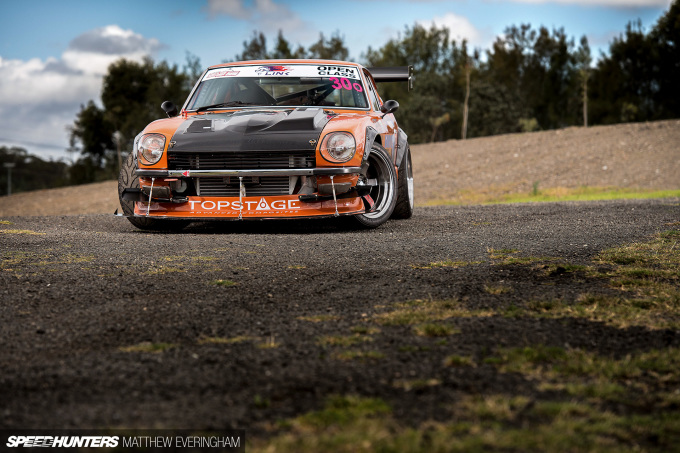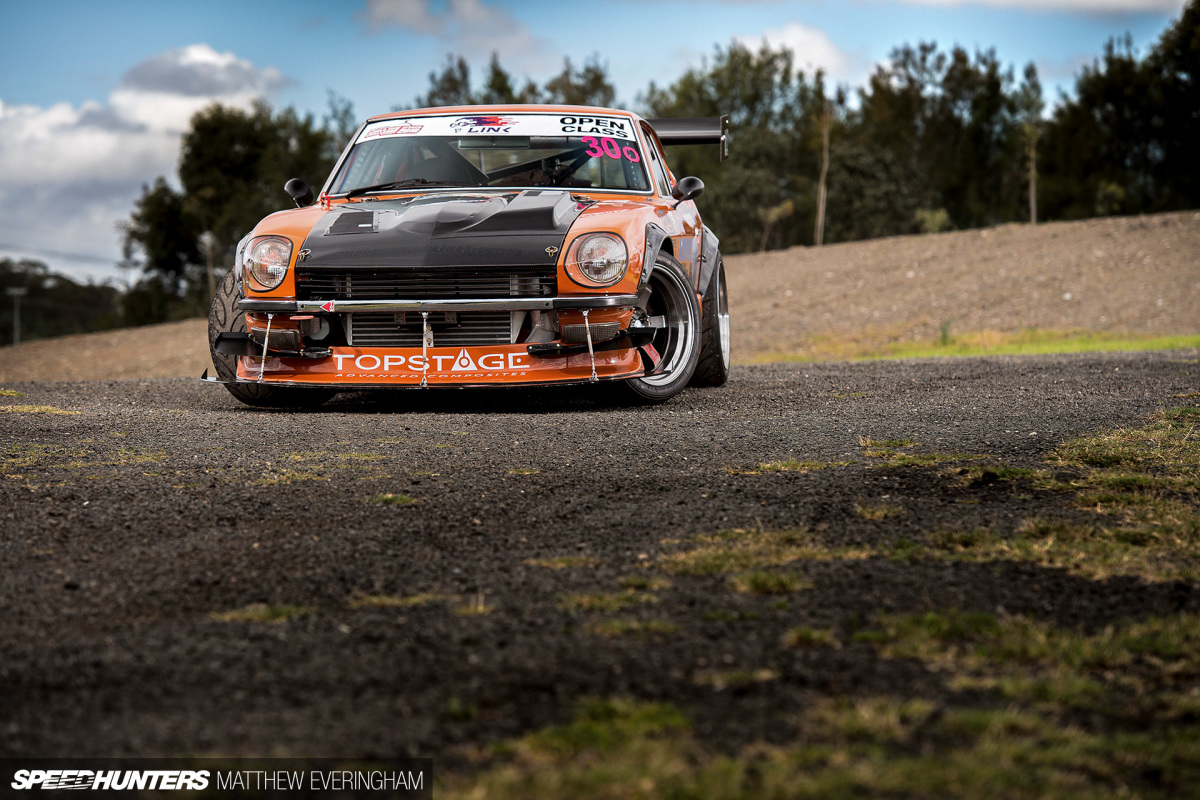 Okay, I may have exaggerated, but only slightly. Yes, this 240Z is approaching 45 years of age, and yes, it's an ageing chassis. What I failed to mention though is that it's packed to the teeth with modern tech and as many improvements the team could pack into the car without completely ruining the raw experience the pilot seat delivers. Some of the adjustments that help to make the car more competitive include an absolutely mental engine, improved suspension and enough carbon fibre replacement parts to build a space shuttle.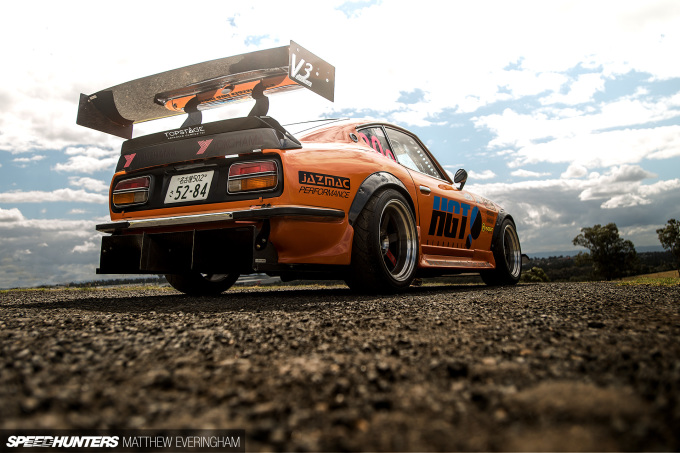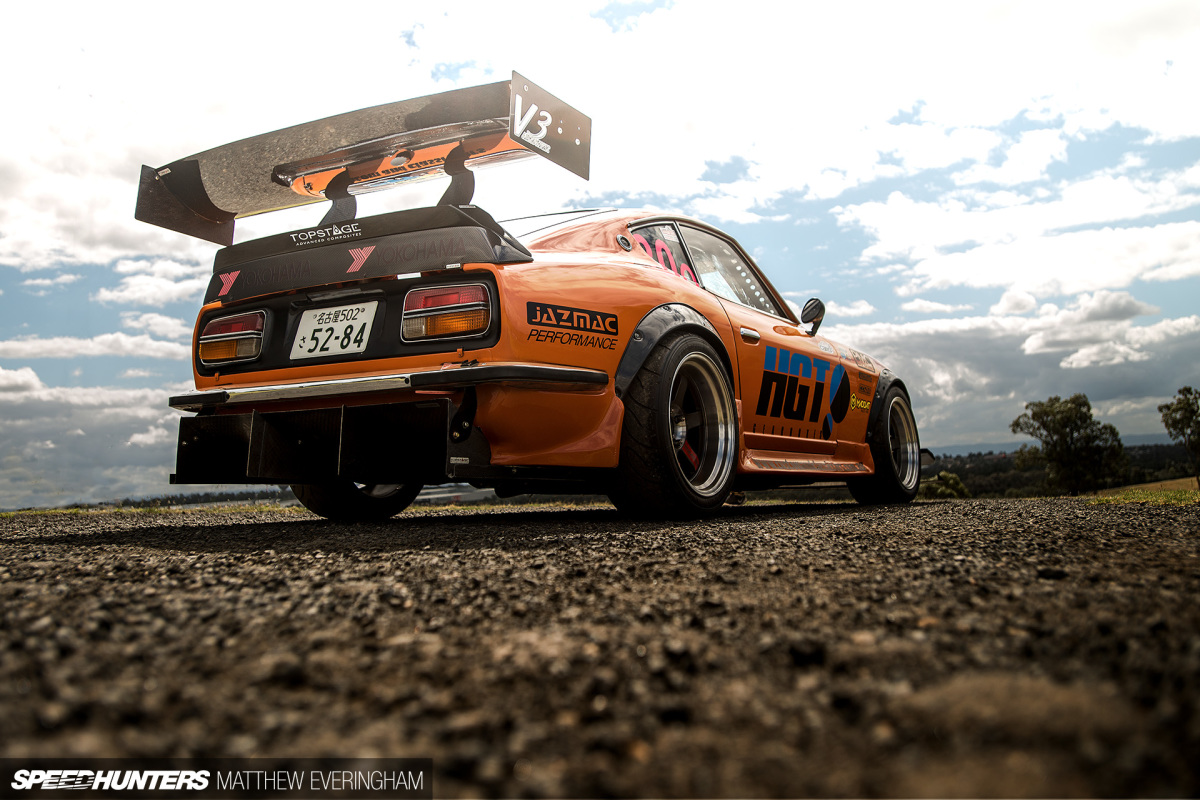 Mind you, the Datsun wasn't always a superstar. Like most cars outside of the Pro categories of racing, its start in racing was far less glamorous as a simple hill climber. As any of you out there with racing experience with attest to though, the faster you go the more shit you break, and thus the cycle began. It's a cycle that over the course of several years has transformed a fairly plain and mild mannered 'recreational racer' to the almost nuclear-rated weapon it is today.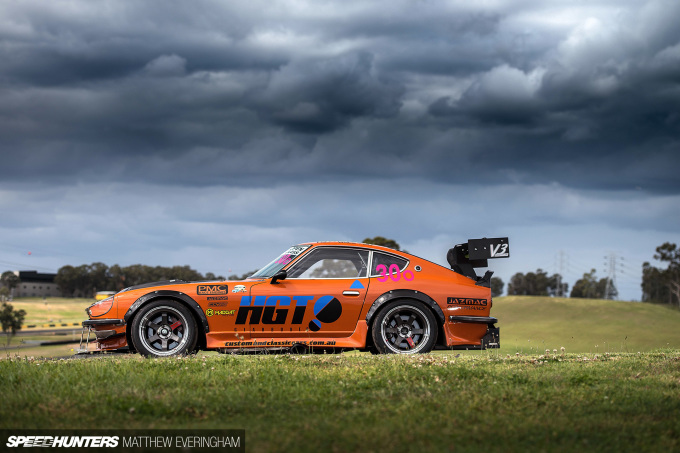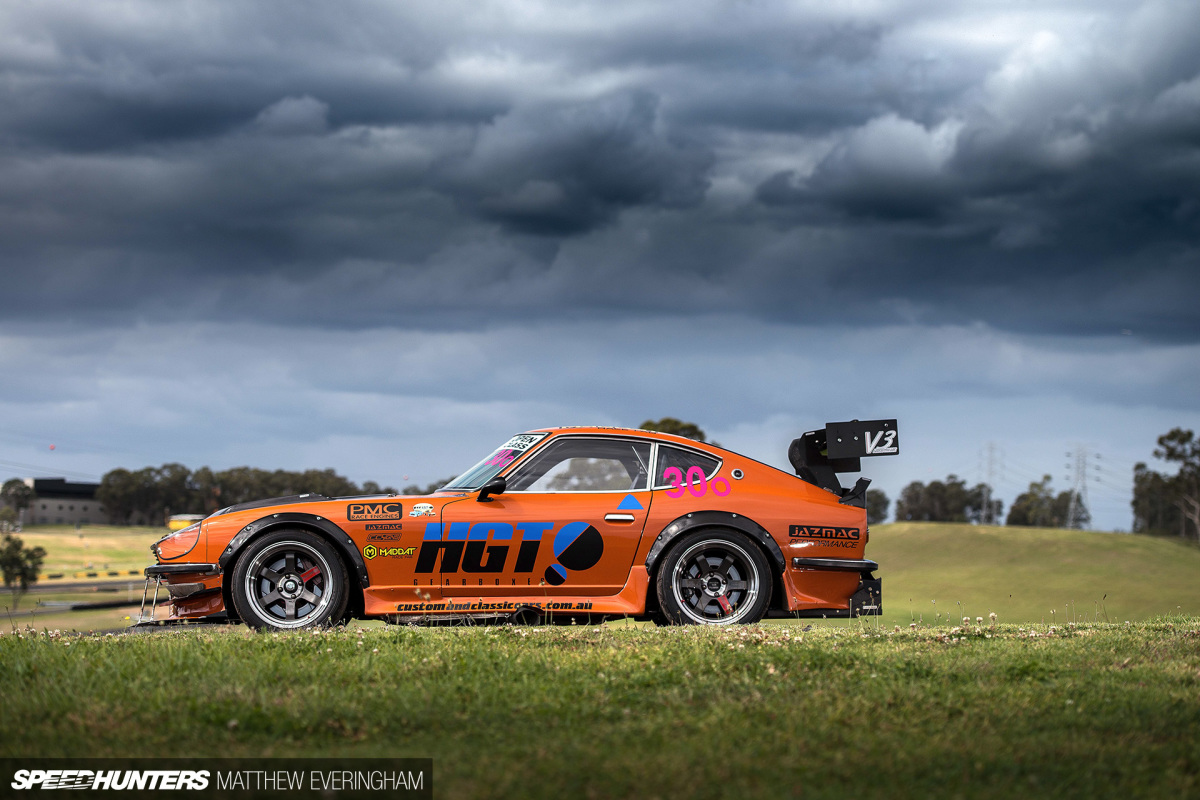 Certainly the most noticeable of modifications from the side lines of the race track are the almost immeasurable amounts of carbon fiber that have augmented the exterior of the car into some kind of Blade Runner-esque fusion of yesterday's raw lines and tomorrow's technology. This was never part of the original plan, but a welcome addition. Paul has a good friend named Freddie who operates Top Stage Composites, a local distributor of carbon fibre panels and parts, and once he caught wind that the 240Z was going to be competing at World Time Attack Challenge 2014, a sponsorship deal was proposed.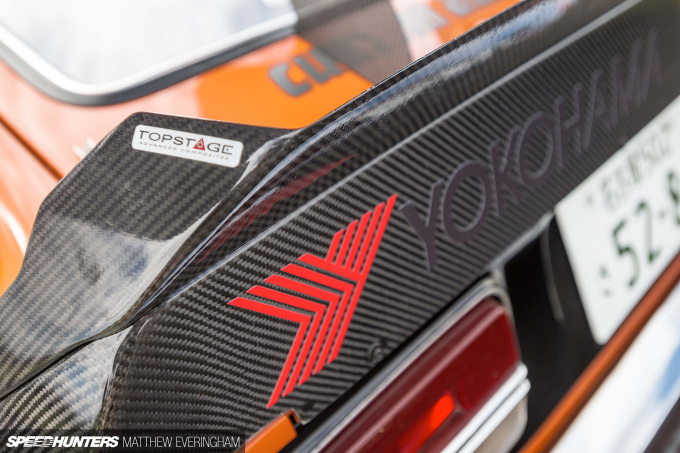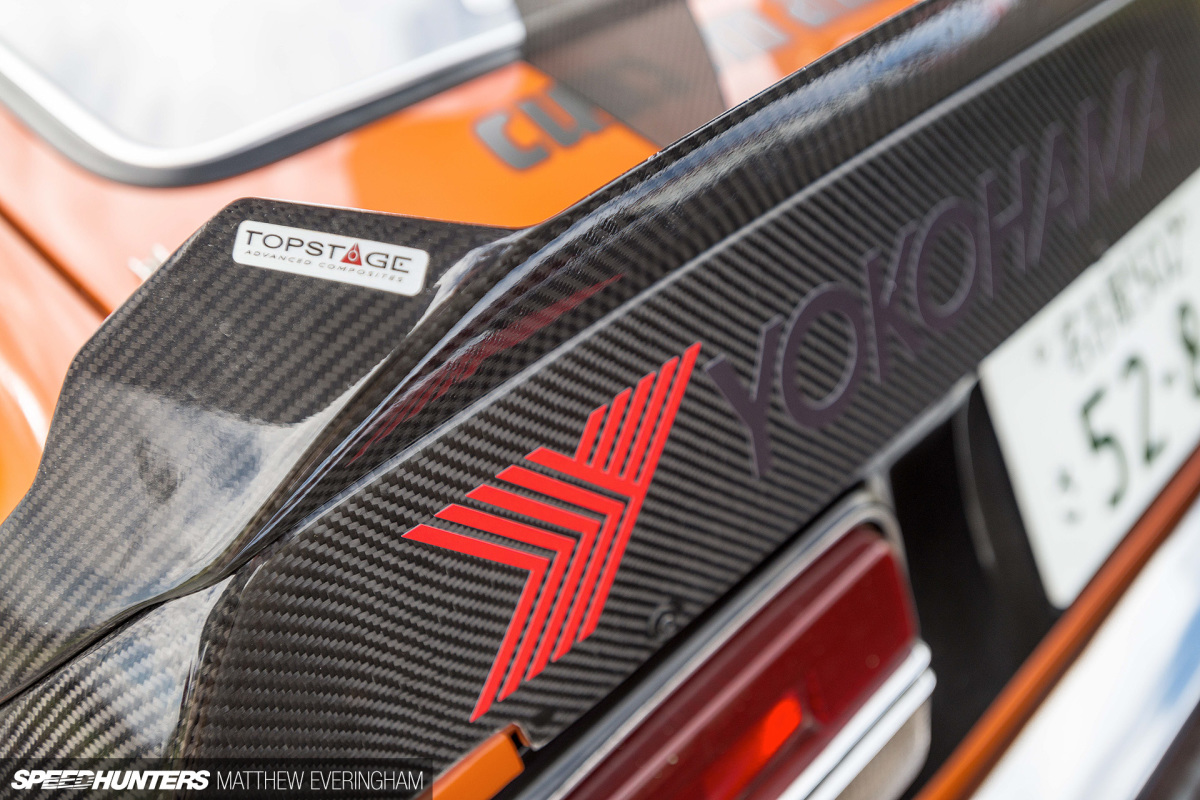 Although some of you may say it seems a little gratuitous at first glance, every piece of the Top Stage aero serves a purpose.
Some pieces are purely for weight reduction, but the vast majority of the carbon is intended to upgrade this very attractive relic from a bygone era into today's competition by keeping the car firmly planted to the track. The new additions give Paul a level of freedom to dig deeper and push harder when pursuing that one illusive perfect lap.
The increased downforce on the 240Z also plays a very important role when you consider the 800+ horsepower the stroked RB28 pumps out. That's right, an RB28. Not a typo.
The Heart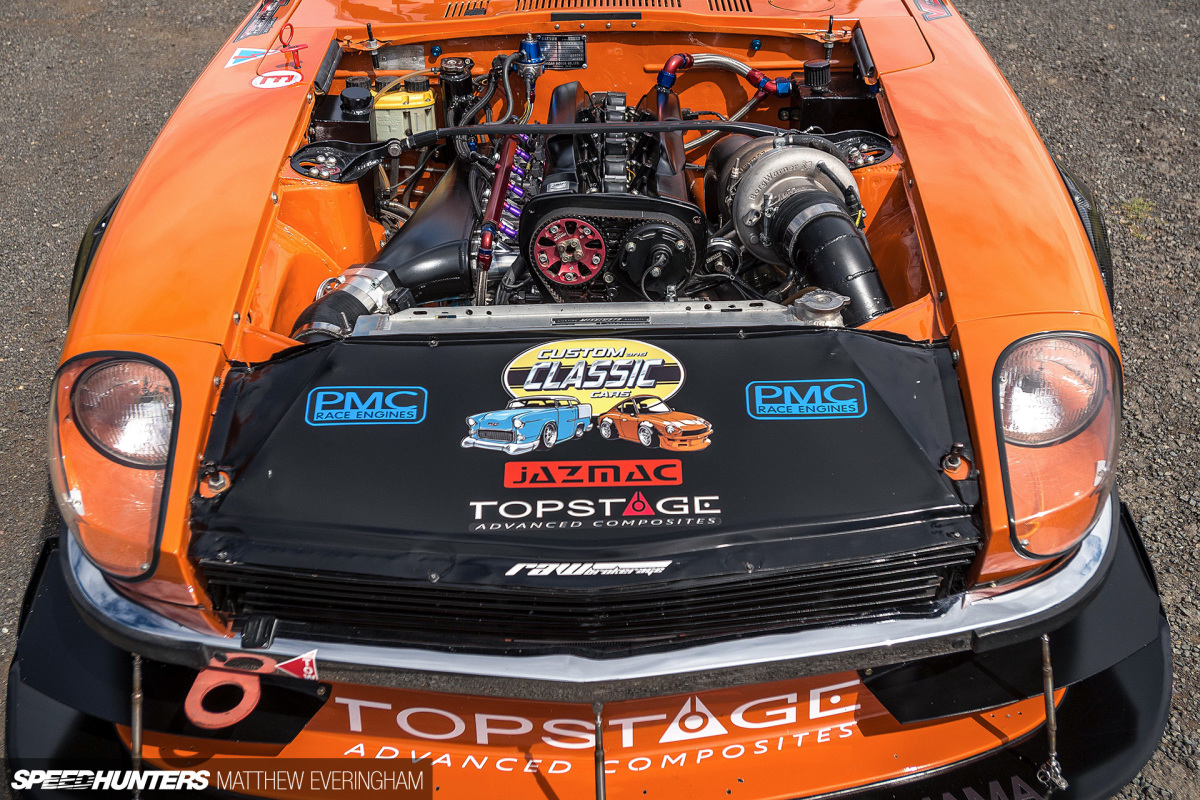 The RB26 has been stroked to 2.8 litres and now comfortably pumps out a confirmed 604kW (810hp) and a whopping 867Nm (640ft-lb). In other words, light years ahead of what the original L24 would have put to the road. The entire unit was stripped back and given the royal treatment, while the other half of this huge power equation is the BorgWarner EFR8374 turbocharger.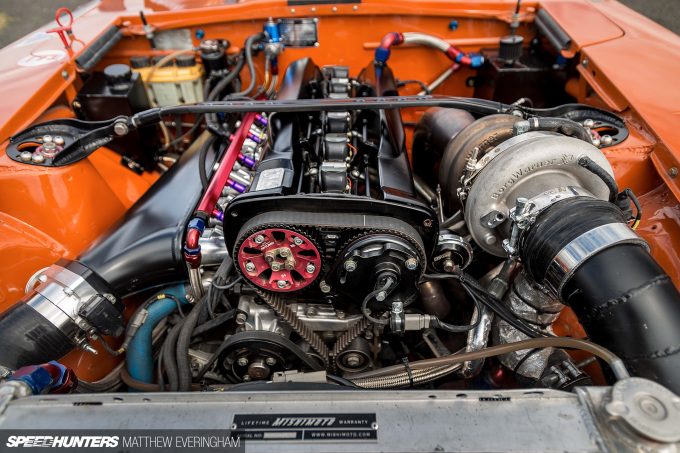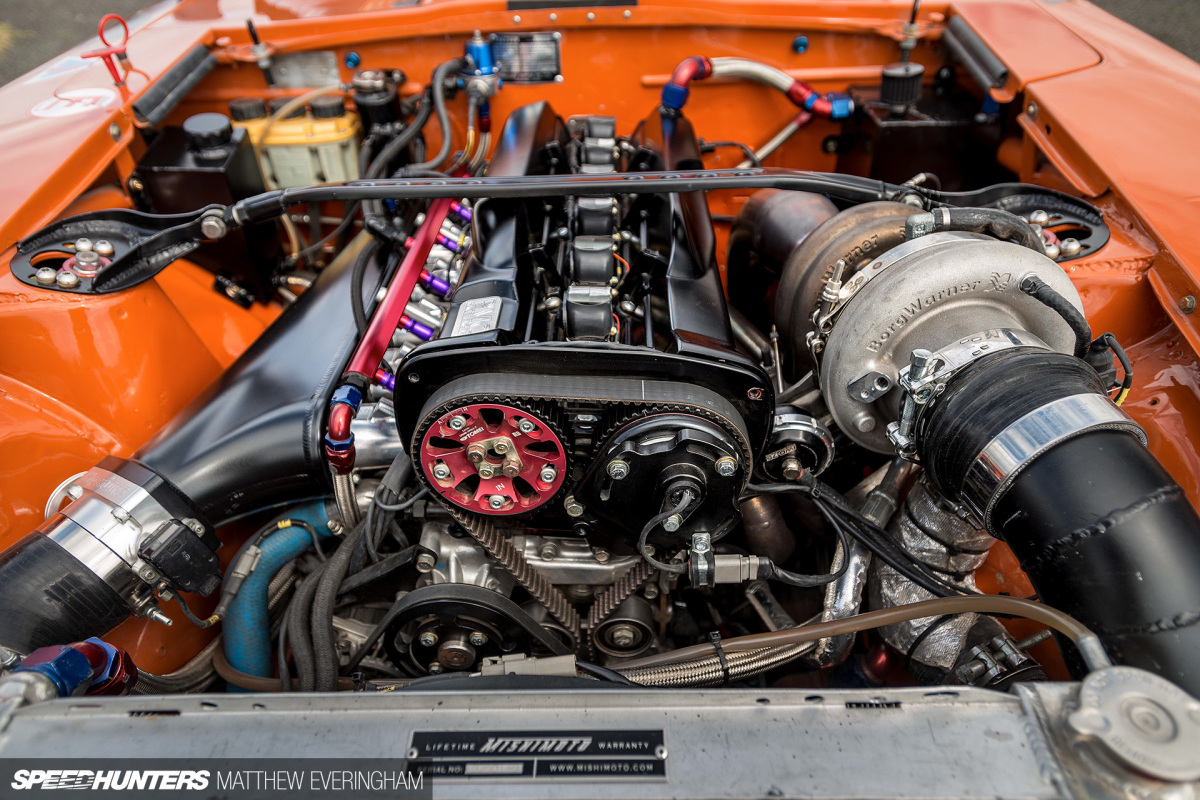 Again, this ridiculous build wasn't part of any original plan, just the result of past engine failures. More specifically, one catastrophic failure that put an early stop on Paul's World Time Attack Challenge in 2014.
But once again, an 'improve and never replace' policy effected a massive change for the project, and discussions with respected Victorian engine builder PMC Race Engines quickly snowballed into the complete madness you see before you today.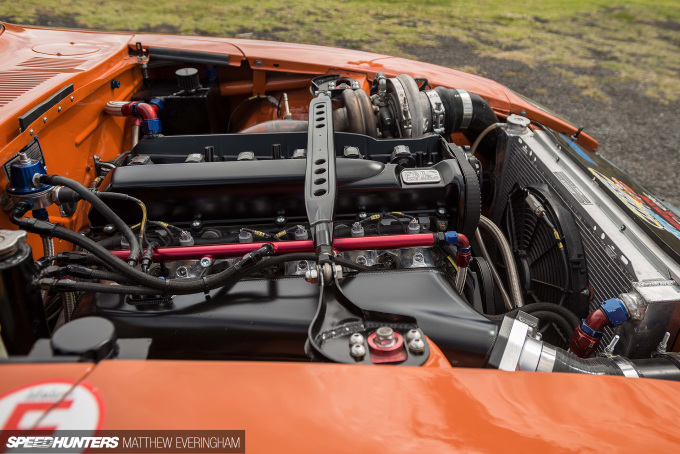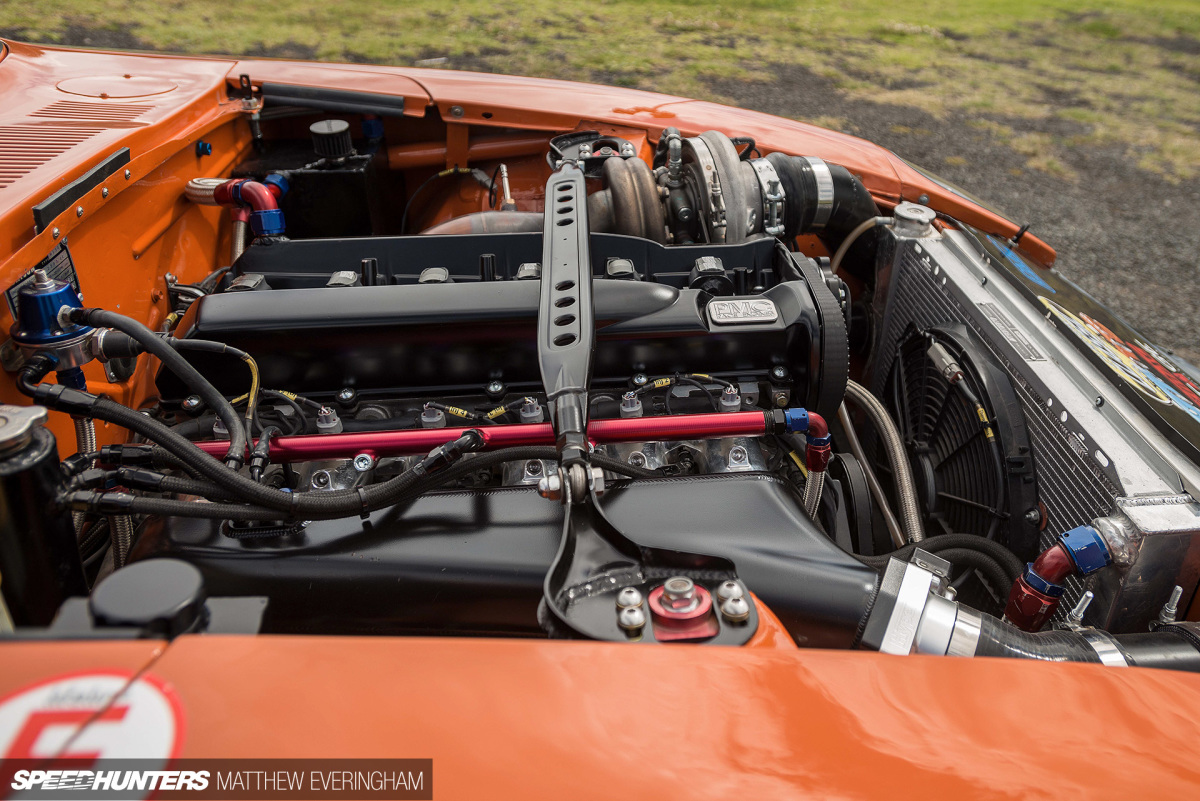 The backbone for the additional power delivery come in the form of  huge ID2000 injectors, a MoTeC CDI module and Mercury coils. PMC Engines prefers to use MoTeC on serious builds, so the M800 was fitted up, dialled in and tuned to maximise the RB28's potential throughout the entire rev range.
A side-mounted straight pipe exhaust delivers only the angriest of notes, and aggressive cams help the exhaust produce nothing but the dirtiest, lumpiest sounds while at idle. But it's under full load when the RB28 sings it's best songs. Burbles, cracks, pop and throaty roars.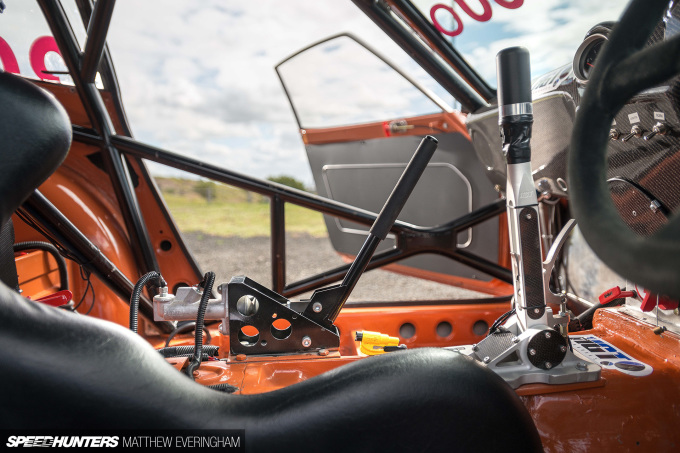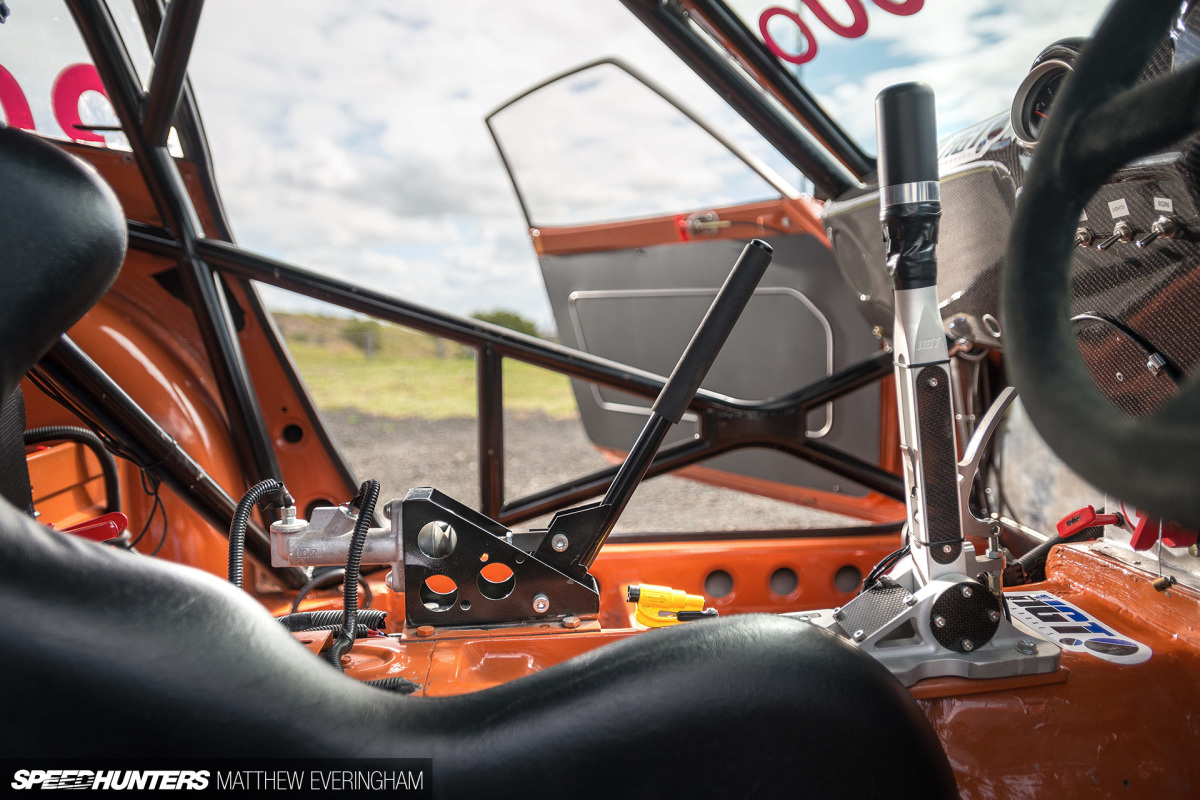 The transmission has been replaced with an equally serious HGT Precision sequential 6-speed dog box that's fully CNC-machined out of 7075 aluminium billet and sports a full constant mesh set of gears. An R200 long-nose with a shortened Nismo LSD get the wheels spinning, while another local legend, MadDat, supplied the 33-spline axles.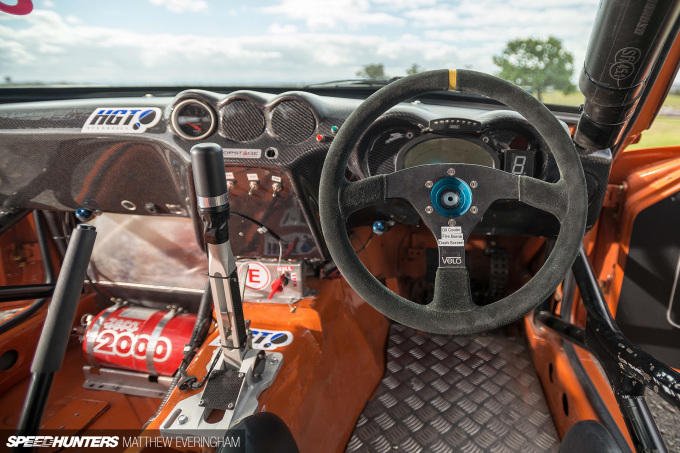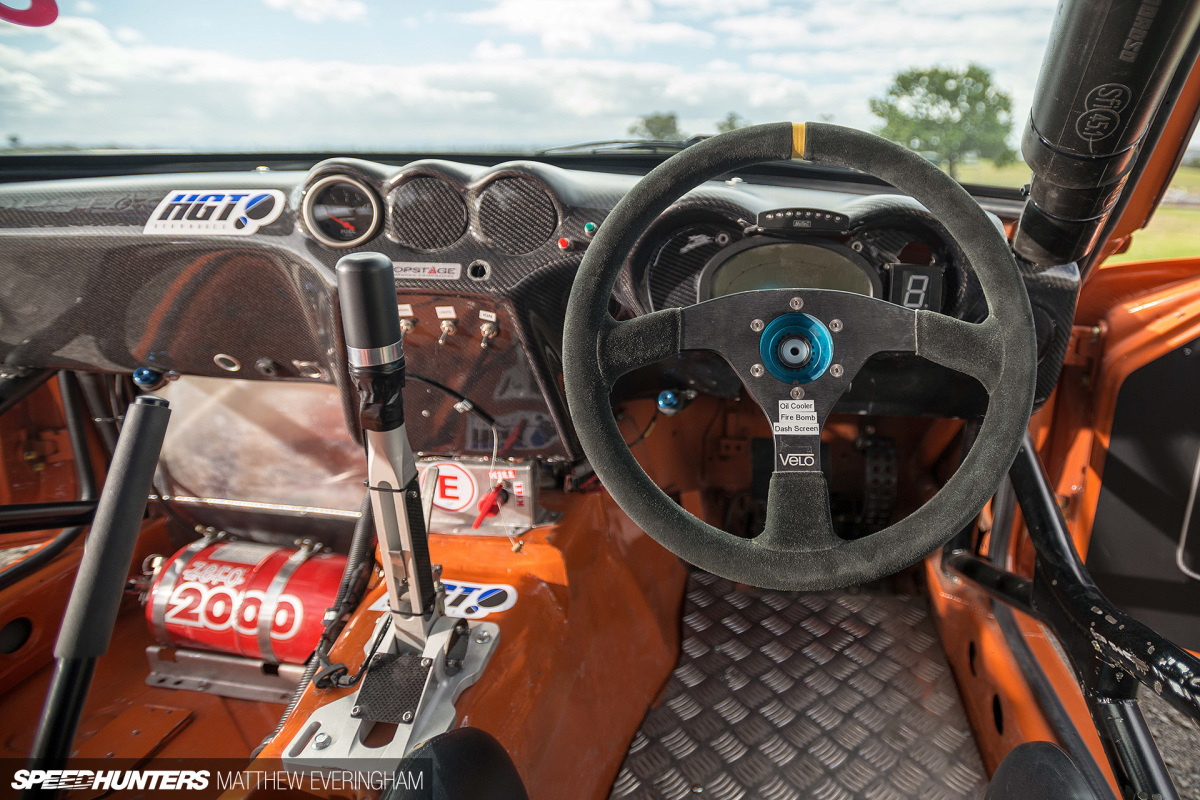 Paul's experience restoring cars is apparent once you've poked your head inside the cabin. The cockpit is as simple as you could ask for; a basic dash (carbon of course) with a MoTeC display, a pedal box, a steering wheel and some of the important gear that'll keep you alive if things don't go to plan. It's about as 'race car' as an interior from any era gets, and although it's bare, the presentation is still nothing short of amazing. Doubly so when you consider how hard it is to hide clutter and cables behind thin air.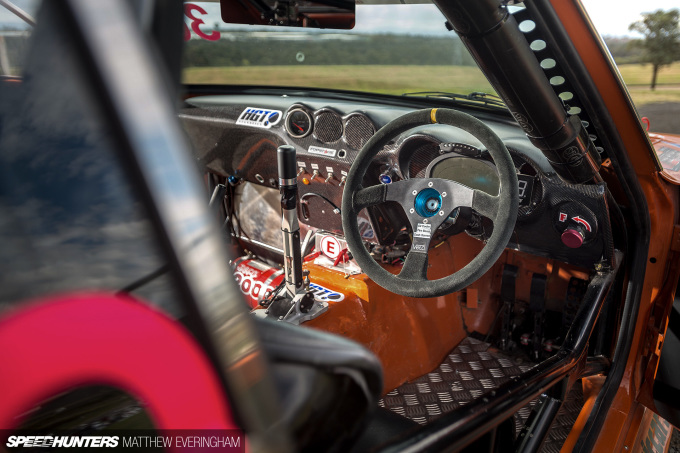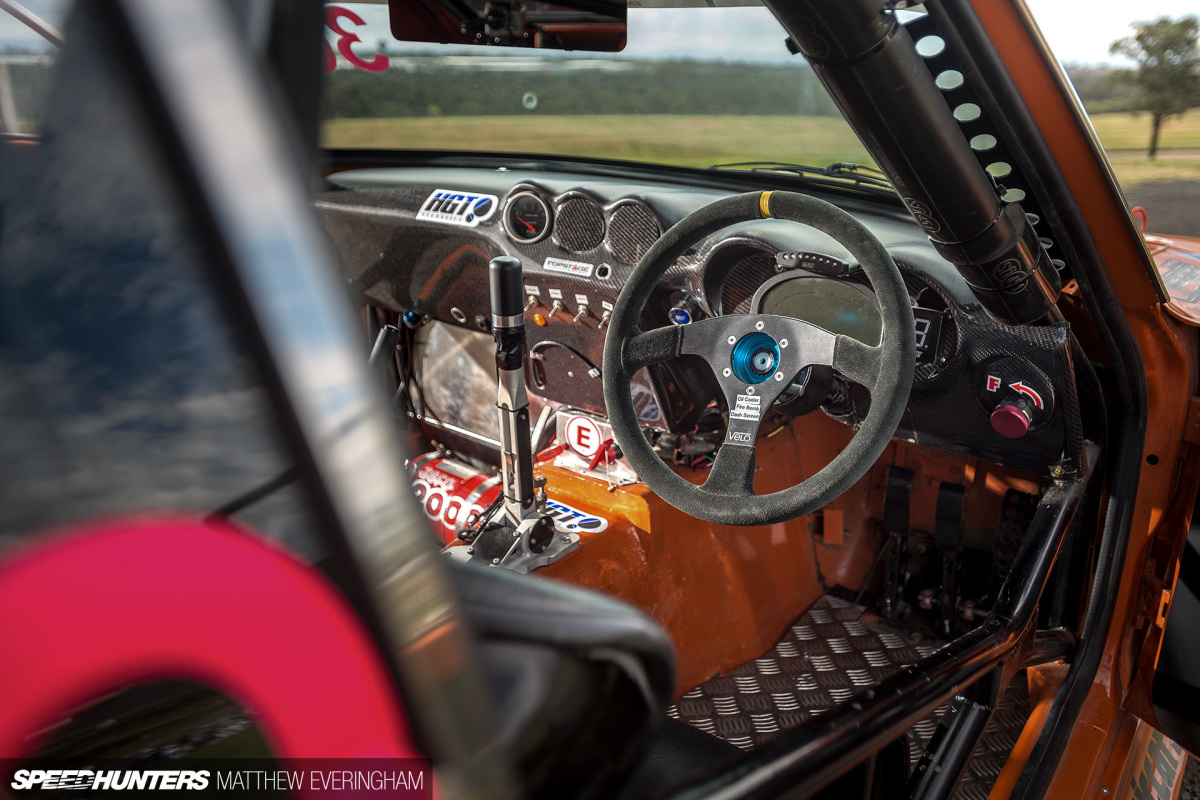 Sitting snug in the period-correct retrimmed Velo race seat, I took stock of the bare surroundings for a couple of minutes before reaching for my camera. It was at this point that the purpose of the build became crystal clear to me. When admiring from the outside, the purpose almost gets lost in the impeccable presentation, but it's painfully obvious that this was built for speed. Regardless of how aesthetically pleasing the car is, none of the additions were purely for vanity. If an item doesn't make the 240Z run faster or add to the reliability it's been left on the bench or in a bin intentionally. This is a machine that was built purely to be driven to the limit and sometimes perhaps even beyond those limits.
The Result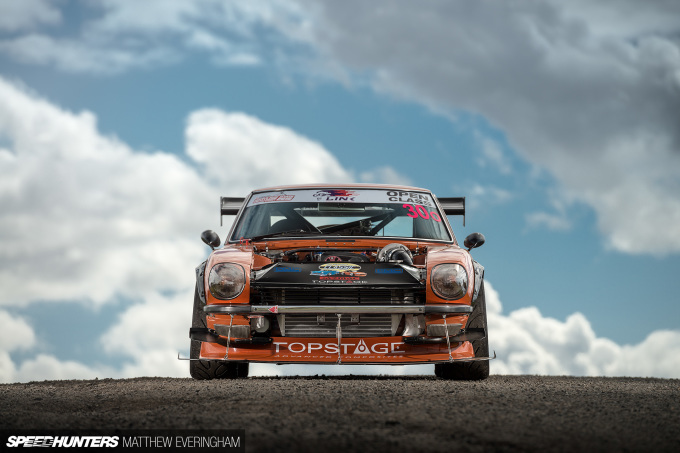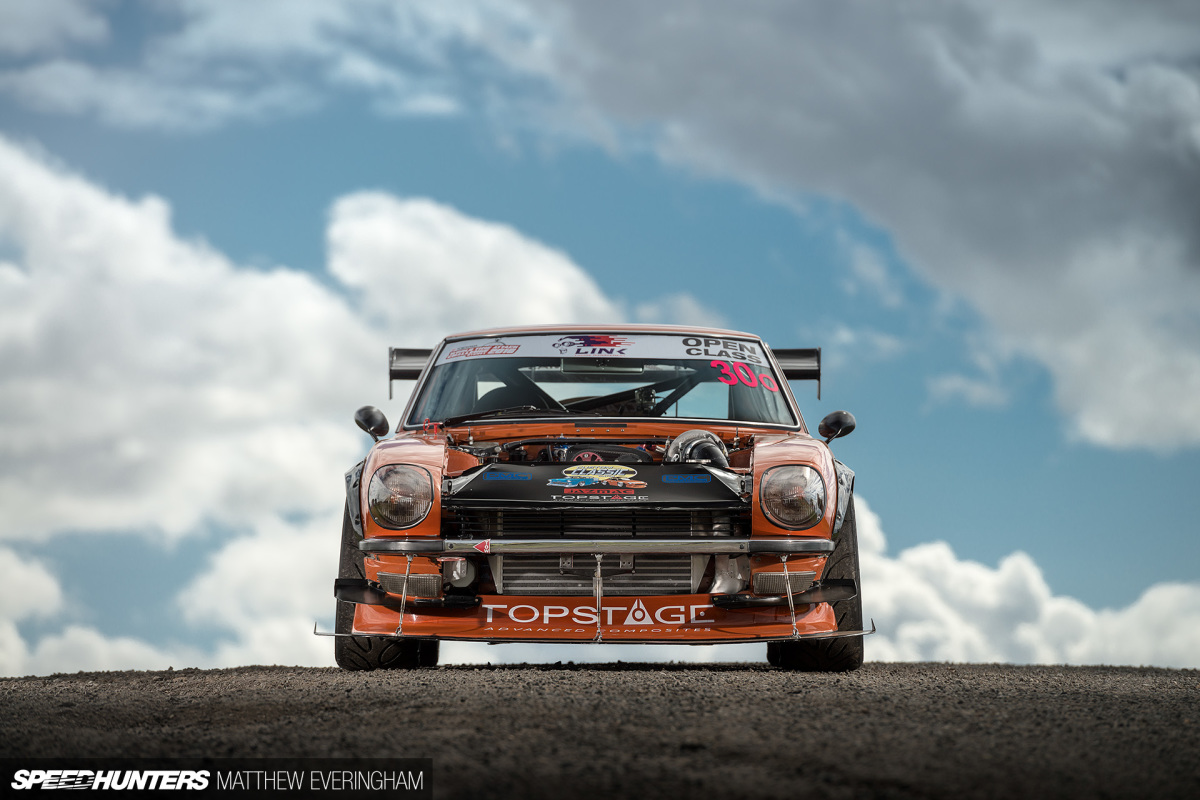 With a strong understanding of the level of competition in WTAC 2016's Link Engine Management Open Class, Paul had no illusions that he'd be spraying champagne on the crowd come Saturday evening. The quality of competitors throughout all classes is ridiculous; you really are competing with the world's best here.
The Custom and Classic Car team weren't gunning for outright victory though, they were at Sydney Motorsport Park to better their previous efforts and for Paul to take another step forward mastering his creation. If Paul's team could manage a sub 1:35 on the circuit and get more laps in than a horrendous 2014 they'd class the event as a win.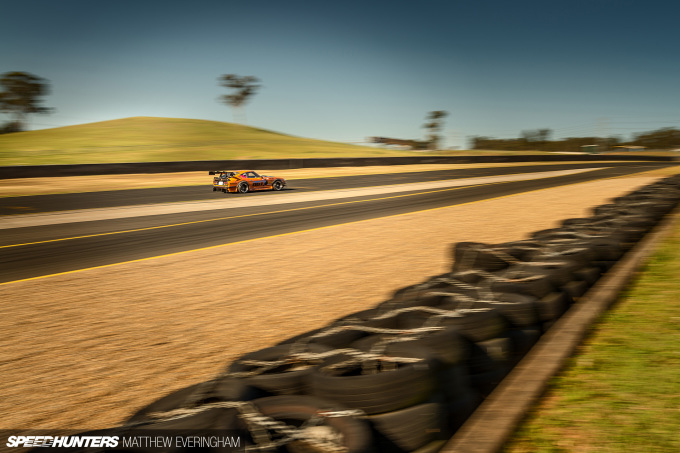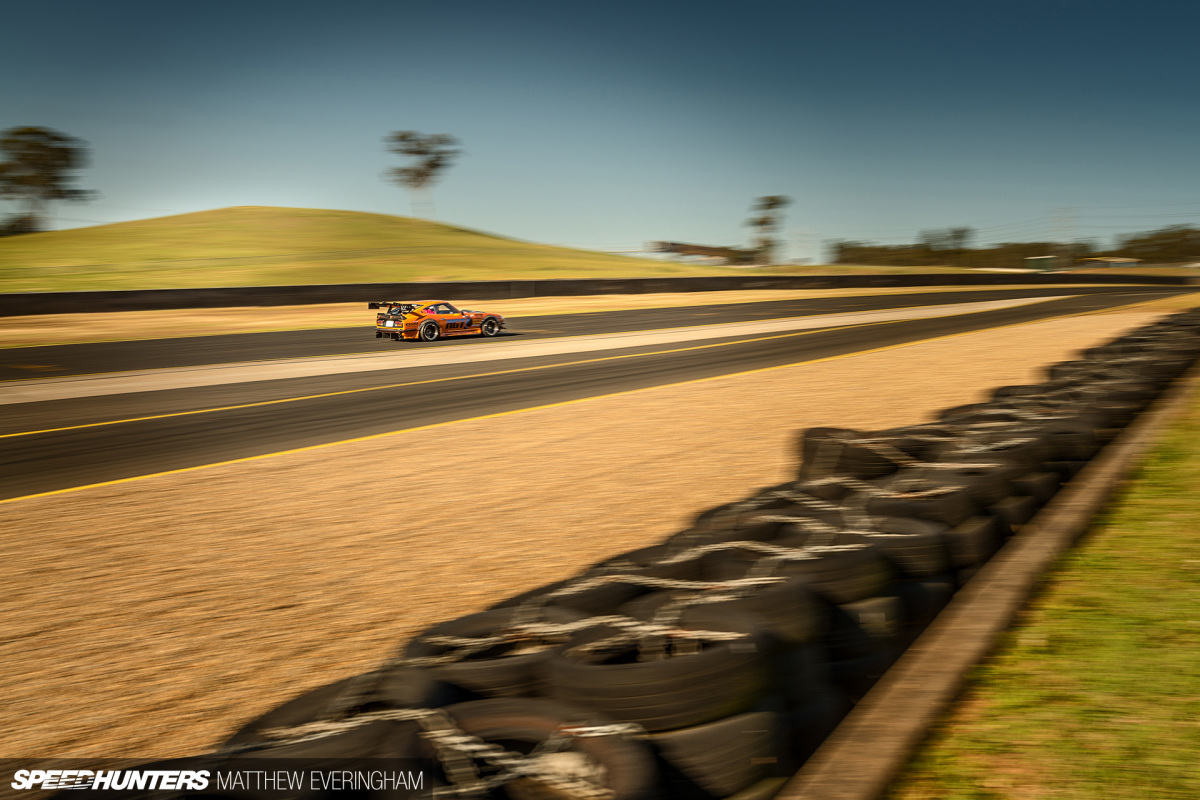 Friday's assault on the track was off to a shaky start. During the first high speed blitz down the main straight a renegade bonnet pin made its way loose. The left side of the bonnet shunted up, lifting approximately a foot higher than it should have been, but luckily the remaining pins held everything in place long enough for Paul slow the car and limp it back to pit lane safely.
No real damage was done, but the session was red flagged by the time his team had replaced the pin and applied liberal amounts of race tape to get him back out there. That was one session down already and the plague of red flags seemed to continue for his group across the rest of the event.
Sydney Motorsport Park is a pretty unique track compared to most others in Australia. Turn one is by far the quickest bend in the country, and it's definitely a track that needs to be driven at speed before a driver can really work out their best plan of attack. The main thing standing between Paul and his goal was ironically time. Seat time that is. The handful of complete laps that were recorded were both full of traffic and 'messy' by Paul's own account. Having a 'glass half full' kind of attitude the view is simply that there's more room for improvement in 2017.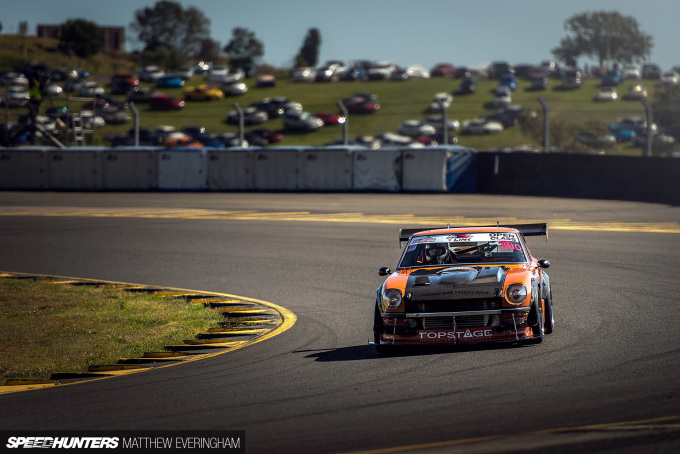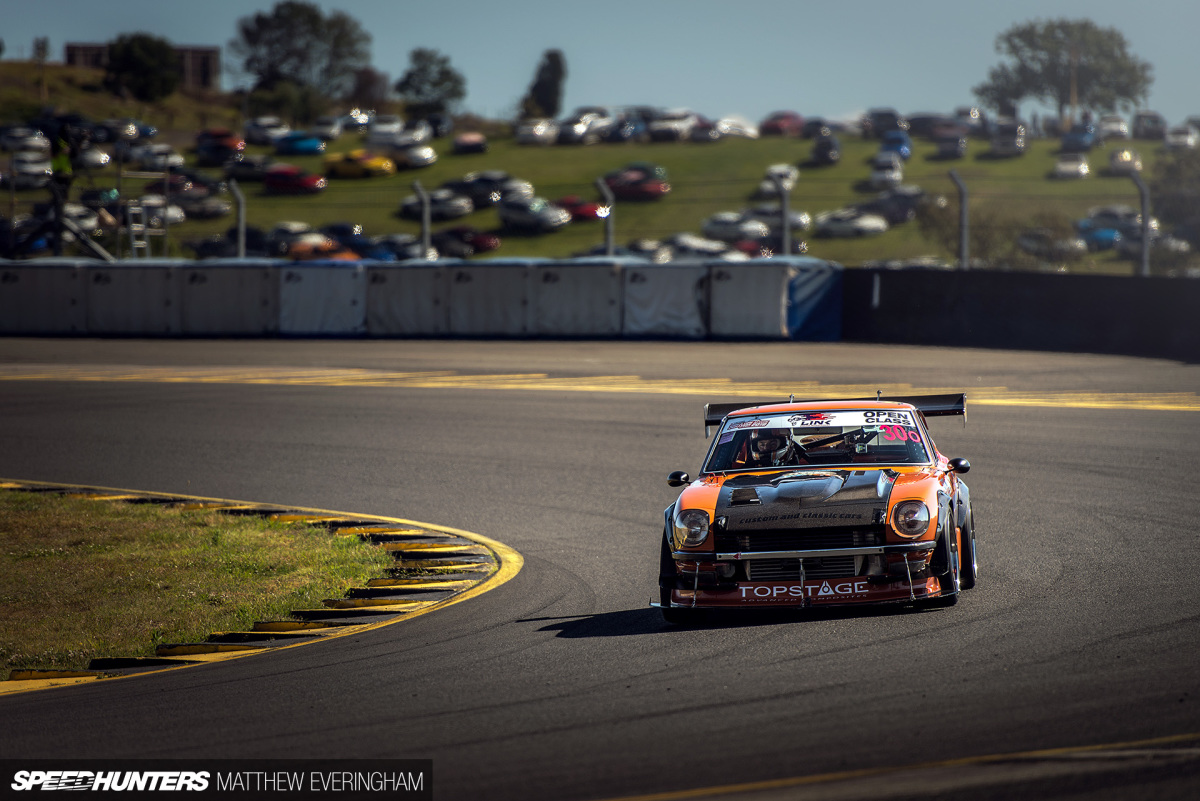 Ultimately the team ended up 19th out of 30 cars in the Open class with a best lap of 1:37.221, a massive 8-second improvement on their previous fastest lap at Sydney Motorsport Park. Not only that, but Paul cracked his personal top speed in the car – 283km/h to be exact.
The guys were all pretty chuffed with that. When the team wasn't busy getting the Datto out for it's next session they were being treated like rock stars by both the crowd and competitors alike. It seemed like just about every one who attended WTAC was eager to let the boys know what a fantastic job they'd done putting the 240Z together and how fantastic it sounded as it belted down the start/finish straight.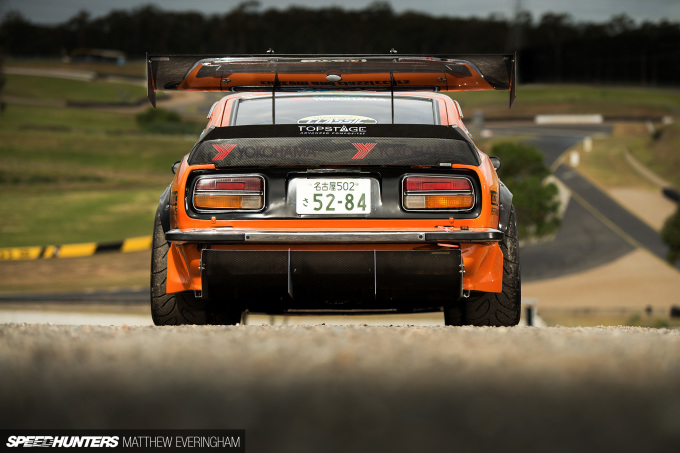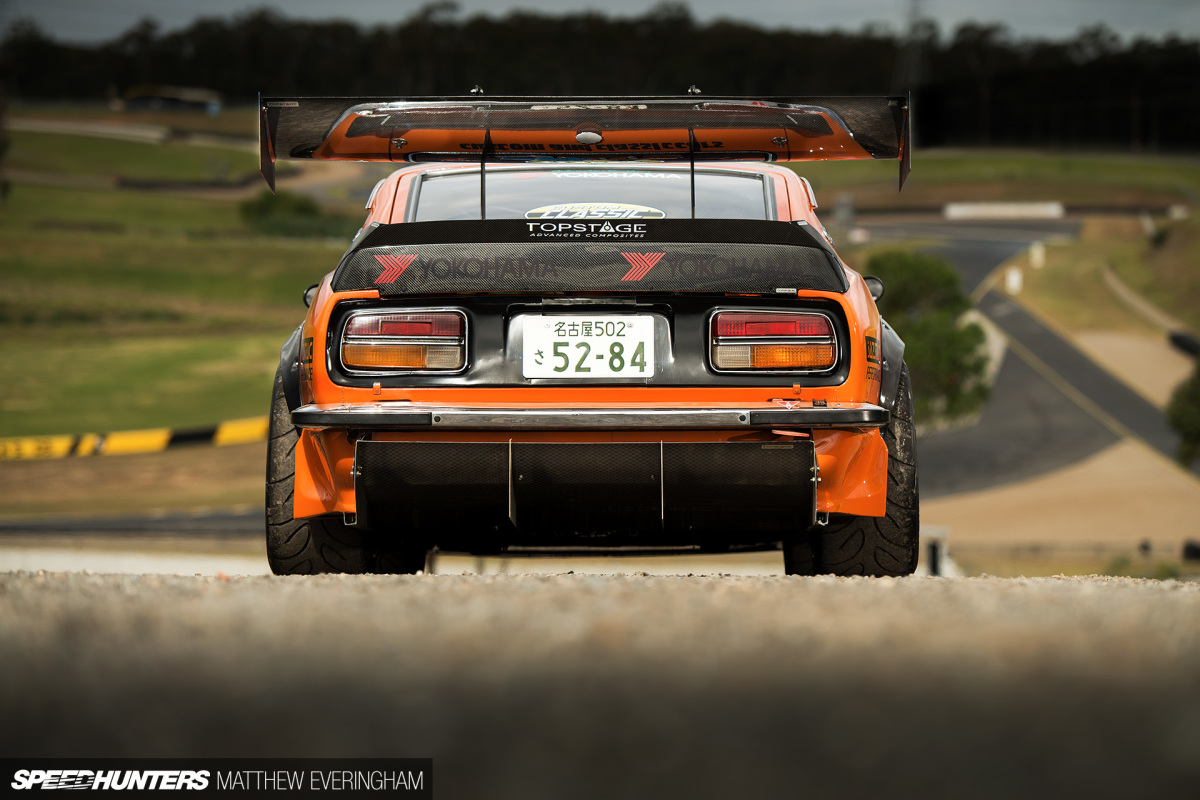 While they didn't manage to crack under 1:35, the whole team were still stoked with both their efforts on the track and also the warm Sydney reception regarding the build. Not to mention, they also had bucket loads of fun along the way. They team rated their 2016 as a massive success and are already planning on how to achieve that 1:35 when they return in 2017.
Matthew Everingham
Instagram: matthew_everingham
matt@mattheweveringham.com
Cutting Room Floor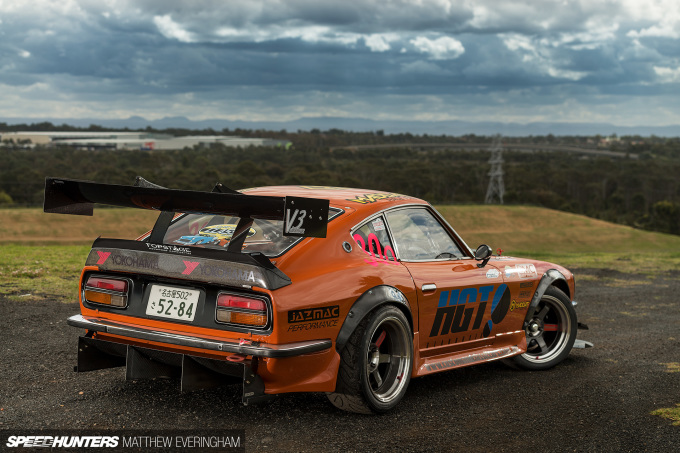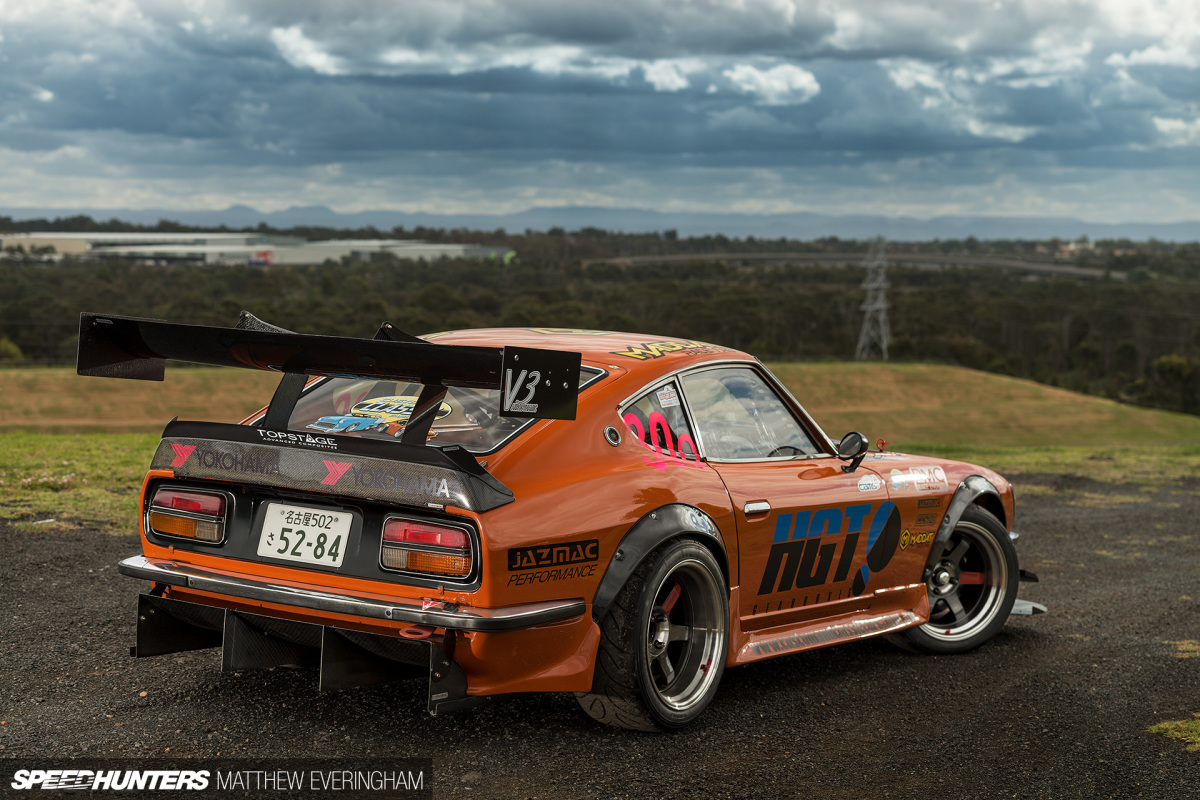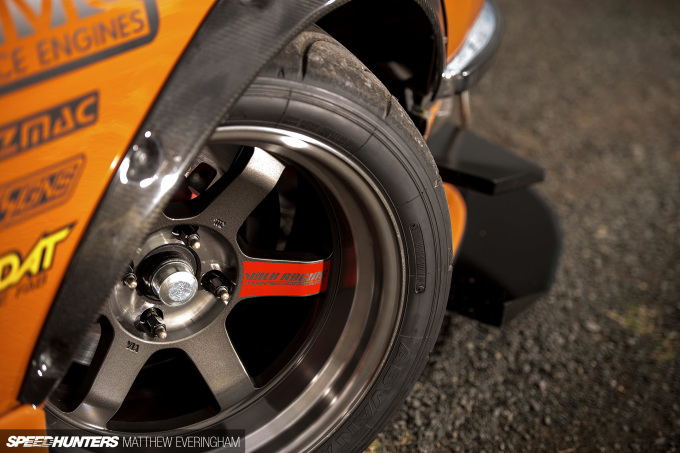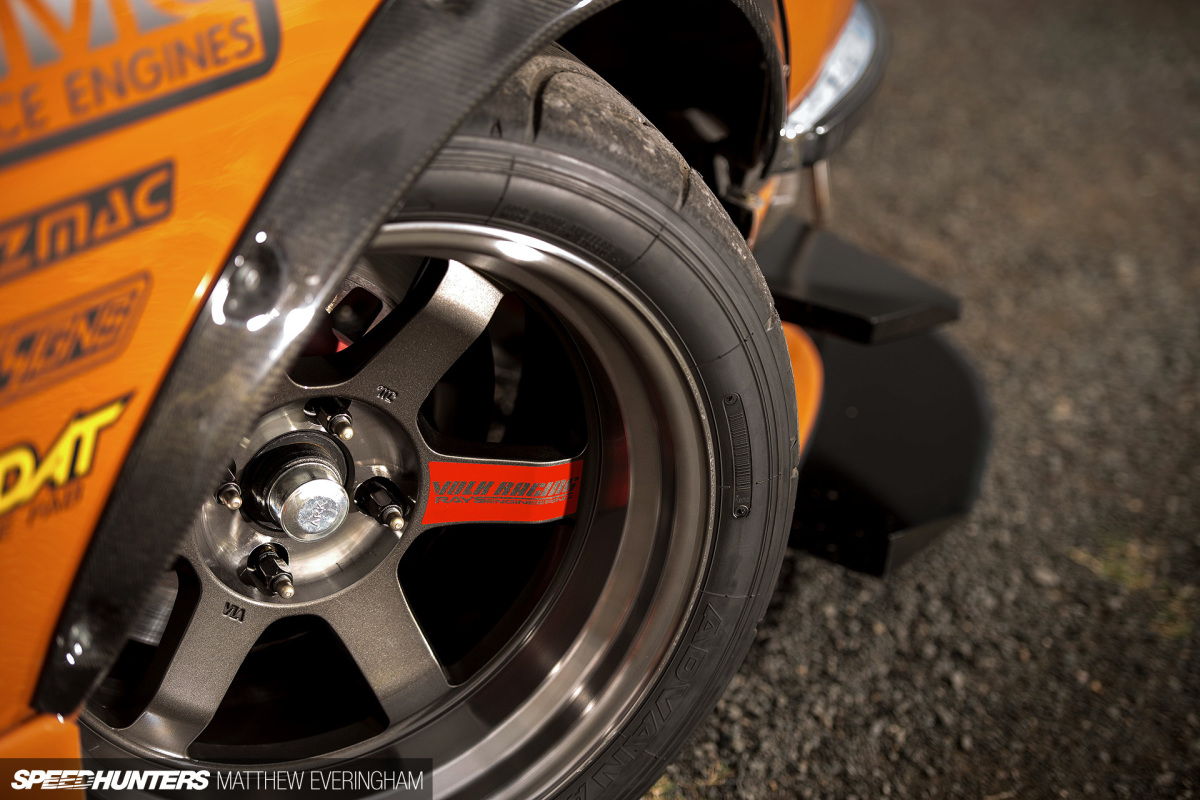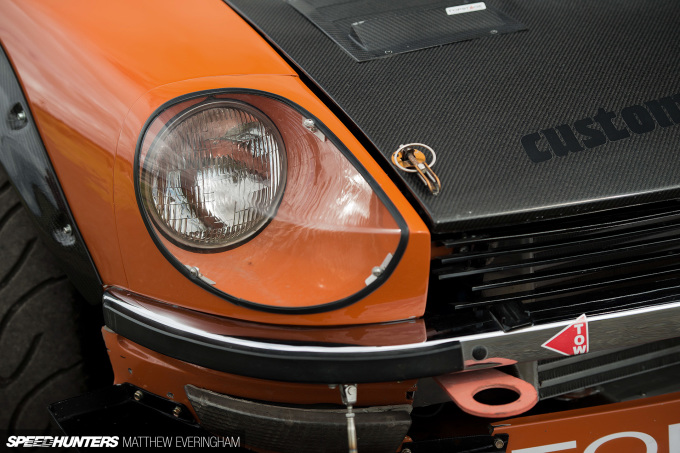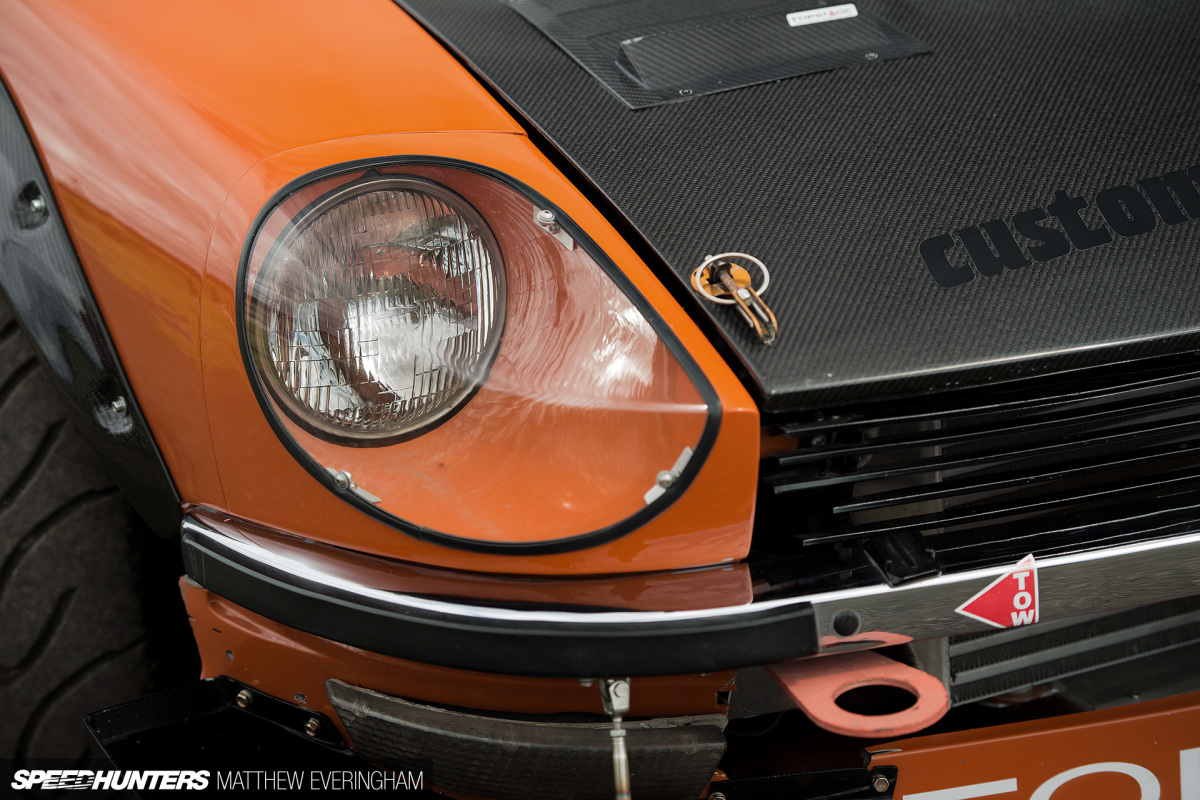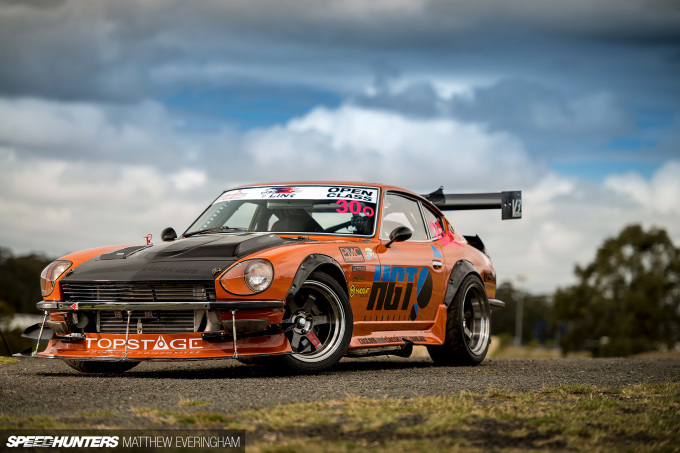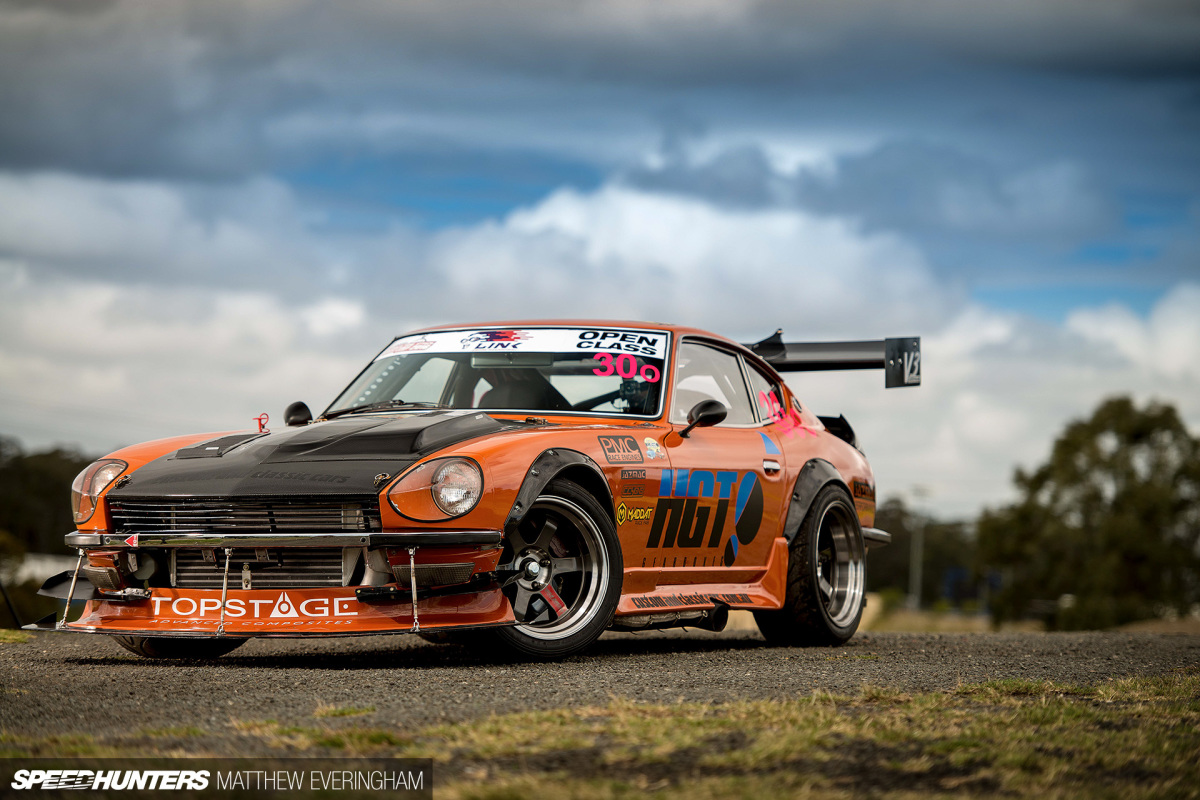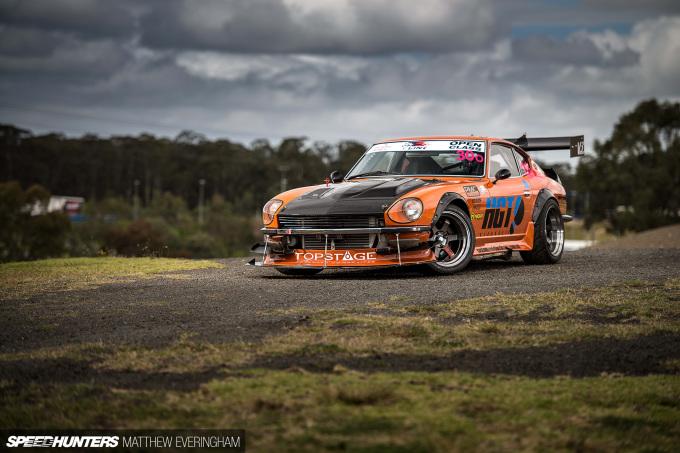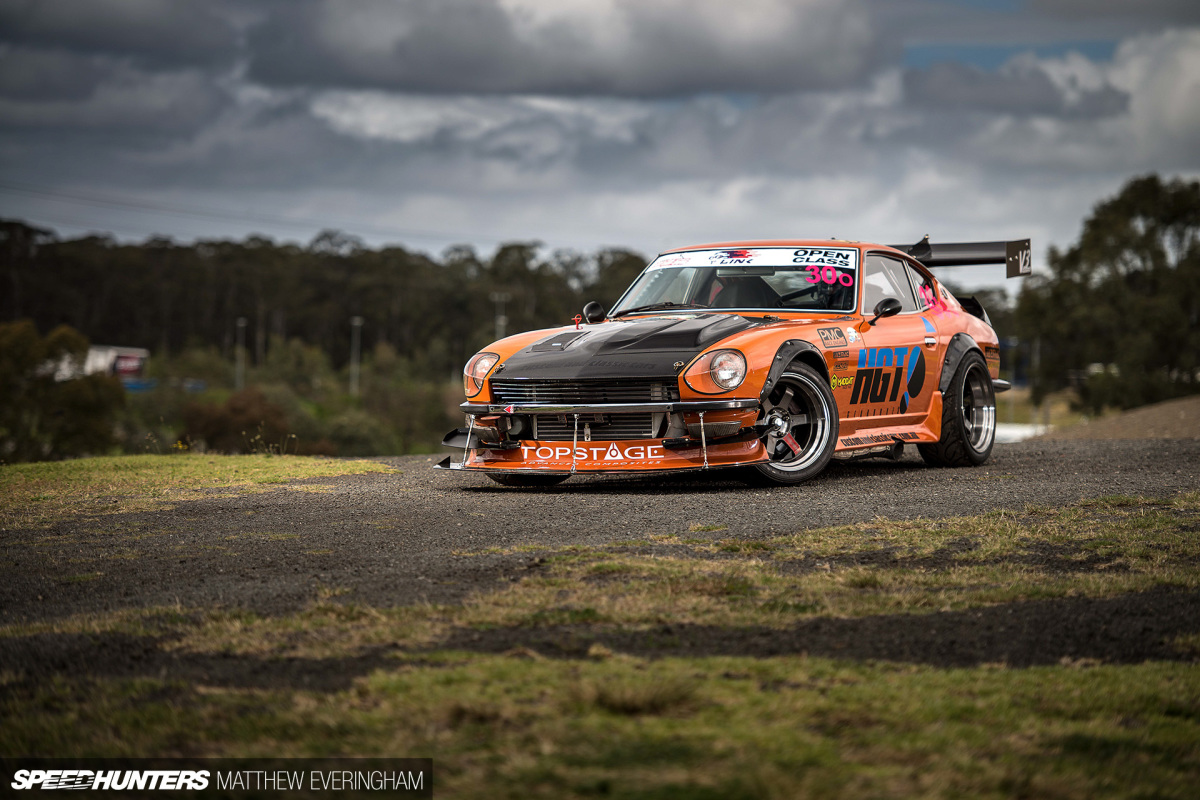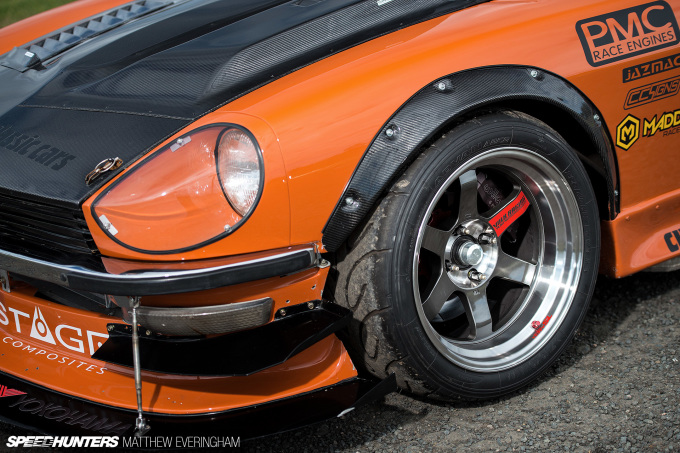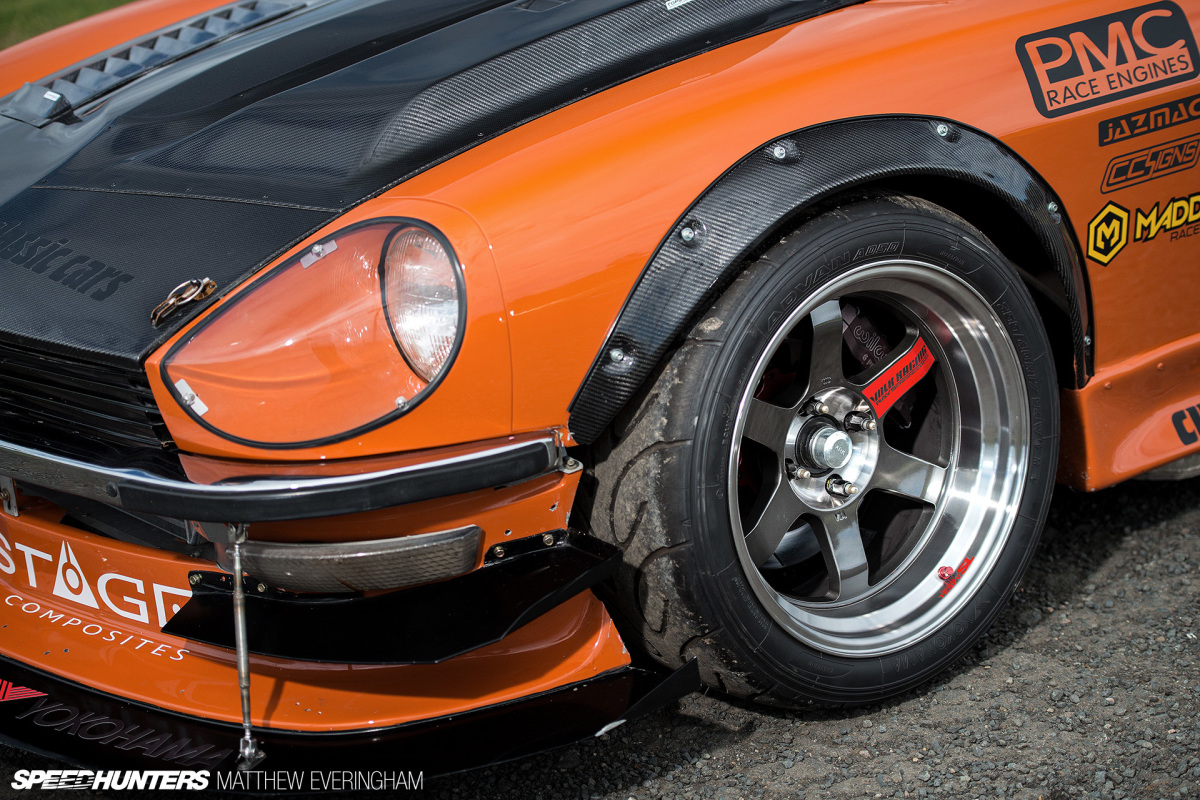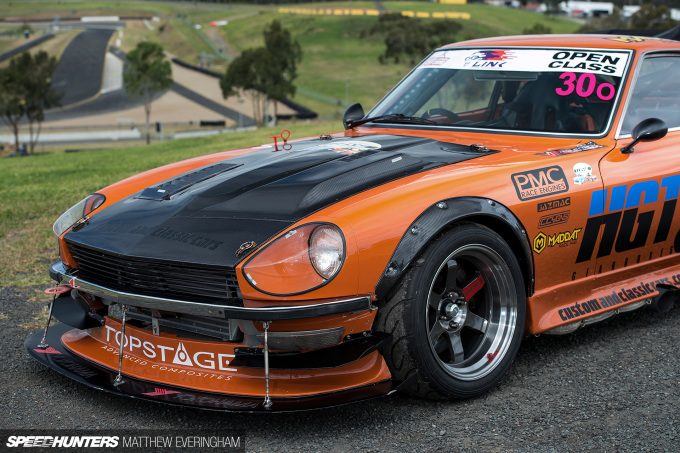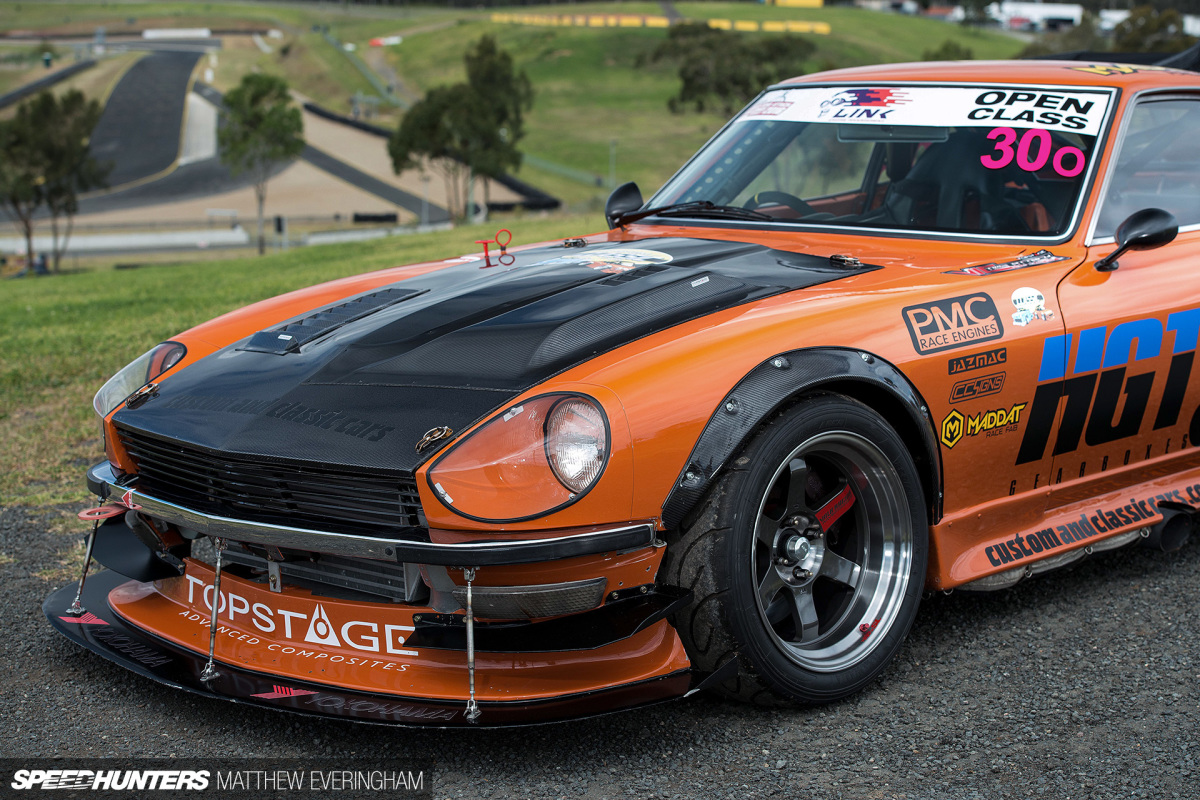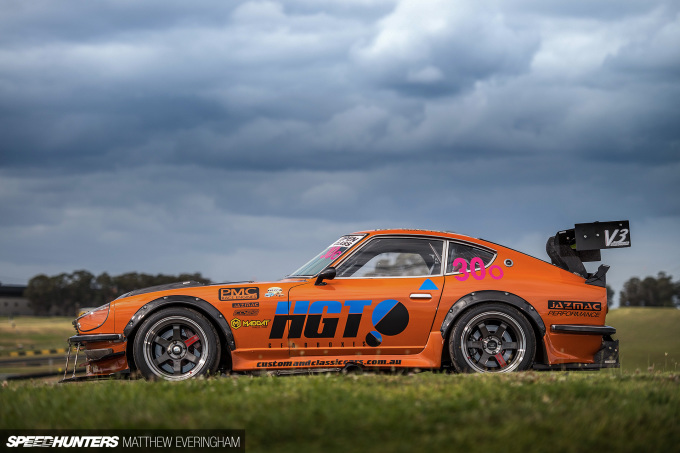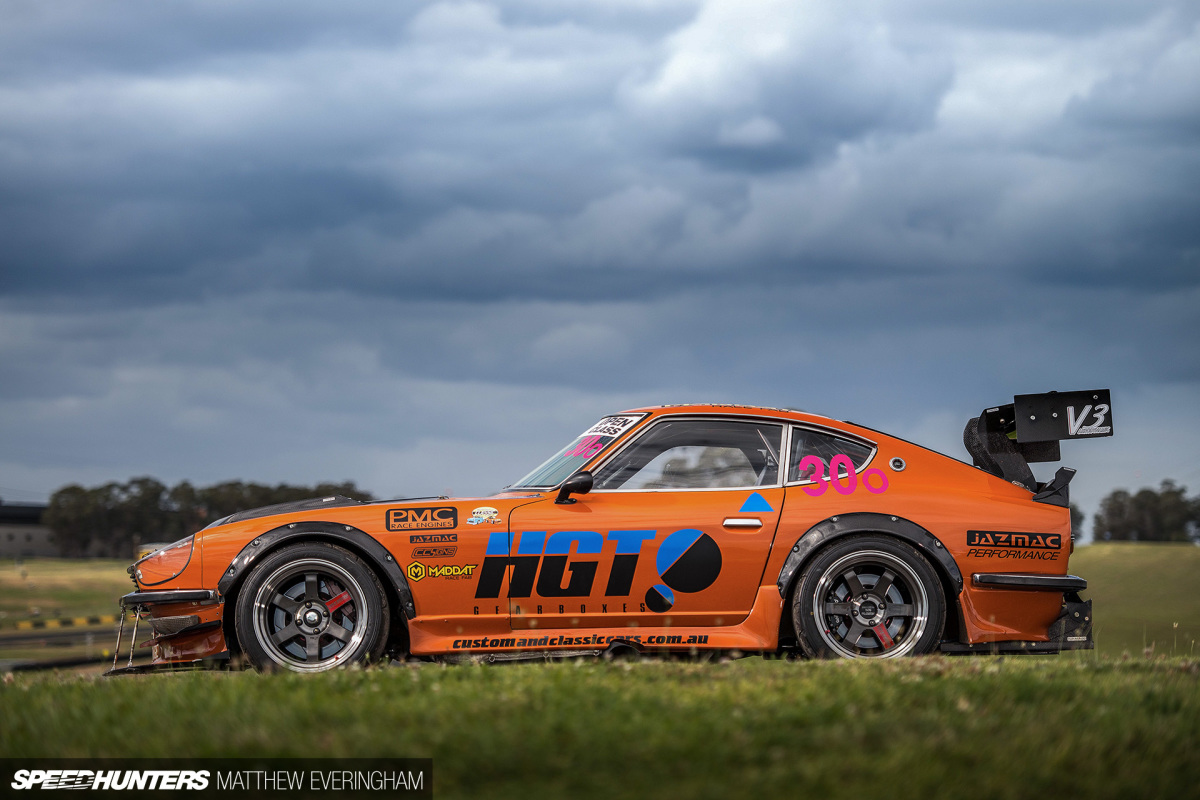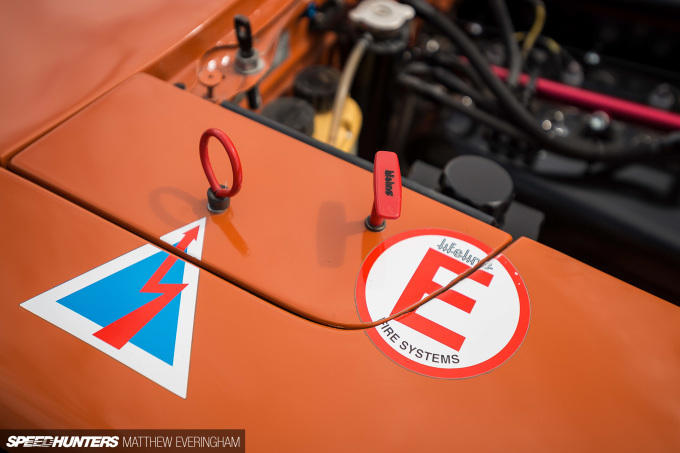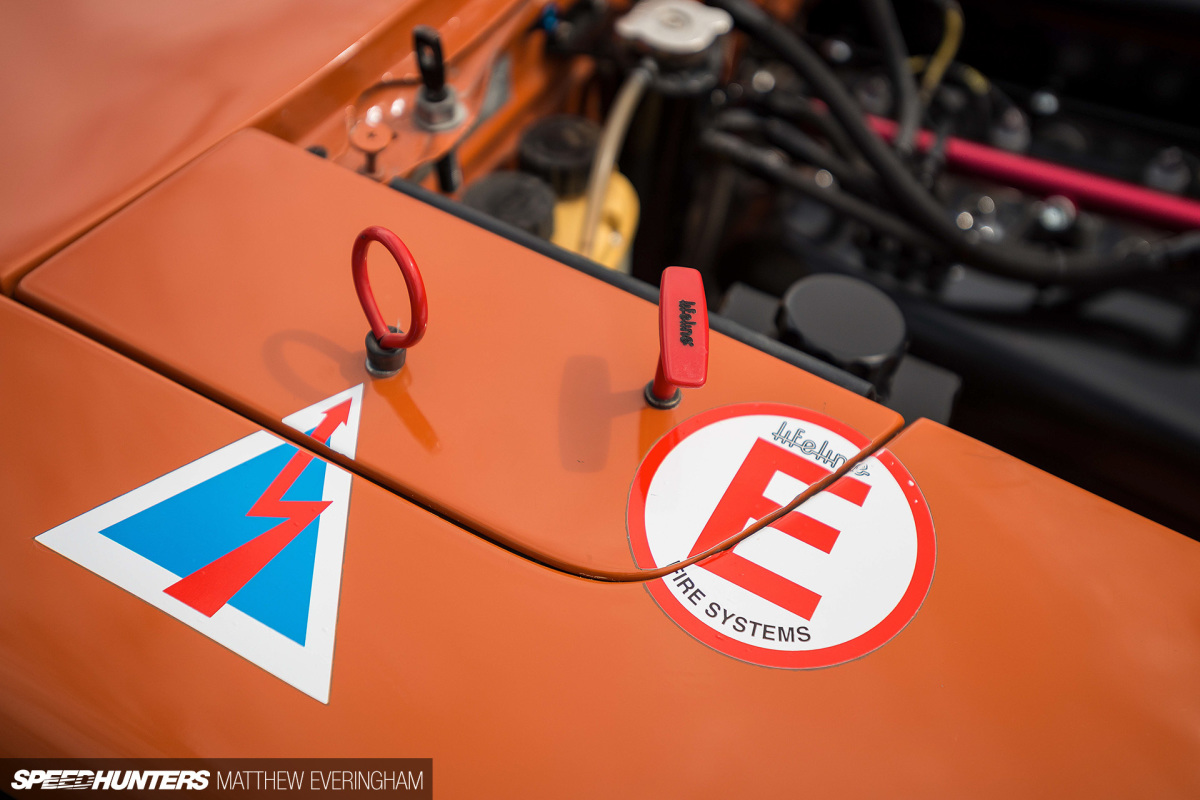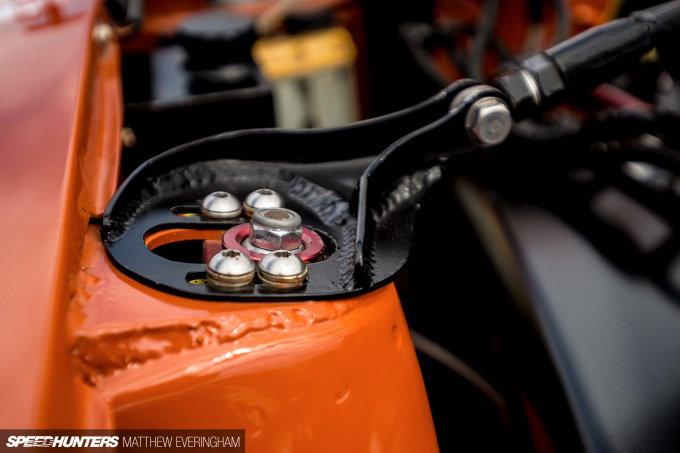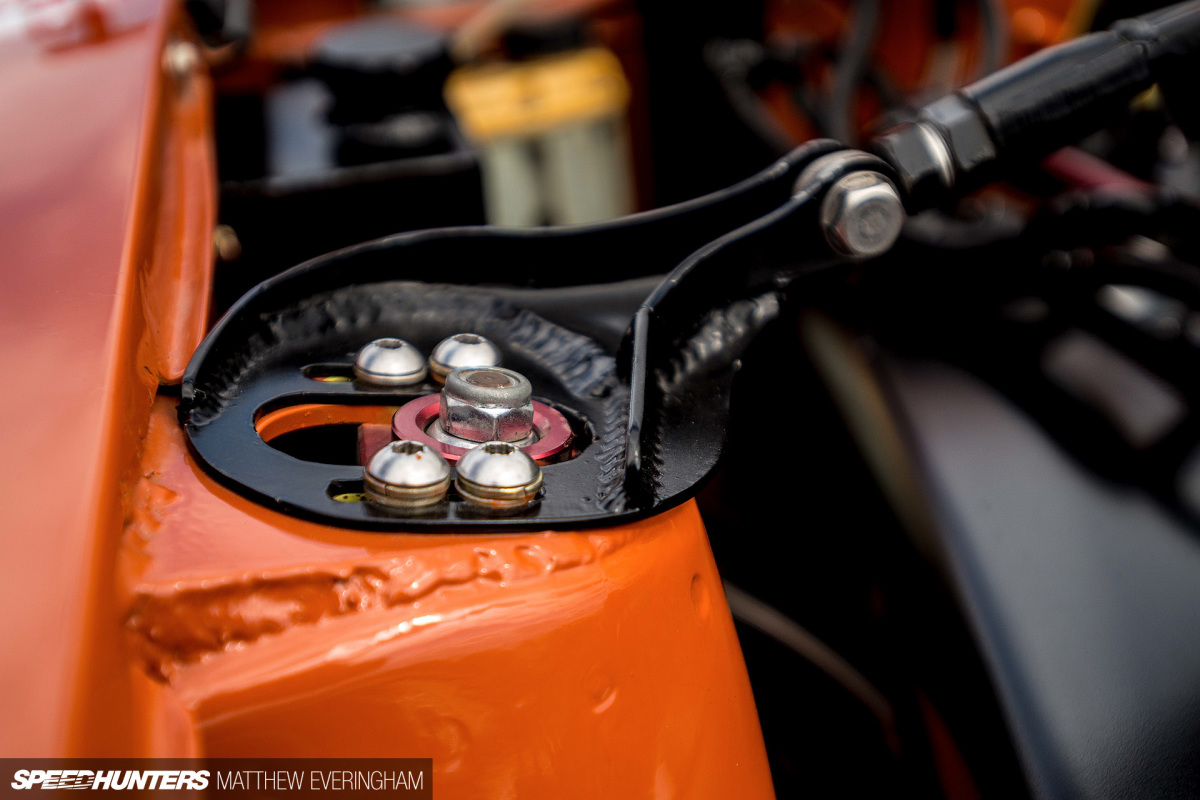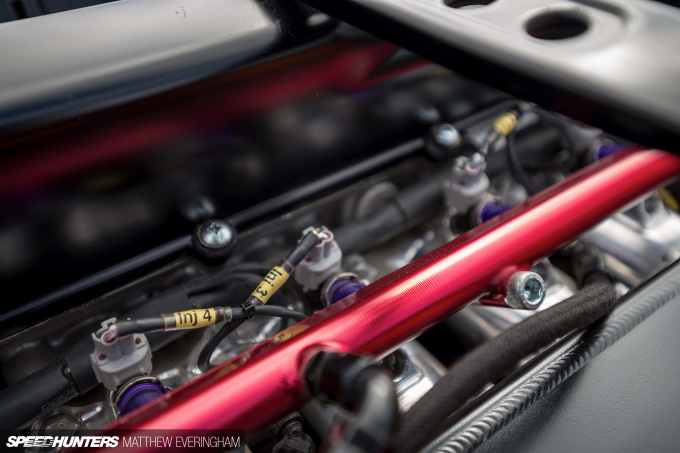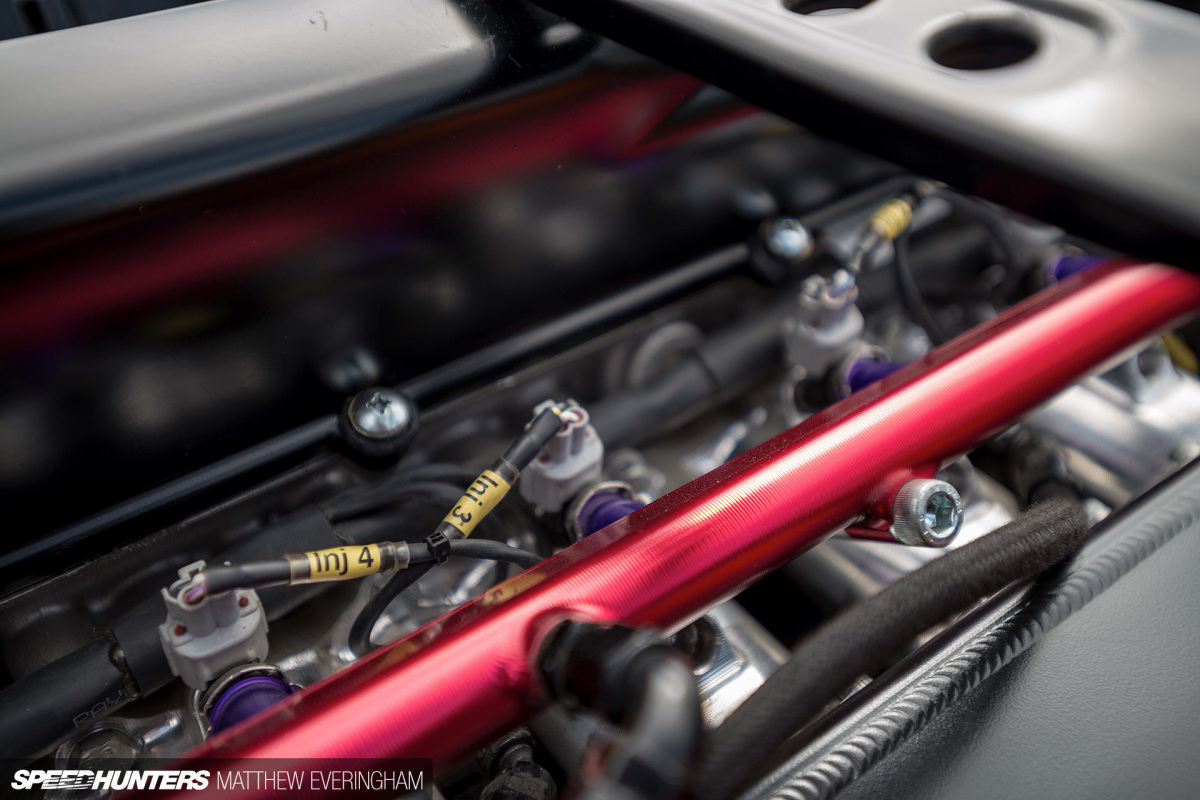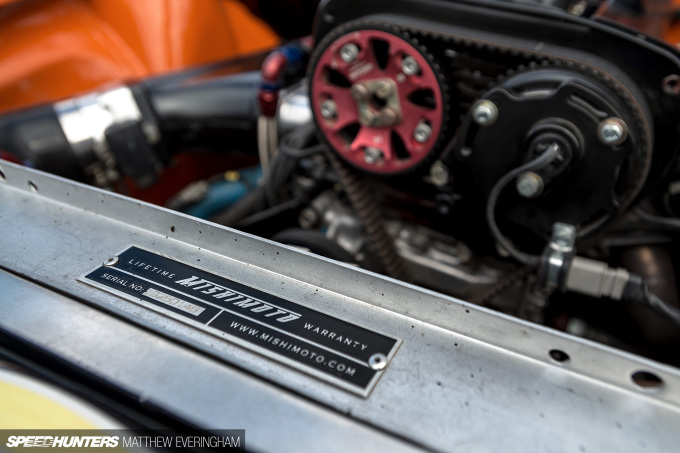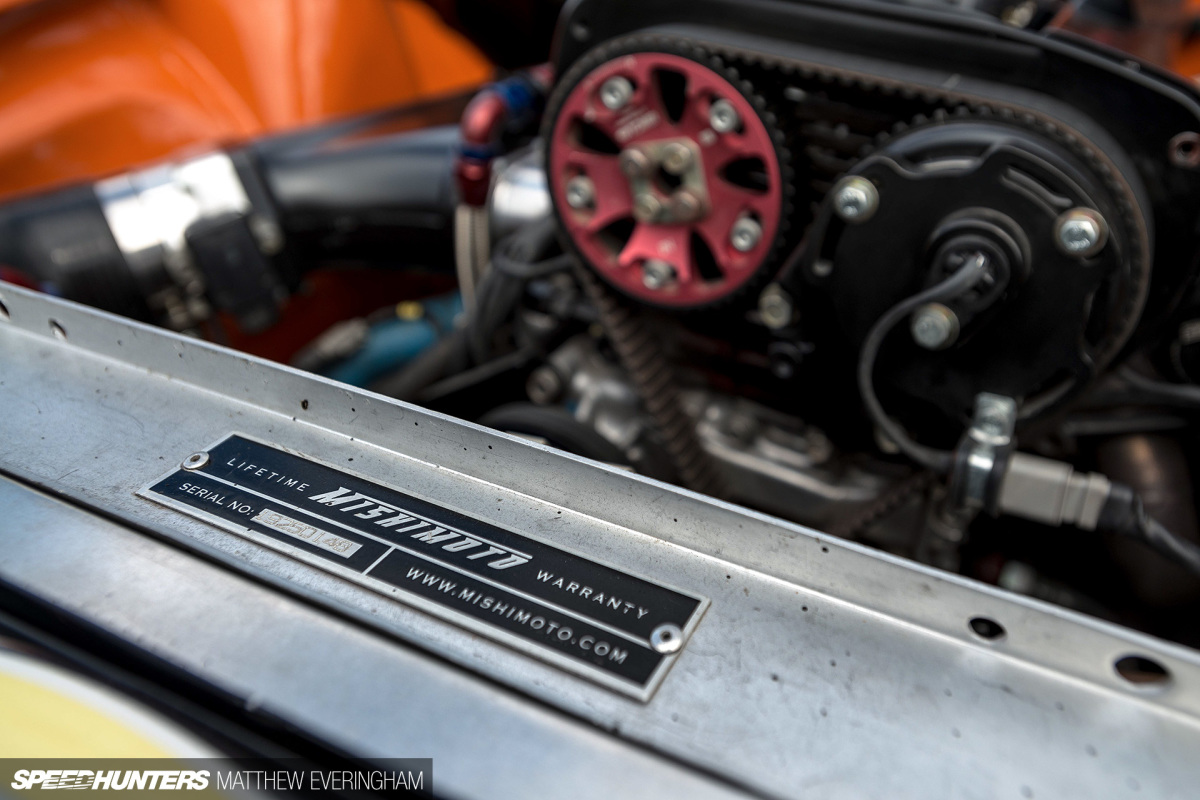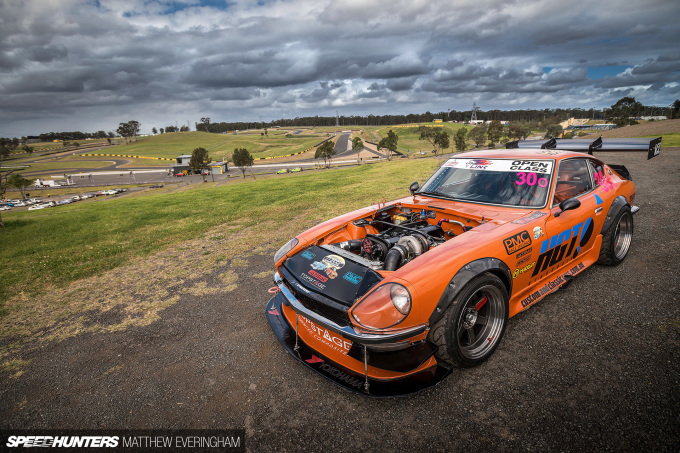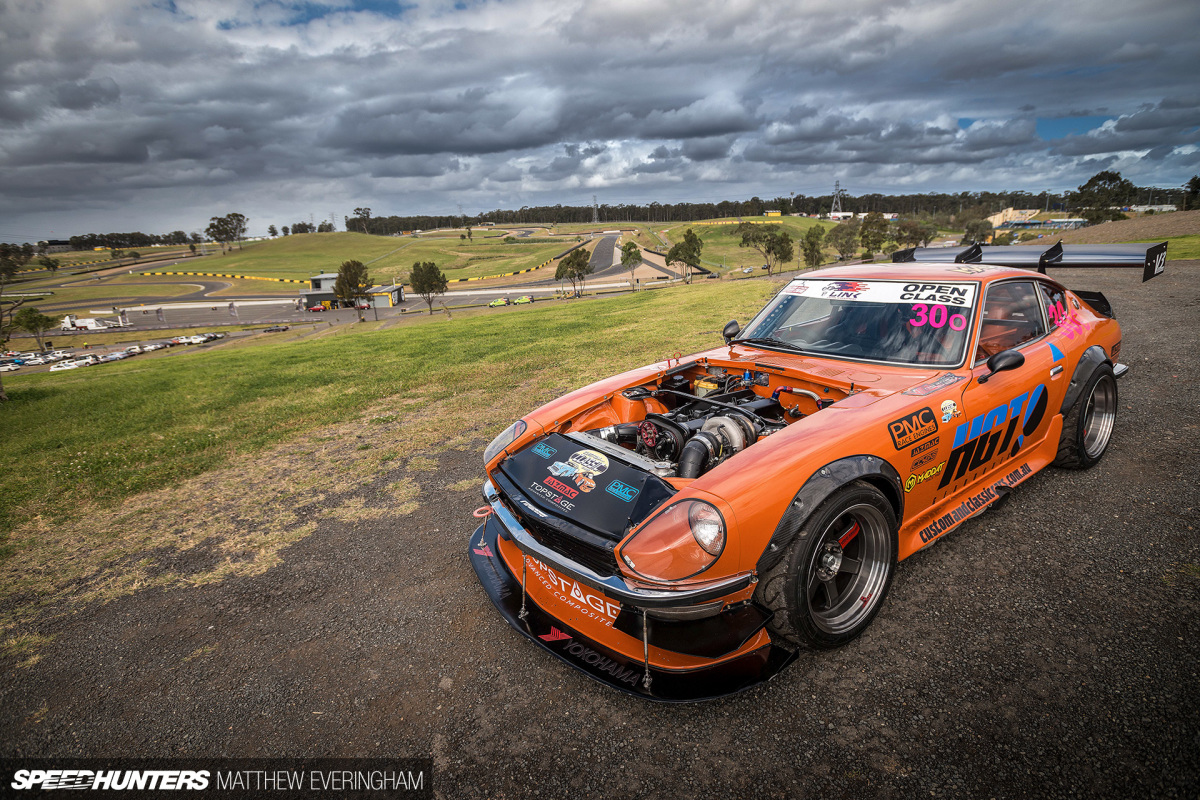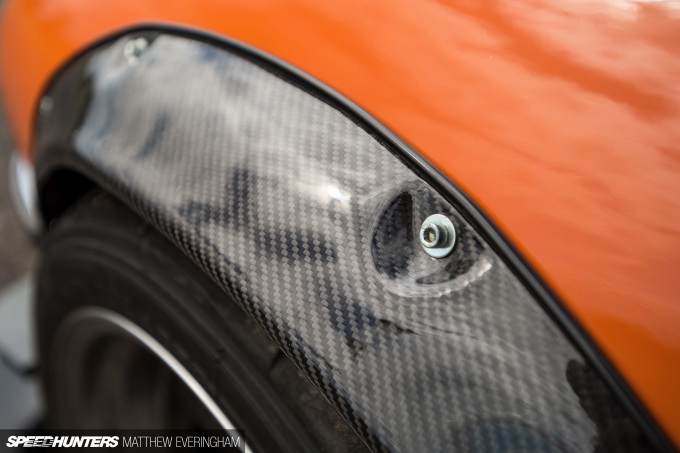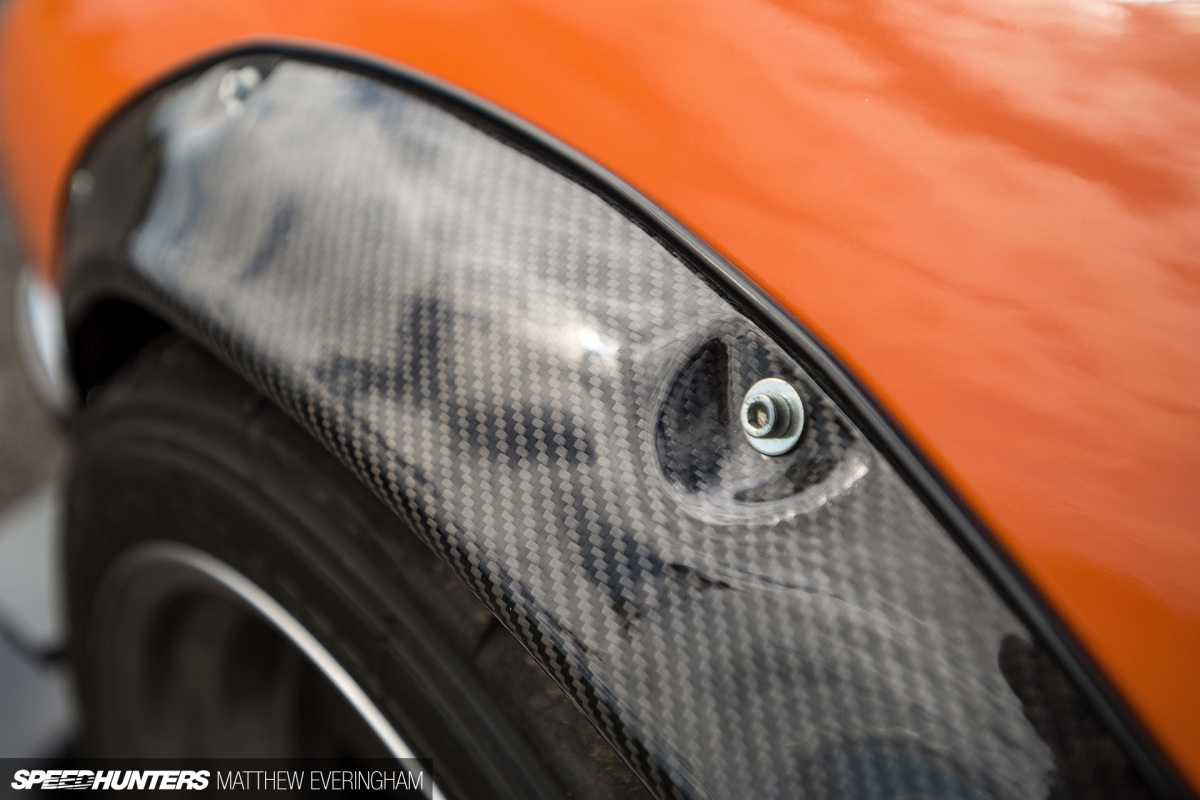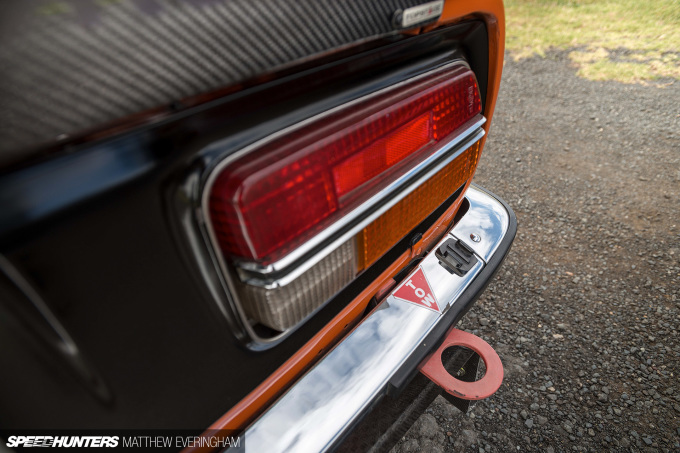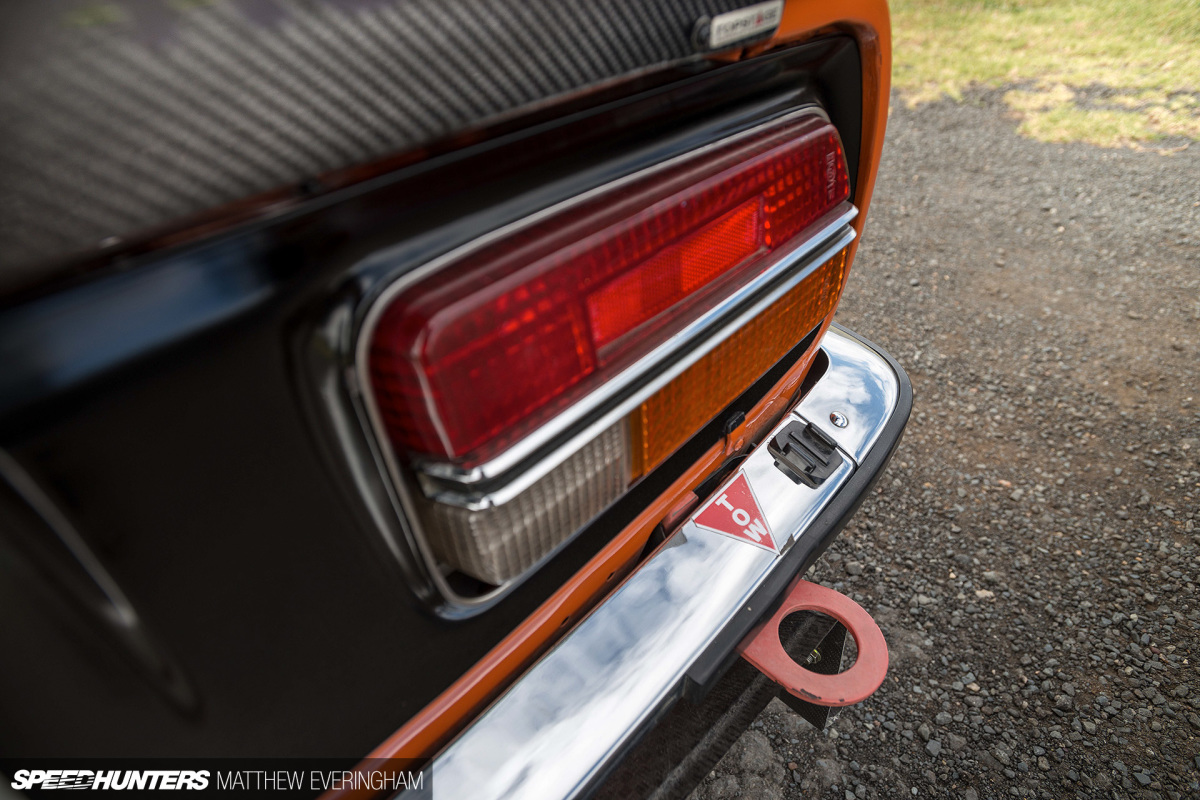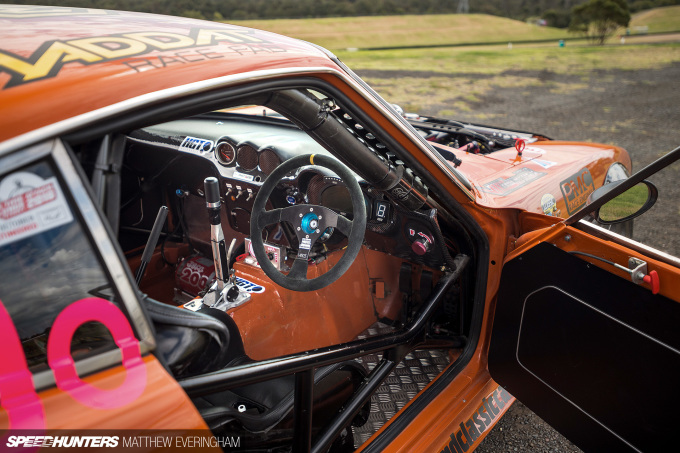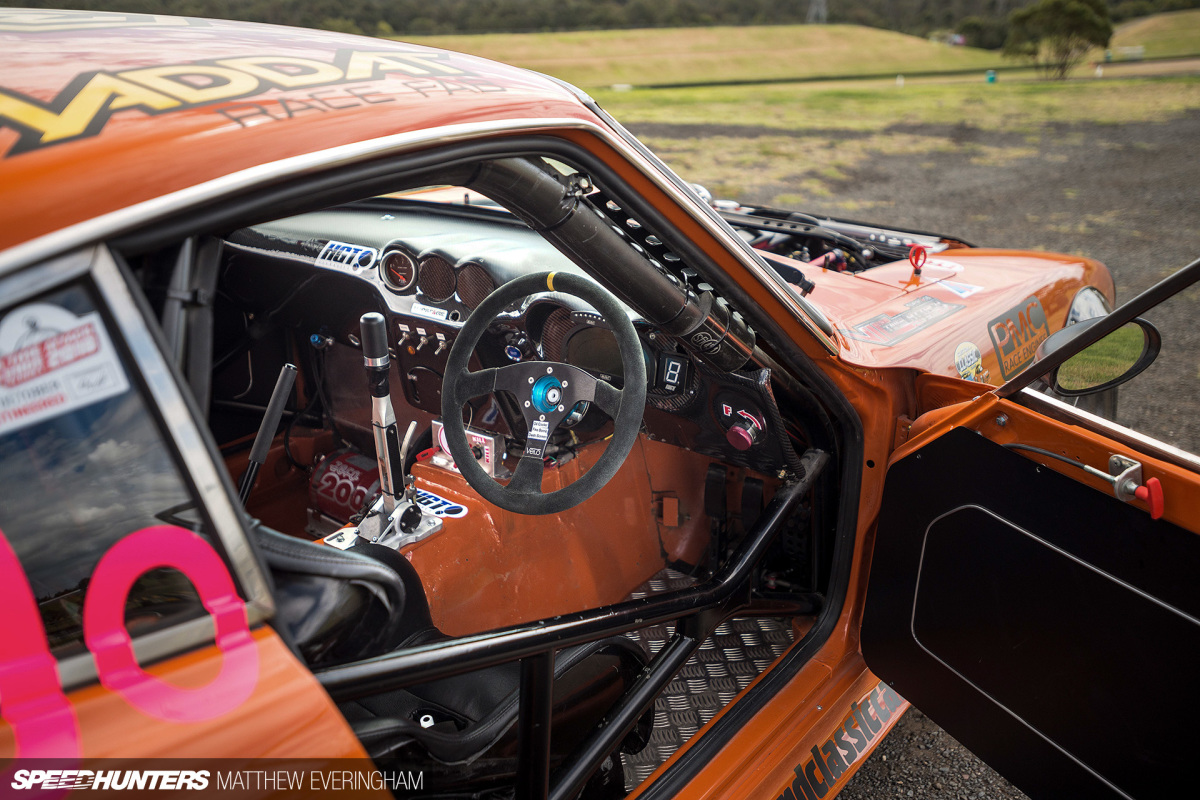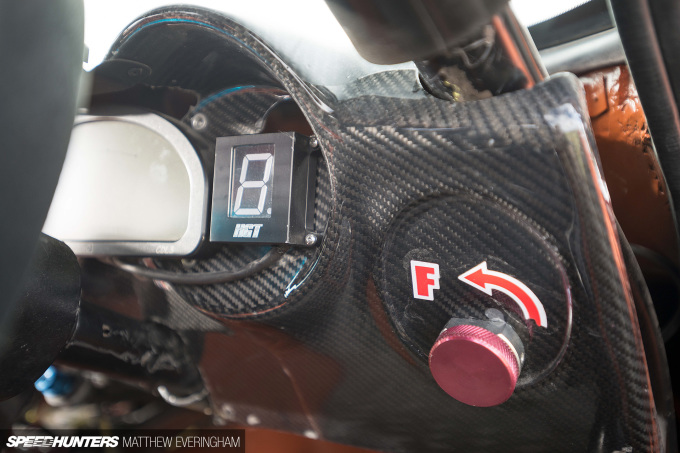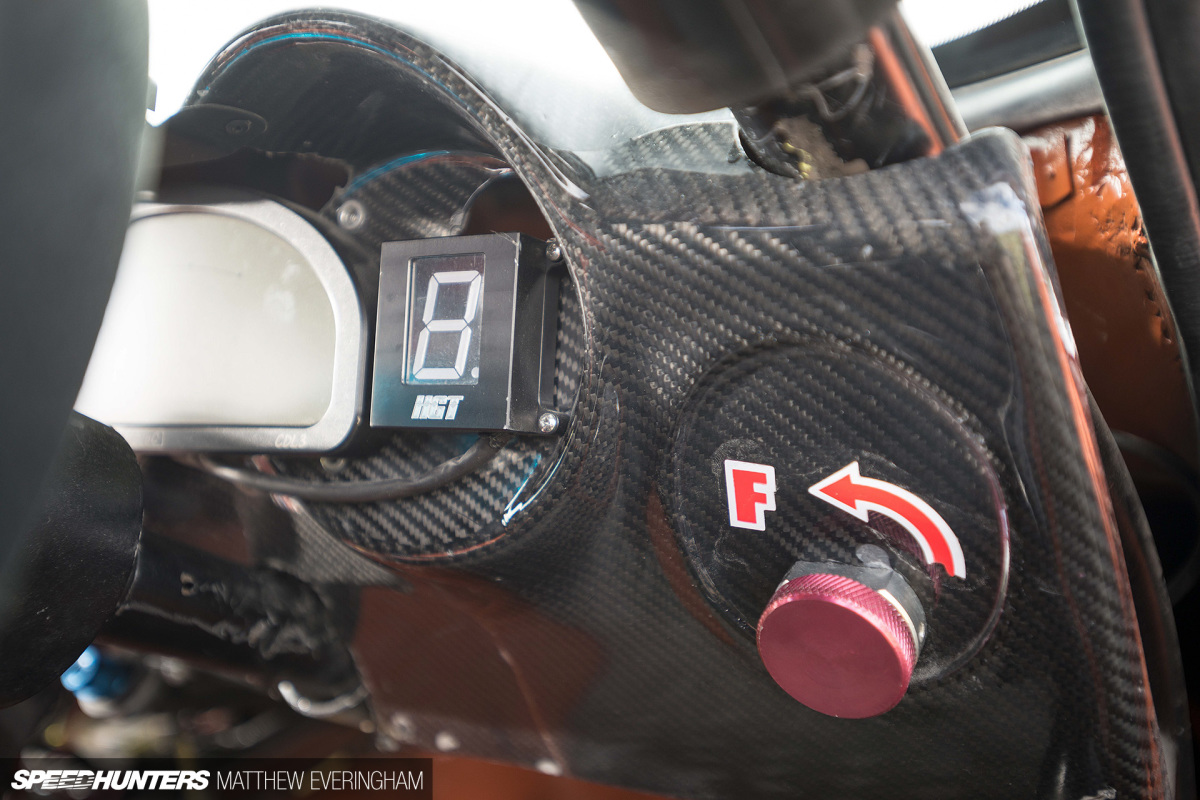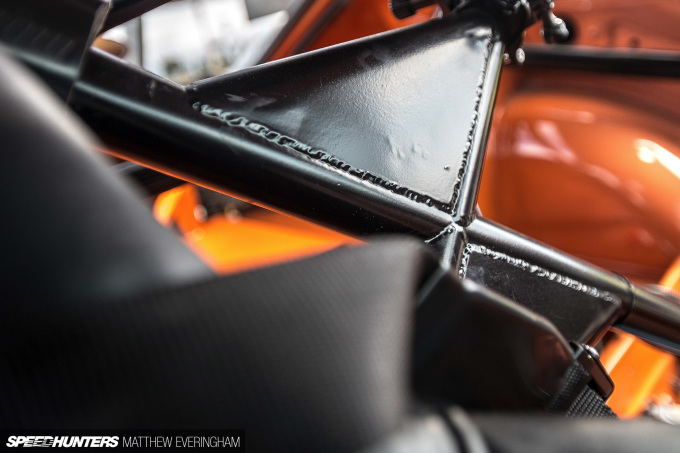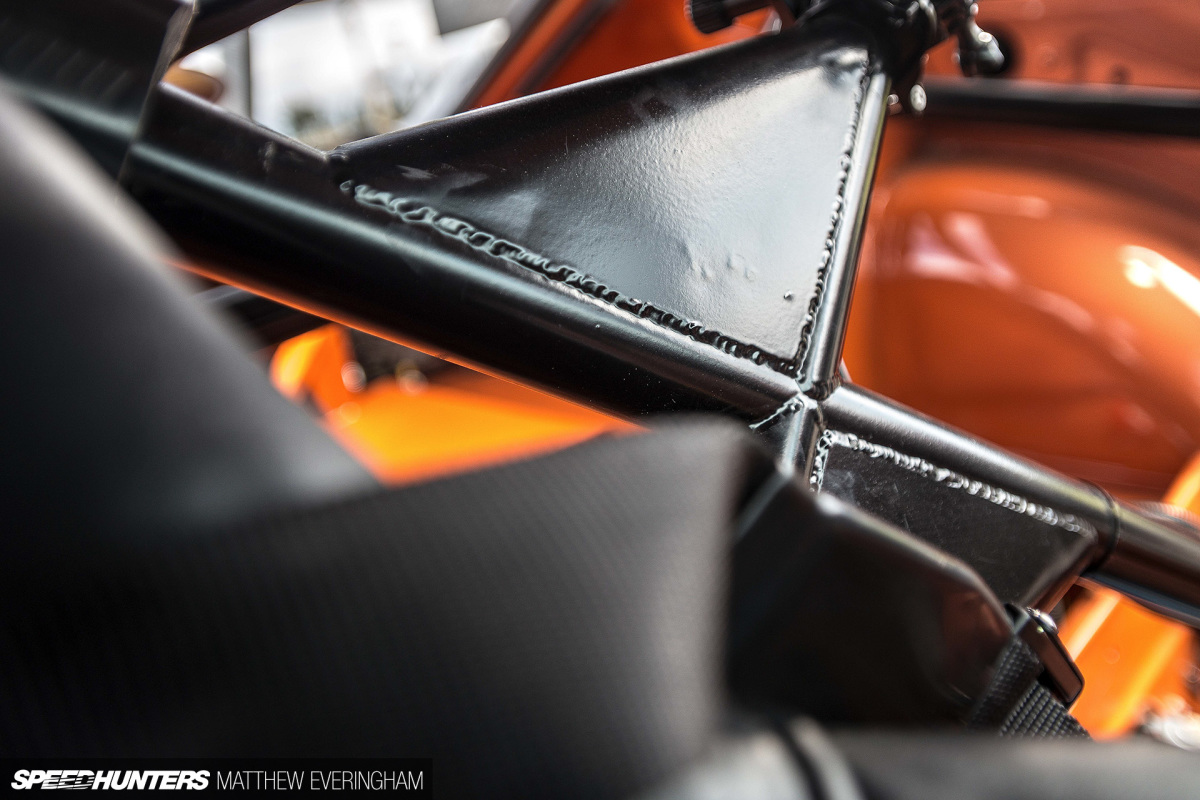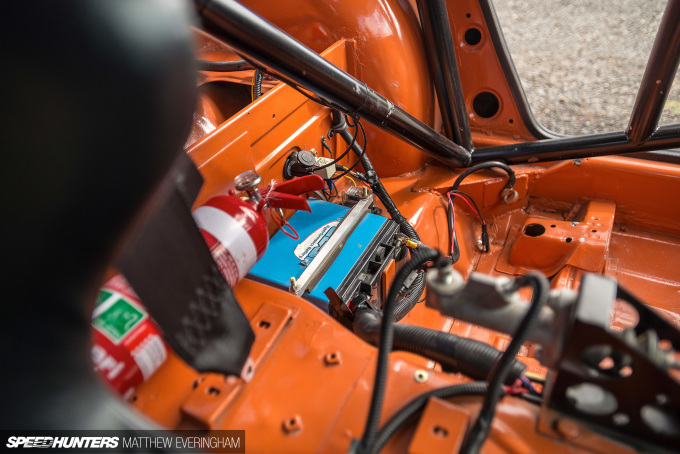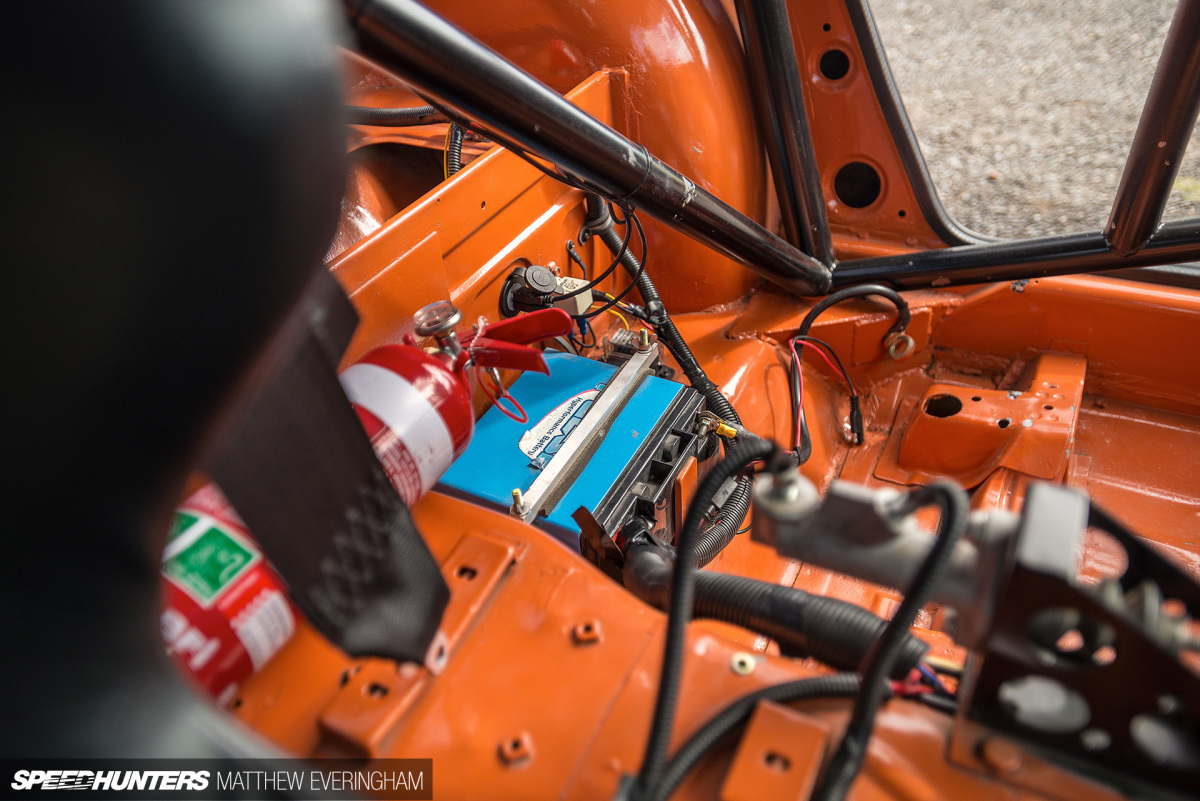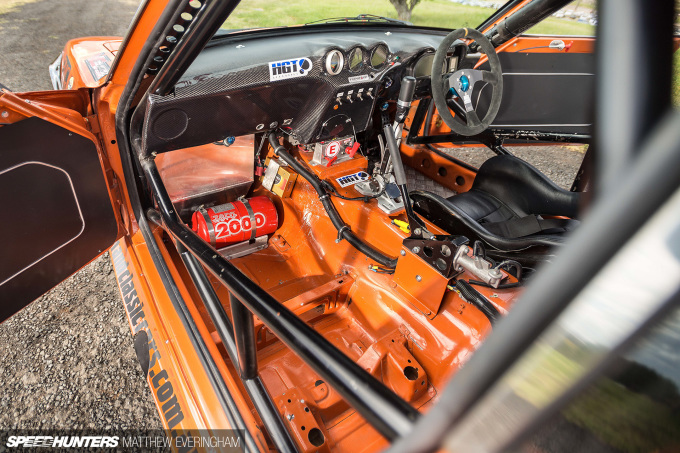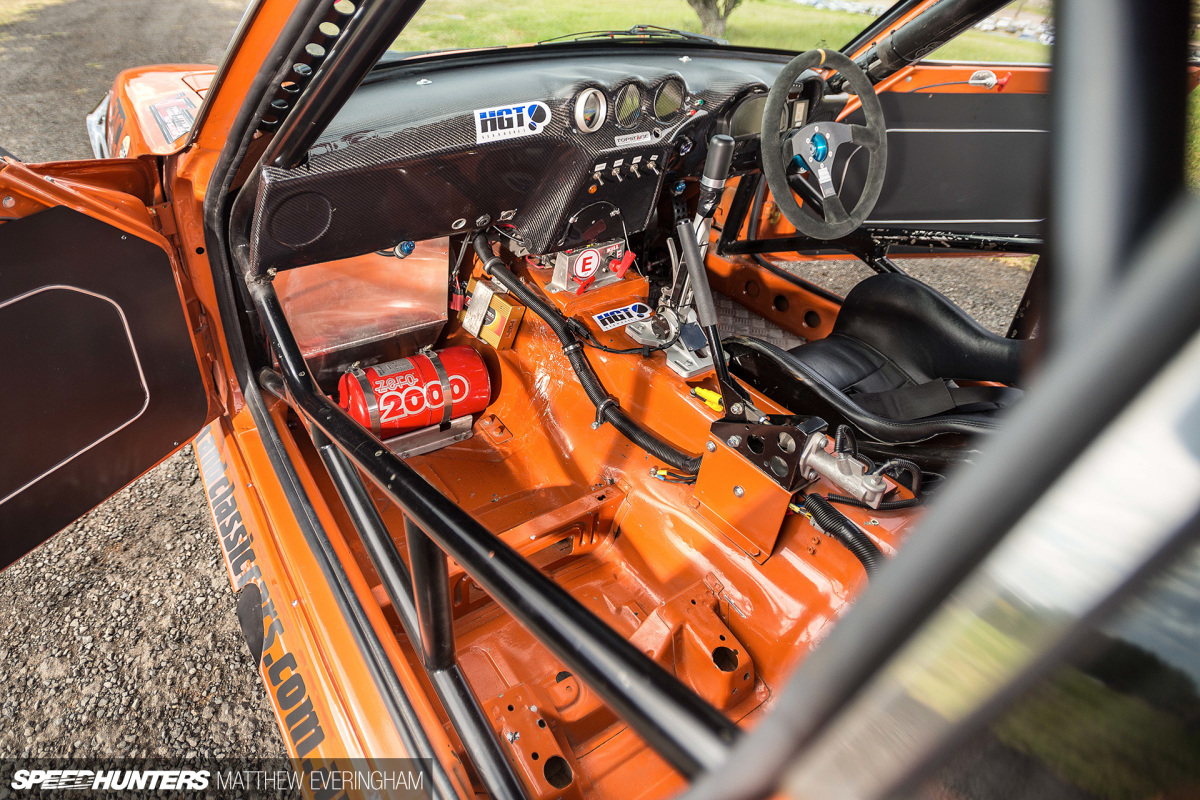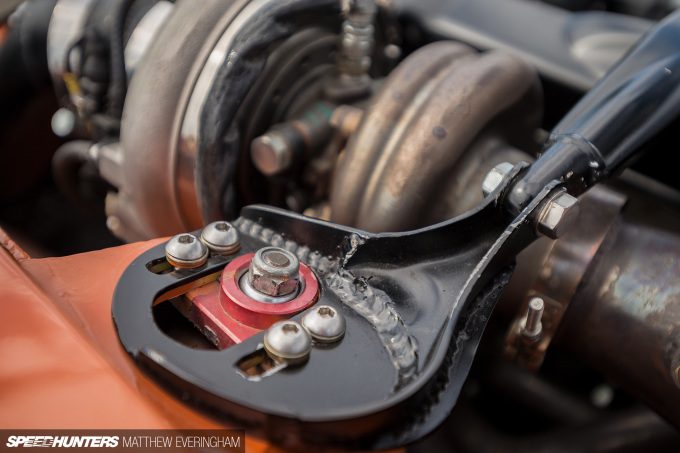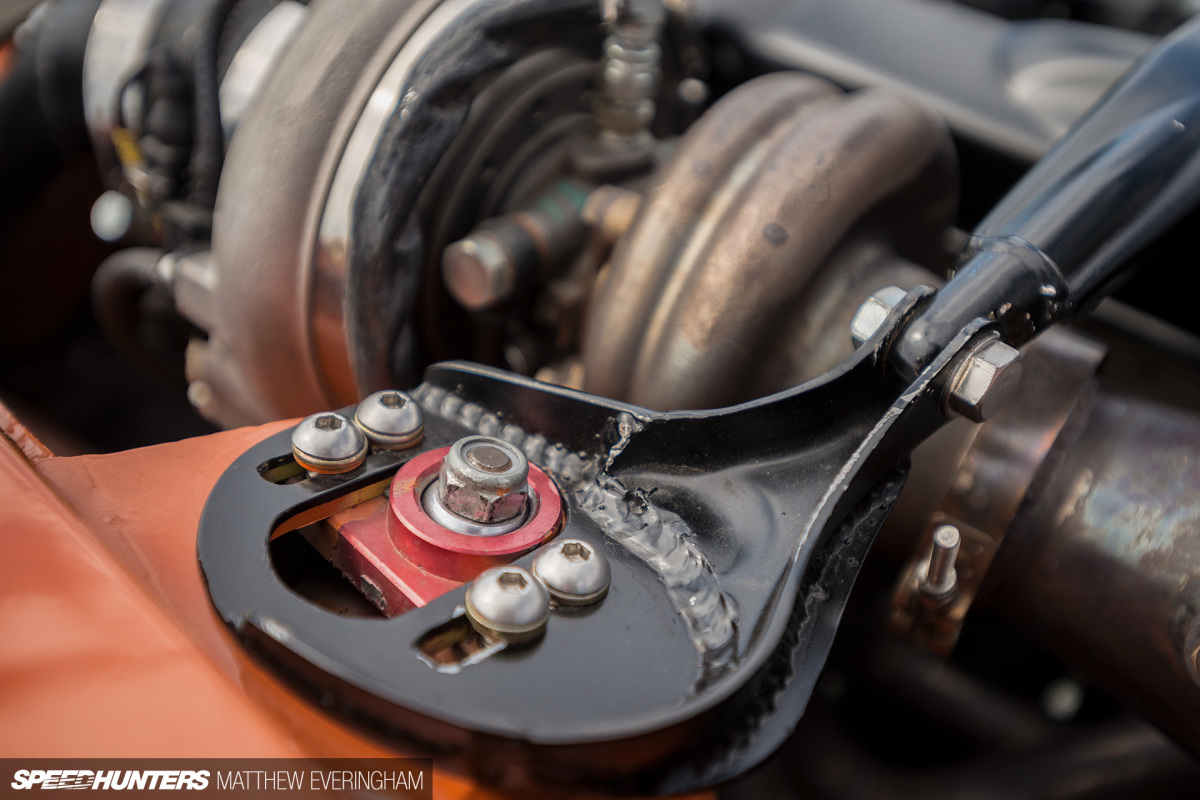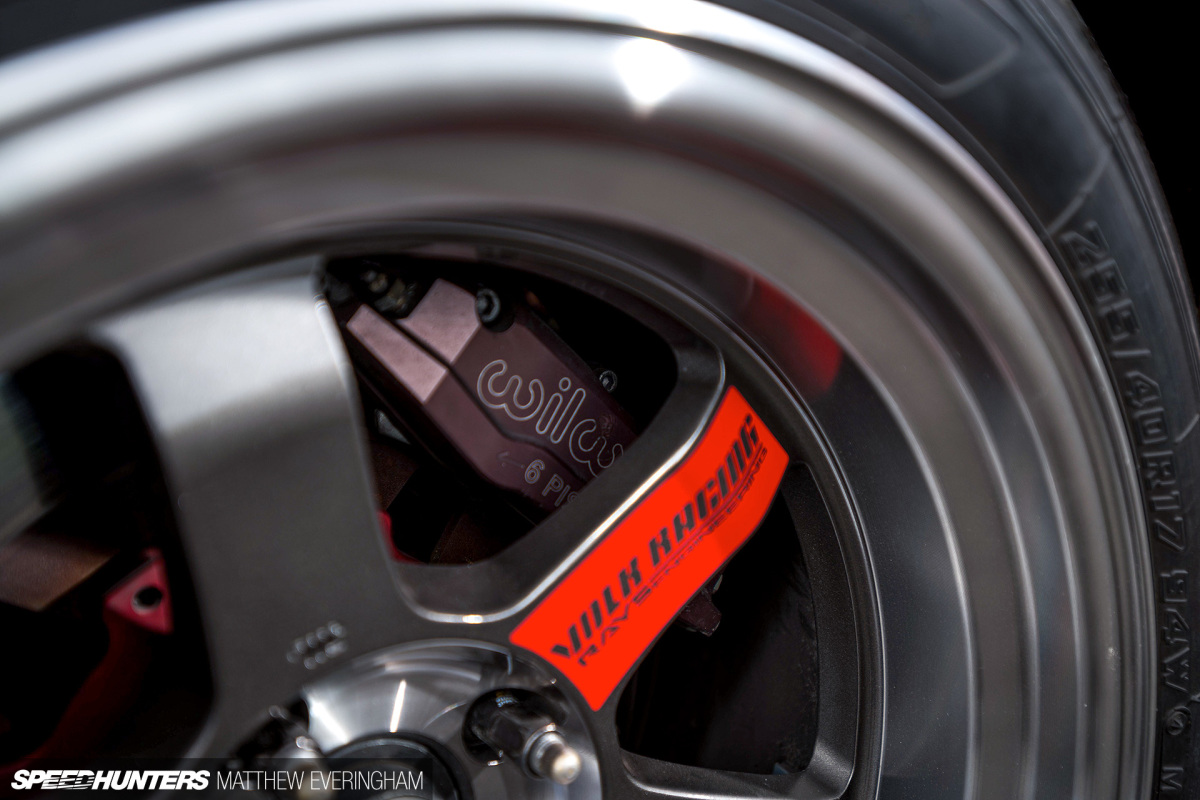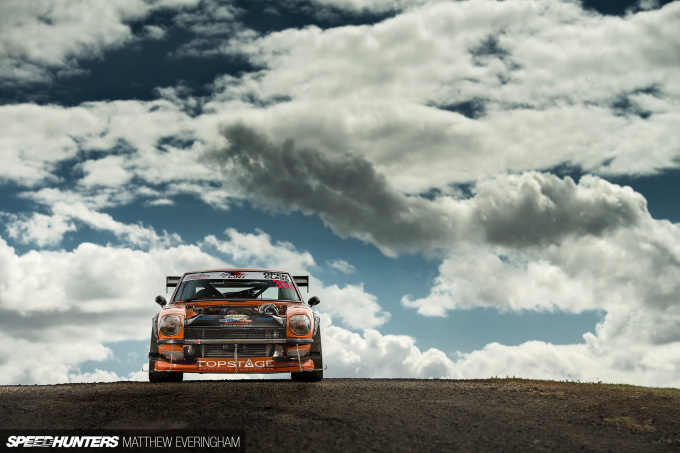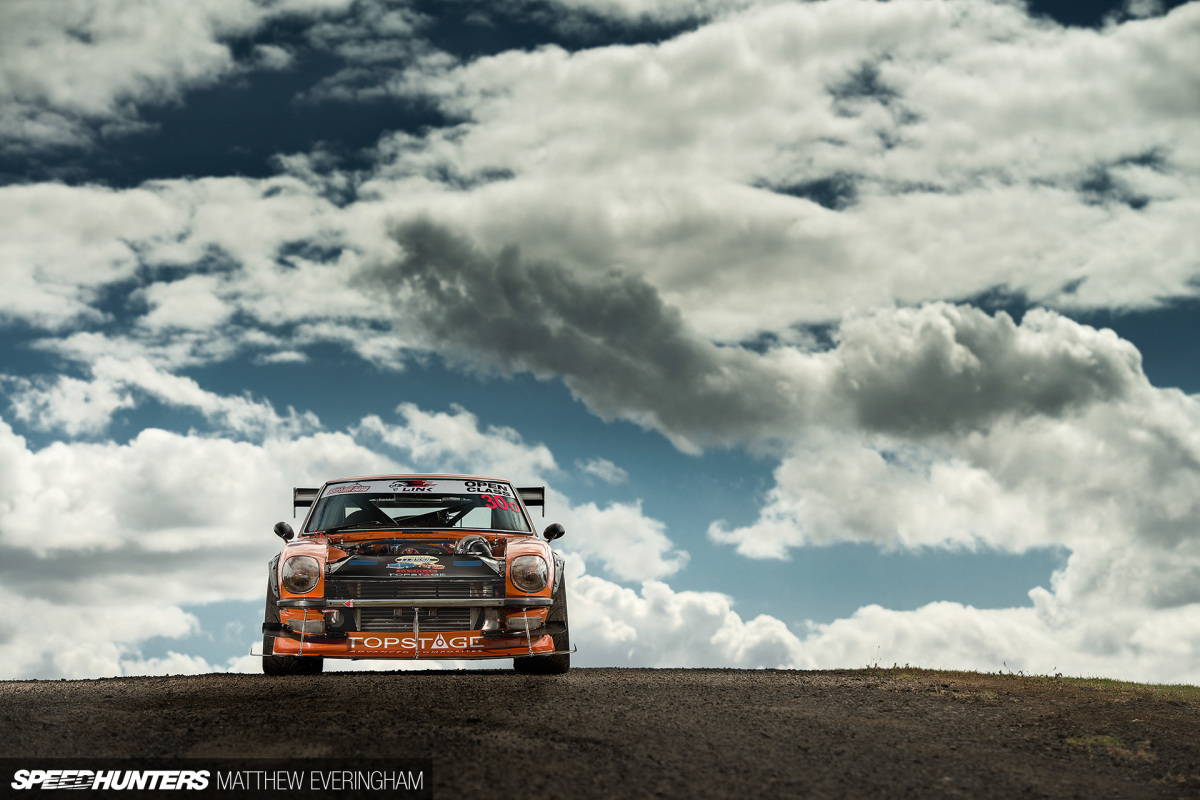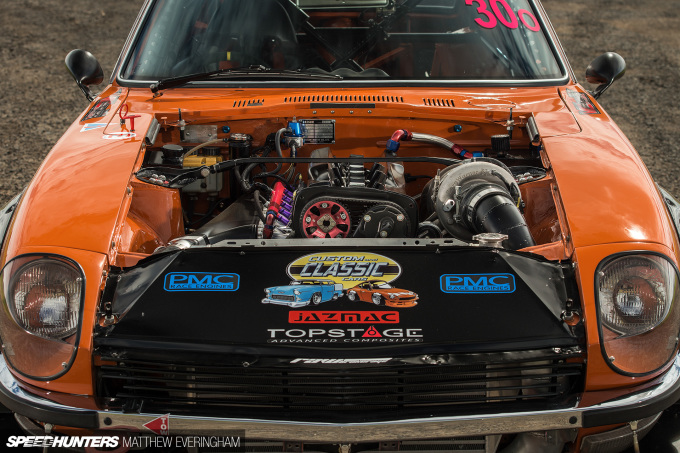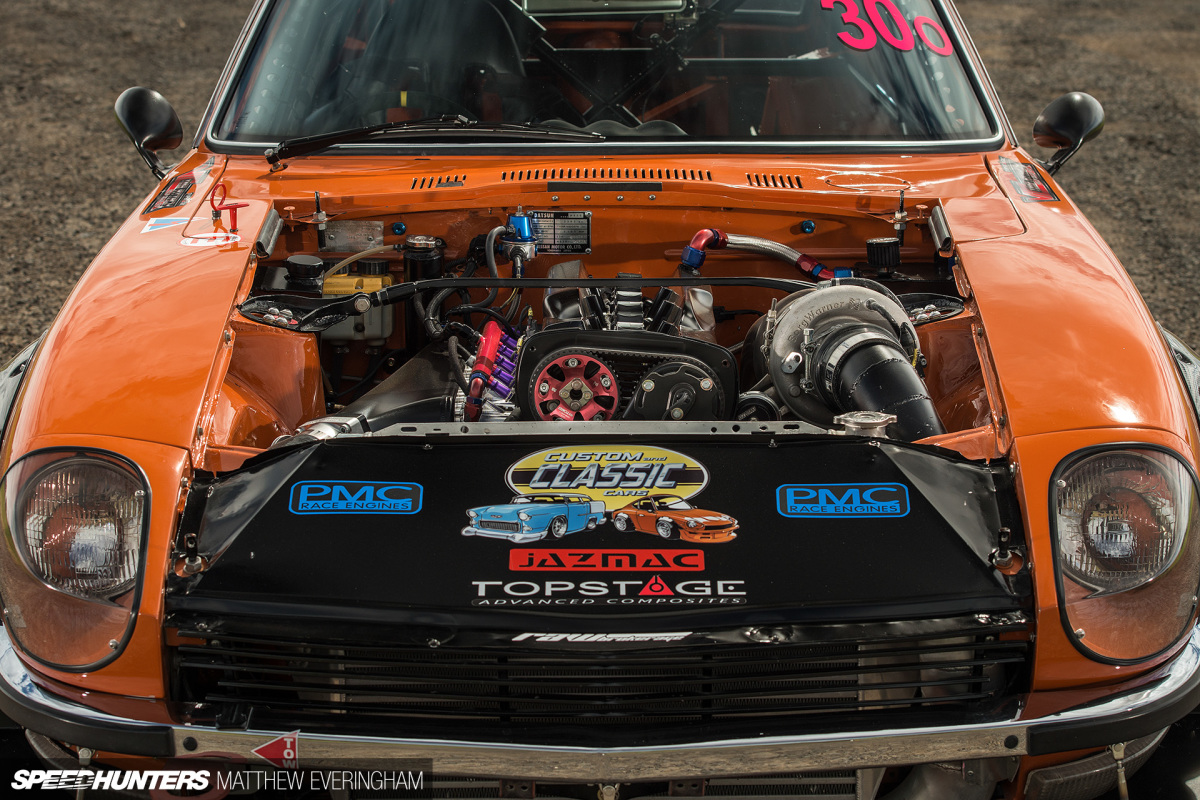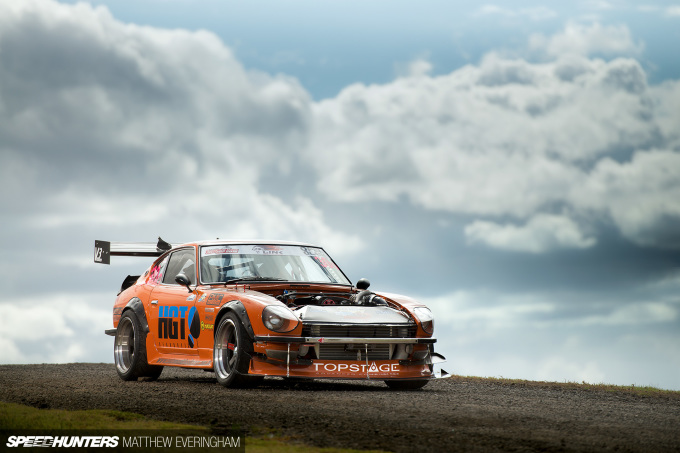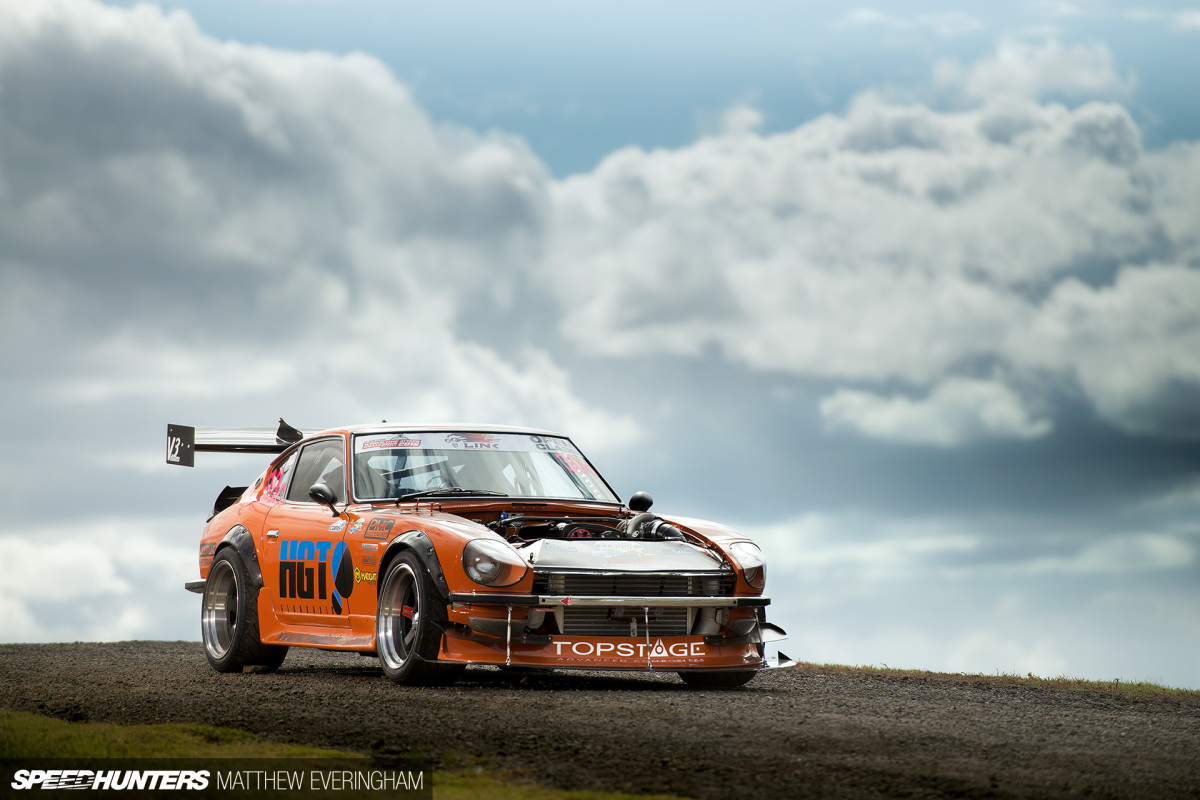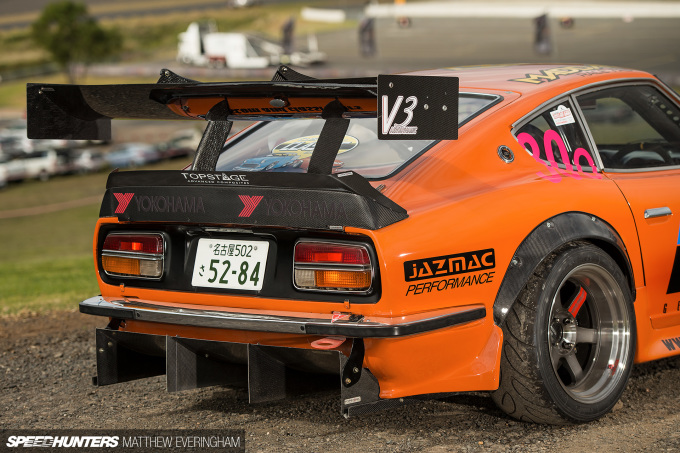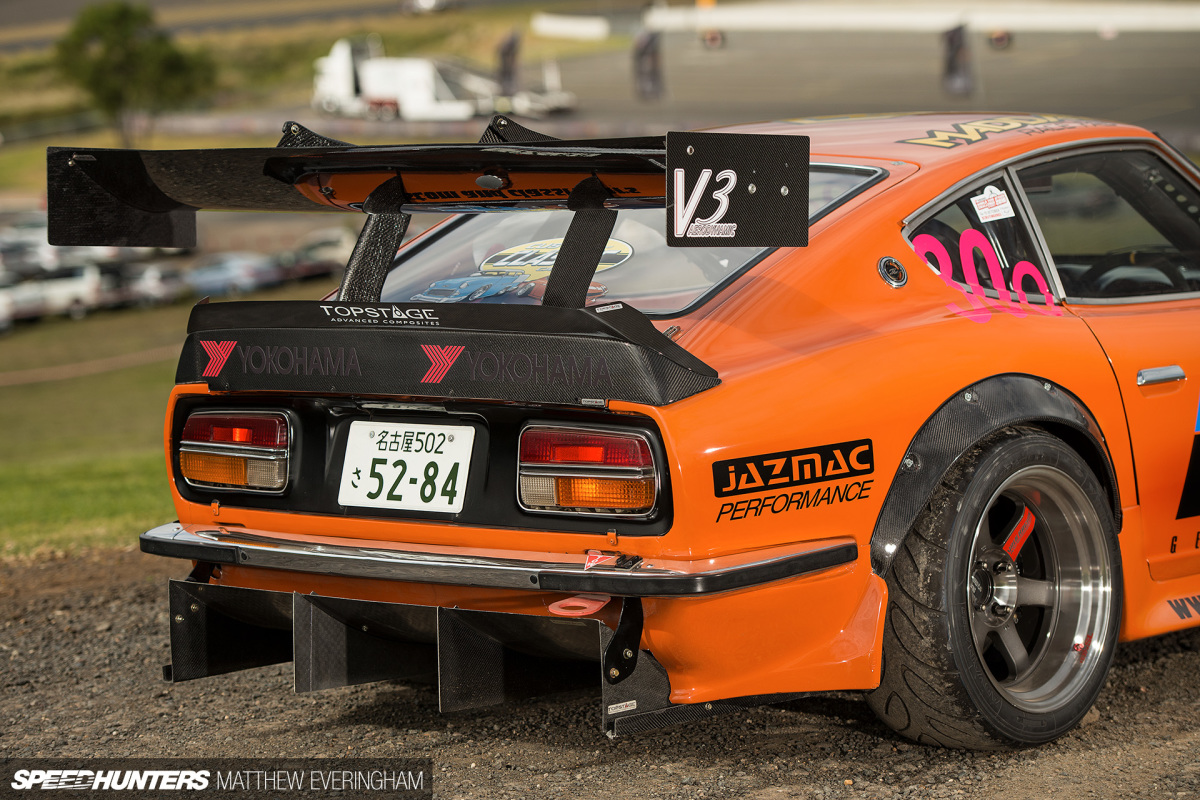 Paul would like to extend his gratitude to the following suppliers for their assistance during the build: Custom and Classic Cars, PMC Race engines, HGT Precision gearboxes, Hi-Octane, Les Collins Racing, Jazmac Performance, MadDat Motorsport, Hypertune, Raw Brokerage