Variety is the spice of life.
For some reason unbeknownst to me, I've found myself in several situations this year where people have handed me the keys to their car and told me to go drive it for a while. A 'while', so far, has been anything from 20 minutes to two days or longer. Maybe they just want to get rid of me? Who knows…
One particular example occurred a couple of months ago, when I flew to Germany to drive a particular car. But when I got there, it turned out I couldn't. Instead, I was offered an afternoon with this: a Seat Leon Cupra. I actually think it's the exact opposite of what I should have been driving that day, but let's try and stay on topic for a change.
The car was being looked after by Raeder Motorsport, but it belongs to a very polite gentleman called Thilo. I've never met Thilo, we have exchanged messages since, but for someone to loan their car to another person that they've never met is quite a generous gesture.
I love driving. My job allows me the privilege to drive cars that I could never afford nor have driven otherwise, and also forces me to drive cars that I probably would never have wanted to in the first place. It's only by driving such a variety of cars that you really learn to appreciate what makes a good car. The most important thing that I've learned is to try and understand what the purpose of the car actually is. Everyone has different intentions and even manufacturers make different cars to do different things. Intended use means everything when it comes to evaluating any car. There's another thing I prefer to do, which isn't always possible, but that is to drive the car 'blind' so to speak. This means that I like to know as little about the car as possible – within reason – before driving it, so I can try and figure it out for myself. This is one of those occasions where I had absolutely no idea of what I was getting myself into.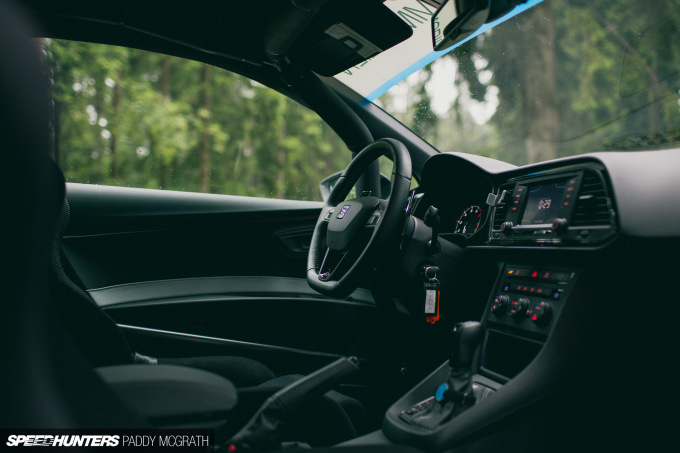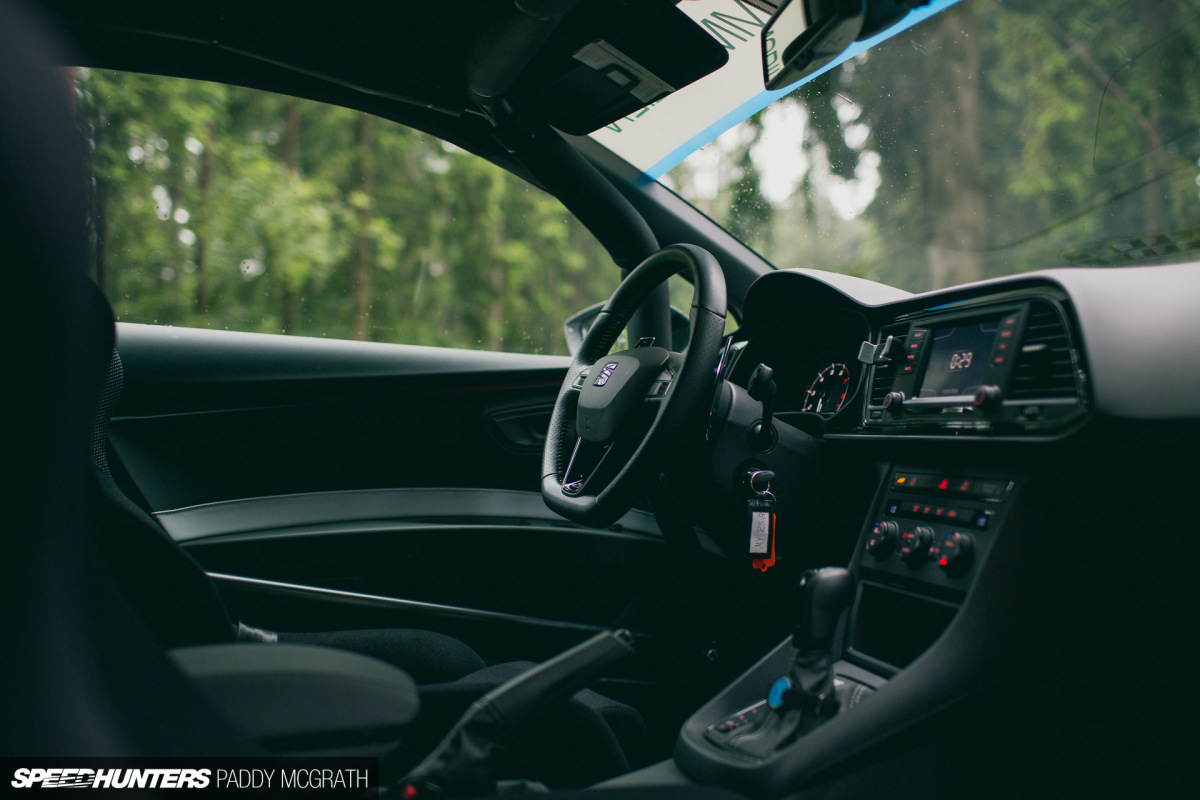 As I ran across the wet parking lot, unlocking the Leon in between strides and swear words (it was very raining heavily), it became almost immediately apparent what the car's intended use is. It's what most would consider as a bonafide 'Ring car, as in a car for built for track days on the Nürburgring Nordschleife. I quickly dropped my camera backpack into the rear luggage area, fitting it snugly between the lower legs of the rear part of the rollcage.
Opening the driver's door, I swore again, realising that there was firstly a door bar to climb over, and secondly that this was a harness-only car. I reached in to slide the driver's seat back before adjusting the Schroth harnesses, tossing them over the shoulders of the fixed-back Recaro before finally dropping in over the roll cage and into the driver's seat. Closing the door and finally getting out of the rain, I took a moment to take a breath and familiarise myself with the Leon's controls. This particular generation of the Leon Cupra is based on the MQB platform which it shares with the likes of the Golf Mk7, Škoda Octavia and a plethora of other vehicles within the Volkswagen Group. I have in the past driven a Leon Cupra ST estate, so everything was vaguely familiar, even if it was on the opposite side of the car.
Sliding the seat forward and into a comfortable driving position, I tightened the harnesses to the point where I knew they were just the correct amount of tight, i.e. without cutting off blood flow. Starting the car, it almost harmlessly came to life; there was no drama or flaring of revs. Engaging 'D' – this is a 6-speed DSG-equipped car – I began slowly manoeuvring out of the packed Raeder carpark and onto the narrow street of the small industrial area where the facility is based.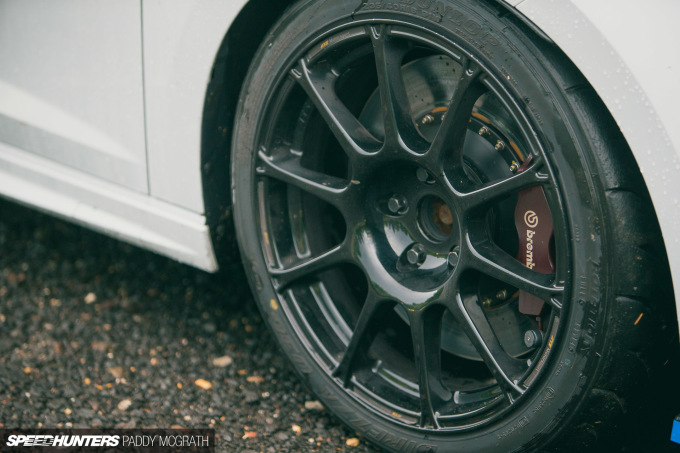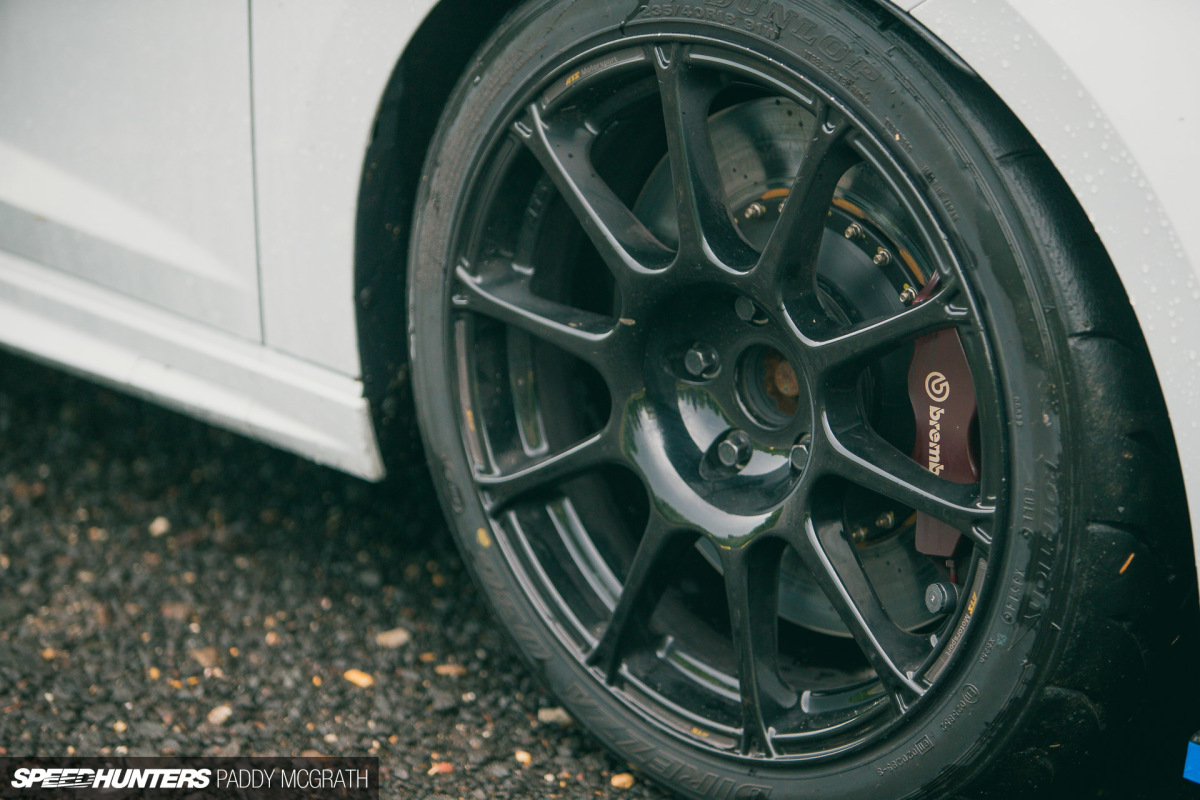 I became immediately conscious of a couple of things. The most predominant thought in my head was that the car was on Dunlop semi-slick tyres, which I just assumed were going to be hopeless in the rain, so I'd need to drive accordingly. The car was also cold in every sense, from fluids to brakes. The first 20 minutes or so were spent slowly bringing everything up to temp and getting a basic feel for the car.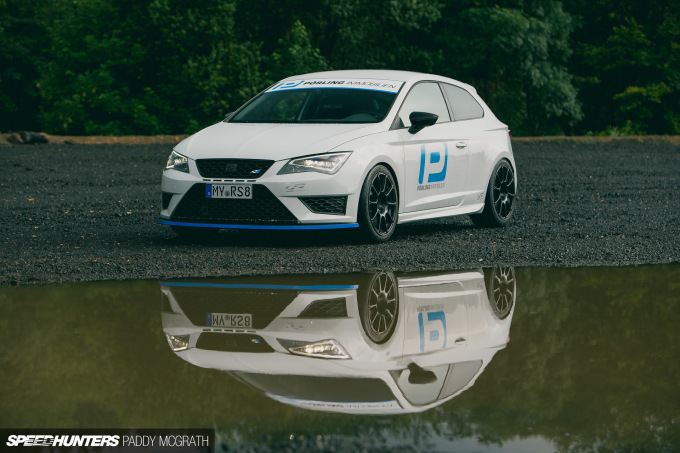 Navigating my way around the perimeter of probably the most famous permanent racing track in the world, I found myself following a familiar route. Each acceleration phase would be slightly more aggressive and longer than the previous, but the car continued unbothered or without input from the factory safety systems. Similarly, corners would be taken just that little bit quicker each time, and braking just a little later as I tried to bond with the car in such a short period of time.
The Leon Cupra, in general, is an interesting car. It's a direct relative of the Golf GTI, and despite sharing the same platform Mk7 GTI is considerably quicker than the Volkswagen. It's more powerful than the GTI, arriving at 280hp stock or 290hp for the most recent model, thanks to a larger turbocharger. It features the same electronically-controlled VAQ-type LSD that's found in the GTI Performance Pack, but it comes as standard. It also held the front-wheel drive lap record at the Nordschleife for quite some time, until VW obviously realised it was a little embarrassing and built the GTI Clubsport to reclaim the title. Most interestingly, it's also cheaper than a GTI here in Europe, and in my books, probably what the GTI should have been from the outset. As it turns out, it's not available in the United States, so I'm hoping that our US readers might find the car they can't have a little bit more interesting than usual.
Thilo's car has of course been modified, which from a Speedhunters standpoint, makes it far more interesting. Aside from the caged interior which we've already covered, Thilo has focused on the car's road-holding abilities above all. The lightweight 18-inch ATS Motorsport wheels are wrapped in 235/40R18 Dunlop Direzza 03Gs, which proved to be stubbornly sticky despite the torrential conditions, thus rendering my initial assumption as completely wrong. They frame Brembo brakes with 2-piece discs and Performance Friction brake pads.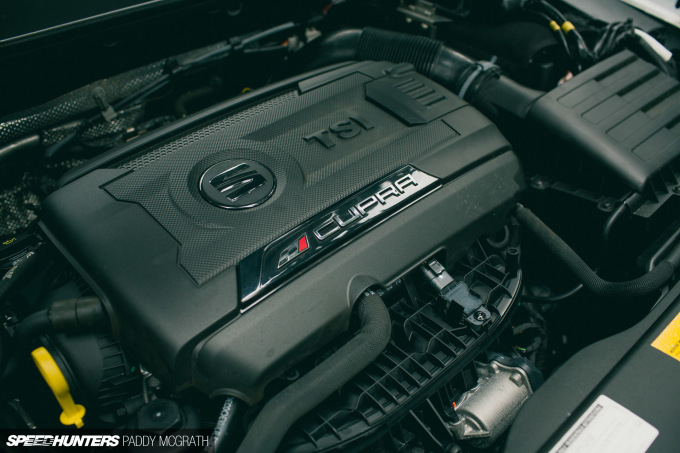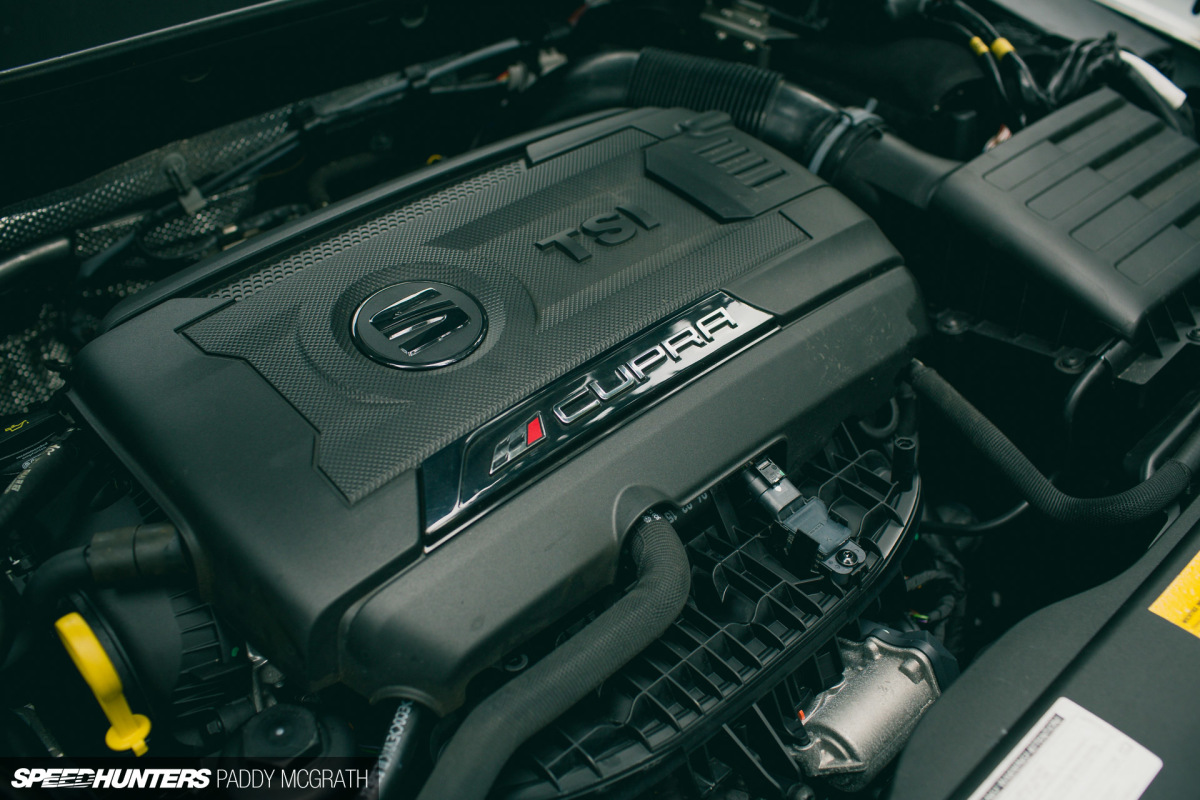 The 2.0-litre turbocharged EA888 is in a relatively mild state making around 340hp courtesy of an ABT tune, which is more than powerful enough, especially given the conditions I was faced with. The rain was definitely a limiting factor on this day, but the car felt very well balanced and no one component appeared to overpower another.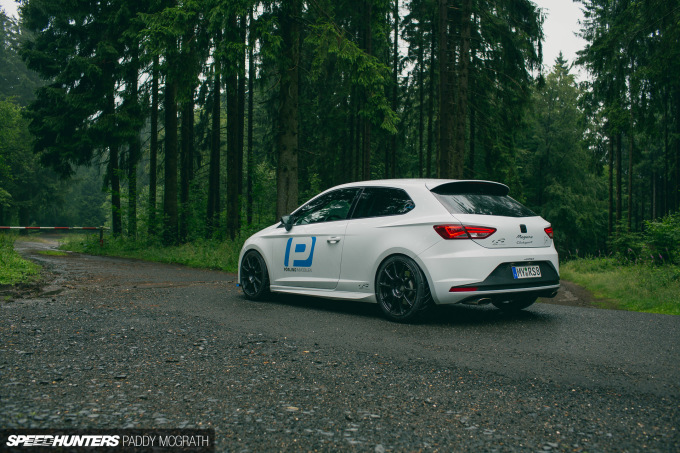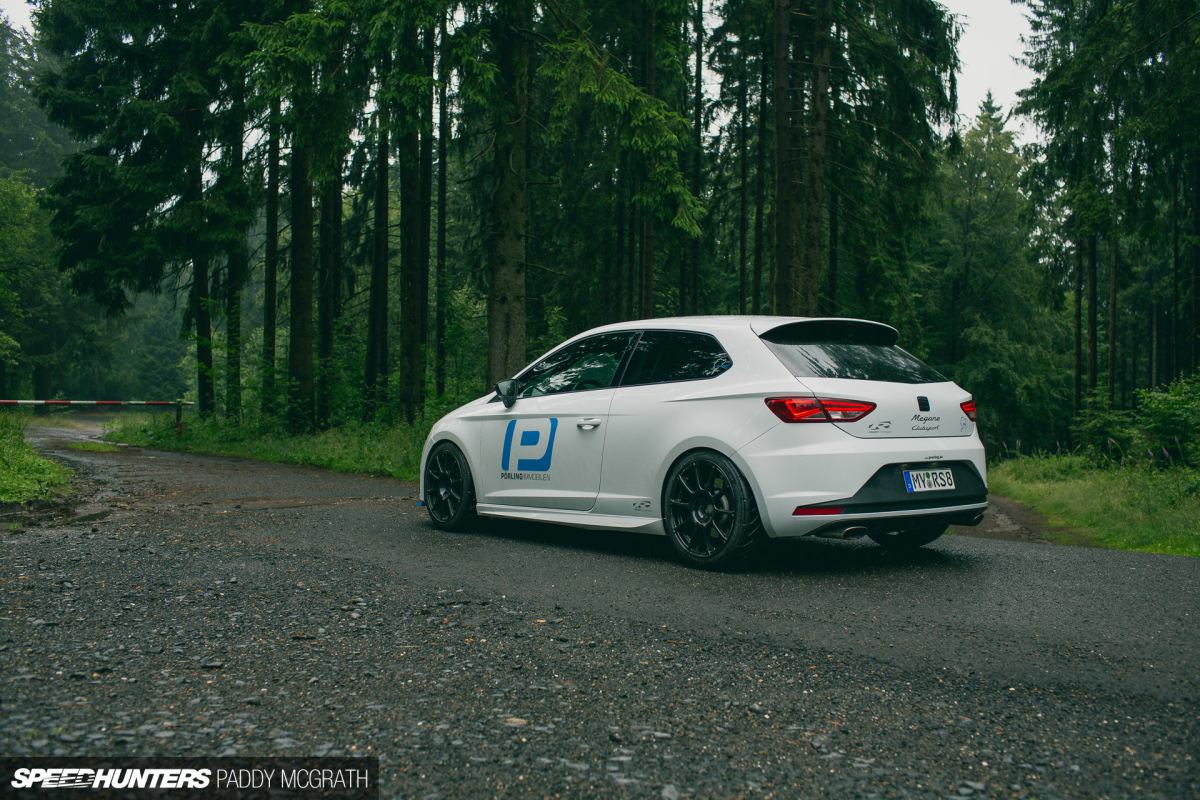 Carving through the forest near Höhe Acht, the sweeping downhill turns into the occasional hairpin were taken with a considered amount of pace. There was no real indication of push, even in the tighter corners.
The car is riding on full KW 3-way Clubsport suspension, which is probably the most impressive part of the whole build. Not because of their performance, which is a given, but how easy the track day-focused setup is to drive on the street. Under normal driving situations, it's a suspension setup that you could comfortably live with everyday; there's no harshness to the ride and the car feels perfectly damped on the road. It also helps that the Clubsports are perfectly tuned to the car's chassis straight out of the box, but still offer 3-way adjustability so as to fine tune the car to suit its modifications.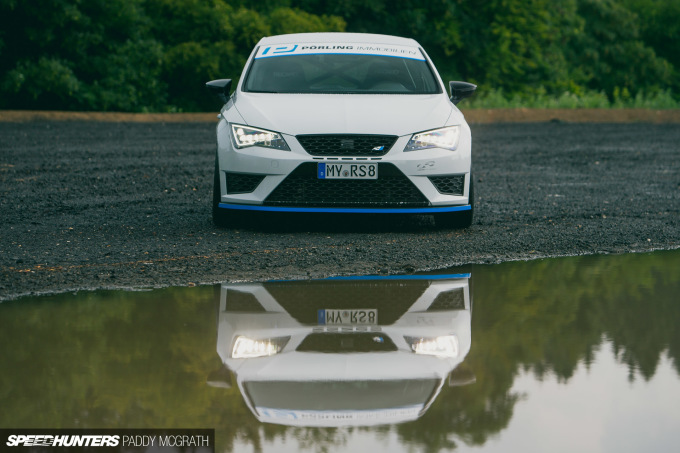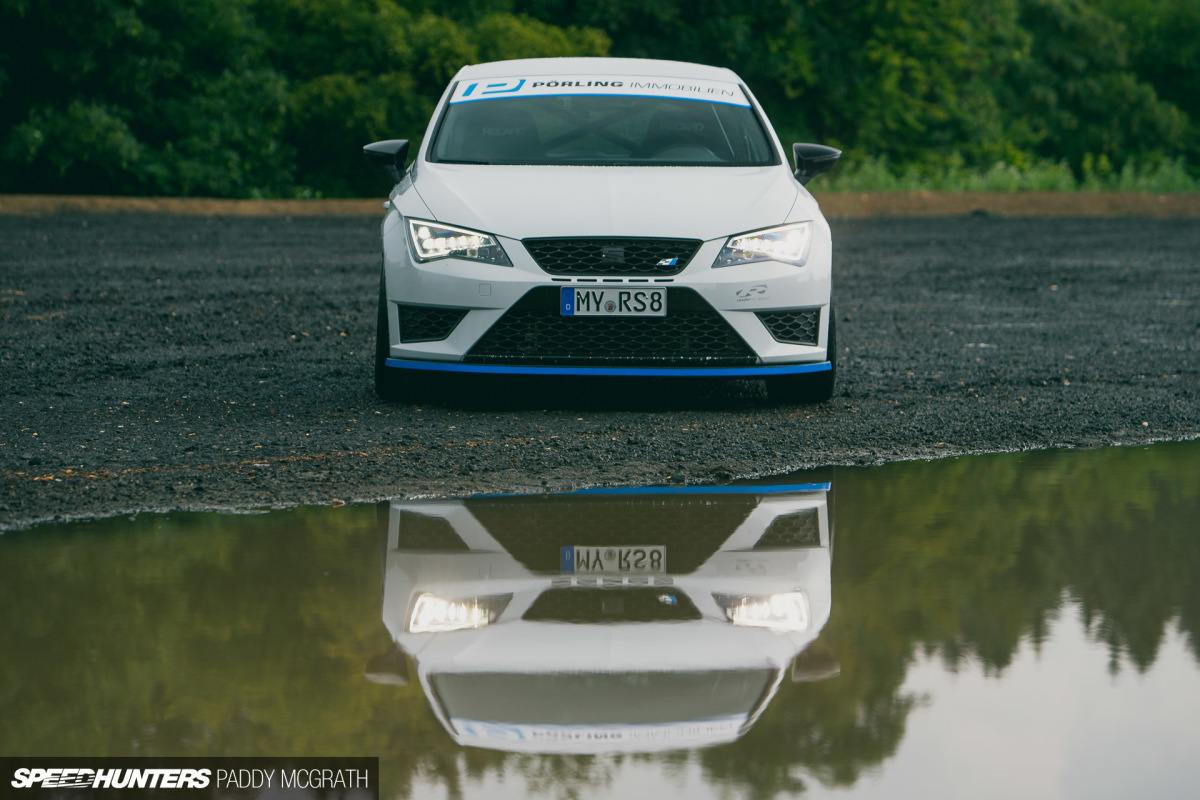 I was quite conscious of the time, so I pulled off the road to start grabbing some candid shots of the Cupra and to compose my thoughts on the car before one last stint back to Raeder's premises. Although short on time, I was growing more and more into the Leon. I was also trusting it more, and even when on the limit, the punishment for pushing that little bit too hard was predictable and forgiving. A little bit of understeer or the rear getting a little light were its worst moments, yet wholly forgivable given the conditions.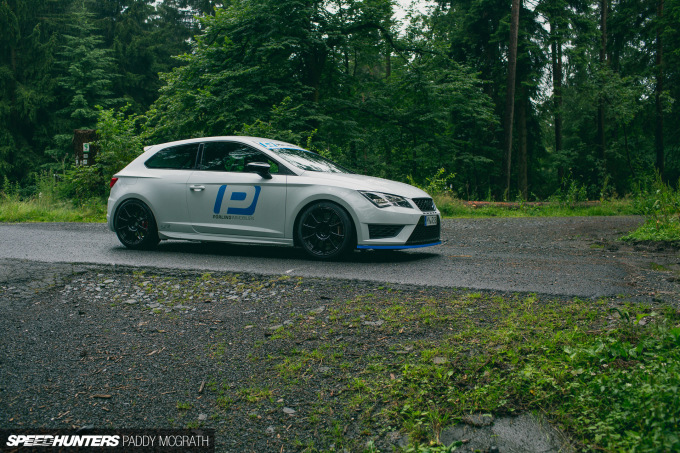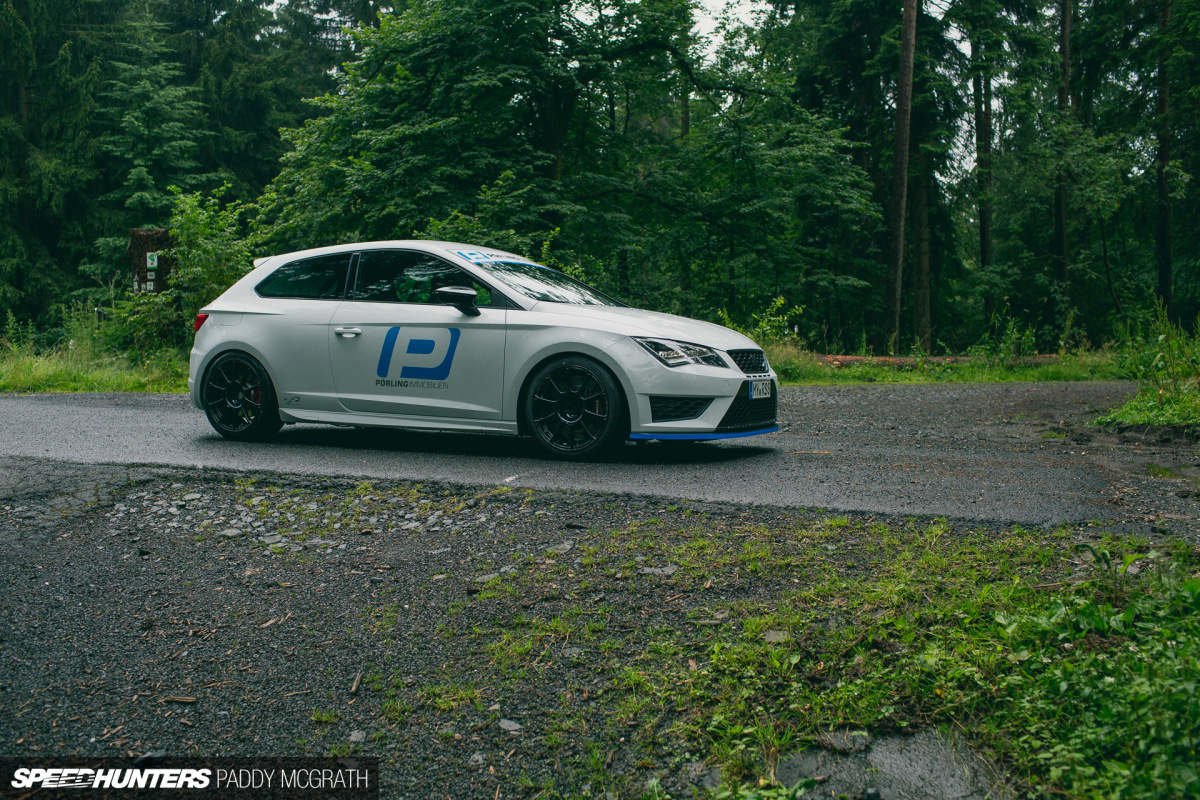 If I got to 60 per cent of this car's potential, I would be thoroughly impressed. Weather, roads that hadn't seen rain in a while and consideration for other drivers were the main limiting factors, but I did get a solid appreciation for what is a very well developed car. It's the complete package and I would be weary of adding more power to it. I'd rather rely on making the most of what's already available. My only real gripe was struggling with the stock DSG software, which I found quite limiting coming from my own car with stage two DSG software and a proper manual mode, with no auto up or downshifts.
Thilo obviously doesn't find this an issue, as he's already managed a 7m30s BTG lap of the Nordschleife and seems to enjoy harassing hypercars in his spare time too.
I don't regret a minute with this car and would absolutely love to try it on the track sometime, although maybe somewhere a little less intimidating than the Nordschleife. At the very least, it's another car and another experience for someone who's committed to making a career enjoying cars as best as he can.
You just can't ever drive enough cars.
Paddy McGrath
Instagram: pmcgphotos
Twitter: pmcgphotos
paddy@speedhunters.com