Showing Off
The Yokohama World Time Attack Challenge has quickly grown from a fairly simple grassroots racing event into one of Australia's premiere motorsport spectacles.
But nowadays, the racing has to fight for the attention of punters against a half dozen other cool events and displays at Sydney Motorsport Park during WTAC, a major attraction being one of the country's largest show 'n' shine events. This year it was made up of 400+ cars.


That's right, over 400 of the country's very best cars. And not just Sydney's best cars either.
Each year, more and more workshops and private owners are making the long trip to have their hard work and dedication shown off to the tens of thousands that attend WTAC. I'm not sure if you're familiar with the scale of our big, brown land, but to travel interstate is no small task.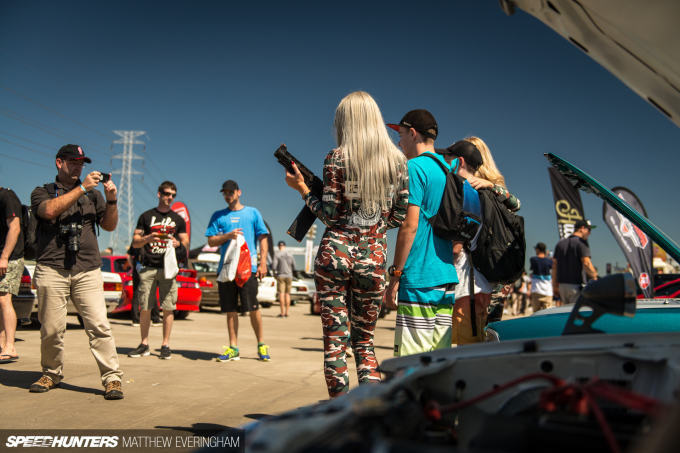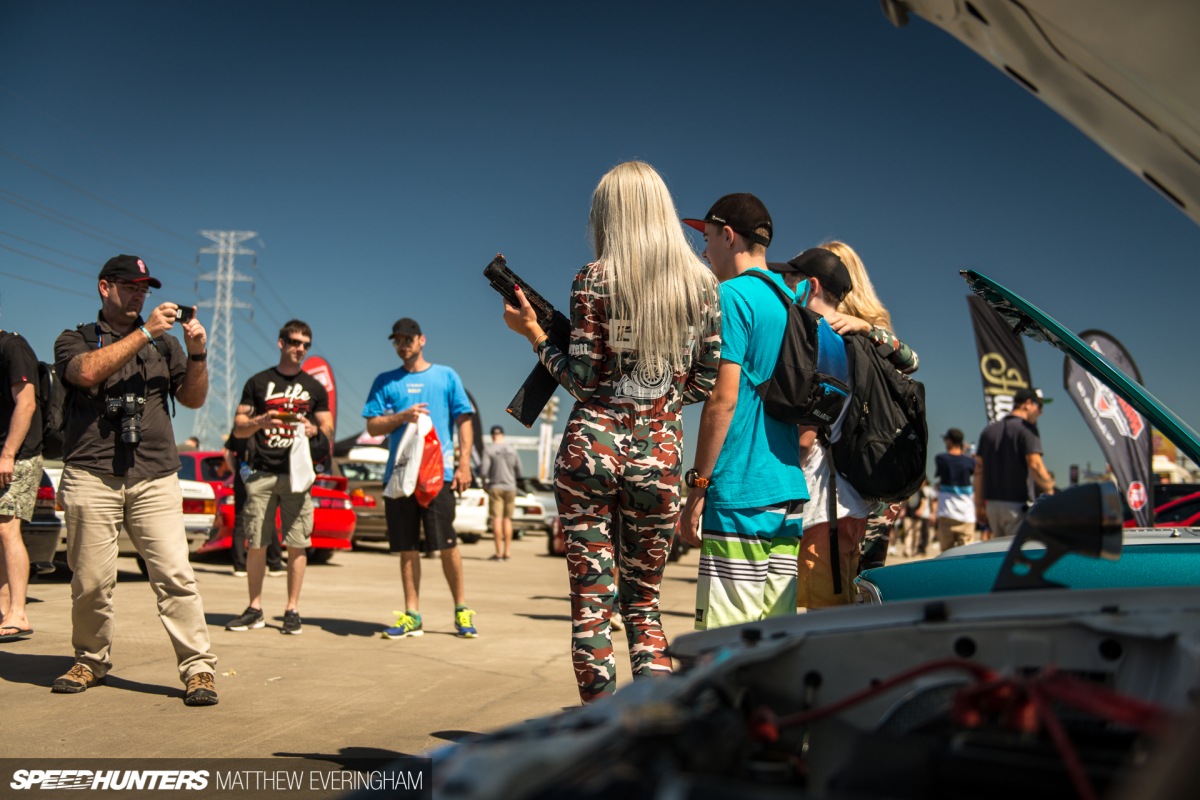 For some of the guys and girls this meant a solid three-day drive in each direction. To make the journey more of an adventure and less of a task however, owners in each state usually meet up and road trip as a crew.
That's the level of dedication on show, and it flows through to each of the cars hand-selected for display.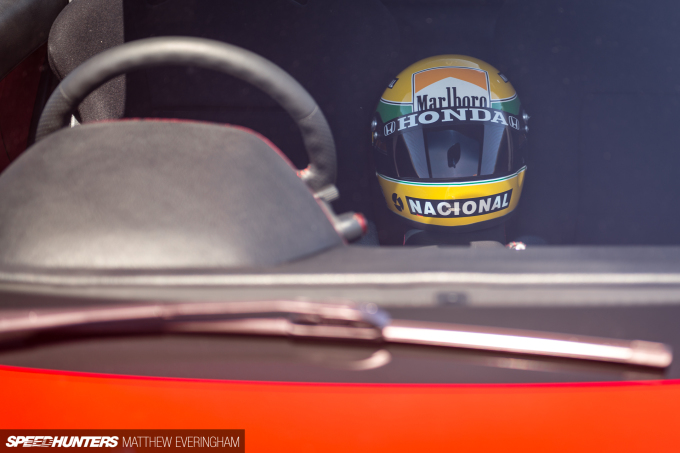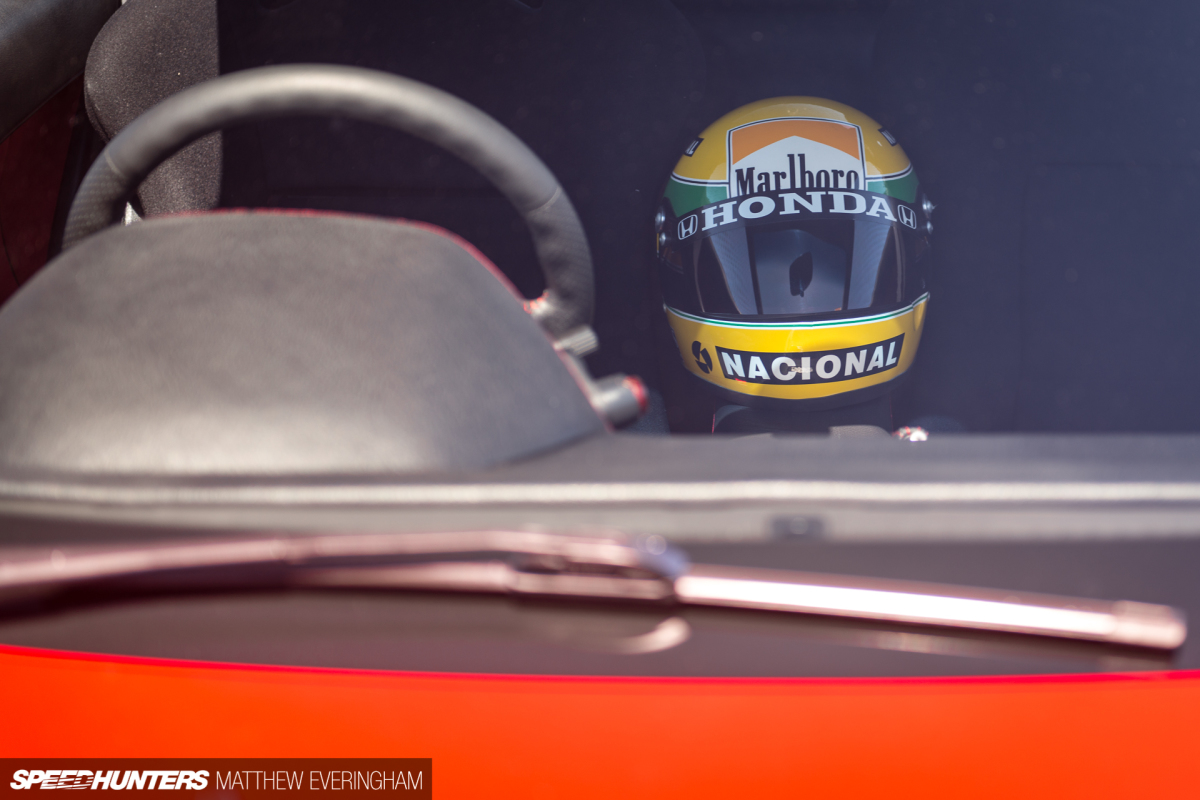 Now that we've covered the logistics, let's take a closer look at some of what I thought really stood out against the very strong competition at WTAC 2016's Shannons Show & Shine…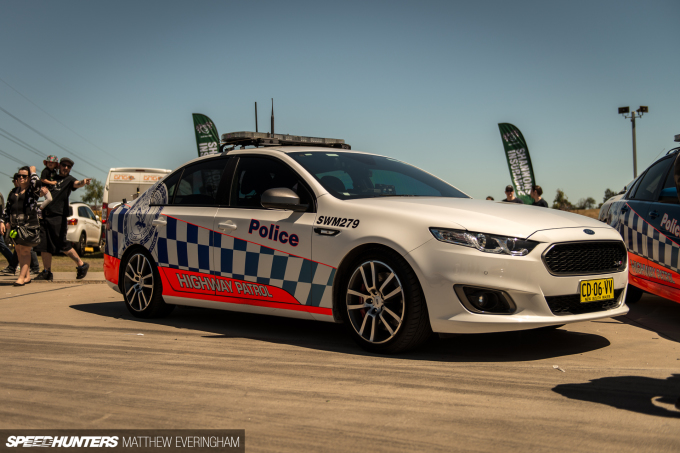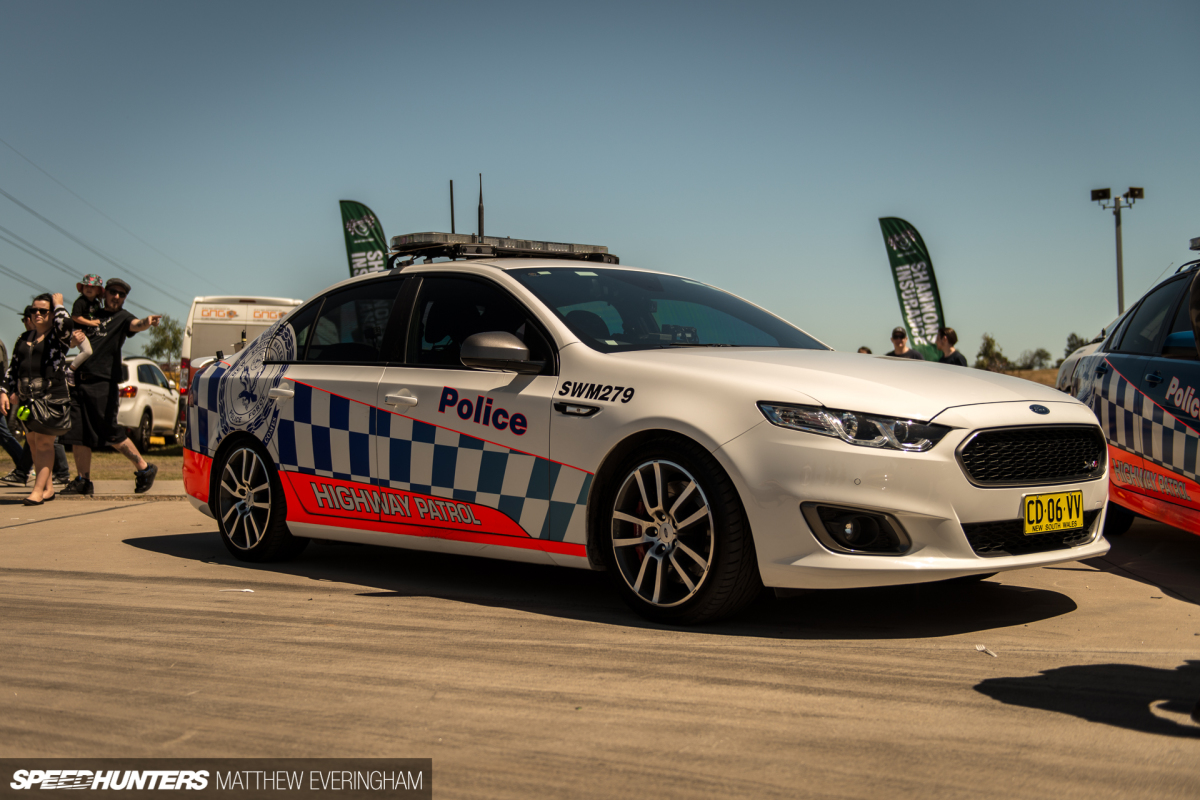 I'm not sure if the local Police thought they were eligible for any trophies, but that didn't stop them for entering with one of their new Ford Falcon Highway Pursuit vehicles. It's no secret that Australia has some of the strictest laws regarding cars and 'hooning', so it was great to see the enforcement agency interacting in a positive way with enthusiasts.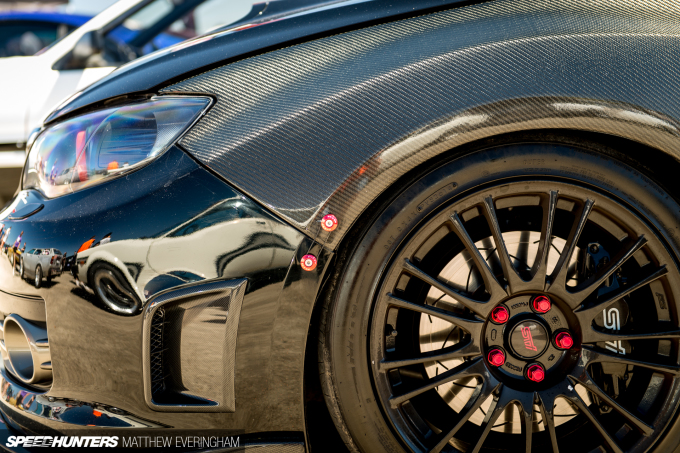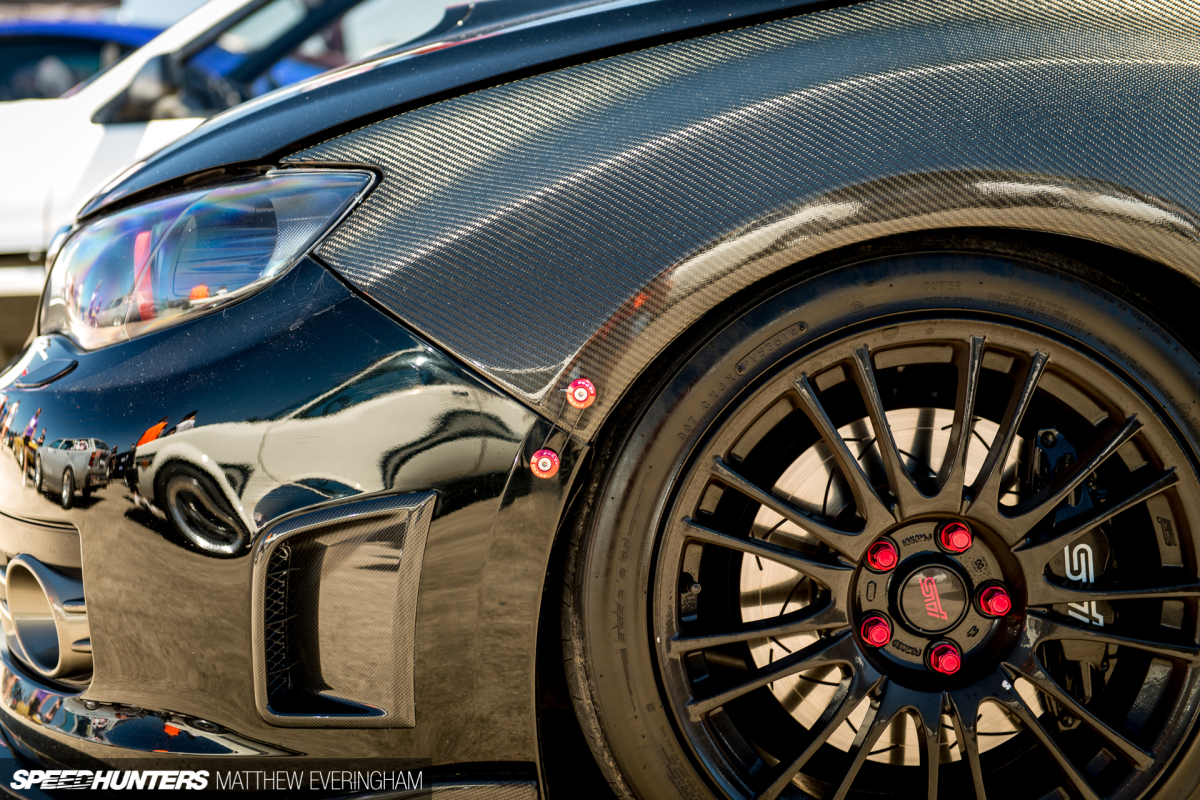 I took a different approach than normal while casually walking through the show – I tried to look at what was on offer from the hungry eyes of the Speedhunters audience. What would you guys be most excited about if you were free to roam to paddock? This new forced perspective was refreshing, and as I made my way through the show two things became super apparent. Firstly, the build quality and level of engineering here is among the very best on the planet.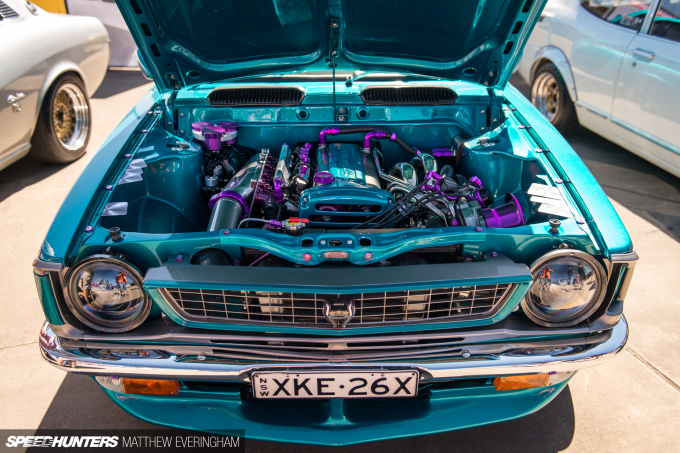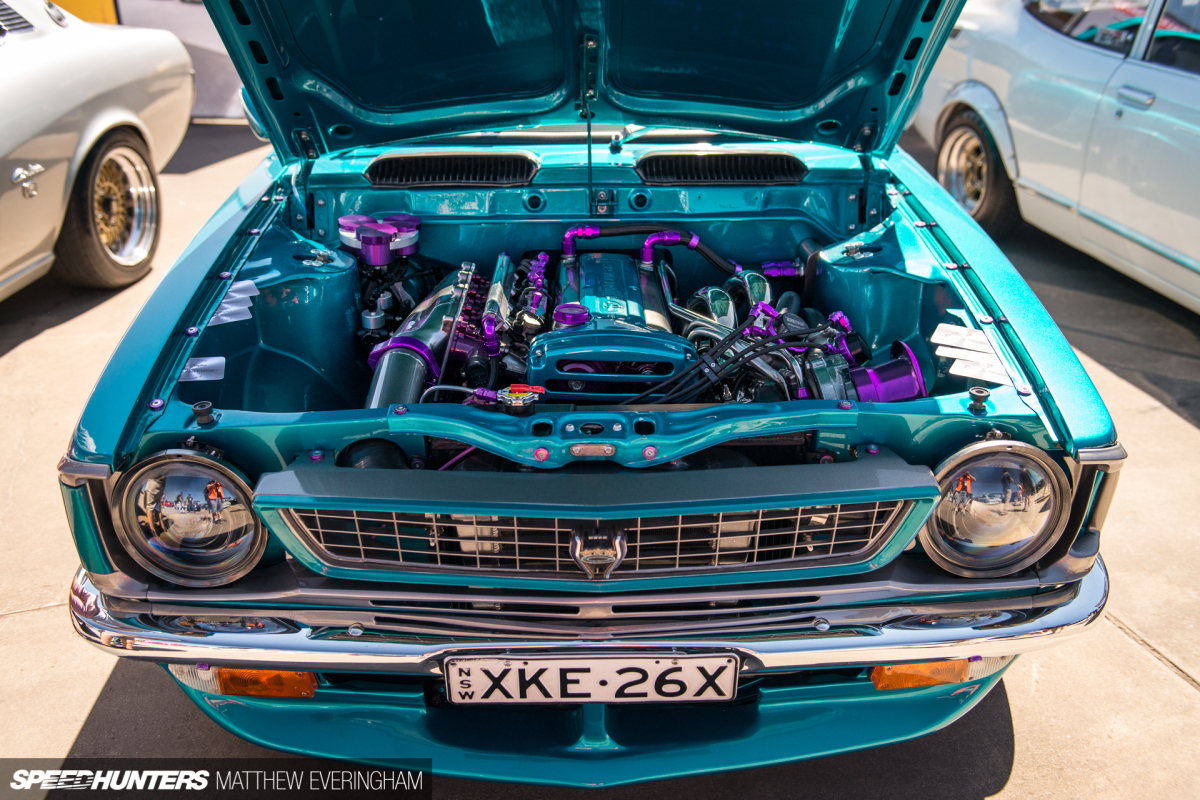 Take this amazing Toyota Corolla KE26 wagon for example, now fitted with a mini-monster 1.8-litre 20V '7A-GE' engine complete with a Garrett GTX3071 hanging off the side. You'd swear this was the work of an entire team of specialists under the careful watch of experienced workshop. In truth, you're looking at essentially a two-man show; brothers Aaron and Matthew Hughes have spent the last couple of years tinkering in the garage. That's right, this was all built in someone's home garage. I'd love to show you more of the build now, but I'm going to leave you with just this teaser and the promise of a feature on Speedhunters in the future.
The second thing my new perspective brought me was just what a wide array of cars we love to play with in Australia; every corner of the globe was represented. Let's do a quick world tour that begins in Italy with some extreme Euro luxury.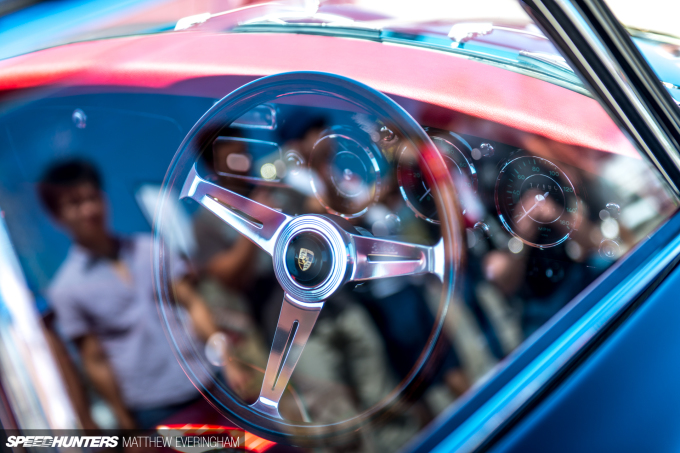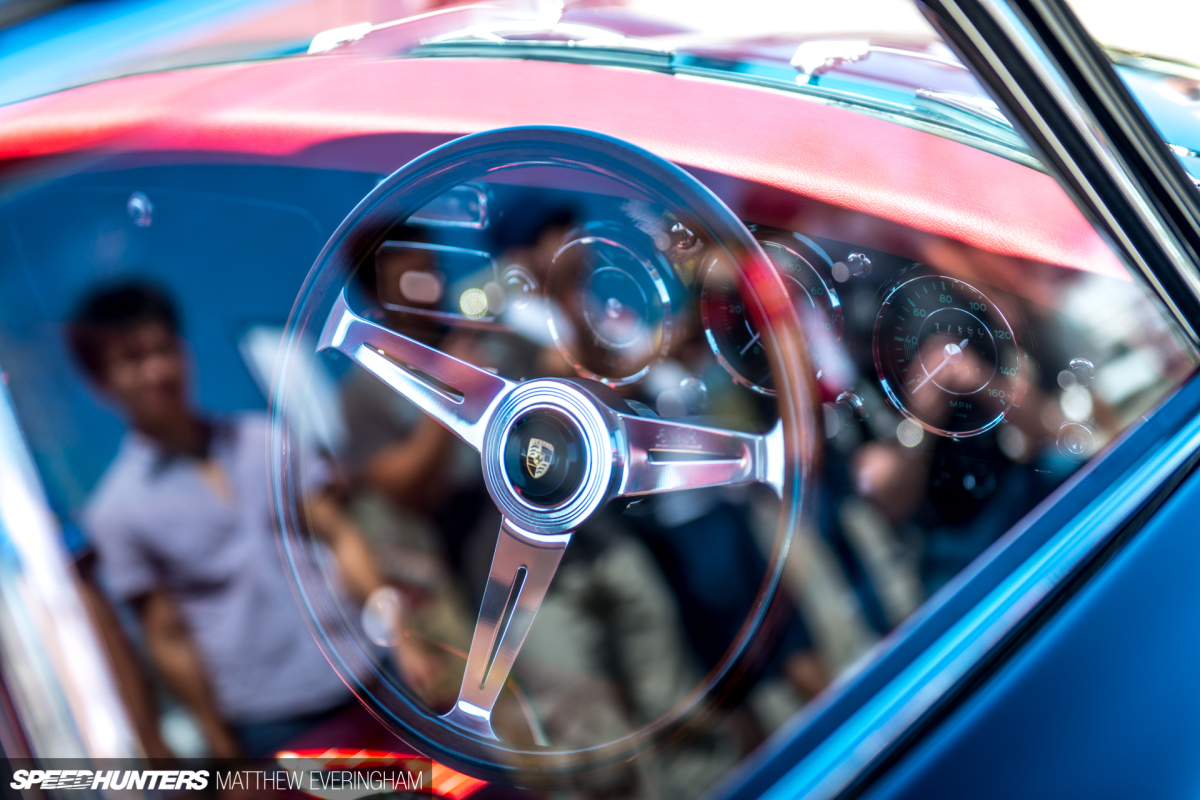 Like the rest of the world, Australia seems to be caught in a frenzy for all things air-cooled and all things Porsche.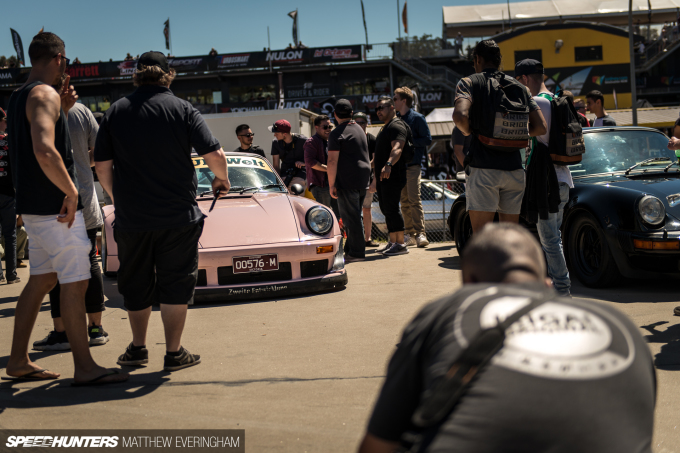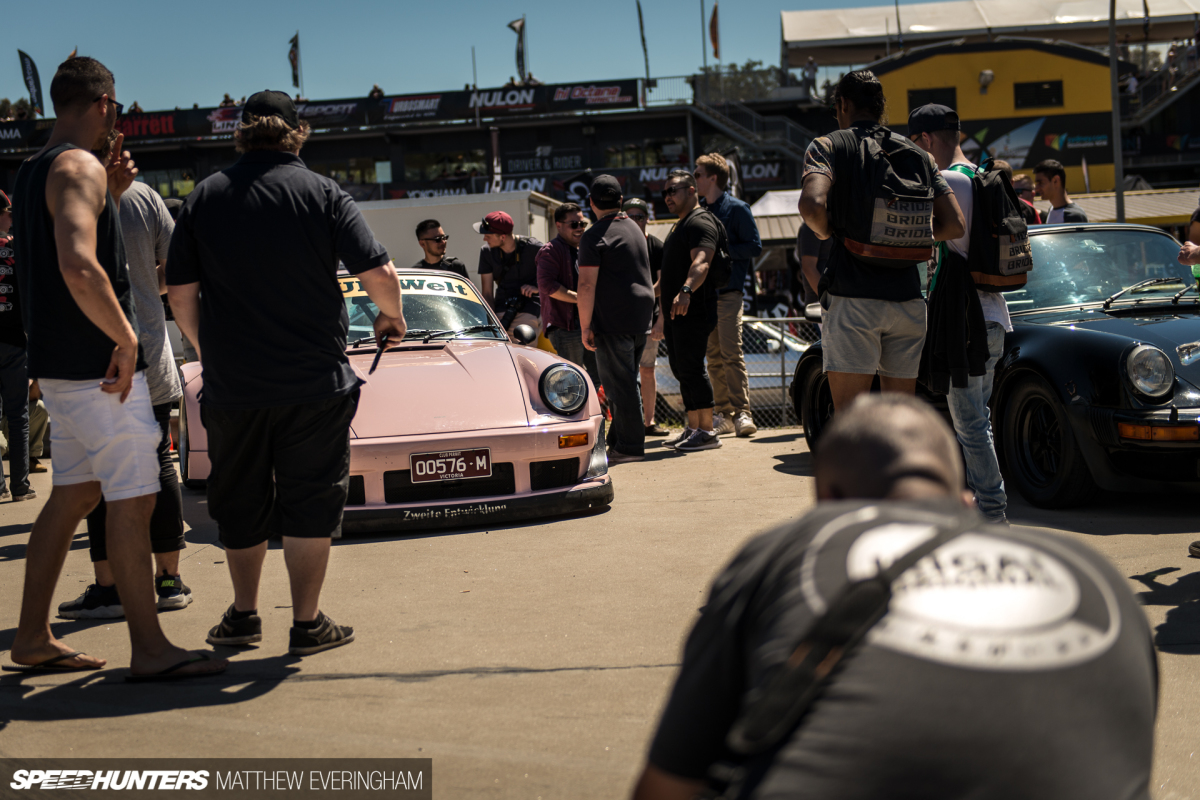 And speaking of Porsches, the first Aussie RWB was on display, and, despite making its debut last year, still attracting a massive crowd of admirers. I intended on heading back for some more shots when the crowd dissipated, but the numbers of people surrounding it only seemed to grow as the day went on.
If we're looking for some American representation, this Impala lowrider fits the bill. It seemed to have a constant crowd of admirers too. While there wasn't a whole heap of Americana on display this particular day, there's a thriving muscle scene down here in Australia, something we'll touch on at a later date I'm sure.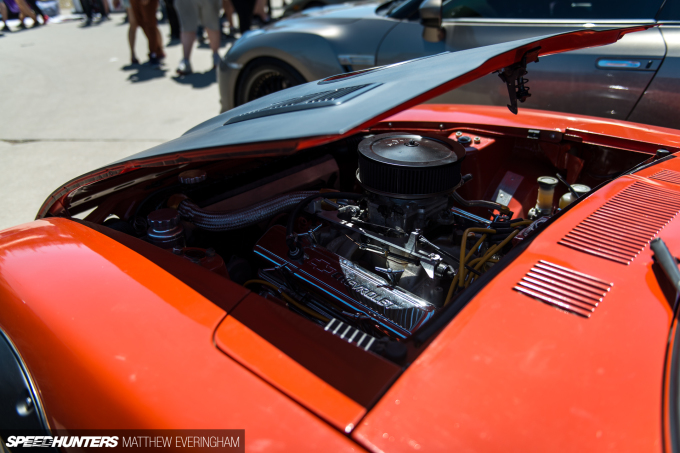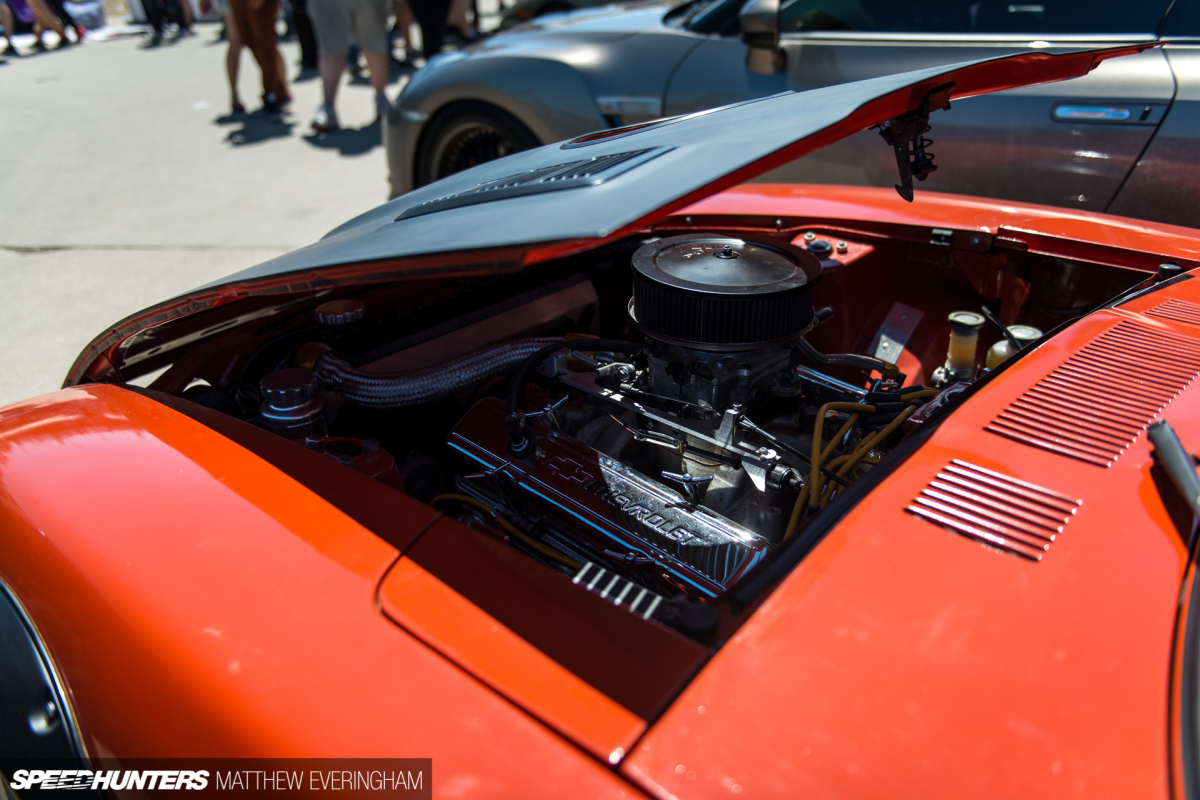 It's almost as if being isolated from the rest of the world allows Australians to take a wider view of the global car scene. The extra level of disconnection from any one specific region gives us more freedom to pick and choose what influences to apply to our our projects.
This wider snapshot and our more practical approach to building cars has slowly resulted in our own recipe of sorts for success; our own unique flavour of modifications. It's something that wasn't really discernible from anywhere else in the world a bit over a decade ago, but is definitely noticeable today.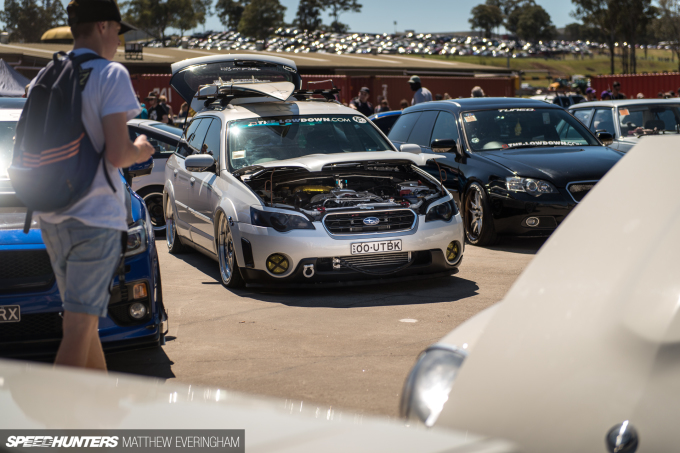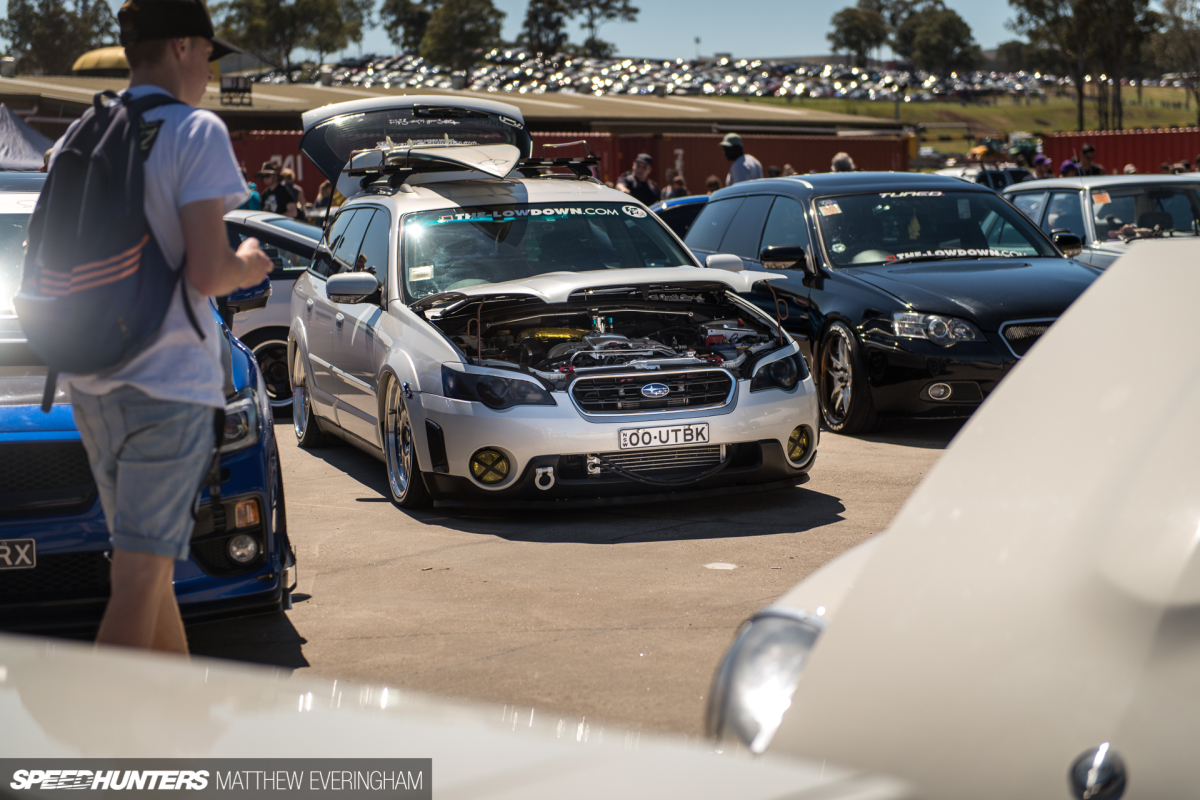 Unfortunately, a lot of locals still look overseas for modified 'excellence' and blueprints for future builds, but the realisation that a lot of great work is happening locally is starting to sink into the wider community. Perhaps seeing how many international drivers at WTAC are now piloting Aussie-developed cars will plant some more confidence in the scene. Also, the growing global demand for Australian aftermarket products like those from Turbosmart and Haltech is a solid sign that we're making our mark on the global car scene.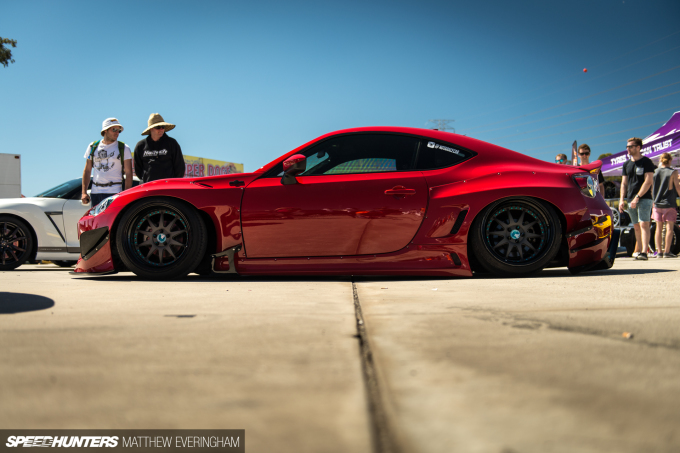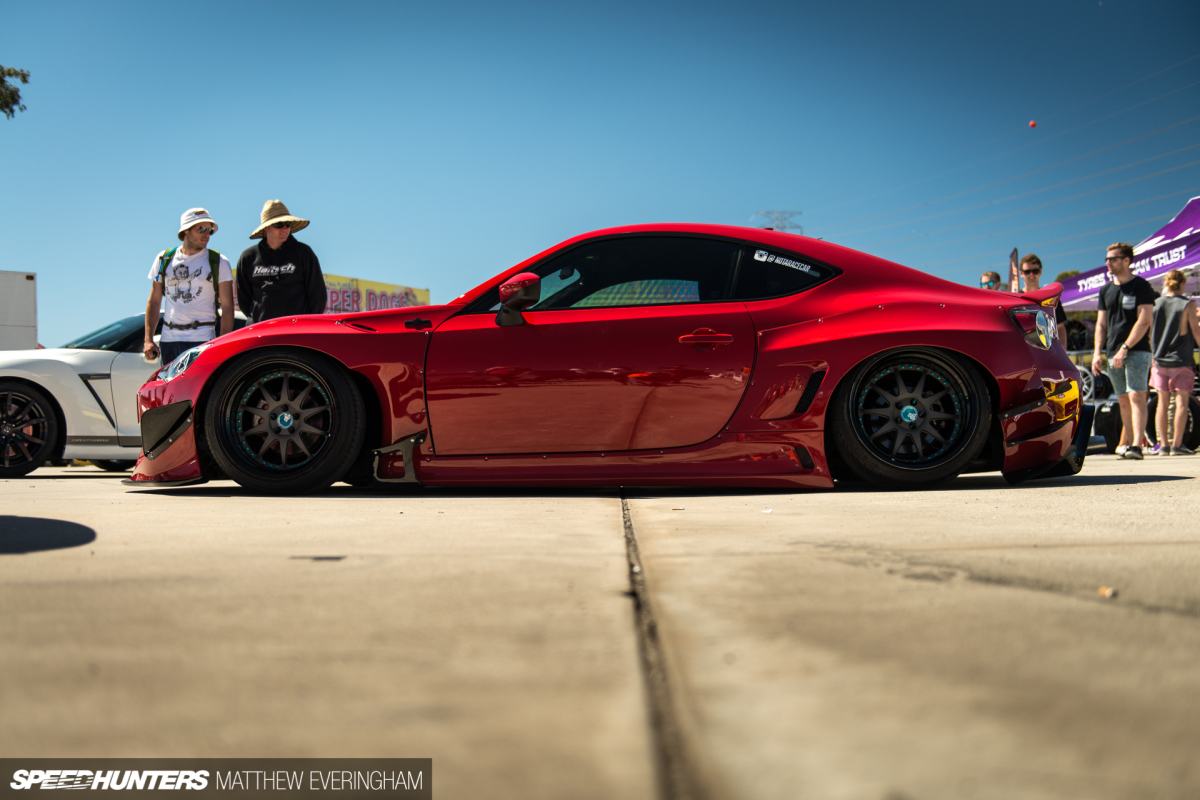 One fresh build that's going to reap the rewards of the Aussie melting pot is this TRA Kyoto Pandem-kitted Toyota 86.The car is already turning heads with its Air Lift Performance suspension and custom Avant Garde forged three-piece wheels. When I quizzed Declan, the owner, on what his full plans were for Australia's first Pandem 86 – currently only three Pandem kits exist for the model and this is #2 – I was glad to hear he wasn't satisfied with leaving the mods to aesthetics. An engine swap is likely to happen early next year that'll take the build to the next level. Don't worry, we'll be there when the car makes its debut as the complete package.

'Pandem' may have garnered the most attention, but it wasn't the only 86 or BRZ on display. The 86BRZ Club was possibly the largest club display of the day. Even though the club is limited to a single chassis, every single car looked unique, highlighting that there's more than enough aftermarket part support available so no two 86s or BRZs need look the same.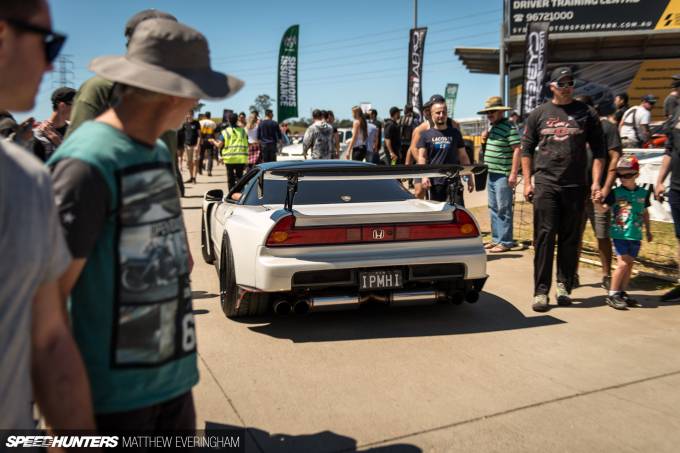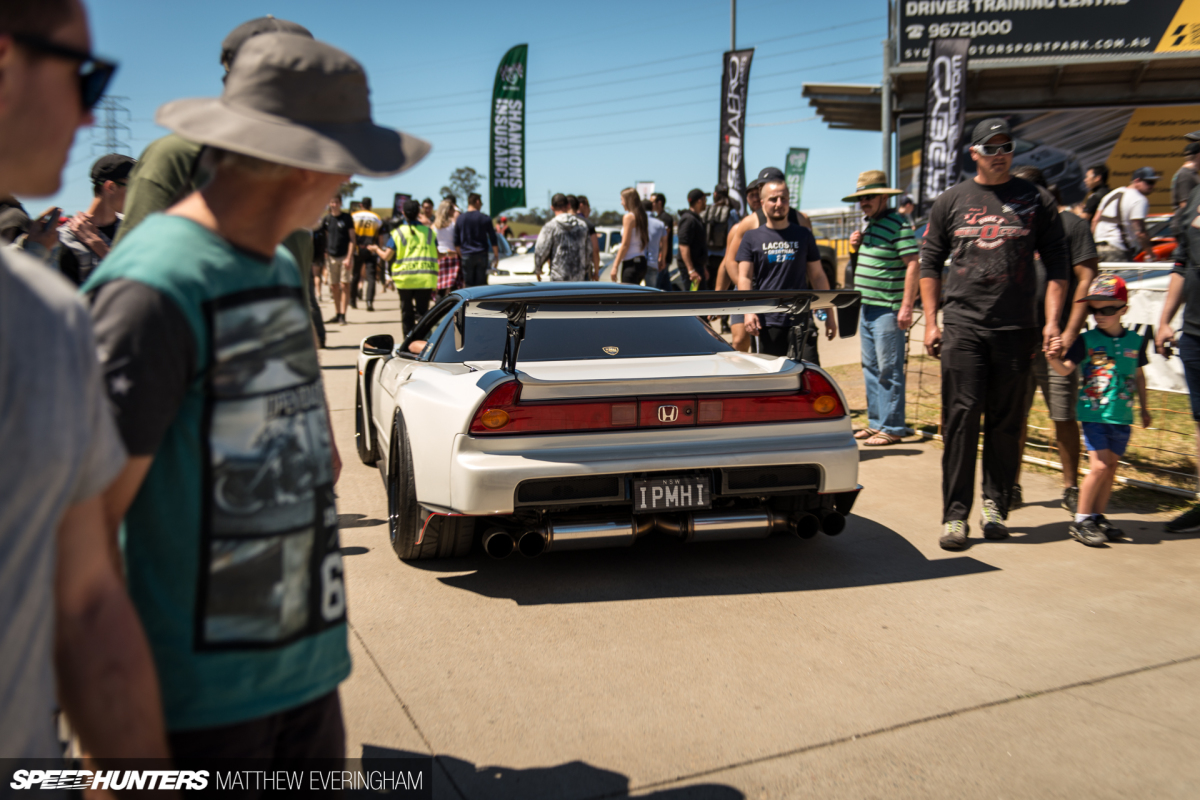 Calling the Honda NSX a rare machine down here would be a massive understatement. It's the only Honda I've ever had a fetish for and to date I think I've only seen four in the wild on home soil.
So seeing three NSXs on display on the same patch of concrete was a pretty big deal. I wasn't the only one to think so either; I overheard a couple of different groups discussing their enthusiasm and ticking the local unicorn of their personal 'car spotting' lists.
Cameron Bell had spent the last three years restoring his red 1991 NSX, the WTAC show being just its second outing after completion. I've been following Cam's progress for a couple of years now and was pretty excited to see how well his project has turned out. Every aspect is now better than original condition. It's a beautiful machine and more importantly it drives well too with everything underneath the car being replaced as part of the restoration. I'm told she drives like a dream and the  1000km round trip from Tamworth to Sydney and back was the real reward for the years of hard work.
Skyline Heaven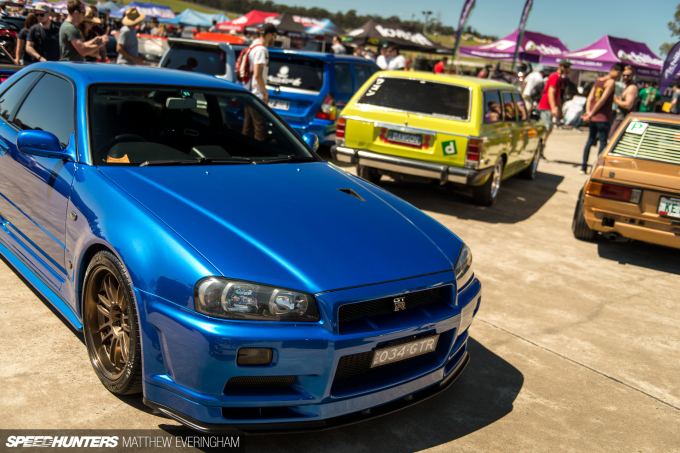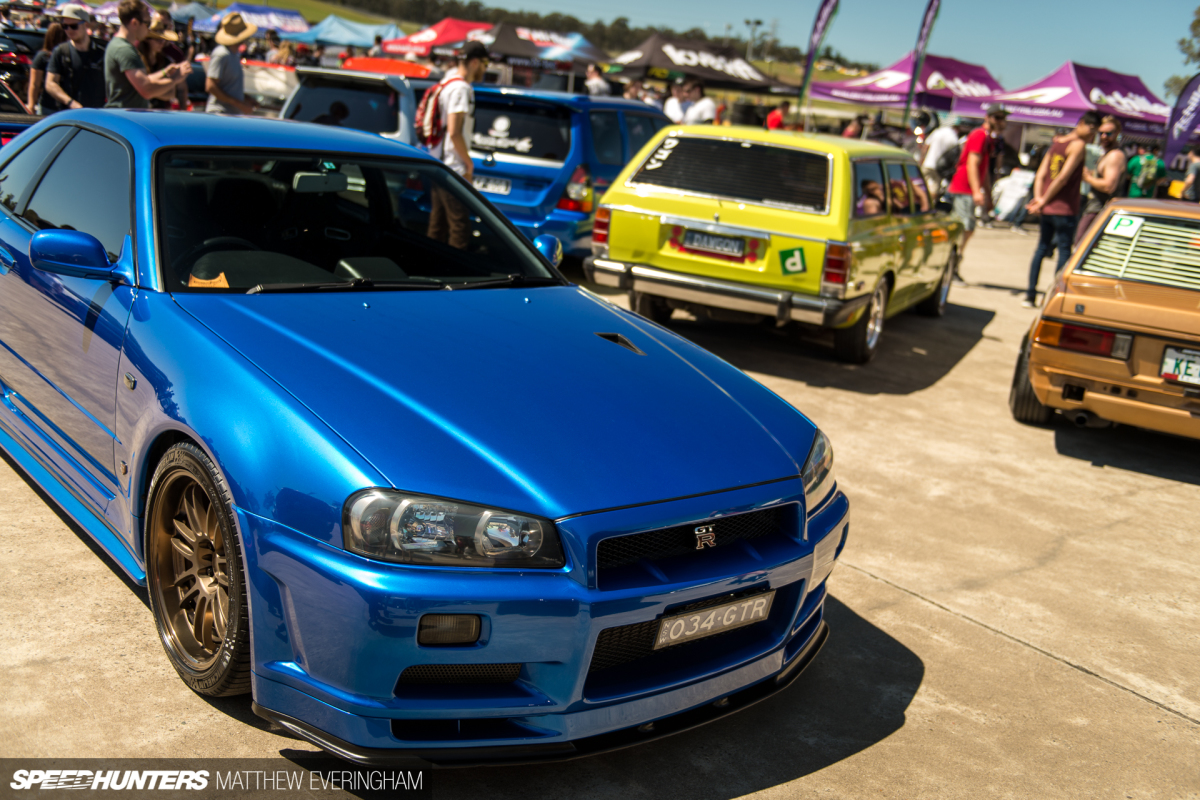 Skyline fans would feel right at home at this event. A legion of GT-Rs and other Skyline variants from different eras flooded the Show & Shine, and as a GT-R fanboy myself, I wasn't complaining. It's always fun to compare similar models and examine how the ideas and personalities of different owners can transform identical cars into unique works of art.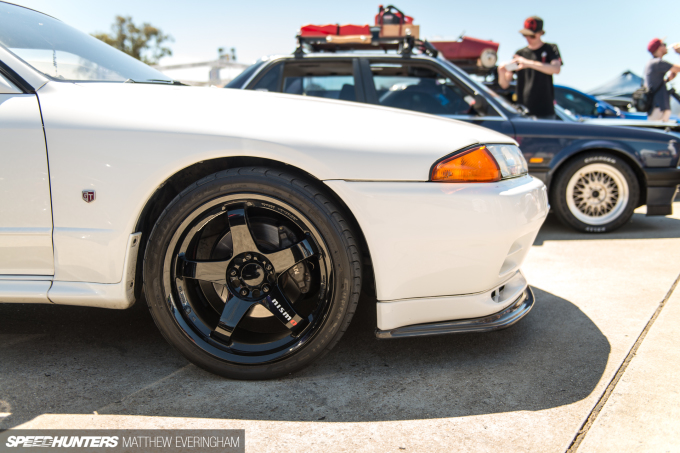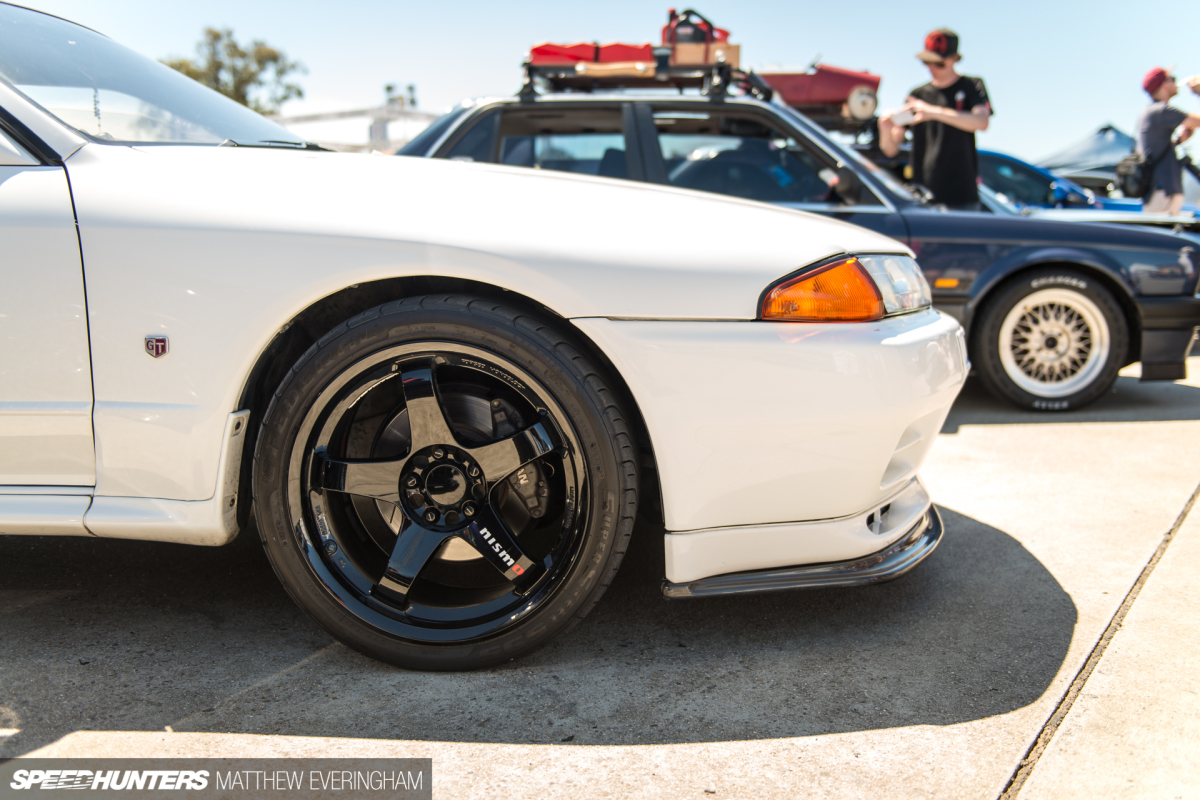 While some owners choose to go all-out, a growing number of builds are applying the 'less is more' philosophy, forgoing massive kits and wings for subtle additions that work with the body lines rather than recreating them. It seems as though the Fast & Furious days of aftermarket excess are over.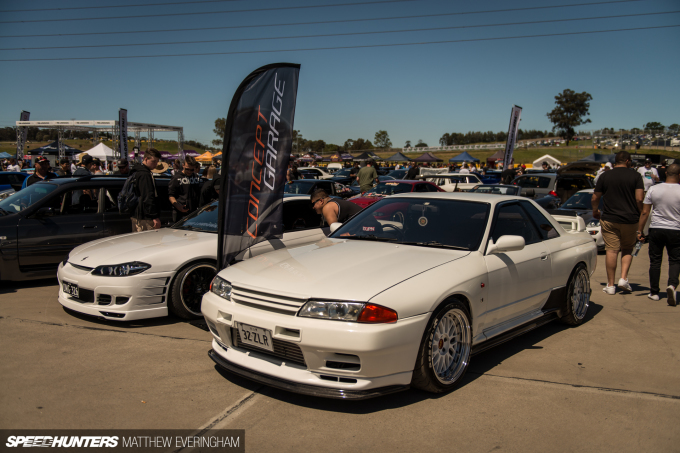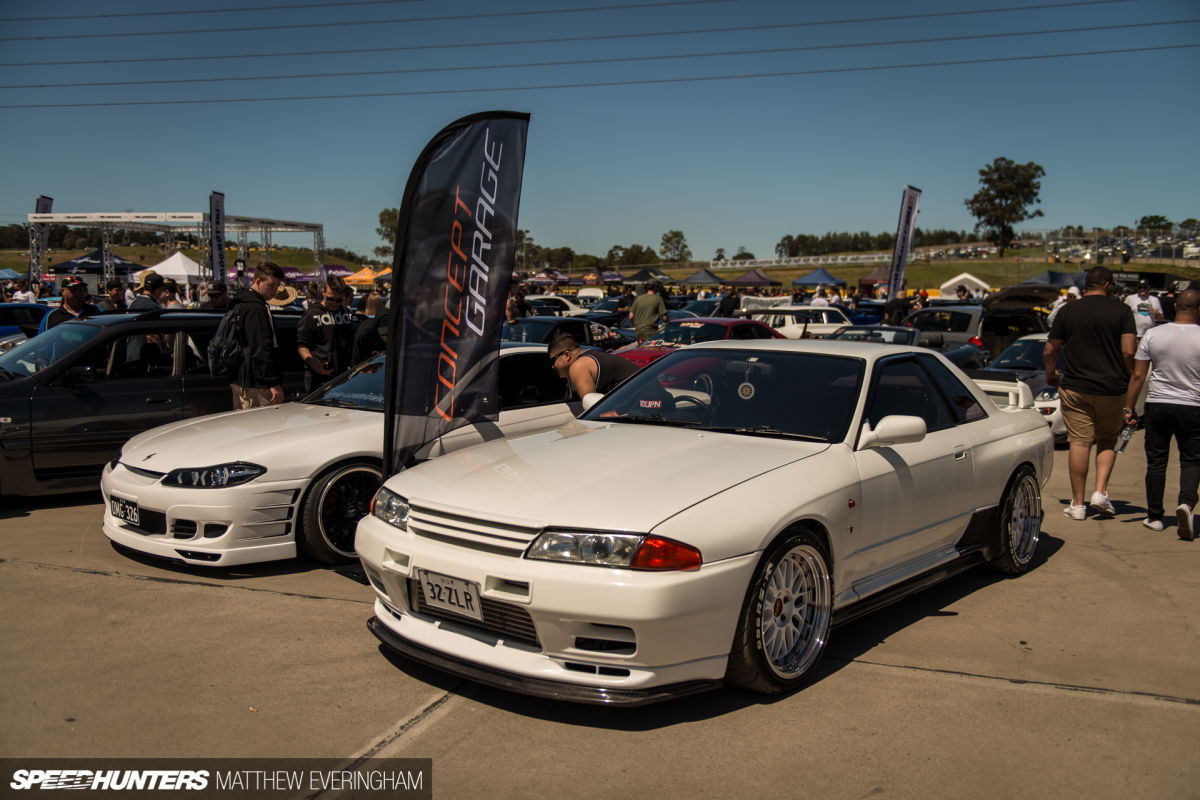 Revan Gawro's R32 demostrates this newer approach perfectly. Using black and carbon fibre wherever possible, he's delivered an end result that complements the original canvas.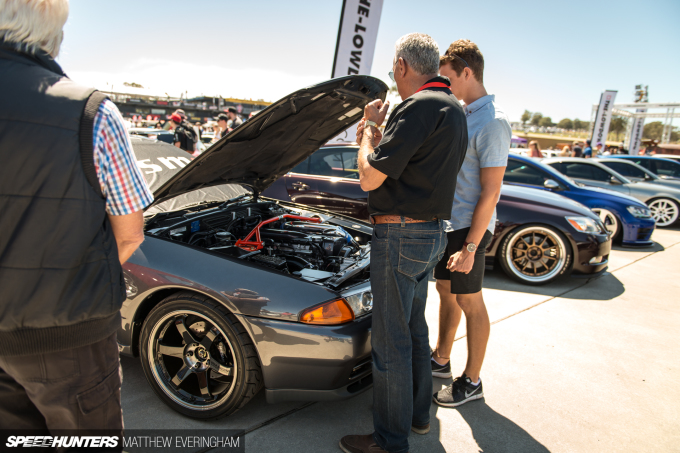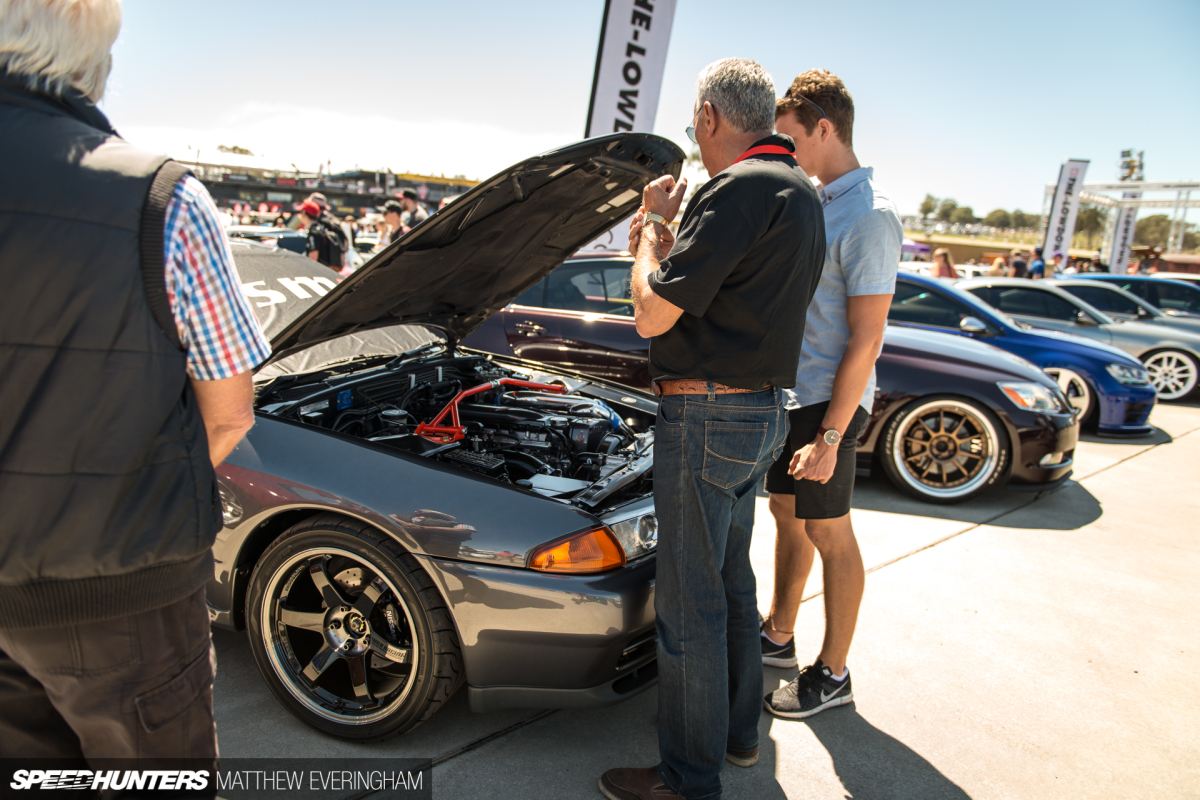 I'm a sucker for a clean R32 GT-R and this mint example instantly grabbed my attention. The glossy, standard exterior actually stood out against the crowd of modified vehicles. Its extremely clean paint and flawless body highlighted just how close Nissan were to creating perfection in the factory.
Only a few small changes were added to the styling; the car sits a little lower thanks to a set of 300mm lower springs, and looks a little fatter thanks to a set of 18×9.5-inch RAYS Volk Racing TE37SLs wrapped with Advan AD08s.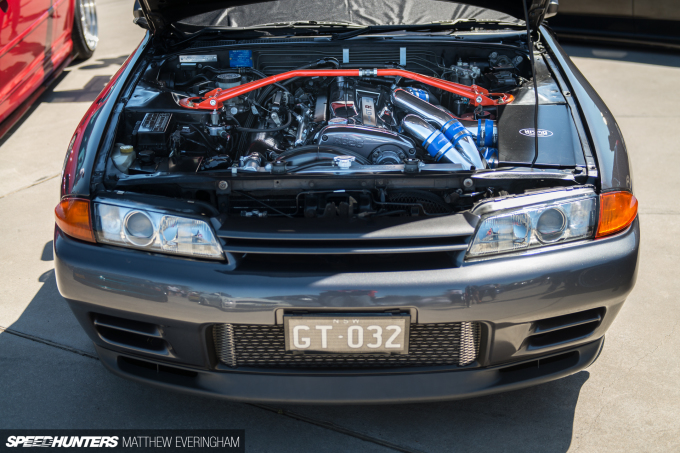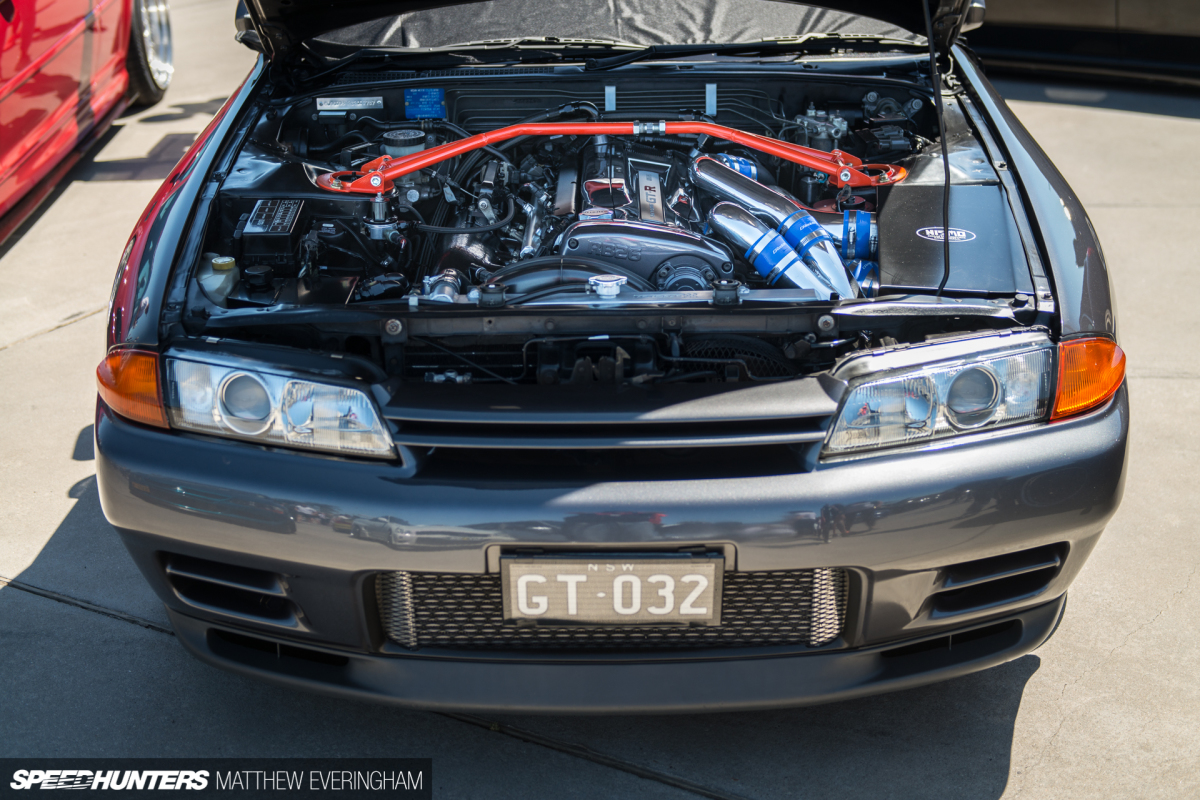 This GT-R's real appeal is usually hidden under a closed bonnet, but was proudly on display for all to admire at Sydney Motorsport Park. A quick chat with the car's proud owner, Ben Simonovich, revealed that this pristine engine bay delivers 411kW (551hp) at the wheels. After driving the car in standard form for the first two years of ownership, Ben decided that it was time to step things up. Powertune fully rebuilt the now fully-forged RB26, and twin Garrett 2860s deliver a smooth power curve all the way through the rev range. A Haltech ECU ensures everything runs smoothly.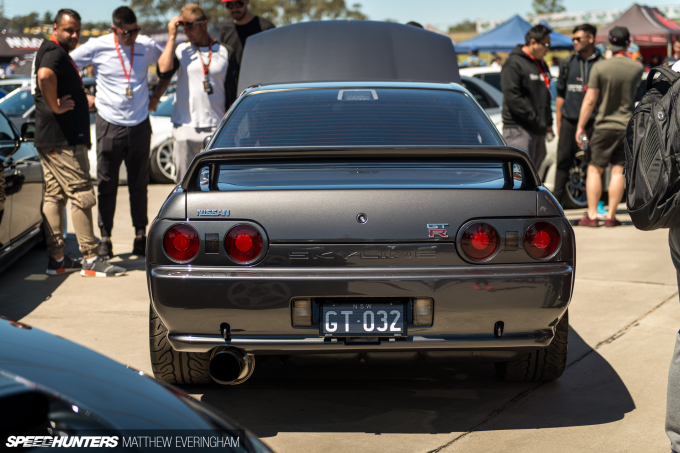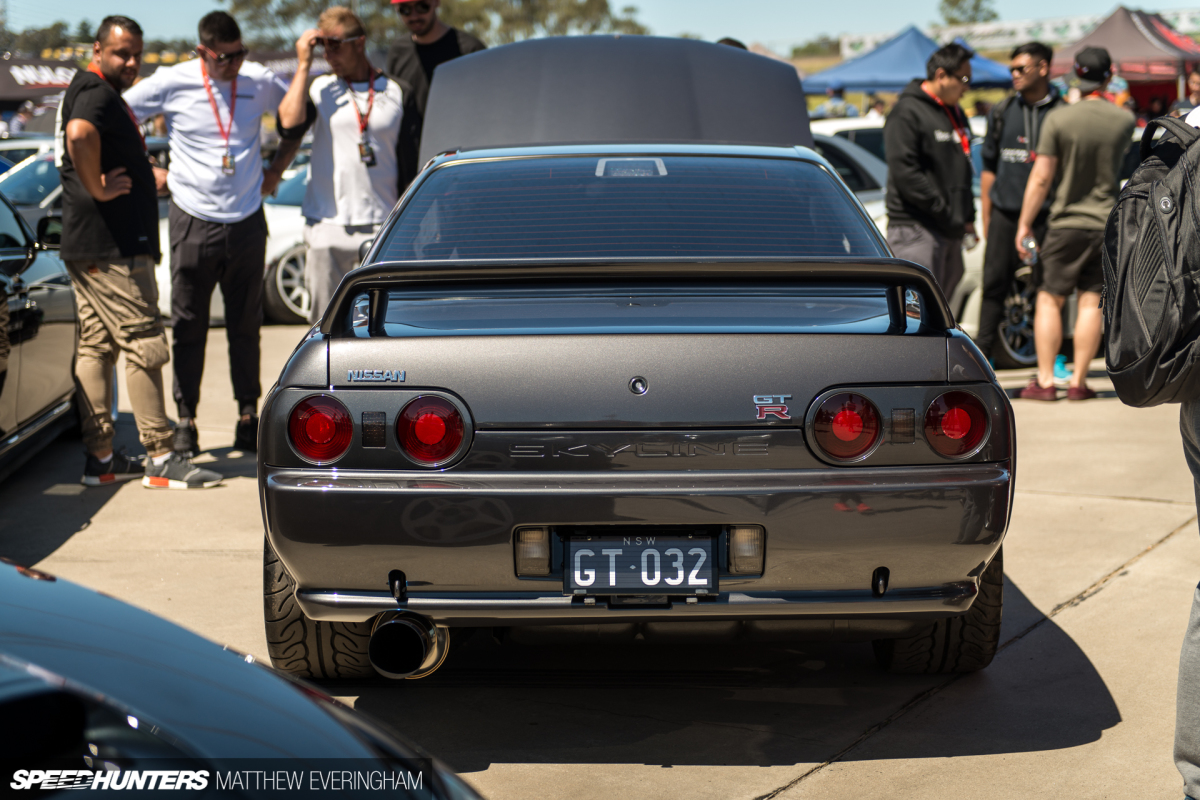 Ben still has a few things left on his shopping list though, and he told me he'll soon be adding new Nismo suspension and a refreshed gearbox with an OS Giken gear set.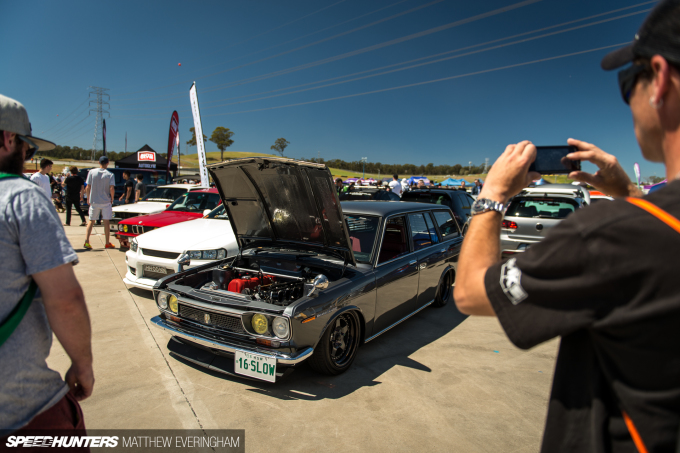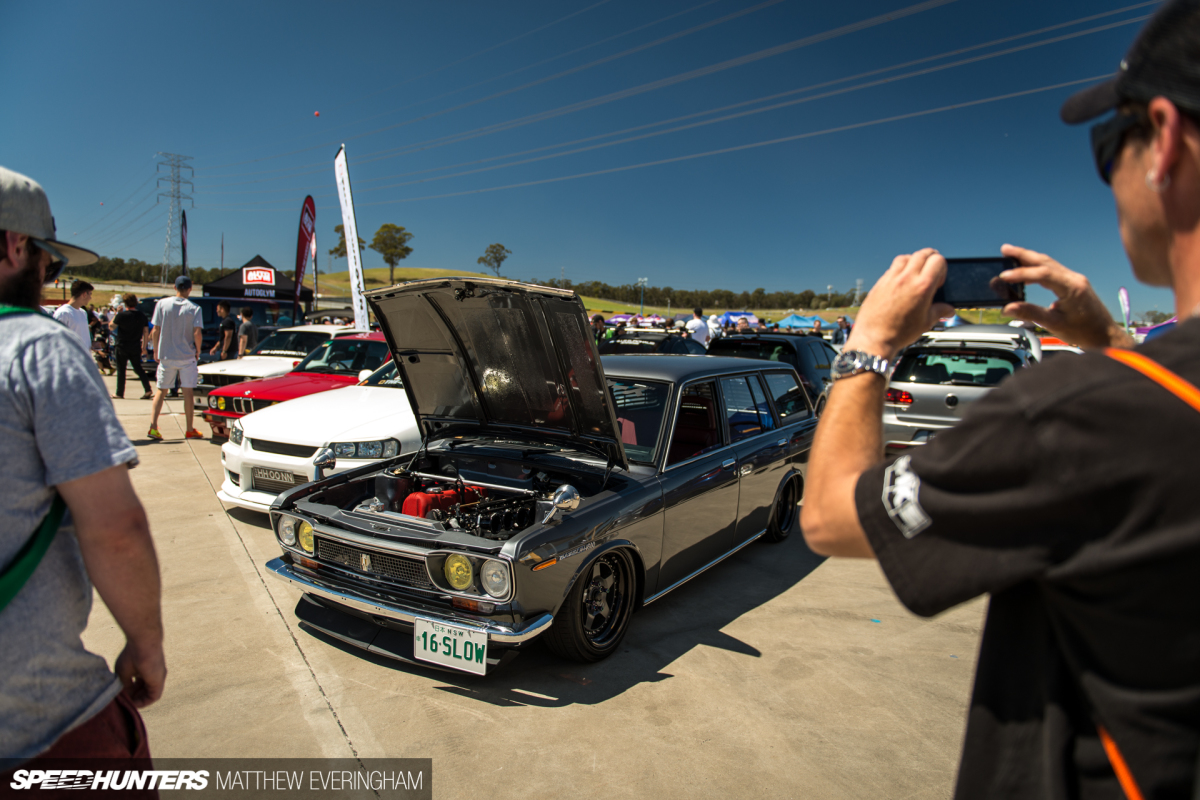 The best car of show was, hands-down, John Healey's Datsun 1600 Wagon, a build that Blake took a closer look at earlier this year. This thing just never gets old.
We really couldn't have asked for more: amazing weather, a massive crowd and some of the very best builds in the country. To steal the attention from off the track and in pit lane during the Yokohama World Time Attack Challenge is no easy feat, and surely it speaks in volume about the quality on display and positive vibes from the crowd.
So there's a taste of the quality that was on offer at one of Australia's best show 'n' shine events. After going through the highlights again, I'm pumped for next year. Bring on 2017!
Matthew Everingham
Instagram: matthew_everingham
matt@mattheweveringham.com