Something A Little Different
If I were to tell you that this 1972 Datsun 510 has GM power under its hood, your first assumption would probably be a V8 of some sort – most likely a variant of the LS engine or perhaps a classic Chevy small block, right?
It's only natural. GM V8 swaps are as popular as they've ever been, and despite criticism from those who call them 'played out', there's no arguing with their function.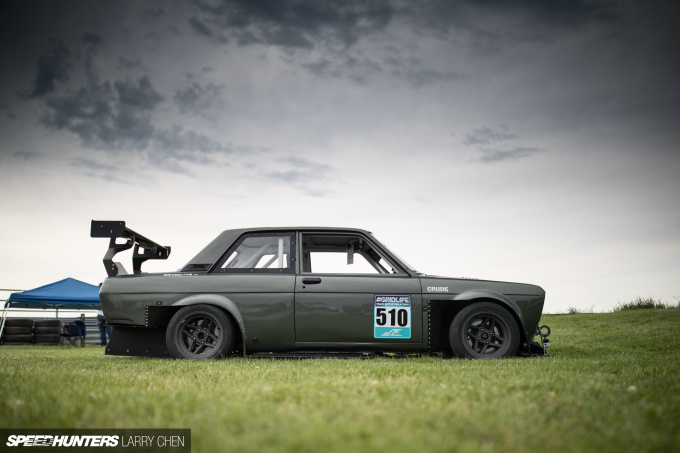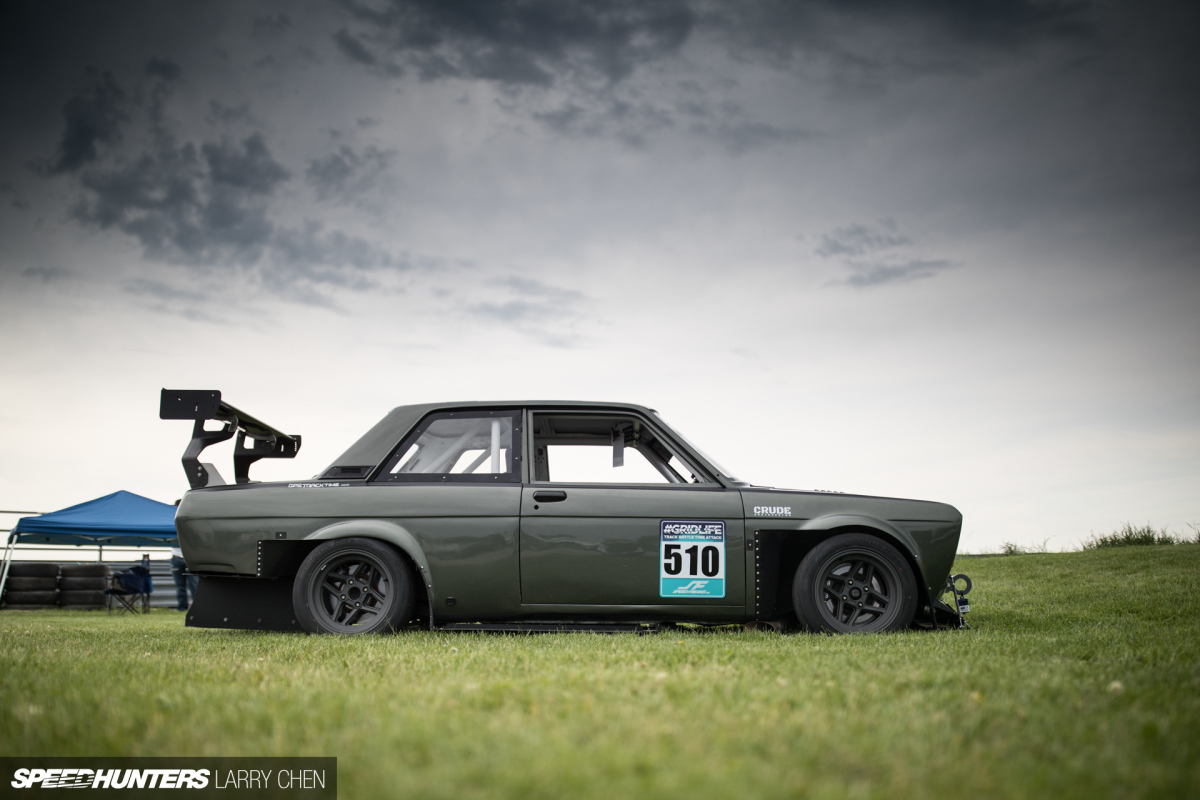 In fact, this 510 did have an LS1 V8 in its engine bay at one point. But the V8 swap was just one chapter of many along the journey of the Datsun and its builder Jordan Connor.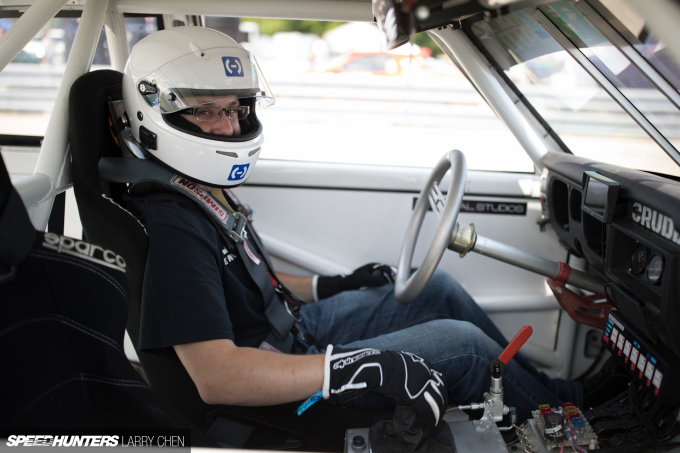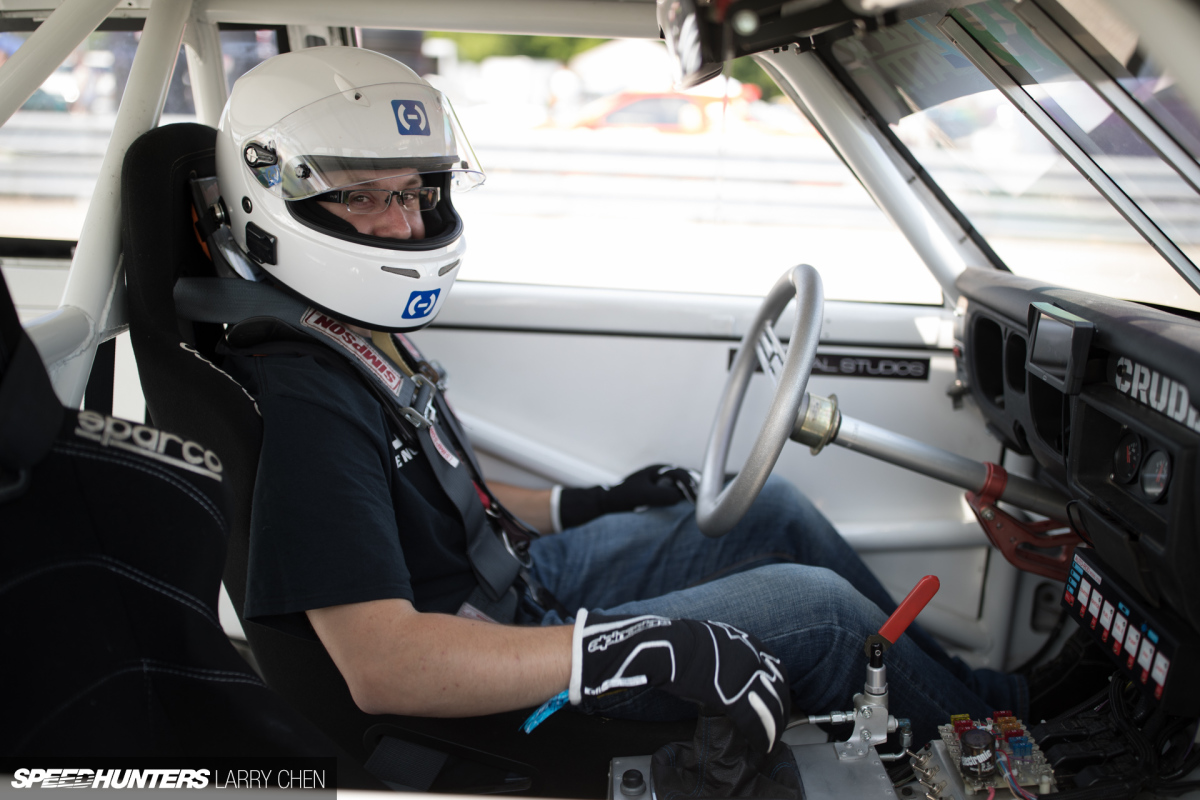 Jordan got started with the hobby back in 2004 when he picked up an S14 240SX and become involved in the growing Midwest drift scene. He ran a turbocharged single cam KA24 engine and had a great time driving in local ClubFR events, and when he wasn't driving he could be found in the garage with his buddies working on all sorts of cars.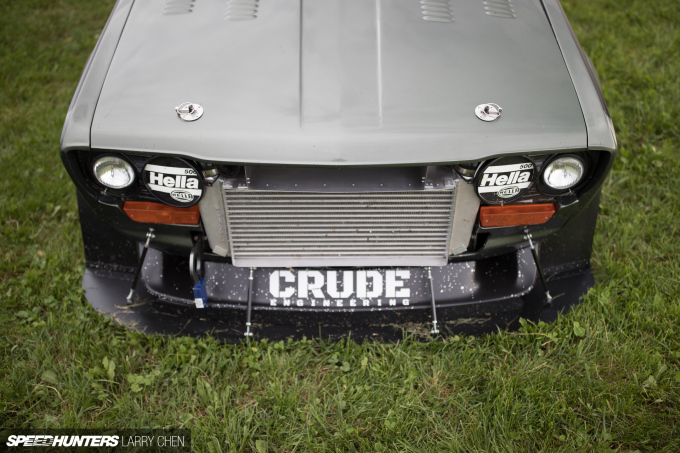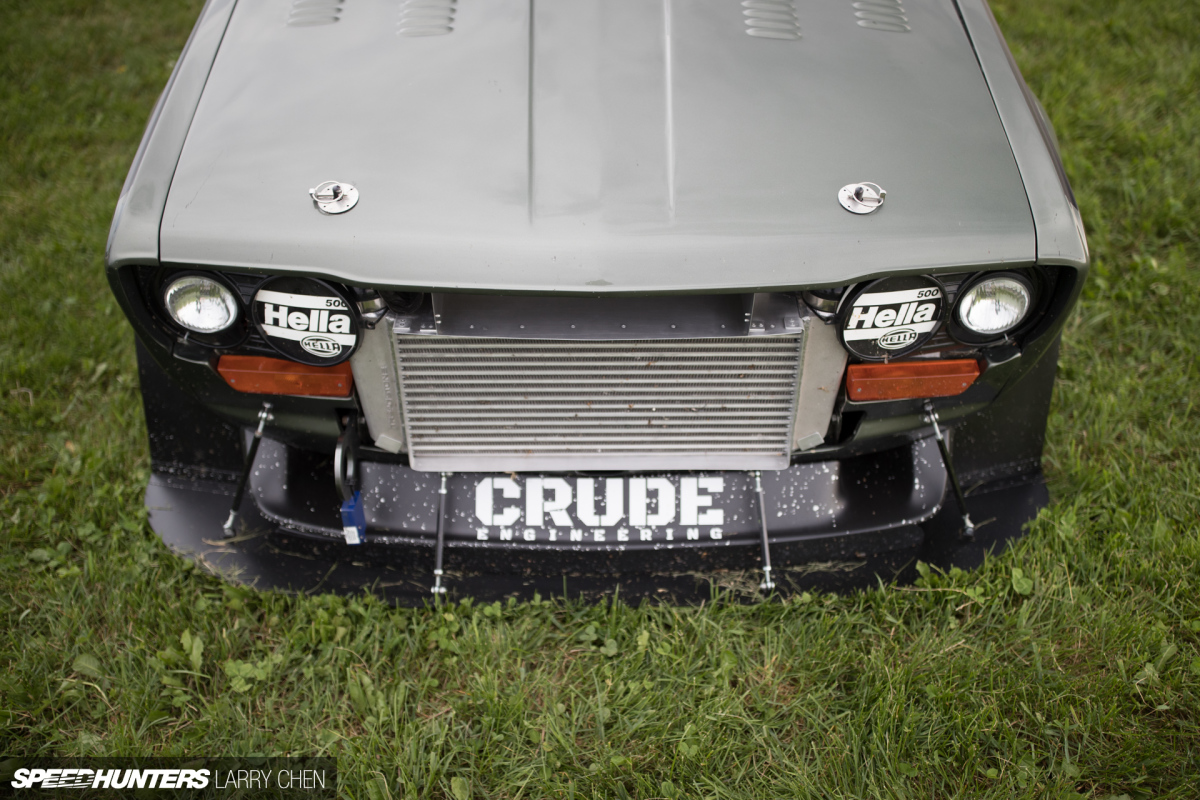 By 2009, Jordan had begun to get a little burnt out on the state of the drift scene, and with plans to have kids in the future, he wanted to build a new car while he still had plenty of free time.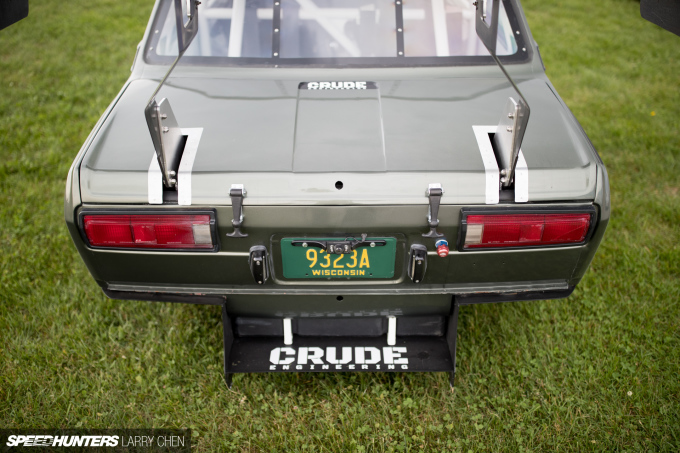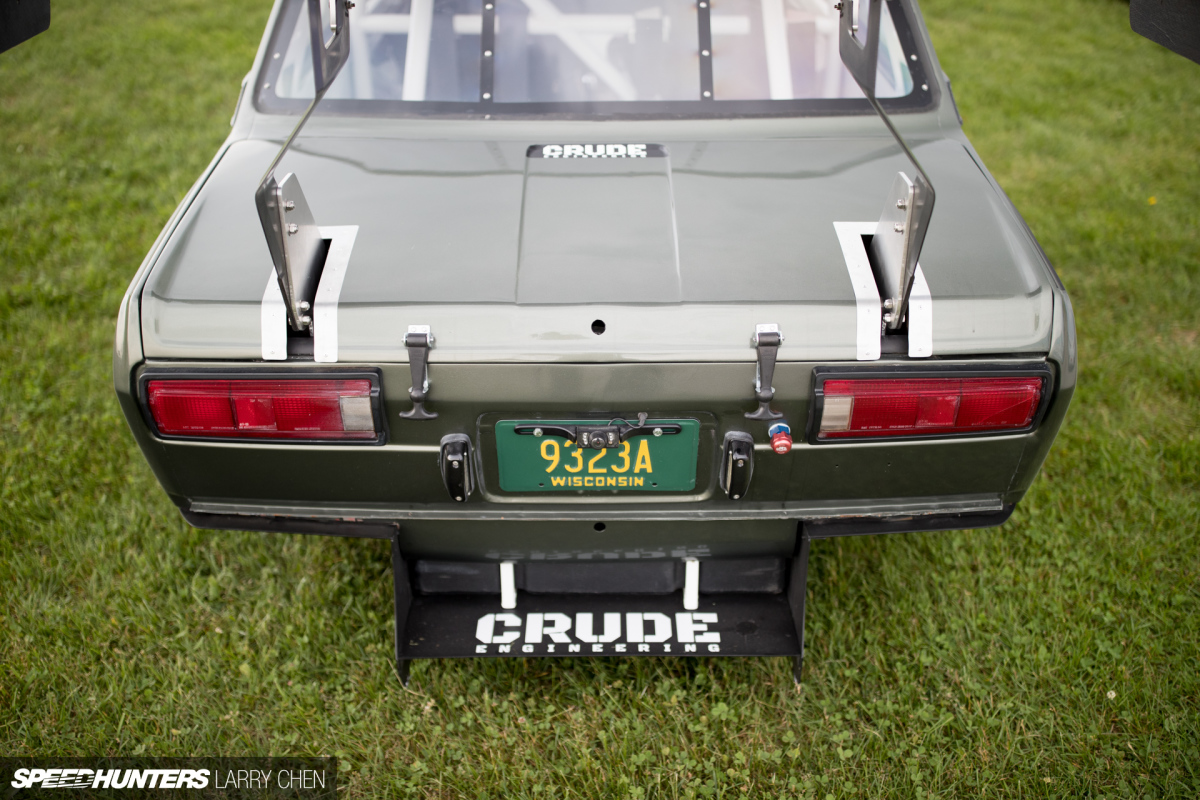 He ended up staying in the Nissan family, but this time went back farther into the past with the 1972 510. While he wasn't a die-hard Datsun guy like some, Jordan always liked the boxy looks of the 510 and the underdog image that came with it.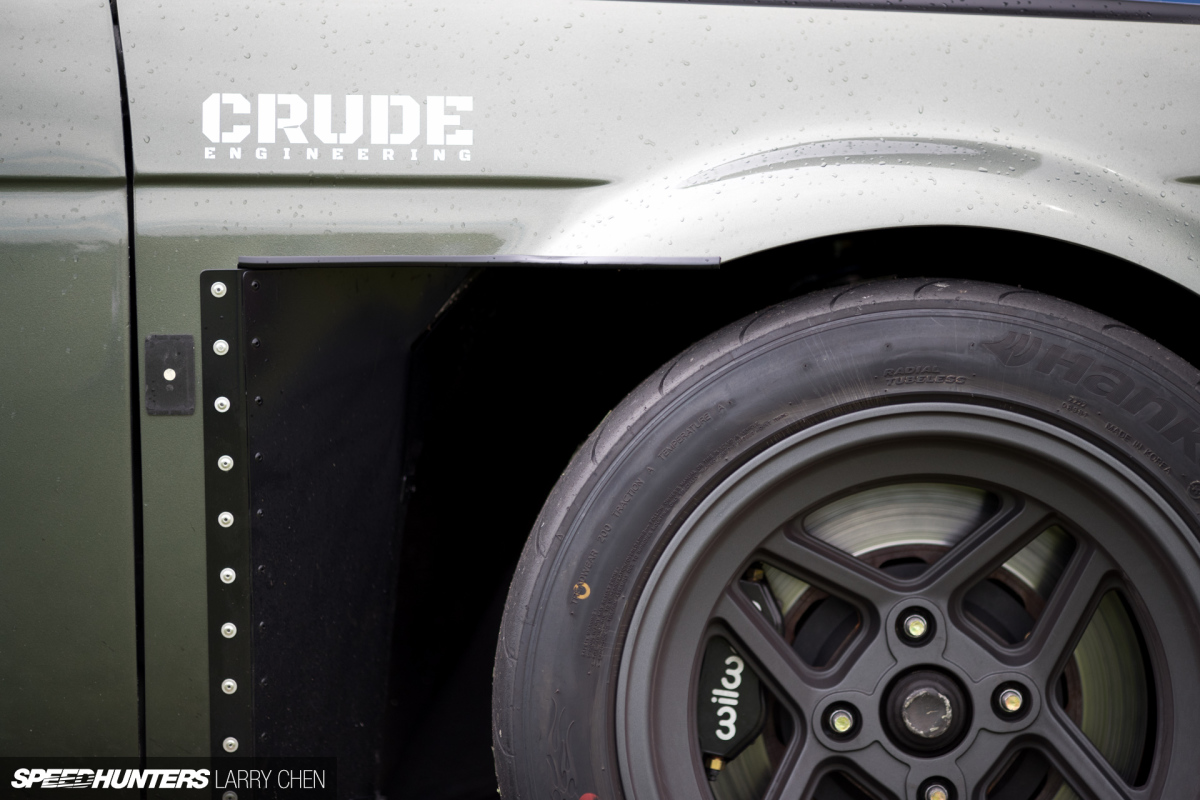 This time around though, Jordan wanted to build a road racer, and after acquiring the Datsun back in 2010 he's been constantly upgrading and updating the car, eventually getting it to the state you see here.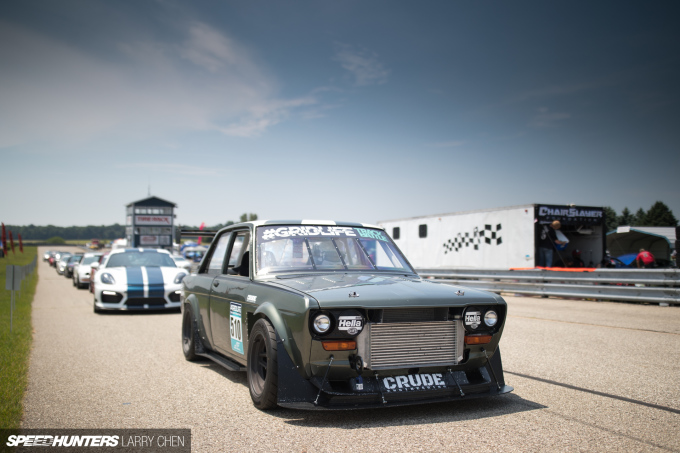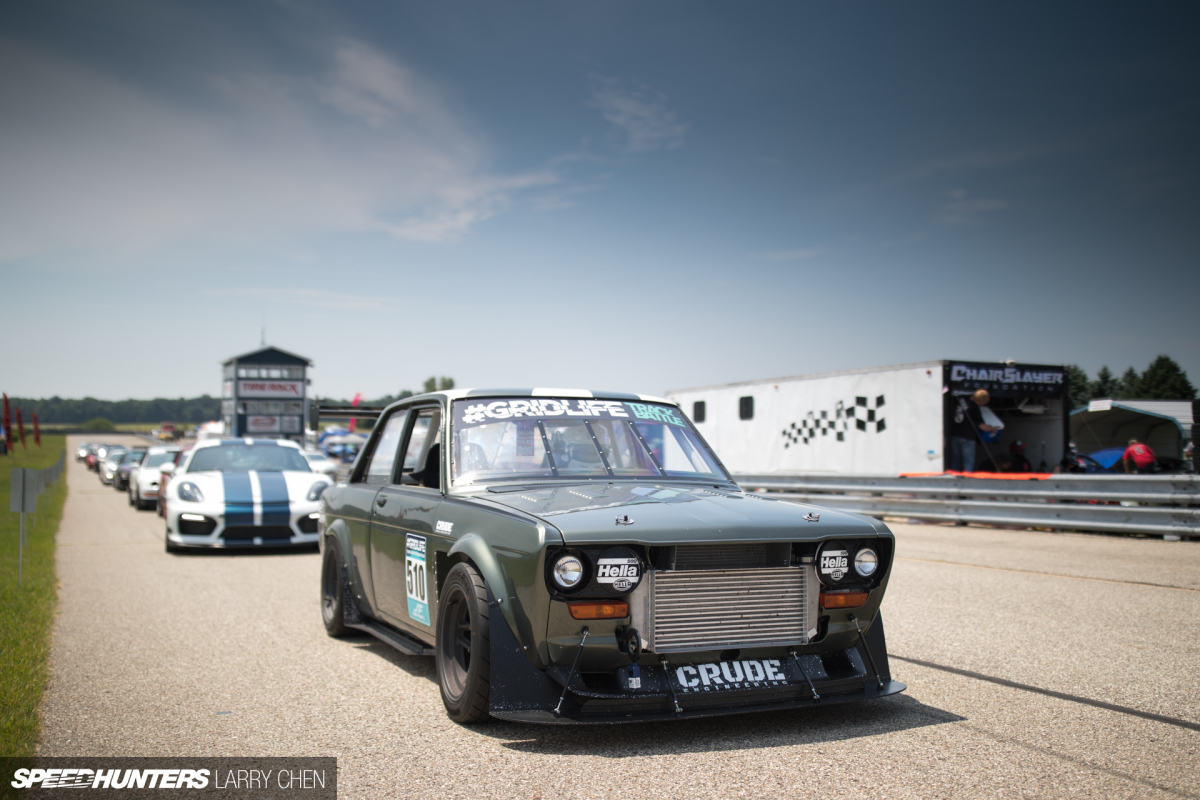 Throughout the course of the build Jordan says his primary goals have been cost, performance, reliability and availability. Initially he started with an engine he was already familiar with – the turbocharged Nissan KA – before moving to the aforementioned LS1 swap.
Enter The Ecotec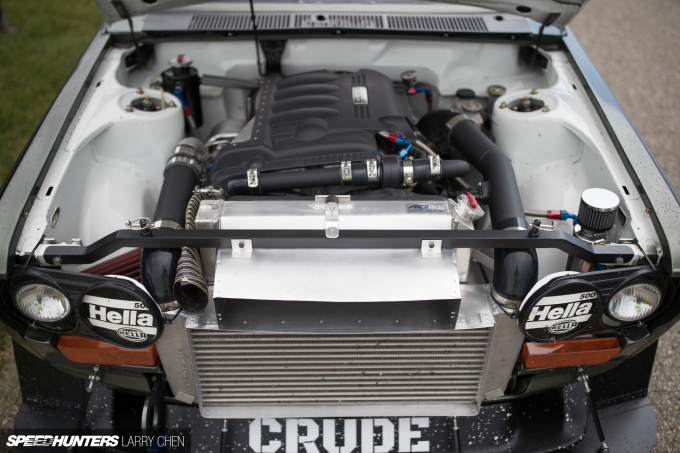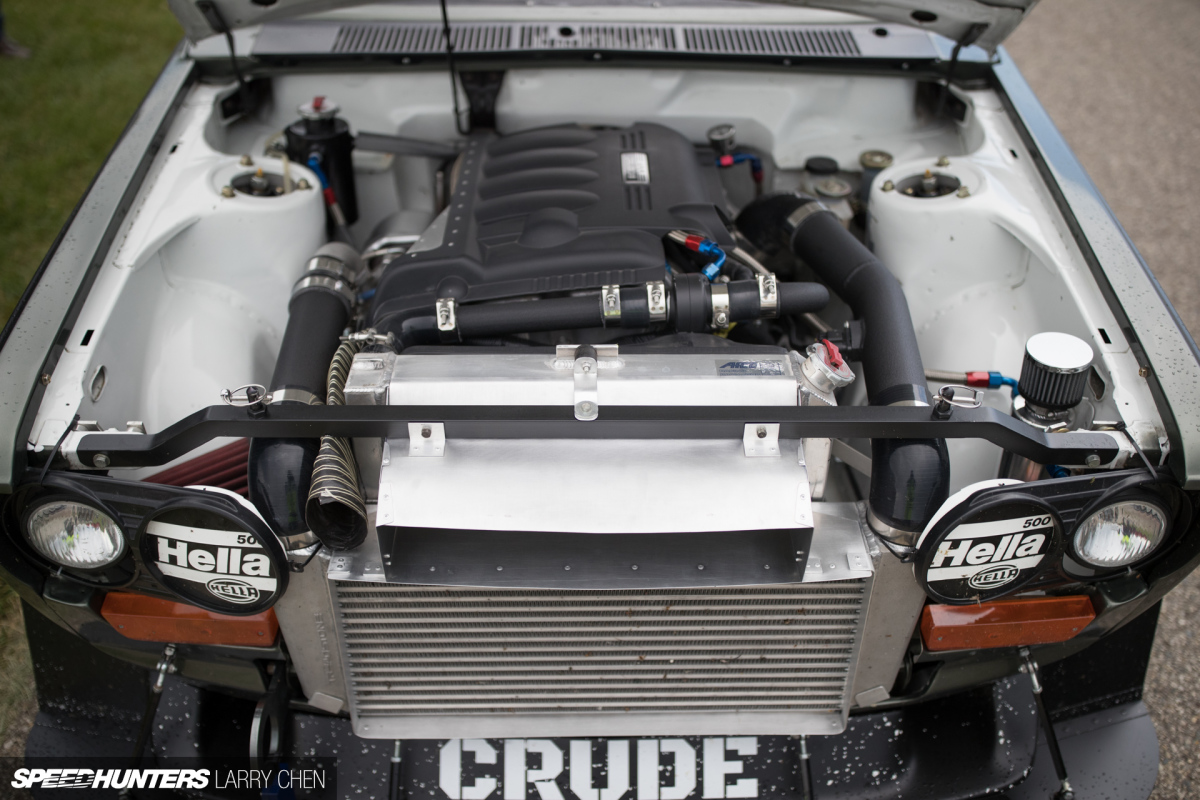 But after experiencing both the KA and the traditional V8 swap, Jordan got the itch to go in a completely different direction with the 510's engine setup. He'd found something that would make the car incredibly unique while still meeting the four overall goals he had with the build.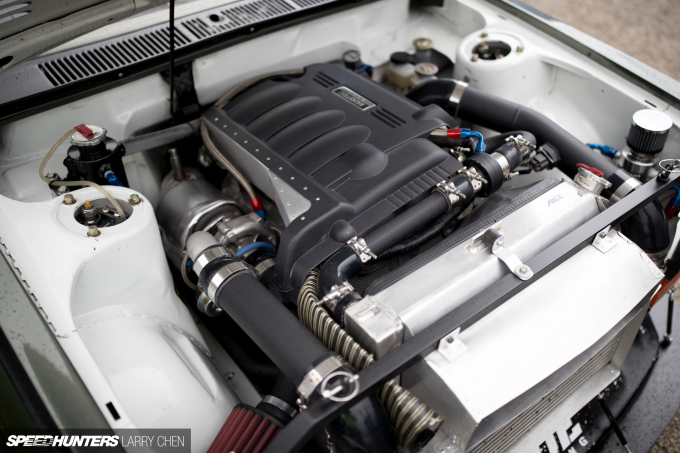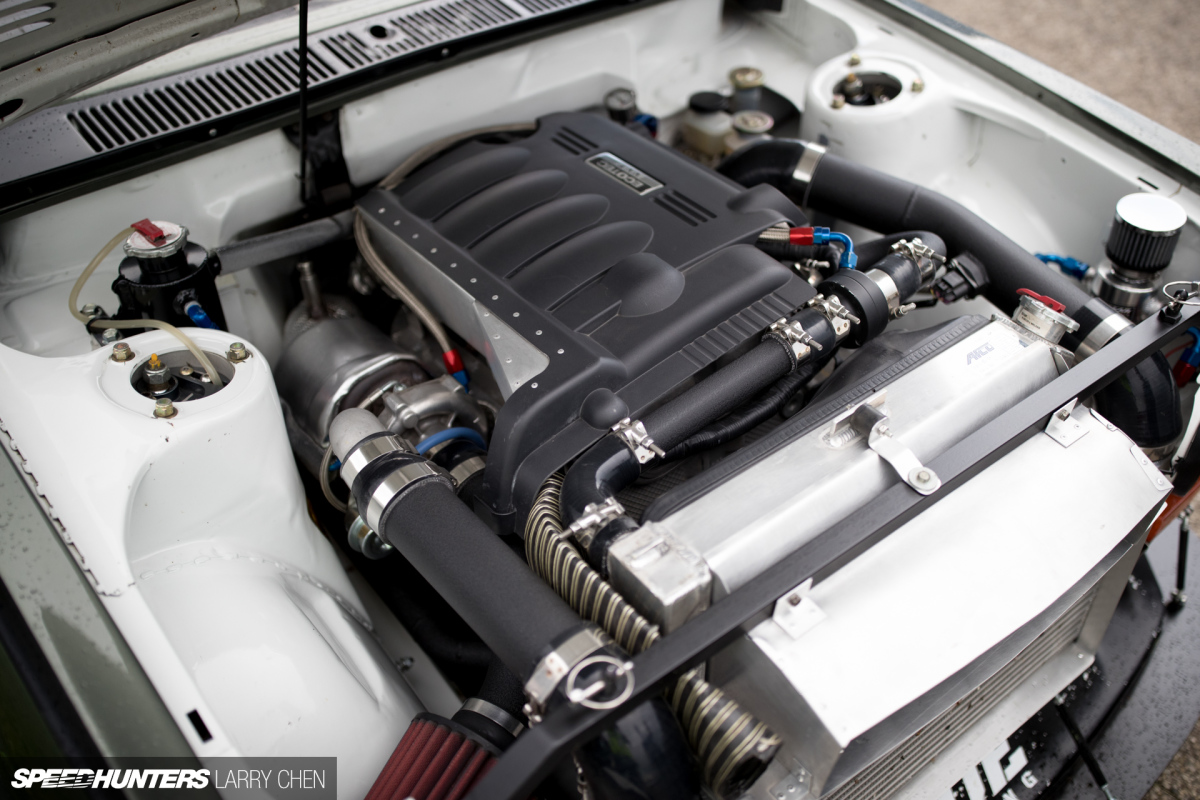 Meet the Ecotec.
While these late model GM four-cylinder engines aren't commonly seen as swap candidates for older cars, Jordan learned they've been used with great success in sand rails and other off-road vehicles.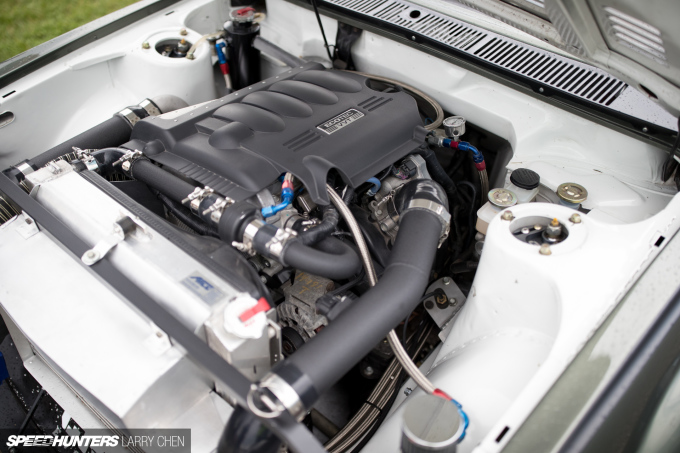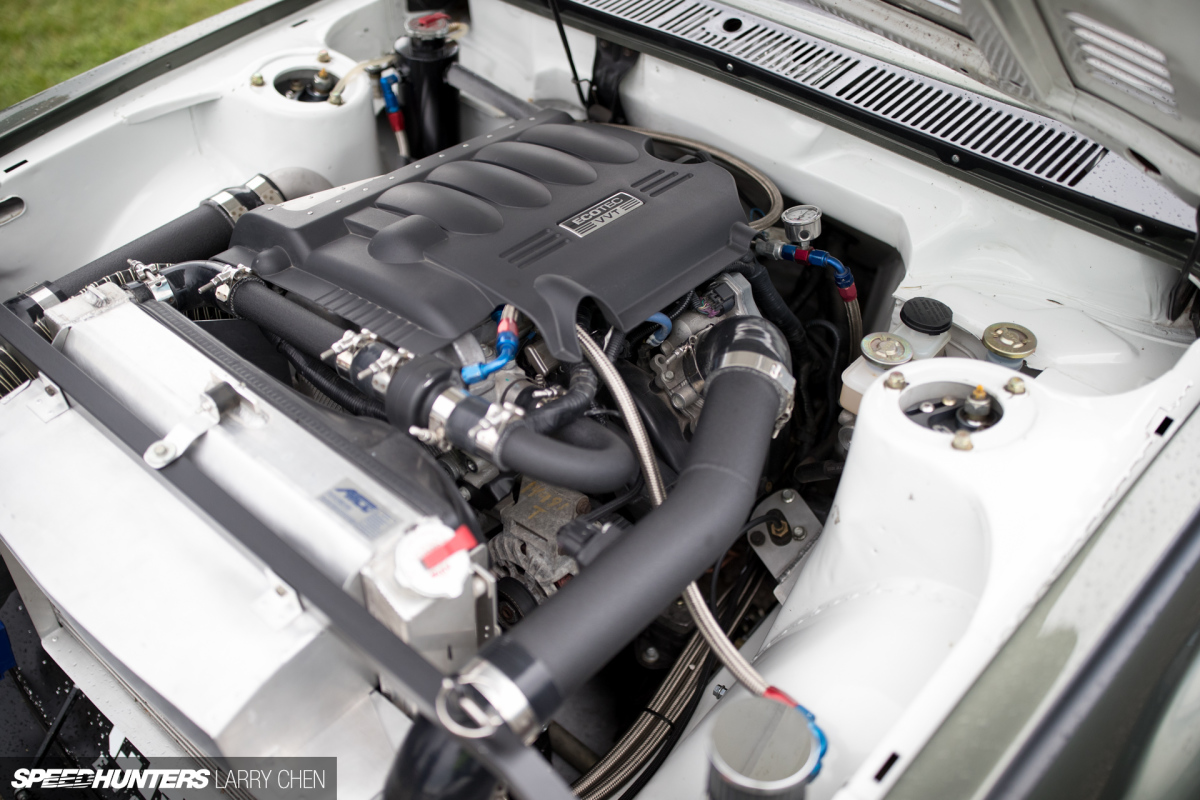 Better yet, the engines can be picked up for next to nothing and can handle large amounts of power without needing any major work. Components are also extremely plentiful. Jordan's 2.4-liter is mounted with Jeep motor mounts and mated to a 5-speed Aisin transmission from a Pontiac Solstice. The harness comes from a Chevy HHR and the ECU comes from a Monte Carlo.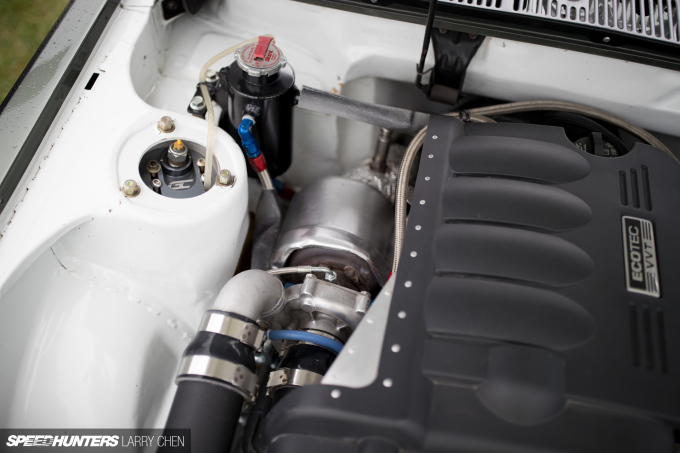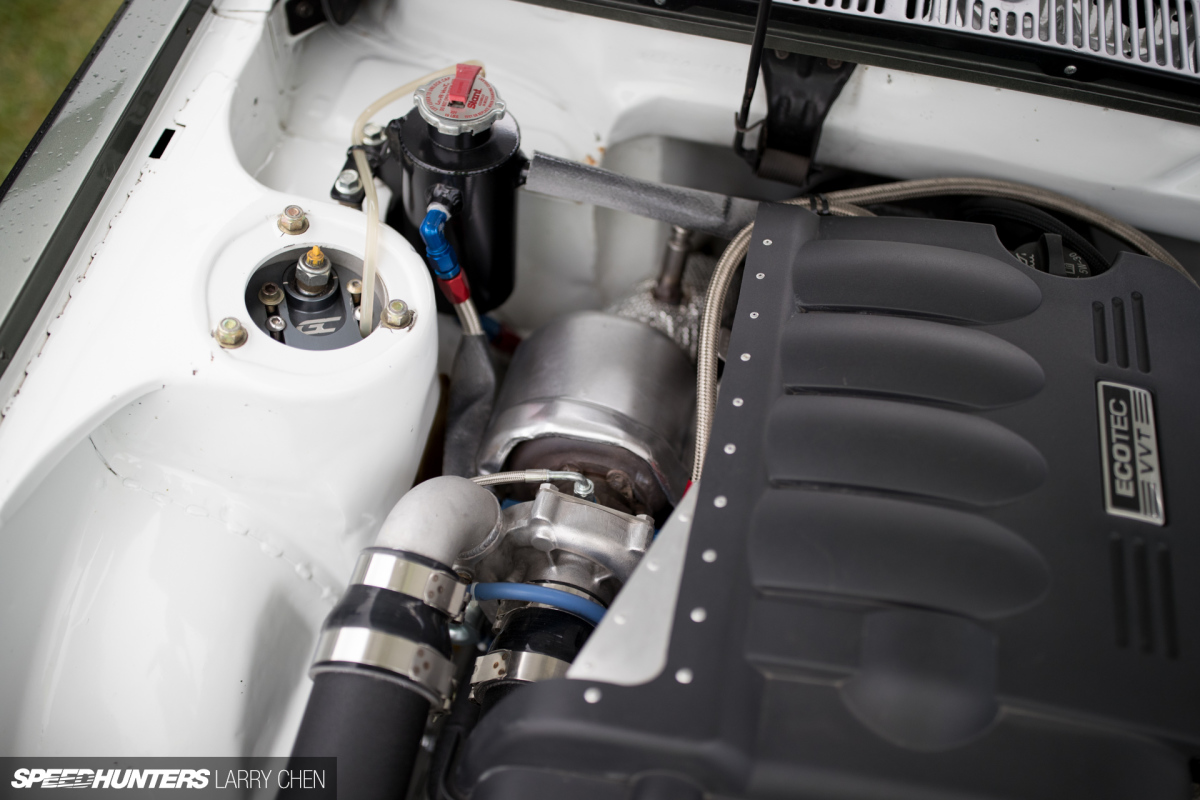 After running it as a naturally aspirated setup for a while, Jordan felt the need for more power and faster lap times. So he added a K04-based BNR GT2871 turbocharger on manifold from a 2011 Buick Regal Turbo.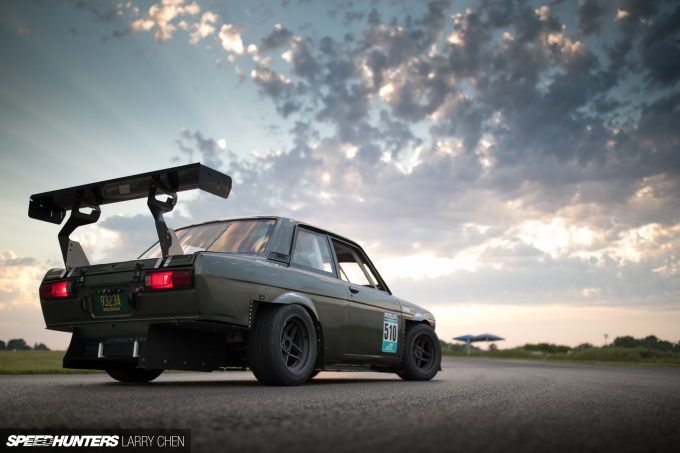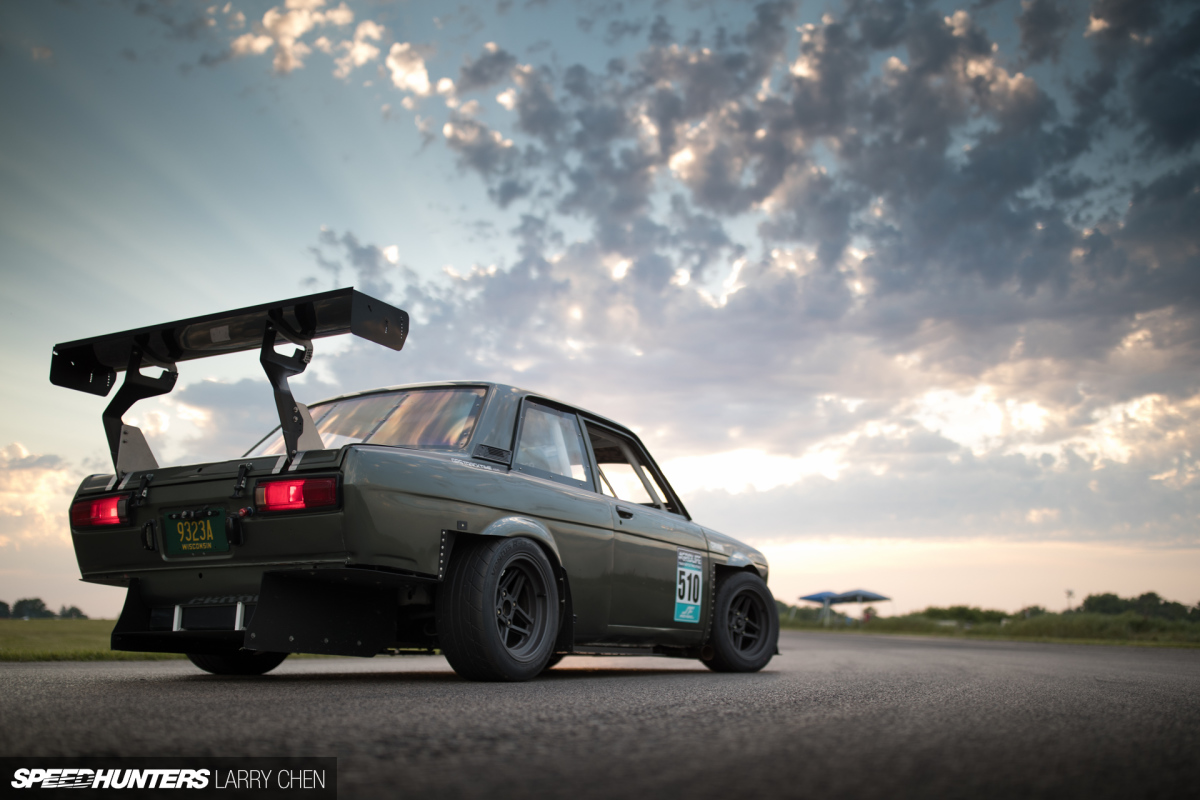 As Jordan has become more serious about using his car in time attack competition, the suspension and chassis have seen significant modifications too. Out back, the rear subframe and its 2004 Subaru STI differential sit two inches higher than stock. The track width is also six inches wider than a stock 510.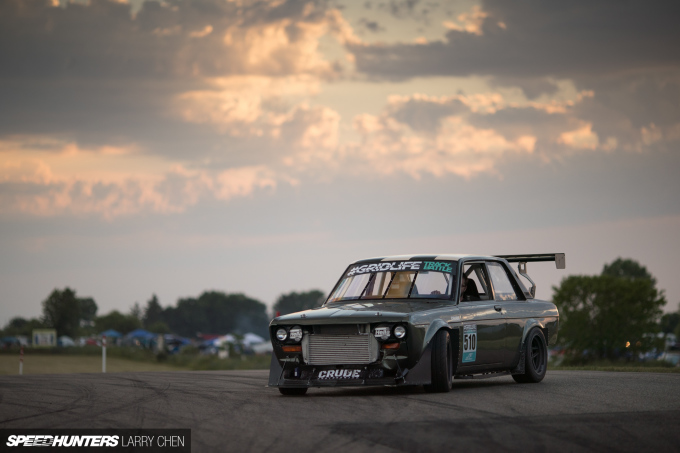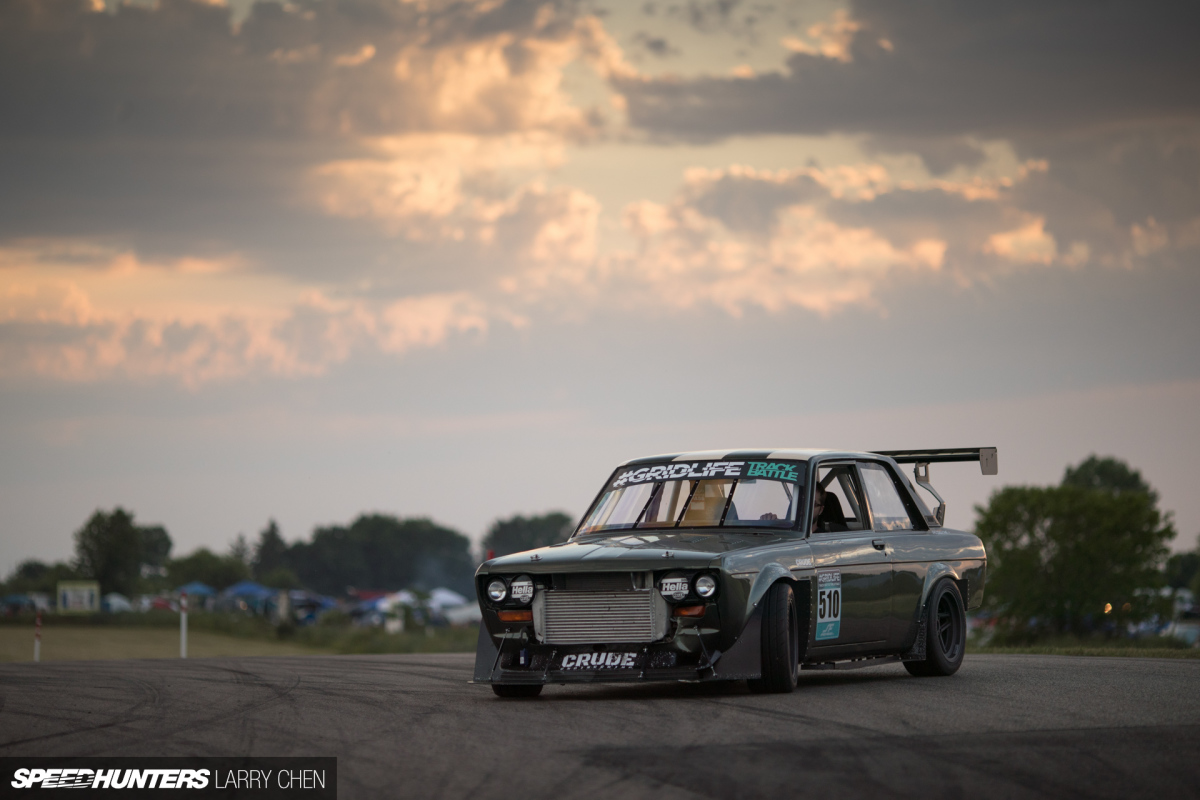 Elsewhere, there are custom Ground Control coilovers with Koni shocks, custom front control arms, adjustable sway bars and a Wilwood Dynapro brake setup with 4-piston calipers up front and 2-piston calipers in the rear.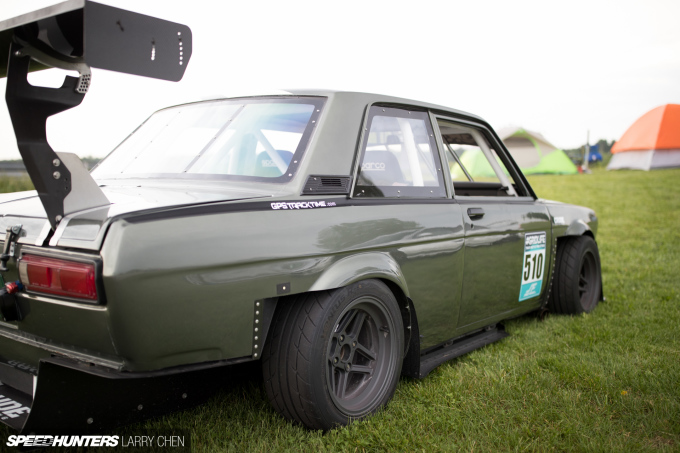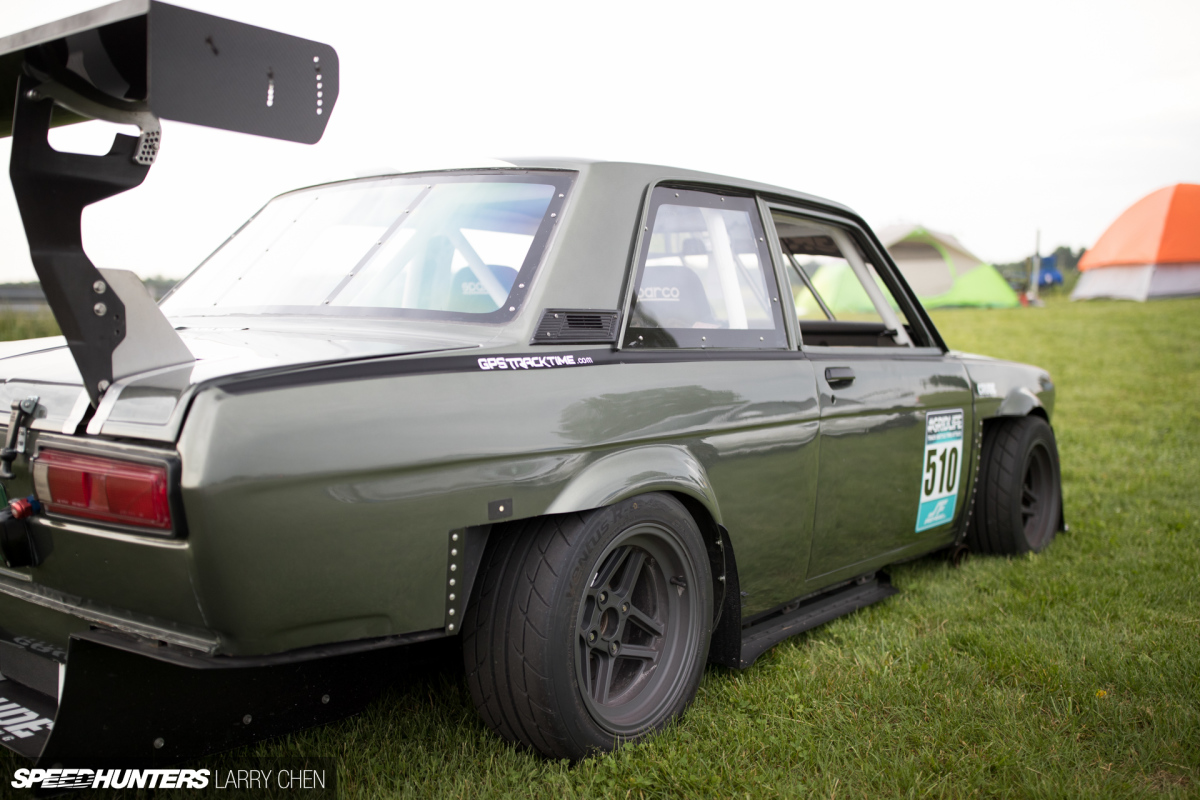 The 510's exterior has also grown to reflect the car's current purpose. Both the front and rear fenders are fiberglass, and there's a custom-made front splitter and an aggressive one-off diffuser out back.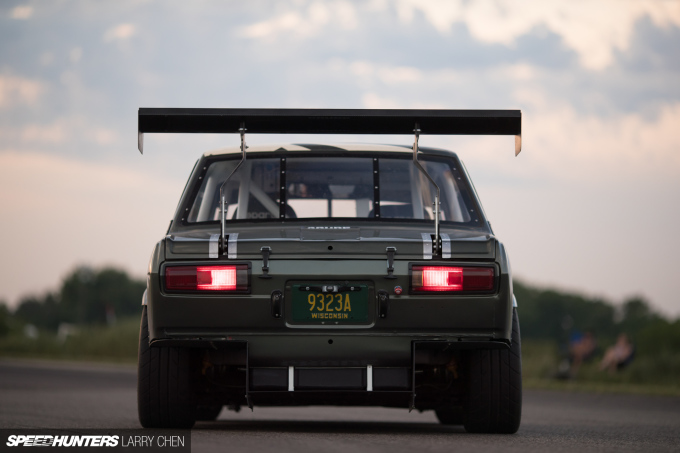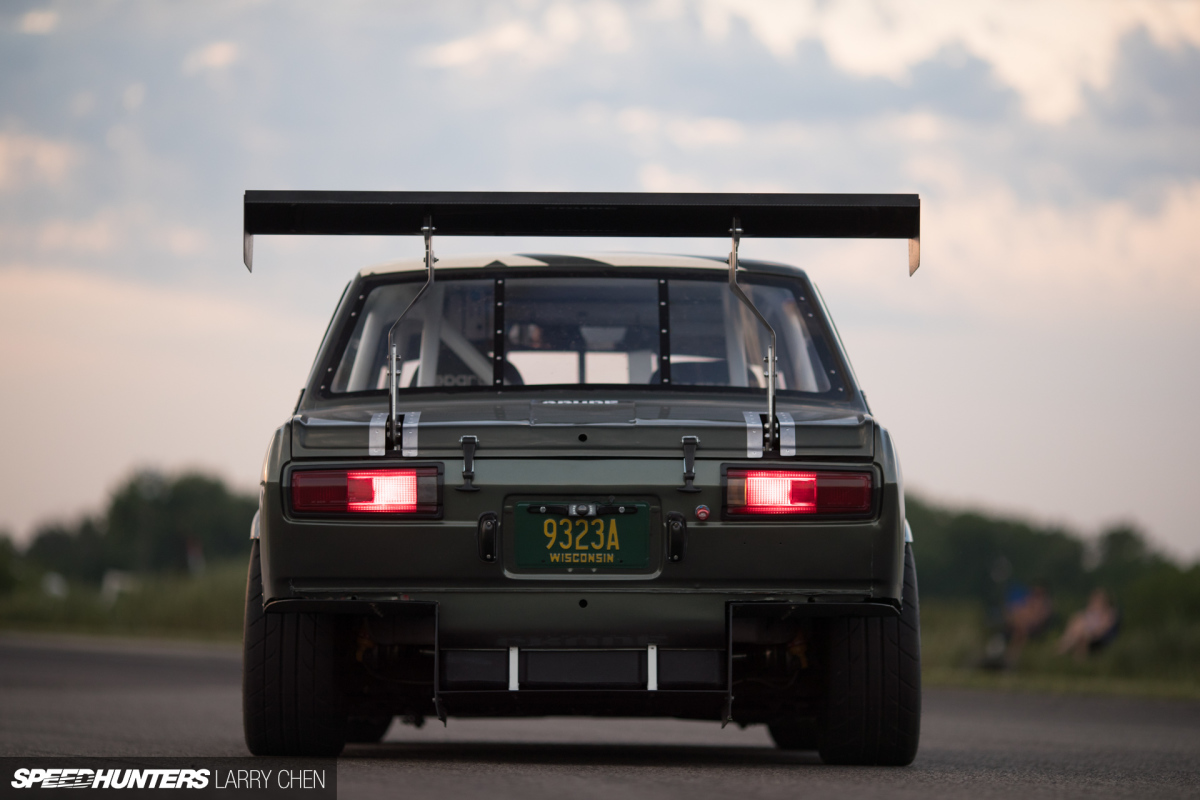 But perhaps most noticeable of all additions is the gigantic carbon fiber rear wing, which came directly off the 2013 Tequila Patron Ferrari 458 GTD race car. It seems you never quite know where old race car parts will end up.
From The Street To The Track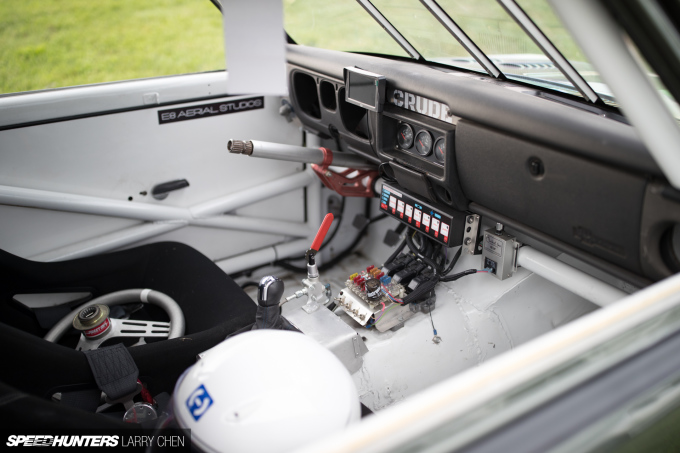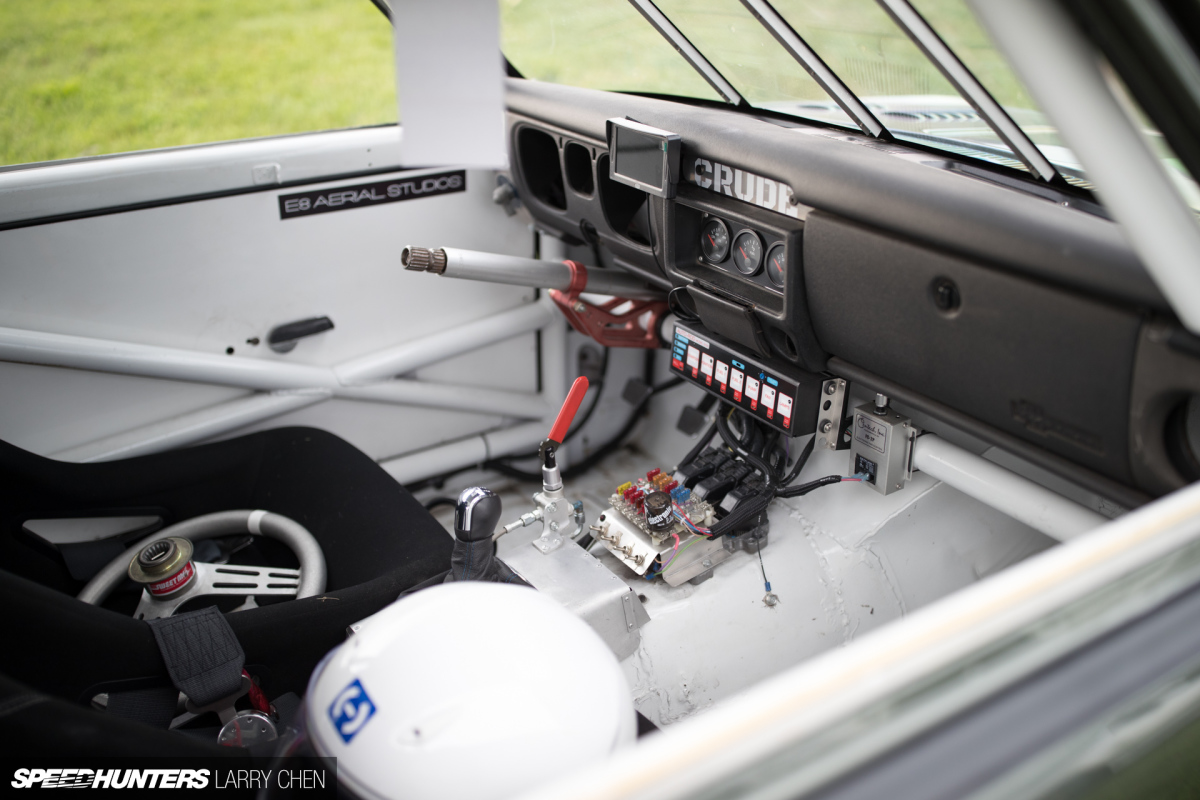 Inside the cabin of the Datsun you'll find a full cage along with a NASCAR-derived steering column and custom fuse and relay panels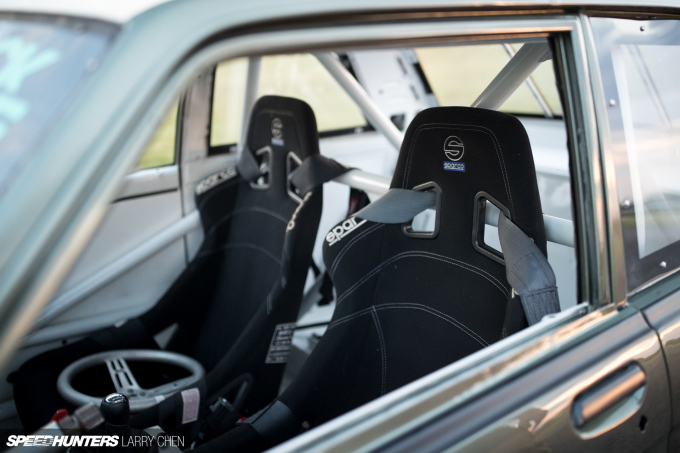 Seating for both driver and passenger is handled by a pair of Sparco Rev 5 race seats with matching harnesses. Lexan windows replace glass for their safety and weight savings.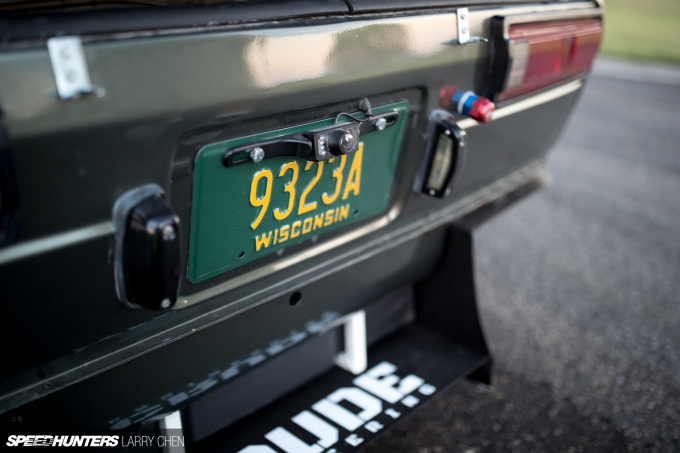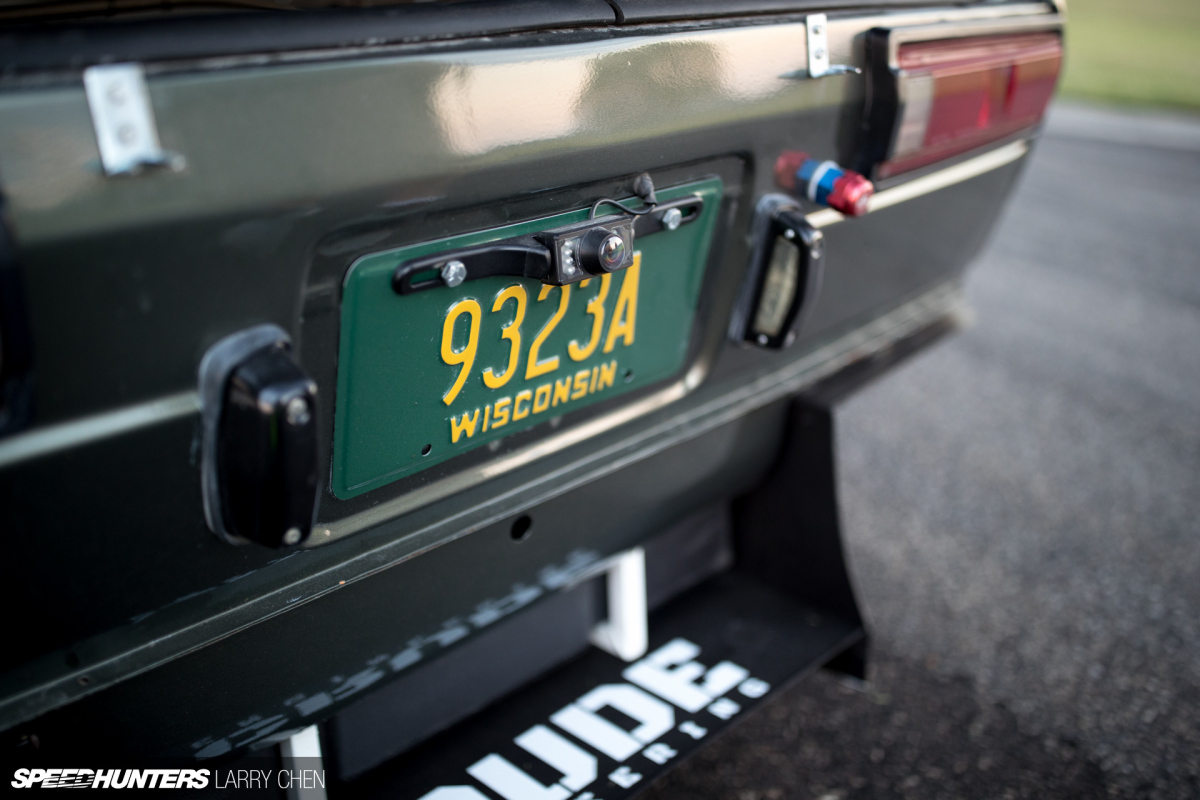 Despite the Datsun's continued movement toward becoming a serious track car, Jordan has been strict on sticking with street tires as he actually drives the car to and from every event.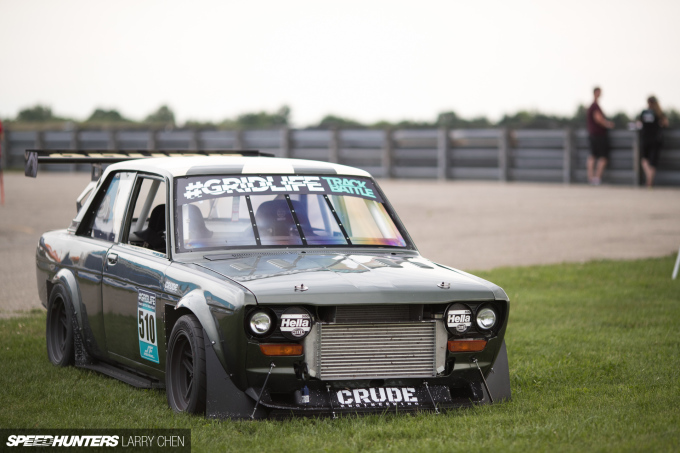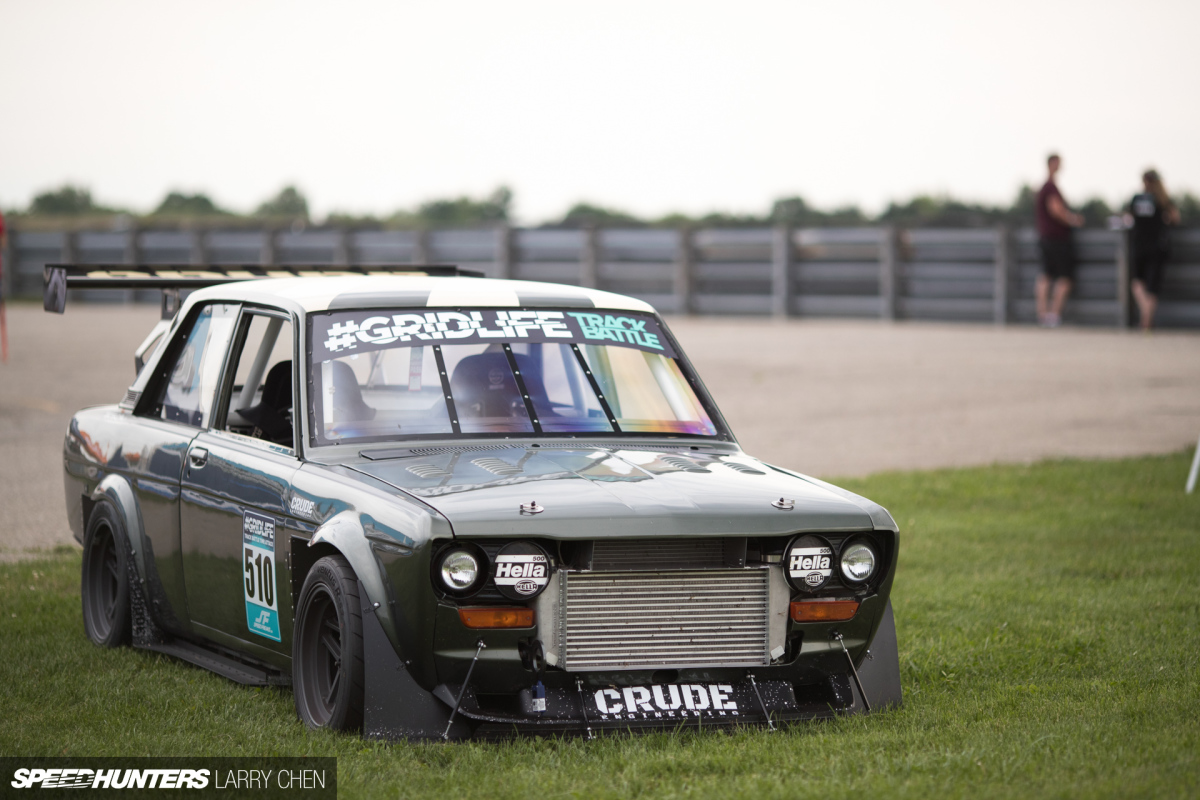 As he's grown from a weekend track day junkie into a time attacker, Jordan has learned a ton about setting up a car. In the last five years or so the Datsun has gone from a fun but sketchy ride, to a legitimately fast one with tons of grip to match its horsepower.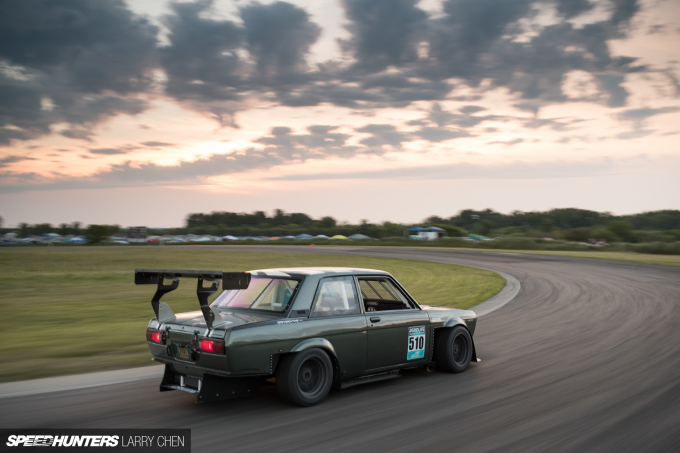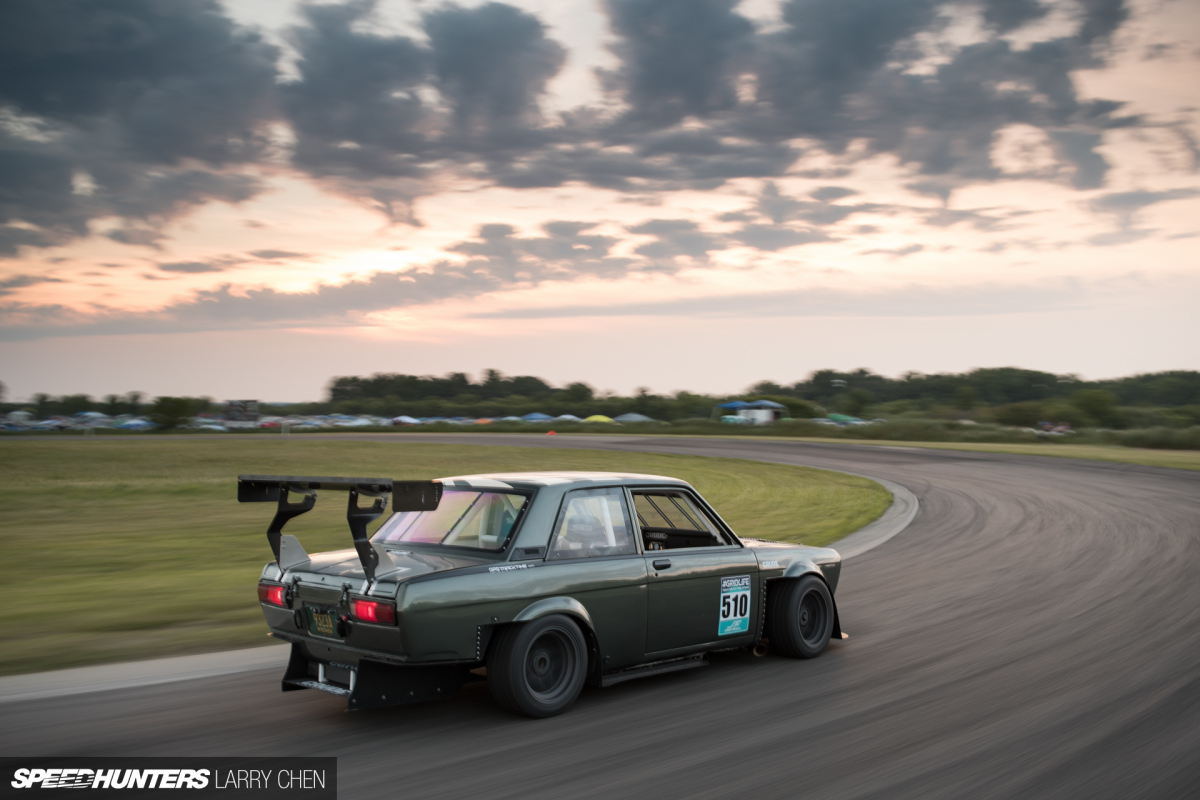 But as with any long-term project, the 510 is far from complete. Jordan's future plans call for a new, lighter rollcage, an improved fuel system and an upgraded steering rack.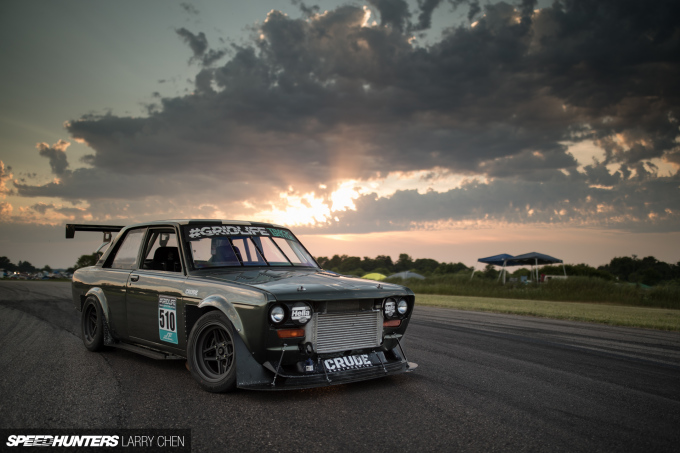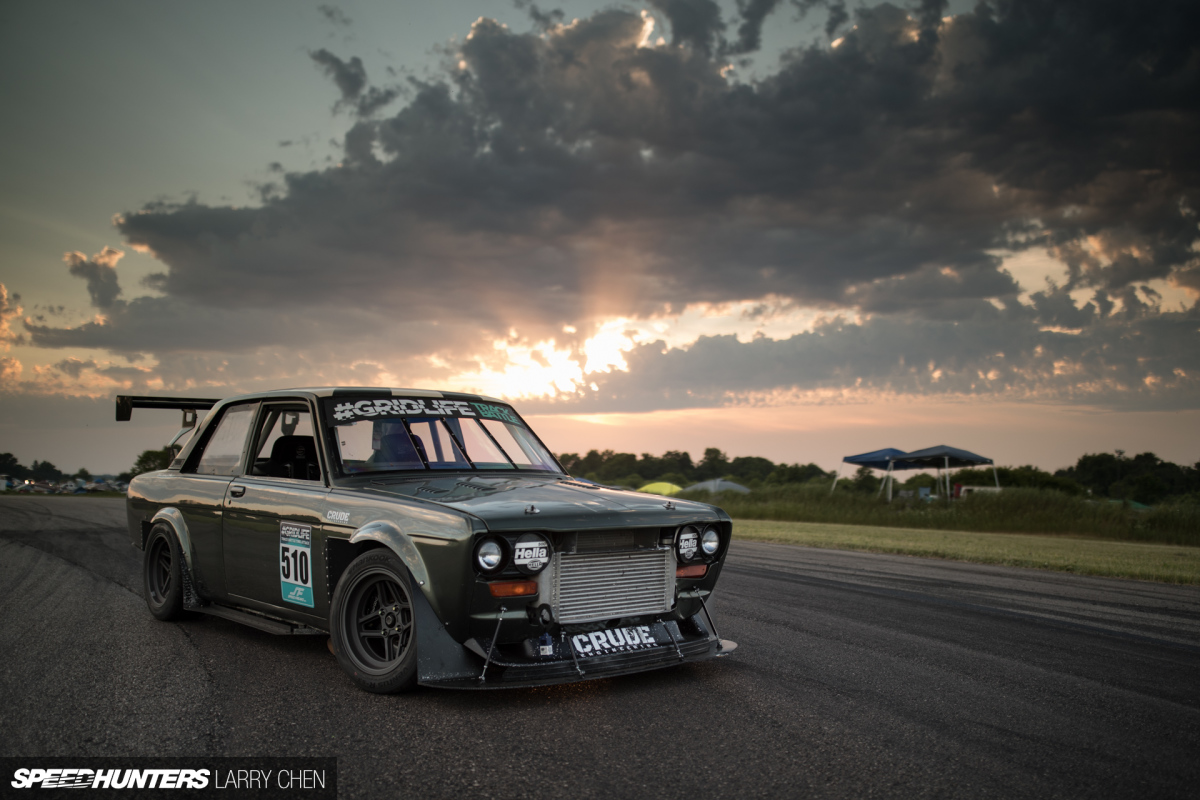 It's not a period correct vintage racer, nor is it a flashy show build loaded up with pretty looking high-dollar parts. It's a well-engineered, fast and functional track machine that also happens to look damn cool while having one of the more unique engine setups you'll ever find in an old Datsun.
Jordan, our hats are off to you.
Mike Garrett
Instagram: japanifornia
mike@speedhunters.com
Photos by Larry Chen
Instagram: larry_chen_foto
larry@speedhunters.com
Cutting Room Floor