Since recently reinstating our popular I Am The Speedhunter program, we've been receiving story submissions from all around the world, many of which are leading us to some simply amazing builds. Case in point, Adrien Faure's spectacular body-dropped and boosted Volkswagen Karmann Ghia from Landivisiau, France.
With Adrien's brother Maxime on camera duty, we're happy to be able to bring you this spotlight post on what is a stunning custom creation, but of course it wasn't always this way.
When Adrien picked up the car in 2010 and embarked on project, it threw up a few surprises. "It was my dream car, but I discovered that it was very rusty," he says. Such things are to be expected when you start stripping an old car back to its bare bones, but in this case it necessitated the purchase of another car. In its final form today you're looking at 1966 body slung over a '71 left-hand drive floor pan and running gear, but that's just the start of it…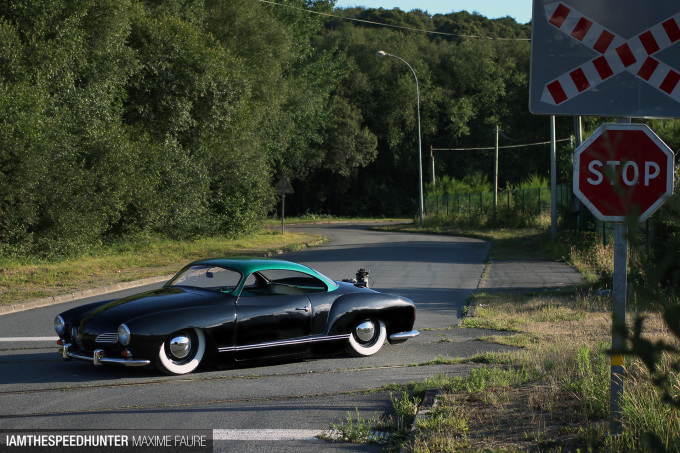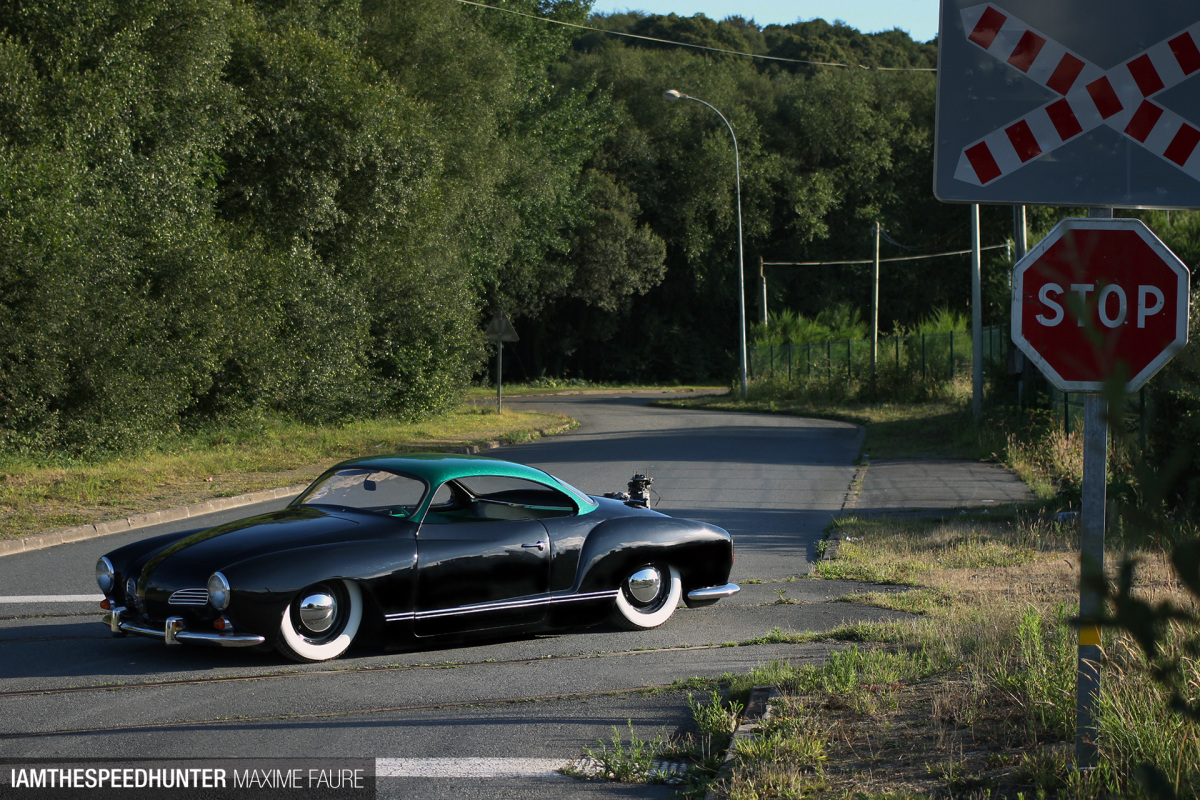 From the outset, Adrien wanted his VW to cut a super low profile, but what he had in mind entailed a little more than just dropping the ride height. The floorpan itself now sits two inches higher up than factory, the front beam was narrowed by 4.8 inches, and drop spindles were added. If that wasn't enough, four inches were chopped out of the roof height – the most difficult part of the build Adrien tells us – and an air-ride system originally designed for a Honda Civic was adapted to fit.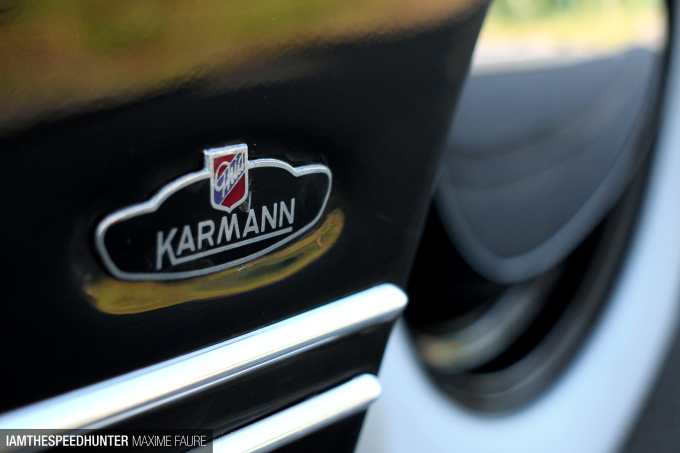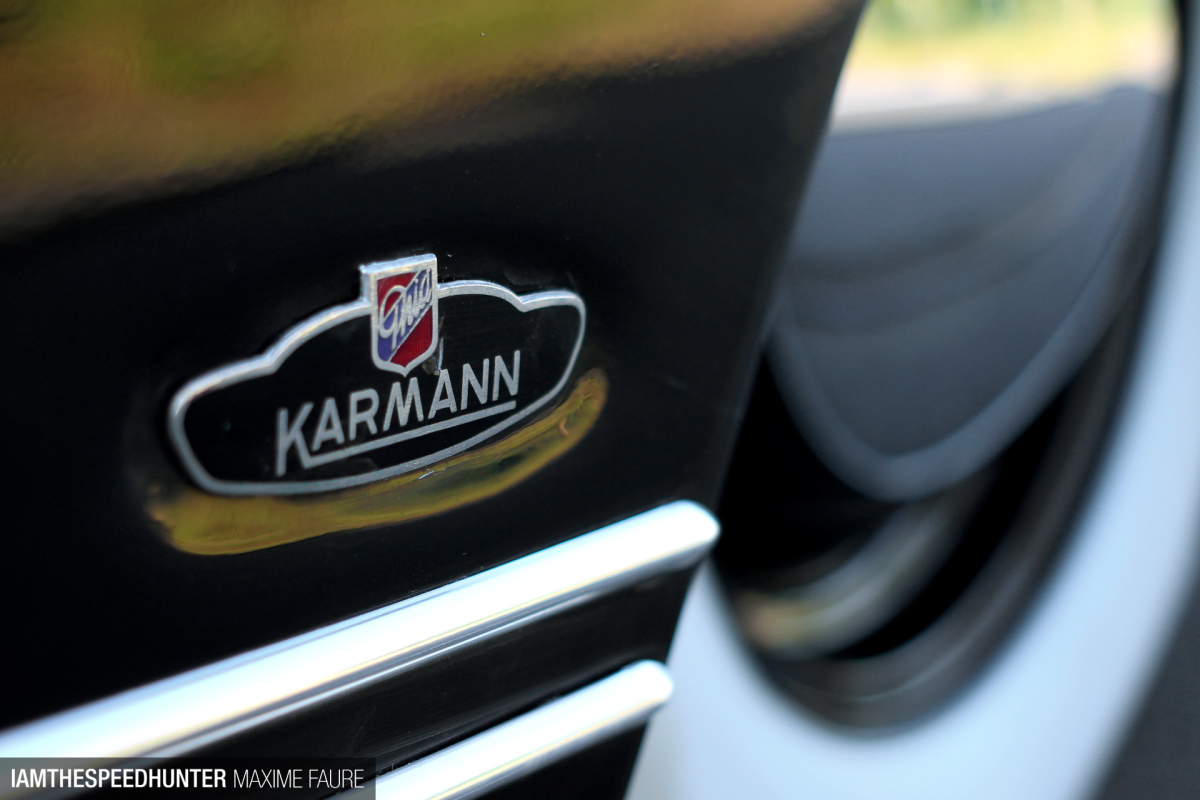 Once all the metalwork was complete, the Ghia shell was completely smoothed out and resprayed black with a green metal-flake wrap for the roof. Coupled with the chrome trim, polished European-spec bumpers and US-spec tail lights, the result is visually stunning.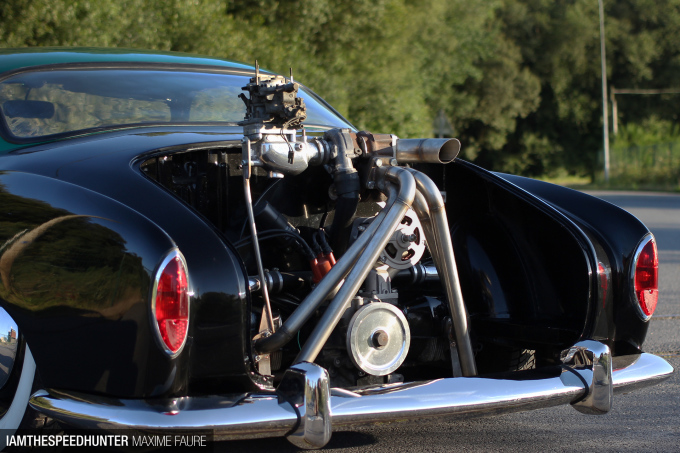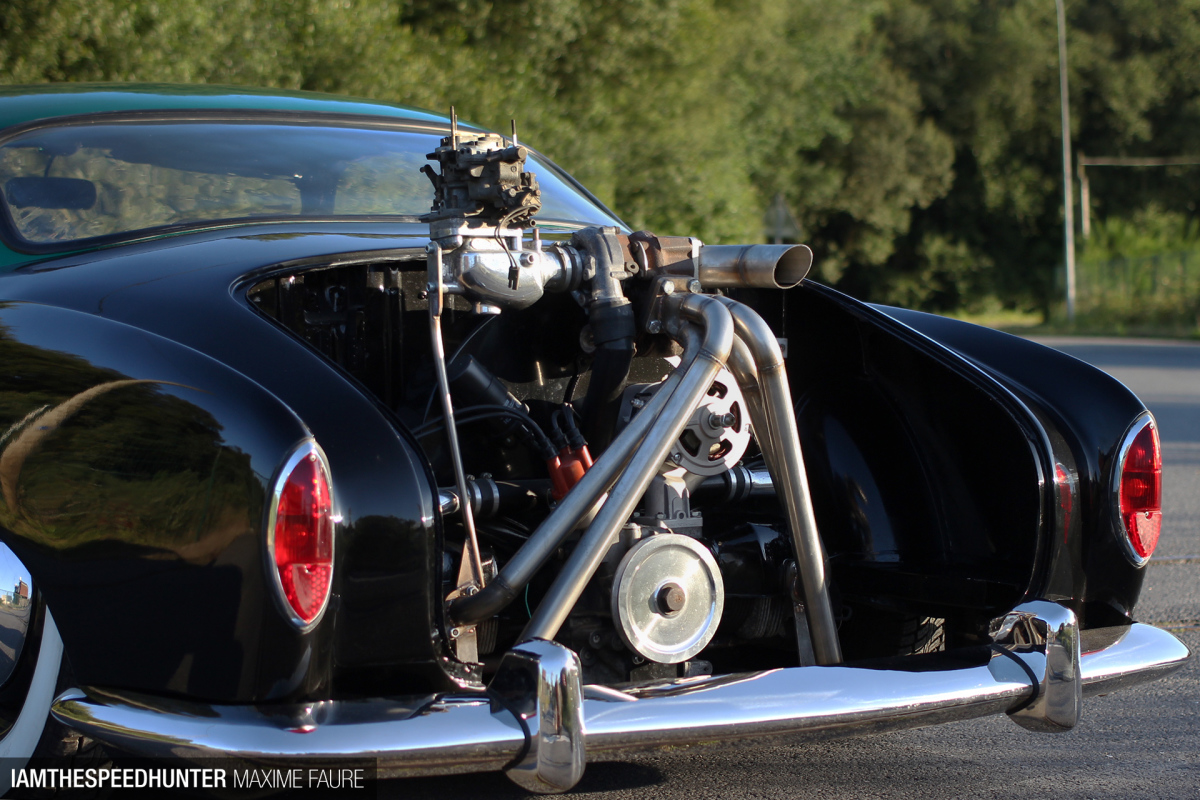 Adrien could have easily stopped there, but quite obviously he didn't. One of the defining aspects of this build is the engine, which is proudly on show out back and taking the definition of a 'high-mount' turbo to another level. Perched on a wild homemade tubular manifold, the forced induction setup utilises a Renault R5 Alpine Turbo carburettor and a VW Passat turbocharger in a draw-through configuration for a little more power and a great sound to boot.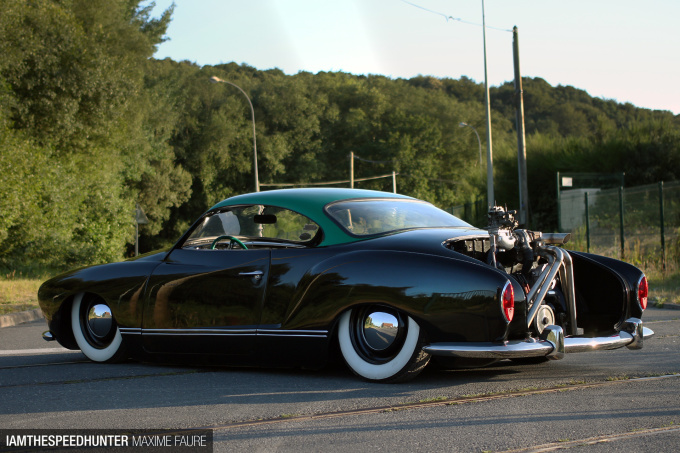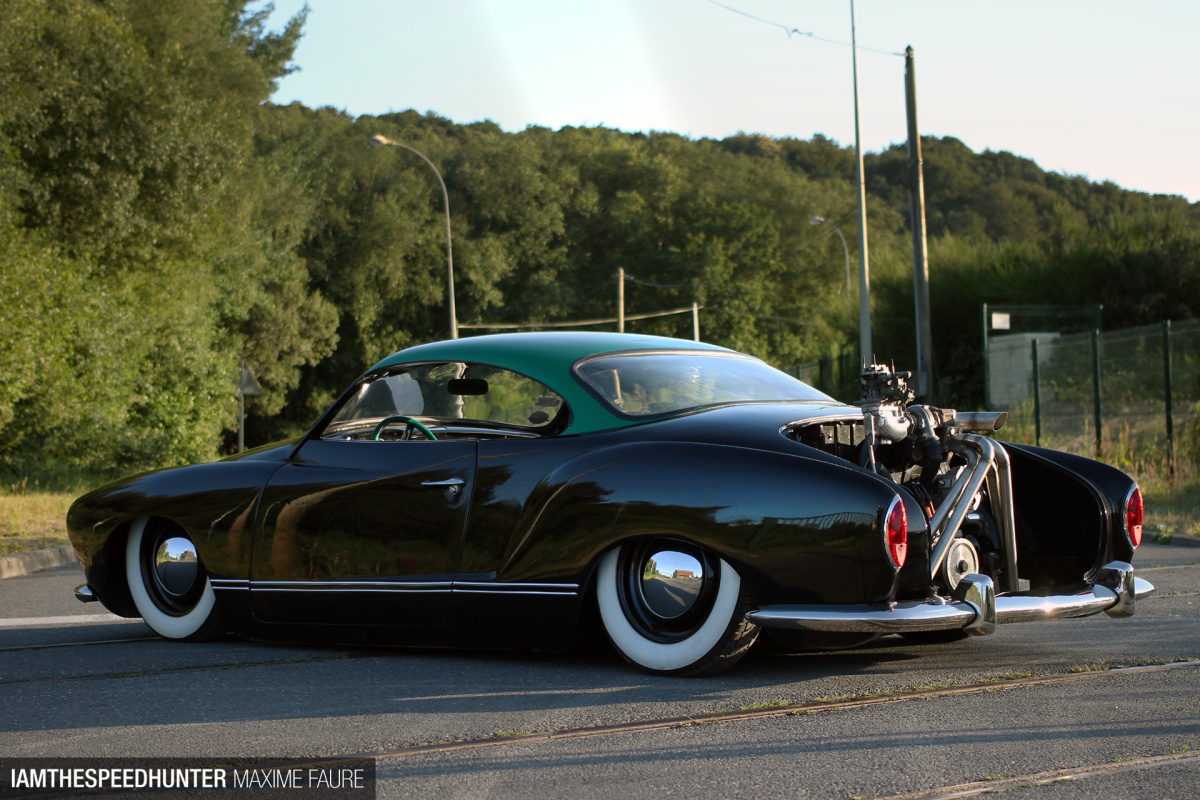 We've all seen American hot rods and customs with big block Chevy V8s and the like erupting through their hoods, but while Adrien's boosted 1600cc flat-four could hardly be compared to something like that, the same thinking still applies. In this application, we think it's pretty damn cool.
And how good do the white-wall tyres on factory '67 steel wheels with chrome hubcaps look? All the better when the switch is flicked and the Ghia sinks down on its air-ride.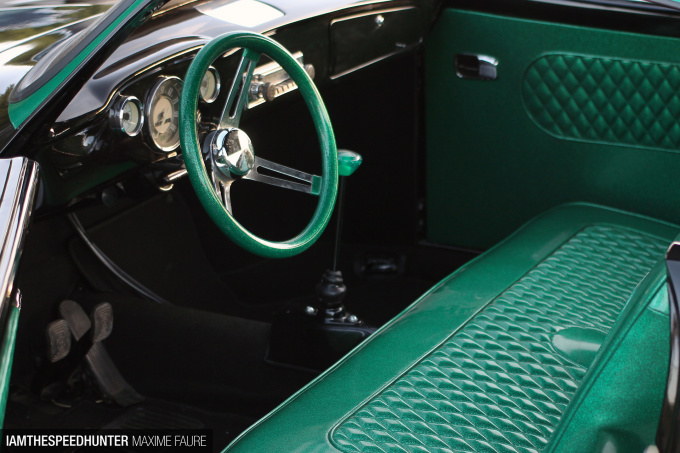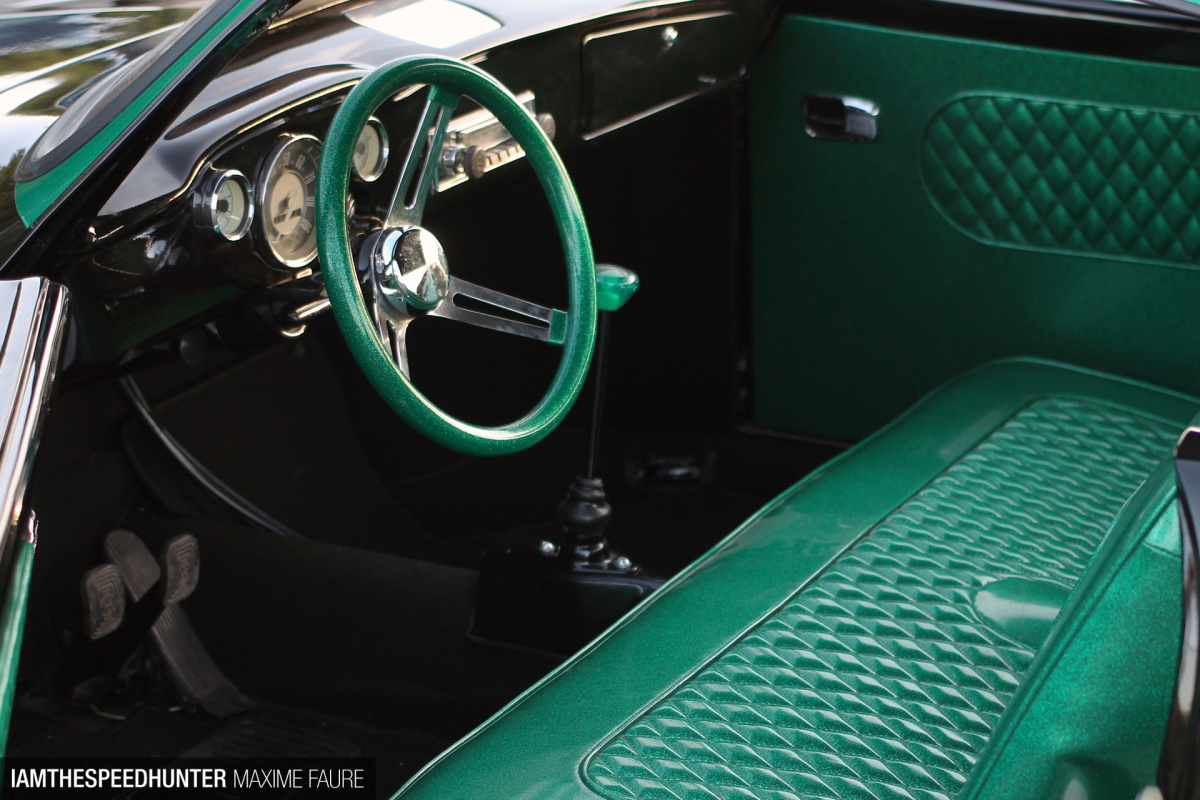 Inside, there's more beauty in simplicity. The green sparkle steering wheel, shift knob and custom trimmed seats and door panels tie in perfectly with the roof. Another feature of the interior is the '67 Karmann Ghia dashboard, Beetle rear seat with polished compressor tank for the air suspension, and custom engraved door scuff plates featuring Adrien's daughters' names.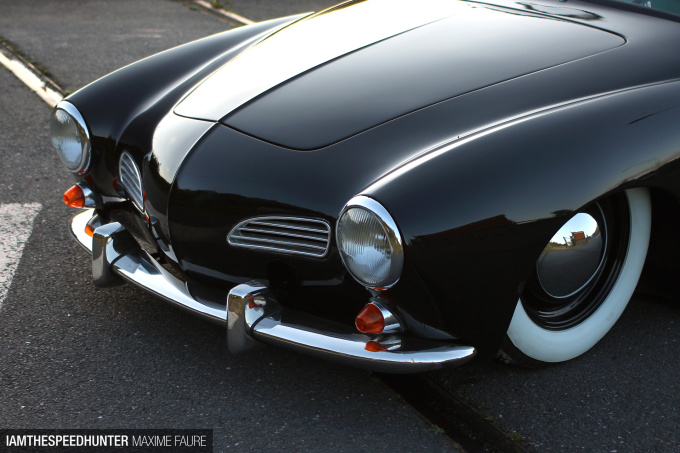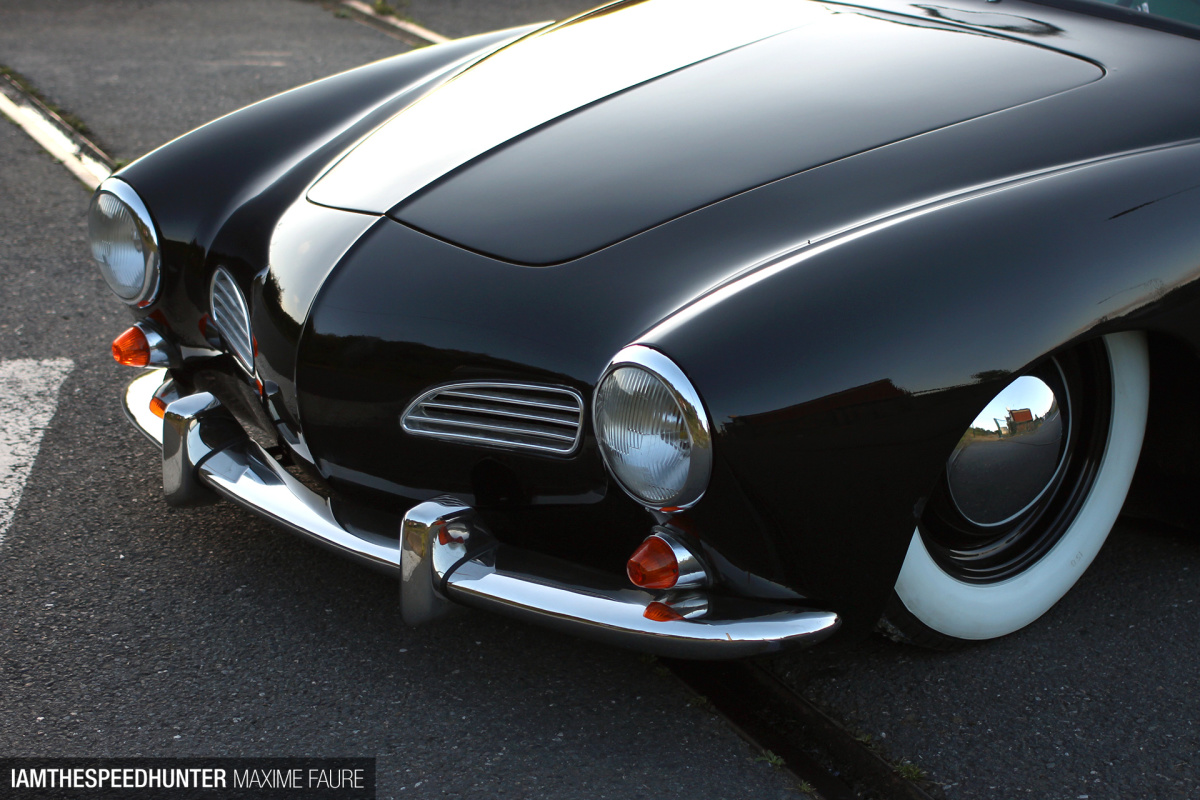 As with all custom projects, there are a number of ways Adrien could have approached this build, but we get the feeling he wouldn't do it any other way given half the chance to do it again. "It's very cool to drive this car," he says. "She is very low, so other drivers smile when they look at her." That's not hard to understand – we're smiling too.
Since completing the Karmann Ghia project, Adrien shifted his attention to yet another unconventional but equally cool build, this time involving a Renault Dauphine and a Yamaha sport bike engine, but that's another story…
The Speedhunters
iamthespeedhunter@speedhunters.com
Photos by Maxime Faure