Setting The Standard
Drifting isn't typically a fast form of motorsport. Not when compared to other forms of top-level motorsport anyway, but then that's not really what the sport is about.
Sure, we hear drifters talk about their big entry speeds, but most drifters are sideways with a corner speed of 50mph at best, and more often much less. Even amidst the current horsepower and traction wars of pro drifting, speeds are still relatively low, all things considered.
What if someone wanted to go very fast and sideways though? What if someone wanted to be faster than everyone else?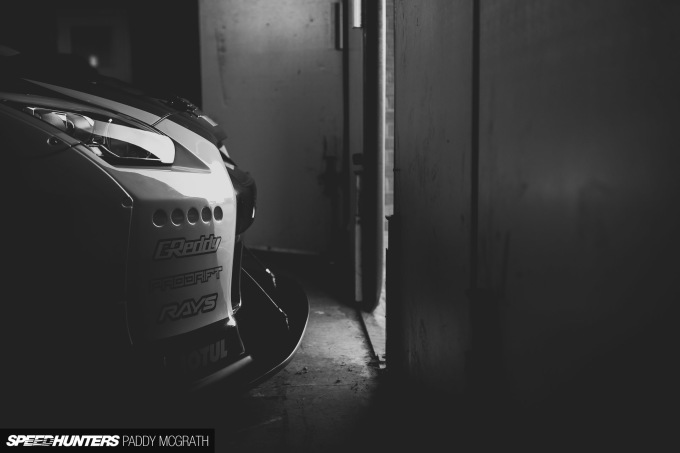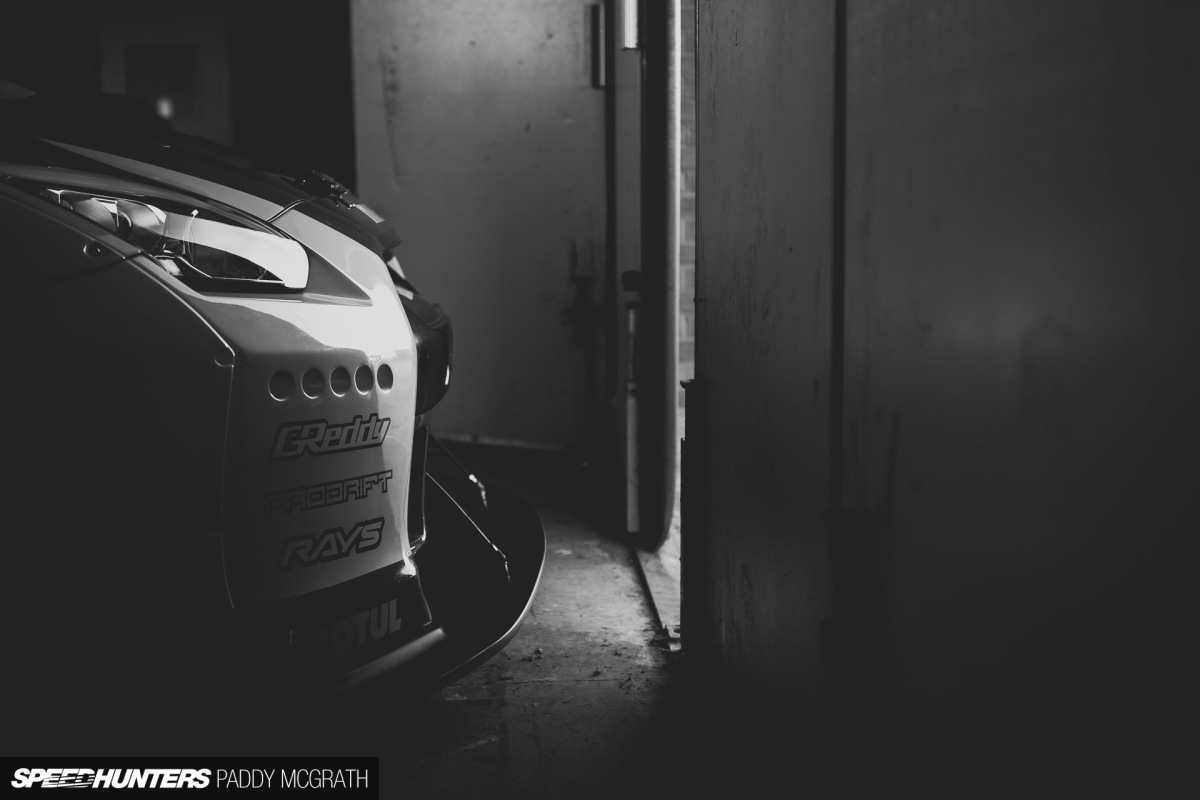 First, you would need to lay down some rules and establish standards. You would need a standard form of measurement, something that could be repeated anywhere around the world. This is where Guinness World Records come in. In 2013, Jakub Przygonski from Poland set a world record of 217.973km/h (134.44mph) for the fastest ever drift by drifting at an angle in excess of 30 degrees through a timed 50-metre long zone, adjudicated by GWR. This became the target to beat.
It does seem a bit arbitrary and maybe oversimplified too, but it is the standard by which others must now be judged. Carry a 30-degree angle drift through a timing beam, maintain the drift at the minimum amount of angle, before breaking a second timing beam 50 metres later. It all sounds a bit easy, right?
Far from it. When Masato Kawabata got behind the wheel of Nismo's GT-R Spec D on March 3rd this year, his aim wasn't to just beat the record – he wanted to annihilate it. There was one problem though. Nobody could say for certain what would happen to the car when pitched sideways at 300km/h. How would its aerodynamics perform when the car was travelling sideways through the air and not forwards? What would the tyres do?
Putting these thoughts out of his head, Kawabata would head down Fujairah International Airport's 3km runway three times that day, as the sole occupant of this 1,390hp GT-R, built specifically for this purpose. And three times Kawabata would beat the world record. His slowest run clocked in at 273.39km/h with a drift angle of 55.21°, completely eclipsing Przygonski's three-year record. His next fastest run was 296.79km/h at 34.42° with his fastest run being 304.96km/h at 33.56°. That's not his entry speed, Kawabata was travelling sideways at 189.49mph, looking out his side window with his right foot pinned to the floor leaving a trail of vaporised Toyos in his wake.
And this is the car he did it in.
From The Middle East To Japan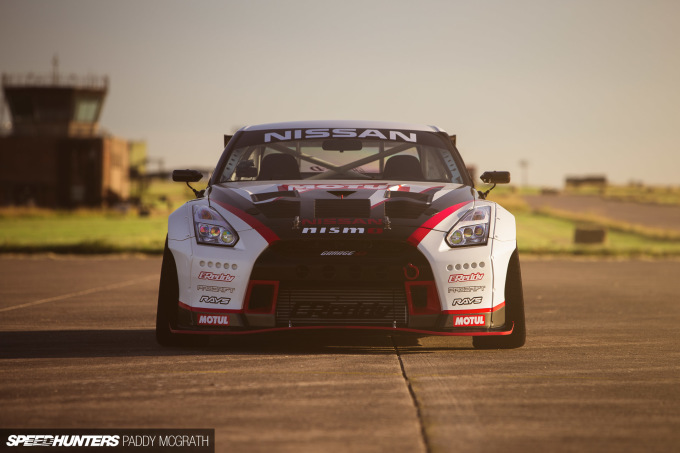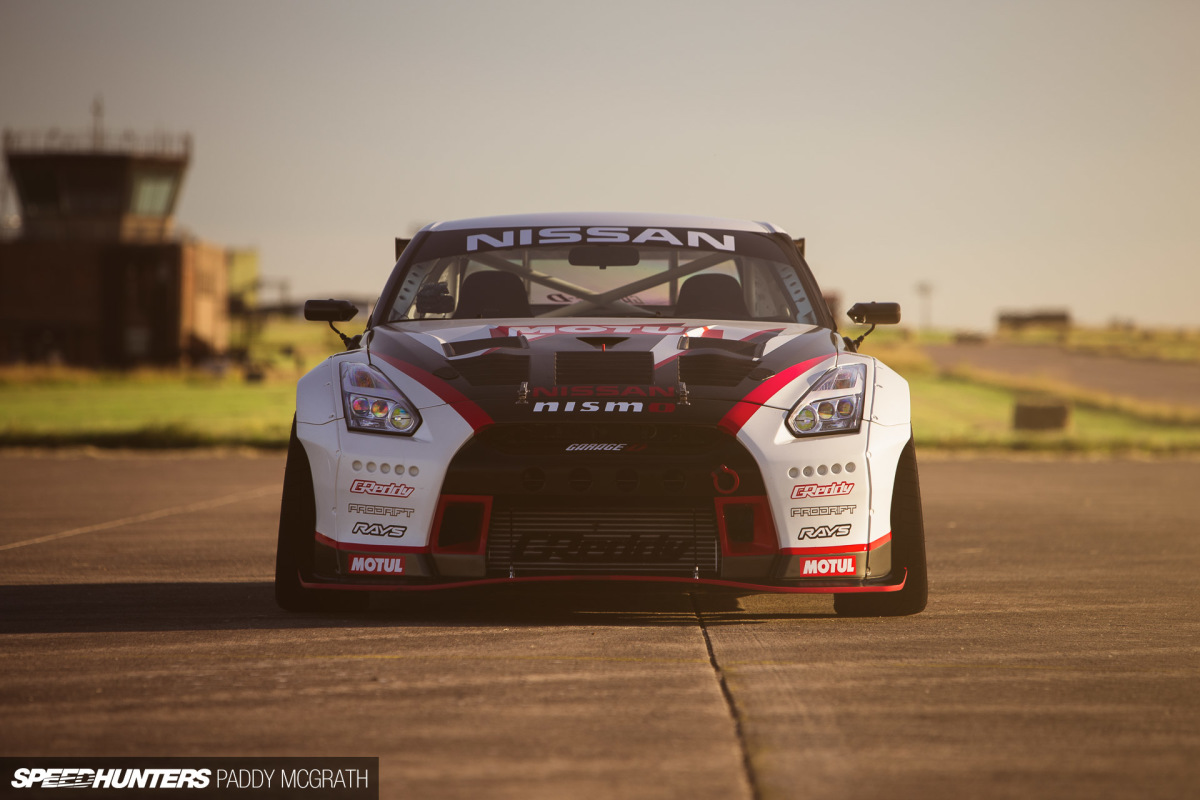 So, what exactly makes a world record-setting drift car? First, you start with a brand new MY2015 GCC-specification GT-R street car and have it shipped to Japan from Dubai (Nissan Middle East commissioned the project with Prodrift Academy), to world famous tuner GReddy. Nismo and GReddy work incredibly close these days, close enough that Nismo is happy to trust GReddy with such an important project. GReddy's extensive drift history would prove a huge advantage as well.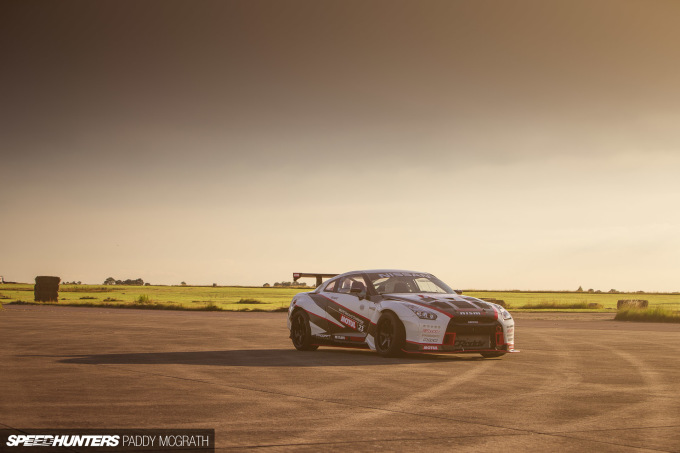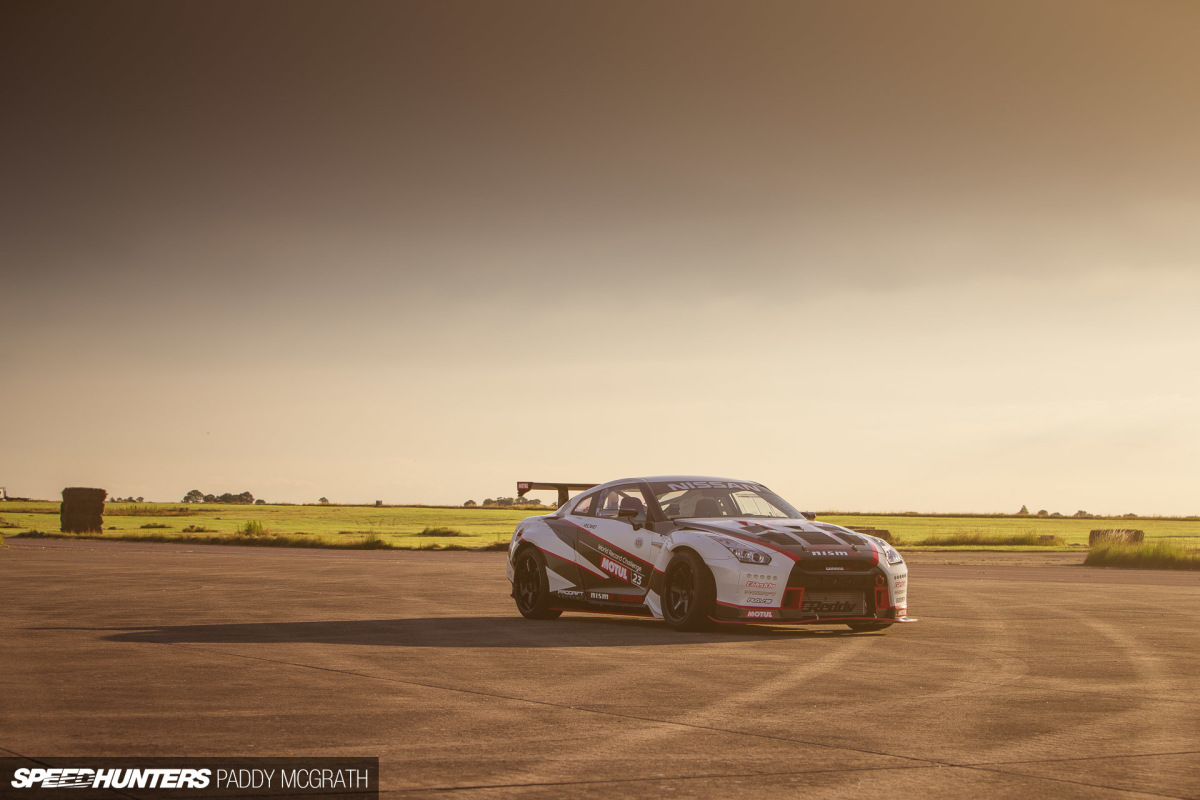 When you think GT-R, you will almost immediately associate it with the car's renowned four-wheel drive capabilities. It goes without saying that pure drifting is about rear-wheel drive cars, so the car had to be converted as such. It's no longer a case of pulling a fuse et voilà, your GT-R is RWD; it's a far more complex job on the R35.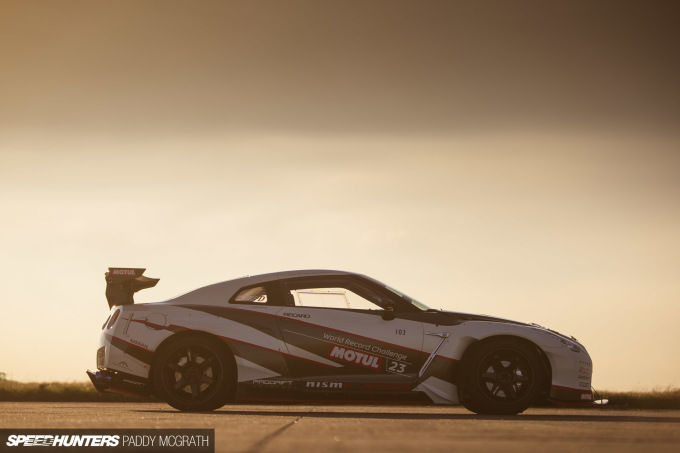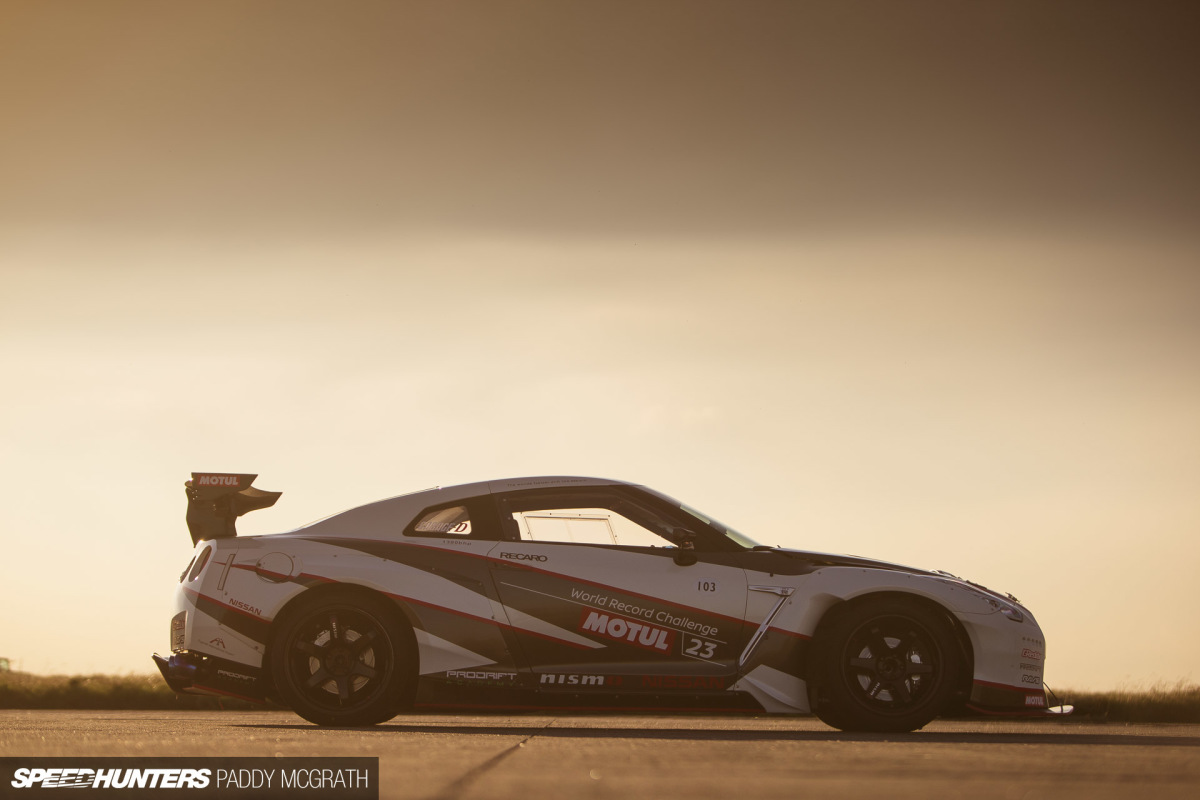 In factory spec, the R35 GT-R's gearbox, differential and transfer case are all contained within a single unit at the rear of the car in a transaxle configuration. This entire setup needed to be removed and replaced with an earlier GT-R's traditional rear subframe and differential setup.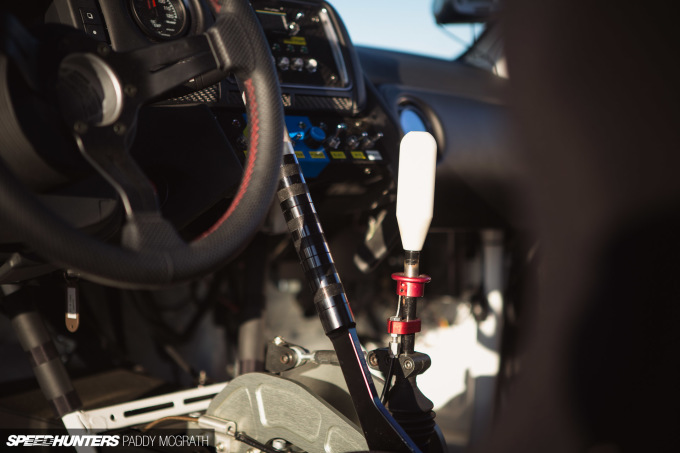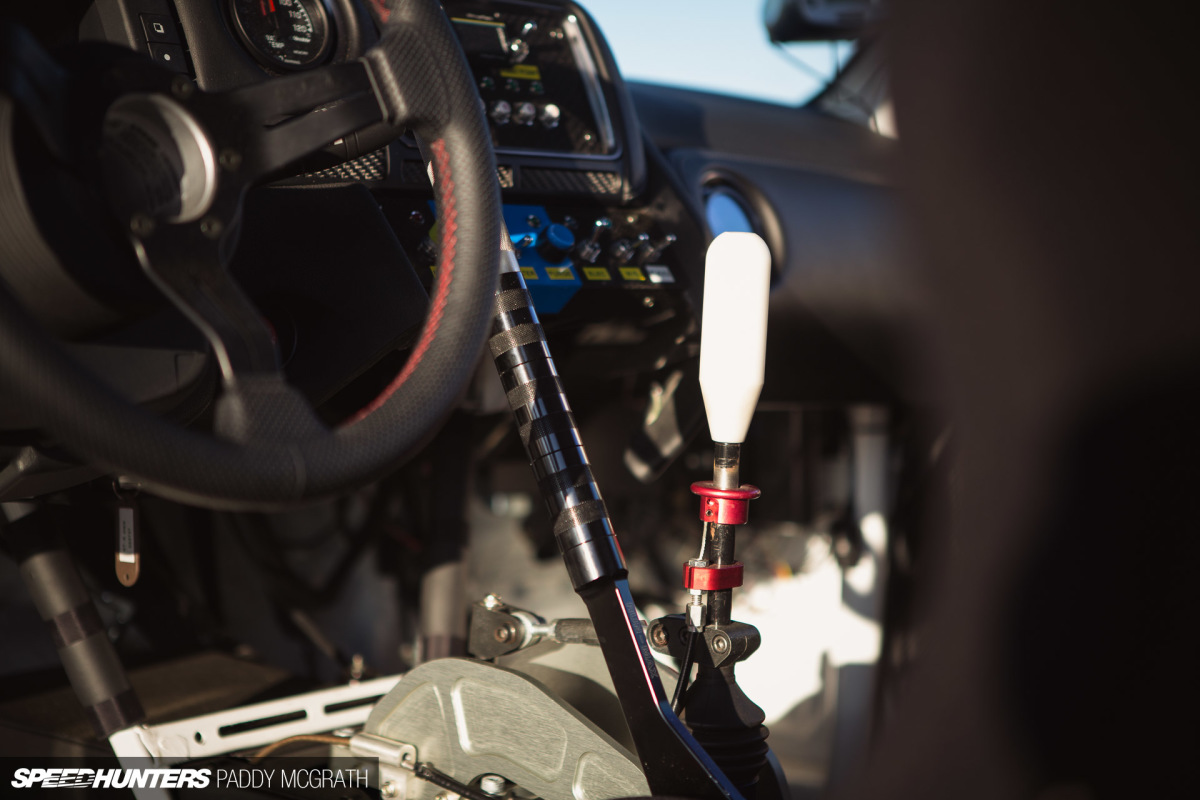 This also meant that the gearbox – an OS Giken 6-speed sequential – had to be custom adapted to the back of the stroked VR38 with a custom aluminium propshaft sending power rearwards.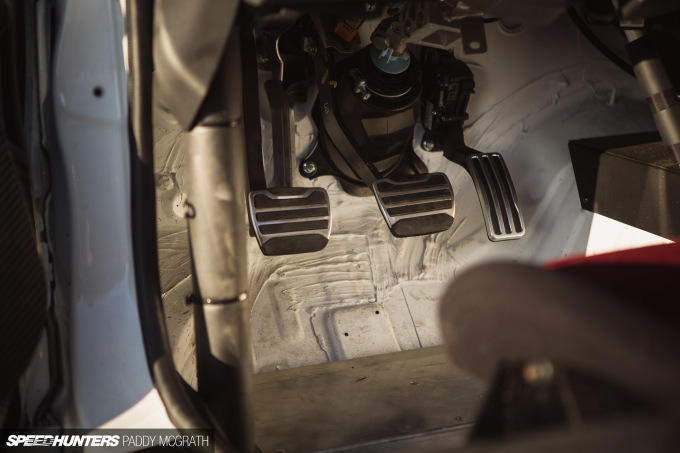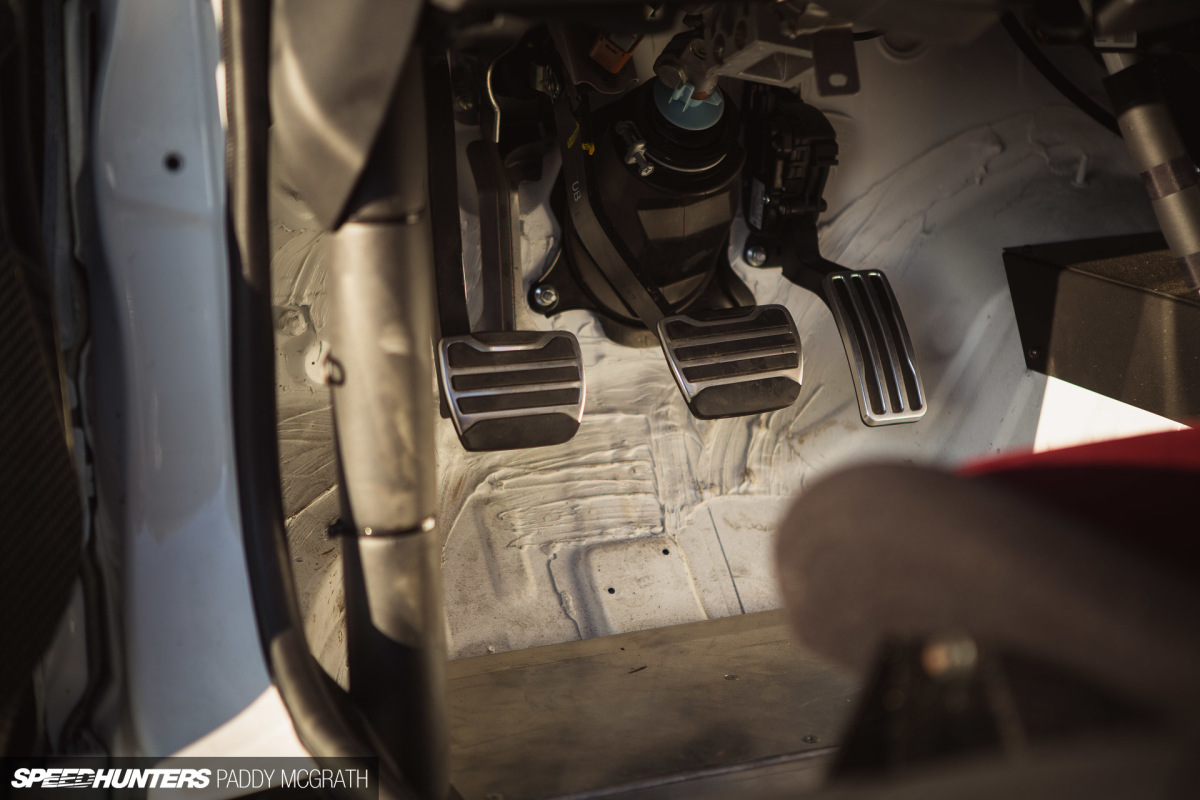 This all adds up to a proper rear-wheel drive GT-R, with three pedals.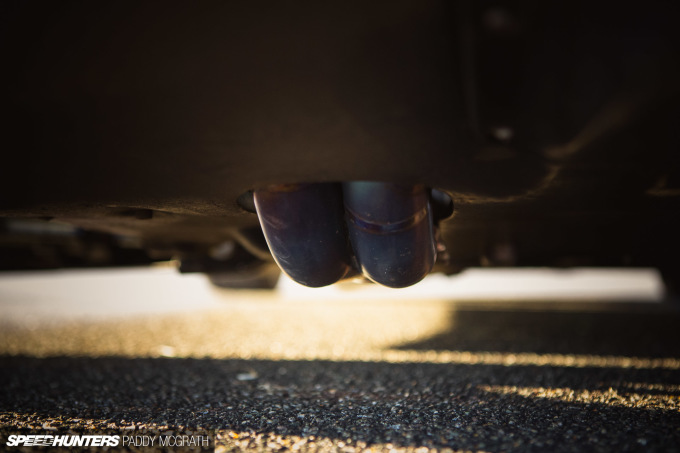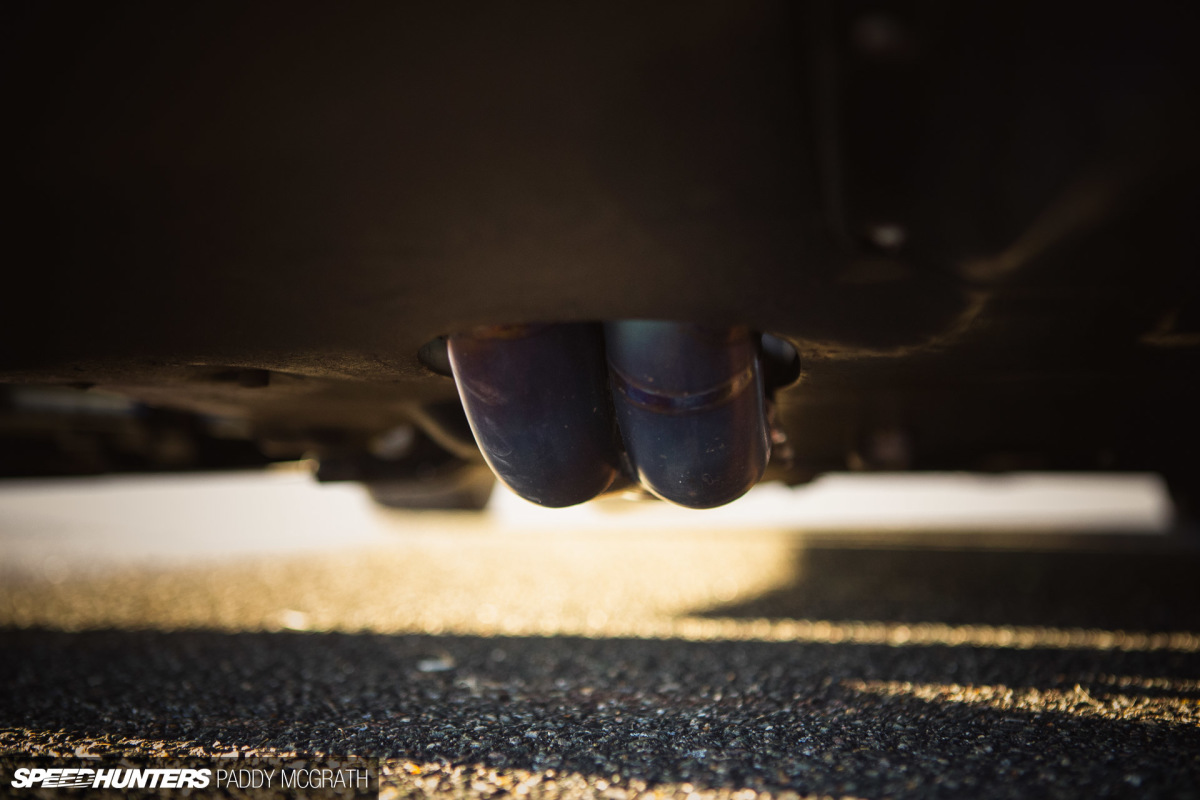 It's all hidden underneath the car with the GT-R running a flat and sealed underfloor, save for where the GReddy titanium exhaust makes its way around the rear axle.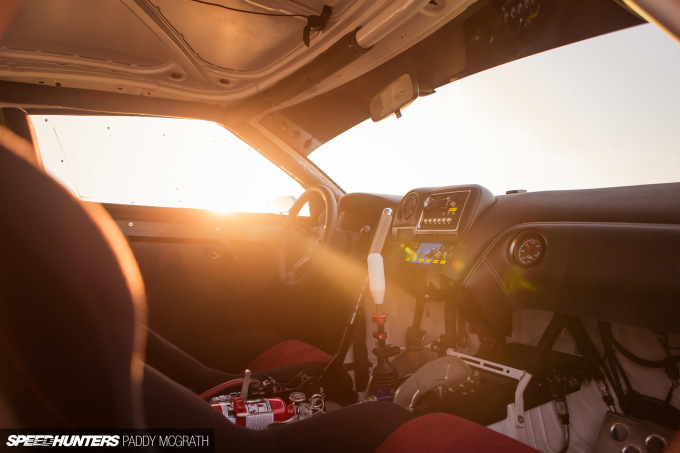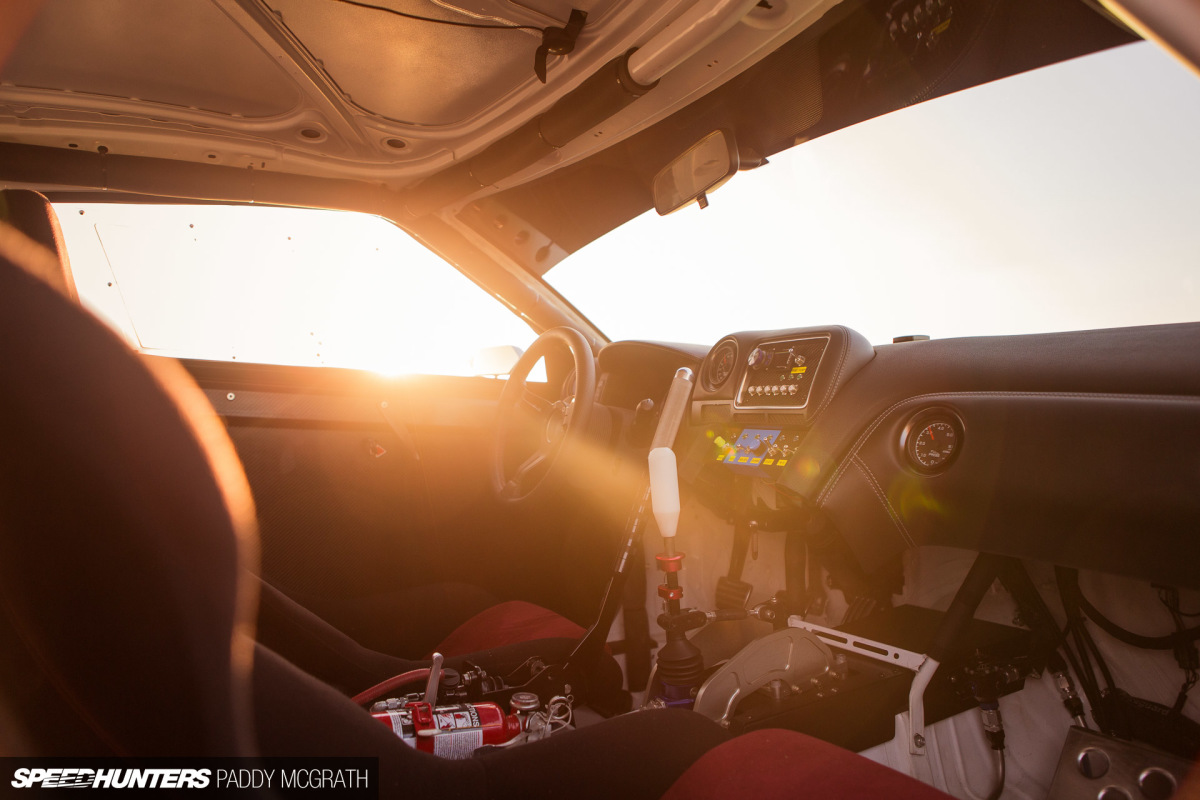 Next, predictably, was weight saving. A production GT-R weighs in at around 1,740kgs (3,836lbs) when it rolls off the production line. It's no surprise to any of us that the GT-R is heavy, but the question remained just how much could be taken out of the car. An interior strip, removed a decent amount of weight with a Nismo N-Attack pack helping remove further weight from the outside.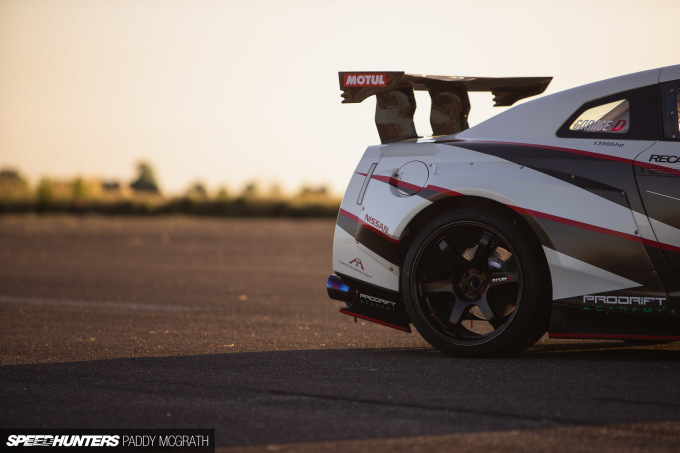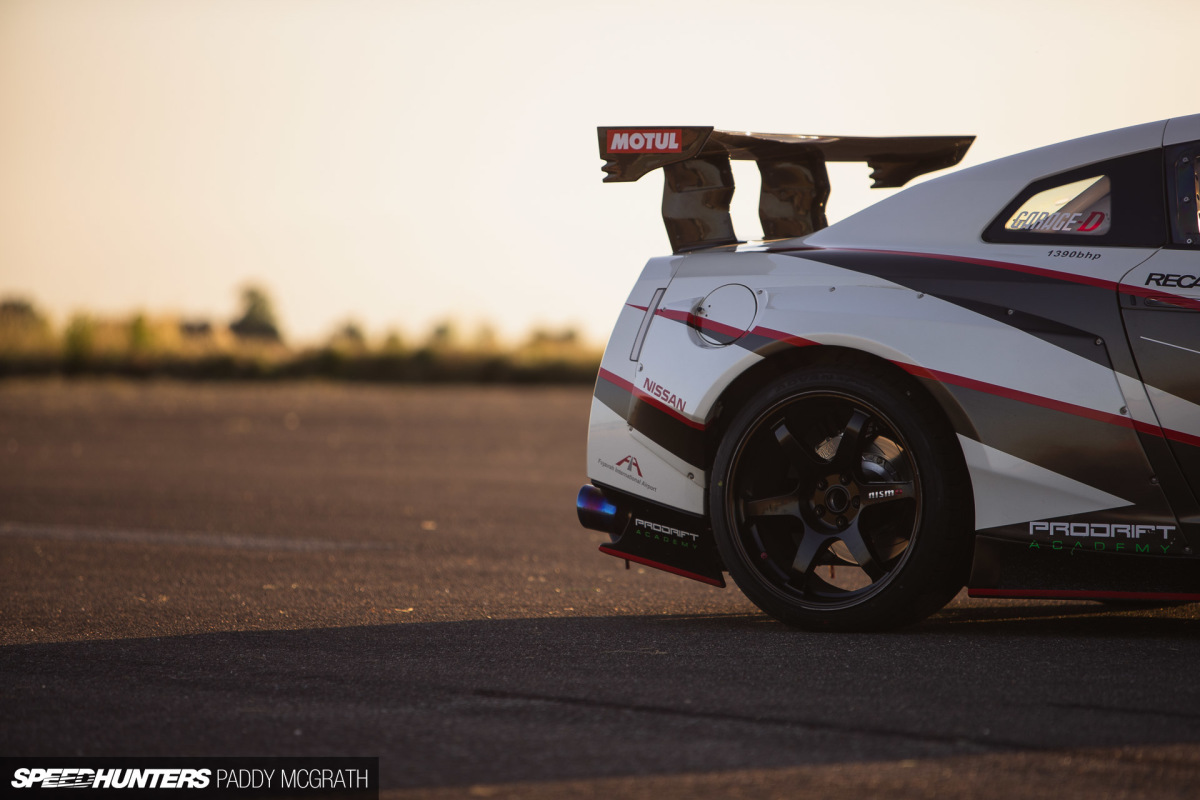 This pack consists of complete dry carbon doors, bonnet, boot lid and wing. The side and rear glass have been replaced with polycarbonate. This brings the total weight of this particular GT-R to 1,480kgs (3,262lbs). The weight loss also includes the carbon-backed Recaro seats and the aforementioned GReddy titanium exhaust system.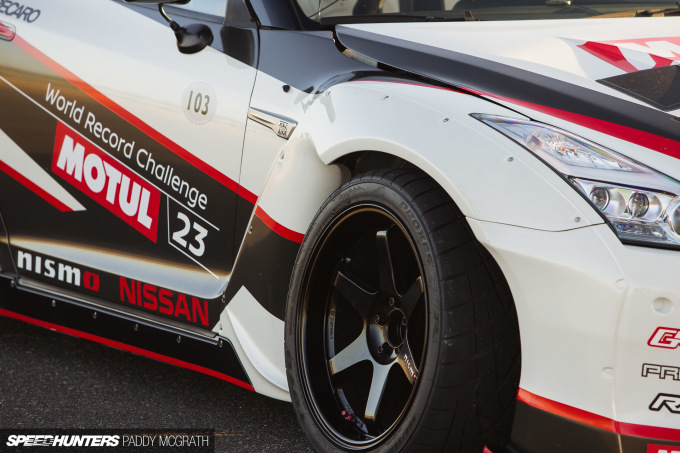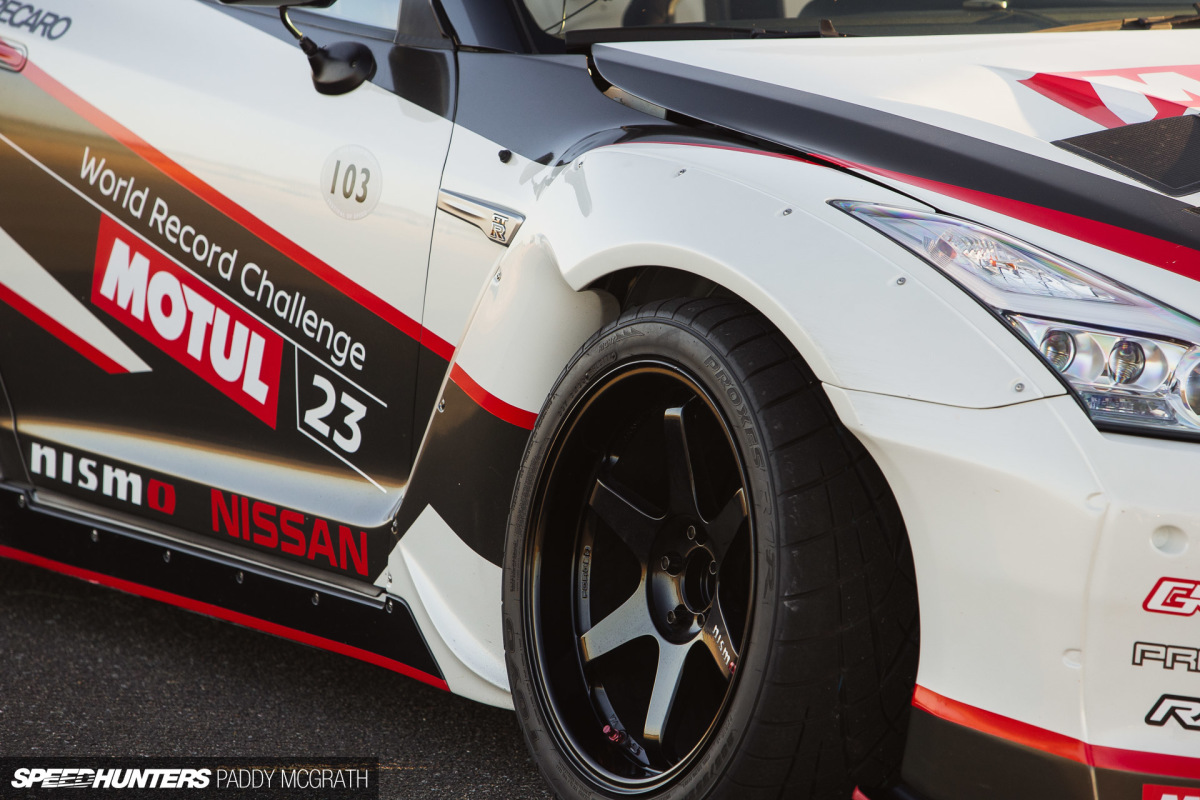 Further to this, special edition RAYS Volk Racing TE37 SLs – designed for Nismo – were deployed in 19×10.5-inch at the front wearing 285/35R19 Toyo R1-Rs, and 20×10.5-inch rears with the record set on 285/35R20 R888Rs. For this shoot, the car was running narrower rears to reduce stress on the drivetrain during its demonstration runs before the UK press.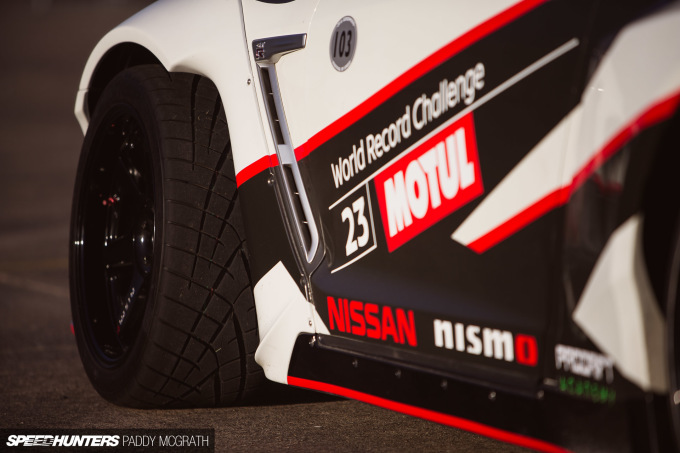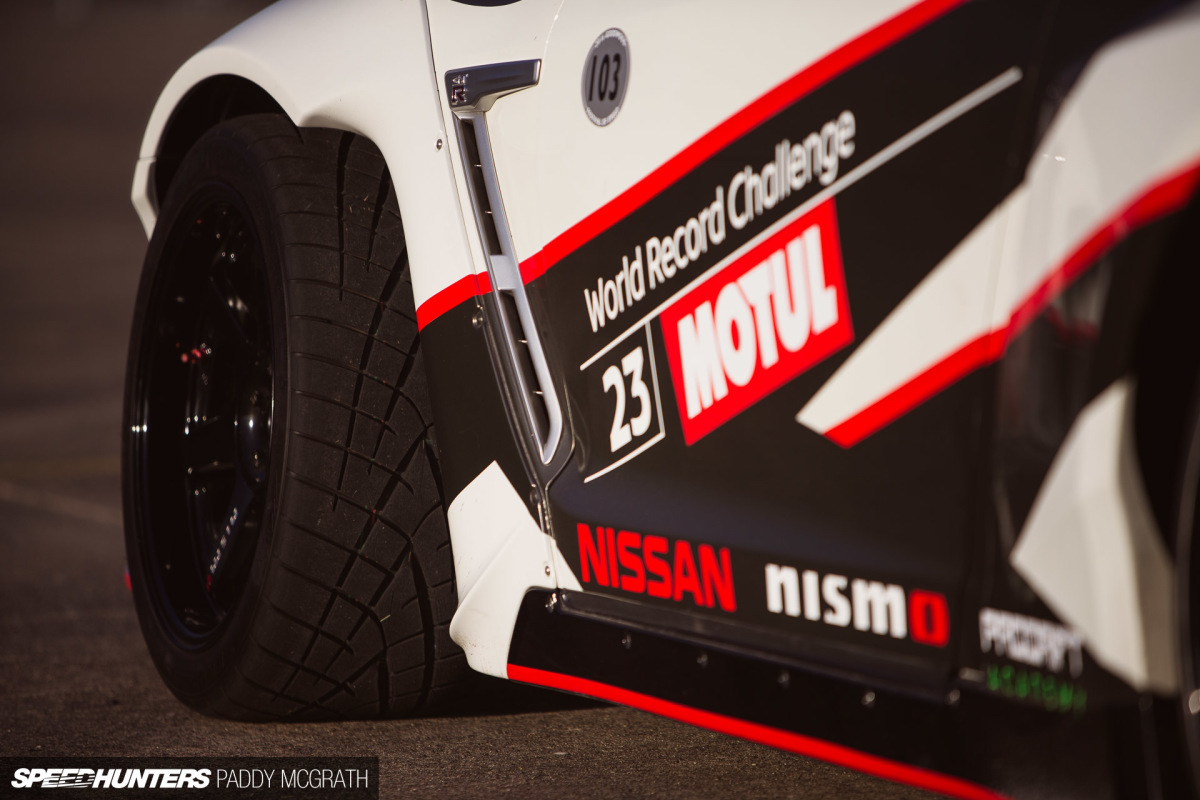 A TRA Kyoto Pandem kit assists in covering the tyres and prevents the much dreaded 'extra lock kit poke' that has become a signature of pro-level drift builds. Which is nice, obviously.
England In July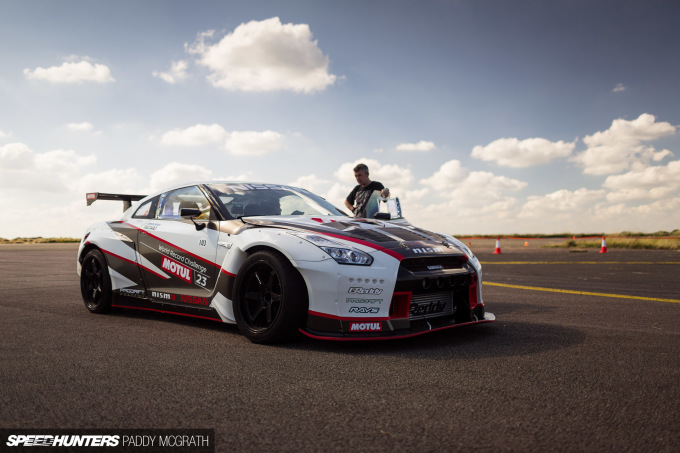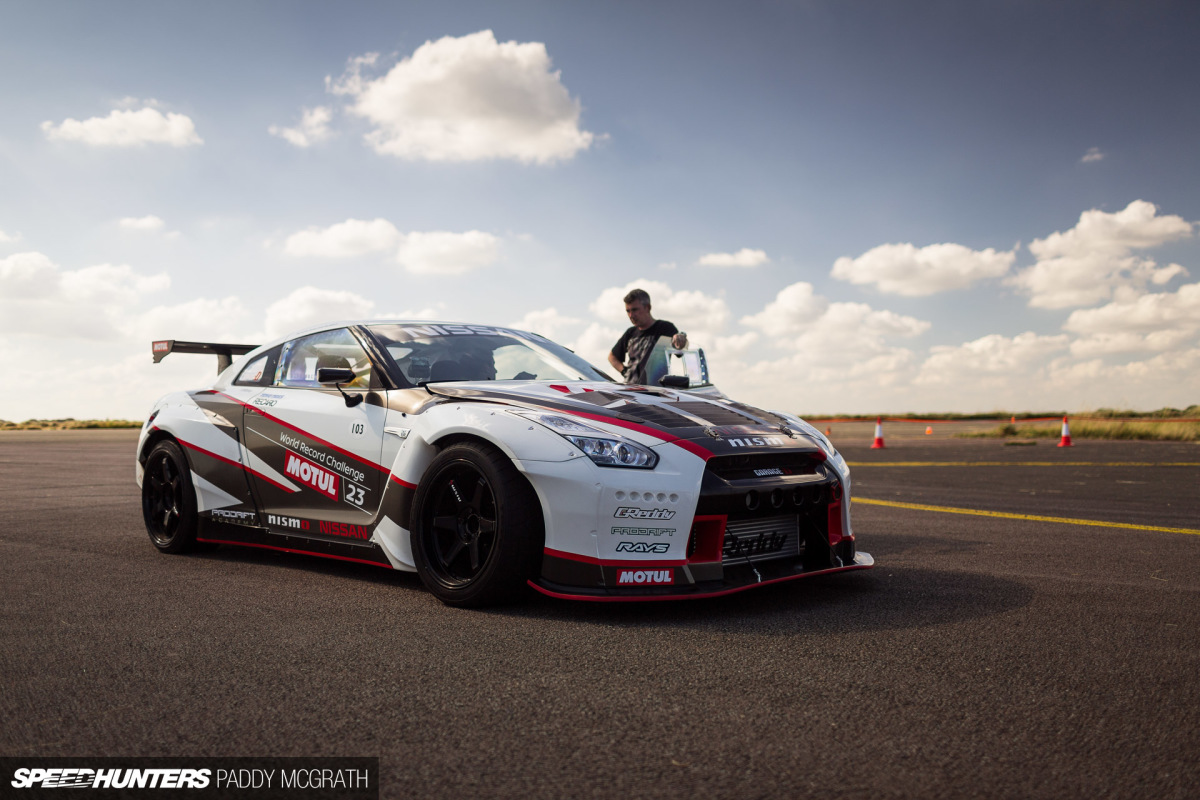 When I caught up with the Prodrift Academy team last month in the UK, they were still wearing the smiles they had earned back in March. And rightly so too, as the whole project from inception to execution had been their very own. The main man responsible for the record is Graham McNamara, head of Prodrift and founder of a small Irish drifting series which is today known as the Irish Drift Championship.
In my opinion, Graham is responsible for putting Ireland right at the top of the drifting world. He's also one of a few whom I owe my livelihood to, giving me my first chance at shooting motorsport from in front of the barrier.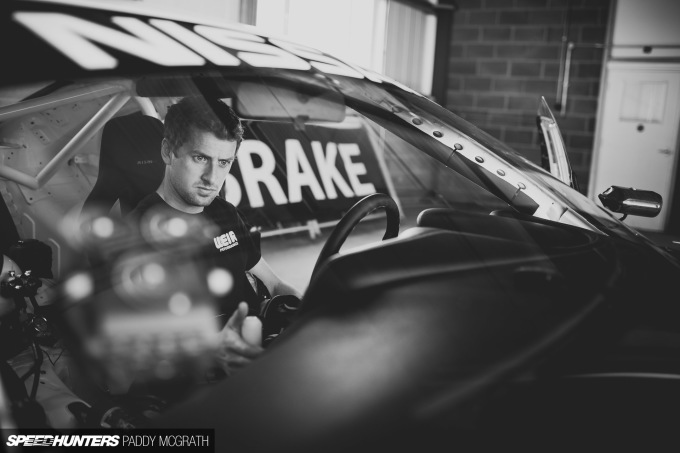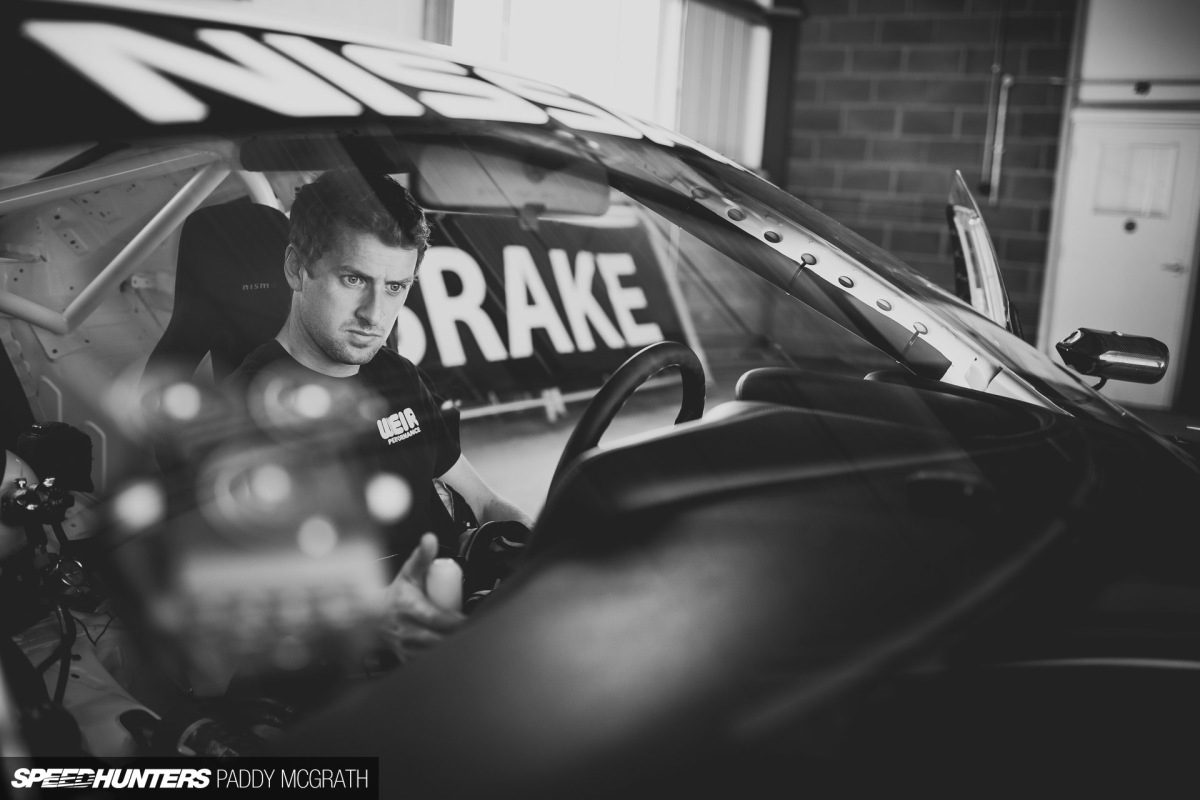 Graham is also the older brother of another McNamara who you might be familiar, our very own D-Mac. Since the GT-R's arrival in Europe from the Middle East, Darren has taken the responsibility of driving it, most notably at the 2016 Goodwood Festival of Speed. It was no easy task; the GT-R had been built solely to set a high speed record and was completely unsuited to the narrow and twisty Goodwood hillclimb course. It might not have looked it from the outside, but inside Darren struggled.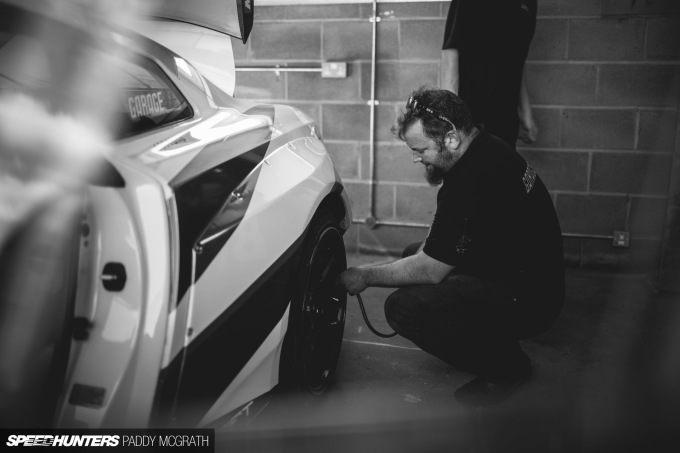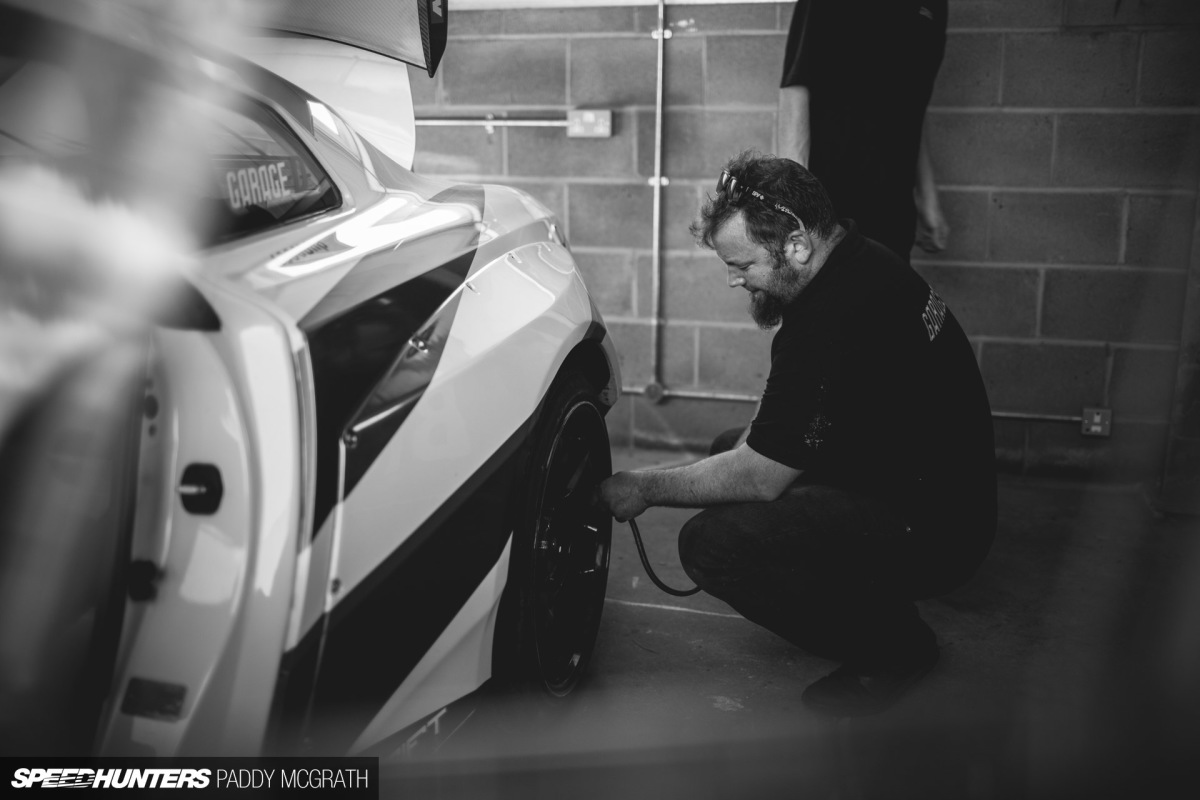 With the car booked for a number of appearances and demonstrations across Europe, including some drift tuition for one of Great Britain's most successful Olympians and now Le Mans competitor, Sir Chris Hoy, changes had to be made to make the car manageable at lower speeds. Step in, Julian Smith and Garage D.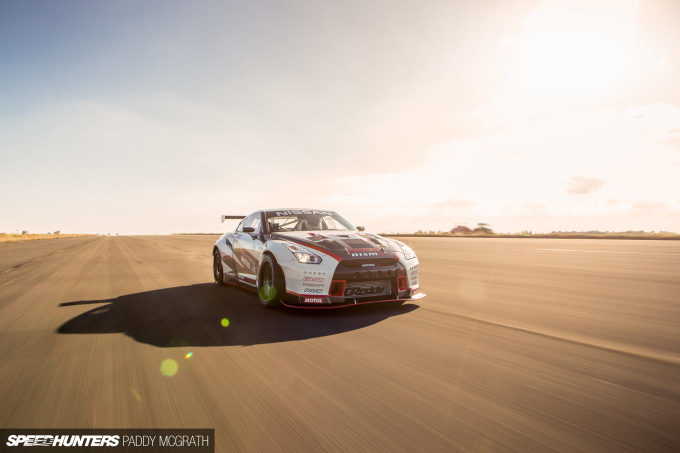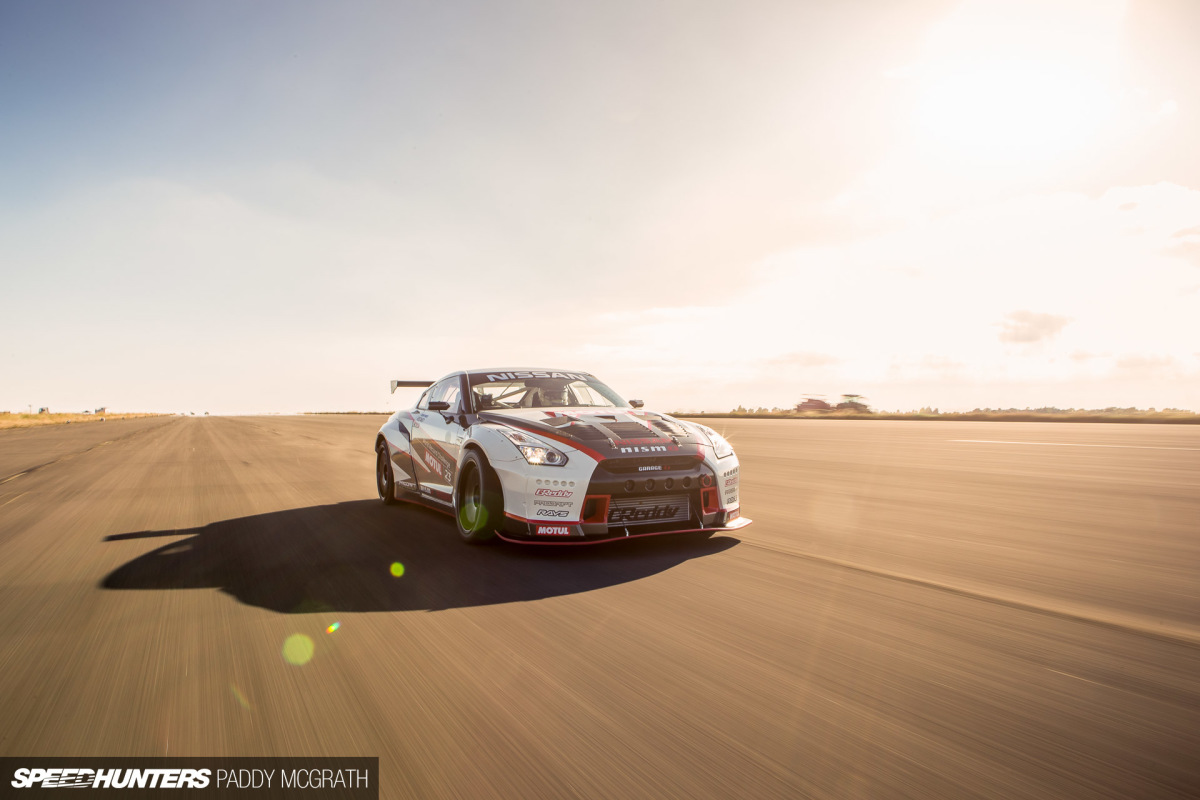 Garage D would readapt the car for Europe. They started with a shorter final drive, as the car wouldn't require a top speed of 350km/h (217.4mph) during its European holiday, although I'm sure D-Mac would have loved a crack at another record run. The next issue to be sorted, strangely, was cooling. As the car was previously doing such high speeds, cooling wasn't an issue, but as the speeds reduced and in-turn the amount of air passing through the car's radiator and coolers plummeted, the stroked VR38 struggled to maintain temperature. A new alloy radiator with extra fans provided the solution here. With these issues sorted, the car was ready to lay rubber on another continent.
I've just realised that I've spoken at length about how to make the world's fastest drift car slower, but in reality, it's only a differential change away from its record-setting capabilities.
Once Darren had finished working closely with Garage D, the car was far more versatile, and still capable of a drift speed of 260km/h (160mph). The difference now was that the car could accelerate up to speed much quicker, even it did mean potential wheel spin through each and every gear.
Accelerating hard from a roll-in, you can hear the revs flare as the tyres break traction. Pull a gear and traction is momentarily regained before reigniting the rears once more. This process is repeated all the way through to the limiter in sixth, before Darren kicks the clutch and commits the car into a huge slide on what now feels like a much narrower and much shorter runway.
Standing on the sidelines, the speed as the car came past was genuinely breathtaking. It's difficult to appreciate just how quick it is in such an open space, which also happens to be probably the only place where you can attempt something like this. The POV video doesn't feel even close to as how fast it actually is.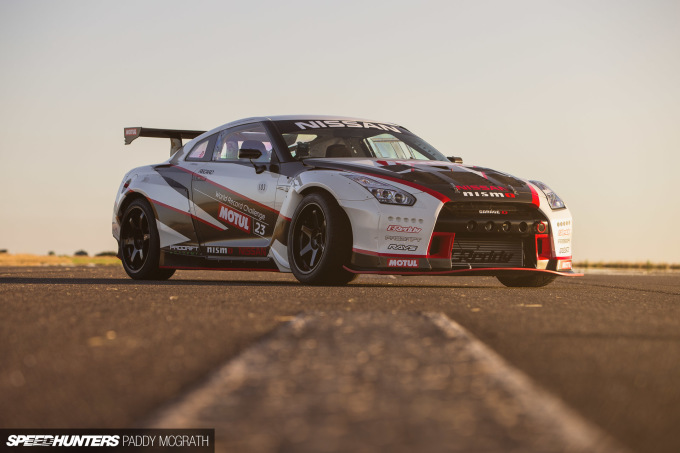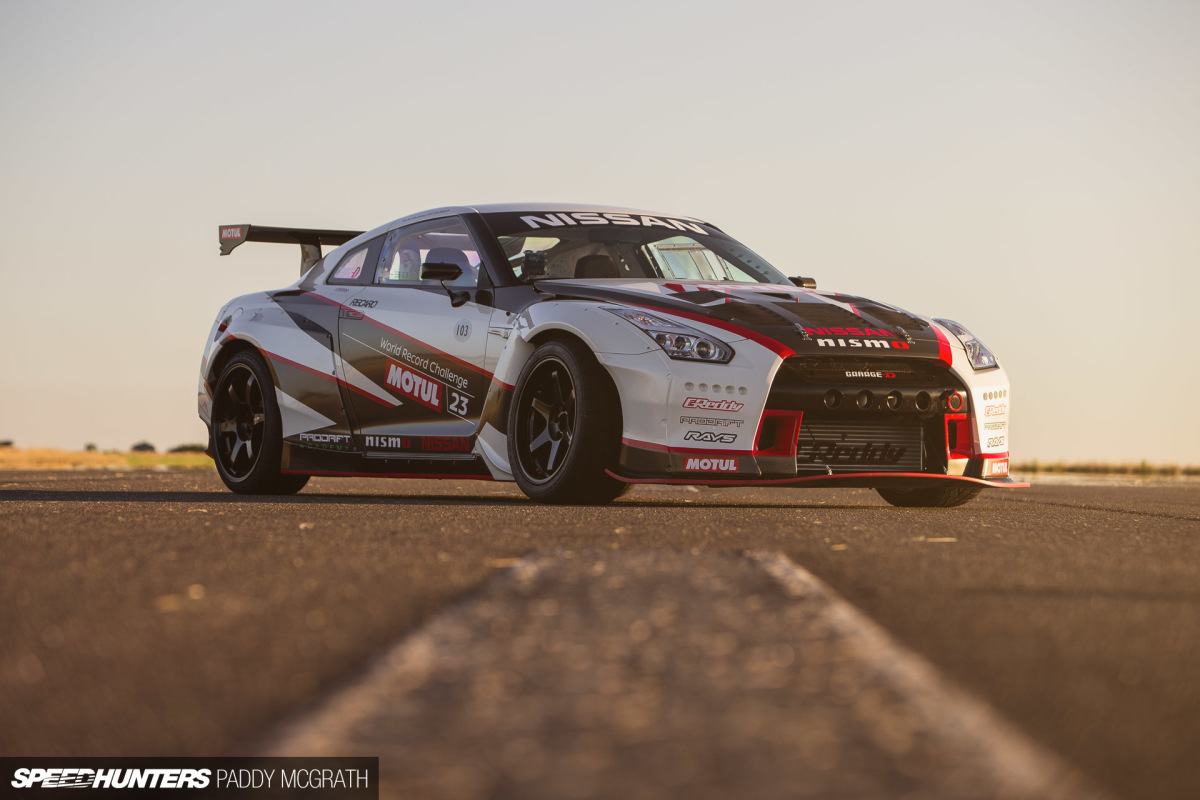 To get the car up to speed as quickly as possible, a considerable amount of horsepower was required. Strangely for a GT-R, the engine bay is quite photogenic. The GReddy intake manifold certainly plays its part, as do the hard pipes which lead to the twin RX1200 turbochargers. It's a fully GReddy-built engine, as you'd expect, which makes around 1,190hp before the 200hp shot of nitrous oxide.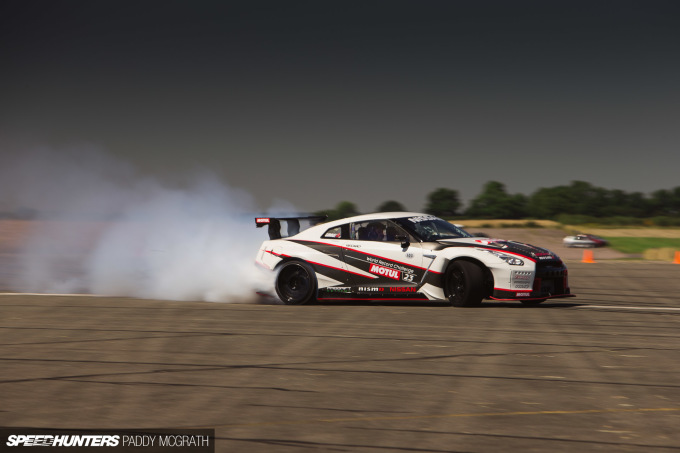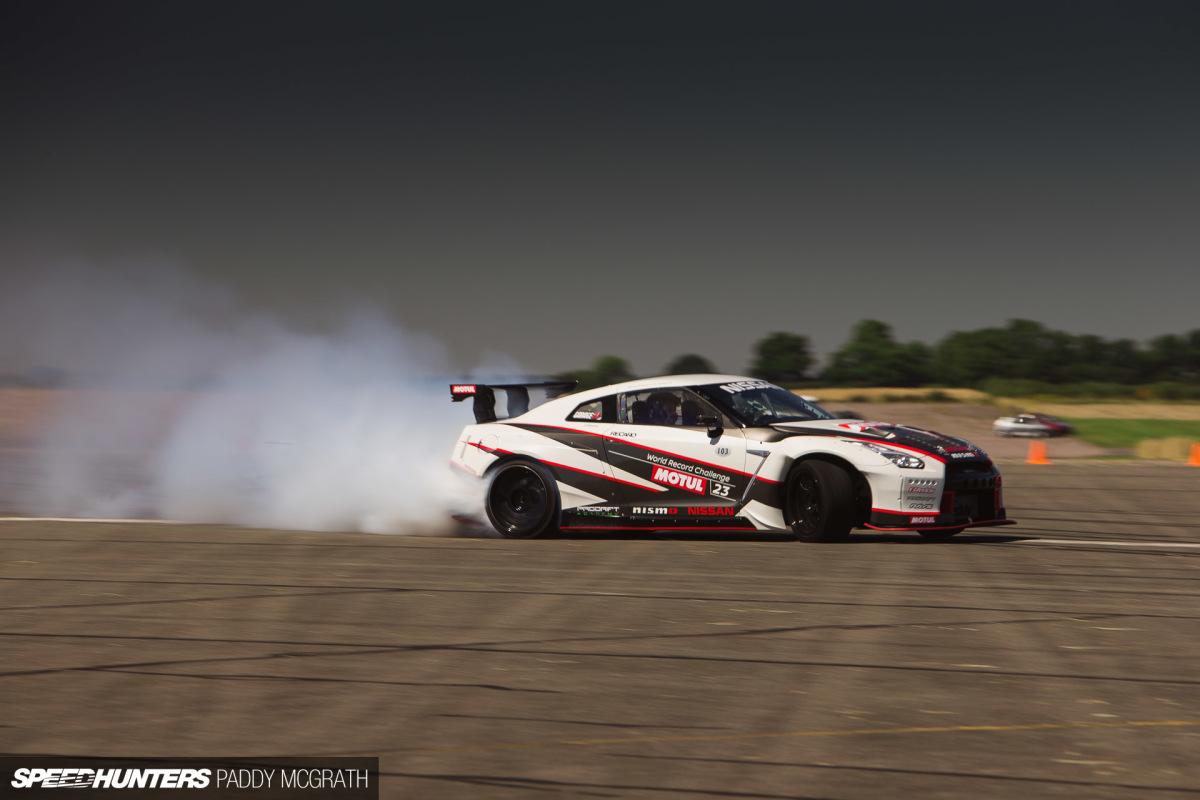 Whilst the UK might not quite reach the same temperatures as the UAE, it did get uncomfortably hot on the runaway over the two days we were shooting. When GReddy built the car, it did allow for the desert heat by installing fuel coolers and water sprayers for the radiator. Over the course of two days and countless runs, the only issues the car encountered was destroying tyres and consuming race fuel at a frankly terrifying rate.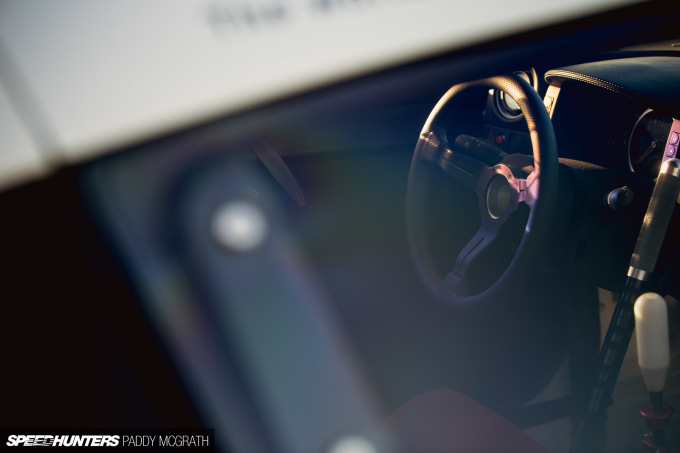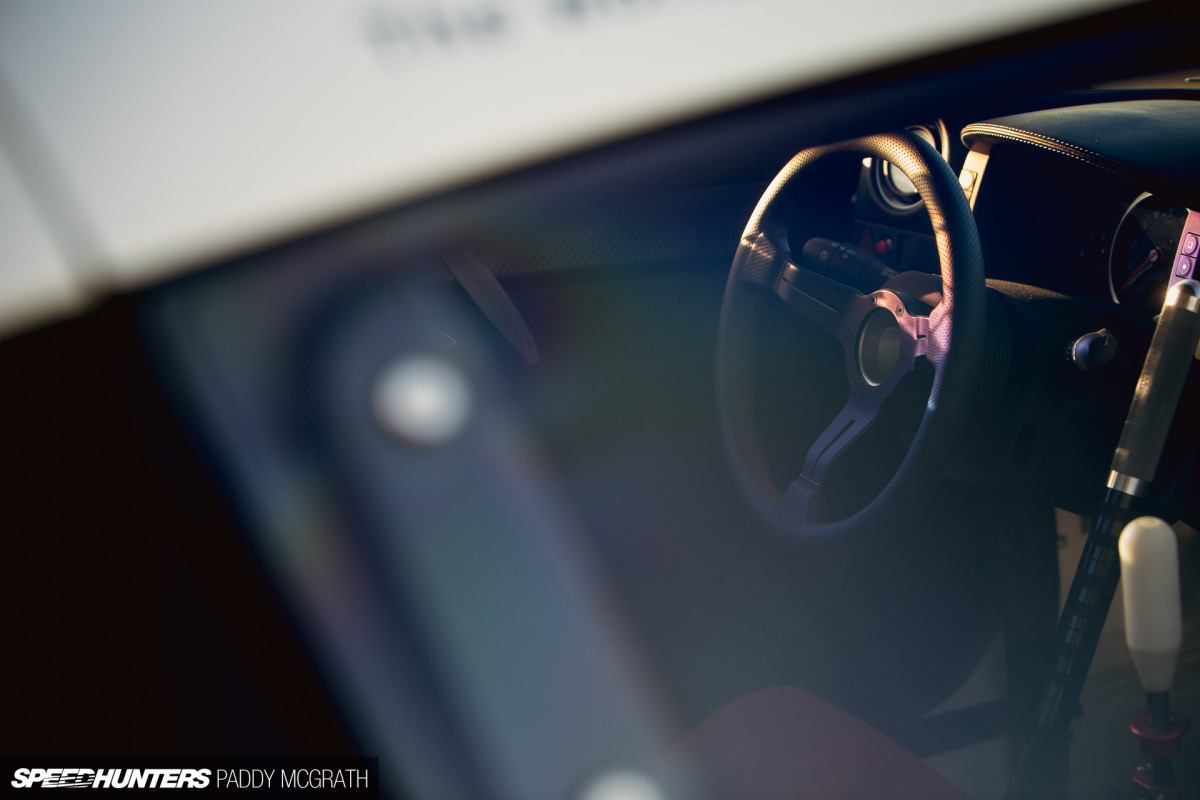 It's a flawless build; as close to a manufacturer works-type drift car as I've ever encountered. Actually, maybe it technically is considering the support it received from both Nissan and Nismo? That's just a technicality that's probably not worth getting hung up on, but something that makes me immensely proud, in a strange sort of way.
In some ways, I feel a personal connection with this car, entirely down to the people involved with it. The first time I ever met Graham and Darren, Graham was laying the foundations for a drift series that would ultimately become world renowned. Darren was drifting a rough KE Corolla, completely oblivious to the fact his decision to drift that day would lay out a career path he probably could never have envisioned at the time. I was shooting with a point-and-shoot digital camera. Two out of three ain't bad, I guess. Thirteen years later and a lot things have changed for us, all because of a love for drifting. On a personal level, my love for drifting seems to come in waves these days, but I still respect it for the options it has given me in life.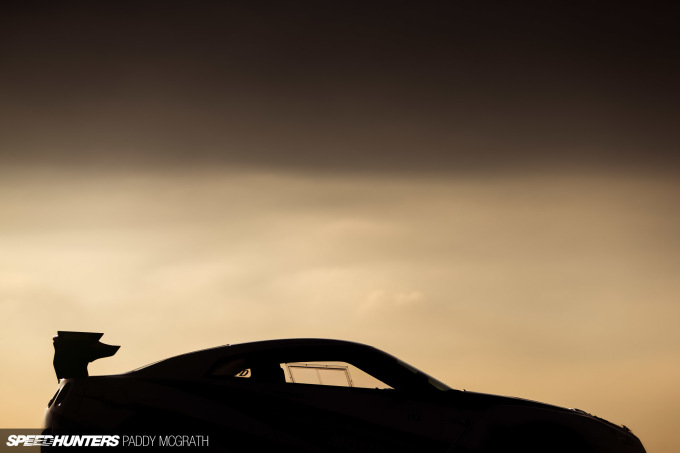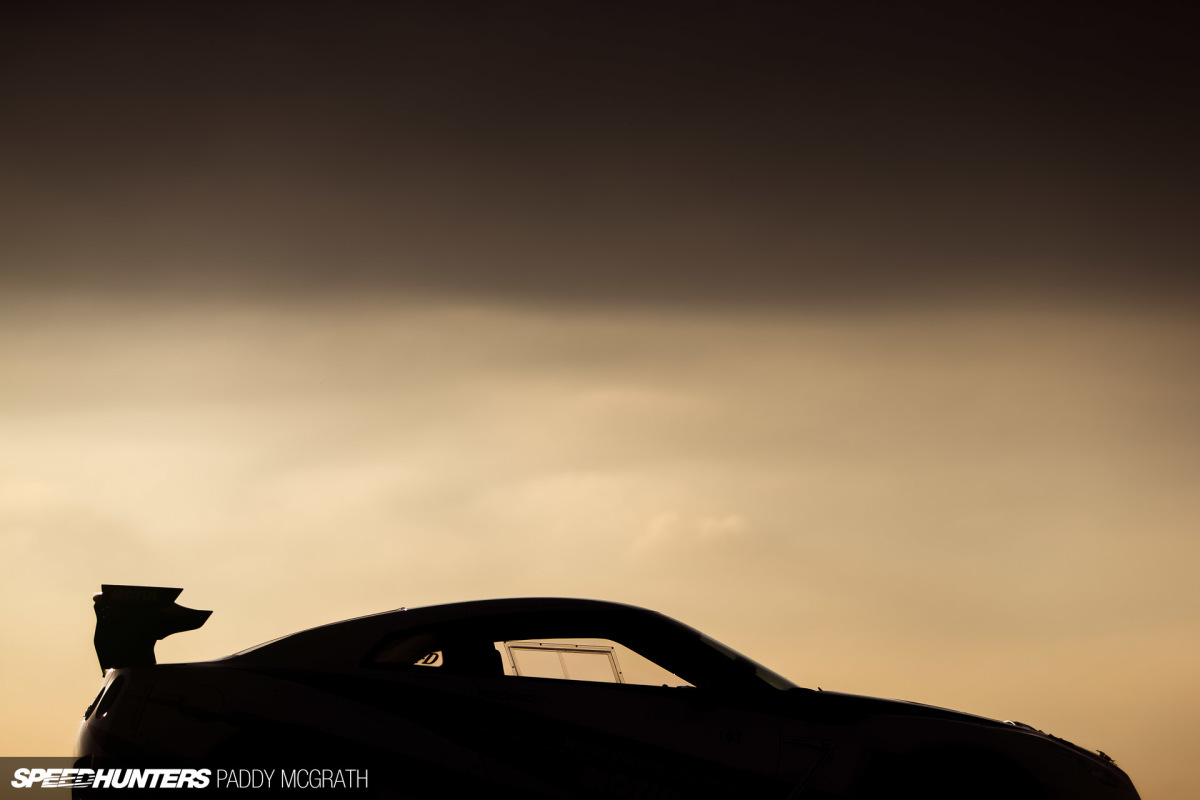 I can already sense the sneers from behind the drifting hardcore's keyboards. They might not consider it a 'true' drift car in the purest sense, it's just doing a skid on an open runway, right? Who cares about how fast it can go?
But it's this pursuit of records and trying to set new standards that drives us forward. If this is the sort of thing can attract the attention of other manufacturers or even new fans to the sport, then it's worth it, right? This is an important car for the drift community. Whether the community realises it or not, is a whole other story…
Paddy McGrath
Instagram: pmcgphotos
Twitter: pmcgphotos
paddy@speedhunters.com
Cutting Room Floor