A New Battery, Plus Belts
No, I didn't sell it.
I admit the title may have been slightly misleading, but by 'home' I simply meant that, along with my chopped '51 Kaiser, Project Trailhunter has a new garage. This required my absence not only from this site, but also from swinging wrenches for about six months, while my father-in-law and I literally built a new garage from the ground up. So, with shovels, framing hammers and nail guns all put back away, it's with great excitement that I'm finally back to working on my '87 FJ60 Land Cruiser.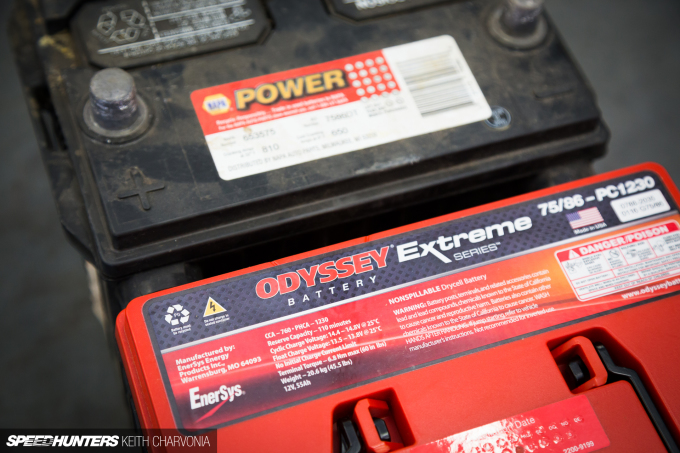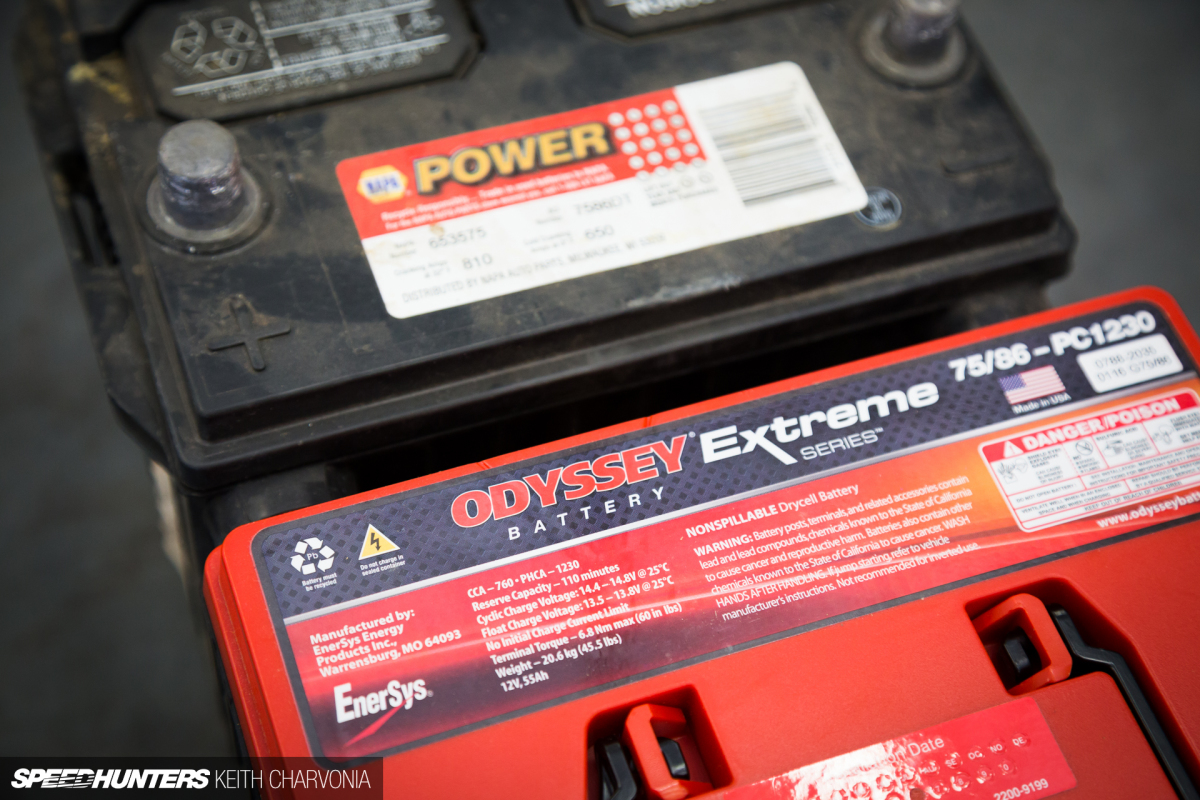 Since the garage scenario at home was less than ideal during those six months of construction, I turned to my shop at Airaid to do some small jobs, such as swapping out the undersized lead acid battery for a more powerful dry cell Odyssey.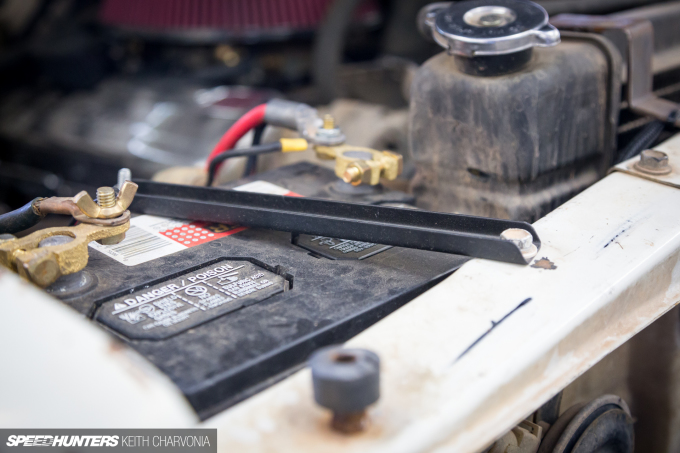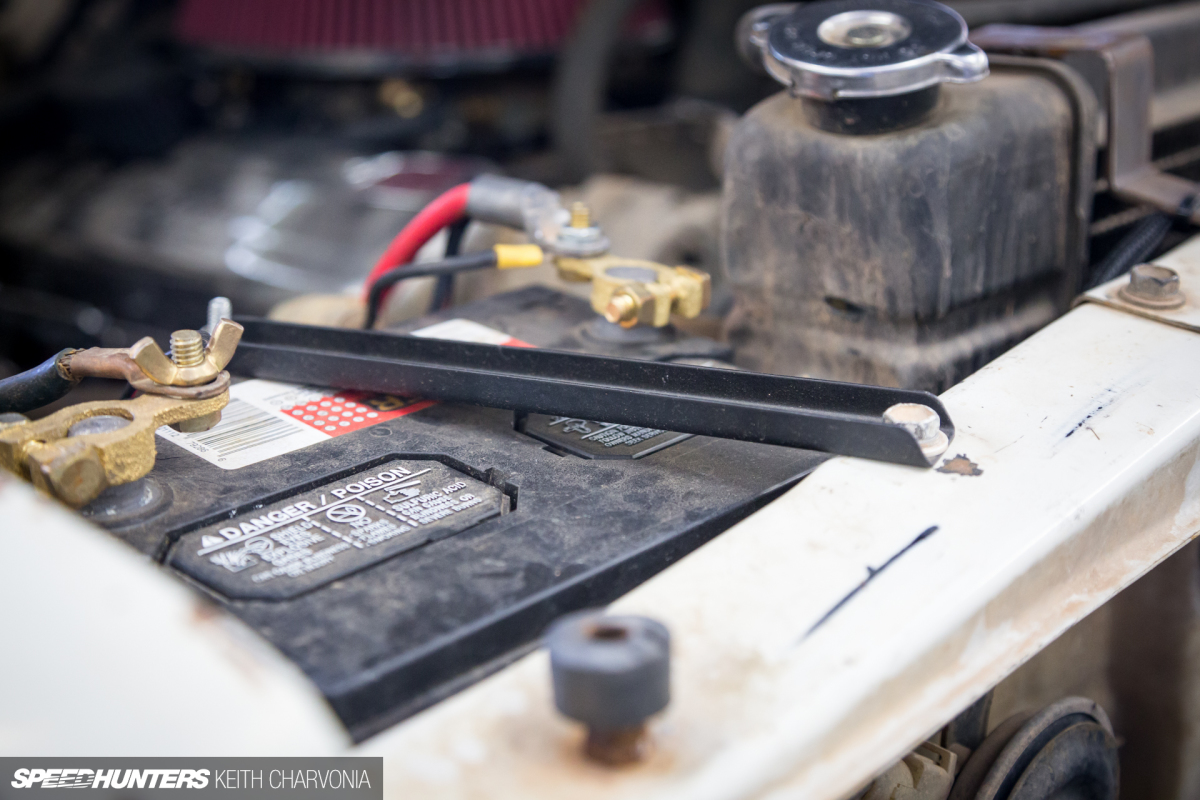 Along with the 454 came a massive Chevy radiator, encroaching on the space where the battery would normally reside. The big-block runs cool, but the little battery barely has enough power to crank the motor, especially when hot, so I measured the available space and ordered an Odyssey Extreme battery to take its place. Odyssey says its batteries can supply double the cranking power and last three times as long as a conventional battery – perfect for the limited space in my Cruiser. As you can see, the makeshift tie-down was also too short.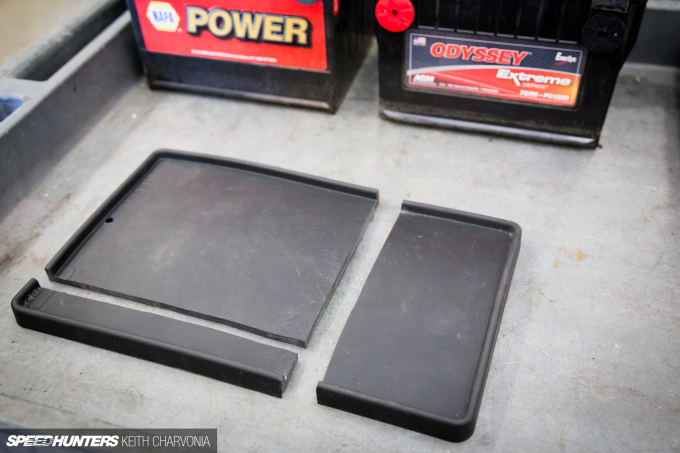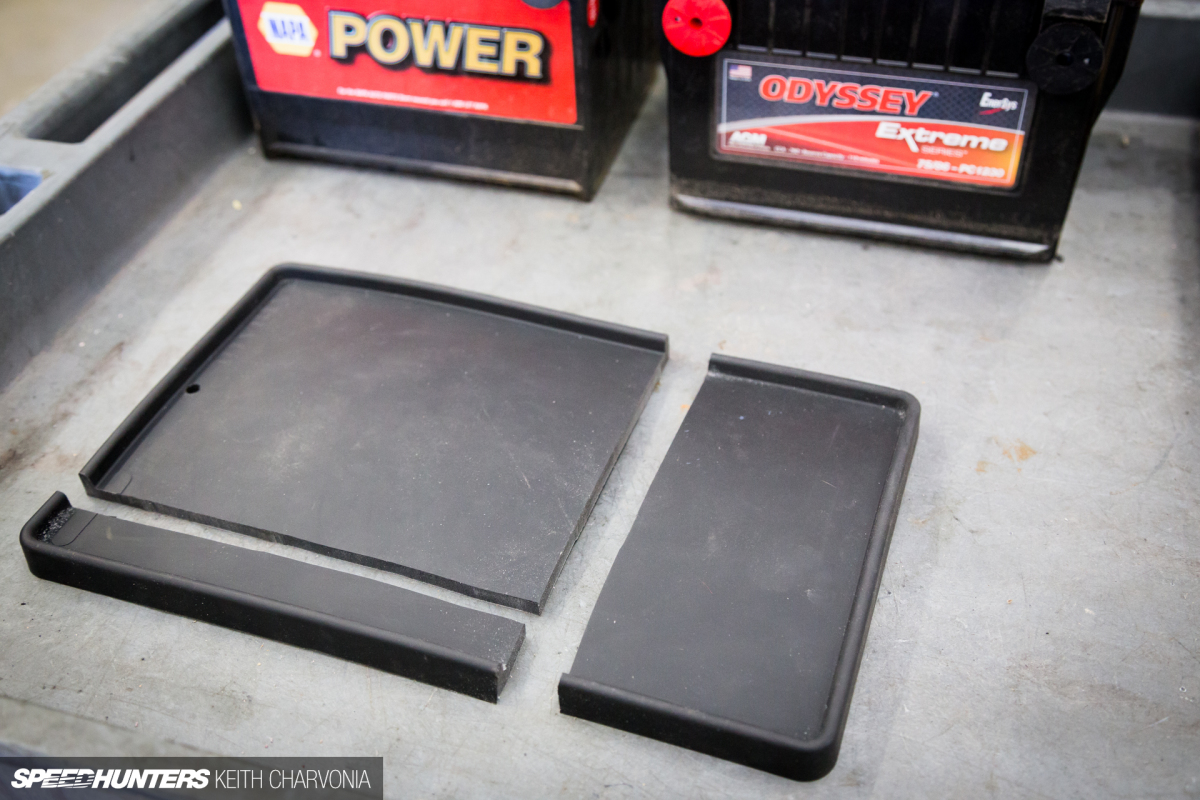 To fix this I grabbed a urethane battery tray that we use in an Airaid kit for a Ford Powerstroke, and proceeded to cut it up on the bandsaw.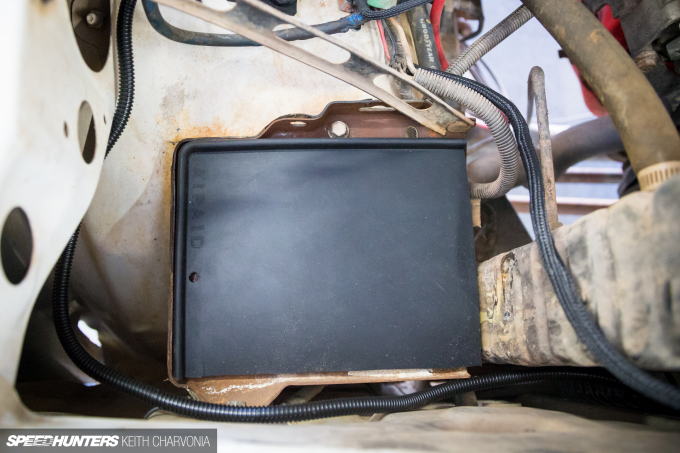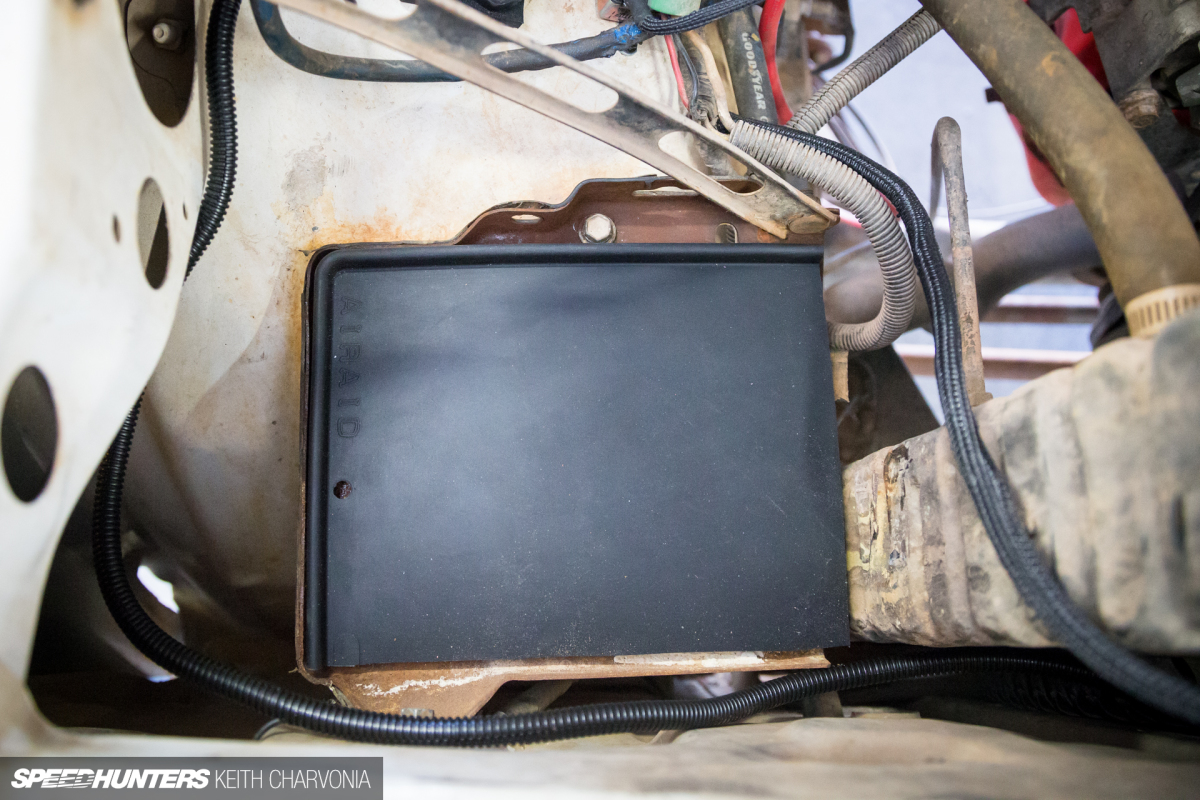 This gave the battery the perfect boost to reach the tie-down, plus it will add a little insulation against vibrations and such.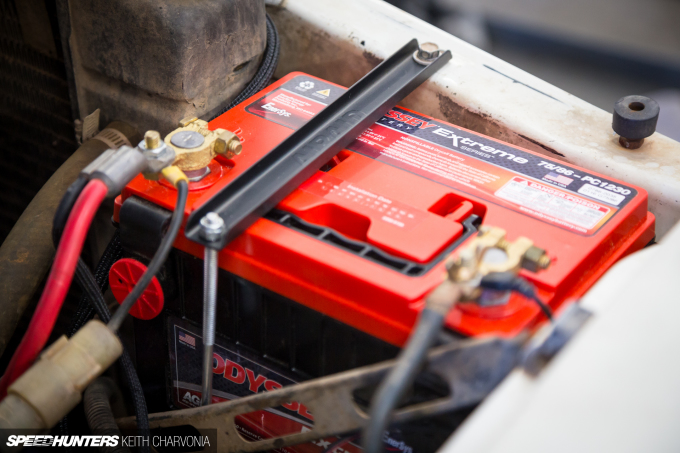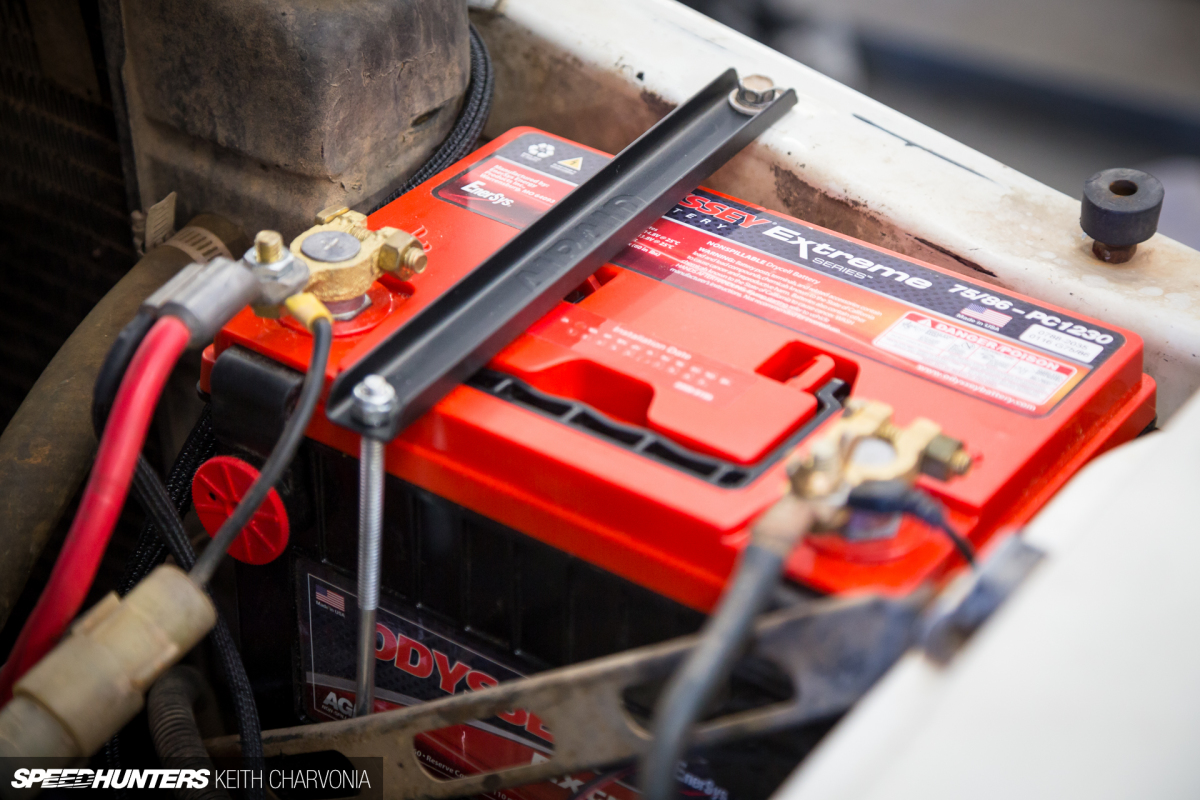 Odyssey batteries use dry cell Absorbed Glass Mat (AGM) plates instead of spiral wound cells. These flat plates can be packaged more densely than the six-pack of round cells that you commonly see, leading to even more power from the same size battery. I actually got two of these killer little batteries, with plans to run a dual battery system so I will never be stranded with a dead battery out in the wilderness, but that's for another day. For now, turning the key to crank the Trailhunter's big 454 is no longer a worry.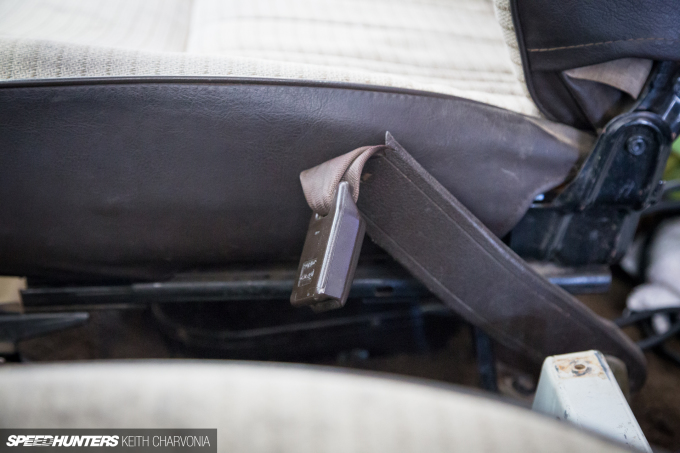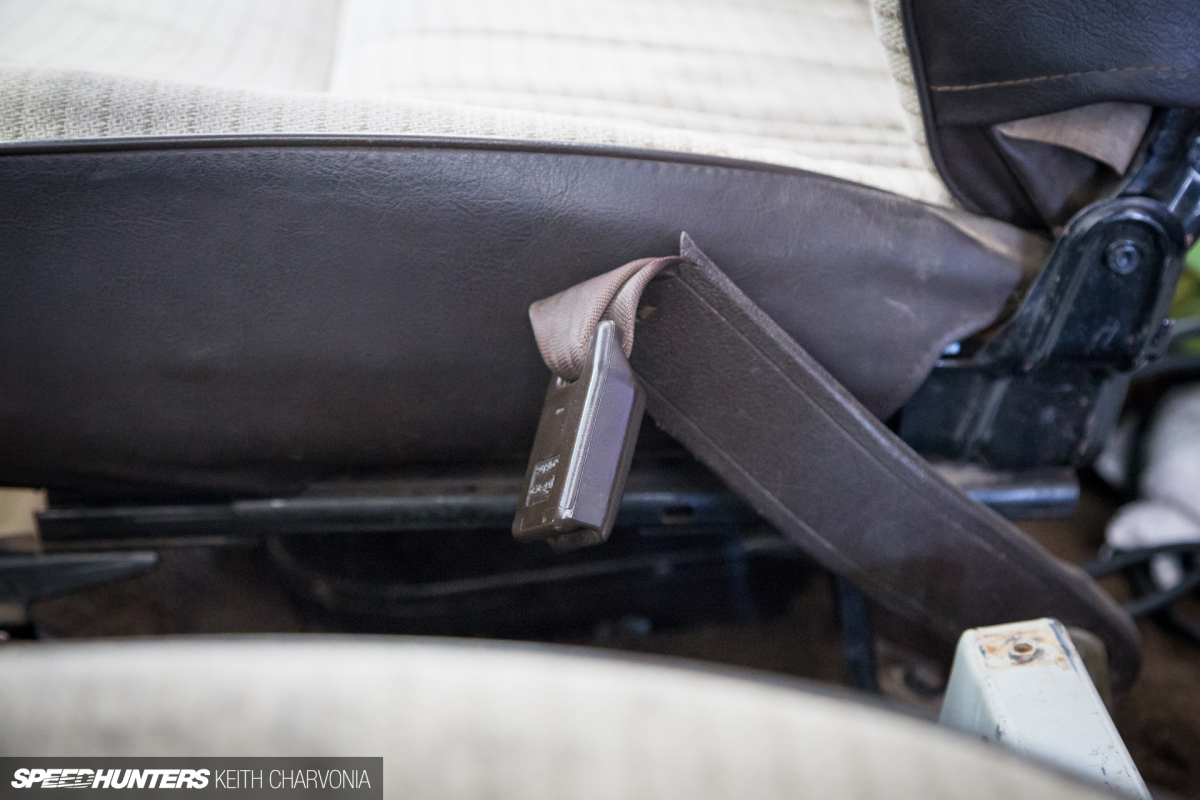 I mentioned my obsession with surfing eBay for used FJ60 parts, and one thing I really scored on were multiple interior pieces in much better shape than what I had.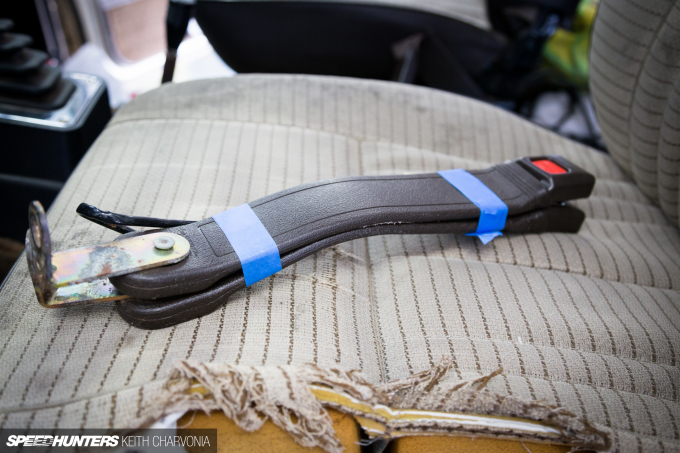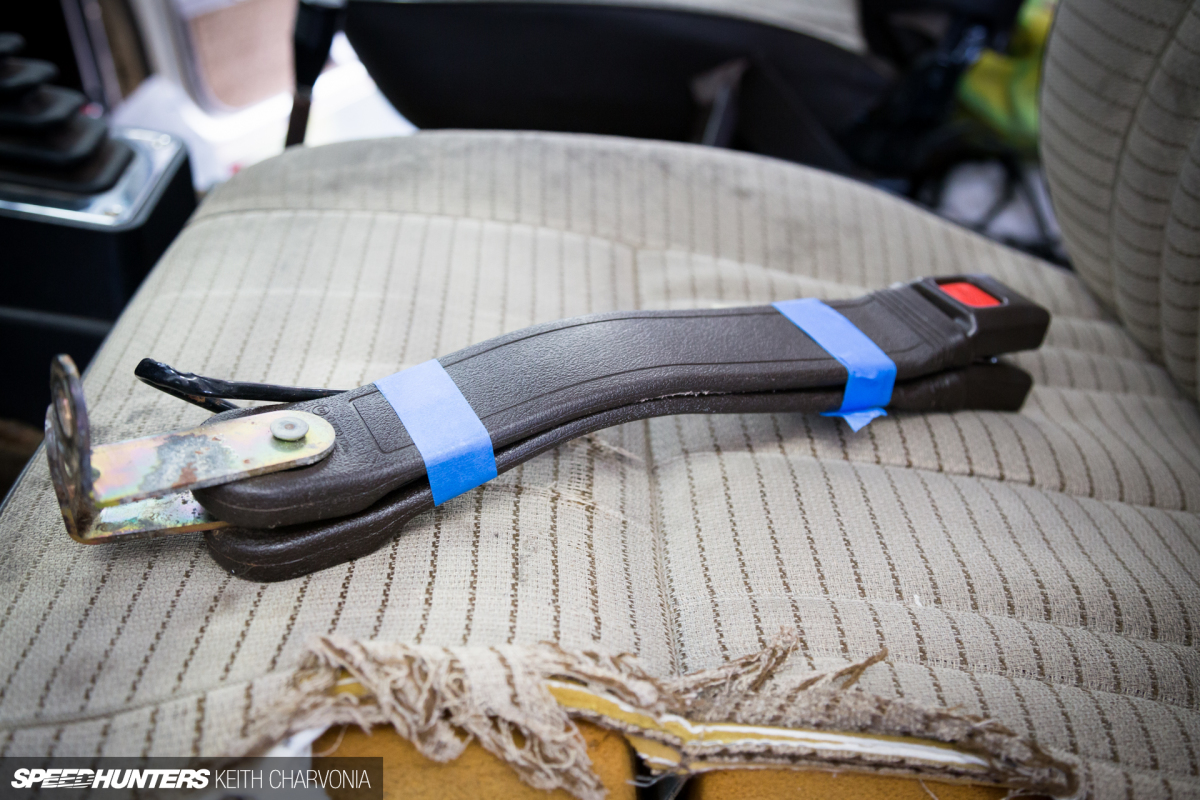 The plastic on my seatbelts had become brittle from the Arizona heat, but this set was still nice and pliable.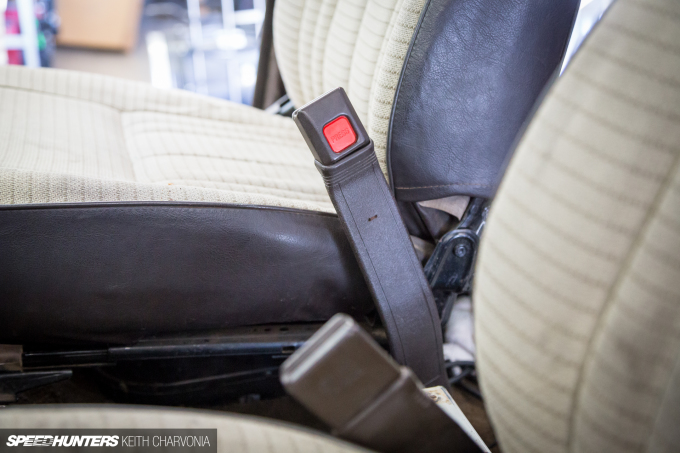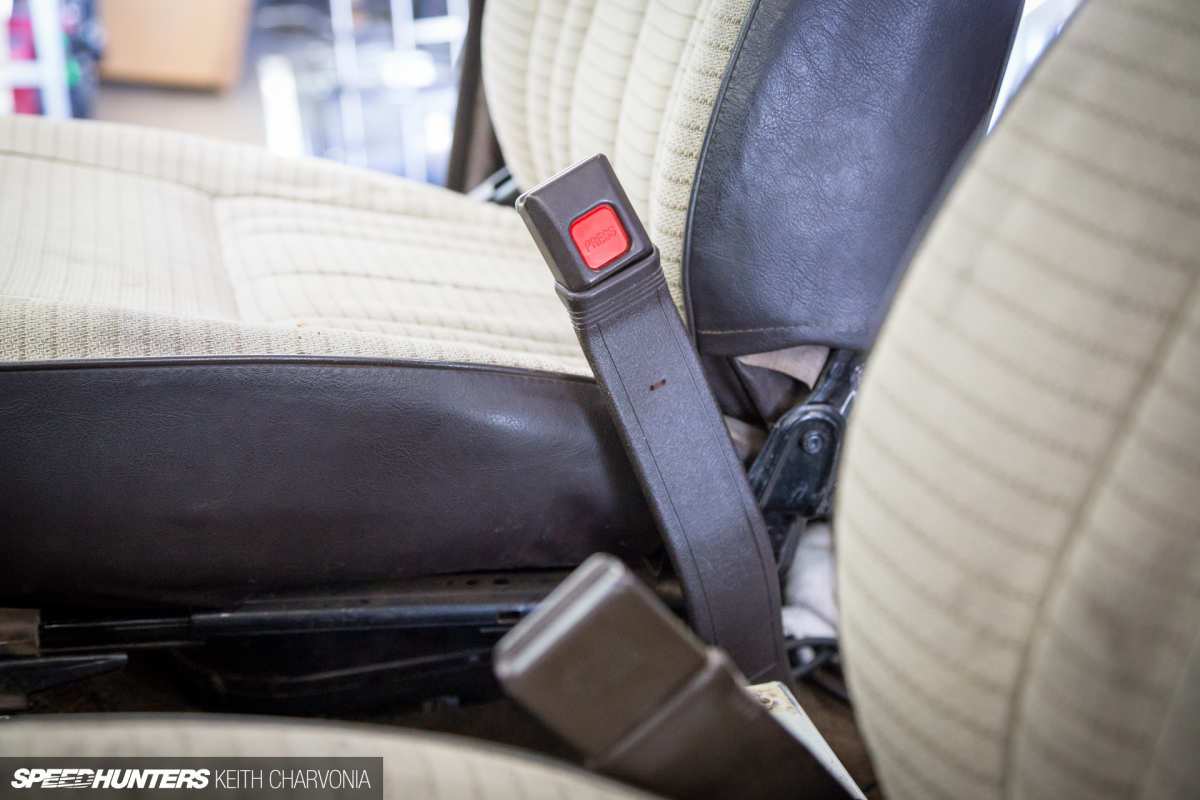 Piece by piece, things are coming together.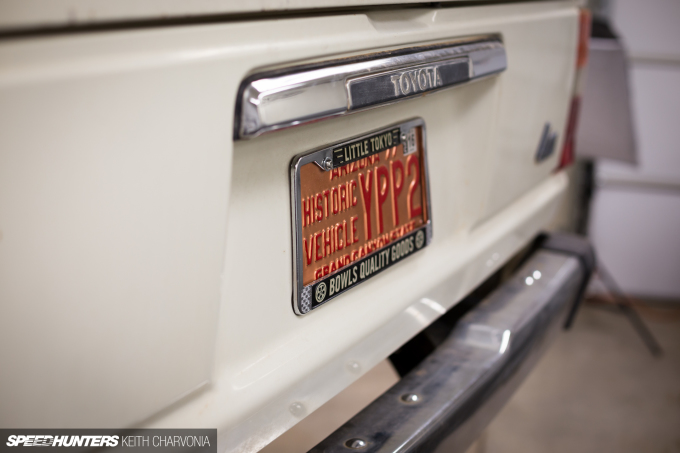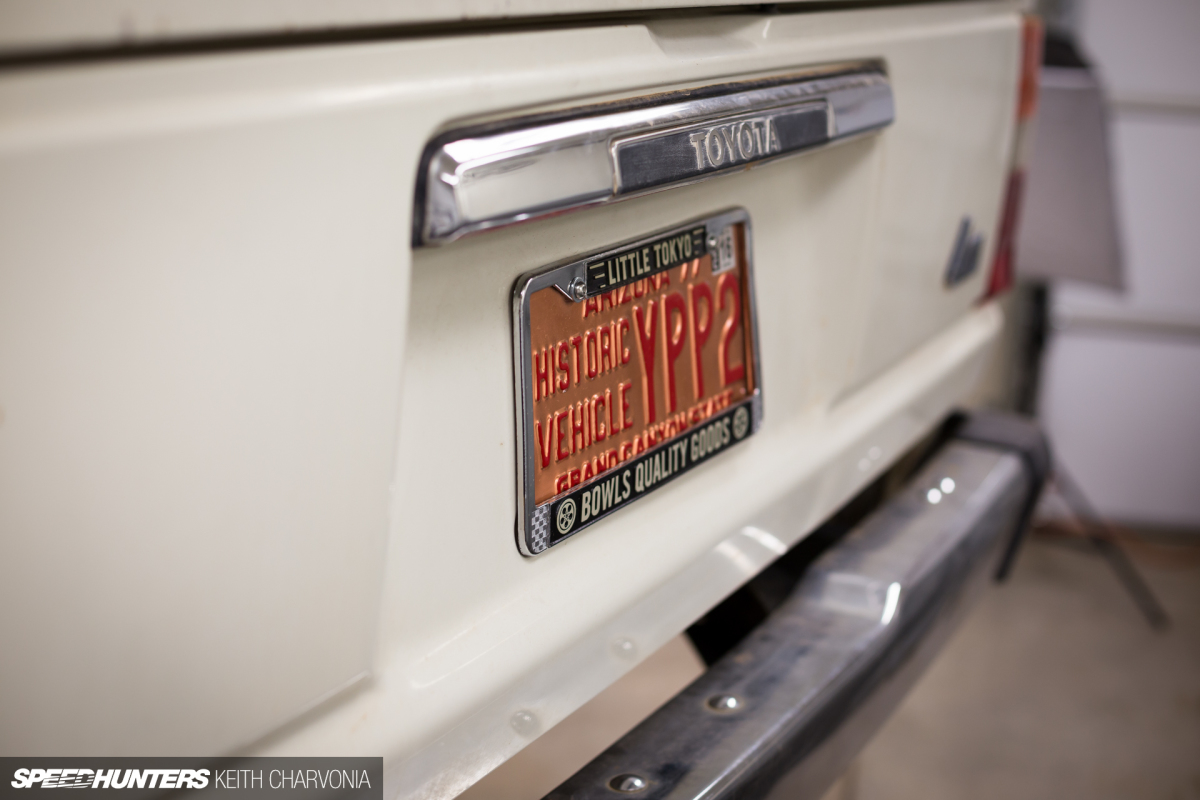 I also ordered a Historic Vehicle plate from my Department of Motor Vehicles, and framed it with this nice souvenir from the guys at Bowls. Bowls is a retail store in Little Tokyo neighborhood of LA, and also runs a video production company from the same space. These are also the guys and girls who came out to film the building of our 2014 Scion Tuner Challenge-winning FR-S. They're good people.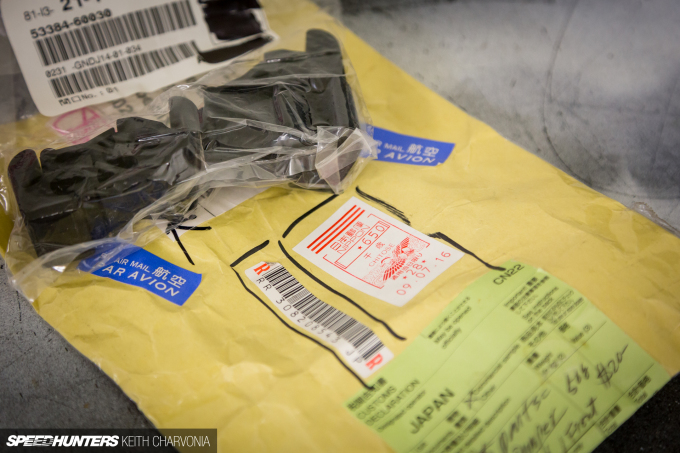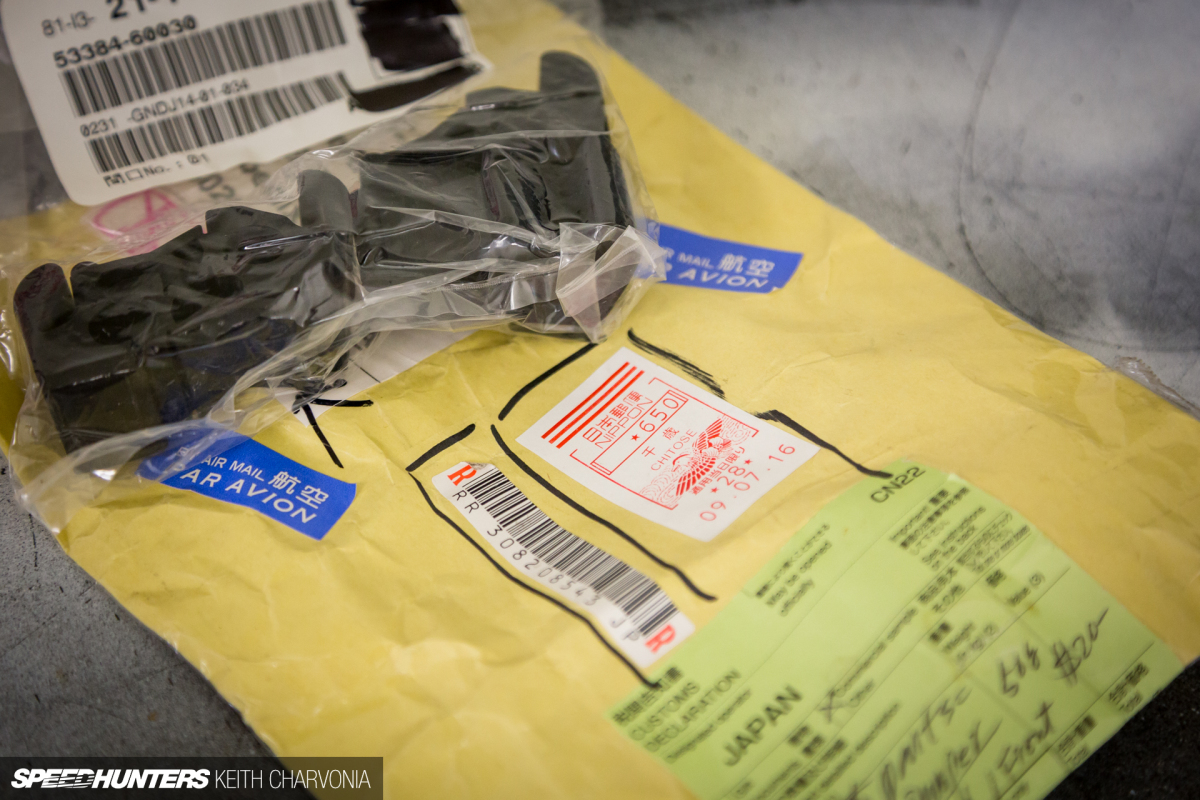 Another online find were these hood bumpers, brand new Toyota parts from Japan.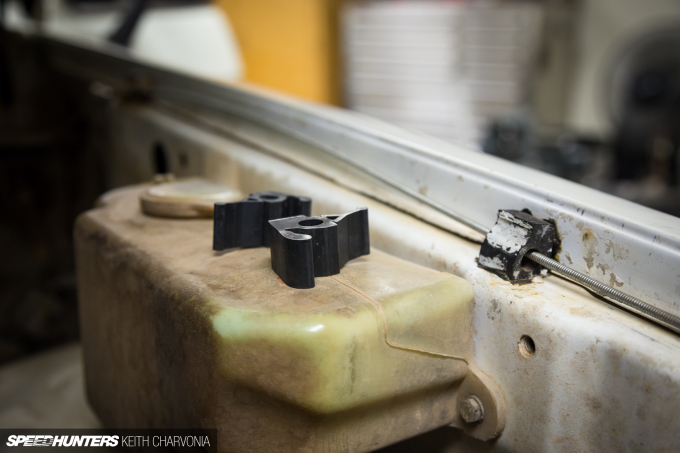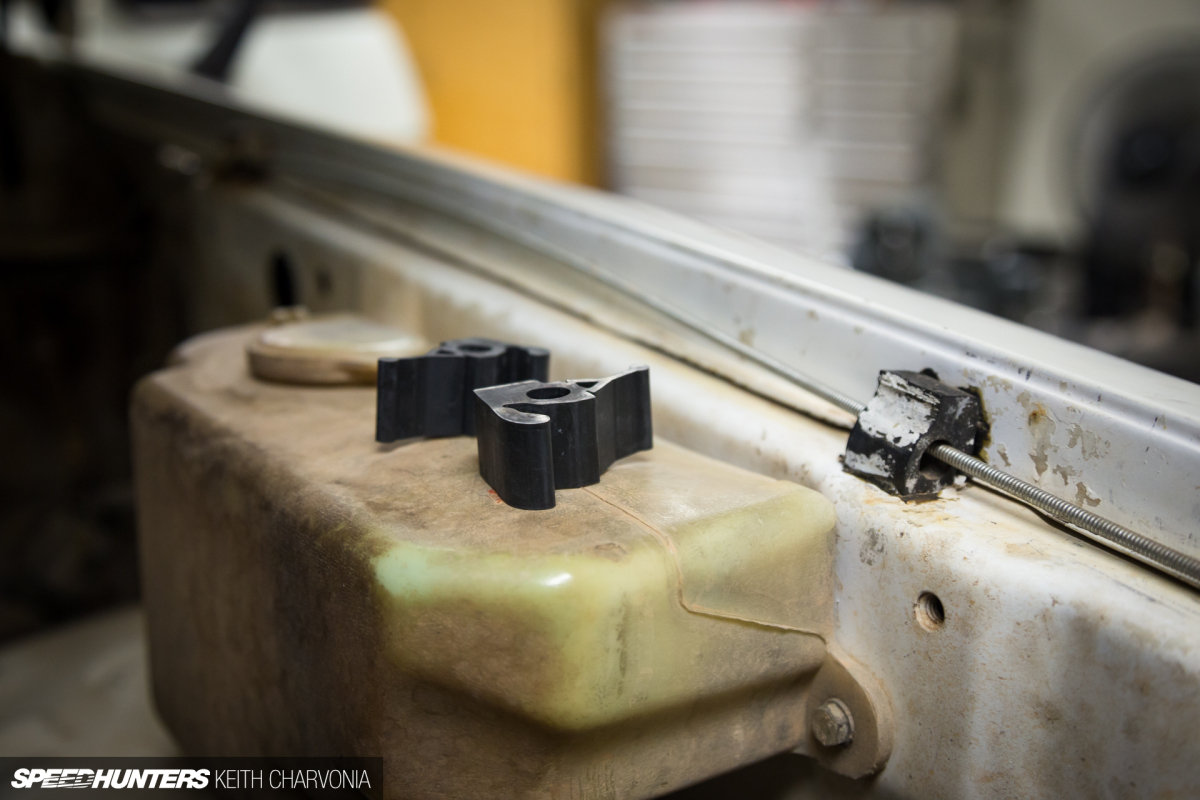 Mine are dried out and broken, so these will be nice.
Finally Wrenching In My Own Garage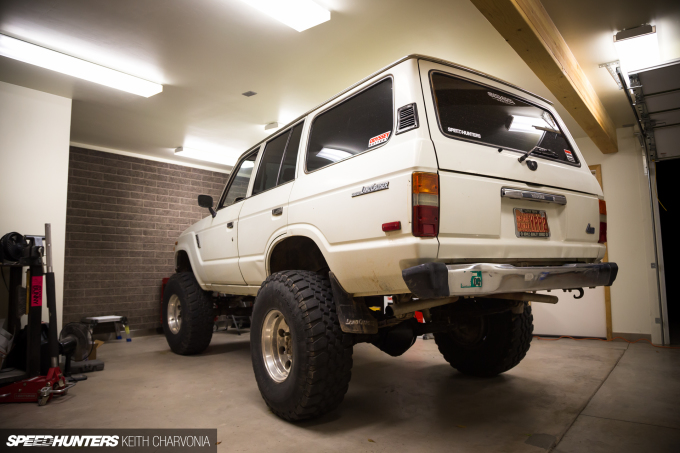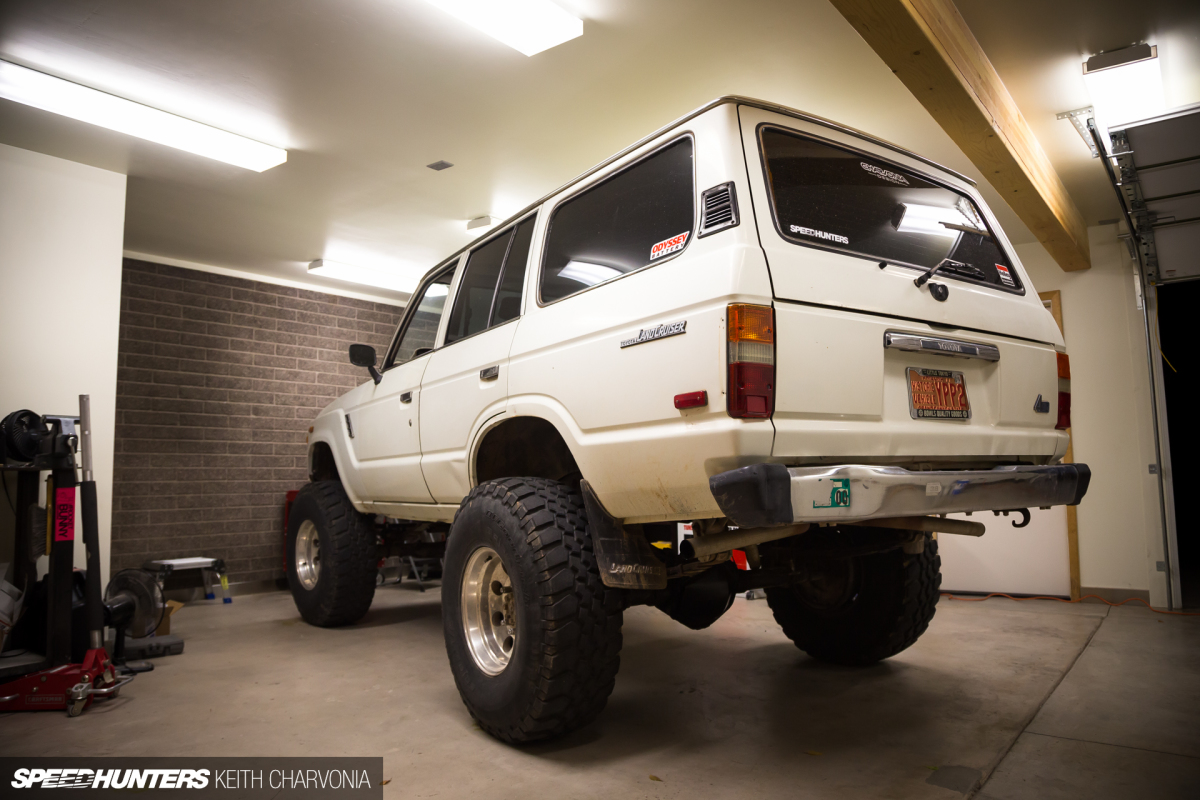 The paint had barely dried on my new garage when I pulled in the Land Cruiser.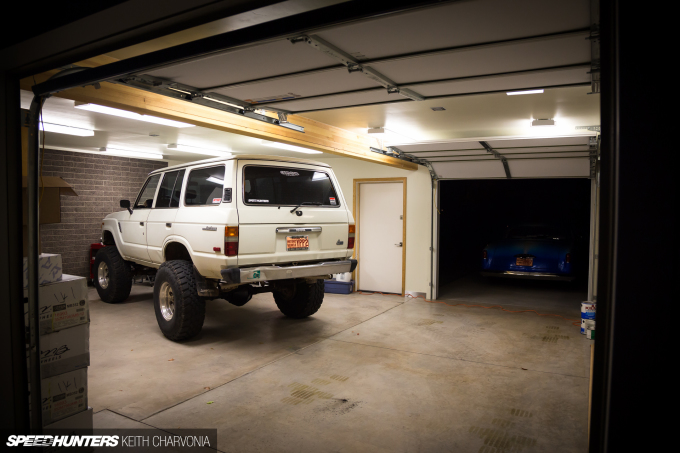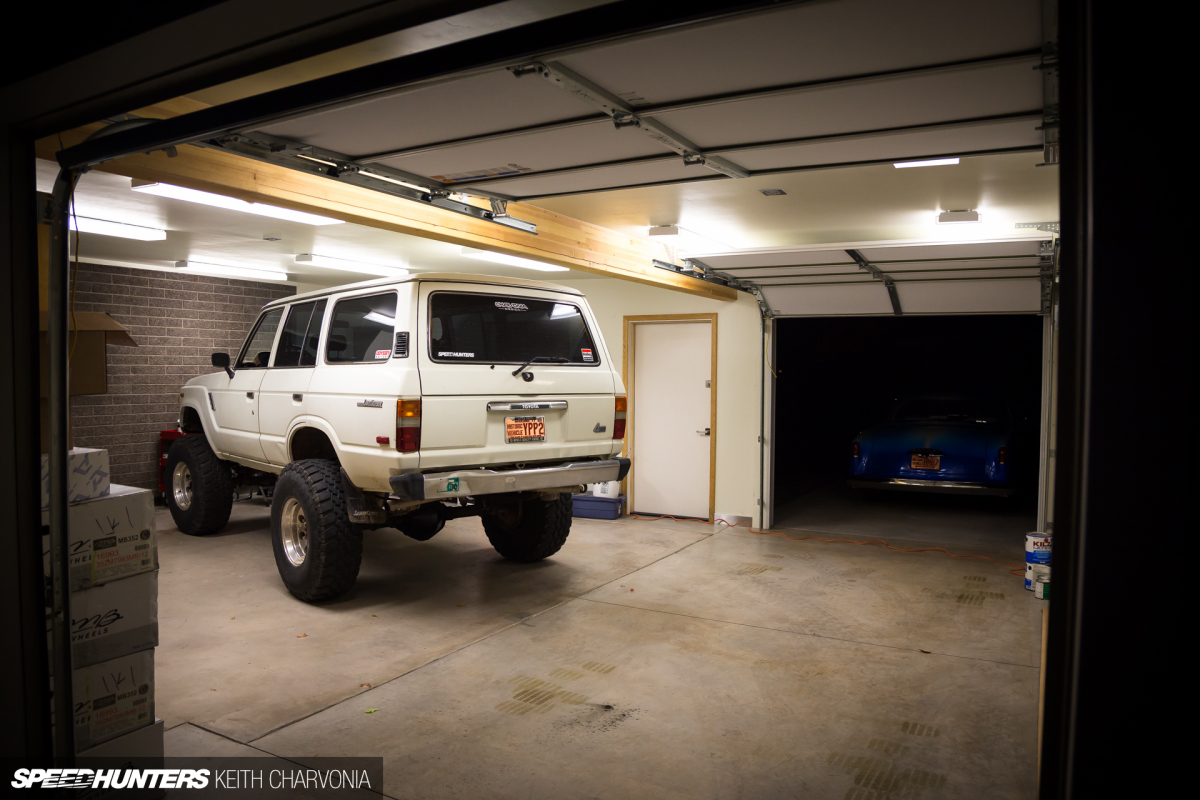 Actually, this seems like a good time to give you a quick tour of the new Charvonia Design headquarters. My old two-car garage is to the left of this photo, while the new shop is situated perpendicular to it, with a single bay door for access. We're looking through the single front garage door here, and notice the extra door on the back. Behind it sits an additional 28-foot-long driveway so I can pull a car straight through.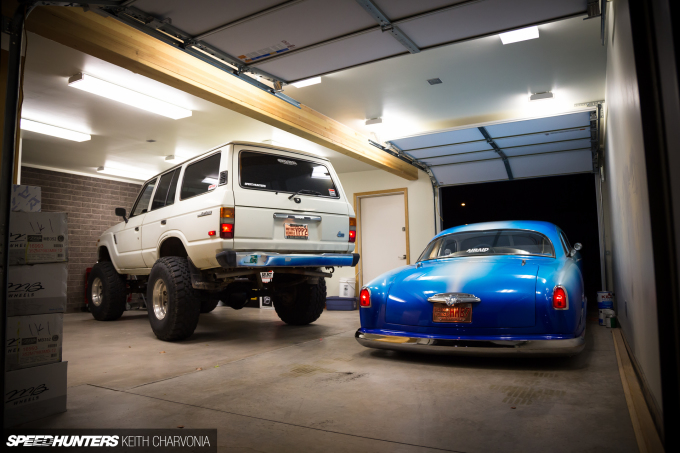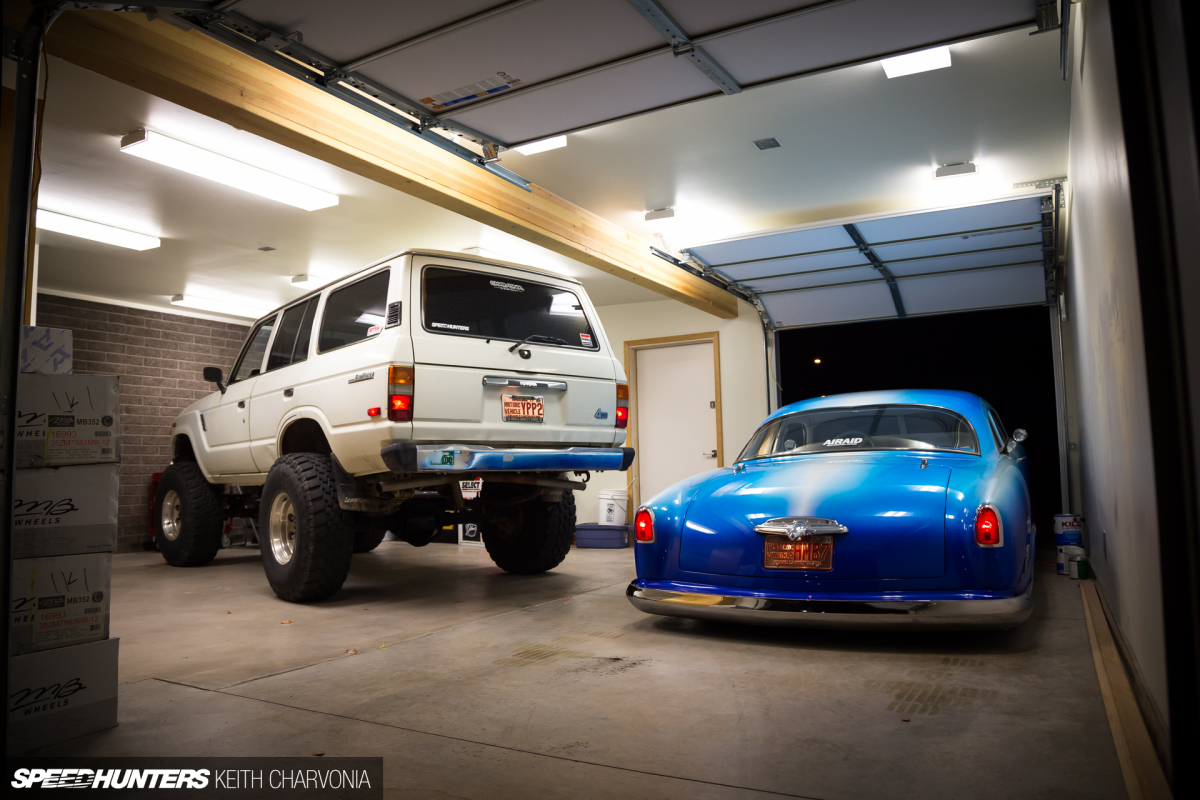 The back bay door not only gives me more precious space to wrench (a four-post lift is planned for the outside driveway), but it also puts an end to the frustrating 'car shuffle' every time I want to work. With my old garage I had to back all the cars out onto the street, including my prized kustom Kaiser, just to get one car into the garage and work on it. Now I simply pull the Kaiser straight through, then pull in the next victim and get to it.
The Big Mod: Terminator EFI From Holley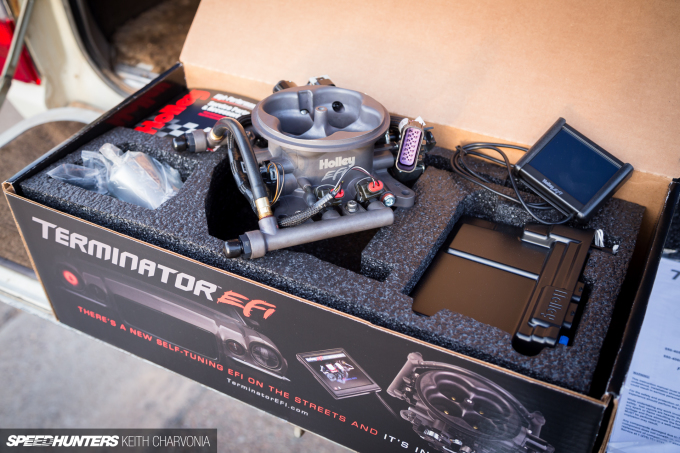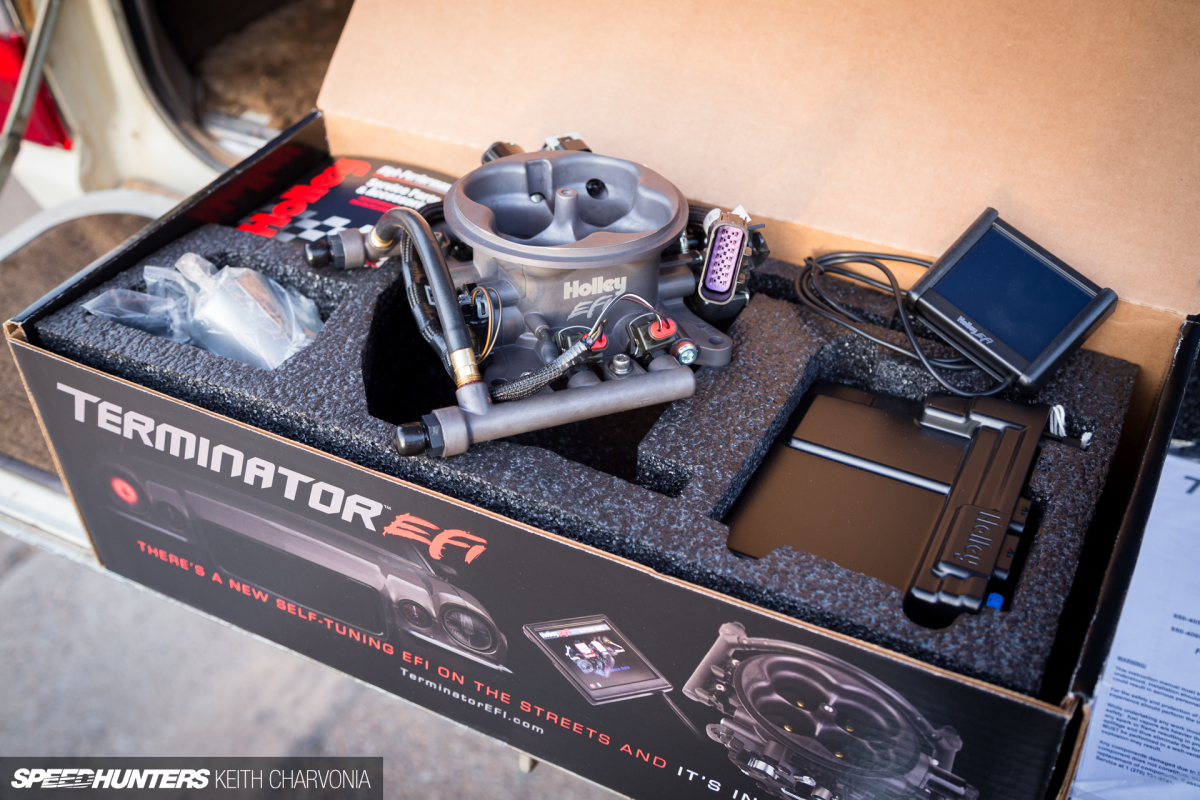 Just as I wrapped up the last installment of Project Trailhunter, this box showed up on my doorstep. Holley's Terminator EFI is a self-learning fuel injection system designed to retrofit onto any carbureted engine with a 4150 mating flange to make it run like a modern engine. By adding a throttle body with fuel injectors plus an ECU and a host of sensors, the system can monitor itself and make adjustments on the fly, just like a factory fuel injected vehicle. But first we have to get it installed, right?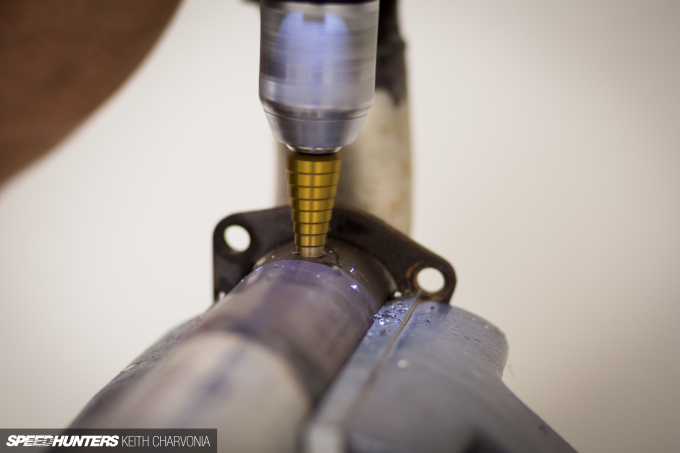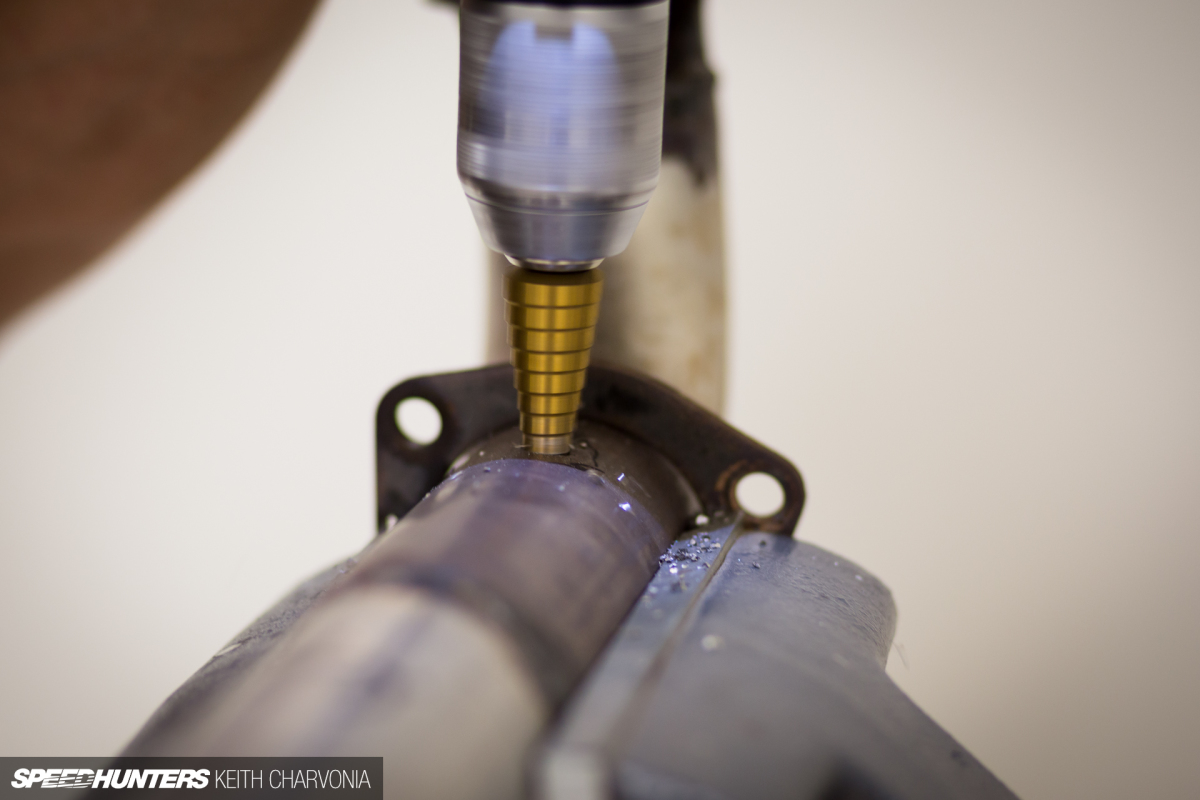 Step one is to find a suitable place to mount an O2 sensor, which will feedback the air/fuel ratio (AFR) to the ECU.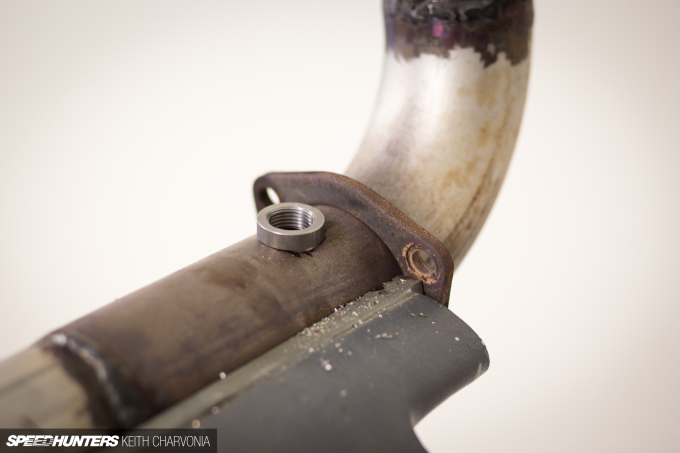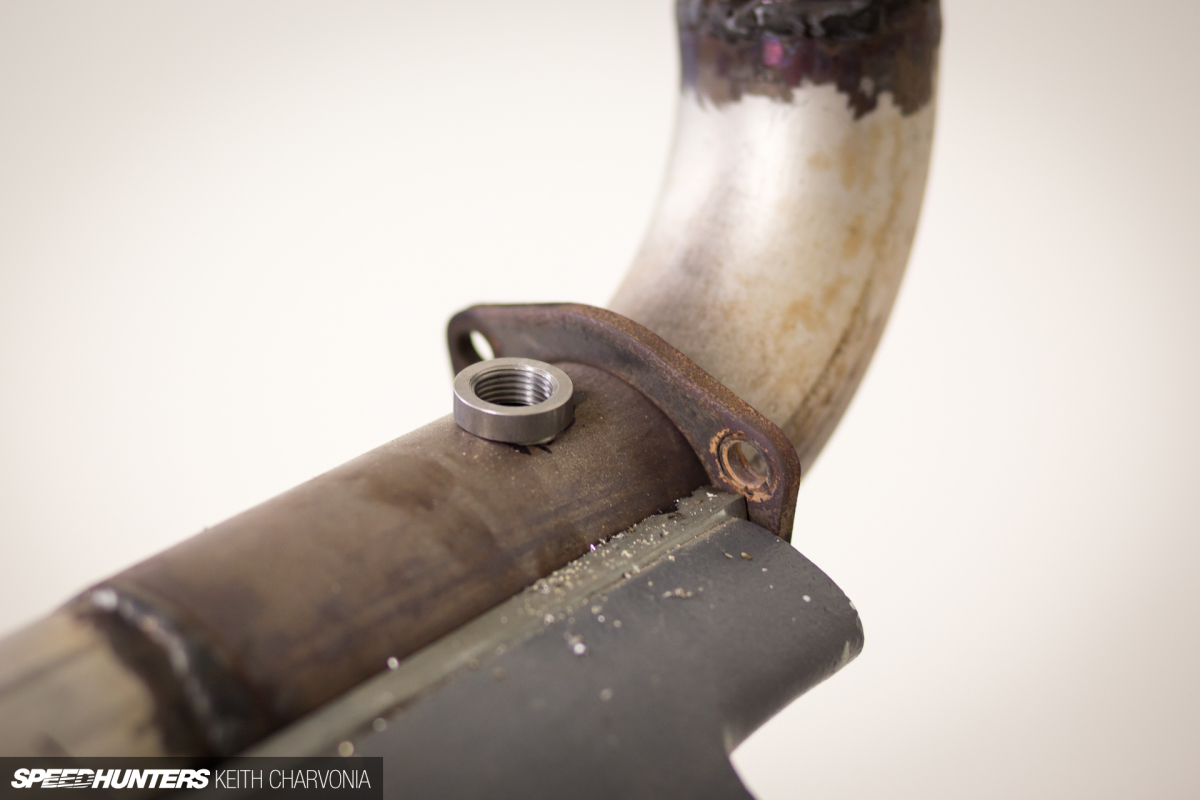 You want to position the bung in the top portion of the exhaust pipe to keep condensation from pooling on the sensor.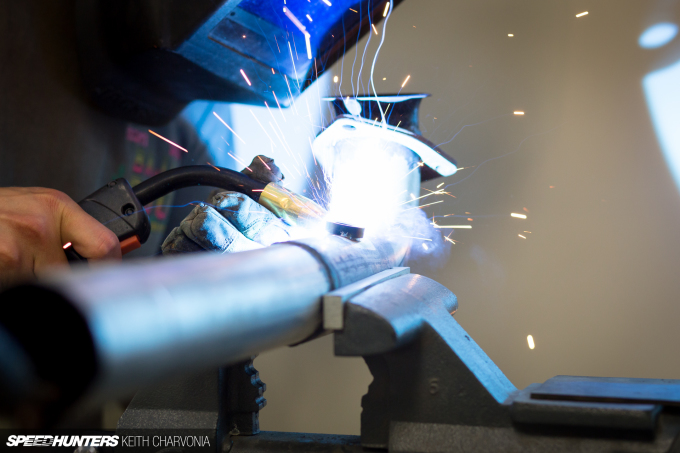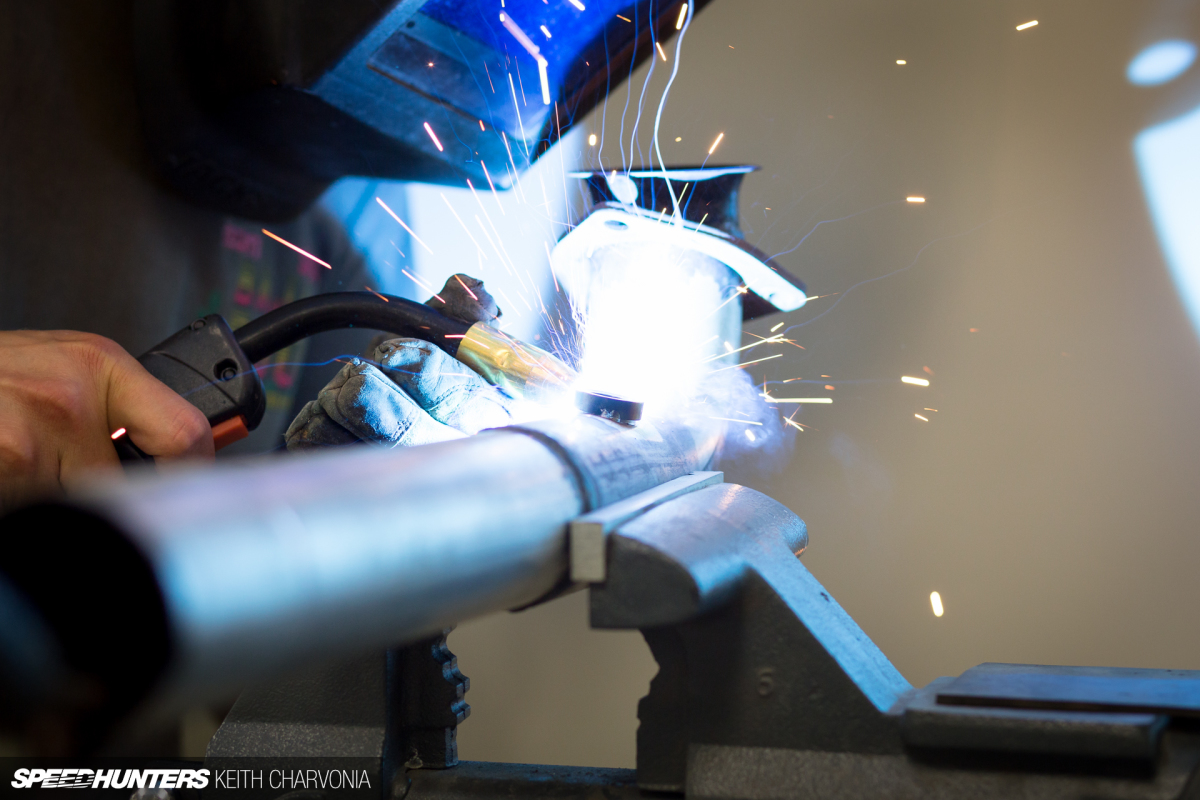 Fortunately, I just built these collector pipes to connect to my Hooker headers, so everything was easily disassembled. I drilled one hole and welded in the provided bung with threads to match the sensor.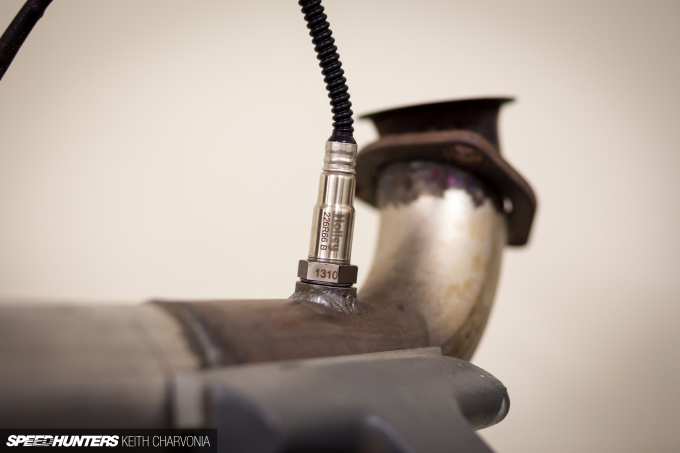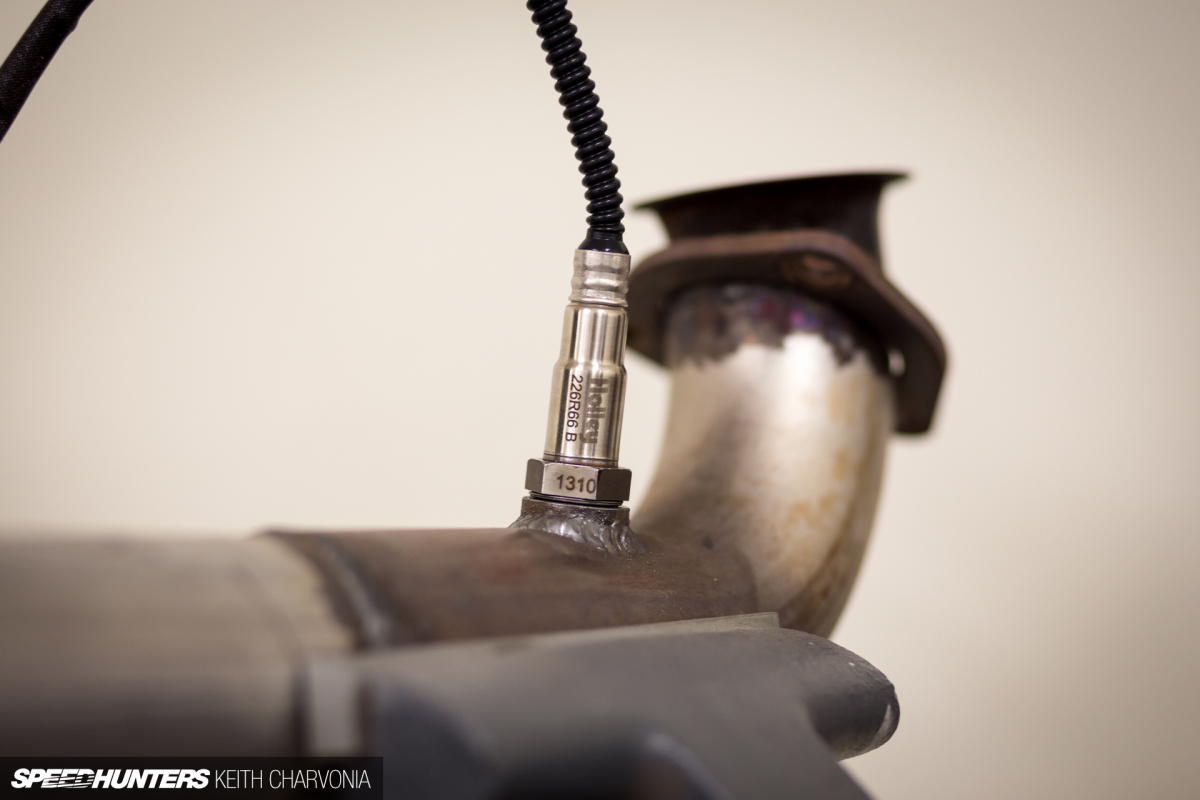 Step one was complete, and really not difficult at all with the right tools. If you don't have access to a welder this is a simple job for a muffler shop or fabricator and shouldn't cost much at all.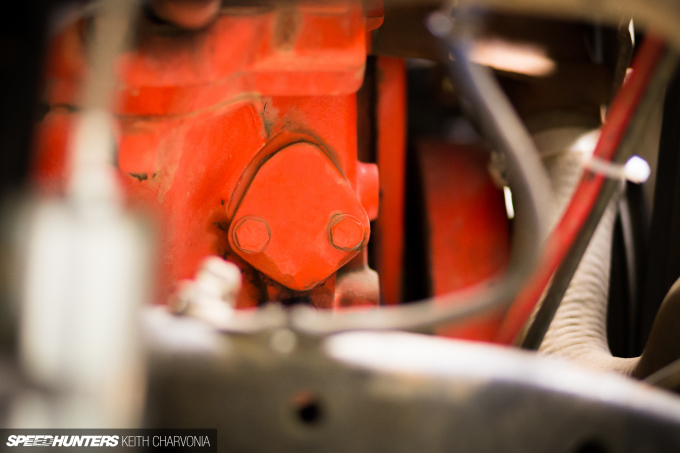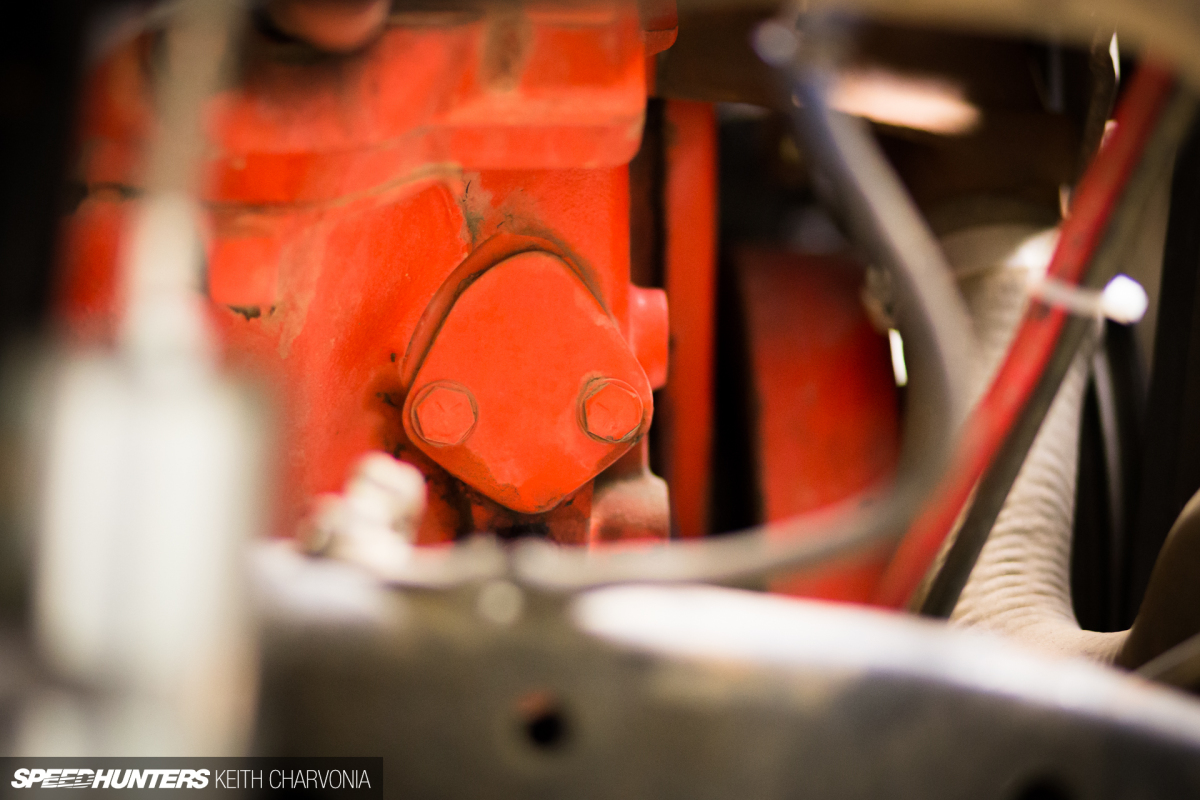 While I tackled the O2 sensor install, my friend helped with some other tasks, like replacing the fuel pump block-off plate with a much nicer version provided by Holley.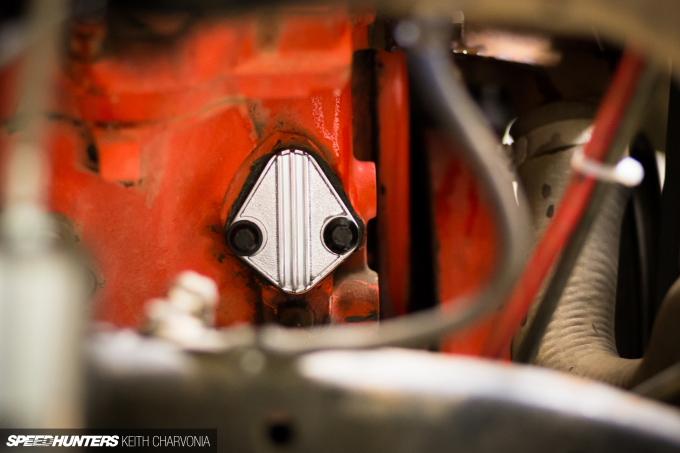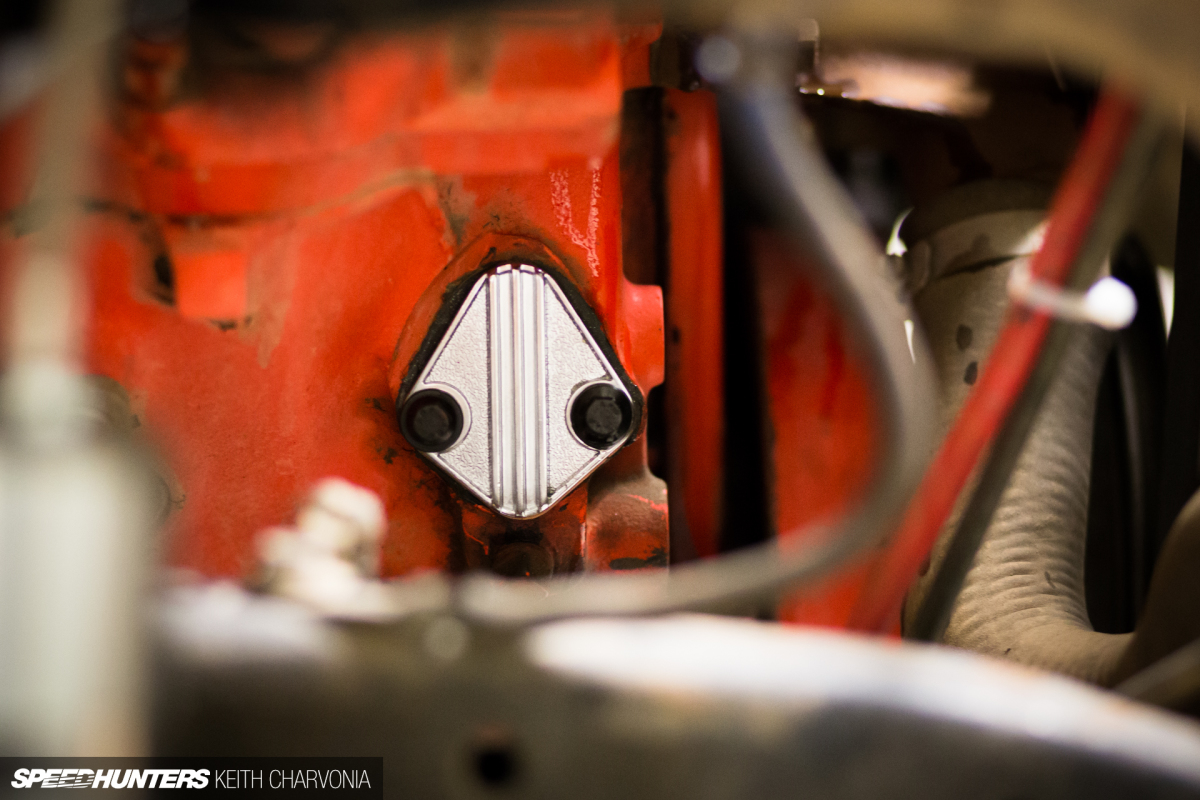 Typically, you would be removing the stock mechanical fuel pump from this location on the engine block since you're installing a high pressure electric pump for the EFI system. My FJ had a low pressure electric pump already installed though, so we were just swapping out the plate for a nicer one.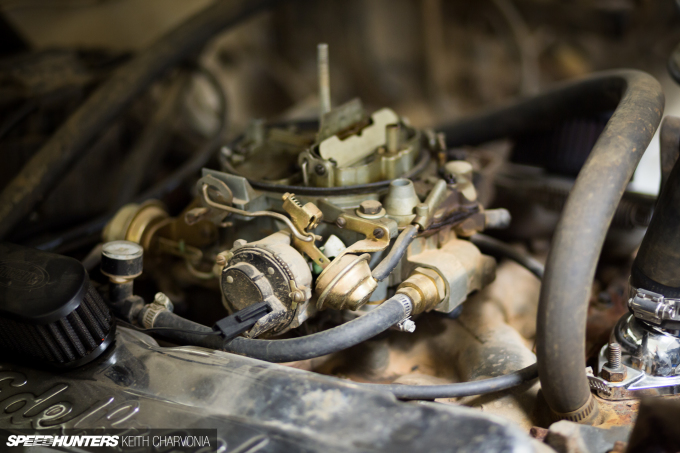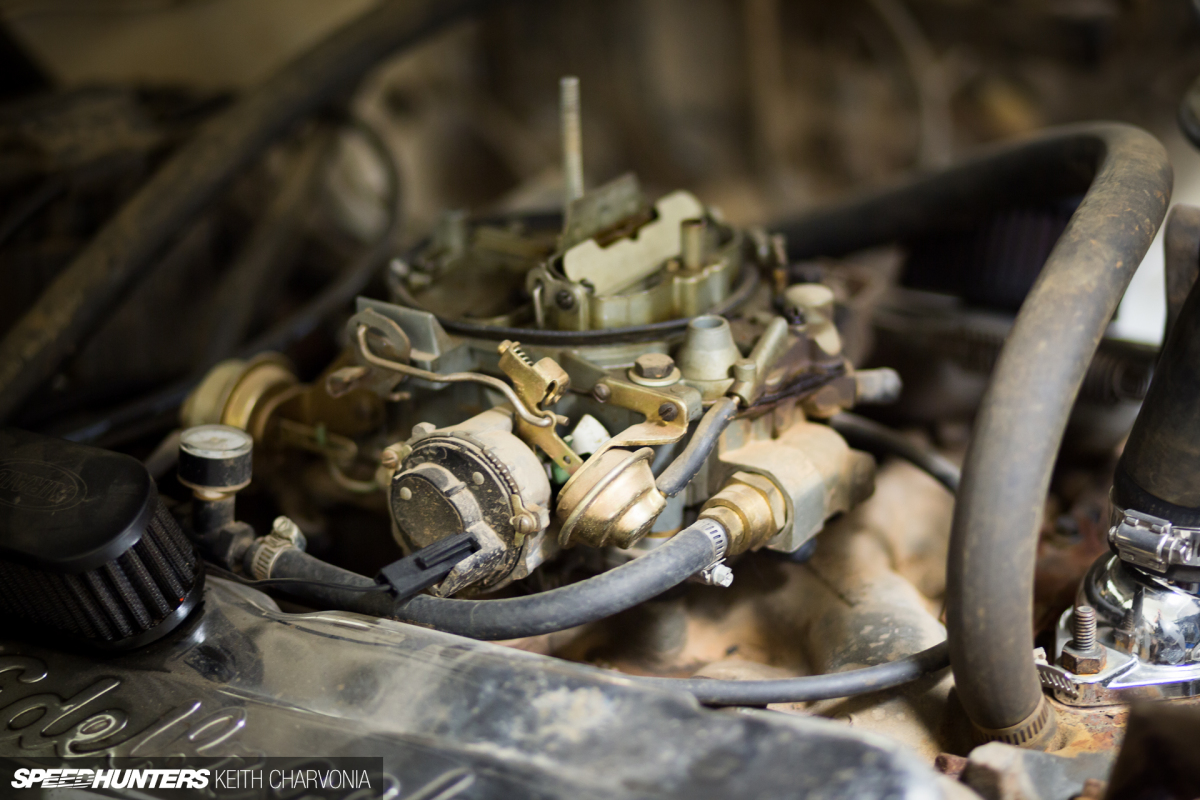 Next, I turned my attention to the factory Quadrajet carburetor. Thankfully, the 454 has never let me down, always starting when I twist the key. Sure, it cranked longer when it hadn't run in awhile, but I have never been stranded. Despite the apparent reliability of the stock fuel delivery system, this is also what's known as a smog-era motor.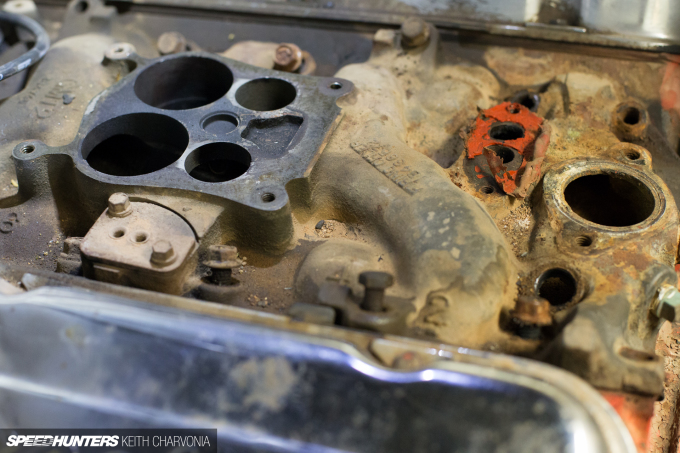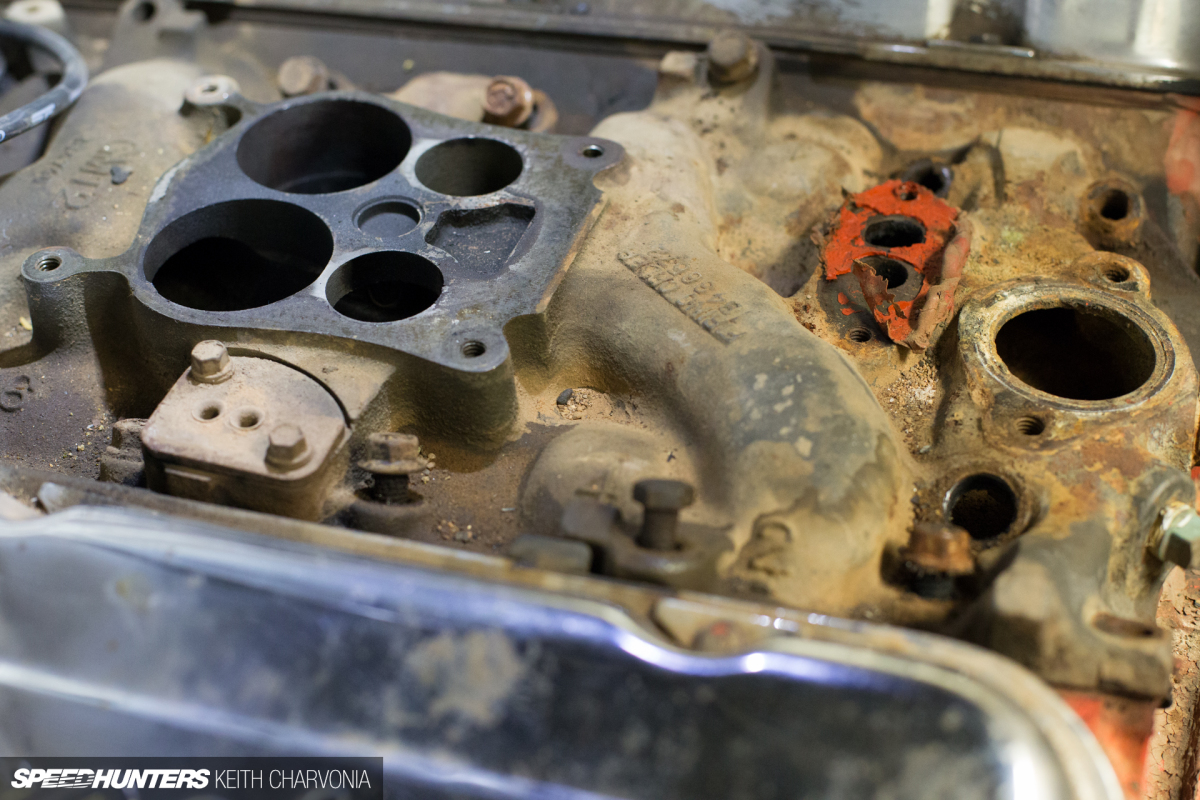 In the late 1970s fuel prices were soaring and the US government was cracking down on emissions, so companies like Chevrolet did their best to neuter their big V8s to reduce emissions and increase efficiency. Of course, this came at the cost of horsepower, leading to some very big, yet very slow cars. Point is, there's a lot of room for improvement on an engine like this.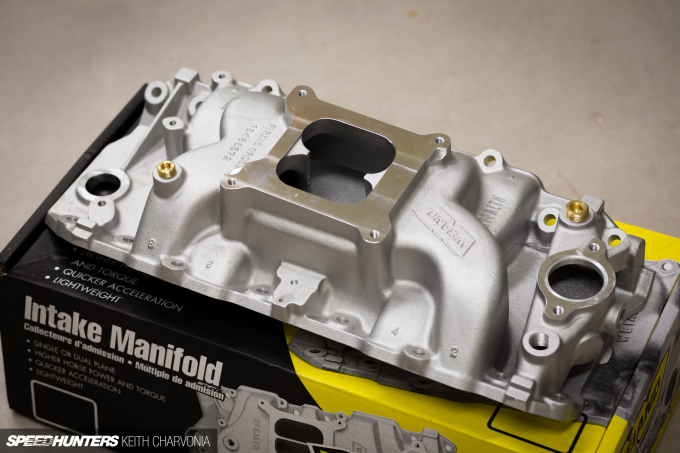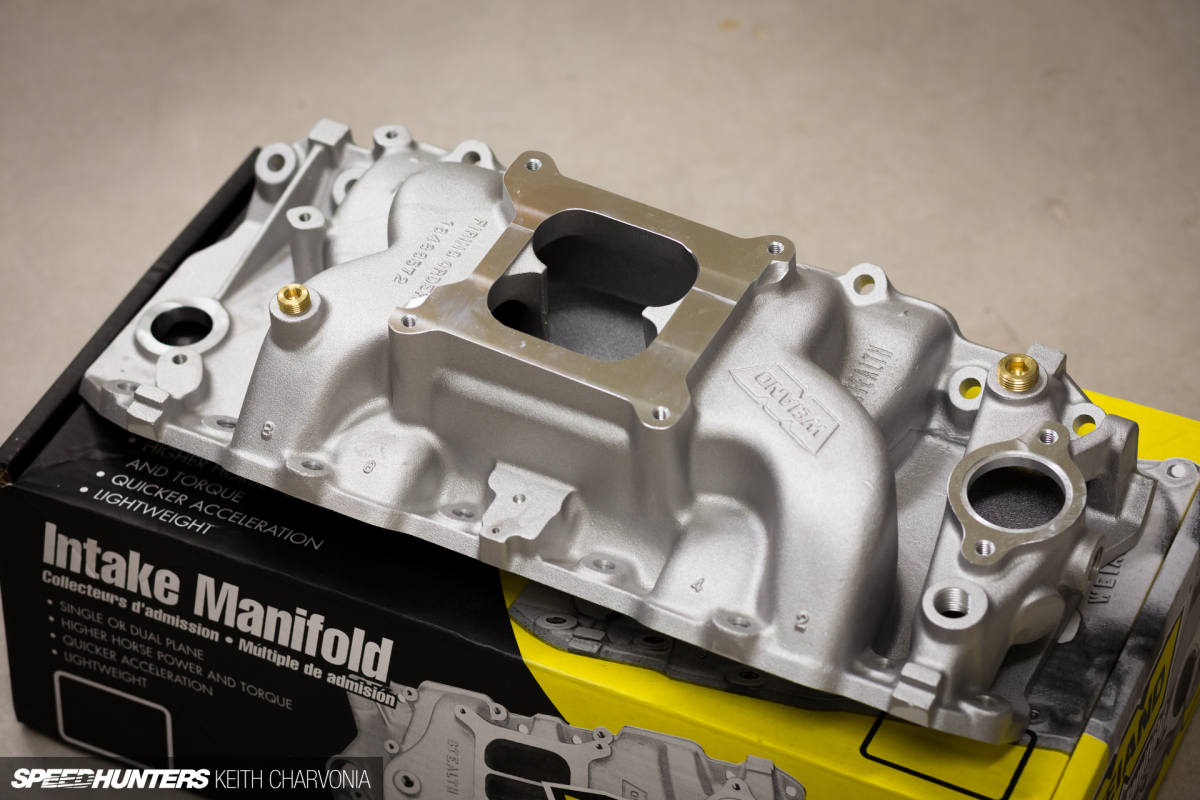 In addition to the fuel injection system, Holley also sent a Weiand Stealth Dual Plane intake manifold. This is one area where the big Chevy engine could definitely use some improvement, with the dual plane design and long runners adding low-end torque.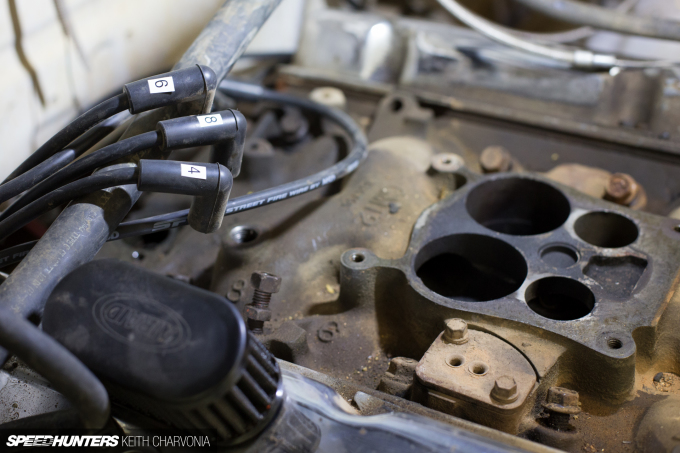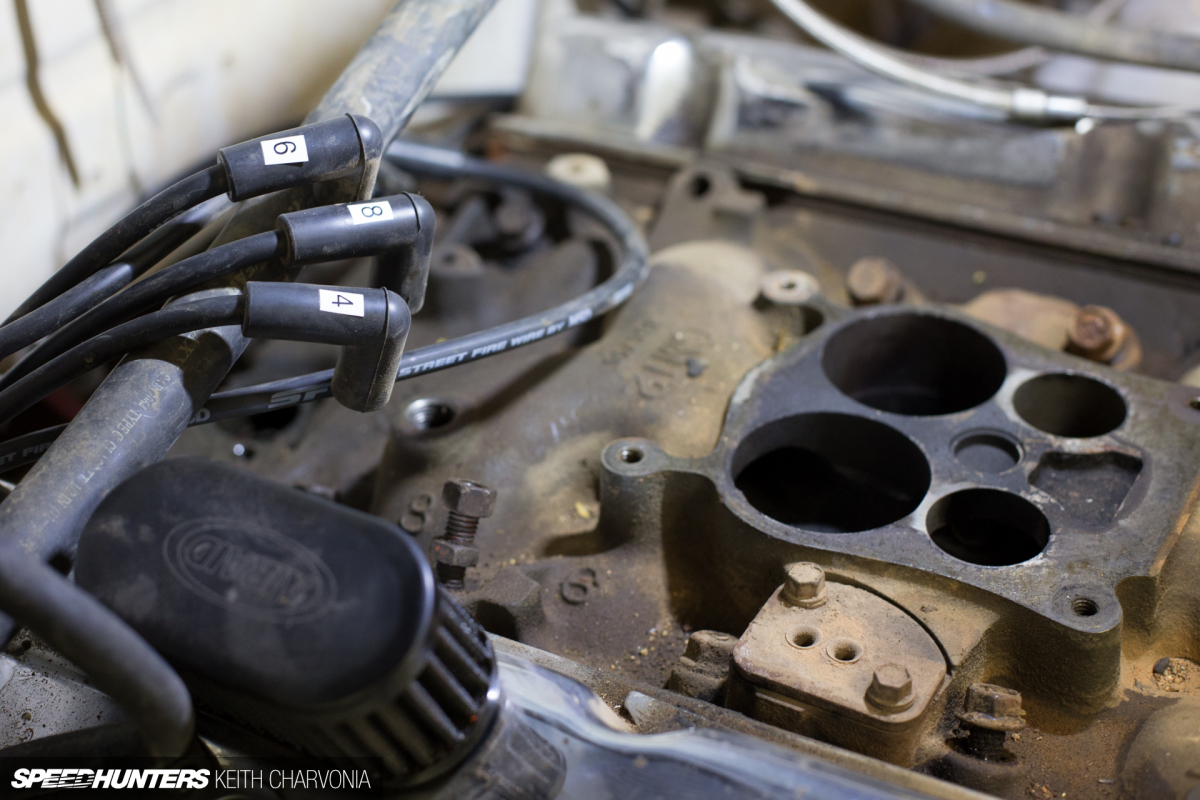 Swapping the intake manifold required removing the distributor, so I took the time to label all the plug wires before removing them. Look at what a mess the stock manifold was!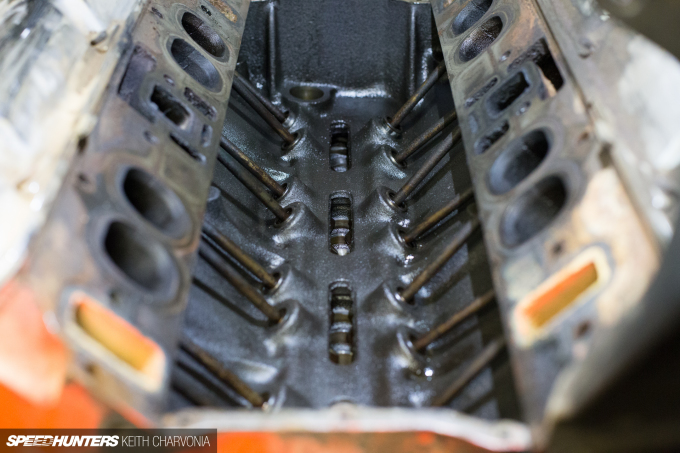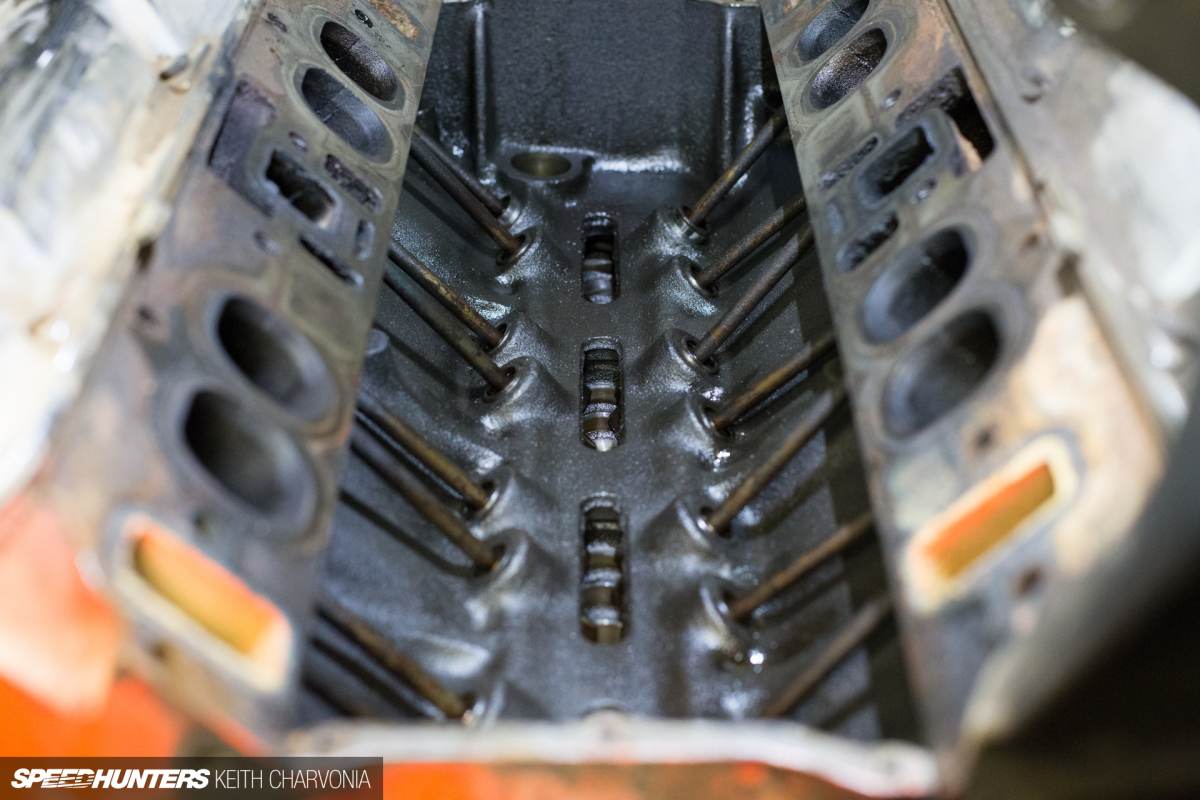 I was happy to be replacing the filthy stock manifold, especially when I realized how loose all the bolts were. It's amazing how well the truck ran when it surely had multiple vacuum leaks.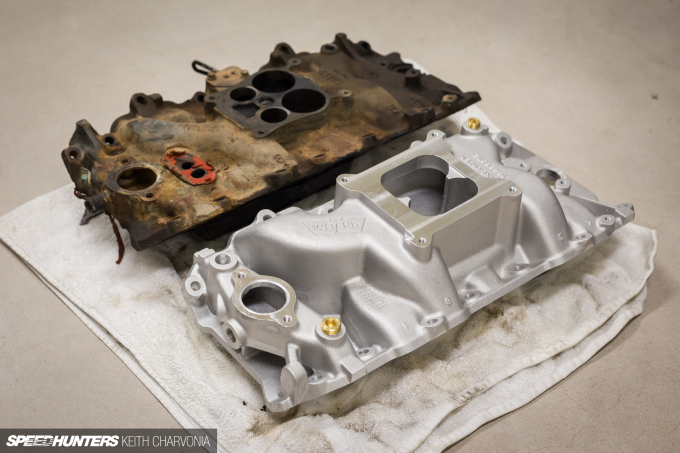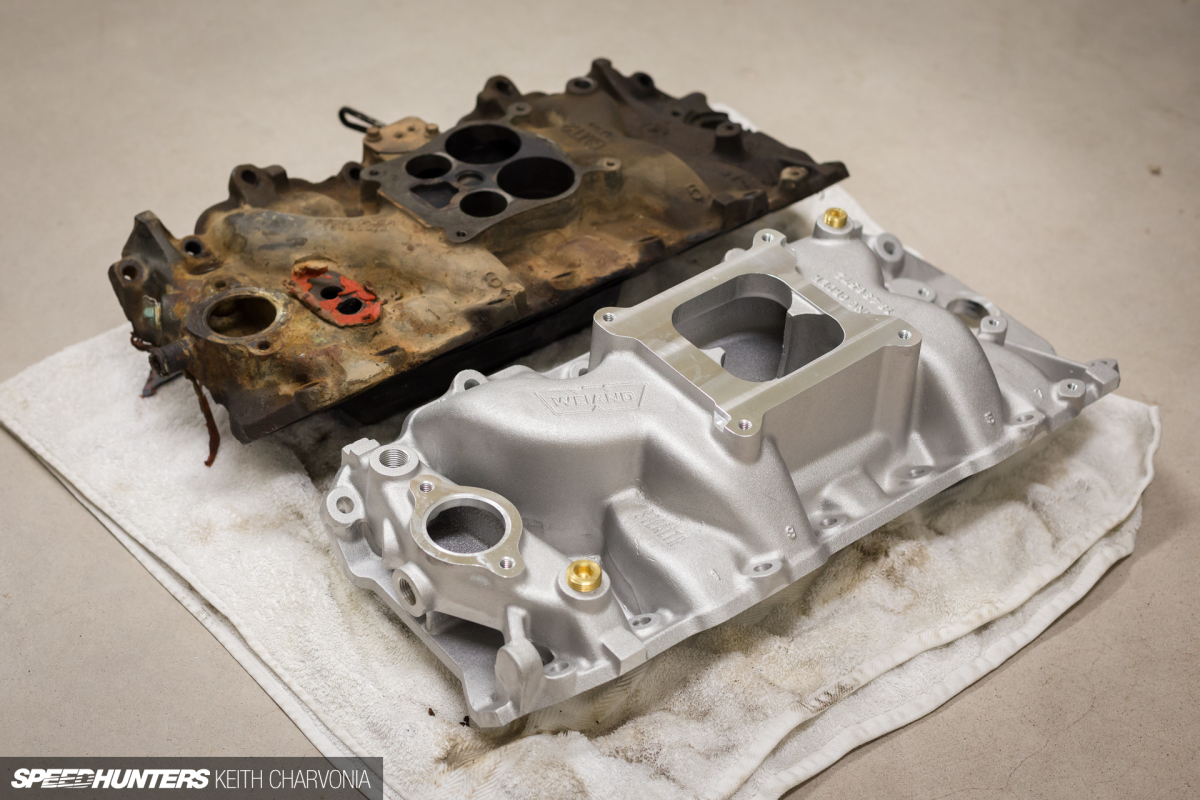 Side by side you can really see the differences between the manifolds. Look at the length of those runners!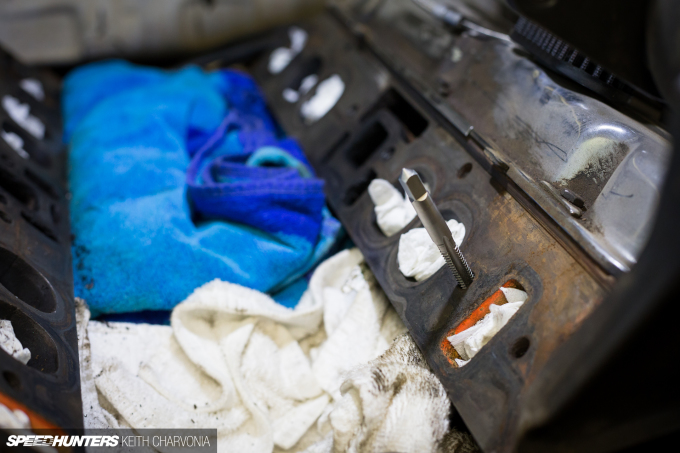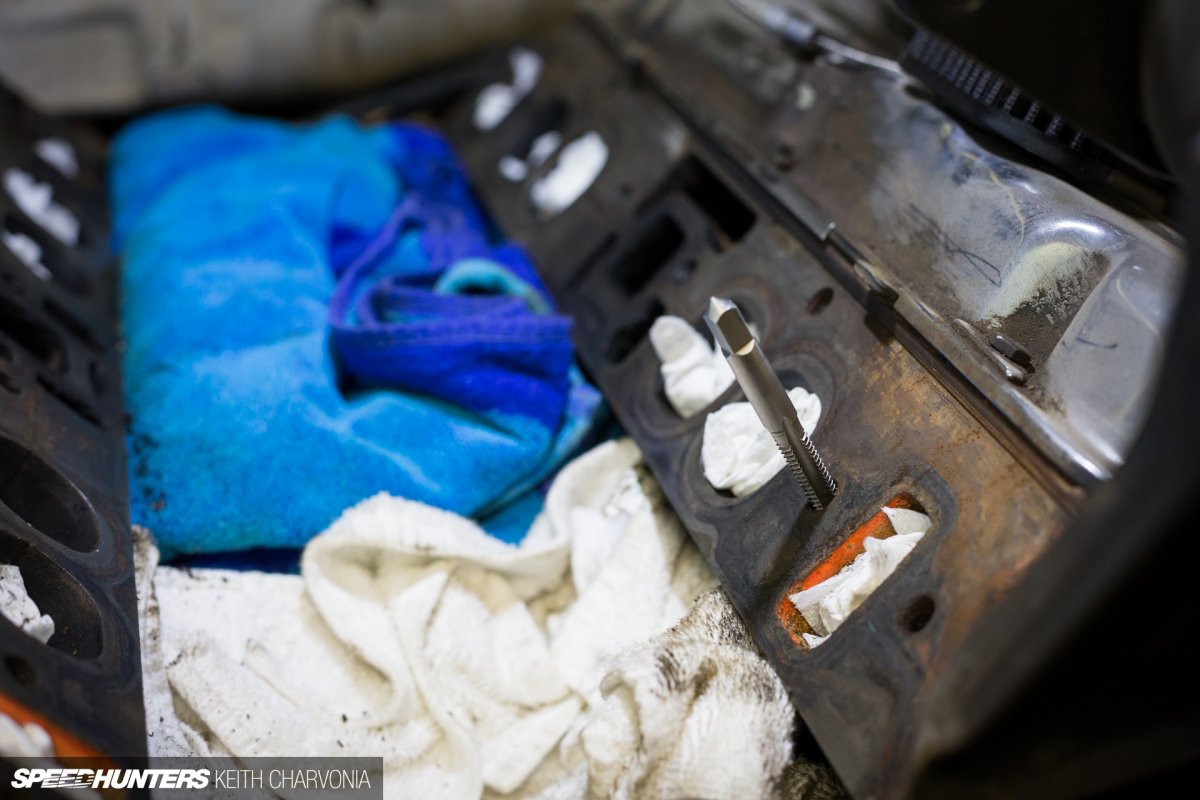 That stock cast iron manifold was so heavy I had to climb up into the engine bay and muscle it out. I was glad to be replacing it with a much lighter aluminum part. I stuffed rags in the valley and ports before cleaning everything up and chasing the threads.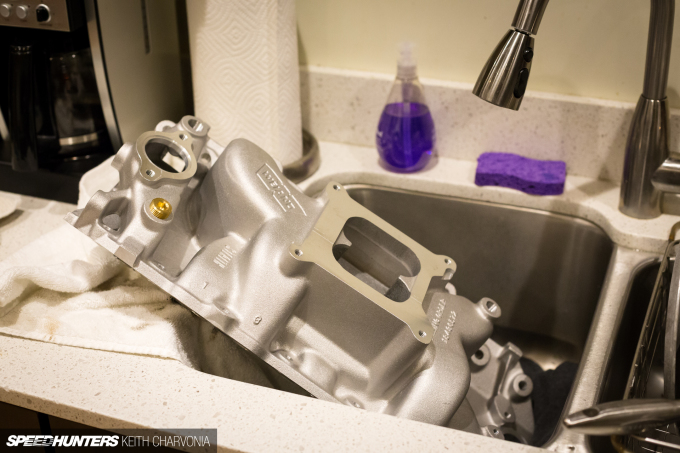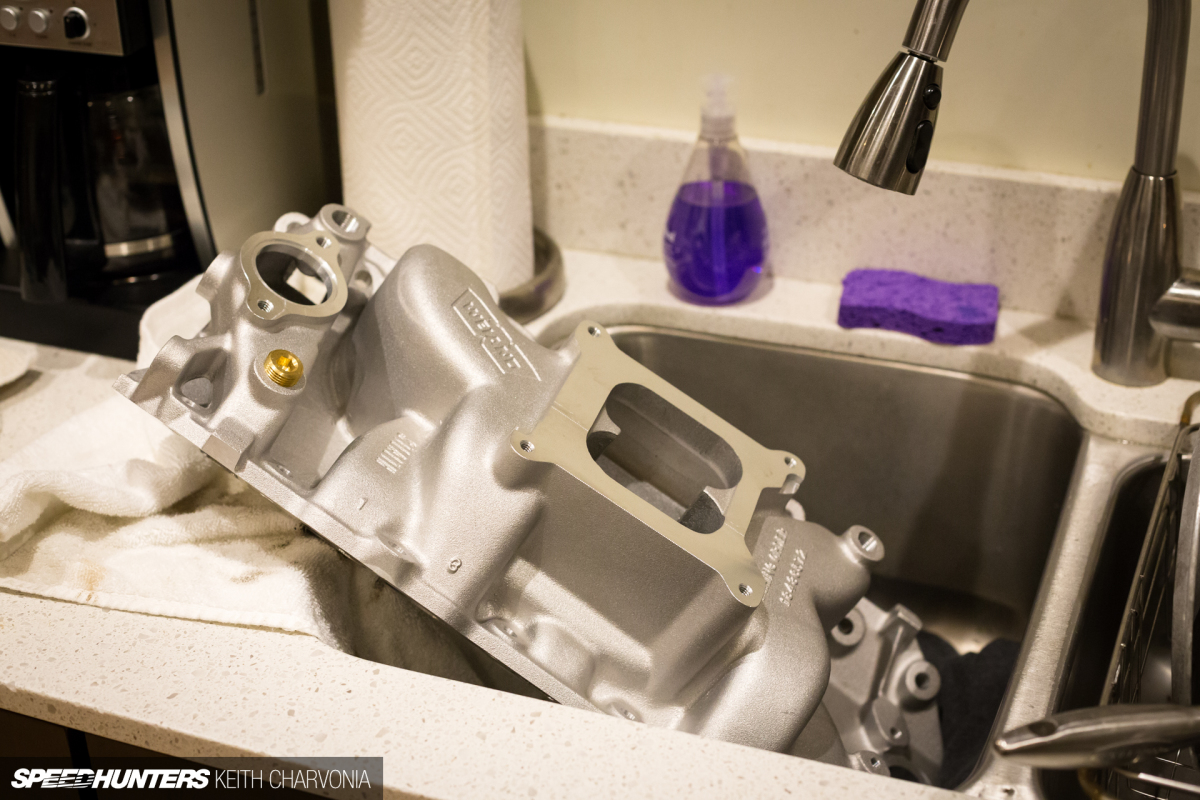 Once my wife was asleep I snuck the new manifold into the kitchen sink. It's important to wash a new cast part like this and inspect it as you go. You're looking for any metal shavings or dust, and hand washing it with dish soap really makes you pay attention to all the surfaces. I wire-brushed out the ports the best I could then blew it out with compressed air.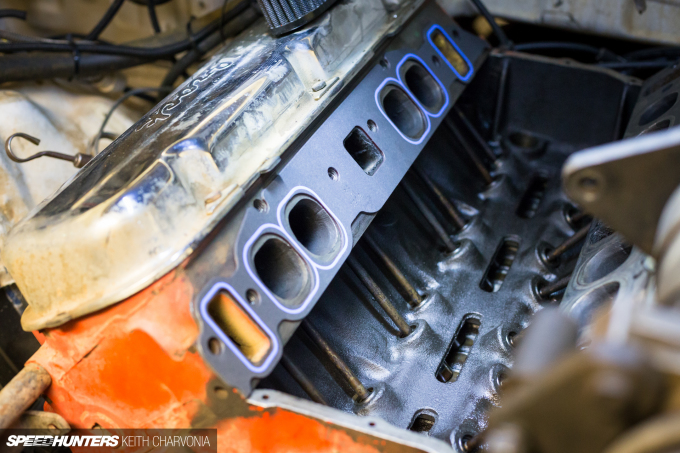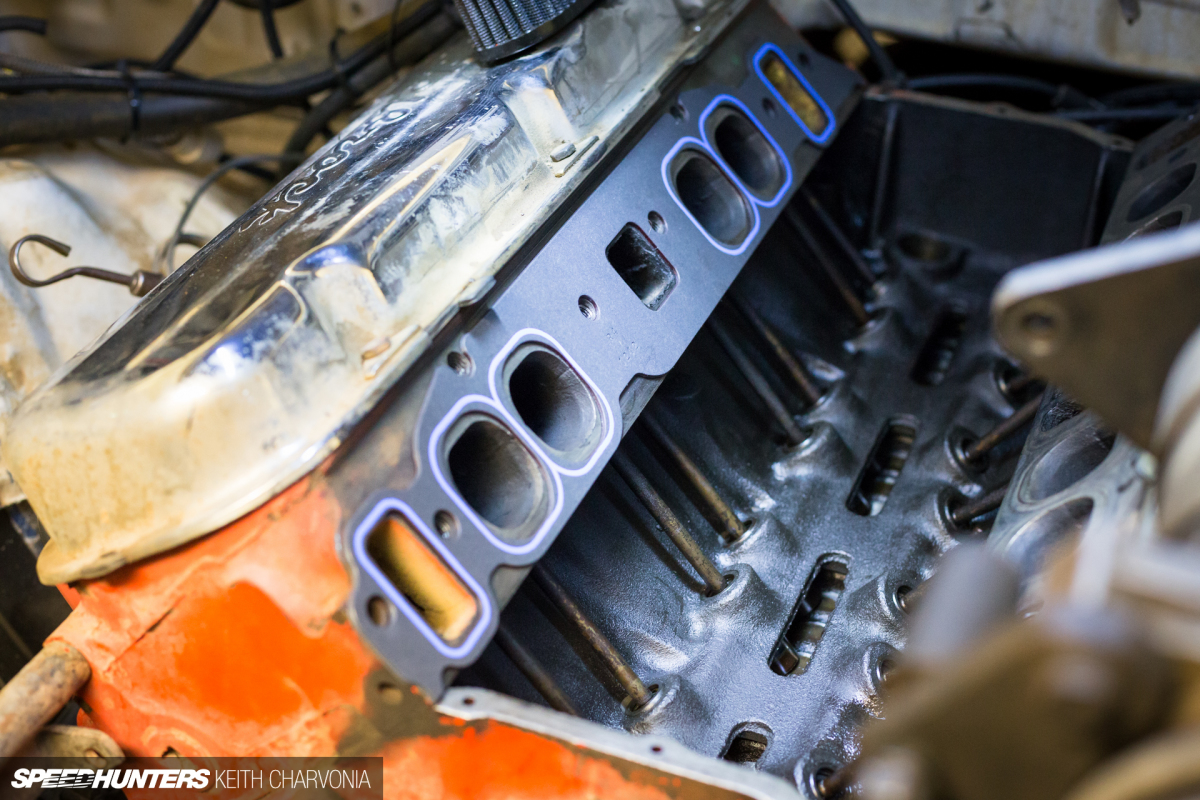 New Fel-Pro gaskets were positioned before I dropped the new Stealth manifold into place. I was feeling much better having gone through this part of the motor now.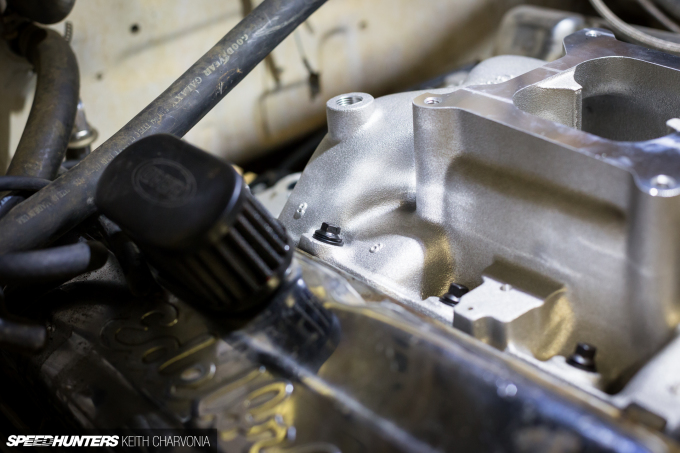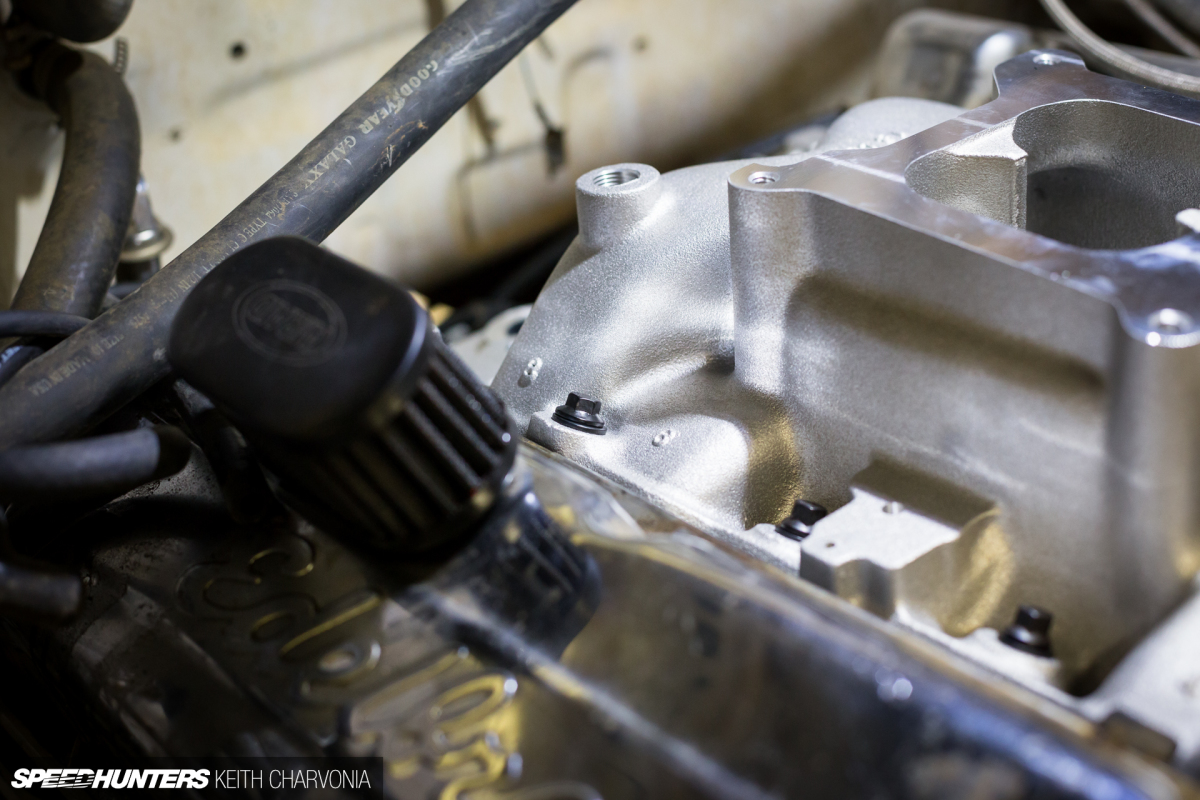 ARP was kind enough to send over a complete bolt kit for my engine, so I already had brand new, quality hardware to use for the install. I torqued all of the bolts down in the correct sequence.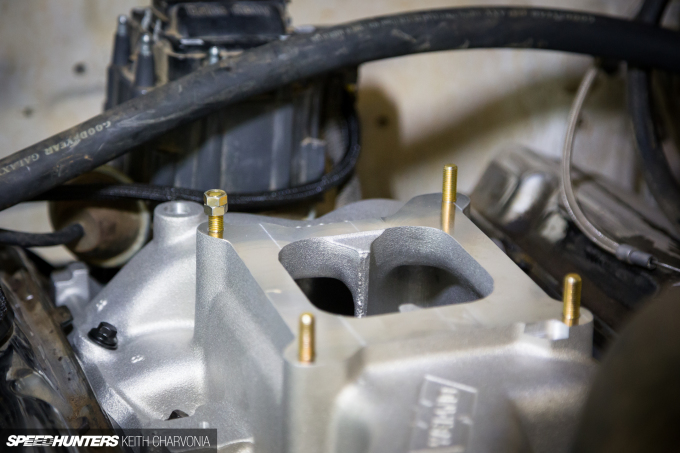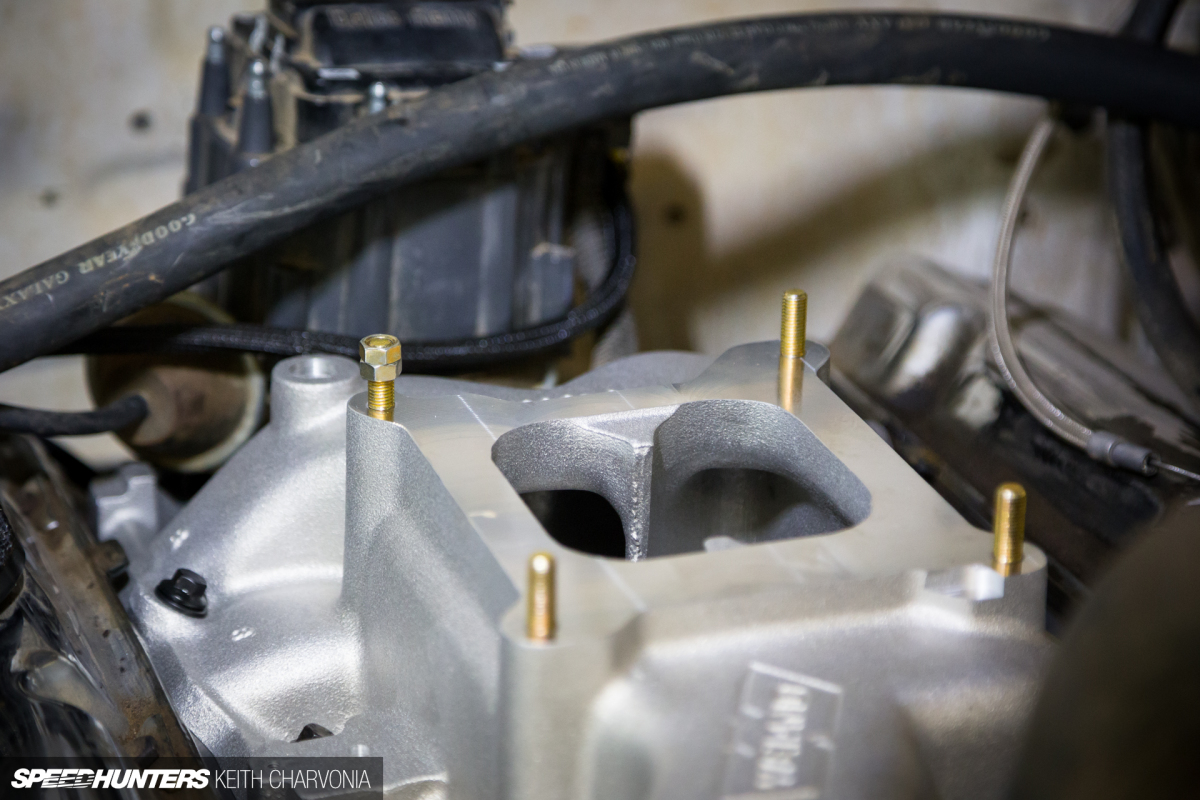 I knew I was getting close to installing the heart of this system when I threaded in the throttle body mounting studs. The Terminator EFI system uses a standard 4150 4BBL mounting pattern, so it will bolt right up to the old school Weiand manifold.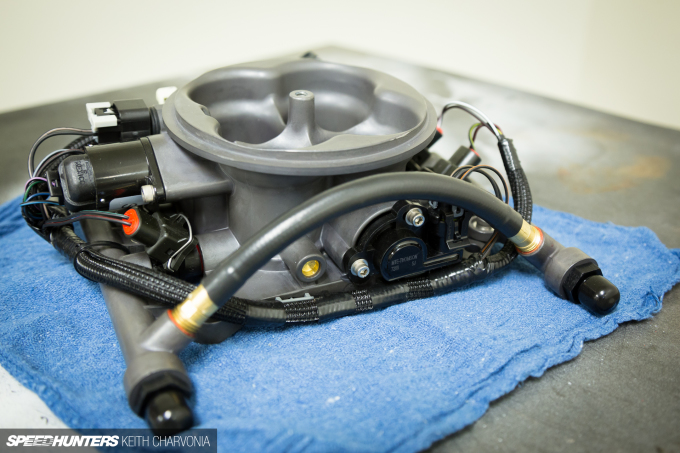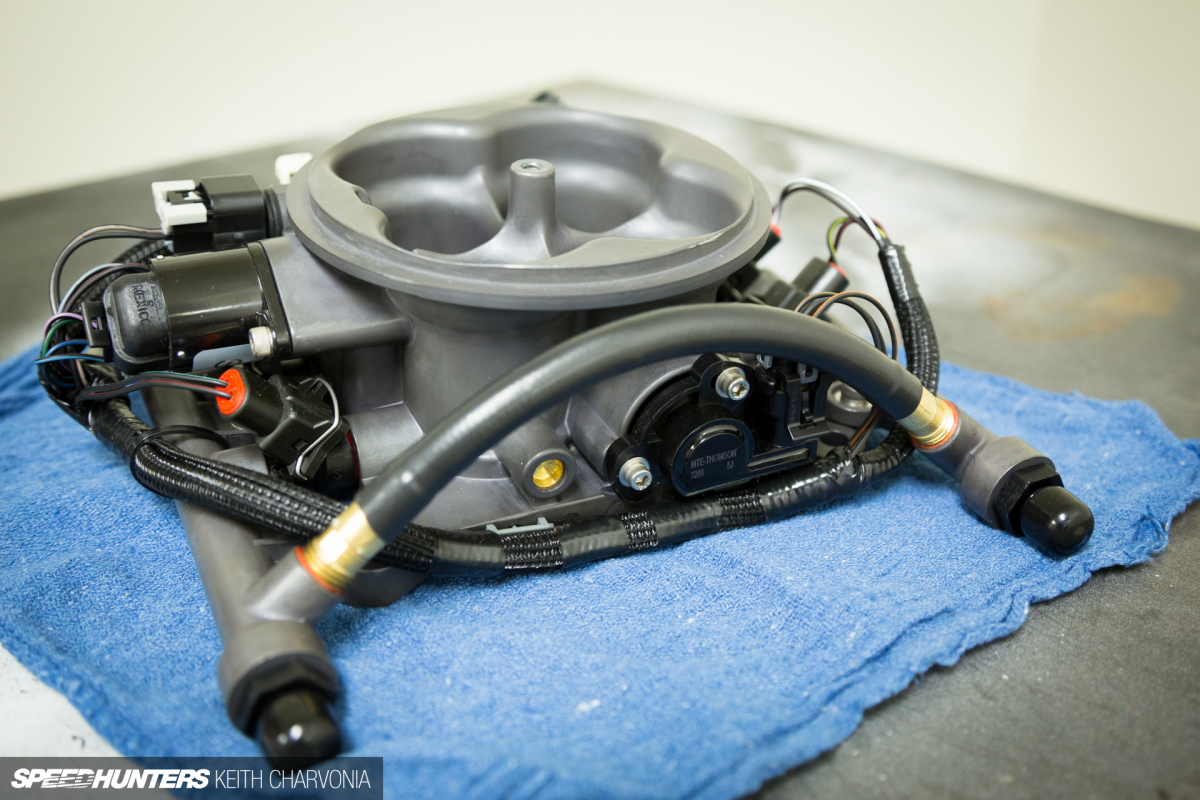 Before I dropped the throttle body over the studs I had to check it out on the bench. Everything is pre-terminated, so all you have to do is connect one plug and the fuel supply and return lines.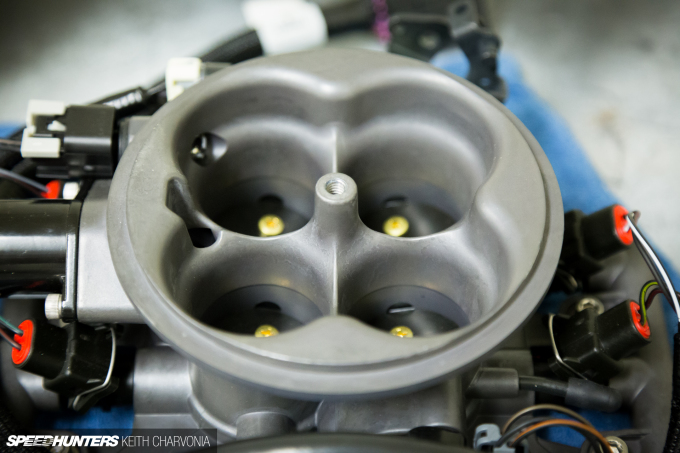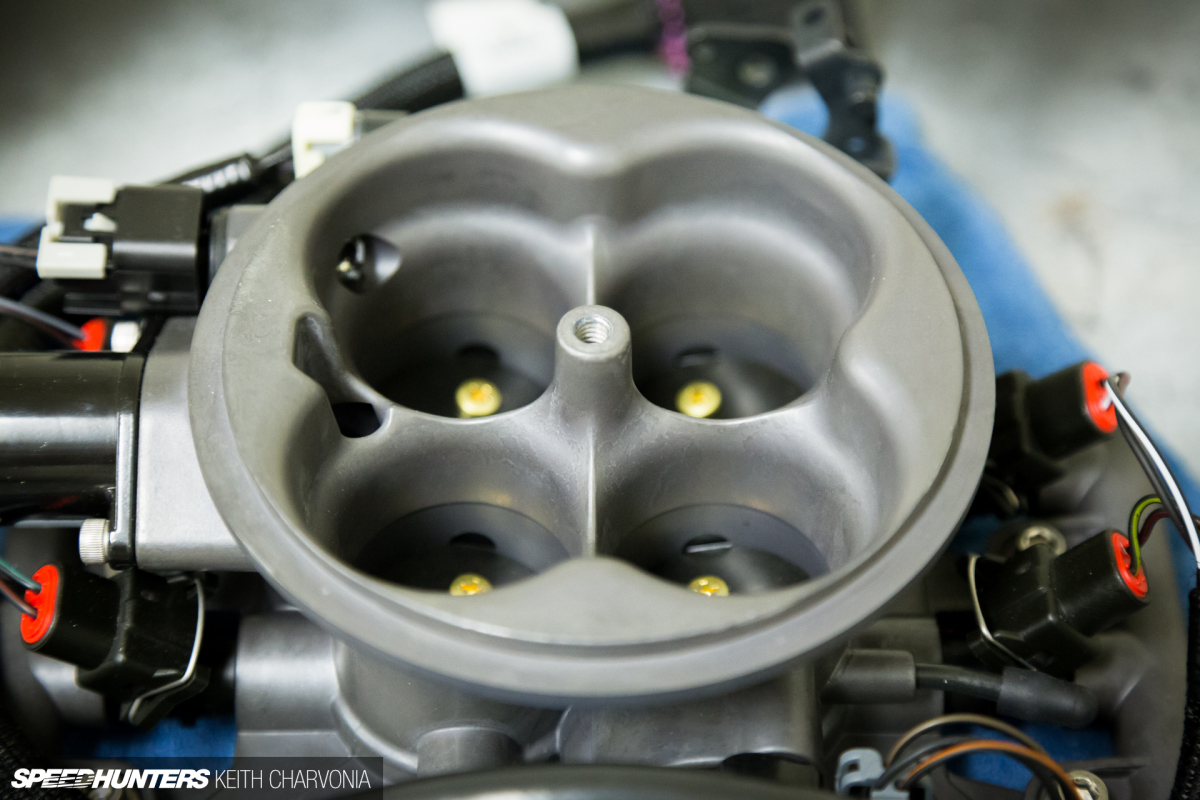 The throttle body's air entry is a very similar design to that used in NASCAR, making this some serious trickle-down technology for a DIYer.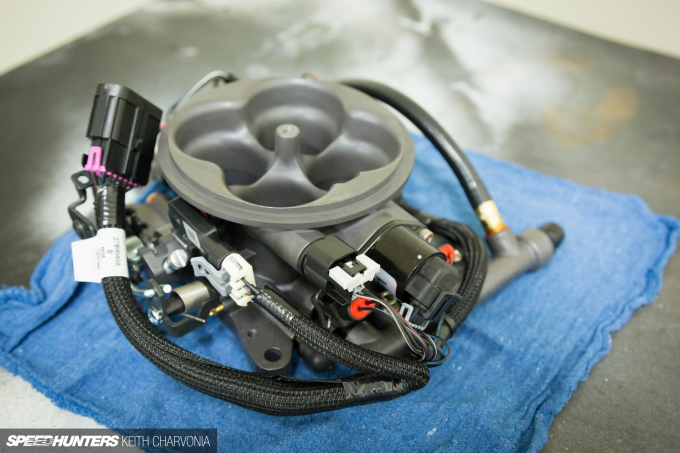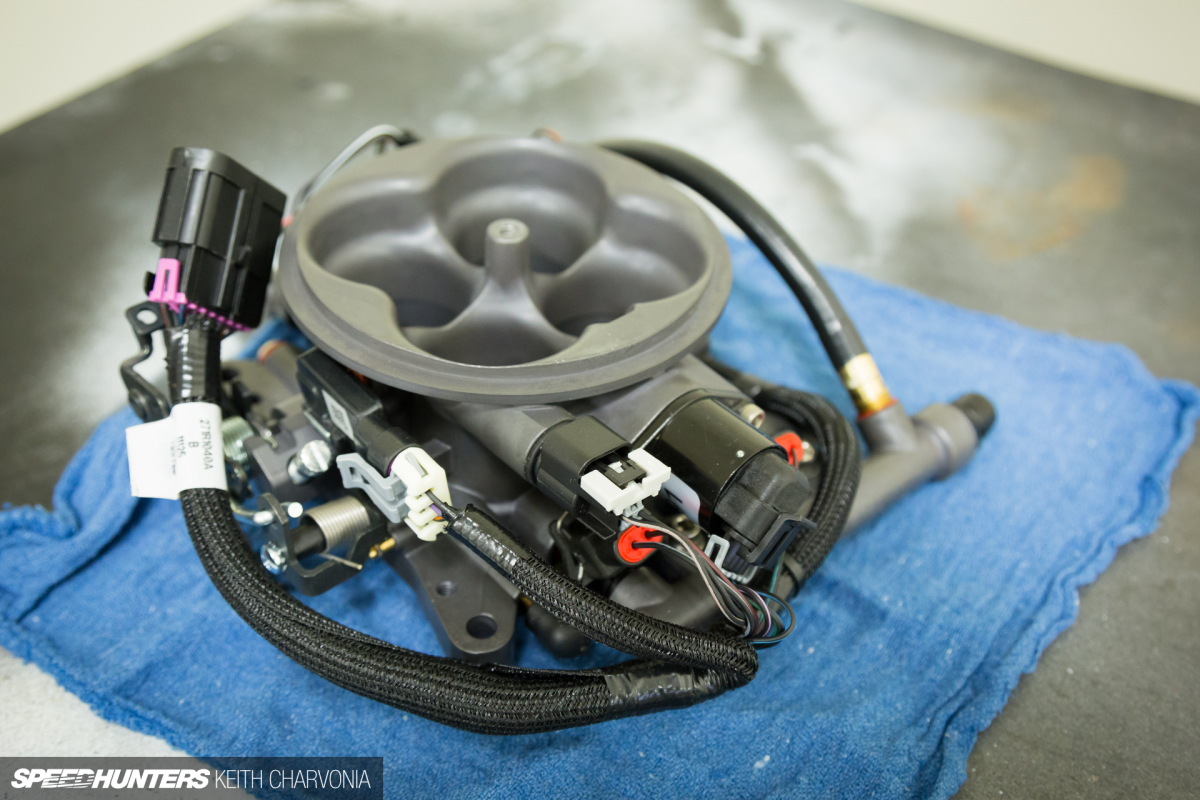 I mentioned that the throttle body itself houses most of the necessary sensors, which makes this plug and play. One distinct advantage of the Holley system though is the use of commonly available sensors that you'll recognize from looking at a modern fuel injected engine.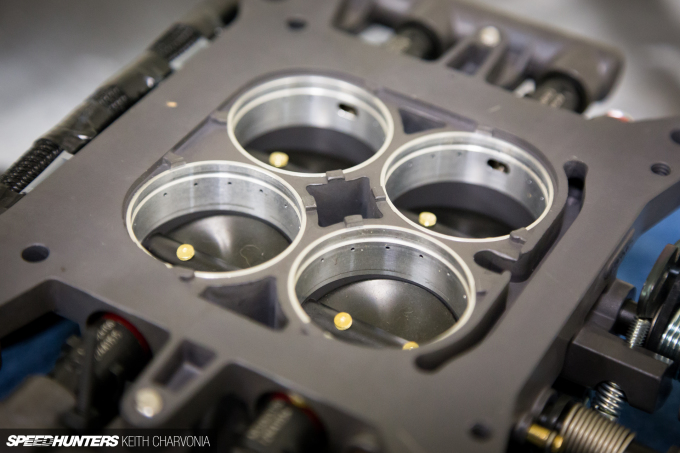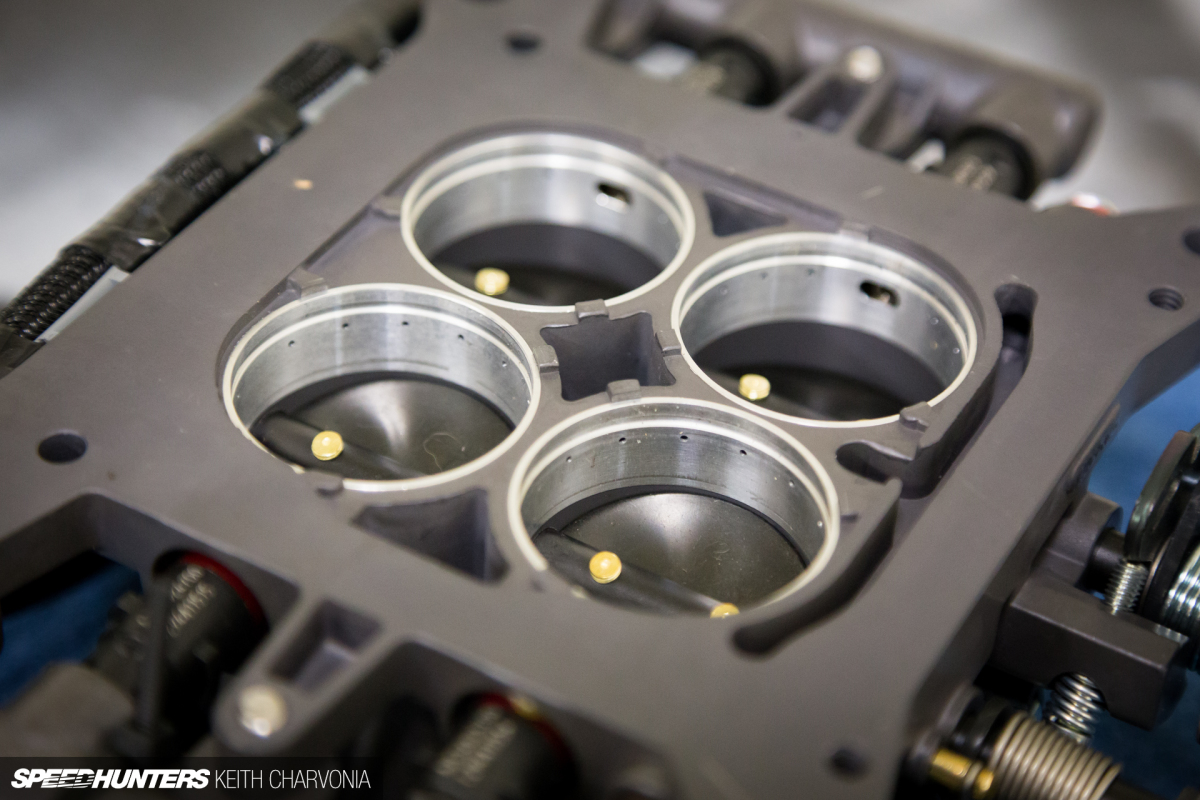 Check out the annular discharge rings on the bottom side. These allow for maximum flow and optimum fuel atomization. Just imagine the fuel misting in a perfect ring and completely filling each barrel.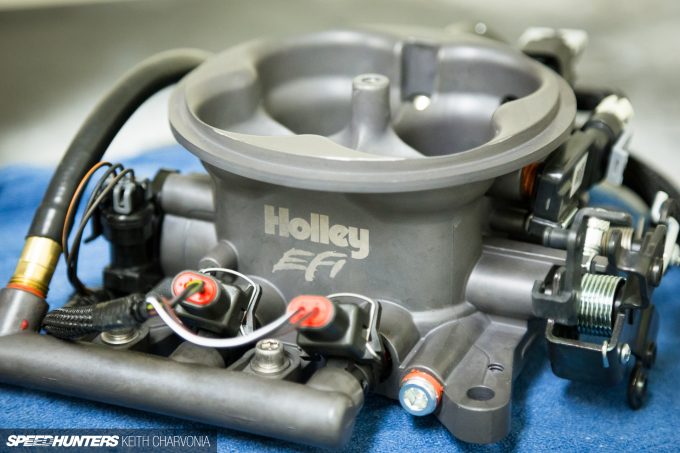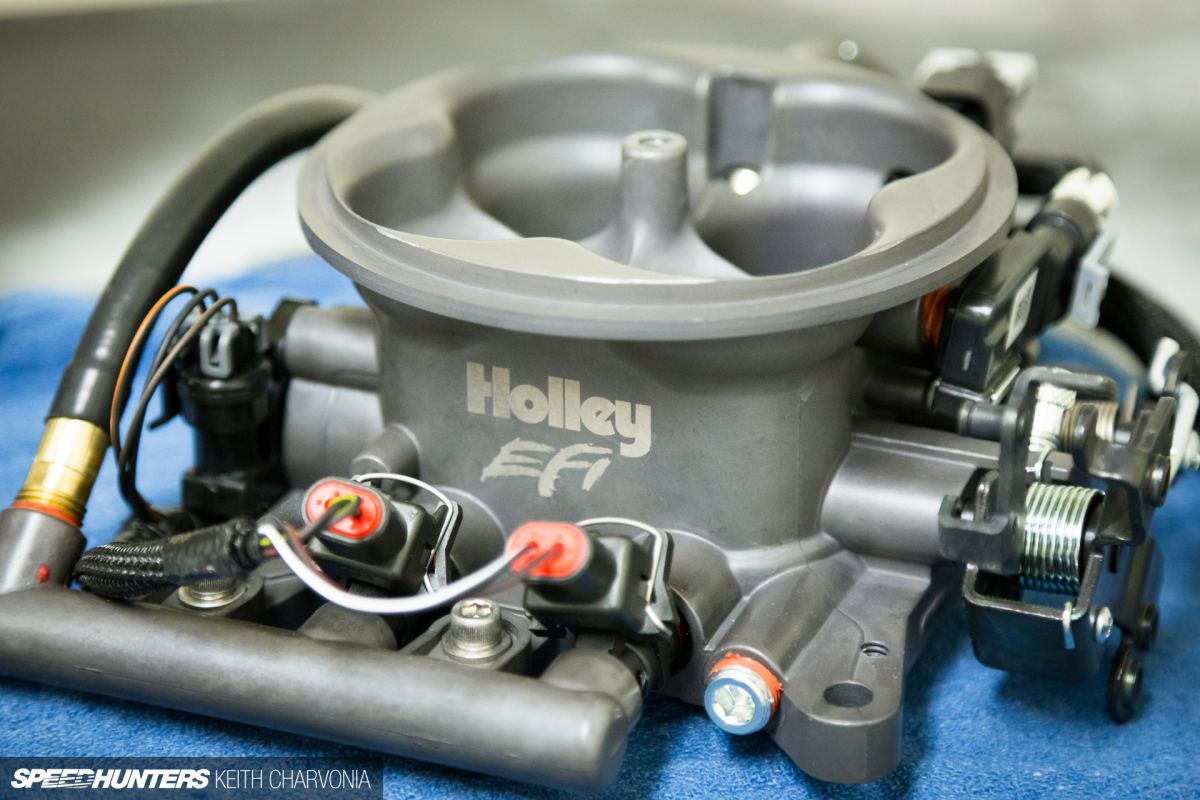 I went with the 'Hard Core Gray' finish. You can get this system in a tumbled polished finish as well, but this just looked tougher for an off-road vehicle.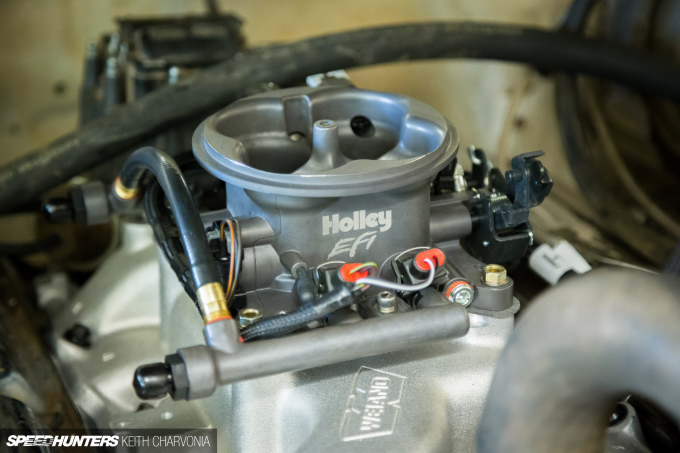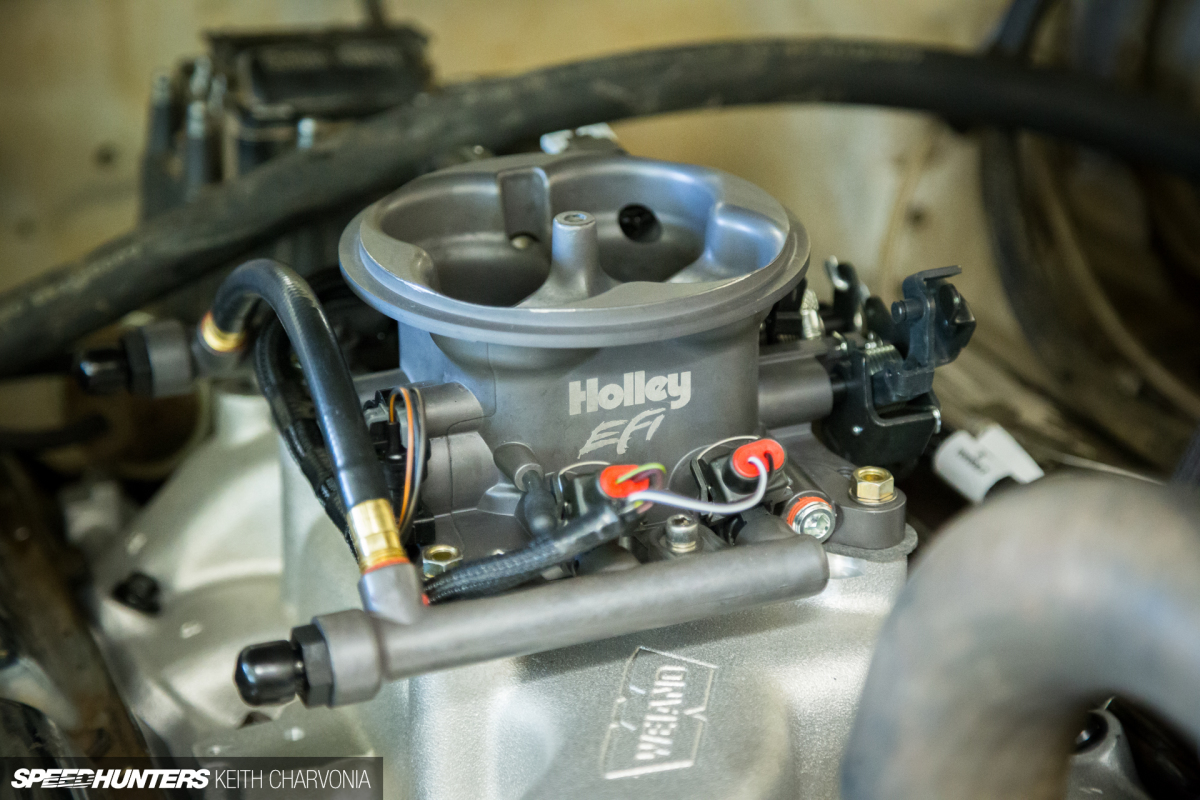 After checking out all the trick features of the Terminator EFI throttle body, I dropped it over the four studs and torqued it down.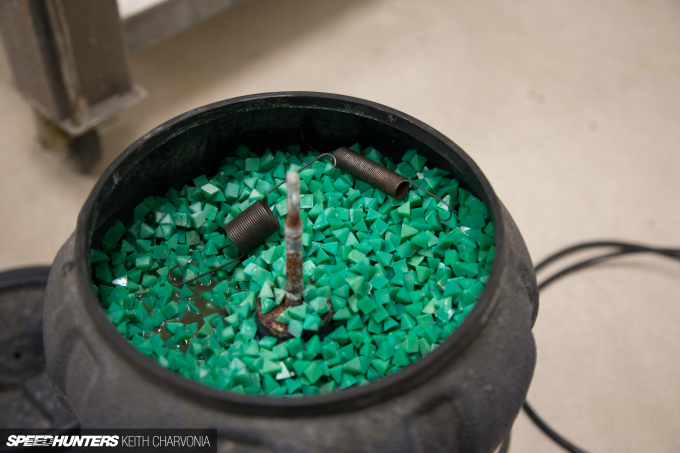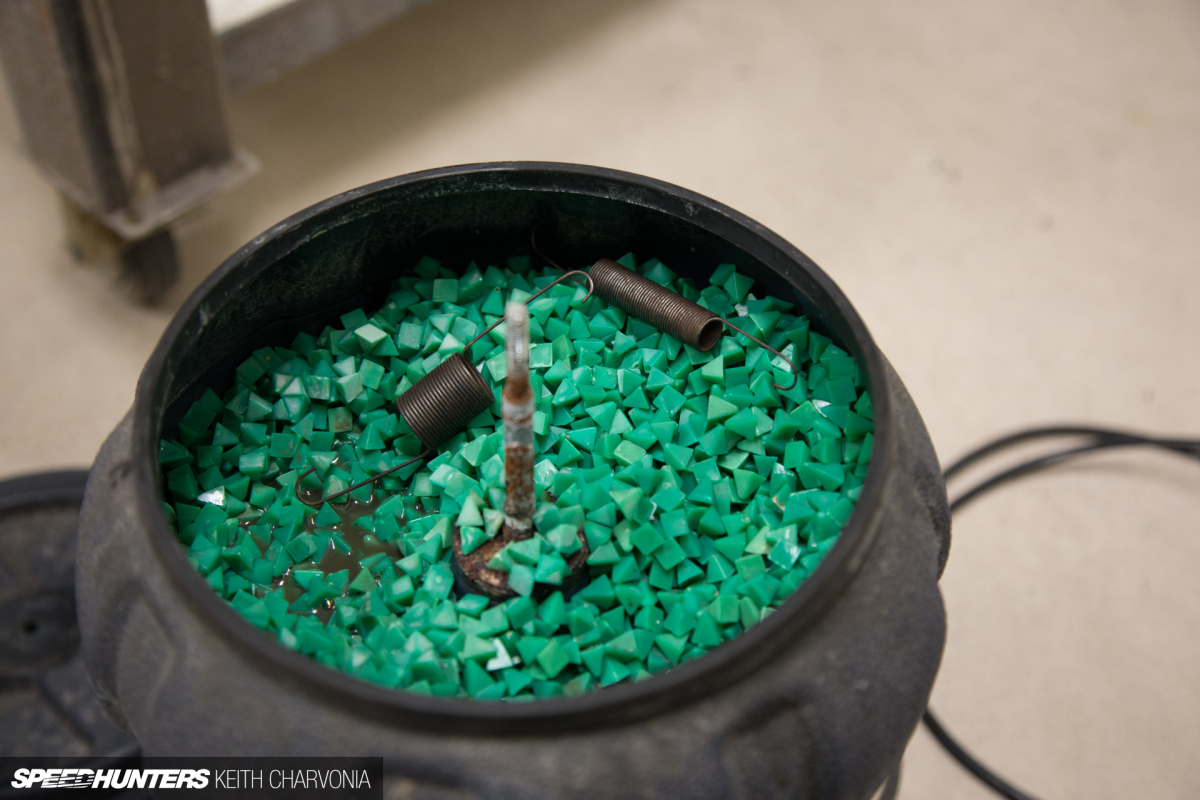 My throttle return springs were cruddy, so I threw them in the tumbler for a quick cleaning.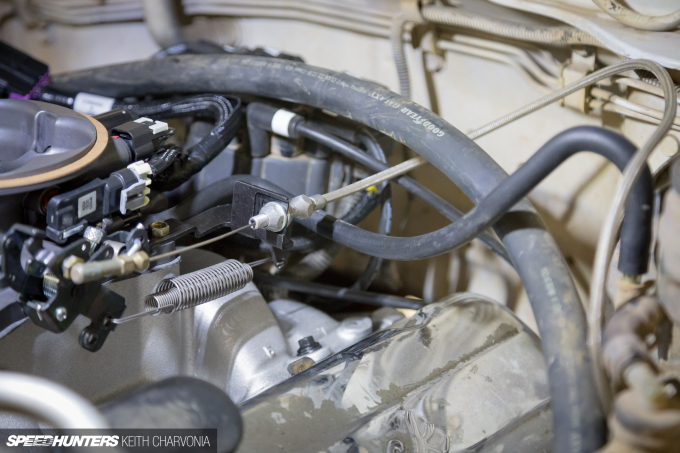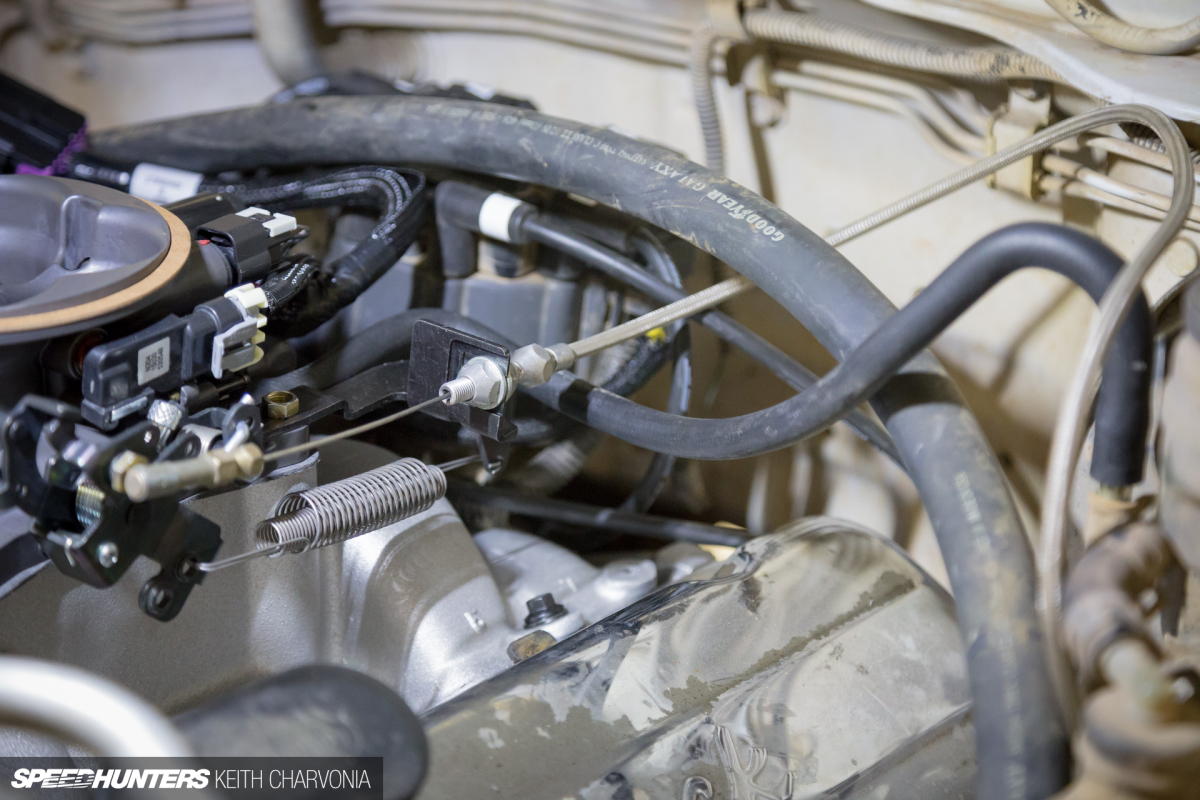 I routed the throttle cable and installed the springs, which were now nice and clean.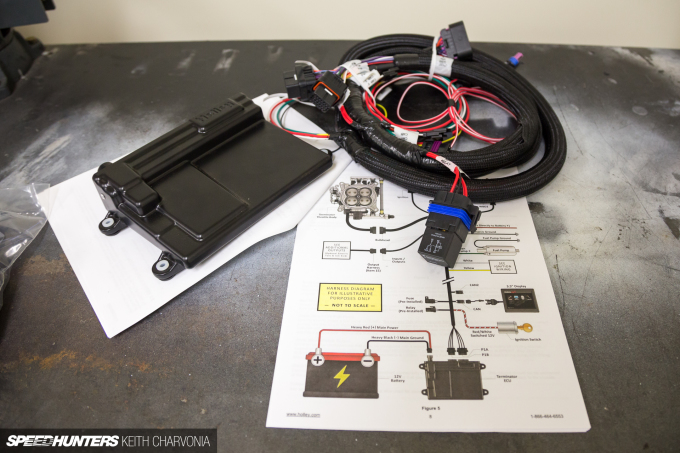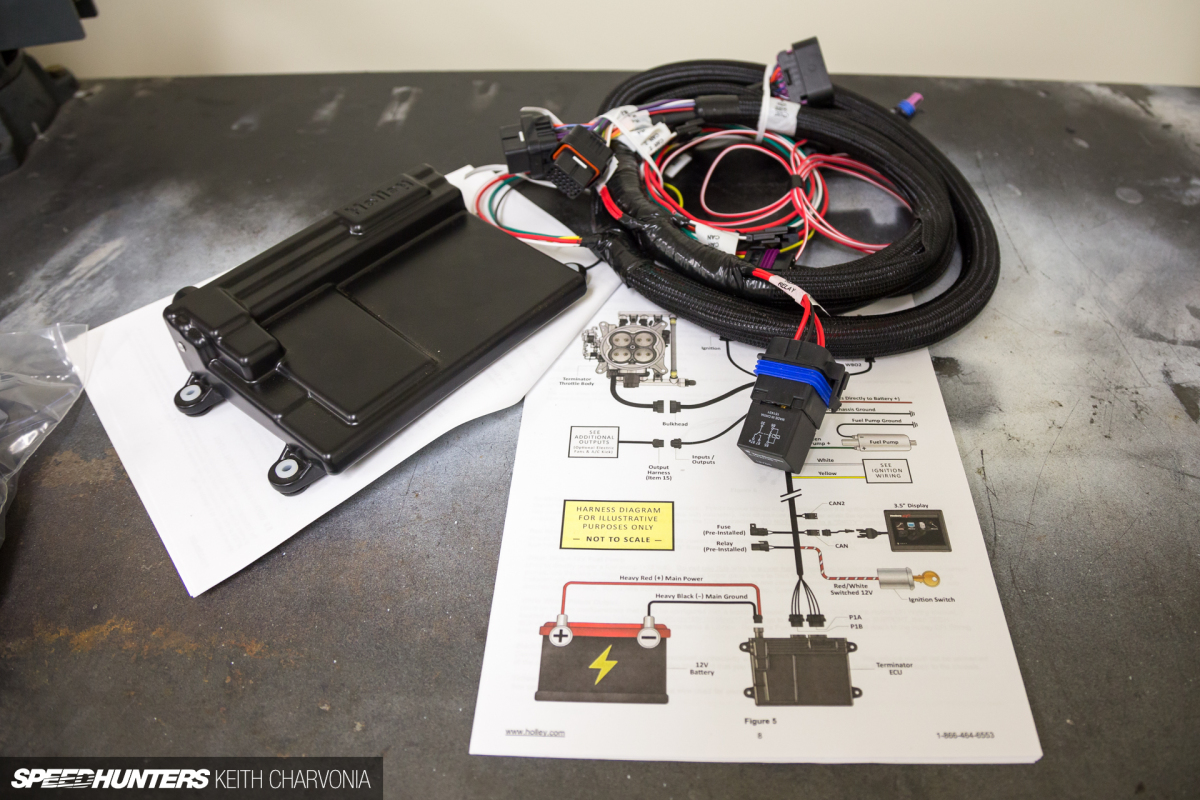 Now that most of the underhood work was complete, I turned my attention to the ECU and wiring harness.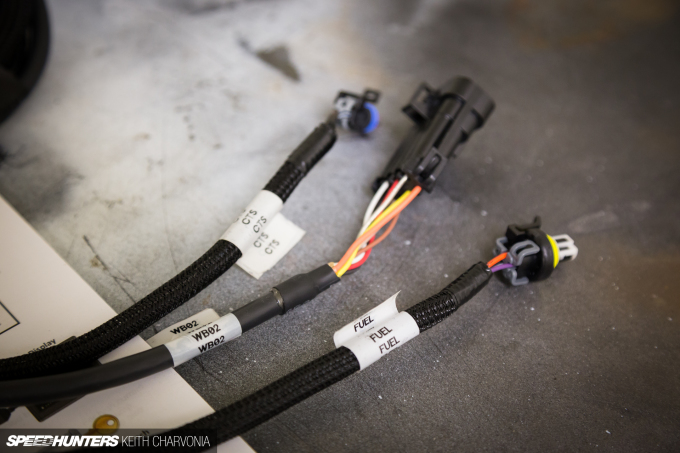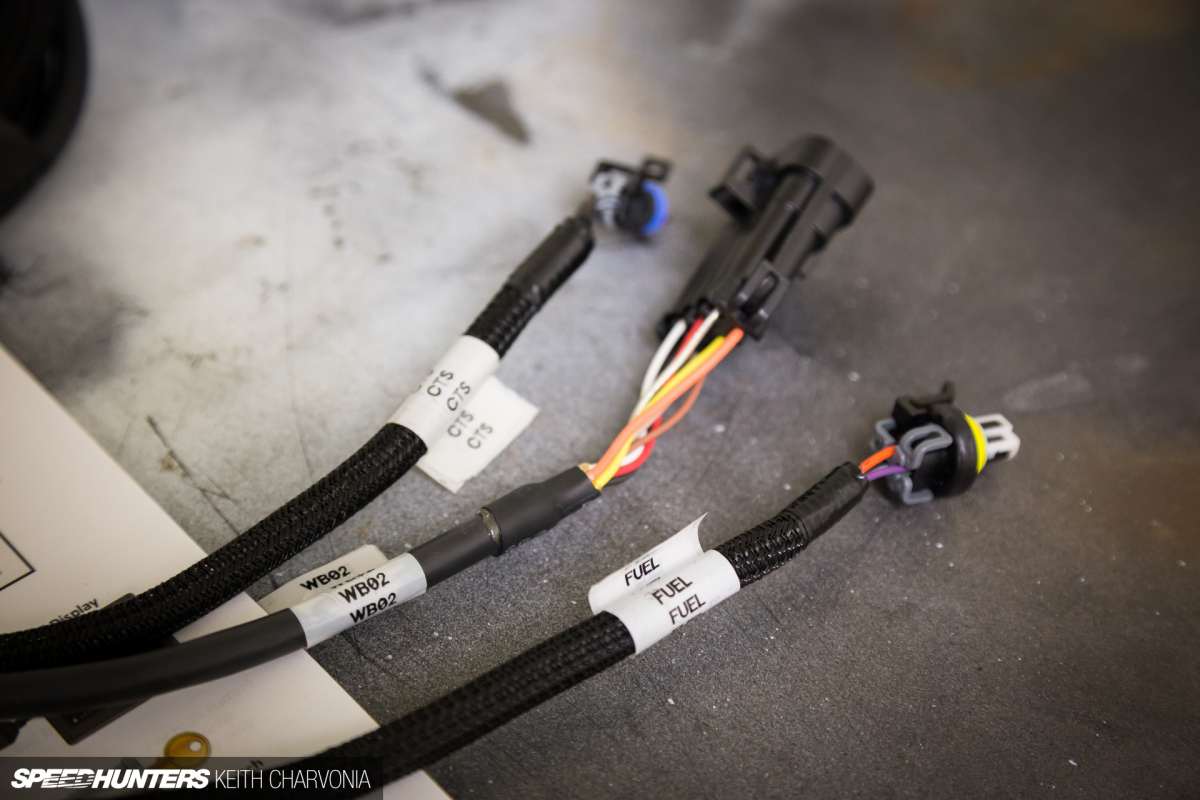 Thankfully, everything was very clearly labelled. Although each plug was unique and would only fit into the corresponding plug or sensor, it still helps to know what you're working on and where it goes.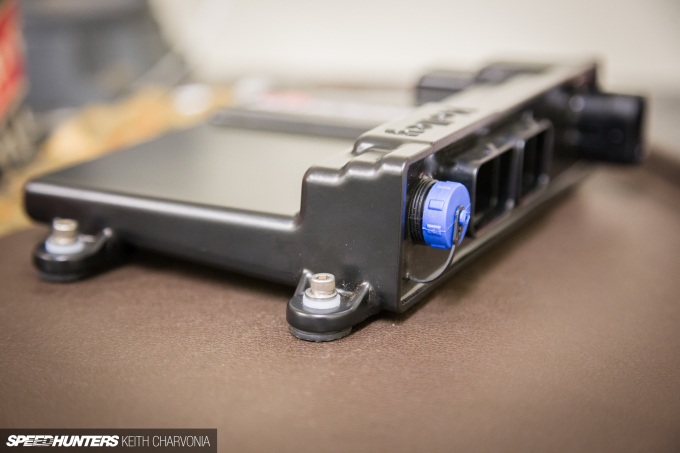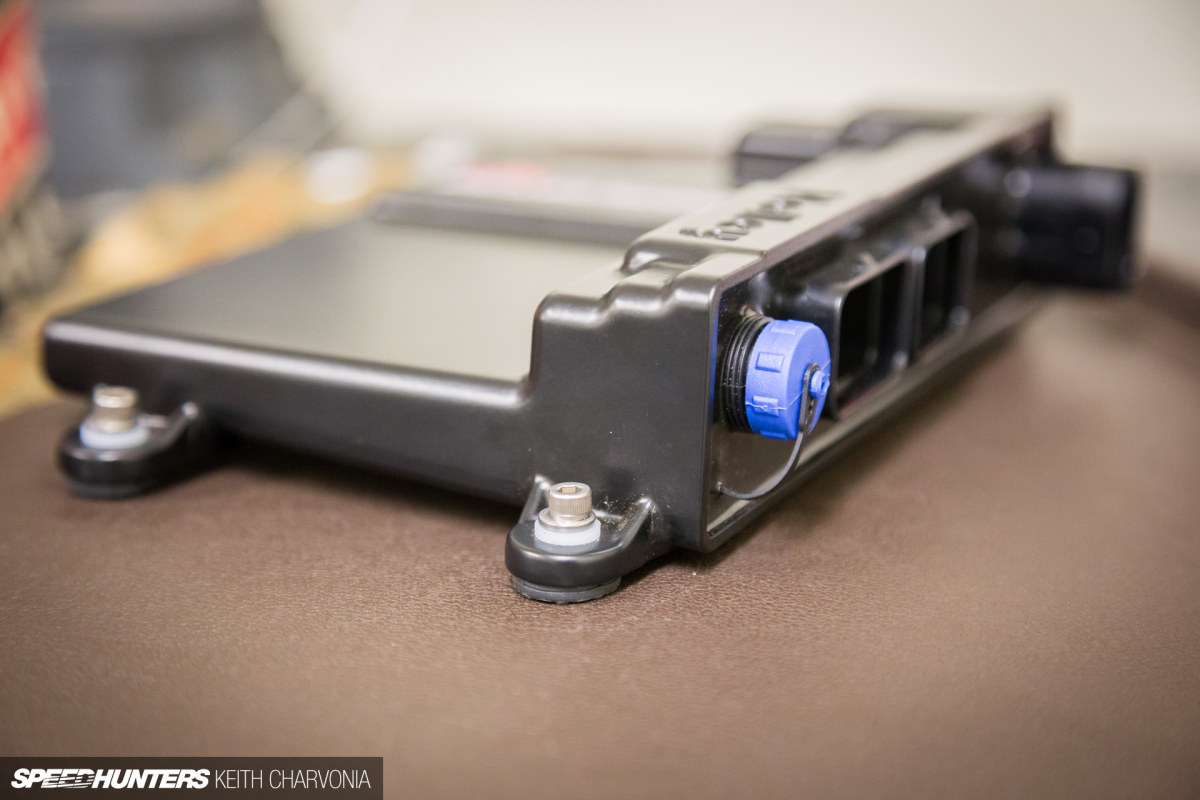 The instruction were very clear to keep the ECU away from excessive heat or moisture. I thought about mounting it in the engine bay, but knowing the FJ will be exposed to massive amounts of dirt, water and mud, it would not be the ideal location. Instead, I decided to mount it inside on the passenger kick panel. It's exposed for all to see, but I think that's kinda cool actually. Notice the vibration damping grommets that come installed on the ECU, along with weatherproof plugs.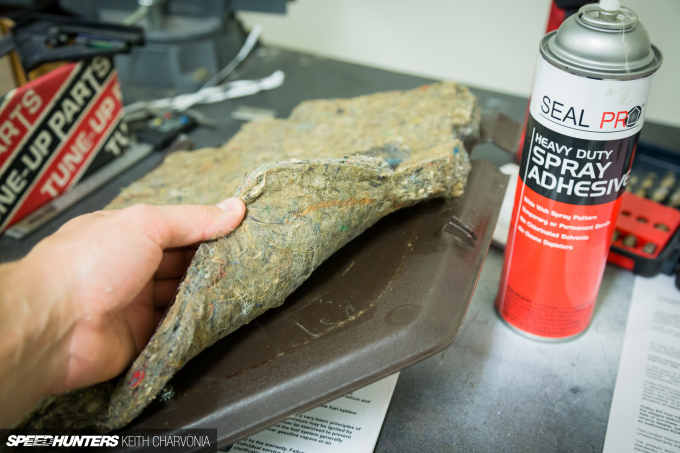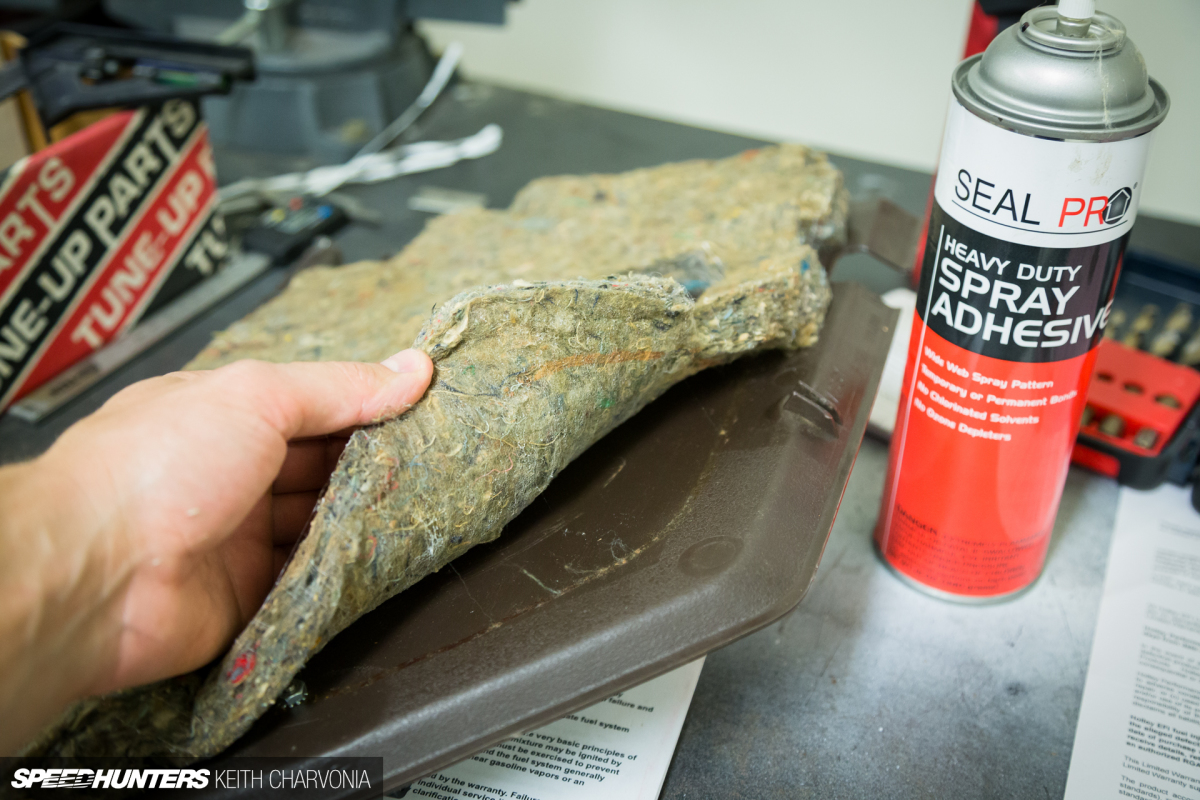 After I had the ECU bolted to the kick panel I used spray adhesive to reattach the factory sound deadening.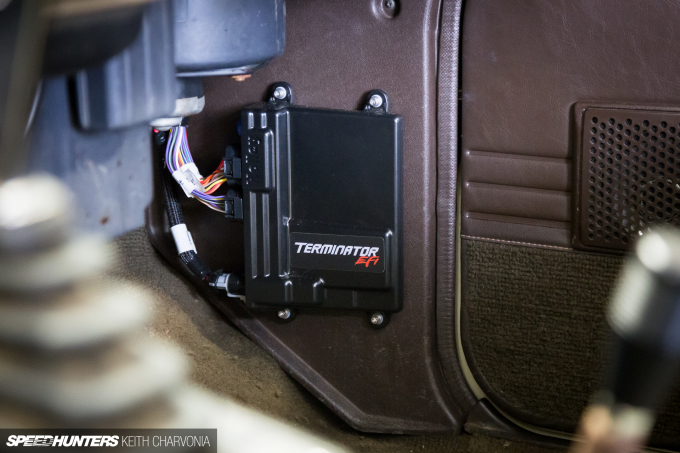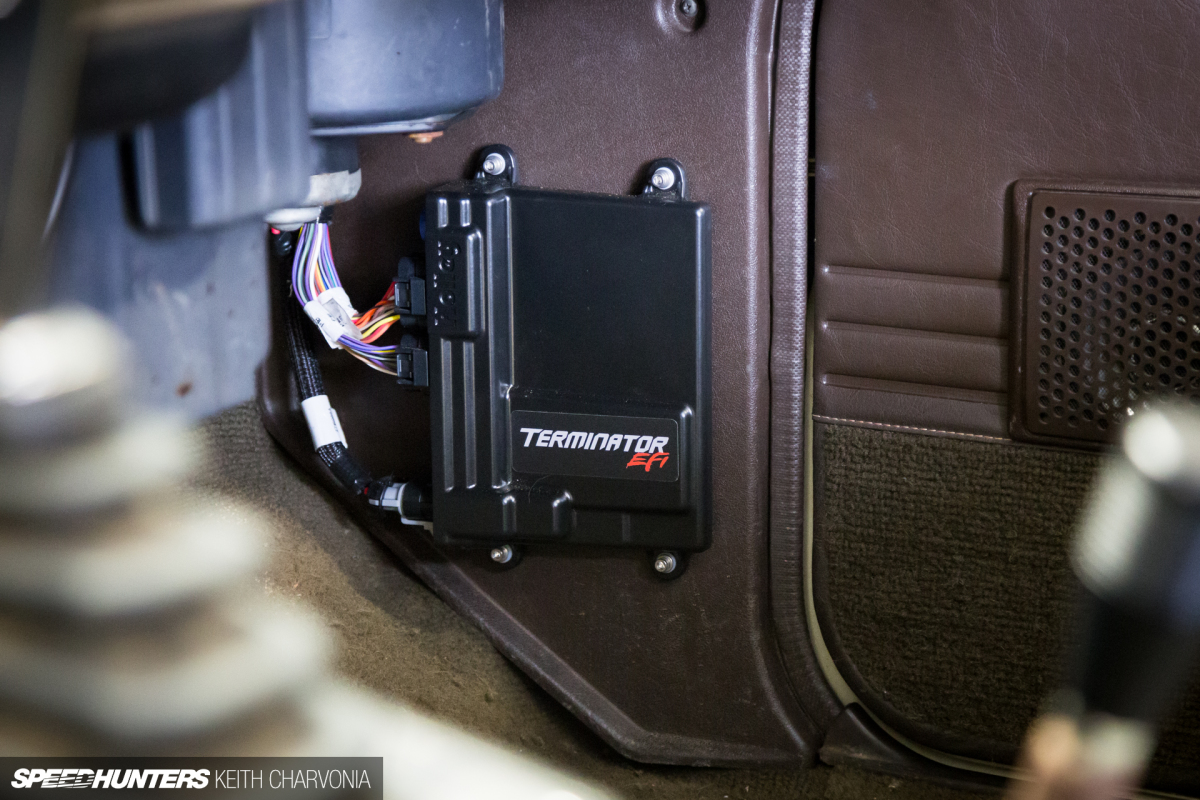 I bet there aren't too many other Land Cruisers that have a Terminator EFI ECU on display in their interiors! If the wiring catches my eye from the drivers seat I'll add some loom, but I think it will be out of sight.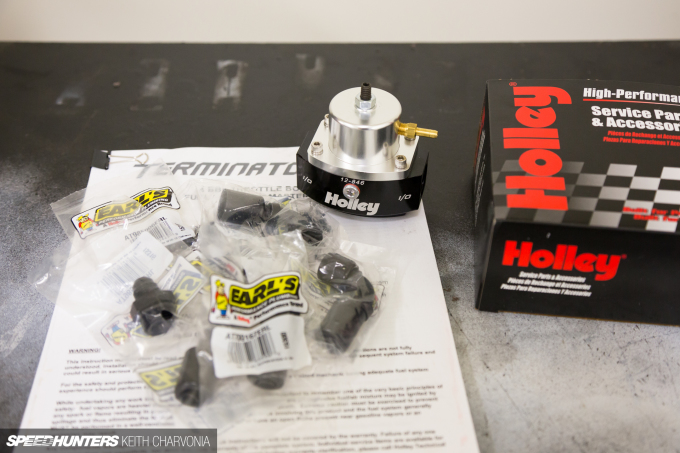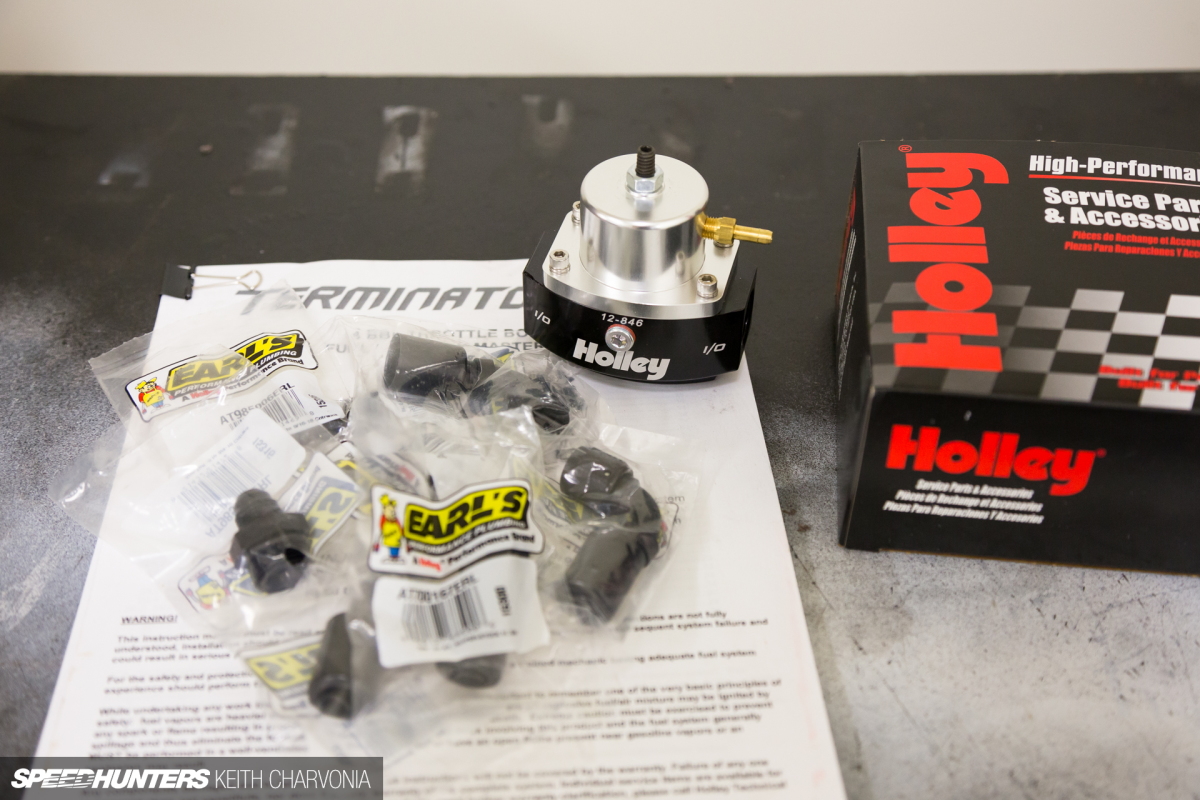 Almost there, just a fuel pressure regulator and high pressure pump left to install. High quality Earl's fittings were included, which saved the extra expense and a trip to the parts store.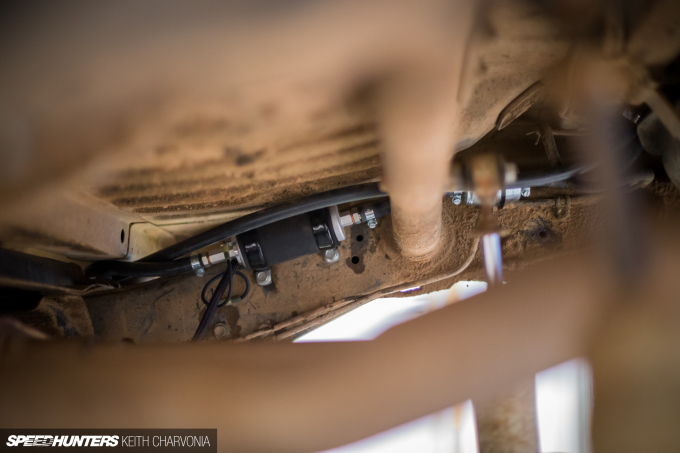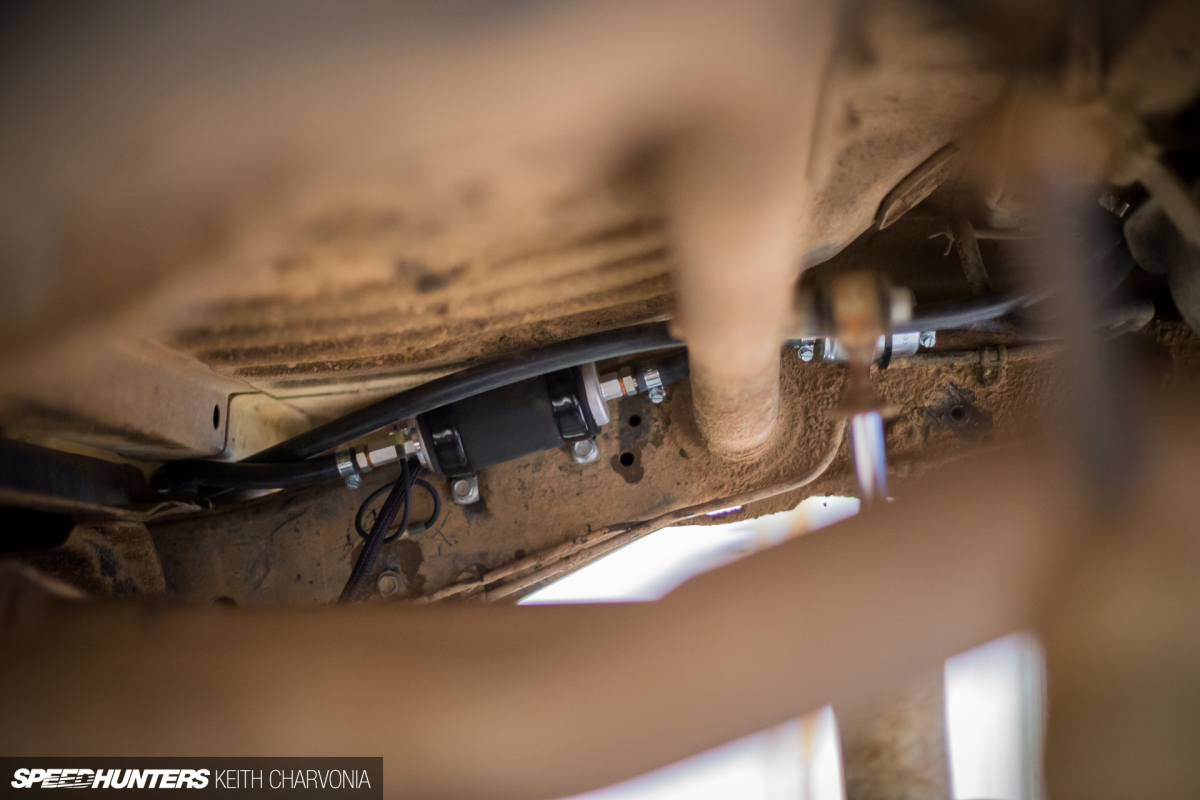 I installed the high pressure fuel pump on the frame rail back by the tank, along with the provided pre and post fuel filters.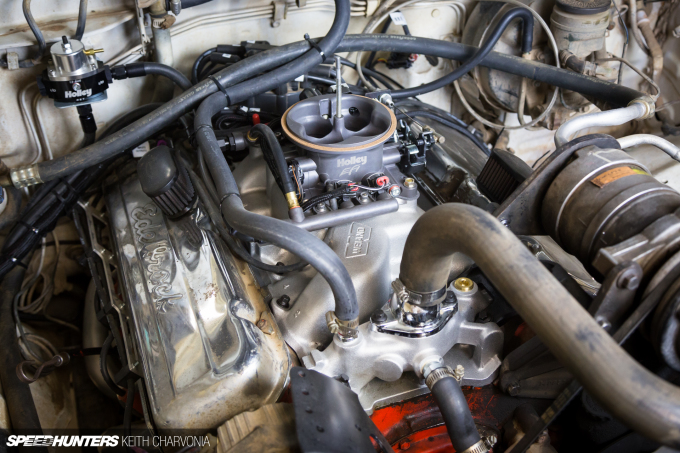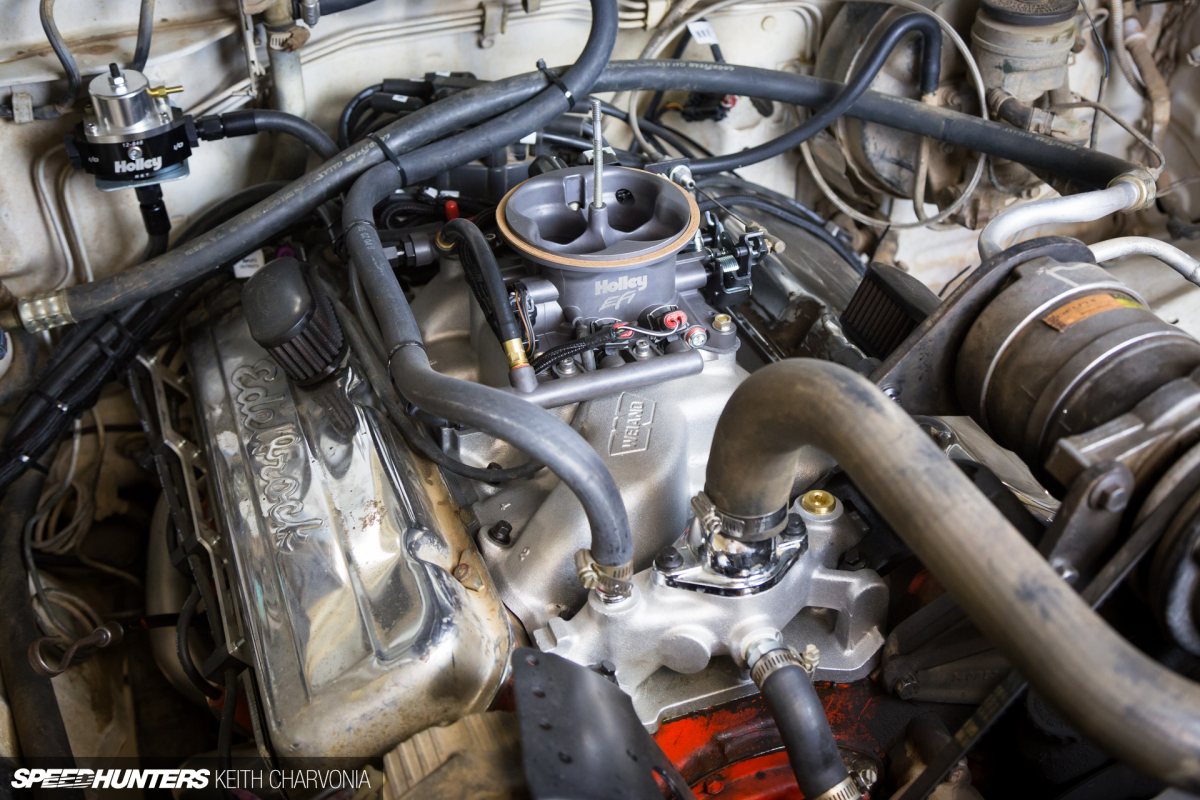 With the fuel lines routed and connected there was just one thing left to do.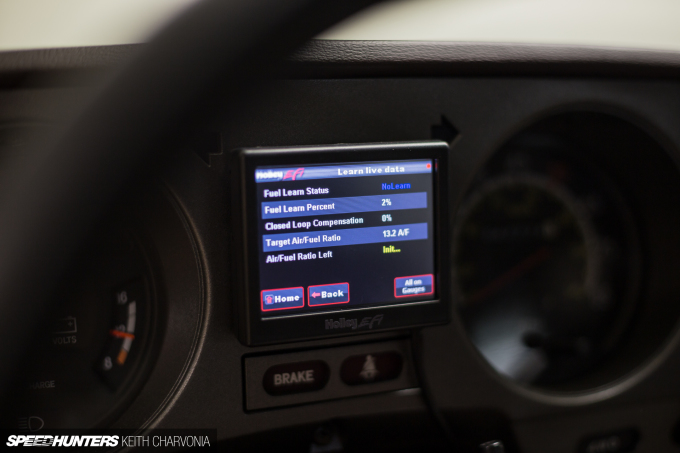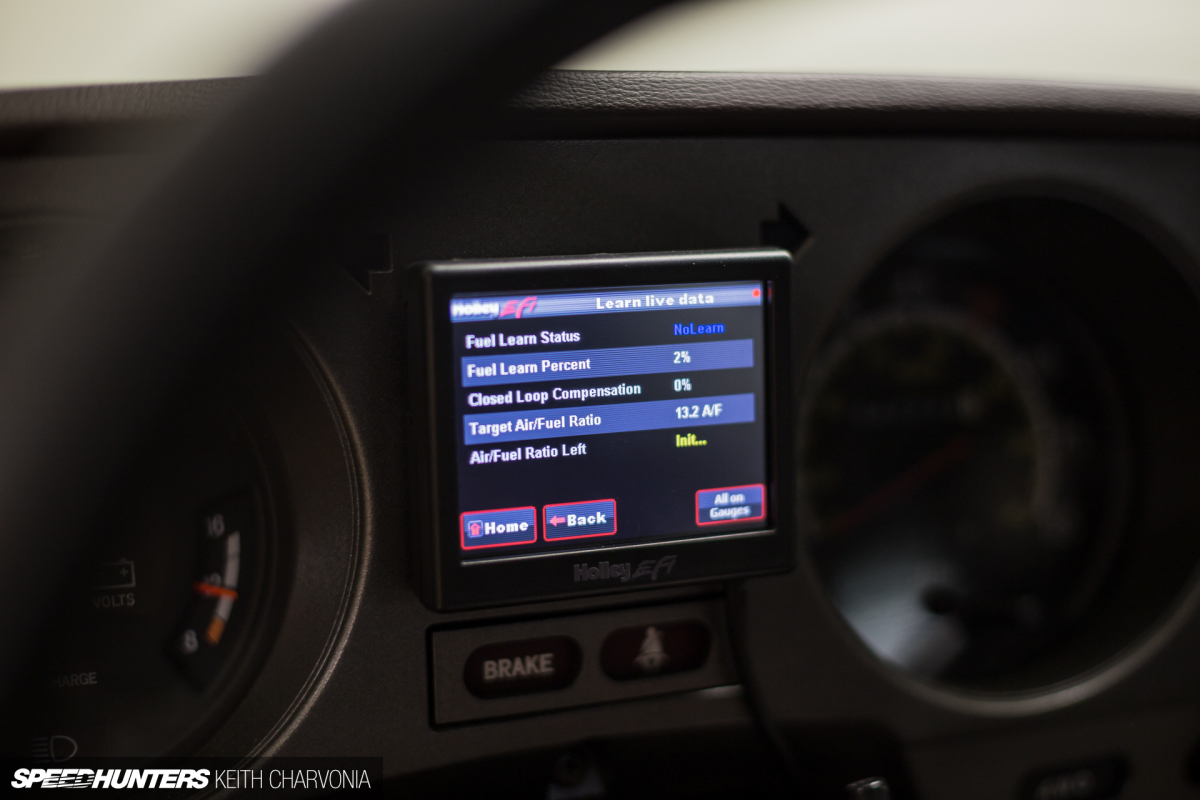 And that was to mount the LCD touch-screen display in the perfect spot on my gauge cluster. Once I powered up the system I answered a few questions such as engine size and cam type, and an initial tune was loaded. From here it will self learn by simply driving around, and it's already adapting with each passing mile. The idle is smooth and throttle response gets better every time I drive it. From light to full throttle, it's working things out and providing instant power.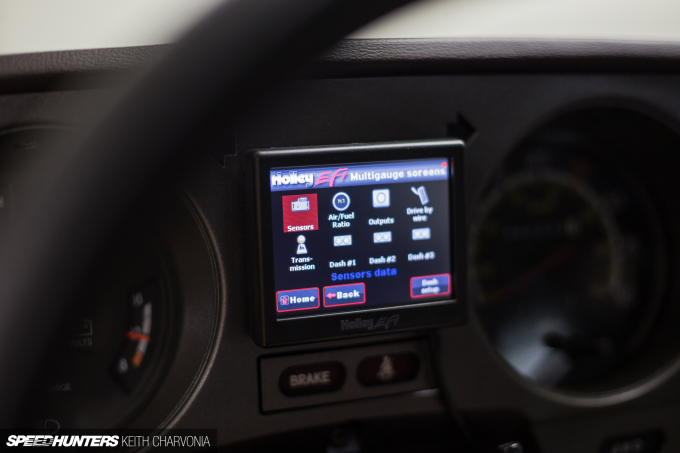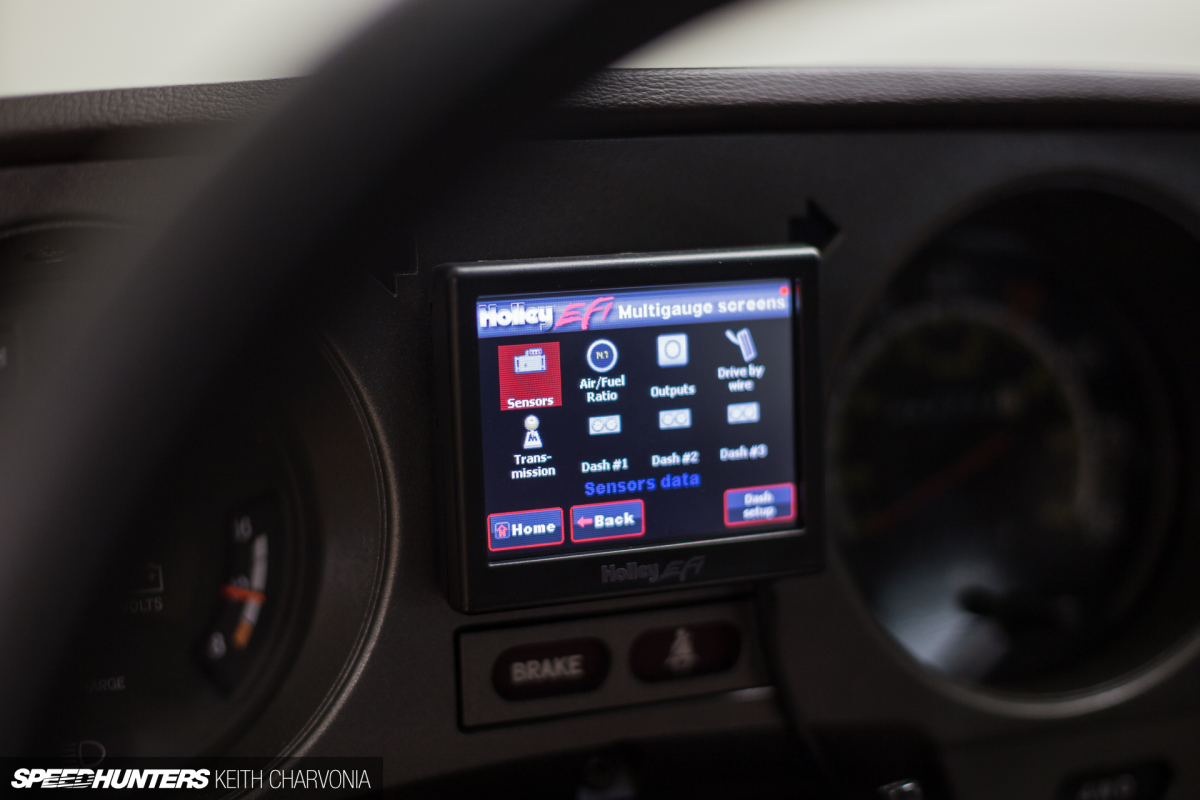 This Holley Terminator EFI setup is really going to dial in the way the engine runs, while also giving me a ton more insight into what the engine is actually doing.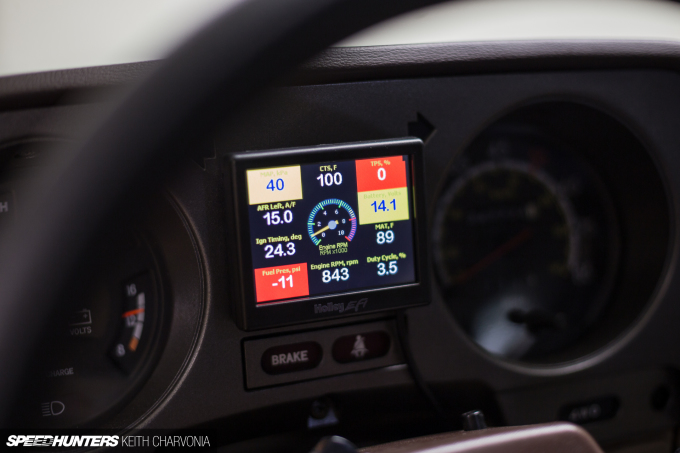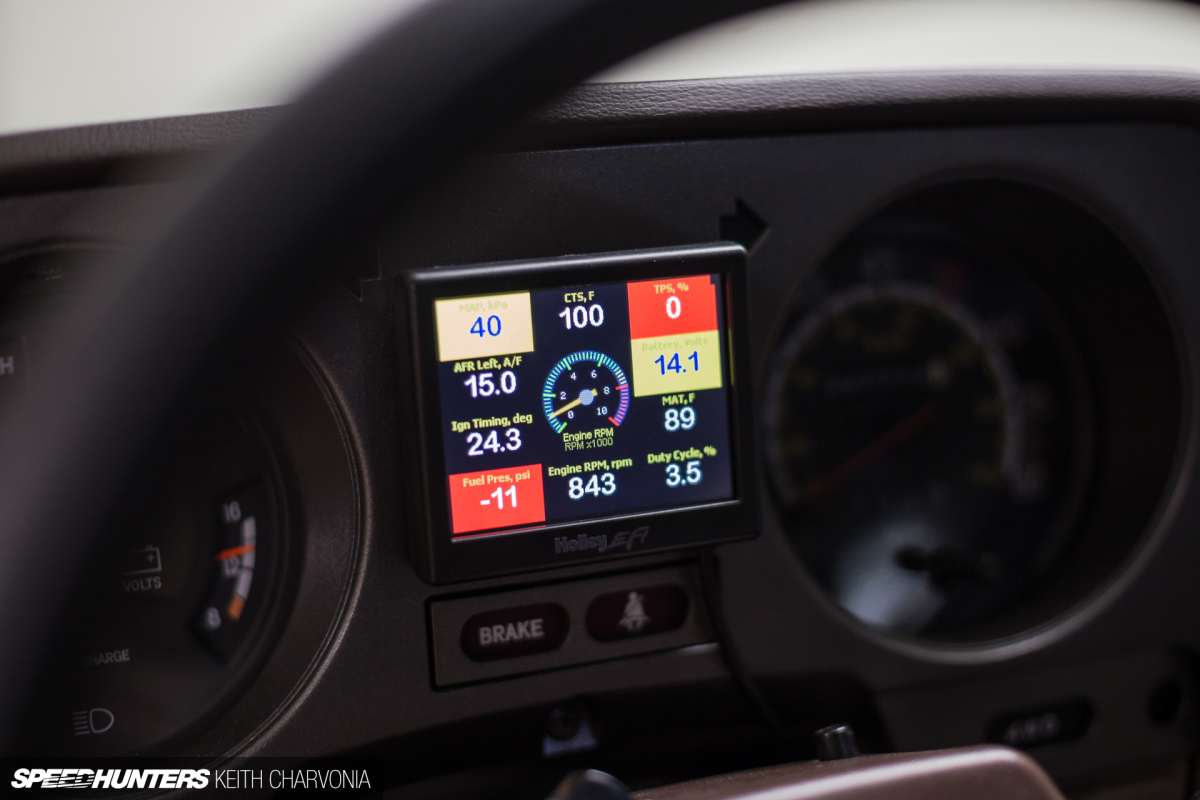 I can now monitor RPM, AFR, IAT, MAP, coolant temp, and many other parameters that the ECU is reading, and also customize the screen to show only the gauges I want to see.
Right now, I'm off to log more miles and let the ECU finish up its self-learning! I'll report back with driveability improvements and power gains in the next story.
Keith Charvonia
Instagram: SpeedhuntersKeith
keith@speedhunters.com