Assembling The Crew
The convenience of this connected age we all live in comes with a hidden cost: disconnection. Unfortunately, younger enthusiasts these days may not even know what they're missing out on. I doubt (and hope) the boffins never successfully digitise the full human experience. Perhaps one day marketers will make people forget it exists, but they'll never ever replicate it.
I only bring all this up because I've found myself hiding behind the wall of convenience for the past few months. I've been ridiculously busy and haven't given myself the time to get out and just chill with friends or cars, or even better, friends with cars. But recently, a close mate of mine, Brad, invited me out for a Saturday night run through Sydney in a pack of Hakosukas and Kenmeris. Of course, I answered before he finished his question with "shotgun!" What was already scheduled was irrelevant.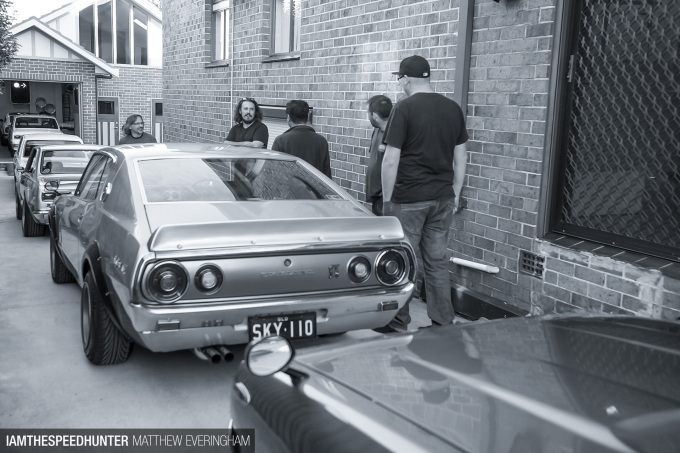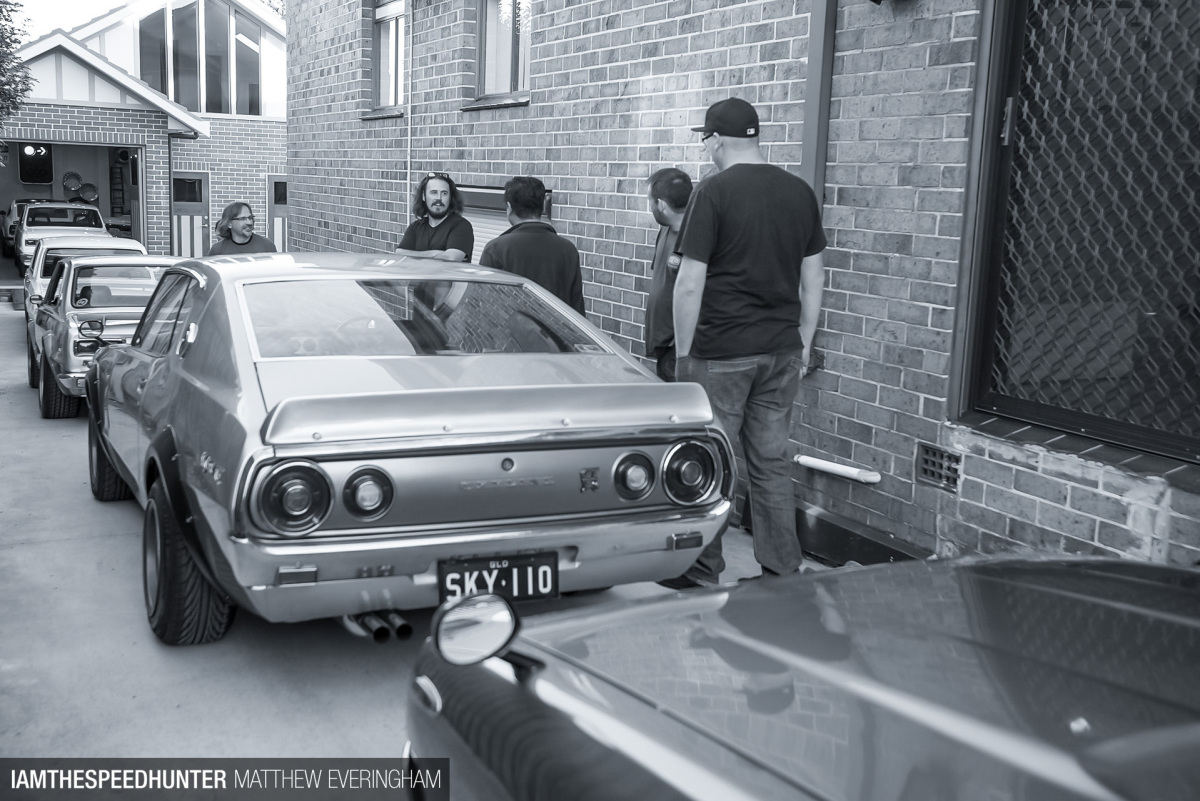 Brad is currently putting the finishing touches on what's ended up being a six-year build. Transforming the shell of an Aussie-delivered Datsun (Datsun was Nissan's entry brand in Australia during the 1970s ) 240K GL coupe into a Japanese-spec Kenmeri GT-R replica. The running gear and externals are pretty much finished, with only a few obscure interior trim items left to be found and fitted.
The coupe is powered by a high compression L28 with a mild tune. It also forgoes the convenience of injection and keeps the period-correct triple Weber carbs, while a lumpier cam helps give the car a little bit of extra grunt up top and more burble down low. It's an authentic '70s-style build that puts out just over 185hp at the back wheels and sounds simply superb. Lowered springs give the Datsun a more aggressive and less boat-like look, while a set of genuine RS Watanabes measuring 16×8.5-inch in the front and 16×9.5-inch in the rear finish things off nicely.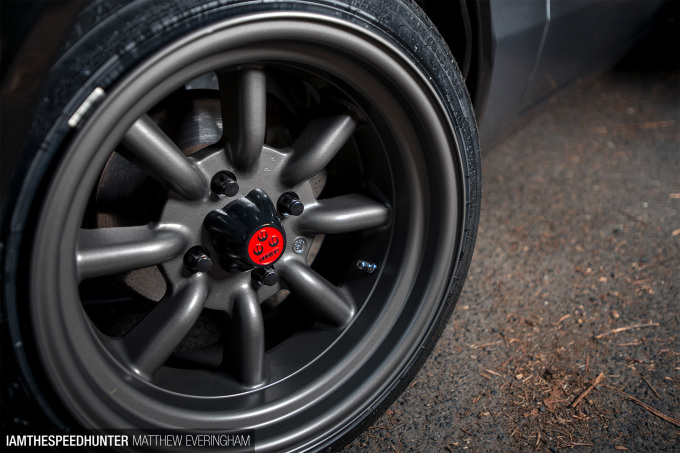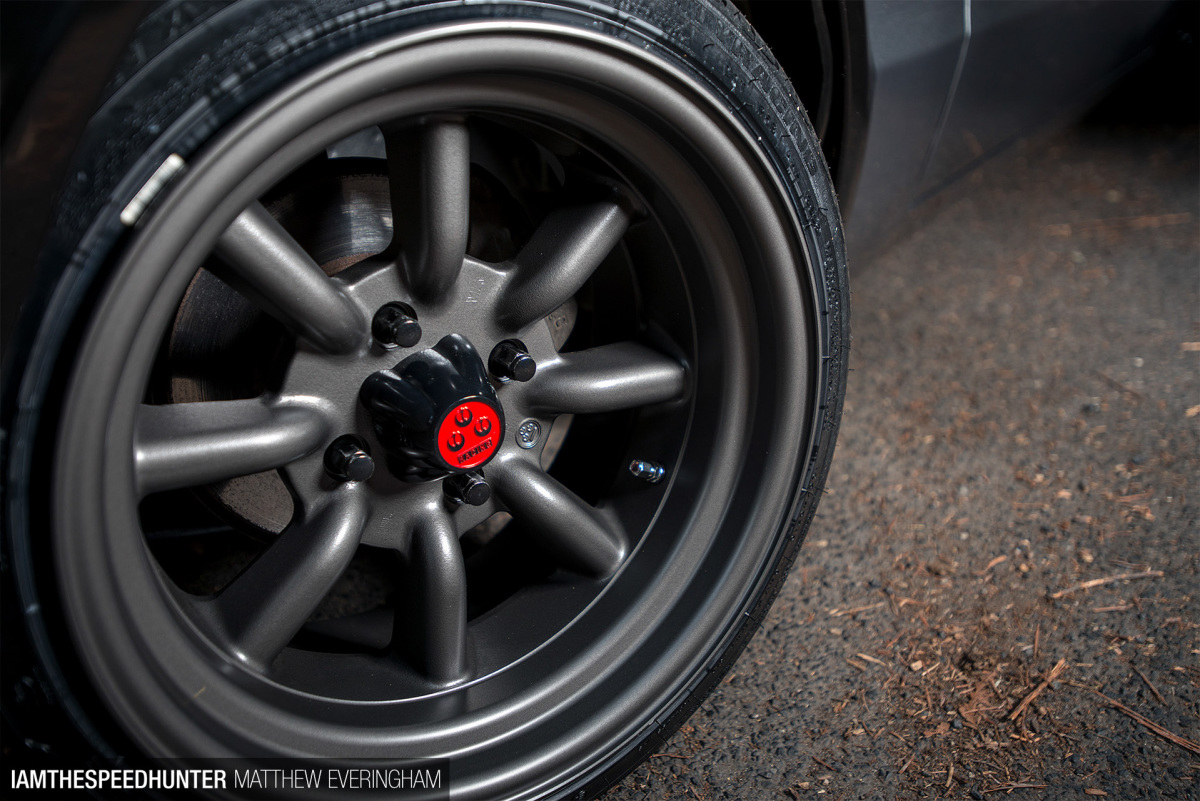 Brad reckons the engine is "finished", but knowing him for a long, long time, I think it will only be properly finished when it blows up or is sold. My bet is the L28 will be stroked out to 3.0 litres within the next 12 months, and that a stronger 5 speed be fitted 'just in case'. The coupe isn't even my car and to be honest I've put minimal hours in helping out this time, but seeing the transformation from the shell it was to how it stands now fills me with a strong sense of pride for a job well done.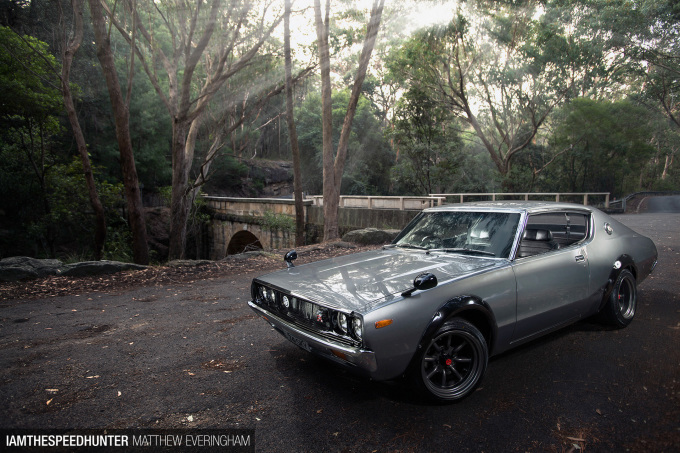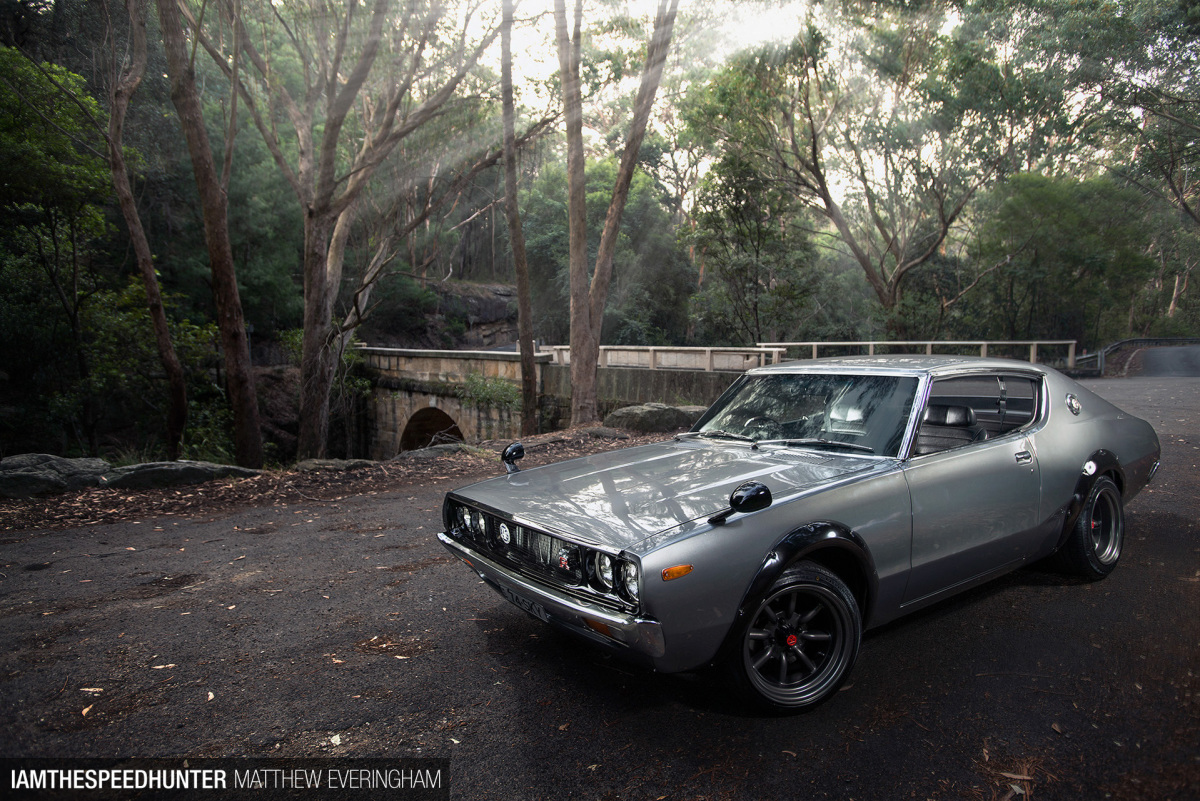 Brad is generally a pretty quiet and reserved kind of guy, but there's no masking how pleased he is with how his Kenmeri project has come together so flawlessly. To celebrate, he organised a city cruise with some of the local Datsun guys (plus one from out of state) that he's networked with and grown to call mates over the course of the long build. There were no Facebook invites, no maps and no itinerary other than where to meet and the expectation that we'd find something decent to eat along the way. It couldn't have been a simpler or more perfect plan.
Just Drive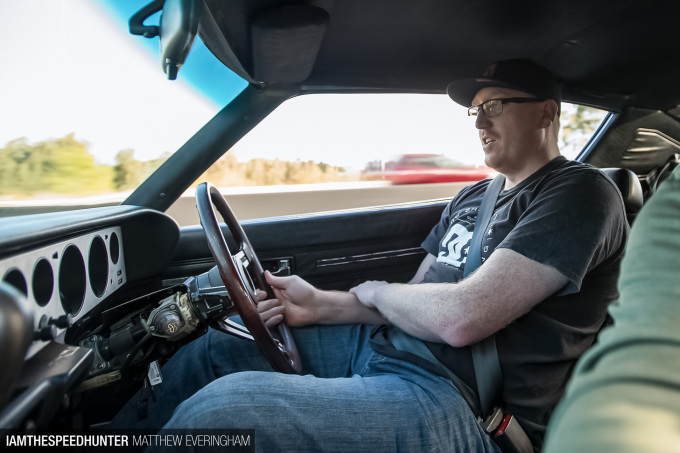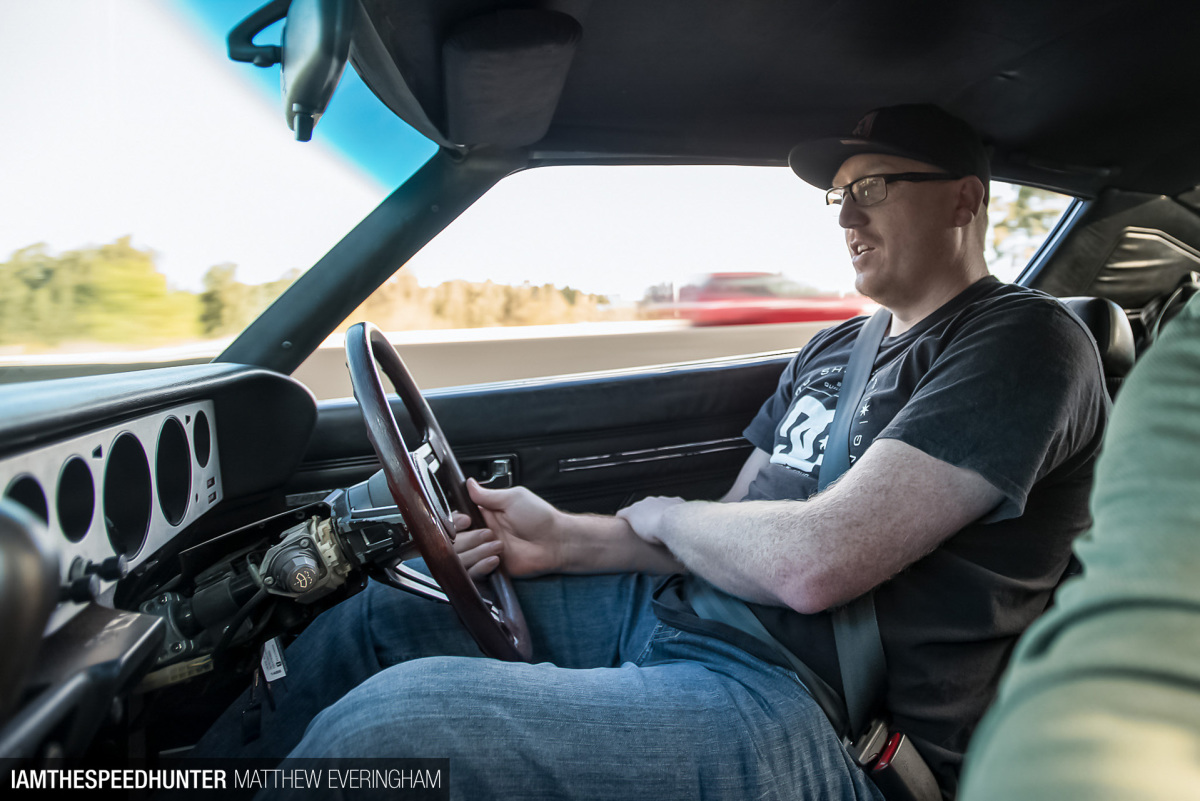 The second Kenmeri was driven by Scott from all the way from the Sunshine Coast, way up near the top of the country. Australia is a big place, and it took Scott 25 hours to drive roughly half the distance of the Eastern coast. Now that's dedication!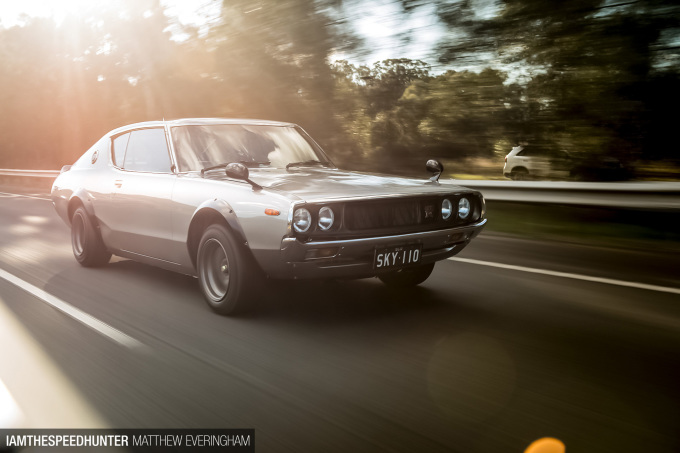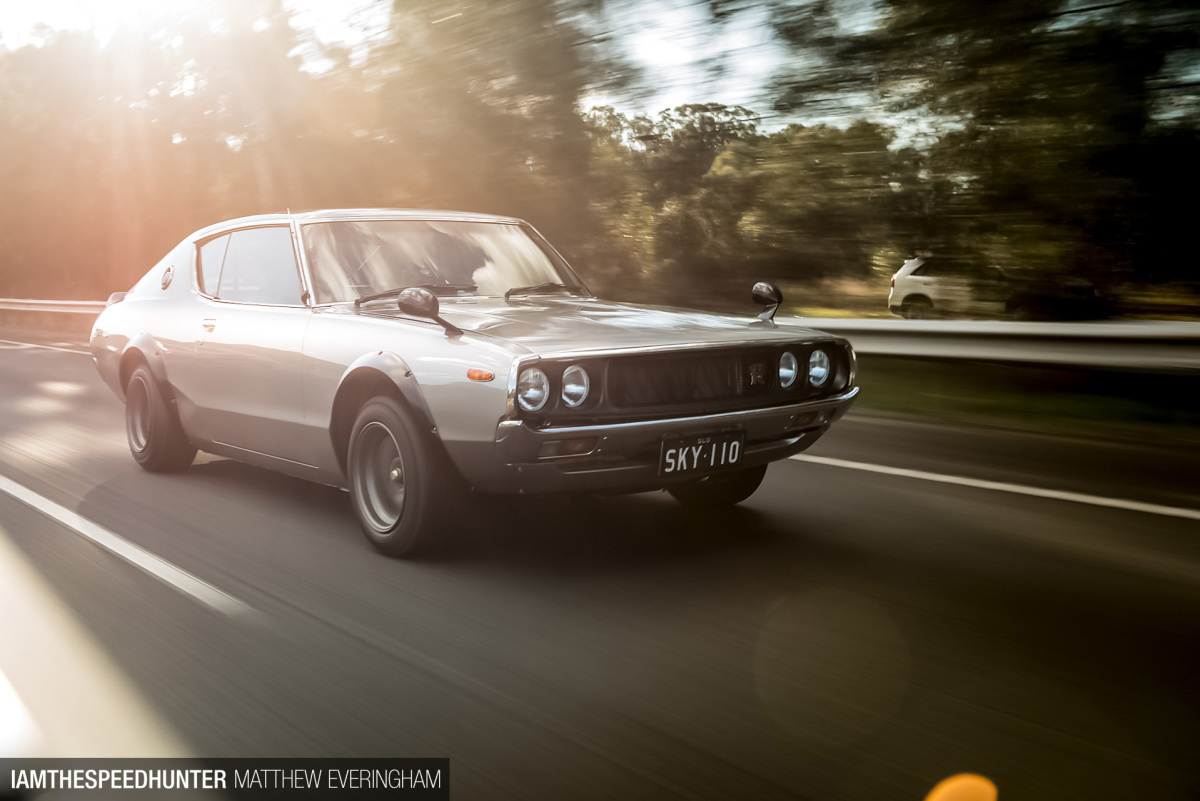 Sure, he didn't come down just to disturb the peace with us, there was an All Japan Day held in Newcastle the following day, but that's roughly another two hour drive from Sydney. Did I mention Australia is big? An admirable effort and also a testament to the quality of his self-built coupe to make the long trip with no issues.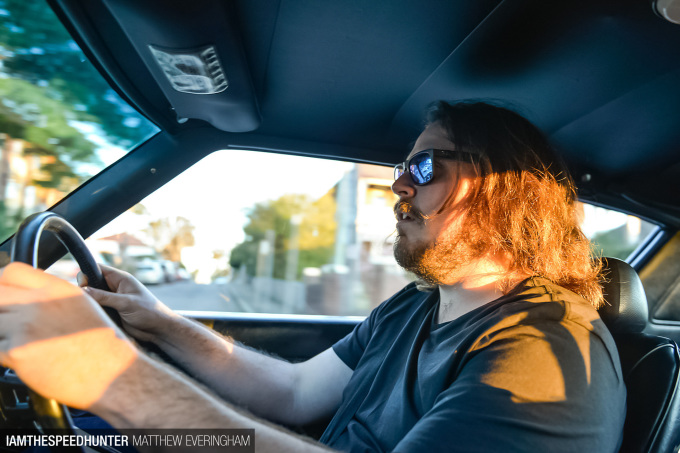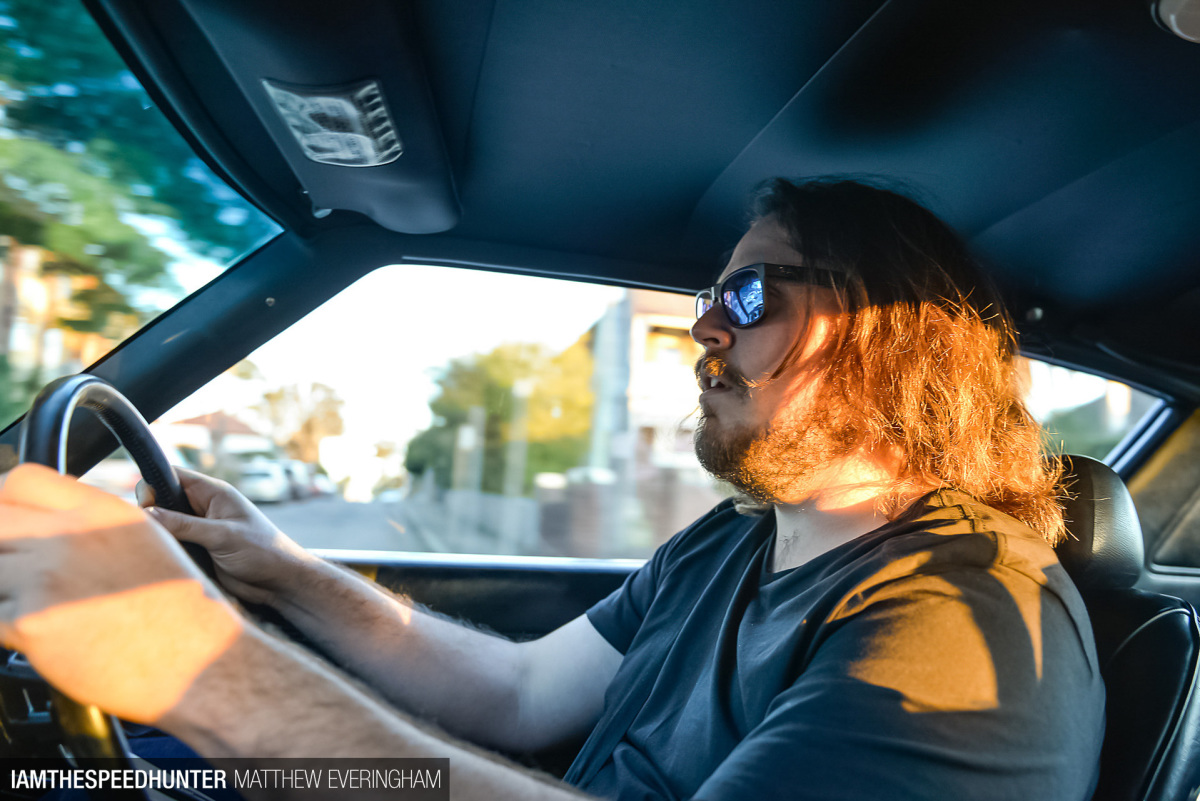 Scotty is pretty sure that his 240K was one of the last great eBay finds in the country – the car cost him a mere AU$1,500. It'd be easily insured for $50,000 to $70,000 now that import prices have gone crazy. Having said that, it's not the same car it was when he bought it. It's been given the royal rebuild treatment; no bolt was left unturned and every panel on the car has been untacked, rust checked, prepped and reassembled.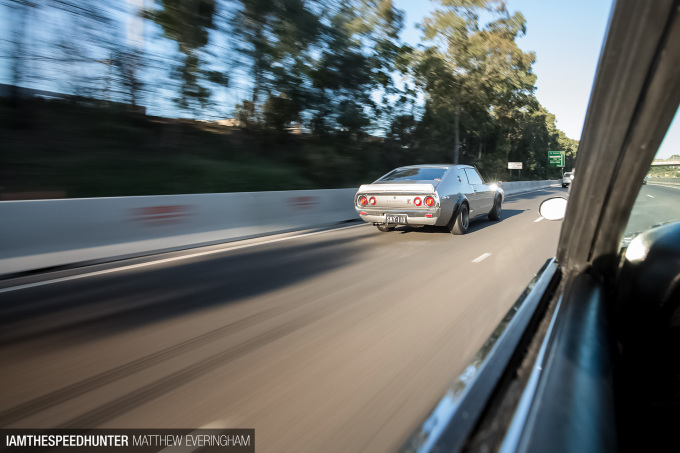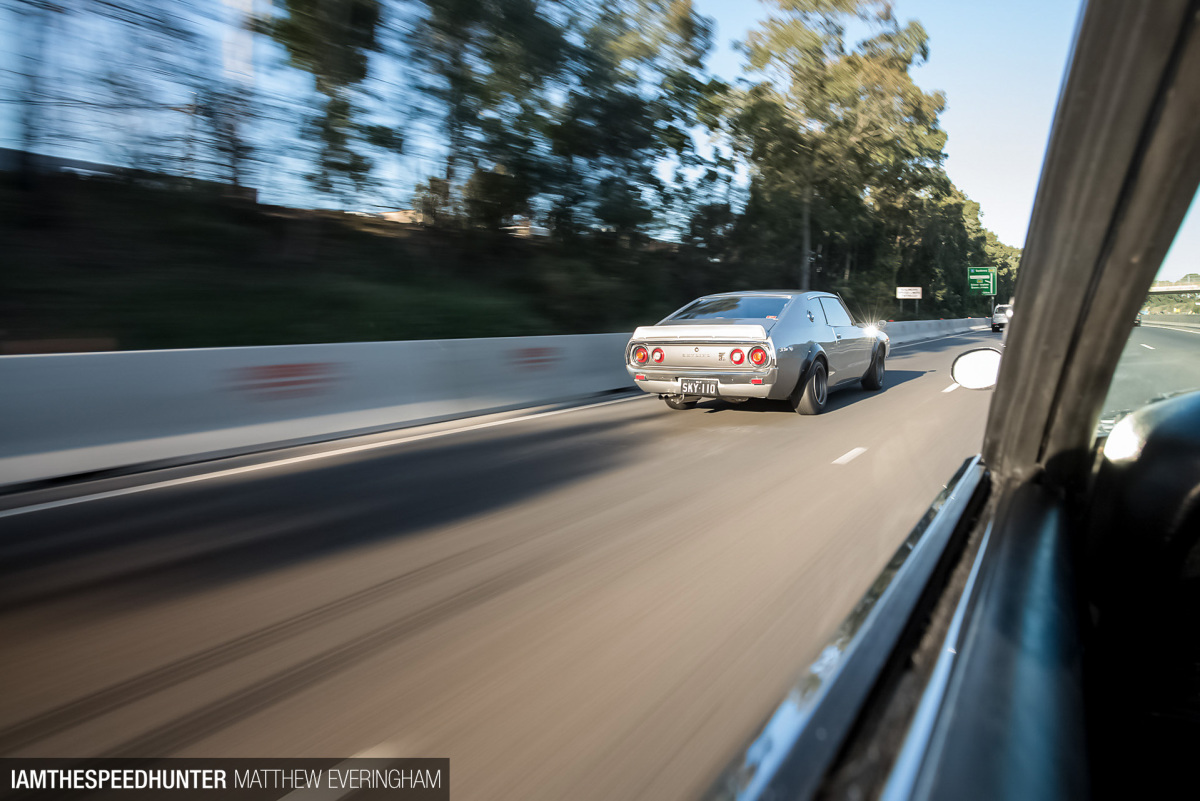 It's literally as close as you'll get to a brand new classic car, except with a few upgrades to the power and handling. Hell, Scotty even went to the effort of nickel-plating all the original parts to factory spec. See I didn't lie, this guy's picture should be on display when you punch 'Datsun Dedication' into Google.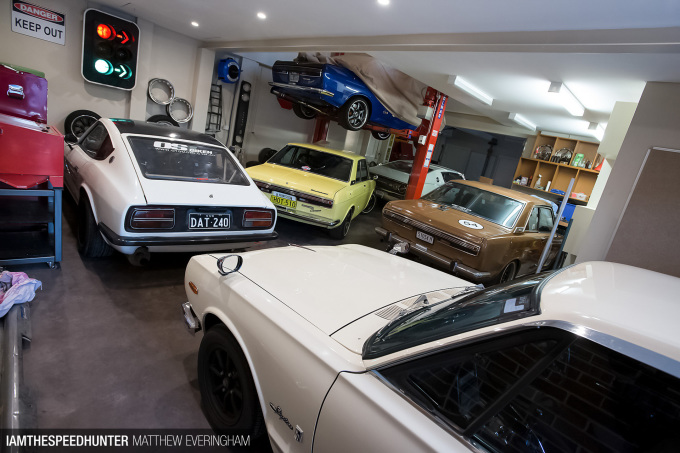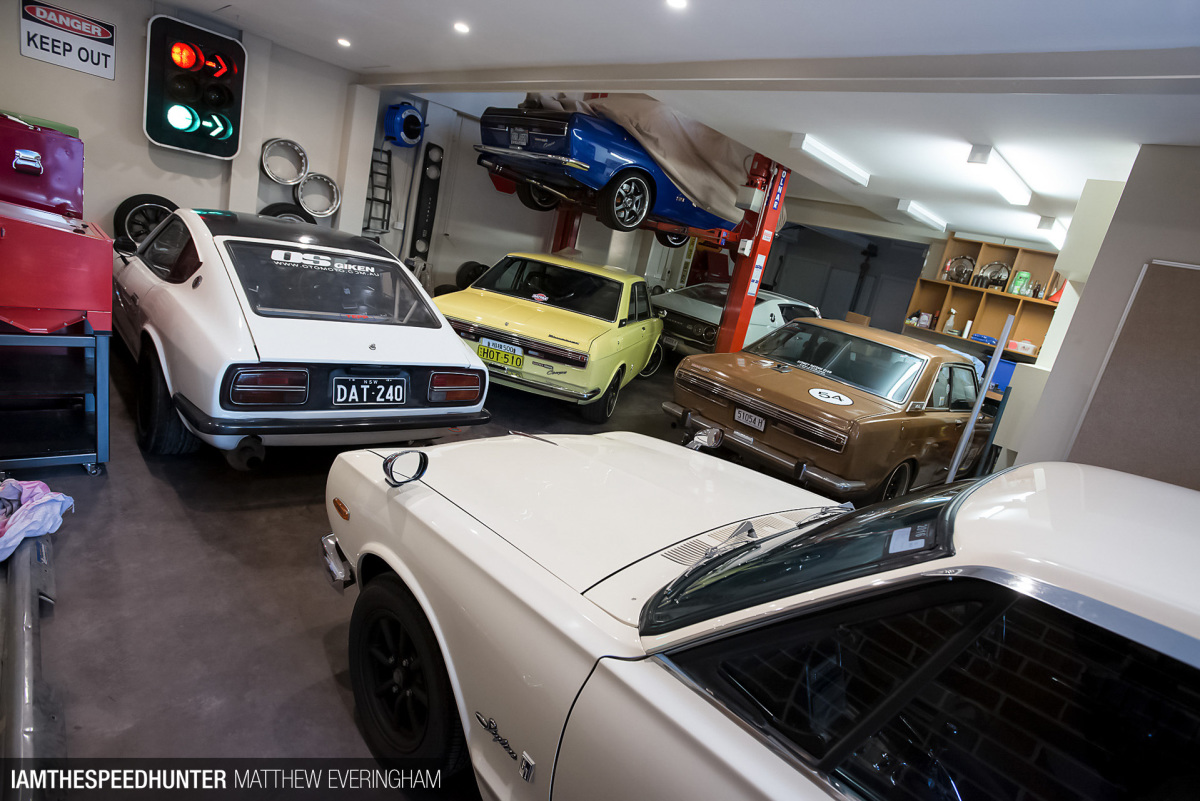 Our first and only planned stop was our meeting spot: Dan's garage. A well designed nostalgic paradise, the space was custom built to house his addiction. Raked ceilings and a clever use of space allow a full hoist and also a block and tackle, along with plenty of working space. As large as it is though, it's still overflowing with classic cars – namely six very impressive examples of Datsun/Nissan heritage. We might have to revisit Dan's dream garage one day if the demand is there.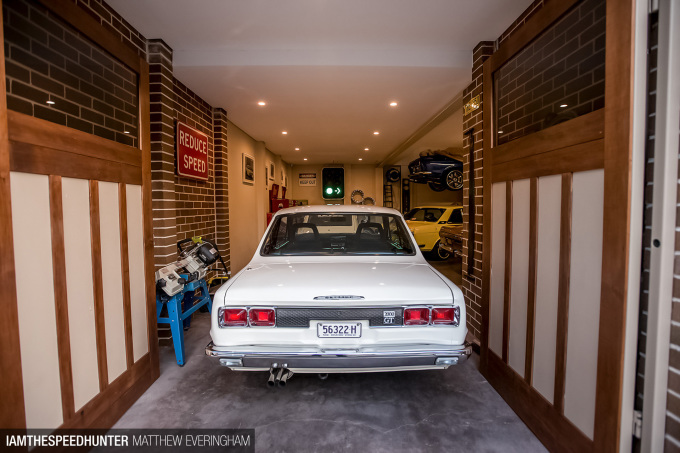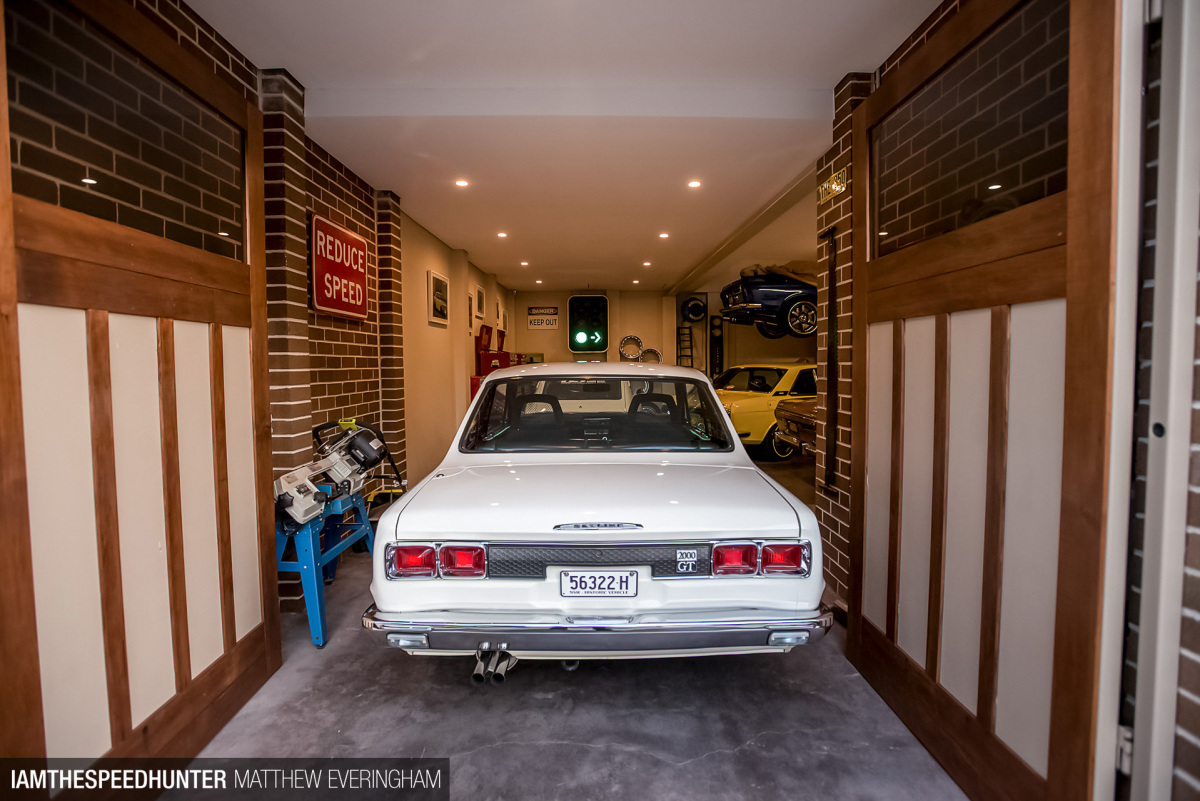 Seriously, the first car I saw in the garage was possibly the cleanest 2000GT I've ever seen outside of a museum. The bodywork was immaculate, and it looked like it had just rolled off the dealer showroom floor. I've been assured that there are big plans for this in the near future too.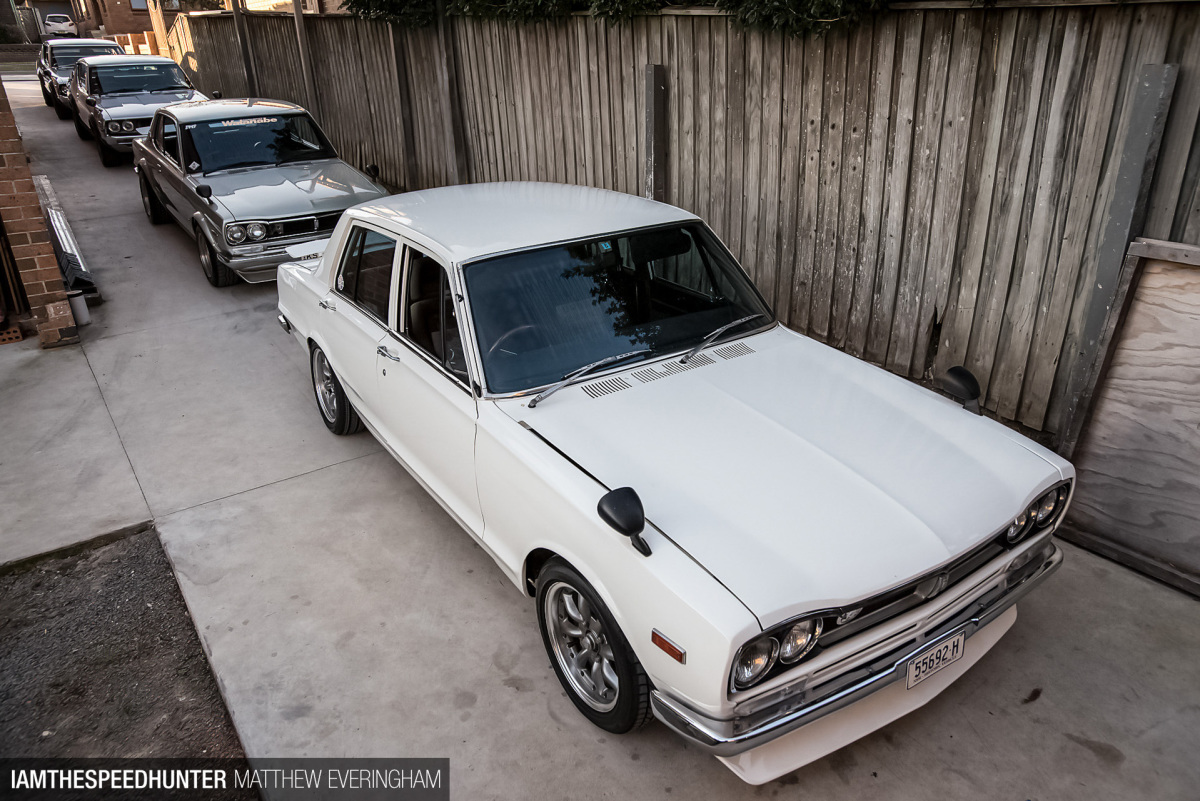 Suddenly, the suburban silence was broken by the burbly cackle and exhaust pops that could only come from L series motors. The cars would have been at least two blocks away when they came into earshot, which gave us plenty of time to make our way to the street to see them roll in. Talk about an impressive line up, and at this point we were still waiting for one more car! When it finally happened, Daniel's neighbours must have loved us leaving. Or perhaps they've grown used to the extra noise these classics make.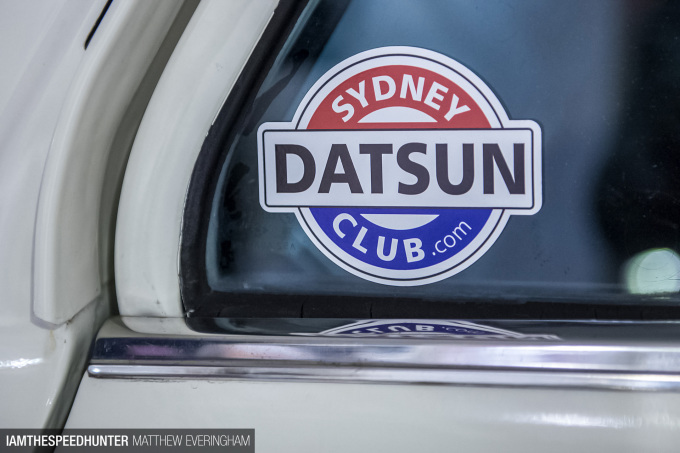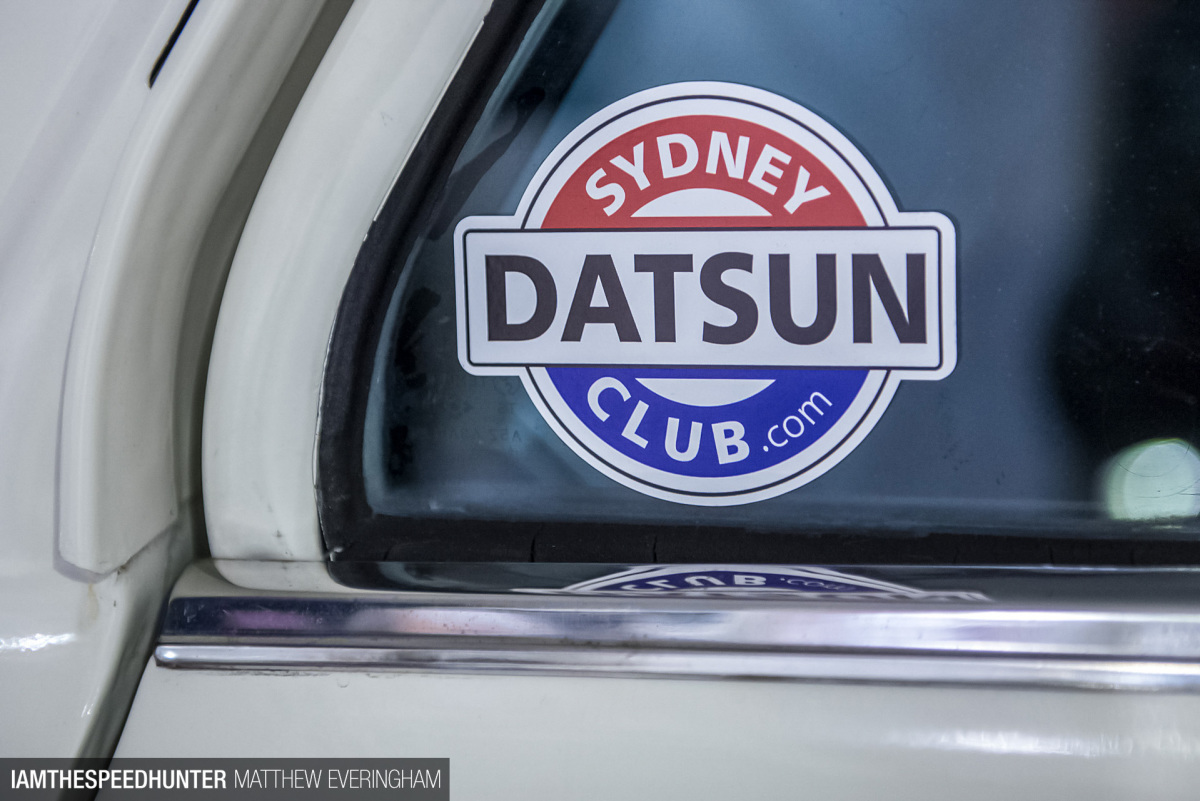 It was a sight so awesome and surreal to see and hear first-hand. So many super rare icons of Japanese tuning set against a very ordinary and (until now) quiet piece of Australian suburbia.
And then we were off. We'd swapped the touge for back lanes, and cherry blossoms were traded in for gum trees.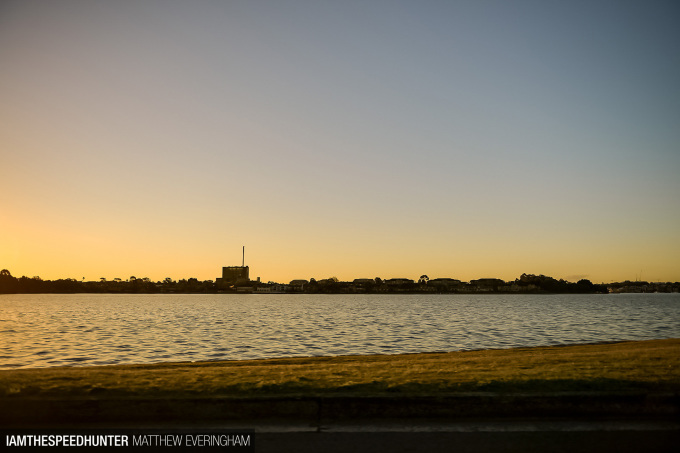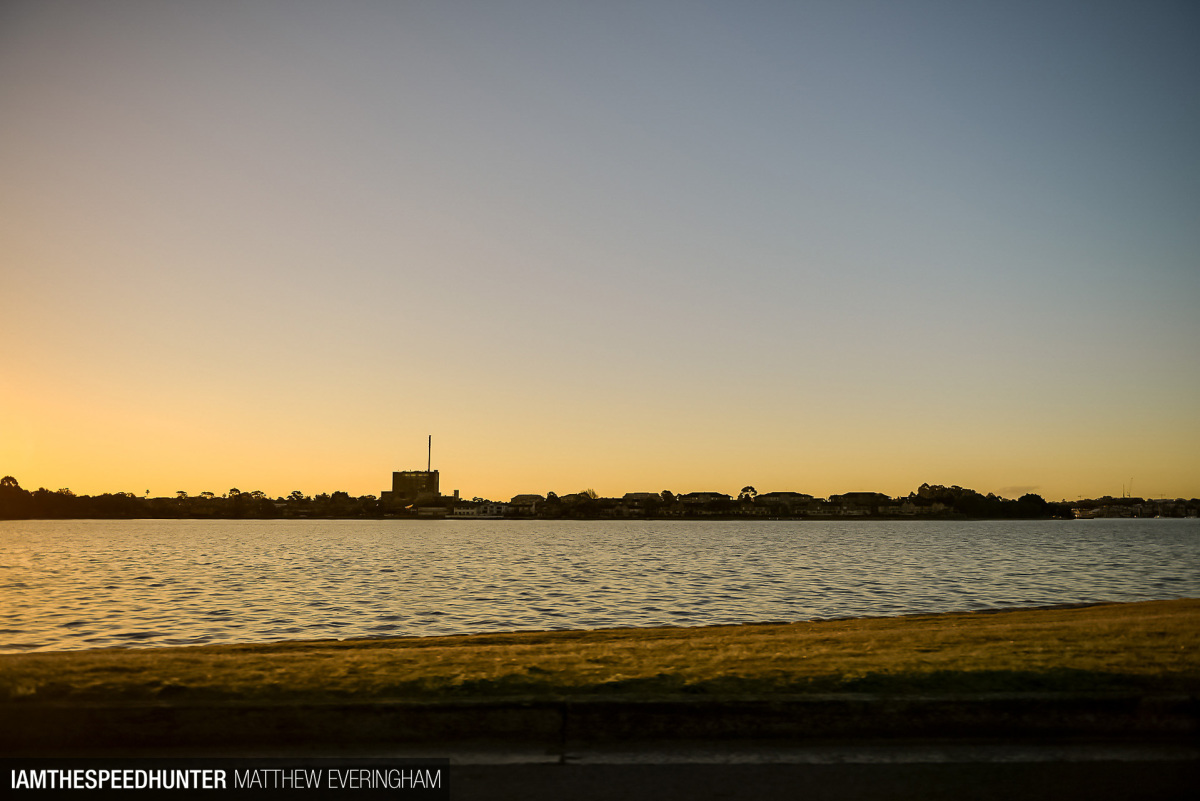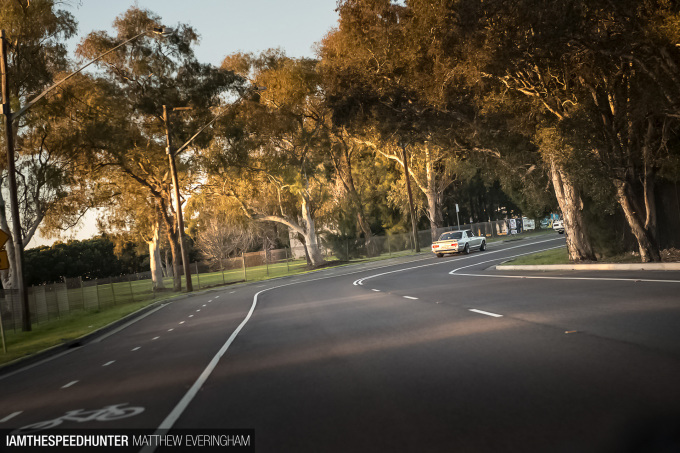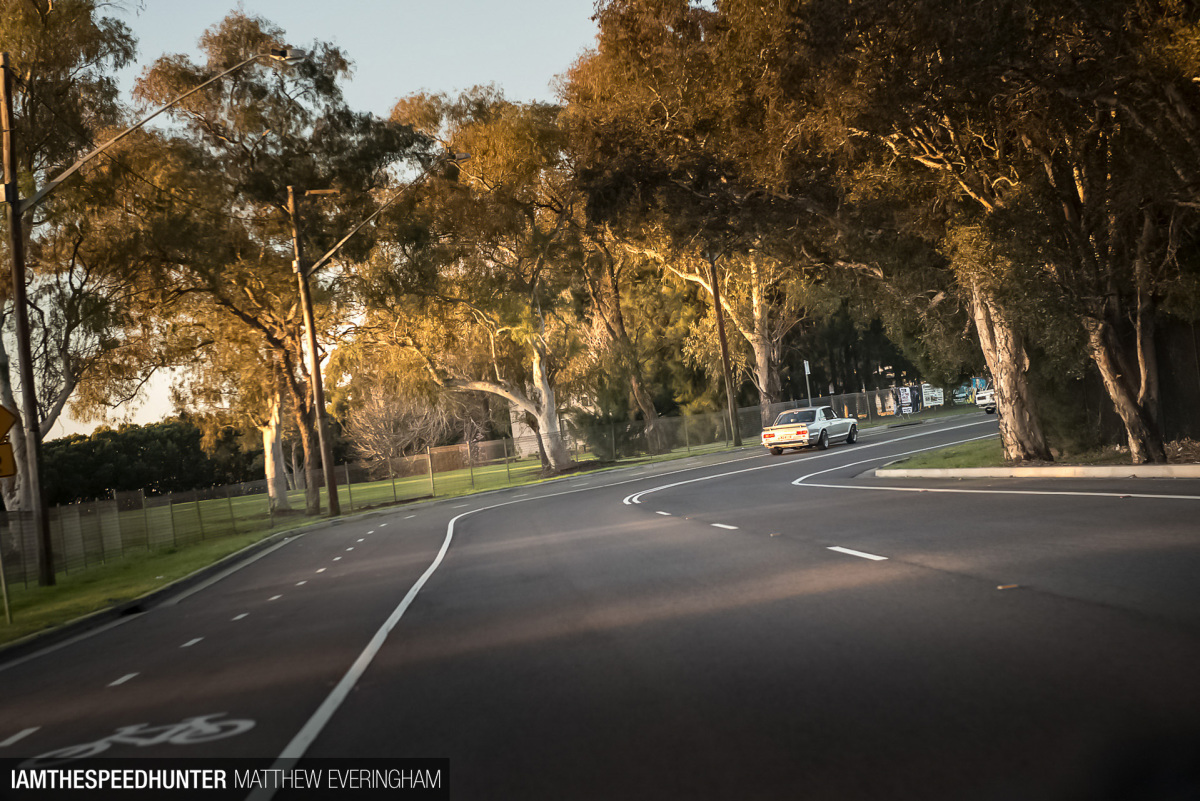 Chuck, one of the Hakosuka owners and also president of the Sydney Datsun Club, recommended a cool little boat ramp area nearby to get some group shots of the cars before the sun dropped behind the horizon. We raced against the sun to get there with some time to spare, but I'd call it a draw. I watched the last blip of sun sink below the horizon as the cars rolled into position.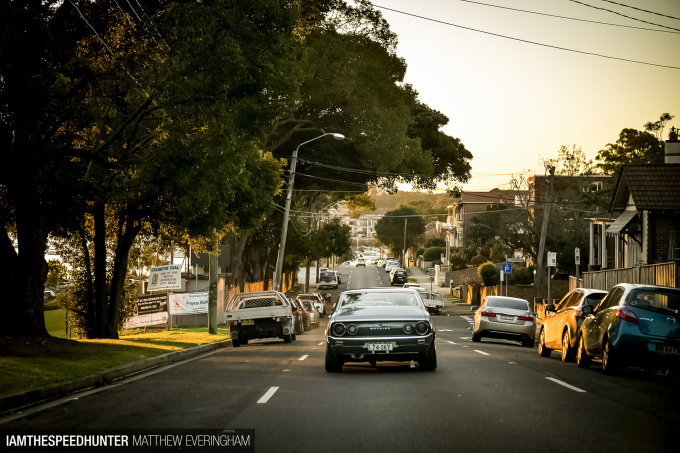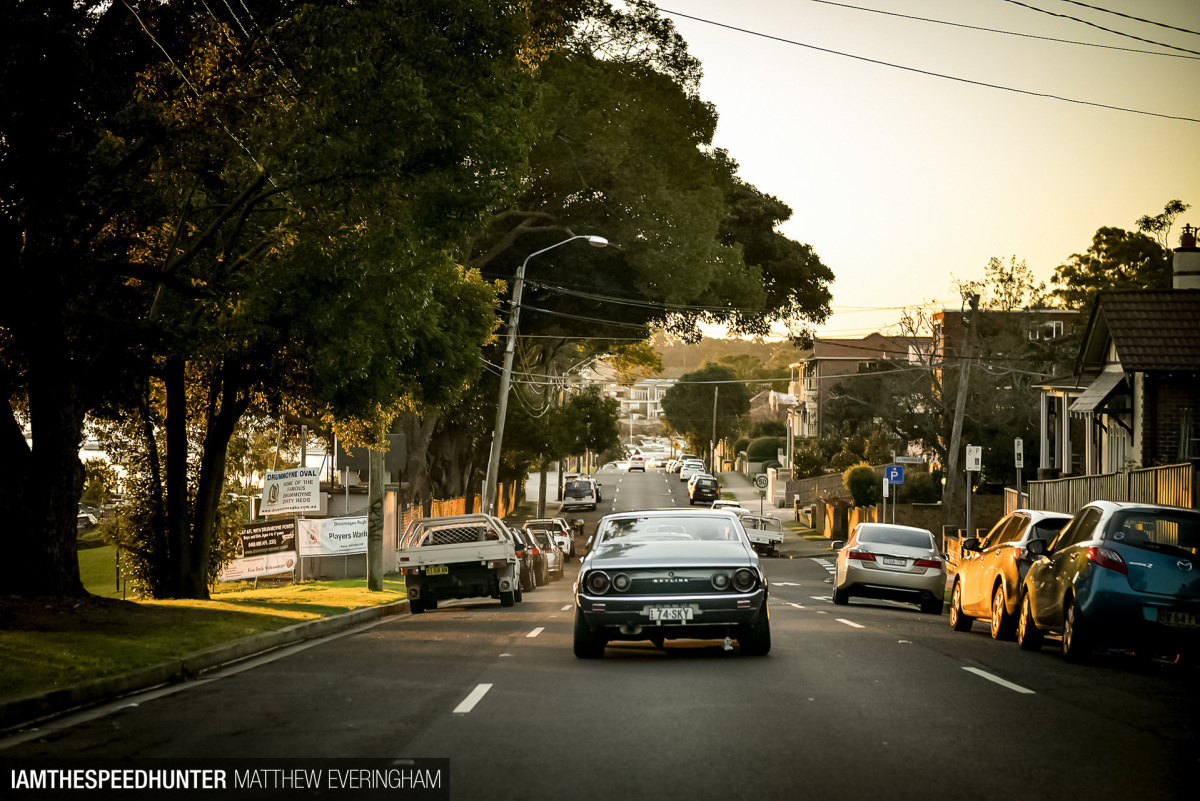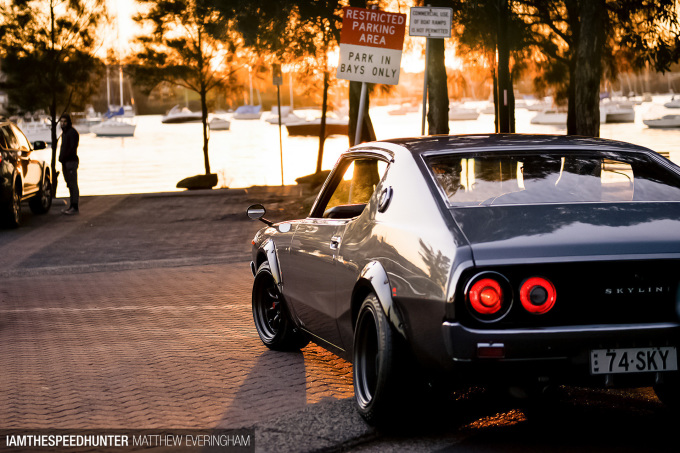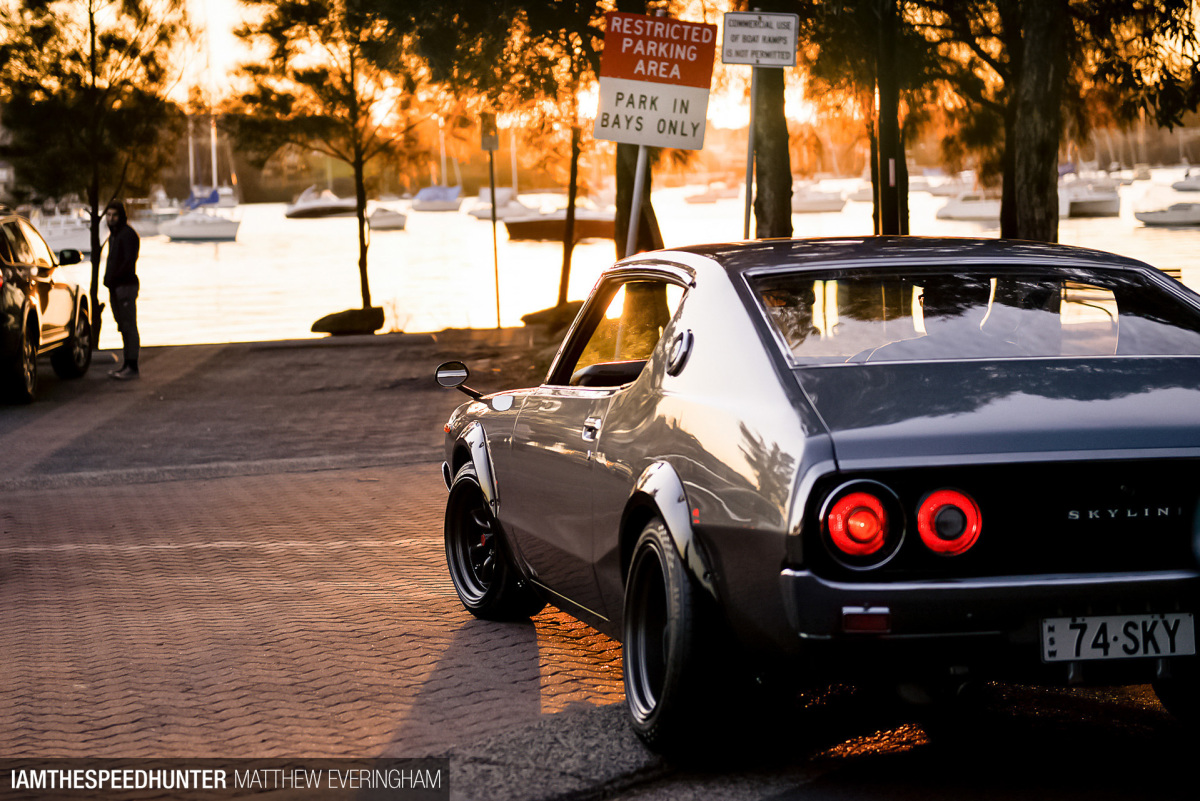 We were greeted by some locals who were curious to know what kind of cars they were looking at. An enthusiastic group of young kids were kind enough to give up their parking spaces to let us grab a group shot of all six cars. They were also pretty keen to show everyone how well one of their mother's automatic Holden Commodores could do a single wheel burnout (I scored him a 2 out of 10 for form, 1 for effort and 1 for his disregard of his mum's car.)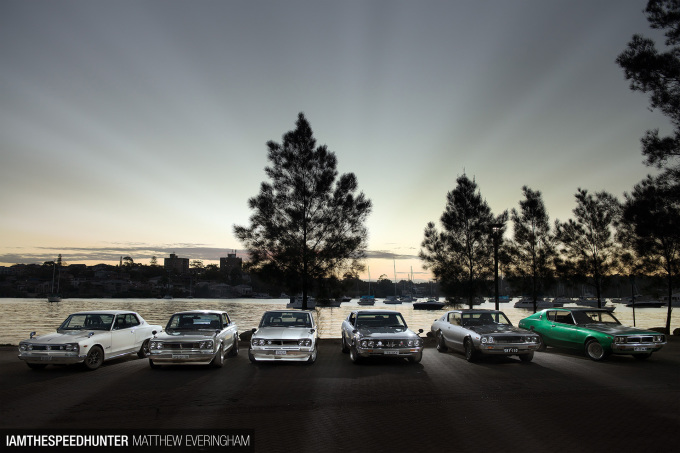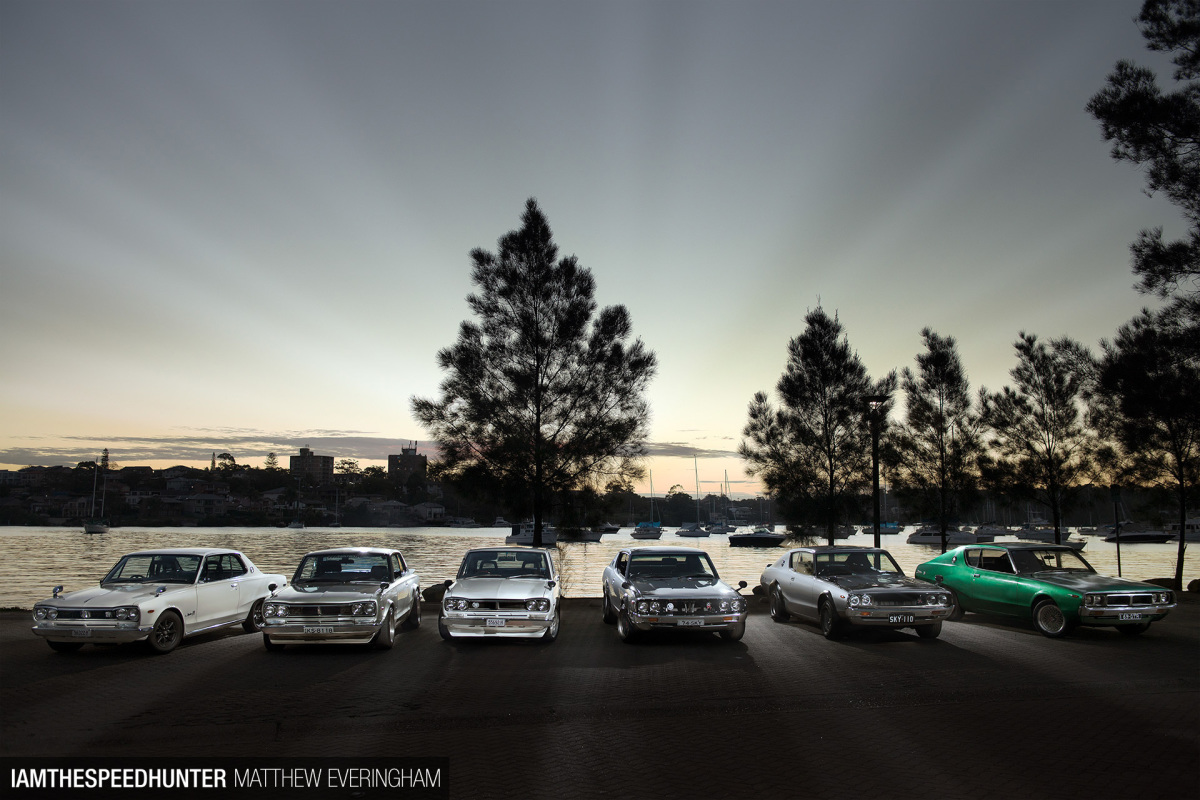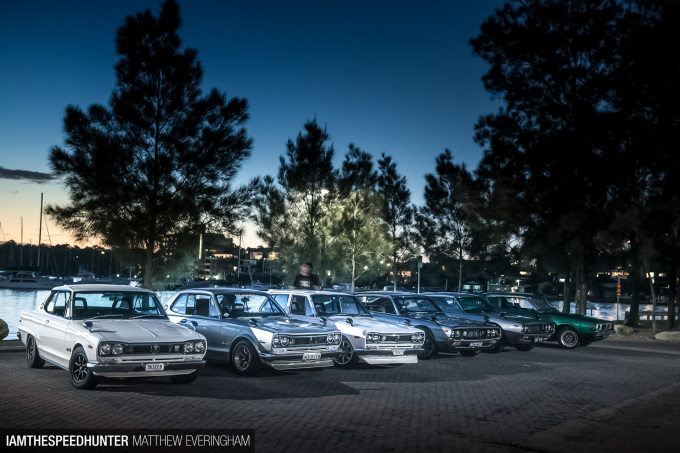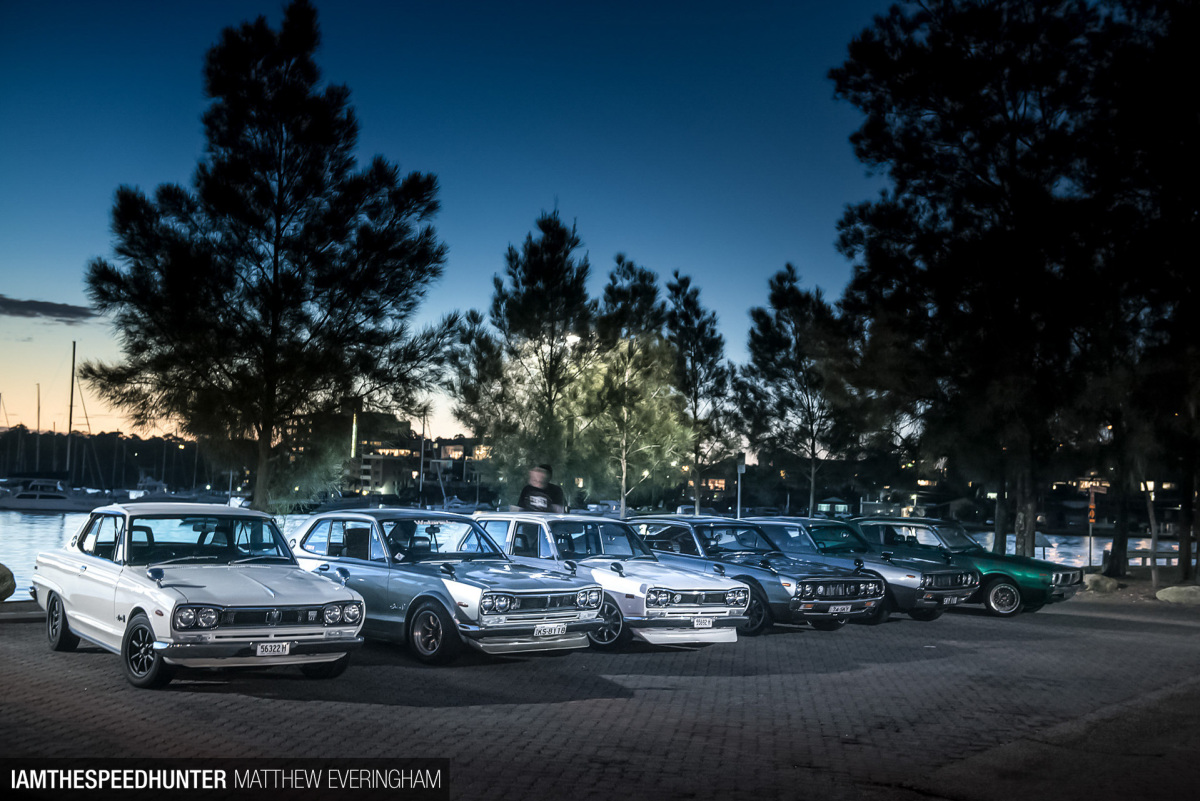 History in the making… Maybe.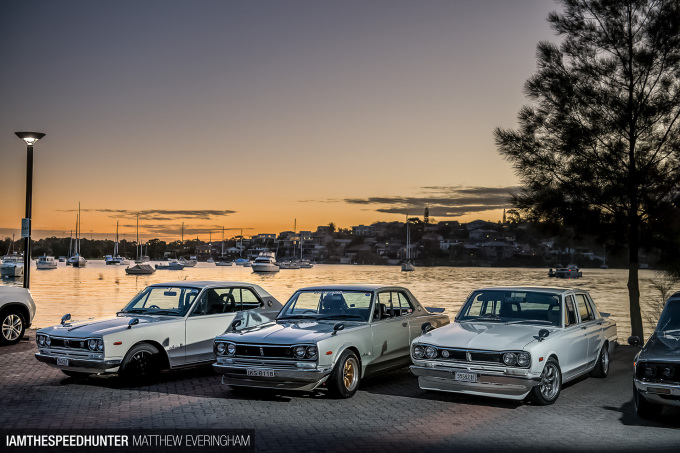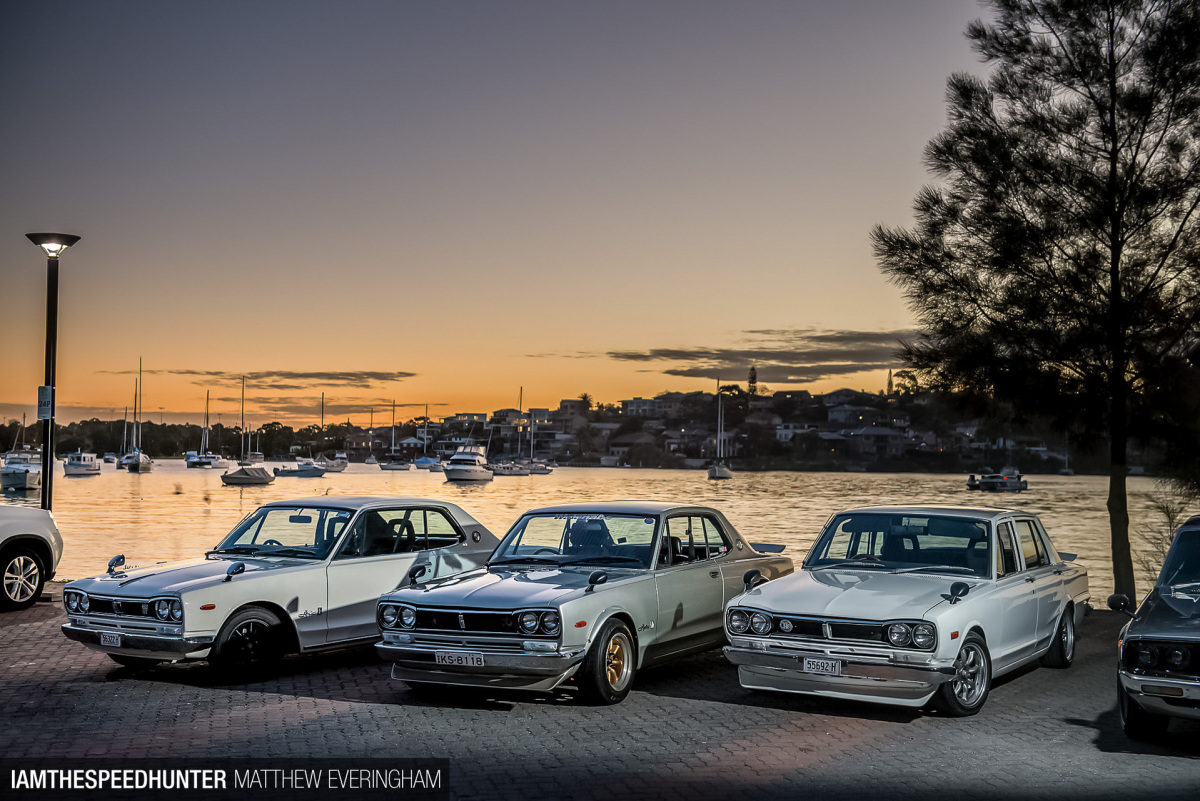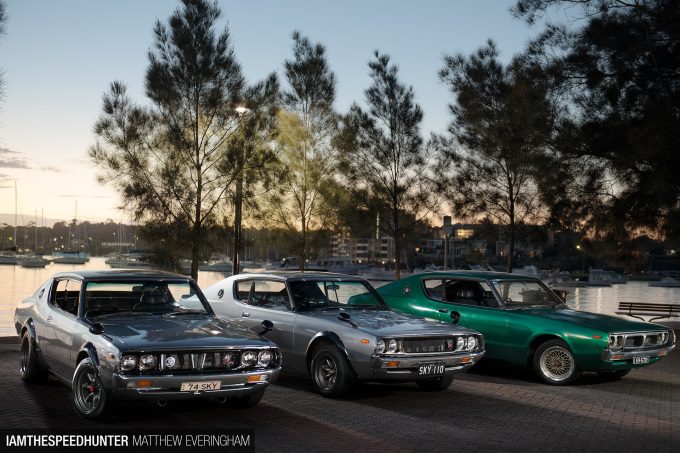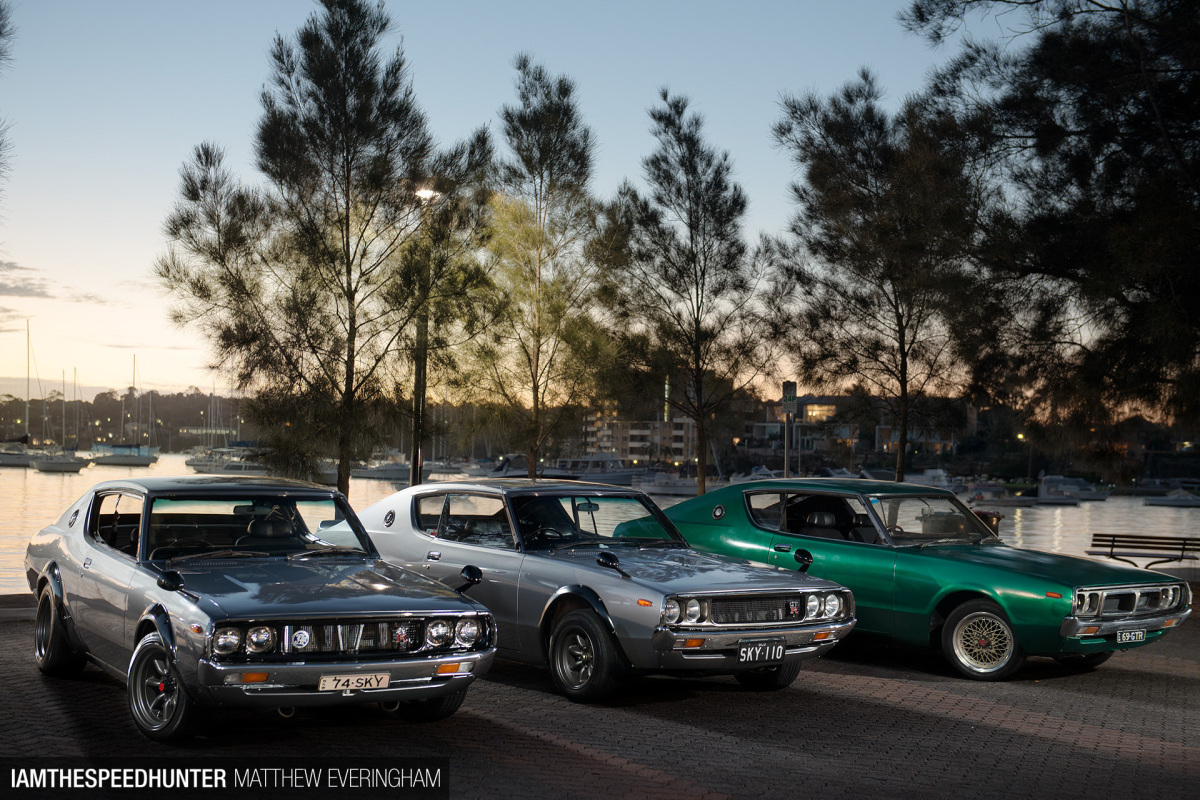 With the best of the light gone we decided not to hang around and do what what we planned. It was time to drive! So with that we hit the road and headed right into the heart of Sydney and ultimately across the 'Big Coat-hanger', an affectionate term for the famous Sydney Harbour Bridge. If any of you guys have owned or currently drive a classic automobile, you'll know that there's one more important pit stop to make before any journey beyond the local corner shop.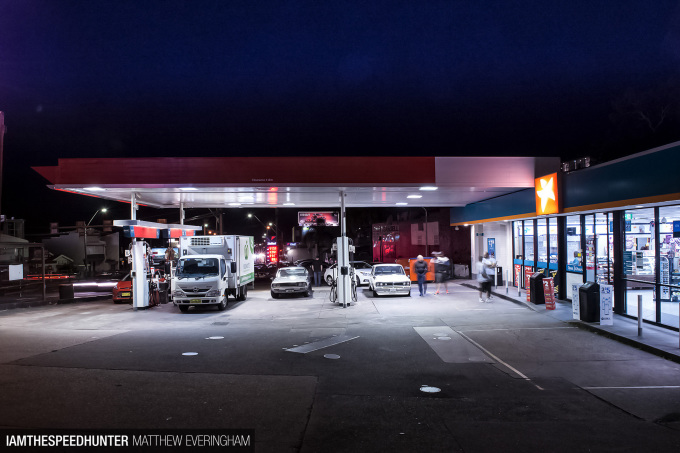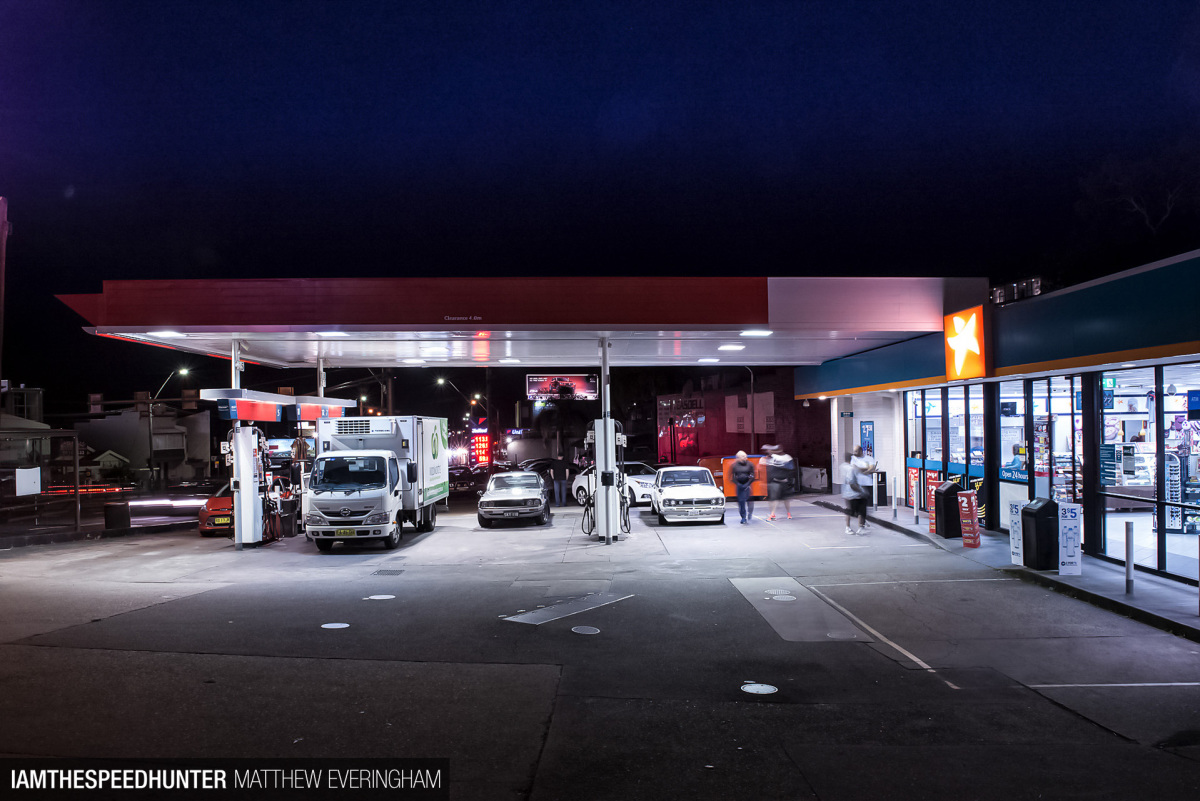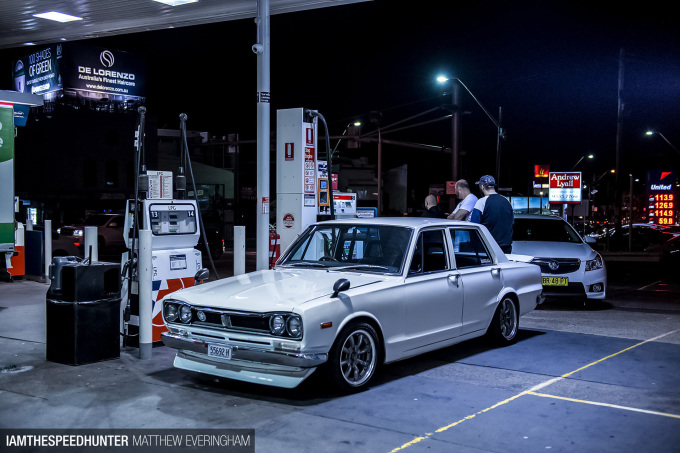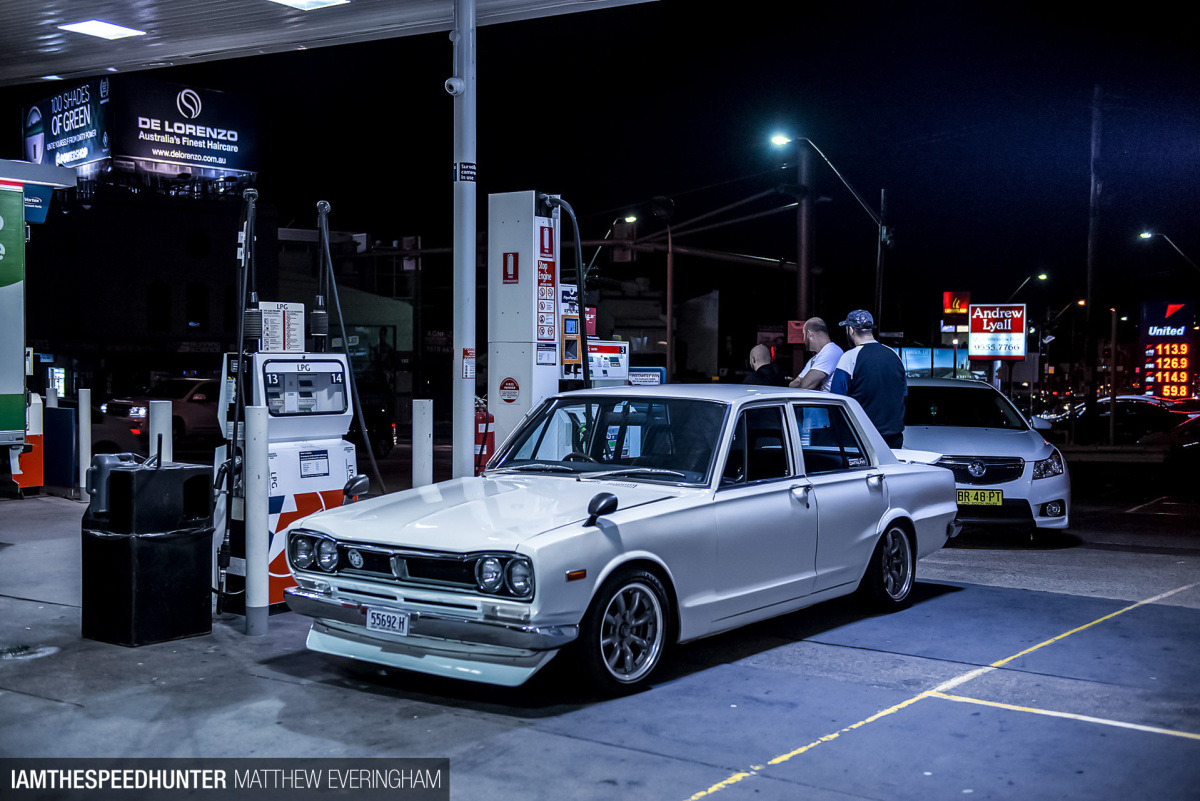 It didn't take long before the cars had attracted another audience of interested punters who liked what they saw but weren't 100 per cent sure what it was they were looking at. A group of enthusiastic guys who were about to drive out of the servo parked up and got back out of their car (yep, another Commodore) for a closer look and to find out if they were Datsuns or some kind of old Mazdas.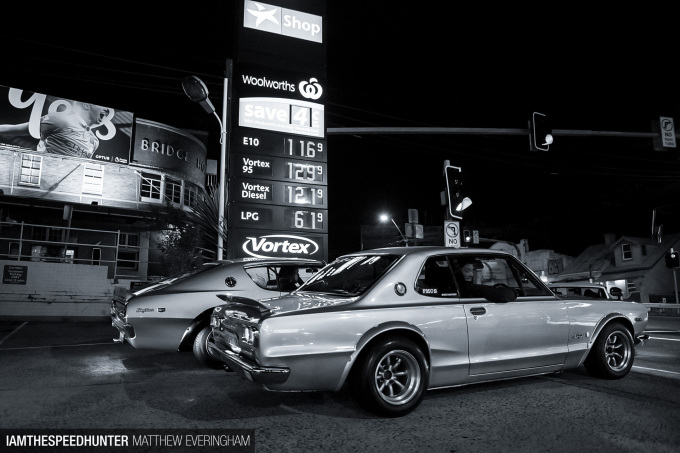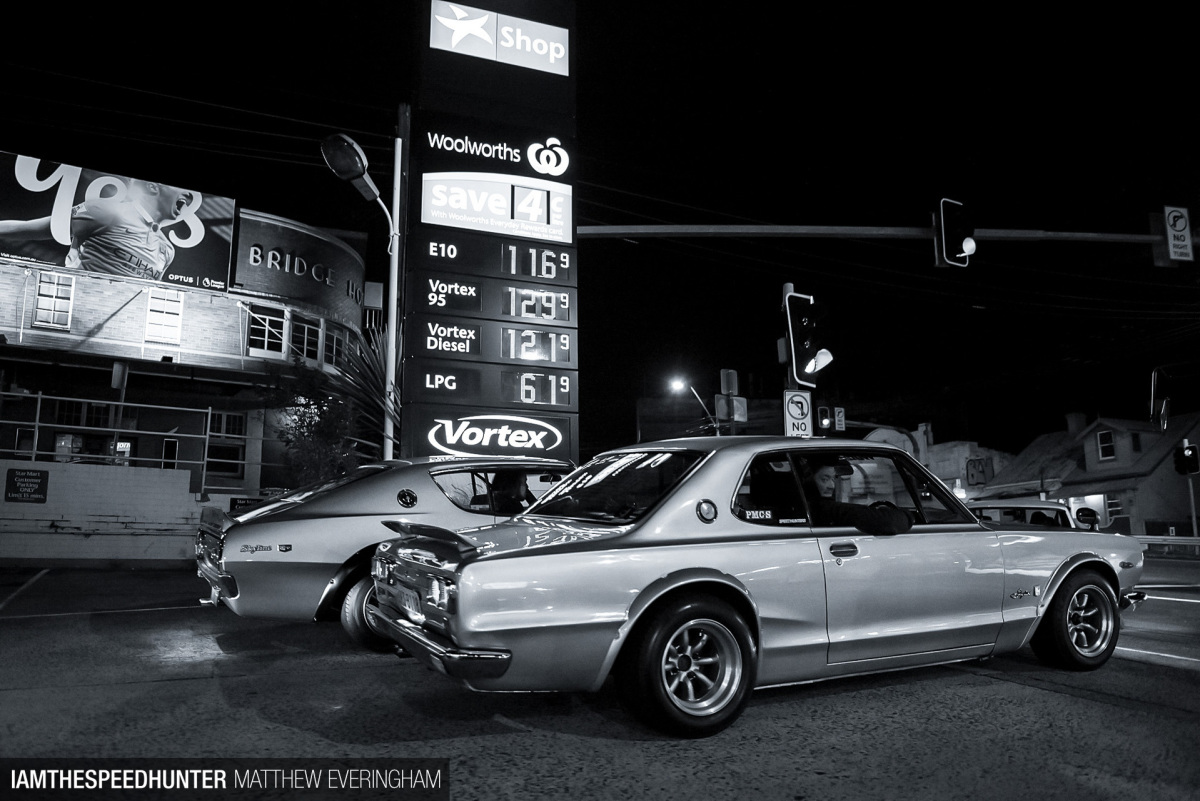 The universal response to a Hakosuka and Kenmeri seems to be a smile. Maybe we need more of these in our lives? With tanks full of fuel we were ready to drive for at least another 15 minutes, so we made our way through to the heart of the city, being sure to cross both of Sydney's iconic bridges.
City Lights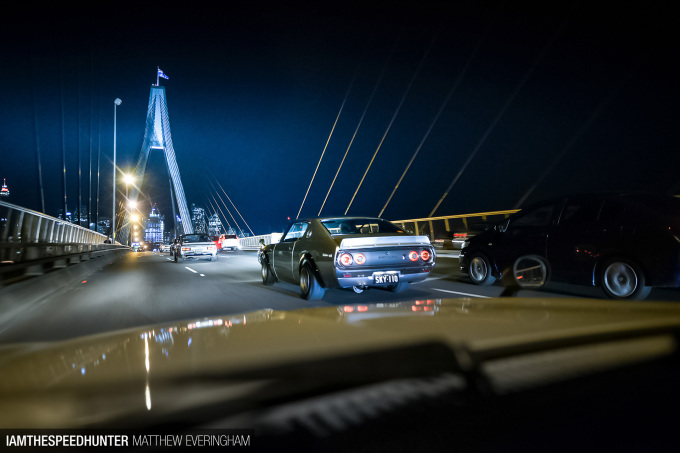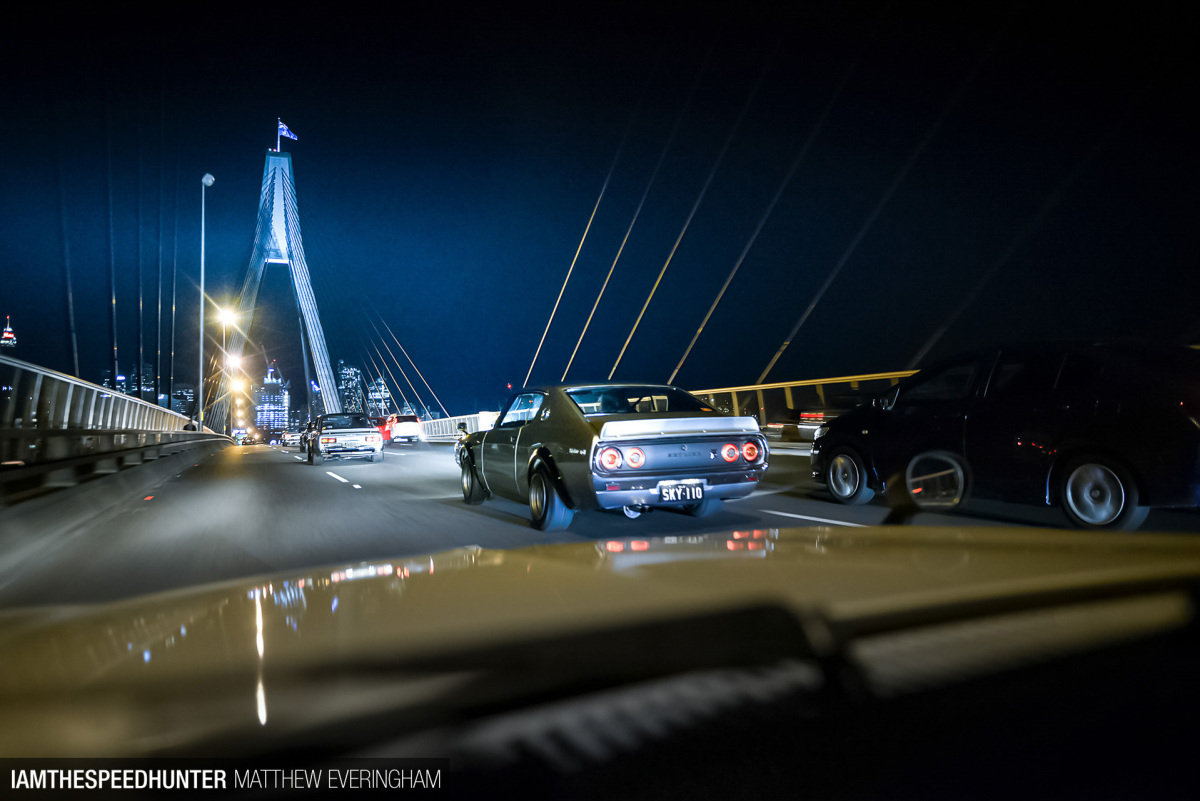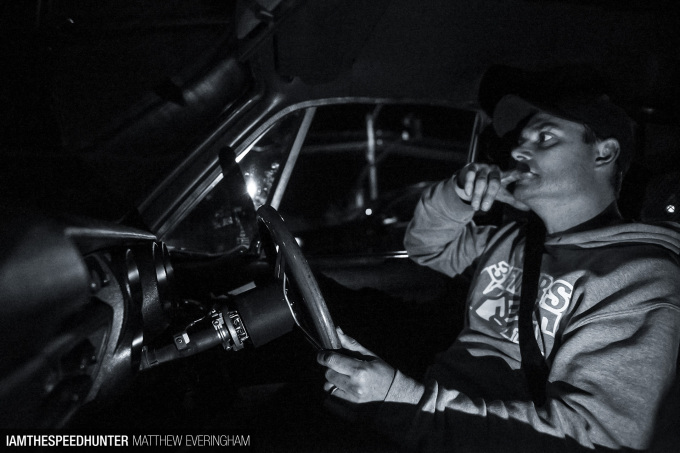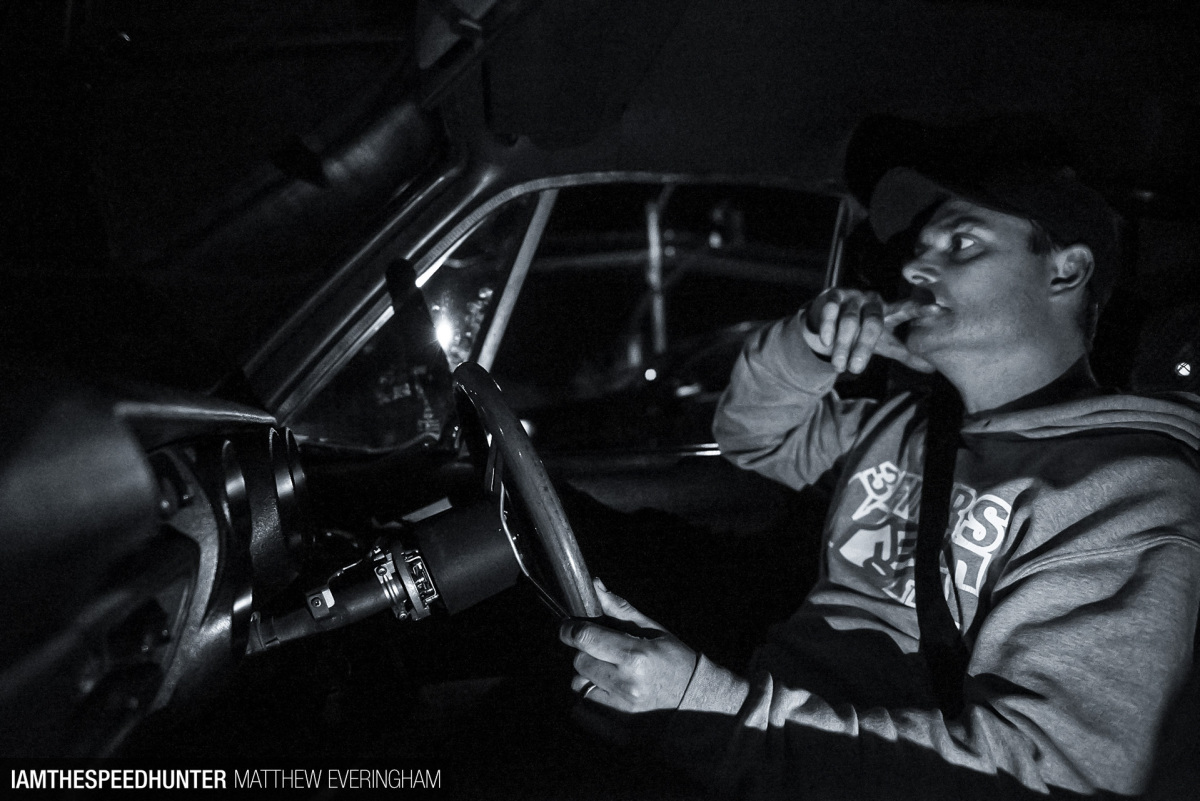 Let's be clear about this, Sydney is not Tokyo, Osaka or Kyoto. I'd wager a decent sum of money that this would have been the very first time that anyone in Australia had gotten three Hakos and three Kenmeris together outside of a car show.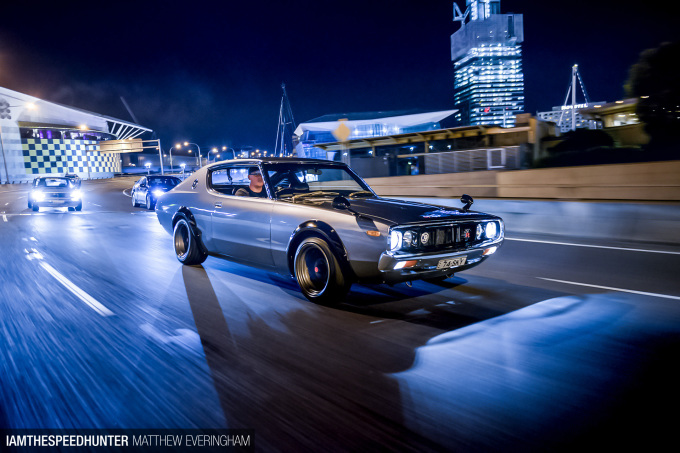 People of all ages stopped and stared with massive smiles as the angry pack of noisy nostalgia zig-zagged through the otherwise quiet streets of suburbia. On Sunday morning I saw a stranger had posted up a very excited video of the cars rolling through a shopping precinct. The owners were all stoked by the warm reception.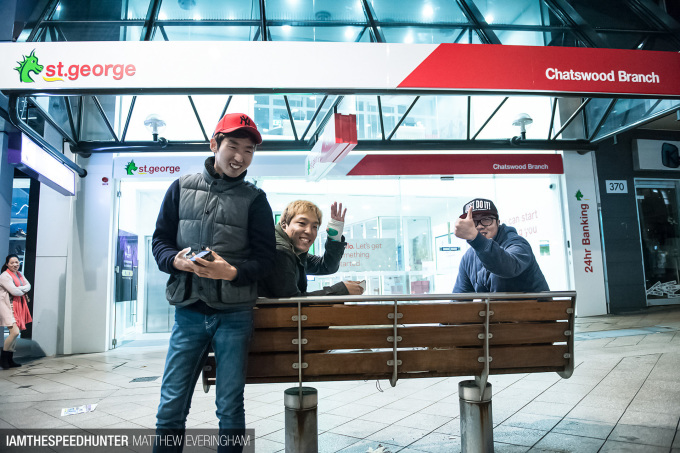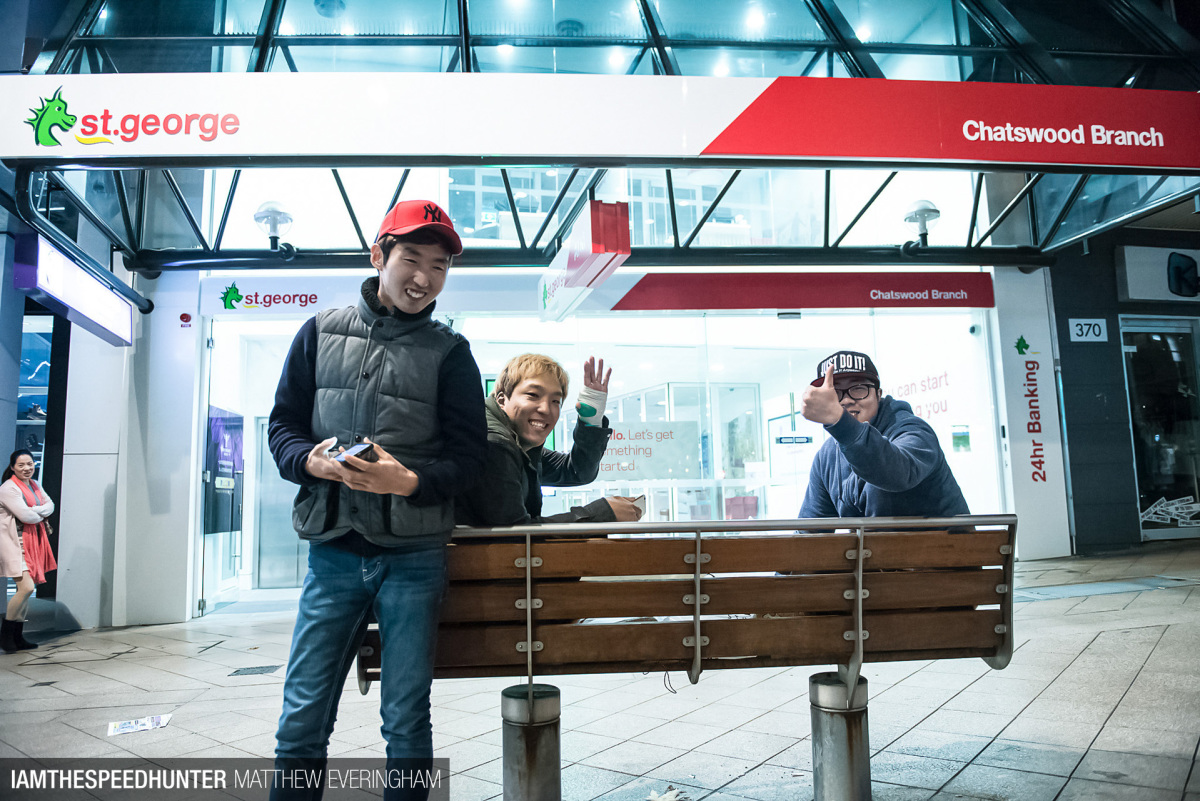 The boys wanted to help me out, and take advantage of my camera, so we headed towards North Sydney and Milson's Point, where you can look back across the harbour and soak in an amazing view. It's well worth the train trip across the bridge to check out first-hand if you're ever a tourist down this way.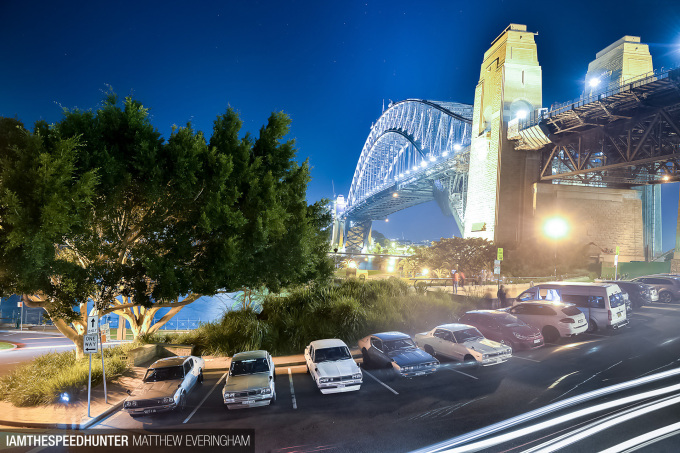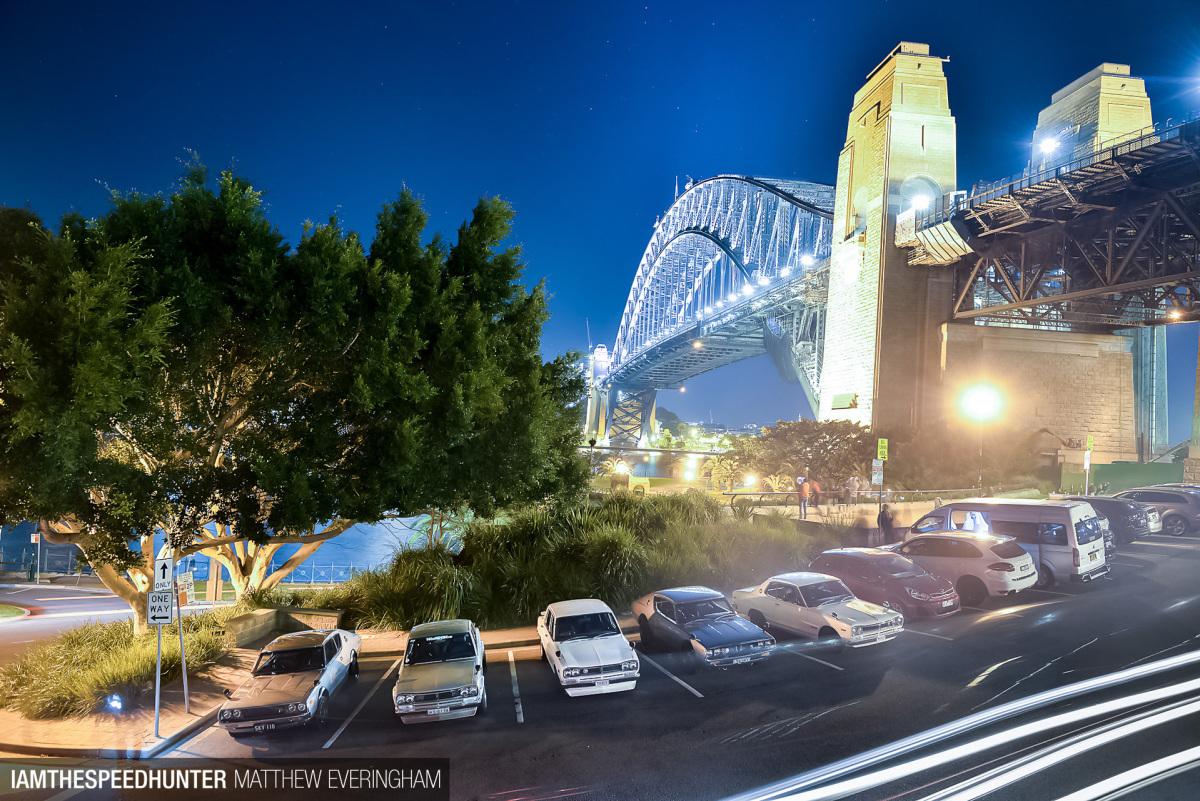 Eventually we ended up in the same spot that Magnus Walker picked for his Sydney Outlaw meet a couple of months ago. It's always busy here, but we were extremely lucky to find six of the 12 parking spots available. Seriously! When does that ever happen? We were quick to capitalise on the situation and I snapped a couple shots of the team against a super-cool backdrop of the entire city, the sails of the Opera House and of course the Sydney Harbour Bridge itself.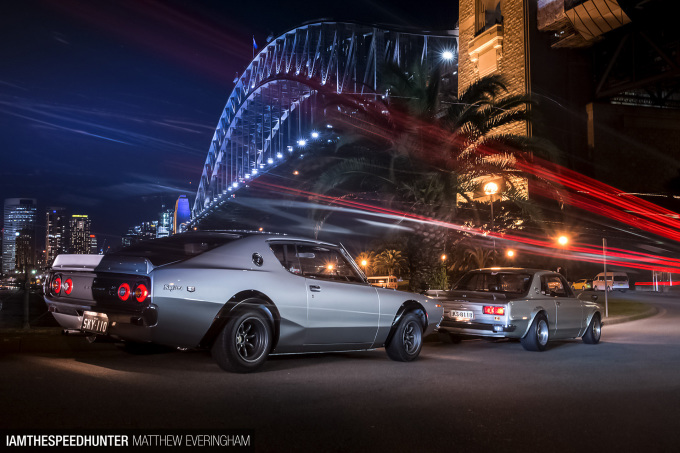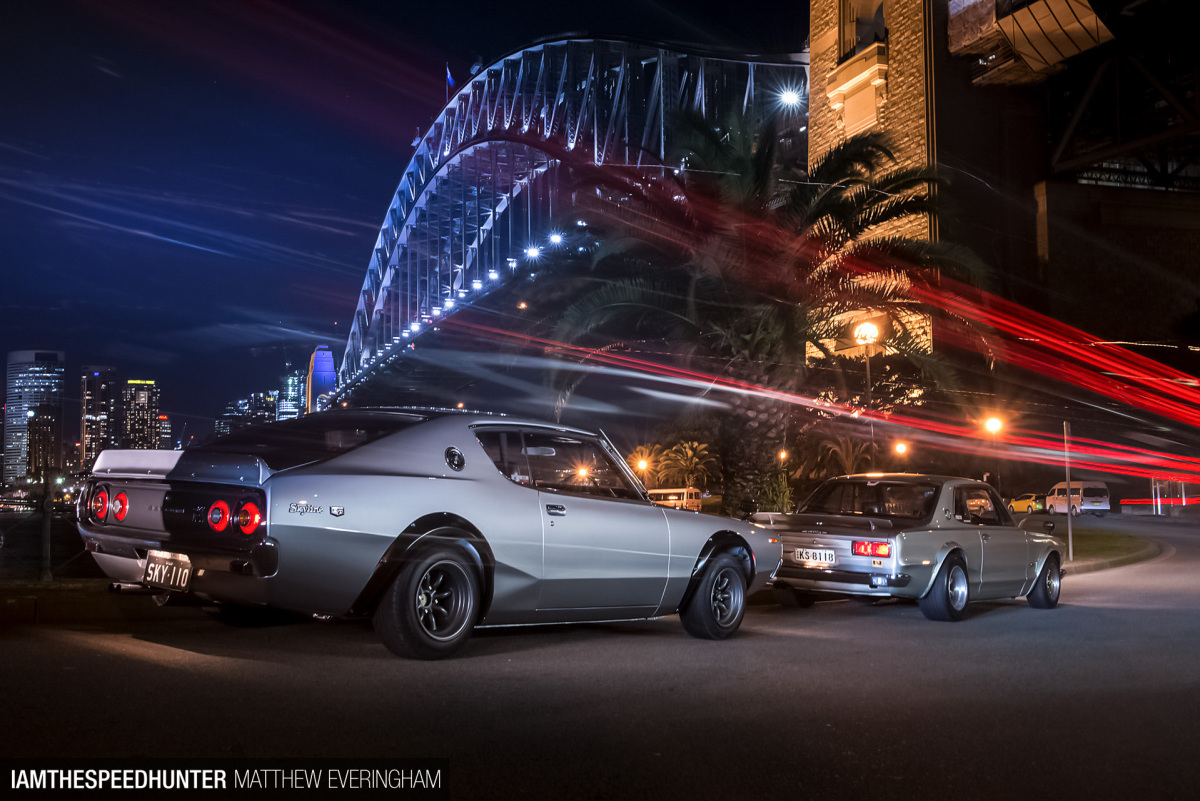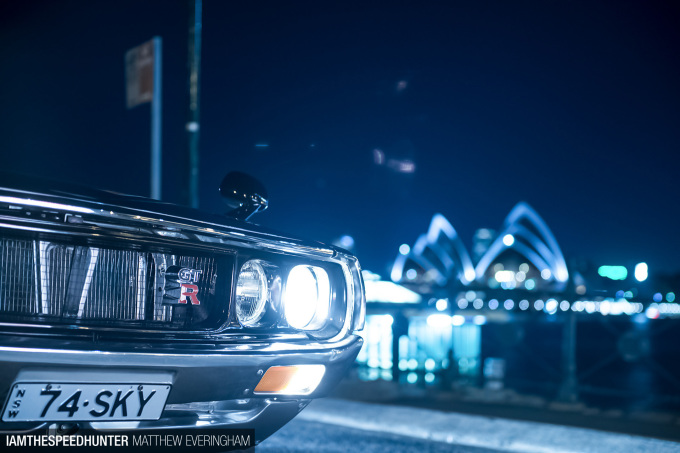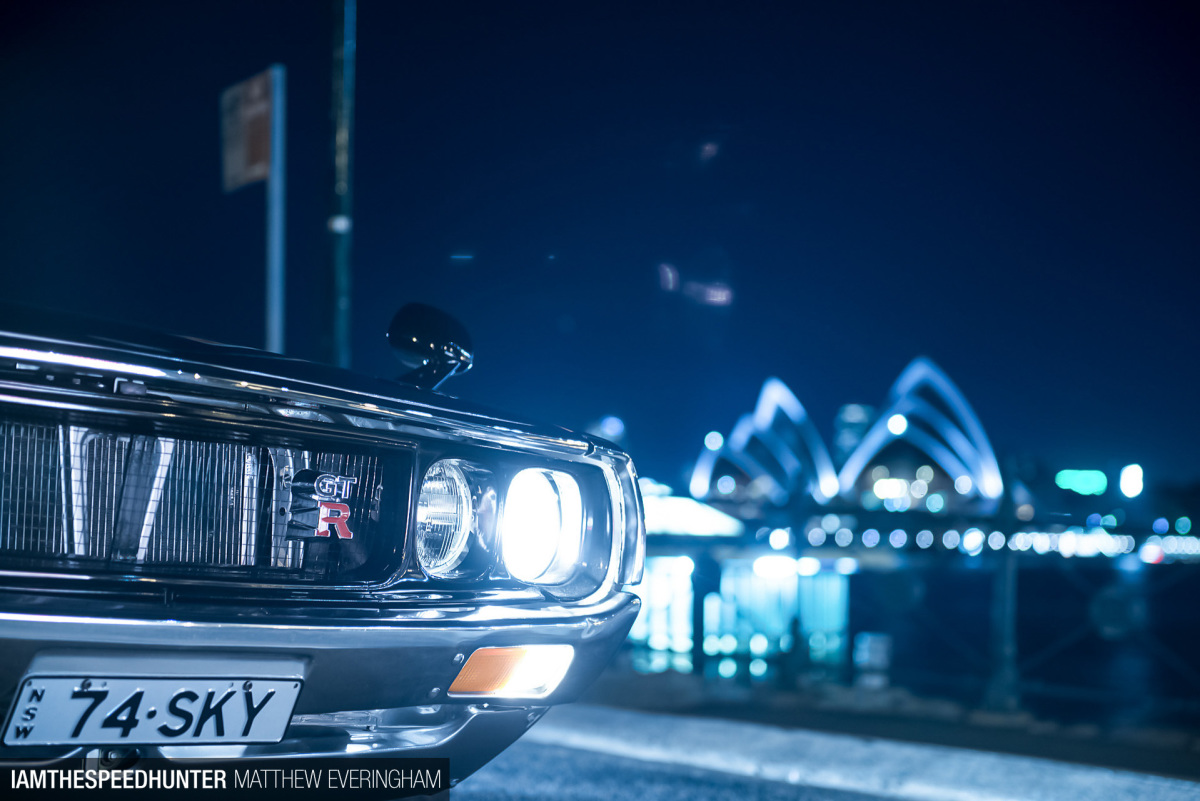 While we may have crazy wildlife, draconian car laws and extreme weather, we still have an exceptionally beautiful city. This almost looks like a screenshot from Need for Speed, don't you think?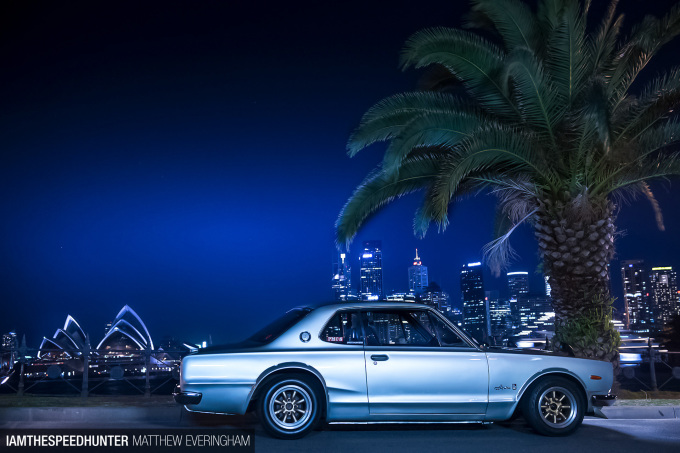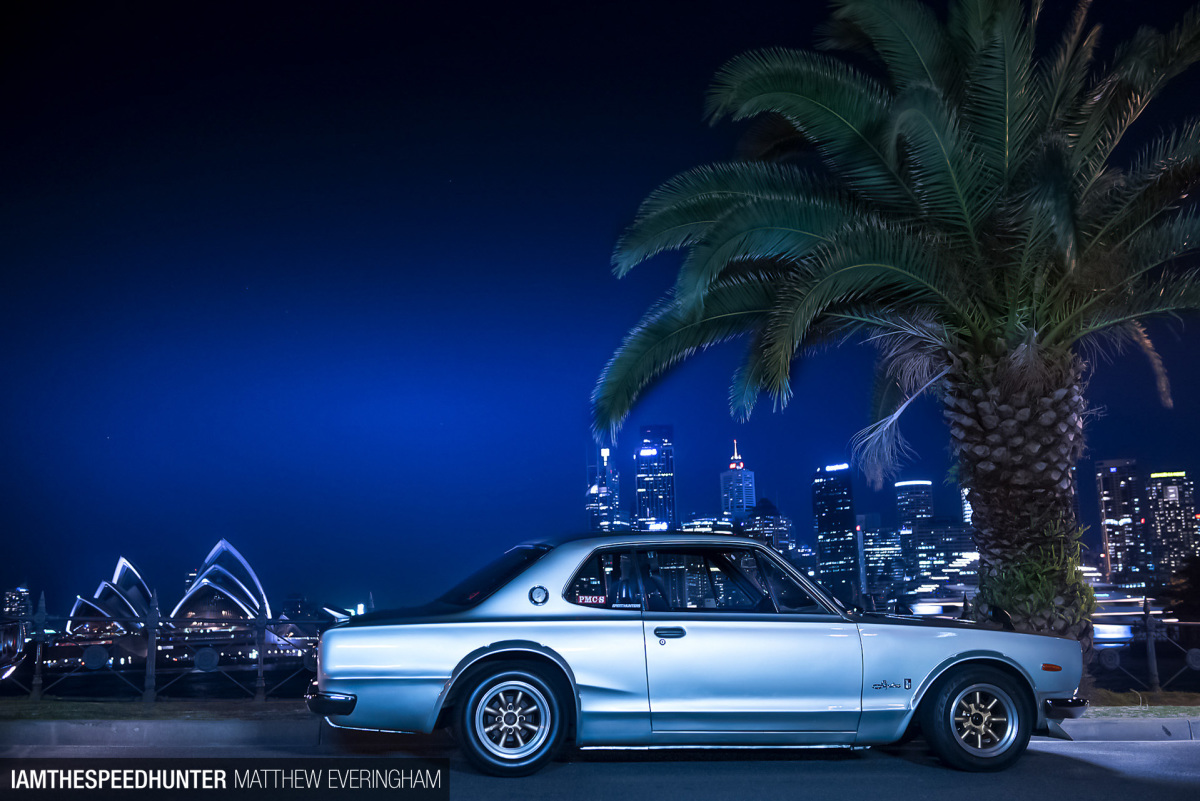 People outside of Australia often make jokes that every piece of wildlife down here is trying to kill you. While we were hanging out by the harbour Chuck had a 1kg fruit bat fly into his face and scratch his nose with its massive claws. No sh*t! While it's never happened on a shoot I've done before, the bat must have known I was considering documenting our adventure and wanted some e-fame.
Connection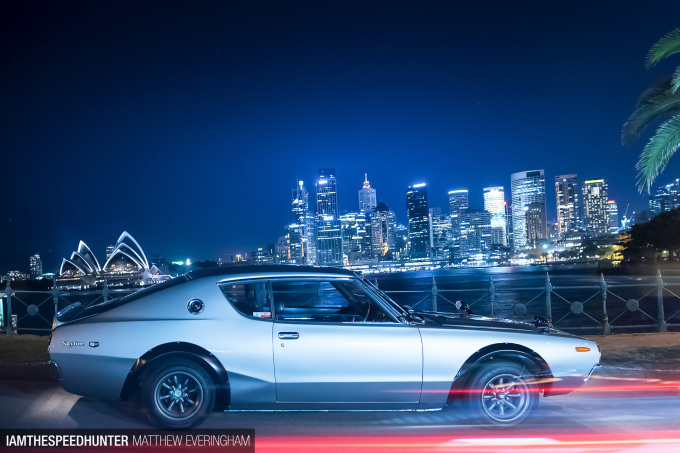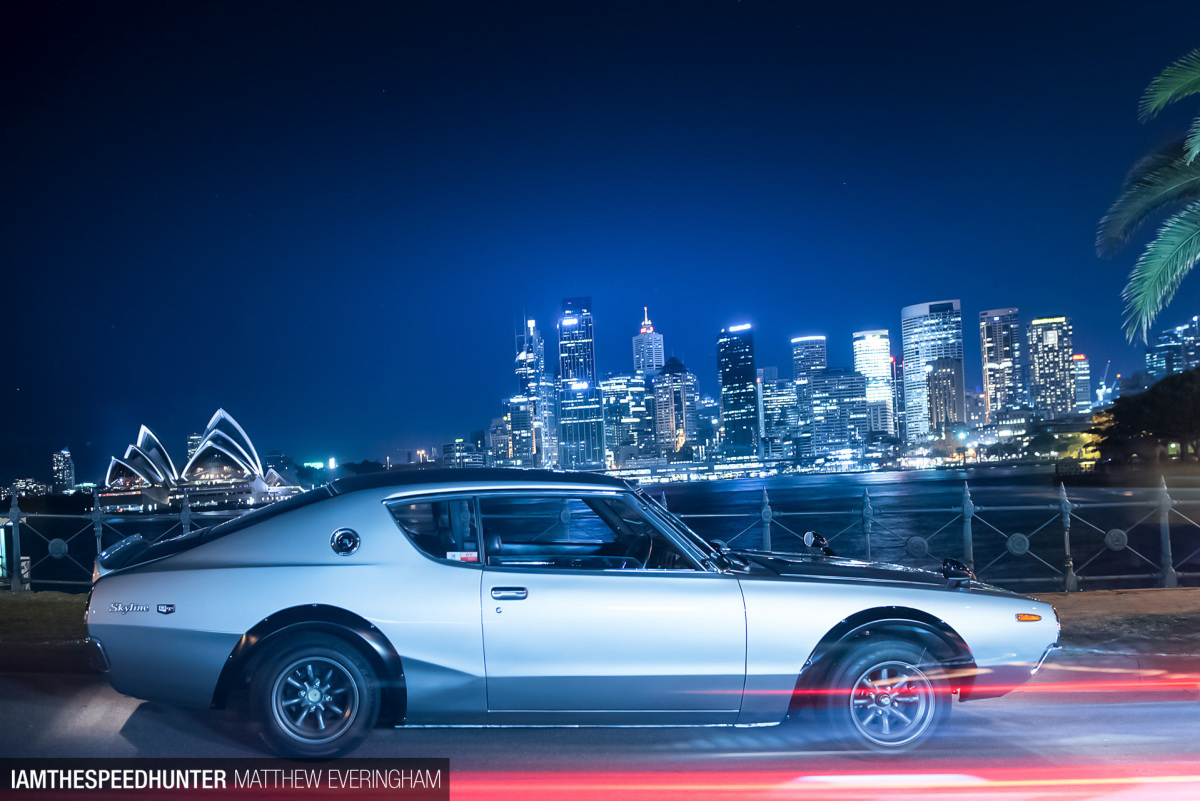 With all the hard work done (sarcasm intended) 'Team Datsun' headed north of the city to revisit a place they assured me presented a good feed. We ended up at a joint creatively called Ribs & Burgers. Ten points if you can guess what they served…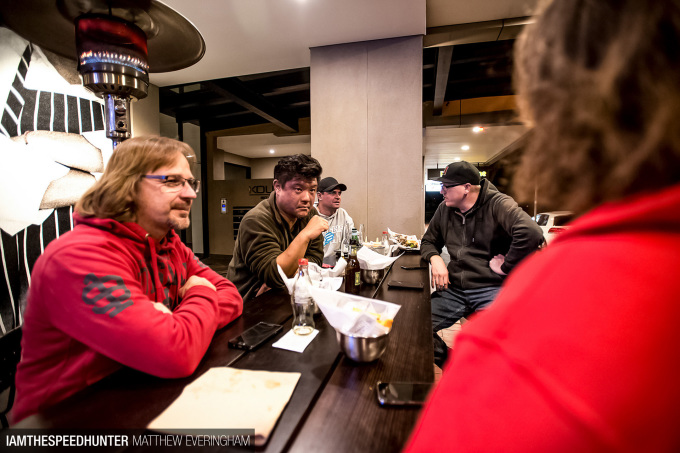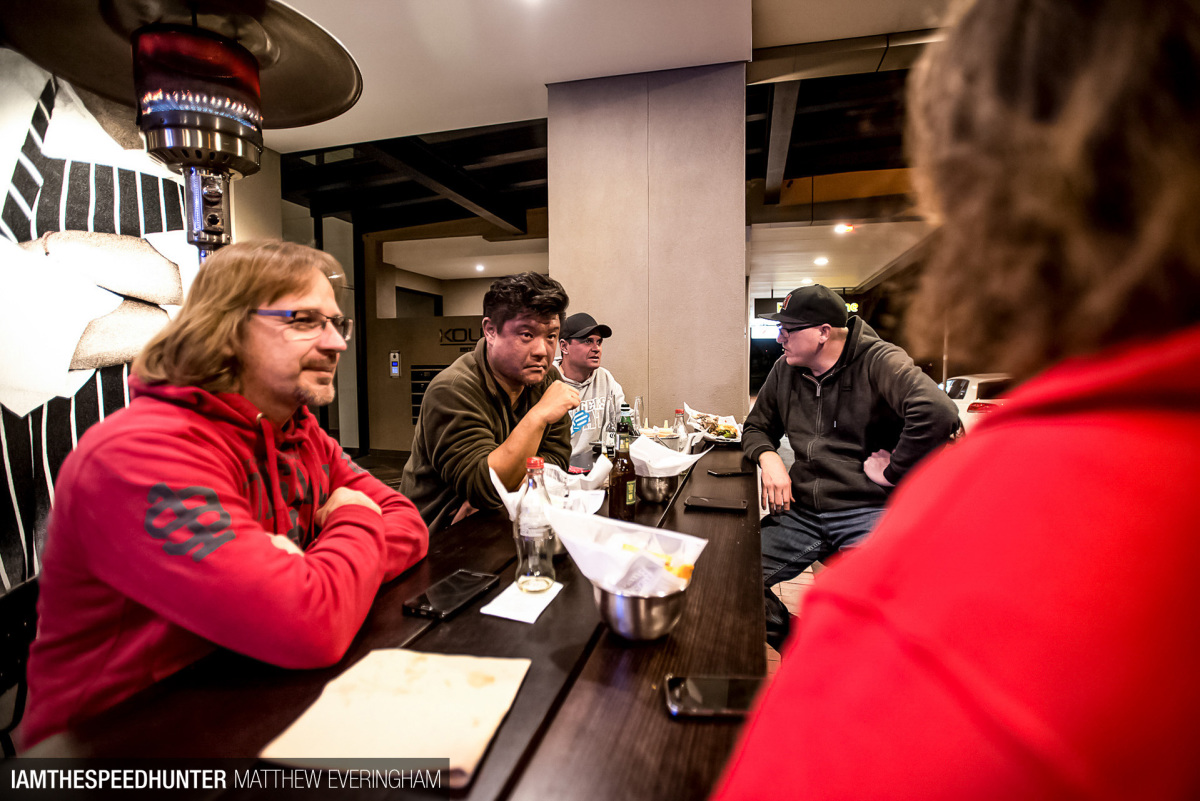 I ended up with ribs and they were good. Damn good actually. But the conversation and spending time with like-minded guys was better. I'd only met three of the five a couple of hours before, but through our passion for cool cars and a cold beverage it felt like we were all old school friends catching up.
Apart from the adrenaline kick, these real-life connections with people in the living, breathing world is one of the very best outcomes from tinkering with cars. That is, if you can break away from your computer keyboard or smartphone screen…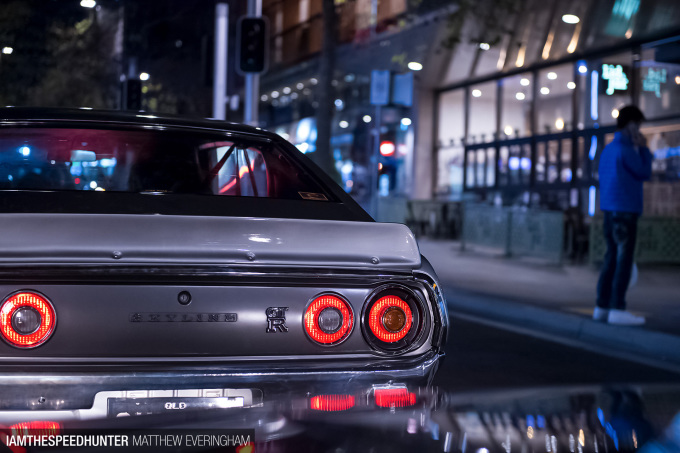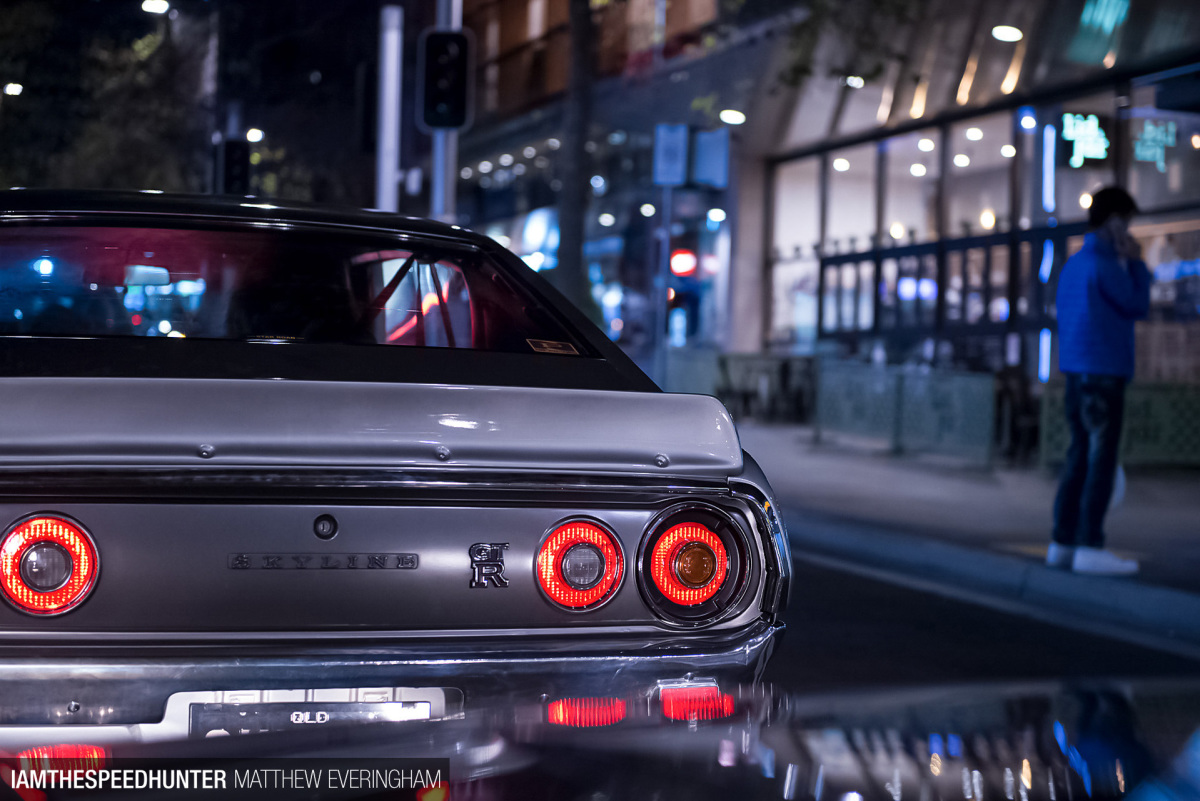 Do yourself a favour, get a small group of mates together with a similar interest and organise a time and place to meet. Once you're all there pick a direction on your compass that'll steer you away from traffic and just drive. Keep the pack small, say four to six cars.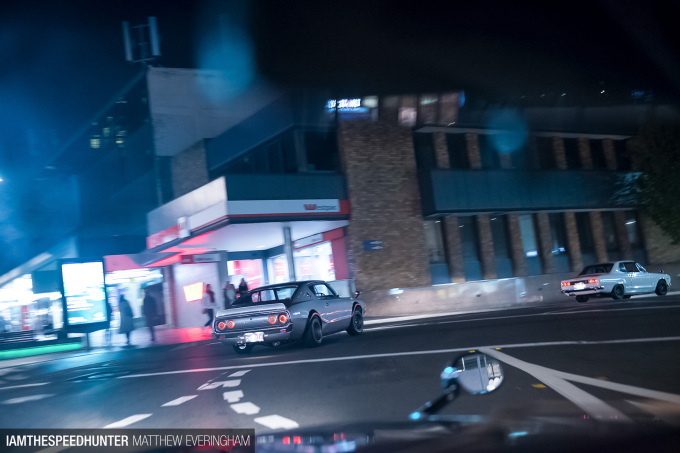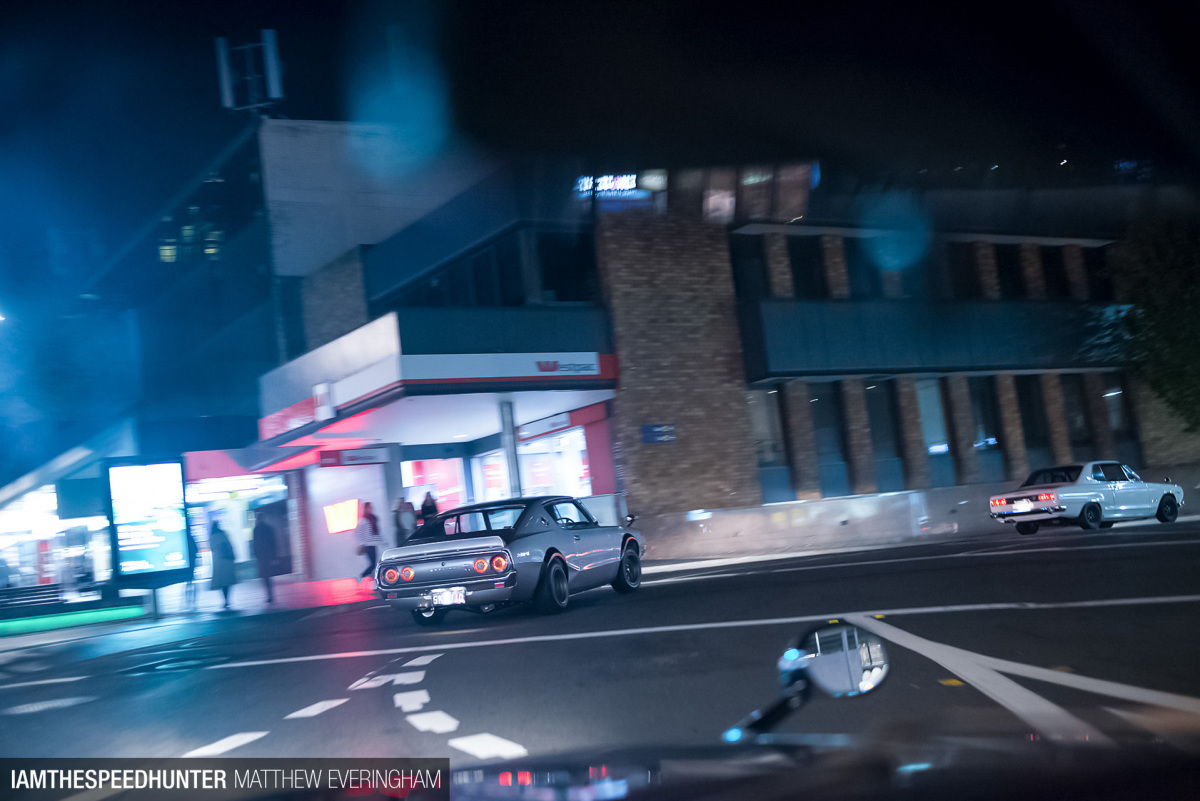 I guarantee you'll feel more satisfaction than that one time you posted that funny meme that 300 strangers 'liked'.
Matthew Everingham
Instagram: Matthew_Everingham
matt@mattheweveringham.com