Keeping It Simple
While the off-roading scene might seem like foreign territory for those more accustomed to road cars, the nature of the hobby itself really isn't much different.
Just like road cars, some off-roaders prefer brand new 4x4s, while others like the classics. Some folks keep their rigs stock and others go crazy with aftermarket modifications.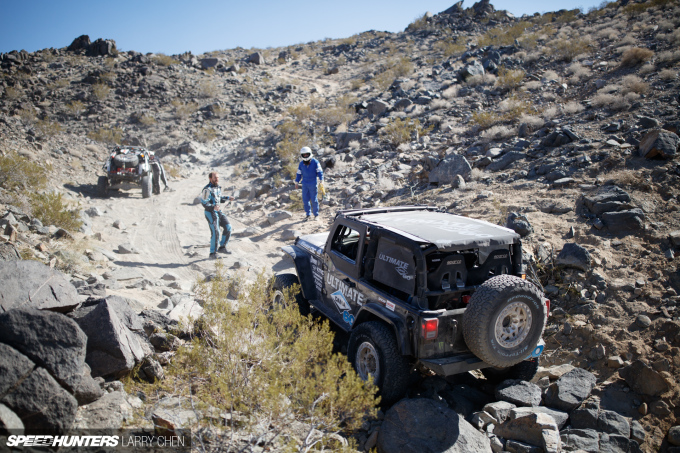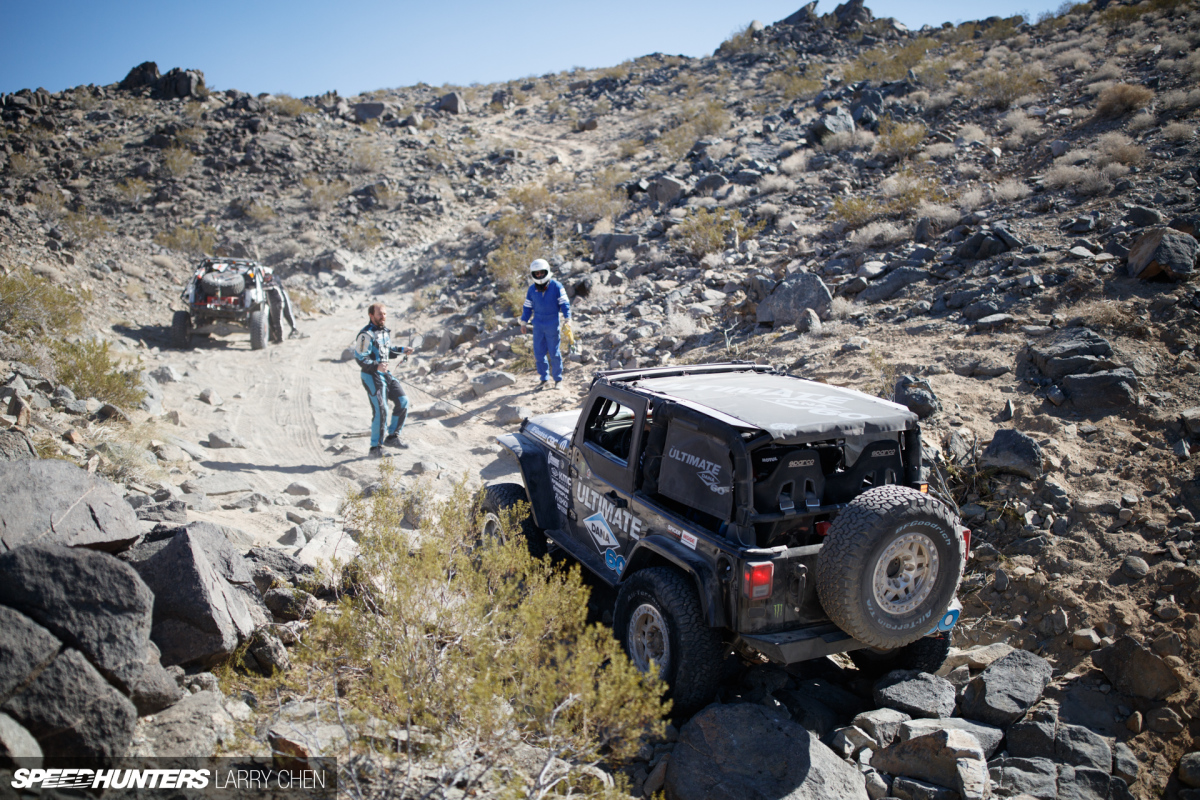 As with any vehicle project regardless of its shape or purpose, it's all a matter of your budget and your personal goals.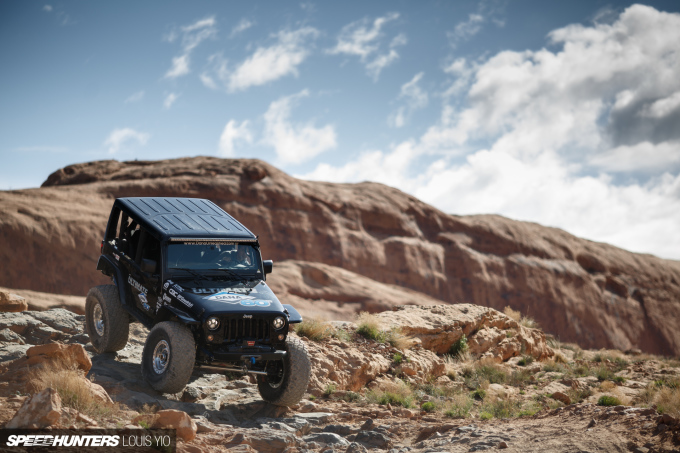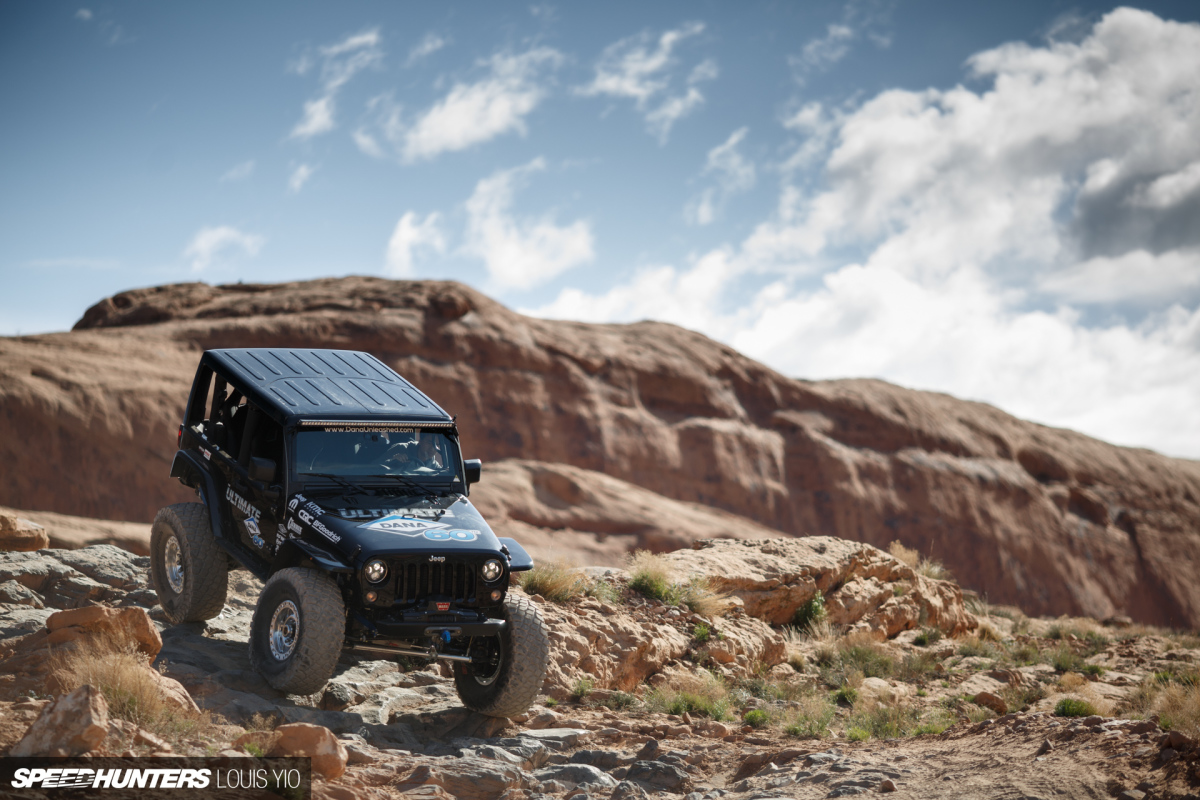 And while we dig the radical cars with that have been modified in every which way, it's often the milder stuff that's just as impressive. And it's the same thing when you are talking about 4x4s.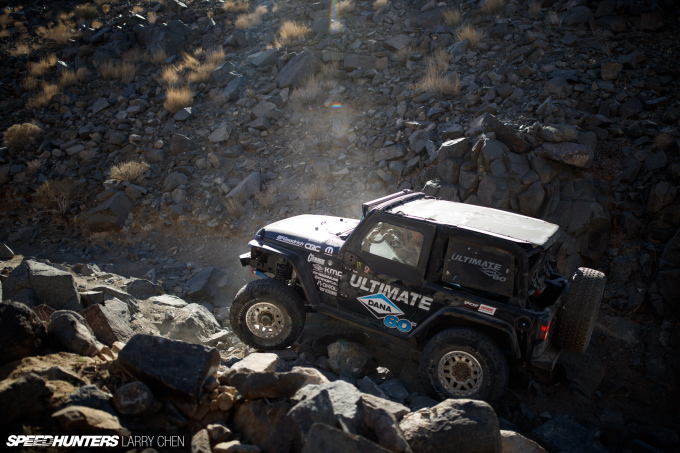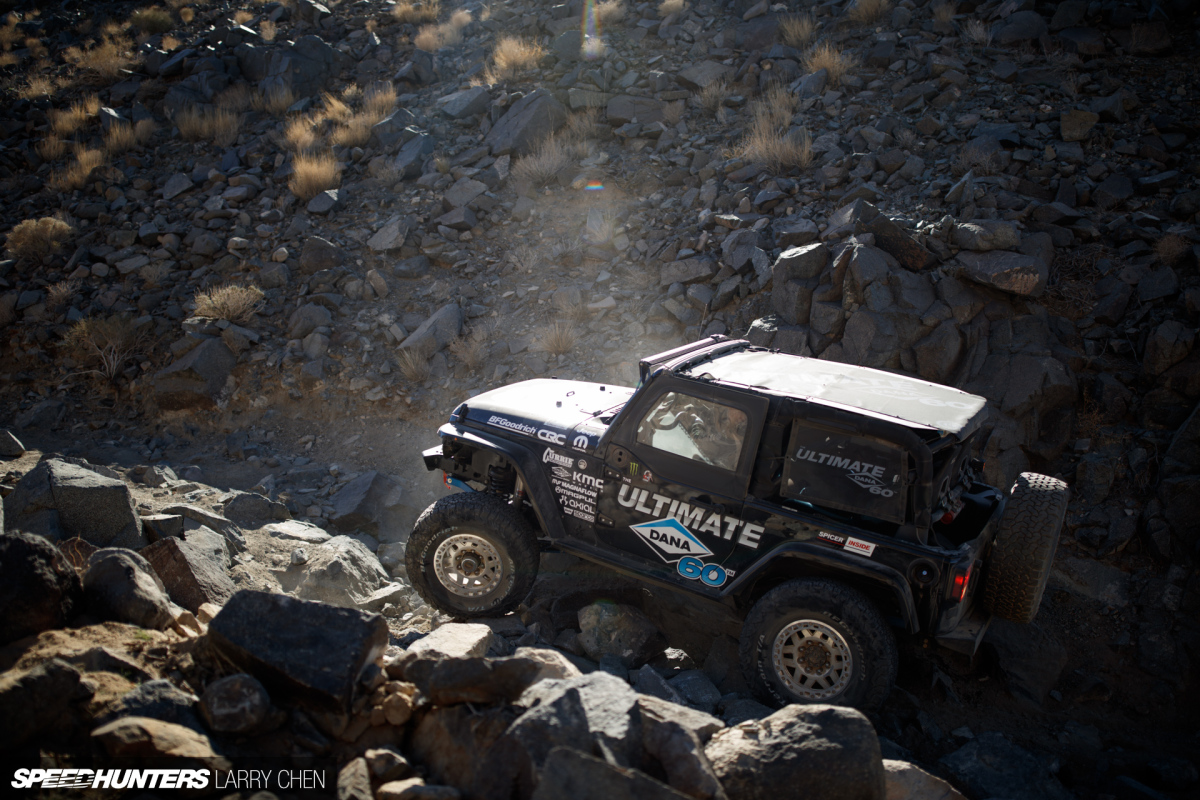 That brings us to a Jeep Wrangler built by seasoned off-roader Casey Currie. It's an all-terrain machine that proves you don't need to go crazy with the modifications to tackle the toughest trails.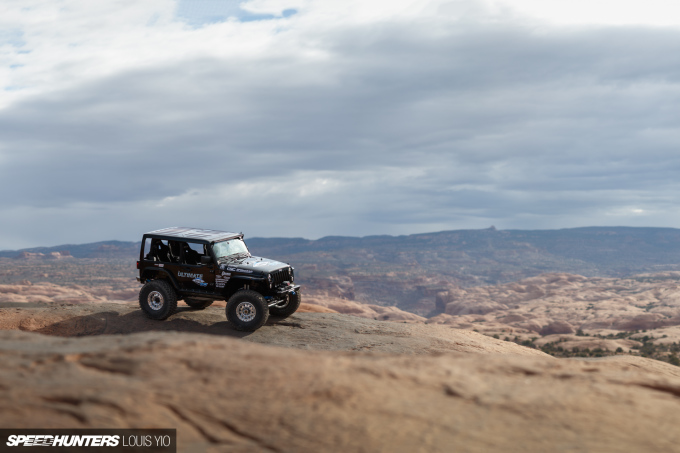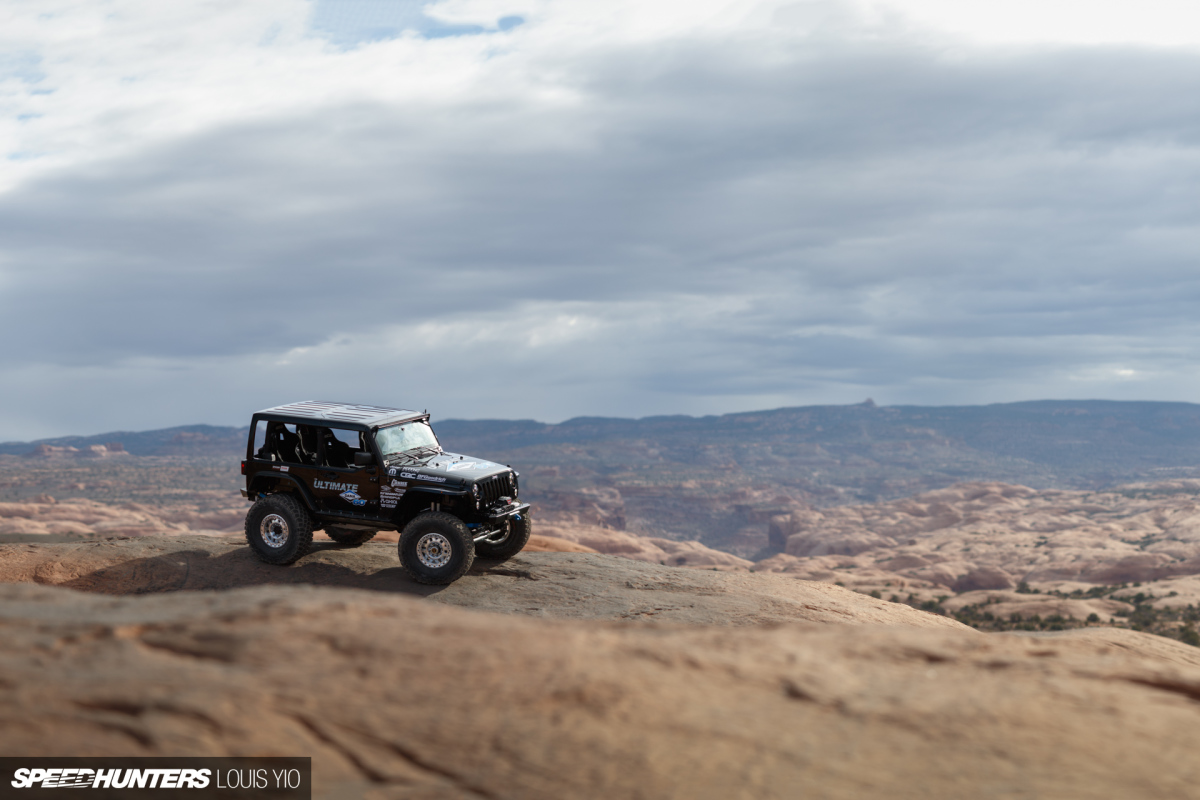 Casey tells us the idea with this project was to put together a Jeep using only bolt-on accessories, and then prove its abilities at the King Of The Hammers.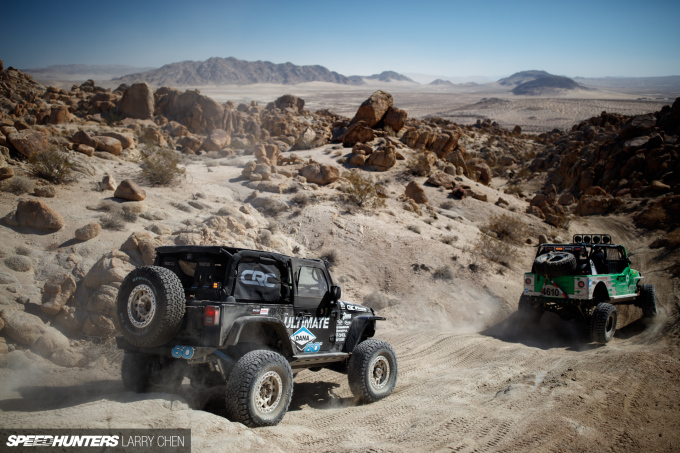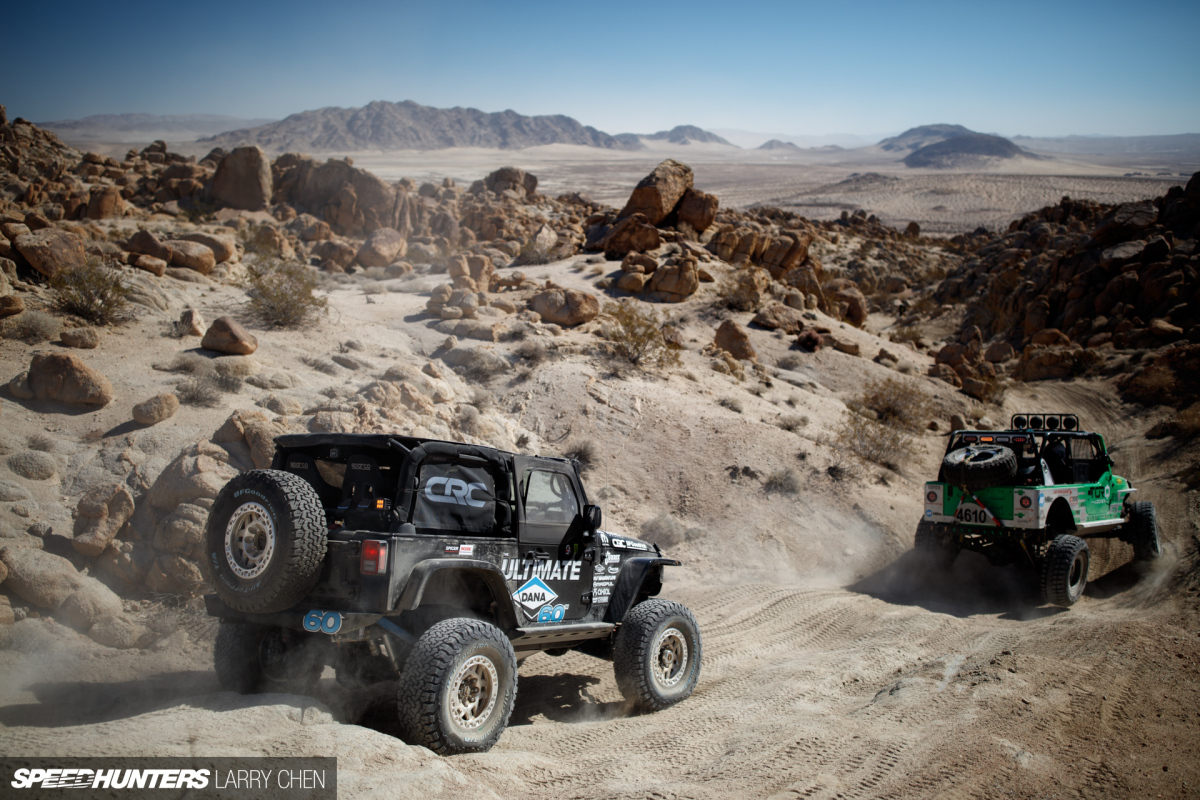 After debuting the Jeep at last year's SEMA Show, that's exactly what Casey did too, taking the Jeep down KOH's most challenging trails and having a fantastic time while doing it.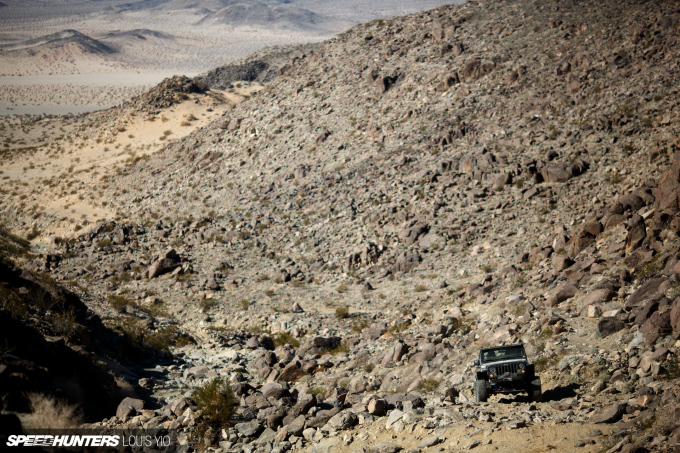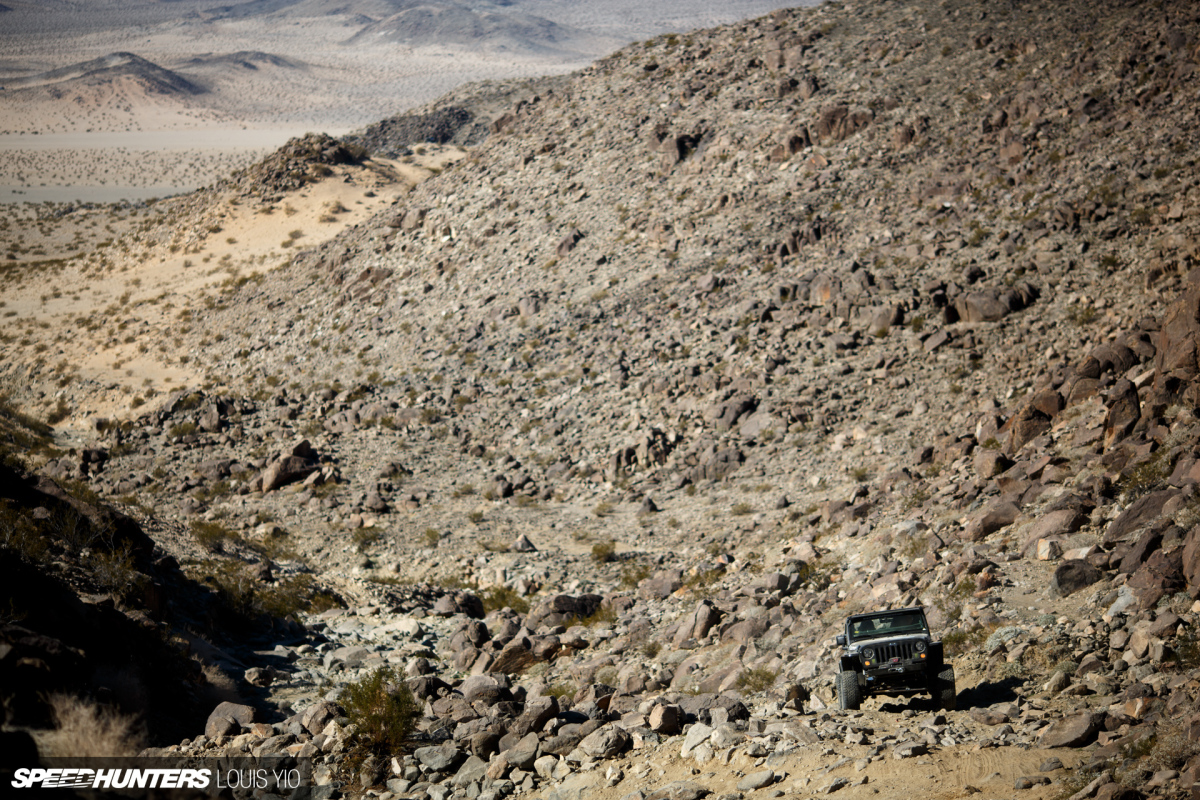 It was a grueling test by any means, but the Jeep got through it. That's a strong testament to Casey's skills at putting together a capable 4×4.
Bolt-On Capability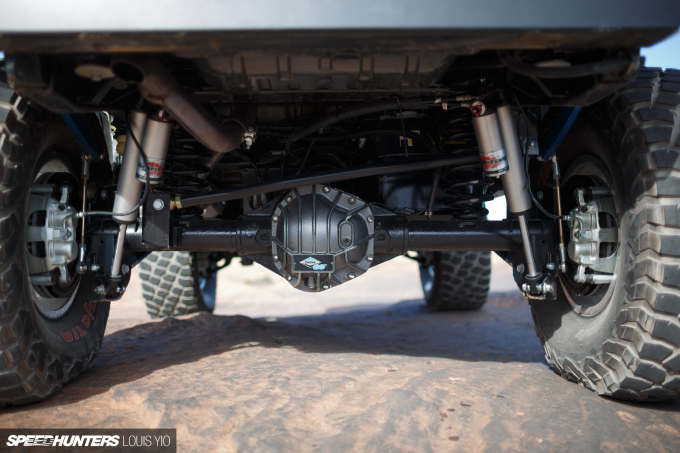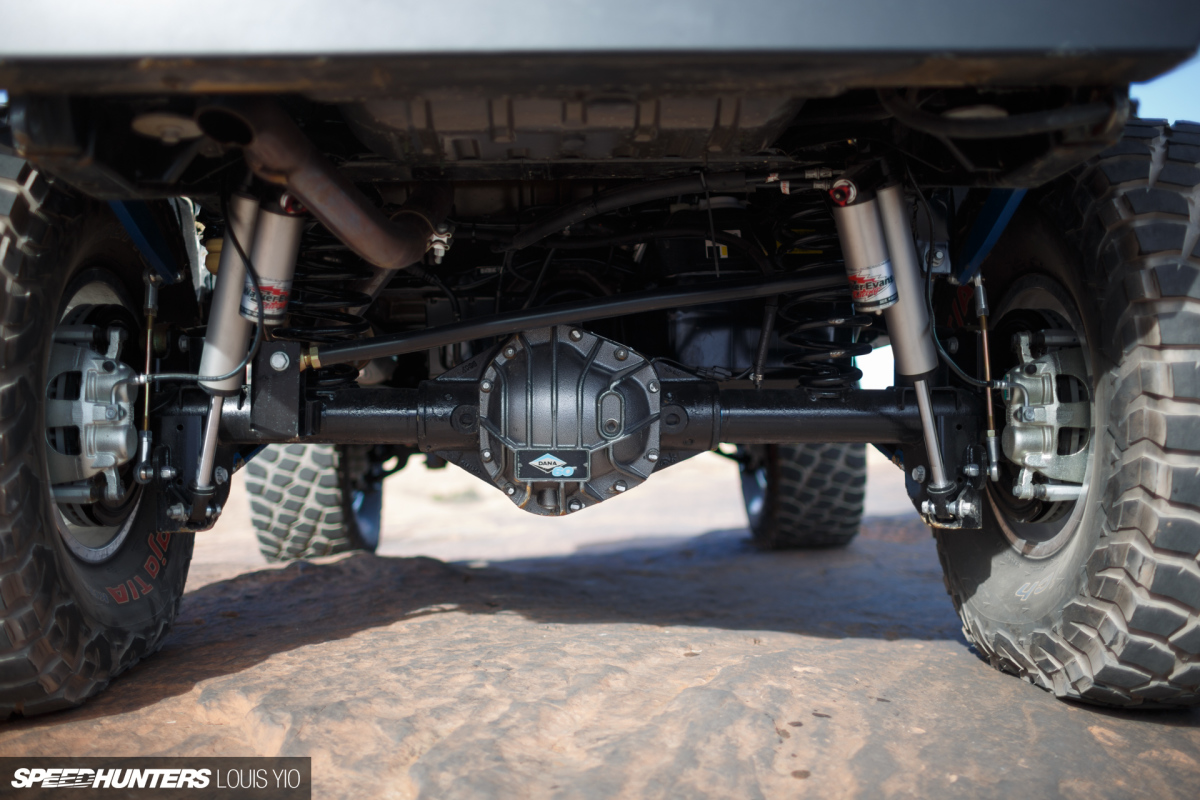 Rather than going overboard with flashy upgrades that may or not be useful on the trails, Casey kept the formula simple for this project. It starts with a pair of heavy-duty Dana 60 axles in both the front and rear.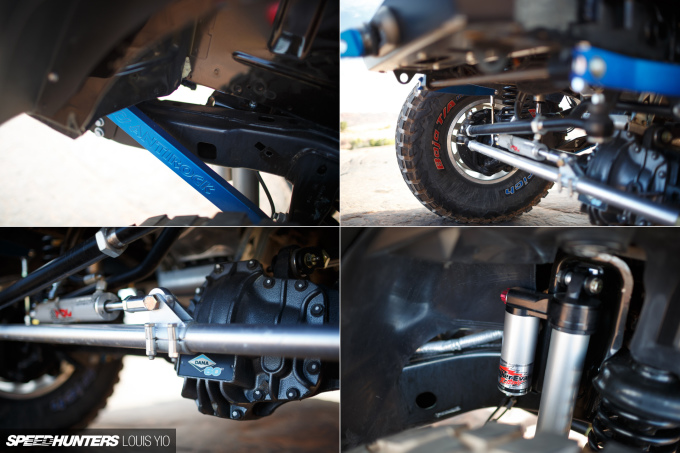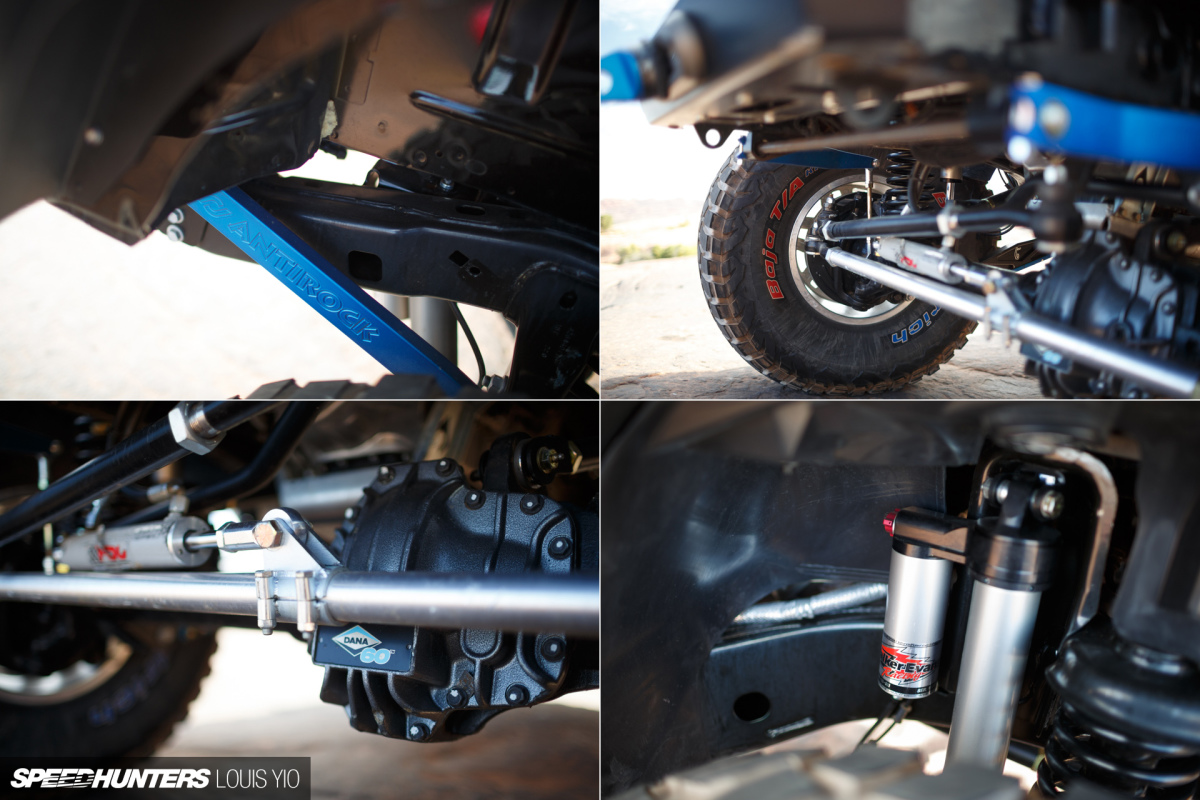 Next up is a Currie Enterprises complete suspension kit with billet control arms and upgraded sway bars, along with a set of Walker Evans shocks.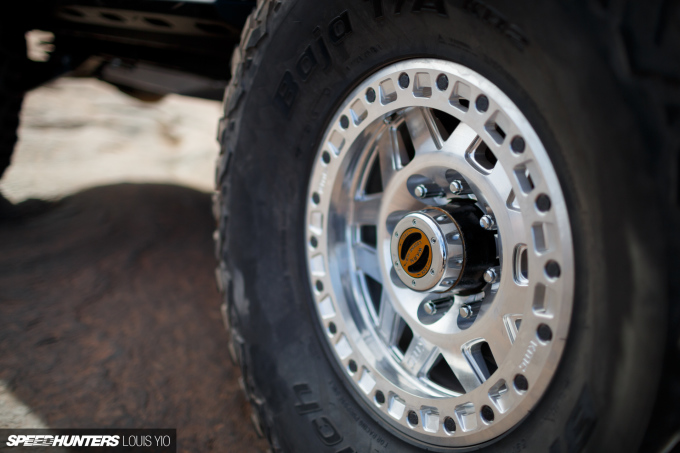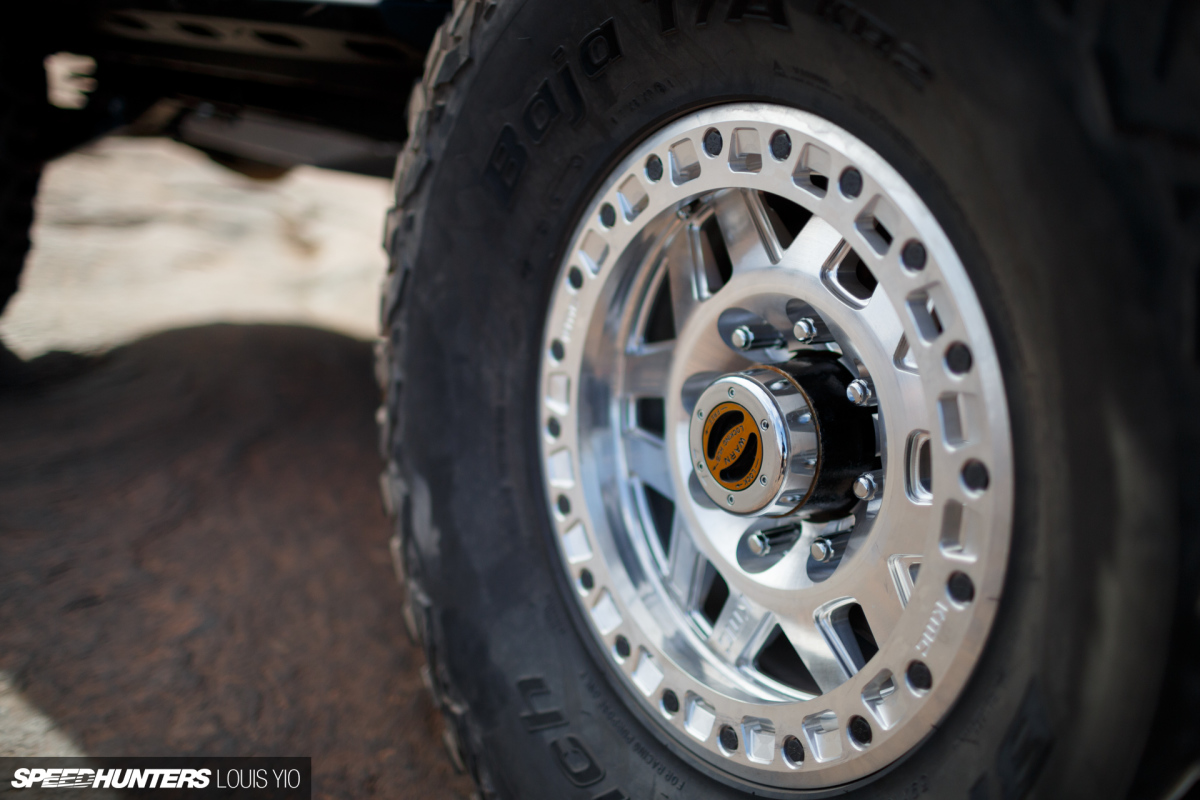 The wheels are forged KMC Machetes, and for the King Of The Hammers event Casey wanted to stick with 35-inch tall tires to prove what the Jeep could do running the smaller size.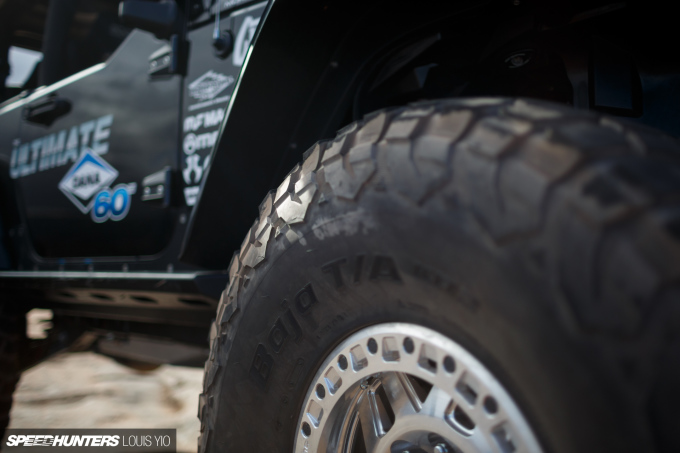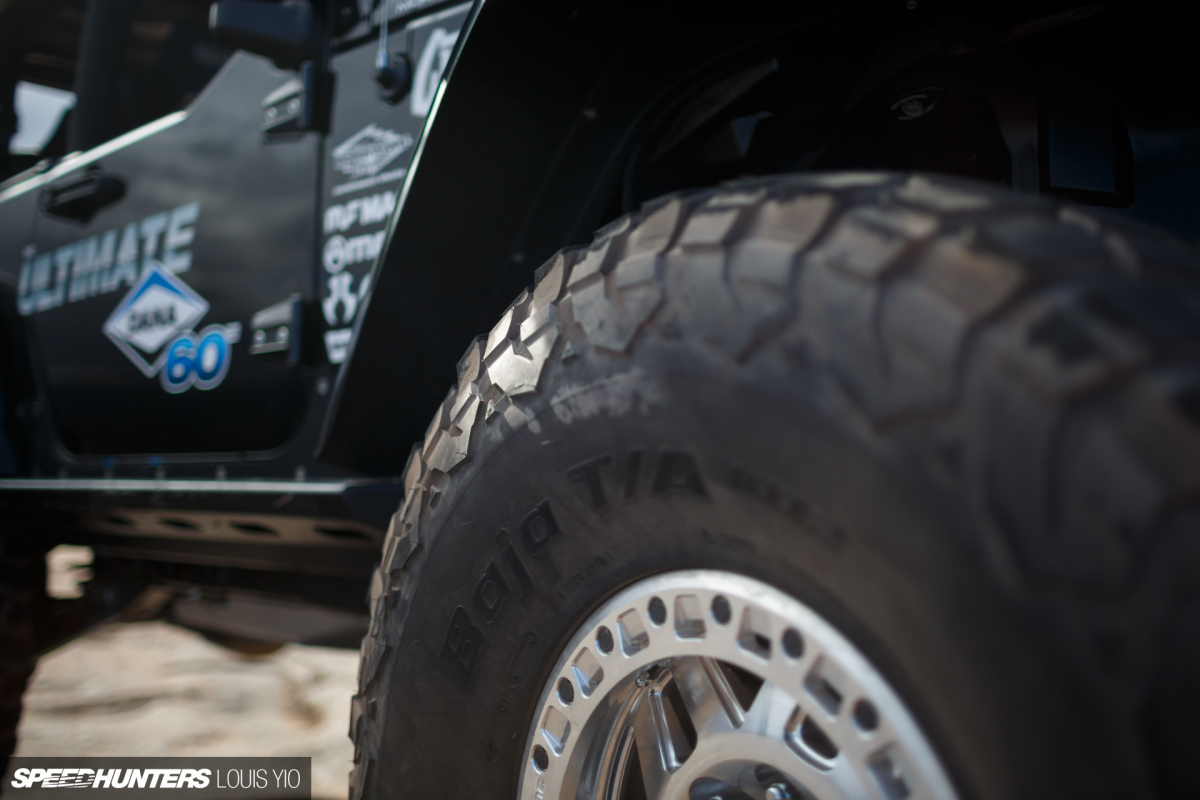 After KOH, he swapped out to larger 39-inch BFGoodrich tires and also added a custom top to give the Jeep a slightly more unique look.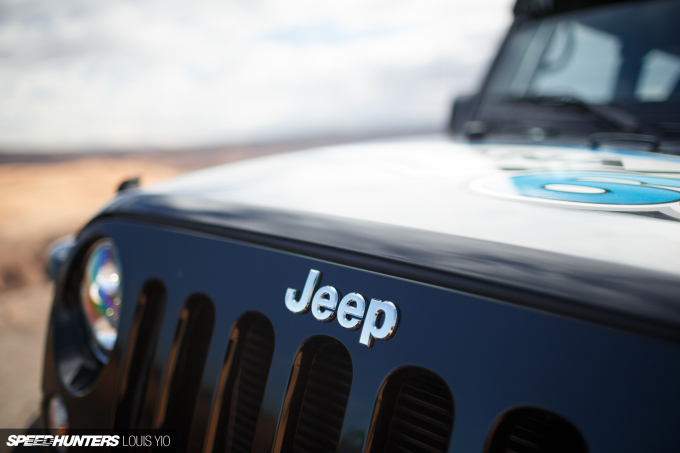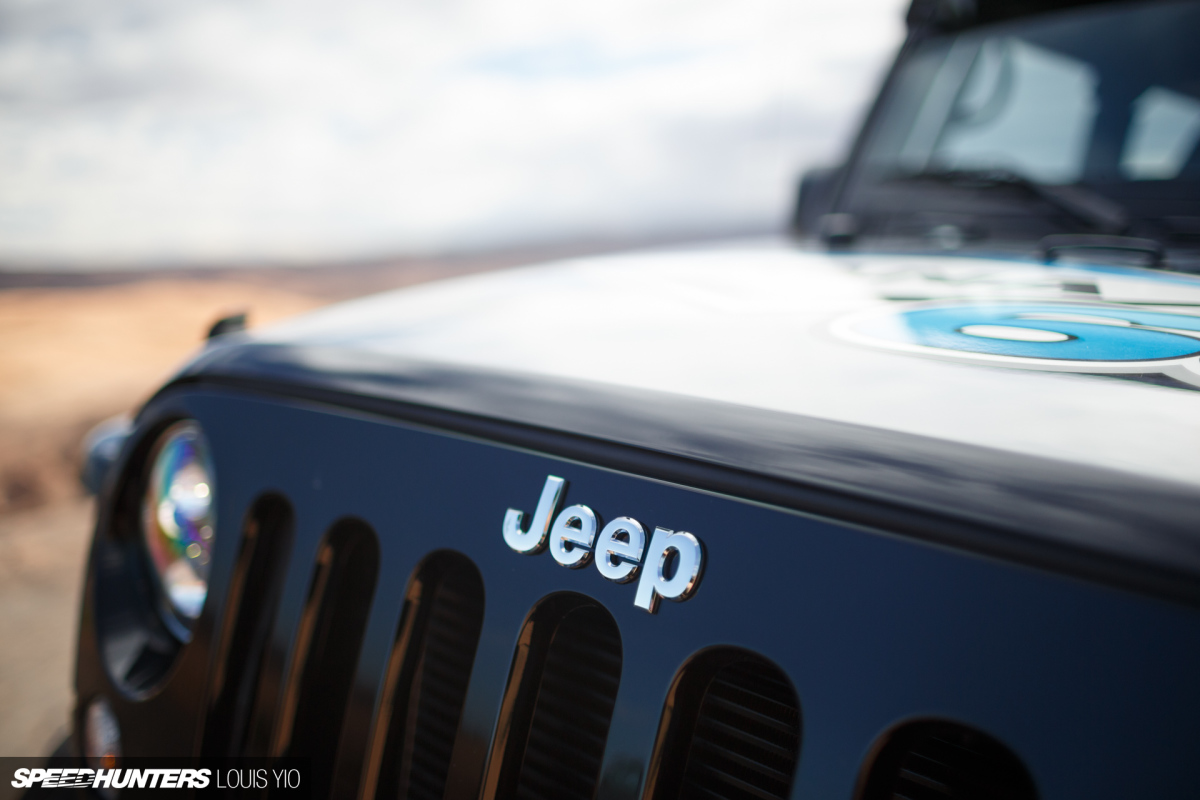 As for the Jeep's powertrain, the engine, transmission and even the transfer case are all completely stock. It's all part of the goal of proving what can be achieved using many of the original components.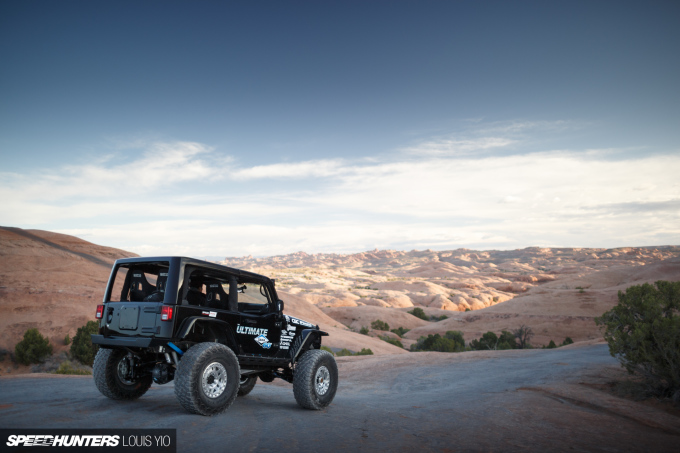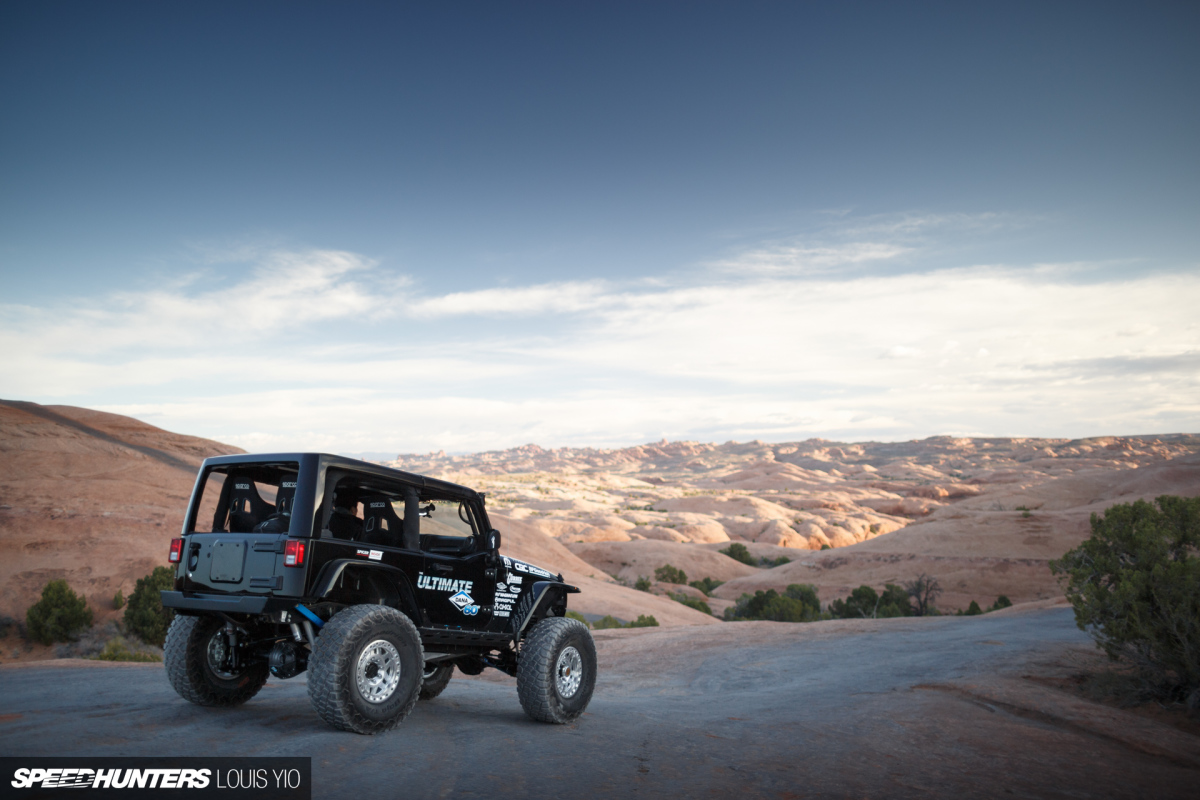 There is, however, a simple Magnaflow exhaust system that's been added for a little extra power and a more aggressive tone.
Running The Trails With Something To Prove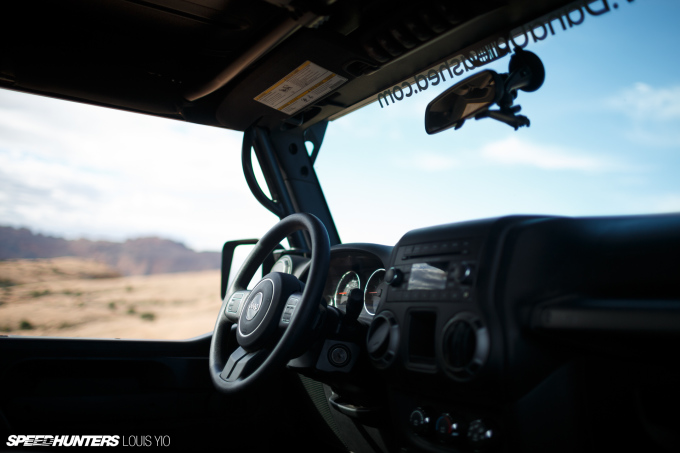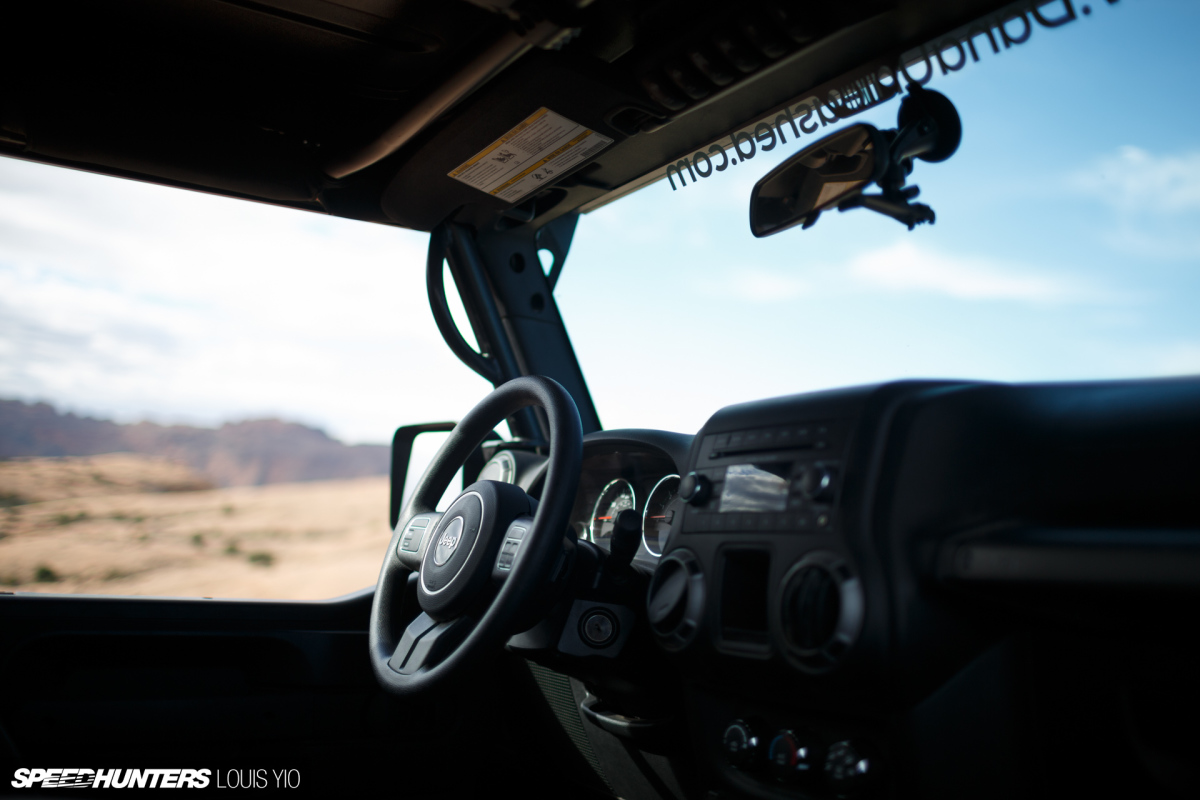 The interior of the Jeep is also very stock, the exception being a matching set of four Sparco bucket seats fitted in both the front and rear.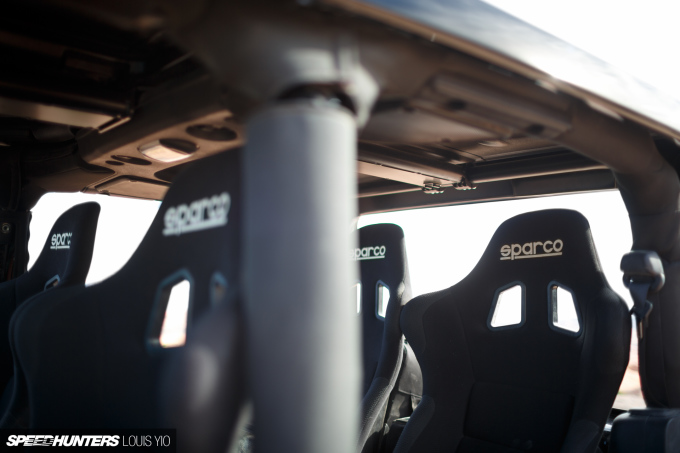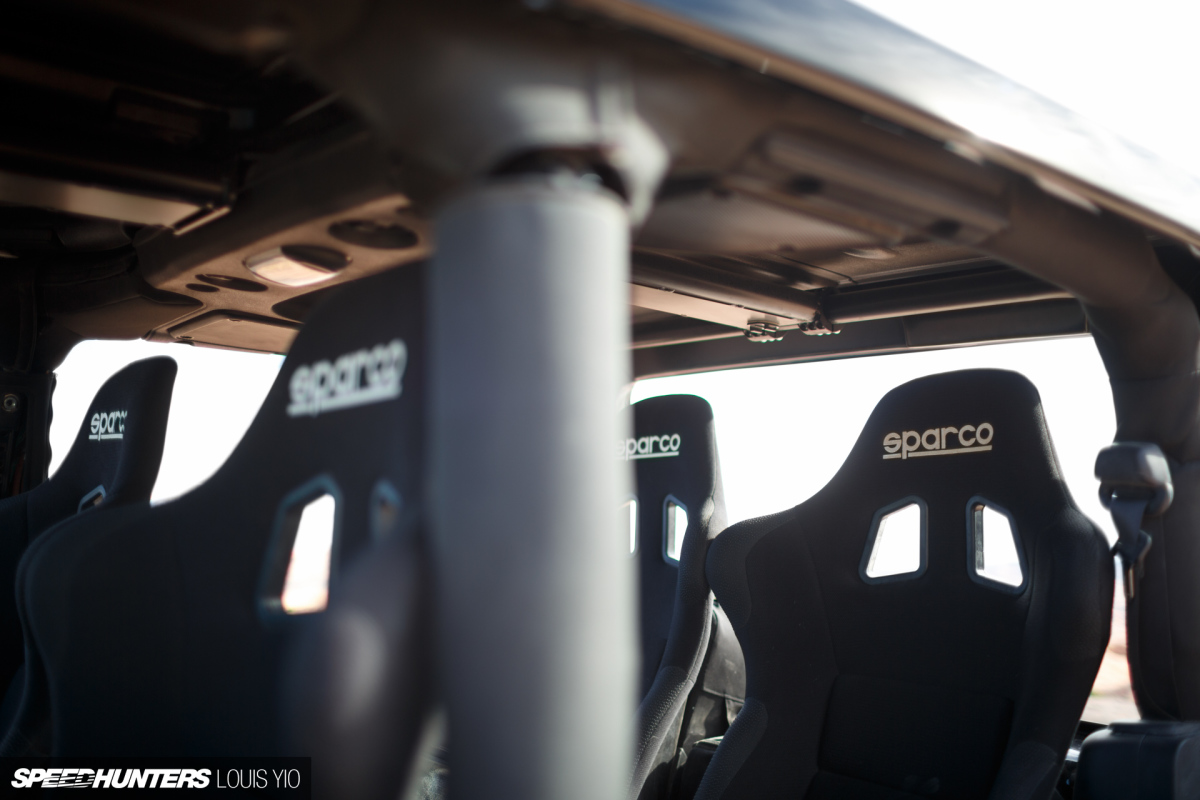 This allows Casey to invite three passengers with him to experience the off-road capabilities firsthand.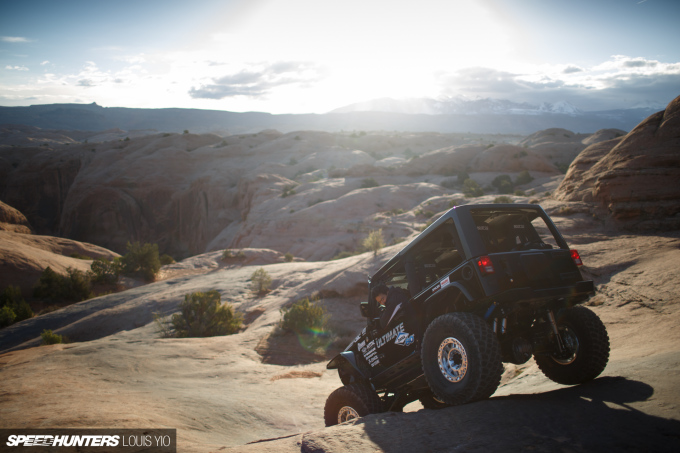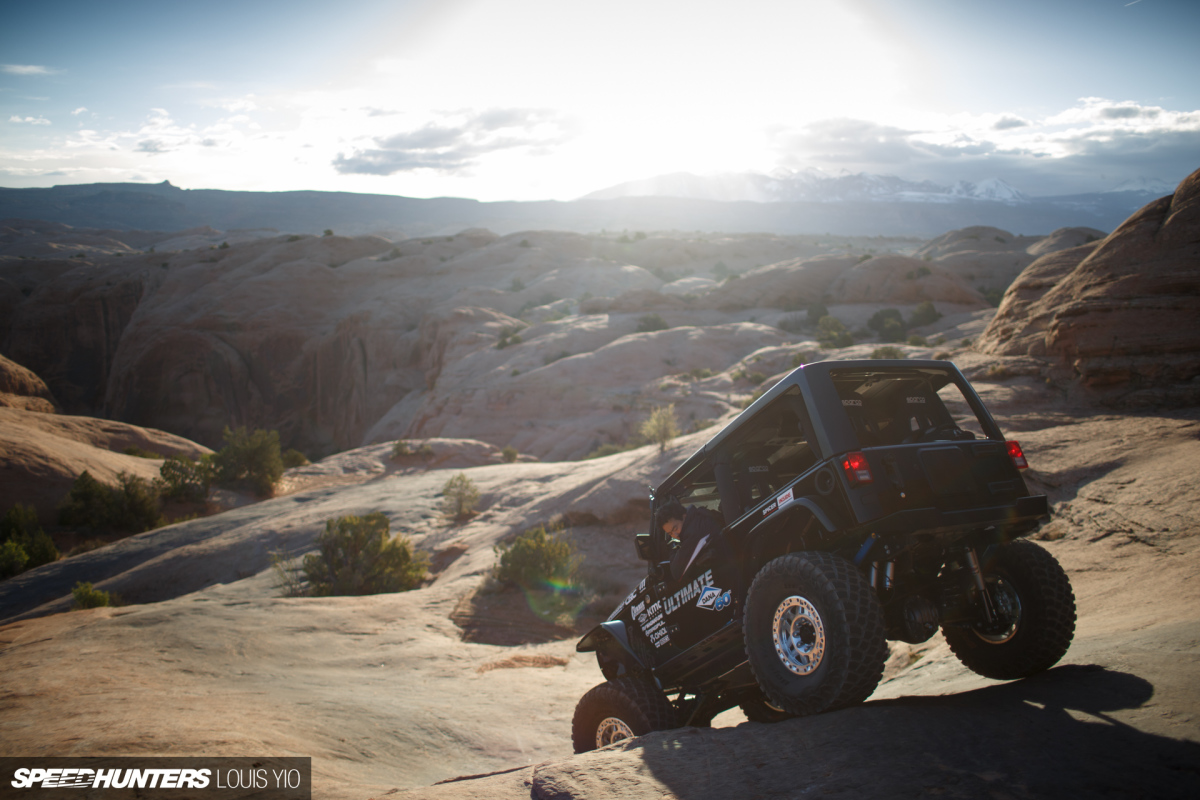 There are some upgrades to the exterior, but they are all functional. The front and rear bumpers are from Savvy, and Casey also added a set of Crawler Conceptz rocker guards.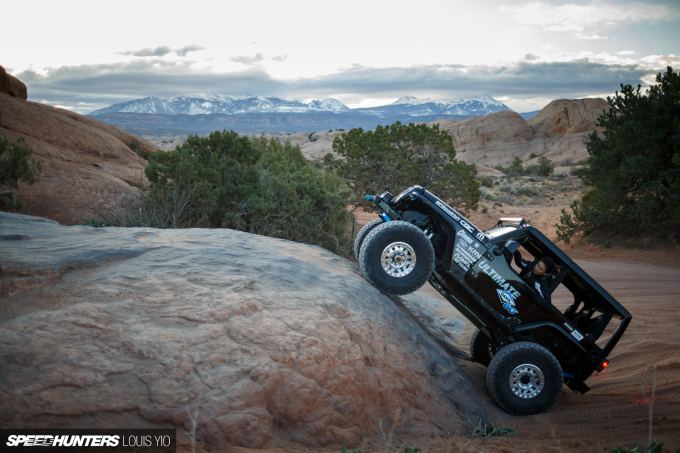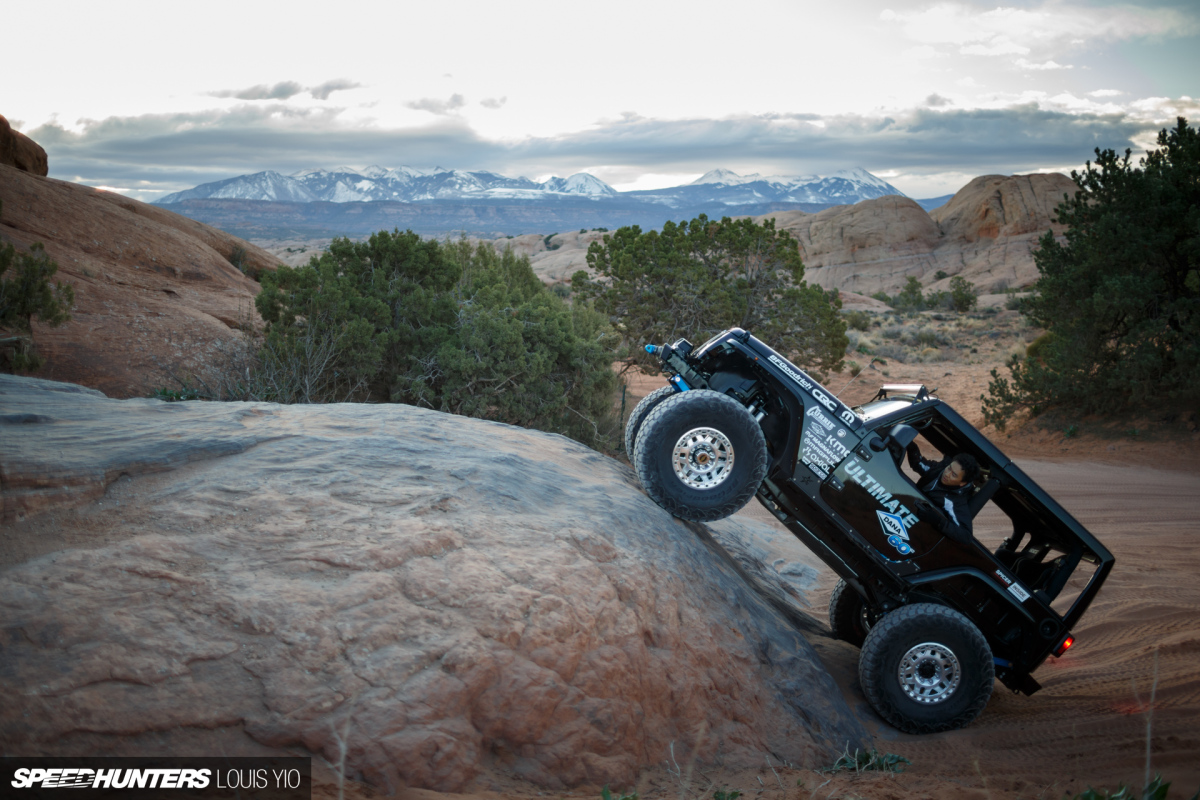 Other outward modifications include a set of MCE fenders, Artec Industries skid plates and the requisite Warn winch mounted up front.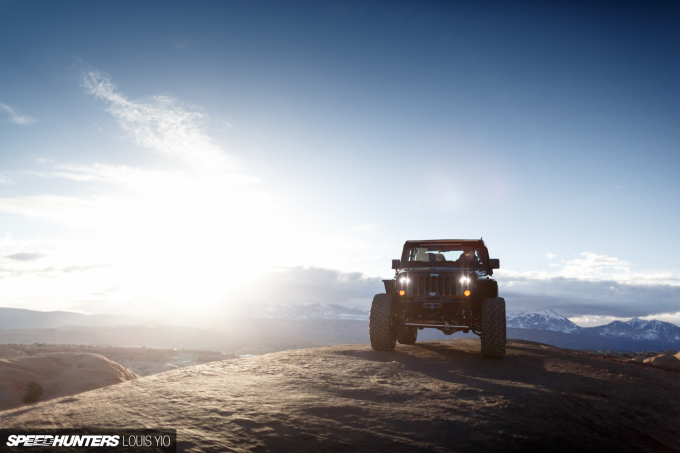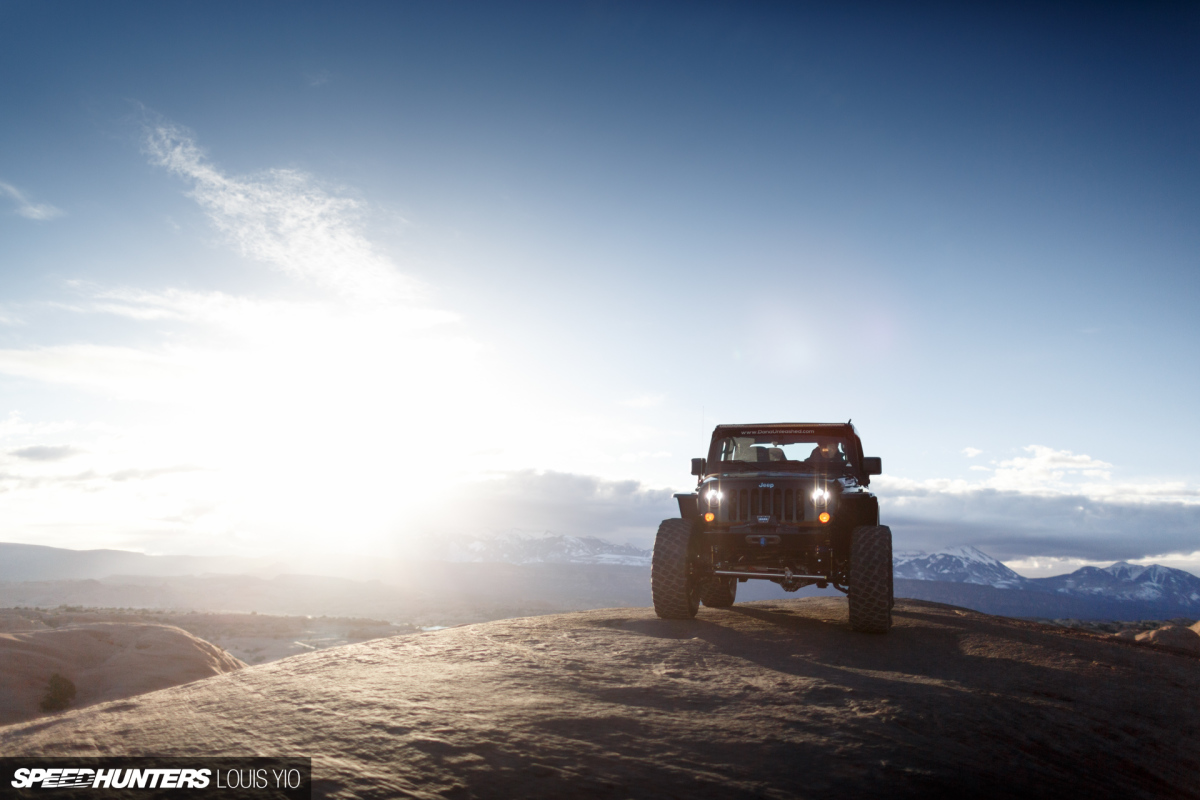 Don't forget the Rigid Industries LED lighting either, along with more powerful aftermarket headlights which are a necessity when the trail runs continue after sunset.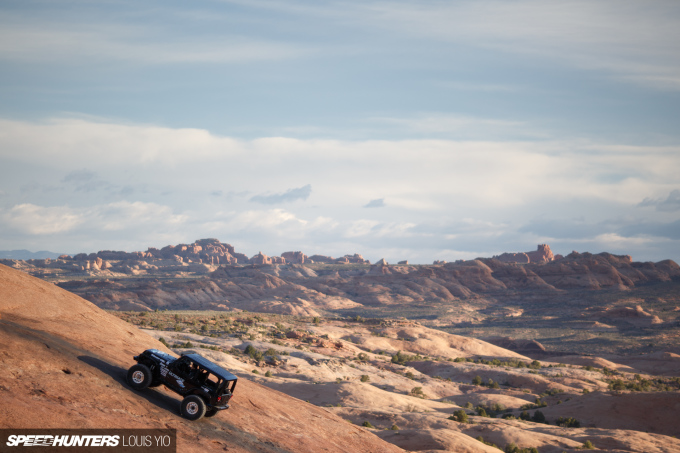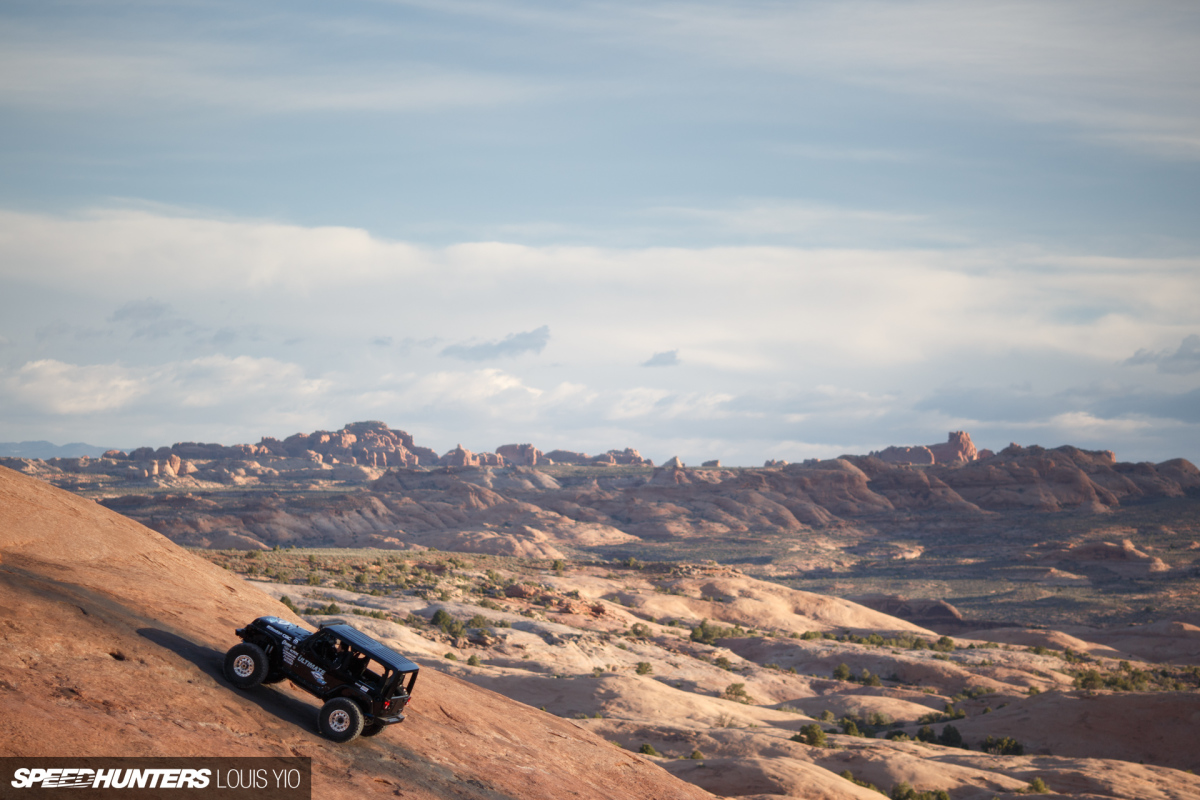 After appearing at SEMA and then successfully conquering the King Of The Hammers, Casey says his plan is to keep traveling the country and participating in other off-road events, where he'll continue to prove just what a properly built, bolt-on 4×4 is capable of.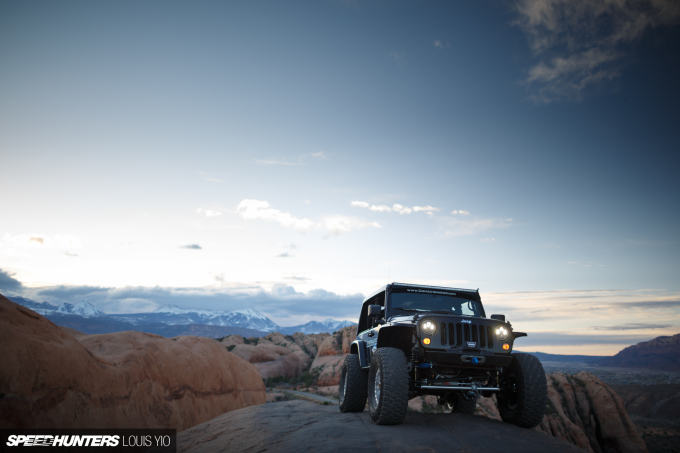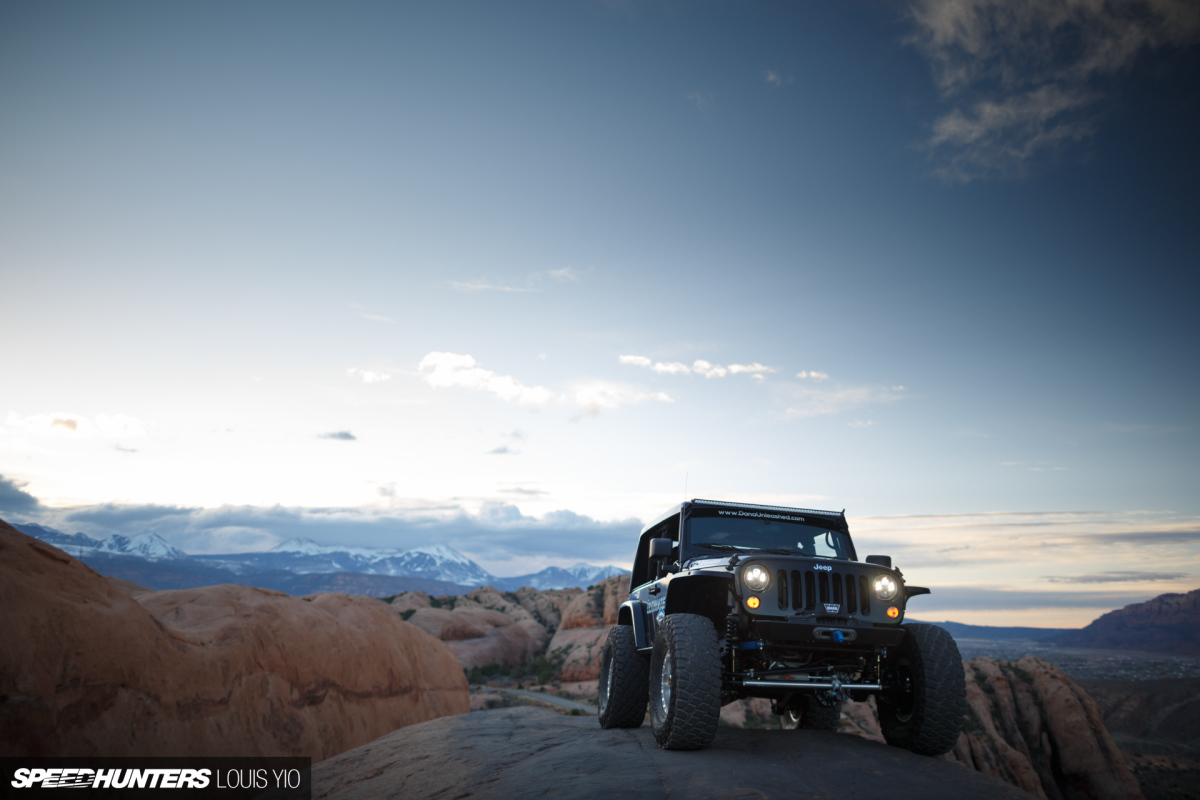 Two-wheel drive or four-wheel drive, on-road or off-road – there's always something to be said for a build that's greater than the sum of its parts, and that definitely seems to be the case with this one.
Aspiring off-roaders would be wise to take note.
Mike Garrett
Instagram: japanifornia
mike@speedhunters.com
Photos by Louis Yio
Instagram: lusciousy
Casey Currie's Ultimate Dana 60 Jeep JK 4-Door

Engine
Original Jeep V6 engine, Magnaflow exhaust system
Driveline
Factory transmission, factory transfer case, Dana 60 axles front & rear, Spicer driveshafts
Suspension/Chassis
Currie Enterprises complete suspension kit, billet control arms, upgraded sway bars, Walker Evans shocks, Currie steering system, PSC steering assist
Wheels & Tires
KMC forged Machete wheels, BFGoodrich KR2 39-inch all-terrain tires
Exterior
Savvy front & rear bumpers, MCE fenders, Crawler Conceptz rocker guards, Artec Industries skid plates, Warn winch, sPOD wiring, Rigid Industries LED lighting, aftermarket Jeep headlights, Jeep half doors, custom top
Interior
Factory interior with 4x Sparco bucket seats for driver & passengers
More Jeep related stories on Speedhunters
Cutting Room Floor